Much like how the ugly duckling (or cygnet, technically speaking) gets its 'black swan' moment, the sparkling KrisFlyer Gold Lounge in Terminal 3 is in a new league compared to its former self.
Now there's a sense of airiness, more than double the floor space, feature art installations, and yes – even toilets and showers. The fact that the addition of bathrooms is a big deal should give you an idea of the state of the previous lounge here!
During a transit in Singapore, I swing past the refreshed lounge to see what Gold-grade frequent flyers travelling in Economy and Premium Economy can look forward to.
Watch this video or continue reading below to learn more:

Lounge location and details
Singapore Airlines has two KrisFlyer Gold lounges at Changi Airport. Where possible, you'll want to go to the one in Terminal 3, because the one in Terminal 2 is still unrefurbished and generally subpar. Both terminals are connected airside, so it's a matter of catching the internal SkyTrain shuttle.
After going through immigration in Terminal 3, start walking to the left of Louis Vuitton. The first set of escalators that you come across will take you up to the KrisFlyer Gold lounge.
If you've somehow ended up at the SilverKris lounges (and don't have access to those), you're in the wrong spot. These are actually the Business and First Class lounges, reserved for passengers travelling in those cabins, as well as PPS Club and Solitaire PPS Club members. 'Silver' is better than 'Gold', in this case.
Instead, turn right from the SilverKris entry and walk down the hallway until you come across the KrisFlyer Gold lounge. This lounge is open 24/7, reflecting that Singapore Airlines has flights all day long.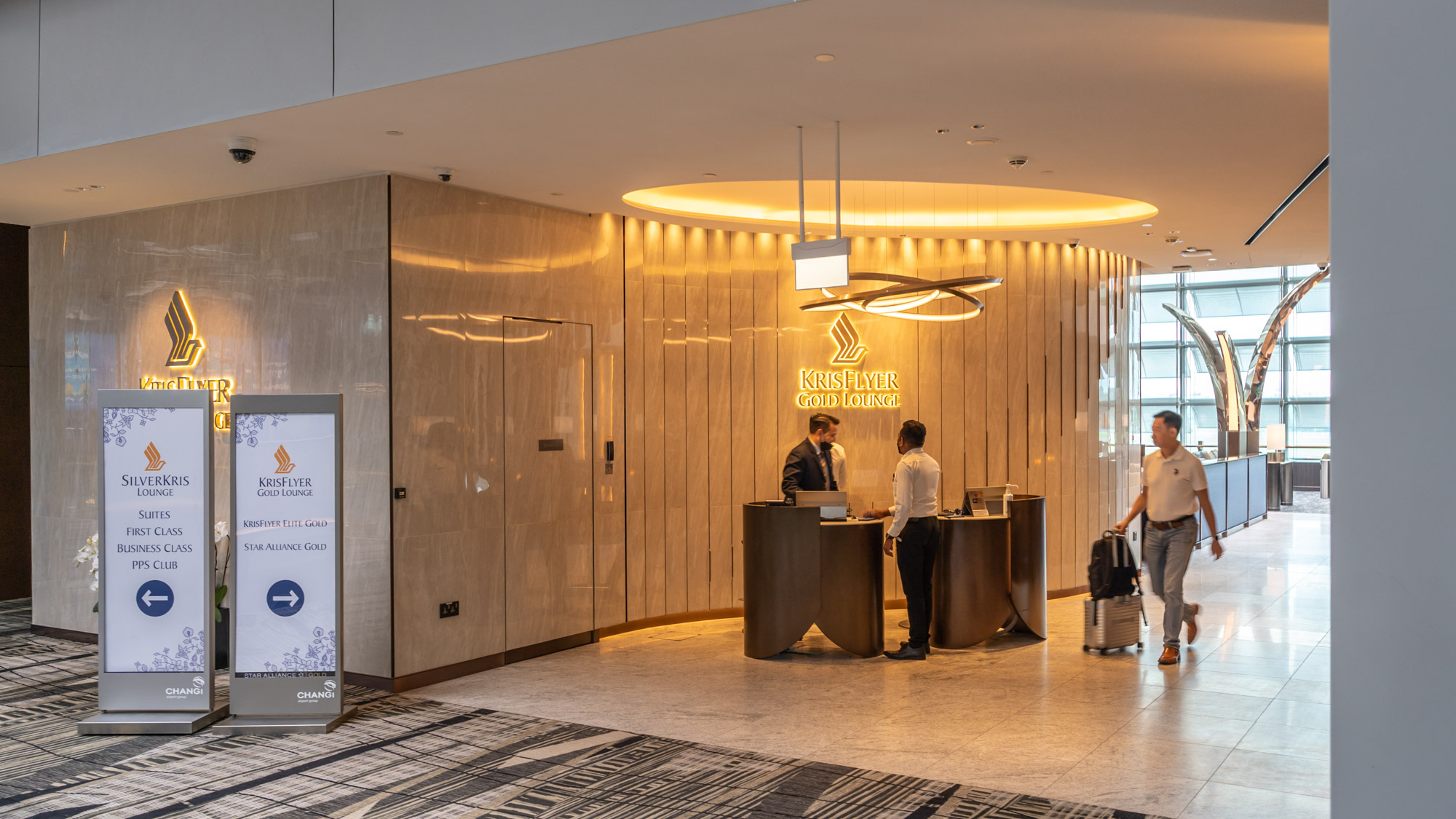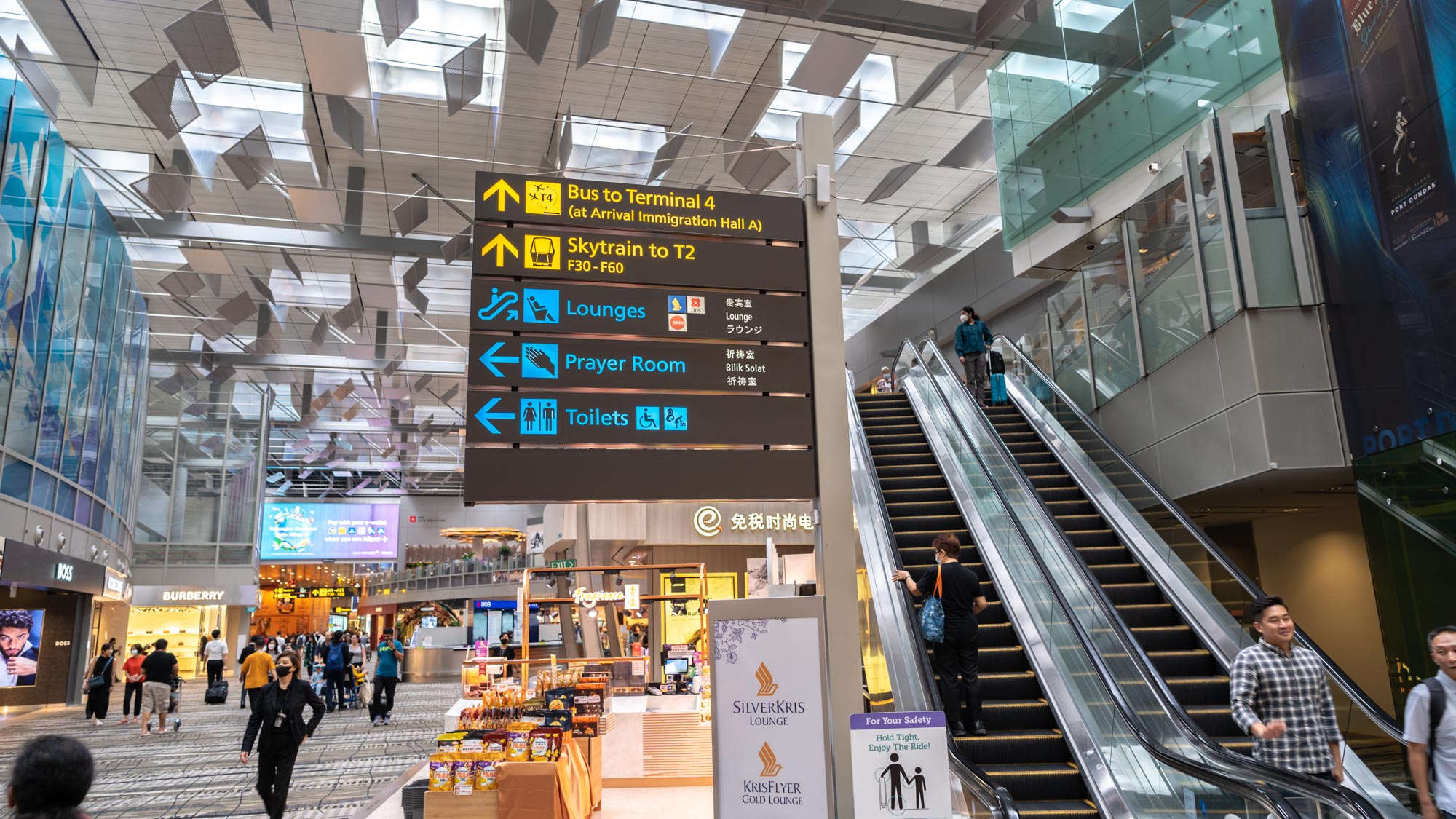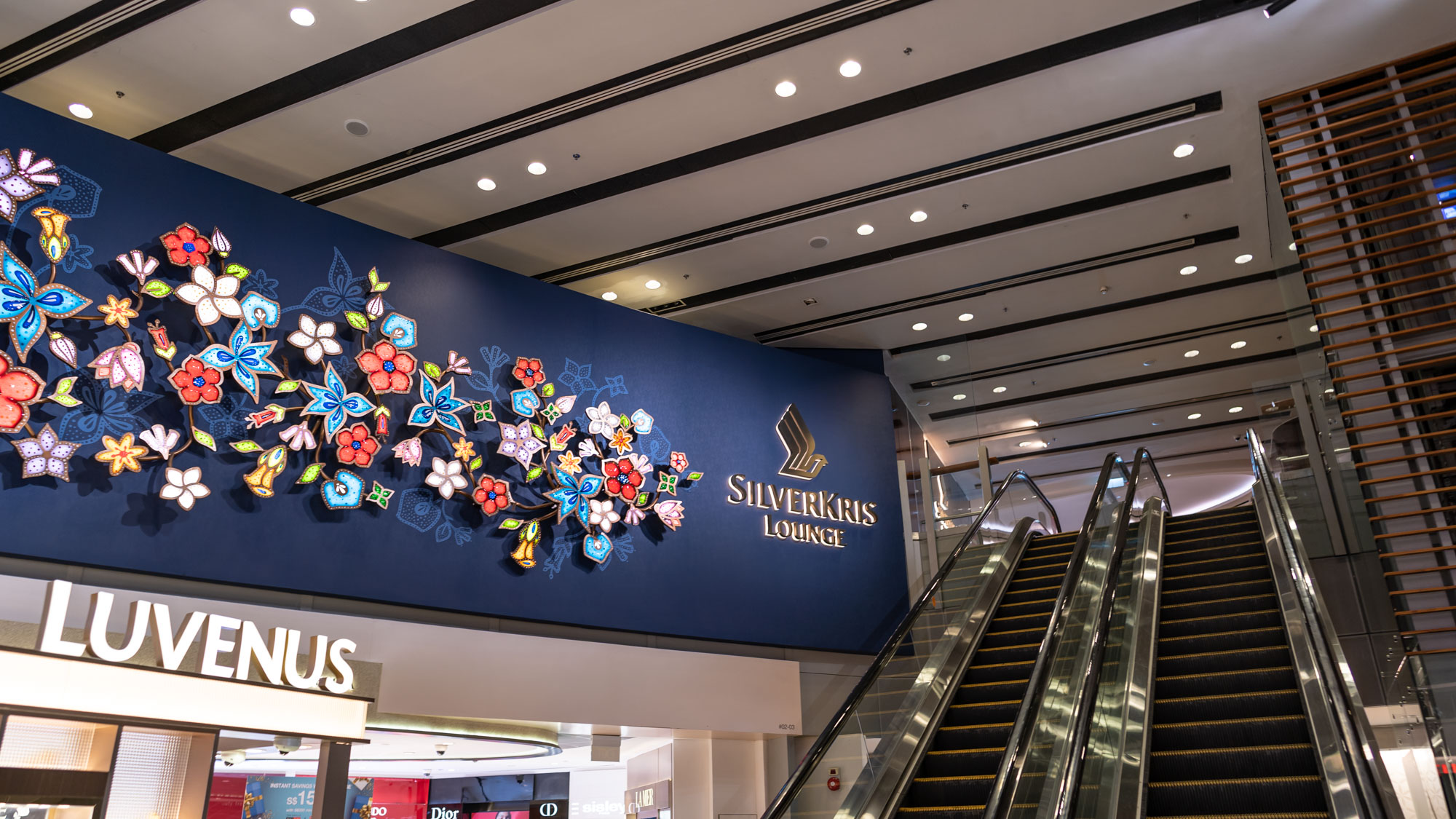 Lounge layout and seating
With a vastly increased footprint, the KrisFlyer Gold lounge isn't too full when I visit during the afternoon. Having said that, the peak periods are morning and late night, so it will be busier than my photos show.
The reception is on the far left of the lounge. As I walk in, I see that most of the space extends out to the right. But there are some nooks on the left that are emptier than other surrounding areas. Perhaps everyone just loves to gravitate towards the dining area when they walk in.
Eye-catching metal light installations are dotted throughout. I'm told that these are symbolic of Singapore Airlines' flights taking off to different corners of the world.
The centre of the lounge is taken up with lots of seating. Gone are the 'gentlemen's club' dark orange sofas, replaced with a much more pleasing aqua blue palette. During the day, it matches the overall ambience of the terminal well, thanks to the vistas of glass looking out to the apron.
I wouldn't call this a 'sweeping view' of the airfield, given that shutters and metal bars are in the way. But it's a pleasing glimpse of the outside, nonetheless.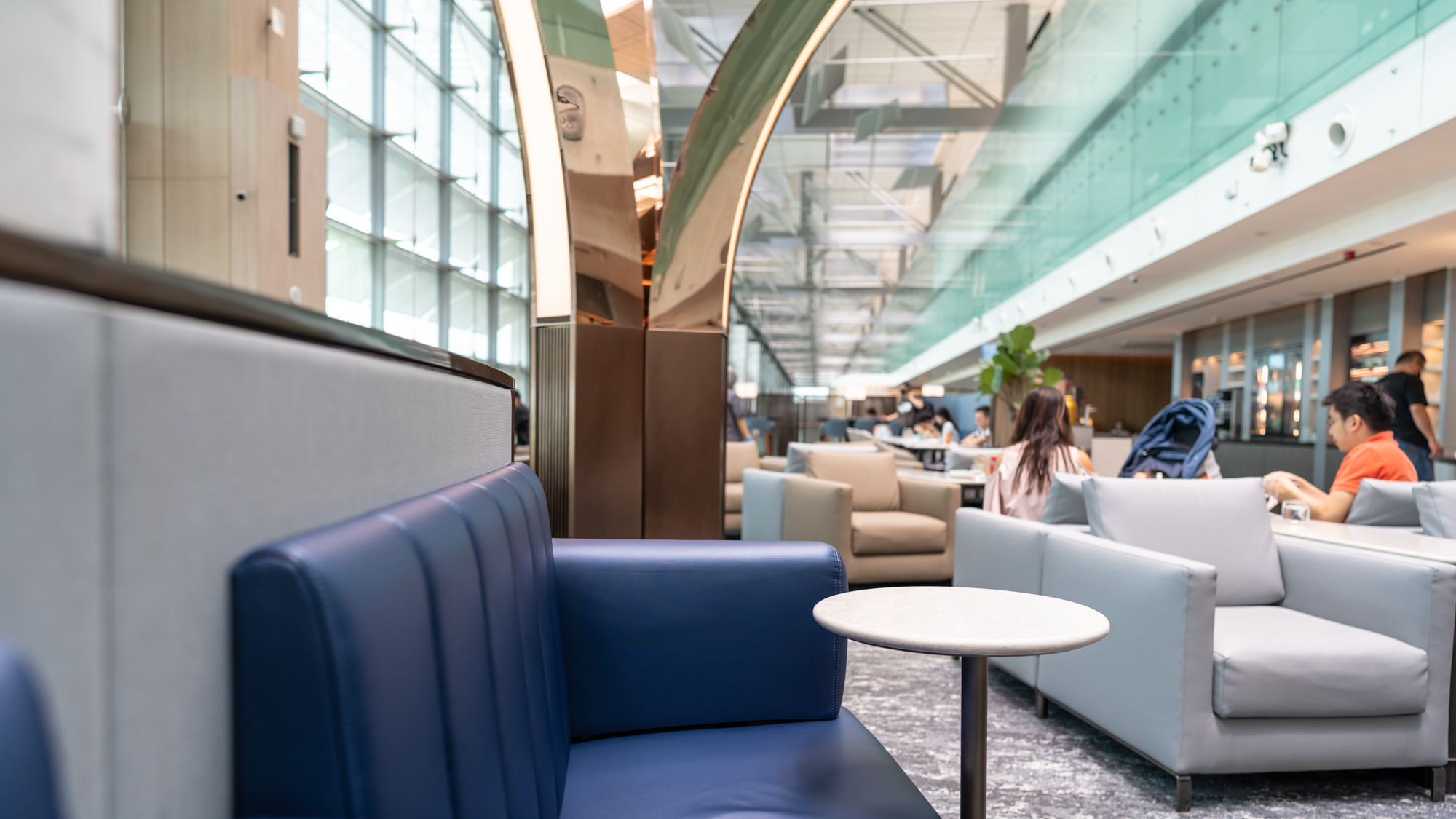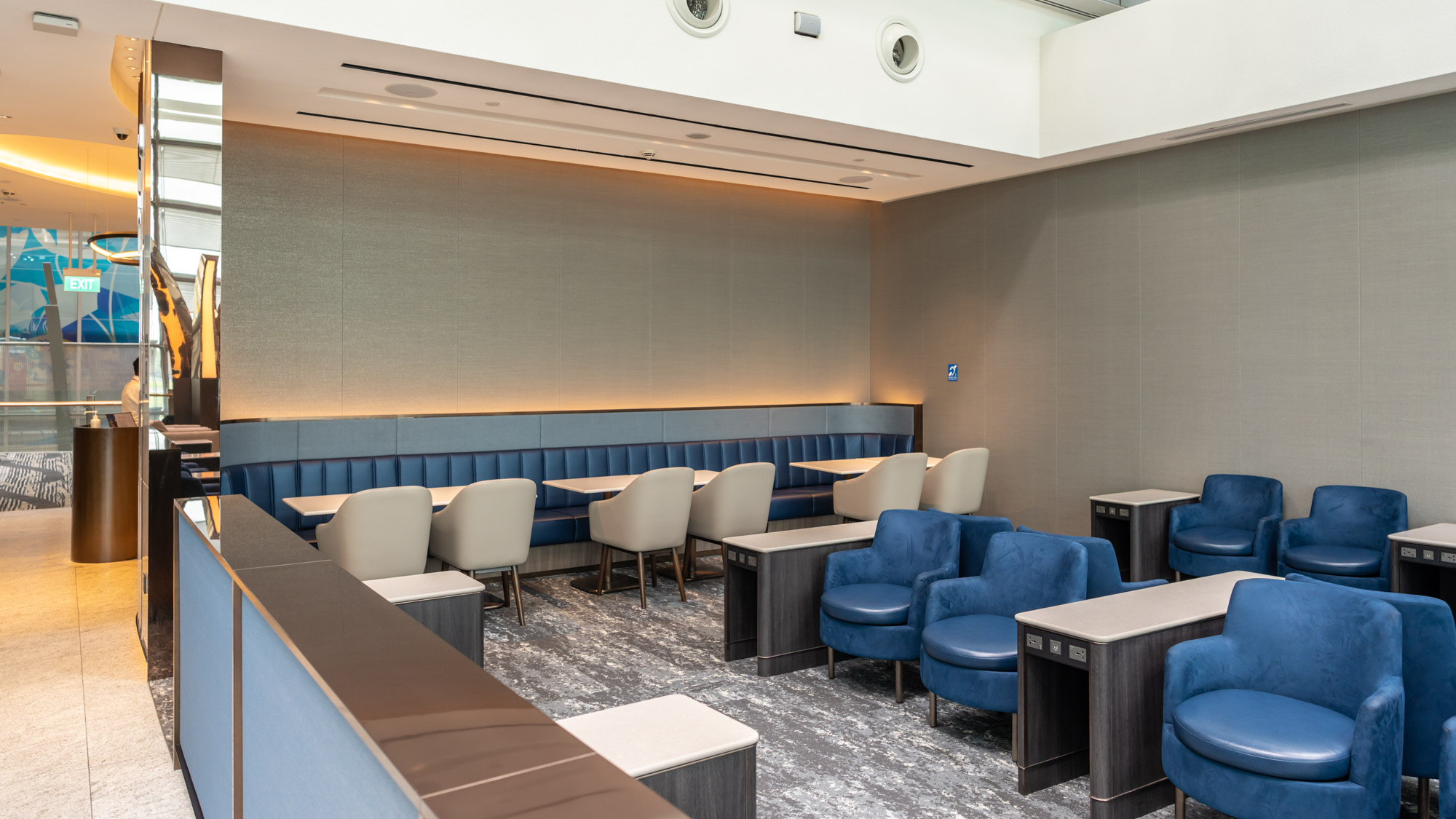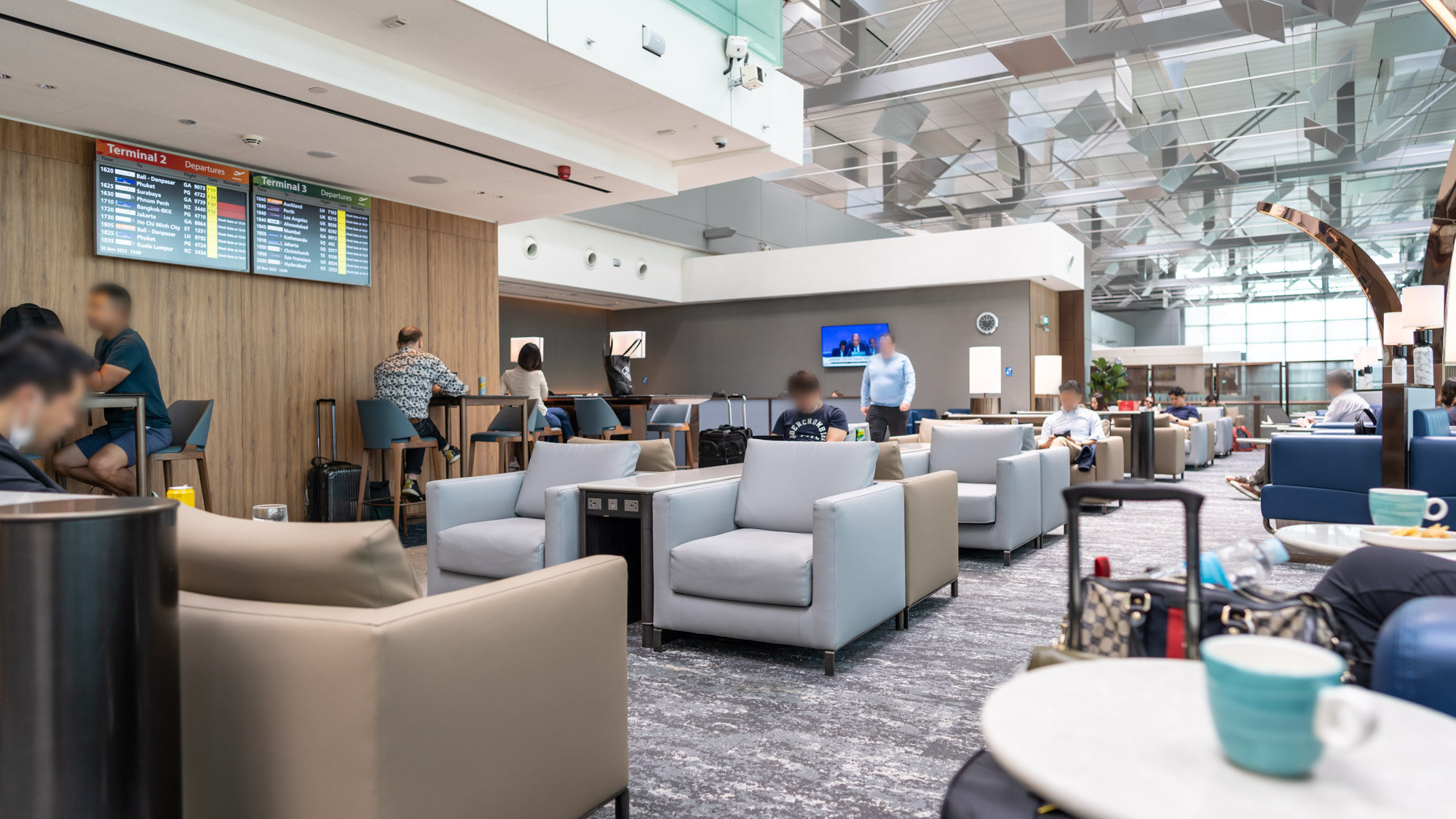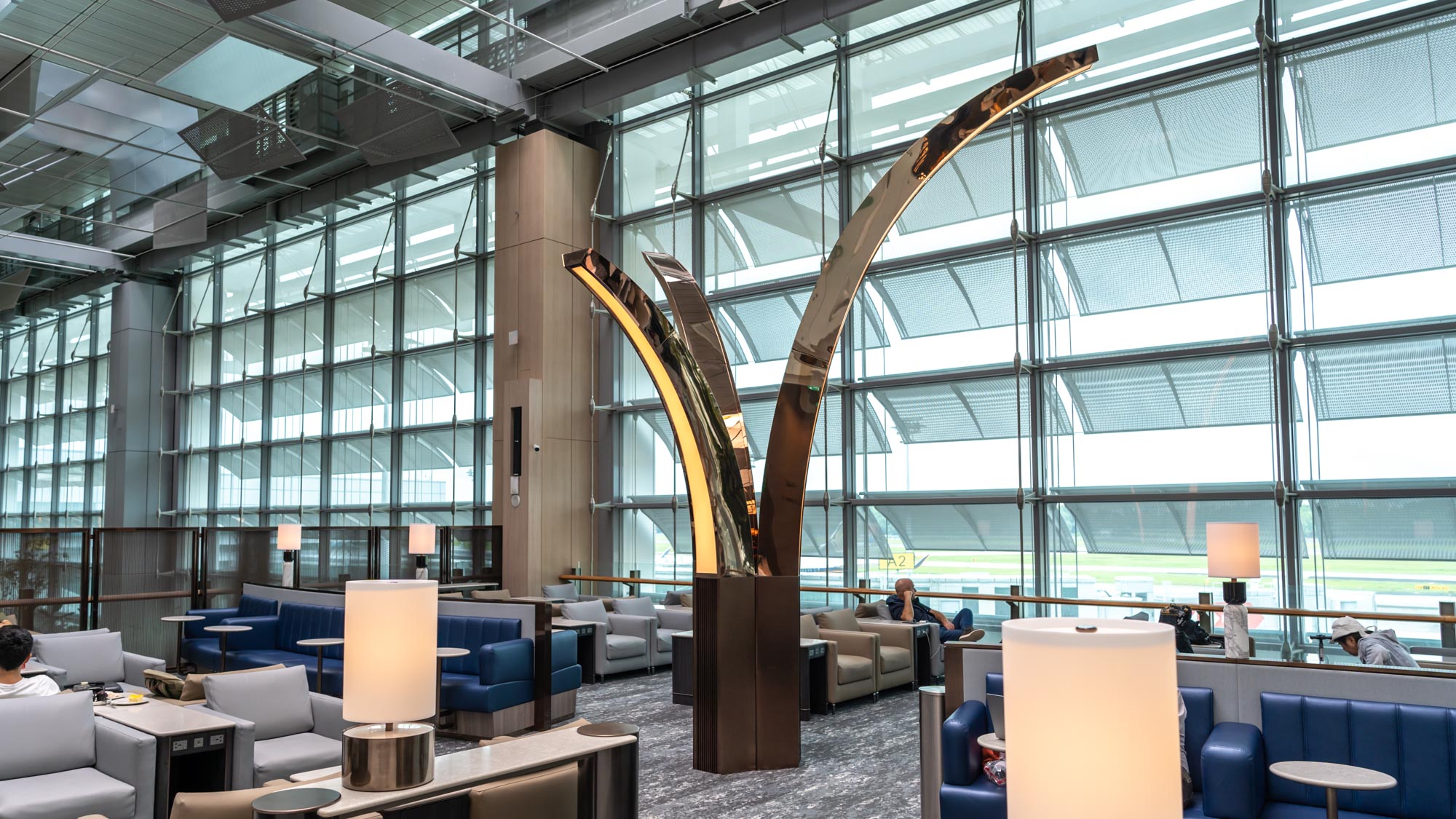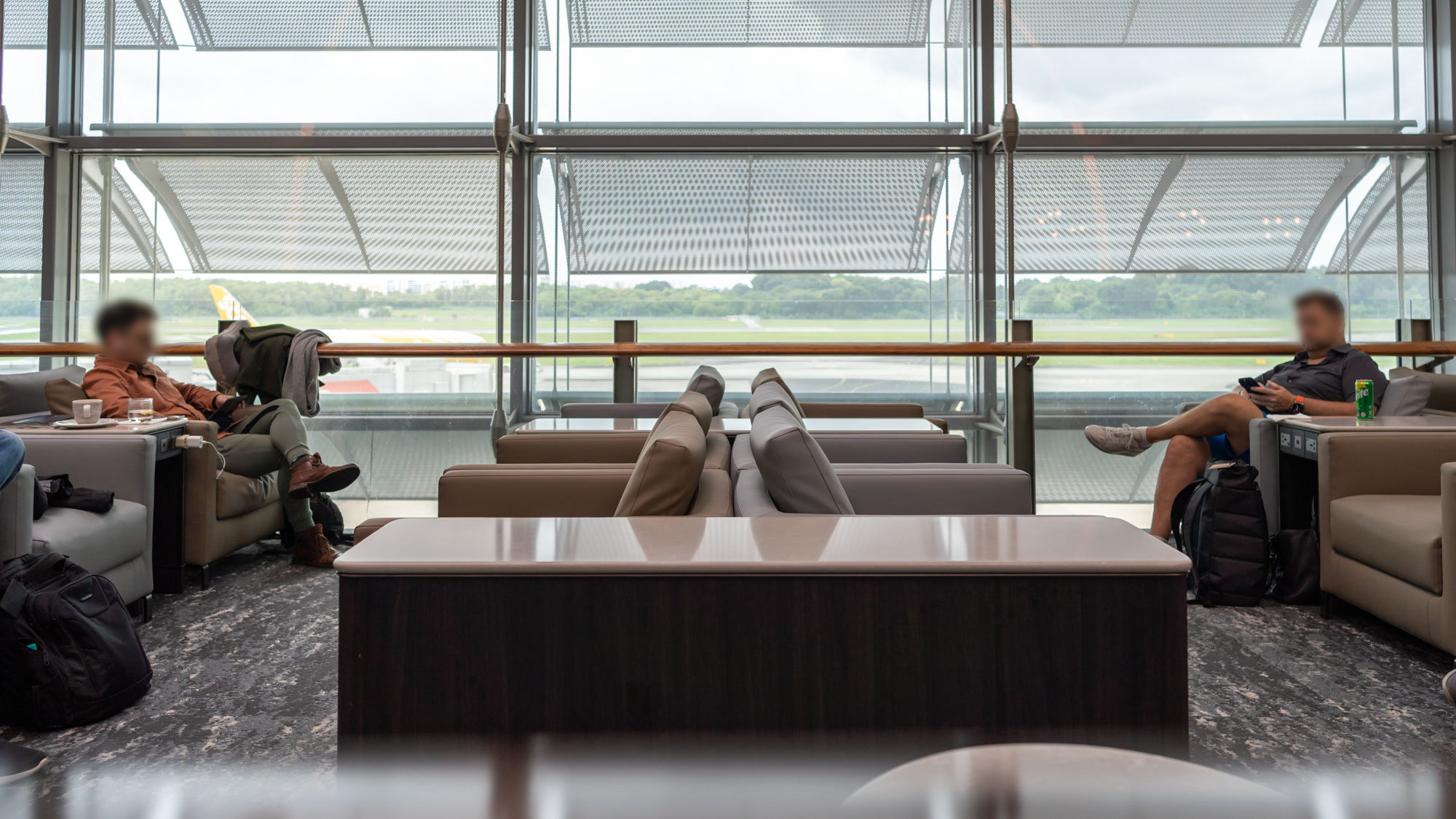 Towards the centre of the lounge is a small dining area. You'll find the buffet and mini-bar set up here, while the seating changes from sofas to dining booths. Moving further down, I spy some bar tables that would suit bigger groups. Looking for the bathrooms? They're just down past the food area.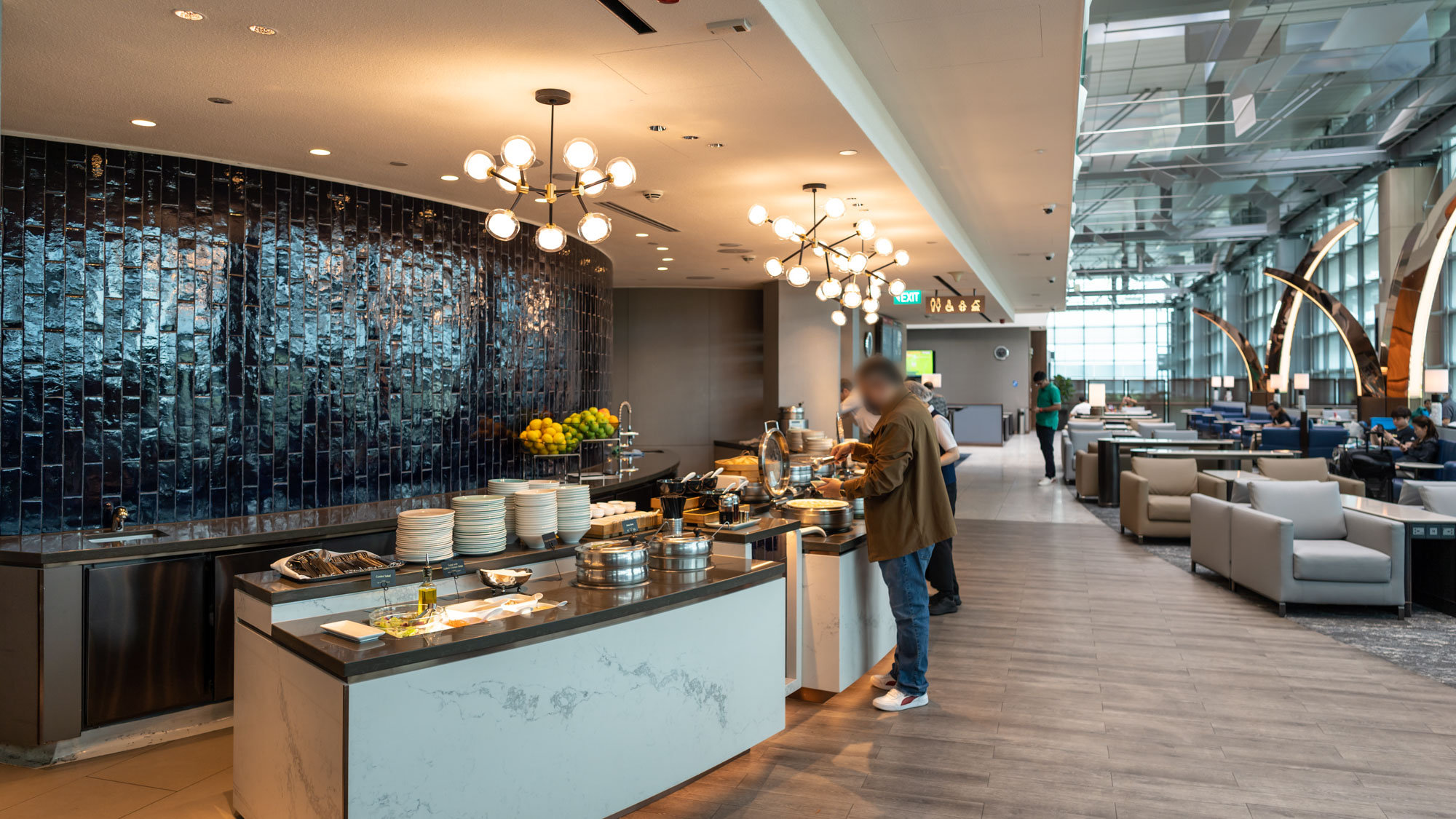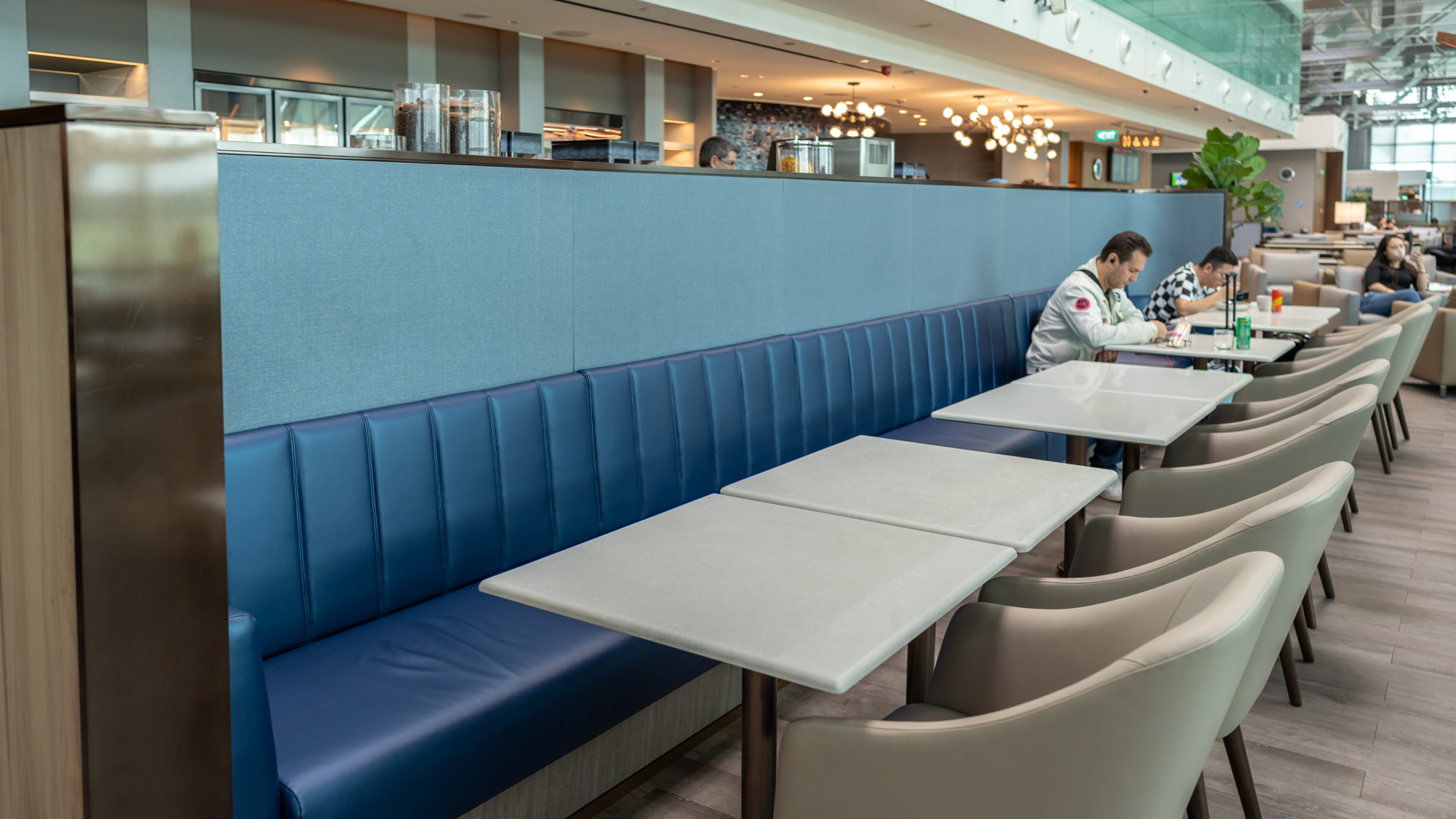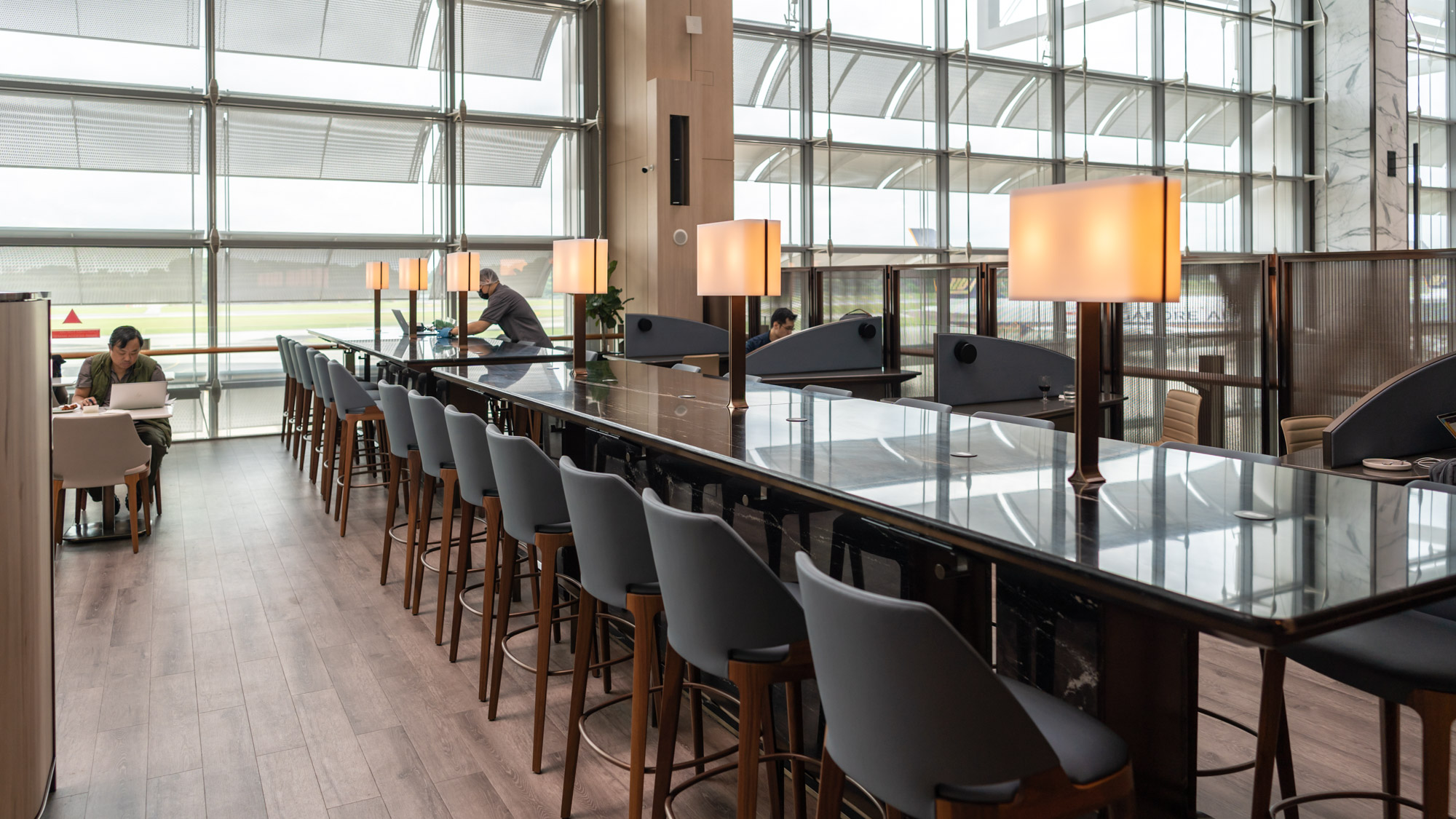 But while the main lounge space is well-patronised, there's one other nook that's practically deserted. If you keep going past the dining area and turn right, you'll come across one further cafe-style space where you can escape the bustle of the lounge (though you'll also have to forego the wonderful natural light).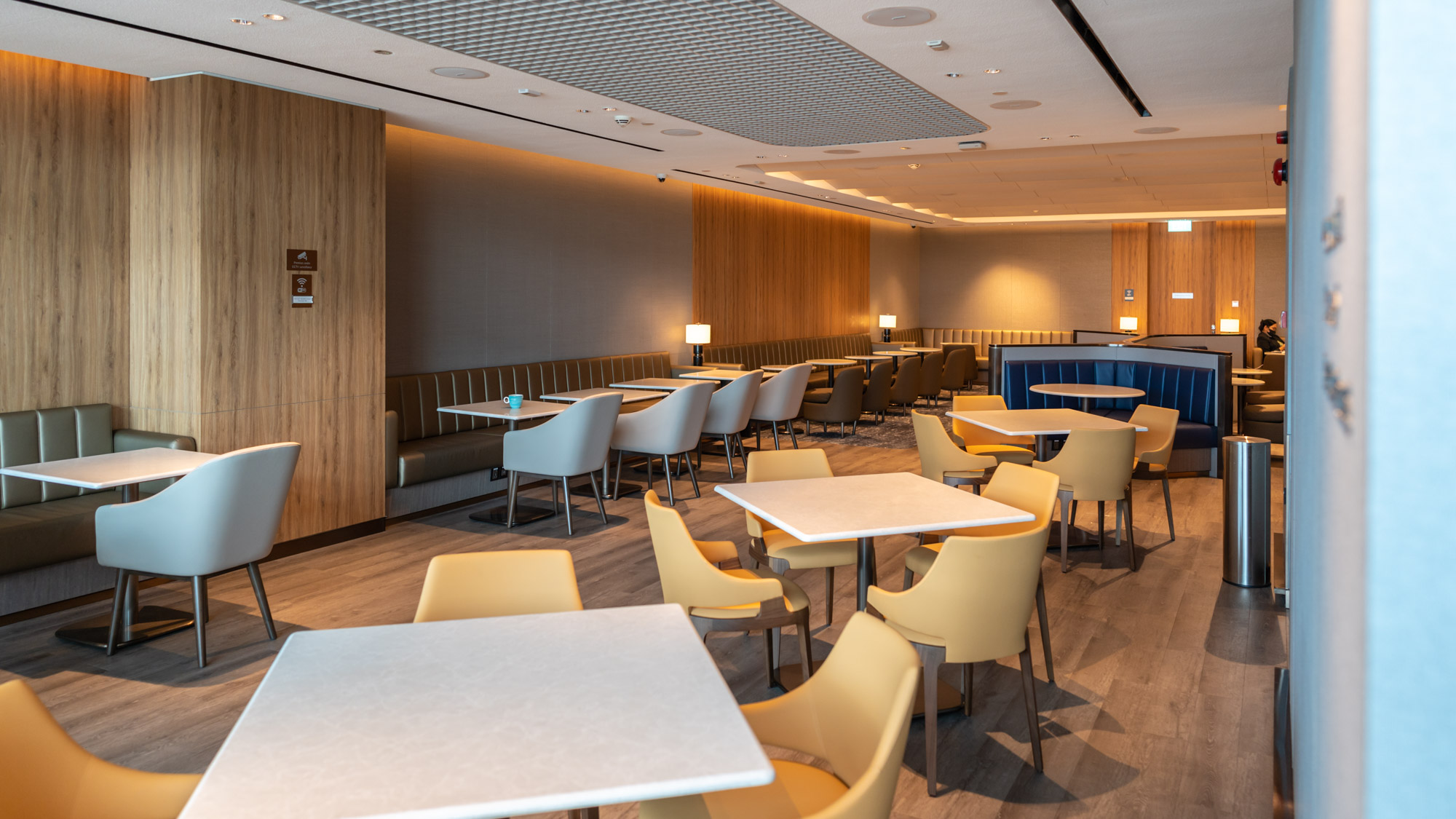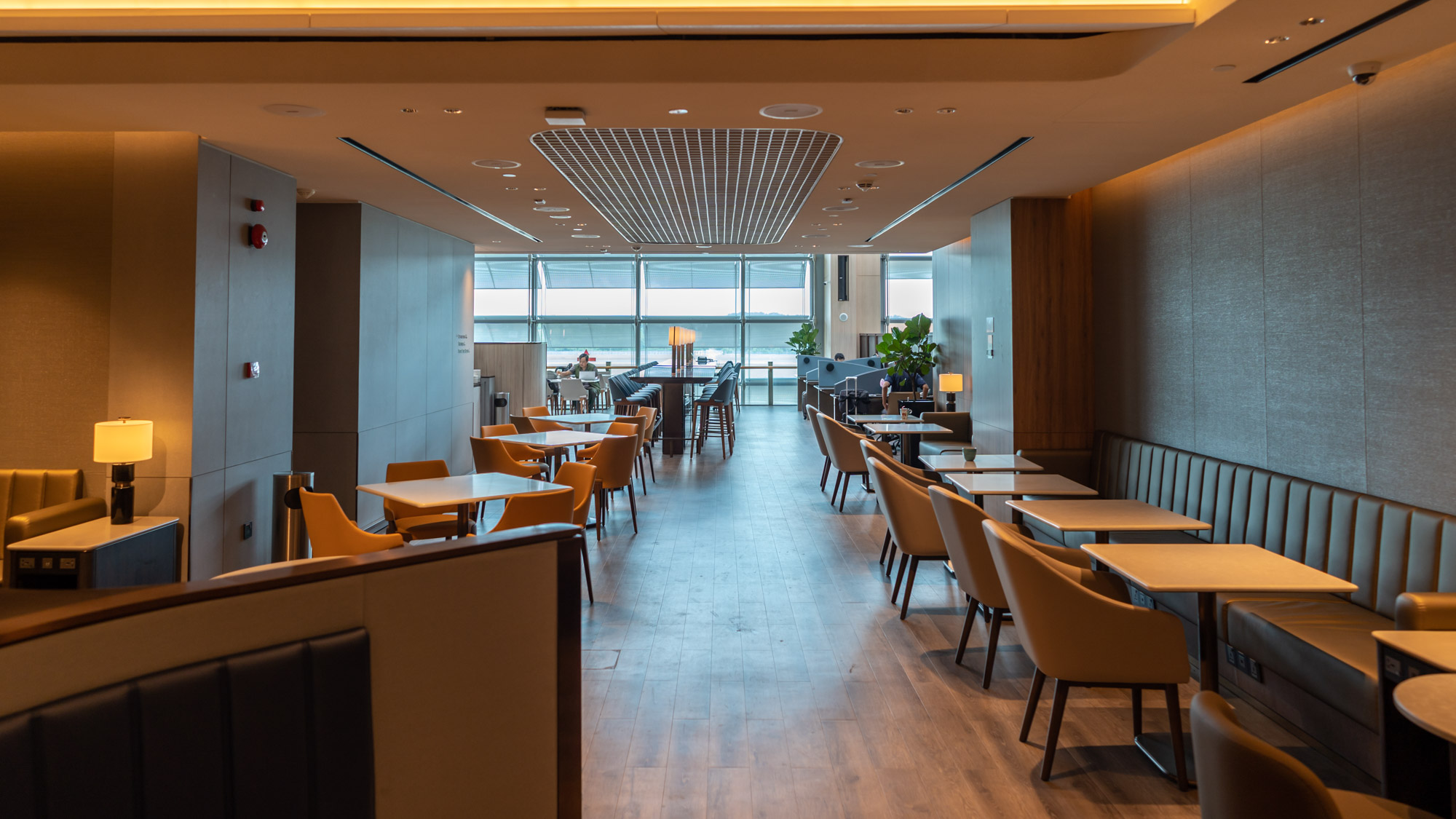 Food and beverage
Buffet dining
An all-day buffet with hot and cold items should keep the munchies at bay. Compared to my visit to the old lounge many years ago, the food options have vastly improved. Thankfully, the signature DIY laksa remains and is as tasty as ever.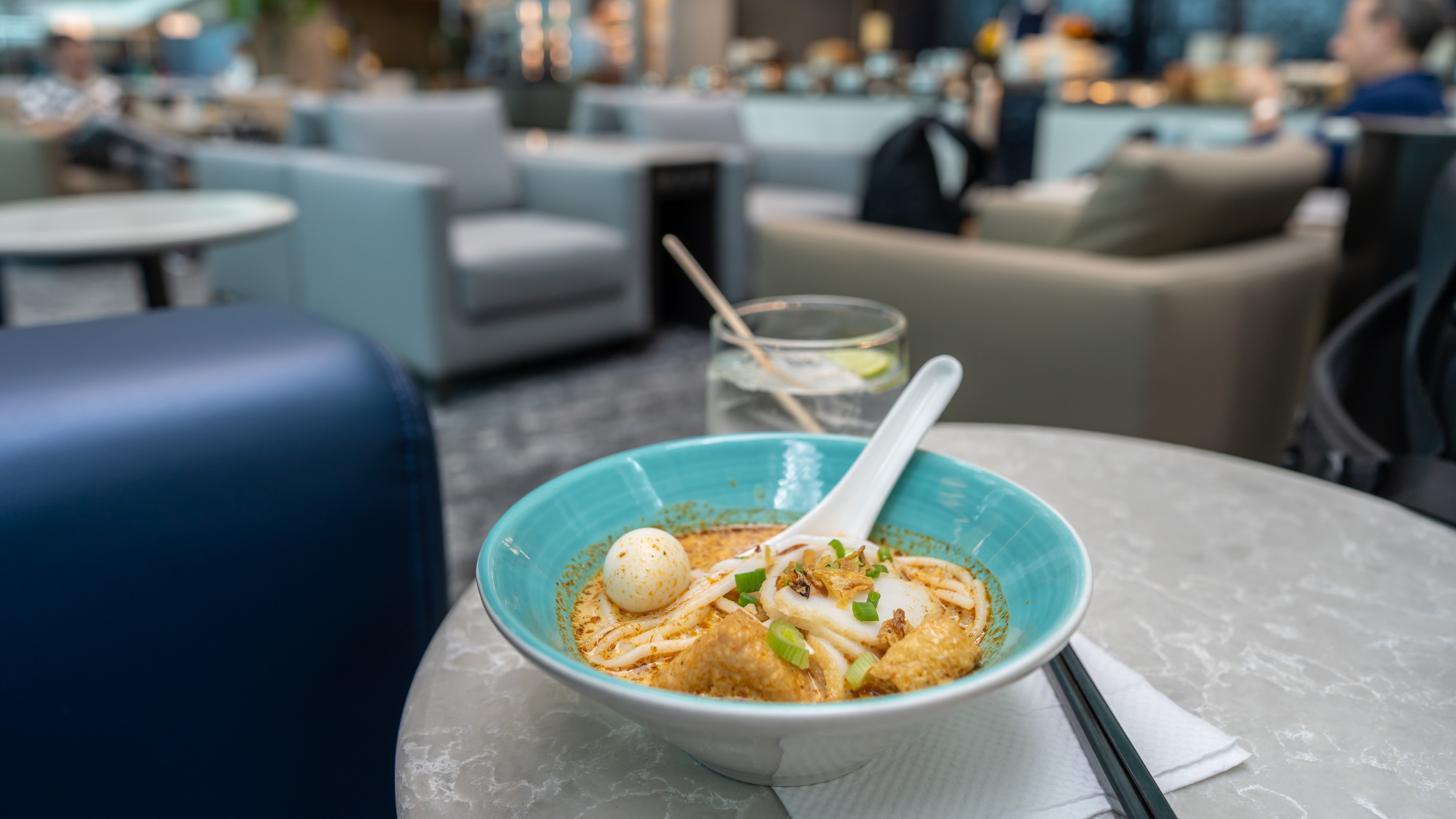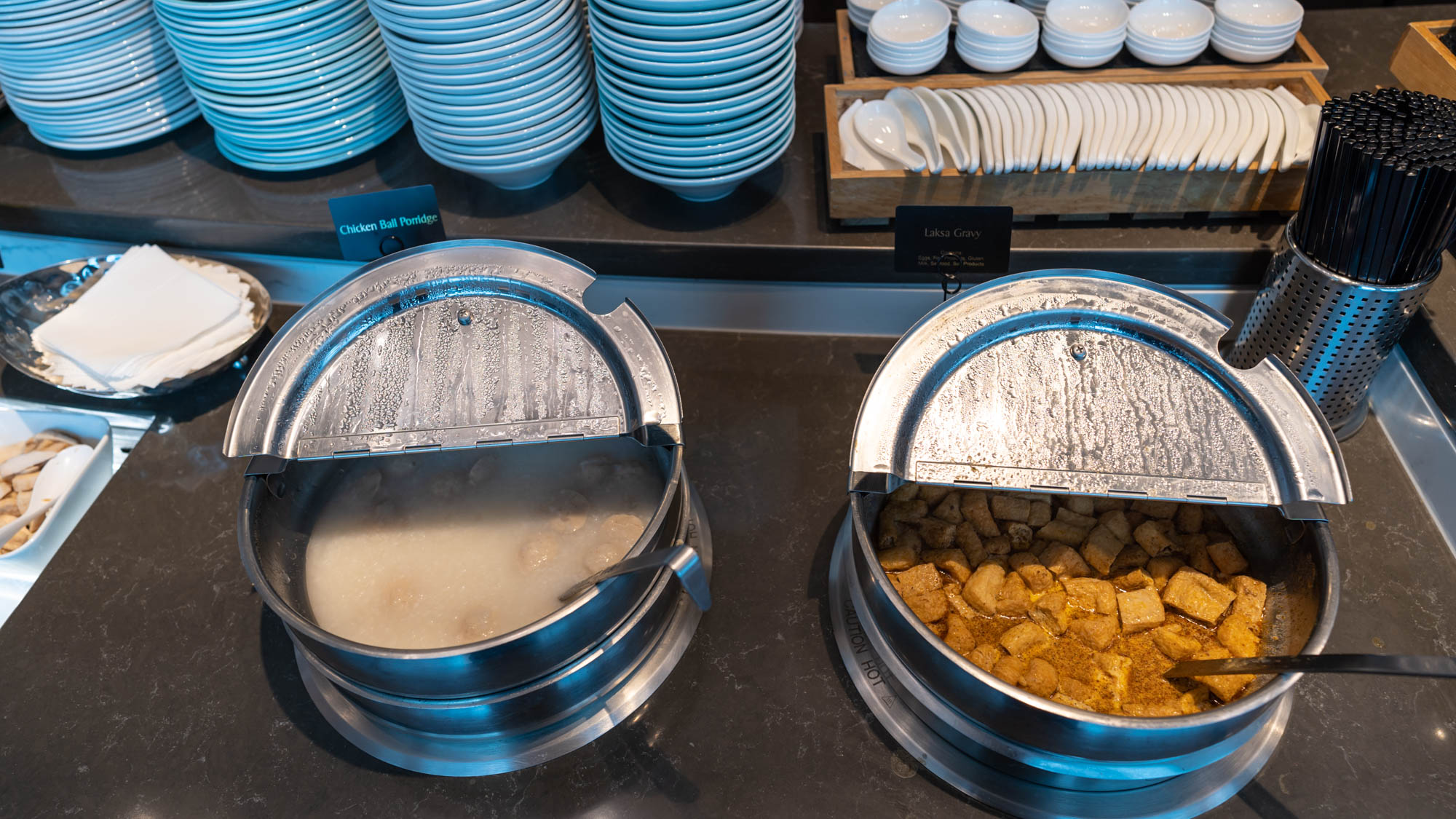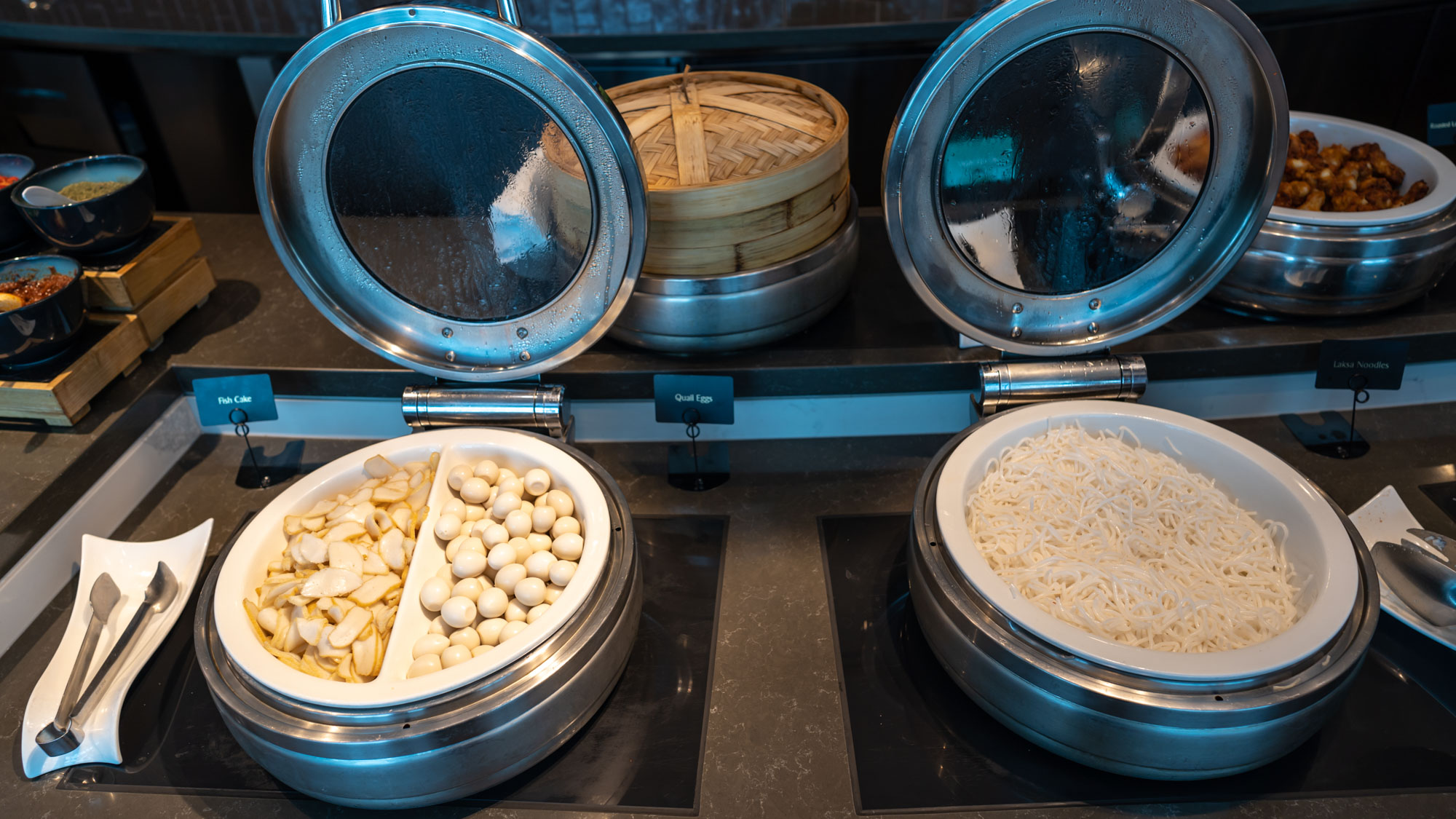 There aren't any prawns here (that luxury is reserved for the SilverKris Business Lounge), but I still top up my bowl with silky noodles, beancurd, fish cake and a quail egg. Fabulous.
Also of note in the hot section is a selection of freshly steamed dim sum – har gow (prawn dumpling) and siu mai (seafood meatball dumpling), both of which are delectable bites as well. Finally, BBQ chicken buns, multigrain fried rice and chicken wings round out the hot Asian food selection.
If you're after a western-style dish, then there's chicken and mushroom spaghetti, grilled chicken salad, or a selection of sandwiches in the fridge which look decent. Dessert doesn't feature heavily here, but there are assorted bits in the fridge such as cream puffs and mousse cake slices.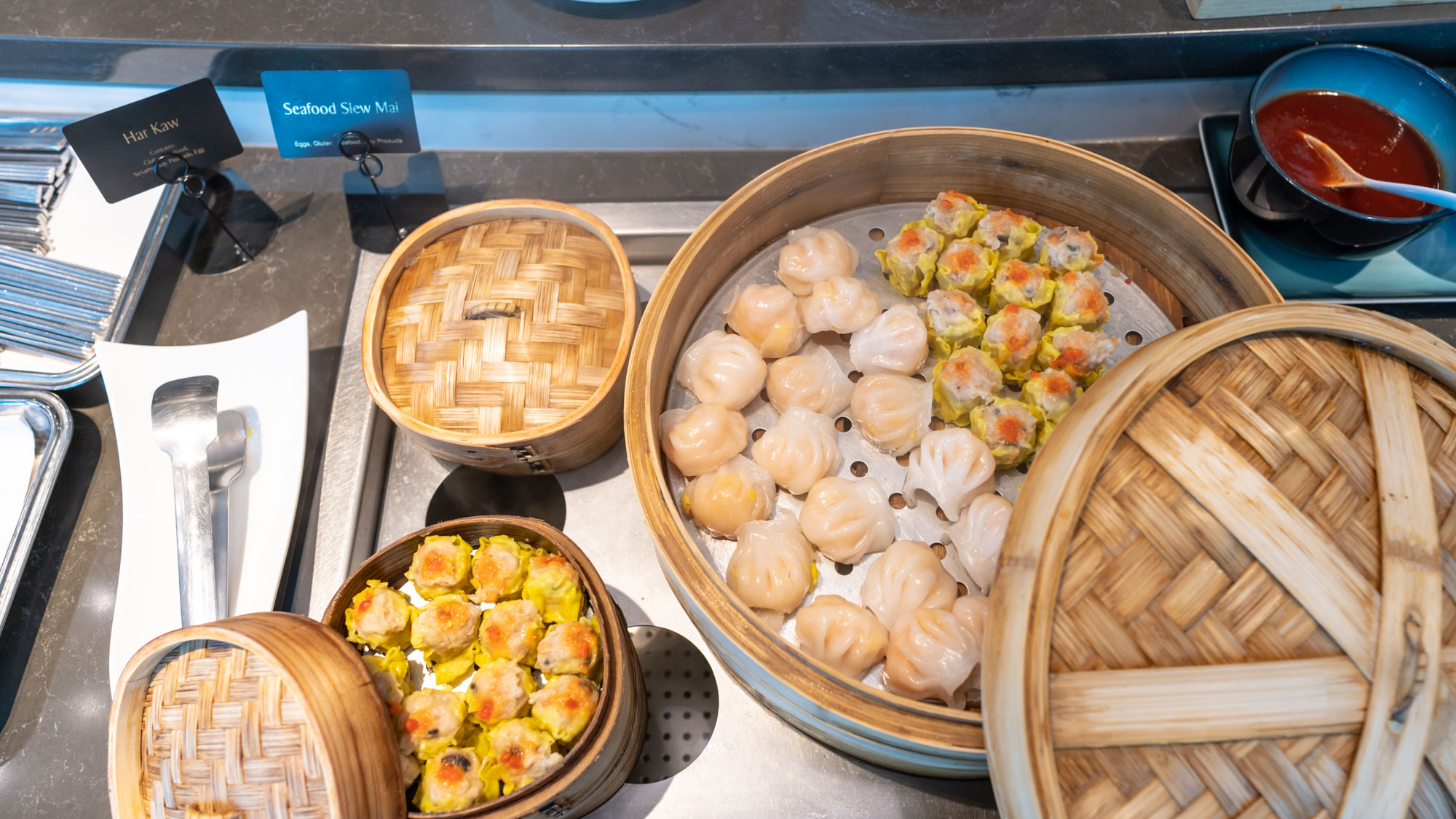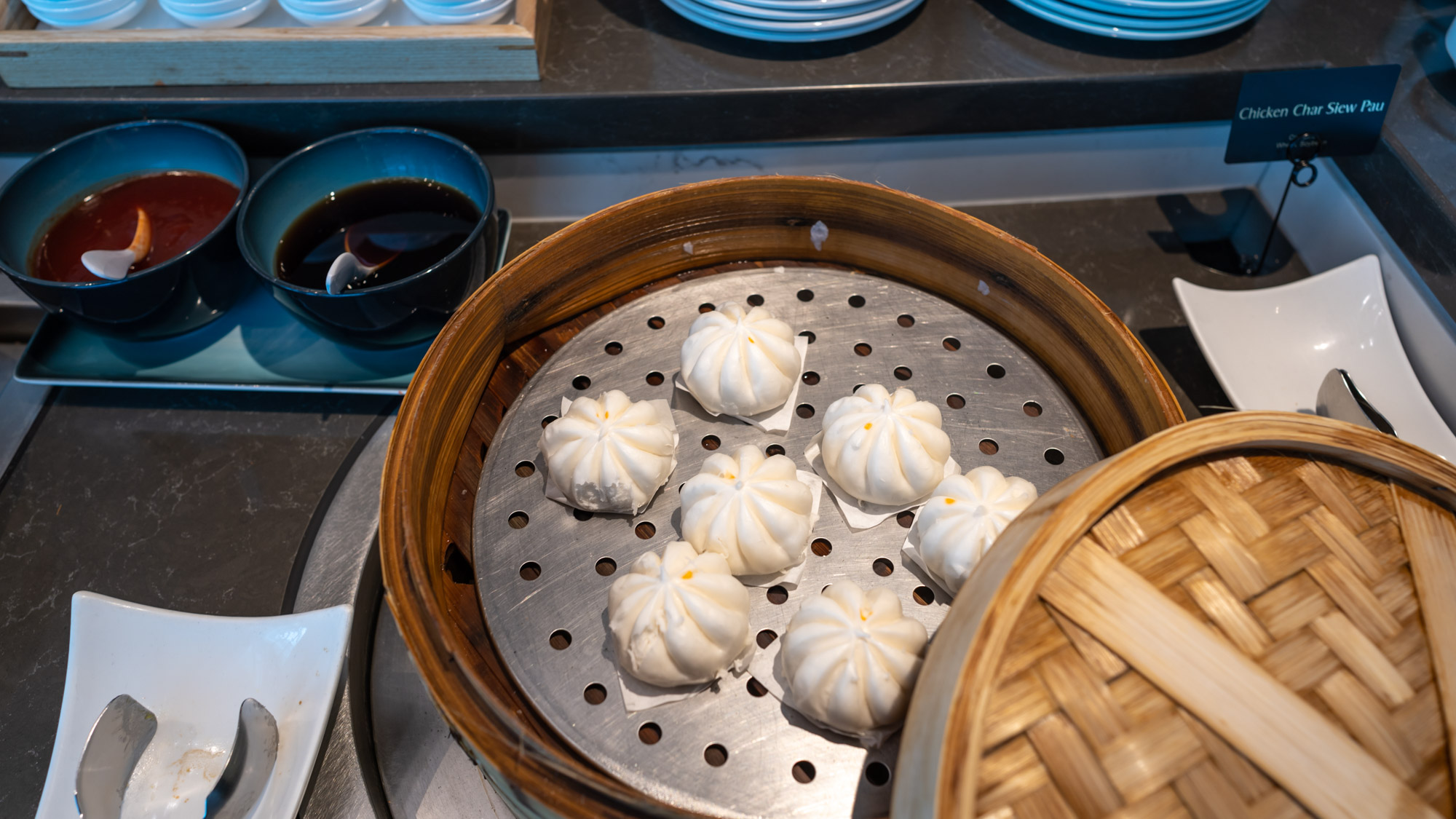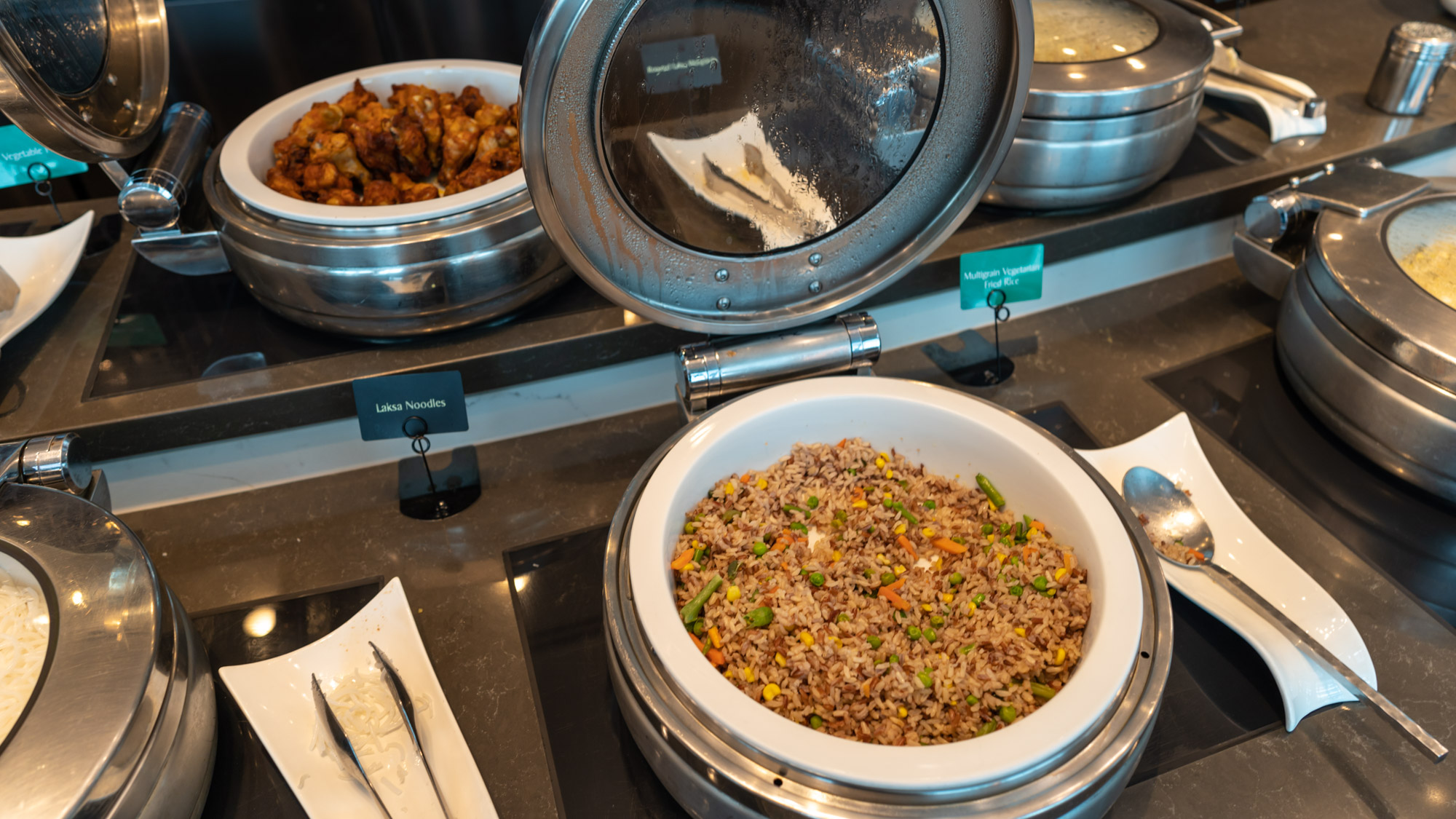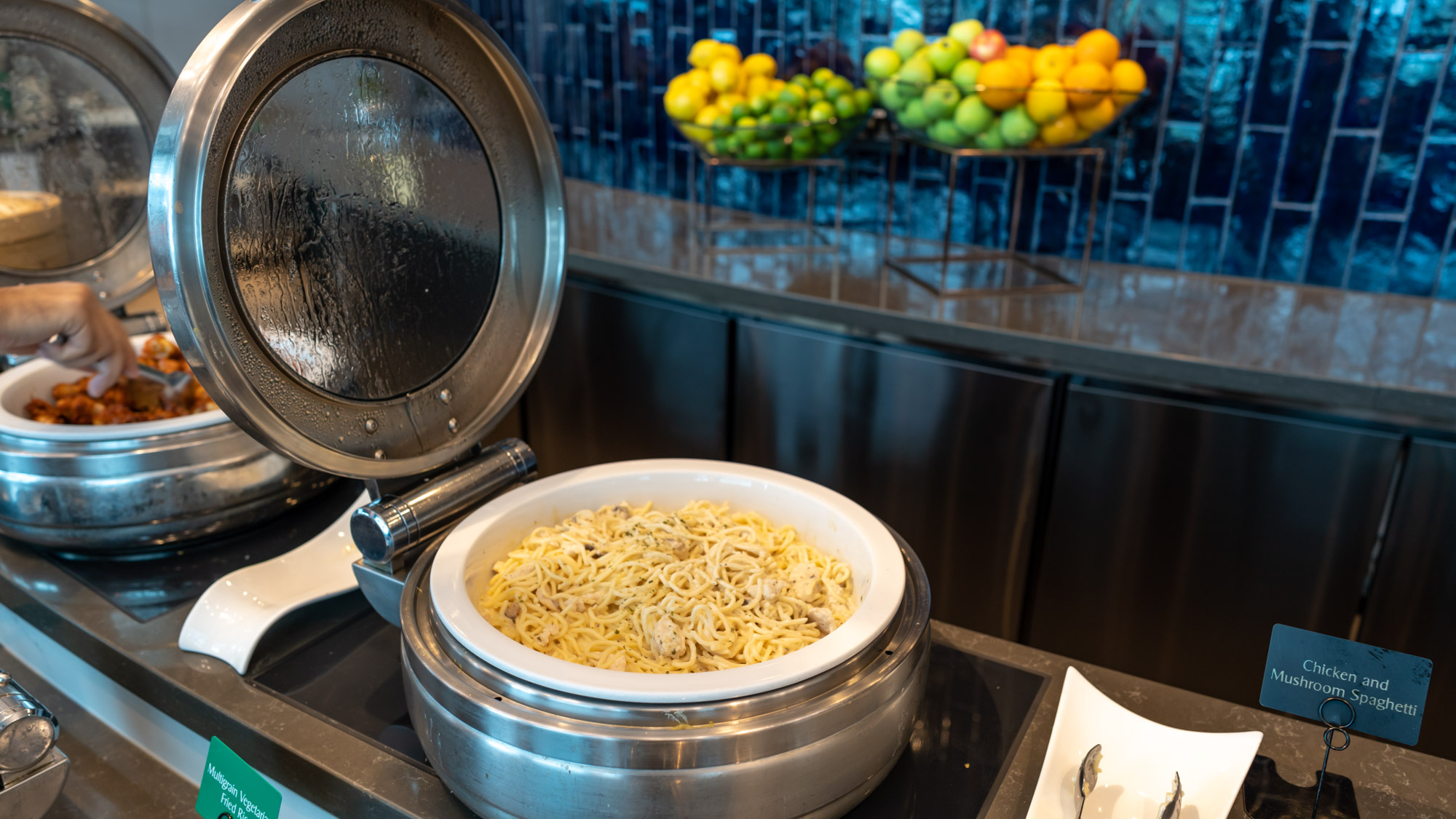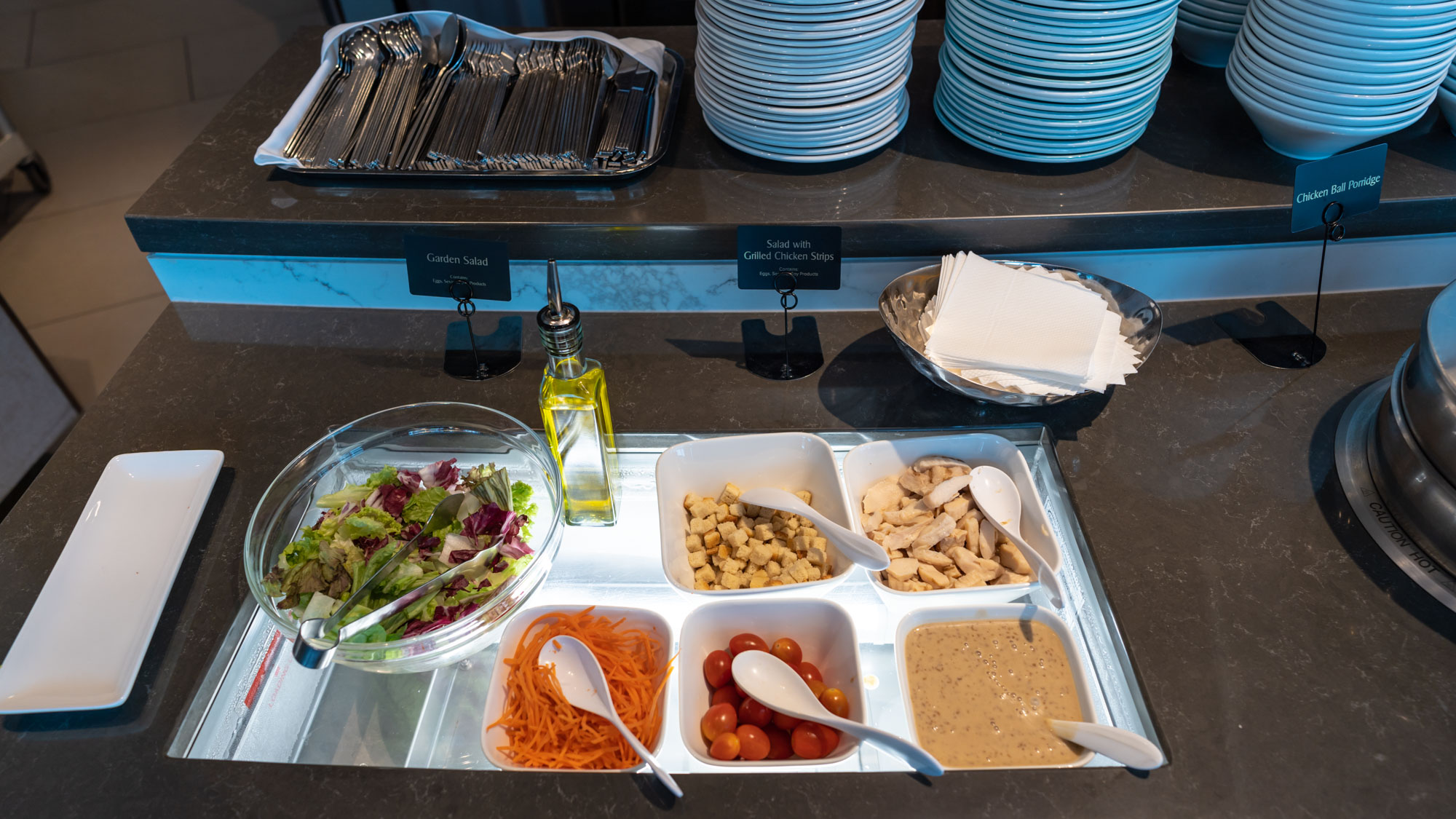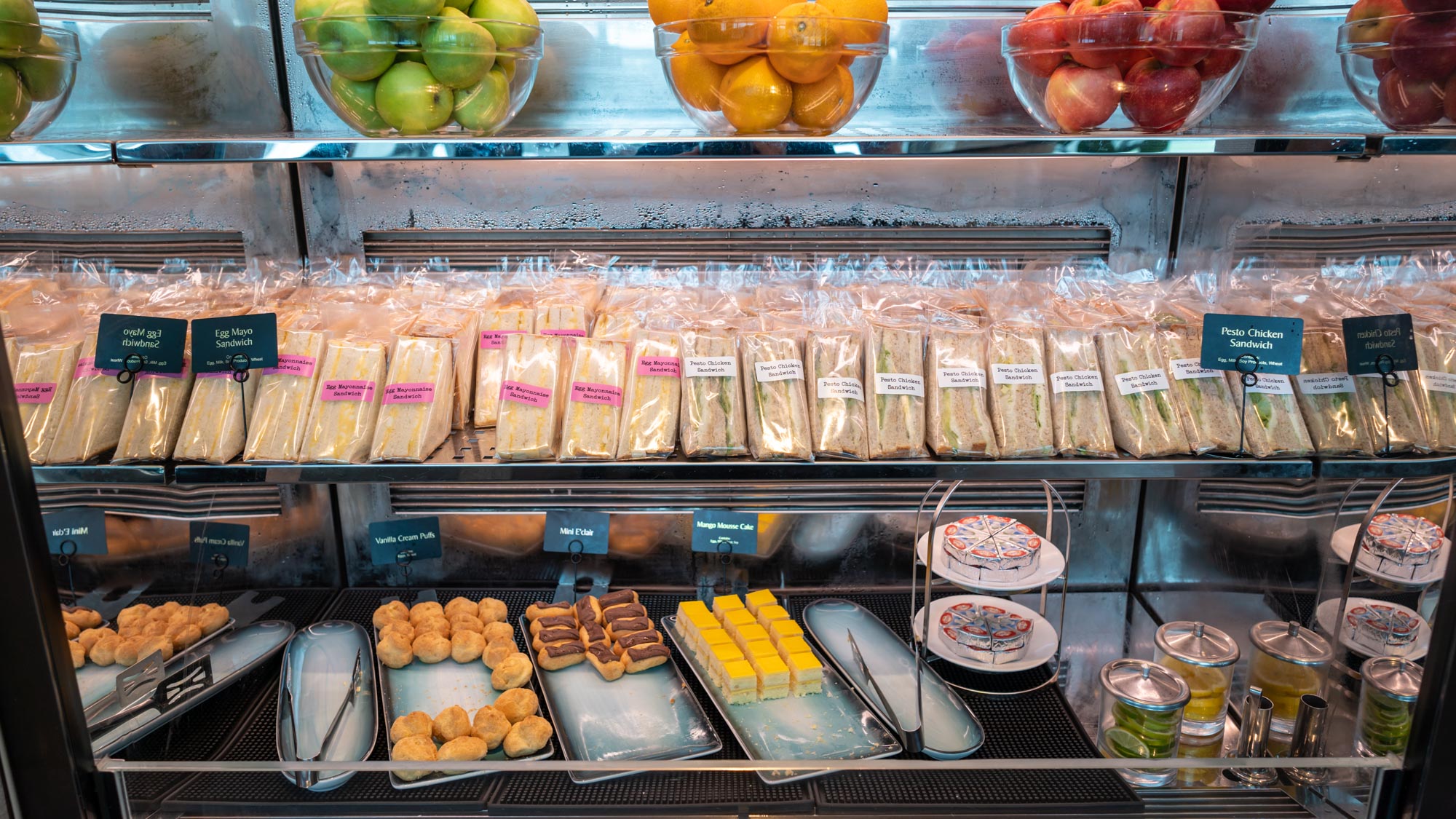 Beers, spirits, wines and TWG tea
It wouldn't be a Singapore Airlines lounge without Tiger beer – and here, it's available two ways. Crack open a can, or pour one yourself at the dispenser with a chilled glass from the fridge.
There's definitely no Champagne in this lounge – or any sparkling wine for that matter. Nearby is a basic range of spirits (whisky, gin, rum and vodka), paired with Worcestershire sauce and Tabasco. But despite having the precursors for a Bloody Mary, I don't spot any tomato juice in the fridge.
Speaking of which, the fridge also stocks Heineken, classic Coke, Sprite, juices and Schweppes mixers. The house wines are by Bouchard Aîné & Fils, and stored in nifty wine dispenses not unlike the ones I saw in the Virgin Australia Beyond Lounge a week earlier.
Don't expect barista-made coffee – you'll have to push a button for a brew. But at least one element of the Singapore Airlines premium travel experience remains here, and that's the selection of TWG teas.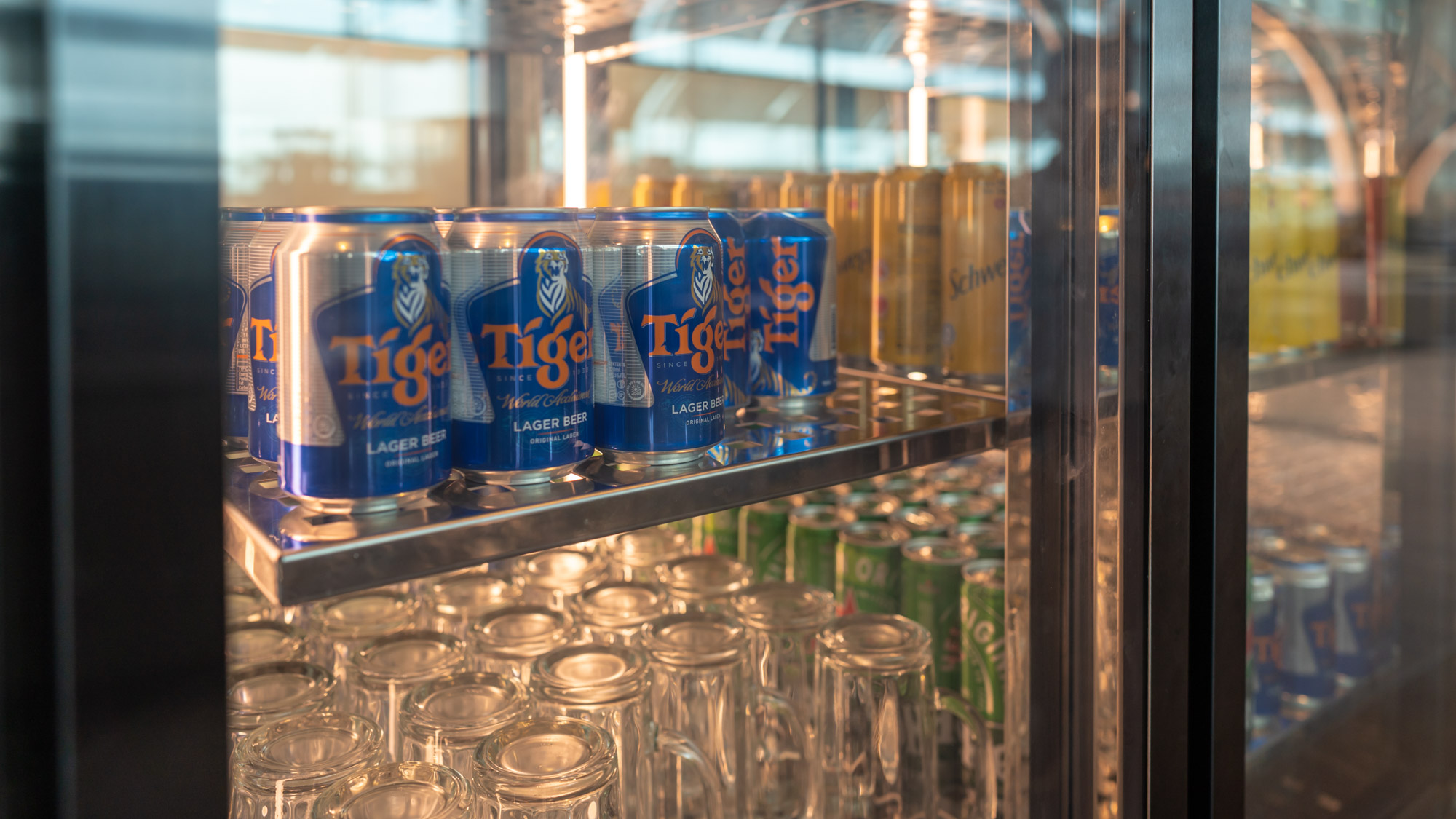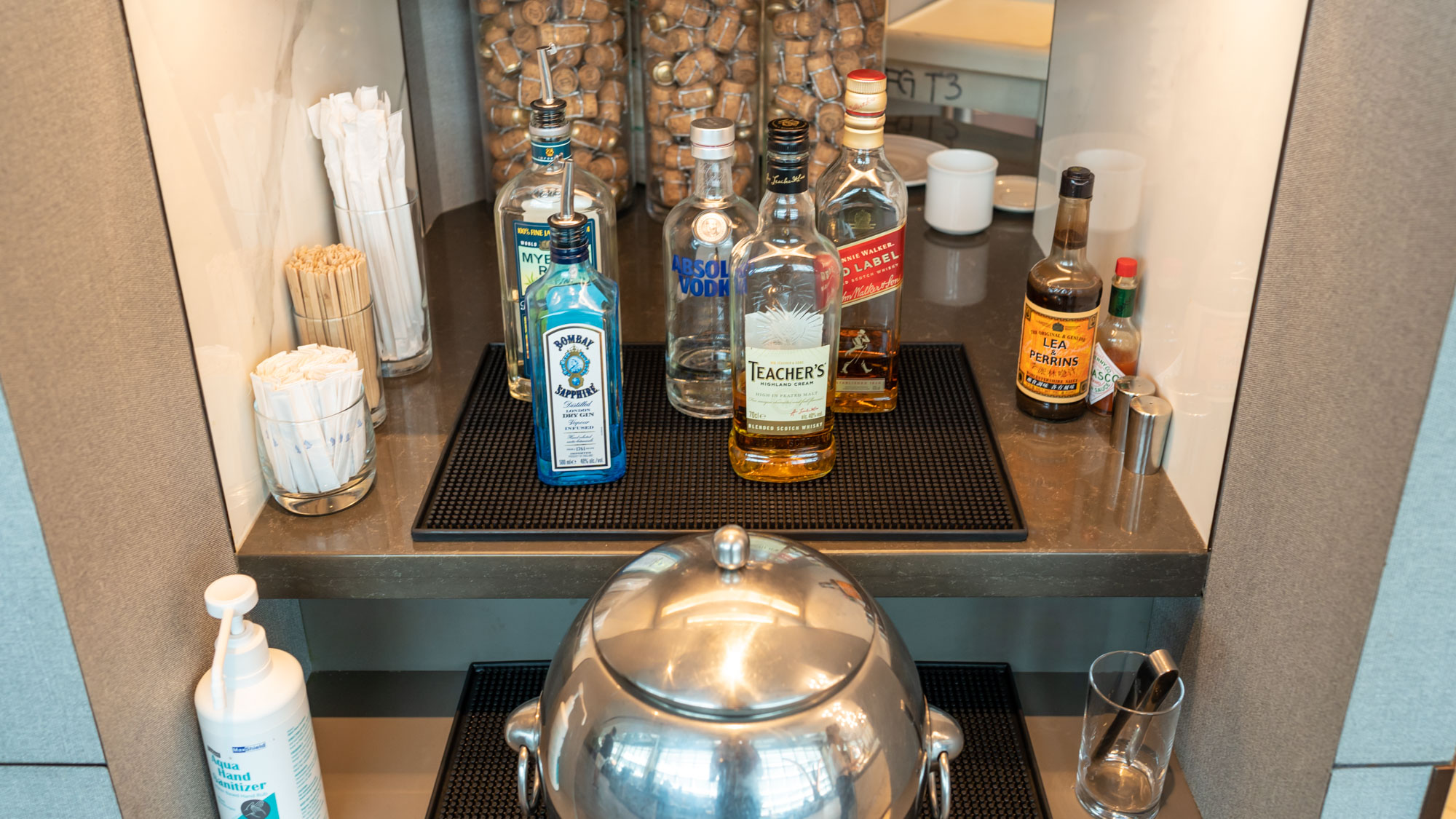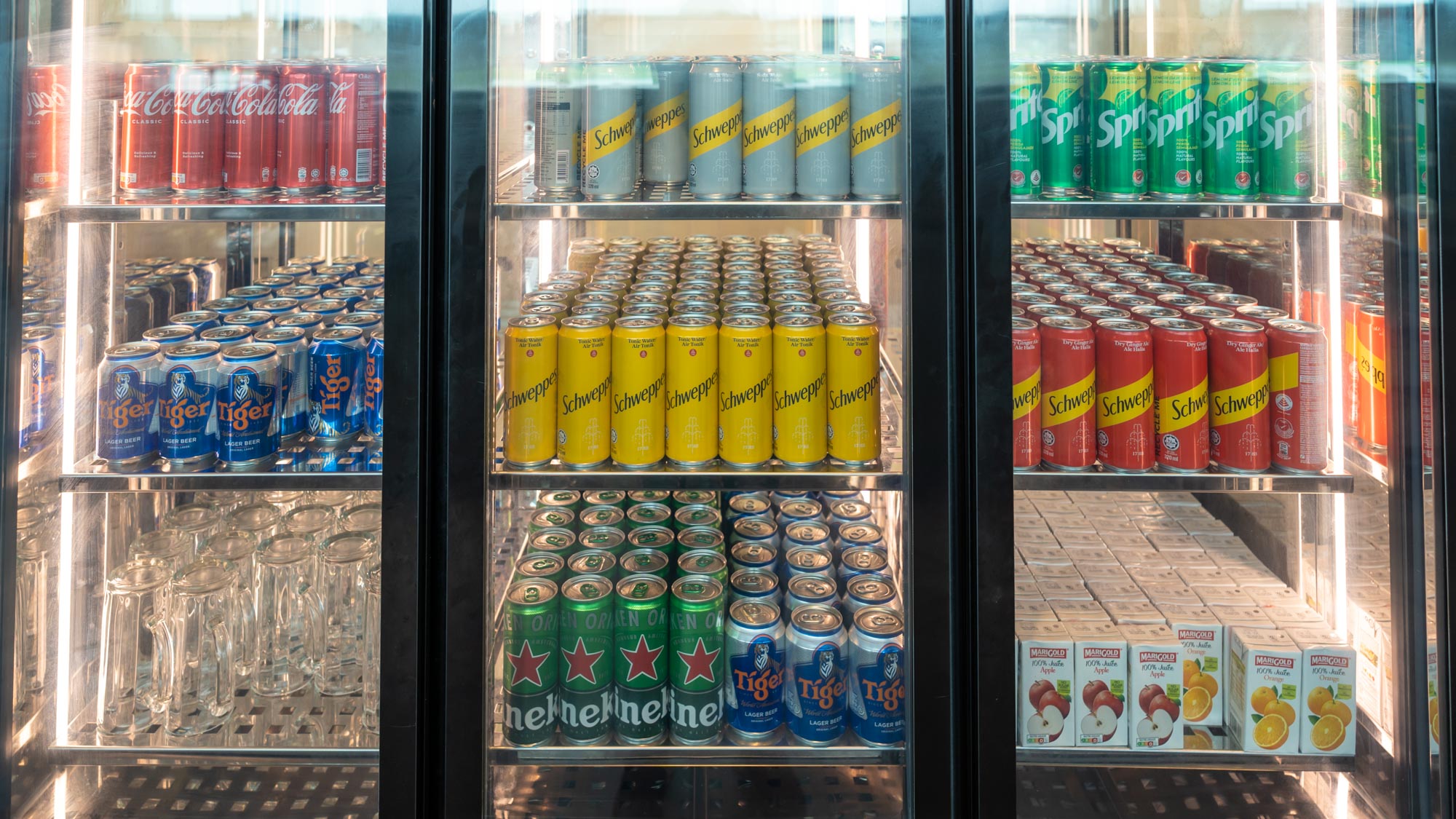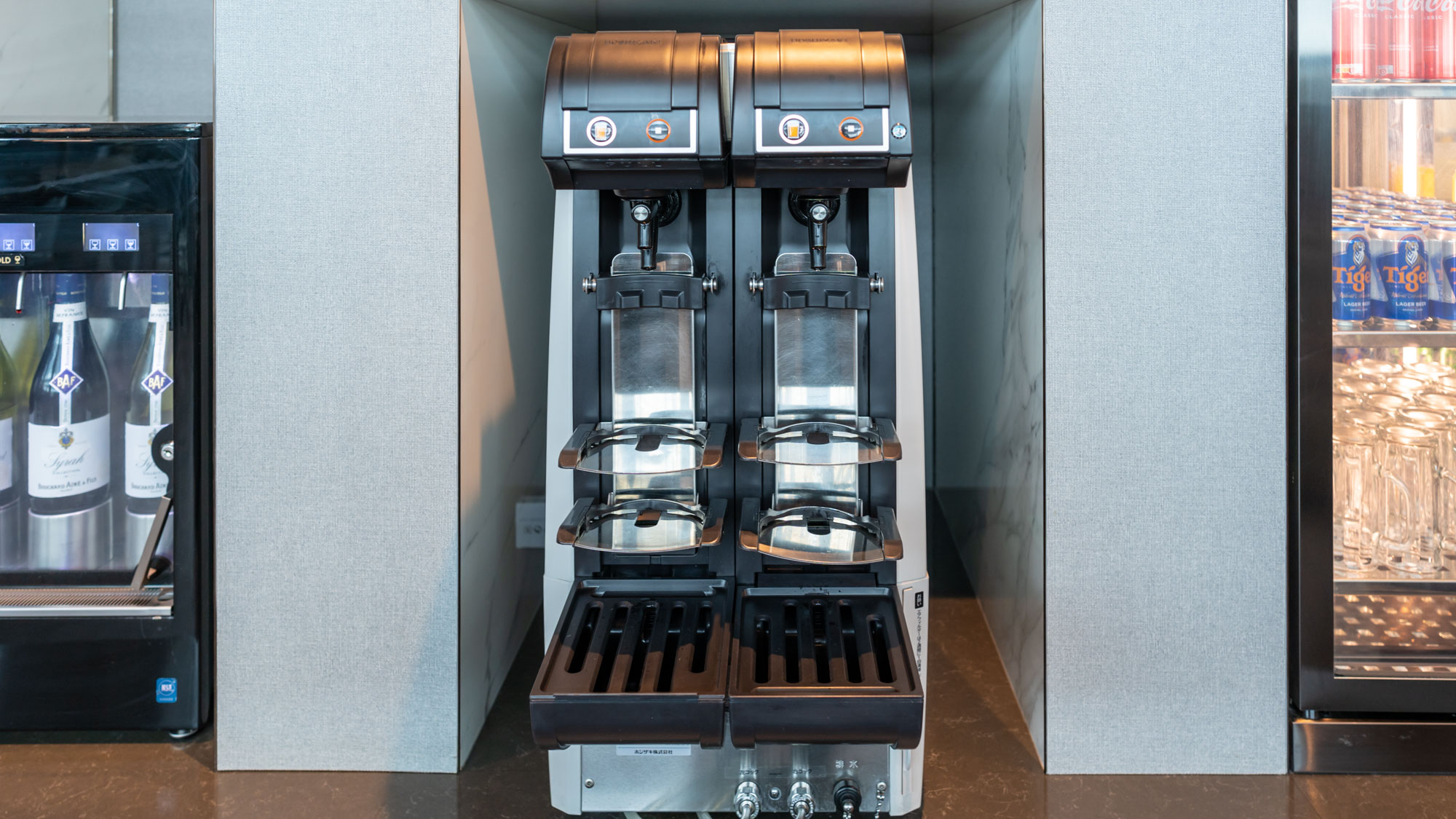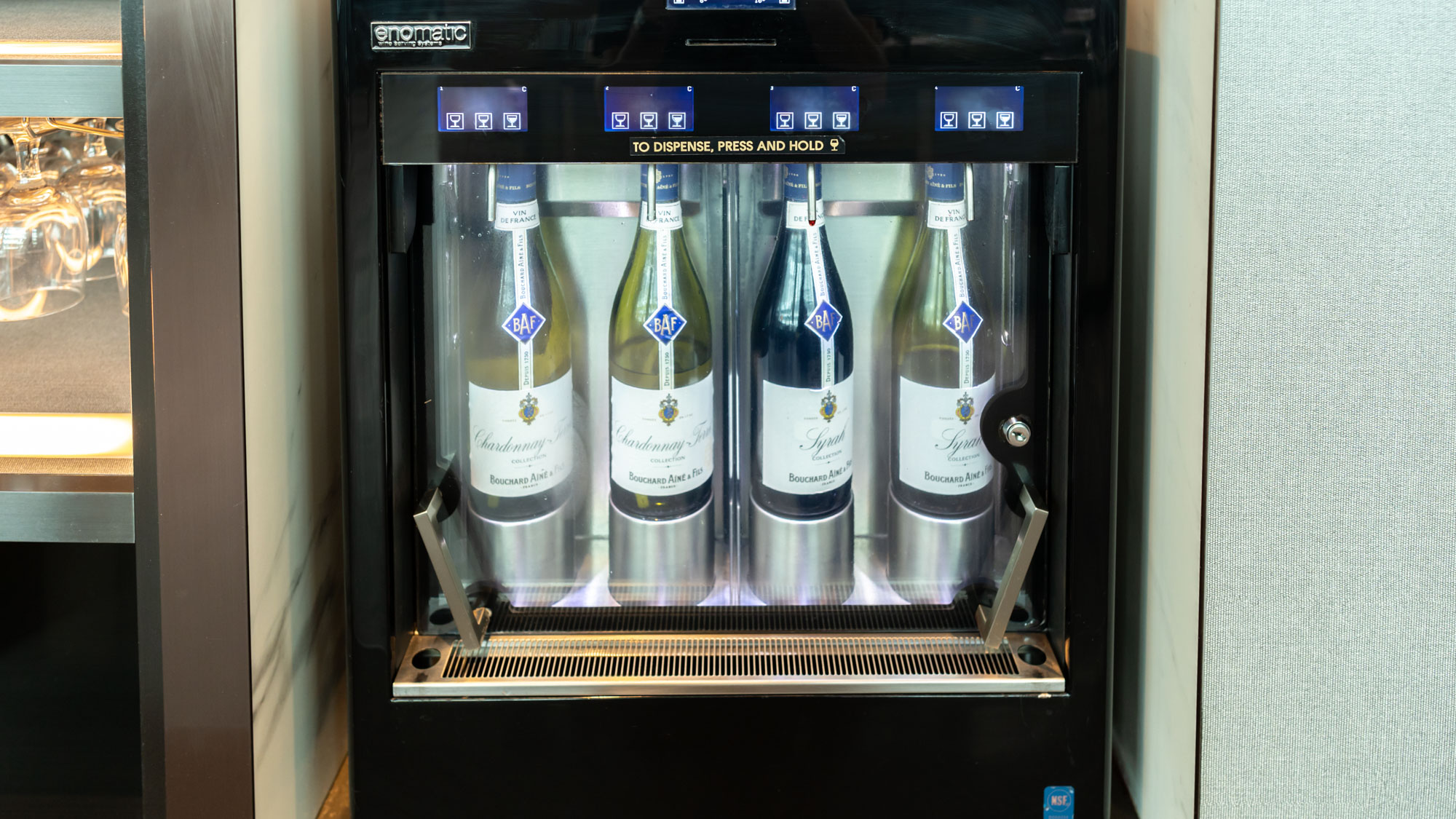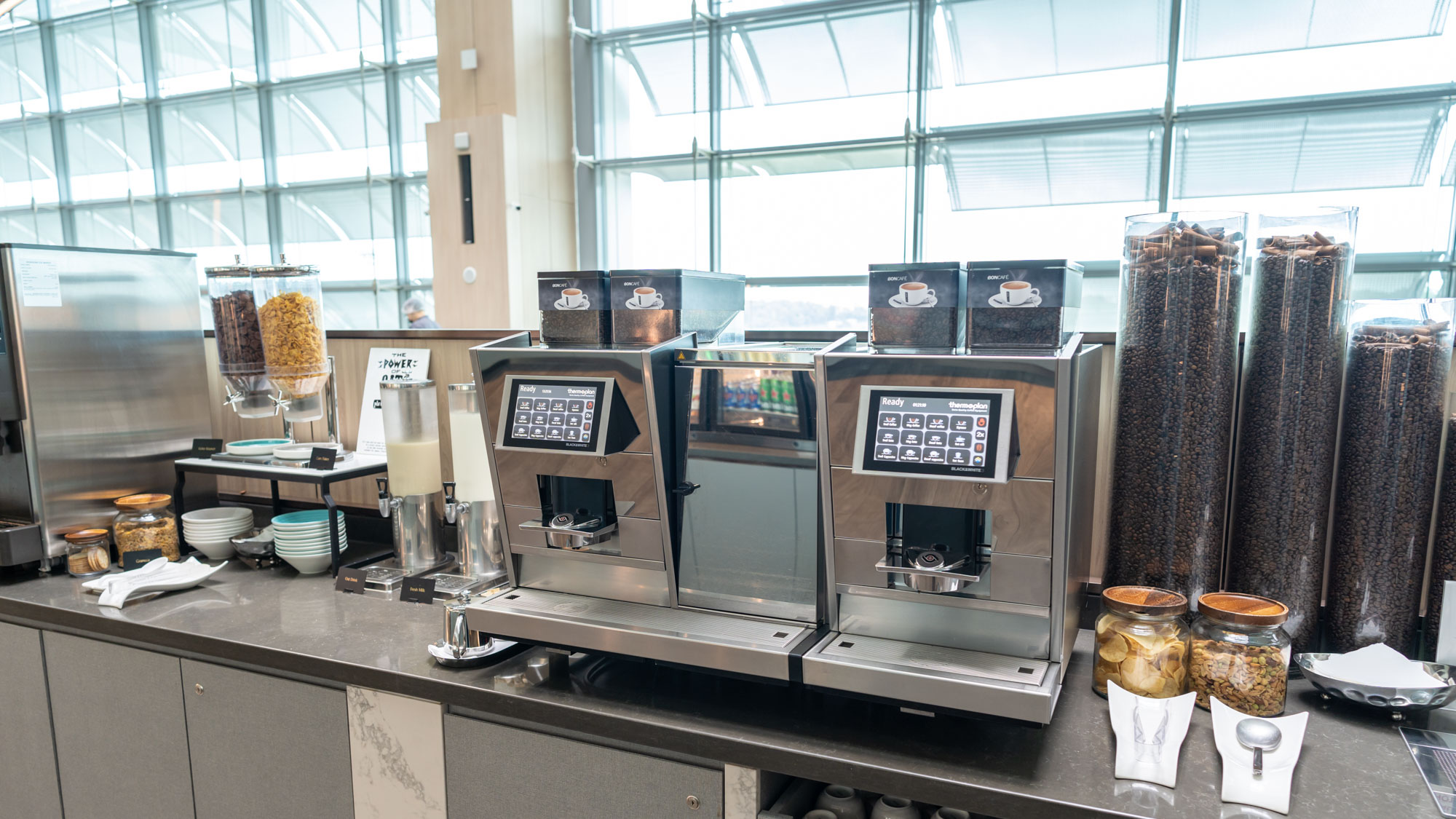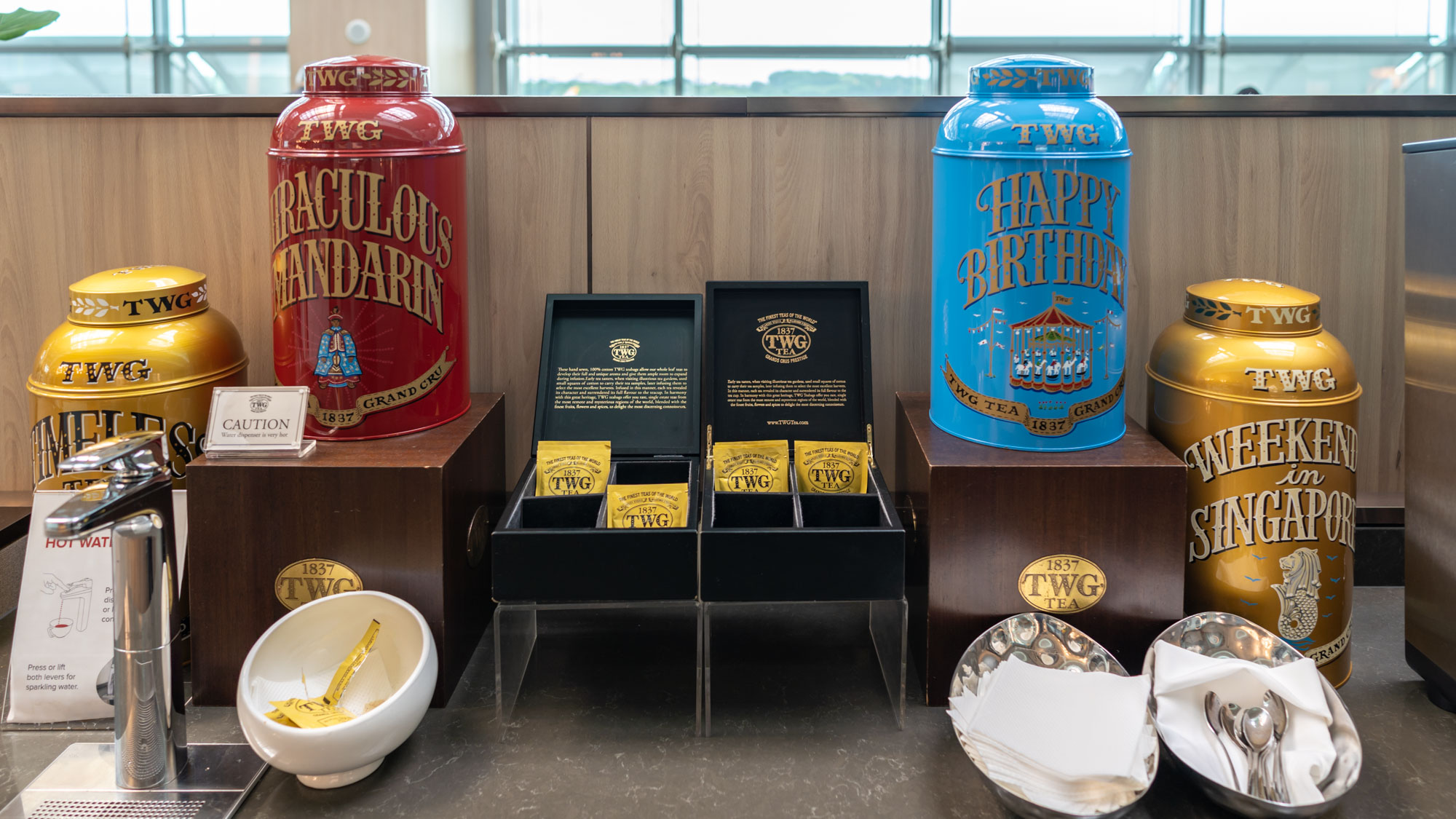 Lounge amenities
Bathrooms and showers
Yes, Economy passengers who are about to embark on a long flight can now enjoy a shower in the lounge! But (there's always a but), there are three shower rooms available. During busy periods, you'll definitely want to try to get in early because there will be a wait.
The shower suites are fine – clean and functional. It's worth noting that the shower products are just generic, so bring your own if you have a preference. But the fittings are high quality and feature well-known brands (in the region) such as Toto.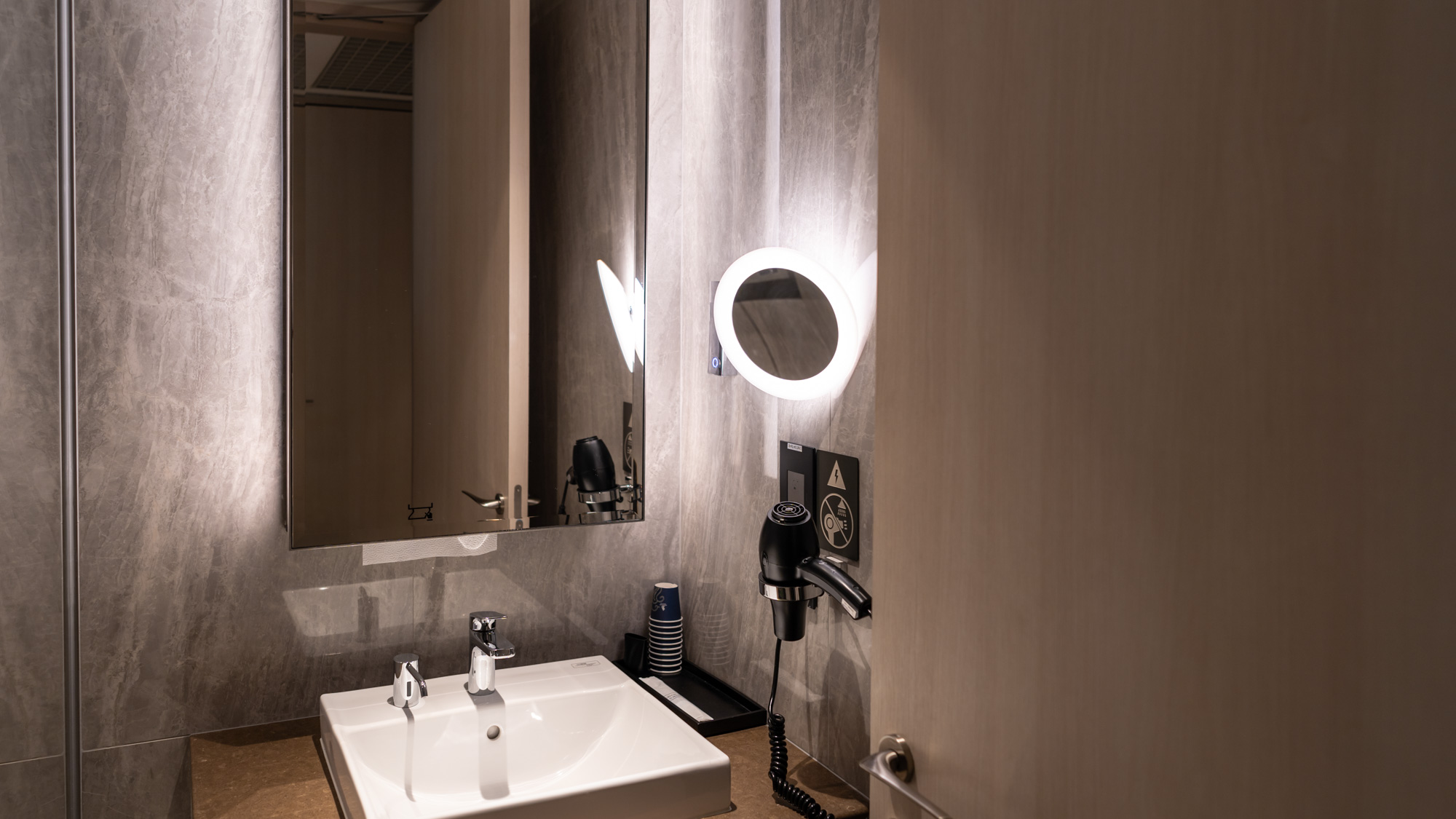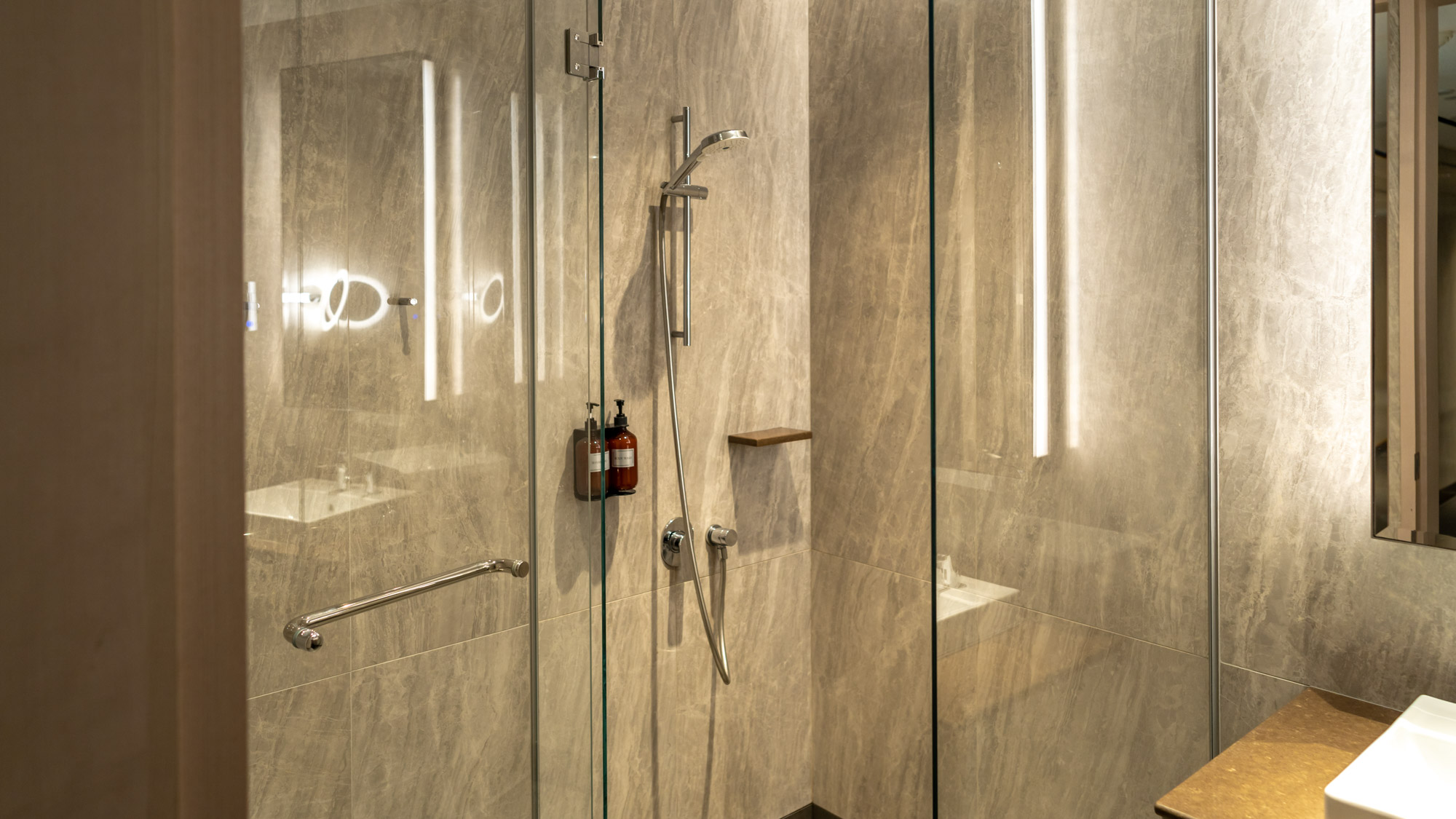 Unfortunately, there are no toilets inside the shower rooms though. You'll need to visit a different area if nature calls. A baby change room is located nearby, as is an accessible shower room for those who need a bit more space.
Working and Wi-Fi
The Wi-Fi here is surprisingly not super fast, but still perfectly usable at 13.7 Mbps down and 5.11 Mbps up. As with most new lounges I've seen, Singapore Airlines has managed to put power points at just about every seat possible. These have universal and USB plugs, so you can easily recharge.
I find that the back (right side) area of the lounge is the best place to settle down and work. There are a handful of small working stations if you want to sit away from others for a bit. Some of the bar tables even have wireless charging built-in, which works great with my phone.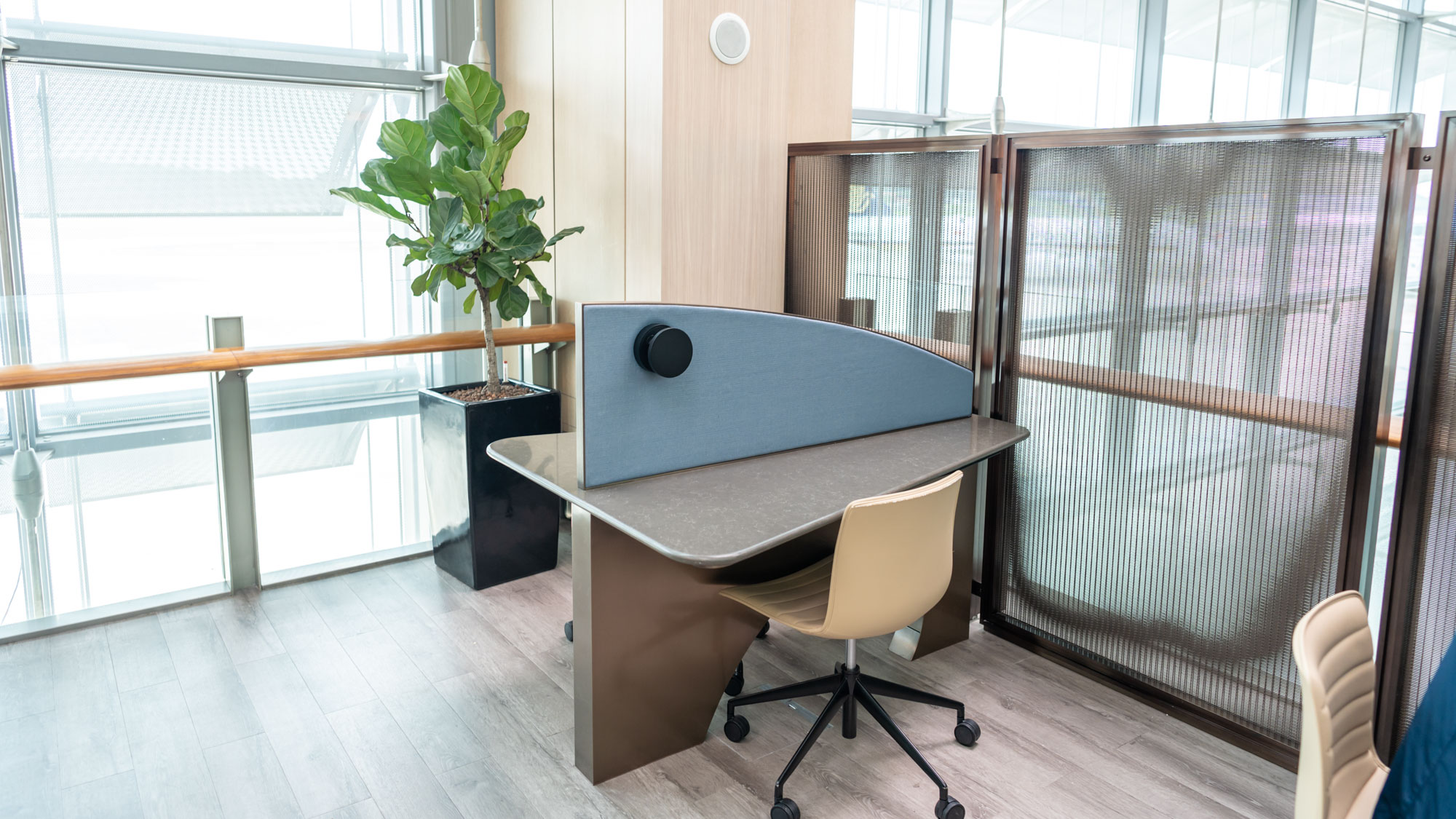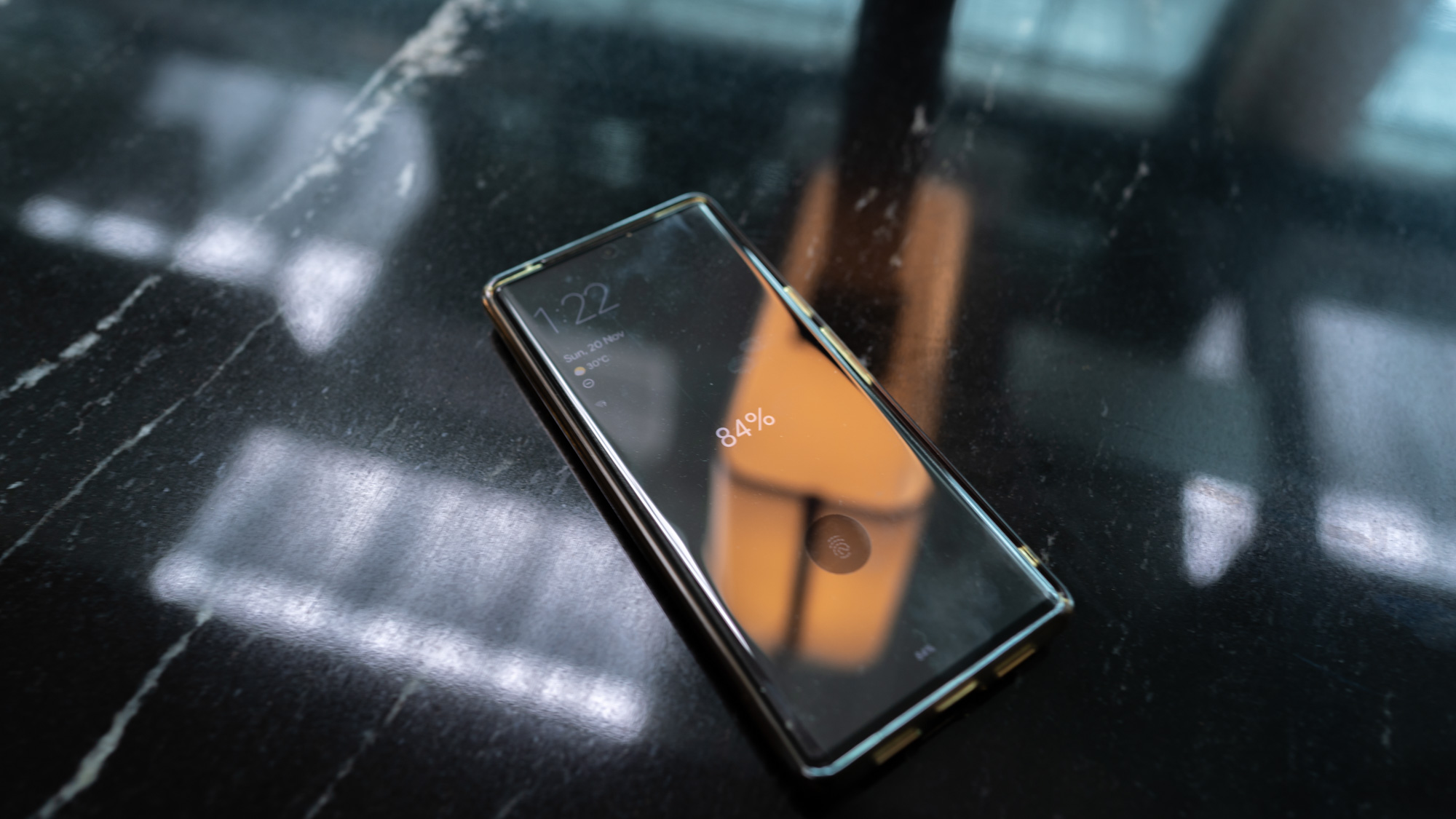 Lounge access options
As I mentioned earlier, the KrisFlyer Gold lounge is for Gold-grade frequent flyers travelling in Economy or Premium Economy. This is Singapore Airlines' way of keeping the main SilverKris Business Class Lounge a bit quieter, at least in its home city. Outside of Singapore, there aren't any KrisFlyer Gold lounges, so you'll be still able to access SilverKris or partner lounges, where offered.
Notably, Velocity Gold and Platinum members flying Singapore Airlines out of Changi can only access the KrisFlyer Gold lounges with their status, unless they're flying in Business or First/Suites.
With that in mind, here are the access rules:
Class of travel: Business or First Class with Singapore Airlines or Star Alliance airlines (but you can visit the SilverKris Business Class lounge instead, or the First Class lounge/The Private Room depending on your ticket type).
Airline frequent flyer status: Singapore Airlines KrisFlyer Elite Gold.
Airline partner frequent flyer status: Virgin Australia Gold/Platinum and other selected partners.
Alliance frequent flyer status: Star Alliance Gold.
Since November 2022, you can now earn Star Alliance Gold membership by signing up for the HSBC Star Alliance Credit Card in Australia and meeting a minimum spend requirement.
Summing up
Singapore Airlines' revamped KrisFlyer Gold Lounge in Terminal 3 is a breath of fresh air. Gone are the dark, cramped spaces – the new lounge makes full use of its open-air location. With much more seating, improved food and beverage and bathroom facilities, the T3 KrisFlyer Gold lounge will be comfortable enough for most travellers passing through its doors.
It's certainly on par with many Business Class lounges that I've visited in Australia. If I could suggest minor improvements, it would be soft-product touches such as having a sparkling wine on offer, upgrading the Wi-Fi a bit more, and maybe even putting nicer bulk products in the showers.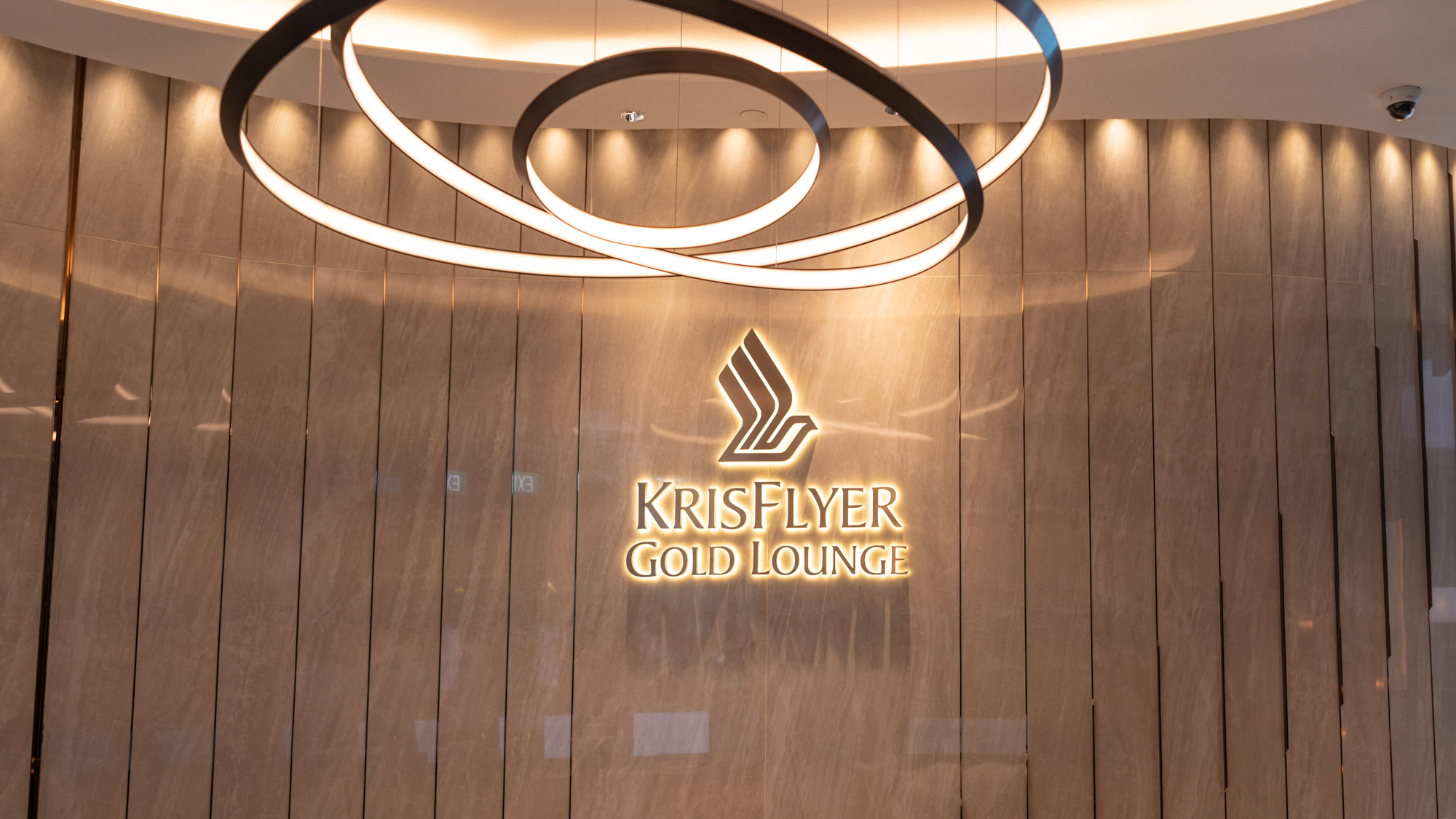 Photography by Brandon Loo, who travelled to Singapore at Point Hacks' expense.
Singapore Airlines KrisFlyer Gold Lounge, Changi Terminal 3
was last modified:
September 29th, 2023
by