It's not often that independent airport lounges make you say 'wow'. After all, most are designed around passenger volumes – almost a 'get you in, get you out' vibe. But the new Plaza Premium Lounge in Adelaide doesn't just make you say 'wow', it's one that's worth arriving early for.
In fact, I'd go so far as to say that it's the nicest Plaza Premium Lounge I've visited anywhere in the world. Okay, except for Plaza Premium First – but that's a different product category. The design here in Adelaide is welcoming and luxurious, and thanks to some recent construction around the international departures area, also light-filled with floor-to-ceiling windows.
There's still some room to make this lounge even better, though. Faster Wi-Fi and healthier food are two easy improvements that could get this lounge closer to a five-star score. But for now, here's a look at what Plaza Premium's newest Australian lounge has to offer.
Location of the Plaza Premium Lounge in Adelaide
Adelaide Airport is home to a single terminal that handles both domestic and international flights. That terminal has a dedicated departures zone for international flyers – and that's where you'll find Adelaide's Plaza Premium Lounge.
Those heading abroad will pass through check-in as normal, followed by domestic security screening. From within the domestic departures area, there's a path to follow for international flights. This takes travellers via a second screening point for liquids, aerosols and gels. After which, there's outbound passport control.
The Plaza Premium Lounge conveniently sits just beyond those border checks, over on the right-hand side. If you've wandered up towards the departure gates, you've gone too far.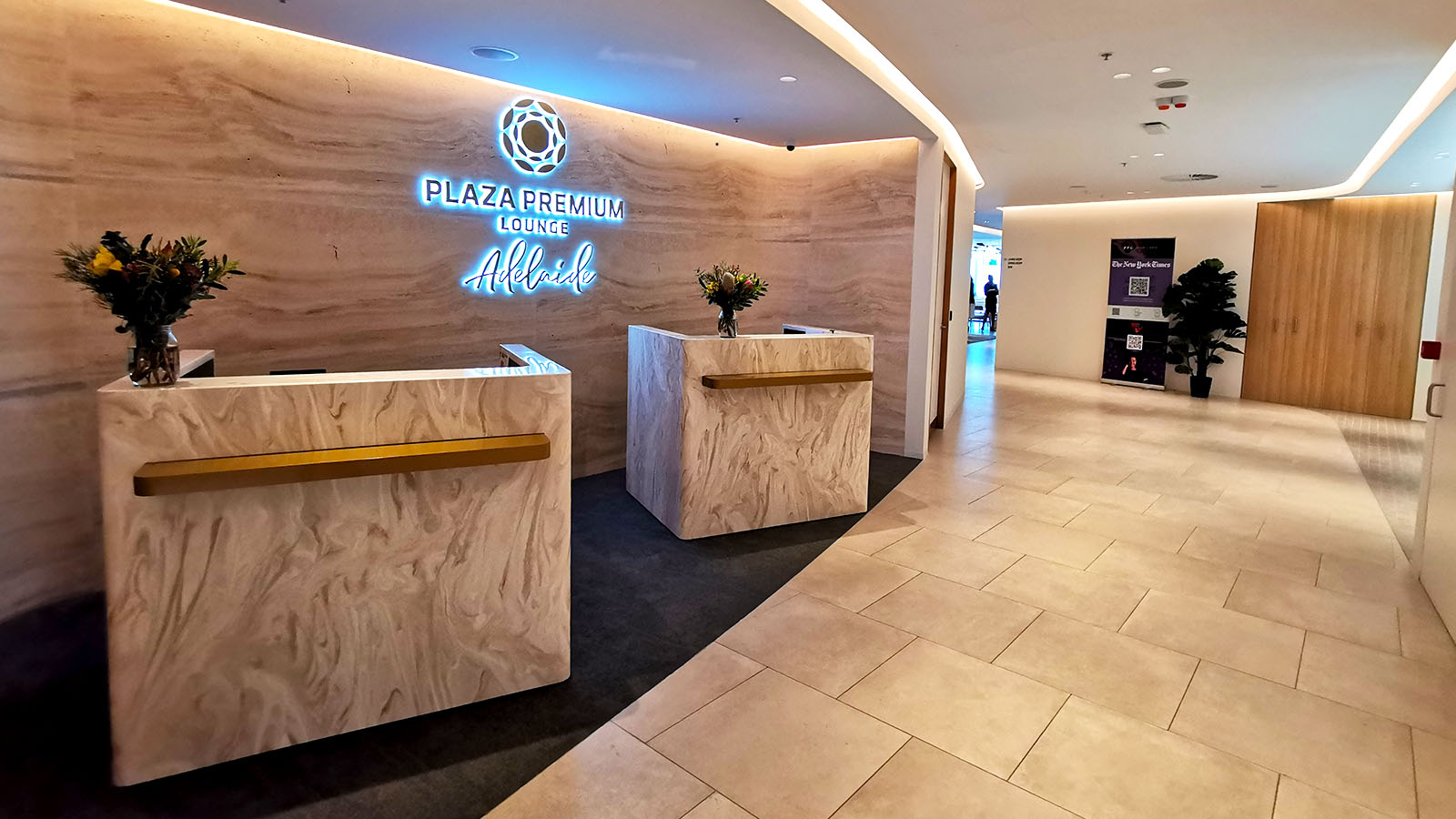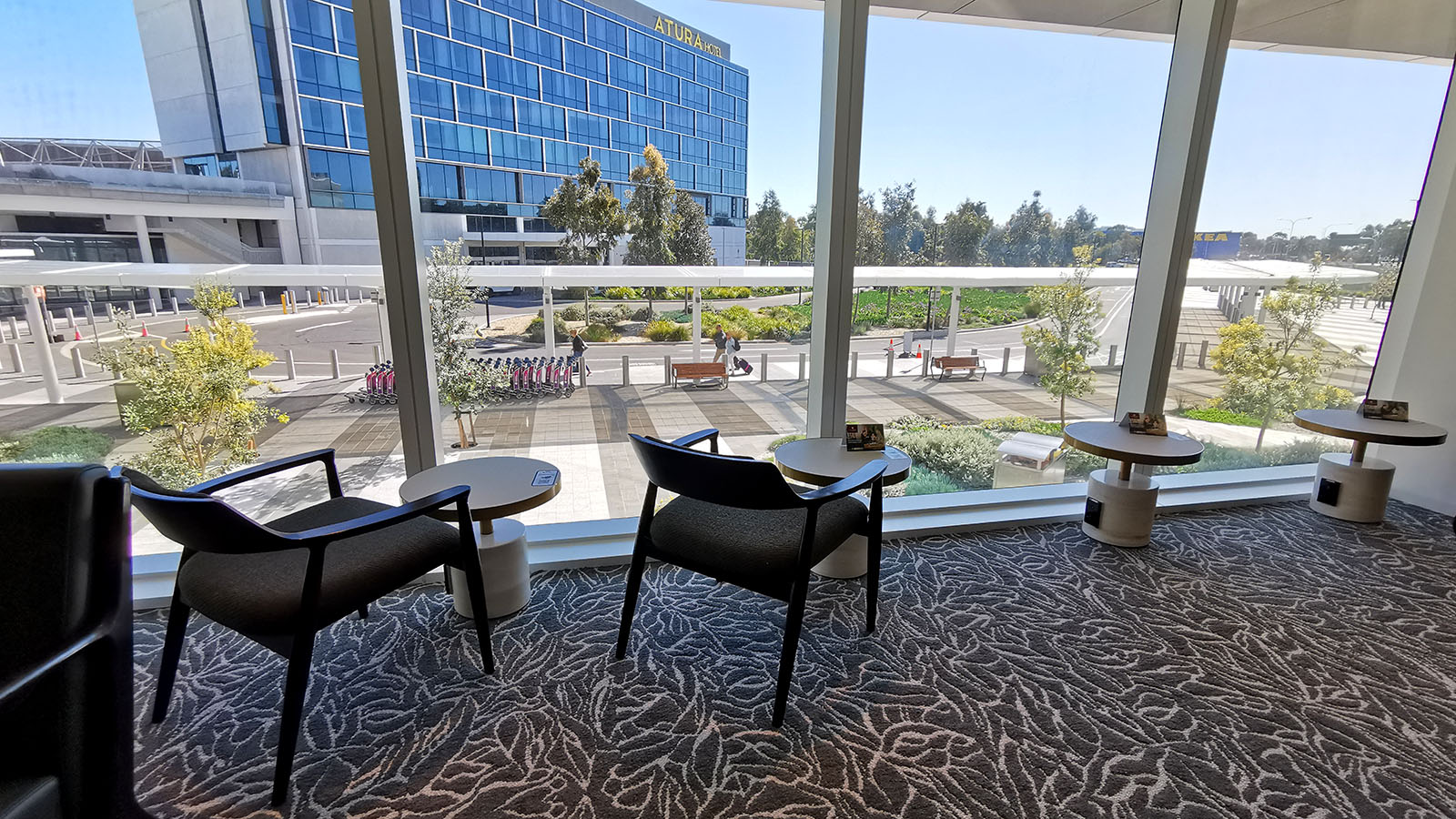 This lounge is an amalgamation of the airport's former Singapore Airlines SilverKris Lounge and some newly constructed space. If you've previously used that SilverKris Lounge, there's one key difference that's noticeable right away. Unlike its predecessor, this lounge has windows – and by extension, a great amount of natural light.
There aren't any airfield views, as the vista faces towards the airport's public drop-off road. But the space does away with the old 'dungeon' vibe of yesteryear, making for a much more relaxing pre-flight experience.
Right now, the lounge opens only between 7 am and 11:30 am each day. This caters for the international departures of Malaysia Airlines and Singapore Airlines, which use the space as their contracted lounge. Given it's the only lounge located in the airport's international departures area, Plaza Premium is hopeful that more airlines will follow suit.
Layout and seating
Once you've ventured past reception and along the corridor, you'll emerge in something of a 'short stay' area. The seats here are very close to the exit – as well as the bar for a quick pre-flight coffee.
Individual pods line the walls of the same space. Each offers easy access to power, as well as a built-in cocktail table. In one respect, floor-to-ceiling barriers between these seats are great for privacy and concentration. But you're also facing towards the lounge's main entry walkway and right near the bar. Translation: they'll work out best for a quiet drink rather than any serious laptop work.
Meandering past the bar uncovers the remainder of the lounge. It's divided into bays by stylish black wood-panelled walls. But to avoid things feeling boxed-in, rounded rectangles in various sizes are cut out. This allows you to see through into the next space – and so on.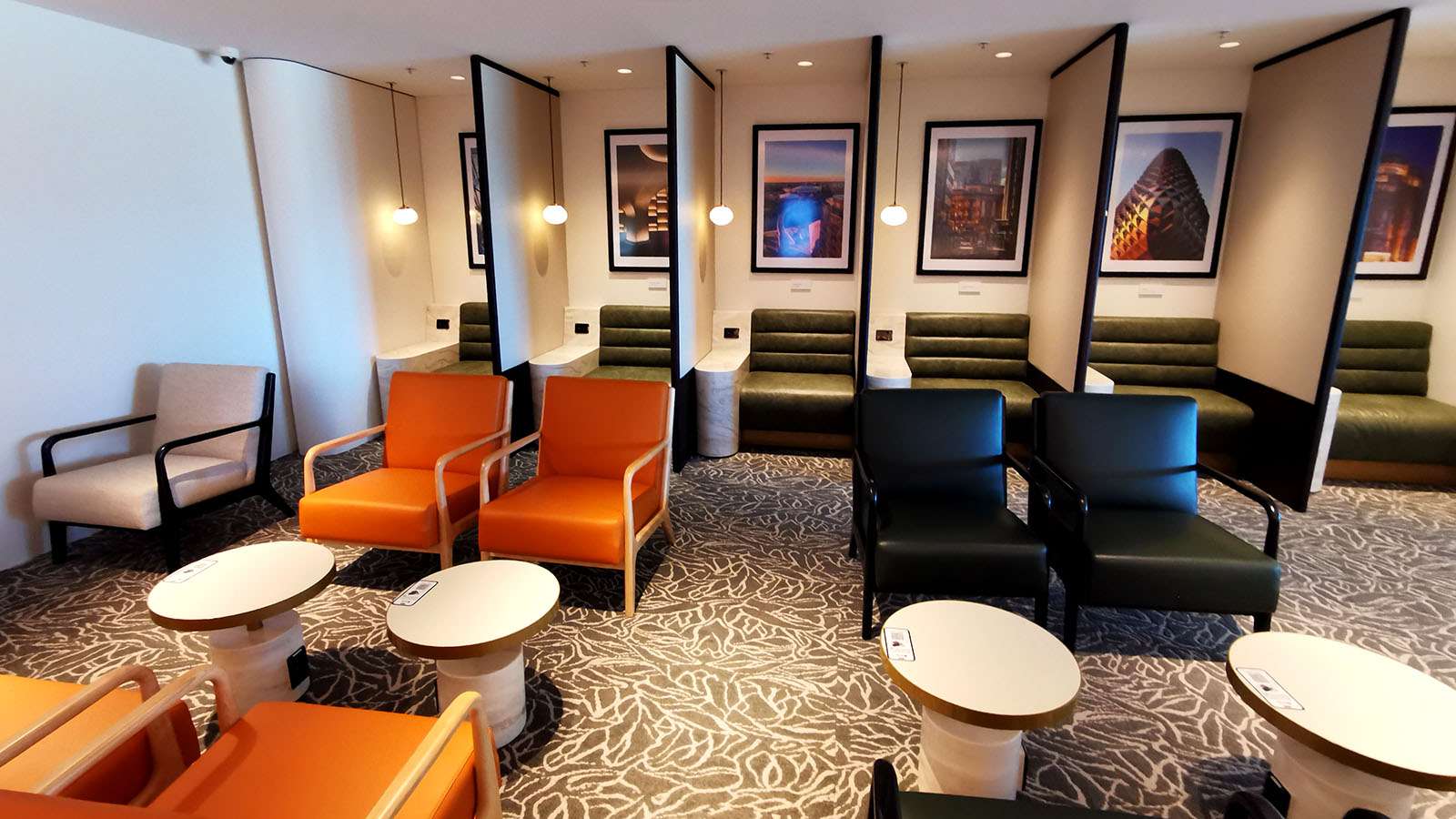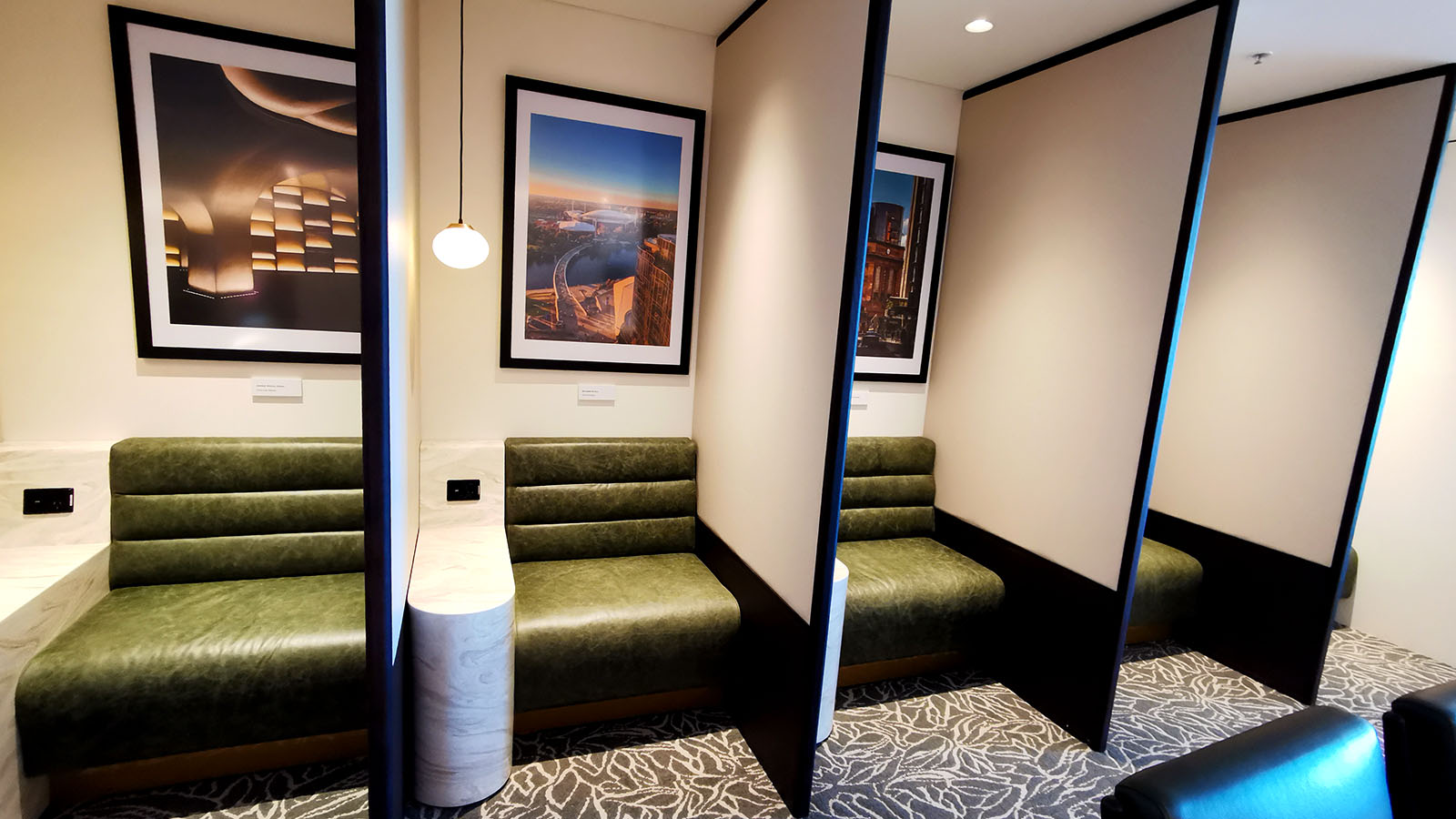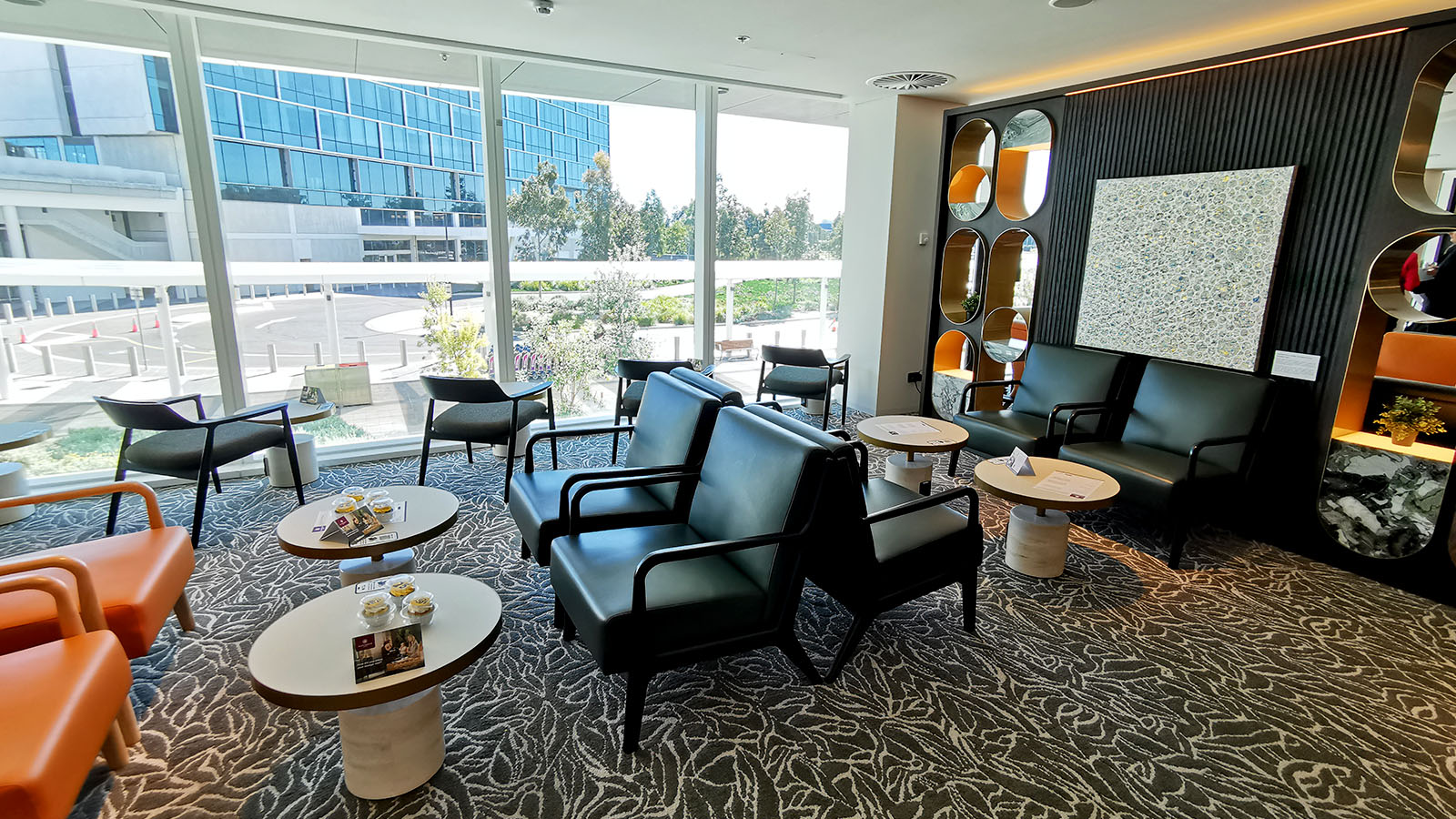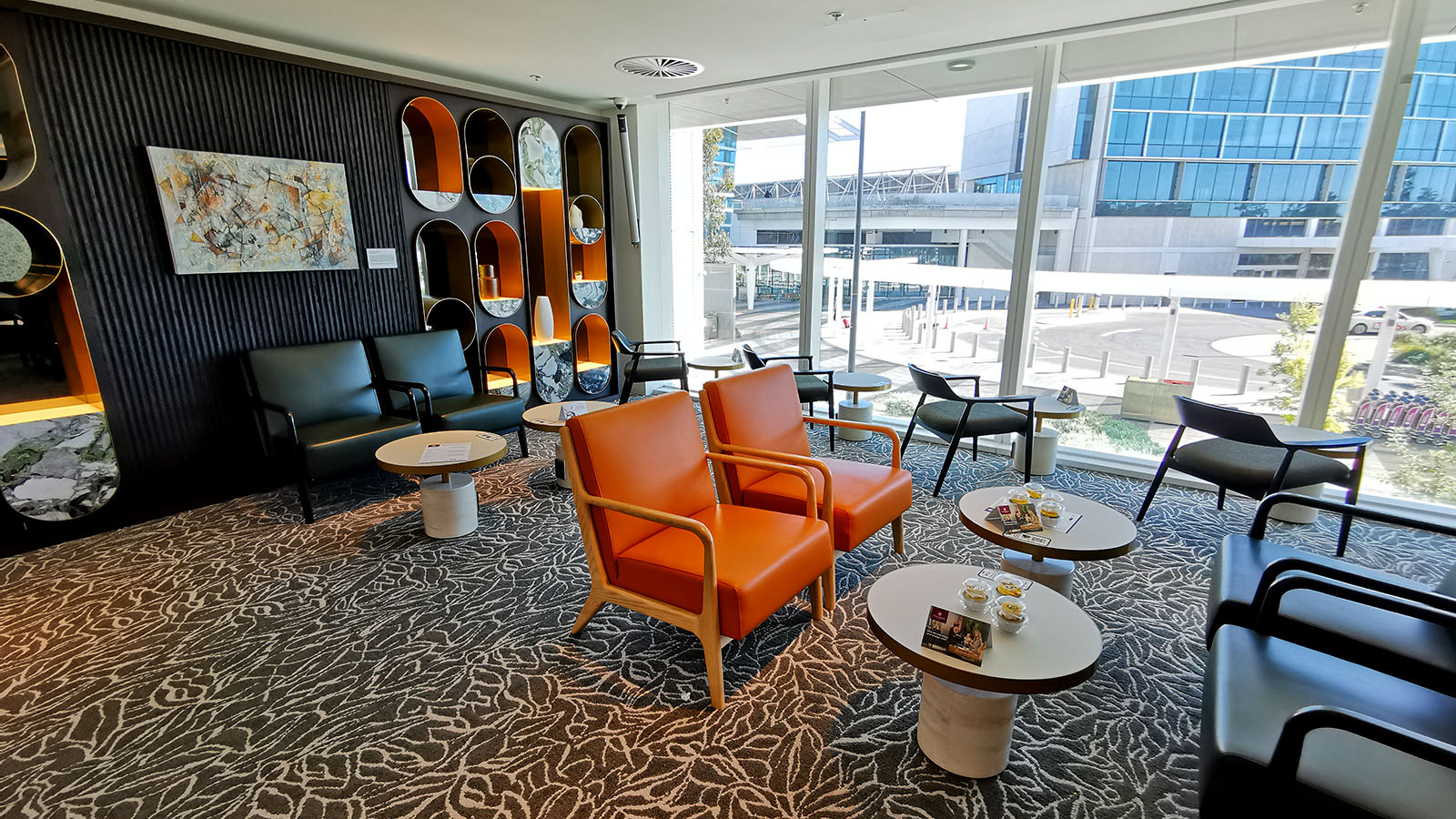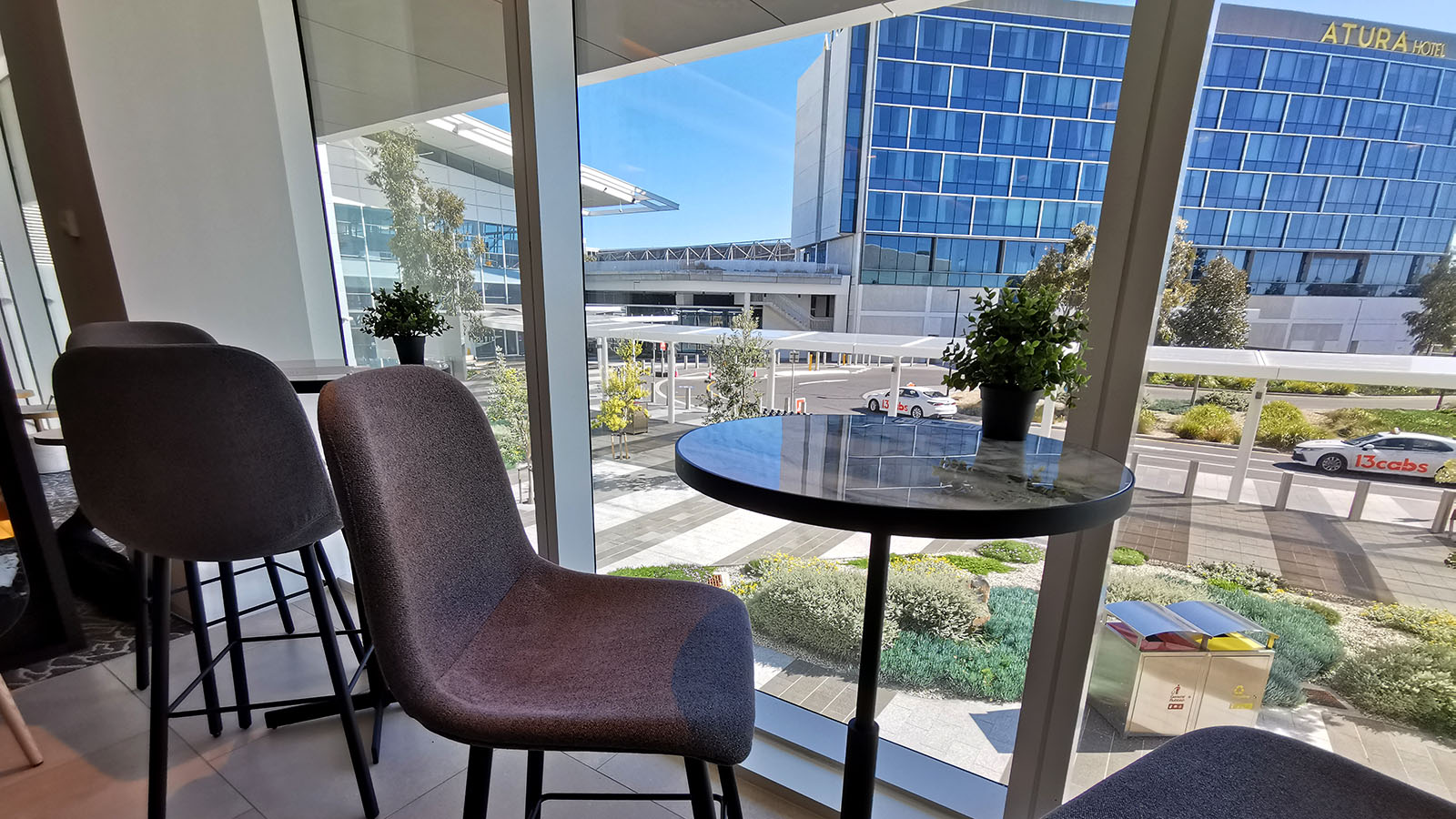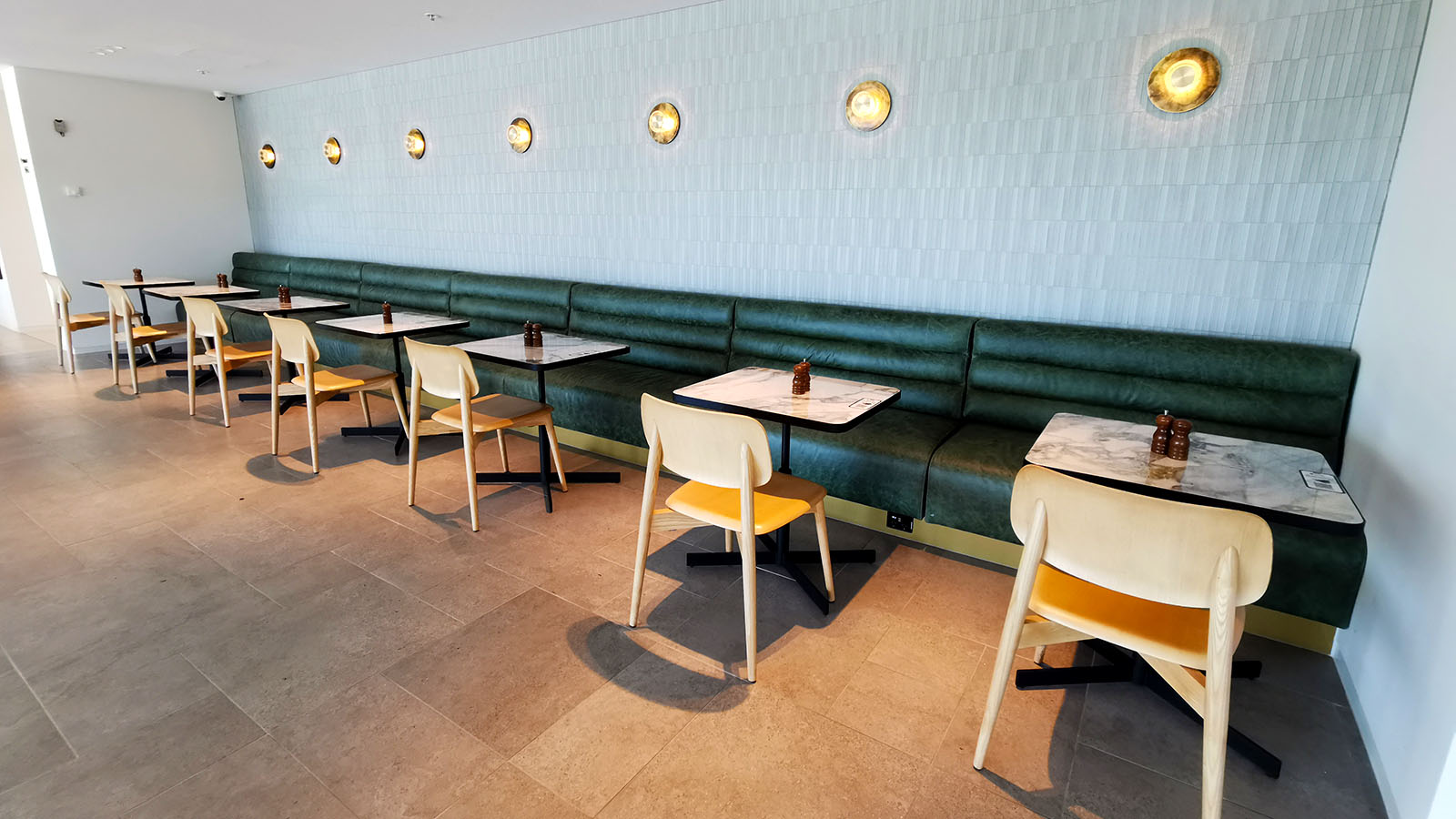 Those bays sit on the right, against the windows. It's the perfect place to set up and face outside for one last peek of the outdoors before jetting off, in contrast to a more typical airport view.
A row of dining tables line the other side of the wall. Like most seats in this lounge, these conveniently offer access to power – you'll find outlets tucked away on the booth side, down near your feet. All in all, Adelaide's Plaza Premium Lounge is noticeably different from the brand's more traditional signature style. And that's quite a good thing.
Food and beverage
Given its location here in South Australia, Adelaide's Plaza Premium Lounge proudly pours a number of wines from the region. I kick things off with a glass of the sparkling Grant Burge Pinot Noir Chardonnay (NV). It's a familiar drop – one often served in Qantas Business and Virgin Australia Business Class on domestic flights.
There's a reasonable selection of reds and whites as well. But for me, this visit coincides with a workday – so one glass of bubbles for a photo is enough this time. Other choices include barista-made coffee at the bar, or you can help yourself to other machine-made brews over by the buffet. That's also where you can get soft drinks, juices and fruit-infused water.
On the food front, there's a comprehensive spread. But in general, I wish there were some healthier substantial mains, rather than just snacks and sides. Here's what I mean.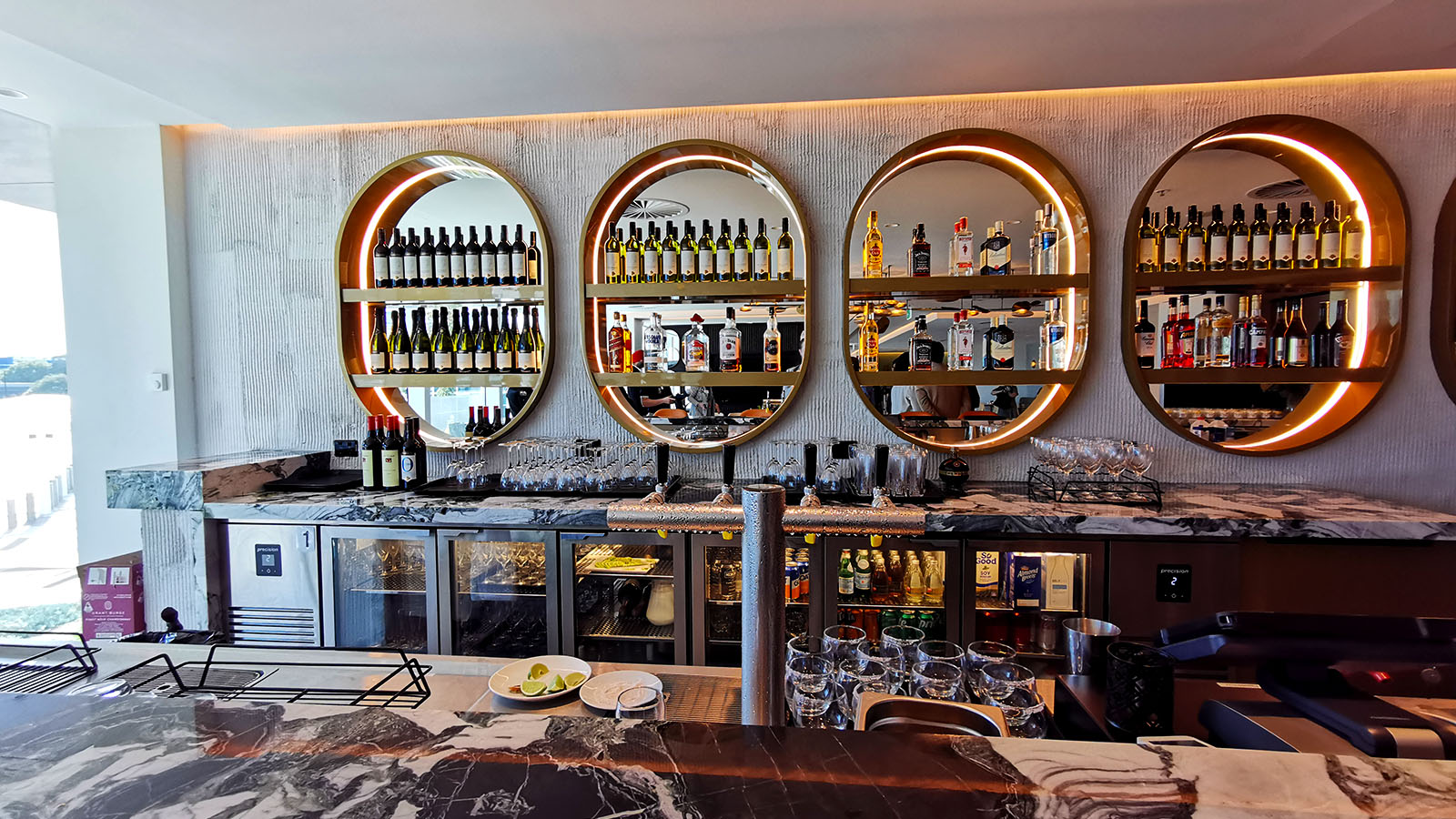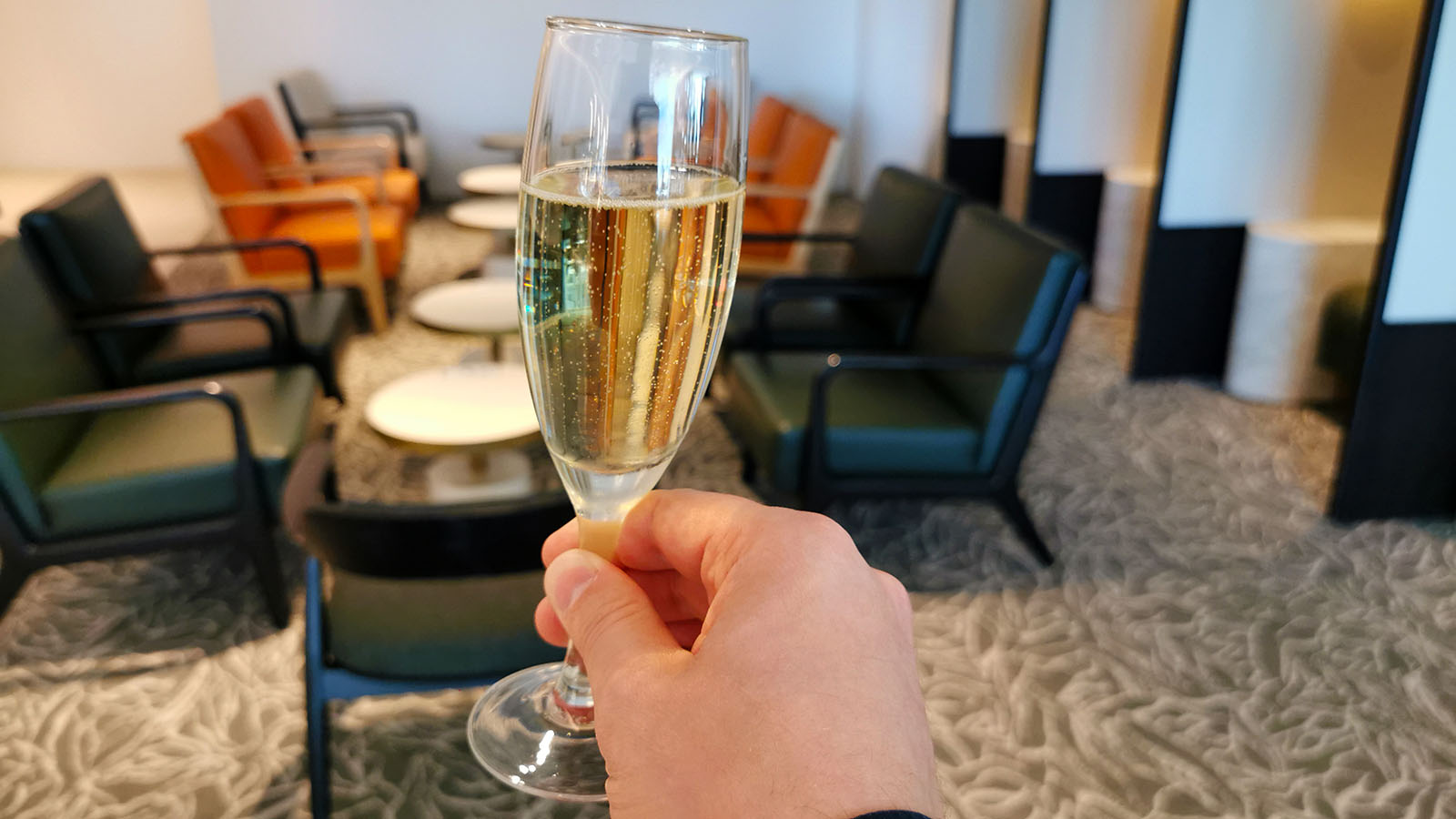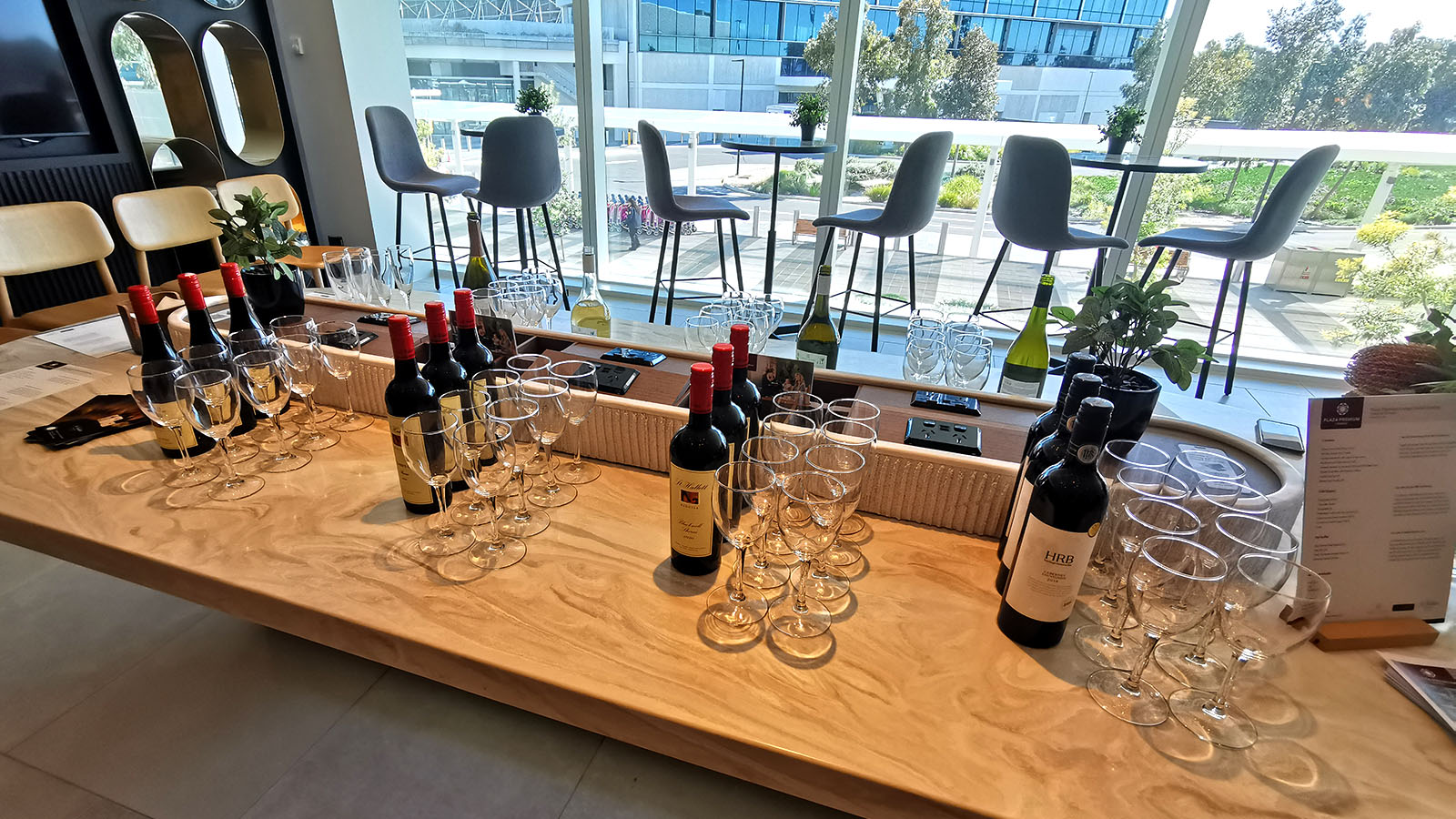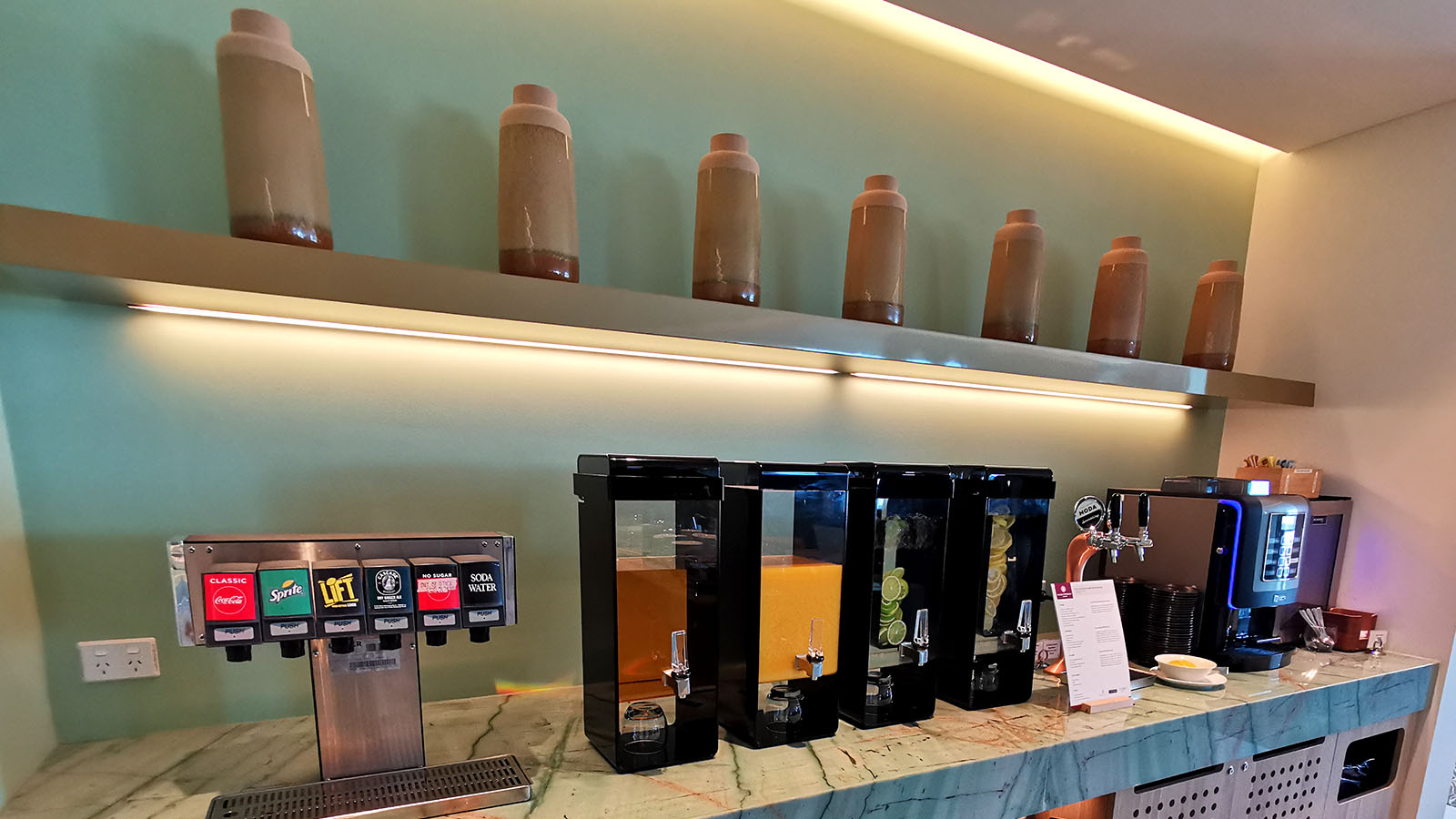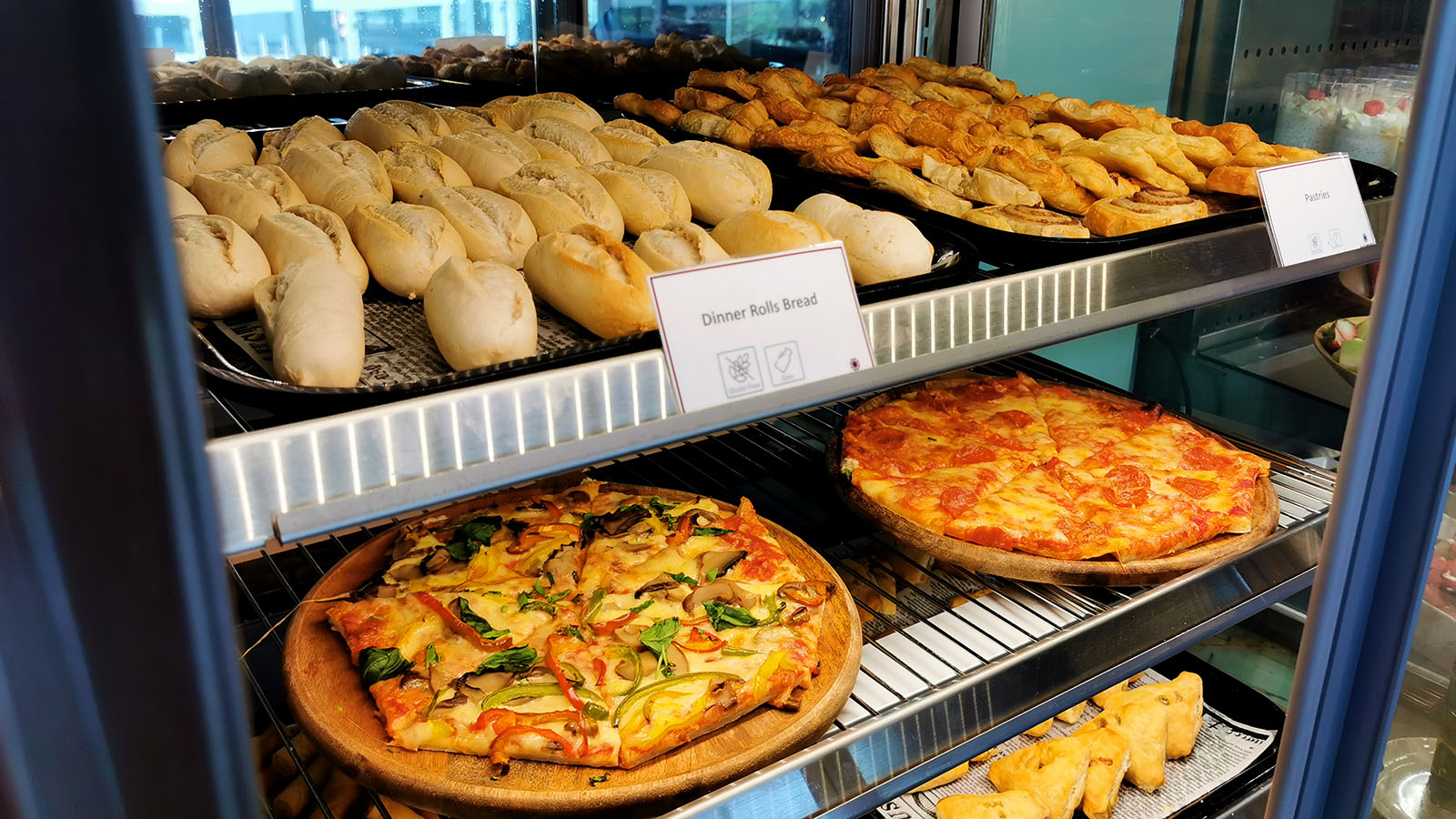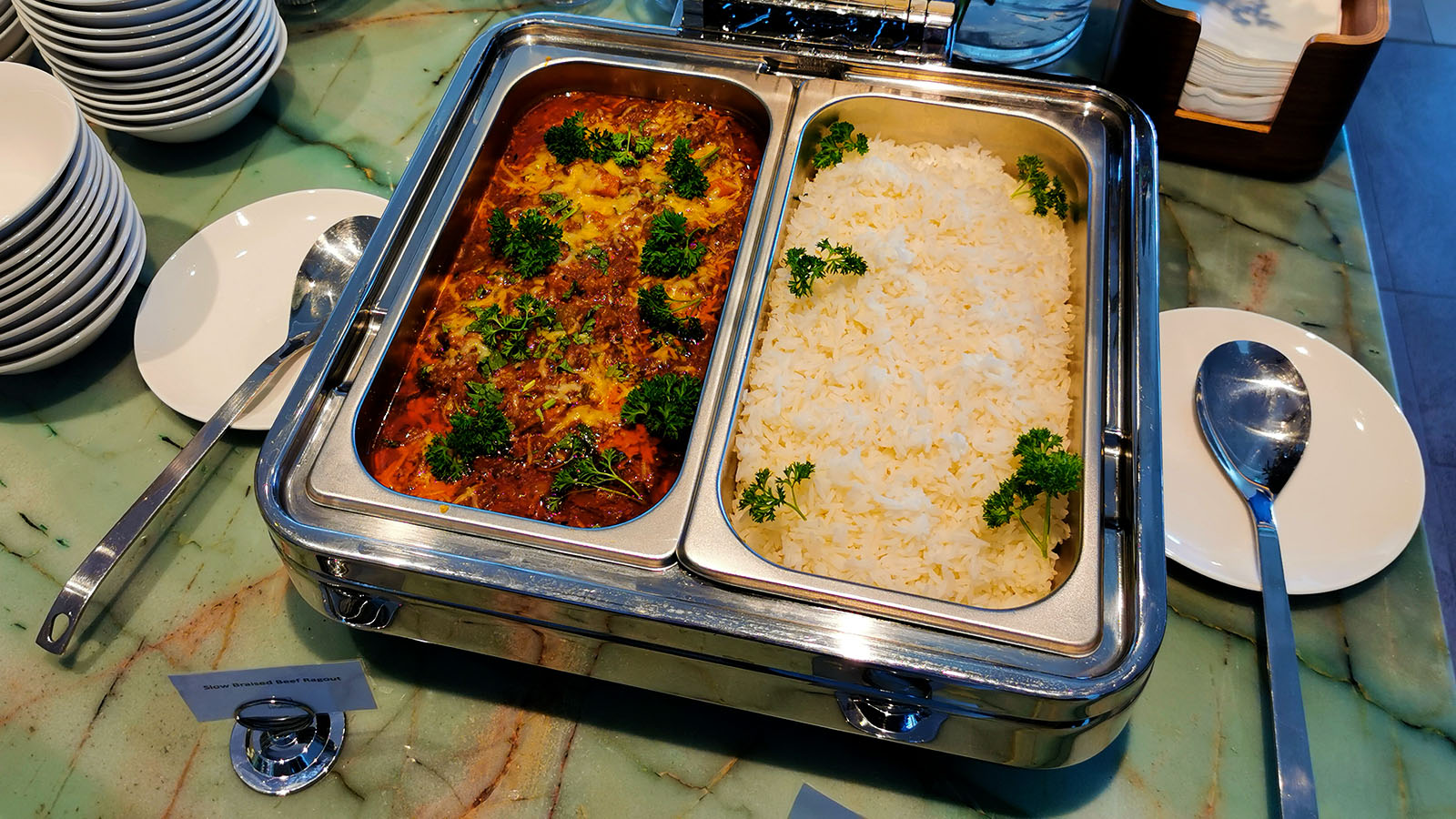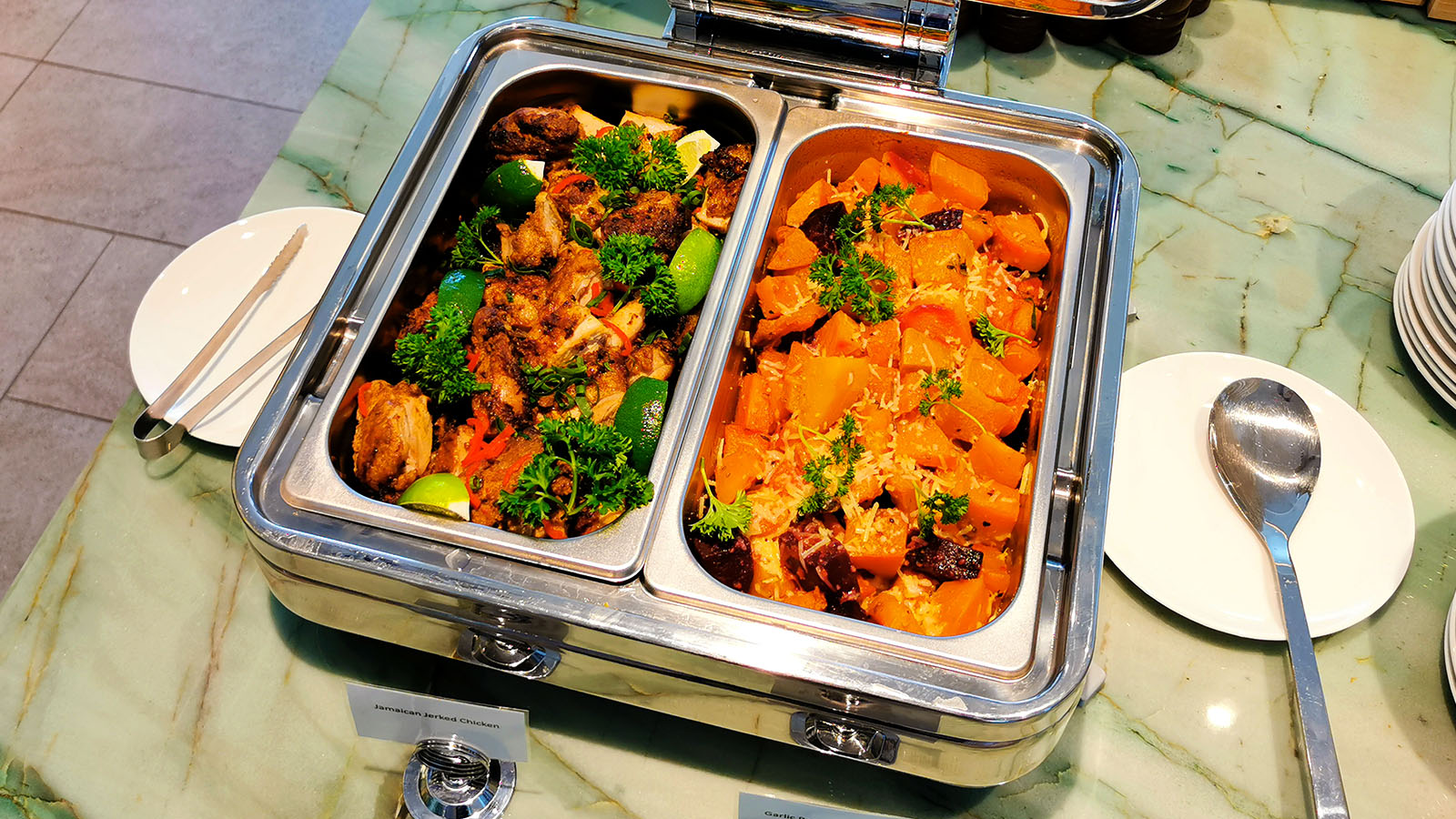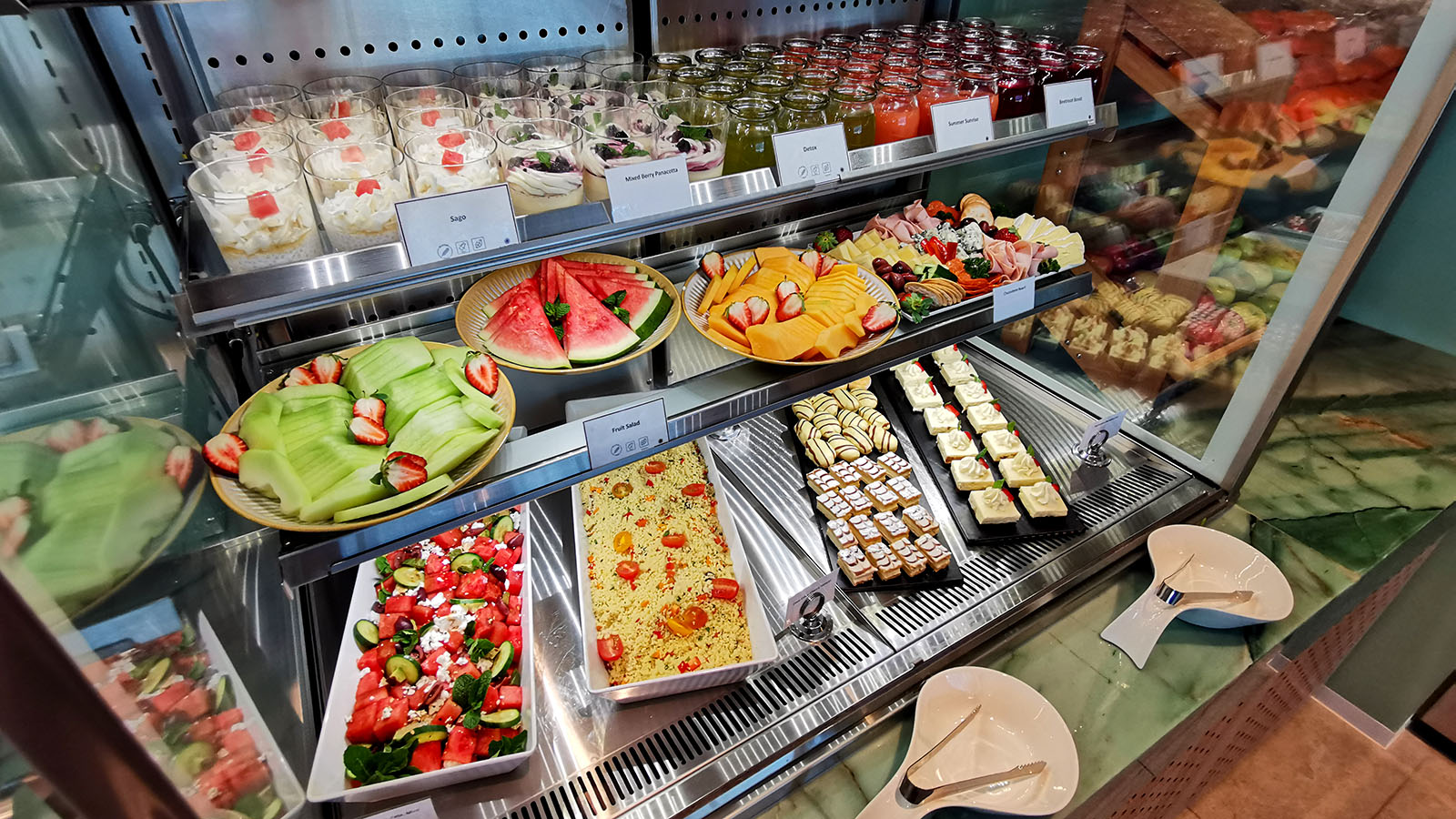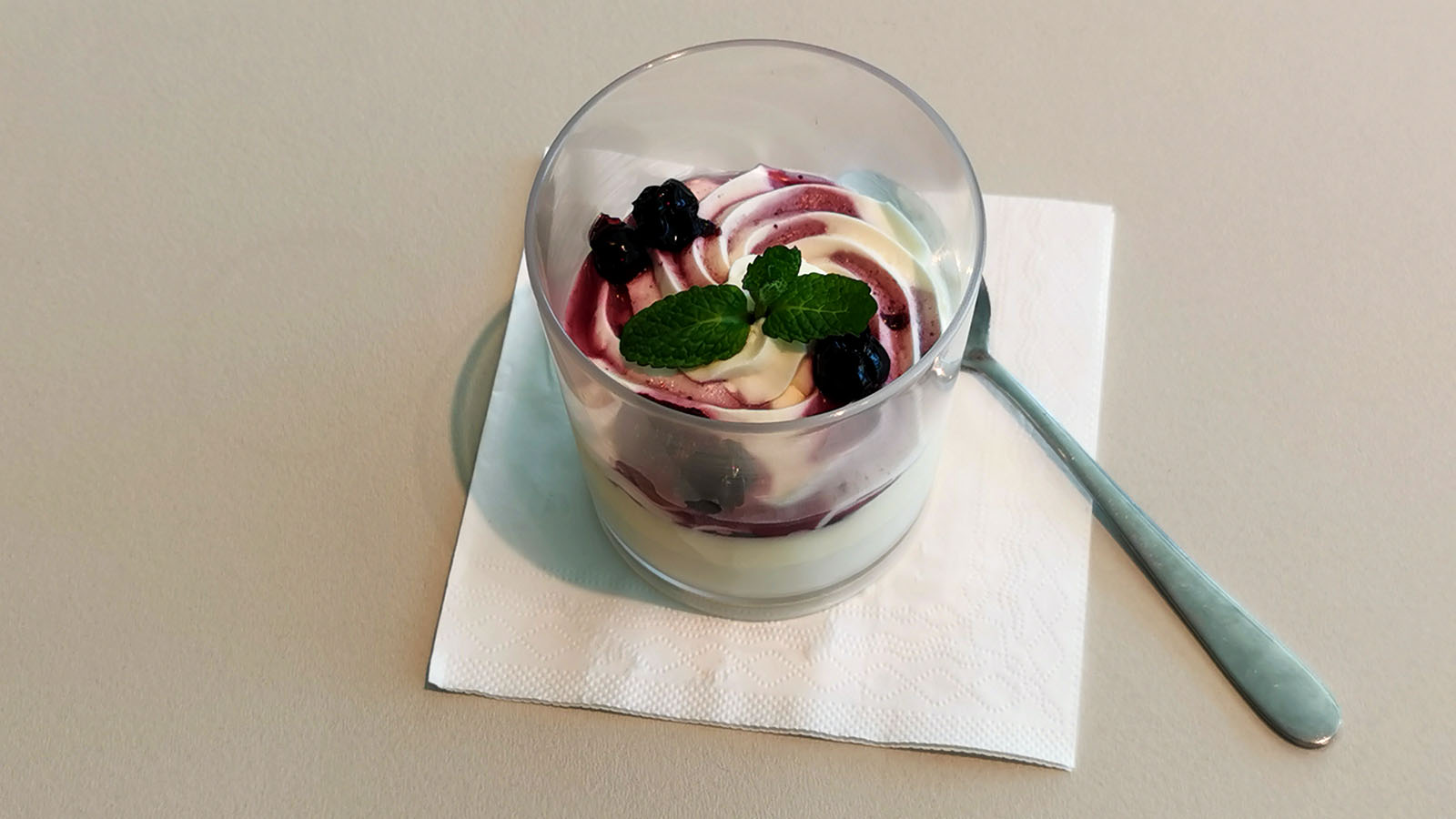 In the vertical warmer, it's a sea of carbs. Think dinner rolls, pastries, pizza, spring rolls, samosas – you get the idea. They're certainly crowd-pleasers, and I will admit, everything I try is very tasty. But when I'm always on the road, the lounges that stand out for me are those that provide fresher, lighter choices.
Other hearty dishes are available nearby. One servery has Jamaican-style jerk chicken (skin on) plus roasted root vegetables (covered in cheese and garlic). Another has slow-braised beef ragout (also cheesed up) and white rice. At least there are a couple of lower-calorie dishes in the chiller. Peering in the fridge finds a watermelon salad with feta and mint, as well as couscous with cherry tomato.
There are also a few diced melons, with the rest of the fridge given over to desserts, meats, cheeses and the like. I figure it's in for a penny, in for a pound, and sample a delicious mixed berry pannacotta. I later make up for it by going for a long walk through the city and scaling the roof of Adelaide Oval – as you do!
Amenities in the Adelaide Plaza Premium Lounge
Adelaide's Plaza Premium Lounge offers a couple of standard amenities that we'd always expect, as well as something different. Let's start with the basics.
Restrooms and showers are on-site, and they're very well appointed. Bookings for the shower can be made via the front desk. It's complimentary for most guests, including those with access via their airline, although fees apply for those who've entered the lounge via Priority Pass.
There's also Wi-Fi, but speeds are quite poor. During my tests, downloads reach just 5.27Mbps, with uploads at 4.88Mbps. And I'll add, these tests were done when I had the lounge to myself, after the morning's international passengers had departed. On the download front, even tasks like HD video streaming may struggle. I can achieve far better speeds over mobile data, making the network quite redundant. For a new lounge, that's disappointing.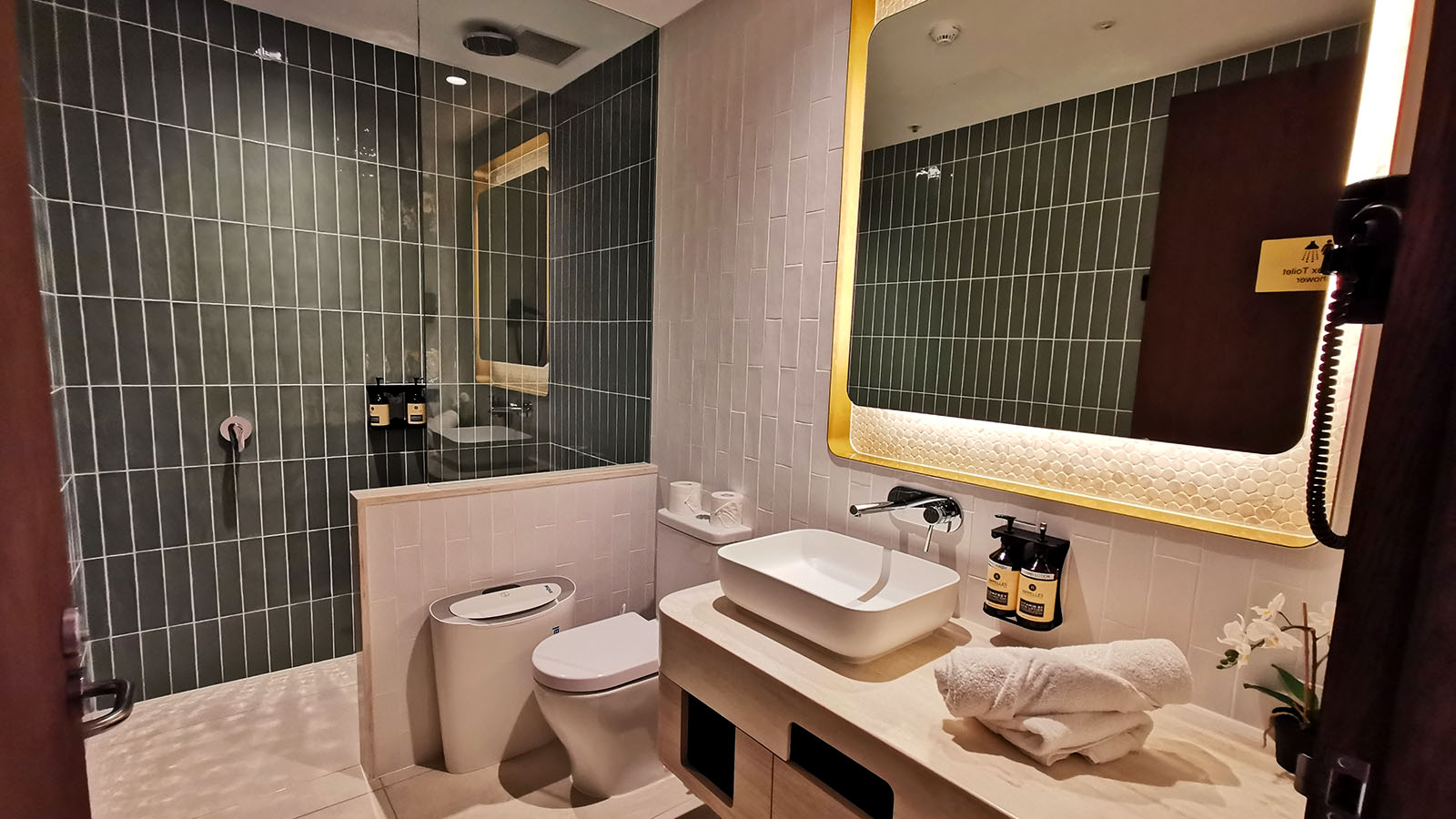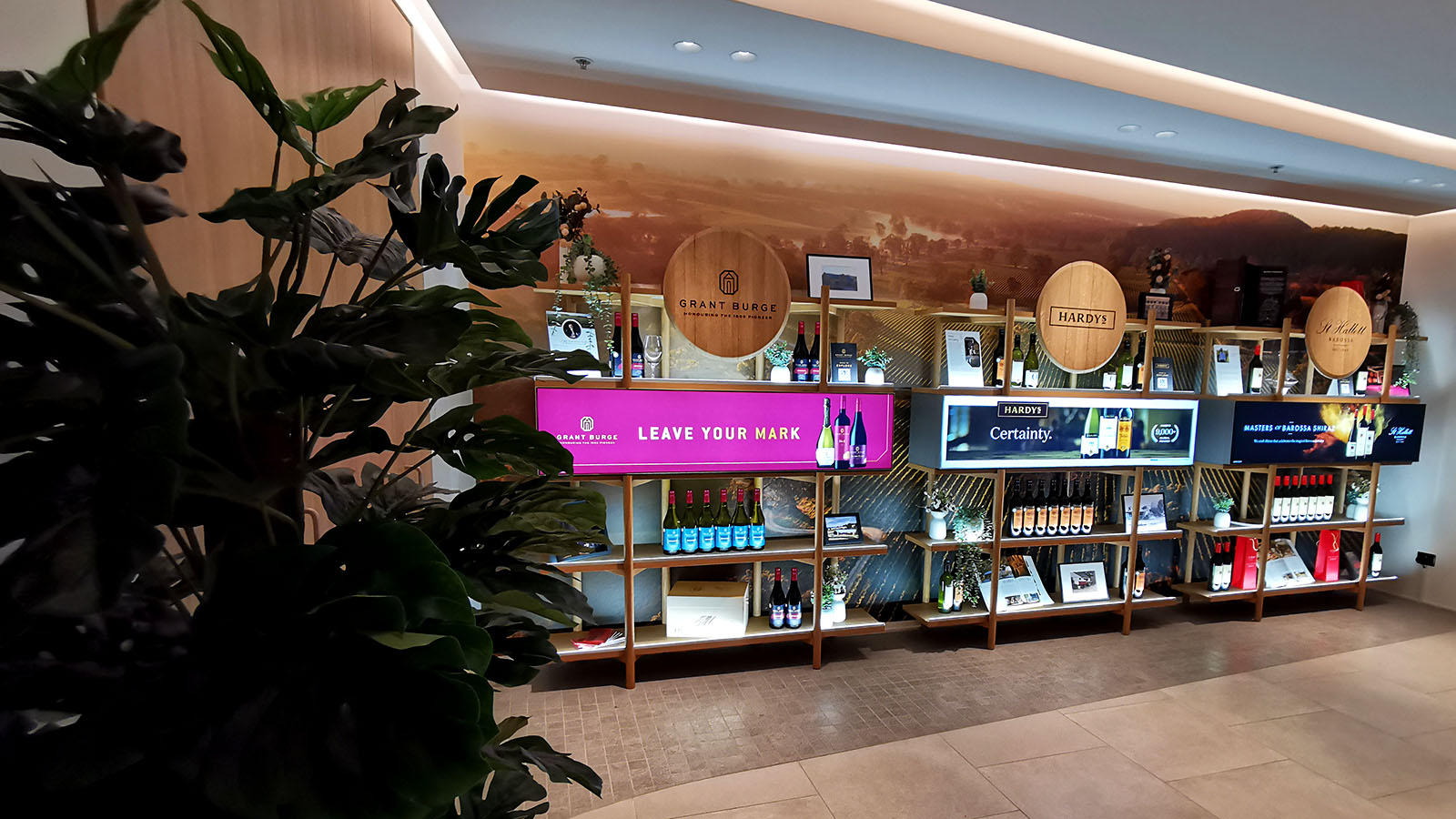 A more interesting feature though is the lounge's wine wall. I'm told that eventually, tastings may take place here from the featured wineries – Grant Burge, Hardys and St Hallett. For now though, it's more ornamental. It's also located back near reception. Without those tastings, it's something you'll look at for a moment on the way in, forget about completely, and then remember it was there when it's already time to leave.
It's not currently possible to buy the wine, so for now, it's not much different to stocking the bottles at the bar – which the lounge does. We'd expect the rollout to gain momentum if or when the lounge's opening hours are extended. Especially to cater for flights in the afternoons and evenings, rather than first thing in the morning.
Accessing the Plaza Premium Lounge, Adelaide
The Plaza Premium Lounge is Adelaide's only independent lounge. And for that matter, the only lounge within the international departures area. Here's a rundown of how to get inside.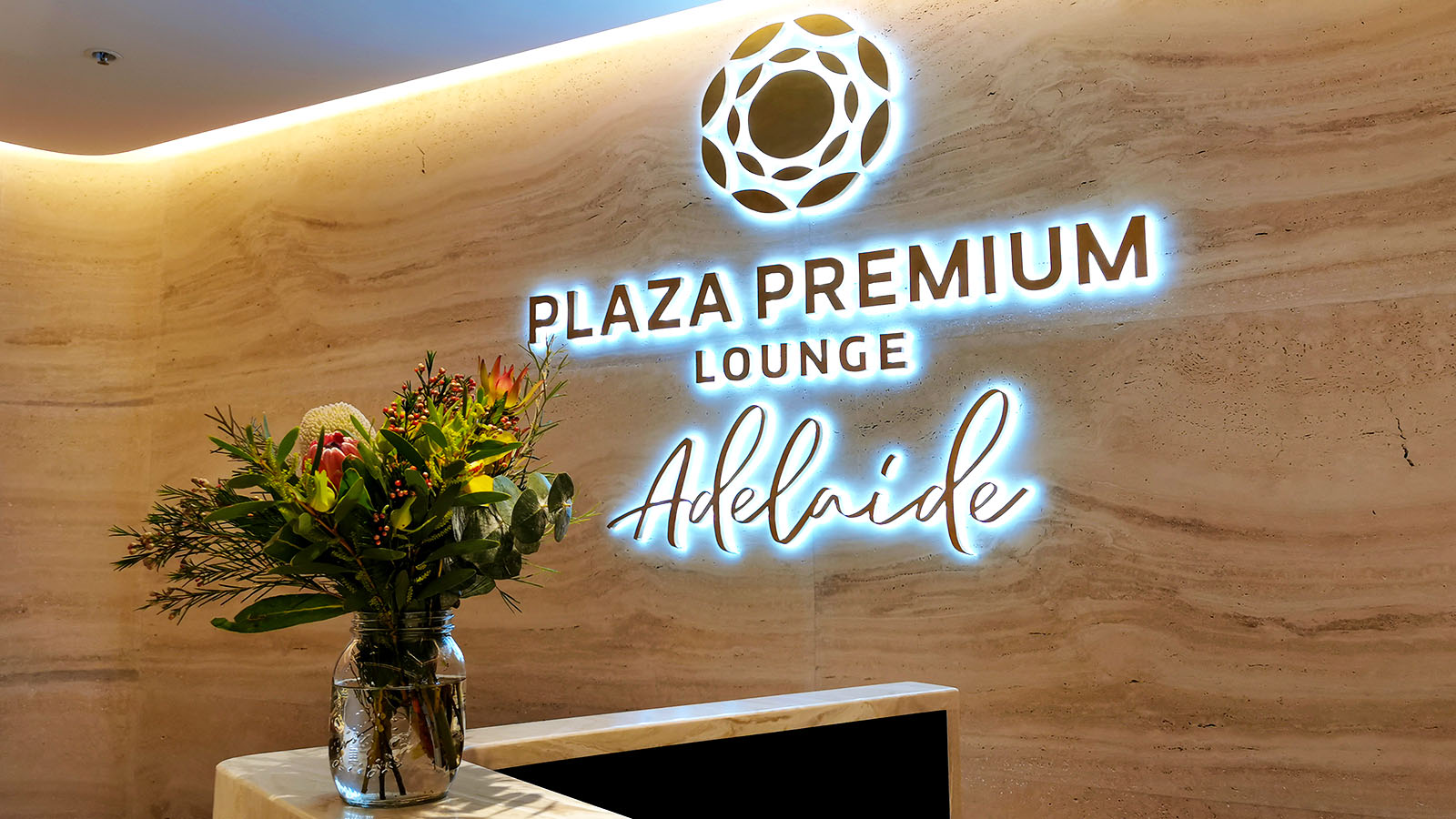 Just be mindful of the current opening hours, though. Given the 11:30 am closure, Adelaide's Plaza Premium Lounge doesn't cater for flights like Qatar Airways' evening QR915 service to Doha. But the morning QR989 service to Doha via Melbourne would squeeze in nicely.
For clarity, Qatar Airways actually uses Adelaide's domestic Virgin Australia Lounge as its default here. But those with an eligible Amex card, Priority Pass or who are willing to pay could choose to visit Plaza Premium for convenience. Airlines like Air New Zealand and Fiji Airways still direct passengers to the domestic Qantas Club instead. It'll be interesting to see if these arrangements change over time.
The verdict
As it happens, I've visited every Plaza Premium Lounge in Australia, as well as many overseas. And with the exception of Plaza Premium First – the group's version of a First Class lounge – this is the nicest 'Plaza Premium' lounge I've visited.
The design style is a noticeable step up from the brand's other Australian lounges. It also reminds me just a tiny bit of an American Express Centurion Lounge – many of which Plaza Premium also manage. I see it in the booths lining the windows, and in the colours of the seating: particularly green and orange. But Plaza Premium's space certainly has its own feel and vibe.
Hopefully, its opening hours are broadened so that more of Adelaide's international passengers have an opportunity to stop by. And when that happens, I look forward to seeing some healthier dishes at the buffet. After all, passengers visiting this space have hours and hours of sitting ahead of them.
Also reviewed: Adelaide Airport plans for more lounges and flights
Photography by Chris Chamberlin, who accessed the lounge as a guest of Plaza Premium Group while travelling at Point Hacks' expense.
---
Stay up to date with the latest news, reviews and guides by subscribing to Point Hacks' email newsletter.
Plaza Premium Lounge, Adelaide
was last modified:
September 27th, 2023
by