Qantas' Boeing 737s are a staple of domestic travel – and so too is the Business experience onboard. Offering the complete package of lounge access, comfort in the skies and food and drinks en route, it's a great way to spend your Qantas Points.
Here's what to expect when crossing state lines from Adelaide to Brisbane when perched up front.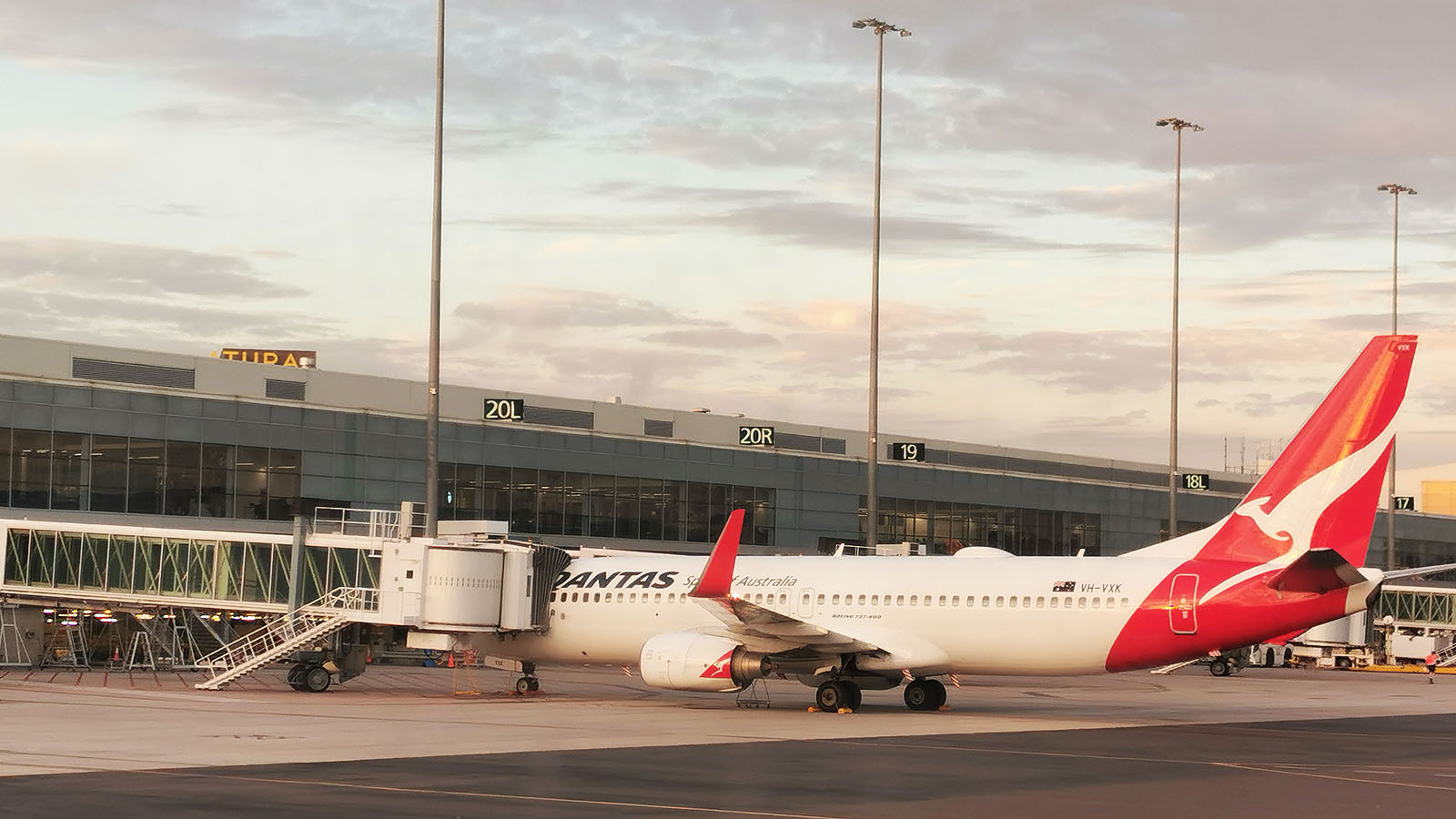 Check-in, lounge and boarding
With a boarding pass already in-hand following a connecting flight from Kangaroo Island, it's straight to Adelaide's Qantas Club. On a quiet Sunday afternoon, there's certainly no shortage of available seats.
Access here is available to all passengers in Qantas Business. There's no separate Qantas Business Lounge in Adelaide, making the Qantas Club the go-to for all eligible flyers. On the food front, light options like salads or cheese and crackers make for a tasty snack. More substantial bites, such as butter chicken and rice, are available too.
Barista-made coffee is available throughout the day. My brew arrives with great latte art, and before long, it's off to the gate.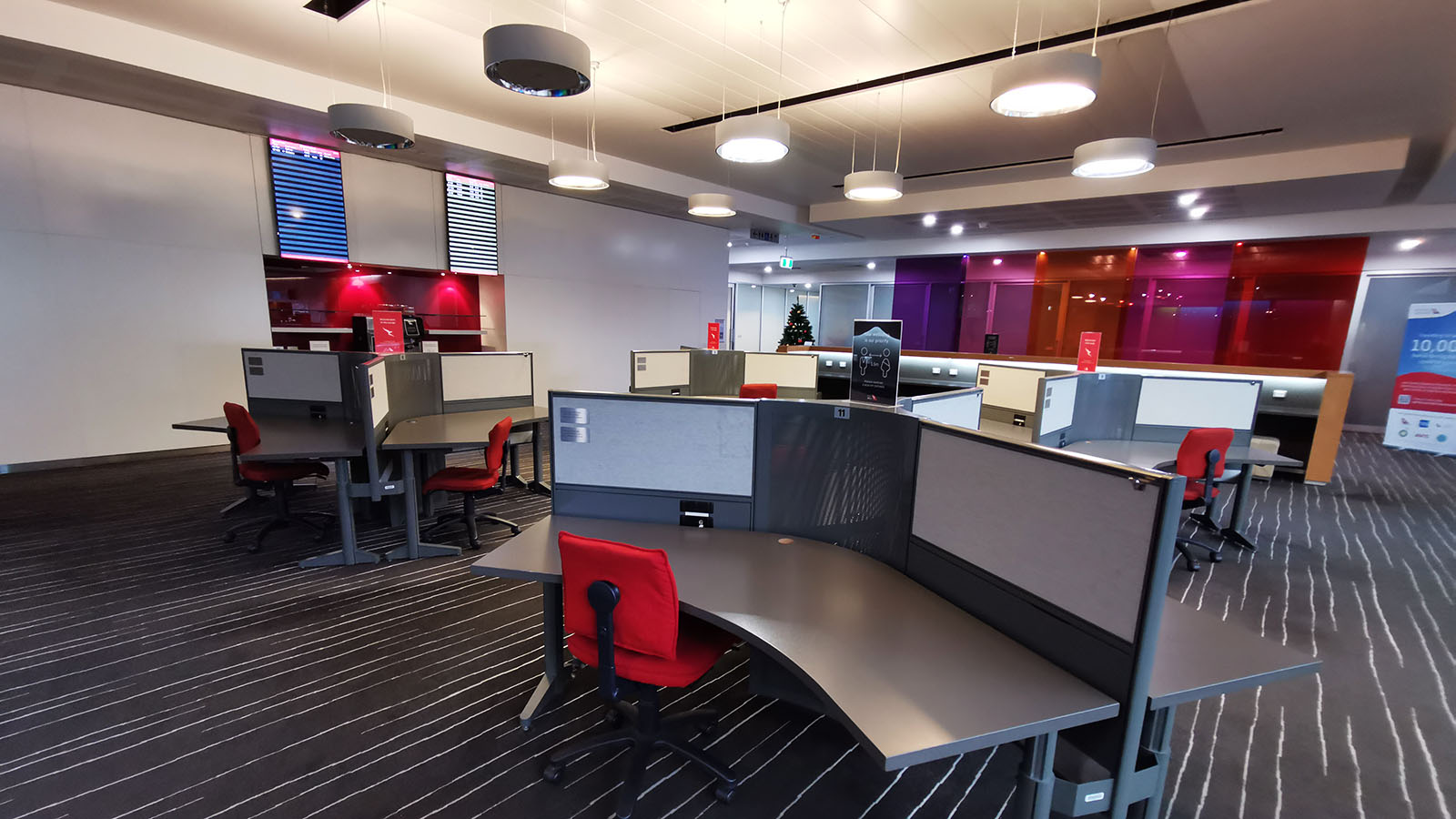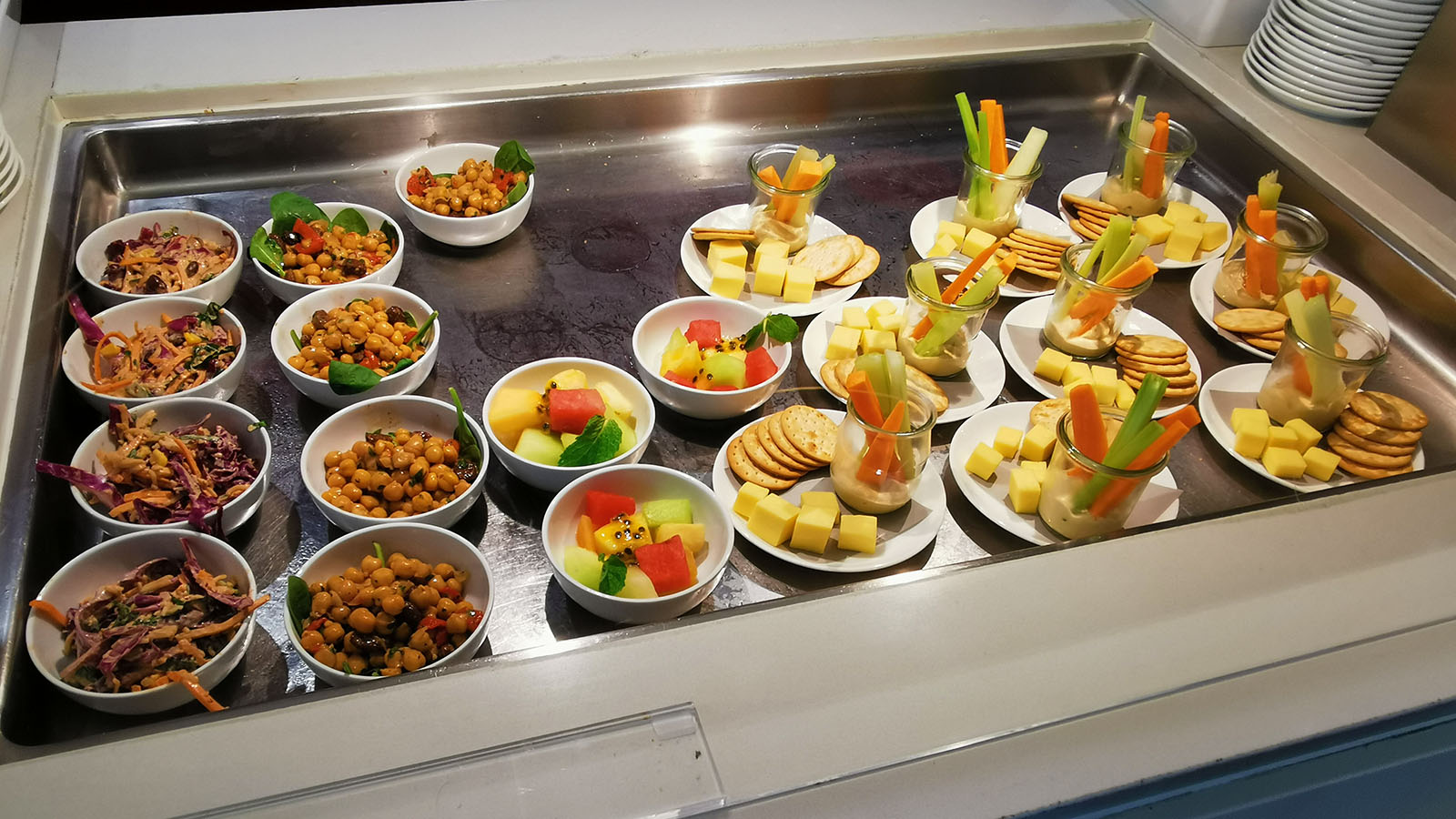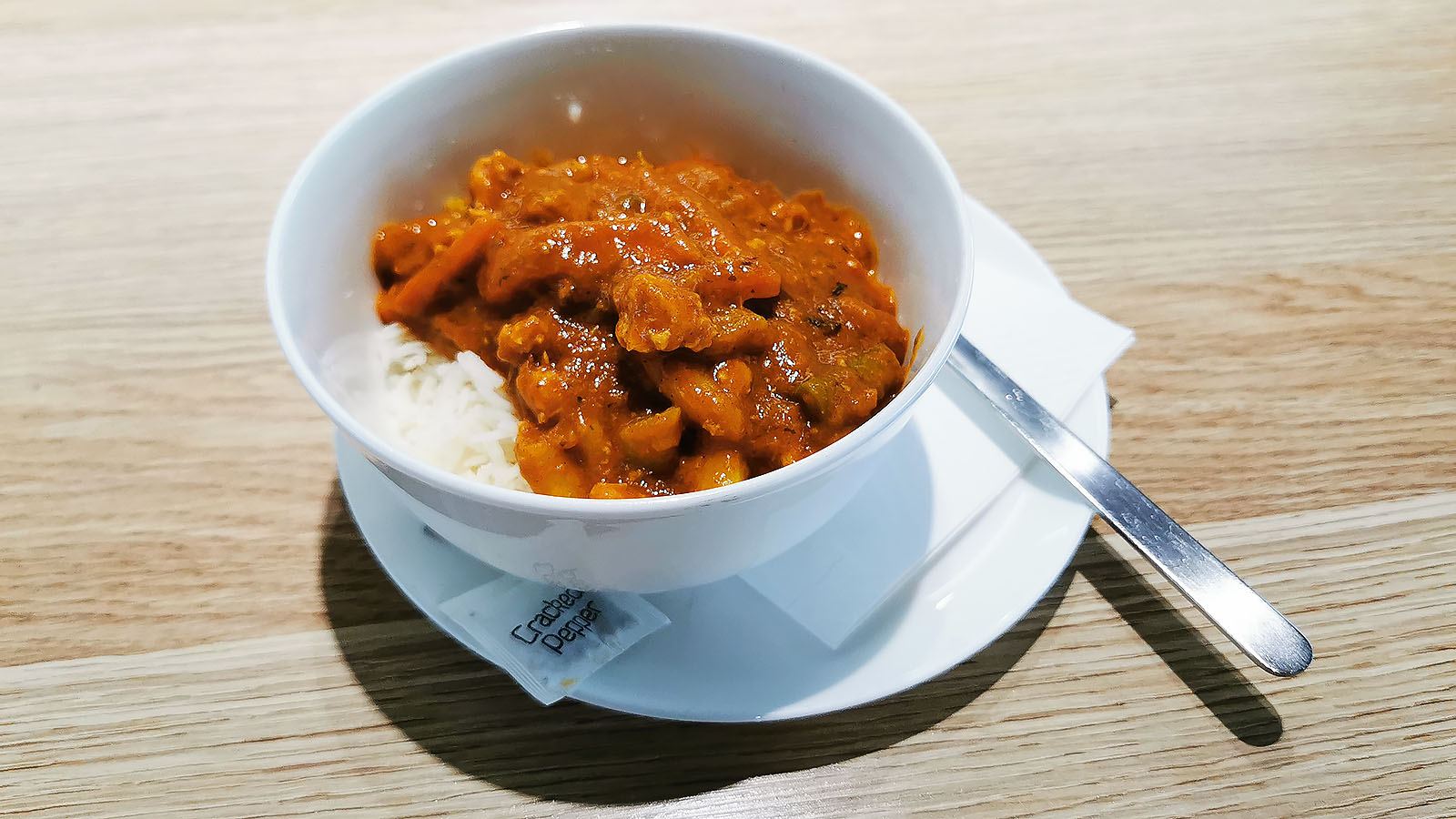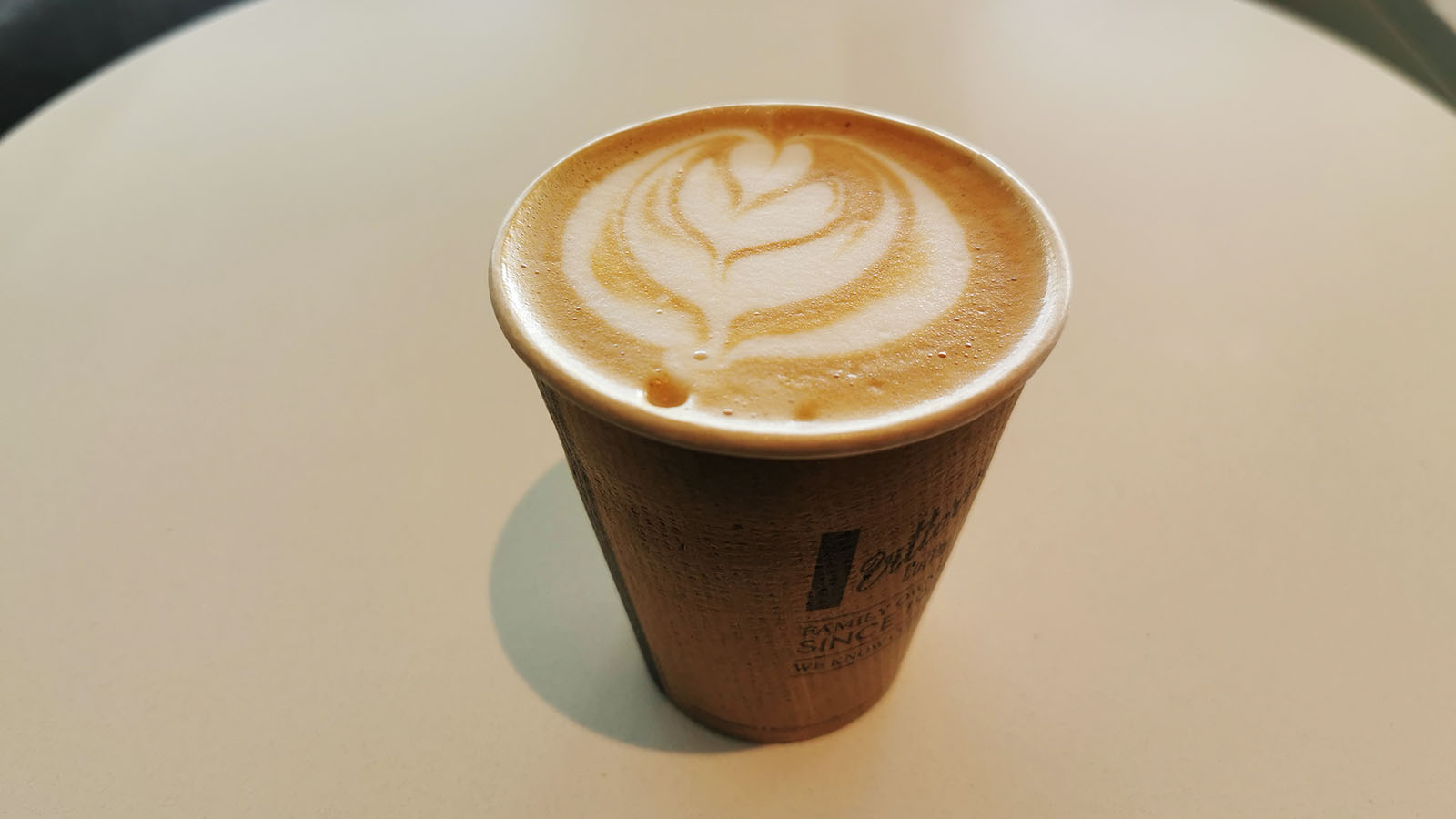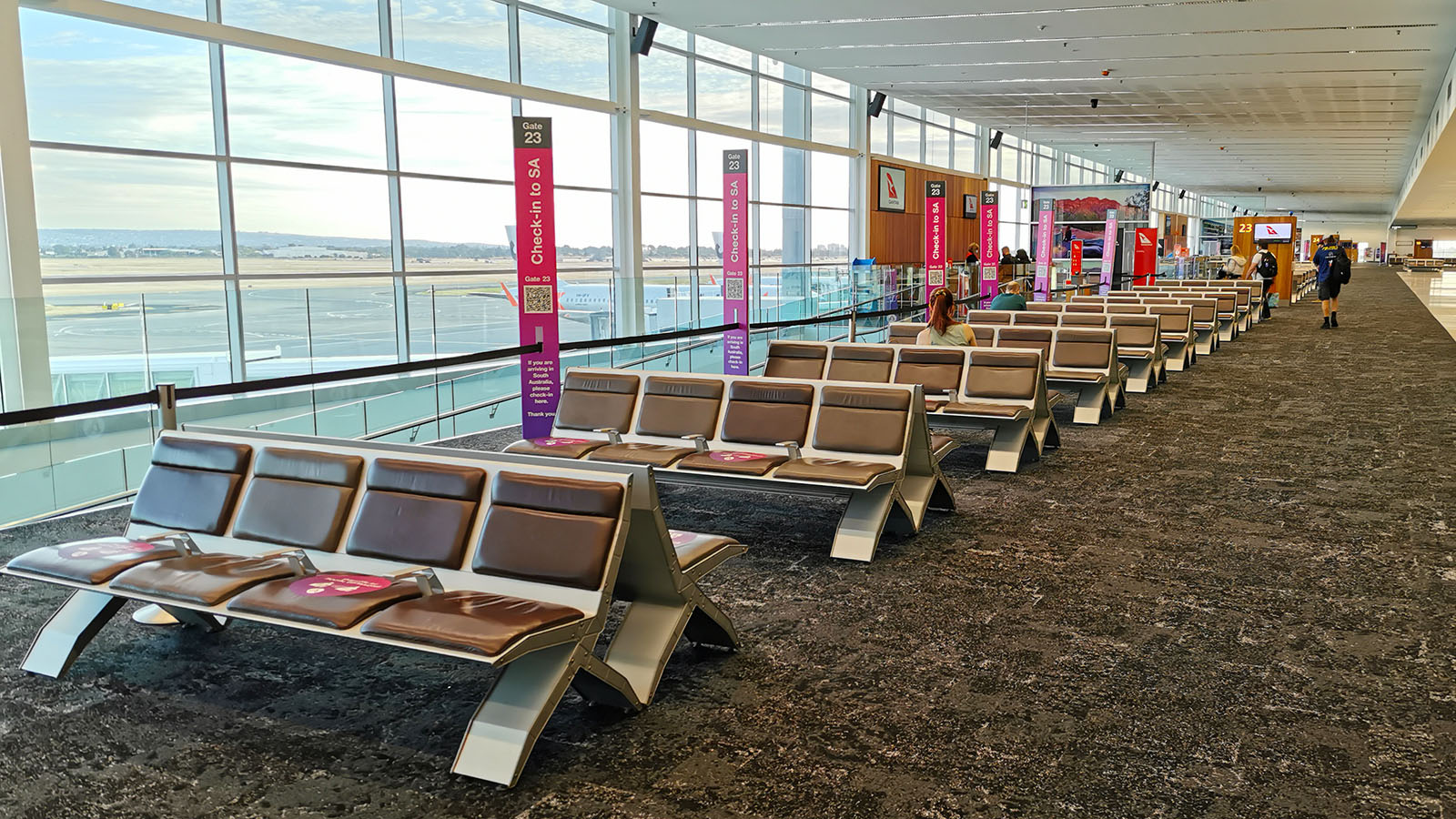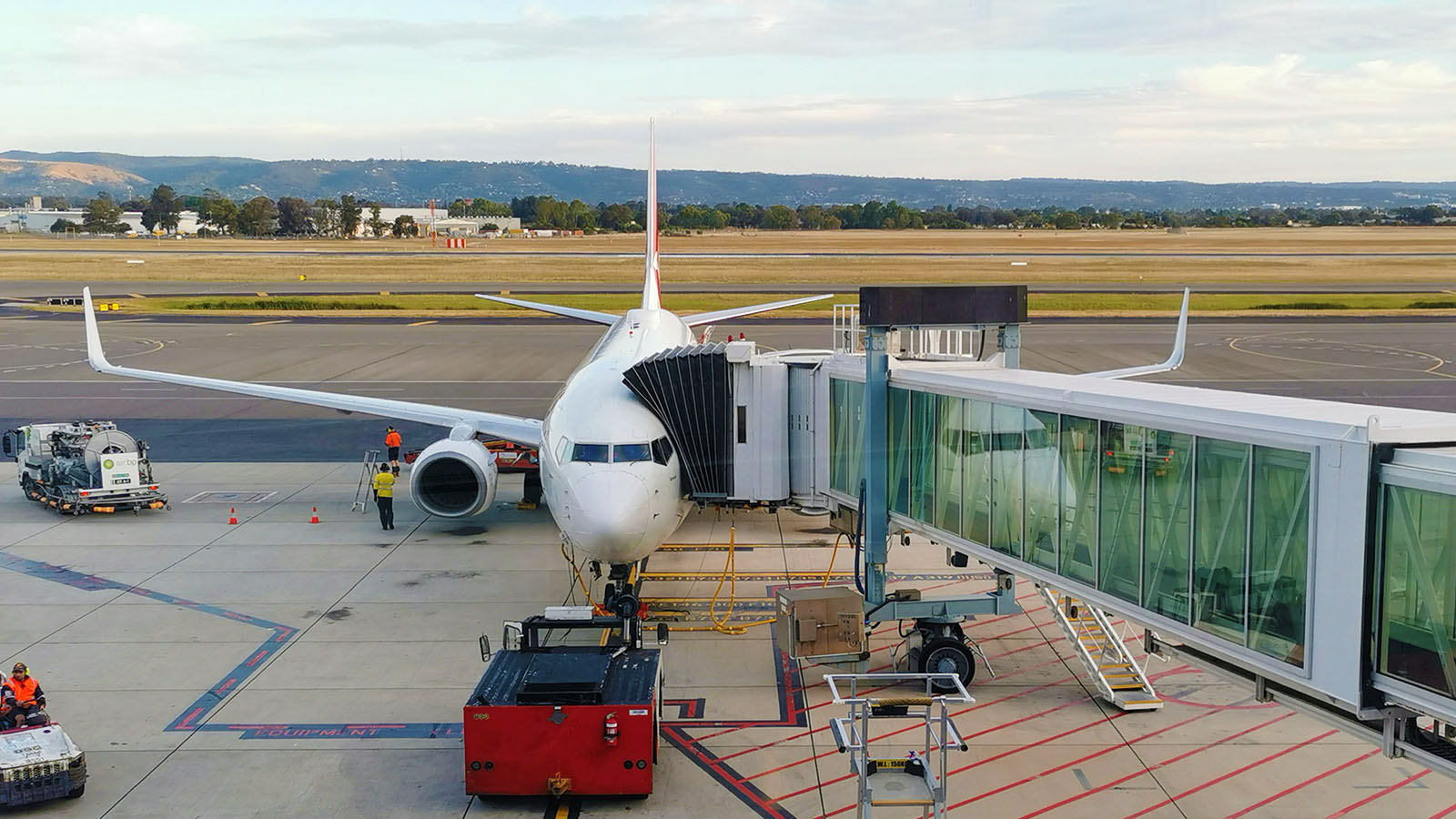 This flight was quieter than most, as Queensland had closed its border to Greater Adelaide on the morning of departure. So most travellers remaining on the flight were connecting from elsewhere. For me, that was Kangaroo Island – fortunately allowing this transit through Adelaide without quarantine on arrival.
Under Queensland's latest border policies, flying in from Greater Adelaide is once again possible without quarantine. To qualify, travellers must be fully vaccinated. A negative COVID-19 test is also required within 72 hours prior to arrival in Queensland.
With Adelaide remaining a COVID-19 'hotspot', don't forget to fill out a Queensland Border Declaration Pass as well.
Qantas Boeing 737 Business seating
Qantas' Boeing 737s come with a cosy Business cabin of 12 seats. Arranged in a 2-2 layout, this provides three rows at the front of the plane.

While row one looks great on a boarding pass, there's a downside. Bags can't be stored at your feet for take-off and landing. With that in mind, I generally opt for the second row, where my laptop bag slips perfectly underneath the seat in front.
Each seat offers a comfortable recline. There's a leg rest too, and a footrest can fold out. That's handy for shorter travellers, but less so for longer-legged flyers.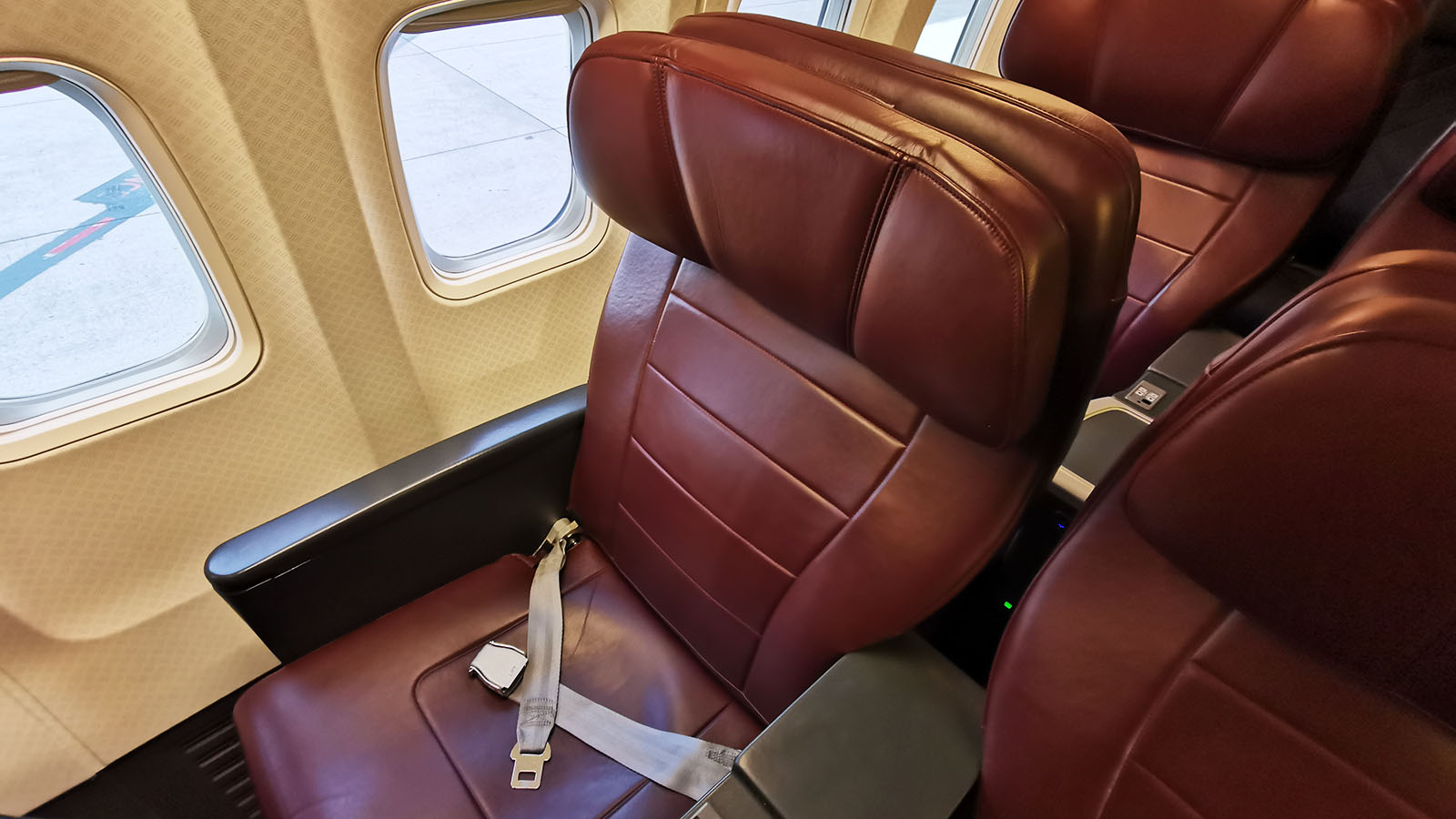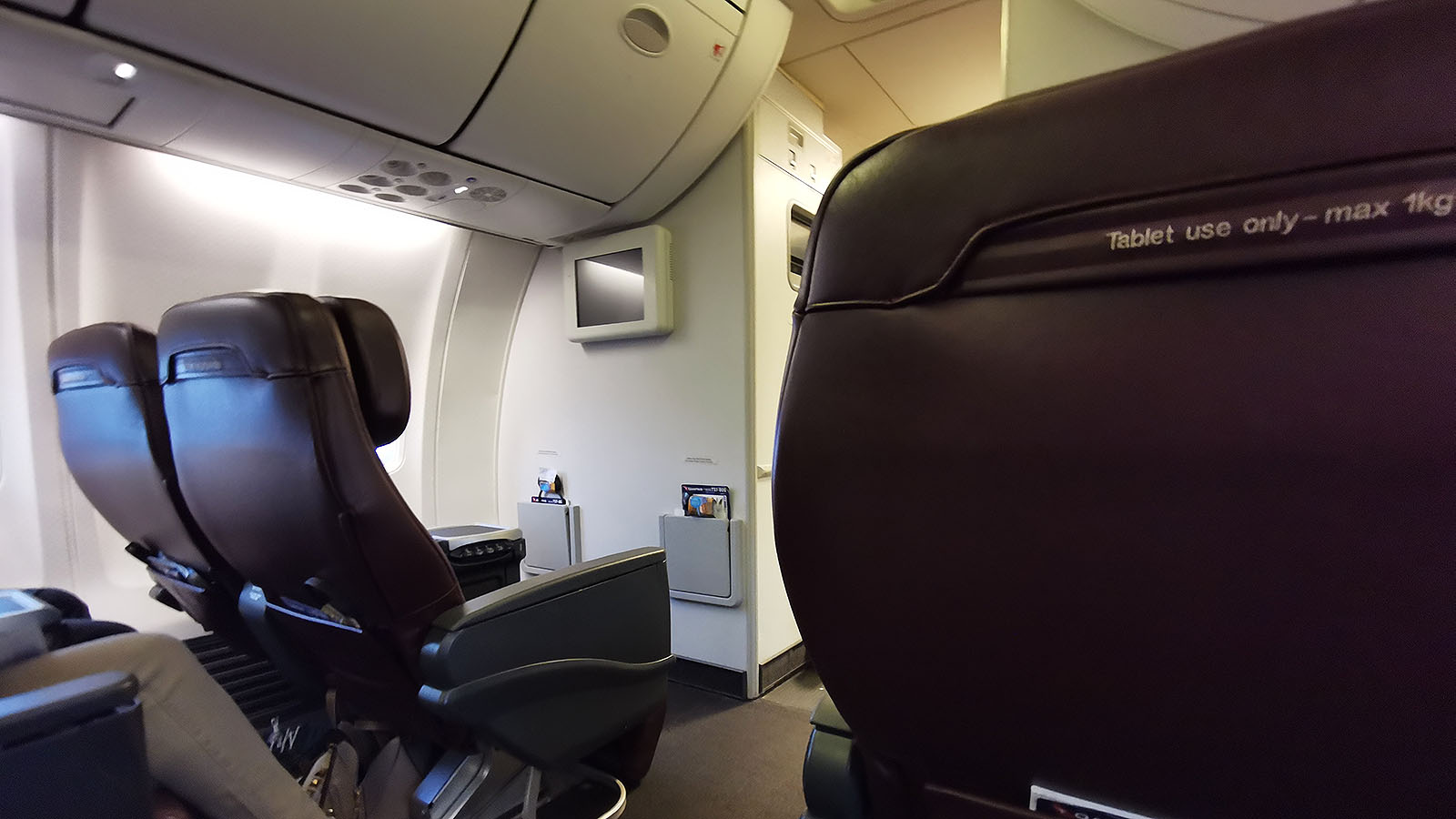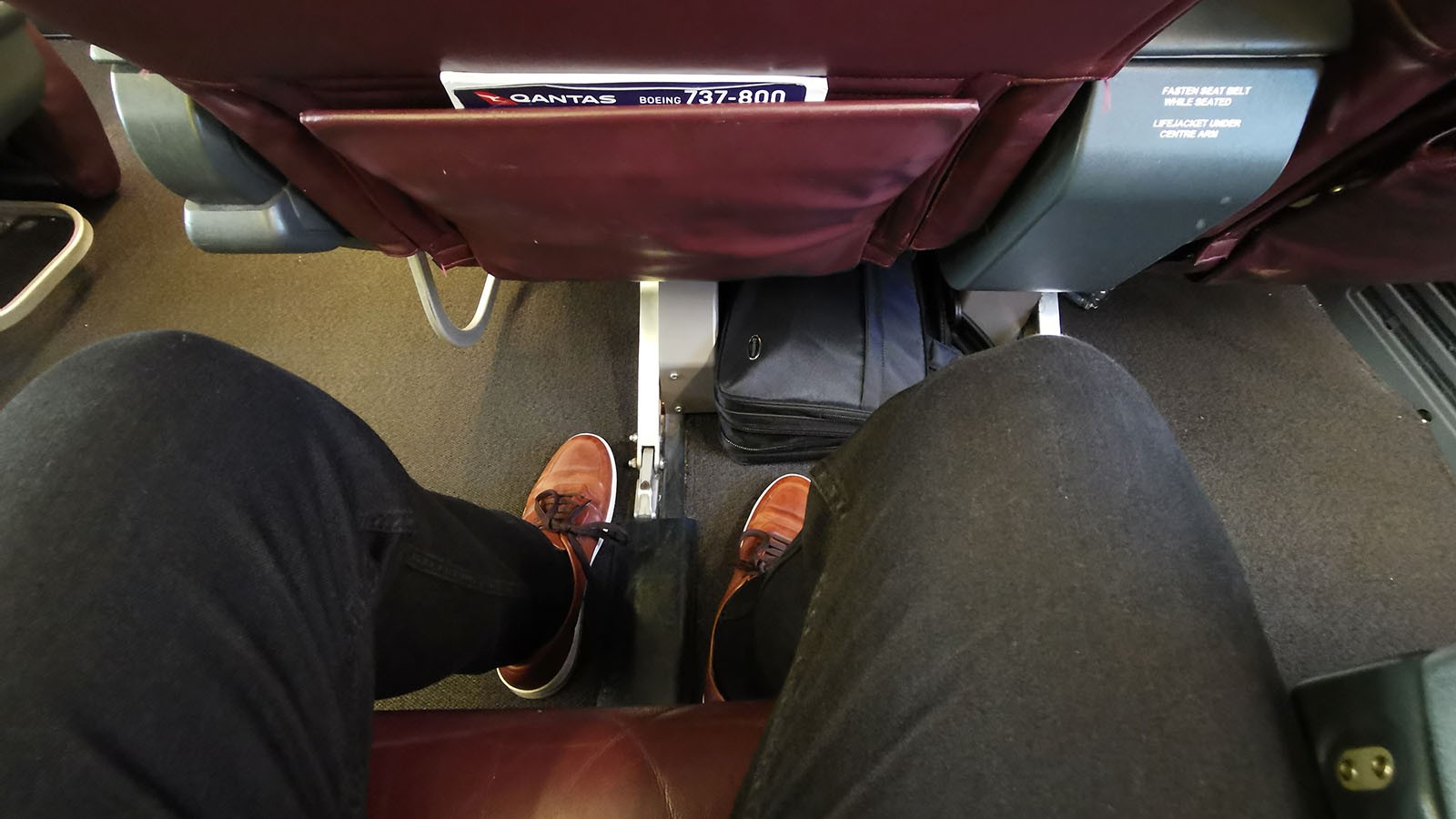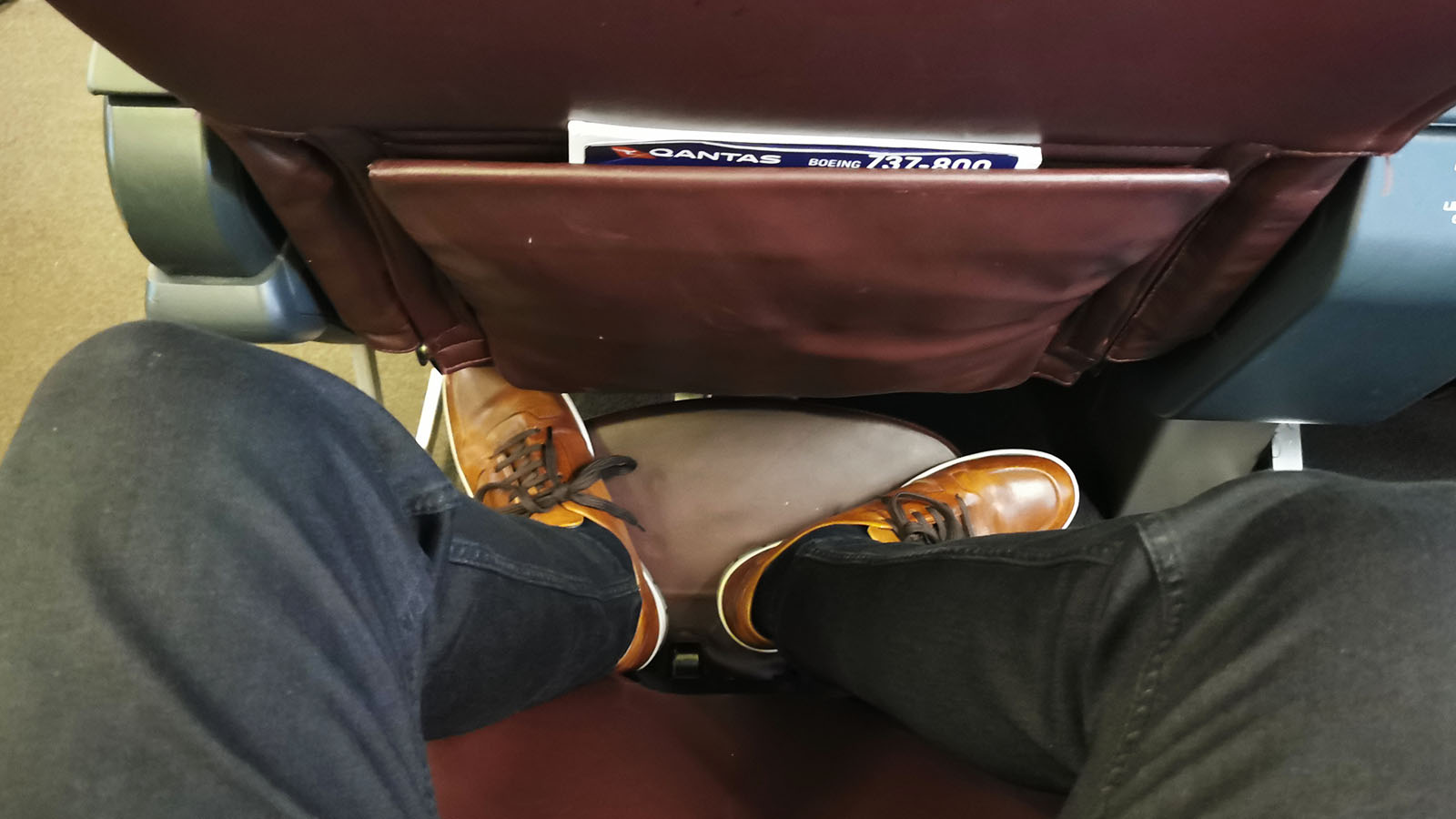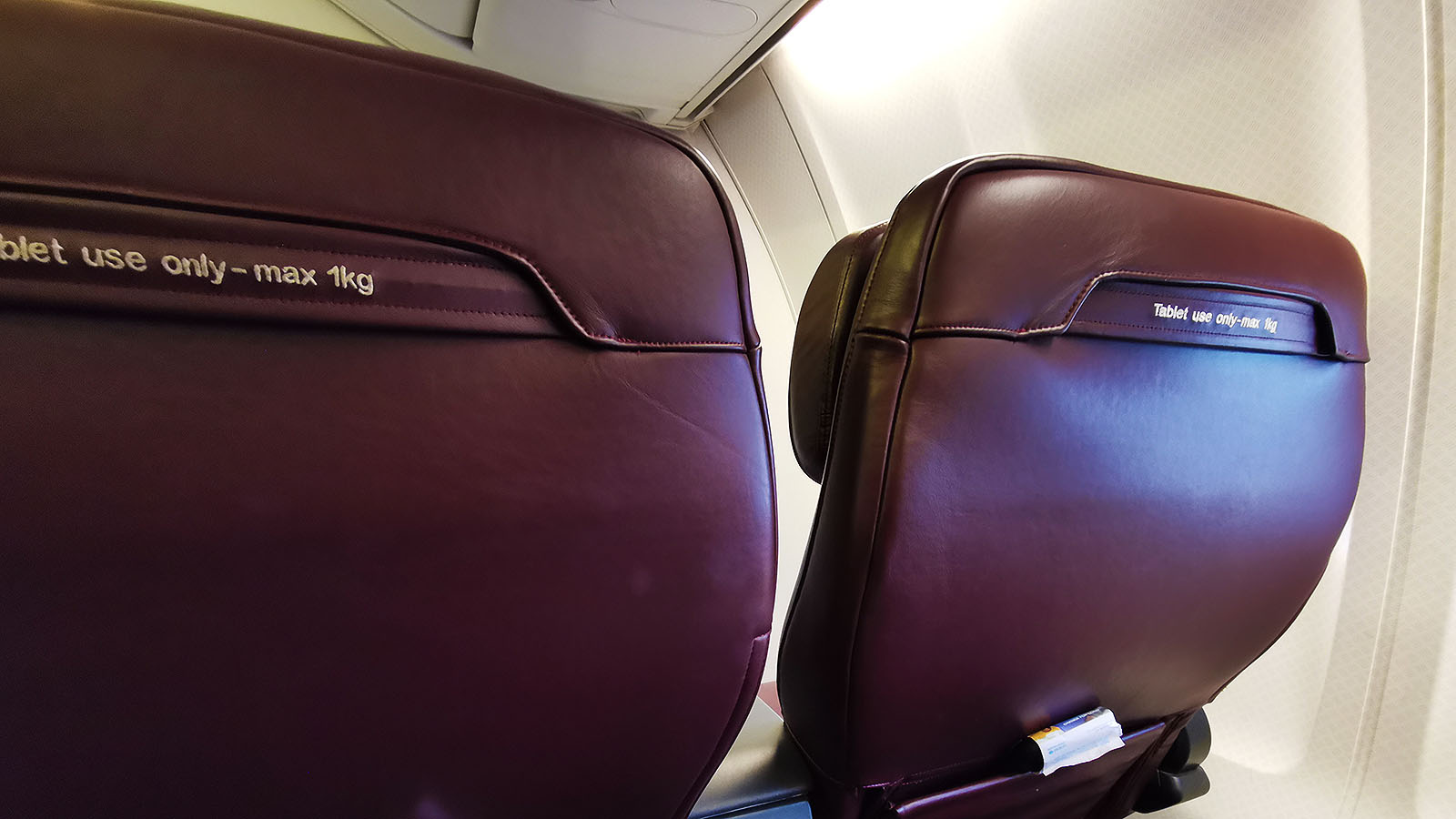 A sturdy tray table folds out from within your armrest. Being a 'hotspot' flight, it was great to see that the tray was thoroughly cleaned after the last passenger. It's perfect for both dining and laptop work, with a 'half tray' option that's suitable for beverages.
Of course, you'll also find a cocktail table between each pair of Business seats. Controls for your seat adjustments are nearby – just pull the lever and lean onto the seat to adjust. Power outlets are located down below.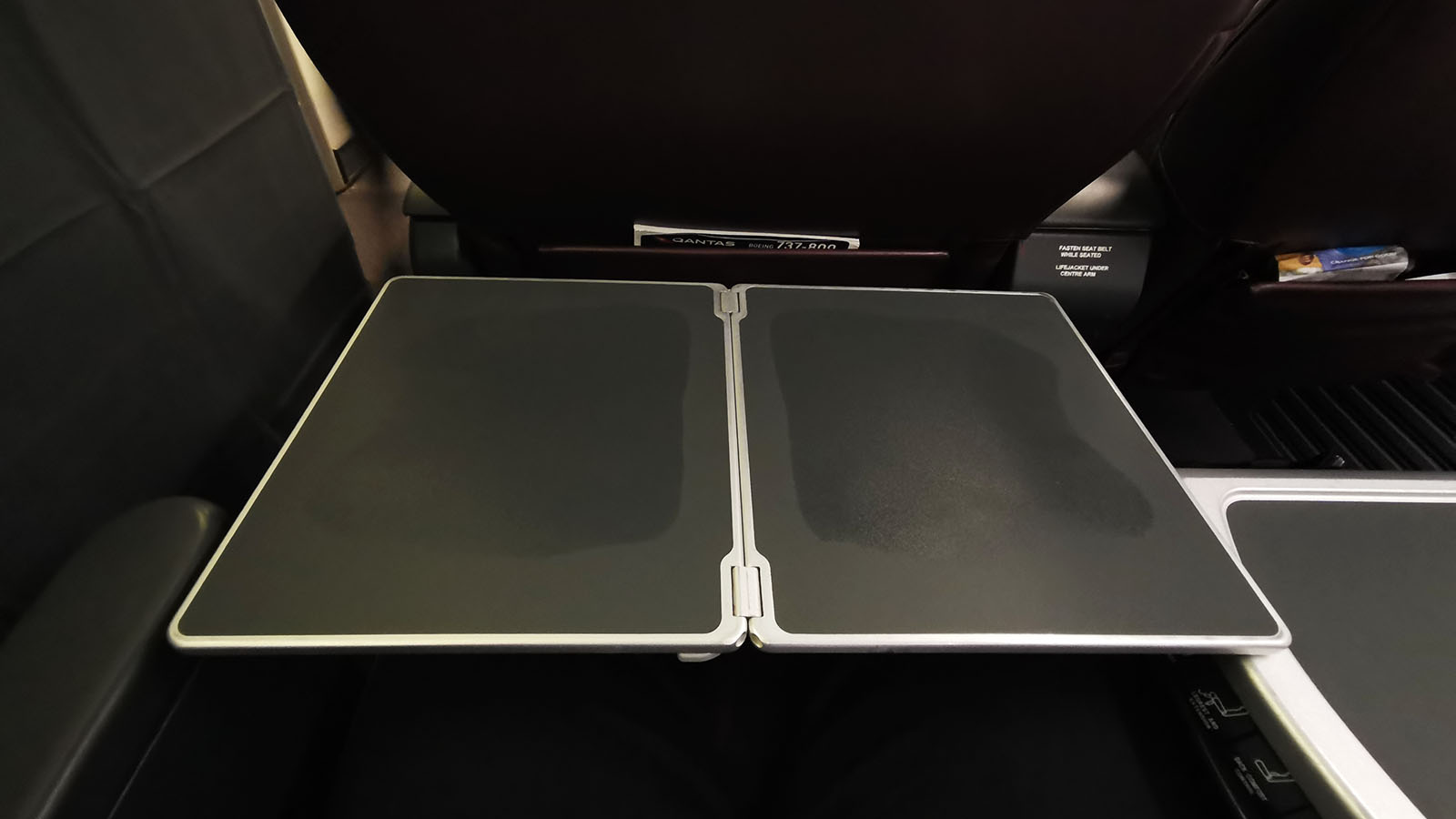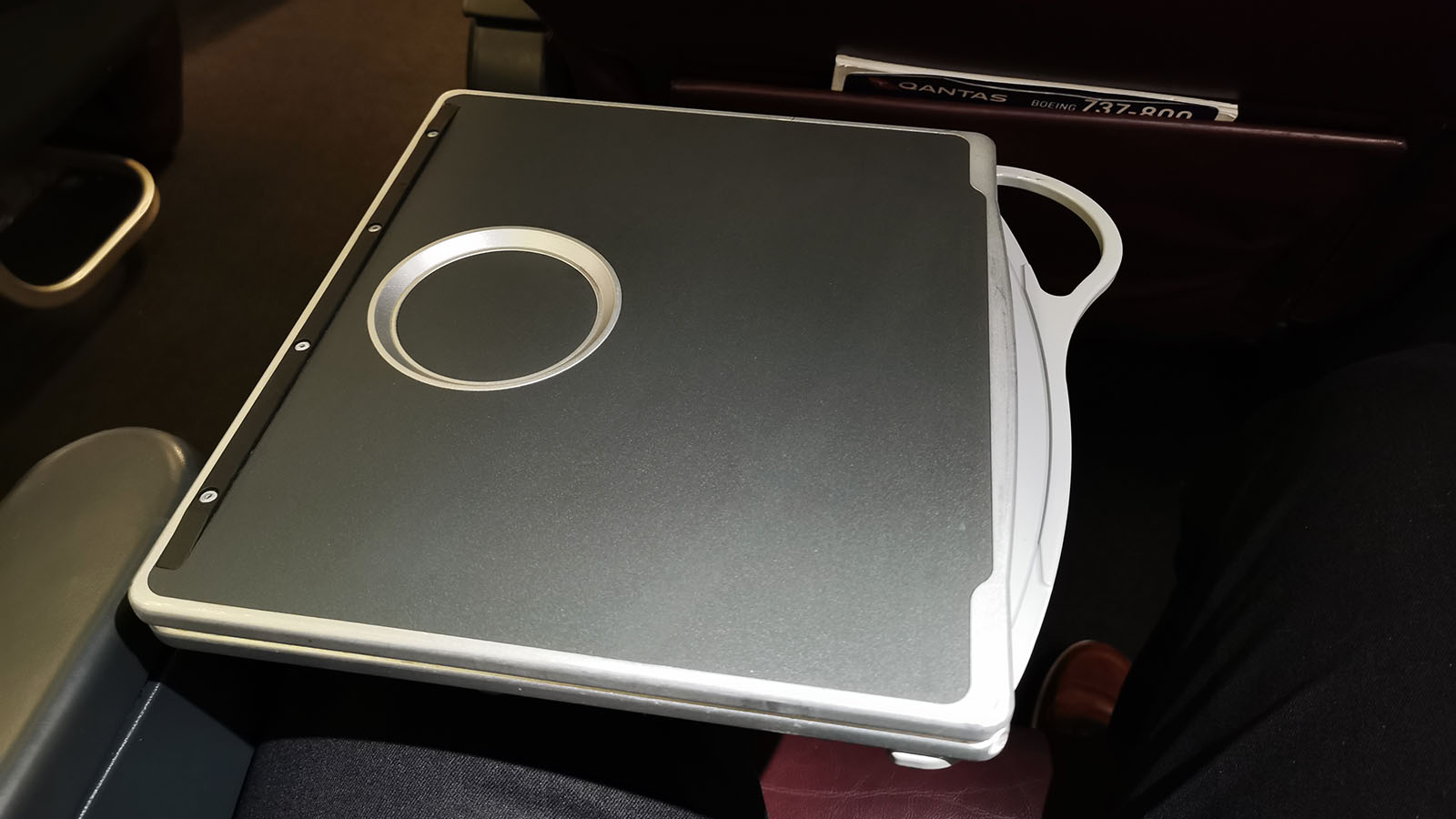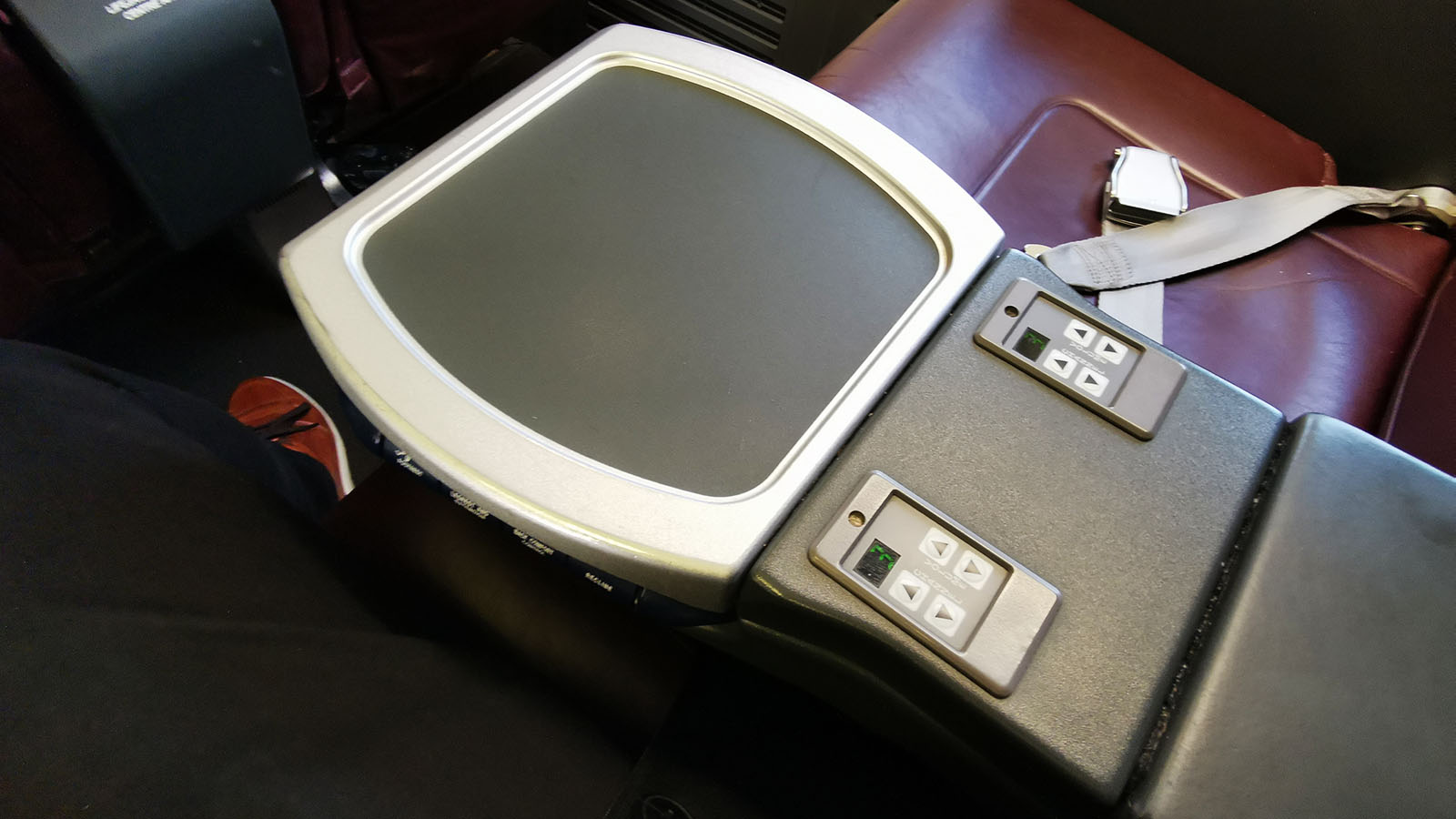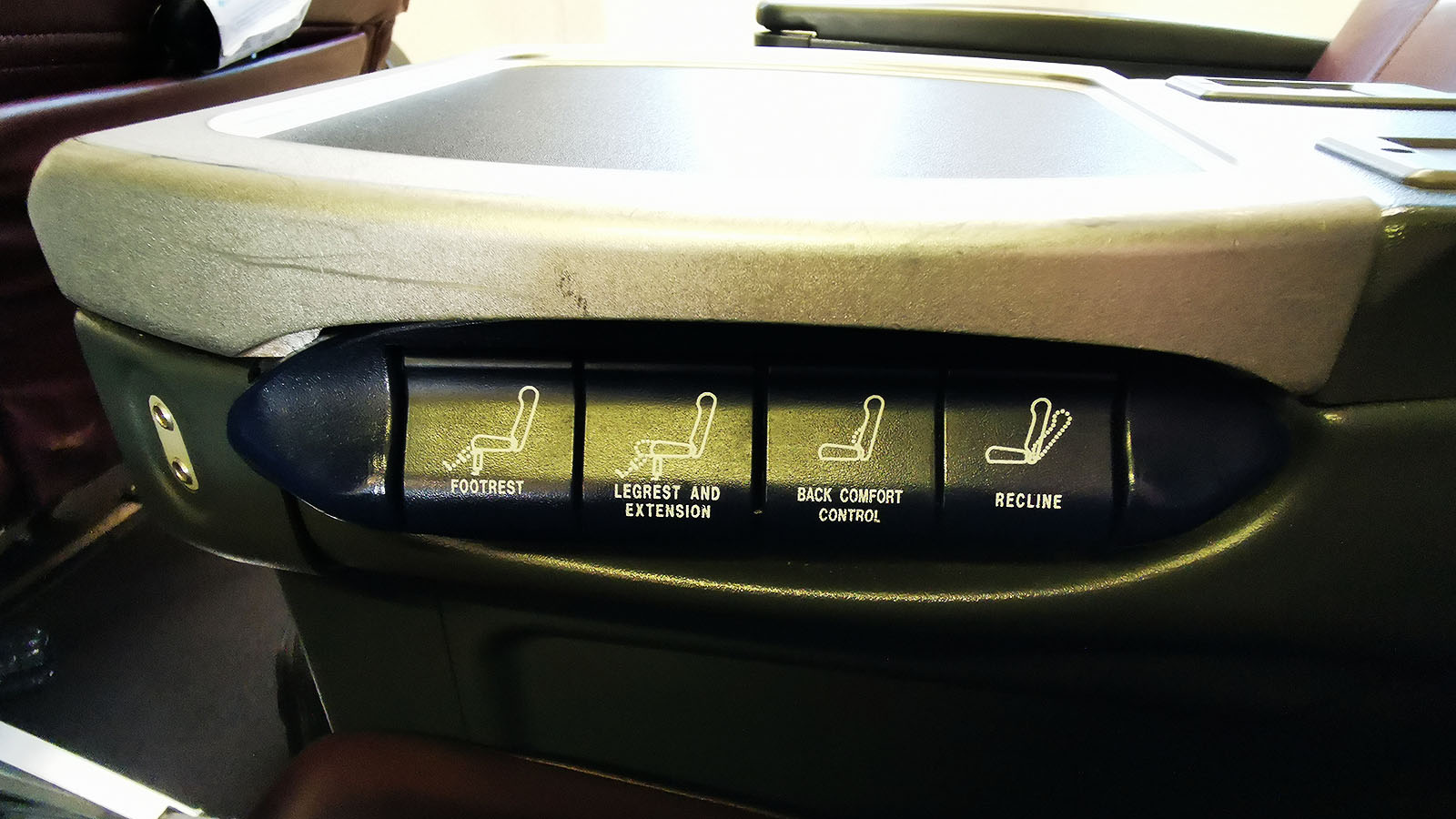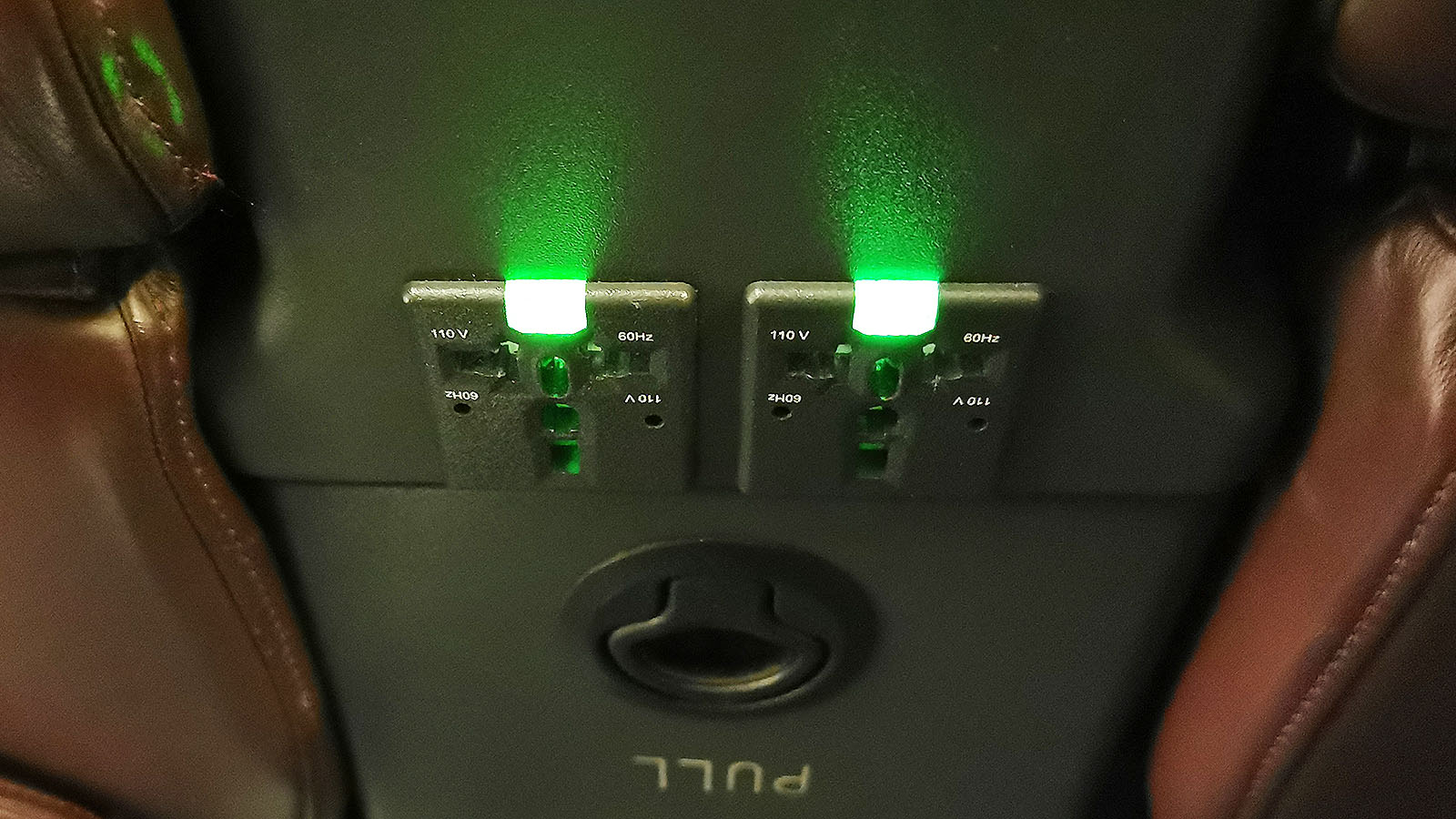 Being an emptier flight, it was great to travel without a neighbour in the seat beside me.
Through ExpertFlyer, I noticed that the neighbouring seat was indeed 'blocked'. This prevents anybody from selecting that spot unless the flight becomes full. One of the unpublished perks of Qantas Frequent Flyer status at play!
Qantas Boeing 737 Business food and beverage
With an evening departure from Adelaide, travellers enjoy dinner on the 2.5-hour flight to Brisbane.
On this service, the hot dish is a beef brisket. Alternatively, there's a char-grilled salad of broccoli, almonds, pickled onion and prosciutto, served with Dijon mustard and a vinaigrette dressing.
I'm fancying something substantial, so the beef brisket comes as an easy choice. It's served with couscous fritters, sweet potato and a tomato-based sauce. On the side, sourdough bread with Australian butter, and a Lindt chocolate bar.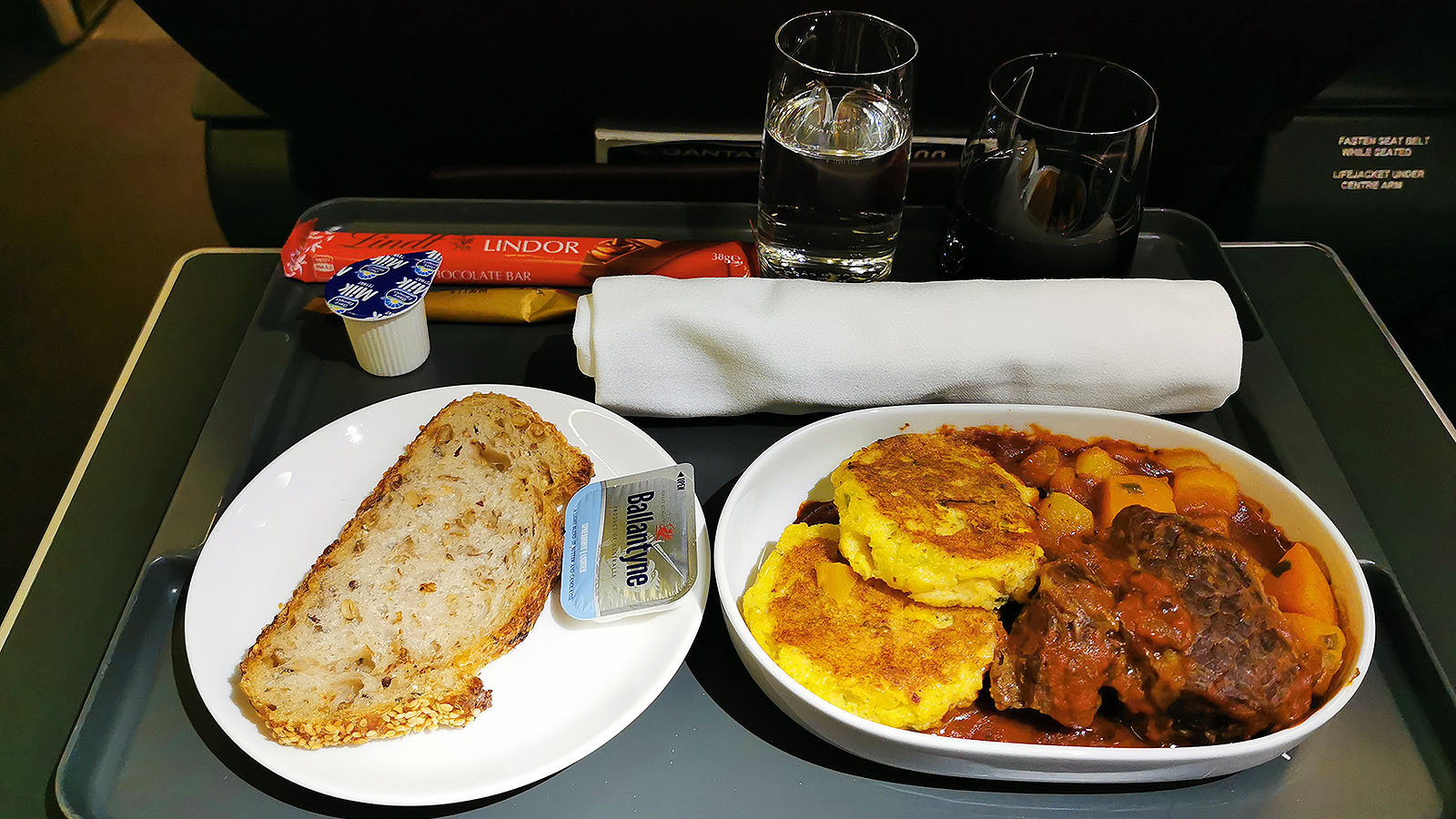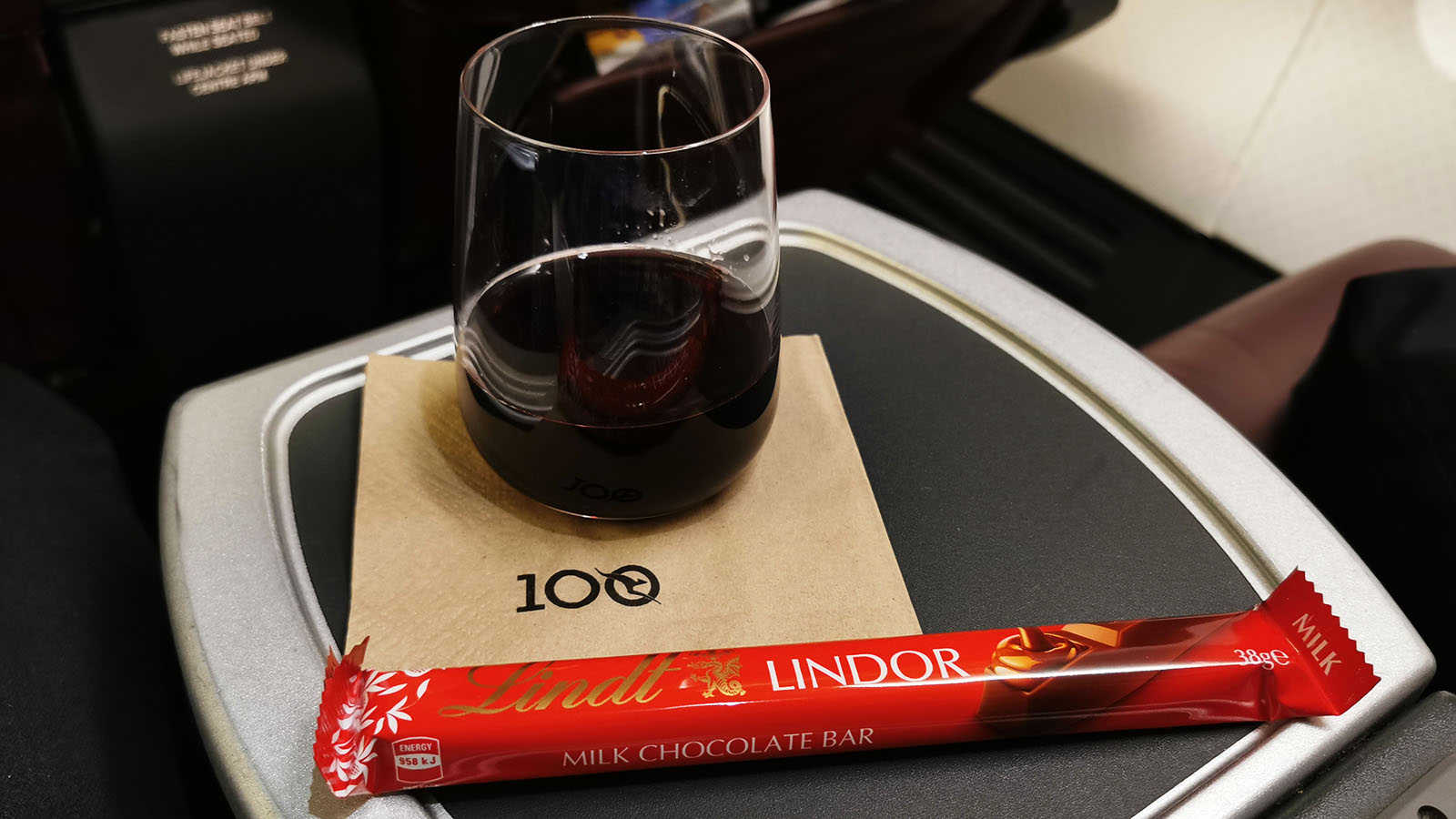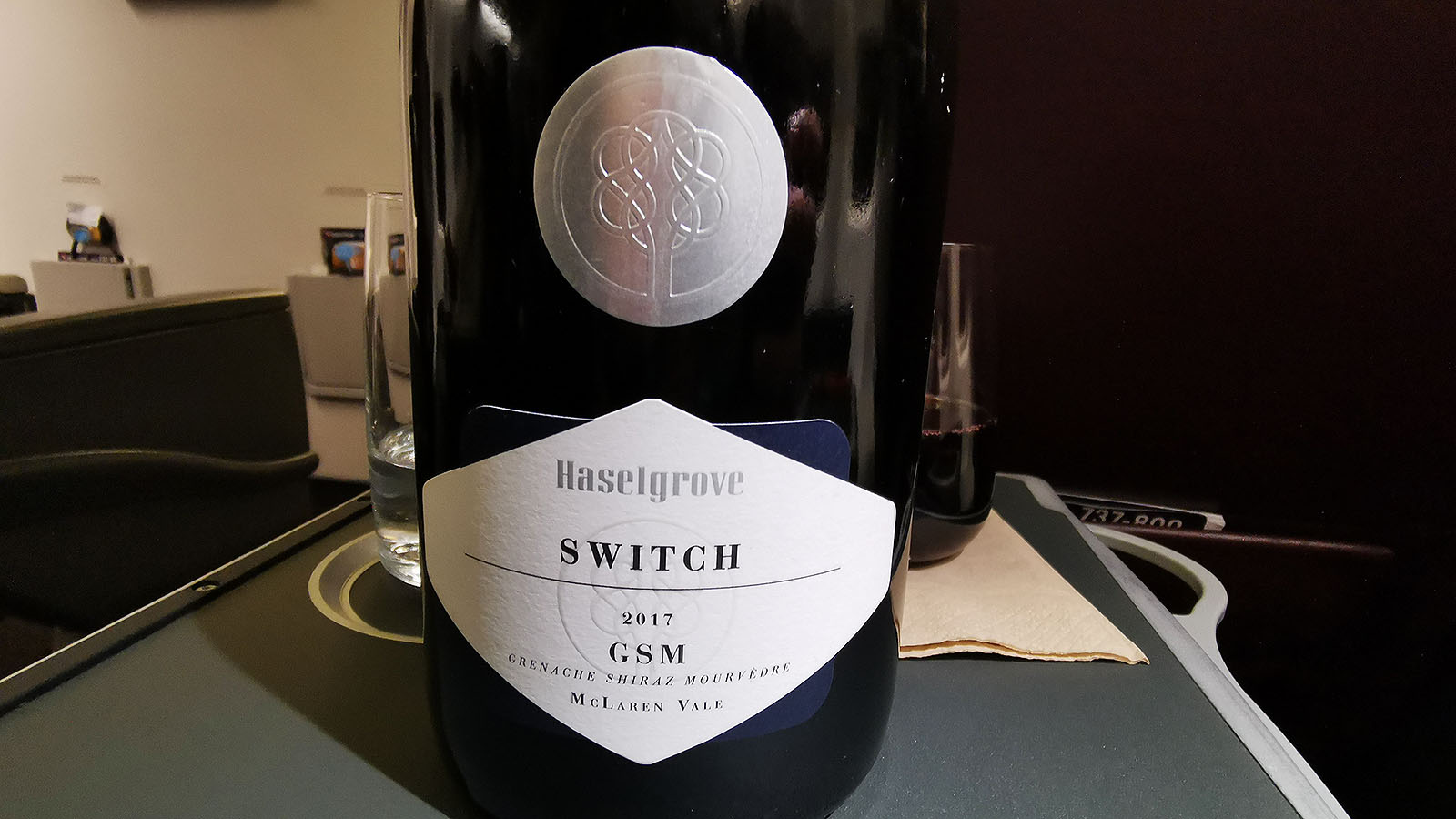 While perhaps not looking the best in photos, the beef was perfectly tender. That's exactly what you want on a plane, where the table knife is blunt and travel-safe.
Pairing perfectly, a glass of Haselgrove Switch 2017 GSM from McLaren Vale. Normally on the wine list of Qantas' international flights, it's an apt choice on this flight from South Australia.
Beverages are topped up throughout the journey, although spirits are yet to return to the menu. Pre-departure drinks are yet to come back as well, with the first beverage provided when the meal arrives.
Qantas Boeing 737 Business service and entertainment
Qantas' Boeing 737 fleet offers a mix of entertainment options. Aboard some aircraft, you'll find seatback screens from tip to tail. On others, there are overhead monitors instead. Complementing those is streaming content via the Qantas Entertainment app for Android and iOS.
This aircraft found that 'older' setup with communal screens, and your own device for anything else. But these jets offer free inflight Internet too, expanding your choices much further. I'm able to fire up Disney+ on my tablet and stream Family Guy over the aircraft's Wi-Fi network. Aside from an occasional pause, it works well.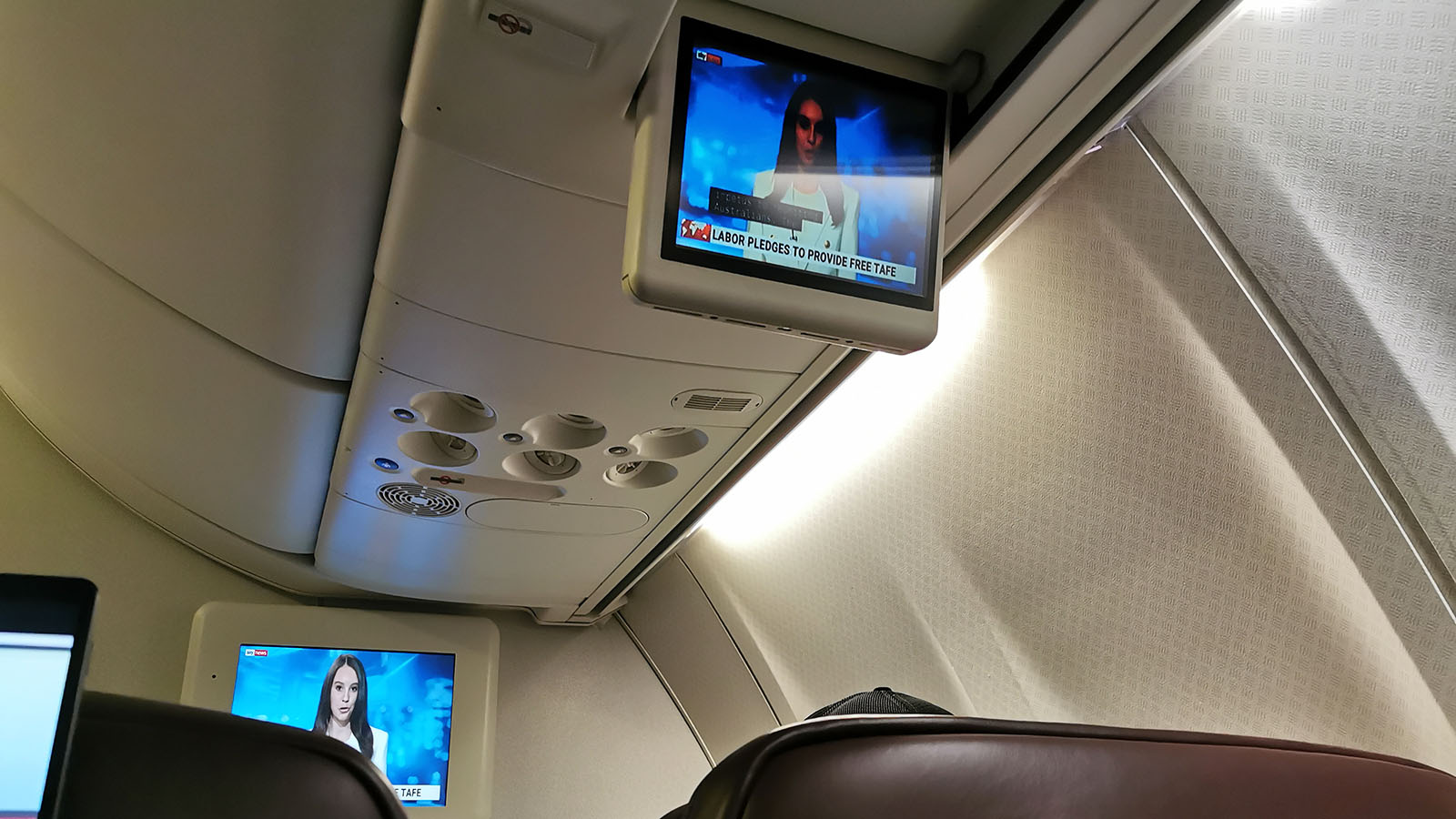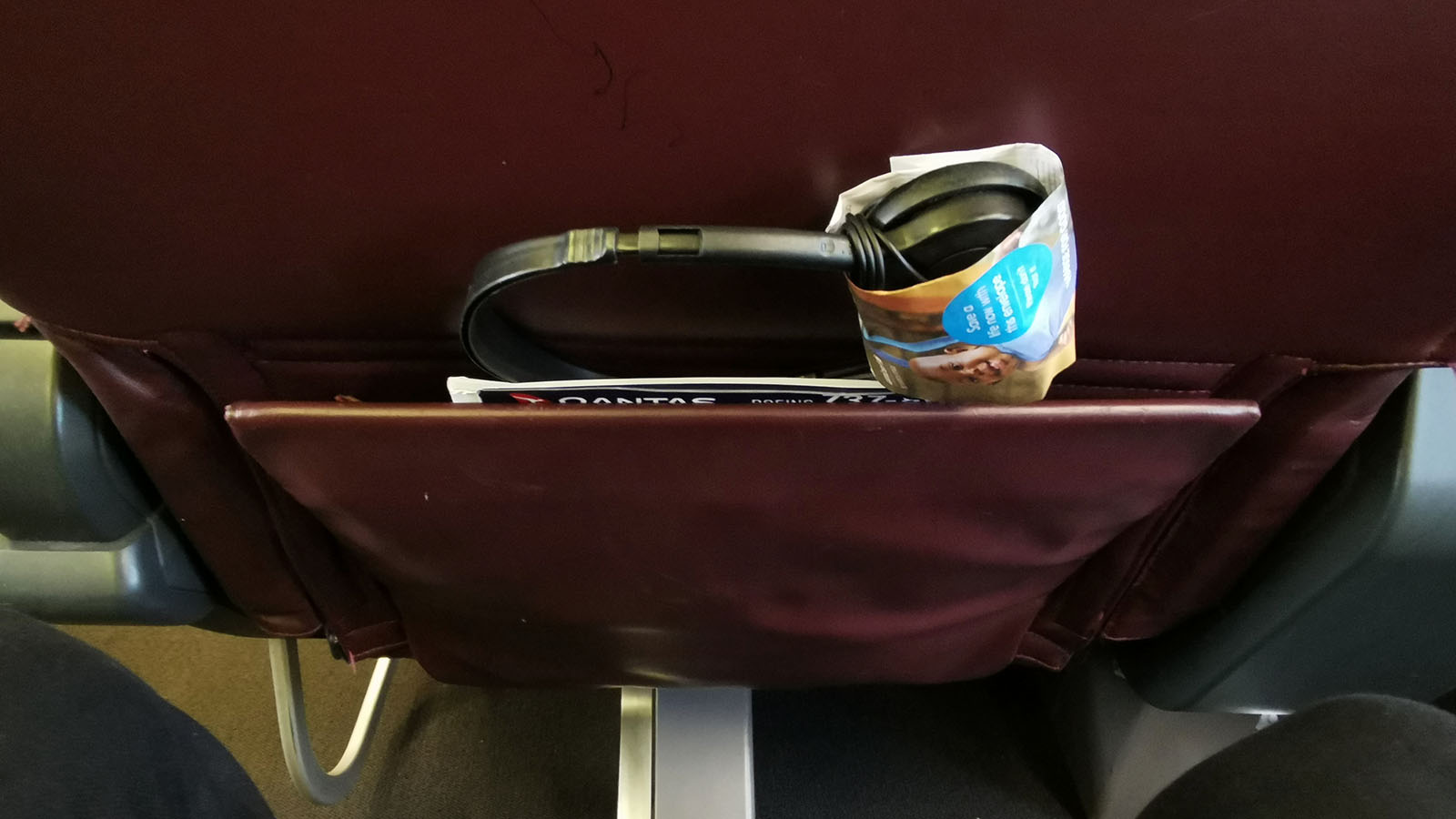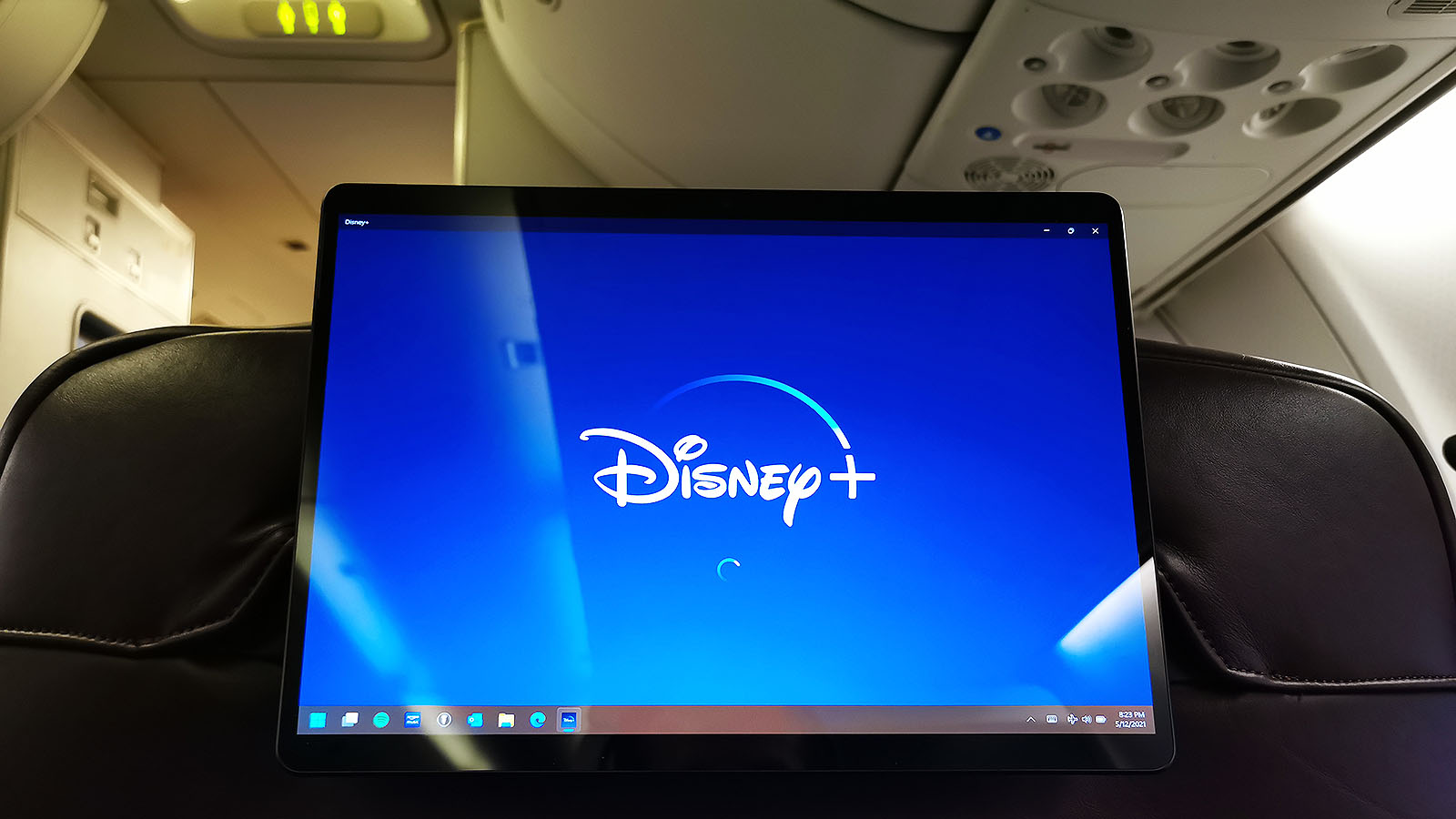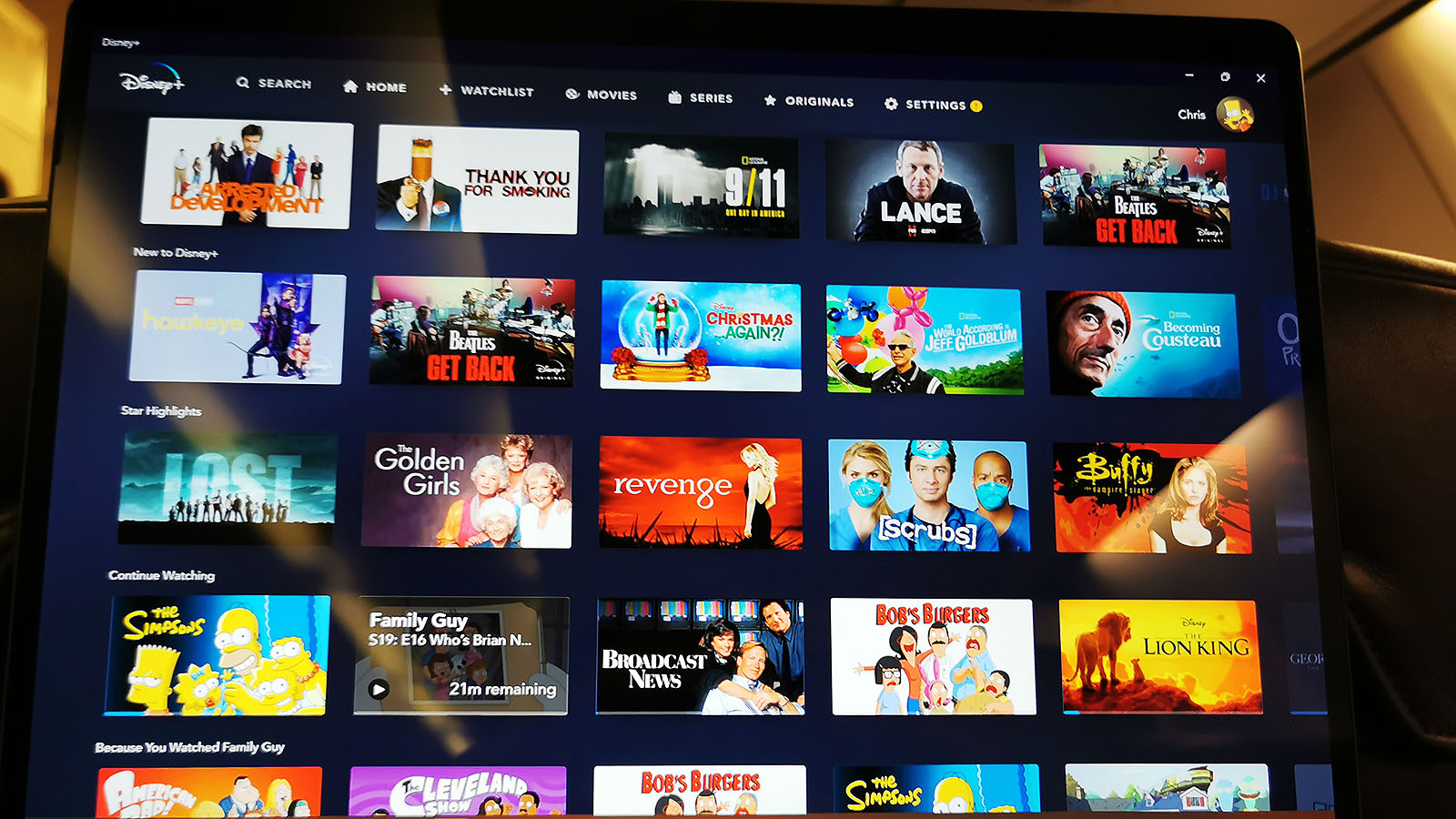 A tablet holder mounted to the seat in front keeps things easy. Not only is the screen kept out of the way, but pairing (BYO) Bluetooth headphones means there's no bothersome cable, either. While it's a tight squeeze, the kickstand of my Surface Pro 8 just fits the holder.
That's another advantage to choosing rows two or three, rather than the bulkhead at row one – the first row doesn't get a tablet holder. The best you can do is to use your tray table, or try and secure your device to the (much lower) seatback pocket.
Service on today's flight is excellent. Crew greet passengers by name, and promptly deliver anything requested. Being a weekend as well, the approach is friendly and less formal, which works well.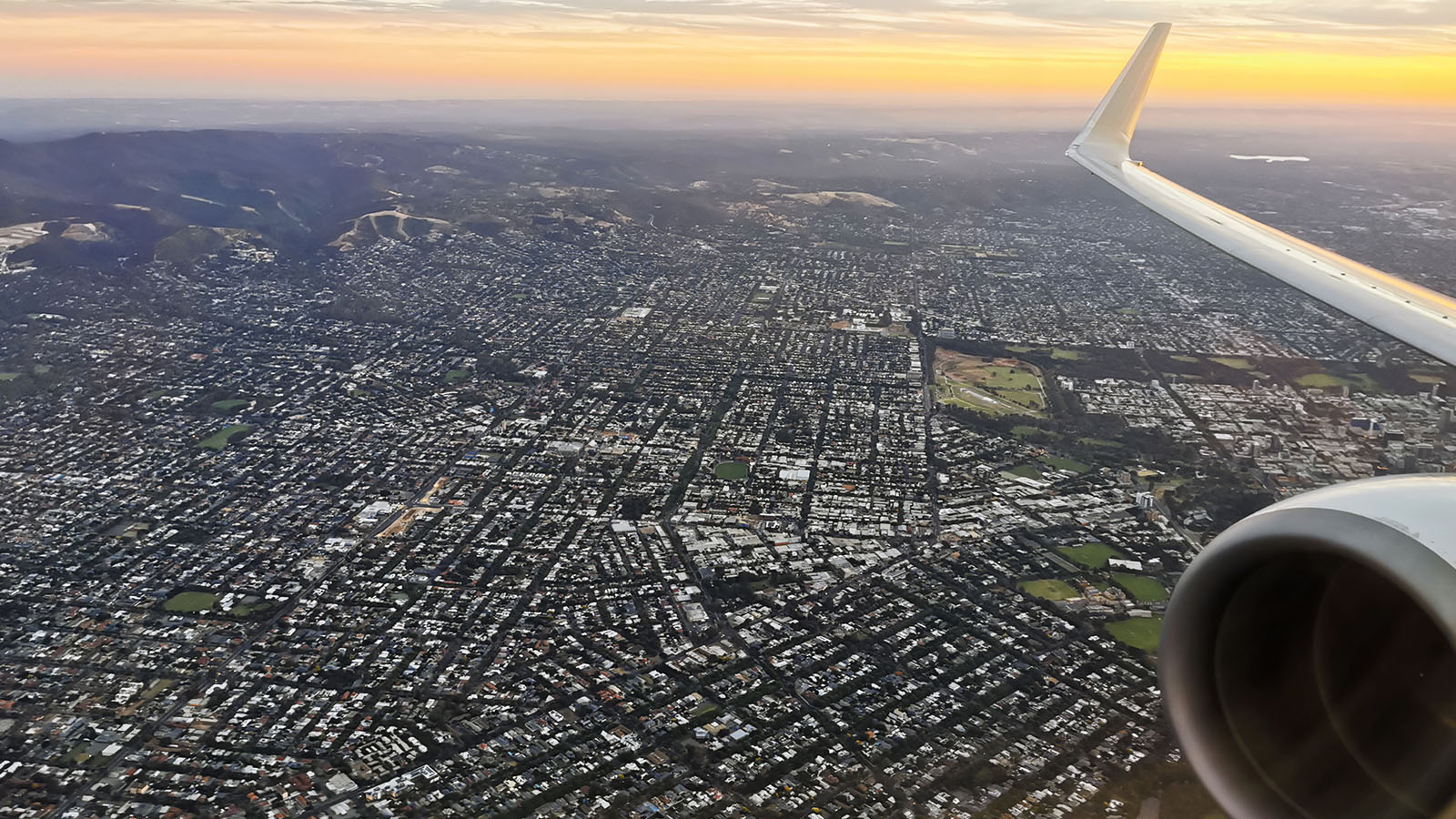 Taking off provides one last glimpse of Adelaide at sunset. There's not much to see along the way or as we arrive, after the sun goes down.
Summing up
Qantas Business aboard the Boeing 737 is certainly a nice way to travel. The cabin refresh in recent years – swapping cloth for leather, and adding tablet holders – keeps the seats functional and feeling fresh.
On the ground though, it'd be great if Qantas created a dedicated Business Lounge for flyers departing Adelaide. It's what travellers have come to expect in other major capital cities – including Sydney, Melbourne, Brisbane, Perth and Canberra. But in its absence, it's good to see that the Qantas Club here is a touch above those in many other ports.
Photography by Chris Chamberlin, who travelled at Point Hacks' expense using the company's Qantas Business Rewards points. Feature image courtesy of Qantas.
Qantas Boeing 737 Business (Adelaide – Brisbane)
was last modified:
January 13th, 2022
by