Virgin Australia's lounge in Adelaide, which boasts a fresh new design by WMK Architecture, is the airline's newest space. It finally opened its doors in February 2021, after numerous lengthy delays brought on by COVID.
With seating for more than 200 guests, this lounge is a vast improvement on the old one. And there are plenty of ways to get in if you're flying on Virgin Australia or Singapore Airlines out of Adelaide.
We know our capital city lounges are highly-valued by our frequent flyers and we're reimagining the experience in a very Virgin way. Not only is the new Adelaide Lounge the best airline lounge at Adelaide Airport, but it's fun, relaxed, and a place that everyone will feel welcome and comfortable.

– Jayne Hrdlicka, Virgin Australia CEO, 23 Feb 2021
With a 15-month gap since we attended the grand opening, Point Hacks revisited the lounge to see how it fares on a normal travel day.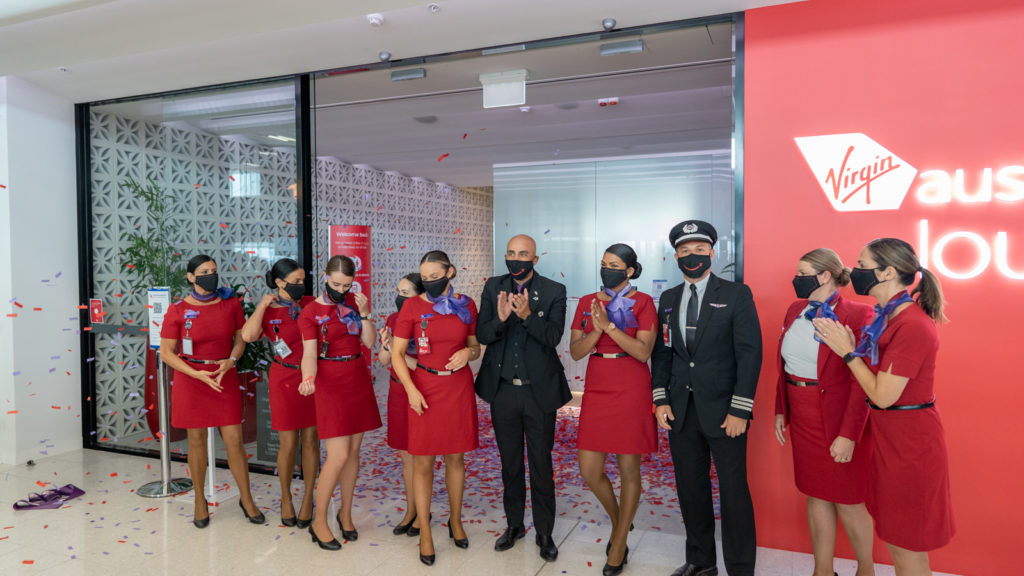 Note: Some images of the lounge décor, which remains unchanged since opening, are from our earlier review in 2021. All food images are from our latest visit in June 2022.
Location and details
You will find the new Adelaide lounge shortly after domestic security – just turn left and follow the signs through the newer wing of the airport. Once you see Gates 14 and 15 on your right, look to your left to spot the entrance. In the airy, cavernous halls of Adelaide Airport, the lounge entrance is simply impossible to miss.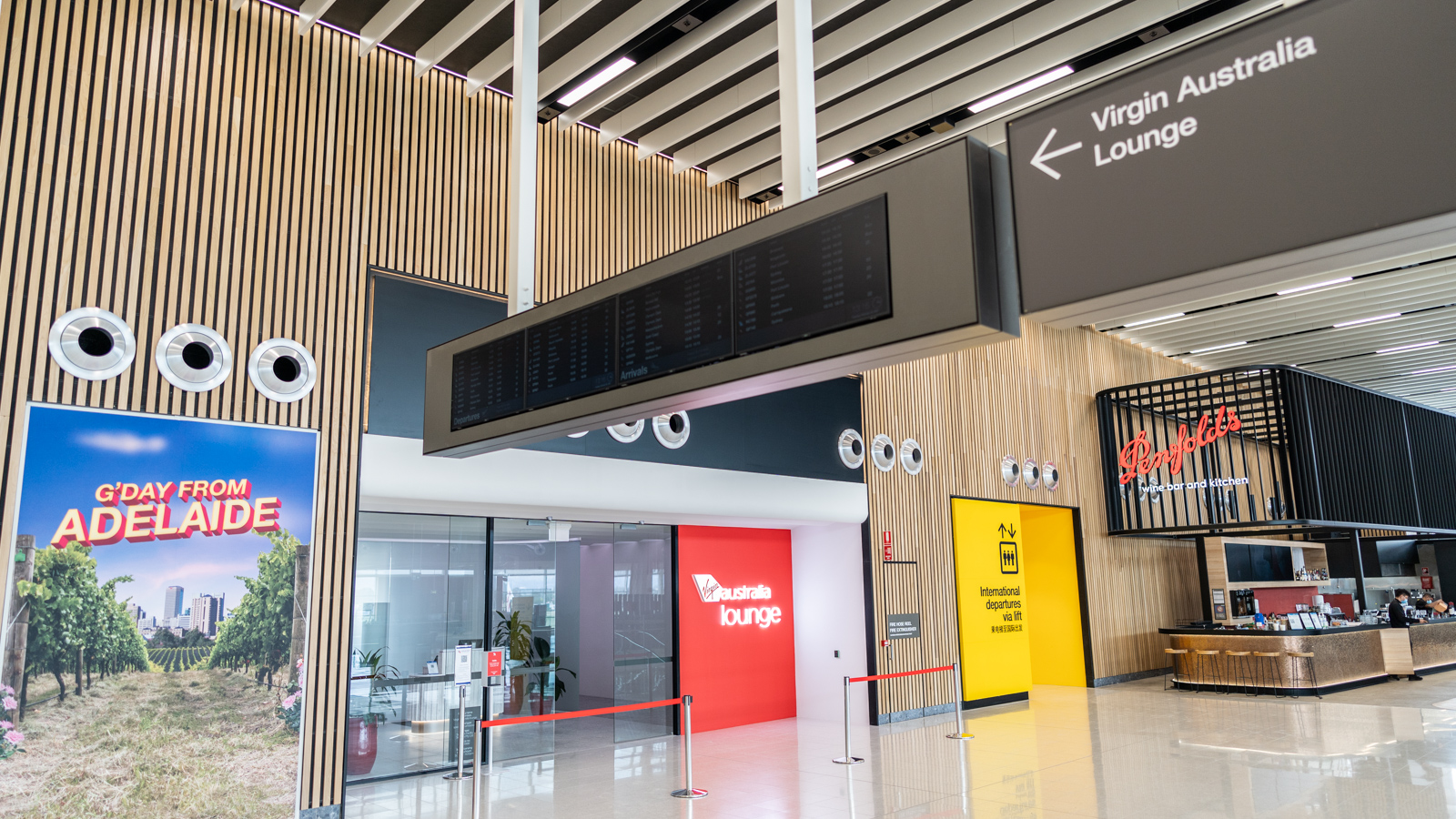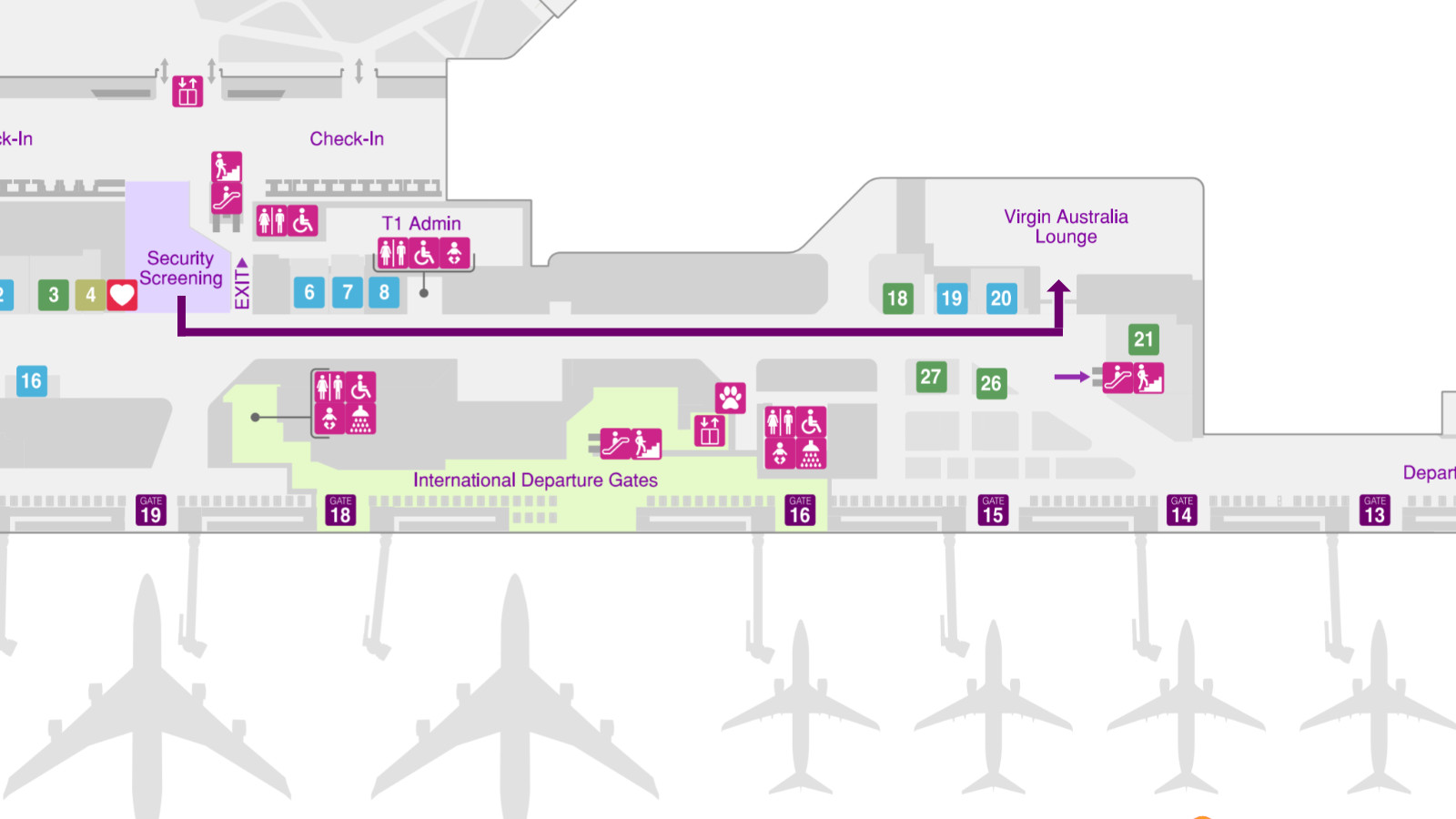 For contactless self-check-in, simply scan your boarding pass barcode or tap your Velocity membership card against the reader. As usual, you'll be able to select the number of guests you're bringing in, before heading in.
Otherwise, the staff at the service desk will be able to assist you, including redeeming single-use lounge access passes and changing seats or flights.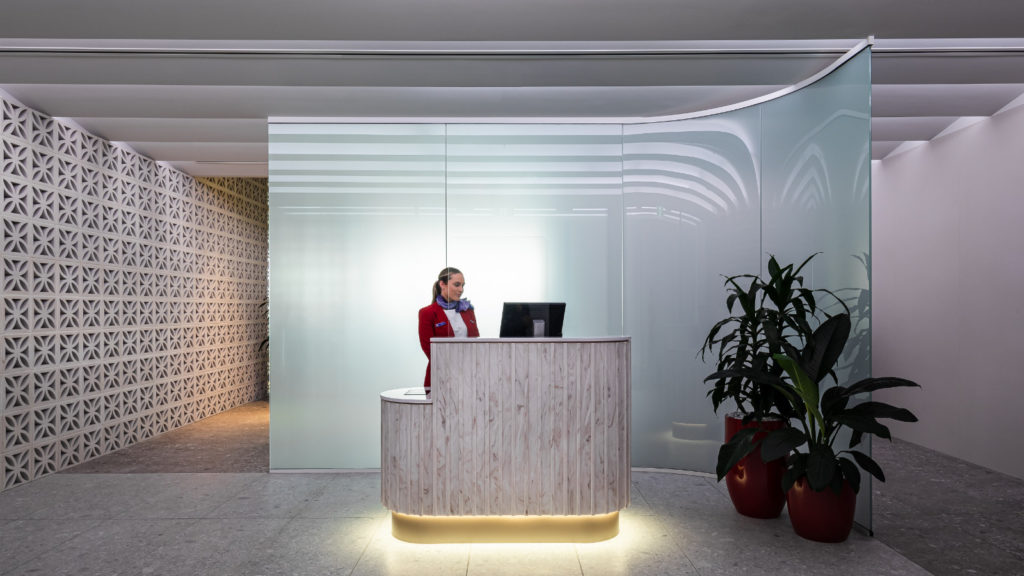 The Virgin Australia Adelaide lounge is open seven days a week from 5 am (which is one hour before the first departure) until the last flight of the day has started boarding.
Layout and seating
As I saunter in, my first thought is just how different this space is. Virgin's older lounges — designed by Tonkin Zulaikha Greer Architects — mainly revolved around a white palette complemented by a signature 'net' and 'leaf' ceiling pattern.
But this new Adelaide lounge is noticeably warmer in atmosphere, with an eclectic mix of clean white curves, sandstone, wood panelling and the occasional injection of fiery red and black in the dining area. There's also a better demarcation of zones for relaxing and for having a nibble.
The four lounging areas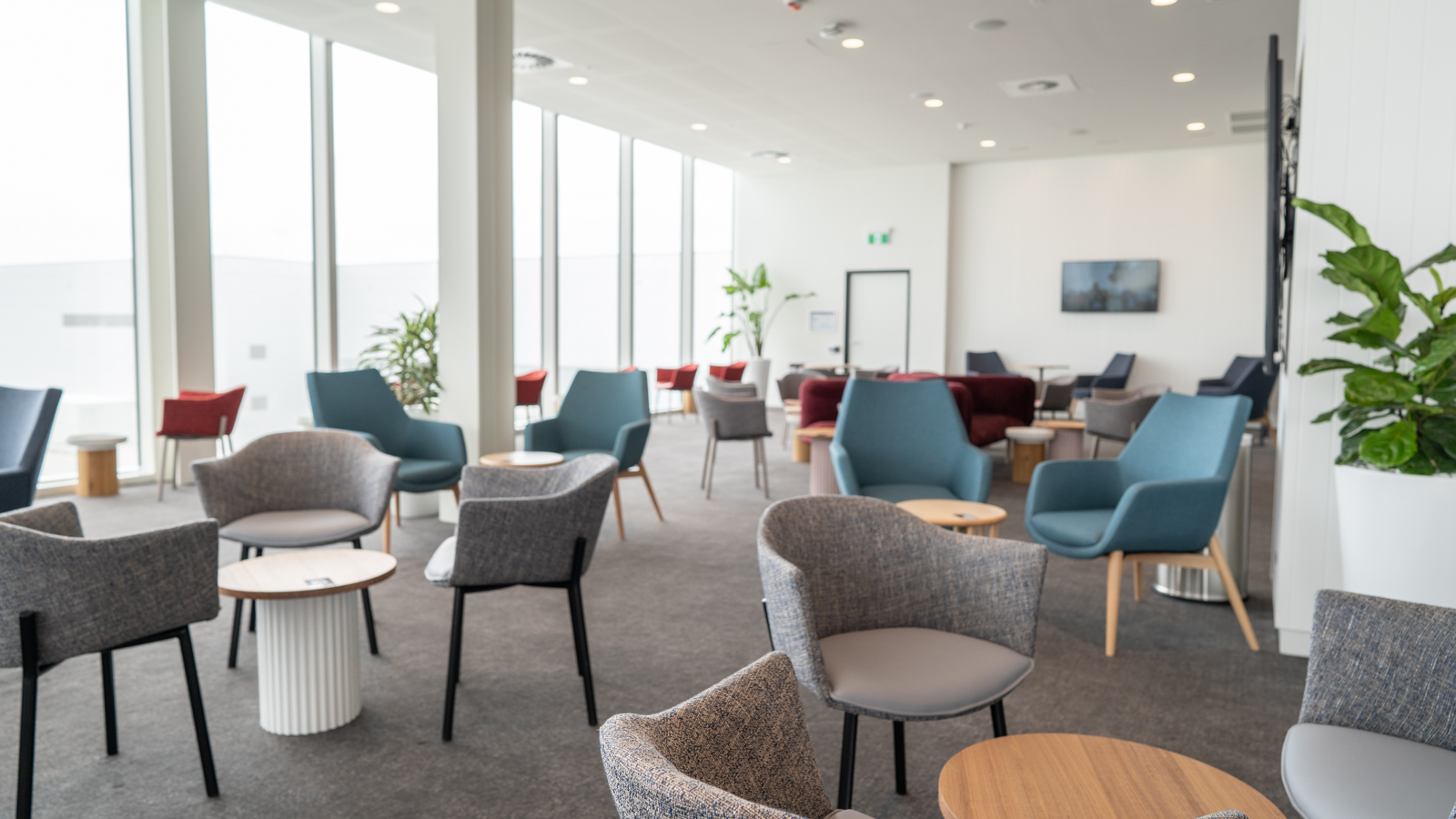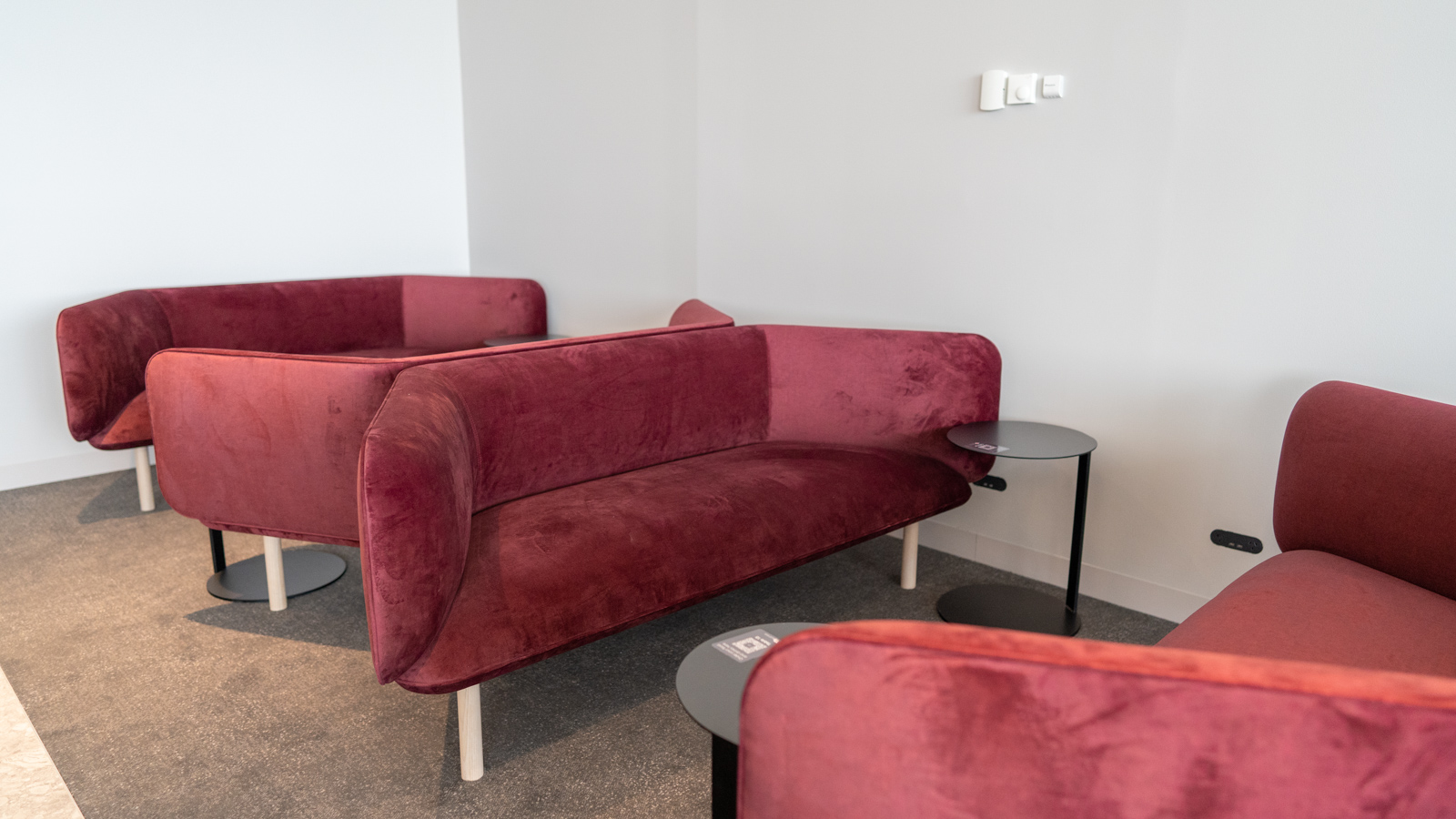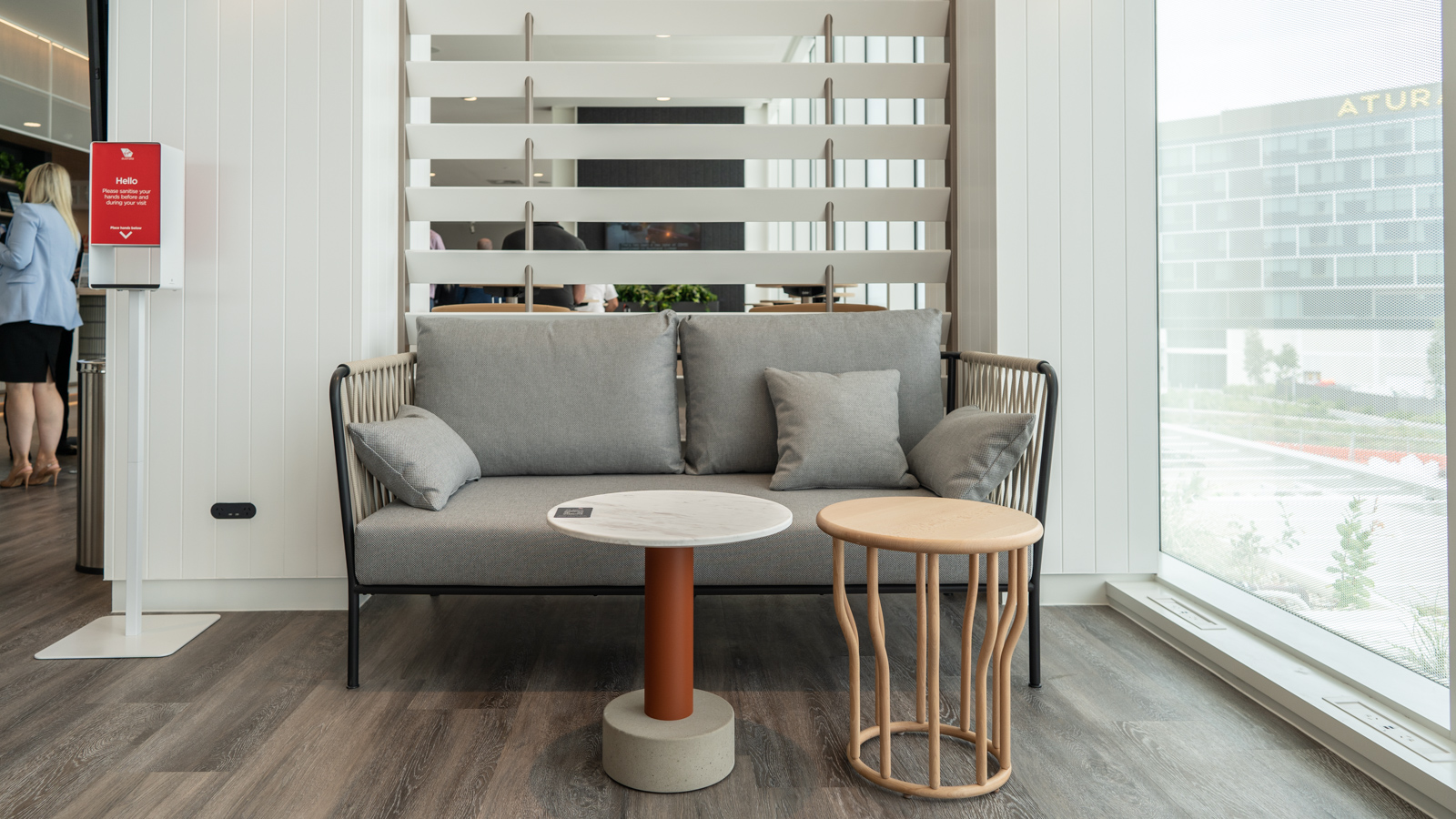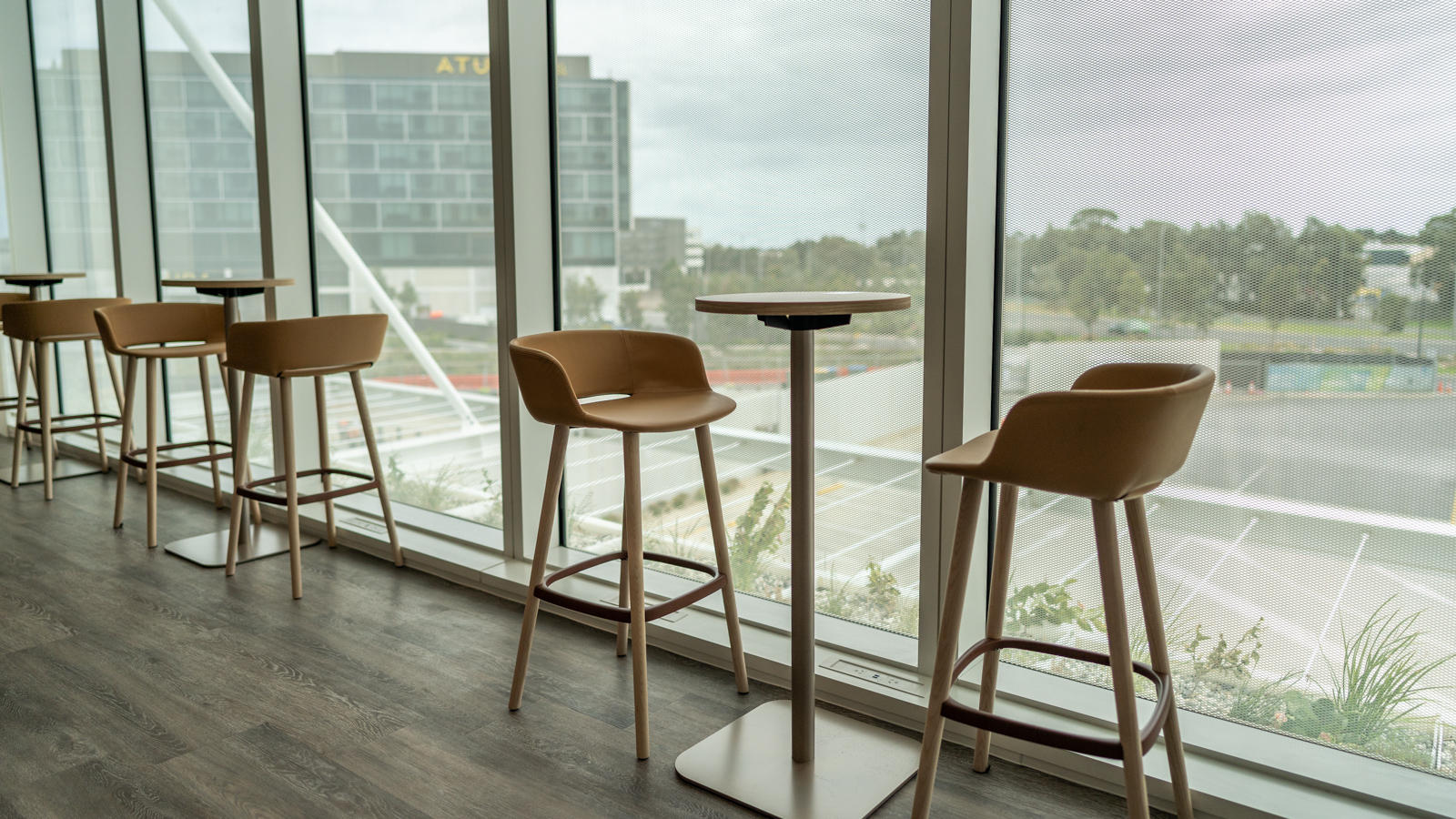 'The Library' is a dedicated work area with PCs, printing facilities and power sockets.
'The Gallery Lounge' is a space to relax with lounge chairs and a TV.
'The Sunroom' is also designed to be a cosy place for passengers to chill out.
'The Long Stay' is tucked away from the entrance and has a wide variety of seating.
In addition, the Adelaide lounge will continue to include a coffee bar, which transforms into a wine bar at night. Finally, the 'Cellar Door Hub' promises to be a feature space for seasonal local wine tastings.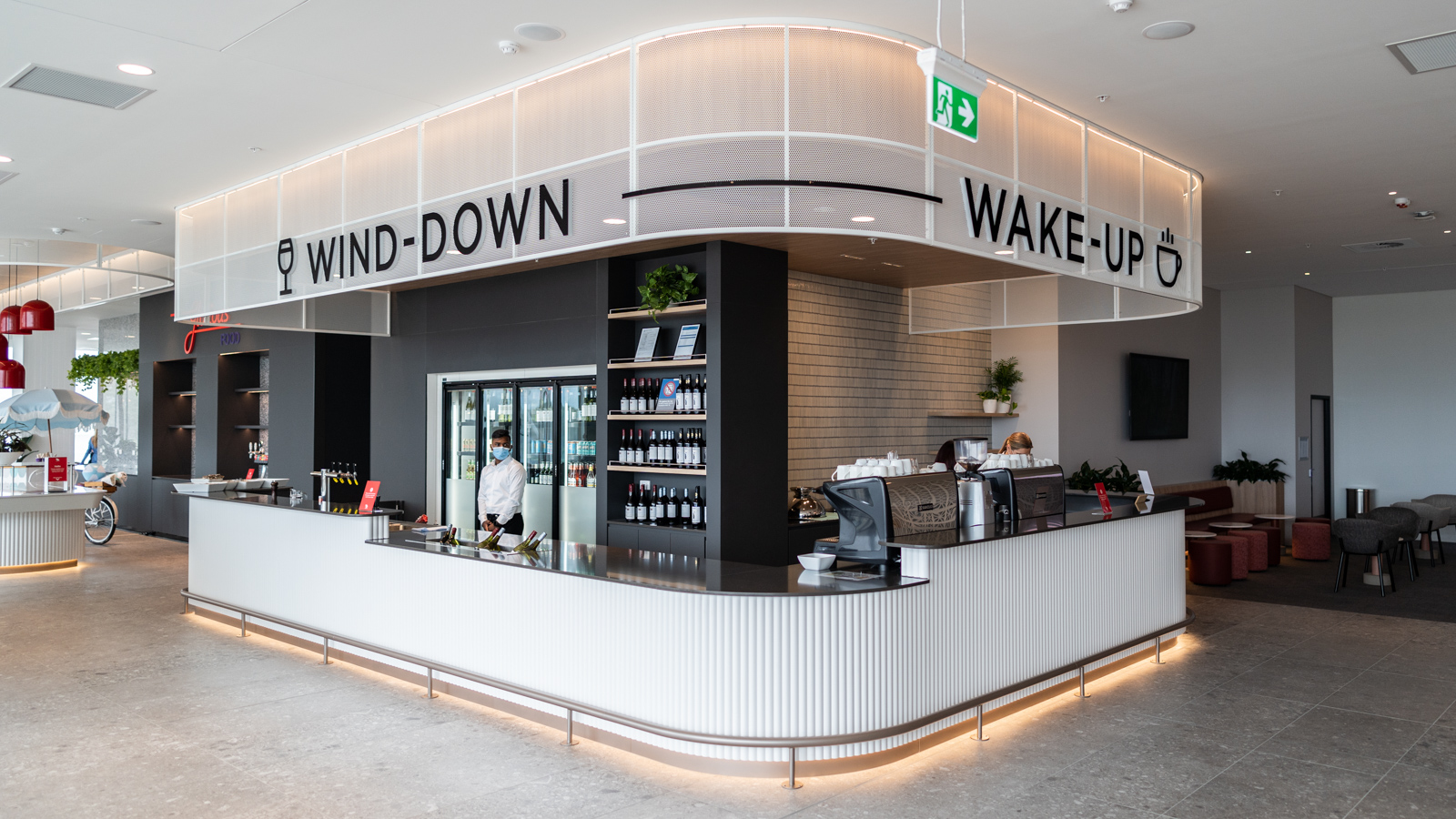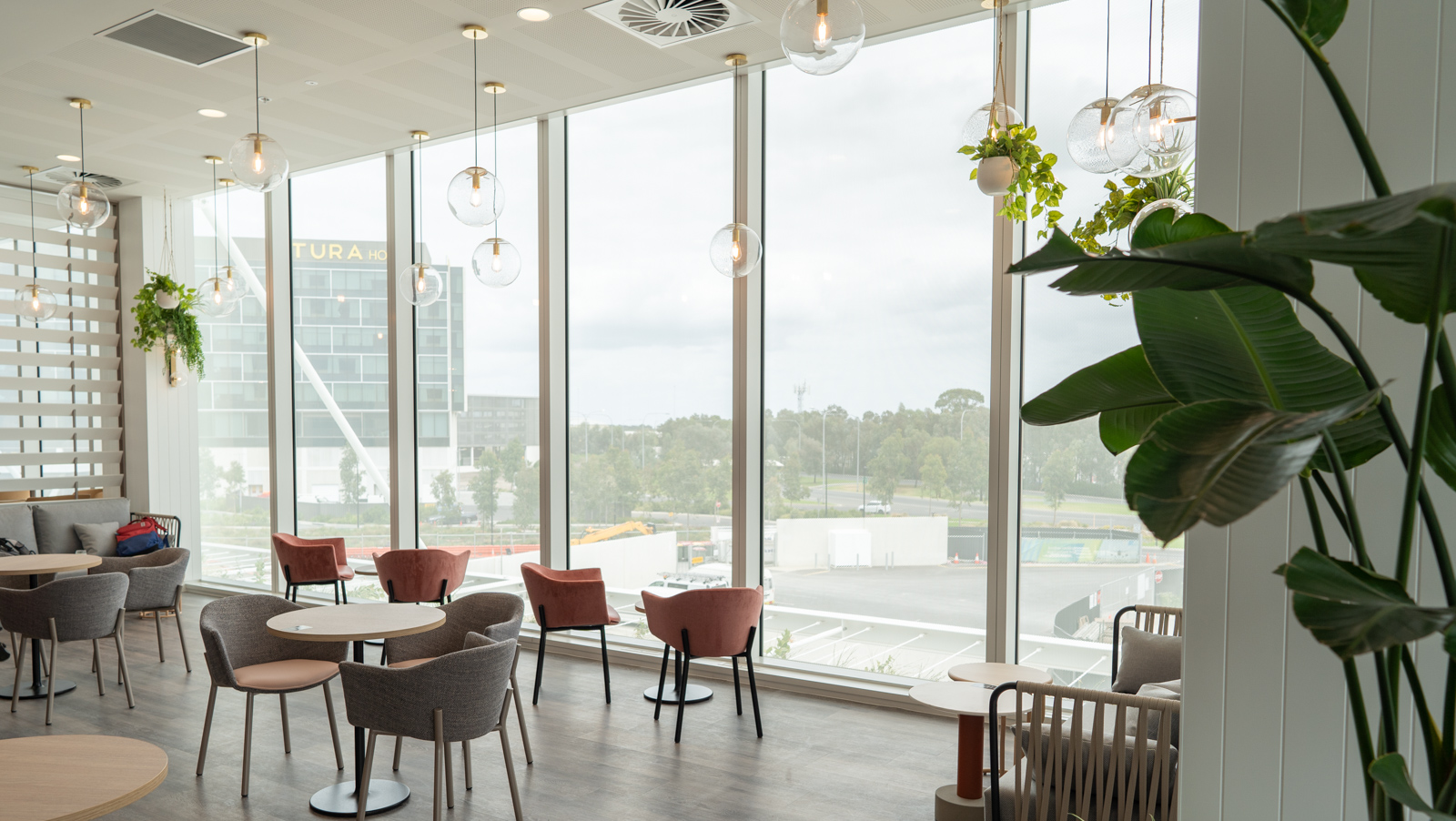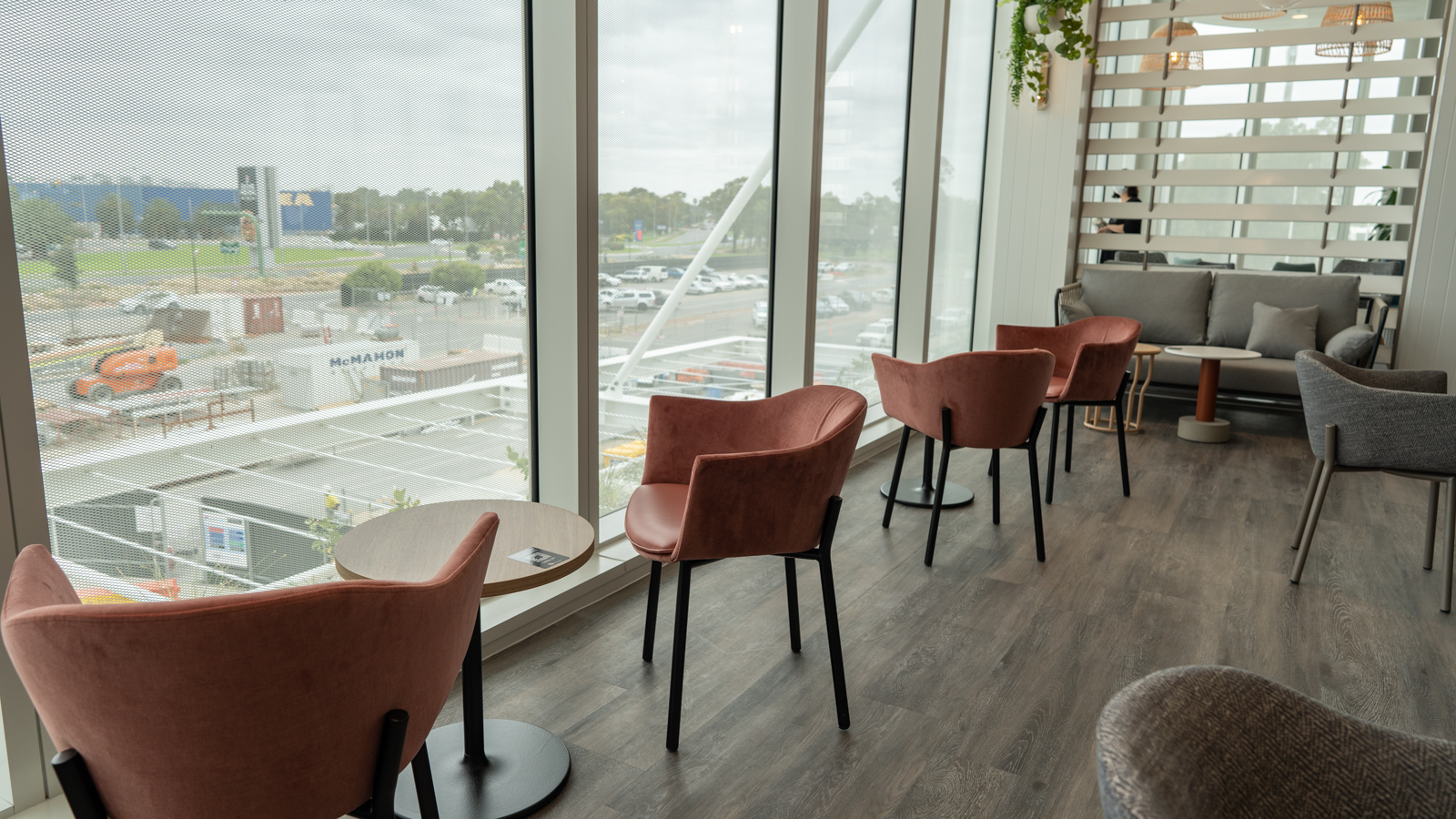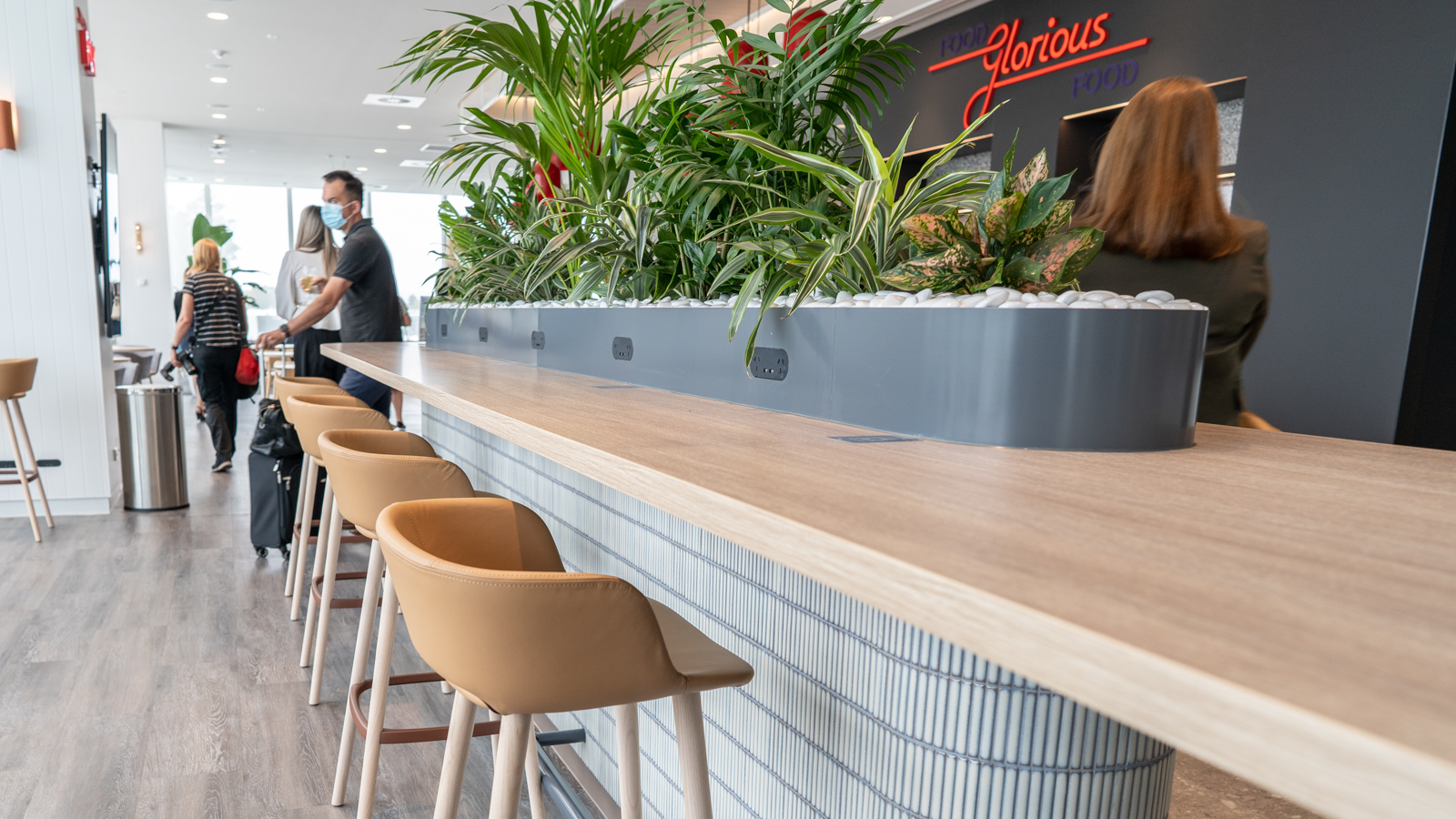 In true Virgin Australia style, we've really elevated the playful elements in signage, furniture and vibrant lighting features, adding pops of colour and energising moments, to enrich the lounge's natural material palette. It's a venue that's delightfully Virgin and provides frequent flyers with a warm and relaxing space when they fly.

– Russell Grady, WMK Architecture Director, 23 Feb 2021
Floor-to-ceiling windows offer plenty of natural light and expansive views of the airport's exterior, though you won't be spotting any jets from this side. The nearby Atura Hotel and IKEA are impossible to miss, though! Since our previous visit, Virgin Australia has installed remote-operated blinds to keep out the afternoon sun. That's something we flagged previously, and it's great that Virgin Australia has fixed the issue.
One potential improvement to Virgin's Adelaide lounge would be a dedicated kids area or a separate quieter space to chill out, as all the lounge zones are still situated in a large shared area.
Food and drink
The Virgin Australia Adelaide lounge has largely reverted back to self-serve food and beverages (except for alcohol). You can tuck into a revamped menu featuring freshly-made sandwiches, wraps, salads and healthy snacks. There is hot food now, though that's limited to sausage rolls and soup at my latest visit.
On the menu
Sandwiches: Chicken with avocado, walnut and rocket.
Wraps: Egg, mayonnaise & lettuce.
Salads: Katsu chicken salad, vegetable frittata salad.
Hot: Mini sausage rolls, spinach and ricotta rolls, and pumpkin soup.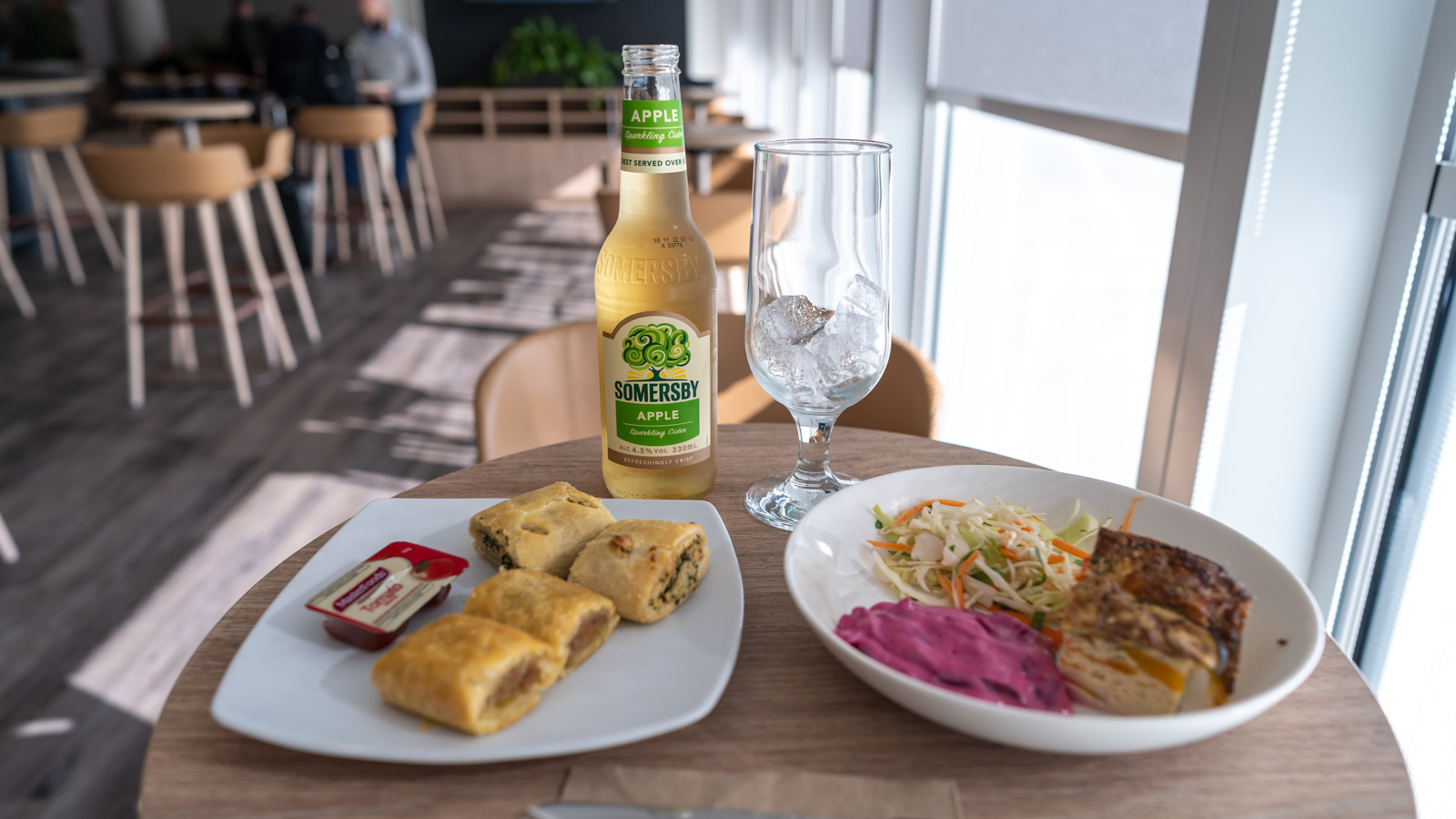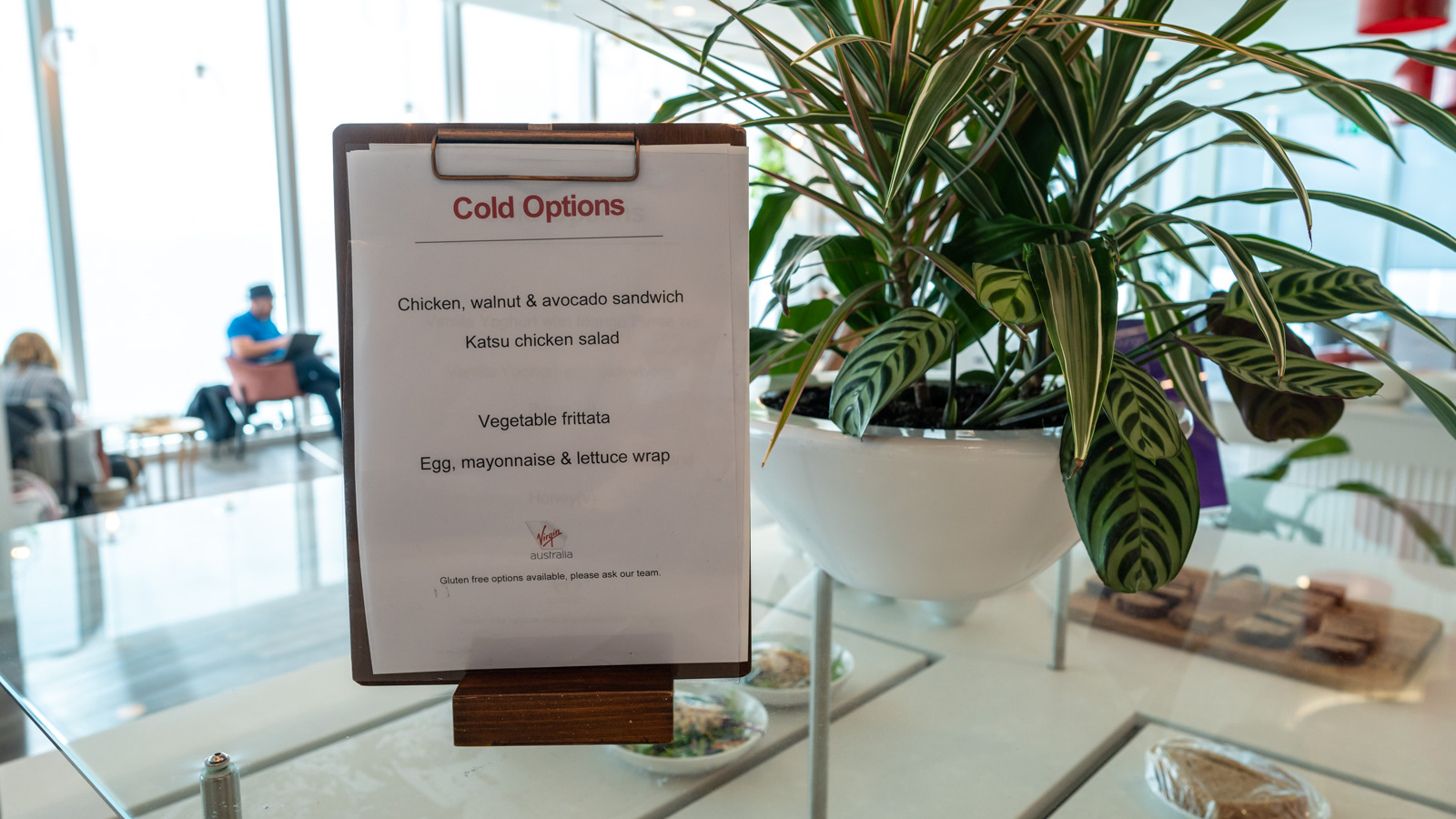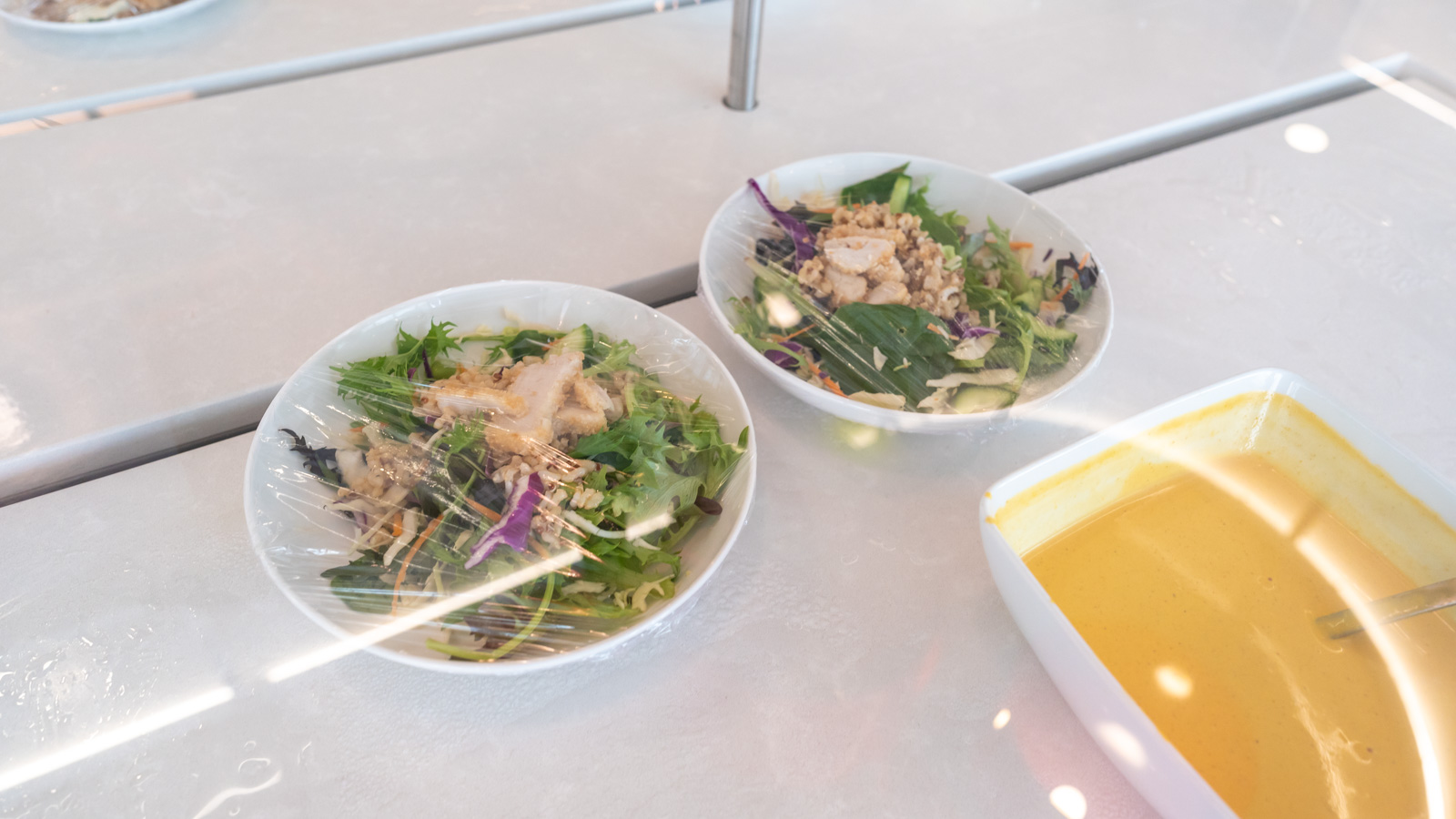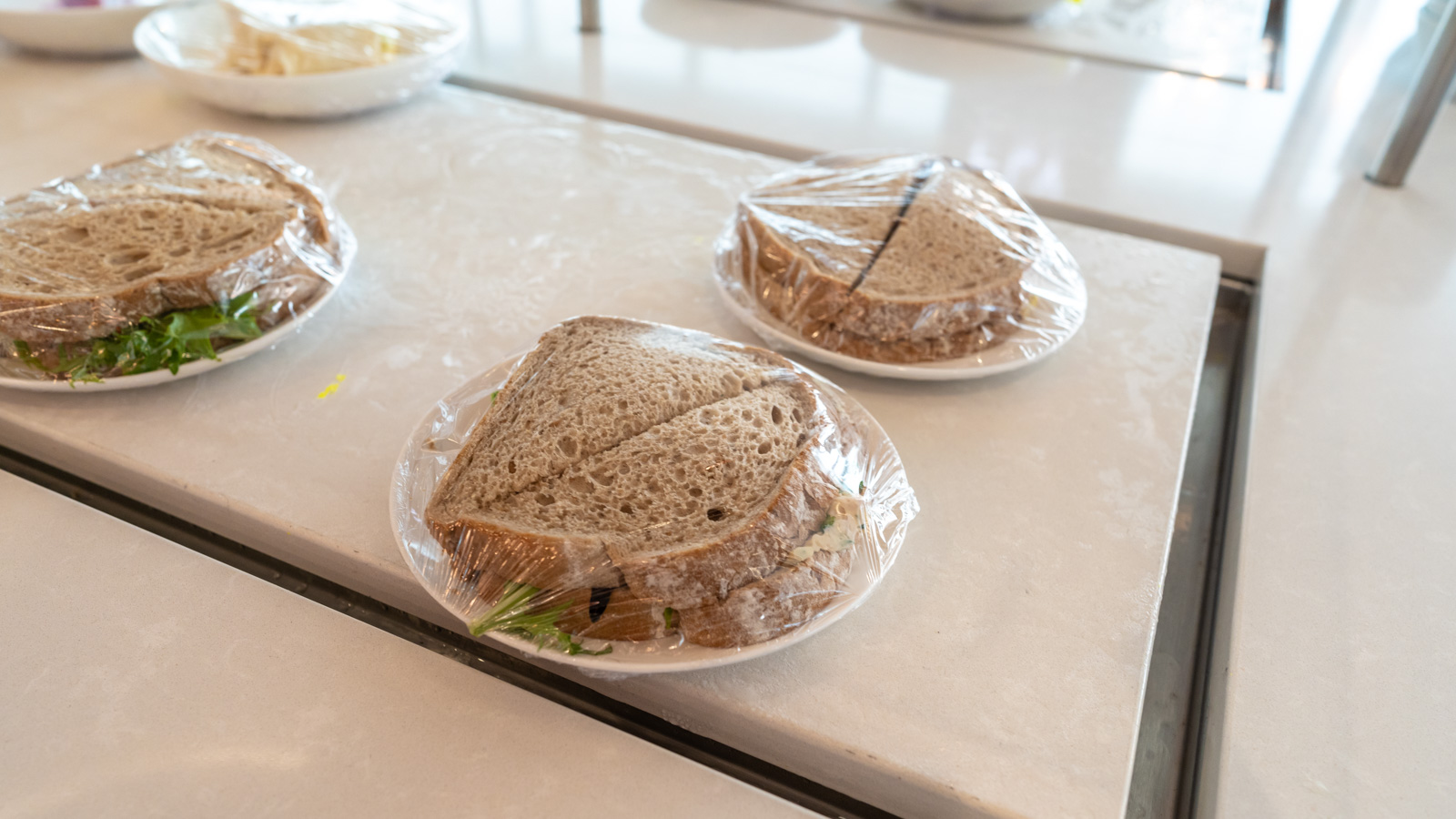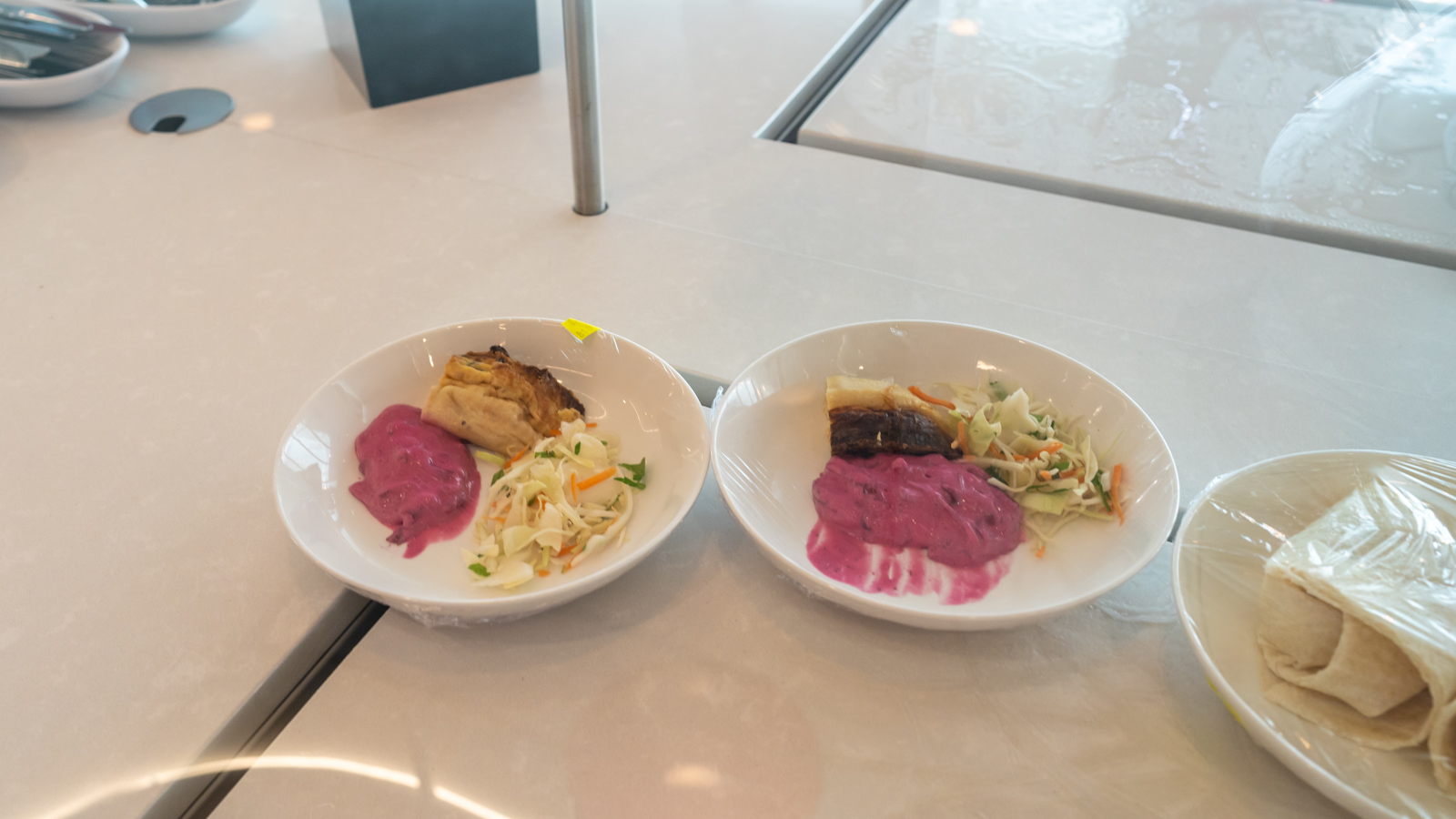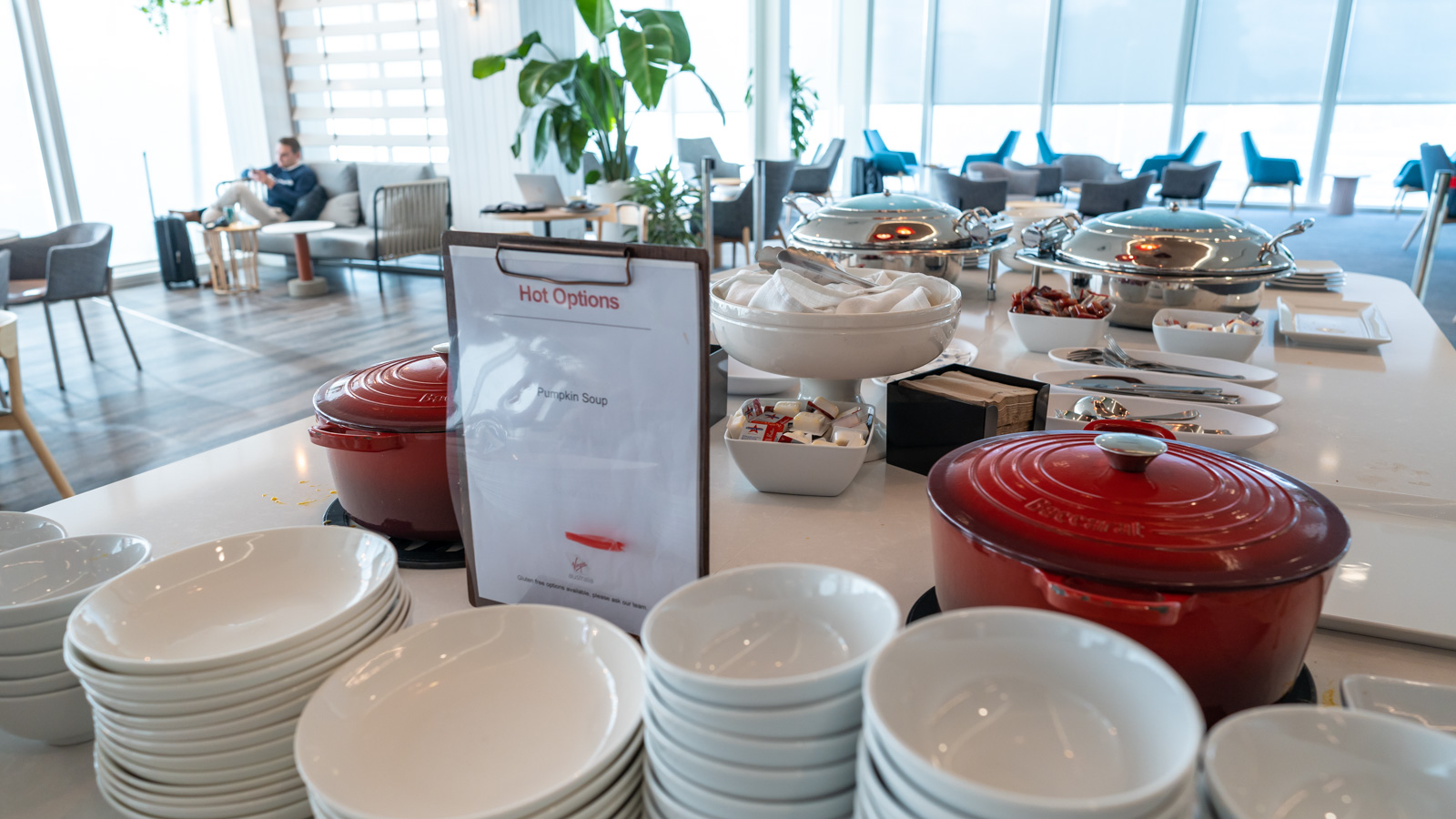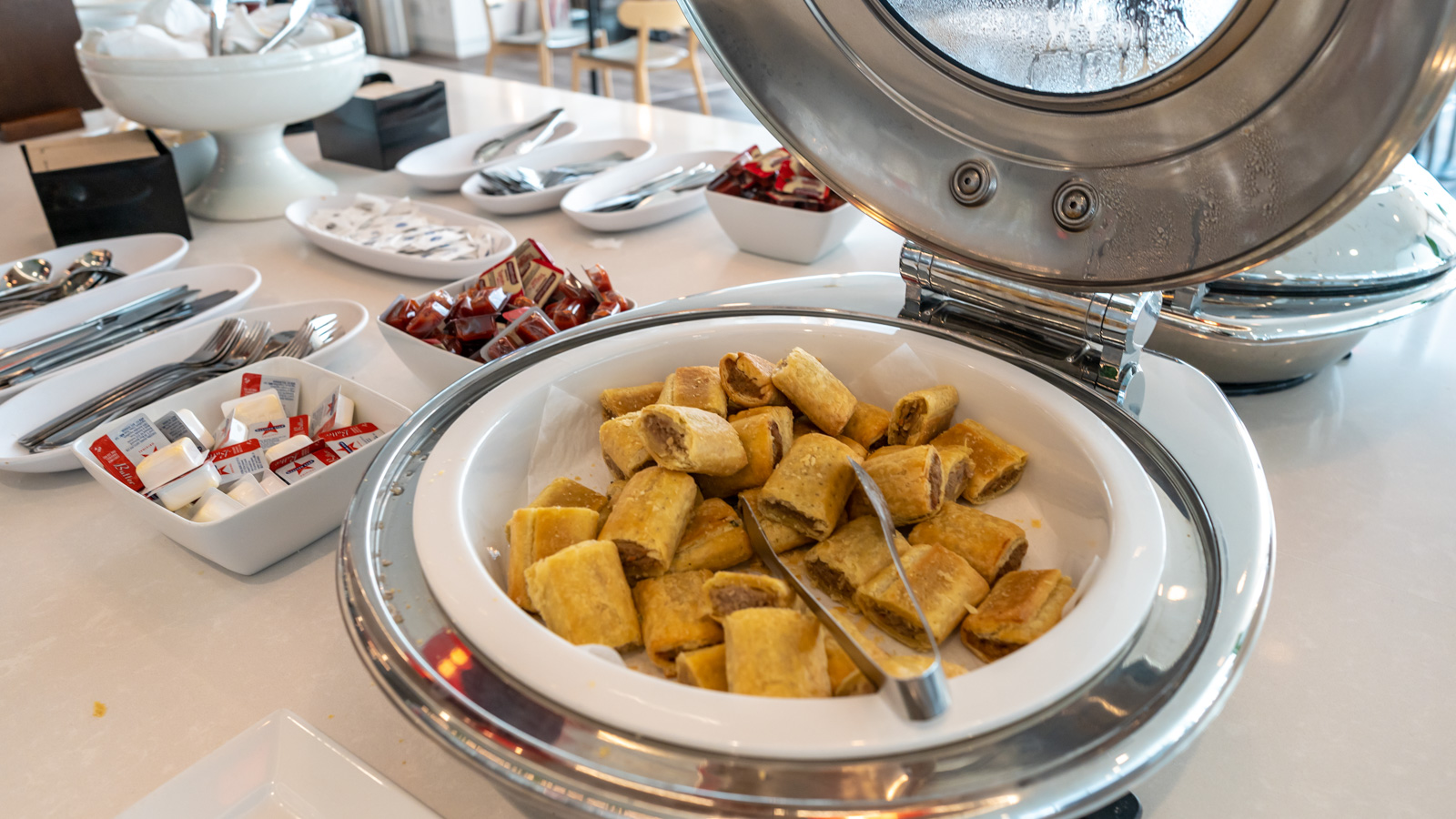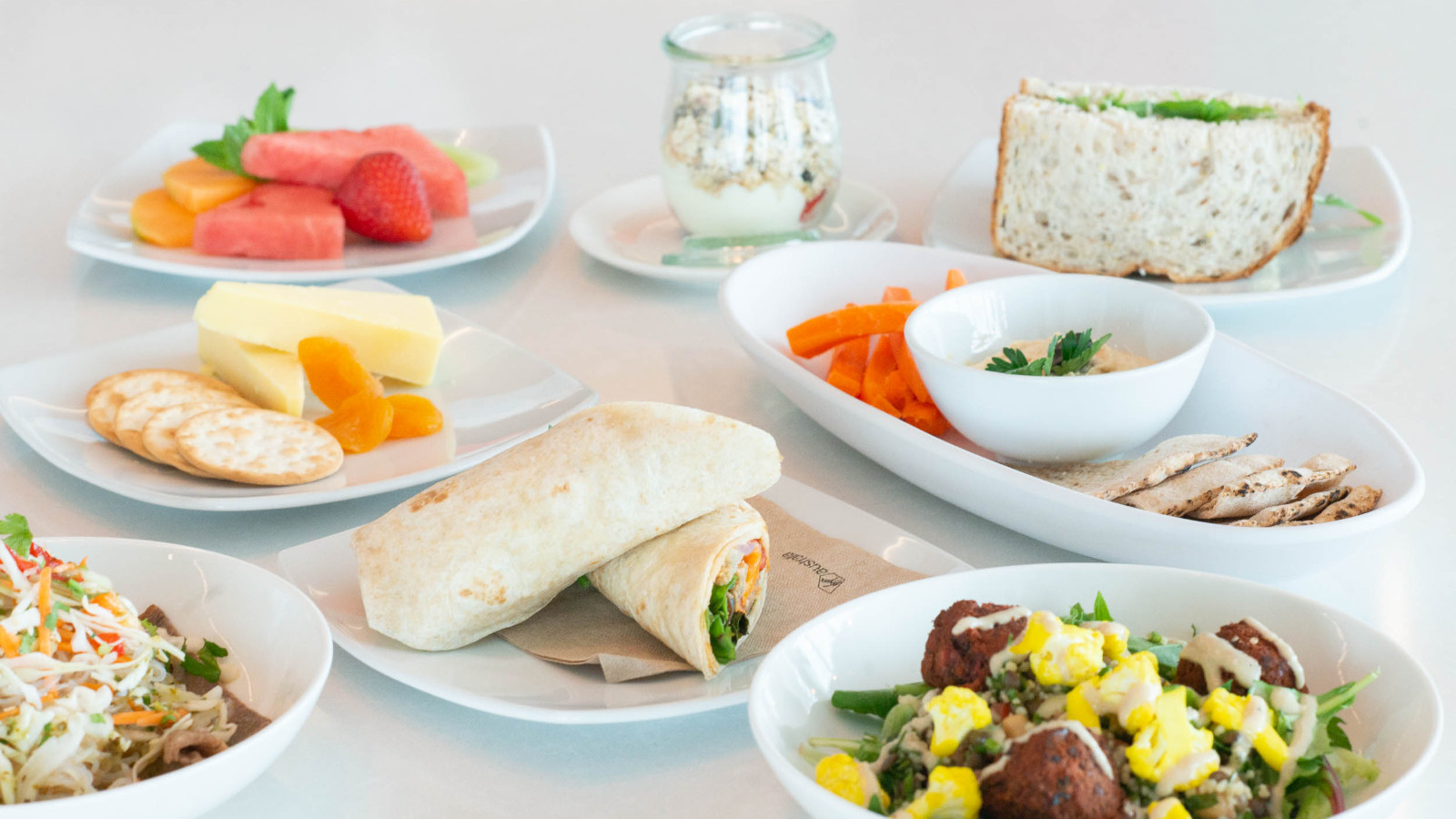 Presentation isn't the best with plastic wrap on, but I understand it helps prevent contamination and also keeps the food fresher. Happily, l feel that Virgin's cold food options are just as good as when the lounge opened in 2021. There are only a dozen or so plates out at a time, but I see these are promptly replenished.
I'm a little let down with the hot choices though. The pumpkin soup is creamy and delicious with a crusty buffet roll. But the mini sausage rolls feel a bit downscale here. I've been in the Brisbane and Melbourne lounges recently, and they both have a better selection of hot food, such as pasta and nachos.
The bar opens at 12 pm daily for wines, beers and ciders. I'm quite satisfied with the range of alcoholic beverages, including South Australian wines and craft beers.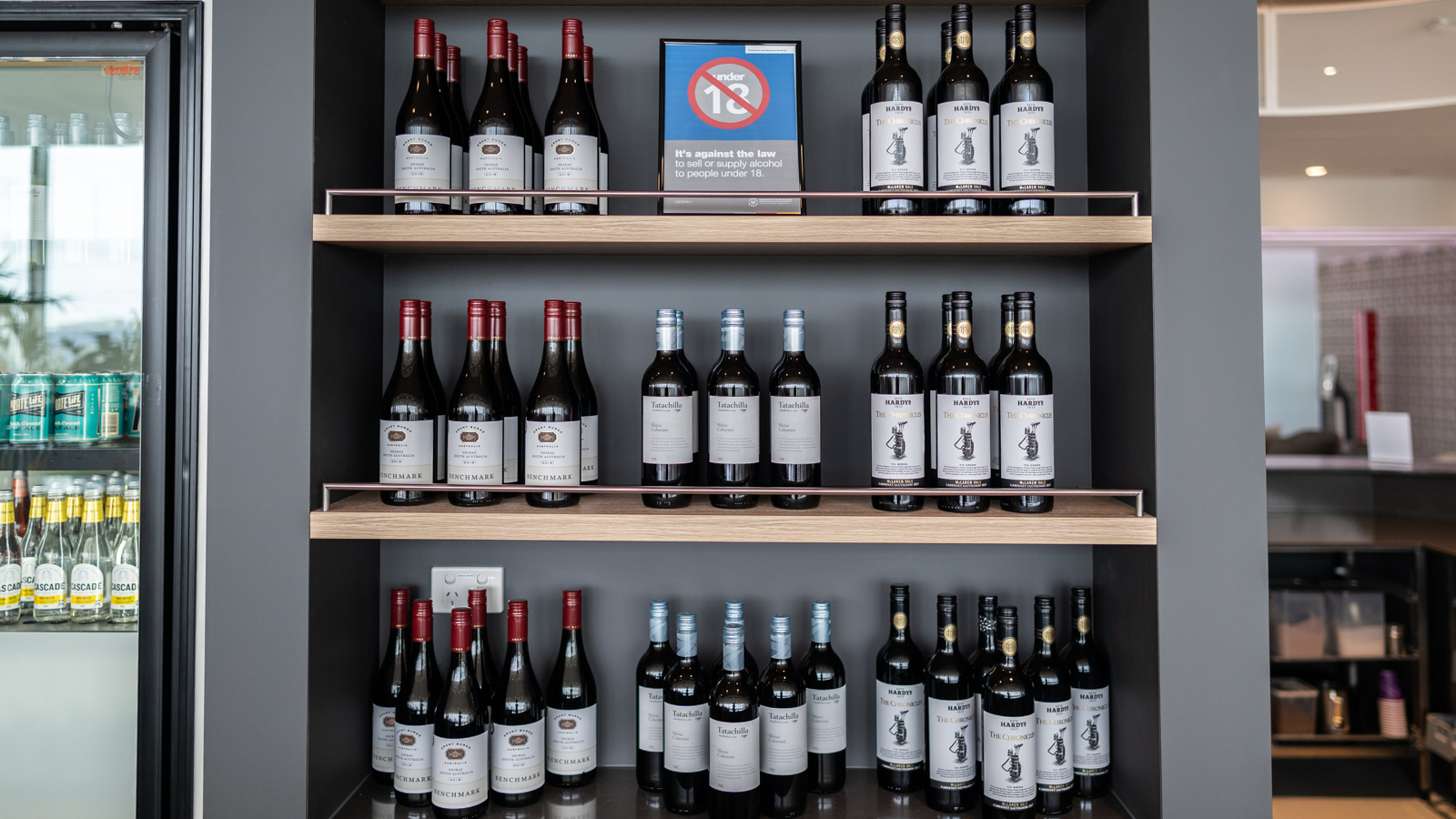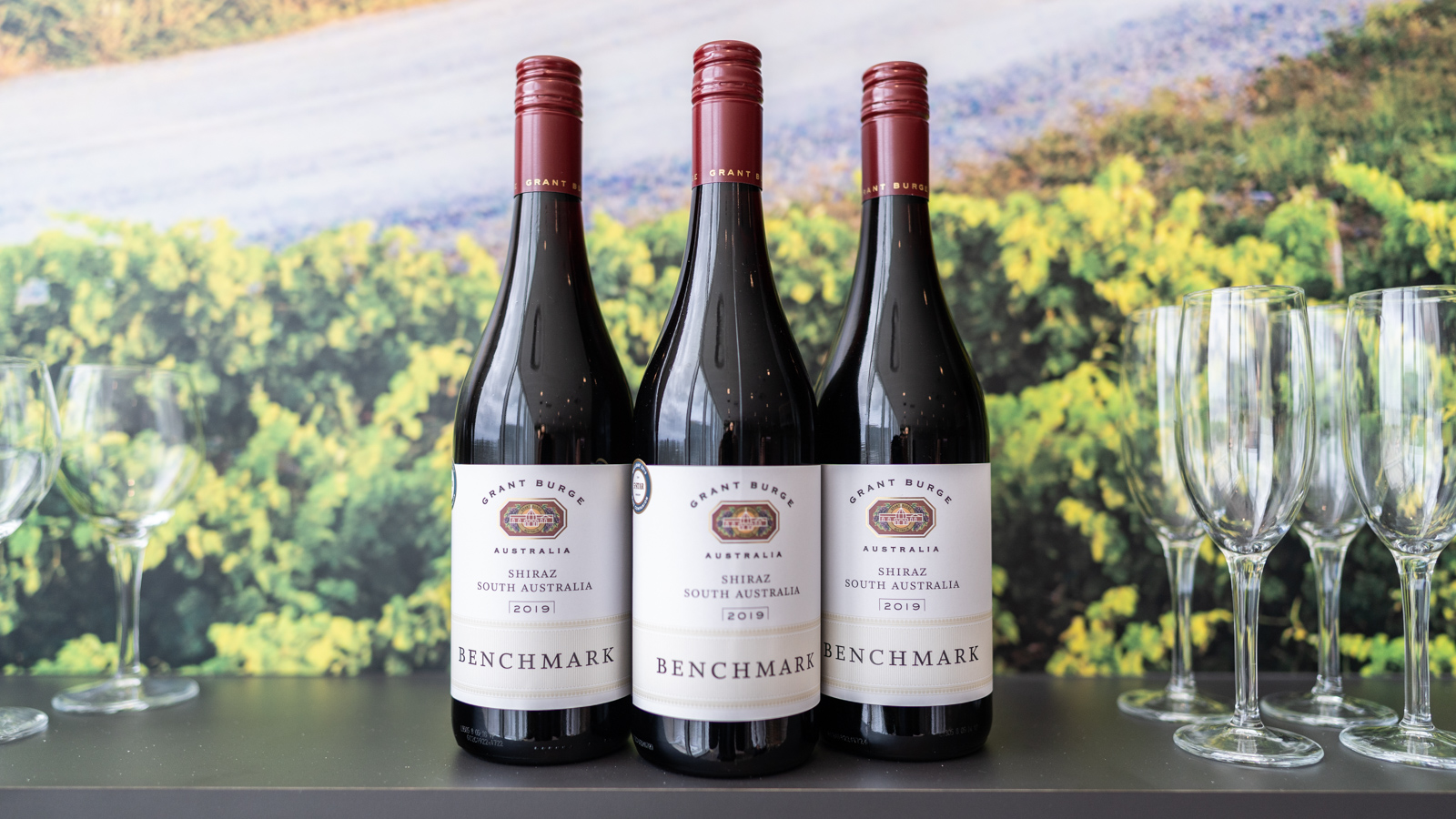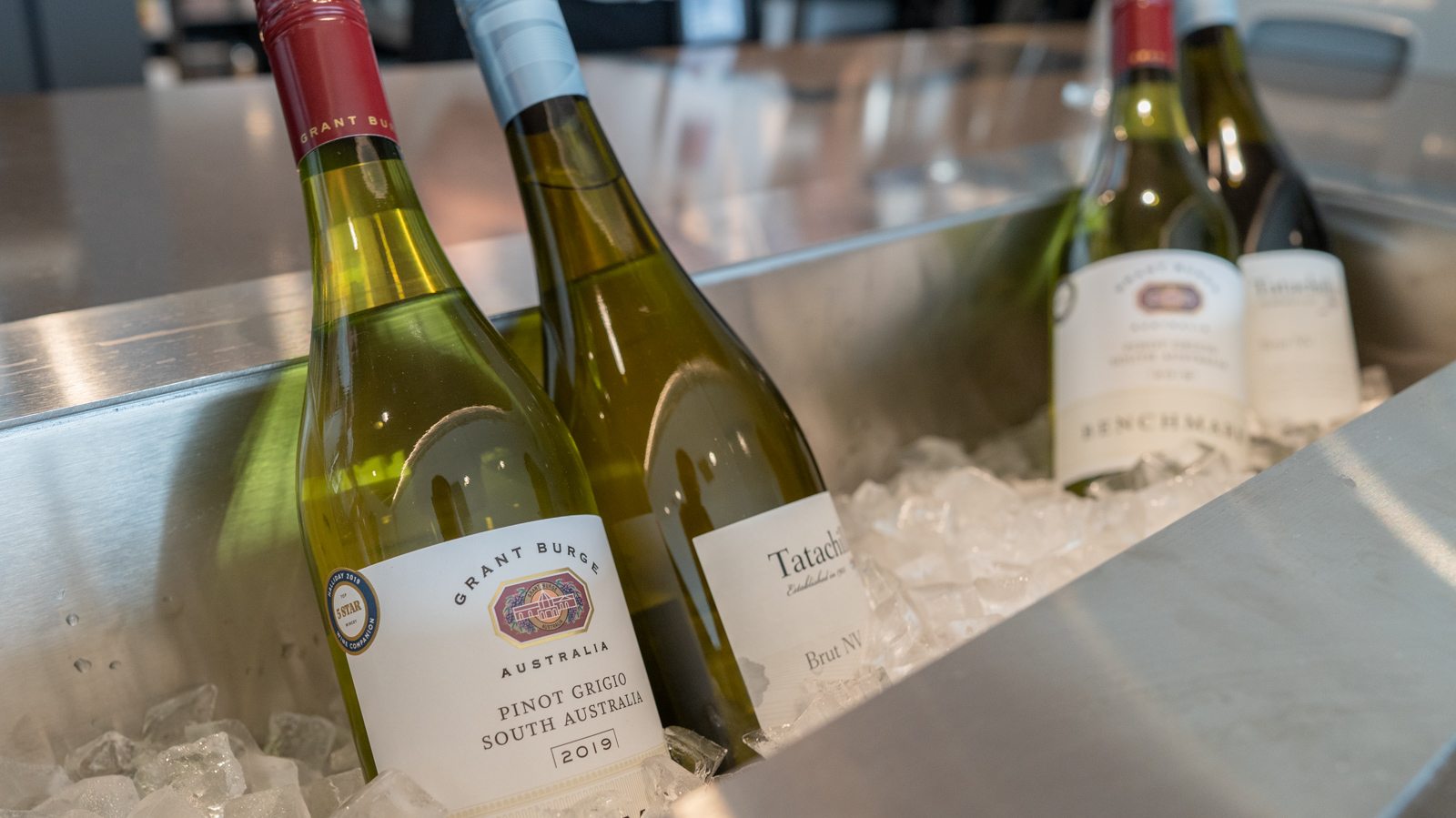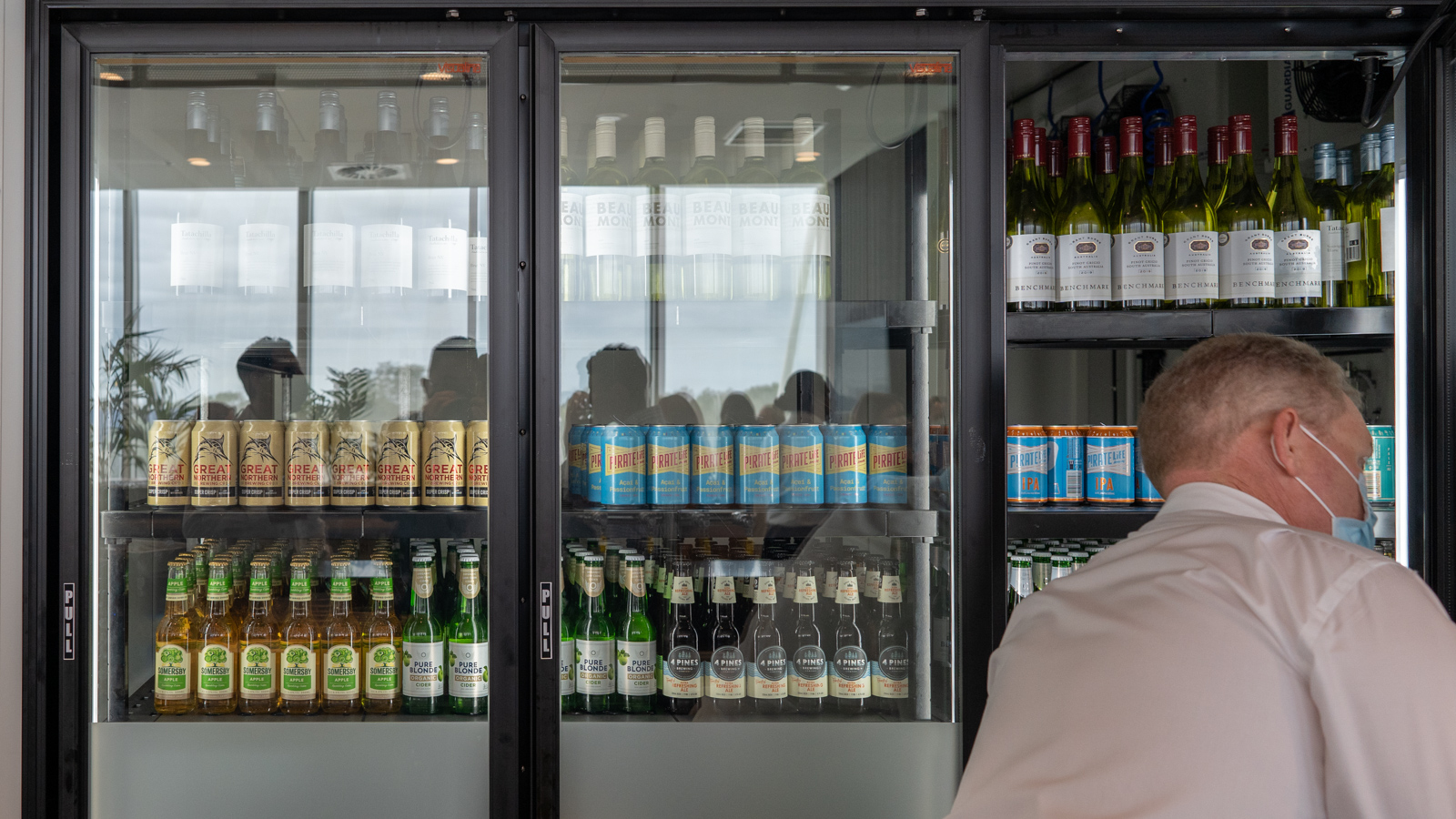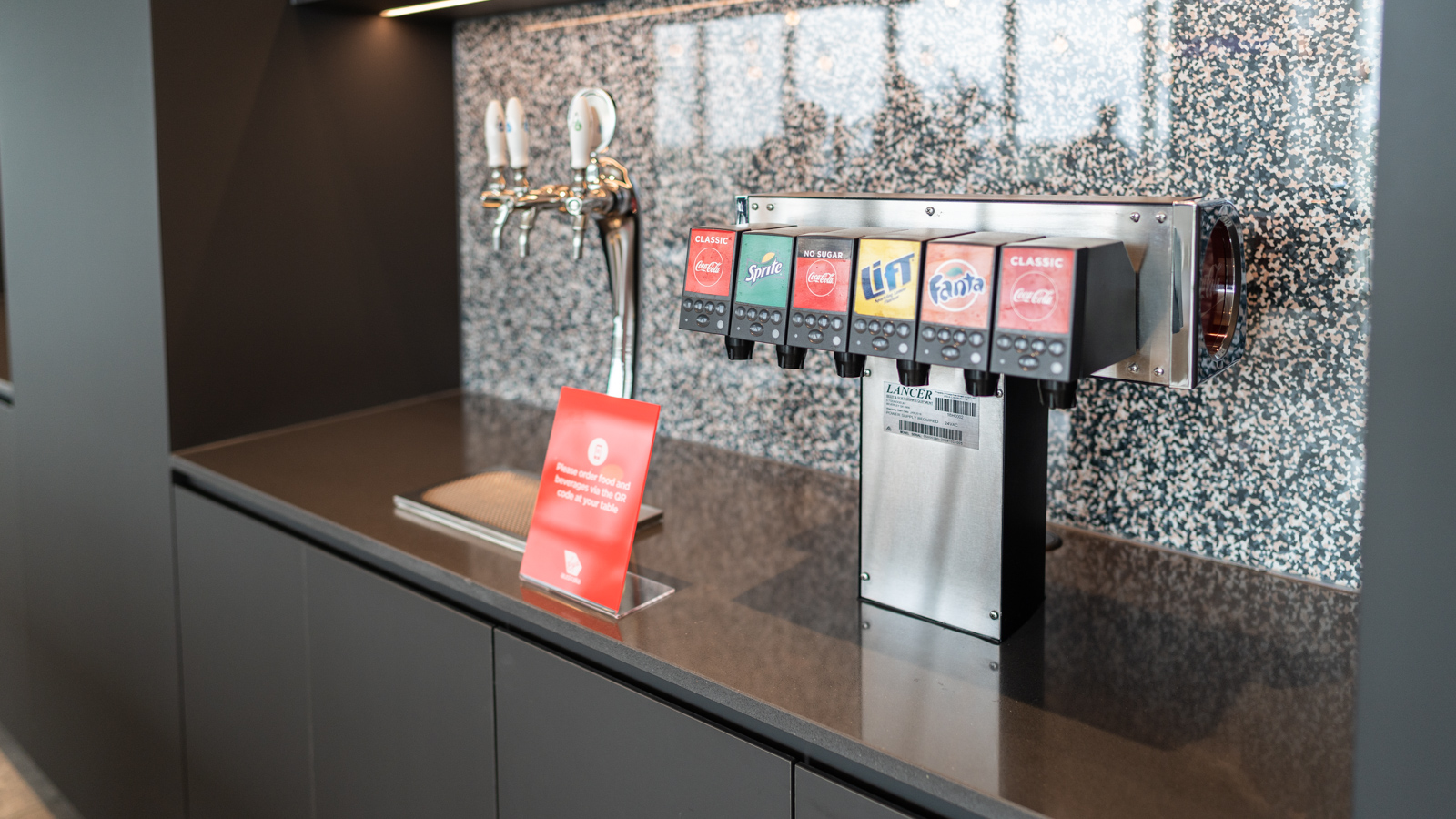 Amenities
Wi-Fi is beamed around the lounge, of course. I'm pleased to see that Virgin Australia has recently upgraded the lounge Wi-Fi across all its spaces. Speeds are now in excess of 100 Mbps both up and down, which is blistering fast.
The bathrooms are well kitted-out, with greenery and a modern design helping me briefly forget I'm still in an airport. We hope the shower rooms will open soon – that's expected sometime in July 2022.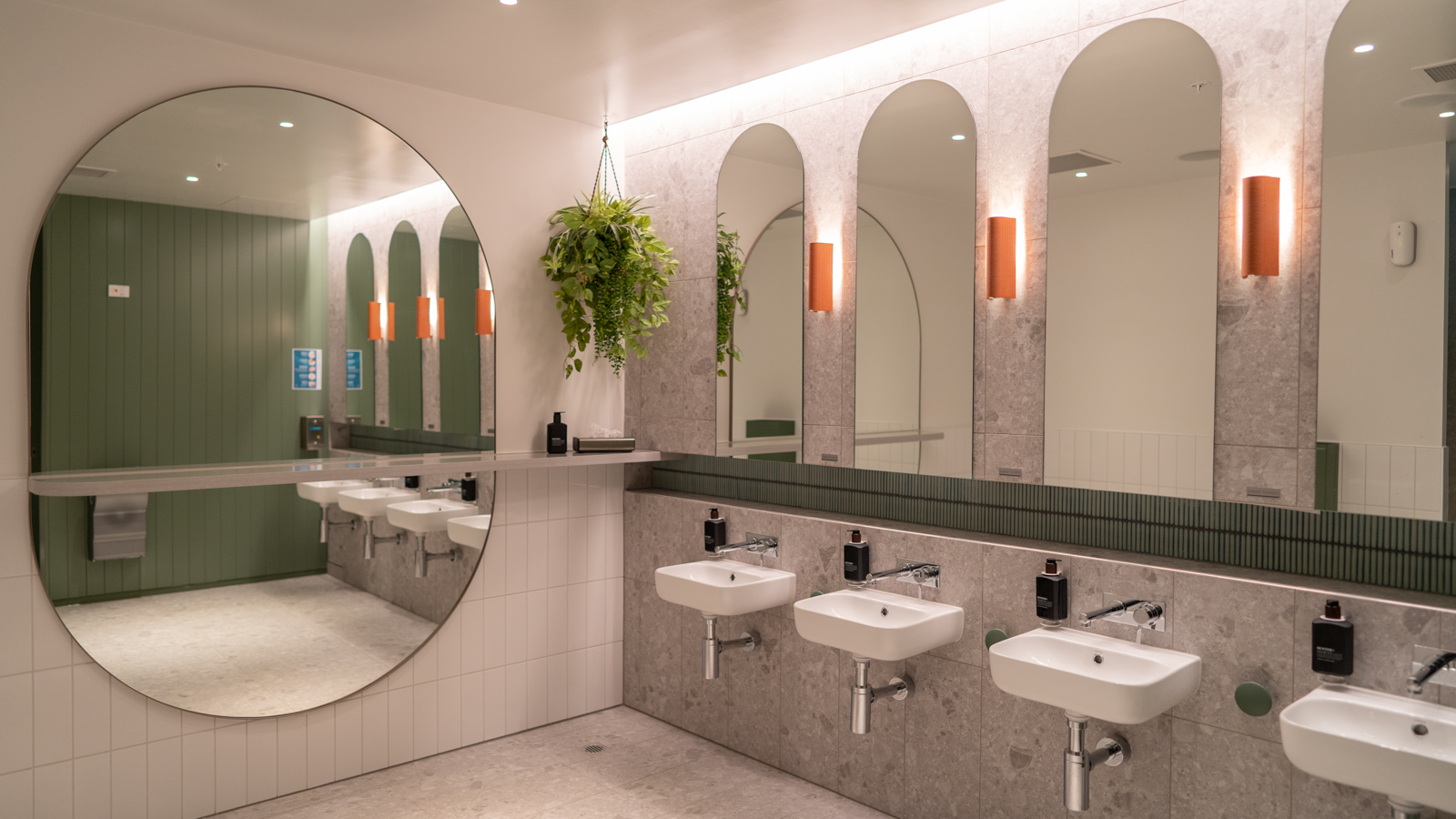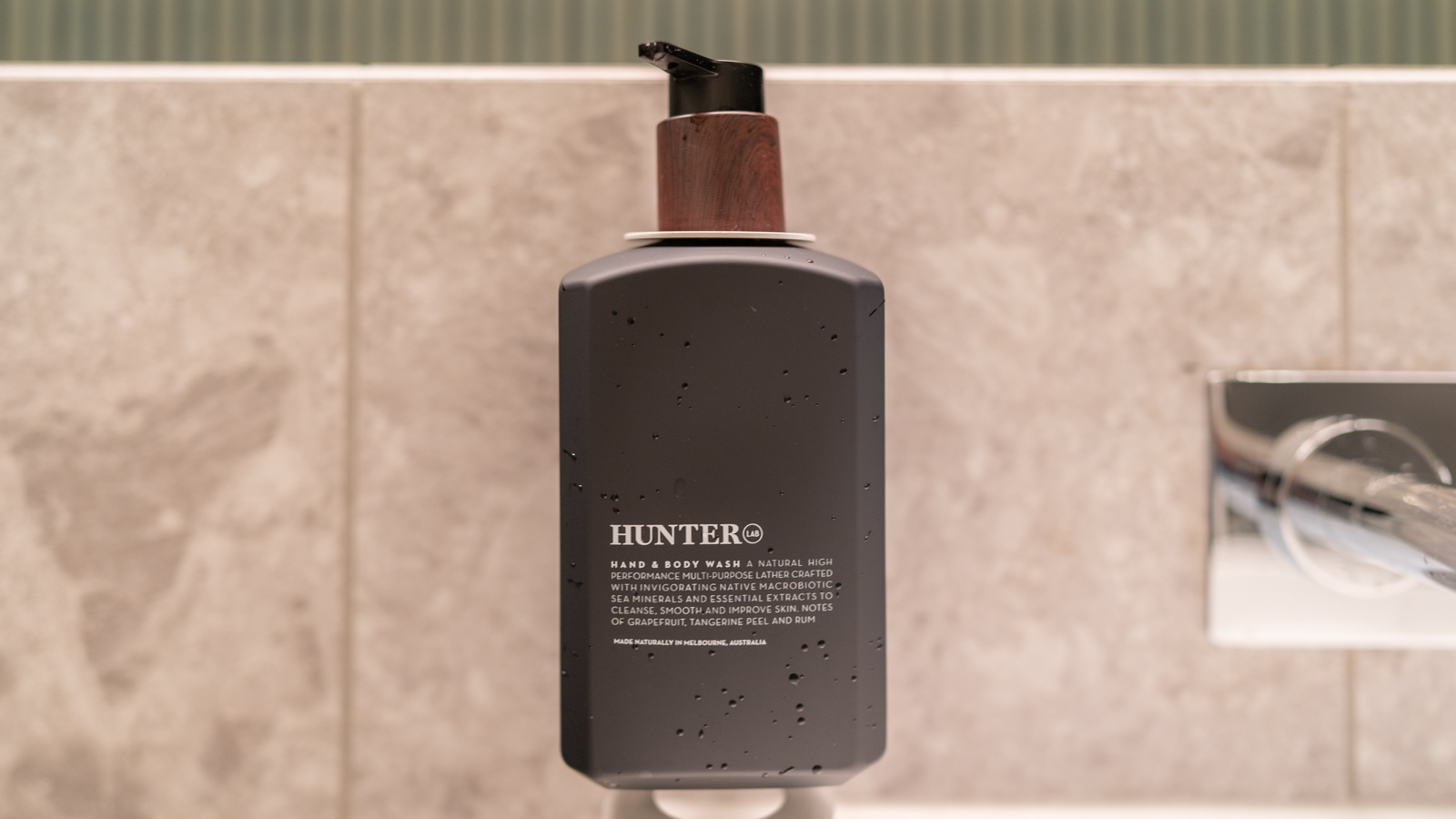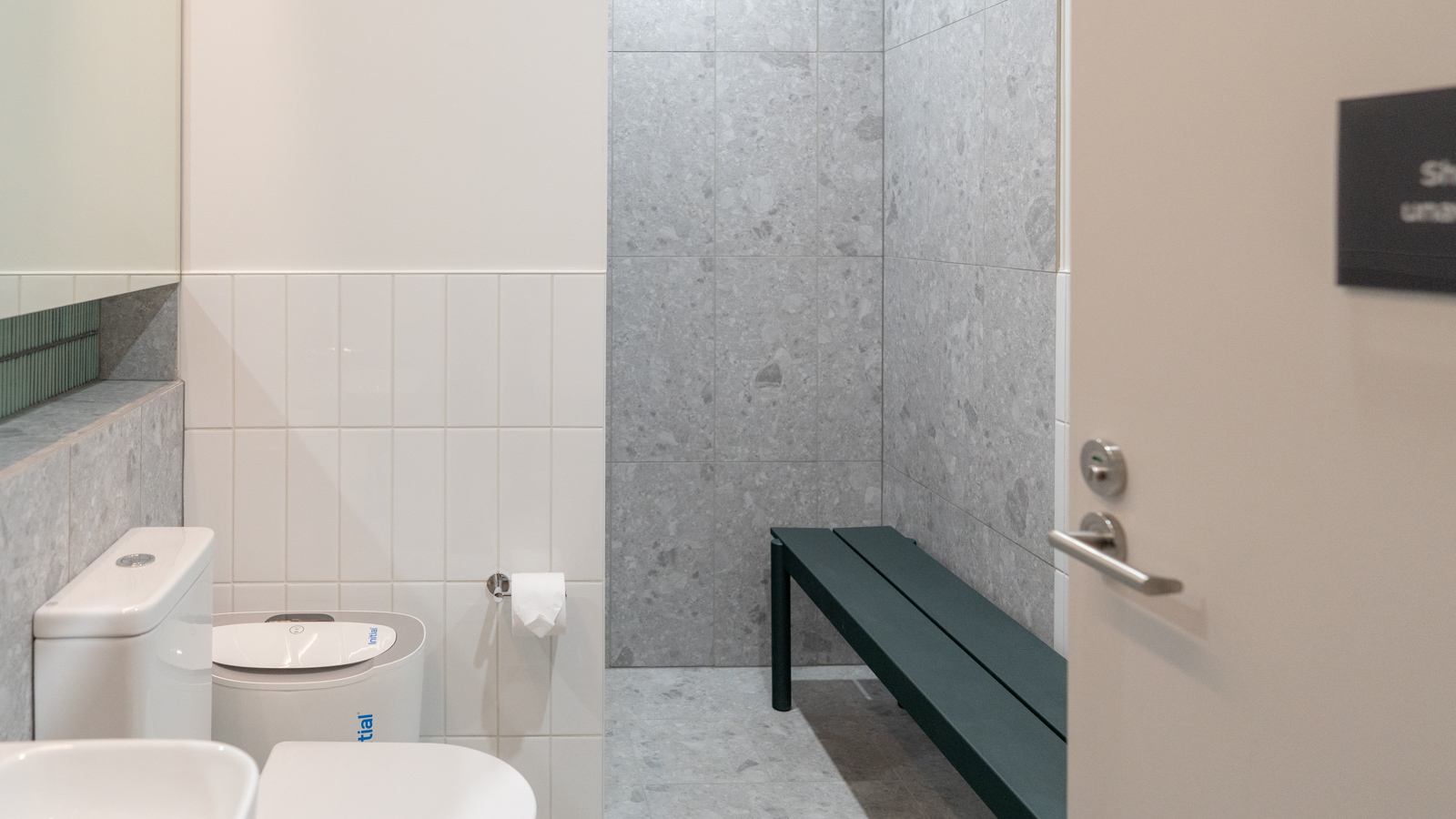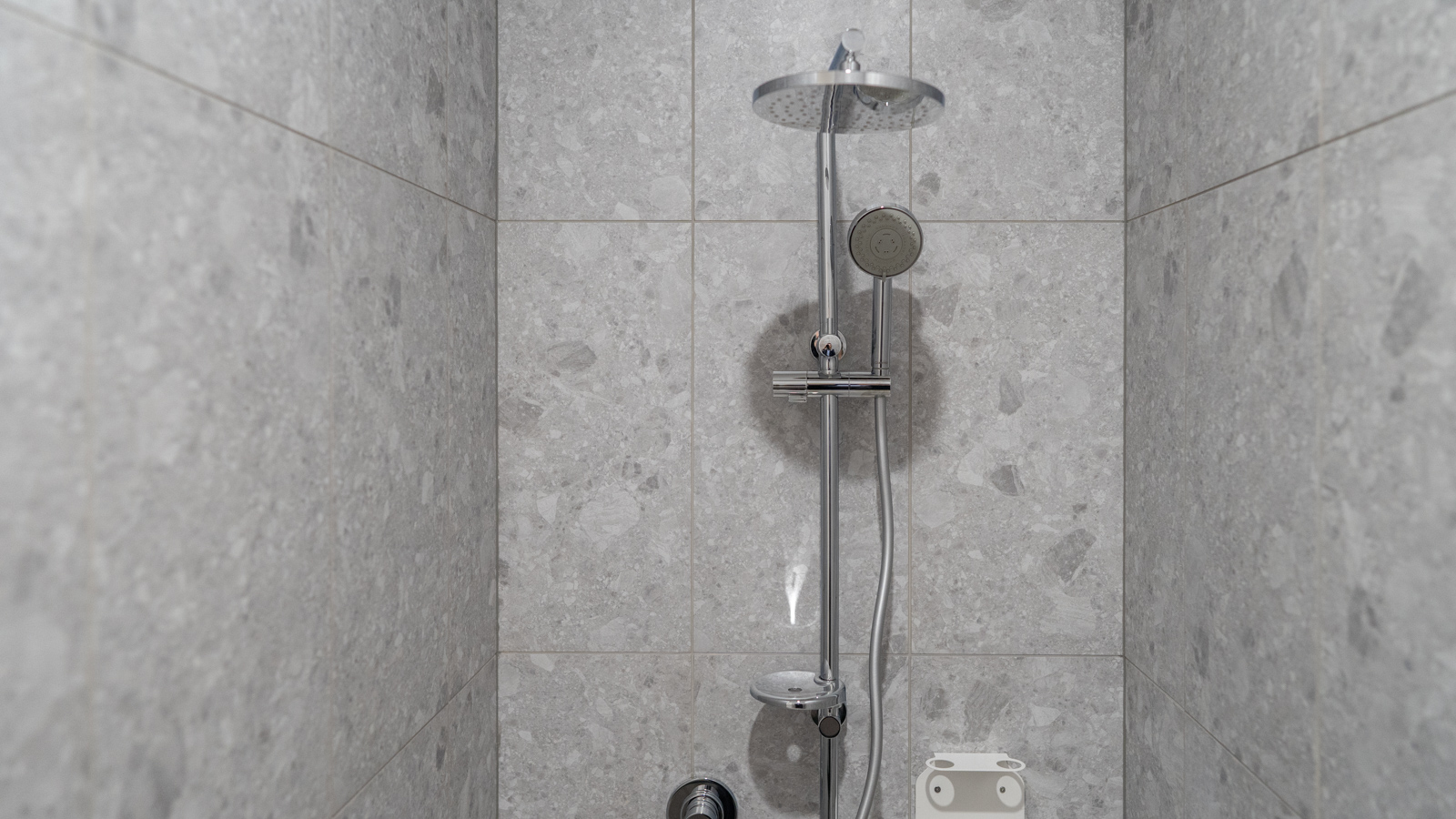 If you need to get some work done, you'll find plenty of power points and USB ports in The Library. Bonus: it's still in close proximity to the all-important coffee and wine bar! There were two desktop computers, but Virgin Australia has removed these machines, for now.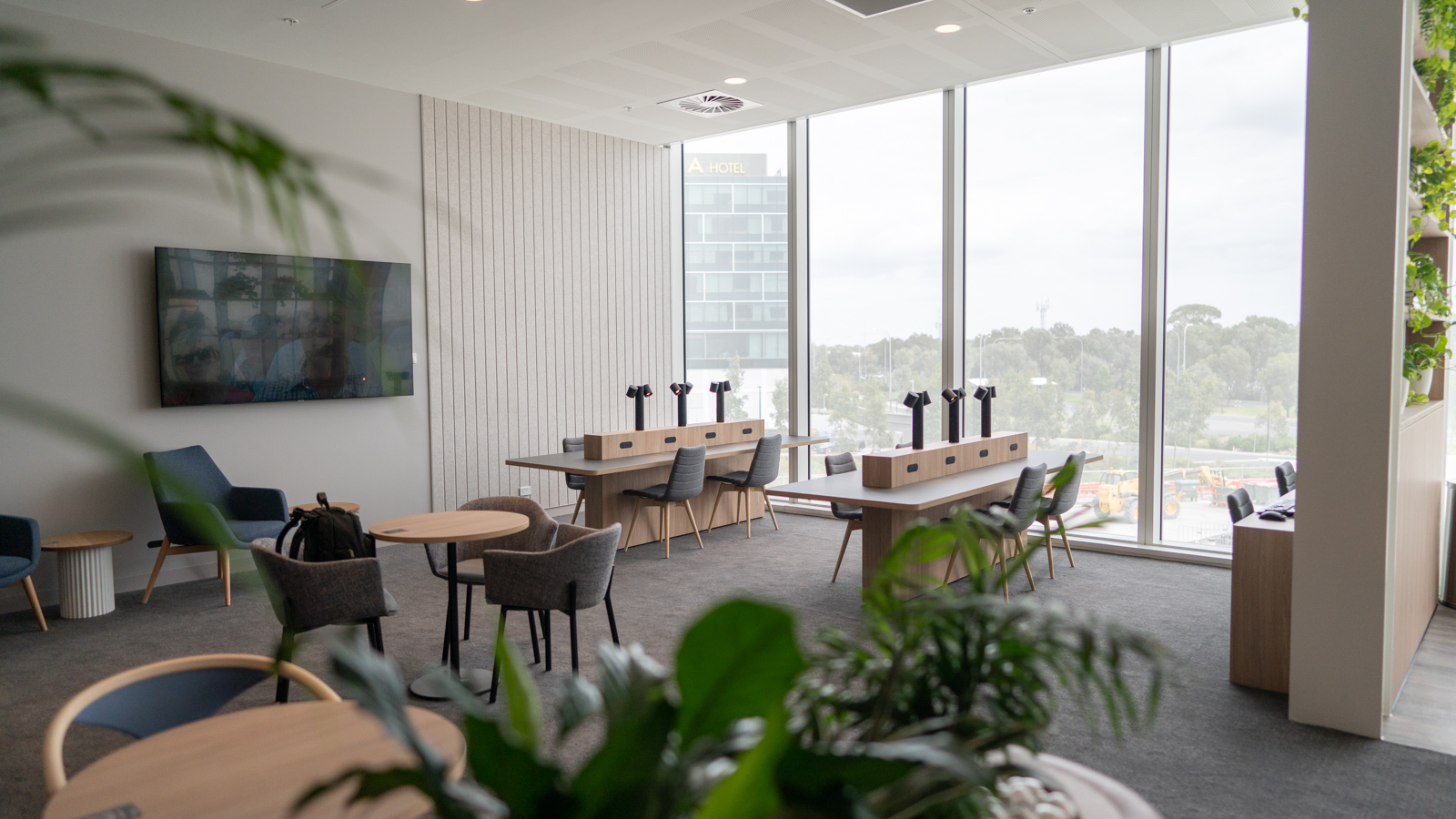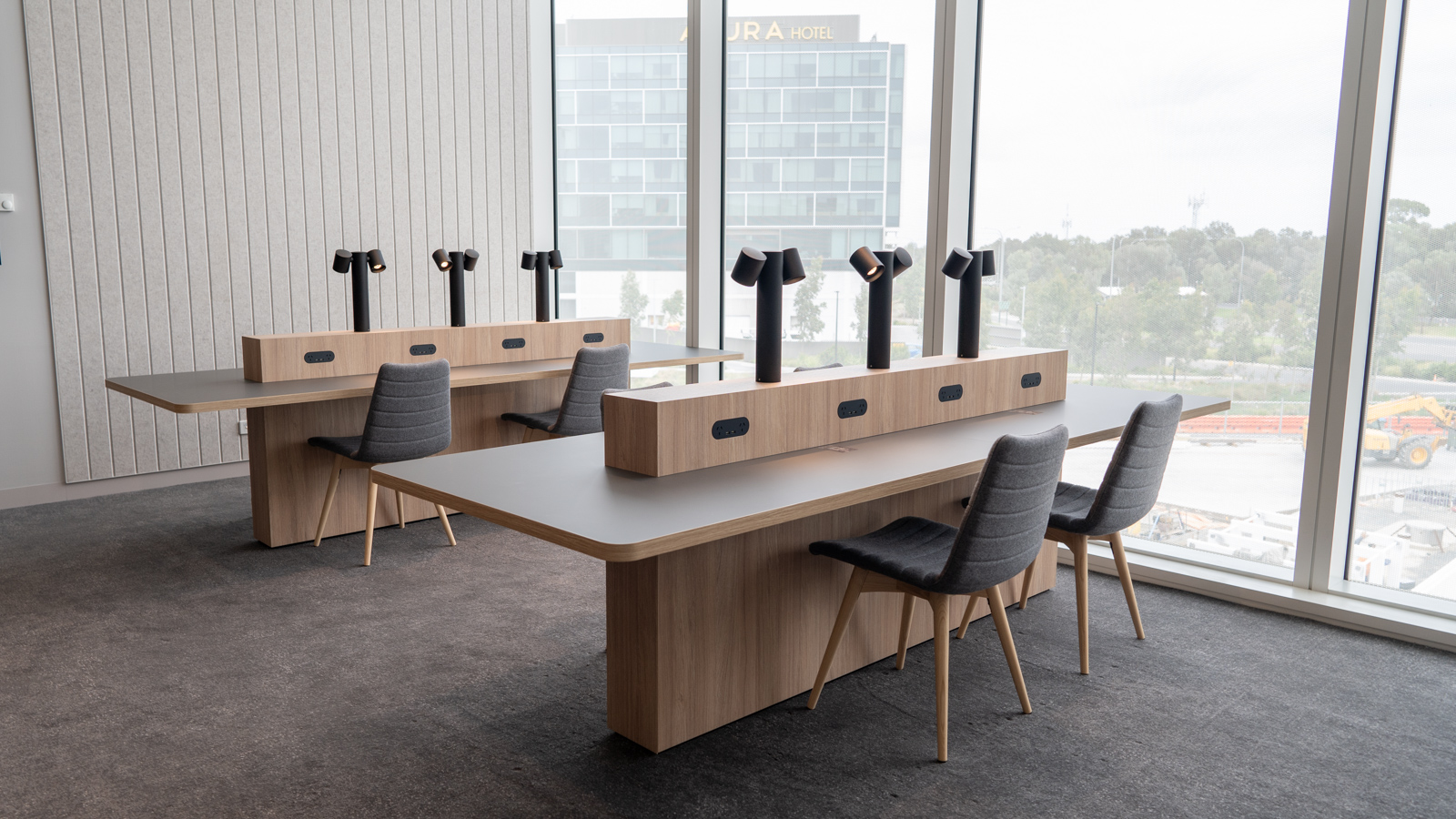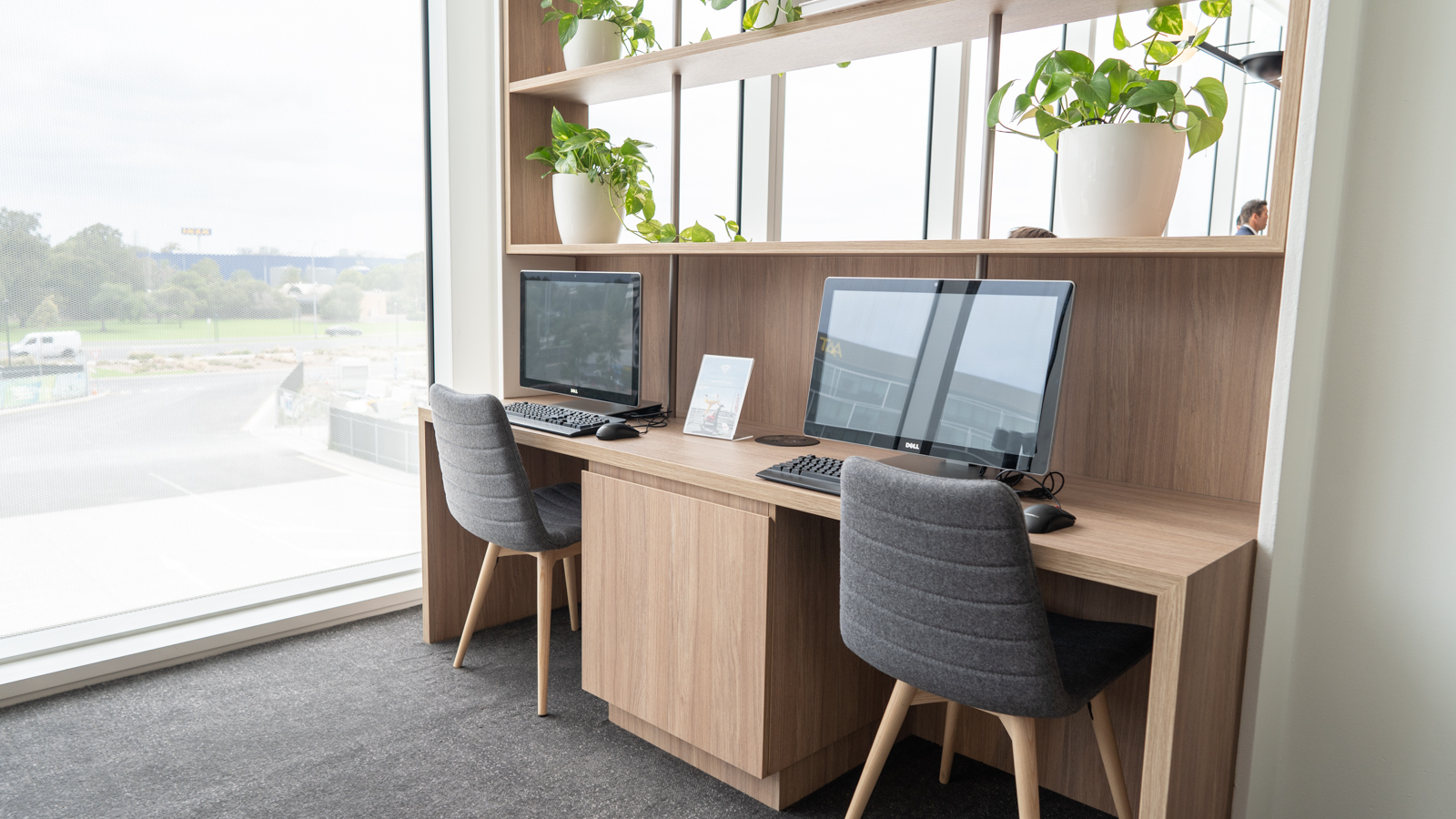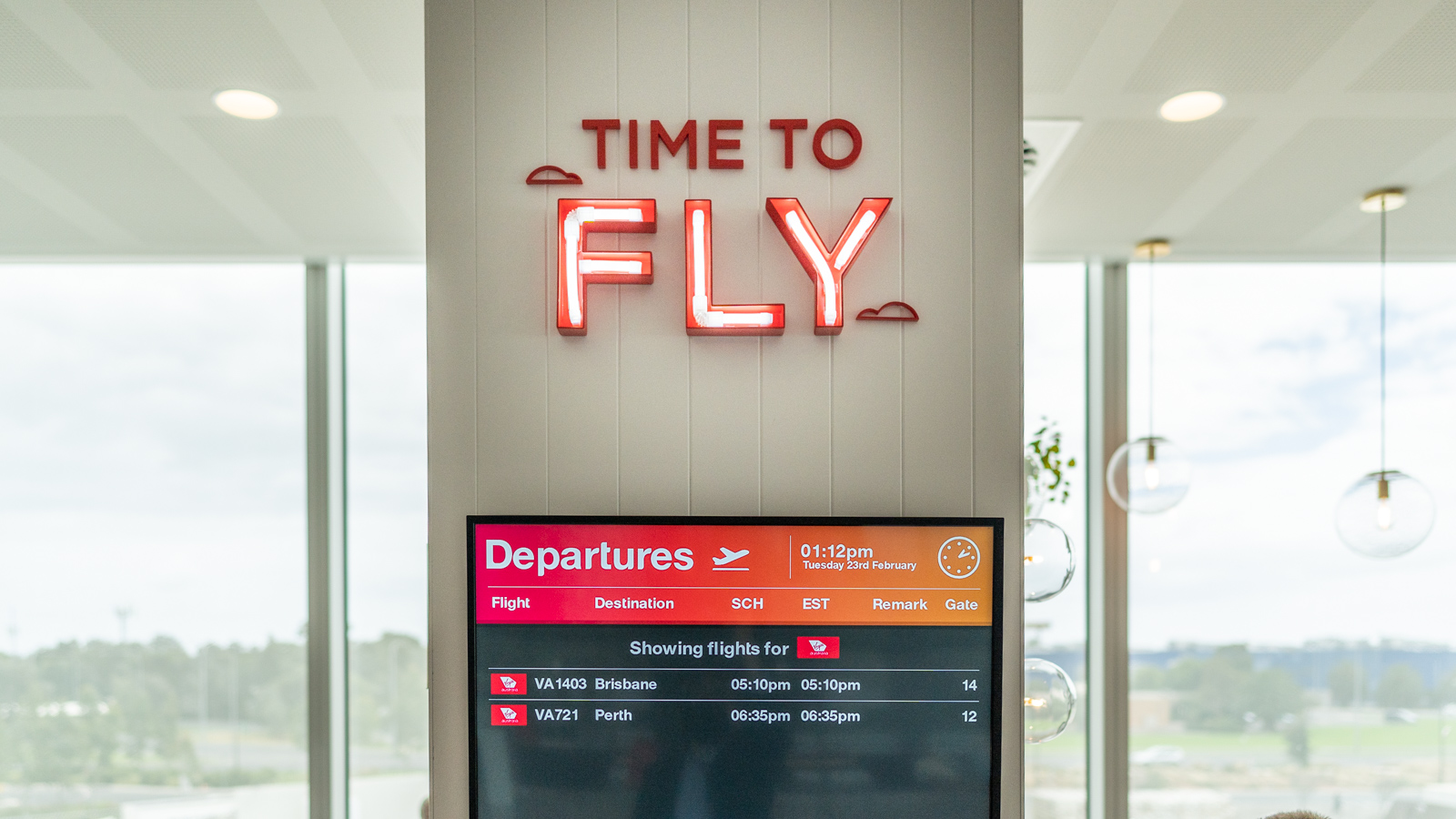 Lounge access options
Class of travel: Virgin Australia Business Class passengers before or after their flight, plus Singapore Airlines Business Class passengers before their flight.
Frequent flyer status: Velocity Platinum (+3 guests) and Gold (+1 guest) frequent flyer members with a same-day Virgin Australia flight with on-arrival access possible. Velocity Platinum and Gold, KrisFlyer Elite Gold, PPS Club and Solitaire PPS Club members before a Singapore Airlines flight.
Lounge membership: Paid members of Virgin Australia Lounges.
Single entry pass: Velocity Silver members (2 passes) and other credit-card holders including the American Express Velocity Platinum Card, before a Virgin Australia-operated flight.
Credit card: American Express Platinum, Business Platinum and Centurion cardholders, before a Virgin Australia flight.
Read more about Virgin Australia lounge access here →
The verdict
Virgin's new Adelaide lounge is generations ahead of its predecessor. The new space is many times bigger with an eye-pleasing design, and functional work/relax zones for business travellers.
It's encouraging to see Virgin finalising the future of its lounges, with the new stylings already rolled out to Melbourne. The updated menu has a focus on fresh bites which should satisfy most travellers, though some better plated hot options would be welcome. That's where the Adelaide Qantas Club has the edge on Virgin.
Overall, the Virgin Australia Adelaide lounge still ticks most of the boxes — fresh food, a variety of seating, fast Wi-Fi and charging points. It's a great place to relax before a flight.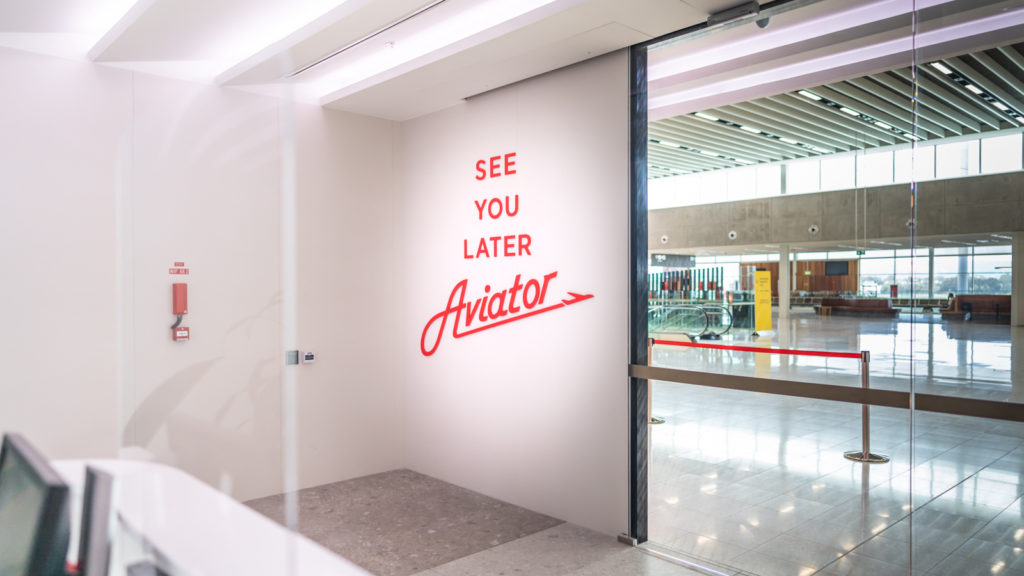 Photography by Brandon Loo, who travelled at Point Hacks' expense. Featured image courtesy of Virgin Australia.
Virgin Australia Lounge, Adelaide
was last modified:
August 9th, 2023
by