Facing tough competition in the domestic skies, Virgin Australia puts its best foot forward in Business Class. Even on short hops, expect a full meal service onboard, complemented by lounge access on the ground.
As borders come down and interstate travel takes off once again, here's what awaits in the skies above.
Check-in, lounge and boarding
Without a checked bag this time, it's straight through security – but if you're carrying luggage, head for the purple priority queues.
Speaking of security, Virgin Australia's Premium Entry facility remains closed at Brisbane Airport. The previous fast-track security queue for Business Class and Velocity Gold/Platinum is also gone from the main checkpoint. We sincerely hope that at least one of these comes back, and pronto. The general queues here can be unpredictable, and at times, very long – arrive early.
The Virgin Australia Lounge at Brisbane Airport is fortunately found after security. This means you can settle in and relax until it's time to board, with the formalities taken care of.
A late morning weekday visit finds a buzzing lounge, but not one that's uncomfortably busy. Food options are tailored to light bites, with a ham wrap and a skim latte tiding me over until boarding.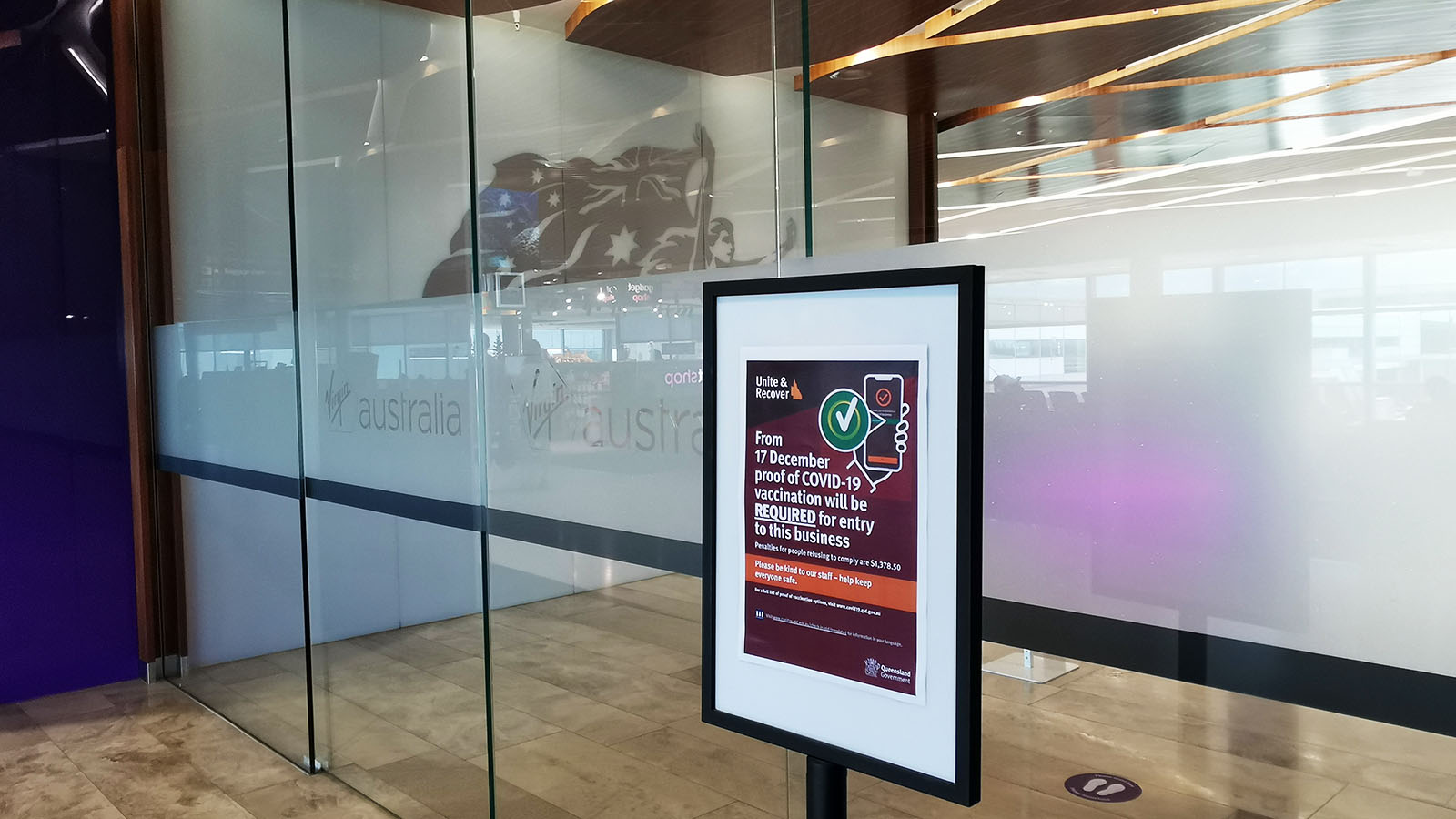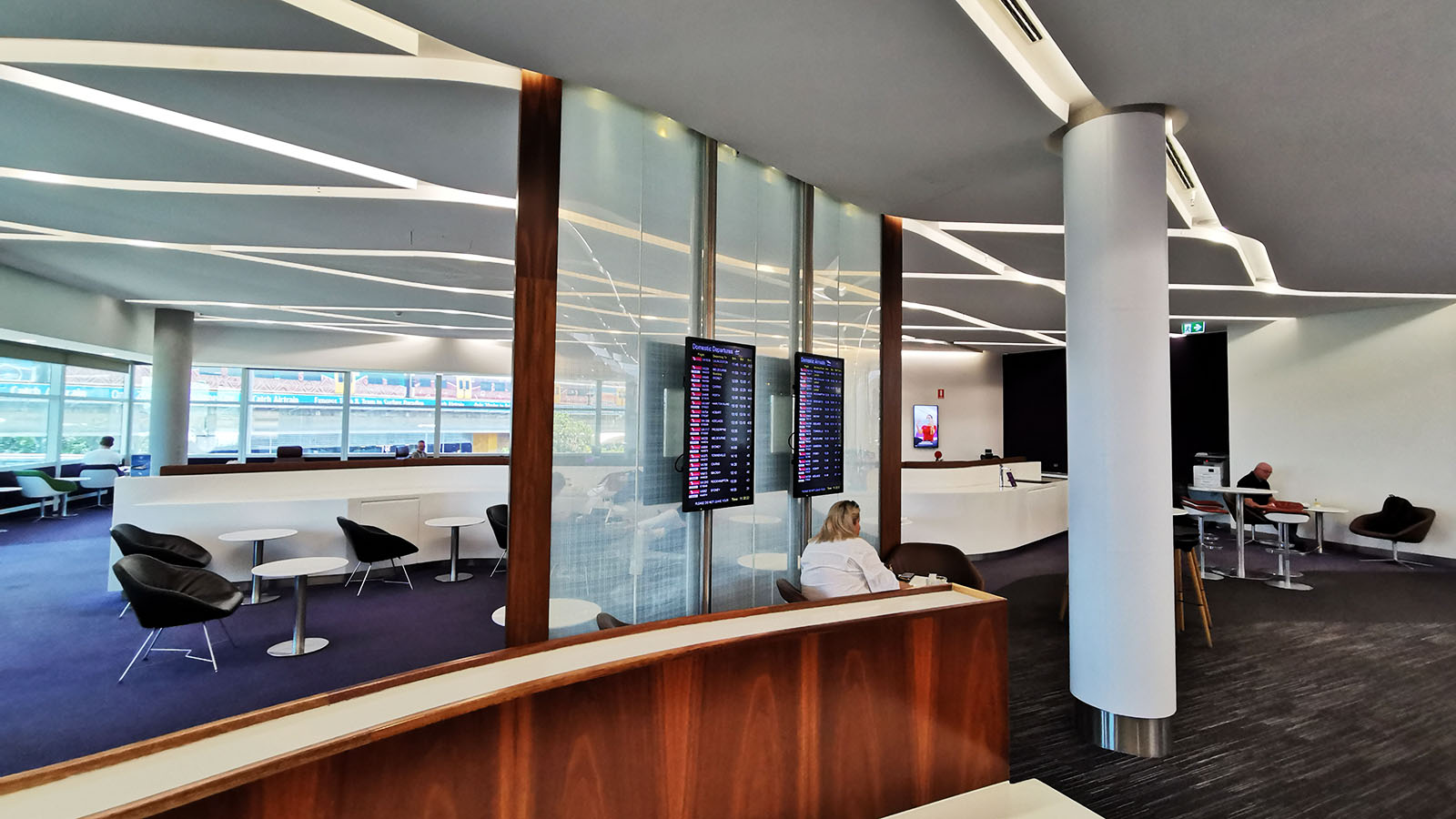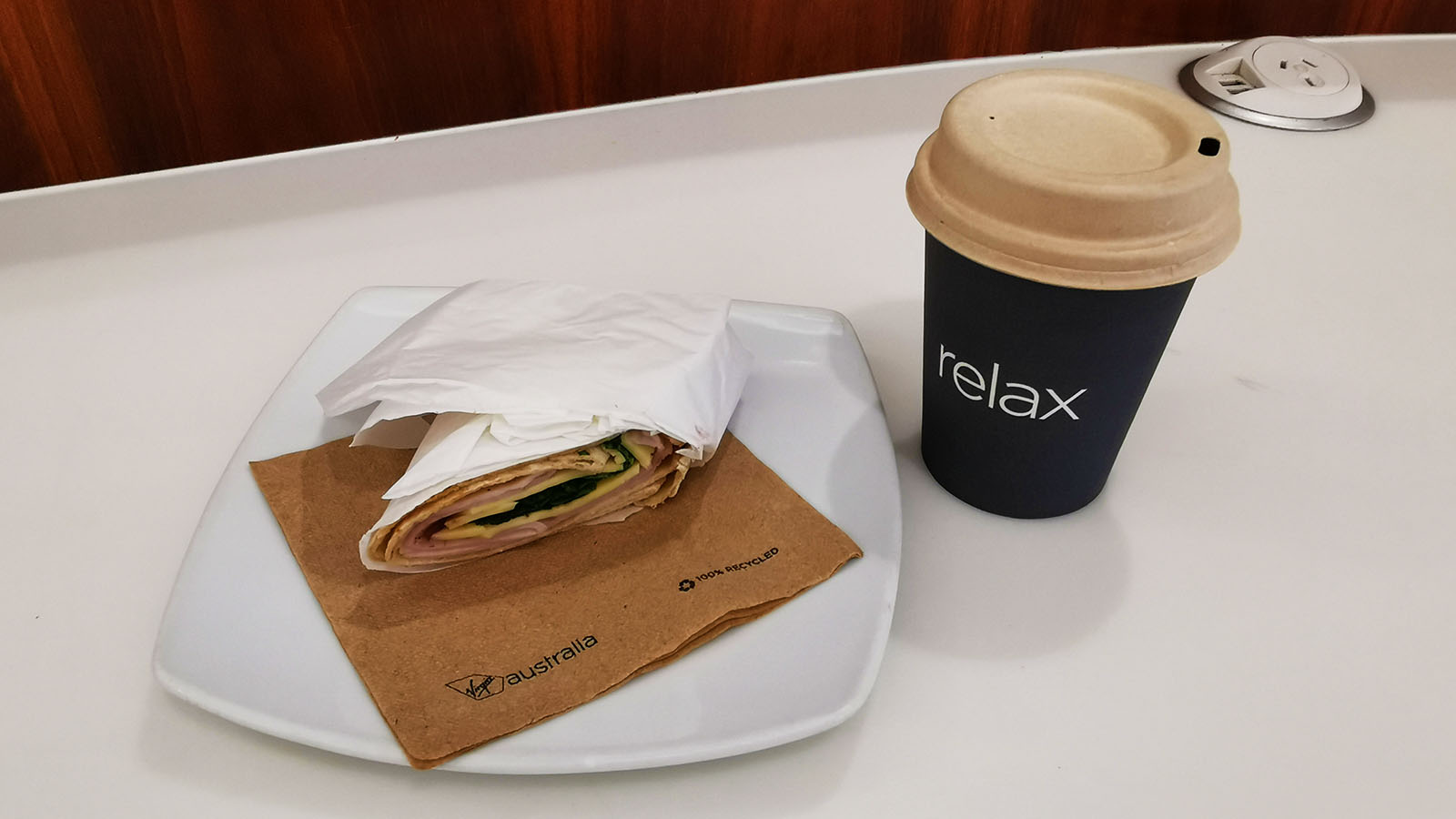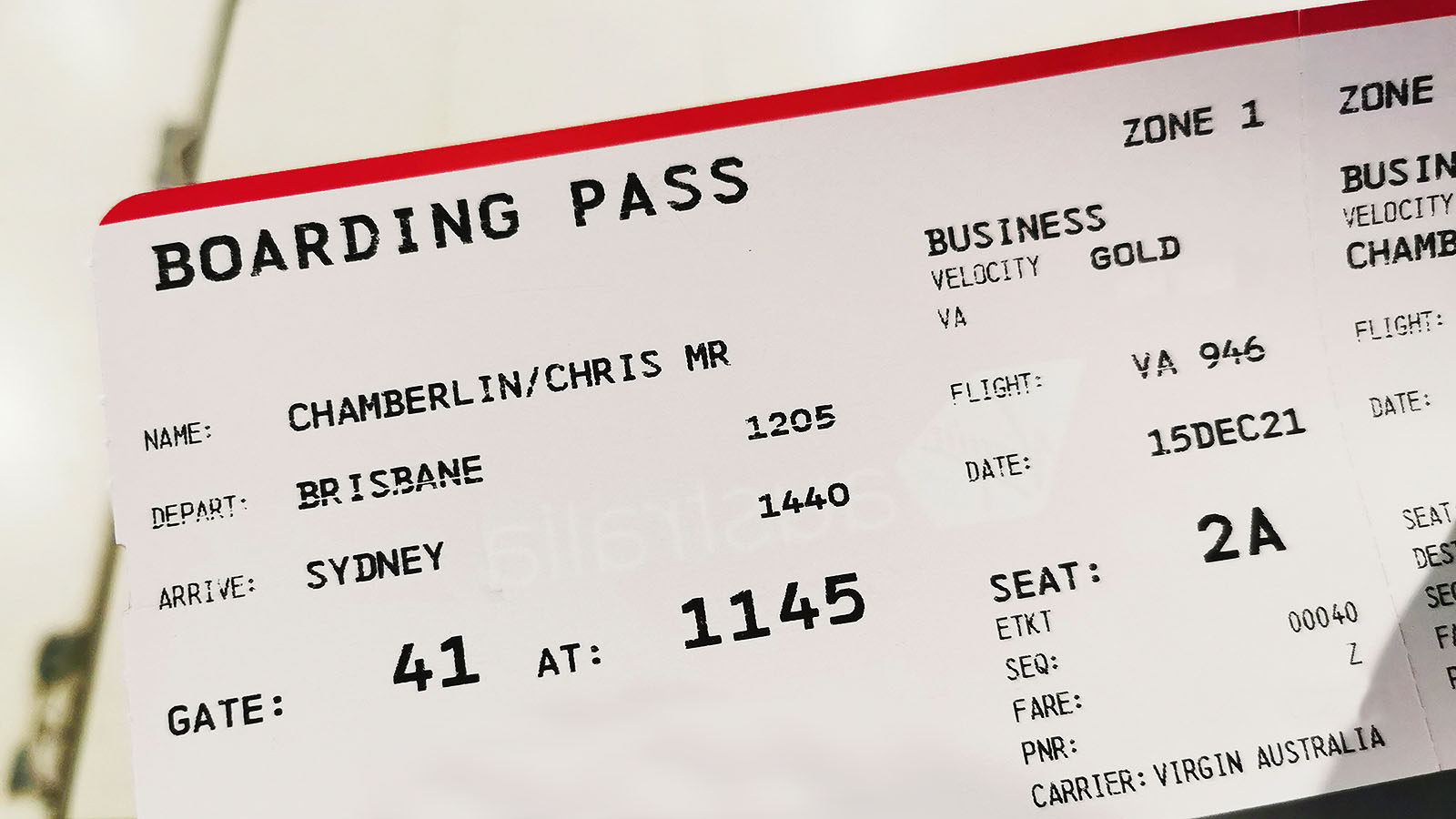 Boarding is quick and easy, being from the gate directly opposite the lounge. With a priority page for Business Class and a clearly-signed queue, I'm stepping onto the aerobridge in no time.
Virgin Australia Boeing 737 Business Class seating
Aboard Virgin Australia's Boeing 737 fleet, Business Class brings an eight-seat cabin. Spread over just two rows, it's an exclusive club on any Virgin Australia flight.

The leather seats in Business Class come with adjustable headrests to get comfortable. Reclining up to five inches (13cm) and with a 'pitch' of 37 inches (94cm), there's also plenty of room to stretch out. Crew can hang jackets at the back of Business Class, with separate coat hooks as a backup.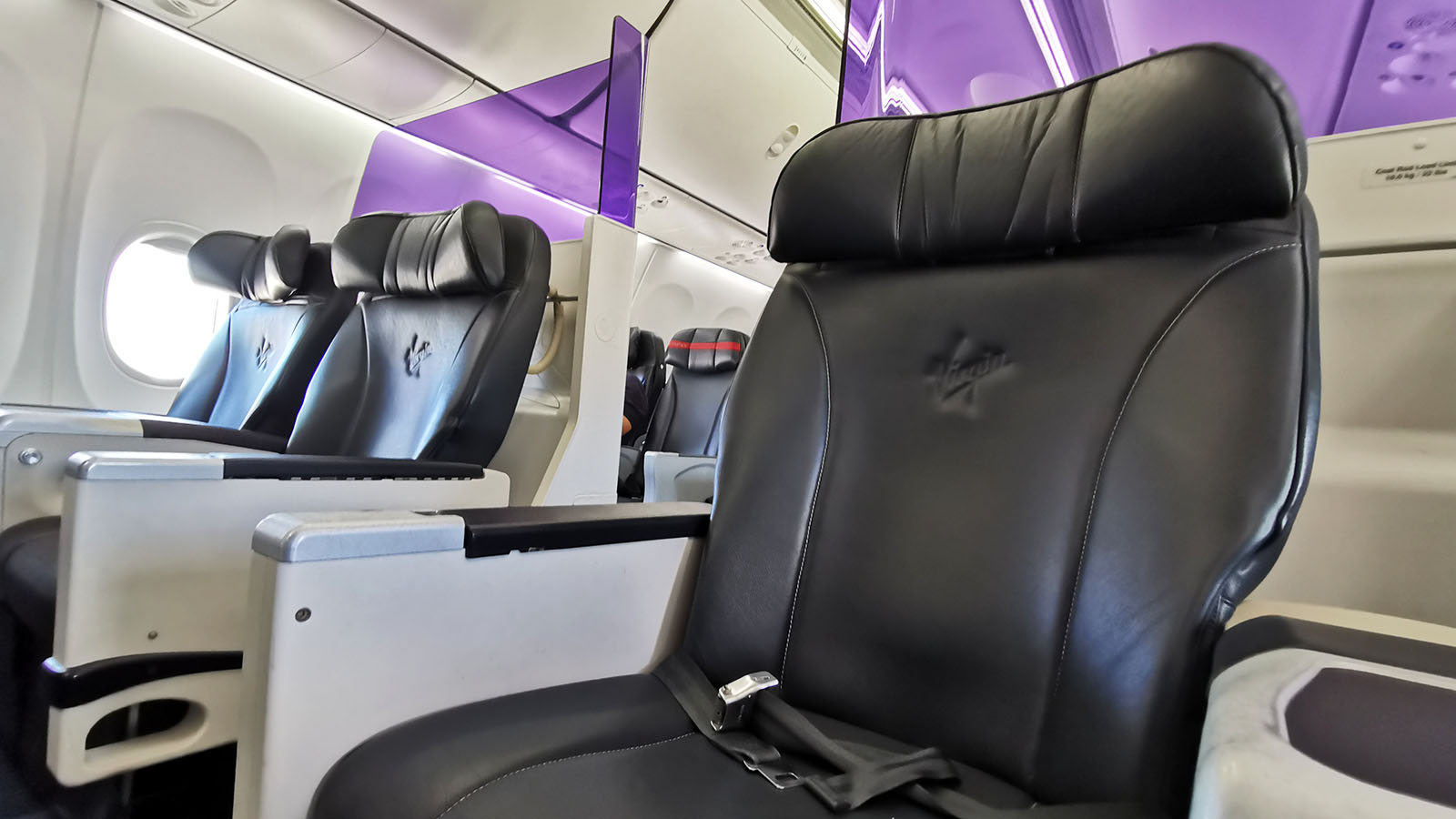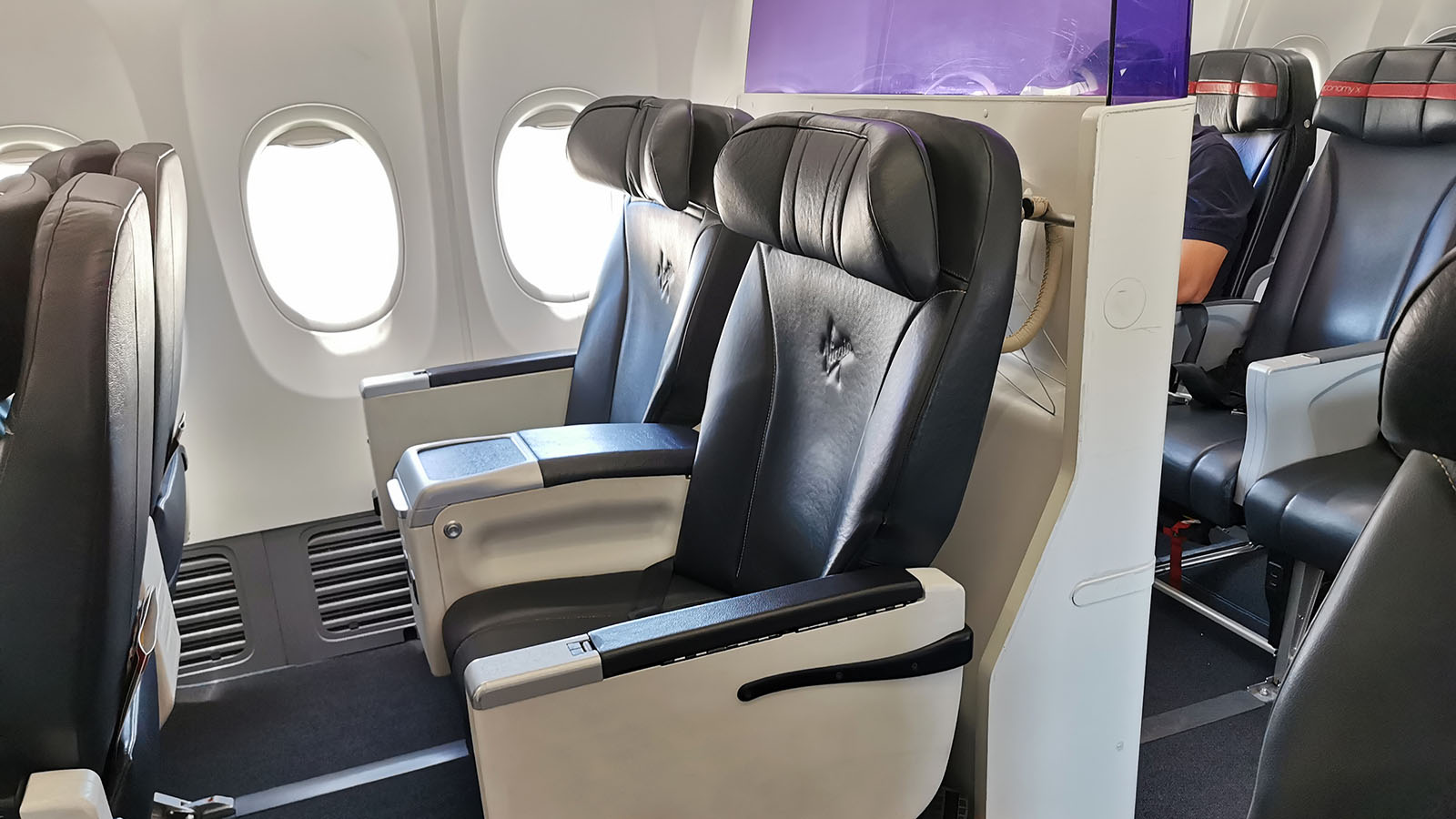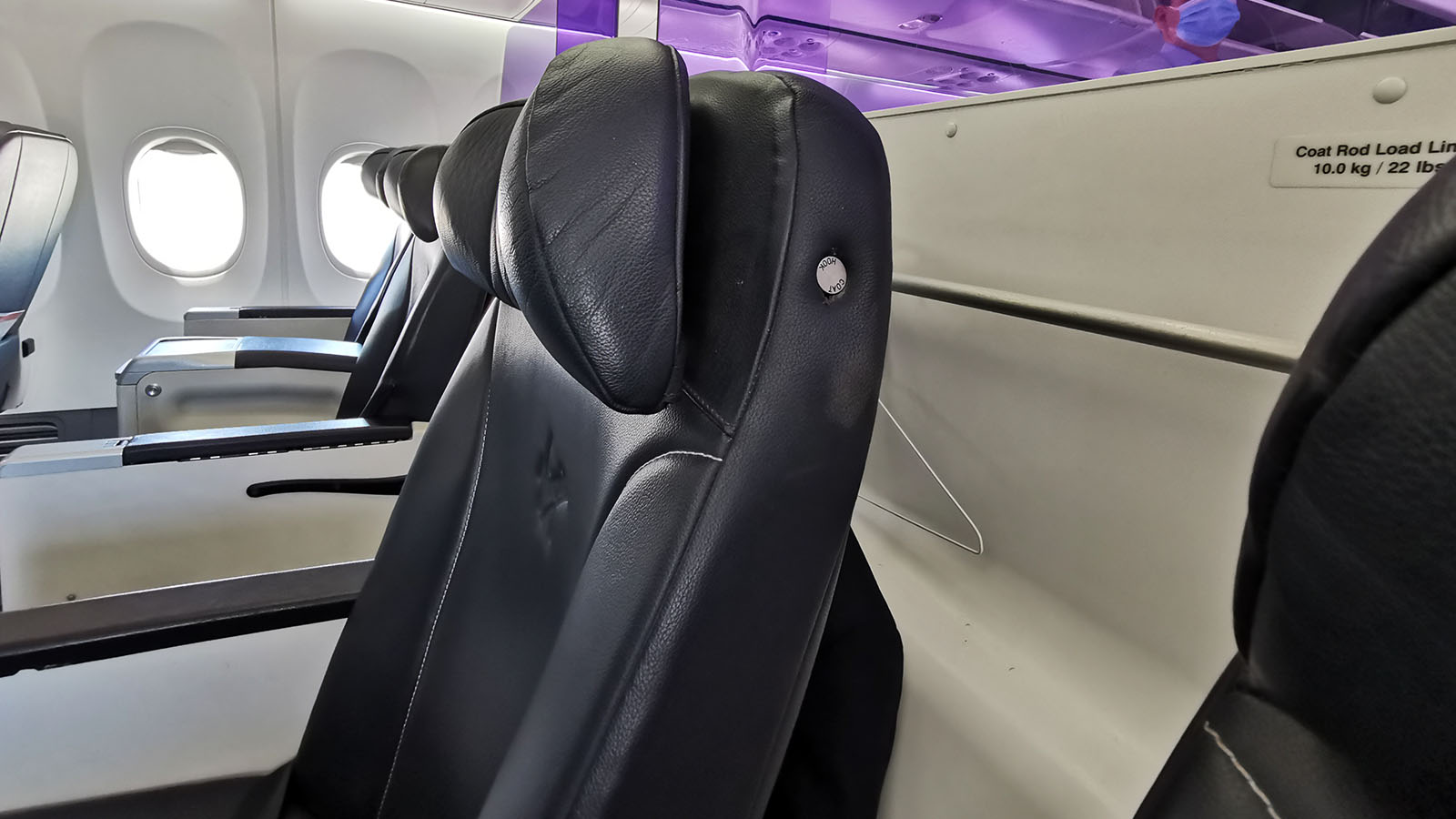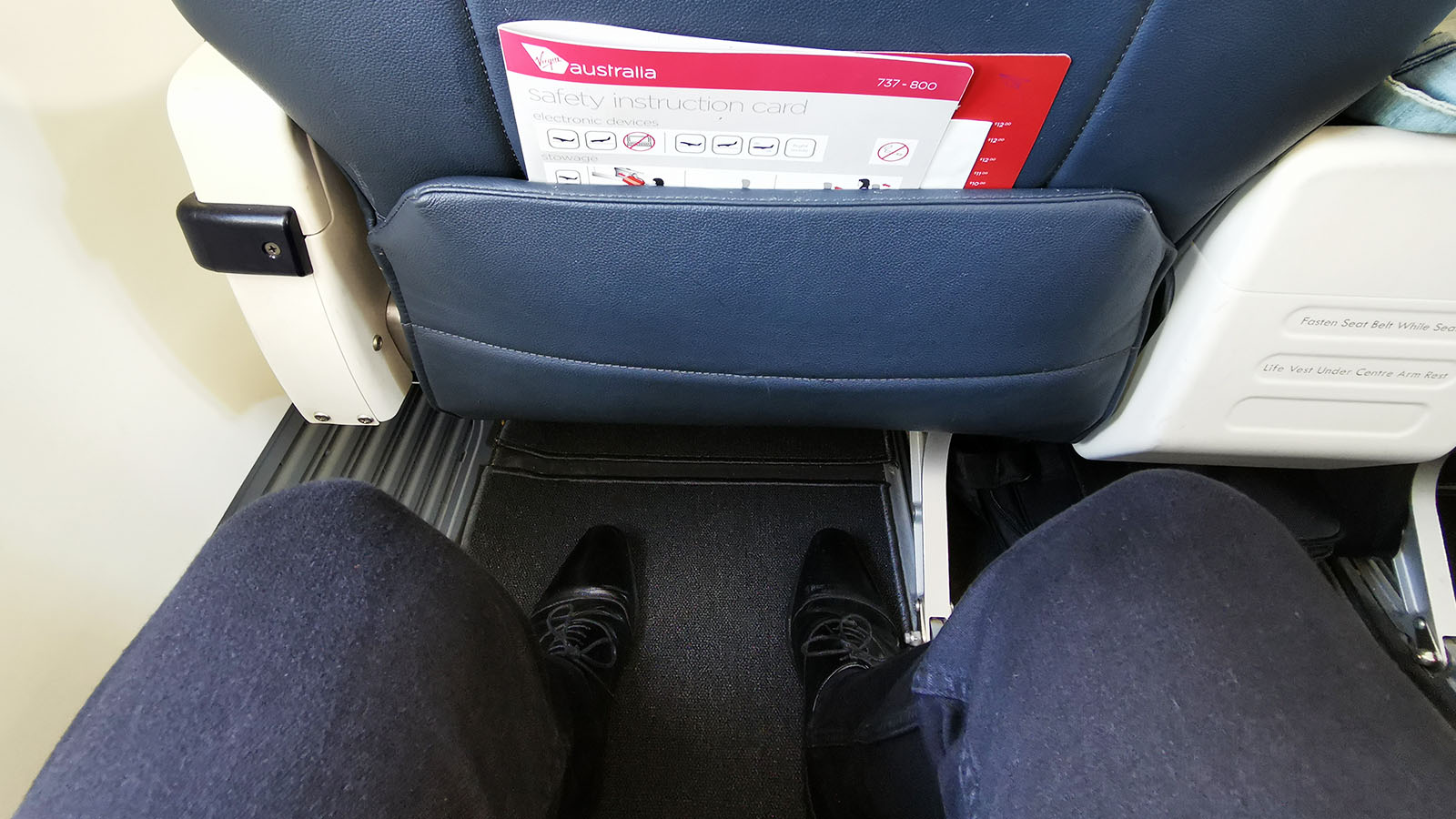 As you settle in, mood lighting sets the scene for the journey ahead. That's featured on many of the airline's Boeing 737s jets, albeit not on every plane.
At meal time or for any laptop work, a hefty tray table folds out from within the arm rest. A central cocktail table also keeps any beverages close by, and can be extended if you're running shy of space. Speaking of space, in the second row, your bags can slot underneath the seat in front. Every passenger gets a storage pouch as well, handy for literature and the like.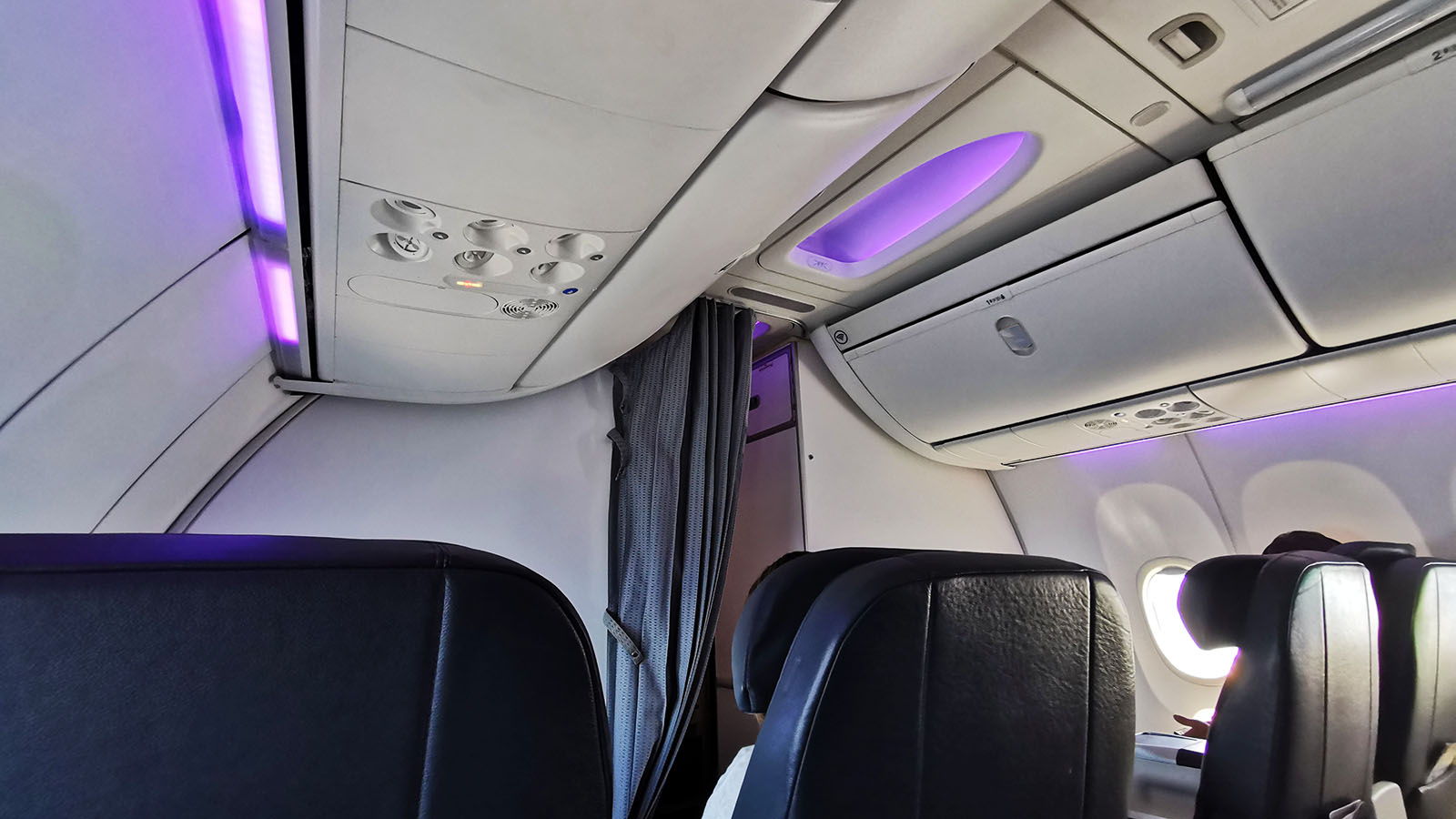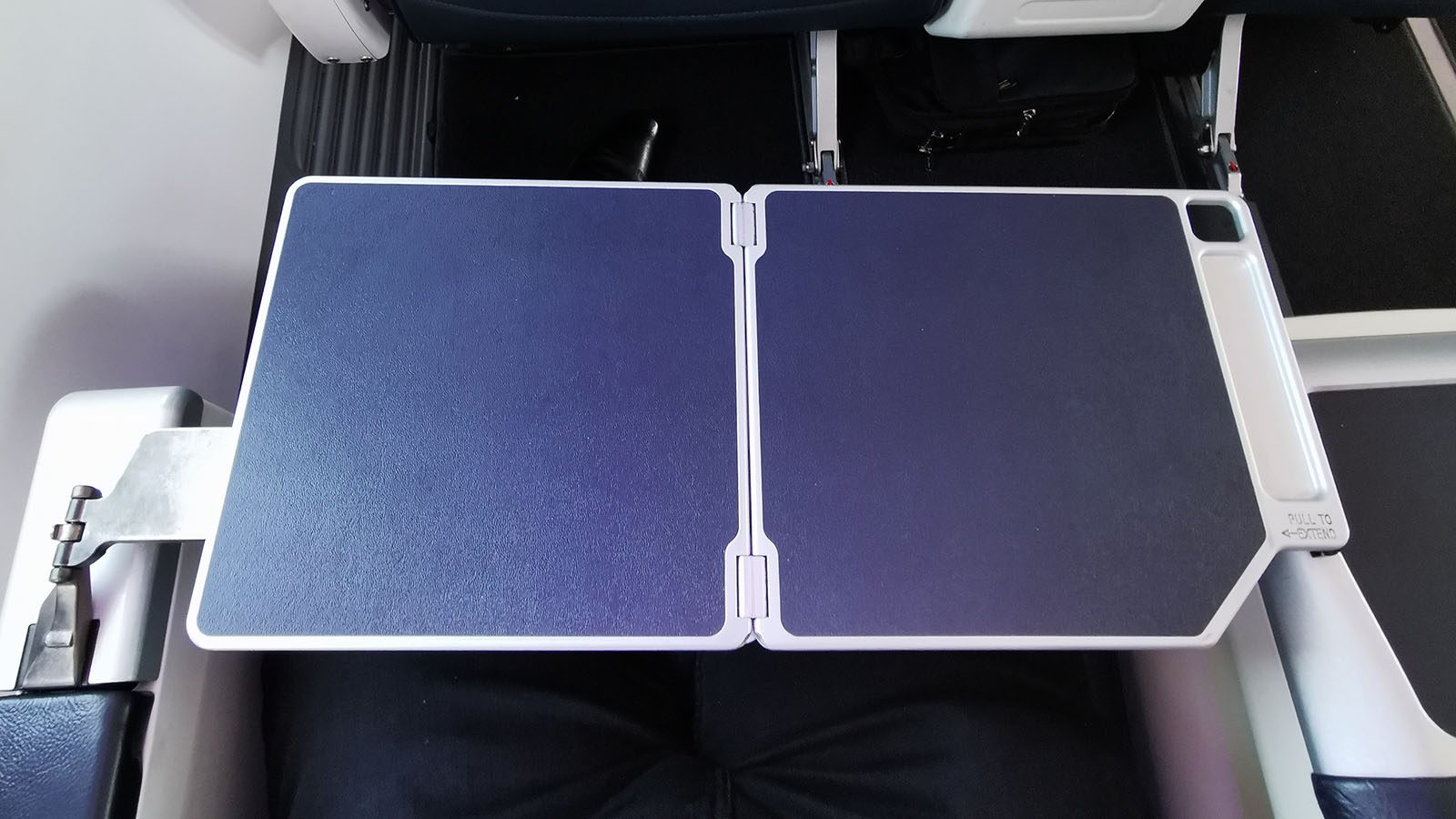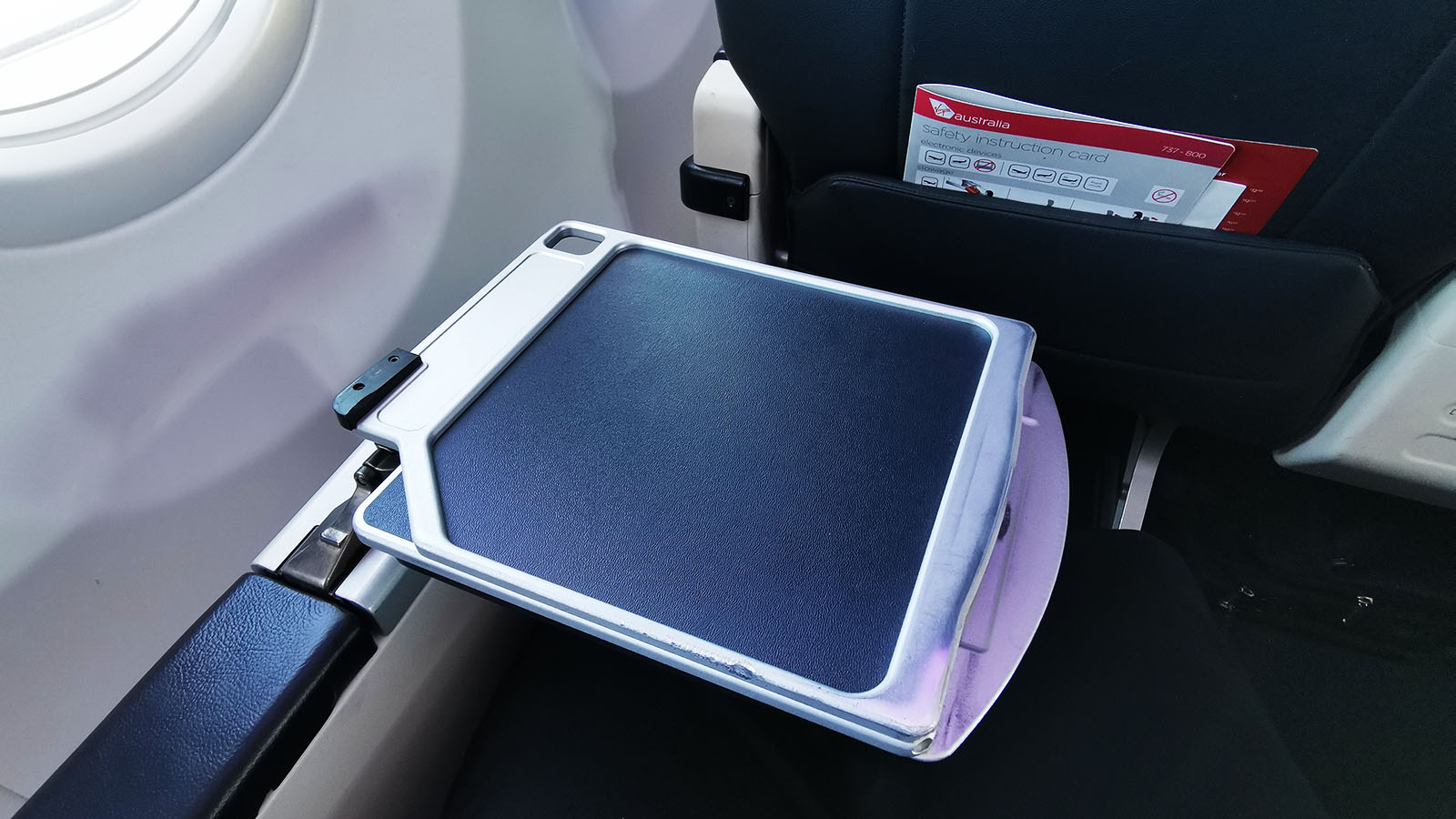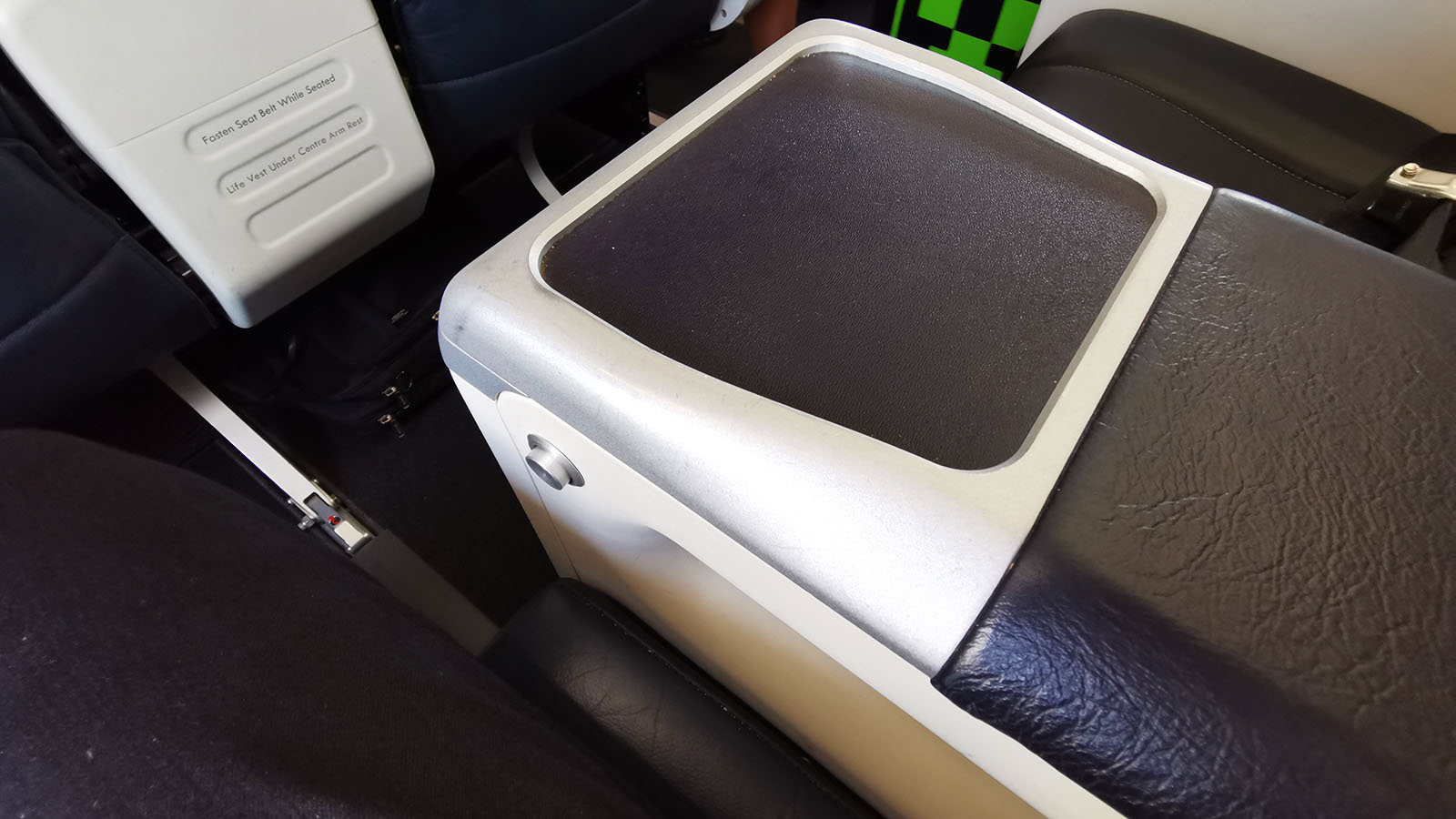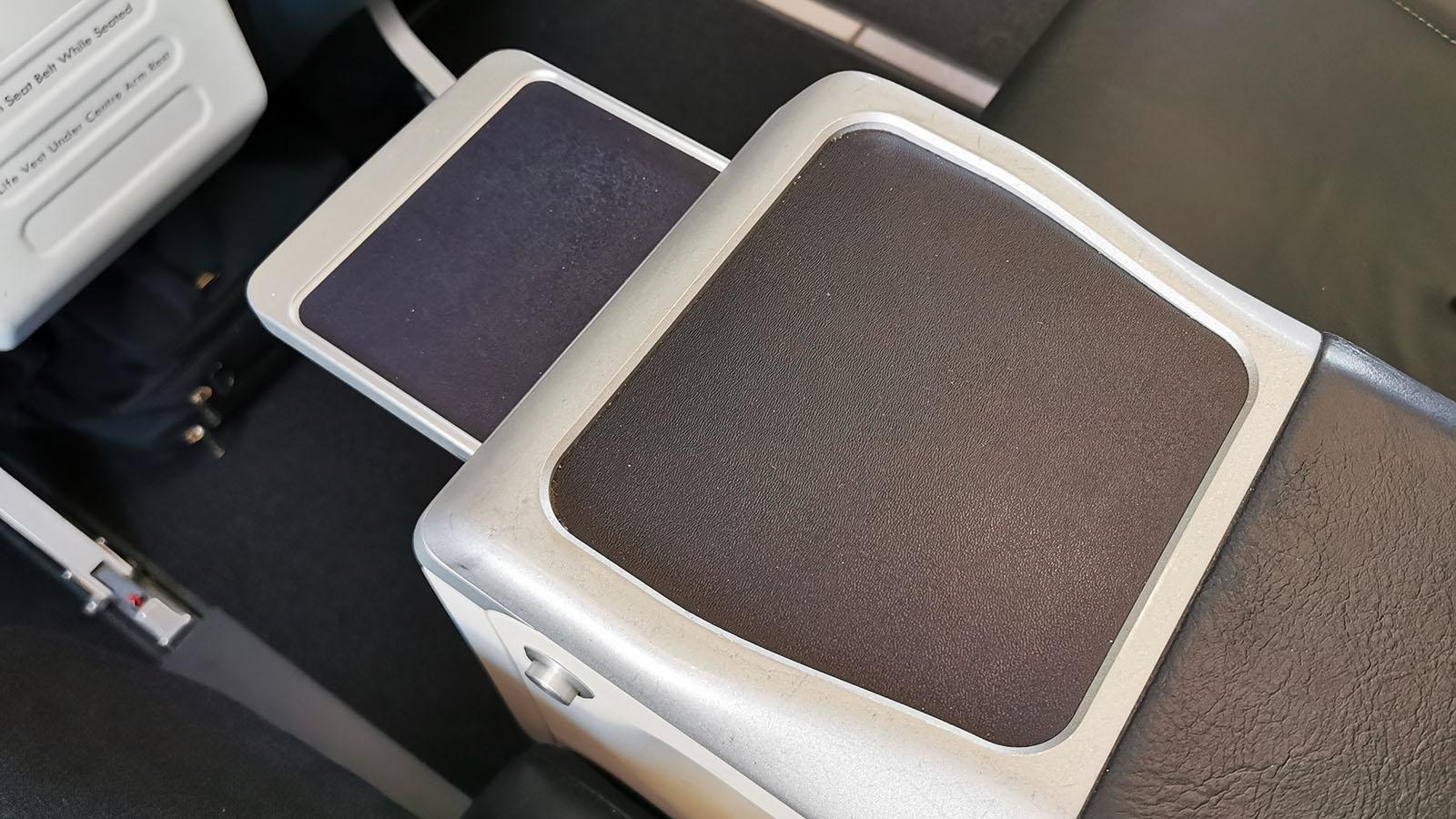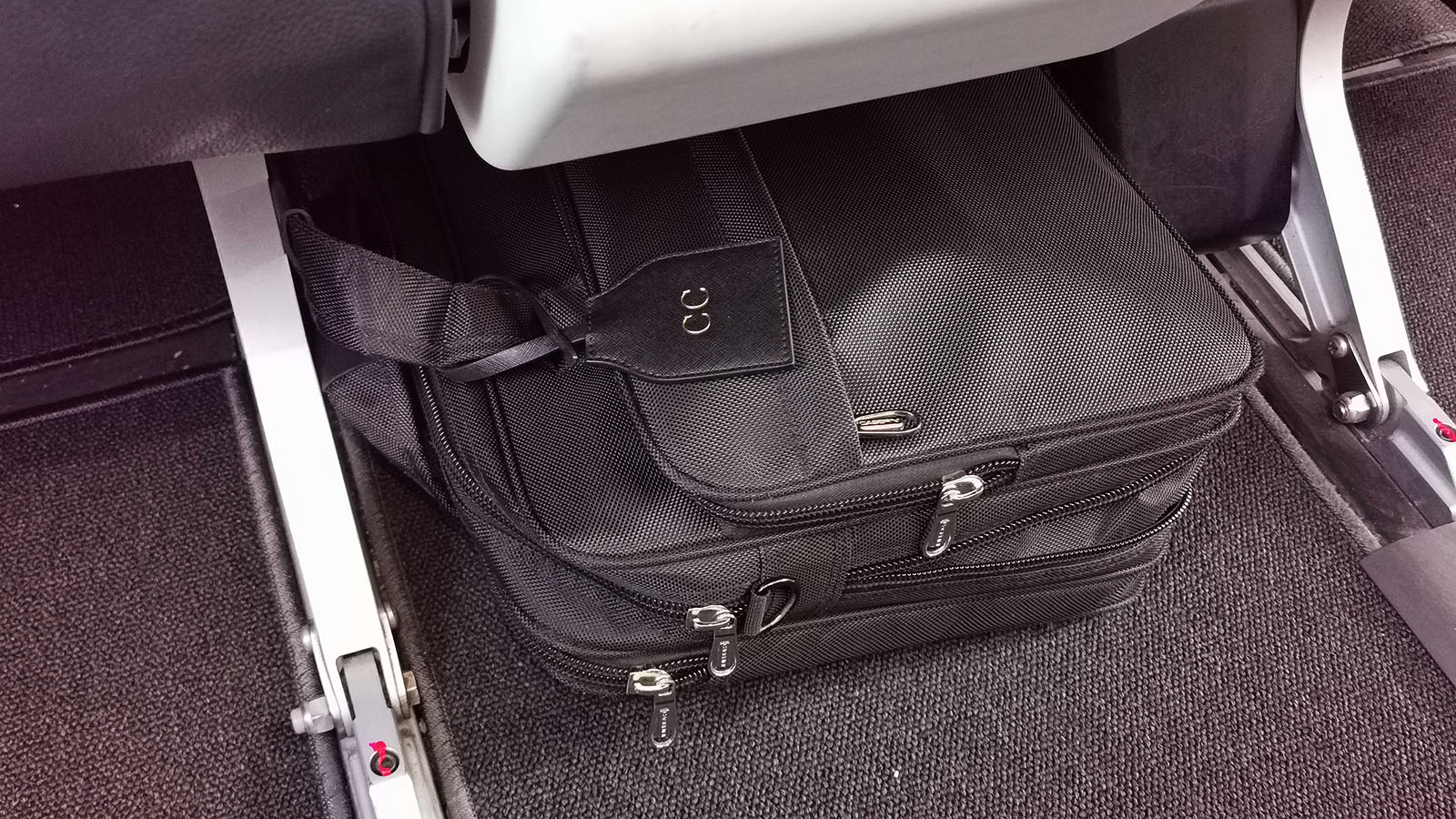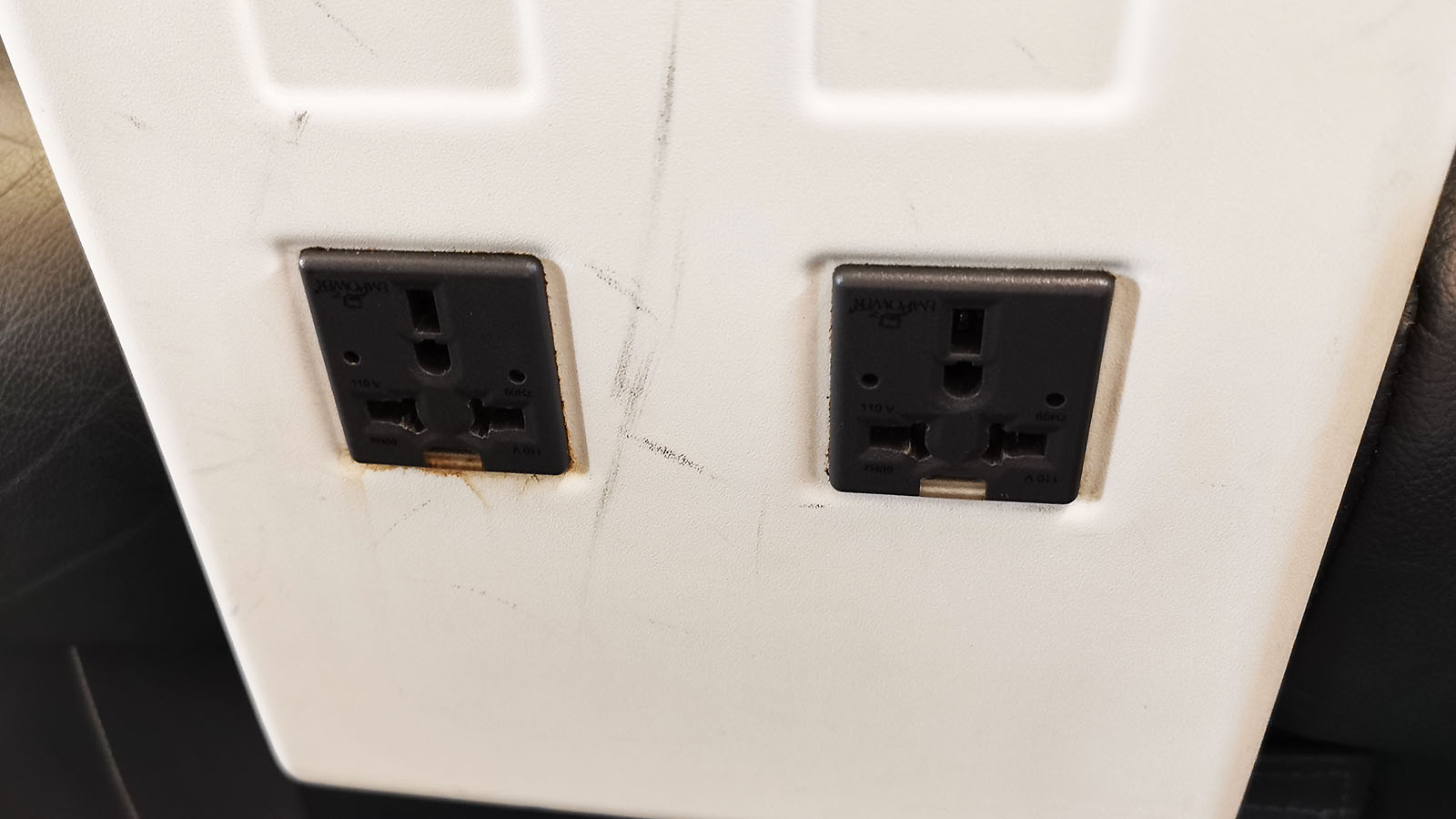 Rounding out the offering is AC power on this particular plane: but again, it's not available on every flight.
You won't find a leg rest here, although it's a feature Virgin Australia is trialling on its new Business Class seat. Stay tuned!
Virgin Australia Boeing 737 Business Class food and beverage
Nothing says Business Class like a glass of bubbles before departure. And that's exactly what Virgin Australia delivers – promptly, and with a smile.
With a 12:05 pm departure from Brisbane, this flight calls for lunch. I'm given the option of Cajun chicken with rice – and it's the only option left being the last passenger served. It's a tasty dish, but if you have specific dietary needs, consider choosing a seat in row one. You'll then be among the first to have your order taken, maximising the options available to you. Virgin Australia doesn't offer pre-ordered 'special meals', so that's definitely the best strategy.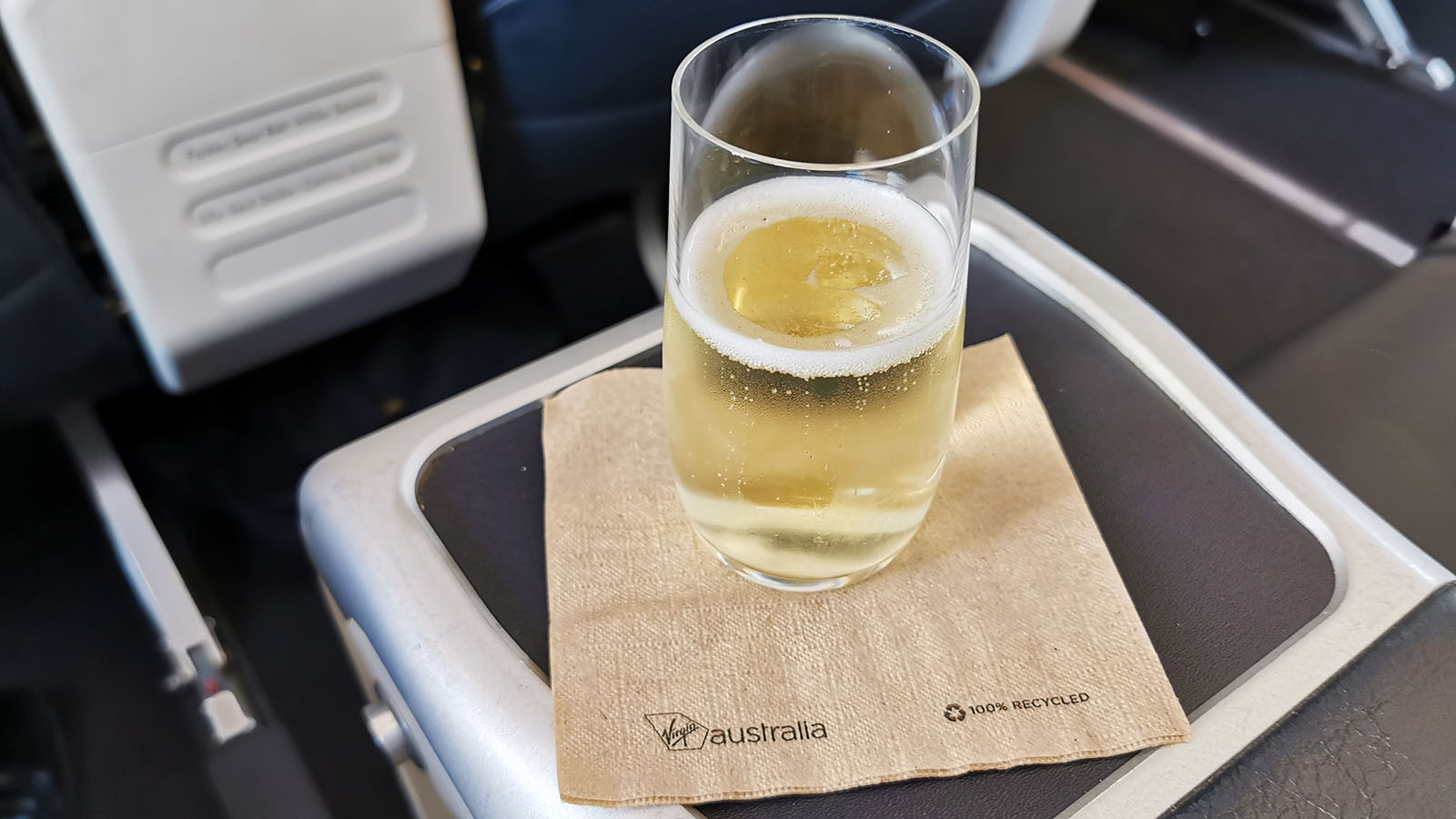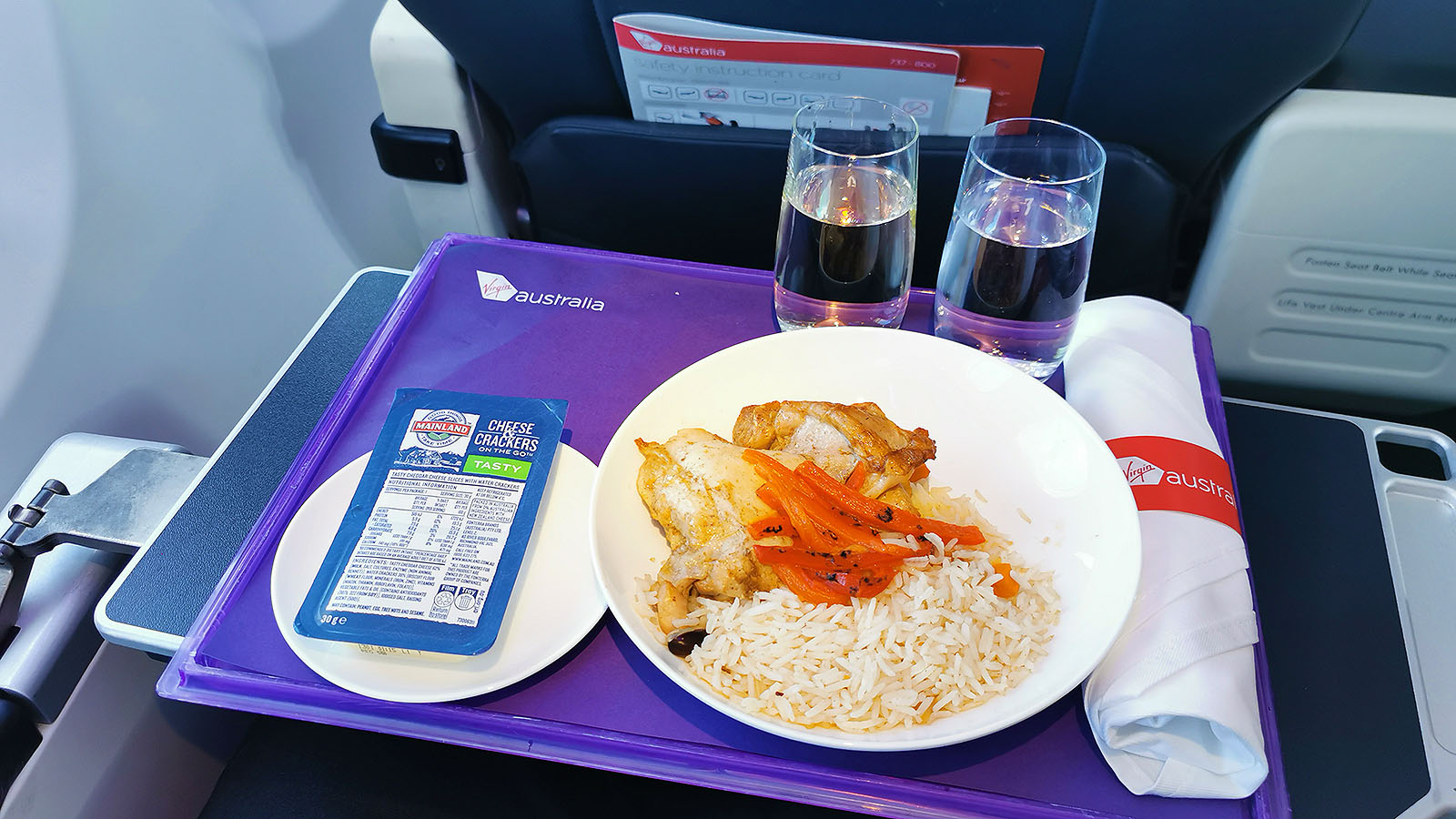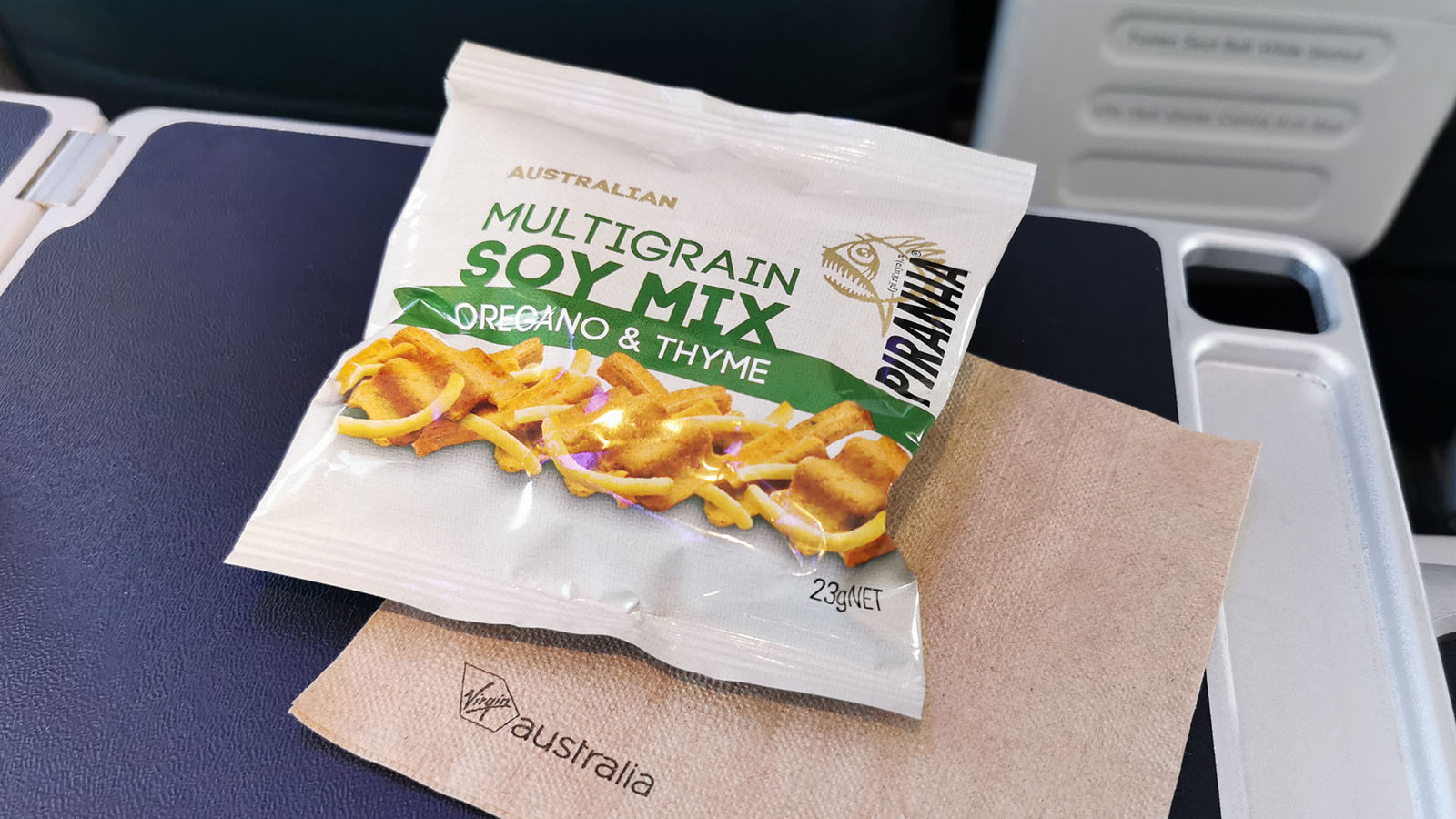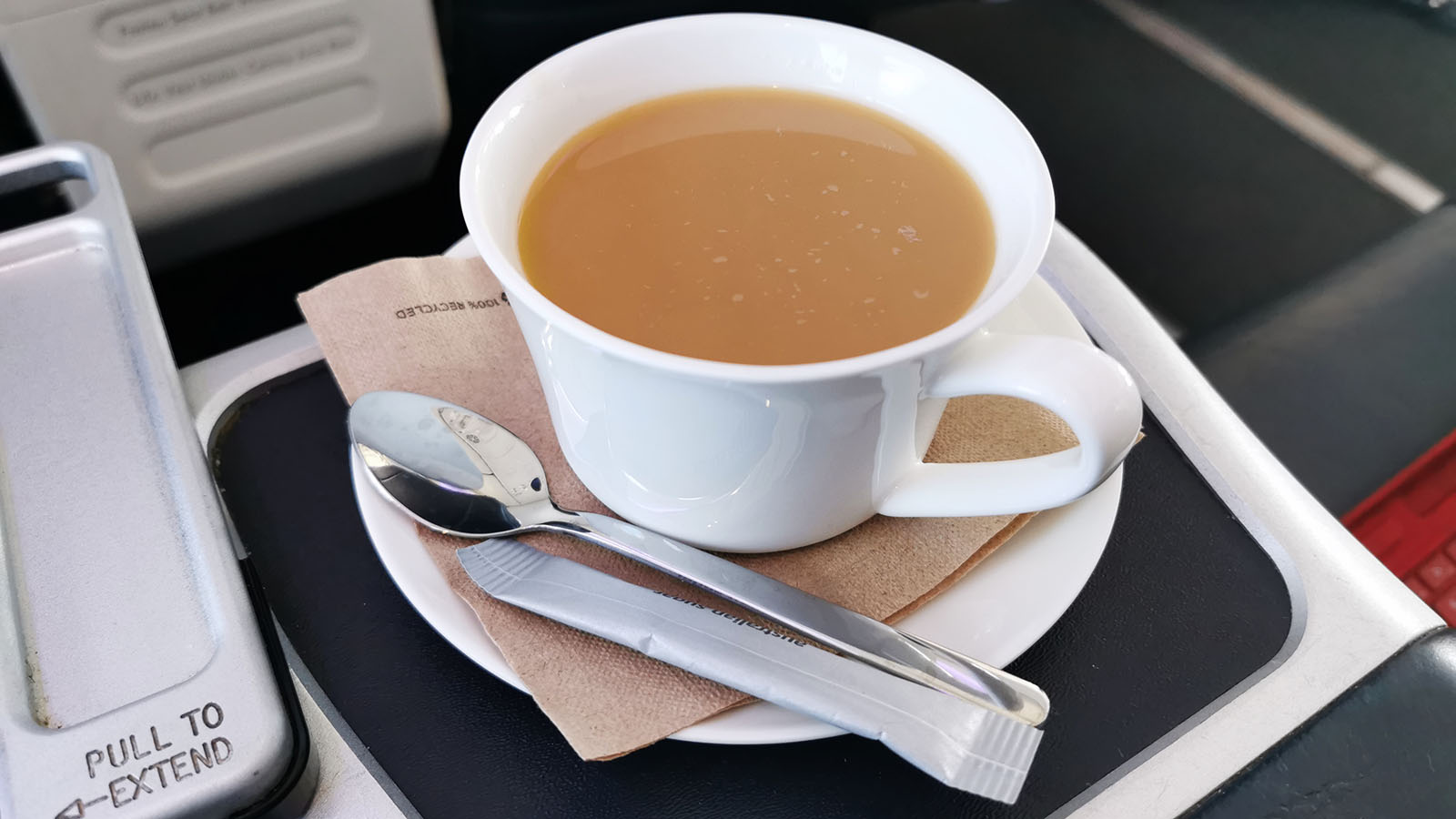 Cheese and crackers accompany the main course. These come served in a packet rather than pleasingly plated, but this minimises handling, at least.
Still peckish after the main meal? Ask the crew about the 'pantry' snack options available on your flight. With a choice between biscuits, nuts and soy mix, the latter hit the spot. The (complimentary) pantry is separate to the 'buy on board' menu, which offers a broader snack selection but at a charge.
Beer, wine and spirits are all gratis in Virgin Australia Business Class. There's time for a quick white coffee after the meal, and before long, it's time to land.
Virgin Australia Boeing 737 Business Class service and entertainment
Without seatback or overhead screens, you'll want to pack your own device for entertainment. Android and iOS users can download the Virgin Australia entertainment app to stream content from the airline's onboard library over Wi-Fi.
For those with other gadgets, such as Windows-based laptops and 2-in-1s, bringing your own content is usually the best bet. We just wish these seats came with tablet holders – especially as Virgin Australia expects you'll be bringing one.
It's certainly possible to slide a tablet case or mount over the seat pocket instead, as I did. But having the screen at eye level would be more comfortable, especially on longer flights.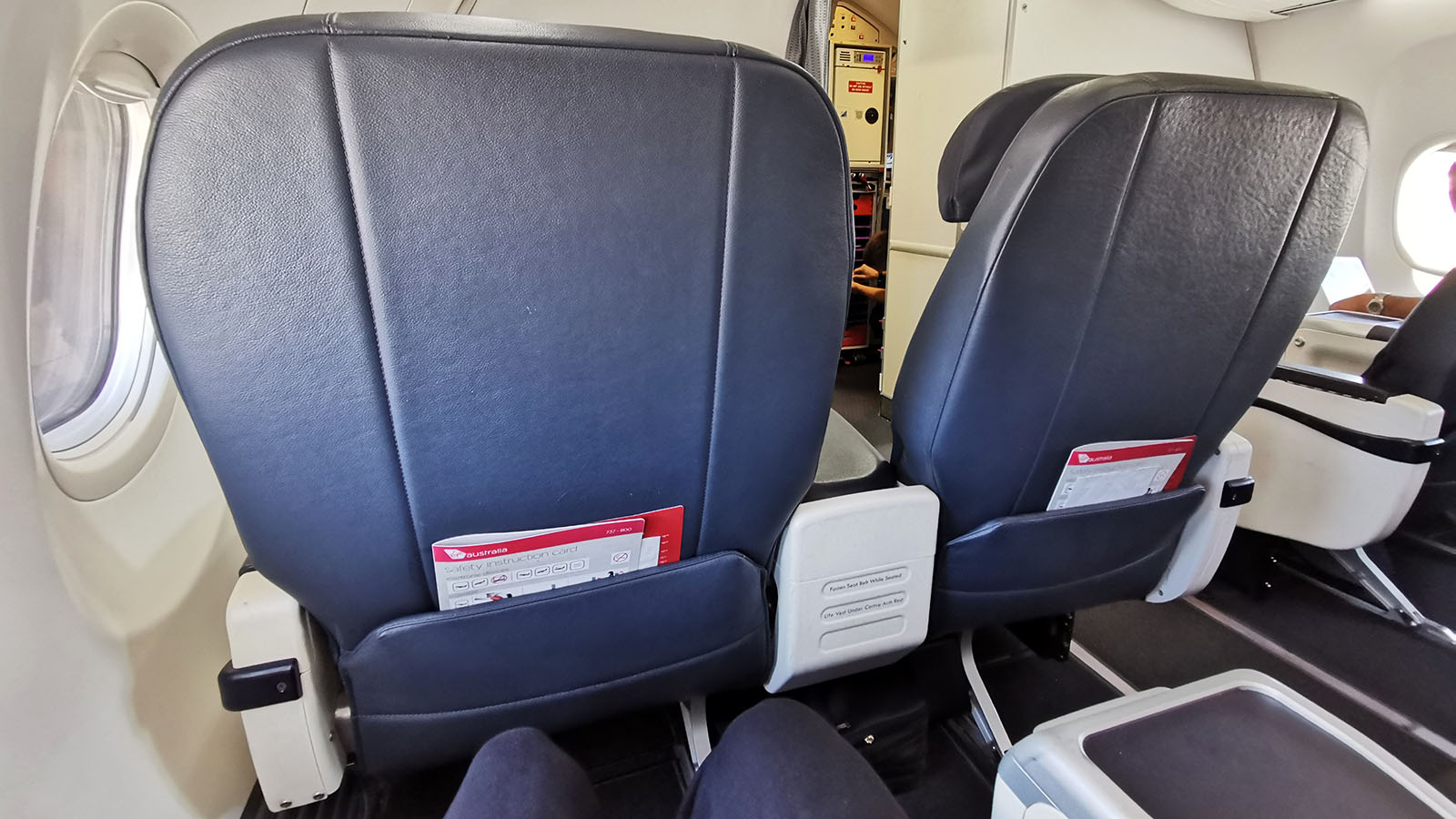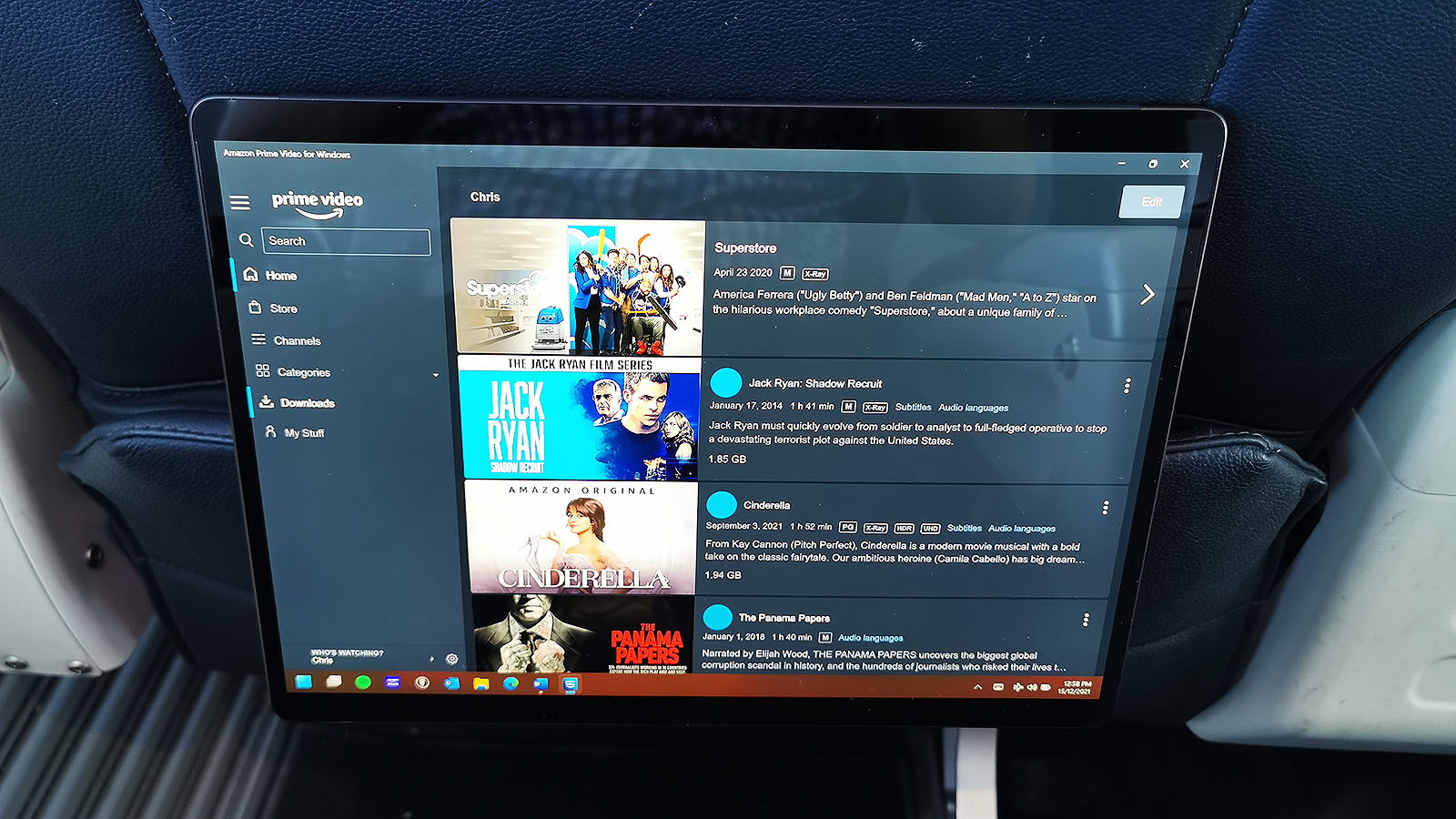 Service on today's flight is bubbly and bright, with the cheerful crew excited to be flying. Drinks and the meal arrive promptly, and this swift service means there's no rush to finish before landing.
Particularly on Sydney-bound flights, views can be picturesque, so keep those blinds open!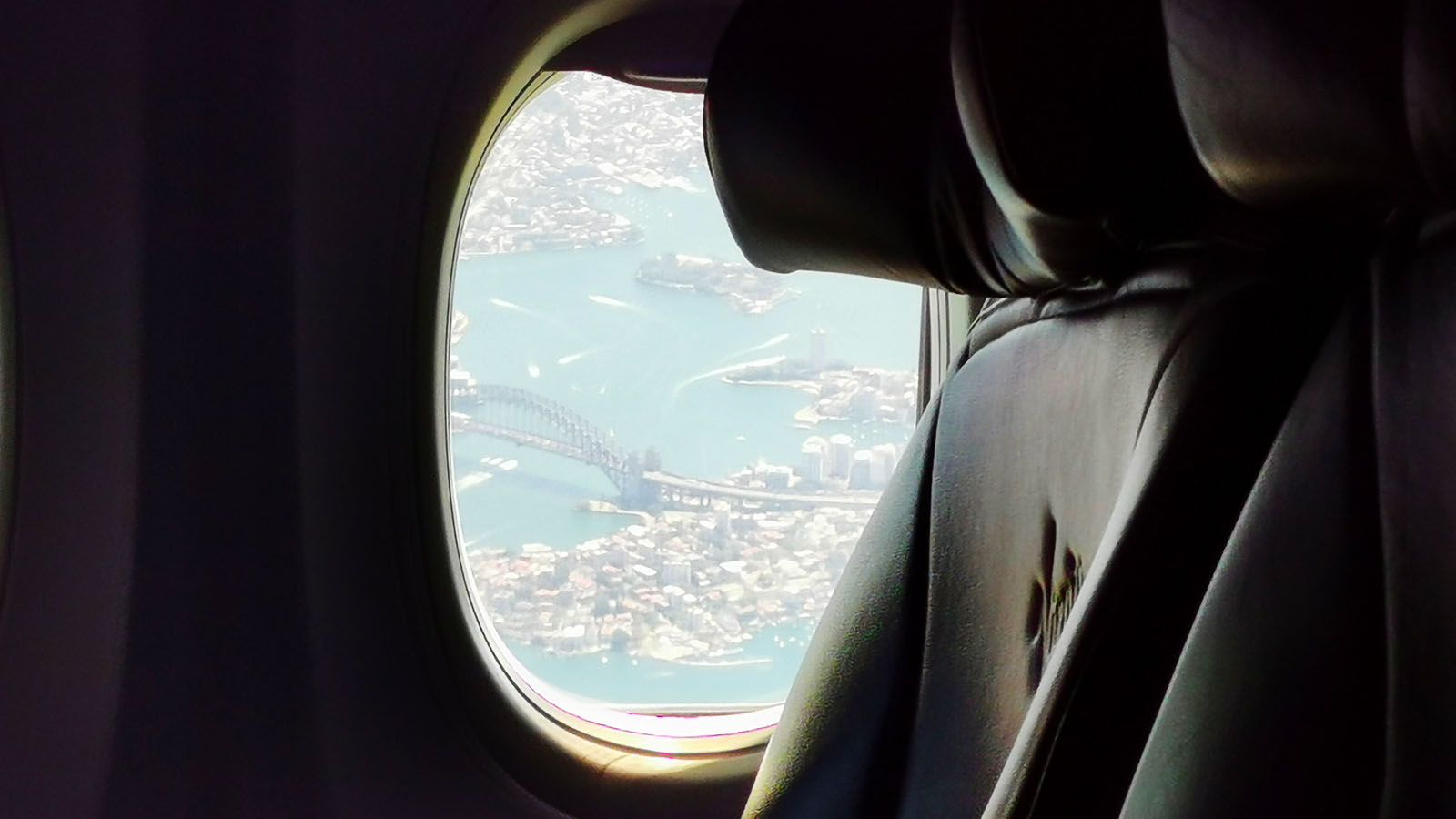 Summing up
Virgin Australia Business Class ticks most of the boxes for most travellers. With competitive airfares, the airline strikes a respectable balance between price and product at the pointy end.
Of course, that experience would be made smoother by the return of a priority screening line for premium passengers in Brisbane. We're also eager to learn of the future of inflight Internet at Virgin Australia, as this remains deactivated for now.
But even so, one thing's for sure: we're certainly spoiled in domestic skies, even when the journey is a mere 90-minute hop.
Chris Chamberlin travelled as a guest of Virgin Australia.
Virgin Australia Boeing 737 Business Class (Brisbane – Sydney)
was last modified:
January 6th, 2022
by