There's no denying that flying up front in Business Class – or even First Class – is generally the best way to spend your hard-earned points. But there are times when booking Economy Class using points can make sense: such as on Hawaiian Airlines' daytime Airbus A330 flights.
When sleep isn't the goal, booking Economy can provide much more flexibility with your travel plans. That's because reward seats are generally available on far more flights than in Business Class. Travelling on the dates that best suit your own plans brings a big advantage for many.
With that in mind, here's what to expect when flying in 'Main Cabin' with Hawaiian Airlines, on the airline's daytime leg between Honolulu and Sydney.
Check-in, lounge and boarding
It's surprisingly swift to check-in for my Hawaiian Airlines Airbus A330 Economy Class flight. I'd expected a long queue – particularly after an extensive wait at check-in for a domestic flight earlier the same week. But as it turns out, Hawaiian has a separate check-in zone just for its long-haul international flights.
I walk straight up to a kiosk and print my boarding pass, although it glitches and won't print my bag tag. Staff quickly assist, and I'm all sorted. I'm then through security in almost record time – for Honolulu, anyway. I've made it from my Uber to the departure gates in 23 minutes flat.
Still, it's worth pointing out that even though Hawaiian Airlines and Virgin Australia are partners, there aren't any benefits via Velocity Silver, Gold and Platinum. This means no priority check-in and no additional checked baggage, for starters. But with Hawaiian offering a generous 2x32kg allowance for international Economy flyers, it's not so much an issue.
The gap is more pronounced when it comes to lounge access – or the lack thereof. But if your wallet sports a Priority Pass card, you can admit yourself to Hawaiian's international Business Class lounge – The Plumeria Lounge.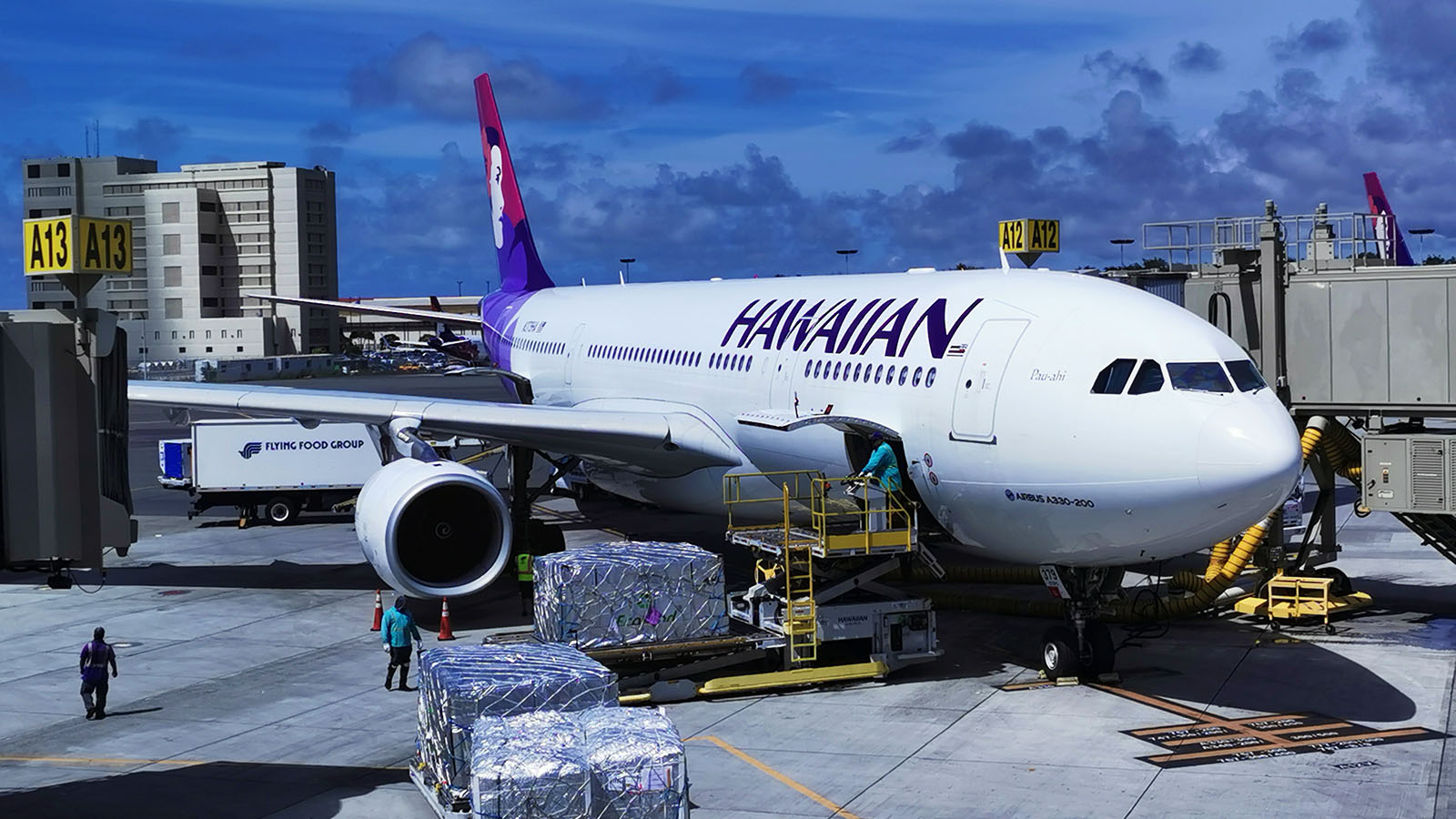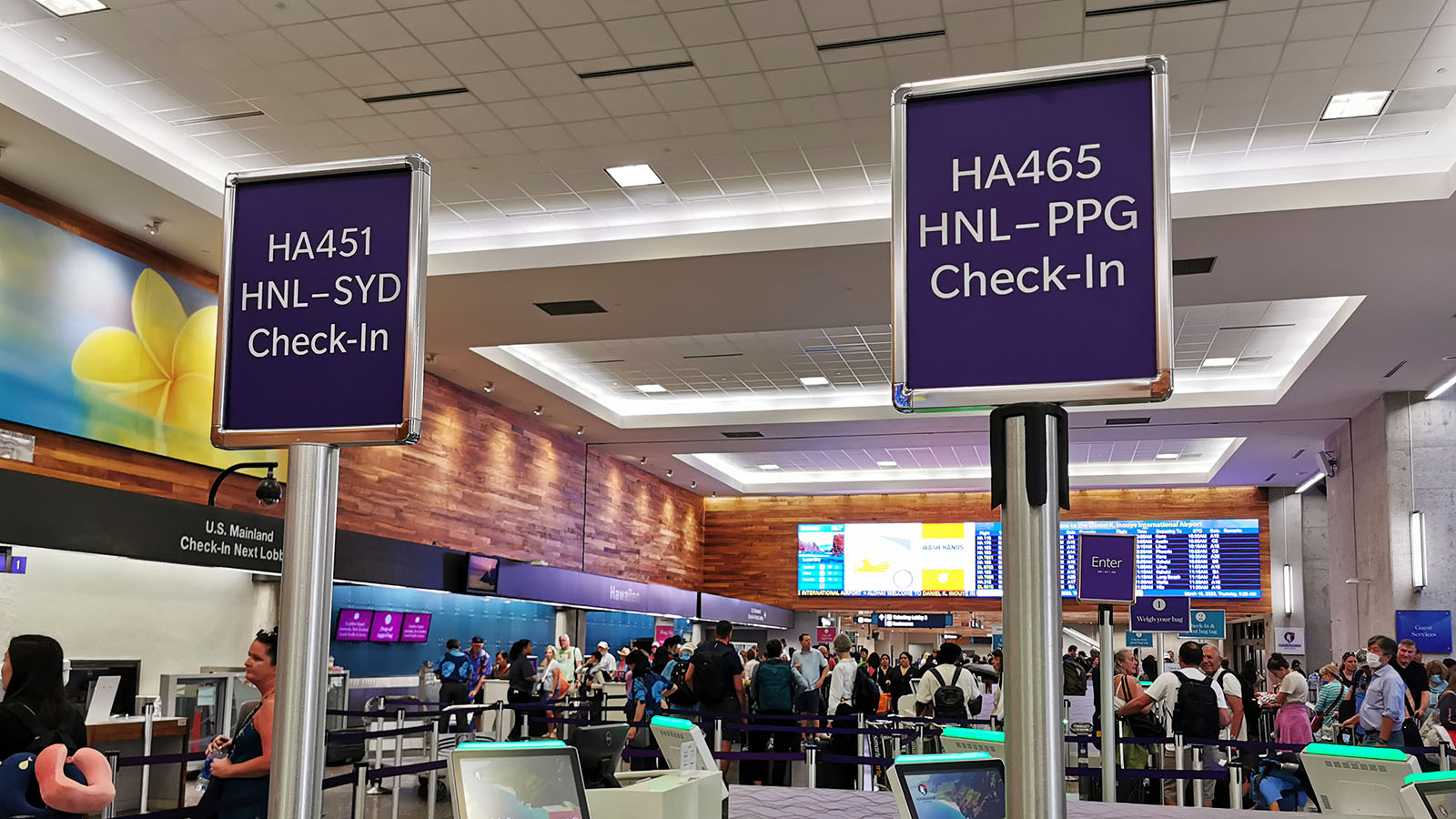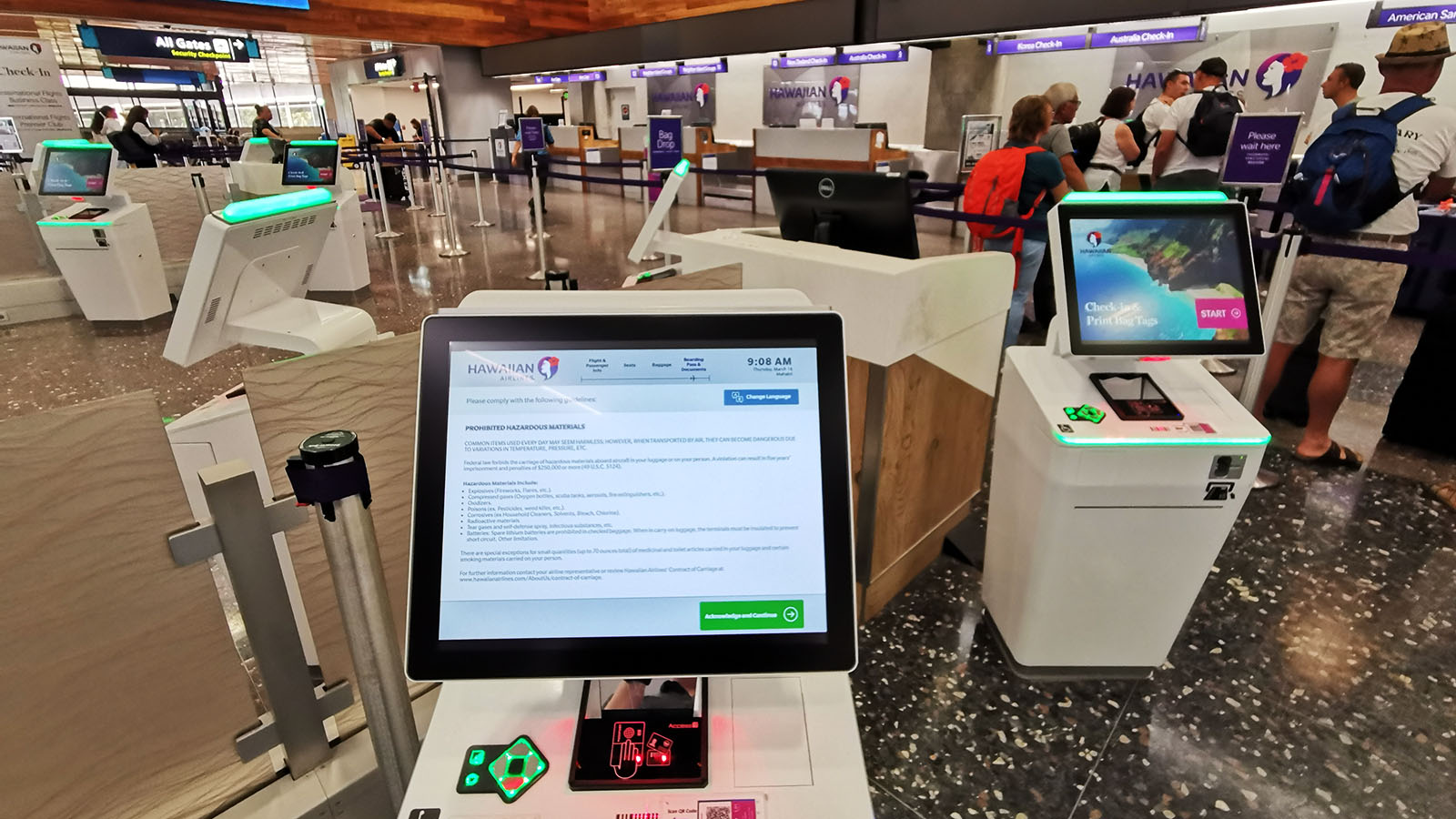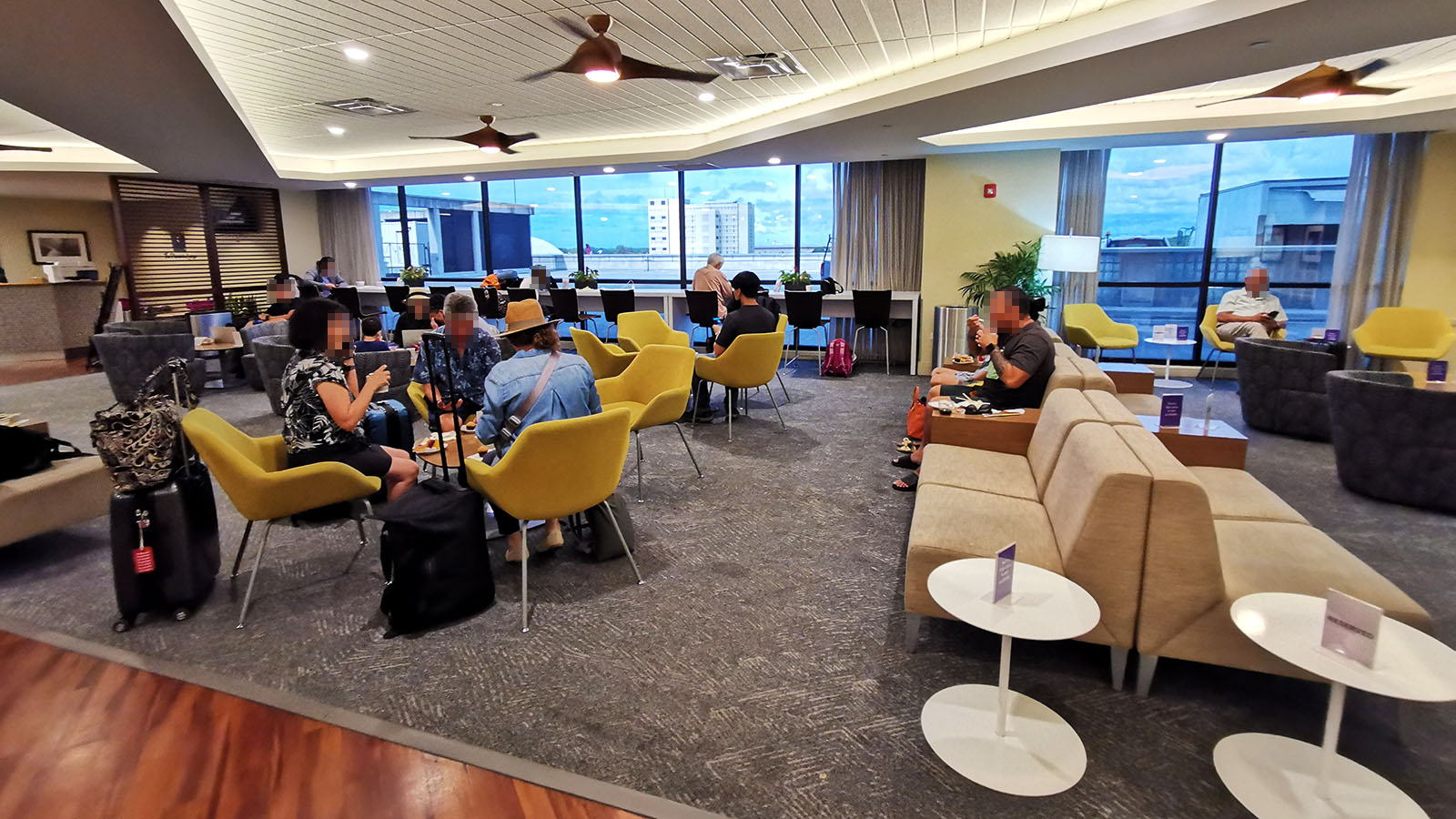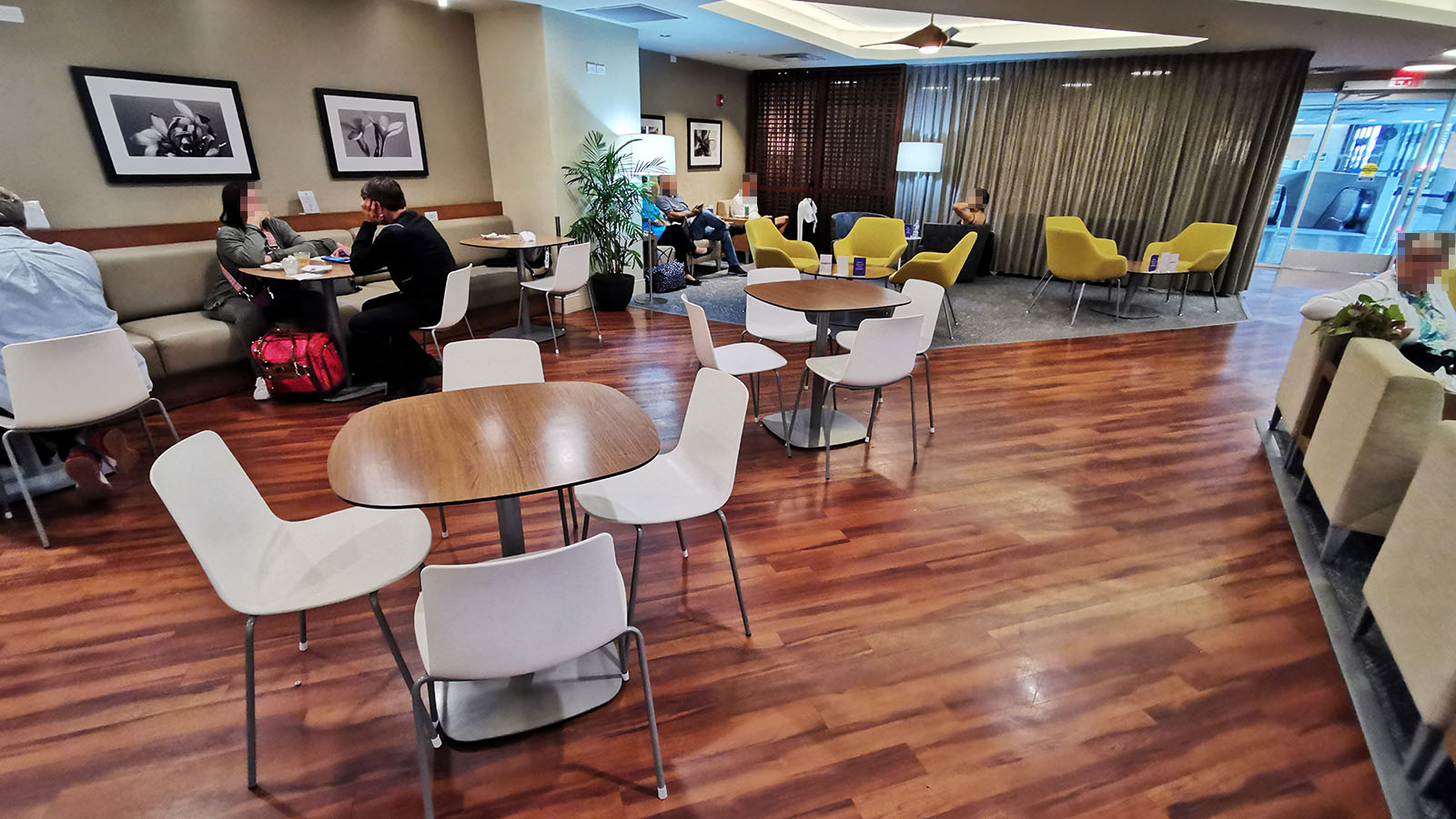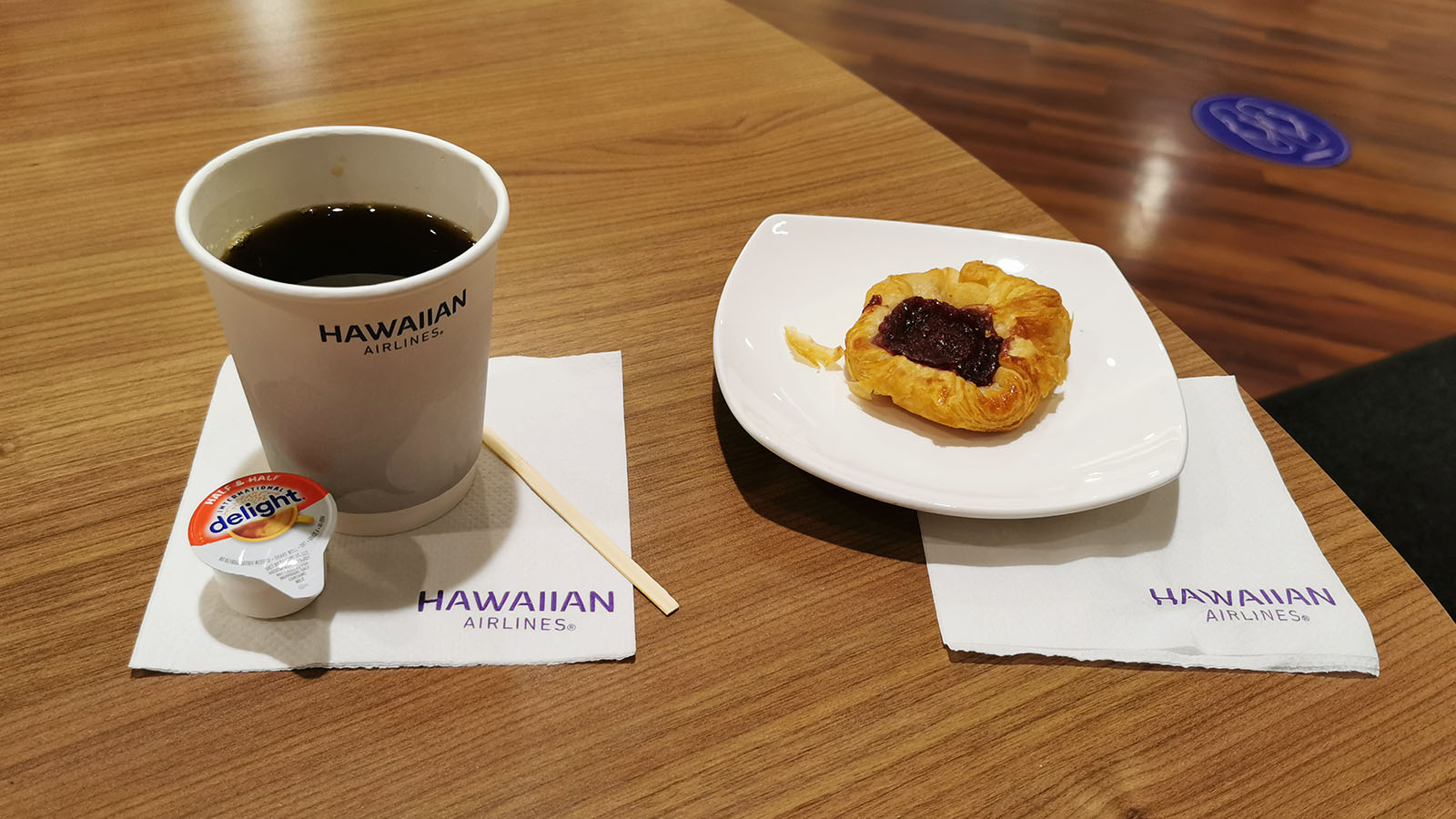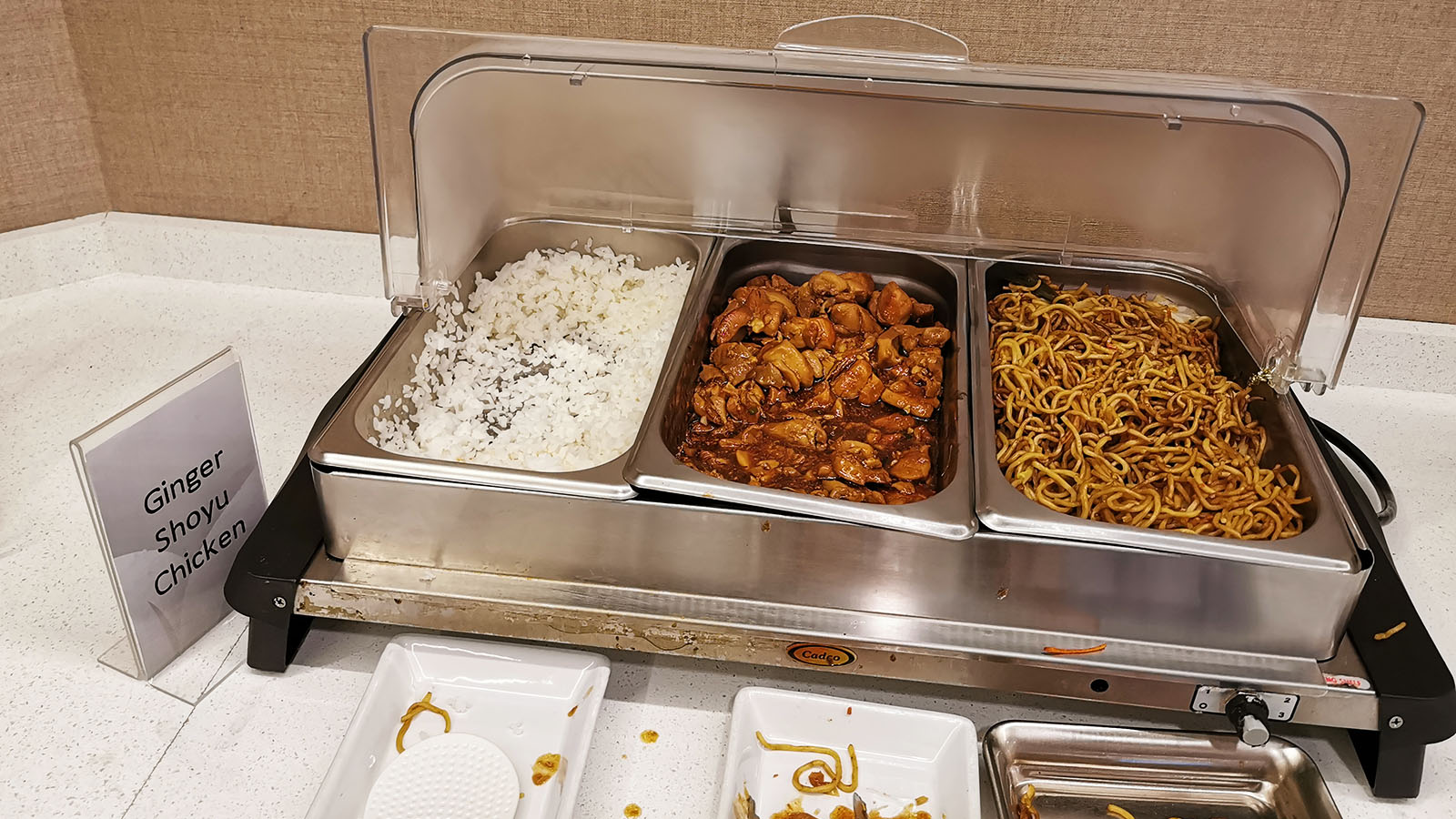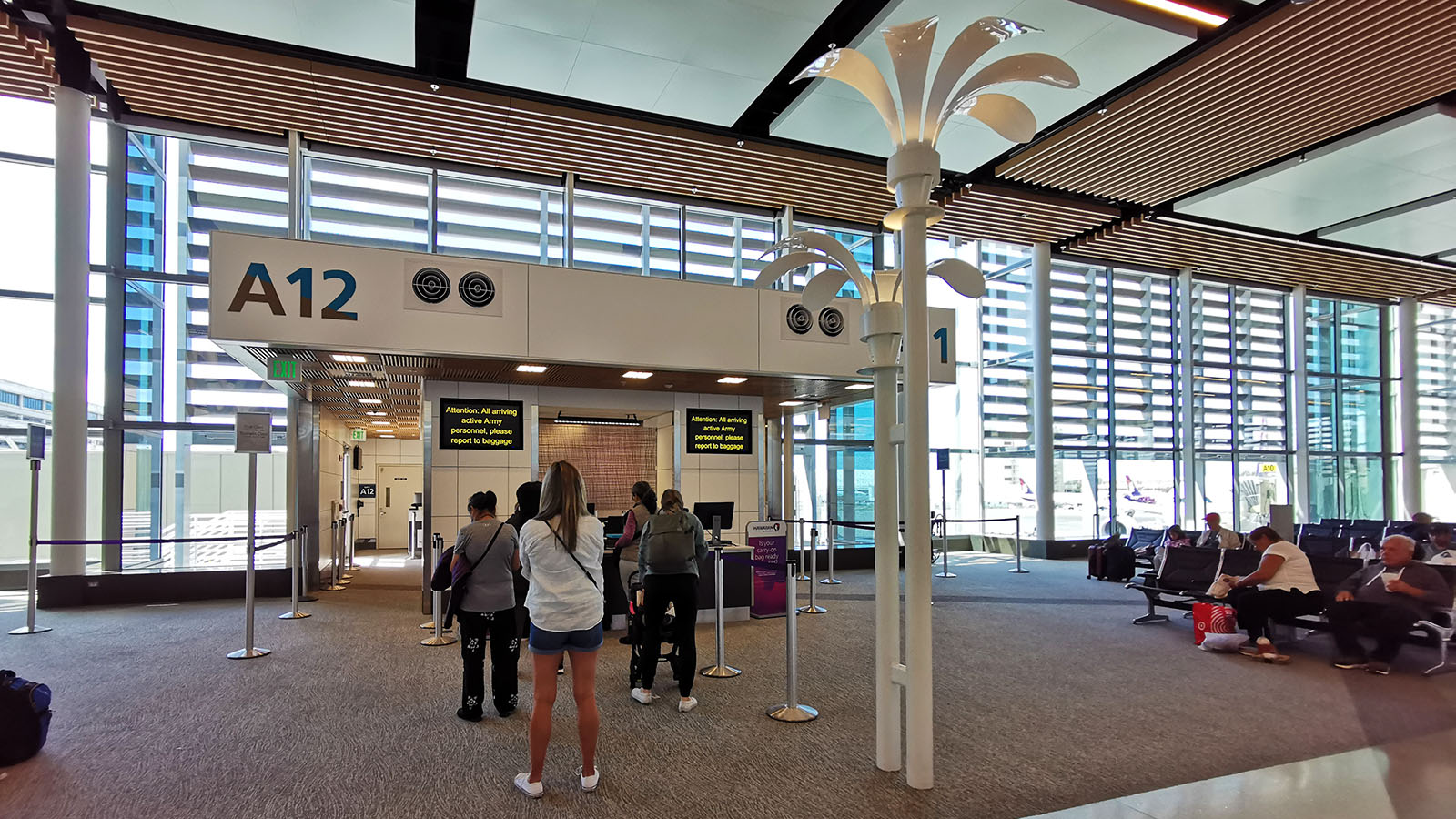 With a quick swipe of my Priority Pass card, I'm in. I make a pit stop for a coffee and pastry – and if I'd been hungry, there's a small collection of hot food available before these Sydney-bound flights.
During my stay, I happen to notice via ExpertFlyer that the seat next to me on the flight is now occupied. I leave the lounge a little early and ask the gate agent nicely if there's somewhere else I can move with extra elbow room. With a few clicks of the keyboard, I get two seats to myself – making for a considerably more comfortable flight.
Hawaiian Airlines Airbus A330 Economy Class seating
Economy Class on Hawaiian Airlines' Airbus A330 comes in the industry standard 2-4-2 layout. Particularly for such a leisure destination, it's a perfect layout for couples travelling together. Not having a middle seat in those side pairs means no third wheel gatecrashing your Hawaiian holiday.
A seat width of 18 inches (just shy of 46cm) also means that broad shoulders are better accommodated. By comparison, Economy seats on Boeing 787 jets are generally a couple of centimetres skinnier to accommodate nine seats across the cabin. That also means every group on the Dreamliner has a middle seat. So if you're flying Economy, the Airbus A330 really is the way to do it. And on a daytime flight, it's perfectly pleasant.
Every seat offers a 2A USB-A charging outlet. Unlike the low-powered ports I recently encountered on the Qantas Airbus A380, these have enough juice to charge your smartphone in a reasonable amount of time. Keep it connected and you'll leave the flight on 100%.
Most seats in Hawaiian Airlines Economy don't have AC laptop power, though. For that, you'll need to pay an extra fee to choose an 'Extra Comfort' row. Pricing can vary by route and ticket time, but it's usually in the region of a couple of hundred dollars, per person one-way. For this, you'll also get more legroom, earlier boarding and fast-track security.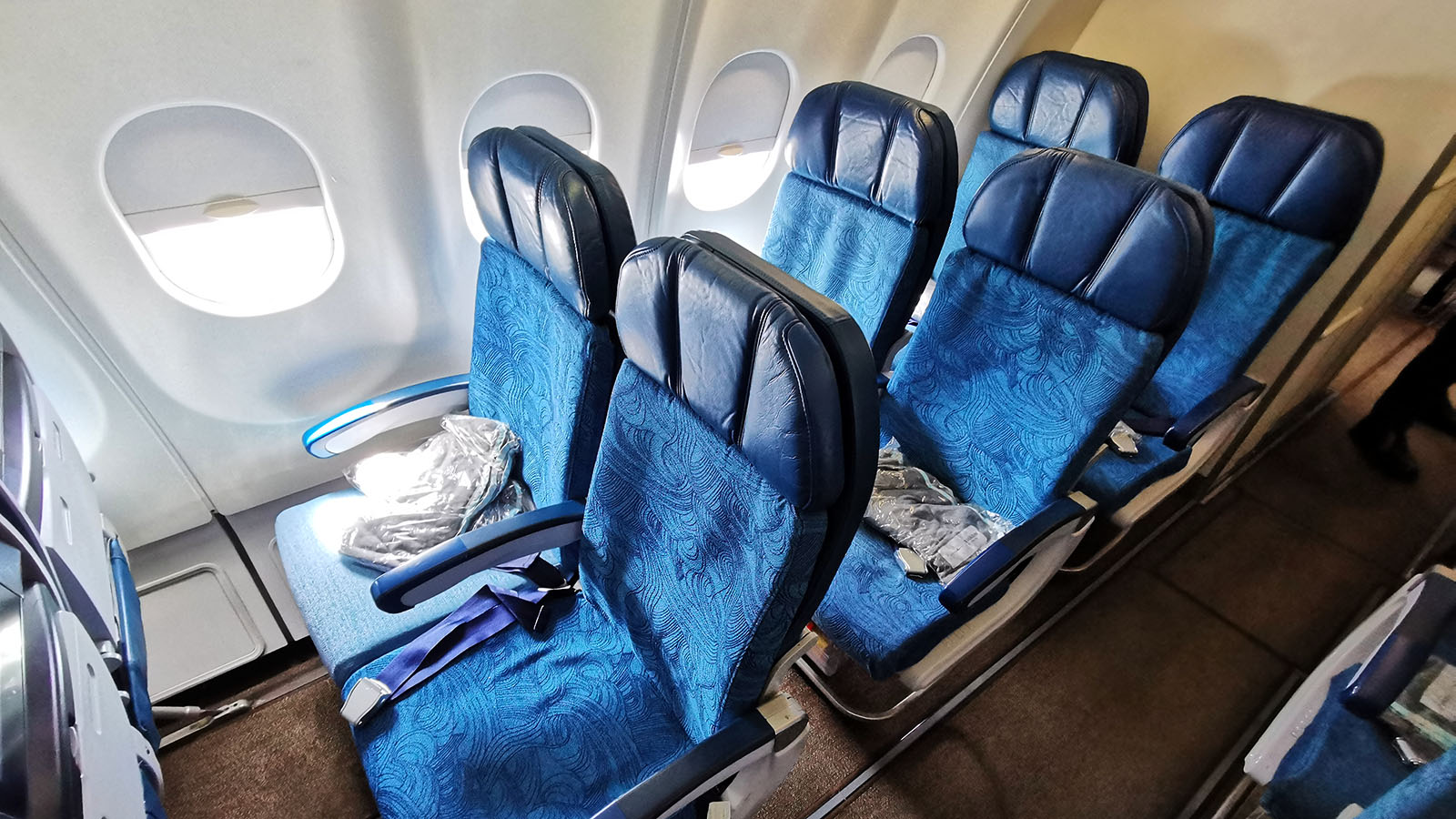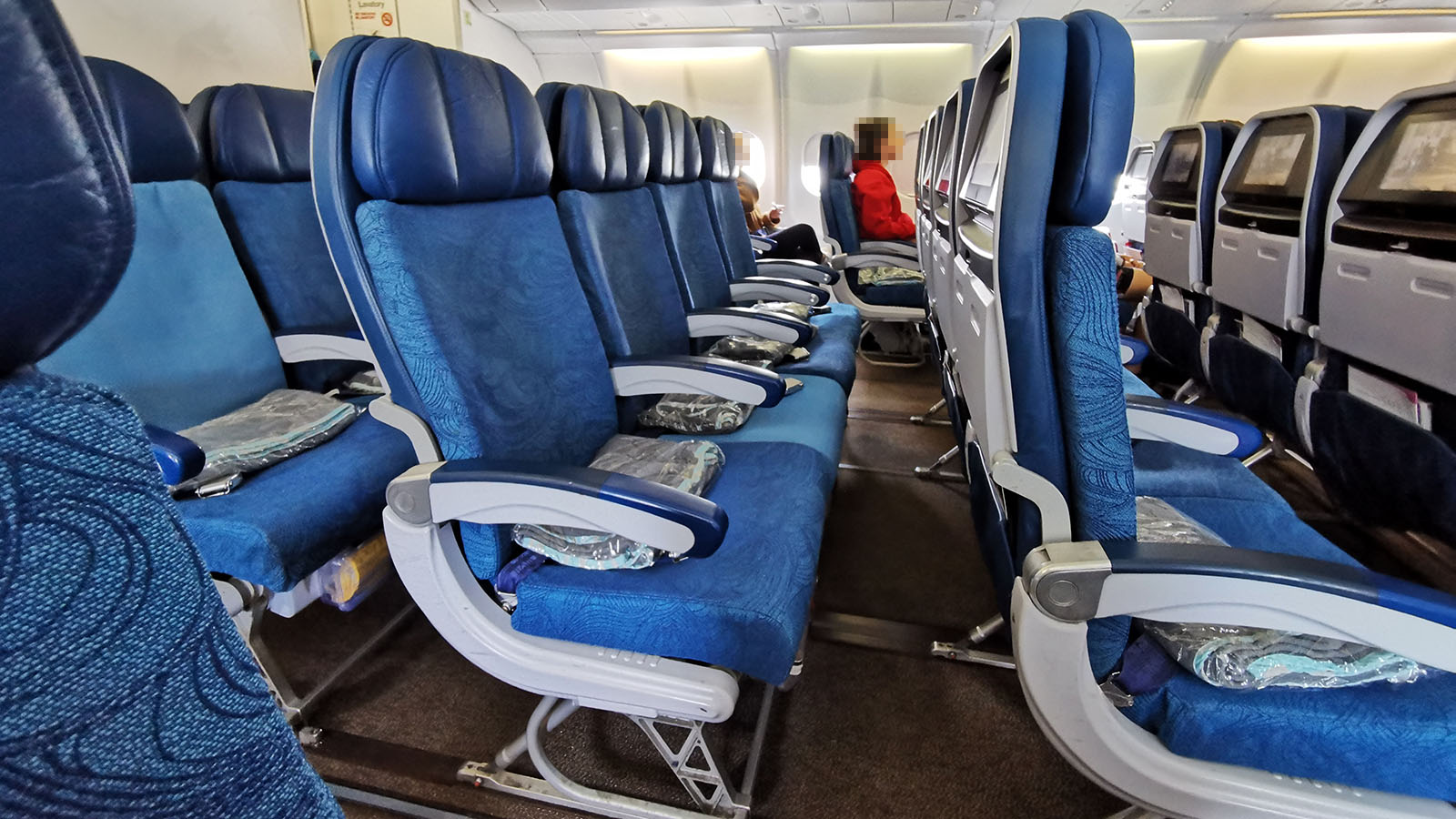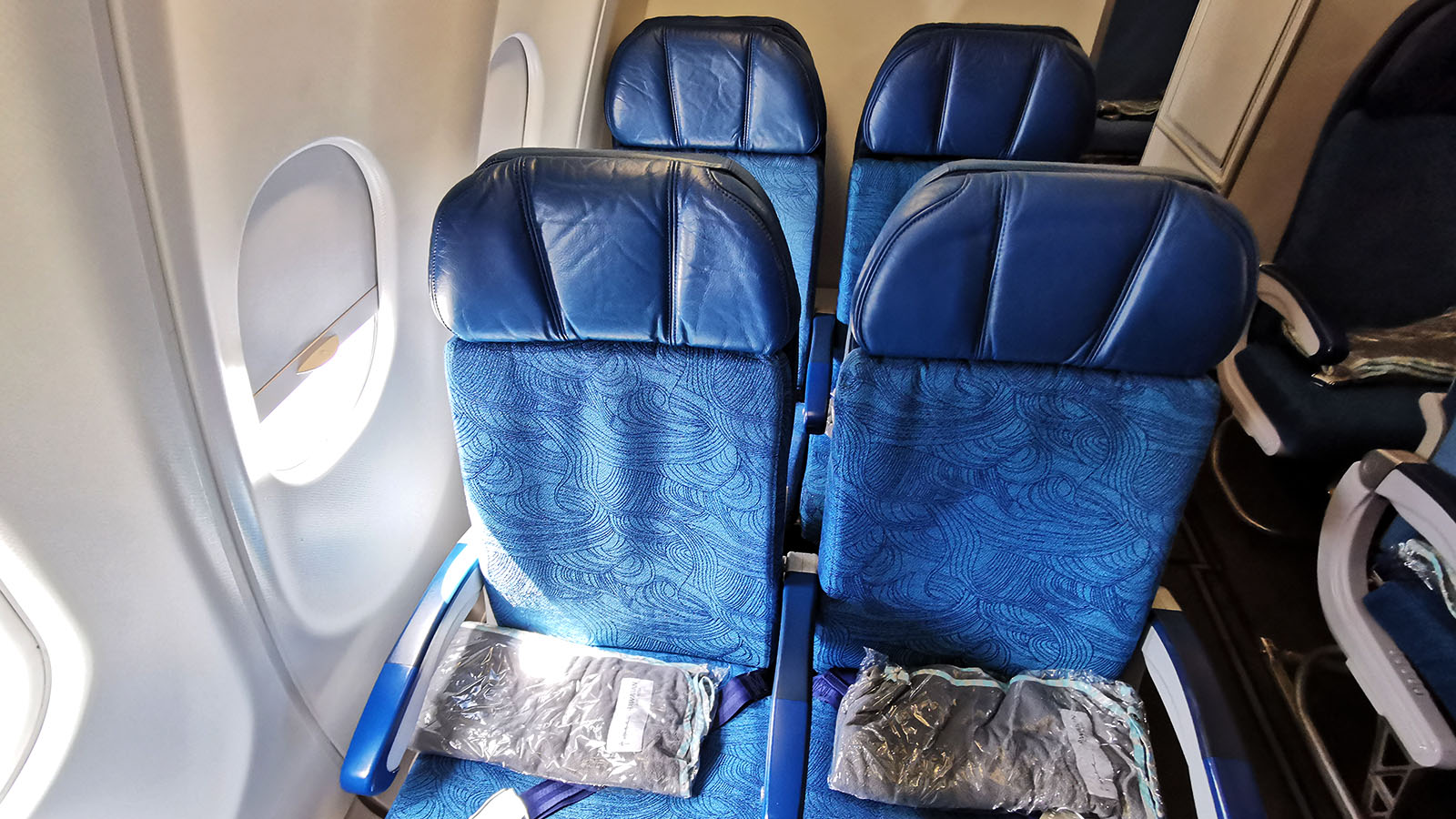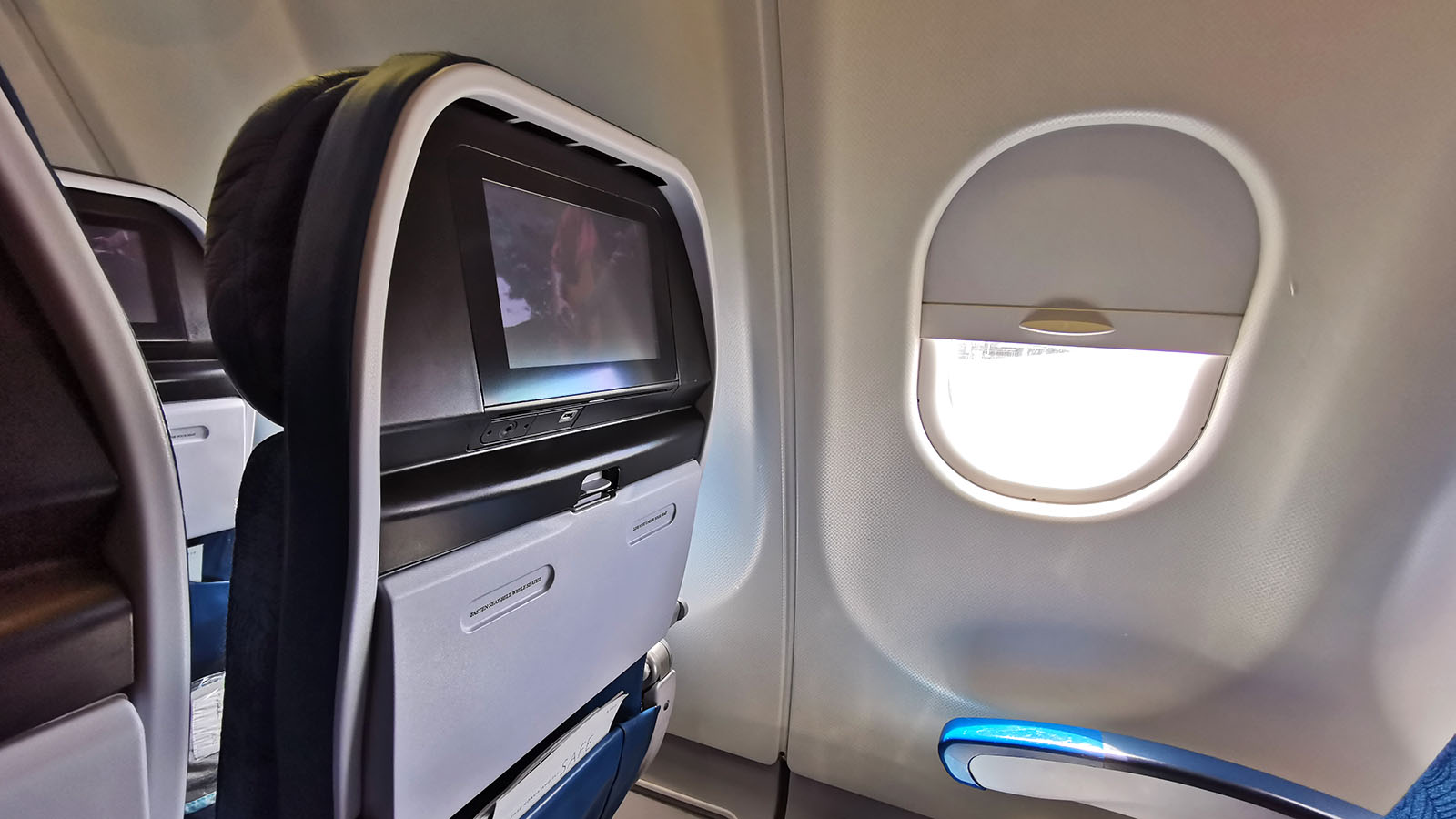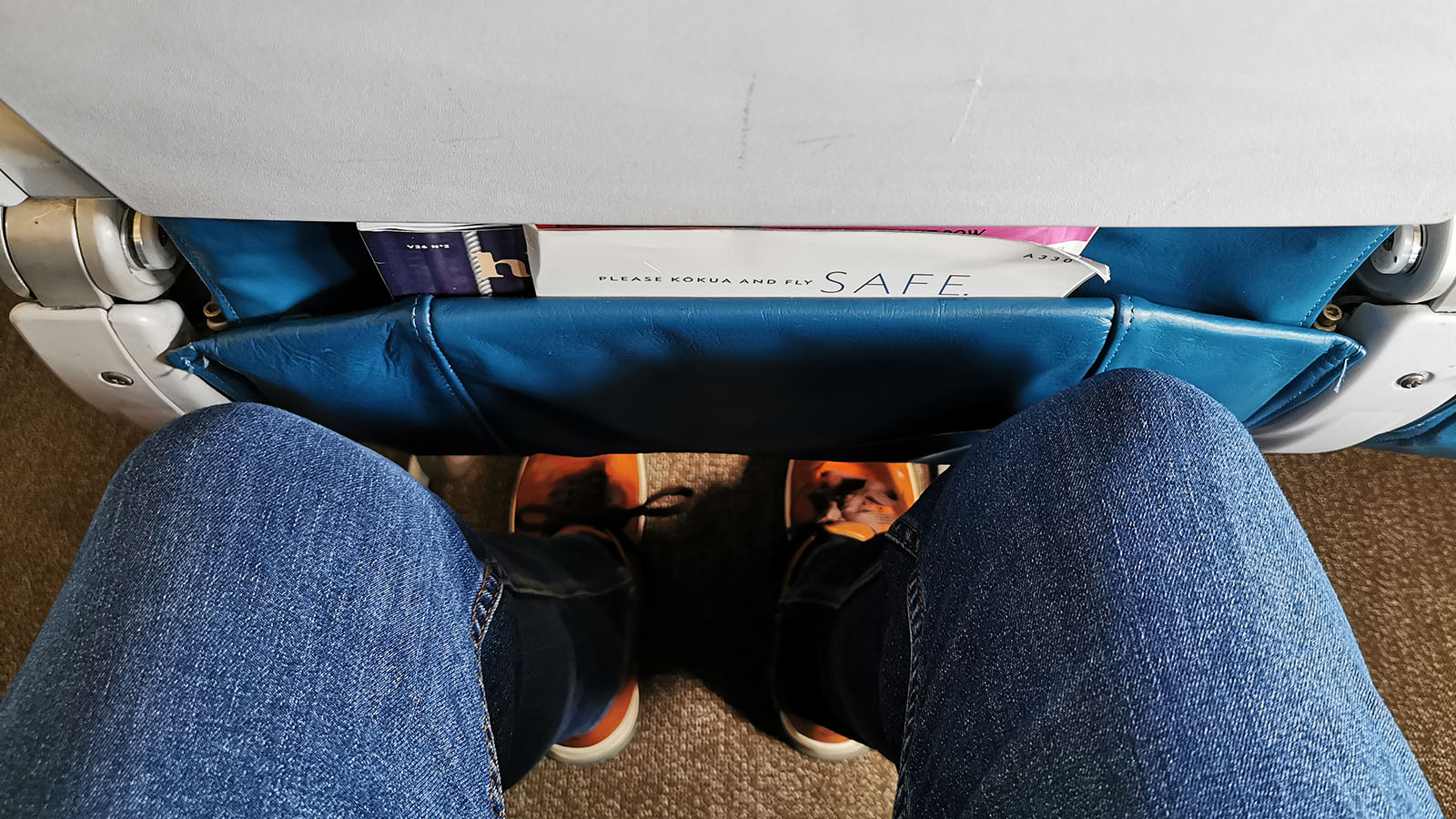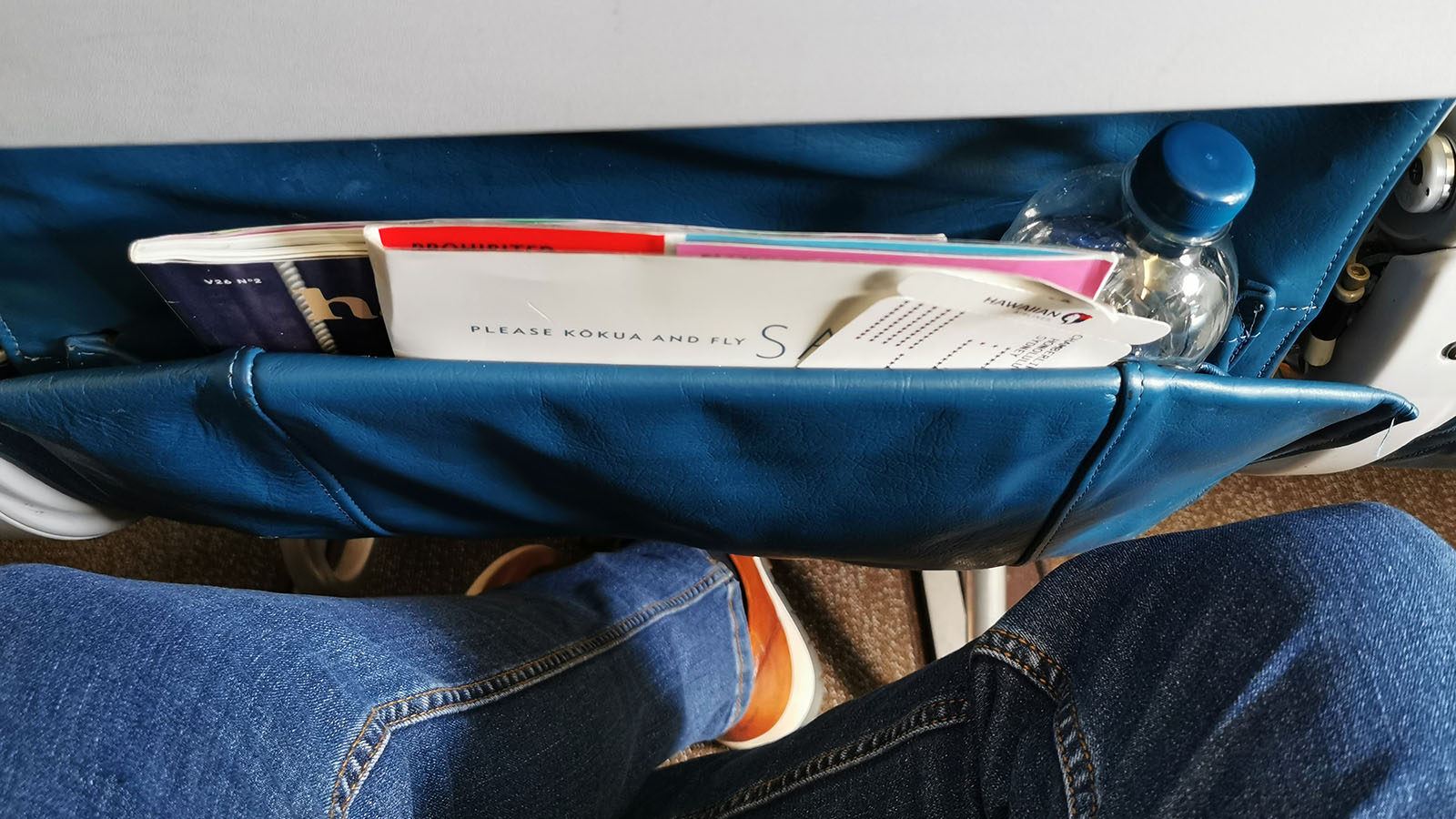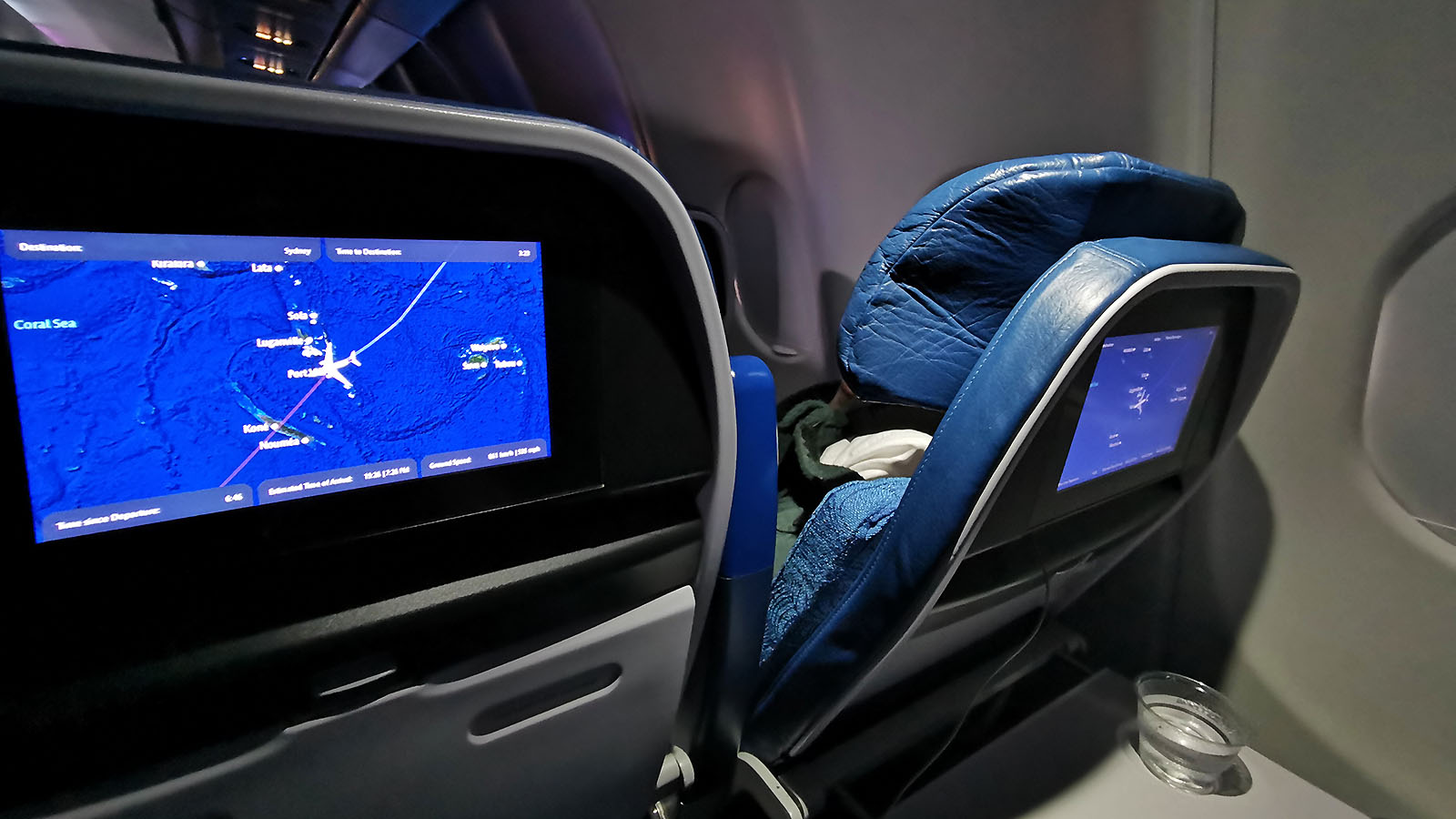 I've flown Extra Comfort before, and it's well worth the premium. But this time, I want the 'real' Economy experience, and stick to a standard row. The 31-inch (~79cm) seat pitch means my knees aren't touching the seat in front, even if there isn't much surplus space. I can even cross my legs so it doesn't feel squished.
There's less space when the passenger in front reclines – but hey, you can do the same.
Hawaiian Airlines Airbus A330 Economy Class food and beverage
Hawaiian Airlines' Airbus A330 flights run during daylight hours from Honolulu to Sydney. And with a midday departure from Hawaii and an evening arrival into Sydney, this means lunch after departure and a light dinner closer to landing.
Let's start at the beginning, though. After take-off, a drink and snack service kicks things off. All beverages, including beer and wine, are complimentary. But after my fair share of cocktails during a week-long visit to Hawaii, a Diet Coke hits the spot – along with the obligatory airline pretzels.
For lunch, there's a choice between a chicken and rice dish, or beef with mashed potato. I opt for the chicken – and while it's a little dry, it fills me up. After the meal, I take the chance to do some work while many others are napping, and happily accept an offer of snacks from the crew.
Cabin crew also regularly come past to offer water throughout the flight. Just as I'm thinking I could go for another cup, sure enough, a crew member comes past again to top mine up. Too easy.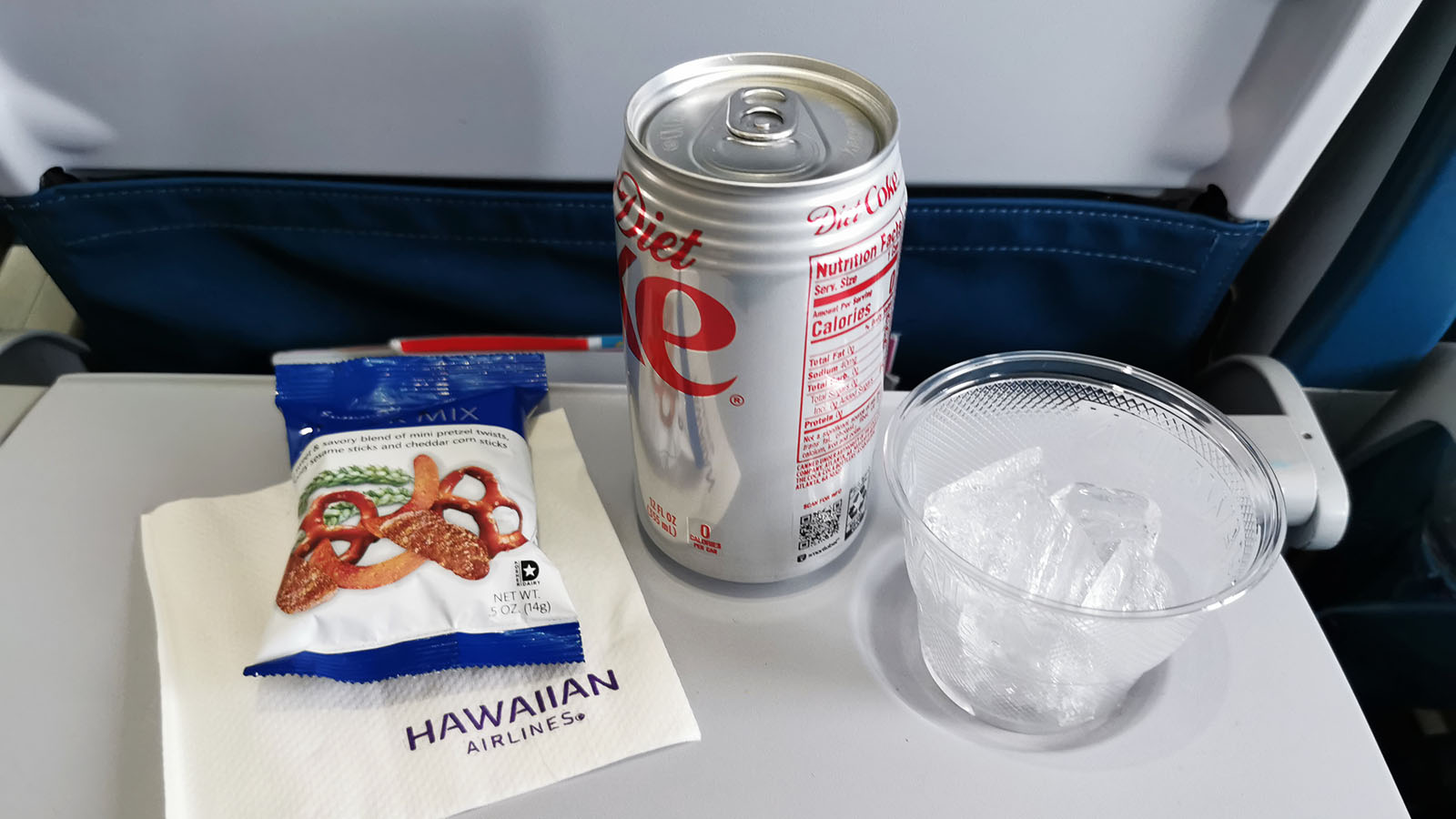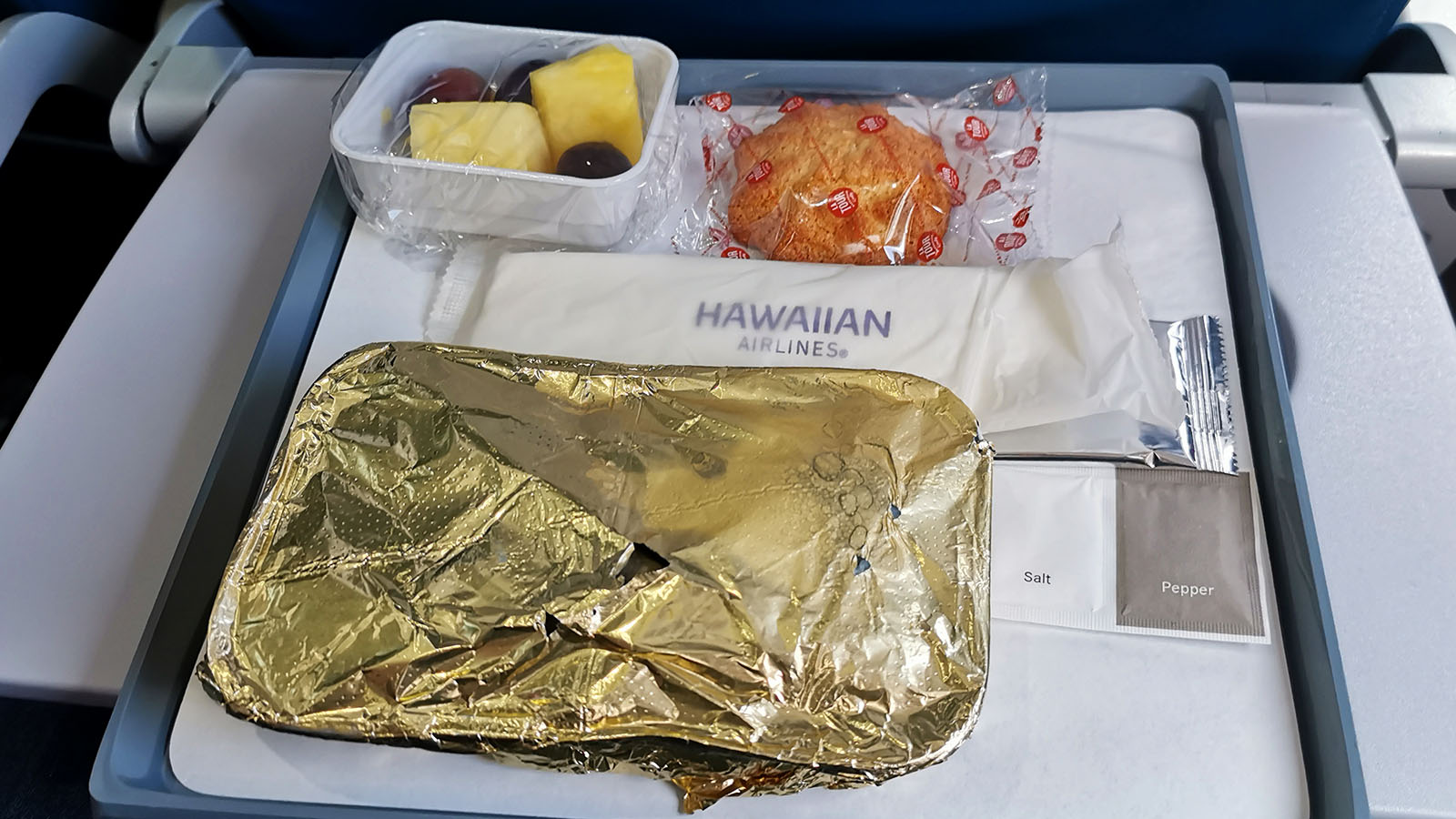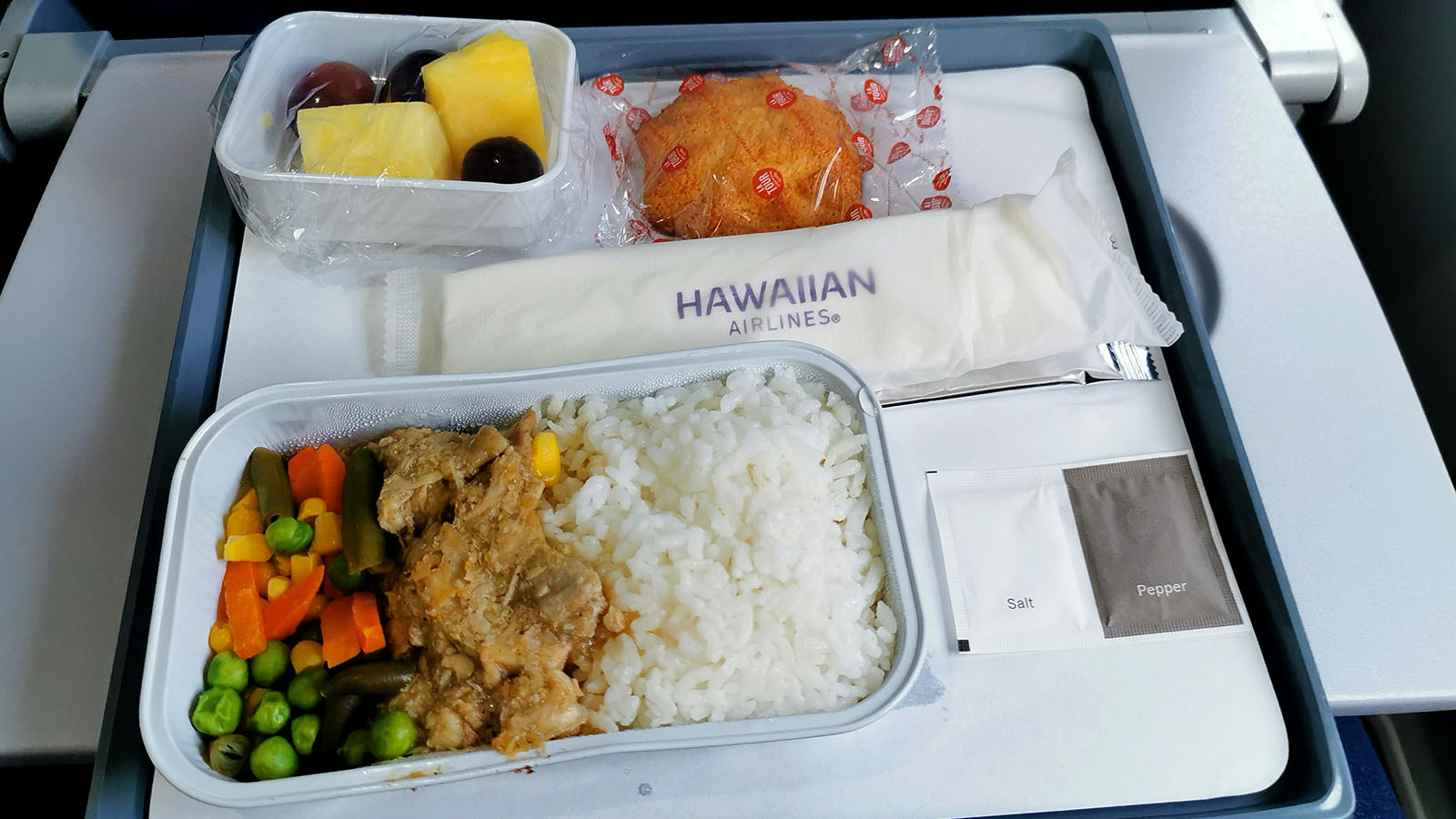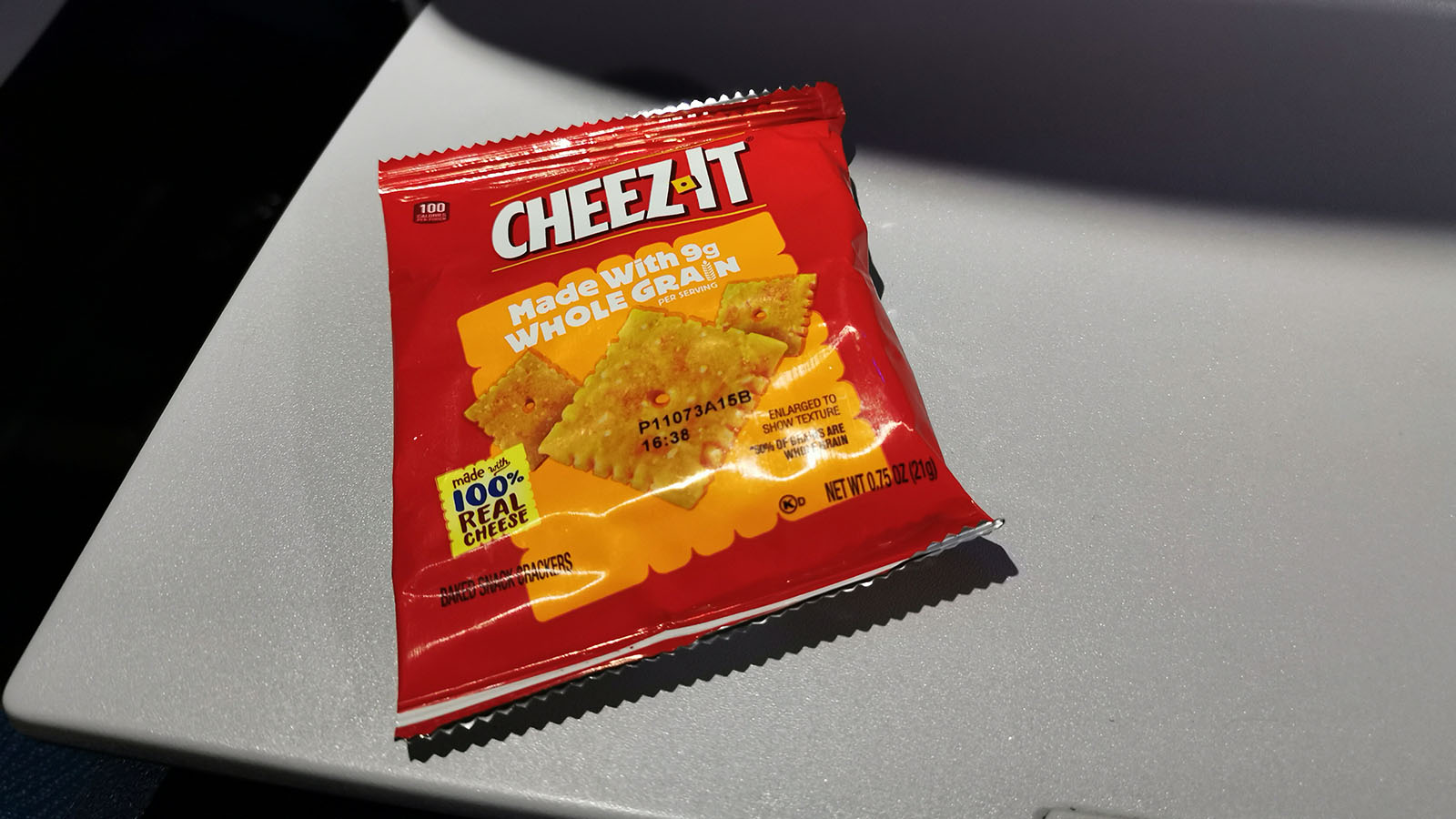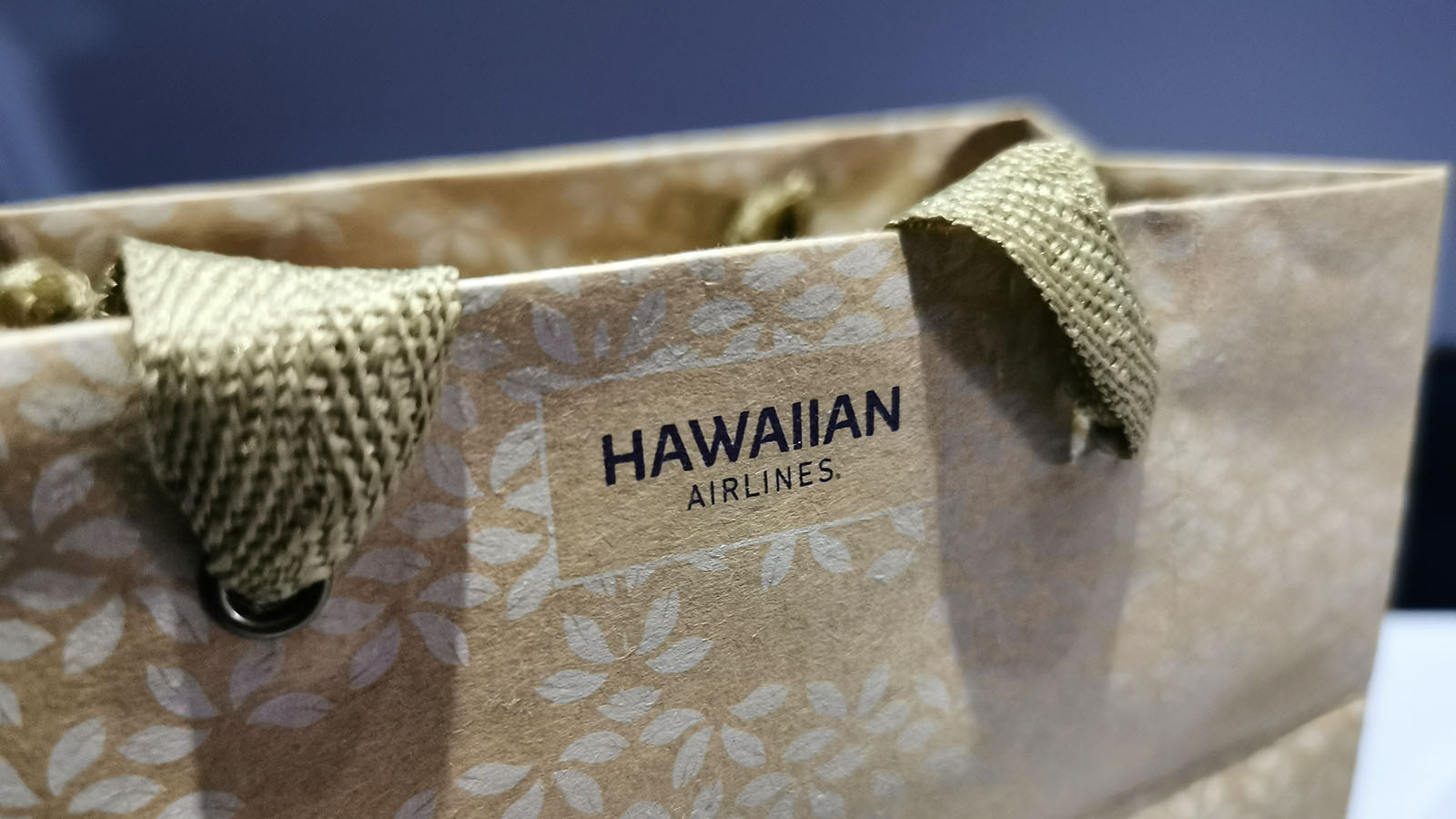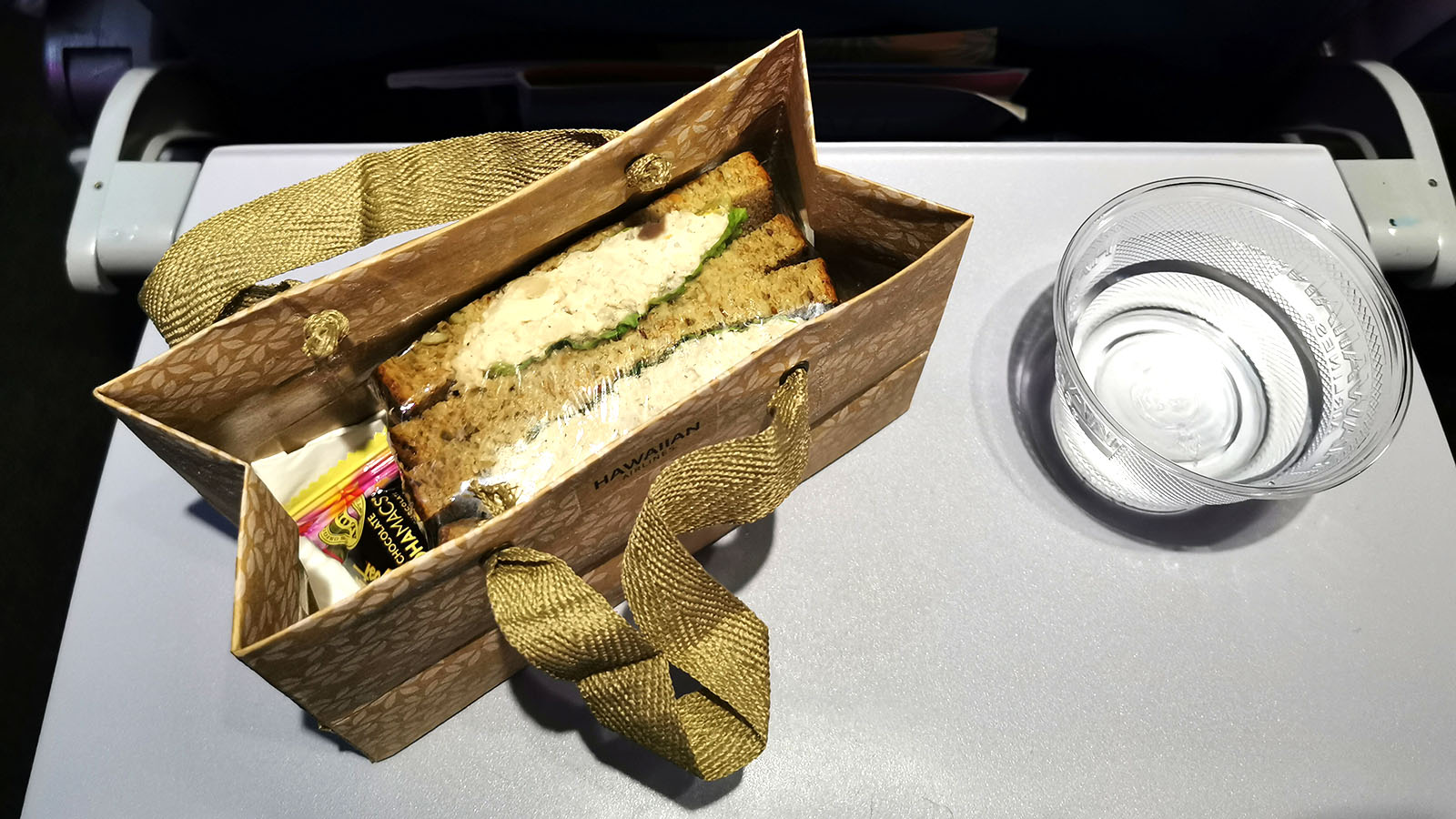 Around an hour before landing, there's a second meal – but this one is just a light egg and lettuce sandwich. As you'd expect of a sandwich prepared hours before departure and served towards the end of a long flight, it's also a little dry. I'm more excited by the Hawaiian Host chocolate on the side, and save my appetite for dinner at the hotel after touchdown.
I did have to laugh, though. The travellers behind me were so eager to clean up and dispose of their sandwich bag that they accidentally packed up and disposed of everything around them. As it turned out, that included their US passports…
Fortunately, they realised just before landing. The crew happily sifted through the rubbish for them – and that very sandwich bag kept their pages intact from the other rubbish. They'll certainly have a story to tell once they return home!
Hawaiian Airlines Airbus A330 Economy Class service and entertainment
On the entertainment front, Hawaiian Airlines places a personal TV at each Airbus A330 Economy Class seat. There's pleasingly no longer a charge for premium movies in standard Economy – everything is included. When not working on my laptop, I watch The Good House – a solid blend of drama and comedy.
The inflight map helps me keep tabs on the journey. And with a spare seat next to me, I take the chance to keep the map running on that vacant screen. This helps me spot the 'halfway' point in the journey. Five and a half hours down, five and a half hours to go.
While we're talking entertainment, the headphones provided are basic earbuds only. I'd highly recommend bringing your own cans instead – as I did. These can easily be connected to the system via the standard 3.5mm audio socket below the screen. You don't even need to pack an airline audio adapter, as needed with the more typical dual-pin systems.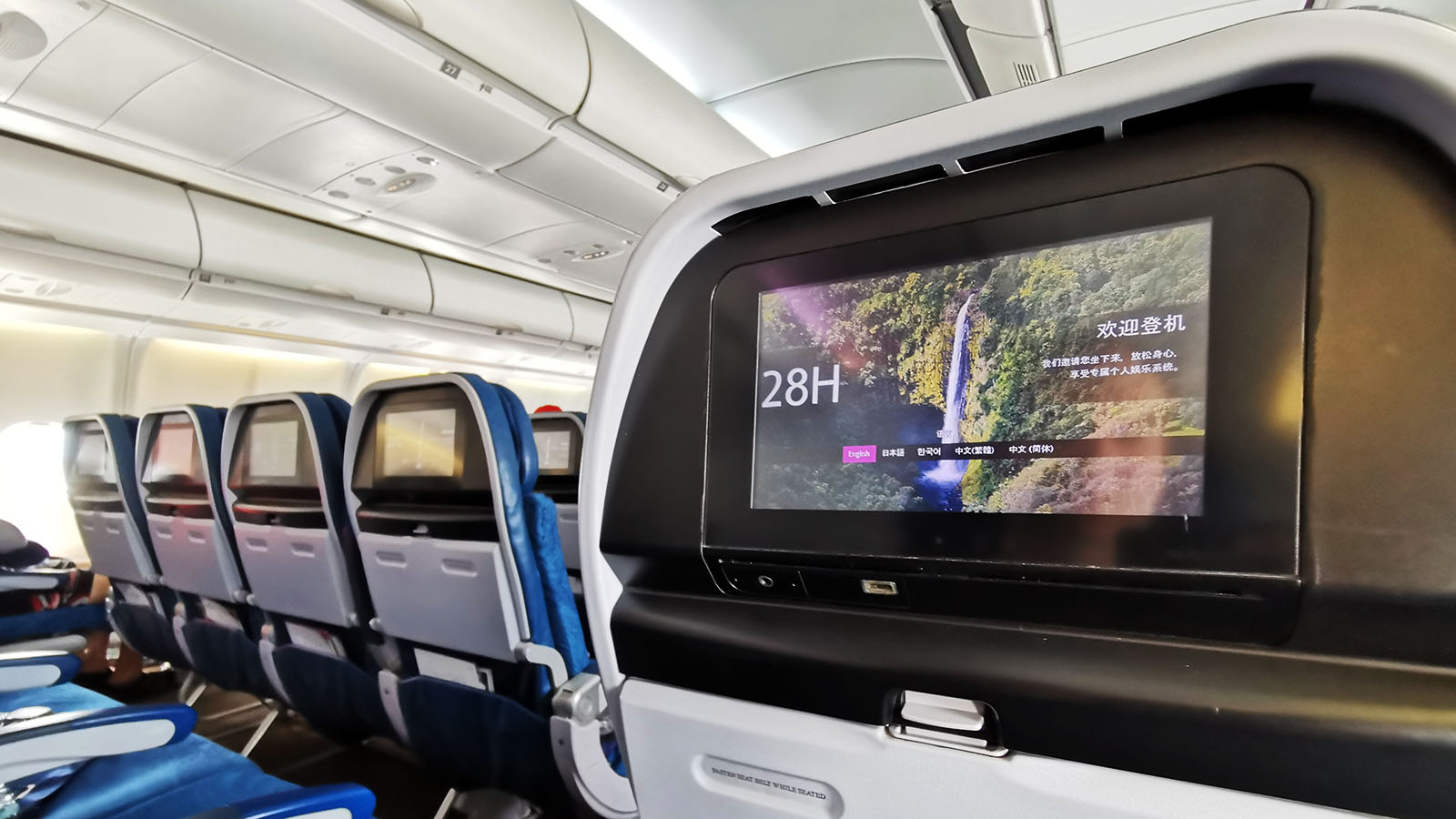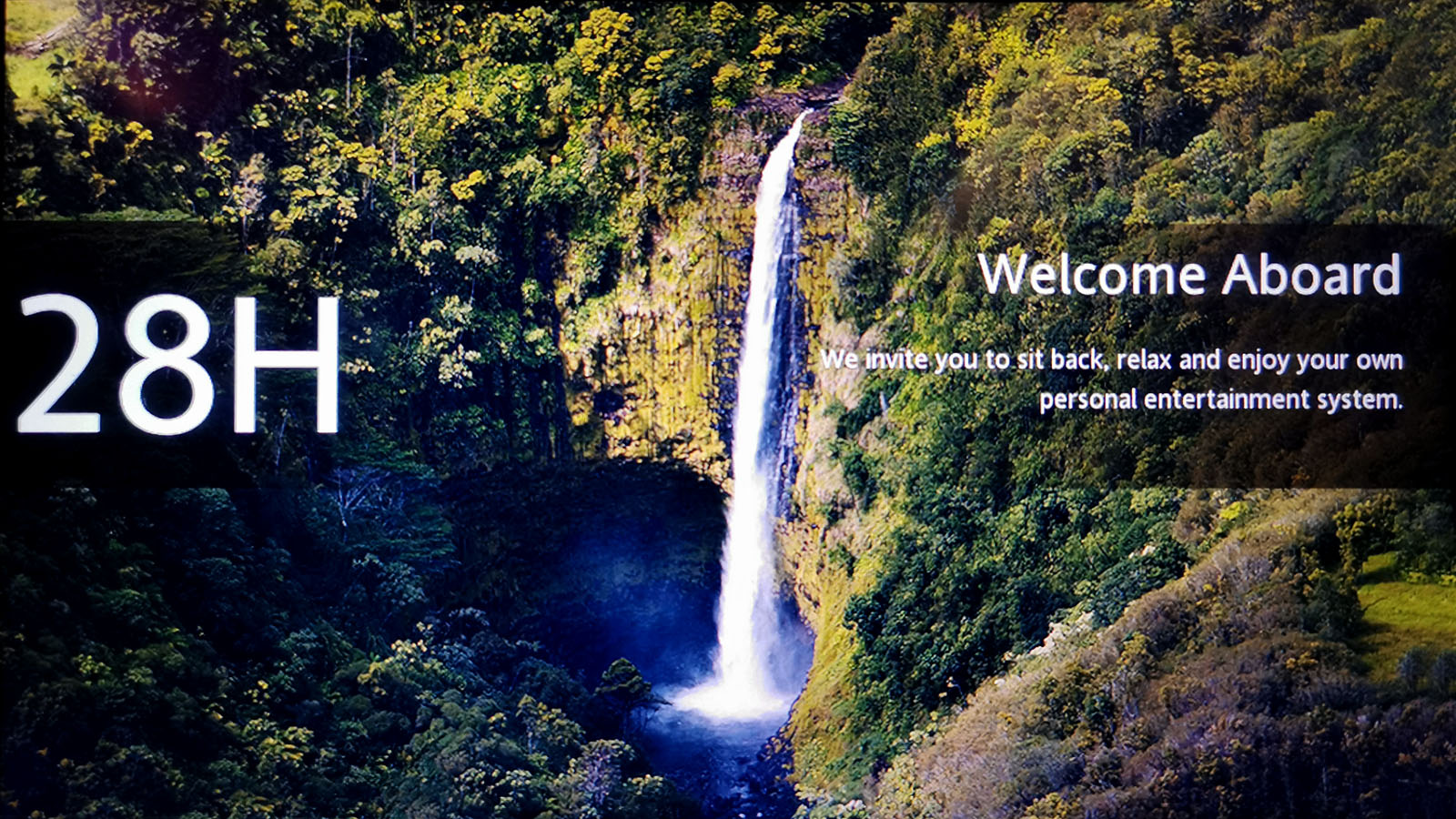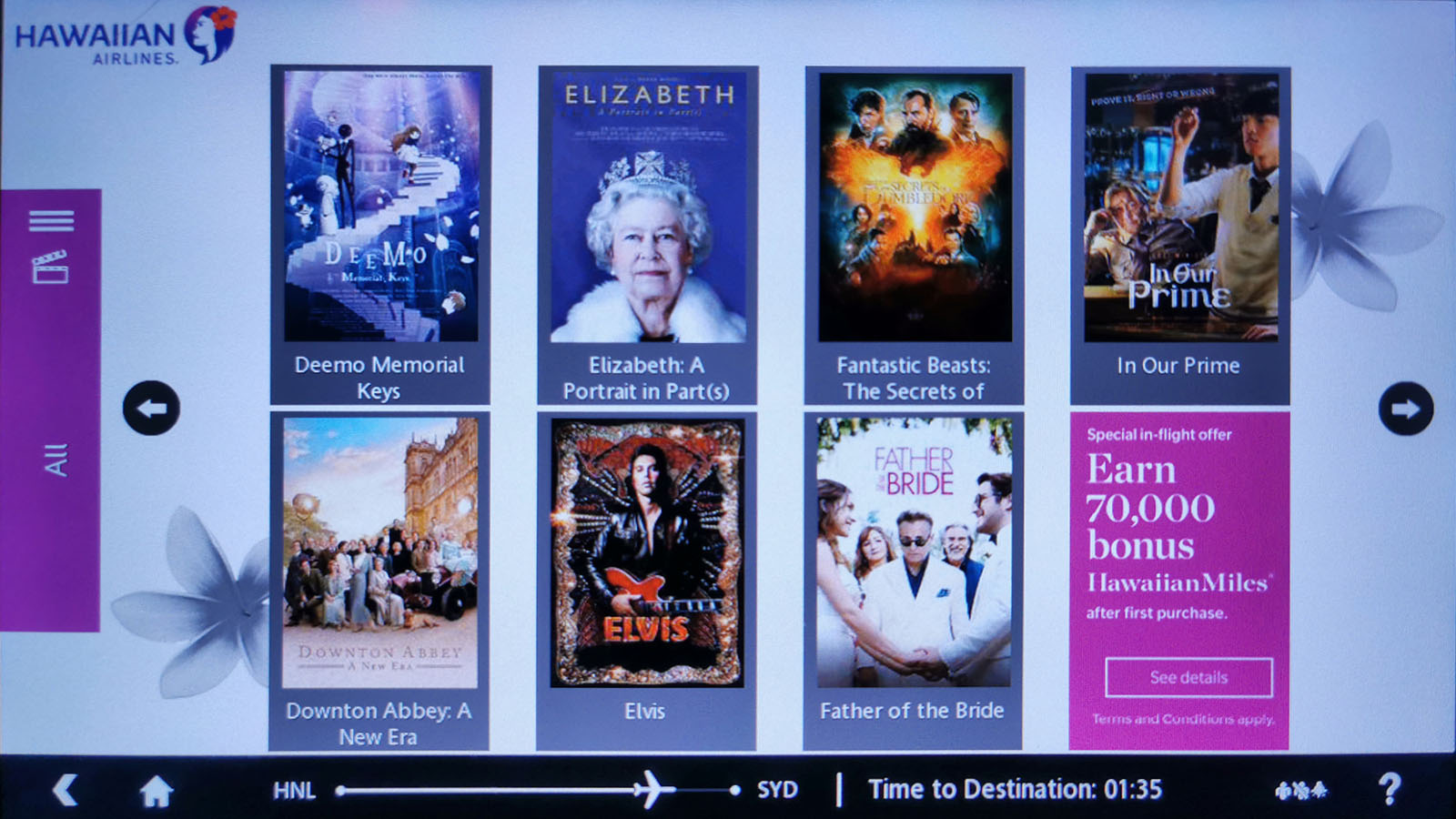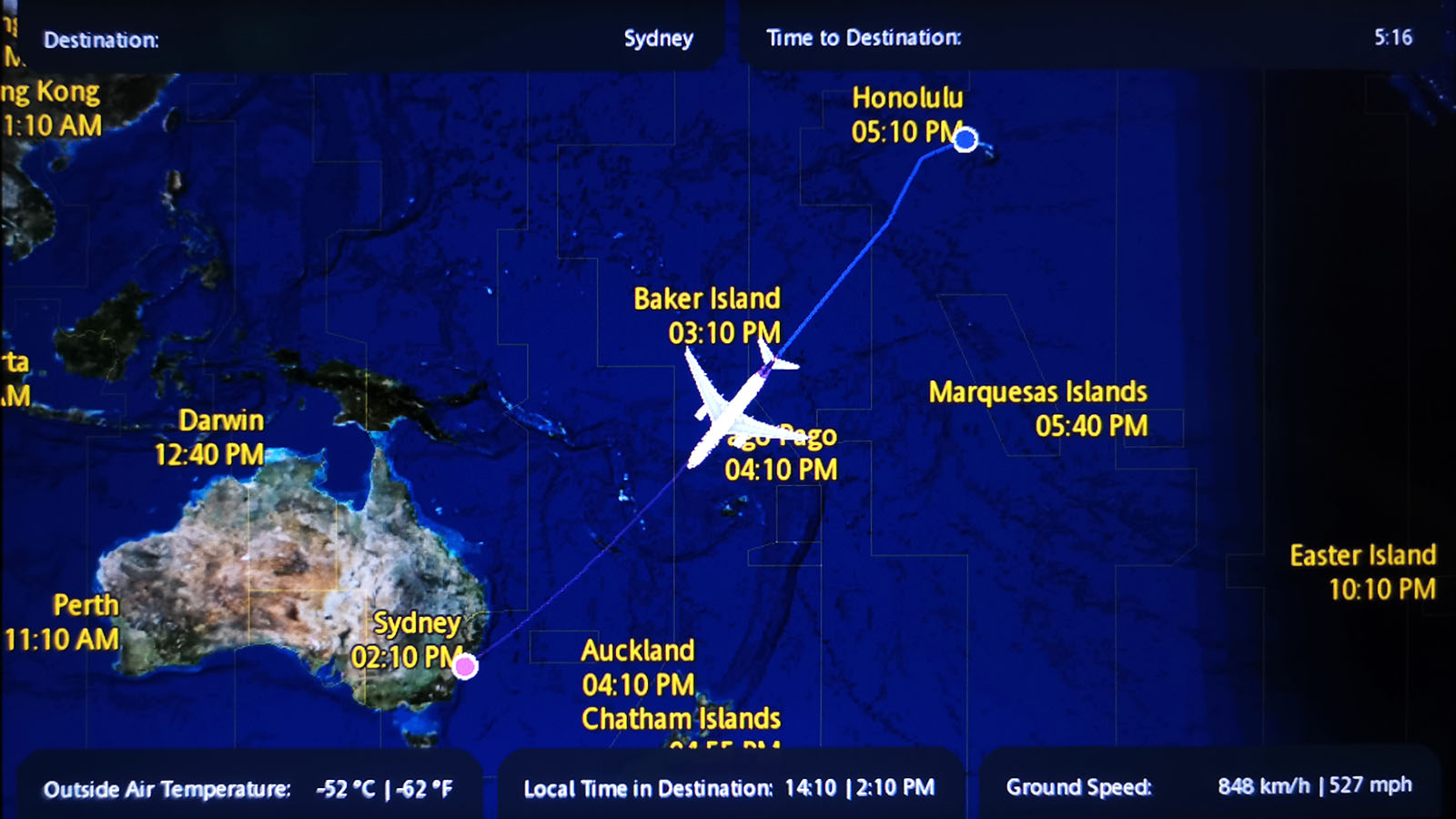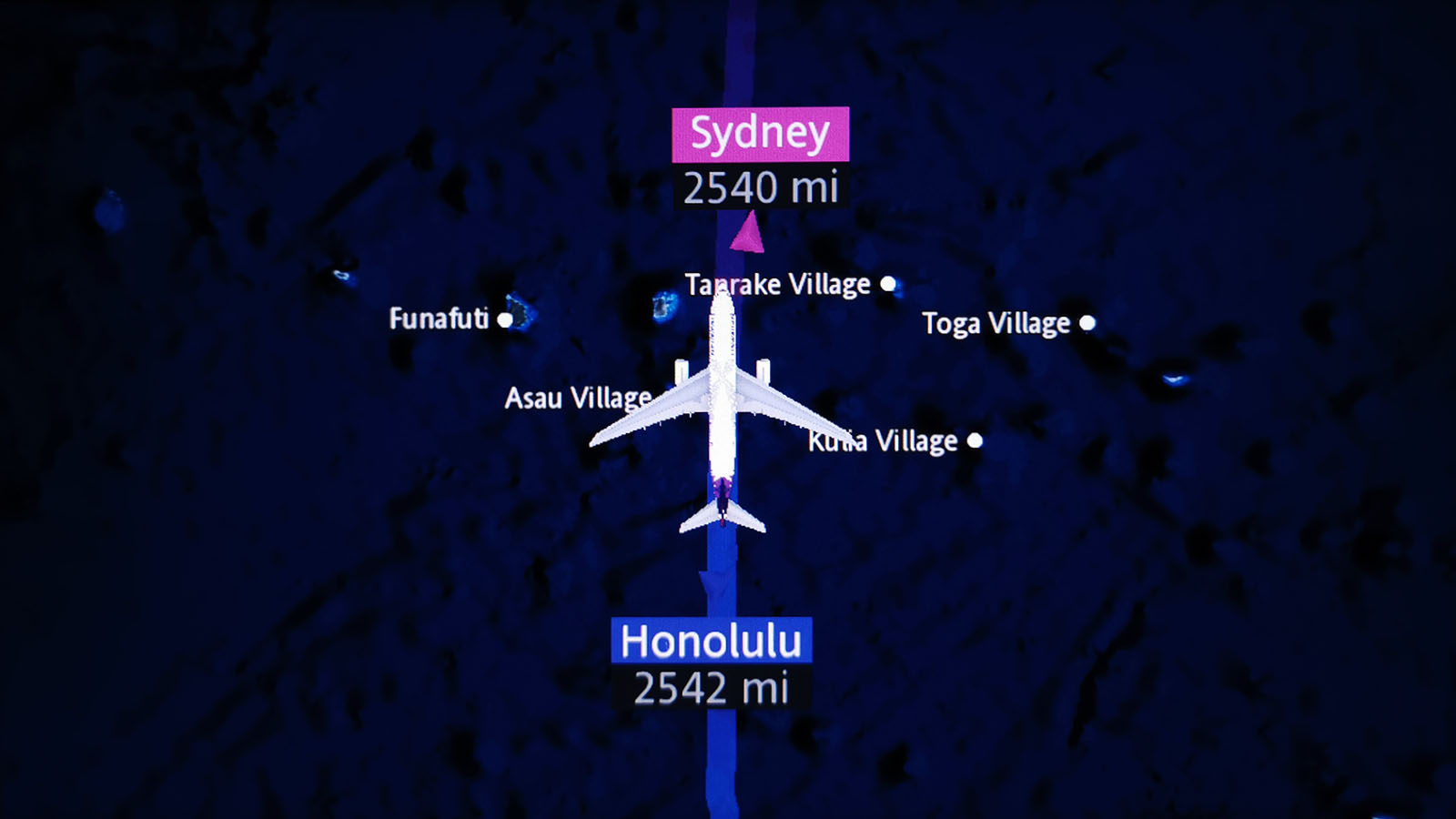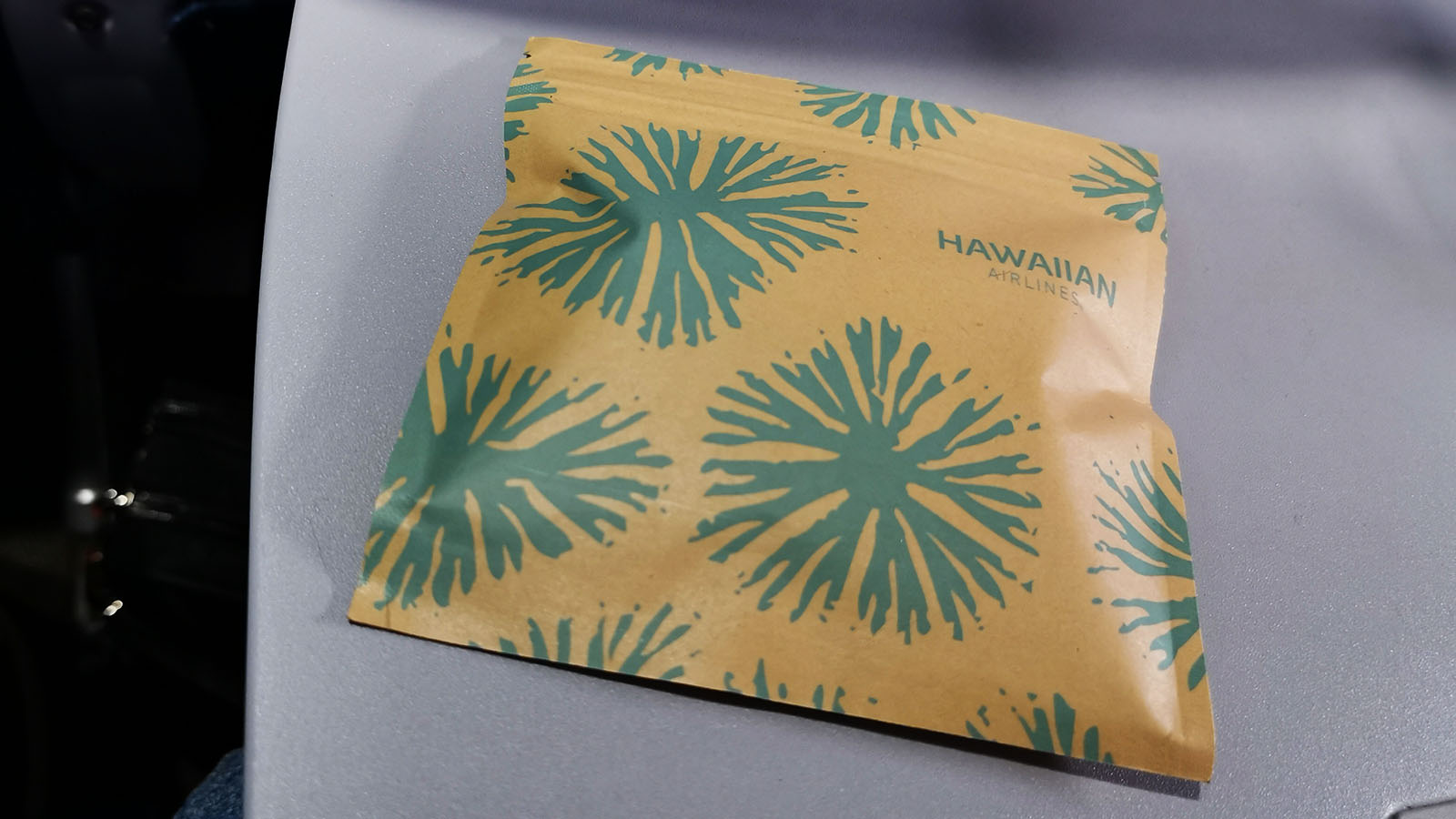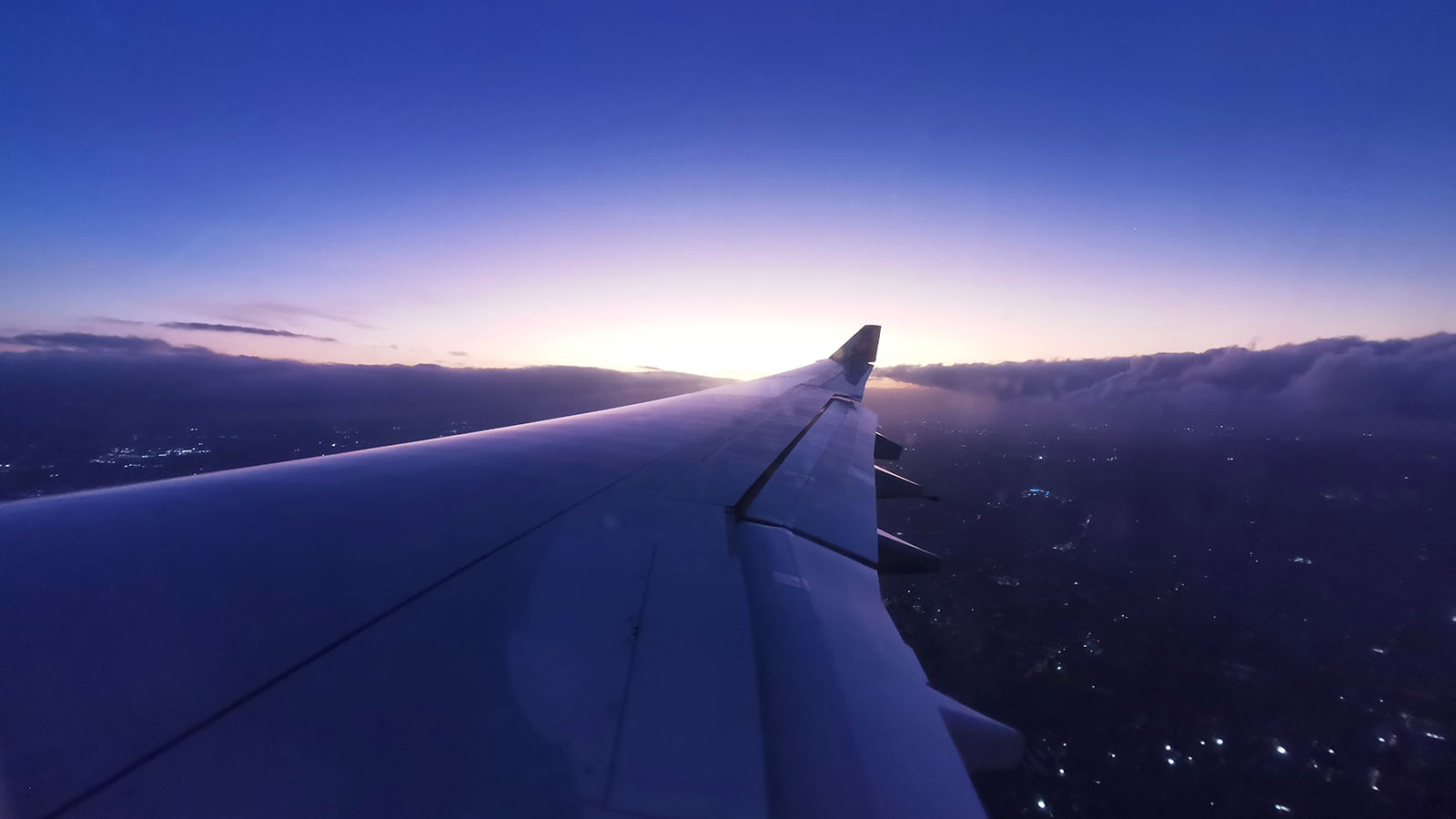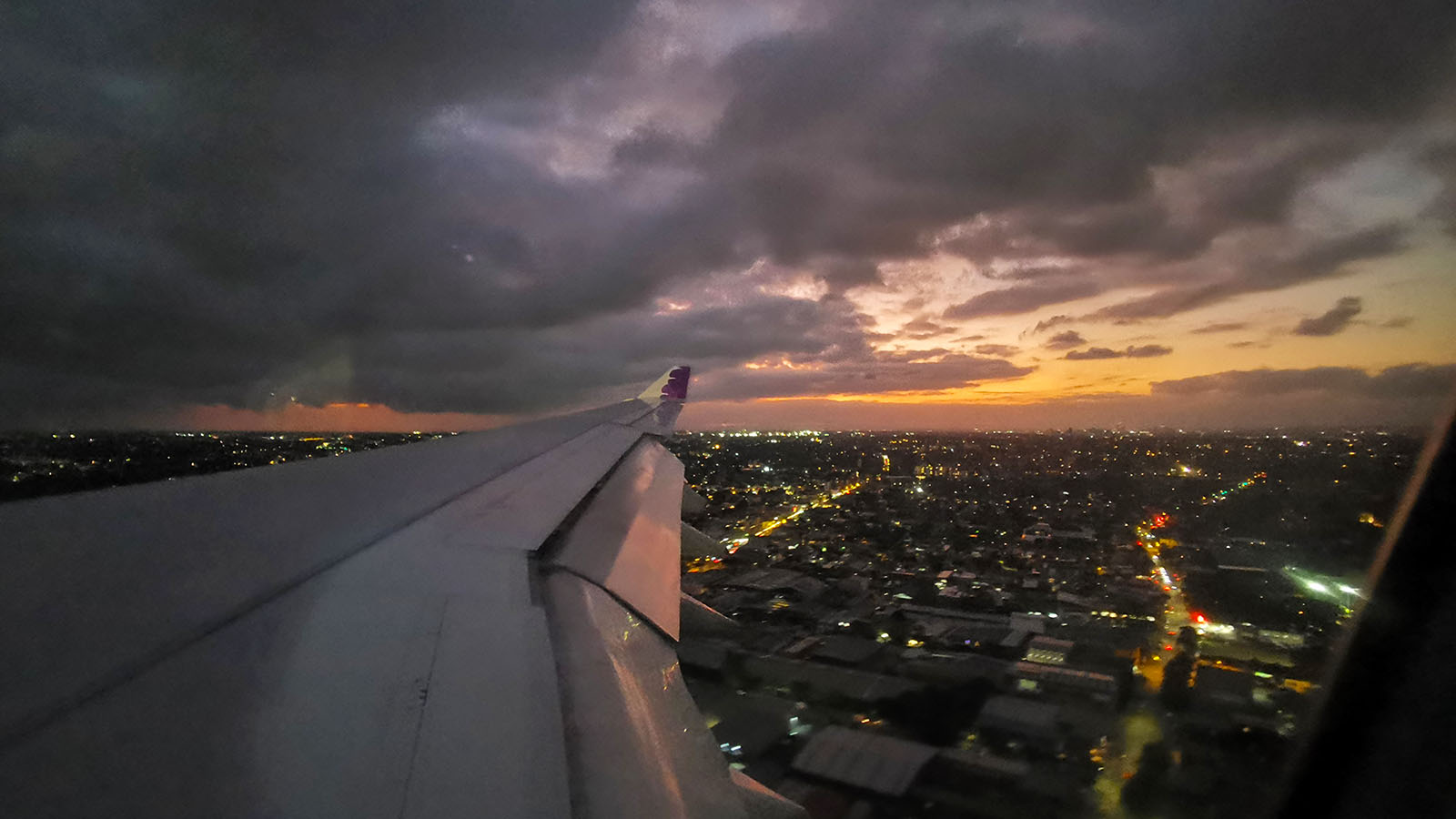 But one drawback is that the screen is fixed in place. You can't tilt it back up to align with your eyeline when the passenger in front reclines. It simply angles down, following the tilt of the seat. The screen itself also isn't the largest or sharpest, but it does at least respond to a gentle touch. Hopefully, this means the passenger behind you won't be forcefully tapping the screen (and by extension, your seat) while making their selections.
Service-wise, cabin crew on this flight are particularly friendly to everyone and seem excited to be flying to Sydney. I get a cheery 'hello there!' as I wander back to my seat, and nothing is too much trouble. A smile greets every interaction – a pleasing conclusion to my Hawaiian adventure. Our flight runs on time, and baggage doesn't take long to come out.
Summing up
For a daytime flight, Economy Class on Hawaiian Airlines' Airbus A330 is fine. I booked this journey using points, which also makes it easier to mix cabins on different legs of the journey – and without being stung by pricier one-way airfares.
With the Sydney-Honolulu leg being overnight, that's where I'd suggest splurging on Business Class for a good night's sleep and a great start to your trip. I've done Economy on overnight Hawaiian Airlines flights in the past, and like any long-haul Economy leg, getting sleep isn't the easiest. But during the day, settle back and watch movies, enjoy the hospitality, and you'll be there before you know it.
Just be aware, if booking Hawaiian Airlines flights using Velocity Points, you'll need to call Velocity. These don't appear for booking on the Velocity website, as is possible with some of the program's other airline partners.
Also read: How to hack your way to Hawaii with points
All photography by Chris Chamberlin, who travelled using HawaiianMiles provided courtesy of Hawaiian Airlines.
---
Stay up to date with the latest news, reviews and guides by subscribing to Point Hacks' email newsletter.
Hawaiian Airlines Airbus A330 Economy Class (Honolulu – Sydney)
was last modified:
June 13th, 2023
by