Hawaii is a very popular holiday haunt, and with good reason. There are the picturesque beaches, sure – and amazing natural sights like the iconic Diamond Head. But there's so much more to enjoy. Dabble in arts and culture, savour some scrumptious food or perhaps, say 'mahalo' to the bartender for mixing your mai tai.
But, you know what? A Hawaiian holiday doesn't have to cost an arm and a leg. In fact, thanks to the power of Velocity Points, you could be stretching out in Business Class from Sydney to Honolulu with Hawaiian Airlines. And from there, onwards to Maui in First Class – all for less than you'd pay in cash for an Economy fare.
Best of all though, when you use Velocity Points to holiday with Hawaiian Airlines, you only pay the genuine travel taxes. The pesky 'carrier charges' levied by some other airlines have no place here. At the end of the day, that's more money left in your pocket to spend on cocktails, sightseeing, dinners and more. So what are you waiting for?
For our next Itineraries adventure, we've plotted the best way to enjoy Hawaii in style, without breaking the bank. We've done the research, we've done the bookings, and most importantly, we've done the travel. All to help you plan your own Hawaiian holiday.
Our itinerary can easily be replicated – and we've got all the links to help book your activities. We'll even clue you in on how to book flights to Hawaii using Velocity Points, which don't otherwise appear on the Velocity website. As I said, we've got your back – all you need to do is book and then get packing. Enjoy!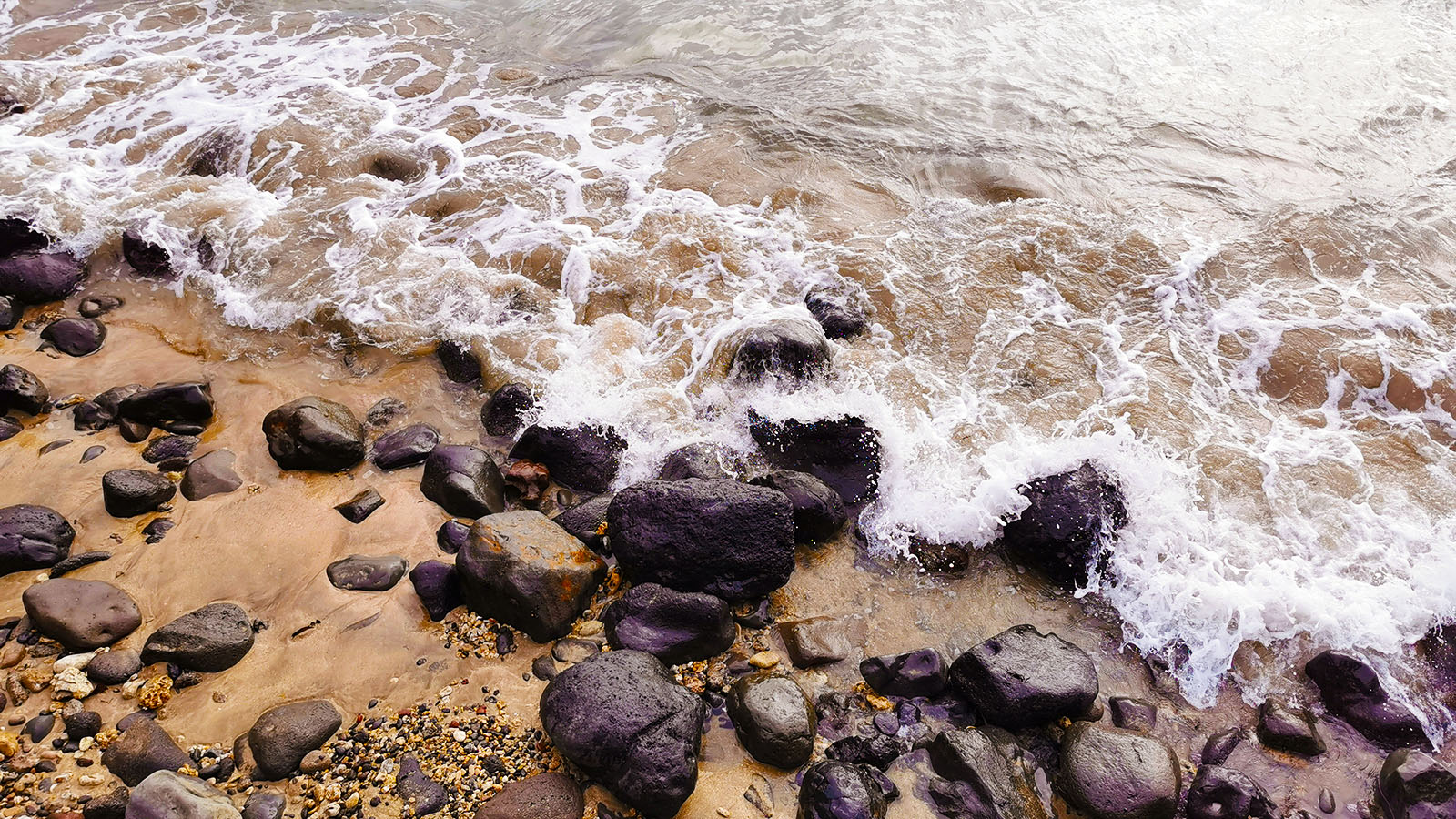 Our Hawaii budget – per person
Velocity Points: 138,000
Cash: $1,793 per person (flight taxes and accommodation per person twin share)
My itinerary focuses on spending Velocity Points, which are very easy to earn. But if your account could use a top-up, why not peruse our credit cards page?
Some cards deposit Velocity Points straight into your account each month. Others serve up points in a bank's own loyalty program, from which you can convert them to Velocity. Keep your eyes peeled for generous sign-up bonuses too. By applying, being approved and meeting the minimum spend criteria, you could earn a nice bounty of points.
Now, back to this itinerary. I've priced flying from Sydney to Maui via Honolulu, in Hawaiian Airlines' premium cabins. That's Business Class from Australia and onwards in domestic 'First Class'. It also covers a First Class flight back to Honolulu, and then Economy to Sydney.
Even though the last leg is Economy, it's not a bad way to go. Honolulu-Sydney is a daytime flight, where you'd be awake and watching movies anyway. This keeps more points in your pocket, while still enjoying the comforts of Business Class on the overnight leg bound for Hawaii. You can doze in your flatbed, and land rested for your holiday to begin.
We've used Sydney as the launchpad here – and at the moment, it's the only Australian city from which you can fly with Hawaiian Airlines. If you're starting or finishing elsewhere in Australia, just add on a connecting flight. With Virgin Australia, this costs from 7,800 Velocity Points per person, one-way – such as from Melbourne or Brisbane to Sydney.
But again, flying out of Sydney, just under $1,800 in cash covers flight taxes and accommodation, per person. This assumes two people are sharing the same room. Keep some cash aside for ground transport, sightseeing, meals and drinks, and you'll be ready to explore Hawaii, too.
Earning Velocity Points
With Velocity being Australia's second largest frequent flyer program, it's easy to earn Velocity Points – even on the ground. Credit card sign-up bonuses can be an efficient way to earn points quickly. For instance, the American Express Velocity Platinum Card earns points that go straight into your Velocity account. Other cards like the Amex Platinum Card and Explorer Card, earn rewards that can be converted into Velocity Points at a 2:1 rate.
Featured deals
---
You can also convert KrisFlyer miles into Velocity Points at the rate of 1.55:1. Usually, KrisFlyer miles stretch the furthest when redeemed directly via KrisFlyer. But if you're keen to book Hawaiian Airlines to Honolulu and beyond, converting to Velocity could be just the ticket.
Other popular ways to earn Velocity Points include via Flybuys. For instance, shopping at places like Coles, Liquorland, Officeworks, Bunnings and more can see you rewarded with Flybuys points. And of course, these can be converted into Velocity Points – at a 2:1 rate.
Read our full guide to earning Velocity Points in Australia →
---
Getting to Hawaii: Sydney to Maui (via Honolulu)
With Hawaiian Airlines being one of Velocity's many airline partners, you can redeem Velocity Points to Honolulu and beyond. In fact, here's a handy point hack to keep up your sleeve. Flying from Sydney to Maui via Honolulu costs the same number of points as Sydney-Honolulu alone.
Yes, you read that correctly. You can fly First Class from Honolulu onwards to Maui for no extra points when you're already travelling from Sydney. You only pay the extra tax: and that's a mere US$5.60. It's an absolute steal.
So how do you book these trips using Velocity Points? Just give Velocity Frequent Flyer a call on 13 18 75. They'll be able to help you find flights and available reward seats, as Hawaiian Airlines reward bookings don't currently appear on the Velocity website.
But to save time, we highly recommend using ExpertFlyer to locate reward seats before you call. By searching for Hawaiian Airlines' 'First – Saver & Partner Awards', you can confirm what's available via Velocity.
Sometimes, availability can be tight. But at other times, you could bring the entire family in Business Class on points!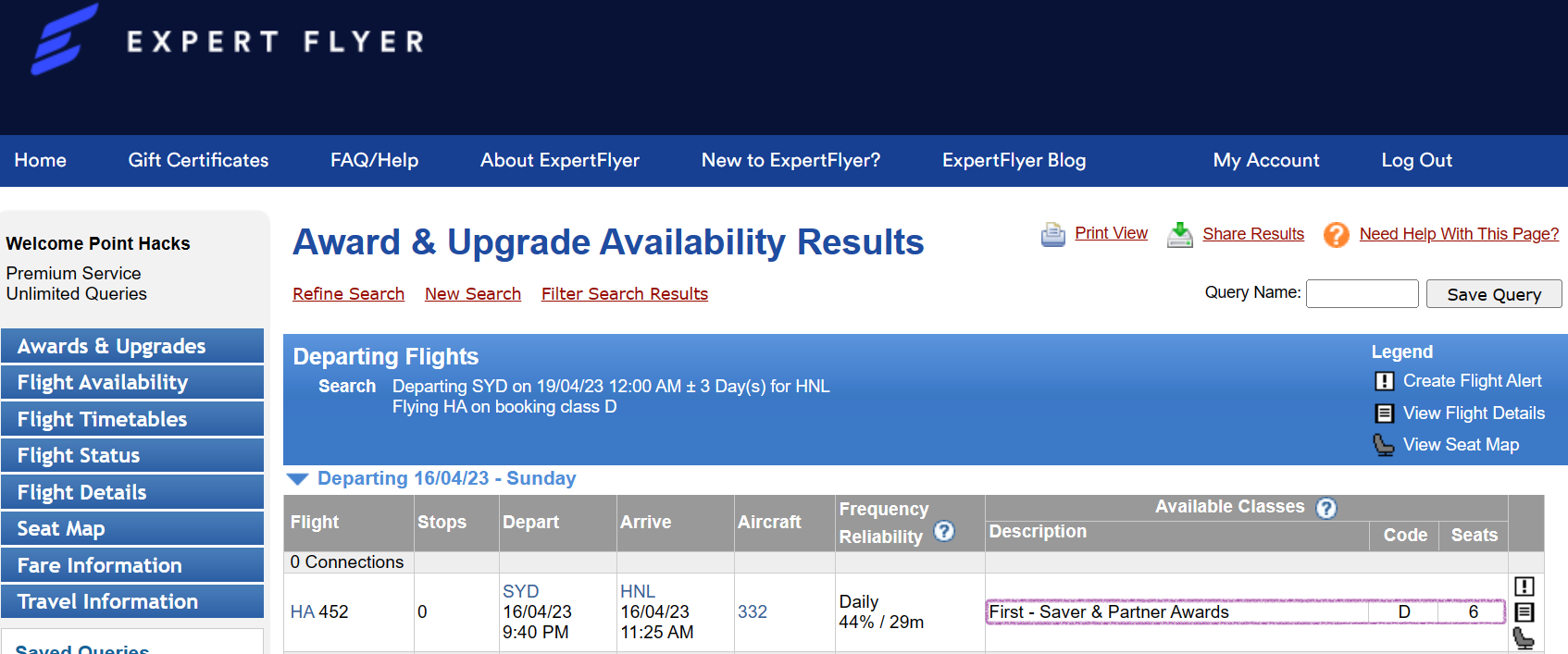 The screenshot above shows Sydney-Honolulu alone. But you can search for Sydney to Maui via Honolulu in much the same way. Without much effort at all, I'm able to find availability for two travellers flying together at the front on Velocity Points. So, let's fly!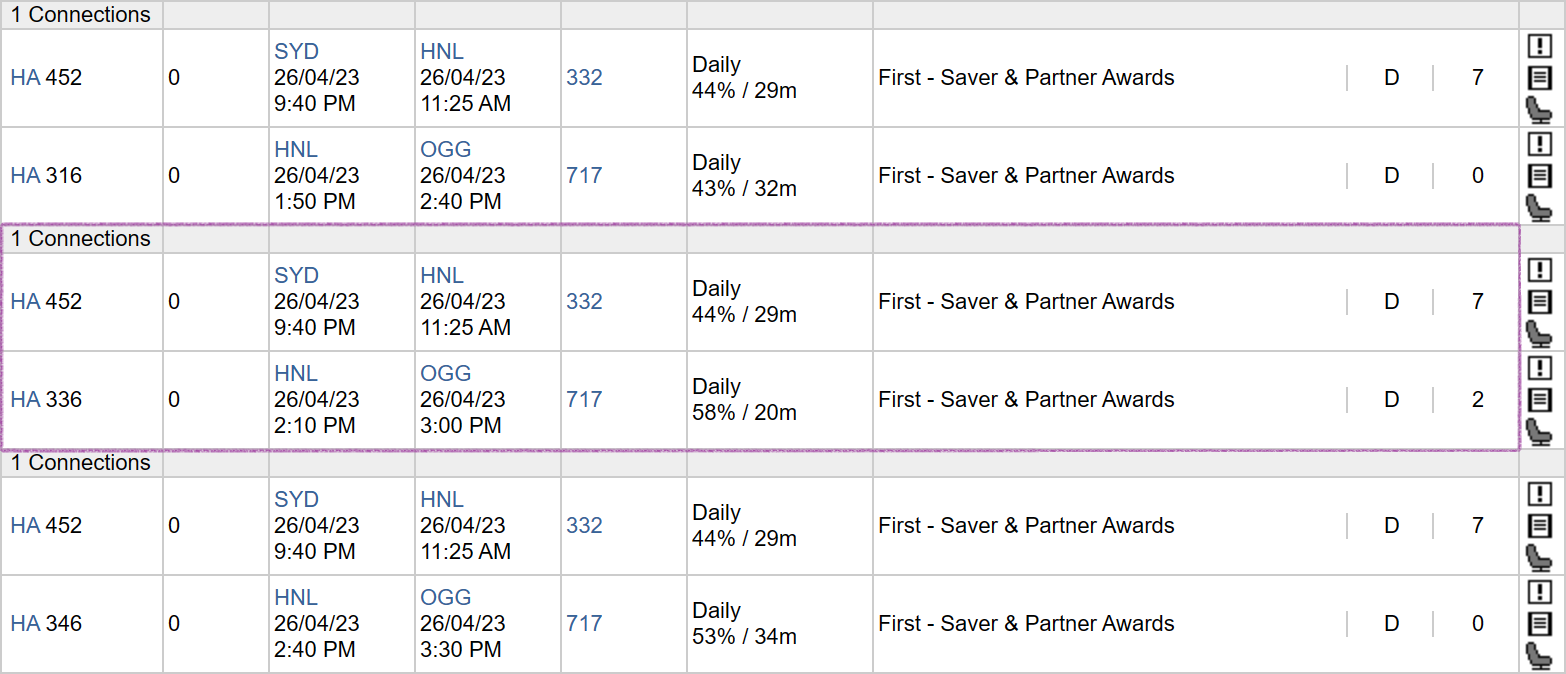 Sydney to Honolulu in Hawaiian Airlines Business Class
Flight: HA452
Flight time: 10 hours
Points needed: 78,000 Velocity Points, one-way
Fees and taxes: Around AU$118, one-way
Value per point (AU$): 3.91 cents per Velocity Point – good value
With a Business Class ticket, I bypass the lengthy Economy queue and waltz straight up to priority check-in. My bag is tagged, my boarding pass issued and I'm on my way. Then it's straight to the lounge.
In Sydney, that's The House. It's a bustling space, but there's an open bar and a selection of hot food for a light dinner. But I remember that the American Express Centurion Lounge is nearby as well – a perk included with many premium Amex cards.
As luck would have it, the Centurion Lounge is significantly quieter – and also right near the Hawaiian Airlines gate. After a quick lemon, lime and bitters, I jump on board, bound for Hawaii.
When you're travelling as a pair, Hawaiian Airlines' 2-2-2 seating layout is hard to beat. It certainly makes it easier to chink your pre-departure mai tais.
From Sydney, it's an evening departure, which means a morning arrival in Honolulu. I can enjoy dinner, get a good night's sleep and then devour breakfast before landing.
Speaking of dinner, it's a chicken and vegetable ratatouille with roasted potatoes. It's tasty and filling, without being too heavy. For breakfast, there's the option to wake up earlier for a full meal, or keep snoozing above the clouds and enjoy a light bite up to 45 minutes before landing. I'm awake, so opt for the full brekky – a mushroom, kale and cheese frittata. I'm still a little full from dinner, so perhaps the lighter option of a croissant and fruits is the way to go next time.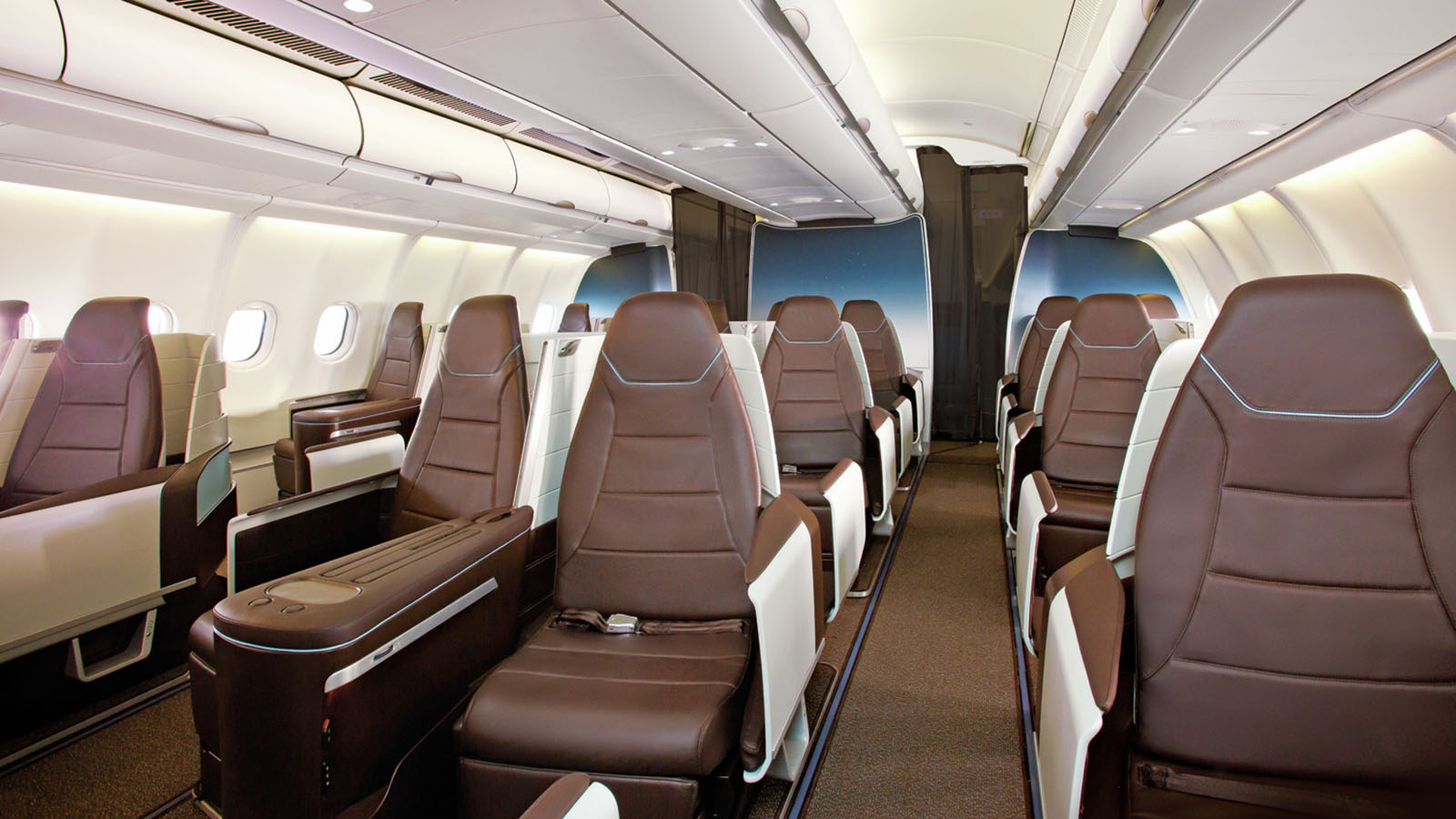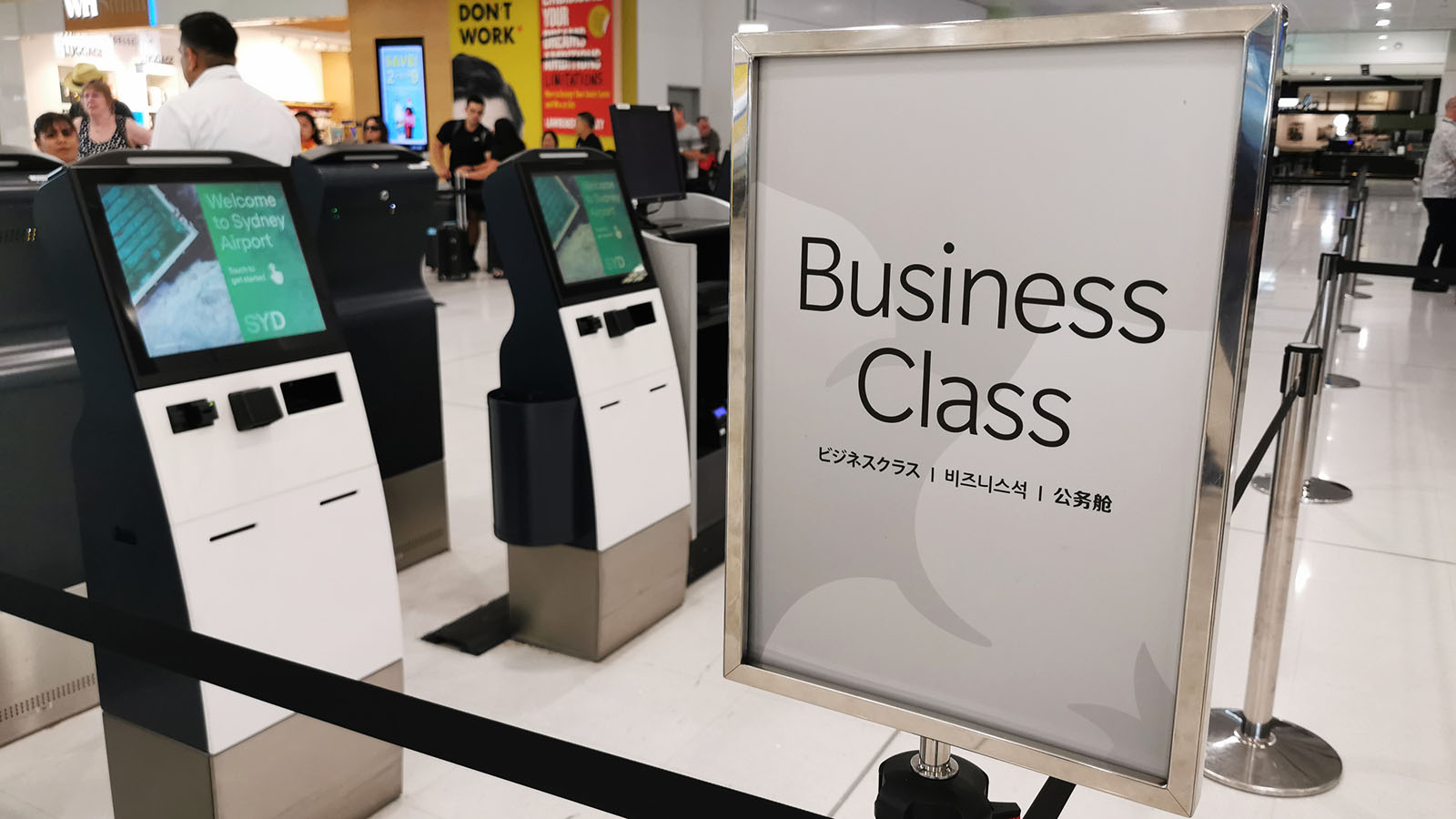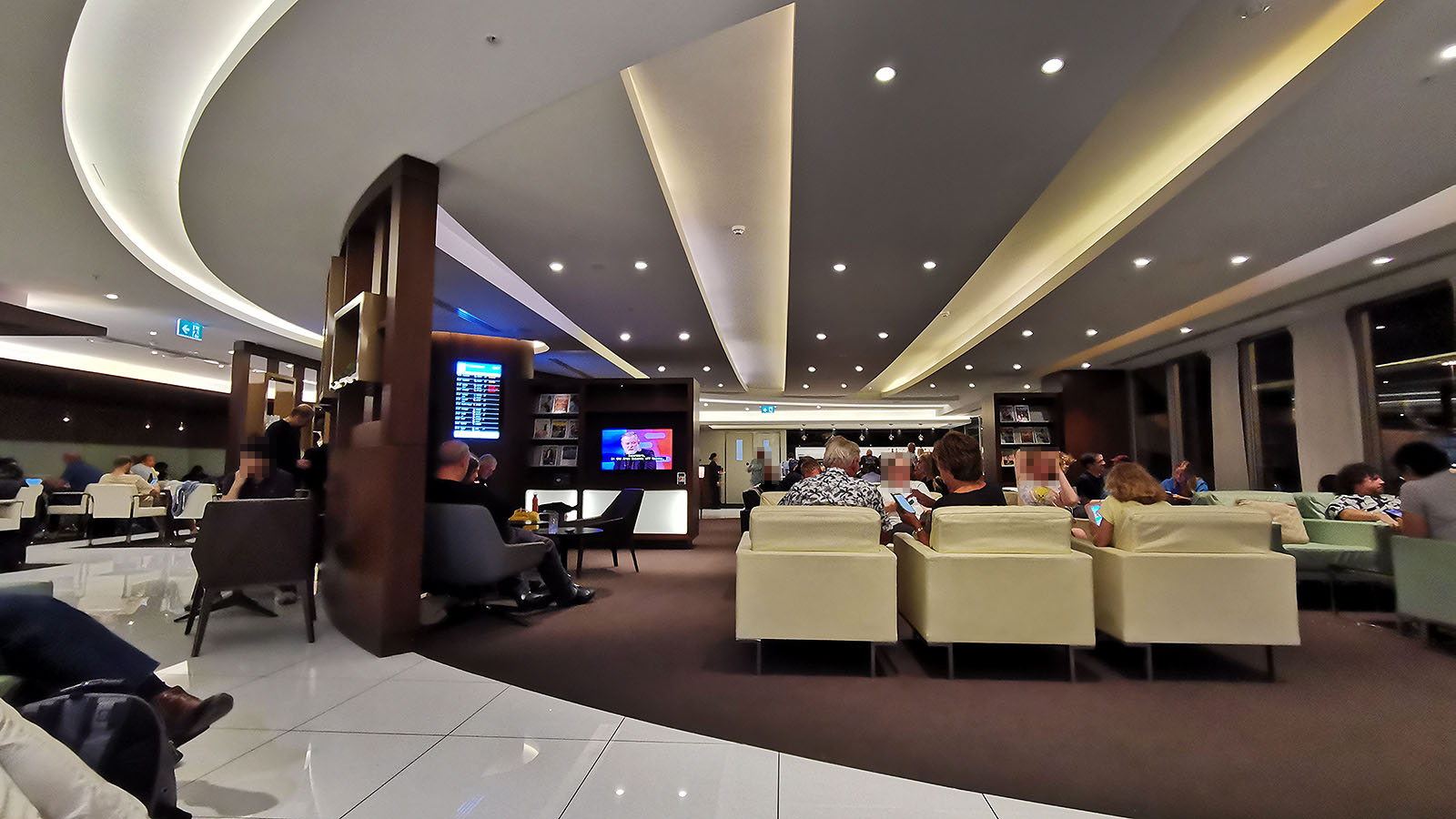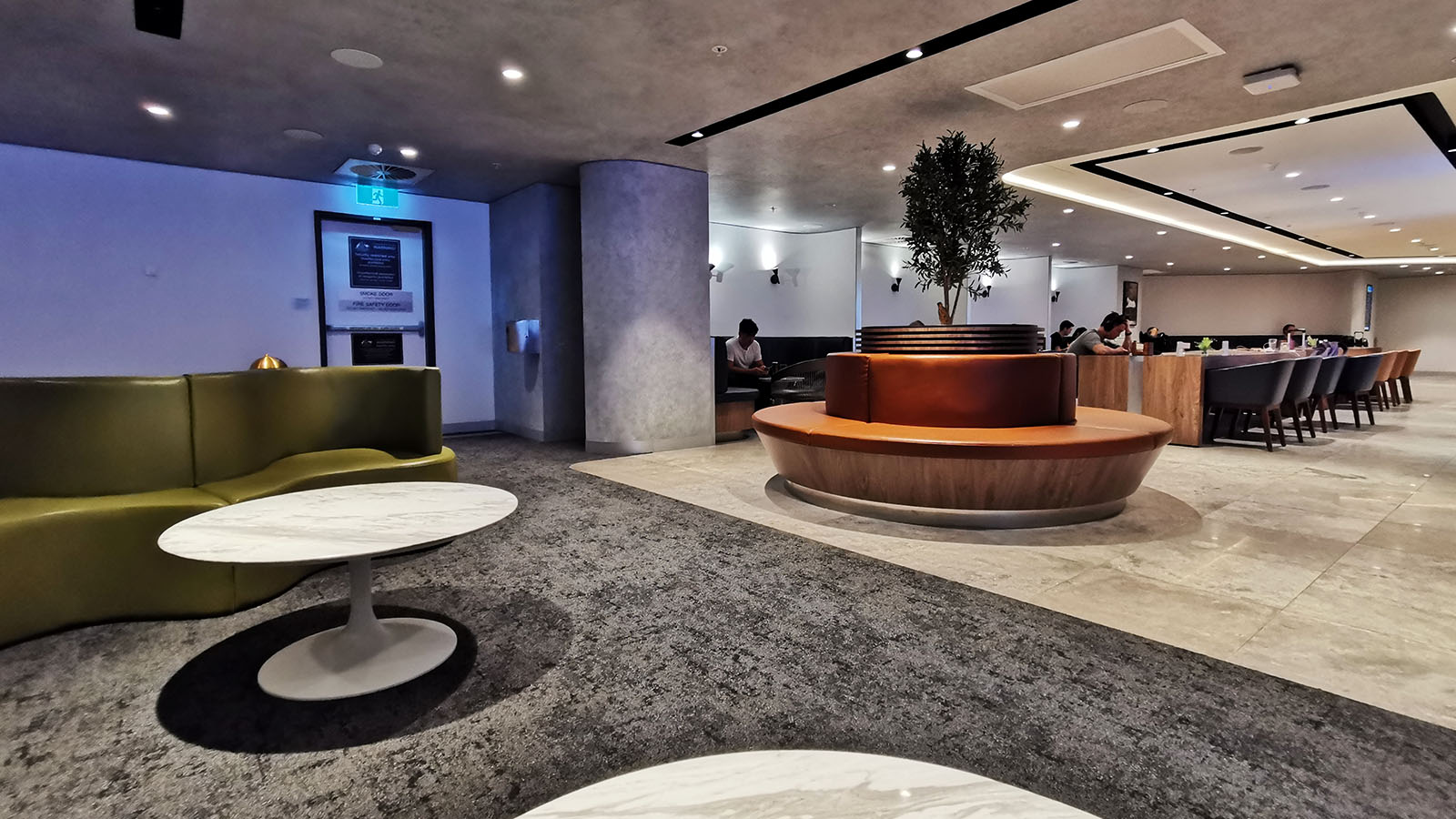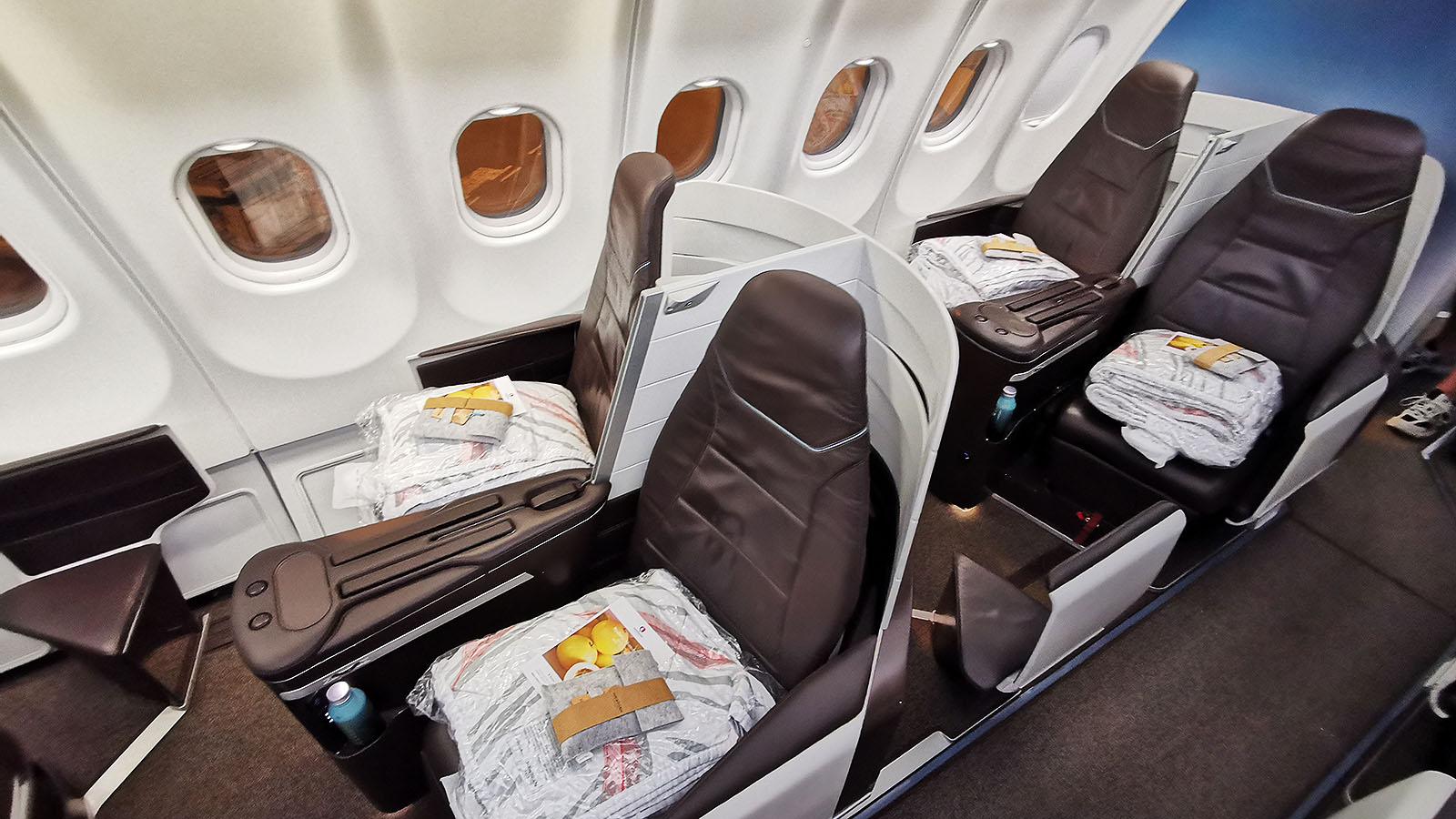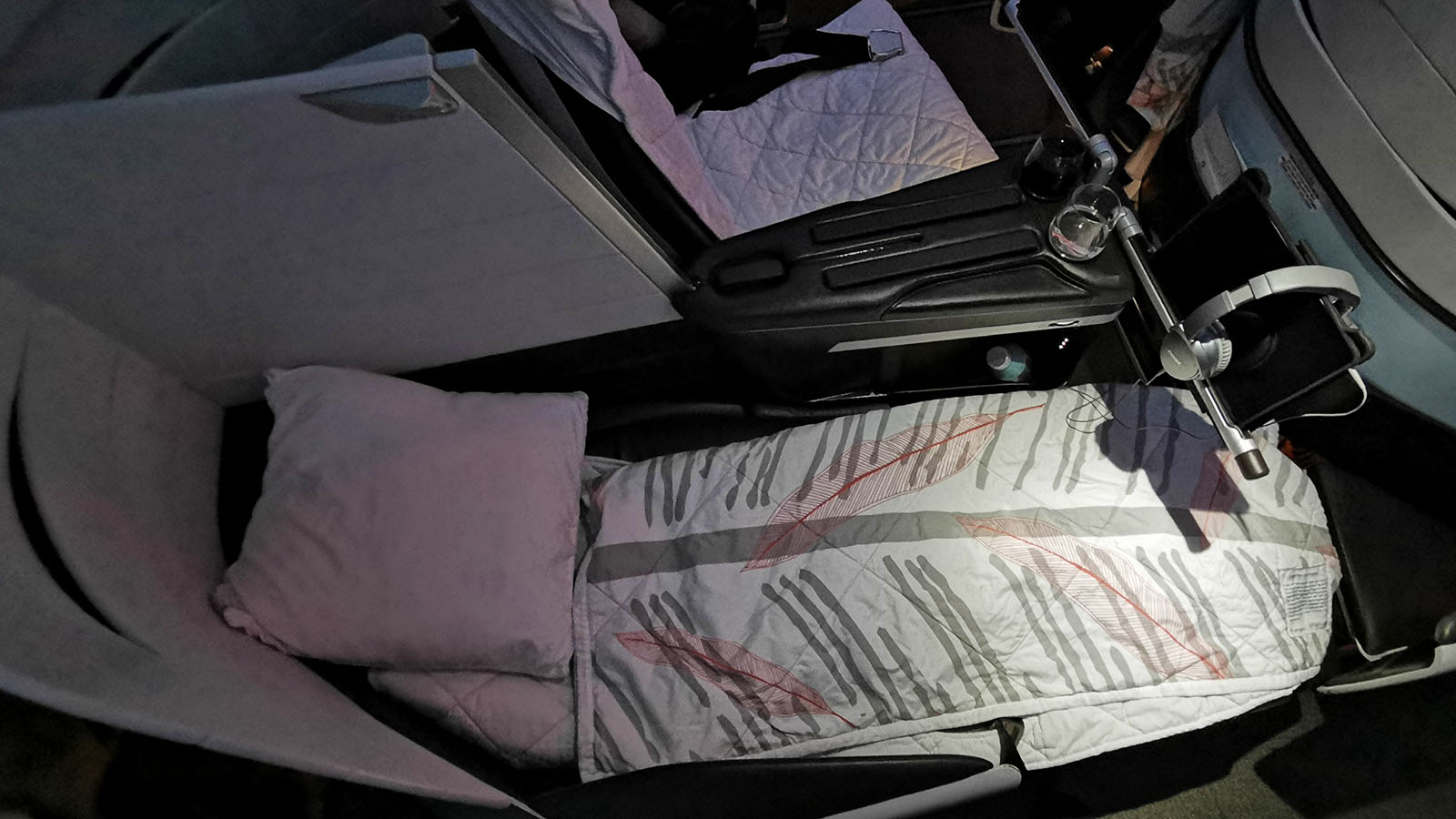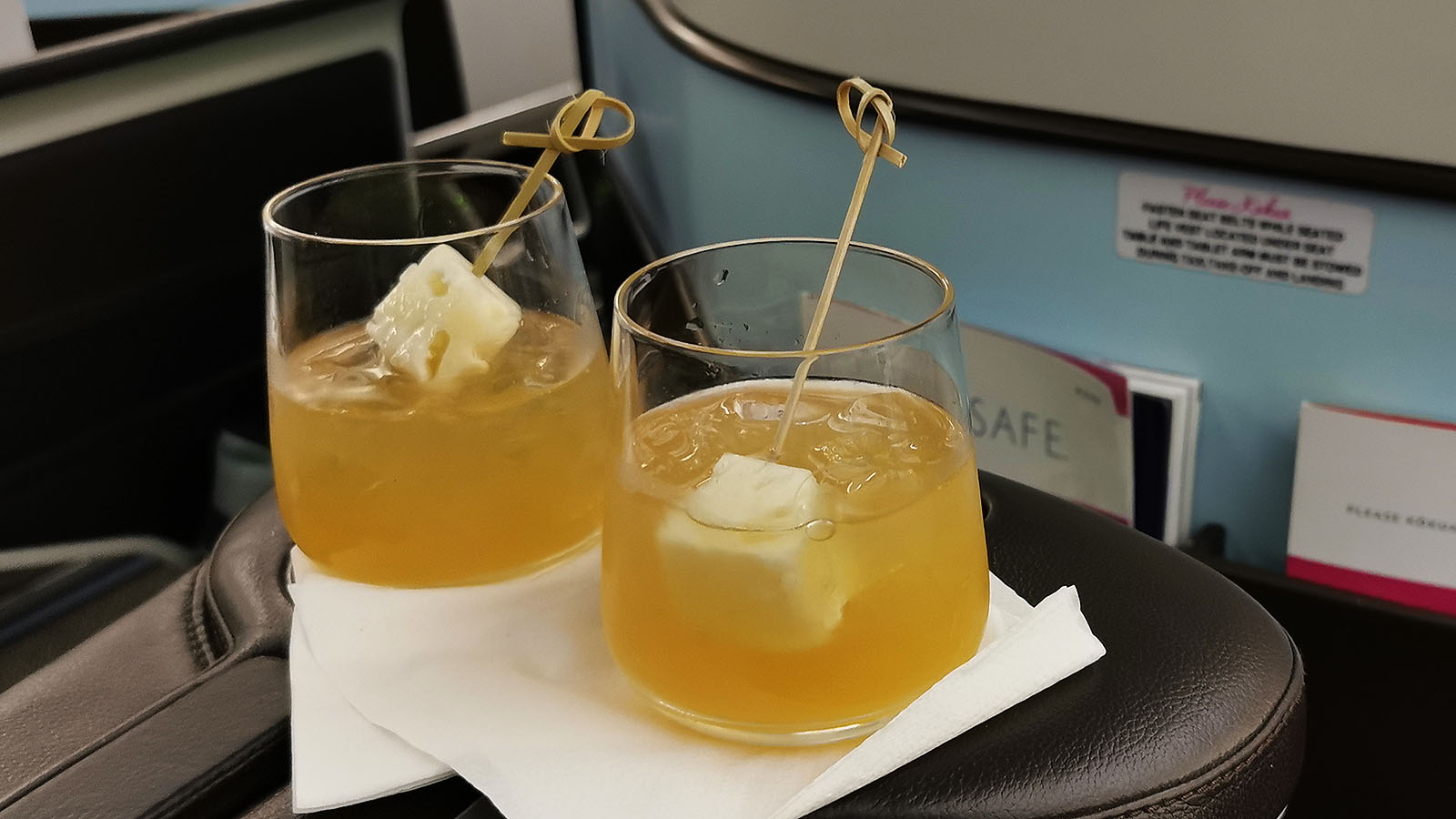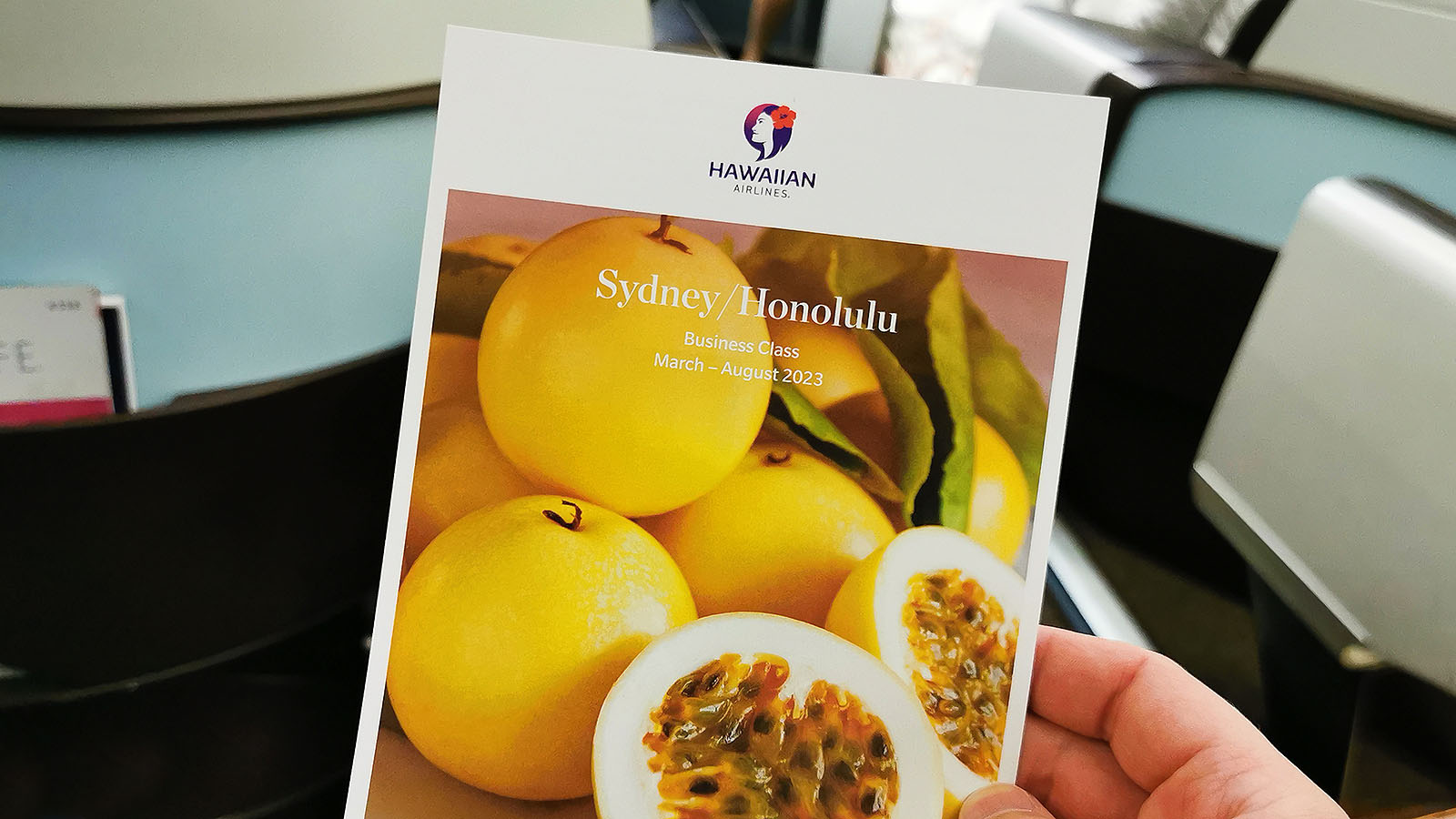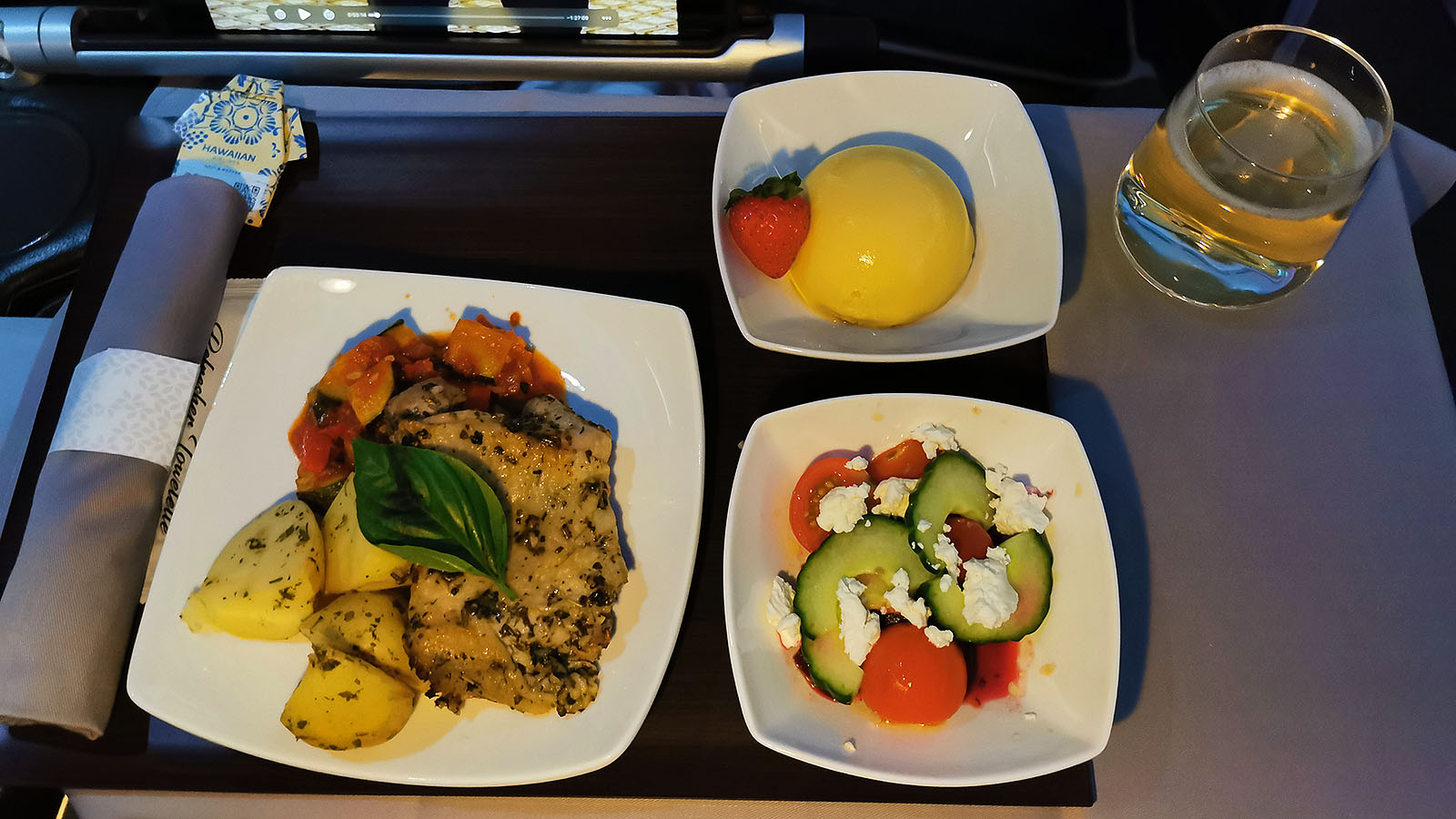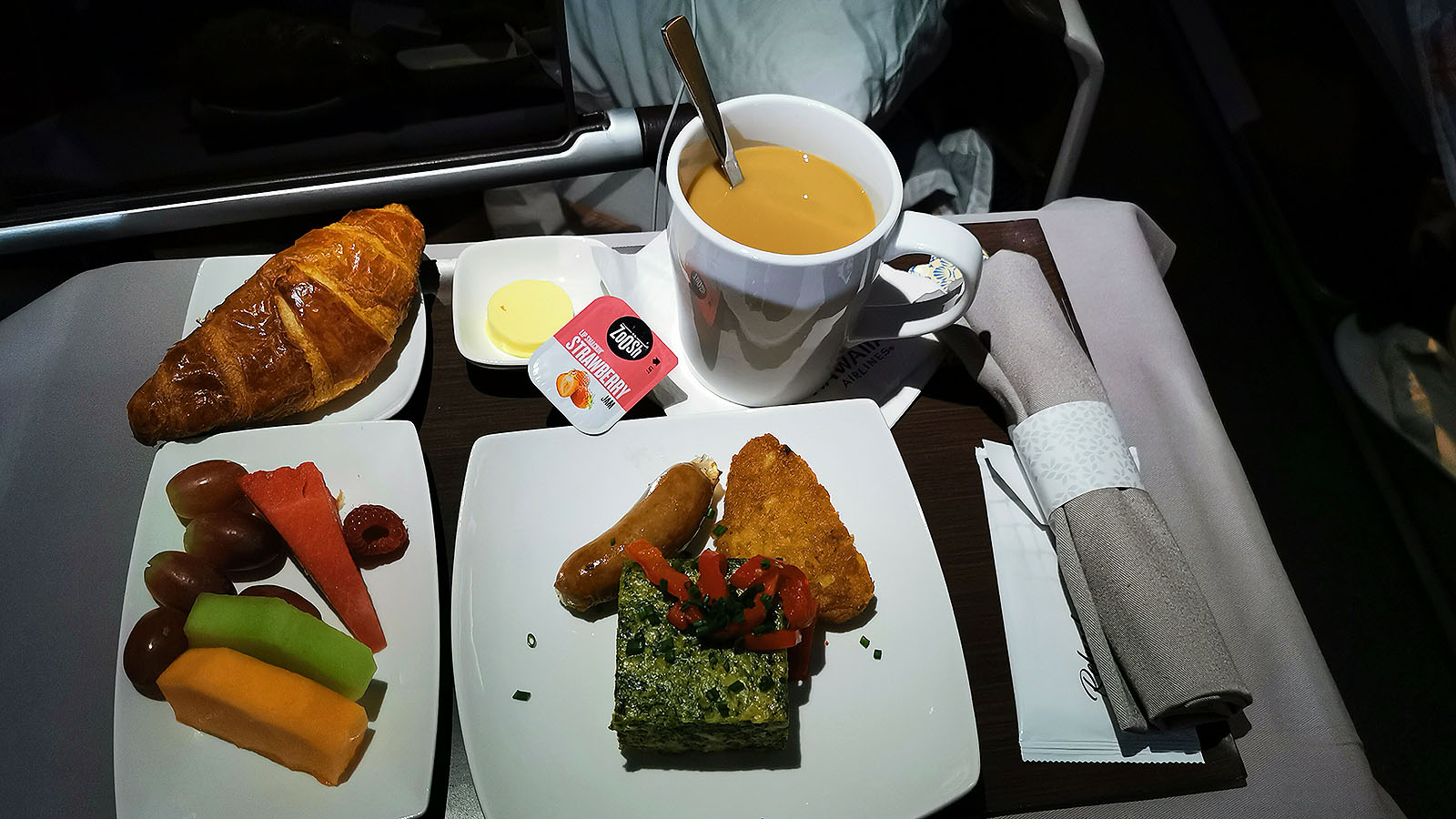 Flight review: Hawaiian Airlines Airbus A330 Business Class (Sydney – Honolulu)
Transit in Honolulu
As one of the first people off the plane in Honolulu, I don't have to wait long at passport control. In fact, I'm done with the formalities in 11 minutes flat. It's a much nicer way to enter the United States versus other places like Los Angeles, where the queues can be much more hectic.
My checked bag is already waiting for me as I enter the baggage hall – always a nice sign! From there, I wheel it through Customs and drop it off again for my onward leg to Maui. With a quick flash of my First Class boarding pass, I'm welcomed into the fast-track security lane. Happy days.
In the United States, the rules around lounge access can be complicated. But when you're flying Hawaiian Airlines First Class, it's simple. Even on a US domestic flight, you can kick back in a lounge without needing a separate lounge membership.
Hawaiian's Premier Club lounge awaits for a light snack and cool drink. Then it's straight down the priority boarding queue and into my spacious seat.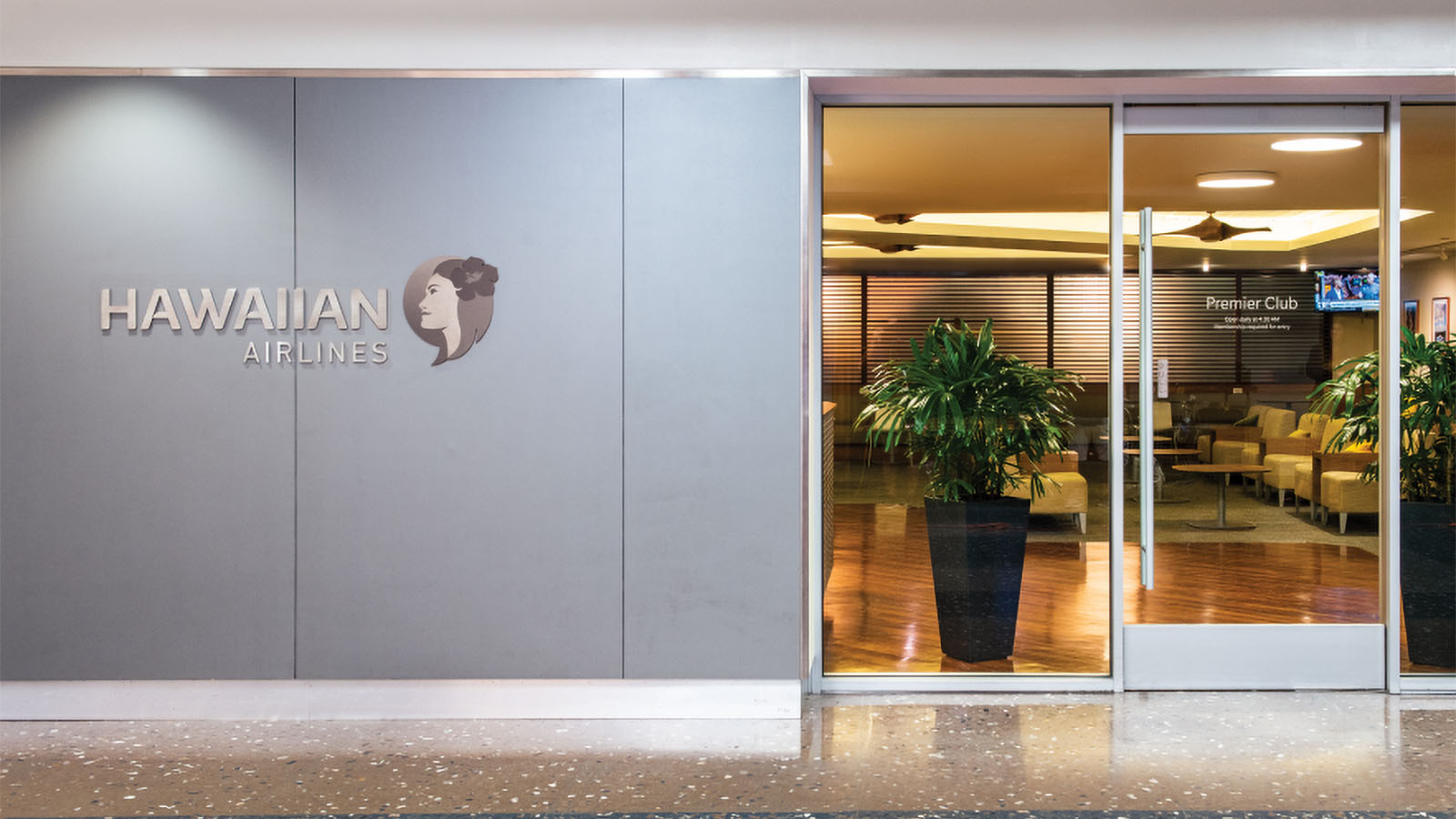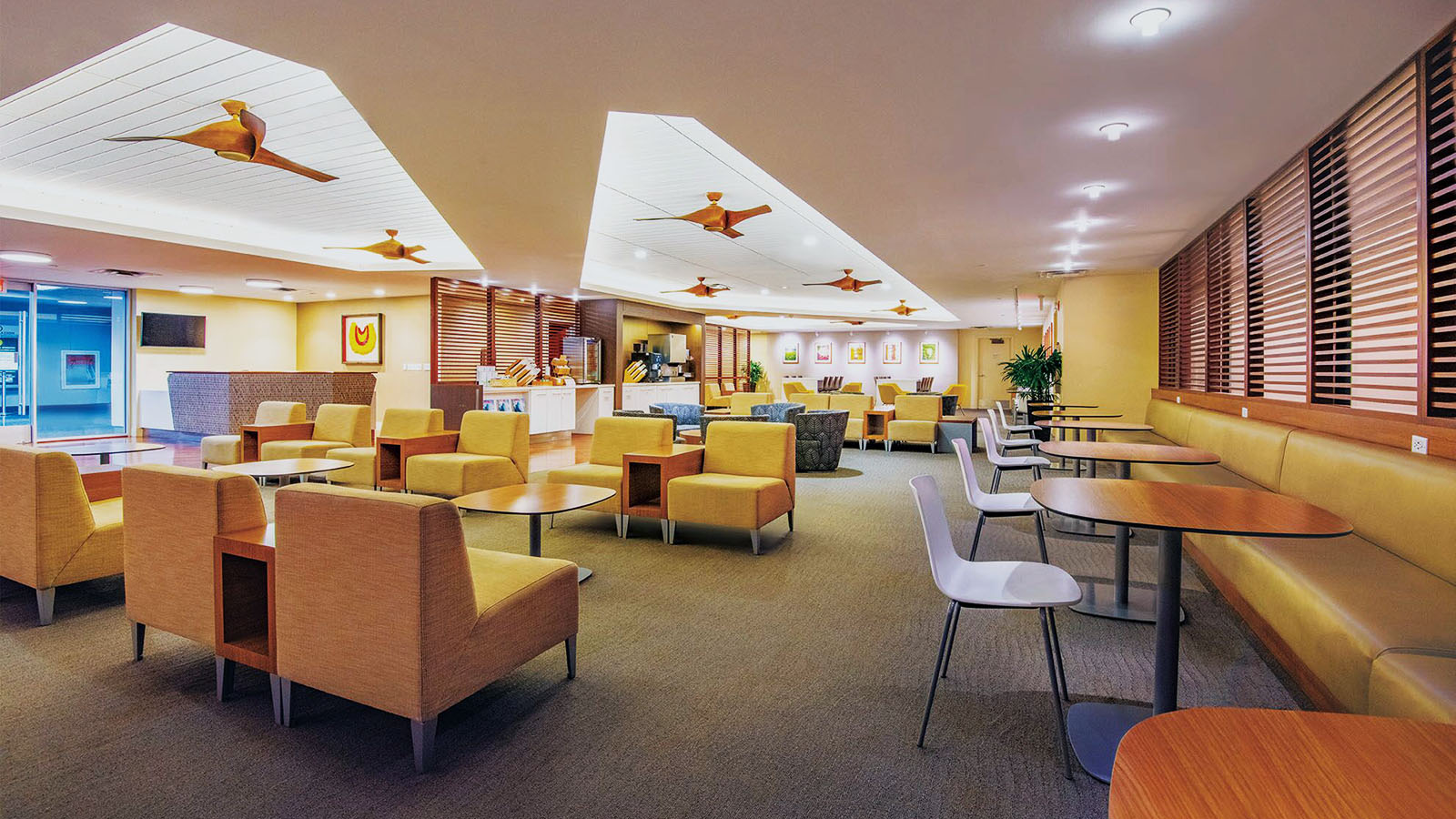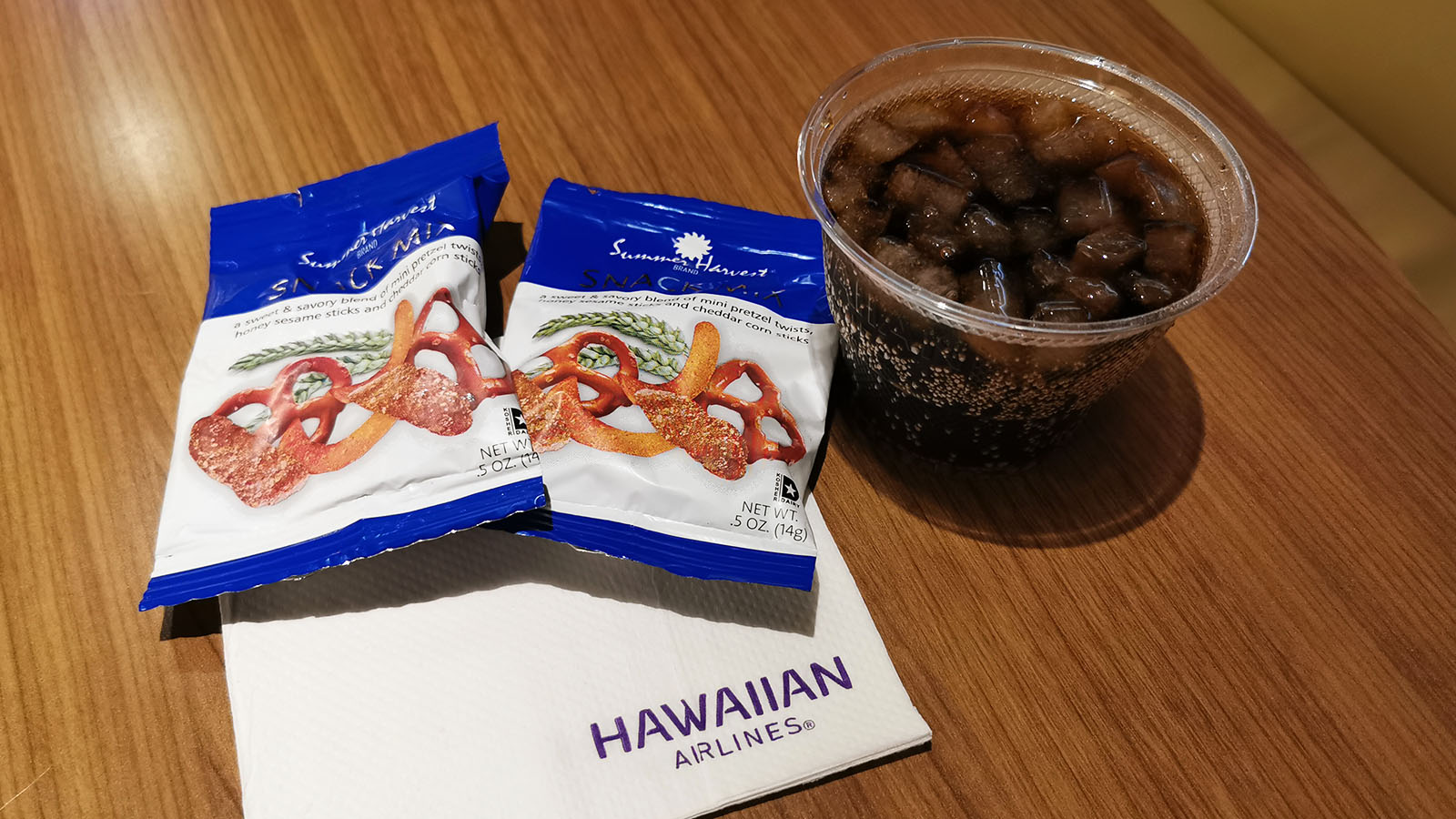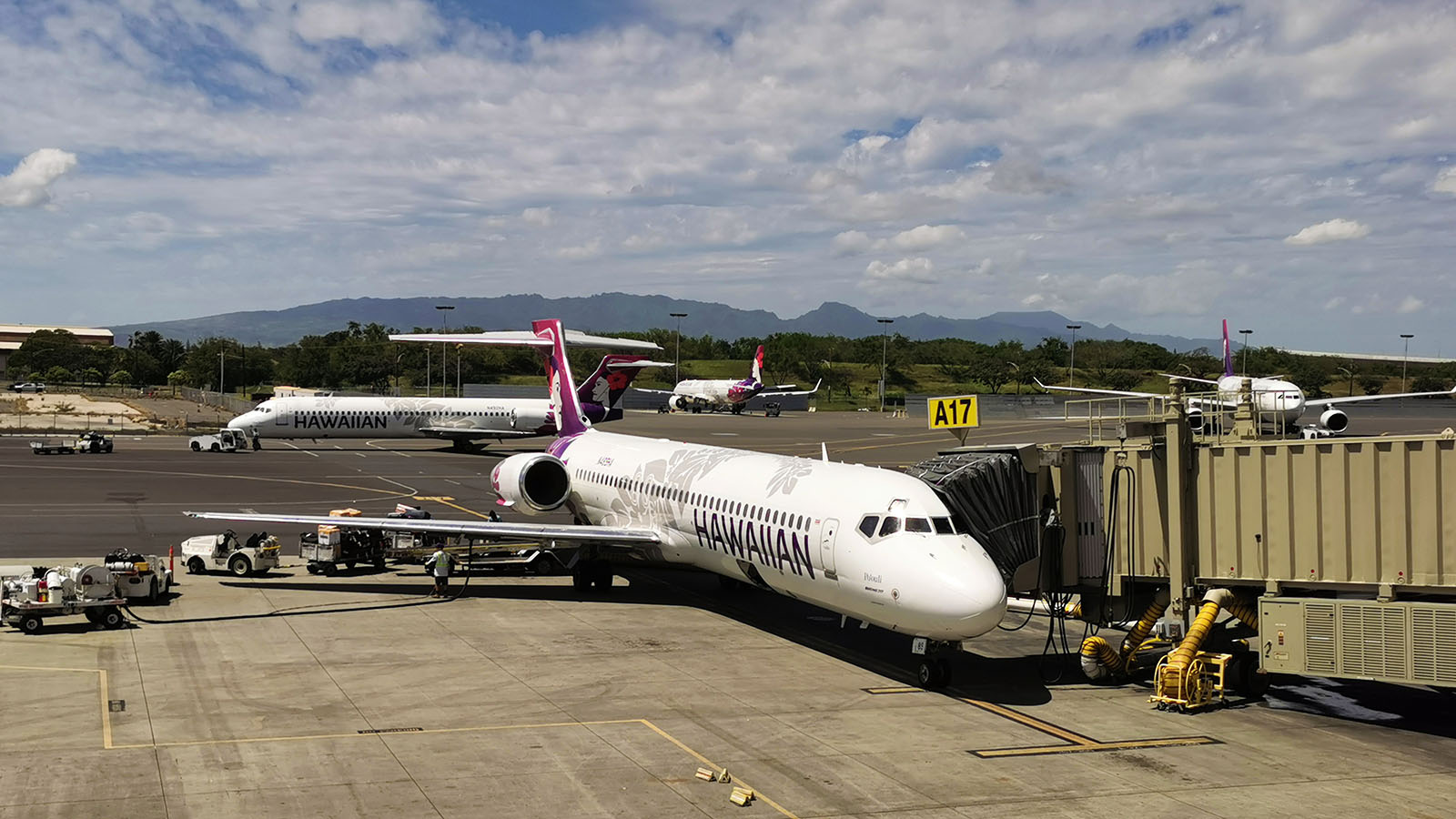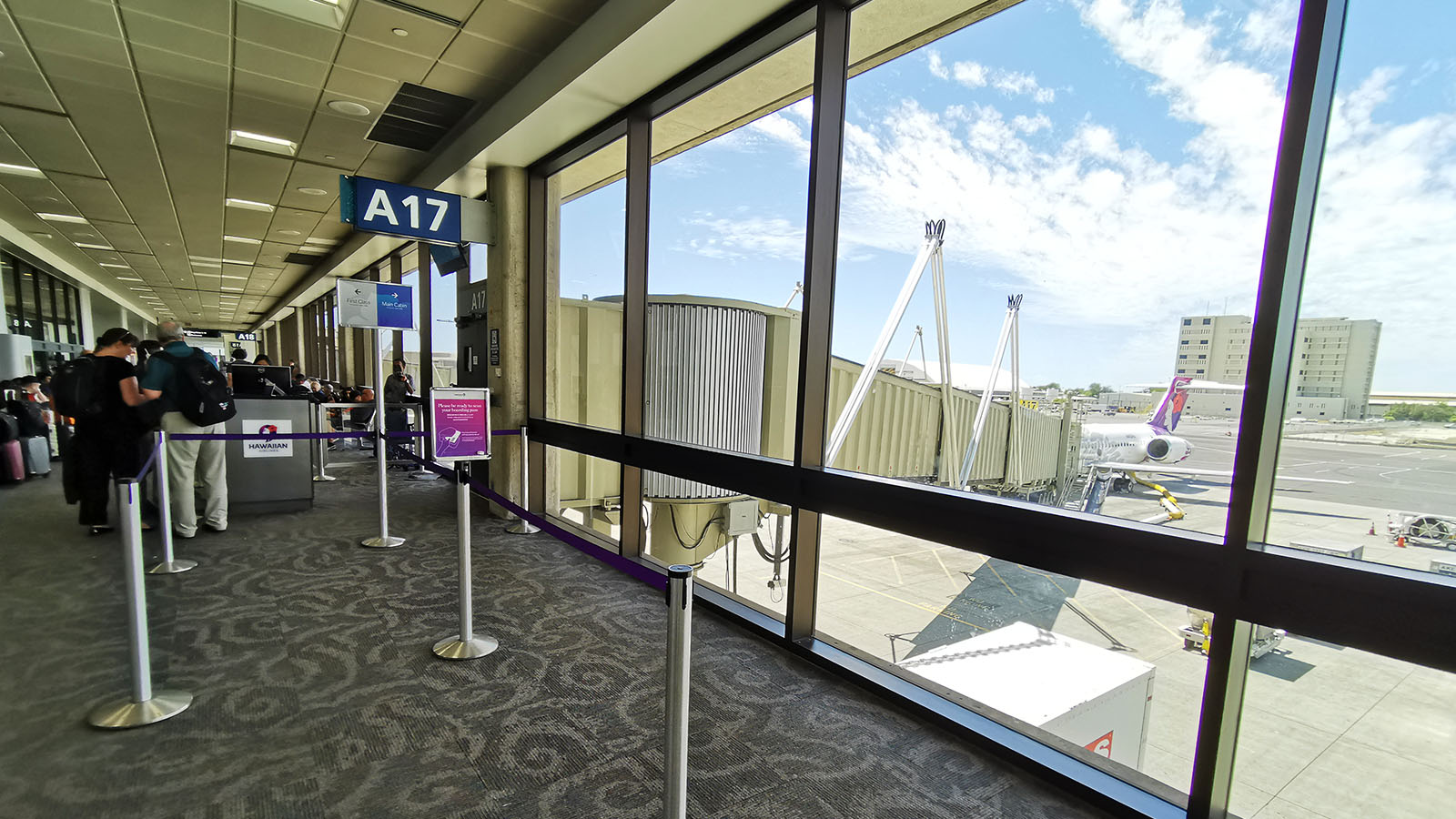 Lounge review: Hawaiian Airlines Premier Club, Honolulu
Honolulu to Kahului (Maui) in Hawaiian Airlines First Class
Flight: HA316
Flight time: 49 minutes
Points needed: 0 Velocity Points (included with the Sydney-Honolulu redemption)
Fees and taxes: US$5.80 (~AU$8.25) in additional tax
It's a quick journey from Honolulu to Maui, but a comfortable one. Perched up the front in First Class, there's plenty of space to stretch out.
Sure, when you hear 'First Class', you might think of mega suites with closing doors, caviar and bottomless Champagne. On a US domestic flight though, it's all about the extra space. And being less than an hour from gate to gate, a wide reclining seat does the trick.
After take-off, a cocktail wings its way to my seat, along with a snack. But I'm more amazed by the views. This is one flight where a window seat is a must. If you can only get an aisle seat, take a different flight. Seriously.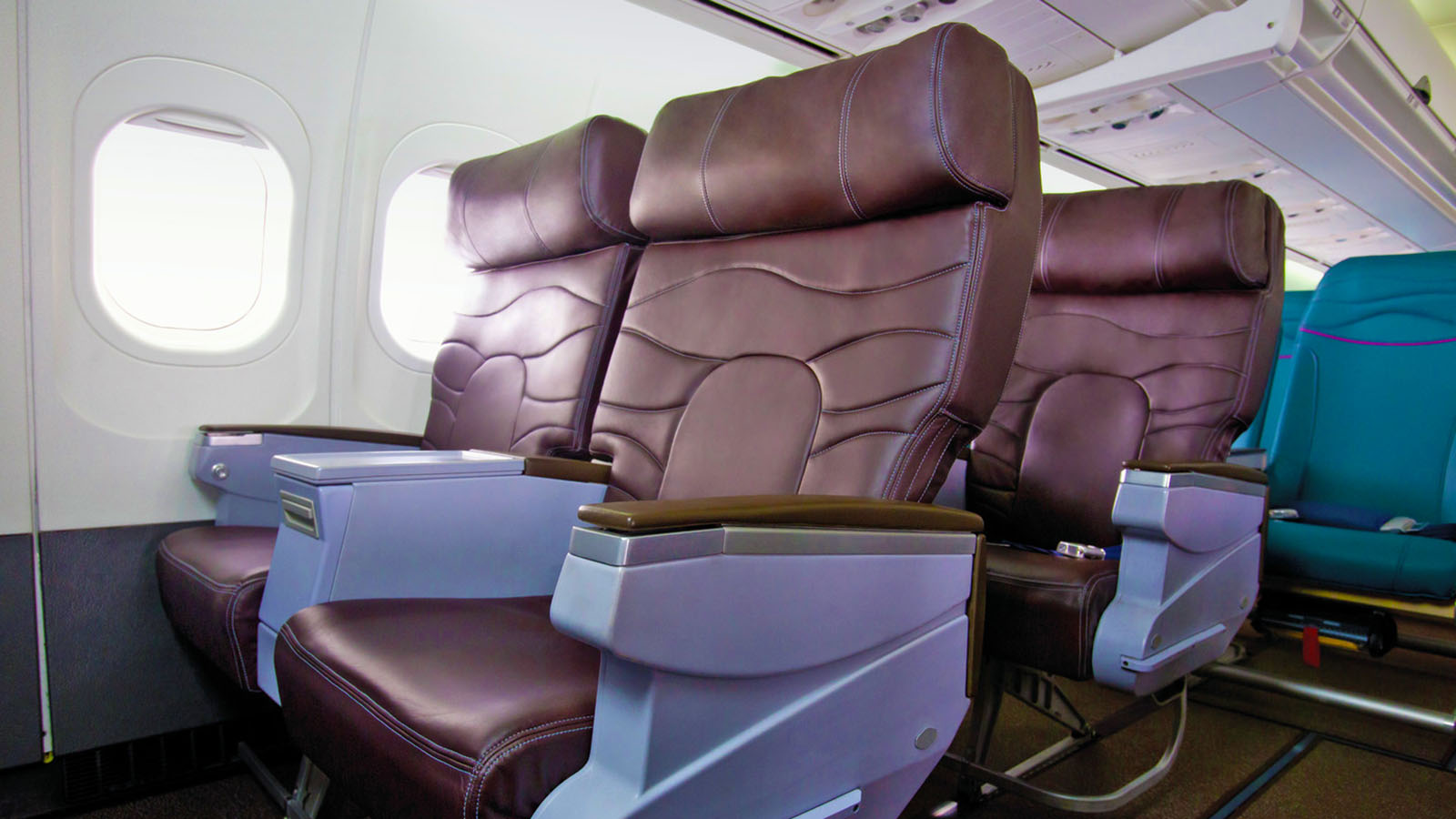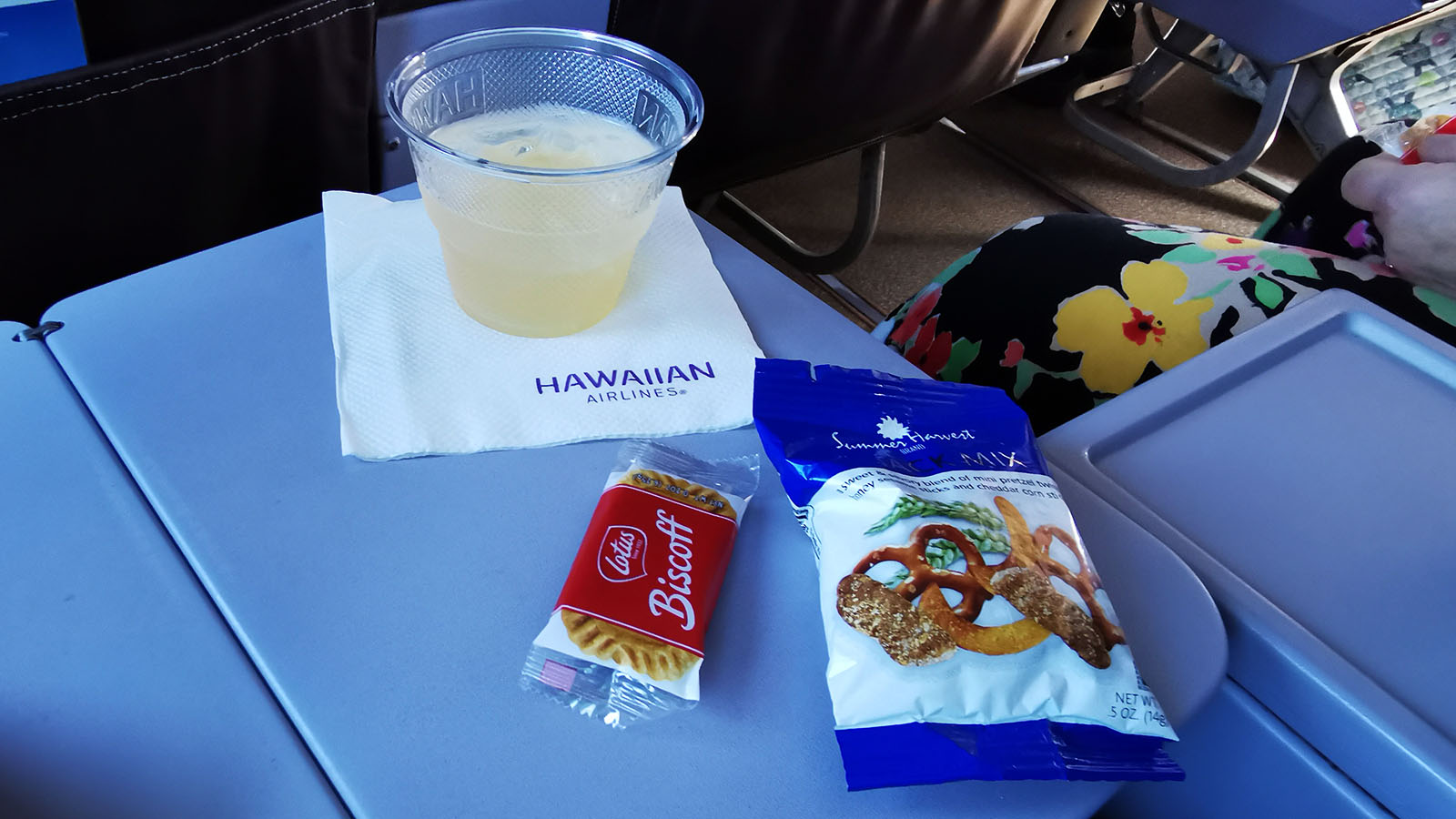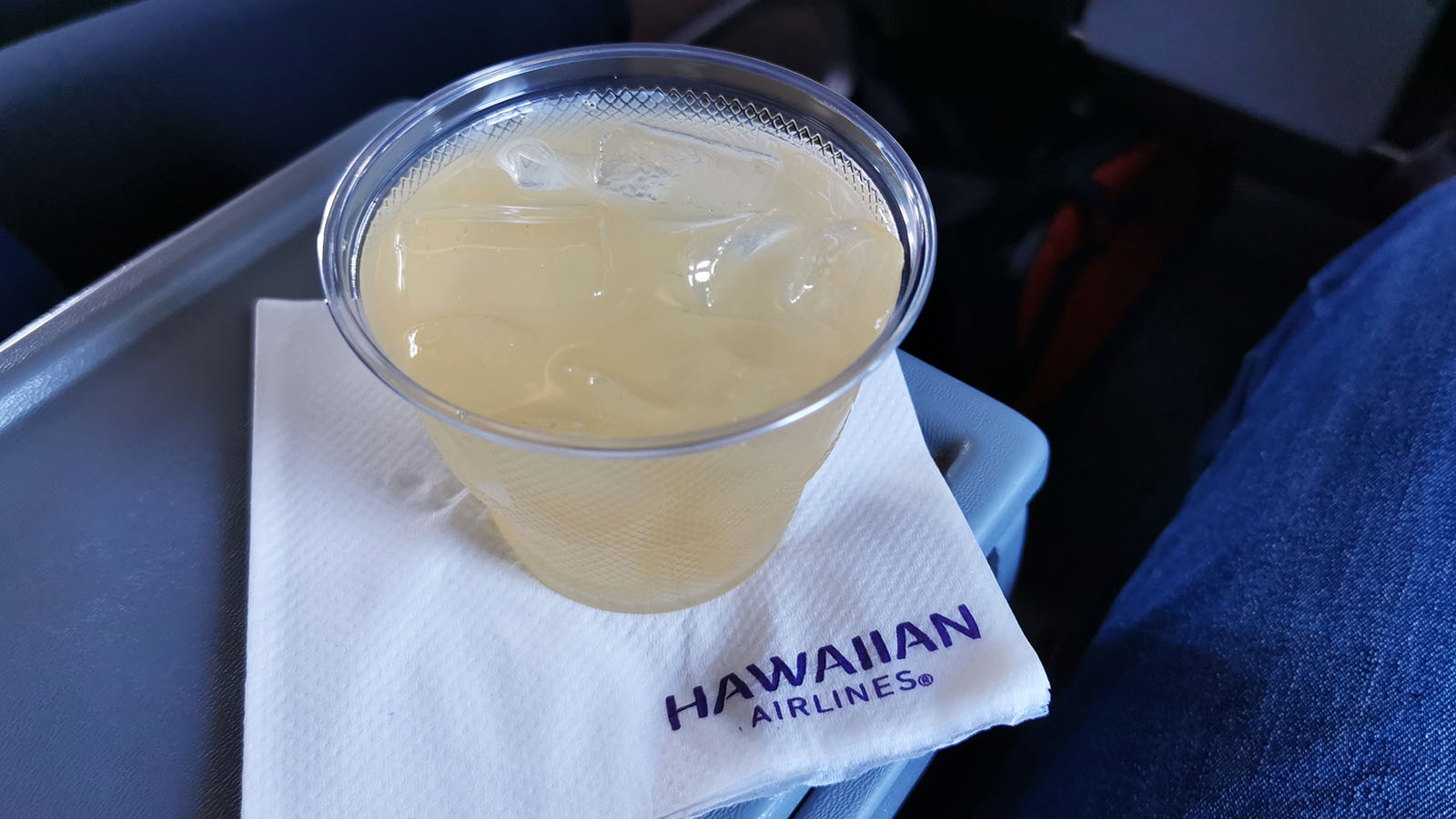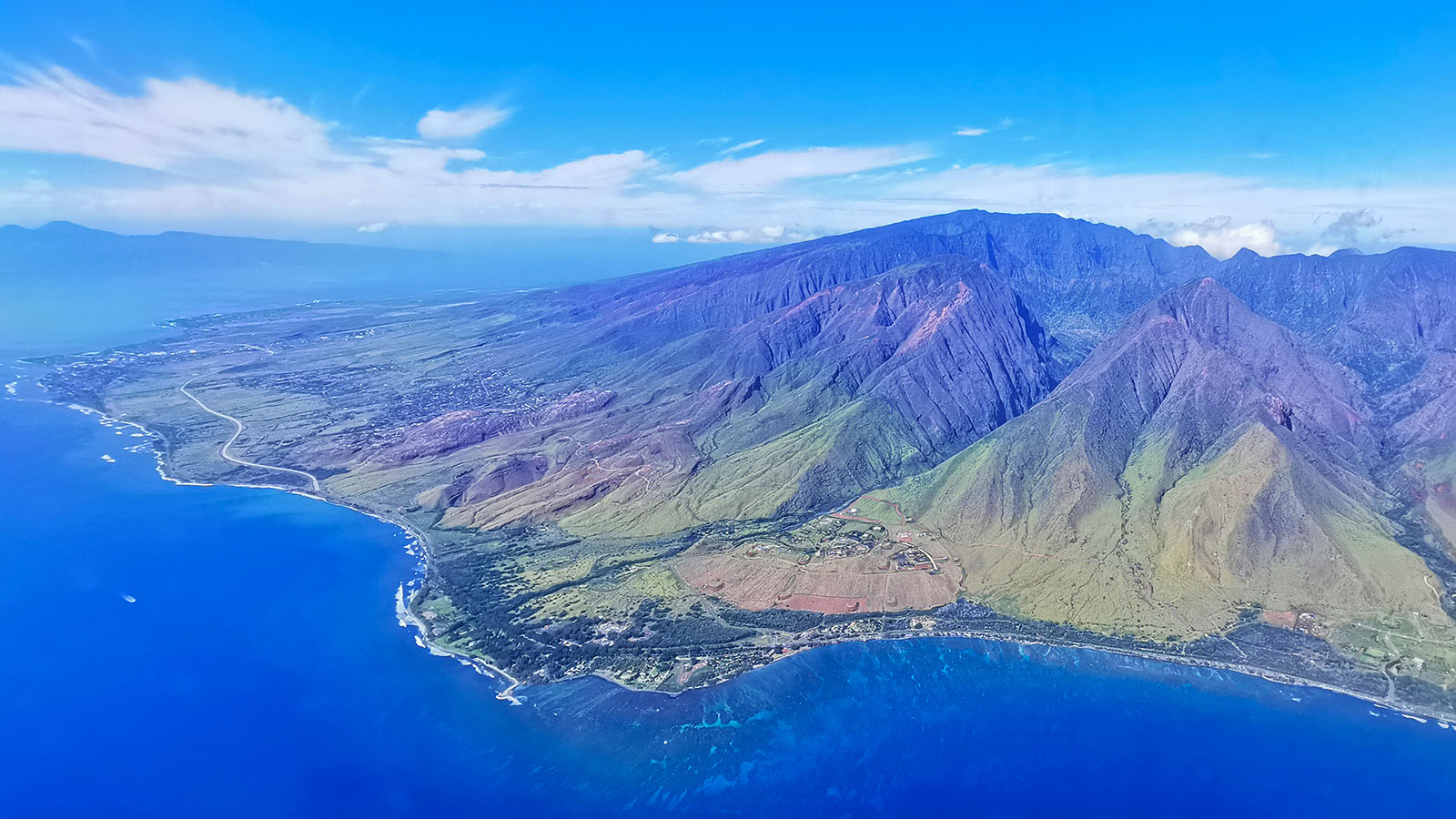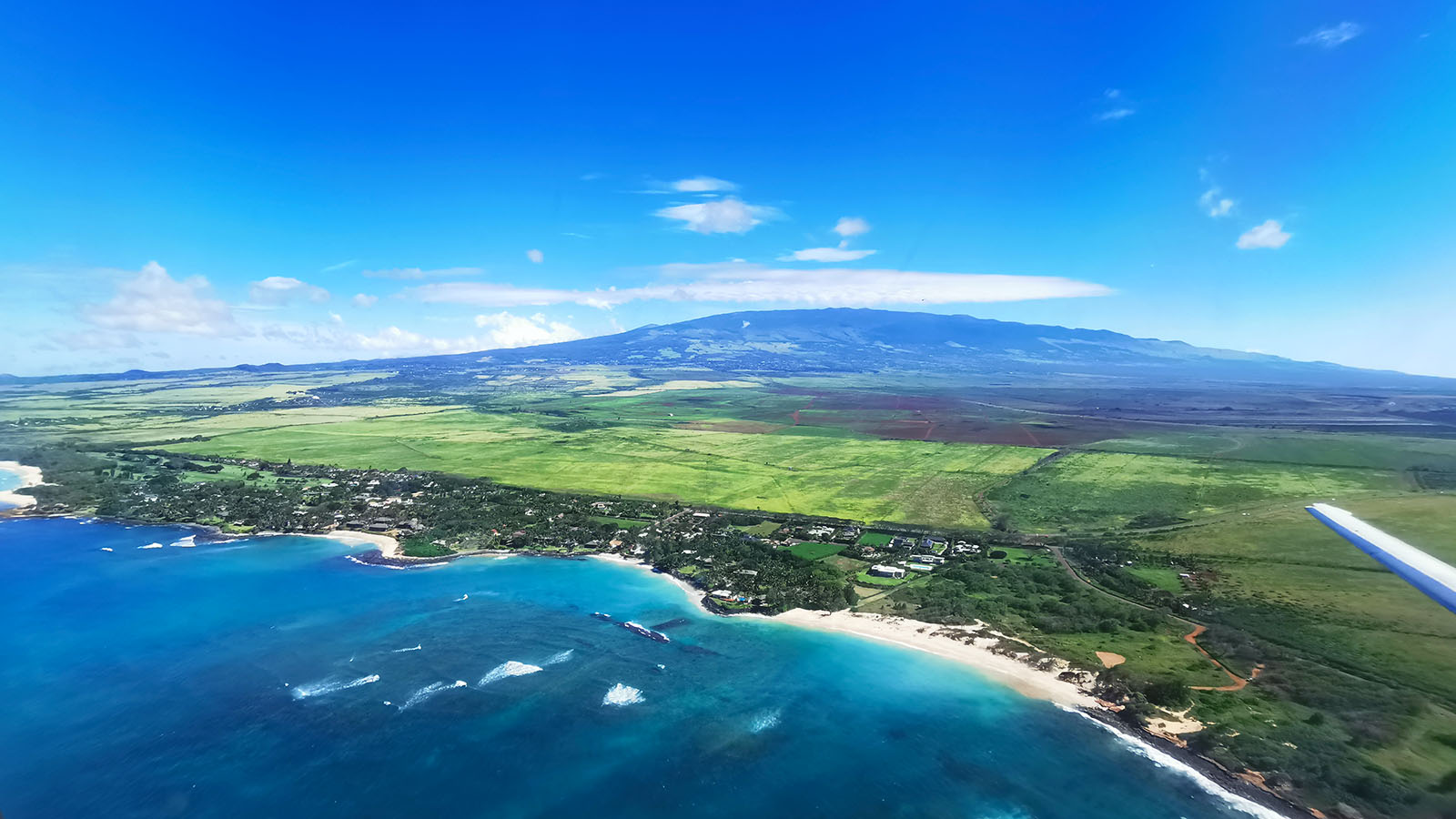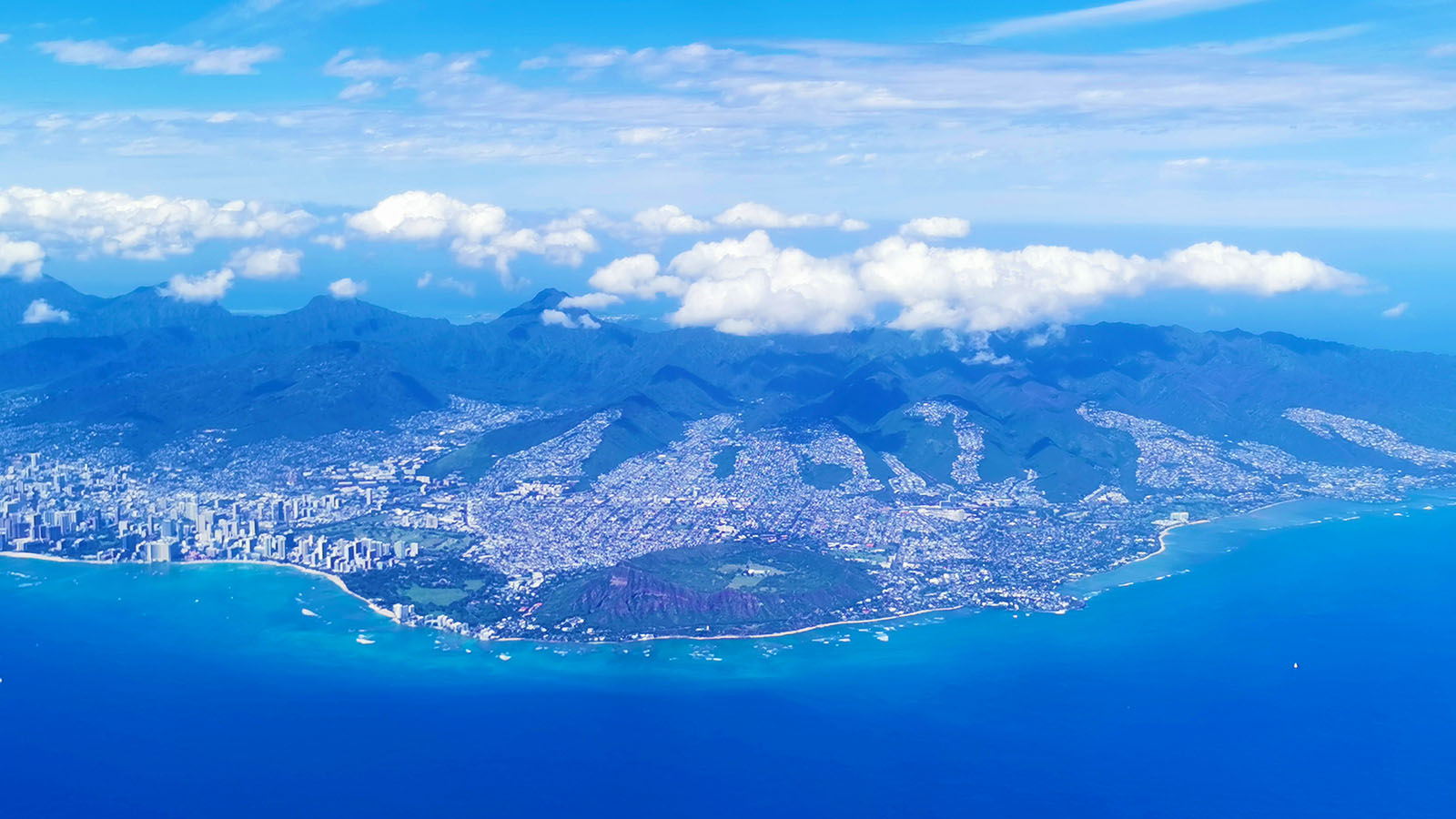 Flight review: Hawaiian Airlines Boeing 717 First Class (Honolulu – Maui)
Accommodation in Maui
Hotel Lahaina
Great for: couples, exploring on foot and being close to the action
Cost per person (based on twin share): ~AU$790 for two nights
Let's tackle the elephant in the room. Maui can be expensive – which is why it makes so much sense to fly using points. That means saving your cash for when you're on the ground. When it comes to Maui hotels, prices are more than you'd pay somewhere like Sydney, sure. But shopping around can pay some real dividends.
At a quick glance, accommodation in Maui can easily run to $2,000+ per night. And as somebody who often gravitates towards chain hotels with loyalty programs, that's what I kept seeing when searching. Yet by exploring further, I came across a charming alternative – Hotel Lahaina.
It's a quaint boutique hotel, kept in tip-top shape and right near the action. My room has a balcony with views of the beach and a cute rocking chair – charmingly adjacent to an American flag. That beach, restaurants, shops and other points of sightseeing are all a short, easy walk away.
Curious to explore the neighbourhood, I deliberately avoid booking breakfast via the hotel. Instead, I find a great local café next door – simply named Cafe Cafe Maui. It's so good, in fact, that I'm not even tempted to try somewhere else the next day.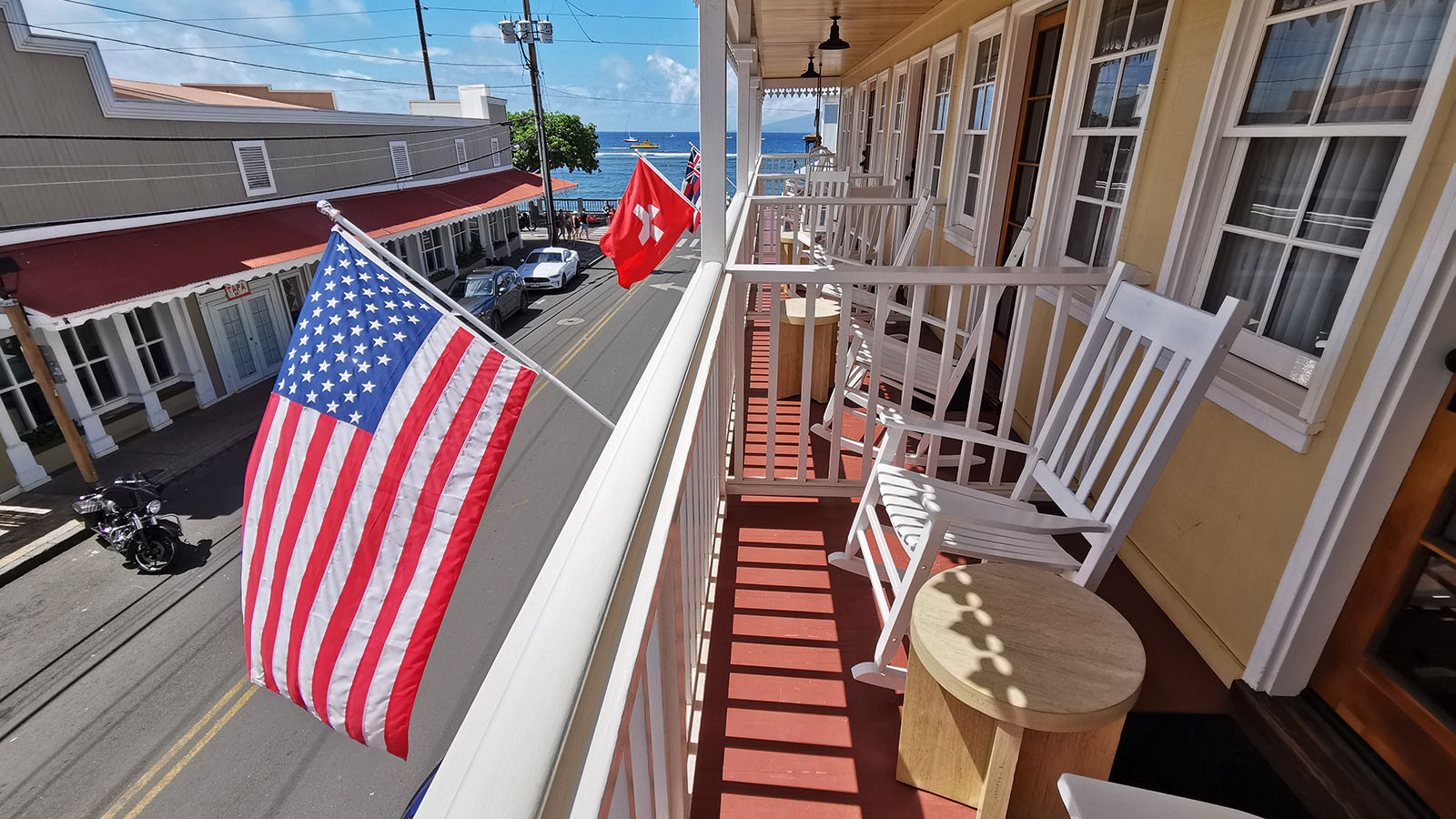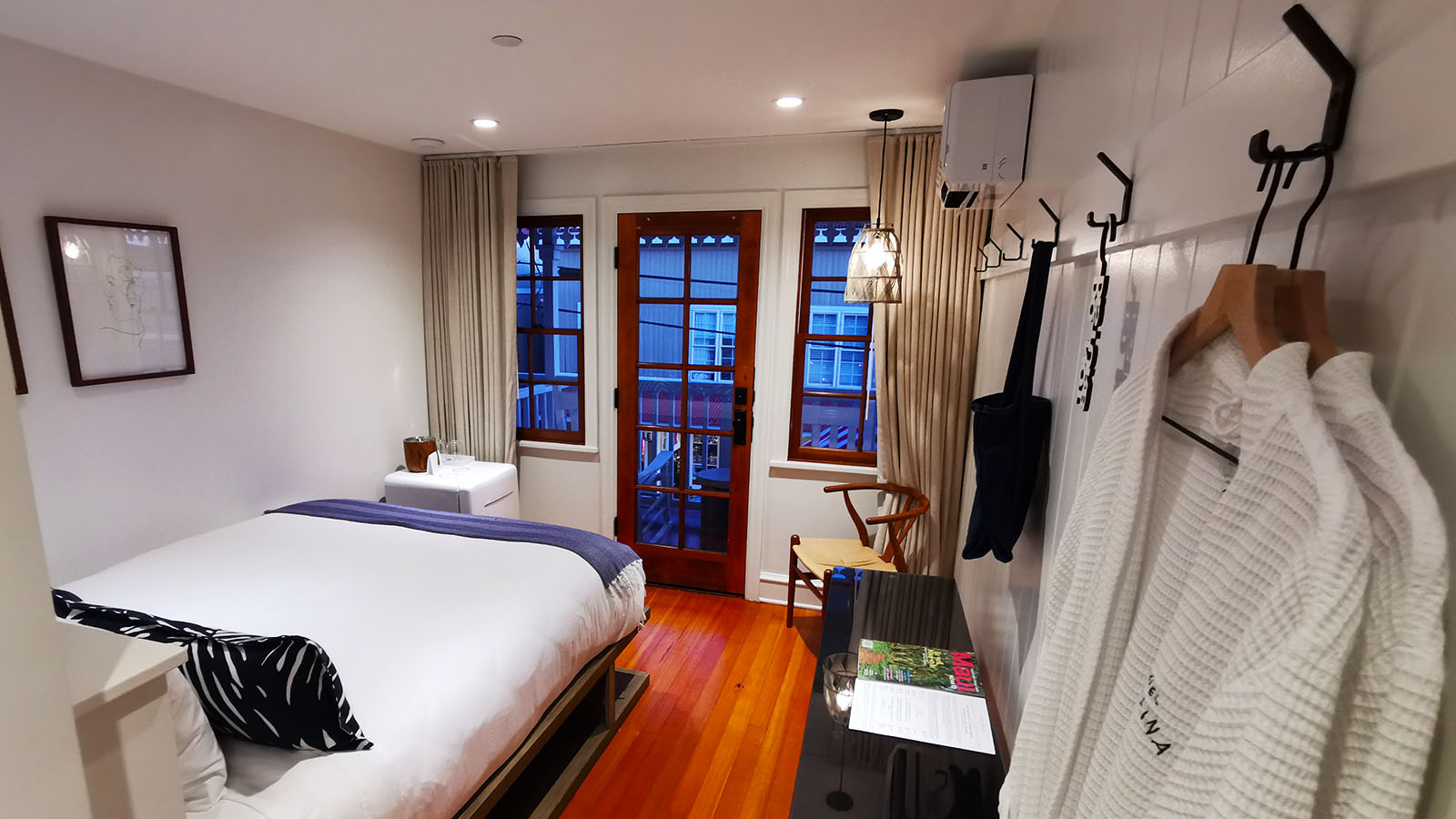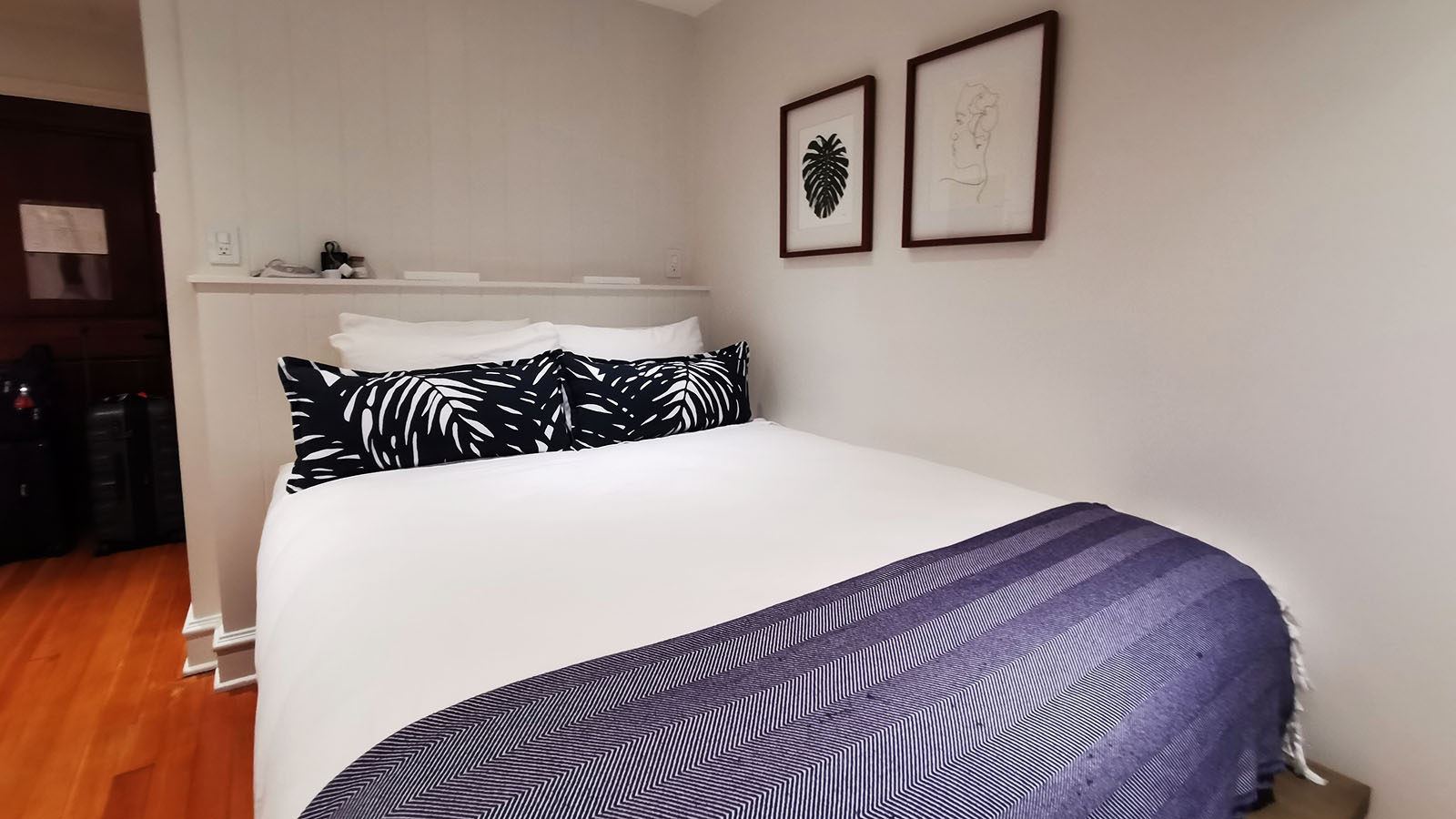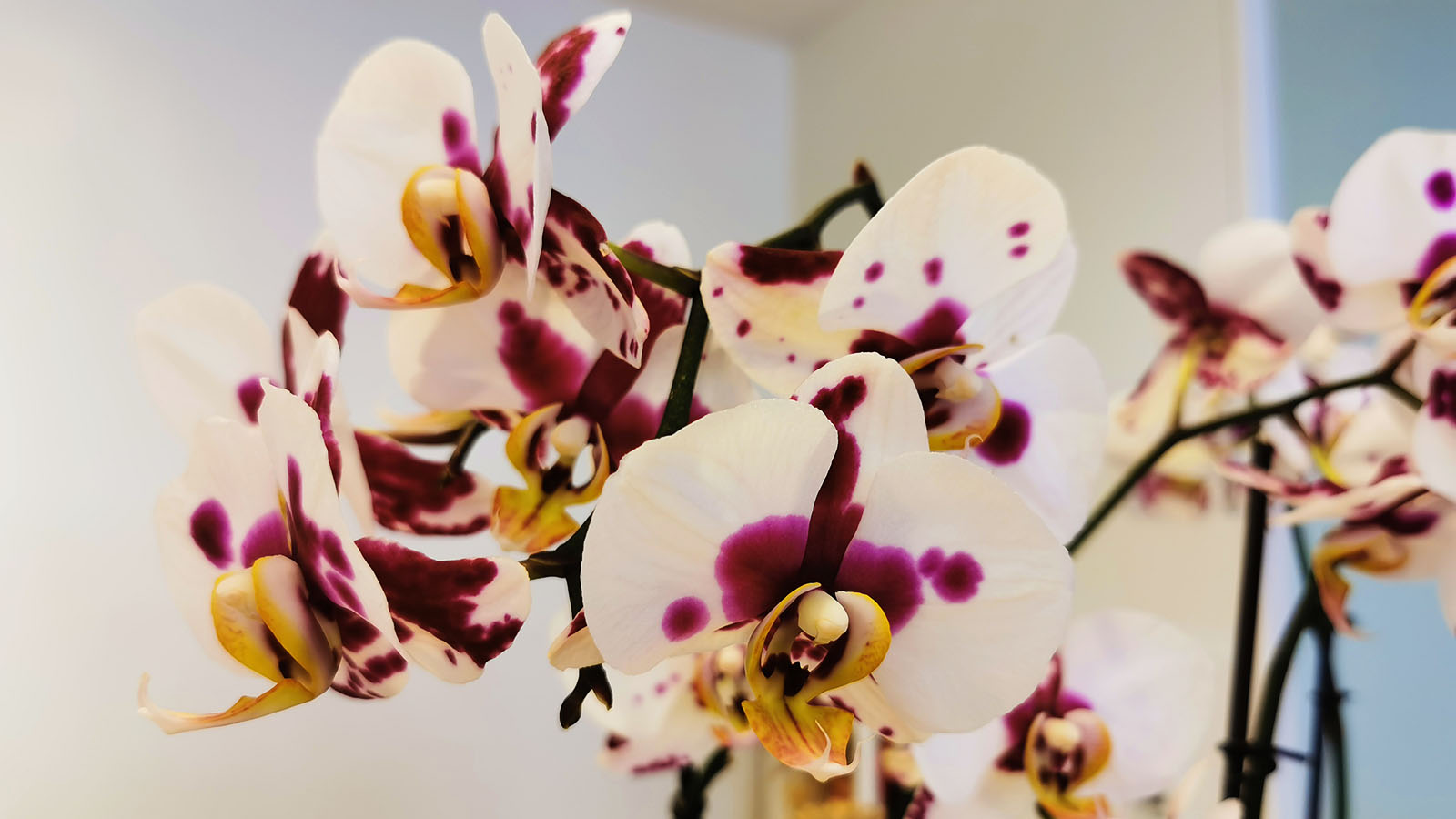 By booking via Qantas Hotels, I'm credited with 4,740 Qantas Points after my stay. I also land a further 2,370 Qantas Points, courtesy of my Qantas Points Club Plus membership.
Maui two-day itinerary
There's a lot to see and do in Maui, and two full days is the bare minimum. I'm curious to see some of the best sights without breaking the bank, so I make the most of every moment. Here's a look at how I spent my time, along with a few extra ideas for some variety.
Day 1: Maui
Morning: It doesn't take long before I hit the sand and dip my toes into the water. After all, I am staying right near the beach. I get the lay of the land, explore the local shops and suss out a great place for dinner. I make a pit stop for a 'shave ice' – a very refreshing Hawaiian favourite.
Afternoon: I take an Uber to the north of the island. There's a tremendous golf course here near The Ritz-Carlton. If only I had time for a round! Instead, I take a brief hike along the path to explore the wonders of Dragon's Pointe, Makaluapuna Point and Dragon's Teeth. Just be respectful of the locals and avoid the burial grounds clearly signed towards the beginning of the trek.
Evening: You simply can't miss the sunset here. As the sun goes down, enjoy the vivid colours from the beach – or if you're keeping your feet dry for dinner, from the paved walkway trailing above. Oh, and speaking of dinner, you're spoiled for choice. Maui is a popular spot though, so book ahead – especially if you want a waterfront table for that sunset.
Here's a quick tip from an American friend of mine, which always serves me well. If you can't get a booking, just wander in and sit at the bar. I did just that at Kimo's Restaurant – one of the busiest restaurants in Lahaina – and as an added benefit, made some new friends along the way.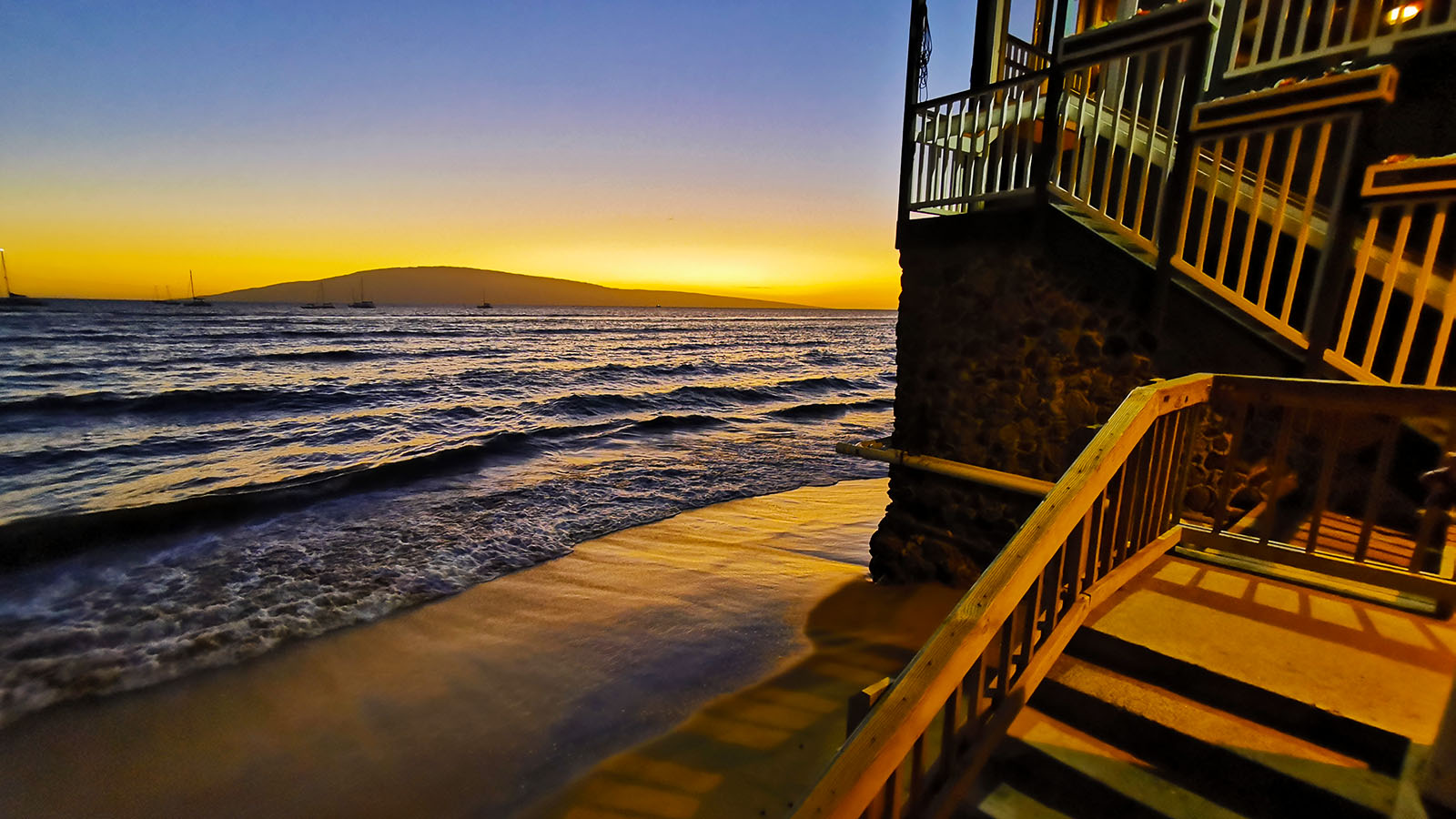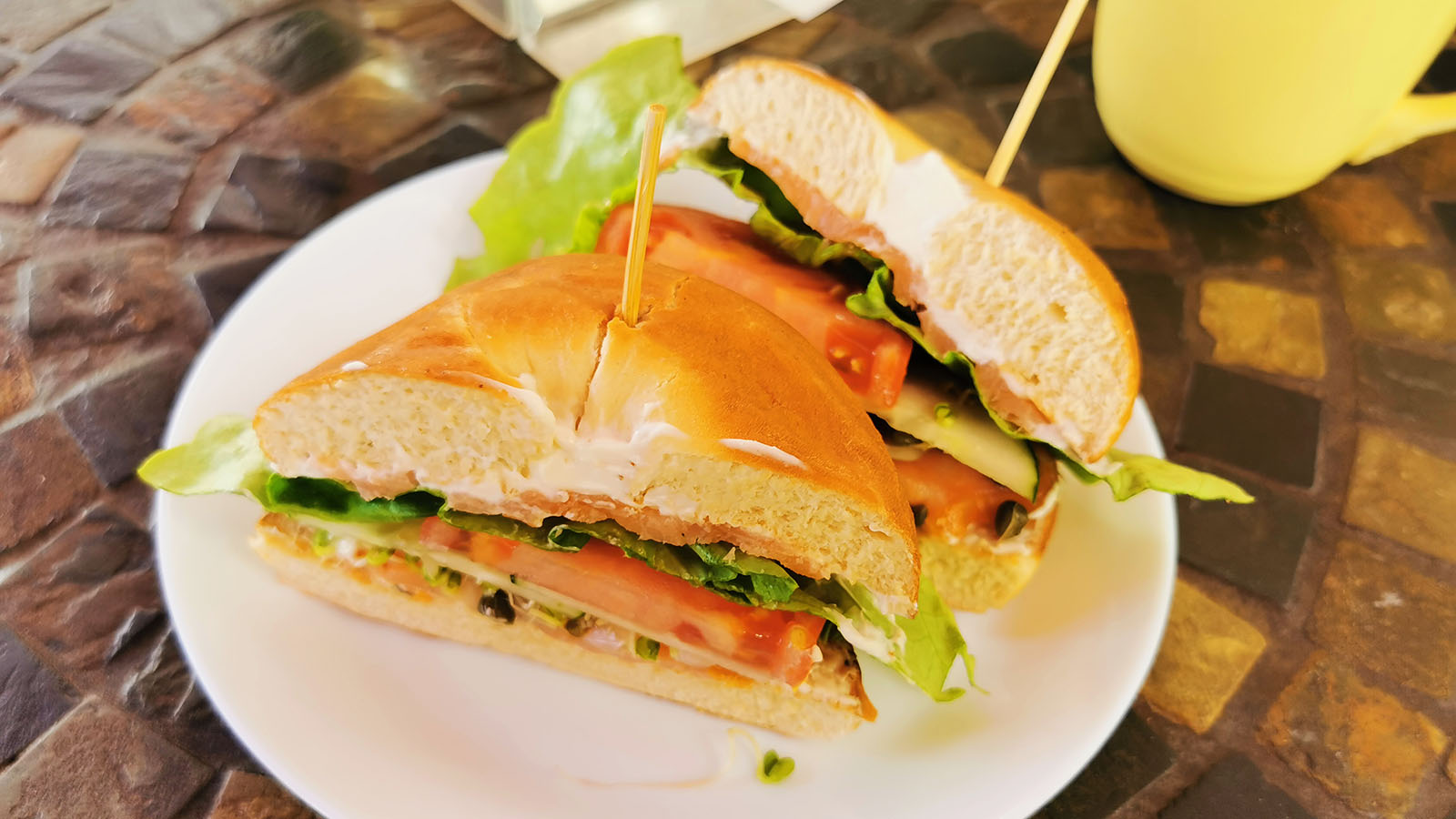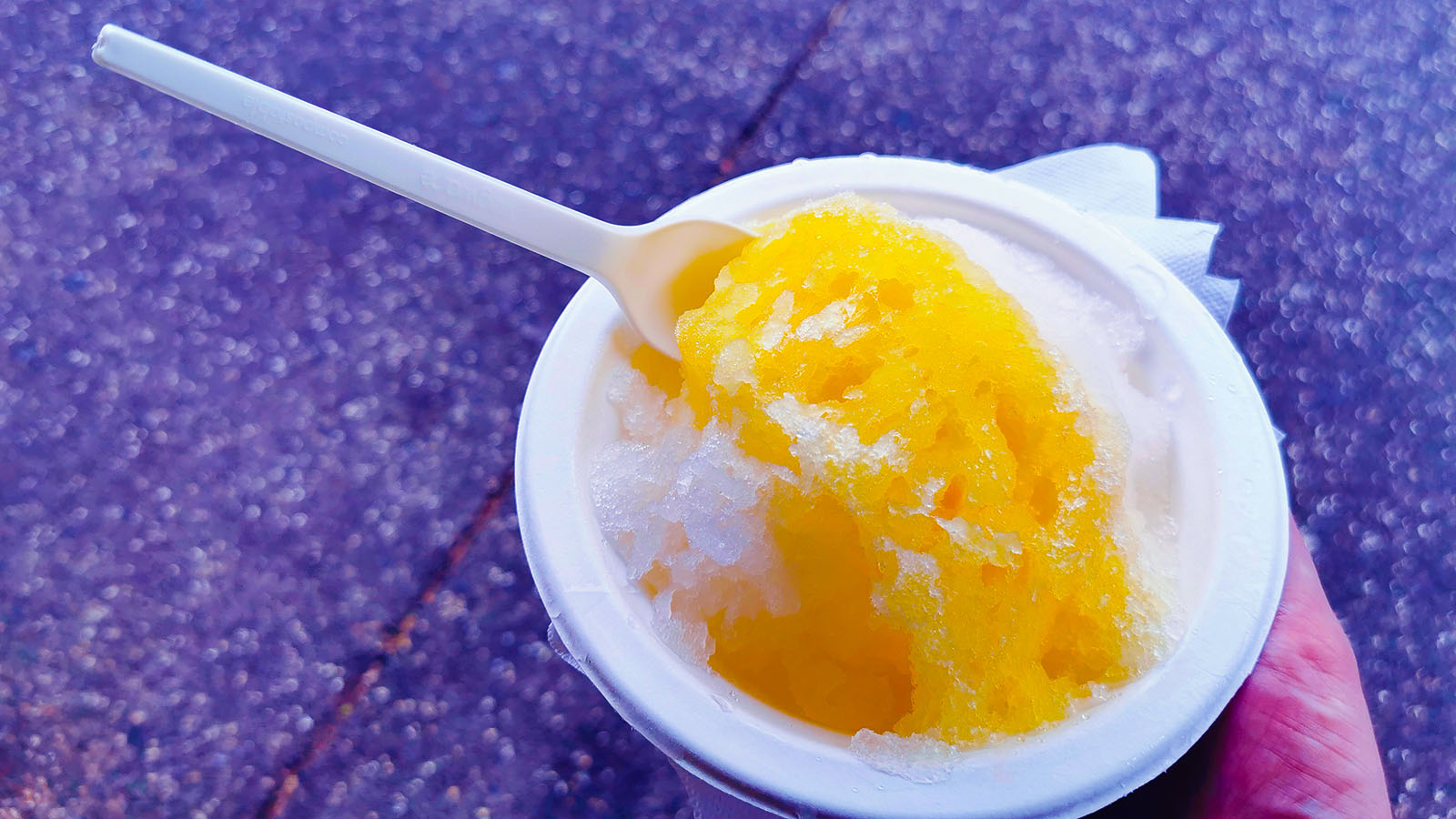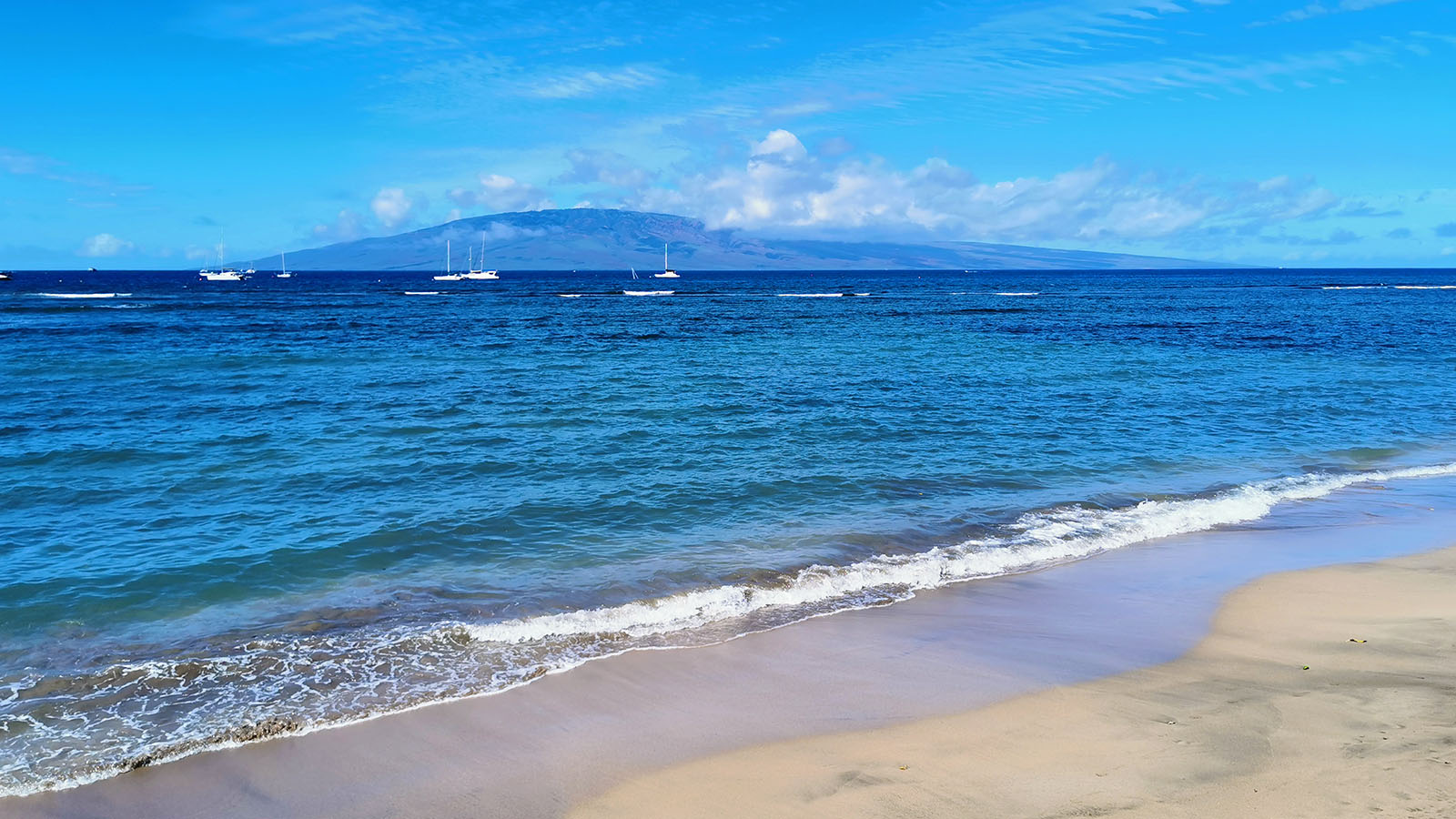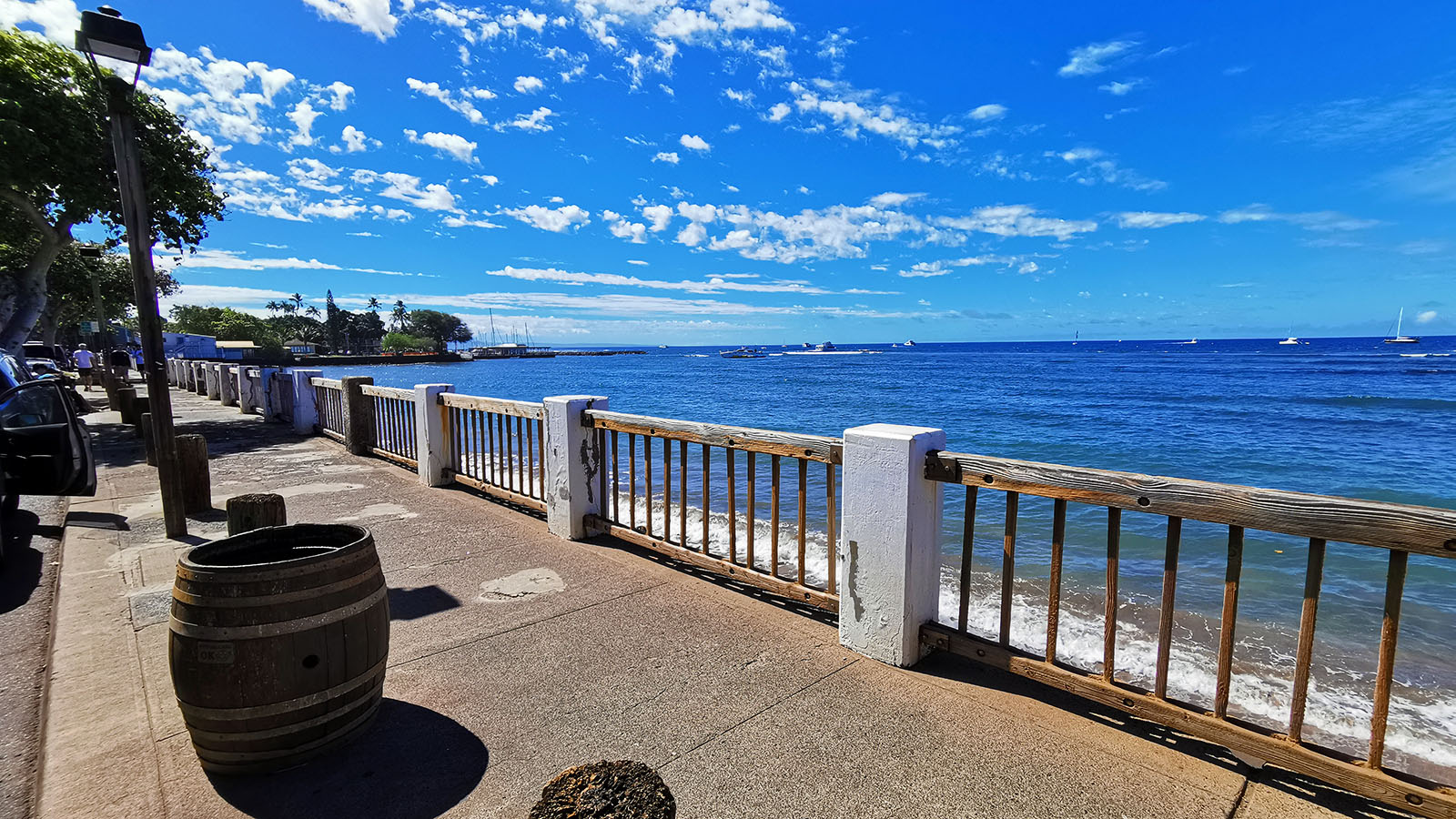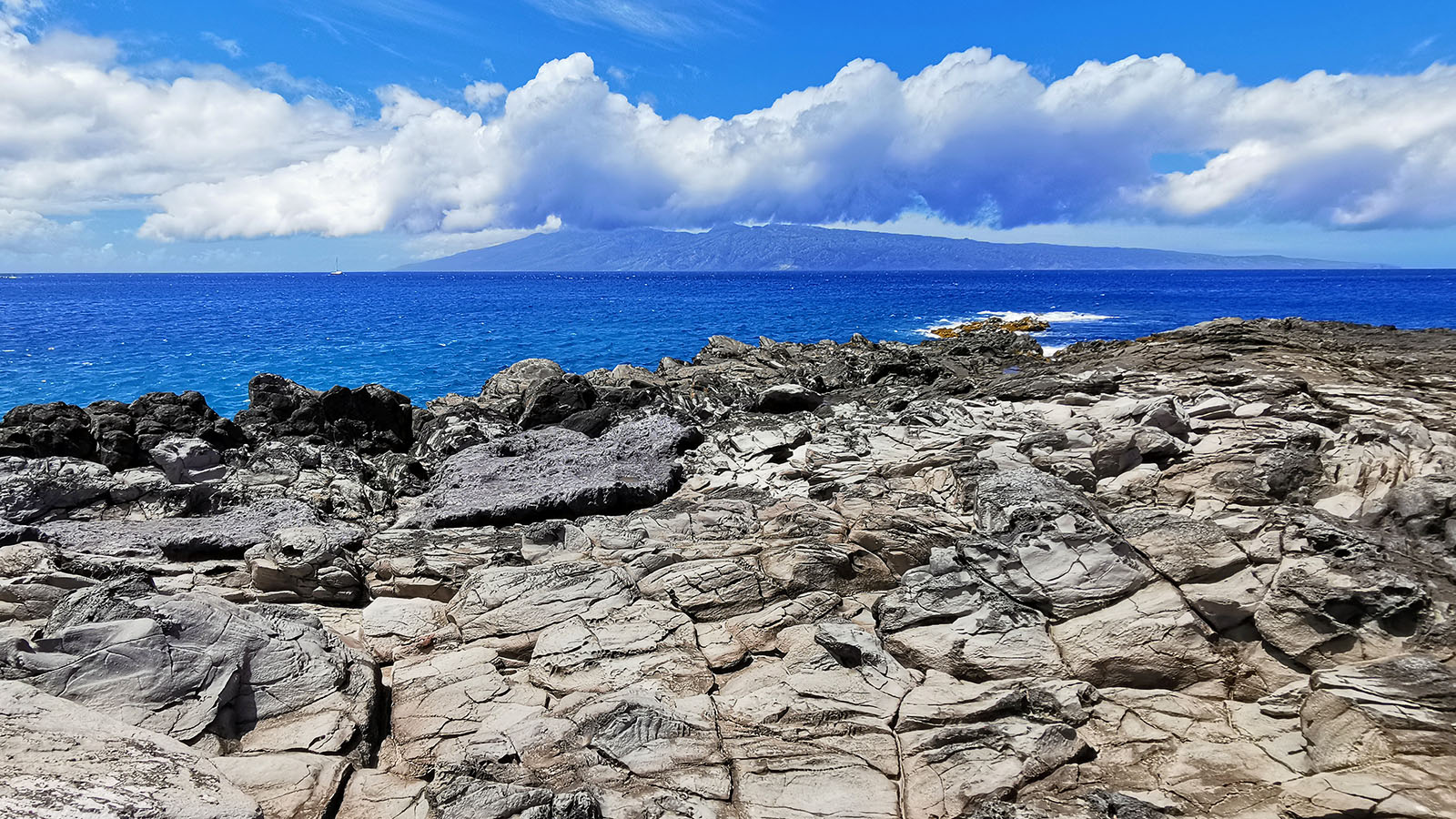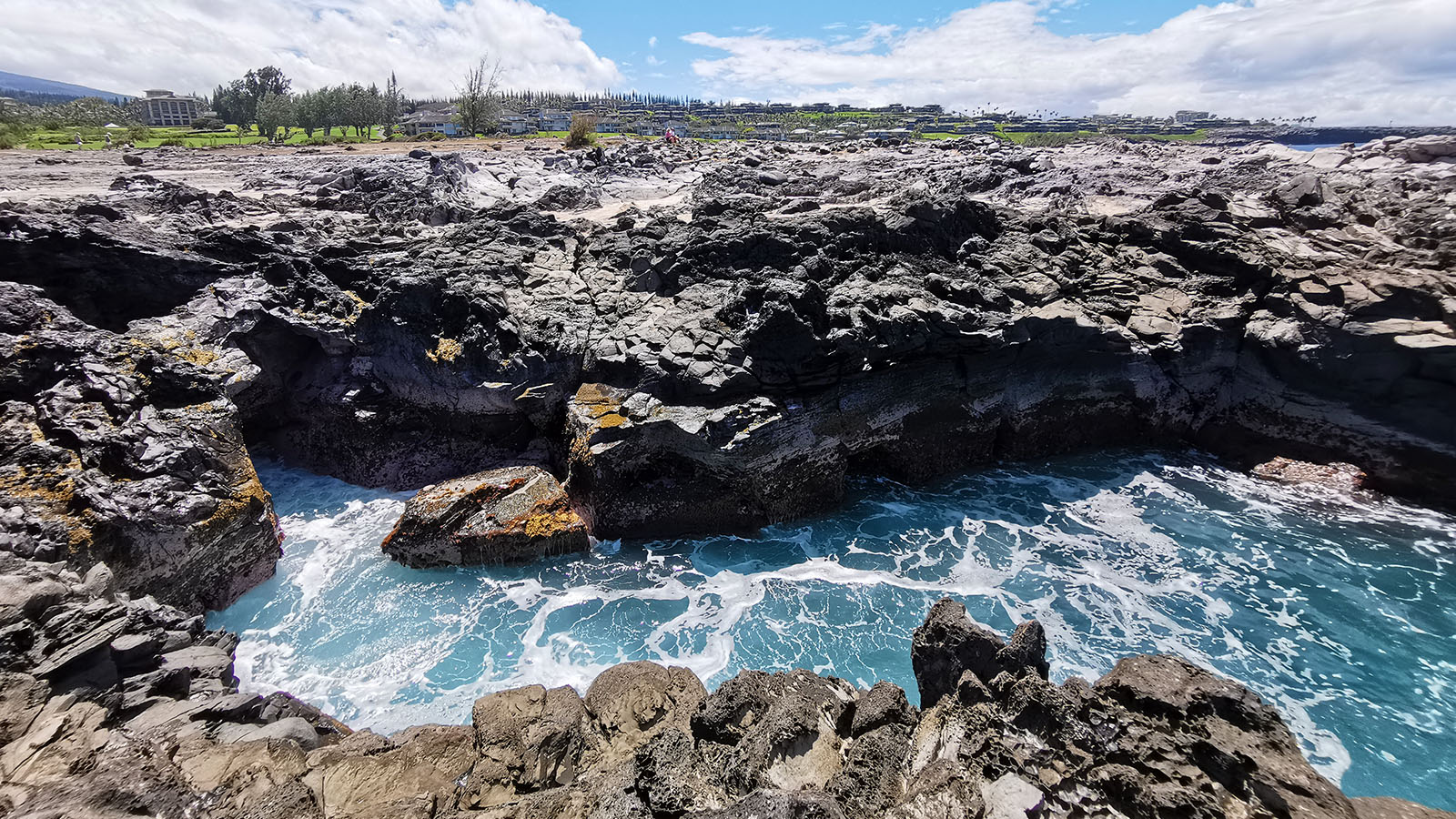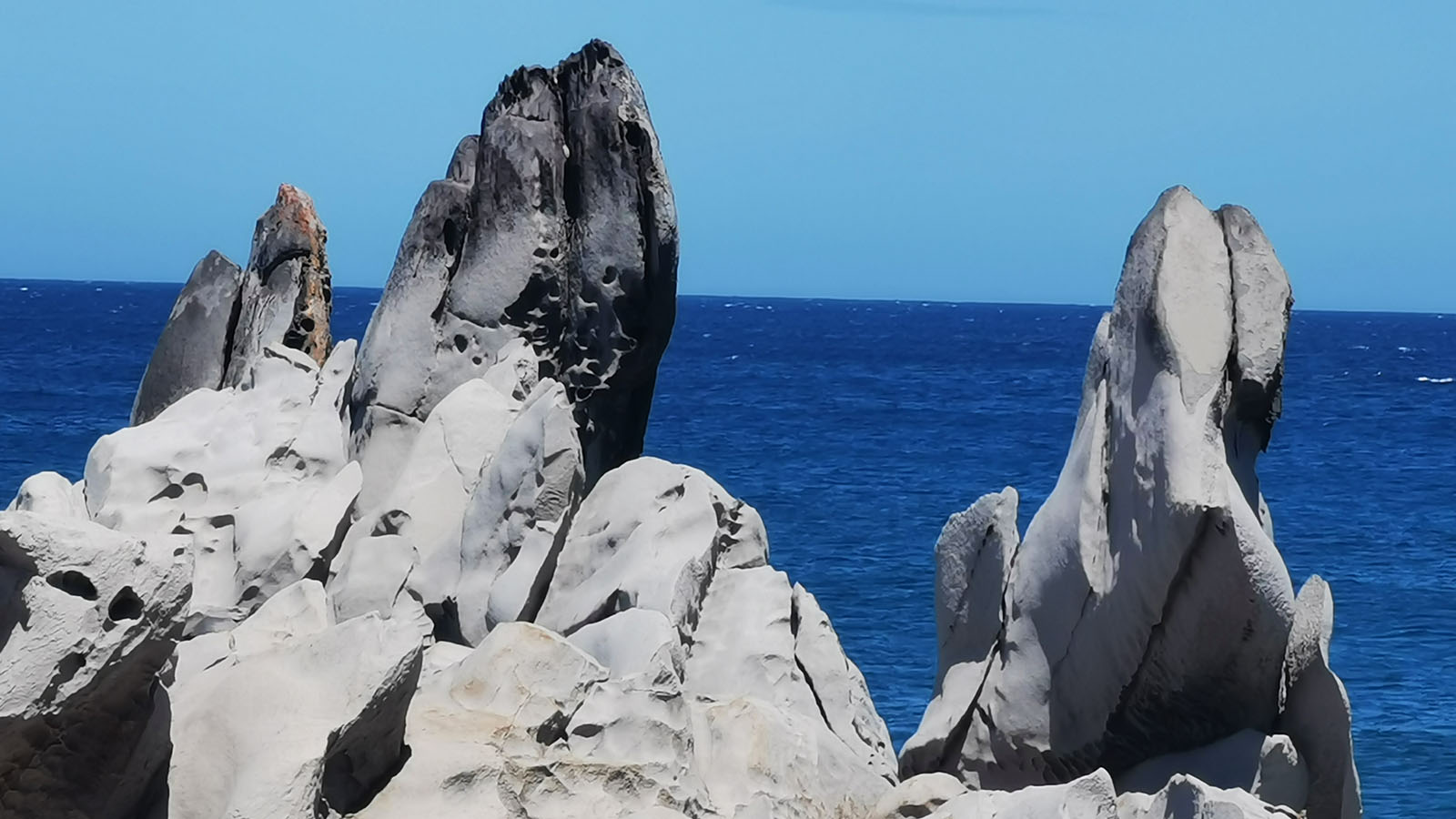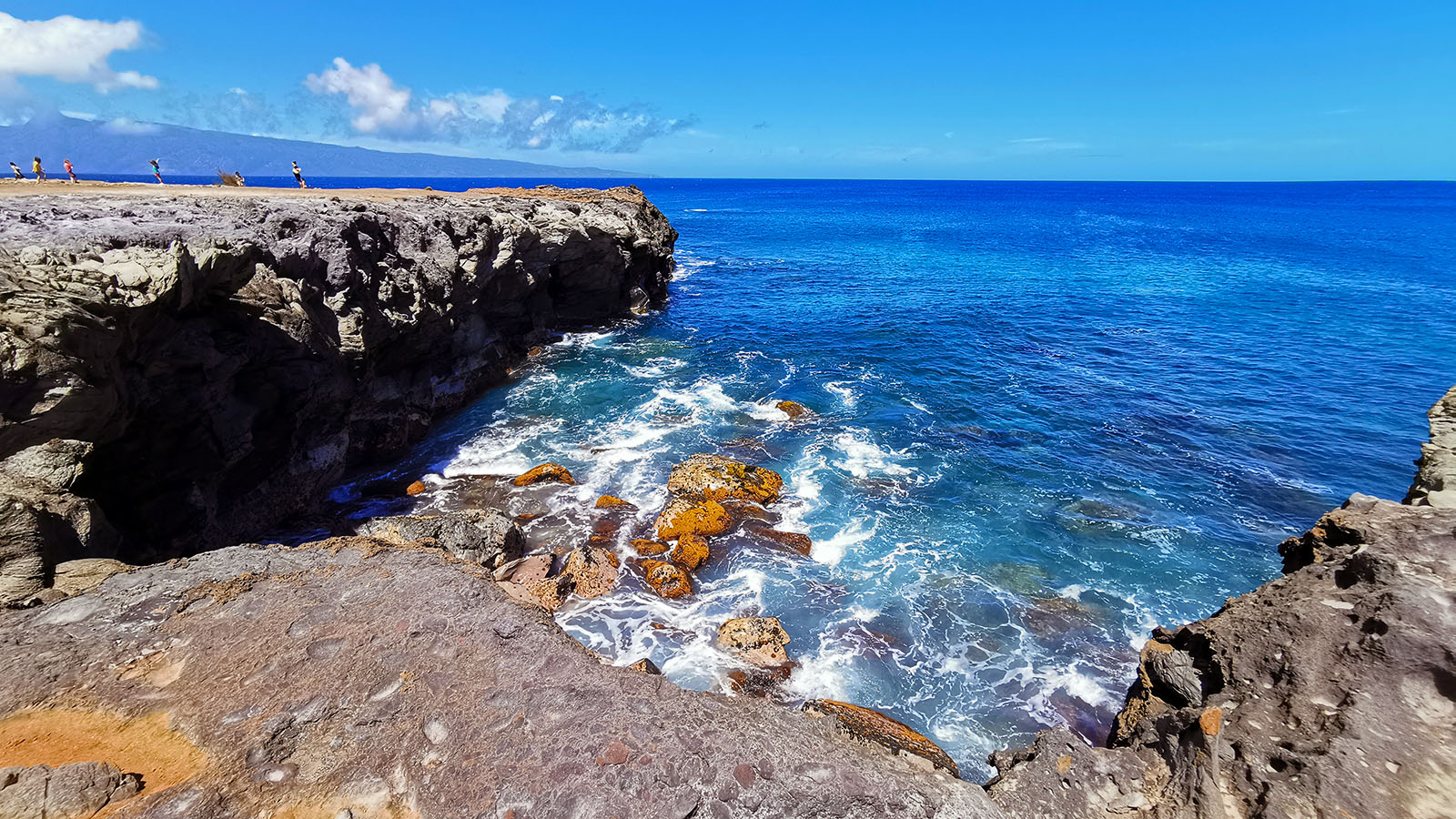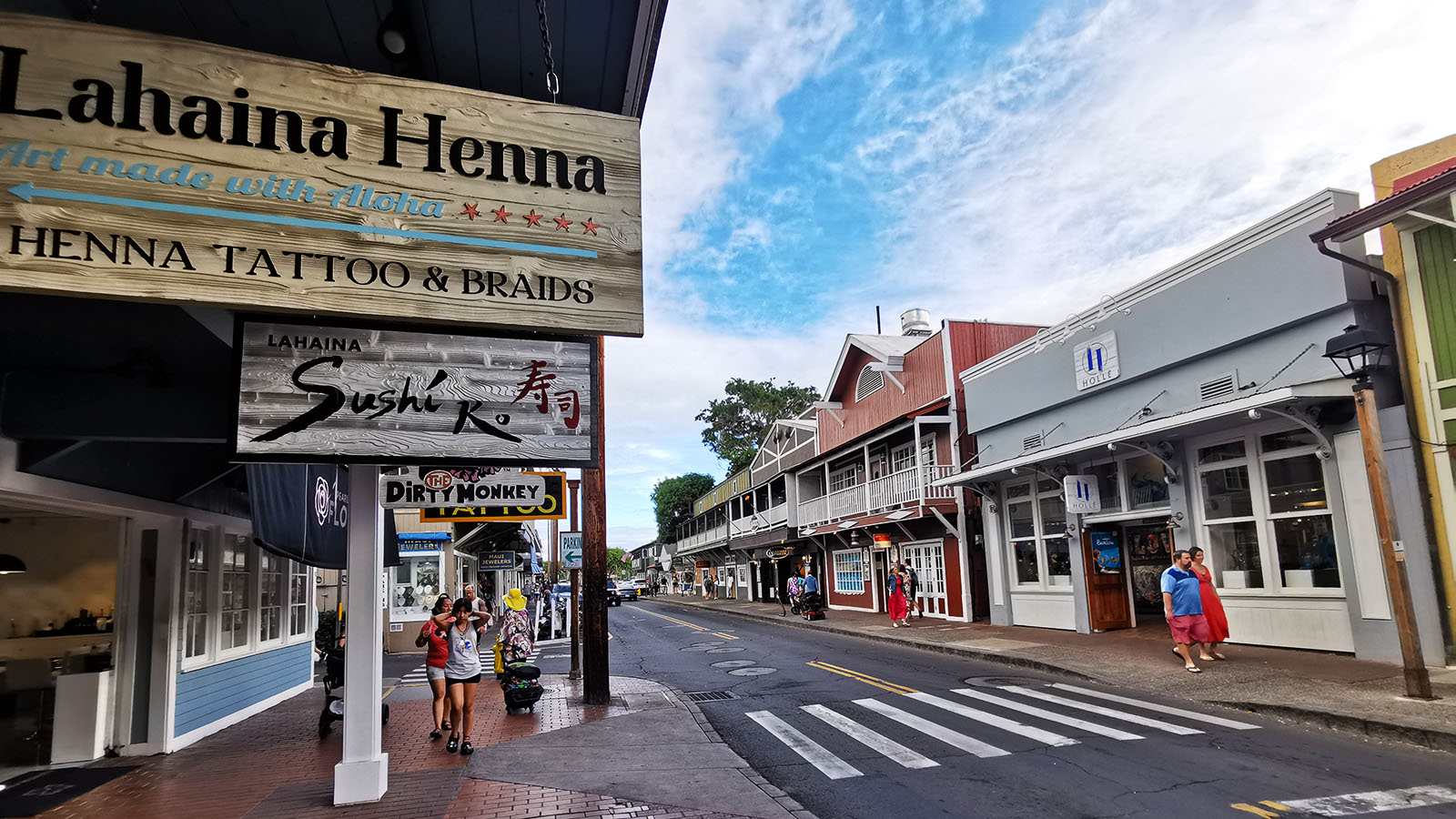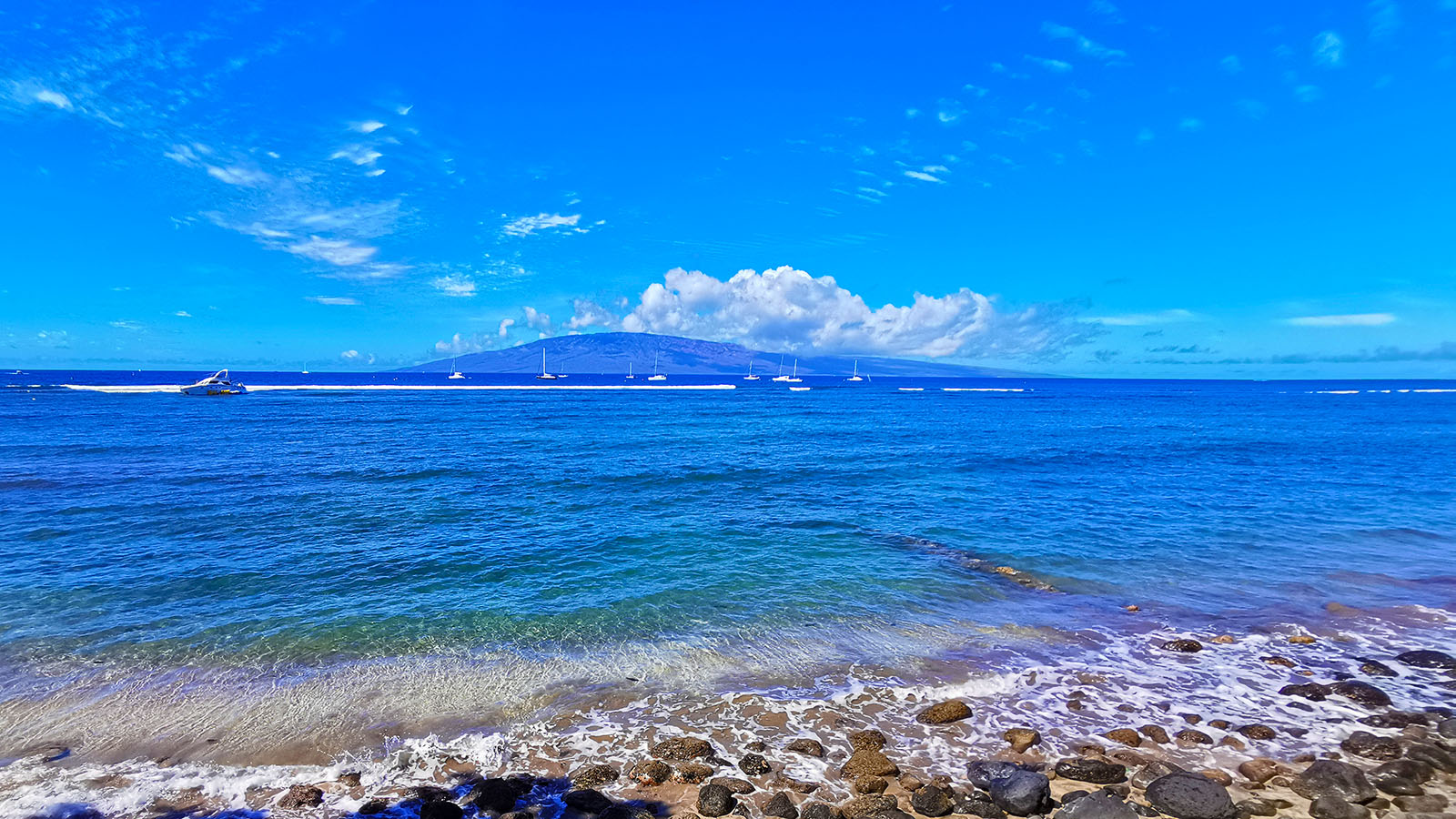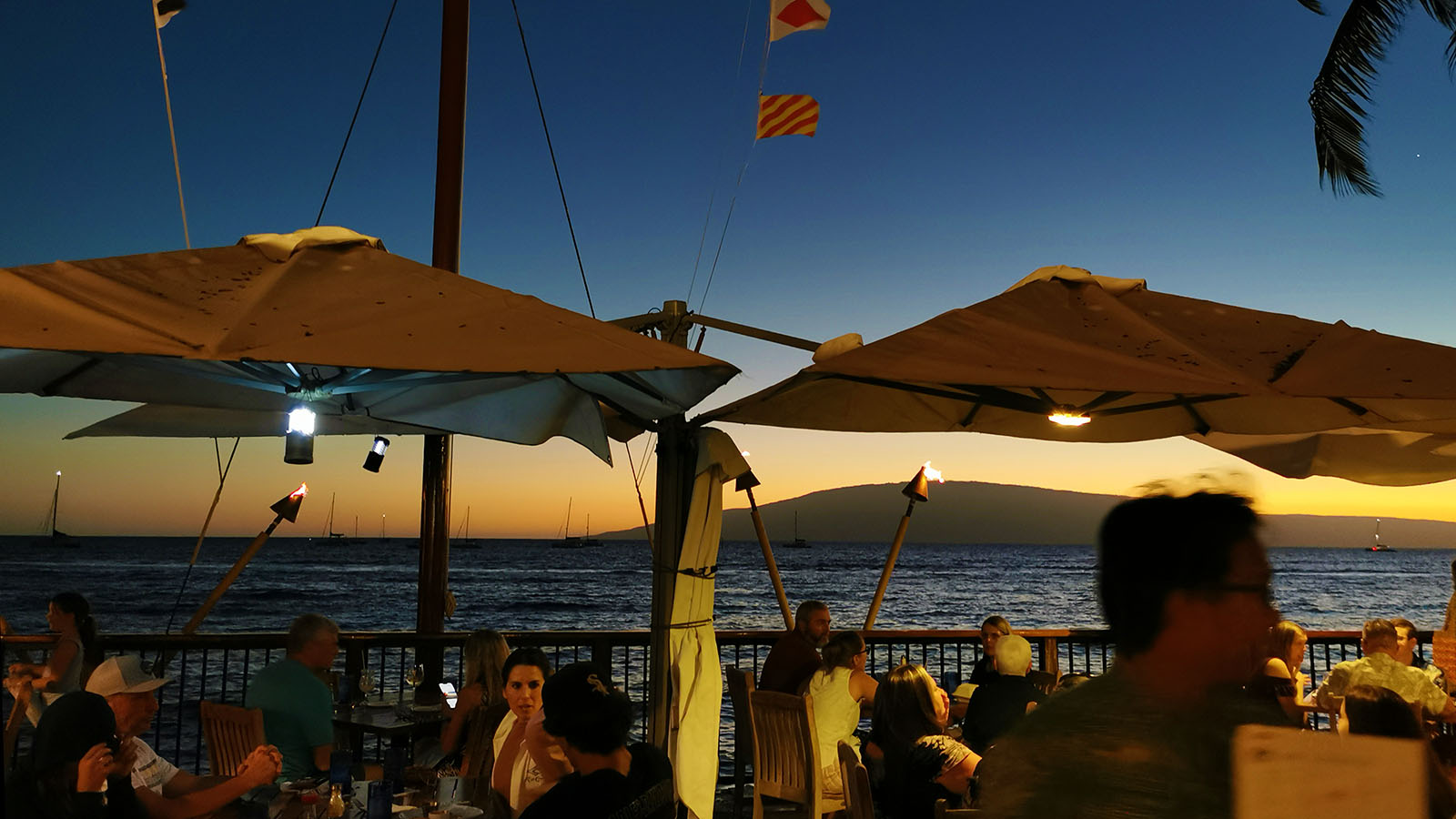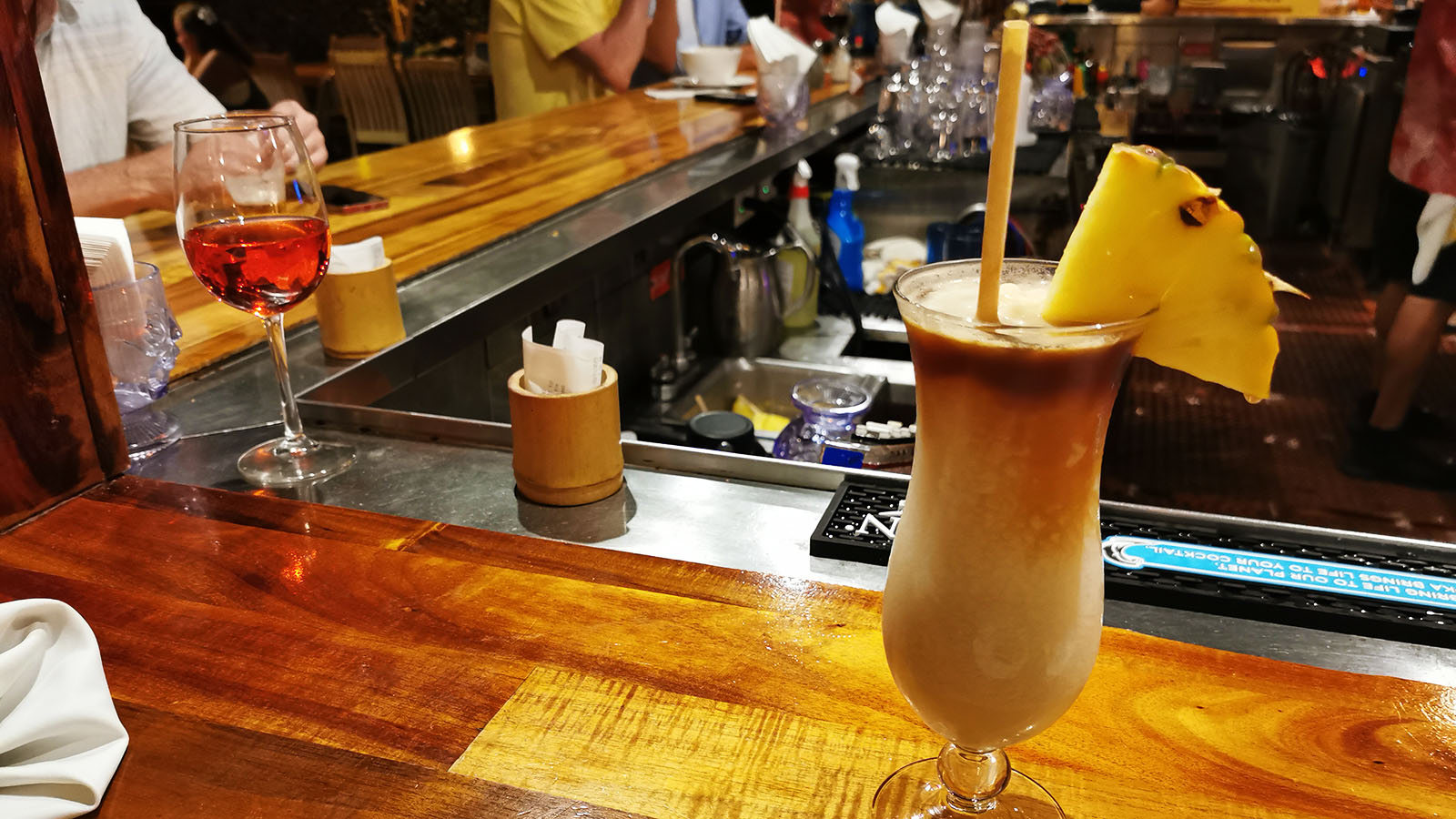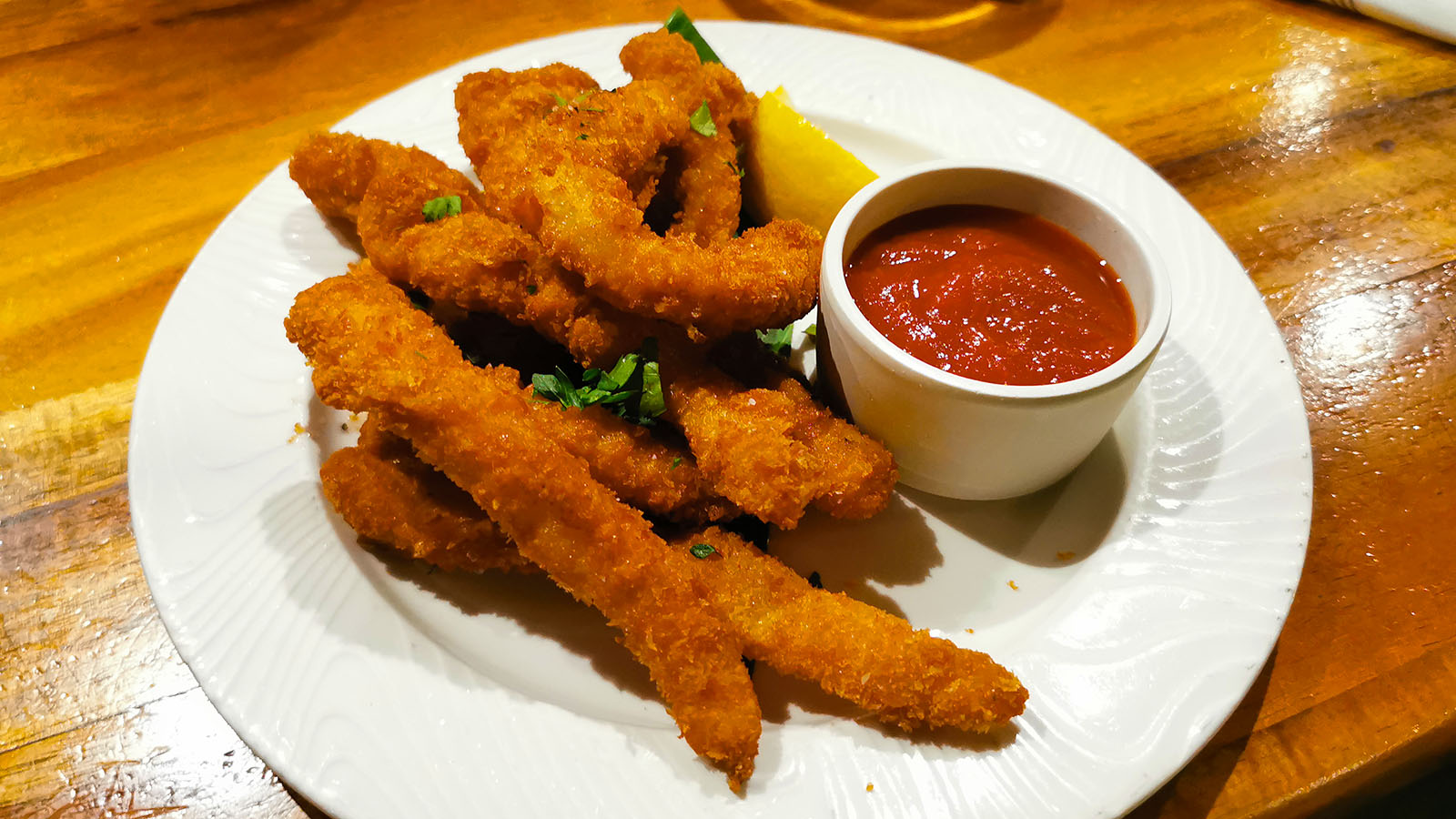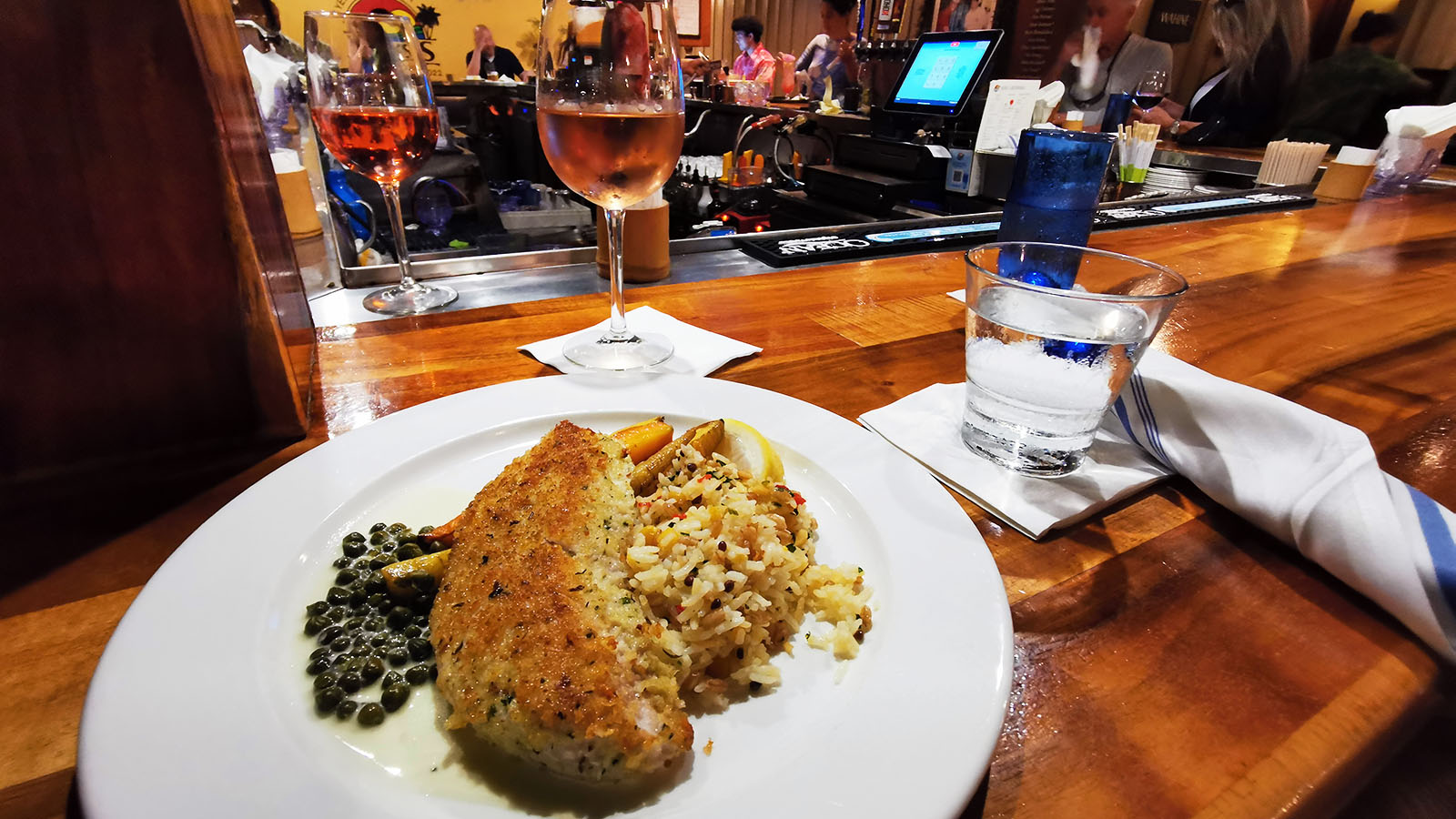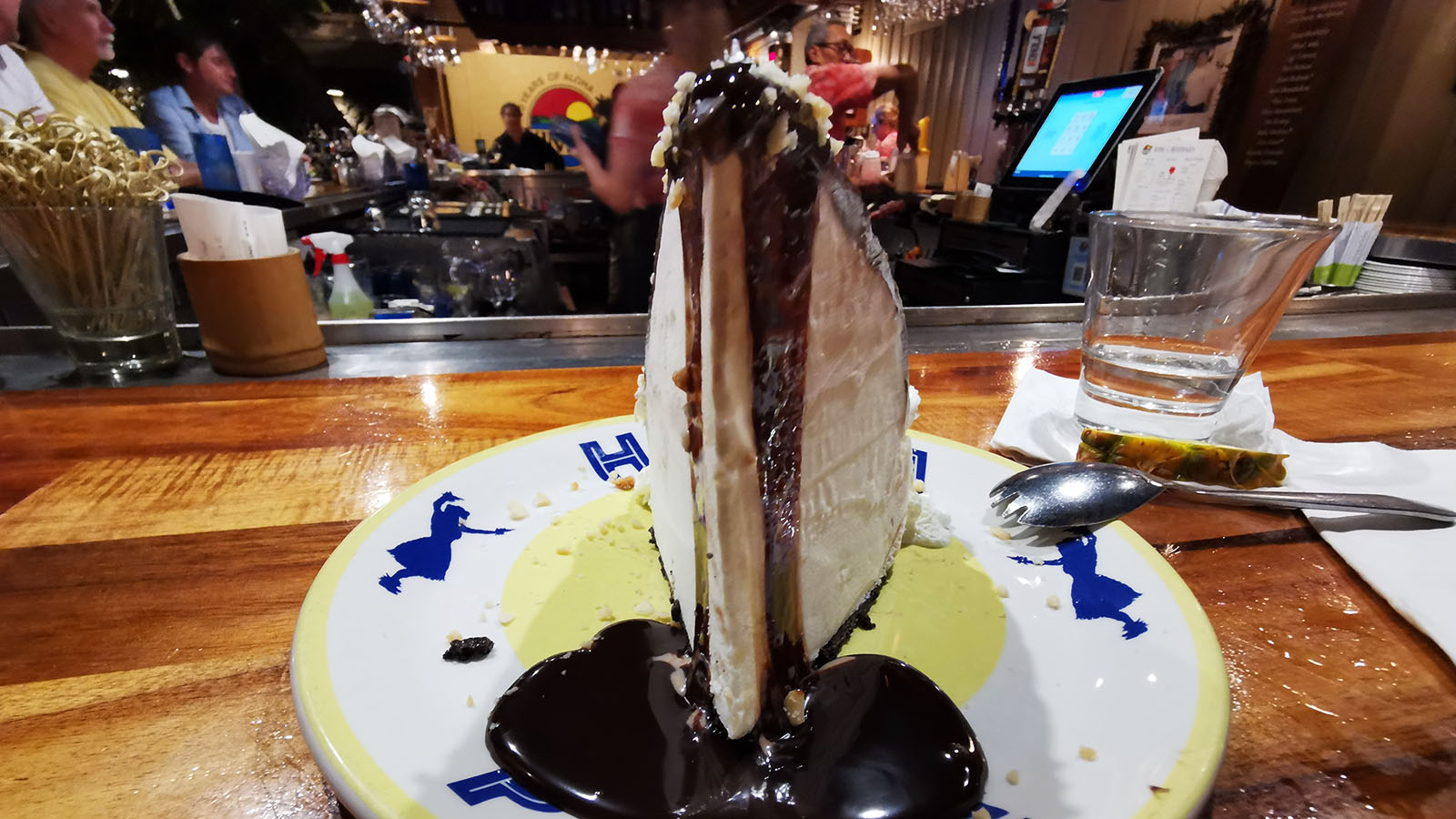 Day 2: Maui
Morning: I start my day with a delicious 'Hawaii double BLT and salmon' roll from Cafe Cafe Maui. That's the terrific local haunt right near Hotel Lahaina. From there, I wander further than the day prior – alongside Lahaina Harbor. It's interesting to explore all the sightseeing voyages at my disposal for future visits. But this time, I've already booked my adventure – and it's time to venture out.
Afternoon: I've never been whale watching, and here is the perfect place to start. I've booked a 'VIP' experience with Ultimate Whale Watch & Snorkel. Compared to the regular voyage, this provides more space on the boat. Translation: better views and fewer people to contend with. My ticket costs about AU$156, and it's money well spent.
For something different, Maui Zipline can have you soaring over the scenery – and it's something I plan to do when I next return. Book in advance to secure a time that gels with the rest of your sightseeing plans.
Evening: After my VIP whale watching tour, I look for something more casual (and cost-effective). Dinner at Cheeseburger in Paradise is it. But, I don't have to have a cheeseburger. Instead, I go for a mince salad. It gives me my 'cheeseburger' fix (and taste) without the guilt. And in a place like this, I knew it'd be good. Here, I enjoy a last glimpse of the sunset. I retire to my rocking chair with a cheeky glass of bubbles. Bliss.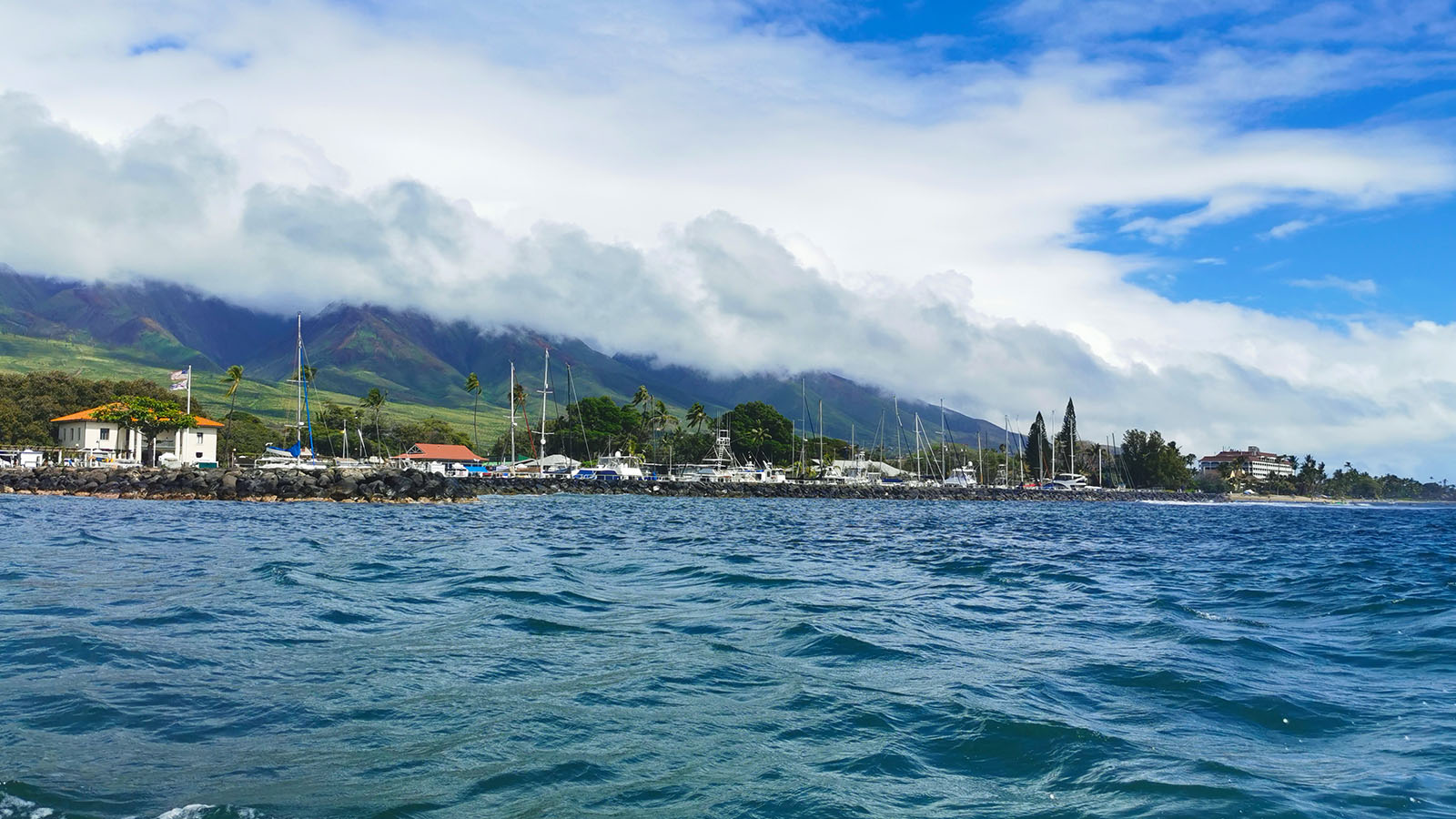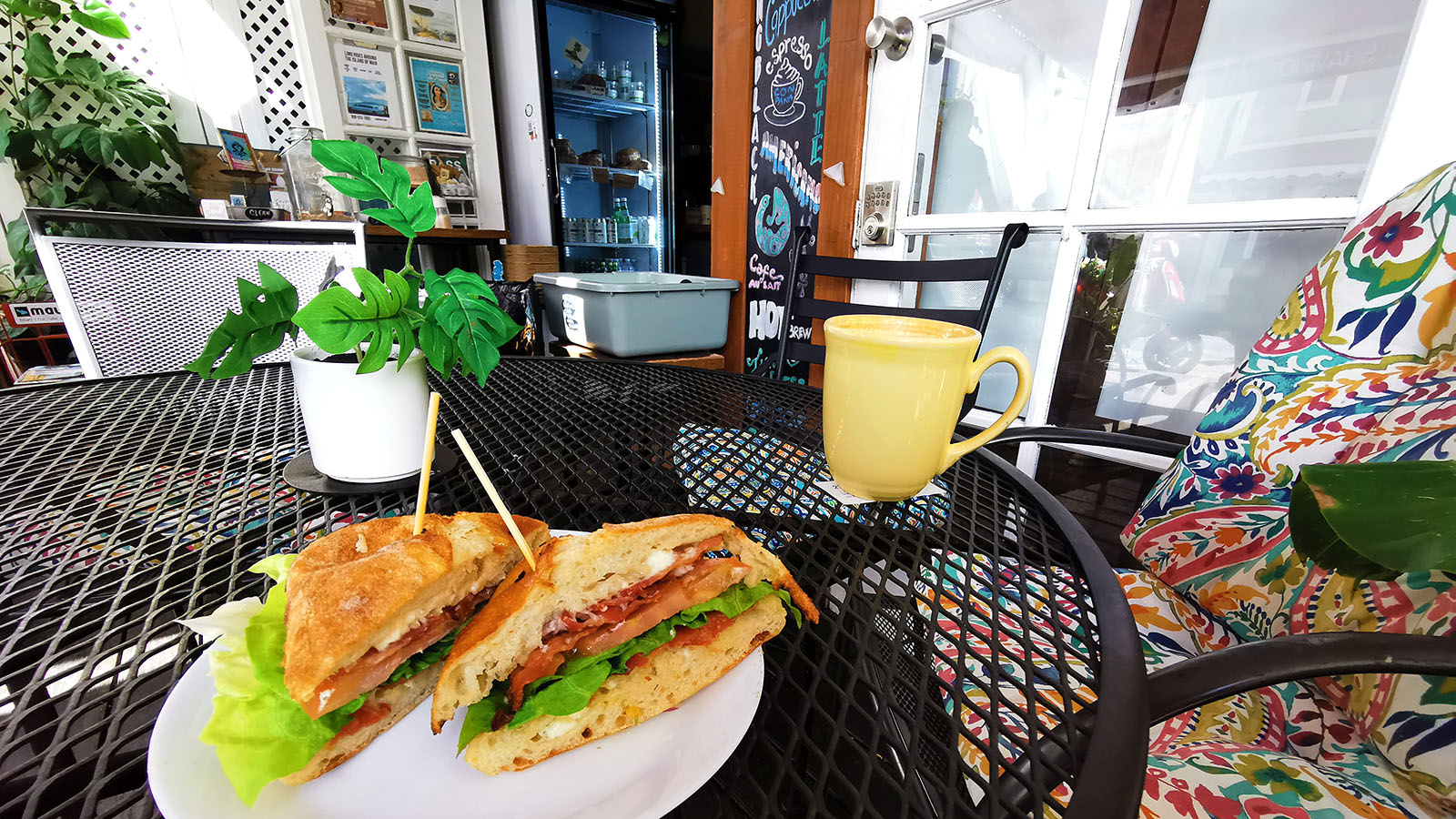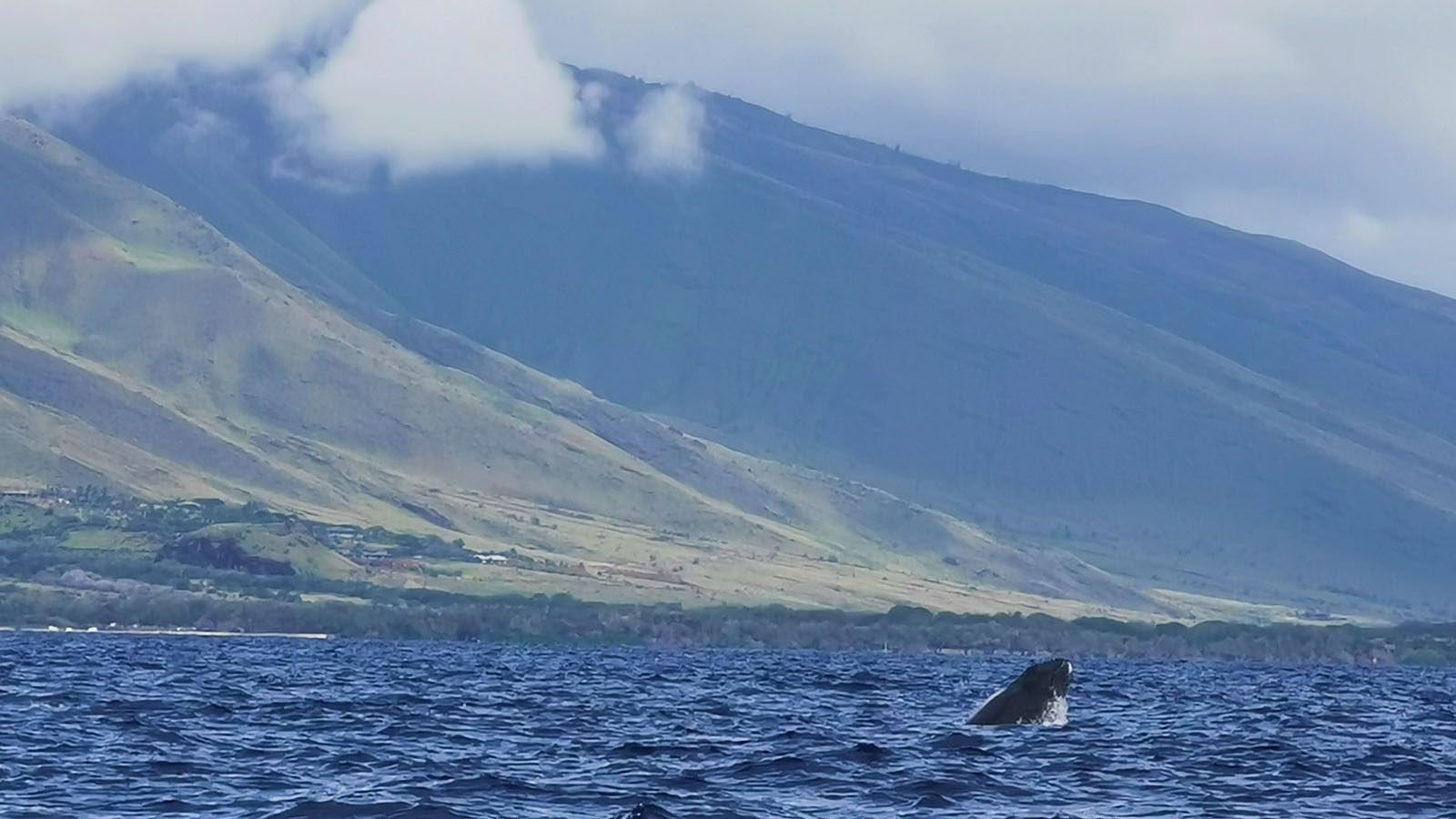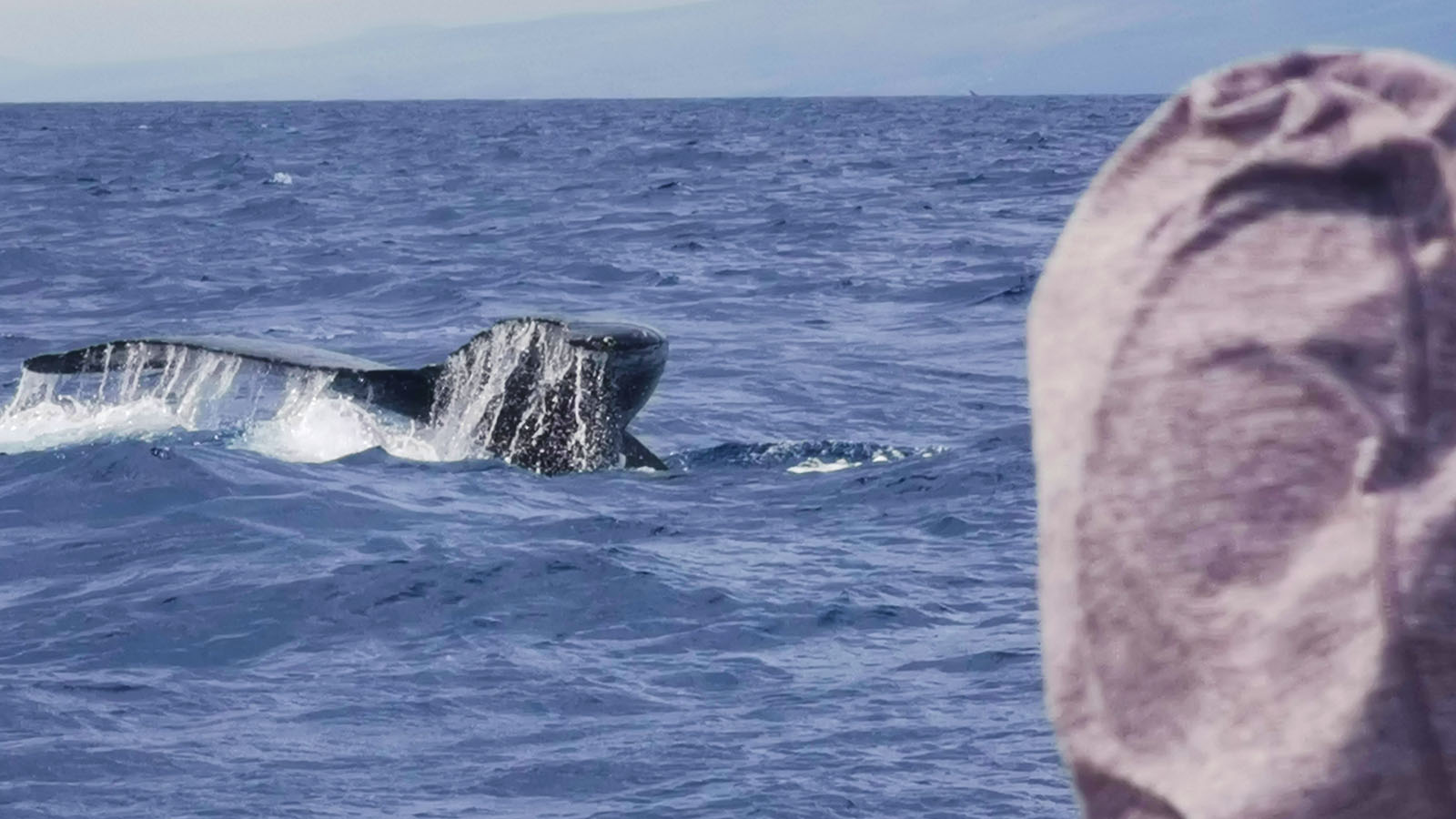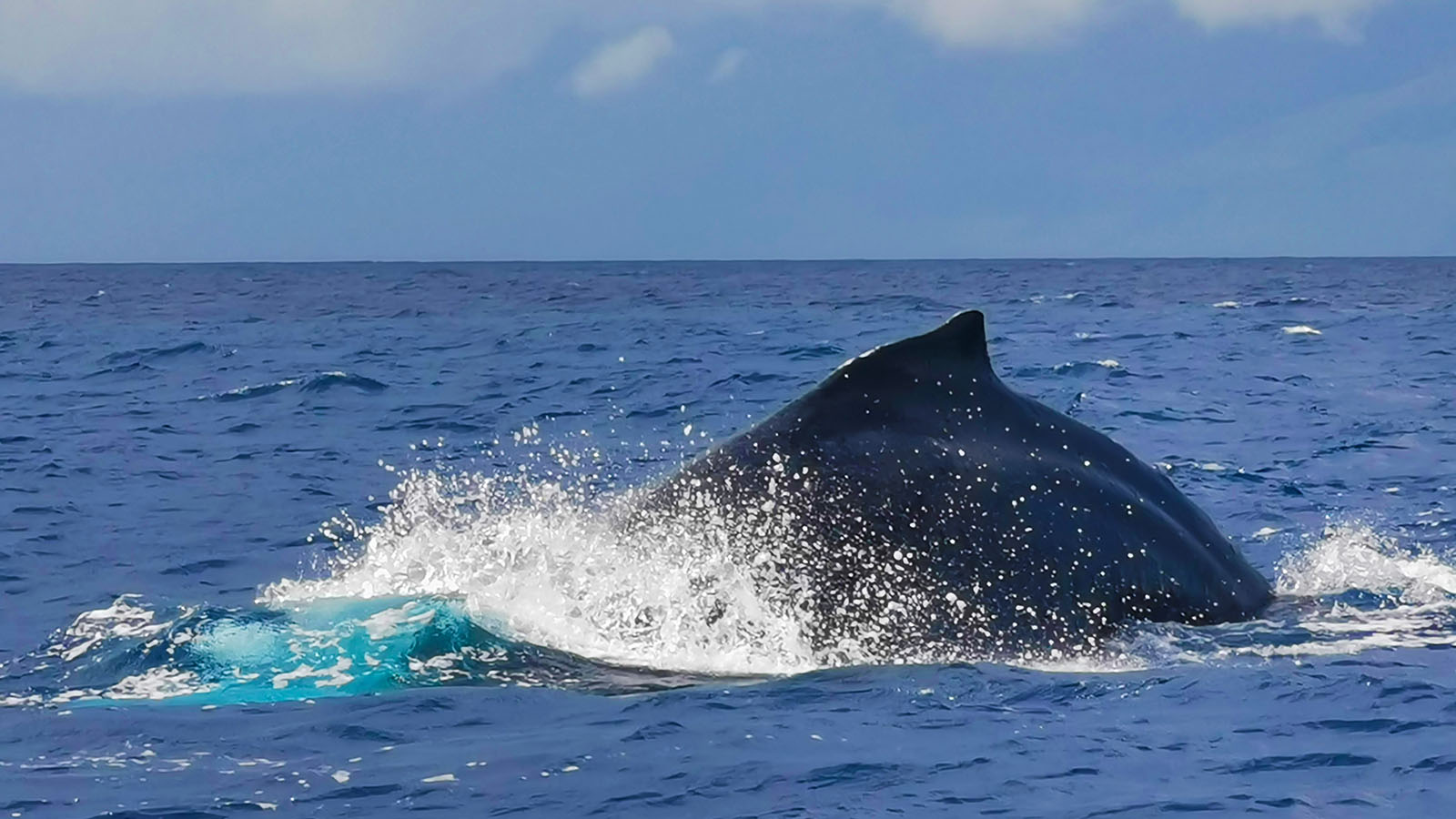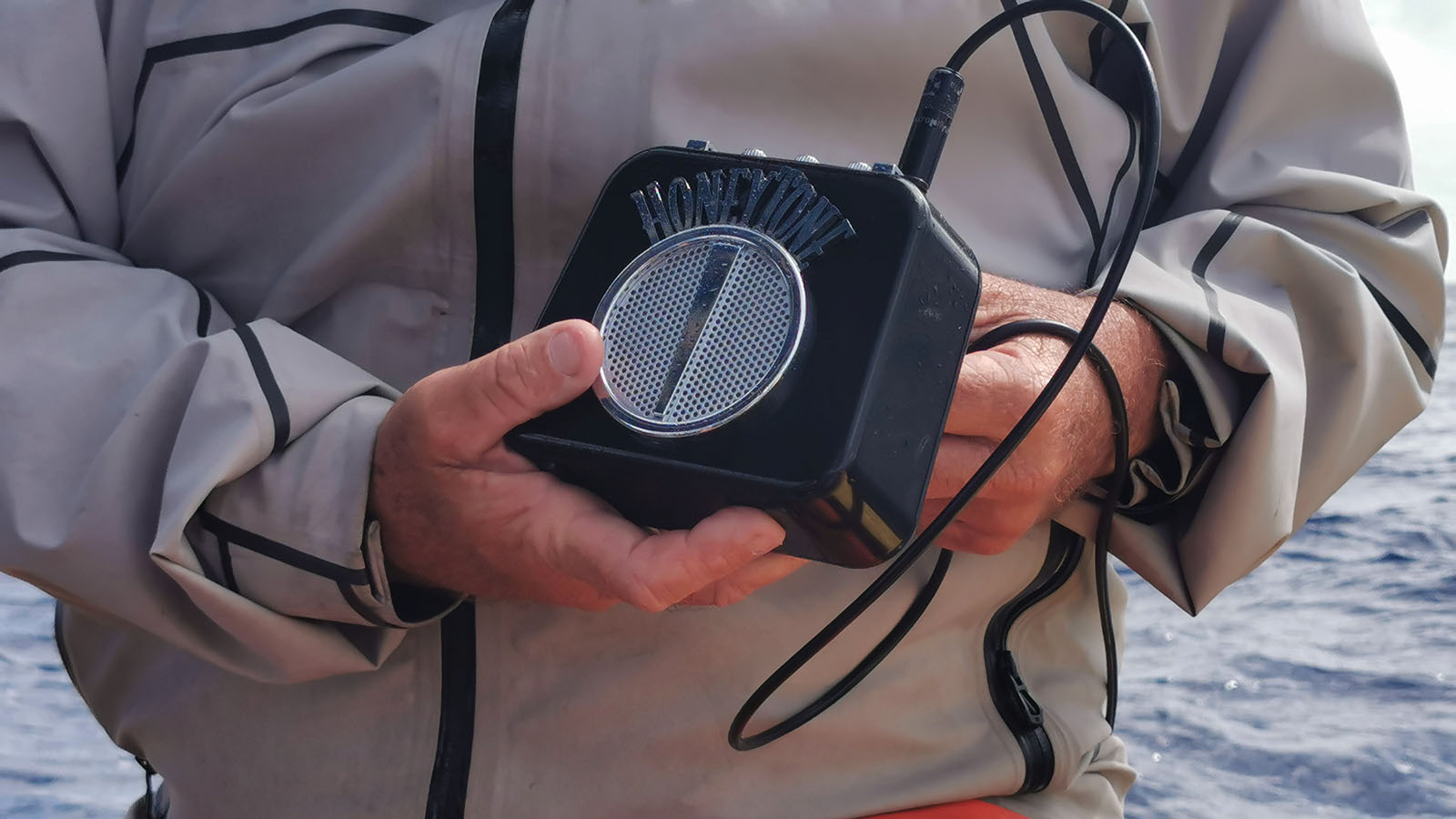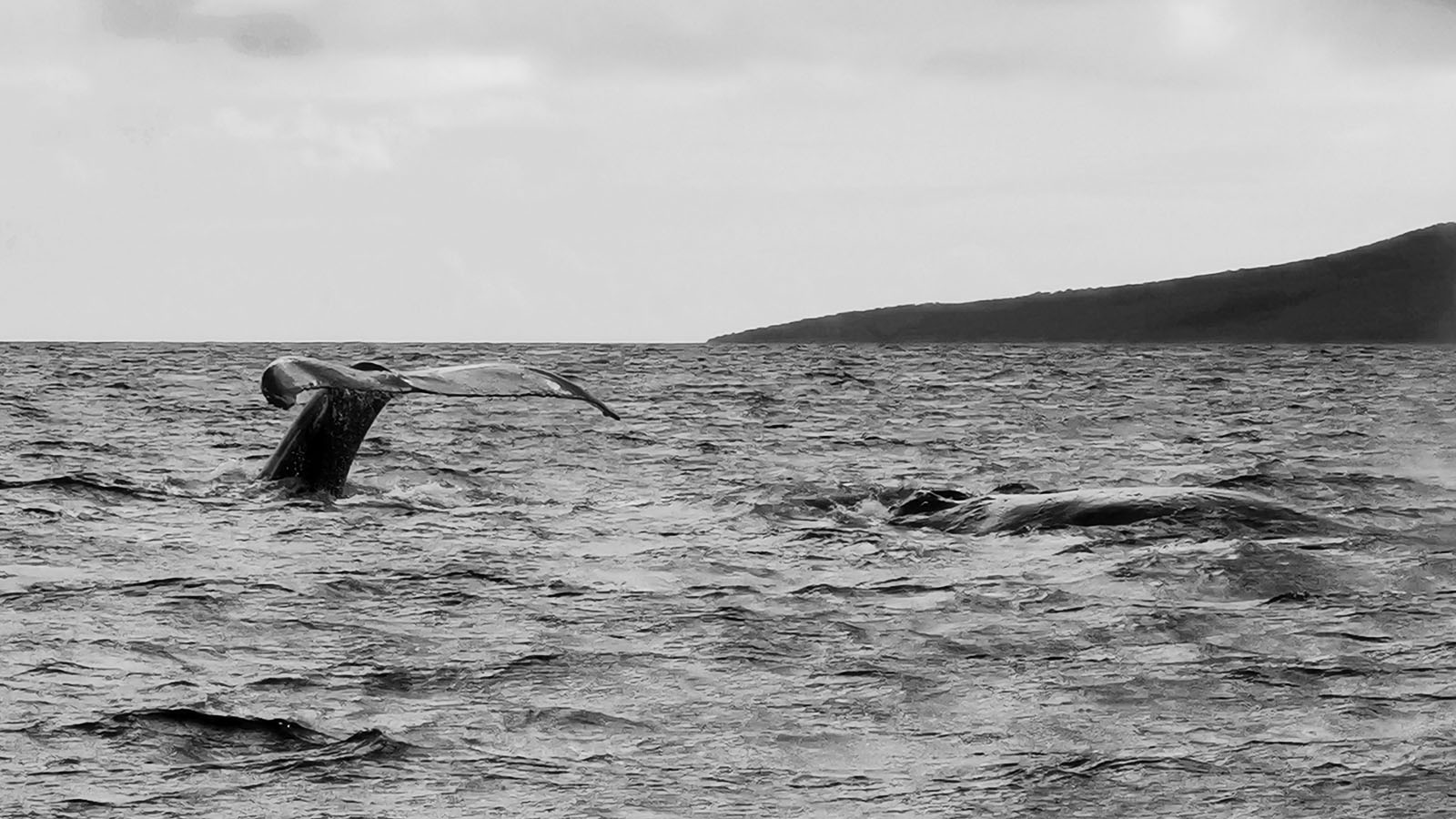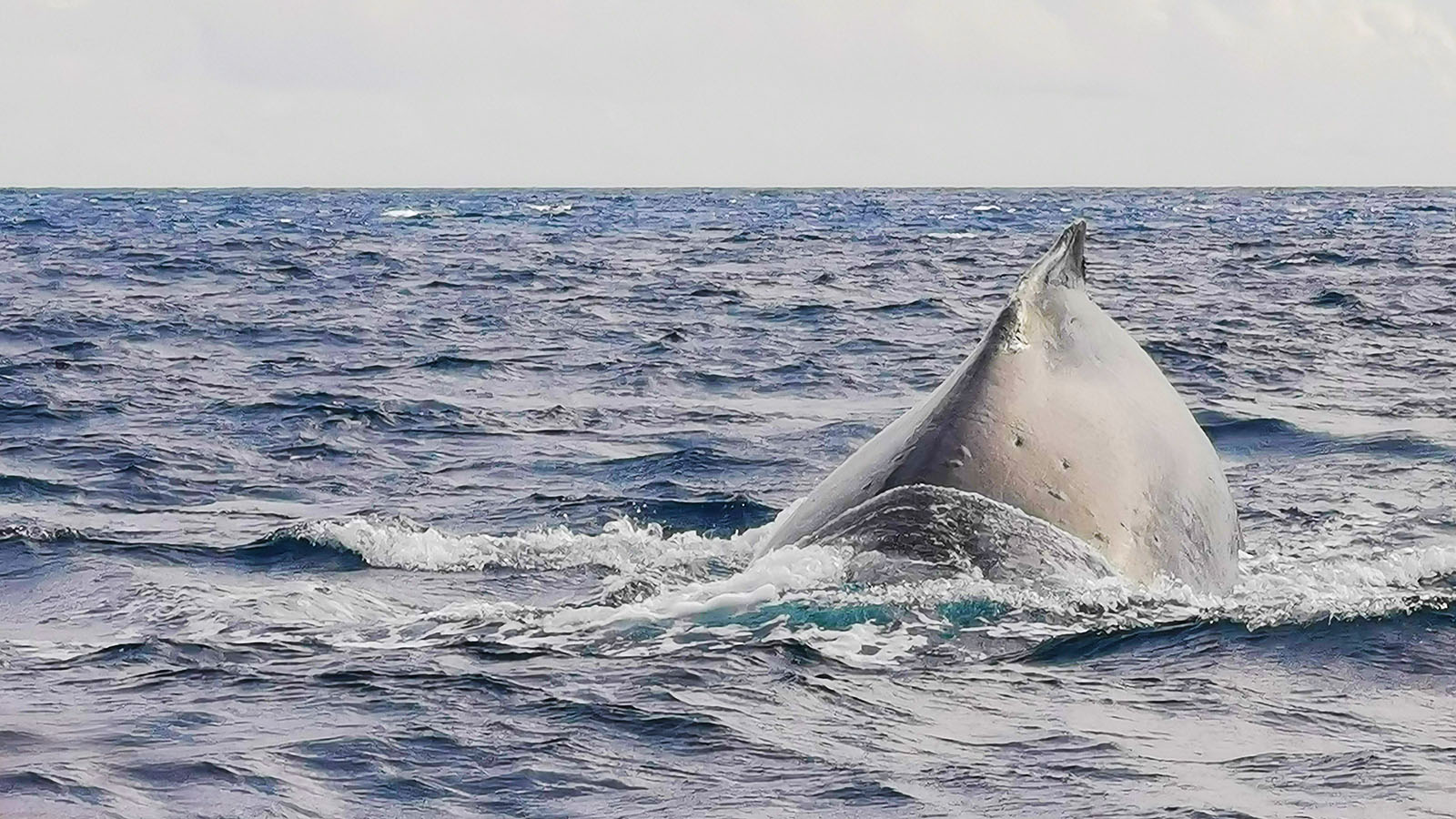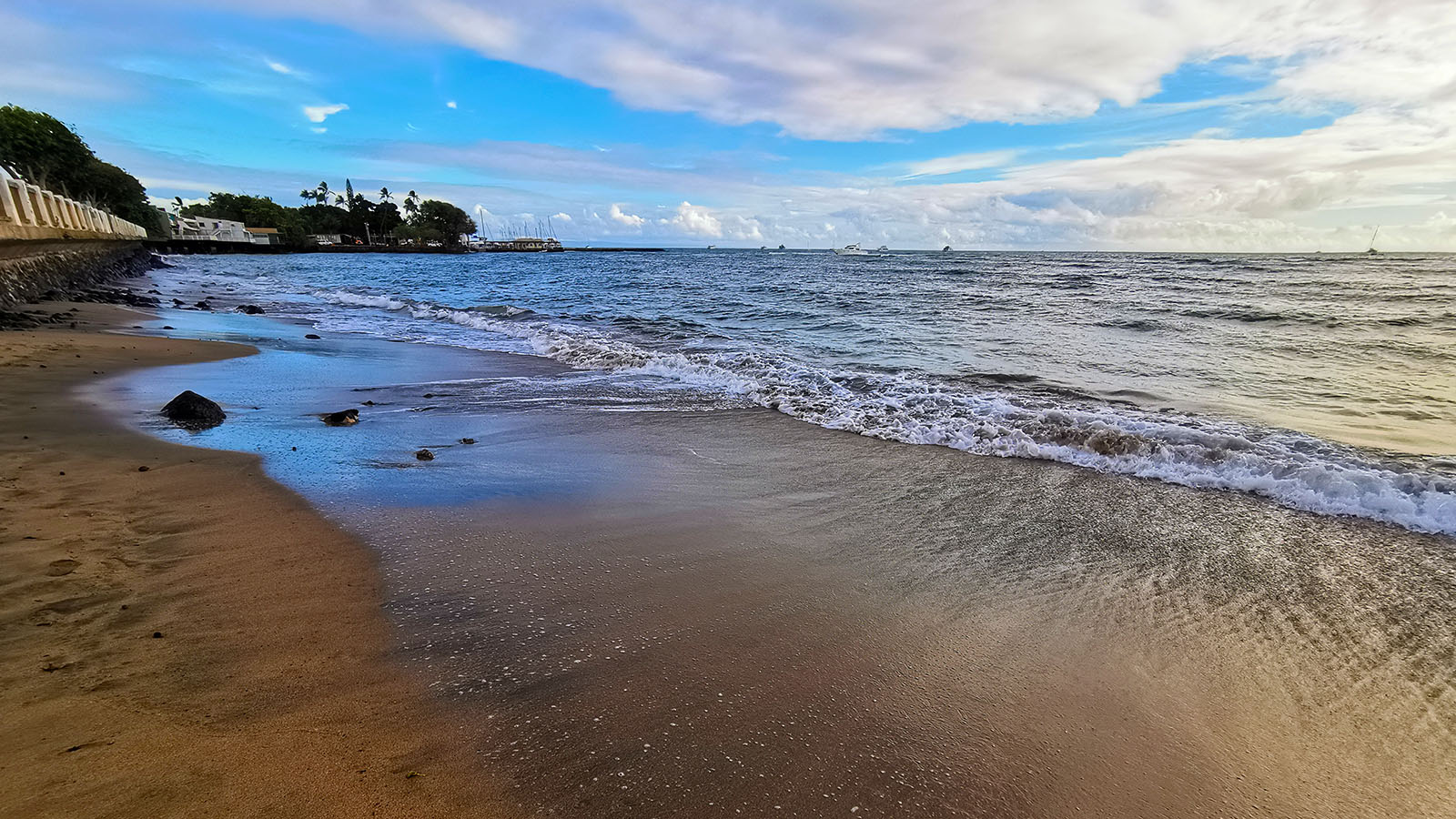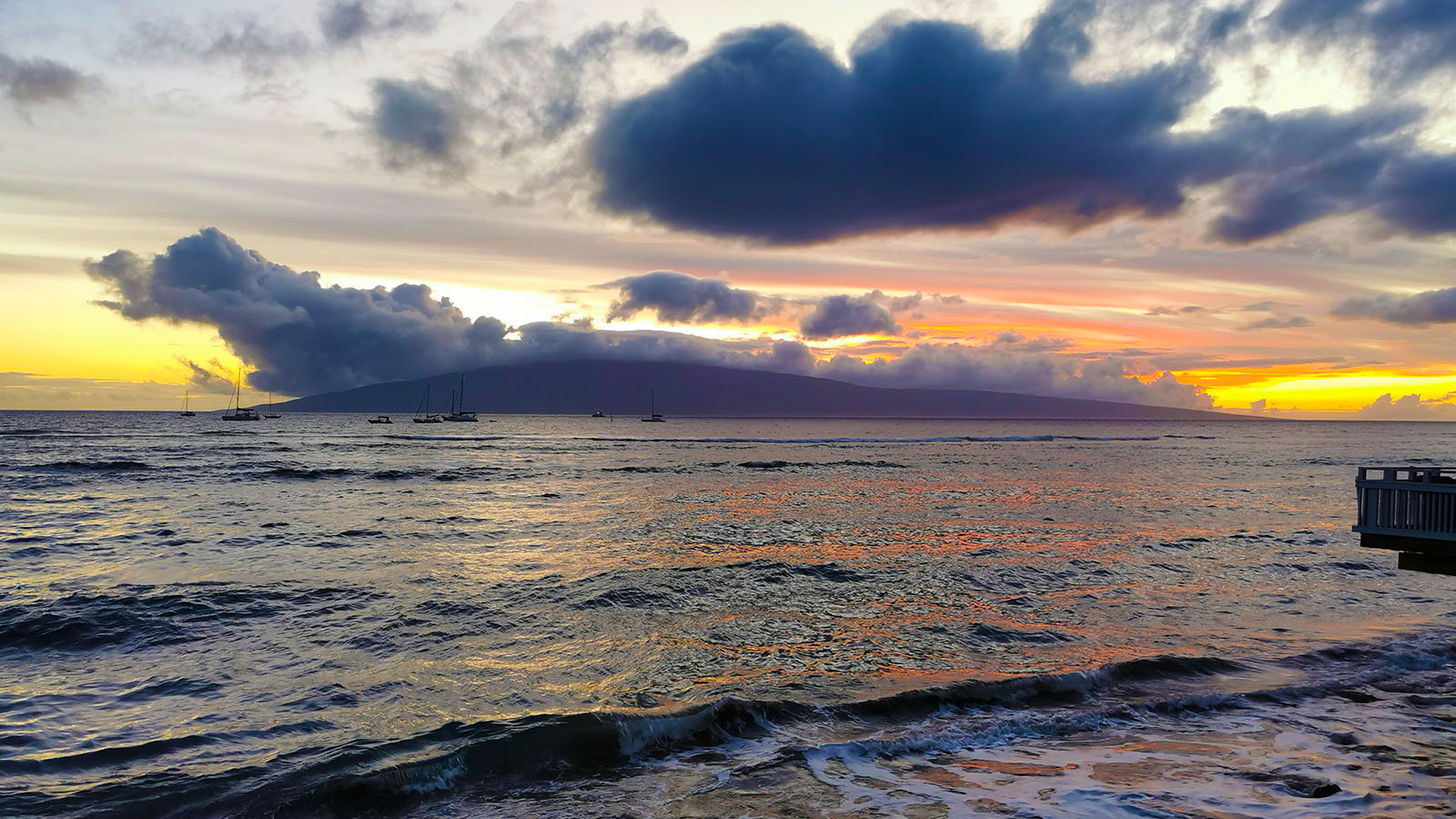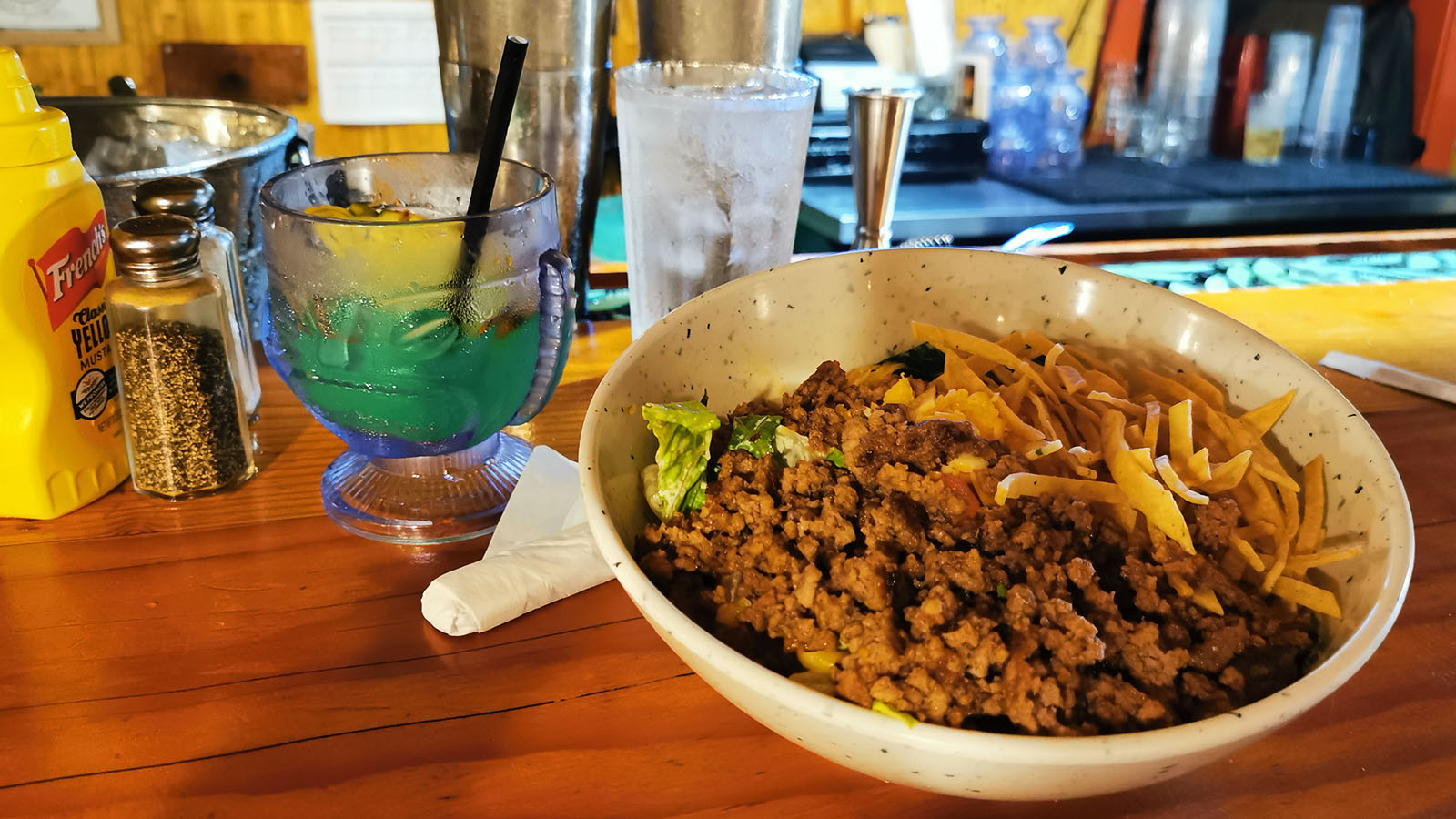 Ad – Scroll down to continue reading.Minimum spend, terms & conditions apply.
Next stop: Maui to Honolulu
Maui is pricey, but Honolulu is more affordable all around. For starters, food and drinks are cheaper. Accommodation is more plentiful too, and of course, there are direct flights from Australia. Here's how my journey continues.
Kahului (Maui) to Honolulu in Hawaiian Airlines First Class
Flight: HA285
Flight time: 45 minutes
Points needed: 18,000 Velocity Points
Fees and taxes: US$5.60 (~AU$8.35)
I return to Honolulu in exactly the same way I flew over – Hawaiian Airlines First Class. This flight is again on a Boeing 717, so you already know the drill.
Now sure, I could have booked Maui-Honolulu-Sydney for the same number of points as Honolulu-Sydney alone. But it'd be a shame to fly through Honolulu twice and not leave the airport. And for only 18,000 Velocity Points more, having time in Honolulu is well worth it.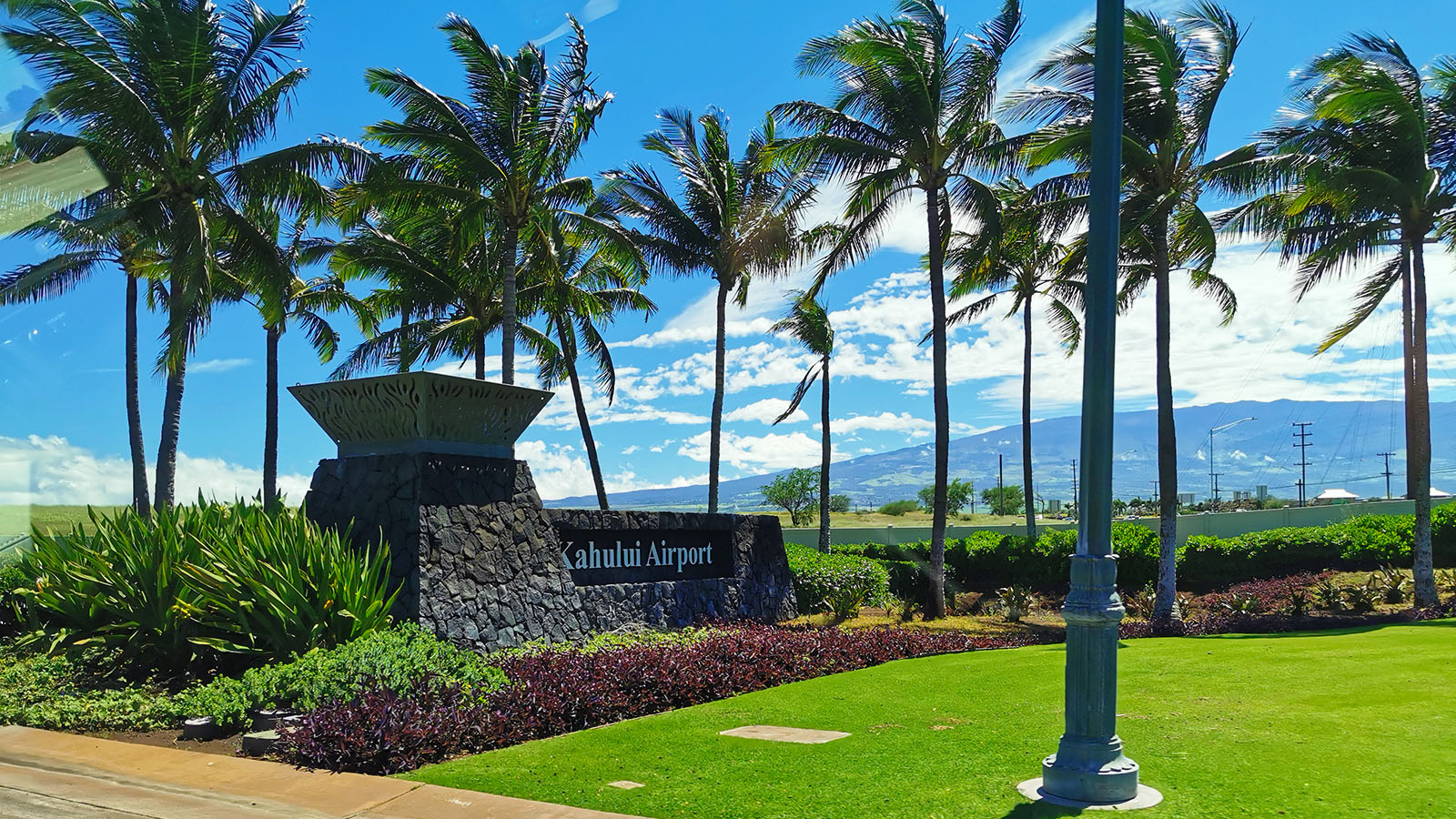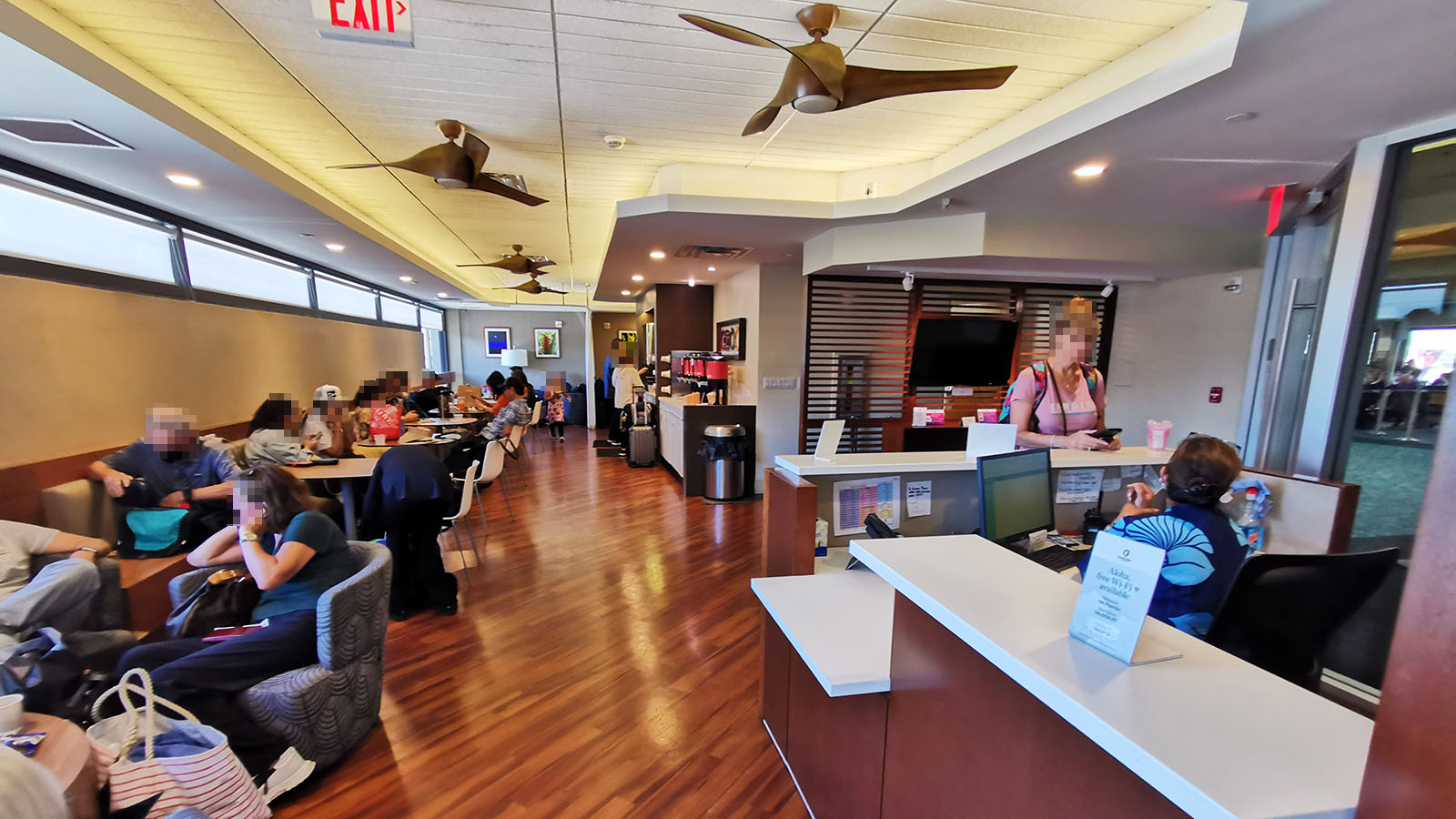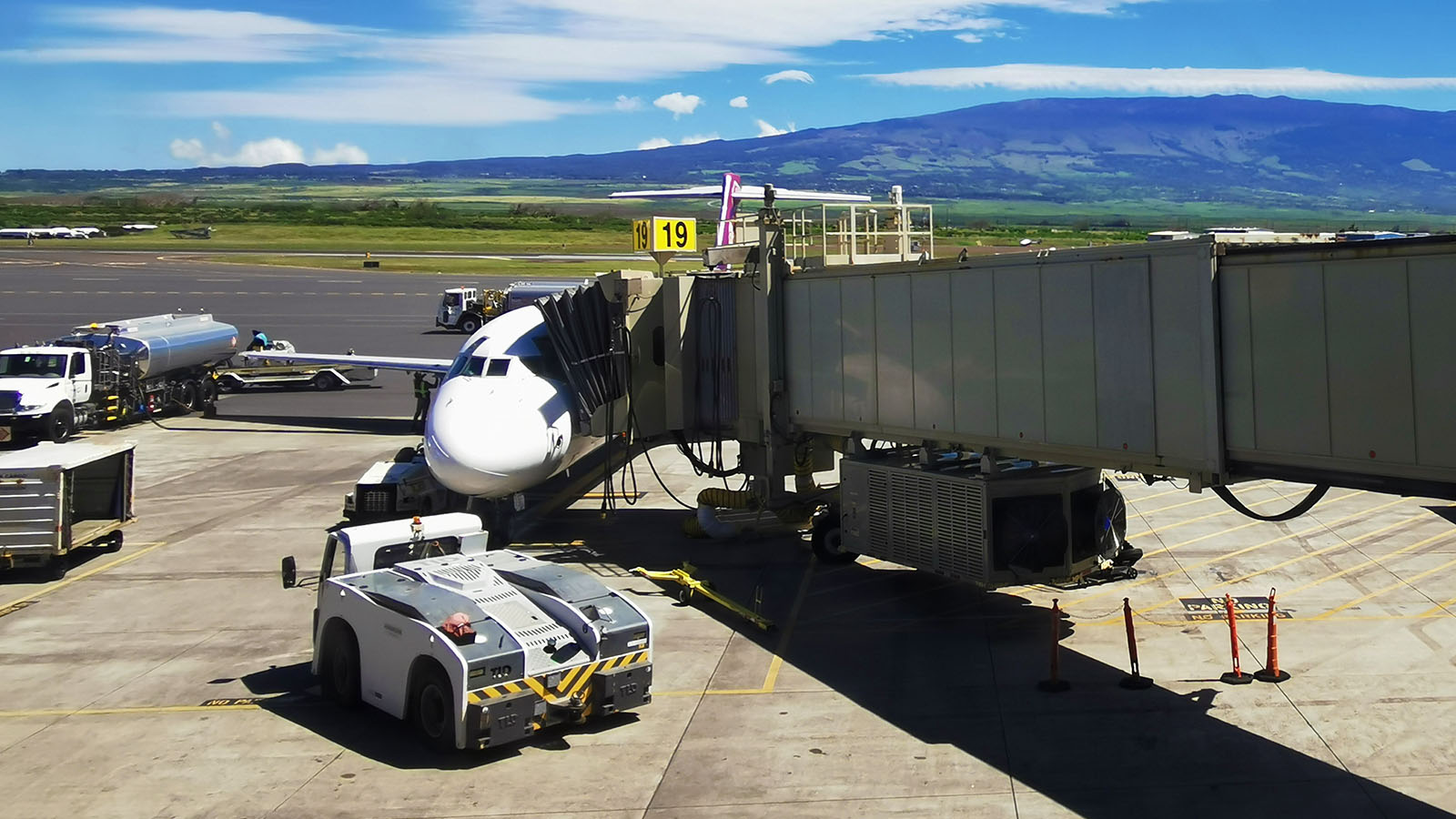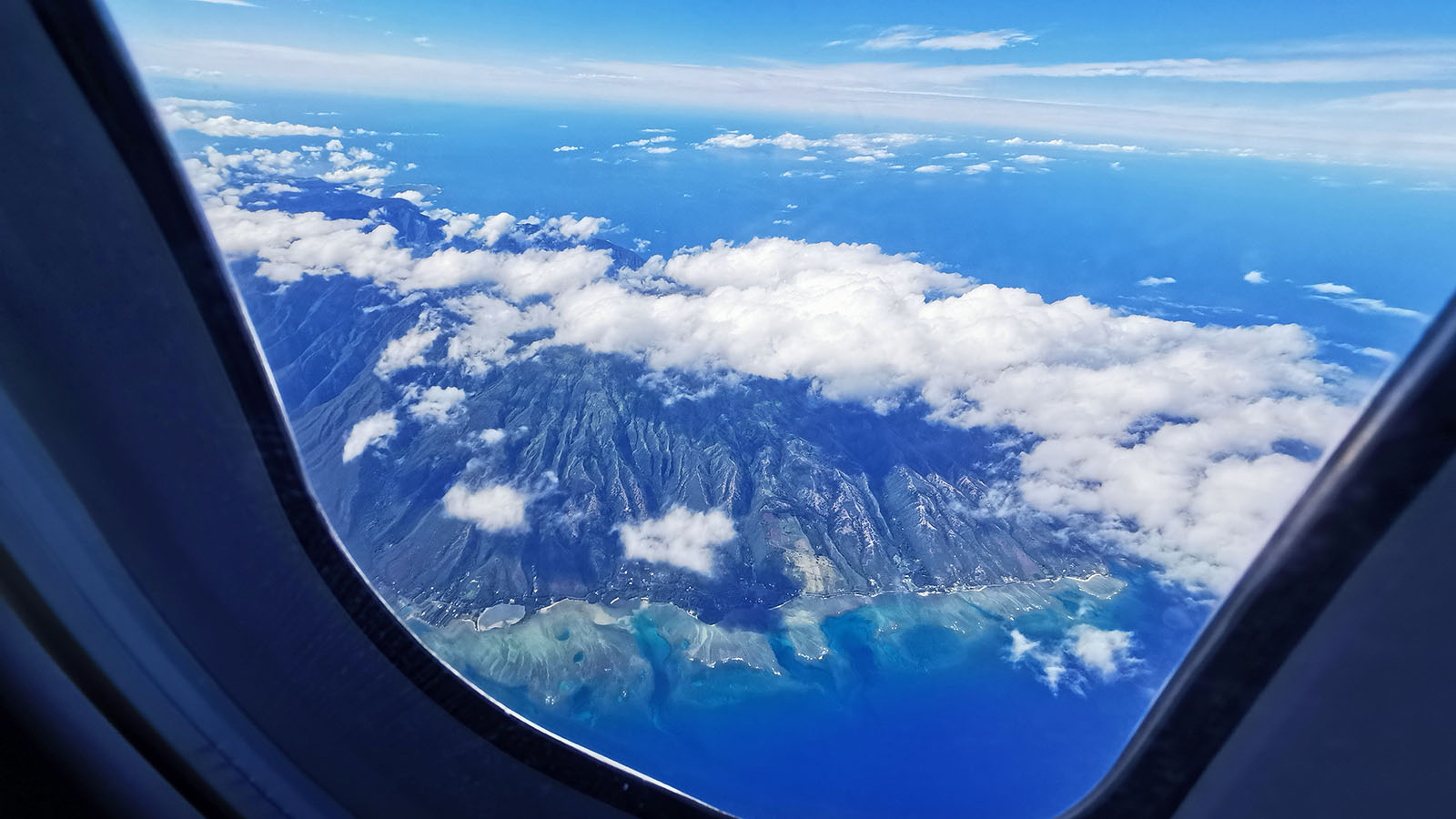 Accommodation in Honolulu
Airbnb
Great for: cost-conscious travellers, larger families and those who like the comforts of home
Cost per person (based on twin share): ~AU$828 for three nights
When it comes to Honolulu hotels, rates are certainly cheaper than in Maui. And with more choice, there's more competition in general – which also helps. But at the same time, Hawaii is still a popular tourist haunt. And when you're travelling from Australia, the USD:AUD exchange rate isn't in our favour right now. But that shouldn't stop you from visiting.
After crunching some numbers, I discover something interesting. For a similar price as a small hotel shoebox, I can book an entire apartment via Airbnb. Not only that, but I'd have wall-to-wall waterfront views, and be a quick stroll from Waikiki Beach.
There's another advantage, too. With a full kitchen, fridge, pantry staples and microwave, I can cook myself breakfast each day rather than dining out for every meal. The longer the trip, the more those cost savings become noticeable. To really save some coin, plan a quiet night in and cook dinner too. Just don't forget to actually leave the apartment.
I book my Airbnb stay by searching through the Qantas website. Even though you still complete the booking on the Airbnb site, this sees me rewarded with 1,919 Qantas Points. That includes a bonus 500 Qantas Points because it's my first Airbnb stay.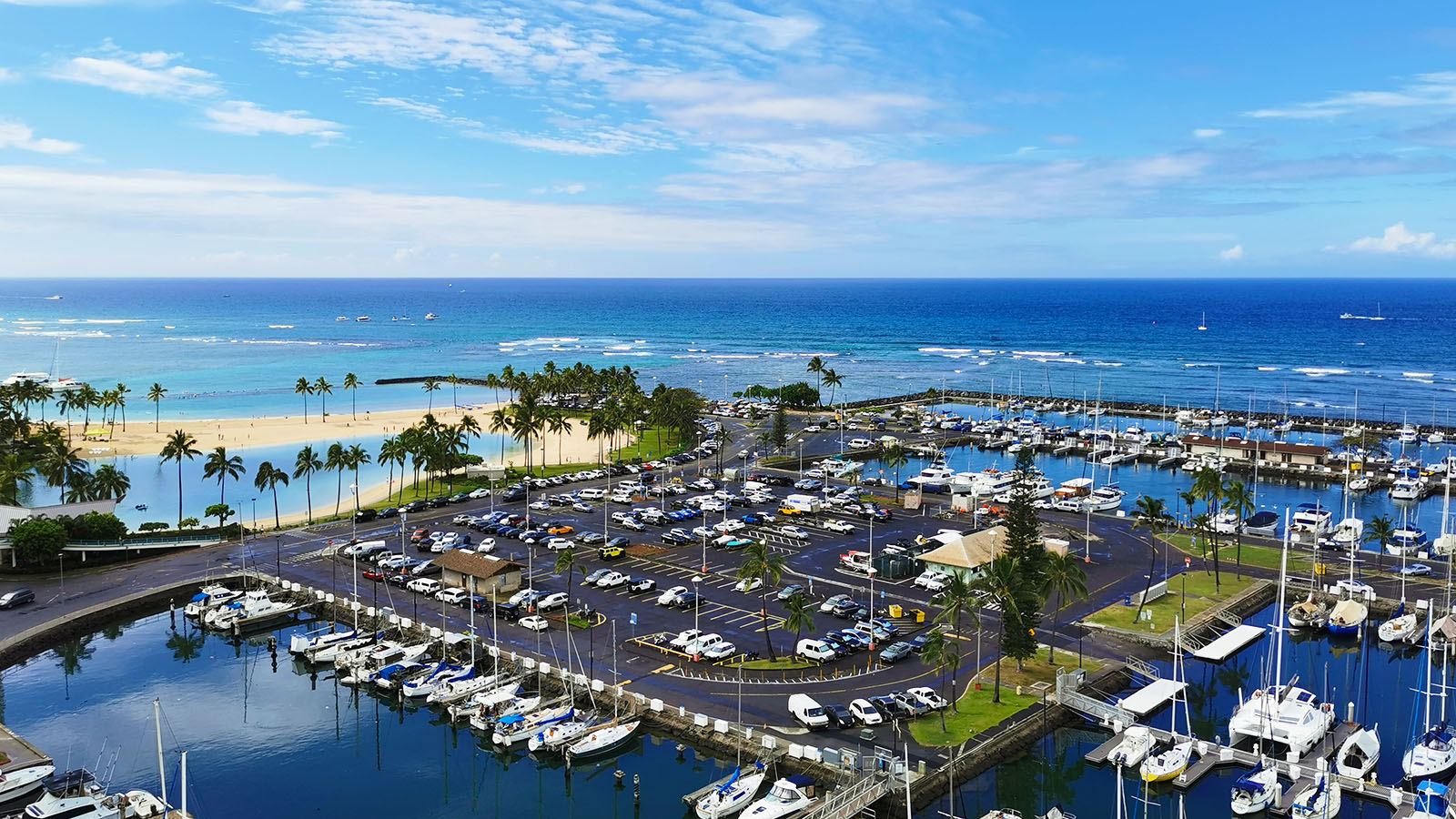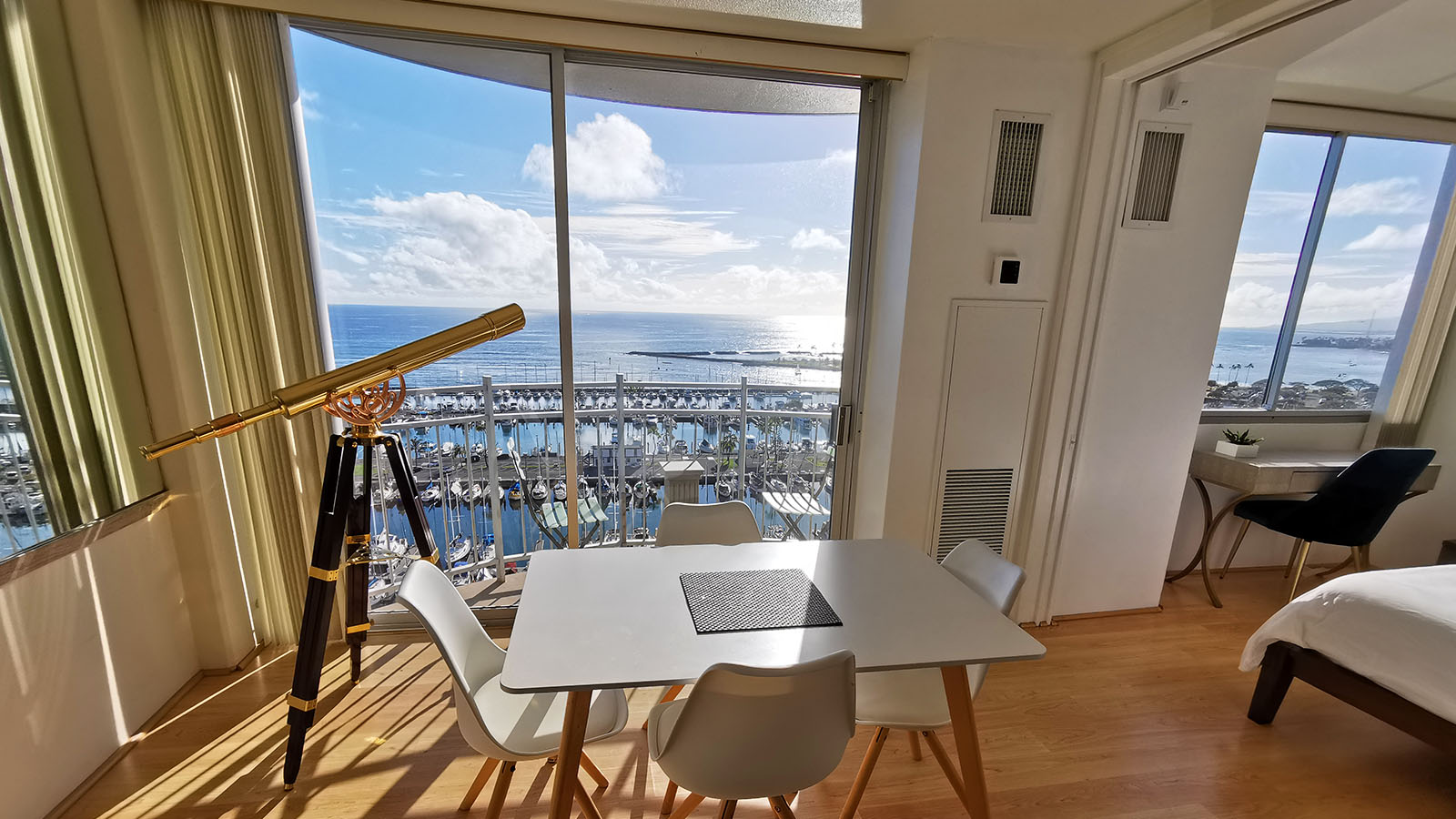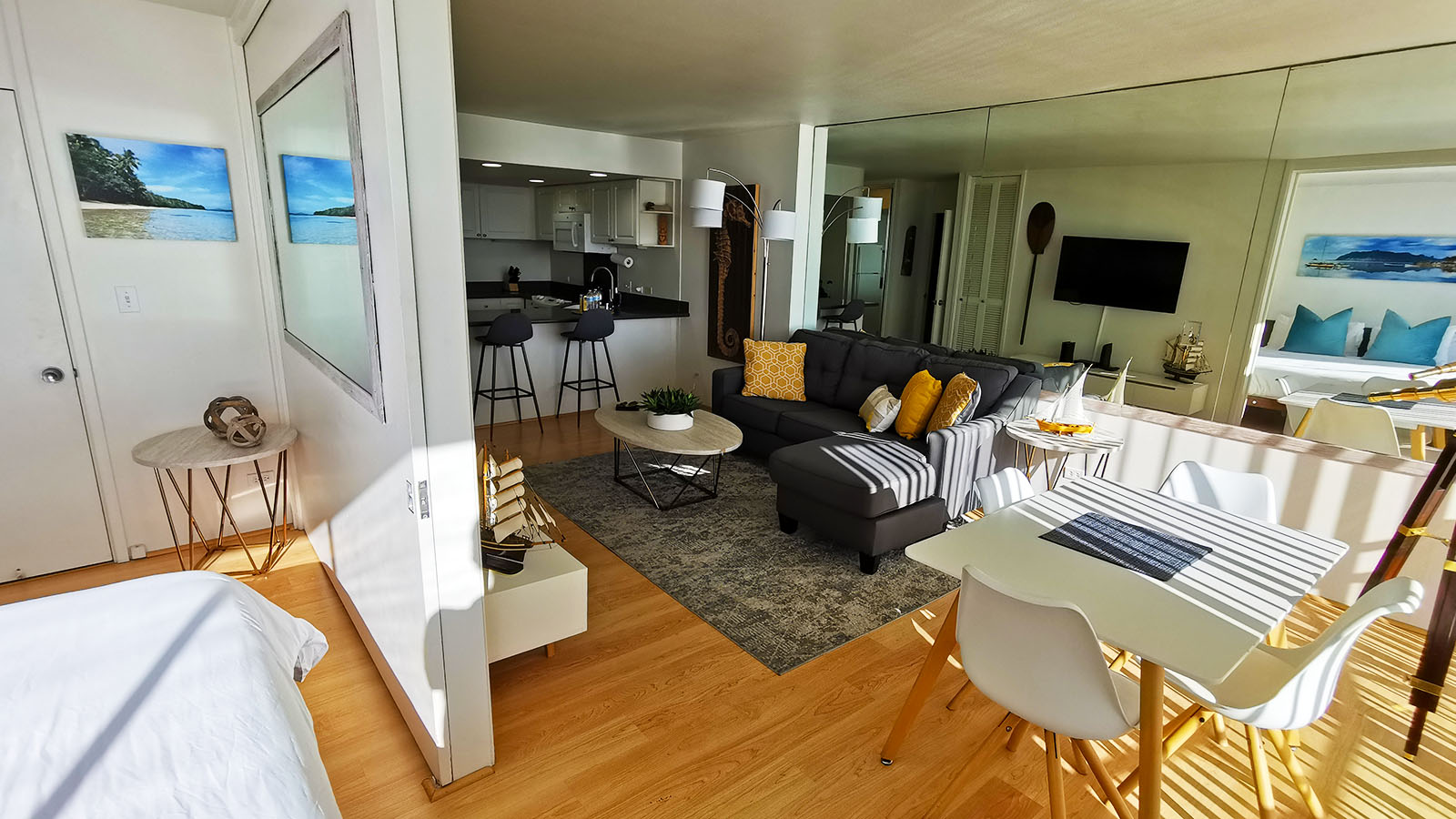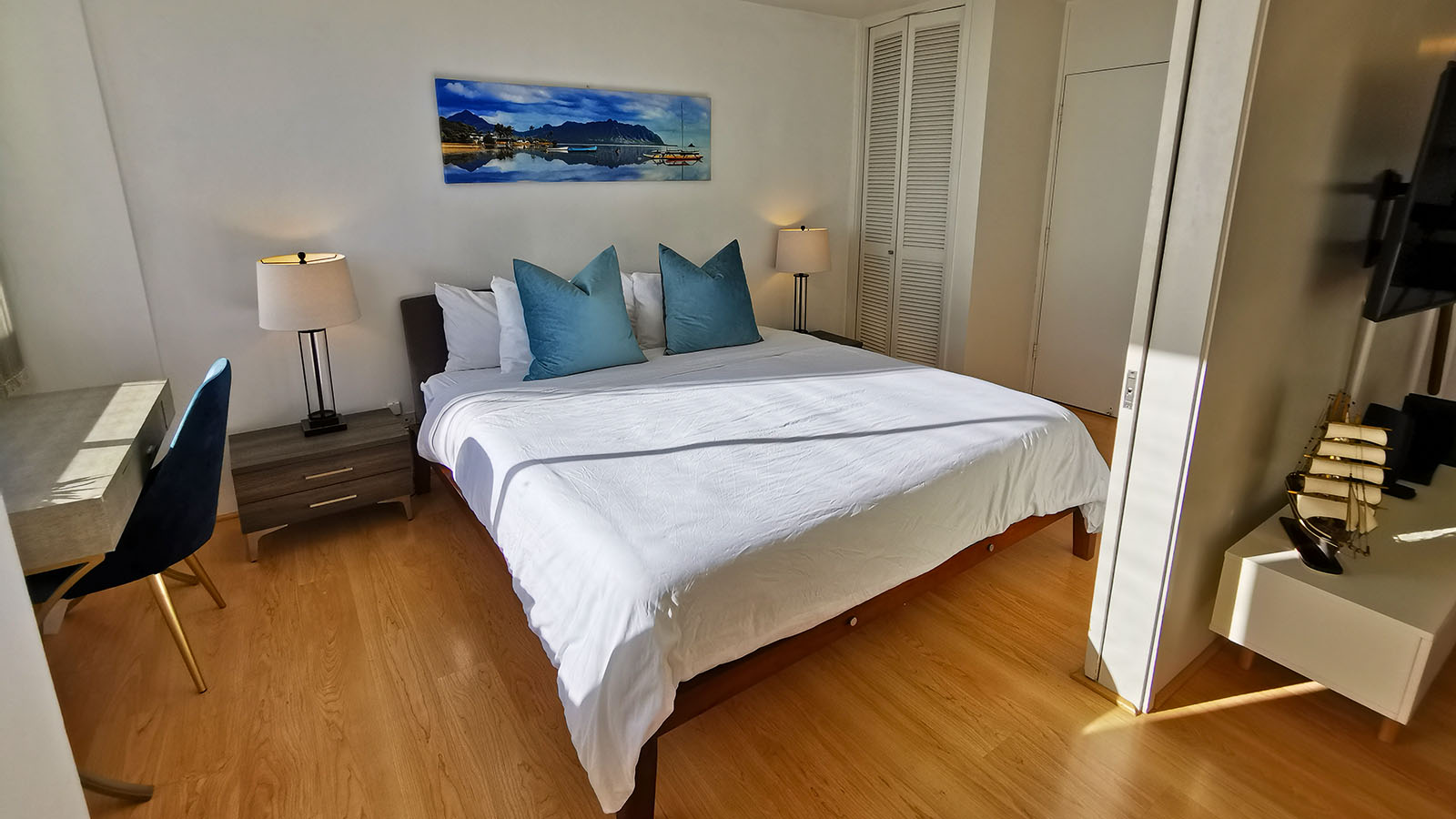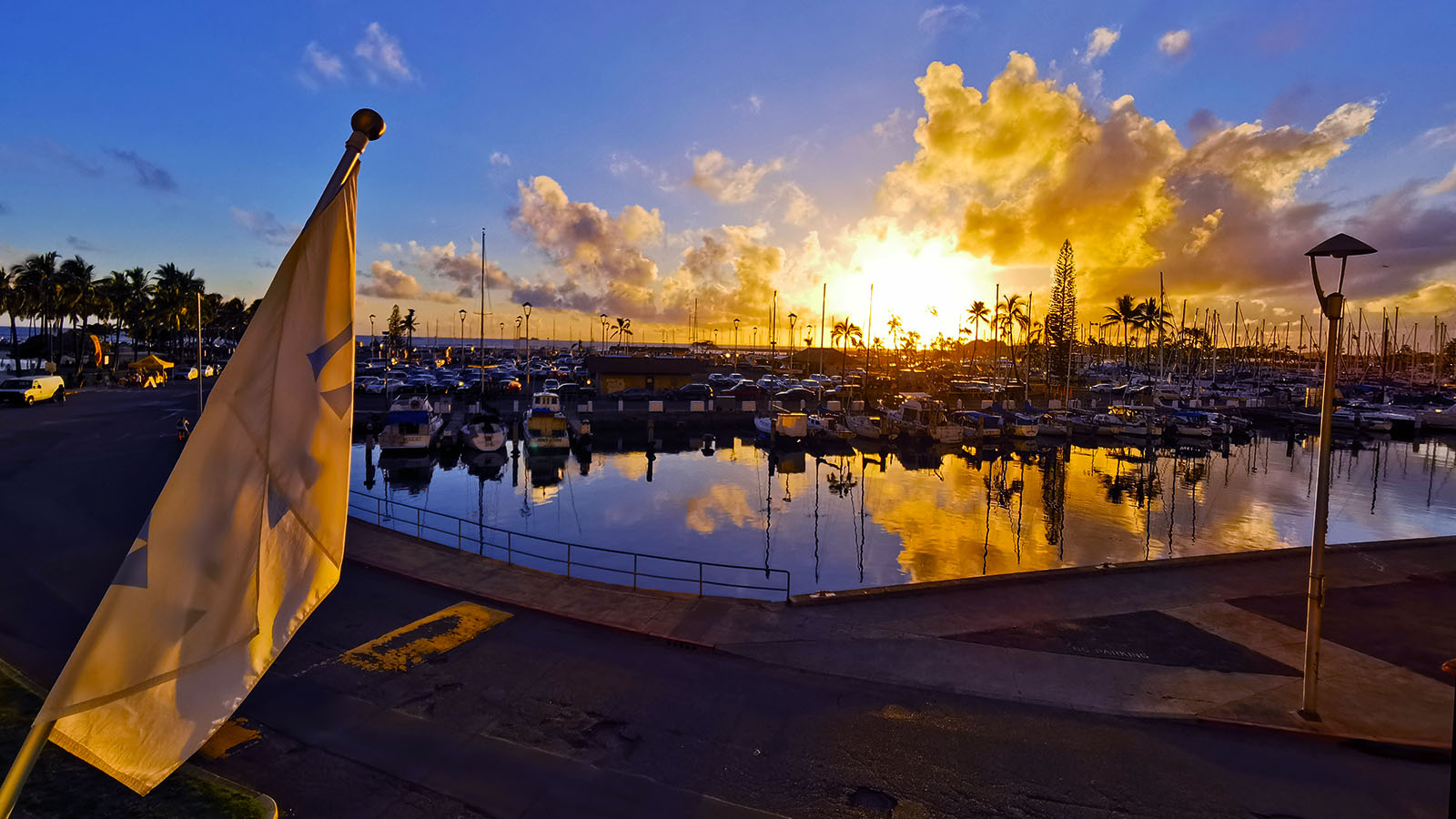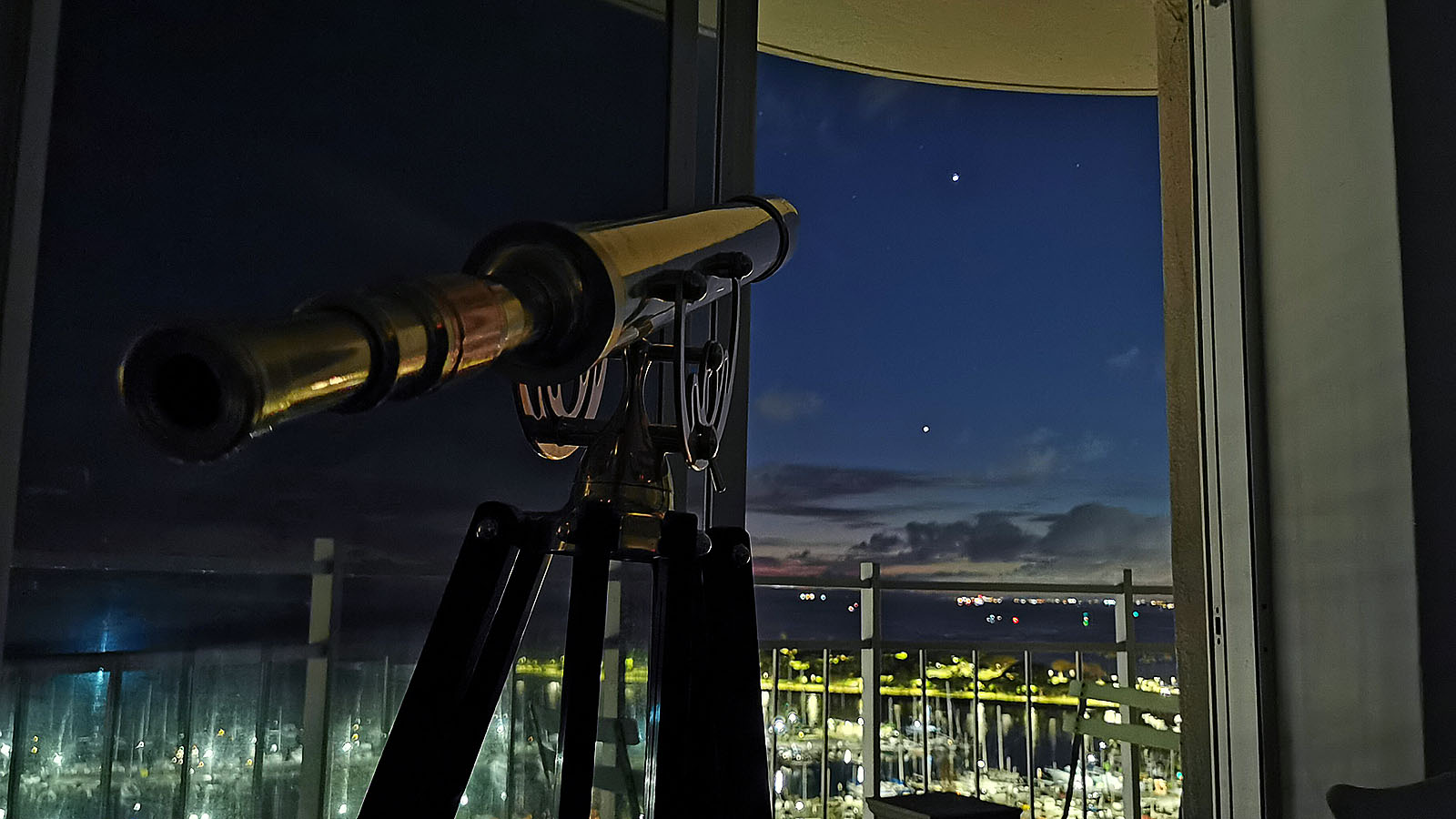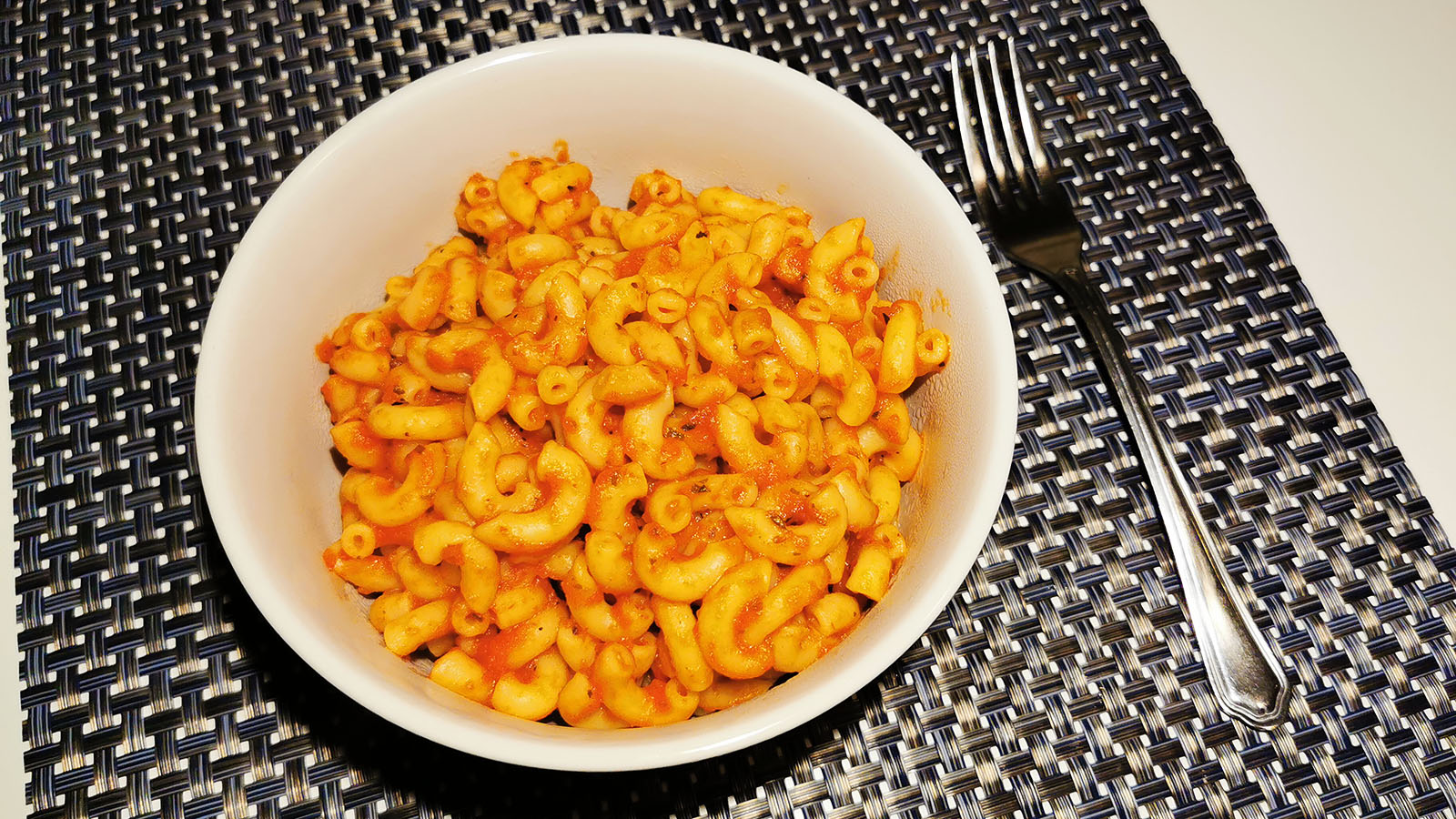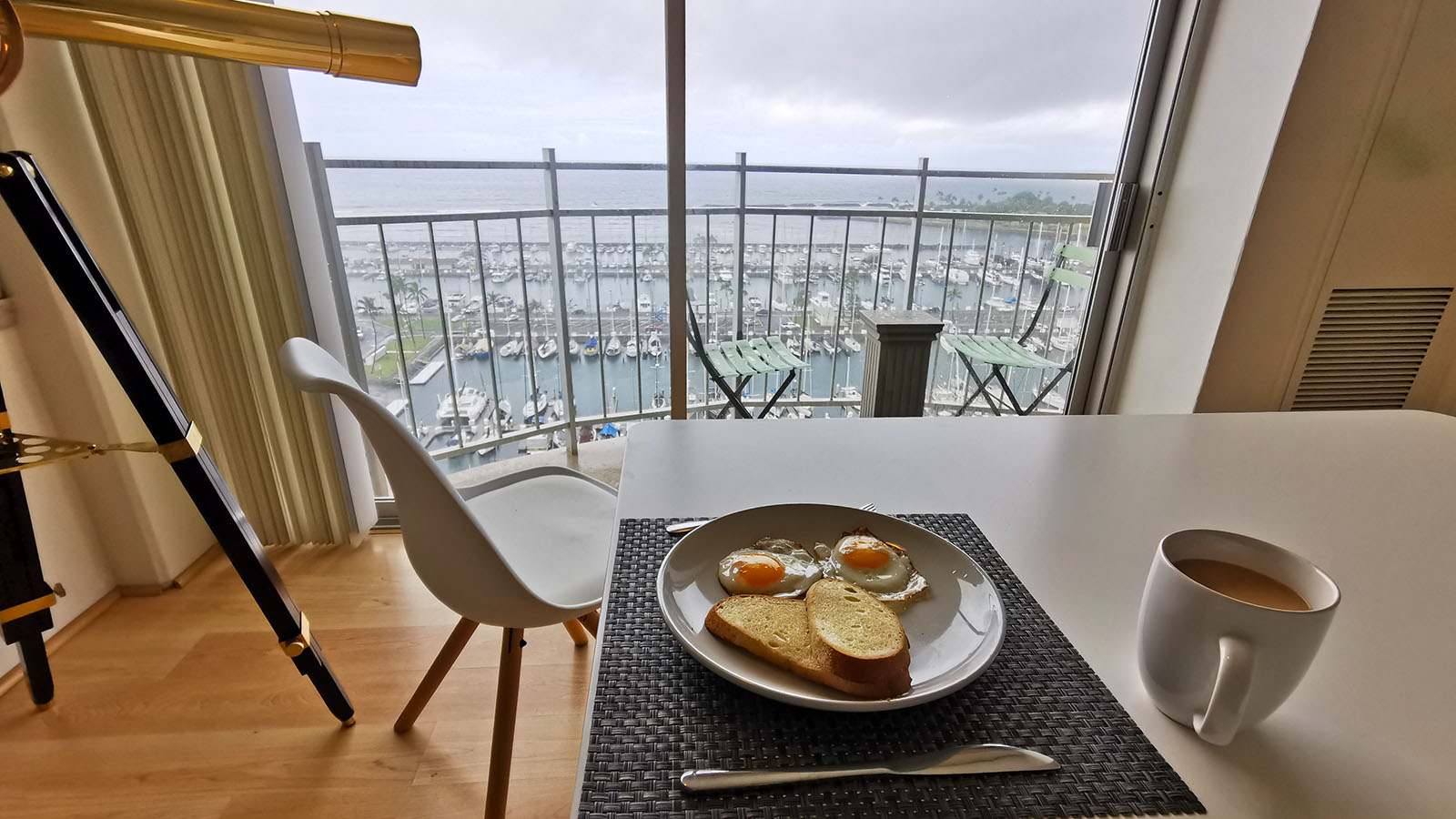 Honolulu three-day itinerary
You'll want to spend more than just a few days in Honolulu. After all, Hawaii has so much to explore. But here are a few ideas to inspire your journey.
Day 1: Honolulu
Morning: Hawaii is known for sand, surf, cerulean water and spectacular greenery. I find all of that at Waikiki Beach – a fitting first stop. Taking time to walk along the sand, go for a swim and just enjoy the moment is time well spent. Nearby, I spot the US Army Museum of Hawaii. Admission is free, and there are lots of interesting exhibits to explore. Not to mention, an AH-1S Cobra attack helicopter up on the roof, which was called into purpose during the Vietnam War.
Afternoon: I've had my initial fix of water views, so it's time to explore something else Hawaii is great for – shopping. No visit to Honolulu is complete without a stop by the Ala Moana Center. Shop up a storm, or make a simple visit to the Honolulu Cookie Company store near the food court for some edible souvenirs.
Evening: I always find a quiet night mid-trip can help me recharge. It also means going home even more relaxed at the end – not needing a holiday from my holiday. As a nice change from the go-go-go of adventuring, I take advantage of my Airbnb's kitchen, cook some pasta and devour it while enjoying the views from my apartment.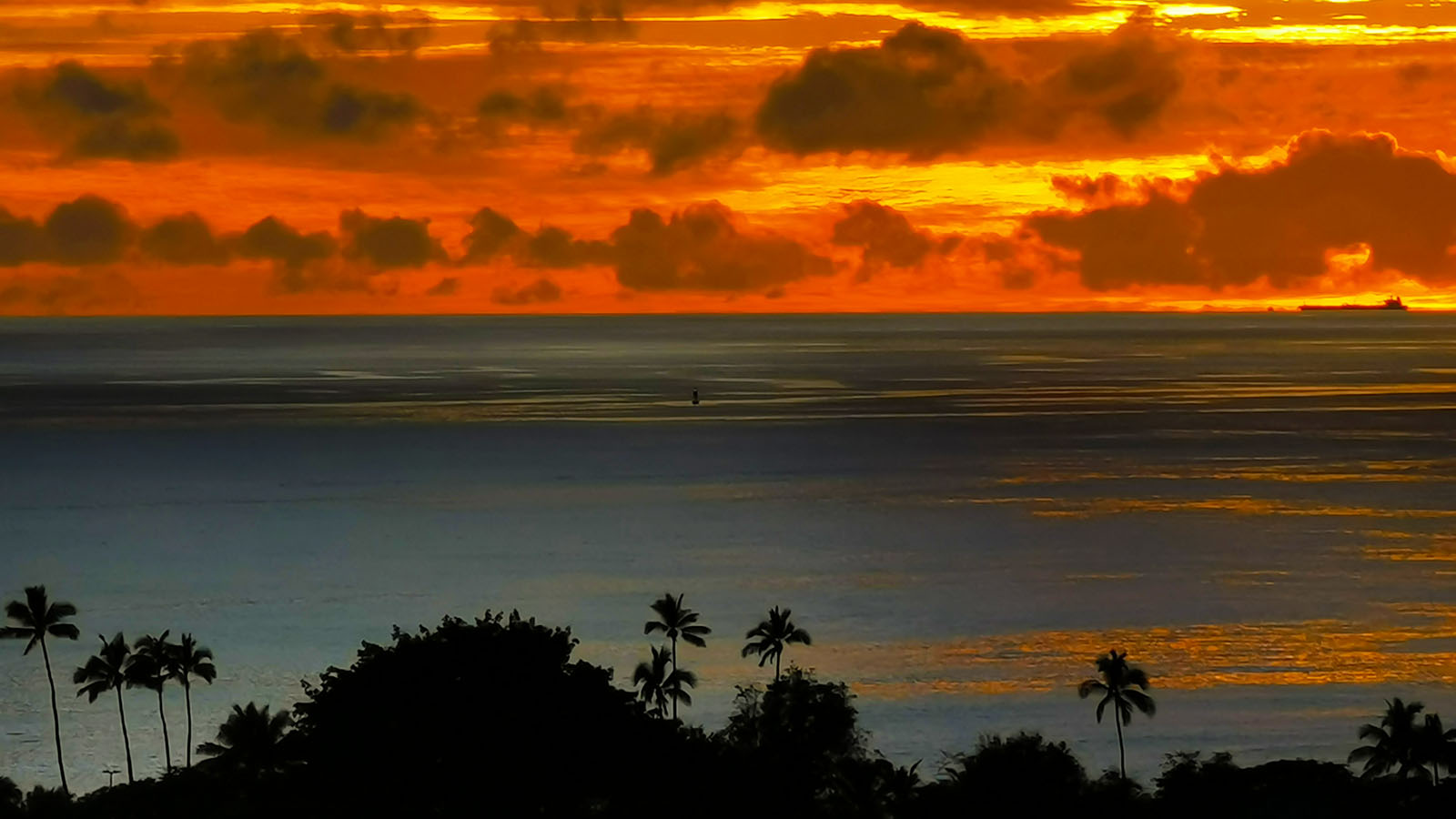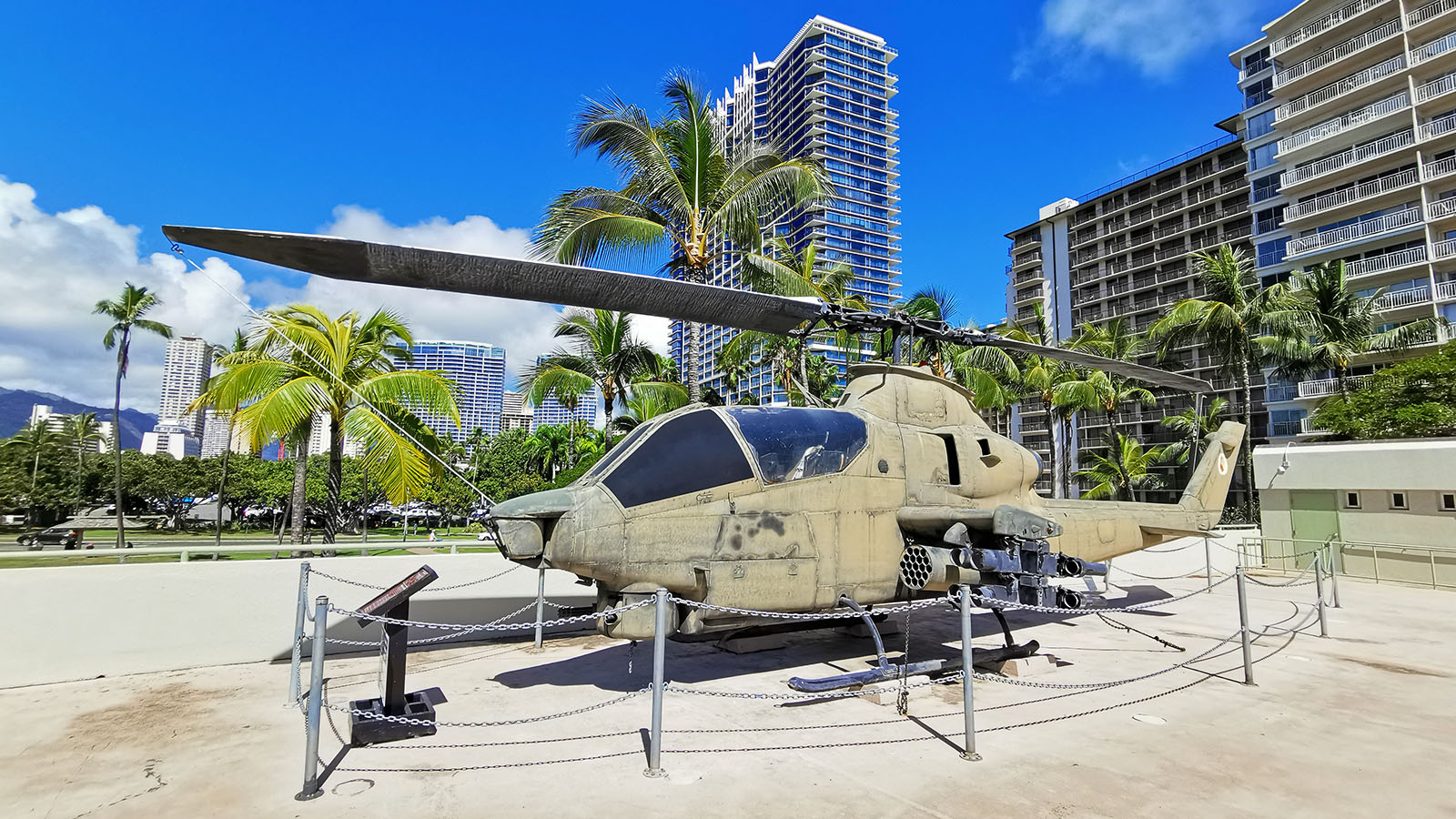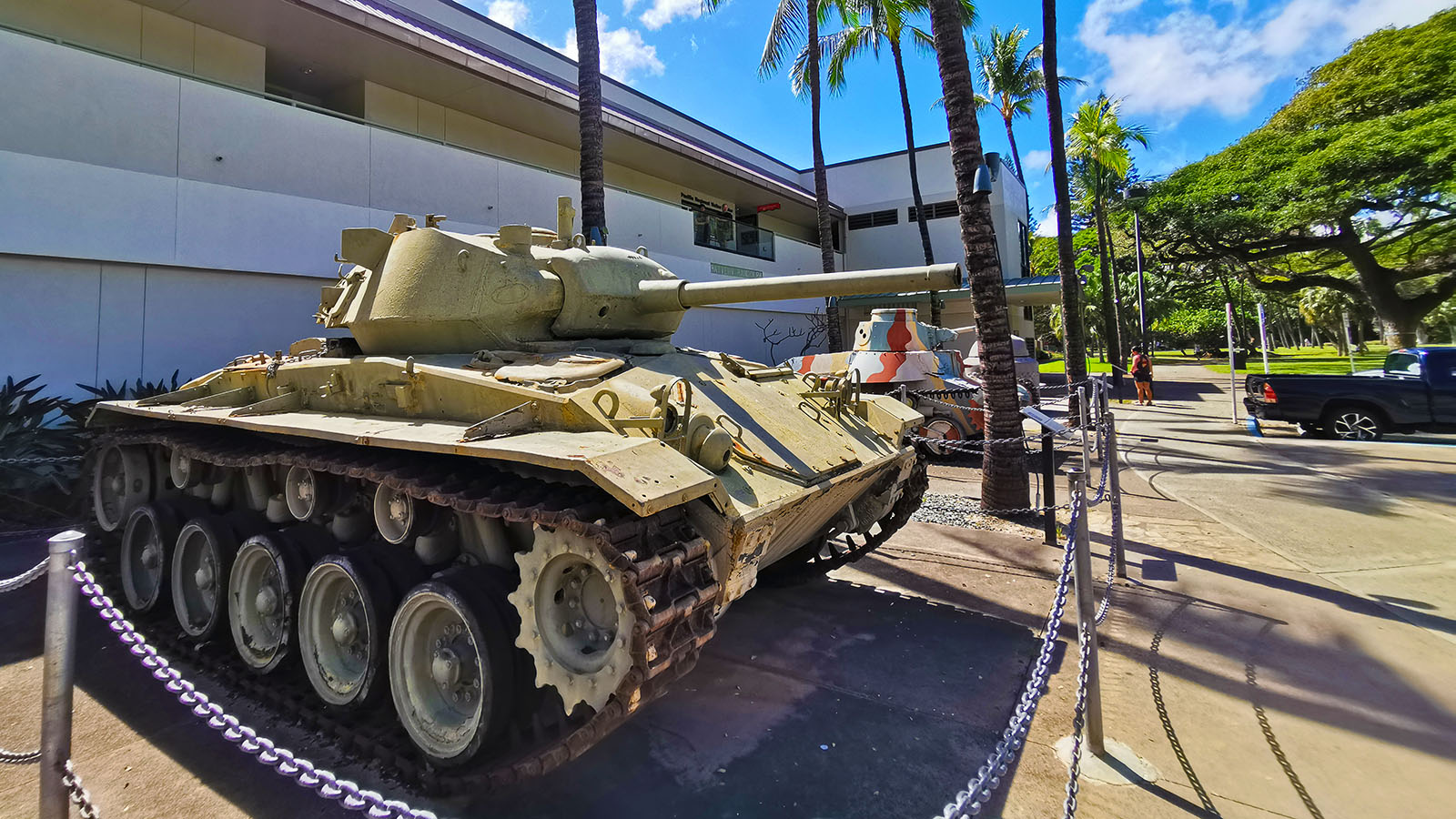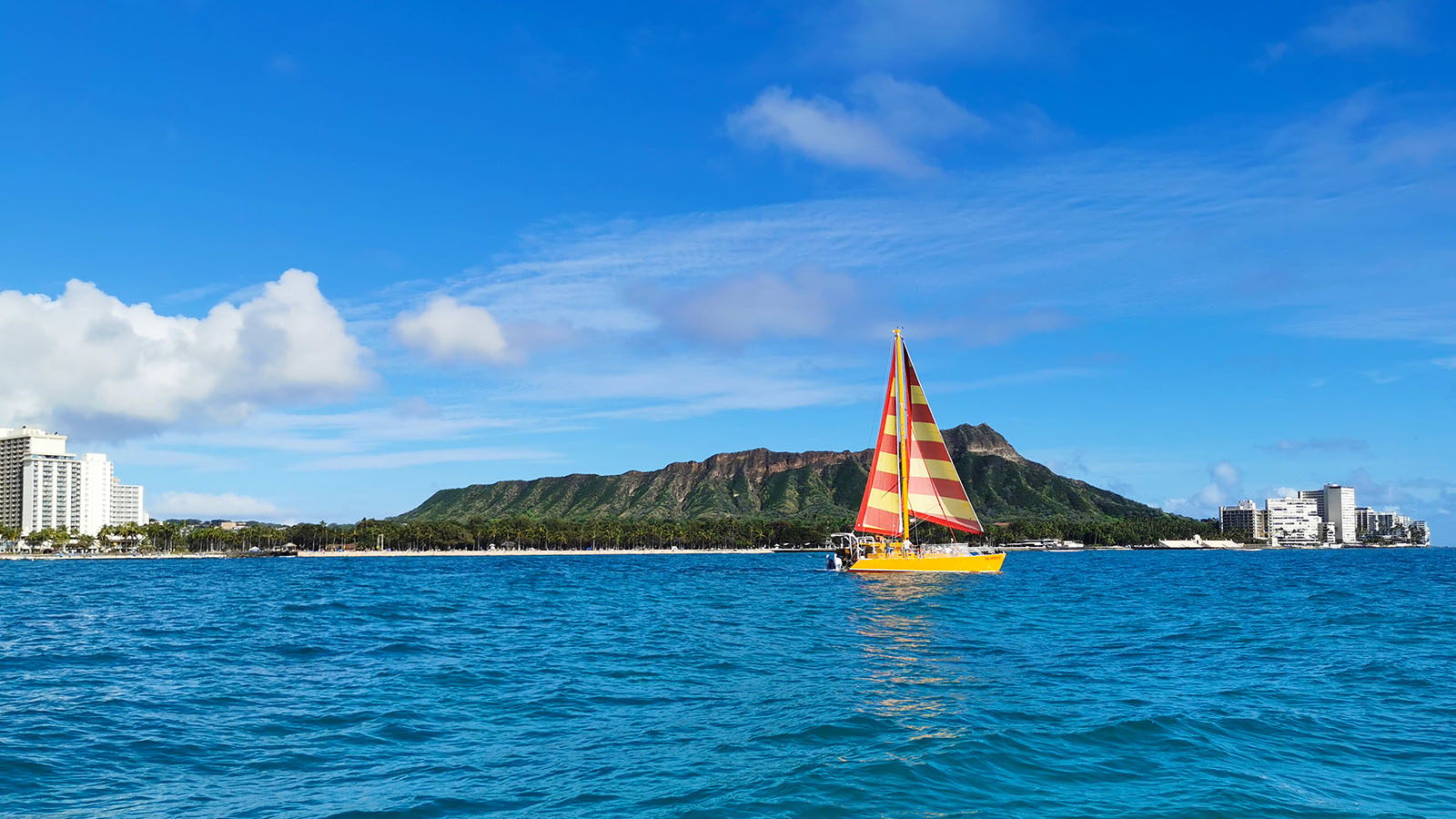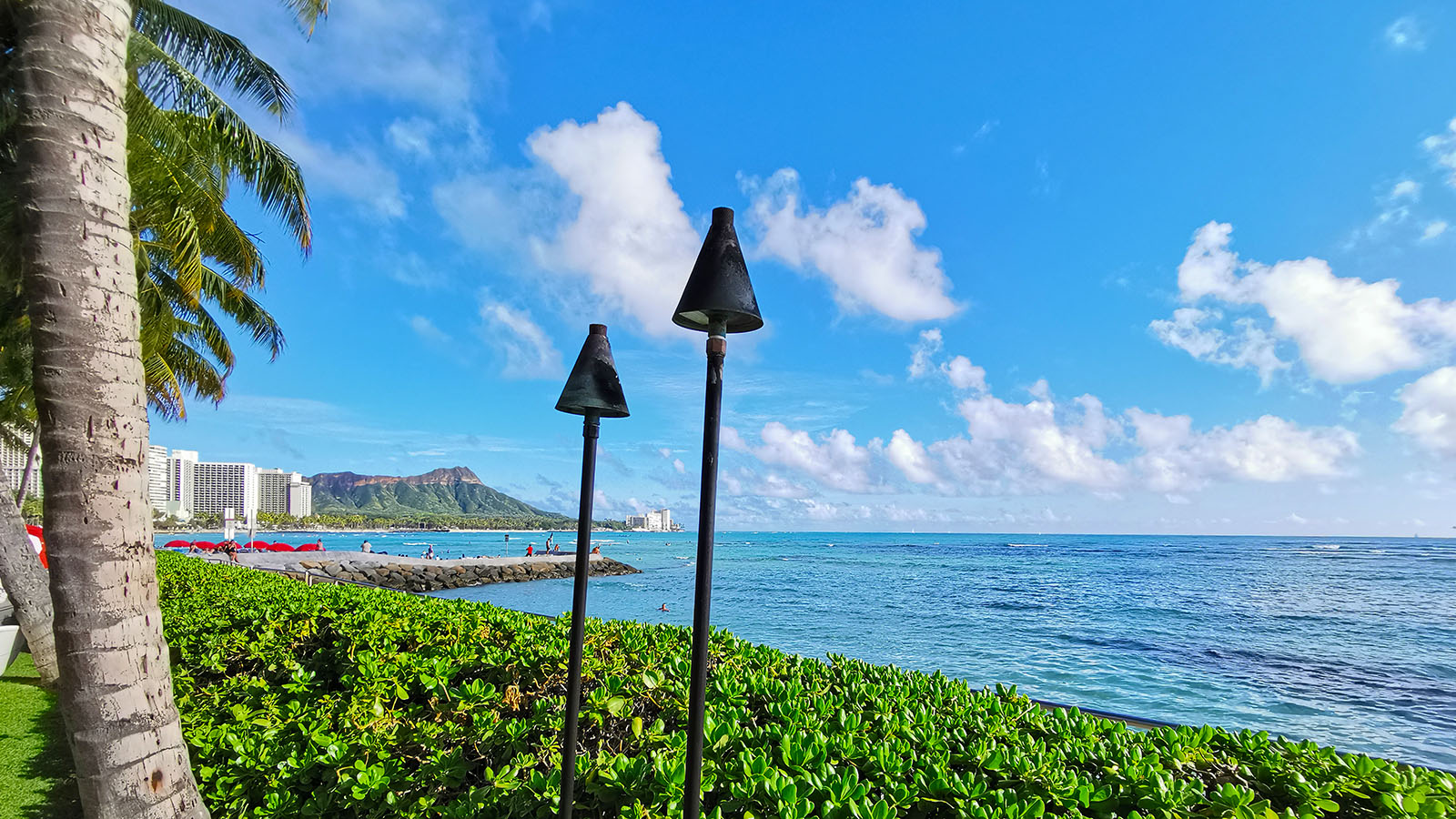 Day 2: Honolulu
Morning: After a solid night's rest, it's time for the big outing – hiking to the summit of Diamond Head. This is, of course, the picturesque volcanic tuff cone you'll see in just about every postcard of Honolulu, adjacent to Waikiki Beach. You'll need to buy a pass online to enter the trail, but it's just US$5.
It's a tough, tiring walk – stamina and a degree of fitness certainly come in handy here. But I spot hikers of all degrees of vigour, and everybody makes it up: eventually. Not only is it great exercise, but the views are phenomenal. I'm feeling so energetic that I do a loop around and back up to the top again, just to make sure I've seen everything.
Afternoon: After a change of clothes, I'm in the mood for a satisfying yet healthy lunch. I'm also looking for an excuse to explore Downtown Honolulu – and I find it. Cafe Julia is my port of call, attached to the local YWCA – an organisation devoted to pursuing equality in all its forms.
Once I've enjoyed my delicious chicken salad and Diet Coke, I continue on foot to the Hawaii State Art Museum – just down the road. I admire its display of award-winning pieces by school-age artists. As a fan of the movie Superbad, I particularly enjoy a clever piece themed around data protection and fake identities. McLovin's Hawaii driver's licence is central to that work, and makes me giggle.
Evening: As luck would have it, I'm in Honolulu on the one Friday each month when that State Art Museum turns into a jazz club after dark. As with the museum itself, admission to jazz night is free. I'm grooving along to the music in no time – some also decide to dance. Food stalls and a pop-up bar appear within the grounds, and I'm all set for the evening.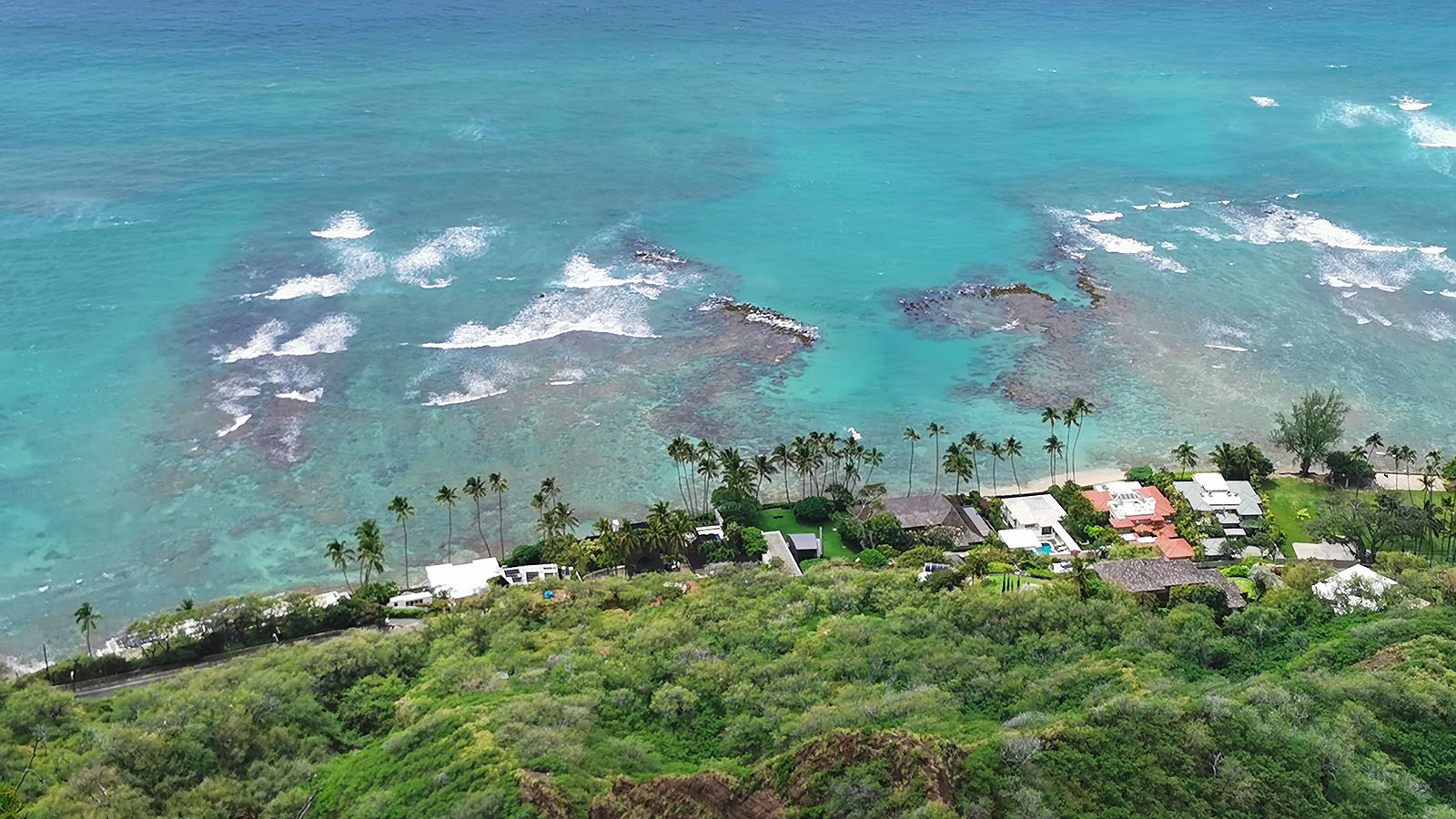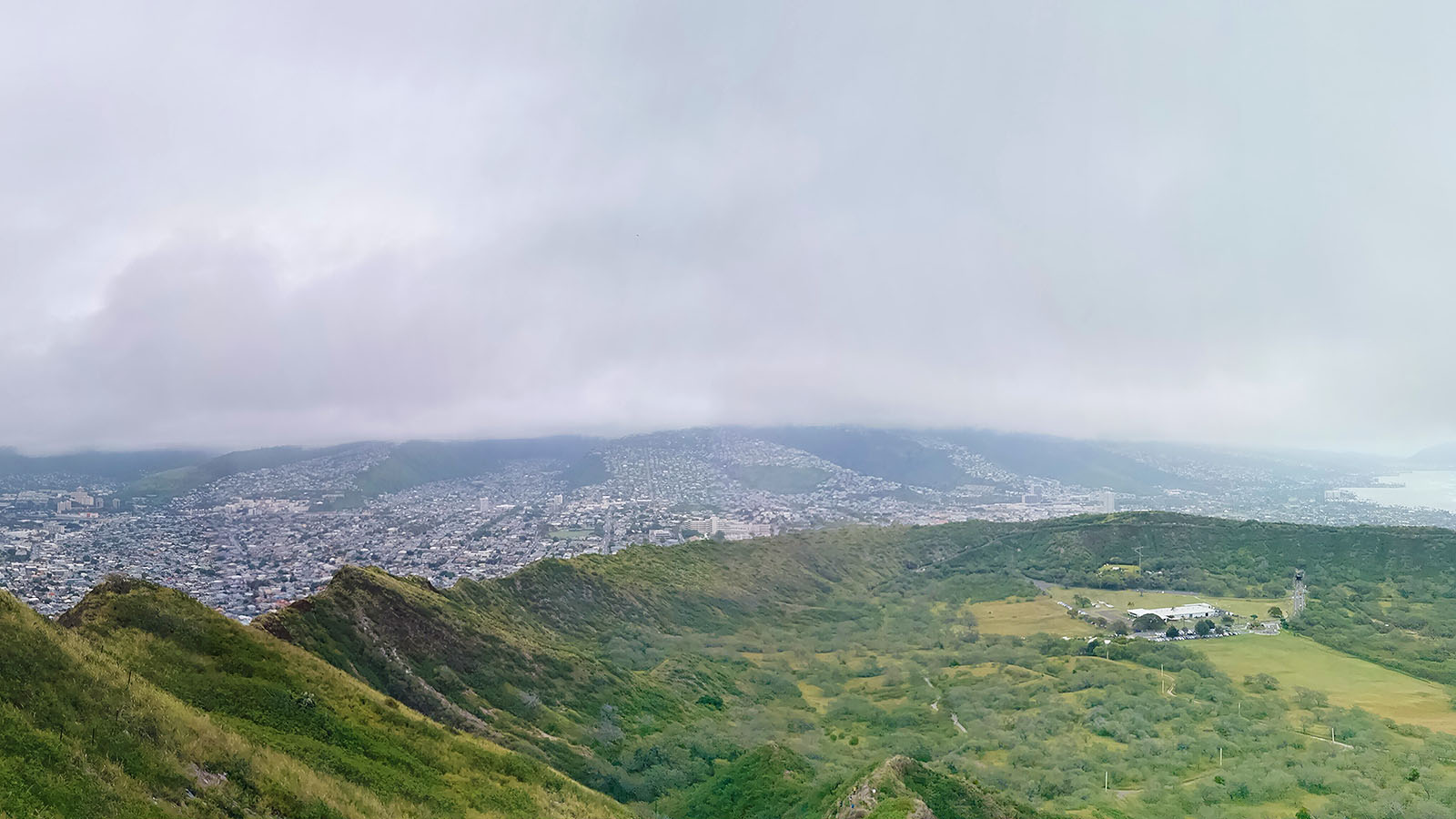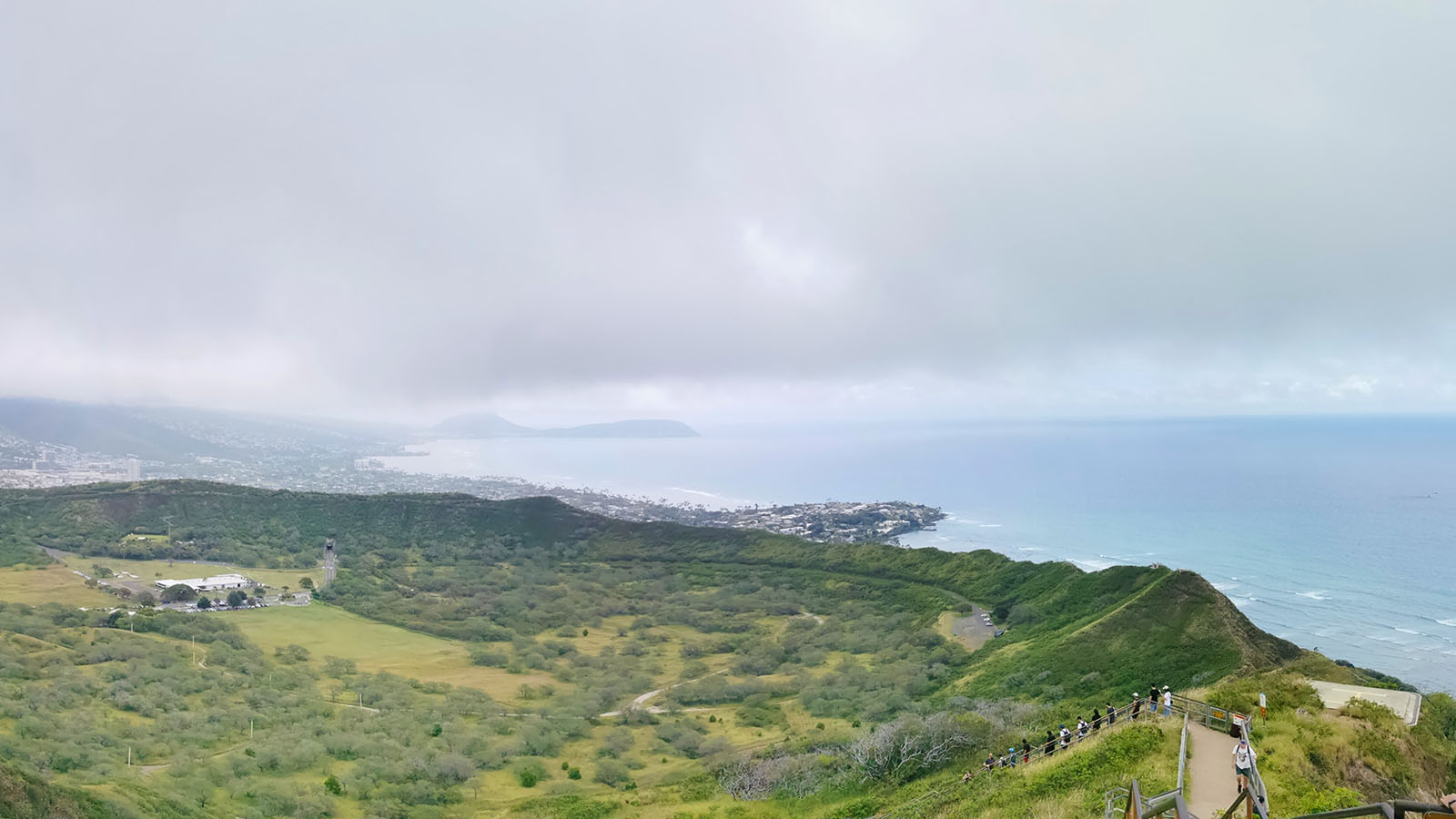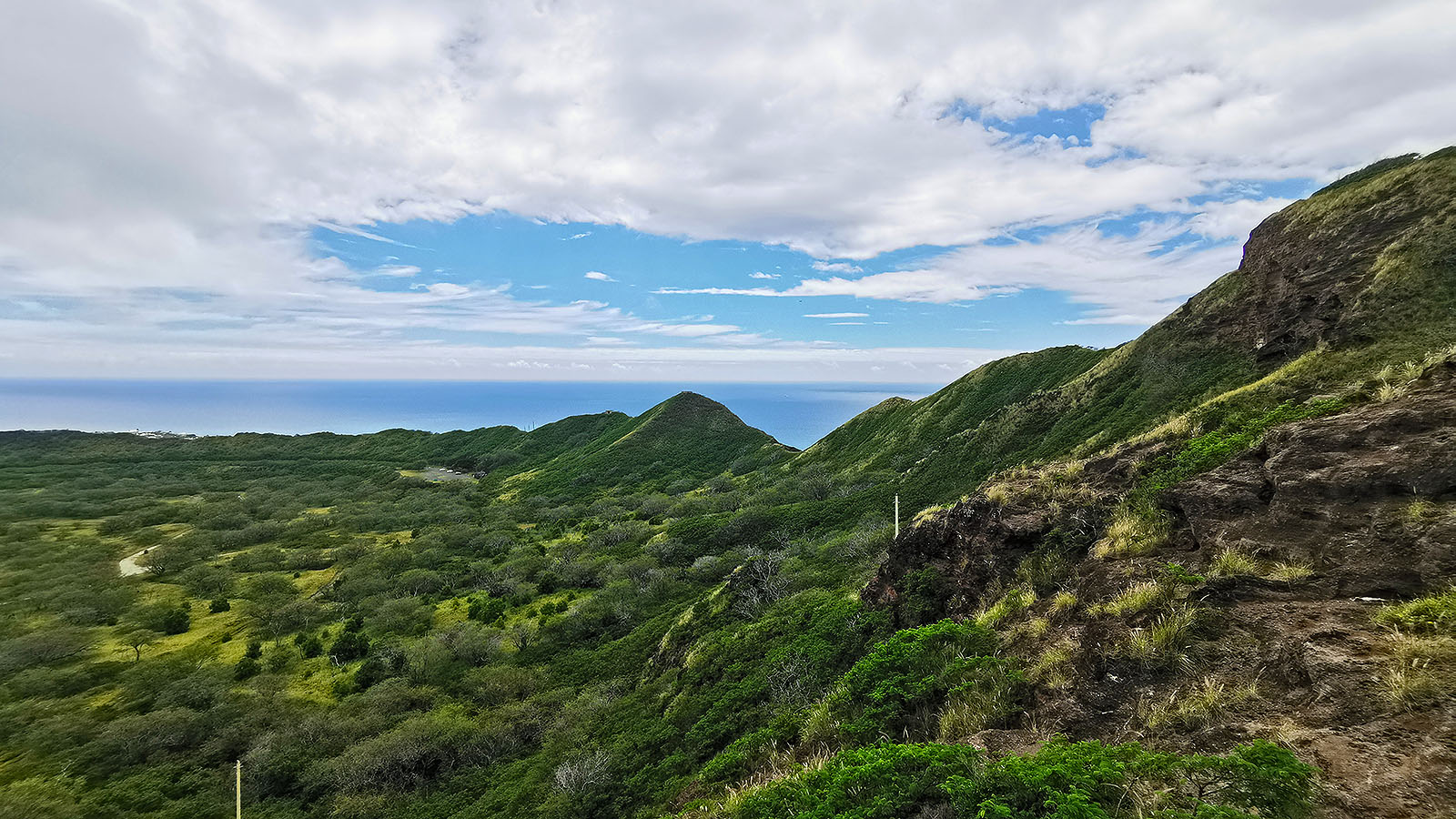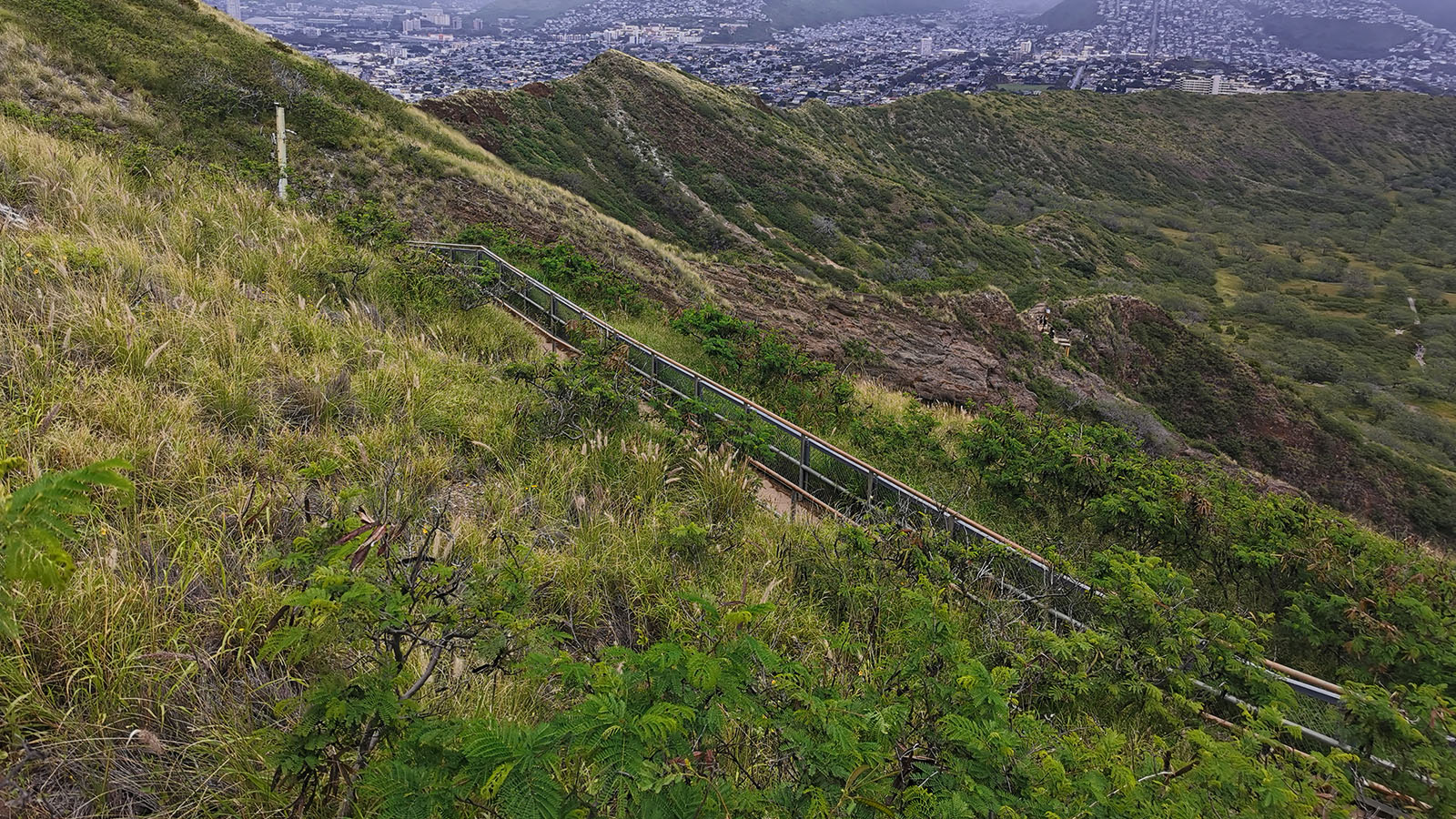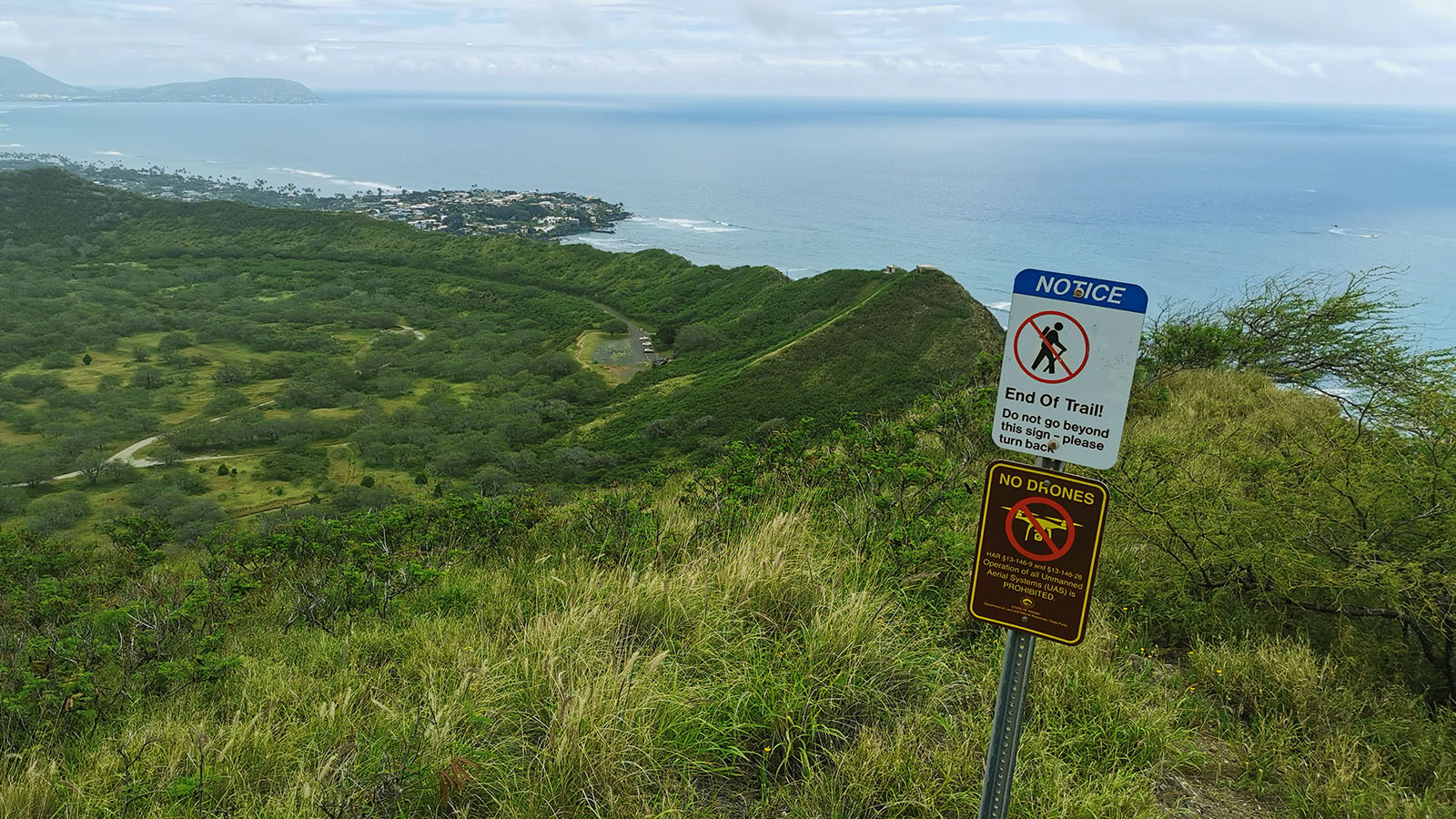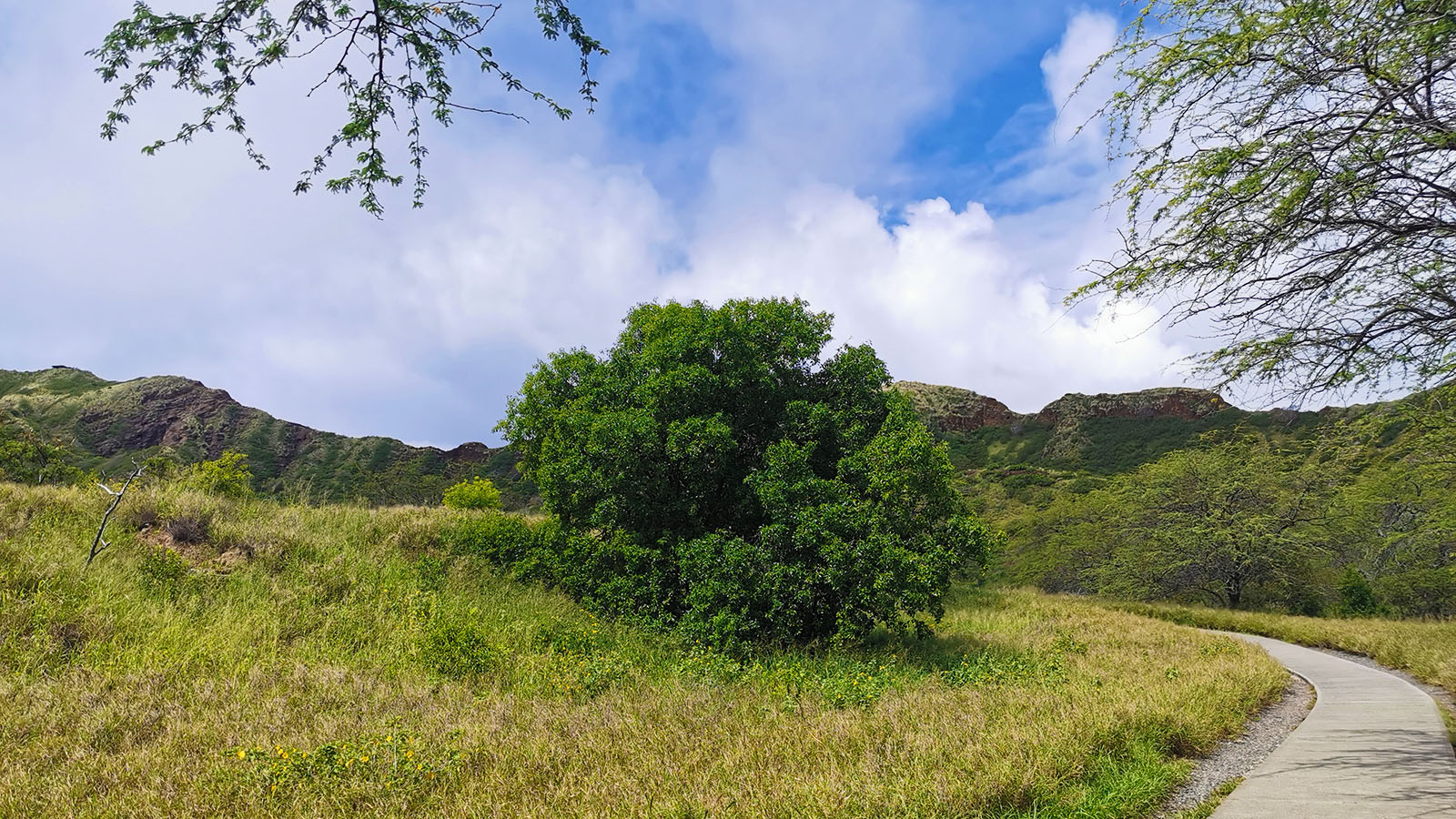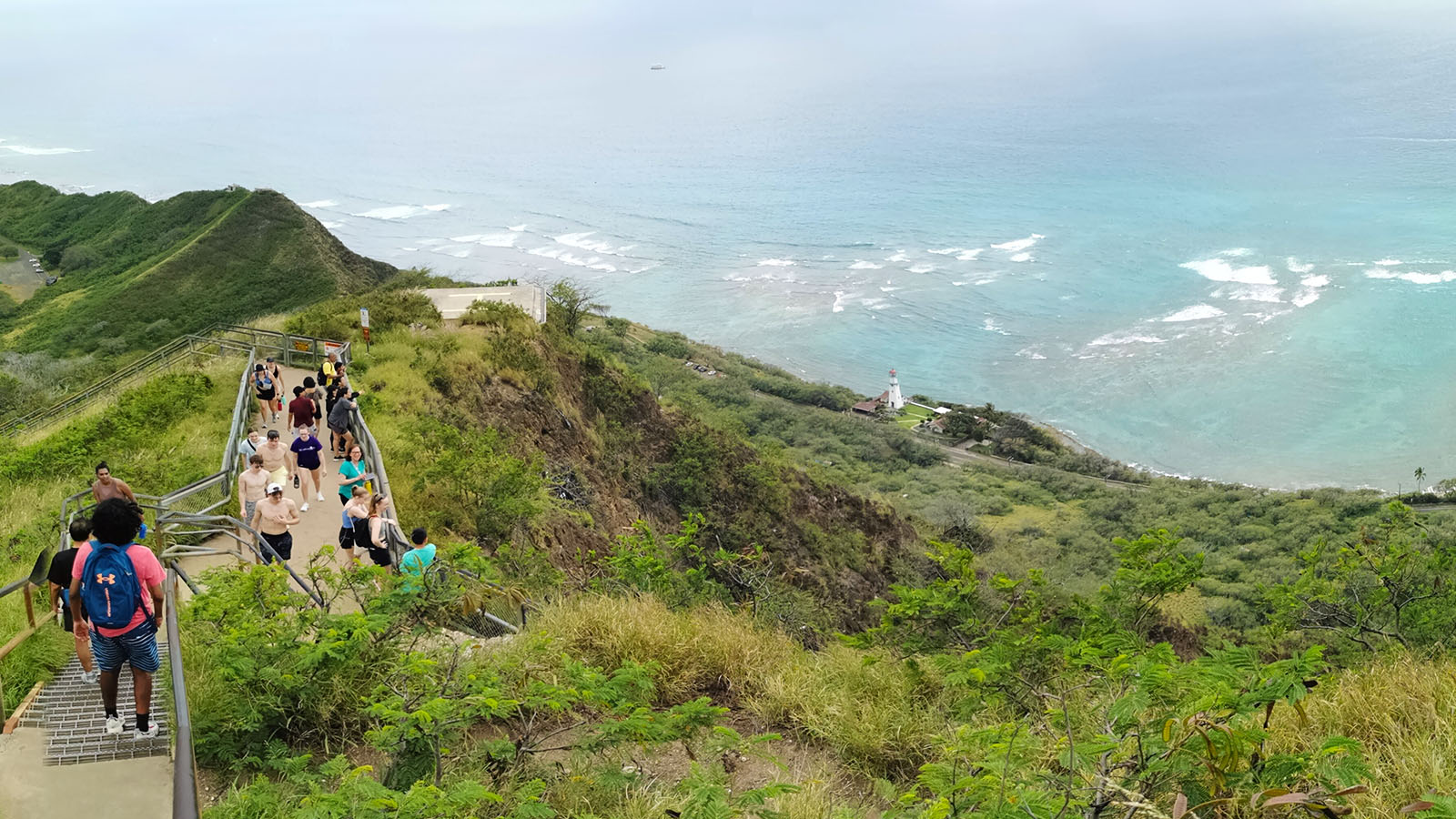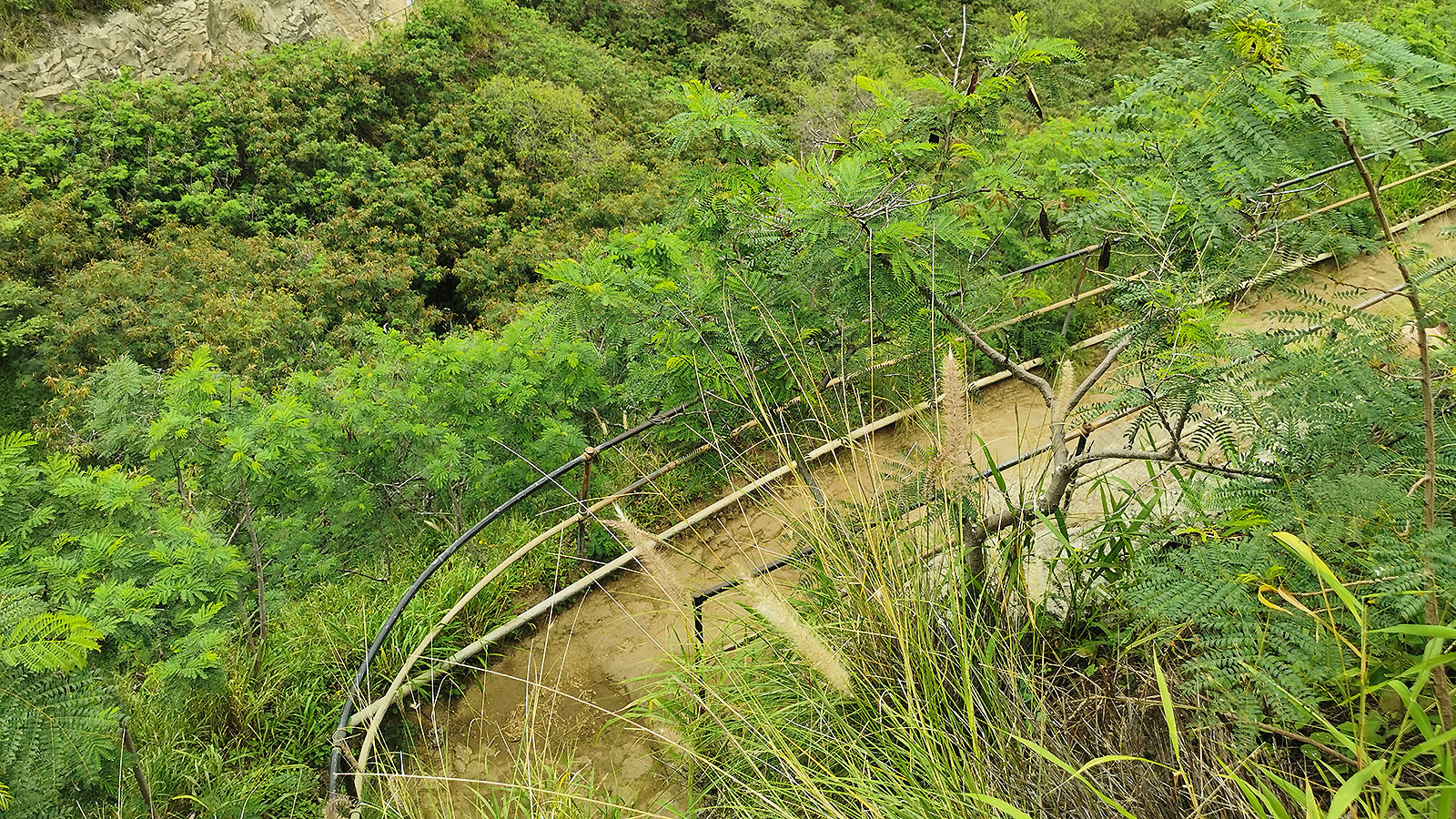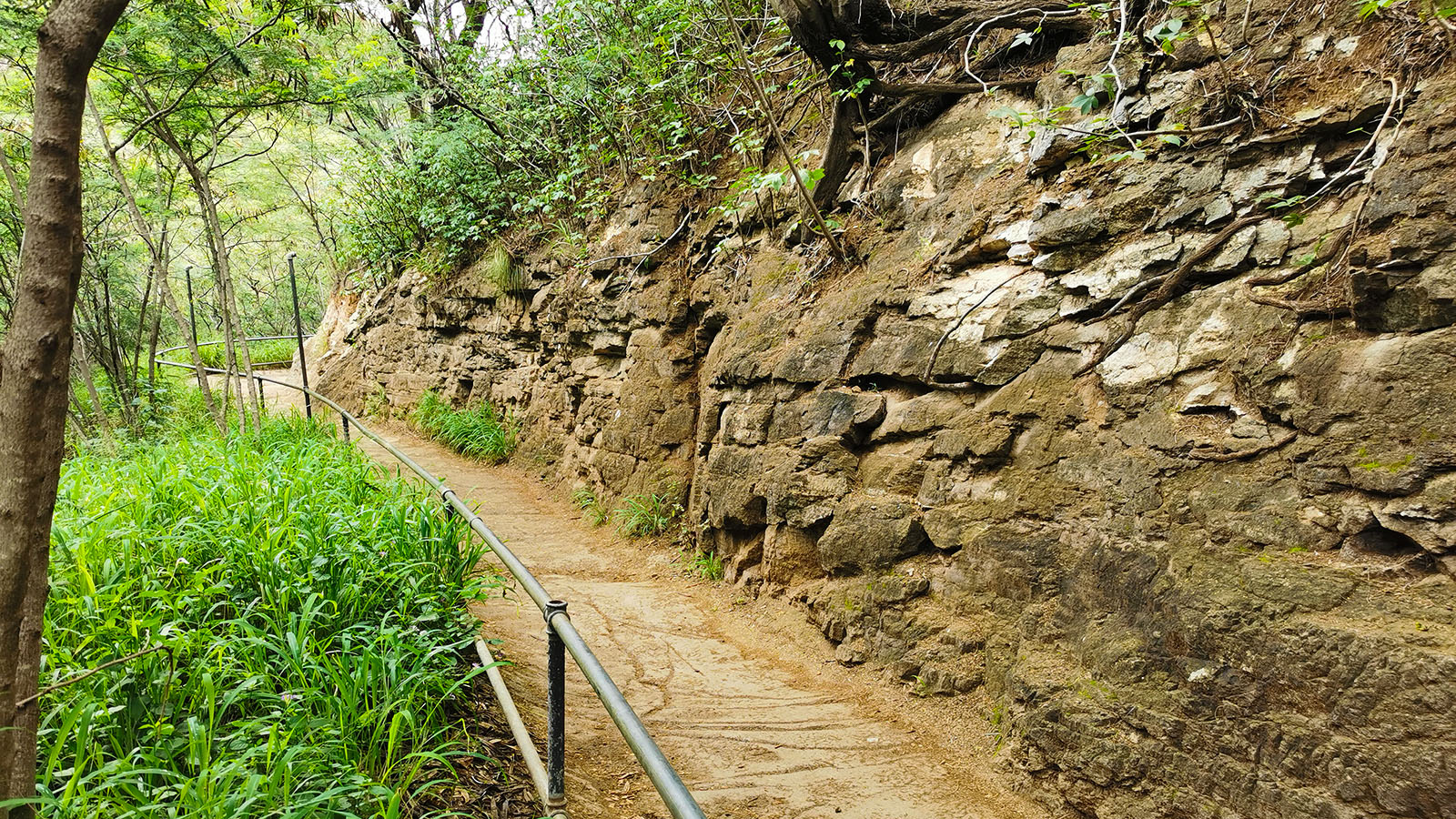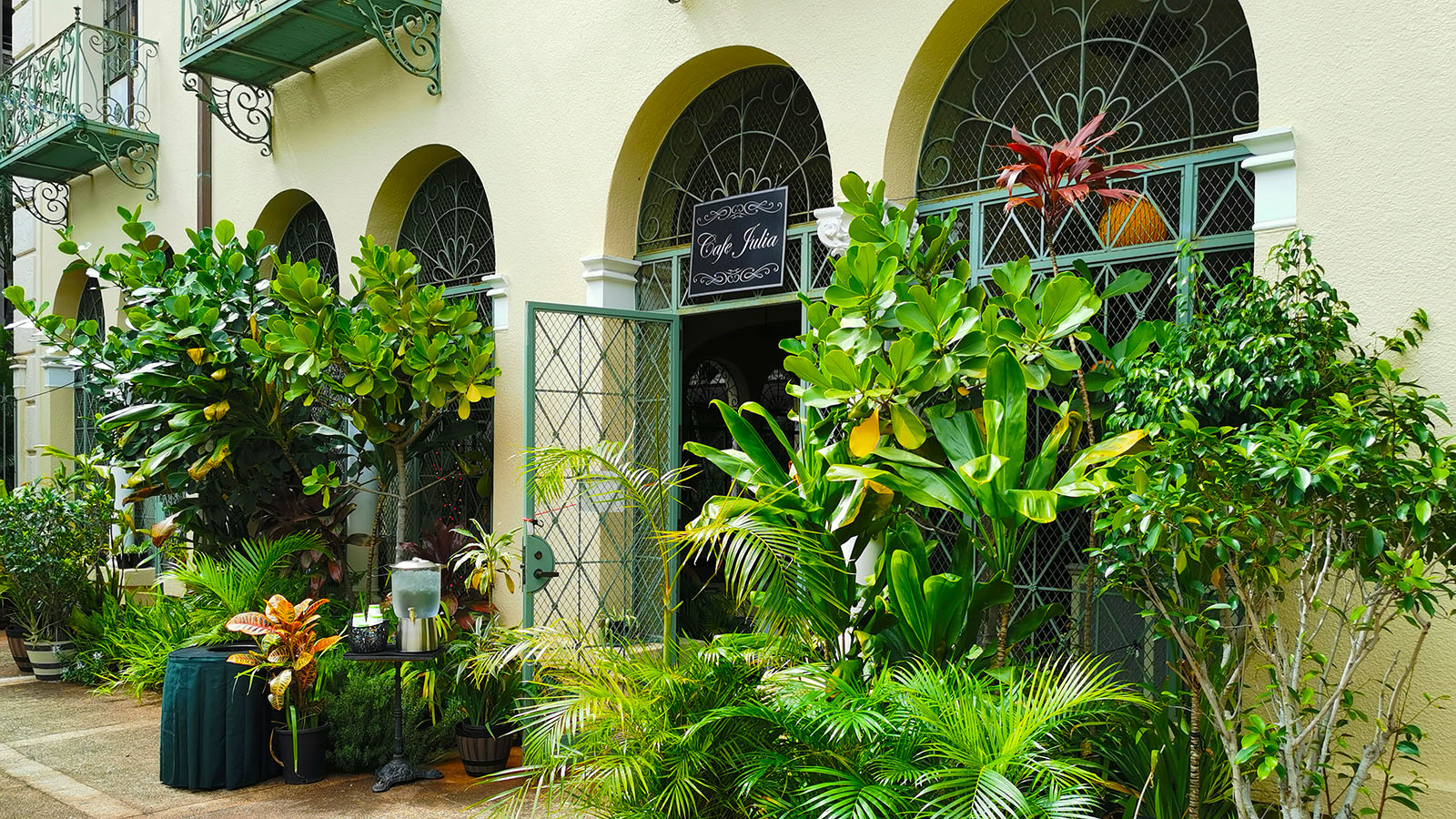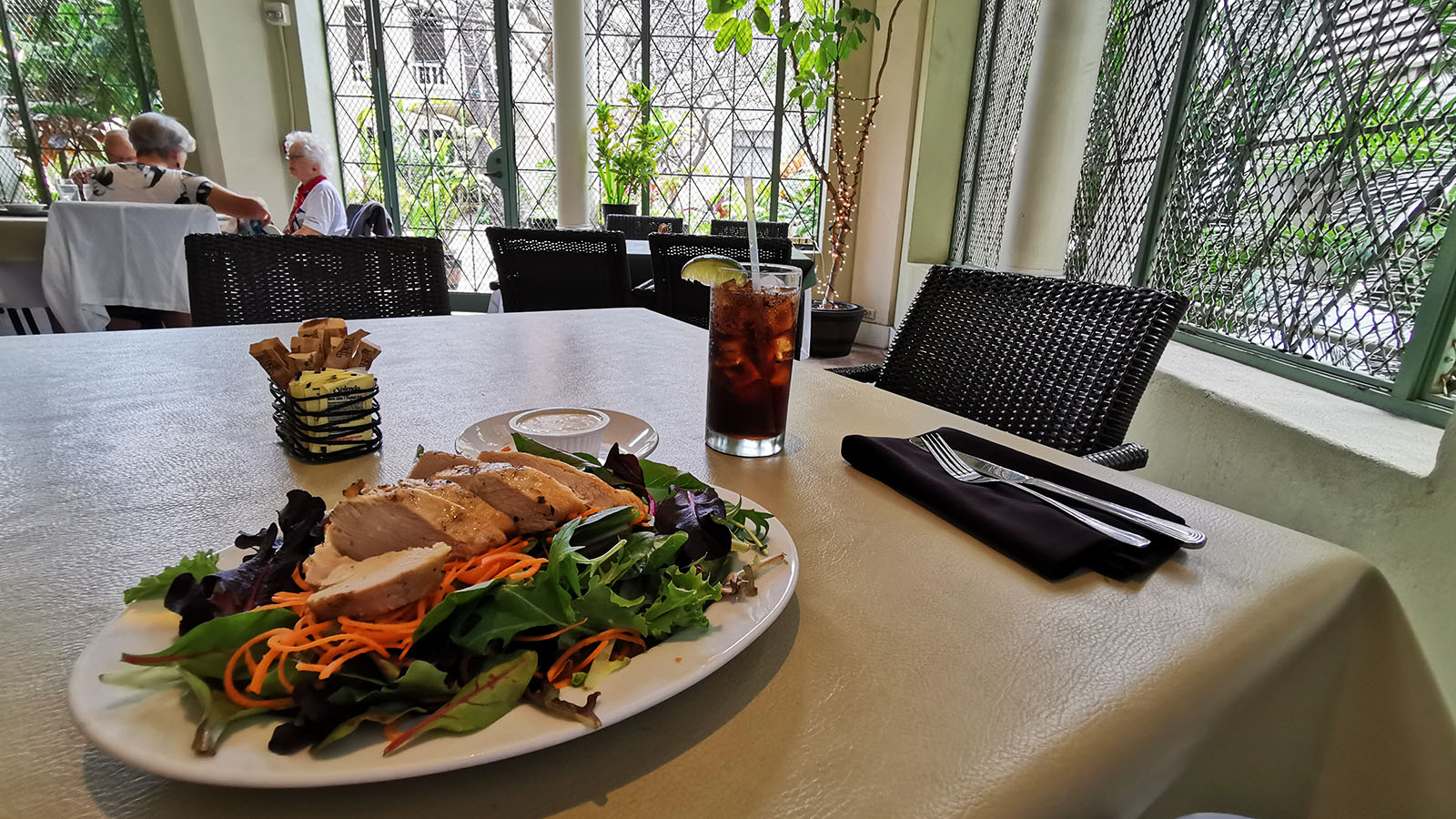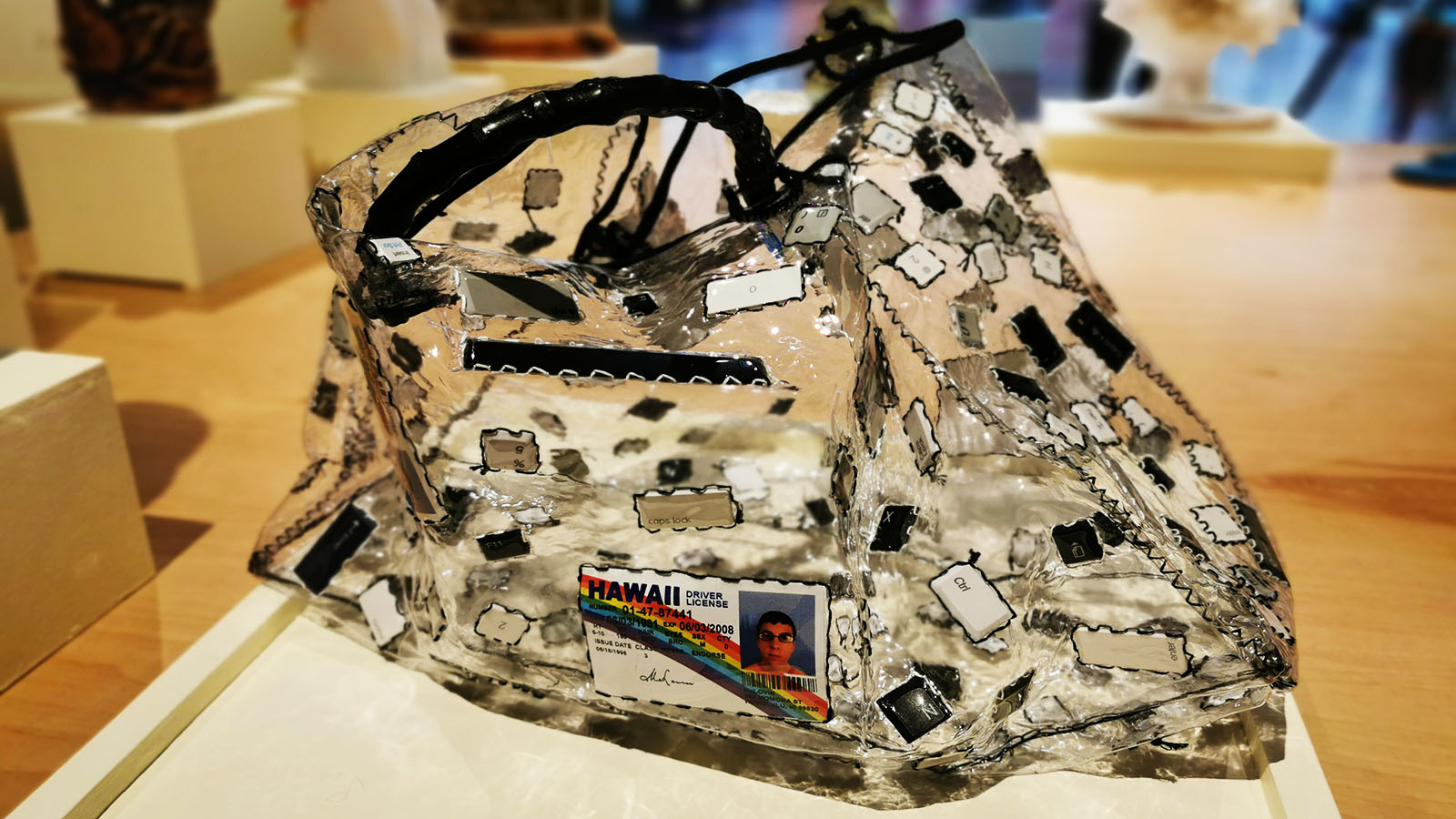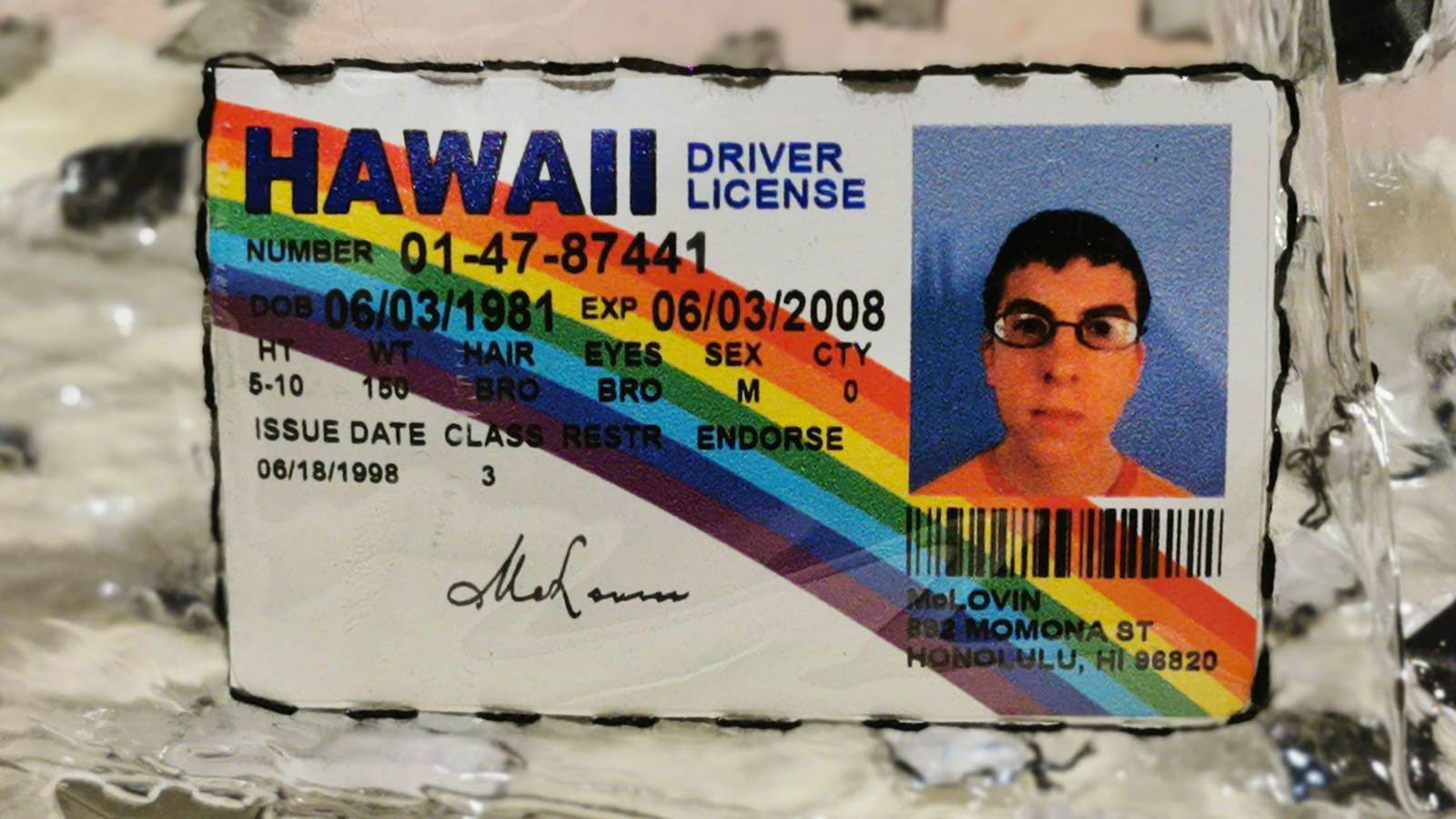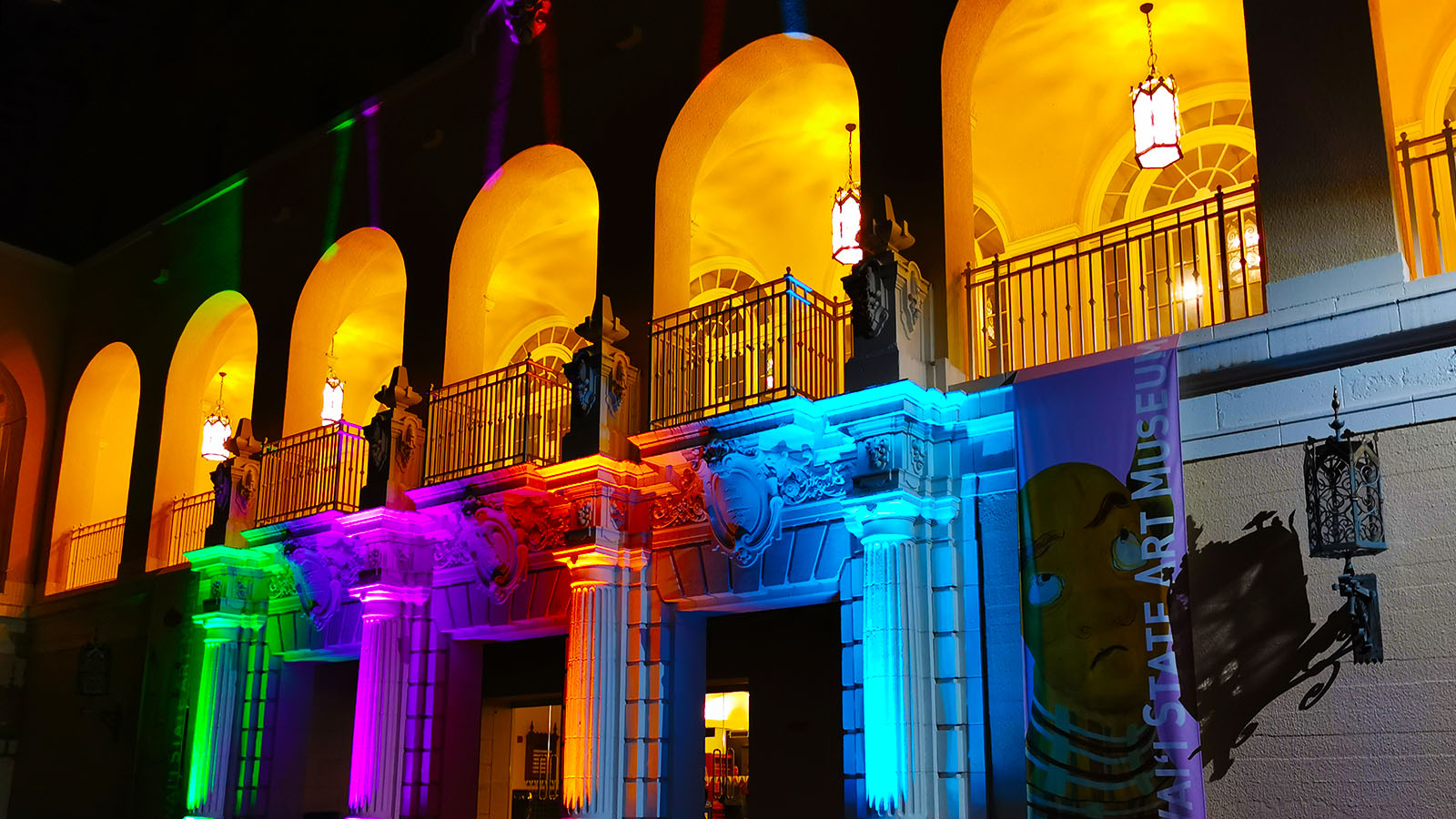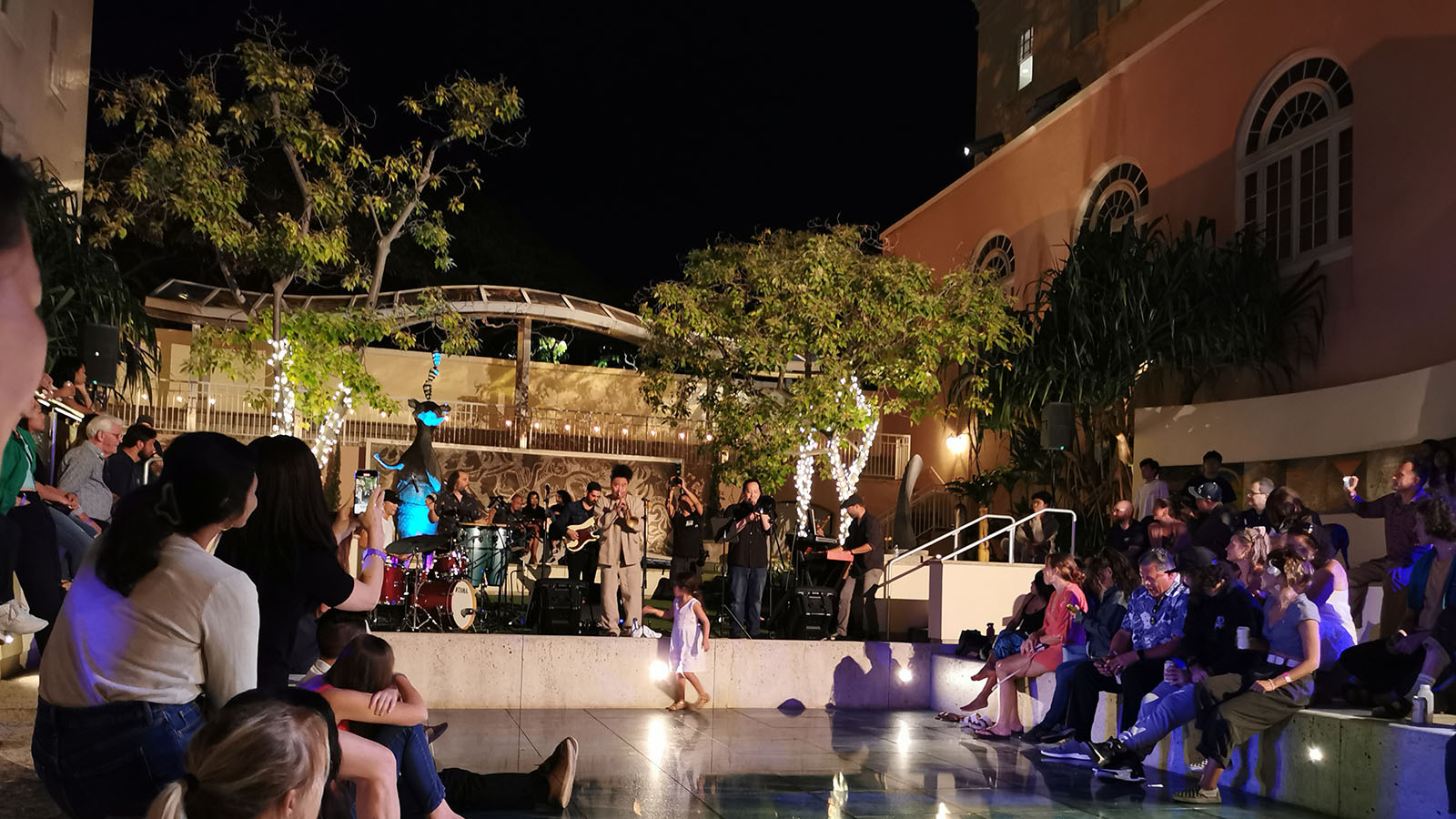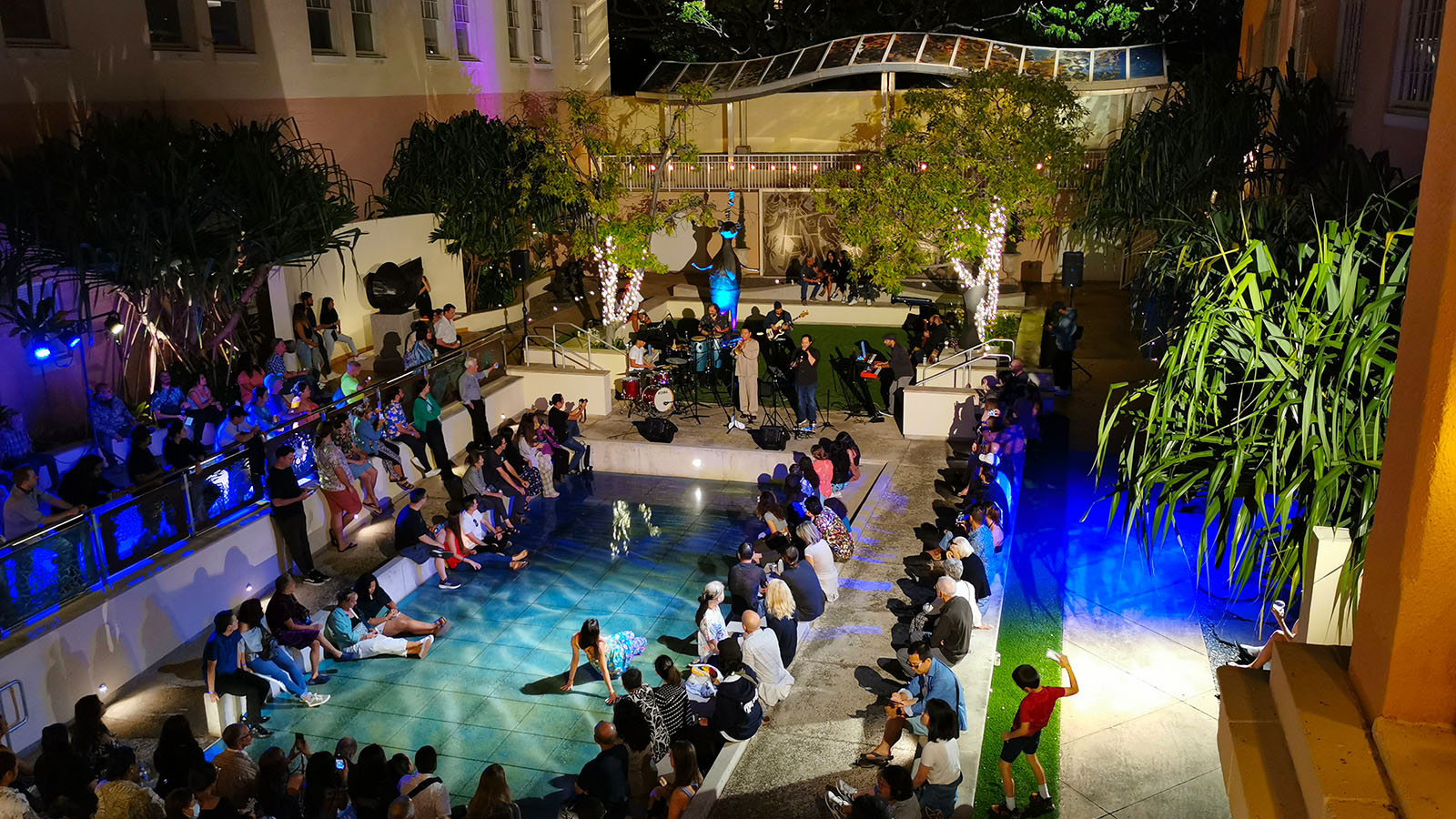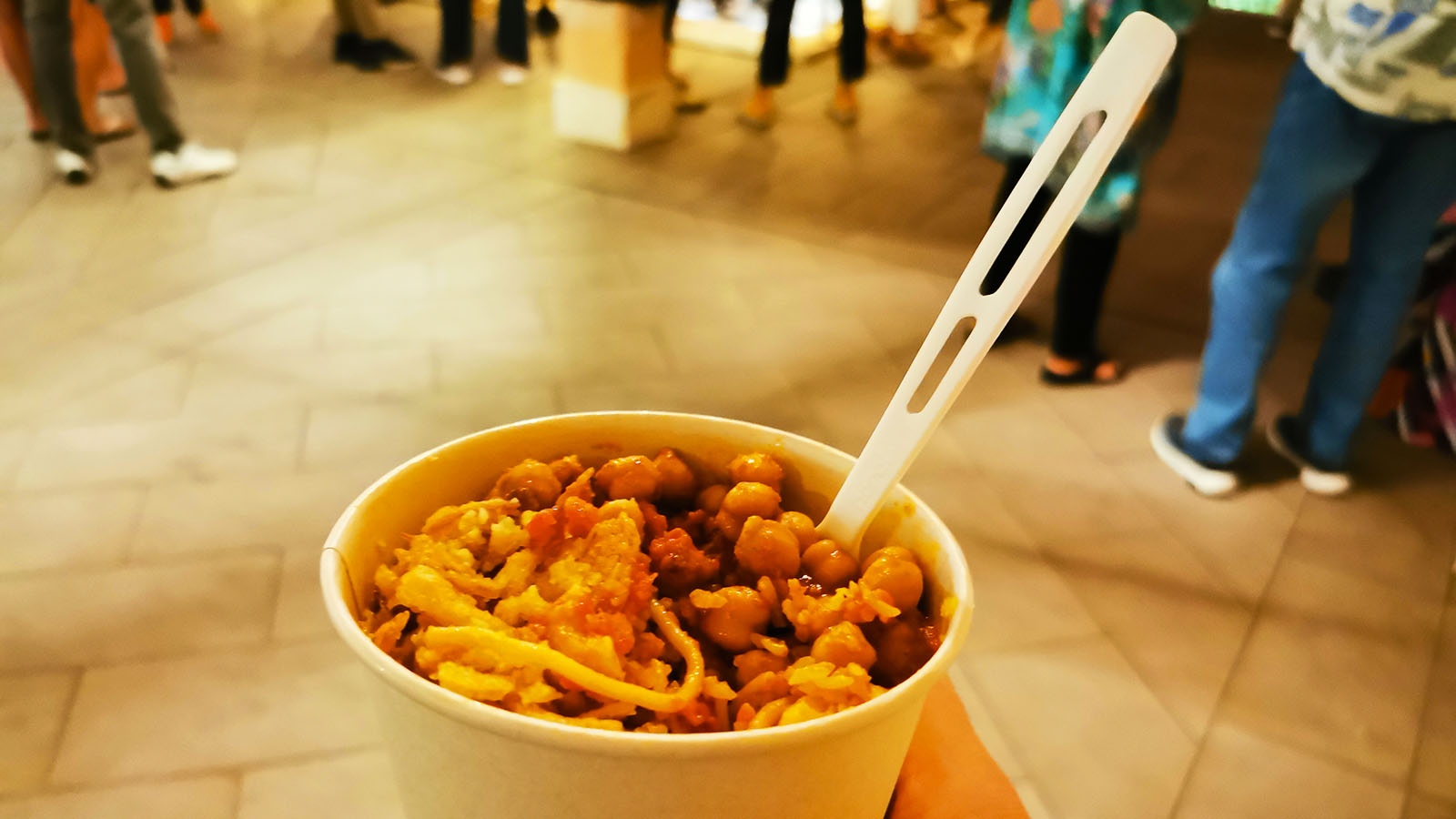 Day 3: Honolulu
Morning: No visit to Honolulu is complete without spending time at Pearl Harbor. How much time depends on your level of interest. I'd explored Pearl Harbor on a previous Honolulu visit, and remember it taking the better part of a day. If you can, get there first thing. This should give you plenty of time to explore while avoiding the end-of-day crush to depart – and the ensuing Uber surge when ordering a ride.
Afternoon: Timing-wise, the afternoon may continue at Pearl Harbor. But as I'd been before, I look for something different – and quickly find it. The Kepoikai II Catamaran is an affordable way to see Waikiki Beach from another angle. And of course, to snap some wonderful photos.
US$32 (around AU$48) buys a one-hour ticket, and that feels like just the right amount of time. If the mood strikes, the crew will happily sell you cocktails and other drinks on board.
Evening: It's my last night in Honolulu, and I've been travelling on a budget up until this point. So I decide a splurge on dinner is justified, with a waterfront meal at Tropics Bar and Grill. I don't normally sit for dinner at 5 pm, but this earlier slot allows me to make the most of the view. Arriving early – even without a reservation – means I have no problems securing one of the best tables in the restaurant for those vistas.
I enjoy some delicious Hawaiian fare, and a piña colada is most definitely in order. The service here is super prompt, which means I still have time to wander via the Royal Hawaiian Center. Here, I catch some free cultural entertainment blending local music and dance. I grab a bite to eat upstairs but save my appetite for a delicious teddy treat from Kulu Kulu. It's been awarded 'Best Bakery in Honolulu', and I can see (and taste) why.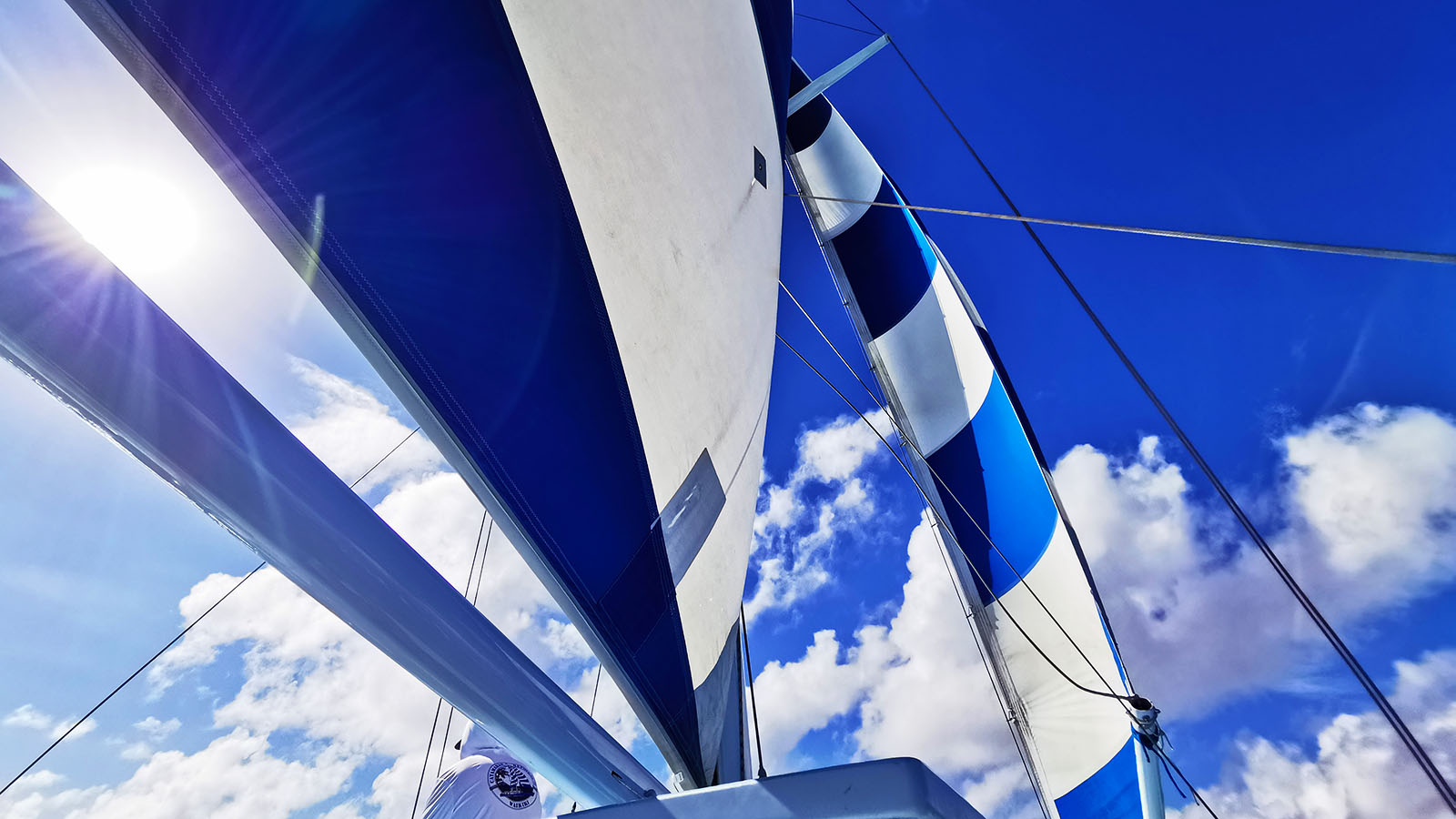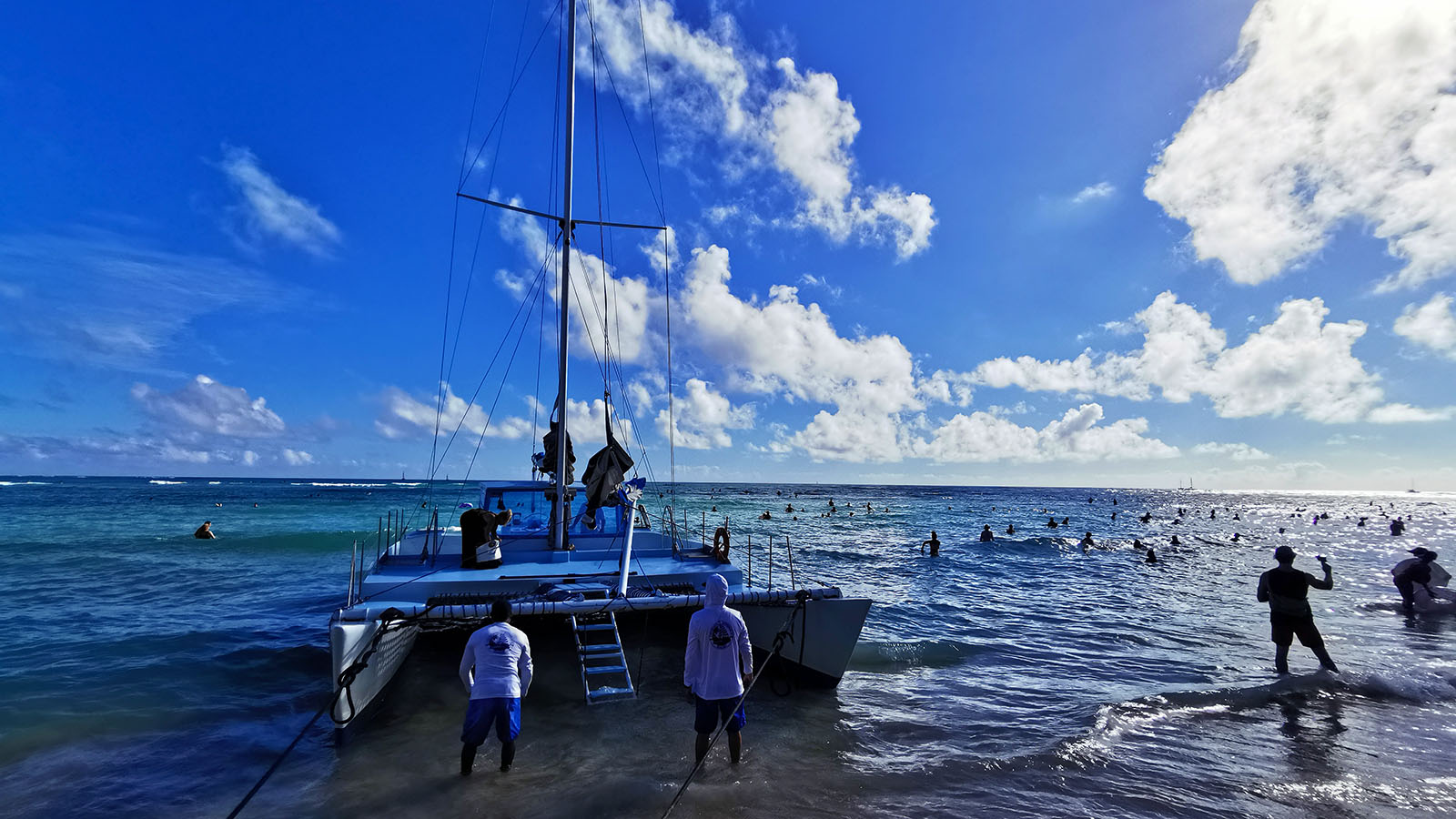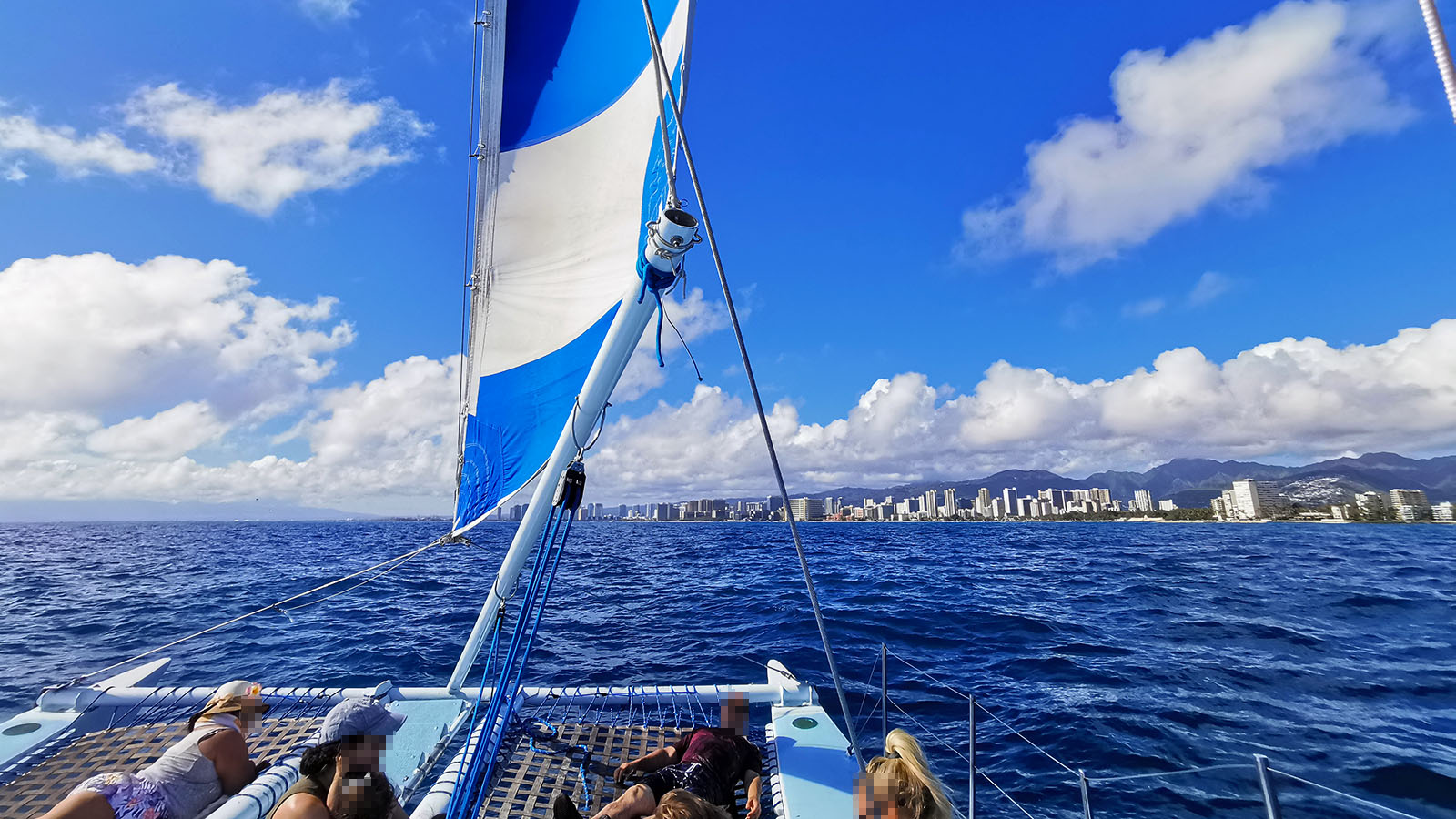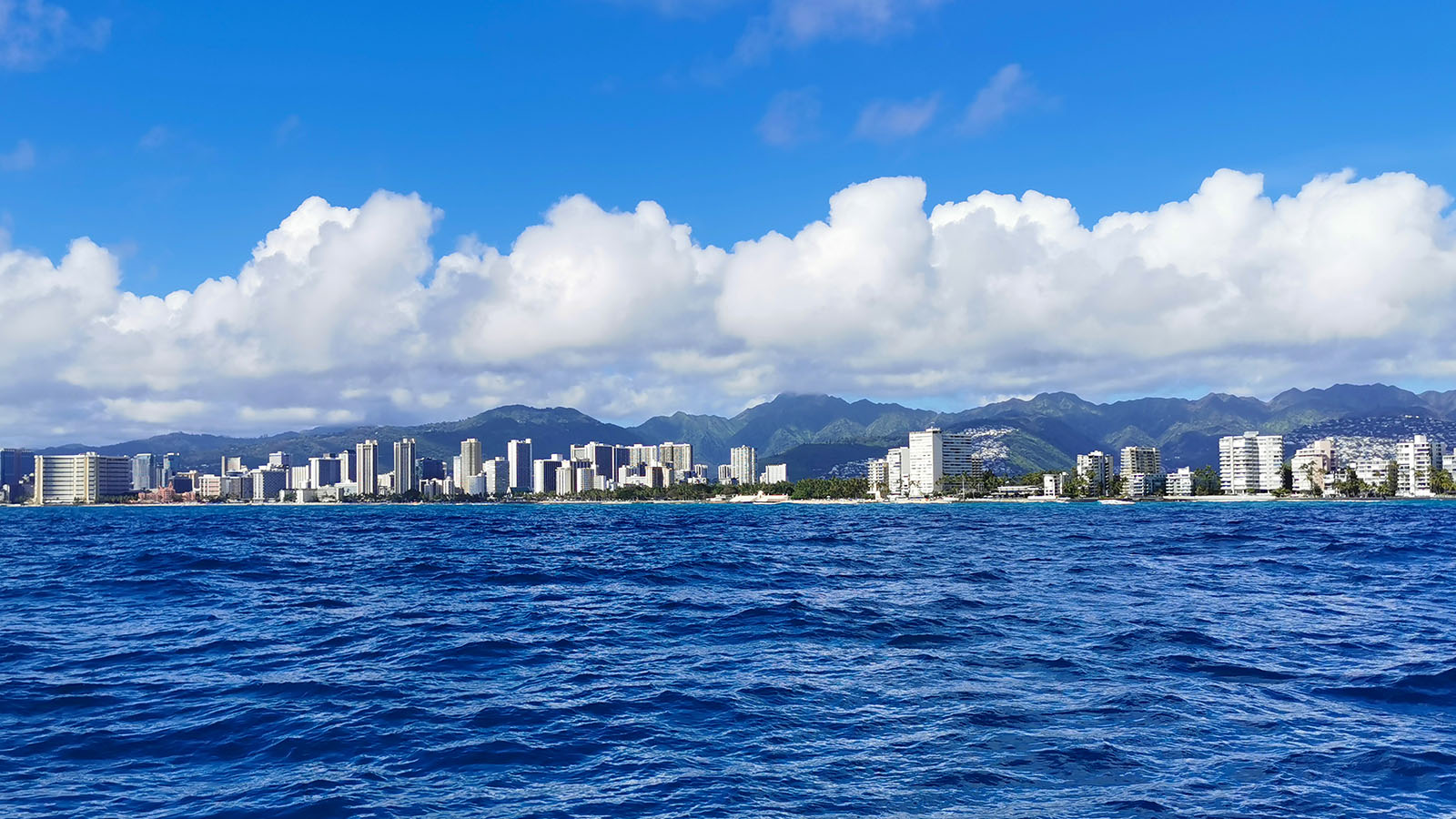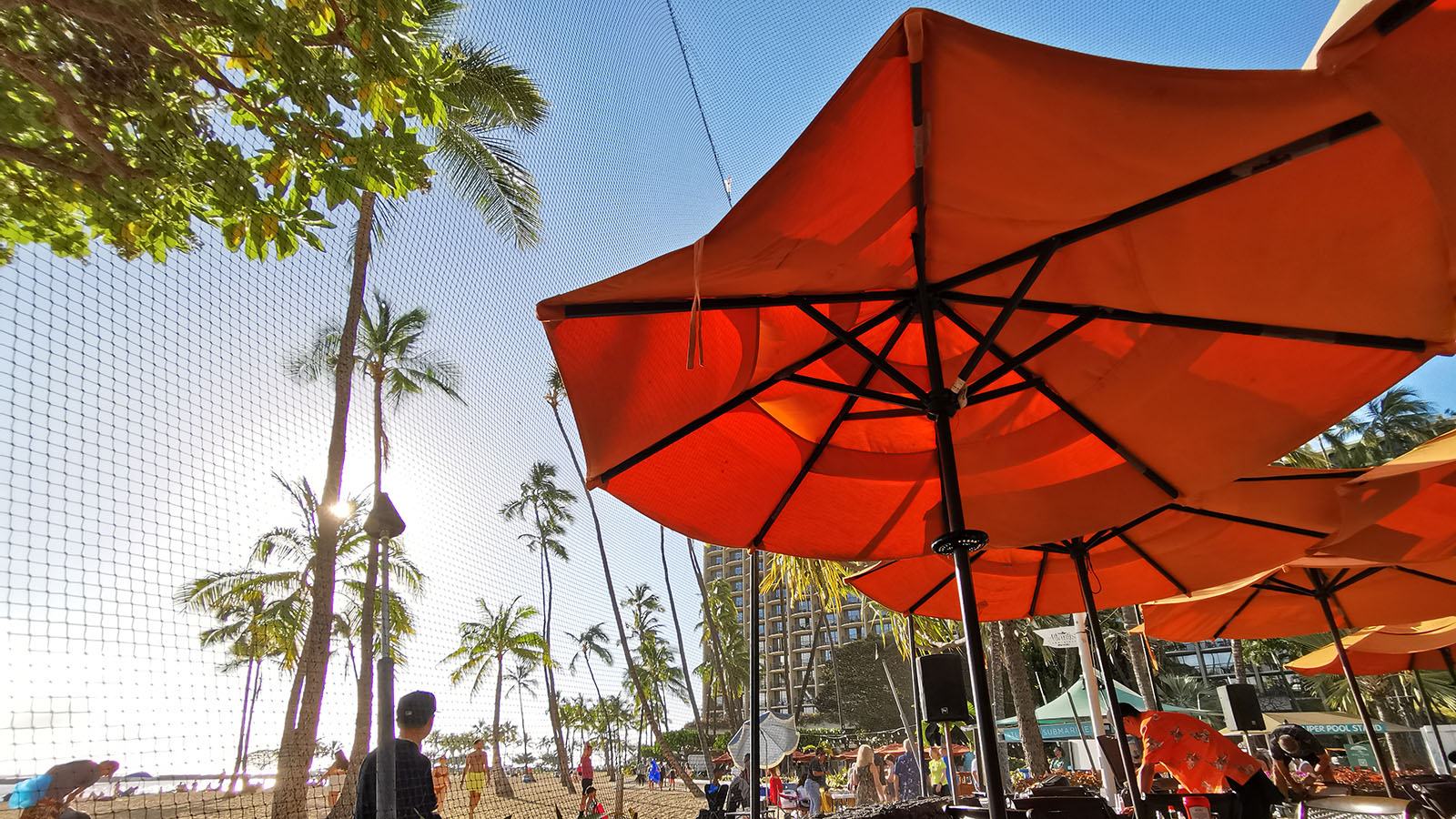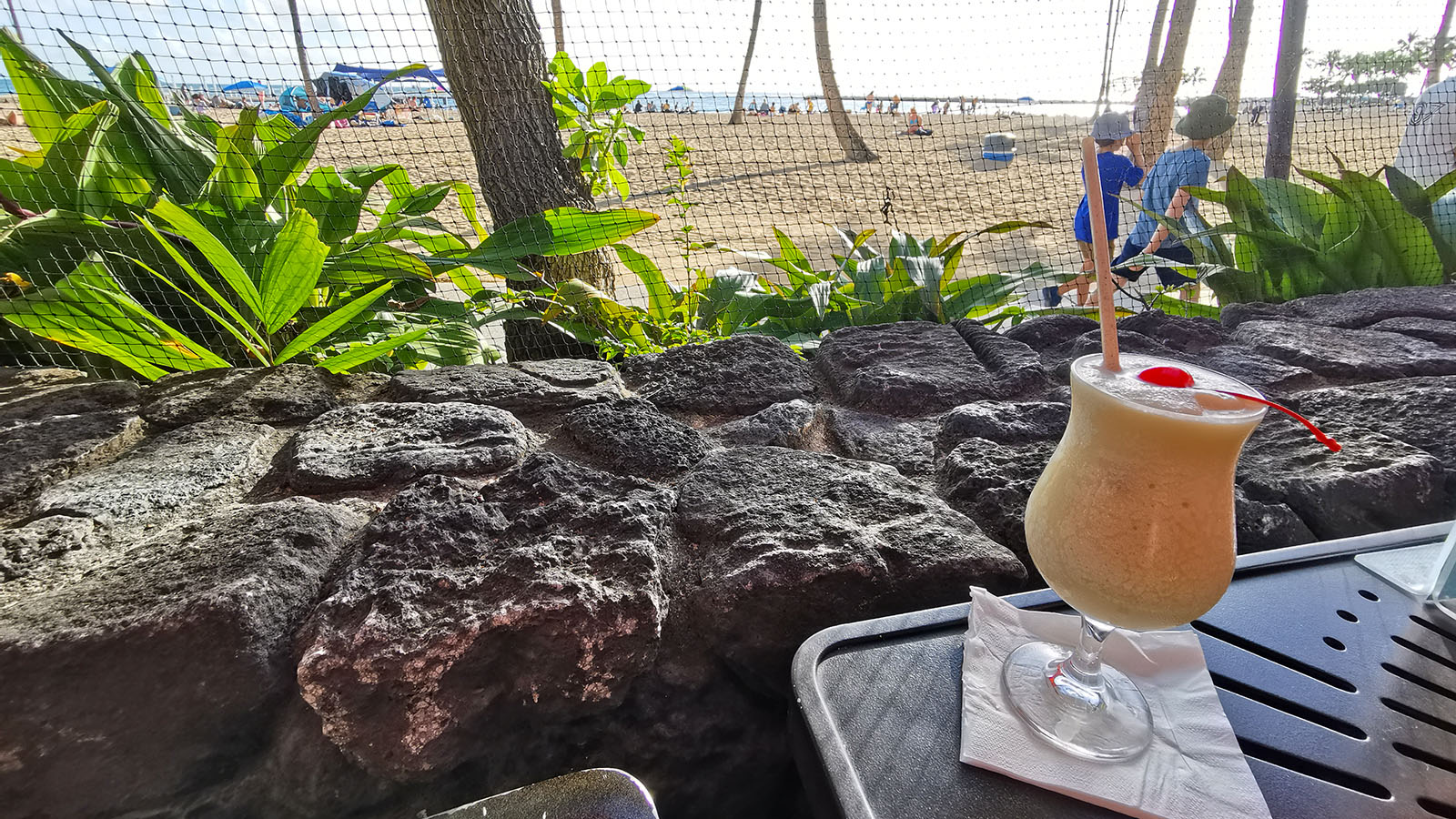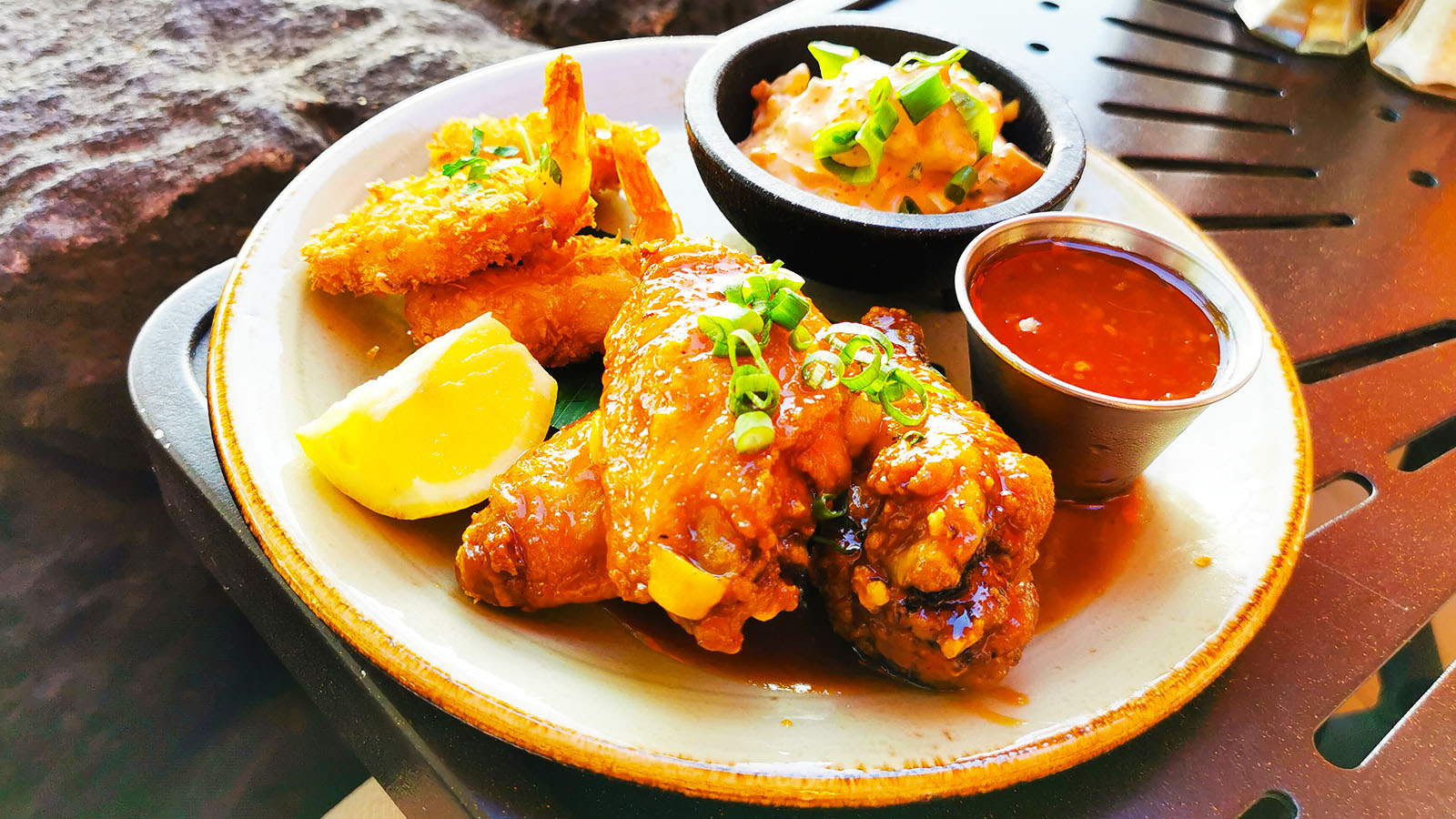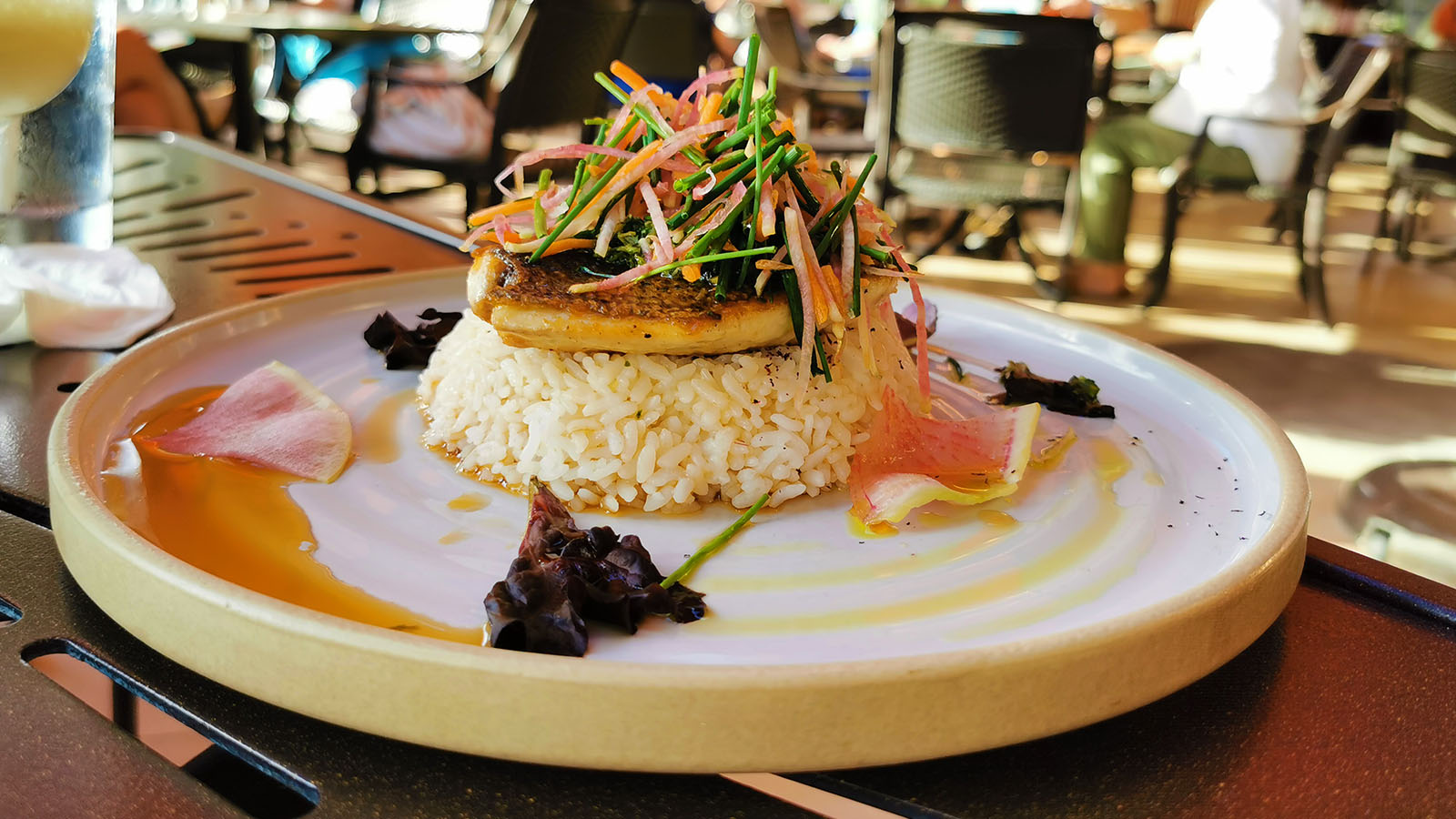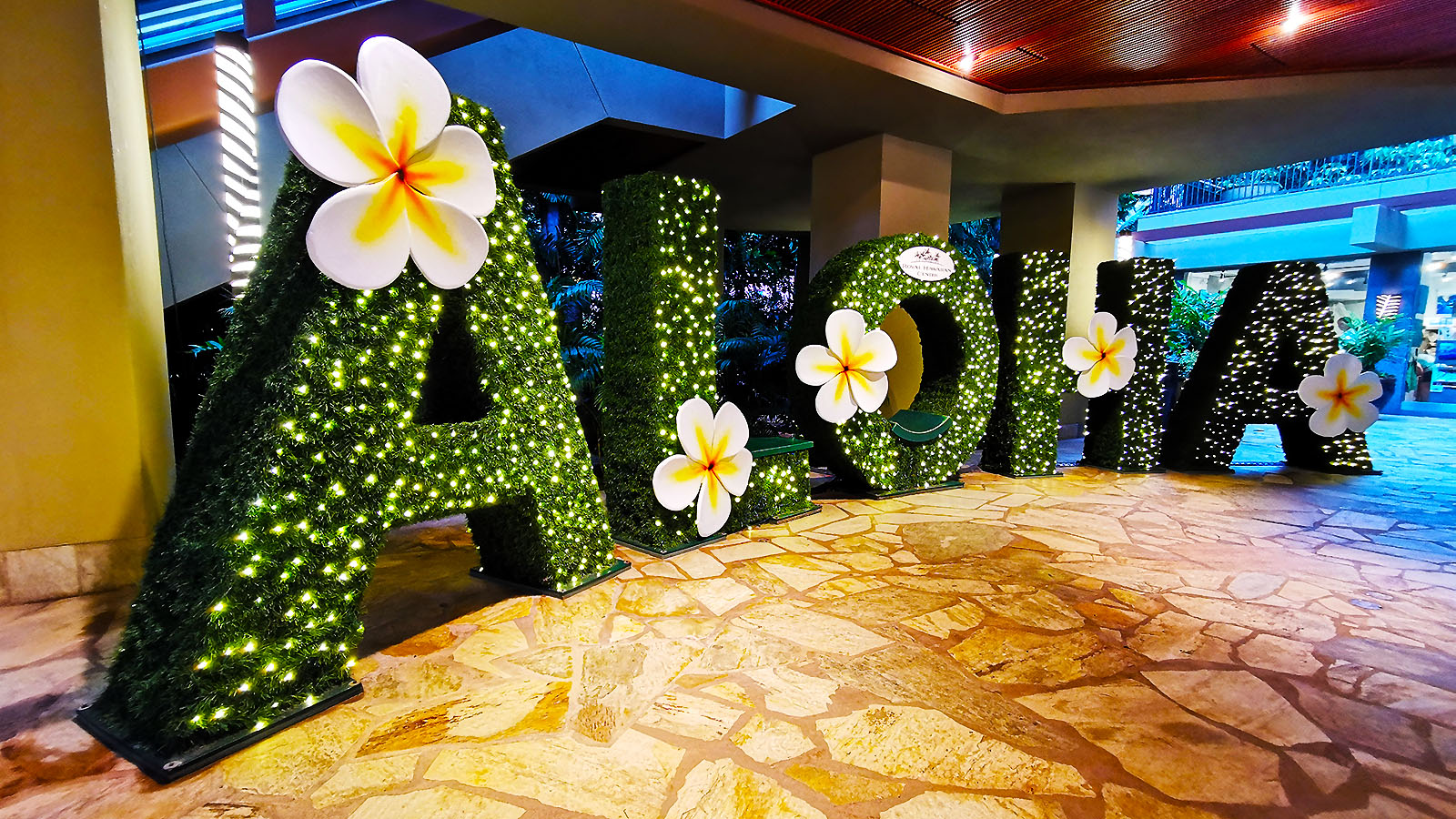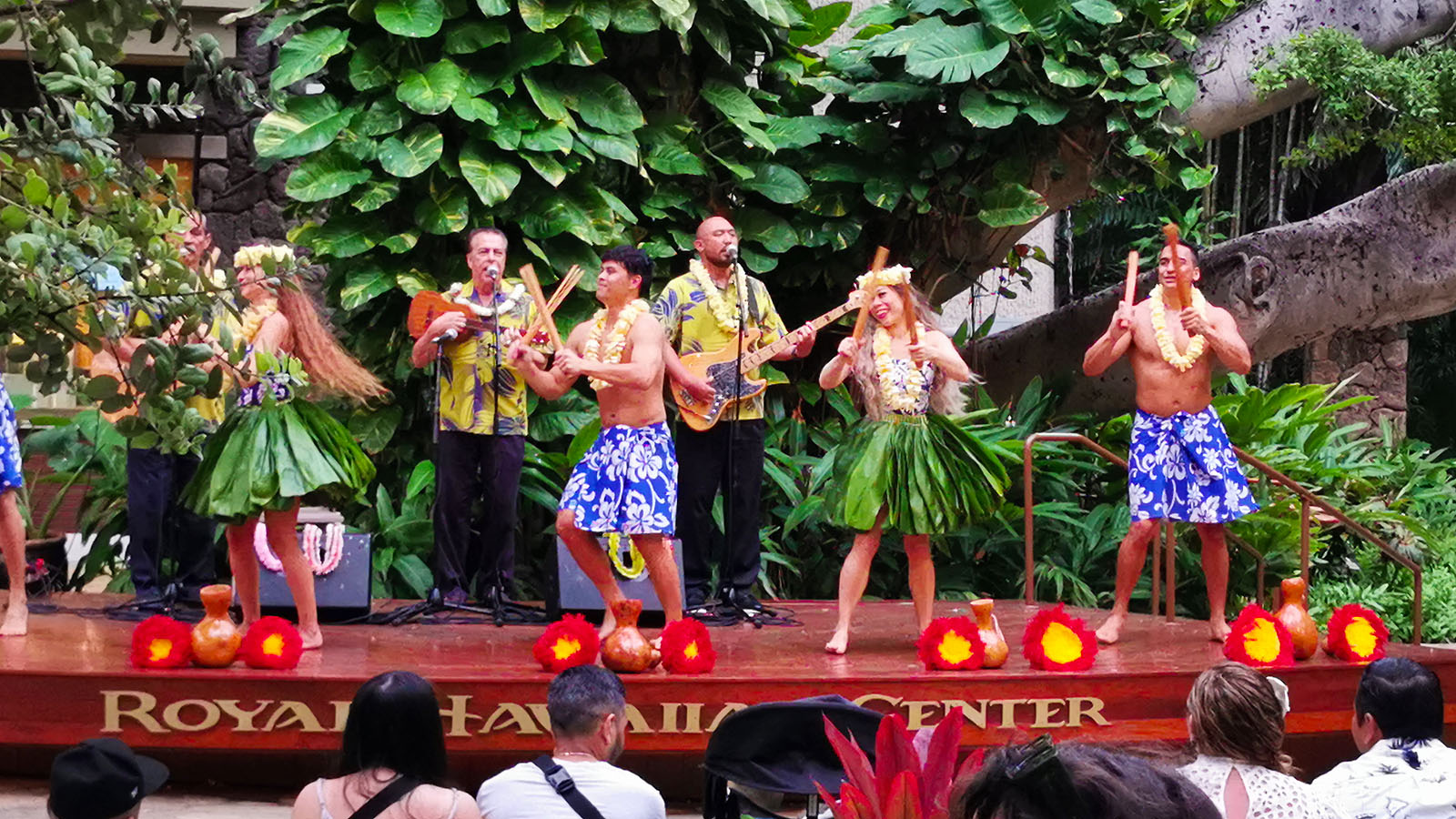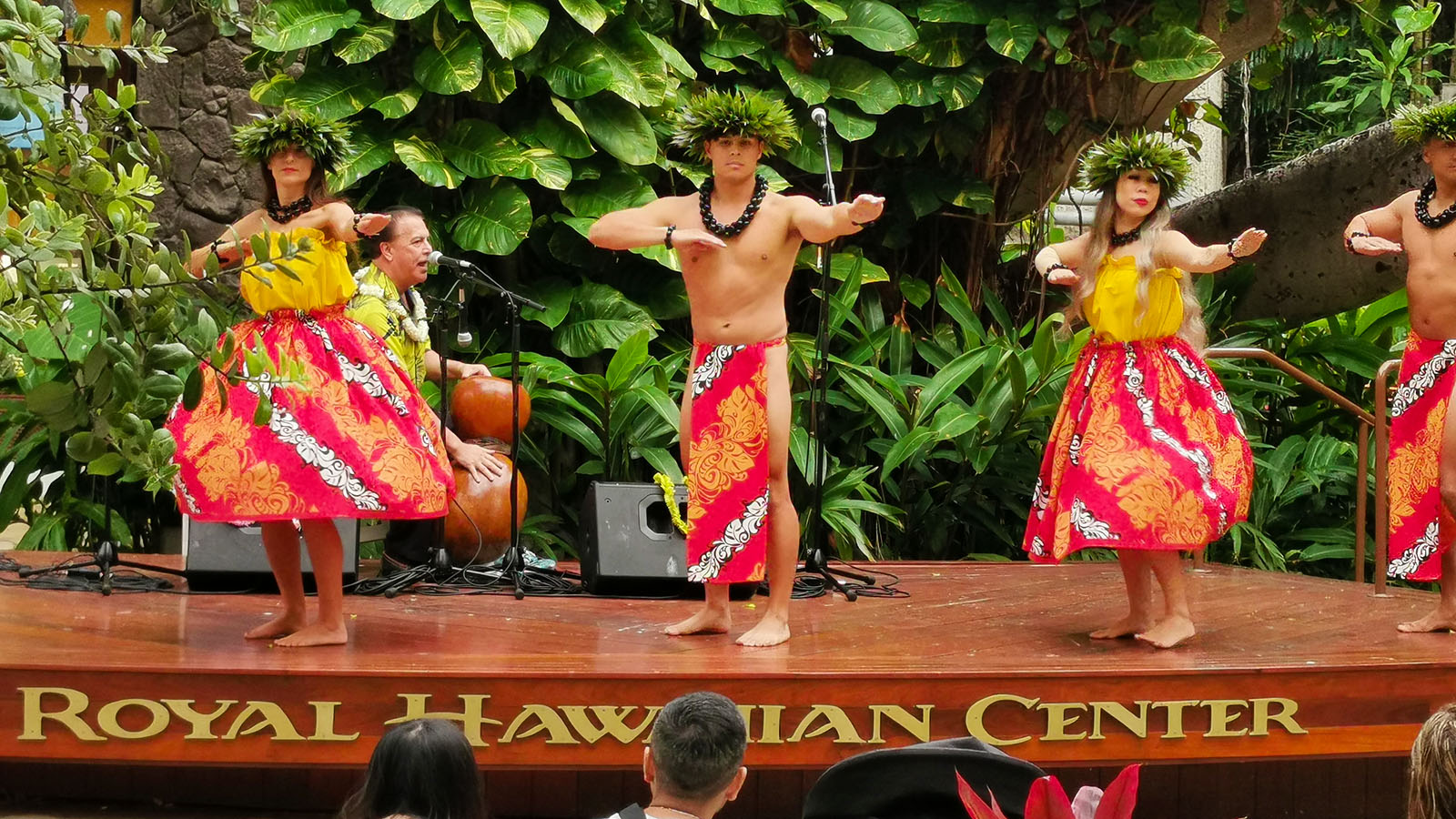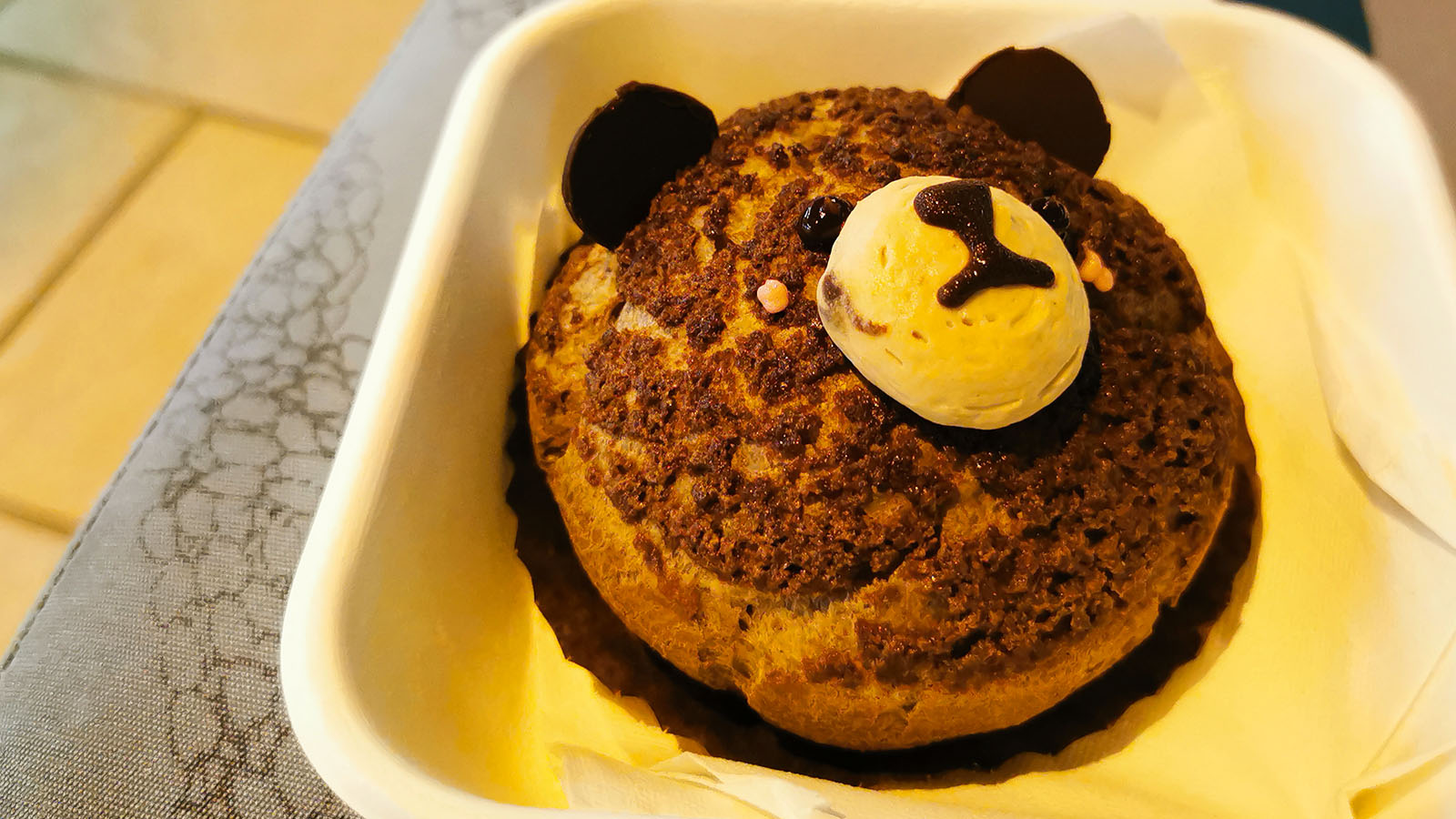 Coming home: Honolulu to Sydney
Sadly, the time has come to head home. To save some points for the next trip, I've chosen to book this leg in Economy. It's a daytime flight, and I figure I'll just be watching movies anyway. As luck would have it, I end up with a spare seat beside me – giving me more room to stretch out.
Honolulu to Sydney in Hawaiian Airlines Economy Class
Flight: HA451
Flight time: 10 hours 50 minutes
Points needed: 42,000 Velocity Points
Fees and taxes: Around AU$40 one-way, per person
Value per point (AU$): 1.27 cents per point – under-average value
Certainly, there are many 'better' ways to spend Velocity Points than long-haul Economy. But even so, scoring an 11-hour flight for just $40 using points is a steal. Again, my strategy is to minimise the cost of travelling here to maximise the dollars I can spend on the ground. And hey, this approach works quite well.
Check-in is swift, even without access to a priority queue this time. After security, it helps to have a Priority Pass card. This grants access to Hawaiian Airlines' flagship, The Plumeria Lounge. There's a small selection of hot food as well as lighter bites, but I save my appetite for the flight.
After take-off, I enjoy a tasty serving of chicken, rice and vegetables for lunch. As we get closer to Sydney, a goodie bag lands on my tray with a sandwich and chocolate. Snacks and drinks are offered throughout the journey.
Being a daytime flight, it's another perfect way to arrive at the destination already adjusted to the time zone. I land in Sydney mid-evening, ready to rest back on Australian time. This Economy leg is a surprisingly pleasant end to my Hawaii adventure. I must do this again.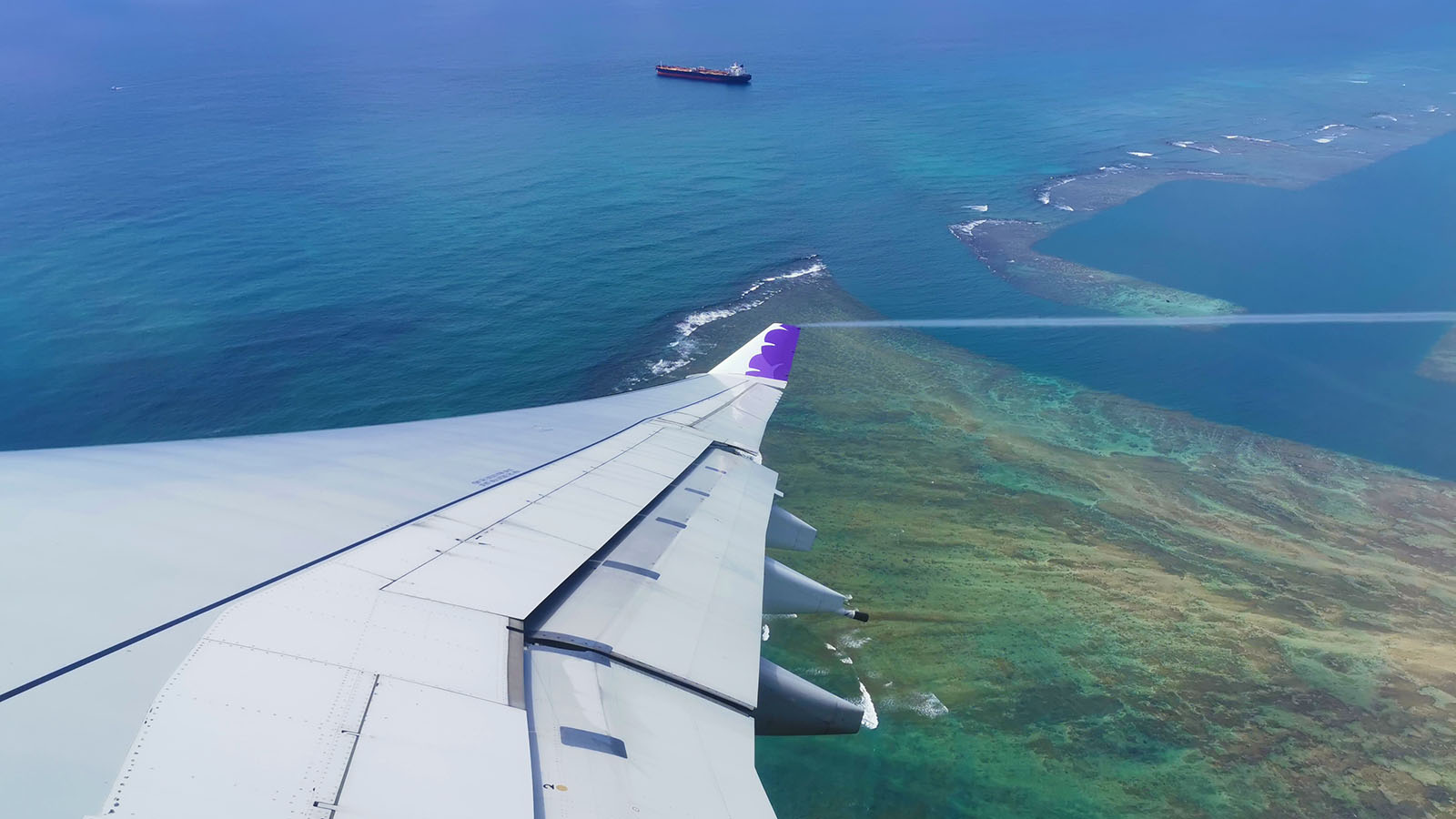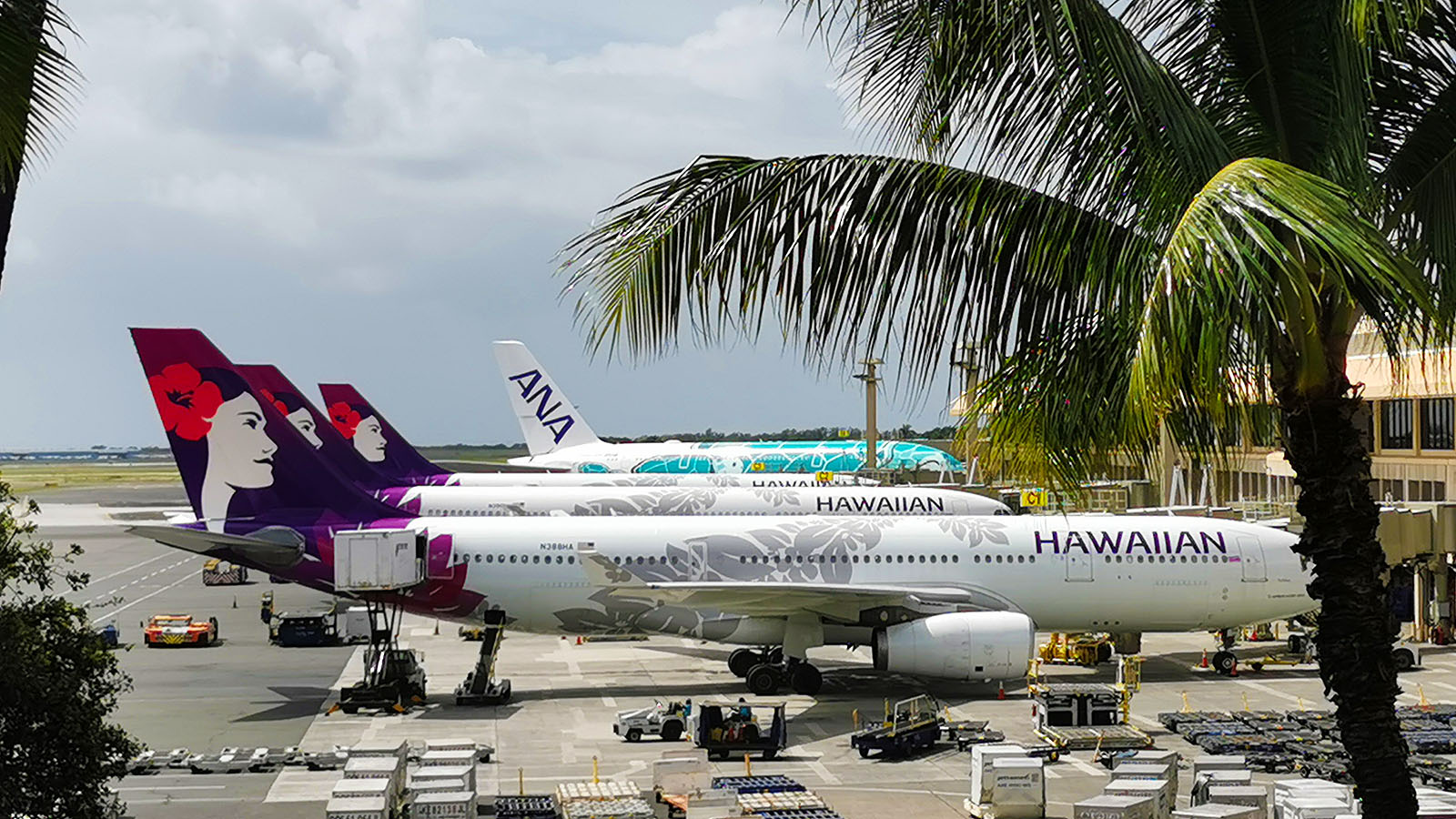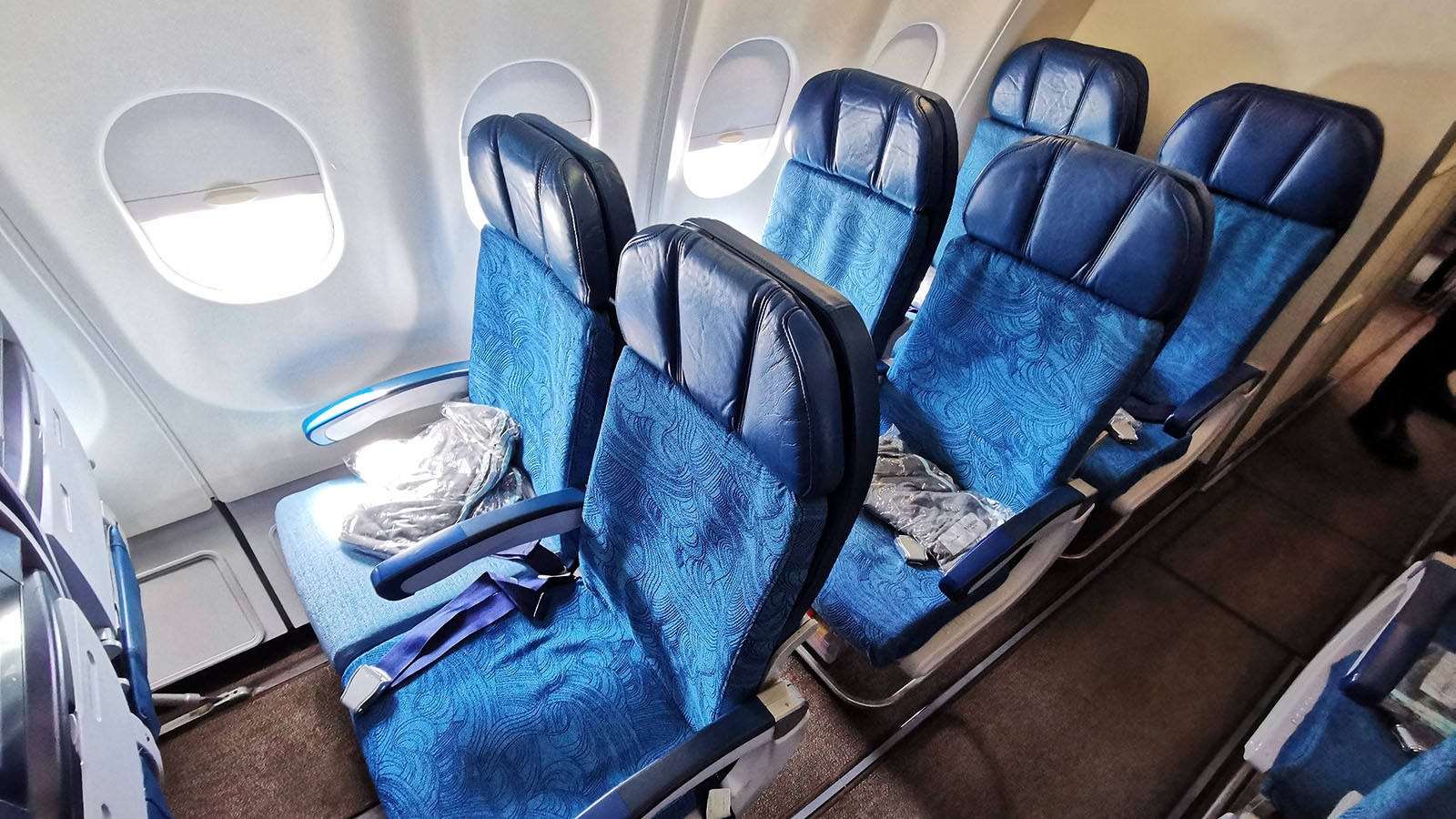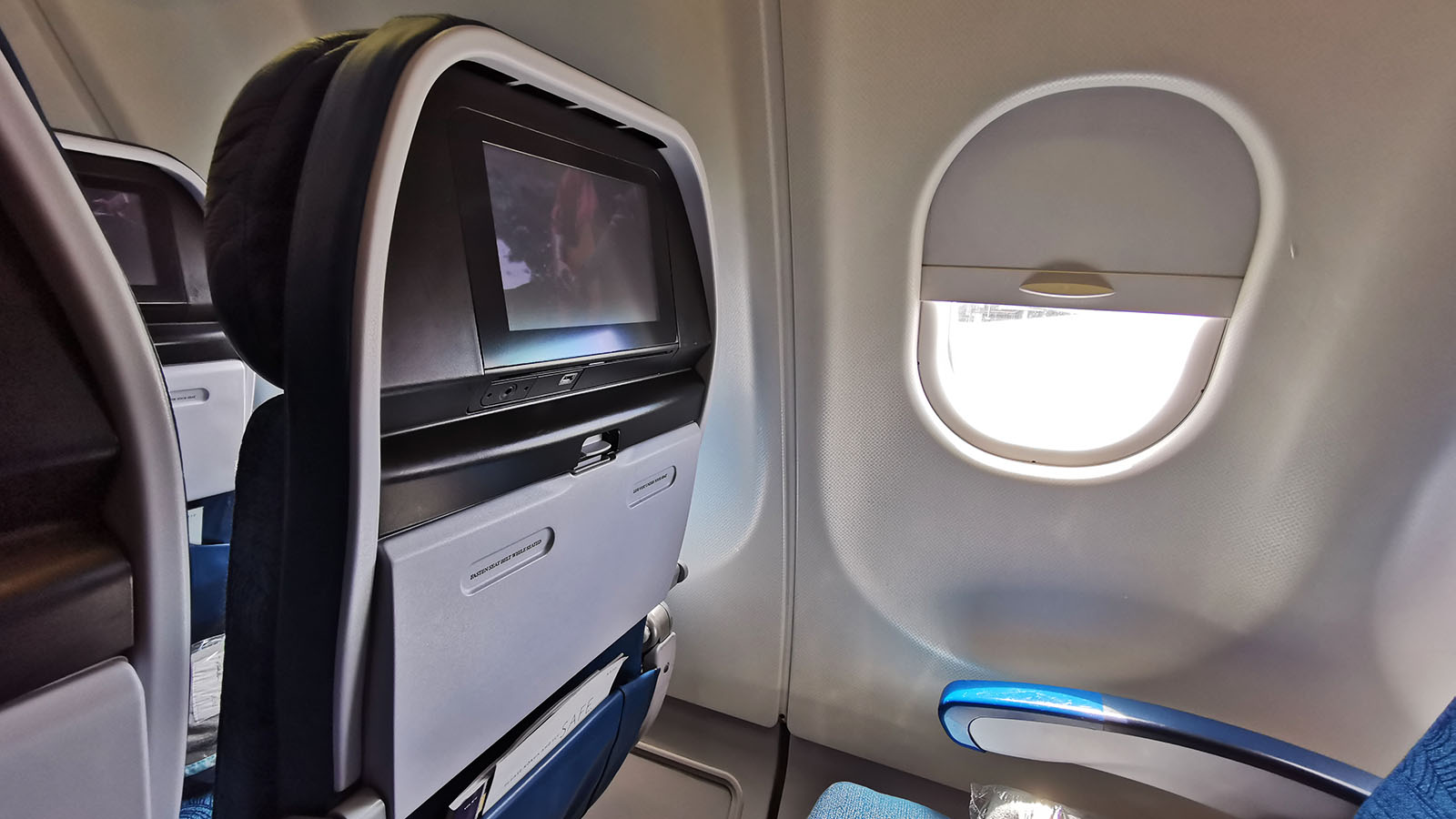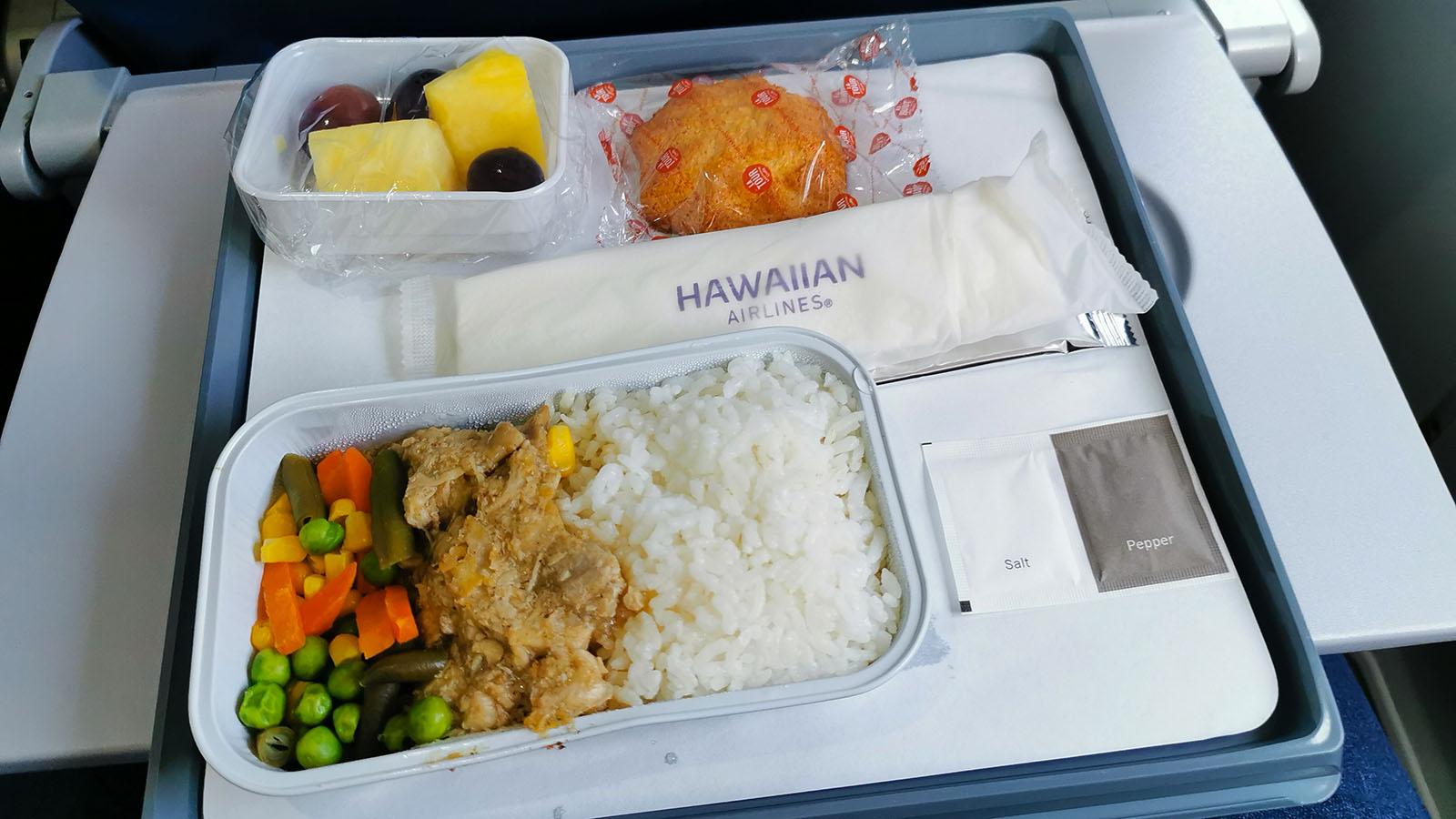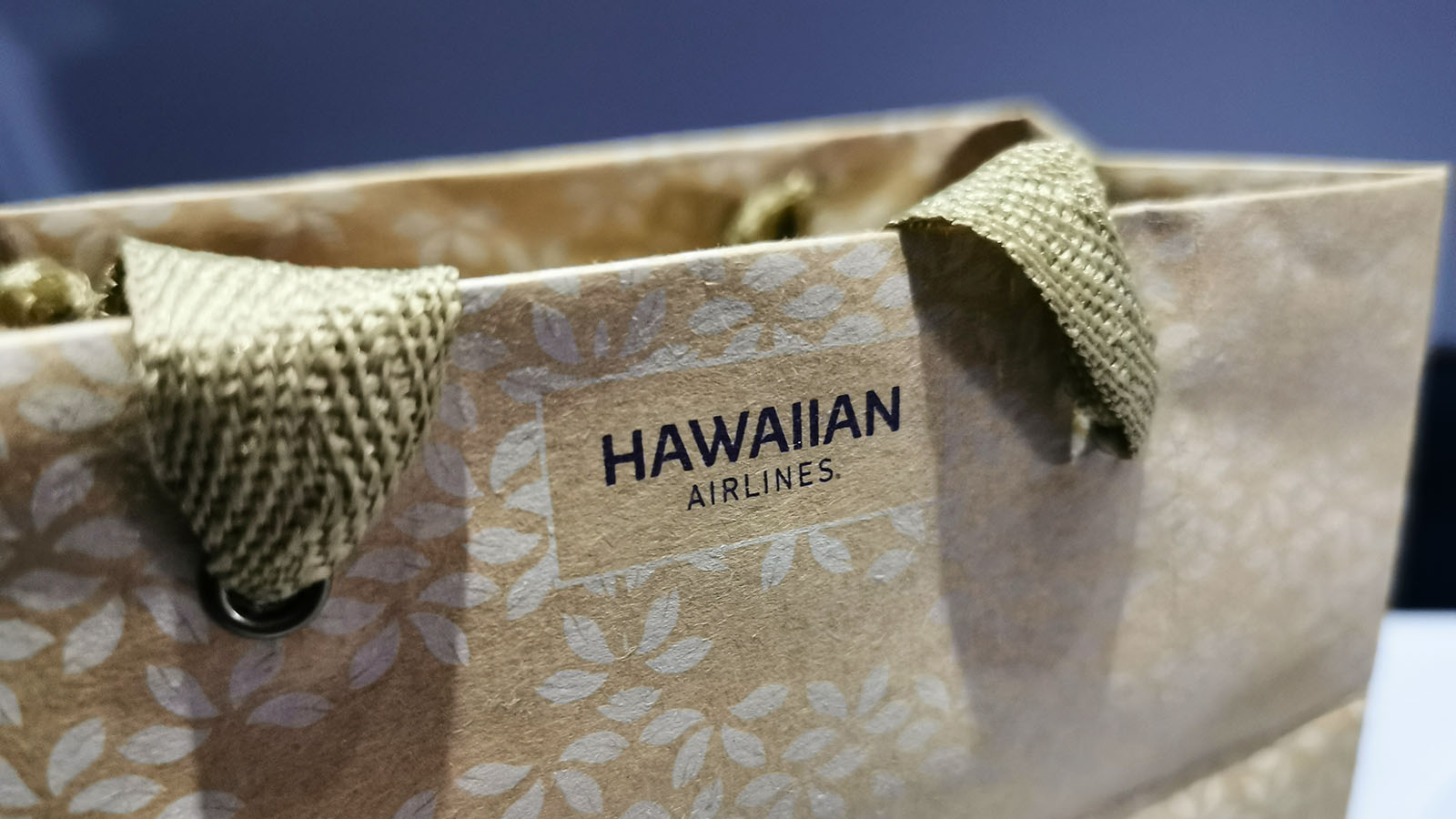 Hacks and tips
General tips for travelling in Hawaii
Want a quick tip for calculating what things cost in Australian dollars – without reaching for your phone? If you know the final price in USD, just add 50%. For instance, US$100 equals roughly AU$150. But when dining out, double the digits you see on a menu in USD, to get a ballpark idea of what you'll end up paying in AUD. That factors in the taxes and tip which are priced separately, and then the currency conversion. It's not precise, but it'll still serve you well.
Speaking of tipping, just like everywhere else in the US, it's customary in Hawaii. For good service at a restaurant, leaving 18-20% is commonplace. But remember, you're only expected to tip based on the pre-tax price on the bill. If an establishment accepts credit cards, you can usually tip by credit card too. If your card earns points, you'll earn rewards on the full amount spent – including tips.
Flying with Hawaiian Airlines? Don't forget to link your Velocity Frequent Flyer number. This can earn you Velocity Points and Status Credits on eligible paid fares. Just know that Velocity status doesn't provide any benefits with Hawaiian Airlines.
Many credit cards include a complimentary Priority Pass membership. Remember, that's your ticket to Hawaiian Airlines' best lounge in Honolulu even when flying Economy. It also works at the Premier Club in Maui, if you're flying Economy from there as well.
Uber works very well in Hawaii – although it's a shame that Uber Rewards is no more.
Taking the 'Airbnb' route becomes more cost-effective with longer stays. That's because there's often a fixed-value cleaning fee per stay – and the more nights you spend in one place, the lower the total price per night.
Hawaiian Airlines' checked baggage policy is rather generous even in international Economy. A mere Economy ticket grants 2x32kg checked bags at no charge, so you can hit the shops without worry.
Having said that, fees can apply to checked bags on standalone domestic flights. Book these as part of your international journey, or consider booking First Class on domestic flights which includes free baggage.
Don't forget about ESTA. As when travelling to the US mainland, all tourists (and business visitors) need to have a valid ESTA to fly to Hawaii. Unless of course you're a US citizen, have a pre-arranged US visa or another exemption applies. Most Aussie tourists heading to Honolulu would simply use ESTA, though.
To save
If travelling to Hawaii means savvily sticking to a budget, make the most of your Airbnb's facilities. Cooking meals in the apartment can really keep costs down. Especially so on longer stays if you can cook one big meal and then enjoy the leftovers the next day. Don't just hide in the apartment though. A morning wander for takeaway coffee to enjoy with that DIY breakfast still gets you out and about.
So many of the attractions in Honolulu are free or at minimal costs. Whether it's the gorgeous beaches, museums or art galleries, there's a lot to fill your day without blowing the bank.
Expect that any venues with stunning views will charge for that privilege. Enjoy the beach on foot, and head away from the main Waikiki strip for some variety and savings.
To splurge
It's one thing to see Hawaii out of the plane window. But it's another to take a doors-off helicopter flight over Waikiki and Diamond Head. If you're game, check out Magnum Helicopters. You can even buy a 'First Class' ticket that guarantees a seat right by the door. Prices vary based on departure time and seasonality.
Experiencing a brand new mode of transportation isn't something you can do every day. Yet at Waikiki, you could venture out in a submarine for a unique underwater view. It's a little cheesy – Atlantis Adventures has set up a fake plane wreck to provide something extra to look at. But hey, as the name suggests, it's still an adventure.
Your Hawaiian holiday awaits
You've had a taste of what Hawaii has to offer – but it's a mere nibble compared to experiencing this amazing place for yourself. Whatever you're looking for, Hawaii really is the perfect holiday destination. Whether you're travelling as a couple, a larger family, with friends or even flying solo, there's so much to see and do.
Whatever your own adventure looks like, Velocity Points could take you there. Save enough and you could even fly Business Class on those long legs – and First Class between Hawaii's islands. Wouldn't that just be a dream come true?
Photography by Chris Chamberlin, who stayed and adventured at Point Hacks' expense. Flights for this itinerary were booked using HawaiianMiles provided courtesy of Hawaiian Airlines. However, with Velocity Points much easier to earn in Australia, all redemption figures and costs referenced in this story reflect the use of Velocity Points for the same equivalent flights.
Five nights in Hawaii + flights for under $1,800 with Velocity Points
was last modified:
October 10th, 2023
by