With two lounges at its home hub of Honolulu, Hawaiian Airlines' The Plumeria Lounge is the airline's flagship space. It's designed mainly with international travellers in mind – but also those taking Hawaiian's equally long flights across to New York and Boston.
In short, it's not a particularly large lounge, but for most holidaymakers, it gets the job done.
Location
As with Hawaiian Airlines' Premier Club in Honolulu, The Plumeria Lounge is somewhat hidden away. After security, you won't find many arrows pointing you towards this lounge. Instead, follow the signs for the 'Wiki – Wiki Shuttle'. A small sign comes into view once you're going the right way.
Still, the lounge isn't easy to spot. The signs for the shuttle are quite prominent, while The Plumeria Lounge is more discreet.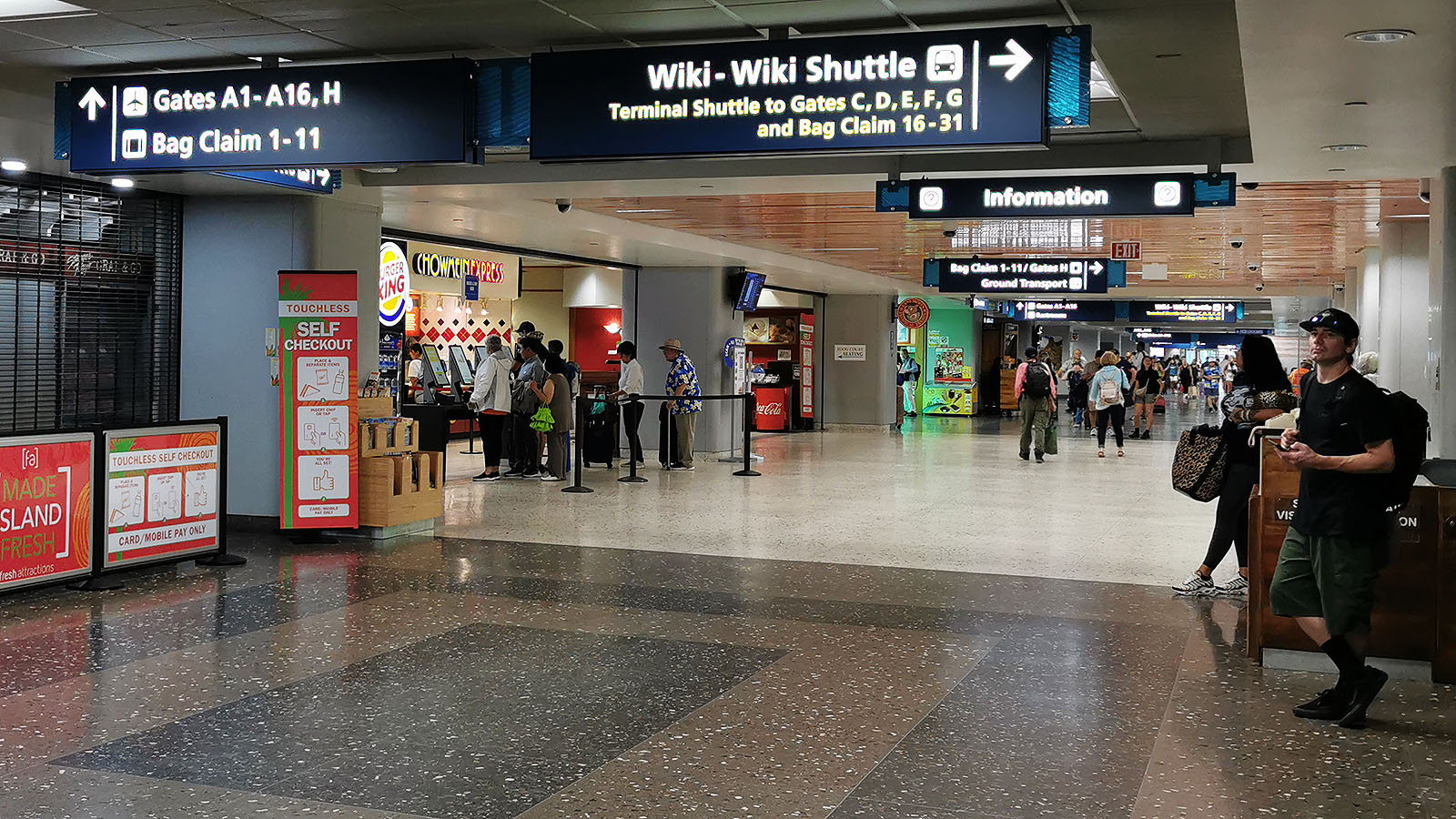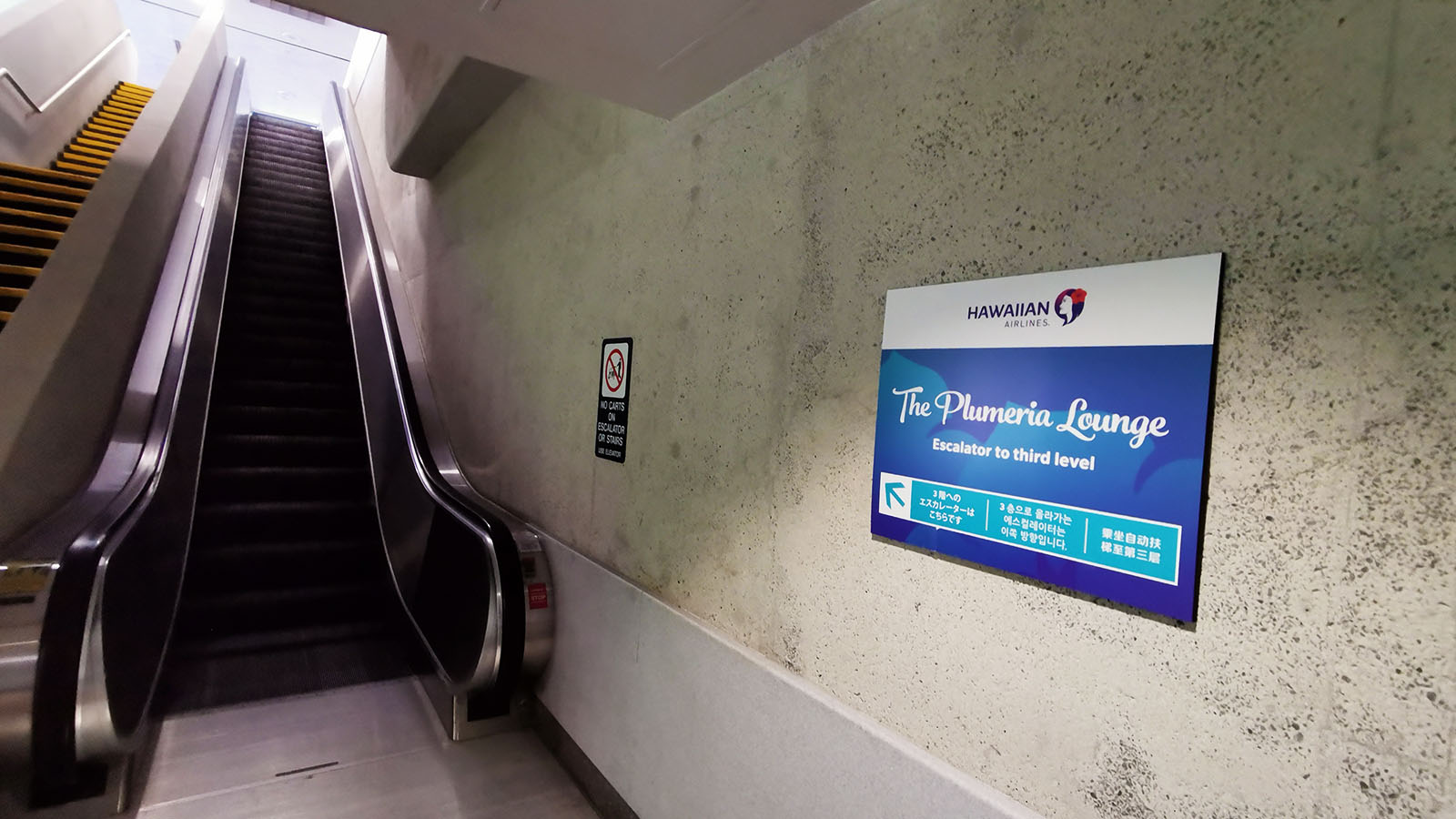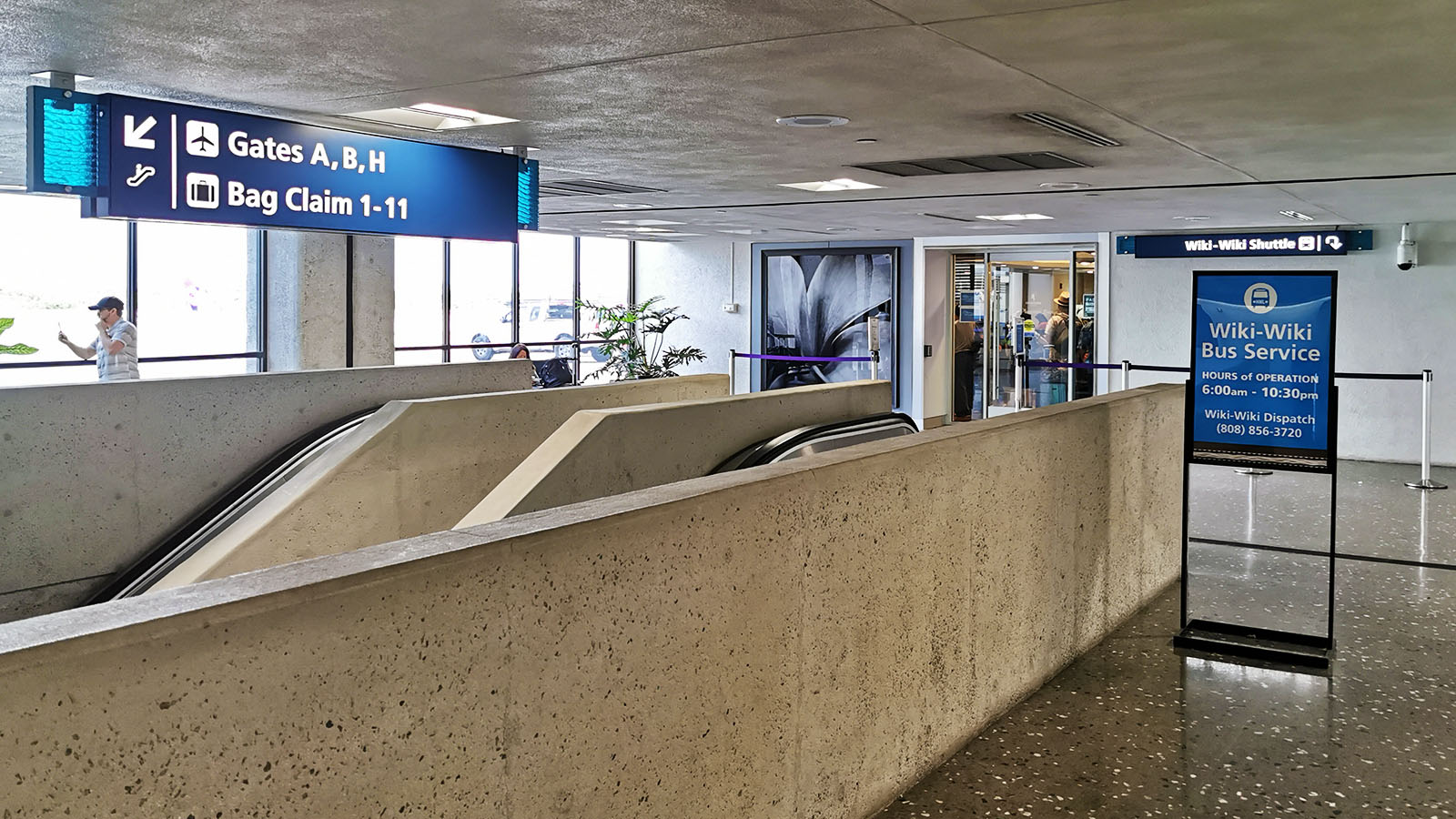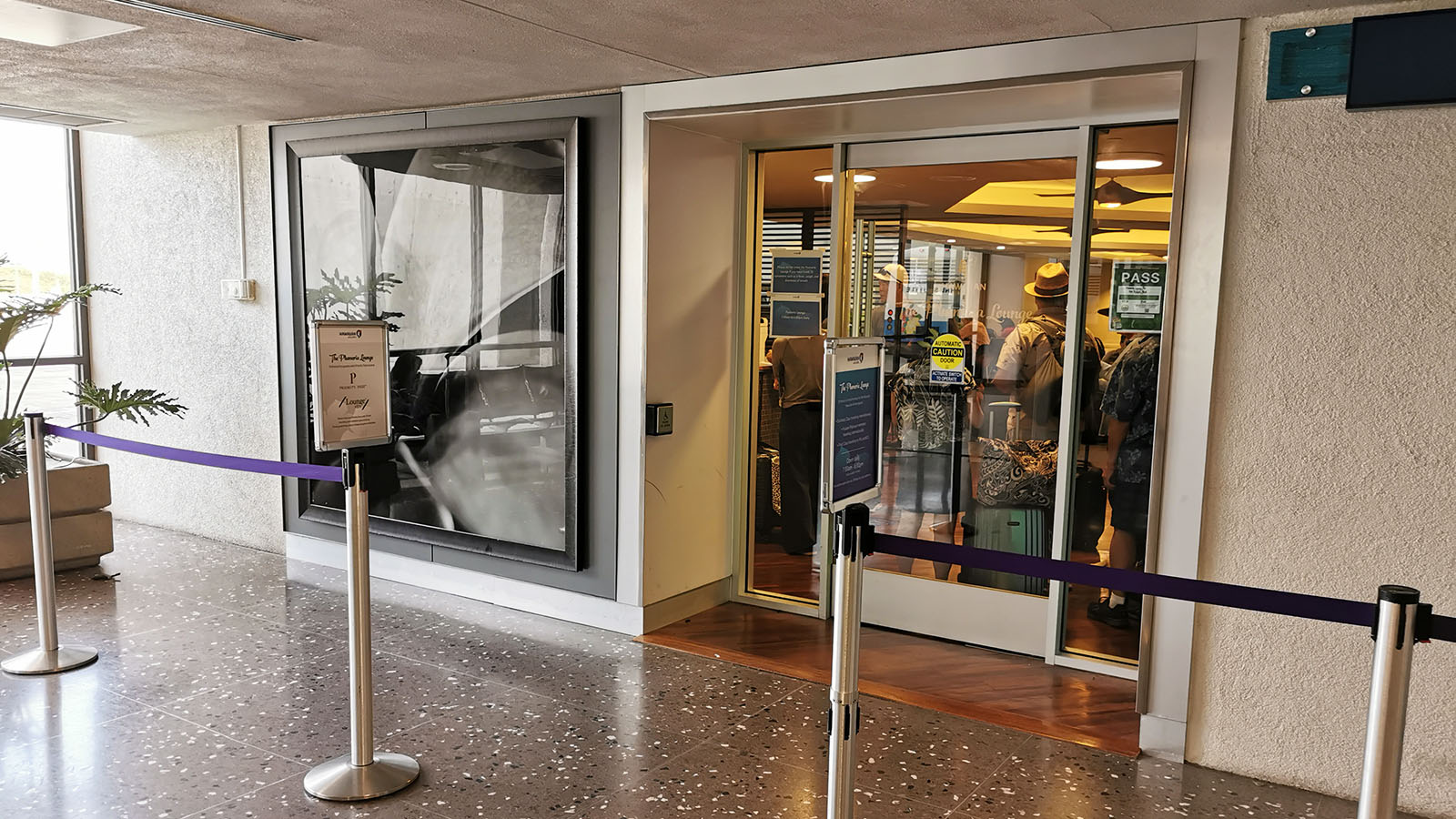 Once you get the lei lay of the land though, you realise how central this lounge is for Hawaiian Airlines. It's conveniently close to most of the carrier's domestic and international flights in Terminal 1.
The Plumeria Lounge opens daily between 7 am and 6 pm. This suits most flights that'd be popular with Australian travellers. Not only the direct Honolulu-Sydney service – which departs around lunchtime – but also US domestic and inter-island flights.
Lounge layout and seating
Hawaiian Airlines' flagship Honolulu lounge – The Plumeria Club – combines a variety of seating into a relatively cosy space.
There's a dining area conveniently adjacent to the buffet, a work bench lining the window, and other comfortable chairs throughout. I fancy a bite to eat, and also want to keep my laptop recharged. Fortunately, a table by the wall has me covered on both fronts.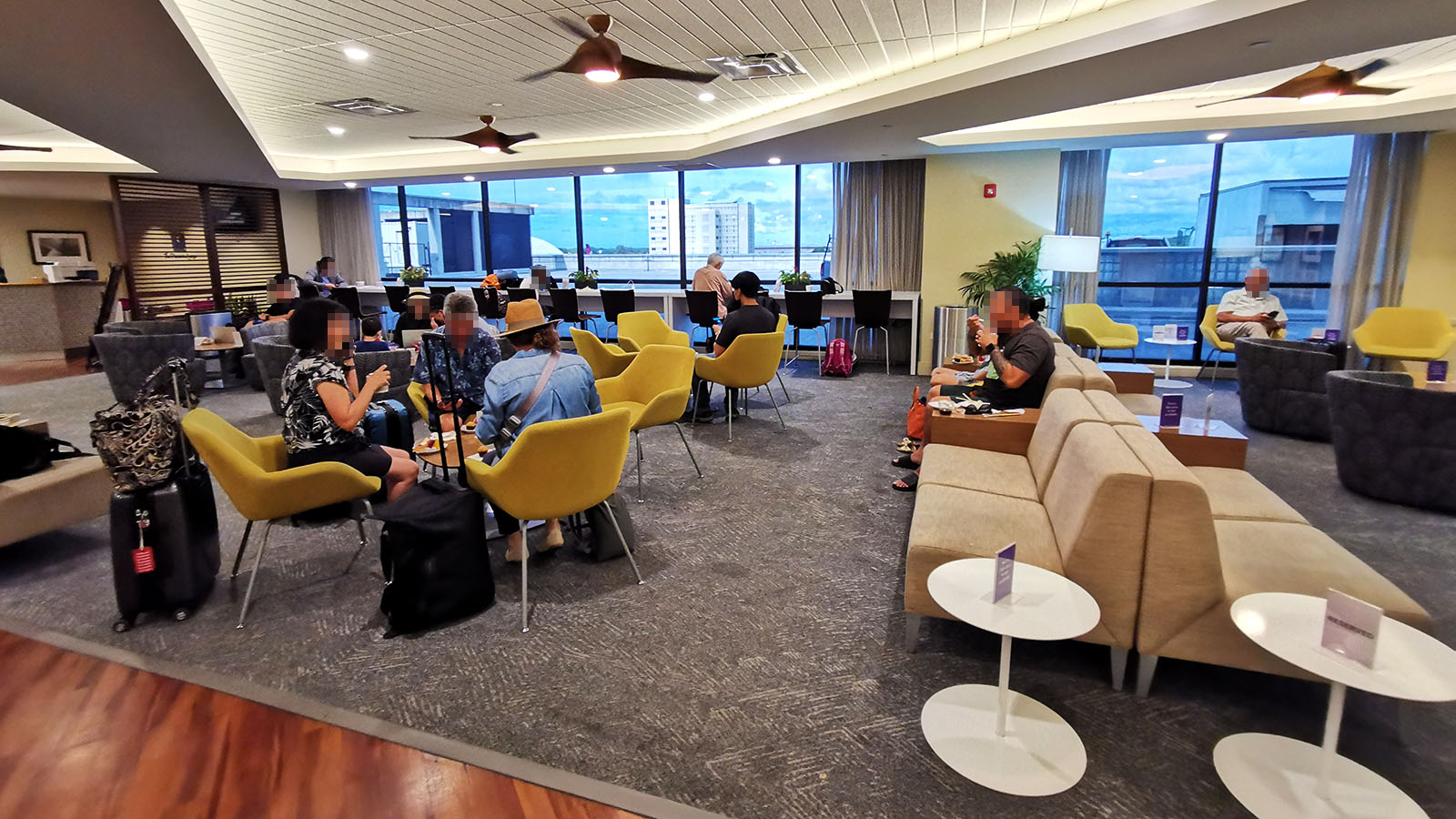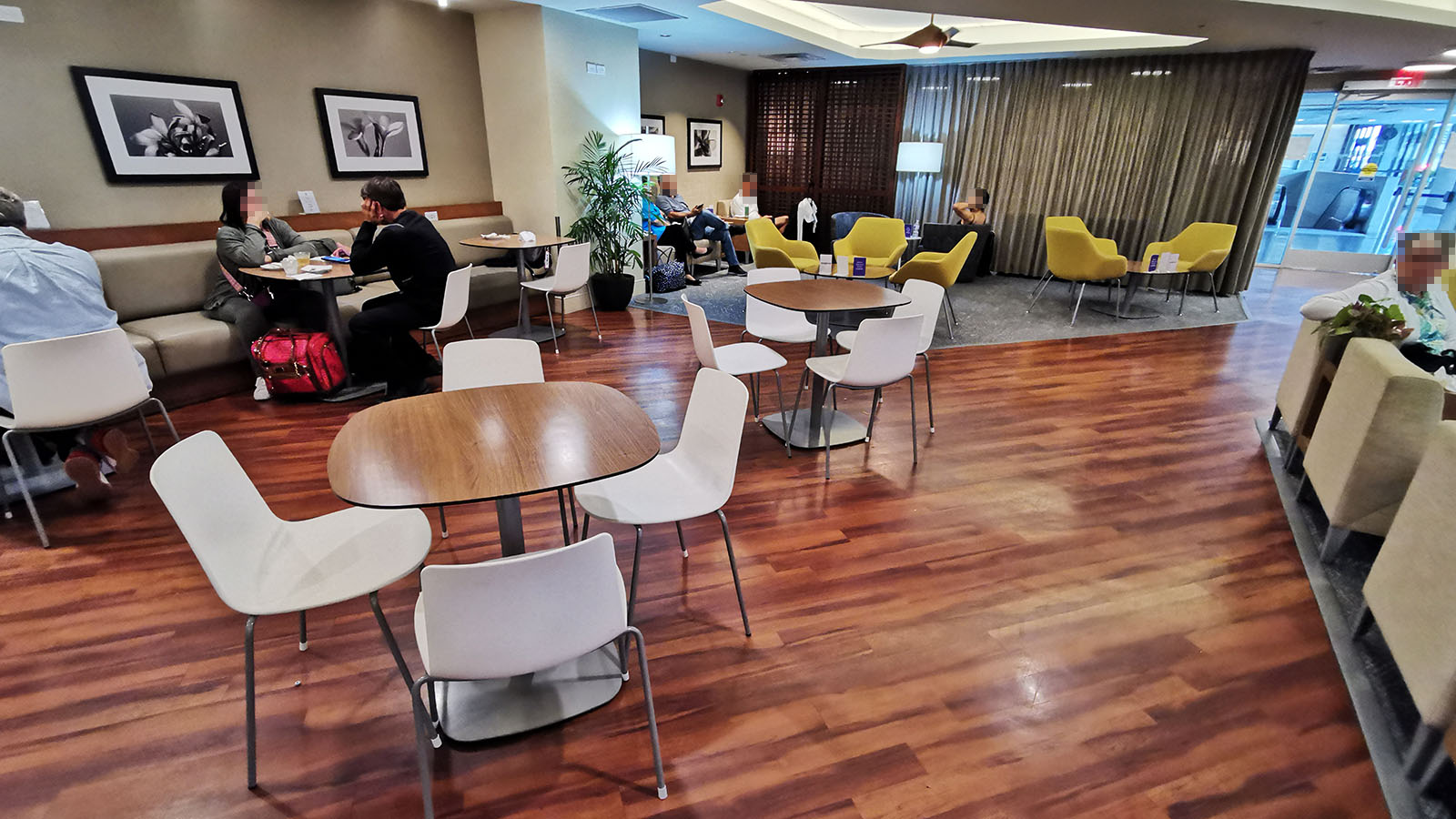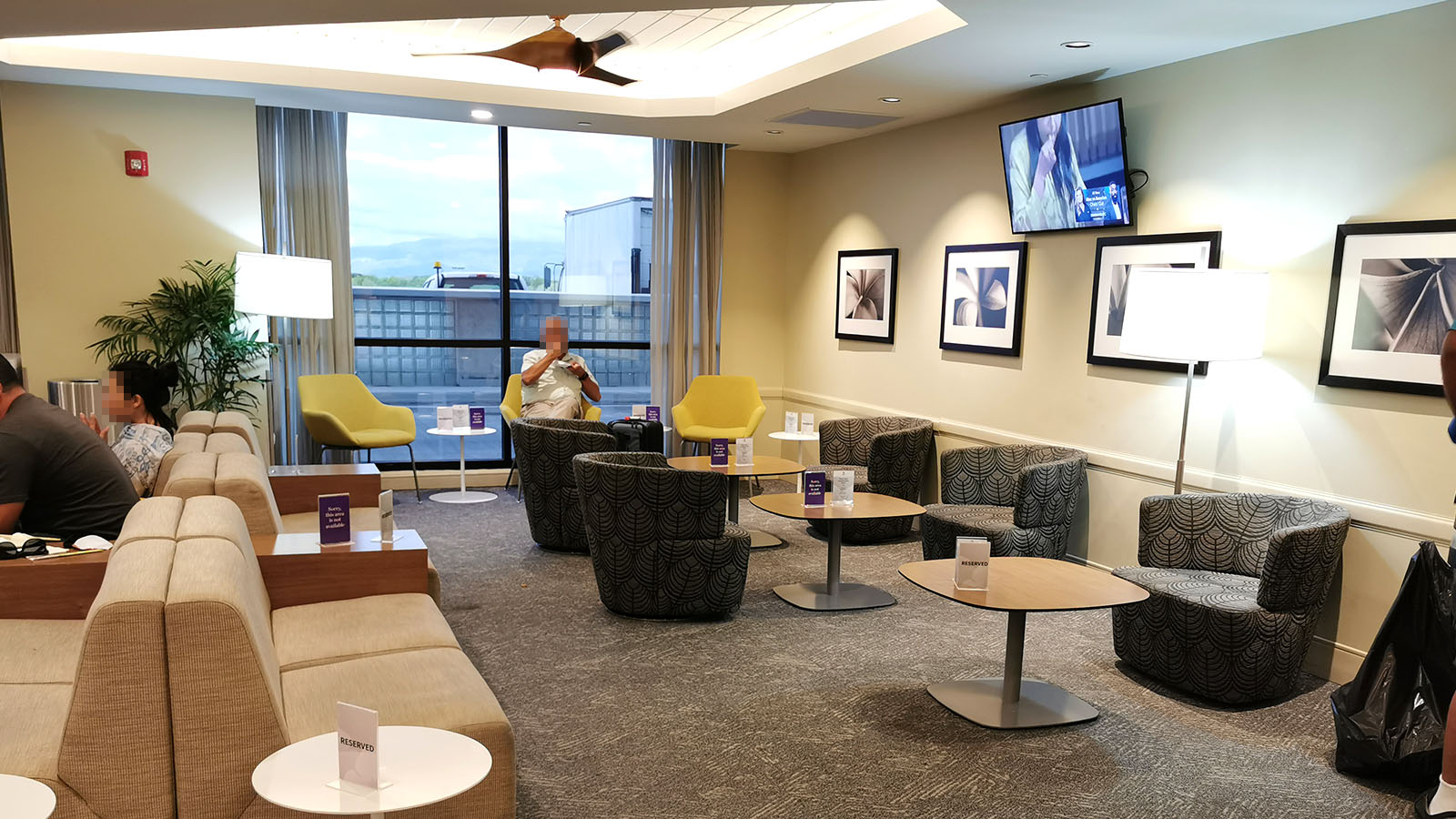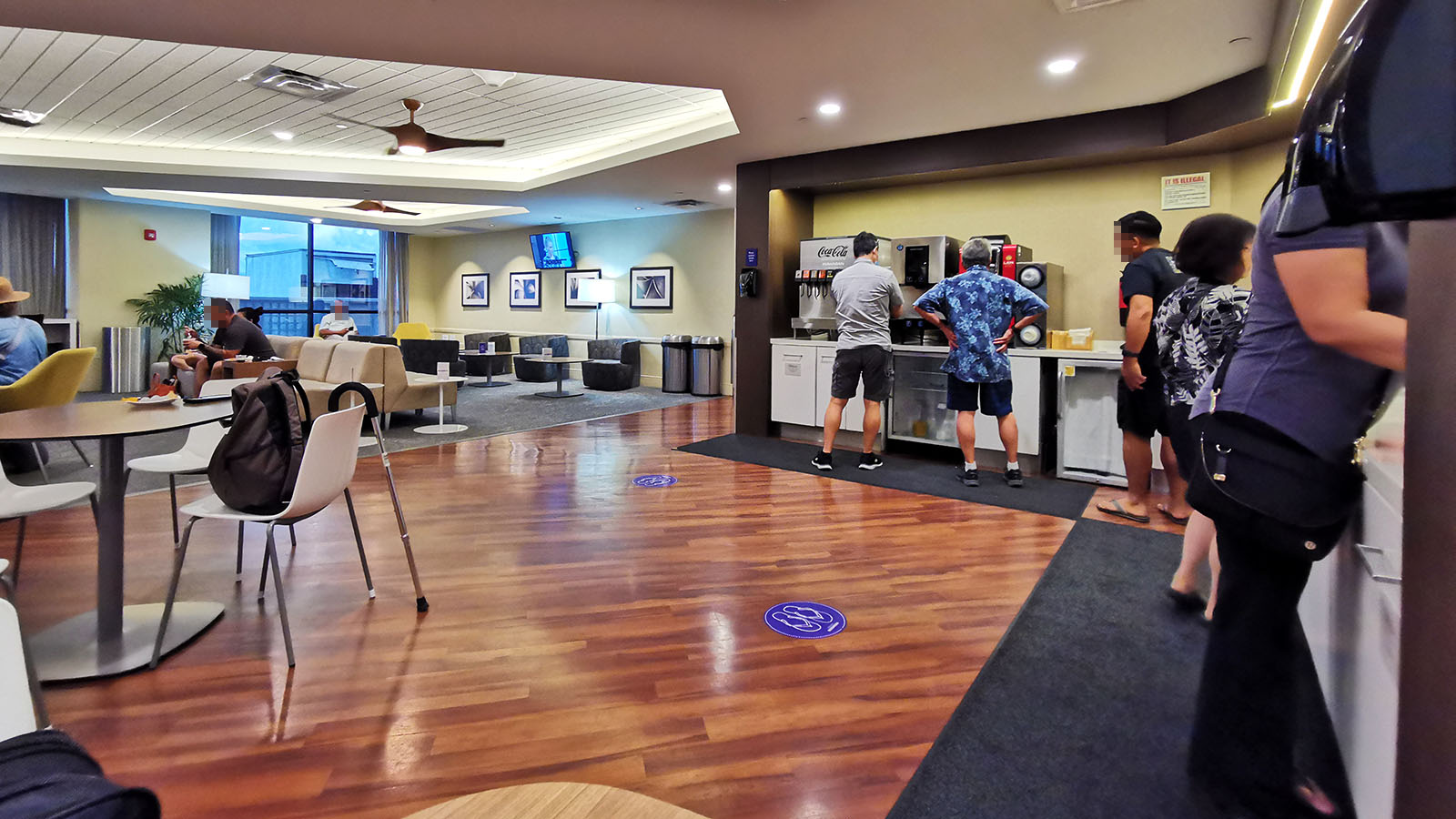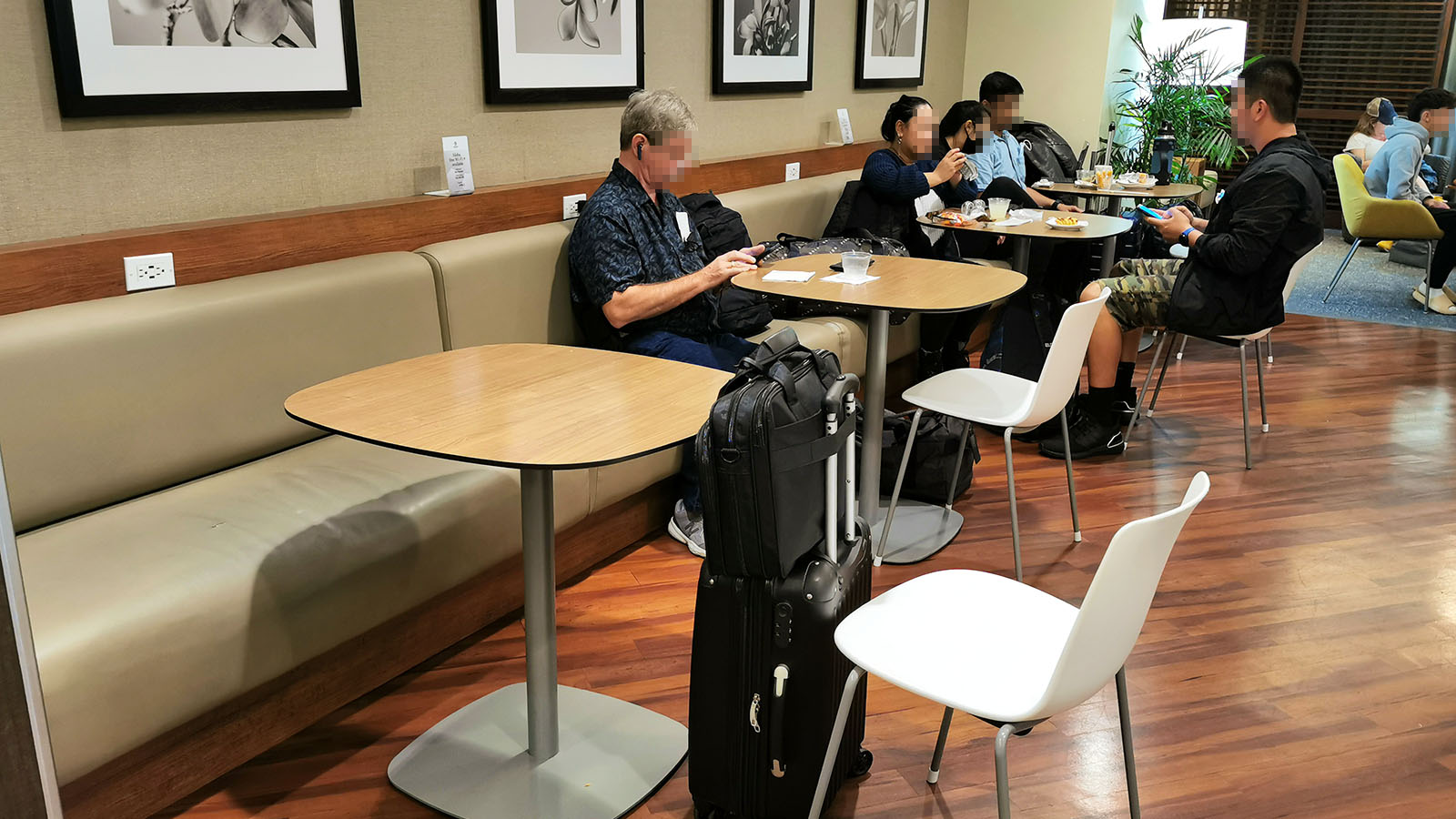 Some of the seats here are reserved for guests flying in Hawaiian Airlines' premium cabin on long-haul flights. If that's you, staff at reception will advise that you 'sit anywhere, including the reserved sections'. If not, it's 'sit anywhere, except the reserved sections'.
Given this lounge even welcomes Priority Pass members flying other airlines, it's a smart way to ensure there are always seats available for those flying up front. The lounge can also get quite busy at peak times, so it's a way of making room for premium flyers even if Priority Pass members are waitlisted for entry.
Lounge amenities
Beyond being a quiet place to unwind before your flight, The Plumeria Lounge can be a great spot for a little pre-boarding work. The dining tables are at a great height for typing, and it's helpful having this opportunity to catch up on emails before the journey ahead.
The lounge's private Wi-Fi network is protected by password, which you'll find on signs throughout the space. When testing the connection, I clocked download speeds of around 84Mbps, and uploads just shy of 74Mbps. This translates into reasonably zippy downloads of things like movies and TV shows. Cloud drive backups are similarly swift.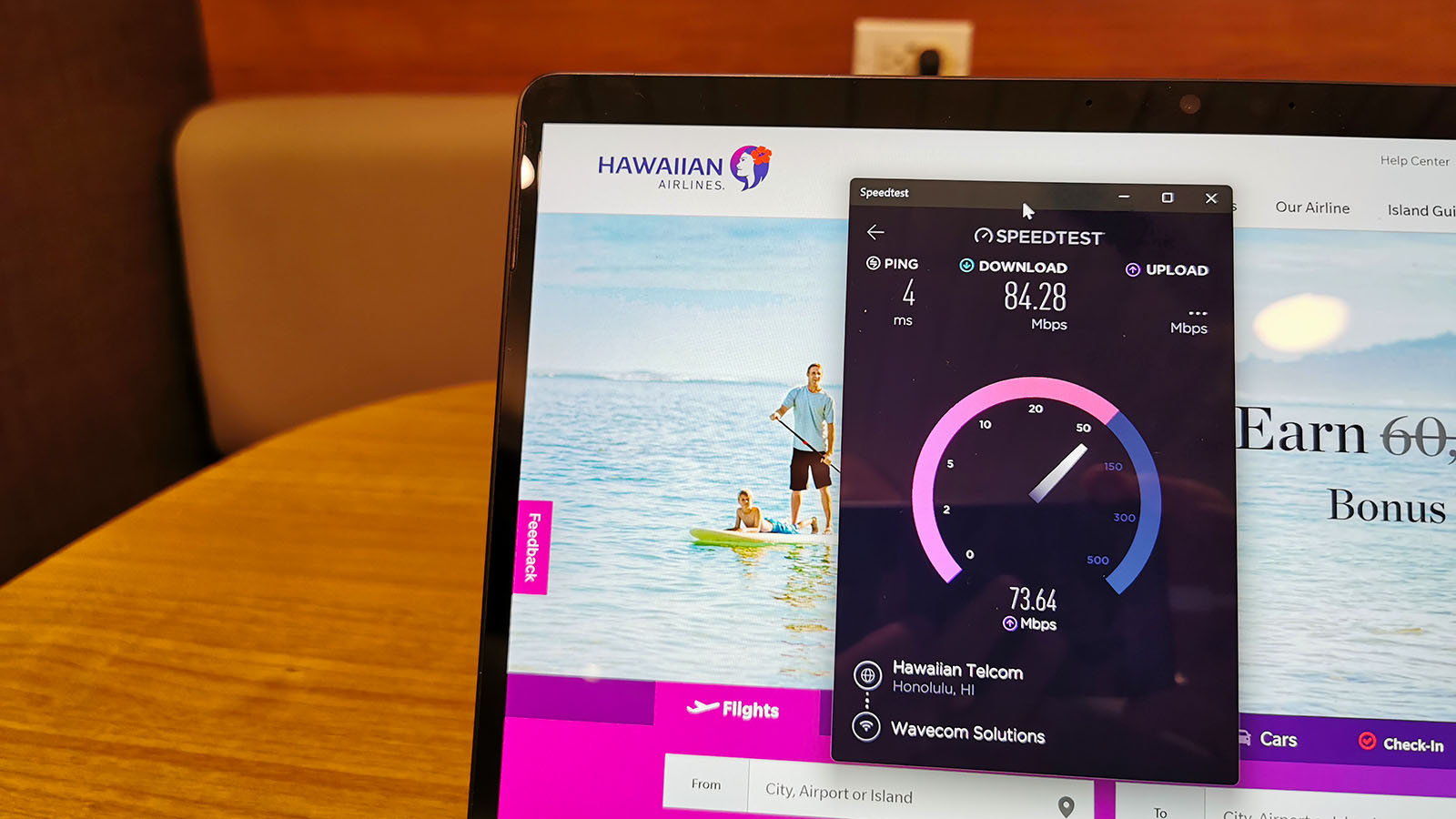 Restrooms are available within the lounge, although shower facilities aren't available here.
Food and beverage in Hawaiian Airlines' The Plumeria Lounge, Honolulu
I've arrived in plenty of time for my flight back to Sydney. This gives me a chance to see The Plumeria Lounge in 'morning mode', as well as the shift to lunch.
To start the day, I can only spot light bites. But after eating breakfast before leaving my accommodation, that's all I want, at first. A berry Danish and a cup of strong coffee get me started.
From 10 am, the buffet then switches to its more substantial all-day offering. On the hot front, there's tasty ginger chicken, noodles and rice. Further along the counter, I spot cheese, olives, crisps and packaged bites.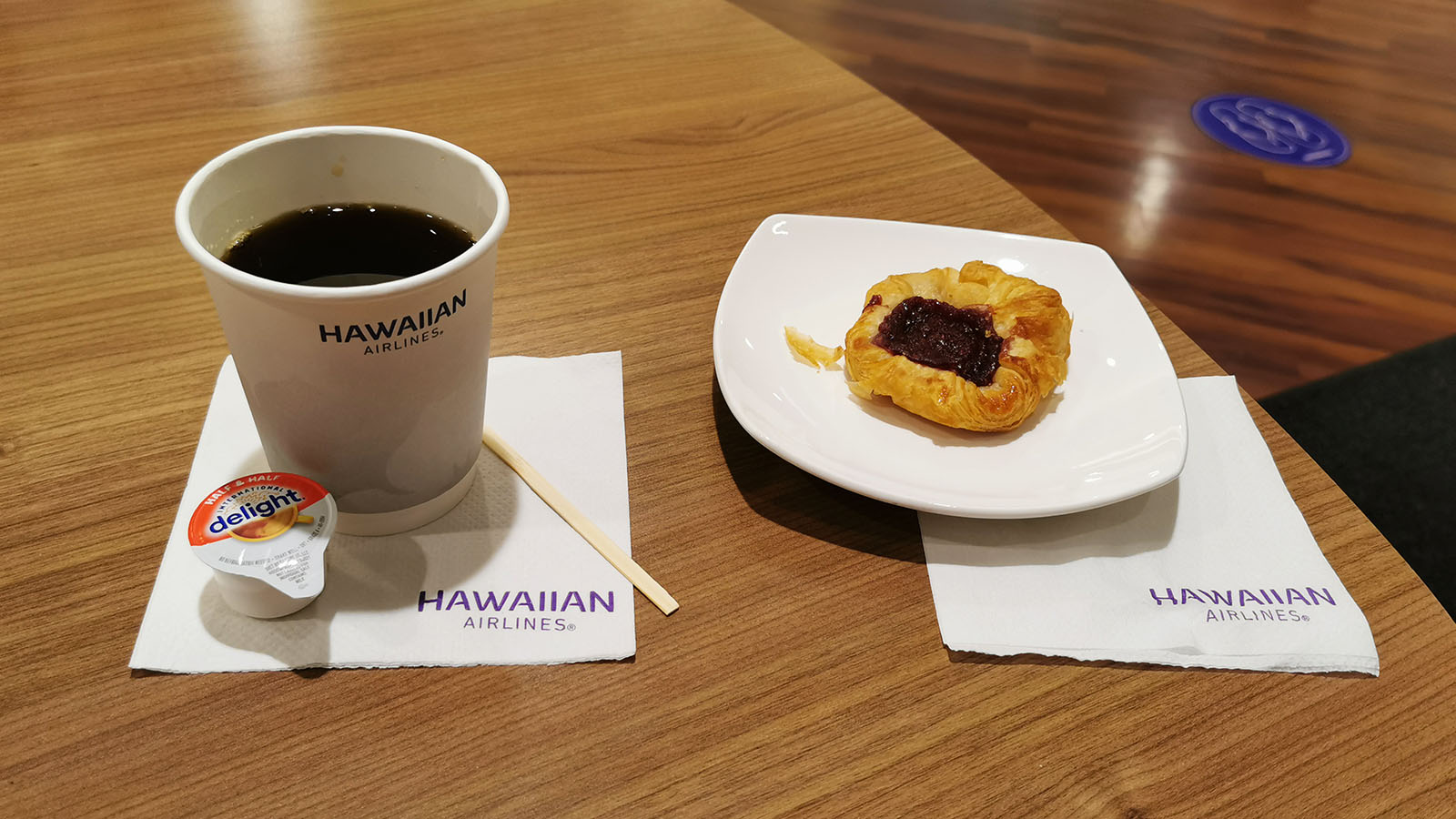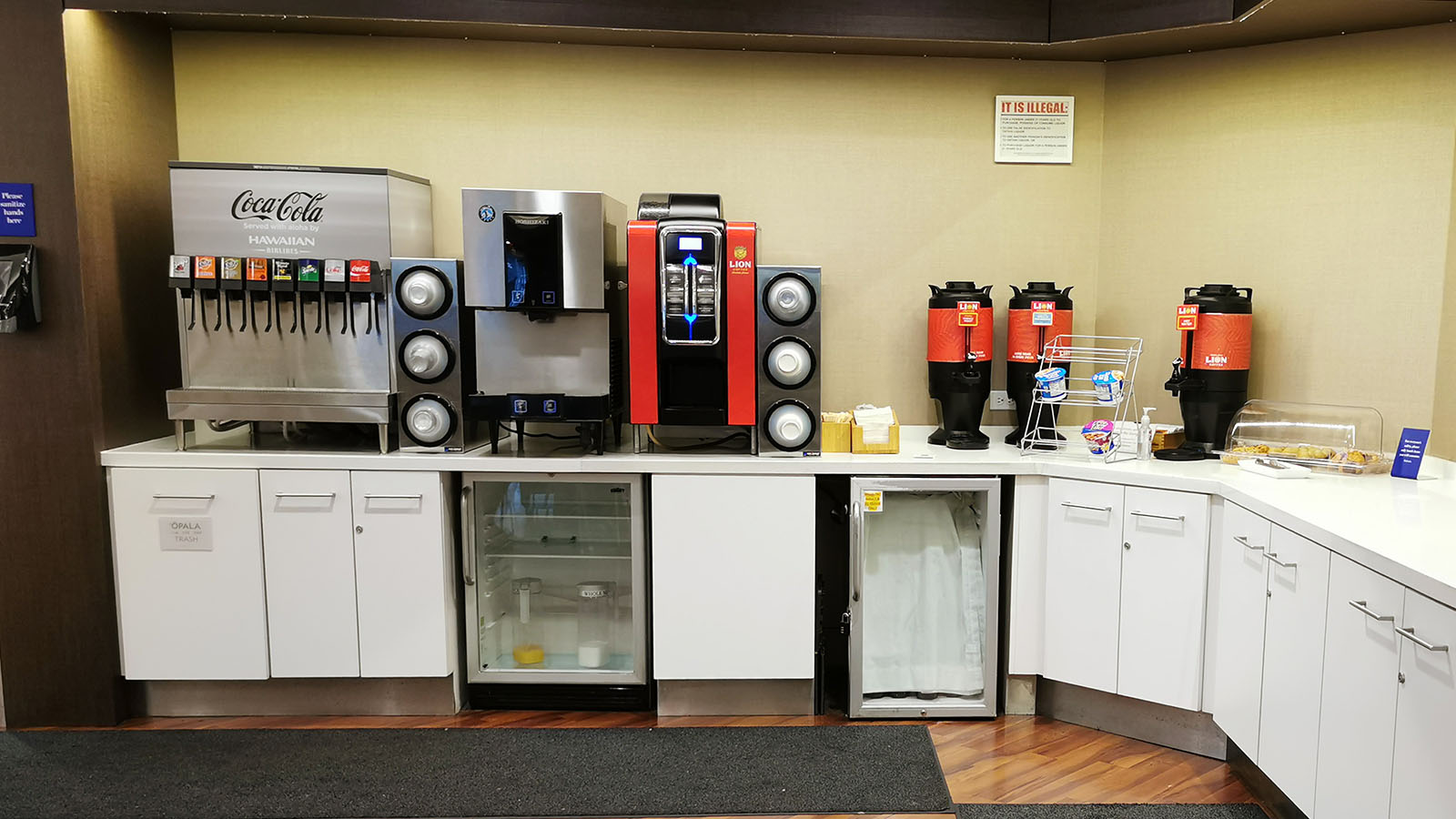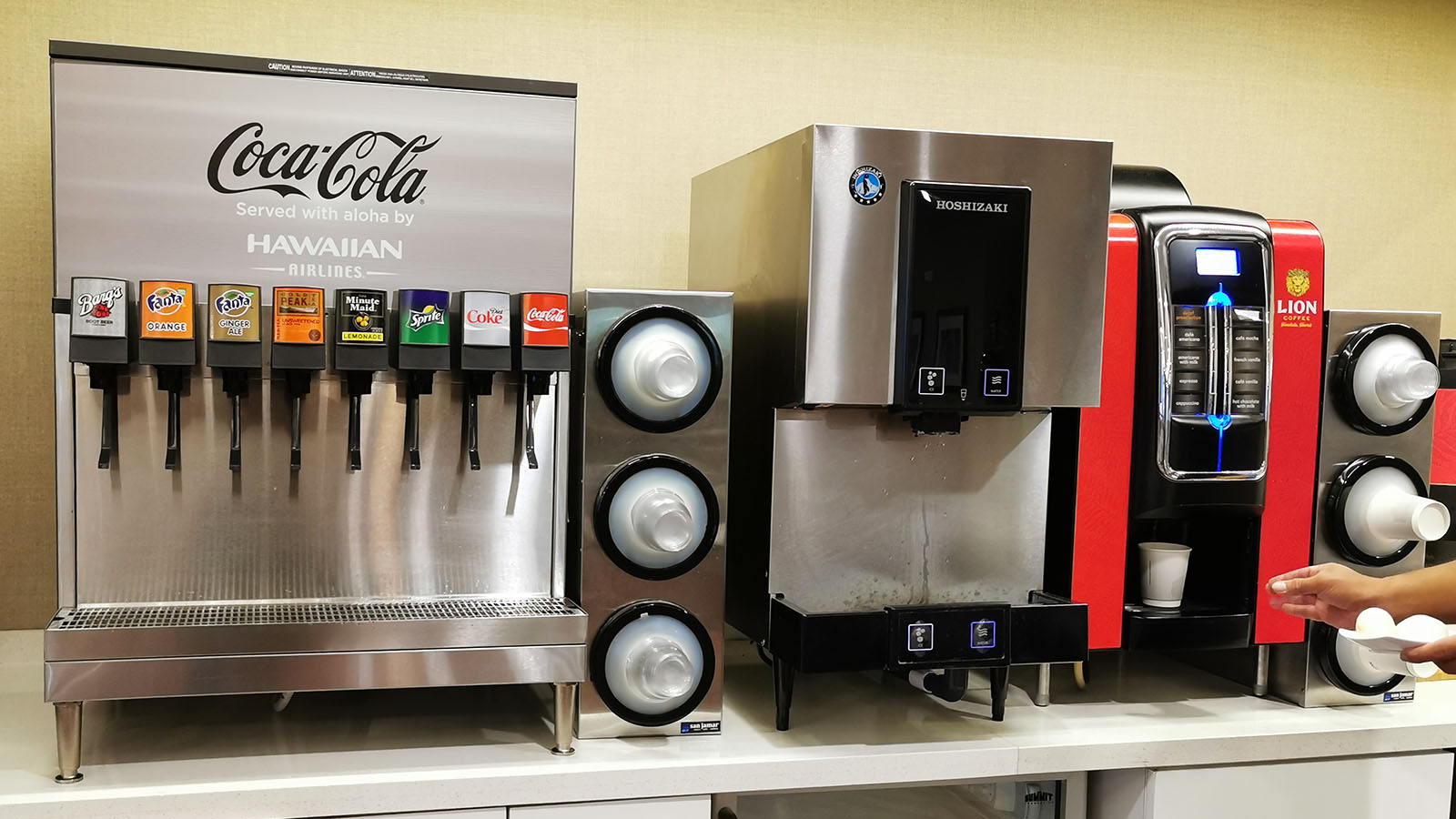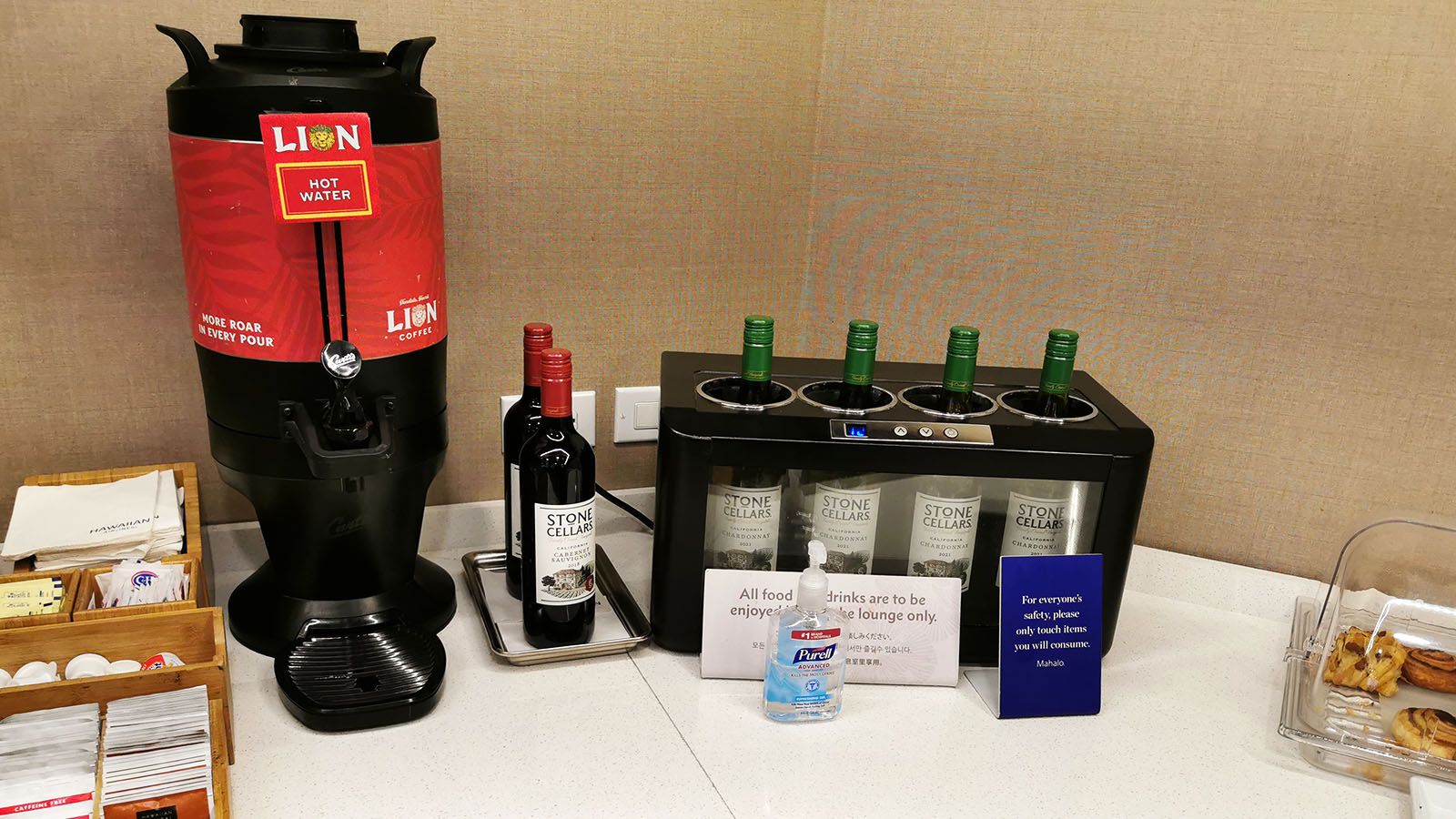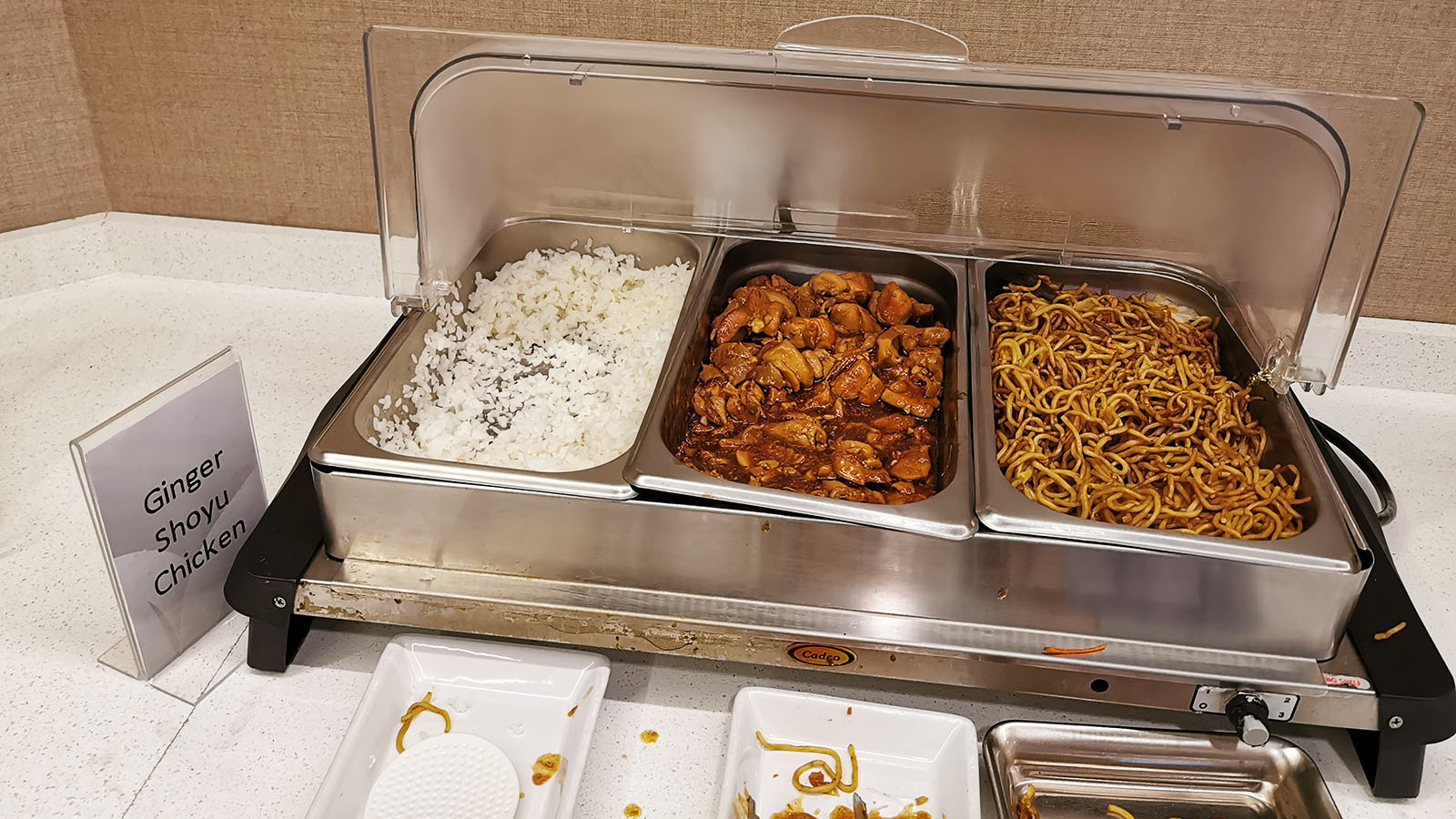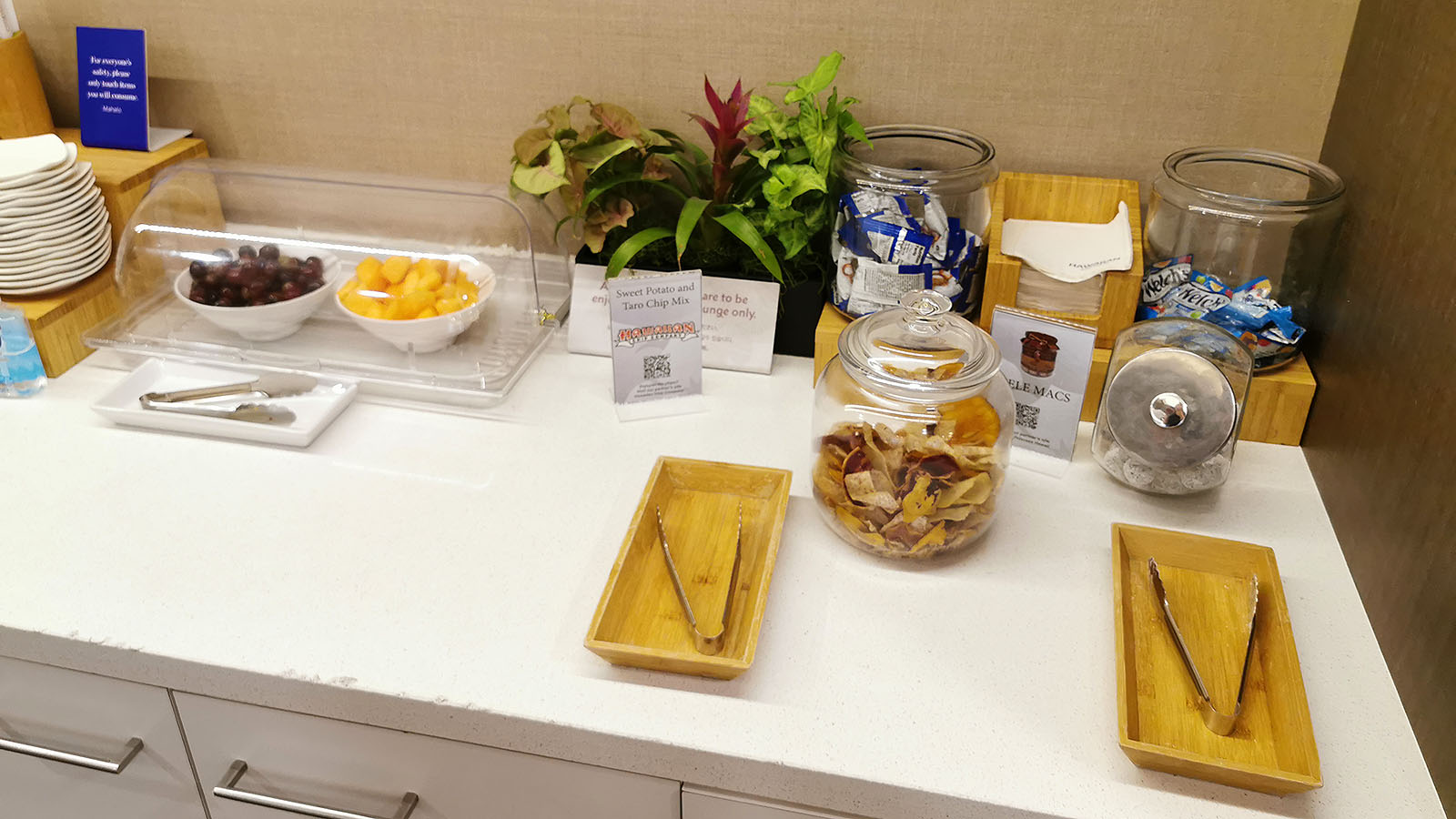 Beverage-wise, help yourself to soft drinks, juice and iced water. There's also filtered coffee in the urns, and machine-made espresso brews. The bar opens at 10 am, although the selections are limited to one white and one red wine, both from California. But after enjoying the cocktails in Hawaii, 10 am is a little early for me for indulge. Next time.
I'm told there's also beer tucked away in the fridge, but I didn't spot any this time. Then again, my radar was more tuned into the coffee at this time of day.
Accessing Hawaiian Airlines' The Plumeria Lounge in Honolulu
Hawaiian Airlines is both generous and restrictive with its guest list for The Plumeria Lounge in Honolulu. On the one hand, it's possible to enter the lounge when travelling with any airline – even Qantas. On the other, there's no access for elite frequent flyers from Hawaiian's many partner airline programs, including Velocity. Here's who gets in.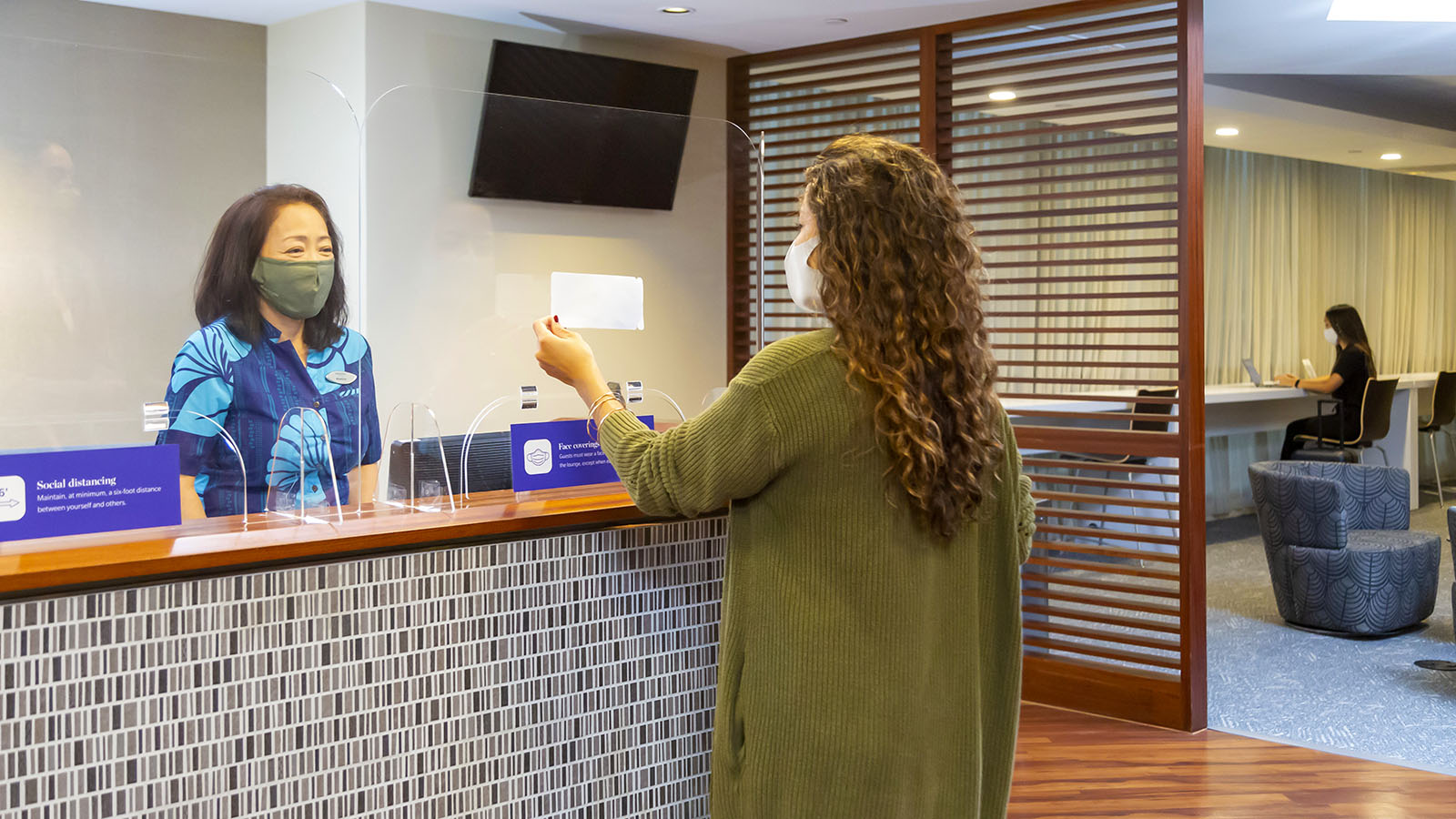 Hawaiian Airlines' First Class passengers travelling to New York or Boston only. (First Class passengers bound for other destinations, including on inter-island flights, can instead use Hawaiian's Premier Club).
Travellers booked in Business Class with Hawaiian Airlines to any international destination. This covers flights to Sydney, Auckland and elsewhere.
HawaiianMiles Pualani Platinum members prior to a Hawaiian Airlines international flight (+1 guest).
Priority Pass cardholders travelling onwards with any airline (guest inclusions vary based on membership).
Hawaiian Airlines' Premier Club members redeeming their one-time pass to The Plumeria Lounge.
Any other Hawaiian Airlines passenger (domestic or international) can purchase a single-use pass. This costs US$40 for most flyers, or US$30 for Pualani Gold members. Pualani Platinum members qualify for free entry when travelling abroad, but can pay US$25 to use this lounge before a domestic flight.
This means that a shiny Velocity Gold or Velocity Platinum card won't get you through the door here. When flying Hawaiian Airlines in Economy, a Priority Pass card would be needed instead. Otherwise, you'd need to purchase access at the rates above, noting that the discounts for Gold and Platinum cardholders are only for HawaiianMiles' own members.
Hopefully, this changes in future as Hawaiian Airlines and Virgin Australia expand their partnership.
Summing up
The Plumeria Lounge is Hawaiian Airlines' flagship facility in Honolulu. But given its focus on premium international flyers, it'd be great to see a better-stocked bar and a little more choice in the way of food.
Certainly, it's leaps and bounds ahead of what's offered at the nearby Premier Club, which caters more to inter-island travellers. And as far as lounges go in Honolulu, The Plumeria Lounge is one of the better ones. Given I was flying for work, I did appreciate the speedy Wi-Fi and handy access to power to conserve my battery for the flight ahead.
Ultimately though, the space is relatively laidback – and that nicely sums up Hawaii itself.
Also reviewed: Hawaiian Airlines Premier Club, Honolulu
Feature image courtesy of Hawaiian Airlines. Other photography by Chris Chamberlin. Chris accessed the lounge via a Priority Pass membership maintained at his own expense, when travelling using HawaiianMiles provided courtesy of Hawaiian Airlines.
---
Stay up to date with the latest news, reviews and guides by subscribing to Point Hacks' email newsletter.
Hawaiian Airlines' The Plumeria Lounge, Honolulu
was last modified:
April 24th, 2023
by