As Hawaii's home carrier, Hawaiian Airlines' Airbus A330 Business Class cabin is aptly laidback, yet comfortable. From the moment you step on board, there's a feeling that you're already in Hawaii. Whether it's the cocktails, the 'aloha' and 'mahalo' or just the friendly service, Hawaiian hospitality is what it's all about.
Hawaiian Airlines is also a partner of Virgin Australia and the Velocity Frequent Flyer program. This allows Velocity Points to be earned and spent with Hawaiian Airlines, and for Velocity Status Credits to be accrued on eligible paid airfares.
Alternatively, you can earn and spend miles via the separate HawaiianMiles program. But whichever way you get aboard, here's what to expect in Business Class aboard the Hawaiian Airlines Airbus A330.
Check-in
With the flight's 9:40 pm departure from Sydney, airport check-in opens four hours prior. And it's here, on the ground in Sydney, where Hawaiian Airlines could most improve.
If you're in Business Class, the priority lane is an overall time-saver ahead of your Hawaiian Airlines Airbus A330 flight. But at the desk, there's paperwork to complete – undoing some of those time savings.
It starts with the obligatory 'US attestation' form. But Hawaiian also requires passengers to handwrite and sign a separate document just with their 'first night in the US' address.
Other carriers flying to the US simply collect this address during online check-in. In fact, Hawaiian's rival Qantas even allows submitting the attestation via its mobile app, for a swift and paper-free check-in. For whatever reason, online check-in is disabled for Hawaiian's Sydney departures – so there's no getting around it. It's cumbersome but sorted soon enough.
I then ask the agent to attach my Virgin Australia Velocity Frequent Flyer number to the flight. I'm advised that she can only 'enter a frequent flyer number' – not select a partner program (e.g. Velocity). The number is typed in, boarding pass is issued… and it doesn't stick.
I check the booking, and notice the digits have been entered as a 'Known Traveller Number', not a frequent flyer number. That field is only used on US flights for services like Global Entry and TSA PreCheck – not for frequent flyer programs at all.
With the help of a supervisor, we get there in the end. Boarding pass issued, and I'm all set.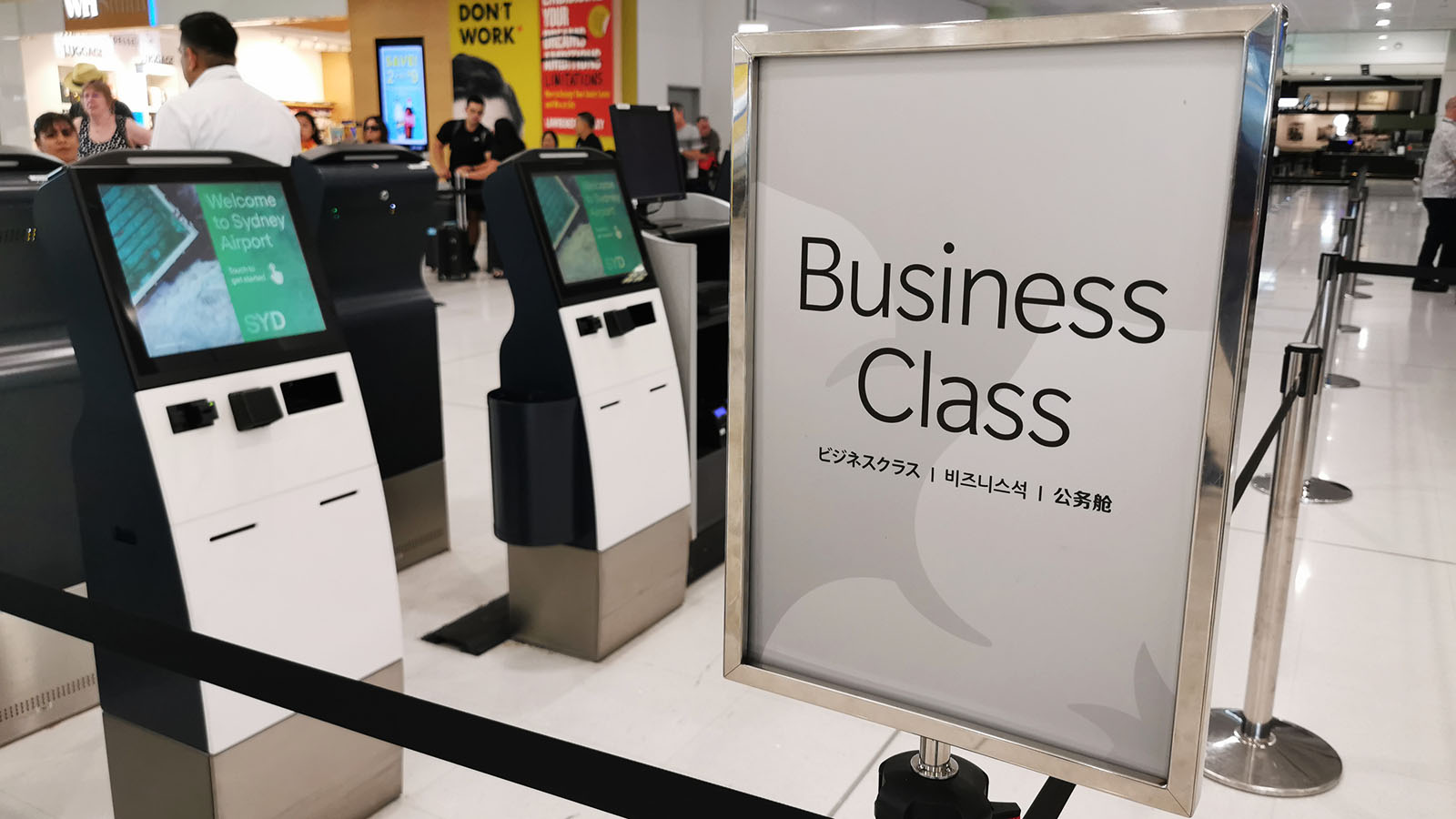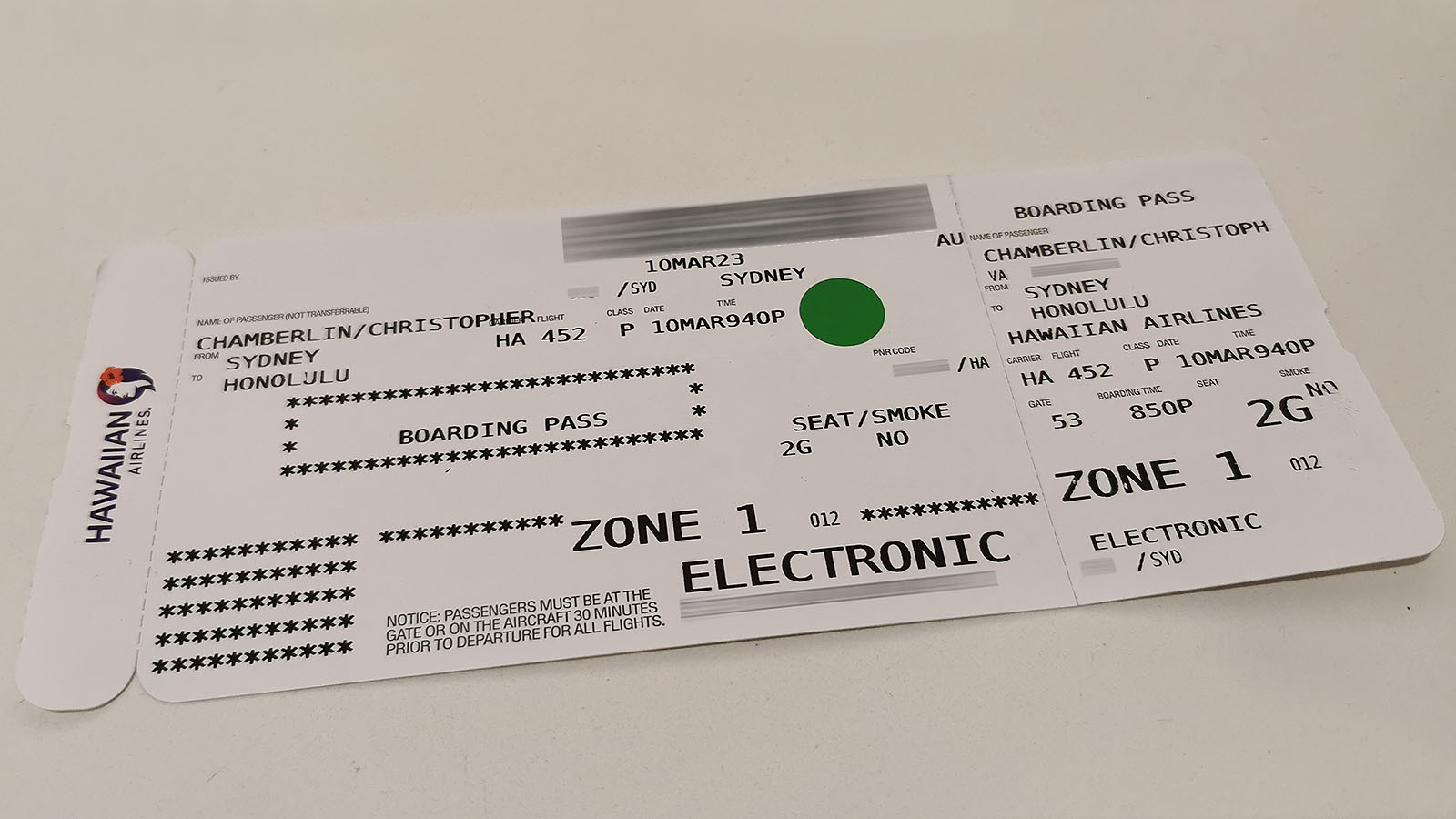 Except… staff forget to mention that as a Business passenger, I'd have access to Sydney Airport's priority processing path. This has a separate entrance from the main departure channel. But I know it's there from prior travels, and make my own way.
Lounge and boarding
At Sydney Airport, Hawaiian Airlines uses The House lounge for its Airbus A330 Business Class passengers. It first opened many years back as an Etihad Airways lounge, before being rebranded into more neutral territory.
This isn't a large lounge – and of an evening, it tends to get very full. I stepped in around an hour before boarding for Honolulu, and found it packed. And quite uncomfortably so. It's difficult to find a spare seat – and when I do, I realise I've taken somebody else's chair.
The House also accepts Priority Pass cardholders – and at peak times like this, that doesn't help when capacity is already at a premium. Rather than awkwardly taking one of the few spare seats among families, I decide it's time to find another lounge.
Now, this won't be an option for everybody – but it's a trick to keep up your sleeve if you can. The hot tip? The American Express Centurion Lounge is conveniently close by. And at night, it tends to have much more available space than The House.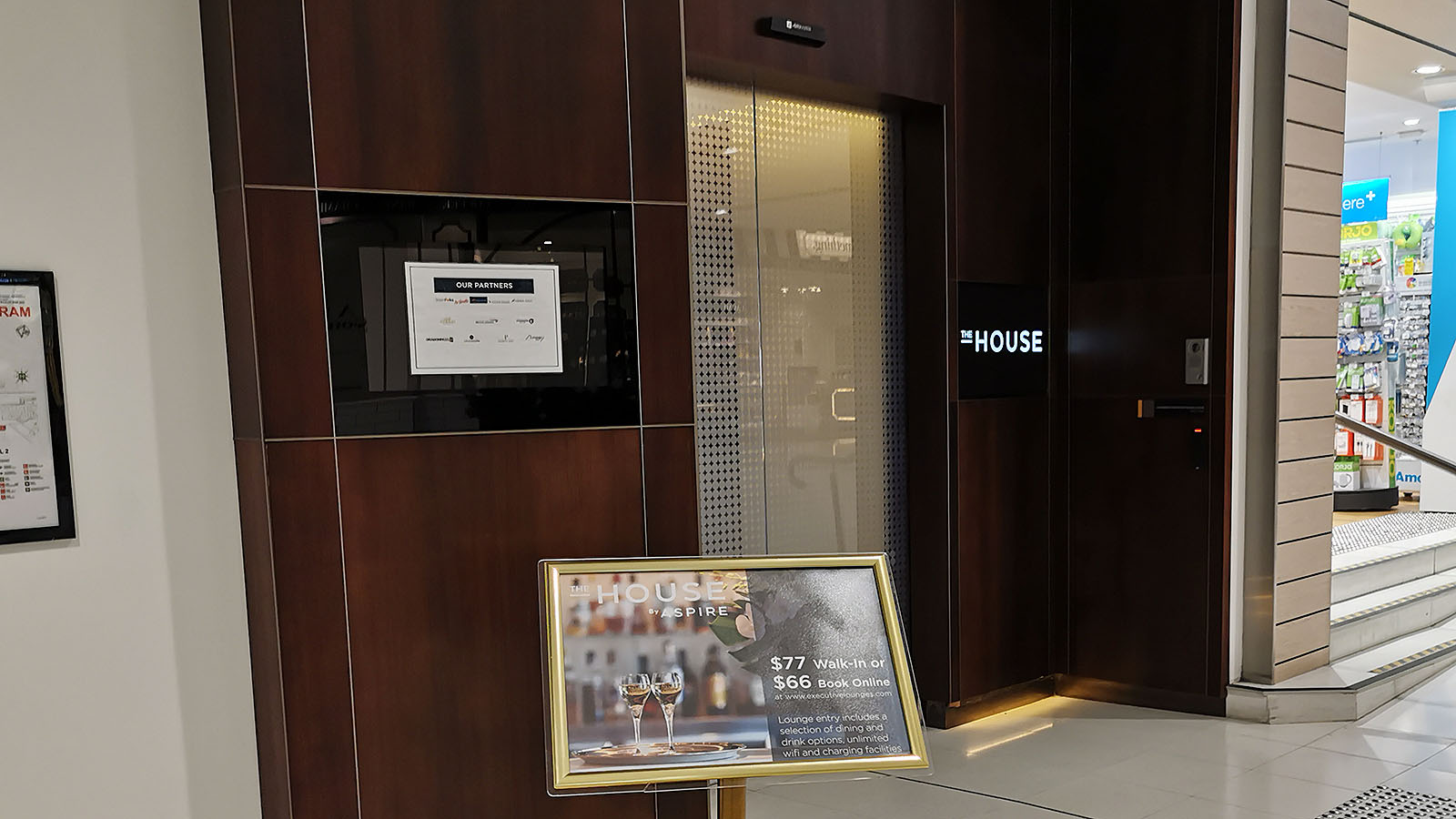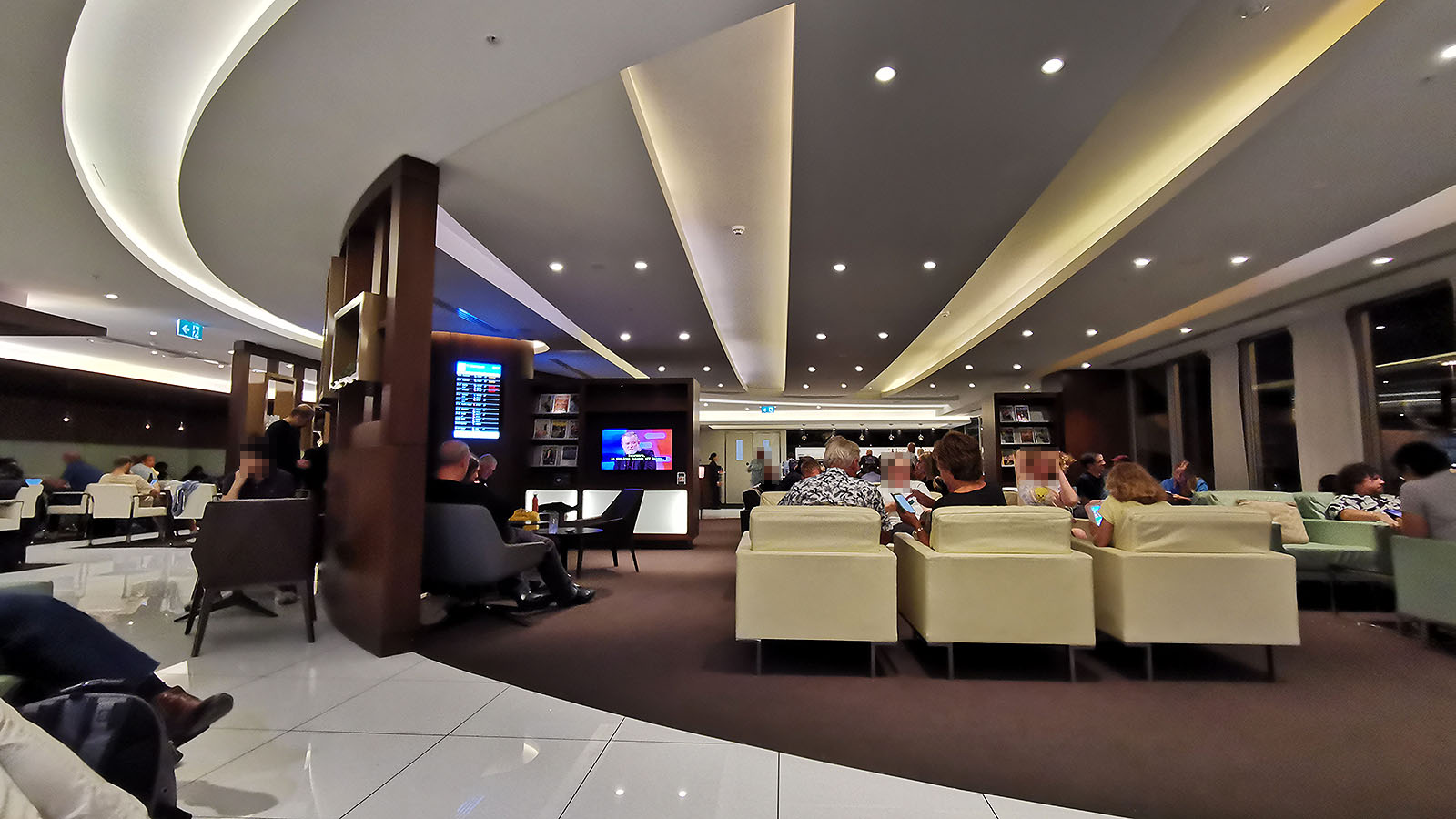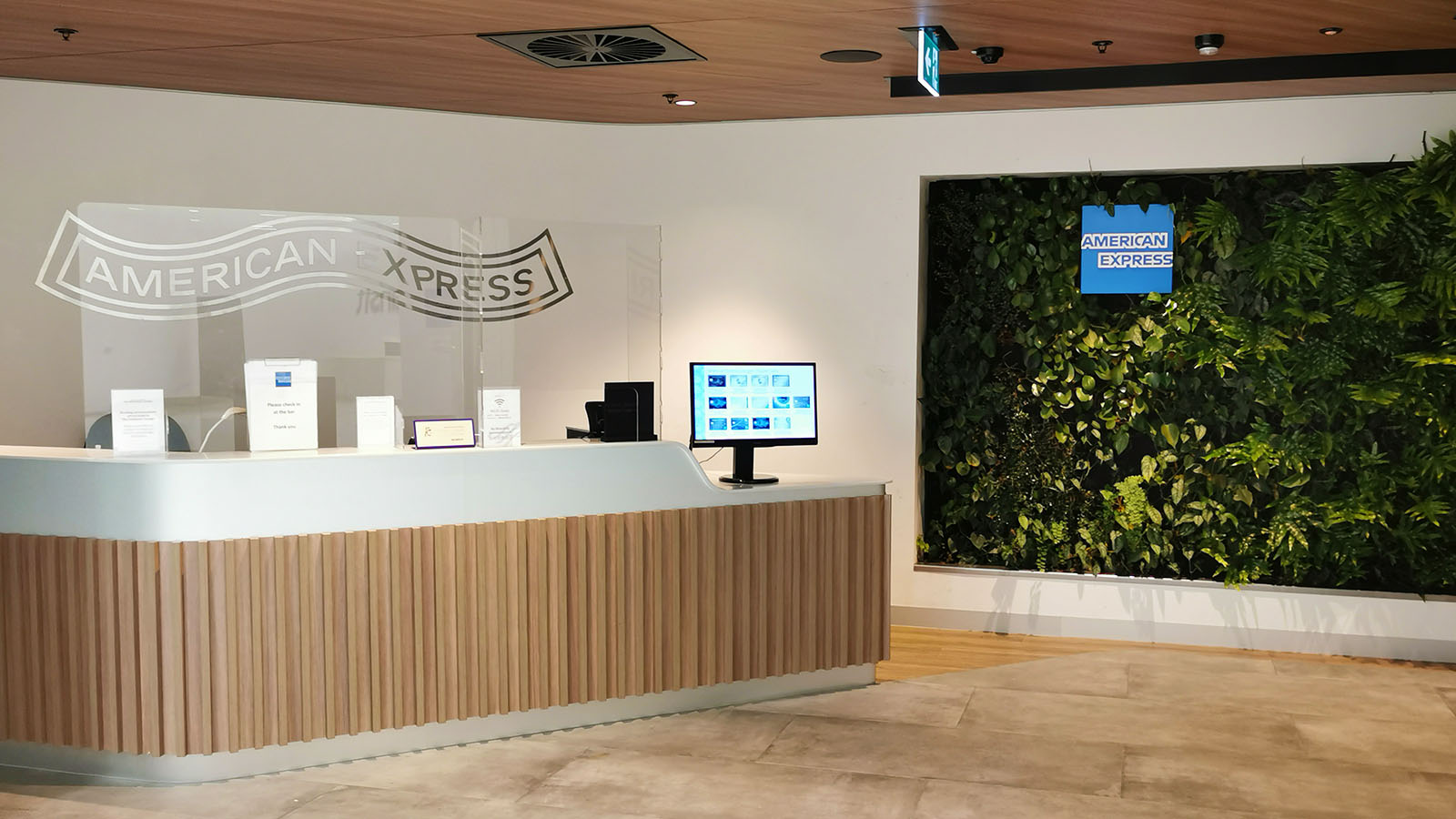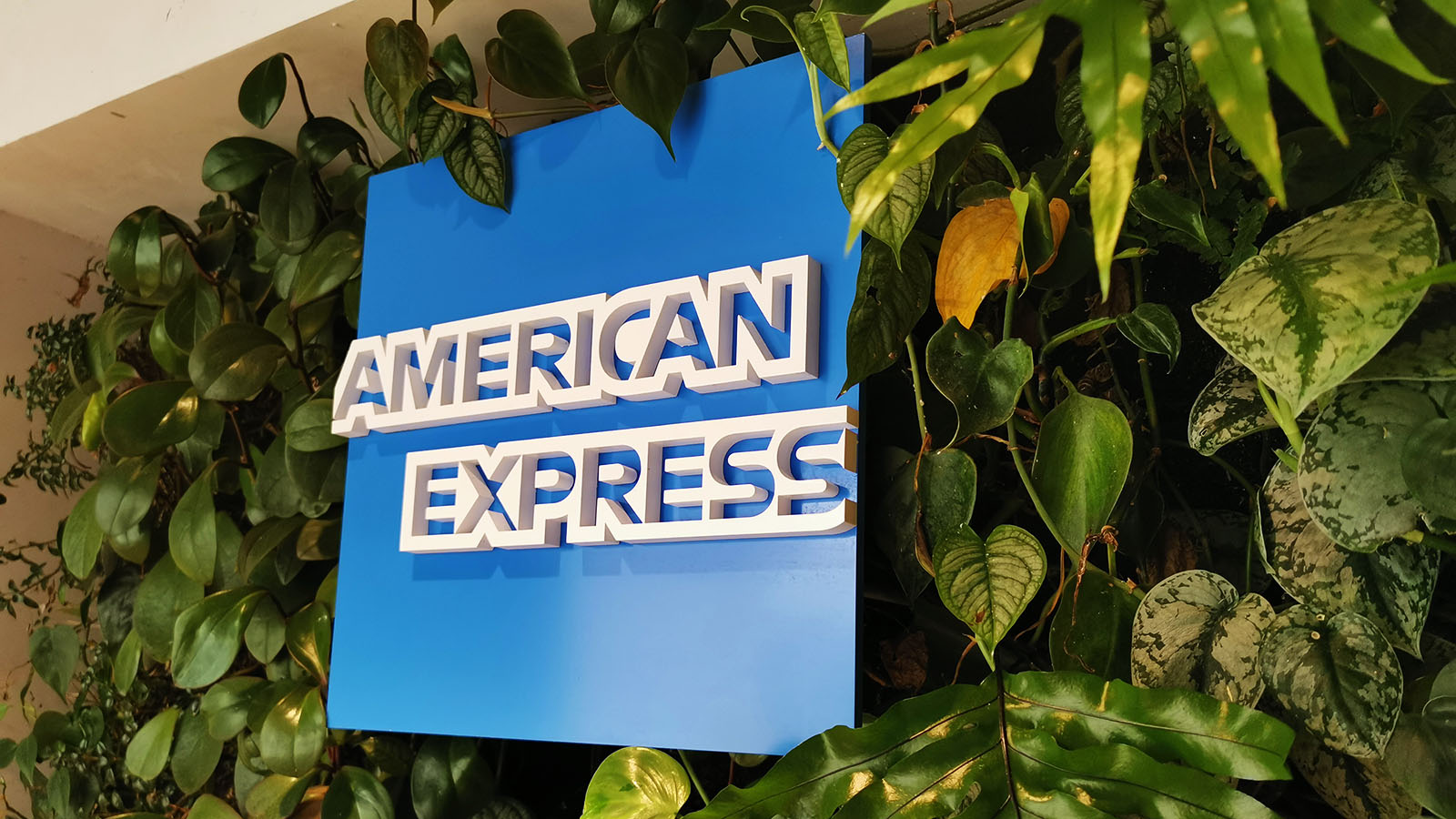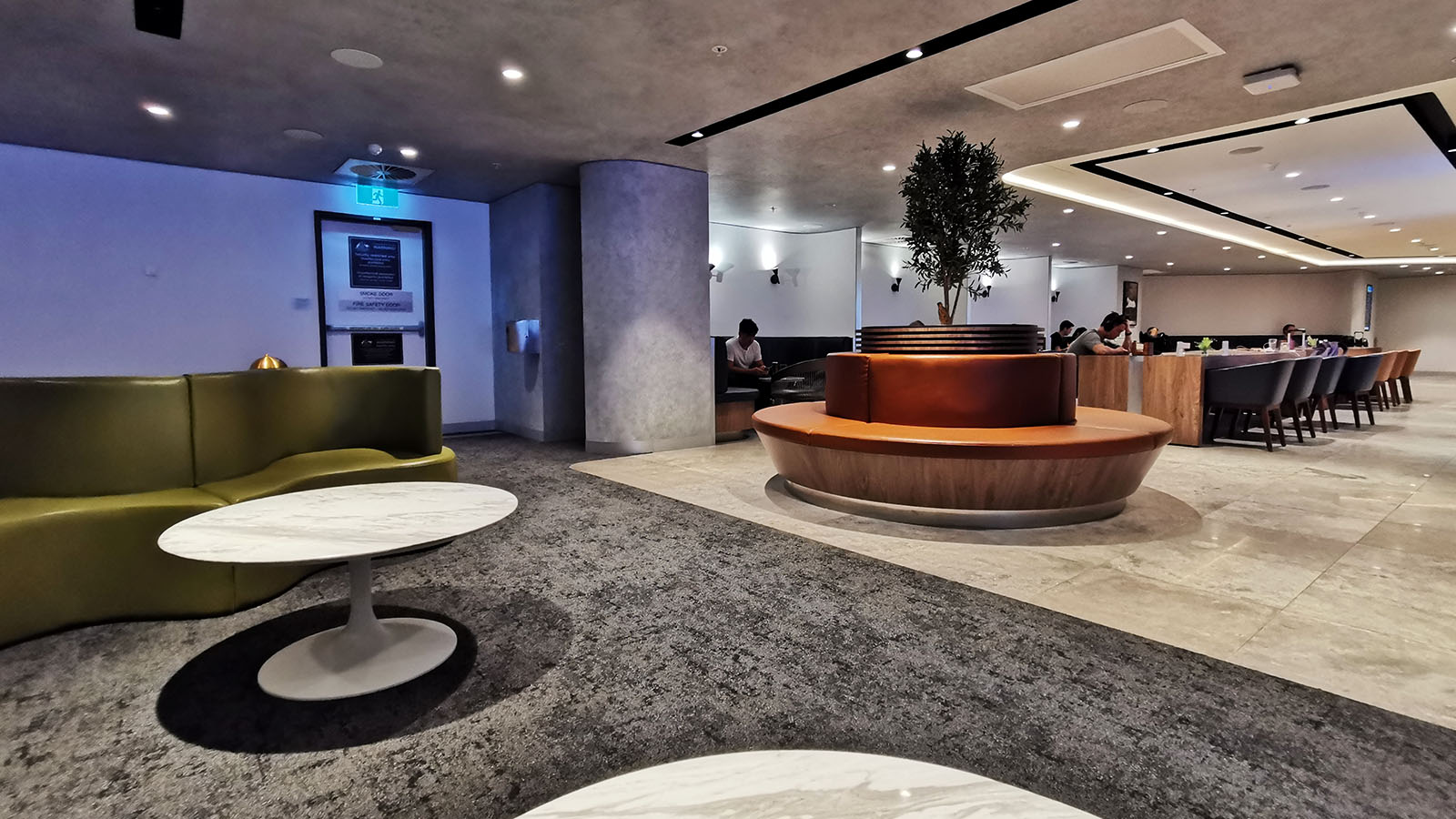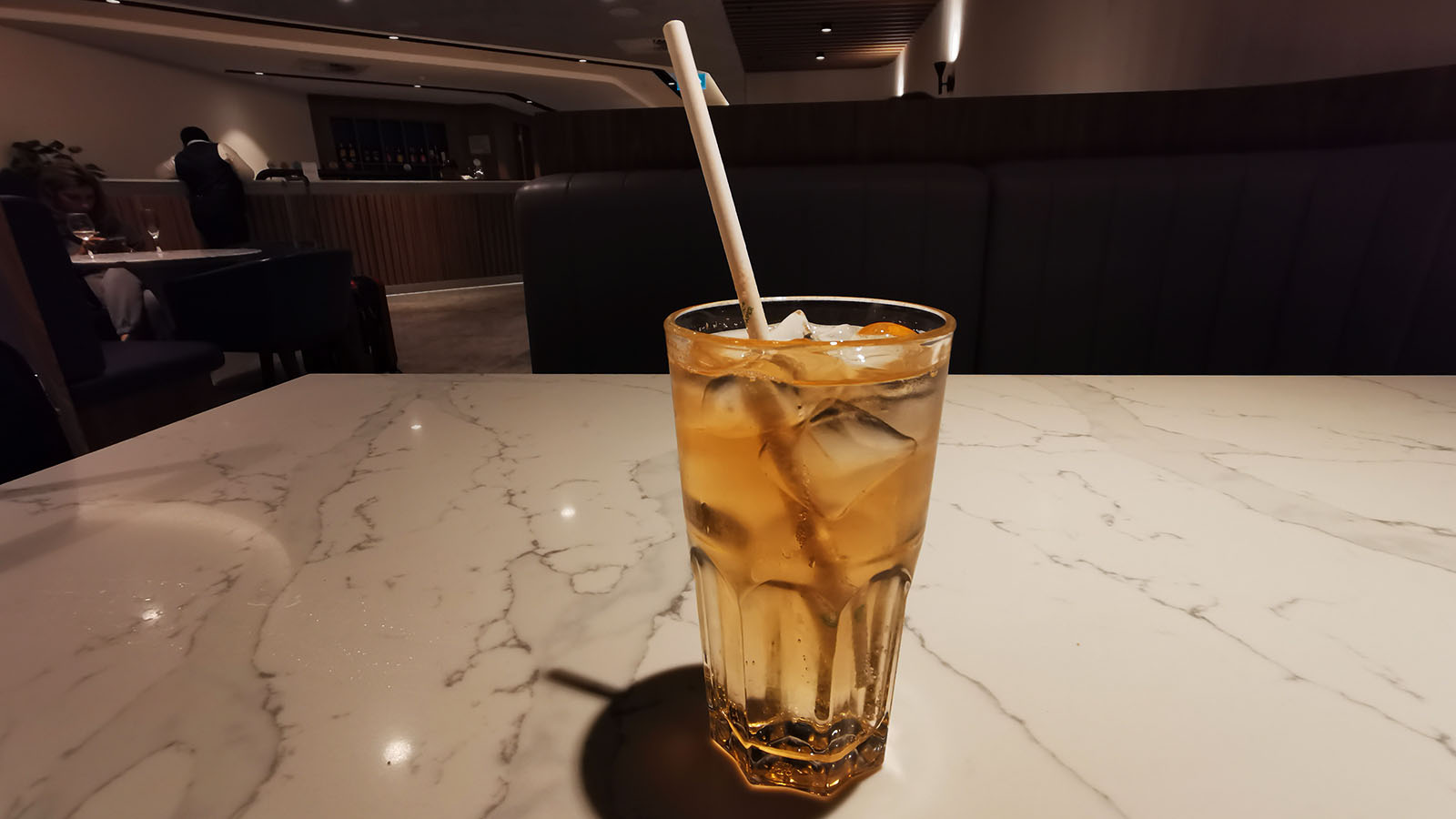 Amex Platinum Card and Centurion Card holders have unlimited access. Those with many other cards can enjoy two complimentary visits per year. Among them, travellers with the Amex Velocity Platinum Card, Amex Explorer Credit Card and the Amex Qantas Ultimate Card.
In short, it's bliss – and well worth the brief walk. I land an entire booth to myself, and settle in with a lemon, lime and bitters. There's dinner on the flight, so I save my appetite.
Before long, it's time to board Hawaiian Airlines' Airbus A330. Business Class gets a dedicated lane, and travellers here are processed first. While other aspects of the ground experience could improve, it's nice to be leaving Sydney on a high note.
Hawaiian Airlines Airbus A330 Business Class seating
Stepping onto the Hawaiian Airlines Airbus A330 finds a cosy 18-seat Business Class cabin. Spanning just three rows, seats come in a 2-2-2 layout.
On flights more common with business travellers, this mightn't be ideal. But given Hawaii's strong appeal as a leisure destination, it's perfect for couples. You can sit together by the windows and share the views as Honolulu comes into sight.
Flying solo? I'd recommend a seat in the centre. This provides direct and uninterrupted aisle access, as your seatmate has their own aisle. A large privacy divider can also be raised between the seats after take-off.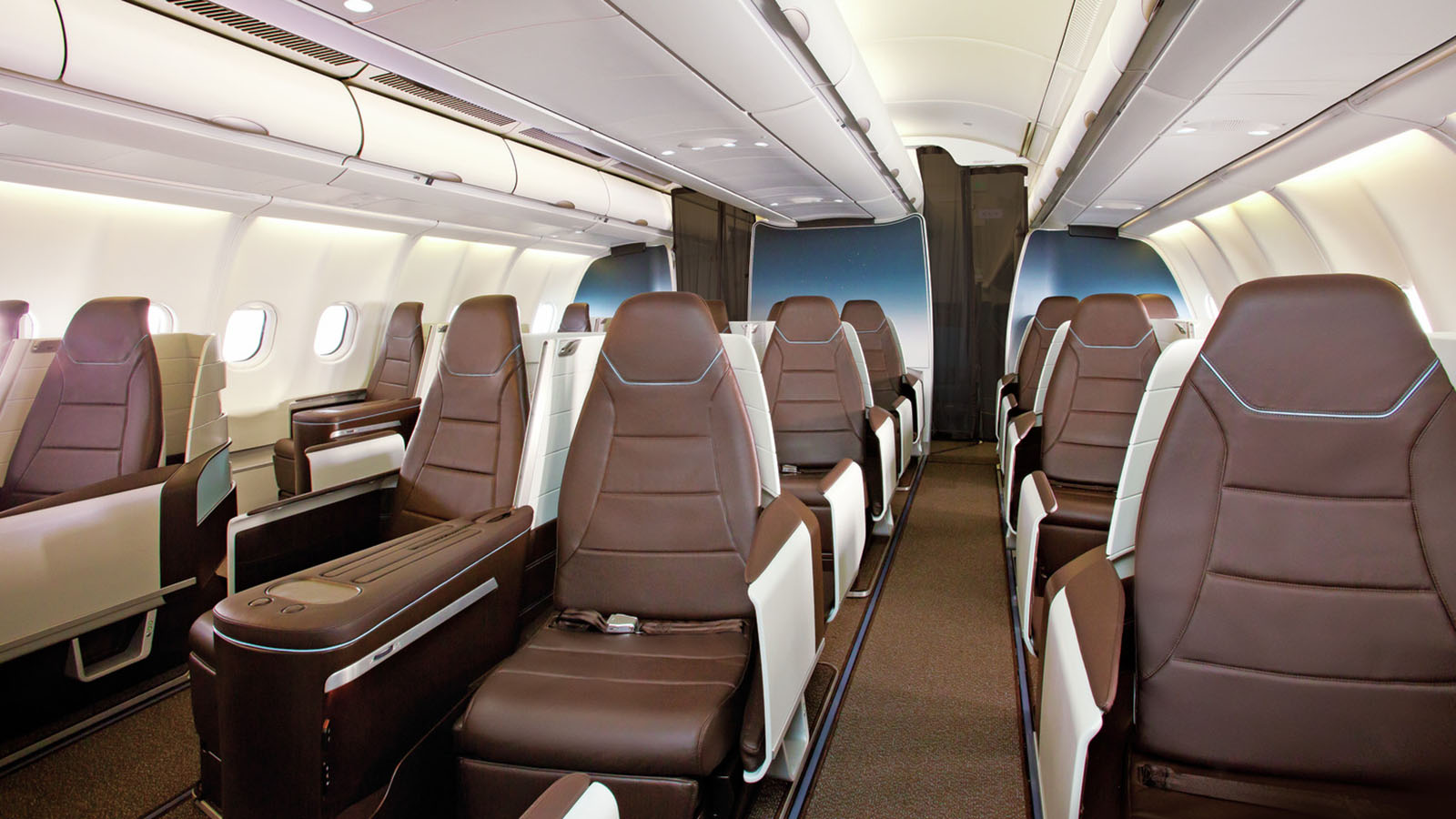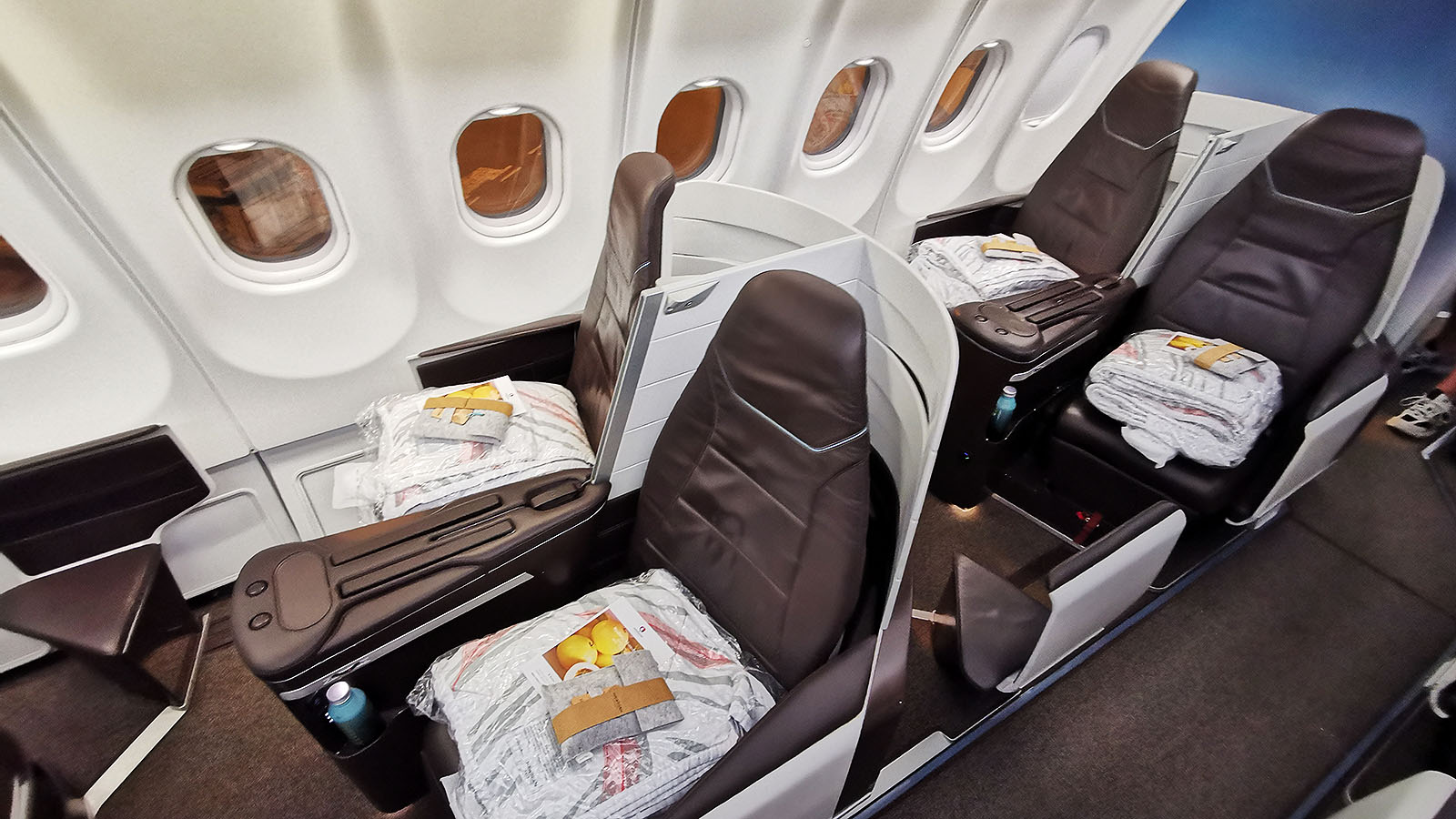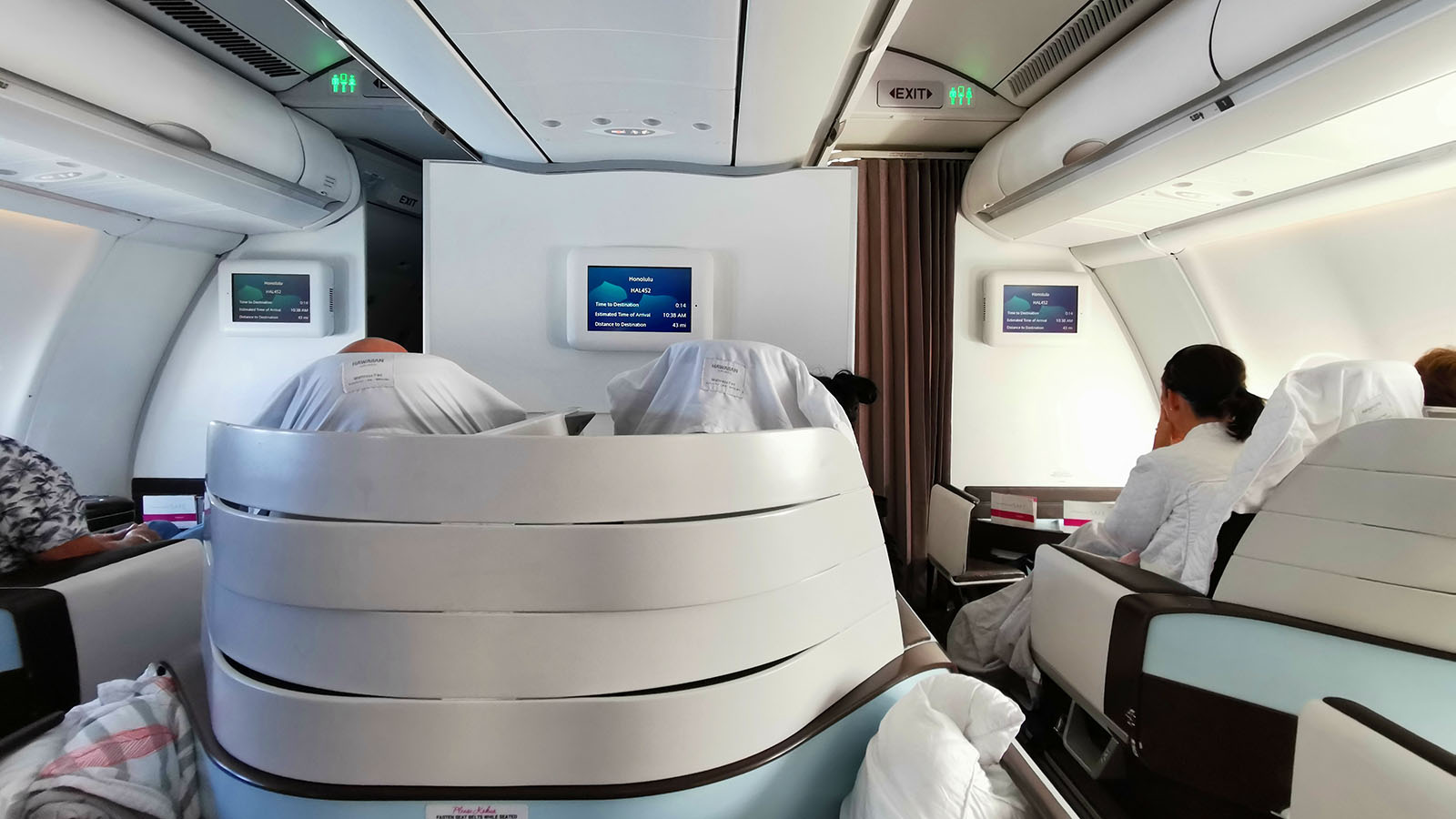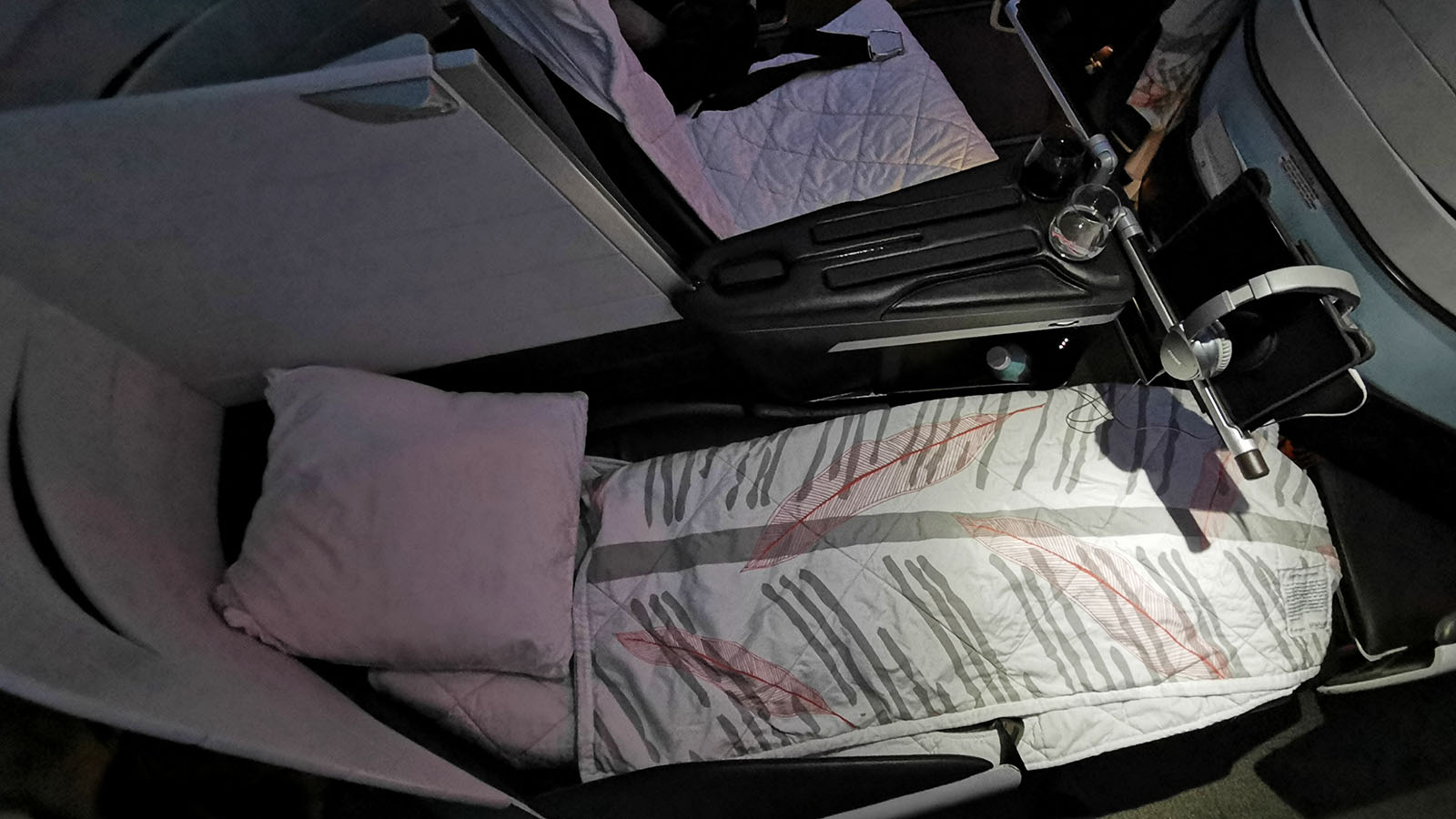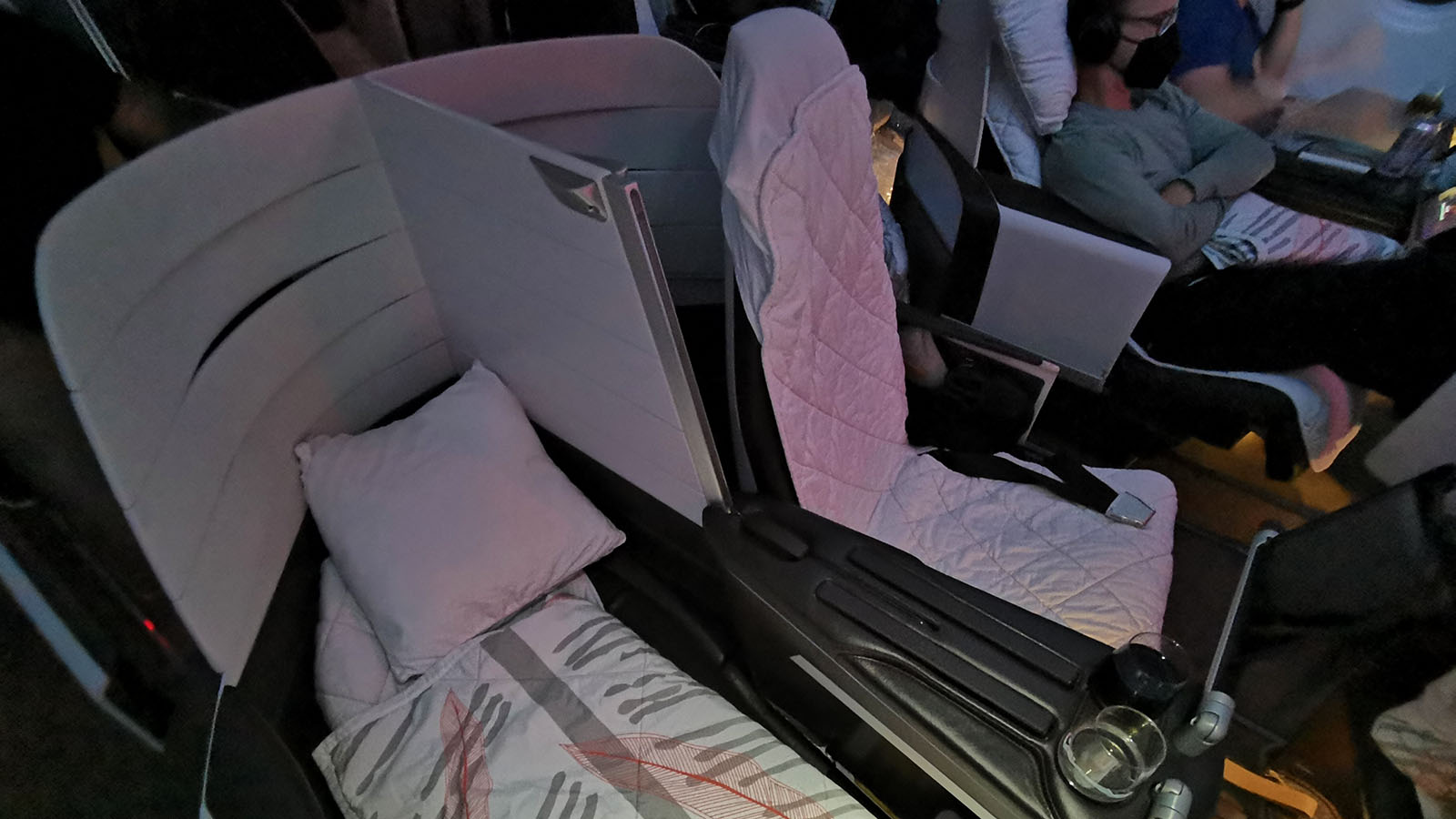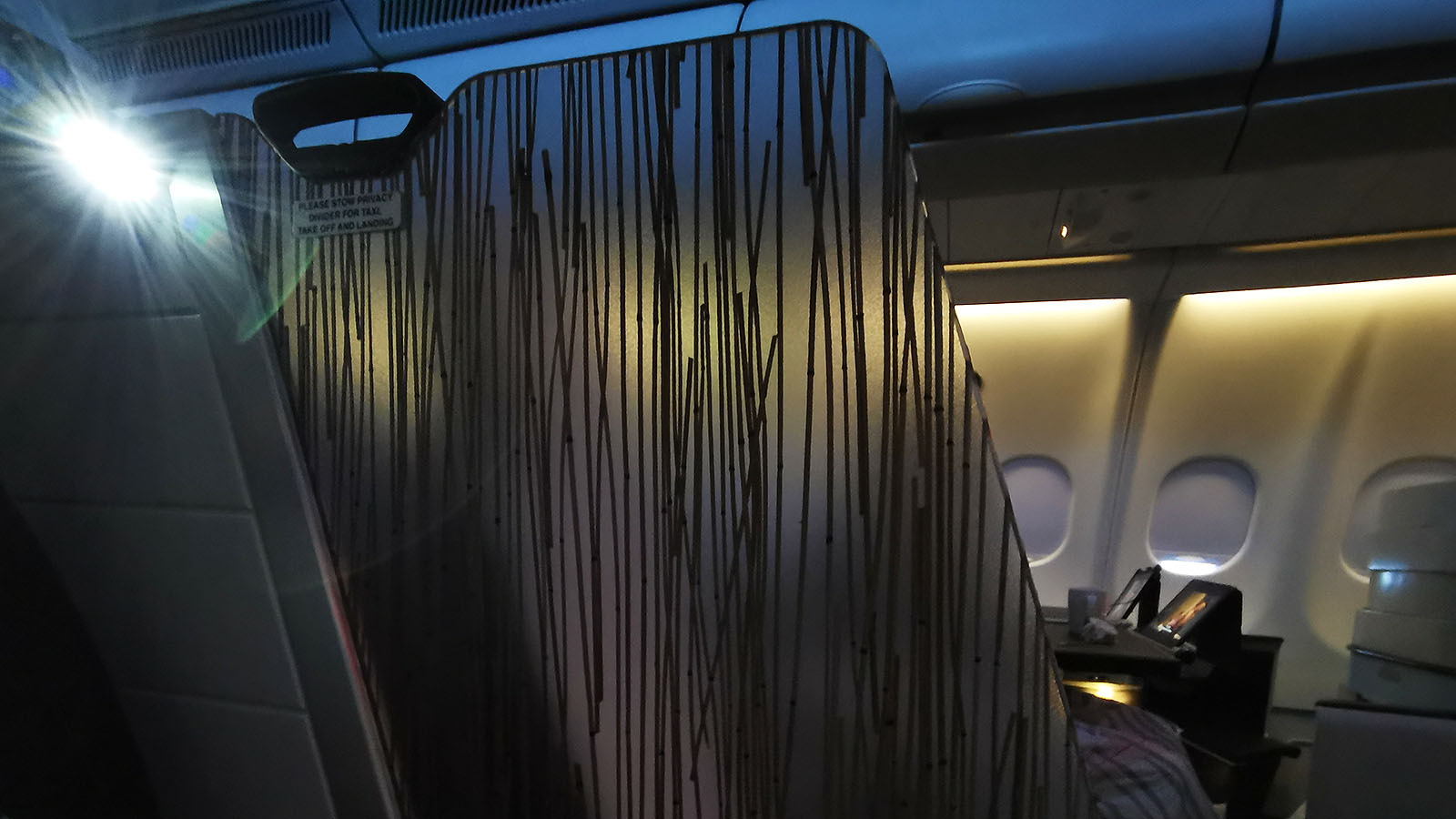 Of course, I'm usually a fan of 1-2-1 seating layouts in Business Class. And in 2023, it's the standard I'd expect when flying long-haul. But on this route, it's fair to say that 2-2-2 works quite well.
Having a neighbour also provides a chance for some interesting chit-chat while waiting for take-off. The gentleman beside me is heading home at the tail end of a marathon three-month, solo round-the-world trip. But those are stories for another day!
Once in the air, these seats recline to form a fully-flat bed. A mattress cover, blanket and pillow are provided. It's a little tight for me – but I still manage a solid six hours of rest.
Ultimately, that's what I appreciate most about travelling Business on overnight flights. Taking off in the evening and landing well-rested in the morning allows me to make the most of my time at the destination.
For the best rest, choose a seat on the right-hand side of the cabin. The placement of the curtain ahead of this aisle does a better job of blocking stray light from the galley during the night.
Hawaiian Airlines Airbus A330 Business Class food and beverage
After my lemon, lime and bitters in the lounge, it's nice to be welcomed on board with a Mai Tai. My neighbour makes the same decision – and we're both happy with our choice. Alternatives offered are guava juice or Flor Prosecco.
Crew also ask in advance what you plan to drink with the meal. But this second glass arrives a little earlier than the food – you aren't kept waiting. I take the chance to try that Prosecco. It's not bad at all, with hints of an entire orchard: apples, pears, peaches and melon, to be precise.
On the food front, dinner is simply a 'yes or no' scenario. There's no choice over the starter, main or dessert. It's a bit of a step backwards compared to what Hawaiian Airlines was offering pre-COVID, where passengers could a least choose between two mains on these overnight flights.
But what's more important is that the food's good – and it is. A pickled beet salad with goat's cheese is a refreshing way to begin. It also makes a nice change from many of the salads I've been served lately on other airlines, which rarely seem to venture beyond lettuce and tomato.
The main – chicken and vegetable ratatouille with roasted potatoes – is as filling as it is delicious. But there's still room for dessert: a scrumptious fruity cake sphere, to finish things off.
Fast-forward to breakfast, and you can choose to have a full meal around two hours before landing. Or to have a lighter continental breakfast until 45 minutes before touchdown, to maximise rest.
I was awake, so chose the former. The frittata was interesting, but also quite filling. Given the late dinner though, I couldn't finish it. Perhaps the continental option is the pick for next time.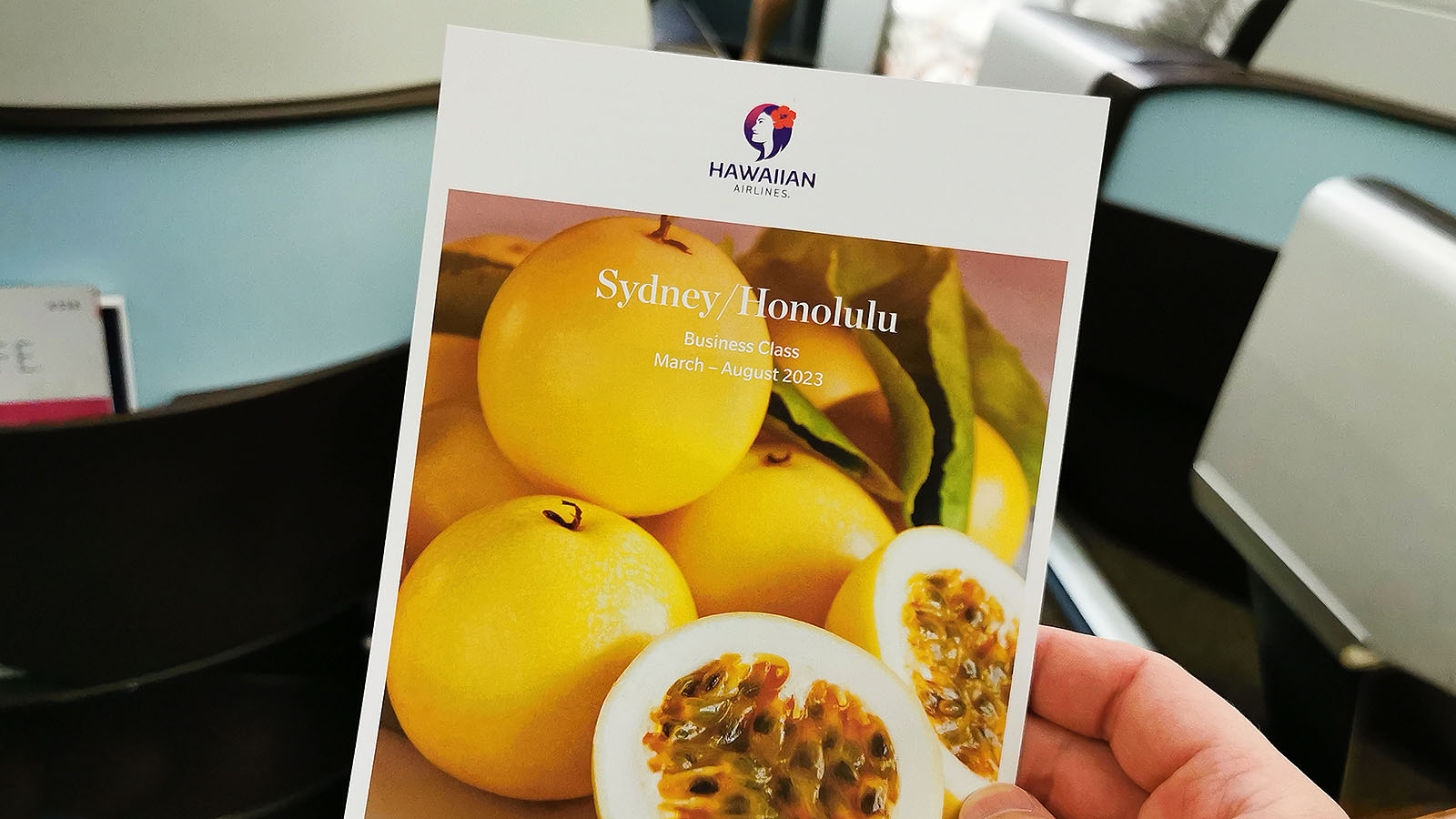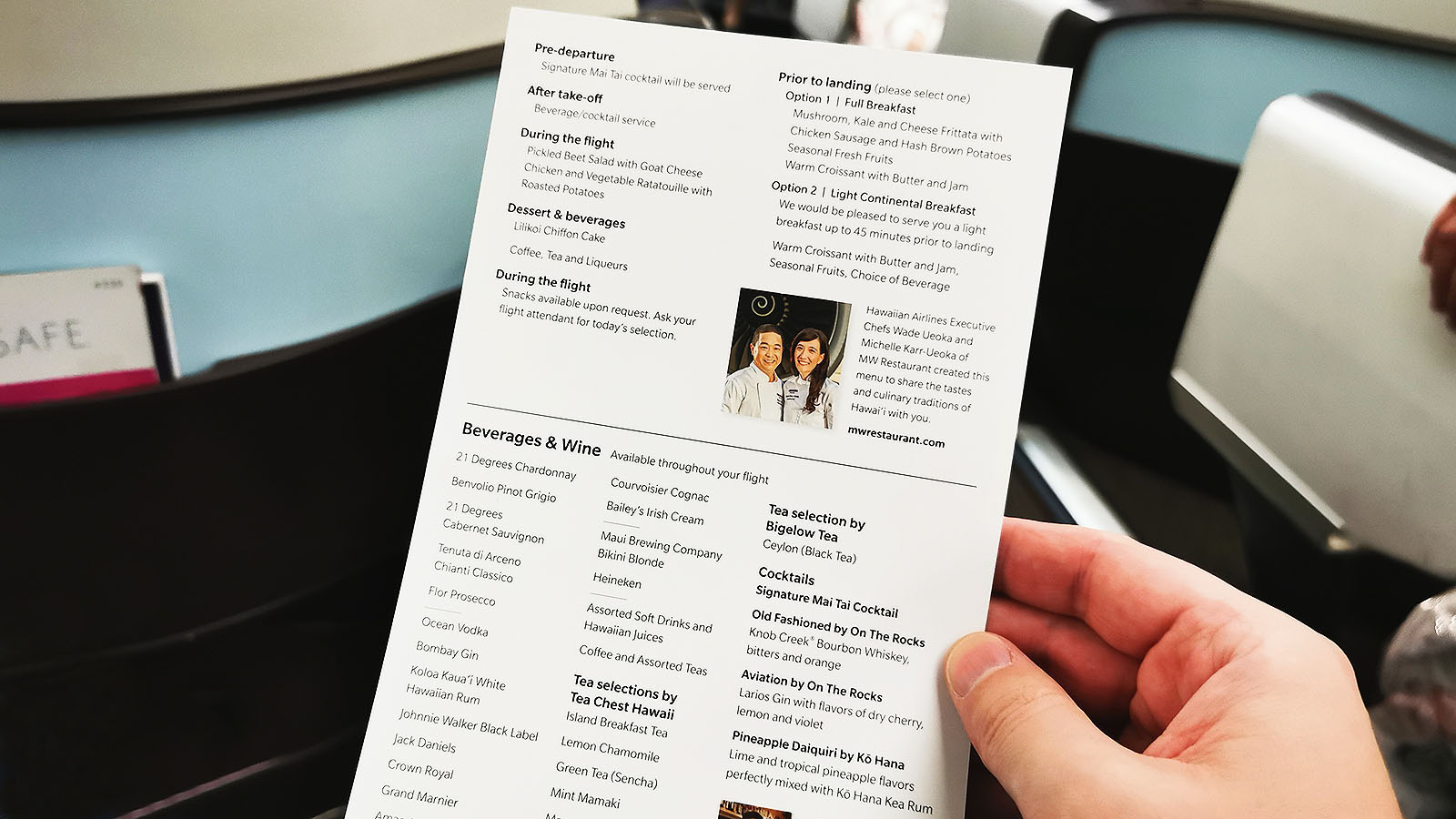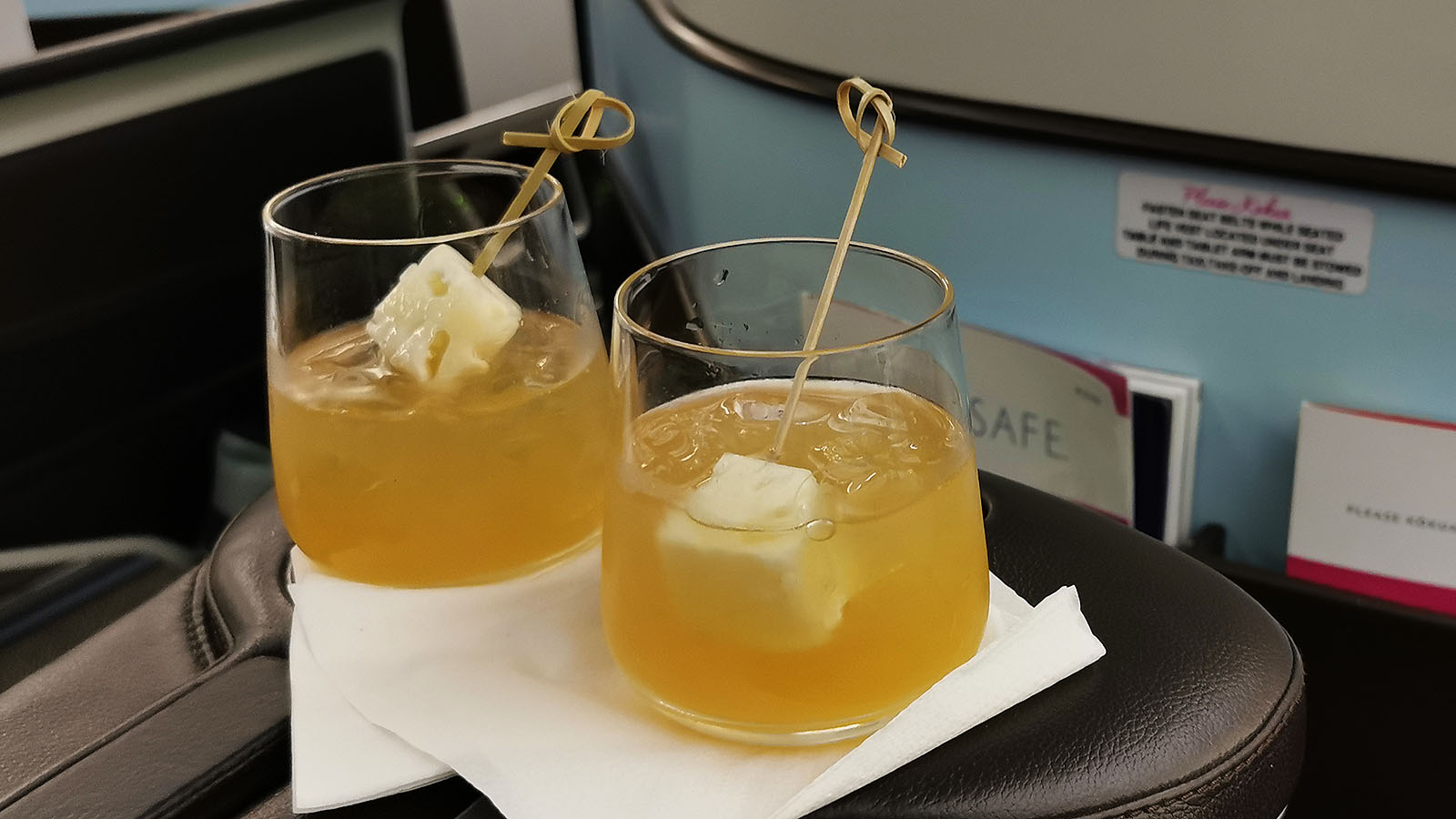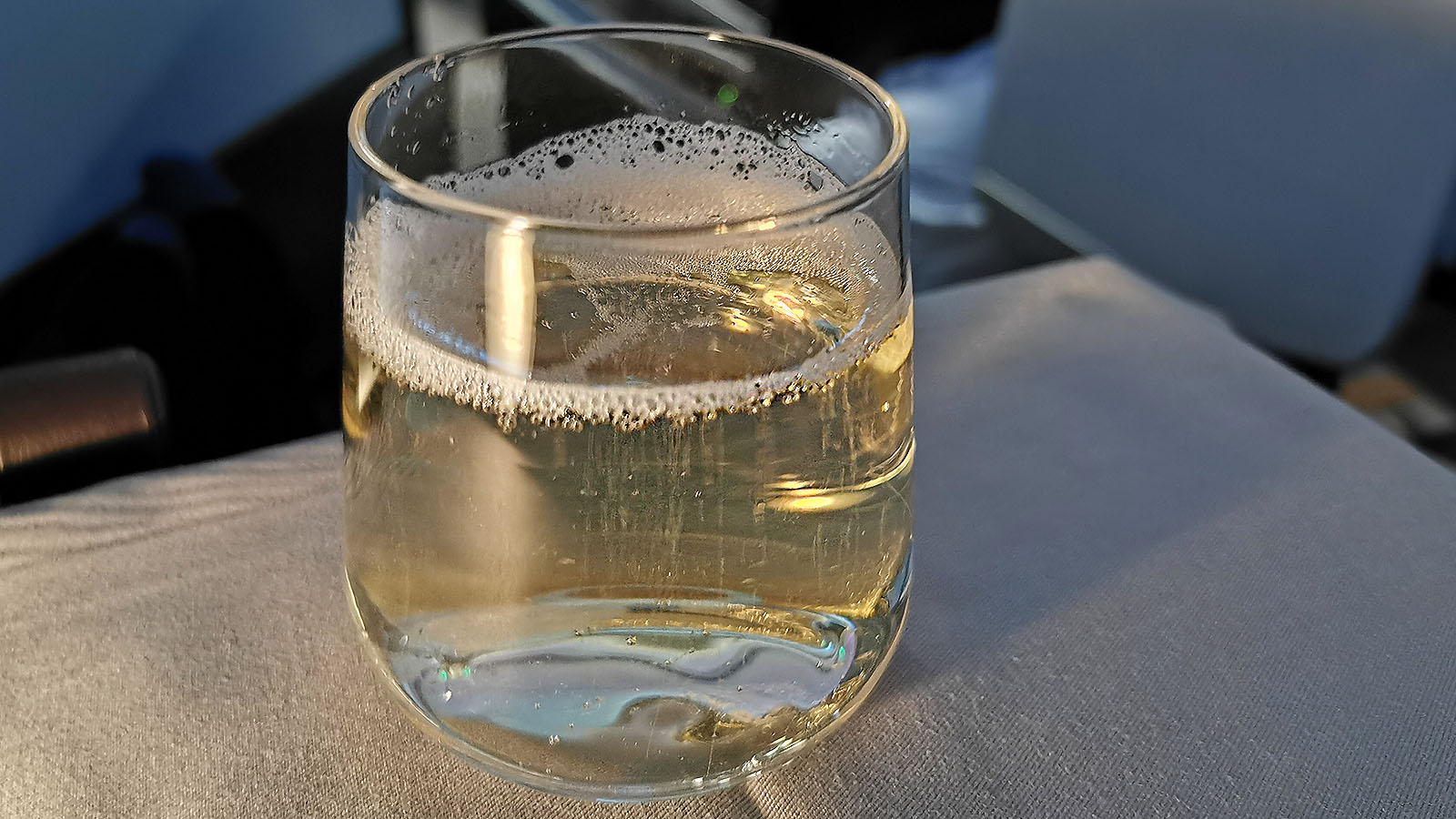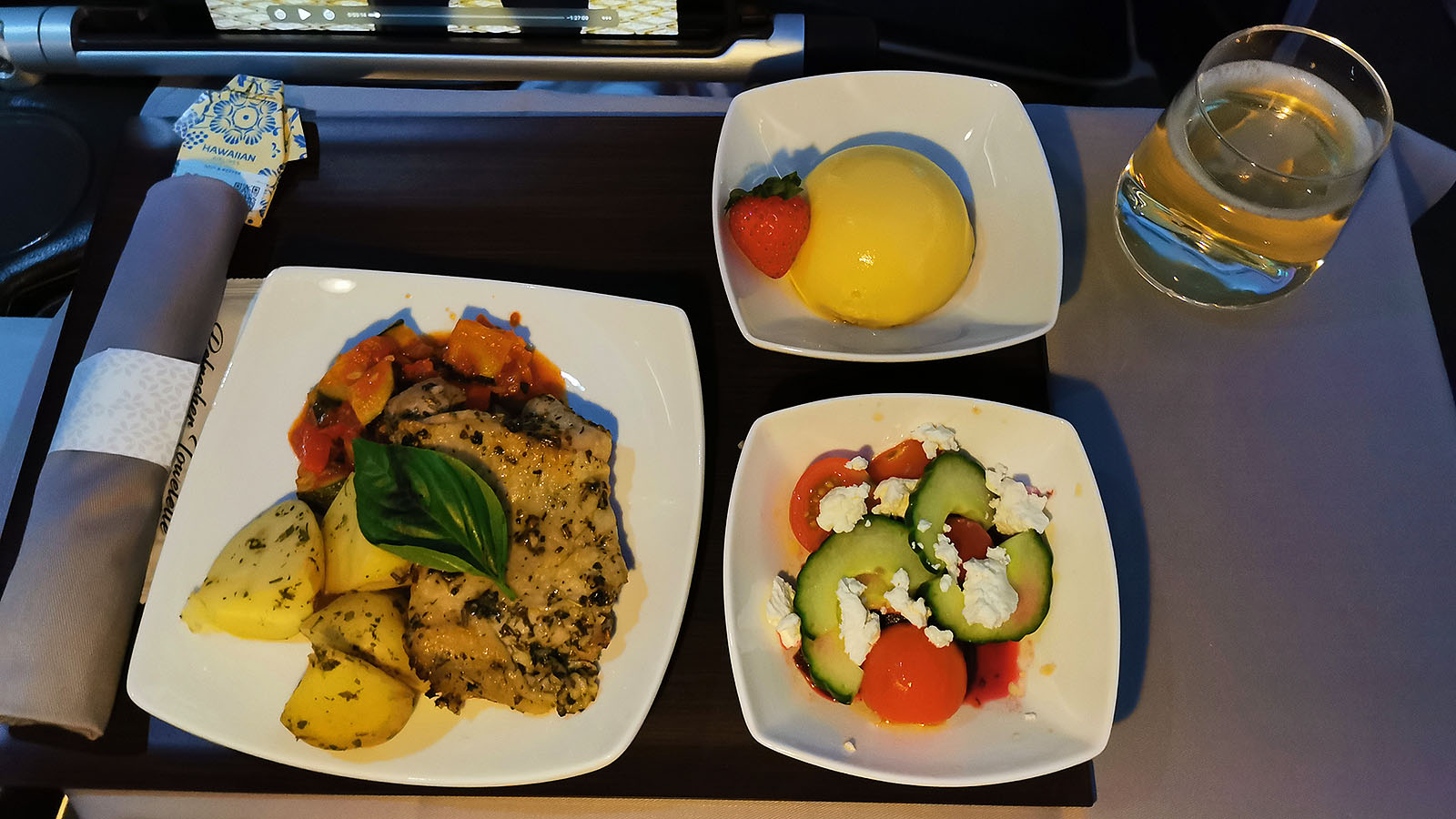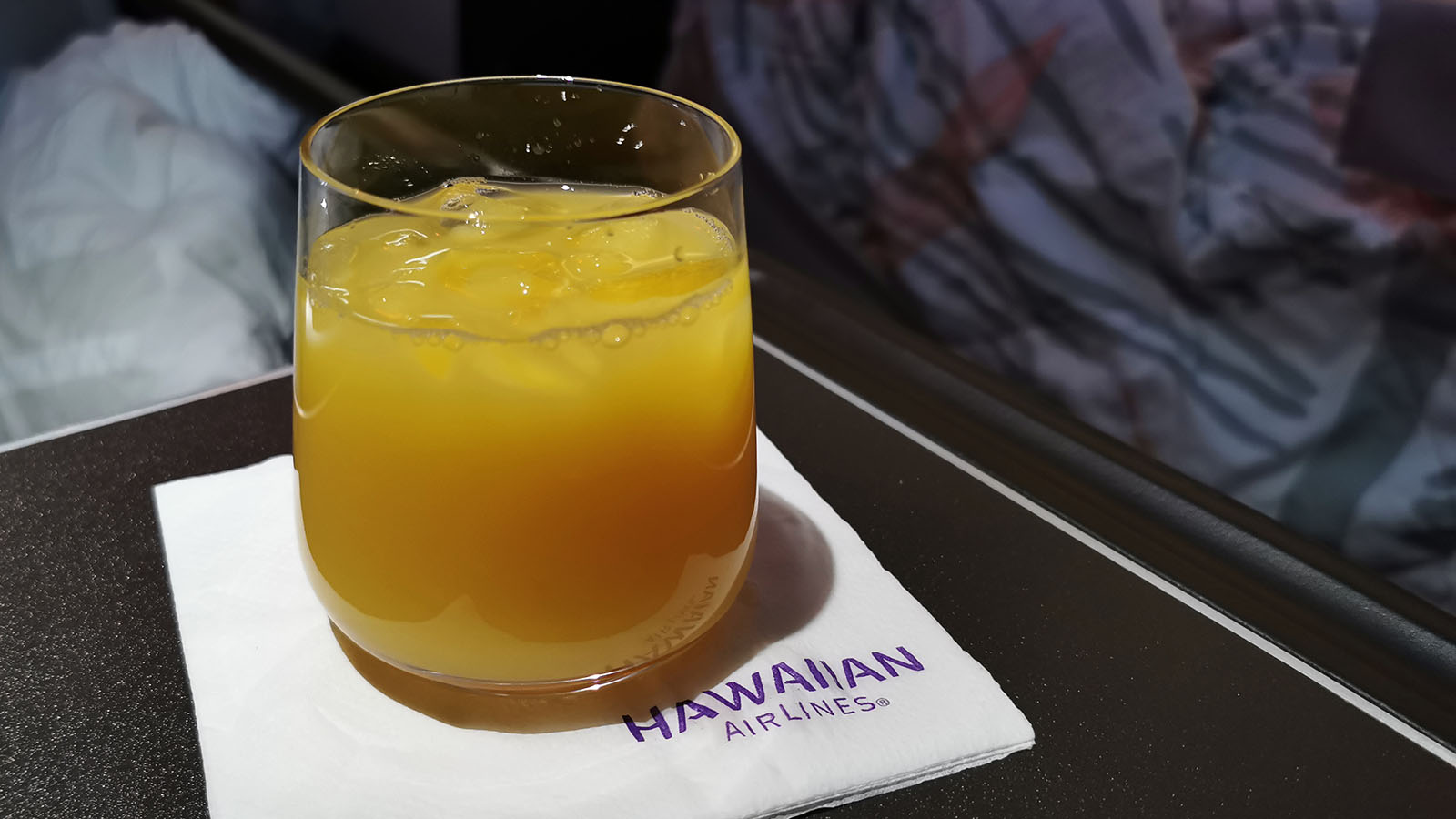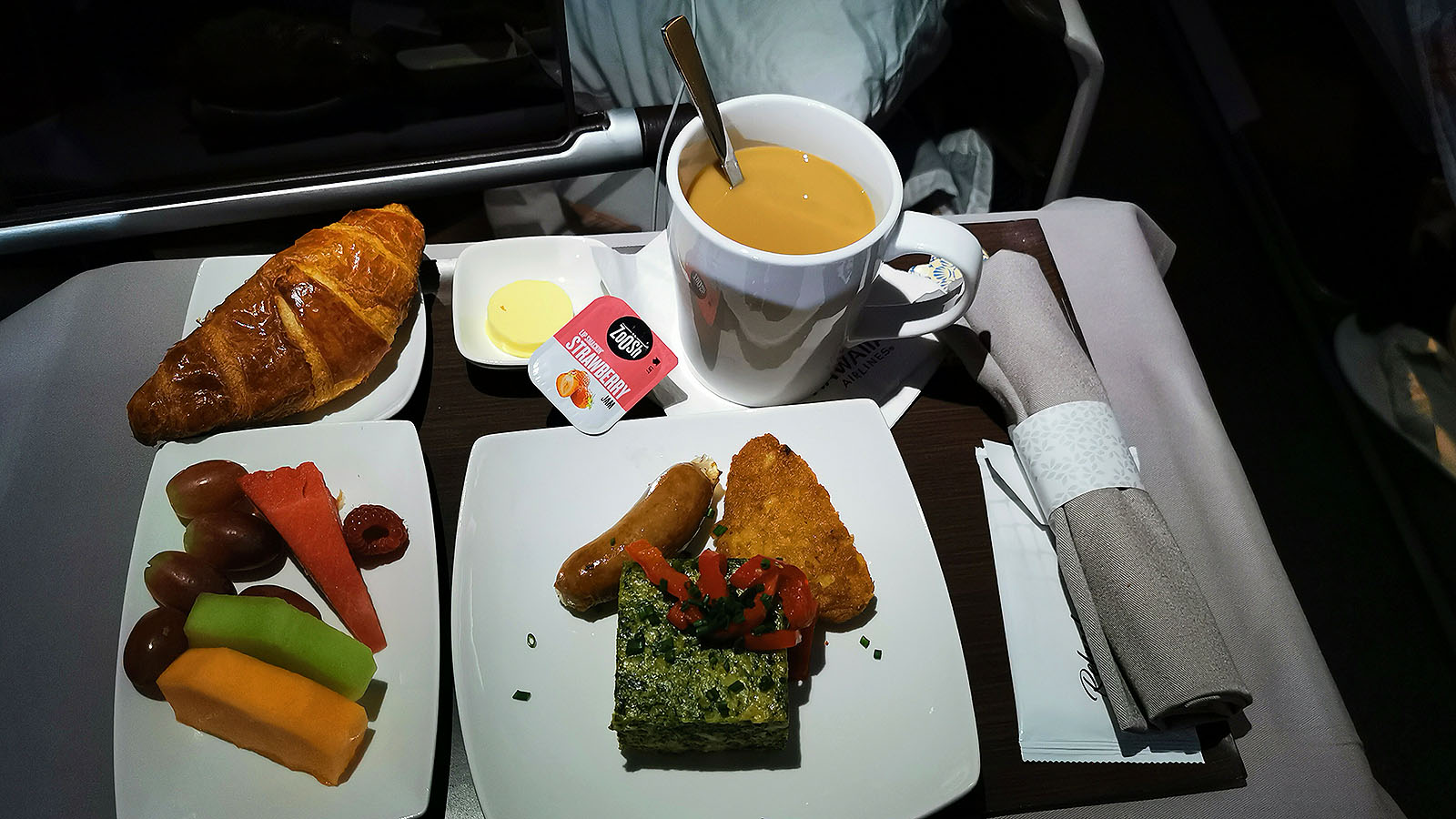 If the 'yes or no' option doesn't suit, special dietary meals can be ordered in advance.
Hawaiian Airlines Airbus A330 Business Class service and entertainment
Rather than having fixed entertainment screens in its Airbus A330 Business Class, Hawaiian Airlines offers iPads instead.
Fortunately, these don't have to be balanced on the tray table, taking up all the real estate. There's a dedicated arm that extends from the centre console, holding the tablet firmly in place. This allows you to enjoy a show while simultaneously enjoying the meal.
There's a reasonable range of movies and TV shows on offer. I appreciate that Hawaiian Airlines' IT team is also savvy enough to have the tablet immediately pause whenever the headphones are disconnected. As well, you can't hit play until they're plugged in again, making them both childproof and 'adult child' proof.
Service-wise, crew are friendly and laidback, yet professional. Exactly what you want in a premium cabin to a destination primarily catering to leisure flyers.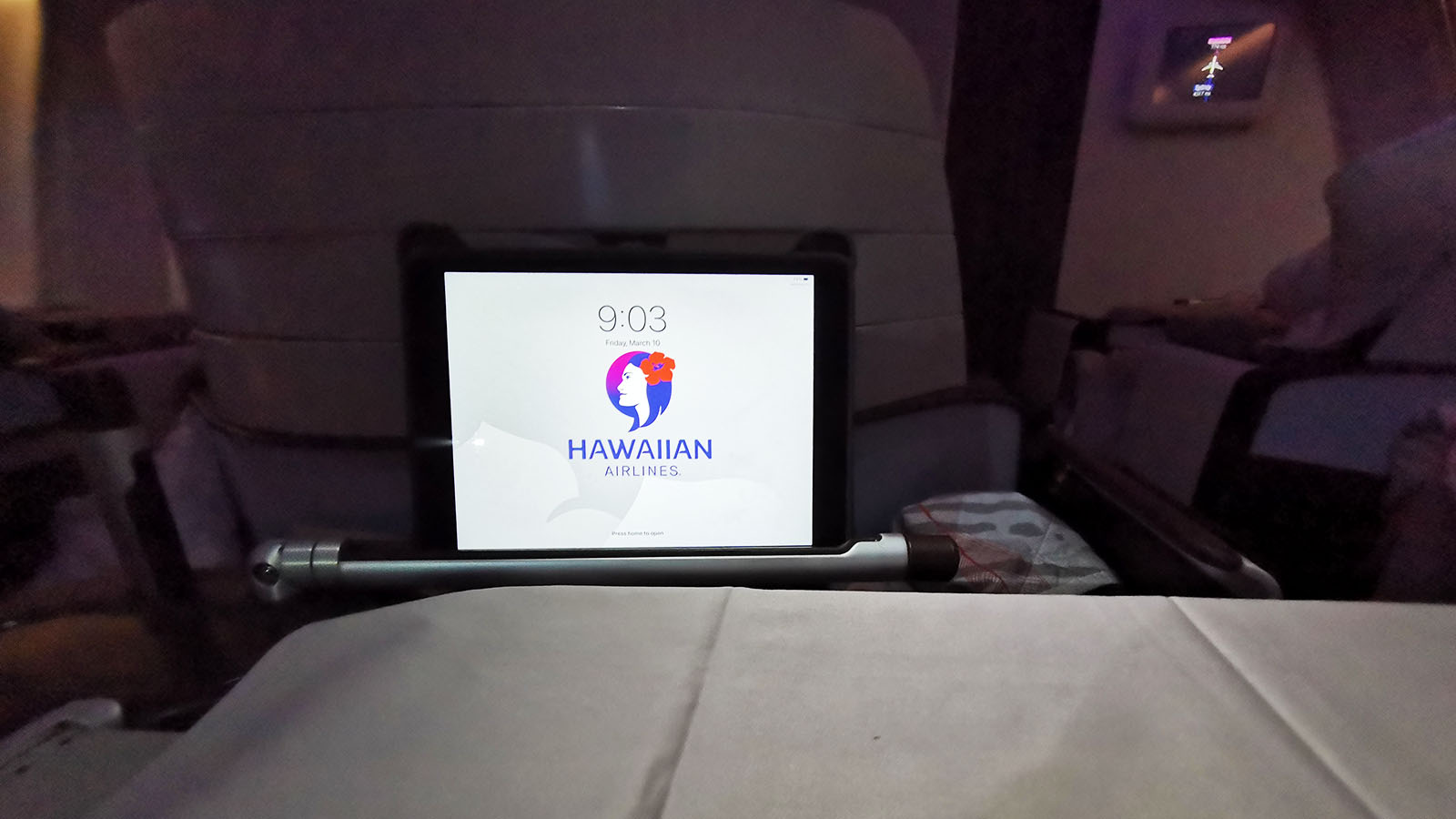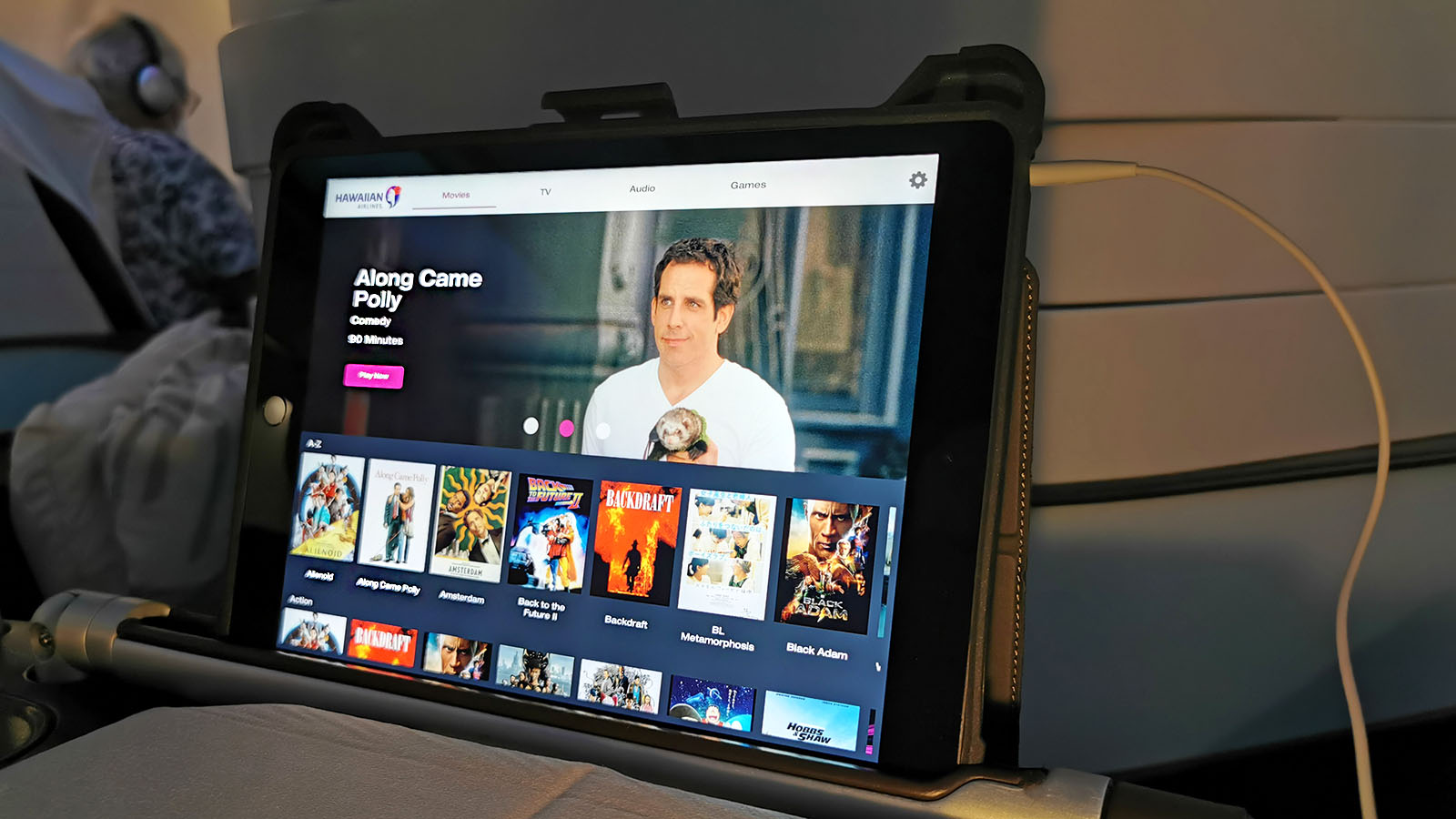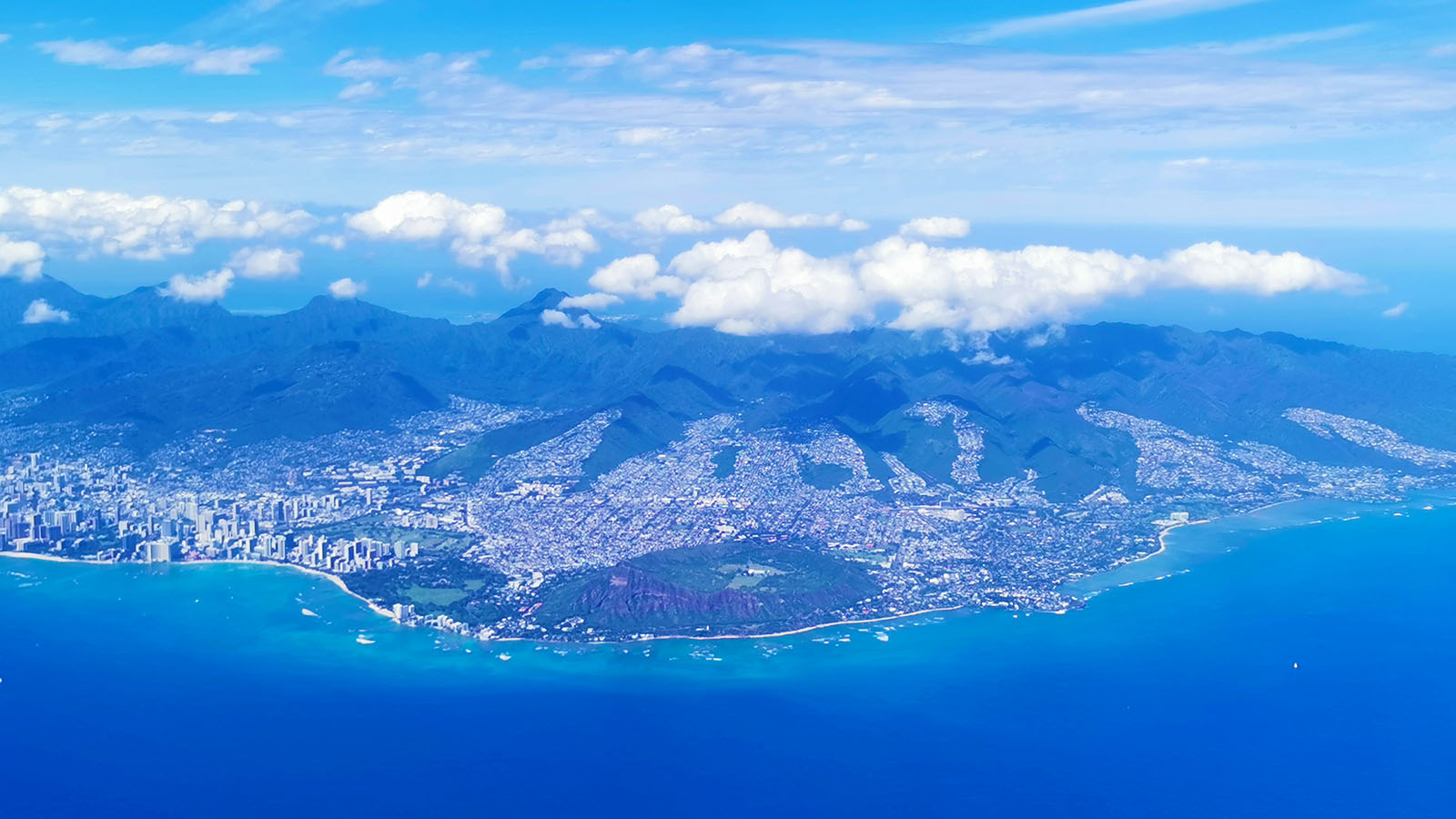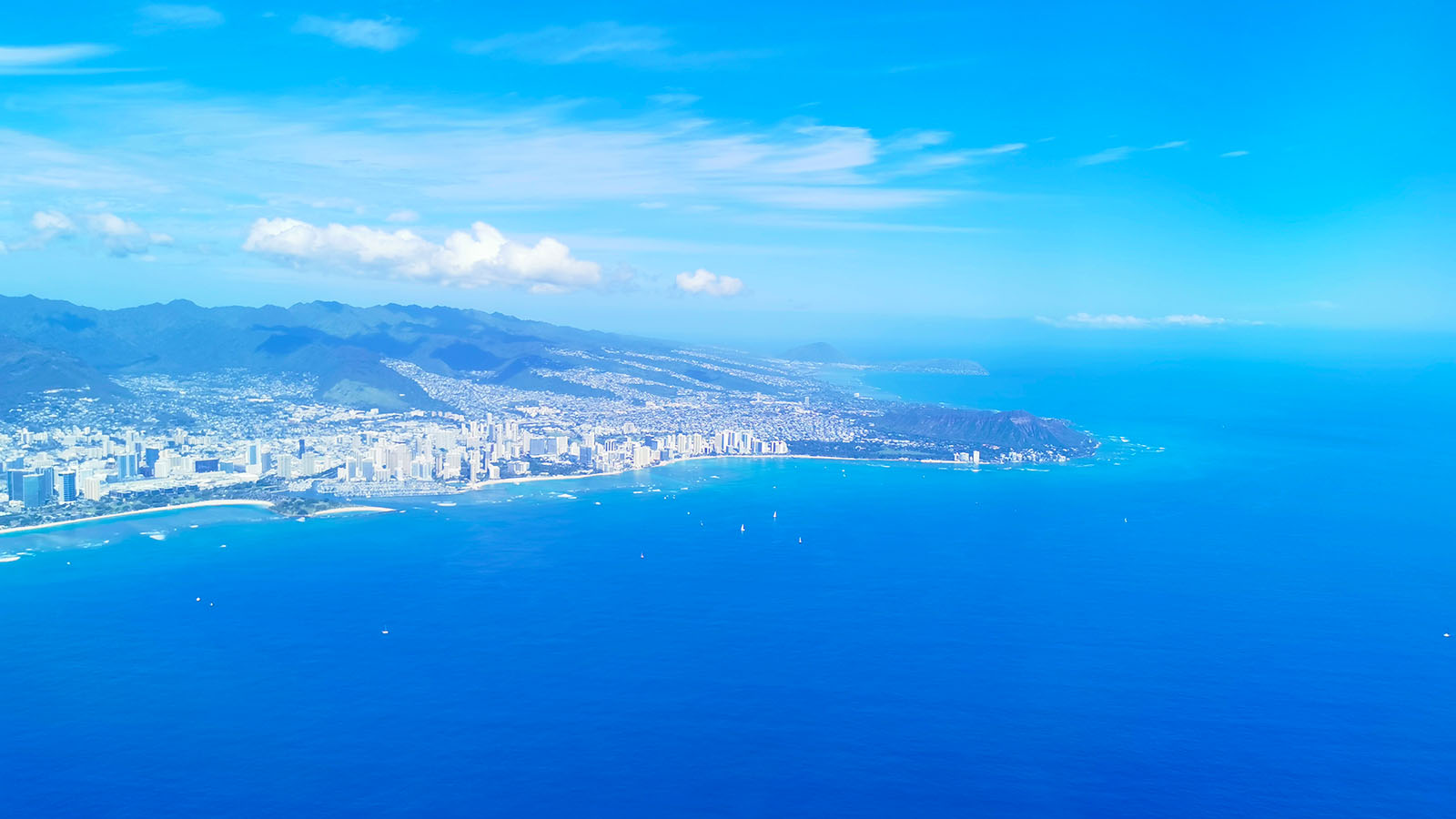 Pyjamas are BYO on Hawaiian Airlines, but an attendant in the galley notices that I've just changed for bed. 'You brought your own pyjamas? You're so funny!' she comments endearingly.
Everybody else seems to have dozed off in jeans – but it's the perfect excuse to break out Emirates' self-moisturising pyjamas from a previous First Class flight. What else are airline pyjamas for, if not to wear at 40,000 feet?
Back in the cabin, crew are also very attentive with drinks – particularly cocktails in the evening and coffee in the morning. You certainly won't go thirsty: a point proven by a group of travellers bound for a convention in Las Vegas, who very much seemed to enjoy the hospitality.
Summing up
Hawaiian Airlines' Sydney-Honolulu flights are currently running five times a week. While securing a paid ticket remains relatively easy, you'll need to be flexible if spending points or miles. With fewer seats to Australia than before COVID, landing a seat on points remains tough, especially at the pointy end.
The airline's previous Brisbane-Honolulu route also remains suspended, which doesn't make things any easier. But that said, Hawaiian flies from Auckland to Honolulu too, and there's a new direct service from the Cook Islands starting on 20 May 2023.
If you're trying to turn your hard-earned points into a flatbed to Hawaii, transiting via one of these other cities could help. But if you're patient and flexible, there are still some reward seats to be found departing Sydney. In fact, that's how I booked this very flight.
On another note, this Sydney-Honolulu service lands at quite a good time. Case in point: I spend only 11 minutes in line at US passport control. That prompt processing makes for a great start to any holiday. Or for those travelling onwards from Honolulu, a much smoother transit than can often be expected elsewhere.
Mix in the jetlag-busting flight schedule, the warm hospitality and the flatbed seating, and Hawaiian Airlines Airbus A330 Business Class will tick most of the boxes for most travellers.
Sure, there's still some work to do on the ground in Sydney – particularly at check-in and the lounge. And we're eagerly waiting to learn where Hawaiian Airlines' new Boeing 787 jets will fly. But once those Dreamliners are delivered, Business Class passengers can look forward to something few other airlines currently offer.
That X-factor? Business Class seats that can transform into a double bed. For a destination popular with couples, that's sure to be a hit.
Also read: Hawaiian Airlines charts its next chapter with new aircraft – and potentially, new lounges
Except where otherwise credited, all photography by Chris Chamberlin, who travelled using HawaiianMiles provided courtesy of Hawaiian Airlines.
---
Stay up to date with the latest news, reviews and guides by subscribing to Point Hacks' email newsletter.
Hawaiian Airlines Airbus A330 Business Class (Sydney – Honolulu)
was last modified:
March 29th, 2023
by