Many airlines rely on third-party lounges in most overseas ports. But Emirates does things differently, by operating many of its own lounges across its key international destinations. In Australia, this finds an Emirates-branded lounge not only in Sydney, but also in Melbourne and Perth. Brisbane has an Emirates lounge too, but it's currently closed for refurbishments and broader infrastructure works.
As for Sydney's lounge, it's a space that many frequent flyers prefer when compared with the airport's much more dated Qantas International Business Lounge. But comparing Emirates against itself in terms of design, this is one of the airline's 'older' lounges. It gets the job done, but we're certainly looking forward to Emirates' next Sydney haven…
Lounge location, layout and seating
It's a bit of a trek from security to Sydney's Emirates Lounge – but that's not really a bad thing. Emirates' flights tend to depart from Sydney's most distant pier, so you'd be walking there anyway. And with the lounge close to the gate, you're already where you need to be when it's time to board. Just follow the signs in the direction of gates 50-63.
Walking into the Emirates Lounge finds a space largely split into two zones. You'll enter in that 'main' zone, which has everything you need. Whether it's a seat with a view, a dining table or a sofa by the TV, you're sorted. But it's a sizeable lounge – and in the evenings, seating can still be at a premium.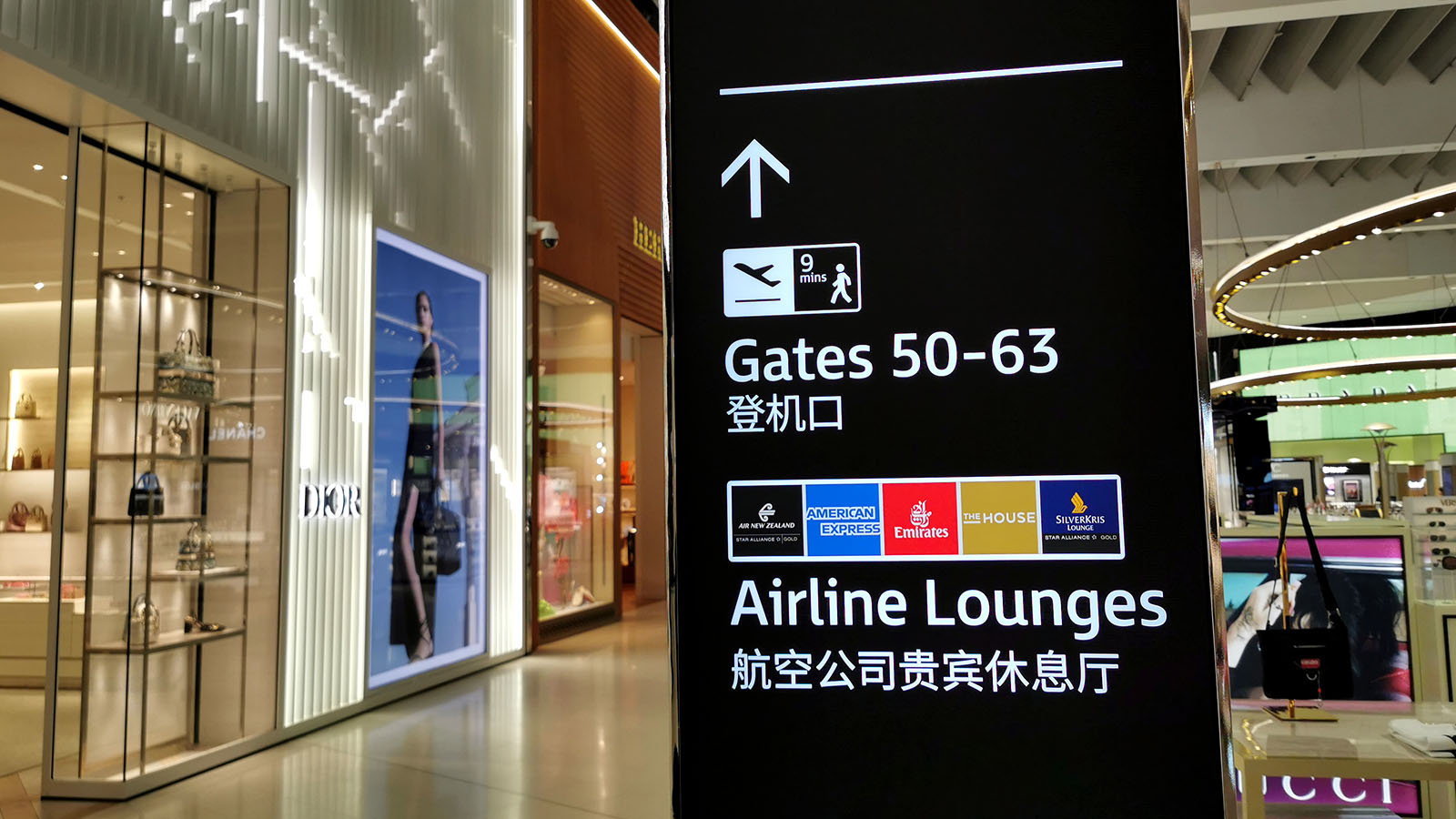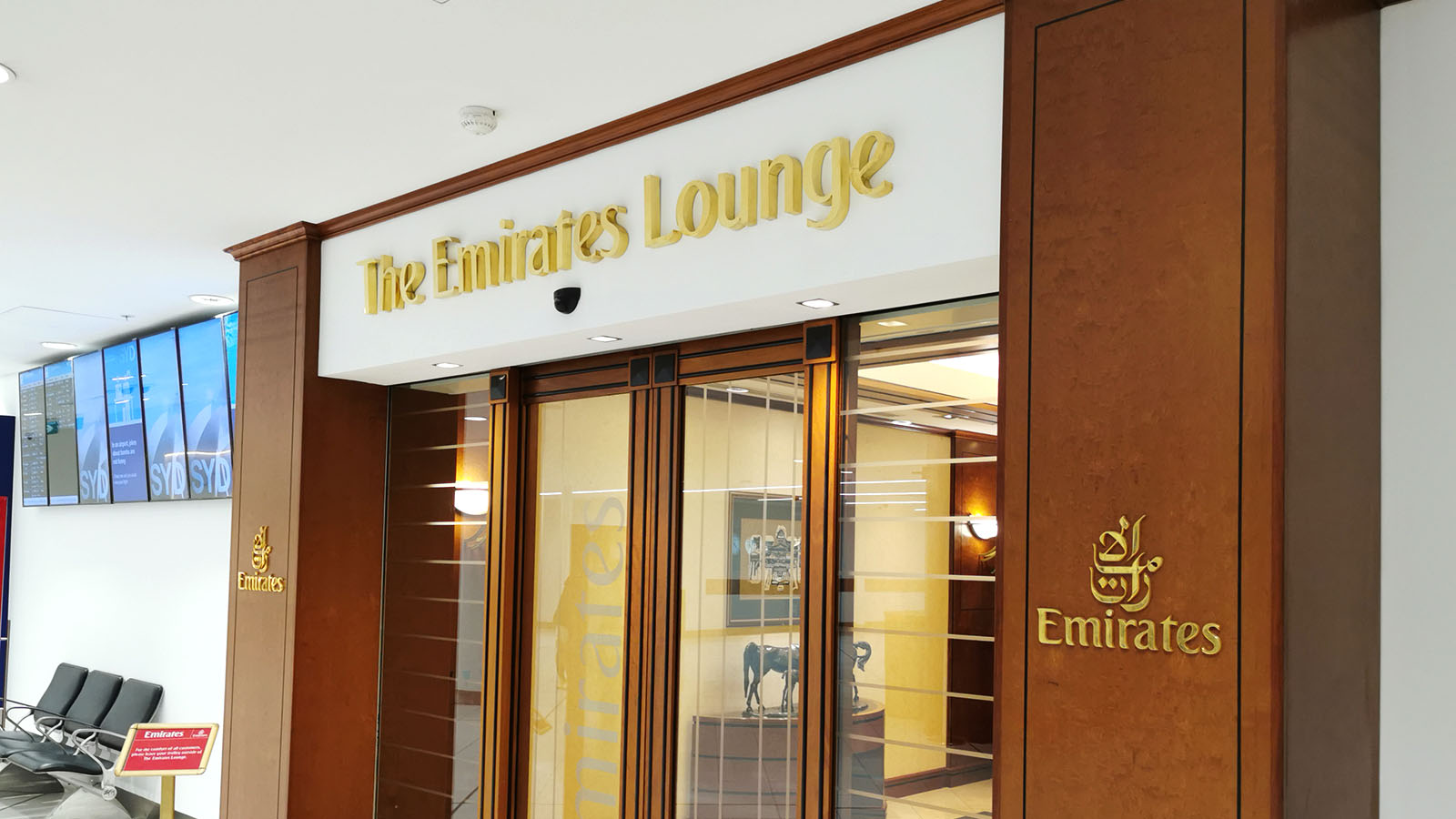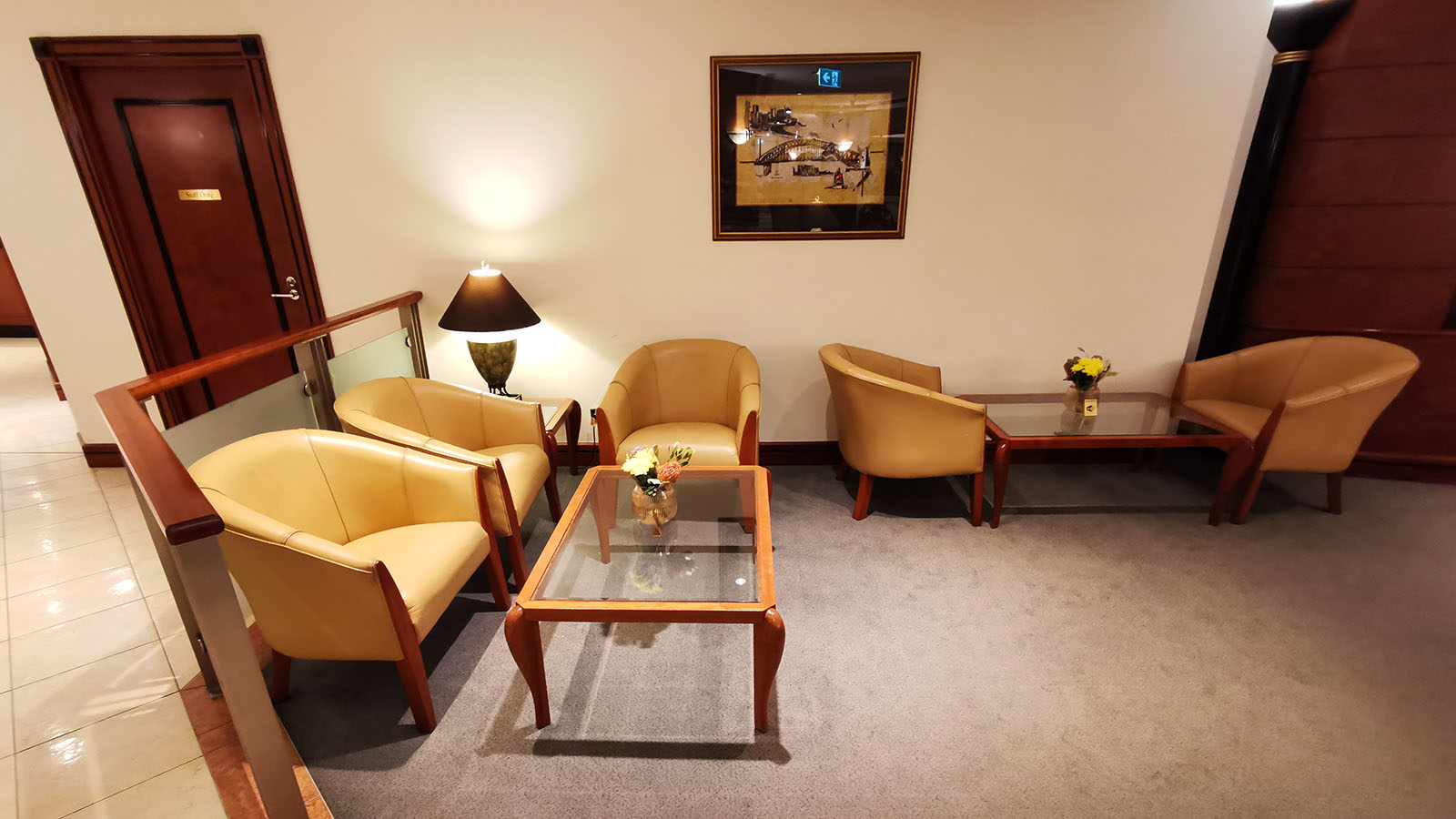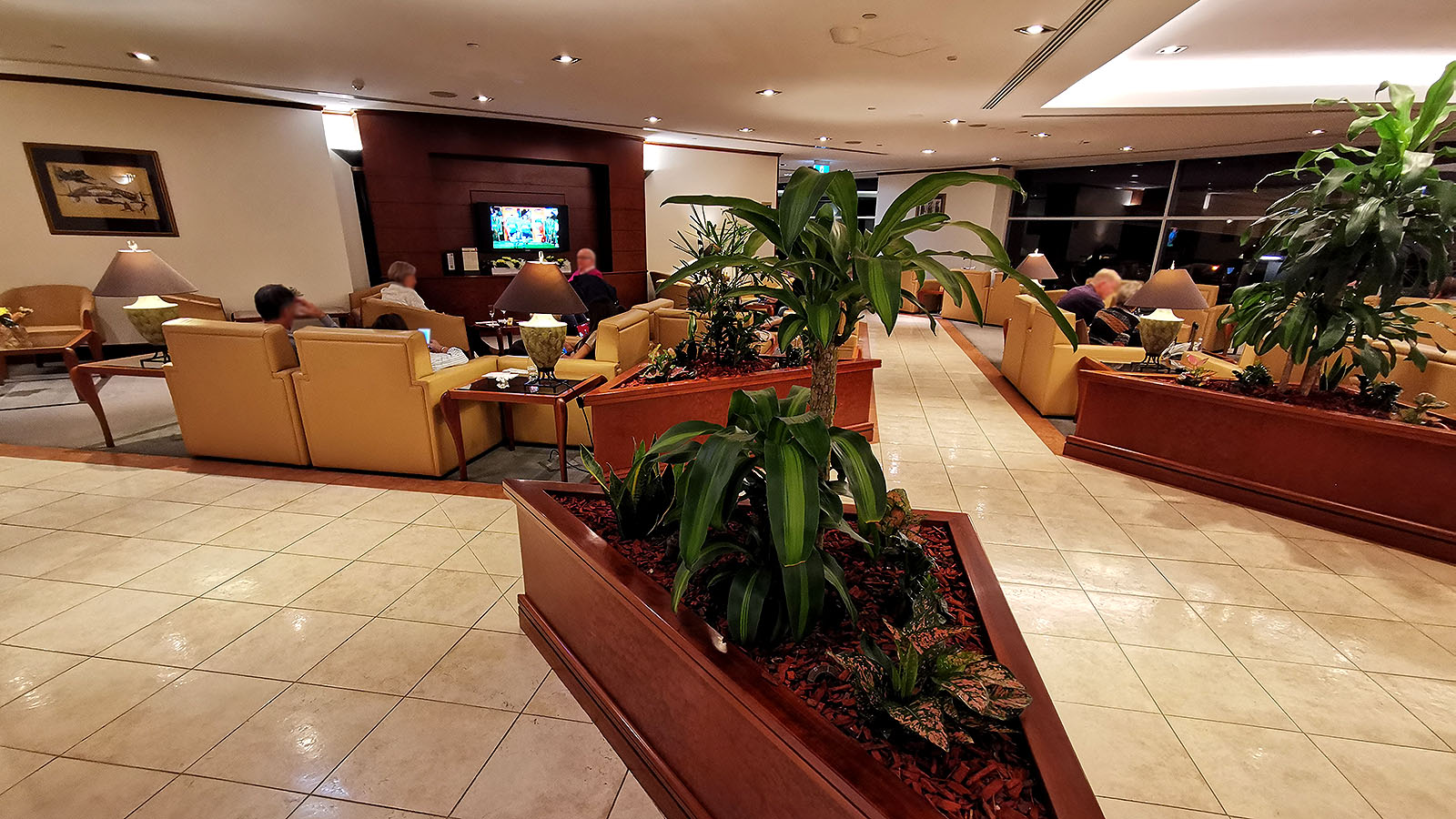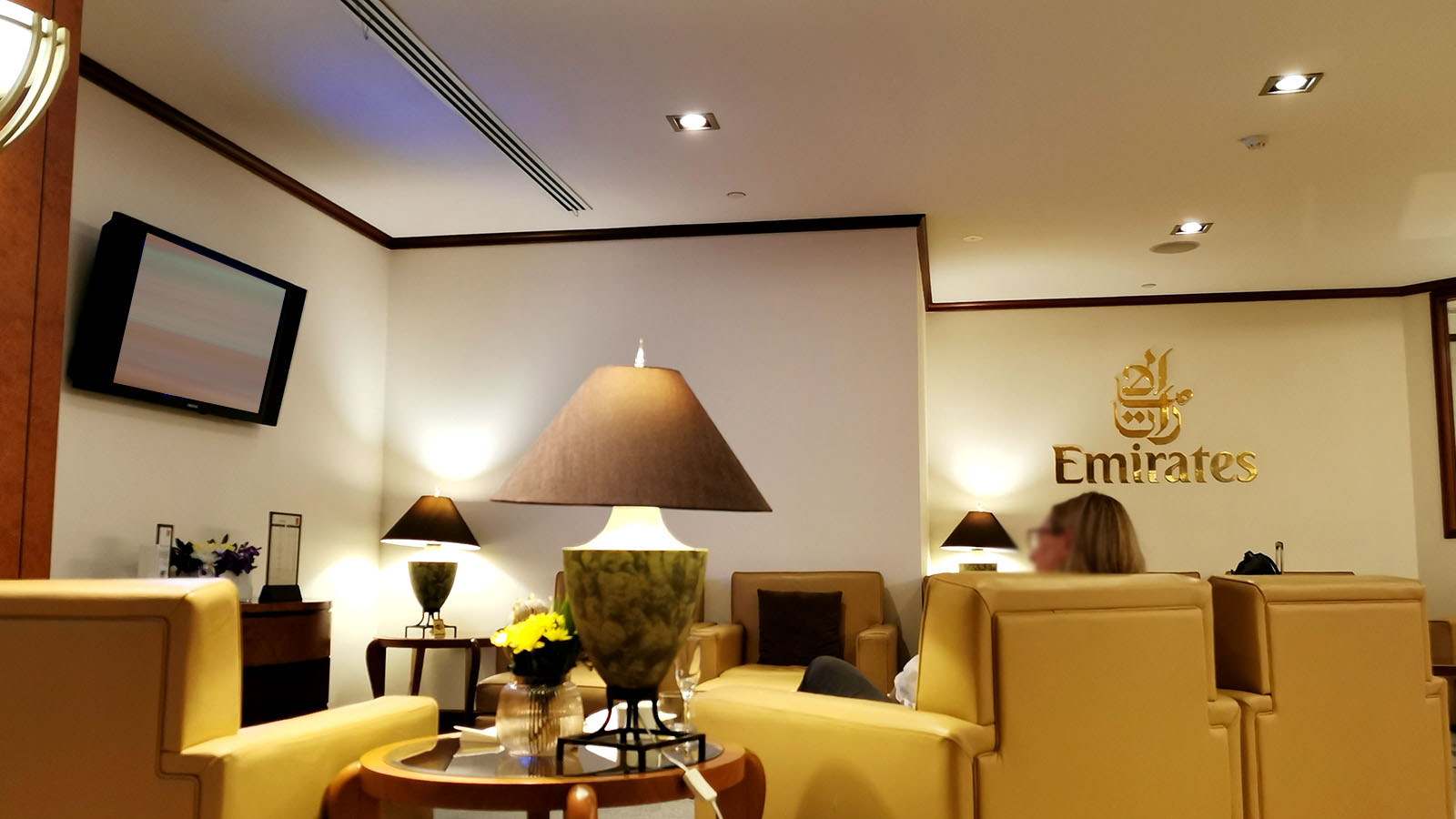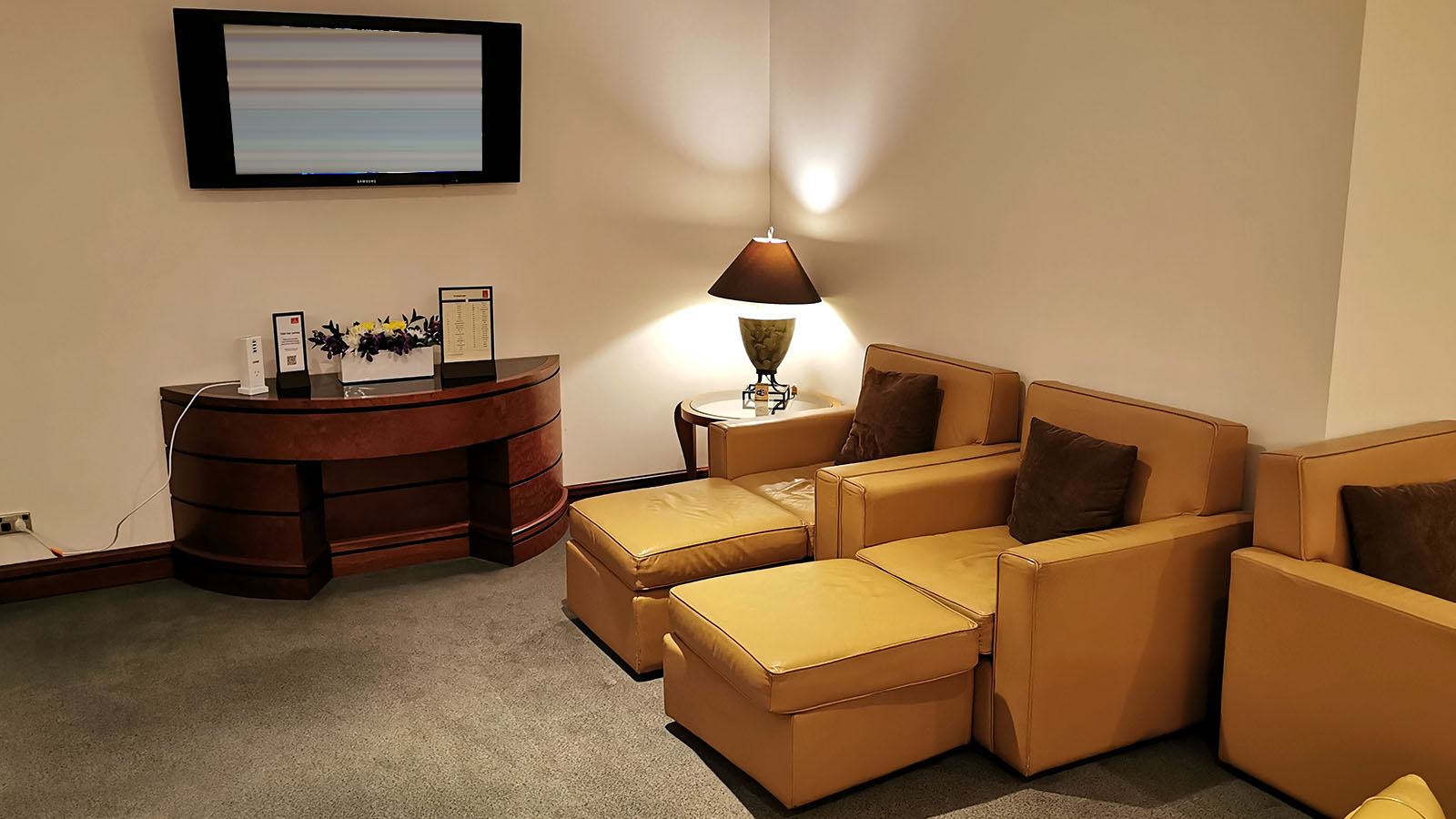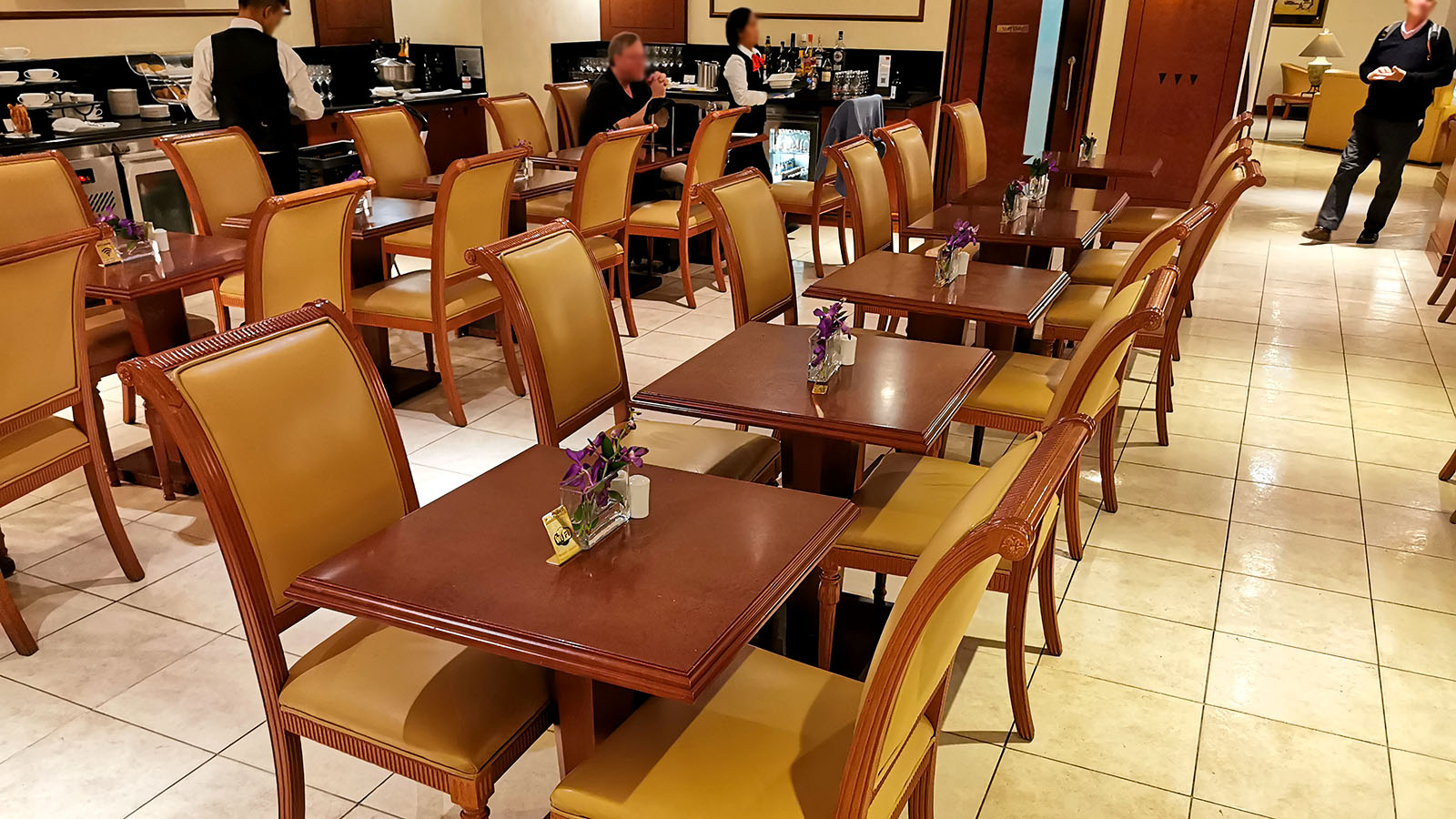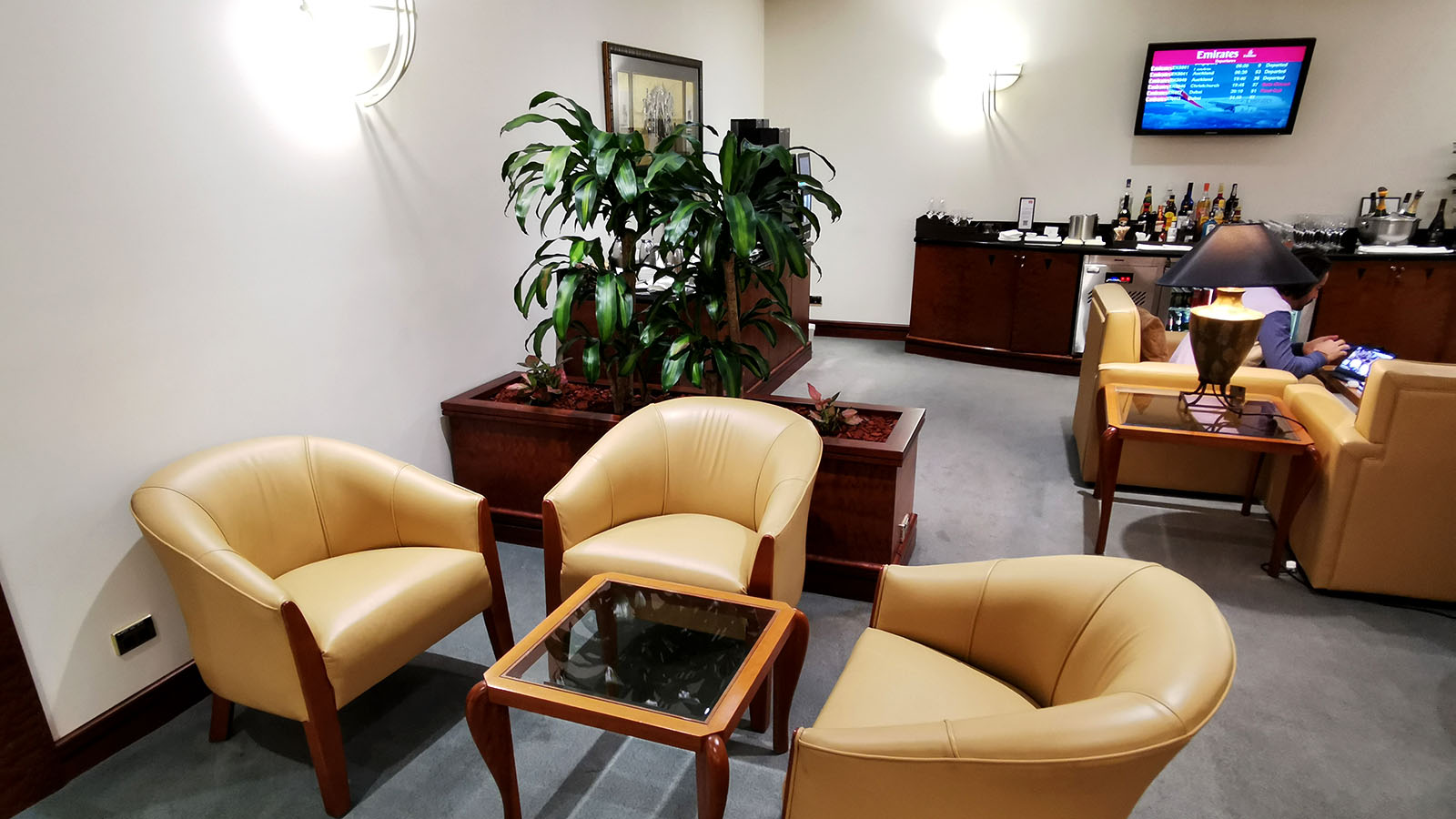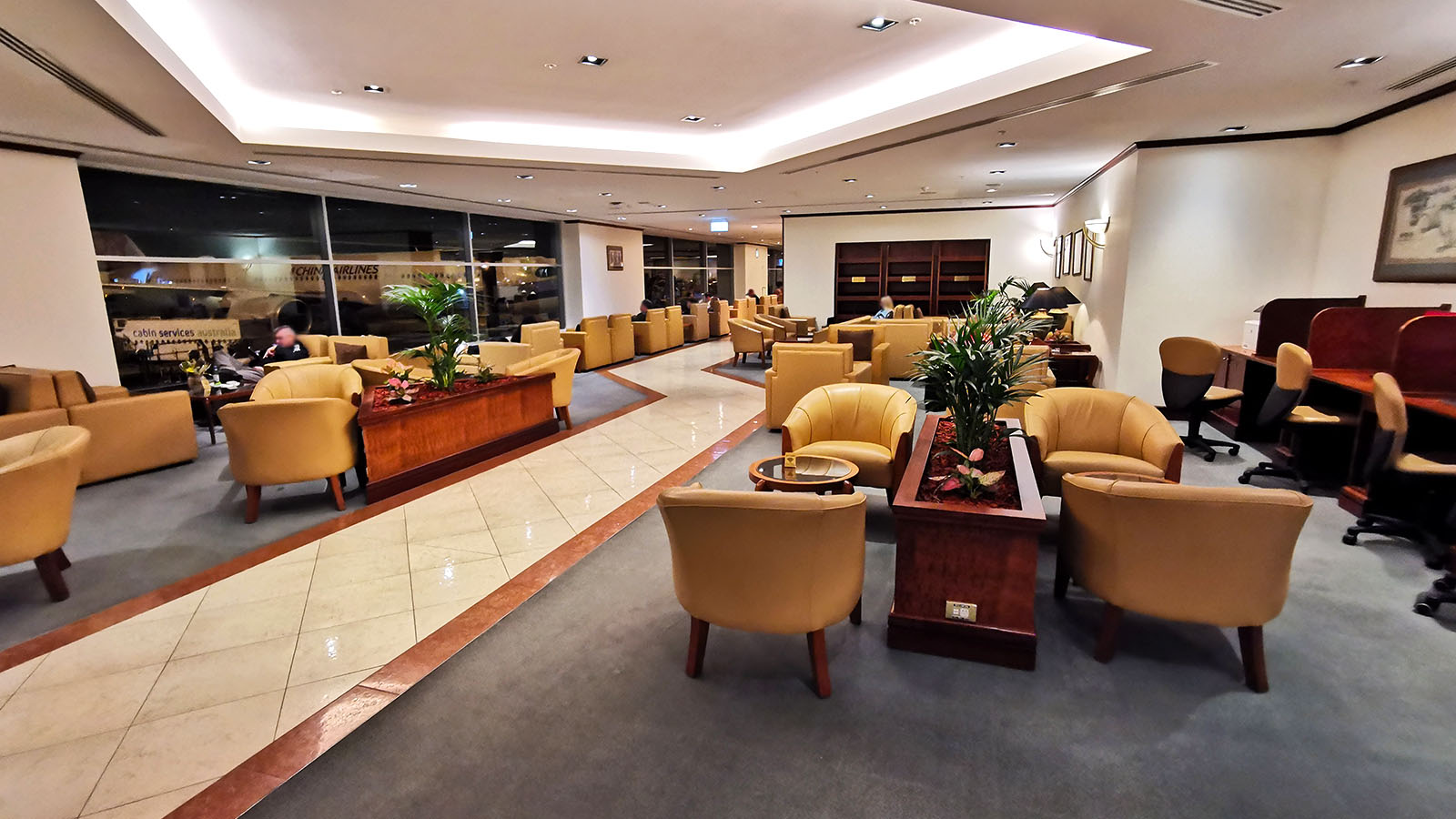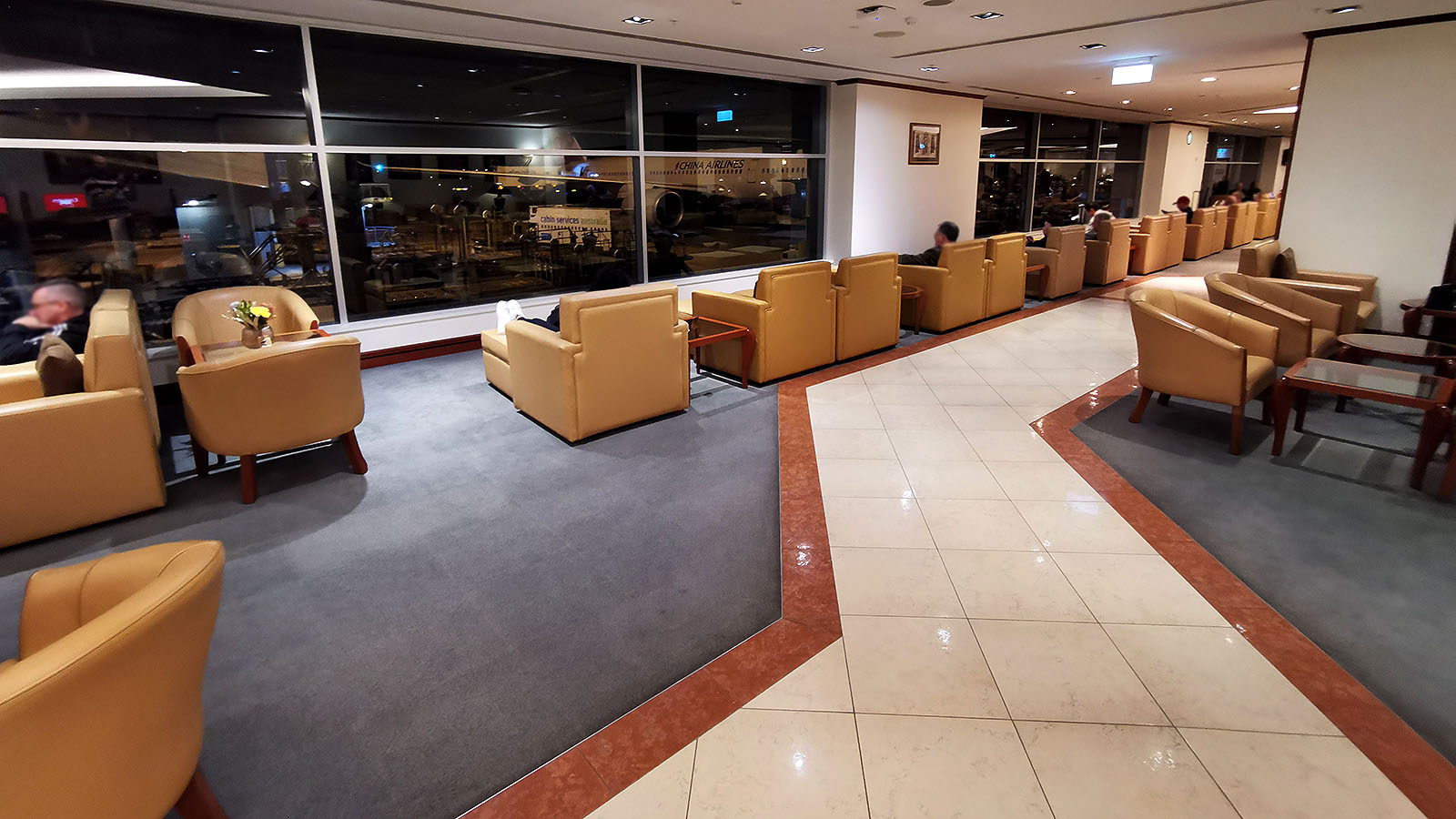 The busiest time tends to be around 6-7 pm each day. That's because Emirates has two evening flights to Dubai departing an hour apart. Before the 8 pm flight is called to board (a little after 7 pm), many passengers from the later 9 pm flight have already arrived. So you might need to wander around to find a suitable seat.
That's where the wing on the left of the lounge comes in handy. Design-wise, its presence isn't overly obvious – which sees most travellers gravitating towards the main zone instead. But go for a stroll and you're more likely to have peace and quiet over in that left-side zone.
Funnily enough, that's always been the case with this lounge: so keep that tip in your back pocket. Emirates' lounge opens from 4-6 am daily, reopening at 5:10 pm and closing at 9 pm, or whenever Emirates' last flight of the evening is called to board. These timings could provide the opportunity to visit the lounge when you're flying with Qantas, too – but more on that later.
Food and beverage in the Emirates Lounge, Sydney
Emirates' Sydney lounge is designed to serve both Business and First Class flyers. It also houses Gold and Platinum members of Skywards. This sees Emirates' food and beverage offering generally a cut above what you'd expect of a normal Business Class lounge, but not quite in the league of Emirates' dedicated First Class lounges in Dubai.
In terms of hot food, choice are vast. There's everything from lamb shank and lemon myrtle pies to spinach and ricotta cannelloni, Tasmanian salmon, beef Massaman curry, chicken cacciatore and more.
I've just come from a visit to Sydney's Qantas International First Lounge – and know I'll have dinner to enjoy after taking off for Dubai – so I keep things light. One of those simple pies with some sweet potato and parmesan mash hits the spot.
There's a separate buffet for chilled foods and desserts. Emirates' signature buffet dome stands ready with crudités, cheese and accompaniments, slices, fruits, dips and pre-plated salads.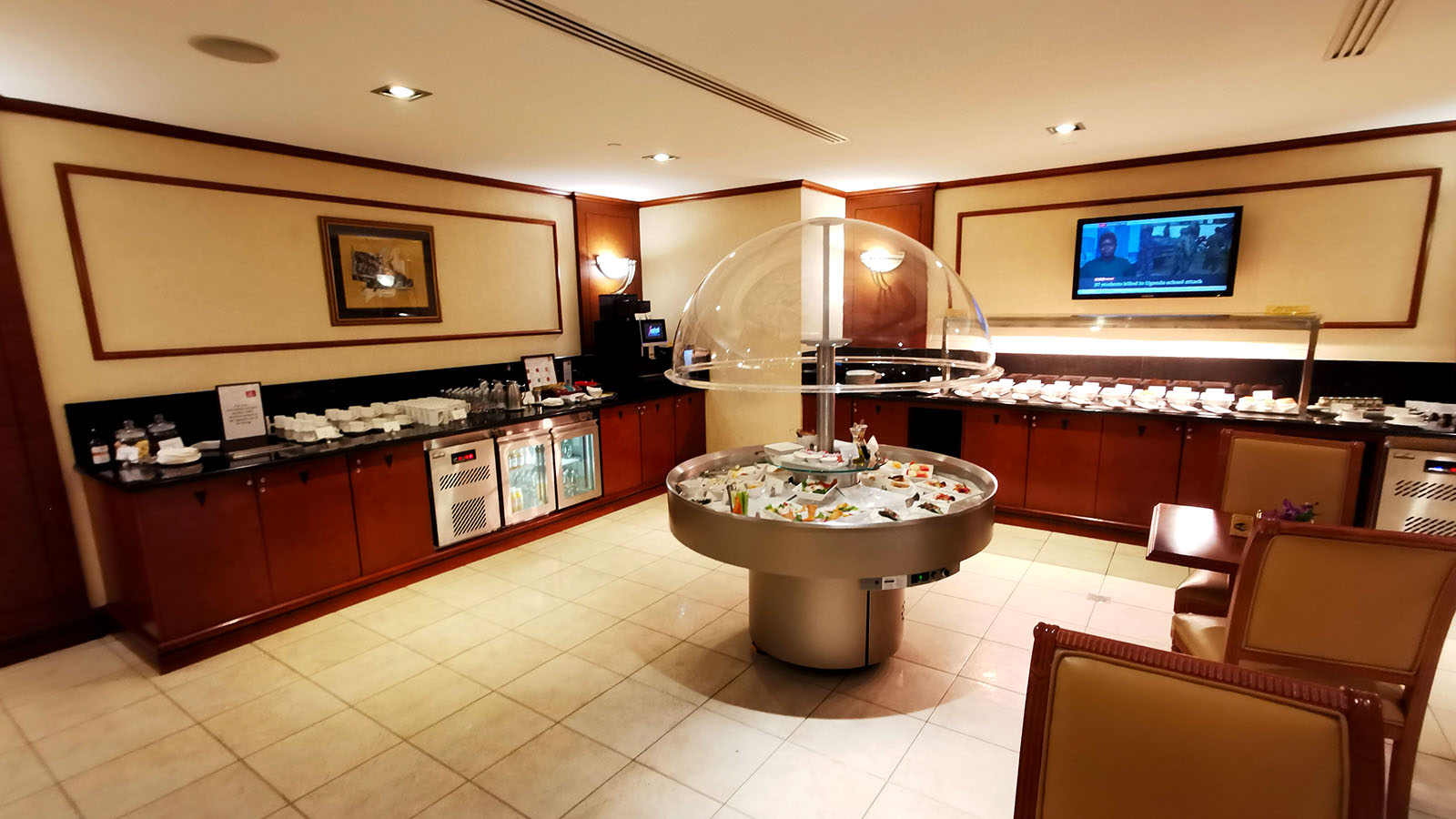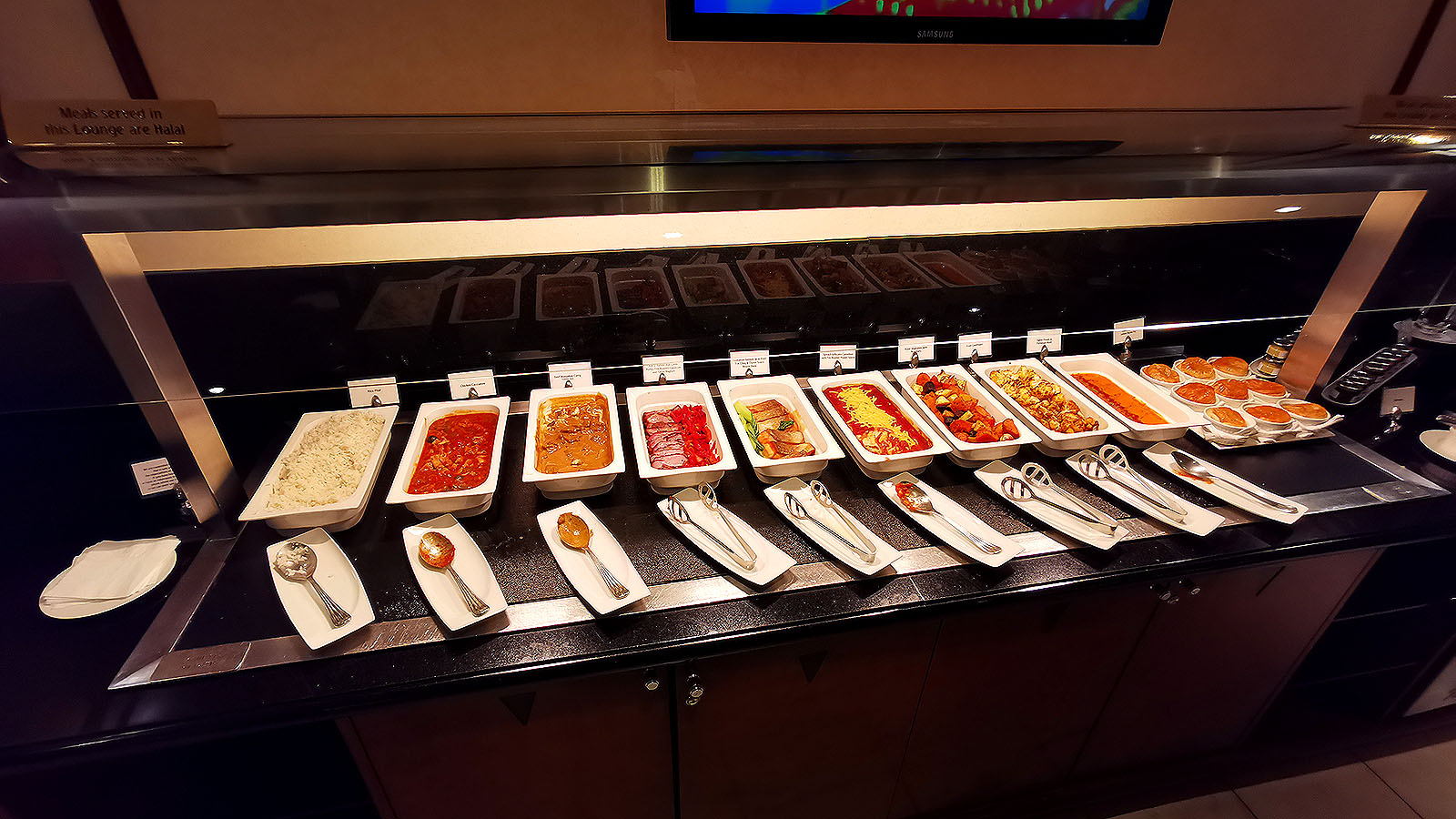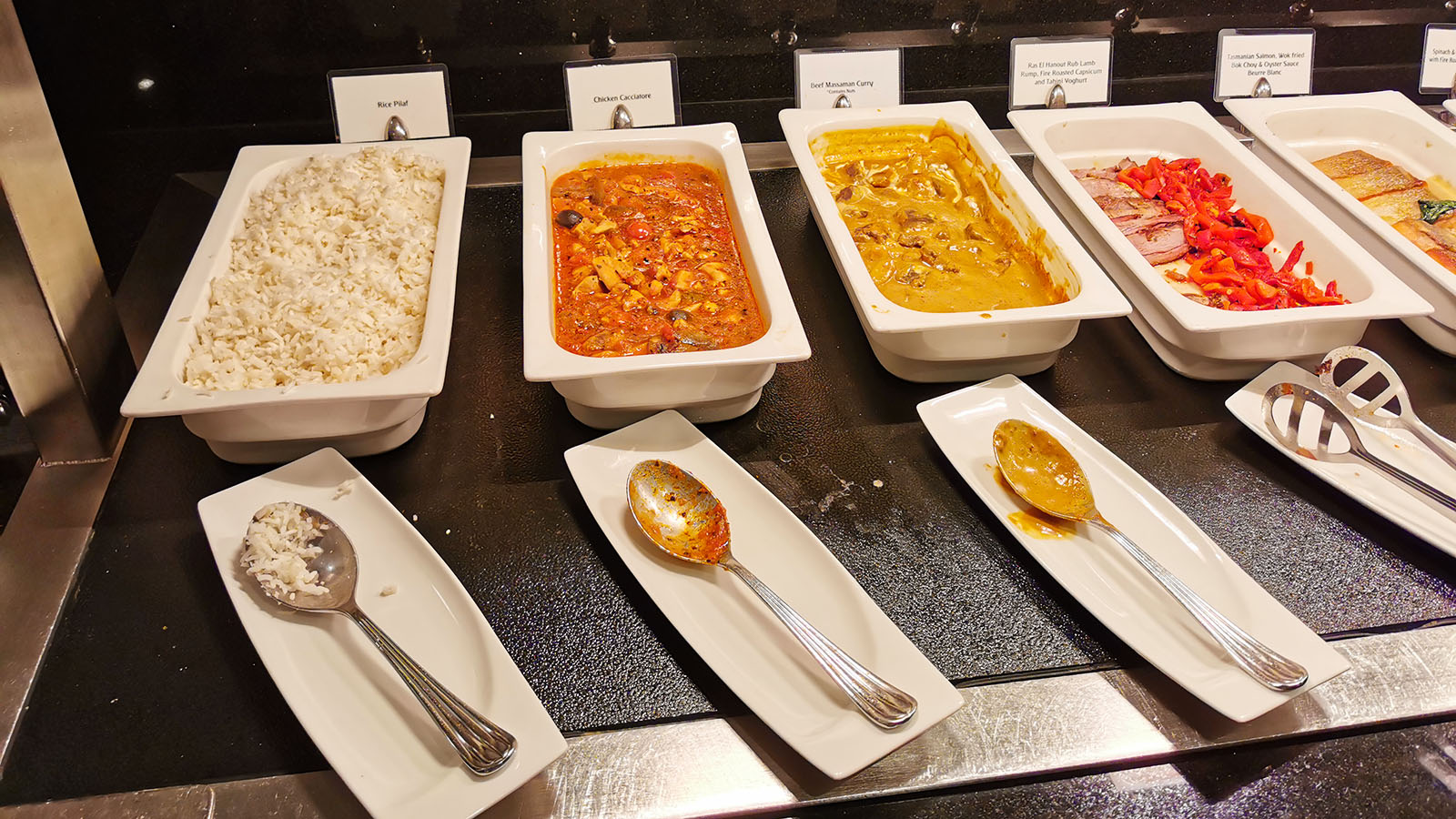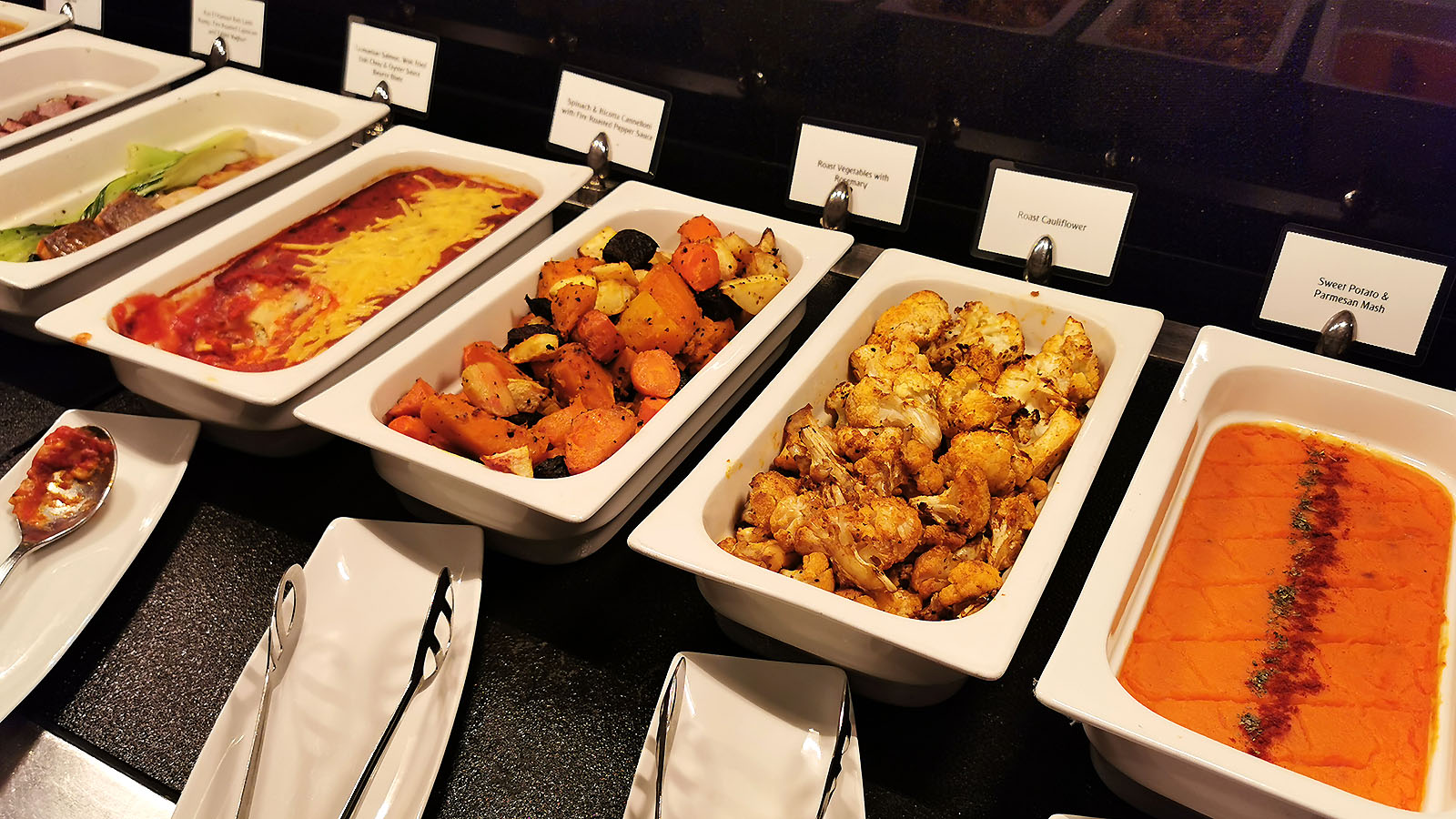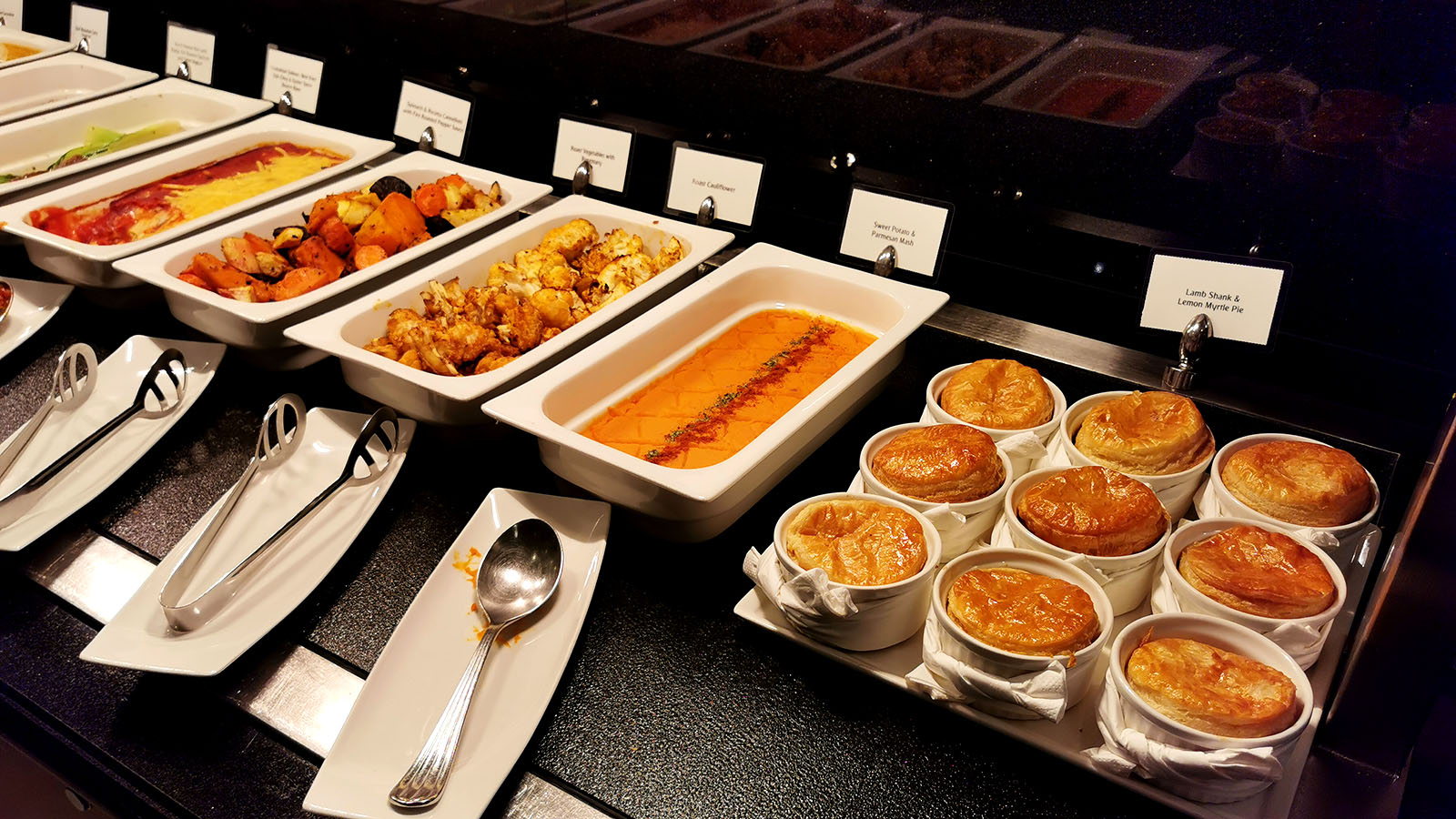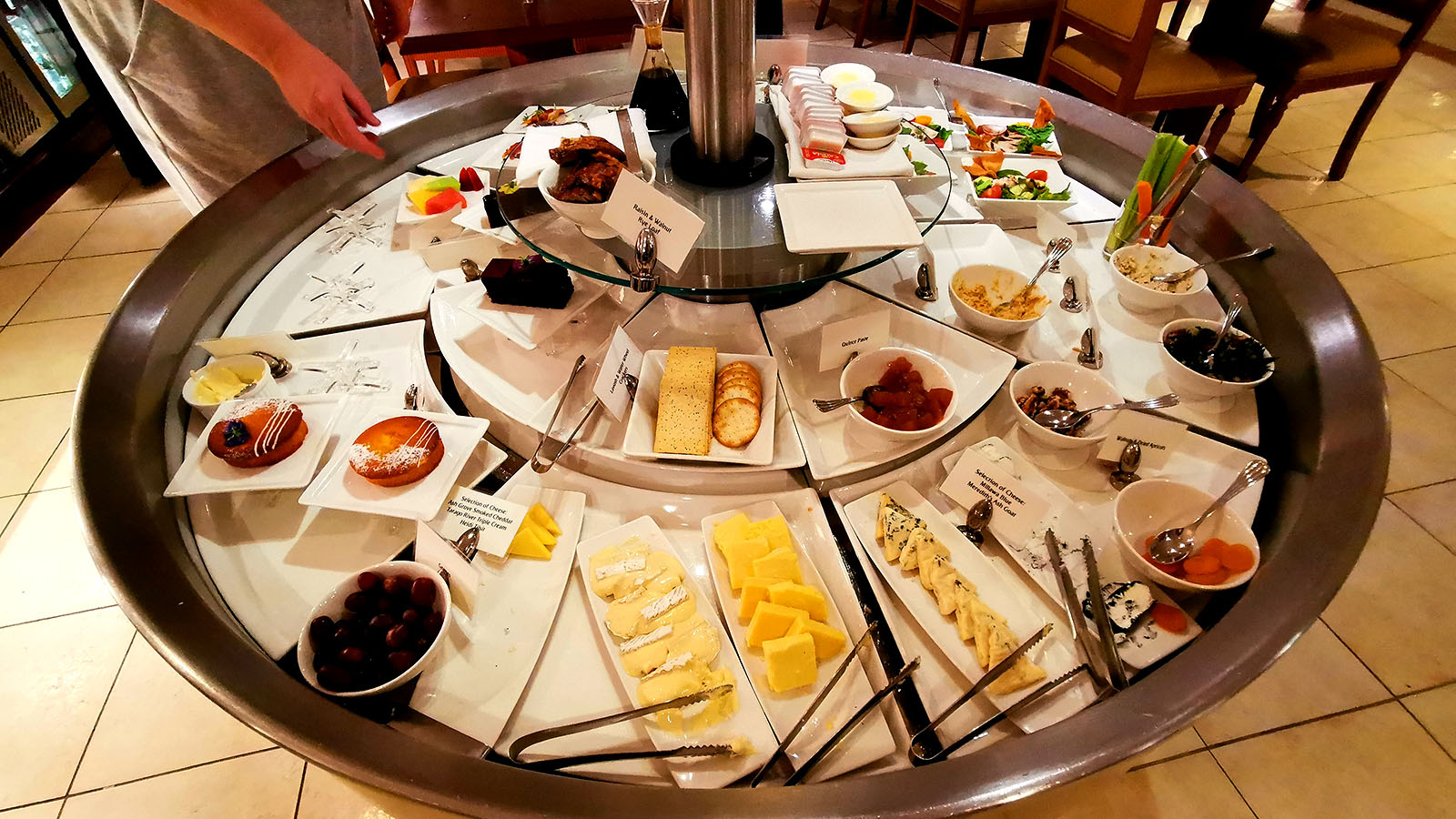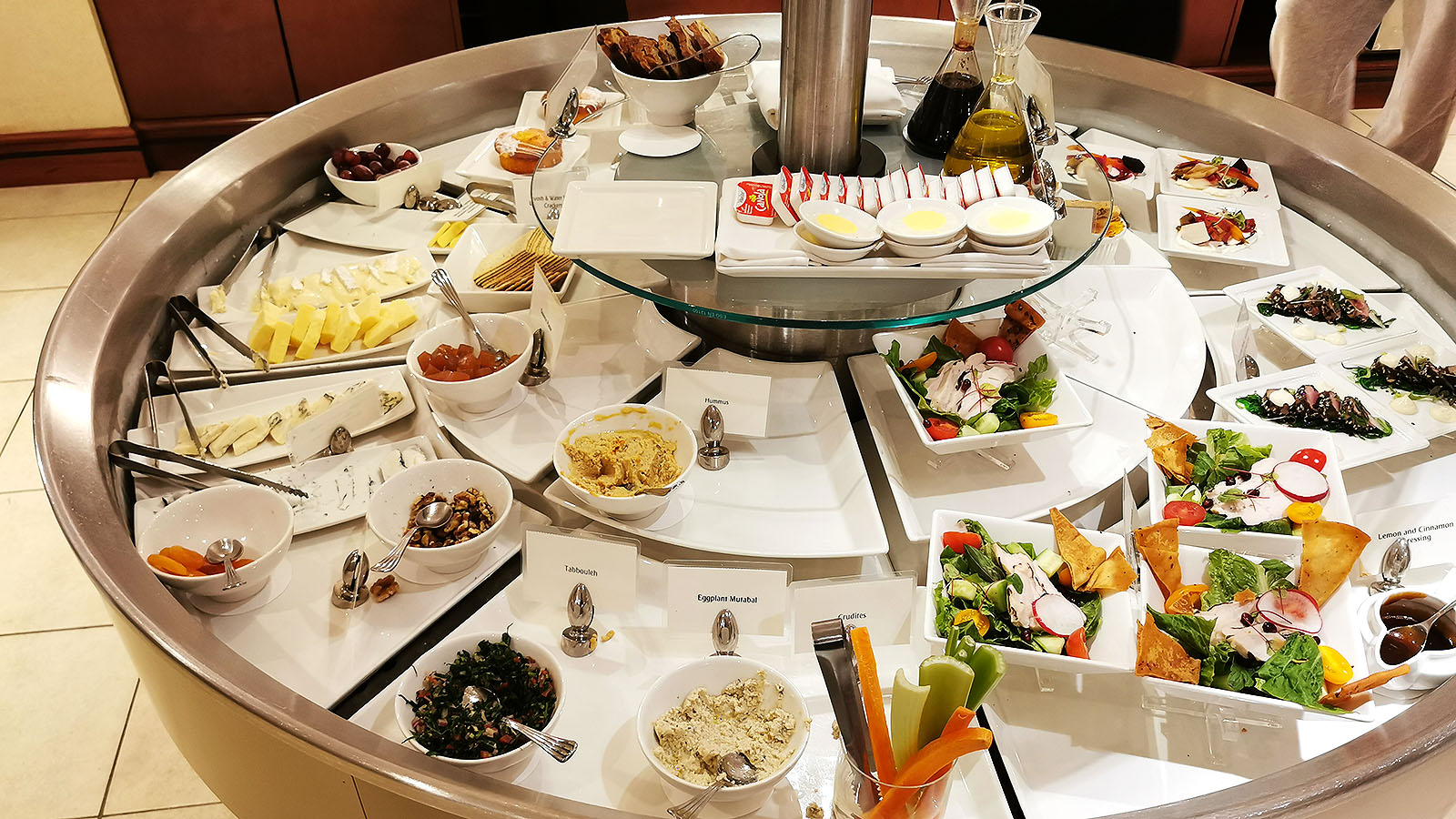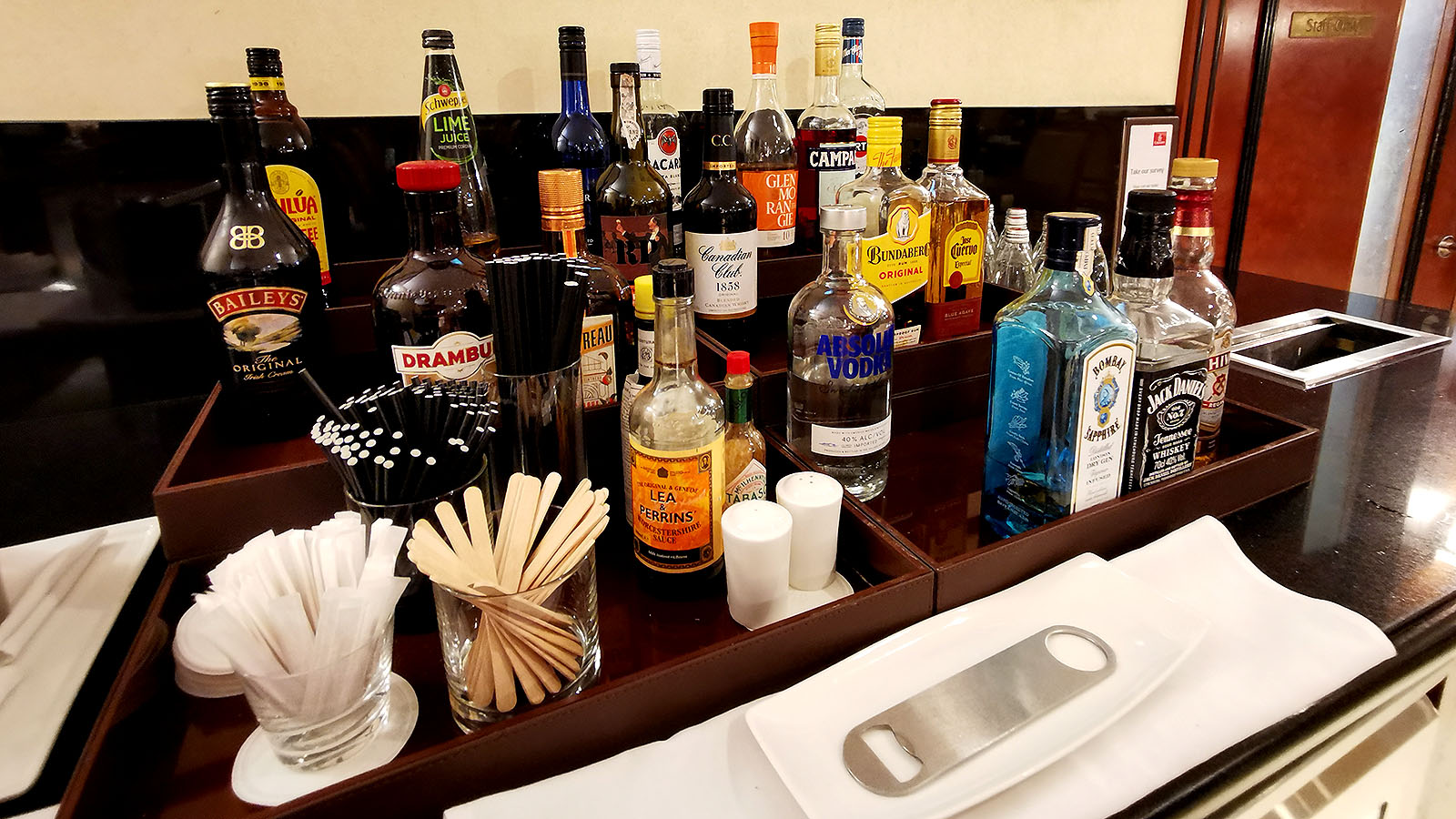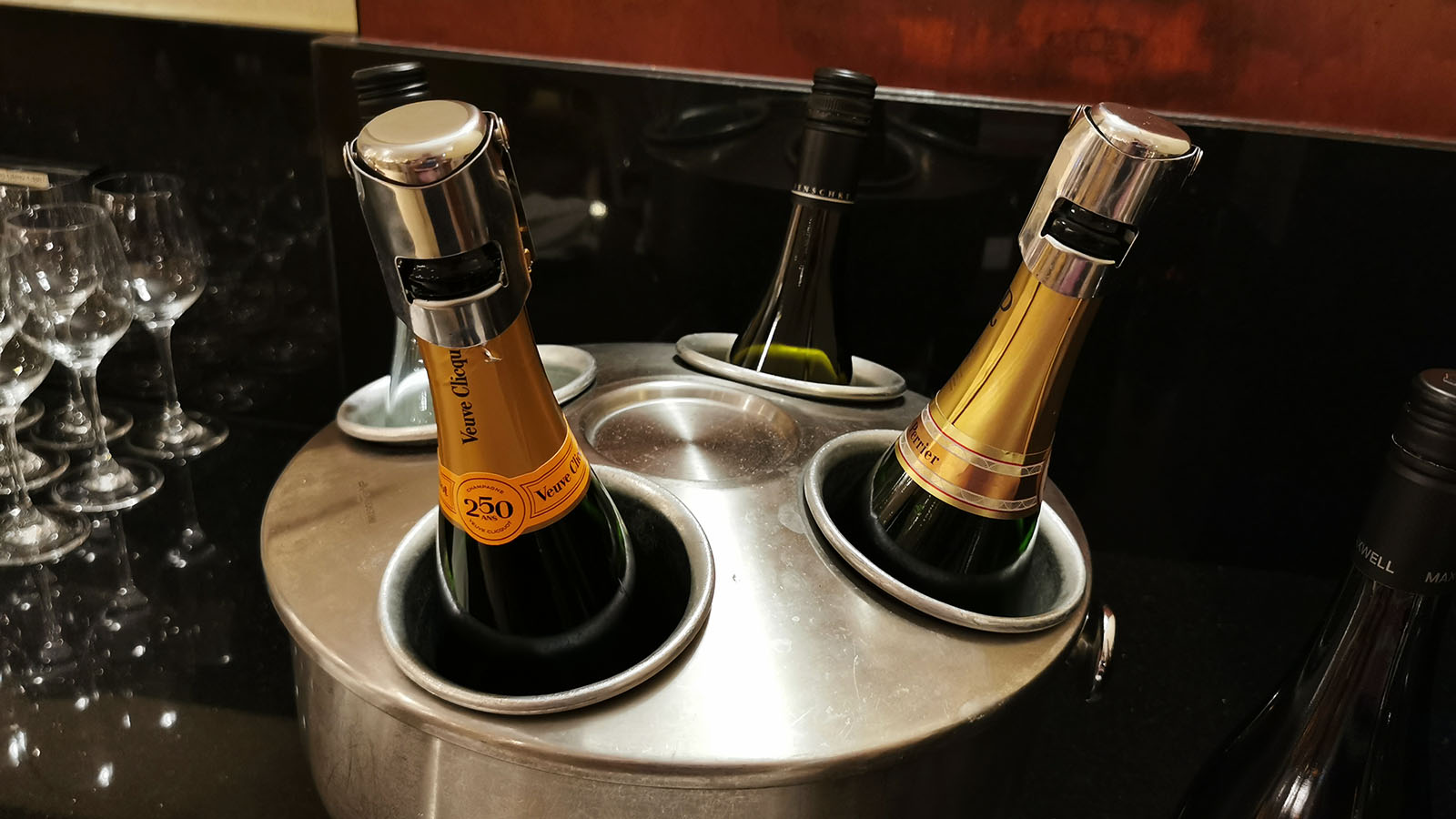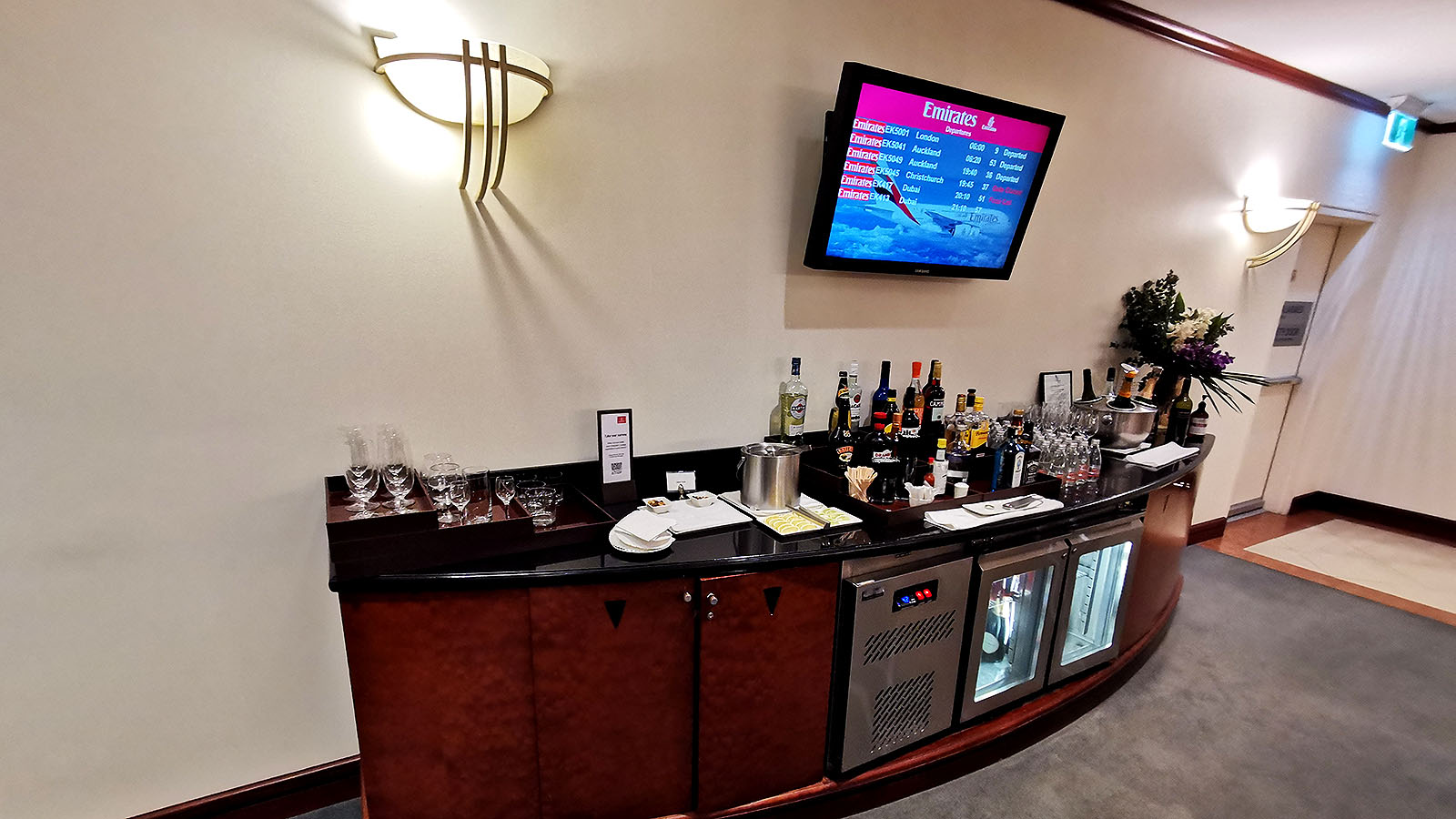 On the beverage front, you won't find a staffed bar here – as is available in the airport's Qantas Business and First lounges. Drinks are instead self-serve, but selections are still reasonable. Over the years, I've learned there's always one thing you can count on in an Emirates lounge: Champagne. This visit doesn't disappoint, with a choice between Veuve Clicquot and Laurent-Perrier.
Normally I'm in 'Team Veuve', but I've just come from enjoying a literal flight of vintage Champagne to toast earning Qantas Lifetime Silver on my connecting flight into Sydney. So for now, it's 'Team Water'.
Spirit selections are respectable although aren't heavily premium. The house gin is Bombay Sapphire – acceptable, in my book – while the other spirits are a little more basic. Think Bundaberg dark rum, Bacardi white rum, Absolut vodka… you get the idea.
Lounge Amenities
Emirates' Sydney lounge comes equipped with a few extra features to round out the experience. That starts with Wi-Fi. You'll find the current password on little gold signs peppered throughout the lounge. If you're just on your phone though, mobile signals are reasonably strong in this corner of the airport – so I found no need to connect this time.
Speaking of connections, Emirates' lounge is one of the few to still offer desktop computer terminals. I'm sure they're handy on rare occasions where people accidentally leave their laptop at home. But in all the times I've visited, I've never seen them used. Today remains no exception.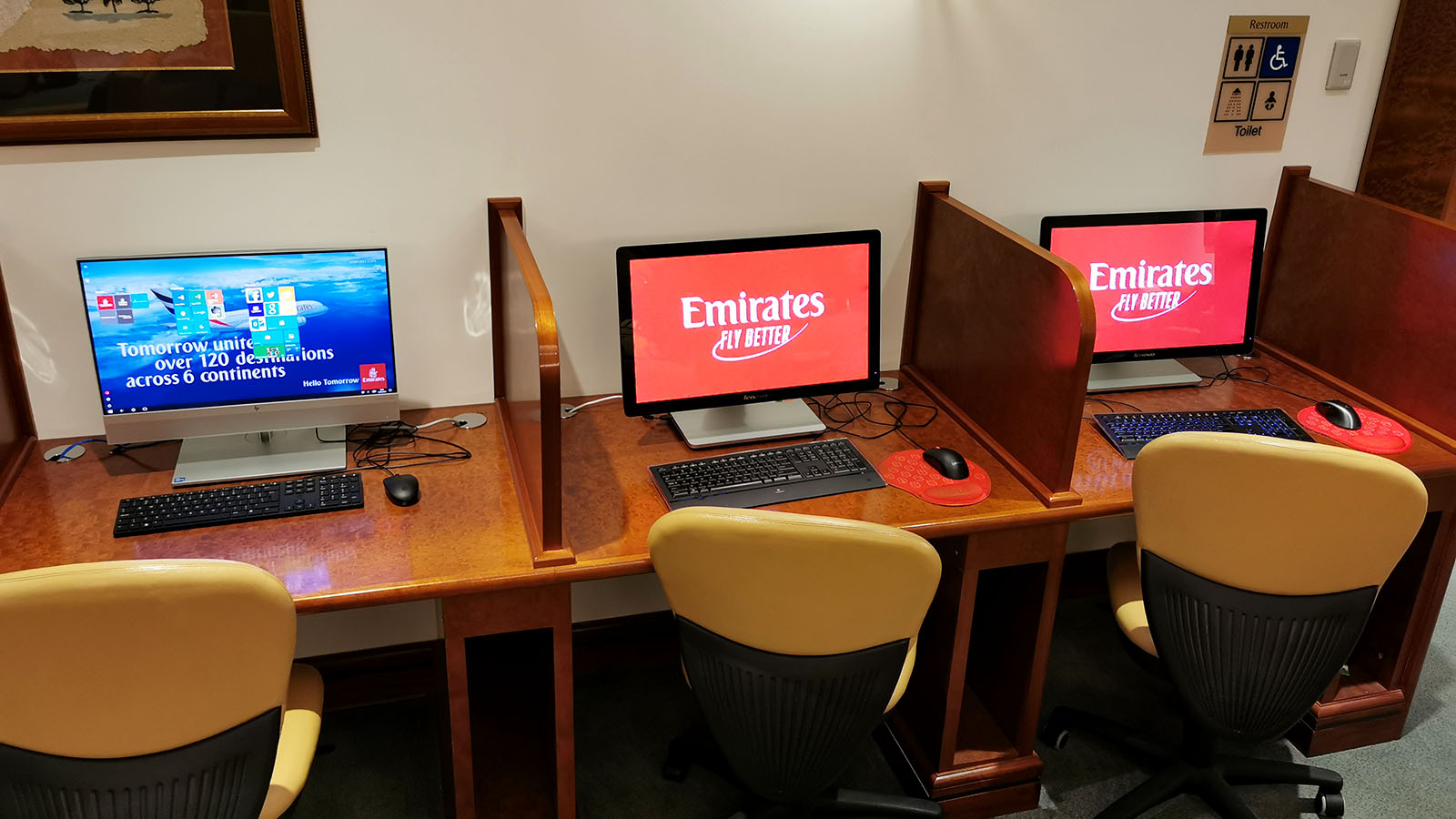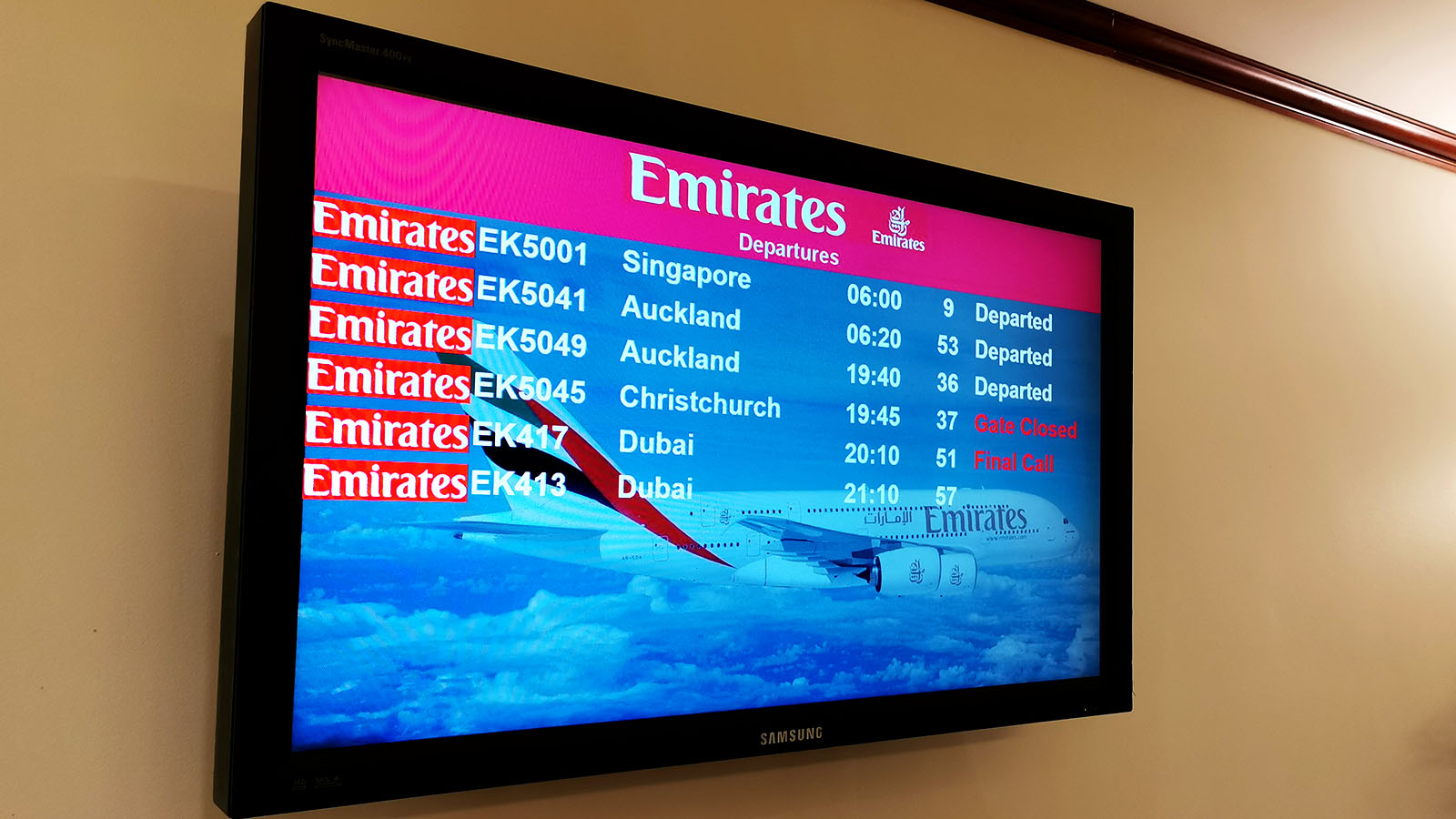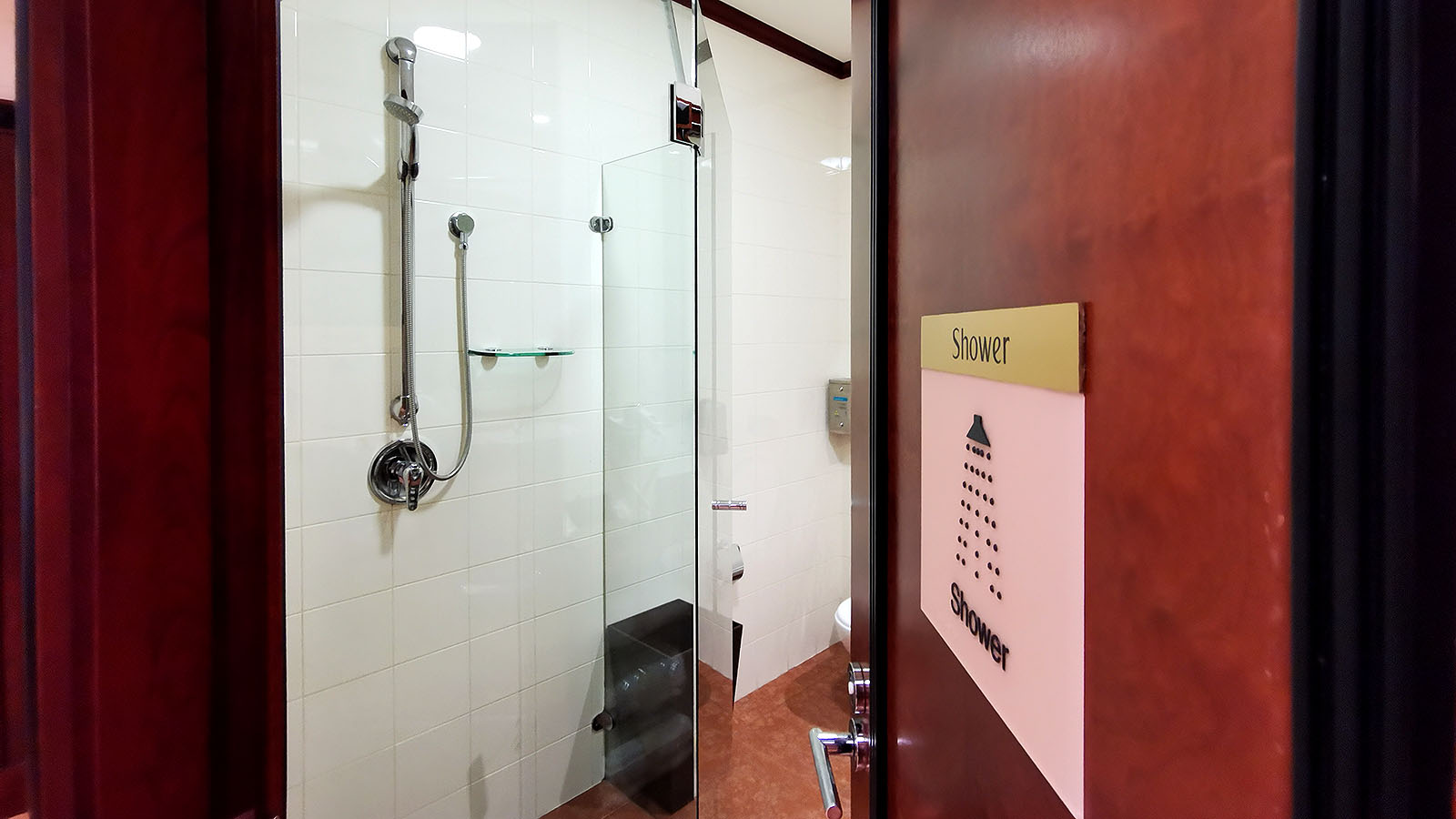 Shower facilities are also available. Had I needed one, I could have walked straight in. But I was already spoken for from the evening's earlier visit to the Qantas First Lounge, where there was also no wait. (That's an alternative if you're flying Emirates in First Class, or have Platinum status or above with Emirates or Qantas).
Flight information screens are also available to help keep tabs on your journey. Along with Emirates-operated flights, these also display selected codeshare departures operated by Qantas, such as QF141 (EK5041) to Auckland. For Emirates' own flights, boarding calls are made in the lounge.
Accessing the Emirates Lounge, Sydney
Emirates' Sydney lounge welcomes a variety of passengers prior to Emirates' own flights. But under the airline's agreement with Qantas, you can also stop by prior to eligible Qantas flights as well. That said, the lounge's opening hours don't align with a lot of Qantas' Sydney departures. But when they do, you could just be in luck.
Assuming the lounge is open, here's who makes the cut.
By class of travel:

Emirates First Class (+1 guest).
Emirates Business Class, excluding passengers booked on Business Class Special fares.
Qantas First Class, excluding flights to Los Angeles (+1 guest).
Qantas Business Class, excluding to destinations in North America, South America or South Africa.

Courtesy of elite status:

Invitation-only Emirates iO members (+ guests), regardless of airline or flight number.
Emirates Skywards Platinum (+1 adult guest and +2 children), departing on Emirates. Access is also available prior to eligible Qantas flights (being those not bound for the Americas or South Africa).
Emirates Skywards Gold (+1 adult or child guest), departing on Emirates. Again, entry when flying on Qantas is also possible, when the destination isn't one of those excluded.
Qantas Gold, Platinum, Platinum One and Chairman's Lounge (+1 guest), with an onward flight operated by Qantas or Emirates and booked on a QF or EK flight number. This again excludes flights to those destinations above.
Tonight, I'm off to Dubai in Emirates Premium Economy. With my Qantas status linked to the reservation, getting into the lounge is quick and easy with a flash of the boarding pass.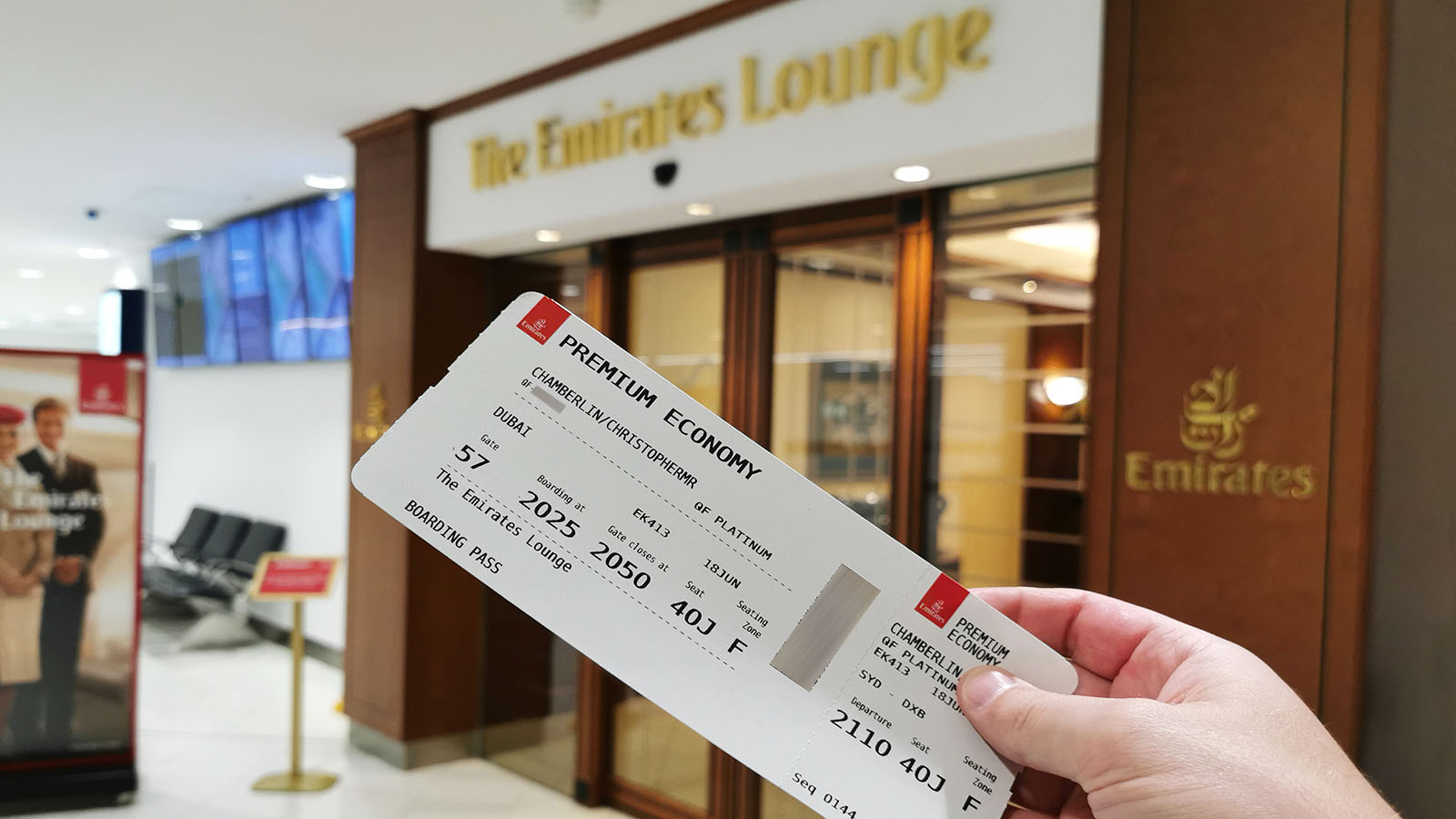 As an alternative, paid access is also available when flying with Emirates. Prices are based in USD, with the usual rate being equal to US$170.50 (roughly AU$249) per person. Skywards Blue and Silver members get a discount, paying US$137.50 (~AU$201) per person.
Summing up
It's fair to say that Emirates' Sydney lounge isn't quite on-par with what you'll get in some other airports. The airline's lounge in Melbourne, for instance, feels far more spacious and modern. When it's operational again, that Brisbane lounge also has the X-factor of direct boarding from lounge to aircraft.
In Sydney, the décor is that of Emirates' previous-generation design. It gets the job done, but it could certainly do with a spruce-up. And at least, the airline acknowledges this.
At check-in, staff proactively suggest that I spend most of my time at the Qantas First Lounge. And perhaps, just wander to Emirates' lounge closer to boarding to be near the gate. That's exactly what I do, and what I'd recommend if you're a Platinum-tier frequent flyer, or travelling in First Class.
Emirates' Divisional Vice President for Australasia, Barry Brown, also knows that Sydney needs an updated Emirates lounge. Speaking with Point Hacks, Brown shares that there's a plan for one. But it's hard for the airline to make a move until Sydney Airport's own terminal expansion plans are finalised.
At present, Emirates is waiting to learn how long it'll take Sydney Airport to build and open its new pier. Ideally, that would see Emirates move into an all-new lounge in a brand new location. But if those works are delayed, Emirates would refresh its current lounge in the meantime. For now, the ball is firmly in Sydney Airport's court.
Also reviewed: Emirates eyes all-new Sydney Airport lounge
Photography by Chris Chamberlin, who accessed the lounge courtesy of (earned) frequent flyer status when travelling Premium Economy as a guest of Emirates.
---
Stay up to date with the latest news, reviews and guides by subscribing to Point Hacks' email newsletter.
Emirates Lounge, Sydney
was last modified:
July 26th, 2023
by