Emirates is one of the largest international carriers out of Perth, offering easy one-stop links to Europe, the USA, Africa and more. Apart from Qatar Airways, it's also the only other airline flying a swanky First Class cabin to the Western Australian capital.
So it's no surprise that Emirates also hosts a sizeable lounge in Perth, complete with top-notch dining and beverages. I spend an enjoyable evening in the lounge before my First Class flight to Dubai. And believe me, this might just be the best airport lounge in Perth.
Lounge location and details
Perth International Airport (the main one in T1) has just a single row of gates, so the Emirates lounge isn't too far away. Emirates almost always departs from Gate 51, which is conveniently right next to the lounge.
After immigration and security, wander upstairs through the duty-free and head left. You'll eventually come across some escalators that whisk you down to Gates 50 and 51. At the bottom, turn left again and you'll see the Emirates Lounge directly ahead.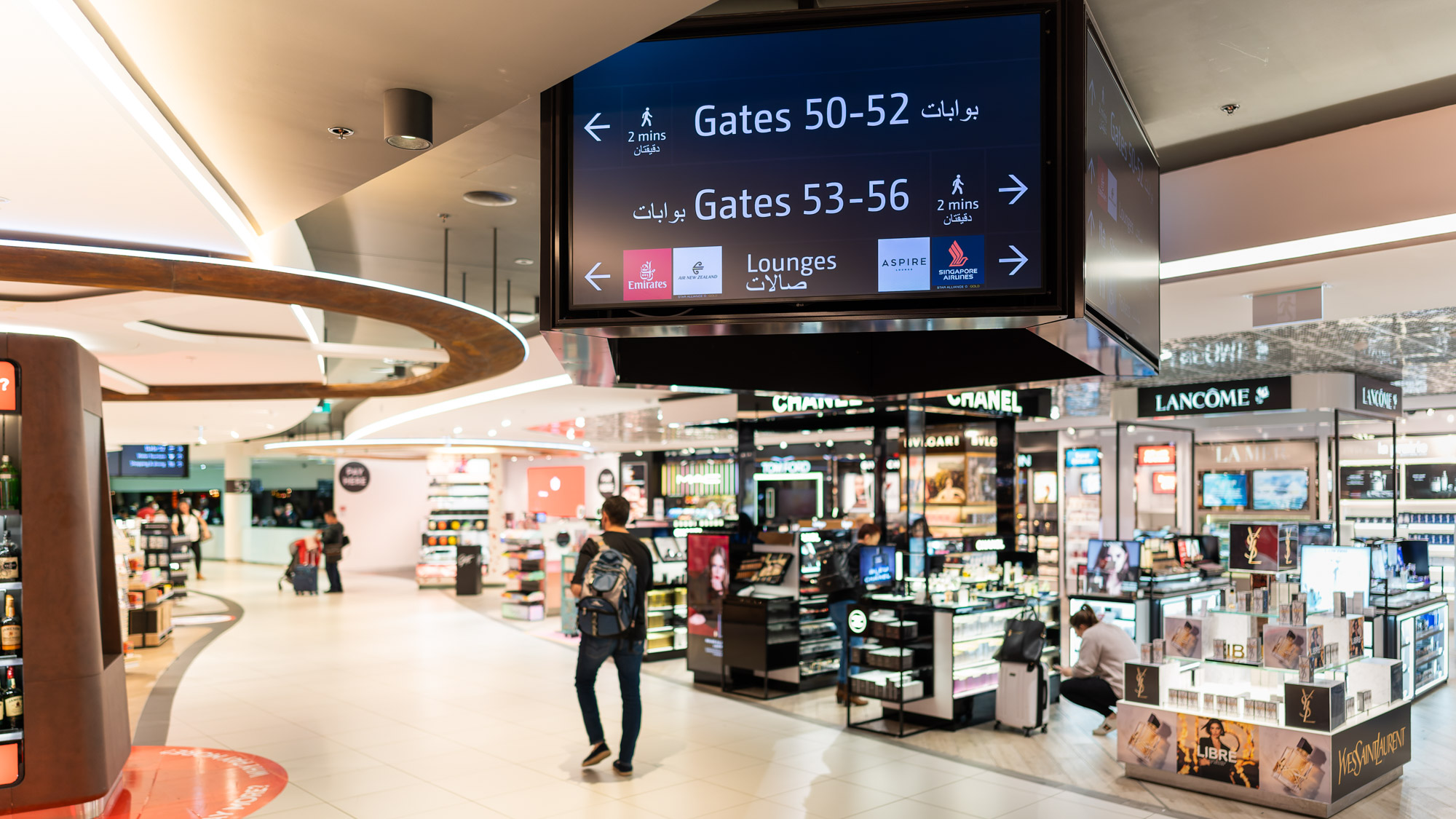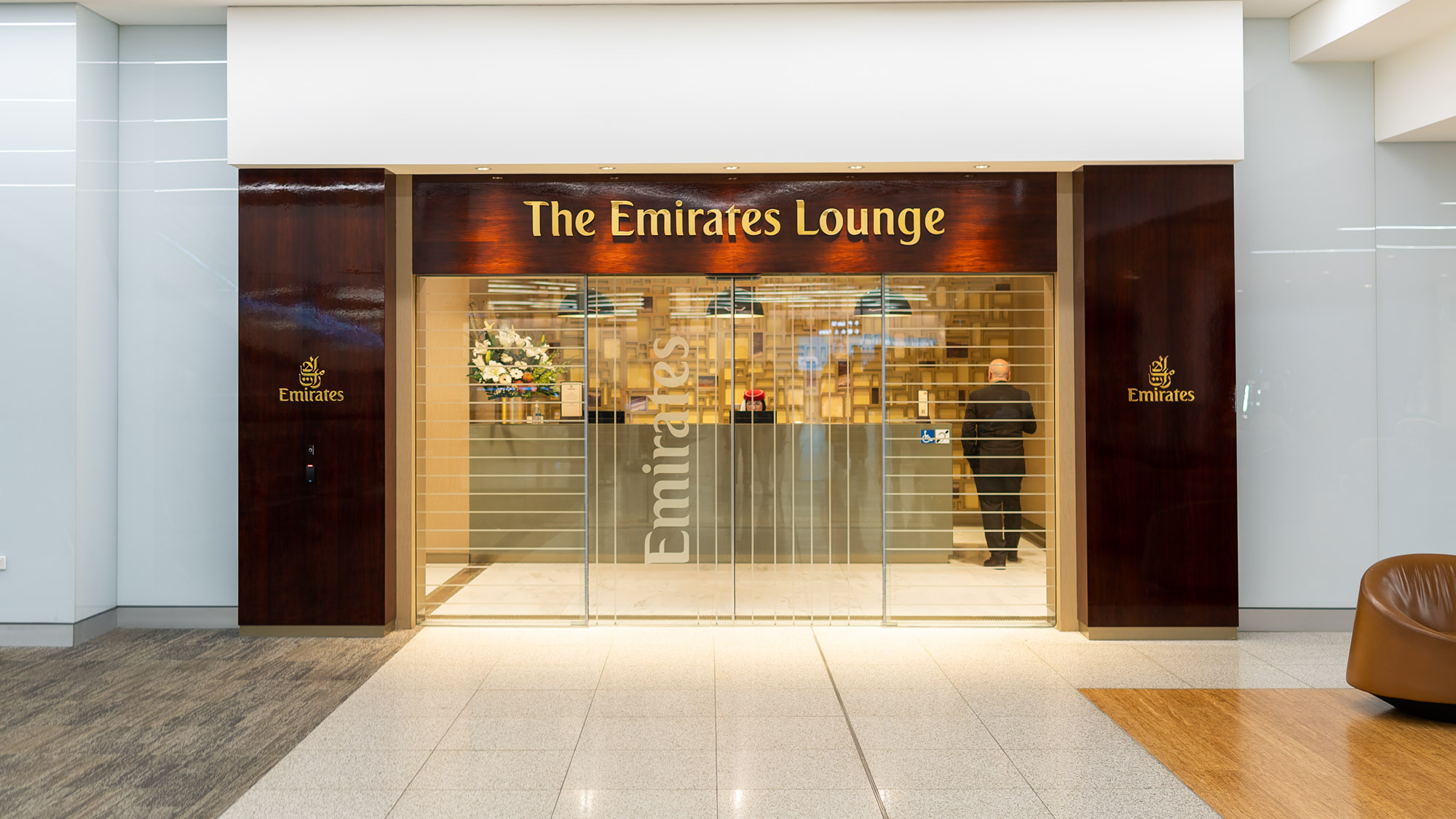 The lounge is open at least three hours before each Emirates departure. At the time of writing, there's only one flight a day, which departs around 10:20 pm.
Seating and layout
If there's a prize for consistency, Emirates should win it. The Perth lounge looks almost like any other Emirates outstation lounge, such as Singapore and Brisbane. Rich aqua-blue carpets help the sand-coloured leather furniture pop, without being too gaudy.
The seats are all fairly similar, arranged in groups around desks, lamps and walls. While there is some light partitioning, the lounge spaces aren't too segregated from each other. There aren't any nice airport views here, though Emirates does a good job with lighting and frosted windows overlooking the gate area.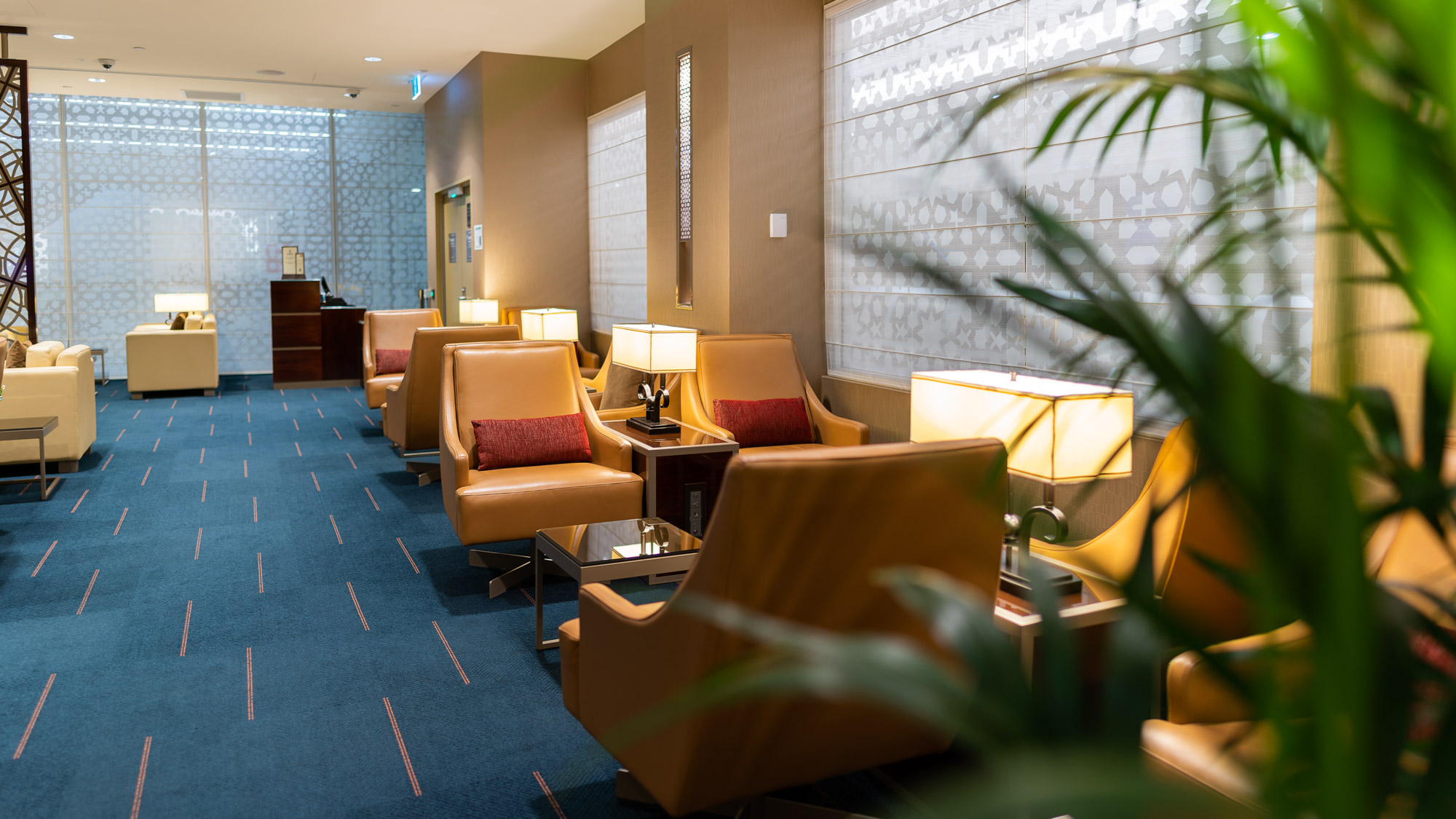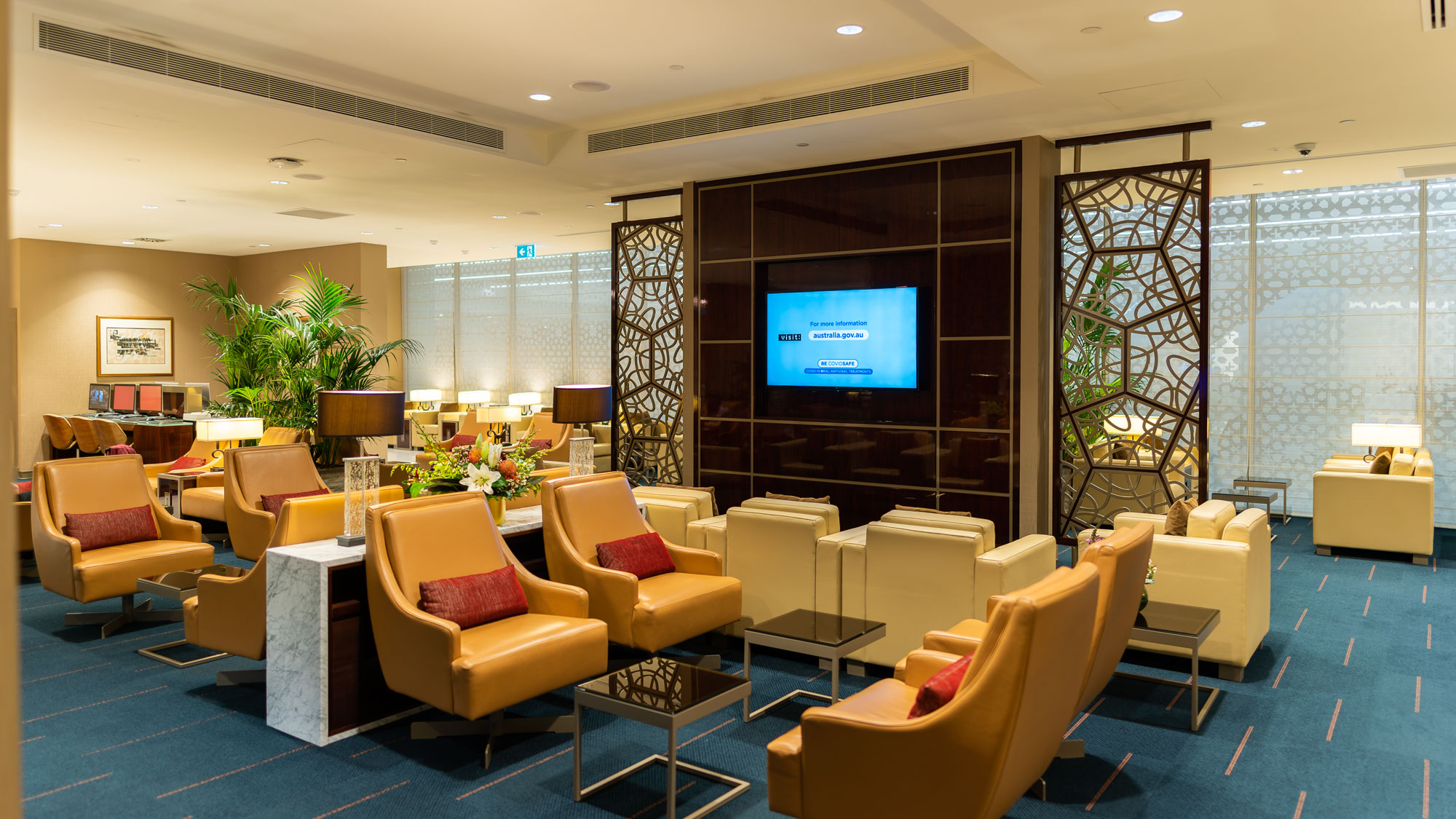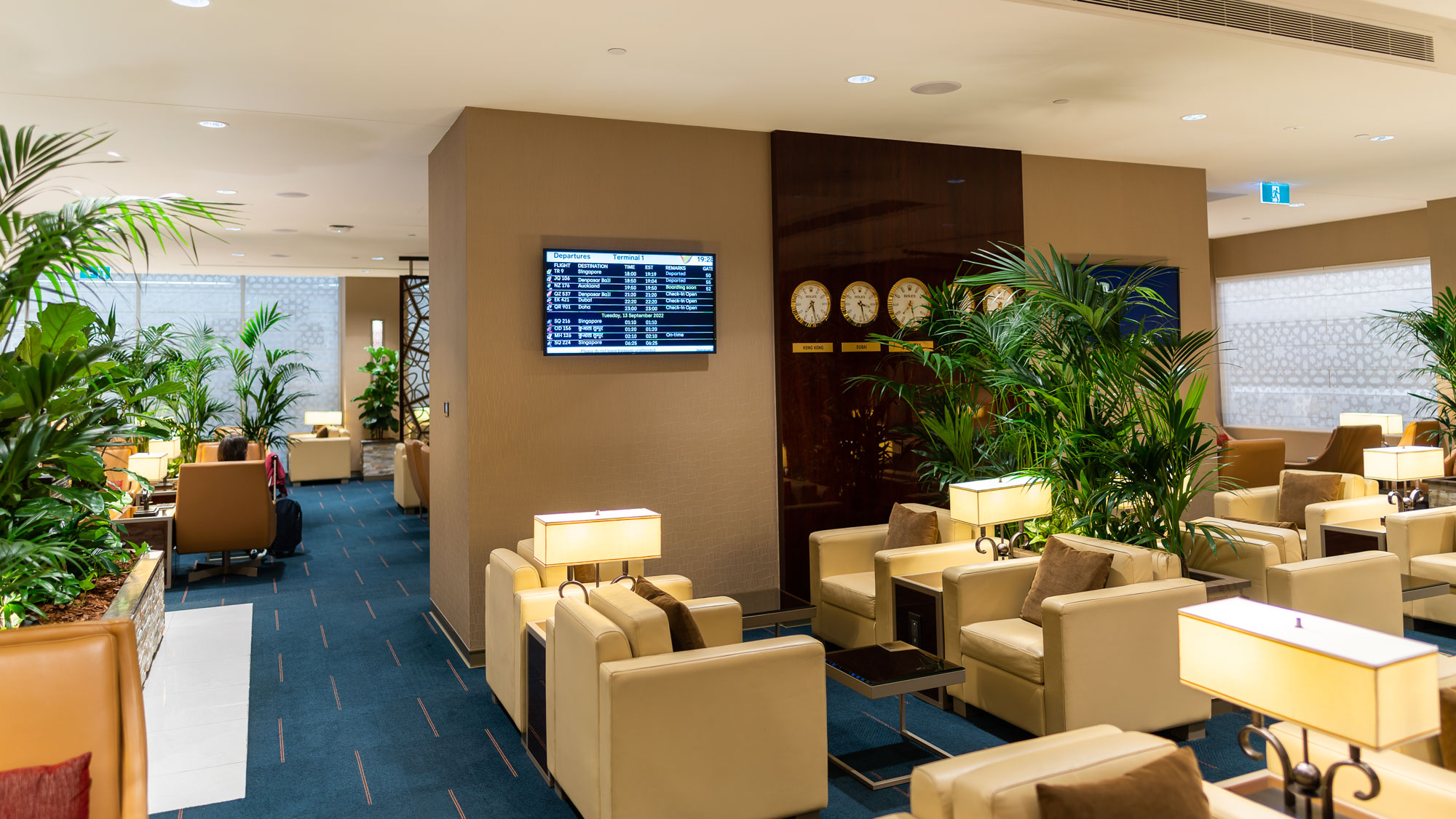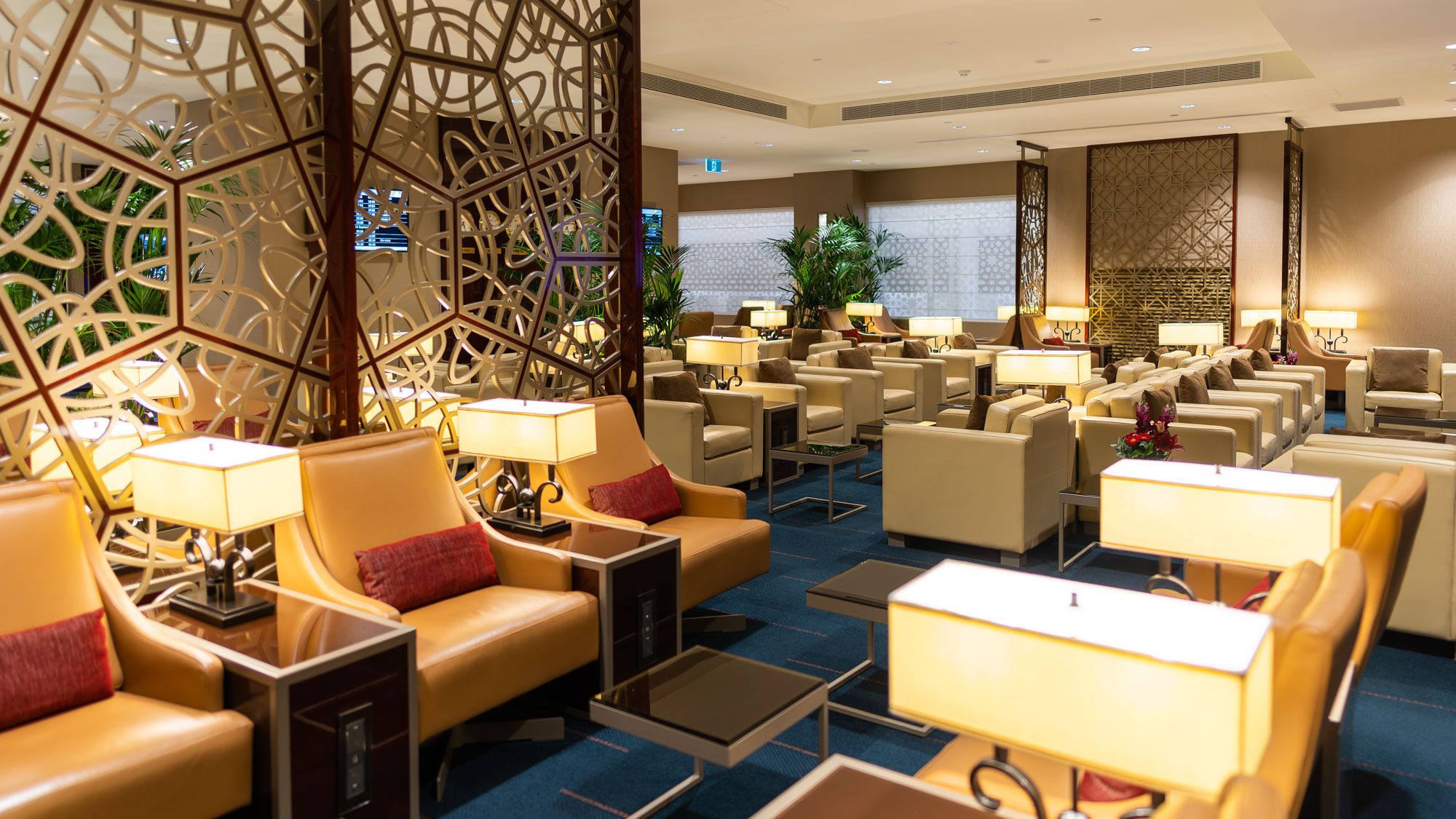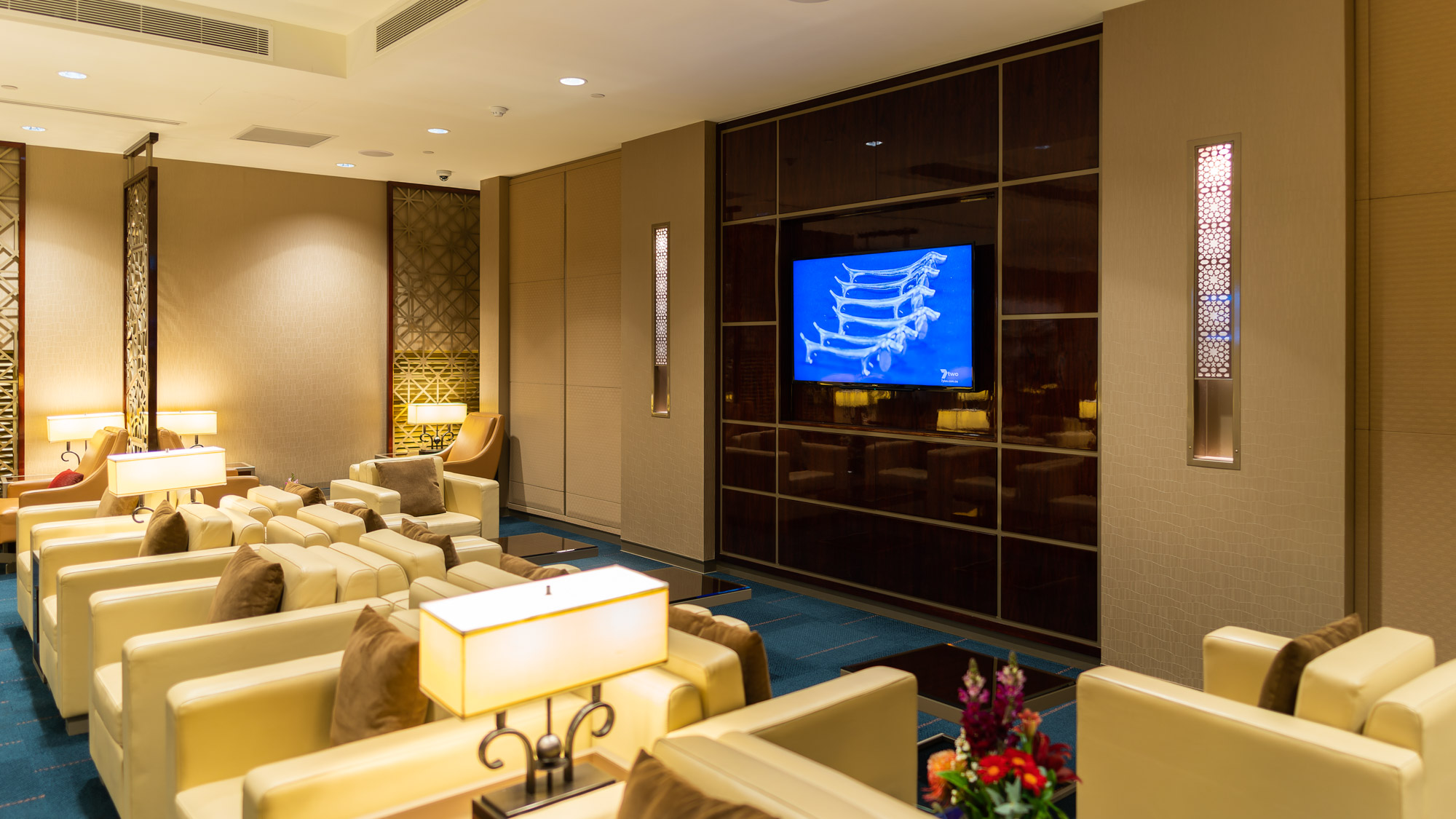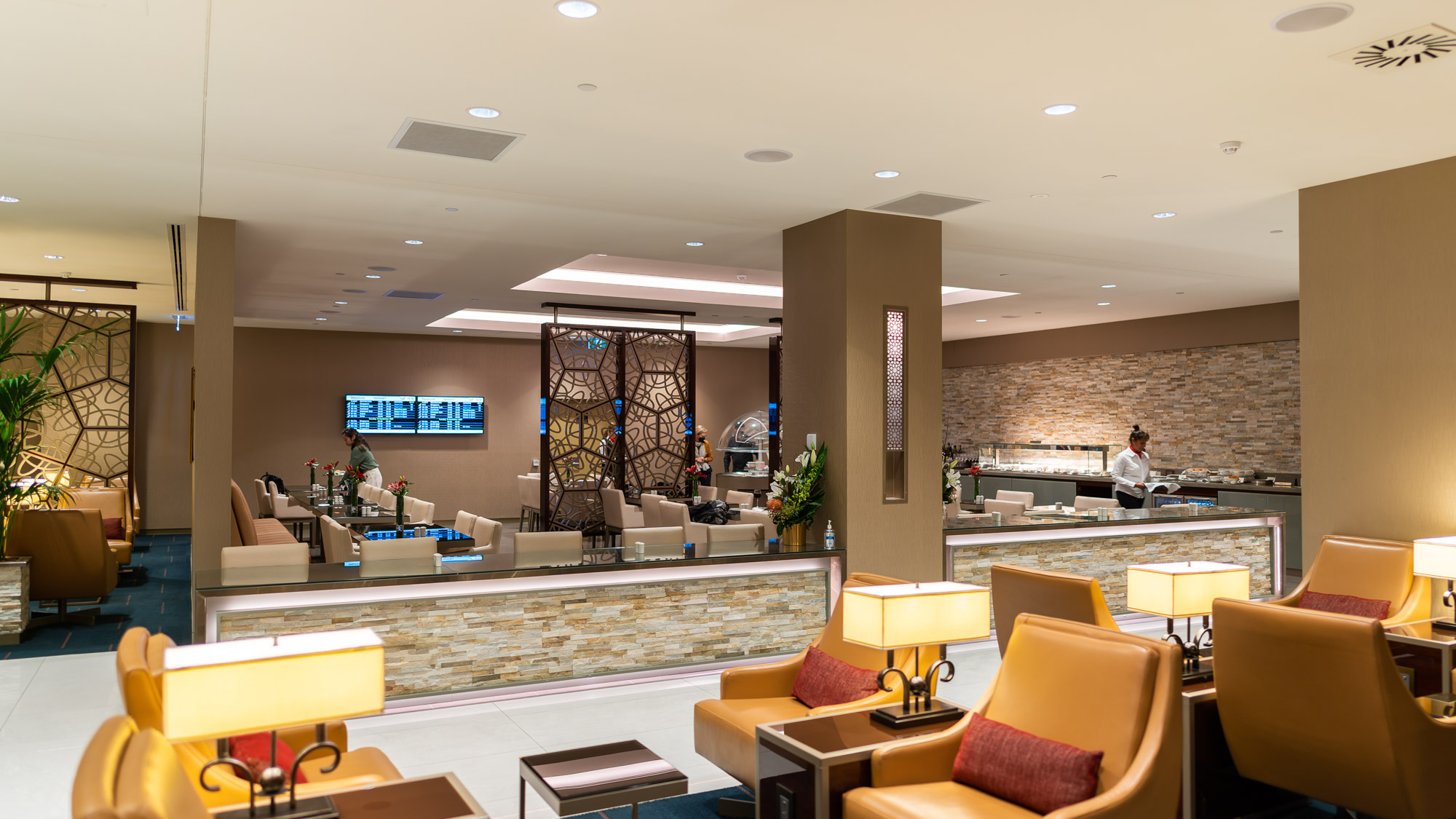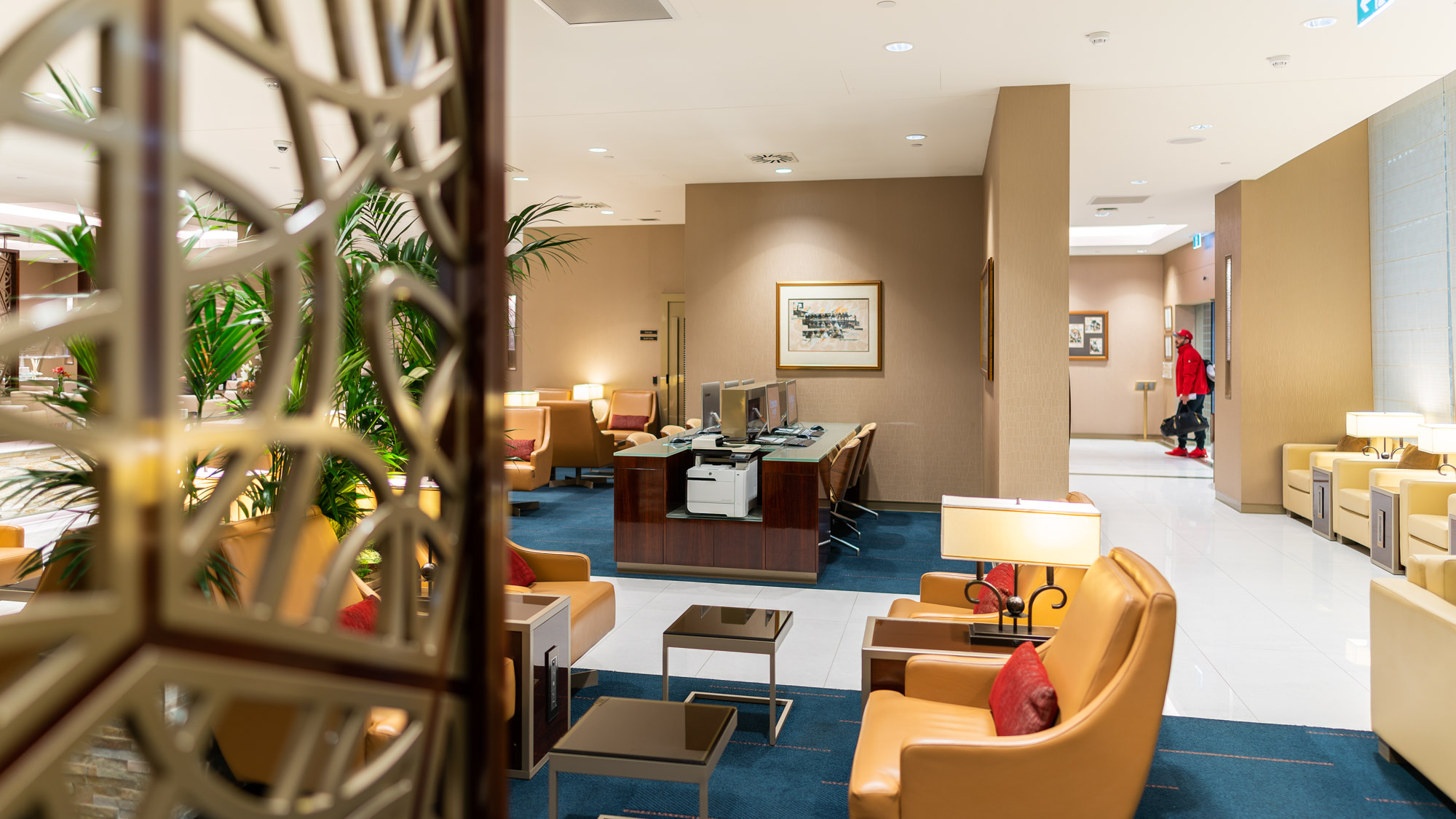 Need to get work done or say goodbye to the family over a video call? The business centre, located right near the entrance, tends to be the quietest part of the lounge.
One point of difference is the direct boarding gate, which lets lounge passengers board straight from the lounge. In reality, it's just a small door that opens into the side of the aerobridge at Gate 51. But it's certainly a nice and simple touch that elevates the premium experience.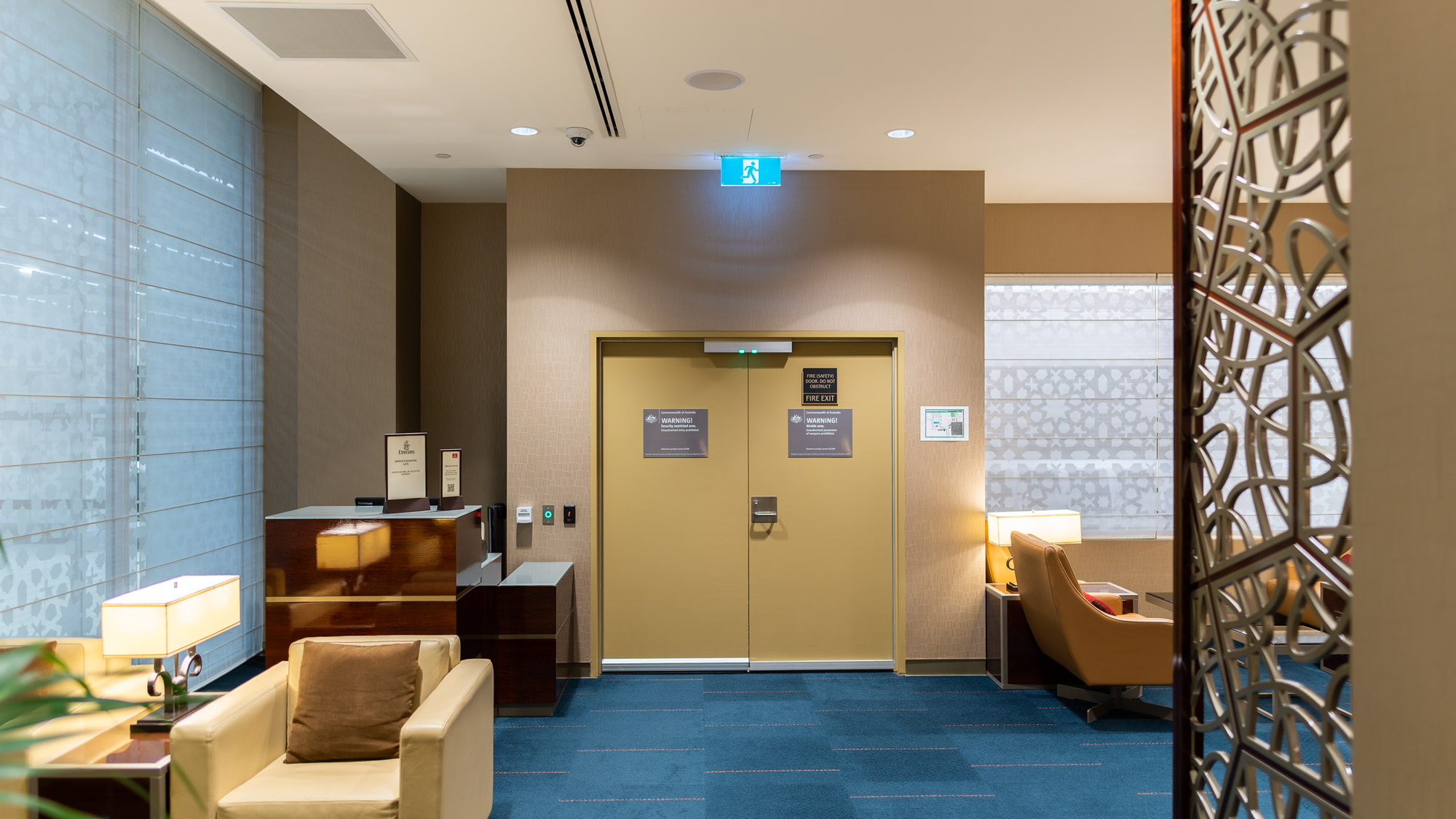 You won't see it in my photos, but the lounge does fill up quite a bit in the lead-up to departure. That's not a problem though, as there's more than enough space for everyone.
Food & drink
I know there's a smorgasbord of delectable bites awaiting me in Emirates First Class. But the food in the Emirates lounge is so tempting, I can't help tucking into a plate here before we depart.
Dining
In typical Emirates fashion, the dining room boasts a separate cold plate area and a hot food area – both heaving with delicious plated and buffet-style dishes. The smoked duck salad with pomegranate and mint is a winner, as is the berry mille-feuille.
Other eye-catching plates include smoked Tassie salmon, Arabic mezze, a cheese board and more. Everything just looks so fresh and delicious.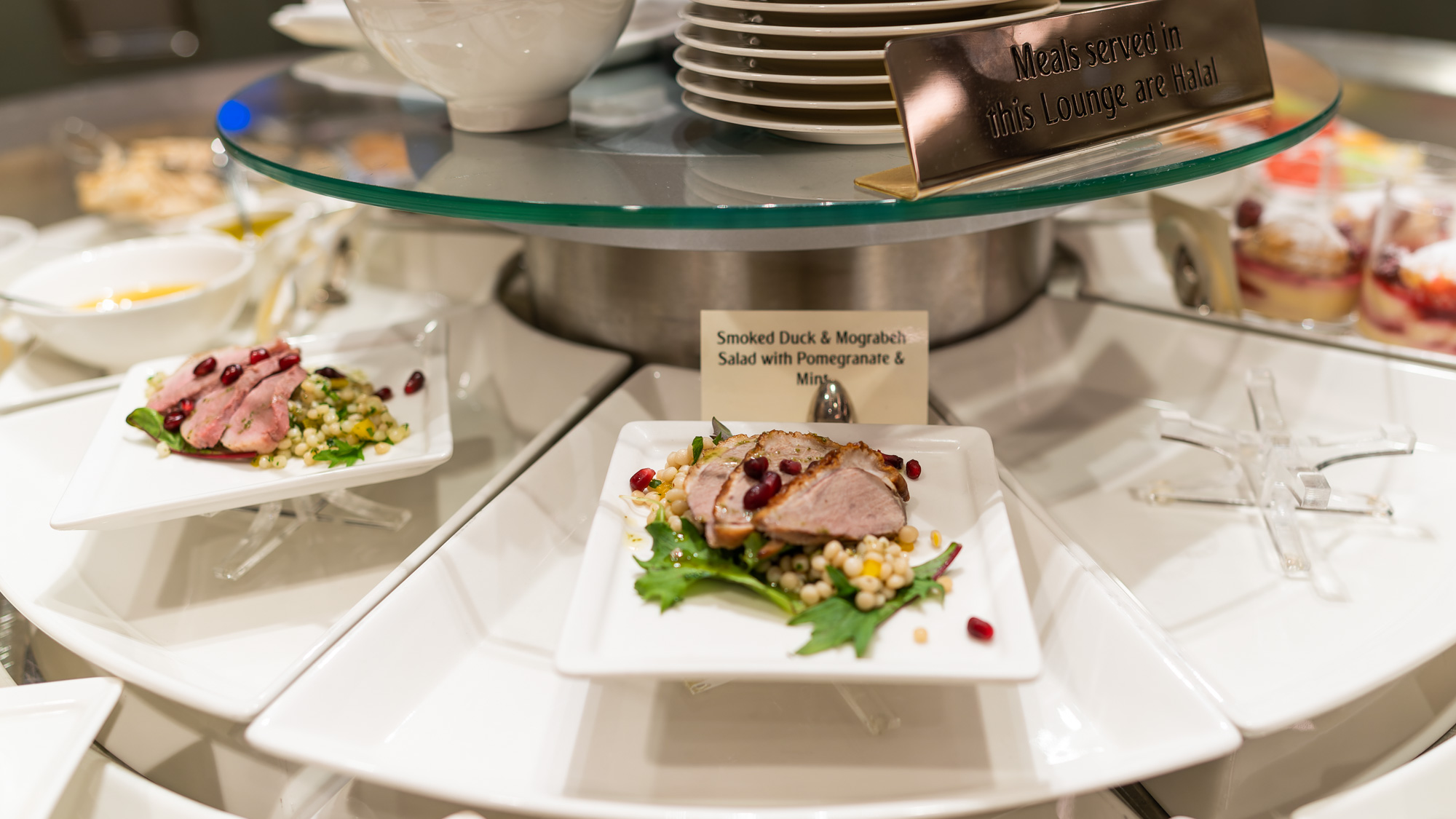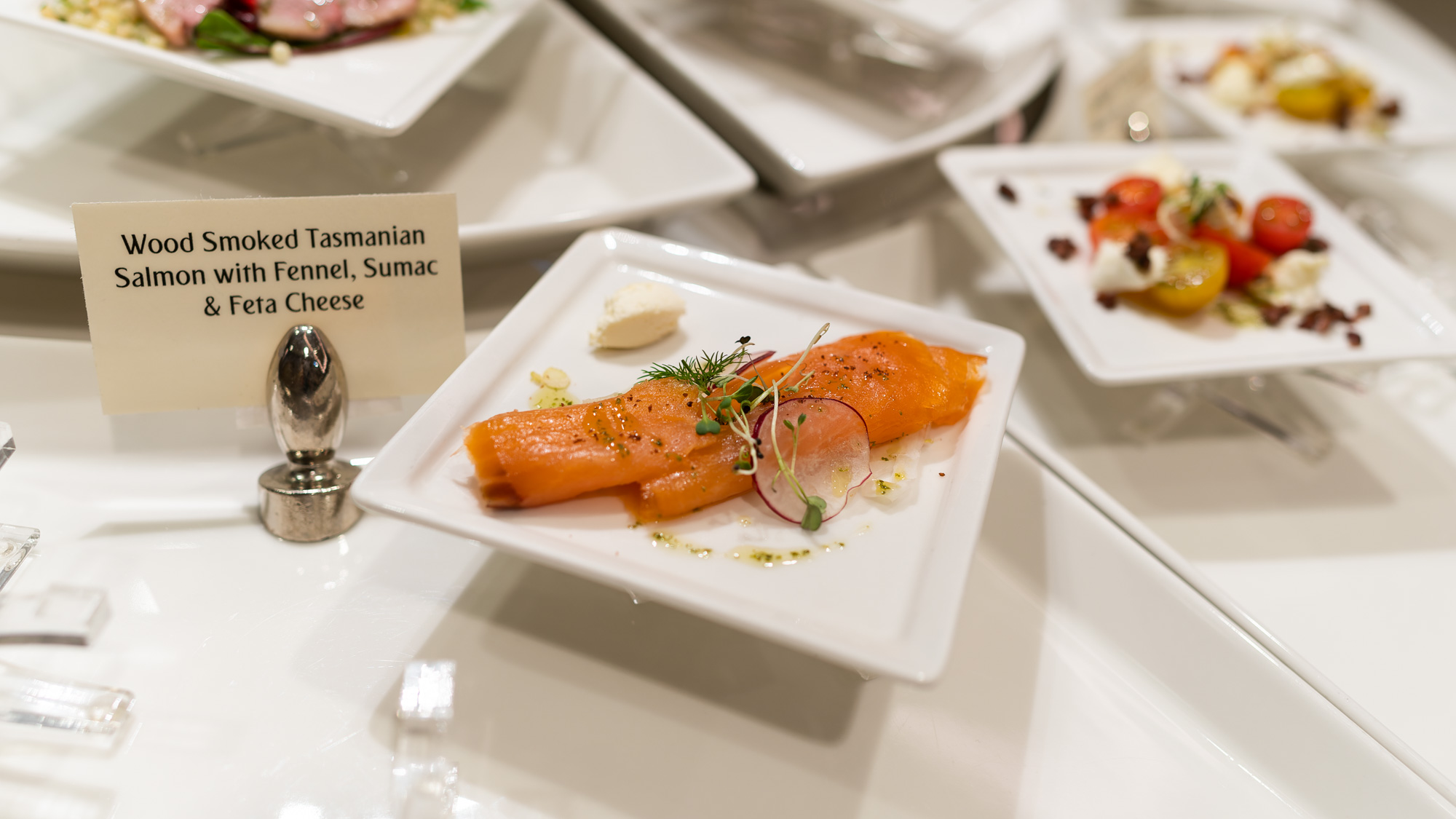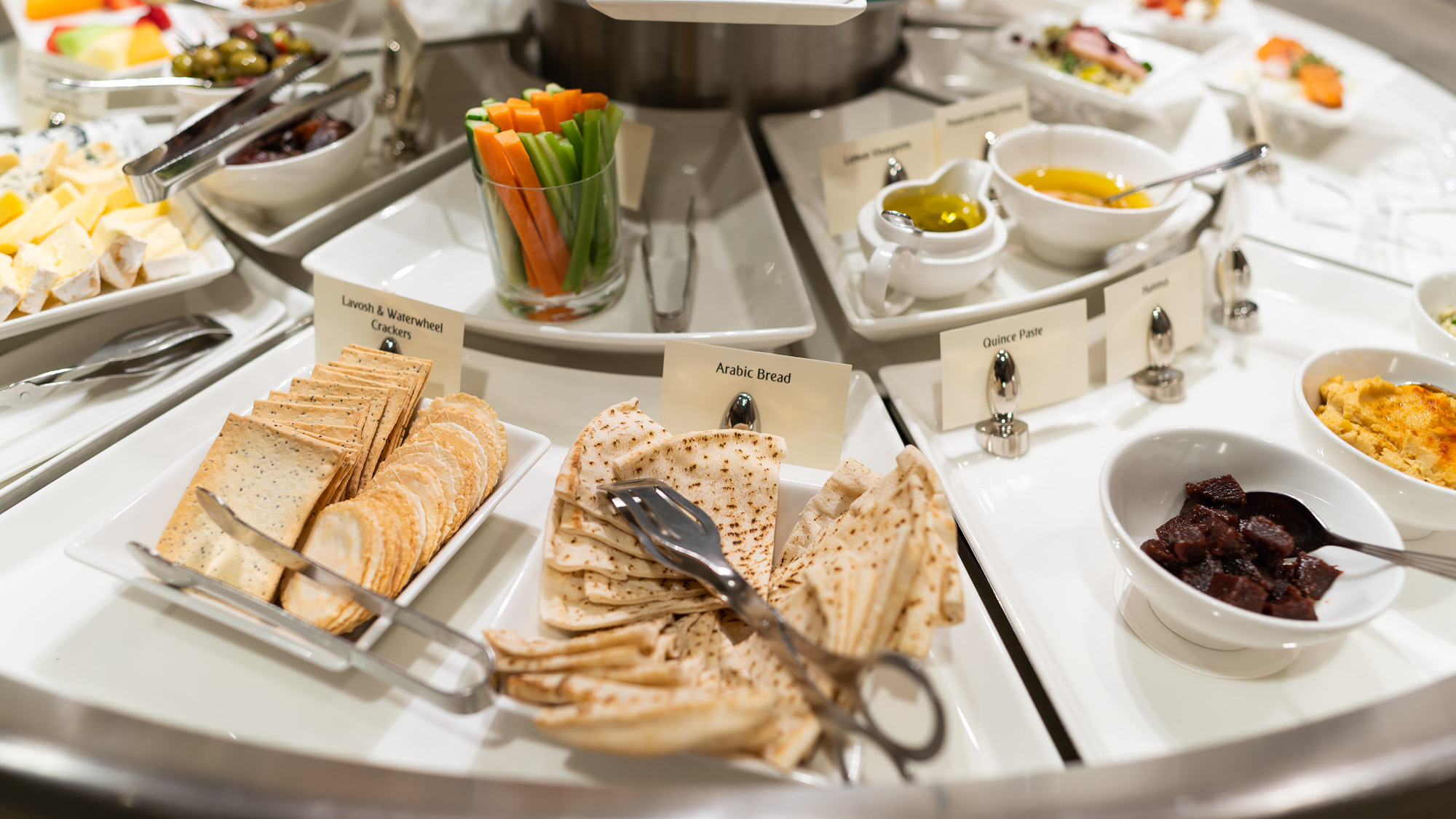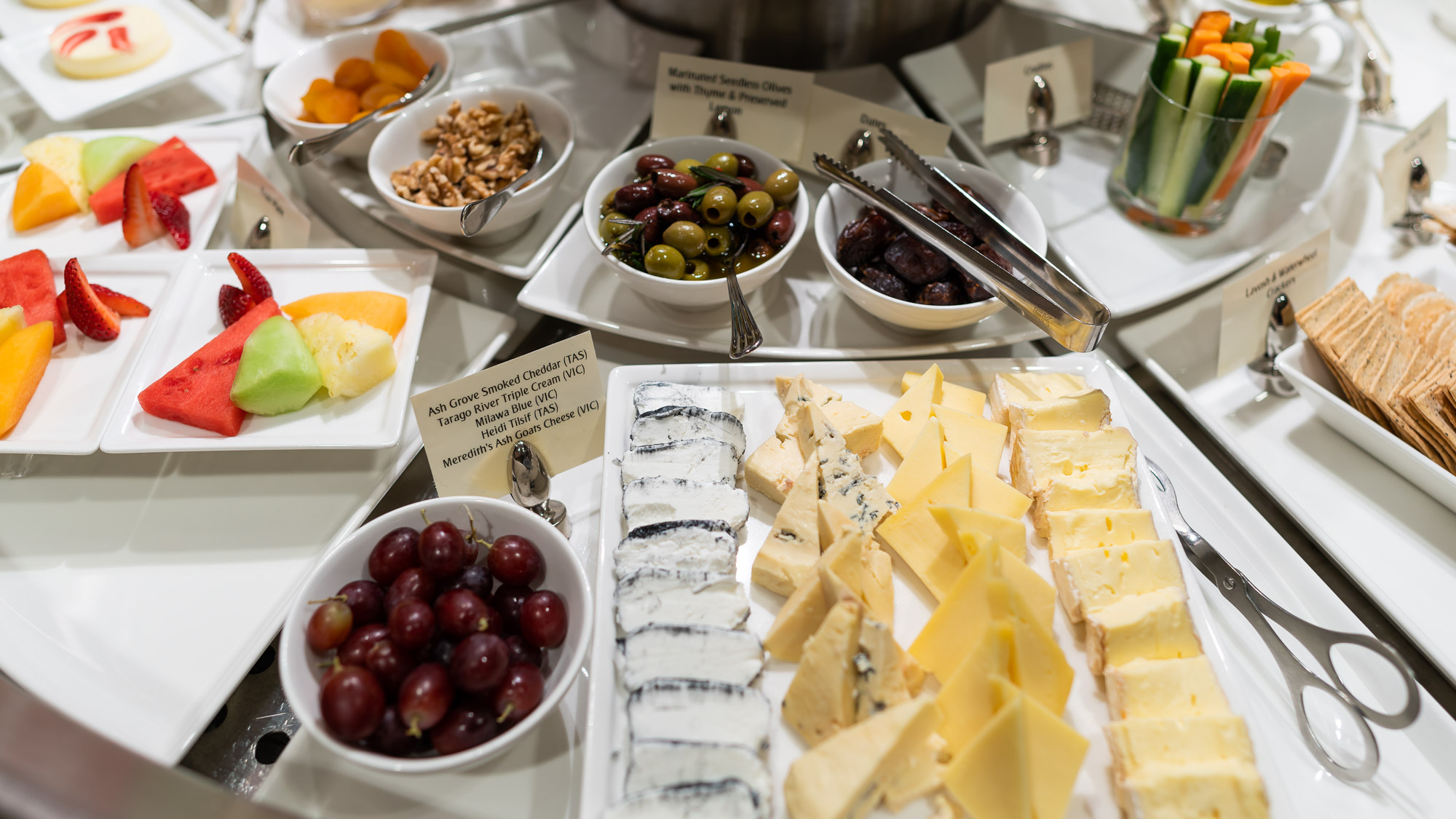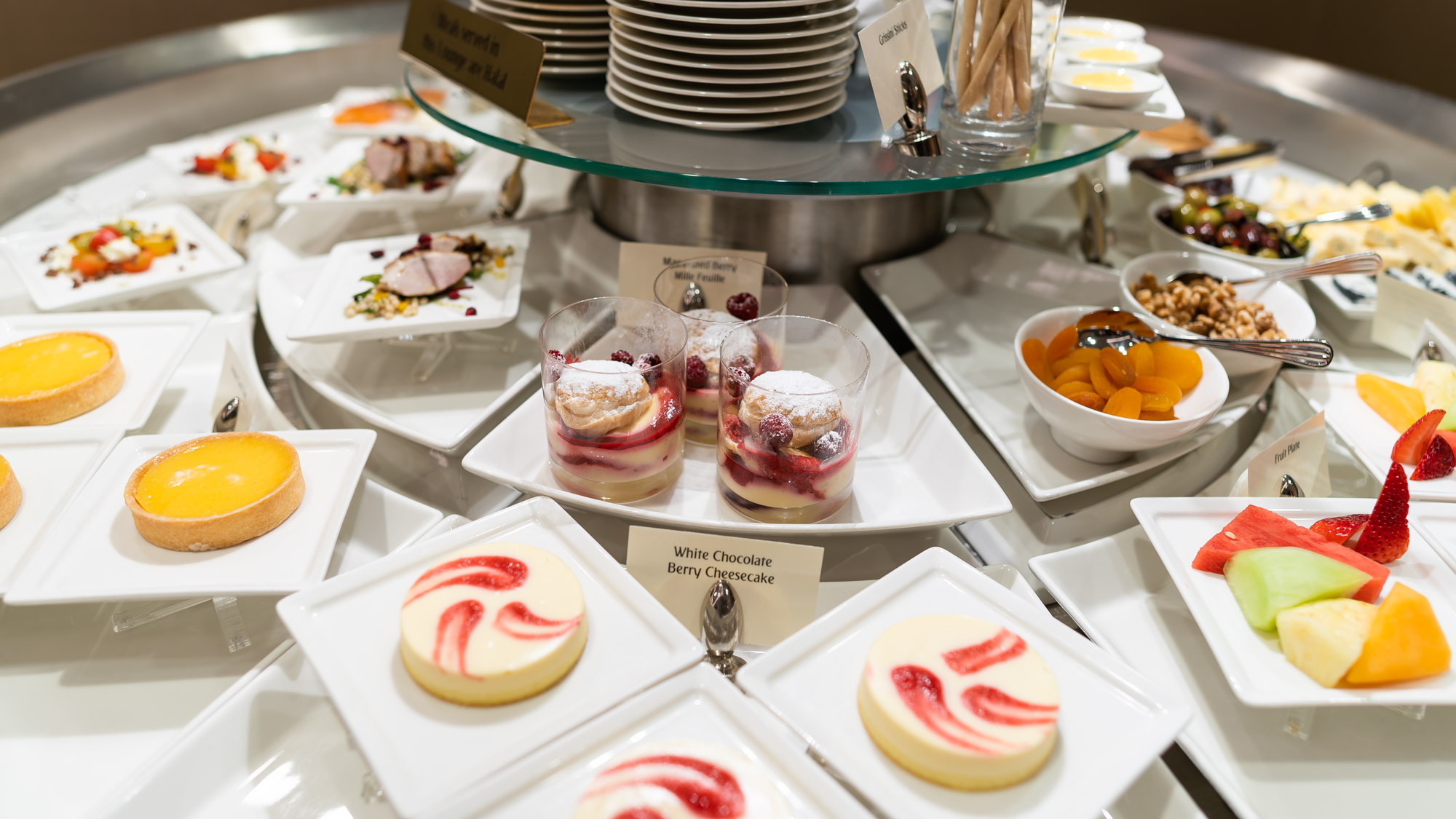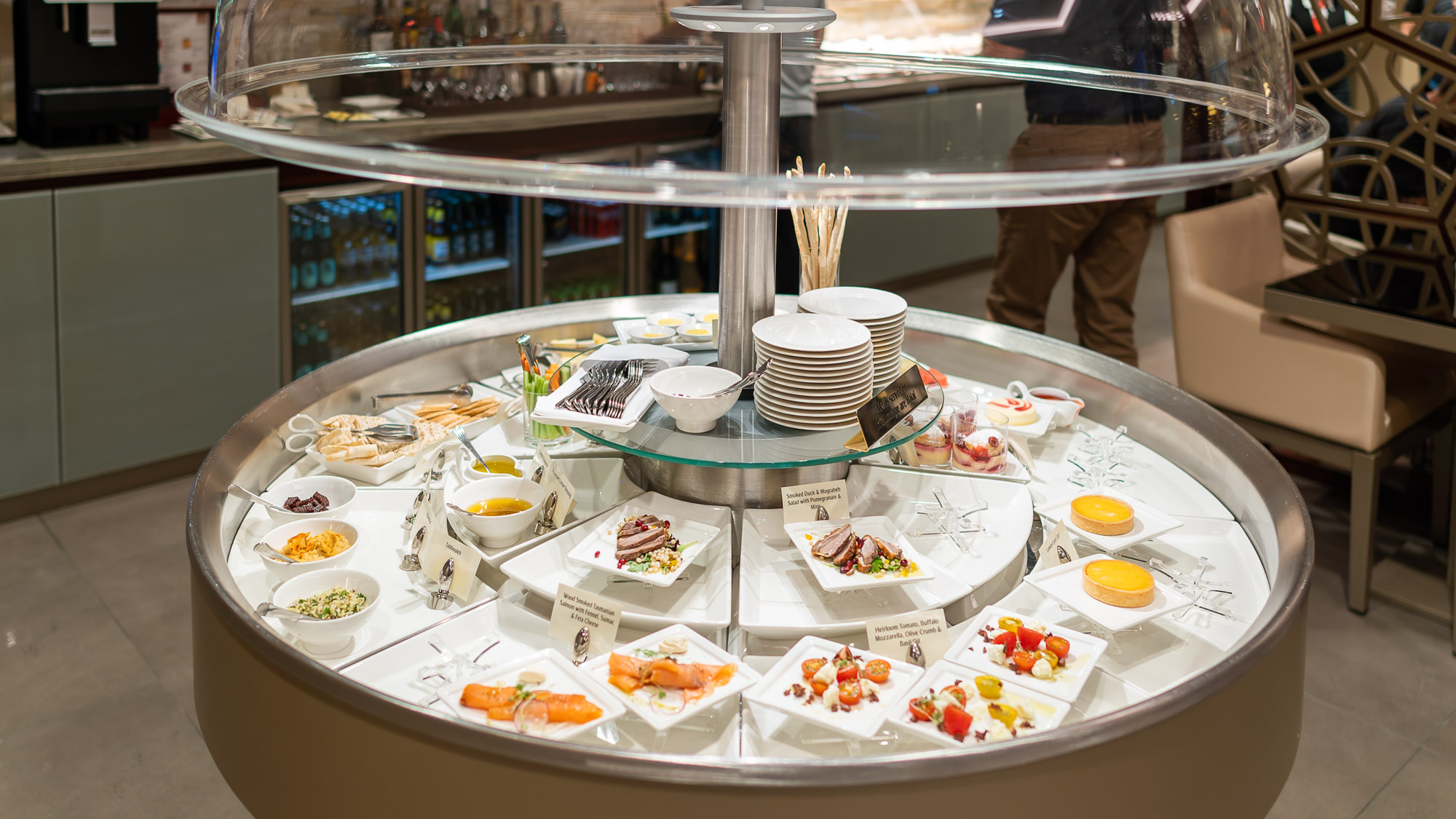 Over at the hot buffet, there are more than ten options. The duck and shiitake mushroom pie is my partner's clear favourite after she helps herself to a second serving. I load up my plate with a piece of snapper, beef tenderloin and broccolini.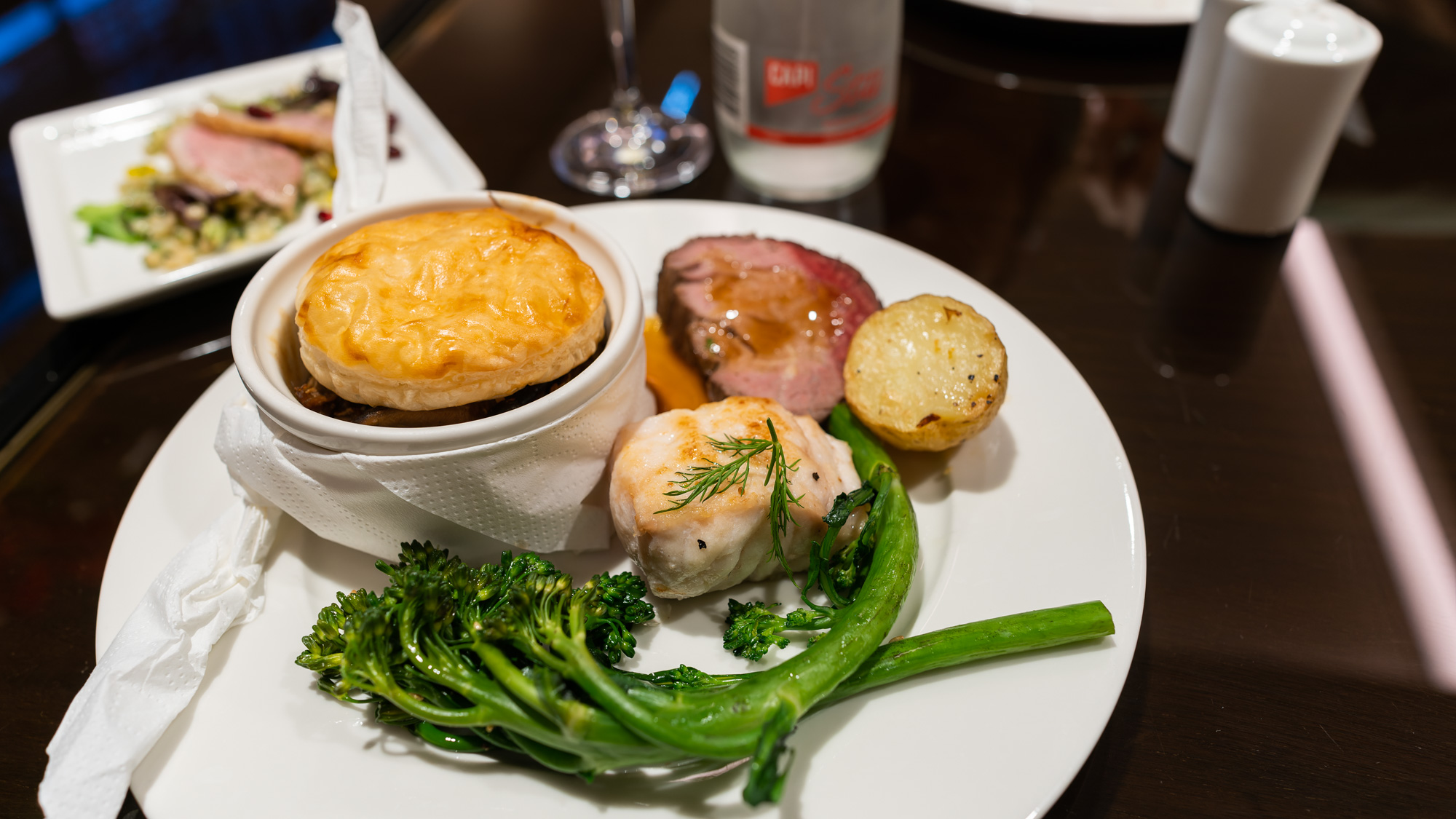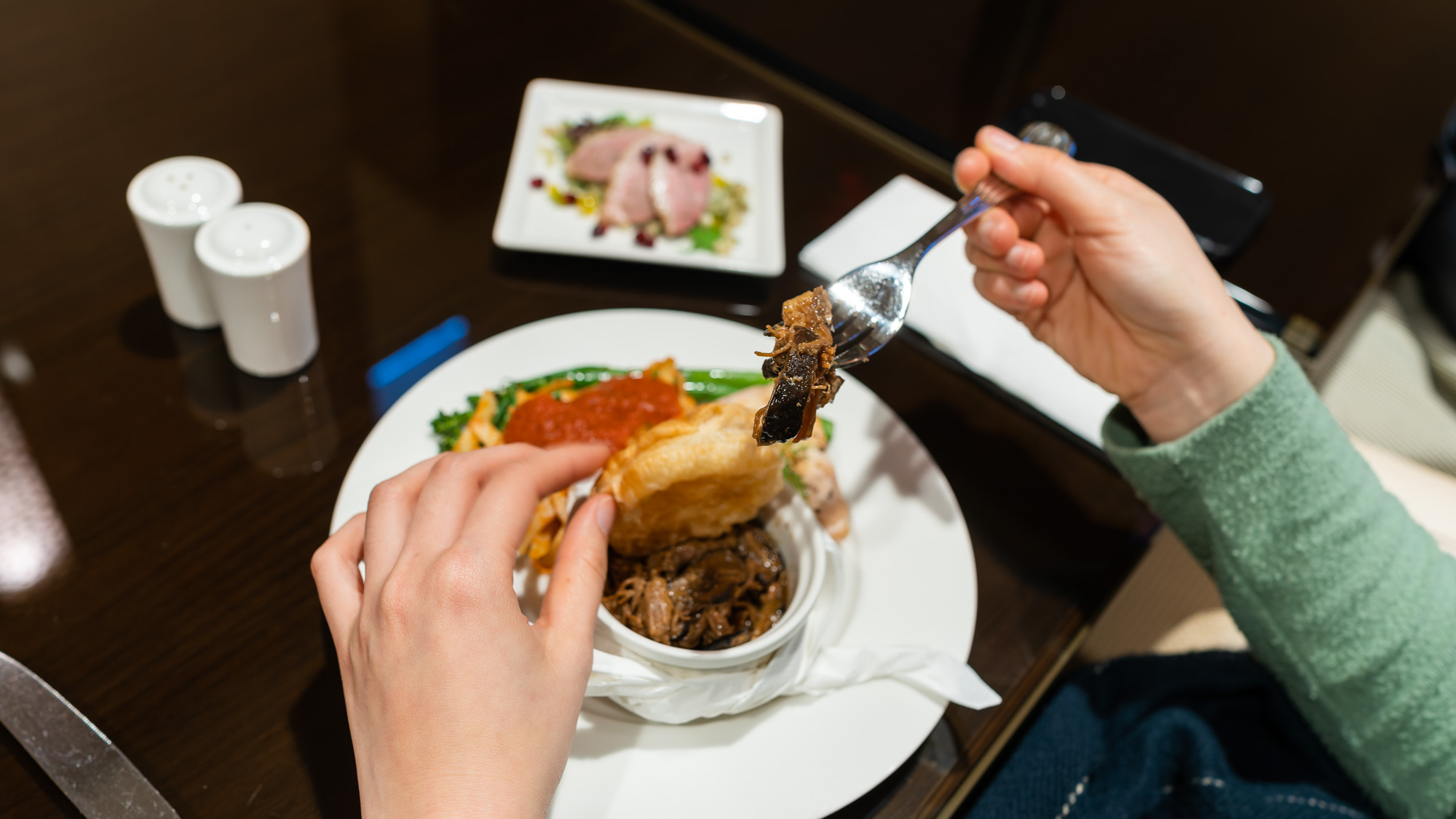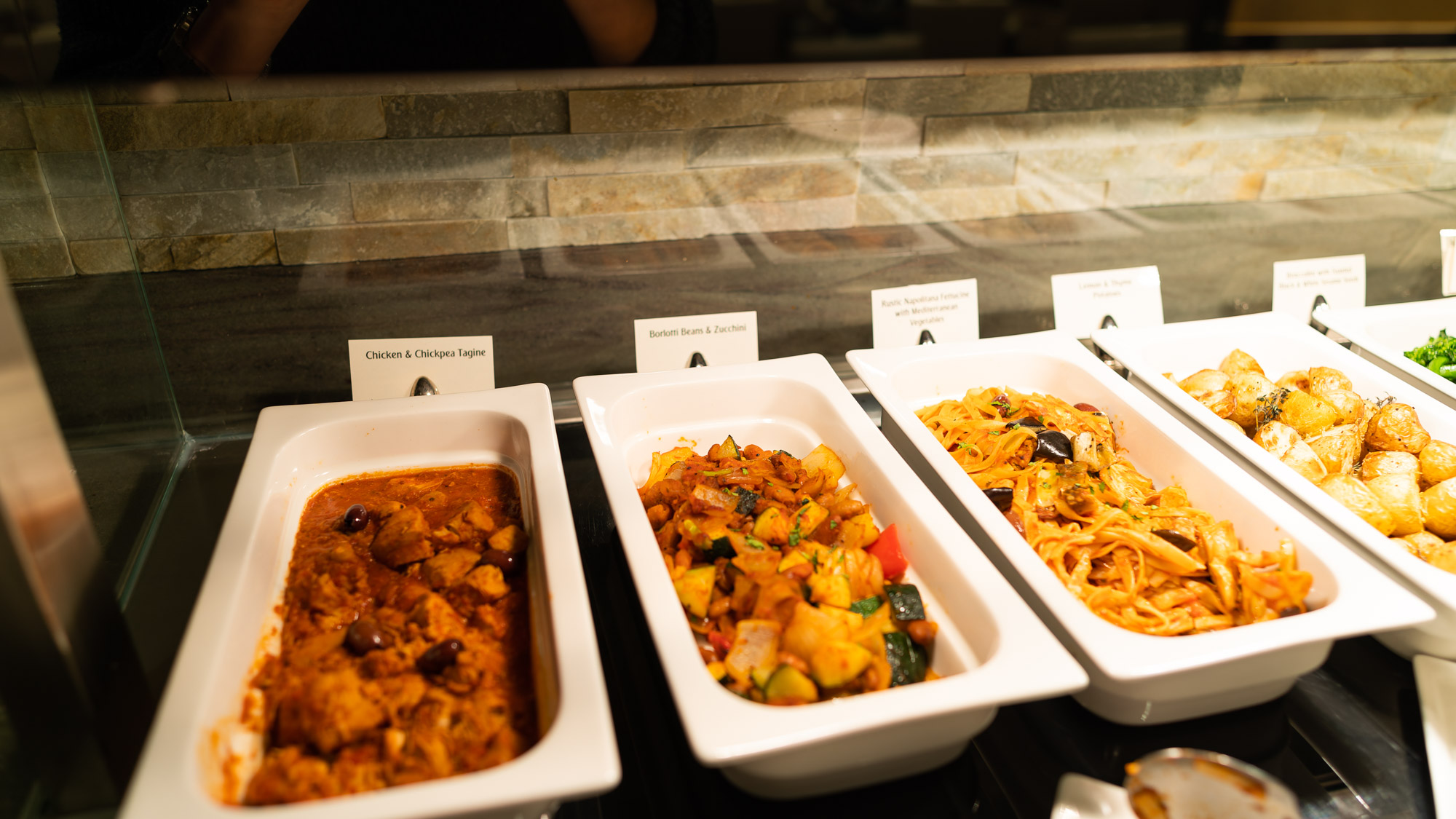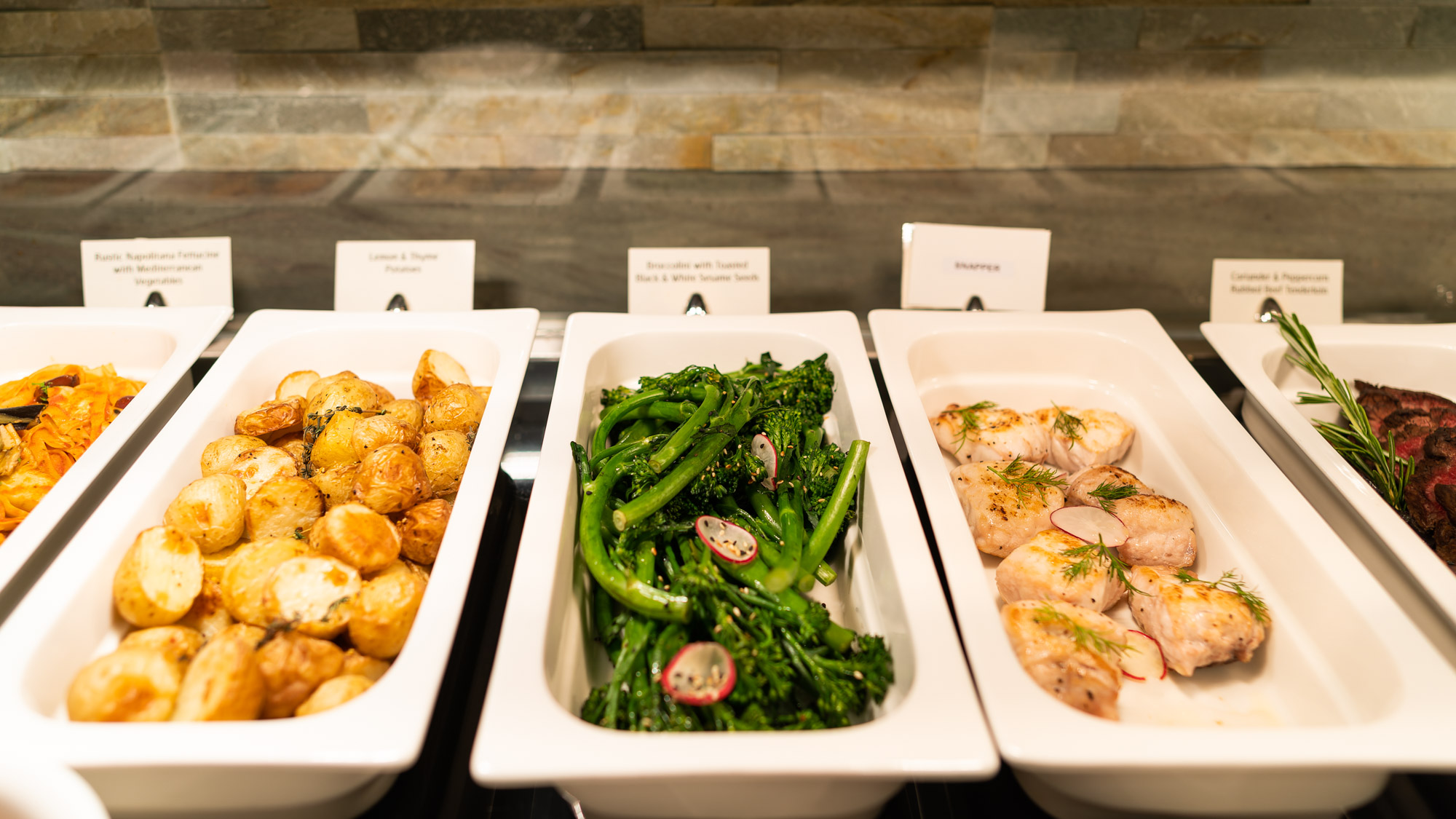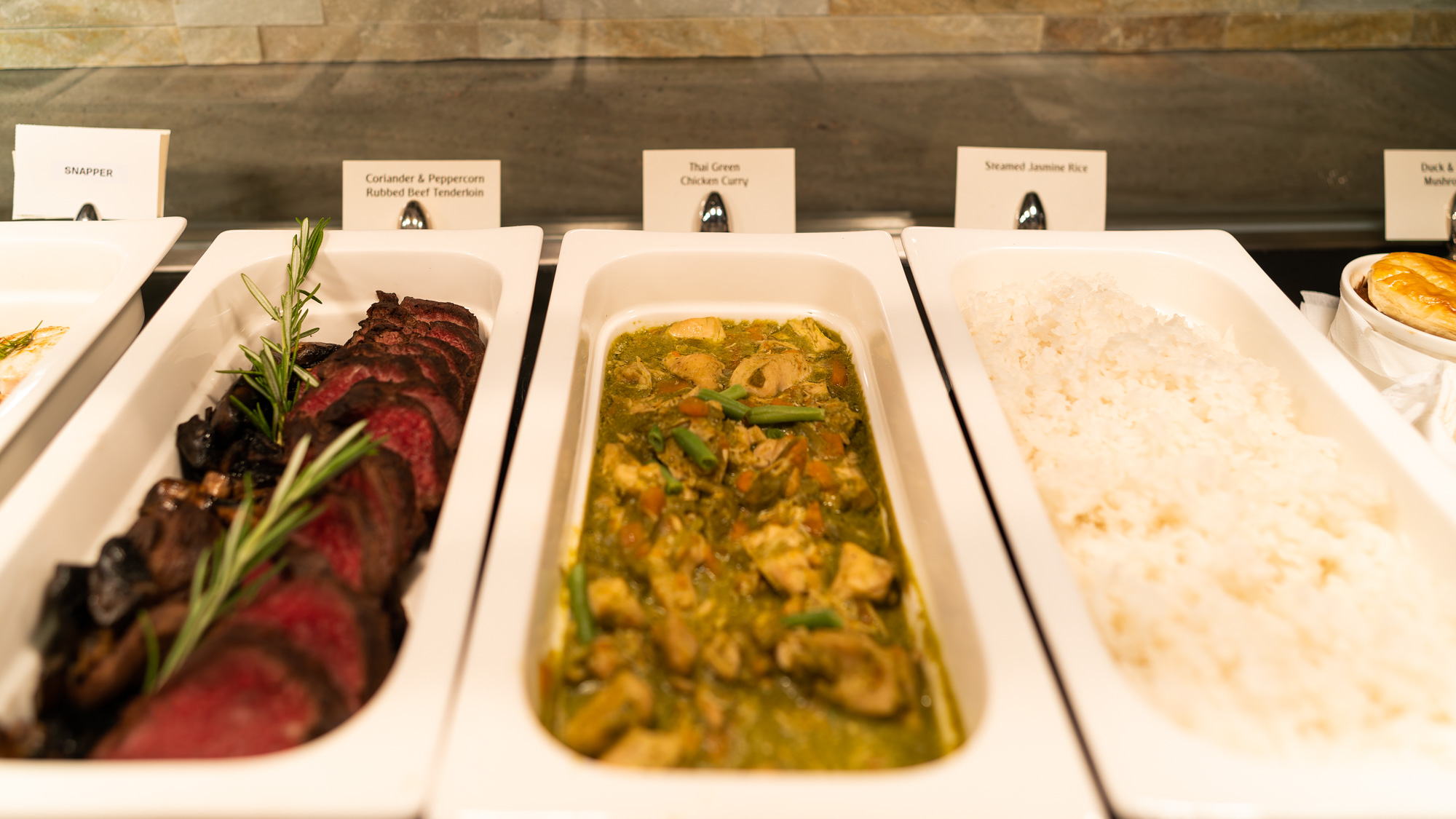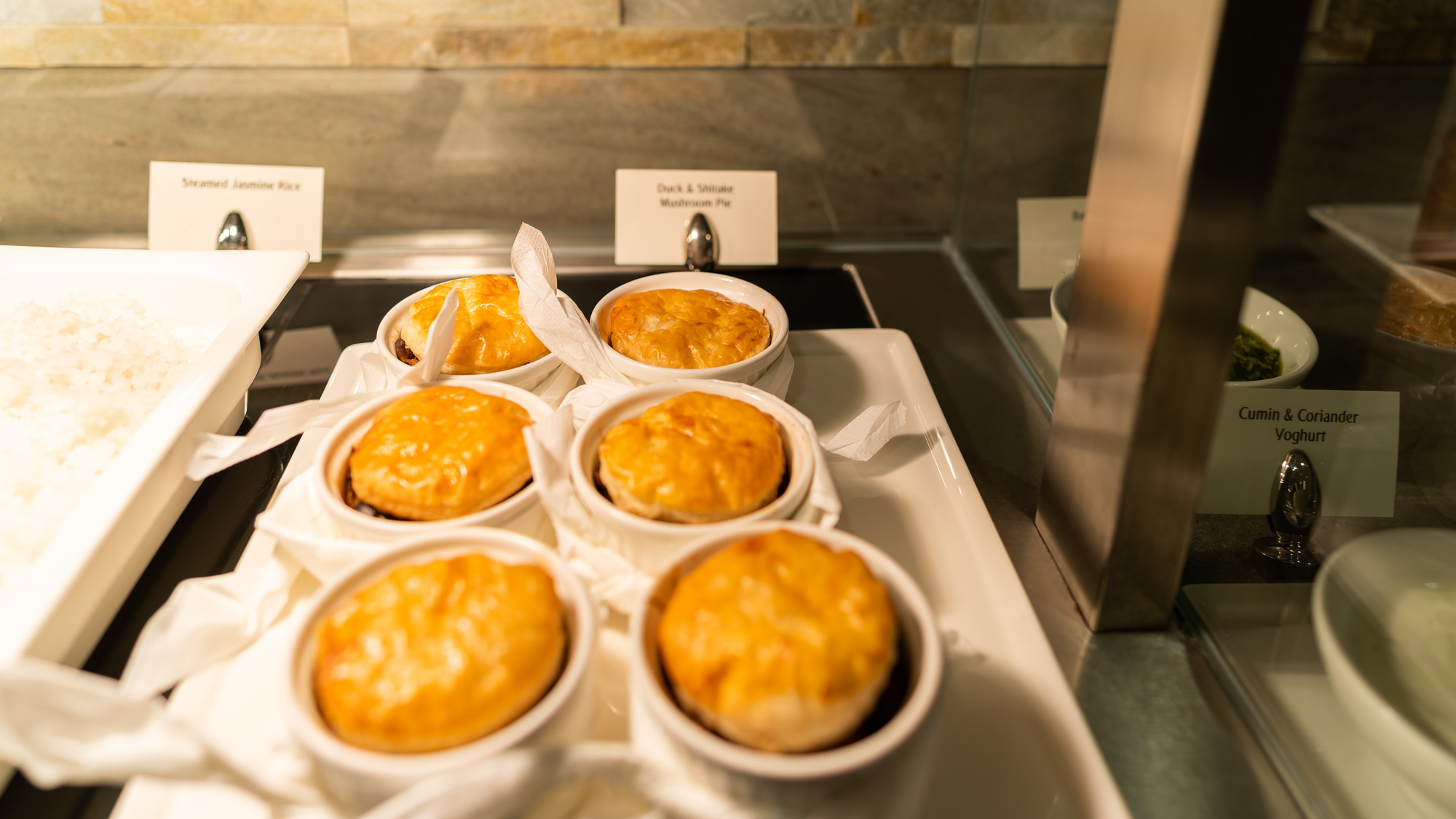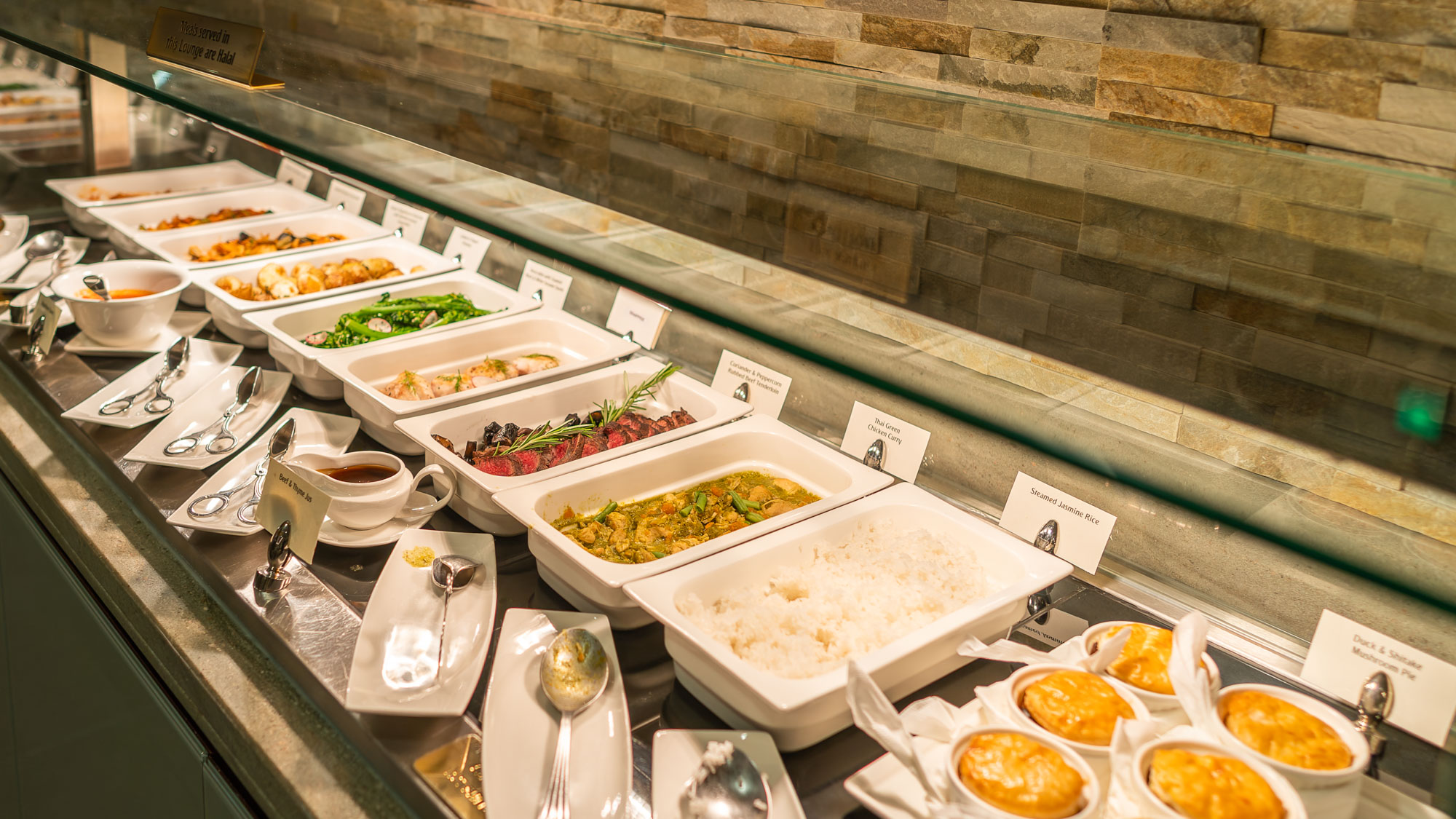 Overall, I'd say Emirates' dining concept is a slimmed-down version of a hotel buffet dinner (and that's a great standard for an airport lounge). The dishes I tried were all wonderful, and everything else looked very tasty as well. Lounge staff are on hand to clear dishes promptly.
Beverages
It's rare for a mixed Business/First lounge to stock proper Champagne, but Emirates goes all out with two choices. Lounge guests can sip on Moët & Chandon Brut Imperial NV or Veuve Cliquot Brut – both excellent non-vintage Champagnes.
Vino lovers should be pretty happy with the wine selection, which pays homage to WA's famed Margaret River region. During my visit, choices include Vasse Felix Filius Shiraz 2021 and Howard Park Leston Cabernet Sauvignon 2017.
The self-serve bar is equally well-stocked to conjure up most classic cocktails that you can think of (I think… my mixology is fairly limited). Over in the fridges, there are four beers, including two local WA favourites – one from Eagle Bay and another from Gage Roads.
Soft drinks, juices, waters and mixers round out the selection, though I was ever-so-slightly dismayed to see my soft drink of choice, Coke No Sugar, absent. Oh well, another glass of Moët & Chandon then!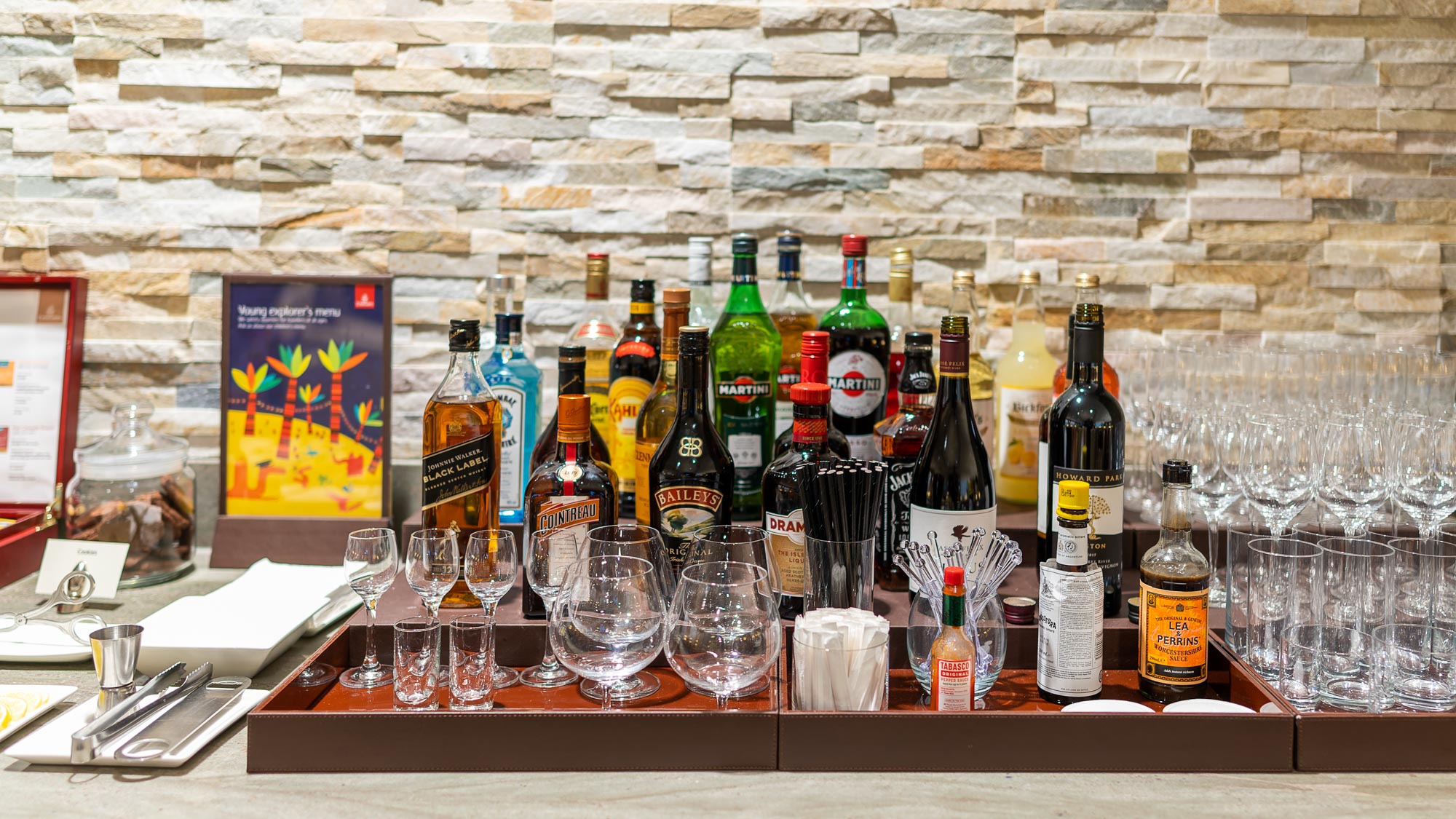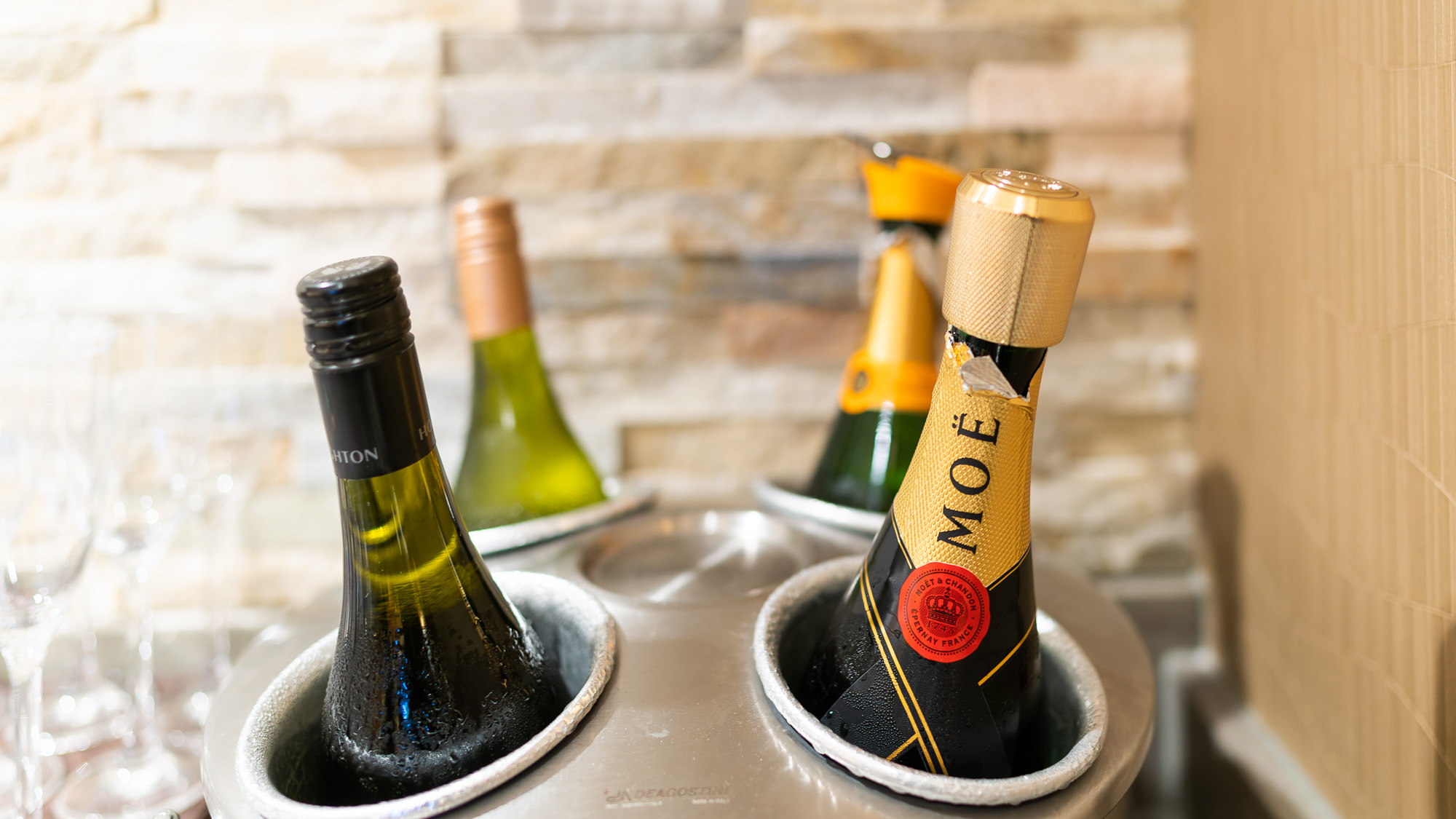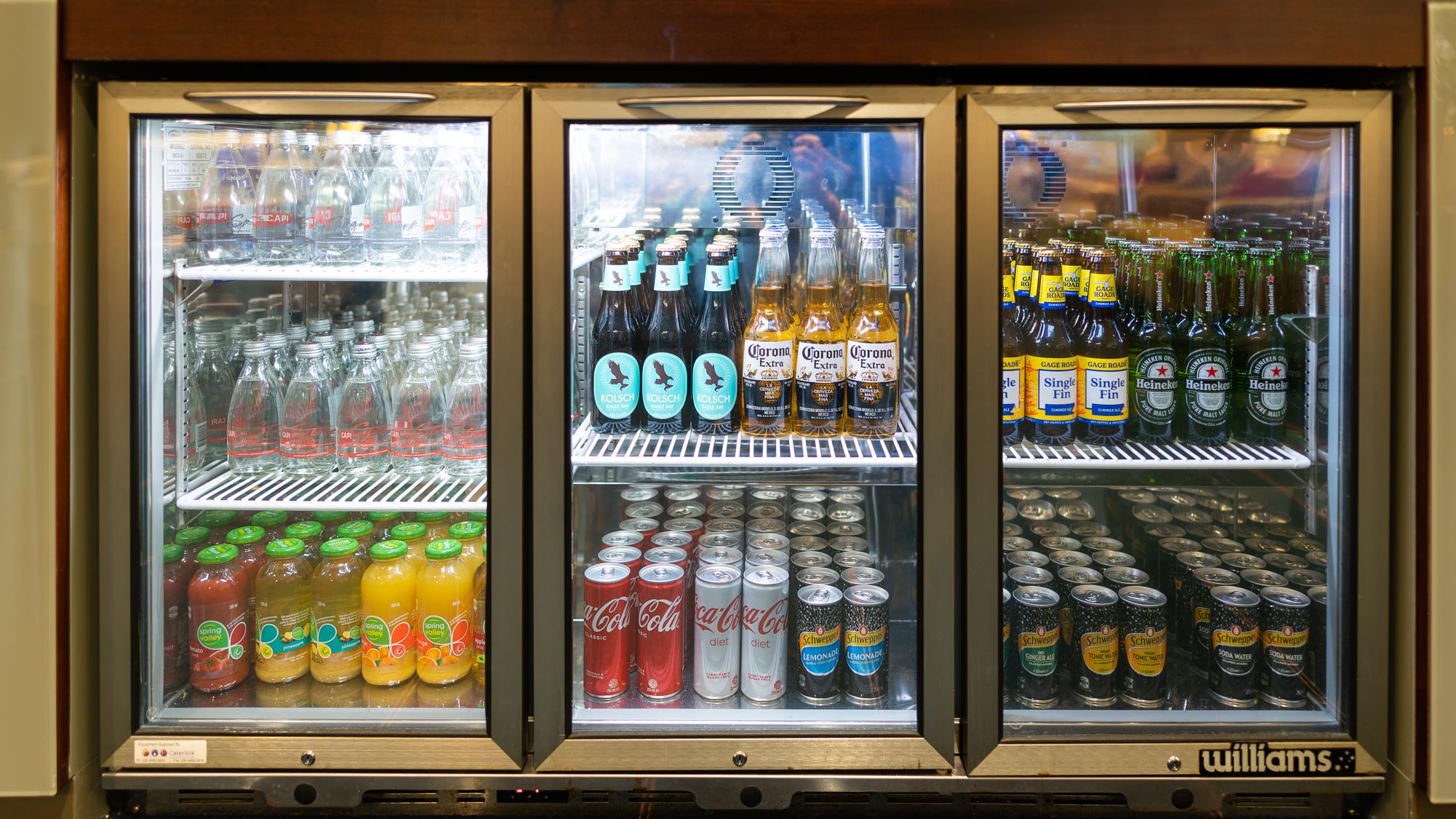 Tea and coffee are also self-service as Emirates doesn't have baristas in its outstation lounges. This isn't so much a problem before a long overnight flight, but if Emirates ever brings back the early morning departure out of Perth, I'm sure lots of passengers would appreciate a 'proper' coffee.
Amenities
The Emirates Lounge has most of the mod-cons you need to get ready before a long flight. Need to charge up a few devices? Nearly every seat has a power plug.
Want to get some work done? There are two PCs and a printer near the front, while the Wi-Fi is blazing fast at just under 100 Mbps in downloads and over 100 Mbps in uploads. Short story: it'll handle everything you throw at it.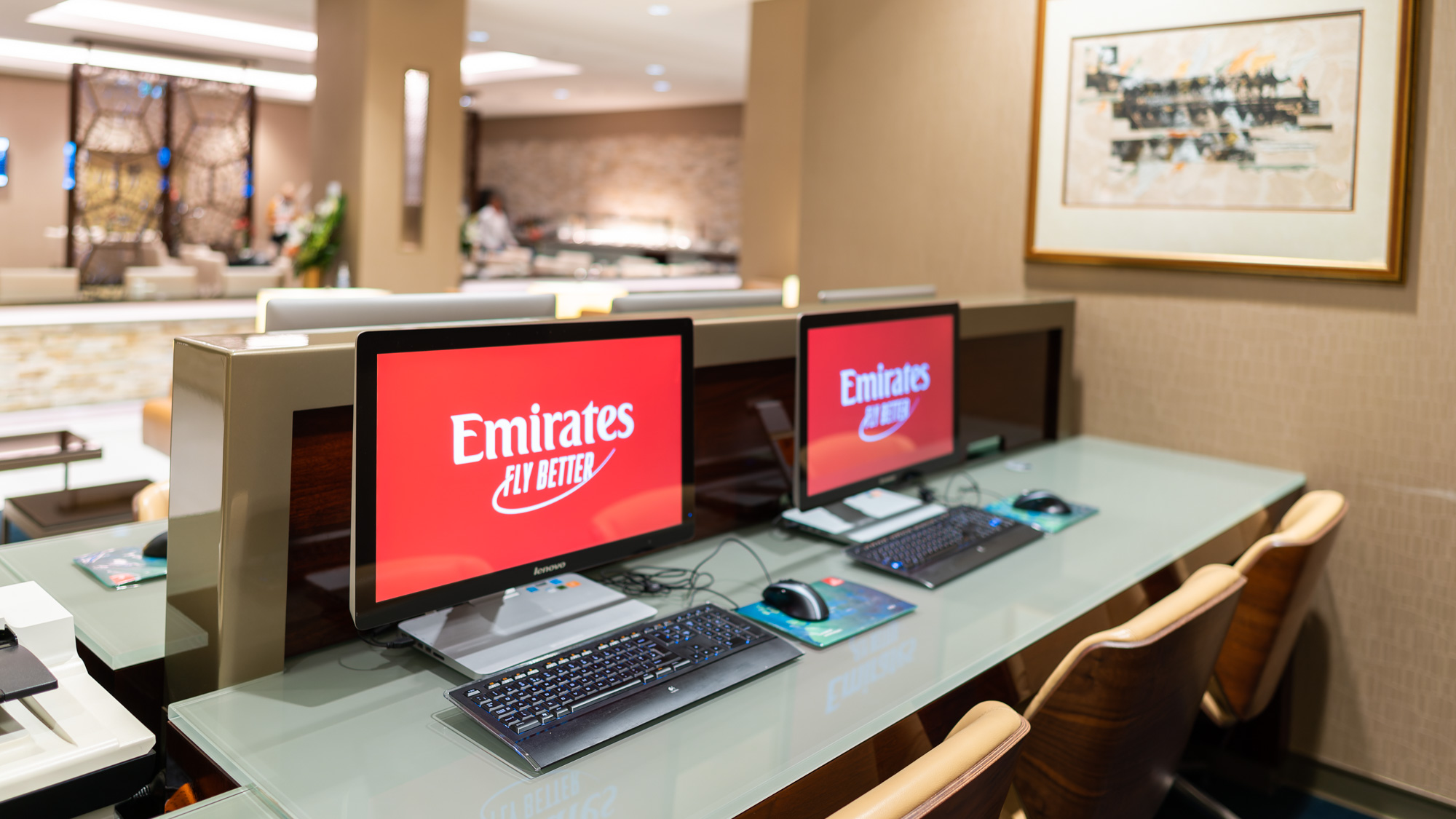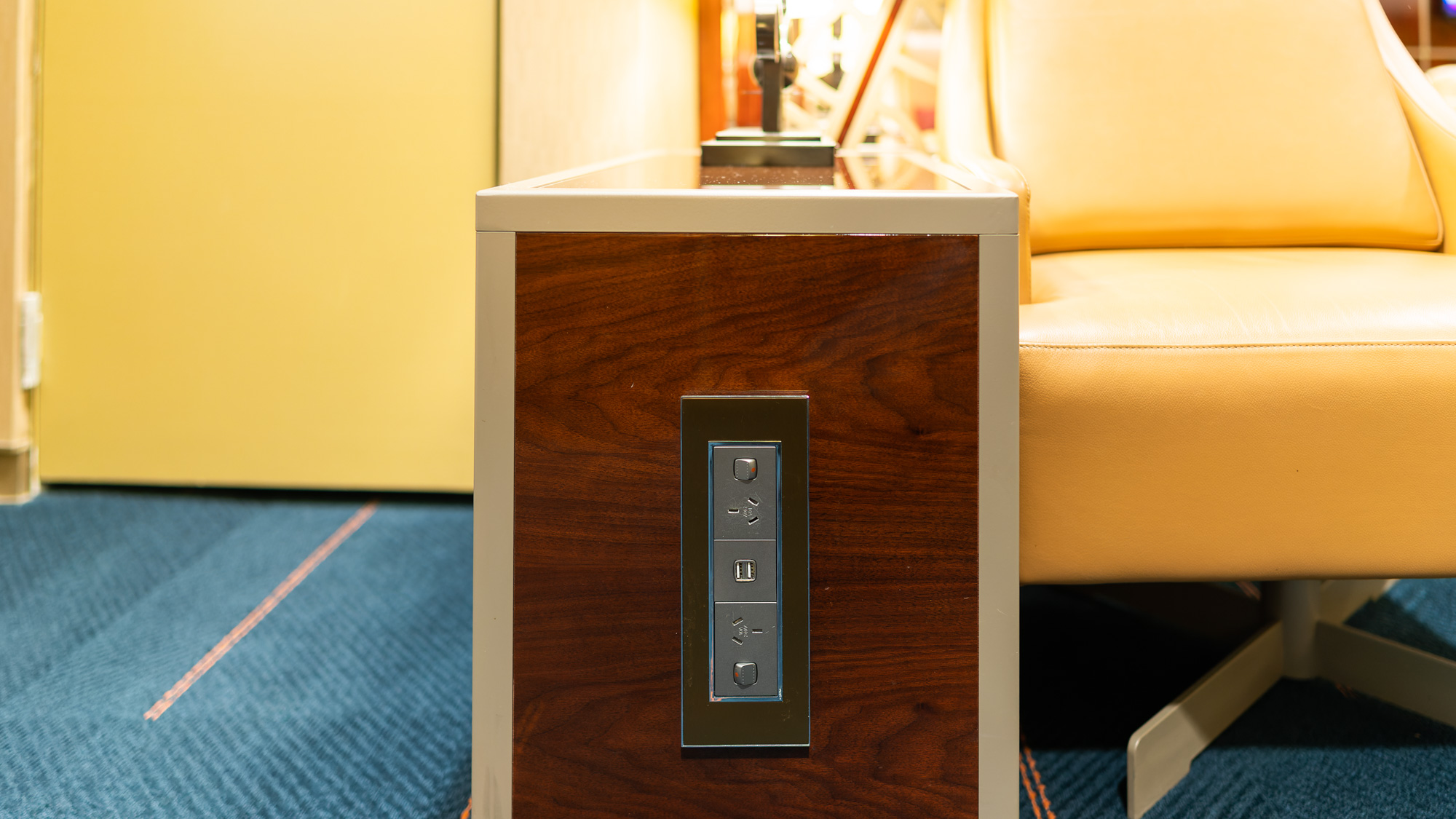 I only visit the restrooms for a brief pitstop, but the spaces are in immaculate condition. Cloth towels are provided and you can also freshen up in the shower before you depart.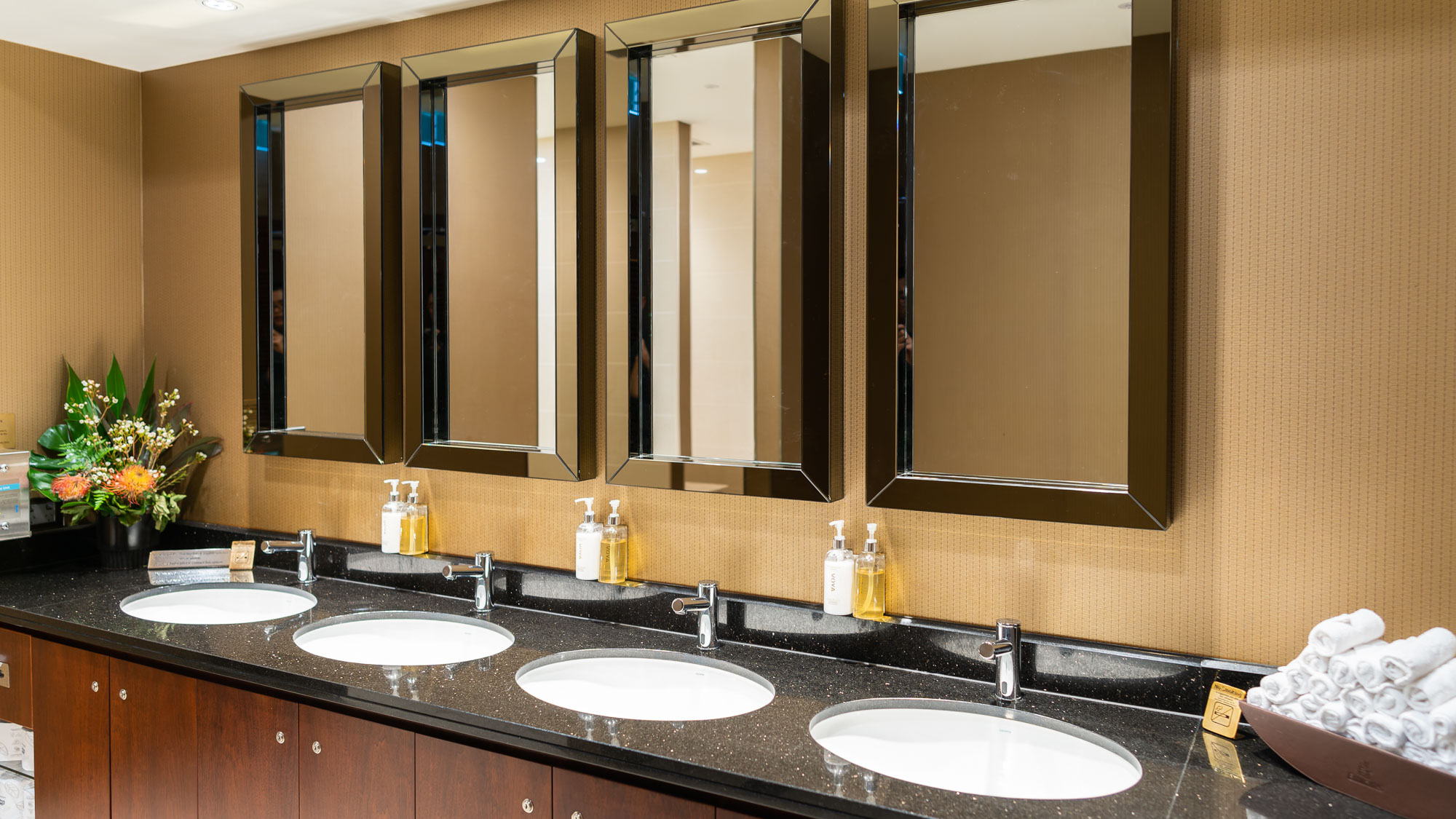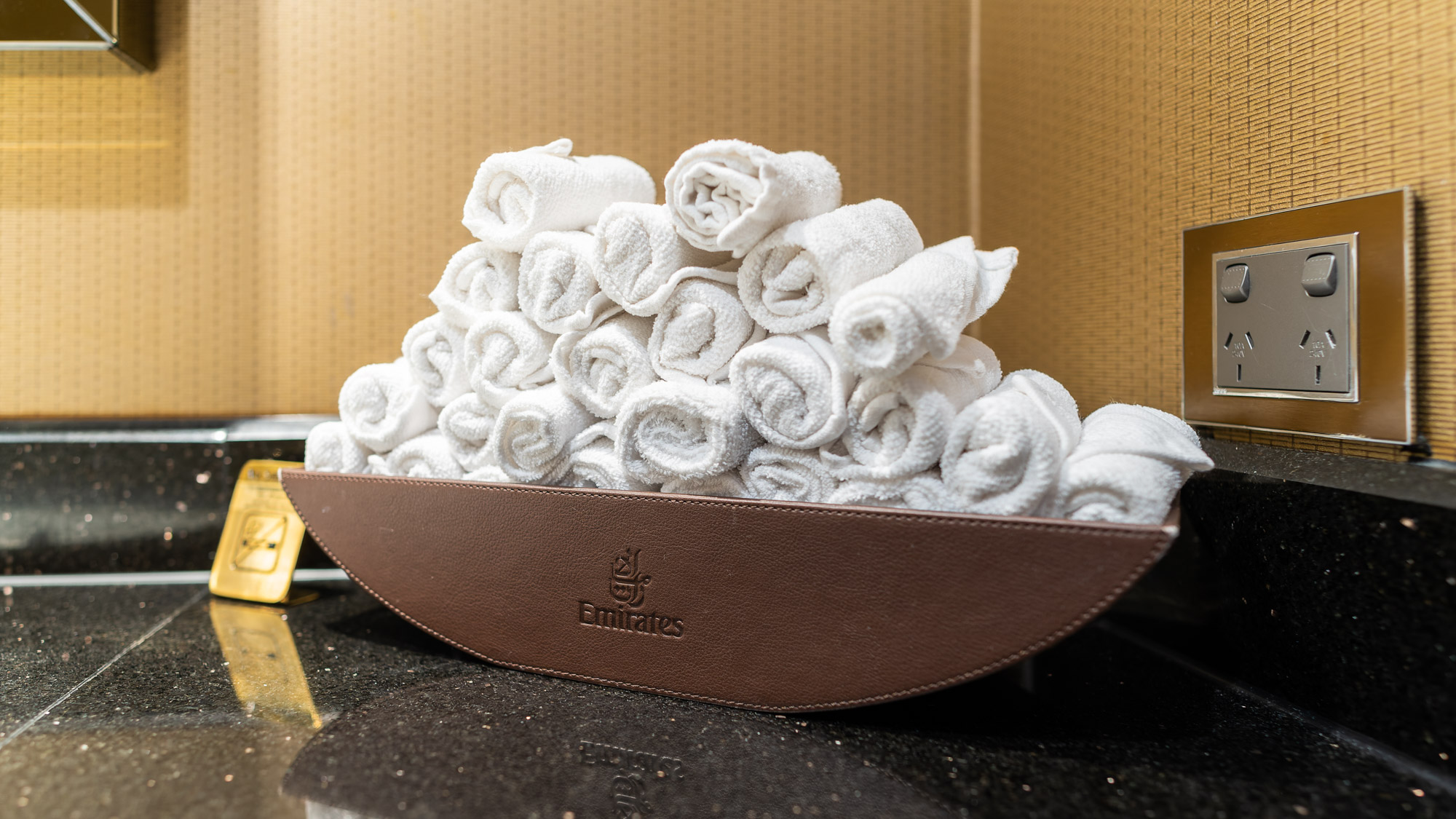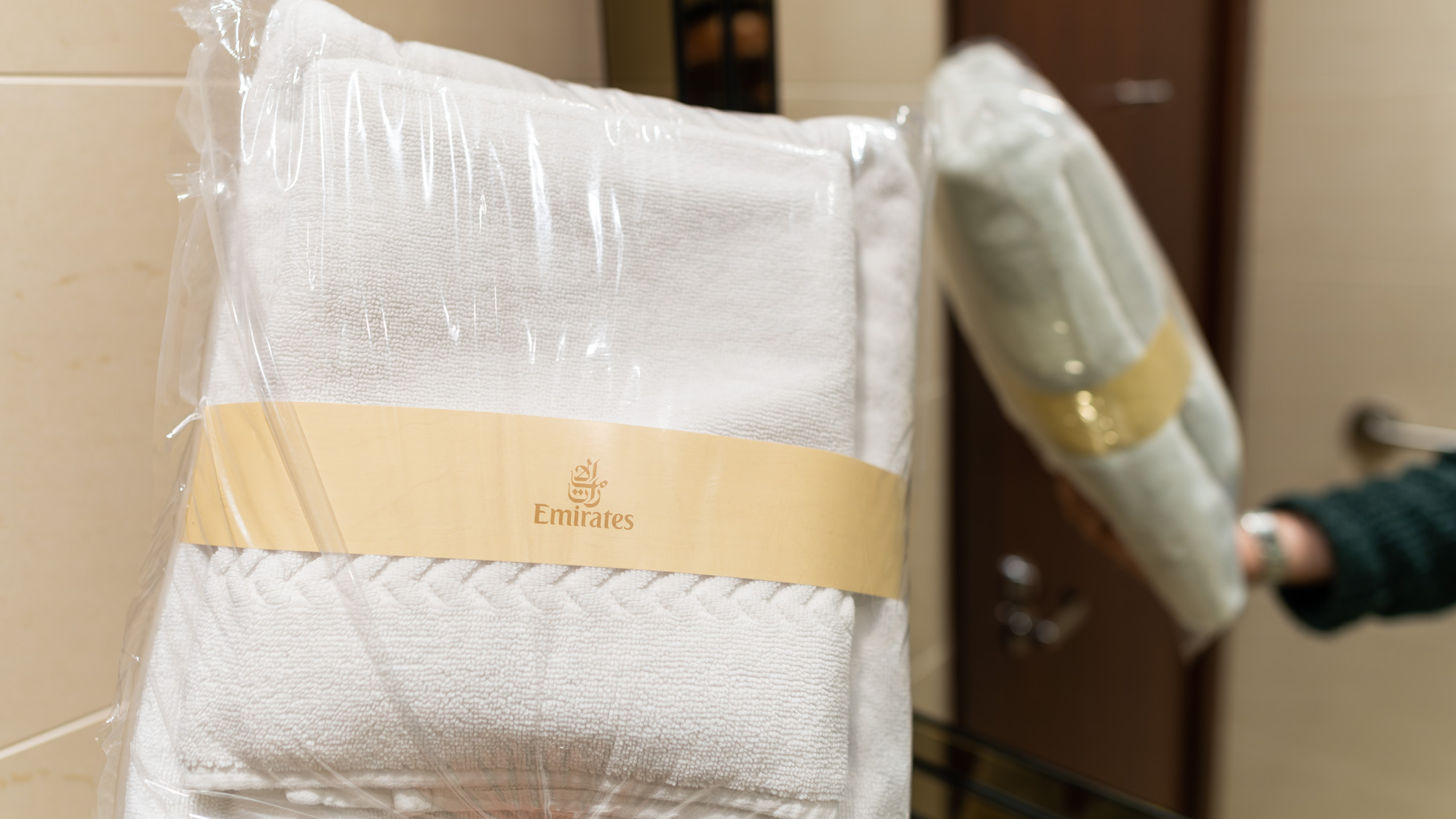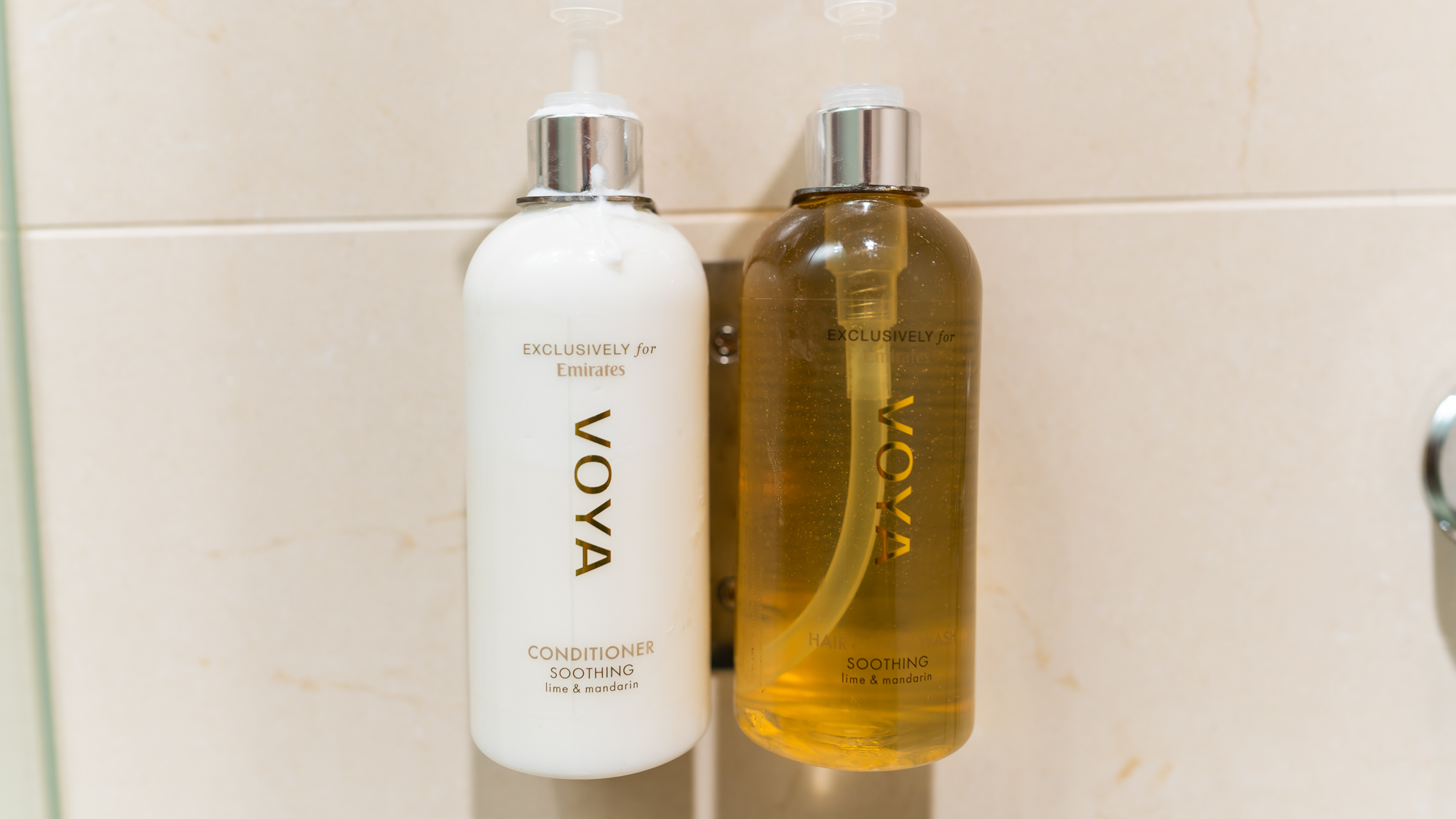 Lounge access options
Class of travel: Business and First Class passengers flying on Emirates.
Airline frequent flyer status: Eligible status members of Emirates Skywards (Gold and higher).
Alliance frequent flyer status: Eligible status members of Qantas Frequent Flyer (Gold and higher) when flying on Emirates from Perth to Dubai.
Day pass: Emirates passengers may be able to buy access at the door from US$130 + GST per person, for up to four hours of access.
Unfortunately, Qantas Club members are not able to access this lounge, even if they're booked on the Qantas codeshare. Qantas also doesn't operate an International Business Lounge at Perth T1 anymore, so Qantas Club members are out of luck here.
Summing up
As you can imagine, I have a fabulous time in the Emirates Perth Lounge. As someone who's visited nearly every airline lounge in Perth (the remaining ones are on the list for 2023), the Emirates lounge has certainly wowed me the most so far.
The lounge staff are welcoming and friendly, while the food and beverage options are exhaustive. Though I've noticed there isn't any service differentiation for First Class passengers like Qantas provides in its mixed lounges (London and, previously, Singapore and Hong Kong).
Given that Emirates outstation lounges cater for both Business and First Class, it would be nice to have something a bit 'elevated' for ticketed First Class passengers. But nitpicking aside, the Emirates Perth Lounge is a great place to enjoy some evening nibbles and drinks before flying to Dubai.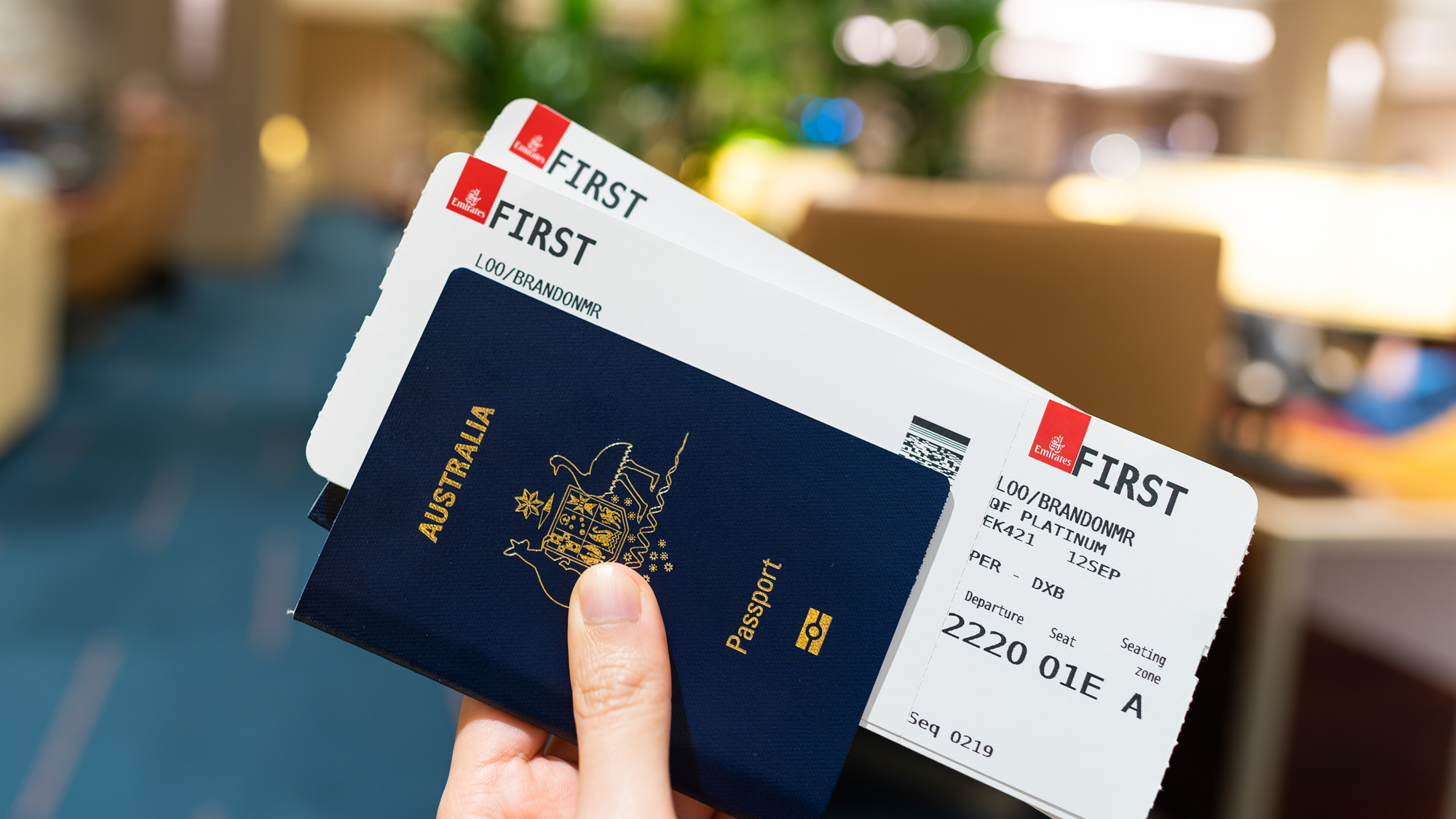 Photography by Brandon Loo, who visited the lounge as a passenger before an Emirates flight that he booked with his own points.
Emirates Lounge, Perth
was last modified:
October 24th, 2022
by