Emirates may be known for its lavish premium cabins, but the bulk of the airline's Airbus A380 seats are really in Economy. In fact, on most of Emirates' superjumbos, Economy occupies the entire main deck. On planes without First Class – which usually lives at the very front of the upper deck – there's even an extra Economy section upstairs.
All told, there can be anywhere between 338 and 557 Economy seats on any given Emirates Airbus A380 flight. So let's see what the experience is like downstairs: where most of these passengers will fly.
Check-in and boarding
This leg to Munich follows an earlier flight in Emirates Airbus A380 Premium Economy from Sydney. Conveniently, this means I receive my Dubai-Munich boarding pass before leaving Australia. As for my time on the ground in Dubai, I decline the option of a swift transit in favour of a leisurely 11-hour layover. In other words, one that gives me the chance to leave the airport.
I waste no time at all, venturing into town to take on the world's longest urban zipline. This has me leaping off the very top of a 42-storey building, soaring over skyscrapers like Superman and coming in to land at the Dubai Marina Mall. Talk about a rush! After a quick detour to find a Jollibee for lunch, it's back to Dubai International Airport to carry on.
I've arrived in ample time – but that isn't to beat the queues. In fact, thanks to my Qantas Platinum status, I know to ask for a drop-off at Emirates' dedicated Business and First Class departures hall, rather than the main terminal entrance. And because I'm already checked in, I don't even have to stop at a counter.
Instead, I make a beeline straight for priority passport control. And to make matters even faster, I'm glad to have previously registered for the Dubai Smart Gates. I'm through in seconds – straight into a security point where there's no line, and all done a few minutes later.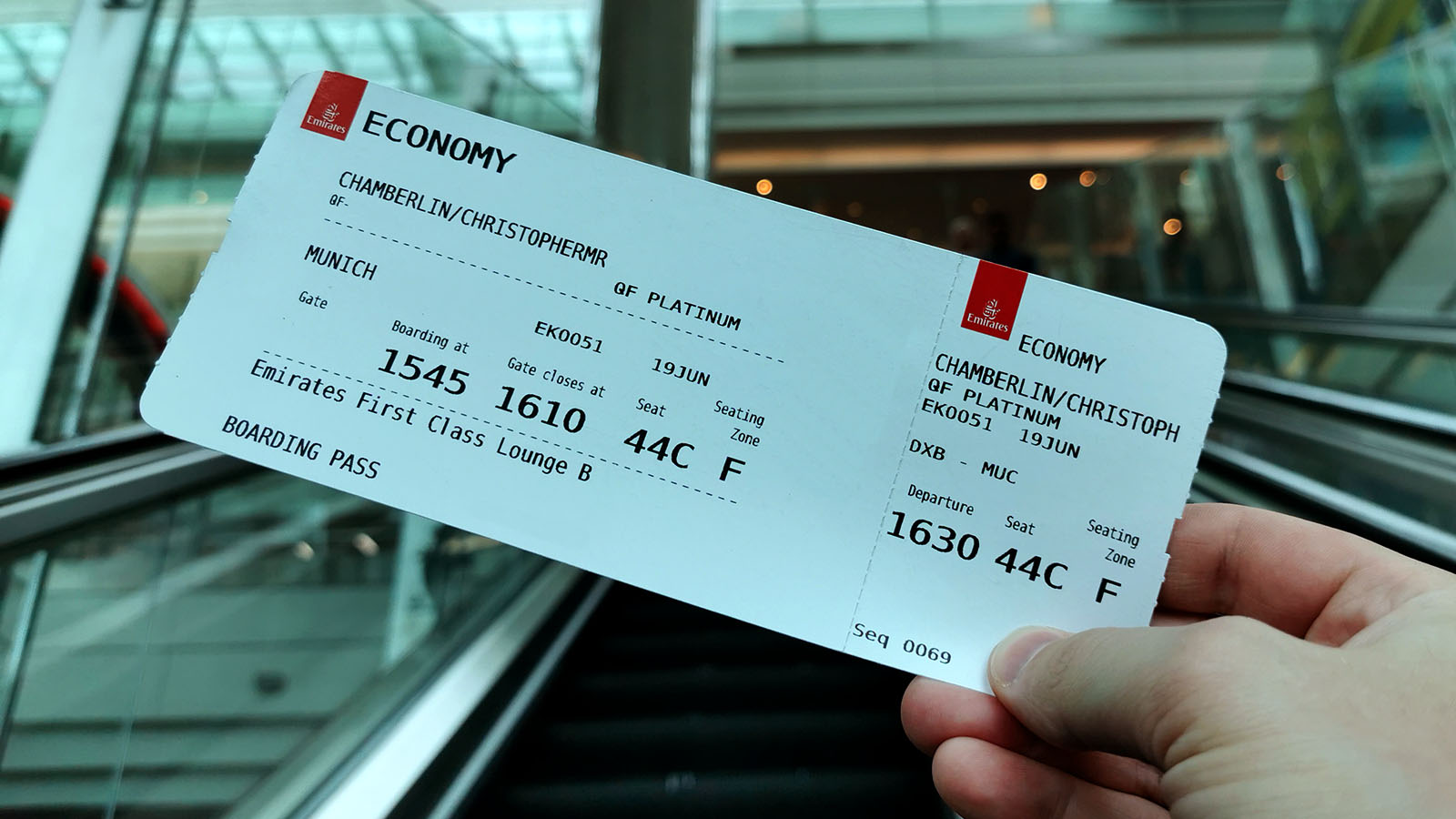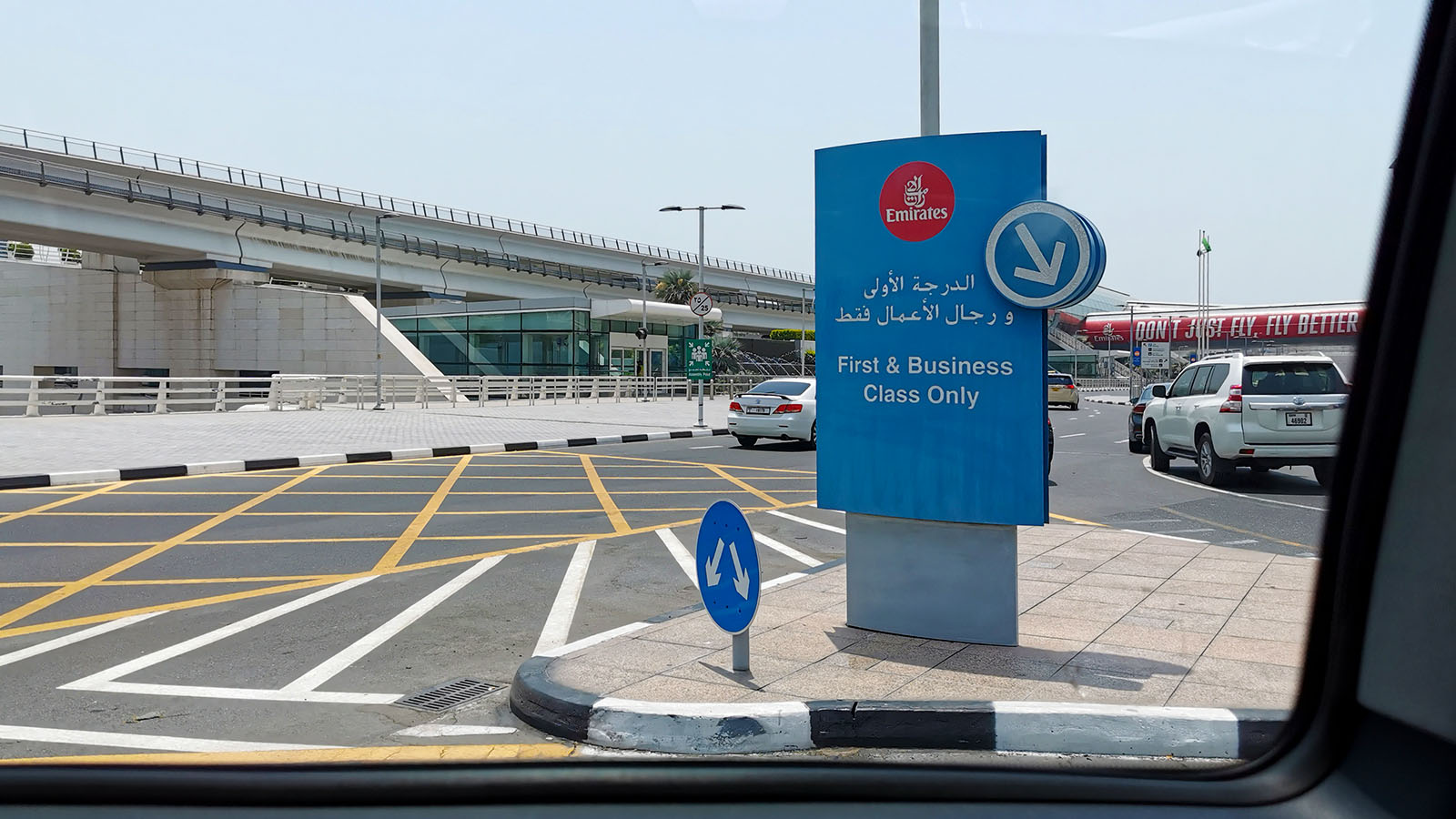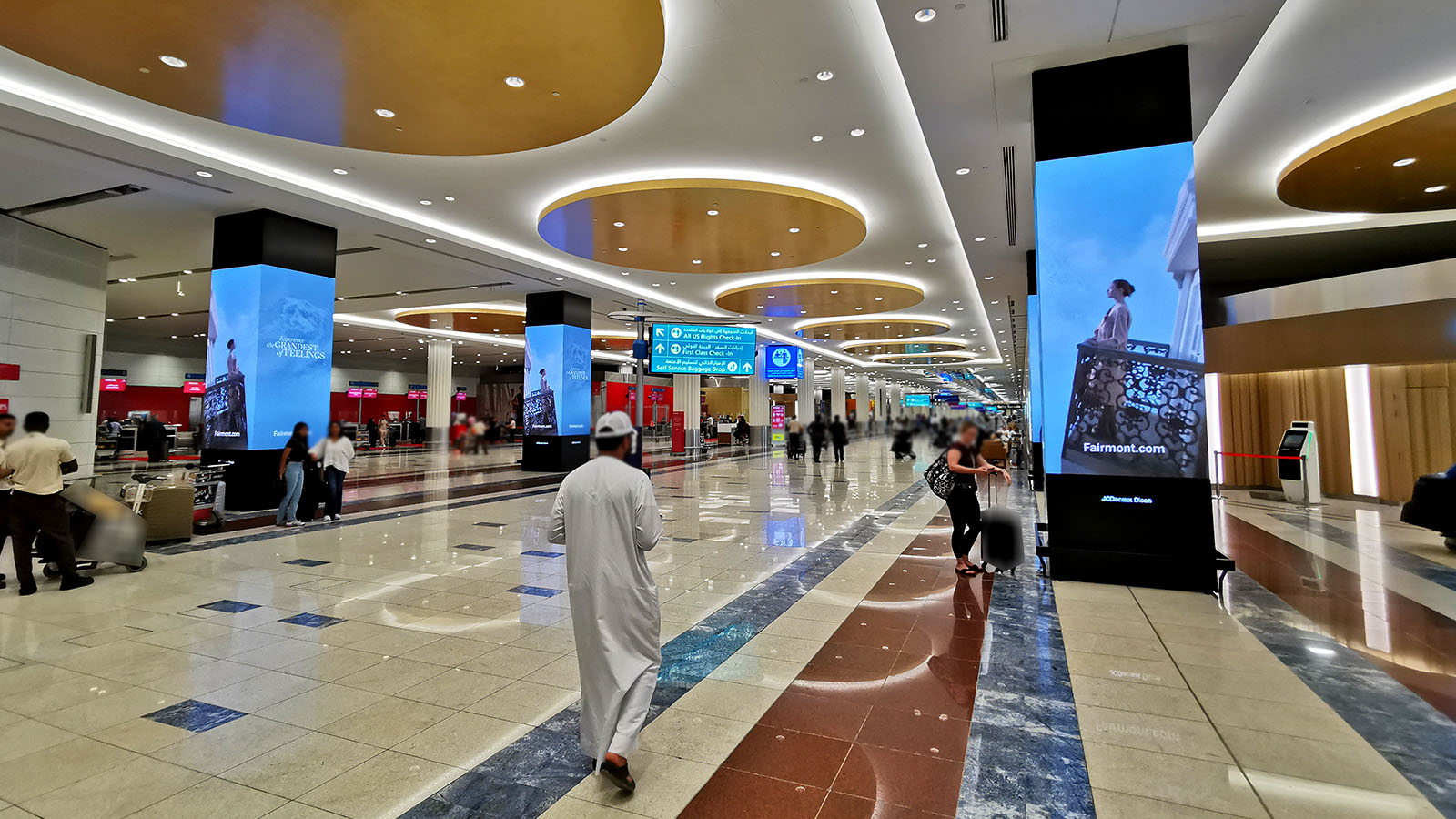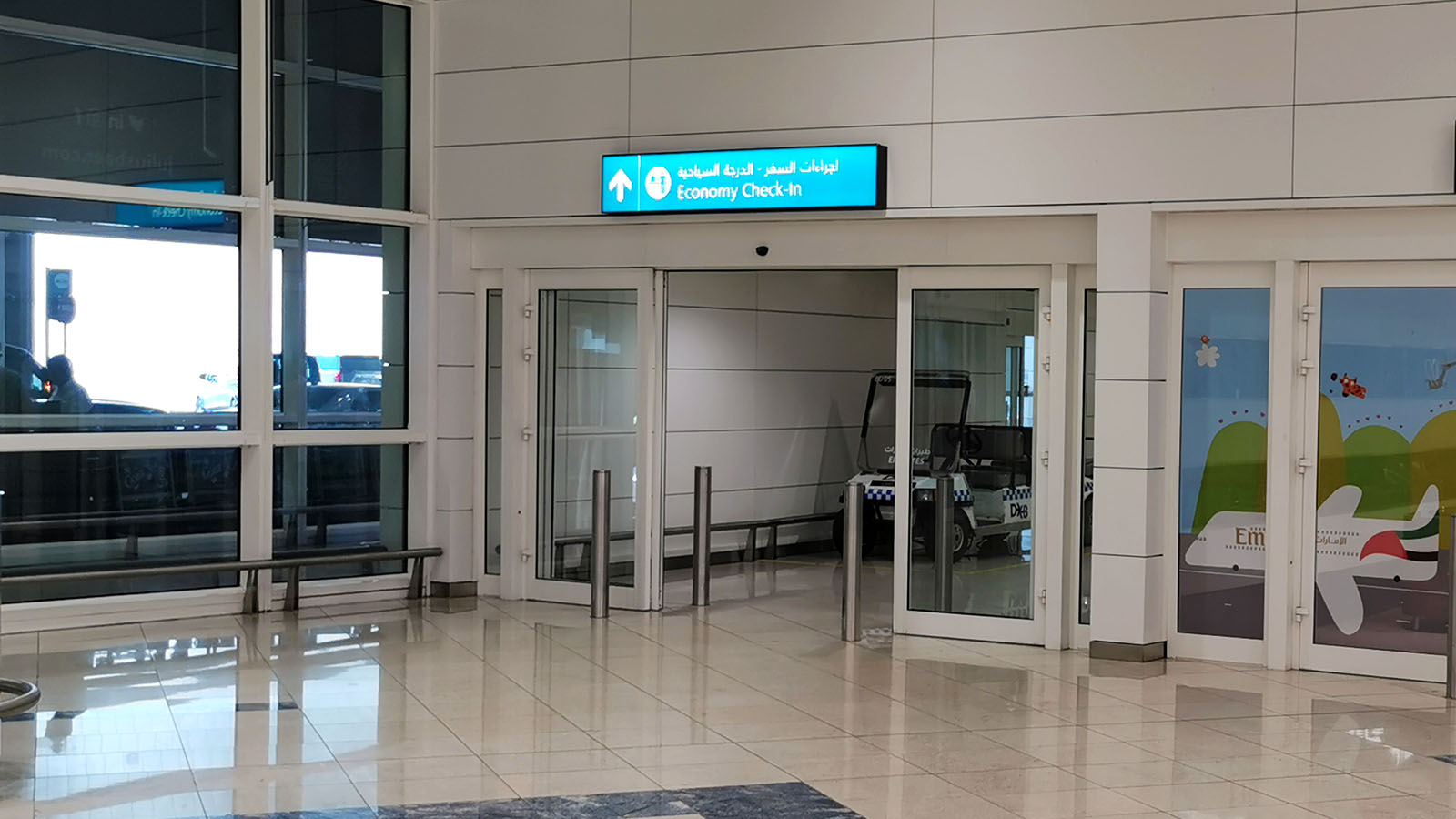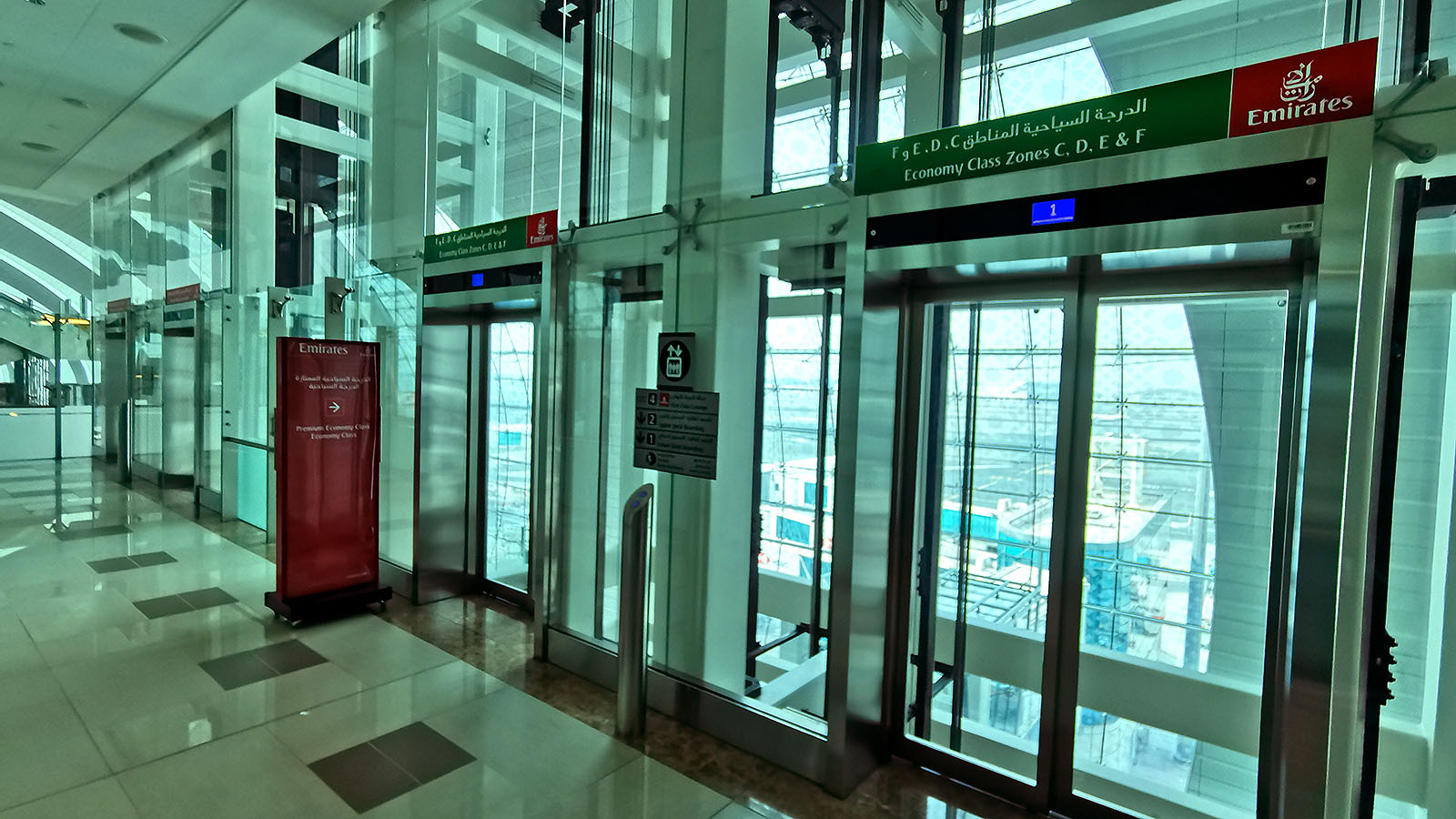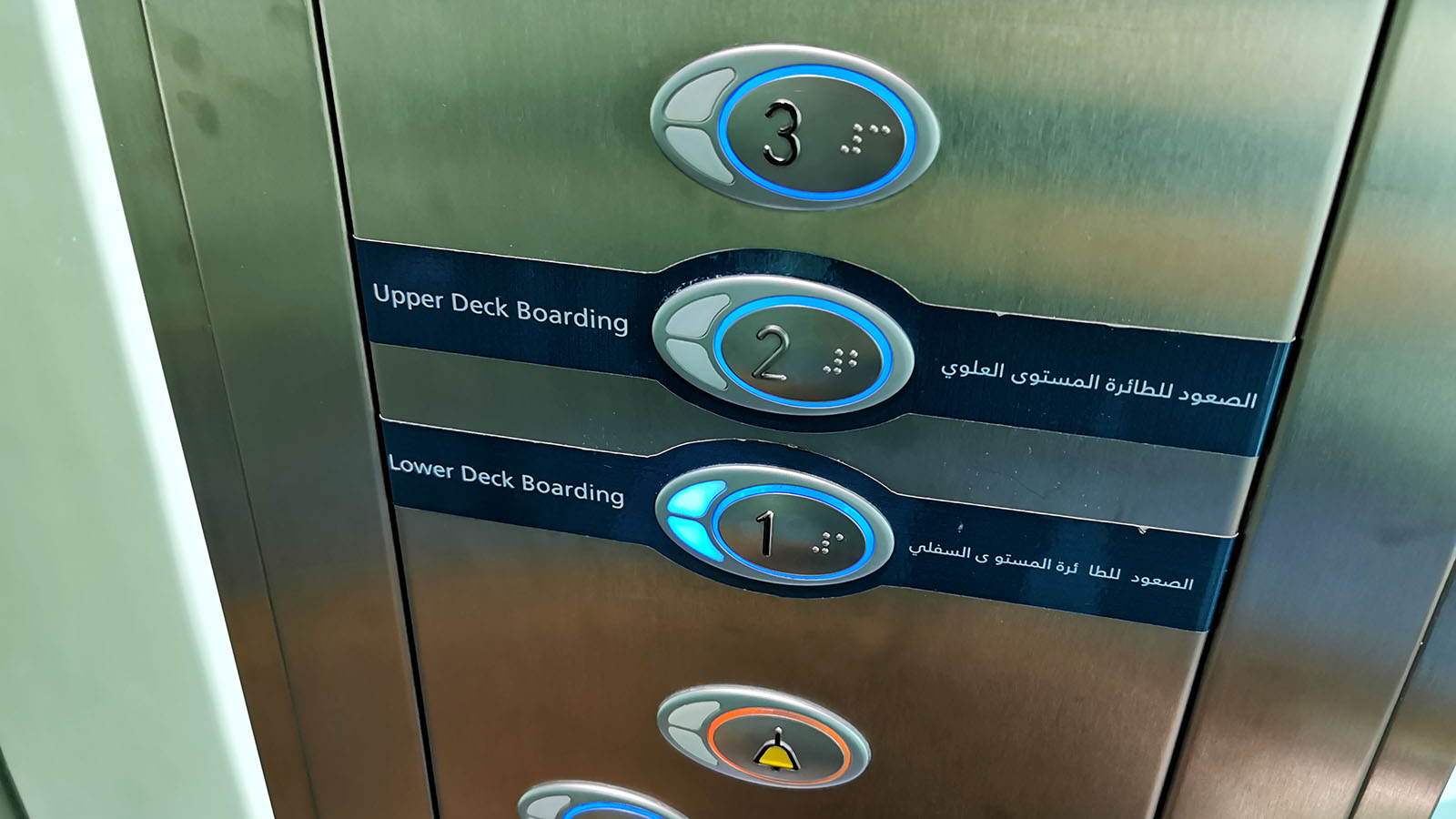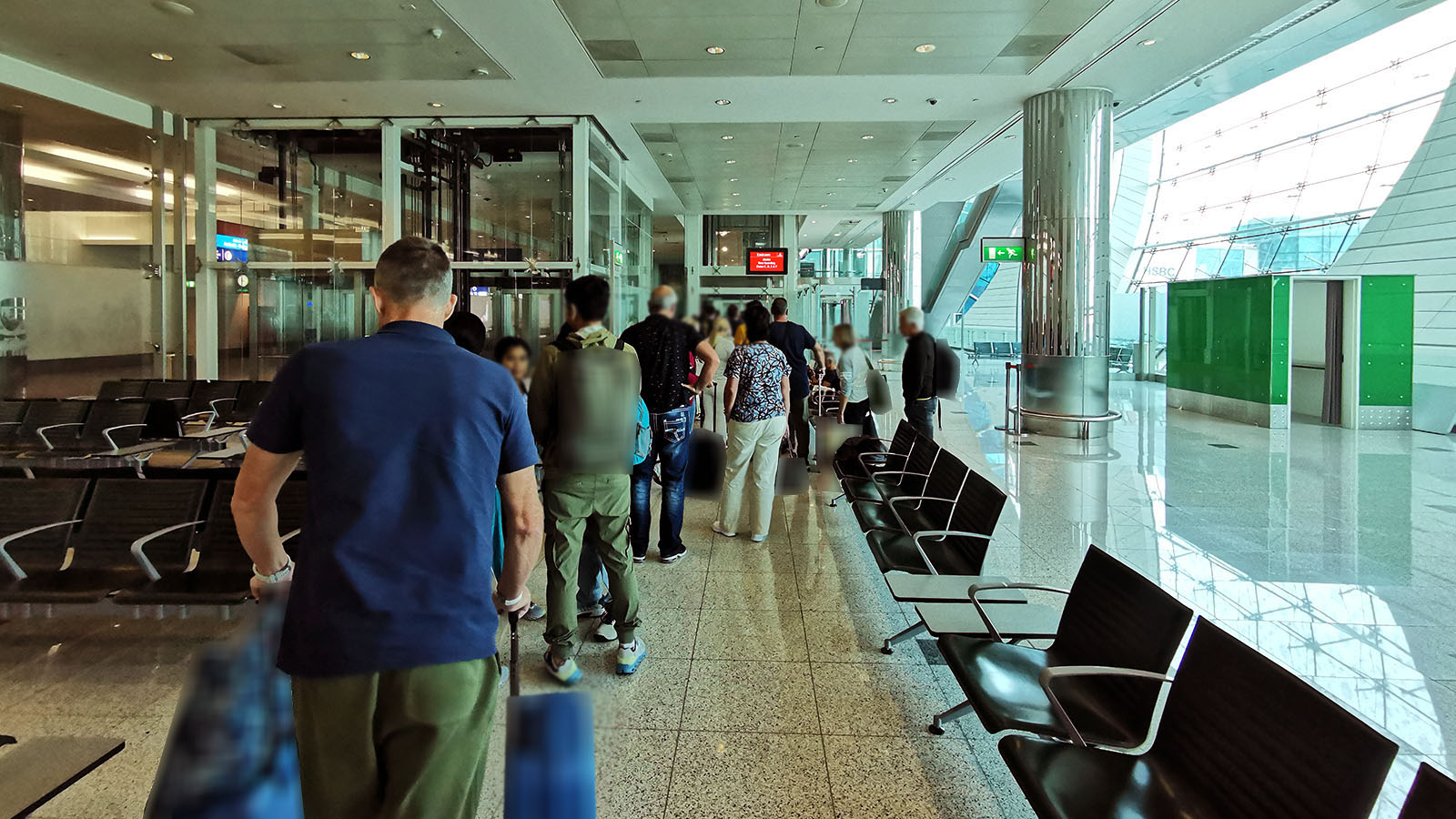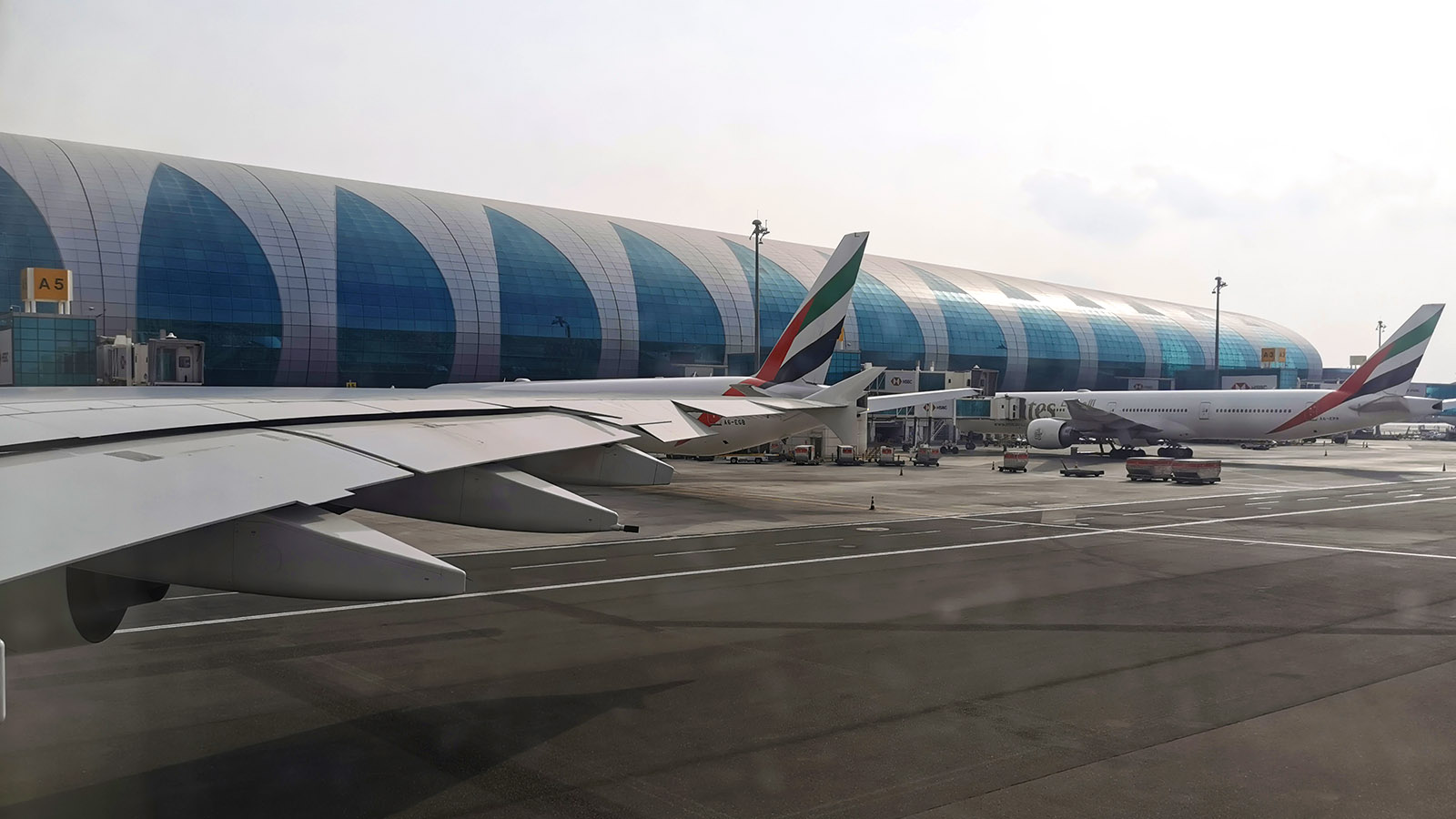 Certainly, these perks come by way of being a frequent flyer, rather than a typical leisure Economy Class passenger. But even without the fast-track, Dubai Airport is huge, and lines move quickly.
At boarding time, Economy is usually called by zones. Yet when flying from the 'A' gates here in Dubai – as I am today – frequent flyer status has another trick up its sleeve. That's direct boarding from Emirates' lounges…
Lounge options in Dubai
To be clear, a standard ticket in Emirates Airbus A380 Economy Class doesn't get you into a lounge. But Dubai Airport is brimming with options – and you might even qualify for free entry.
When I travel, this flight departs from Concourse A of Terminal 3. But sometimes, flights within T3 can shift from one concourse to another. It pays to remember that concourses A, B and C are all connected airside. You can freely roam between them to visit the lounge of your choice. Whether by frequent flyer status, lounge membership or perhaps a premium credit card, here are some of those options.
Emirates Business Class Lounge: Open to Emirates Skywards Silver and Gold, as well as Qantas Gold (on QF and EK flight numbers). Qantas Club members have access too (QF flight number required). Available in Concourse A, B and C.
Emirates First Class Lounge: For frequent flyers, open exclusively to Skywards Platinum and iO, as well as Qantas Platinum, Platinum One and Chairman's Lounge (on QF and EK flight numbers). Also available in Concourse A, B and C.
Plaza Premium Lounge: Unlimited entry for Amex Platinum Card, Platinum Business Card and Centurion Card holders. Also now back on the Priority Pass network. Two locations in Concourse A.
Marhaba Lounge: An alternative accessible via Priority Pass, with locations in Concourse A, B and C.
Sleep n Fly: Another Priority Pass option, also spread across Concourse A, B and C.
Ahlan Lounge: Yet another Priority Pass venue, available in Concourse A and B.
The Gallery: Found only in Concourse C, you can use a Priority Pass card here too.
With time up my sleeve, I begin with a visit to Emirates' Concourse A Business Class Lounge, where buffet dining is a staple. Then it's on to the First Class Lounge, where à la carte service and complimentary spa treatments take things up a notch.
When it's time to depart, I board this Emirates Airbus A380 Economy flight from directly inside the Concourse A First Class Lounge. Conveniently, the lifts here serve both the upper and lower decks of the superjumbo – it doesn't only take you to First Class.
Emirates Airbus A380 Economy Class seating
Emirates follows an industry standard 3-4-3 seating layout in Economy aboard the main deck of its Airbus A380s. If you've previously flown Economy on an Emirates Boeing 777, you'll immediately notice the difference. Compared to those jets, every Economy seat on the A380 is an extra inch wider. That ~2.5cm variation may not sound like much. But especially for those with broad shoulders, it makes a real difference on long flights.
For this leg to Germany, I select seat 44C. It's on the aisle near the front of the cabin, and first impressions are good. There's enough room for my knees, and they don't touch the seat in front. I'm right near the door, which will make for a swift exit later. And unlike the very front row where the TV folds up, the screen is more comfortably at eye level.
Today's flight is quite empty, and I already know that I'll have a spare seat beside me. But as it happens, after settling in, I end up scoring an entire row to myself near the back of the plane – but more on that later.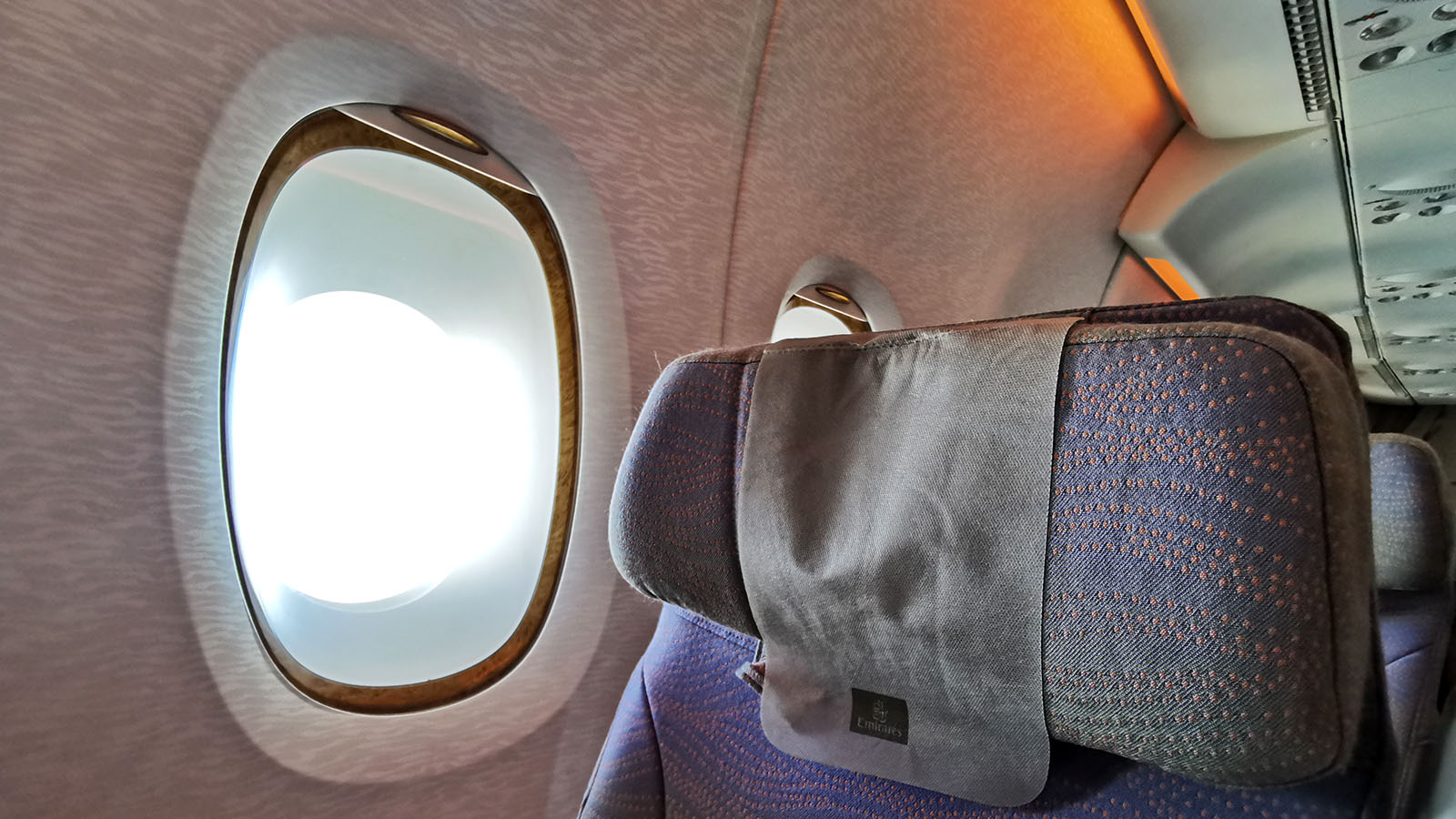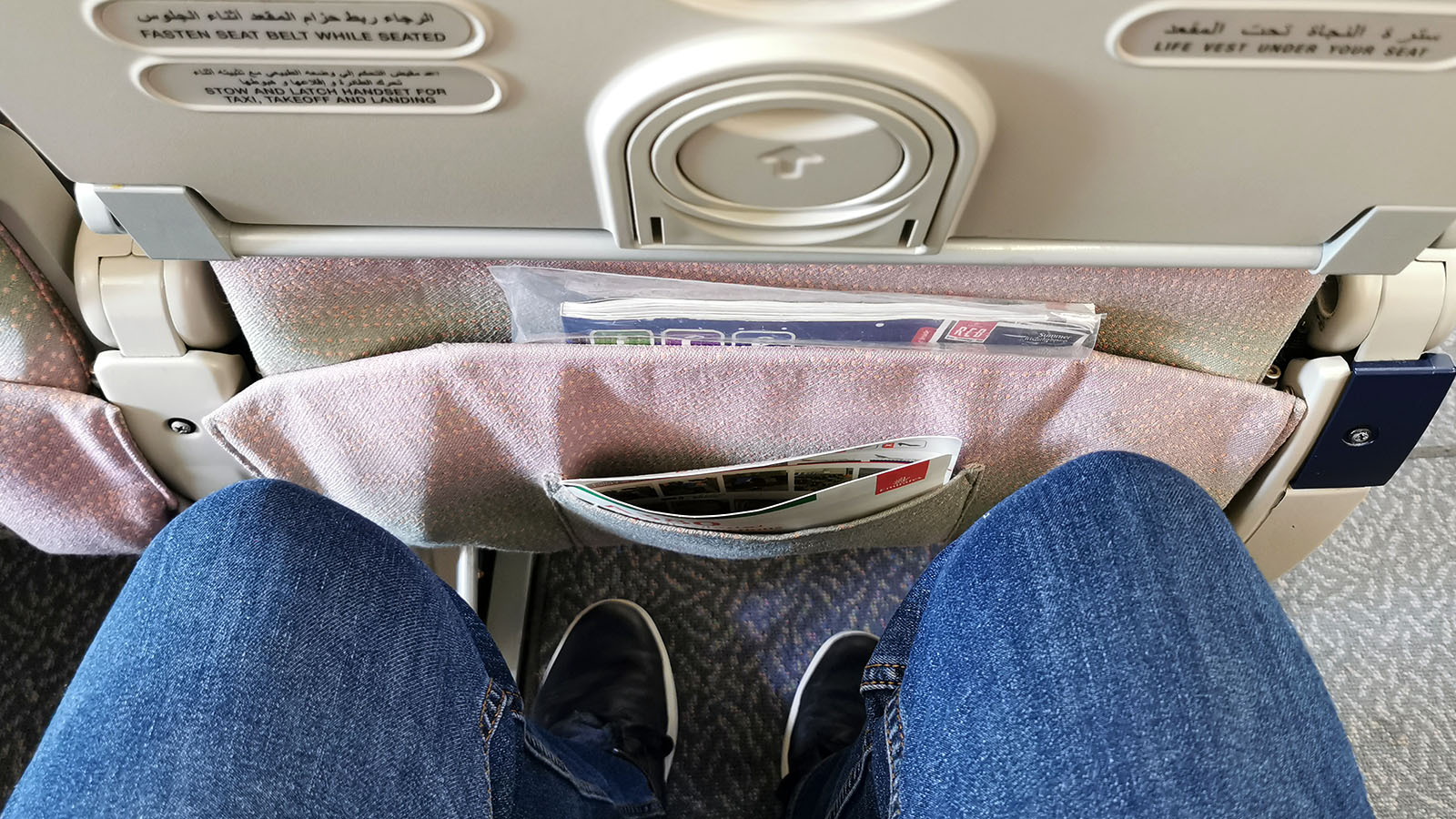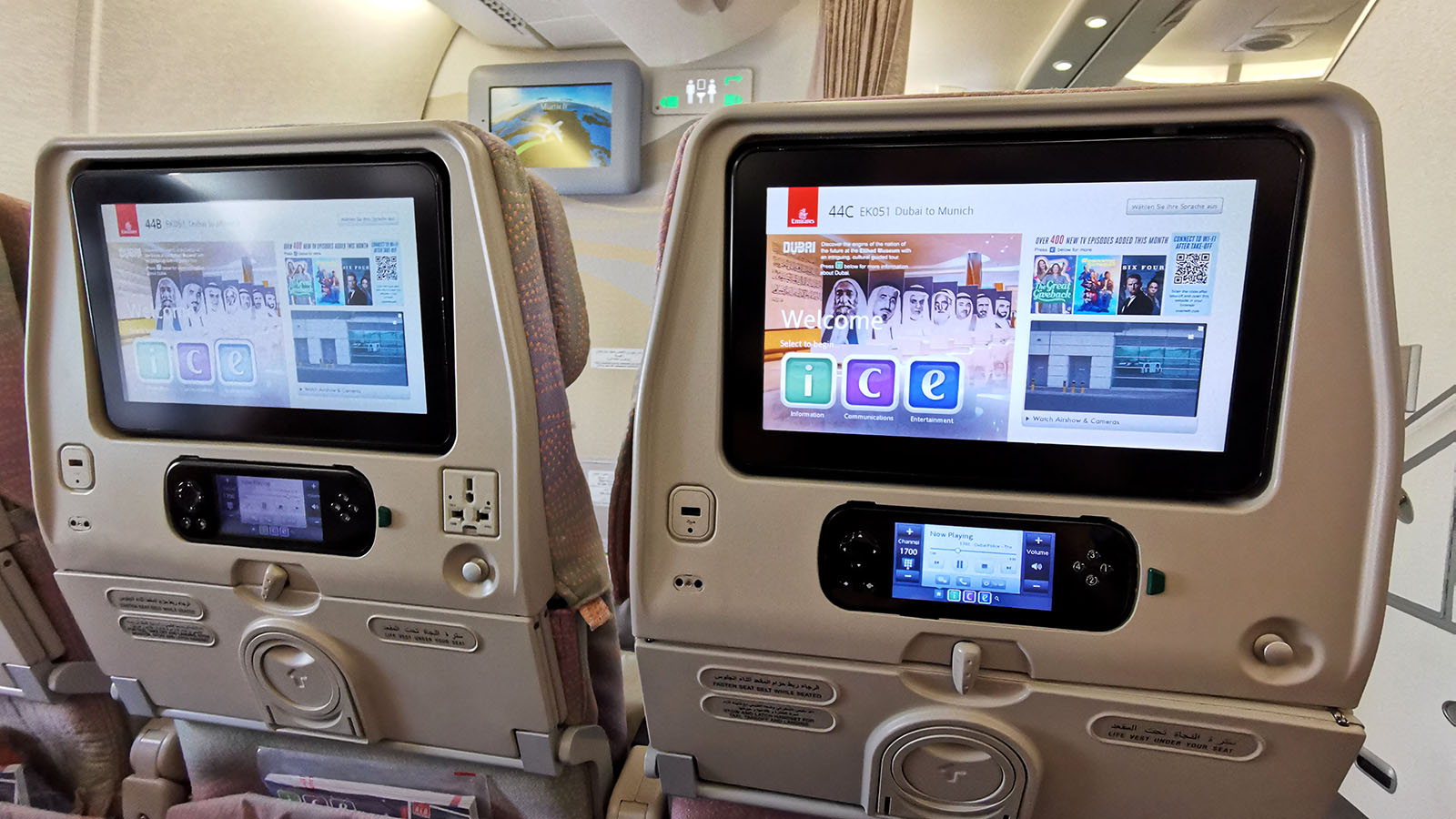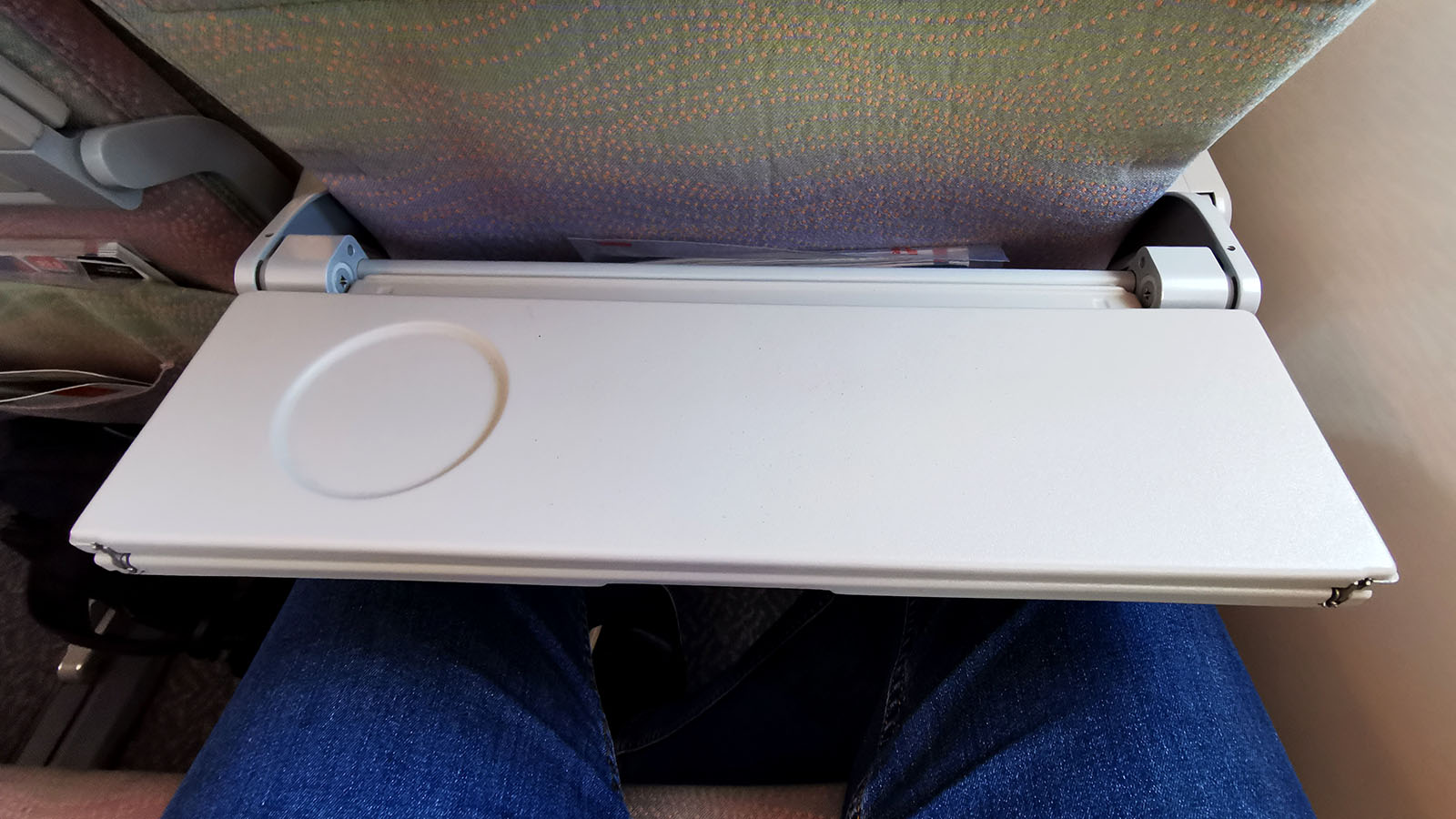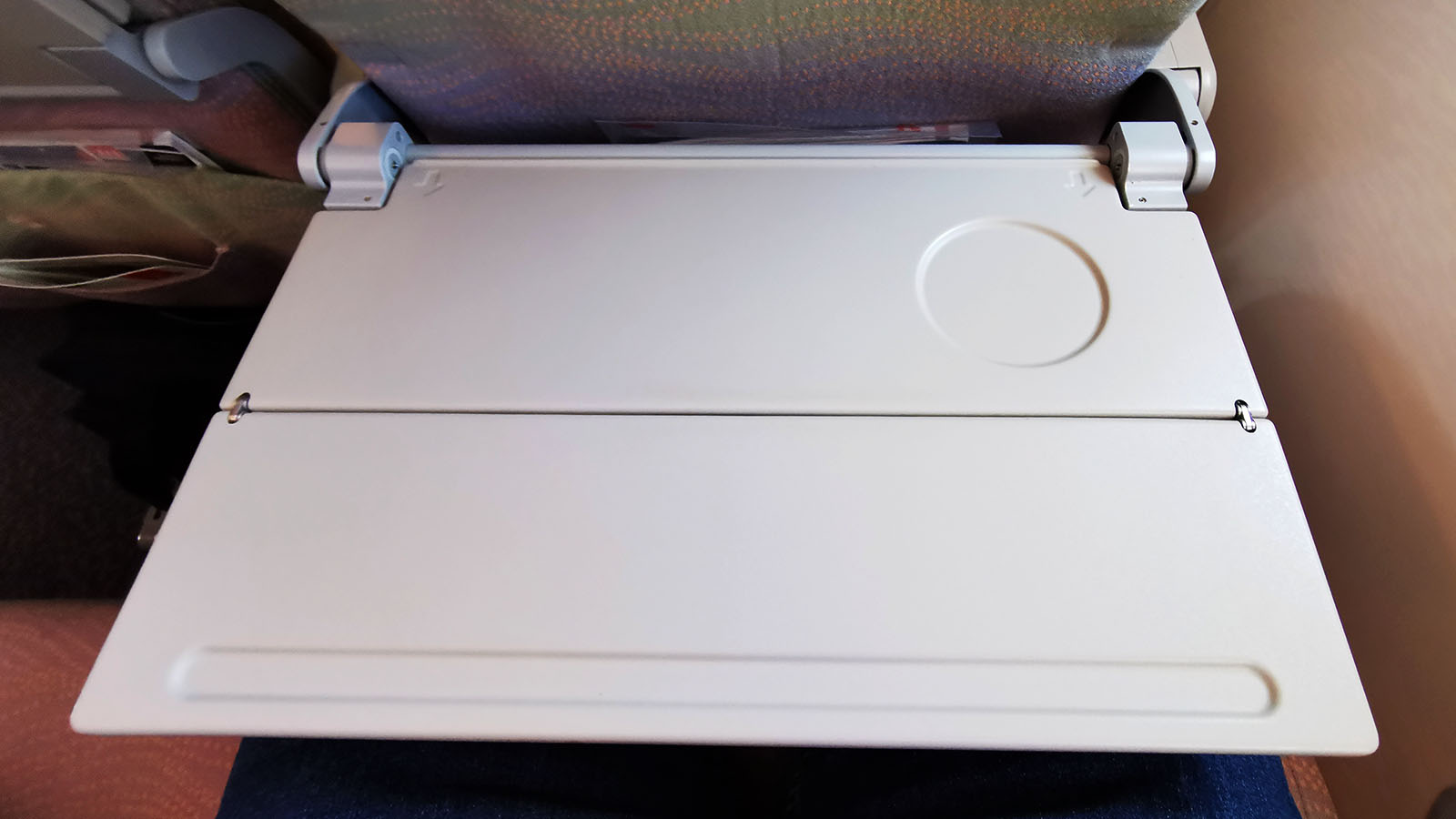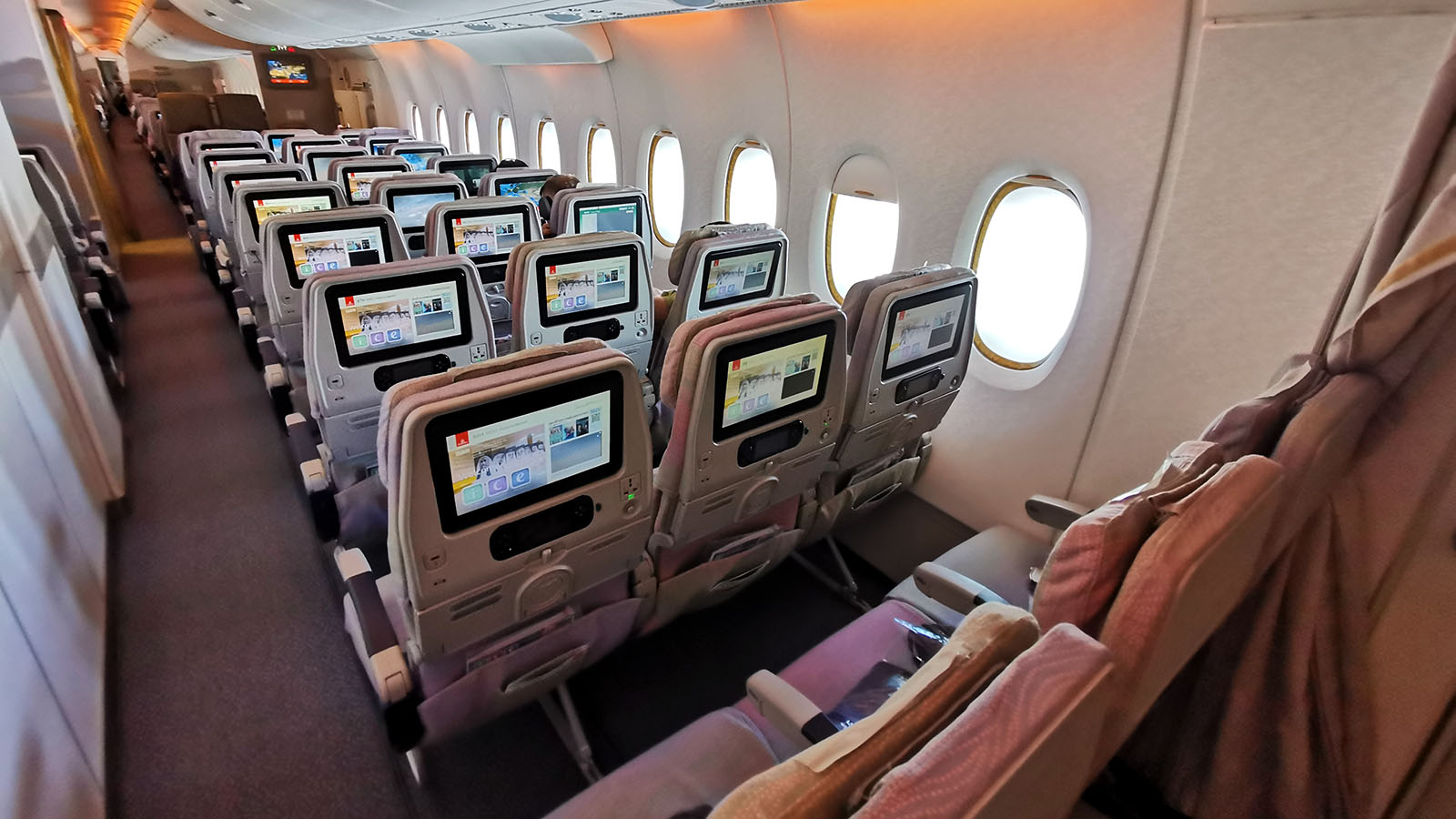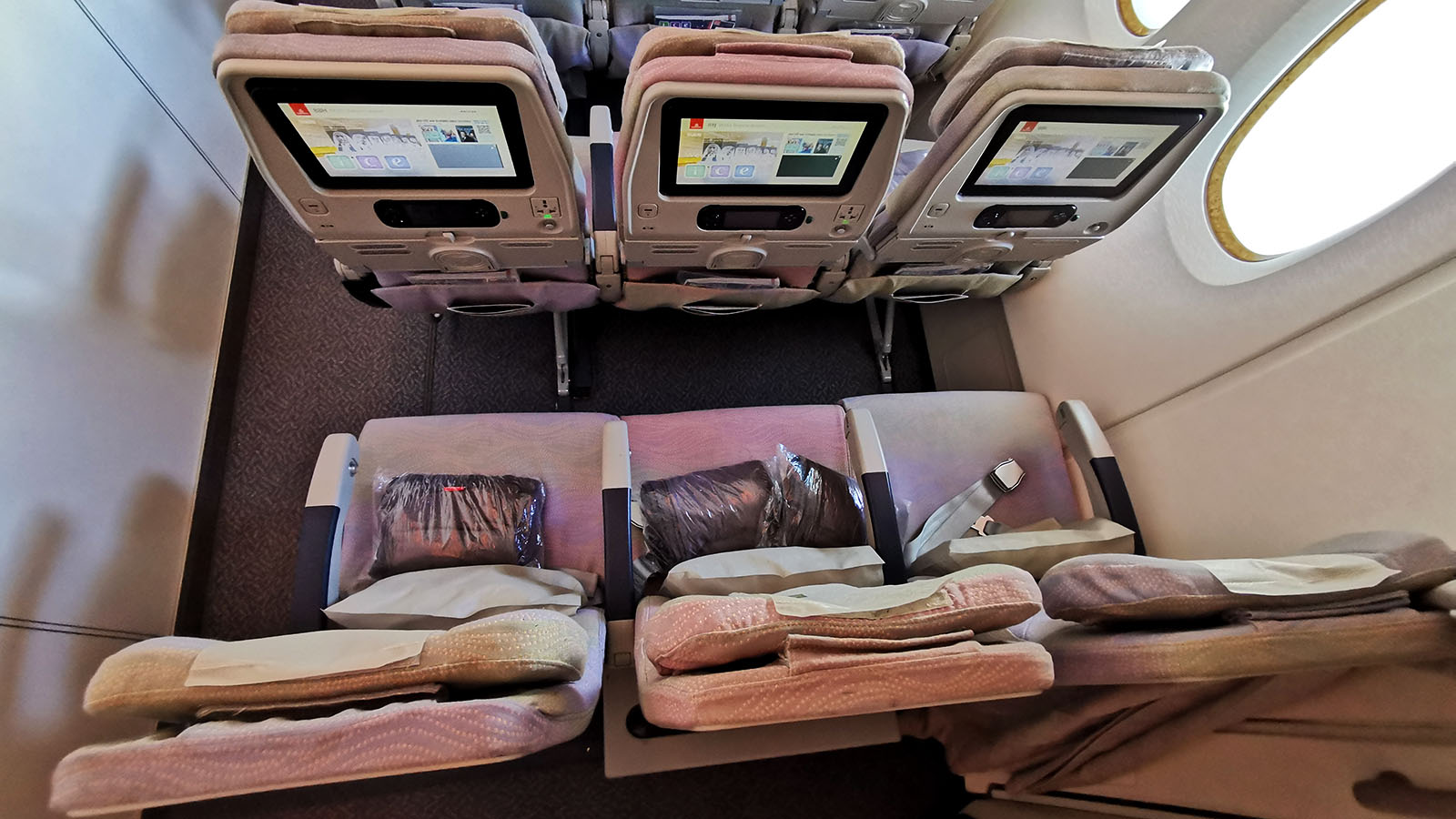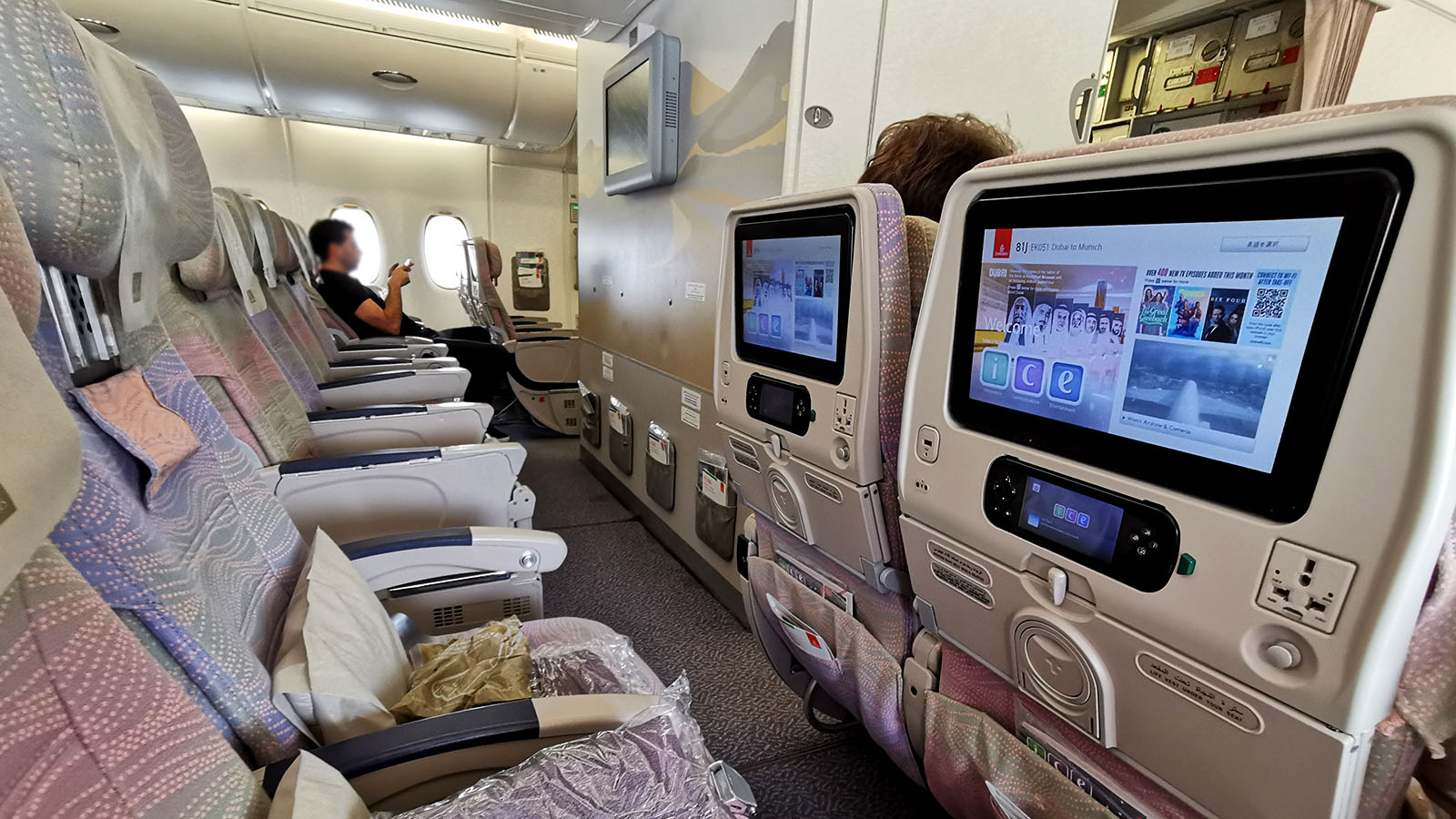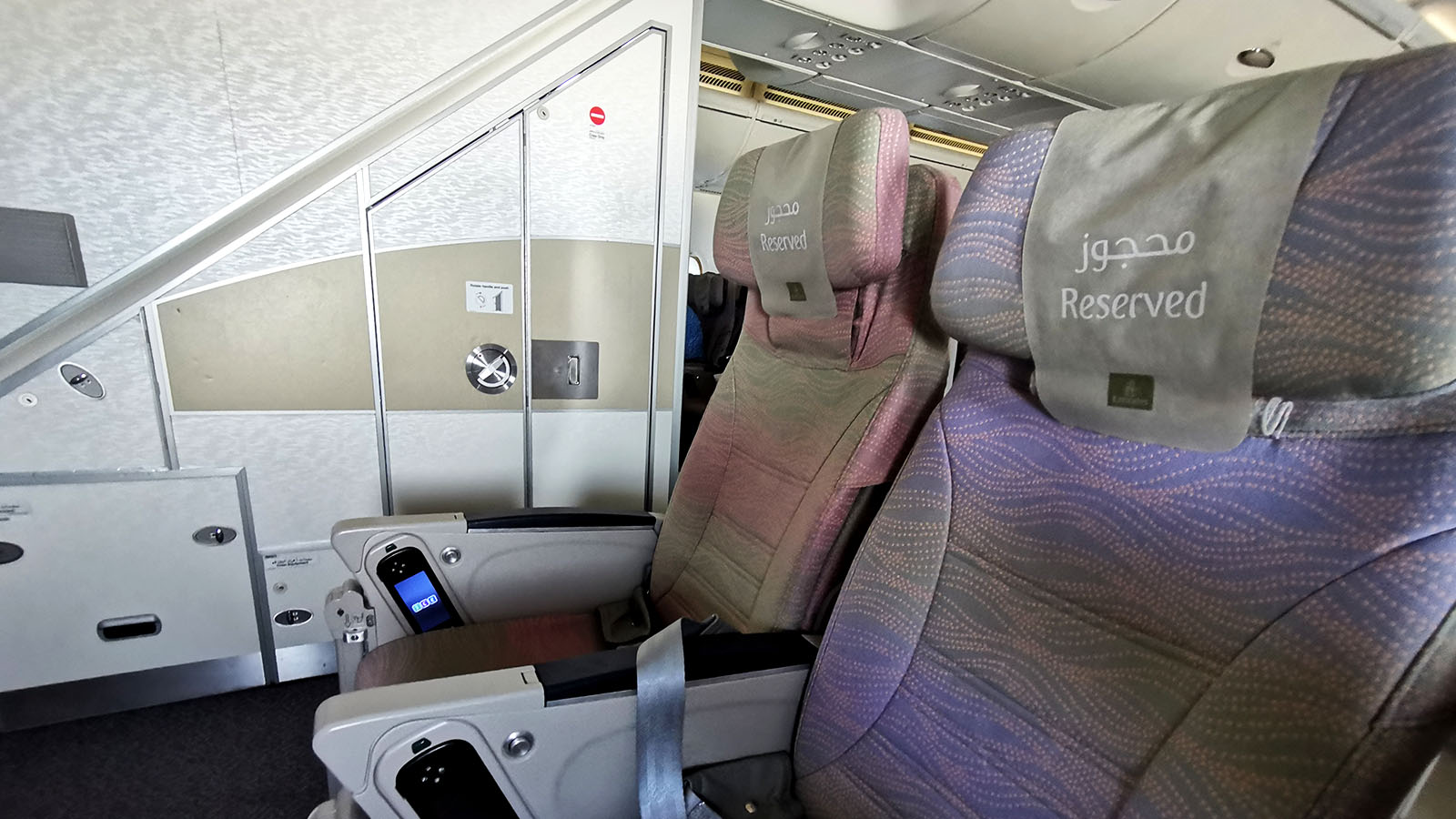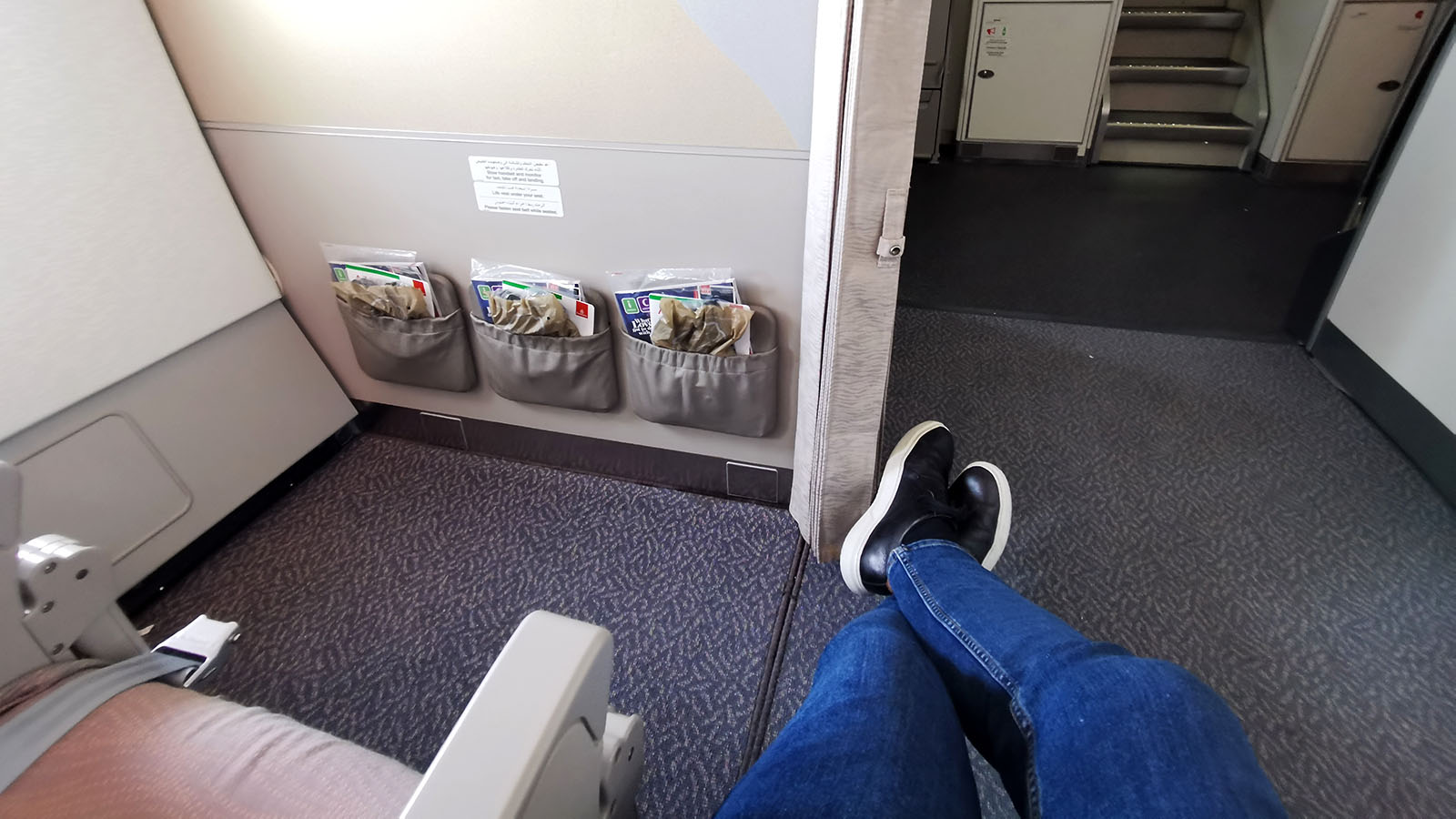 Wherever you end up, every Emirates Airbus A380 Economy seat features a USB-A charging outlet. AC ports are also peppered around, but not located at every seat. Oddly too, these reside in individual seatbacks rather than somewhere communal. On a full flight, you may need to befriend your seatmate to plug in, which also means running a cable through their space. That's not ideal.
Food and beverage in Emirates Airbus A380 Economy Class
This leg is barely more than six hours from gate to gate, so there's a single meal service after take-off. Given the timing of the flight, it'll be dinner for most. After all, EK51 leaves Dubai at 4:30 pm local UAE time, reaching Munich around 8:50 pm Central European Time.
For the main, there's a choice between roasted chicken or beef ragout. I opt for the former and it's served with mash and green beans. There's also a slaw salad on the side and a bread roll. To finish, a trio of vanilla profiteroles in a caramel sauce, as well as cheese, crackers and a square of chocolate.
With the flight only about half full, it's a swift service today. I'm now sitting in the most aft section of Economy and the meal lands on my tray only 1 hr 15 min after we push back from the gate. Best of all, both meal choices are still available too – I haven't missed out on my preference.
Beer, wine, spirits and all non-alcoholic drinks are complimentary. I've had a long journey so far, so opt for a simple Diet Pepsi. There's a cup of water on the tray too.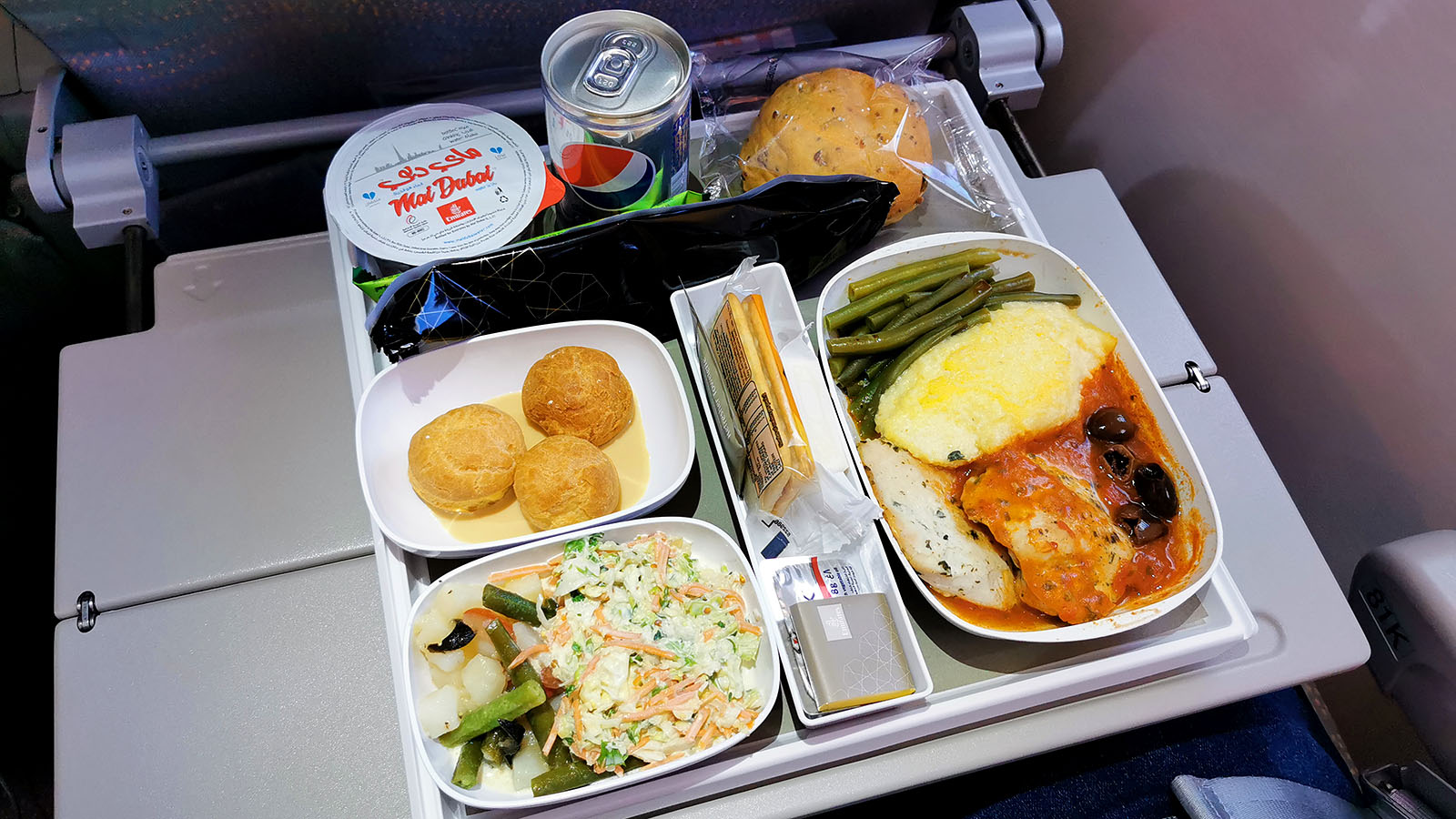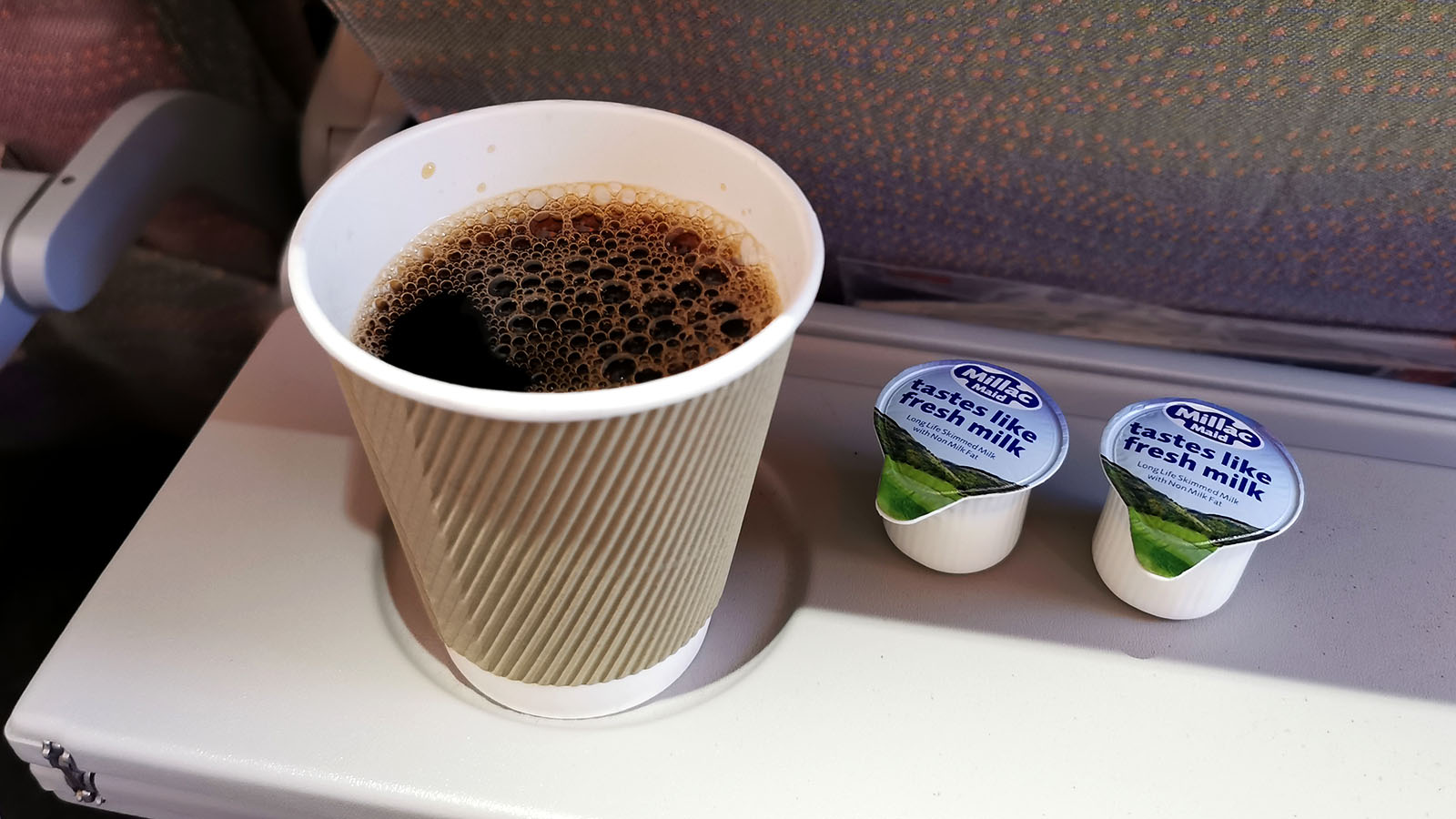 After the meal, there's a chance to order tea and coffee. I have several hours of work to do en route, so a white coffee is an easy choice. The trolley comes by again during the flight, but you can also request drinks at any time. There's a small packaged snack closer to landing. I'm a little peckish, so it disappears before I have a chance to snap a photo, ahem!
For a taste of the high life, you can also purchase a 200ml bottle of Moët & Chandon NV Champagne for US$25 (~AU$38.70) in Emirates Airbus A380 Economy. That's what the airline often serves in Business Class.
Emirates Airbus A380 Economy Class service and entertainment
Even when planes are only half full, Emirates brings along a complete complement of cabin crew. After all, there are minimum numbers needed for safety – and of course, the crew's return flight may be busier. But the light load on this Emirates Airbus A380 Economy sector certainly helps the journey run smoothly.
Not only is the meal efficiently delivered, but any ad hoc drink requests are promptly catered as well. The all-expat crew on this sector come from 19 countries and speak 14 languages – or so goes the announcement.
This part won't apply to everybody, but just like clockwork, Emirates crew always make a point of greeting high-tiered frequent flyers personally. It's their routine for Gold members (and above) of Qantas Frequent Flyer and Skywards. This sector is no exception to that long-established tradition.
By luck, my original seat (44C) is right next to the purser's office. His tablet highlights my status and he's come to say hello before we've even left the gate. That tablet has many other nifty features too, including a live seating map for the flight. He uses it to proactively offer a seat change – one that'll give an entire row to myself. I'm happy to shift for the extra space, even though it means a swap to row 81 right down the back.
I return to the front for landing. A crew member spots me walking forward with my bags during descent and quips, 'you're keen!'. Later, the German immigration officer chuckles at the brevity of my visit: a mere 36 hours, this time. Can you blame me for wanting to be the first off the plane?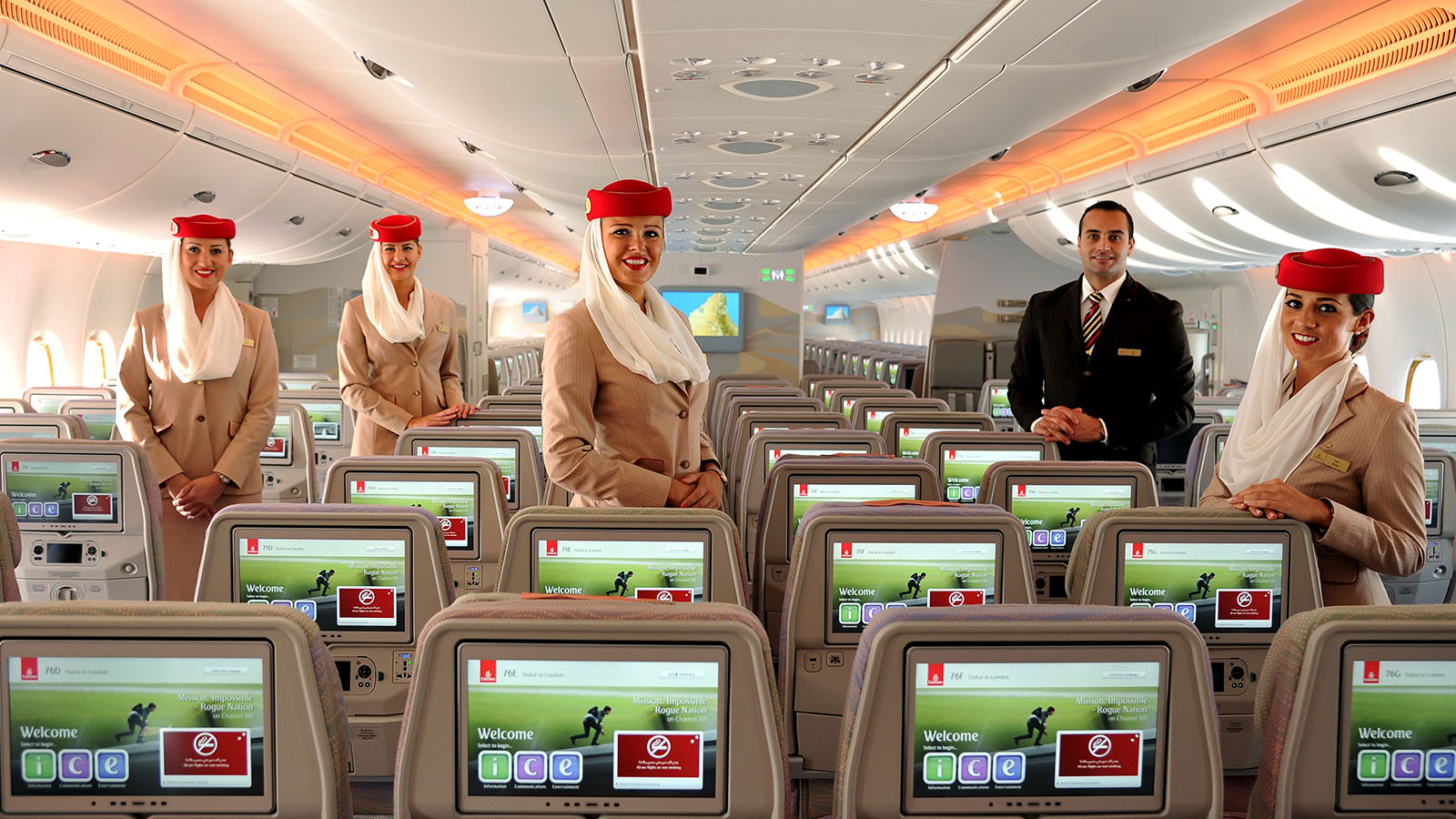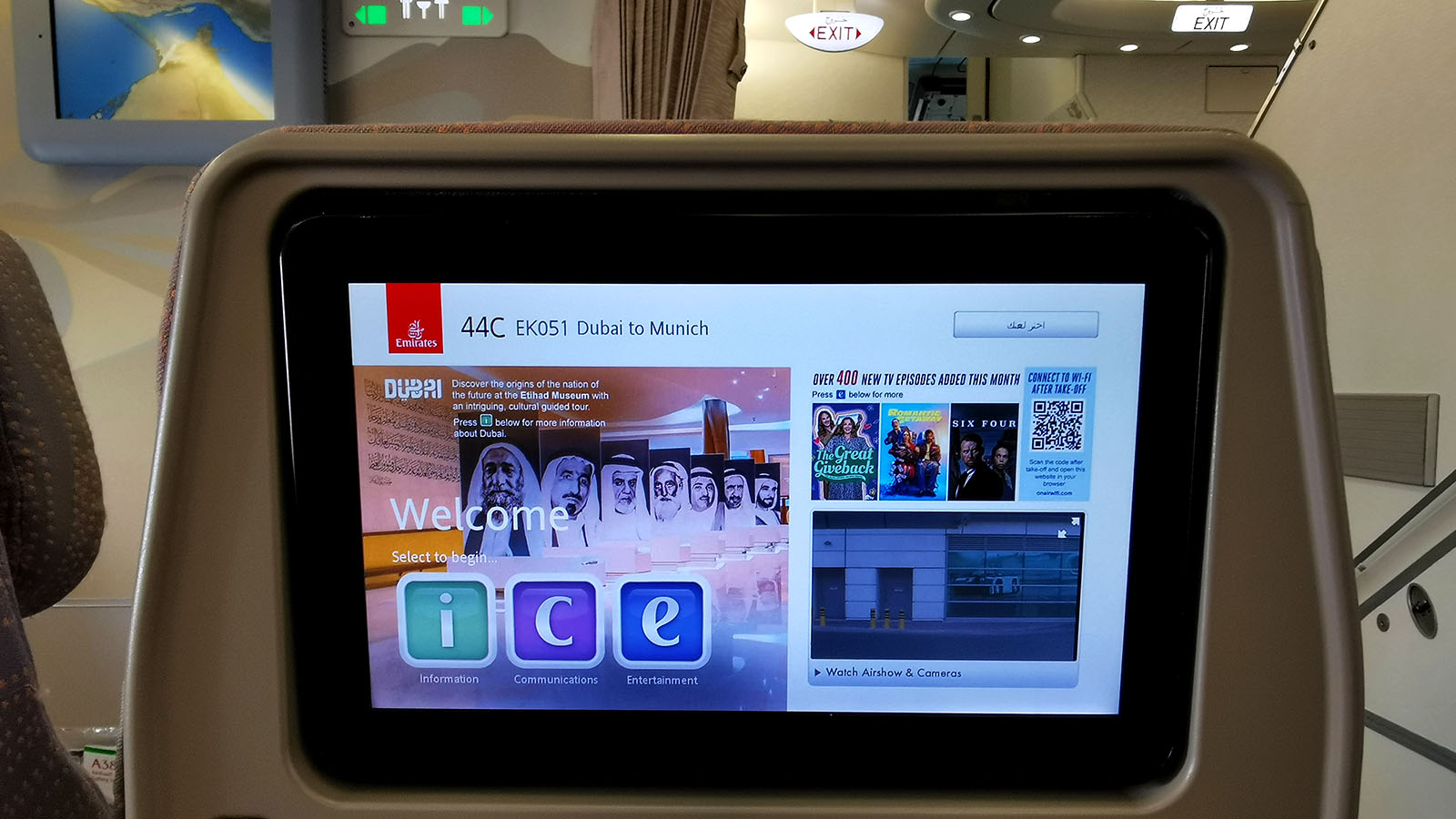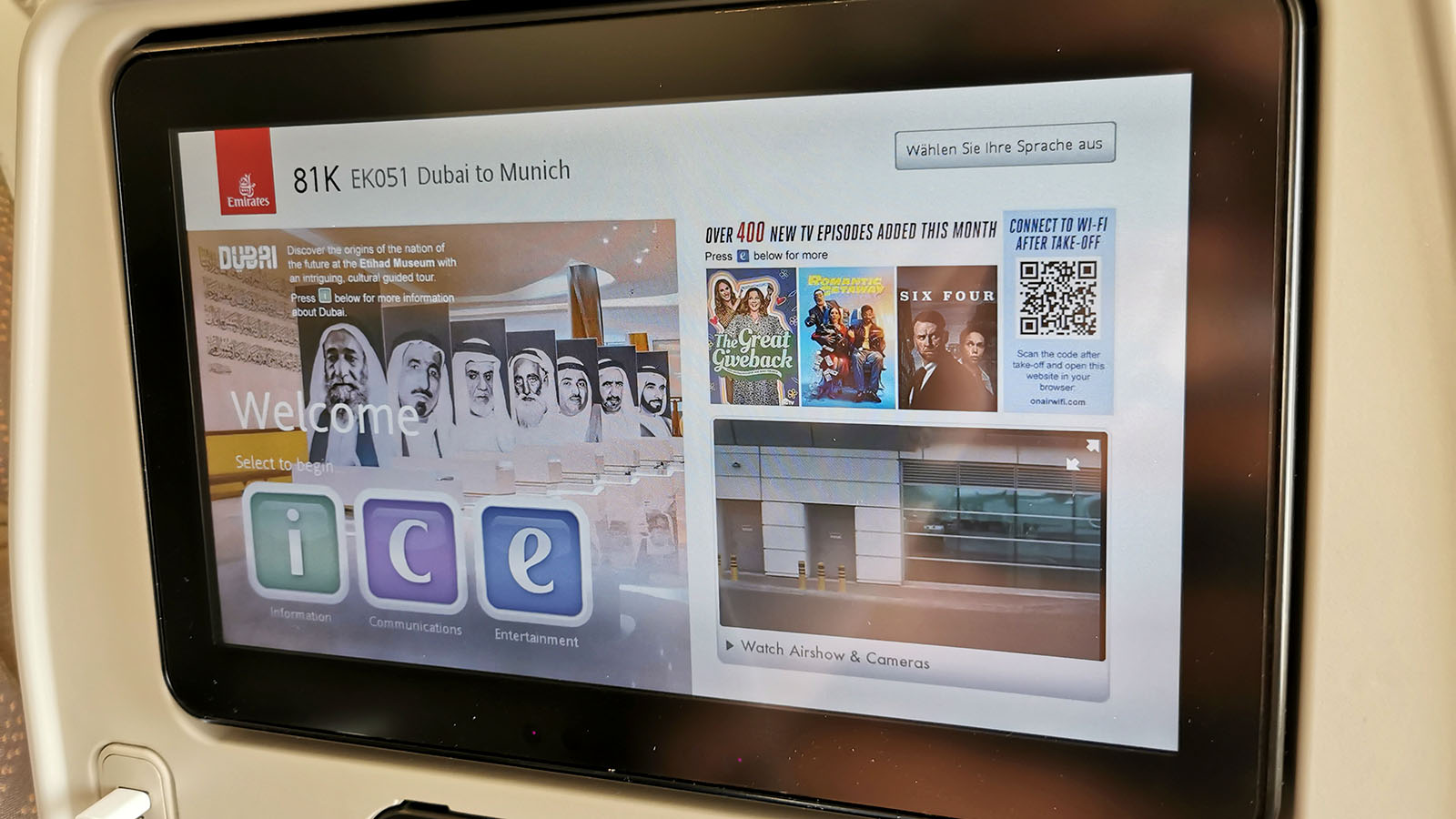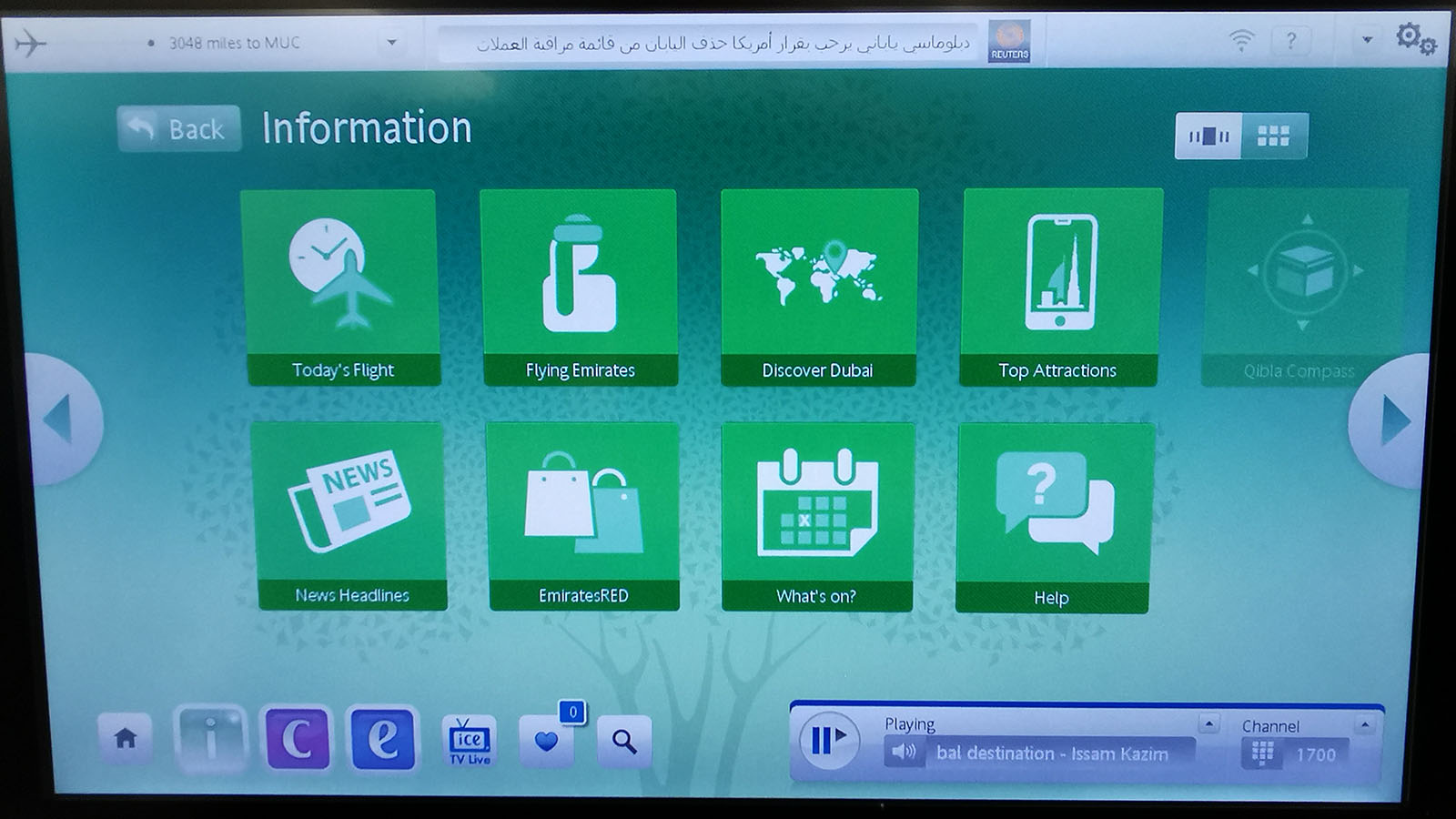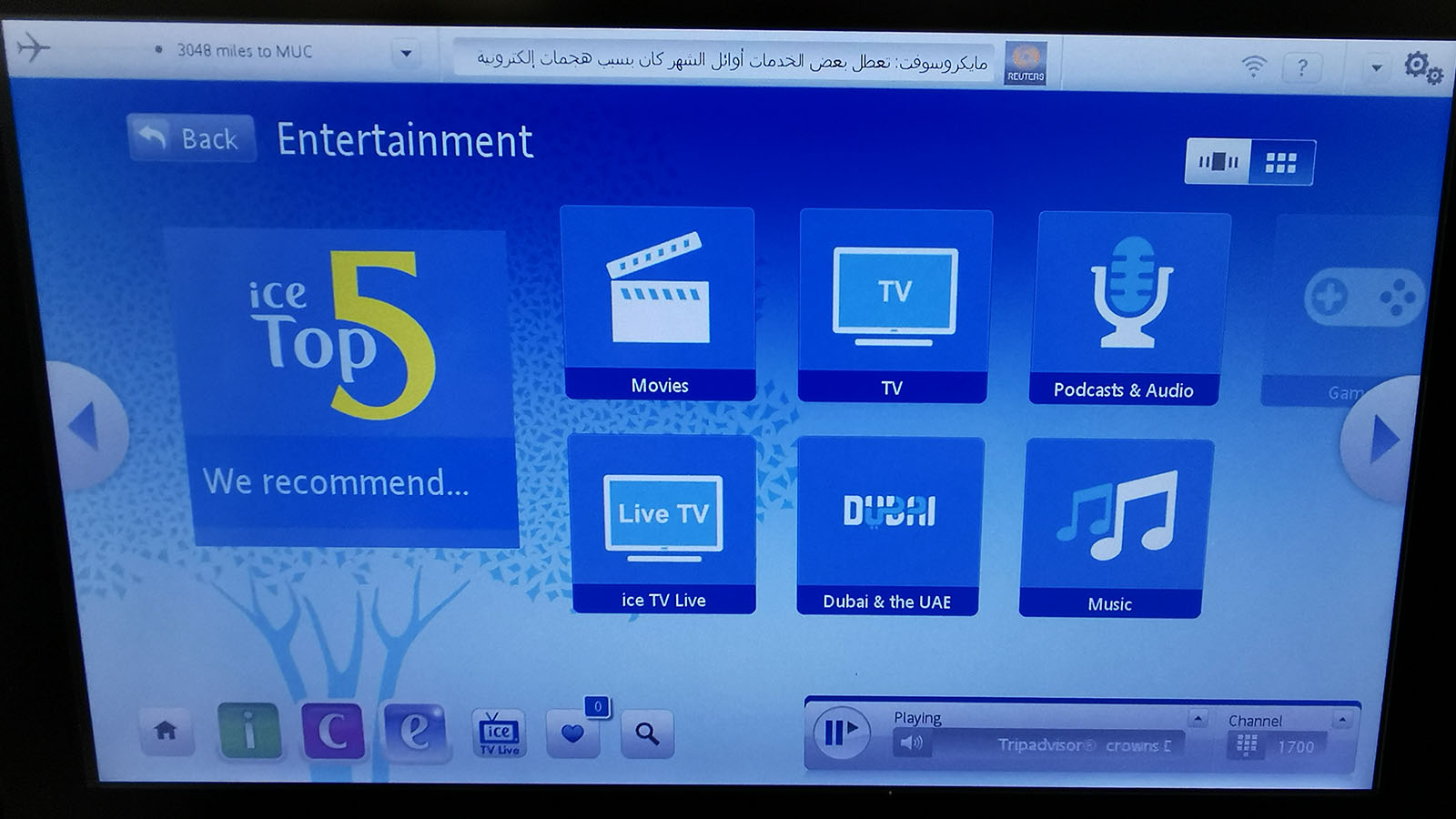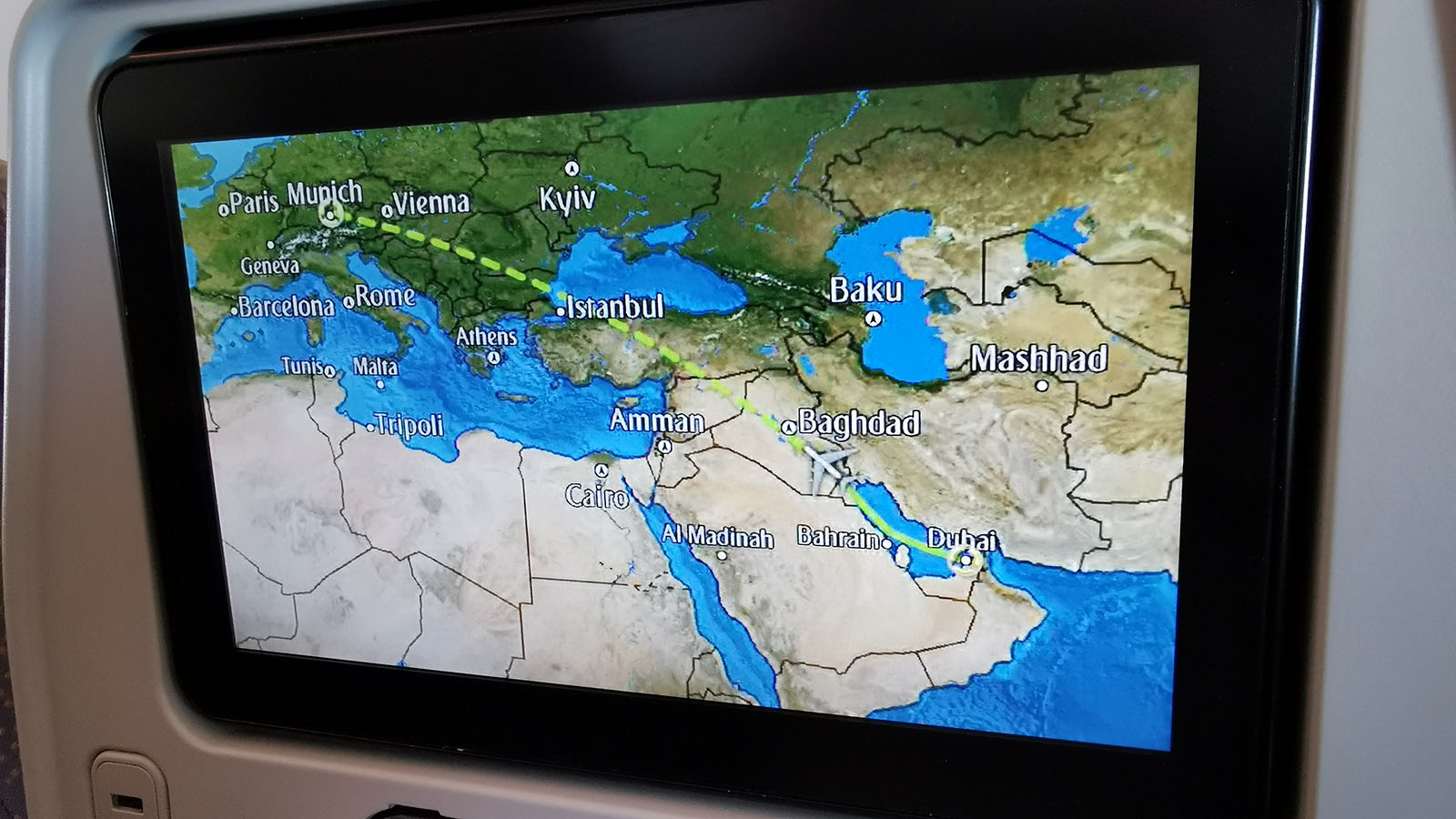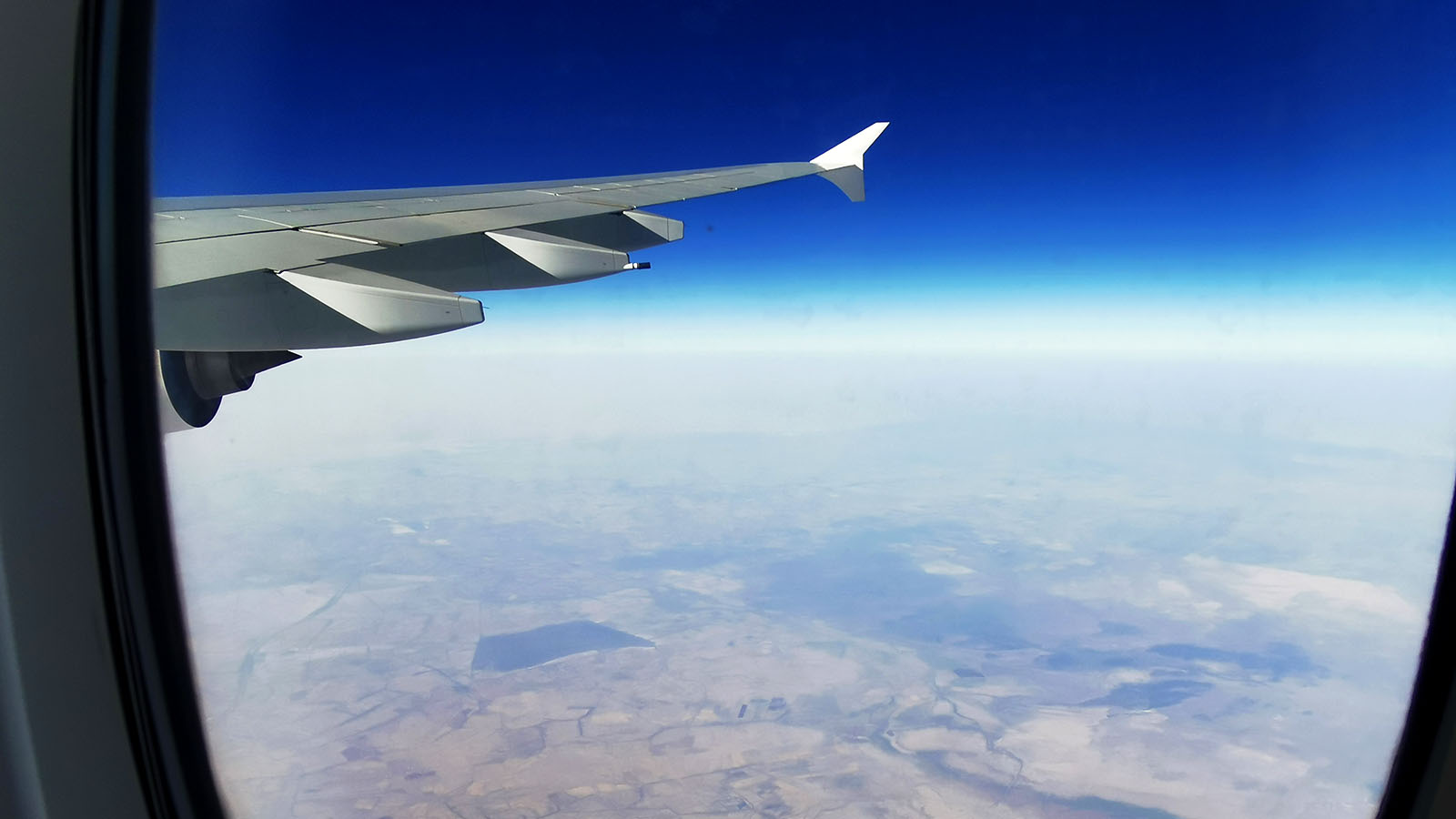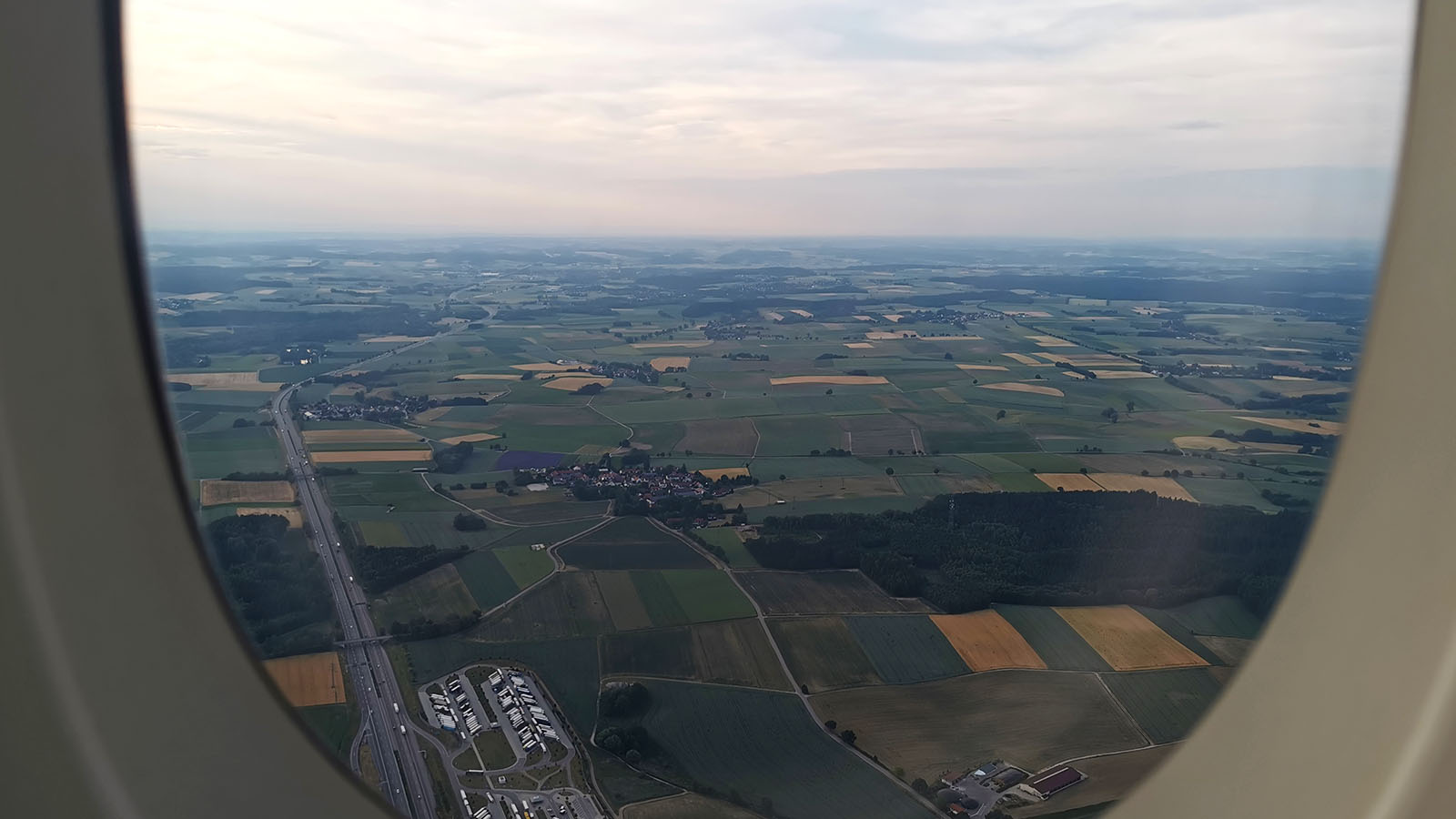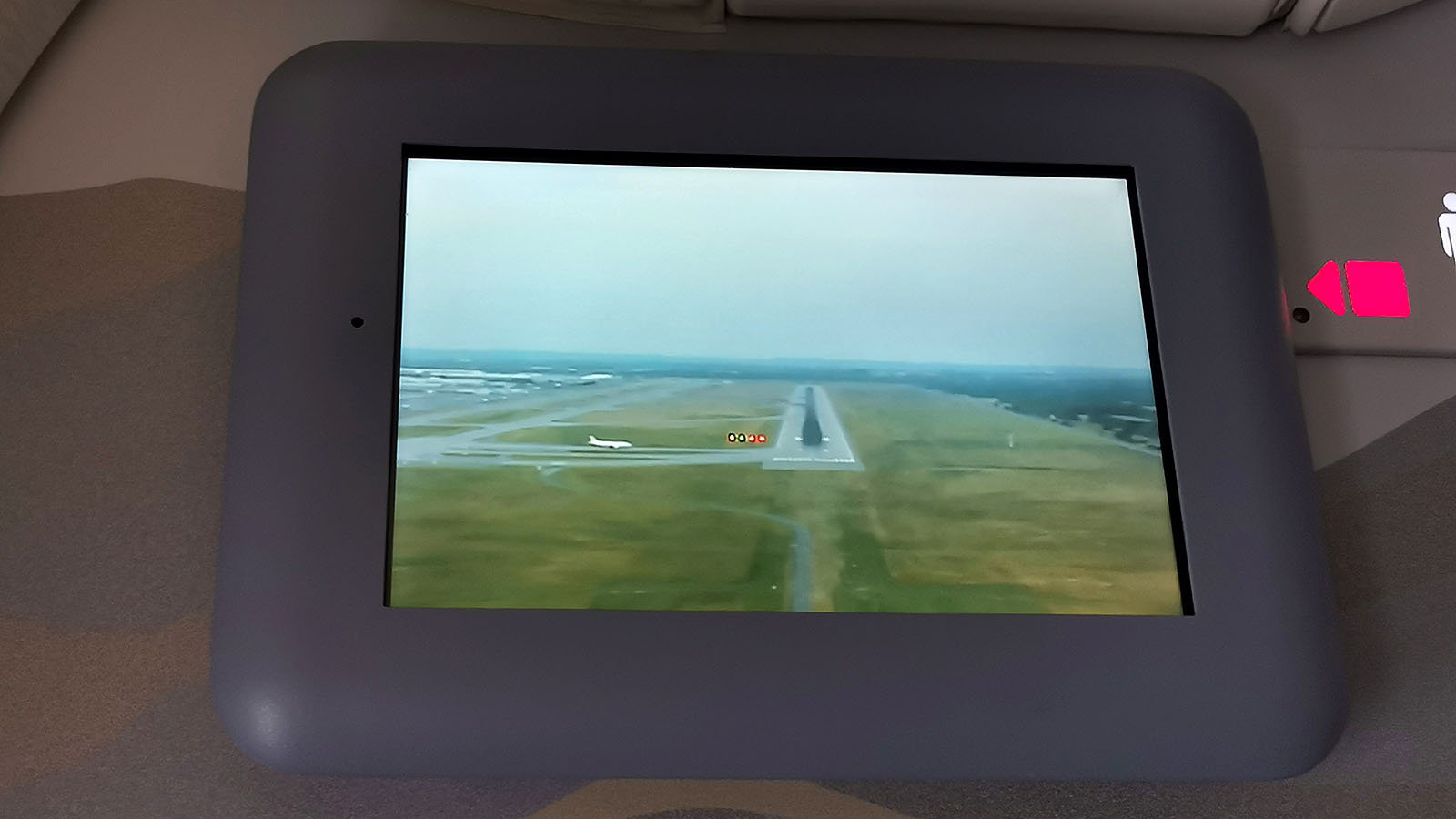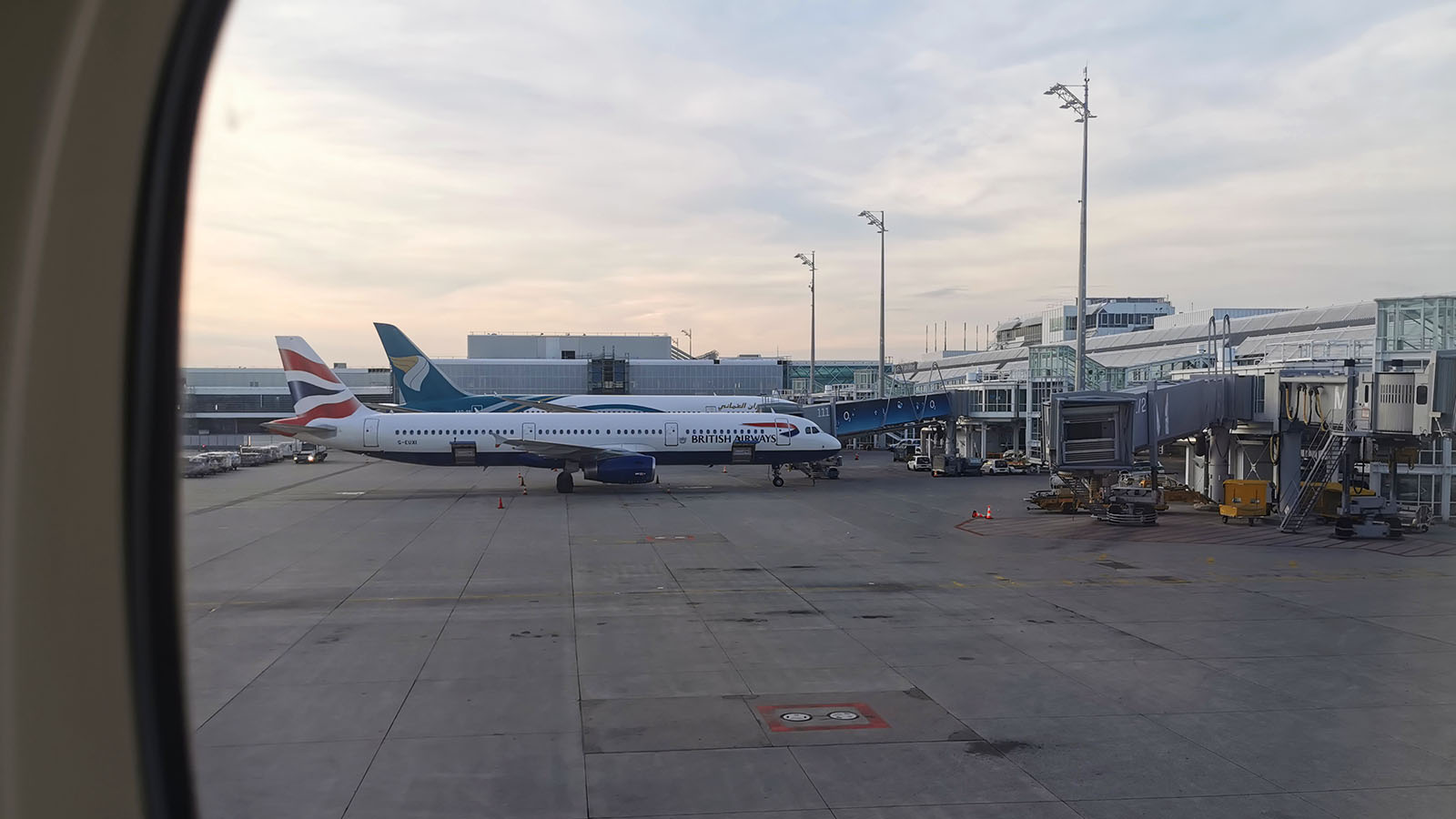 When you're kicking back, there's plenty to watch on the inflight entertainment system. Content choices are a little different than on my earlier Sydney-Dubai leg. But with work to do, I'm more interested in the moving map, the view out the window and the tail camera this time.
I make good use of the inflight Wi-Fi, even though a flight pass costs US$17.99 (~AU$27.85) on this leg. It's a little pricey, especially as the same pass for Sydney-Dubai is only a few dollars more. It works well though, and with Skywards Platinum status, those charges are waived. Sadly, the same isn't true with Qantas Platinum.
The verdict
As far as international Economy flights go, this is certainly one of the more pleasant legs that I've taken in recent times. After all, you don't always have to fly Business Class. And if you're strategic with your Economy sectors, it's quite okay overall.
This flight is one that I wouldn't hesitate to take again, and for several reasons. As a daytime service, you're not trying to sleep on board – which is where Economy usually falls short. You're also not battling jet lag. That's because Germany is only two hours behind the UAE, and it's a mere six-hour flight. It's actually quite similar to flying from Brisbane over to Perth. Except, of course, that you're on the world's largest passenger aircraft.
It's also a good flight for those who qualify for lounge access. The late afternoon departure gives a chance to have a nice lunch on the ground. And perhaps, a cocktail or two before boarding. Then just settle in, watch a couple of movies and have dinner.
Before you know it, you're in Germany. Venture somewhere for a nightcap, have a good night's sleep and awake the next morning, ready to wander and explore. After all, that sense of adventure is what drives most of us to get out there and travel – even if flying Economy is what makes that all possible.
Also reviewed: Emirates Airbus A380 Premium Economy (Sydney – Dubai)
Feature image courtesy of Emirates. Other photography by Chris Chamberlin, who travelled as a guest of Emirates. Lounge access in Dubai was courtesy of Chris' (earned) Qantas Frequent Flyer status.
---
Stay up to date with the latest news, reviews and guides by subscribing to Point Hacks' email newsletter.
Emirates Airbus A380 Economy Class (Dubai – Munich)
was last modified:
September 7th, 2023
by