Most airport lounges welcome travellers based on their frequent flyer status or travel class. But a select few have a different tilt. The American Express Centurion Lounge at New York's JFK Airport is one such exception to the norm.
There's no airline ticket you can buy that directly gets you through the front door. Equally, it doesn't matter here whether you're a top-tier traveller or setting out on your very first adventure.
Instead, what matters is whether you have an Amex Platinum Card or Centurion Card in your wallet. If that's a yes, then step on through – and if not, here's what you're missing out on.
Location
You'll find the American Express Centurion Lounge in Terminal 4 at New York's JFK Airport. It sits just behind security screening on the far left – don't follow the main crowds down the escalators.
Terminal 4 is home to major international carriers such as Etihad Airways, Singapore Airlines and Virgin Atlantic. It's also Delta Air Lines' flagship JFK terminal for transcontinental and international flights. But here's a handy trick. If you're flying from Terminal 2 at JFK, you can also access Terminal 4 – and thus, the Centurion.
Terminal 2 is Delta's main domestic hub at JFK. And fortuitously, T2 and T4 are linked by a rapid airside transfer bus: the JFK Jitney. After checking in for my Delta flight in T2, I clear security there, hop onto the JFK Jitney bus to T4, and make a beeline for the Centurion Lounge.
A very obliging Delta check-in agent at T2 even explains the whole 'terminal dance' to me in great detail. She's excited to see an Australian passport, and goes out of her way to be helpful. The JFK Jitney runs every two minutes, so keep this trick up your sleeve if you're travelling from T2.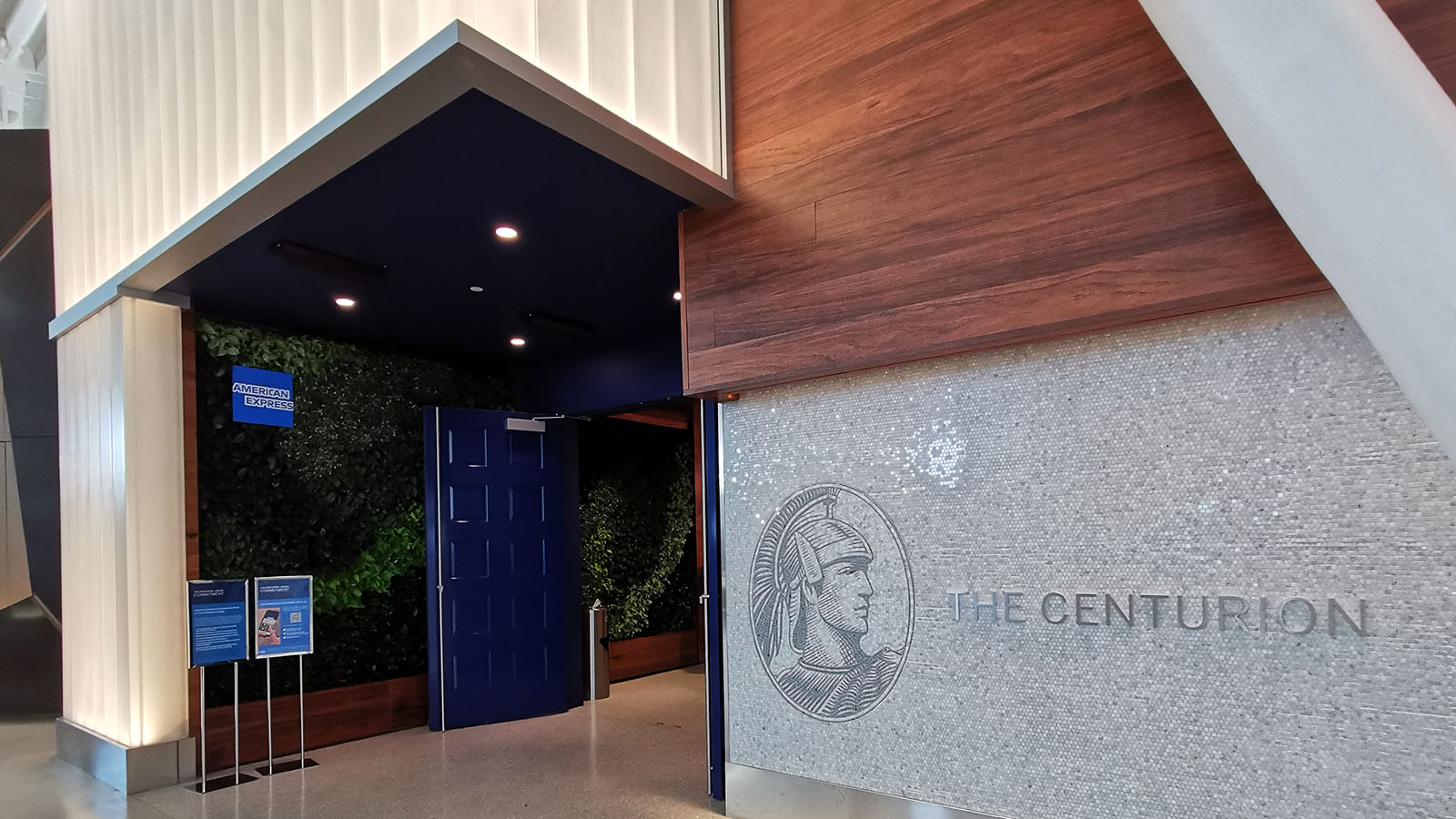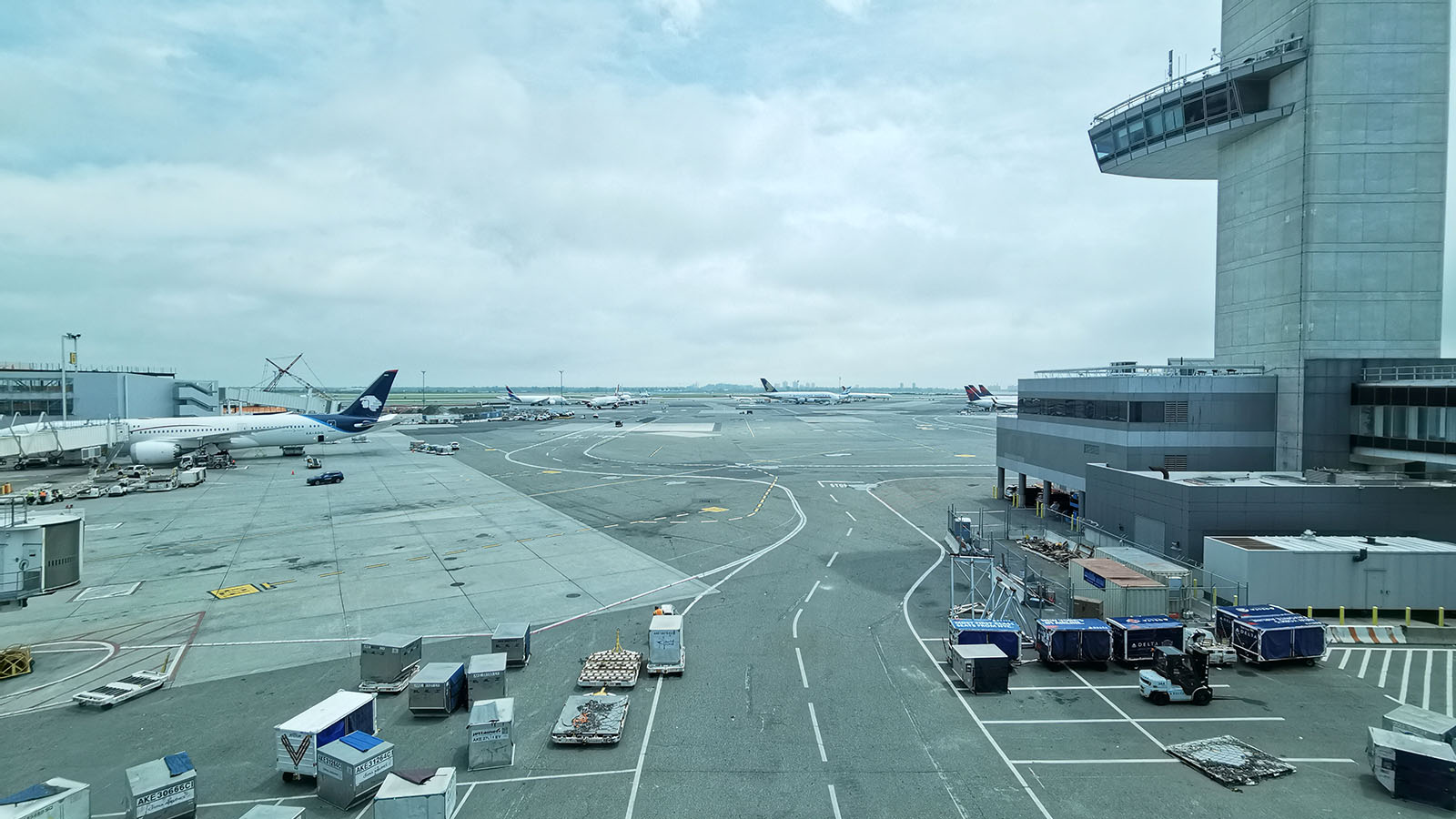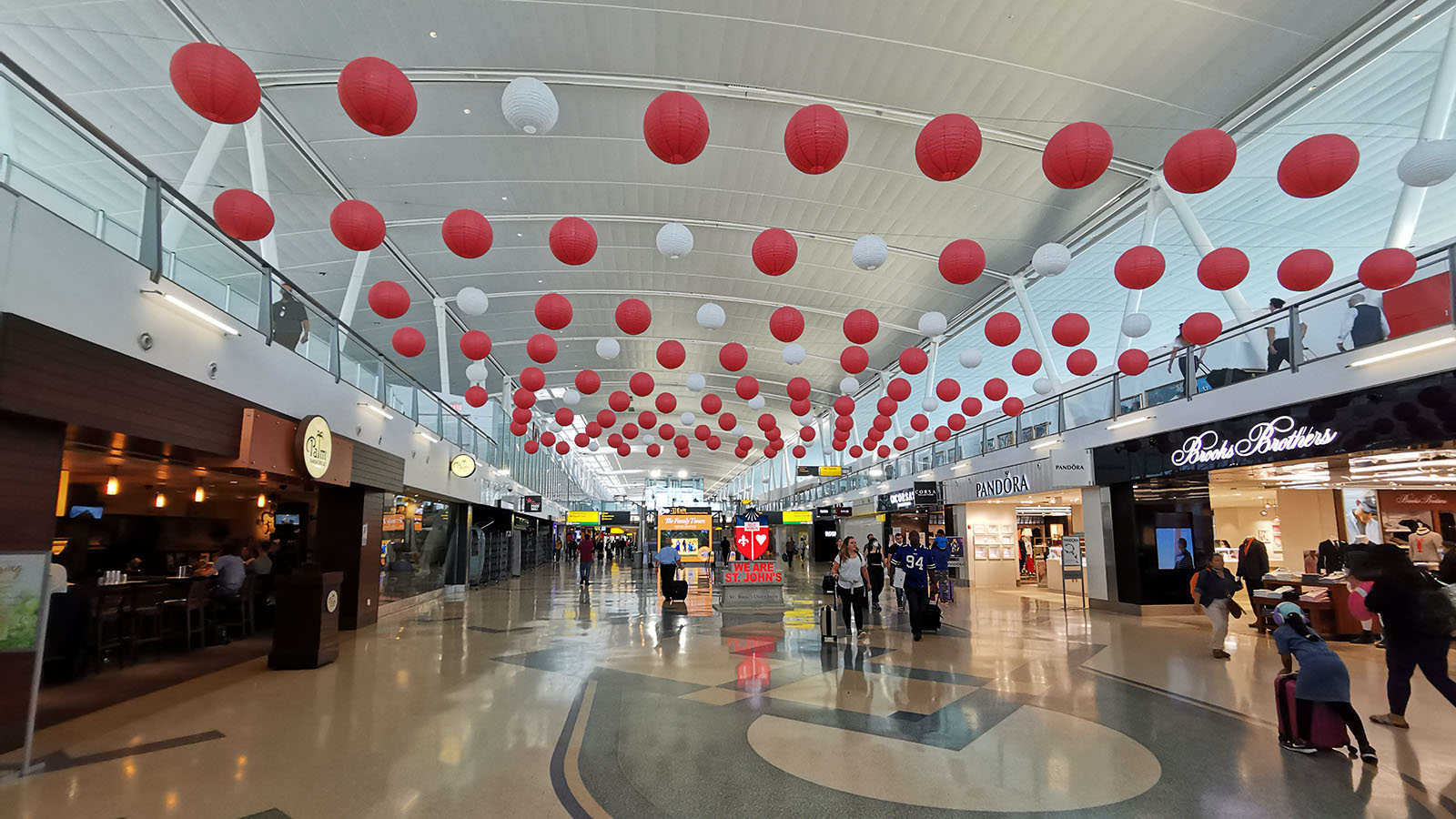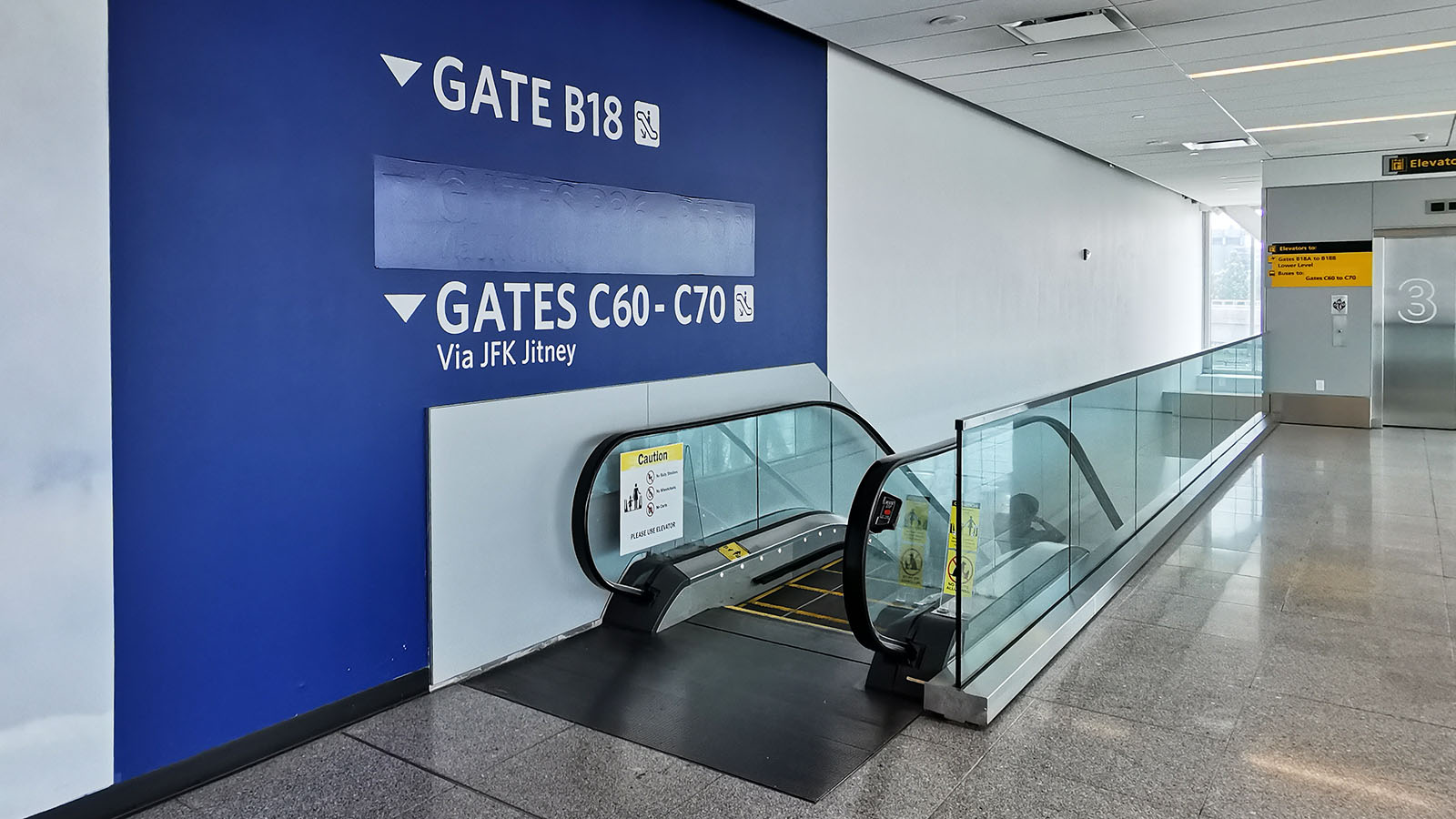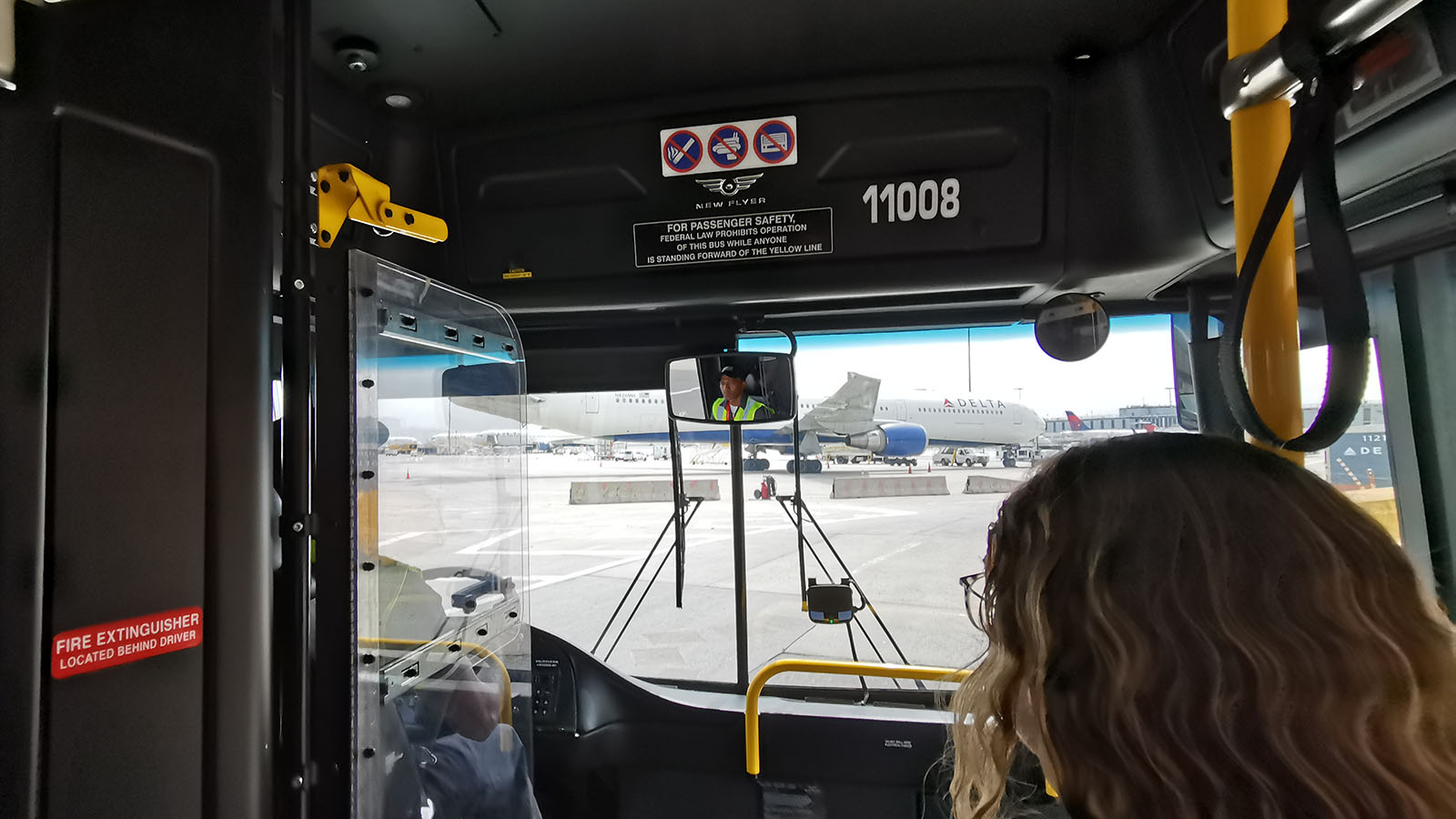 Just note, you can't access Terminal 4 when flying from the other terminals at JFK, such as Terminal 8 on American Airlines. To physically get to the Centurion Lounge, you'll need to be flying from either Terminal 4 where the lounge is located, or Terminal 2.
Once inside, I take a moment to enjoy the view. This two-storey lounge offers a great vista across one of the world's best-known airports. And when it's time to depart, I allow roughly 15 minutes to zip on back to Terminal 2, which gets me to my gate just a few minutes before boarding begins. Perfect timing.
Lounge layout and seating
Spread across two levels, the American Express Centurion Lounge at JFK offers plenty of space to stretch out. It should be said, there are often reports of this lounge being busy, and sometimes with an entry queue. But when I stop by at lunchtime on a Friday, it's comfortably quiet.
The upper level makes great use of the lounge's views, with seats right along with the windows. And better yet, there's variety in those chairs. Travelling with a group? Hit the sofas. Getting work done? Sit at the bench, and plugin. Need a little privacy? There's something for you as well.
Speaking of work, there's a quasi-office in the far left corner of this upper level. Being so far away from the food and drinks, this space is naturally quiet.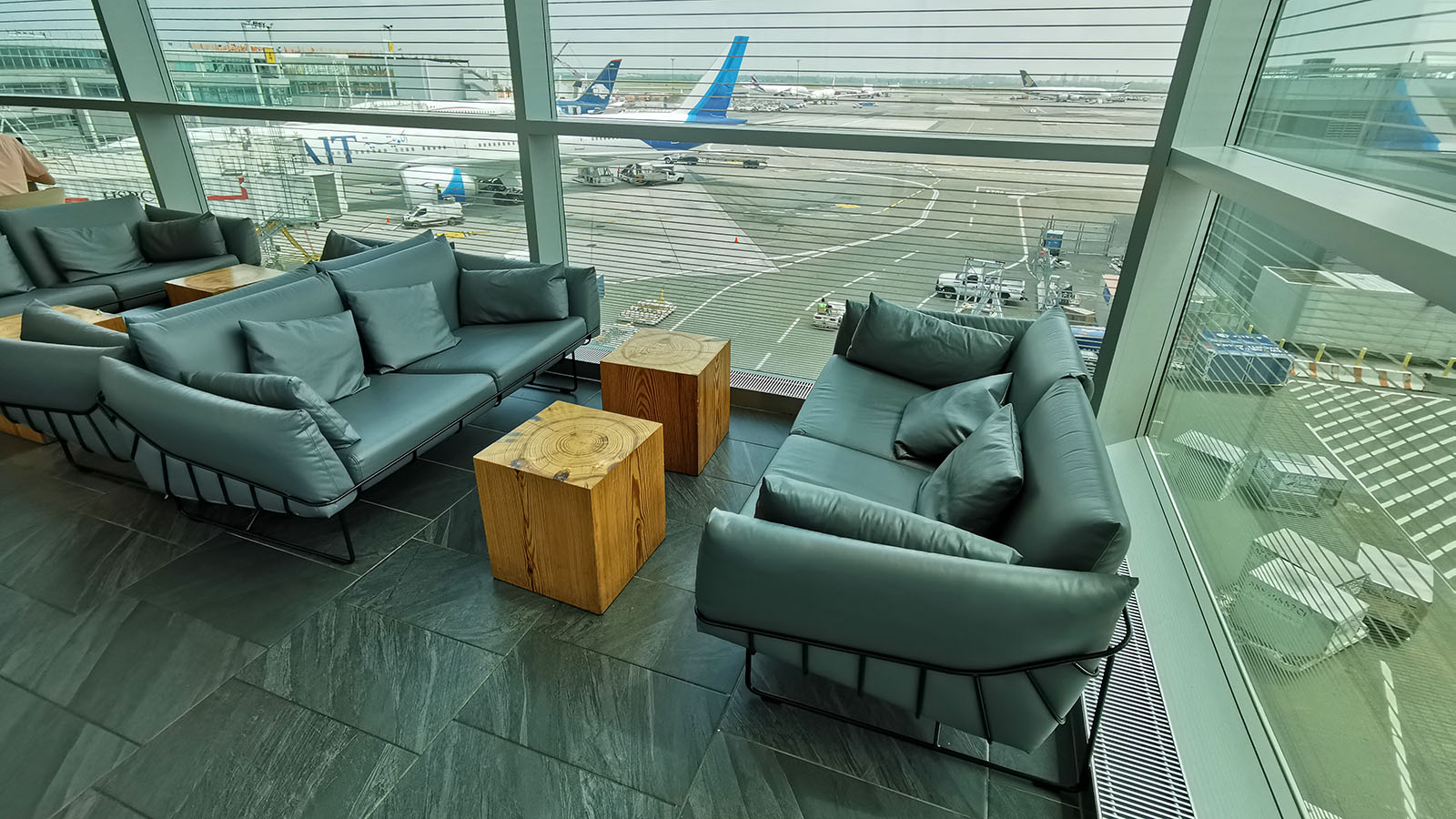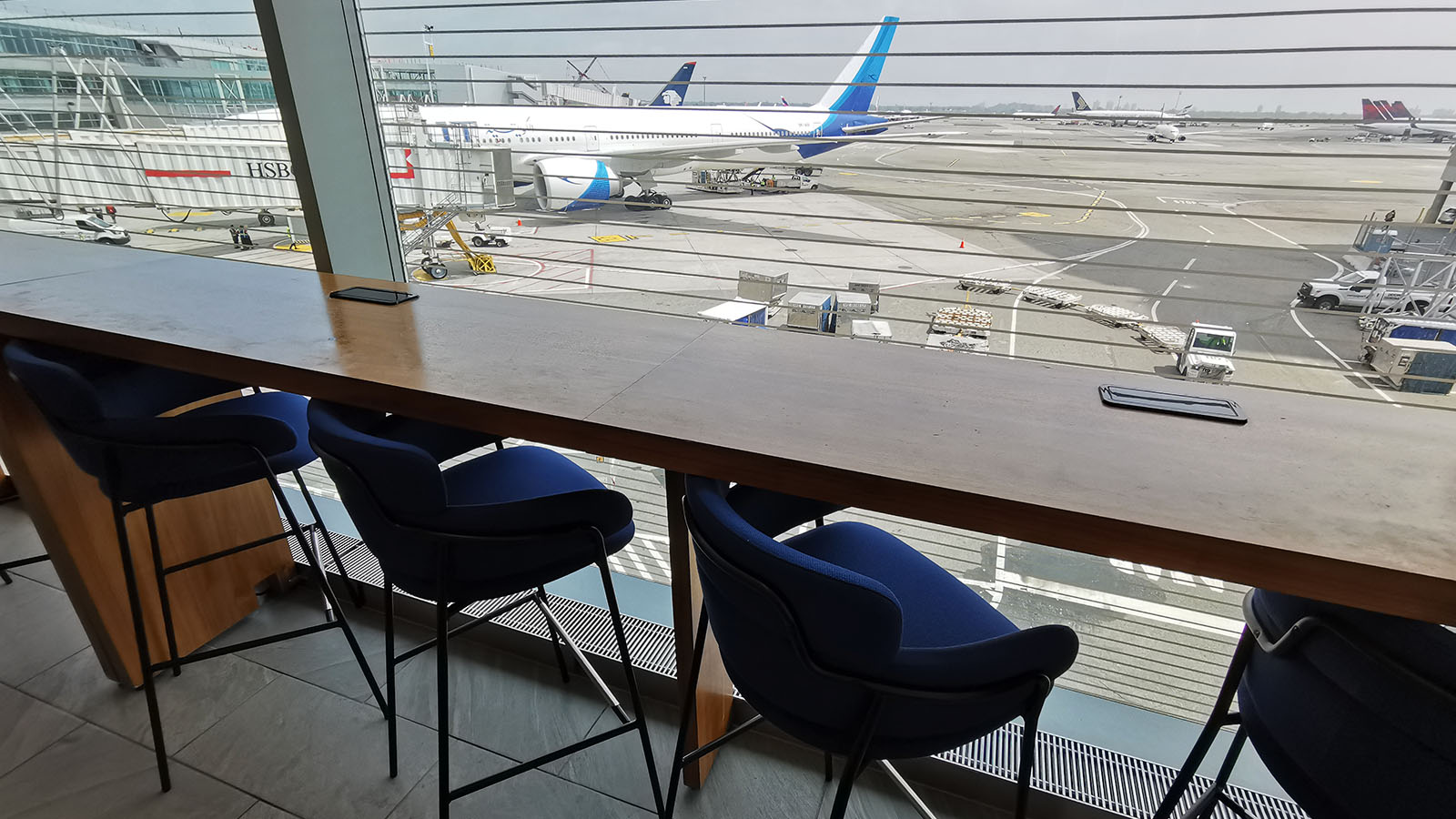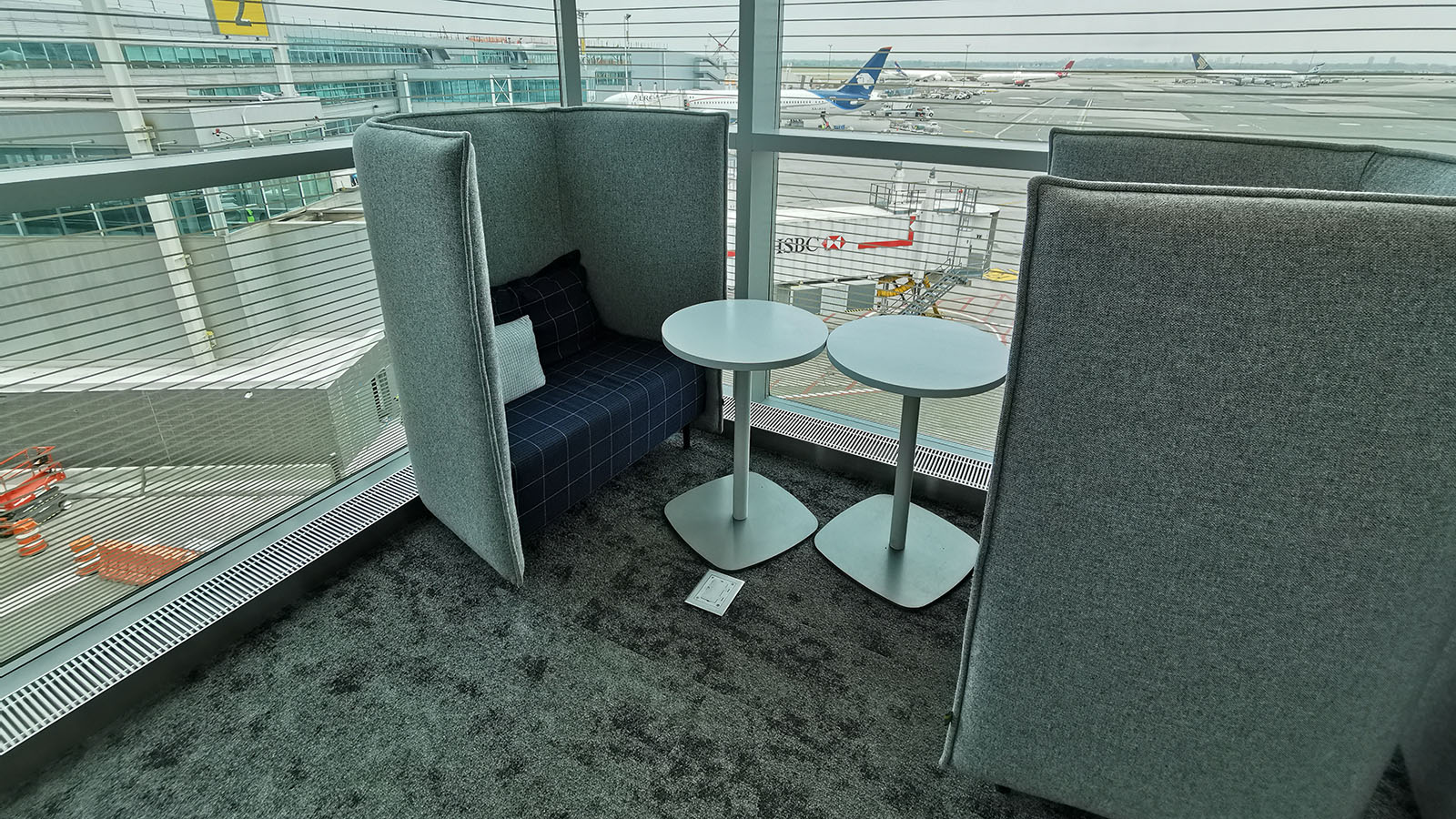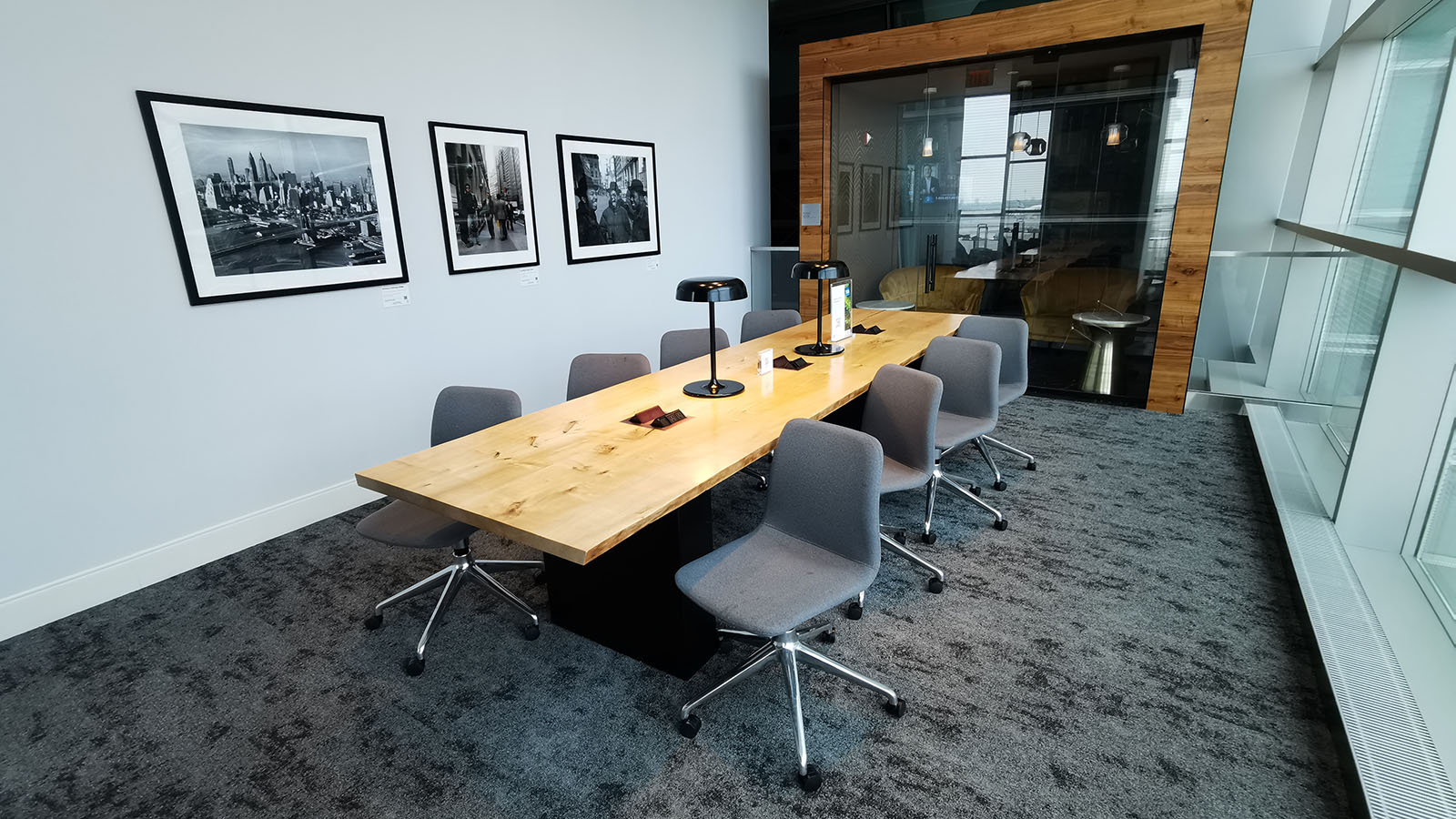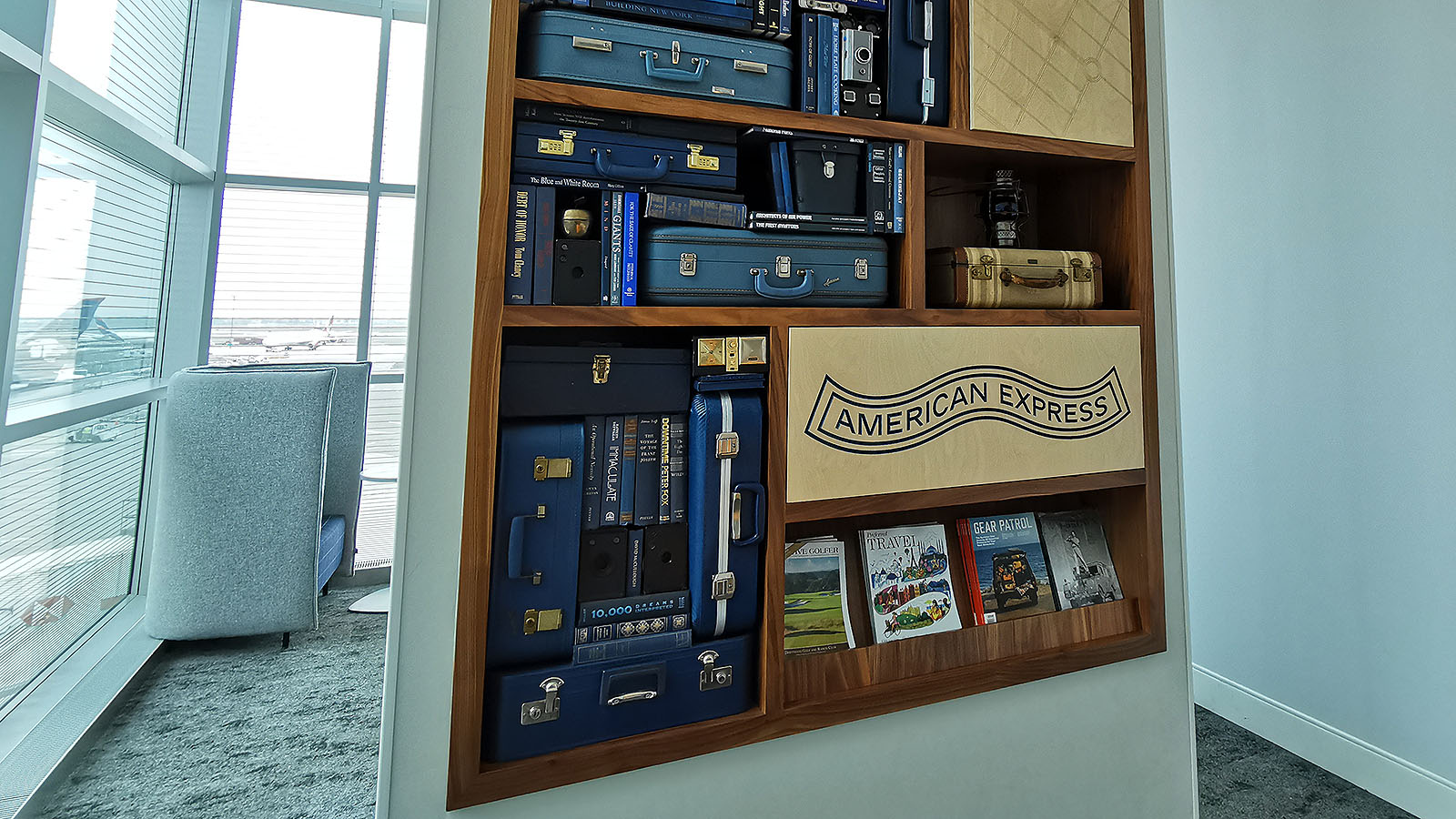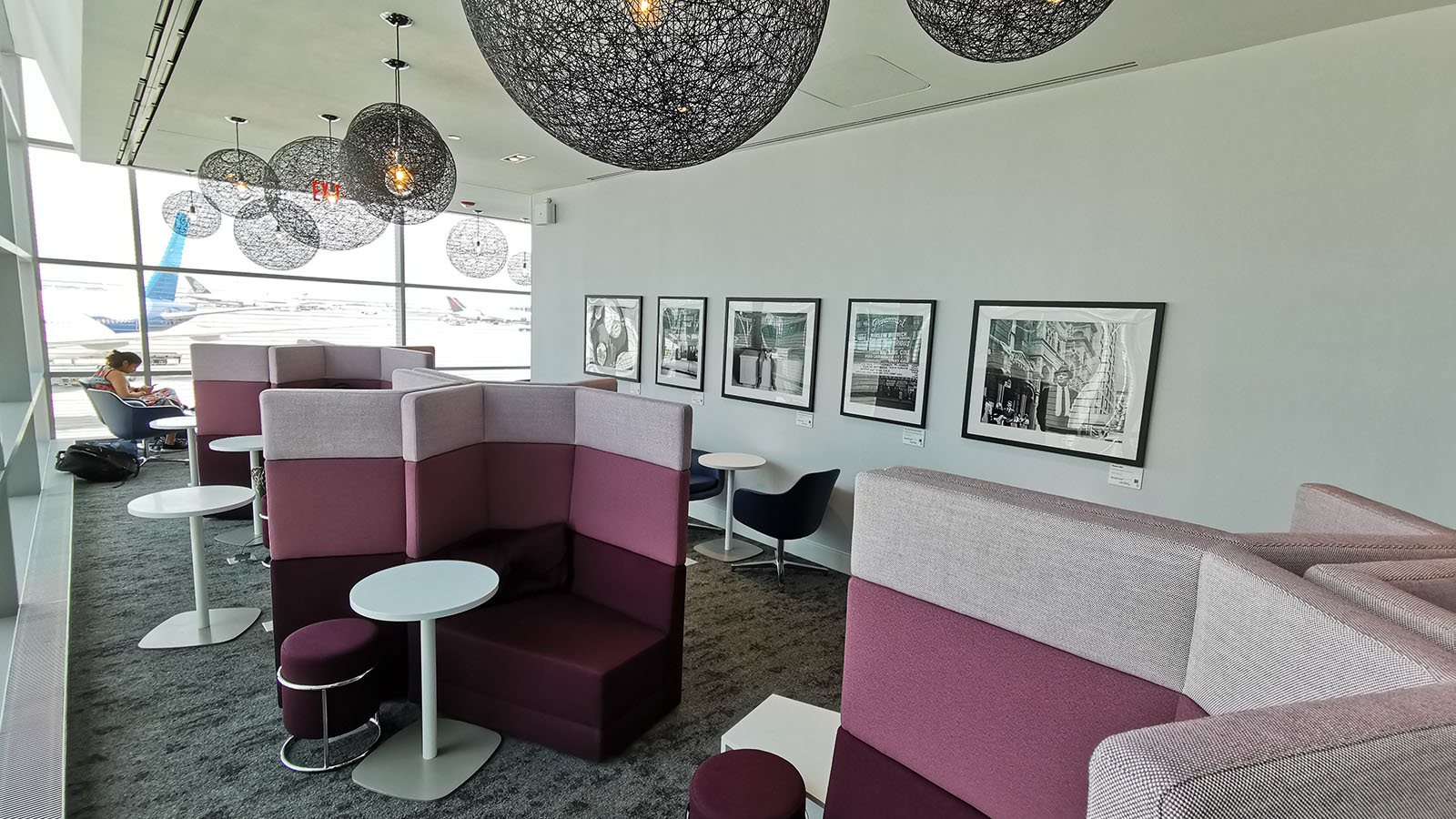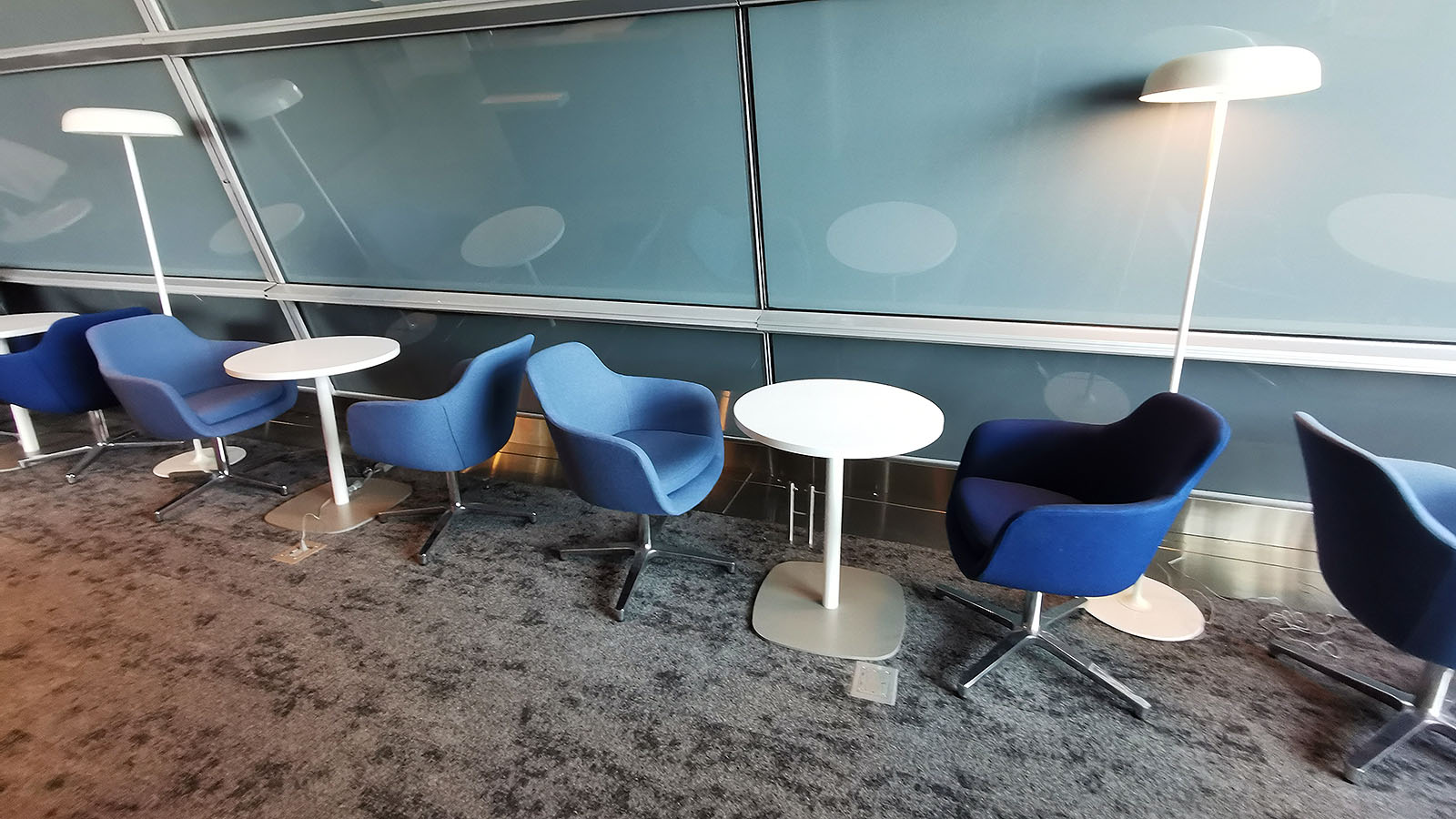 Heading downstairs finds an array of other seating choices. Colourful high-backed purple booths are great for solo flyers. As are the individual quarters for those times you really don't want company.
Ultimately, this is one of American Express' newest lounges, and the only one in its Centurion Lounge network to span two levels. Attention to detail reinforces its status as a flagship, with small touches like power points within reach at almost every seat.
Food and beverage in the Amex Centurion Lounge at New York JFK
The American Express Centurion Lounge has you covered for food and drinks at New York JFK. That starts with buffet dining, where an array of hot and cold items await. I mix chicken, rice salad, roasted potatoes and green leaves for a filling and tasty lunch. The custard tarts are also a must.
Given it's a Friday afternoon, I'm also not shy about visiting the cocktail bar. With an array of custom creations and house staples on offer, I order the Blue Door. It's a Centurion Lounge signature based around Johnny Walker Black Label Scotch and Myers' dark rum. You expect it to be a little sour, but that's balanced with a fruity kick of lemon juice. Yum.
From the same counter, you can also order barista coffee. My latte is okay, but it's not a patch on the brews they make – well, 'made'… – at the Centurion Lounge in Hong Kong.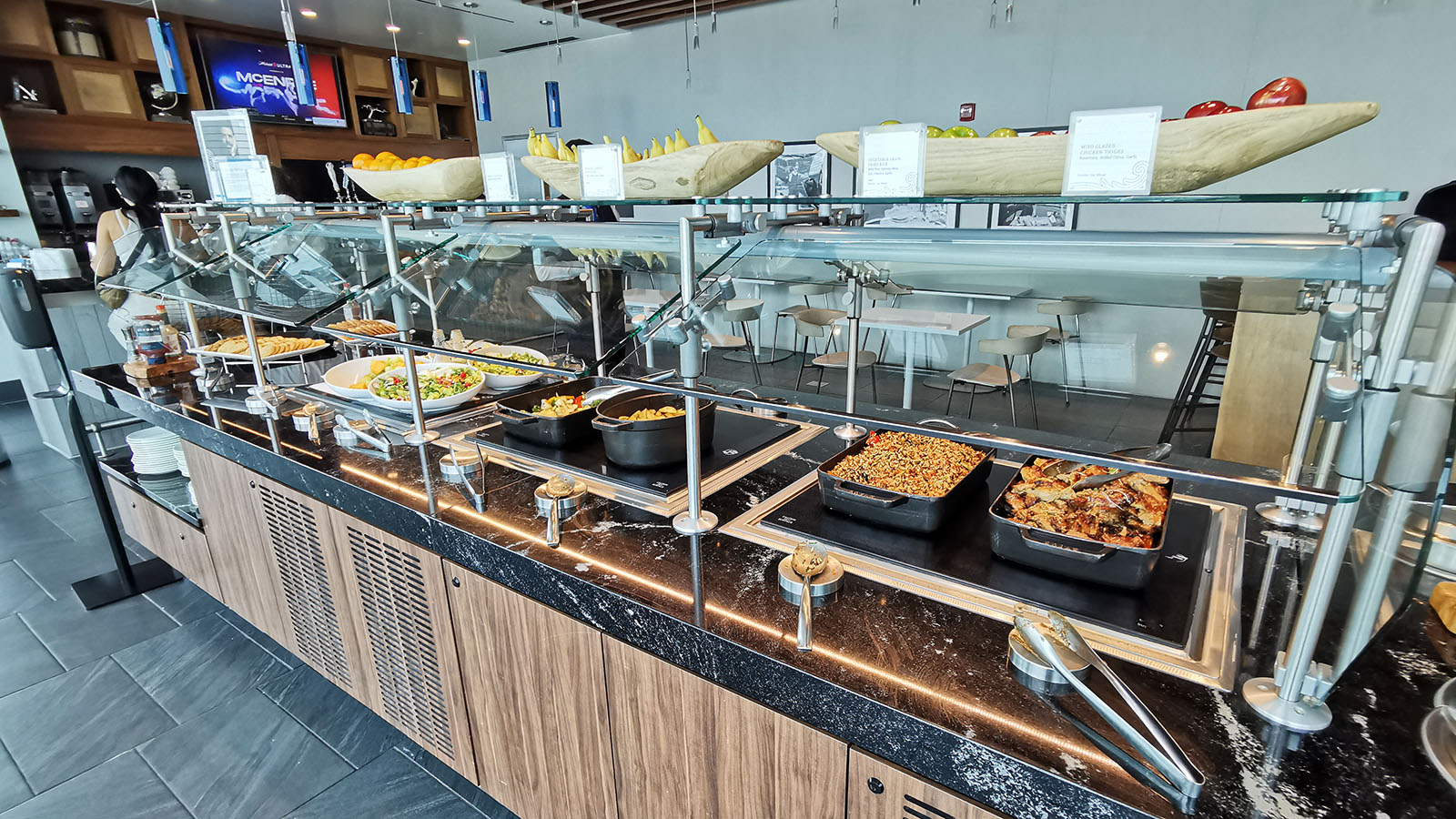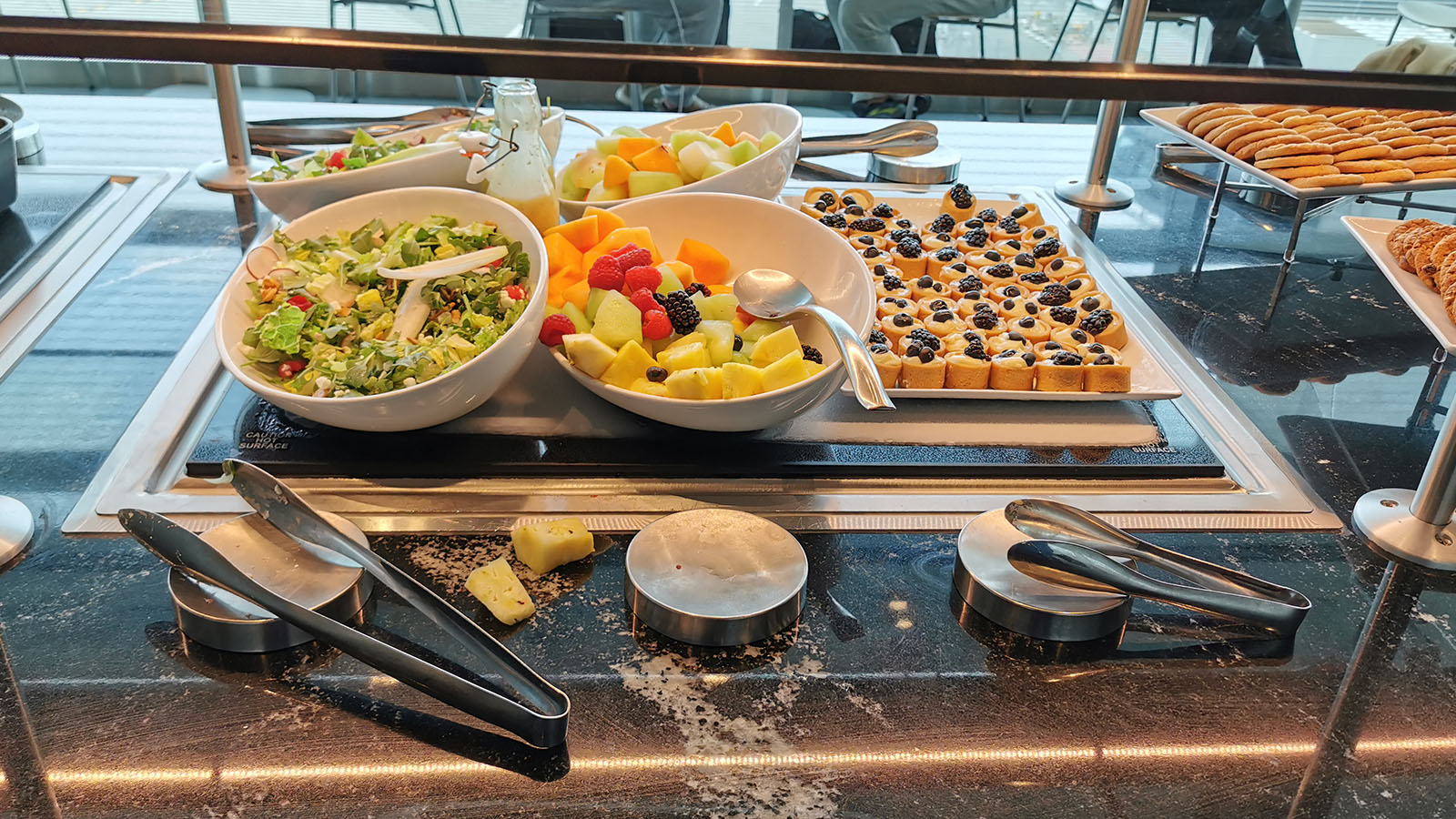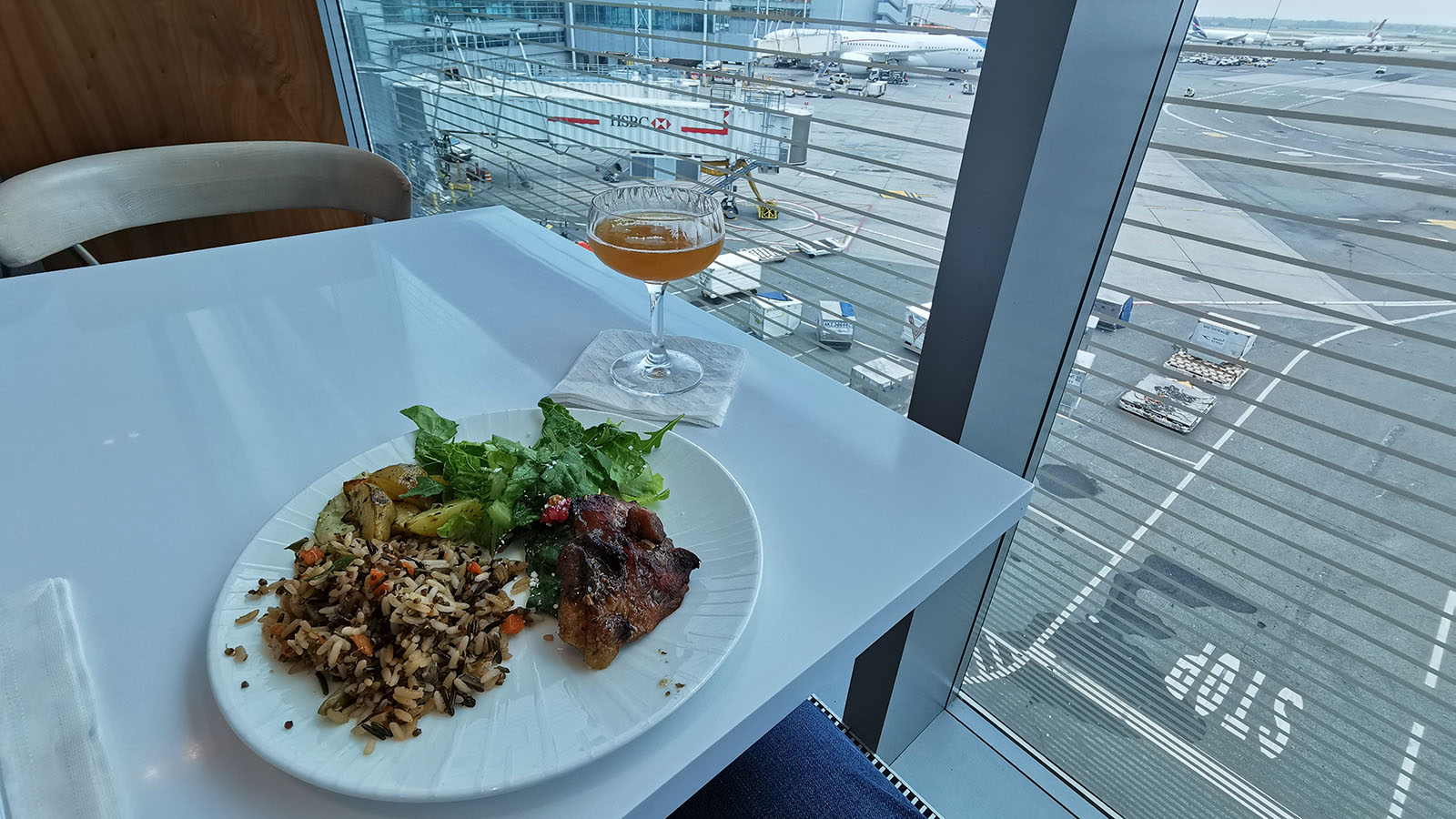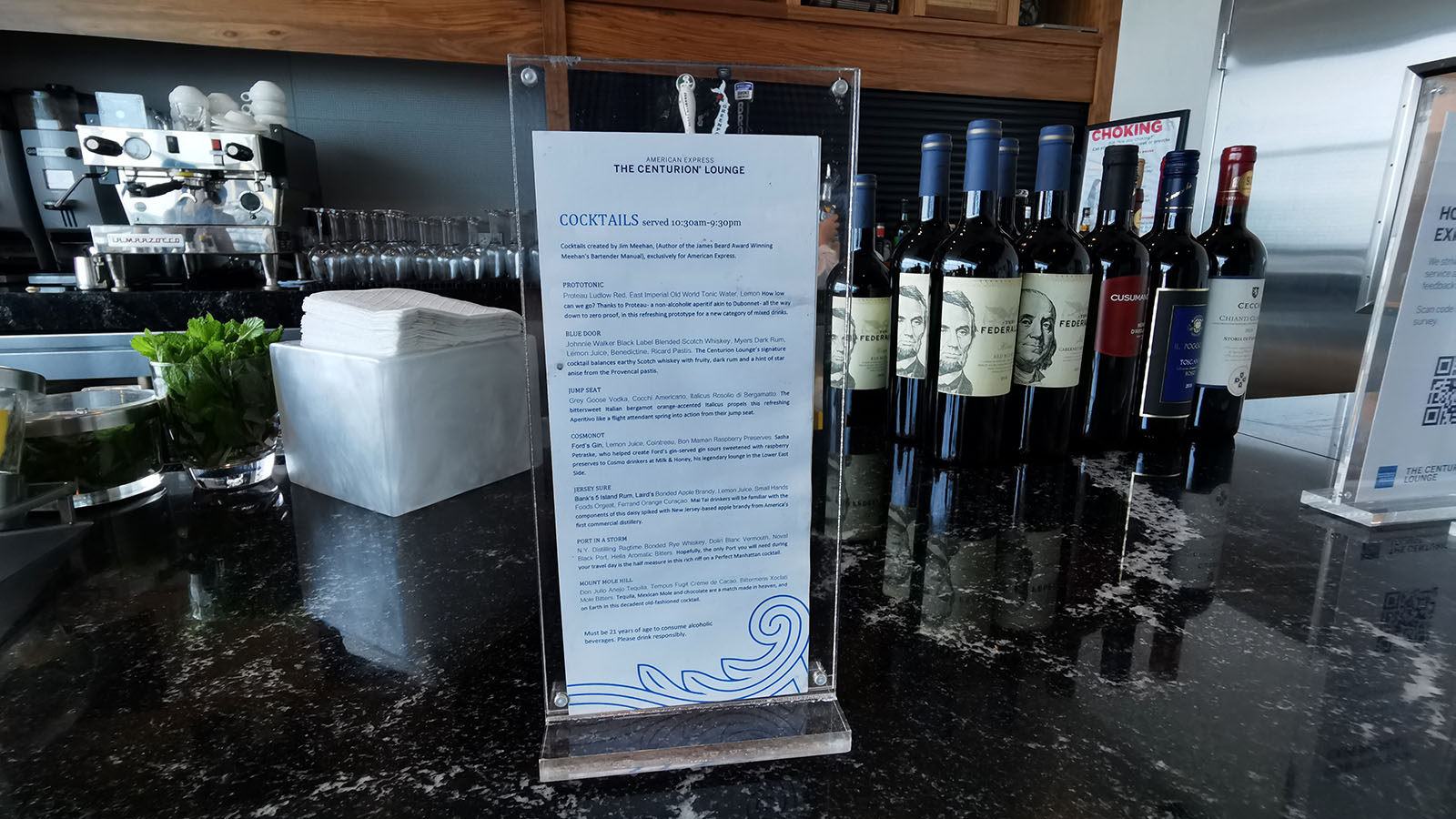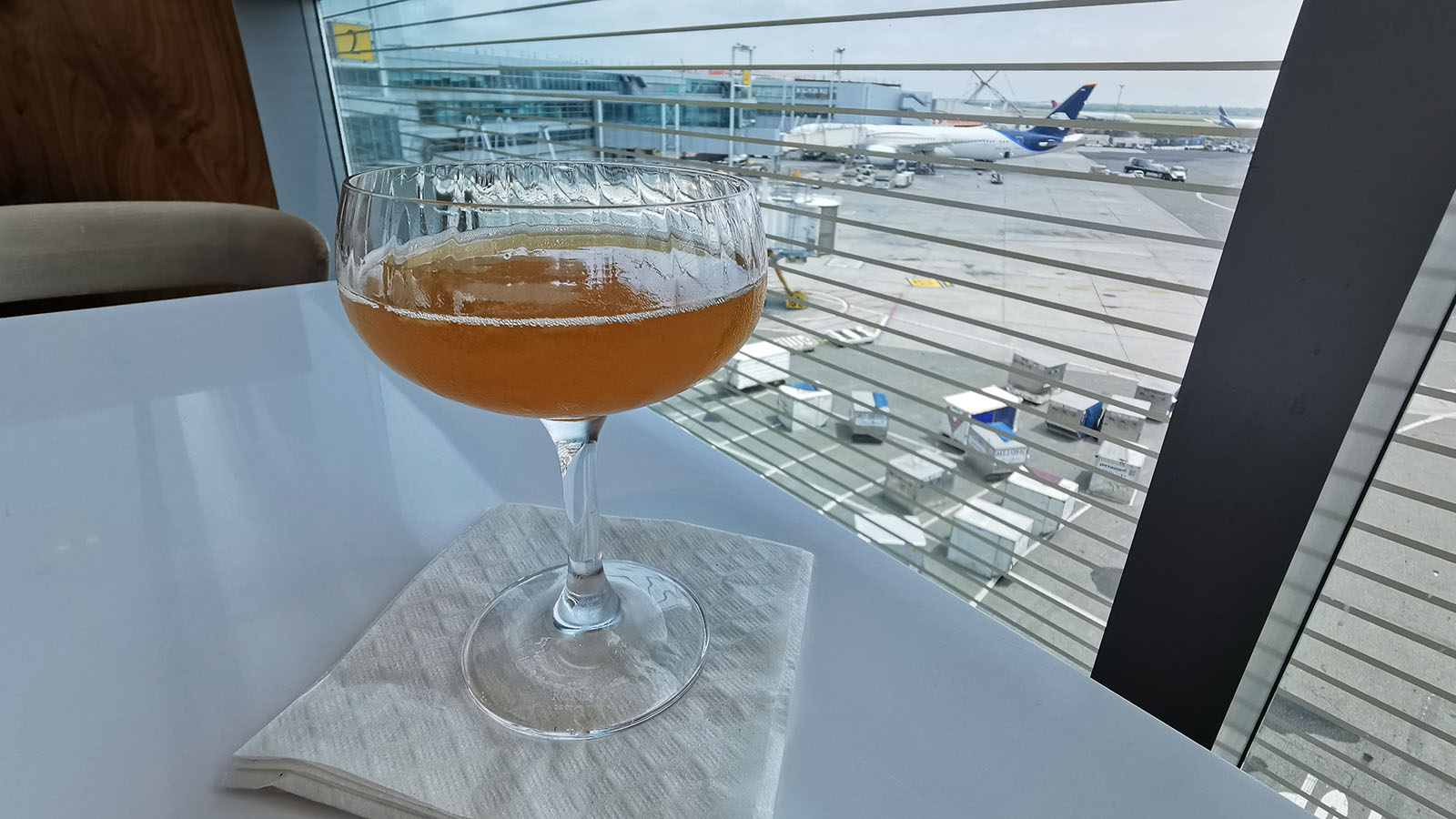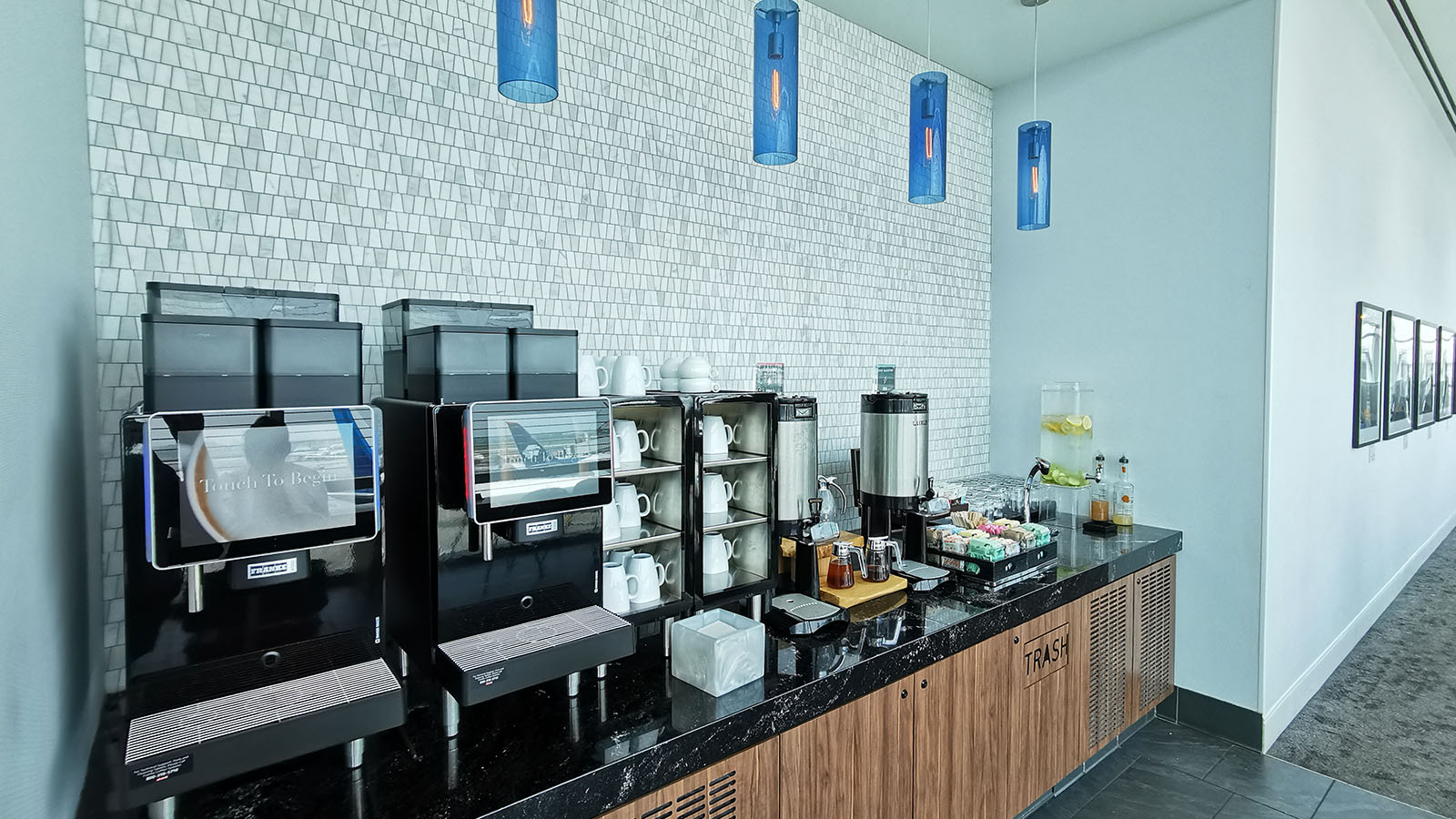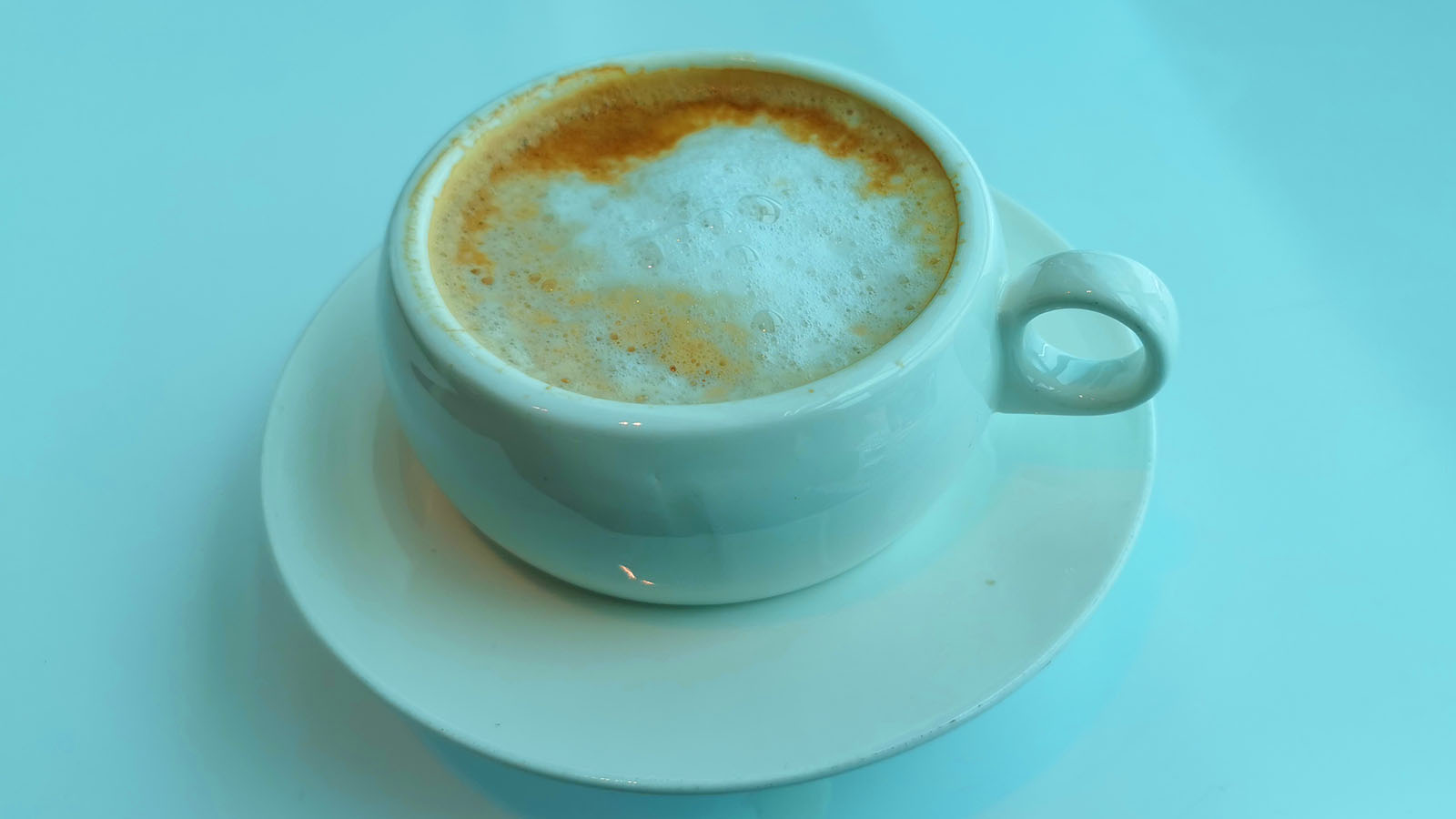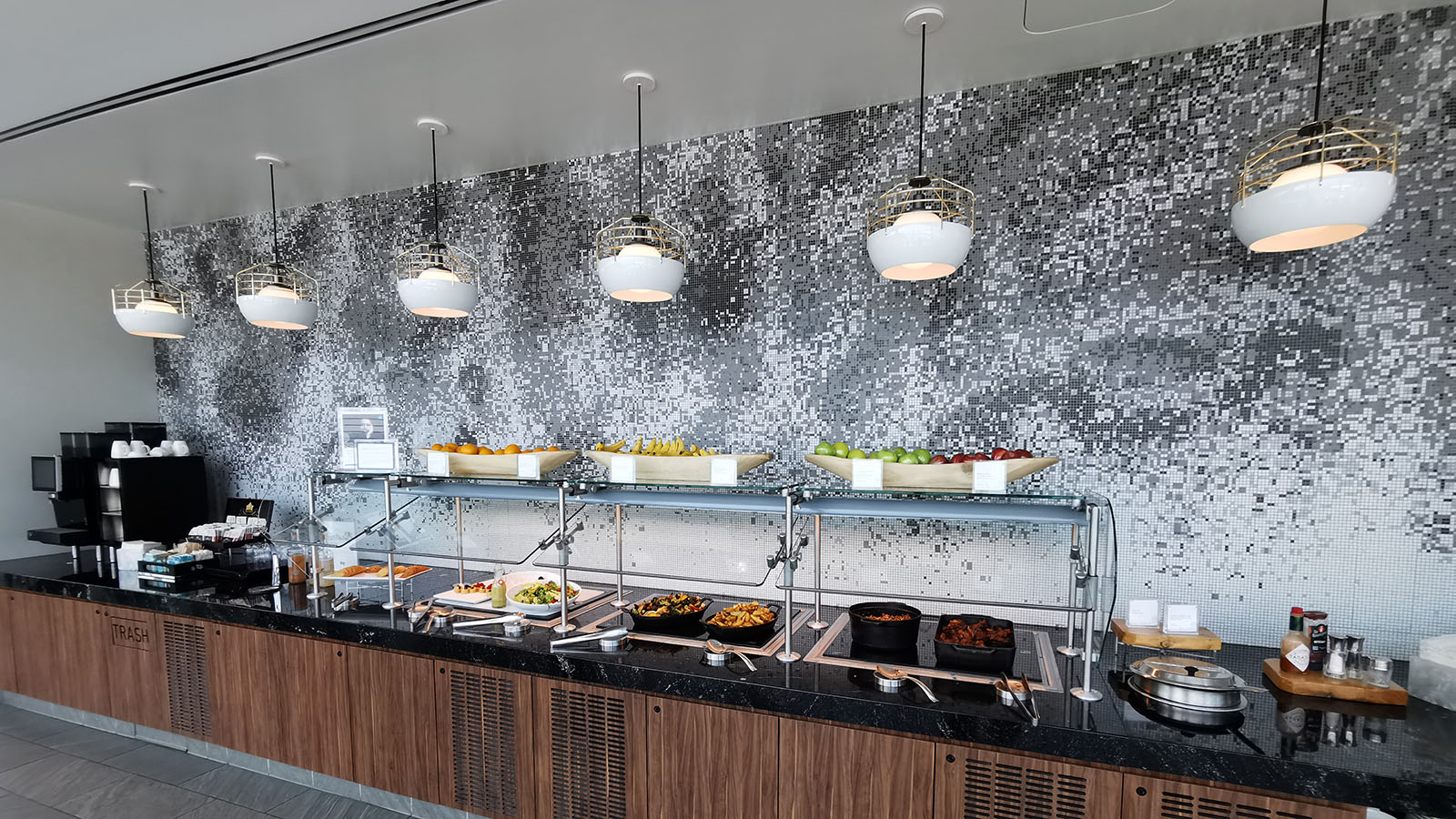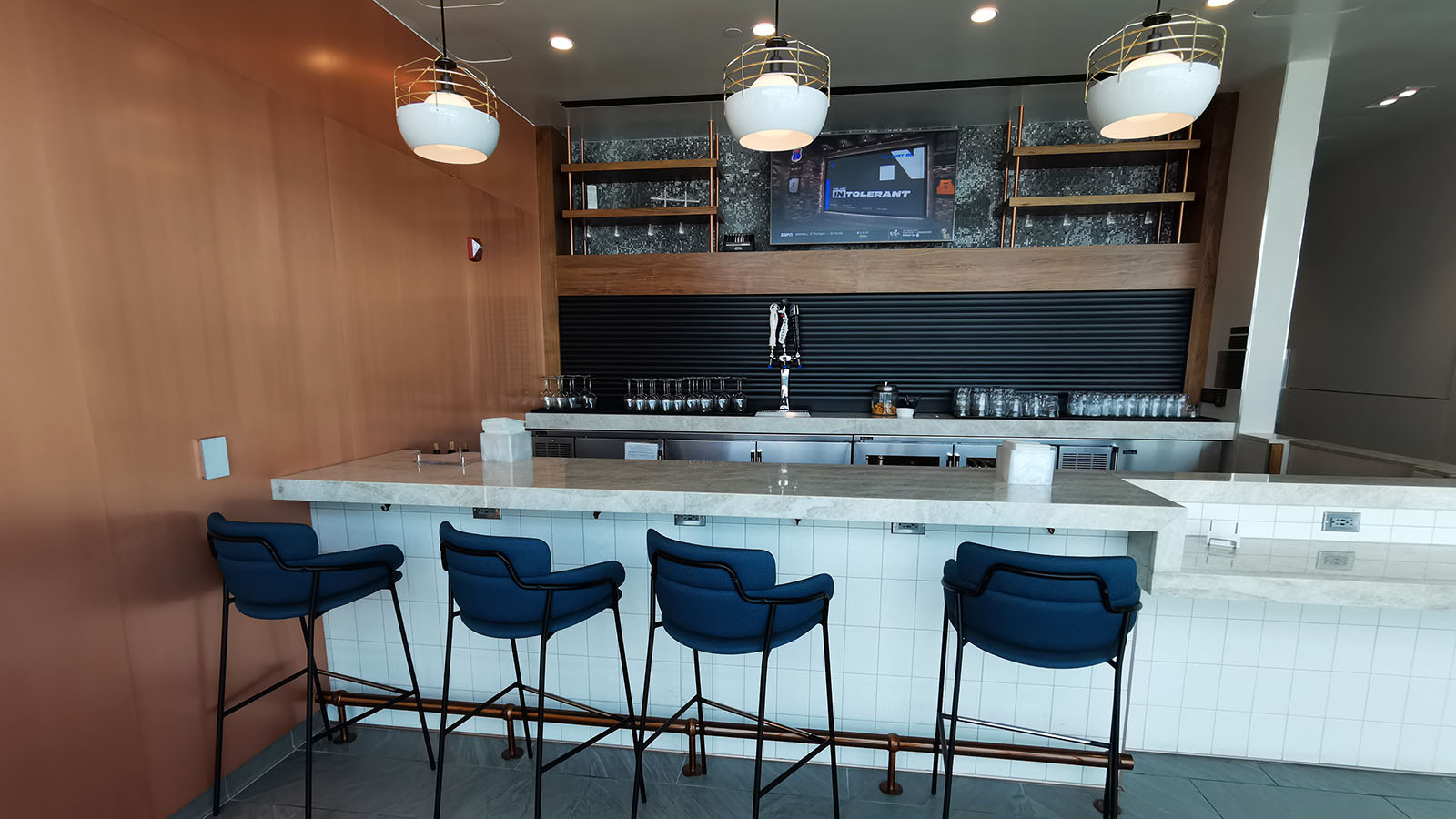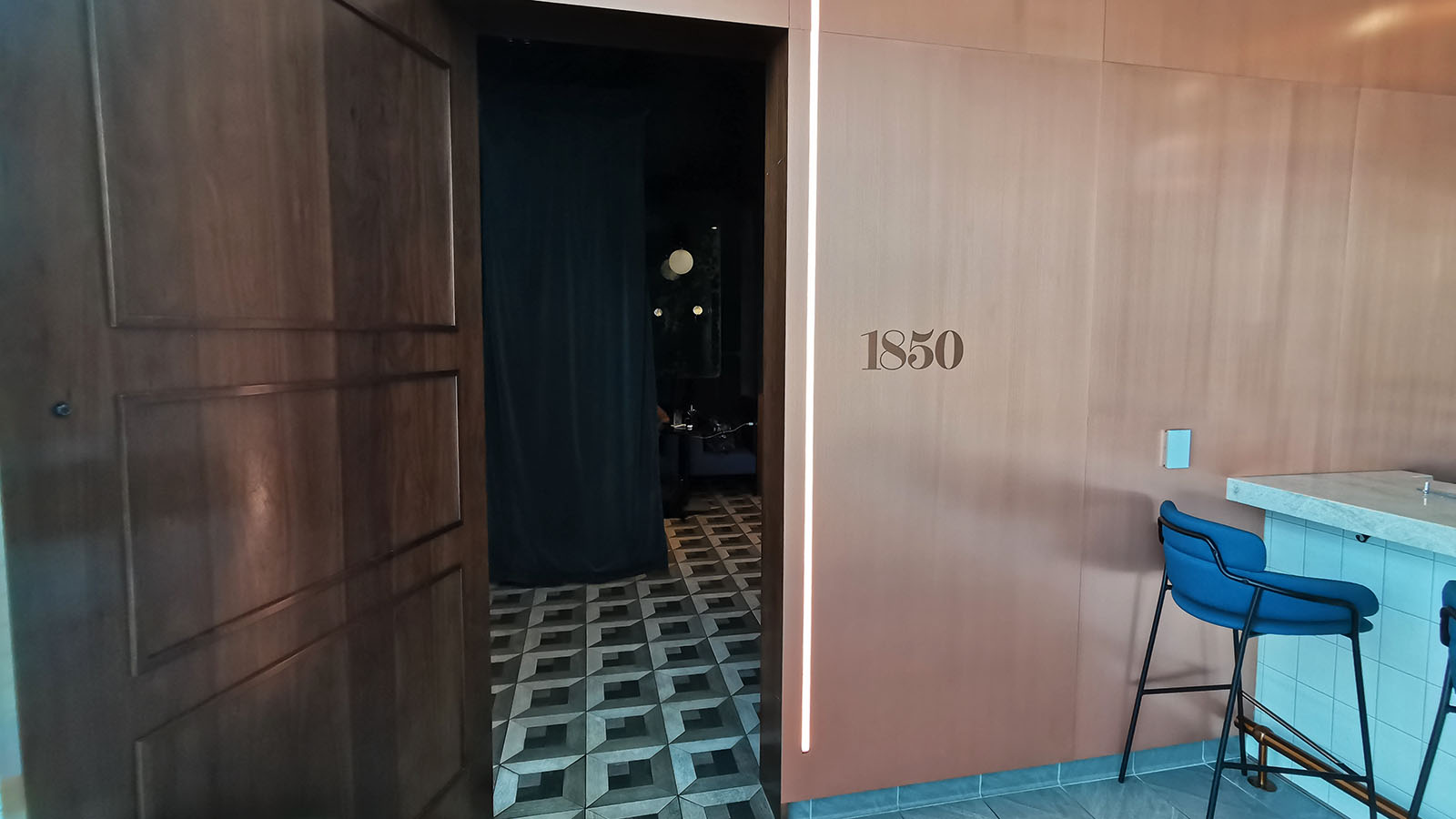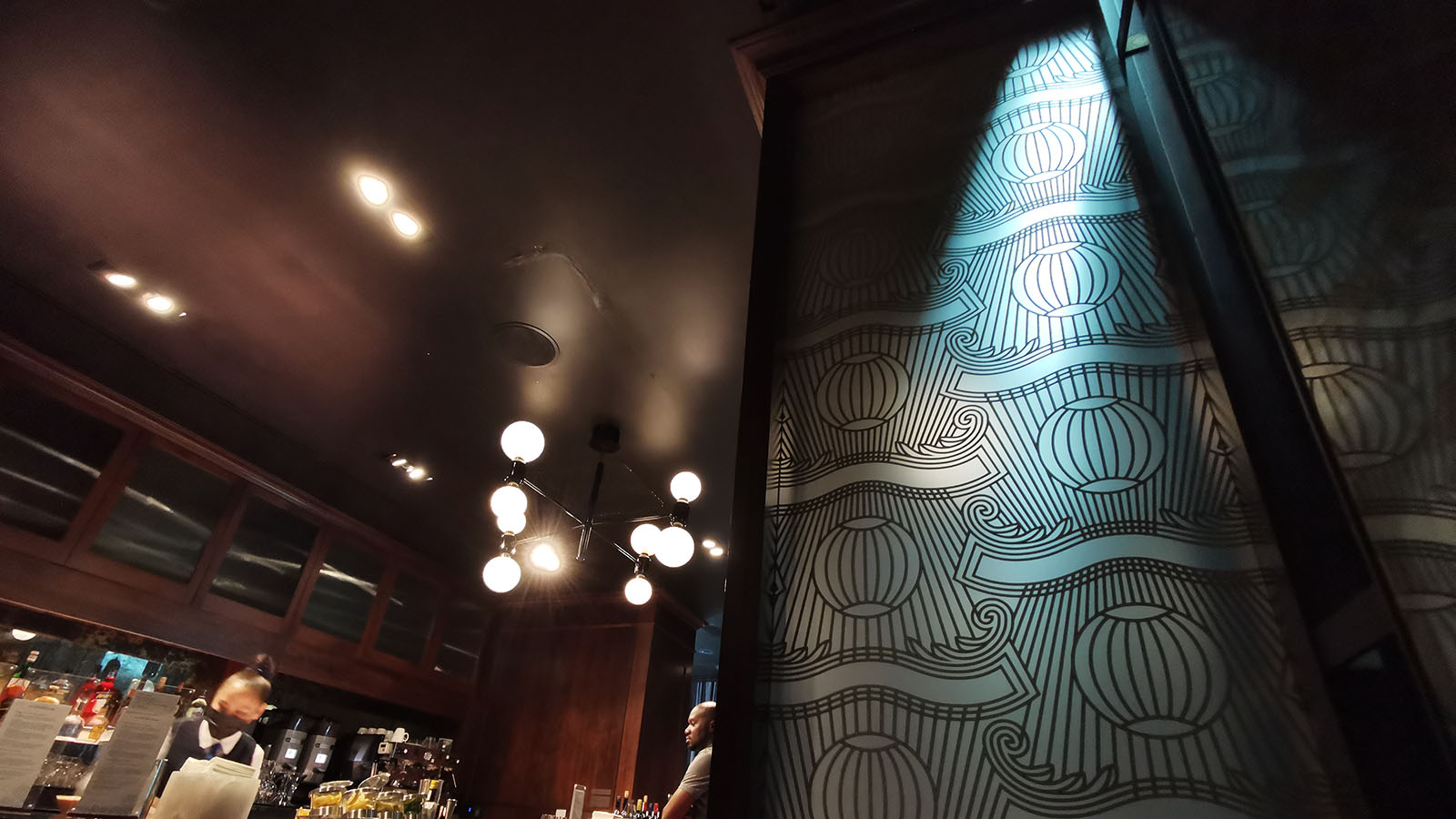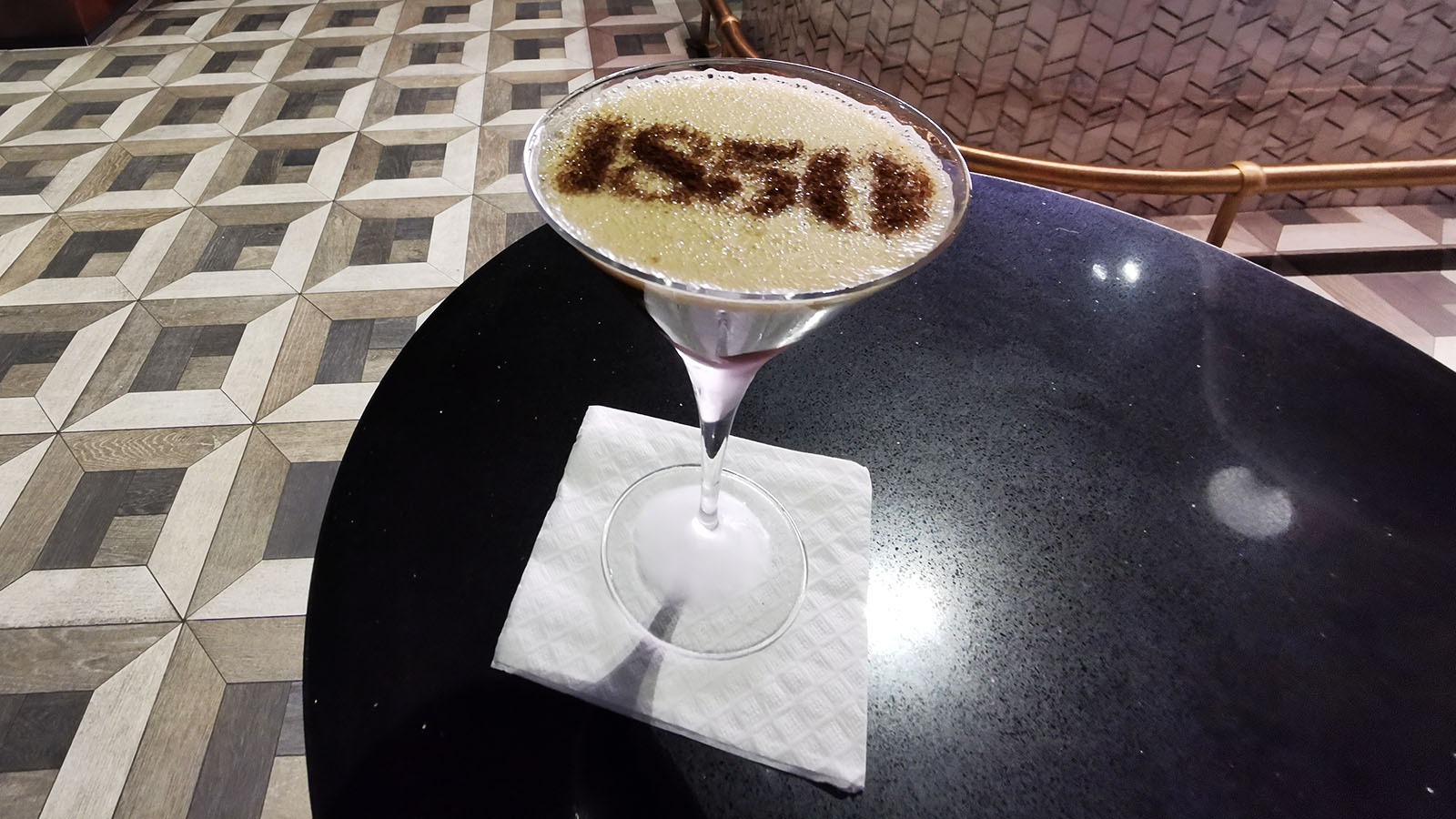 On the food front, the same buffet is replicated downstairs, so it doesn't matter where you sit. Downstairs also has a second bar counter. It's understandably closed on this quiet day… but there's a third bar down here too, and it's roaring.
Tucked away behind a subtle door, it's a speakeasy – a nod to New York City's prohibition days. Aptly named 1850, the design here reflects that secrecy, and you do feel like you've snuck into an underground lair.
In the name of research, I order an especially fine espresso martini. This drink alone is reason enough to return.
Lounge amenities
There's more to JFK's American Express Centurion Lounge than just food and drink, though.
Little and less common features make this space a standout, whether you're flying for business or leisure. For instance, we all need to make private phone calls from time to time. Here, there's a private room just for that – or to have a confidential chat with another lounge guest.
On the more practical side, screens in the lounge display flights both from Terminal 2 and Terminal 4. That's helpful if you've done that 'JFK Jitney dance' to get to the Centurion Lounge. And better yet, flights are arranged alphabetically by destination, making it easy to spot yours.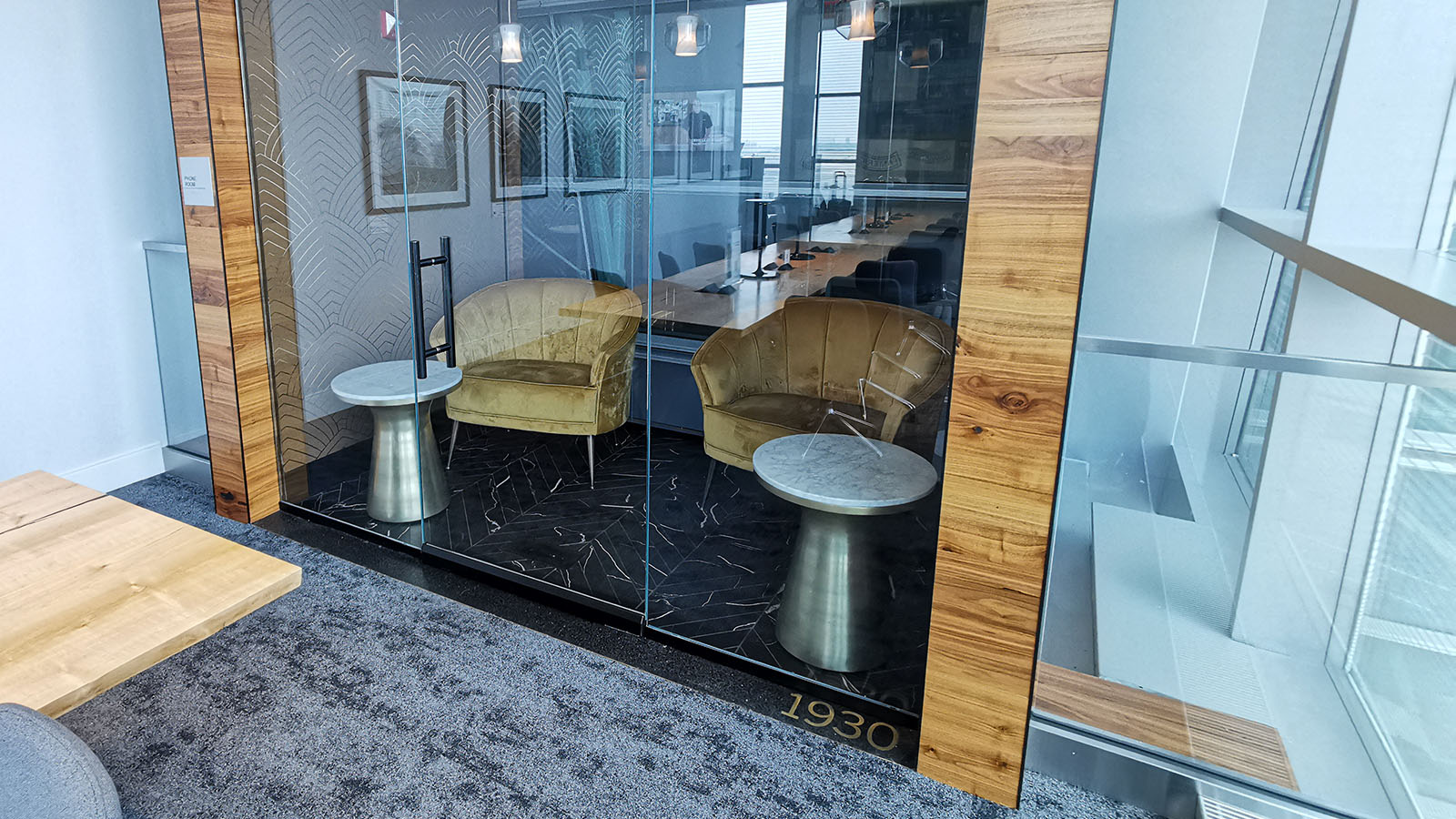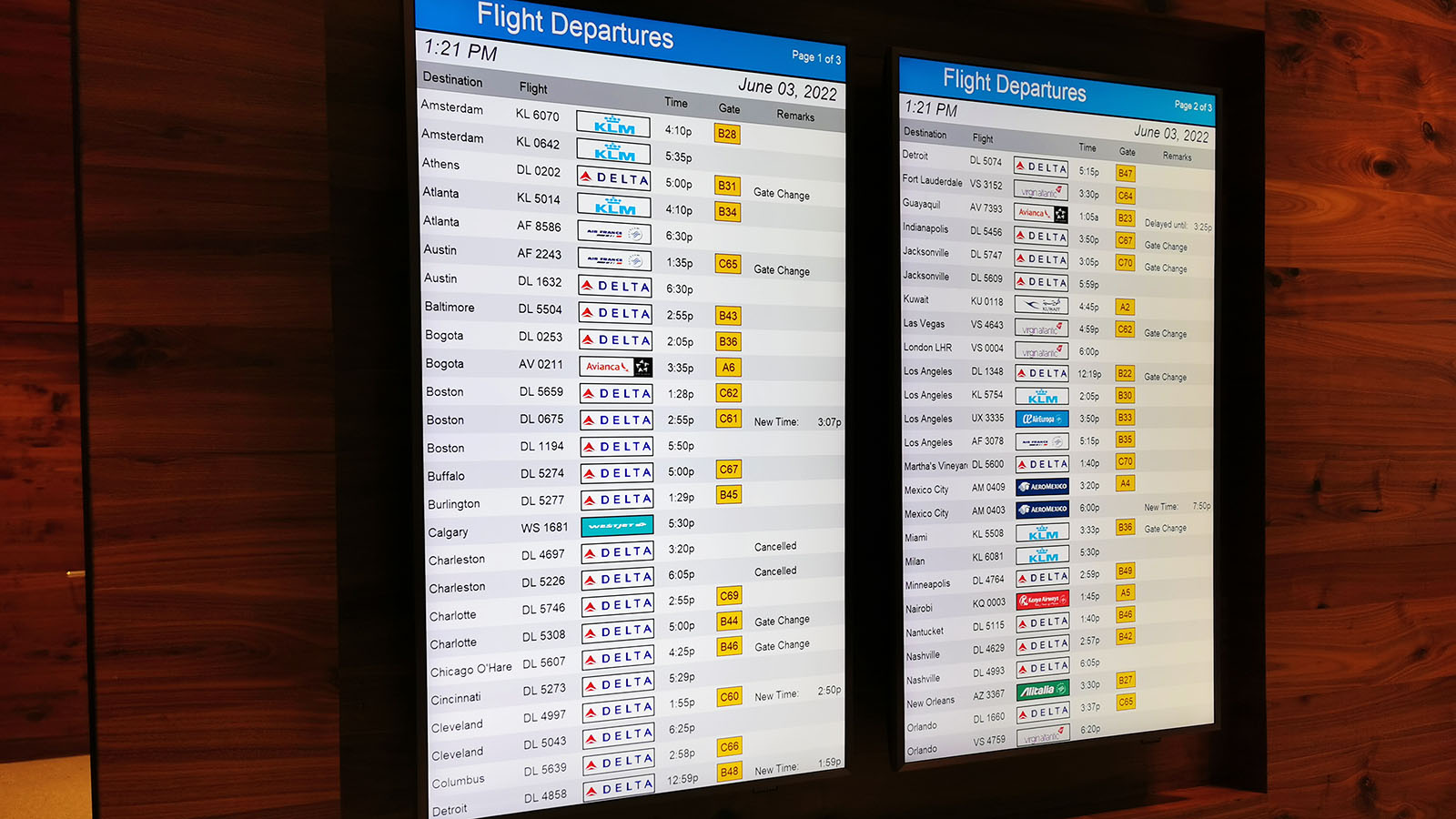 But that's not all. There's even an Equinox Body Lab where you can meditate and unwind. I was quite content with the cocktails on this visit but would find this an interesting way to begin a morning flight.
To respect the privacy of the other lounge guests who were using the facility when I popped through, there are no photos to share. But you can discover the space in this walkthrough video, courtesy of American Express:
Shower suites are available too – handy if your journey is taking you further afield. Wi-Fi comes free, as you'd expect. With downloads averaging 184Mbps and uploads surpassing that at 262Mbps, it certainly wouldn't take long to download video content to enjoy on your flight ahead.
Accessing the Amex Centurion Lounge at New York JFK
The American Express Centurion Lounge at New York JFK Airport welcomes eligible Amex cardholders from around the world. This includes travellers with the following cards issued in Australia:
Generally, access is permitted from three hours prior to your flight's scheduled departure time. The exception is if you're transiting between flights at JFK, where you can utilise the lounge for the duration of your transit.
This Centurion Lounge currently opens between 6 am and 9 pm daily. If your flight is scheduled to depart after 9 pm, you can enter the lounge as early as 6 pm to enjoy a three-hour visit. This exception is subject to available space.
Whatever your circumstances, just be prepared to show your eligible Amex card, boarding pass and photo ID at the reception. On the ID front, my Australian driver's licence was accepted without issue, which avoided digging out my passport.
Summing up
This has to be one of the best ways to begin your journey from New York City – especially if the flight ahead is a quick domestic hop.
But with many major international airlines calling Terminal 4 home, it's also a perfectly fitting place to kick-start a longer voyage. Wherever you're headed though, the American Express Centurion Lounge at JFK Airport is certainly worthy of early arrival.
Just remember that three-hour limit before departure, and the time your check-in and security screening accordingly. And if you're departing on Delta from Terminal 2, allow at least 15 minutes to change terminals – or slightly longer, to be safe.
Photography by Chris Chamberlin, who travelled from JFK at Point Hacks' expense and accessed the lounge as a regular guest.
---
Stay up to date with the latest news, reviews and guides by subscribing to Point Hacks' email newsletter.
American Express Centurion Lounge, New York JFK
was last modified:
July 2nd, 2022
by