As the largest airline serving London Heathrow, British Airways' home turf is in the capacious Terminal 5. Home to no fewer than four BA lounges, different spaces cater to different travellers. In fact, there's so much room on offer BA even has two different 'Club' lounges for premium passengers.
At one end of the terminal, there's the Galleries North Club Lounge. It's the smaller of the two, and its location often makes it better when taking shorter flights within the UK or across Europe. The Galleries South Club Lounge, on the other hand, is more of BA's flagship Business Class space. It's open from 5 am to 10 pm daily – as is its impressively-stocked bar!
(BA also has lounges in Heathrow's separate Terminal 3, as well as at London's Gatwick Airport. But Heathrow Terminal 5 is where you'll find the airline's 'main' lounges).
Even though I was only flying to Amsterdam, I still headed to the Galleries South Club to relax before my flight. Here's what to expect during your own visit – and yes, Champagne at 8 am is entirely acceptable.
Location
If you have access to any of British Airways' lounges, chances are you can also use Heathrow's Fast Track lane. This gets you through security quick smart, giving you more time to enjoy the lounge. Fast Track in Terminal 5 is open to:
British Airways' First, Club World and Club Europe passengers. (Club World is BA's branding for long-haul Business Class, and Club Europe means short-haul Business Class).
oneworld Sapphire and Emerald frequent flyers. This includes Qantas Gold, Platinum, Platinum One and Chairman's Lounge, among others. It also covers BA's own Executive Club Silver, Gold and Premier cardholders.
Other eligible travellers departing on other airlines, as applicable to Terminal 5.
Now, Fast Track only gets you through security speedier. Once you've been reunited with your cabin bag, there's still a way to go. Teasingly, BA's lounges are right next to security. But it's a bit of a job finding the entrance. Put it this way – it's sure to get your step count up.
You'll need to take the escalator downstairs, turn right, loop back around, wander along the concourse, and then take an escalator back upstairs. Sound complicated? Sure is! But of course, that's all part of Heathrow Airport's plan. This 'lounge dance' means many of BA's premium passengers have to walk past all the luxury and duty-free shops on their way to the lounge. In fact, I couldn't resist darting into Fortnum & Mason to purchase a luxe rose jelly as a way to remember my whirlwind trip to wonderful London.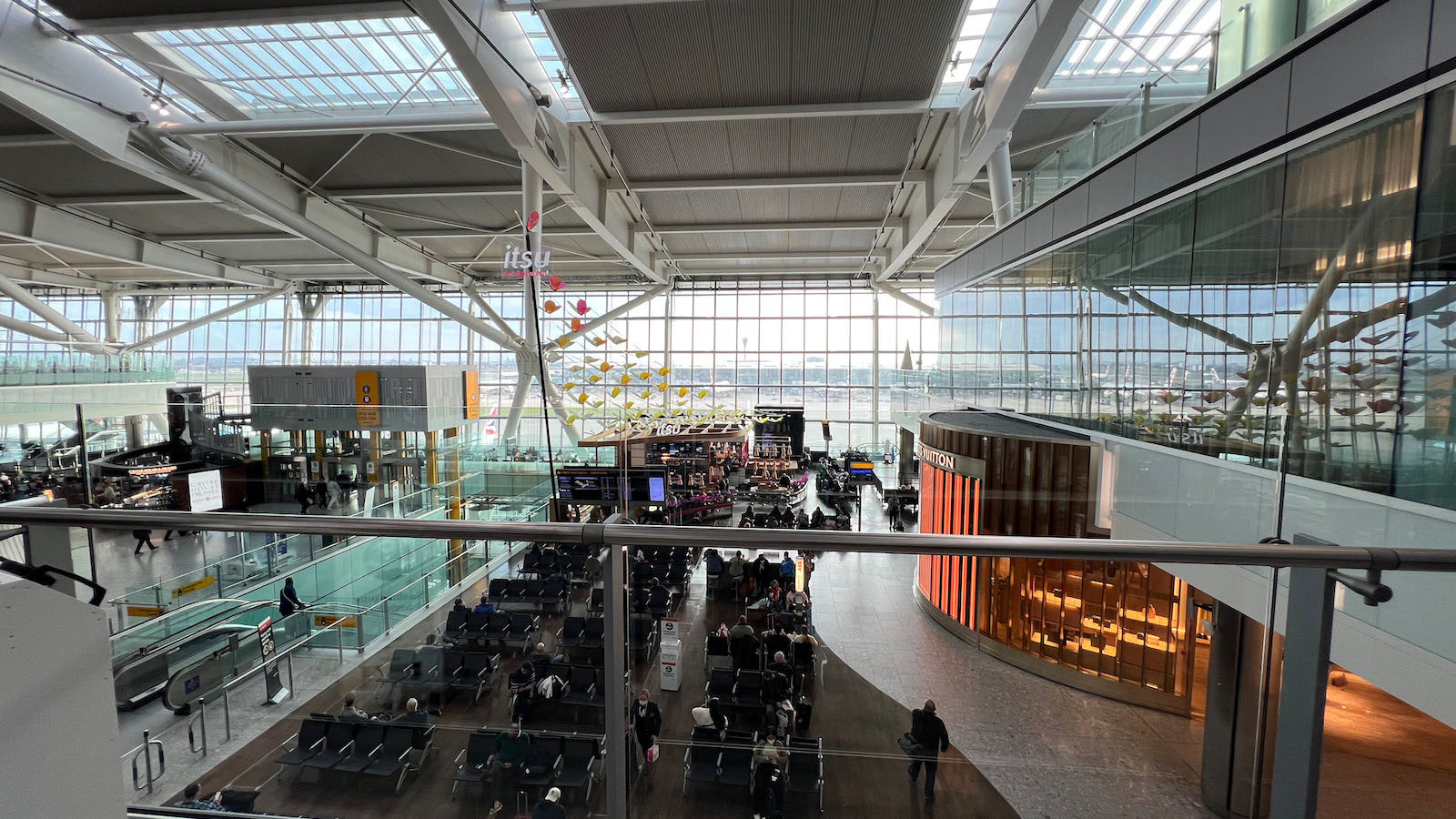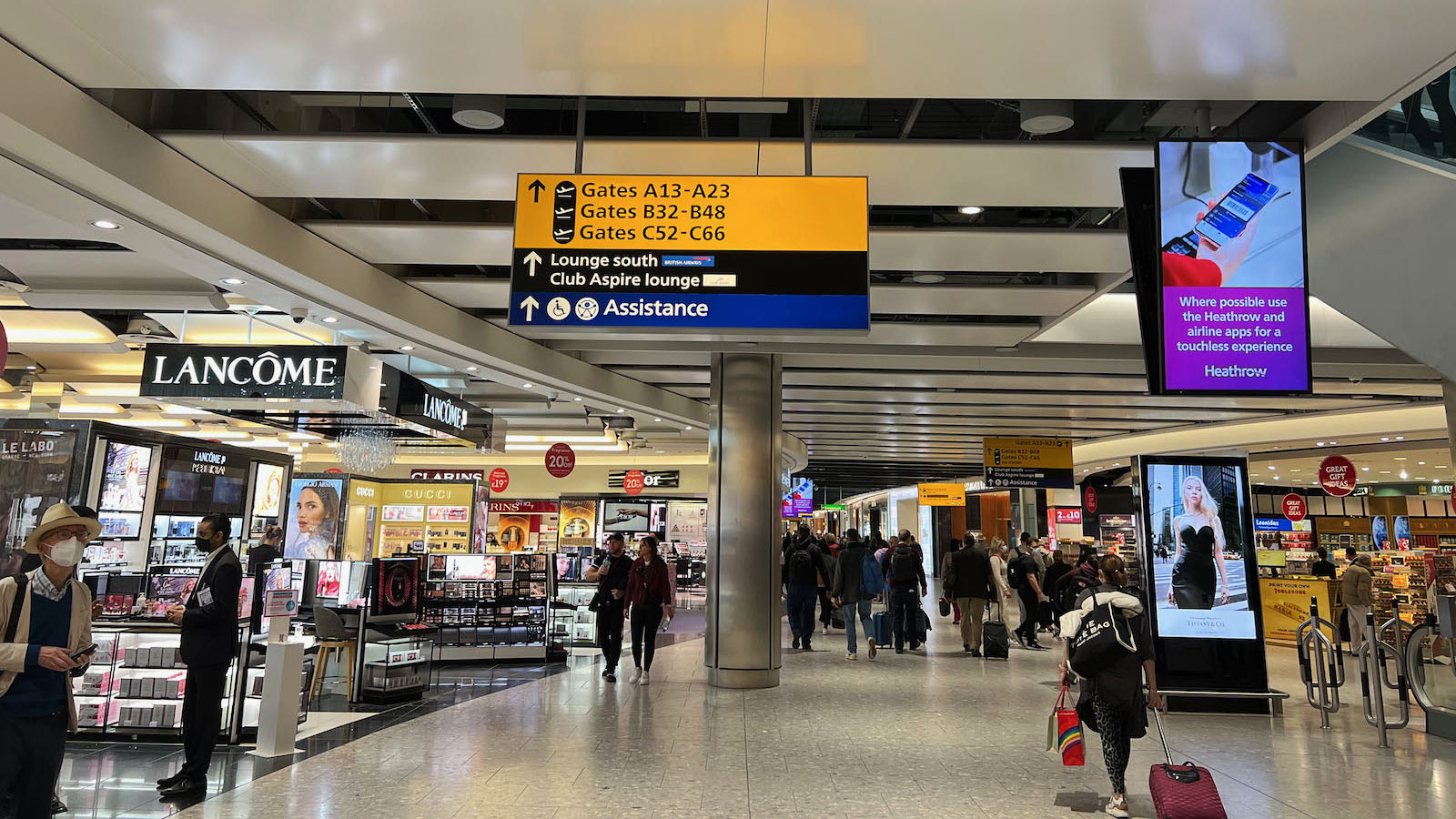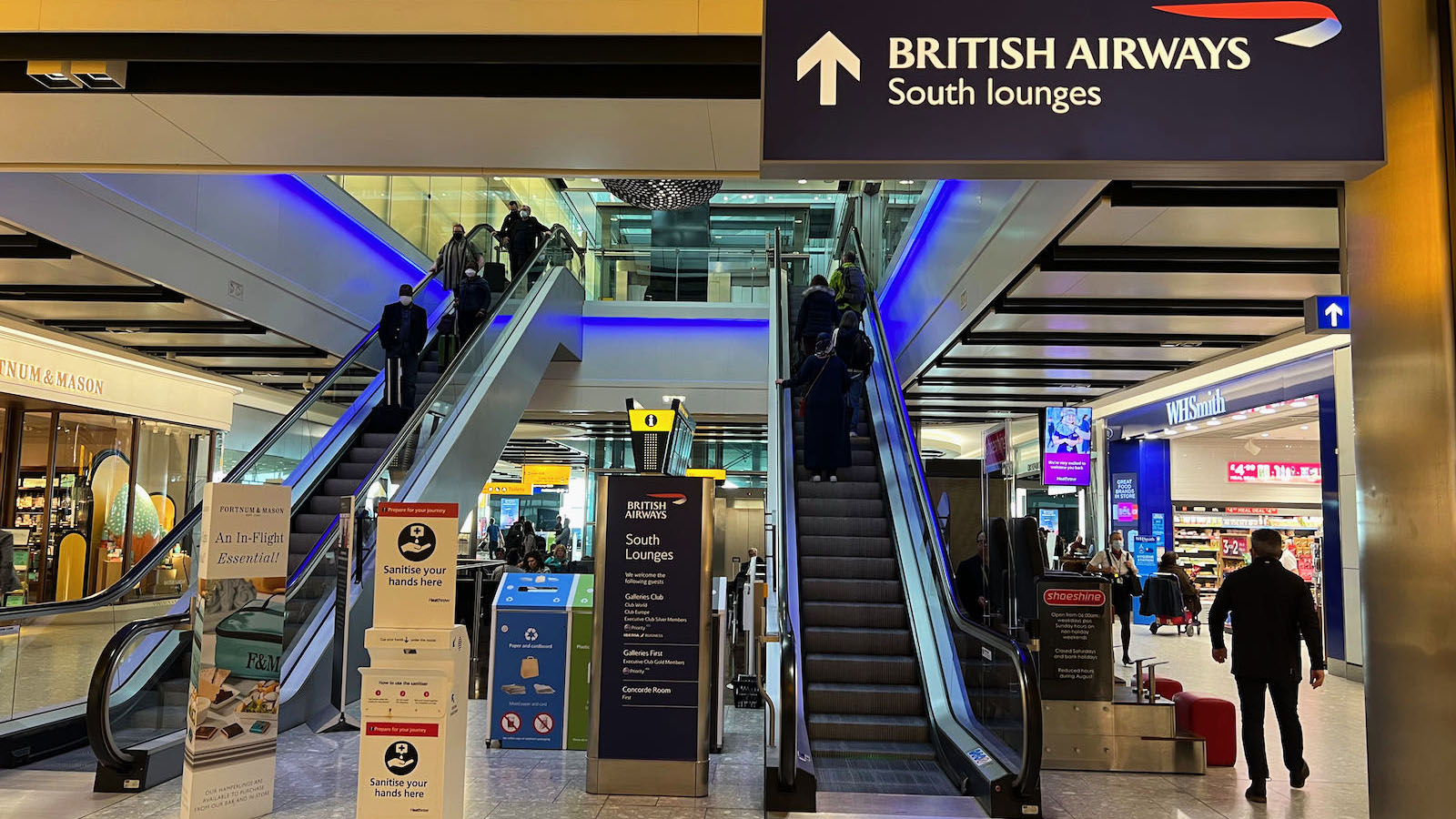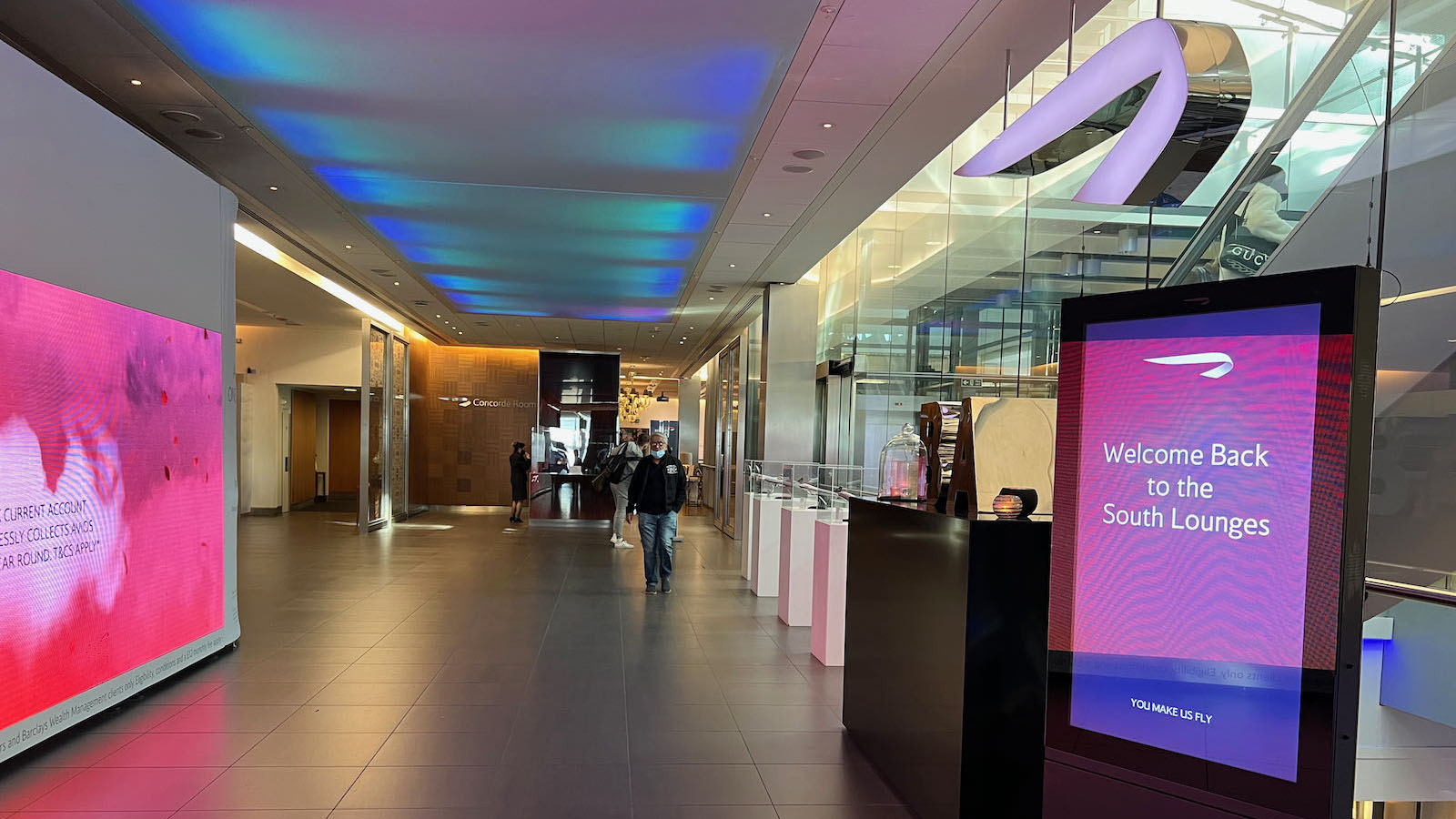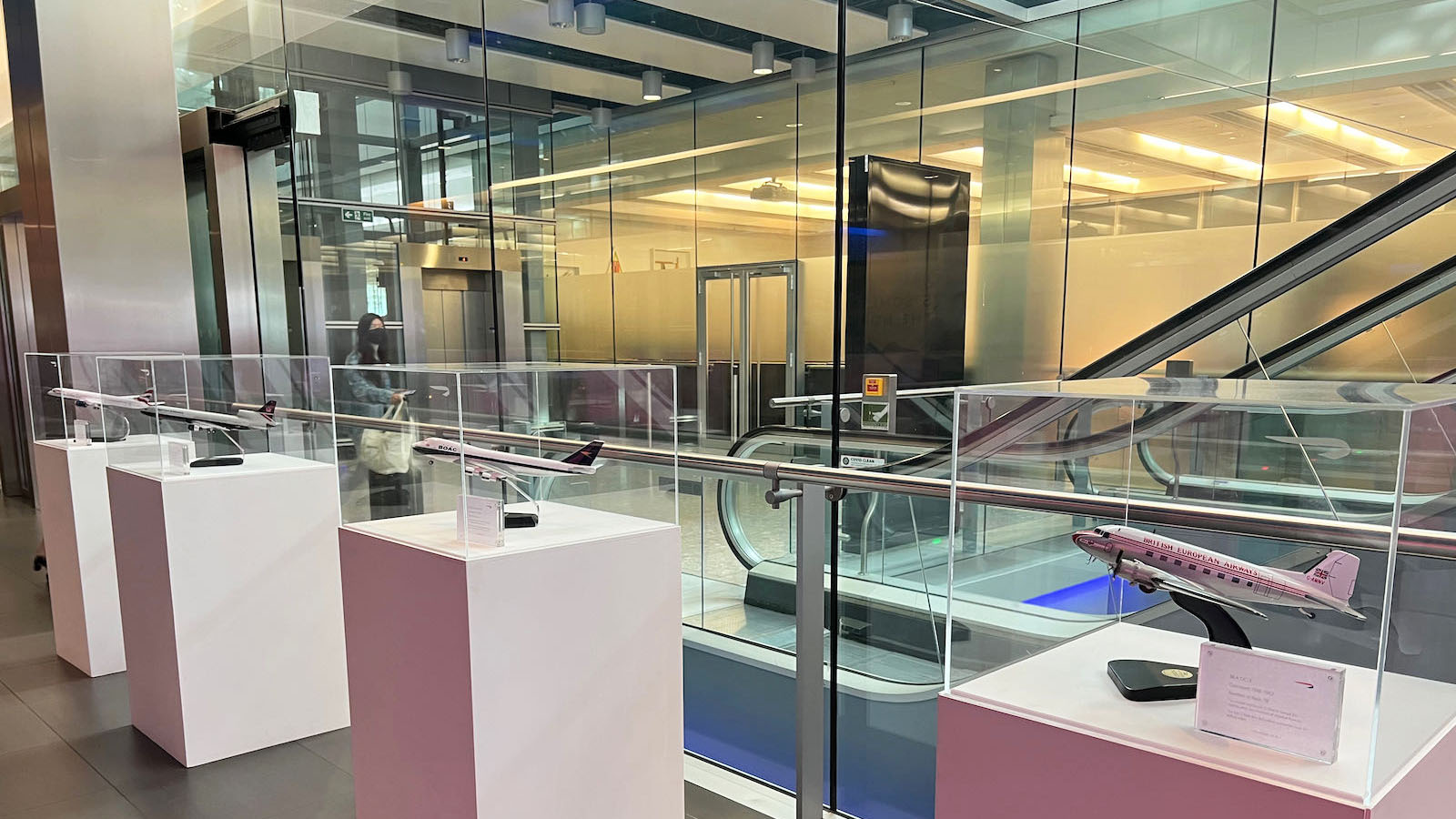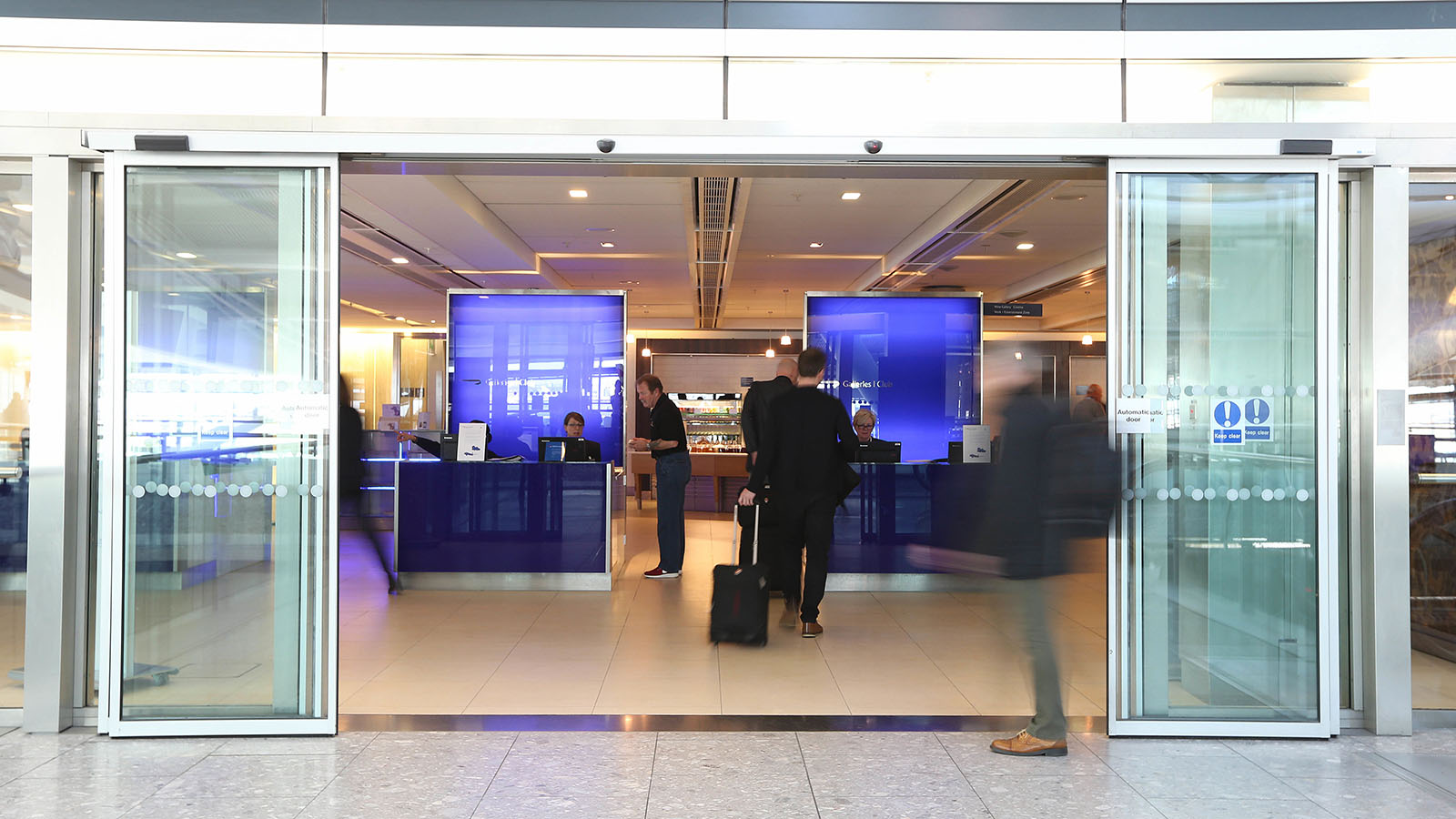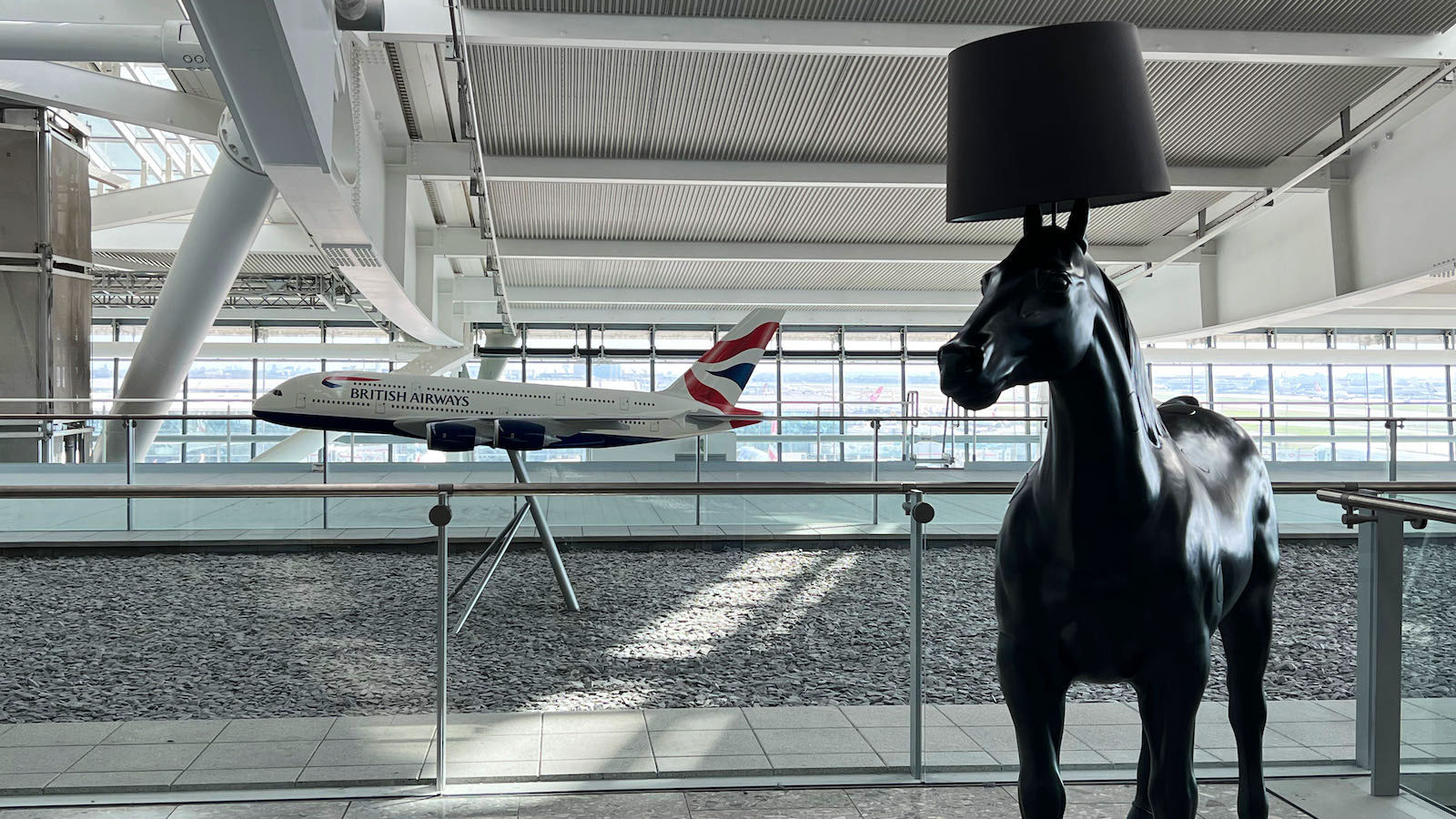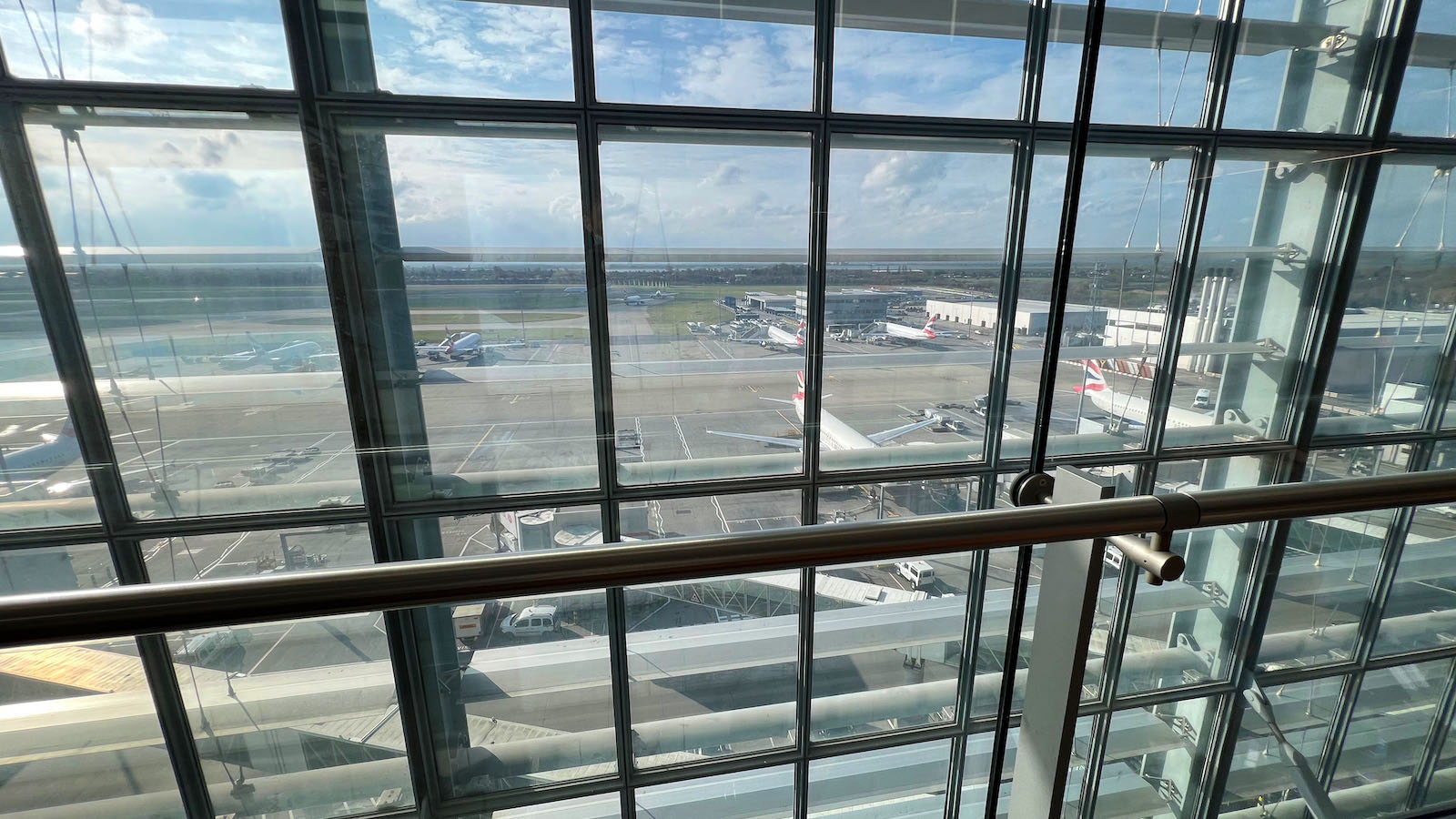 Lounge layout and seating
Once you've found your way to British Airways' Galleries South Club Lounge, the enormous space reveals itself. With a wide range of seating options, you'll have a bunch of sections to choose from.
A long corridor takes you from one end of the lounge to the other. If you feel you haven't already walked enough simply finding the lounge, it's another way to stretch those legs before it's time to fly.
I always recommend doing a lap of a new lounge to orient yourself. I'm a window girl – on the ground and in the air. So naturally I seek out an armchair by the huge windows overlooking the apron. This can be a busier section of the lounge, but it's hard to beat that view. Of course, others may prefer a quieter space to work or relax. In that case, head to the other end of the lounge. Predictably, the seats overlooking the terminal's interior aren't quite as popular as those with the outside view.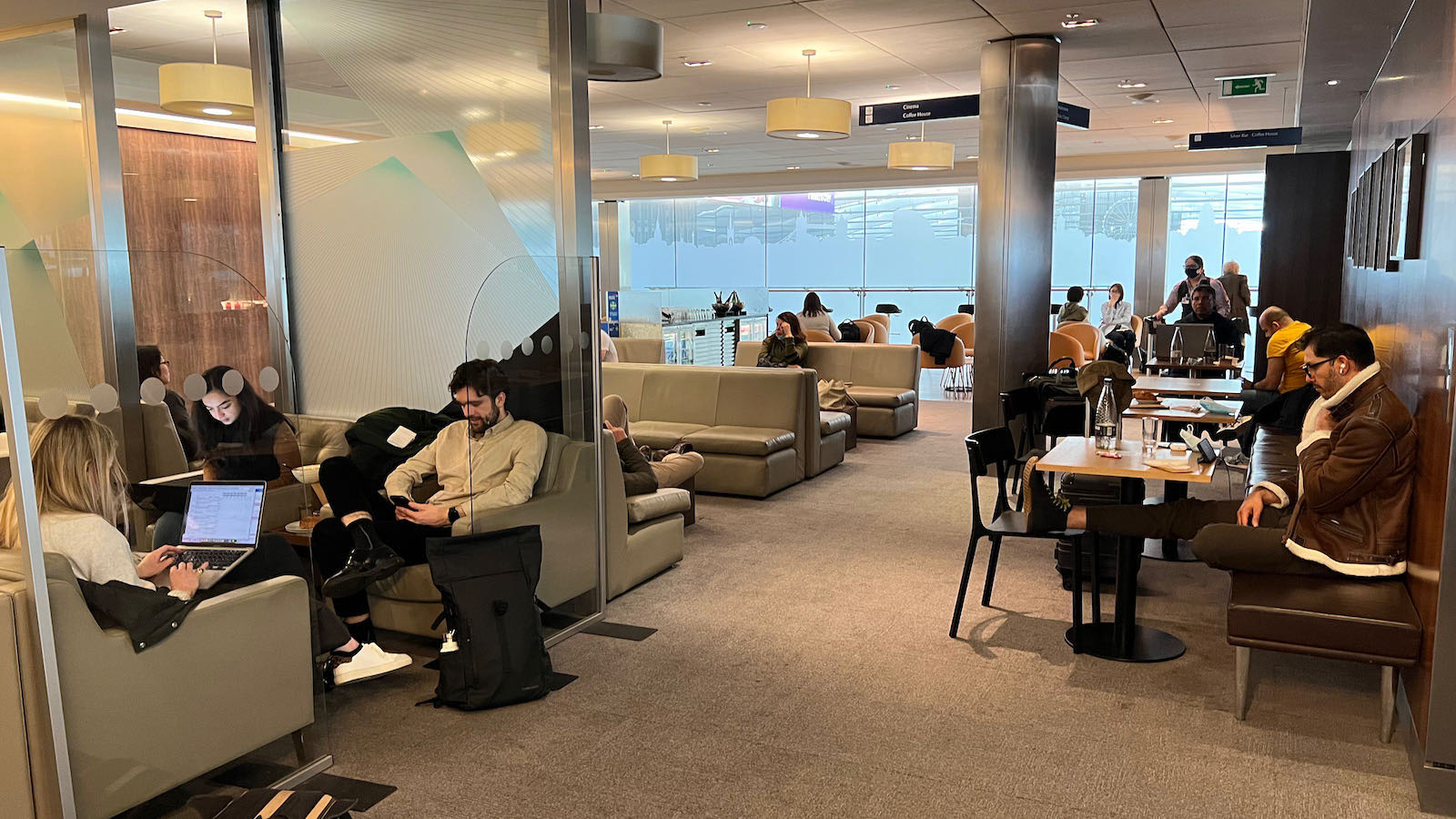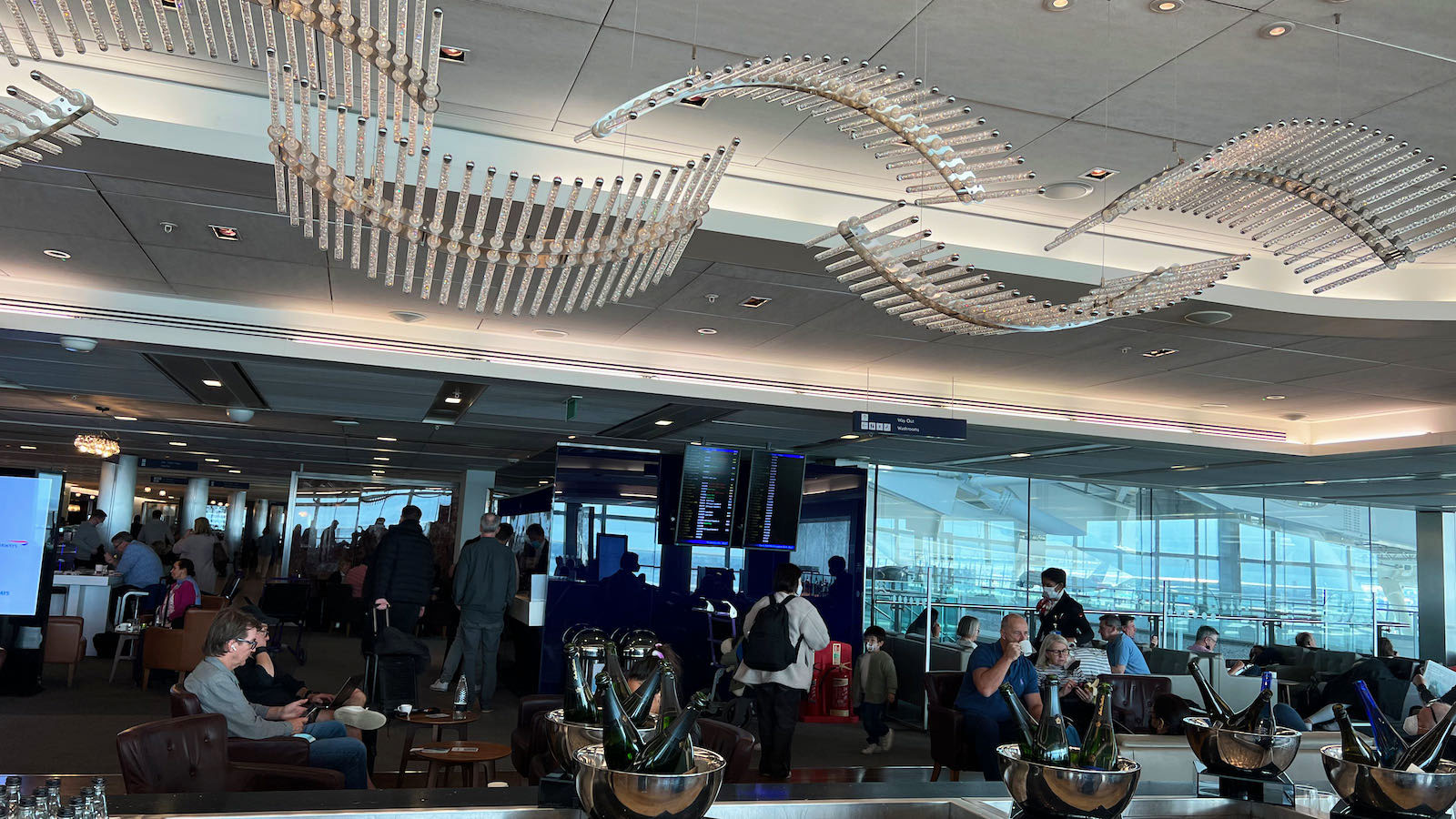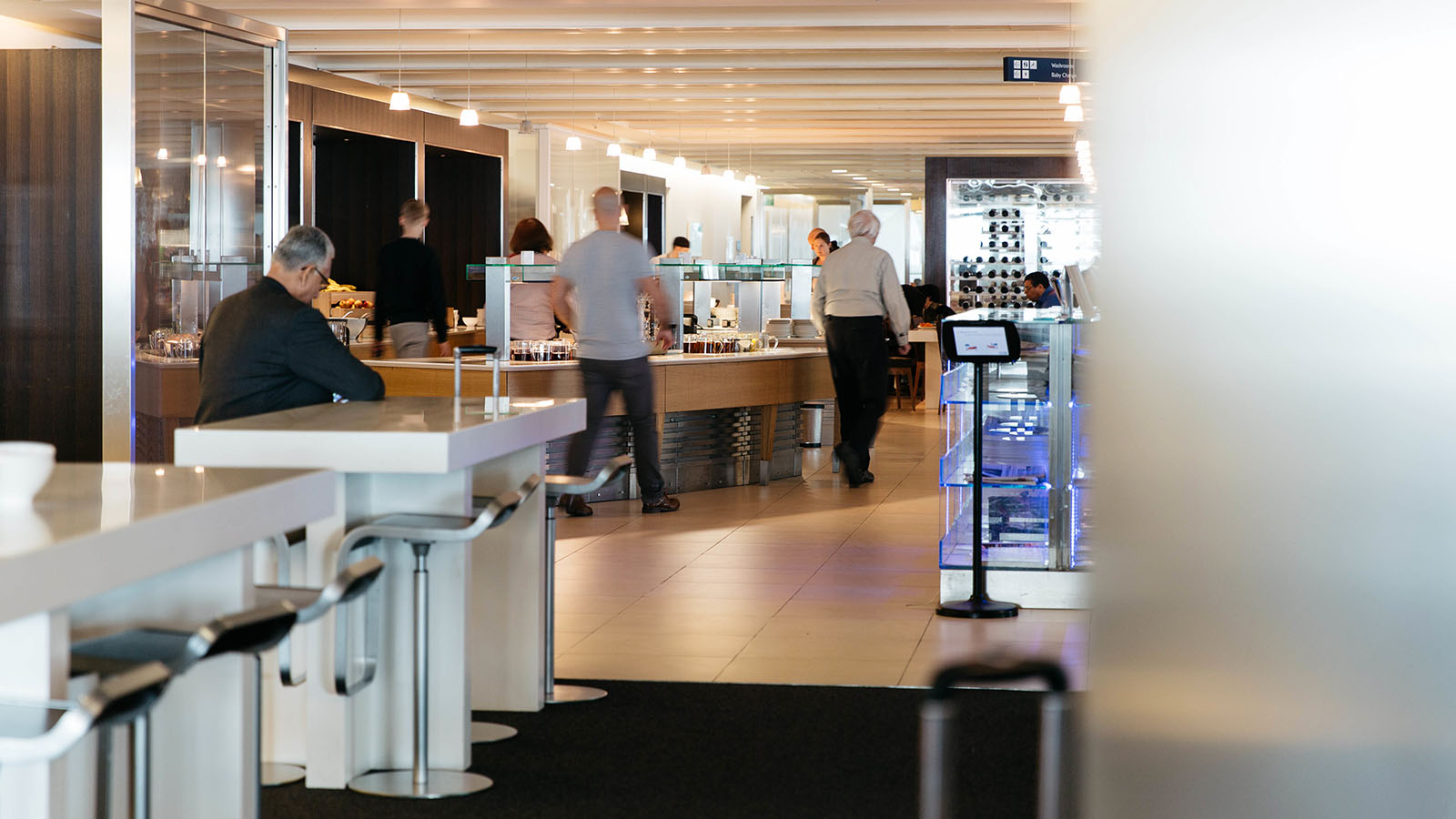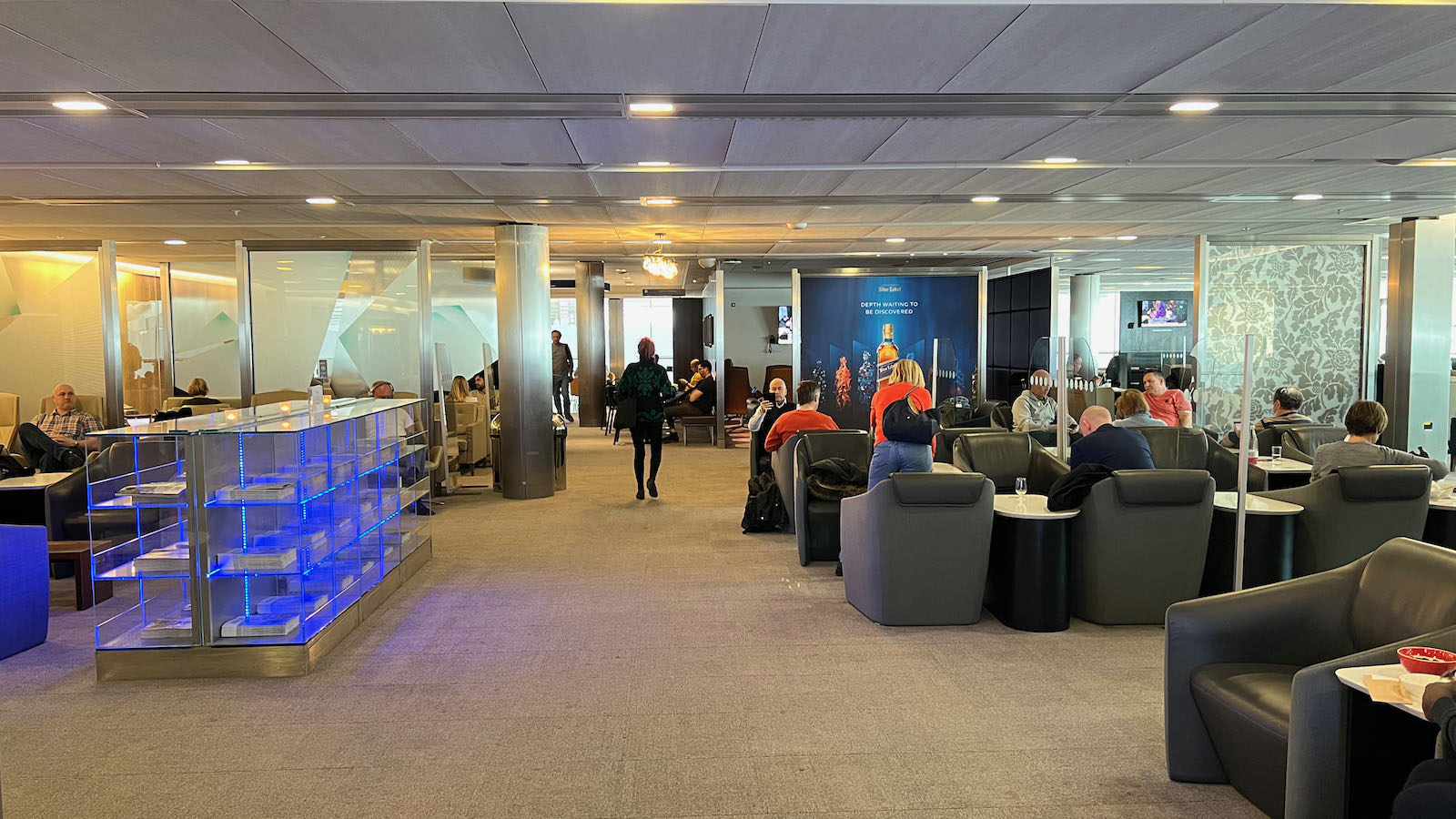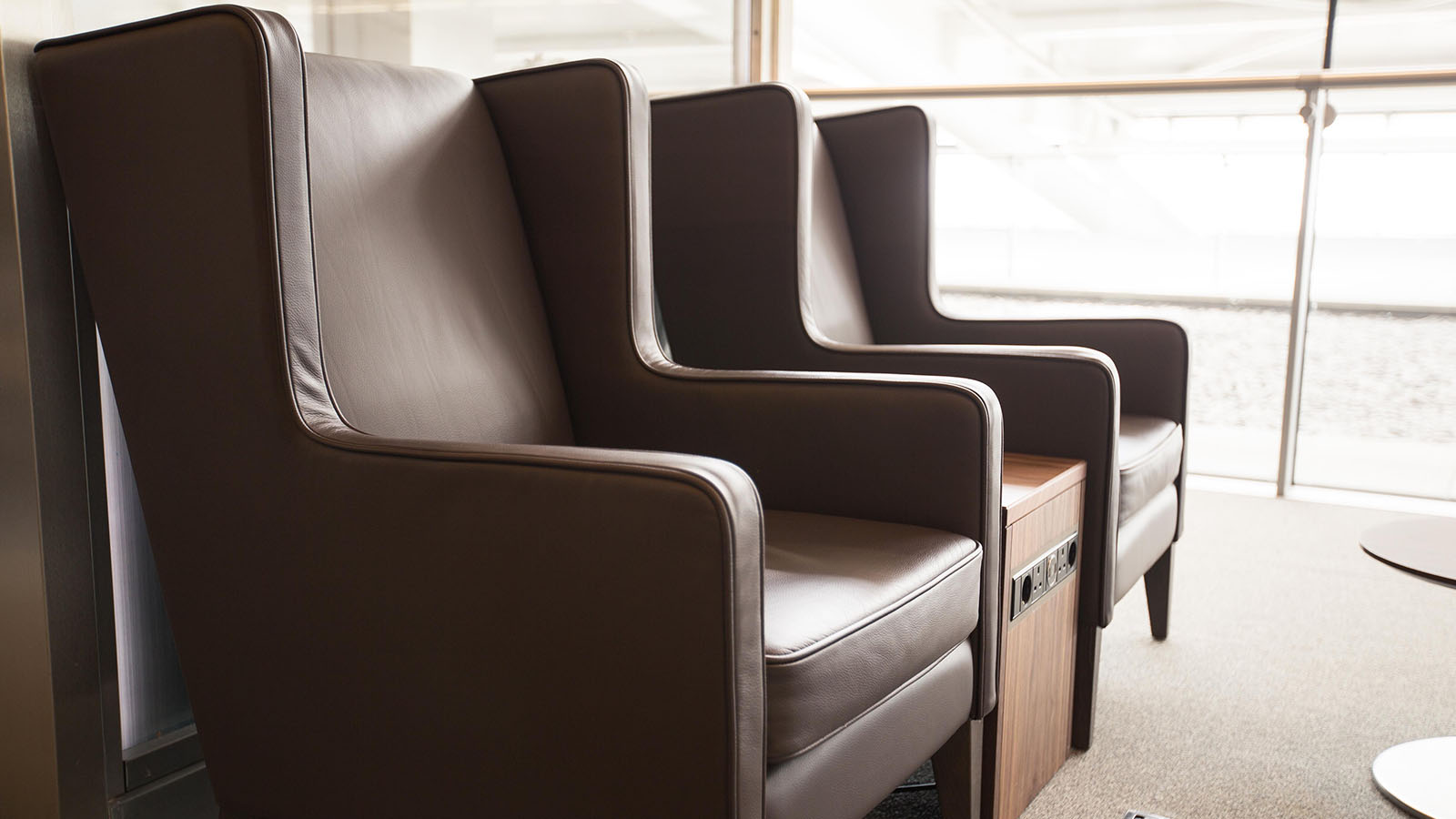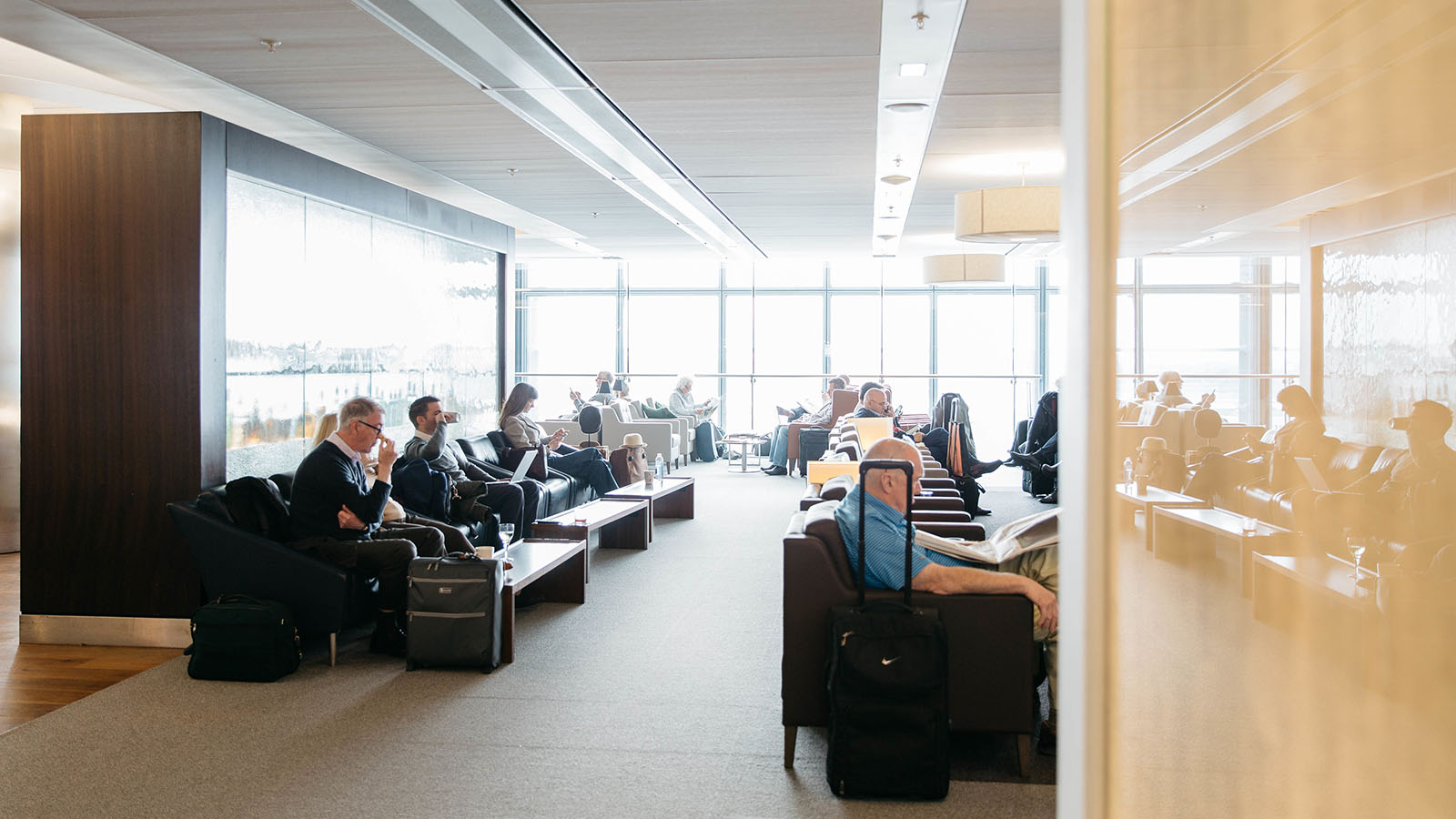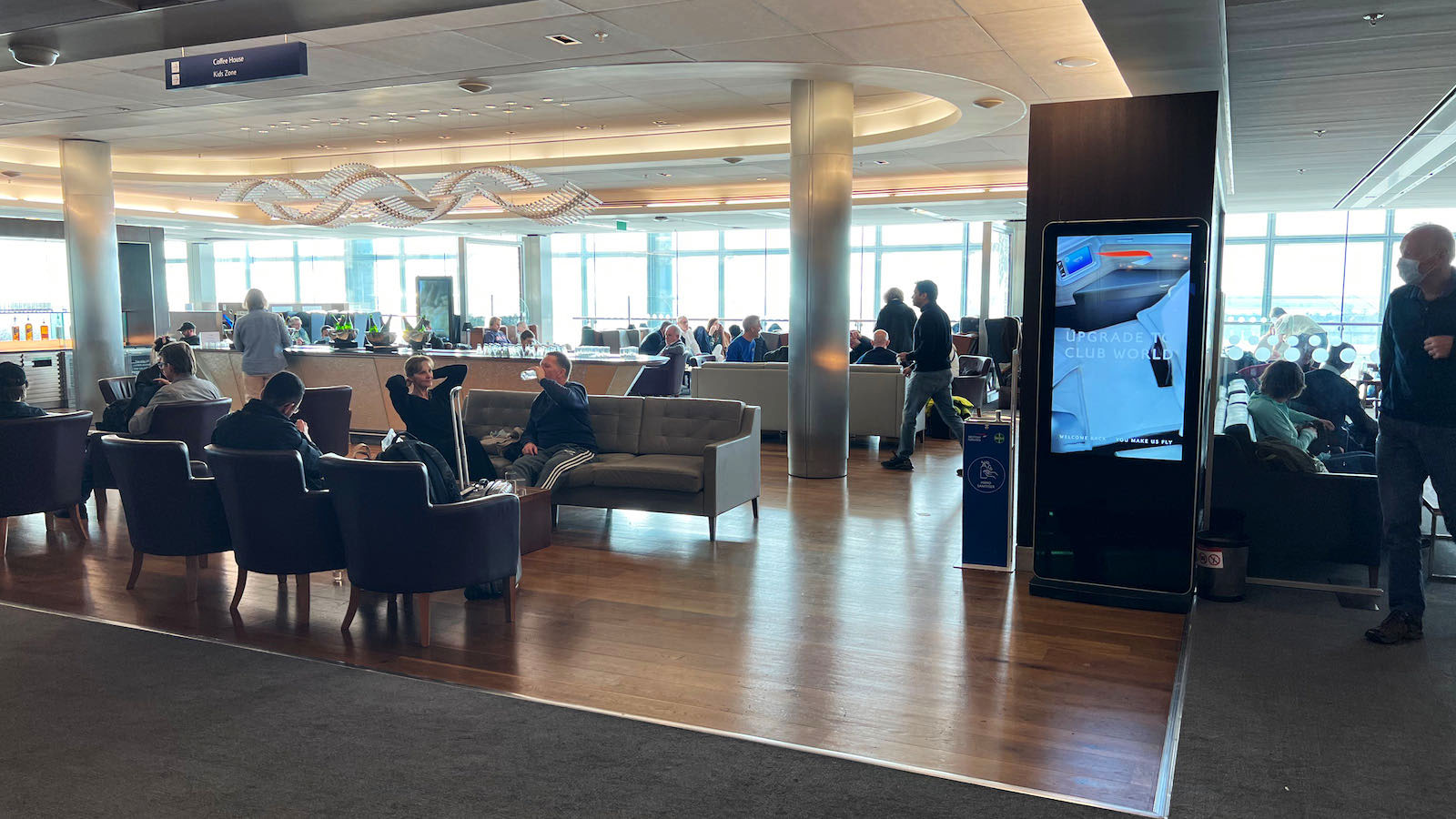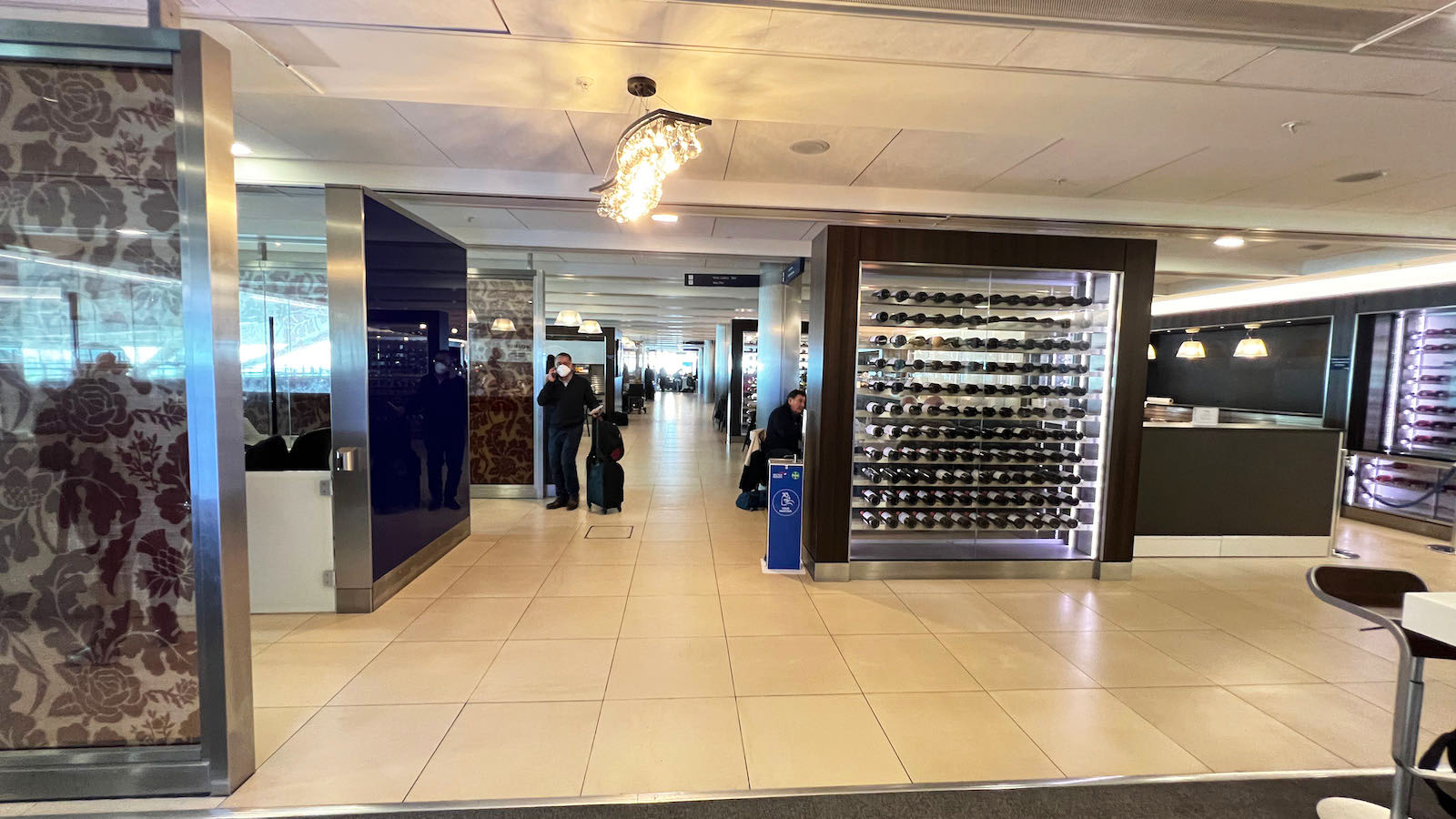 Food and beverage in British Airways' Galleries South Club Lounge
As I couldn't resist mentioning earlier, British Airways gets things done with a full bar from morning 'til night. Given mine was a morning flight, I couldn't quite stomach a glass or three of Champagne – though many people were helping themselves to something stronger. And more power to them.
Instead, I went for a flat white. There's no barista here, but you can DIY at one of the many machines.
During my visit, most food wasn't served from a buffet but via a barcode at each seat. I placed my order before strolling off to make that coffee. By the time I'd returned to my seat mere minutes later, my food was there. Now that's speedy.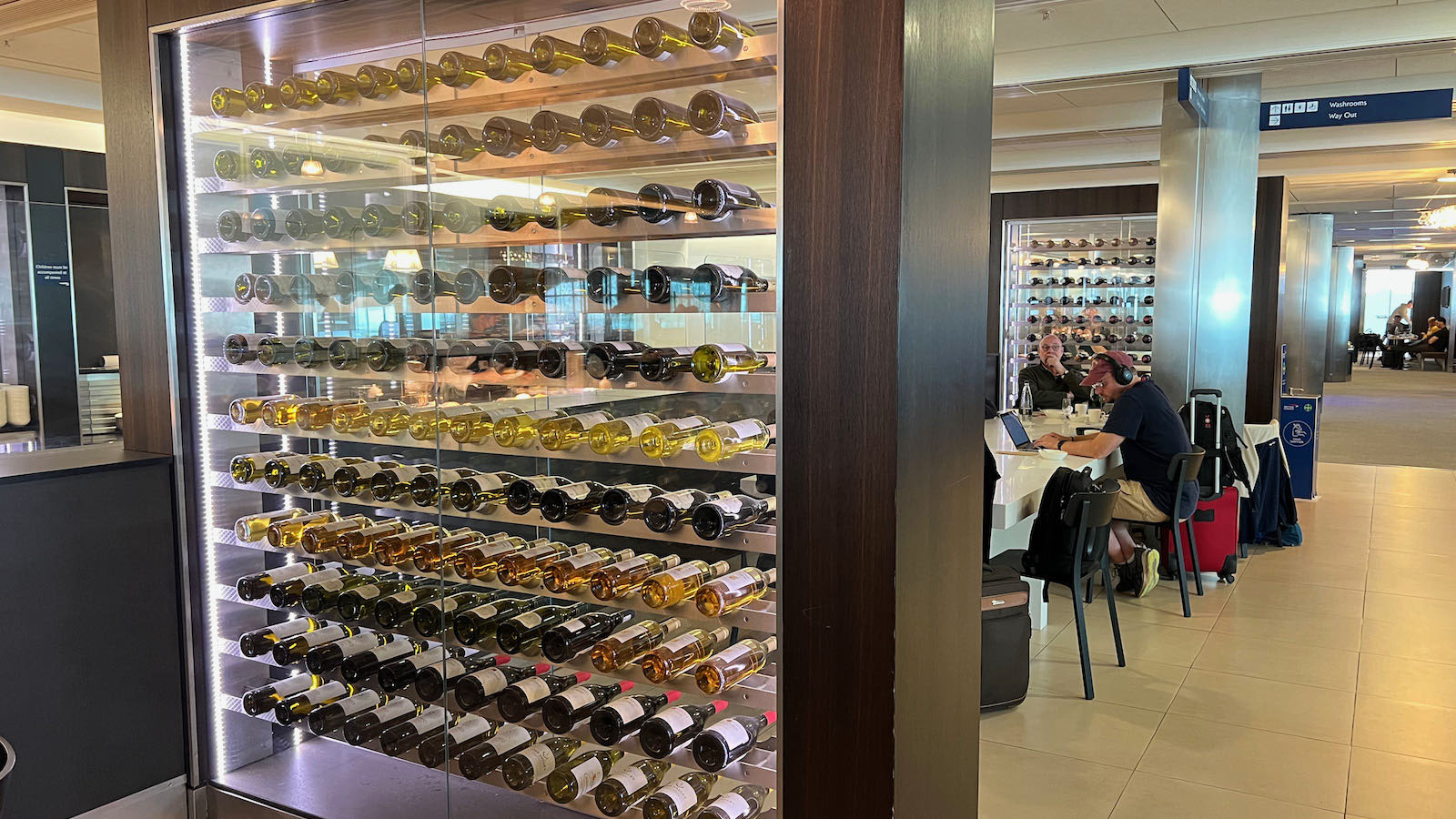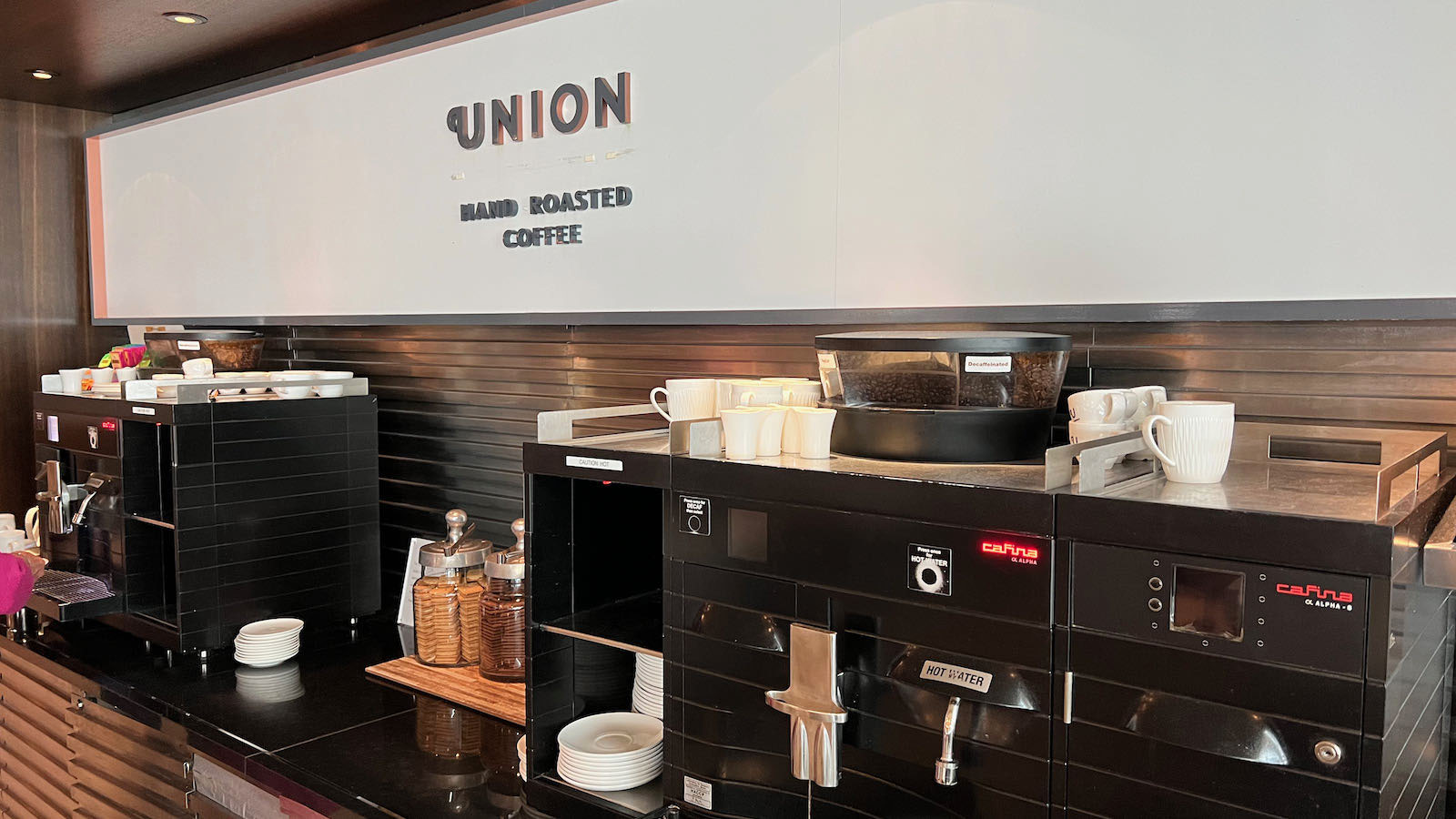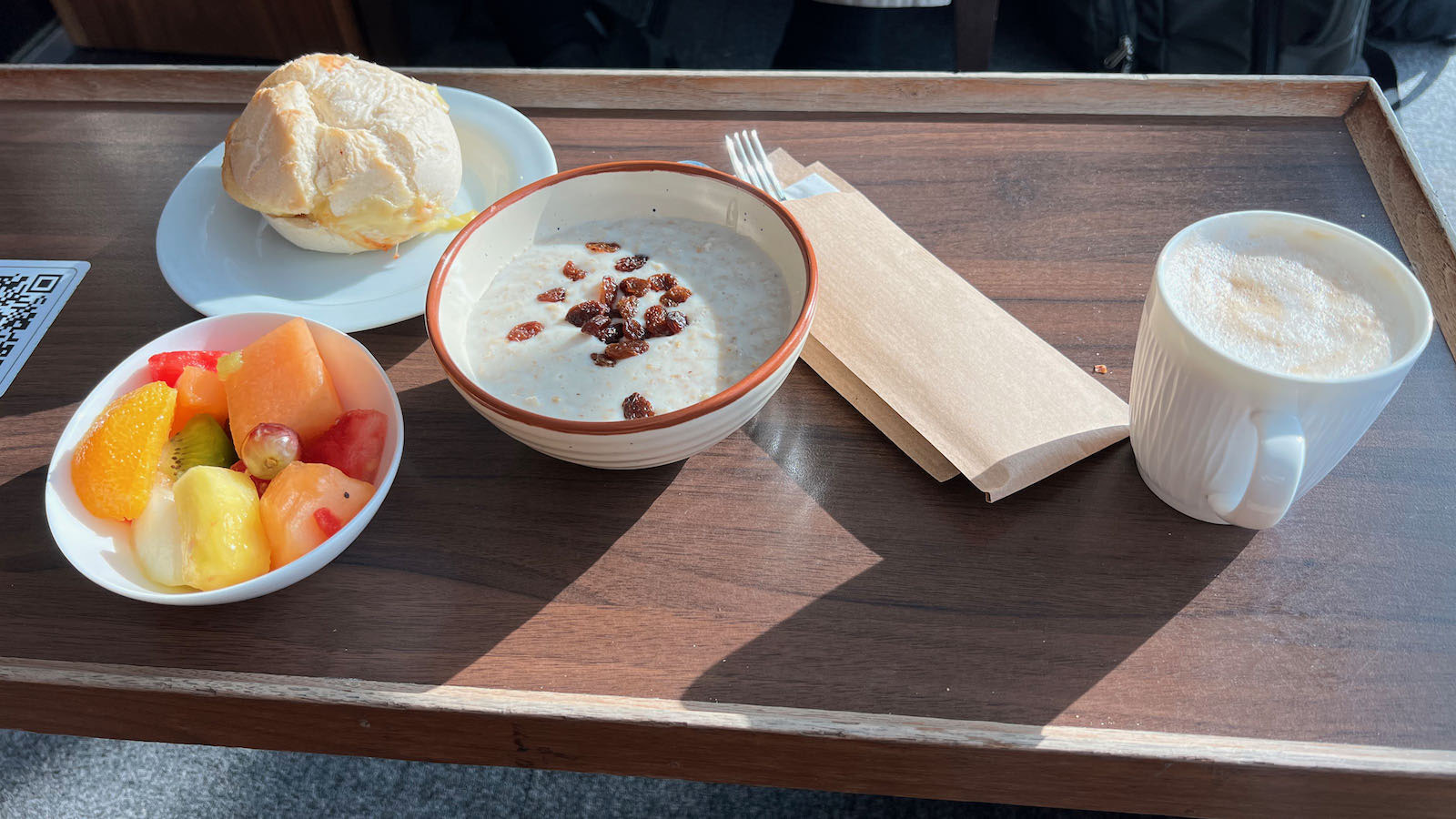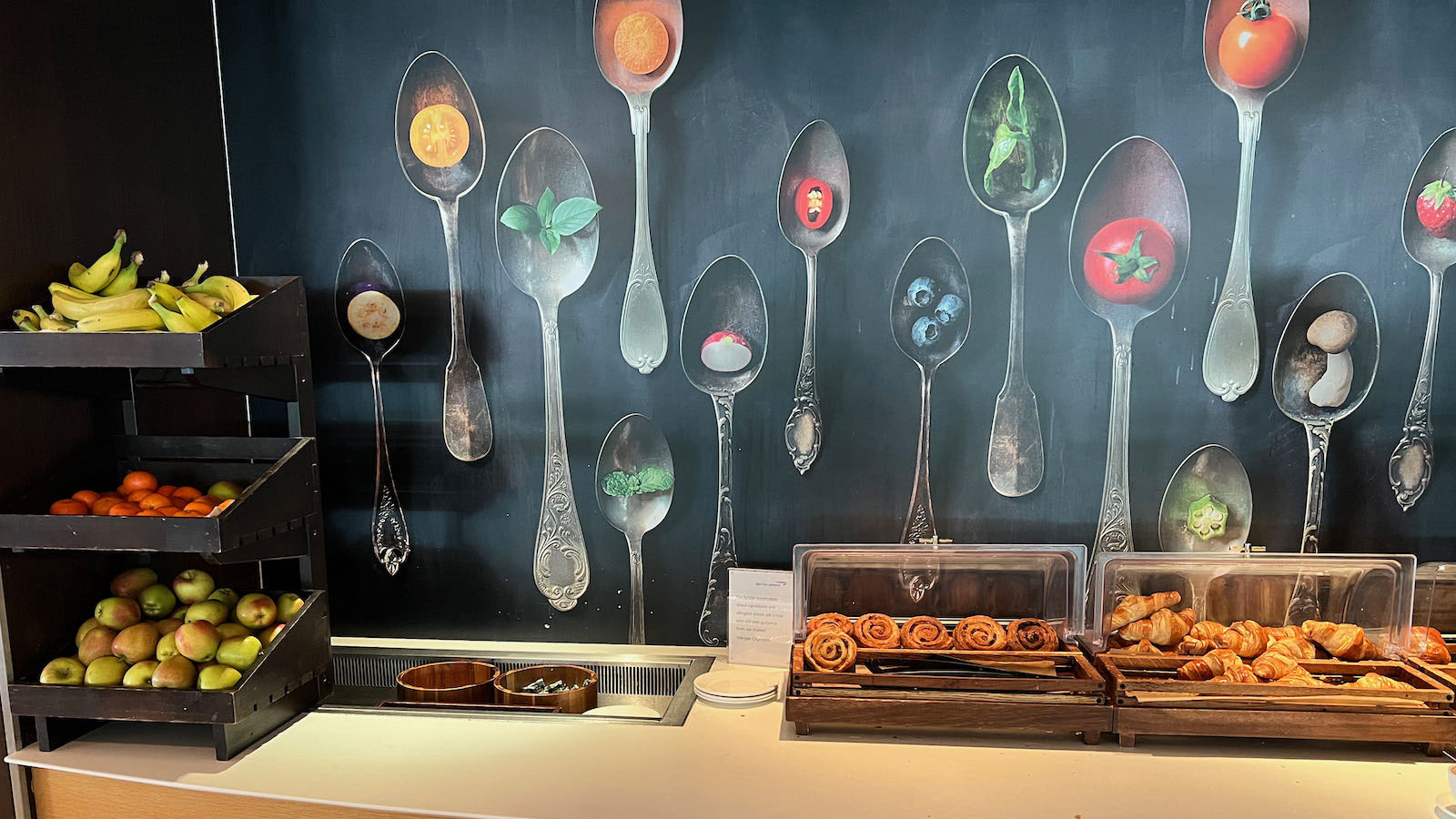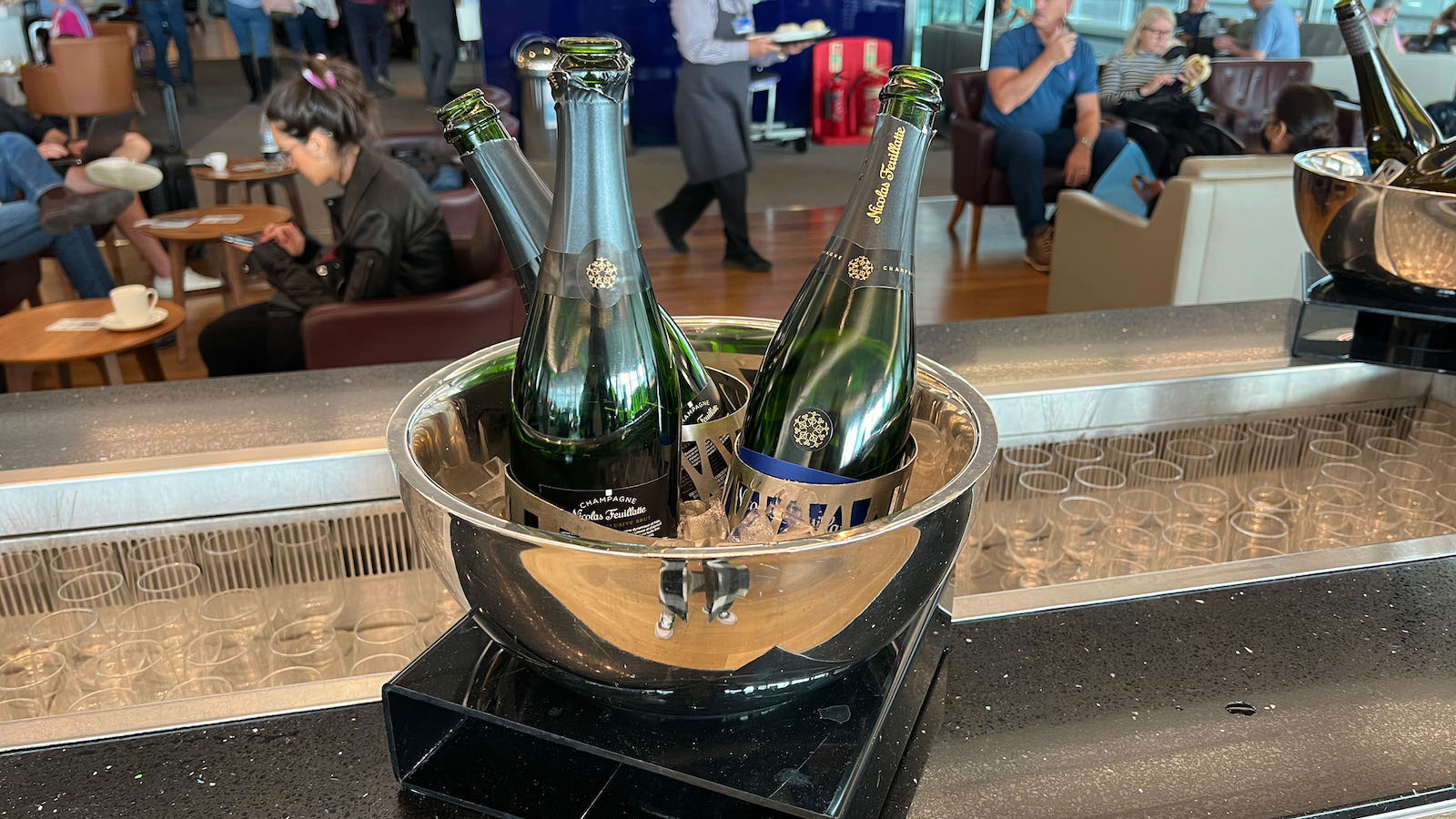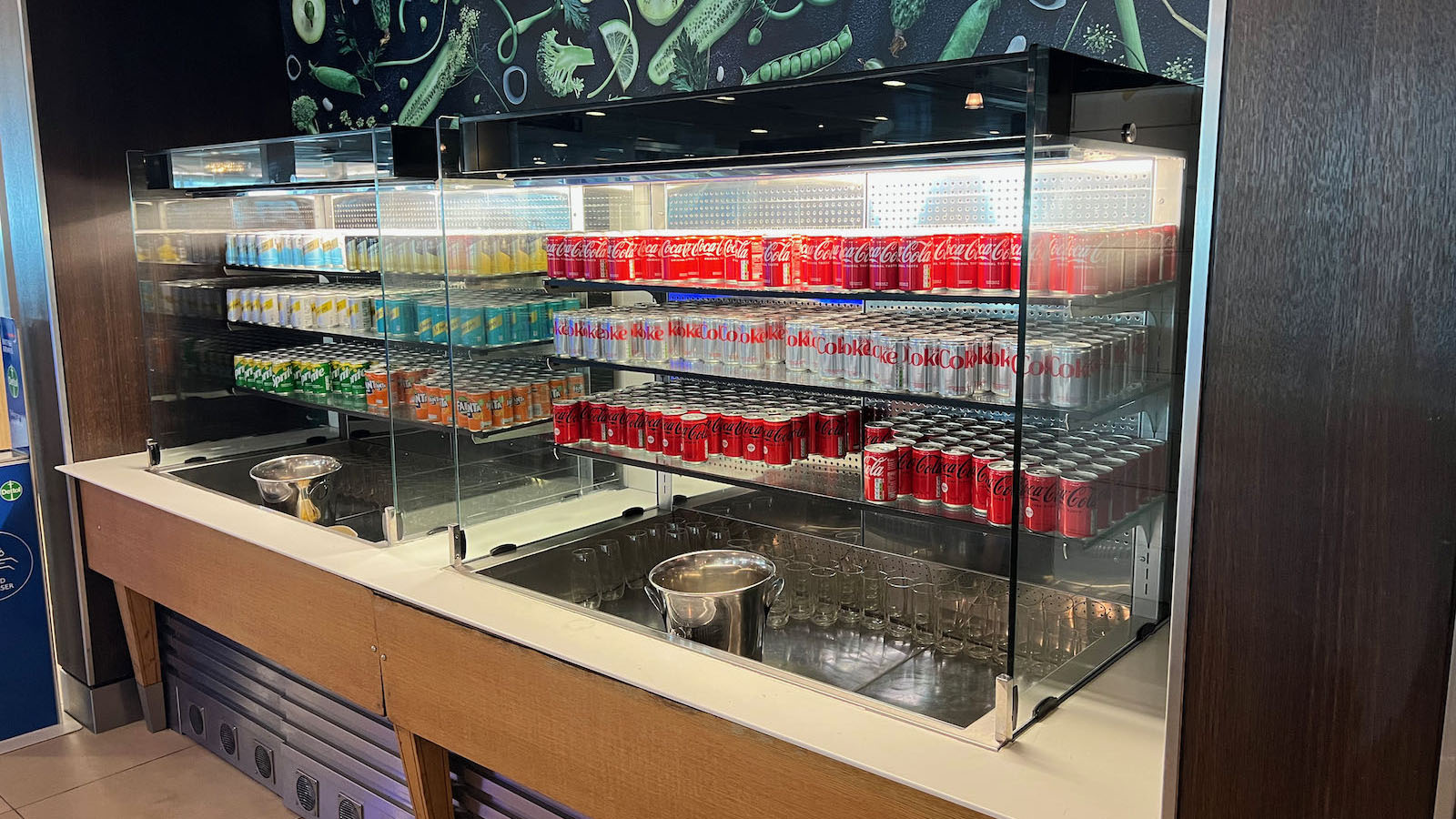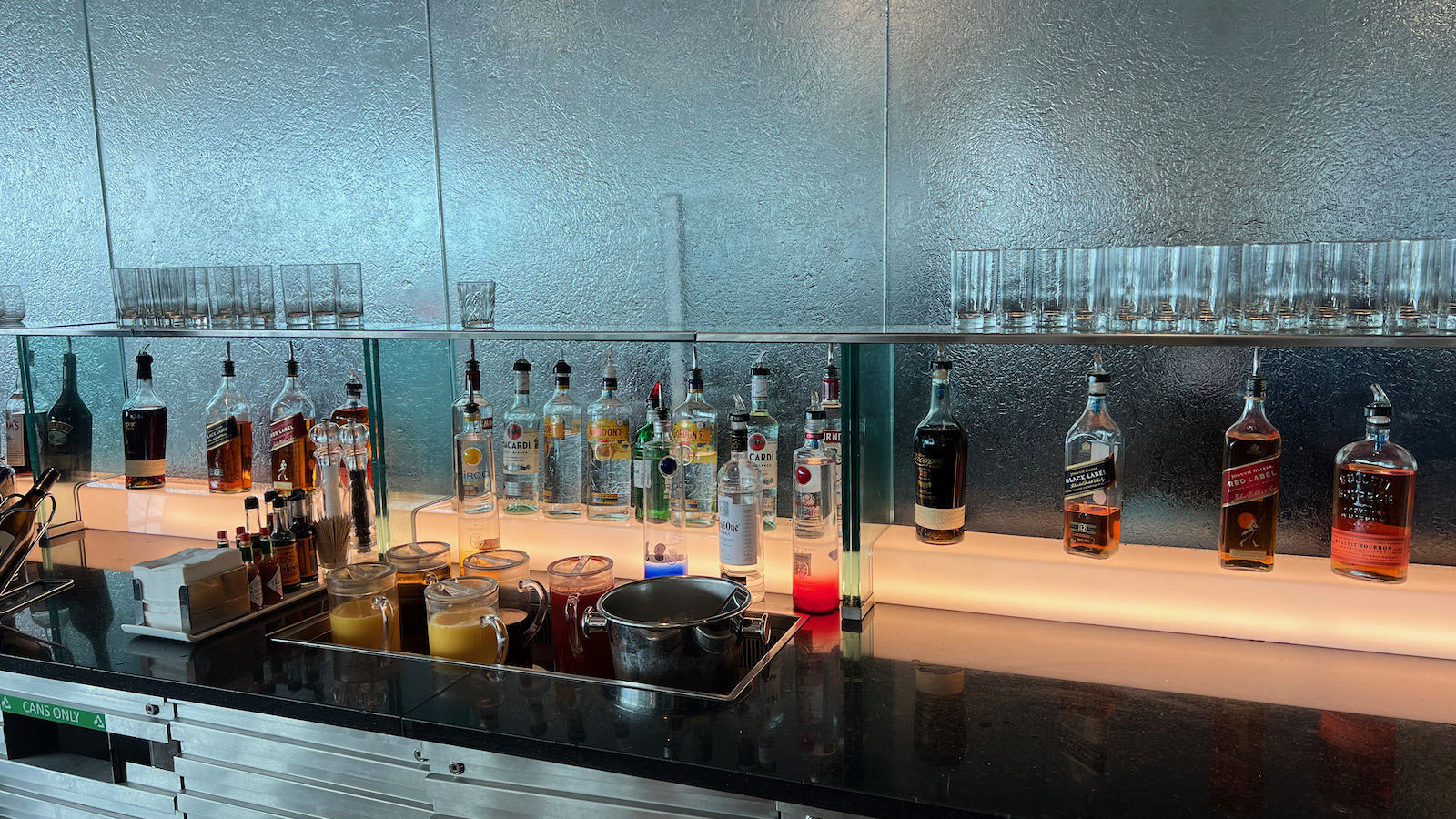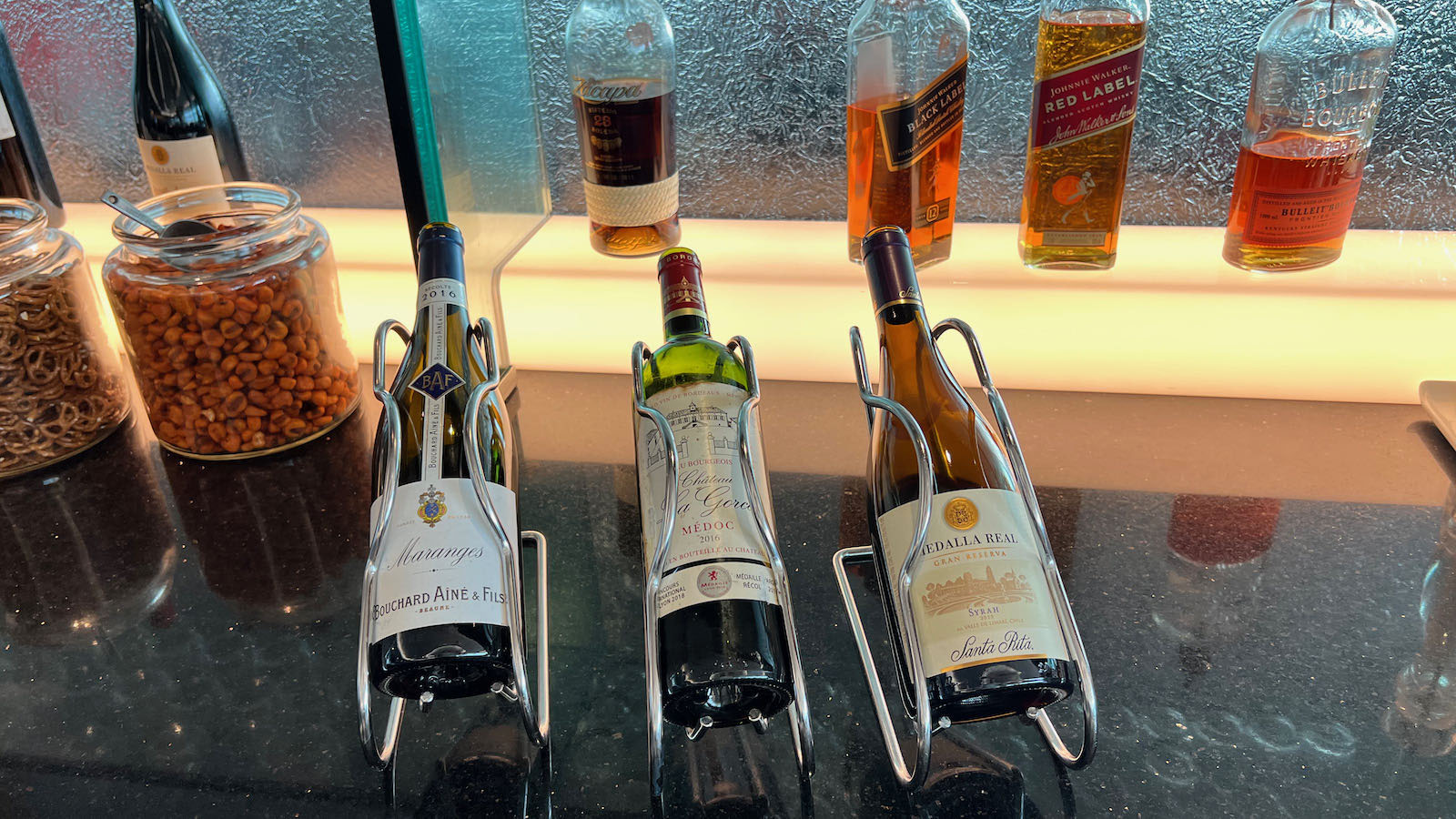 With a big day of travel ahead of me, I ordered a few different things. Fruit salad, porridge with honey and sultanas, and an omelette roll with tomato chutney. I'm not a big bread person, so I ditched the roll and feasted on the rather fluffy omelette instead. I couldn't taste the honey in the porridge, but it still filled me up.
Even though I flew in the morning, I was delighted to see Champagne ready and available. Previously, bubbles were only offered if you knew to ask – and this always seemed like an inconvenience for the already-busy staff. Now, you can just help yourself.
Speaking of helping yourself, pastries, fruit, nibbles and other small bites are also found at the buffet. Perfect if you're just passing through (and still waking up) before one of the morning's earliest flights.
Lounge amenities
For a flagship Business Class facility, this British Airways lounge doesn't quite have an 'X-factor'. It's perfectly serviceable, but perhaps beyond the Champagne, there's nothing that truly stands out as a reason to arrive early.
But if you do have time to spare, you can pick up a copy of BA's own High Life magazine. Introduced in 1973 as the world's first inflight magazine, the title currently focuses on destinations where visitors can indeed travel to. It's not bad reading, especially if you need some inspiration for your next trip!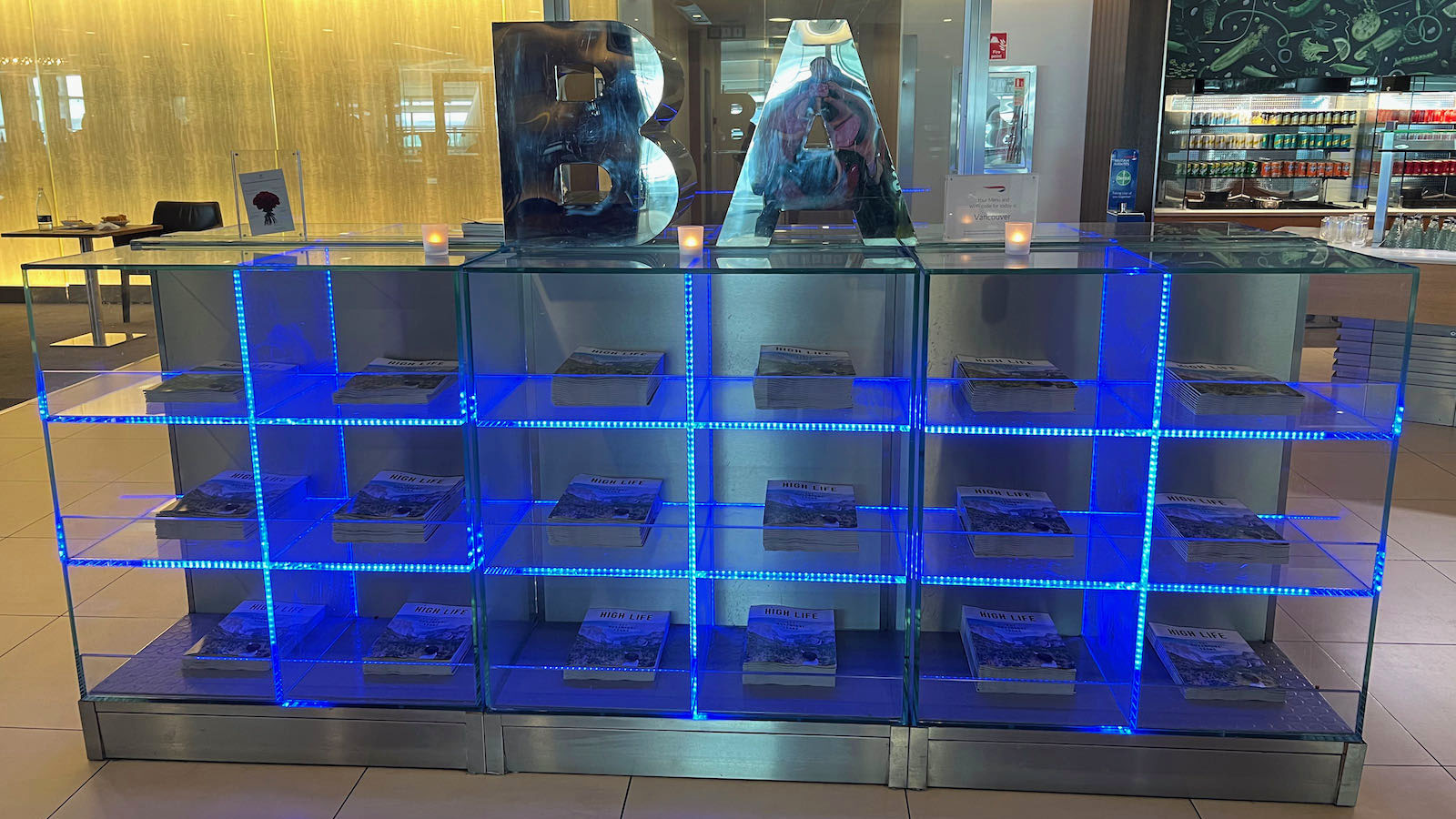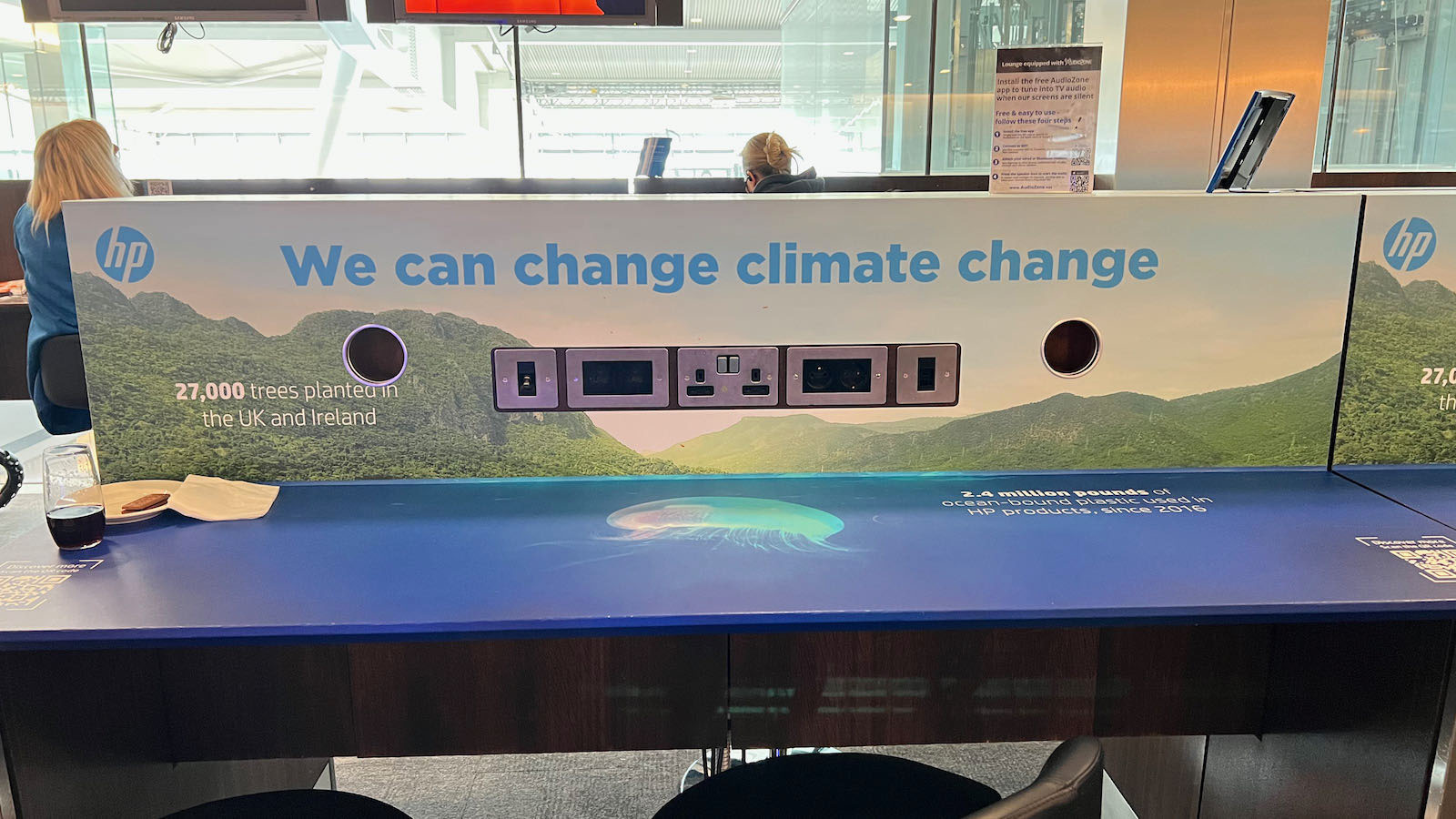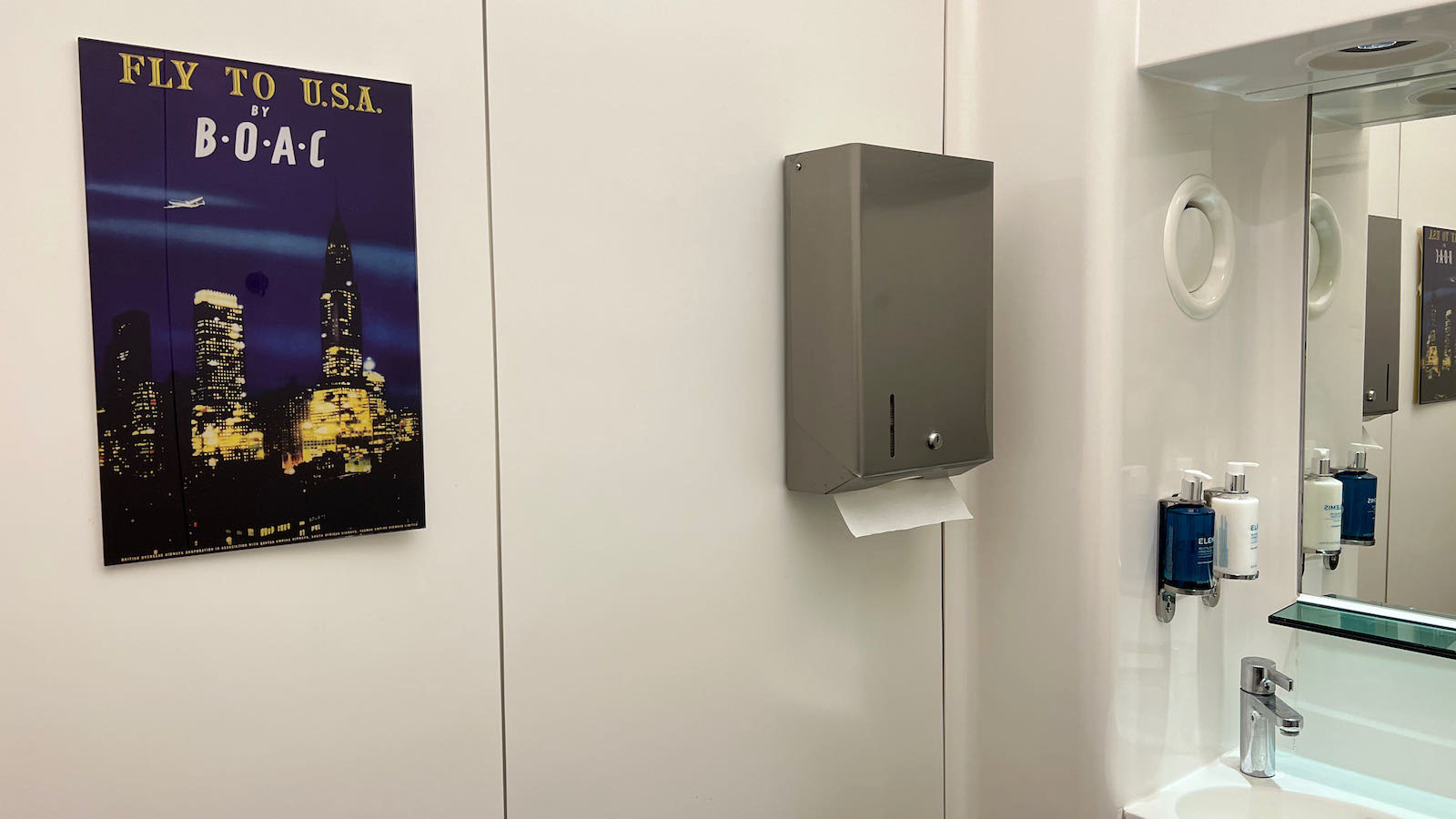 You'll also find handy power outlets throughout the lounge. Depending on where you set up, you may have both AC and USB-A ports waiting for you. At some seats, there are both the tri-pin UK-style plugs and the round, two-pin European-style outlets.
Onsite restrooms and showers complete the experience. There are also some vintage travel posters scattered around – a nice touch – so keep your eyes peeled.
Accessing British Airways' Galleries South Club Lounge at London Heathrow T5
British Airways' Galleries South Club Lounge sits alongside The Concorde Room and BA's separate Galleries First Lounge.
The Concorde Room caters to passengers booked in BA First, as well as BA's invitation-only Premier cardholders. Below that, the Galleries First Lounge welcomes top-tier travellers who aren't flying First – despite its name. That leaves the Galleries Club Lounge for everybody else.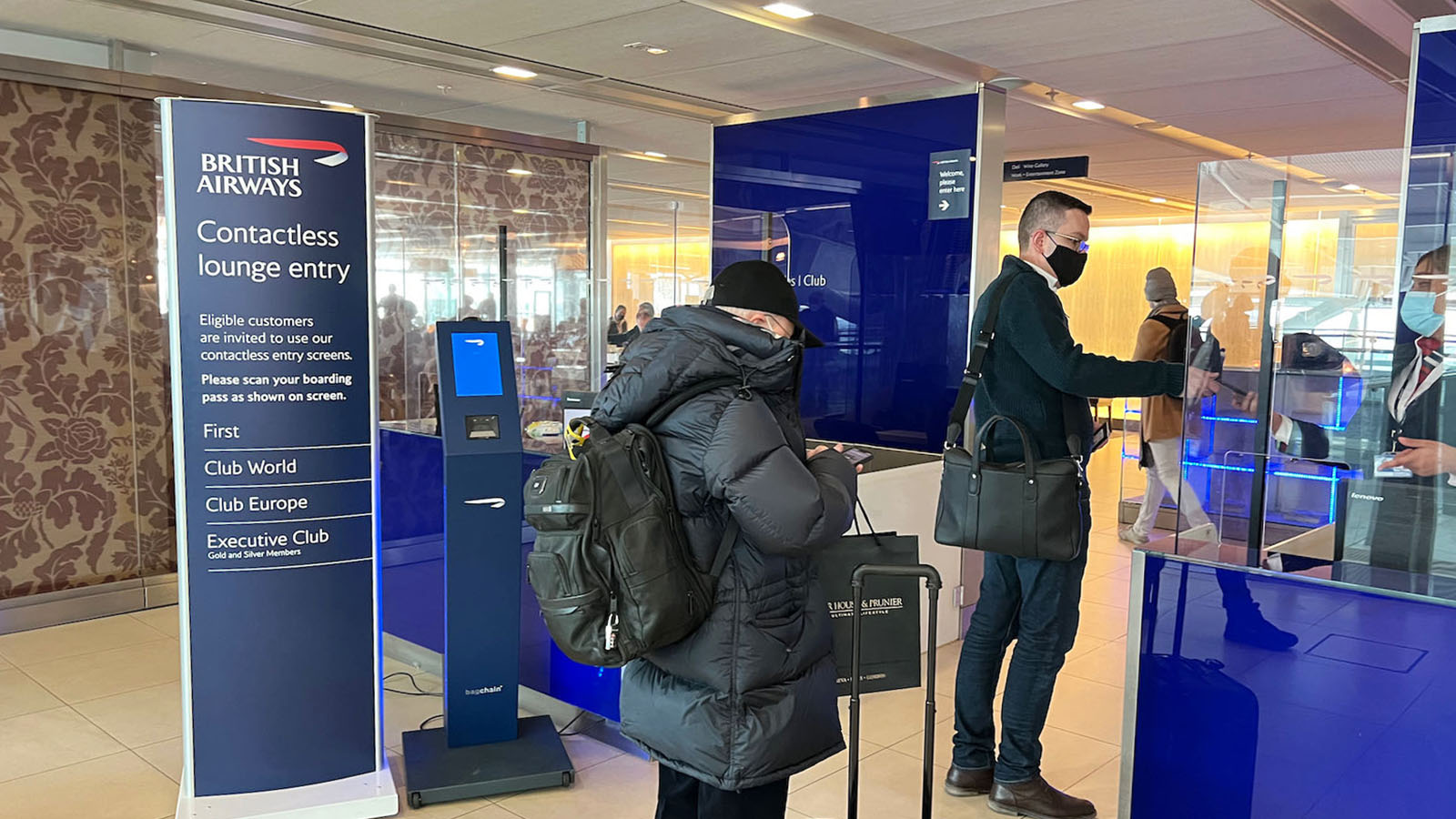 Here's who calls the Galleries Club Lounge home – excluding those travellers eligible for one of BA's better lounges, of course:
By airline and cabin:

British Airways' Club Europe and Club World passengers.

Iberia's Business passengers.

When departing Heathrow Terminal 5, Business Class and First Class passengers of other oneworld airlines. Normally, T5 is home only to British Airways and Iberia, so this generally doesn't apply. But during the pandemic, many airlines had temporarily switched terminals at Heathrow. If that still applies to your journey, you'll be glad you did your research!

Connecting passengers who have arrived in Business Class on a oneworld airline on a flight longer than five hours, and are travelling onward from Terminal 5 on a oneworld domestic or short-haul flight under five hours in length.

Courtesy of airline frequent flyer status:

Qantas Gold, prior to British Airways, Iberia and other oneworld flights (+1 guest).

British Airways Executive Club Silver, prior to the same flights (+1 guest).

Other oneworld Sapphire and Emerald members prior to the same (+1 guest).
That 'connecting flights' rule is particularly handy if you've snagged an upgrade from Economy or Premium Economy on your long international flight. By arriving in Business, you'll enjoy access here, even if your onward flight is in Economy. Just show both boarding passes for access.
Note that Qantas Club members and Priority Pass cardholders don't get access here.
Summing up
All up, British Airways' Galleries South Club Lounge is perfectly 'fine'. You have tarmac views, an all-day bar, food to order and showers. But while it certainly ticks the basic boxes, there's nothing that truly makes the lounge stand out.
Yes, there's a cool 'horse lamp with an Airbus A380' setup outside that makes many frequent travellers instantly think of this lounge at Heathrow. But it takes more than a model plane and irreverent lamp to make for a five-star lounge.
Read all about my Qantas Business Class flight to London here.
Also reviewed: British Airways Lounge, Rome
Photography by Antonia Strakosch, who travelled at Point Hacks' expense. Additional reporting by Chris Chamberlin.
---
Stay up to date with the latest news, reviews and guides by subscribing to Point Hacks' email newsletter.
British Airways Galleries South Club Lounge, London Heathrow T5
was last modified:
December 9th, 2022
by