Have you been longing to savour the sights and sounds of wonderful London, but COVID has kept you away? Well, I've just returned from a whirlwind trip to the British capital, and I have excellent news to report. London is open for business!
I spent three glorious days wandering about the city, visiting theatres and restaurants and departments stores. I rode mask-less on the tube, enjoyed a packed show on the West End, gorged on history and delicious food. And I didn't encounter a single COVID restriction anywhere. What I experienced instead was a breath of fresh air – total freedom.
So if you've been itching to visit London, now's a perfect time. I flew Qantas Business on the Dreamliner one-way and paid just $472 in cash, saving thousands of dollars in the process. (You can read about my incredible flight here). How? I booked using Qantas Points. Take out a single credit card offer below and you'll score up to 70-80% of the points needed for a Business Class ticket in a single swoop.
Here's what to see and eat in this fabulous city, plus the requirements to fly there from Australia. Hint: no COVID test!
1. London in 2022
London in March 2022 is a traveller's paradise. There are no density limits indoors, no QR code check-ins (the UK has scrapped contact tracing), and no masks – unless you personally feel like wearing one. You don't even need to self-isolate if you test positive for COVID. In fact, if you're symptom-free, you can actually rock up to work. I felt as if I were back in 2019.
But here's the kicker. The city is quiet, with almost none of its notorious queues. London has successfully transitioned to living with COVID, but the tourists haven't caught on yet. Jump in and book a flight and you'll see what I mean.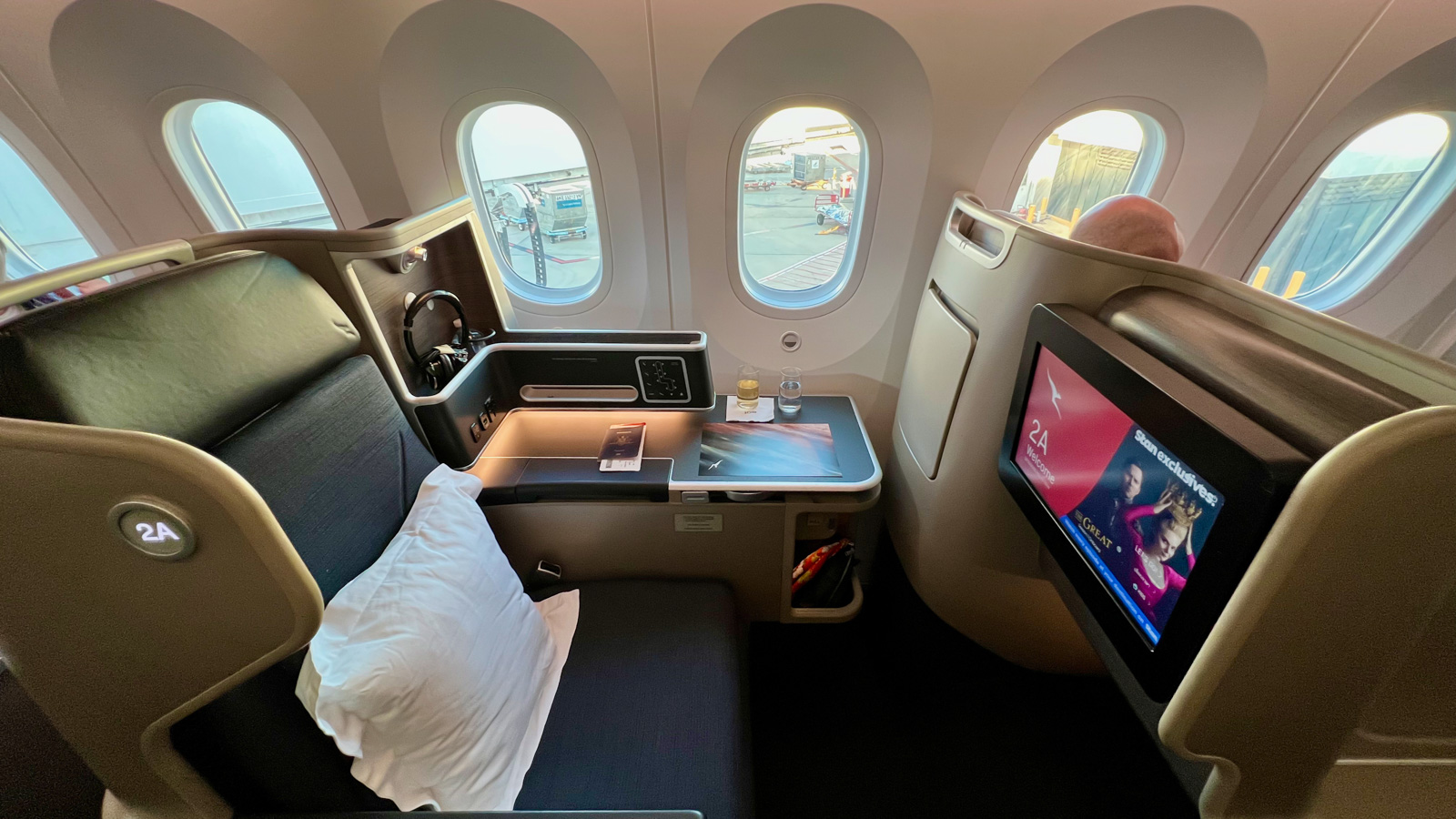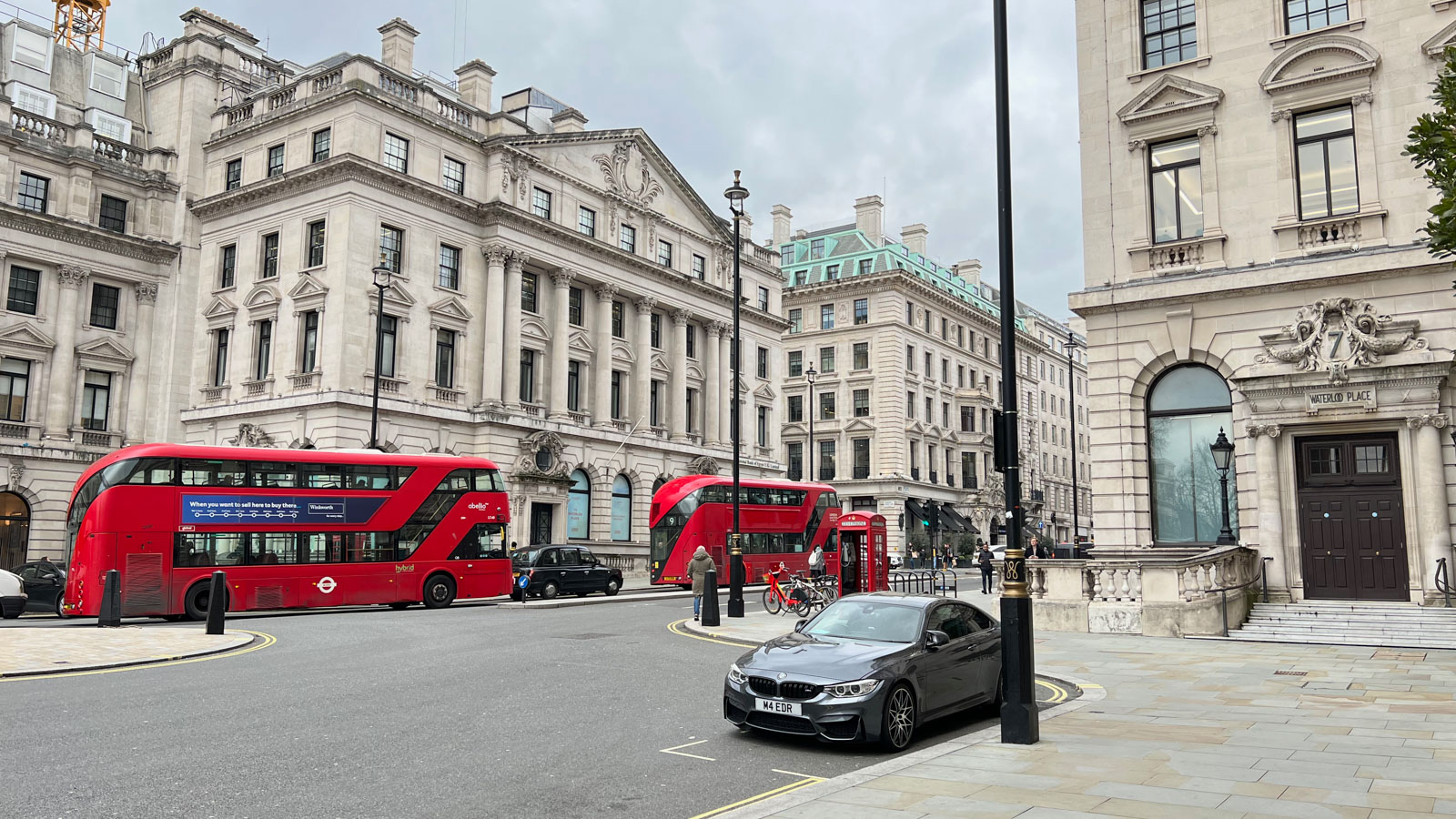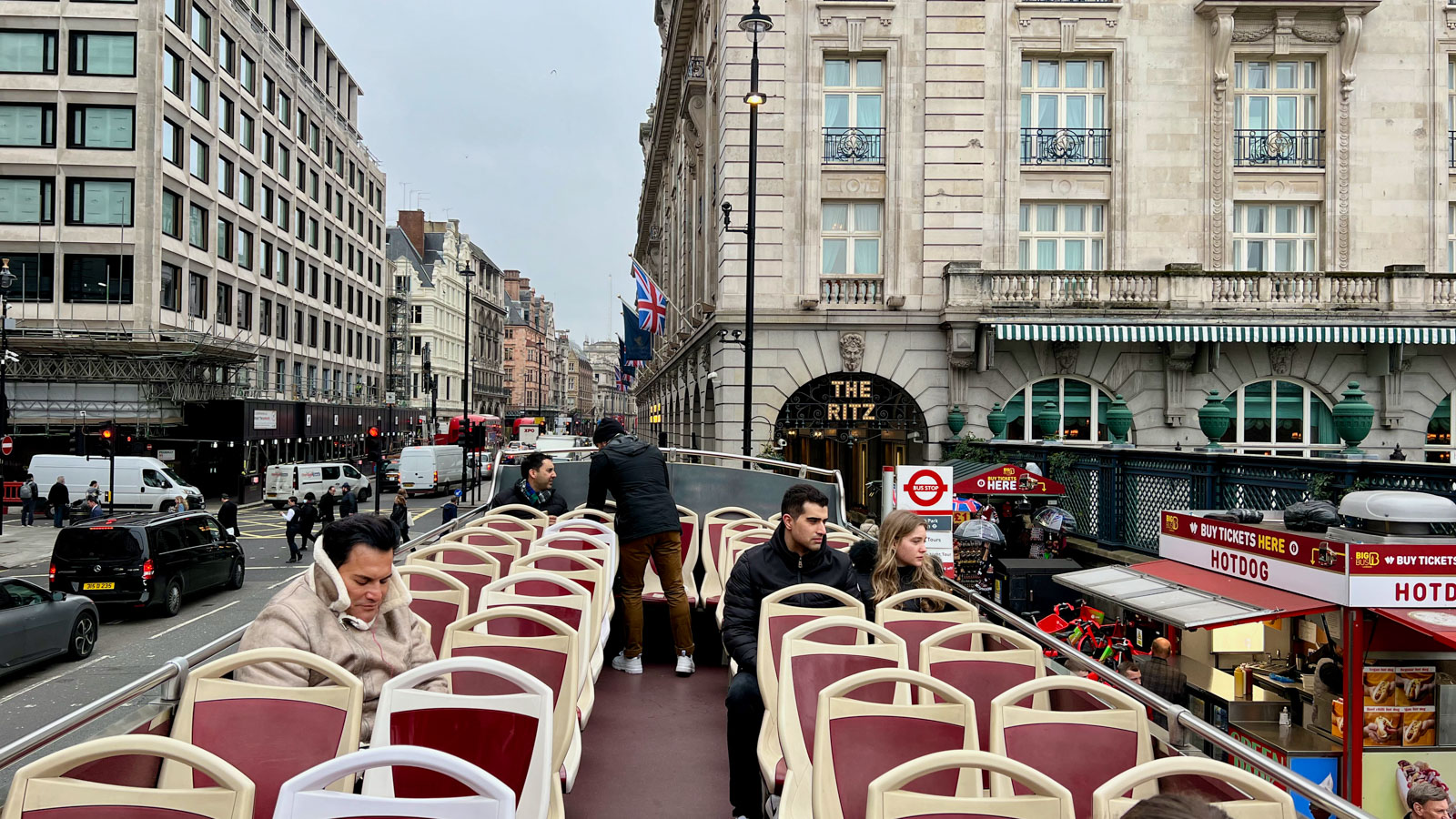 2. Indoor activities
For such a sprawling metropolis, central London is surprisingly compact – making it perfect for walking around when the weather's decent. (Bring a brolly: it's often not). Actually, walking is the best way to soak up the city's magnificent history and architecture. But venture indoors and you'll truly appreciate that COVID restrictions are a thing of the past.
From my luxurious base at the Sofitel London St James, it was an easy five-minute walk to London's National Gallery. And as with many of London's galleries and museums, entry to the permanent exhibits is free. I'd booked a (free) timed-entry ticket online, but I really needn't have. Without a single person ahead of me, I waltzed up to the ticket counter, checked my coat and bag around the corner (2 pounds each), and was sailing mask-less through the first ornate room in minutes flat.
My next stop? The astonishing Westminster Abbey. Inside and out, the Abbey is quite literally breathtaking, with majestic high ceilings and a history dating back over 1000 years. Again, I'd booked a timed entry ticket online (24 pounds for an adult), but with the non-existent crowds, there was really no need.
Here's a tip: make sure you pay the 5 pounds extra to visit the Queen's Diamond Jubilee Galleries in the old triforium. In 2019, it opened to the public after 700 long years! Located a lofty 16 metres above the floor of the Abbey, it's here you'll find the rarest royal treasures, plus wonderful views of the Palace of Westminster and the surrounding buildings.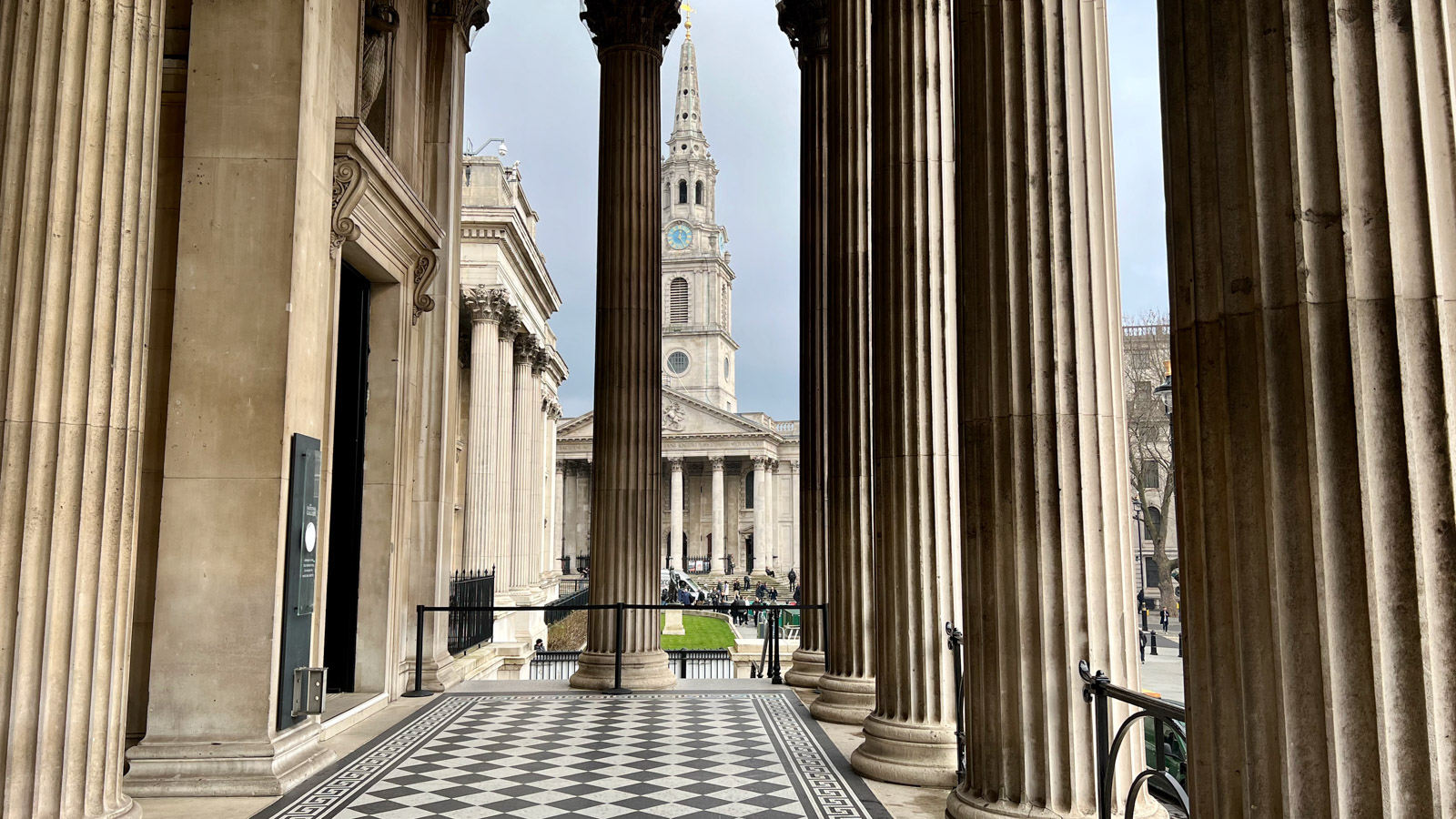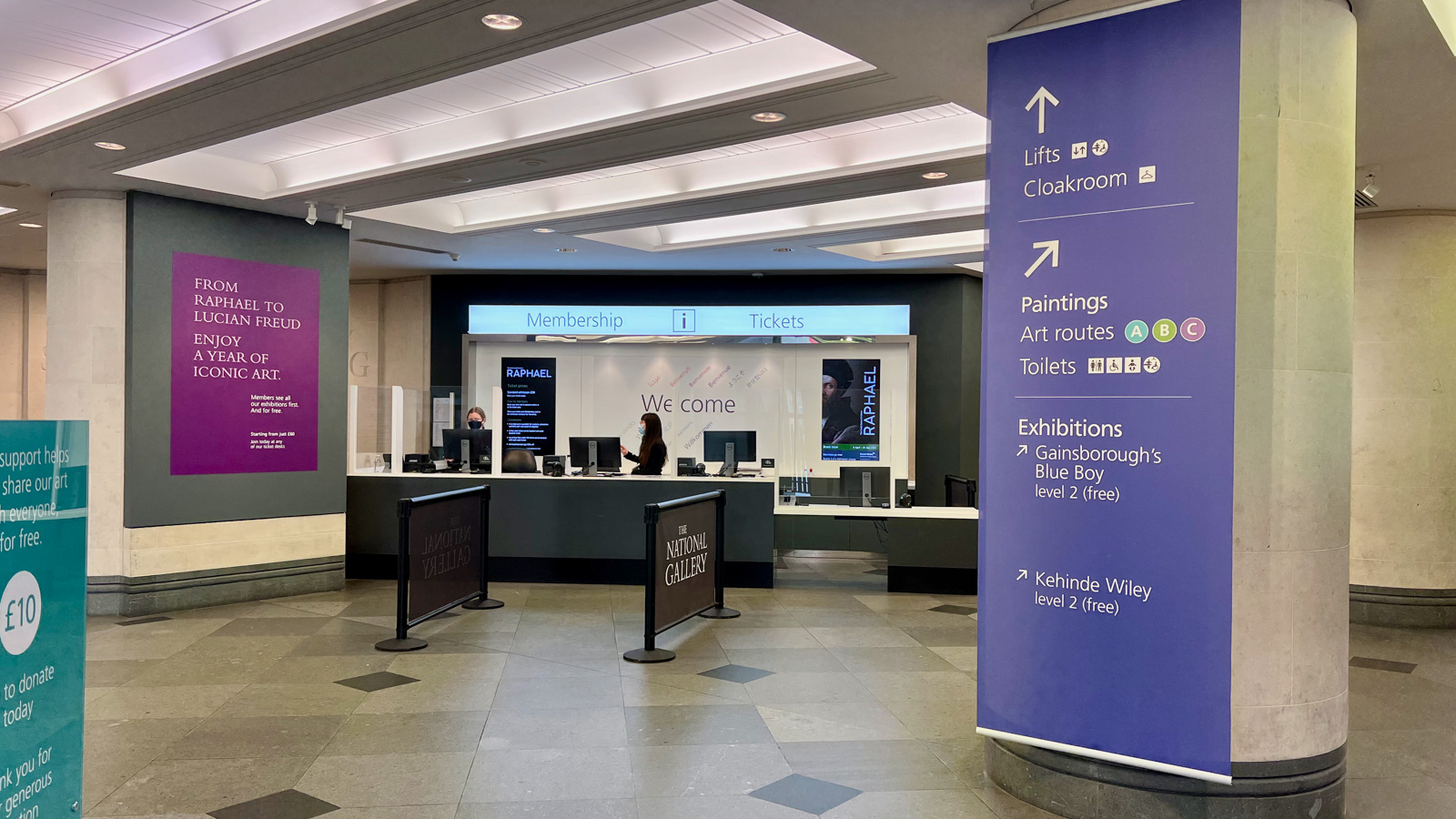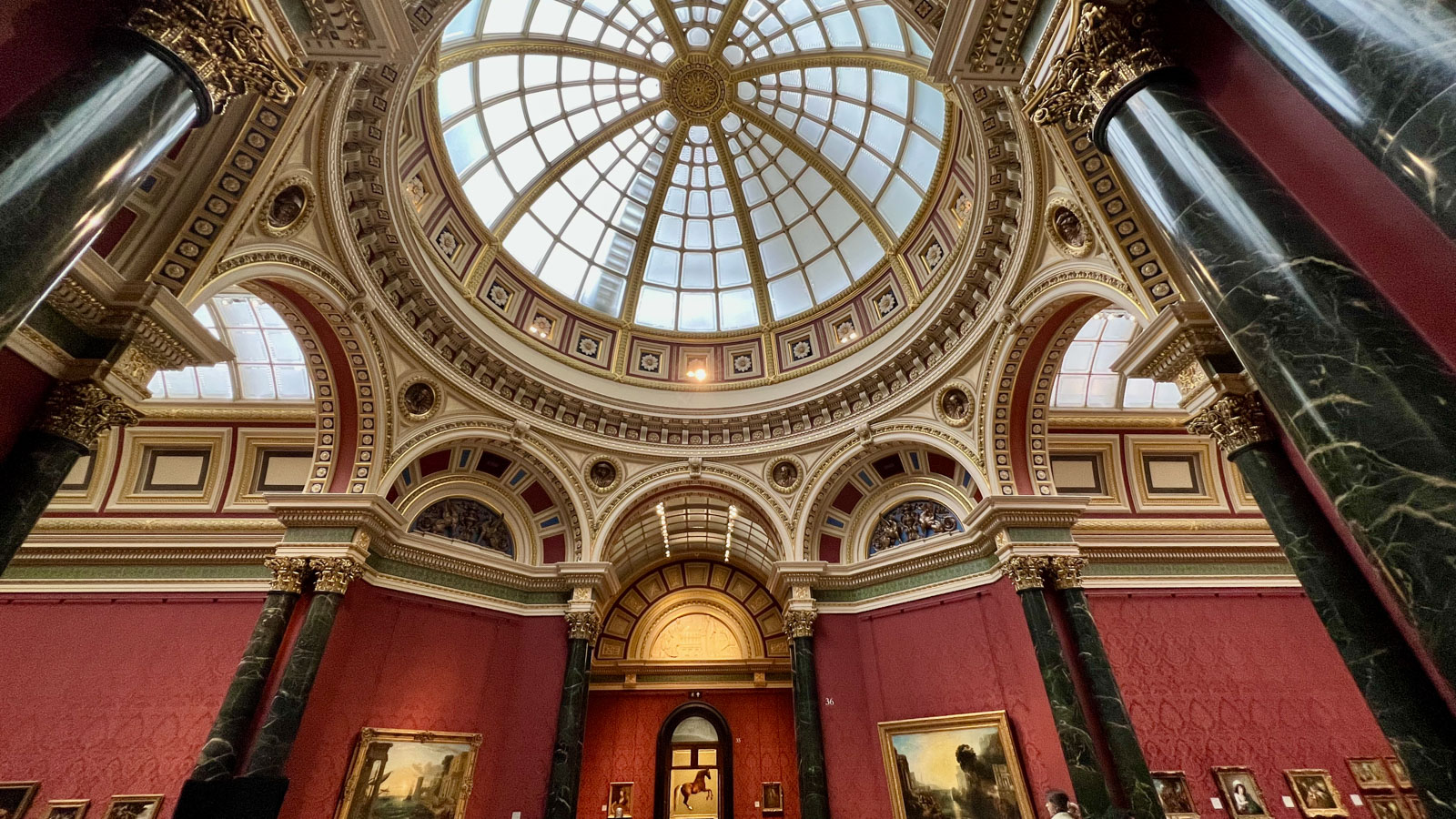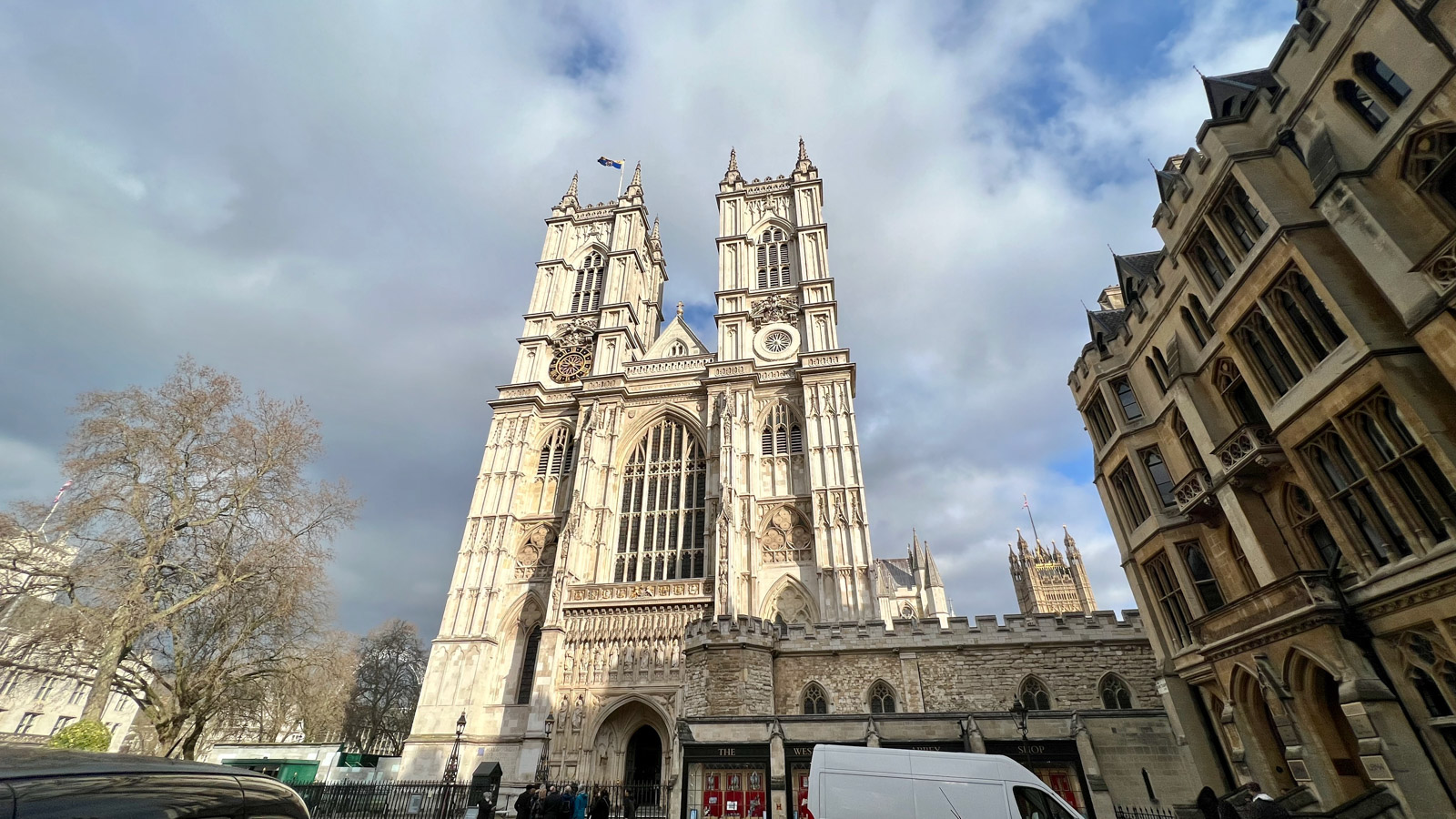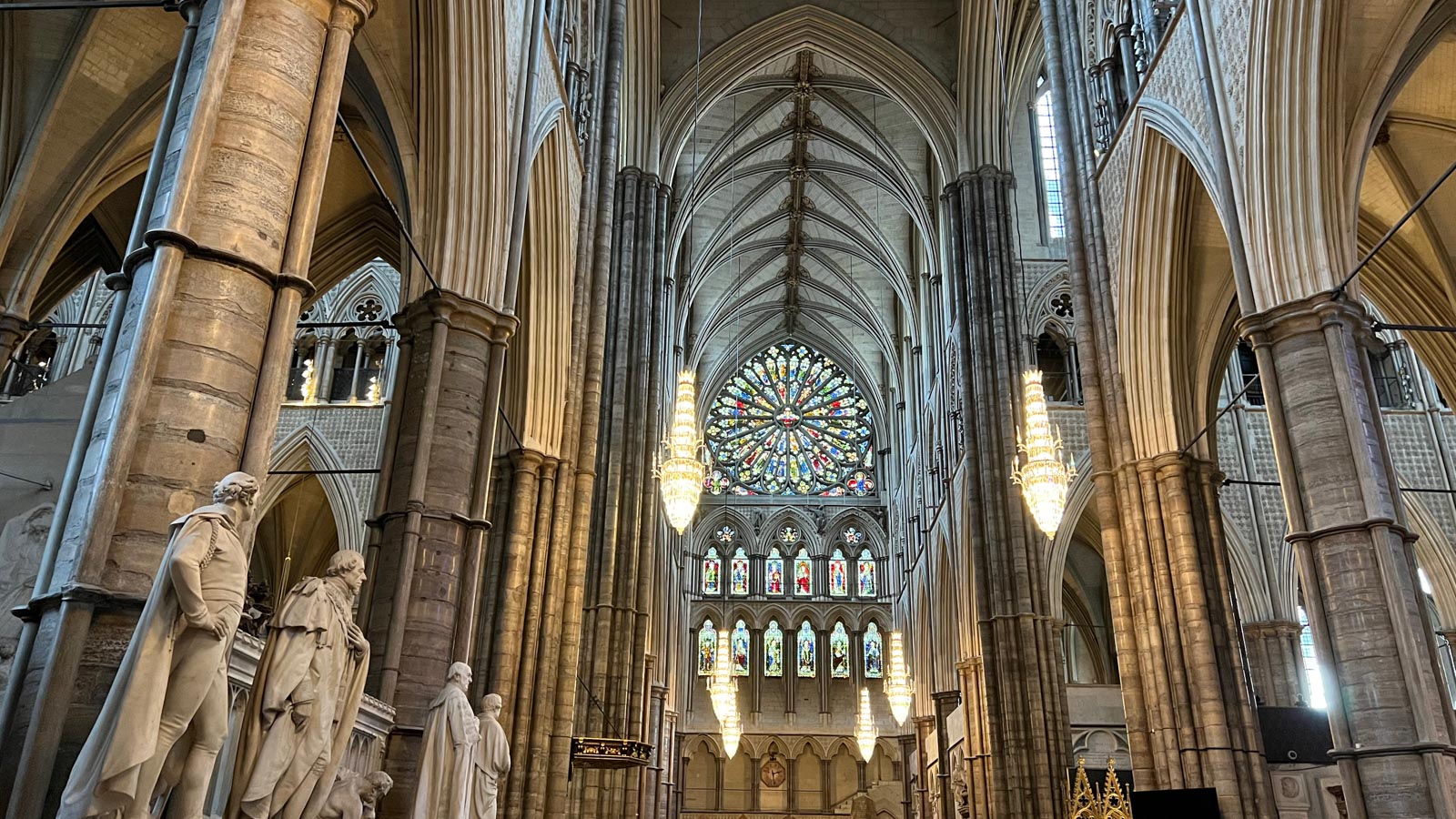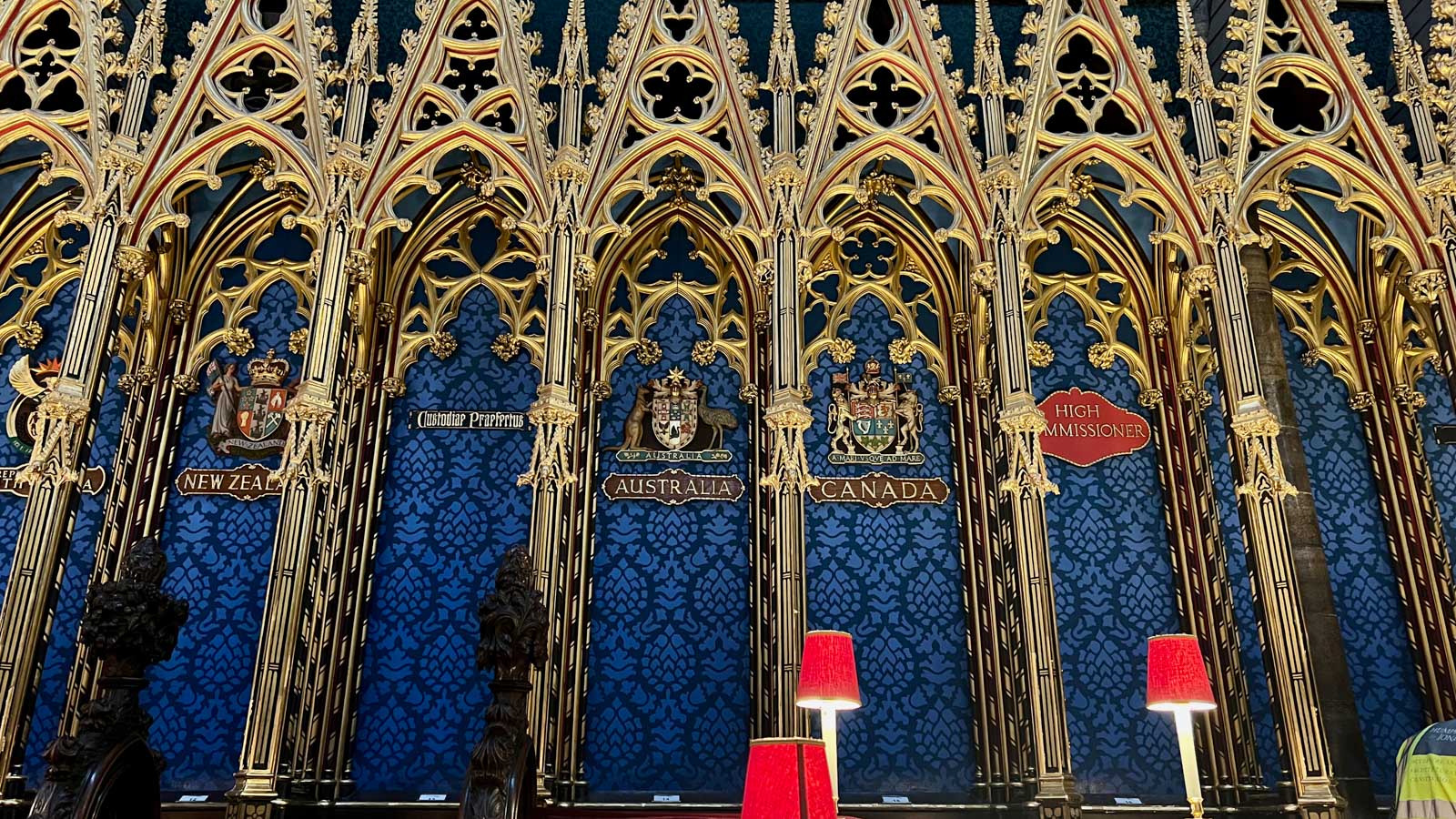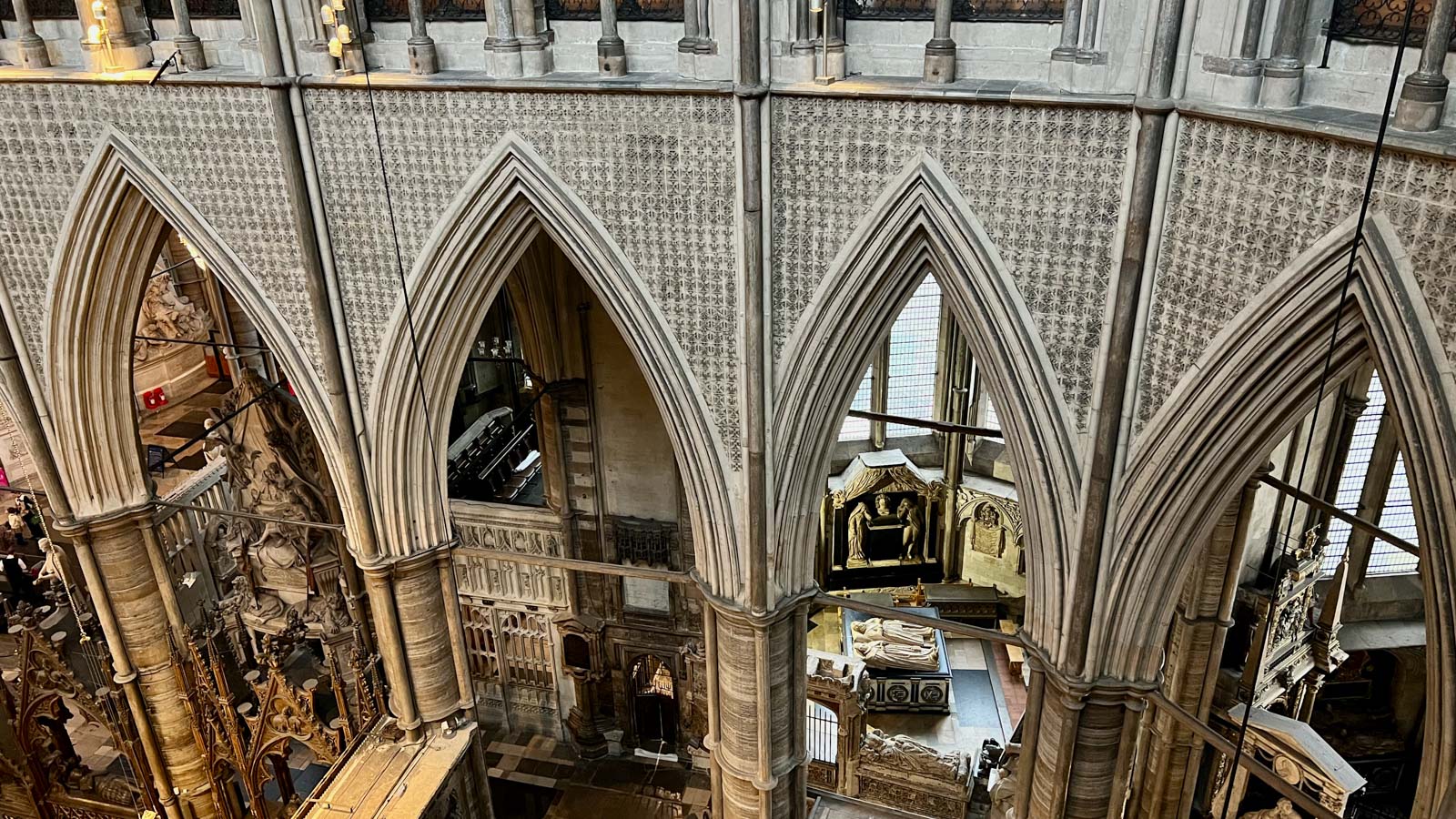 And don't miss a visit to the famous London Eye Ferris wheel – the UK's most popular paid attraction. Booking a fast-track entry ticket in advance will save you queueing in the chilly winds that gust off the River Thames, mere metres away. (The London Eye was one of the few places I encountered a queue).
Minutes after flashing my fast-track ticket, I was ushered into one of the large enclosed and air-conditioned glass capsules, where I remained glued to the view for the next 30 minutes. You'll be sharing your pod with around 20 others, the same as pre-COVID. So be sure to stake out a prime window position first thing. To mask or not to mask – it's entirely up to you.
Finally, what self-respecting visitor to London could miss seeing a West End show? If you want to experience one of entertainment's greatest love stories, book a ticket to The Phantom of the Opera at Her Majesty's Theatre, where the much-loved musical has run since 1986. The historic theatre seats over 1200 people. But as with all large-scale indoor venues – including nightclubs – you don't need a negative COVID test or vaccine passport to enter. You don't even need a mask.
And what a show. There are no photos or videos allowed inside, so you'll just have to imagine the incredible sets – including the enormous chandelier that whizzed between the stage and the decorative ceiling many metres above. The performances are simply exceptional, too. I'm not usually a fan of musicals, but seeing this moving show on the West End was one of the highlights of my trip. I still can't get the soundtrack out of my head.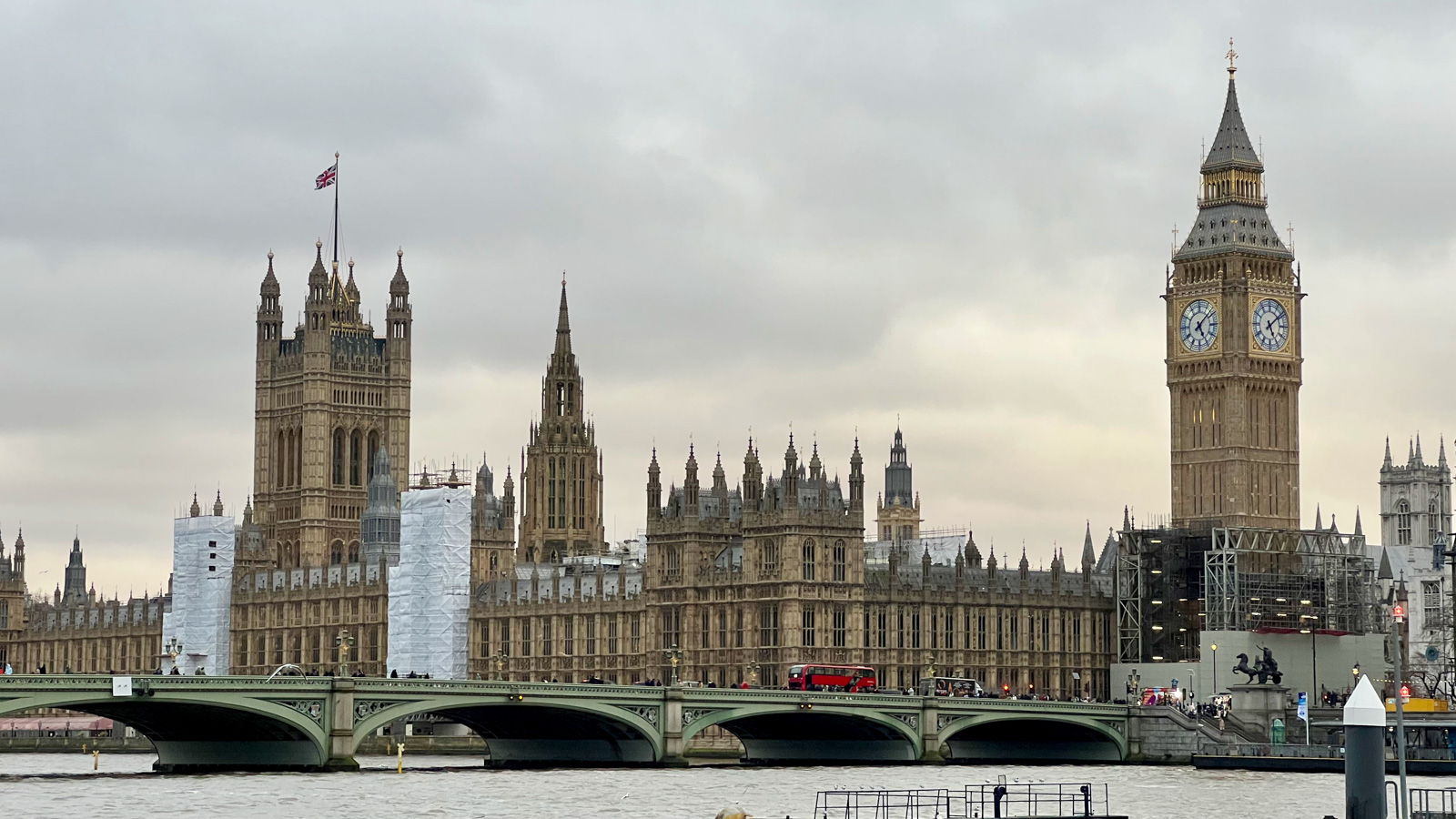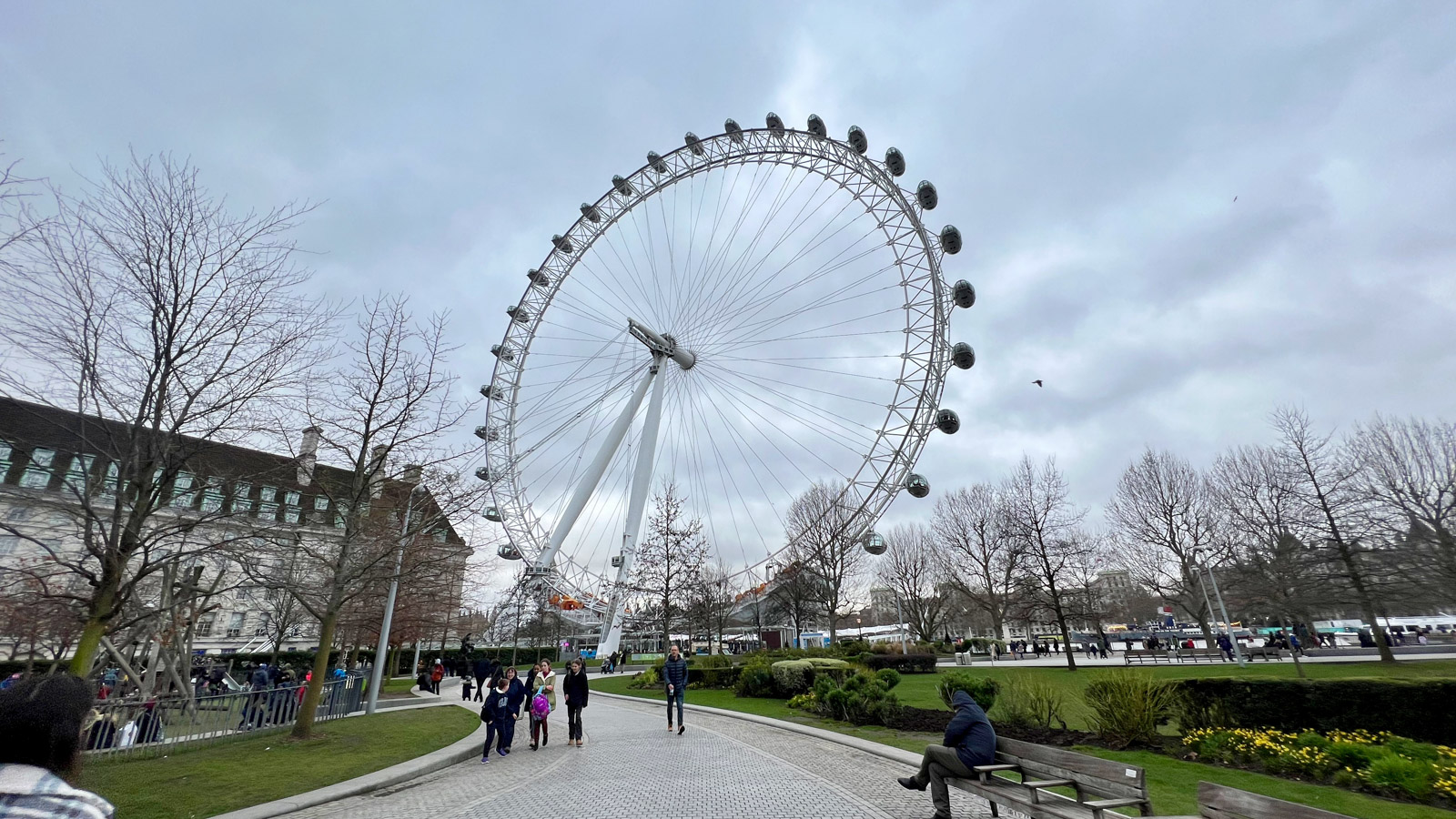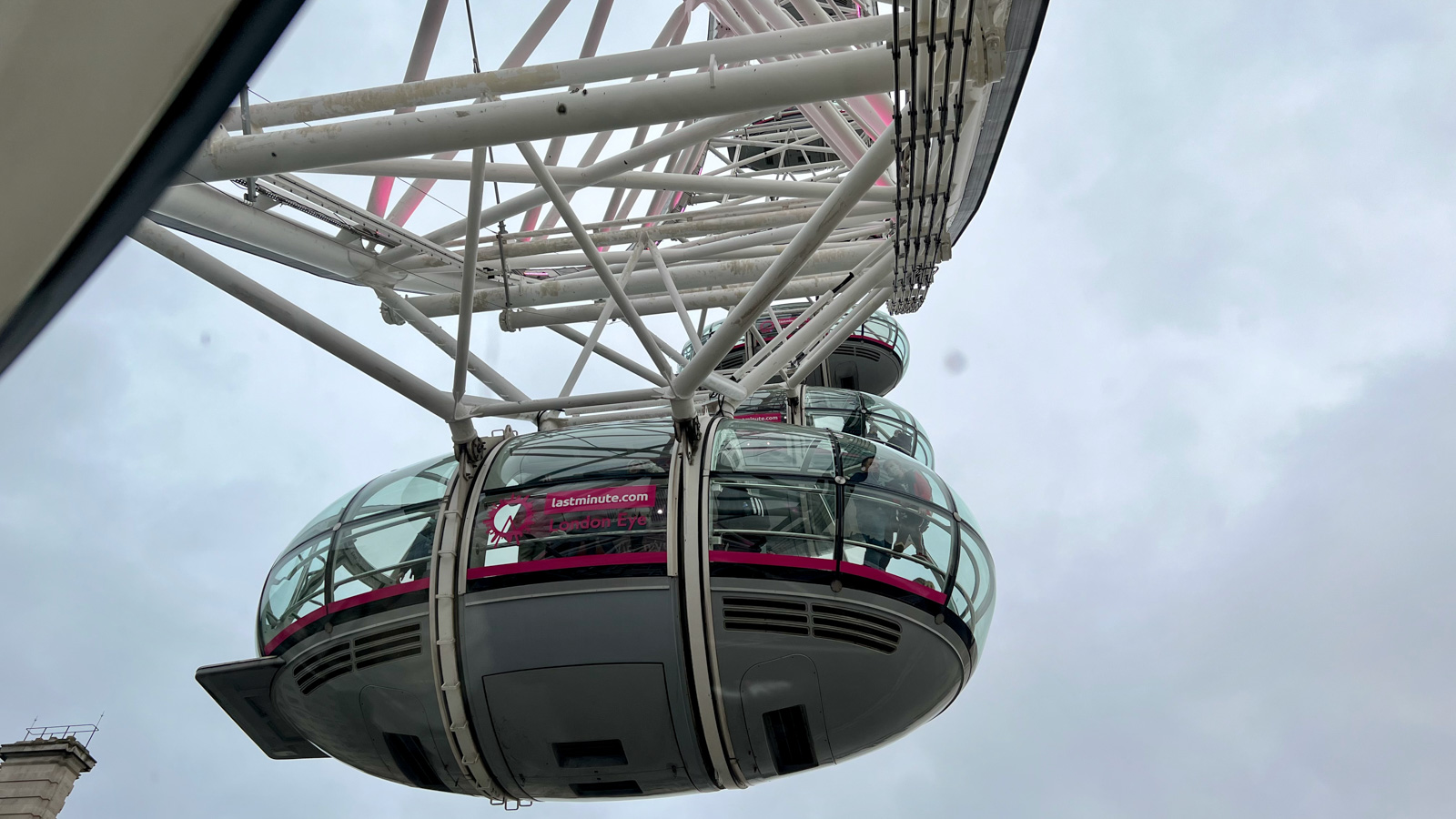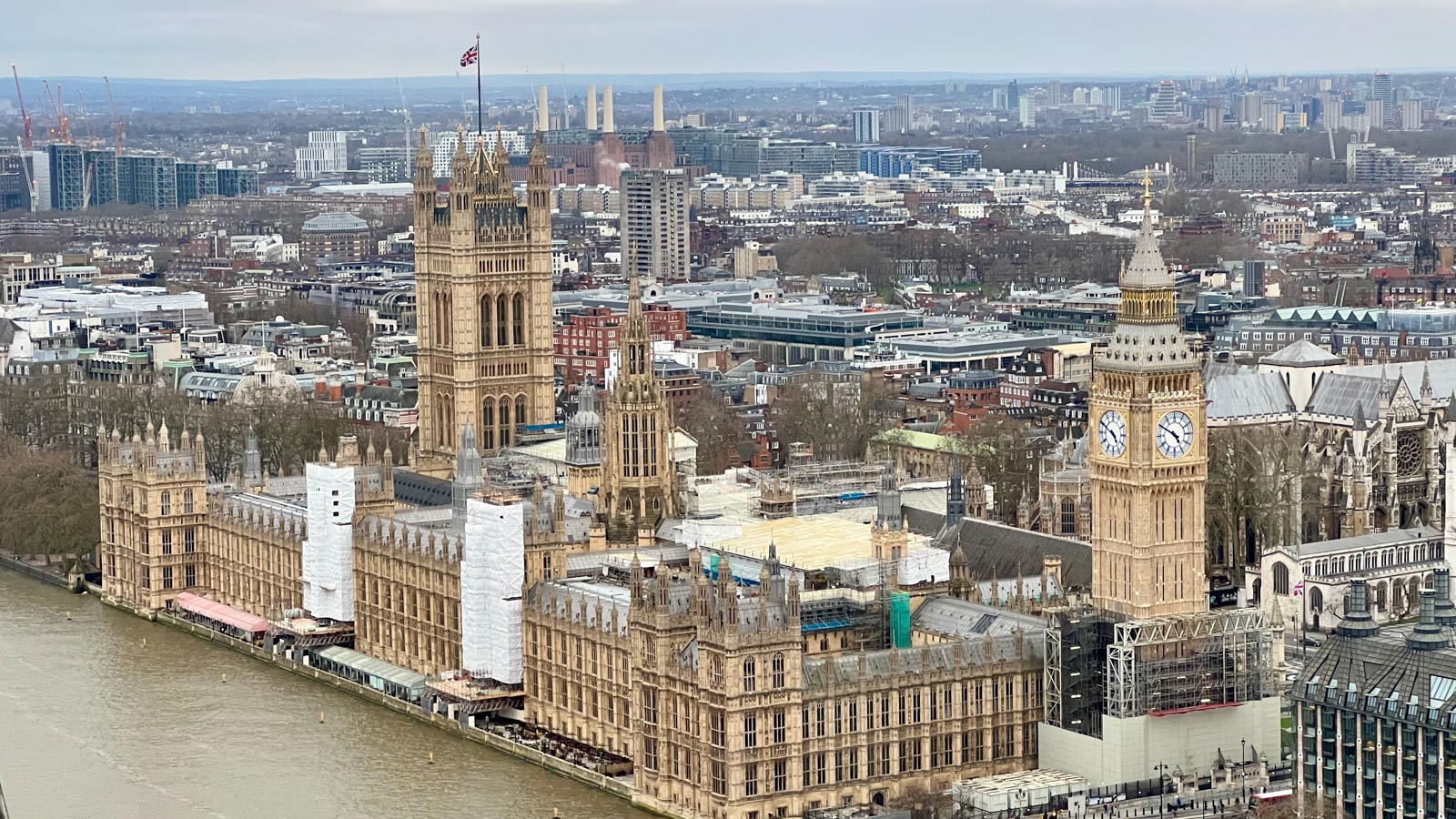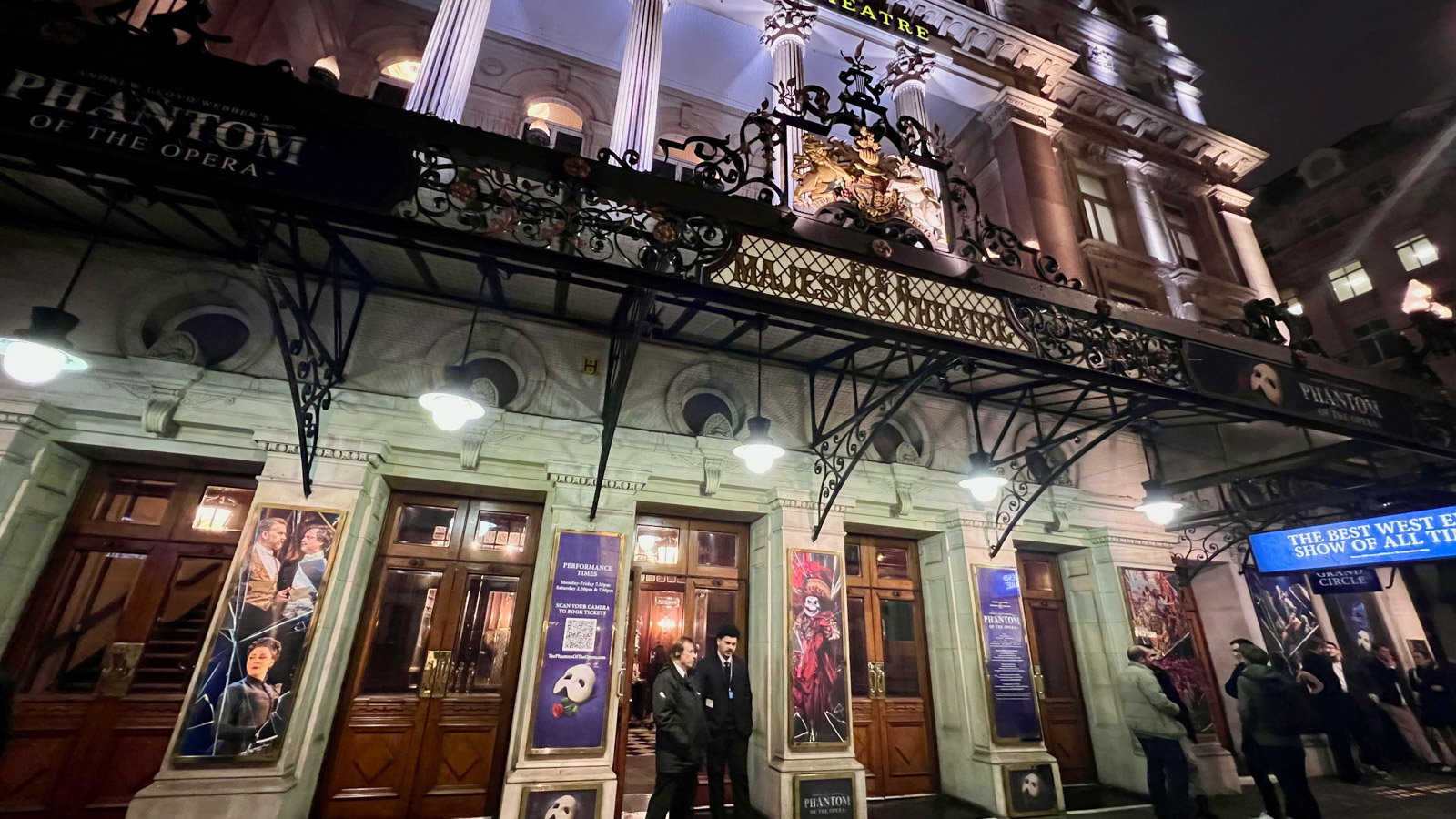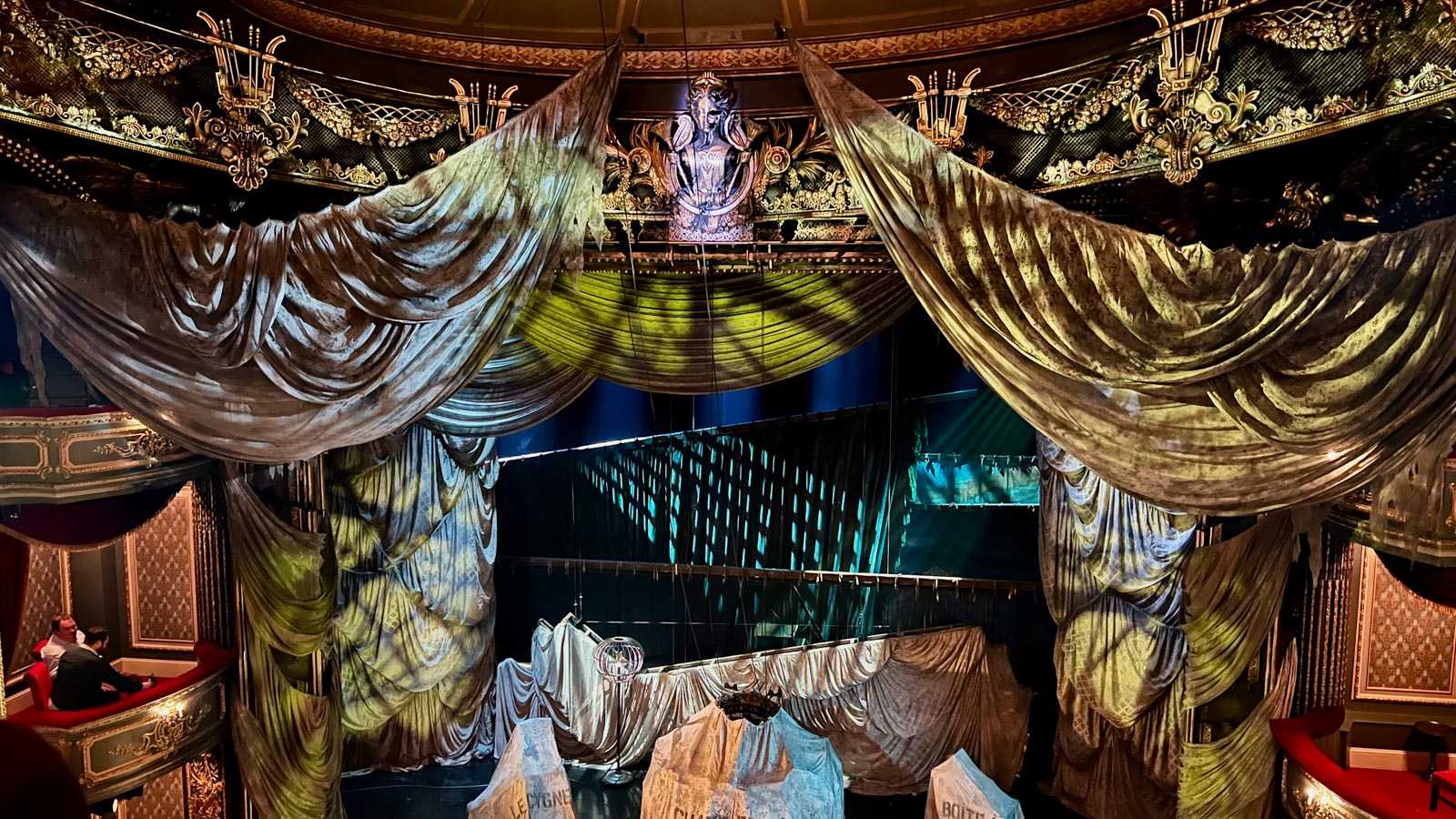 Ad – Scroll down to continue reading.Minimum spend, terms & conditions apply.
3. Dining and drinking
For someone who used to review restaurants for a living, I was greatly looking forward to eating out in London. And the city's many eateries didn't disappoint. Hospitality staff mostly wear masks, but diners never have to. You don't need to be vaccinated or check-in, either. I found it all utterly refreshing.
I kicked things off with breakfast at Wild Honey St James – the Sofitel's in-house restaurant. In a happy twist of fate, the place had been awarded its first Michelin star just weeks before I arrived. The vibe is chic yet relaxed, with quilted booths and huge windows overlooking Waterloo Place. For breakfast, I enjoyed the fluffy scrambled eggs with Scottish smoked salmon. So much so I couldn't resist returning that evening for the excellent pre-theatre menu – a steal at just 35 pounds for three courses. With the restaurant and hotel located at the gateway to the West End, Her Majesty's Theatre was a mere two-minute walk away.
The next morning, I dined at The Wolseley – a grand European coffeehouse that reminded me of Budapest or Vienna. Be sure to book in advance: this place is popular, mainly with well-heeled locals. Where else can you savour a segmented ruby grapefruit in a chilled silver cup, or drink coffee poured from a silver-plated coffee pot while reading The Times? (Had I known, I would have skipped my obligatory flat white – barista coffee is served in a regular porcelain cup). Beneath soaring arched ceilings and huge medieval-looking chandeliers, I devoured superb eggs florentine. Don't even get me started on that light-as-air hollandaise.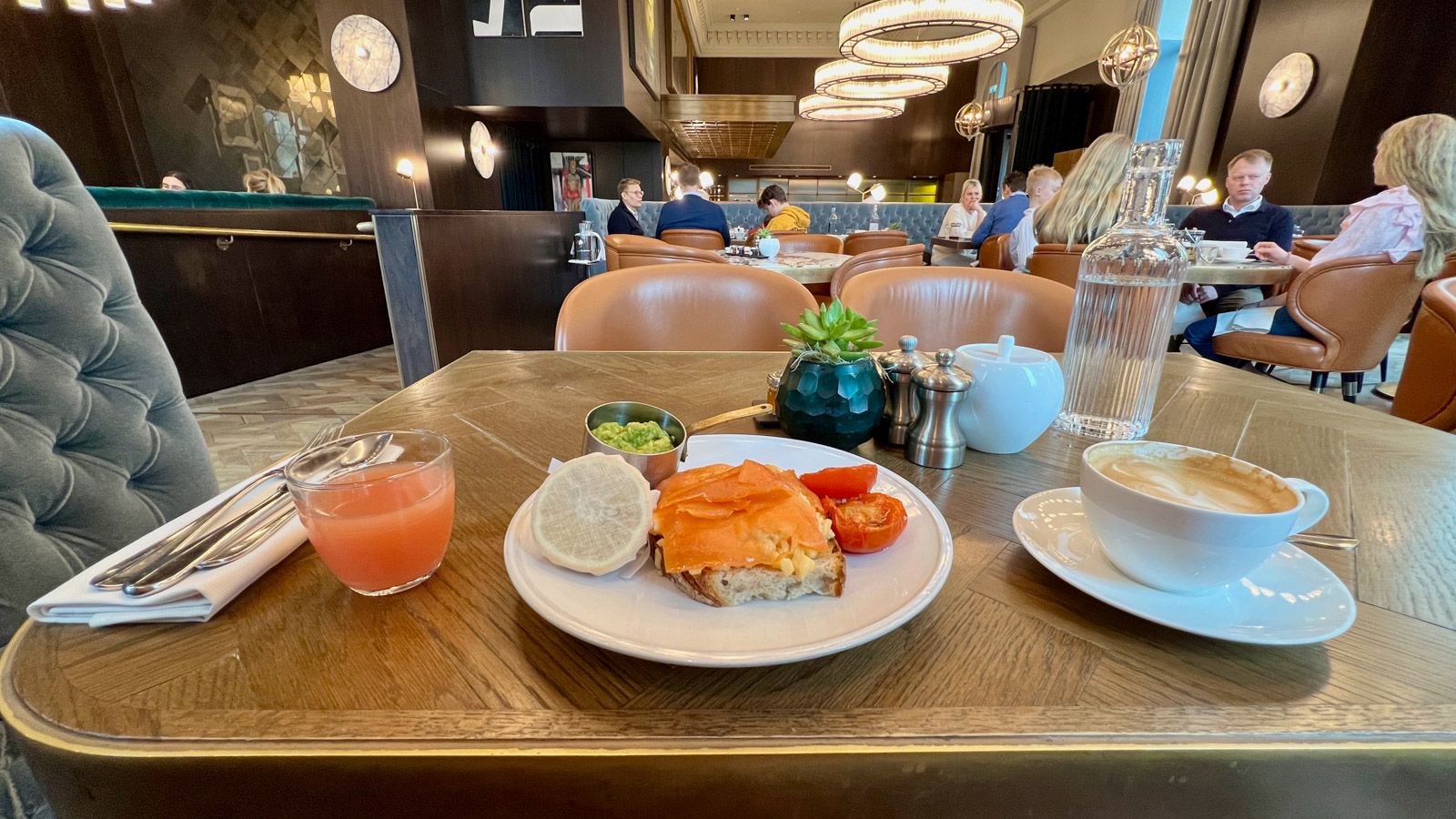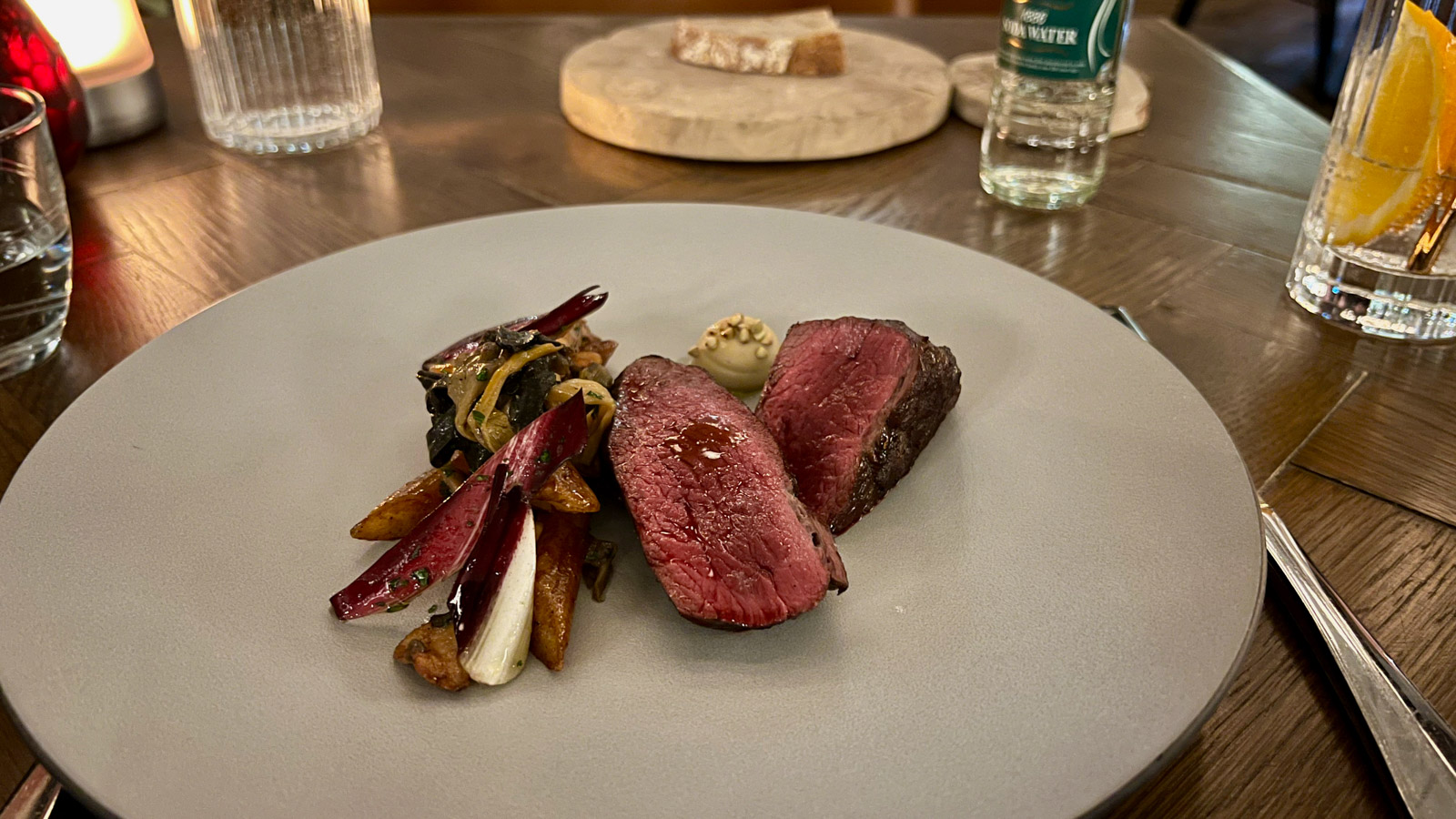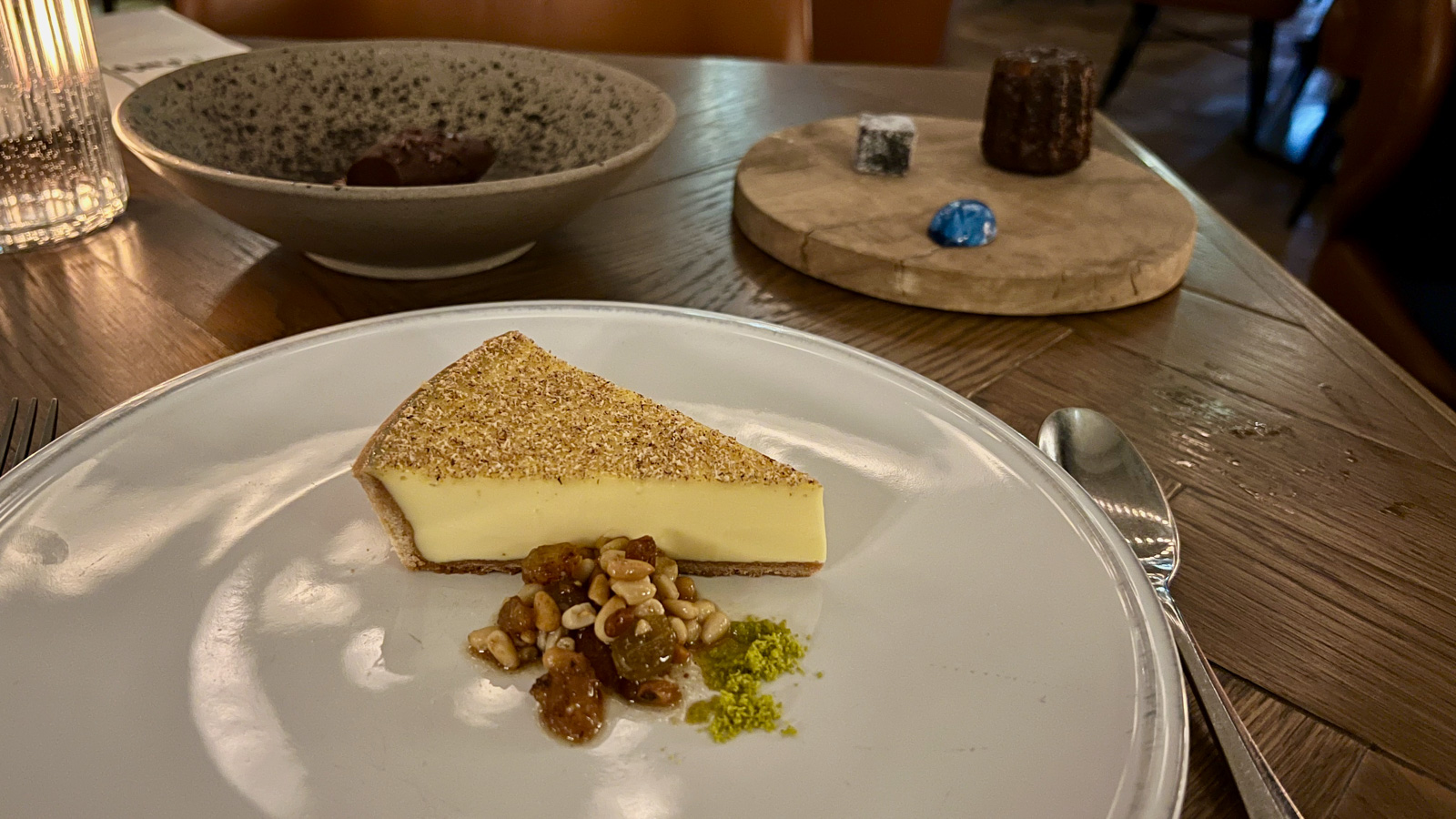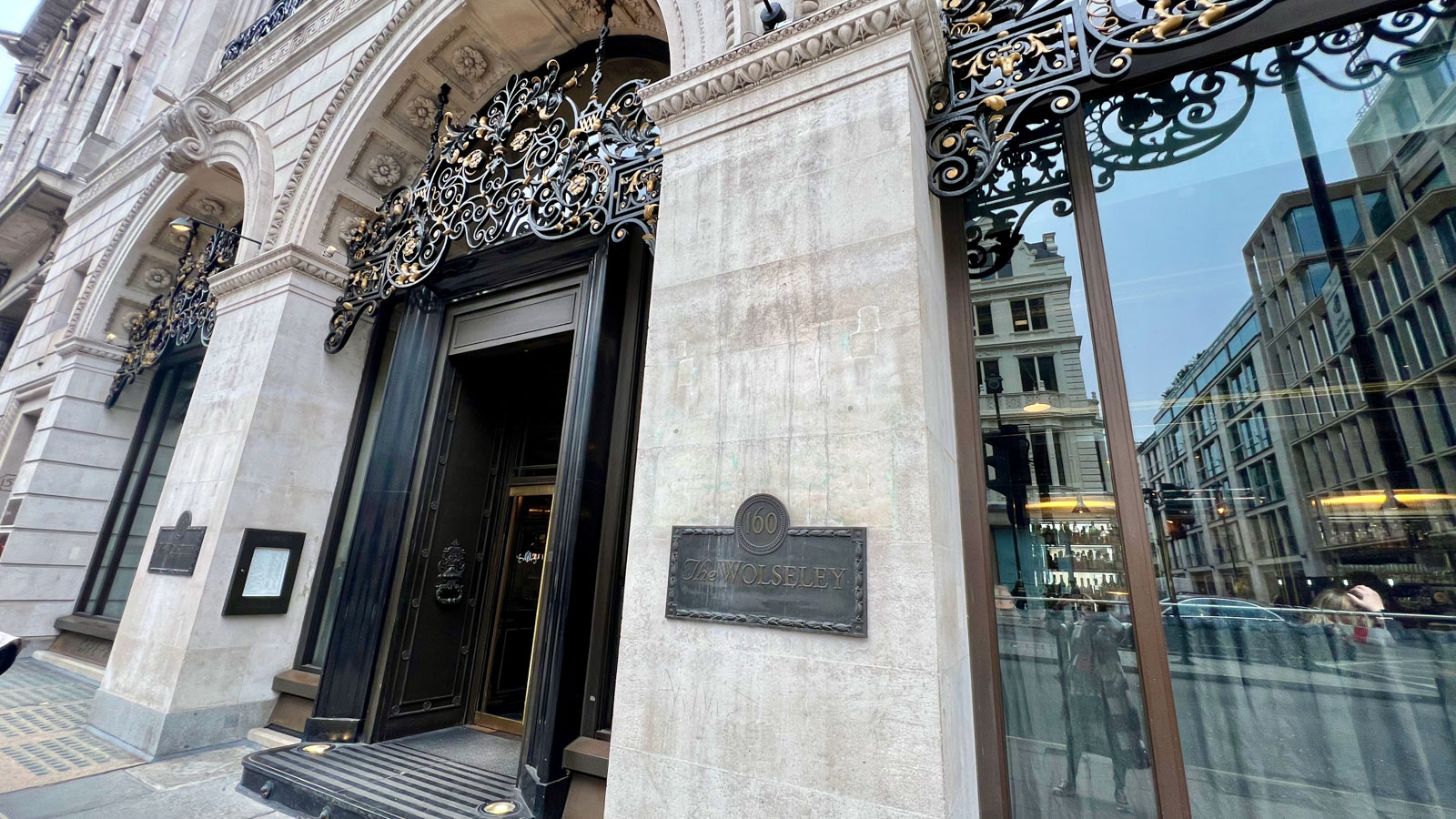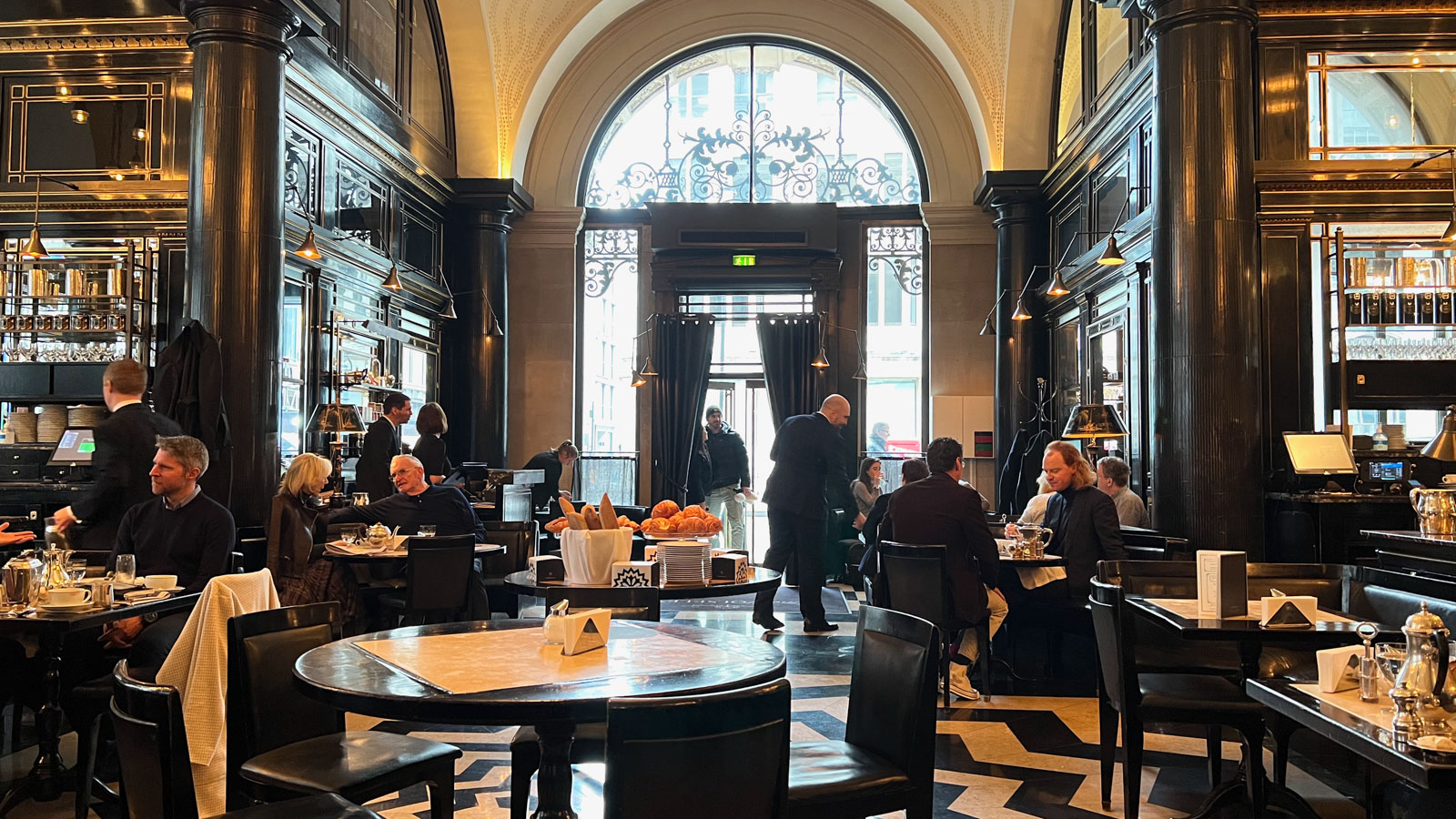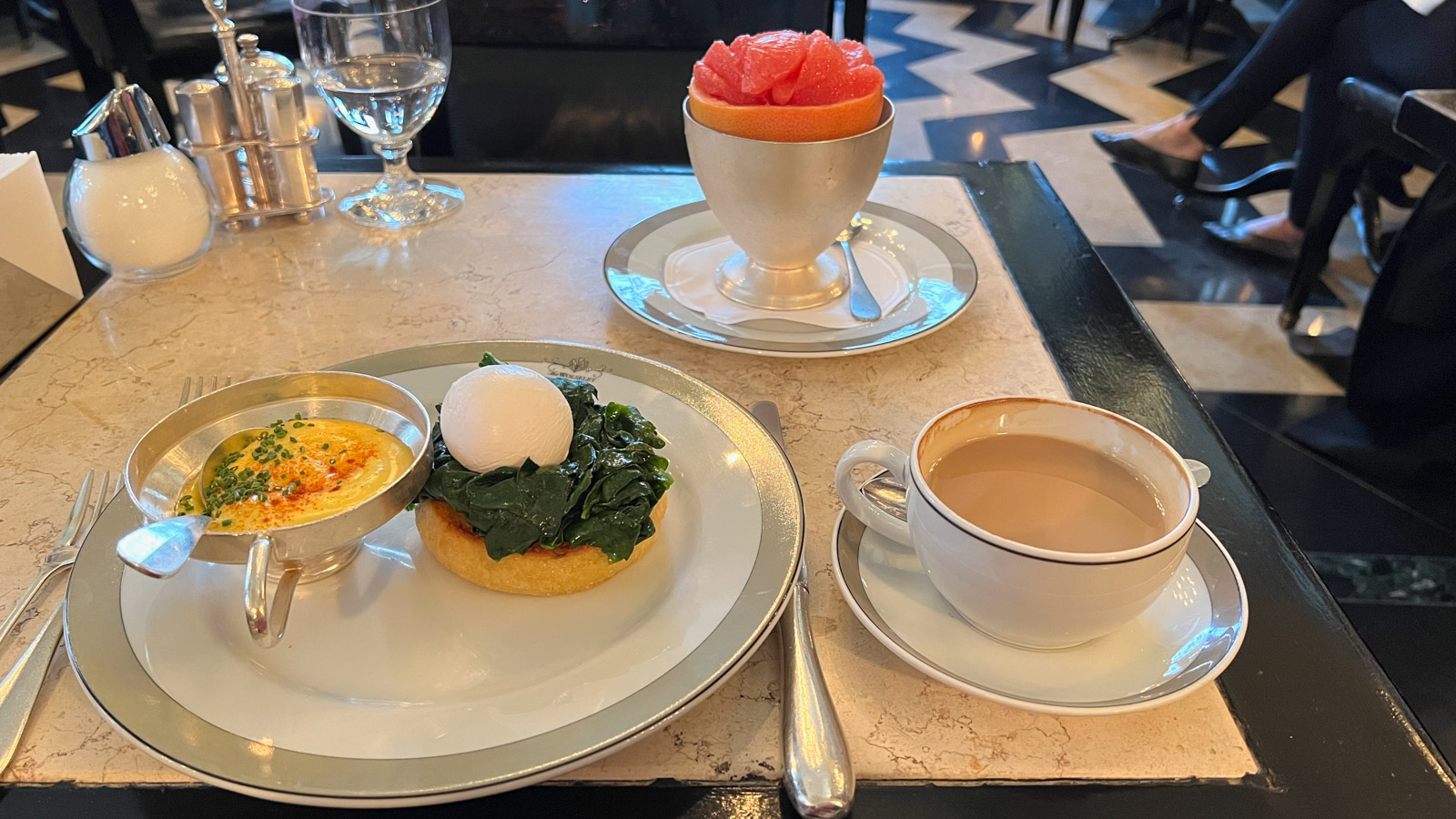 Which brings me to my wonderful lunch at the 3 Michelin star Helene Darroze at The Connaught – quite literally the best meal of my life. You can read more about my decadent feast here. But suffice to say the food was exquisite, the wine list encyclopaedic and the service seamless. The 95 pound midweek lunch special is a great way to experience ultra-fine dining at a more accessible price (it costs 90 pounds more for the same exact menu at dinner). And don't forget to finish with a personalised martini from the iconic martini trolley at the Connaught Bar next door – awarded the World's Best Bar 2021.
But if you're starting to suspect I only dined at pricey Michelin-starred places, you'd be wrong. Because how could I pass up a visit to a traditional British pub? Don't make the mistake of researching or booking a pub in advance, as I did – which locks you into a single place. One of the beauties of London pubs is that there's one on nearly every street corner, and they're all ready to welcome you. Simply peer through the window to clock the vibe, have a scan of the menu out the front, and sail on in. And you guessed it – no check-in or mask-wearing required. Grab a pint from the bar and settle in for a good time.
Finally, I couldn't miss experiencing Harrods' famed Food and Dining Halls. The multi-room Food Hall is divided into counters selling some of the best produce in the world. Oozing cheeses, a gazillion types of chocolate, glistening seafood, tempting deli treats… And that's just for starters. Better yet, the prices are actually quite reasonable, meaning you could buy the makings of a luxe picnic for around 20 pounds.
But if you're looking to dine at Harrods, make a beeline for the six-restaurant Dining Hall (arrive when it opens at noon if you don't have a booking to ensure you get a seat). Under the beautiful tiled ceiling, I indulged in a delicious goat cheese ravioli from Pasta Evangelists.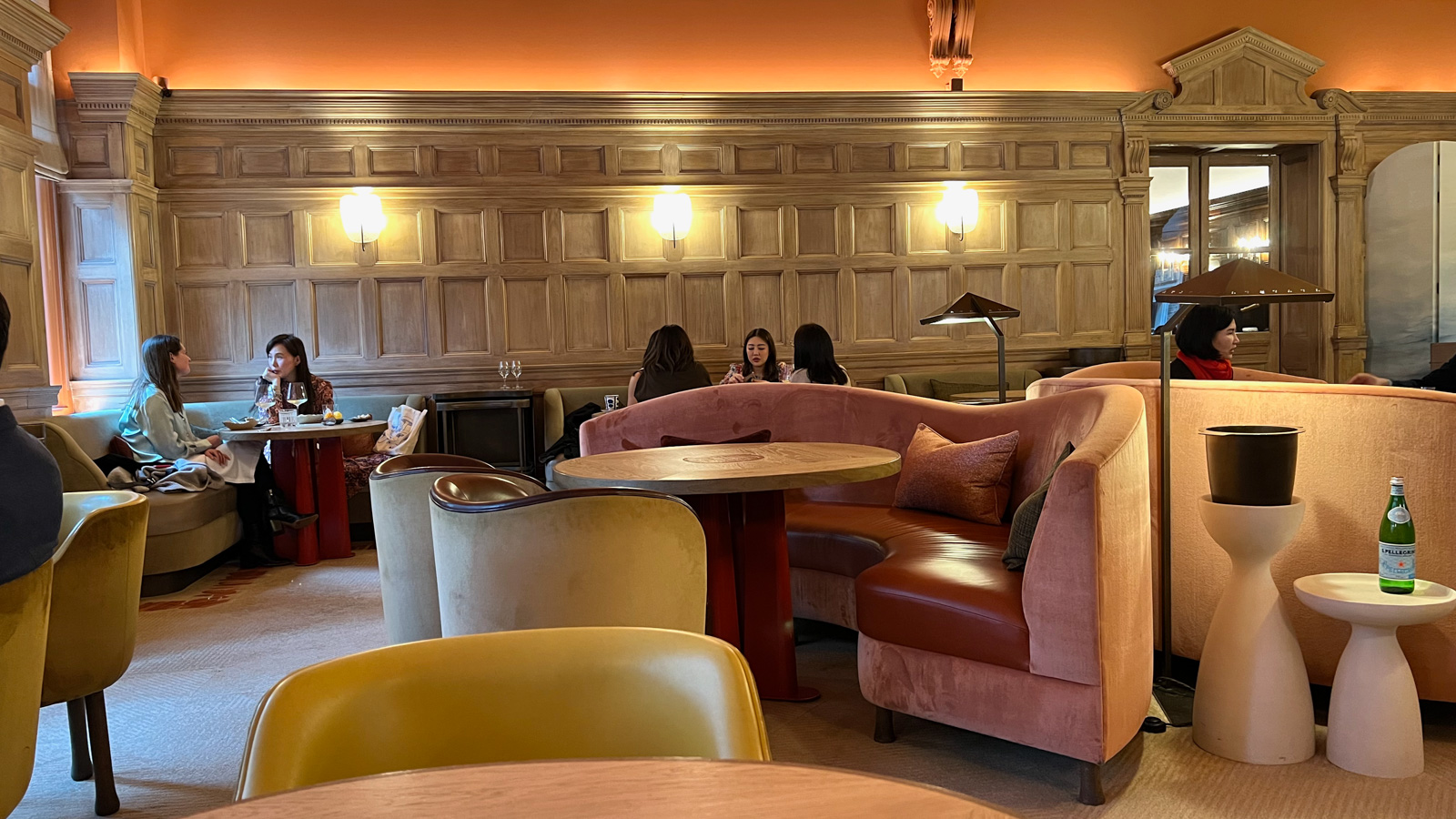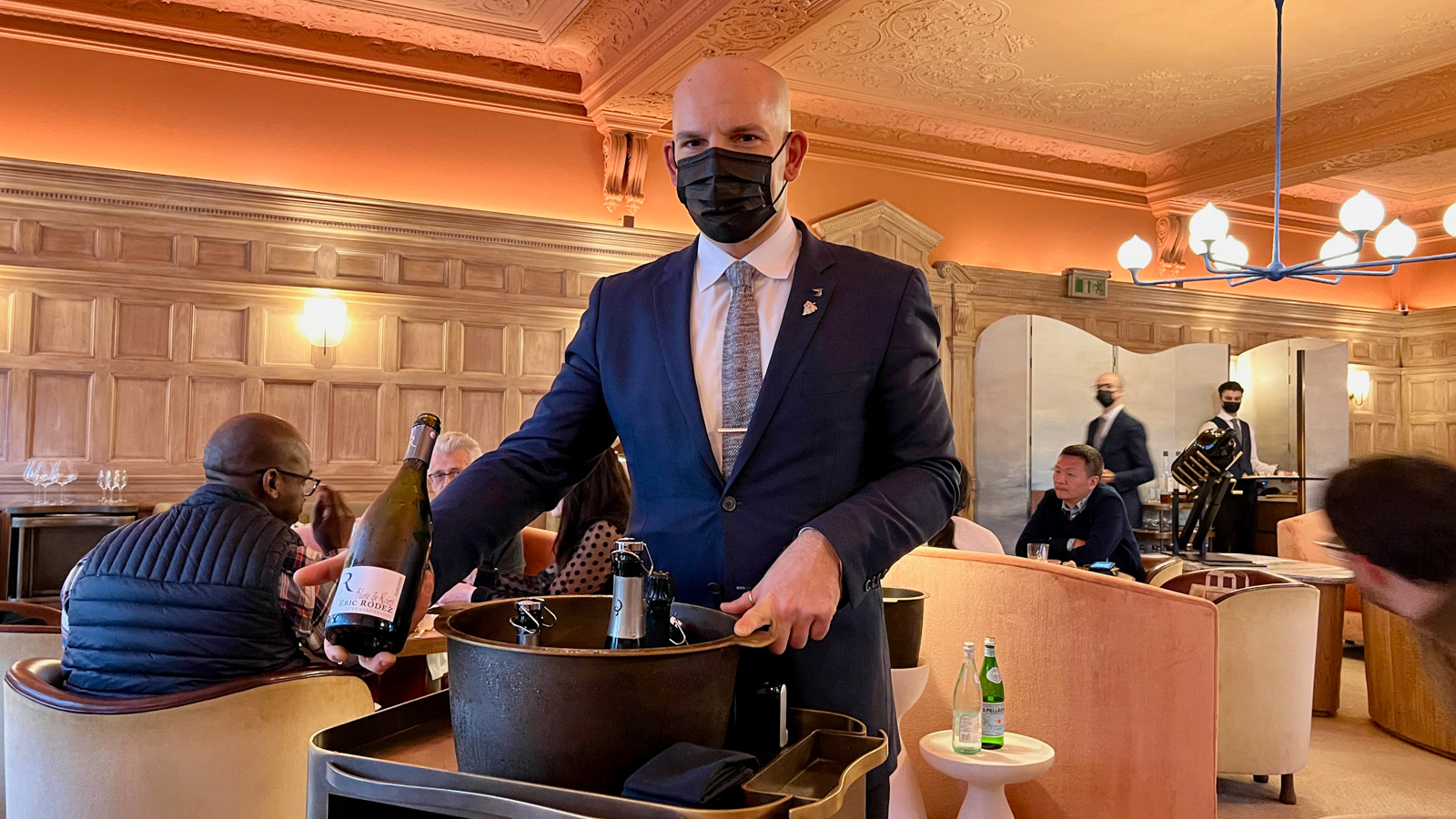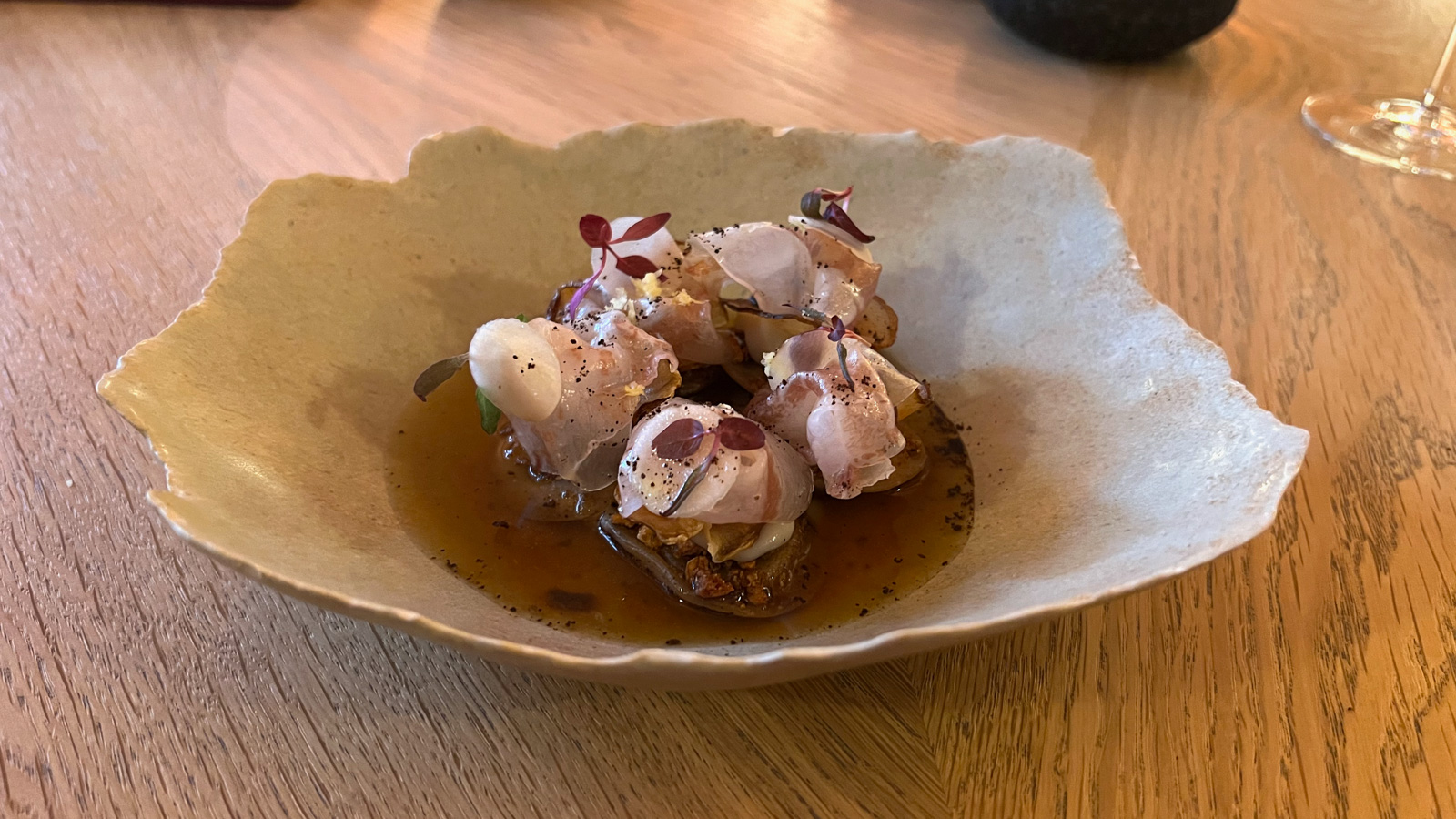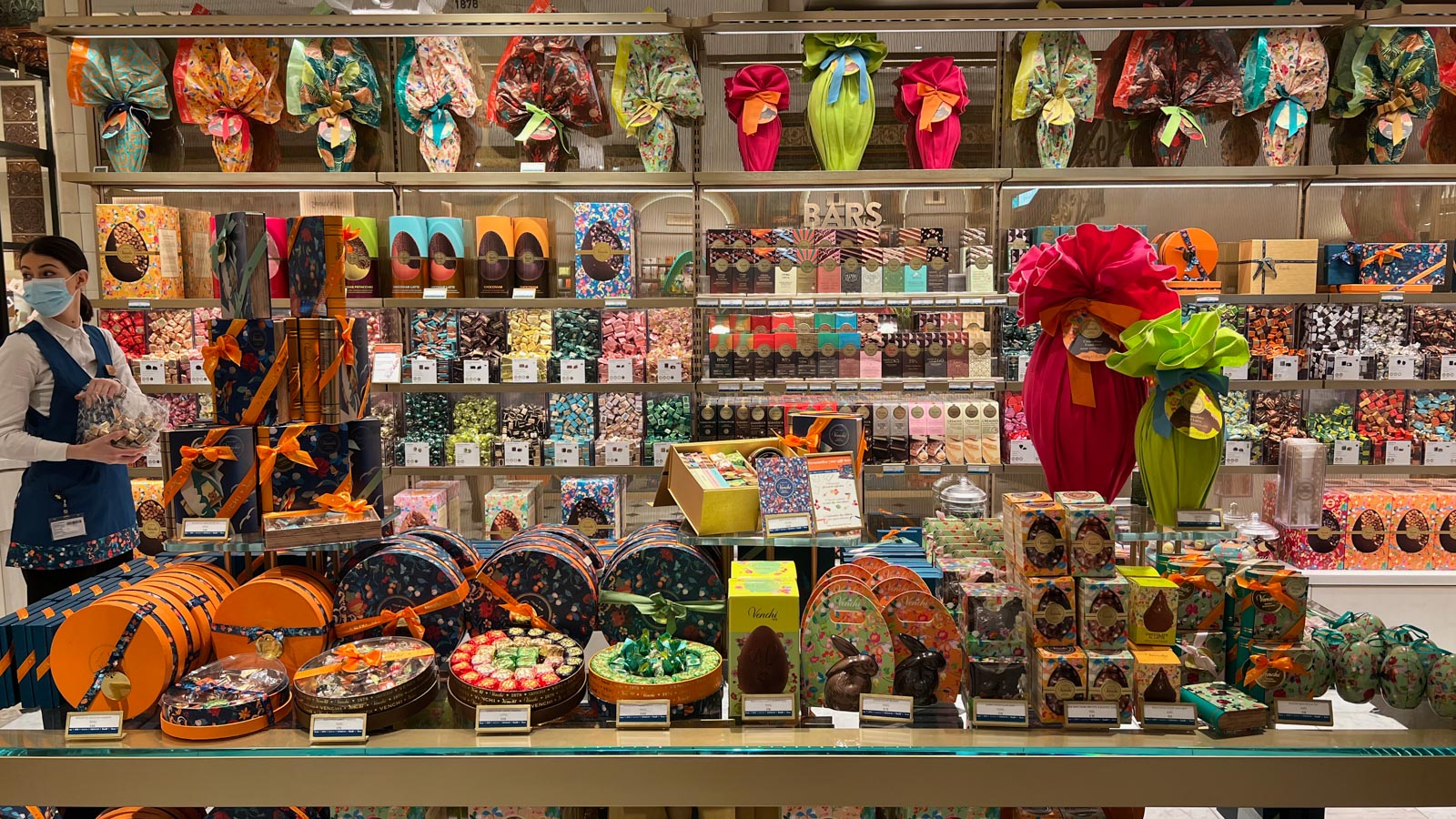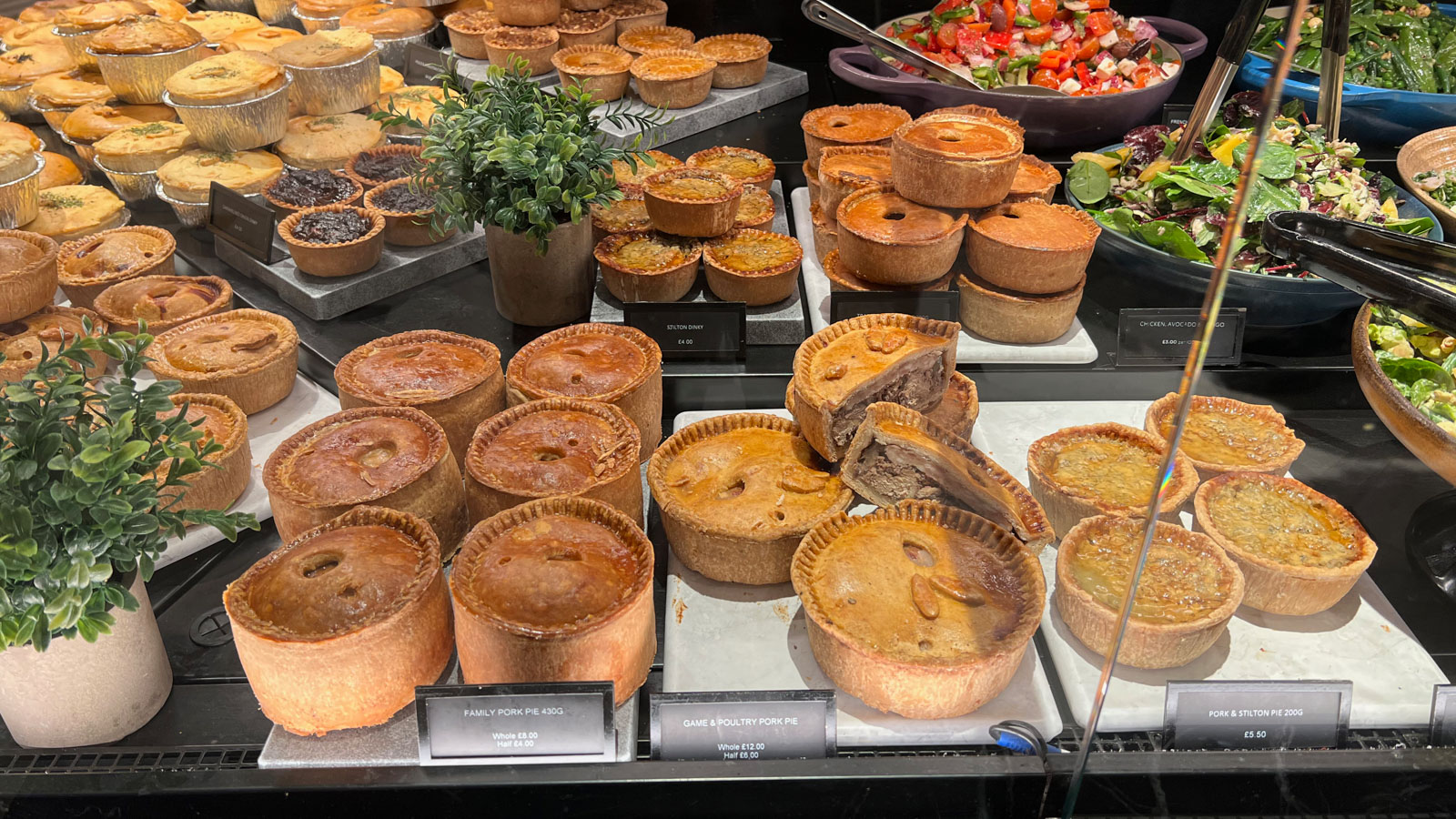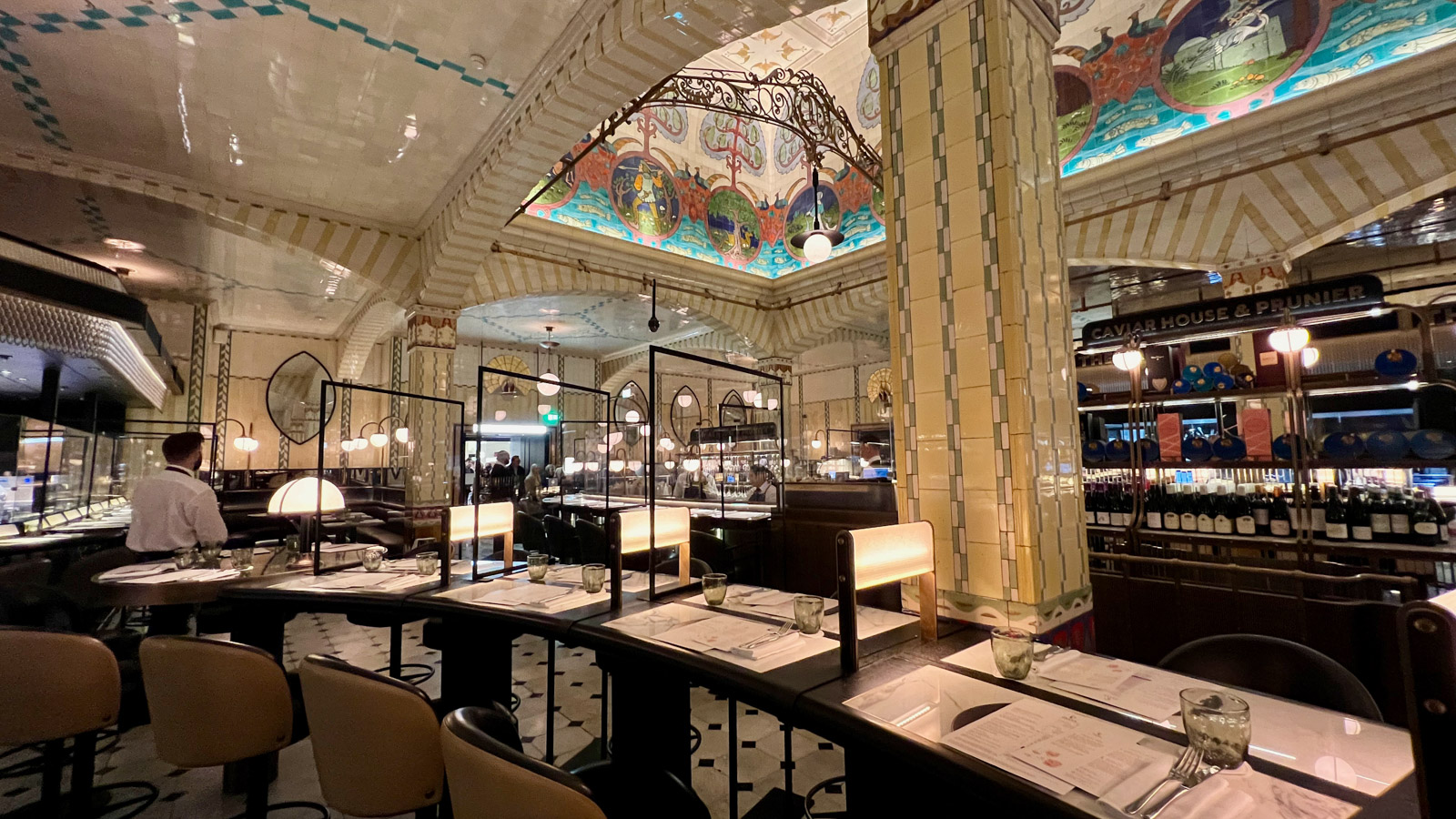 4. Indoor shopping
Now that COVID restrictions have vanished, indoor shopping in London is a delight. In a city with notoriously inclement weather, who wants to dart between stores on chilly Regent Street? Saunter lazily through an entire department store – never once scanning a QR code or breathing hoarsely under your mask – and you'll see what I mean.
Speaking of department stores, you can't visit London and not make a pilgrimage to the world-famous Harrods. Go for the food, stay for the fashion. Or the homewares. Or the vast lego department. You can and should lose hours visiting the many lovely levels. I spent a blissful half hour ogling the designer womenswear. But that's just me.
Other notable mentions for indoor shopping, which is entirely rule-free? The British food store Fortnum & Mason, where the Queen shops (there's also an outlet at Heathrow T5, not far from the British Airways Galleries South Club, where I enjoyed breakfast before my flight to Amsterdam). And Liberty London department store.
Outdoor shopping
Of course, there are exceptions to every rule. It's a street rather than a store, but you simply must stop by the famed Savile Row. This street of bespoke tailor shops in Mayfair has clothed everyone from Winston Churchill to Prince Charles. If the budget doesn't extend to a hand-cut suit, then a stroll is the next best thing. Linger outside No. 3 Savile Row, where the Beatles recorded Let It Be in the basement and gave their final live performance on the roof. You might just catch a whiff of genius.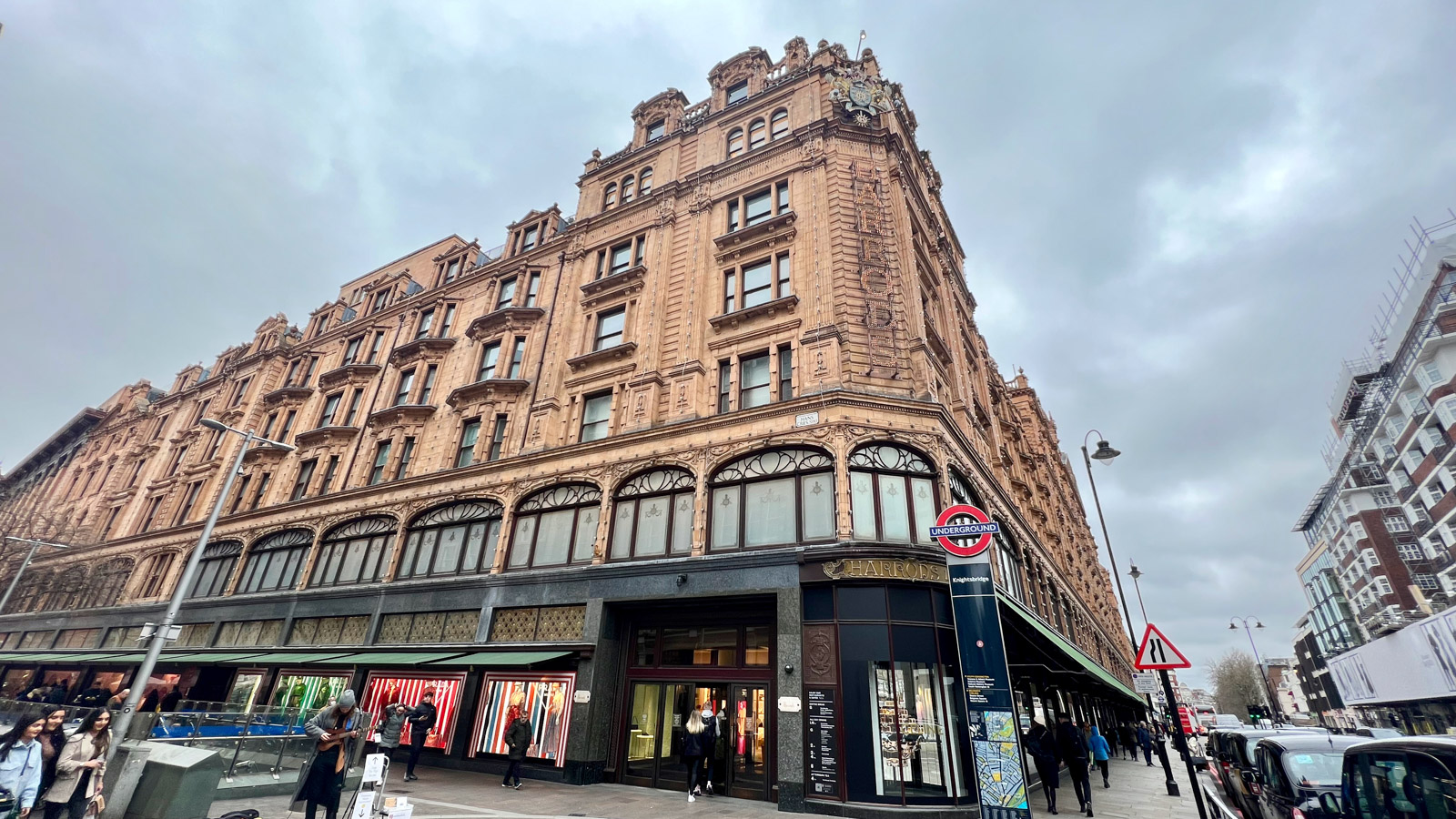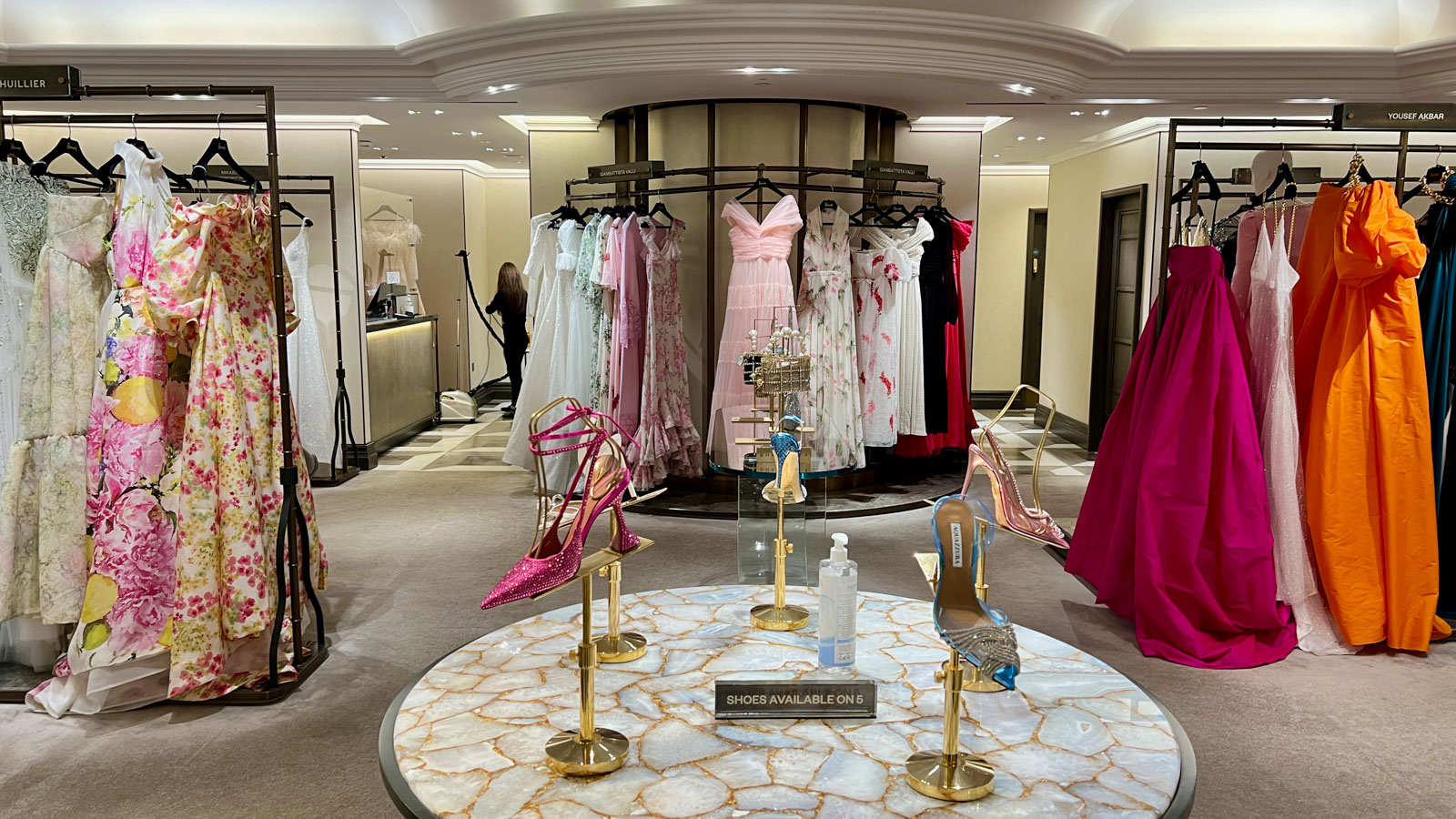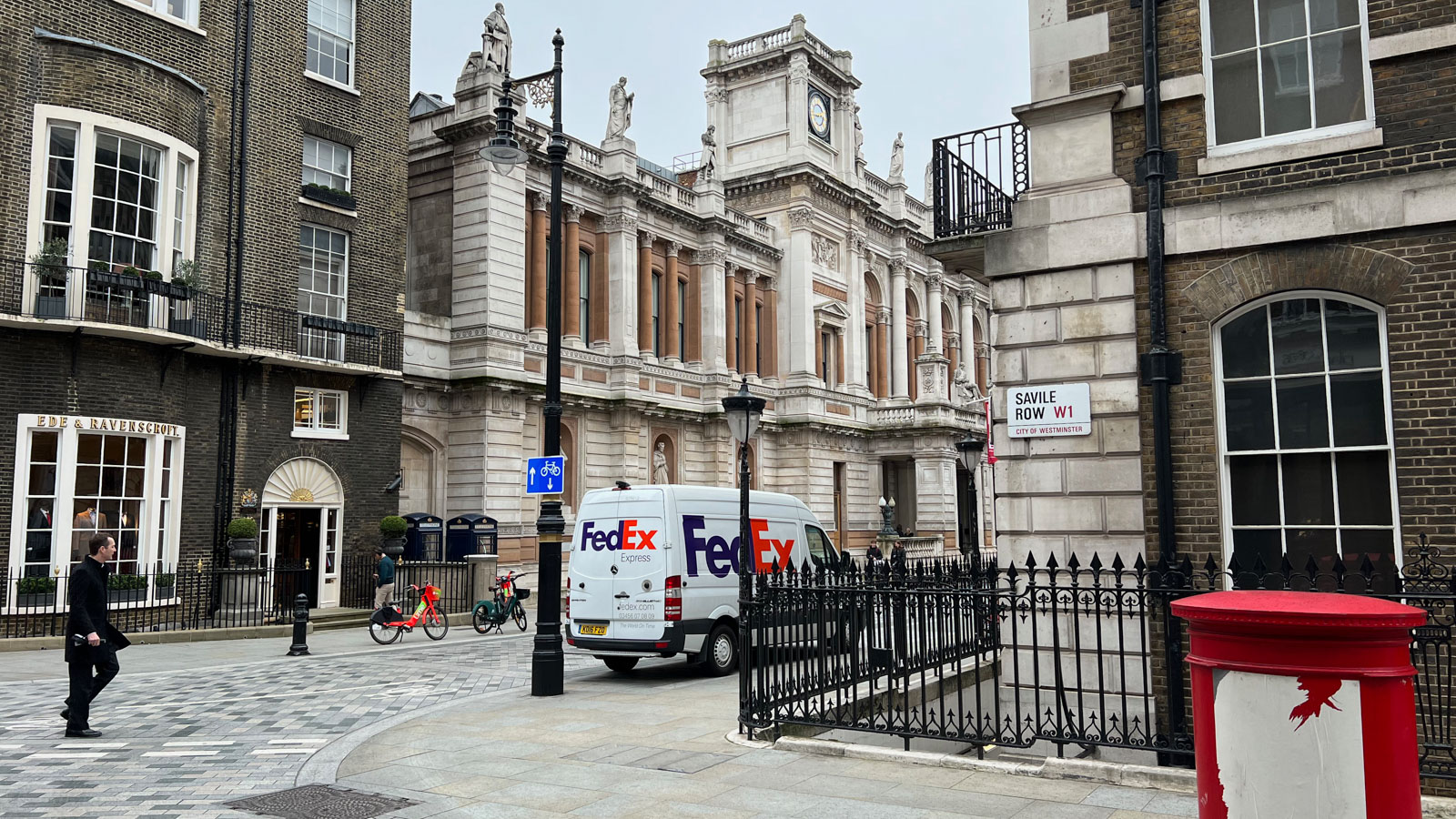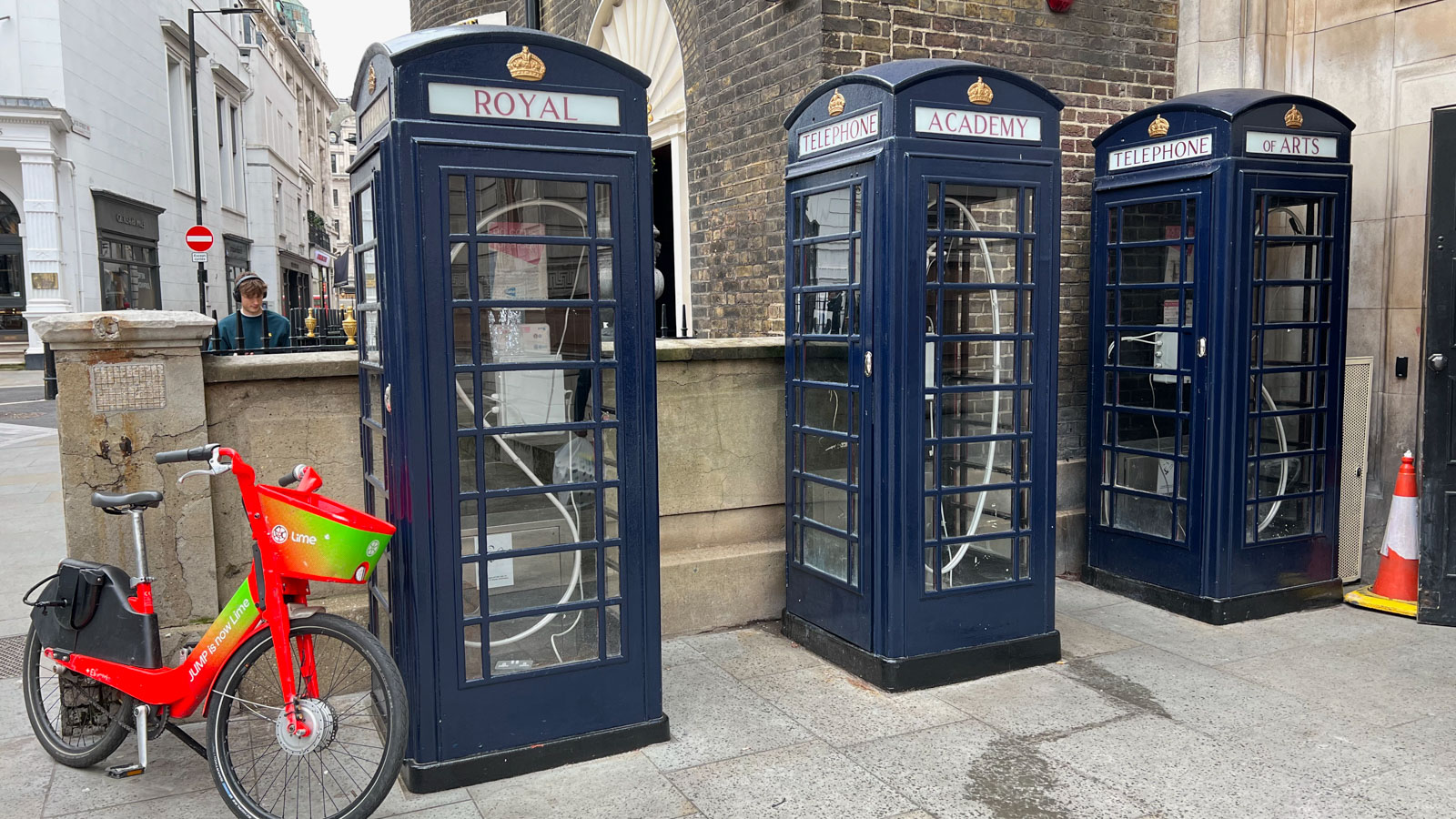 5. Transport
London is serviced by excellent public transport and some 21,000 black cabs, making getting around a cinch. And you don't need to wear a mask – even in peak hour on the tube. (True, Transport London recommends it, but with England's shift from legal COVID restrictions to personal responsibility, it's completely up to you).
I arrived in London during a tube strike, so I made hearty use of the iconic black cabs. London cabs are a different species to our taxis or Ubers in Australia. Driving a black cab in London is a proud career, requiring an onerous test of the city's 25,000 streets known as 'the knowledge' that demands around four years of study. It's so difficult it's been shown to increase the memory centre of the brain.
I enjoyed many rides with these mostly Cockney cab drivers, who can shave minutes off a journey with their ingenious shortcuts. They also provide informative commentary on the city's many sights. Many of the newest cabs are spacious hybrids, with a panoramic roof and USB charging port. Admittedly, London traffic is often abysmal. But there are worse ways to pass the time than gazing at Buckingham Palace while stuck in traffic.
Of course, once the strike was over, I made a beeline for the tube. Safe, fast and affordable, the tube is how Londoners get around. I'd read you had to purchase an Oyster Card, but not so! You simply swipe your credit card in place of a ticket (it costs £2.60 for a single trip in Zone 1) and sail on through.
I also cruised around town on one of the red hop-on-hop-off buses – though the customer service was so lousy I didn't enjoy it all that much. Still, it's a great way to orient yourself if you're new to the city. My ticket also included fast-track entry to the London Eye, so it was absolutely worth it.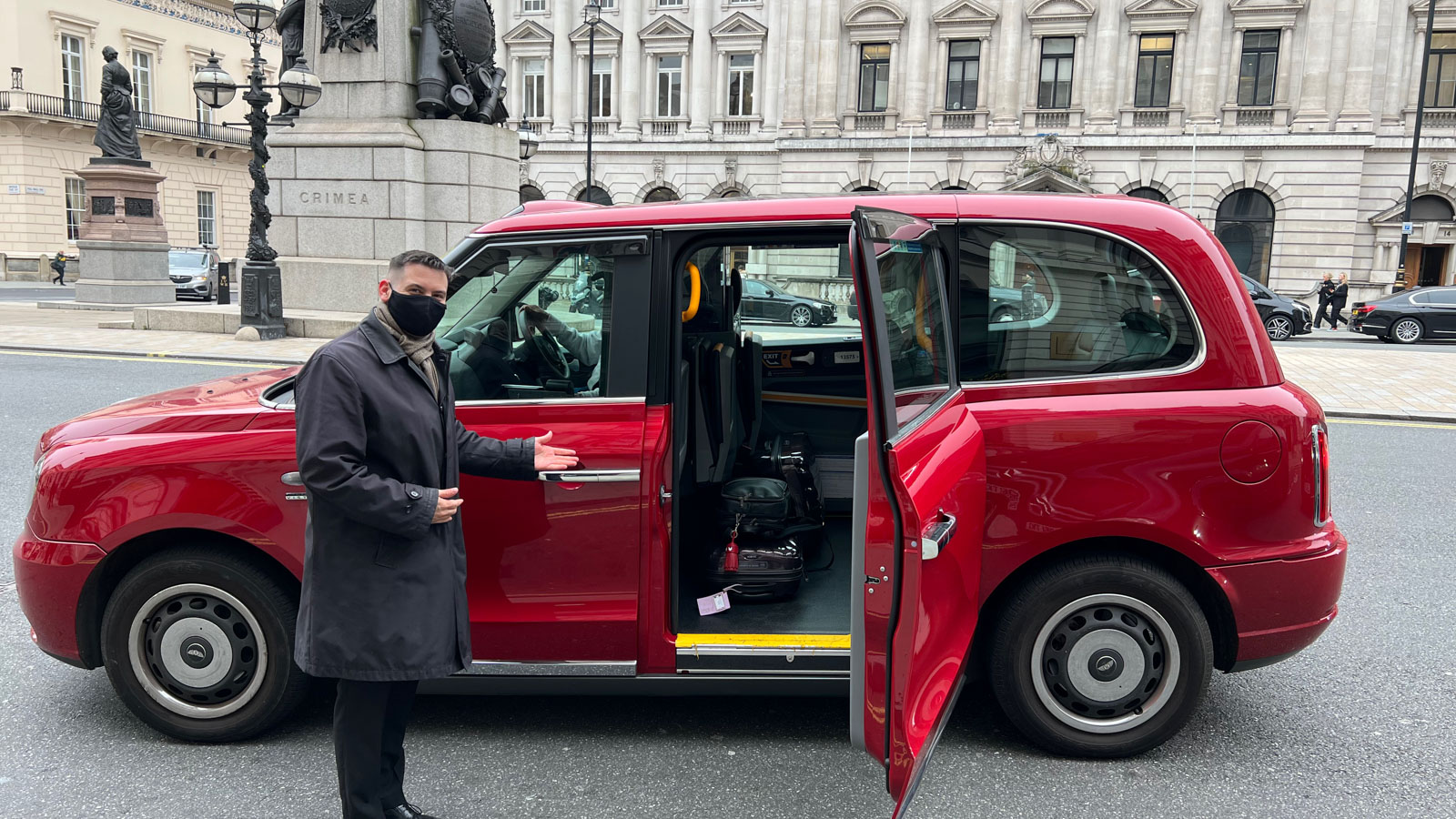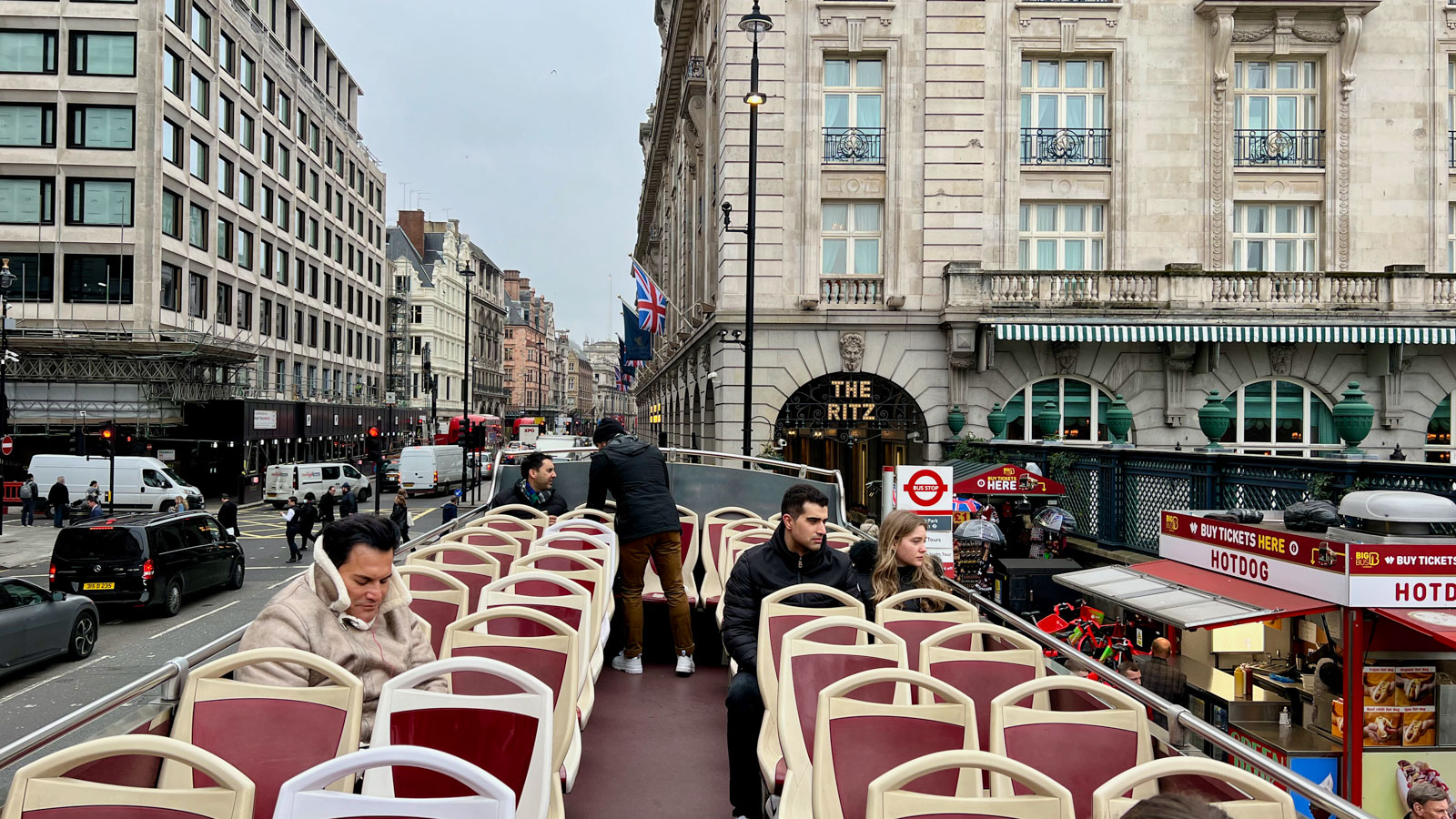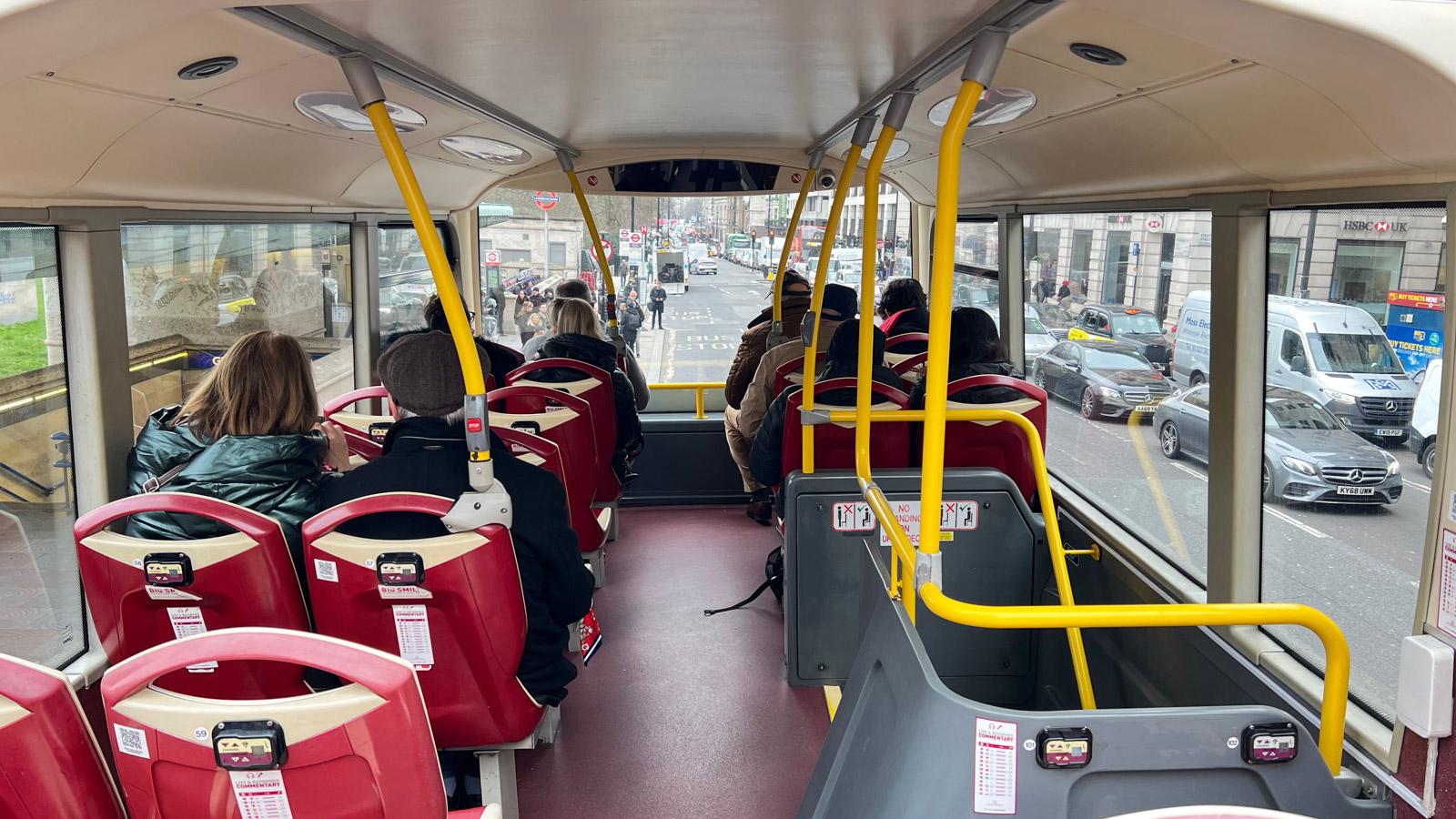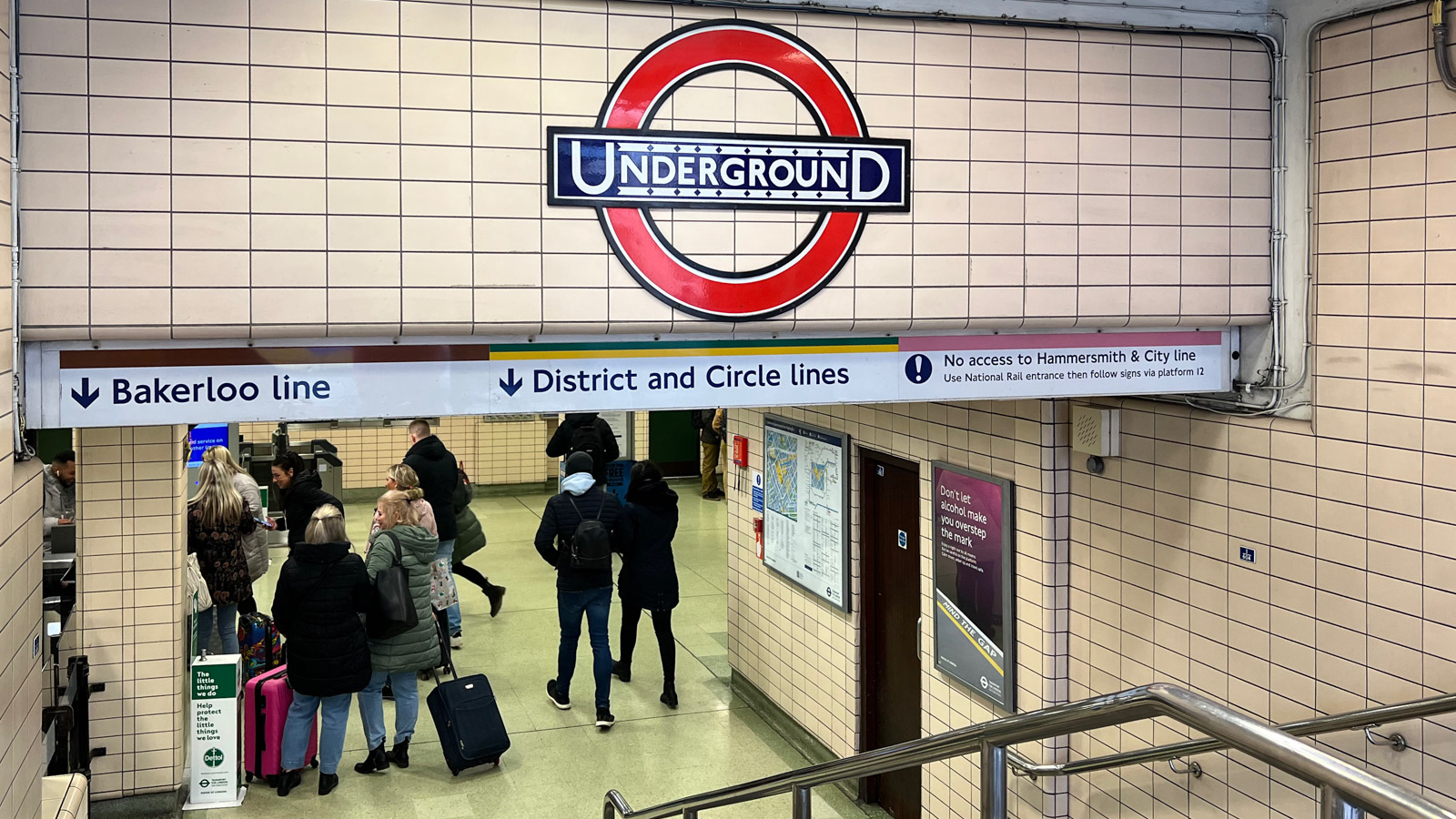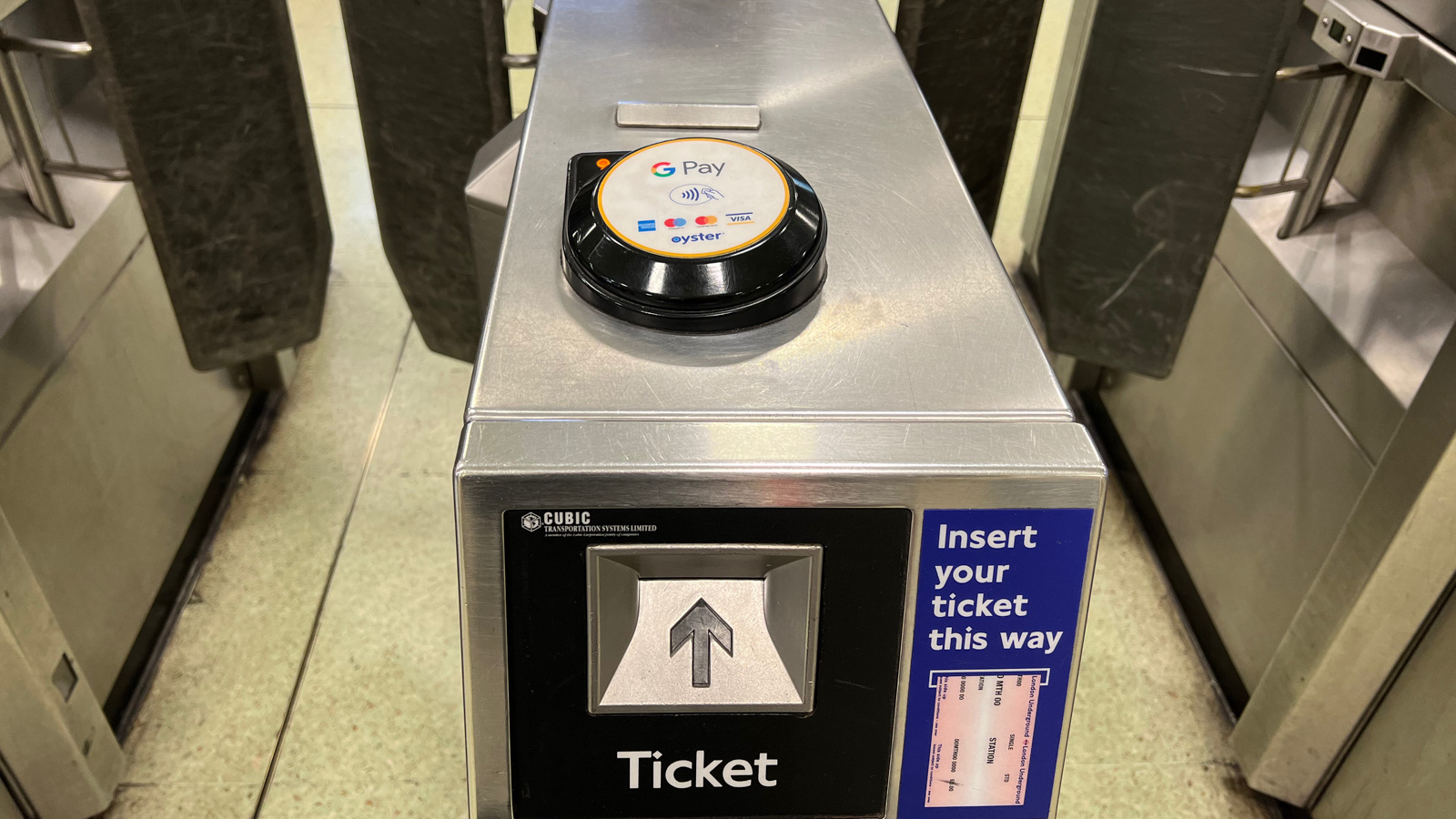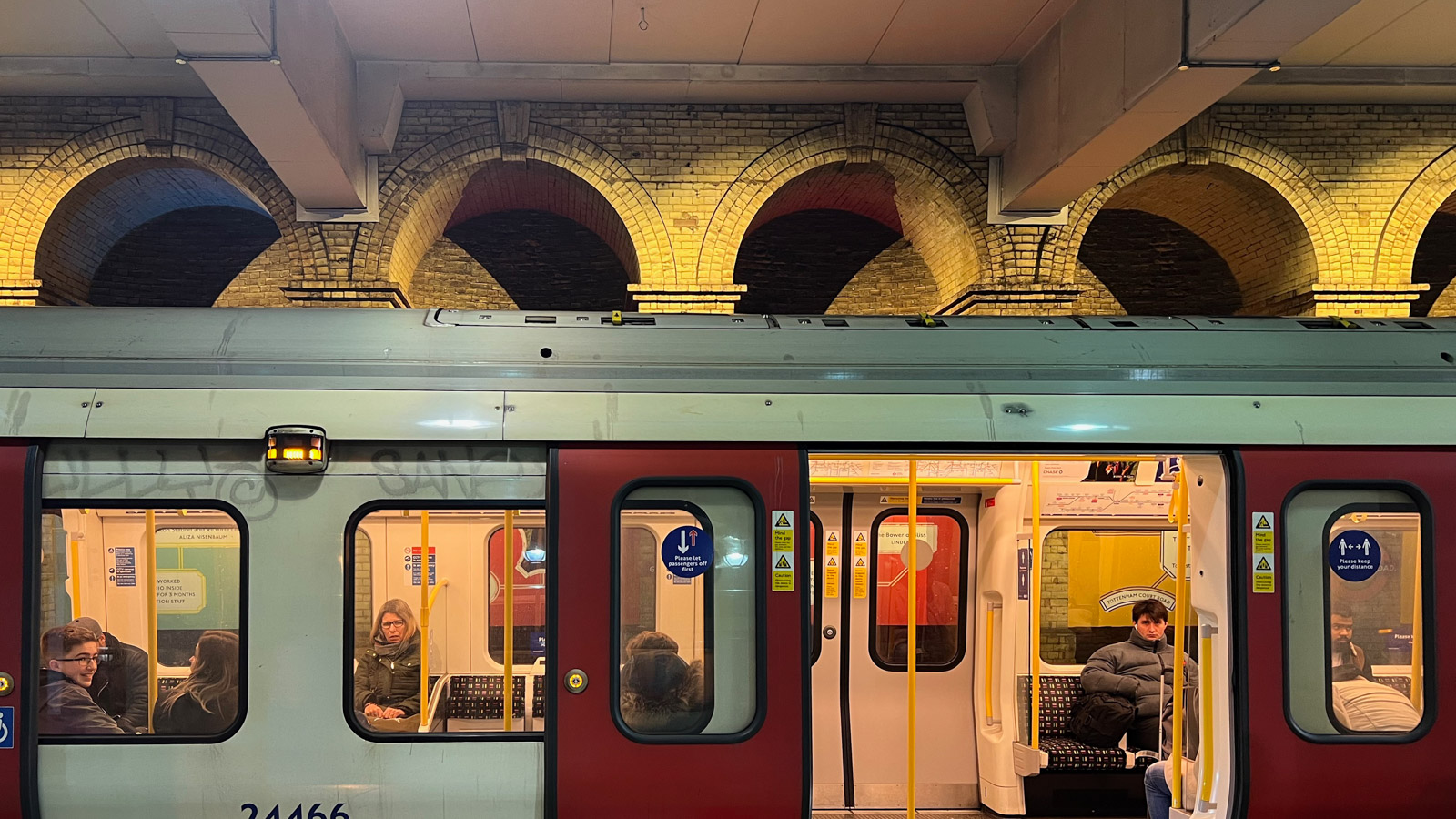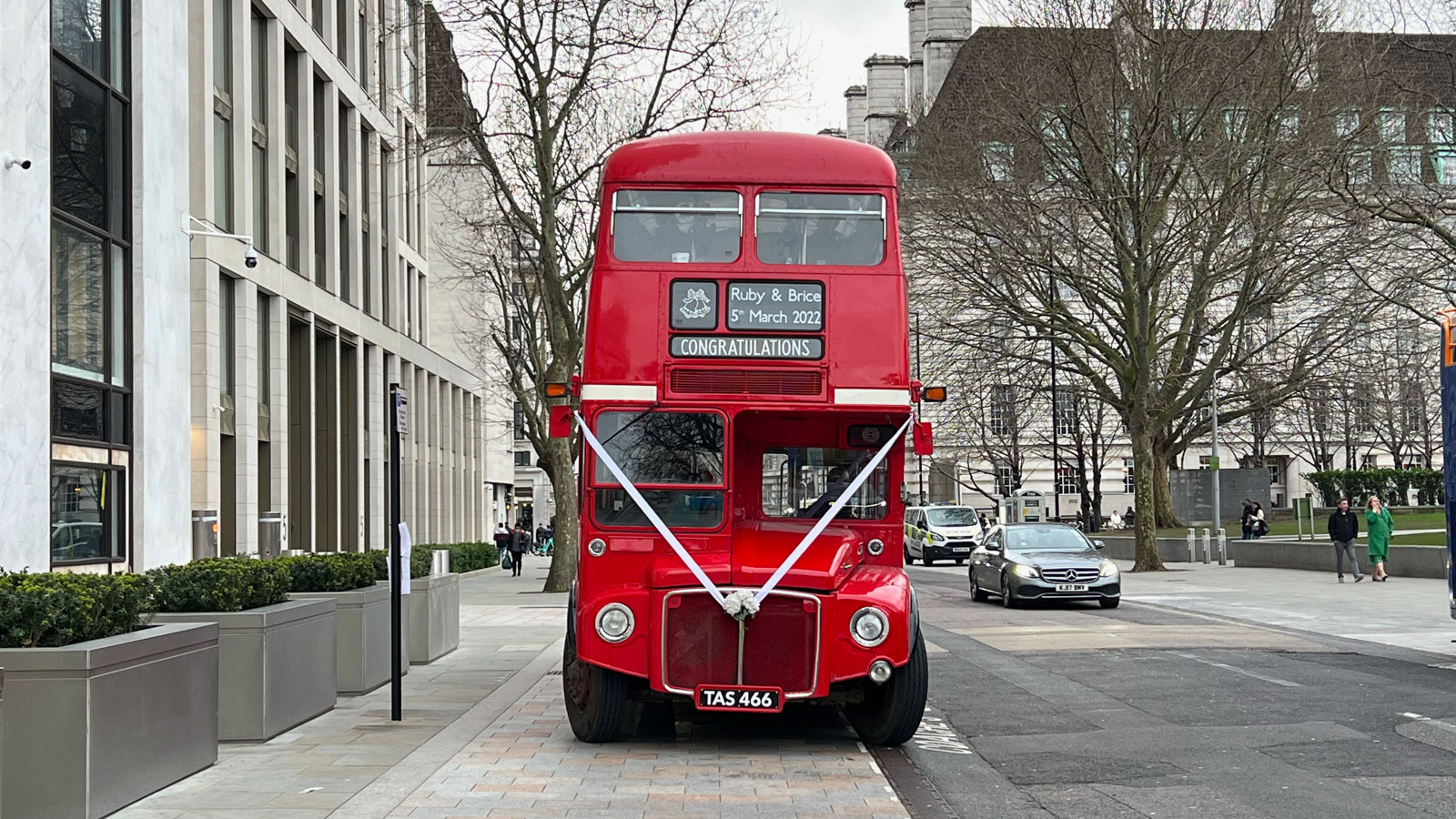 6. Flying to London from Australia
And what about flying to London in the first place? In March 2022 it's easy-as, with not a single country on the UK's red list. Meaning? You don't need a COVID test to board your flight in Australia or to land in the UK. You just need to be double vaccinated, and to have your International COVID Certificate ready to show when you check-in for your flight in Australia. Keep in mind, this is different to your Australian Digitial COVID Certificate. But the International Certificate is easily downloaded from the Medicare app.
At check-in, you'll also need to show your UK Passenger Locator Form, which you must complete within 48 hours of departing Australia. (You don't need to complete Australia's Digital Passenger Declaration on departure – that's only when you're entering Australia from overseas).
My parting advice? PRINT everything. I'd emailed my completed UK Passenger Locator Form to myself as an attachment, only to discover in the check-in queue in Melbourne that the attachment doesn't open on phones for security reasons. I envied the man in front of me who whipped his folder of printed documents from his satchel.
Other than that, the experience of flying to London was an absolute cinch. After 23 hours of non-stop luxury in Qantas Business, I landed at Heathrow, breezed through the airport in under half an hour – thanks to passport e-gates and priority baggage – and immediately began my day. I couldn't believe how simple it all was.
So have I convinced you yet? London is calling your name. It's one of the easiest international destinations to travel to right now, and it's utterly wonderful. You can hear more about my incredible trip on this exclusive podcast.
If you'd like to enjoy this experience as I did, you can fly Qantas Business direct to London one-way for 144,600 Qantas Points and $472 in fees and taxes, saving thousands off the cash price of a ticket. Simply double the points for a return journey, though taxes and charges will differ depending on local taxes and currency conversions.
(For comparison's sake, this same flight would have cost $4,791 one-way as part of a return Melbourne-London Qantas Business booking).
Happily, earning 144,600 Qantas Points is easier than you think. Just check out our credit card offers below, or on our main page here. Pocket the bonus points from a single card and you're well on your way.
Finally, has this article got your travel juices flowing? Then don't forget to subscribe to the Point Hacks newsletter so you never miss a thing.
The world is opening up, and we plan to cover every inch.
Featured deals
6 reasons why you need to travel to London now
was last modified:
July 24th, 2023
by