What if you could experience 23 hours of Business Class bliss aboard Qantas' Dreamliner for under $500 – saving thousands of dollars in cash? You can. You must. Here's why.
I've just returned from a jaunt to restriction-free London (read all about my incredible trip here). But it's my Qantas Business Class flight over there – flying direct from Melbourne via Darwin one-way – that really blew me away. And we booked using Qantas Points, scoring a hefty discount on the cash price ($11,386 return at the time of travel, with this one-way leg pricing at $4,791).
Here's why you need to experience this journey for yourself.
The pre-flight experience
Of course, a Business Class ticket doesn't just ensure an amazing time onboard. It's actually your gateway to a lavish journey from end to end.
When I arrive at the airport in Melbourne, I don't join the lengthy Economy check-in queue as per normal. Instead, I breeze through priority Business Class check-in in minutes flat. With no one ahead of me, customs is a cinch as well – leaving me plenty of time to enjoy the luxe Qantas Melbourne First Lounge. (From 27 March, Business Class passengers return to the Qantas International Business Lounge instead).
After I've had my fill of champagne at the lounge, I experience priority boarding at the gate – in fact, I'm first onboard. And on landing at Heathrow, priority baggage collection sees my bag come out third.
Warm welcome
I've been fortunate to experience a good deal of luxury travel in my time, staying at some of the best resorts and hotels in the world. But as a newbie to both Point Hacks and point hacking, I'd never actually flown Business Class before. Until now.
The moment I board the Dreamliner in Melbourne and am ushered left instead of right is literally life-changing for a first-timer. I float in a daze through the elegant Qantas Business Class cabin – the one I've only ever glimpsed en route to packed Economy – to seat 2A.
Sorry, did I say seat? I mean Suite. The thing is huge, with two giant windows illuminating the capsule, cast in browns and muted gold. I stifle a squeal of excitement. In fact, it's all so surreal I actually pinch myself.
After capturing a few happy snaps, I sink into my cushy seat and stretch my legs into the footwell. Even with heels on, my feet don't nearly reach the end. A smiling hostess offers me a welcome glass of Duval Leroy champagne. But I'm almost too giddy to drink it. Almost. How good is this?
Incredible features
Before take-off, the crew member walks me through my Suite and its many features. My padded seat doesn't only convert into a lie-flat bed, she explains. I can also customise its position to my preference. Everything is enormous, from the tray table that glides seamlessly from the side console to the crystal-clear touch screen and ingenious storage compartments. I feel as if I've landed in a realm full of giants.
I set my seat to the recline position (that's right, you can recline during take-off!), and watch Melbourne recede into the distance. After two years of being grounded, I can't believe I'm jetting overseas. Dusting off my passport finally was an absolute thrill.
Using the responsive HD touch screen, I explore the many new release movies and TV series. Spencer, House of Gucci, Dexter: New Blood – the hard part is deciding what to watch first. Of course, I could use the 23 glorious hours from Melbourne to London to catch up on work. But where's the fun in that?
My hostess offers me another drink before dinner. From the extensive menu, I settle on a glass of buttery Yarra Valley chardonnay, served with tasty smoked almonds. Gazing out at the clouds, I sink into an alcohol-fueled reverie. I've come from the Qantas First Lounge after all, where champagne flows like water.
I'm so deliciously content I almost nod off. So this is why people rave about Qantas Business Class. I've been in the air for under an hour, but already I'm ruined for life.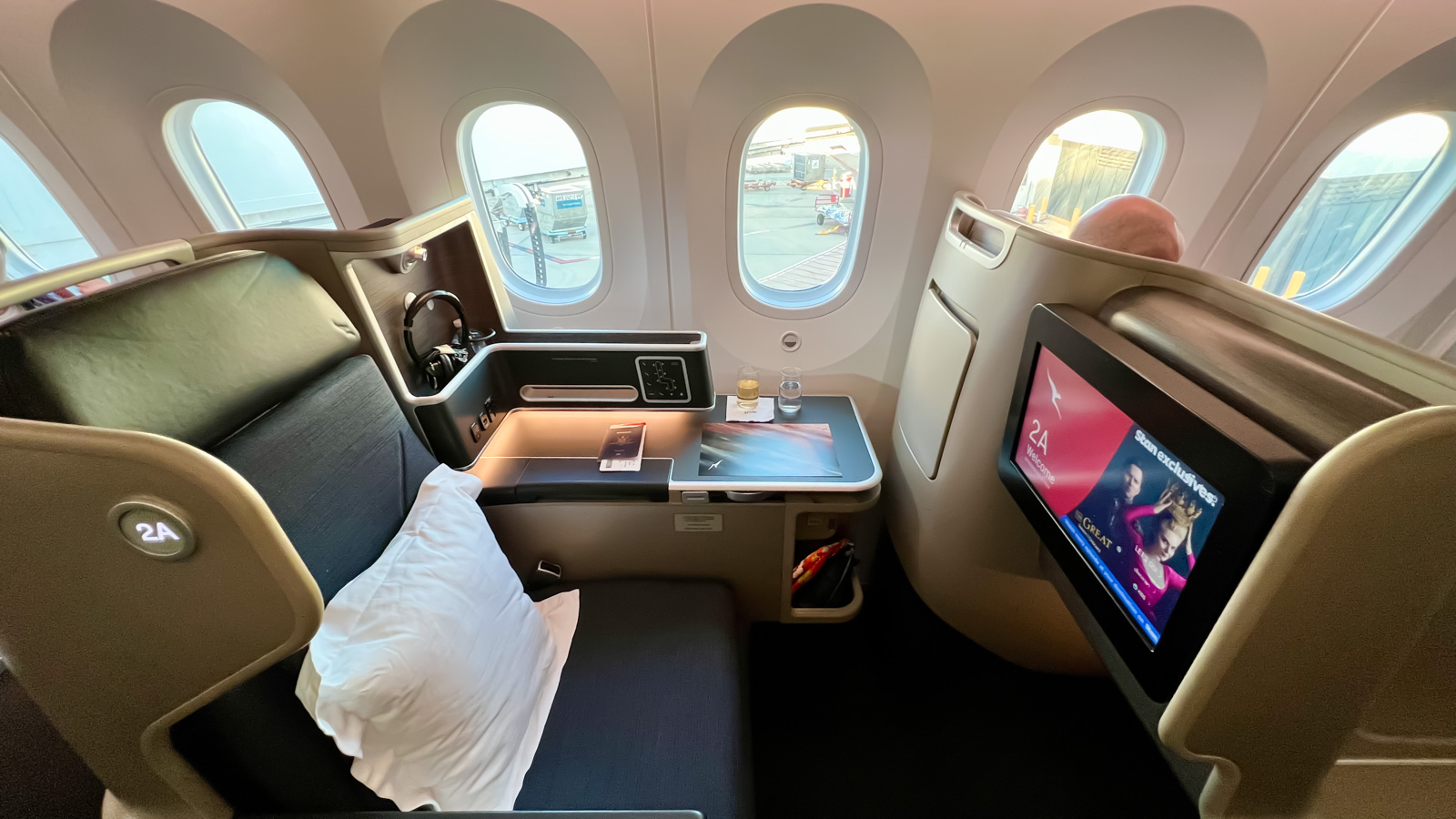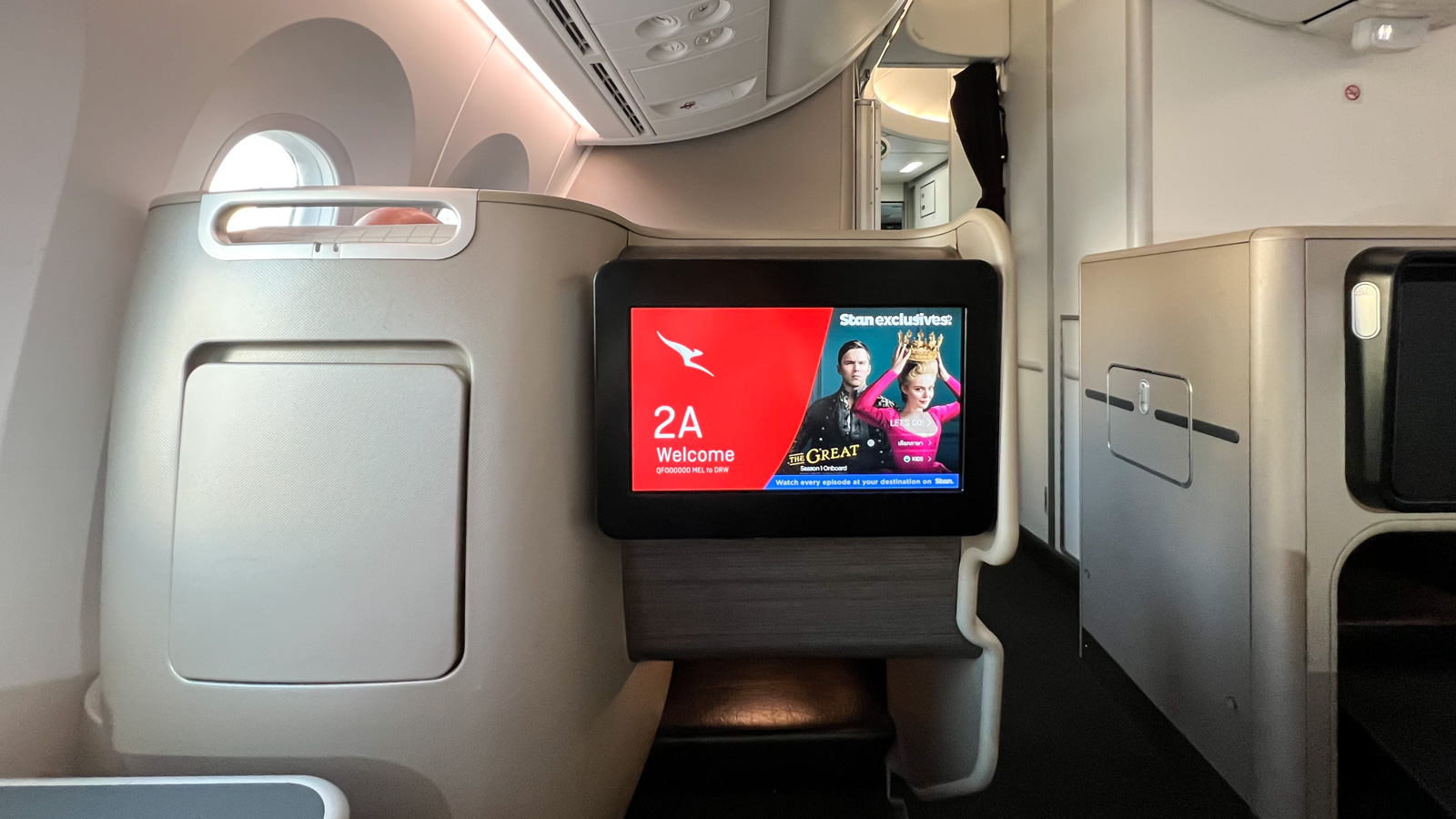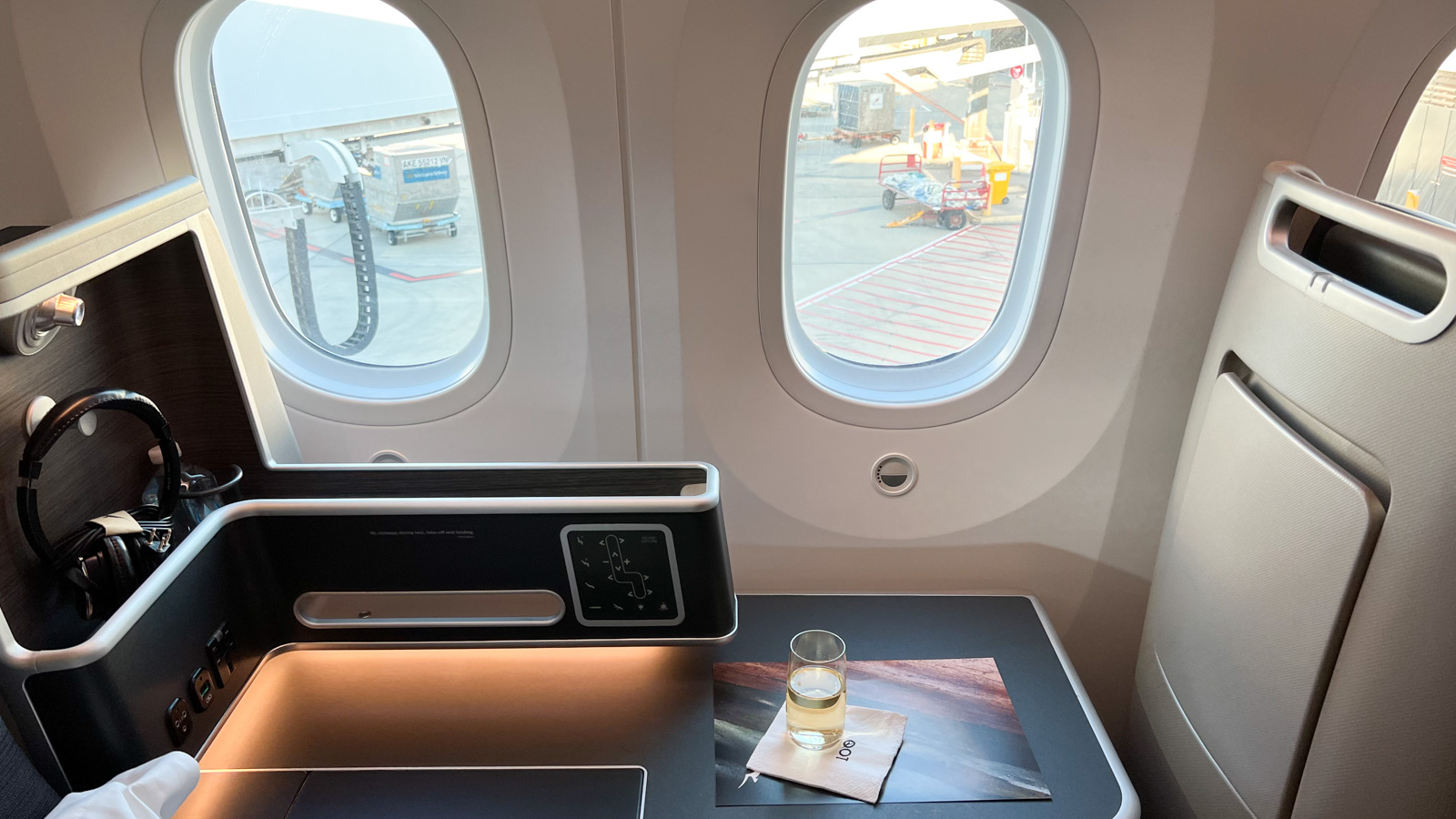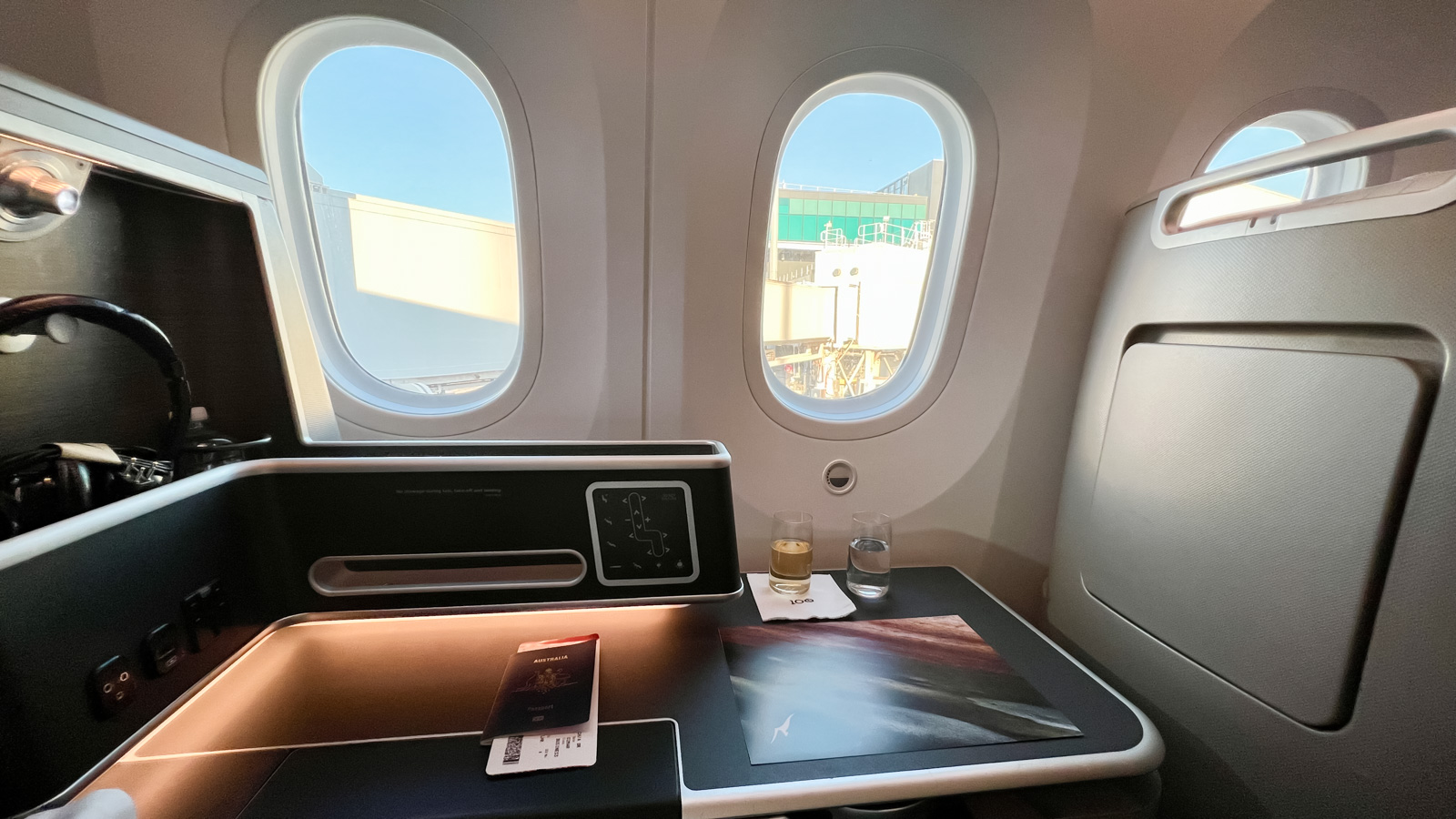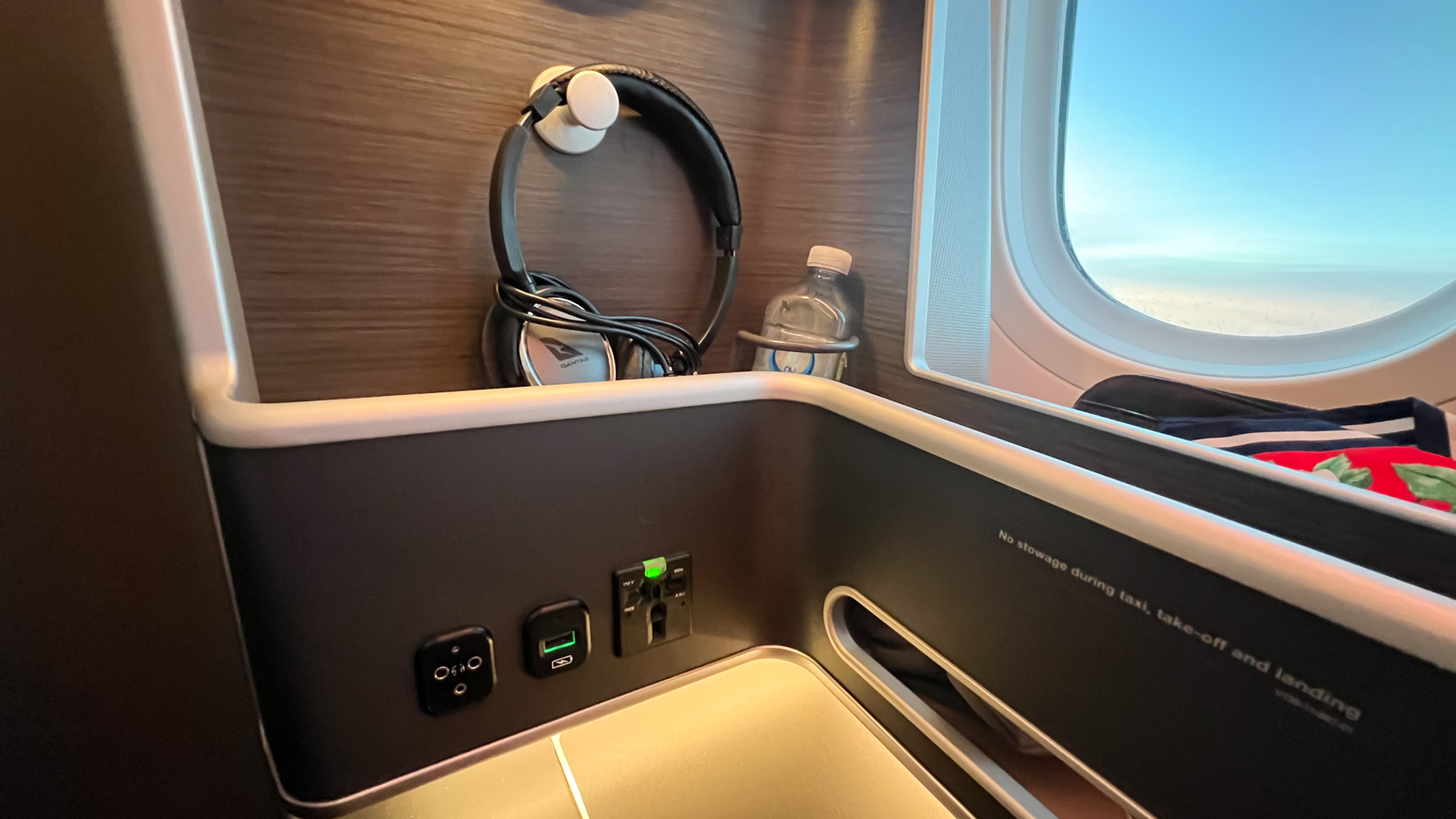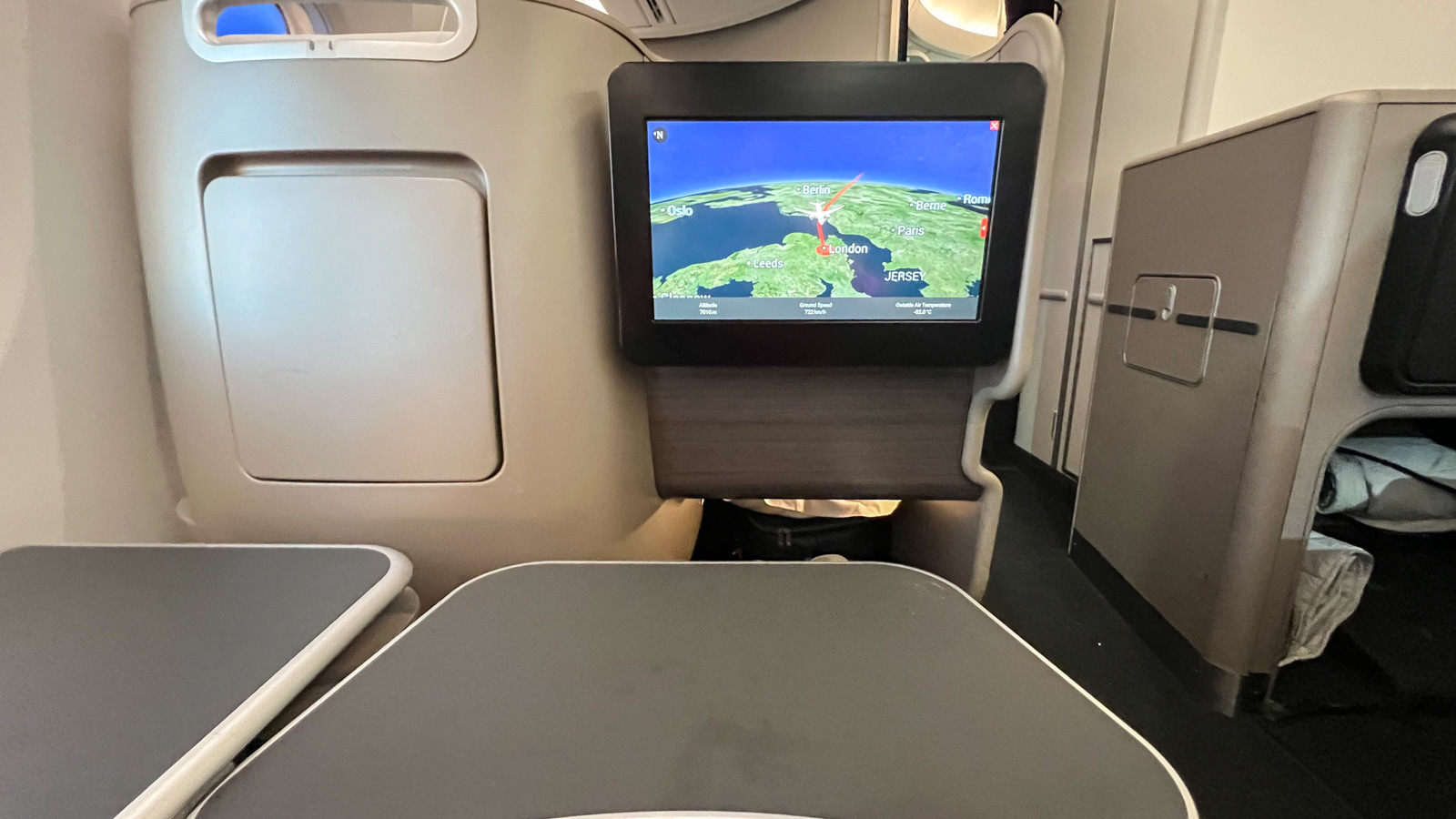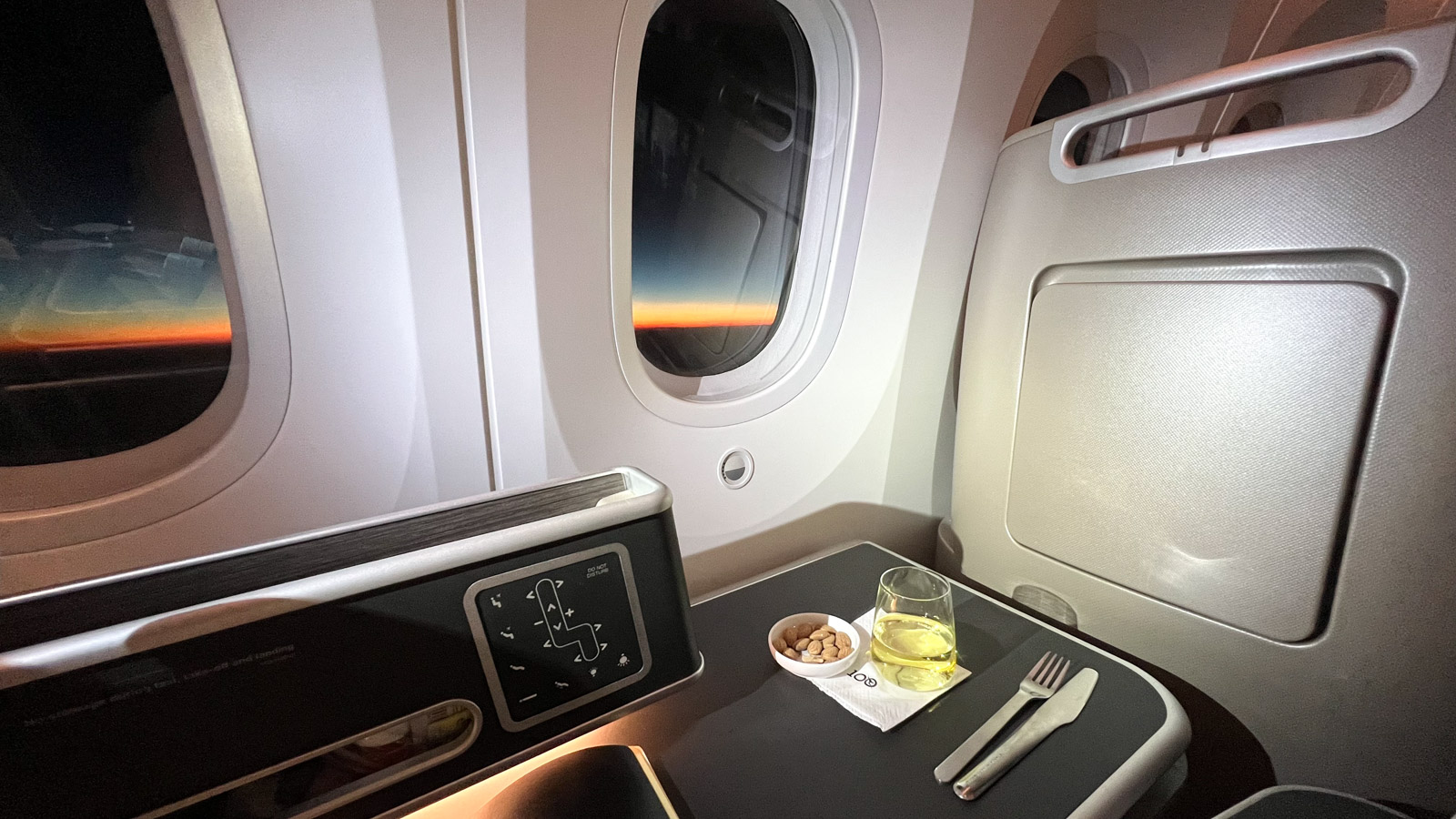 Ad – Scroll down to continue reading.Minimum spend, terms & conditions apply.
Delicious dining
As a passionate foodie, I'm itching to try Neil Perry's feted menu. In Business Class, dinner is a three-course affair. I begin with the green papaya salad with poached prawns – beautifully light and refreshing – followed by the rich leek and brie quiche. I dismiss the green side salad at first. Until I opt-in for the palm sugar dressing, poured from a porcelain beaker, and my tastebuds ignite. Outside my windows, the sunset streaks the sky amber and gold, elevating this delectable dinner into my most memorable sky-high meal.
After a 90-minute transit in Darwin at the Catalina Lounge, we're treated to a light supper back onboard. I've been eating and drinking non-stop – so much so I've hardly had to wear a mask – so the velvety zucchini and basil soup sit perfectly.
Later, before landing in London, I indulge in a hearty breakfast. Scrambled eggs with bacon and mushrooms, Brookfarm muesli, fresh fruit with yoghurt – talk about sustenance. I follow up my textbook flat white with a bracing filter coffee. Nourished and refreshed, I'm ready to take London by storm.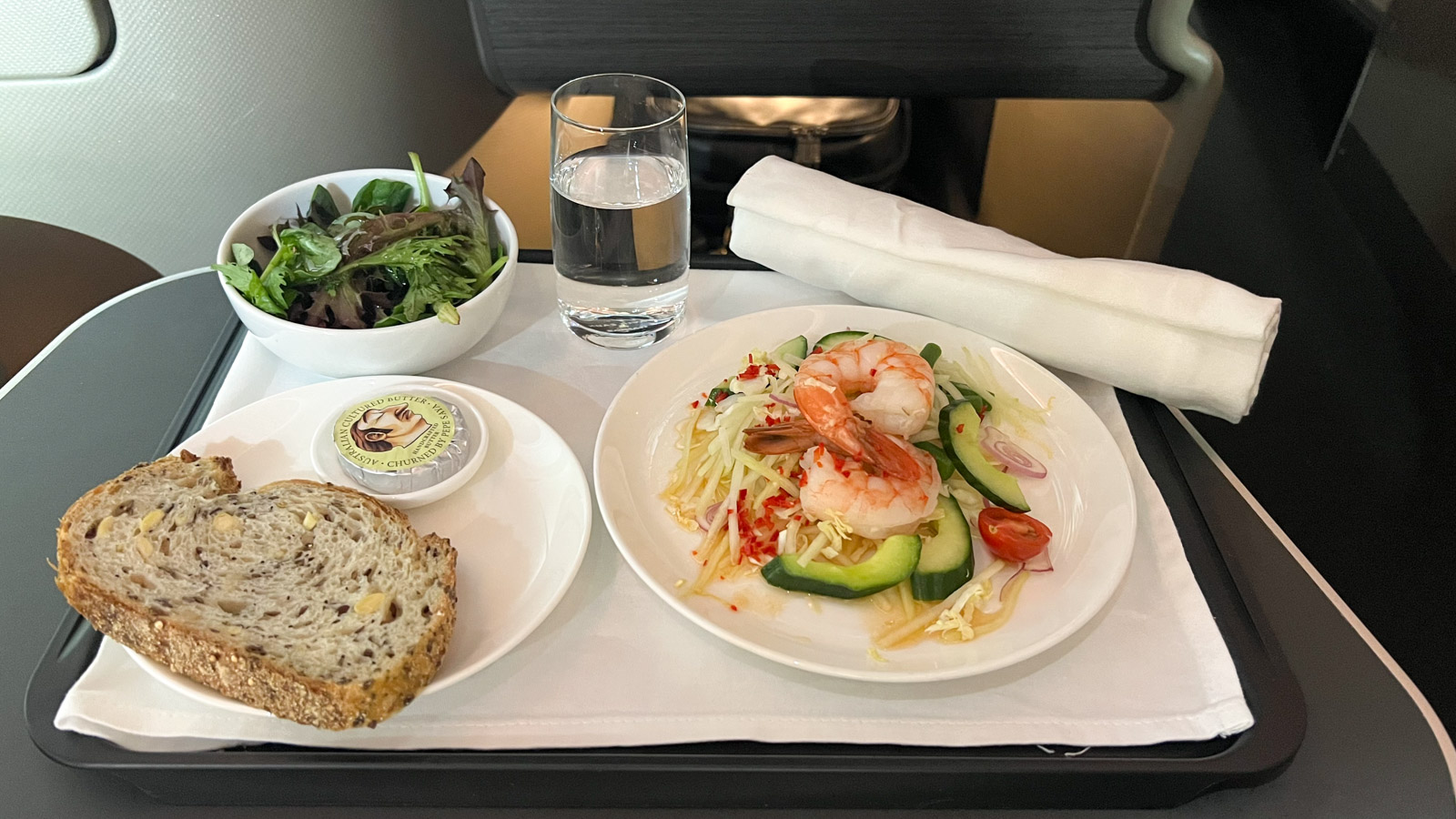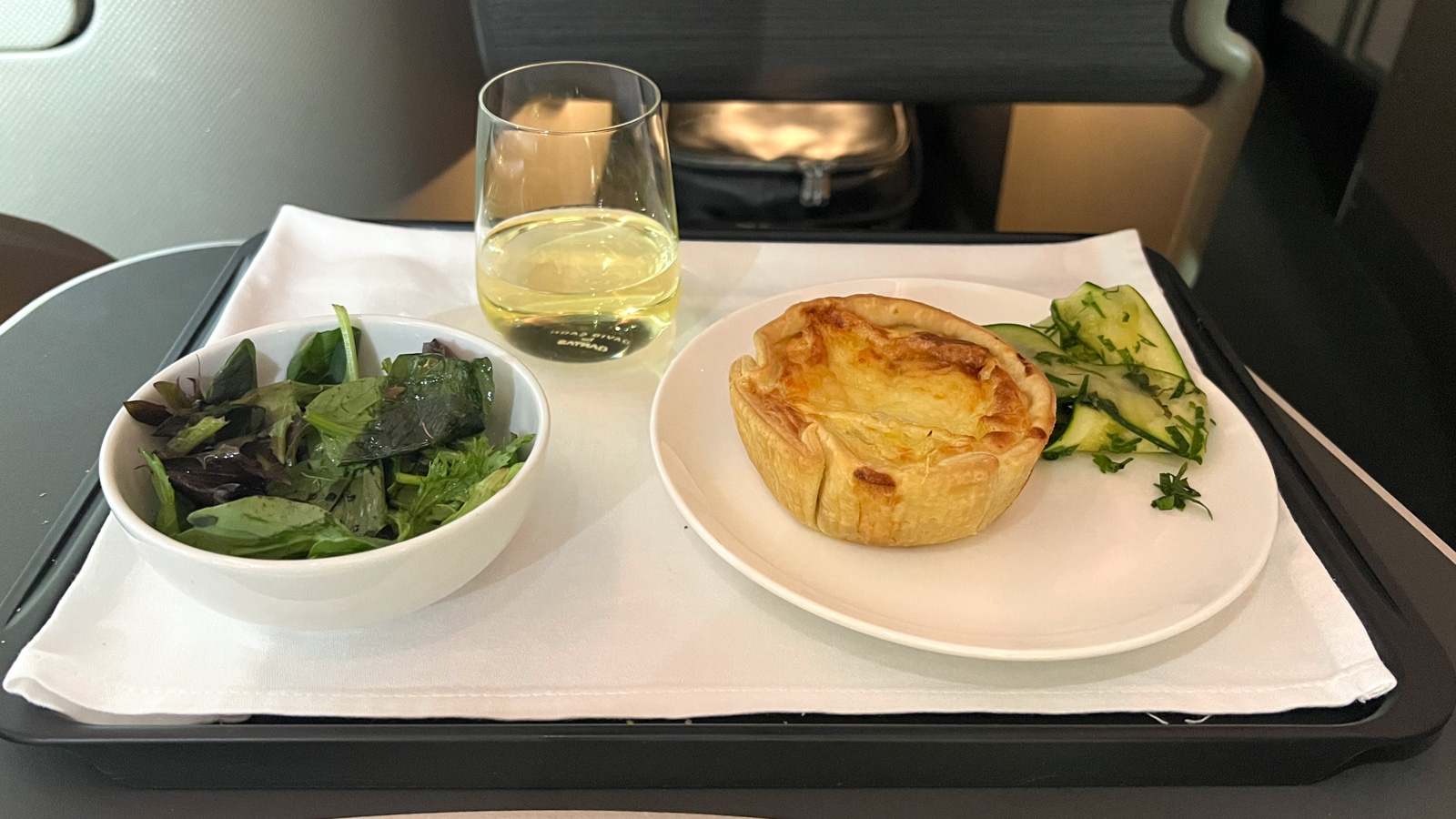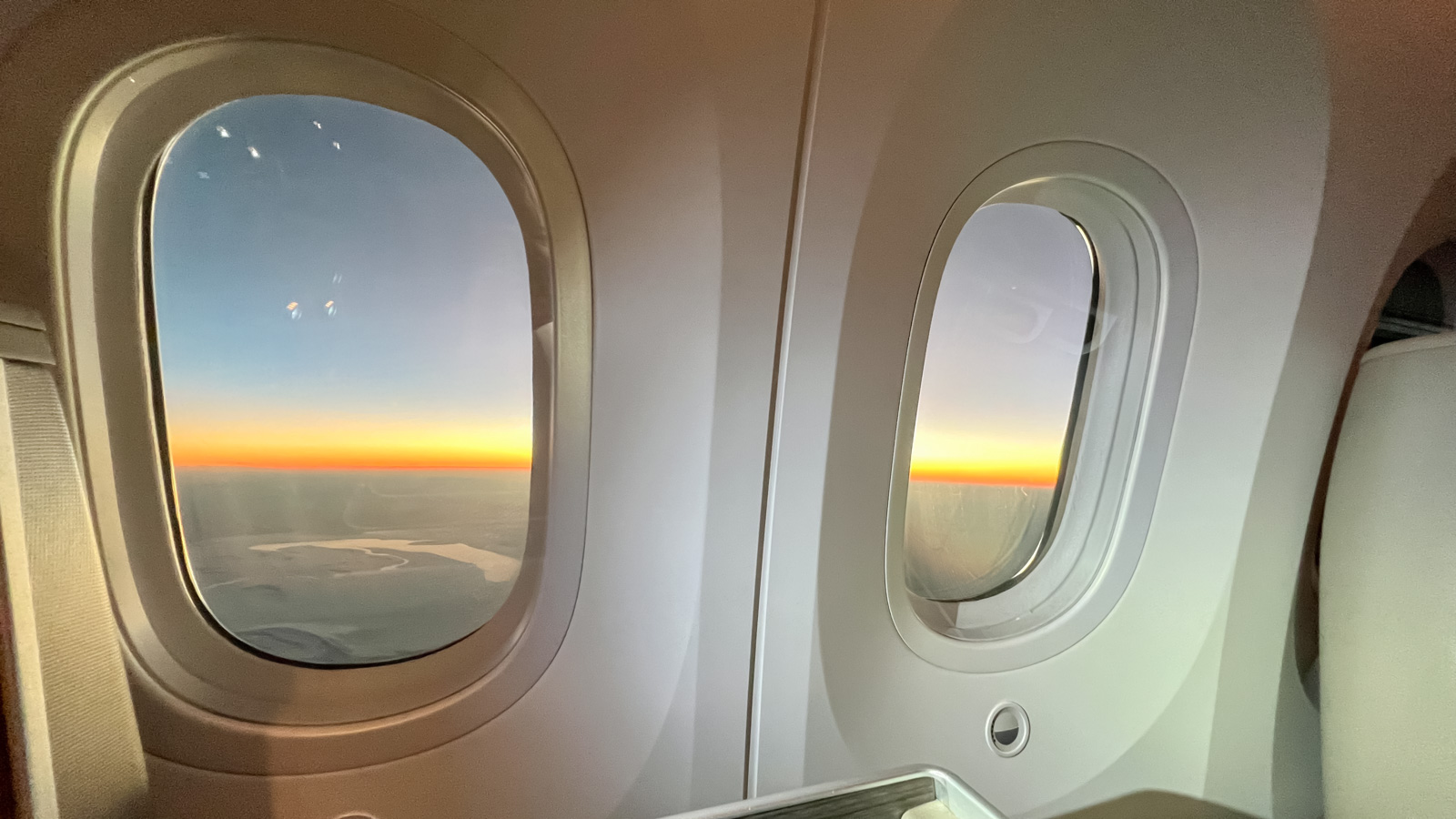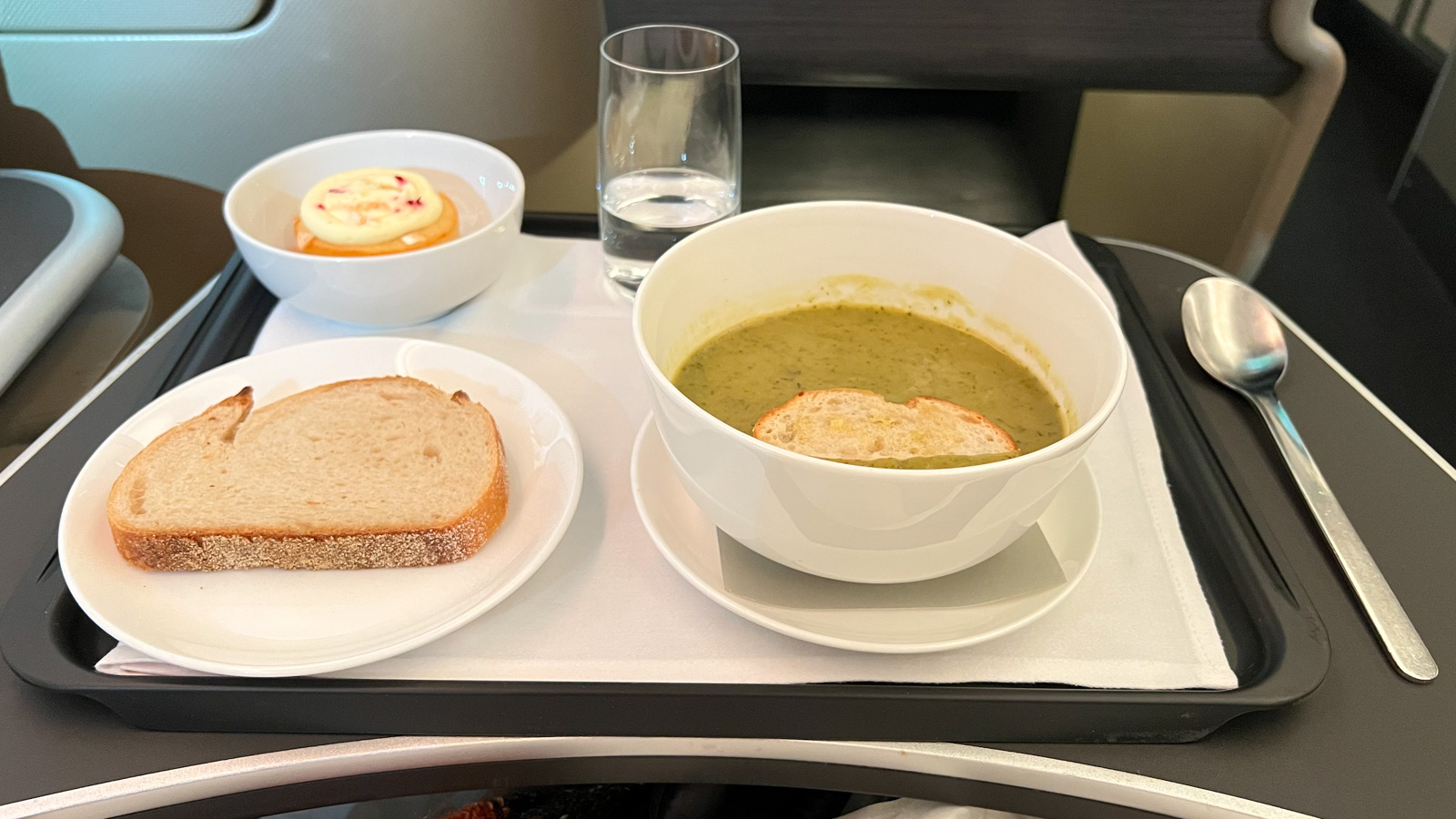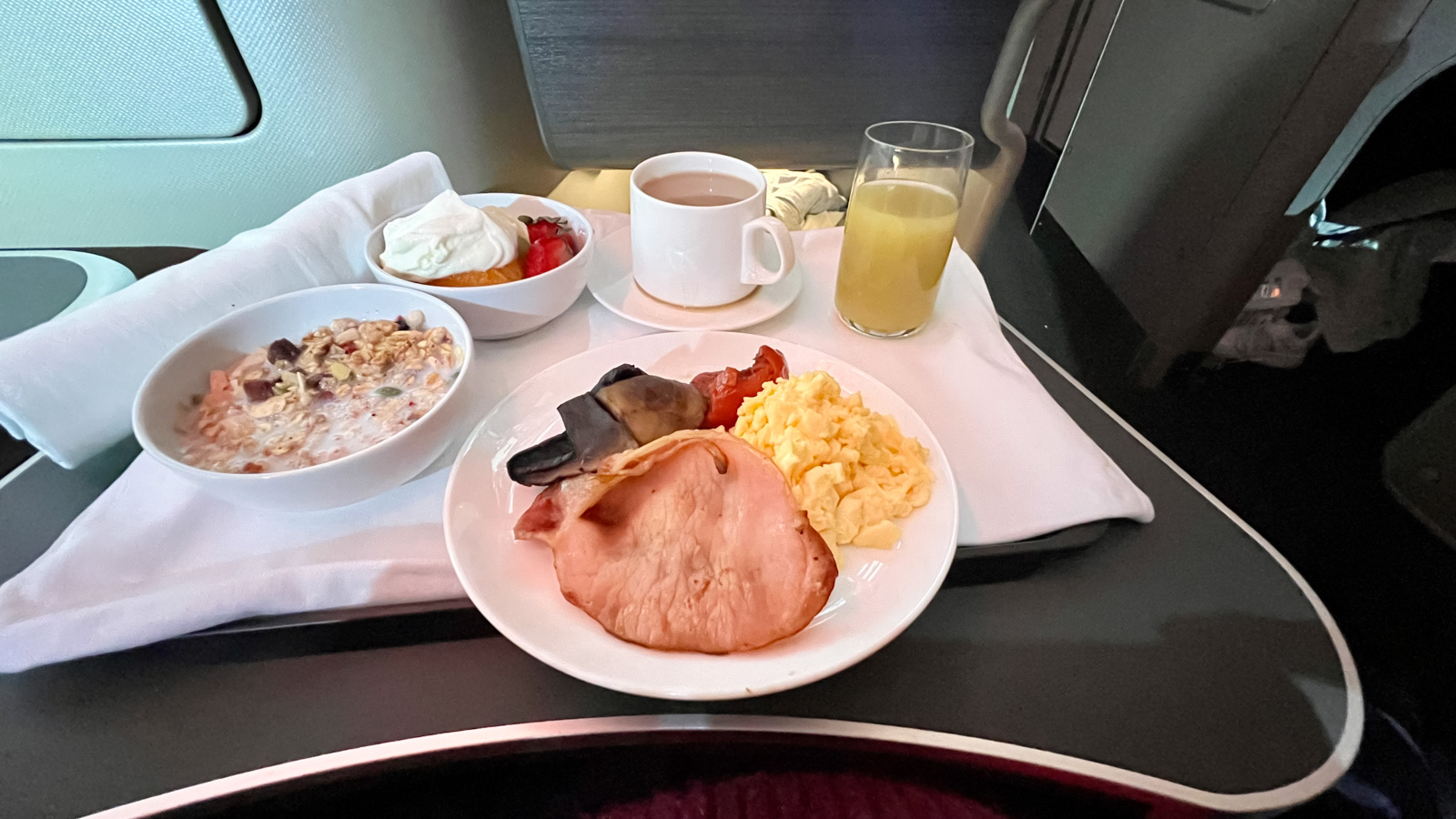 Personalised service
Throughout my flight, the excellent cabin crew do Qantas proud. The Australian crew from Melbourne to Darwin are genuinely warm and down-to-earth. Addressed by name and cared for attentively, I feel as if I'm the only passenger on board. I have a wonderful conversation with my female hostess – a 20-year Qantas veteran – who has only just returned to the skies after being stood down during COVID. She speaks movingly about reuniting with her colleagues, about savouring a sunset again from 40,000 feet. I'm touched.
The international crew who board in Darwin speak an embarrassment of languages between them. But it's their thoughtful personalised service that stands out most. Nothing is too much trouble, from hanging my bulky coat in the dedicated coat cupboard to putting down a tray of food to make up my bed.
But it's just before landing in London that they truly go above and beyond. During a patch of turbulence, my new phone (and only camera) slides off my lap and under the low-hanging console. Two crew spend the next ten minutes face-down on the carpet, using a modified coathanger to try and scoop it out.
When the seatbelt sign chimes on for landing, they sadly inform me that an engineer will have to remove the panel on the ground in London. We're waiting for the cabin doors to open at Heathrow when the male crew volunteers to have one final try. Armed with a torch and admirable determination, he manages to recover my phone.
Now that's service.
Suite dreams
Remember that lie-flat bed I mentioned earlier? It's on the 17-hour Darwin-London flight that I experience one of the best sleeps of my life. Reclining in Qantas' signature Martin Grant pyjamas on the cushy mattress, I rest my head on the pillow and pop on my eye mask from the amenity kit. I snuggle beneath the doona on the seemingly acres-long fully-flat bed.
Exhausted when boarding, I sleep for an astonishing 11 hours. I wake feeling deeply refreshed, as if I've swallowed a sunbeam. Who knew you could feel rested after a long-haul flight?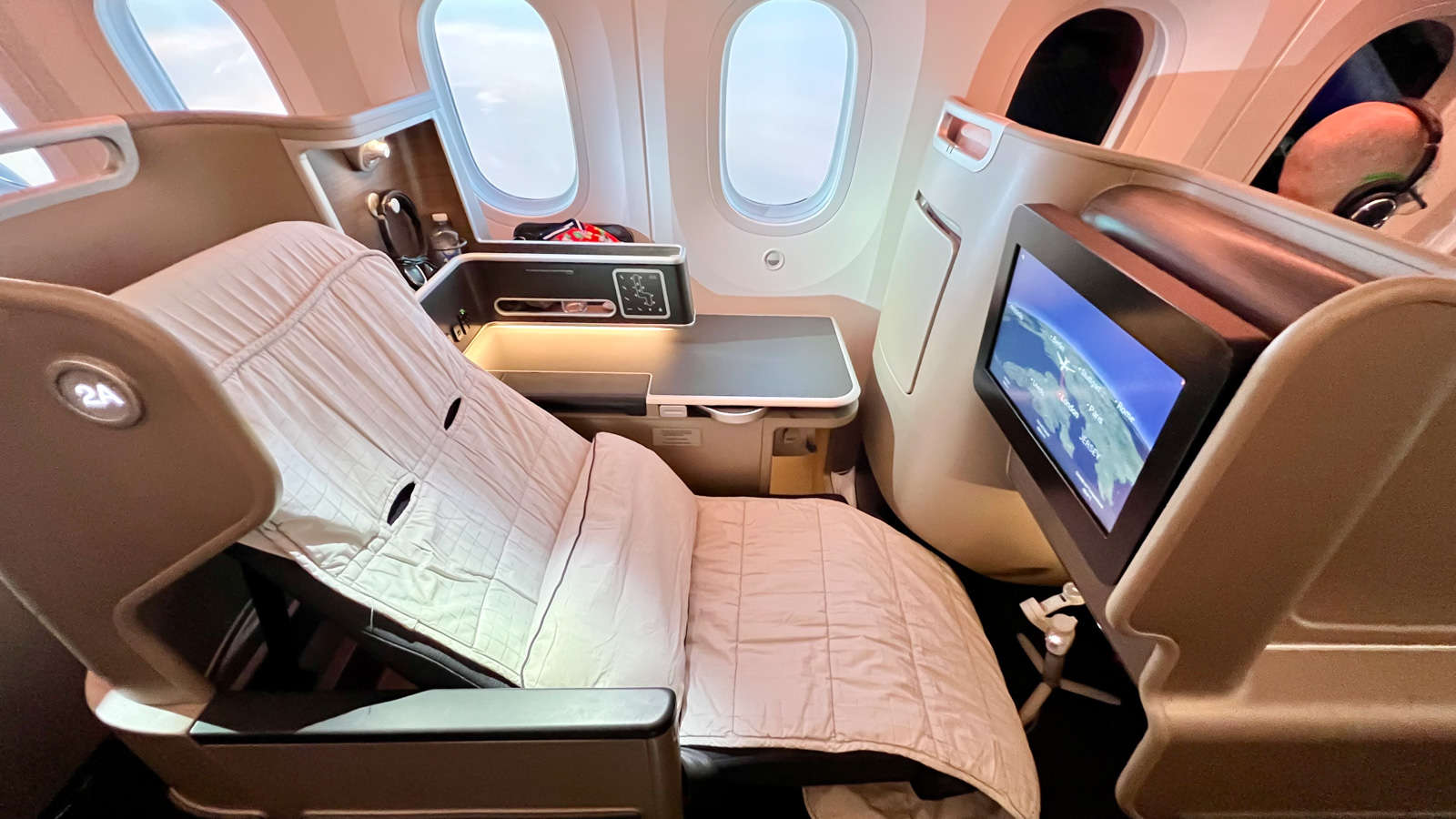 After almost 24 hours of non-stop indulgence, we land in London. I'm forever changed by this memorable flight. But what I can't believe is that we booked the entire thing using Qantas Points. The bonus points from a single credit card below will get you up to 70-80% of the way there – sometimes more. Which begs the question: what have I been doing with my life?
Goodbye Economy, hello luxury.
Want to hear more about my trip to London and what it's like to fly internationally at the moment? Then have a listen to our exclusive podcast.
How to book
Although finding Business reward availability to London can sometimes be tricky, the seats are out there. For the best options, you'll want to look as far forward as possible, or at last-minute flights.
Qantas opens its flight calendar 353 days before departure. Gold Frequent Flyers and above have first dibs on international premium cabins (including Business and First). If you're Silver, you'll get in at 323 days. And if you're Bronze, then any remaining premium seats will be available from 297 days before departure.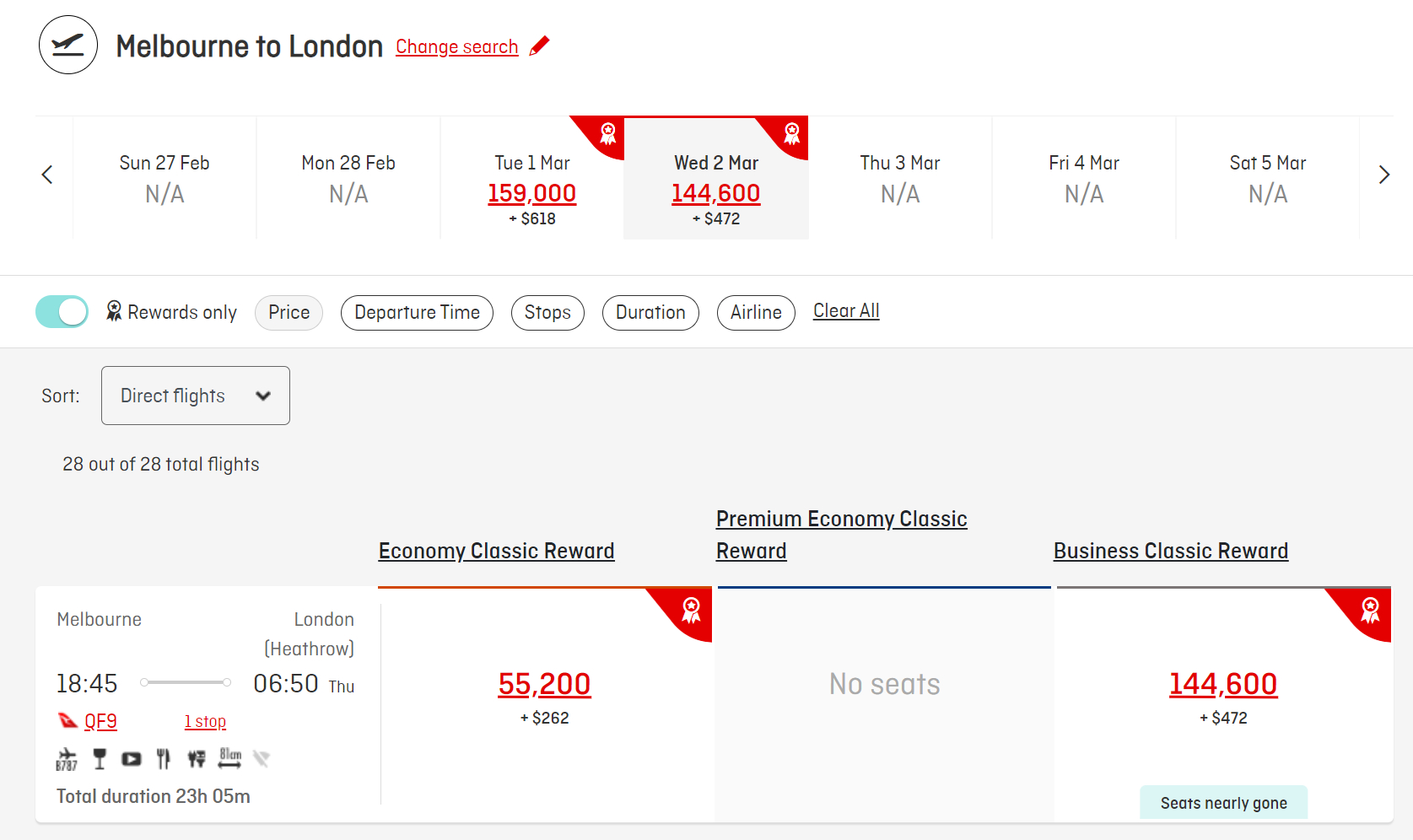 Need some extra help? Then have a read of our useful beginner guides:
---
Featured deals
Why you need to experience flying Qantas Business Class to London
was last modified:
July 24th, 2023
by