If you're departing Rome on Qantas, British Airways or another oneworld carrier, then you could be kicking back in British Airways' modern lounge. Newly opened in 2018, this space is located in the international 'Boarding Area E' section of Rome Fiumicino Airport, where all major overseas flights depart from.
With the right frequent flyer card or boarding pass, the doors glide open revealing an impressive bar, à la carte dining and expansive view of the airfield. But there's one crucial facility that's notably missing from this otherwise excellent lounge.
Location
Once you've breezed (or more likely, straggled) through immigration and security at Rome Fiumicino Airport Terminal 3, head through the vast duty-free mall. Eventually, you'll come across a pair of escalators that take you up one level, where the lounges and restaurants are located.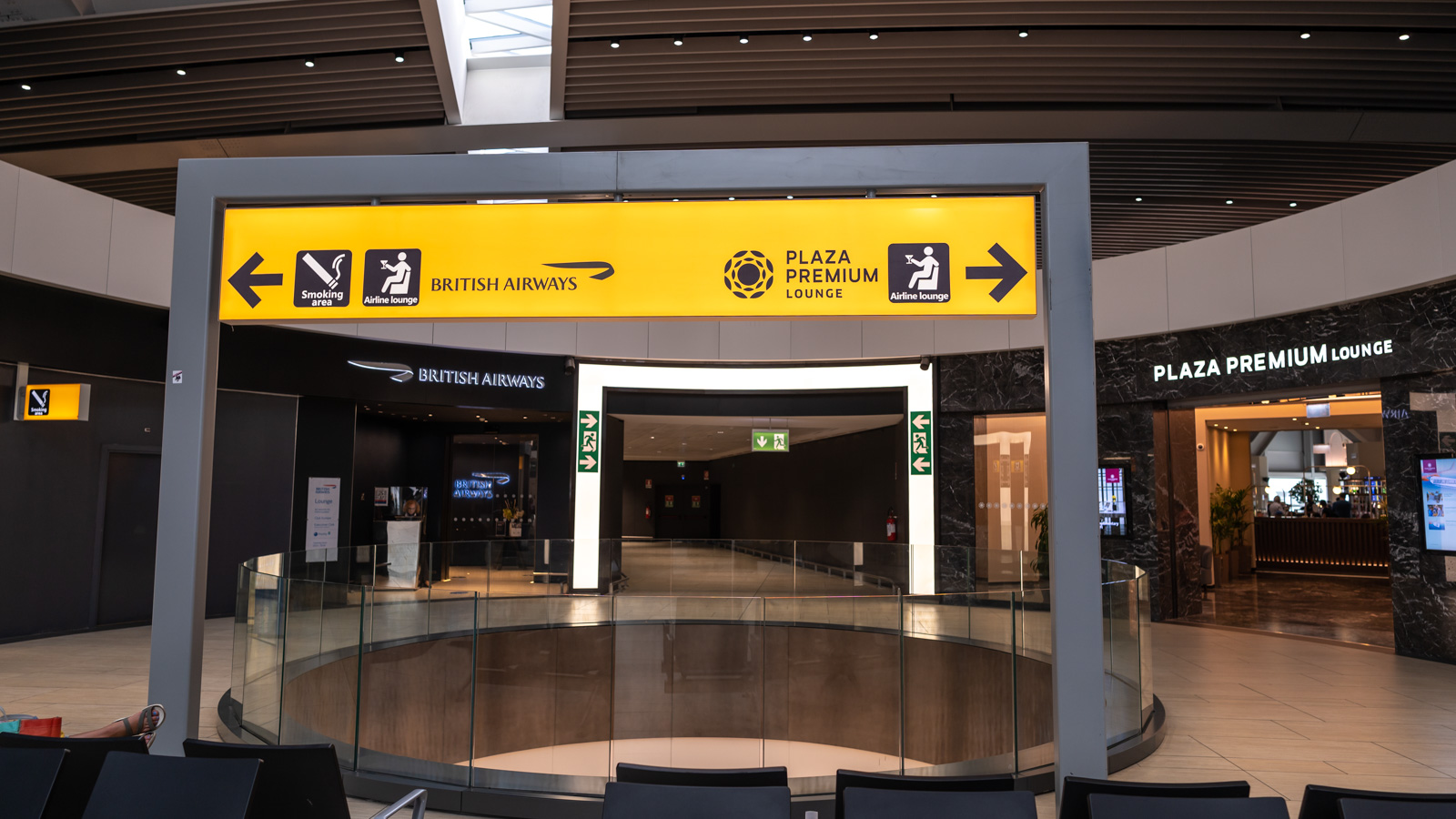 The British Airways and Plaza Premium Lounge are both located in this nook, so head left and speak to the lounge agent at the podium in front. From personal experience, you might initially struggle to get in if you're travelling on a oneworld partner airline other than British Airways.
But alliance rules are alliance rules, so after showing them my Qantas Platinum digital card (which is also equivalent to oneworld Emerald), I'm cleared for entry. Another agent takes me through and tells me the secret phrase needed to connect to lounge Wi-Fi and order off the online menu.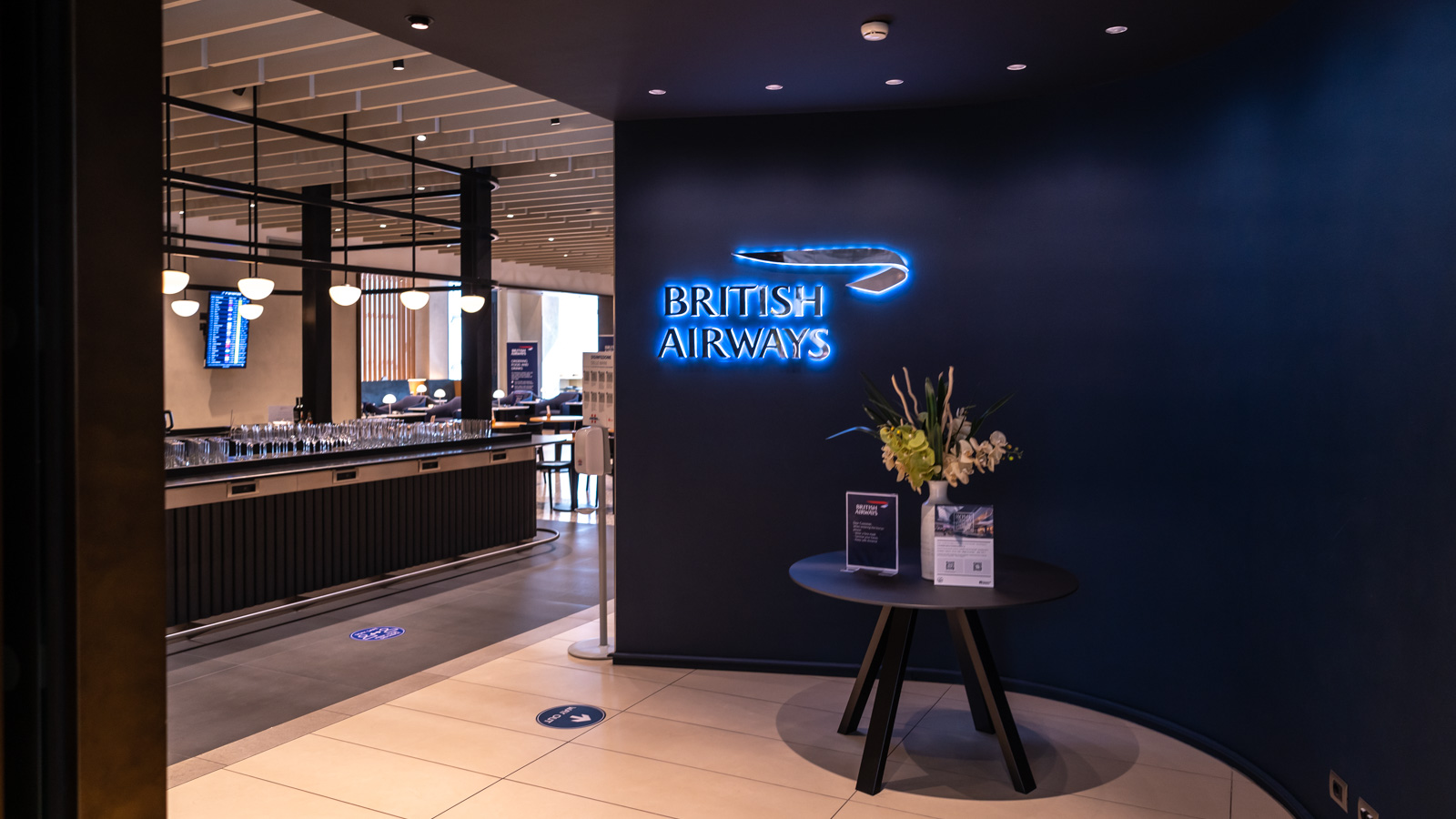 The British Airways Lounge isn't particularly big, but it can accommodate up to 140 guests. Thankfully, it's almost empty this morning, whereas the nearby Plaza Premium Lounge is packed. It opens from 5:30 am to 8 pm daily (this varies on Thursday and Friday), encompassing a wide range of flights.
Lounge layout and seating
The bar is often the drawcard feature of any modern lounge, and British Airways' is no exception. It's the first thing I lay eyes on as I take a seat in the deserted dining area. Lingering COVID restrictions in Italy means there's no buffet set up. Orders are taken through a website instead – but more on that later.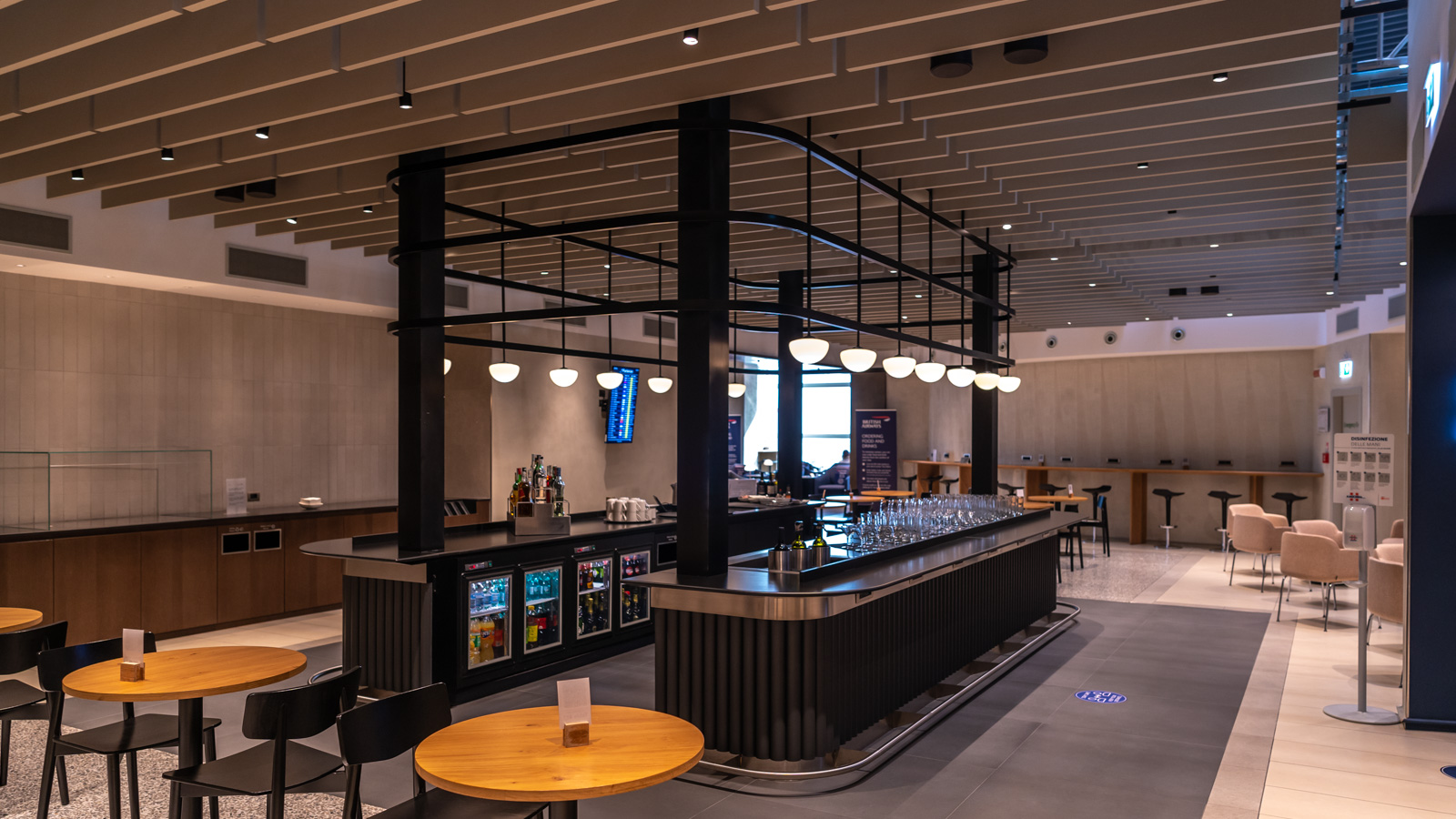 Beyond the dining room is the main lounge area, showered in light thanks to the floor-to-ceiling windows. These areas are quite small, but they're efficiently decked out in BA-blue armchairs. Each seat is separated by a marble cocktail table with a tasteful lamp and charging ports.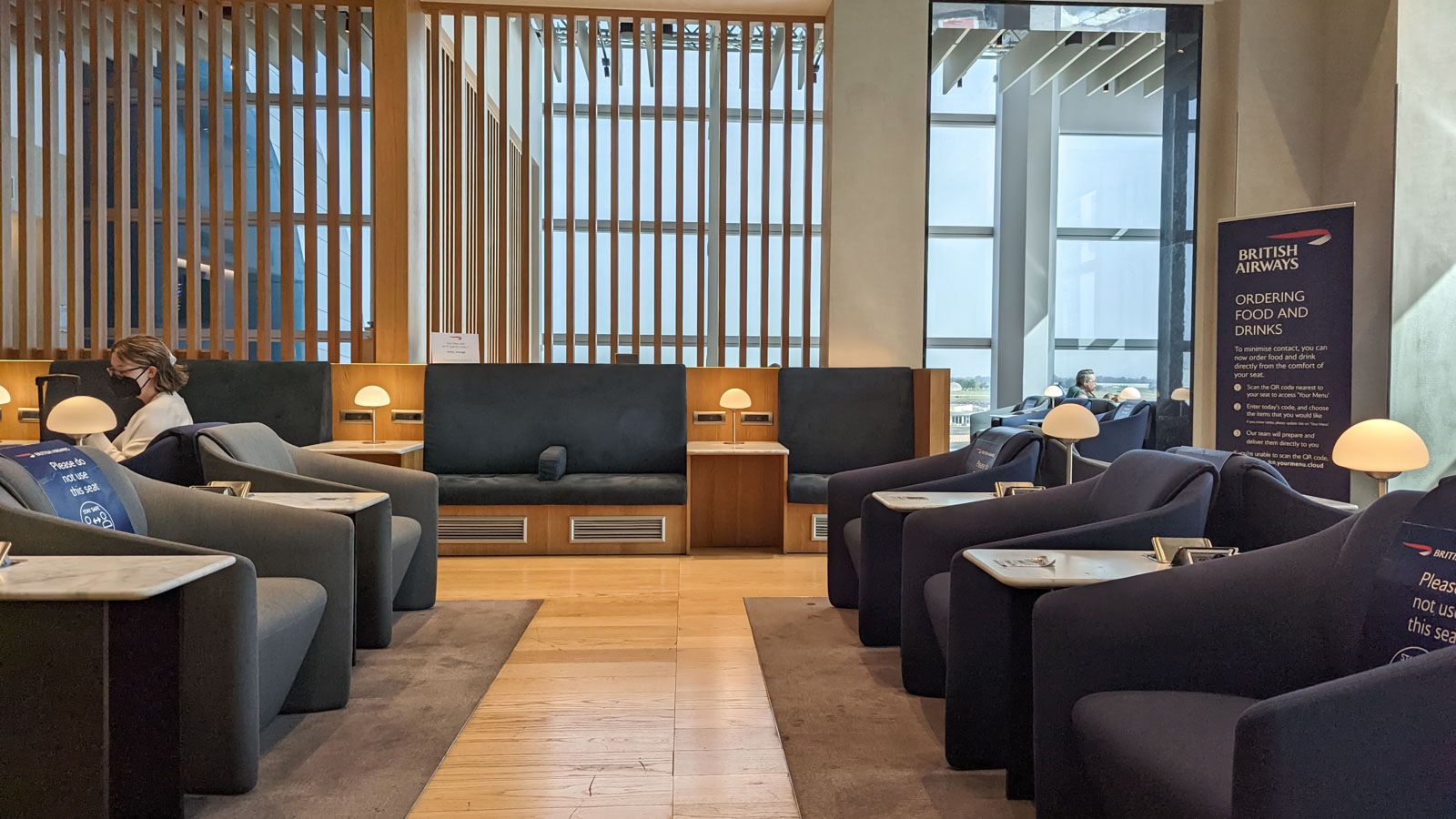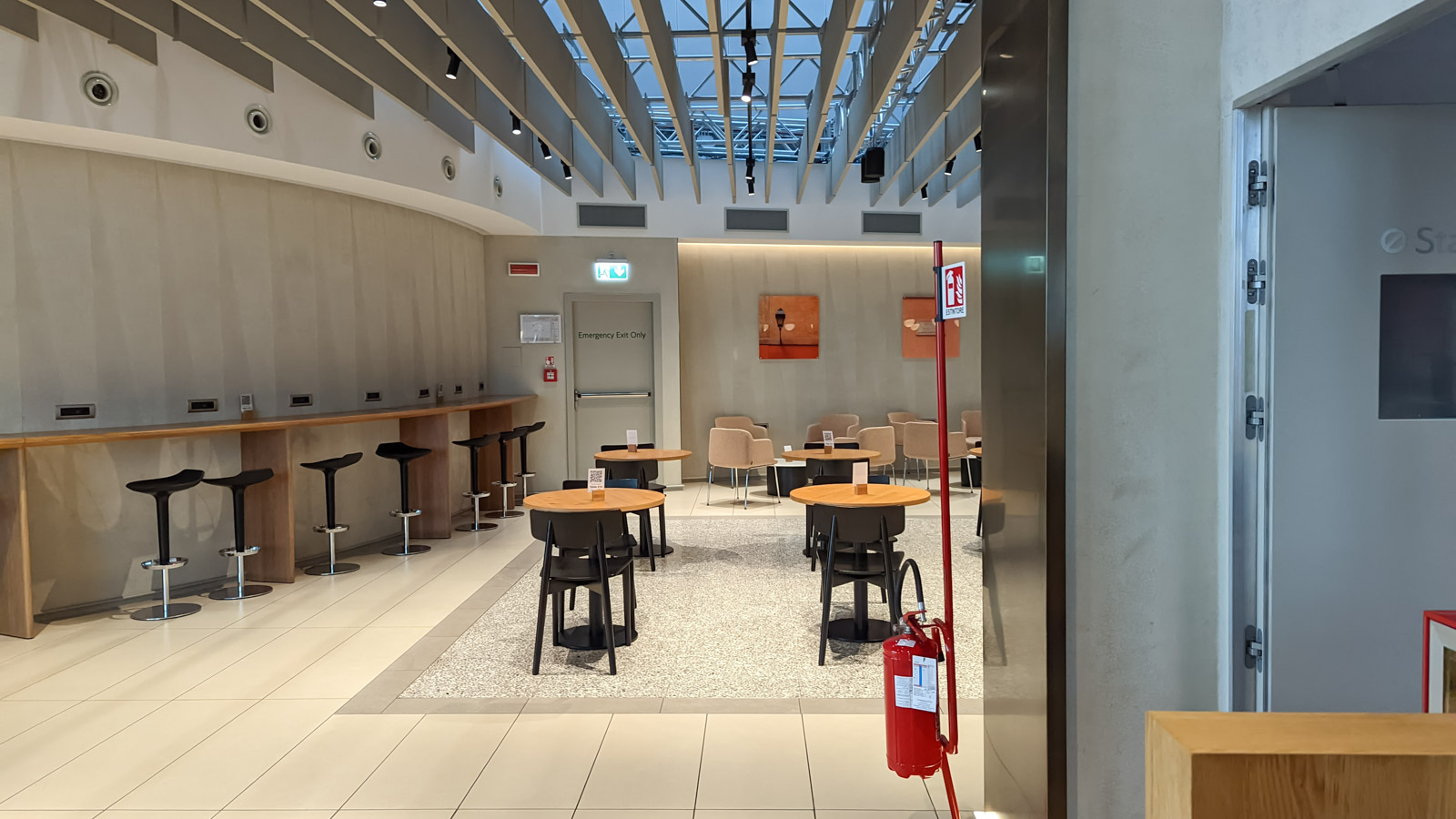 Wooden beams are used to break up the space into smaller, distinct areas. For example, there's also a business zone with plenty of desk space and some nibbles nearby.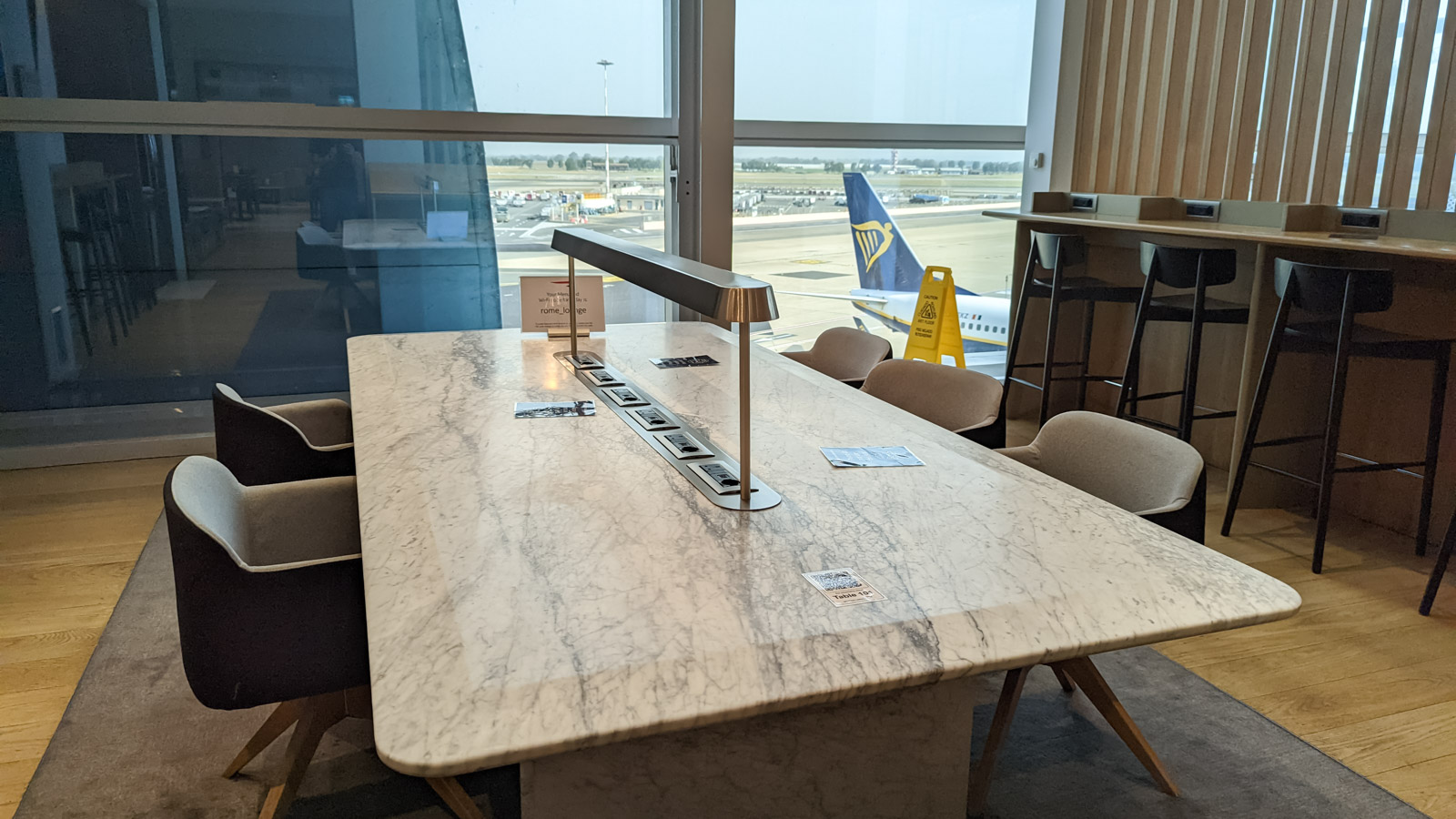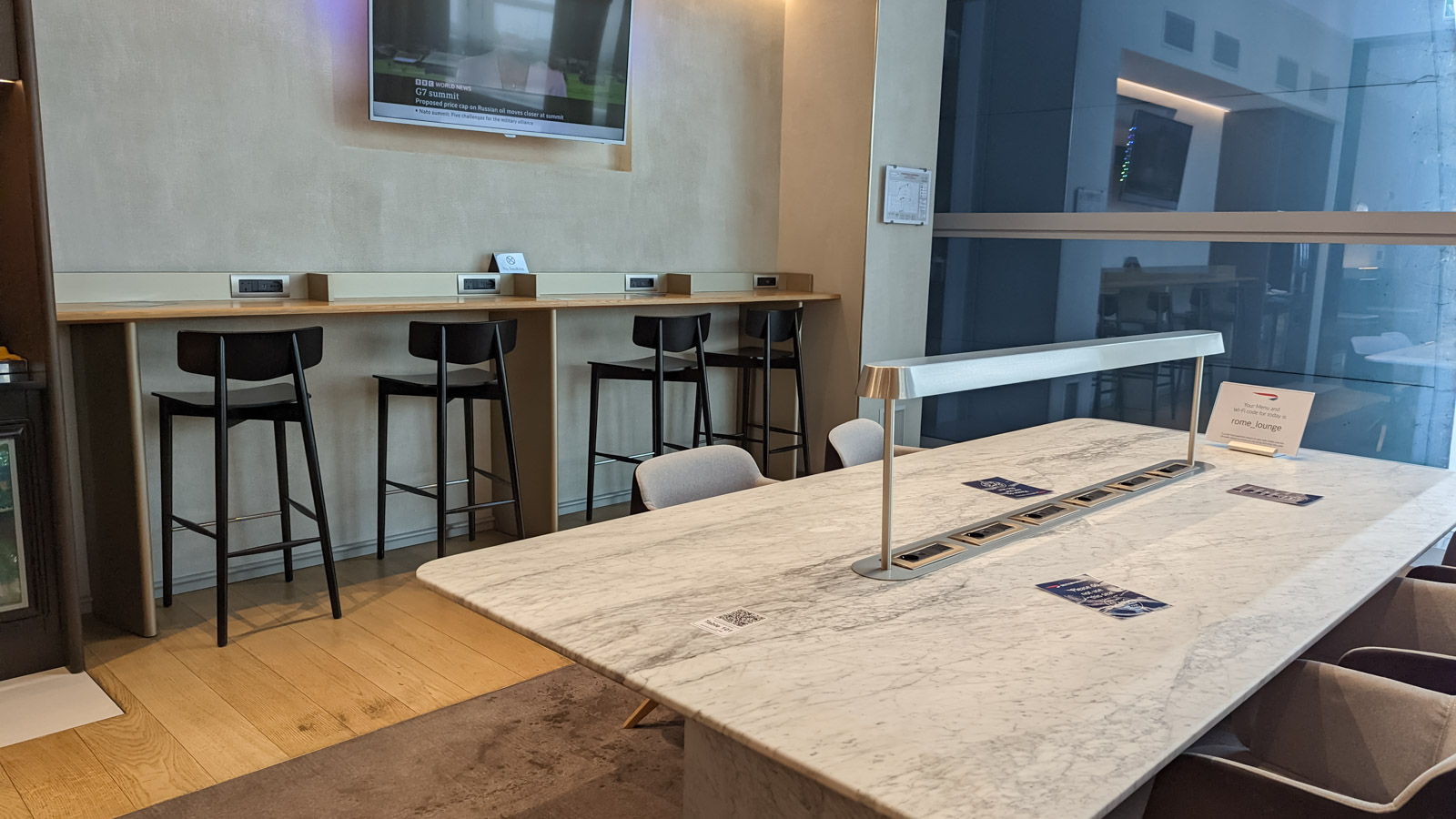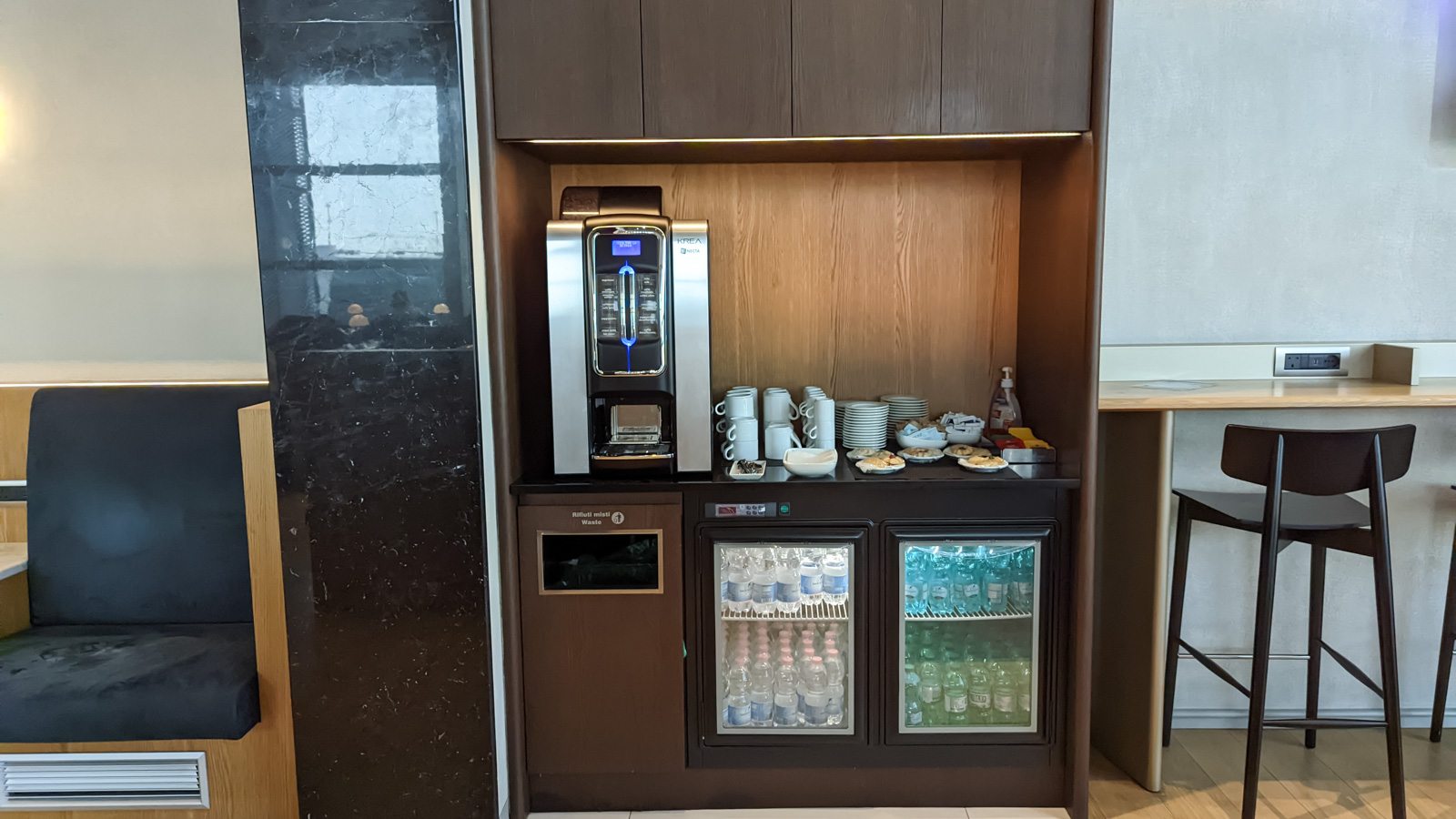 That's about it for the lounge footprint though, as there are no toilets and showers here. I can understand where British Airways are coming from, as the Rome-London flight is well under three hours. But it's still an essential amenity for a modern international lounge to have, I feel.
Food and beverage
At the time of writing, the lounge is still using an online system for food and beverages. That means no buffet and no asking for drinks at the bar. You can access the menu through this link when you're at the lounge – but it's password protected to prevent prank orders. The lounge staff will let you know the password of the day.
As I was there in the morning, only a basic hot breakfast was available. But later in the day, the menu expands considerably to include lasagna, pizzas and salads. Here's a glance at some of the menu options: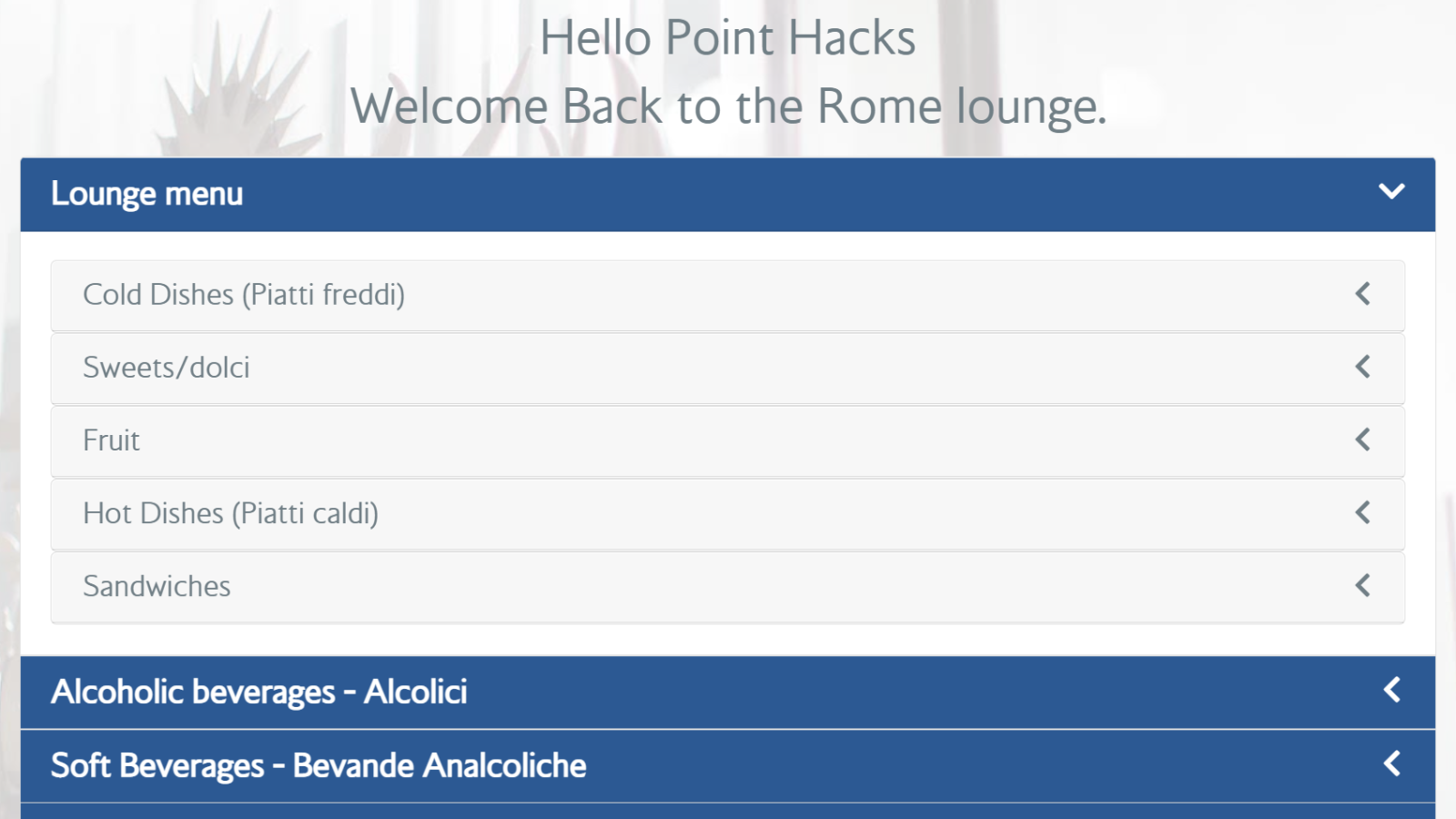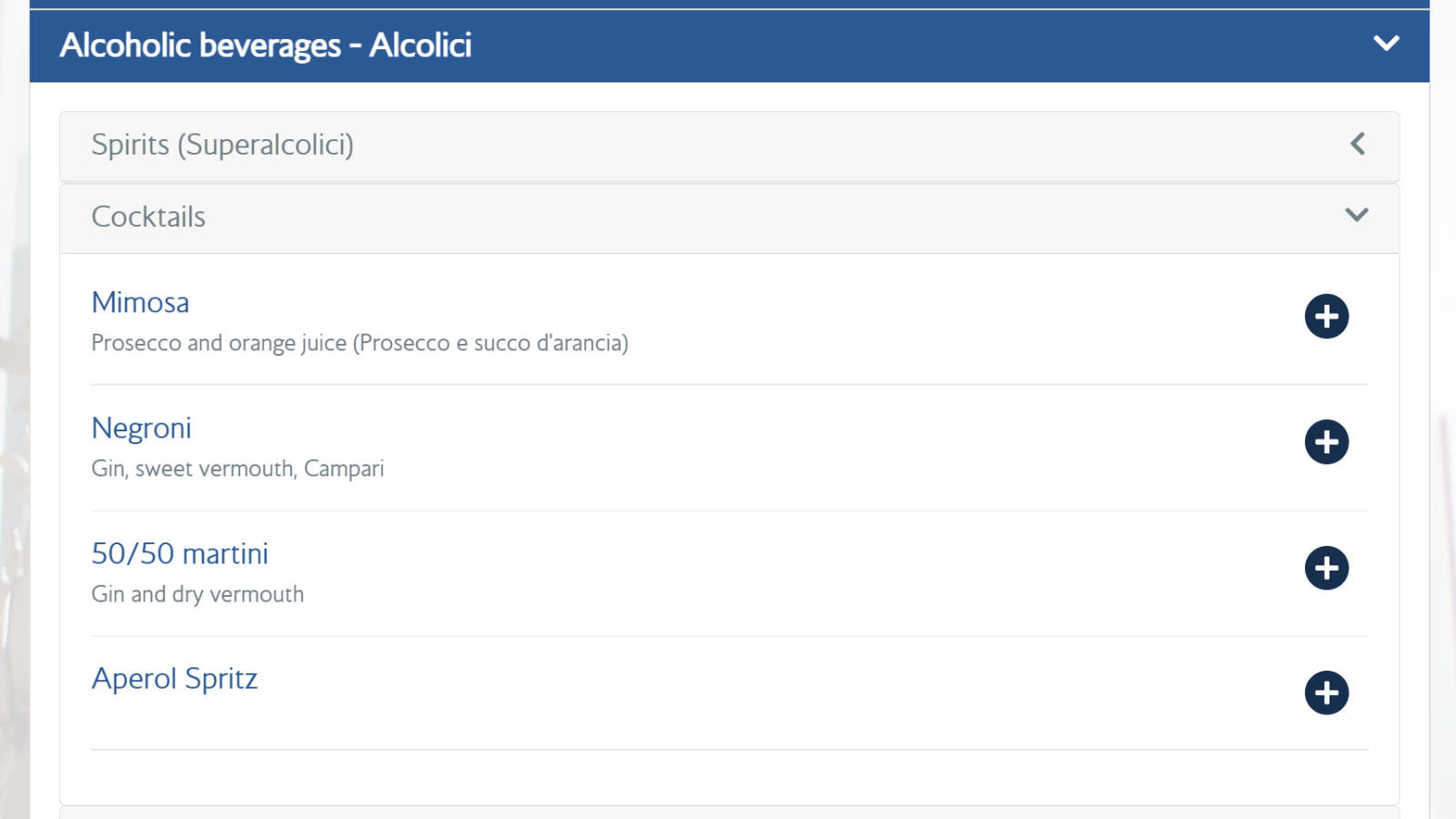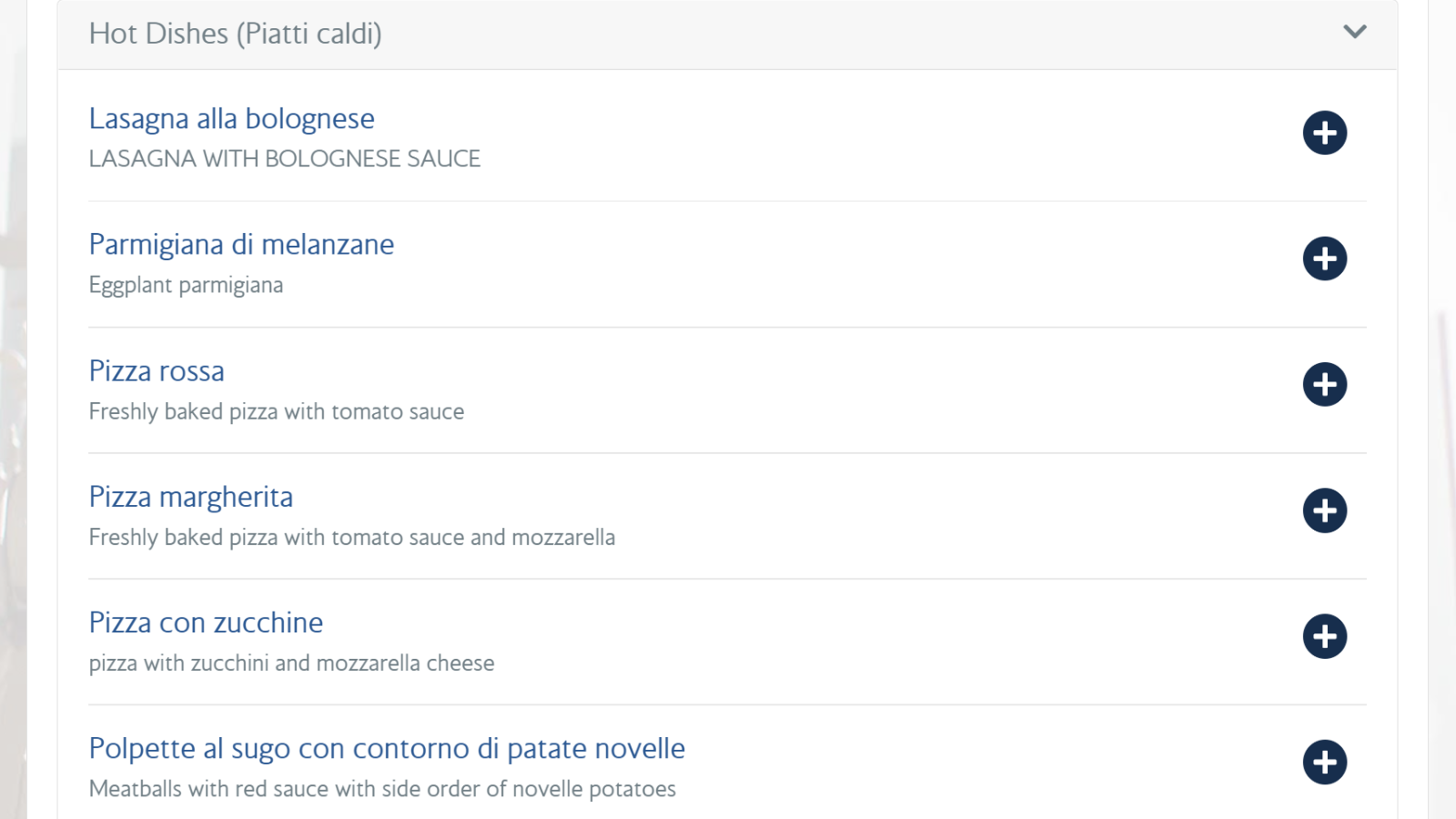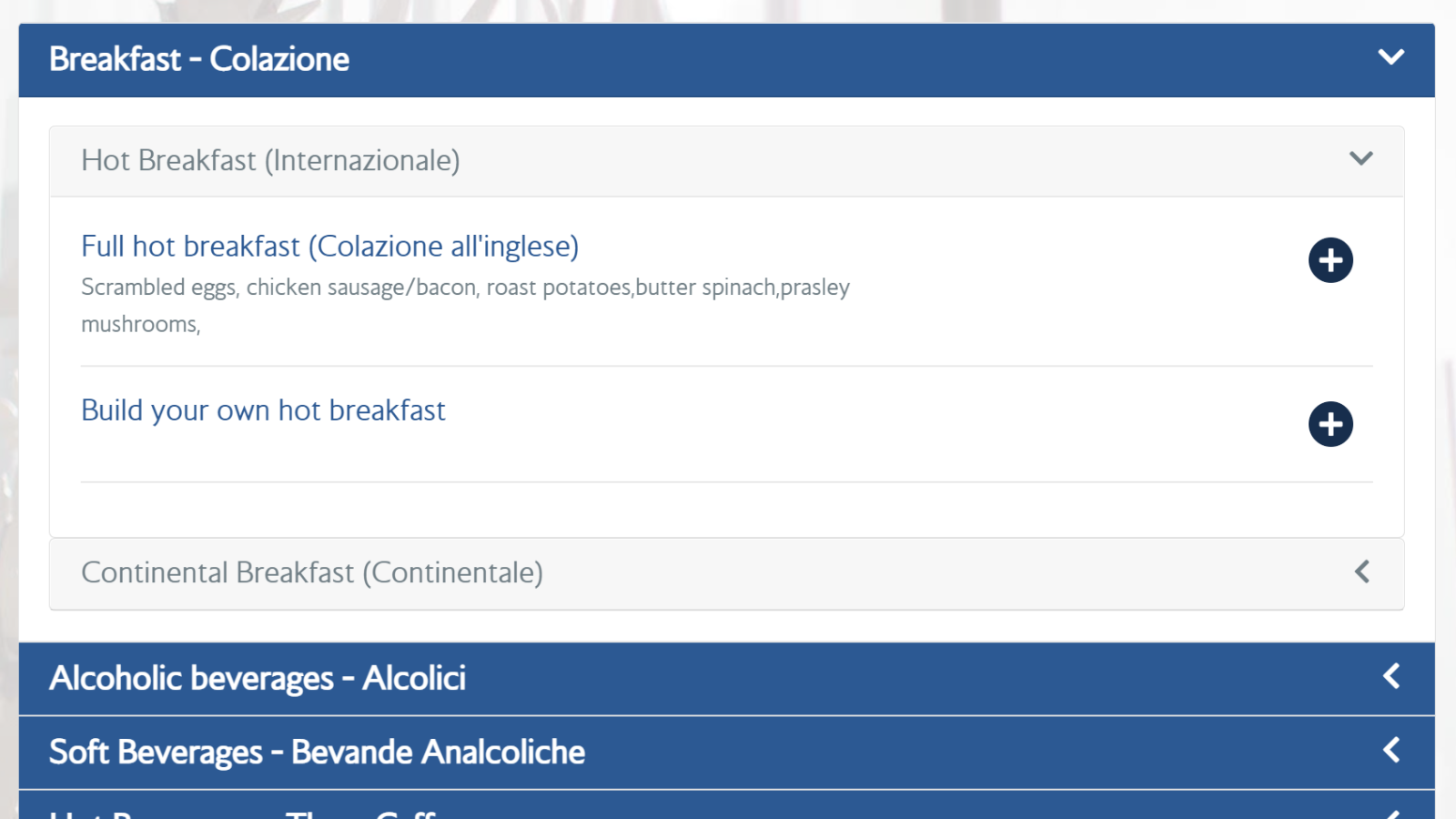 Thankfully, the bar remains fully stocked – and alcohol is available in the mornings. Fancy a beer? Peroni and Nastro Azzutrro are their picks. Local prosecco and wines are on offer, and the cocktail list includes Aperol Spritz, Negroni and Mimosa.
The spirits available are:
Smirnoff vodka
Wiborovia vodka
Bosford gin
Gordons gin
Bacardia white rum
Johnny Walker Red Label
Glen Grant 5 year old single malt
J&B blended Scoth whisky
With no other hot food choices in the morning, I settle for the hot breakfast and a refreshing mimosa. To the lounge's credit, brekkie is tasty and I feel like the quality is better than a buffet breakfast.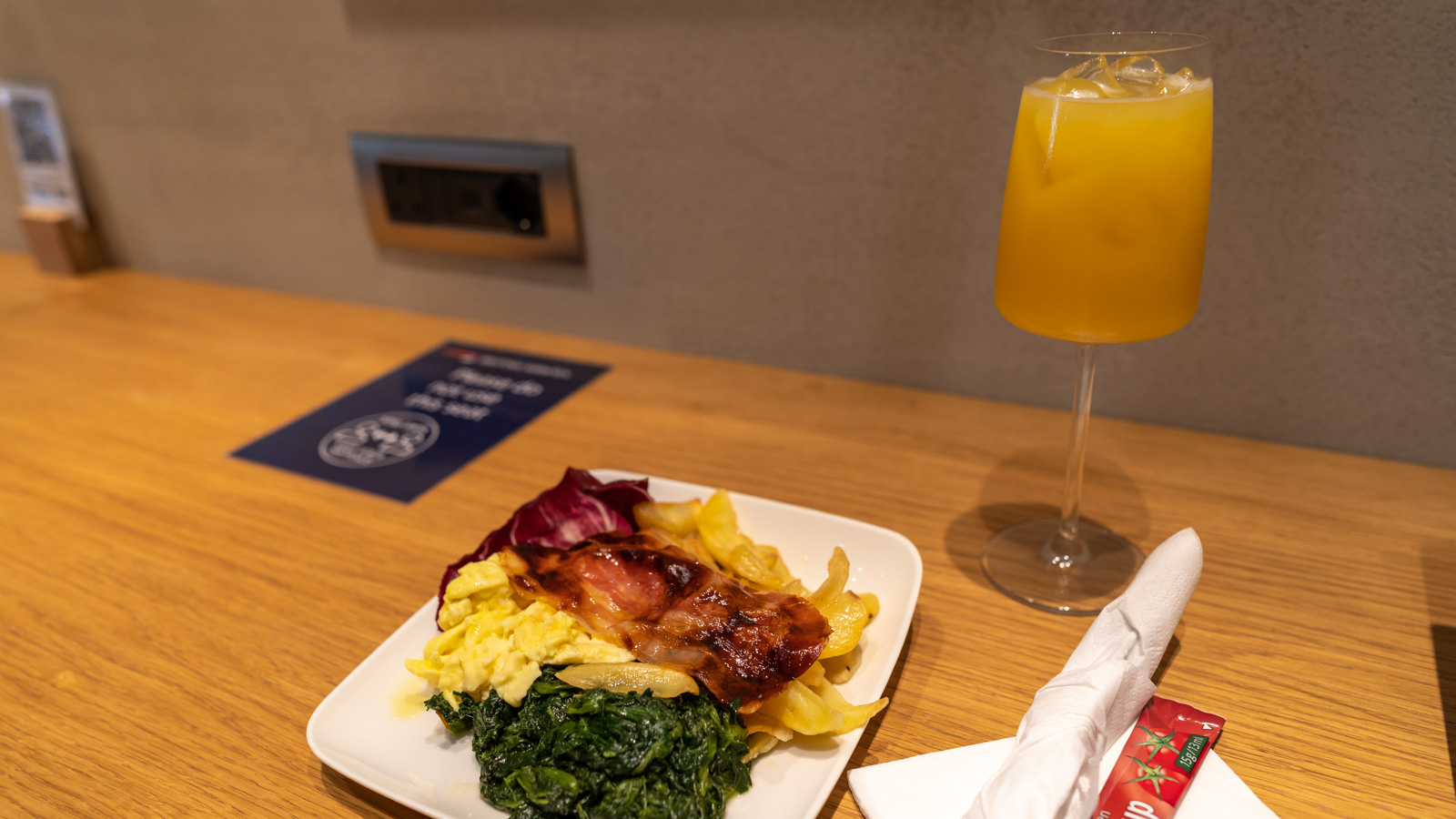 Lounge amenities
The lounge Wi-Fi is zippy, measuring roughly 50 Mbps both ways. It's more than enough for anyone to get some serious work or Netflix-downloading done. As mentioned above, power and USB points are aplenty at all seats. But these are UK and Europe-type plugs, so you'll need an adapter for Australian plugs.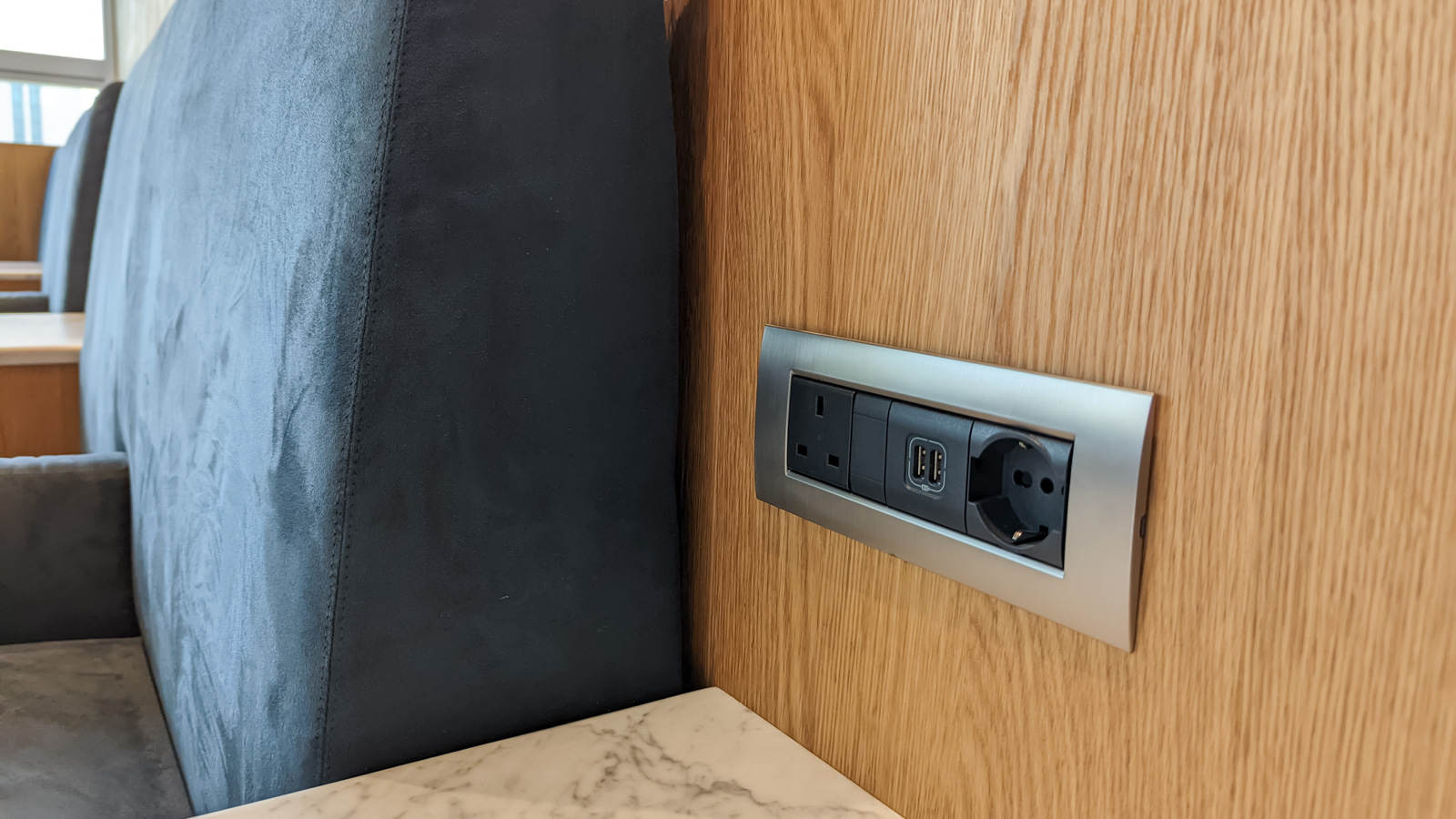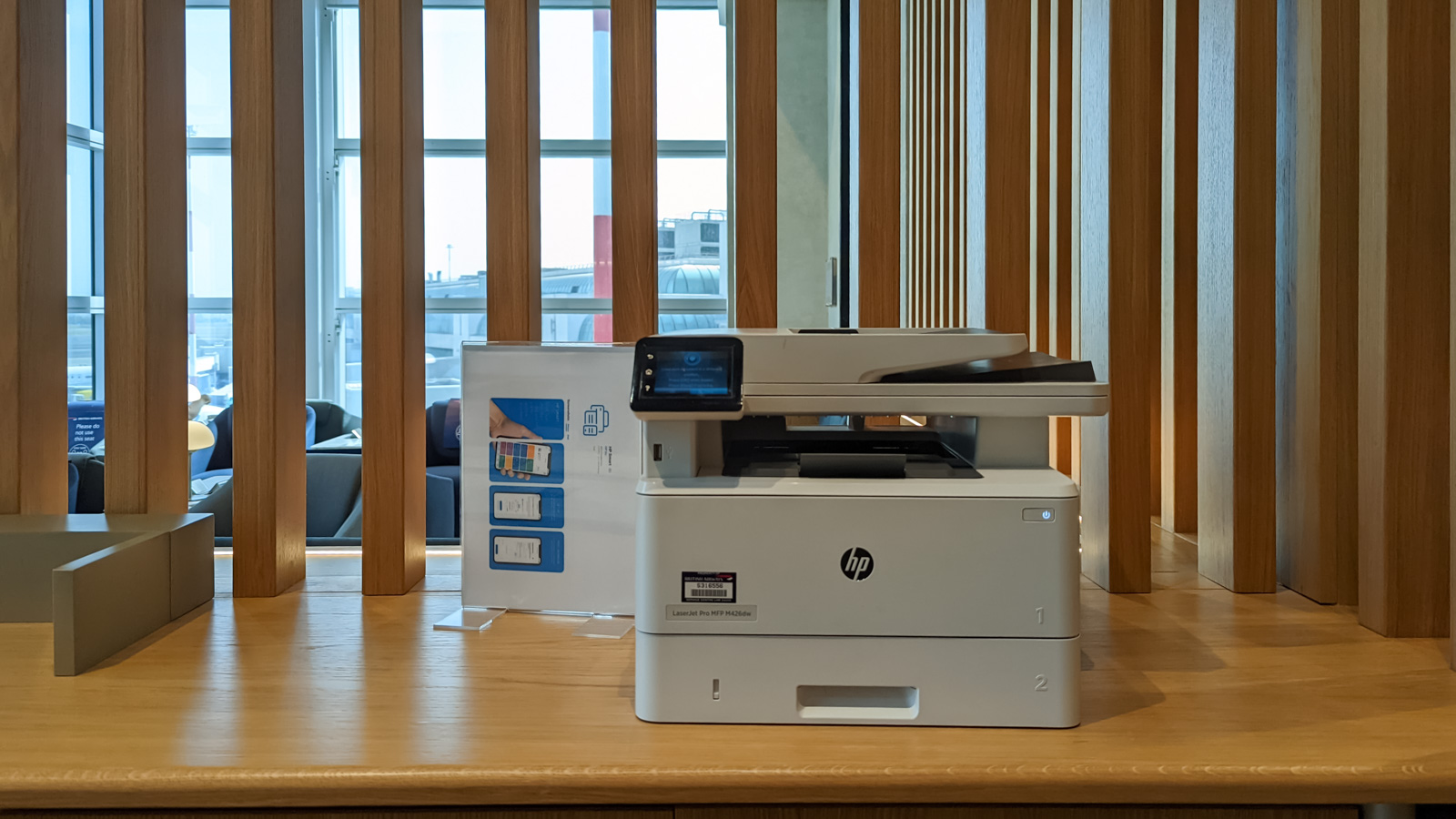 There's also a printer if you need to get any documents sorted. But that's about it for the lounge amenities, since there are no bathroom facilities.
Accessing the British Airways Rome Lounge
As the lounge is within the British Airways and oneworld ecosystem, there are limited ways to get in. You won't be able to buy your way in if you don't have the right ticket or frequent flyer status. British Airways also doesn't sell lounge passes or memberships.
Class of travel: First or Business Class passengers travelling on a British Airways or oneworld airline-operated and marketed flight. Out of Rome, this also includes Qantas and American Airlines.
BA Executive Club status: British Airways Silver, Gold and higher status when flying British Airways or a oneworld flight.
oneworld status: oneworld Sapphire and Emerald equivalent frequent flyers before a oneworld flight. This includes Qantas Gold members and higher when flying on a oneworld carrier.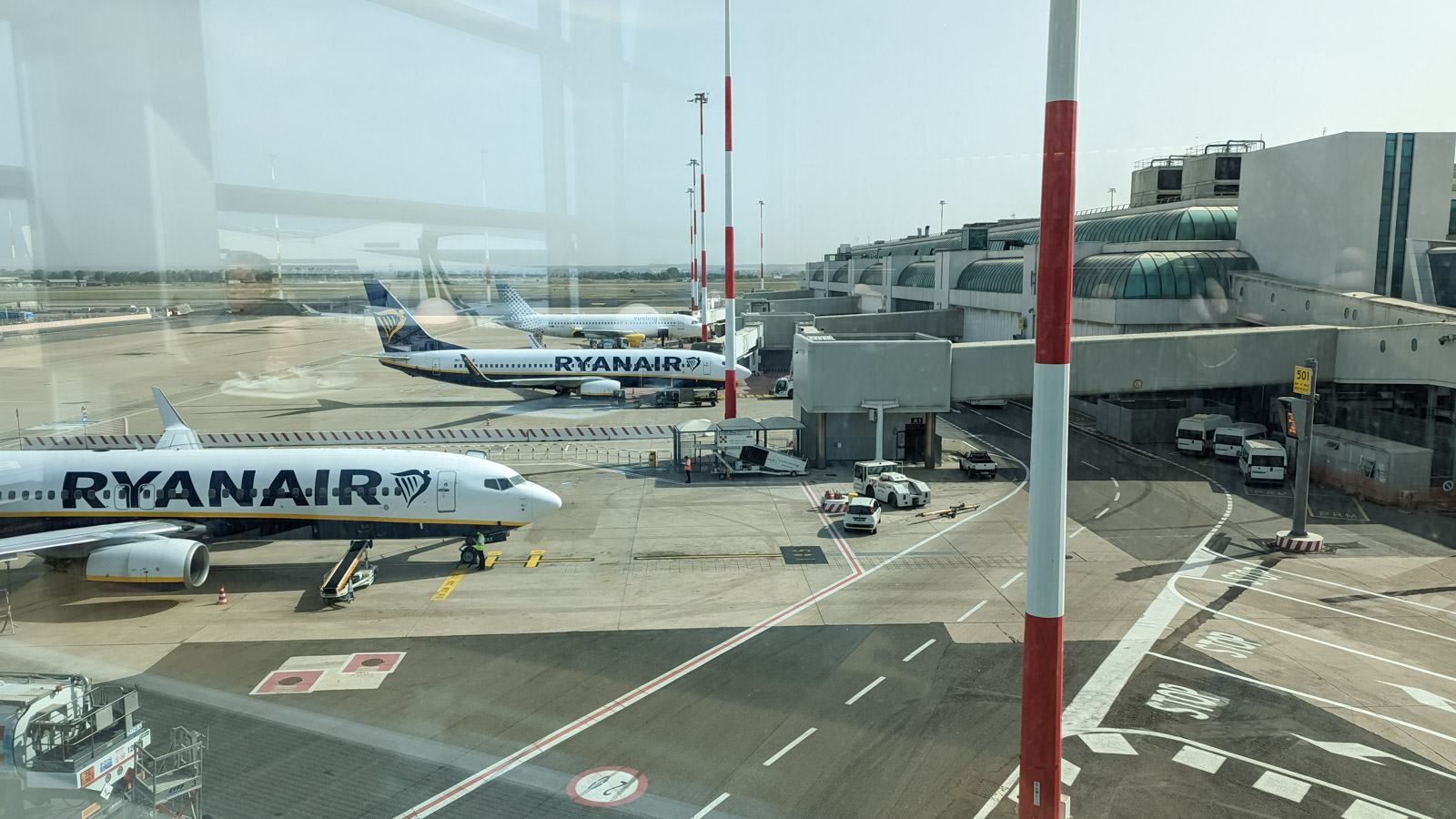 Summing up
The British Airways Lounge is worth a visit if you have access. I love the contemporary design of this space, which is modelled off the airline's home lounges in London. My visit is on a Tuesday morning – where there is no British Airways flight until 12:55 pm – so the lounge is very quiet and peaceful.
The online ordering system works efficiently, with my breakfast and mimosa being delivered within a few minutes of ordering. I can't attest to the all-day menu, but the hot food choices do look appealing.
With comfortable seating, fast Wi-Fi, charging outlets and separate areas for working, lounging and eating, the lounge ticks almost all the boxes. Not having bathroom facilities is a bit unusual, but the public toilets aren't too far away.
Also read: Plaza Premium Lounge Rome Review →
Photography by Brandon Loo, who travelled at Point Hacks' expense. He accessed the lounge as a oneworld Emerald frequent flyer before a Qantas Rome-Perth flight. Featured image courtesy of British Airways.
British Airways Lounge, Rome
was last modified:
September 5th, 2022
by