On relatively short flights within North America, I don't usually expect much. Certainly, not plated meals, bottomless wine, seatback entertainment screens and pre-flight lounge access – without at least needing status for that last one. But that's exactly what you get when flying Business Class on Air Canada Express' Bombardier CRJ900 jets from San Francisco to Vancouver.
In fact, I find myself aboard this flight through something of a happy accident. Initially, I'd booked United Economy from San Francisco straight to Brisbane, because that's all I could find using Velocity Points. But then, over a casual dinner in Jeju a few weeks before this journey, Australian Frequent Flyer Editor Matt Graham drops a bombshell. 'You know, there are a ton of premium reward seats available between the US and Australia next month?'
Not one to waste time, I grab my phone and run a quick search. Sure enough, on the very date I'll already be departing San Francisco, an option lights up that wasn't there before. Air Canada Business Class from SFO to Brisbane, via Vancouver. Ding ding ding, we have a winner. (Thanks again for the heads-up, Matt!) And with that, I bring you this review.
Check-in, lounge and boarding
My day here begins bright and early with a United Airlines domestic flight across from San Antonio. Now, United and Air Canada are both Star Alliance partners – but I've had to book my tickets separately. United is on a paid fare (which I credit to Velocity), while Air Canada is booked using Velocity Points. It's no biggie – it just means I have to collect my bag in San Francisco and check-in again with Air Canada.
I book my flights with plenty of time in between to accommodate. My United leg lands around 10 am, while this onward flight isn't scheduled until 7:30 pm. Yes, it's a long transit – but from Vancouver, I'm flying onwards to Brisbane and don't want to miss that important connection. I wasn't sure it'd be possible, but Air Canada pleasingly lets me check-in at 10:30 am, suitcase and all. I don't have to sit around waiting – I can go straight to lounging it up.
For something different, my airport hopping begins with SFO's American Express Centurion Lounge. It's not accessible by travel class, but if you have an eligible Amex card, entry is gratis with any boarding pass. After a cocktail and a few hours of work, I move along to the United Club in Terminal 3E. That's available thanks to this Business Class ticket.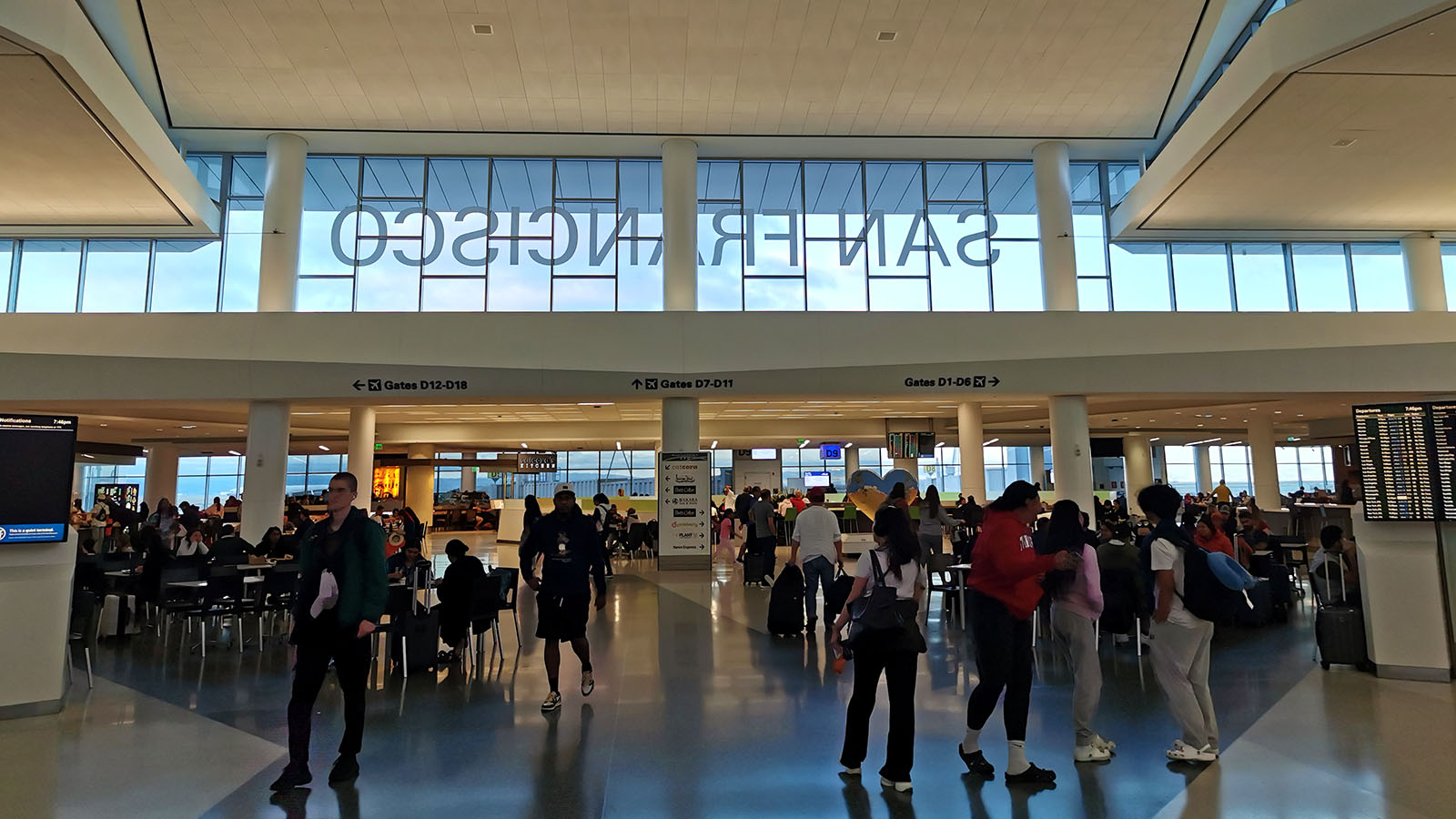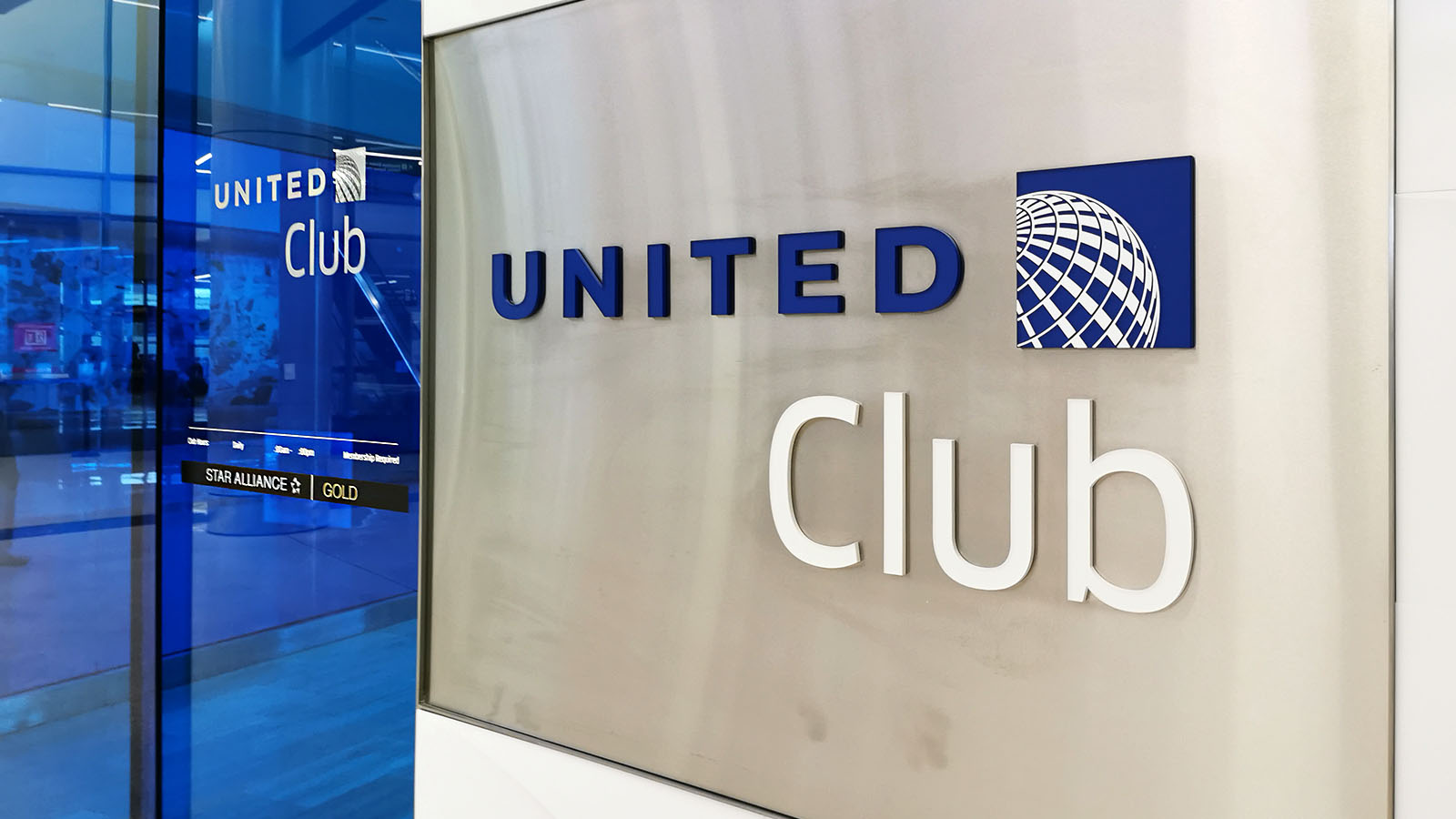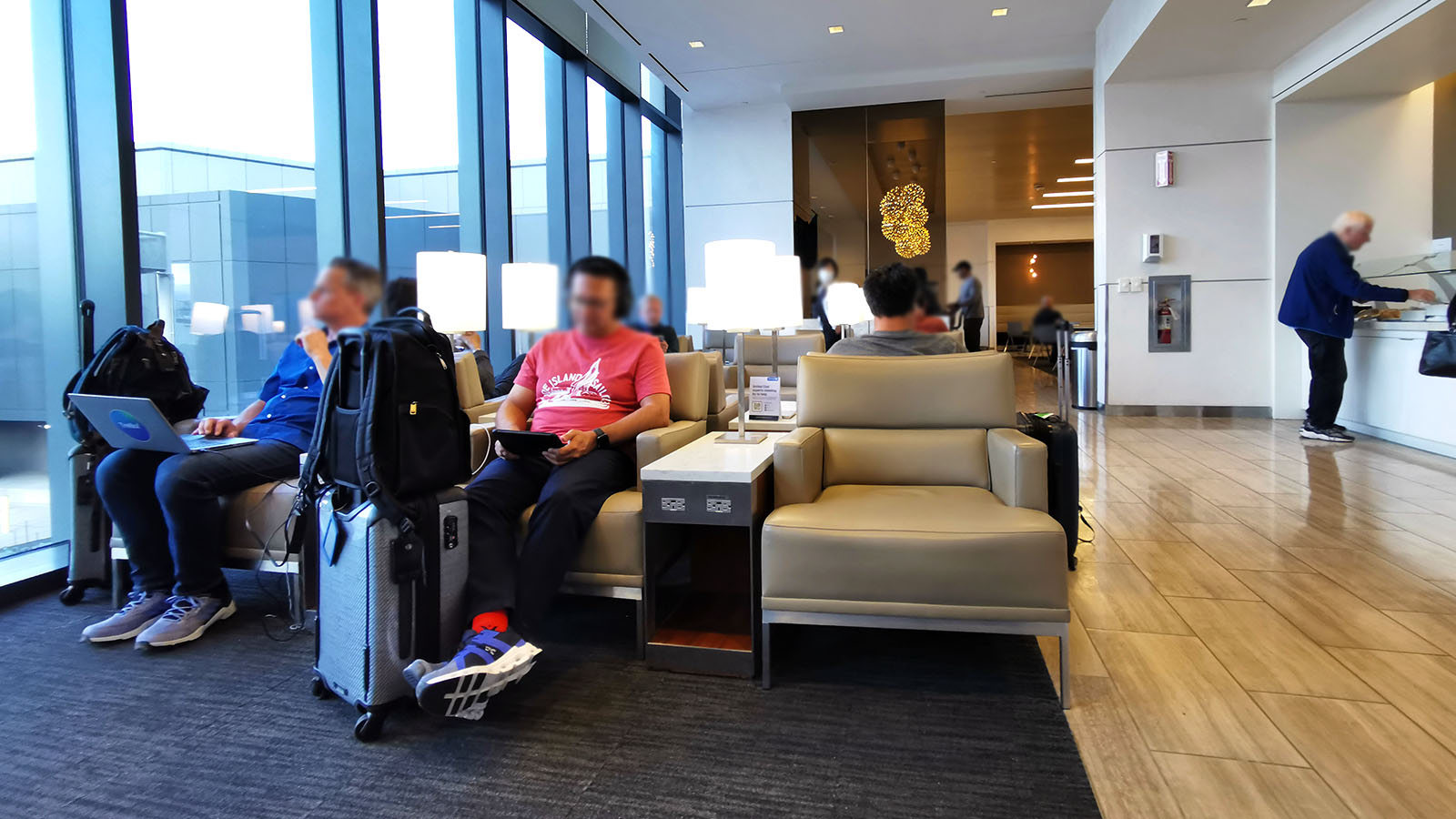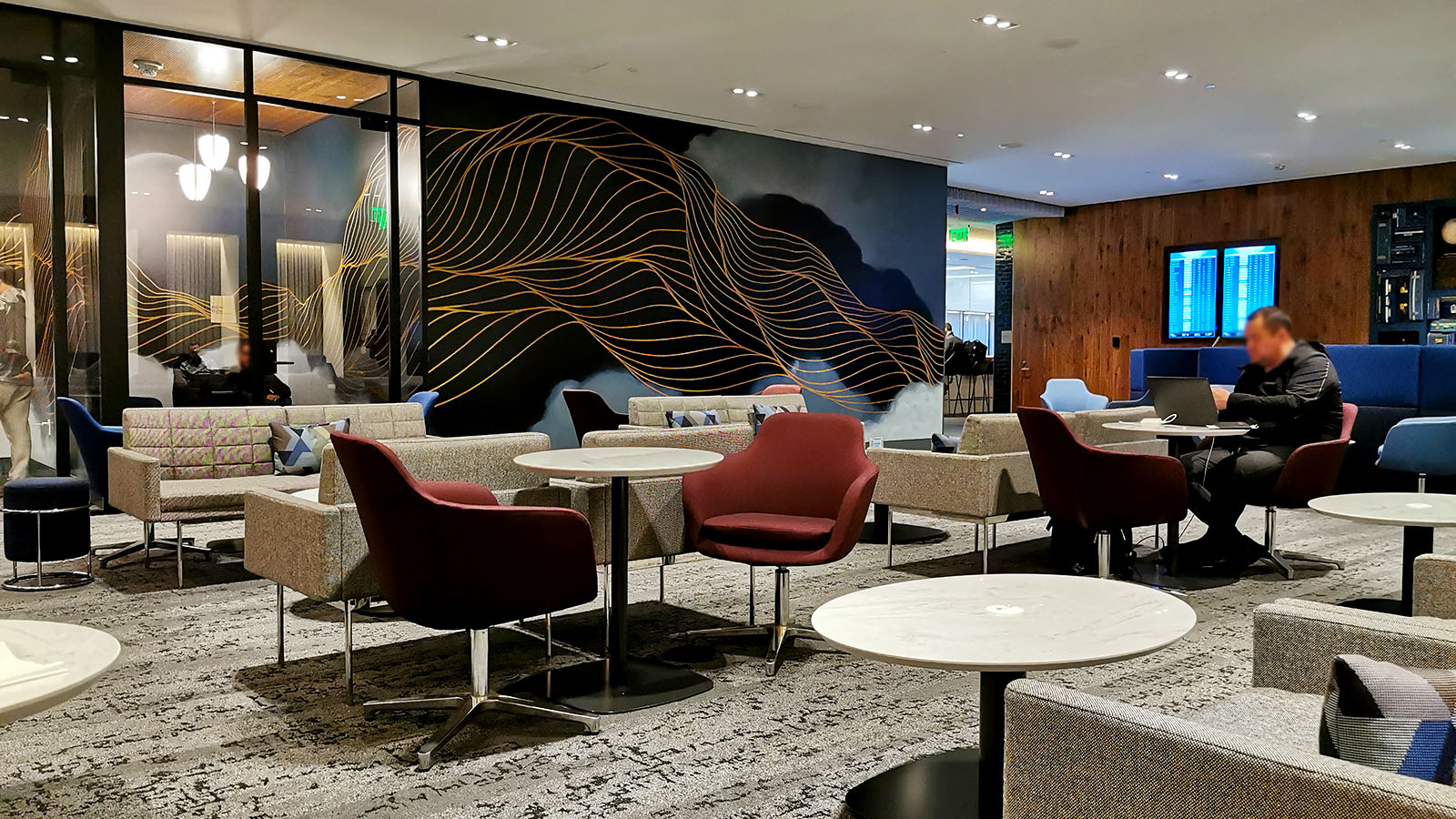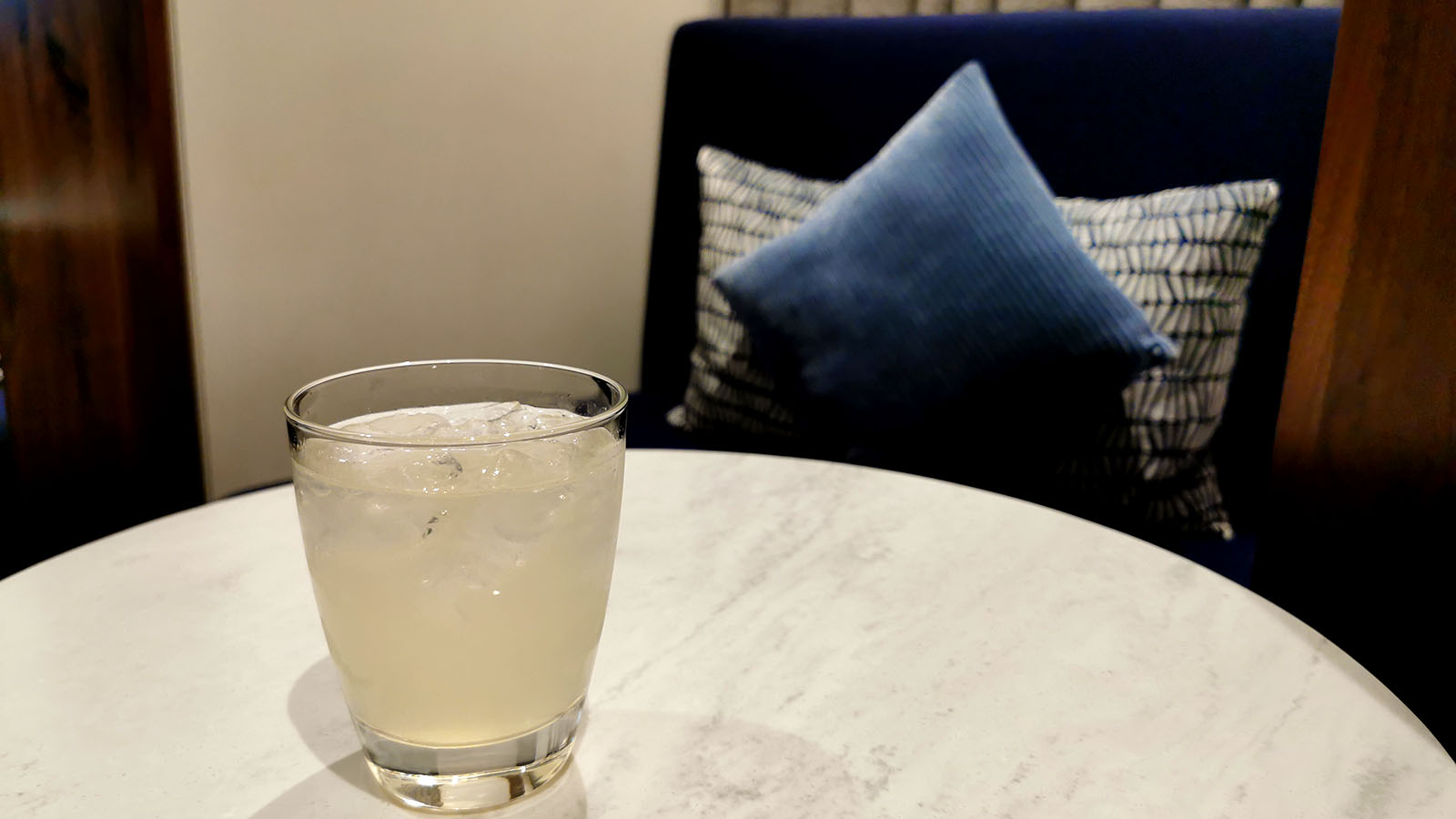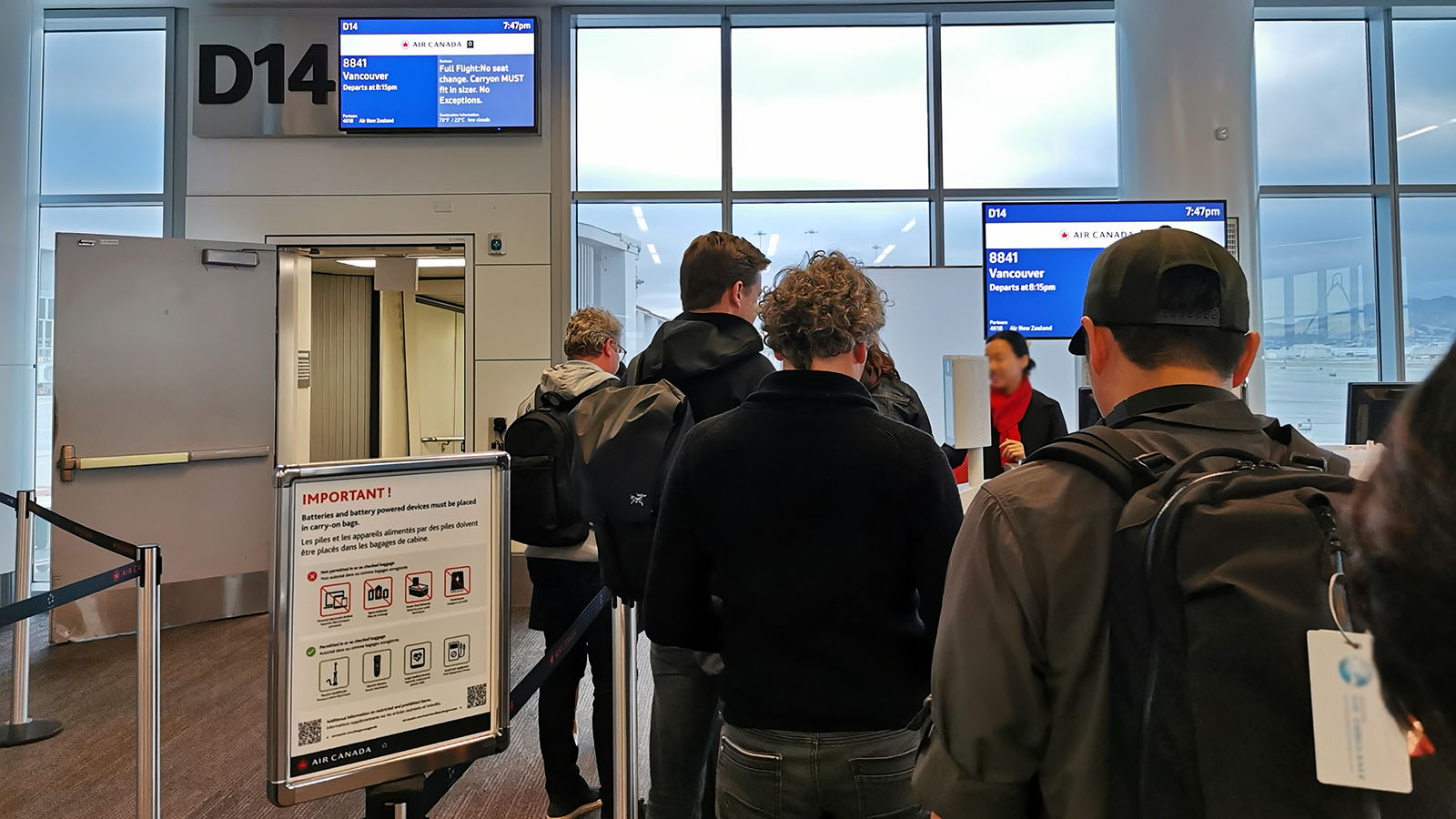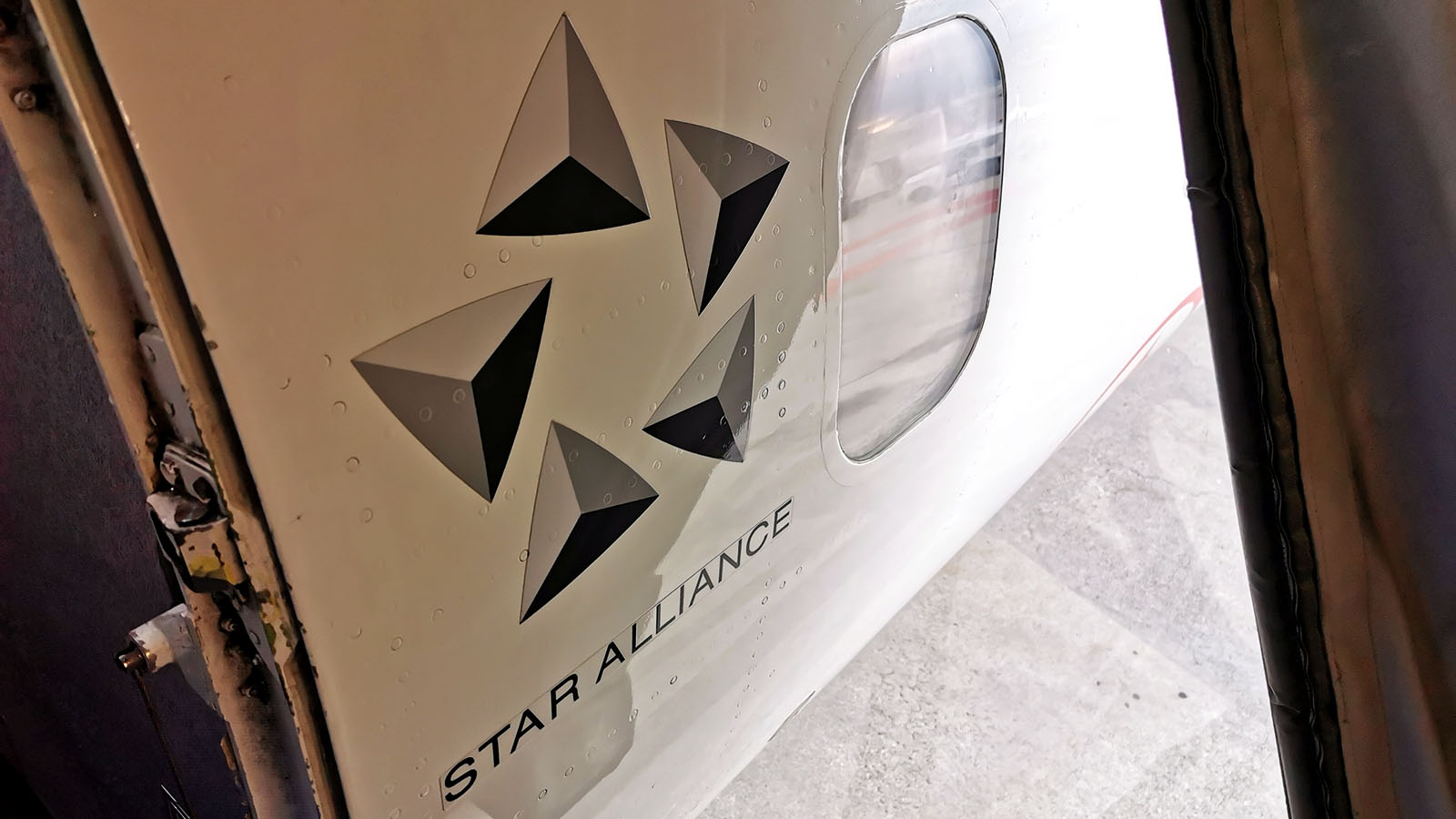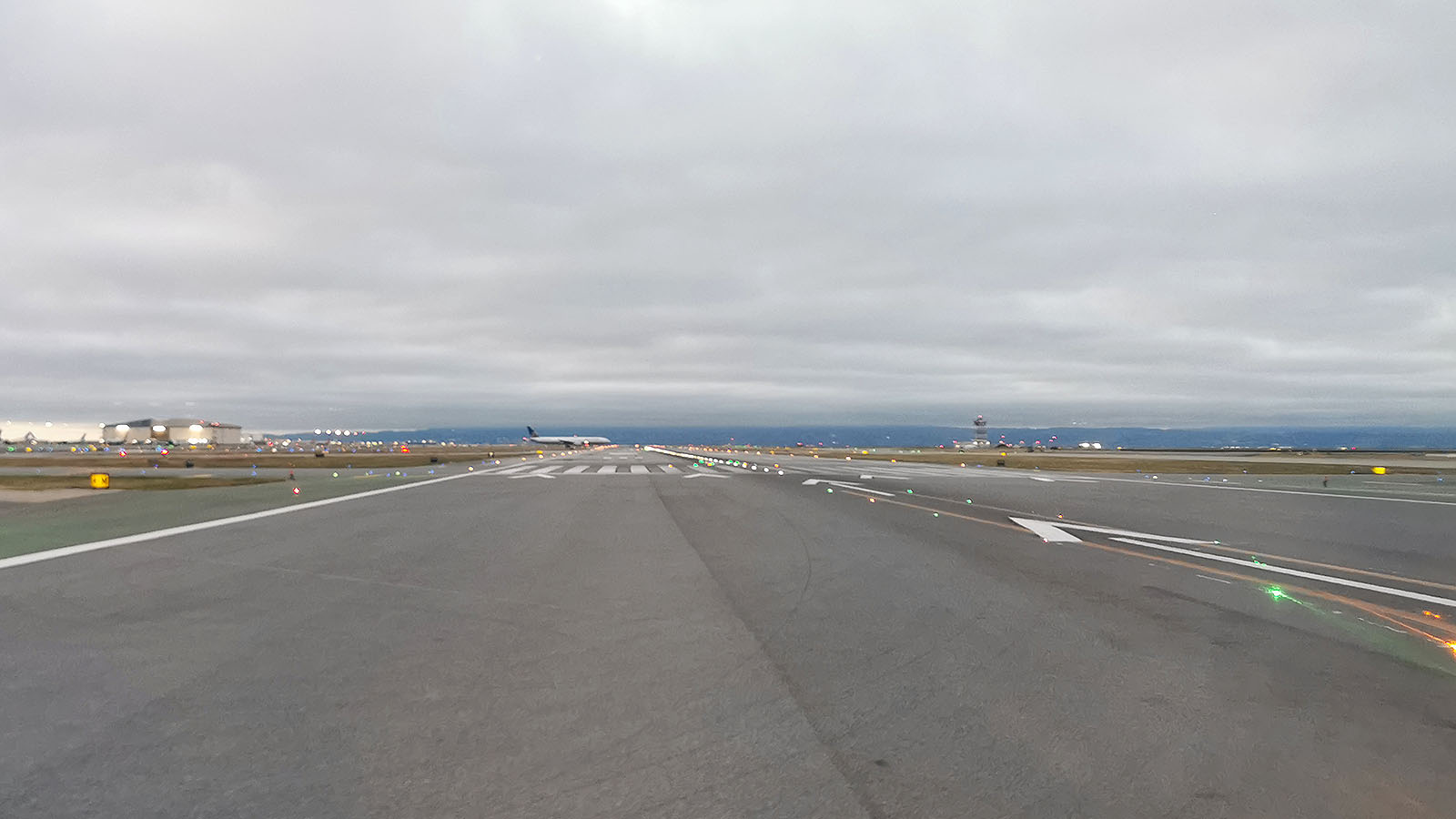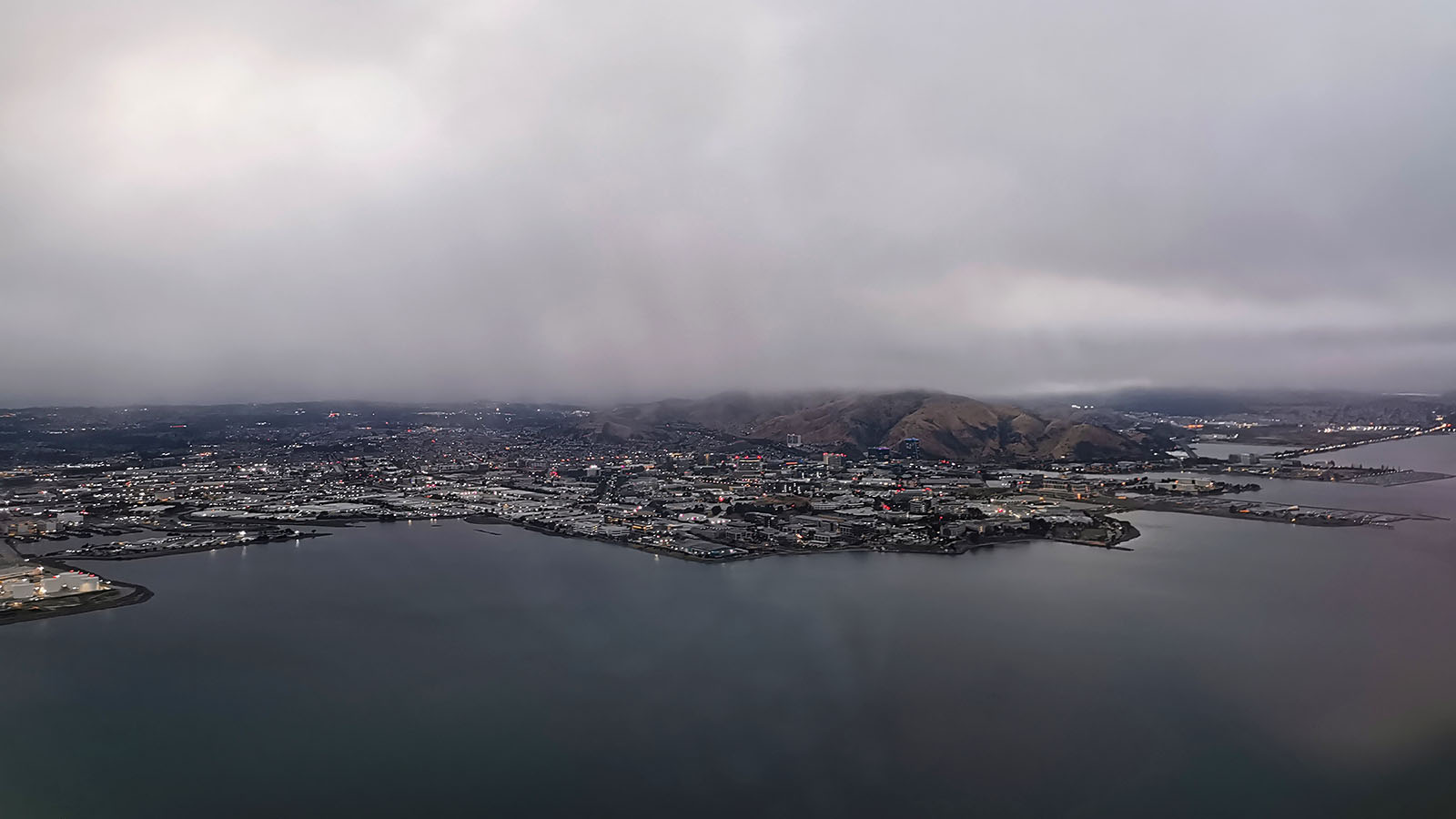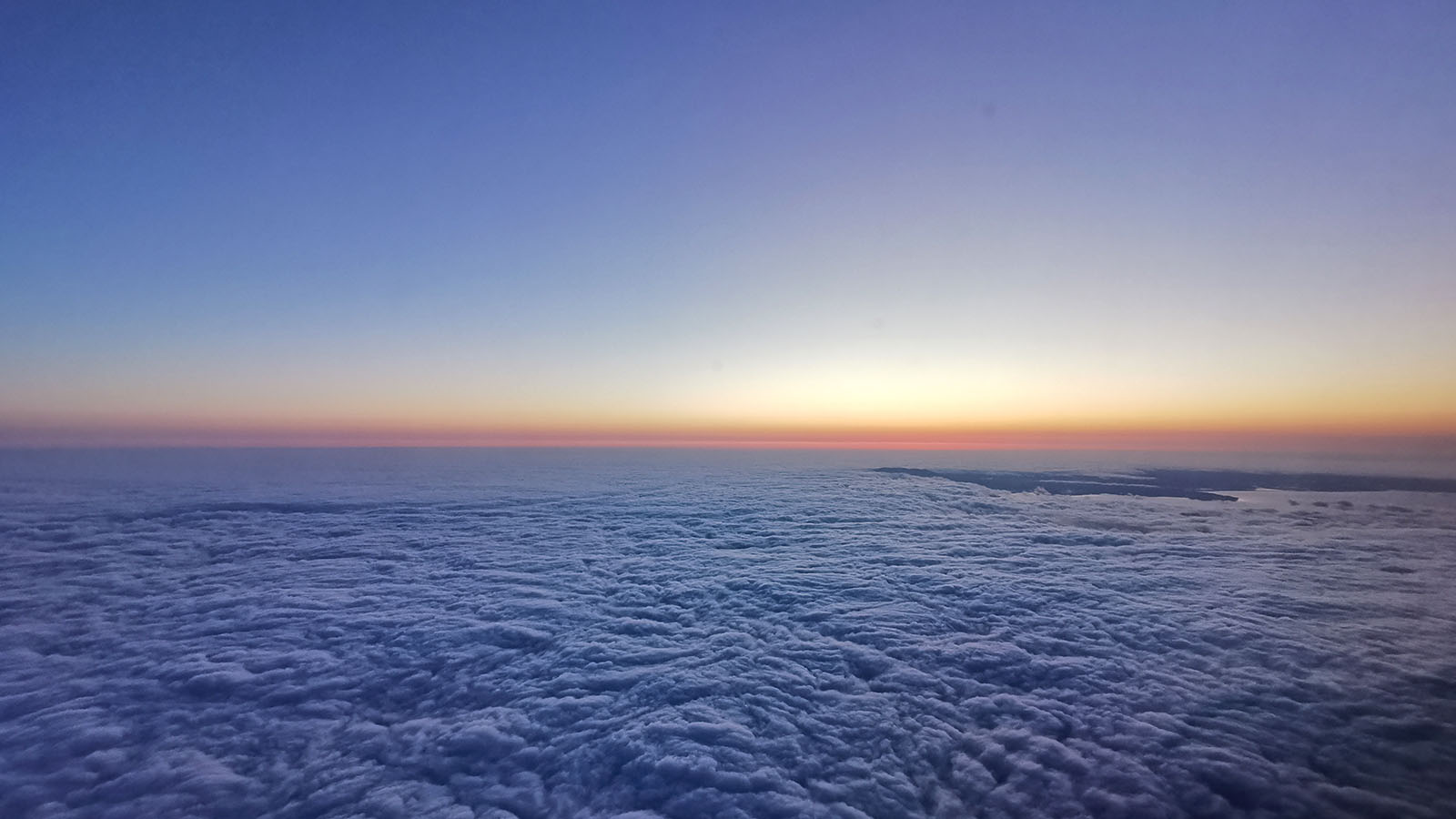 But since taking my journey, Air Canada has opened its own Maple Leaf Lounge here as well. I'd definitely head there next time to try it out – especially its outdoor terrace.
Fast-forward to boarding, and even in 'group one', I'm glad to be in the queue early. The overhead lockers in Business Class on the Air Canada CRJ900 are particularly tiny. My Samsonite Firelite hard shell bag just squeezes in, side-on. There's room for my laptop bag underneath the seat in front.
Air Canada Express Bombardier CRJ900 Business Class seating
You might think booking a 'regional plane' would mean some other compromises. But when you're flying Air Canada CRJ900 Business Class, it's an incredibly good thing. Especially so when you're travelling solo. On these jets, the Business Class cabin layout is 1-2. Snagging one of those solo seats gets you a window view and an aisle-side seat.
When that's the goal though, get in fast. With only four rows in the cabin, there are just four such 'thrones'. As it happens, the Air Canada website doesn't play ball with seat selection when you've booked via Velocity. But a quick social media DM to Air Canada with my booking details and seating preferences quickly gets this sorted. Throne secured.
I settle in and comfortably stretch out my legs. Hoorah for the generous 37-inch seat pitch! Even with a bag in front, the seat's footrest has its place. It's nice and roomy around the shoulders too. On these jets, each Business Class seat is almost 25% wider than back in Economy – 21 inches versus 17, to be precise.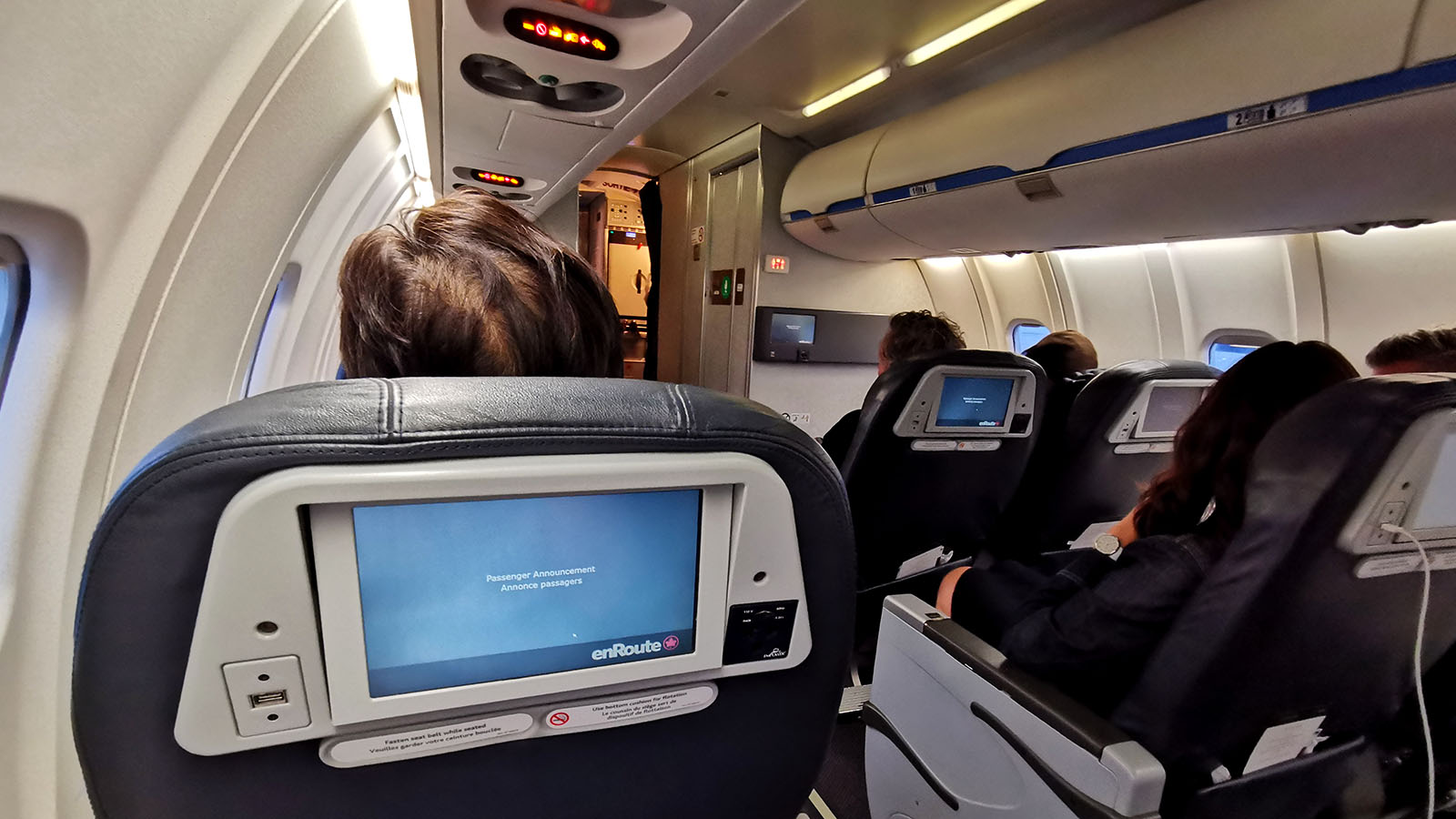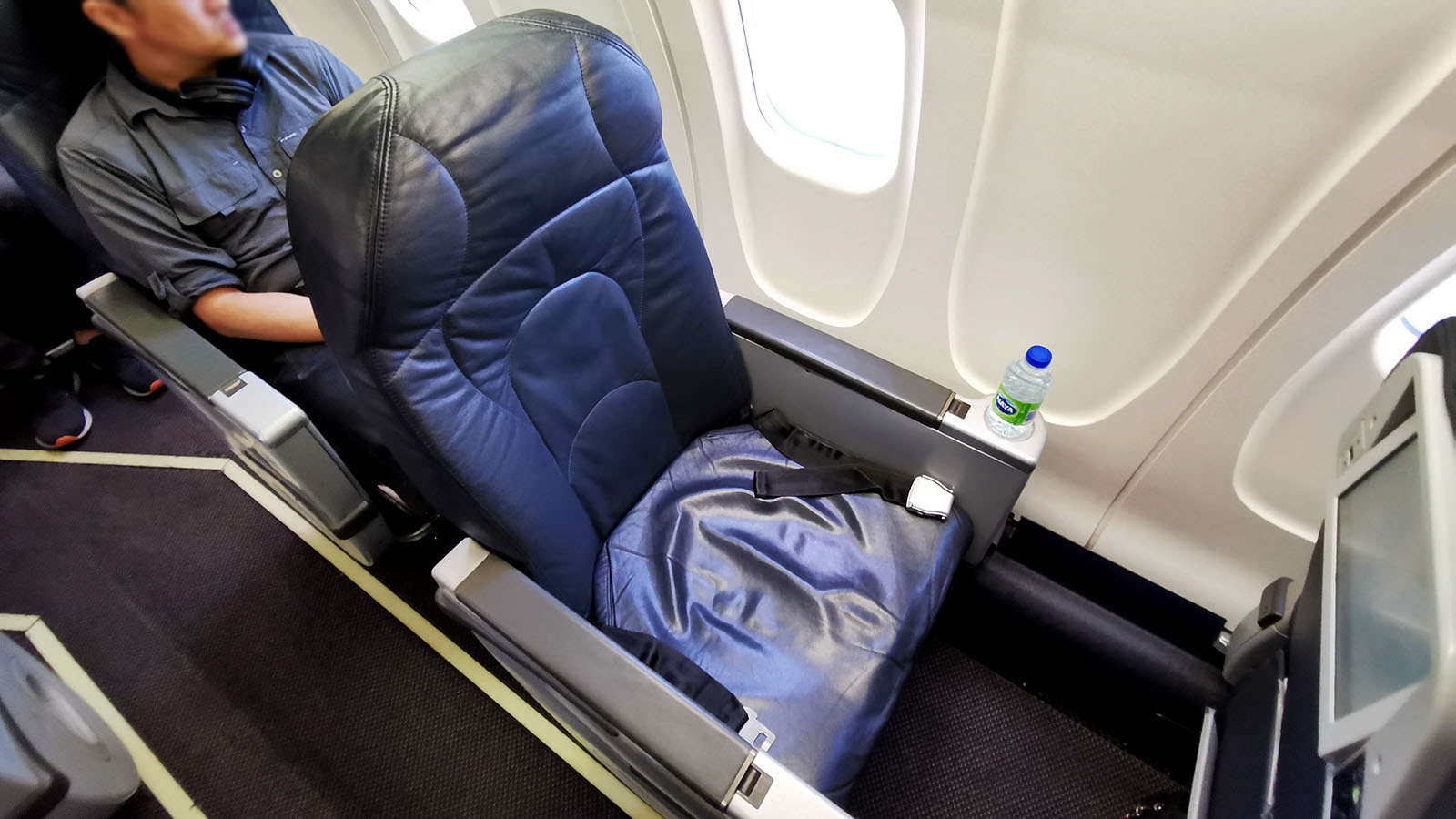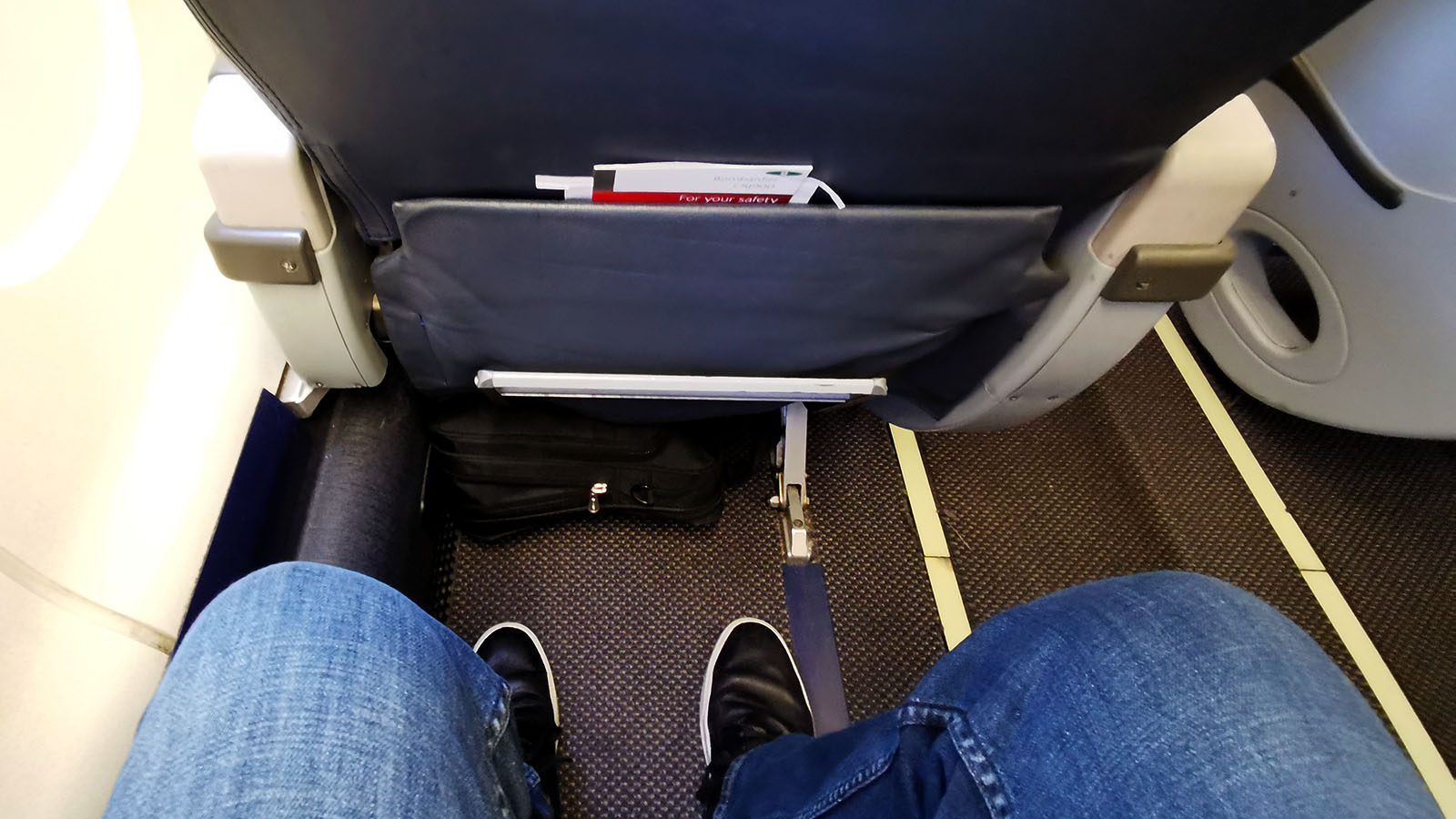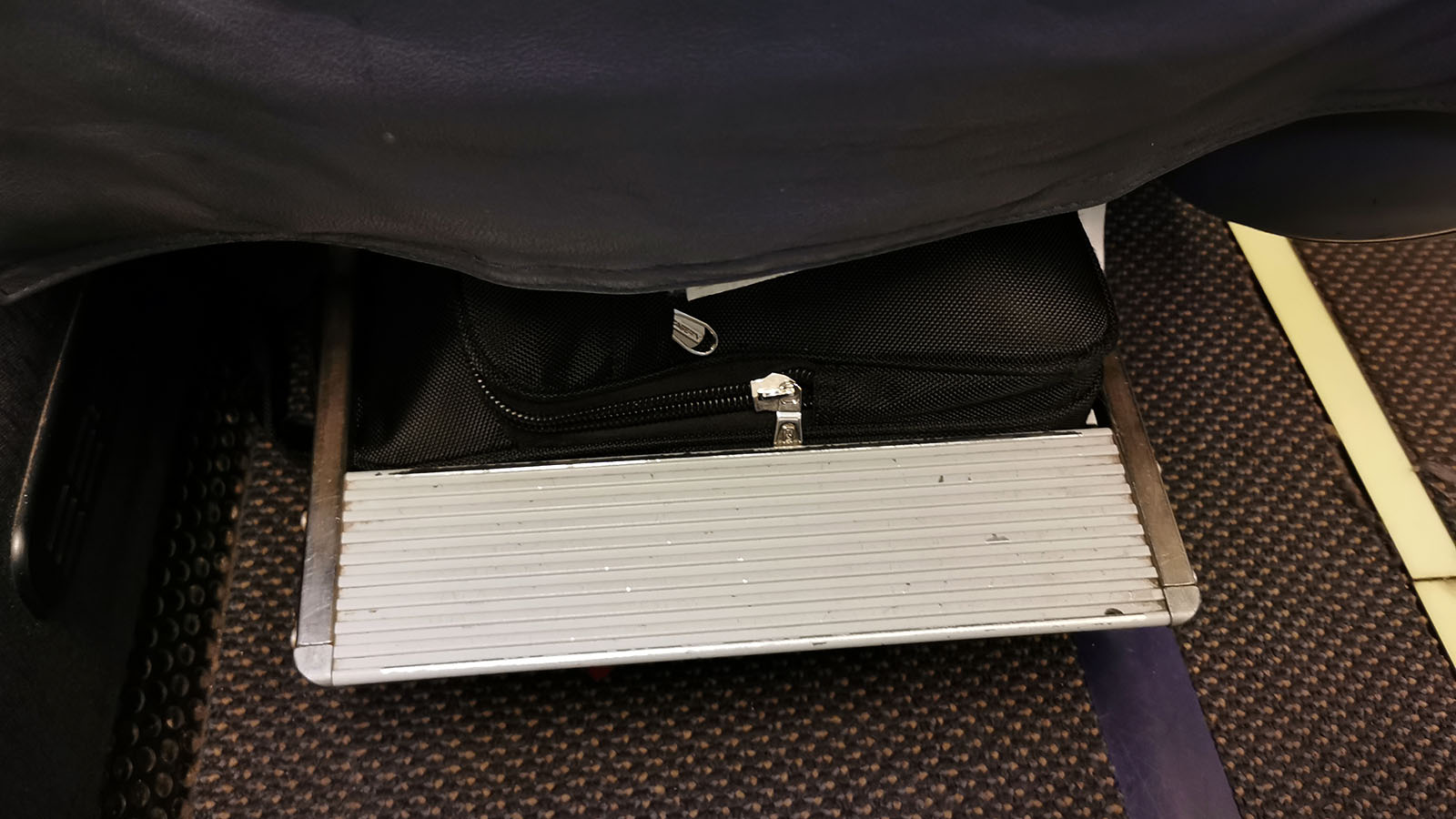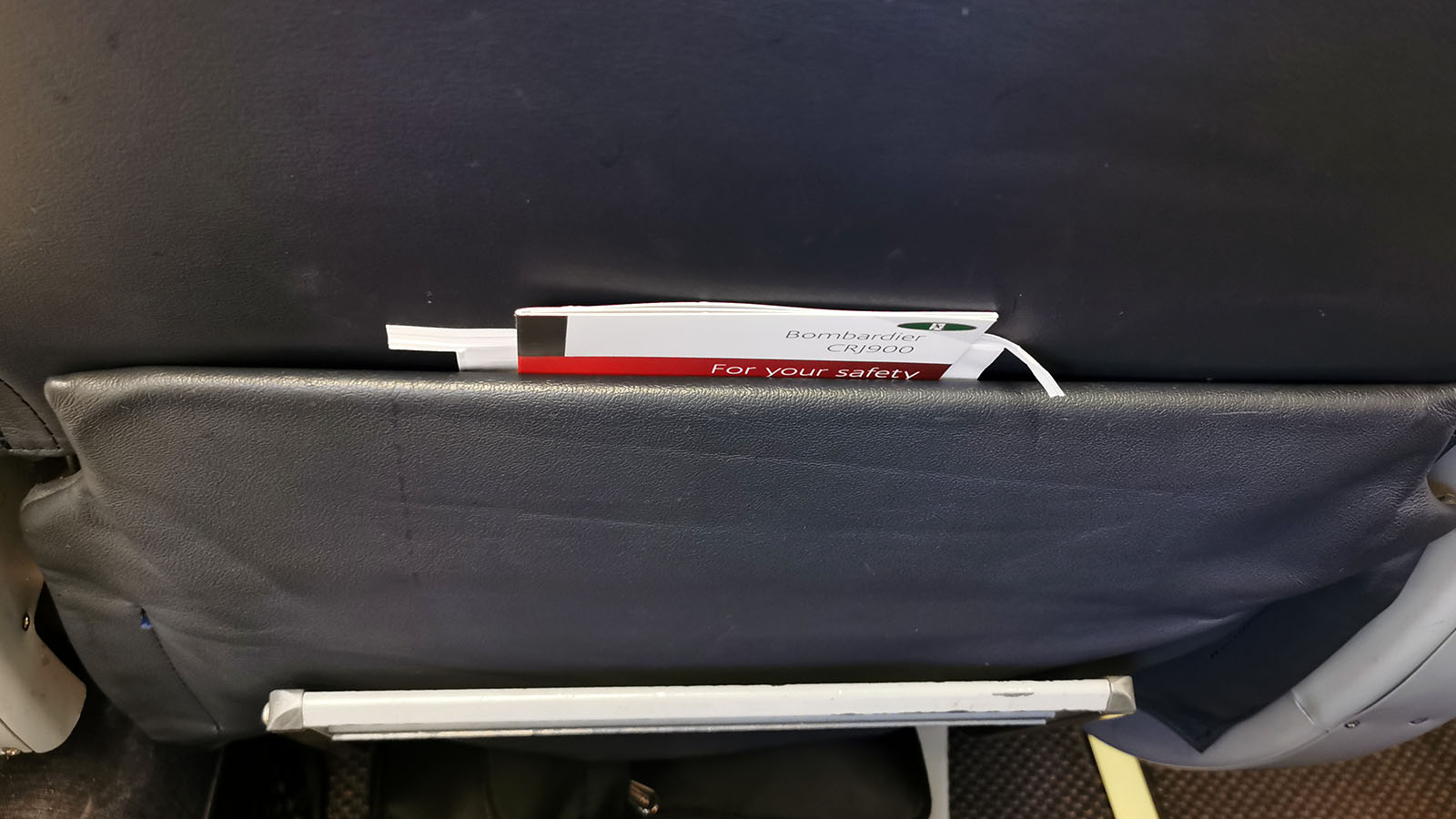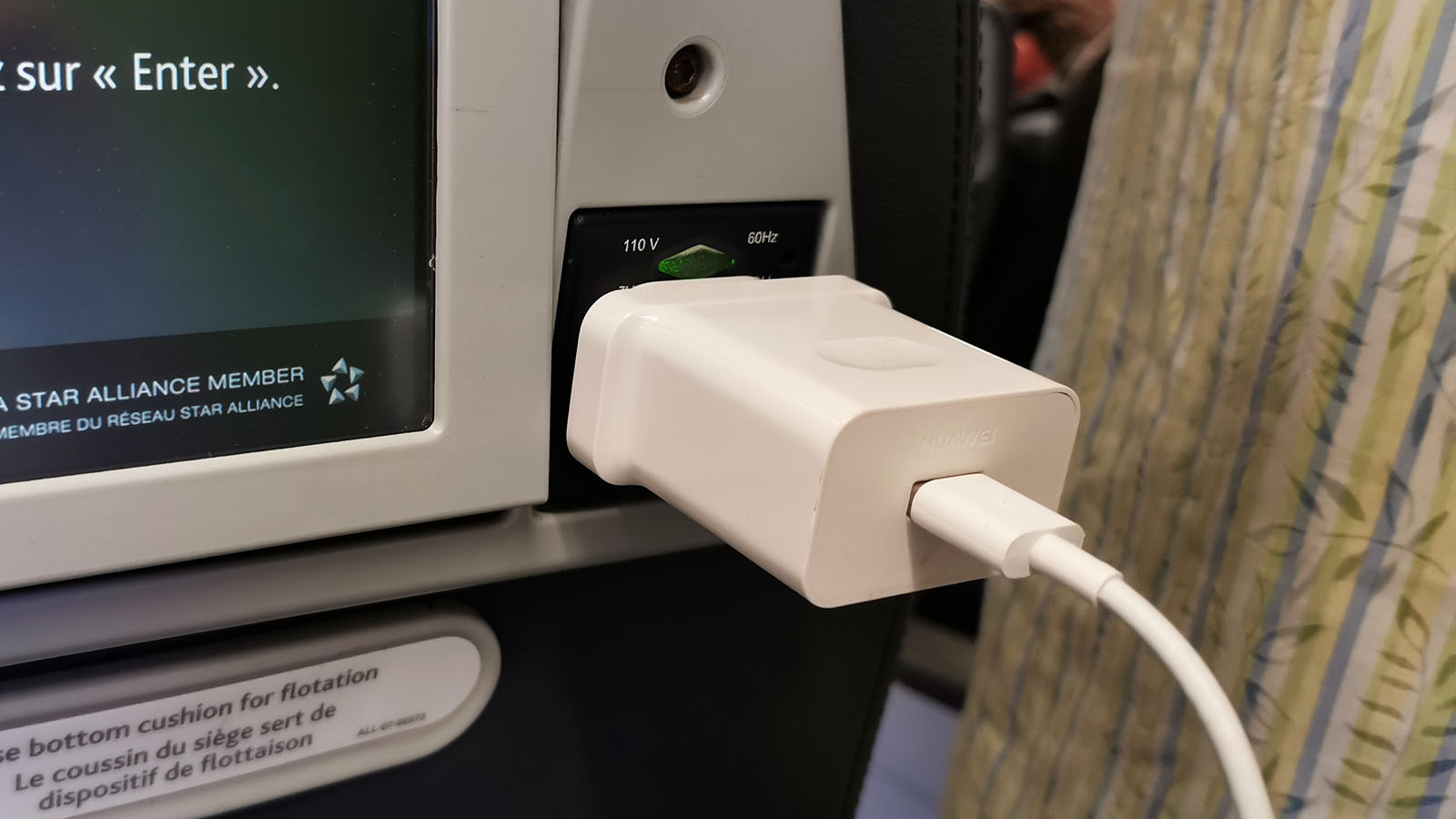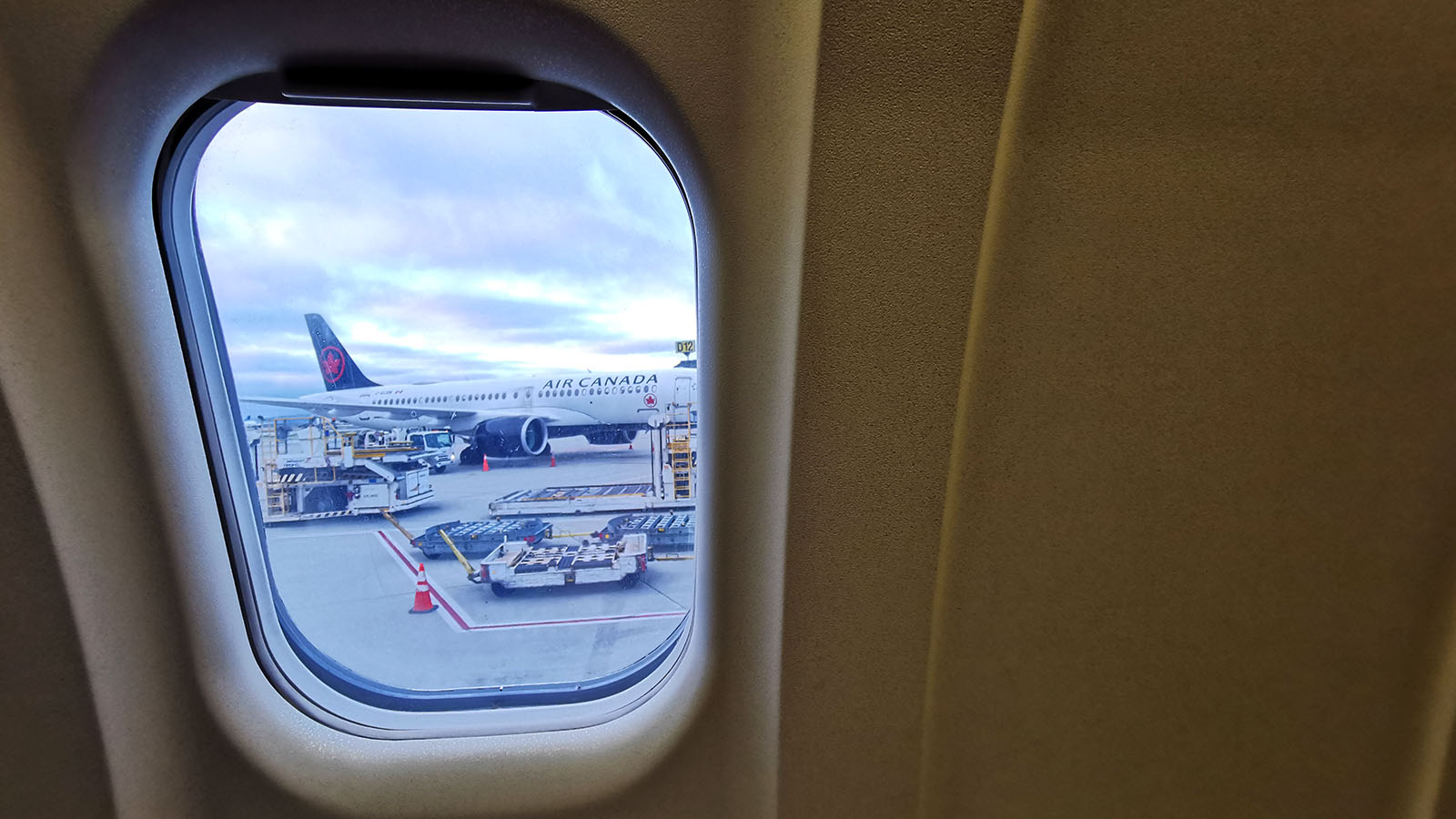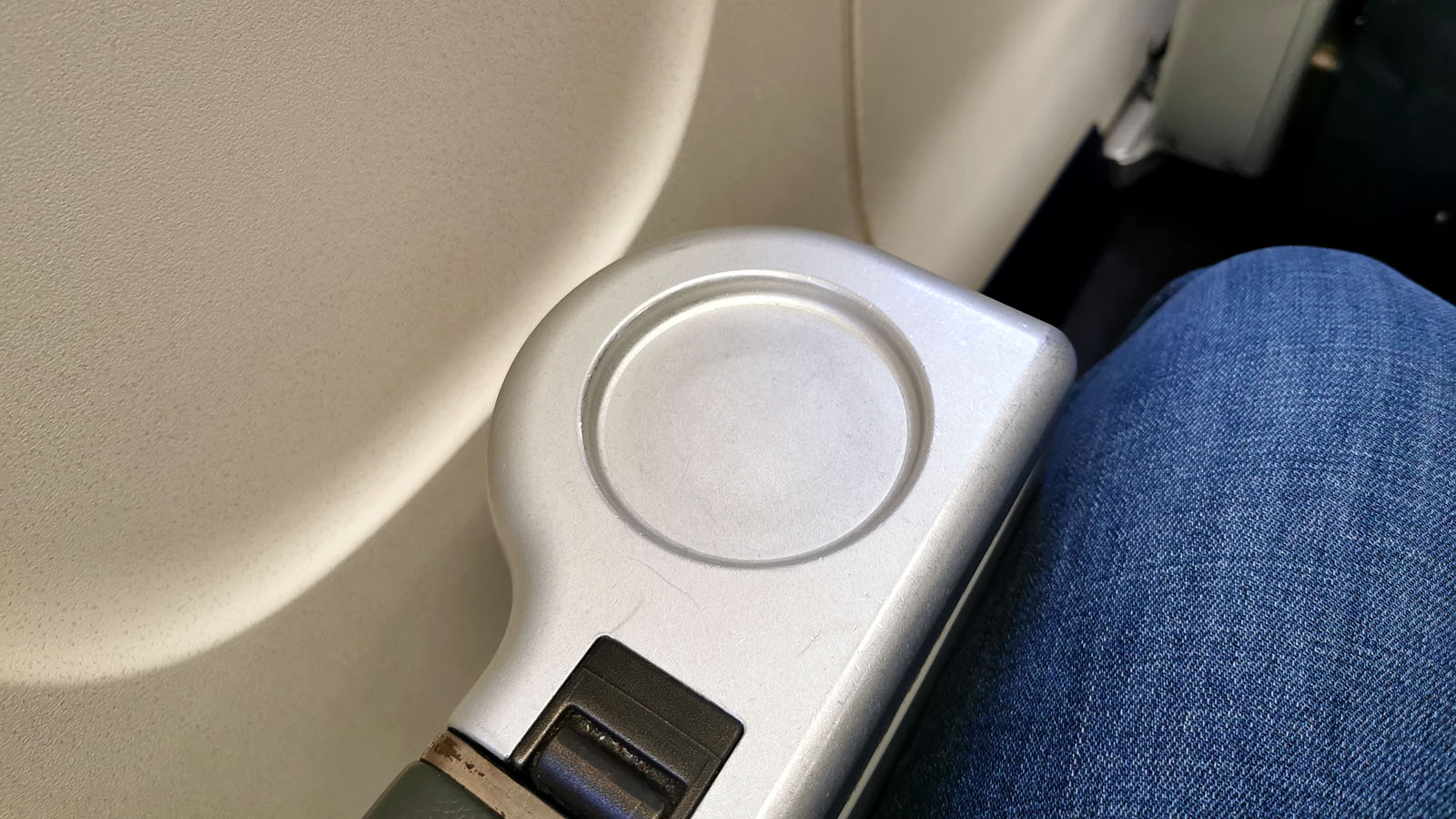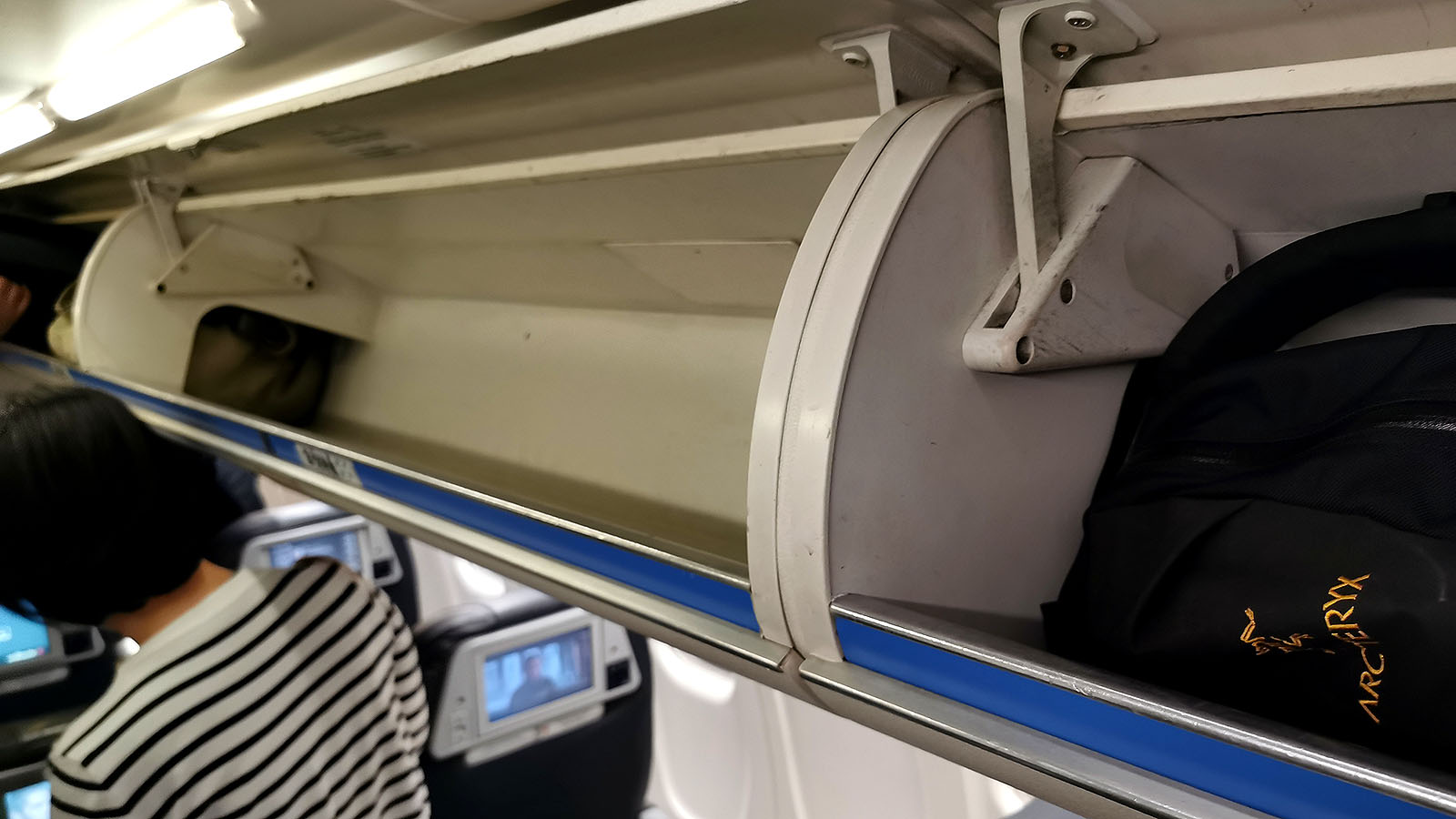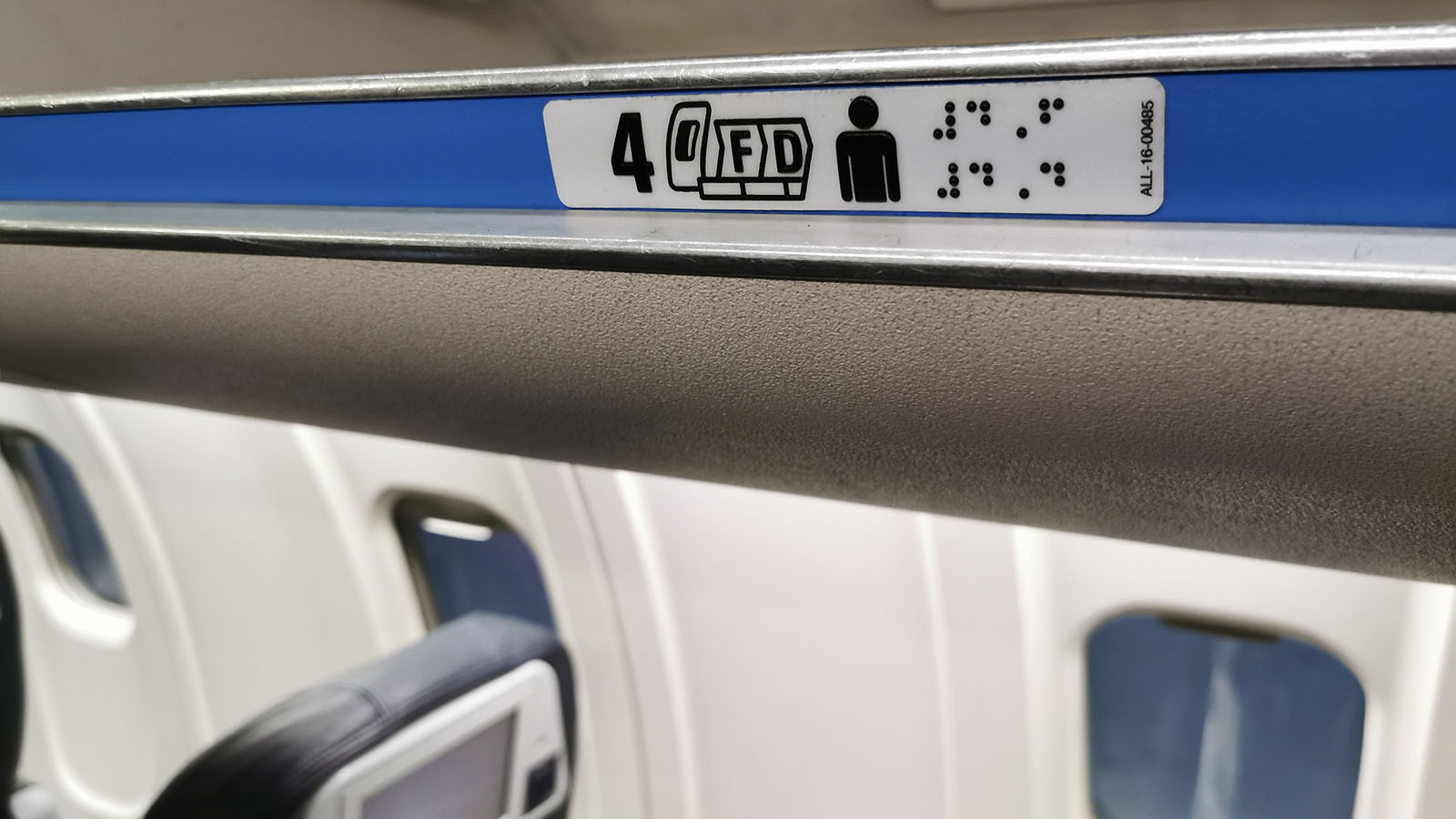 Once you get your big bag into the locker, local storage options are decent. My laptop bag fits snugly in front and there's a solid-sized seatback pocket above that to keep individual items within reach. The window-side armrest also doubles as a beverage tray to keep water nice and handy.
I also appreciate the easy access to power. There's a USB-A port directly in front for a simple top-up. But there's also an international-style AC socket. That's handy for laptops, or in my case, connecting my phone's 'supercharger' to fully replenish its battery in around an hour. Hey now, when you spend all day taking photos, every drop of juice counts.
Food and beverage in Air Canada Express Bombardier CRJ900 Business Class
Once again, don't let the whole 'regional plane' thing fool you. After all, this is an international flight – and one that's over two hours in length (2:17 sharp). Passing that magical 120-minute barrier means Air Canada puts its best foot forward in Business Class, even on the CRJ900 regional jet.
This journey is comparable in length to flights like Brisbane-Melbourne. But the F&B service on Air Canada is a noticeable cut above. A bottle of water appears before we depart, along with a menu. Printed in both English and French, it details the dinner options on this flight, as well as the beverage choices.
The only thing missing a mention is the day's wine selections. There's no sparkling, but options are broader than a mere 'red or white'. In the red camp, there's what's only described as an 'Italian organic red' or a cabernet sauvignon. For the whites, blends from France and Portugal. I'm quite content with the French blend and happily accept the first offer of a top-up.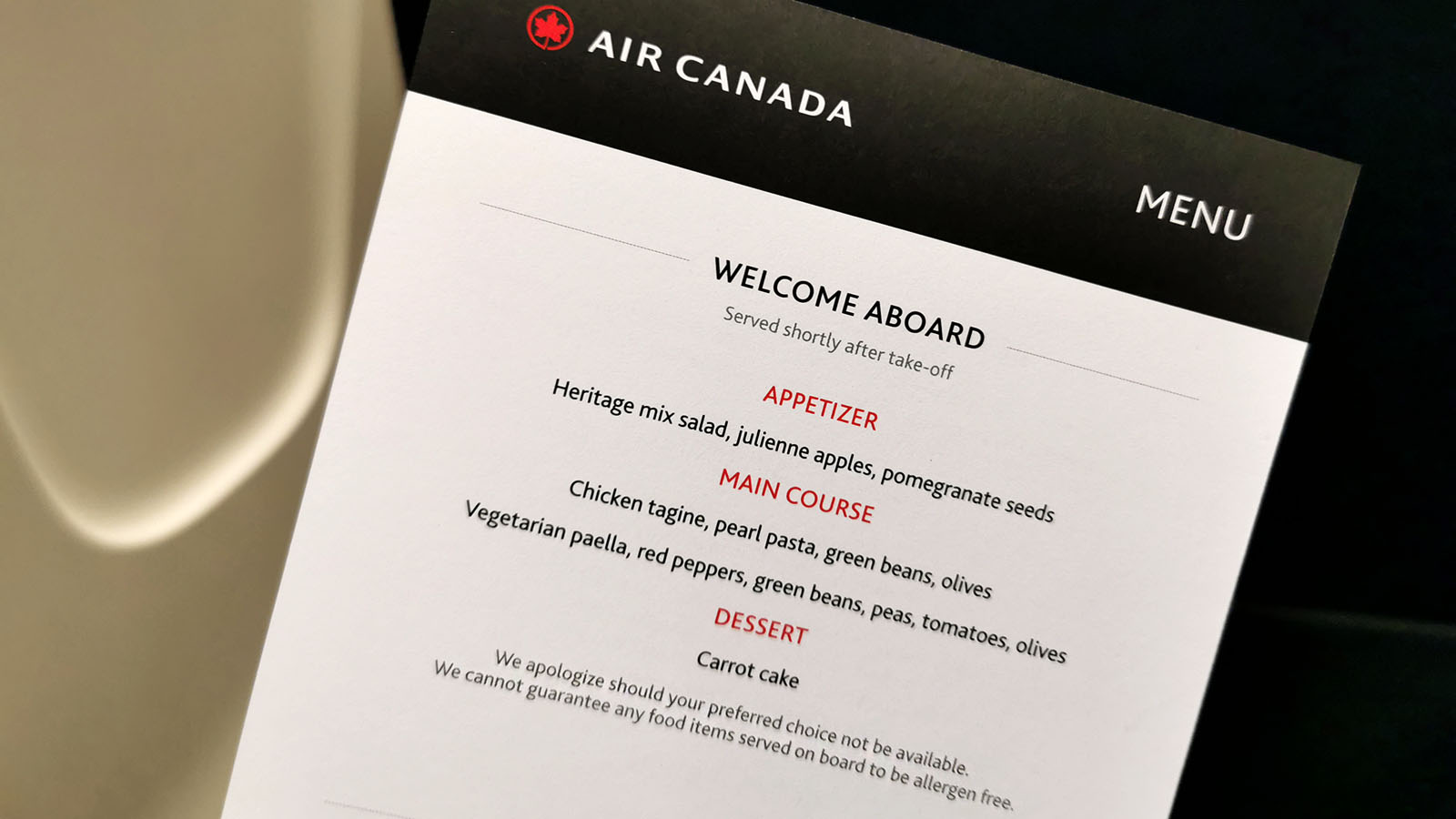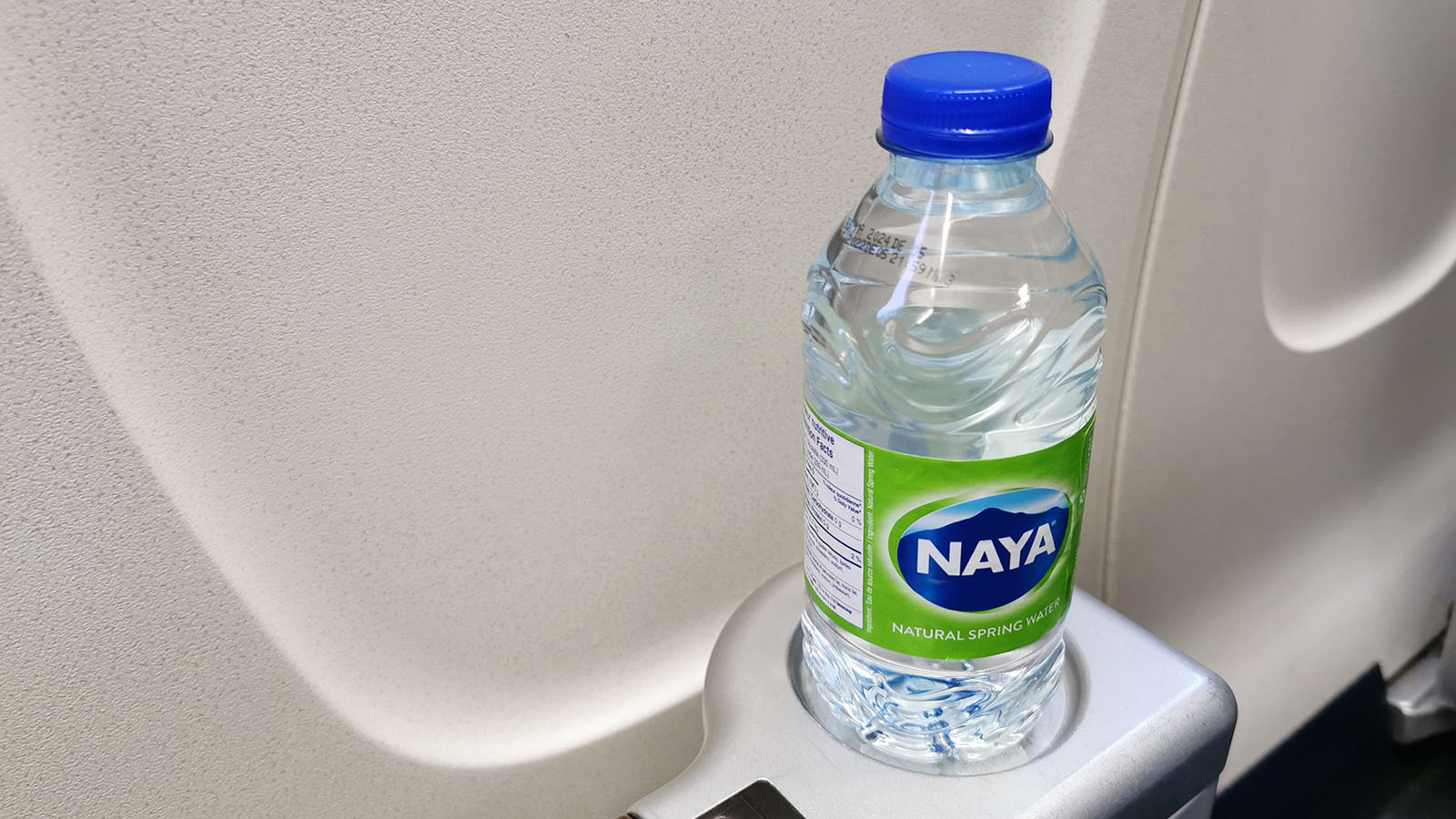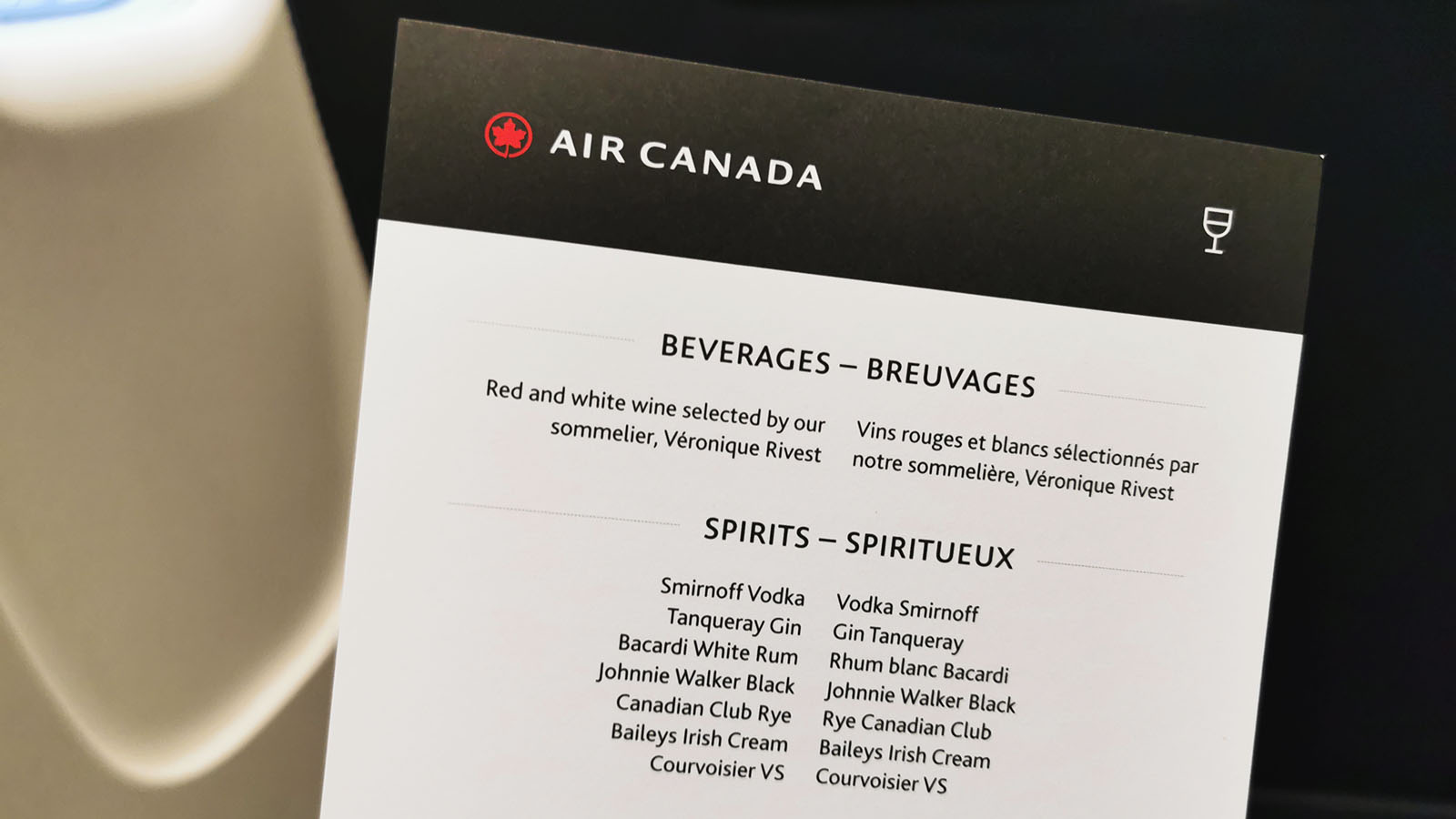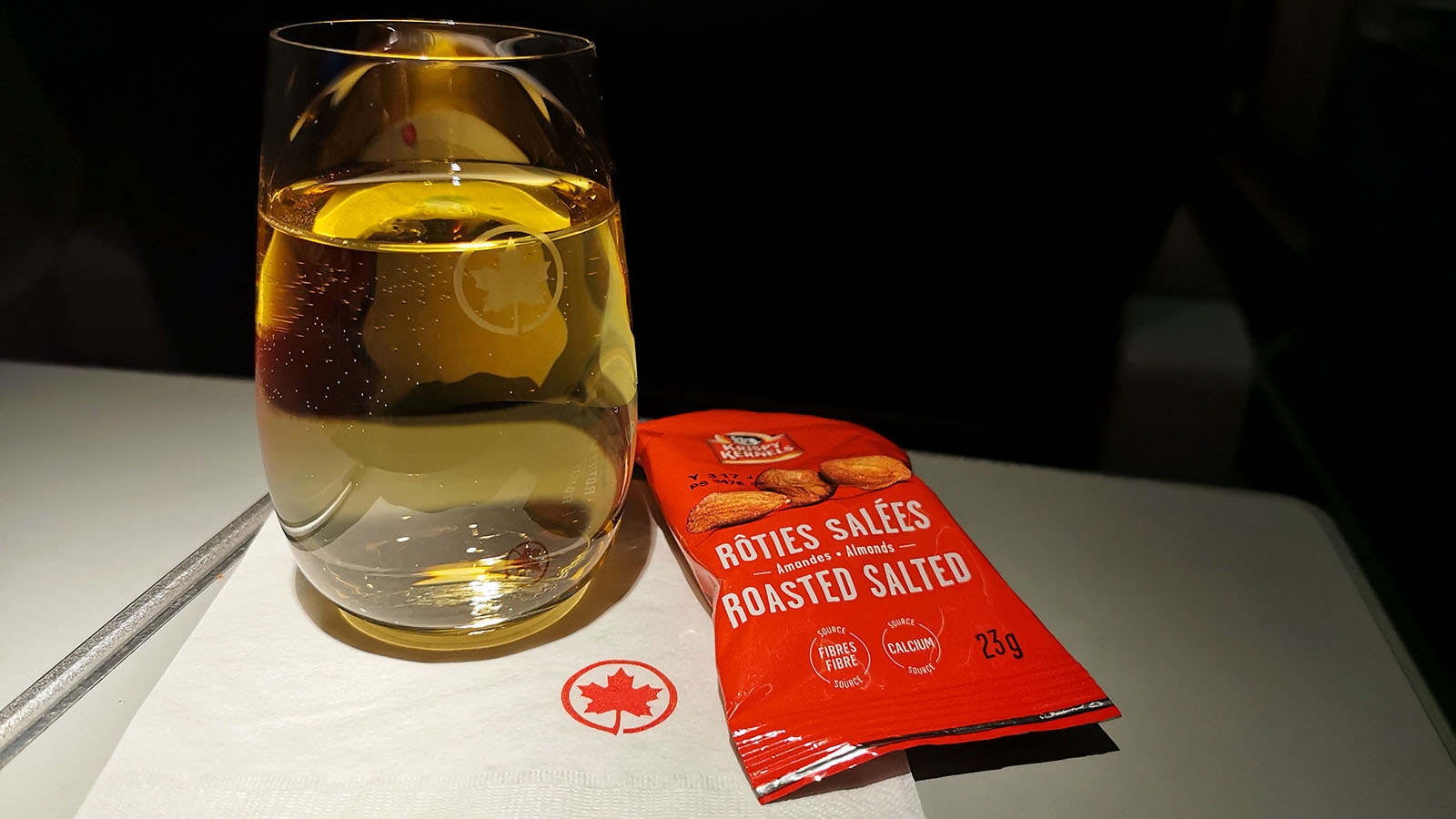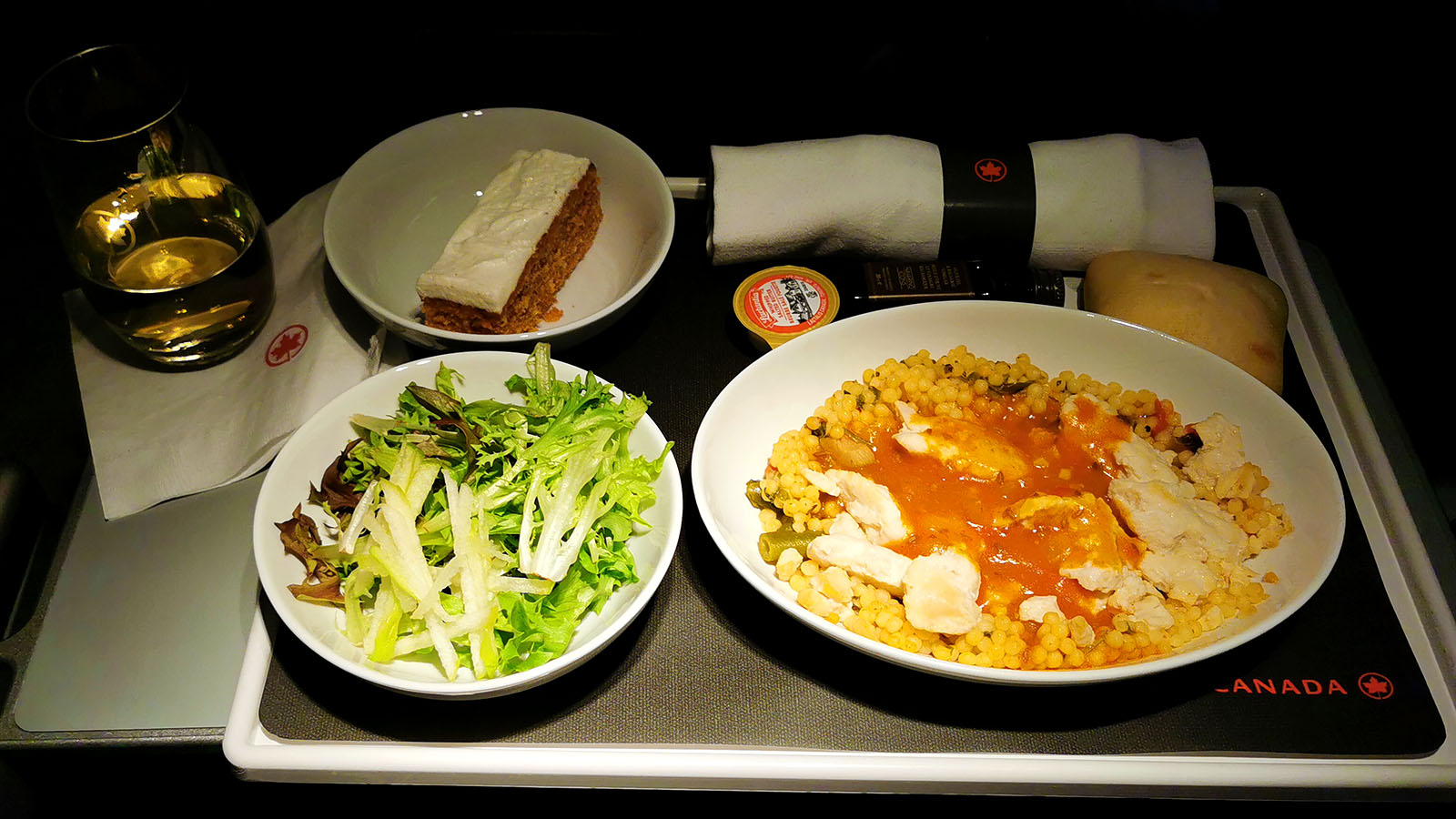 The crew seem surprised that I'd decline a third glass on a mere two-hour hop. After all, this is an international flight – and a Friday night – but I have another 15 hours of Business Class to enjoy onwards to Australia. I'm really not left wanting.
Back to this flight, and it's nice having some nibbles to snack on while the meals are being prepared. With a choice then between chicken tagine and vegetarian paella for the main, I go for the former. It's tasty, filling, and comes with a light lettuce mix on the side with a balsamic vinaigrette dressing.
Dinner is also served with a warmed bread roll to start and a delicious carrot cake to finish up. For a two-hour flight, I'm more than content.
Air Canada Express Bombardier CRJ900 Business Class service and entertainment
These days, I'm accustomed to bringing my own content to enjoy on shorter flights: never expecting there'll be a TV. But on Air Canada's CRJ900 planes, Business Class guests – and those in Economy too – have seatback screens.
The software is a little slow and clunky, but it still works well enough. The moving map helps me keep tabs on the journey. And when it's time to settle back, I do what I often do on planes when I'm a bit tired – choose a movie I've seen before. Today, it's a classic: I Am Sam. I don't quite get to the credits before touchdown, so I catch the end of the film on my connecting flight.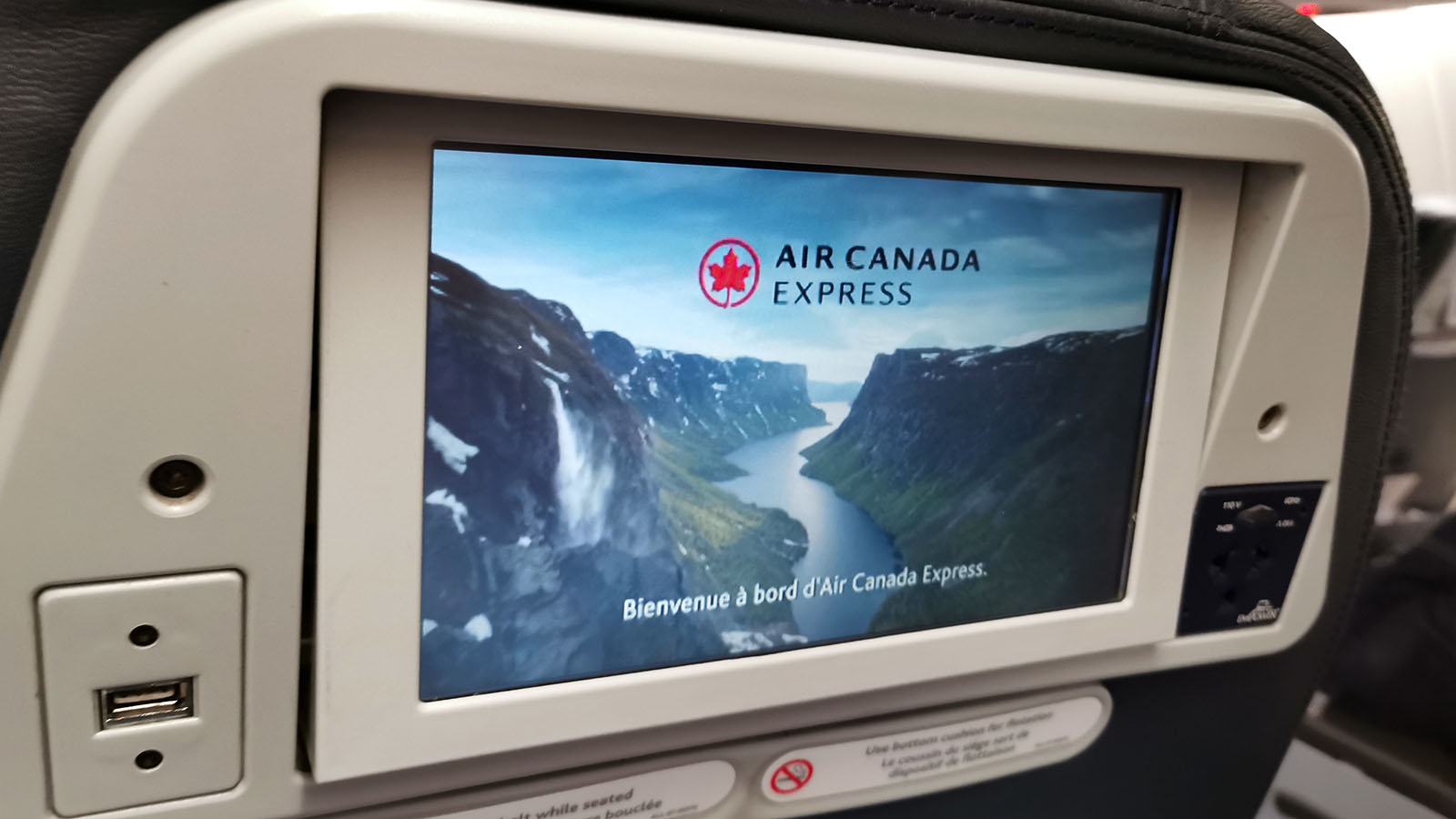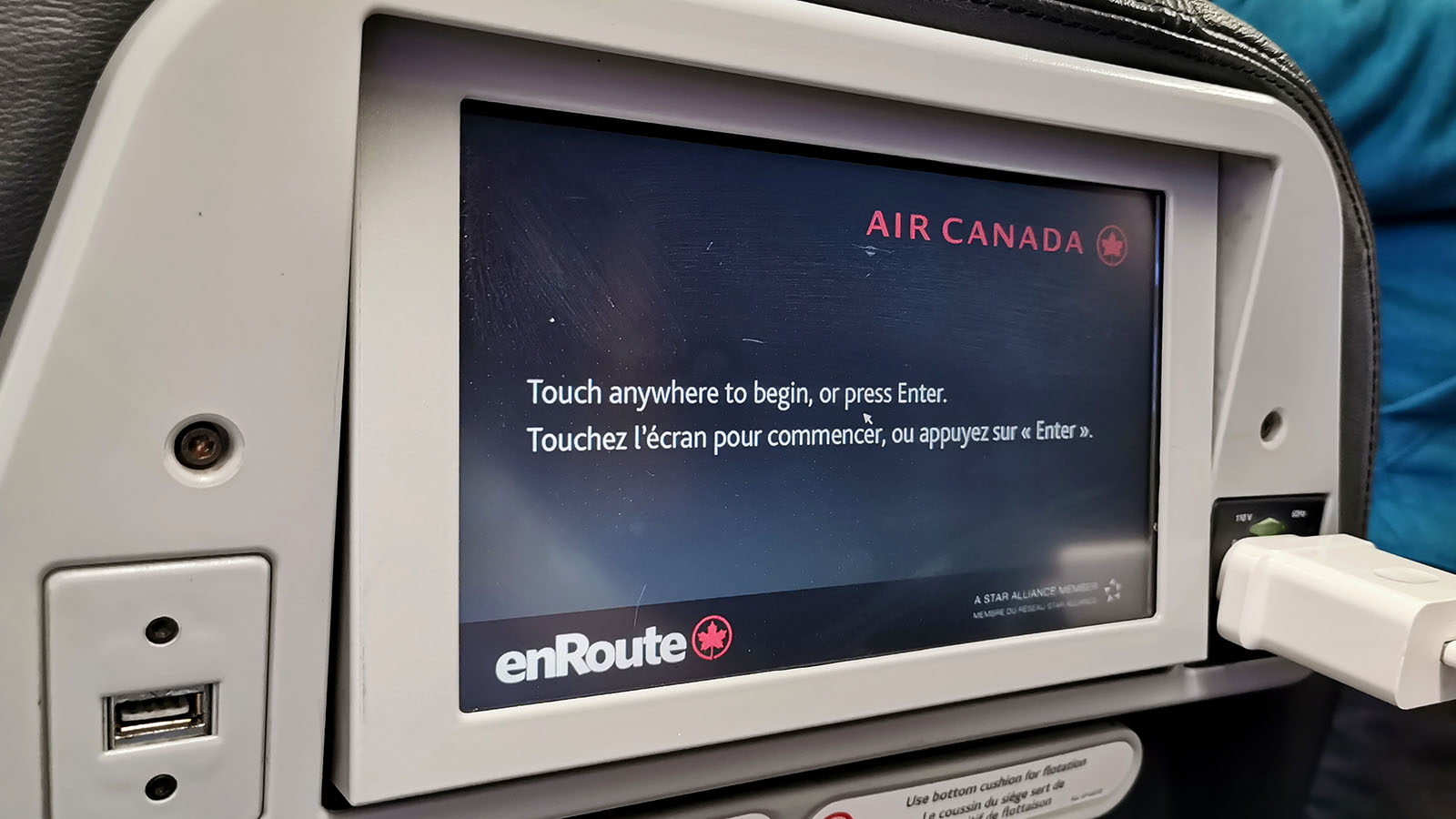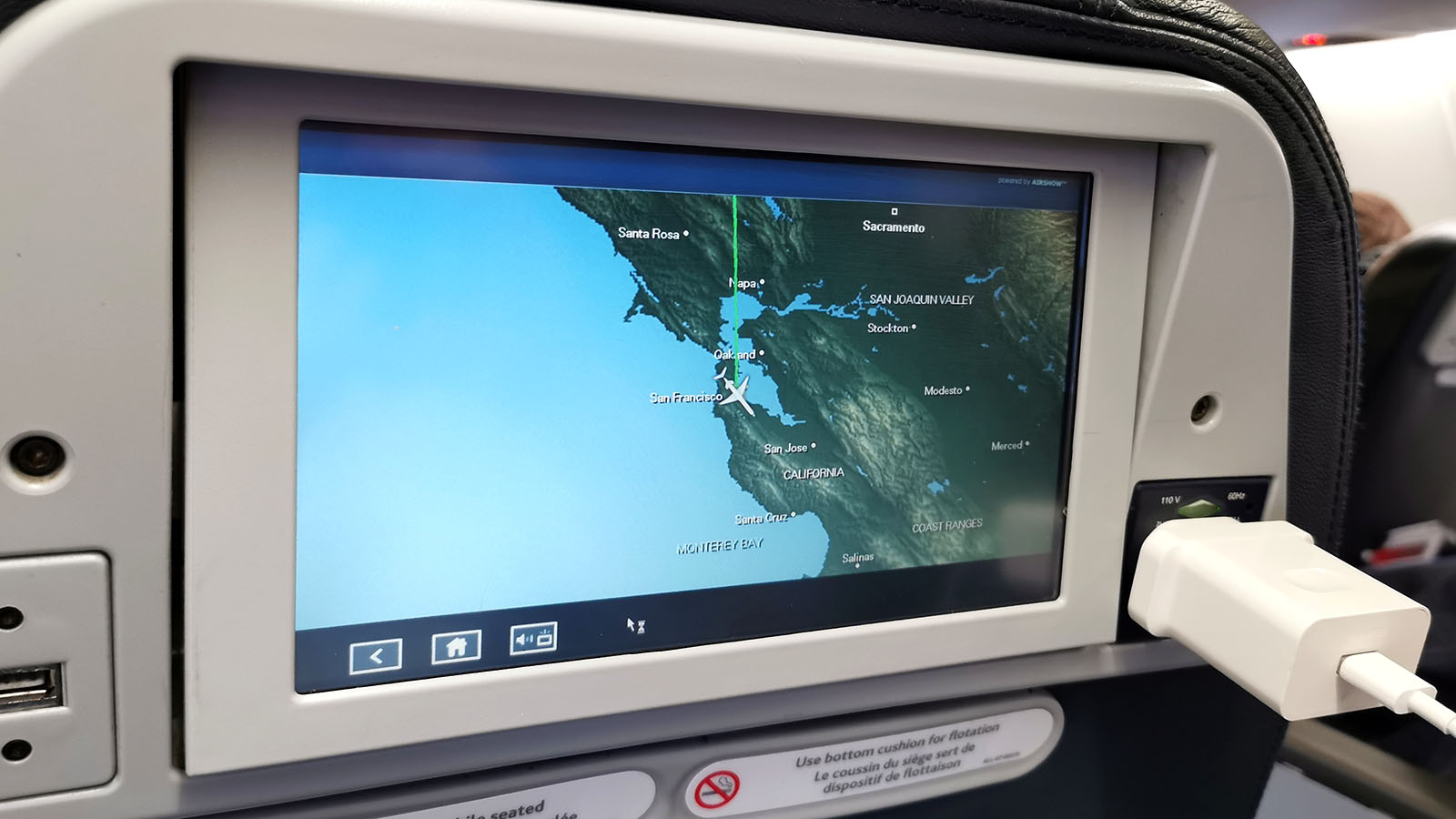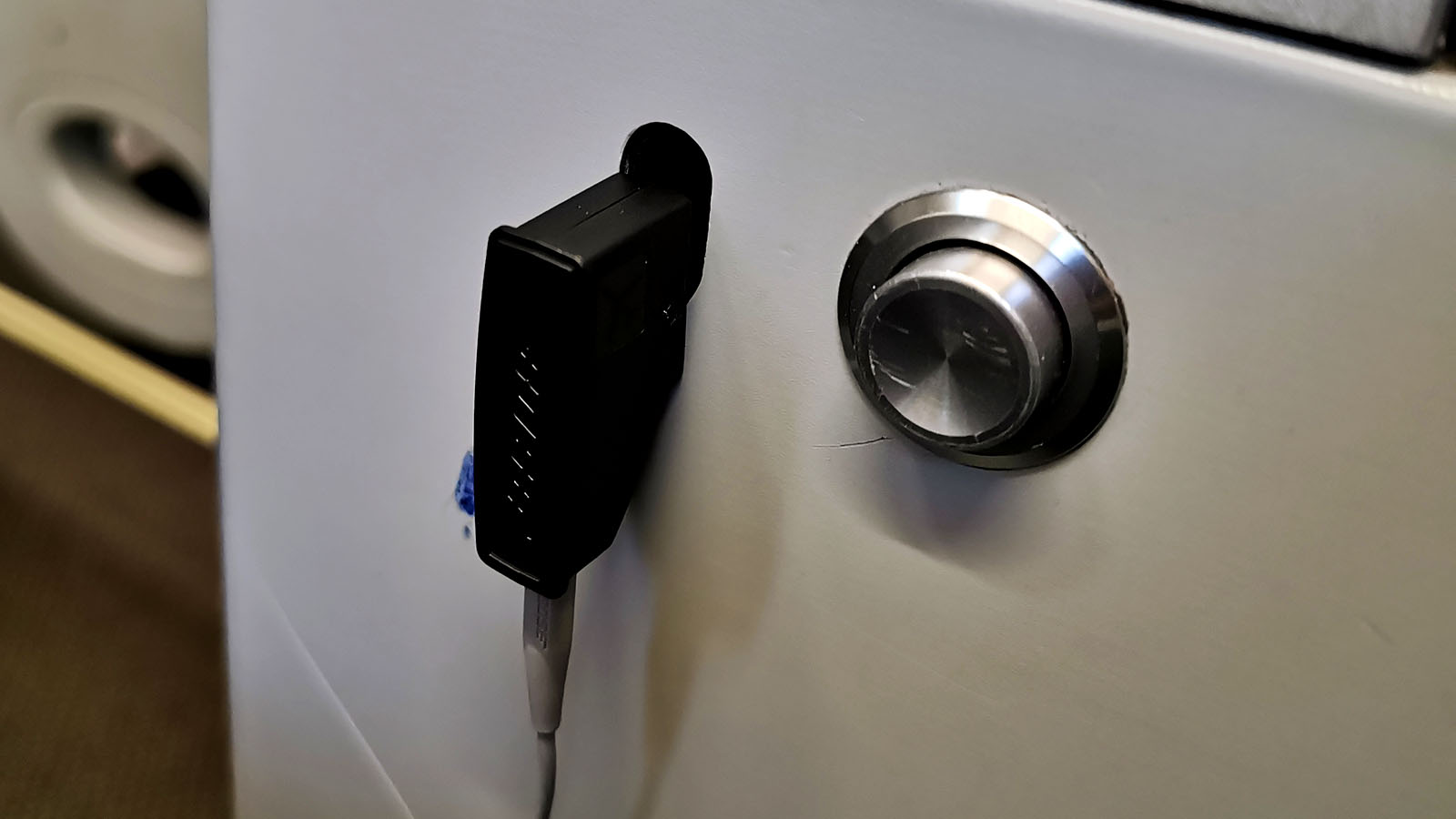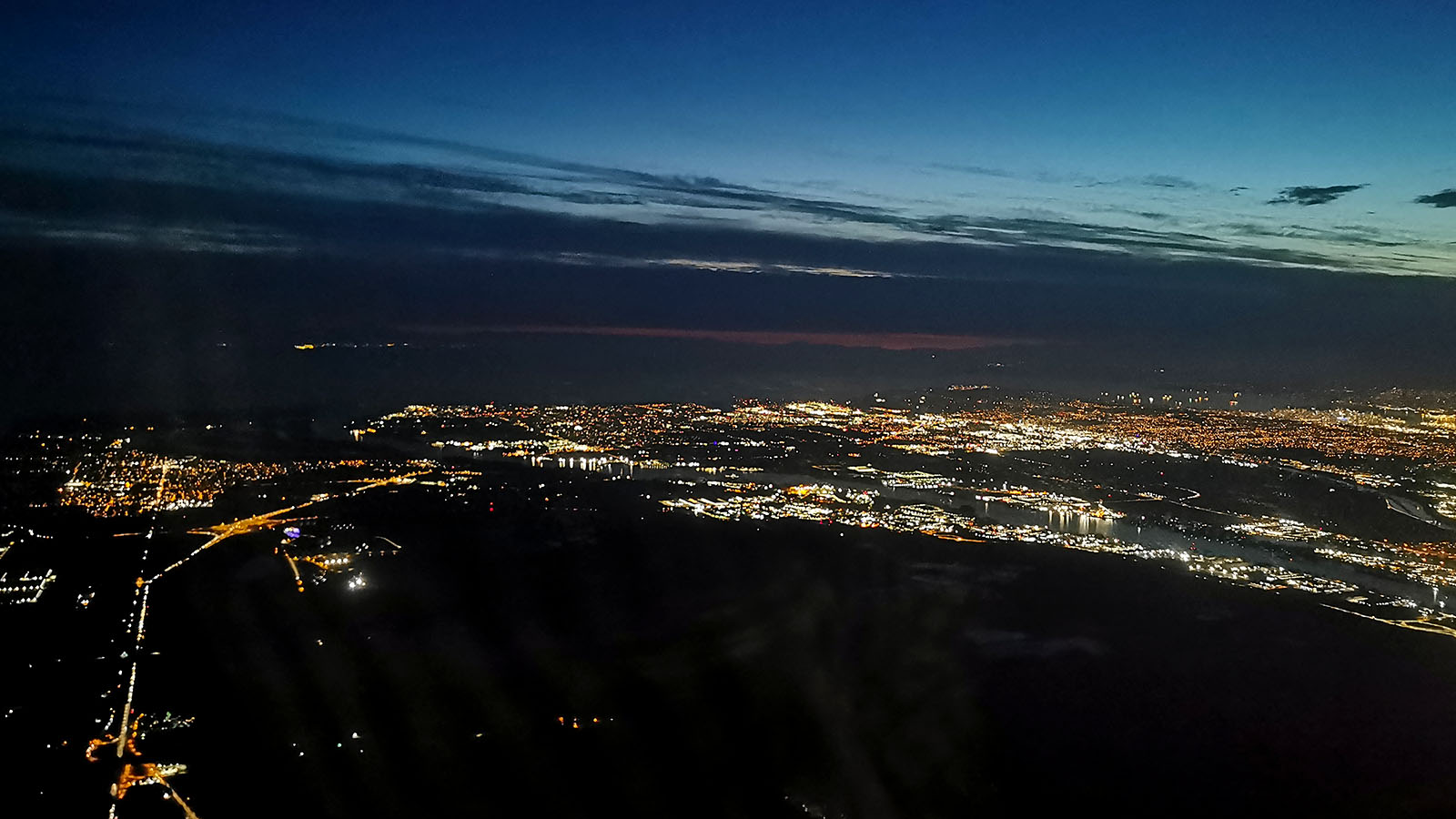 Basic headphones are available, although I always pack my own primo noise-cancelling pair. The headphone socket resides next to the recline button – ever so slightly reducing your available space, but not by much. That's one way of keeping the cable out of your meal, though.
I'm pleased to find Wi-Fi available too. A flight pass costs CA$11.75 (around AU$13.30) for unlimited time and data. The connection works well – and with a few days off to rest and recover after this trip, it's handy being able to tackle a stack of final emails during what'd otherwise be 'dead time'.
On the service front, I can't fault the crew. And for that matter, I'm quite impressed by their ability to effortlessly toggle back and forward between English and French. I really must brush up on my rusty Français…
The verdict
I've had many pleasant travel experiences with Air Canada before. But even so, I really wasn't expecting much of a two-hour flight on a regional 'Air Canada Express' jet. In fact, I flew from Toronto to New York earlier this year in Delta First Class – and even that only finds a drink and a packaged snack onboard.
Yet as it happens, this Air Canada jaunt ends up being one of the best short-haul flights I've ever taken within North America. And I smile even more, knowing that this leg is essentially 'free' thanks to Velocity Points. That's because it costs the same number of points to fly San Francisco-Vancouver-Brisbane as Vancouver-Brisbane alone. Two very comfortable Business Class flights for the points price of one. Happy days.
At the time of my trip, I'd say the lounge situation in San Francisco could be better. None of the United Club lounges have showers here – and you can't use United's San Francisco Polaris Lounge on this itinerary. That's where the Amex Centurion Lounge comes in handy, for those eligible.
But with Air Canada's new Maple Leaf Lounge now open at SFO, pre-flight showers are easy: and particularly helpful if you'll be making a tight connection onwards from Vancouver. I certainly look forward to my next visit to or through San Francisco. The outdoor terrace in the Maple Leaf Lounge sure seems eye-catching…
Also read: Travel hack – transit Vancouver when flying to or from the USA
Feature image courtesy of Air Canada. Other photography by Chris Chamberlin, who travelled using Velocity Points.
---
Stay up to date with the latest news, reviews and guides by subscribing to Point Hacks' email newsletter.
Air Canada Express Bombardier CRJ900 Business Class (San Francisco – Vancouver)
was last modified:
September 2nd, 2023
by