Update: all Polaris Lounges will close effective 18 March 2020 due to COVID-19.
Since December 2016, United Airlines has been significantly upgrading its lounge offerings for passengers departing on long-haul international flights in Business and First Class.
United Polaris Lounge locations
You can find these swanky lounges now open in the following United hubs:
Chicago (first to open)
Houston
Los Angeles
Newark
San Francisco
The following airports will get upgraded facilities moving into the early 2020s:
Hong Kong (already has fantastic United Club)
London Heathrow (already has fantastic United Club)
Tokyo Narita
Washington DC
(Denver is also a United hub, but the only intercontinental United flights are to Frankfurt, London and Tokyo, so that must not warrant a full-blown Polaris Lounge.)
You can track the progress of the lounge upgrades here.
I visited this lounge in mid-June 2019 prior to my TAP Portugal Business Class flight to Lisbon.
United Polaris Lounge San Francisco details & location
This lounge is located immediately to the right after security in SFO's international terminal. It's very conveniently located and should take you less than 30 seconds to walk there.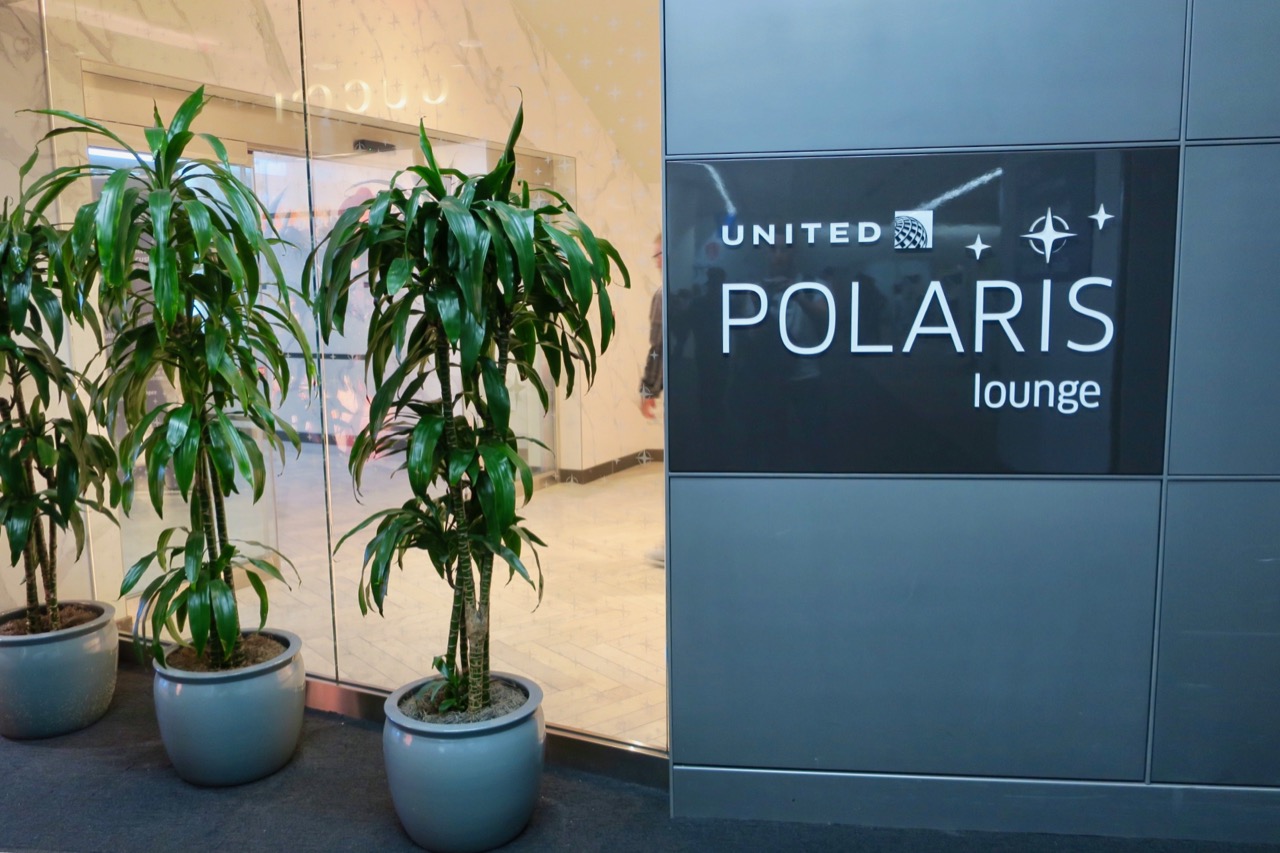 The lounge is open from 6:30am until 1am, seven days a week.
United Polaris Lounge San Francisco Lounge seating & layout
During my two-hour visit, it took me a while to grasp just how expansive this lounge is. This two-minute official video from United gives a good overview of the space via a virtual tour:
First, you'll check-in downstairs, then I suggest making your way upstairs via the escalator, stairs or elevator.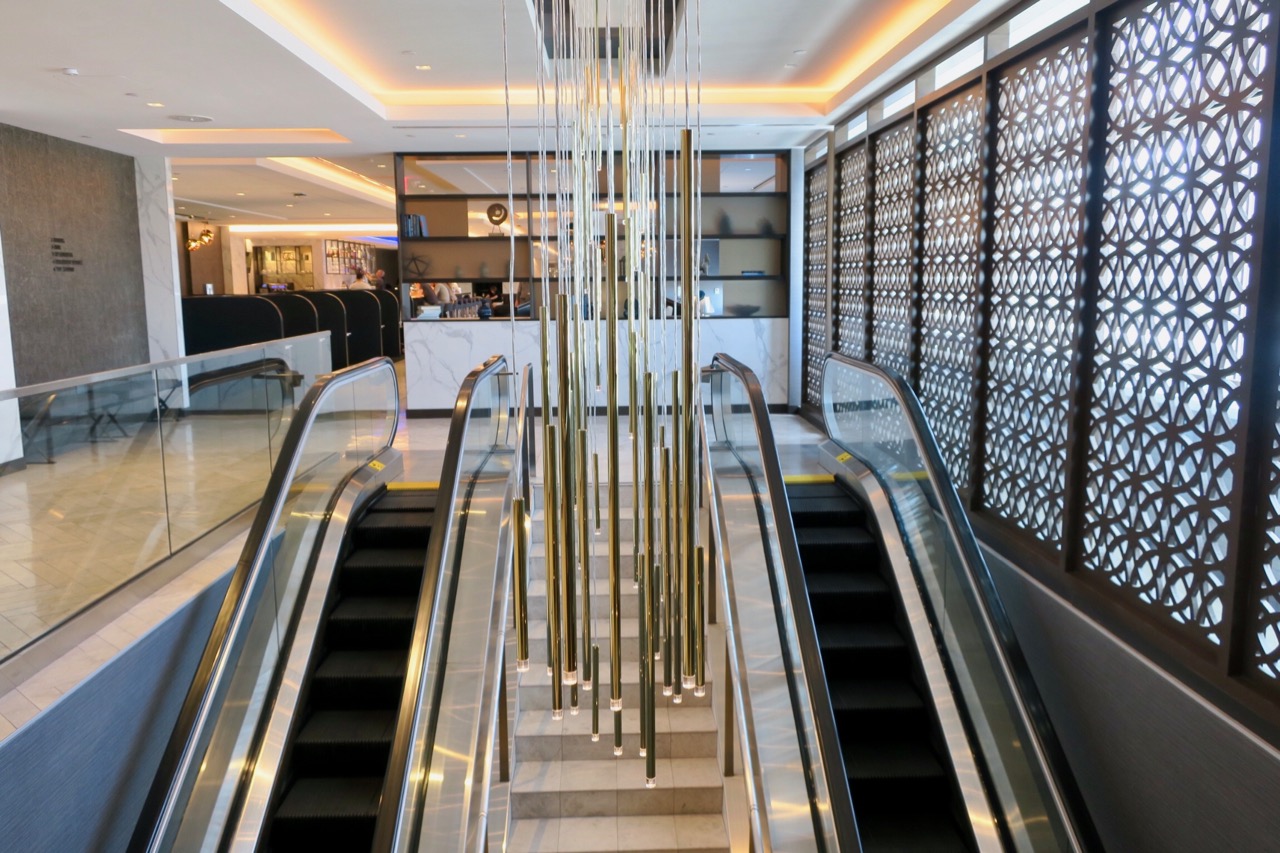 Eating & drinking upstairs
If you're hungry or thirsty, turn right first. This half of the upstairs section houses a lounge area, which has individual pods as well as seating for couples and groups.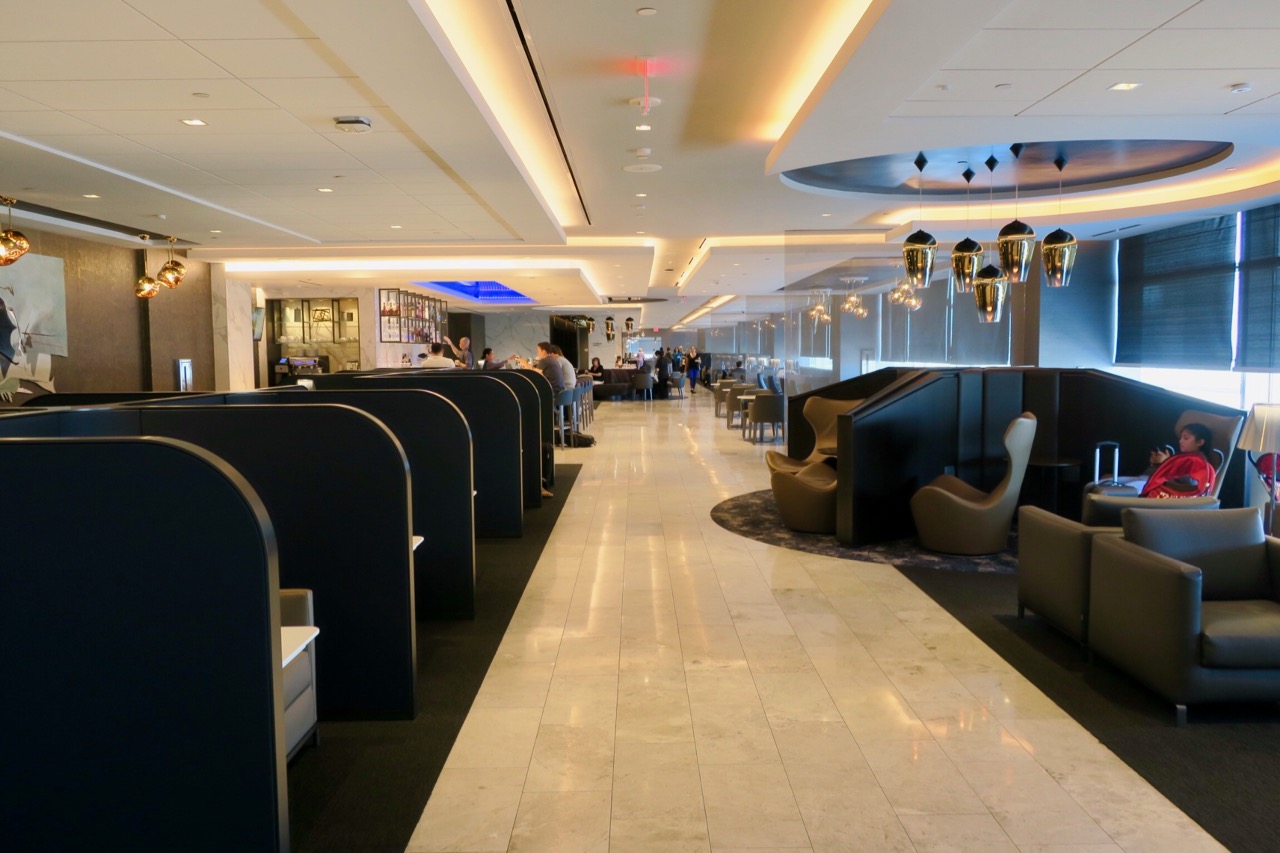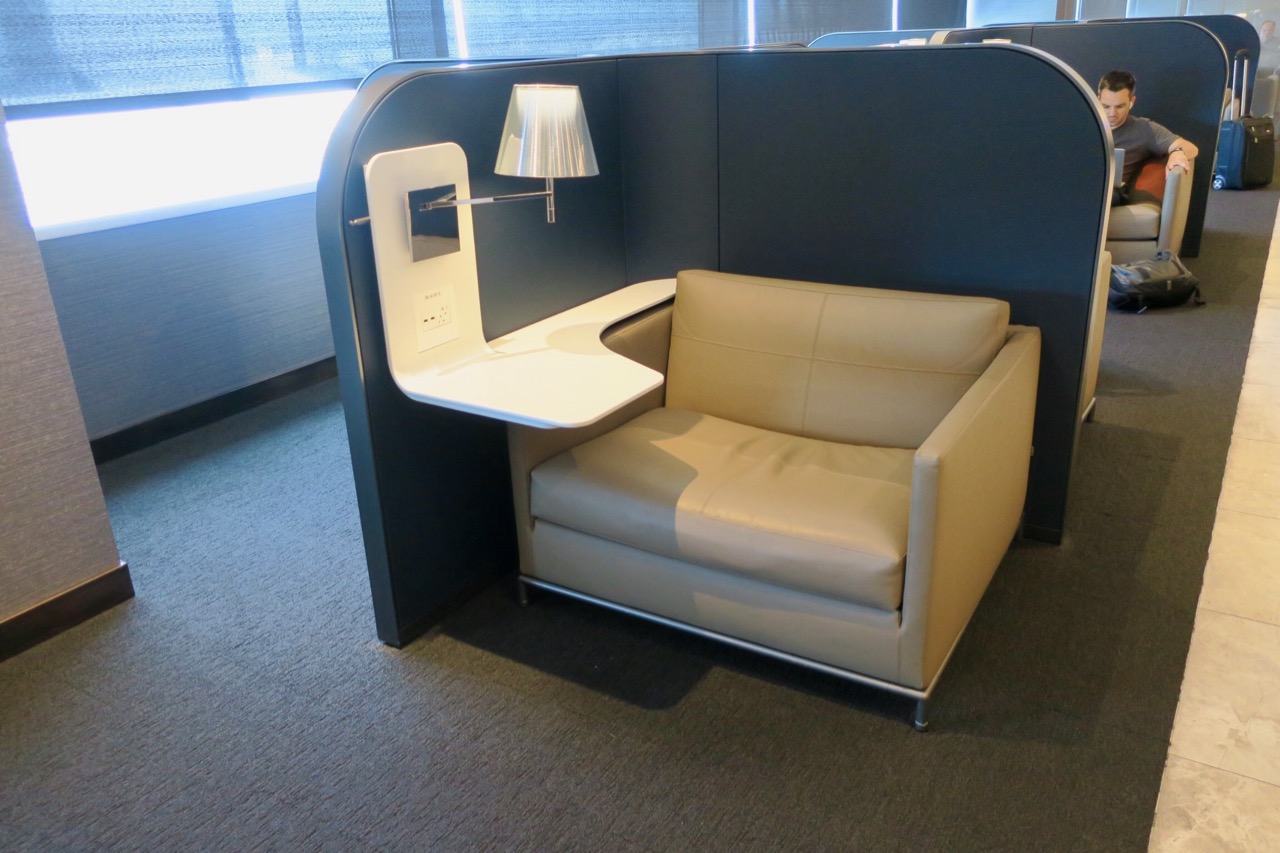 Next is a fully-stocked bar: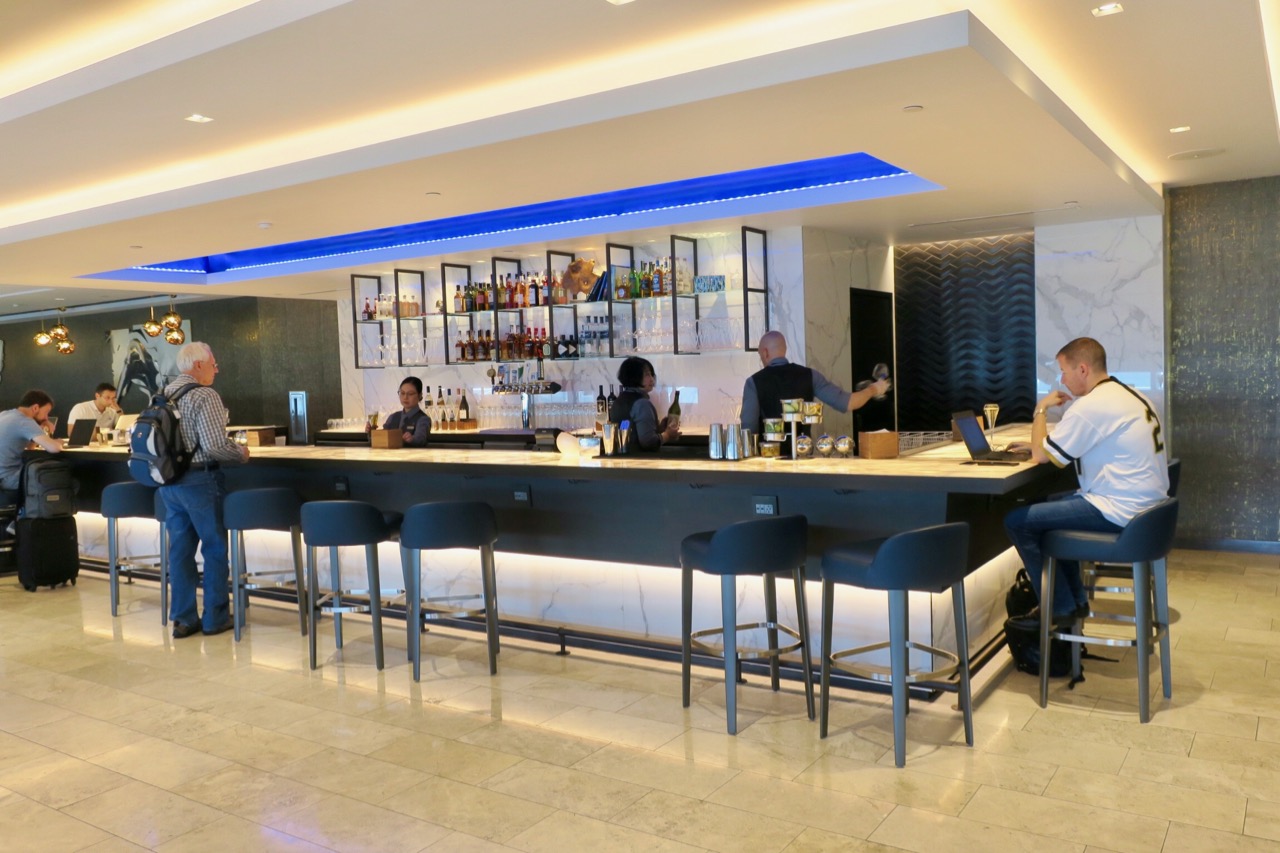 followed by more lounge seating.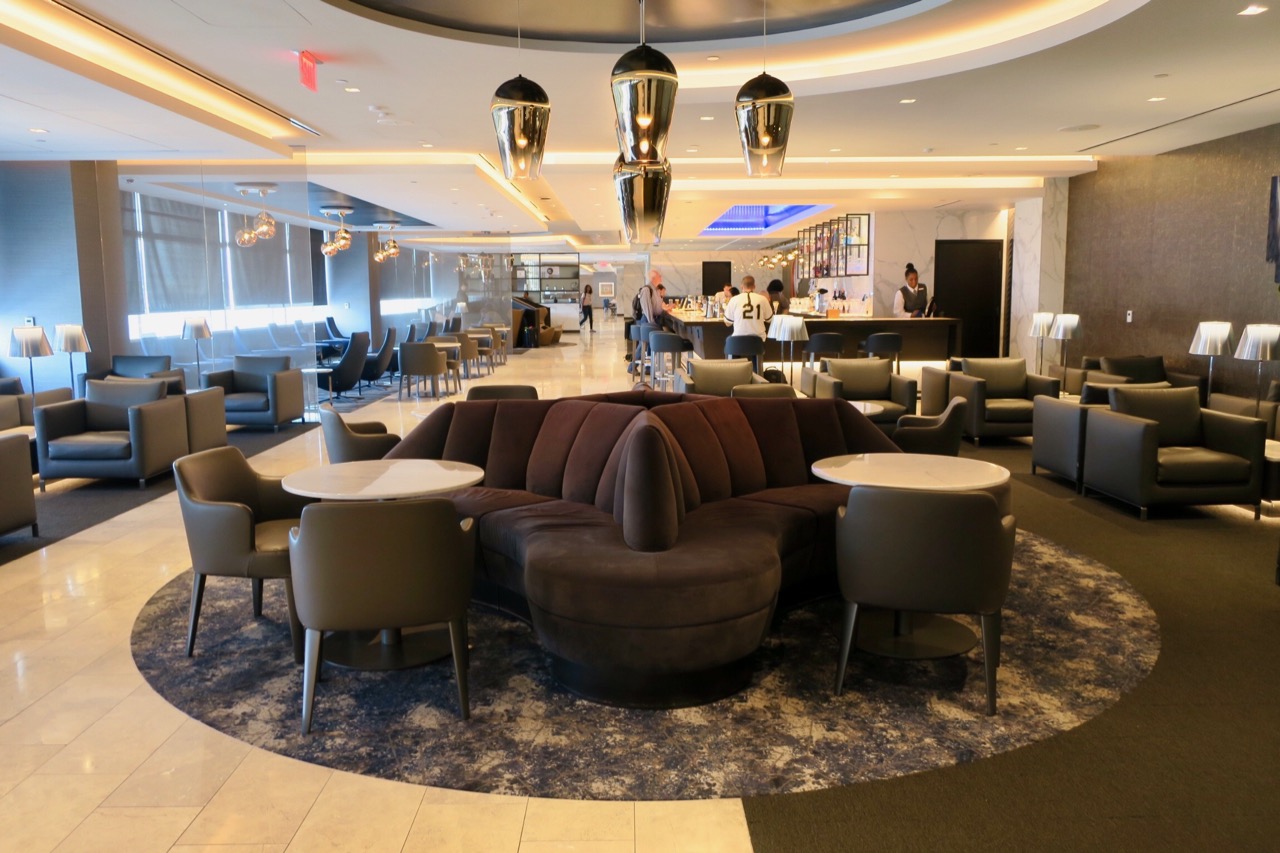 Skip the hot buffet if you can—there's a better option later on.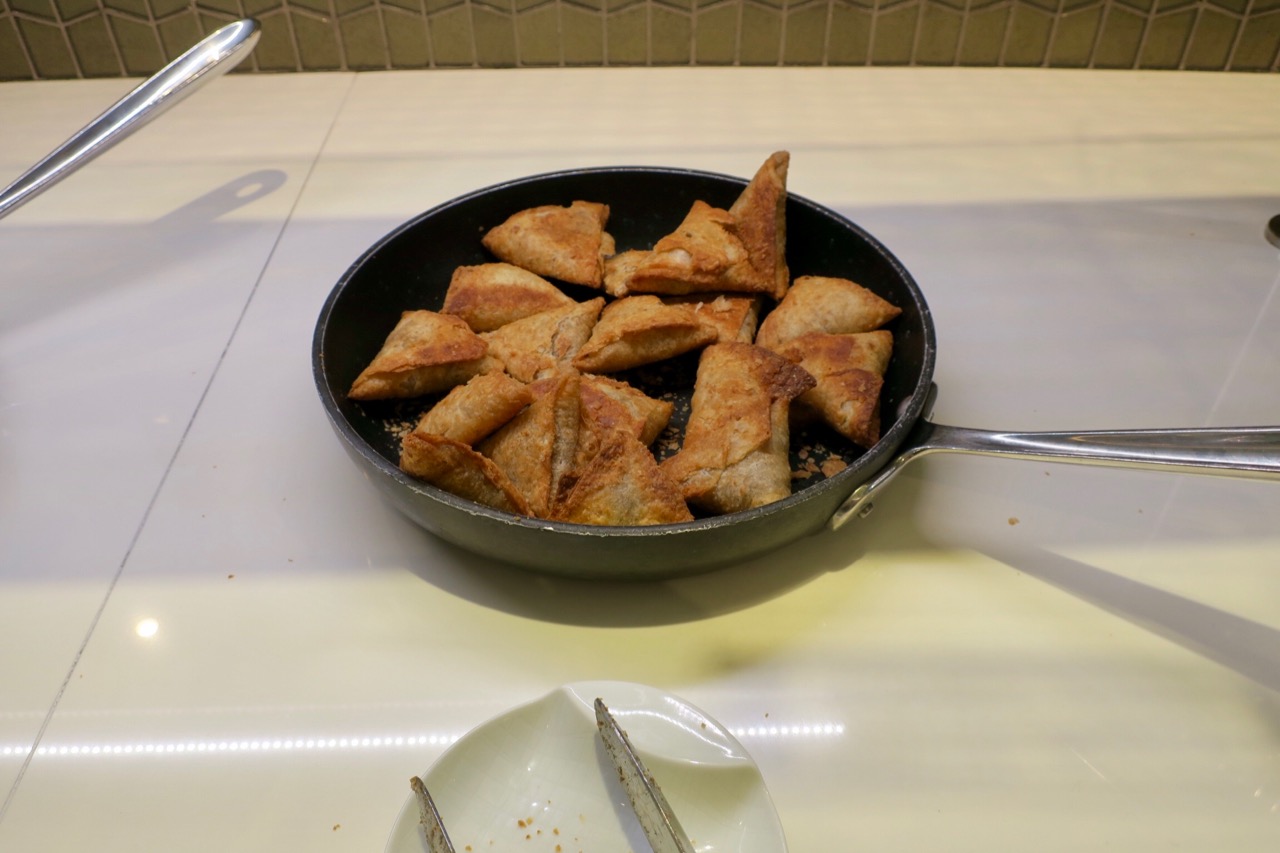 However, the cold buffet looks very appealing.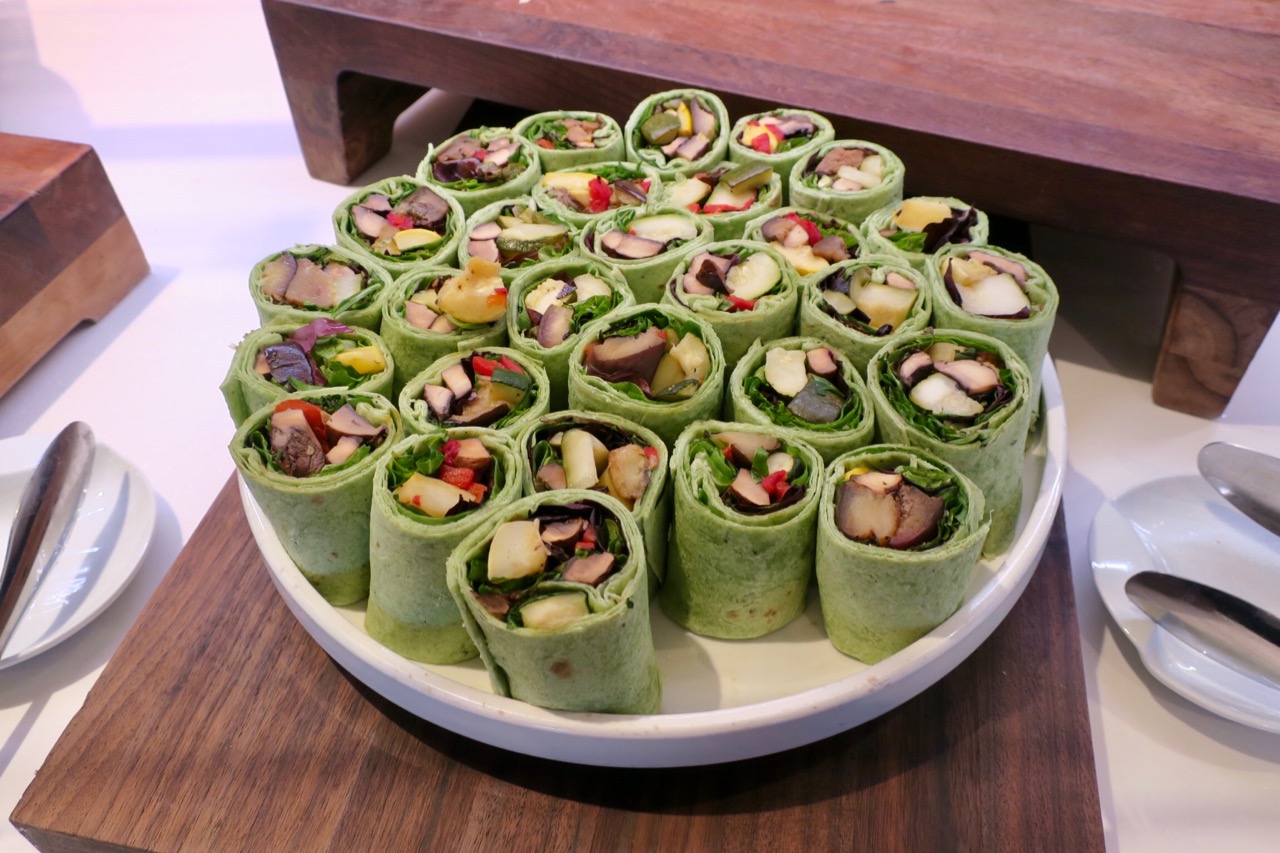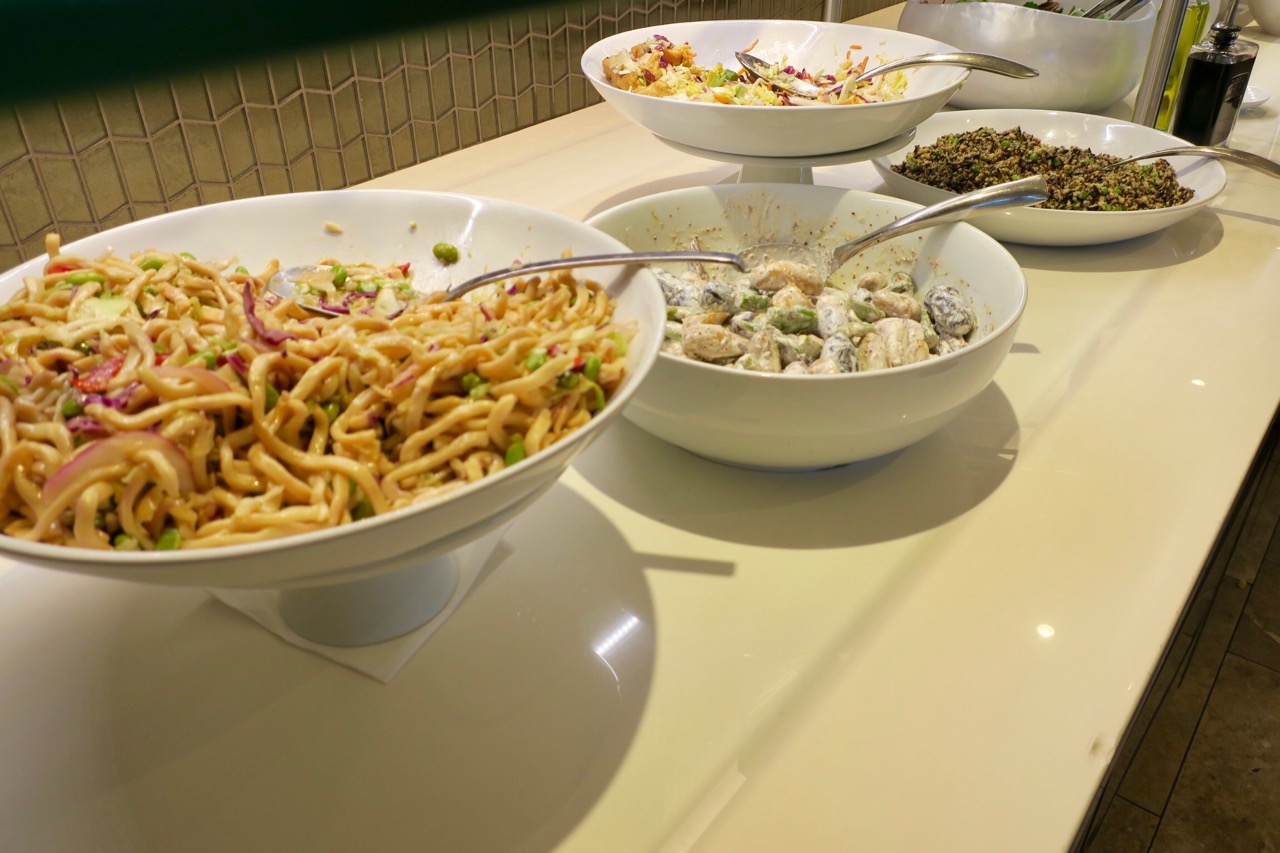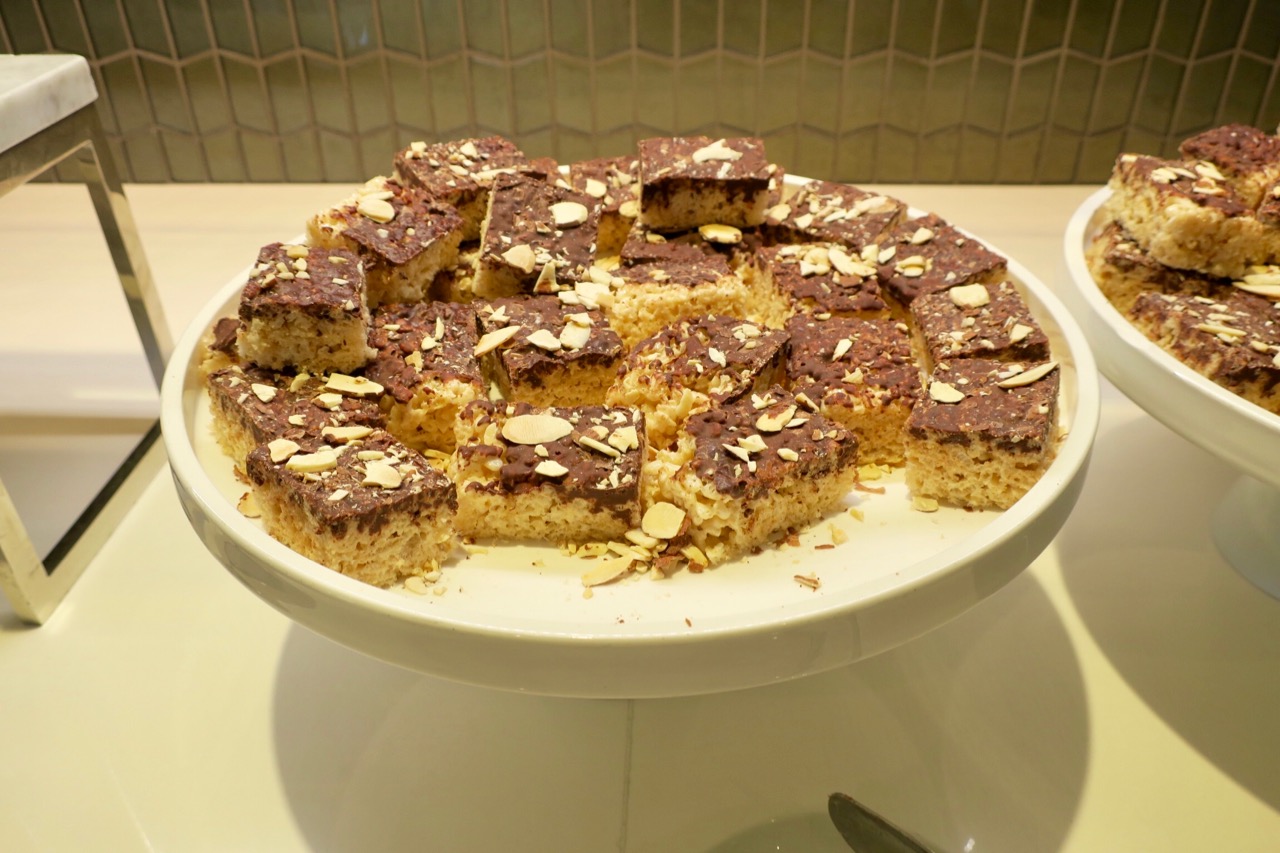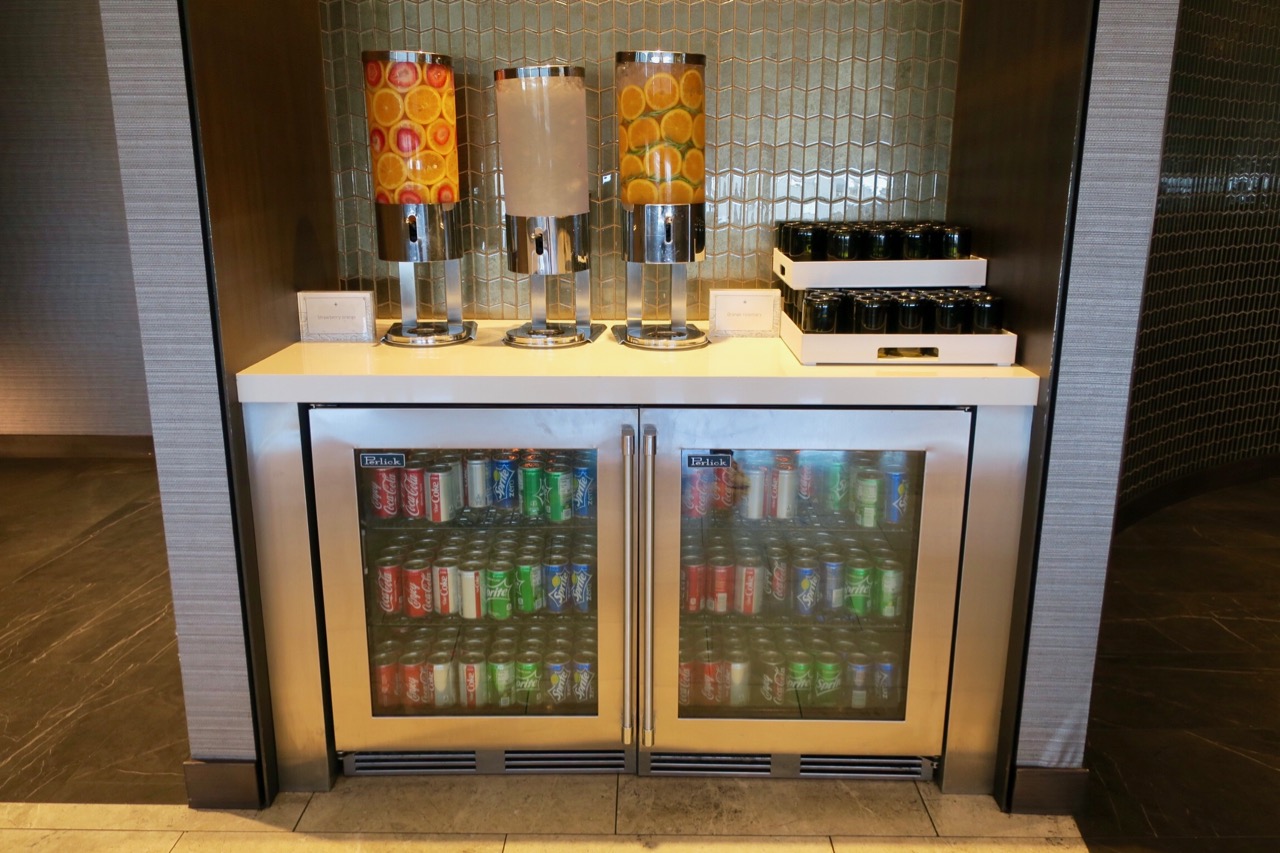 If you have at least an hour in the lounge and are peckish, make your way to the dining room, located at the far-right end of the upstairs level.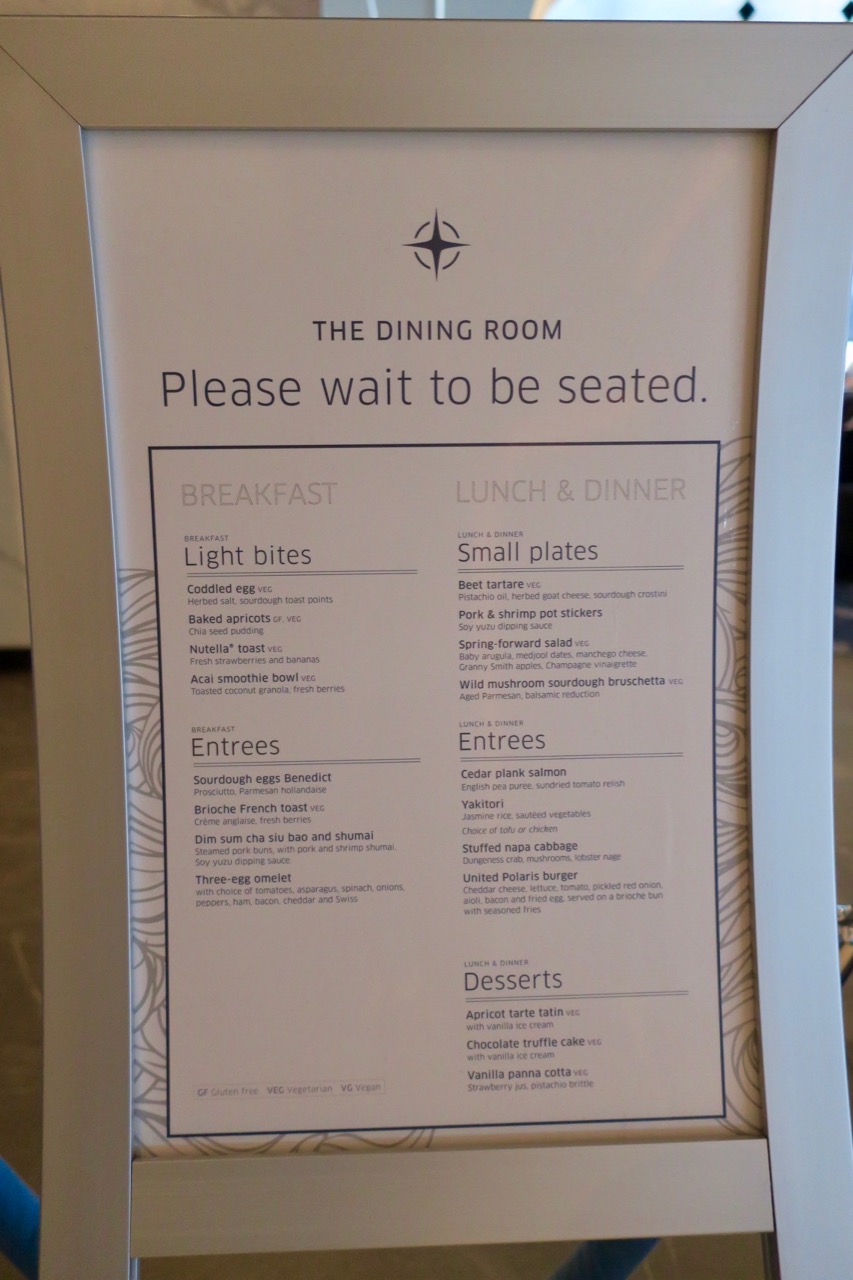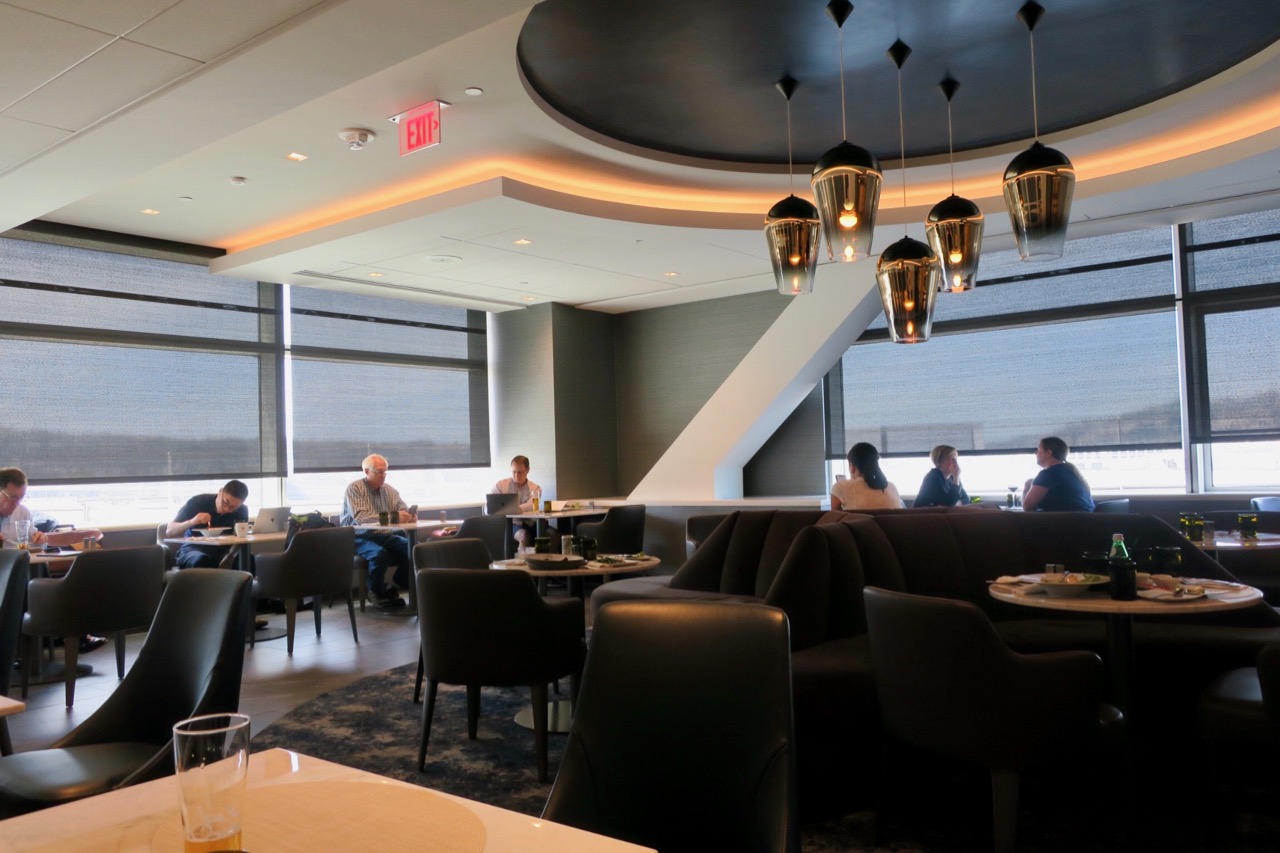 Here, you'll be seated by a server and order à la carte. I found the three dishes I tried—mushroom bruschetta, a green salad and salmon on some kind of purée—to be divine. All food was served within 20 minutes of ordering, which is great.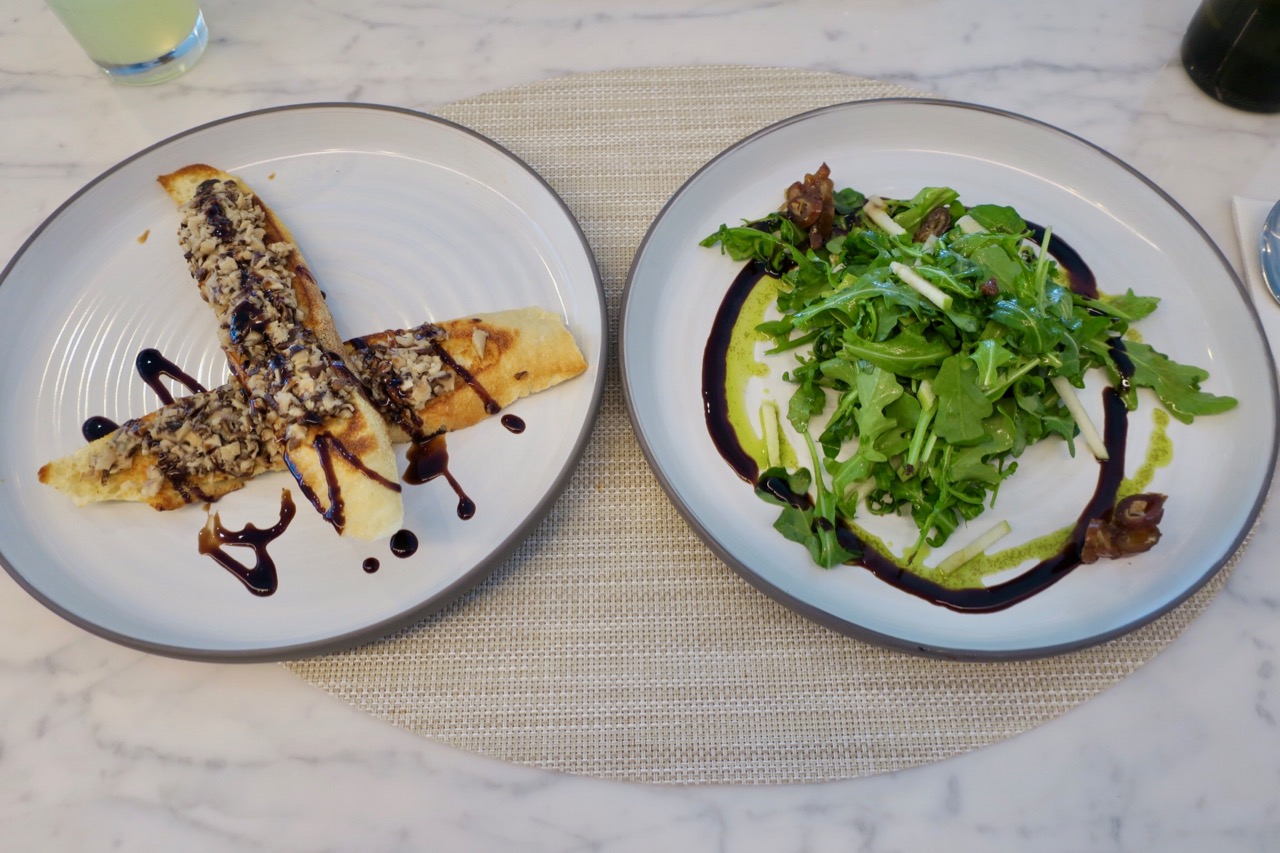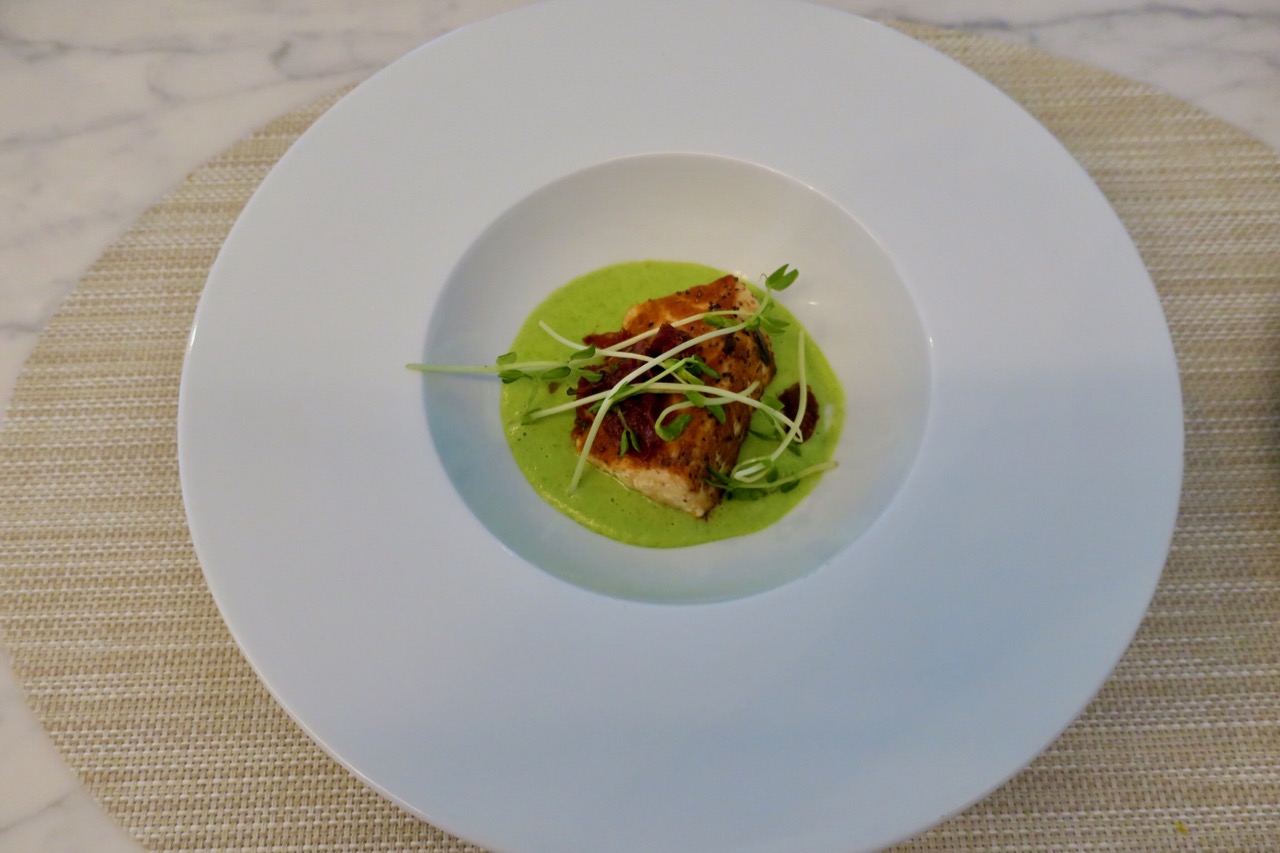 However, if I were to make two suggestions on the menu, they would be to reduce the size of the huge serving of bruschetta and increase the size of the salmon dish, which is not big enough for a main.
You'll also find a drinks menu, with signature cocktails and mocktails, as well as beer and wine.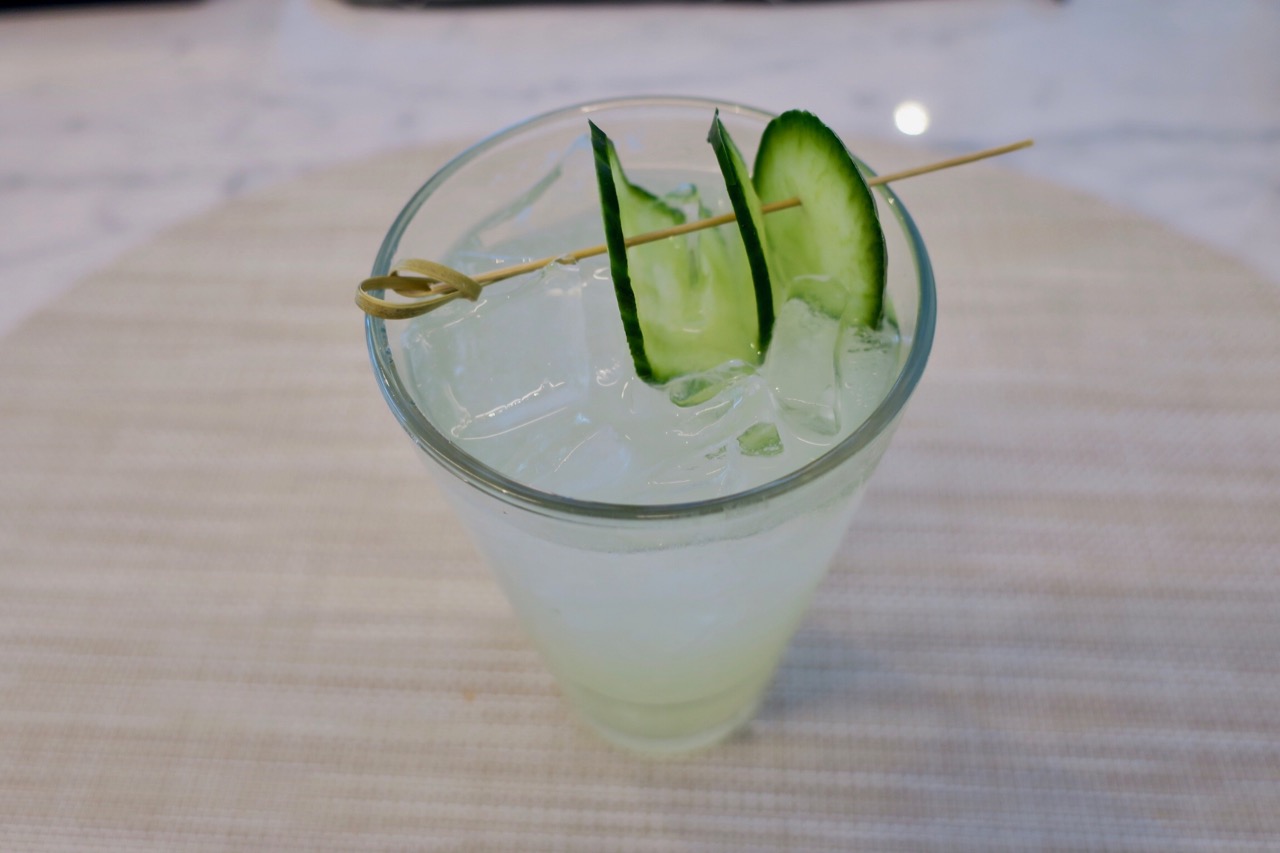 Relaxing upstairs
If you are looking for some peace and quiet, turning left when reaching the top level is a good choice. Again, you'll find a lot of different seating options, but far fewer people.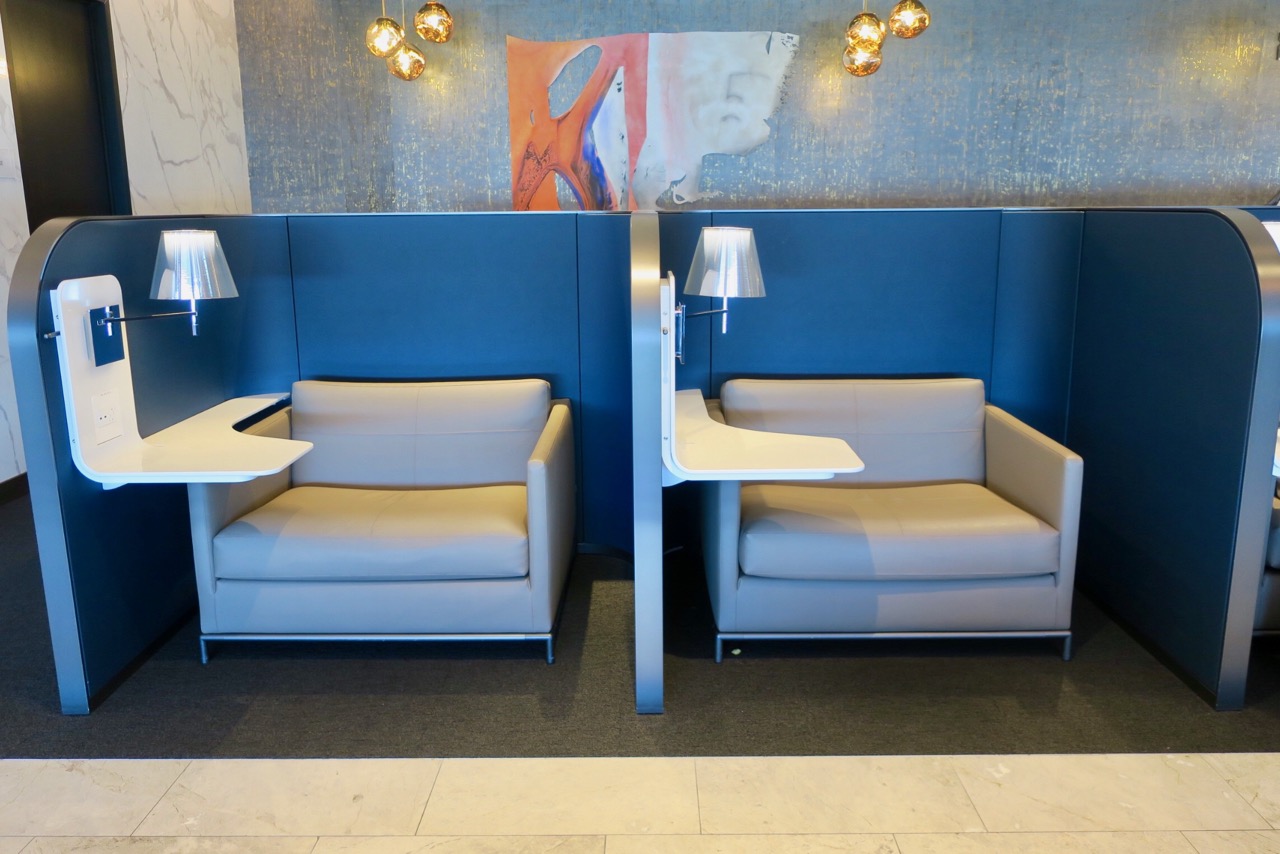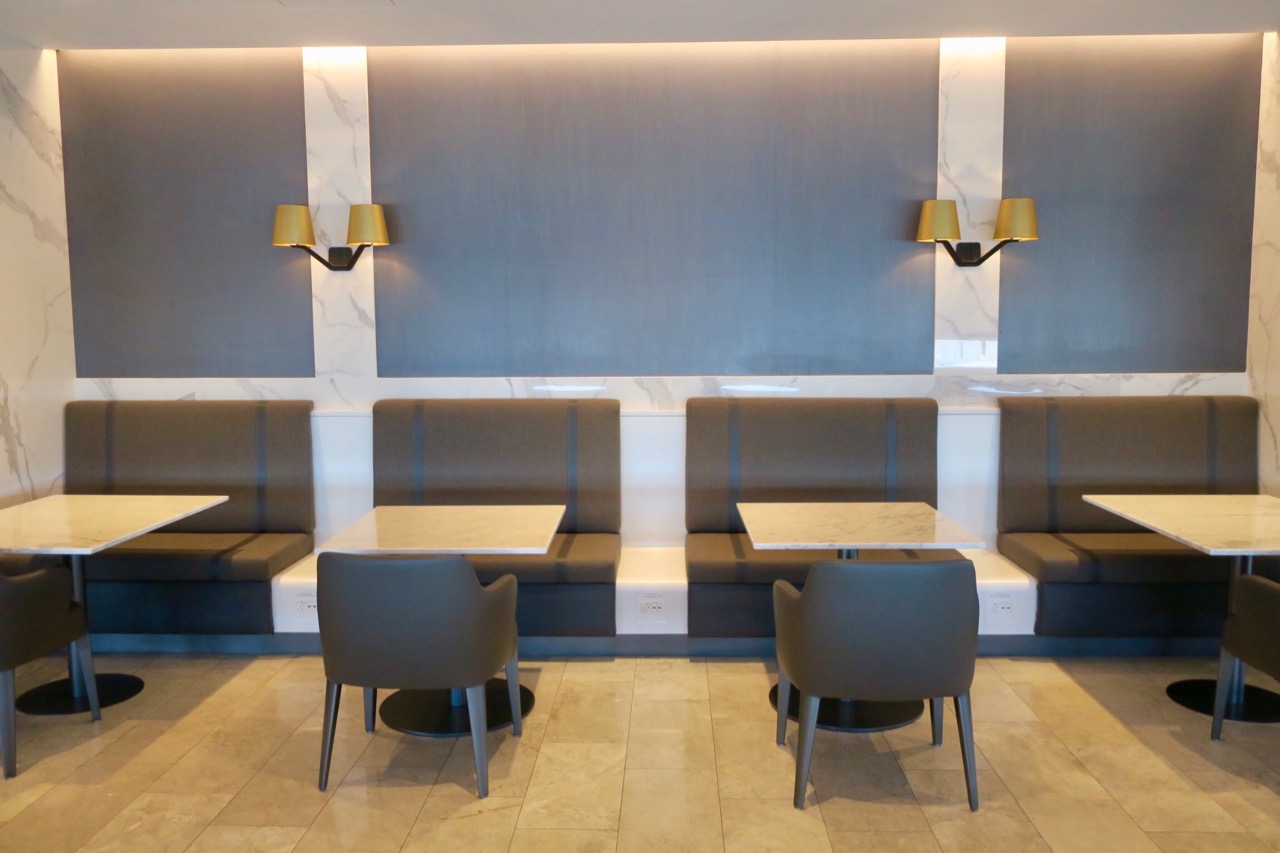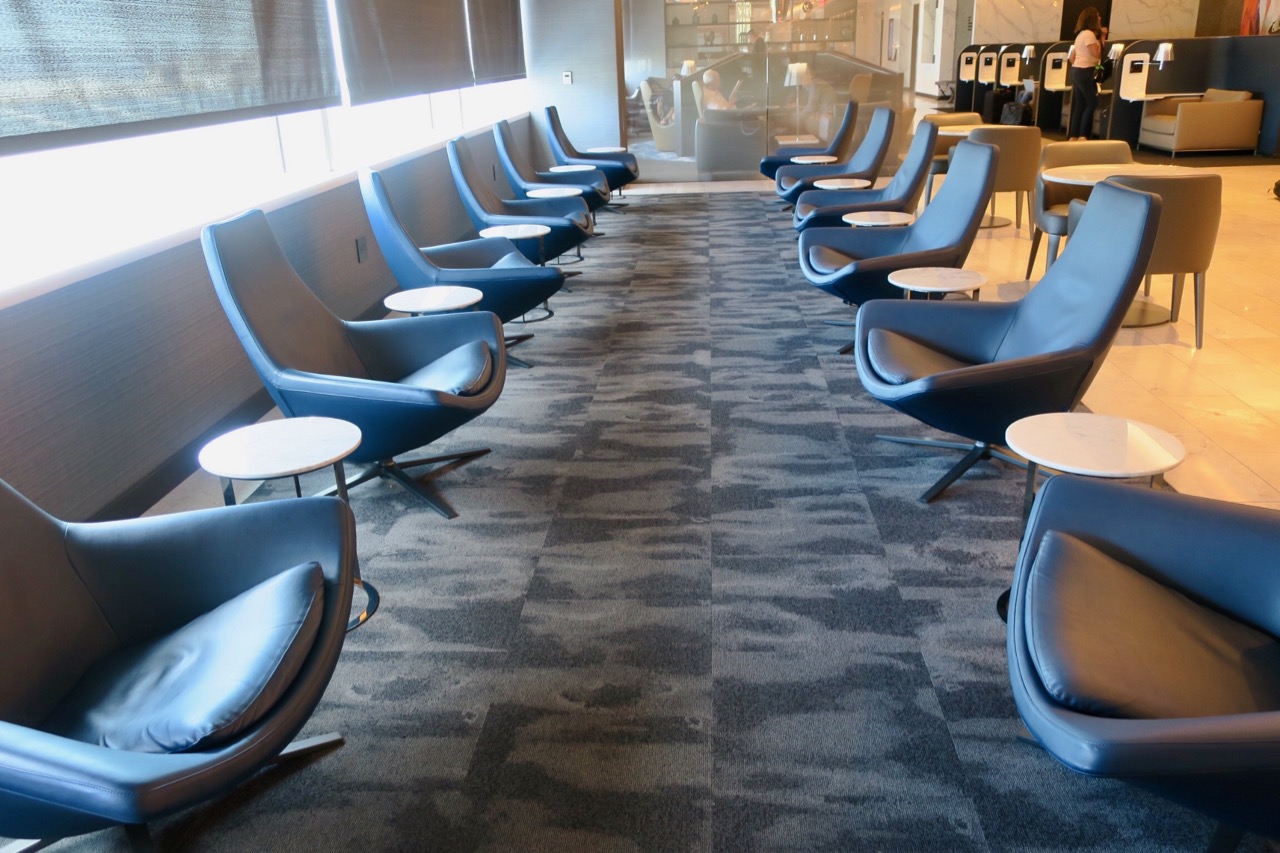 At the far left end of the upstairs level, you'll find The Studio. No one was in this section when I visited.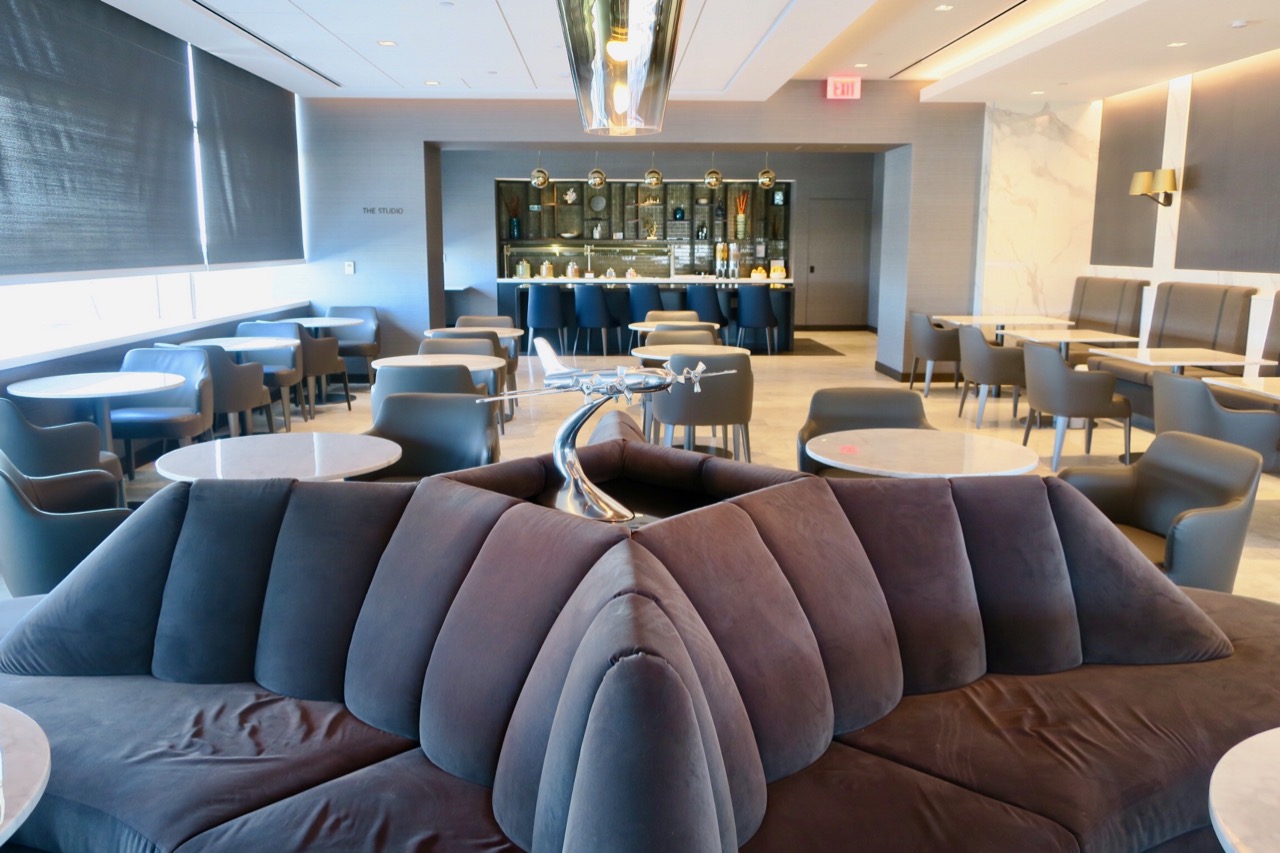 It has some snacks and basic beverages.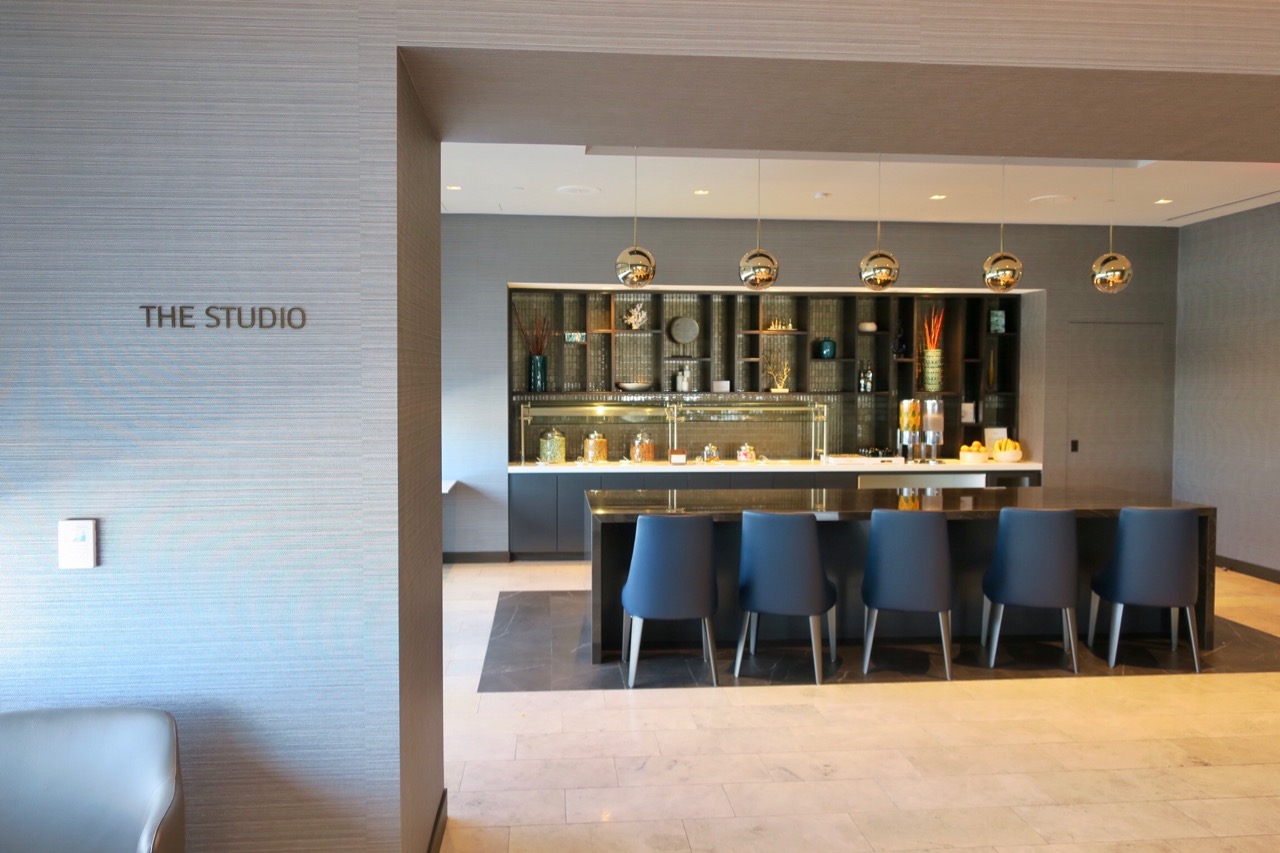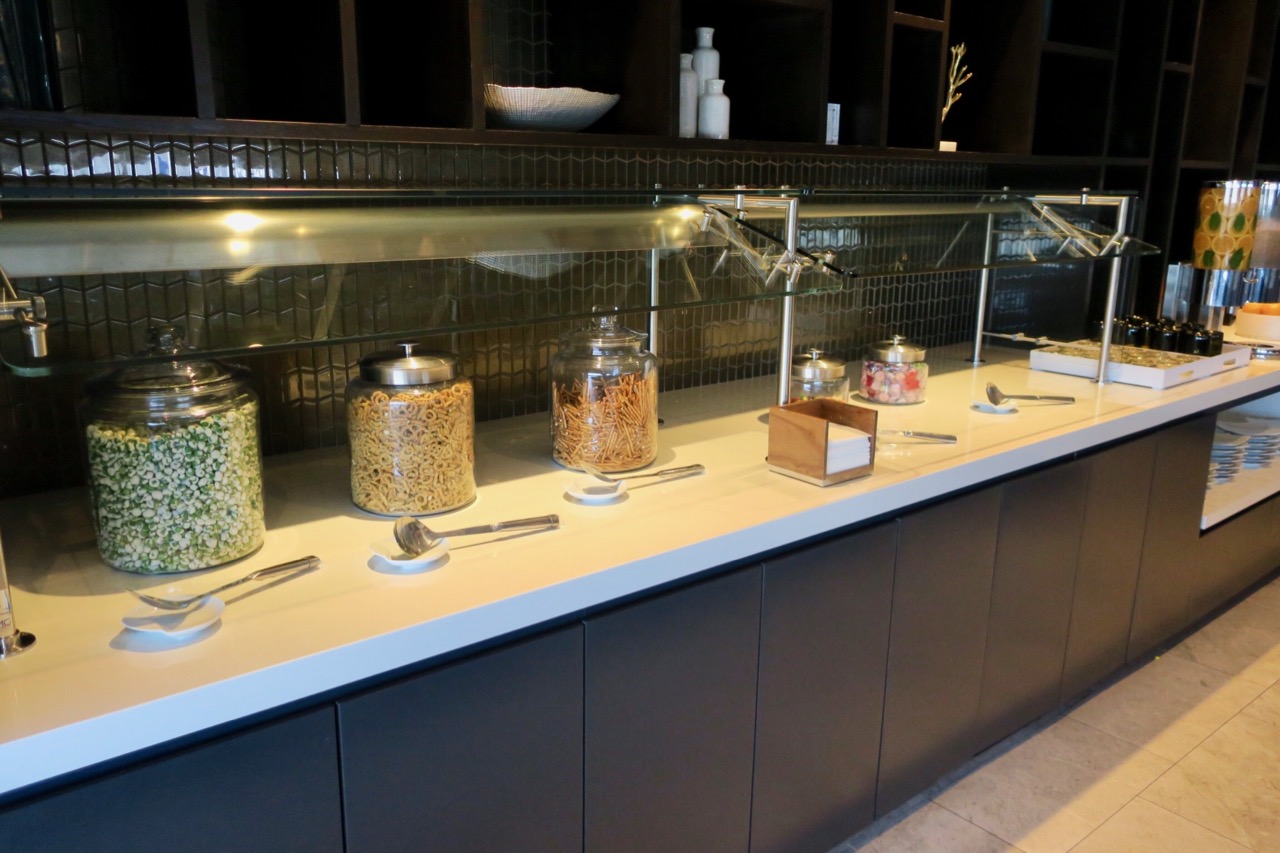 However, what I loved most about this section were the tarmac views.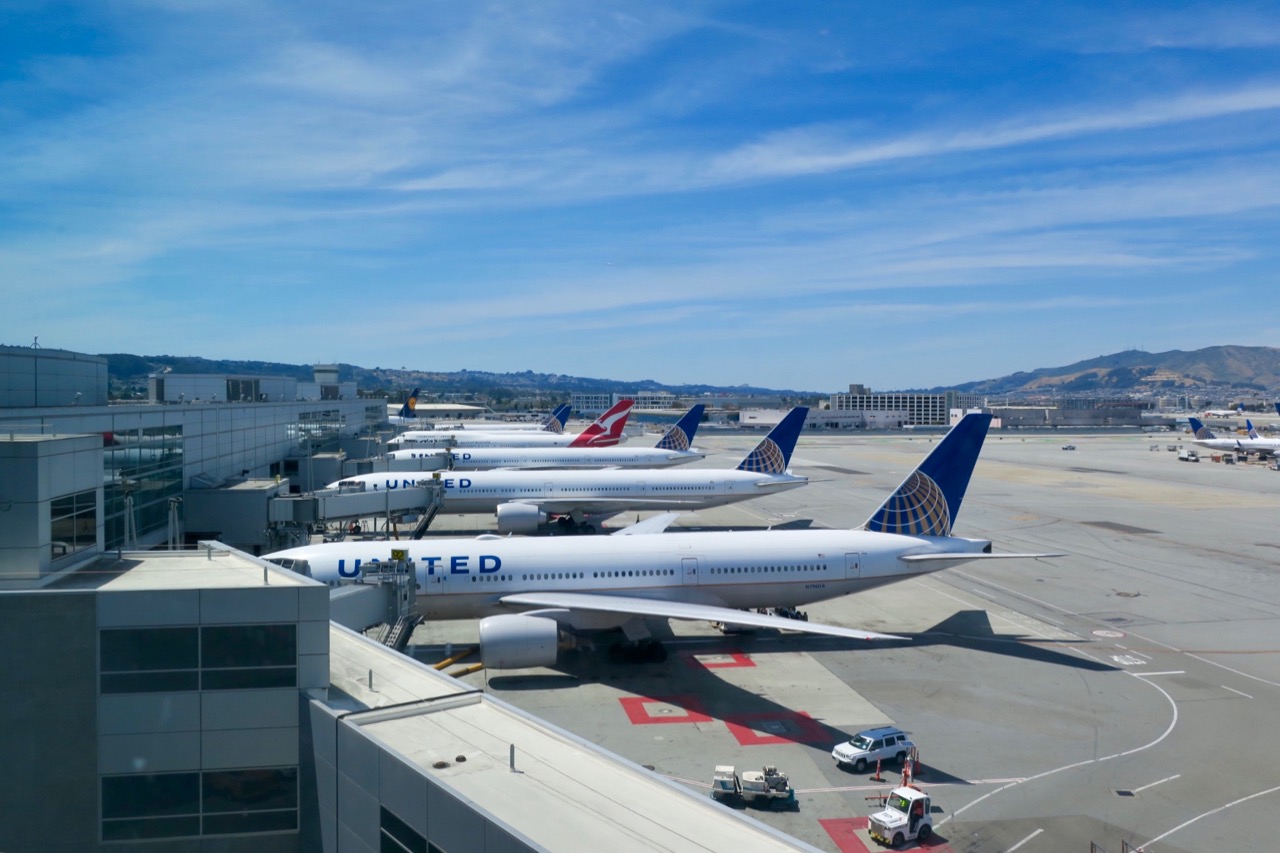 Relaxing & freshening up downstairs
Once again, if you want some peace and quiet, you can head back downstairs to The Library.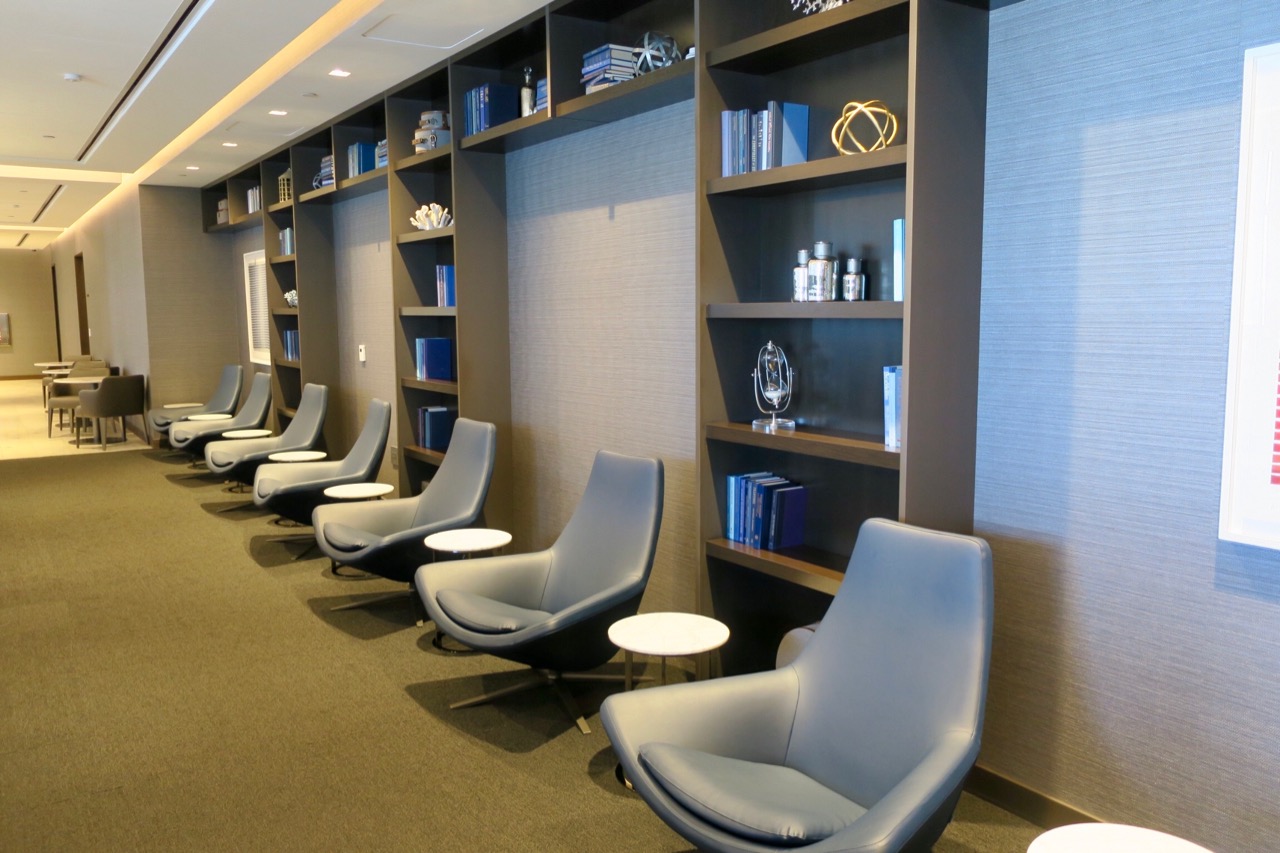 Here, shower suites are available to freshen up before your flight. There was no wait during my visit.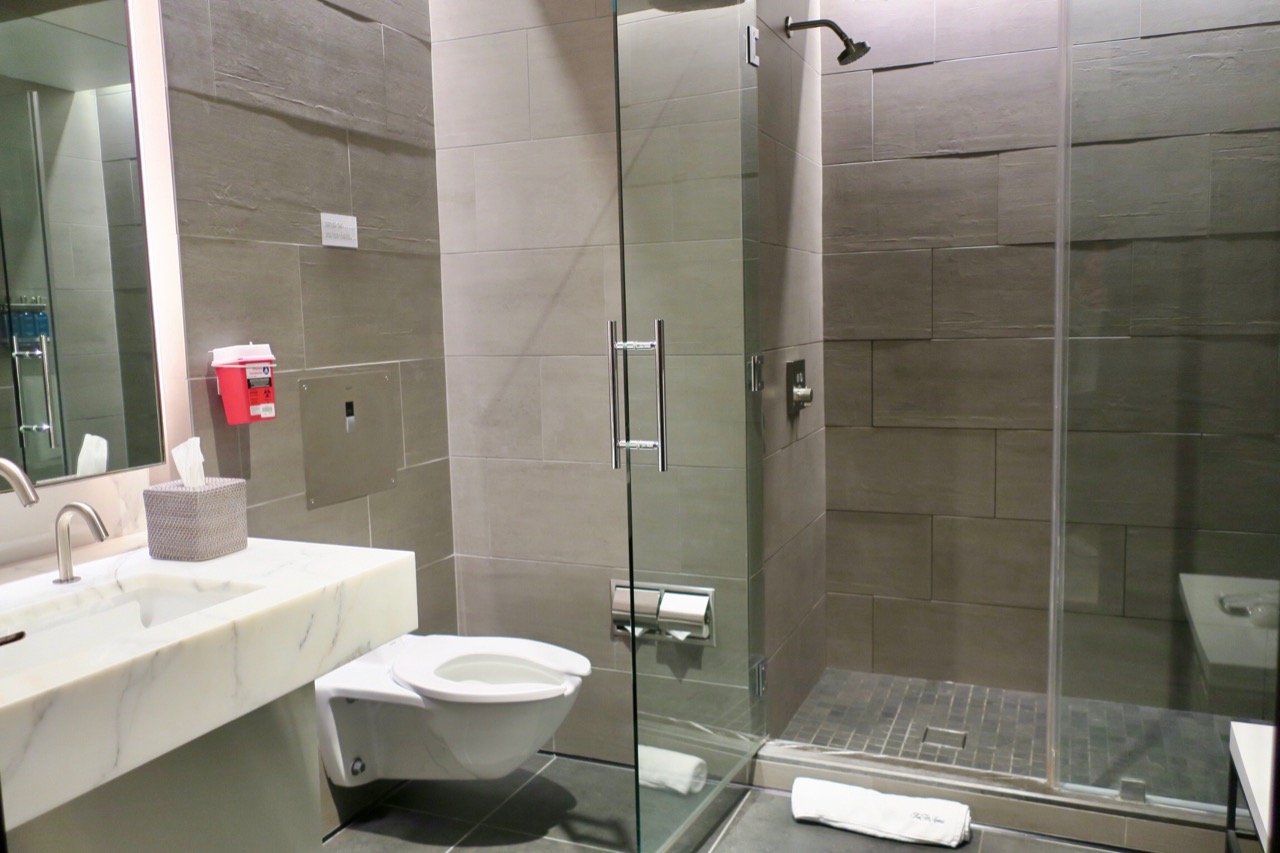 Saks Fifth Avenue towels are used, in keeping with United's branded bedding onboard its flights.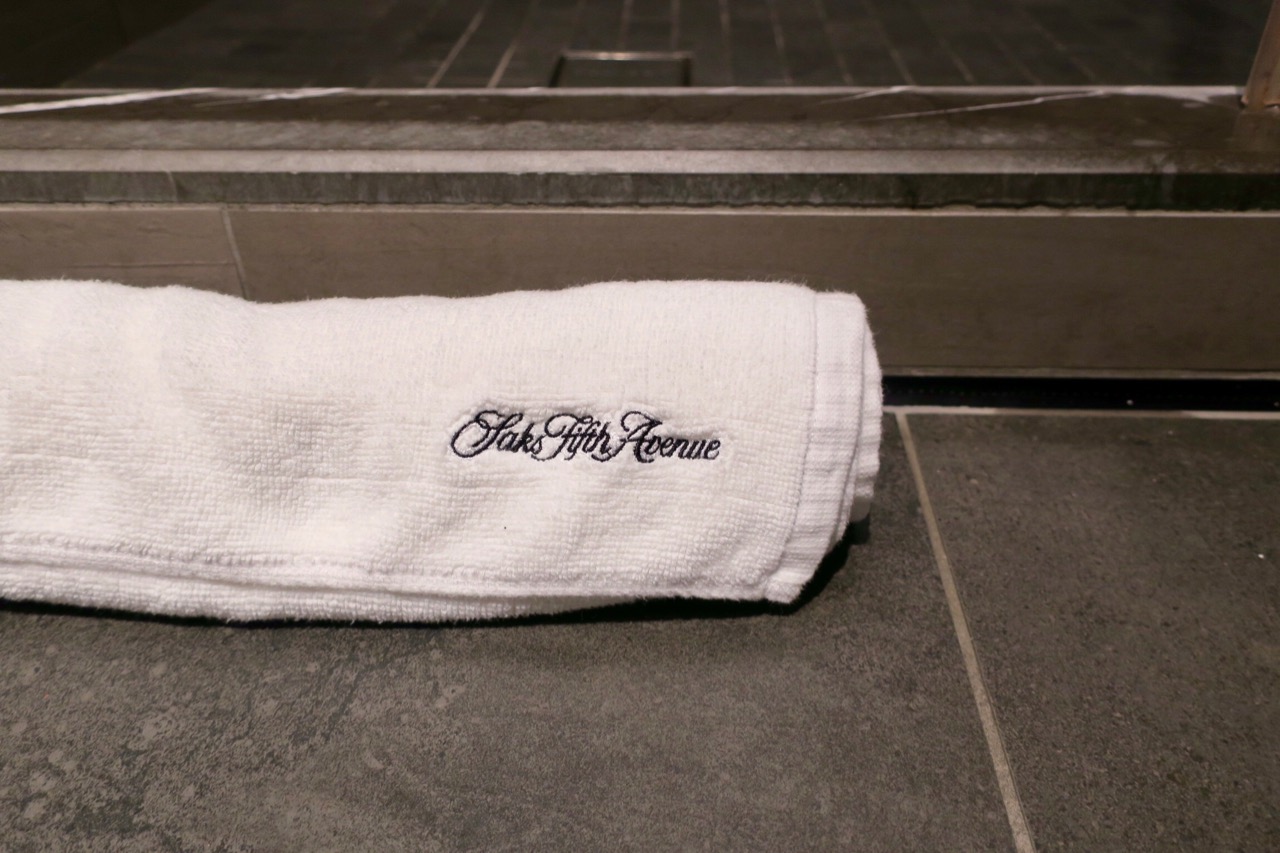 There are also five nap rooms, however, they don't have doors. They were all occupied during my visit, so I wasn't able to get a photo of them. You can book them for 45 minutes (or more if there is no one else waiting).
Restrooms are conveniently located throughout the lounge. They are gender-neutral, spacious and clean, and I never had to wait to use one.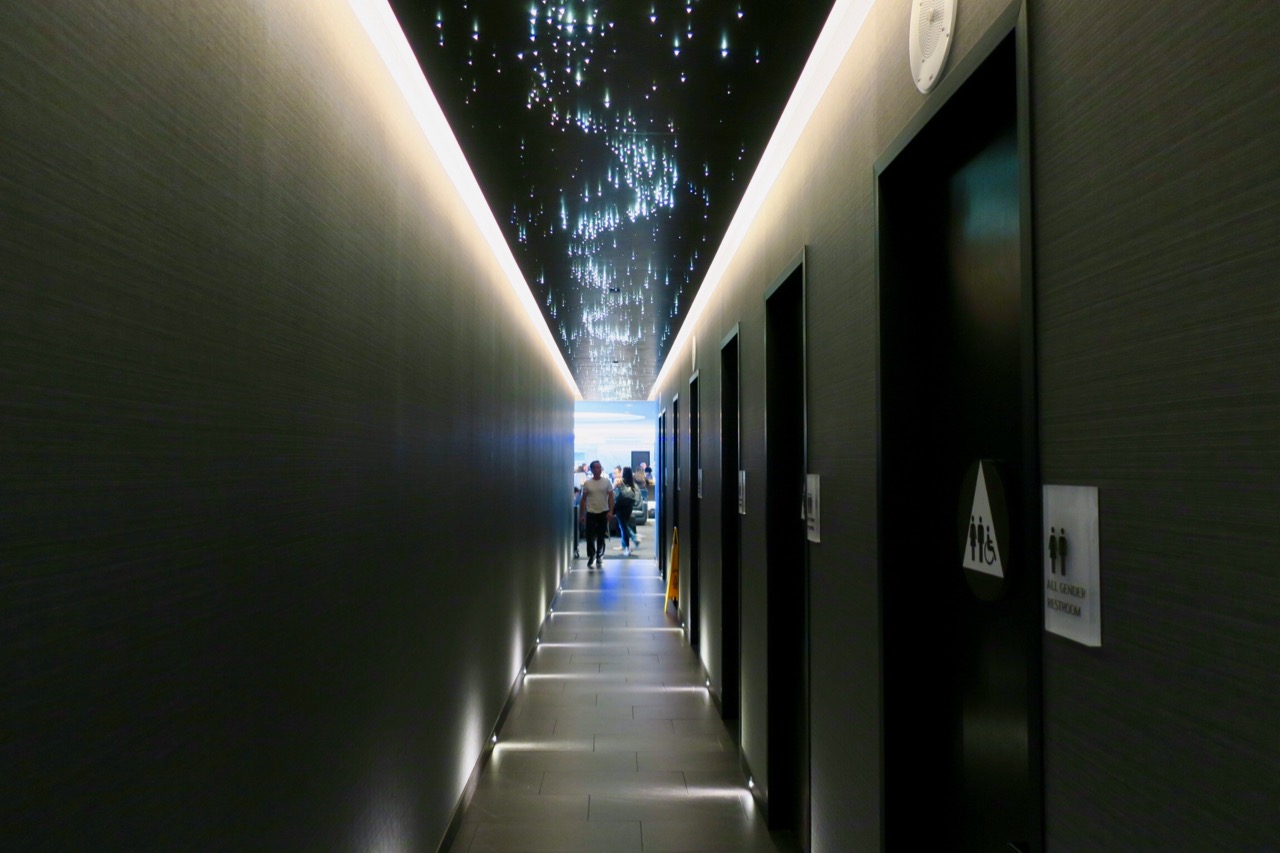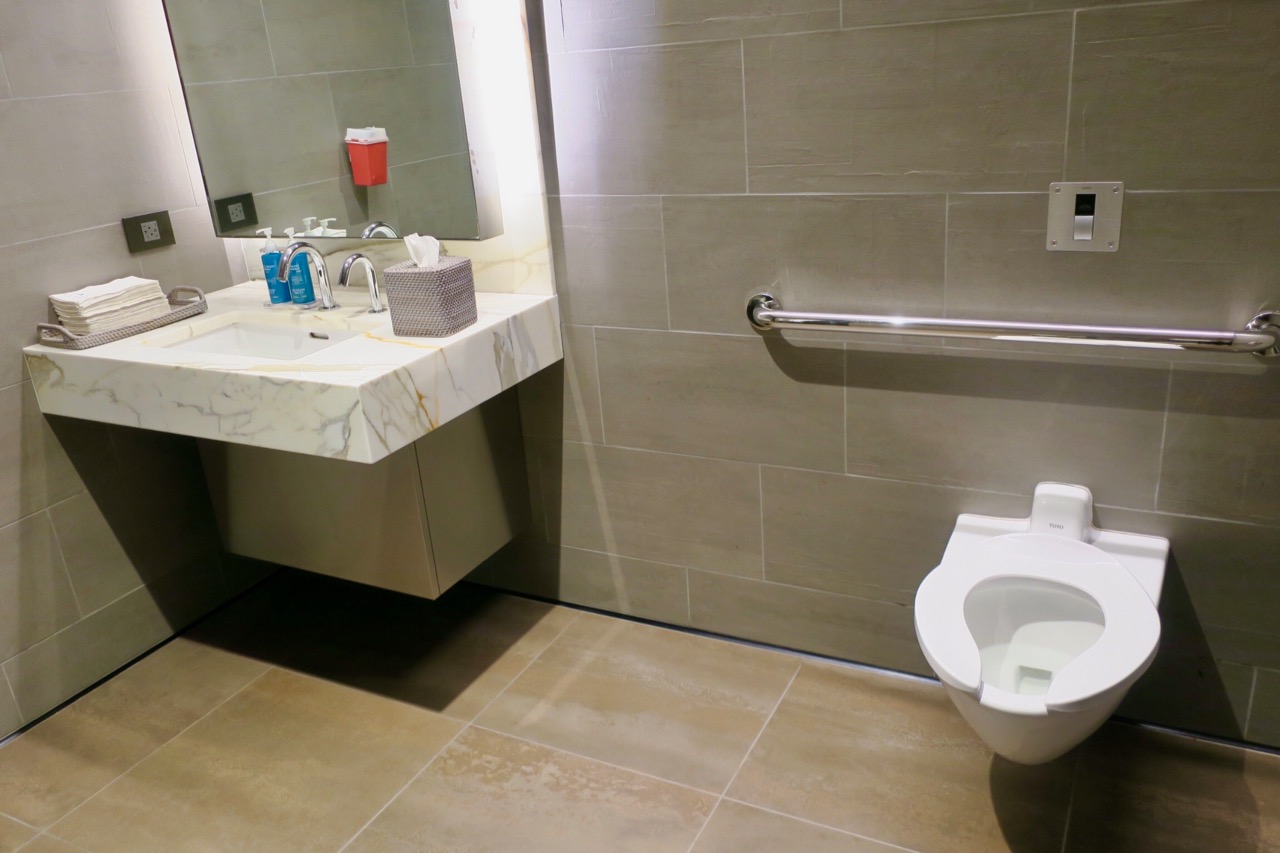 United Polaris Lounge San Francisco other amenities
The wifi is ultra-fast, clocking 210/280 Mbps download/upload speeds.
There is no children's area nor outdoor seating.
United Polaris Lounge San Francisco customer service
This is my main gripe about this lounge.
My first interaction at the check-in desk was not a greeting or welcome but 'where are you going?'
Throughout the lounge, I found the staff to be quite disruptive, constantly talking and gossiping with each other. This was especially apparent in the dining room, which seemed to have an open kitchen. It was unenjoyable to hear so much noise coming from there, with plates clanking around and employees talking at a high volume.
There were few smiles afforded to passengers, which is a shame. The bar staff did not seem to be happy working there, and the servers in the dining room were unpolished, e.g. just plonking down a bottle of water instead of serving it. This is most definitely a First World problem, but still not the level of service I expected.
United Polaris Lounge San Francisco Lounge access options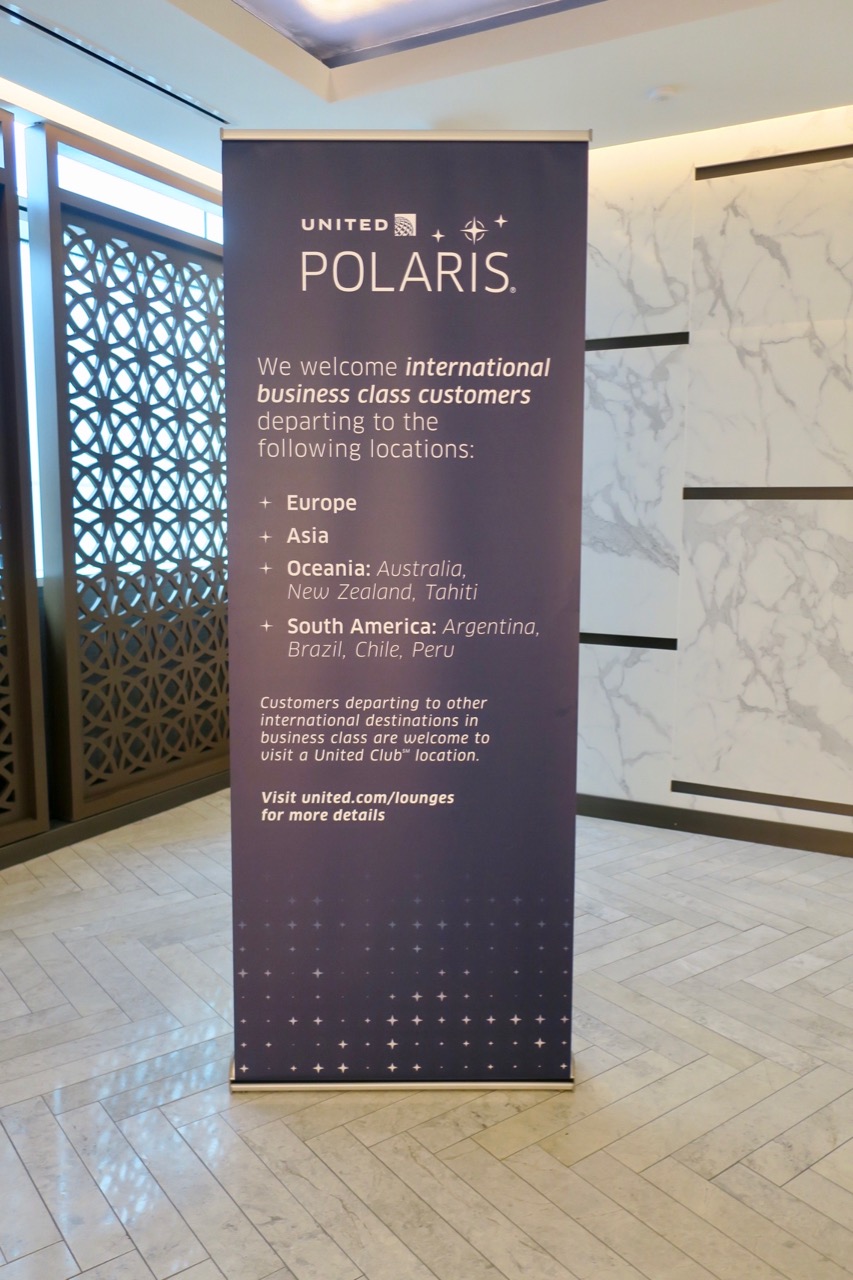 Basically, you must be crossing an ocean, i.e. to Asia, Europe, Oceania or South America (excluding Colombia and Ecuador). Flights within the US and to Canada, Mexico, Central America and the Caribbean are not eligible.
Only First Class passengers can admit a guest; Business Class passengers cannot.
Having United or Star Alliance Gold status will not get you into this lounge; instead, you'll get access to an inferior United Club.
Read our guide to using frequent flyer points on United Airlines flights here.
Frequently asked questions
Who is eligible for United Polaris Lounges?
United Polaris lounges can be accessed by Business and First Class passengers departing a long-haul United or Star Alliance partner flight to Asia, Europe, Oceania or South America (excluding Colombia and Ecuador). First Class passengers can admit one guest.
Do you tip at United Polaris Lounges?
It is not expected that you tip at a United Polaris Lounge. Tip jars are not displayed at the bar, however, employees are permitted to accept tips if they are offered. It is more common to tip at the bar at American Express lounges.
What is United Polaris?
United Polaris is both an onboard and lounge product. Whilst all international United Business Class products are named 'Polaris', the real Polaris product is the one set up in a 1-2-1 configuration (instead of 2-2-2). Polaris lounges are United's upgraded international lounges at their hubs.
Can United Club members use Polaris Lounges?
No, members of United Club are not permitted access to Polaris Lounges. Instead, they can only go to United Clubs, which are inferior in quality. Polaris Lounge access is exclusively reserved for Business and First Class passengers departing long-haul United or Star Alliance partner flights.
Summing up: our take
I would most definitely recommend getting to the airport early to enjoy the United Polaris Lounge.
As opposed to American Airlines, which is also upgrading its flagship lounges, all passengers—not just First Class ones—can enjoy a sit-down meal.
Just make sure you are actually eligible to enter this type of lounge. Again, elite status won't cut it—you'll have to be travelling in Business or First Class on a long-haul flight.
What is great
Modern and stylish aesthetics
Expansive space
Huge variety of seating options
Fully-stocked bar
Delicious à la carte menu
Signature cocktails
Tasty cold buffet options
Shower suites
Great tarmac views
Very fast wifi
Convenient location
What is not great
Disruptive and unenthusiastic staff
Loud dining room
No doors on nap rooms
No children's play area
No balcony/outdoor area
Have you visited a United Polaris lounge? If so, which one and how was it?
United Polaris Lounge San Francisco overview
was last modified:
December 20th, 2021
by