Now with jet services from Brisbane Airport, Rex adds more Business Class competition to the Queensland capital. Offering direct flights to both Sydney and Melbourne, Rex Business Class blends an affordable price with a comfortable experience.
Although Rex's schedule won't suit every trip – from Brisbane to Melbourne, there are currently just 1-2 flights each day – its value proposition still caters to both business and leisure guests. Here's what to expect at the pointy end with Rex.
Check-in, lounge and boarding
Rex's check-in counters are easy to find at Brisbane Airport, being in the very centre of the domestic terminal. There's a dedicated lane for Business Class flyers, so I'm assisted in mere moments. There are kiosks and self-serve bag drops too, for those preferring the 'DIY' approach.
Brisbane Airport's domestic security points unfortunately don't offer fast-track lanes for Business Class travellers. But with only five passengers ahead of me in the queue at 7 am on a Monday, the formalities didn't take long.
In lieu of lounge access at Brisbane Airport, a Rex Business Class ticket buys you $15 to spend after security. That came as a nice surprise, as I hadn't expected a lounge alternative to be offered.
Having several outlets to choose from, Rex's check-in staff suggested Newstead Brewing Co. The voucher covers the bulk of the bill for a breakfast muffin and a barista-made coffee. With breakfast also served on the flight, that was more than enough to kick-start the day.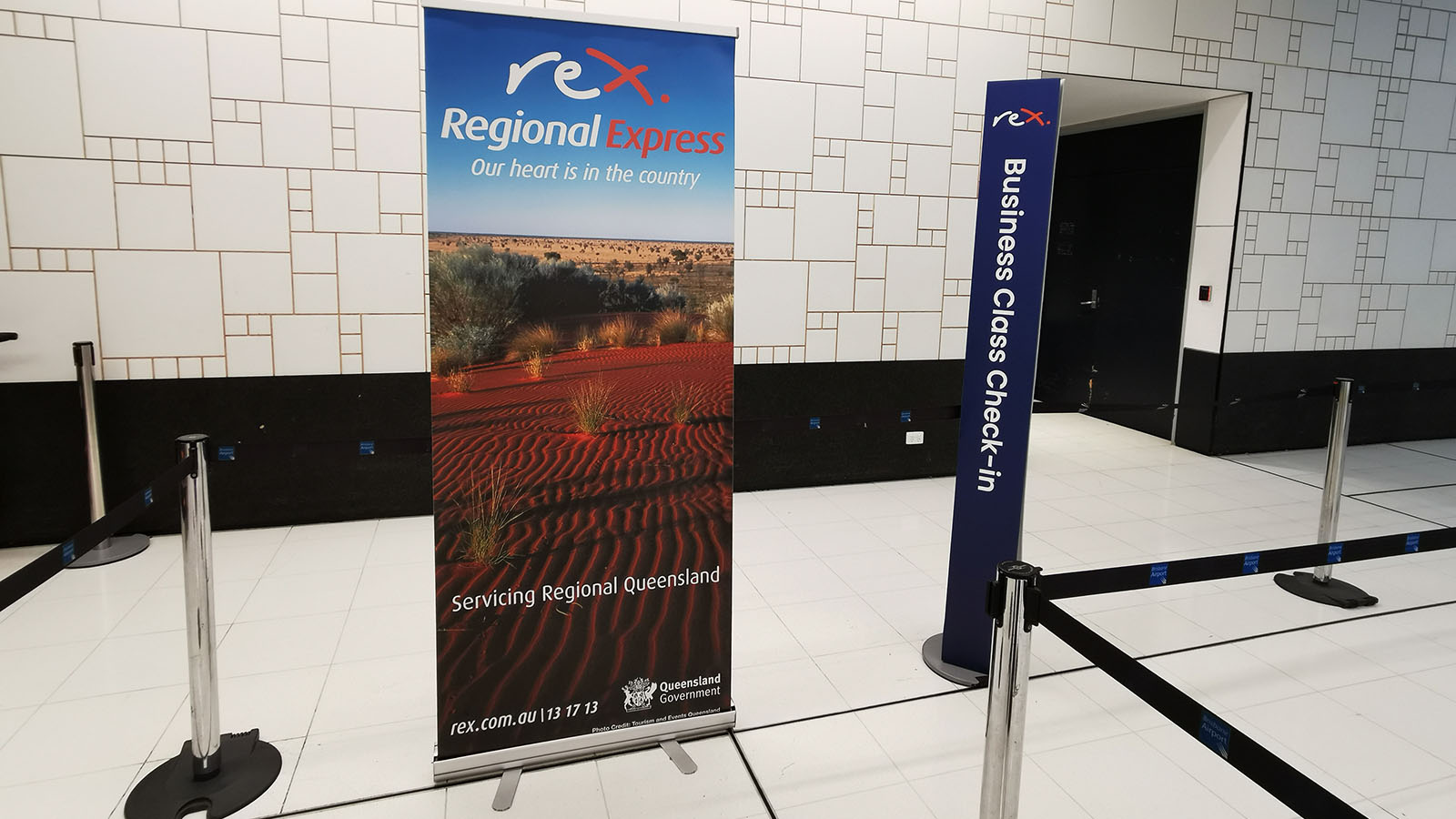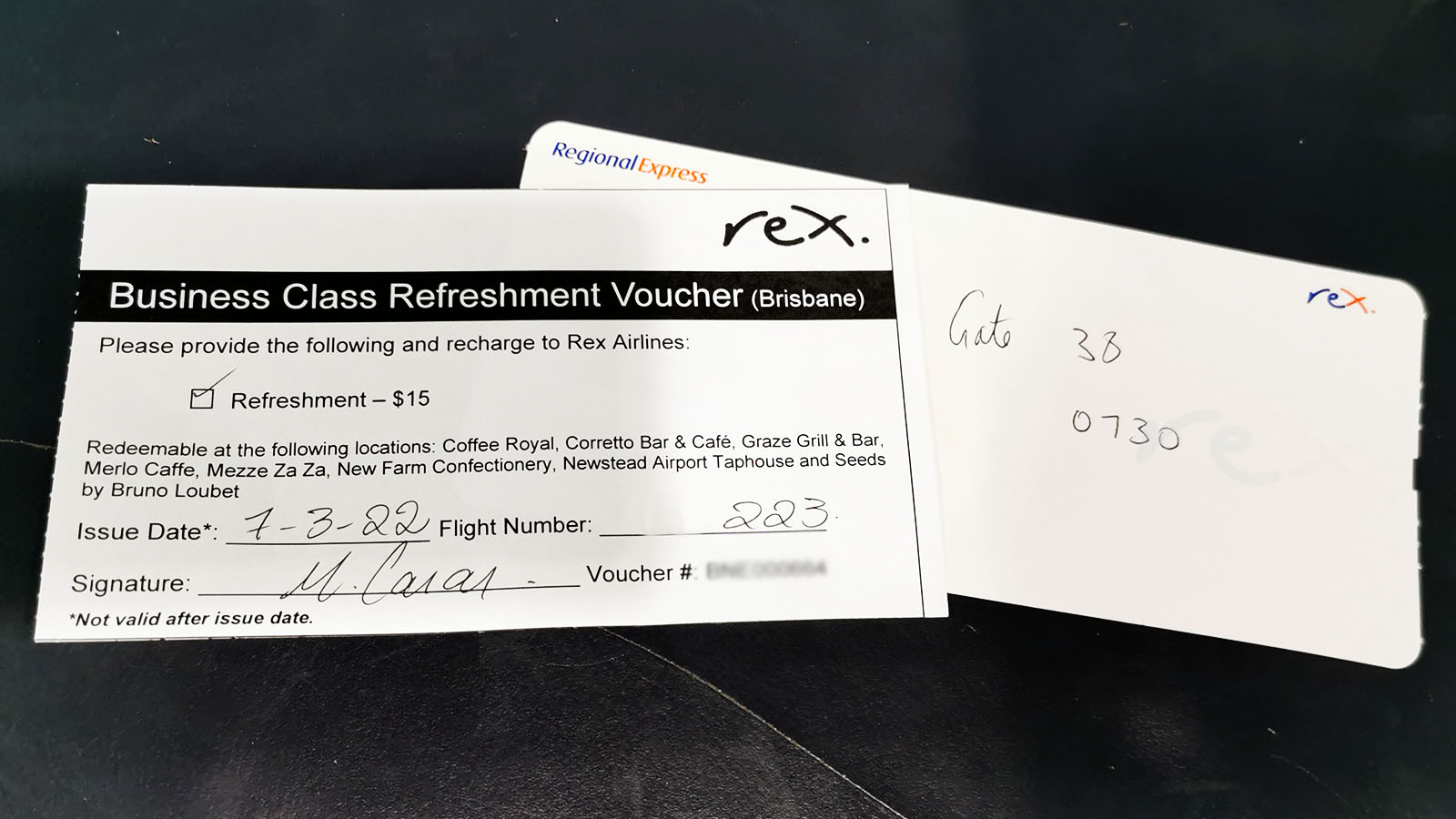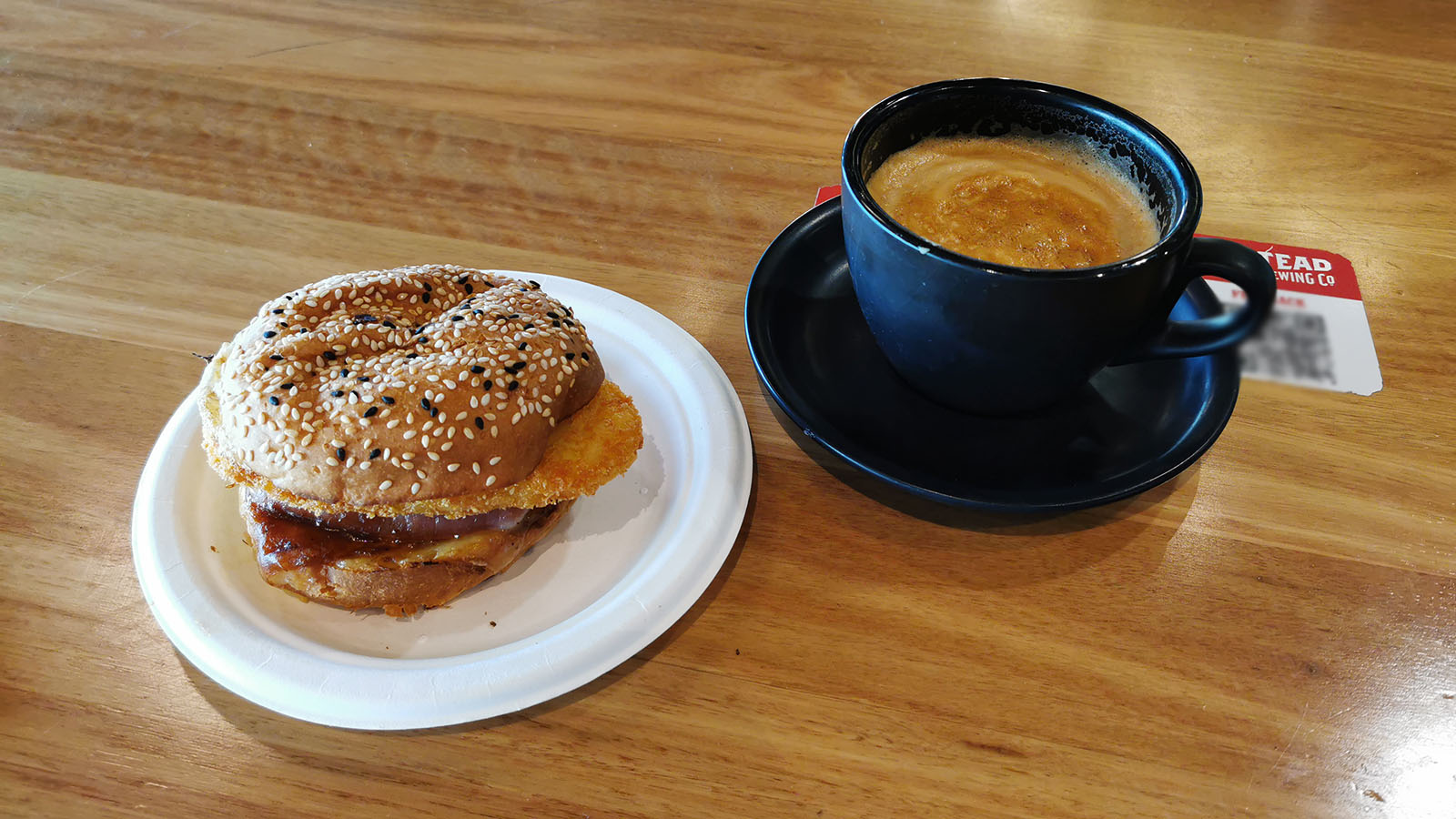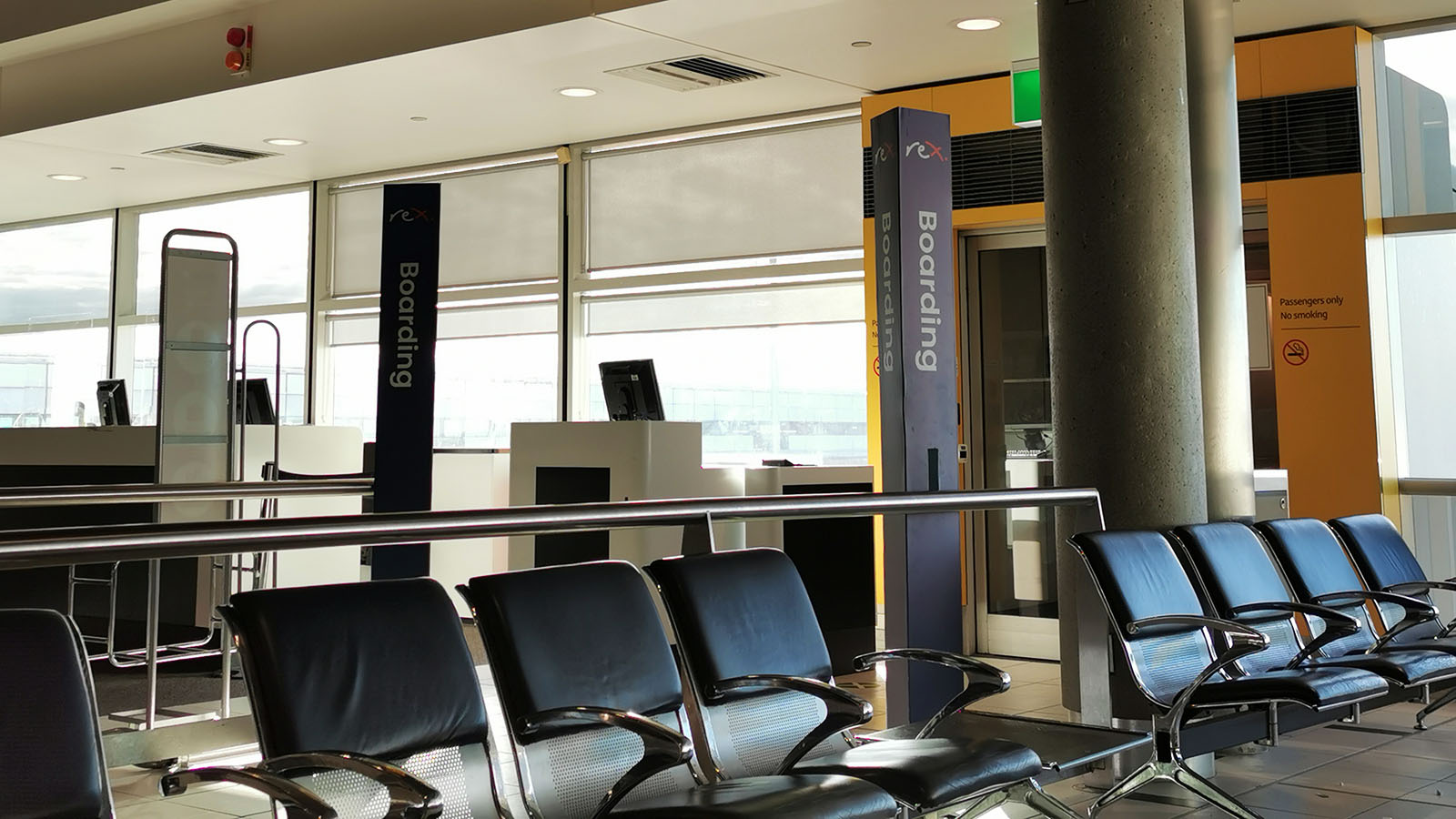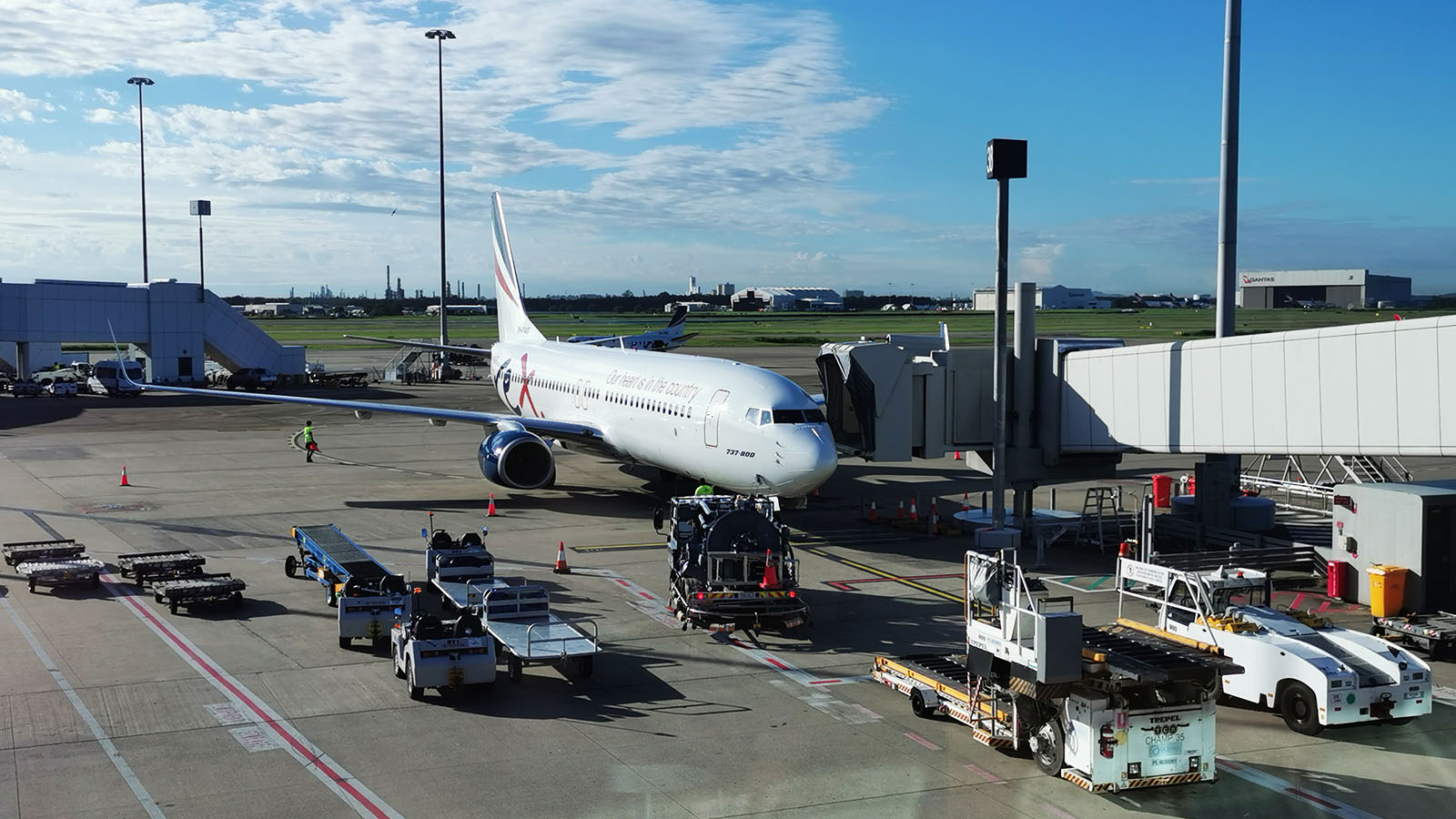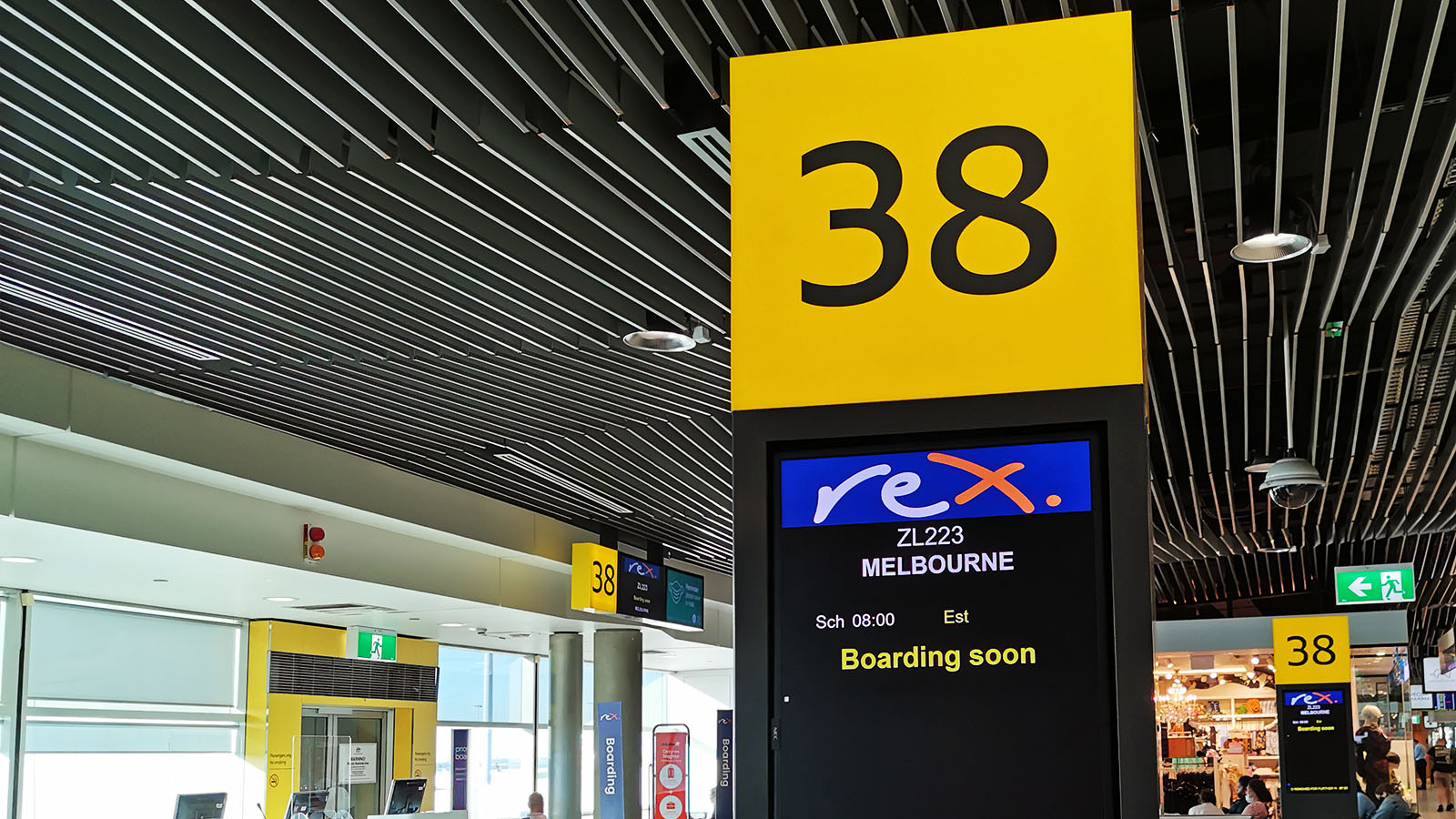 With the flight departing from gate 38 – right behind security, directly above Rex check-in and next to Newstead Brewing Co. – everything is conveniently close together. Speaking of convenience, Business Class boards first, and we're soon ready to depart.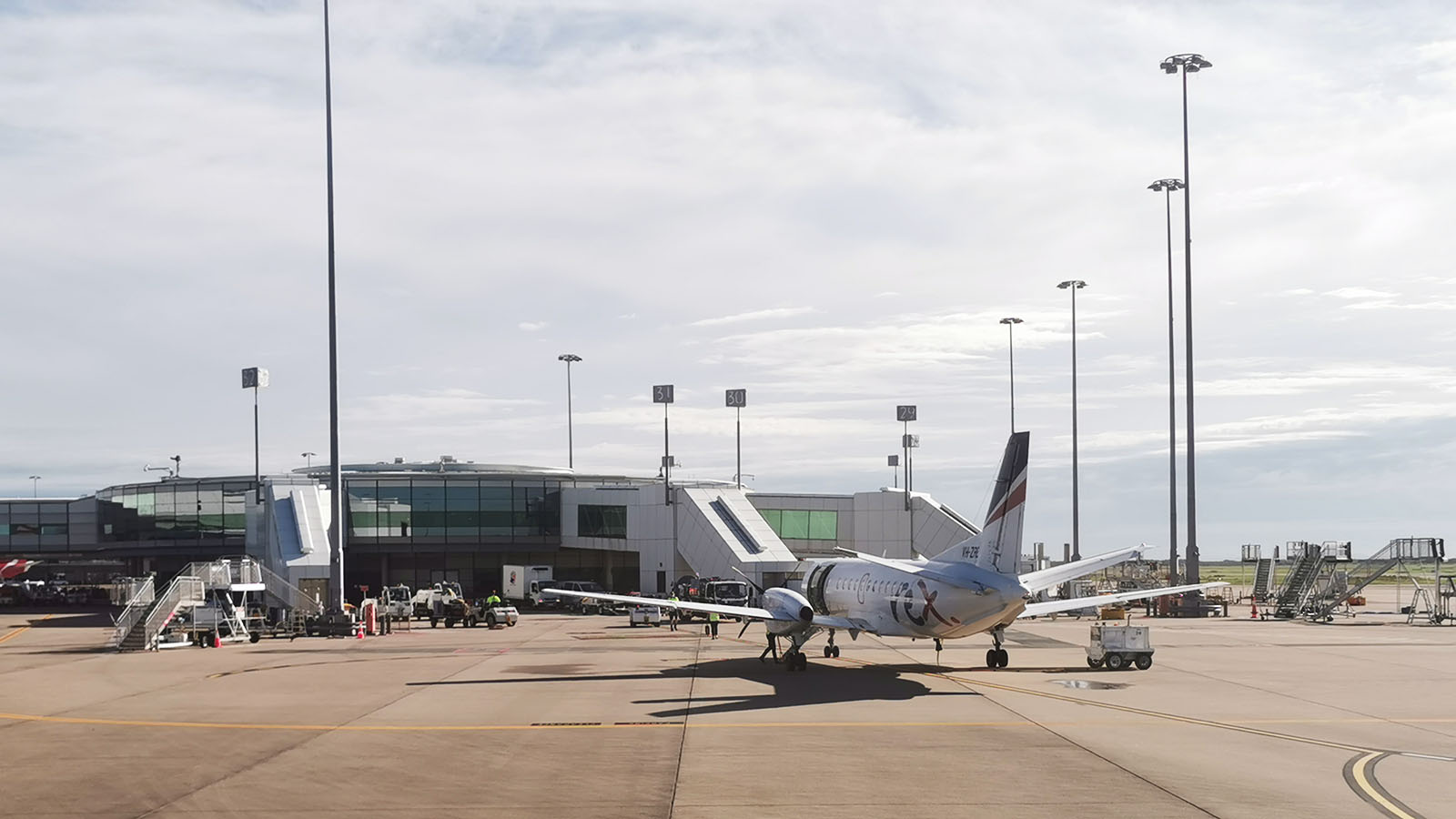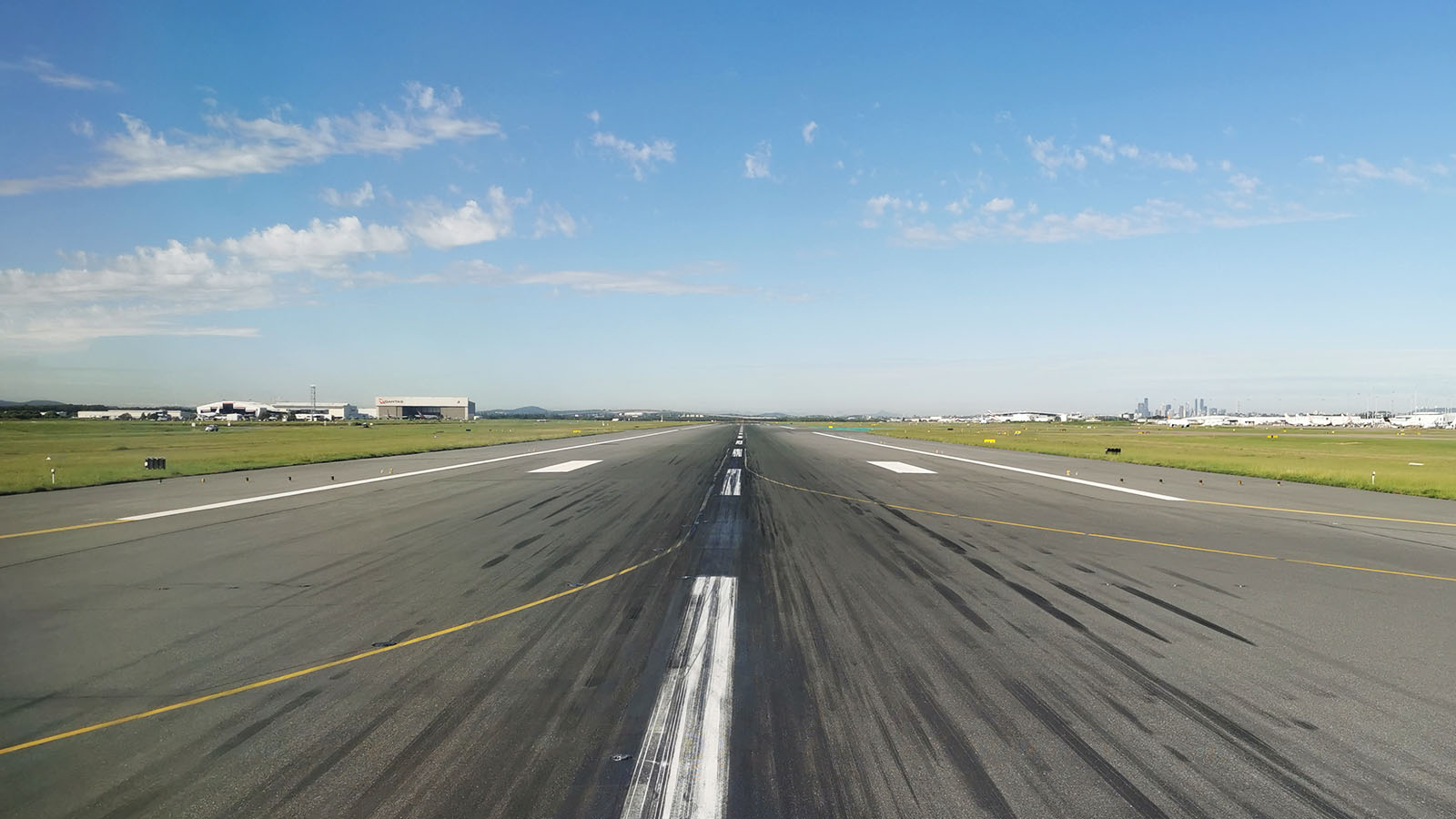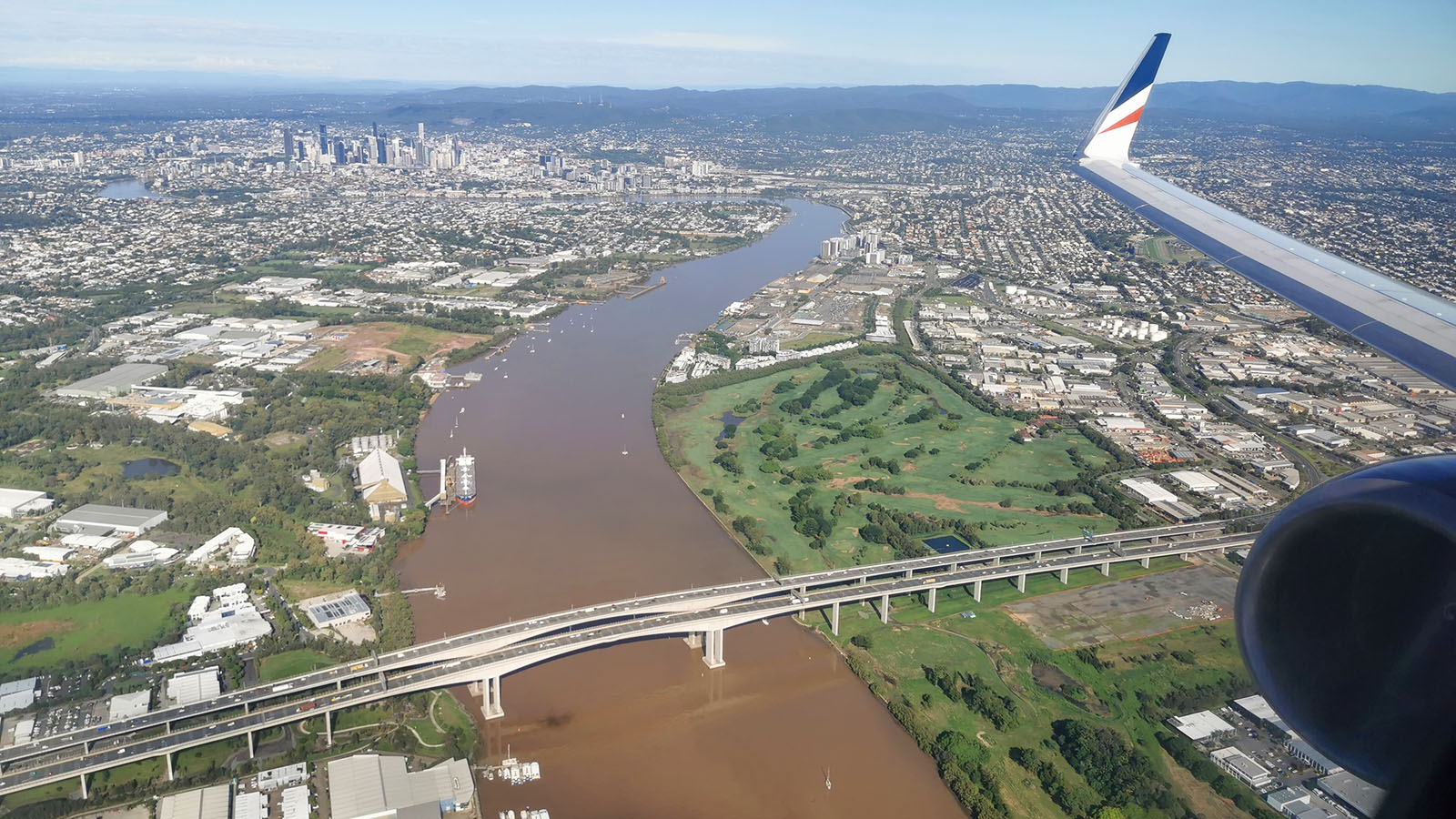 As a contrast to Brisbane's recent poor weather and flooding, the sun was out and shining brightly, making for some excellent views. It also brought Brisbane's heat back, which is where I appreciated Rex using an (air-conditioned) aerobridge gate.
Rex Boeing 737 Business Class seating
Business Class on Rex provides a comfortable reclining seat. With a 2-2 cabin layout across two rows, eight Business Class seats are available on each flight.
If you're not already familiar with Rex, its Business Class product may still look familiar. The seats mirror what you'll get on most Virgin Australia Boeing 737 flights. In fact, Rex's Boeing 737s previously flew in Virgin Australia colours, with Rex simply tweaking the cabin to match its own branding.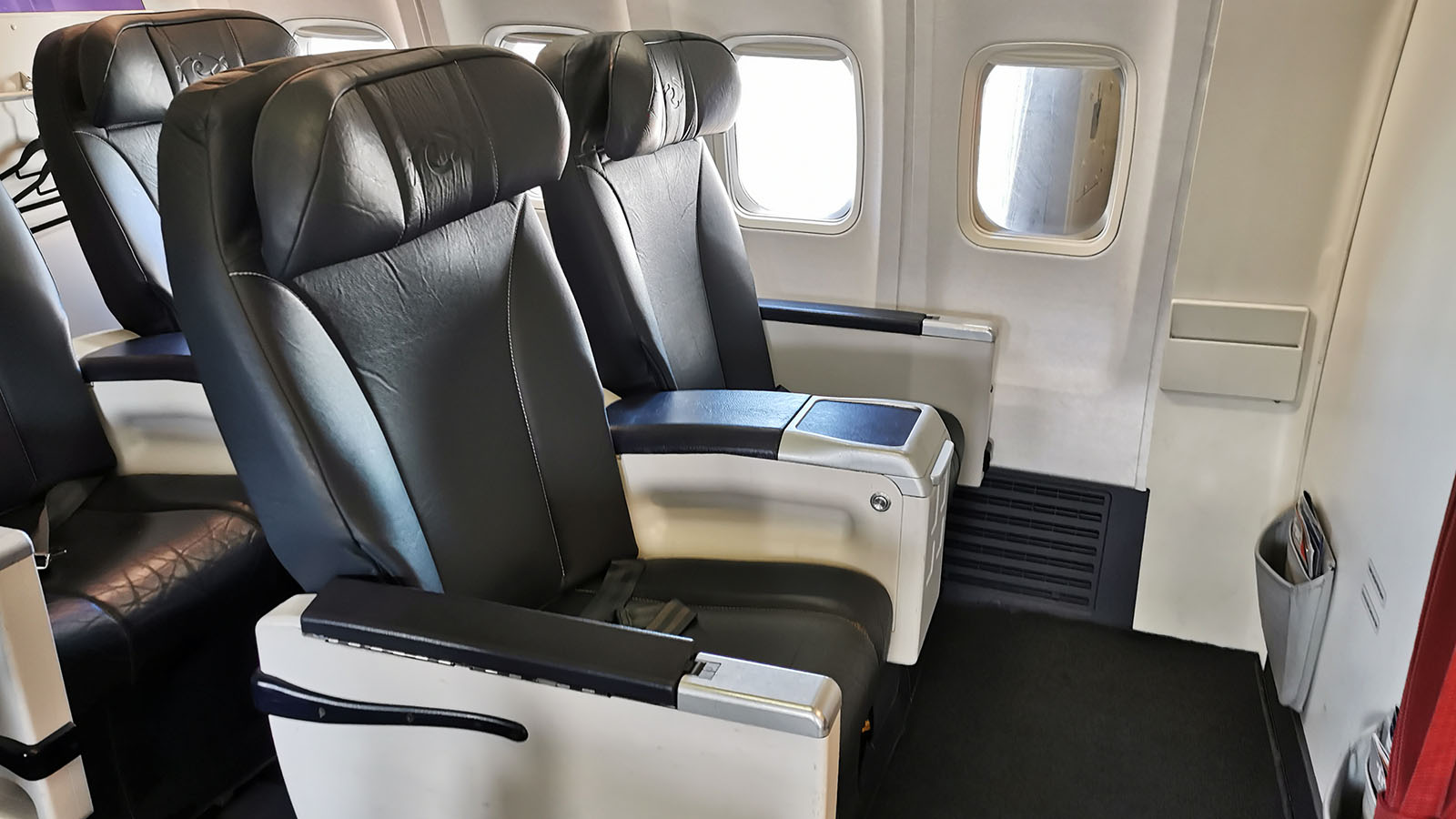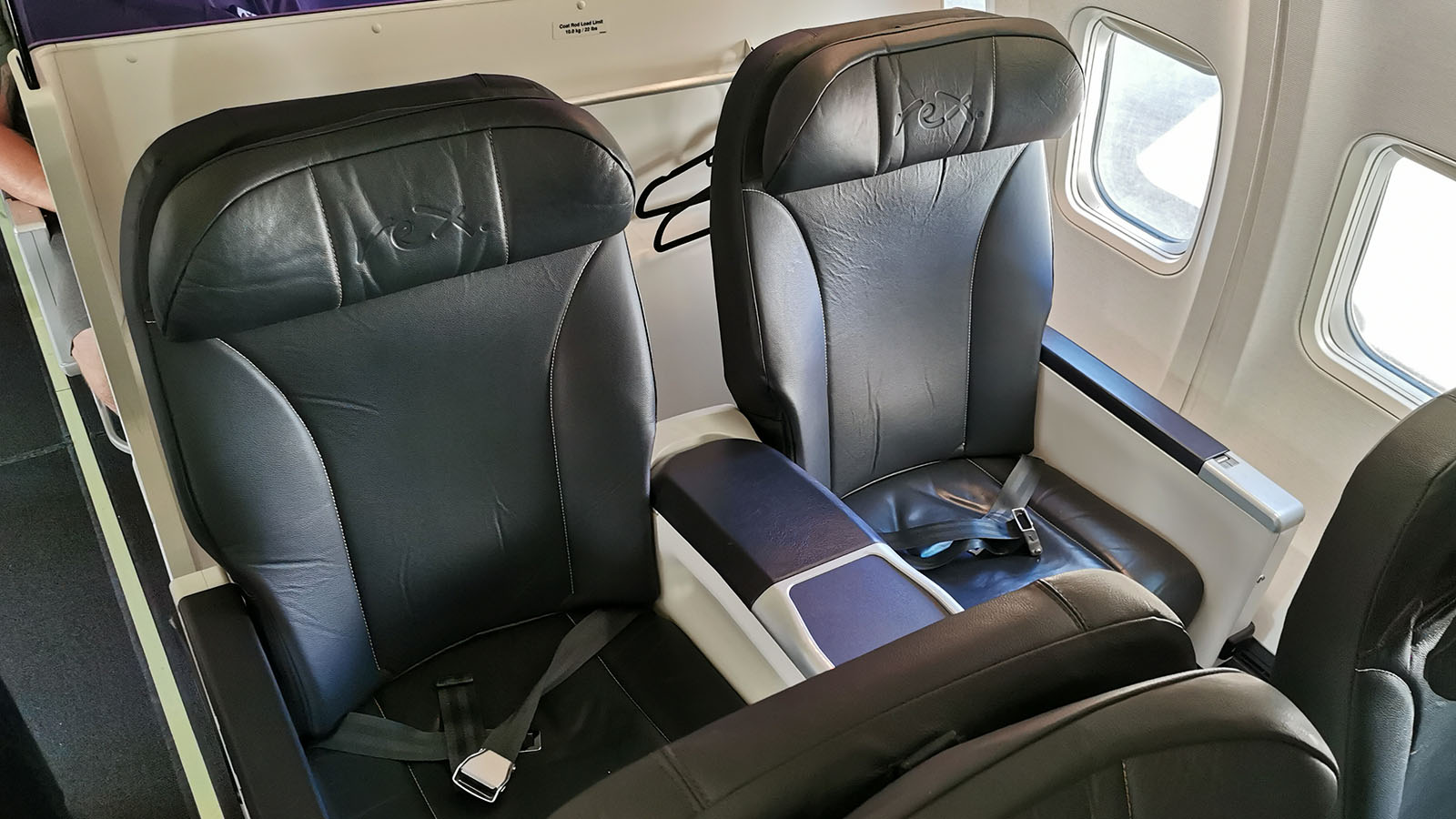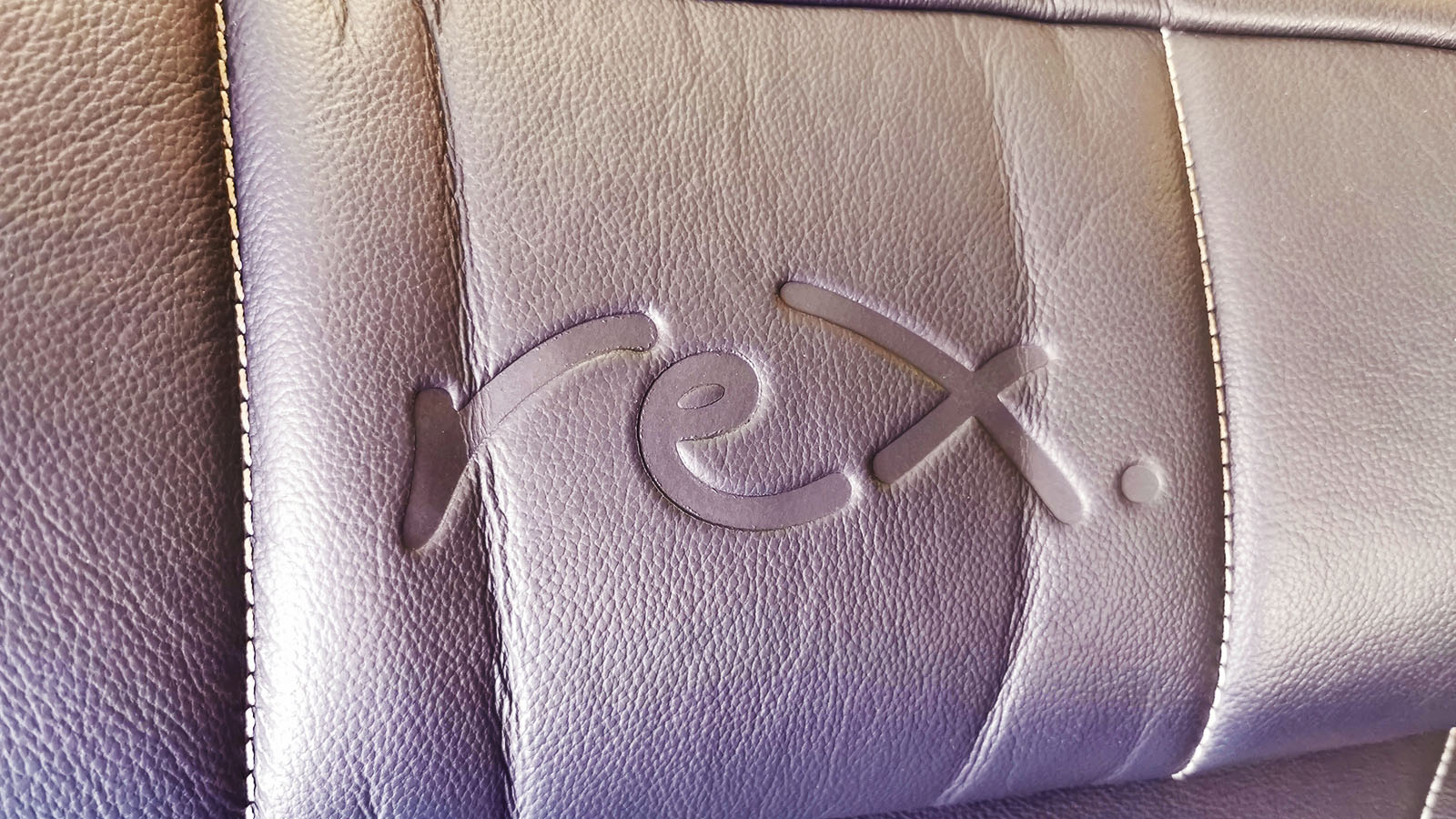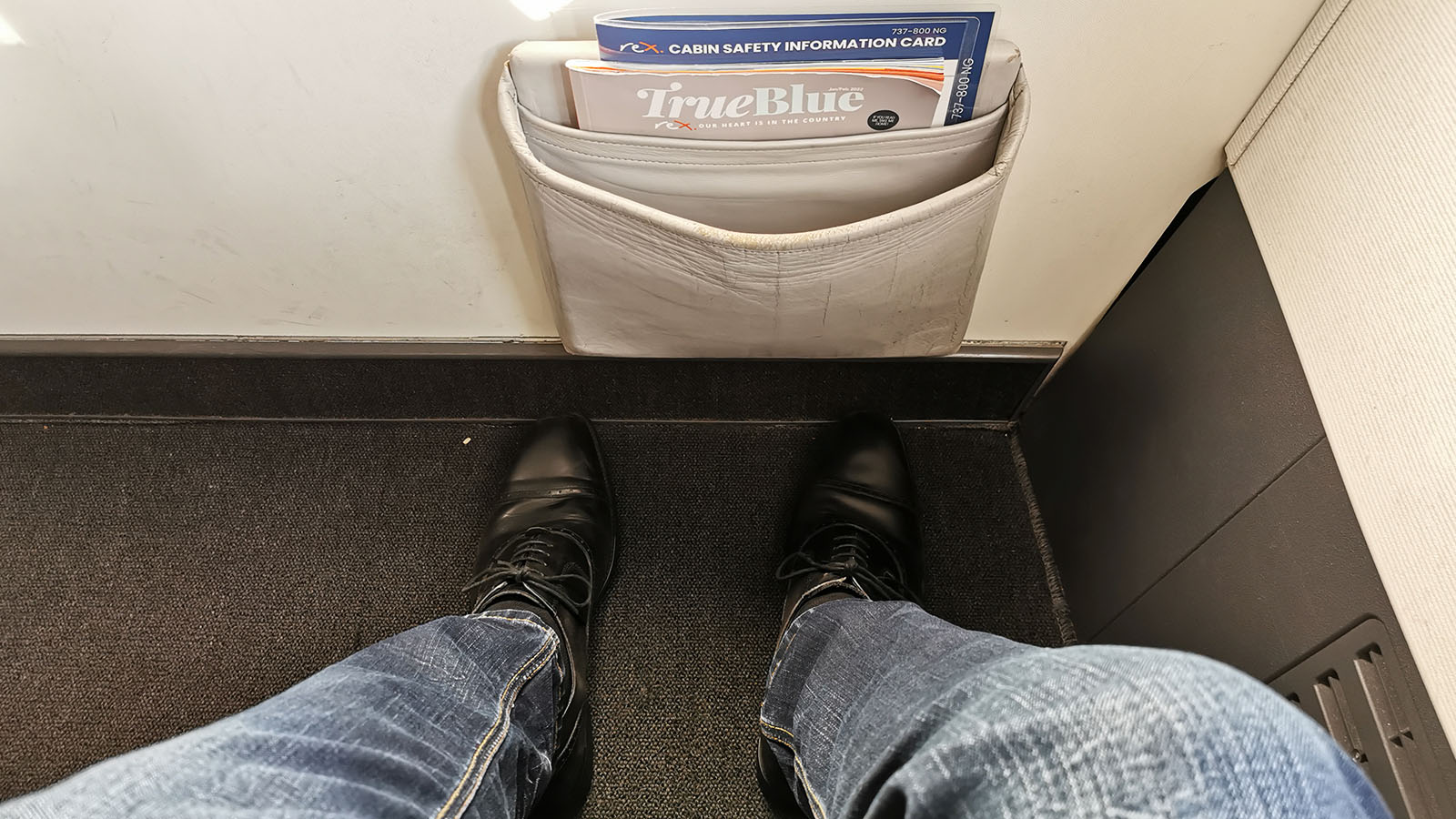 When the seat is already comfortable, and travellers have grown to like it, we can see why Rex wouldn't replace something that's known to work. And work it does. Taking my seat in 1F, there's plenty of room to stretch out and get comfortable, even with the bulkhead wall in front.
A central cocktail table is perfect for keeping beverages at hand. There's also a storage pouch in front of every seat. I like that the pockets in row one separate your own bits and pieces from the supplied literature. It's also roomy enough to store my laptop, without being a tight squeeze.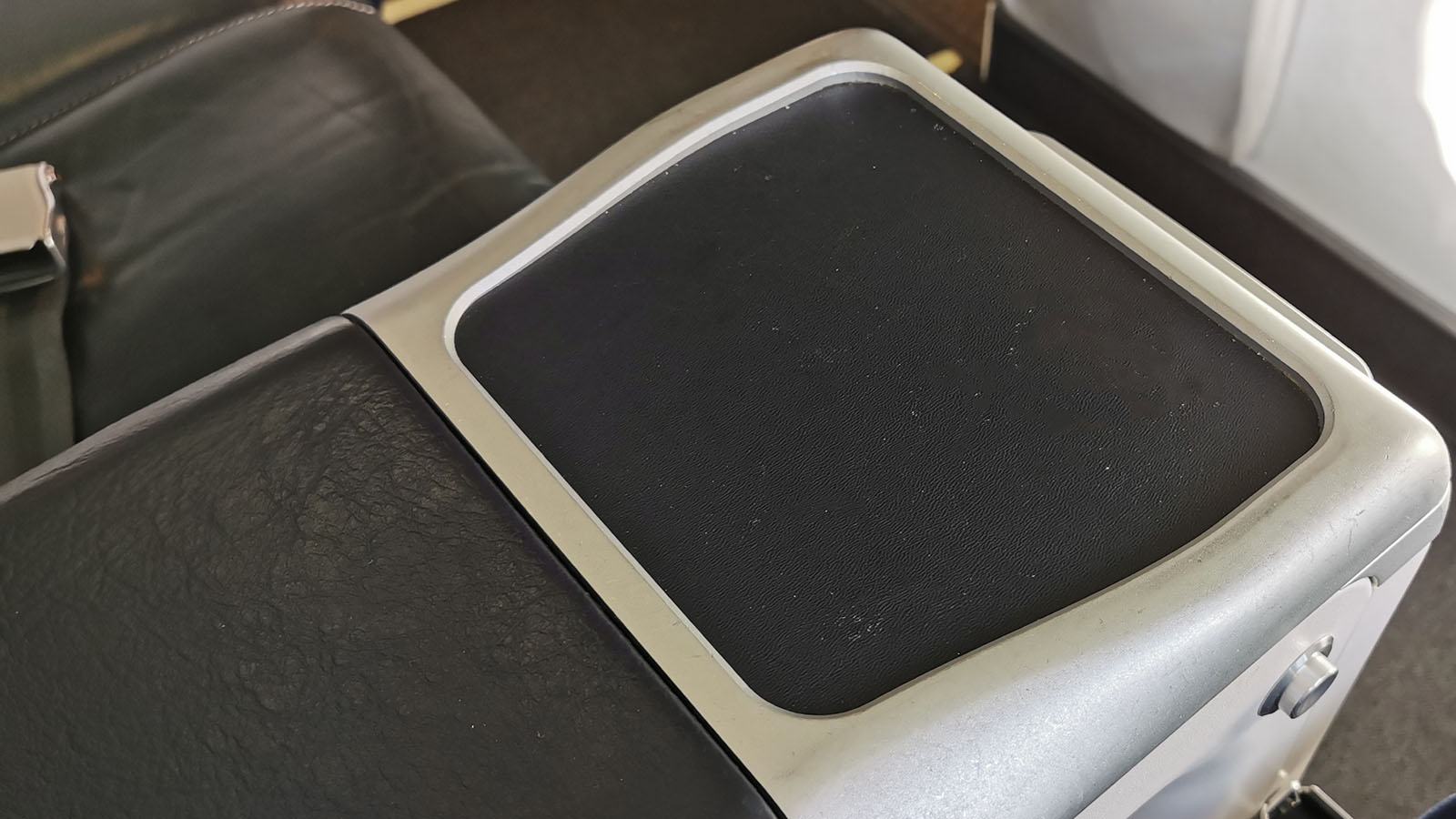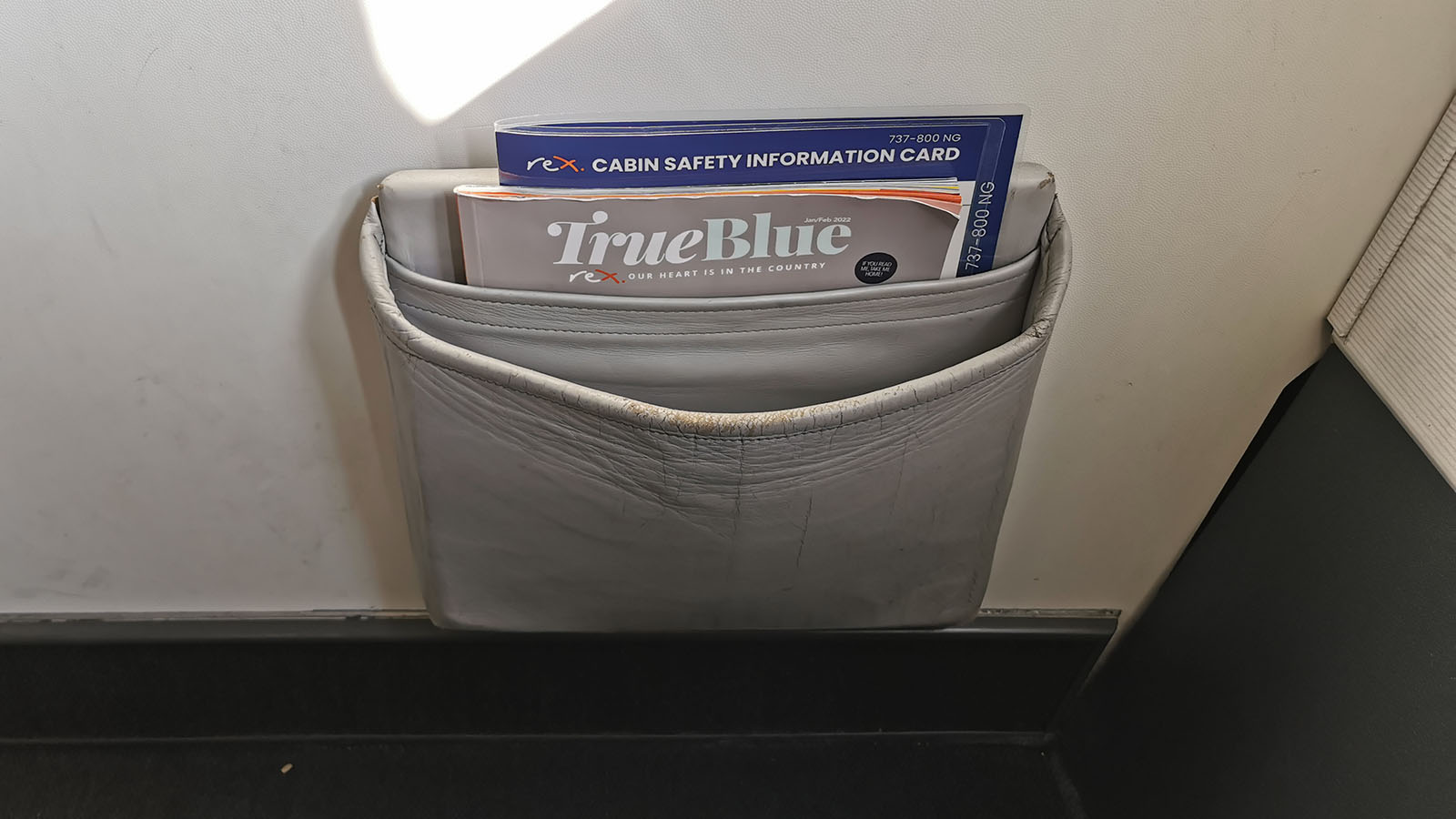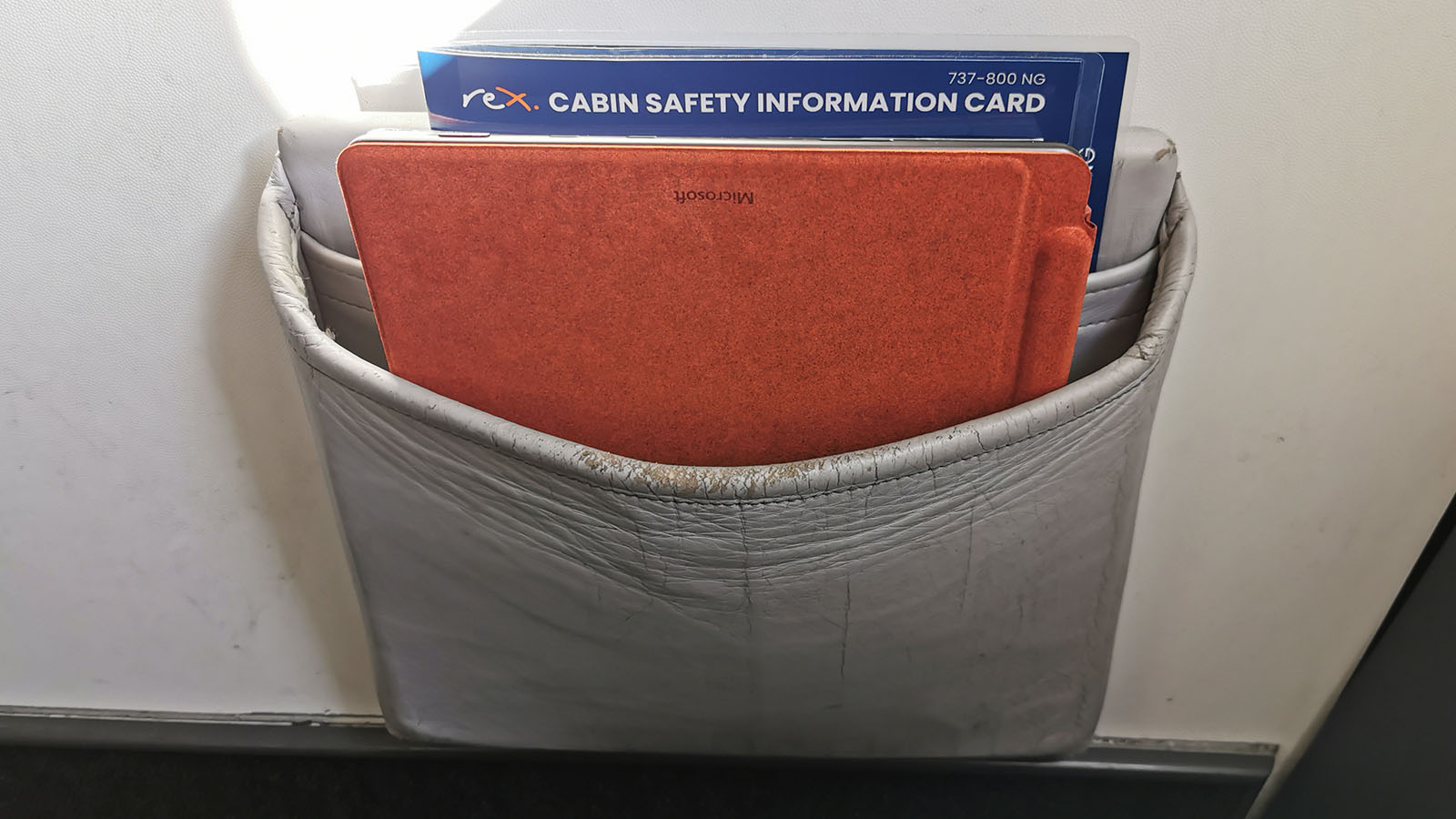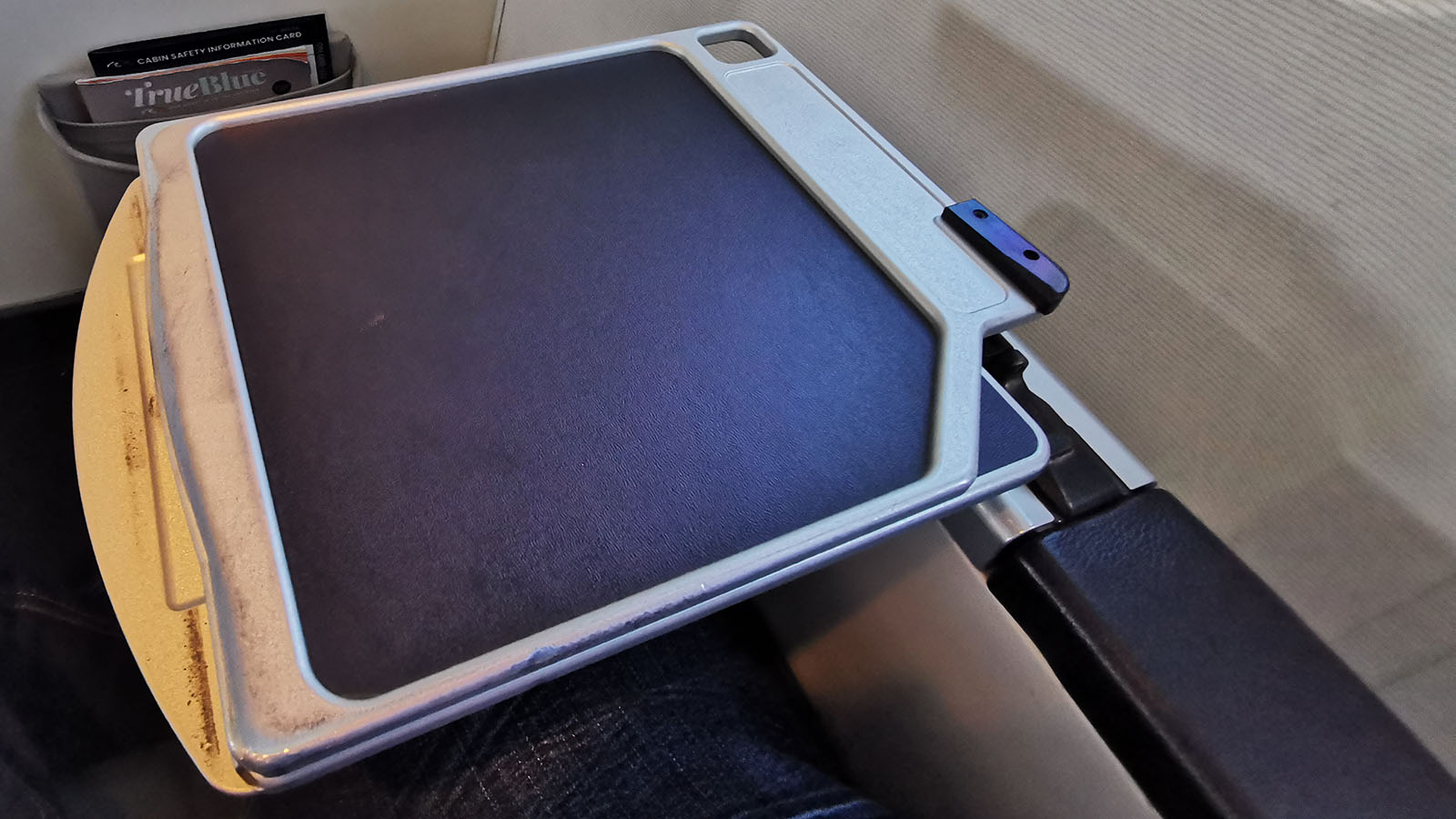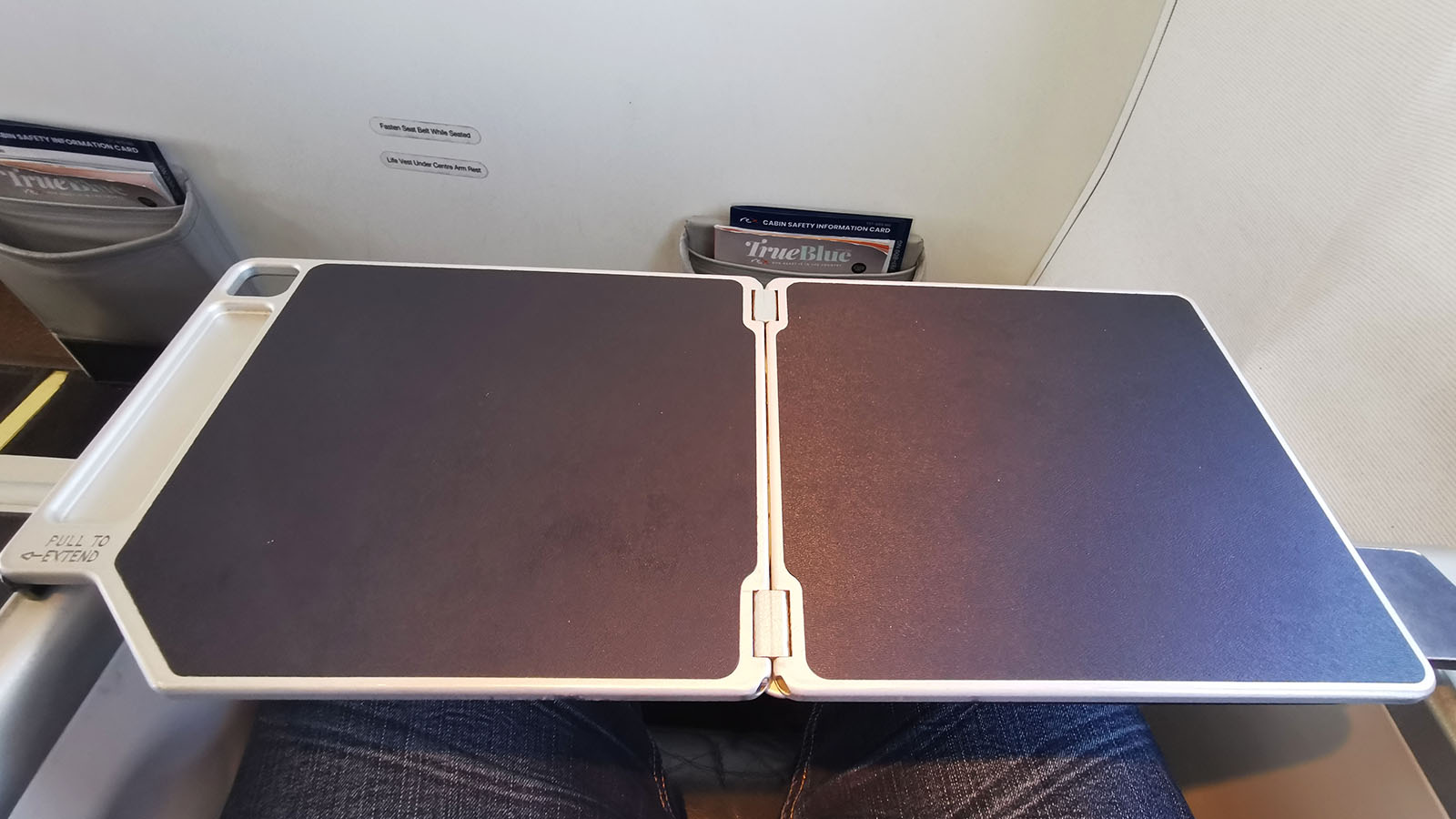 For even more space, your tray table emerges from within the armrest. Open it halfway for a second cocktail table, or all the way for a sturdy surface. Pulling it towards the centre console gives it something to rest on, and helps avoid your meal or laptop bouncing around.
Rex Boeing 737 Business Class food and beverage
Regardless of the specific fare type you purchase, all food and beverage is included with your Rex Business Class ticket.
Being an 8 am departure, the journey kicks off with a pre-flight offer of orange juice or a refreshing sparkling water. Tea and coffee are also available straight after take-off, before the main meal service. That's great when you're still waking up from an early start!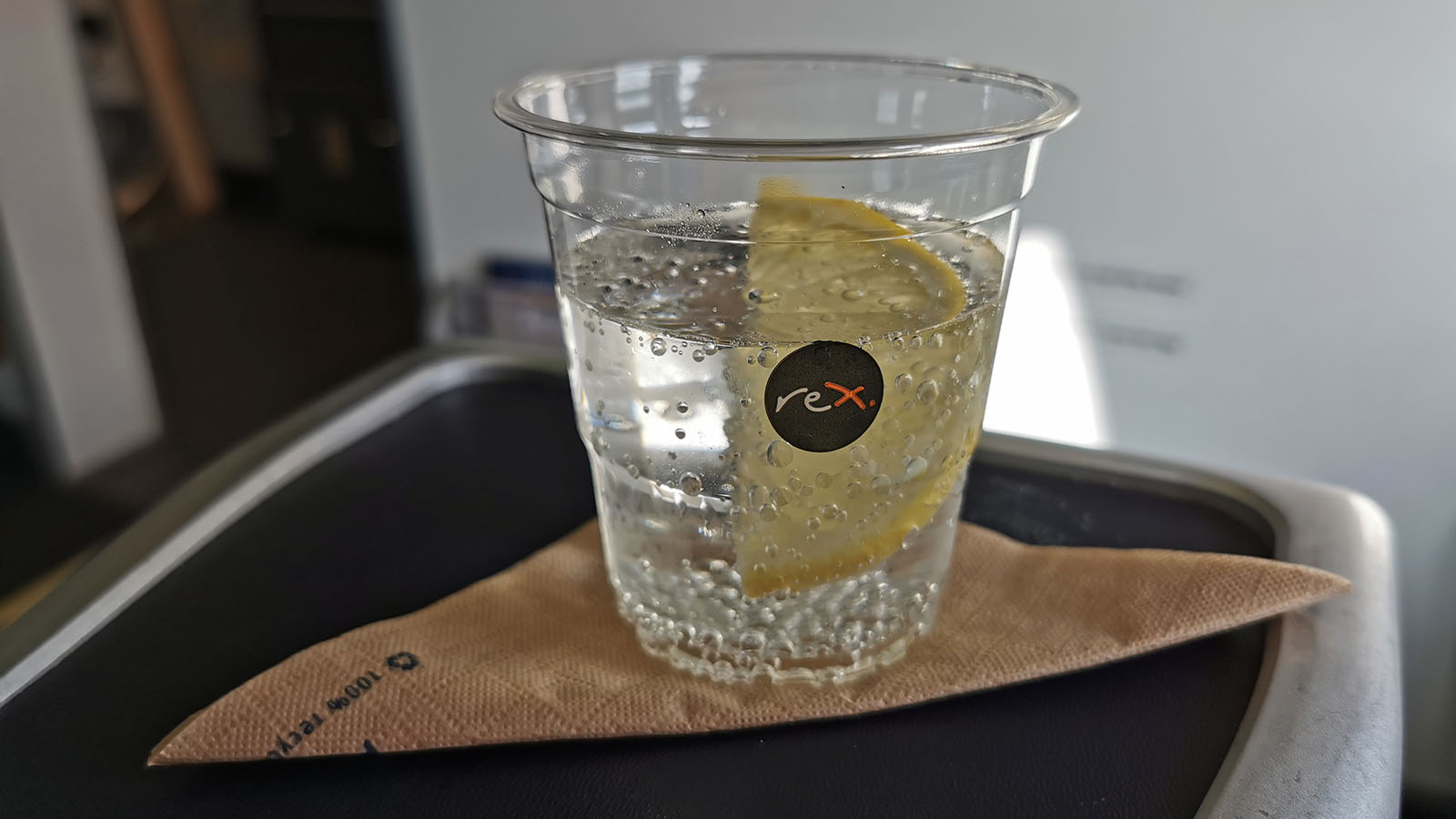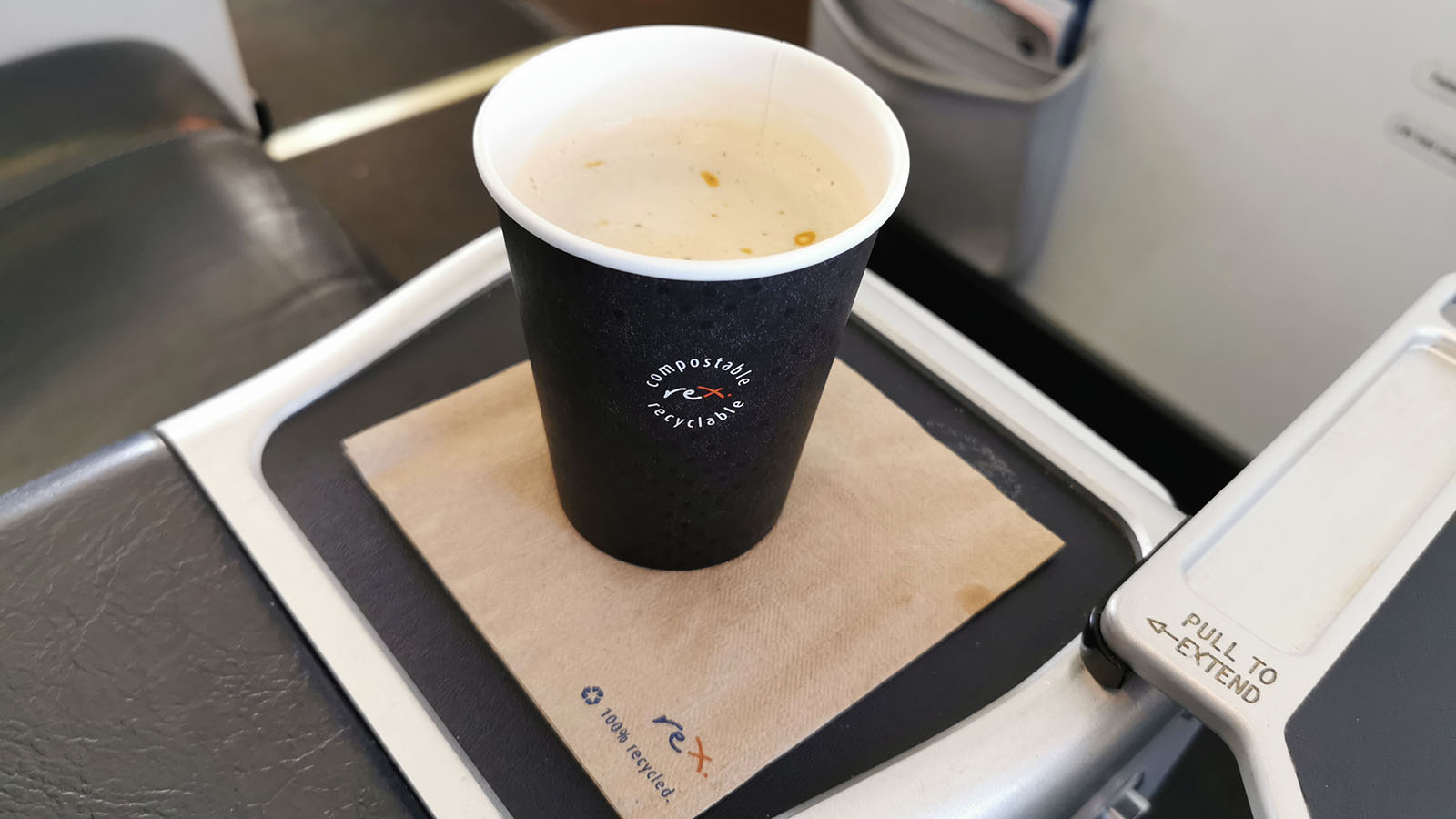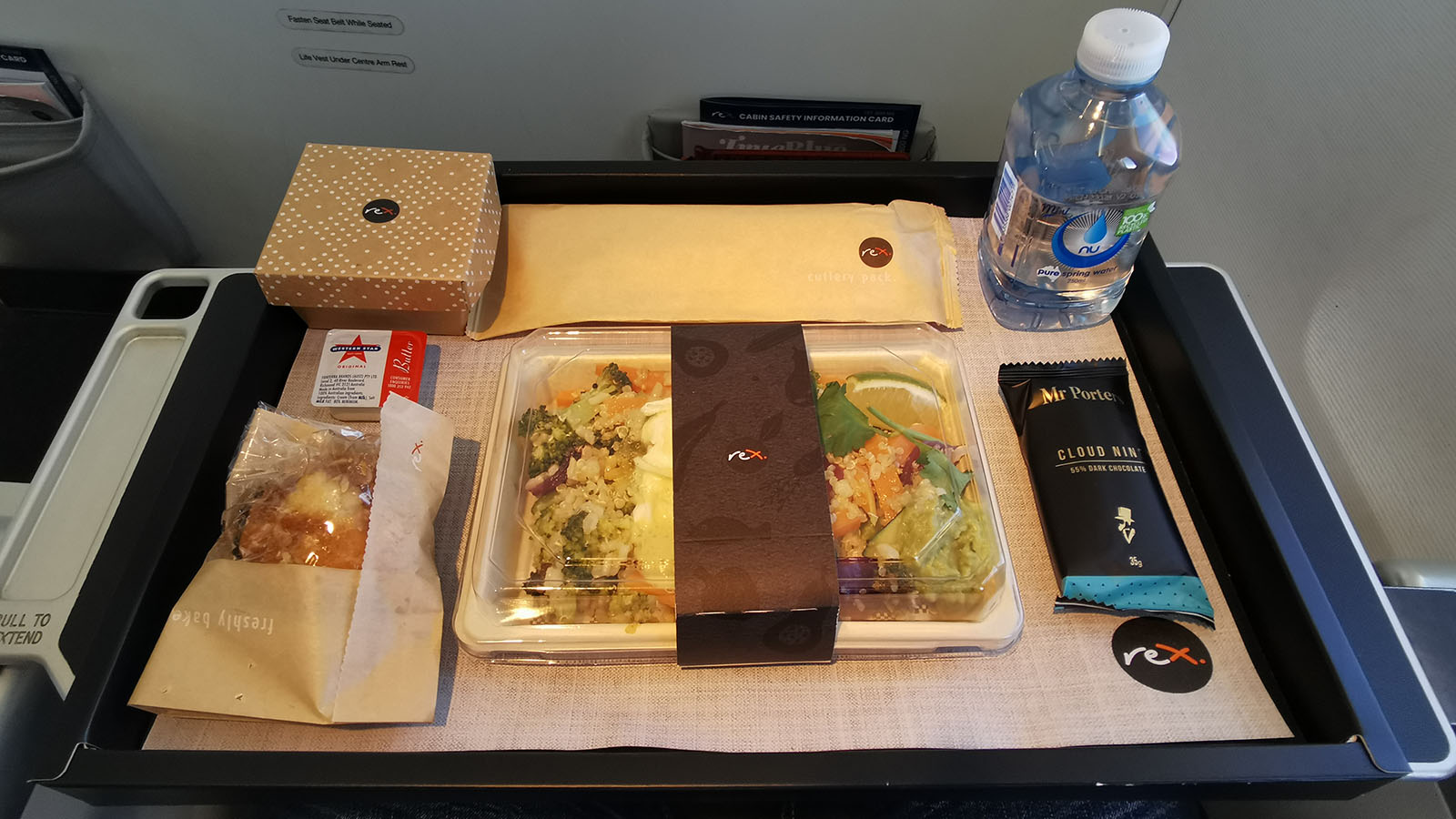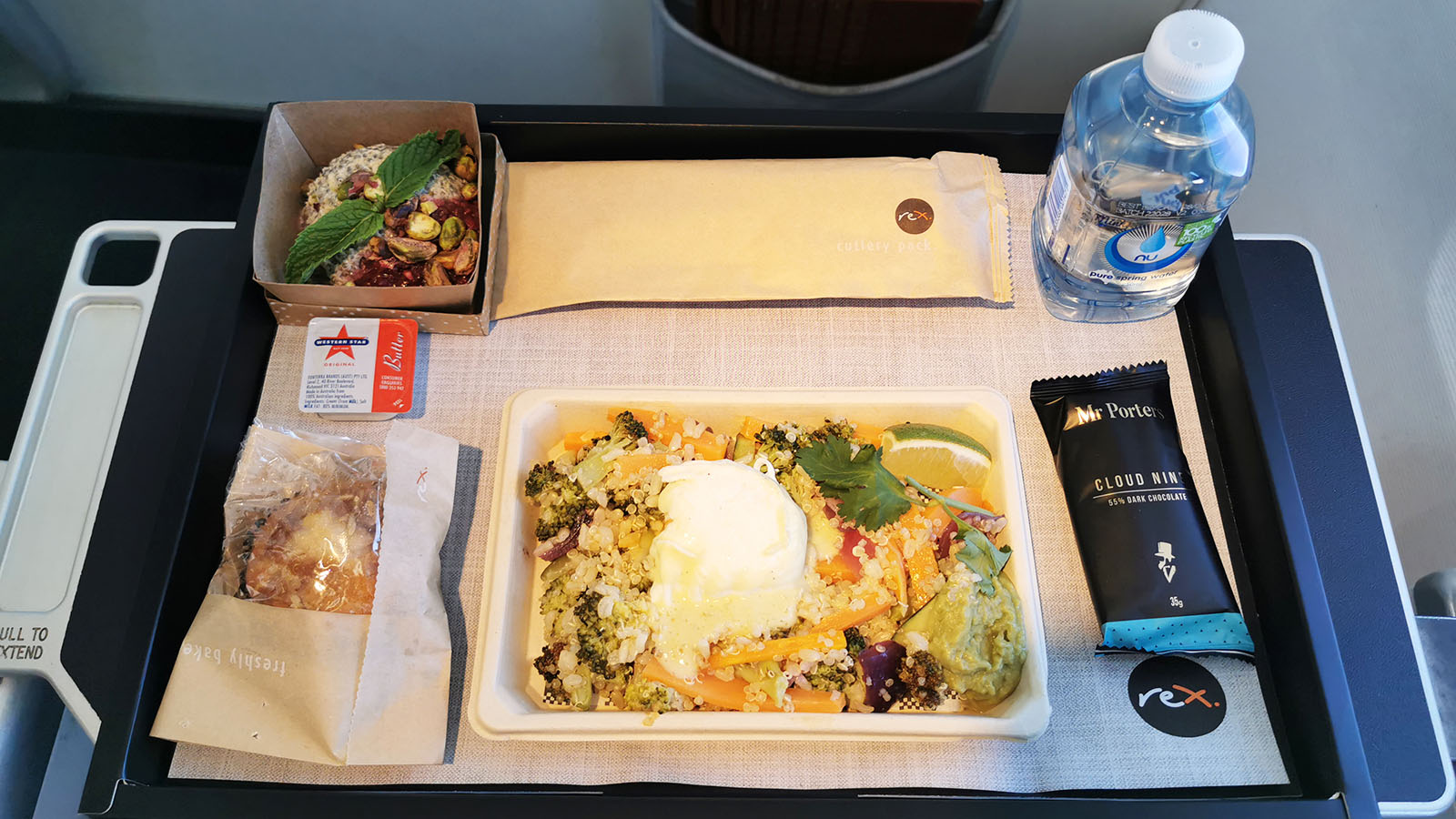 Orders are taken for the breakfast main from the following choices:
Hot option: bubble and squeak with fried egg, sausage and spinach.
Cold option: brown rice with charred vegetables and avocado.
Had I not already eaten using the airport voucher, the hot option would have been great. But for something lighter, the cold option came as a solid brunch dish.
You certainly won't go hungry, with several sides on the tray, plus a pass of the snack basket an hour later. Pro tip: grab a delicious chocolate cookie for the road.
Rex Boeing 737 Business Class service and entertainment
Many parts of the Rex experience mirror its competitors, and that includes WiFi. Four of Rex's six Boeing 737s are already equipped with both satellite Internet and streaming inflight entertainment. The latter is free for all passengers, with WiFi also complimentary for those in Business Class.
Unfortunately, the jet ferrying me to Melbourne wasn't one of those WiFi-equipped birds, so I couldn't test it this time. But Rex advises that WiFi will spread to the remainder of its Boeing 737 fleet soon.
I always come prepared with alternative entertainment as a just-in-case, and that served me well here. After a little work and an episode of Kim's Convenience pre-downloaded in my Netflix app, it was time to buckle up and prepare for our arrival.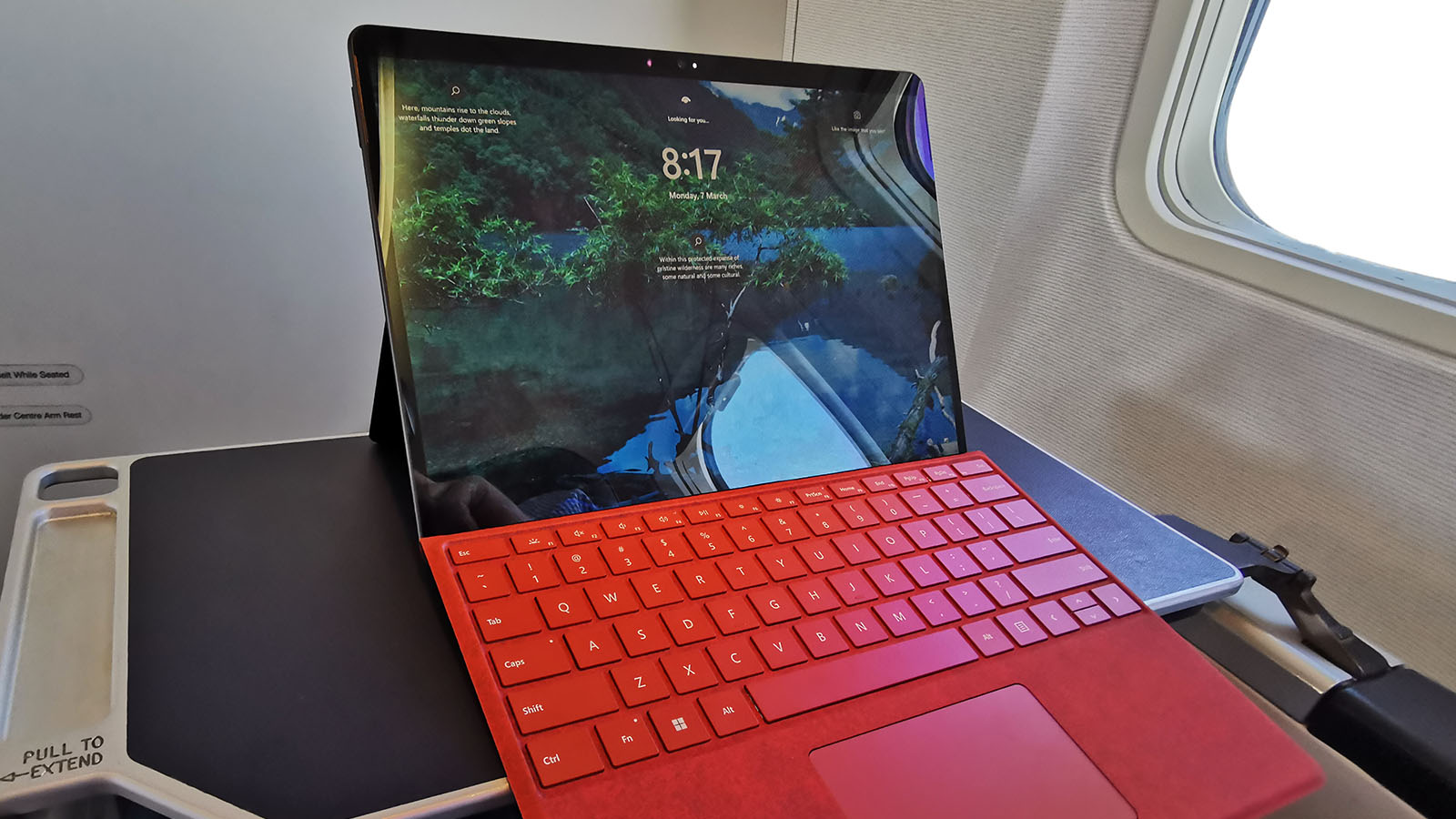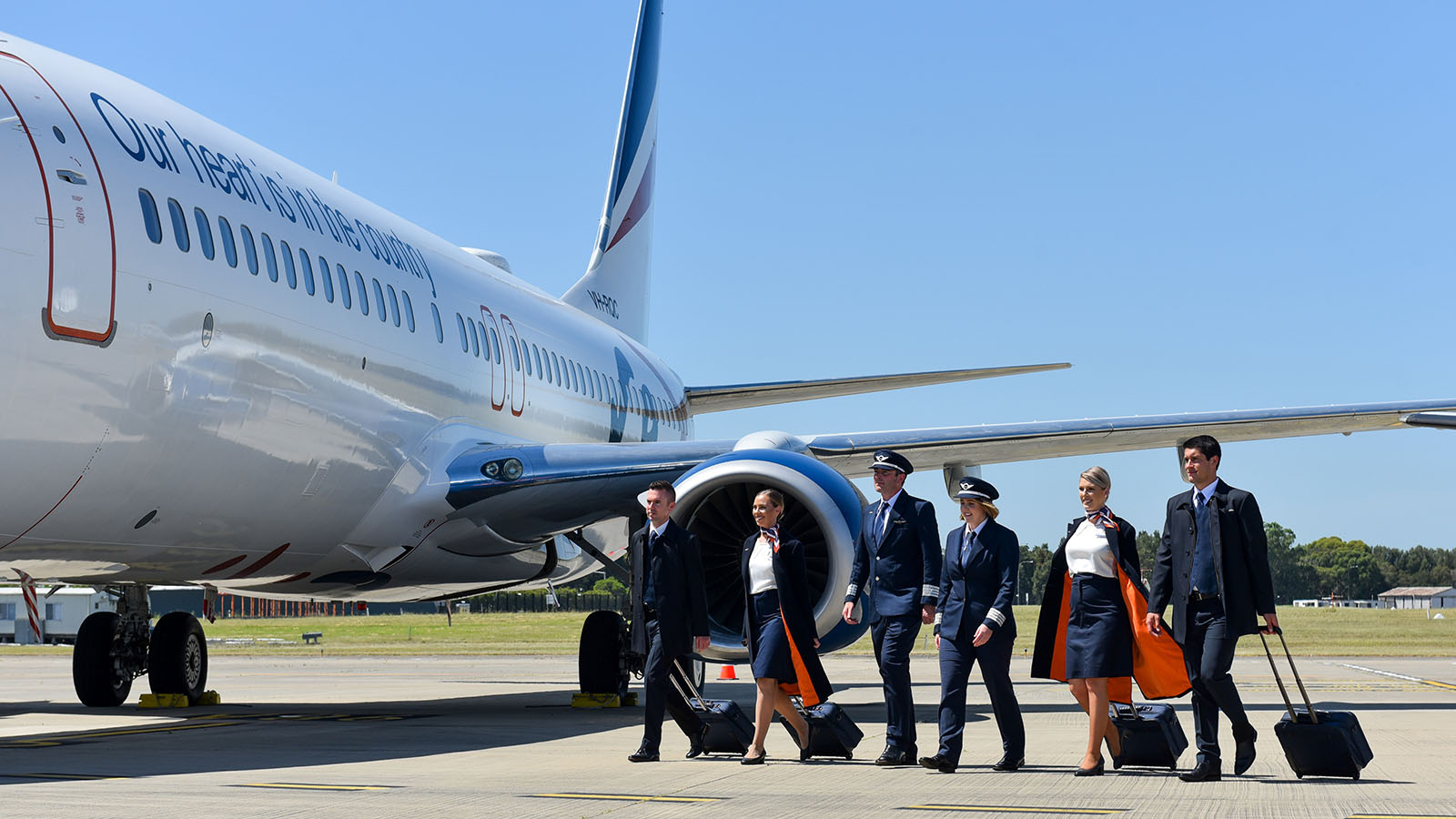 Rex's True Blue inflight magazine can be found in your seat pocket.
On the service front, cabin crew are friendly and efficient, without being too familiar or distant. It's the perfect setting for a flight like this, particularly with passengers busy working on laptops.
Before long, Victoria comes into sight, and it's time to touch down.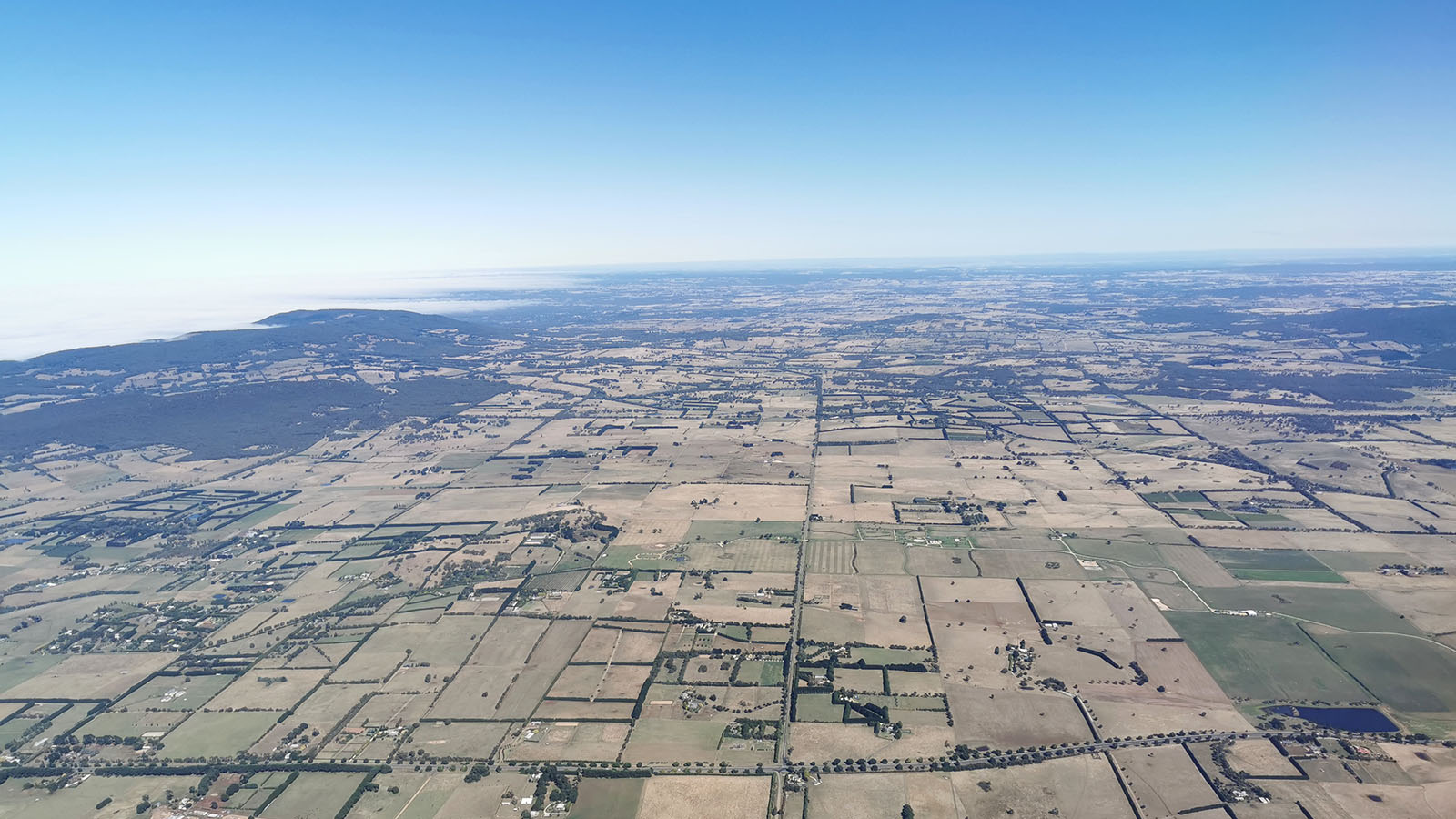 One slight hiccup: in Brisbane, it seems the staff forgot to tag my bag with Business Class priority. Those other priority-tagged bags came out first, with mine a few minutes behind.
But still, we arrived early into Melbourne. Given I was kerbside with my luggage before the flight was even scheduled to land, Rex certainly proved to be a reliable option for this business trip.
Summing up
Rex Business Class is a comfortable way to fly, and it's easy on the hip pocket too. With fares selling from just $299 each way, Rex puts premium travel within easy reach.
I also couldn't help but notice that when searching fares the day before travel, Rex Business Class could still be snapped up for $299 on this service. Yet a Qantas Economy Red eDeal was $271 for an equivalent flight. In that scenario, paying just $28 more than Qantas Economy could land you a Business Class trip with Rex.
That won't always be true, especially when booking further in advance where Economy Class can cost less. But even if you'd normally be drawn to other airlines, keep Rex in your sights.
I don't know about you, but if I can get Business Class for just $28 more than Economy Class, I'd pay the difference every time! And on its own, $299 for a gate-to-gate Business Class experience on one of Australia's most popular domestic routes is still a steal, whichever way you look at it.
Photography by Chris Chamberlin, who travelled as a guest of Rex. Feature image courtesy of Rex.
---
Stay up to date with the latest news, reviews and guides by subscribing to Point Hacks' email newsletter.
Rex Boeing 737 Business Class (Brisbane – Melbourne)
was last modified:
August 31st, 2022
by