As one of United Airlines' largest hubs, San Francisco is home to not one, but three United Club lounges. But the trio are certainly not created equal. One is, without a doubt, the worst United Airlines lounge I've ever visited. But at the other end of the scale, another is one of the best – and from my travels at least, second only to the great United Club at London Heathrow.
But here's the thing. If you can access one United Club here, you can really enter all three. And better yet, they're all located within the same secure area. This means you can walk between any of these lounges and your relevant departure gate. Why visit the worst, when you can relax in one of the best? That's exactly what I think on this journey through SFO…
Location of the United Club lounges in San Francisco
San Francisco is also home to a United Polaris Lounge, but the access rules for the United Club are much broader. This United Club is nearest the E gates and sits adjacent to gate E4 in Terminal 3. But there's that trick worth remembering. In San Francisco, several of the terminals are linked airside, so you can freely roam between them.
Notably for this lounge, Terminal 2, Terminal 3 and 'International Terminal G' are all attached. In effect, after security, you can walk between any gate beginning with C, D, E, F or G, without clearing security again. For instance, today I'm flying Air Canada from a 'D' gate in Terminal 2. But this allows me to walk across to Terminal 3 and use this lounge before my flight.
In fact, I begin by wandering all the way over to International Terminal G, where there's another United Club. I step inside but quickly find a very dated lounge with standing room only. Knowing that eligible passengers can enter any United Club and walk between them, I wander on back to Terminal 3. Here I find a nicer and much quieter lounge.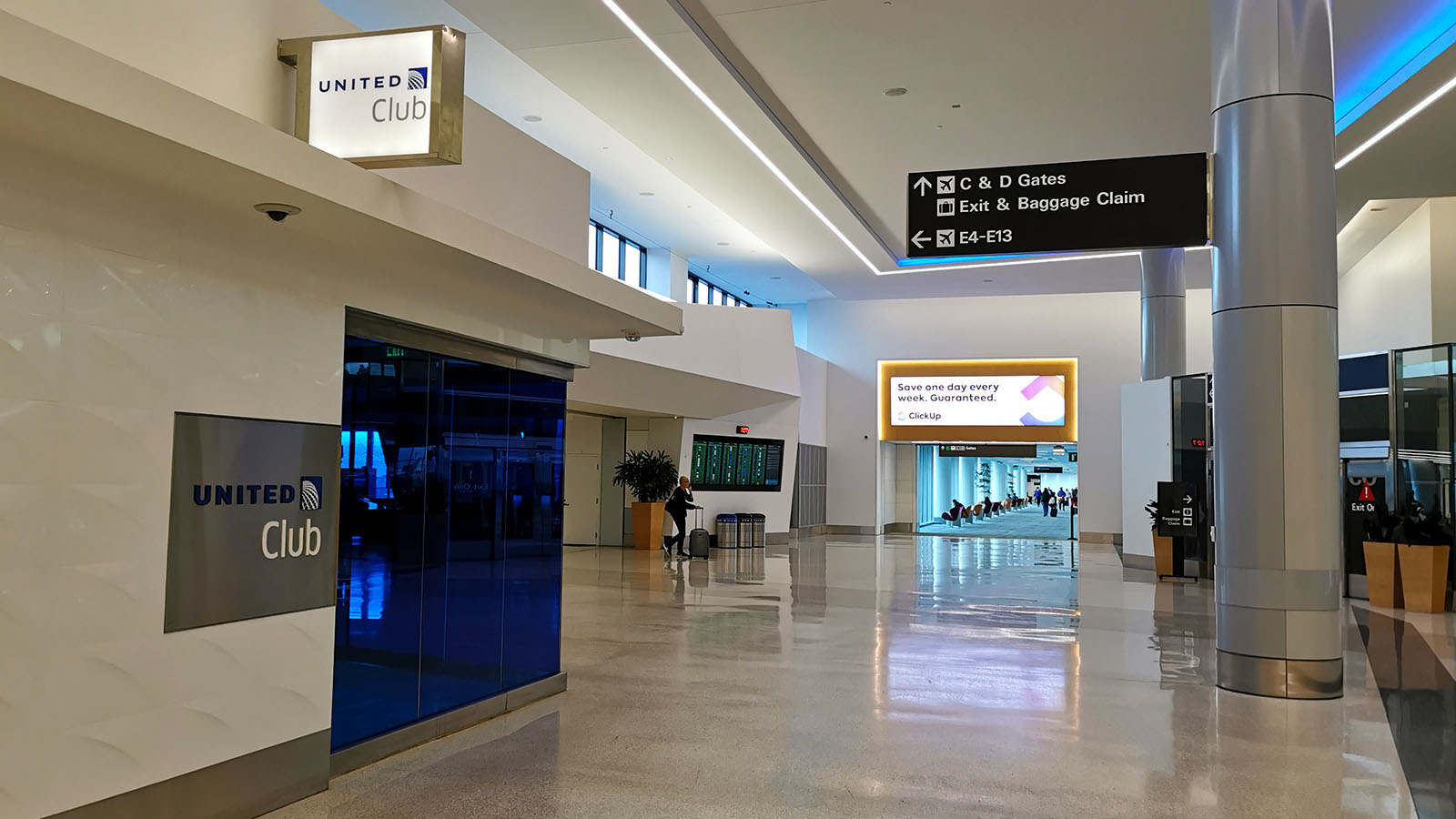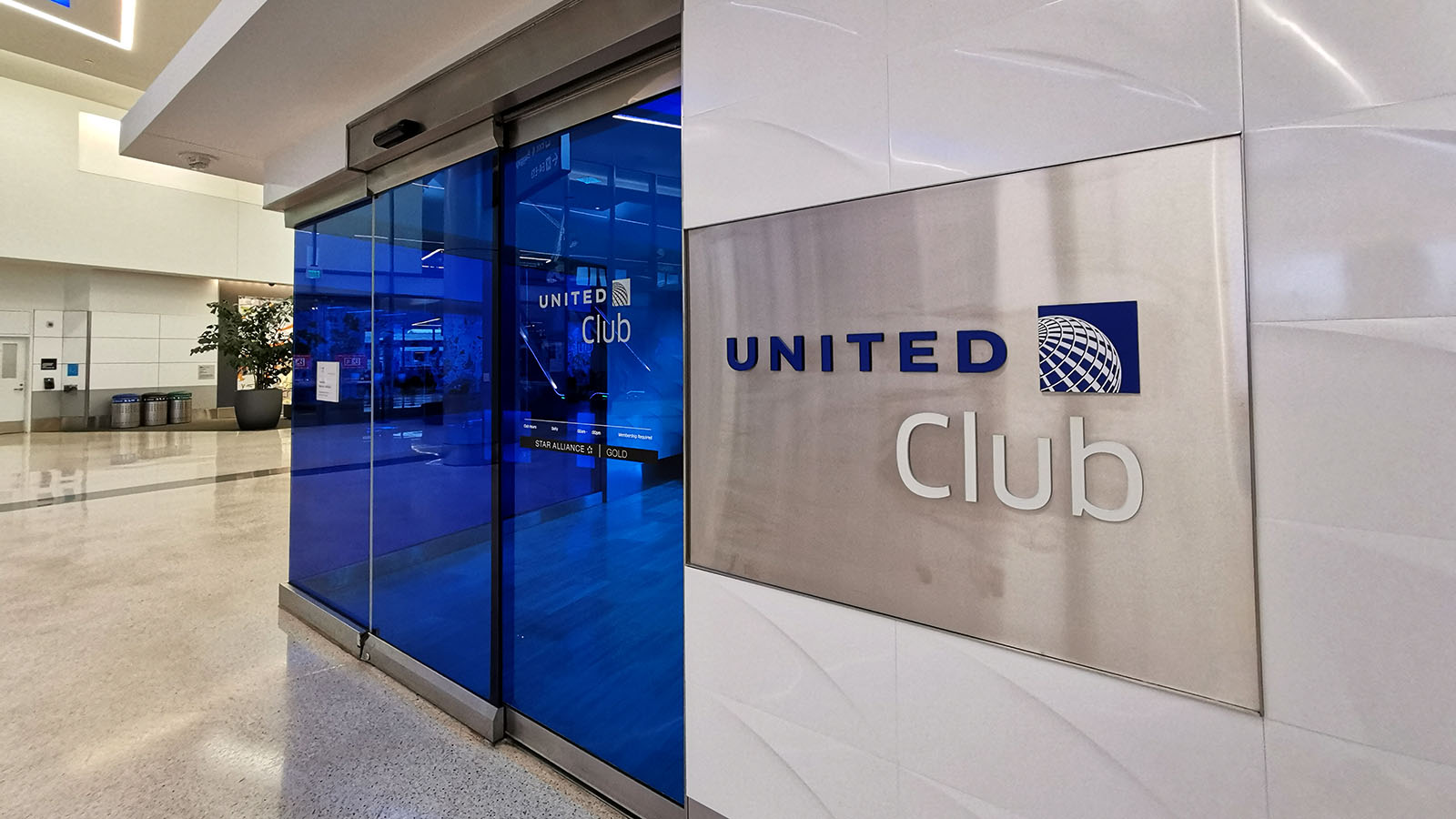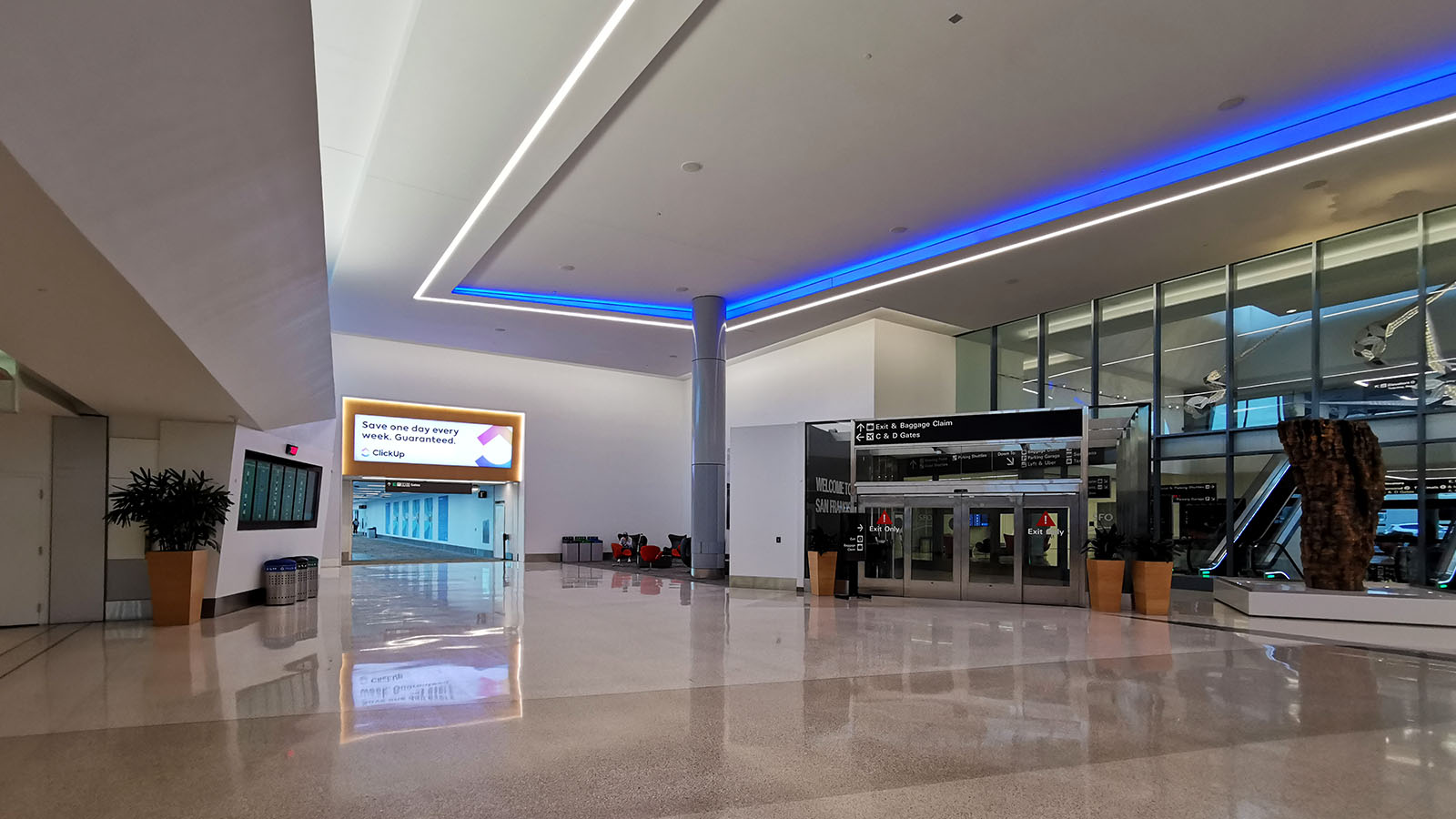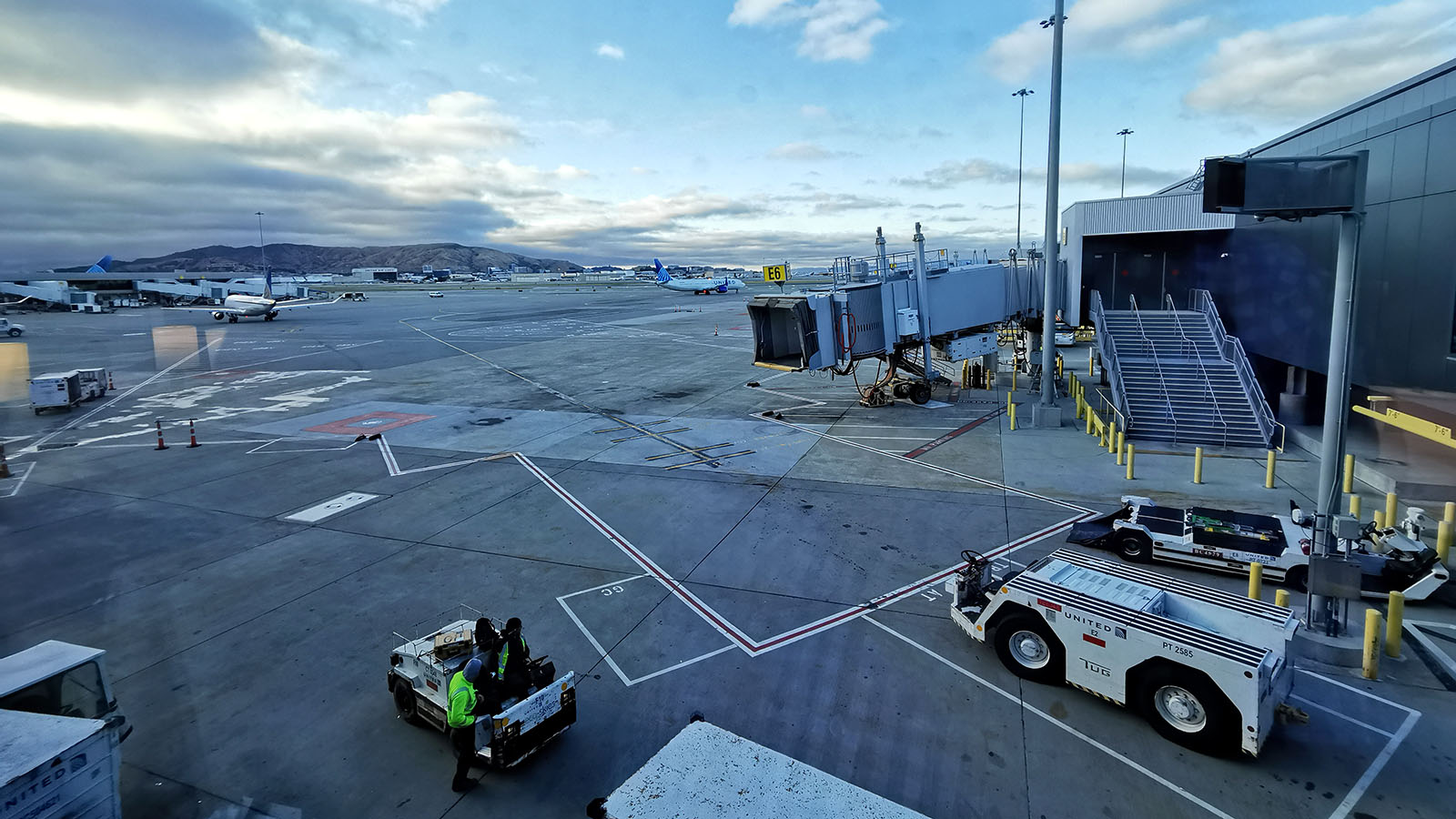 Interestingly, the G gates are often home to United's flights to Sydney, Melbourne and Brisbane. But by knowing the rules and by having a little more time up your sleeve, your pre-flight experience will be much better by coming here to the 'E' lounge. It's newer, less crowded and has tarmac views – more than I can say of the 'G' lounge.
This San Francisco United Club opens daily between 5:45 am and 10:30 pm. If you happen to be flying earlier or later, another United Club by the F gates opens between 5 am and midnight. By comparison, the International Terminal G United Club opens daily between 7 am and 10:30 pm.
Layout, seating and amenities
As far as airport lounges go, the United Club at San Francisco's E gates isn't the largest. But its modern, thoughtful design still separates the space into different zones. My pick of the bunch is the back left corner. This little nook gets the best natural light thanks to floor-to-ceiling windows. By extension, you also get airfield views.
Predictably, all of the primo seats right against the windows are taken when I arrive. So I settle in further along the row. After spending a few hours in San Francisco's (much darker) American Express Centurion Lounge, it's great to readjust with sunlight.
Beyond this corner nook sits a large central zone. This caters for dining and working.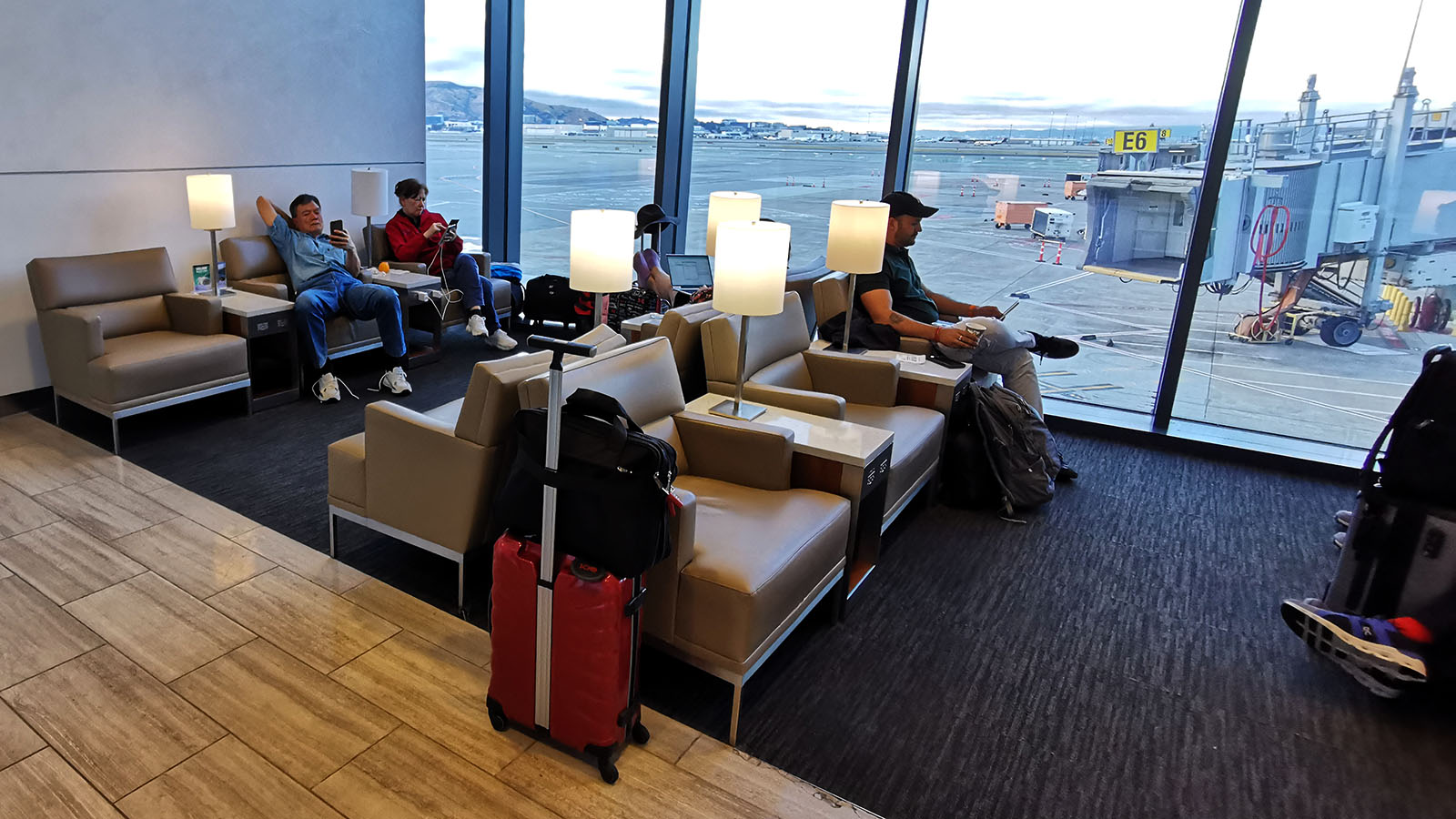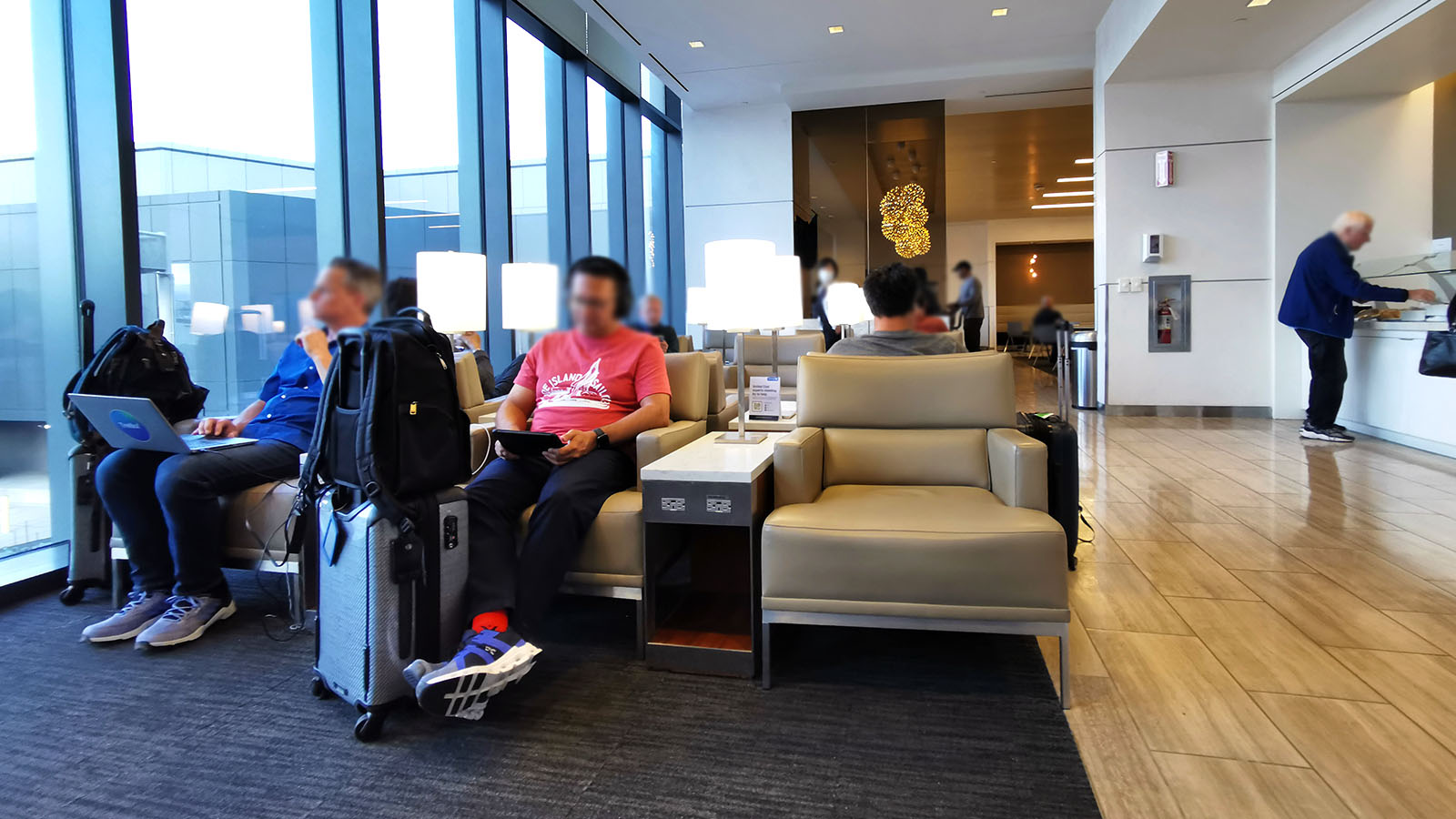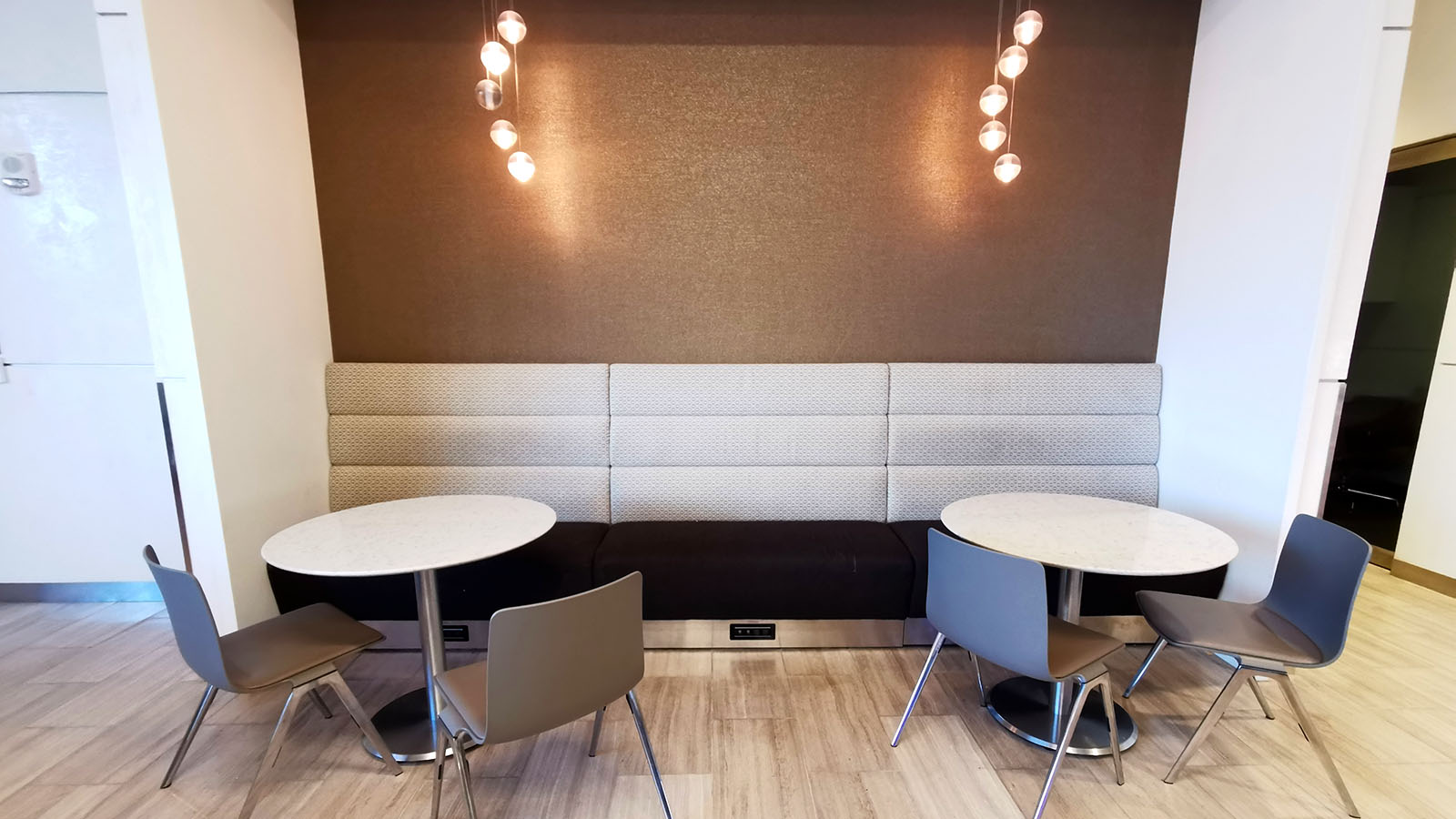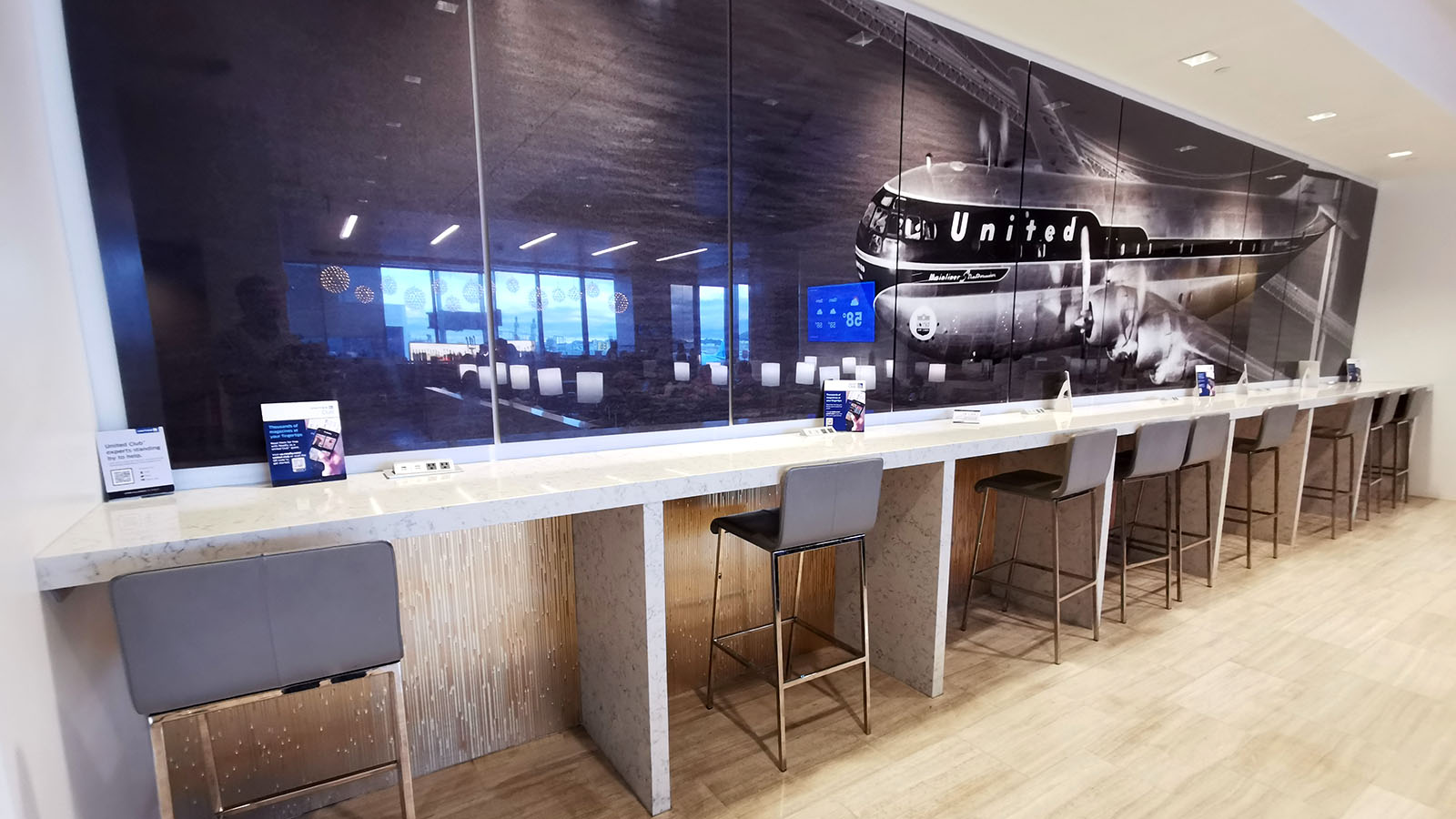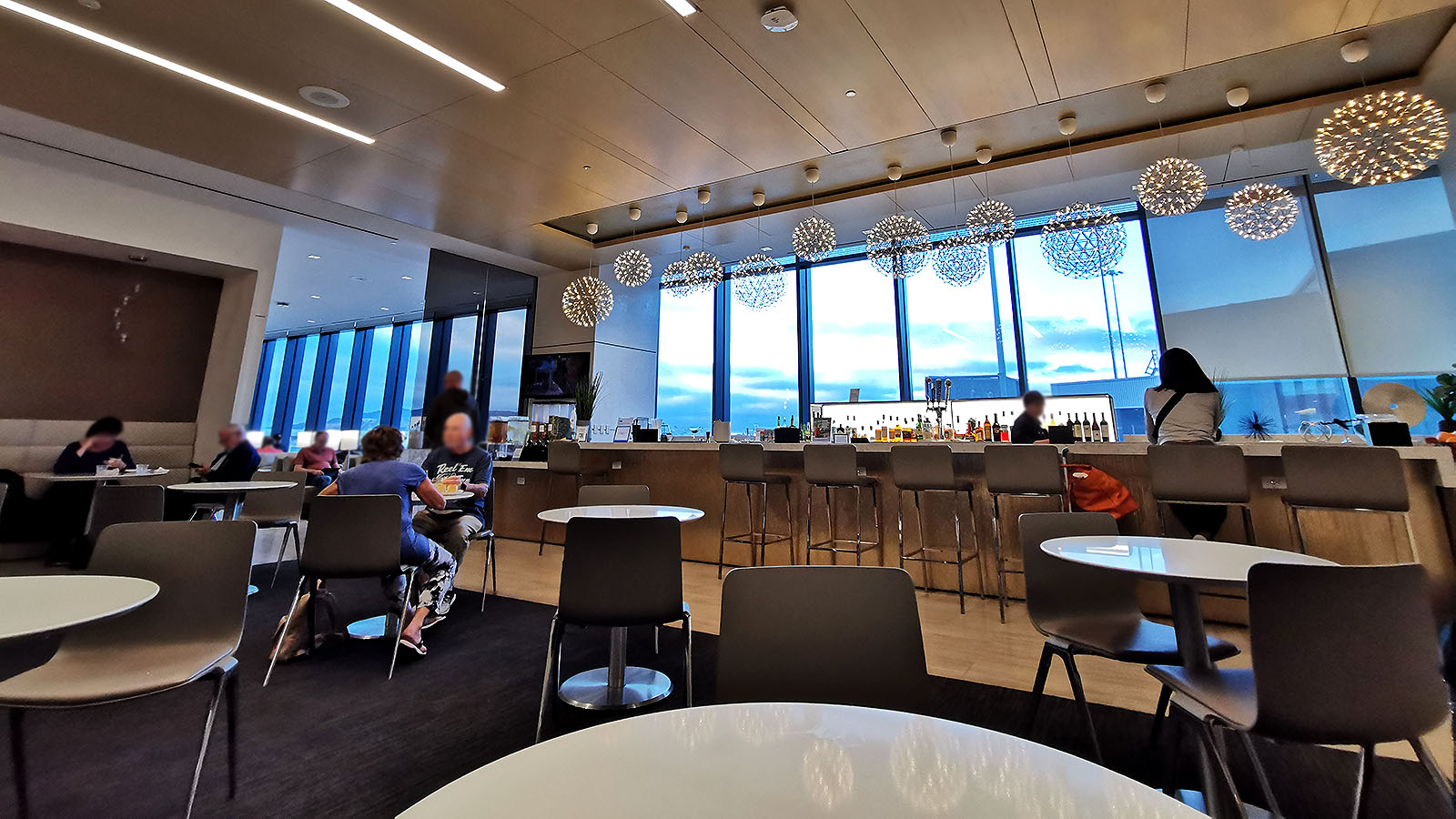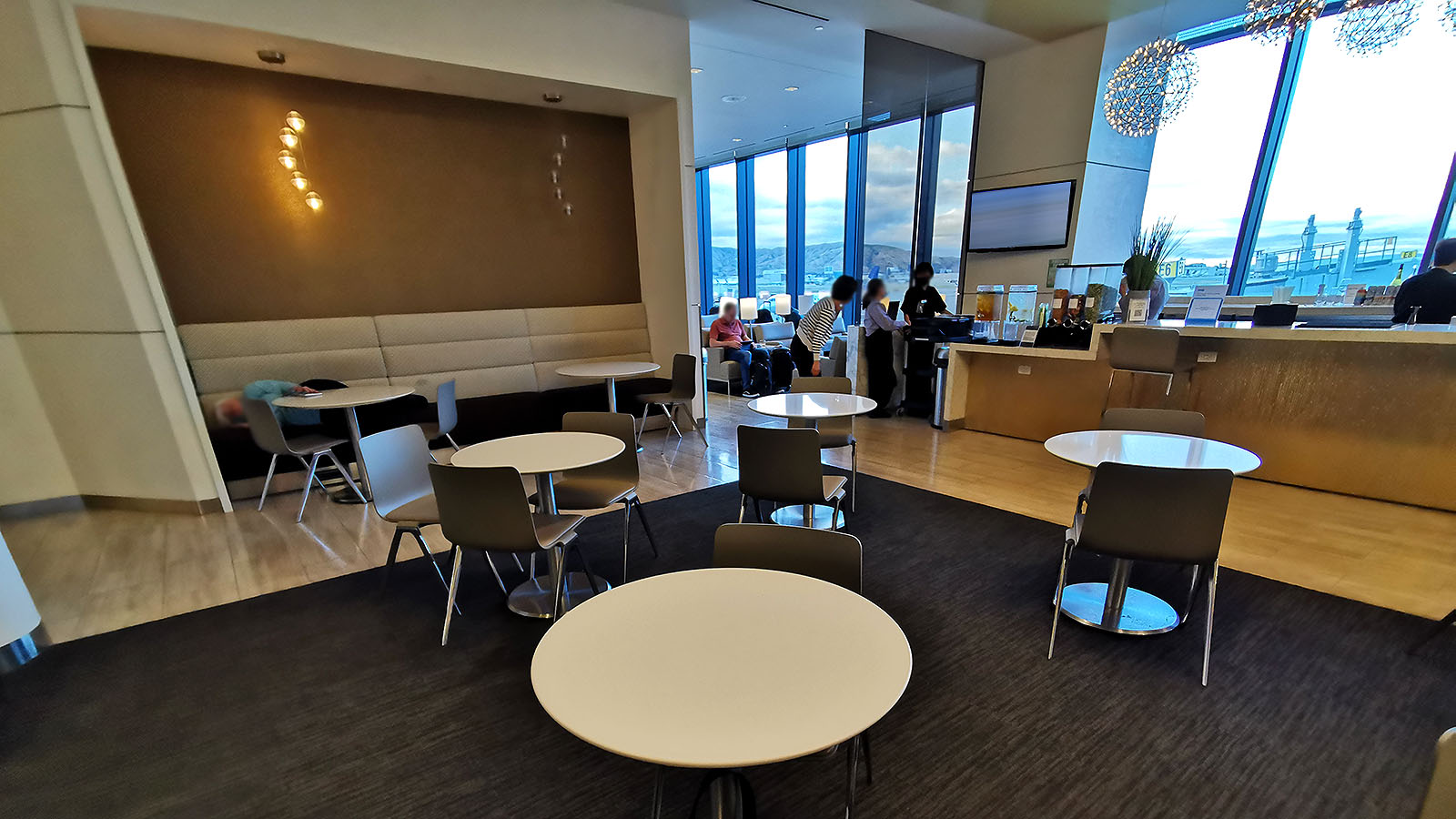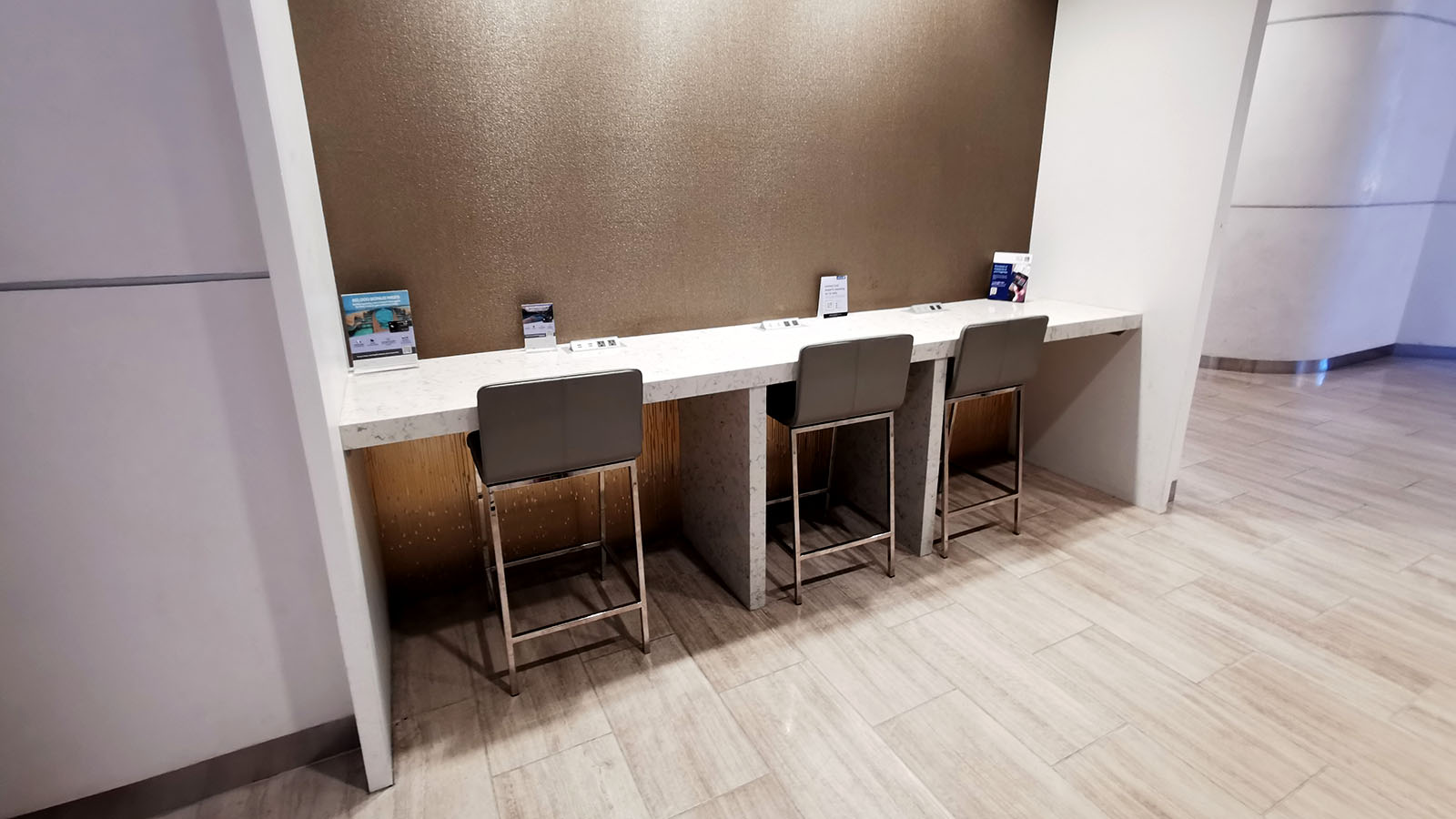 A sea of tables fill the centre of this space. Banquette seats line the walls, but helpfully also with tables, along with power points just below. For any serious work though, look to the high-top benches. These convey more of a 'workspace' vibe. The longer line-up also features some historic United artwork to enjoy.
While this United Club has on-site restrooms, shower facilities aren't available. In fact, you won't find showers in any of the airline's San Francisco United Clubs. Particularly as United's primary West Coast hub, that's a pretty big oversight. You'll only find showers in the Polaris Lounge – which you can only access if flying long-haul Business Class or First Class direct from SFO. I'm flying Air Canada Business Class up to Vancouver and onwards to Brisbane, and this doesn't qualify.
Fortunately, I've planned ahead and make use of the shower facilities in the Amex Centurion Lounge. But this isn't an option for everybody. Instead, eligible Star Alliance passengers can also now visit Air Canada's new Maple Leaf Lounge. This opened just after my journey, so I look forward to trying it out next time.
Food and beverage in the San Francisco United Club
These days, I don't expect much in the way of substantial food from most lounges in the USA. Certainly, expectations are higher of a United Polaris Lounge – or something like an American Airlines Flagship Lounge. But with United's lead-in lounge product, I'm quite pleased with the filling choices on offer here.
Beyond the typical cookies and slices, a pass of the buffet finds a well-stocked collection of wraps and sandwiches for a late lunch. That continues with corn chips for a quick bite and a whole host of fresh ingredients. Use them to compile a salad, or perhaps fill up on one of the bread rolls nearby. With hot chicken also at hand, you're sorted for a casual bite.
Options carry on with cheese, crackers and accompaniments. There's also a sizeable stack of guacamole available – perfect to mix with those corn chips mentioned earlier.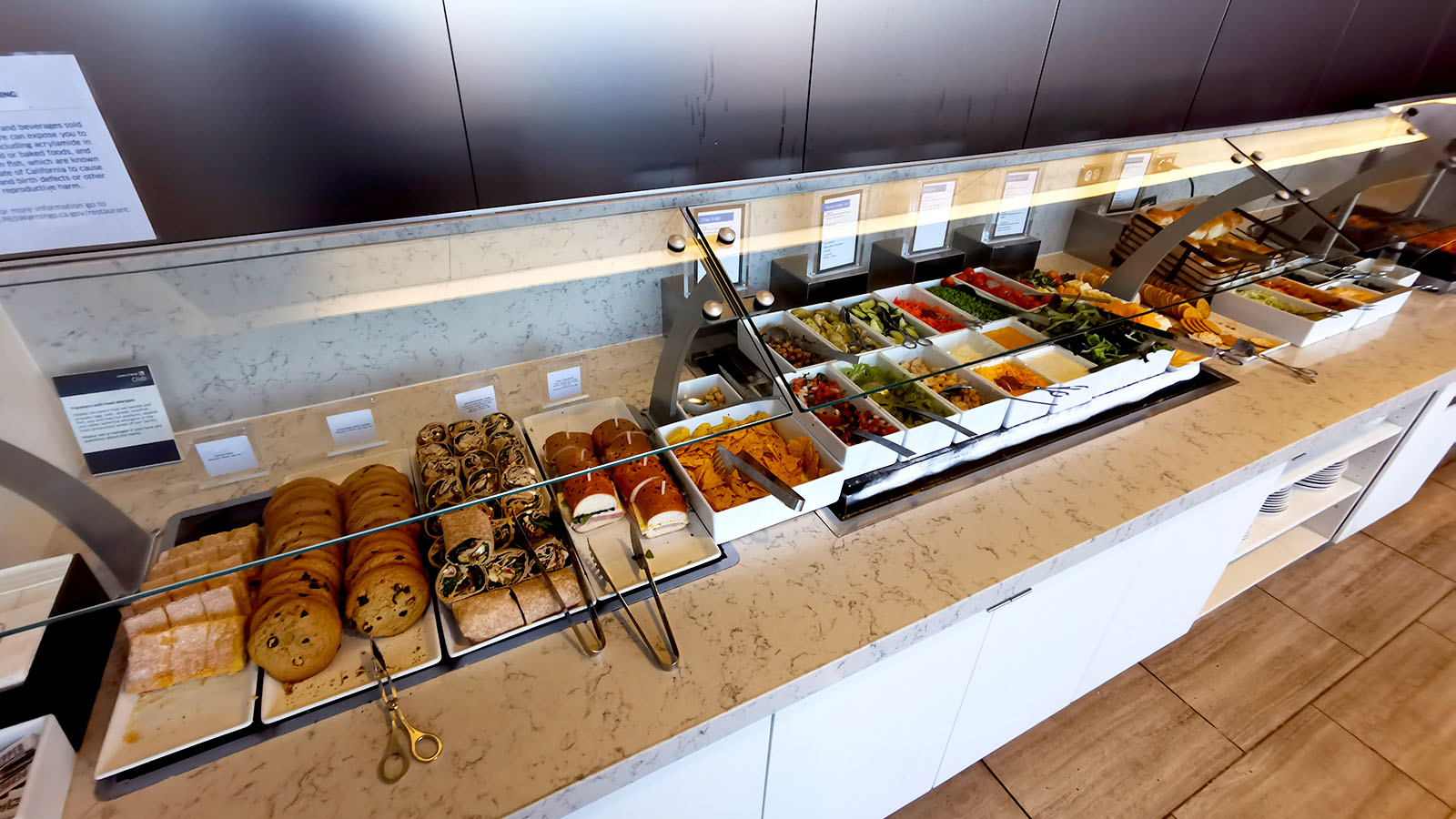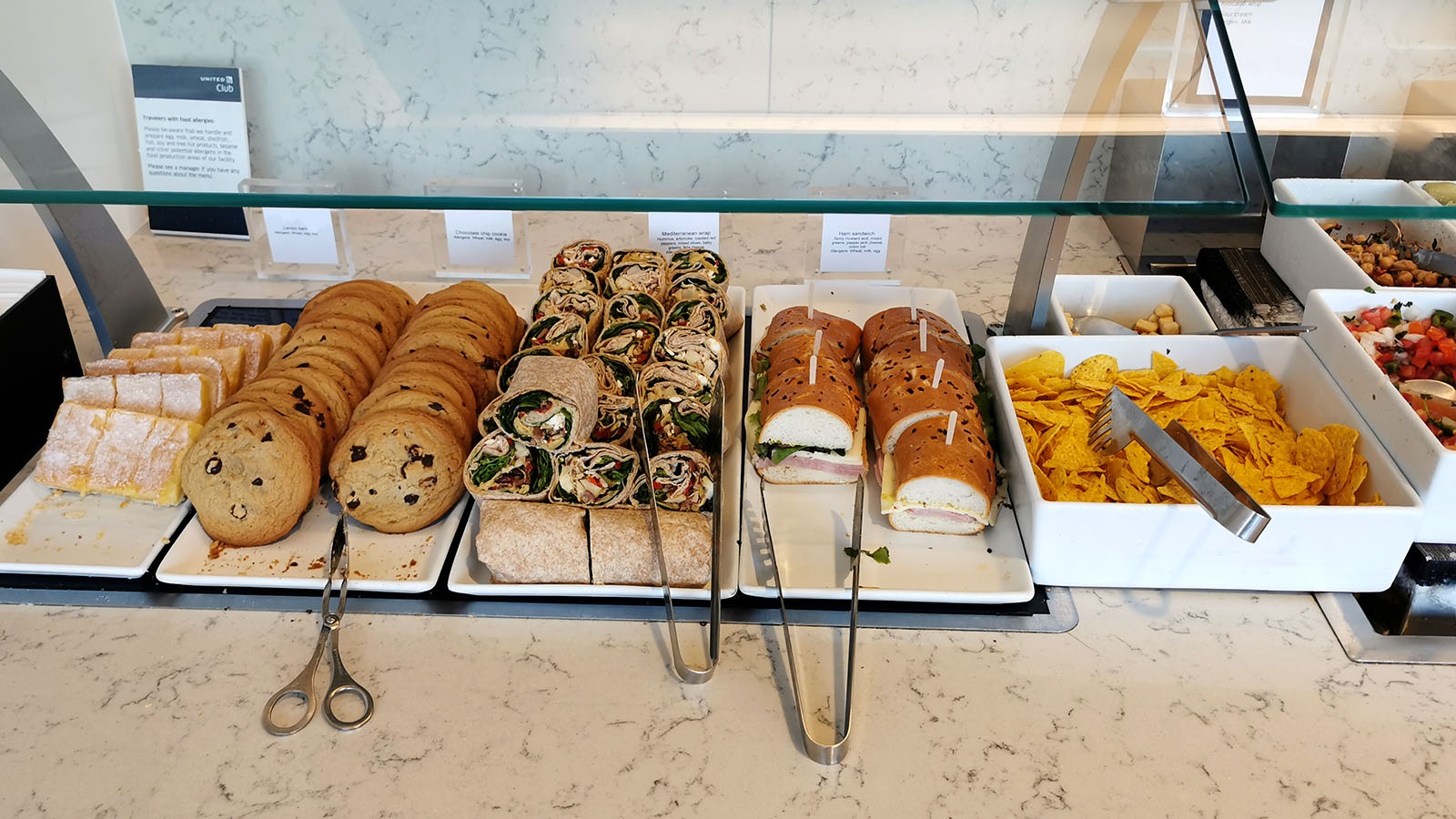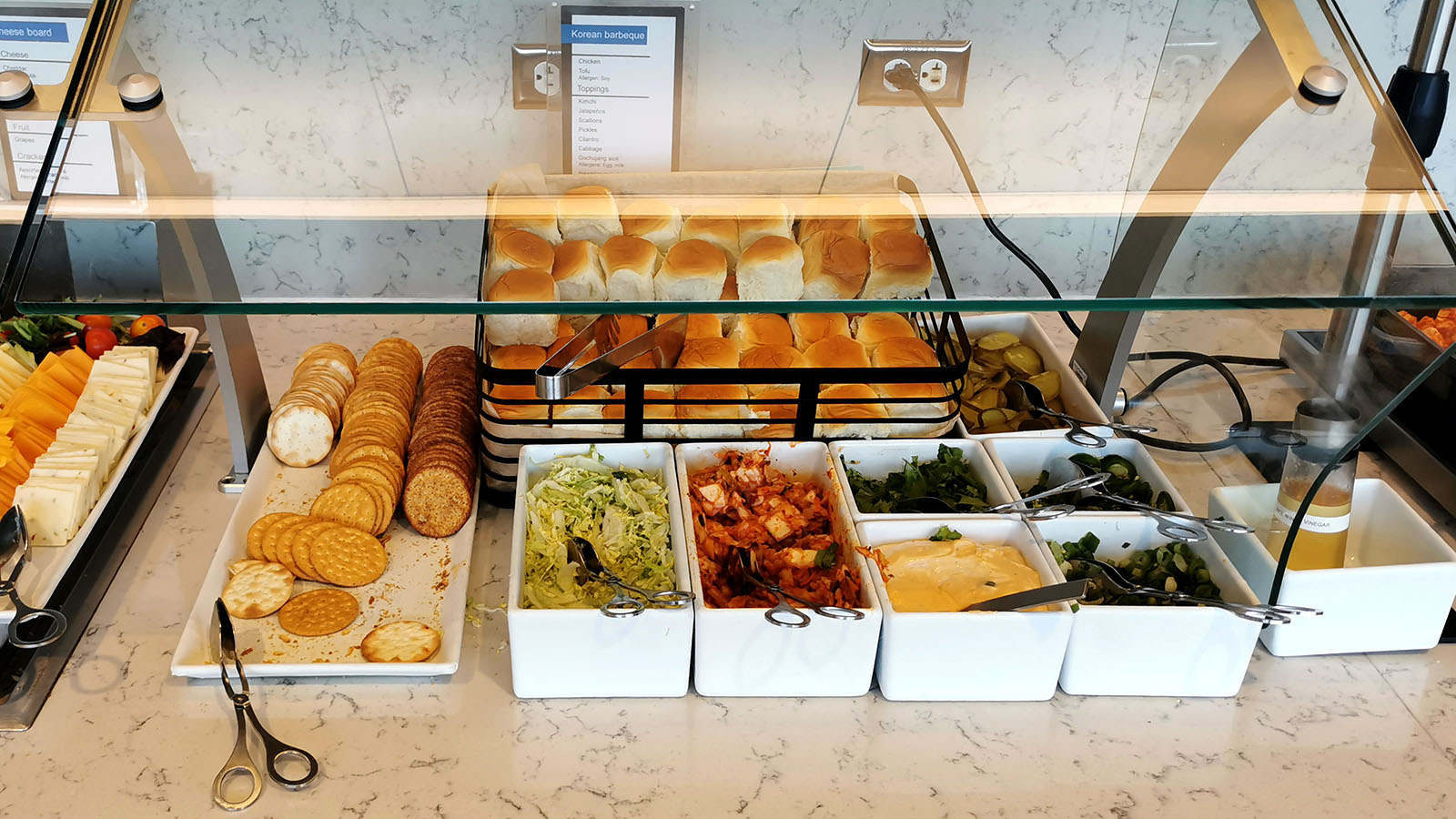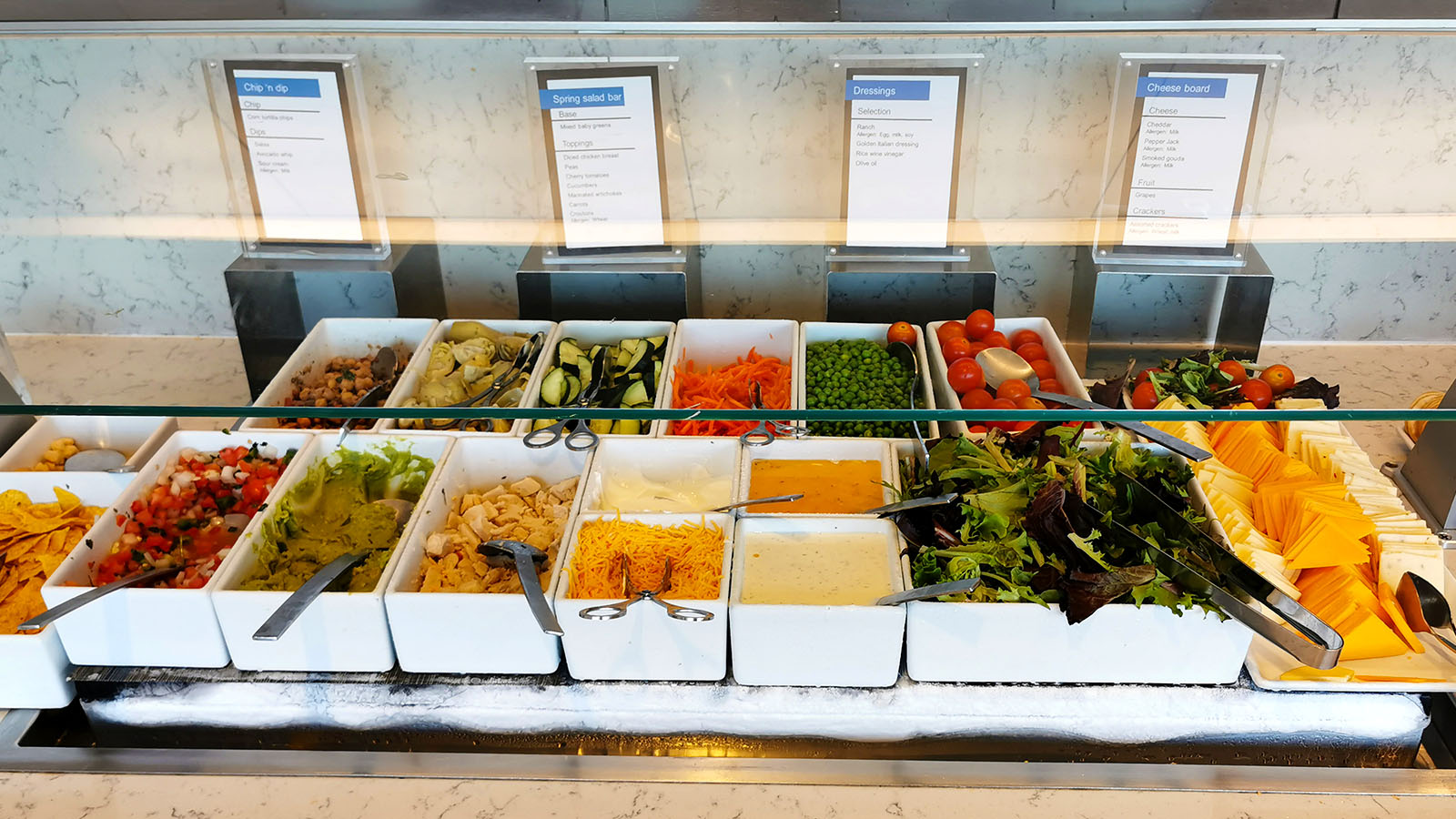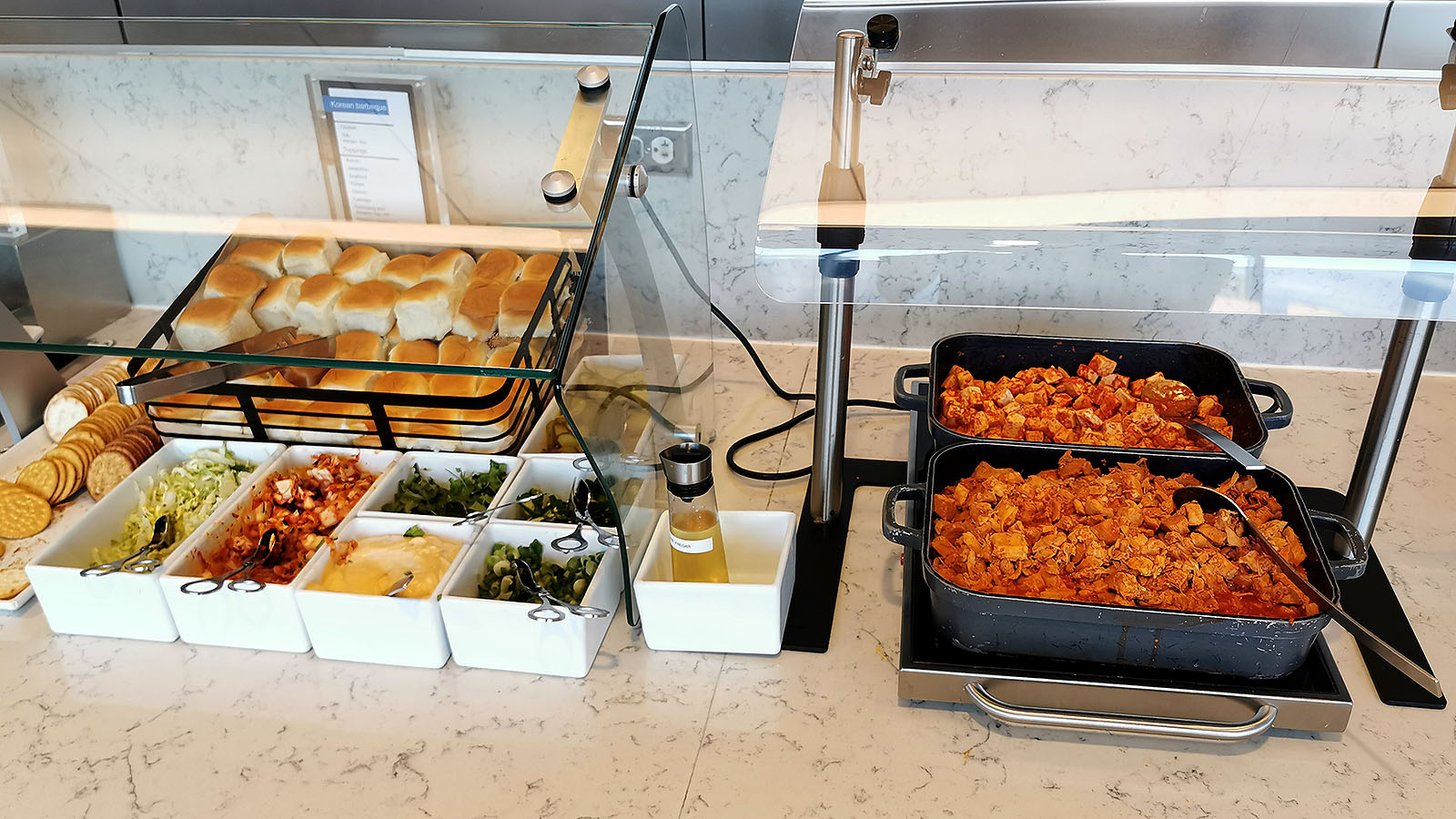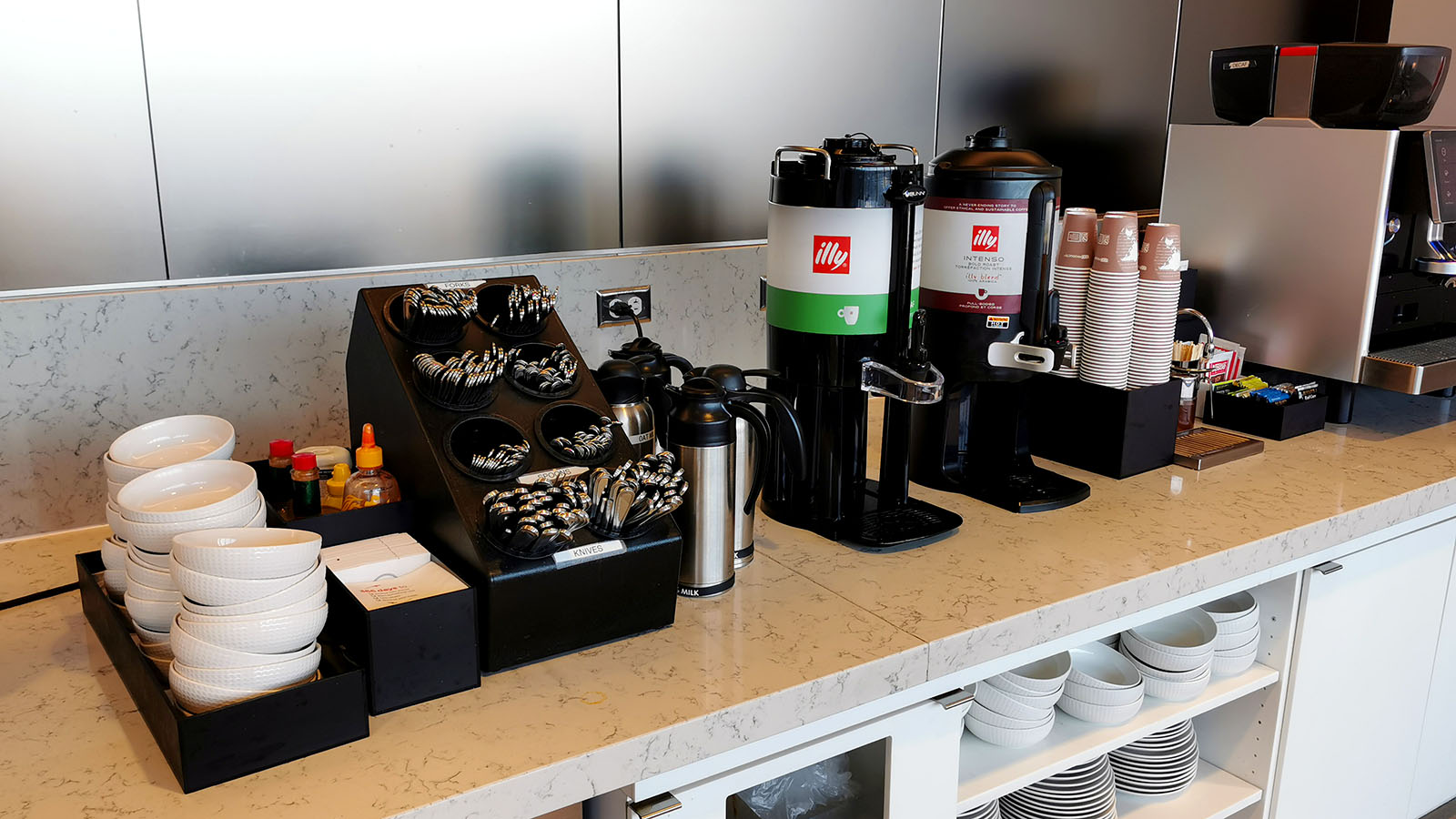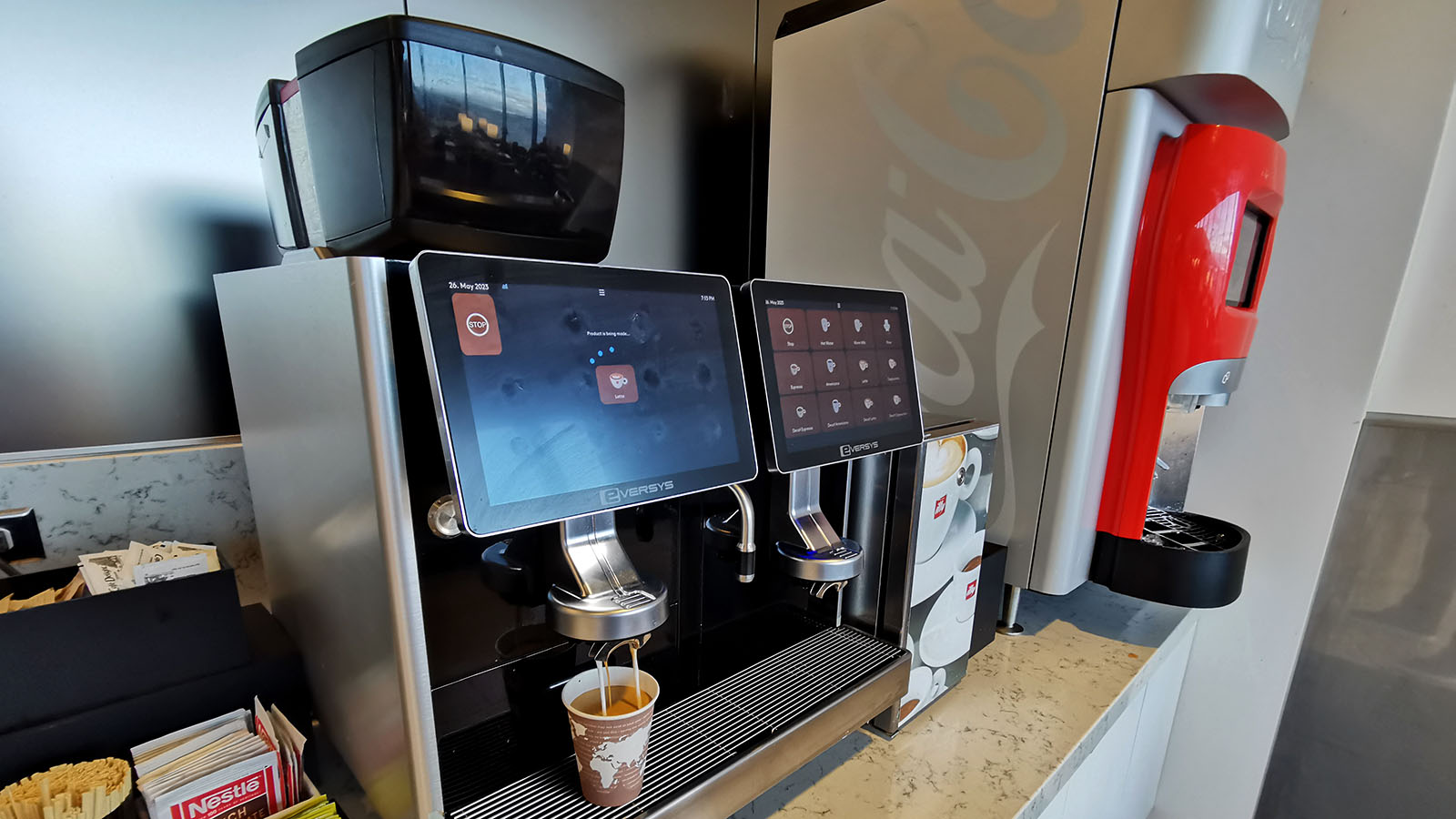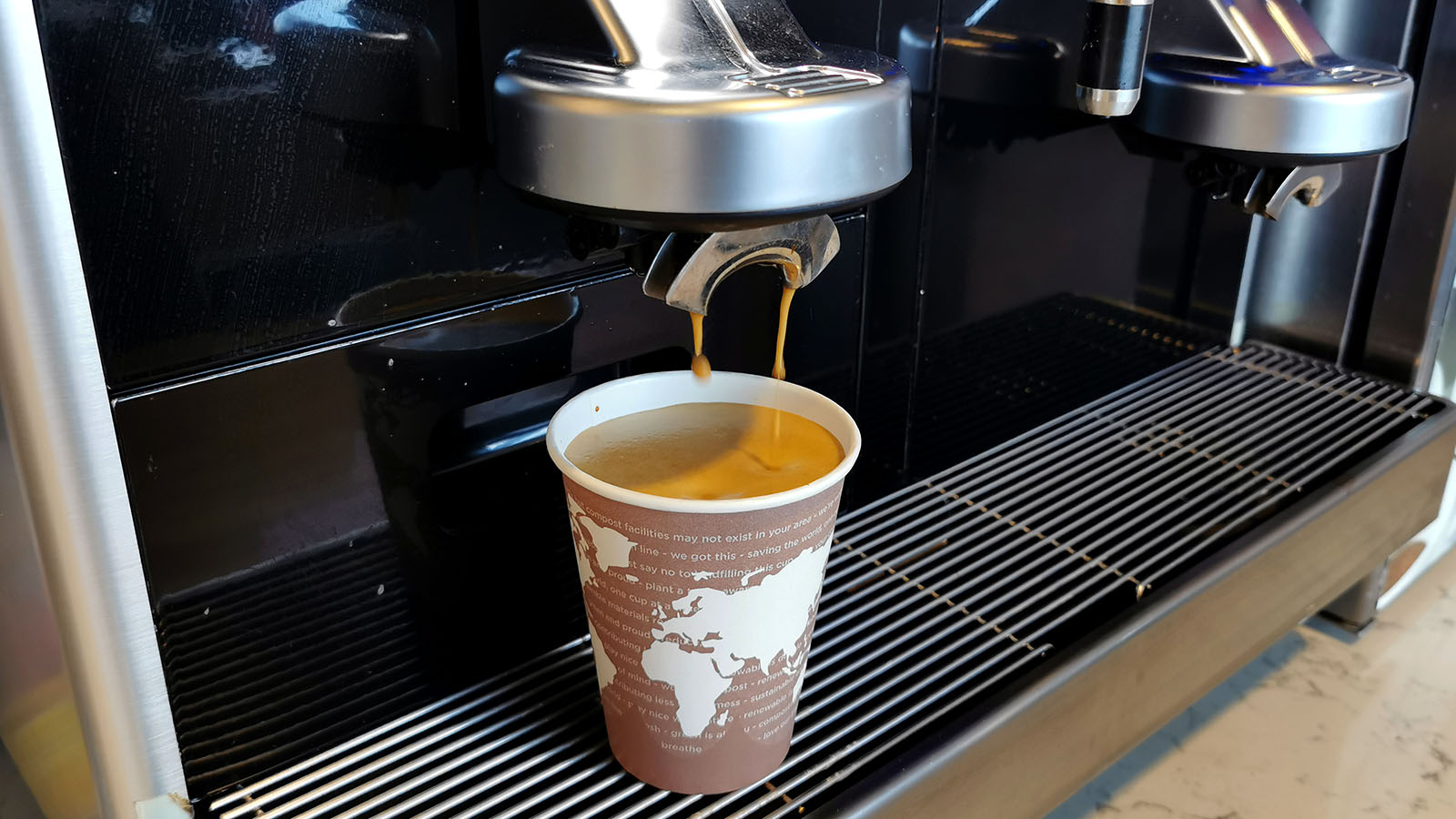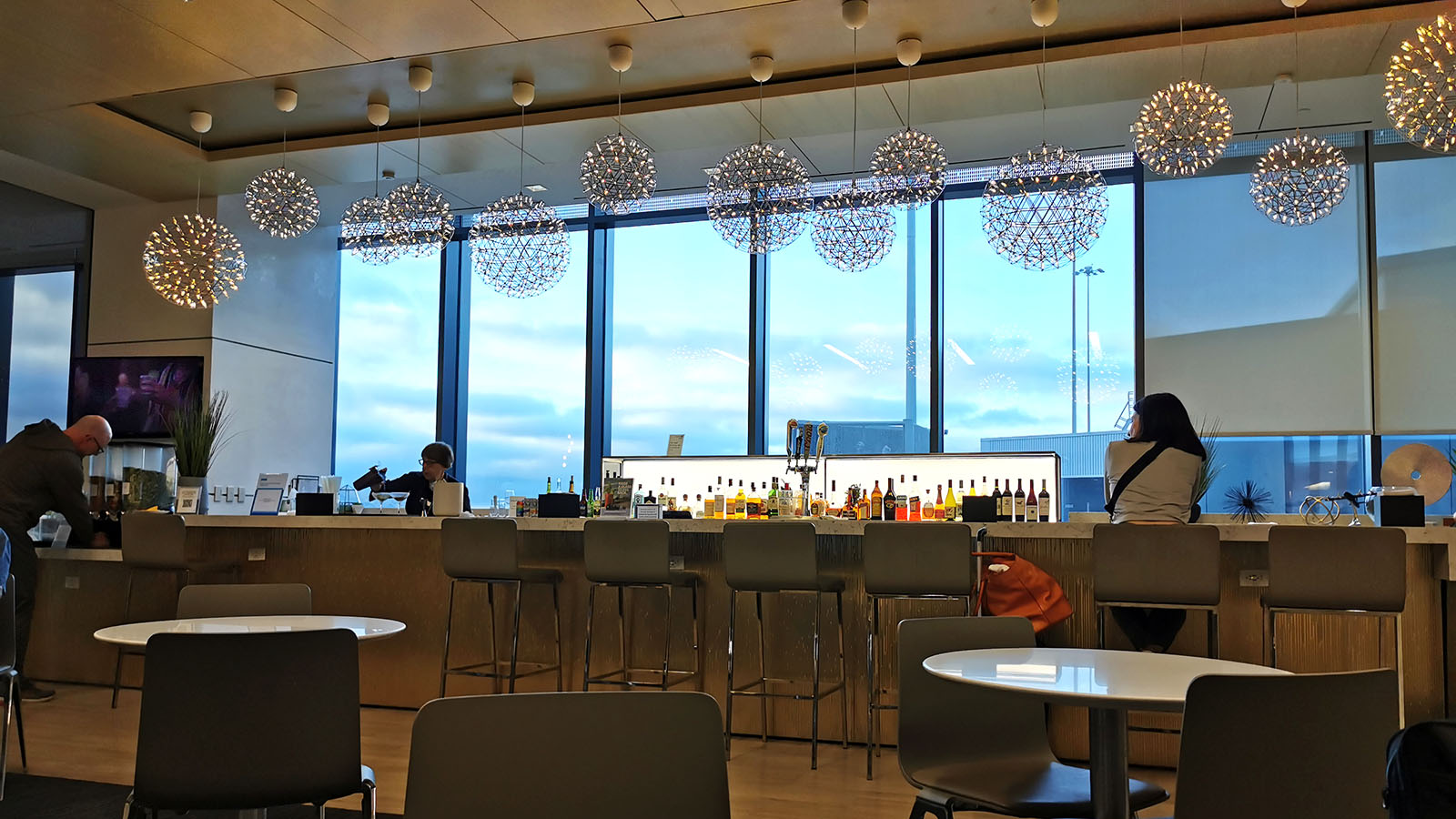 Many beverages are also available from the far side of this buffet counter. Grab a quick cup of Illy filtered coffee, or perhaps, your favourite soft drink (sorry, 'soda', in the local lingo) from the self-serve machine. Fancy an espresso coffee? There's a machine for that too. After a week of drinking rather average coffee in Texas, I can't help but notice that this is actually one of the best lattes I've had all trip. Go figure!
If you're looking for a tipple, there's a full bar adjacent to the lounge's central seating area. Here, beer, wine and standard spirits are gratis (tips are still appreciated). Higher-end choices, along with premium cocktails, are available for purchase. I've already enjoyed a gin basil fizz in the Centurion Lounge and know there'll be wine on my upcoming Air Canada flights, so I stick with the coffee this time.
Accessing the United Club in San Francisco
With three United Club lounges in San Francisco, the access rules are the same for each lounge. It's also worth remembering that all three serve both domestic and international passengers. This makes the access rules quite complex – but it's worth reading them carefully to ensure you qualify. Here's who makes the cut.
Courtesy of airline frequent flyer status:

Virgin Australia Velocity Gold, Platinum and Beyond, when departing on a United international flight – including to Sydney, Melbourne and Brisbane. Access is also available when in transit between an arriving United international flight and an onward United domestic flight on the same day and same itinerary (+1 guest with every visit).
United MileagePlus Premier Gold, Platinum, 1K and Global Services members travelling on a same-day international United or Star Alliance flight (+1 guest).
Other Star Alliance Gold frequent flyers departing from SFO on any Star Alliance flight, including United domestic services (+1 guest).

By paid lounge membership:

United Club members before or after United, Star Alliance and other eligible partner flights (+2 guests).
Air Canada Maple Leaf Club members before United, Air Canada and other Star Alliance flights (+1 guest for 'Worldwide' members only).

By cabin:

United Business customers with a same-day New York/Newark flight or an international flight (no guests).

Passengers in United First to or from Canada (no guests).
First Class and Business Class travellers of other Star Alliance airlines, where that international flight departs from SFO (+1 guest for First Class only).

Active US military personnel: Must be travelling in uniform, with leave orders or other eligible paperwork on a departing United flight (+ family members).
Using a United Club one-time pass: If you don't otherwise qualify for entry, you can buy access for US$59 at the door or online.
My experience accessing the lounge
I'm travelling Air Canada Business Class to Vancouver on a flight booked using Velocity Points. Because Air Canada is a Star Alliance partner of United, and because I'm flying to an international destination, my Air Canada ticket provides fuss-free access to the lounge with a quick scan of my boarding pass.
If I were gaining entry using Velocity status instead, that onward flight would need to be operated by United. When travelling with Air Canada, Velocity status provides access to the airline's own Maple Leaf Lounge as opposed to the United Club.
Note that United Polaris passengers also qualify for United Club access, but are much better off using San Francisco's dedicated United Polaris Lounge.
The verdict
For domestic travellers, the United Club at San Francisco's E gates is quite solid. A modern space offering places to work, dine and relax – and a reasonable range of fresh food – will tick the boxes for most short-haul flyers. But it's also worth keeping in mind if you're taking a longer hop, such as to Australia.
I wouldn't be exaggerating things to say that the United Club over in International Terminal G offers one of the worst lounge experiences I've had for quite some time. The design is dated, it's beyond crowded and it just doesn't have that 'premium lounge' vibe. Here's what I mean, from a visit on the same day.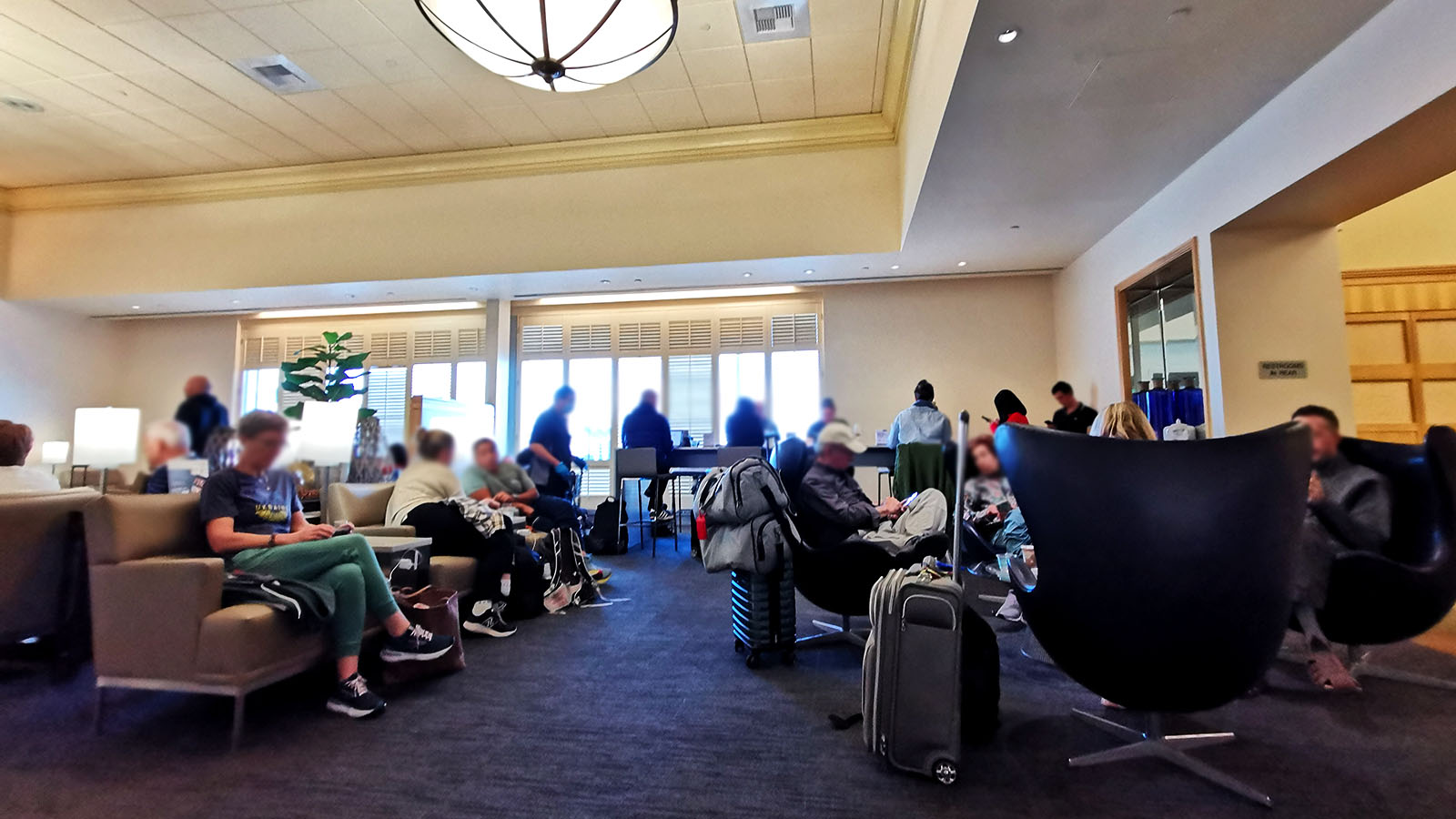 Many passengers probably head to the Terminal G lounge as it's closest to their flight. But by stretching those legs and going for a stroll, much nicer surroundings can be enjoyed here by the E gates instead. Better yet, if you qualify for access to United Club in Terminal G, you can also visit this lounge in Terminal 3. The lounges are about 10 minutes apart on foot – so particularly if you've arrived early, it's well worth the stroll.
The biggest omission though is the lack of shower facilities in any San Francisco United Club. If that's what you're looking for, consider visiting the Air Canada Maple Leaf Lounge or the Amex Centurion Lounge instead – if you qualify for entry, that is.
Also reviewed: United Airlines Airbus A319 Economy (San Antonio – San Francisco)
Photography by Chris Chamberlin, who accessed the lounge as a regular guest.
---
Stay up to date with the latest news, reviews and guides by subscribing to Point Hacks' email newsletter.
United Club, San Francisco Terminal 3 (E gates)
was last modified:
August 31st, 2023
by