Whether you're zipping from Honolulu across to a neighbouring island or further afield within the US, you may have access to Hawaiian Airlines' Premier Club lounge.
Now, this isn't a lounge to go out of your way to visit. I also wouldn't arrive several hours early, just to stop by. But if you are jetting through and have access, it's worthy of at least a brief pit stop. And with most qualifying passengers set to board flights of an hour or less, that's the whole idea.
Location
Bound for Hawaiian Airlines' Premier Club lounge in Honolulu? Start by making your way through priority check-in and then security. In fact, you'll want to use the security channel at the far left of the Terminal 1 check-in hall. At this checkpoint, there's also a priority lane, and like priority check-in, its access list largely mirrors that of the lounge itself.
If you're travelling on a weekend though, allow plenty of extra time. Even as a First Class passenger, it took around half an hour to reach the check-in desk, plus another 10 minutes at security. By contrast, when I flew out of Honolulu Airport as an Economy passenger at a similar time on a weekday, I was sorted on both fronts within 15 minutes flat.
With the formalities behind you, make a left turn after security. You'll spot the Premier Club near gate A18. It helps to make a note of this, as there are no signs pointing you in the direction of the lounge.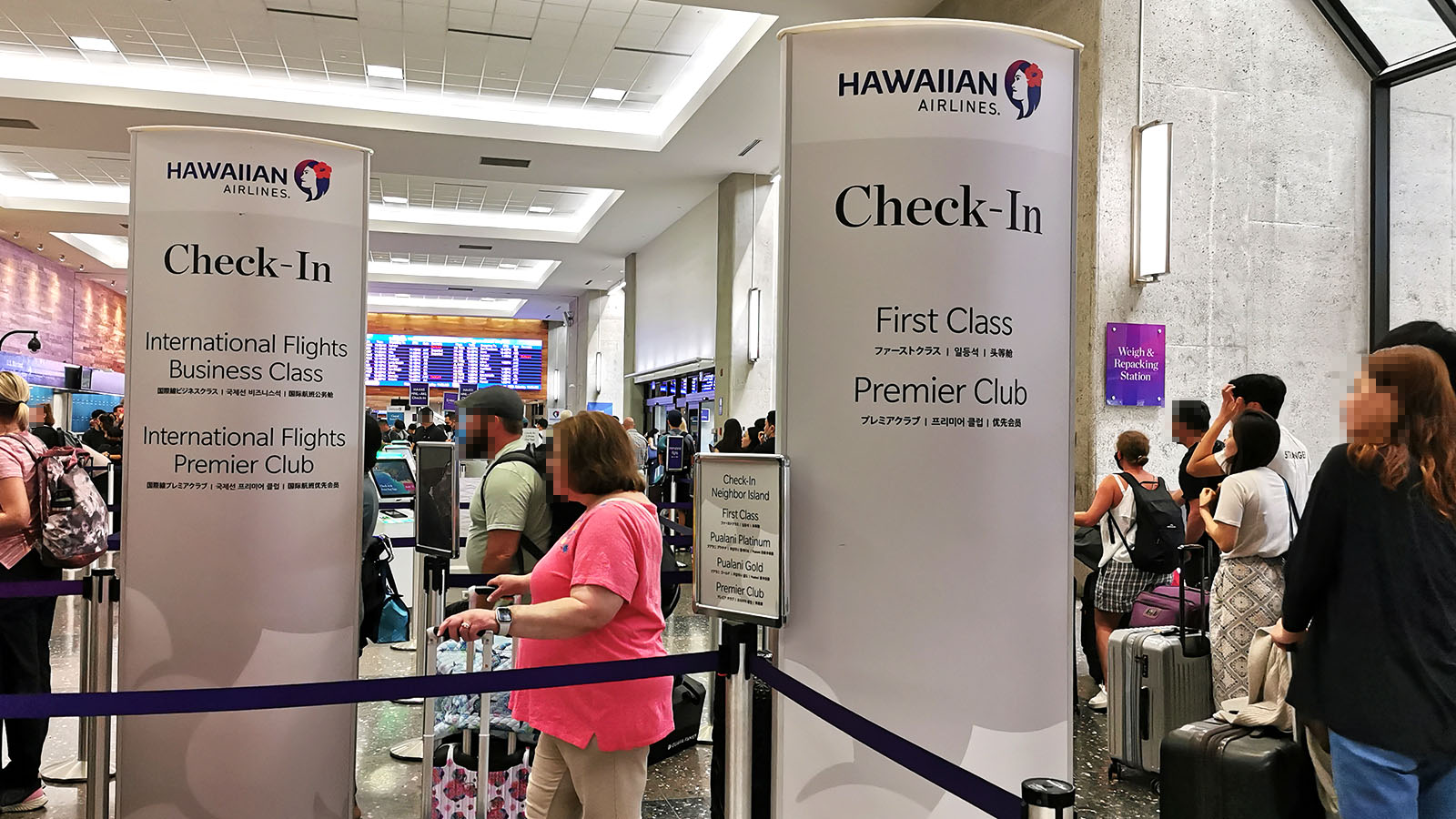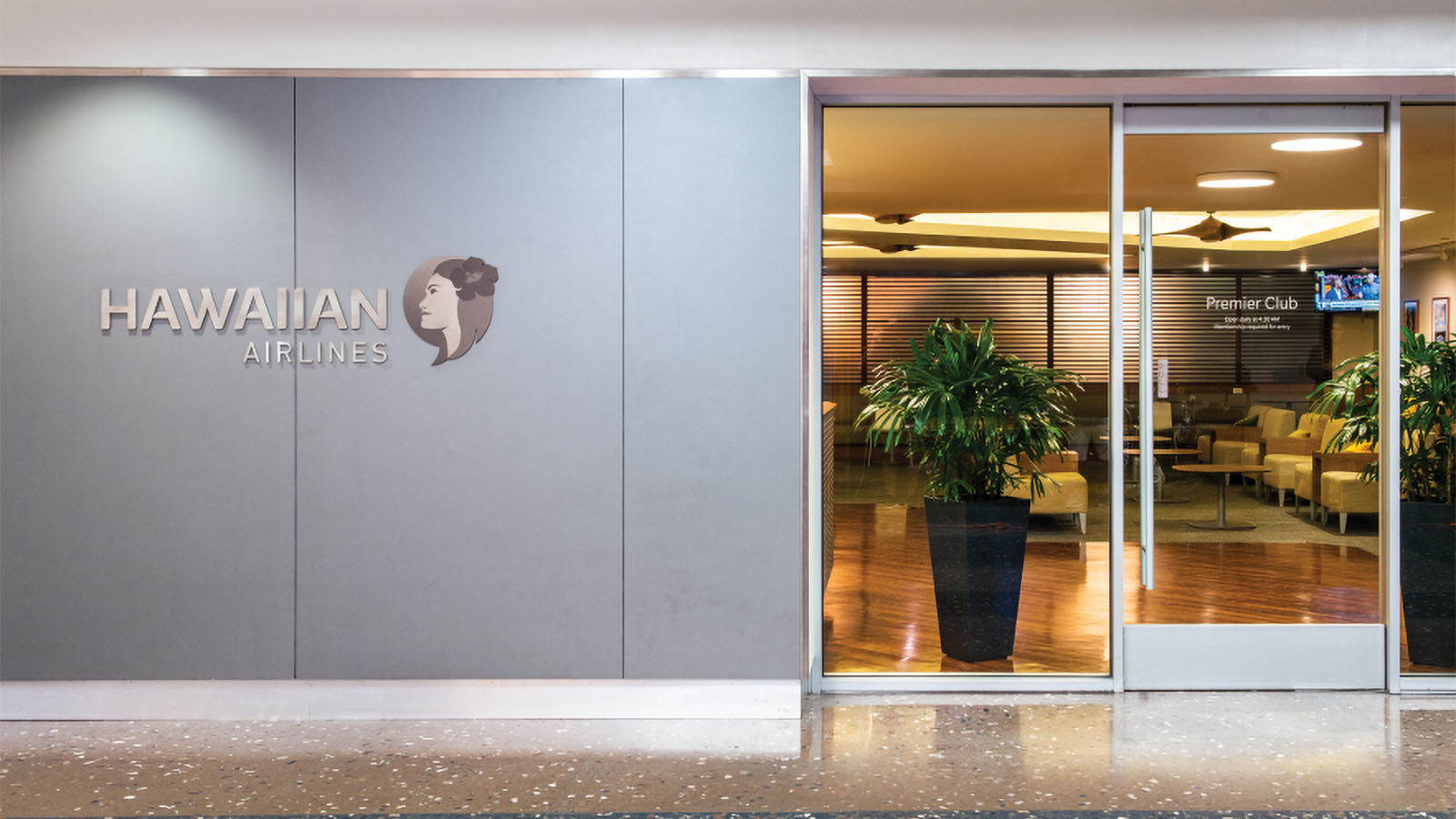 The Premier Club is a cosy space, and it tends to get busy. But it helps to remember that for the most part, this lounge is designed for travellers taking very short flights. Namely, inter-island flights within Hawaii.
To set your expectations, think of it as akin to a regional Qantas Club, rather than a home hub flagship lounge. This Premier Club opens from 5 am on weekdays and 6 am on weekends, closing at 7 pm each day.
Layout and seating in Hawaiian Airlines' Honolulu Premier Club
In Honolulu, Hawaiian Airlines' Premier Club isn't a large lounge. But it still offers a few distinct spaces to suit various needs.
For any laptop work, set up at the tables against the far wall. It's a good space for productivity, with natural light flowing through the shutters and power points near each seat. Or head to the back corner of the lounge, where two communal high tables also come with power at the ready.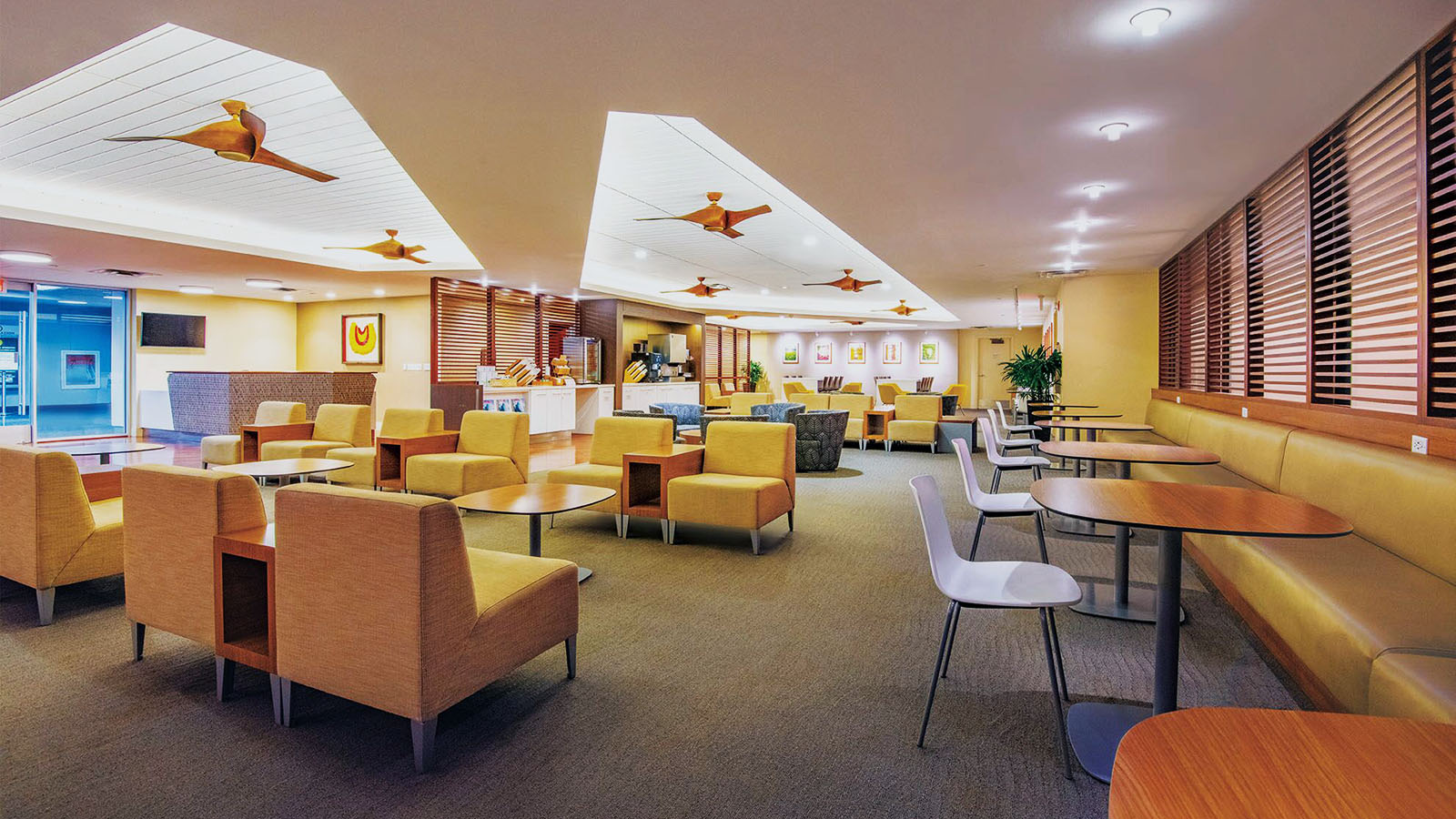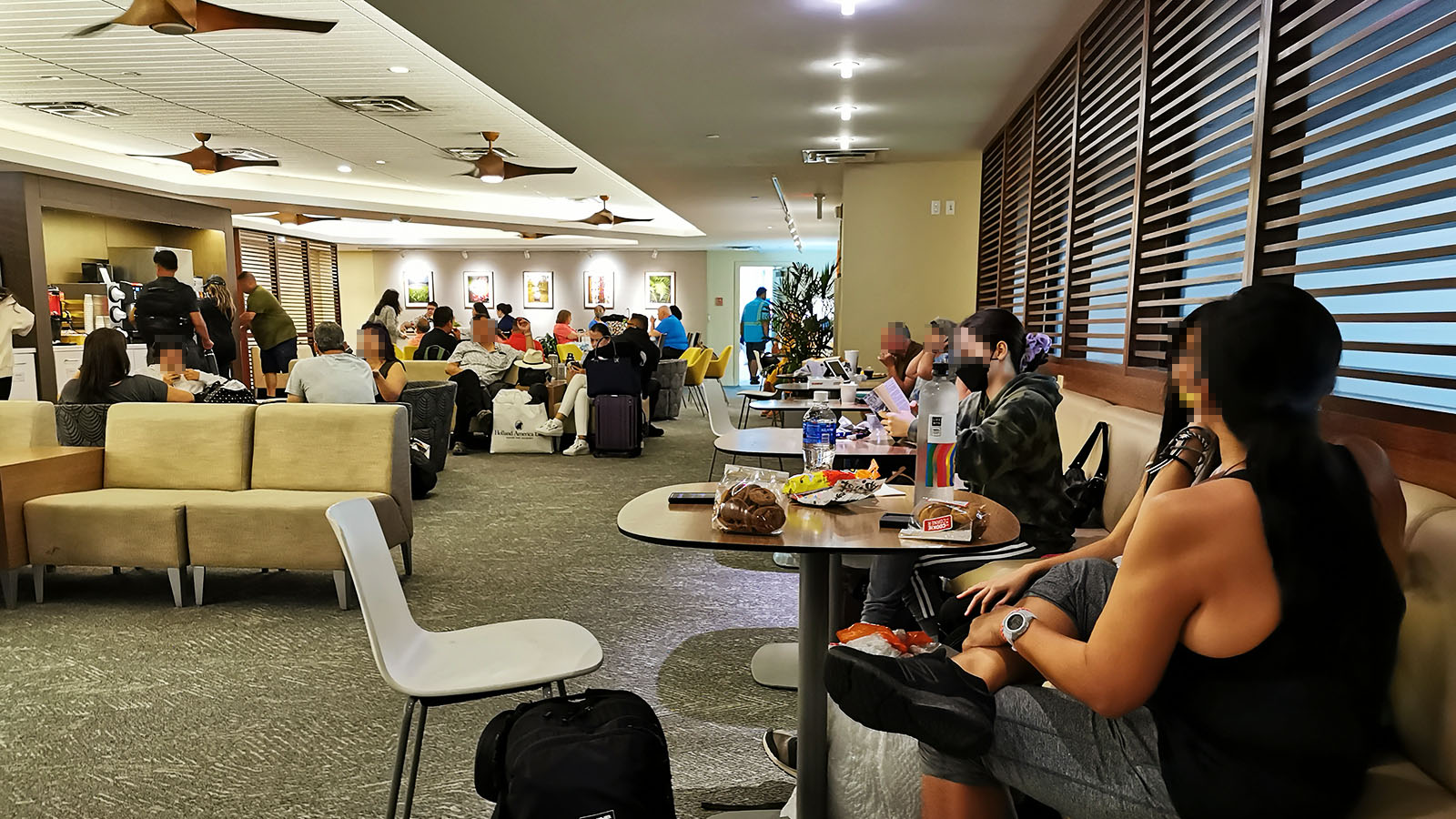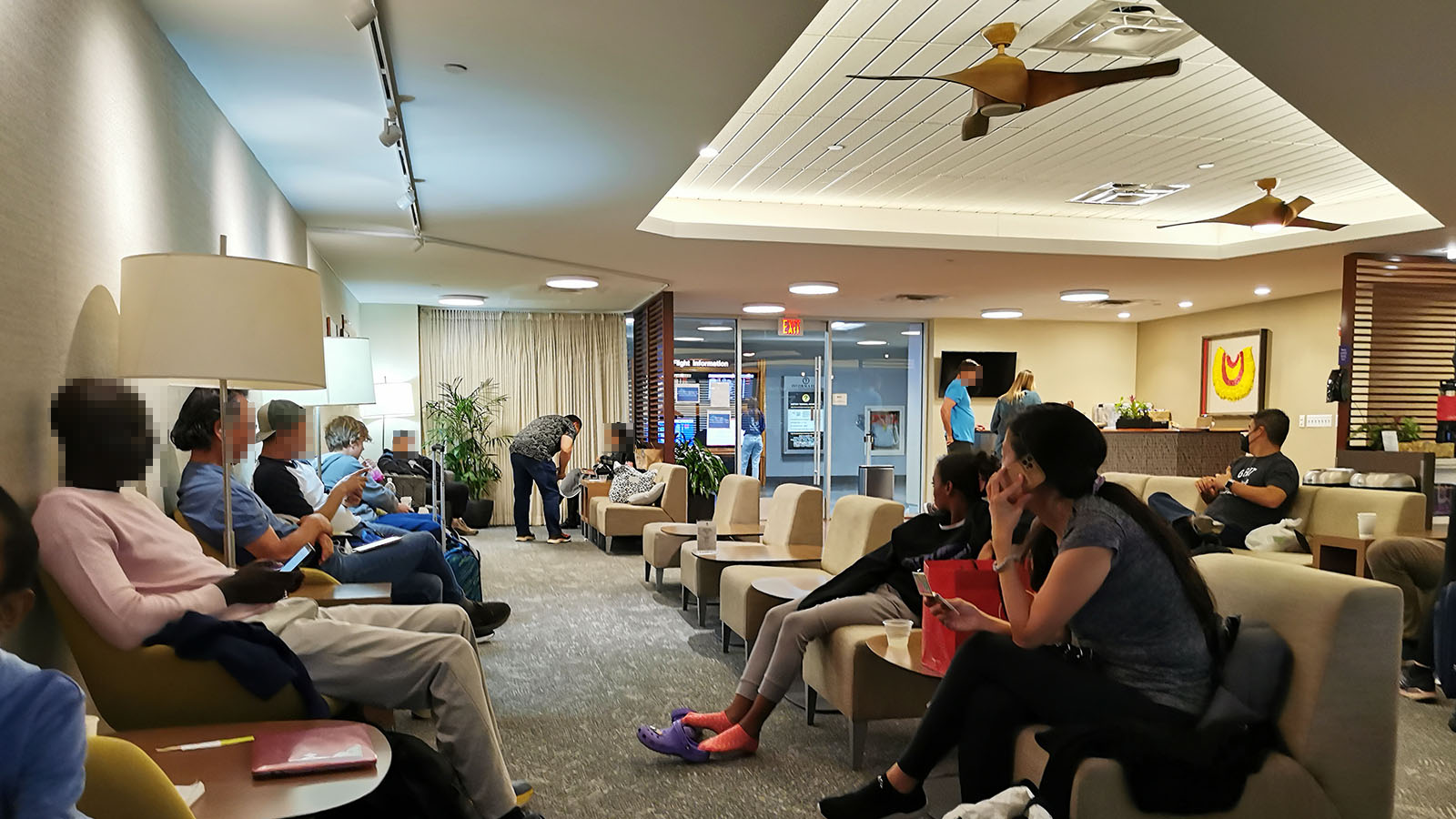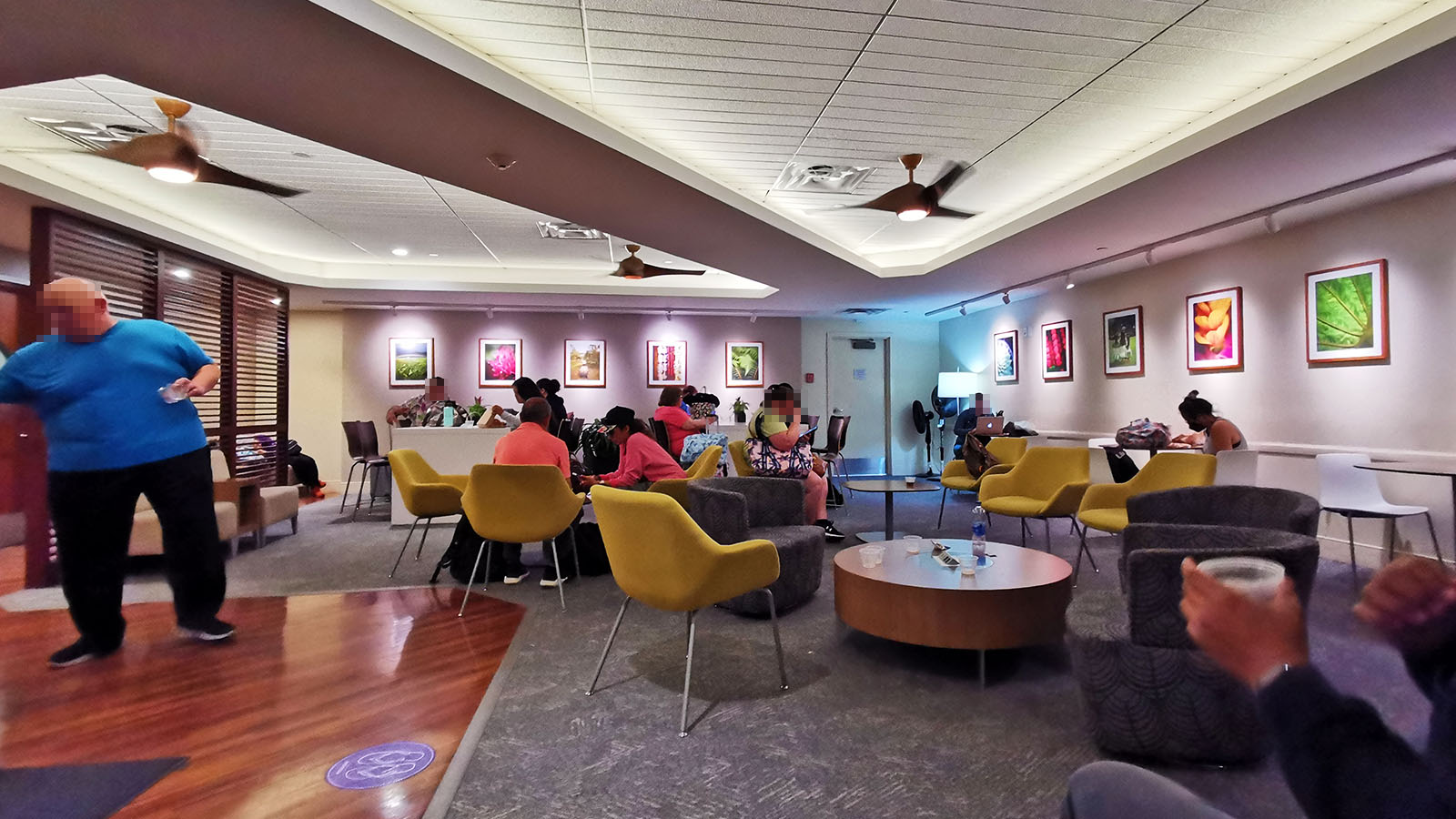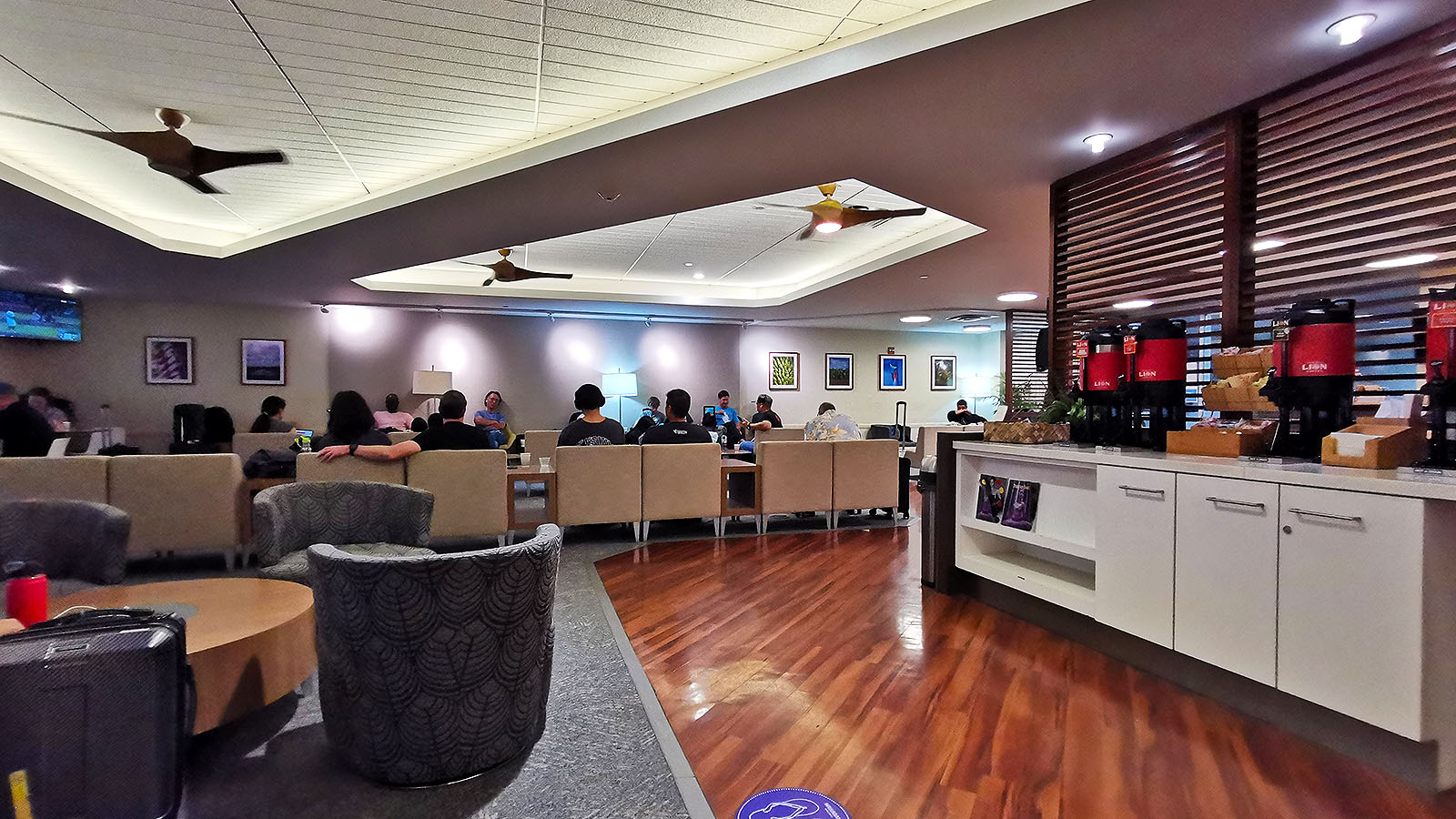 But this is Hawaii, after all. Most of the lounge caters towards kicking back while travelling for leisure. This sees a large chunk of the space given over to comfortable padded chairs – ideally suited for this purpose. Restrooms are on site as well.
At peak times, you may have to just choose any available seat and then hop to a new one when something more suitable becomes available. On a busy Saturday morning, that's exactly what I did. I initially sat down at one of those padded seats, but noticed a table in the dining/working space quickly become available, and shifted across.
Food and beverage in Hawaiian Airlines' Honolulu Premier Club
Some people head to airport lounges to eat and drink before their flight. Others just want a place to work and get things done – or an escape from the terminal itself. Hawaiian Airlines' Premier Club in Honolulu caters better to that latter category.
That's because on the food and beverage front, you'll find light refreshments to keep you going. But for anything more substantial, you'll need to head to one of the eateries in the public terminal. I spotted several travellers bringing food in with them, which didn't cause any problems.
Within the lounge itself, snacks are limited to small bags of tasty mixed nibbles. They're the same as you'll find on board, if flying inter-island with Hawaiian Airlines.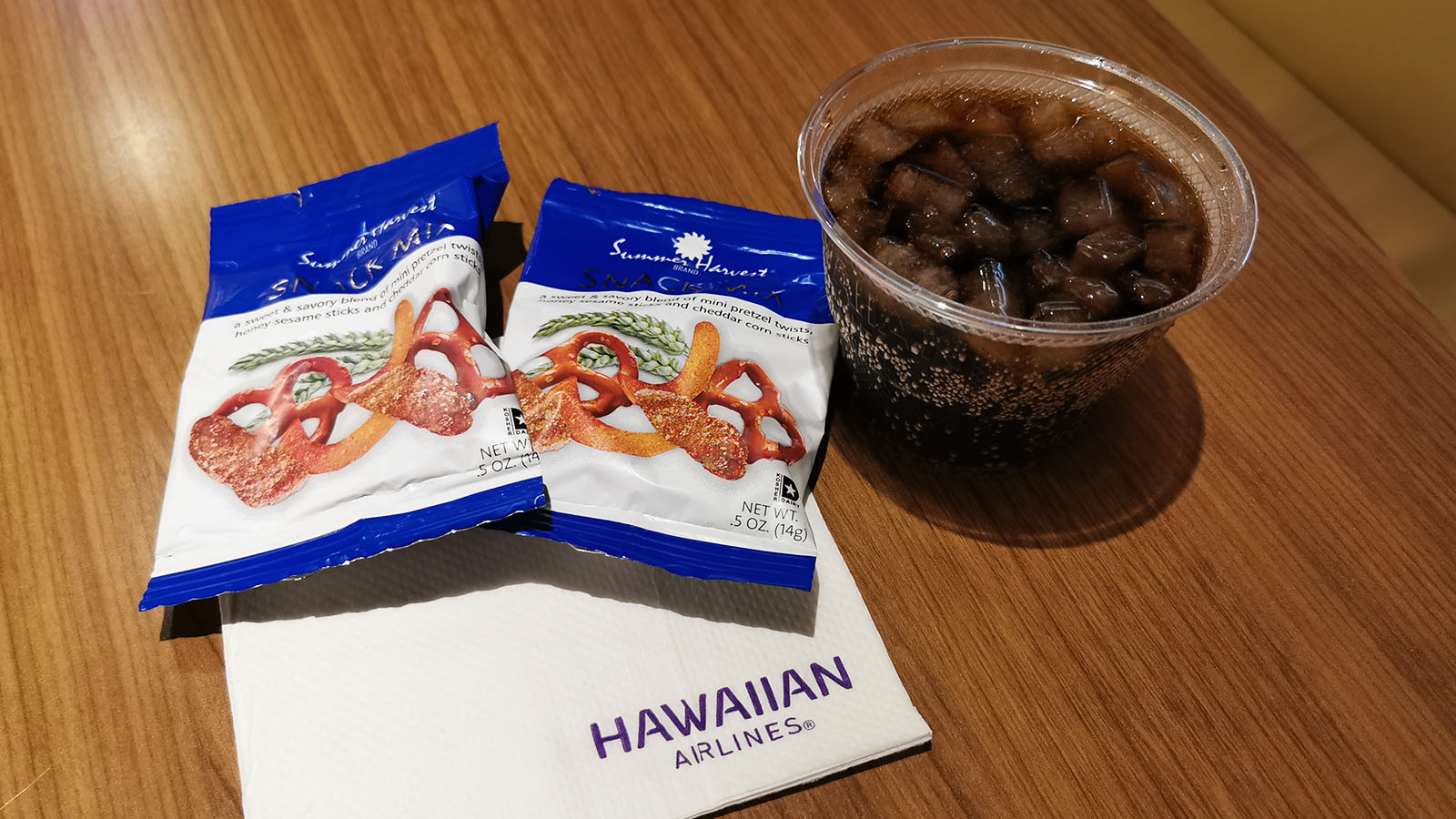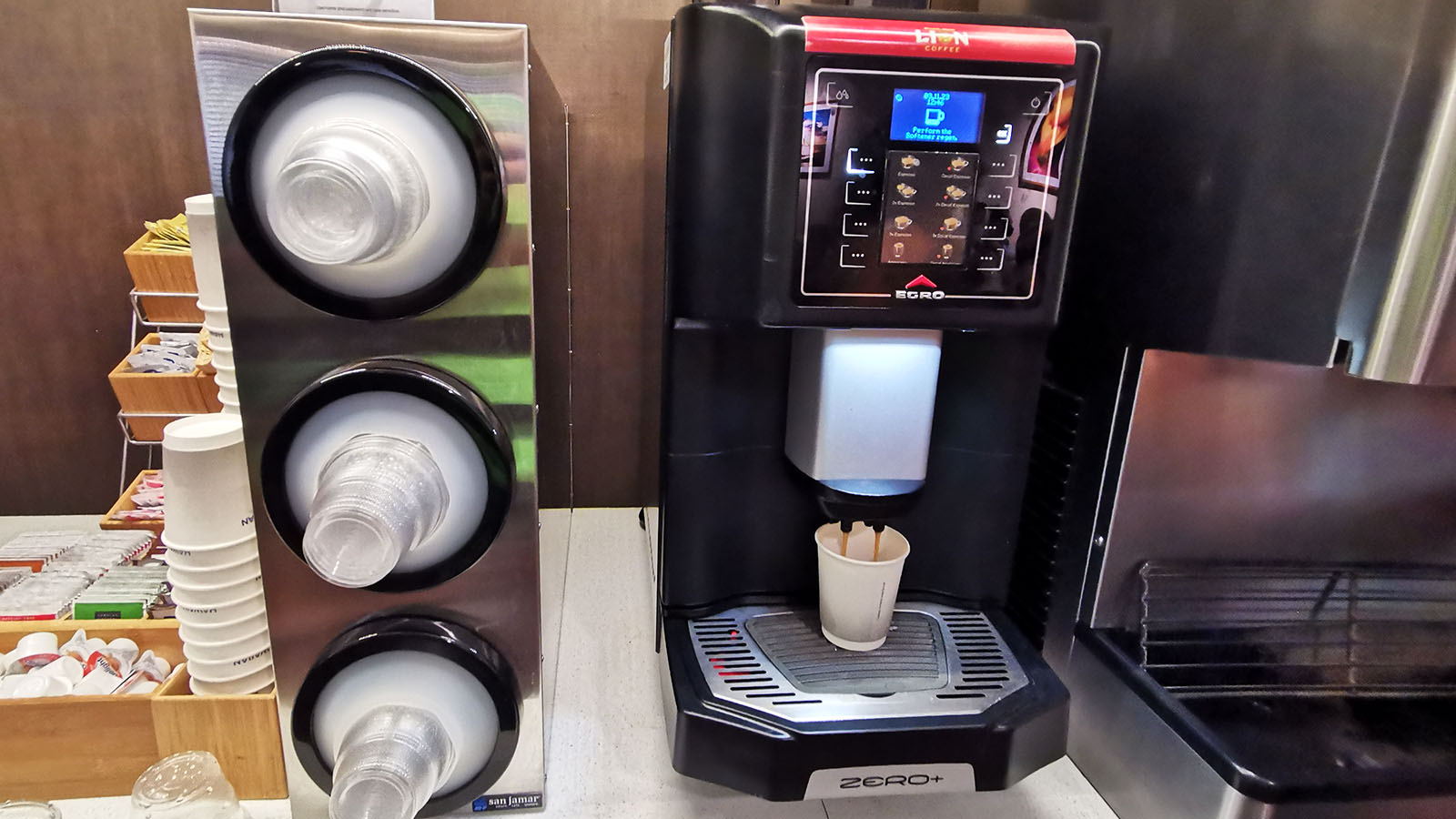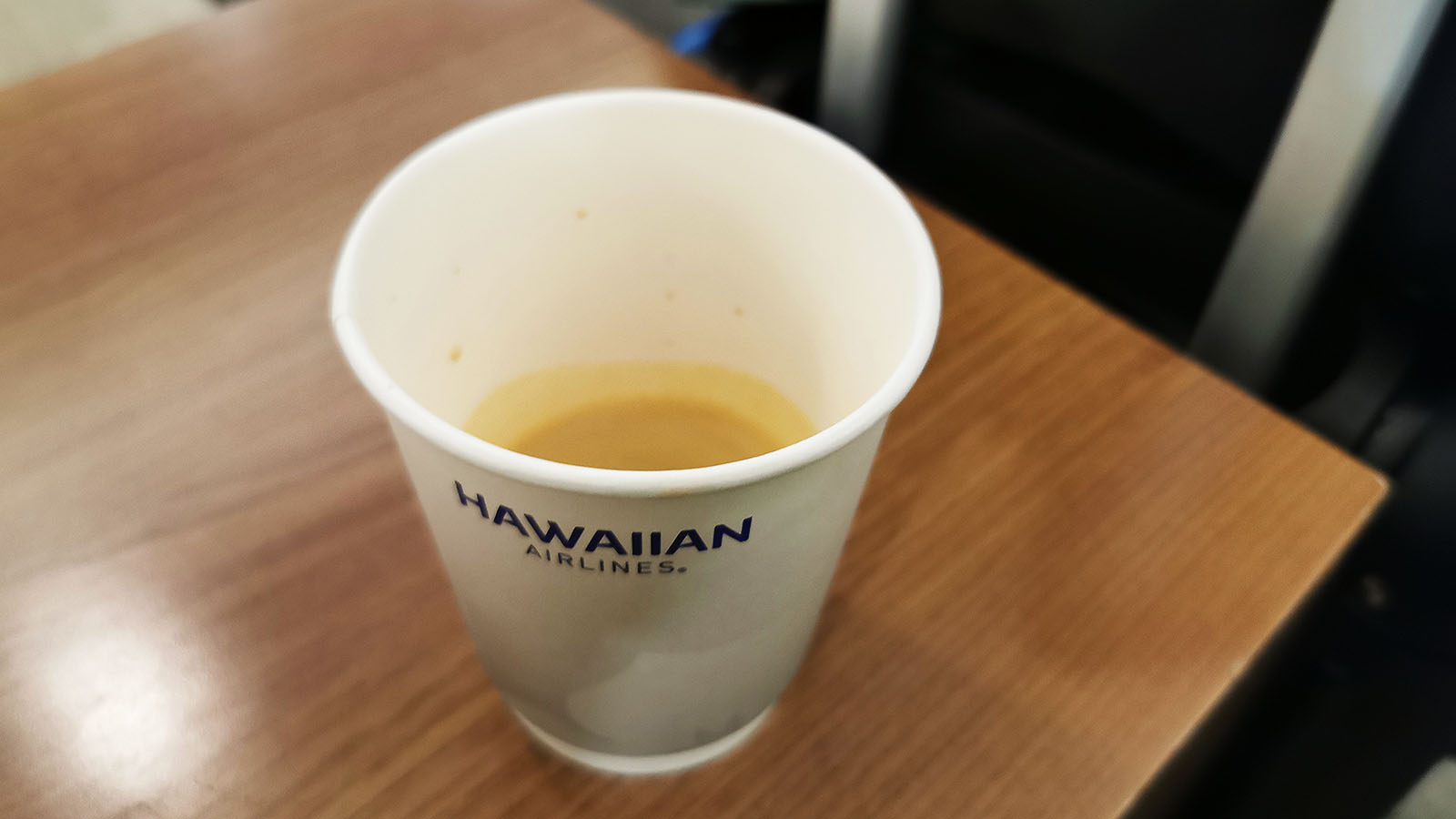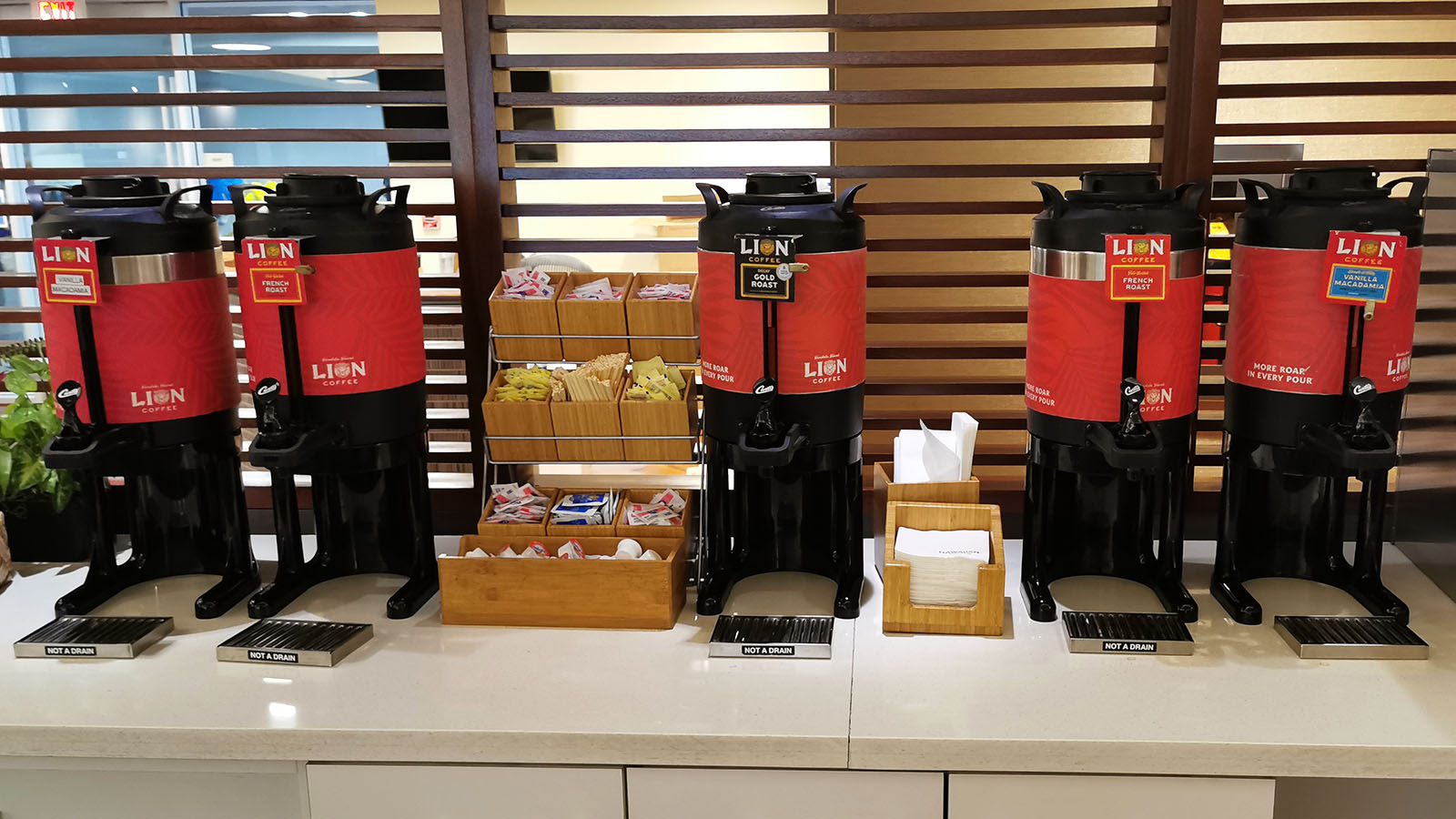 On the beverage side, there's a soft drink fountain and a variety of coffee choices. One is an espresso machine – which always stands out when travelling in North America. It didn't do milk-based drinks though, so a straight espresso it was.
But the brewed coffees are worth trying too. There's usually a choice between Lion Coffee's gold roast, French roast and vanilla macadamia blends. For something different, the vanilla macadamia is a nice go-to, and one I usually look forward to in Hawaiian Airlines' lounges.
Otherwise, there's an ice machine and a cold water dispenser. That's handy, given drink bottles need to be emptied before passing through the TSA security checkpoint.
In fact, that's worth keeping in mind. While airport liquid restrictions in the US are 100ml or one ounce per container, you're not banned from bringing through larger bottles – as long as they're empty. Pack an empty drink bottle, fill it up here and you'll be all set.
Lounge amenities
Given the lounge appeals more towards those targeting pre-flight work, it's pleasing to see the Wi-Fi is up to scratch.
During a test undertaken in one of the lounge's busiest times, I clocked download speeds of around 74Mbps. Uploads were even faster, exceeding 116Mbps.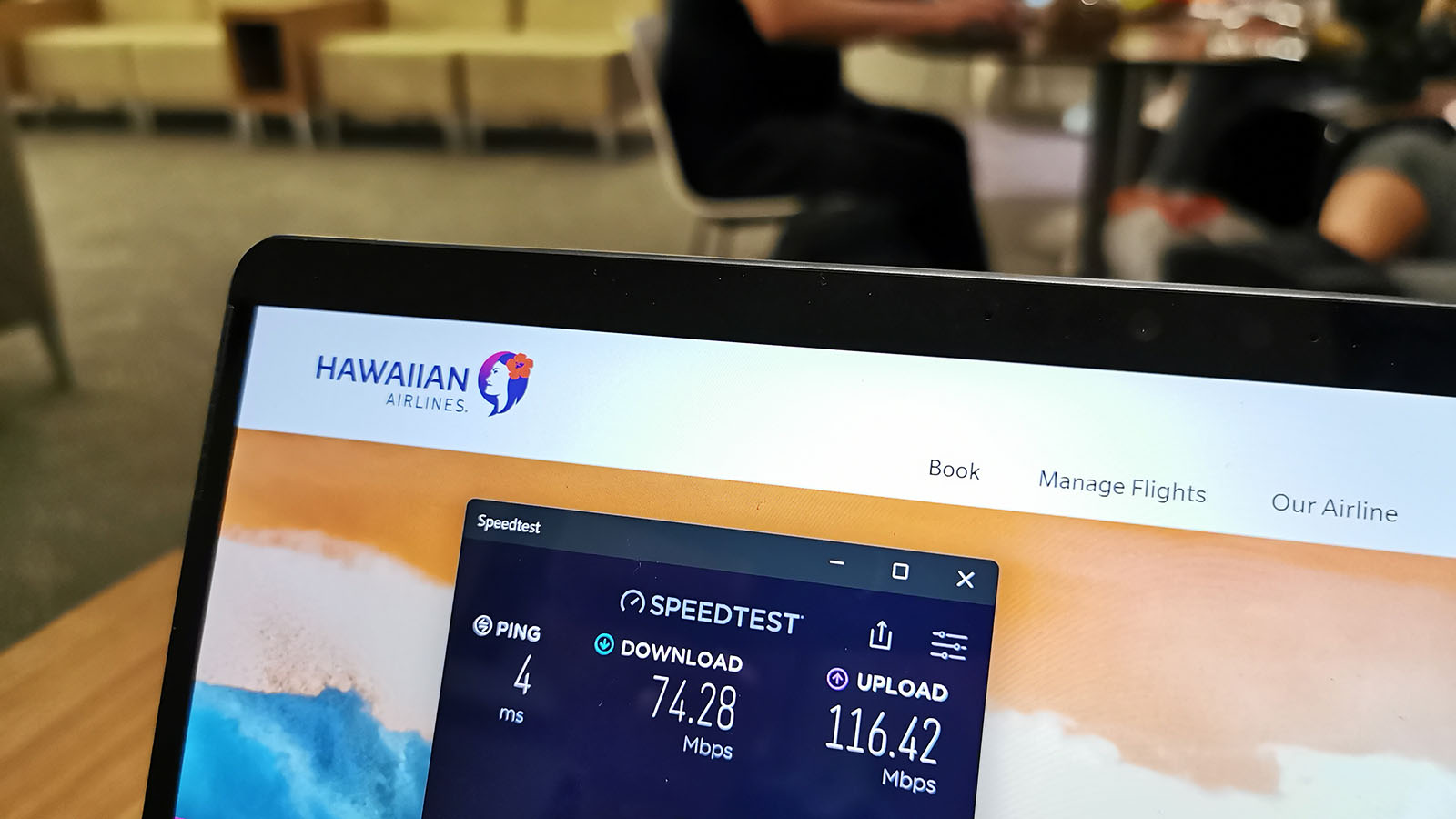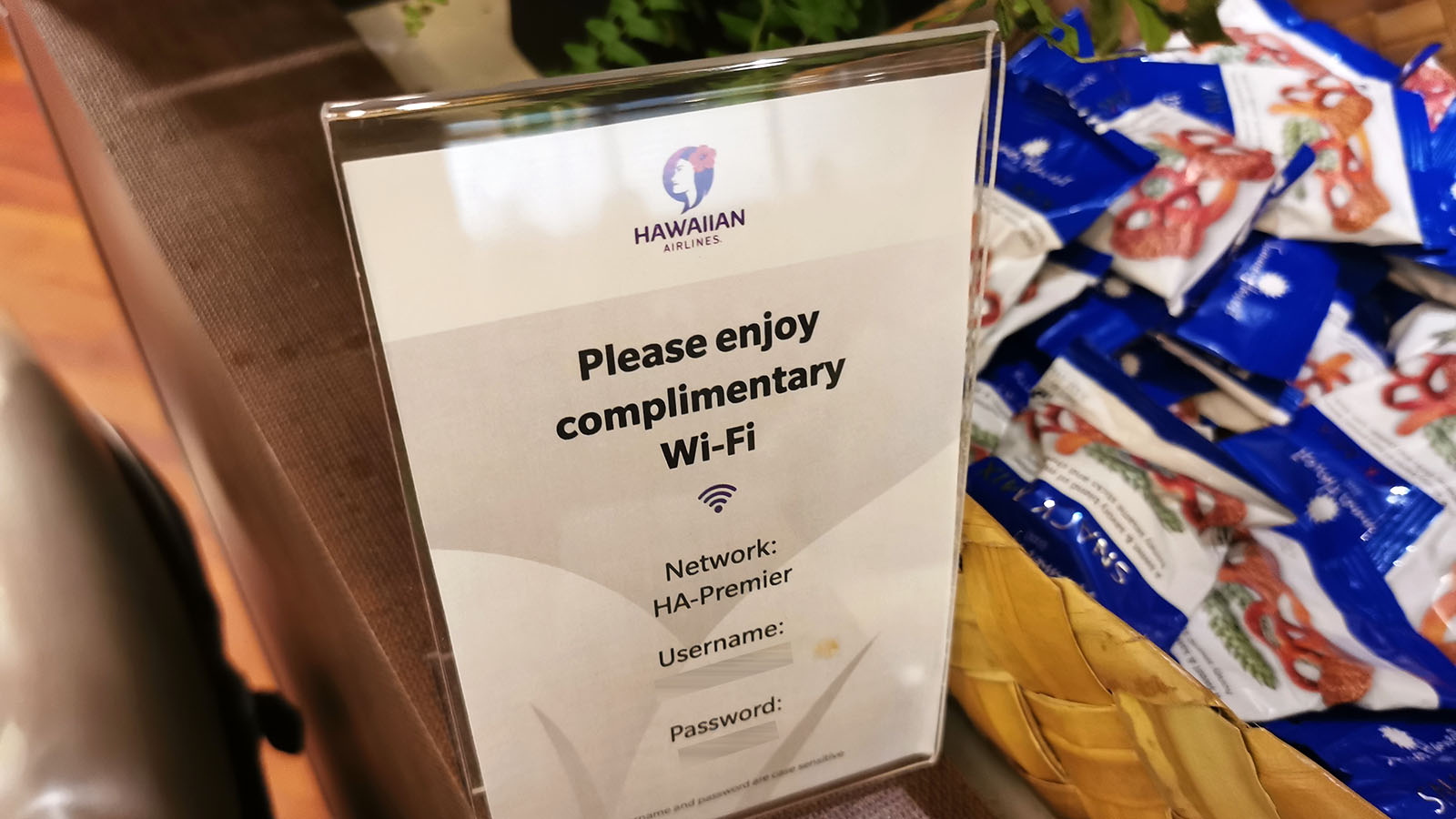 In practical terms, that's fast enough for just about anything you'd need to do in an airport lounge. Whether it's downloading TV shows and movies for the flight ahead or syncing emails and cloud backups, you won't be kept waiting long. At those speeds, video calls would also be a breeze.
To keep the network private for lounge guests, you'll find the latest password on signs throughout Hawaiian Airlines' Honolulu Premier Club.
Accessing the Hawaiian Airlines Premier Club in Honolulu
When it comes to lounge access, Hawaiian Airlines is on the more generous side of the spectrum. At least, as far as US carriers are concerned. But it's a double-edged sword. While Hawaiian has favourable access policies for its own premium travellers, lounge access for partner airline frequent flyers isn't part of the parcel.
Here's who makes the cut for entry into Hawaiian Airlines' Premier Club in Honolulu.
Hawaiian Airlines First Class passengers. This is the carrier's premium cabin on neighbour island and other US domestic flights.
HawaiianMiles Pualani Gold and Platinum members departing on a Hawaiian Airlines flight (+2 guests).
Members of Hawaiian Airlines' Premier Club lounge program departing on a Hawaiian Airlines flight (+2 guests).
By comparison, most other US airlines don't extend lounge access to domestic premium cabin travellers – except on flagship-type routes. US airlines also don't often provide lounge access to their own frequent flyers prior to domestic flights, unless they pay for a separate lounge membership as well.
But unfortunately, even though Hawaiian Airlines is a Velocity Frequent Flyer partner, Velocity elite benefits don't carry across. For instance, Velocity Gold and Platinum members aren't able to access any of Hawaiian Airlines' lounges as a benefit of their status. They'd only qualify for entry based on cabin class – or a separate membership with Hawaiian.
It's worth pointing out though that Hawaiian Airlines has a second lounge in Honolulu – The Plumeria Lounge. That's Hawaiian's better-tier space, serving international Business Class guests. But it also welcomes Priority Pass cardholders. If that's you, The Plumeria Lounge is a better call if you're peckish, as it serves hot food, and alcohol, too.
Summing up
Hawaiian Airlines' Premier Club in Honolulu isn't anything to get too excited about. But I've always appreciated that a US domestic First Class ticket gets you inside.
Given Hawaiian doesn't recognise Velocity status for lounge entry, booking First Class is an easy way to remove those pain points of the journey where status would usually come in handy. If you're spending Velocity Points, it's relatively easy to find First Class reward seats on Hawaiian Airlines' inter-island flights within Hawaii, too.
While you do have to call Velocity to book these reward tickets, it's an easy process. Much easier than finding Business Class reward seats on Hawaiian's Sydney-Honolulu flights, that's for sure!
As for the Premier Club itself, it's a decent spot to freshen up with a drink and snack in between security and the flight ahead. If you have time to spare, it's also great being able to work with power points to keep things charged and speedy Wi-Fi to get things done.
But to be fair, a broader range of food and beverage choices wouldn't go astray. I do recognise though that it's a delicate balancing act between being generous with the overall lounge access policy, and being generous with what's available inside the lounge.
Being too generous on both fronts could see travellers arriving even earlier to enjoy the amenities. And from what I usually observe in Hawaiian Airlines' Premier Clubs, the spaces are quite popular as they are.
Also reviewed: Hawaiian Airlines Airbus A330 Business Class (Sydney – Honoulu)
Feature image courtesy of Hawaiian Airlines. Except where otherwise credited, all photography by Chris Chamberlin, who travelled using HawaiianMiles provided courtesy of Hawaiian Airlines.
---
Stay up to date with the latest news, reviews and guides by subscribing to Point Hacks' email newsletter.
Hawaiian Airlines Premier Club, Honolulu
was last modified:
April 11th, 2023
by