In the second installment of this three-part series, Bevan teaches us that it takes a lot of planning, patience and practice to book your dream trip.
---
Case study: Bevan's oneworld Classic Flight Reward redemption to Europe and Asia
Part 1: About me and how I accumulate points
Part 2: How I booked my oneworld Classic Flight Reward
Part 3: My experiences of the flights and lounges
---
Planning, planning and more planning
It takes a lot of planning to research routes and flights. The oneworld Where We Fly interactive map is a great tool for inspiration.
I plan in excess of twelve months before the next trip. I realise not every traveller wants everything so tightly organised, or is willing to plan so far in advance. However, this is the trade-off for flying with points, especially at the pointy end of the plane.
Usually the most award availability opens just under a year out from departure, or in the 1-2 weeks just before a flight.
Know the product
To make the most of your itinerary, ensure you know the rules of redeeming a oneworld Classic Flight Reward, including understanding stopovers (over 24 hours) compared to transfers (under 24 hours), surface sectors, mileage thresholds and direction of travel.
For example, it is a common misconception that you have to travel in one direction when using this reward. In reality, you can travel in any direction you like provided you use the right combination of airlines and comply with the maximum stops, transfers and surface sector rules. That's what I did.
Here is how my itinerary complied with this particular award's conditions:
Less than 35,000 miles: Great Circle Mapper calculates this itinerary as 26,537 miles, well within the range. Note: booking this itinerary using Cathay Pacific Asia Miles would have saved me 90,000 points – I know where all my American Express Membership Rewards points are going from now on!
Five stopovers (over 24 hours): Osaka, Zurich, Reykjavik, London (second time) and Hong Kong
Transfers (less than 24 hours): Hong Kong, Helsinki and London (first time), permitted because I departed each city within 24 hours of arriving
Two surface sectors: Zurich to Gothenburg, and London to Barcelona
At least two oneworld alliance airlines other than Qantas: Cathay Pacific, Finnair and British Airways. Note: I could have flown from Sydney to Hong Kong on Cathay Pacific and avoided Qantas completely, which is permitted under this award
Ad – Scroll down to continue reading.Minimum spend, terms & conditions apply.
Be flexible
When travelling to or from Europe on oneworld airlines like Cathay Pacific and Japan Airlines, there is more seat availability via Hong Kong and Japan.
It is almost impossible to find two Business Class seats travelling through Dubai or Singapore with Qantas, even twelve months in advance. Remember, Emirates and Jetstar are not part of oneworld, so including them on your itinerary makes the ticket a Qantas Partner Reward, which costs more points.
You'll also need to be flexible with timing and destinations. For example, you might have to travel out of Osaka instead of Tokyo to get to Europe on the day you want, or you might have to travel on a less preferred day if you are leaving from a specific location.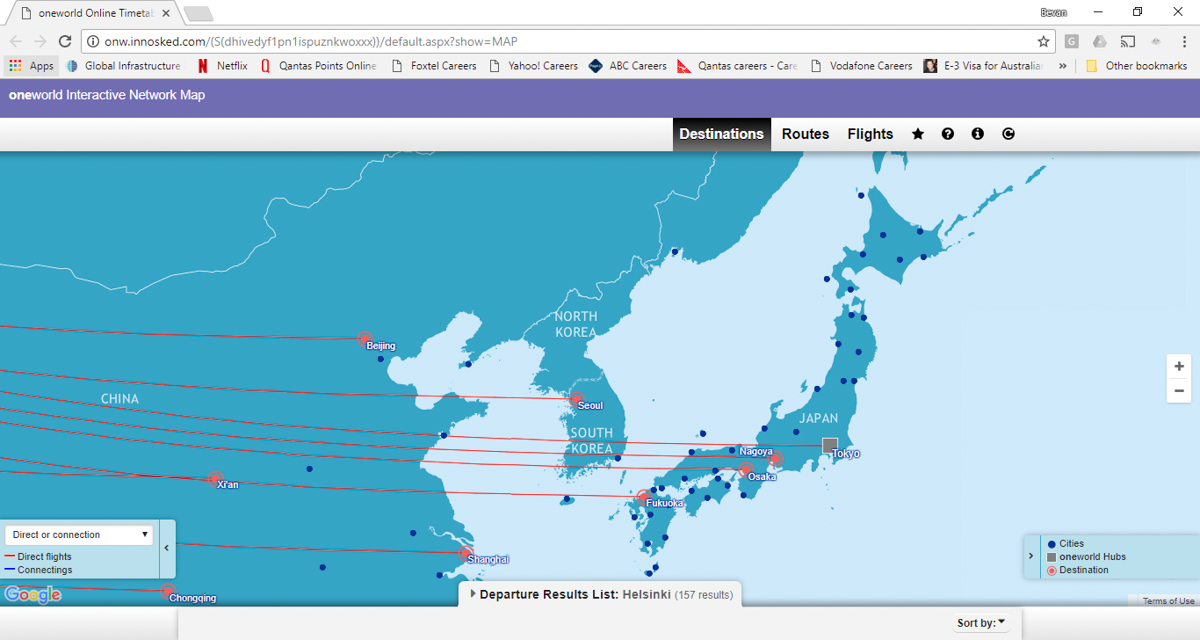 Finnair has flights to Helsinki from Tokyo but also Nagoya, Osaka and Fukuoka
Practice, practice and more practice
I usually use the Qantas.com booking engine to run trial bookings with hypothetical dates. This lets me test likely seat availability and also provides an estimate on taxes and fees.
For example, despite extra fuel surcharge of $100 per ticket, I chose to fly Qantas instead of Cathay Pacific out of Sydney in order to sit upstairs in the bubble of the 747. I would not have known this without the trial bookings.
Be aware the Qantas site does not show all Qatar Airways award flights or any Japan Airlines redemption seats. The site is also really bad in the fact that it shows combined Business and Economy seats as a Business Class award.
I use AwardNexus, British Airways Executive Club (I signed up using the address of a London hotel!) and JAL Mileage Bank as a backup to test for apparent lack of availability or phantom seats.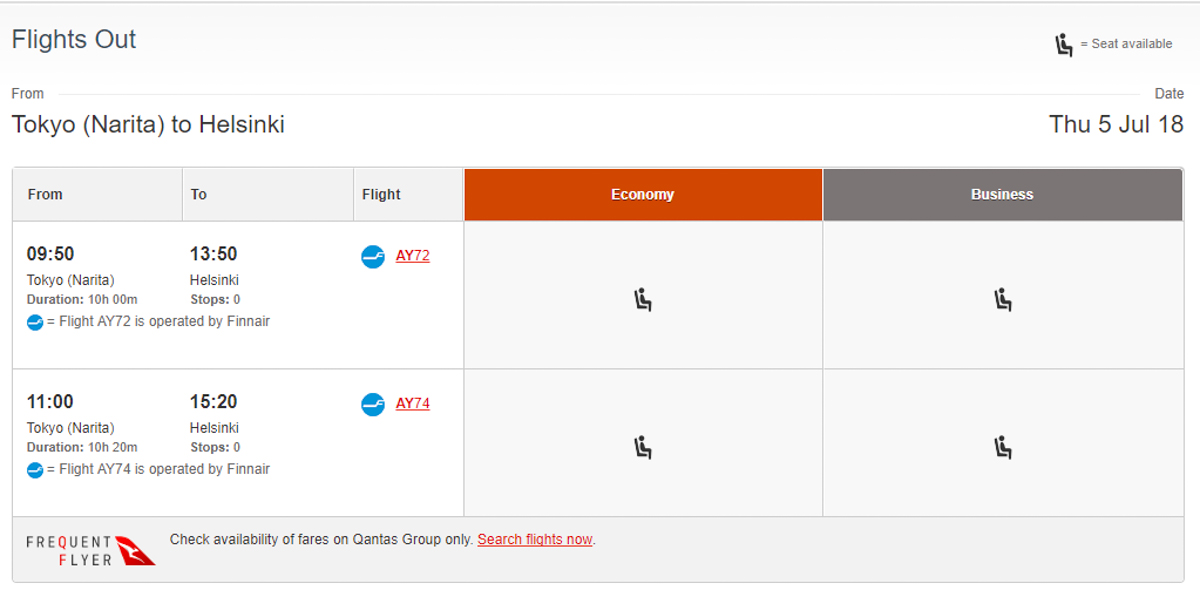 Qantas shows two Finnair flights from Tokyo Nartia to Helsinki

AwardNexus shows the same results but also a British Airways-Finnair combo via London Heathrow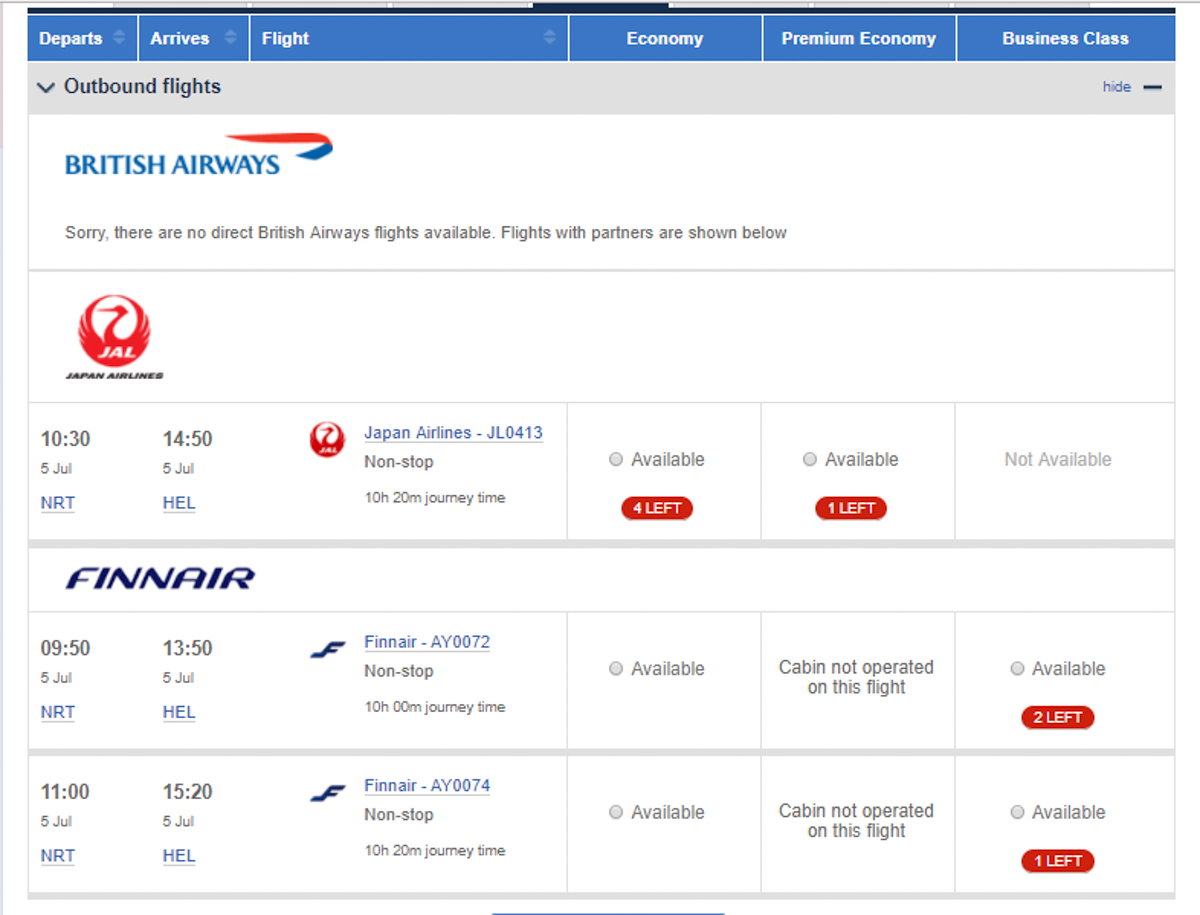 Qantas.com cannot show the Japan Airlines award space but the British Airways site can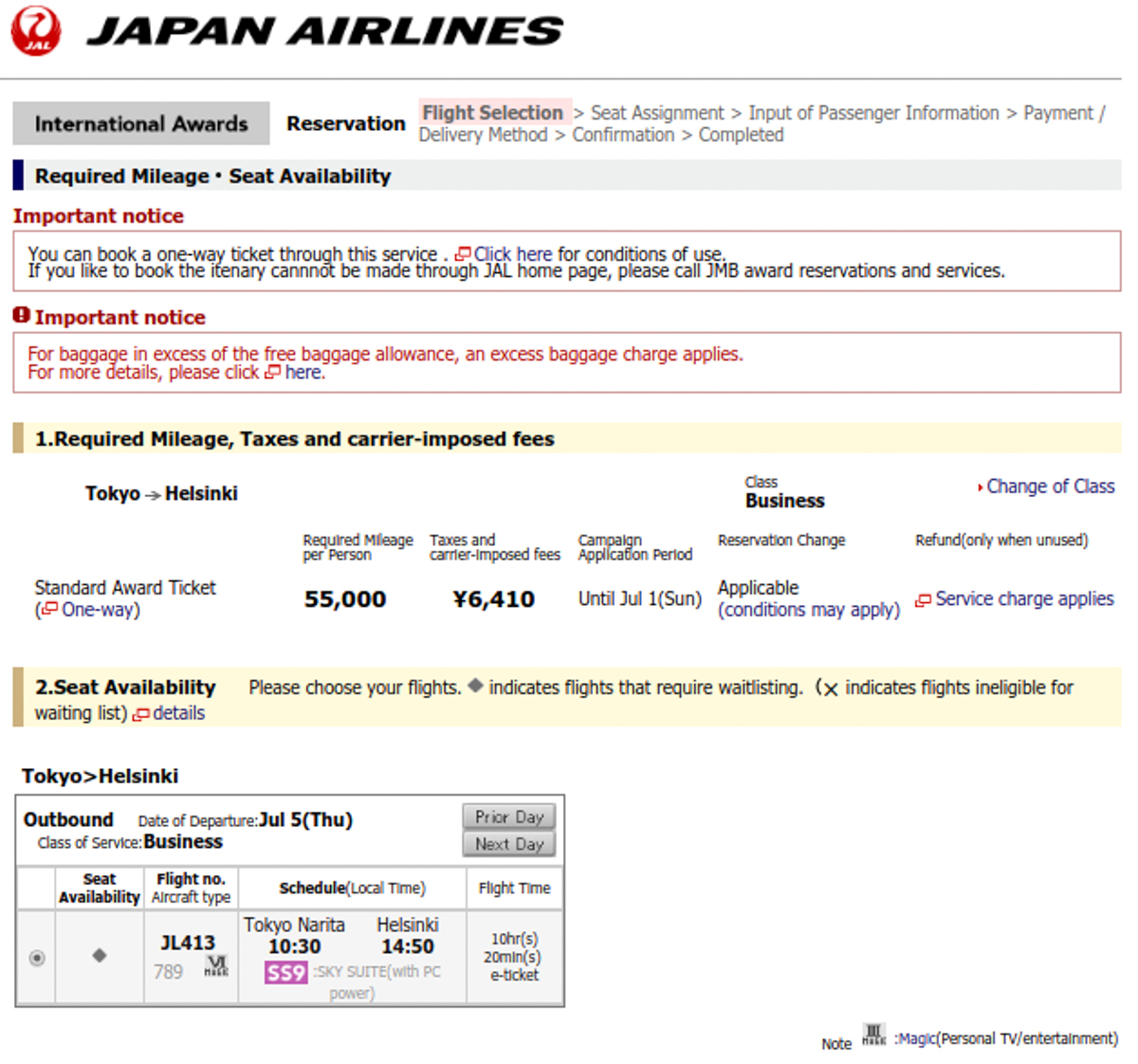 The same search on Japan Mileage Bank showed that the seat required waitlisting (denoted by the diamond symbol)
Book early
Once you have your itinerary locked down, book as soon as availability opens – in general, for Qantas, this is 353 days before the last flight in the itinerary.
This is why trial bookings are useful as you can adjust your itinerary for known availability beforehand.
Summing up
Advanced points redemptions like this one require a lot of planning, often more than a year in advance.
My advice is to research each segment individually and piece them together to complete the trip.
Stay tuned for the final installment in which I compare the Business Class offerings between Qantas, Finnair and British Airways.
Case study: How I booked my oneworld Classic Flight Reward (Part 2)
was last modified:
May 5th, 2022
by