Next month, I'll be embarking on a four-week trip from the US to Australia via Southeast Asia and back again, taking seven flights across all four cabins.
In this post, I aim to provide you with insider knowledge to help you plan your next international trip by explaining why I chose each flight, how much I paid for it, and what my expectations are.
Flight 1: Austin to San Jose in Alaska Airlines Embraer 175 'First'
I needed a positioning flight from my home base in Austin (where I've set up after winning the green card lottery three years ago) to connect to my next flight to Singapore.
What some people don't know is that the Bay Area actually has three airports: San Francisco, Oakland and San Jose.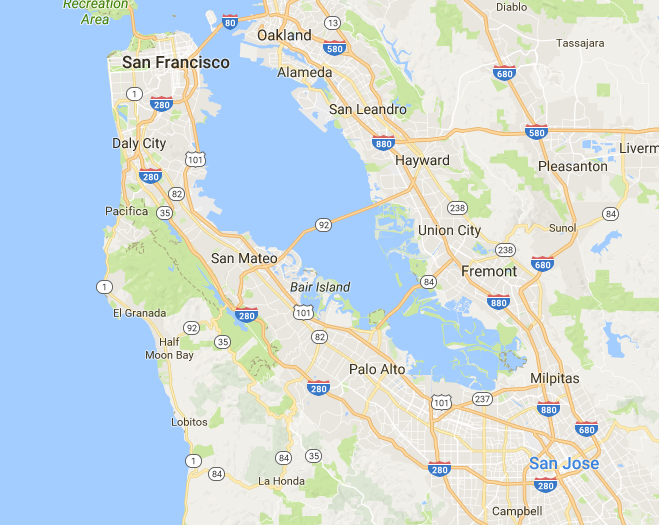 Austin to San Francisco is served by United (which I've flown many times before and try to avoid where possible) and Virgin America, which I had a great experience on flying last year.
Oakland is a great alternative to SFO as it only takes ten minutes extra by public transport to get downtown. Southwest operates a hub from Oakland and is my favourite airline to fly domestically within the US but I just did a trip with them from Austin to Cancun back in February and wanted to try something new.
Enter Alaska's new service between Austin and San Jose, the Bay Area's furthest airport from San Francisco but an airline and airport I've never experienced before.
I remembered that I got a status match to Alaska MVP Gold last year (from United Premier Gold, which I matched from airberlin Gold, which I matched from Turkish Airlines Gold, which I matched from Aegean Gold – you get the point).
With that status level, you can get an immediate complimentary upgrade (remembering that US airlines call their domestic Business Class 'First Class') when you purchase an eligible Economy ticket, so I booked this four-hour flight for $180 USD.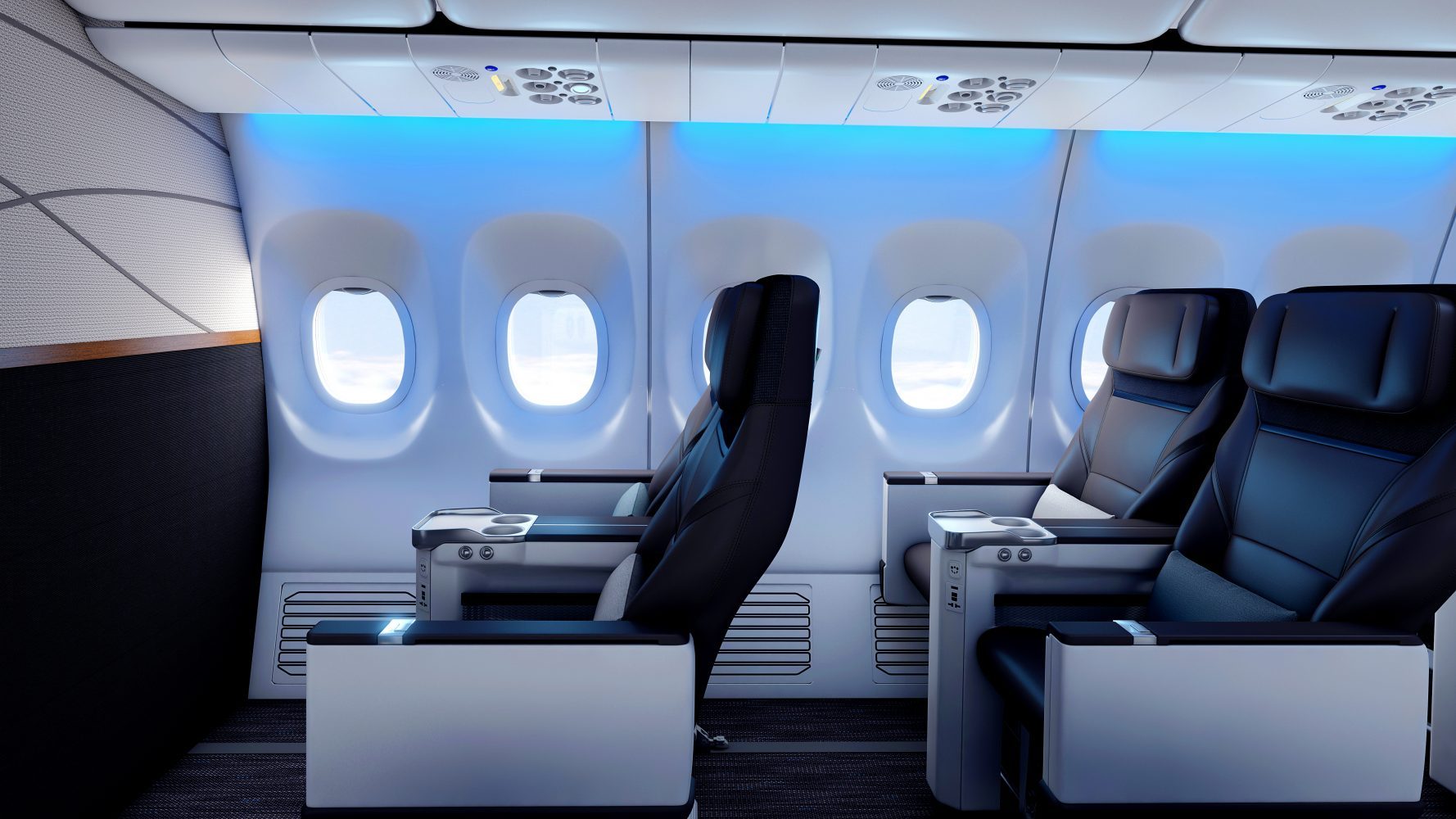 As I don't want any trouble with delays and missing my connecting flight, I've decided to spend a long weekend in San Francisco (where I've worked before and visited many times) and am hoping to spending some time hiking in Yosemite.
Flight 2: San Francisco to Singapore in Singapore Airlines A350 Business Class
As the Point Hacks team works remotely across a couple of countries, we're having a meetup in Singapore.
The only current direct flights between Singapore and the US are to San Francisco with either Singapore Airlines or United.
I reviewed United's lacklustre Boeing 787 Dreamliner Business Class product last year and I didn't want a repeat experience, so I opted for Singapore Airlines' new A350 Business Class product which, by most reports, will provide good customer service and food but an uncomfortable bed with a small foot cubby hole.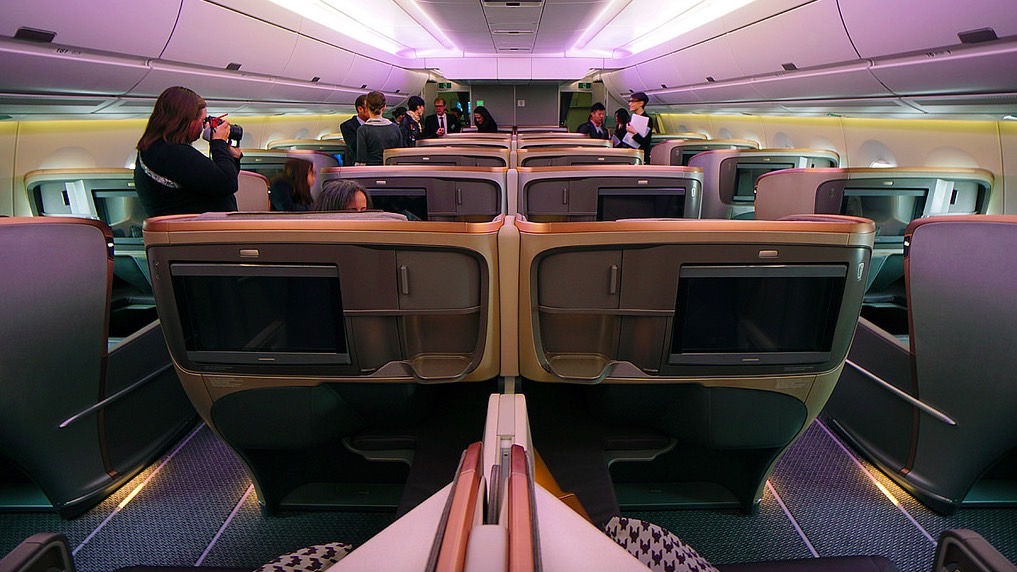 I booked this redemption using 68,000 KrisFlyer miles + $361 USD in taxes and fuel surcharges.
Given that KrisFlyer devalued its award chart back in March 2017, this redemption now costs 20,000 more miles but as fuel surcharges are no longer applied to redemptions on Singapore Airlines or SilkAir flights, the taxes have dropped to only $28 USD.
Would it be worth cancelling the reservation for only $30 USD and re-booking with the extra 20,000 miles but saving over $330 in fees? I decided no because when you cancel a KrisFlyer redemption, it can take up to a week for your miles to be refunded but your seat is released to other travellers immediately, so it would most probably be gone by the time I was ready to re-book with the miles back in my account.
Flight 3: Singapore to Hong Kong in Singapore Airlines 777 Business Class
I had five days to play with and was tossing up between visiting Hong Kong (which I have never been to before despite visiting the Chinese Mainland three times) and Taiwan (which I decided warranted more than five days as it is a bigger island).
So how to take the four-hour journey in comfort? There are three airlines that offer First Class between Singapore and Hong Kong: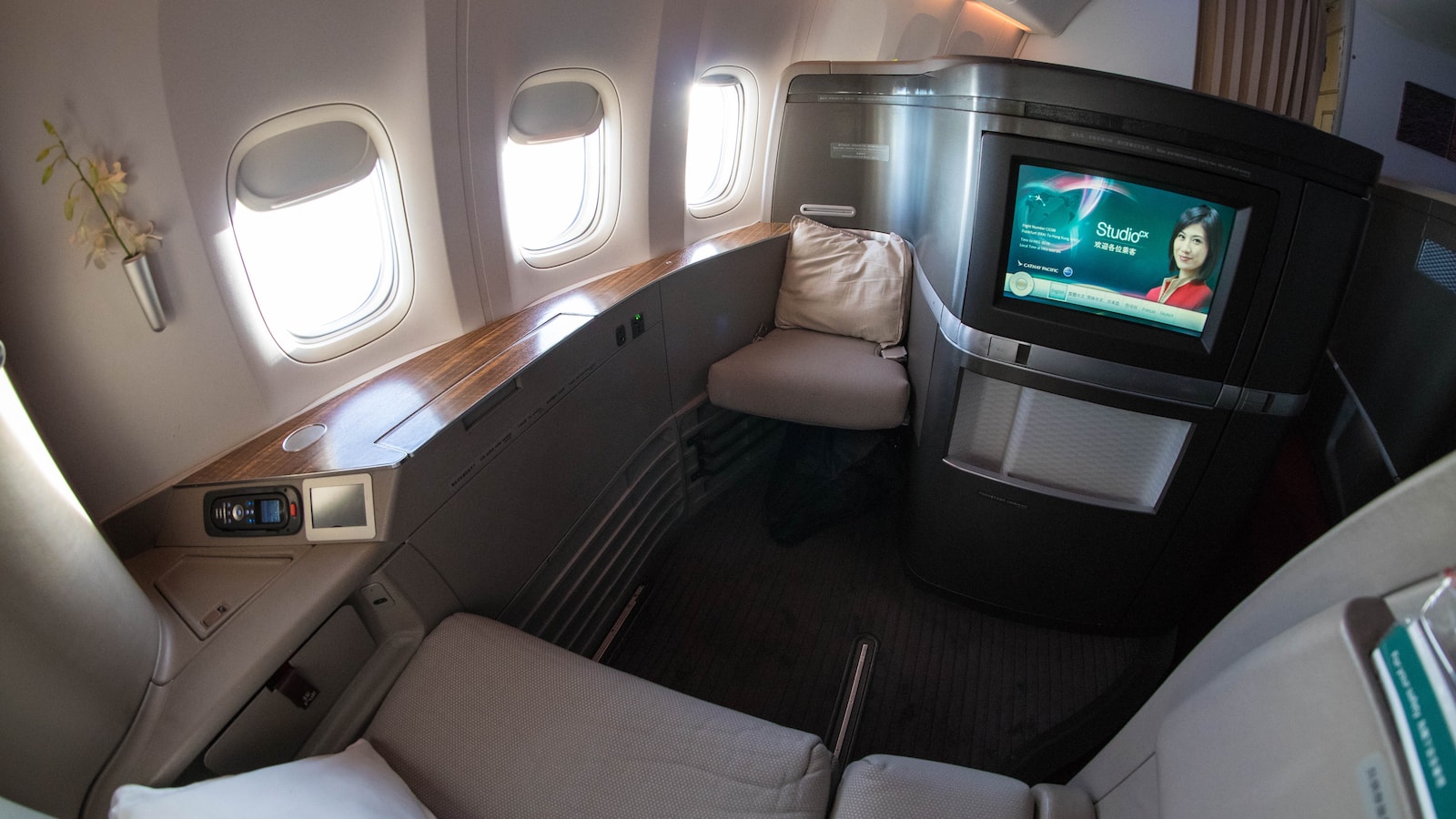 Singapore Airlines: offers both Suites on its A380 flights and its regular First Class product on the 777
United: a strange fifth freedom route that the US carrier operates but a 6am departure
I wanted to try out Singapore Airlines Suites, so found (somewhat rare) availability and used 37,500 KrisFlyer miles + $29 AUD taxes.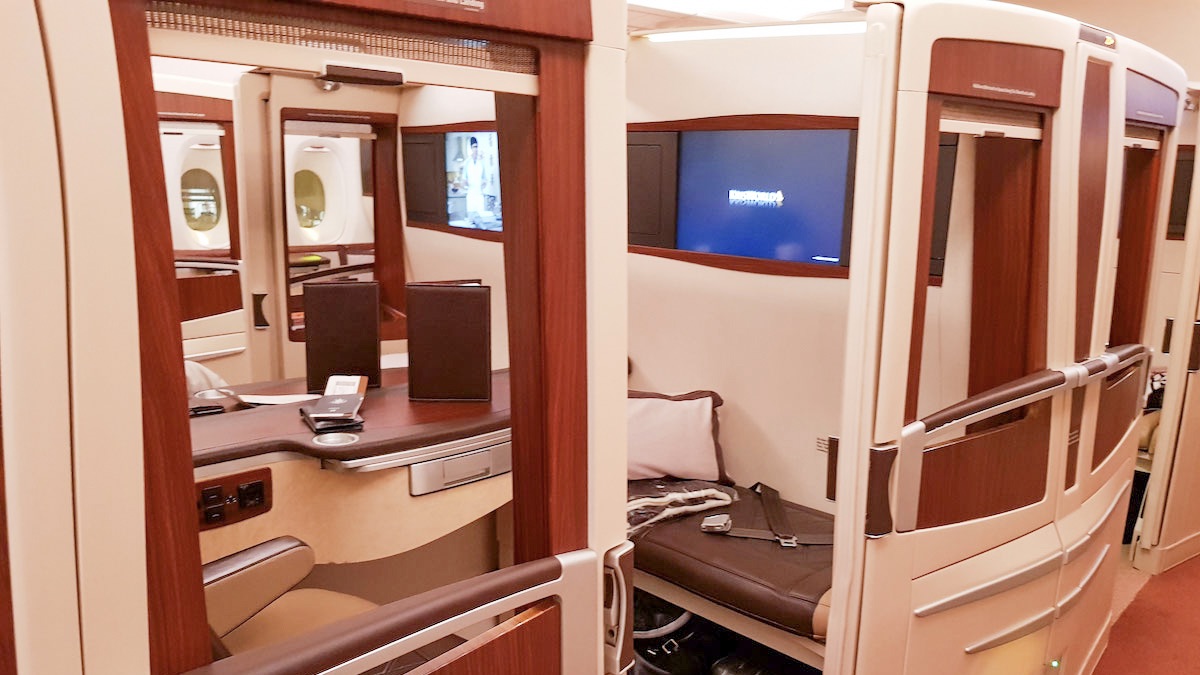 Before I had found the Suites availability, I had also booked Cathay Pacific Business Class using only 20,000 British Airways Avios (now 22,000) + $24 USD taxes.
The flight was originally on one of the Boeing 777-300ER aircraft Cathay uses on its long-haul routes, with its fantastic reverse herringbone product but it was recently switched to a Boeing 777-200 with recliner seats in a 2-3-2 configuration, which is not ideal at all.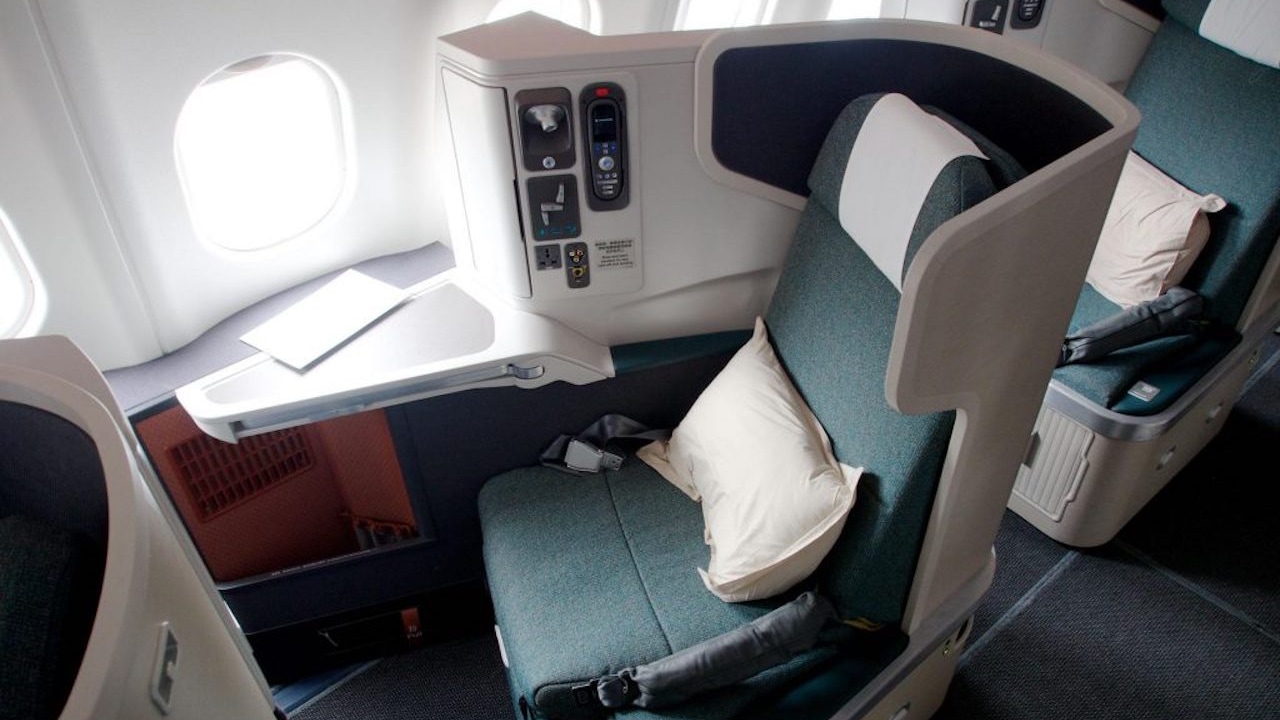 Given I hate getting up early (the Suites flight is an early one) and I don't want to waste my Avios on a now sub-standard Business Class product, I'm going with a third option: cancelling both, waiting for the KrisFlyer miles to be refunded (hopefully within a week) and re-booking on Singapore Airlines 777-300ER Business Class, which is basically the same as the A350.
This was stressing me out and then I realised that it was a First World problem.
Ad – Scroll down to continue reading.Minimum spend, terms & conditions apply.
Flight 4: Hong Kong to Sydney via Bangkok in THAI A380 and 747 First Class
This flight is the one I'm most looking forward to!
One of the best uses of United MileagePlus miles is a sweet spot between Australia and South/Southeast Asia (including Hong Kong) for only 40,000 miles in First Class!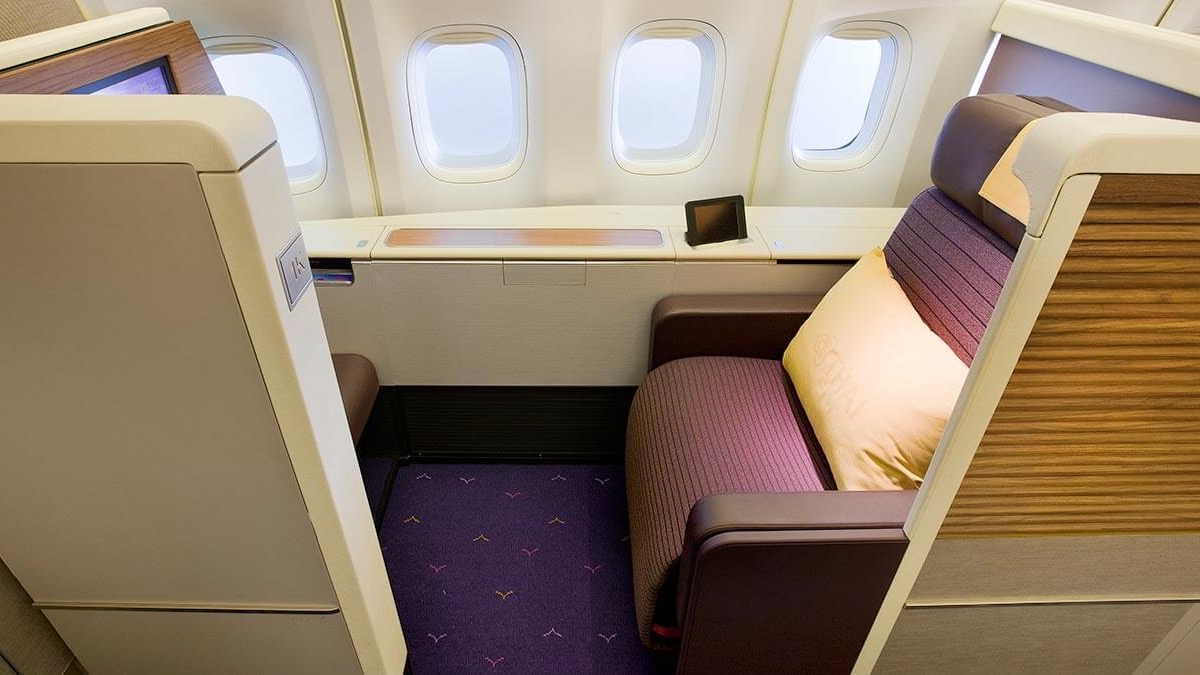 With MileagePlus' upcoming devaluation in November 2017, this redemption will increase to 65,000 miles but until then, you can still book this redemption, even for travel after November.
I transferred points from one of my US credit cards to United but as no bank program in Australia partners with MileagePlus, you are best off buying miles during a promotion (there is a good one running until 12 September).
For just 40,000 miles + $59 USD in taxes, you get:
access in Hong Kong to the United International First Lounge (apparently the best one in their network), Singapore Airlines SilverKris First Class Lounge or the THAI Royal First Class Lounge
four hours in A380 First Class for the first leg
picked up in a golf buggy for a five-hour layover in Bangkok with a complimentary one-hour massage in the THAI Royal Orchard Spa and access to the THAI Royal First Class Lounge
nine hours in a private suite in 747 First Class for the second (red-eye) leg – although there are new and old versions of the 747 and THAI is notorious for last-minute equipment swaps, so I may actually be on the older one
Flight 5: Sydney to Los Angeles in Virgin Australia 777 Premium Economy
After spending two weeks in my hometown Sydney with family and being a bridesman at a friend's wedding in the Southern Highlands, I'll be travelling back to the US as a guest of Virgin Australia.
We have reviewed their 'The Business' product (found on the A330 and 777) but not their Premium Economy seat. My review of the product will be purely my own opinions.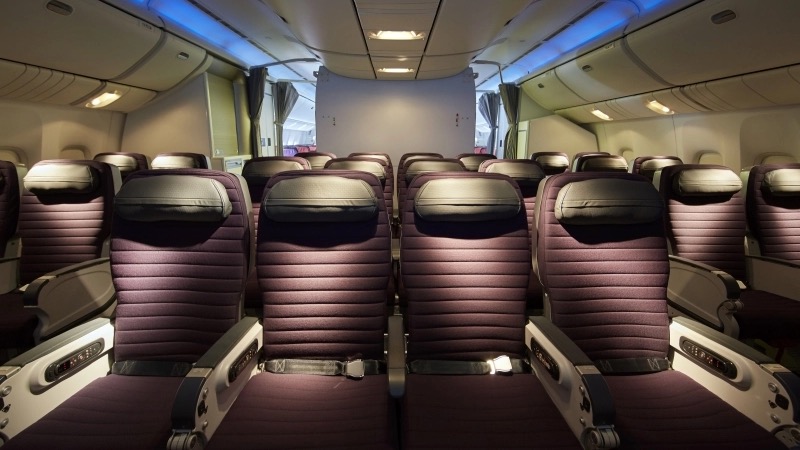 It is notoriously difficult to find premium cabin award availability on direct flights between Australia and the US, so one option is flying through Asia, like I did in the excellent Korean Air First Class via Seoul.
Or, you could find a compromise by flying Premium Economy with:
Virgin Australia: for 71,700 Velocity points or 96,000 KrisFlyer miles
Qantas: for 48,000-66,000 Asia Miles or 72,000 Qantas Points
Delta: although Velocity does not allow Premium Economy redemptions on Delta, so you would most probably have to buy a cash ticket
I have included the 71,700 Velocity Points and applicable taxes in the total price for this trip to give a more realistic representation of the cost.
I'll use my American Express Business Platinum card to grab a bite to eat, have a coffee and use the free wifi in the American Express Lounge at Sydney Airport.
Flight 6: Los Angeles to Austin in Delta A319 (Basic) Economy
Did you know that most flights from Australia to the US West Coast land before 10am to allow for onward connections throughout North America?
There are numerous flights each day between LAX and Austin on the three legacy carriers – Delta, United and American Airlines – as well as Southwest.
My inbound flight from Sydney is scheduled to land at 6:05am and I don't want to be waiting around LAX for too long, so I checked FlightStats to see how likely it was that my flight is delayed, which shows that the average delay for VA 1 for the past two months has been only 14 minutes.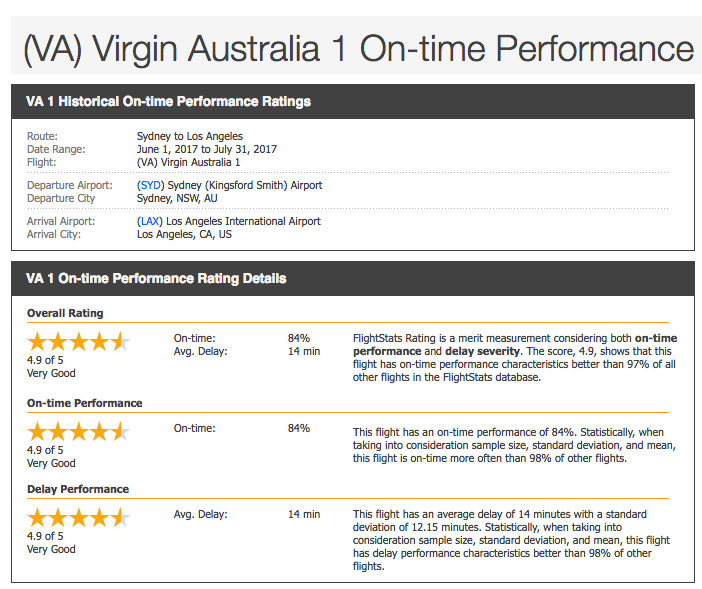 That gave me the confidence to book my flight to Austin departing only 2½ hours after arriving. I chose Delta because they have an interline agreement with Virgin Australia, meaning when I check-in with Virgin Australia at Sydney, I can name Austin as my final destination, give them my Delta booking reference number, and my baggage tags will take my checked luggage straight through.
When entering the US, I still have to claim my bag and clear customs, but instead of having to go to the Delta check-in desk in another terminal, I can save time by dropping it on the 'Connecting Flights' belt immediately after customs as it will already have its tag.
One thing to note is that all three big US carriers have introduced 'Basic Economy' fares, which is essentially turning them into low-cost carriers. My Basic Economy fare only cost $106 USD but doesn't include checked bags. I am hoping that the Virgin Australia check-in agent won't charge me the $25 USD fee for my checked bag on the Delta segment.
Summing up
As you can see, trip planning can involve a lot more consideration and work than you might initially expect.
For aviation geeks like me, it can be an enjoyable pursuit; for others, it can be daunting, so that's why I've gone through my thought process for each flight and linked to our guides to help you plan your next trip.
For a grand total of 199,700 frequent flyer points + $1,135 AUD in taxes and surcharges, I'm looking forward to travelling (mostly) in style during my 53 hours in the air over four weeks.
Have you flown any of the products mentioned above? How would you have planned this trip differently? Please share your thoughts in the comments below!
Supplementary images courtesy respective airlines, Great Circle Mapper and Google Maps.
Other case studies
Case study: a trip around The Pacific for 200,000 points + $1,135 in taxes
was last modified:
July 29th, 2022
by