For small business owners, RewardPay is one of the most useful services for American Express cardholders who want to pay their business expenses with their credit card.
In short – RewardPay allows you to make payments that would normally be done by bank transfer, on your points-earning credit card. They charge a fee (to the payer, not payee), which is tiered based on the payment amount for each individual transaction. So you need to be strategic about how you use it to justify the cost.
The cost makes sense if you have a high-points earning card, and there are a few American Express cards and business circumstances where this approach to earning points could work if you're a business owner.

I have been using RewardPay since the middle of 2016, and have put many payments through the service successfully. However since I first started using RewardPay, other competitors have entered the market, such as B2Bpay and Payment Logic.
What is RewardPay?
RewardPay is a payment platform that allows you to pay your ordinary business expenses for suppliers and other institutions that don't take credit card (or you'd rather pay by bank transfer due to excessive fees or to improve your cashflow), to the ATO for your tax bills, or for superannuation payments – and earn points.
There are a few non-points benefits too – primarily that you can use your credit card to improve your business cashflow.
Payment recipients do not need to be registered with RewardPay – but they will see 'RewardPay' and your reference number in the payment description in their bank account, so it's not a completely hidden service to them.
One of the main restrictions of RewardPay over other payment platforms like B2Bpay is that they only accept American Express cards as a form of payment, which means you are out of luck if you do not hold one of these cards.
What fees does RewardPay charge?
RewardPay recently updated their fee schedule following changes made by American Express to the fees they charge vendors for accepting American Express cards, precipitated by the RBA's changes to interchange fees in 2017.
The revised fees schedule is shown below:

The new fee schedule is based on a single payment amount and replaces the previous fixed fee model of 2.4% +GST, irrespective of the transaction amount.
While the decrease in surcharges is a welcome move by RewardPay, the devaluation in earning potential by American Express in April 2019 has lessened the appeal of using RewardPay to essentially "purchase points".
Whether you decide to use RewardPay or pay with other means will be decided a three factors, which include:
The transaction amount
The points earn on your American Express card
Let's assume…
You are GST registered and you have incoming GST payments to offset against the GST paid to Rewardpay – in which case that "+ GST" component of the fee is moot
Your business makes a profit, and you have justifiable reasons to use Rewardpay for your business – i.e. to improve cashflow or ease payments to suppliers – in which case the cost may be deductible from your business profit and reduce your tax burden (but check this with your accountant).
From our Point Hacks valuation guide, you can see that we value Qantas Points at 1.9c each, meaning that you wouldn't want to spend more than this to earn a Qantas Point.
When using American Express's highest-earning card, the American Express Qantas Business Rewards card earning 1.25 frequent flyer points per dollar spent, even on a low transaction amount of say $10,000, then using RewardPay would still be worth it. The cost to earn 12,500 Qantas points is $151, meaning that the cost per point is 1.2c, which is lower than our valuation—that's a good thing.
However, if we were to use an American Express card earning only 1 Qantas Point per dollar spent, then the RewardPay cost to earn 10,000 Qantas Points is still $151, but the cost per point is now 1.51c, which is still worth it but of lesser value than the example above.
But, going back to my third point above, the value people place on points is subjective and our guide on points valuation is intended to be just that, a guide.
For example, some people like to split out the valuation into a maximum earn amount (the most they are willing to pay to purchase a point) and a redemption target (the minimum value they are willing to redeem a point for). Others like to go a step further and articulate a final, single-point value. This sits around the upper bound at which they like to earn points, and a lower bound at which they tend to redeem them.
We recommend the former approach, as there are other non-cost factors that should be considered, such as which airline has seats for the route you want to travel on, which offers you more readily available upgrades for your points, or which you actually prefer to travel with. However, if you do follow the latter approach, then using RewardPay to "purchase points" will definitely make sense.
Therefore, whether using RewardPay makes sense for you is determined by the three factors above, and specifically on which approach you take to value a point.
Tax consequences of using RewardPay
For this part, you should consult your accountant (I am not one) to make sure this analysis is correct for you and you don't have different tax implications.
In order to utilise the "after tax rates' shown in the above schedule, the business expenses must be deemed to be deductible, assuming your business is healthy and making profit, and you are willing to absorb some cost to take advantage of earning points and cashflow benefits of using Rewardpay.
You would be reducing your taxable profit by the amount of the fee (as a cost going out of the business). When tax on company profits is at 30% for larger businesses as it is currently, a $100 fee would result in $30 less tax being paid. For smaller businesses the tax rate is 27.5%.
At the 30% tax rate, deducting RewardPay as a business expense is equivalent to a 30% reduction in the cost of the points being earned.
Ad – Scroll down to continue reading.Minimum spend, terms & conditions apply.
What cards could work best with RewardPay
There are several American Express options that earn the equivalent of at least 1 frequent flyer point per dollar – we've explored the options available for highest points earning cards with RewardPay in a separate guide.
RewardPay eligible payments
Essentially, RewardPay steps in any time you would usually make a regular EFT / bank transfer to make a payment from your bank account. Payment recipients need:
An ABN
An Australian bank account with BSB/Account Number
A phone number and address
An email address to send an (optional) payment confirmation to
BPAY doesn't get involved anywhere, so if a payment recipient only accepts BPAY, then you should consider using B2Bpay instead.
How a RewardPay payment works for you and the recipient
RewardPay has an easily understood concept of payees and payments. Payees can be set up and stored for reuse, while payments are made on demand to the stored payees. Payees and payments can be created by hand on the website, or by uploading batch files for larger payment runs.
Payments will take 3-4 business days to hit the recipient's account, so this isn't a service to use for last minute or quickly needed payments.
When you go to make a payment to a previously created payee, you can then add payment reference details – one for your own credit card statement, and the other for the recipient's bank account.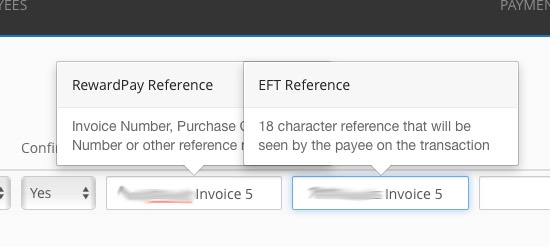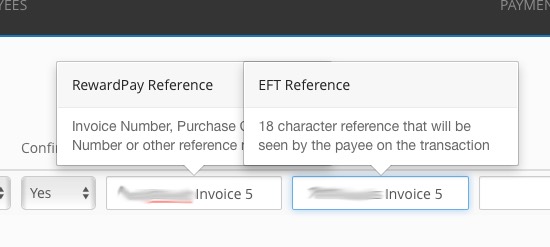 When you make a payment, RewardPay will ask you for your credit card details and SMS you with a confirmation code. Once complete, from the payment confirmation screen you can then download a PDF Invoice for the RewardPay fee and GST.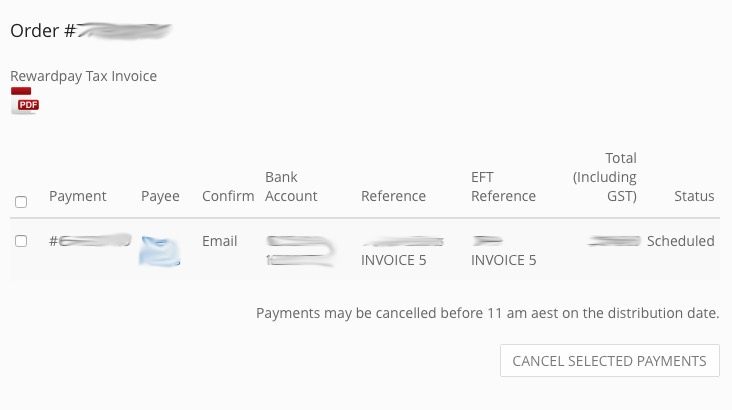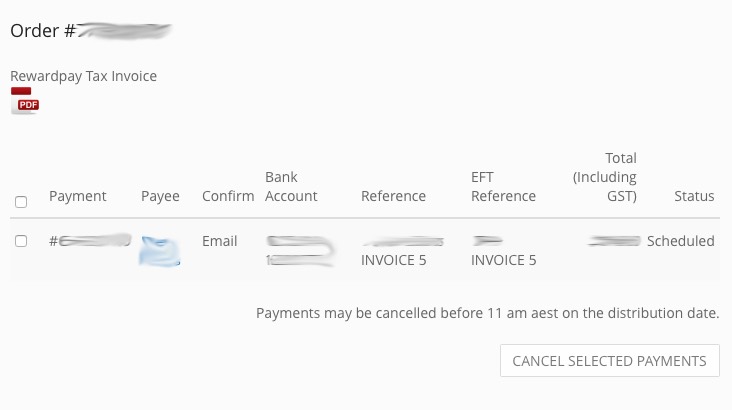 Worth noting – the PDF invoice only has the RewardPay fee included, but the fee is not charged independently to your credit card. You or your bookkeeper will need to link your supplier's invoice with each RewardPay invoice to correctly account for the fee that shows in your credit card statement.
The details appear on both statements with RewardPay in front of the details you input. Here's what it looks like to a recipient in their bank account:


Using RewardPay to pay the ATO
This is also possible, and cuts out the ATO's fee as you are making a bank transfer, via RewardPay, to the ATO instead of using the usual EasyPay portal and the associated merchant fees. You'll pay the RewardPay fees instead, of course.
We've dug into this more in our guide to earning points from ATO payments here, but this is most useful for American Express-issued cardholders as payments for 'government' transactions for their cards only pay out at 0.5 points per dollar. Despite the ATO's lower surcharge (of 1.45%) when paying directly, the ability to earn full points on your card and paying via RewardPay may be more appealing.
Summing up
RewardPay is not an option for everyone to start paying every bill they have using the service – it is specifically designed for business to business payments. That said, it will work for businesses of any scale, as long as you have an ABN.
Having used the service for some time, it does provide a great way to earn rewards points where you otherwise couldn't have, assuming the maths stacks up to do this. However, with the emergence of competitors that accept a broader range of cards or payments (eg B2Bpay), there is now room for improvement with RewardPay.
The key to actually benefiting from the service is to ensure you make the most of the cashflow benefits for not paying bills early, and that you are earning enough points from your American Express card – at least 1 frequent flyer points per $ but likely more, to make the cost worthwhile.
How RewardPay works – earning points from shifting business payments to your American Express
was last modified:
October 24th, 2022
by