Emirates brings refurbished Airbus A380s to Melbourne
Melbourne is the next cab off the rank with Emirates' new Premium Economy cabin.
Posted:
May 1, 2023 - 2:00 pm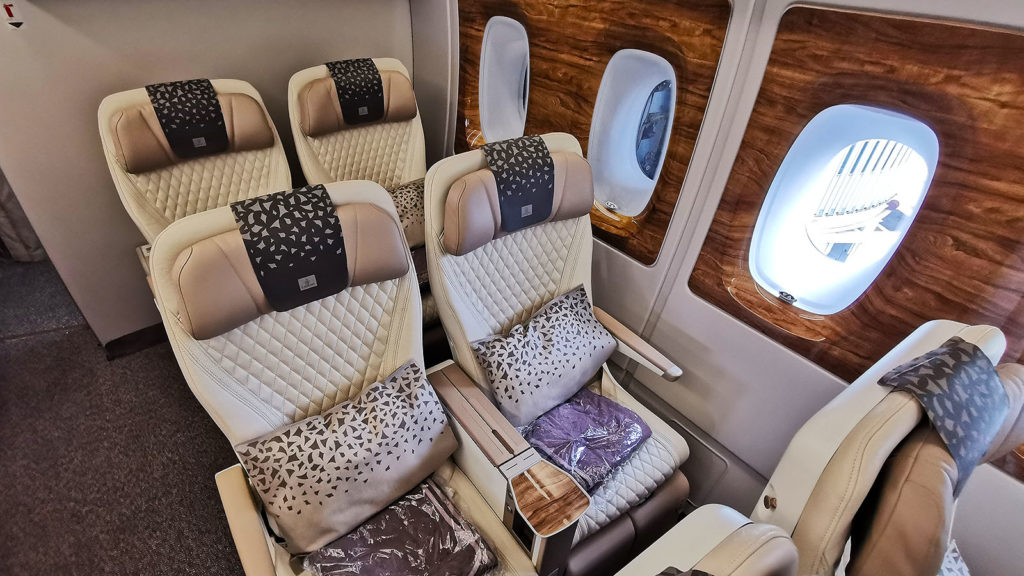 What we'll be covering
Emirates is now flying its freshest Airbus A380s between Melbourne and Dubai. This includes its newest addition – Premium Economy – as well as Emirates' refurbished Business Class and First Class cabins.
For now, you'll find these experiences aboard on one of the airline's three daily return flights between Melbourne and Dubai. Out of Melbourne, the flight number to book is EK407 – the mid-evening evening departure that reaches Dubai early in the morning. Back from Dubai, it's EK406 to Melbourne: the 10 am service, again touching down the next morning.
An added bonus of being on these services is that passengers are also now guaranteed to have Emirates' latest inflight bar and lounge area. Located at the rear of the upper deck, it's available to both Business Class and First Class passengers.
This is an exciting period for Emirates in Australia, with Melbourne and Sydney sitting at the forefront of Emirates' biggest investment in cabin redesign to date. We have a strong commitment to Australia, as one of our most important markets on our global network. Alongside continued increase of operations as we make a strong rebound, we are committed to offering Australians more choice in how they travel, and look forward to offering travellers an exceptional new experience.

– Barry Brown, Emirates' Divisional Vice President Australasia
For a closer look at what passengers can expect, I stepped aboard an otherwise-empty Emirates Airbus A380 amid preparations for its evening take-off from Melbourne.
Emirates' First Class and Business Class to Melbourne
Across its entire Airbus A380 fleet, Emirates already offers private First Class suites with closing doors. On the refurbished Emirates superjumbos serving Melbourne, these already-solid suites have seen a light refresh.
Rather than the bold walnut wrap on the doors and cabin walls, the panelling takes on lighter and more subdued tones. The overall design remains the same, but with the seat now wrapped in silky smooth stitched Champagne-coloured leather. The plane's iconic shower spas retain the same footprint as before.
When booking Business Class with Emirates, the Airbus A380 remains the way to fly. These seats adopt a 1-2-1 layout and in a staggered configuration – with a few similar tweaks such as that Champagne-toned leather.
In the centre pairs, the cabin design finds two seats very close together in one row: perfect for high-flying couples. In the next row, the two seats are far apart. Whichever you pick though, each one transforms into a fully flat bed. Crew fit a padded mattress topper after take-off.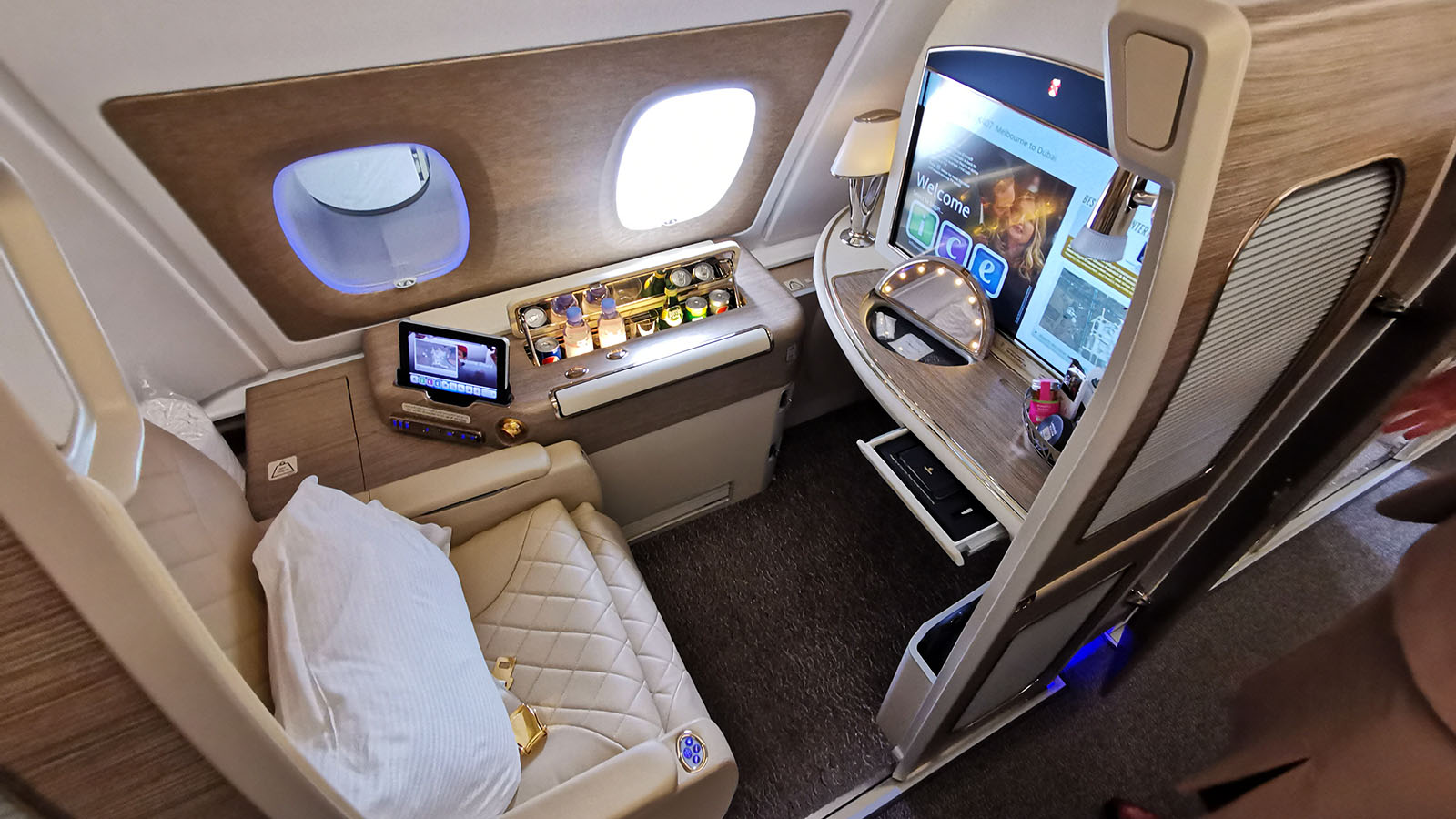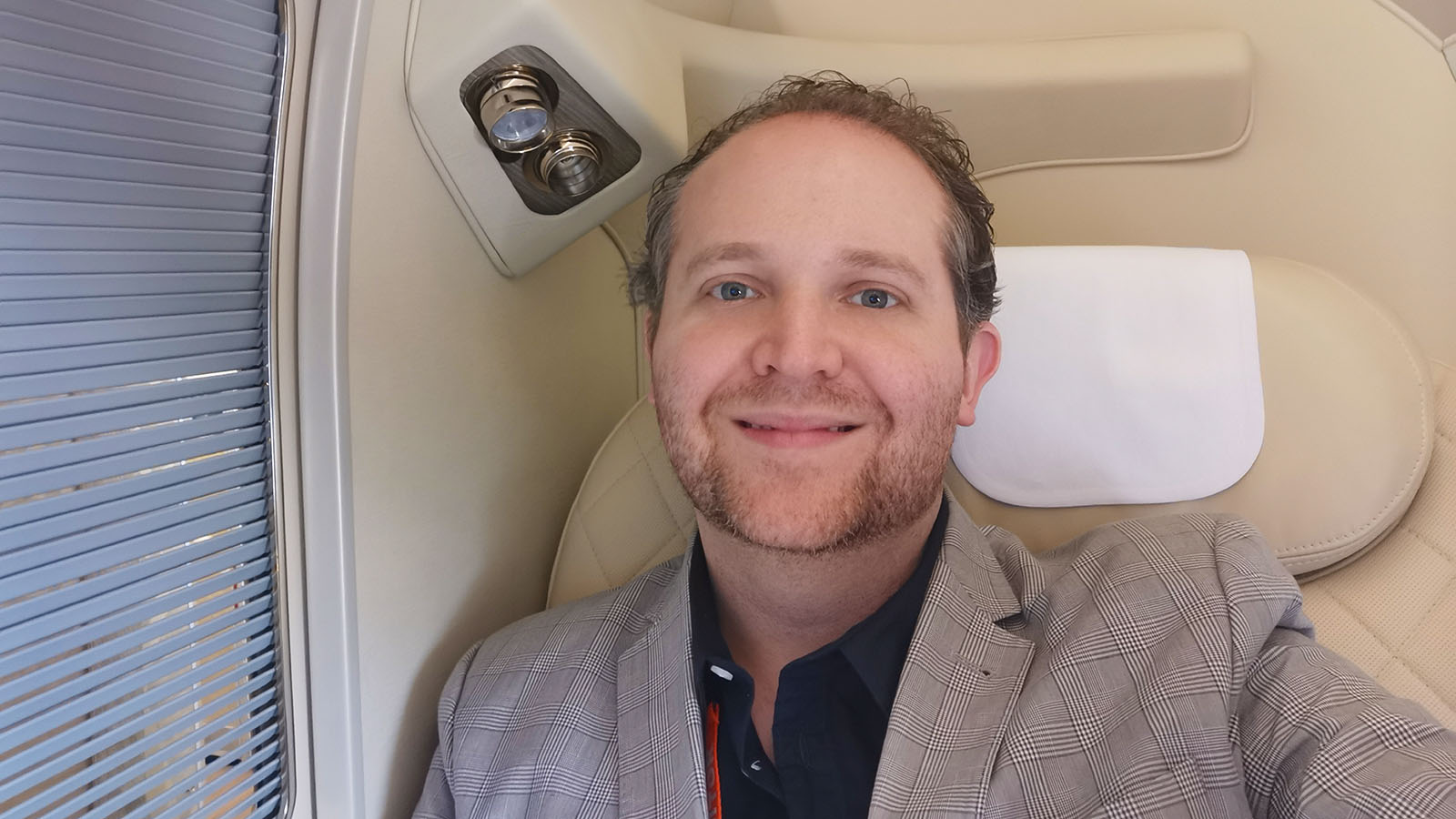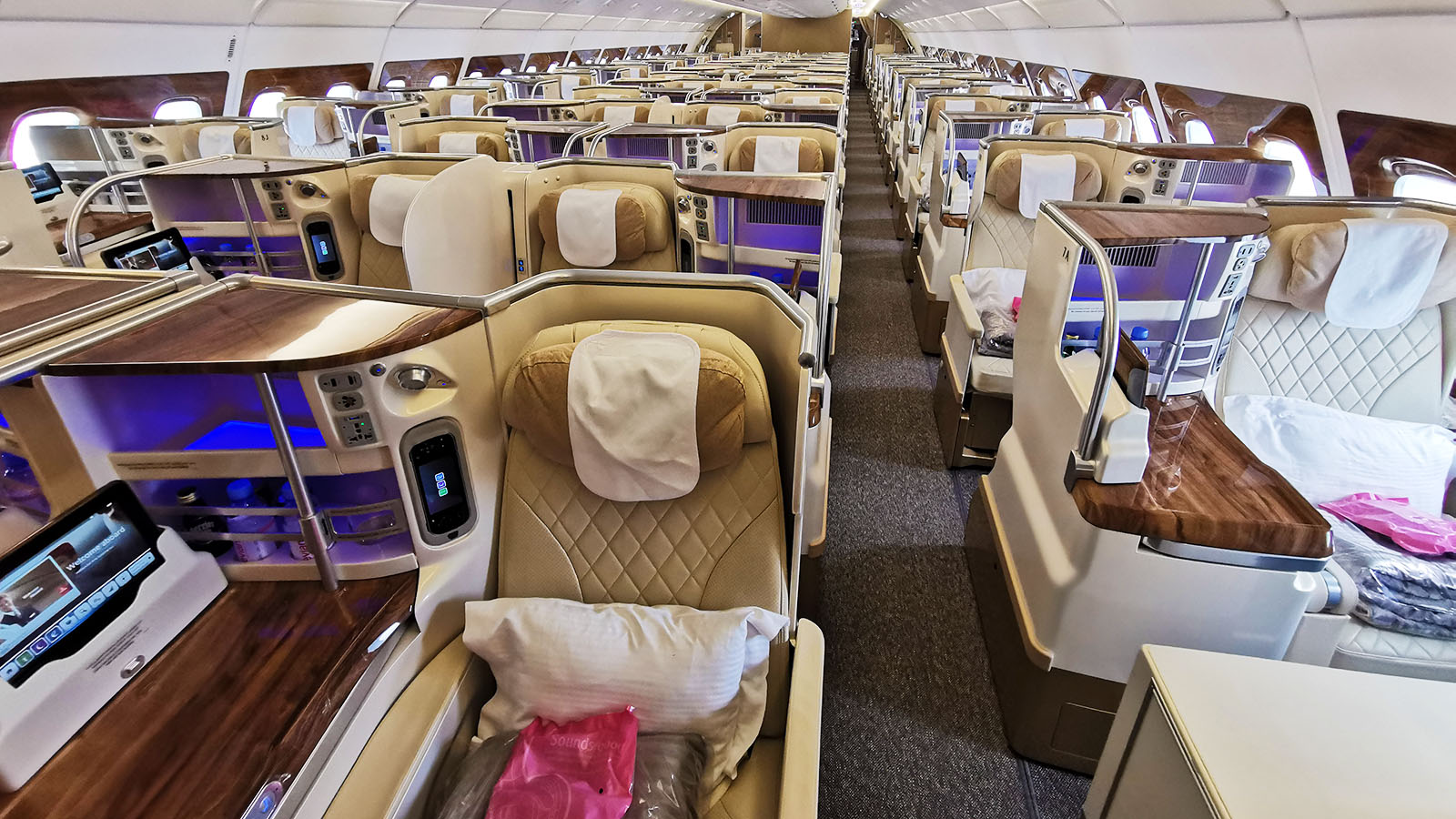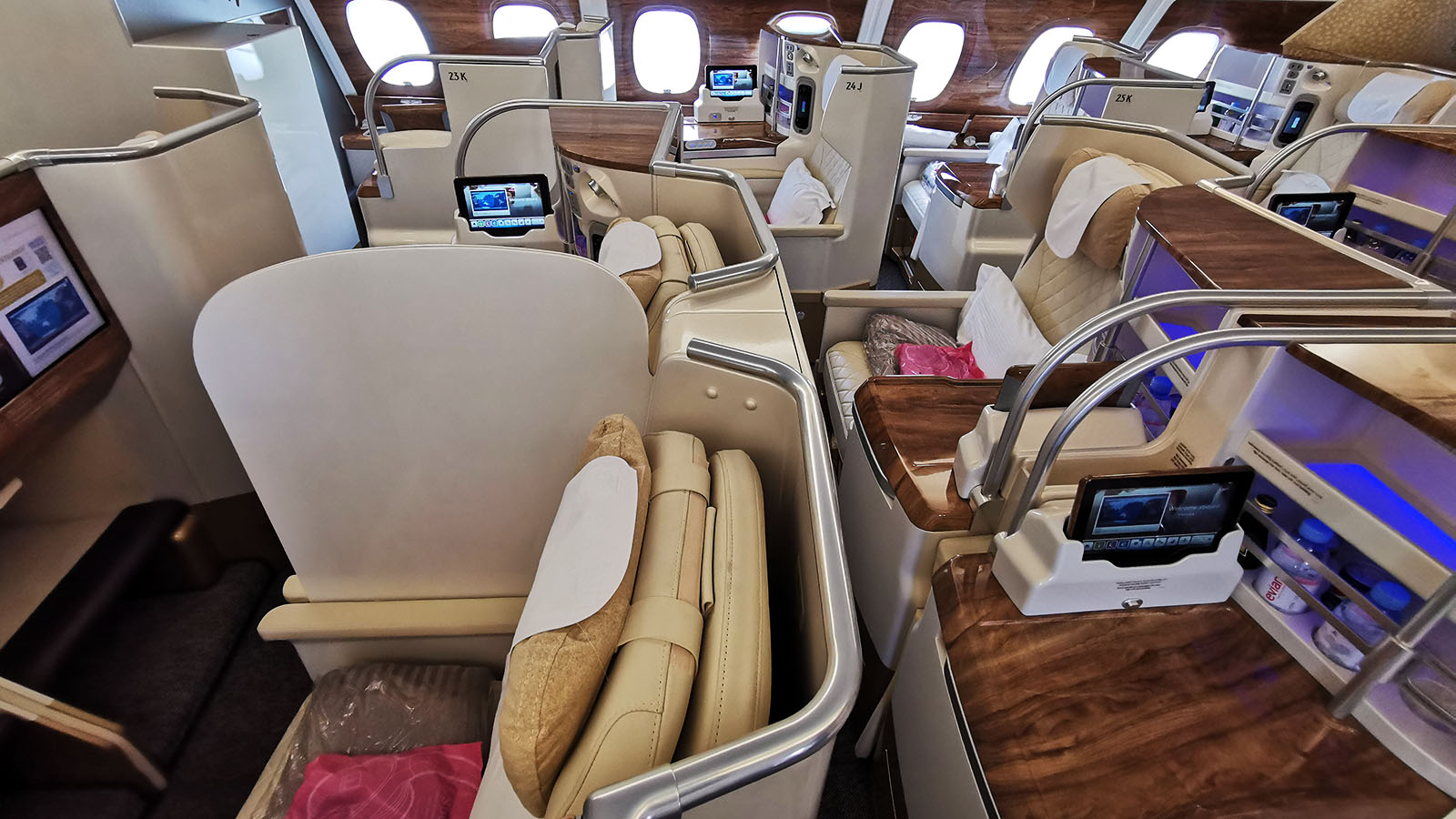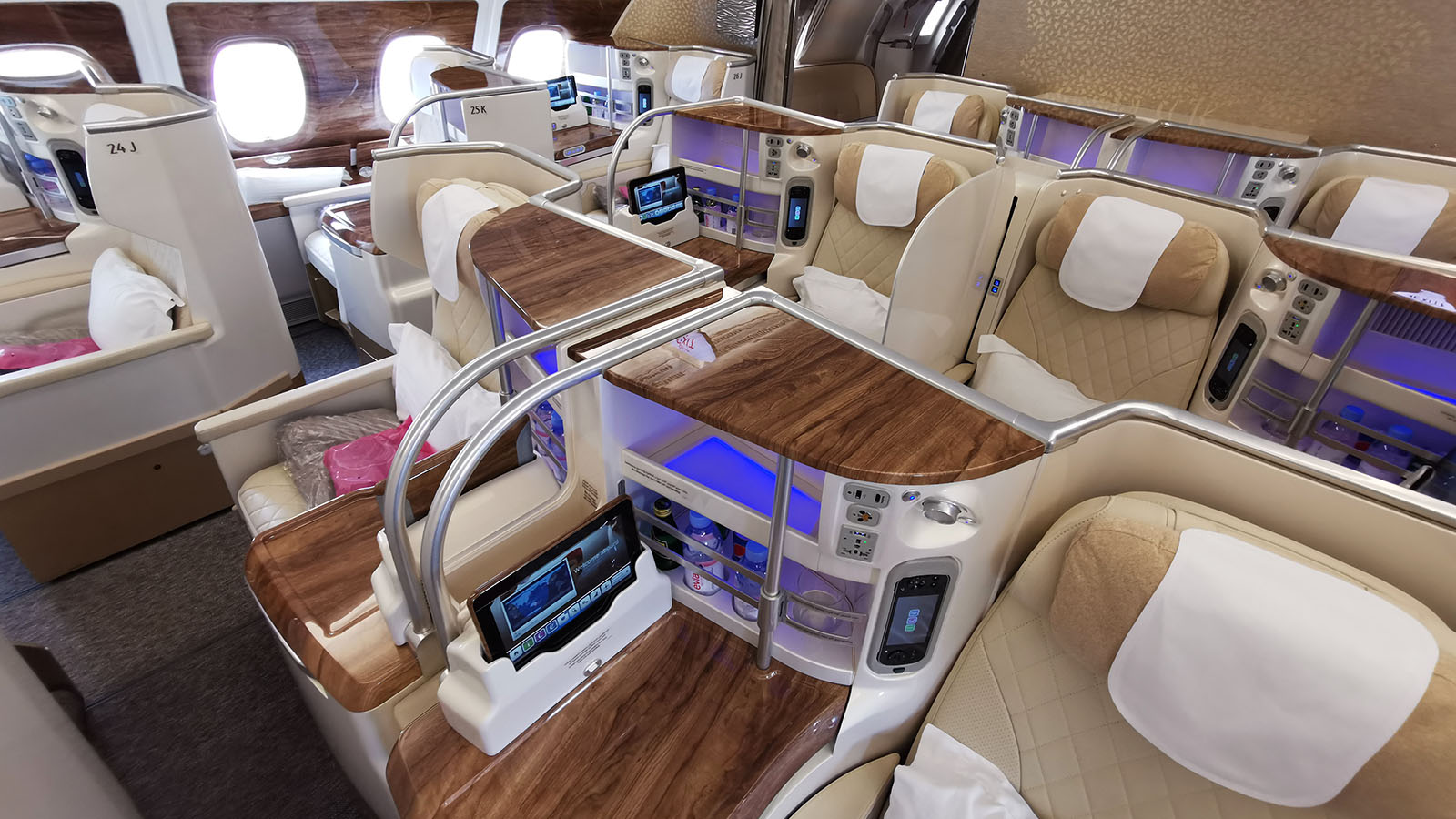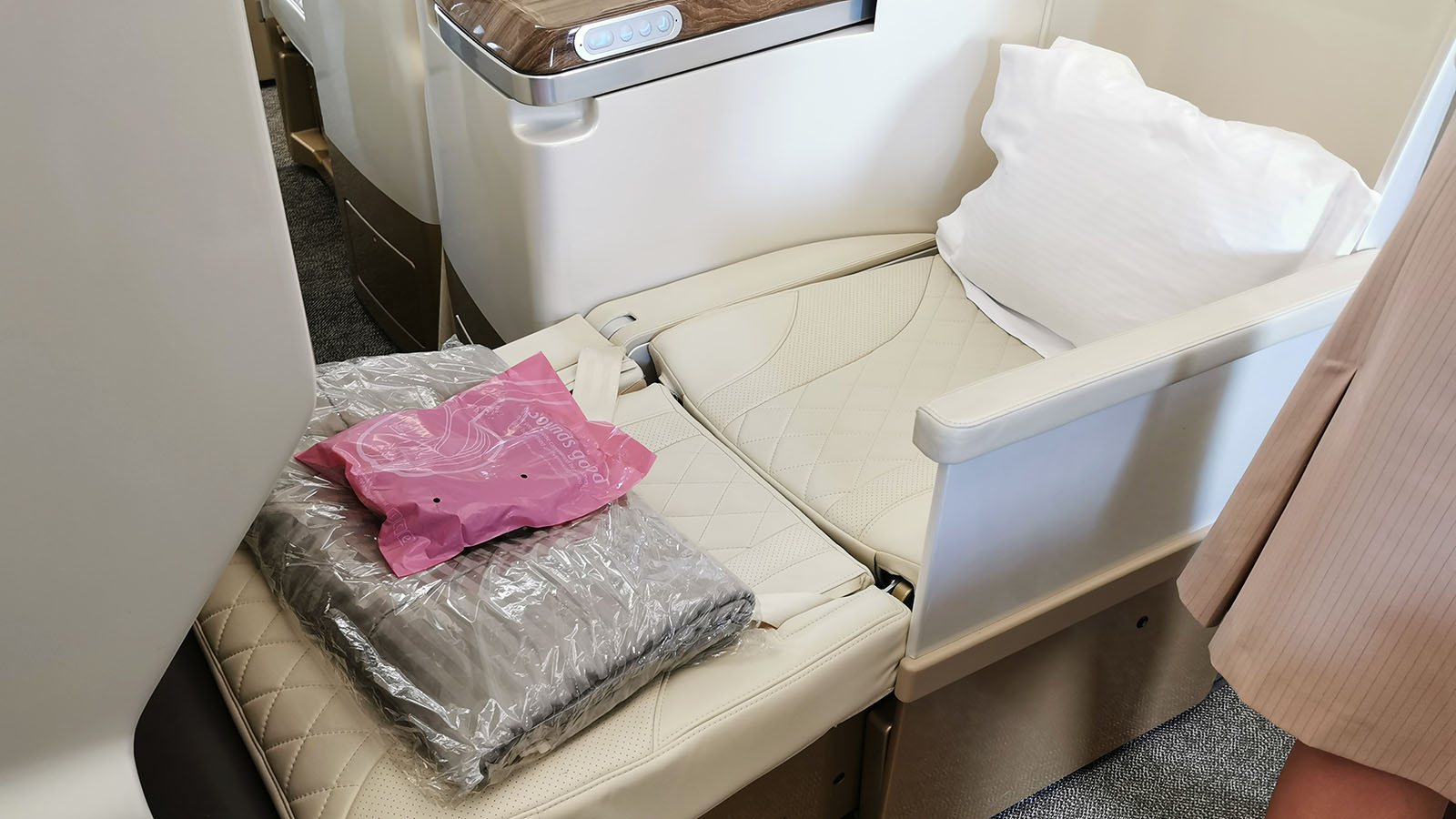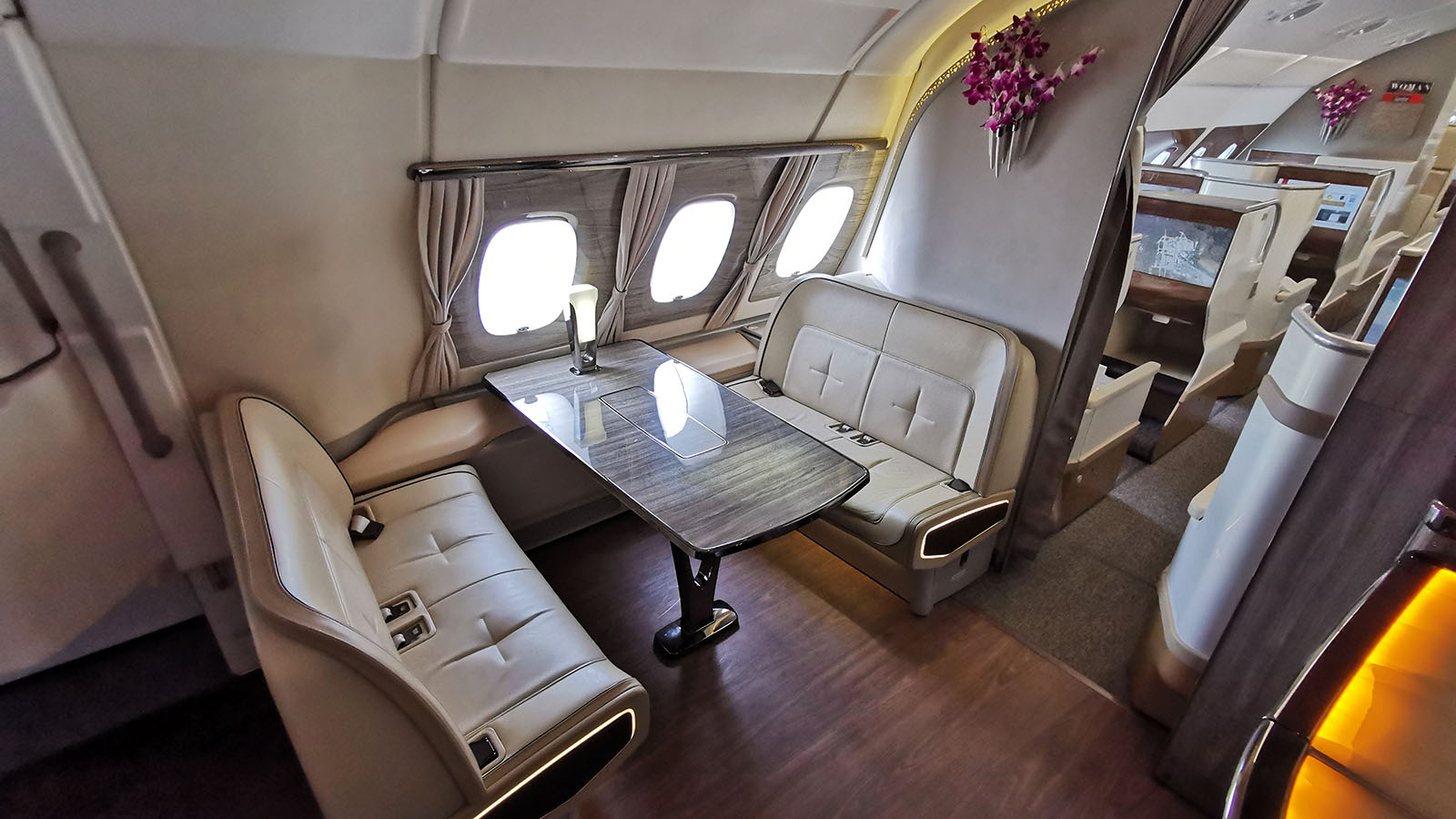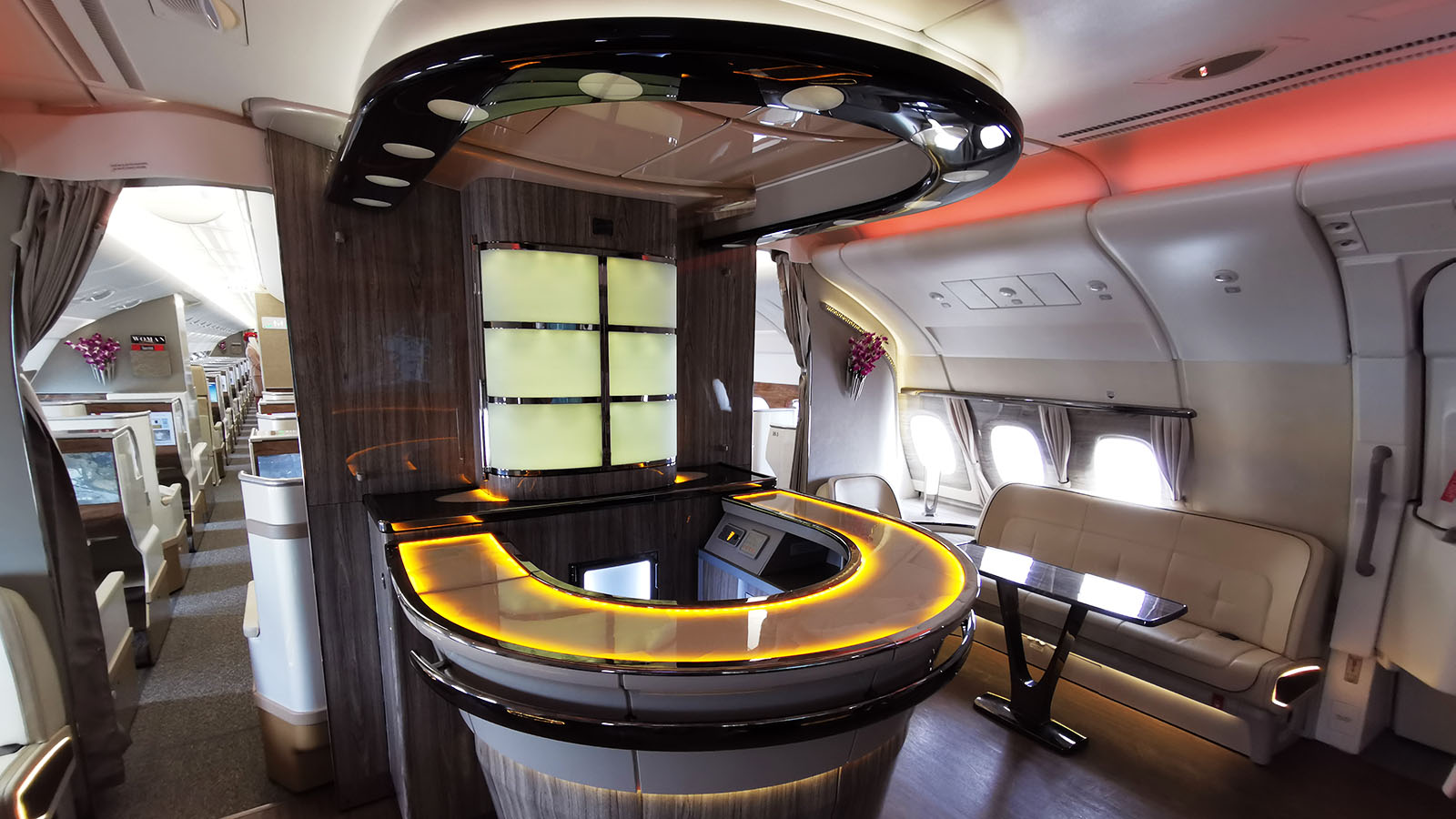 Wander to the back of the A380's upper deck and you'll also uncover the bar and lounge area. Emirates has always had this space on its A380s, but there have been a few design changes over the years.
The lounge found on these jets is the most radical upgrade of them all. Rather than slim benches running alongside the cabin walls, this lounge has opposing seating. It's perfect for inflight catch-ups, or even meetings. A table in between broadens the possibilities to include dining or even working – if you must on your overnight Emirates flight to or from Melbourne.
Ad – Scroll down to continue reading.Minimum spend, terms & conditions apply.
Premium Economy and Economy
While First Class and Business Class have had a few minor tweaks, the big news is Premium Economy. It's the first time that Emirates has offered the cabin from Melbourne. And in fact, for now, Emirates Premium Economy is only available to a handful of cities around the world. So what's the cabin like?
On the superjumbo, seating comes in a 2-4-2 layout. This again provides the perfect way to travel in pairs, given you can sit by the windows without a third wheel – or a middle seat. Being at the front of the plane, boarding is swift and exiting the plane is just as a prompt, giving you a leg up at passport control.
For comfort, there's a six-way adjustable headrest, generous eight-inch recline and a swing-up leg/calf rest. The 13.3-inch TVs also support Bluetooth connectivity when travelling with your own headphones.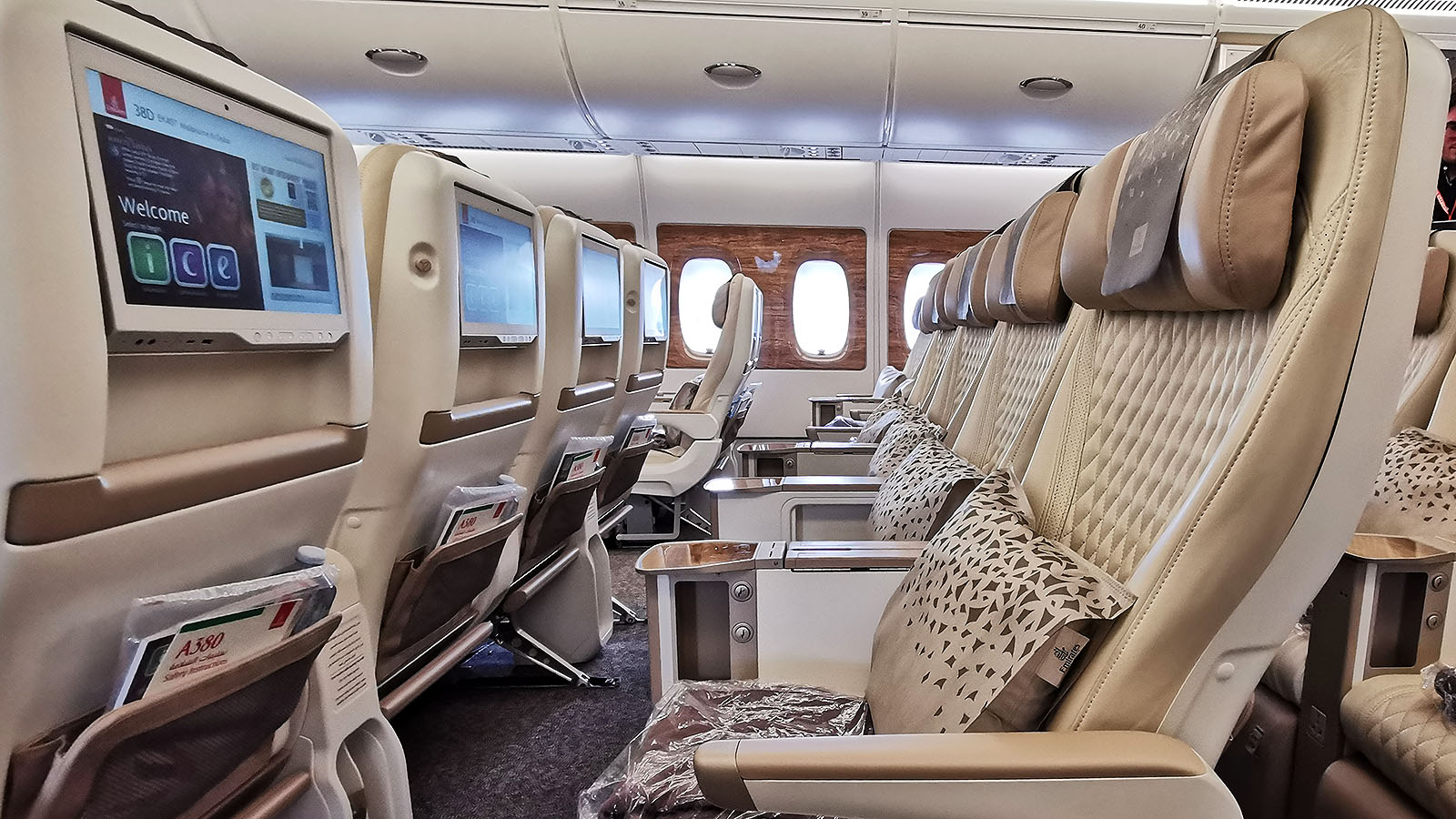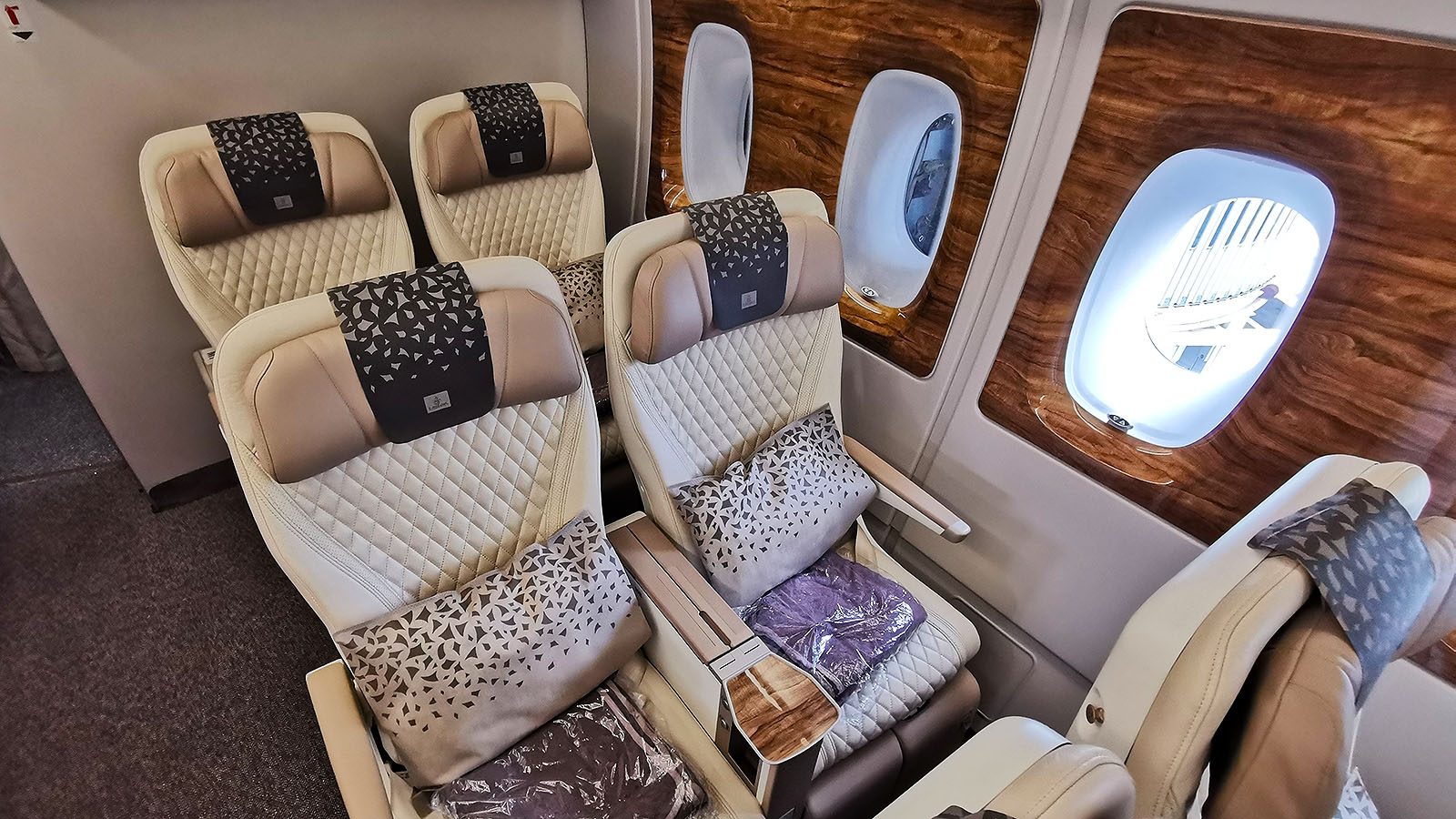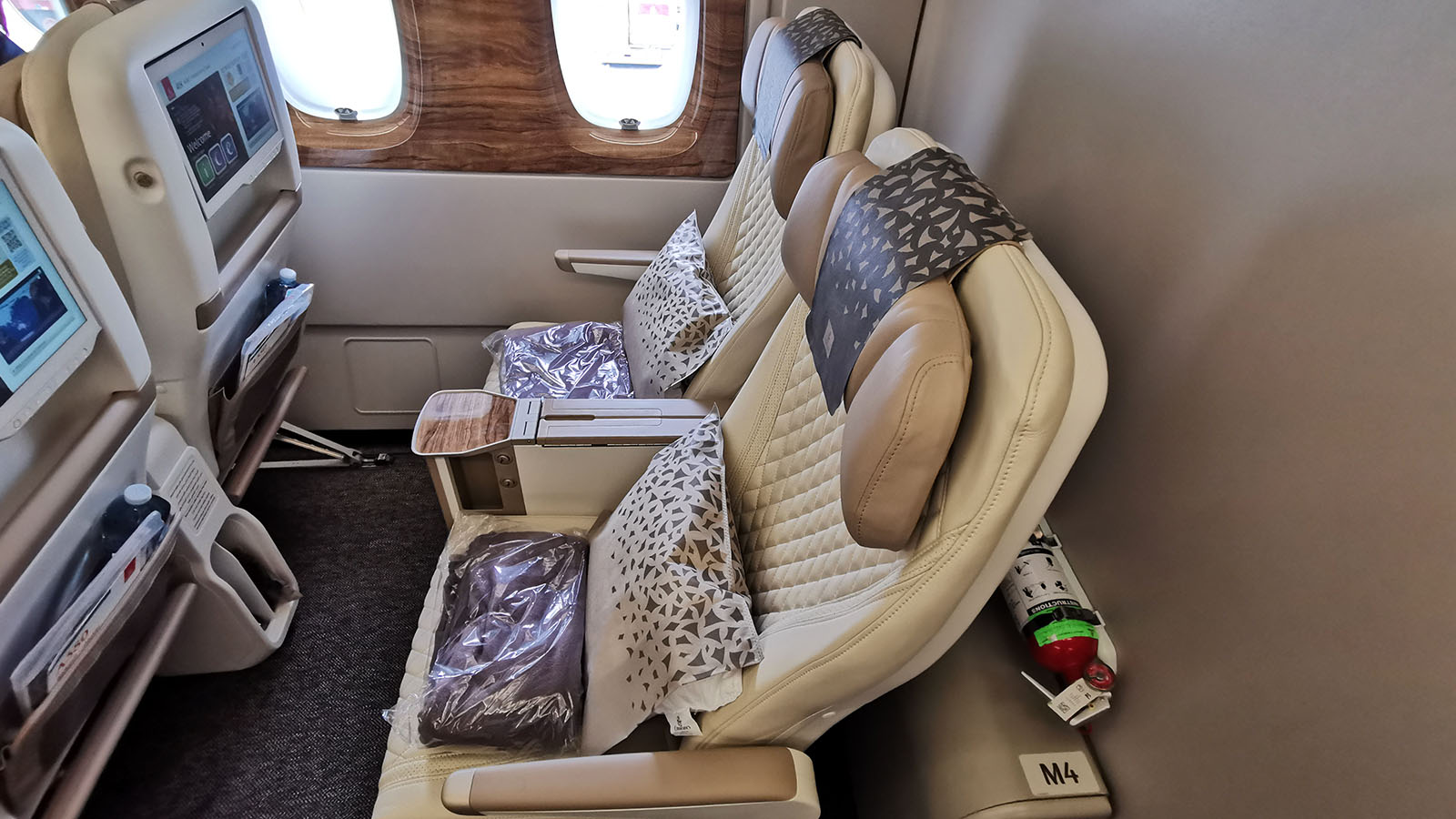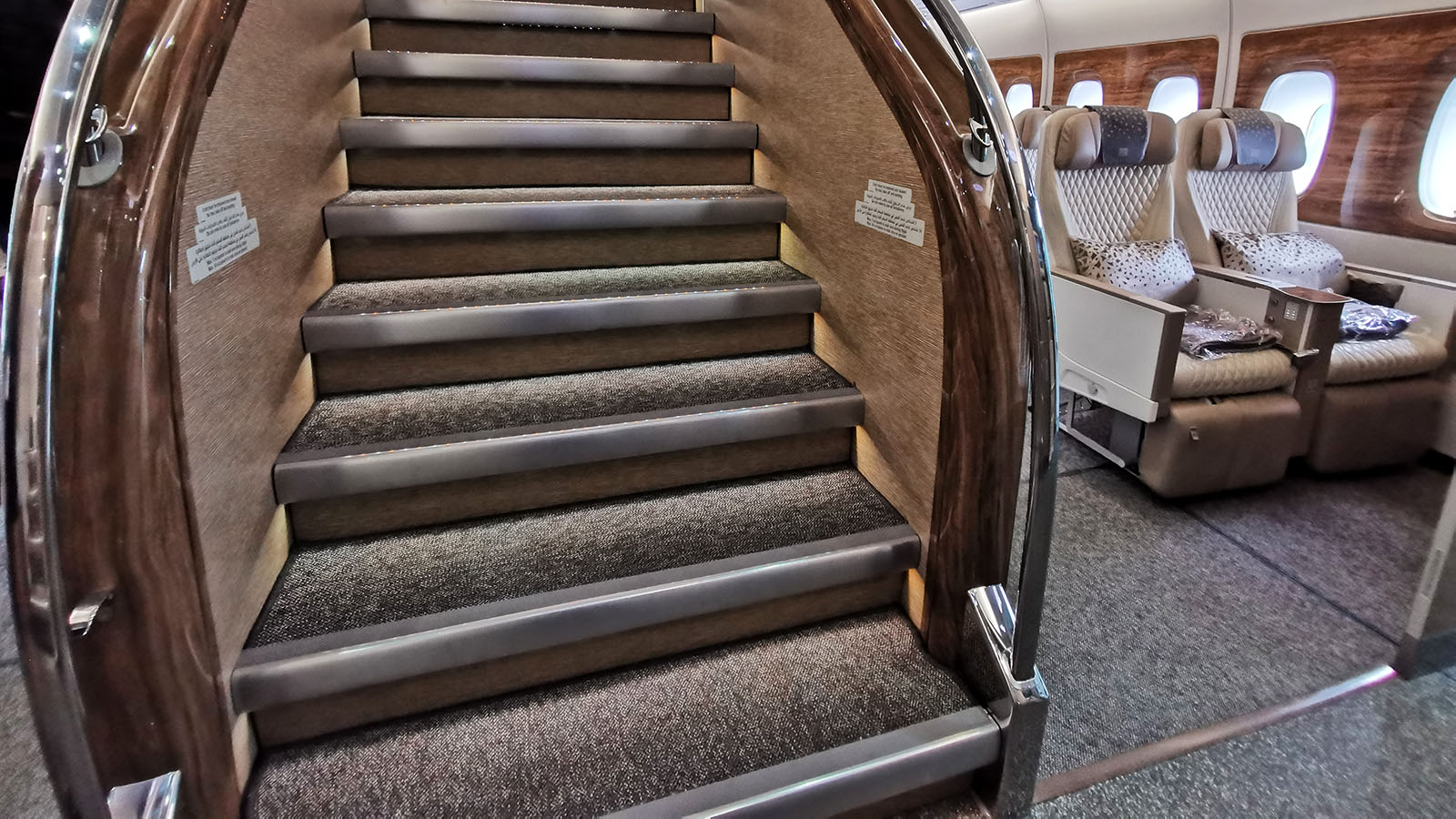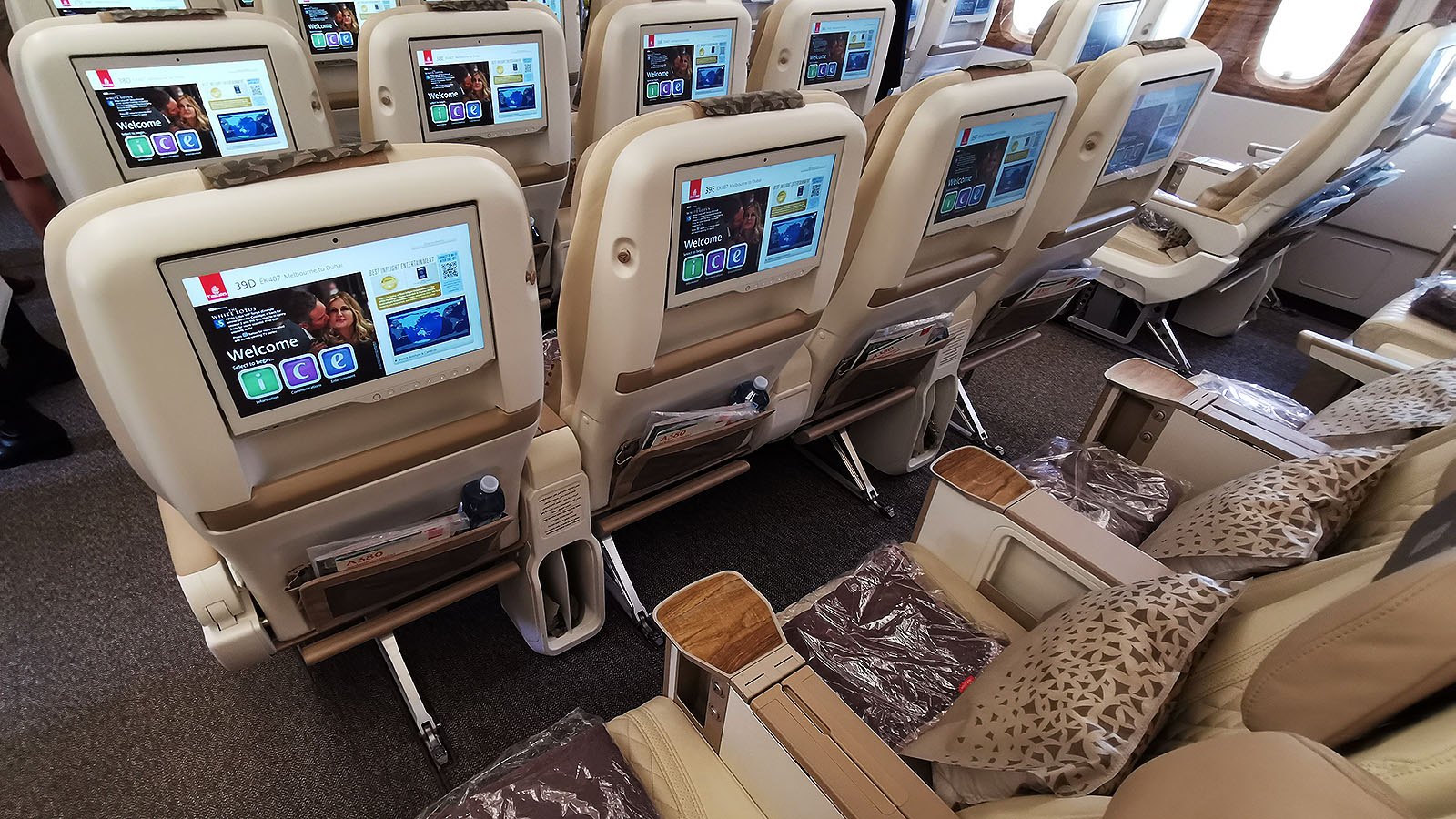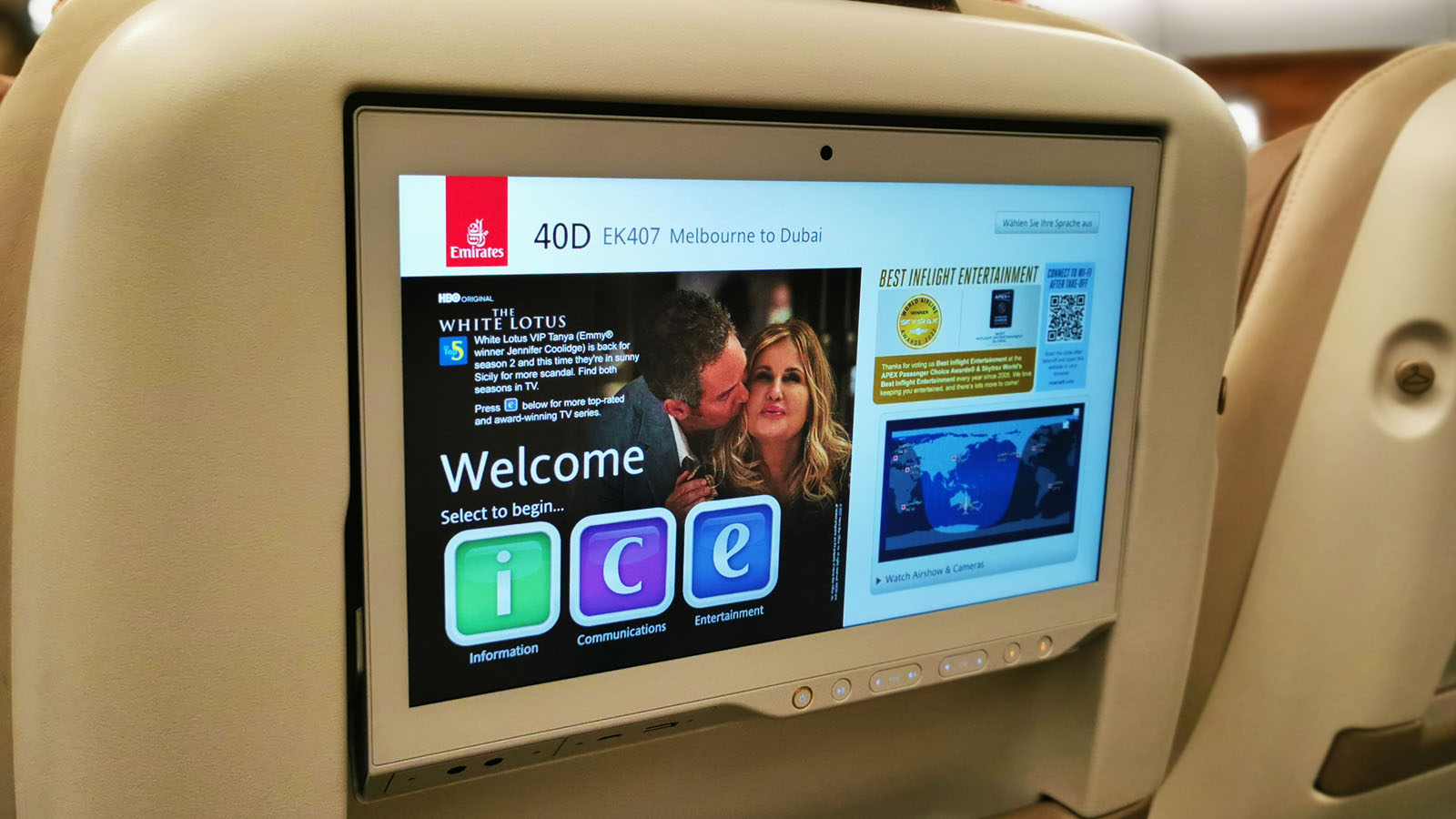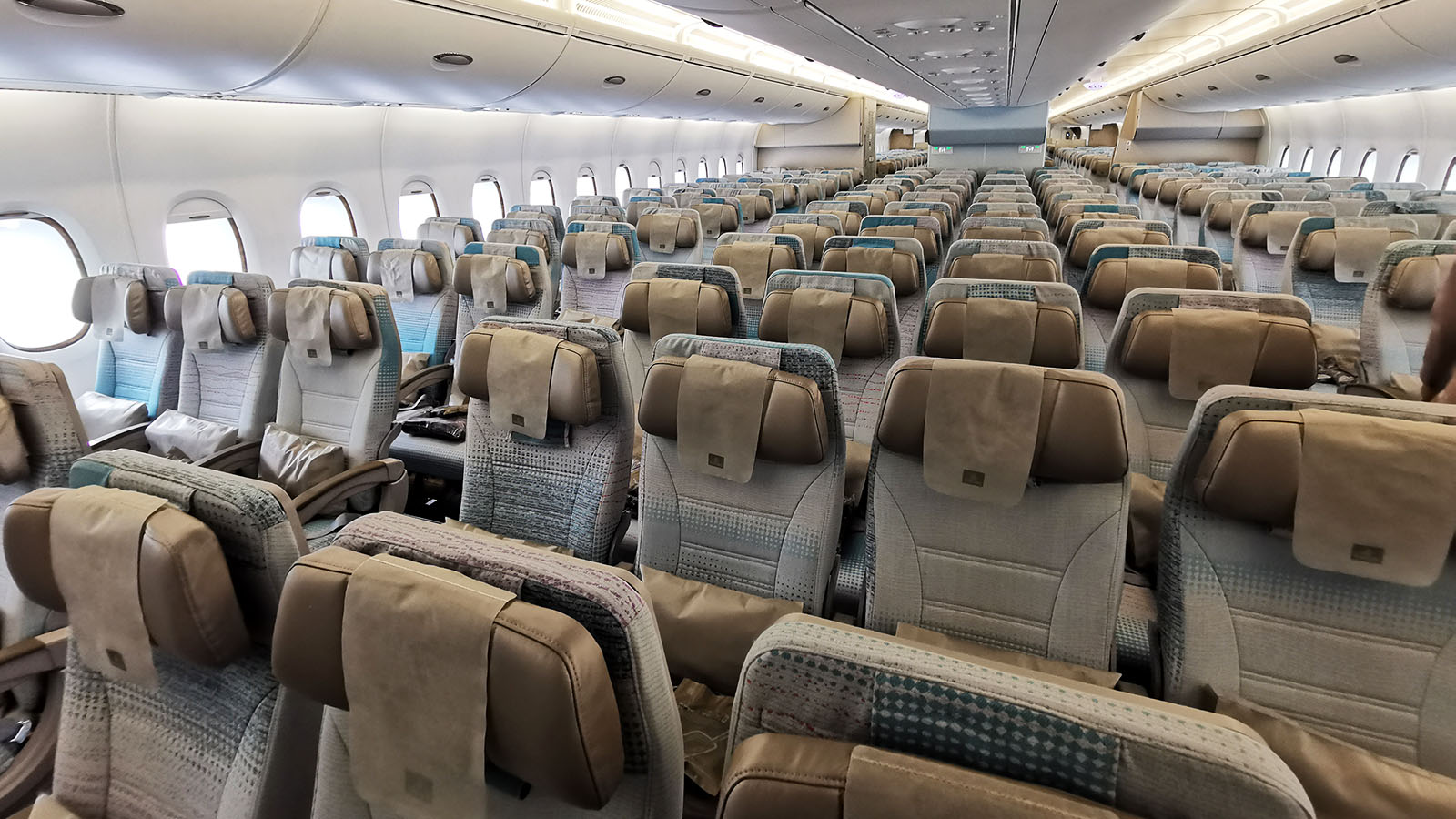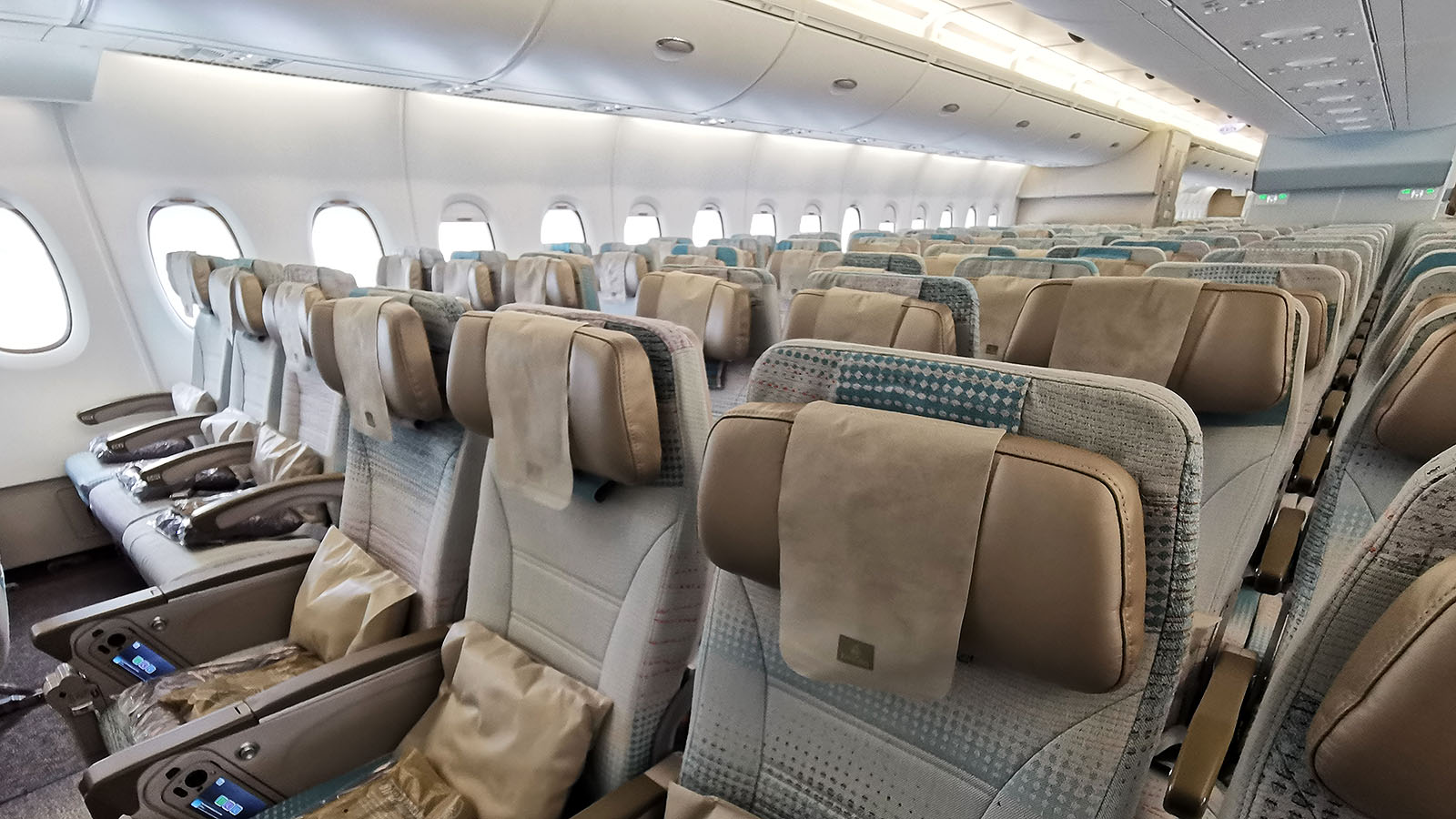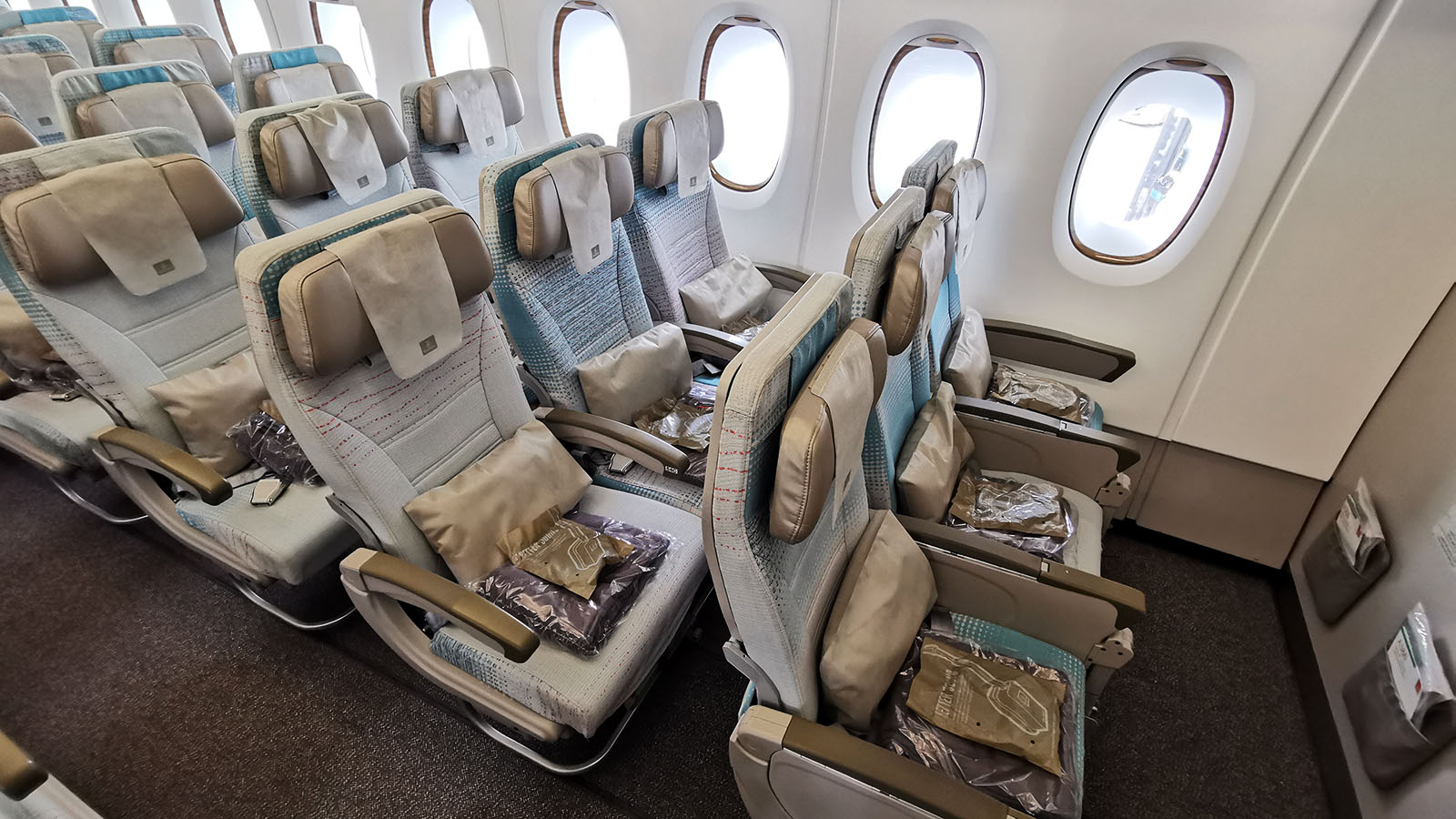 Behind that, the rest of the main deck is filled with standard Economy. This keeps the cabin in the A380's expected 3-4-3 layout. Seats have been reupholstered to give a 'new cabin' feel. But that said, Economy won't be noticeably different between Melbourne's two daily Emirates A380 flights, of which only one is the reupholstered seat.
Summing up
On many Emirates flights, it's tough to know exactly which type of plane you'll get. Sure, you can usually work out whether it'll be an Airbus A380 or a Boeing 777. But even when booking the superjumbo, there's a big difference between the 'oldest' style A380 and those with the newest cabin fitouts.
At least, with Melbourne, Emirates' passengers can now enjoy a consistent experience on EK406/EK407. Booking these flight numbers also ensures that Premium Economy will be available – at least, between Melbourne and Dubai.
At the time of writing, it's quite tricky to find flights with Premium Economy available beyond Dubai. For now, it mostly appears on services from Sydney, Melbourne, Auckland and Christchurch. But there are also some Premium Economy options between Dubai and London, for those taking the Kangaroo Route.
Over time, the cabin will appear on more of Emirates' flights across its global network.
Also read: Emirates Emirates' VP Barry Brown talks Premium Economy and more with Point Hacks
Photography by Chris Chamberlin.
---
Stay up to date with the latest news, reviews and guides by subscribing to Point Hacks' email newsletter.
Emirates brings refurbished Airbus A380s to Melbourne
was last modified:
August 24th, 2023
by