In this part of the case study, I outline my experience of enjoying the pleasure of cashing in those hard-earned points from Part 1 and watching them dwindle away as I wept over the saddening state of my account balance.
---
Case study: Andrew's Business Class redemption to Japan
Part 1: How it all started and how I accumulate and use points
Part 2: How I used Qantas and Velocity points to fly Business Class to Japan
Part 3: Comparing Qantas and Singapore Airlines Business Class
---
Here are three things you may want to consider when planning a trip using points:
Peak versus off-peak dates
Airlines, aircraft and cabin products
Point requirements for reward flights
Peak versus off-peak dates
Most airlines release their seats for award redemptions 11-12 months before departure but, unfortunately, they are limited during peak season.
To use a real-world example, our Japan flights were booked in April 2017 to depart in late January 2018. Despite booking eight months in advance, we were unable to secure seats for early January, so had to opt to leave later in the month.
Ad – Scroll down to continue reading.Minimum spend, terms & conditions apply.
Airlines, aircraft and cabin products
To loosely quote Shakespeare, 'to shower, or not to shower, that is the question'.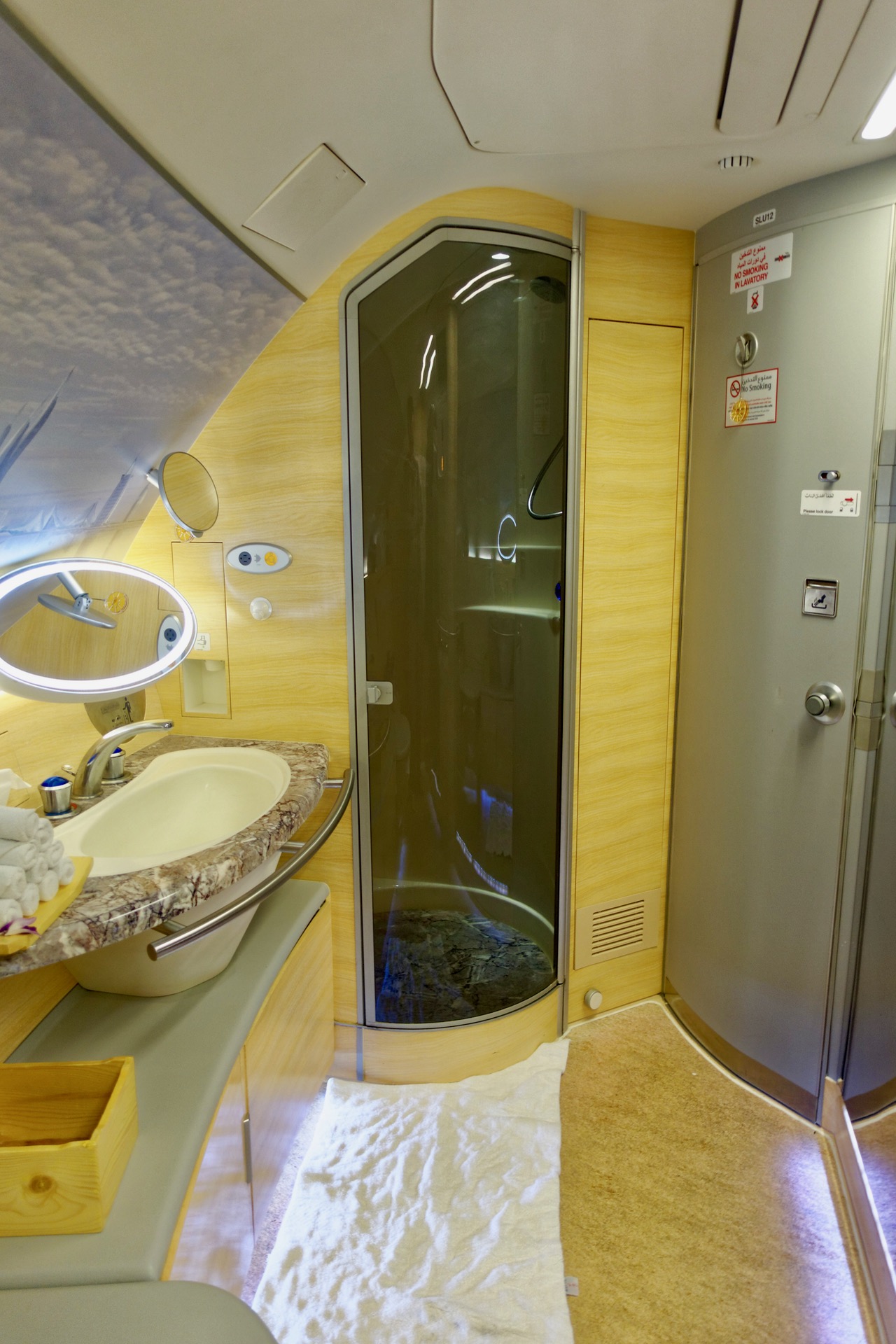 Did you know you can shower onboard some Emirates and Etihad planes?
Qantas, Virgin and their partner airlines offer a variety of aircraft across their fleet, each offering a different experience in the seat, etc. Point Hacks has a number of detailed First and Business Class reviews to help guide your decision.
With recent upgrades to First and Business Class on Singapore Airlines and Emirates, it may be worth checking out SeatGuru to see if your aircraft is part of a new fleet.
Point requirements for reward flights
Speaking from personal experience, I find it good practice to search for hypothetical dates to estimate the points required to travel to an intended destination—the last thing you want is to be short on points. Also, take this opportunity to cost the difference in points between Business and First Class. If you are unsure, Point Hacks has an article on whether First Class is worth the premium over Business—that is a personal decision for you to make.
Our Japan itinerary involved travel on Qantas (booked via Qantas Frequent Flyer) and Singapore Airlines (booked through Velocity).
Qantas
As long as reward seats are available, booking flights through the Qantas website is fairly straightforward.
However, unlike Velocity, Qantas does not specify the cost of taxes and fees until you progress further into the booking, which can be frustrating. The cost for this flight was $290 per person.

Velocity
Like Qantas, searching for flights through Velocity is not a complicated task. The site also conveniently shows the cost of flights. You can either fly completely for free for 113,000 Velocity points or pay $58 to save 9,000 points.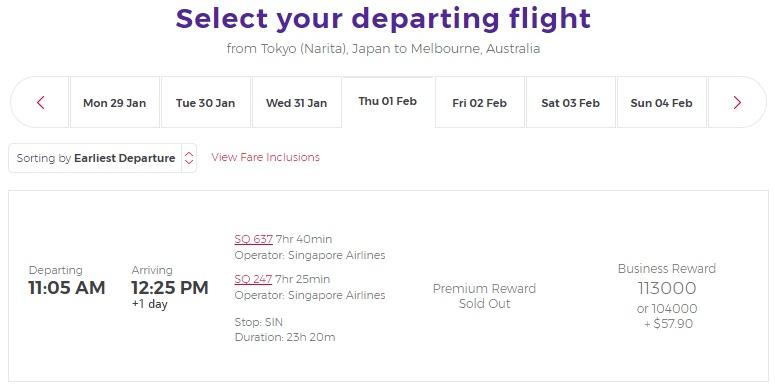 In deciding whether spending $58 is worth your money, see this guide on how to value points. Personally, I would opt for the free flight but others may prefer to save the points for their next redemption.
Often Singapore Airlines restricts some seats to members of their frequent flyer program, KrisFlyer.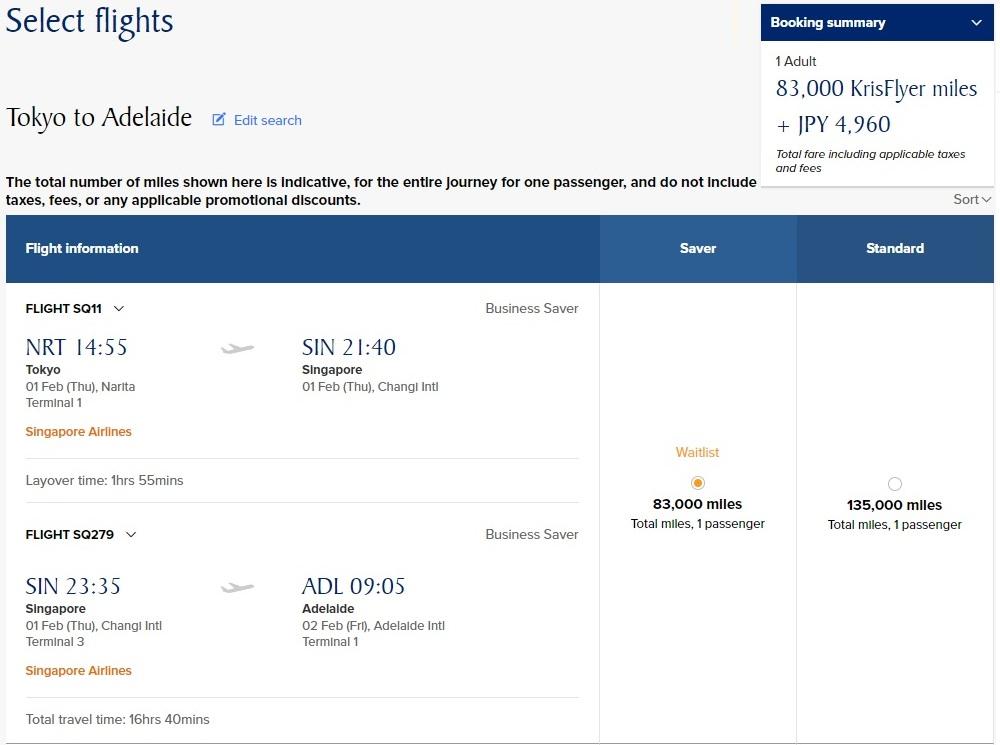 If Velocity members want to book these seats, they can search on the KrisFlyer website and, if available, transfer their Velocity points to KrisFlyer.
Summing up
From our experience, plan and book your flights as early as possible. With airlines releasing redemption seats close to a year in advance, it will be less stressful to coordinate the points required to travel.
Also consider using one points currency for the way there and another for the way back—that way, you do not have to put all your eggs in one basket.
In the next and final instalment, I will compare my Qantas and Singapore Airlines Business Class experiences.
Case study: How I used Qantas and Velocity points to fly Business Class to Japan (Part 2)
was last modified:
October 8th, 2021
by