As one of the best uses of Qantas Points, you'll get at least three hours of being treated like royalty with access to excellent lounges, a private suite, onboard shower and bar, and a lie-flat seat for only 54,000 Qantas Points plus taxes (jumps to 62,200 Qantas Points from 18 September 2019 onwards).
Out of the six airlines that service the Trans-Tasman market, Emirates is the only carrier that flies a First Class cabin between Australia and New Zealand.
In this guide, we cover the type of aircraft and product you'll experience on the four routes Emirates services, our recommendations for getting the best seats, a review of the service you can expect from the cabin crew, how to redeem your Qantas Points for this flight, and our tips on which lounges to spend your time in prior to your departing flight.
Be sure to also check out our guide to Emirates A380 Business Class across the Tasman.
Fleet & Routes
There are two types of planes that Emirates flies in and out of Australia: the Airbus A380 and the Boeing 777-300ER.
Both feature First Class, with the former hosting 14 First Class Suites and the latter just over half of that at 8 Suites.
As of September 2019, the following routes are serviced by the larger Airbus A380, with the Trans-Tasman route in bold:
Sydney – Christchurch
Sydney/Melbourne/Brisbane/Perth – Dubai
and these routes are flown by the smaller Boeing 777-300ER:
Melbourne – Singapore
Brisbane – Singapore (service expected to end sometime in 2020 but not confirmed yet)
Adelaide – Dubai
The advantages of the Airbus A380 First Class cabin are an onboard shower and bar; the advantage of the Boeing 777 is that having almost half of the First Class seats means service is generally more attentive.
All Trans-Tasman Emirates flights depart Australia between 8am and 11am and arrive in the afternoon; on the way back, they depart New Zealand between 4:30pm and 7pm and land in Australia by 9pm, which is quite convenient.
The Cabin – Seats & Seatmap
A great feature of the seat is that it has a sliding door to increase privacy.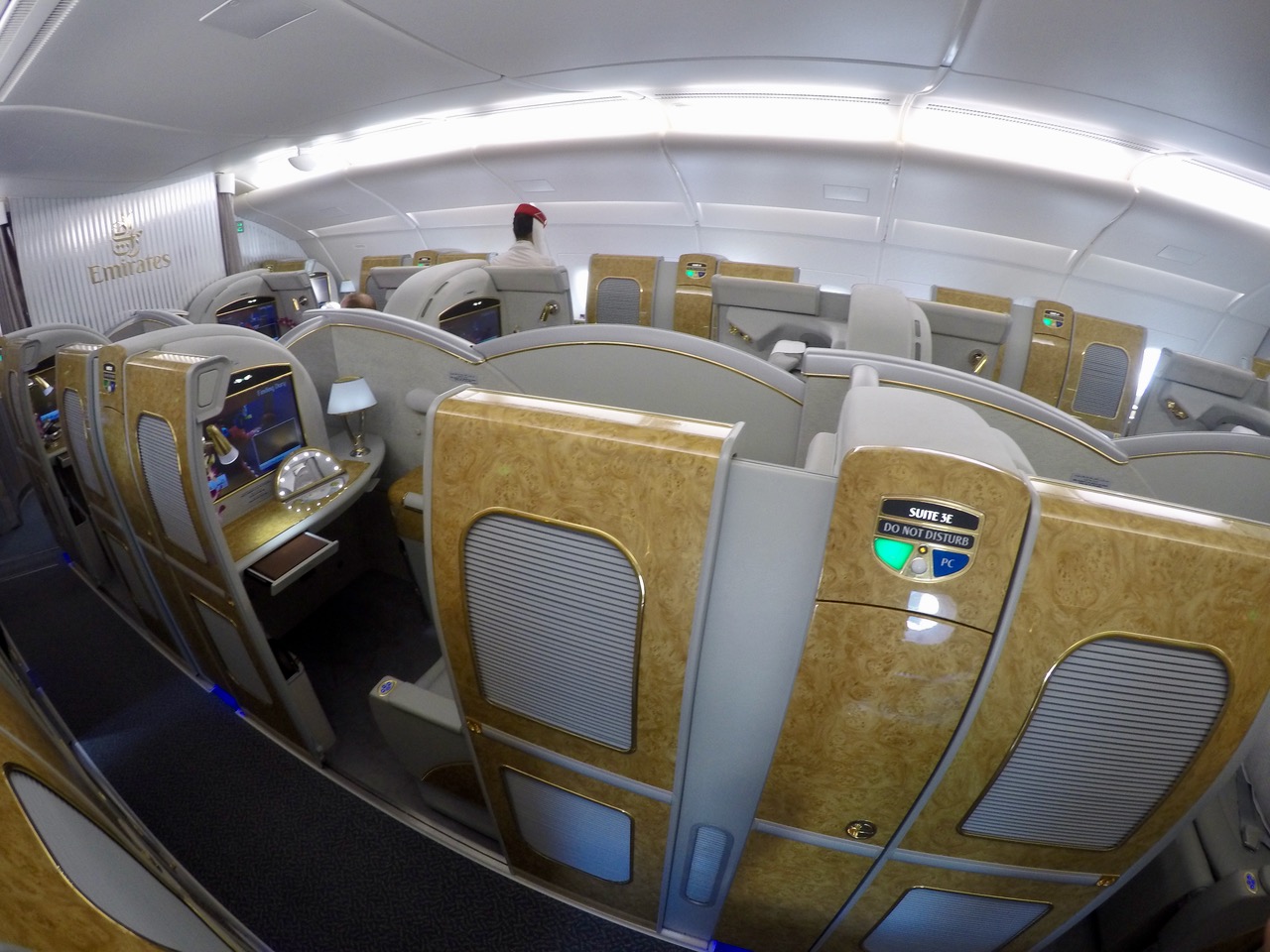 The seat is wide, comfortable, and as much room as you'll ever need on a flight. You can't reach the TV and shelf in front of your seat without leaving right forward, and there's a small vanity mirror and minibar to your side in case you get thirsty and can't wait for a flight attendant.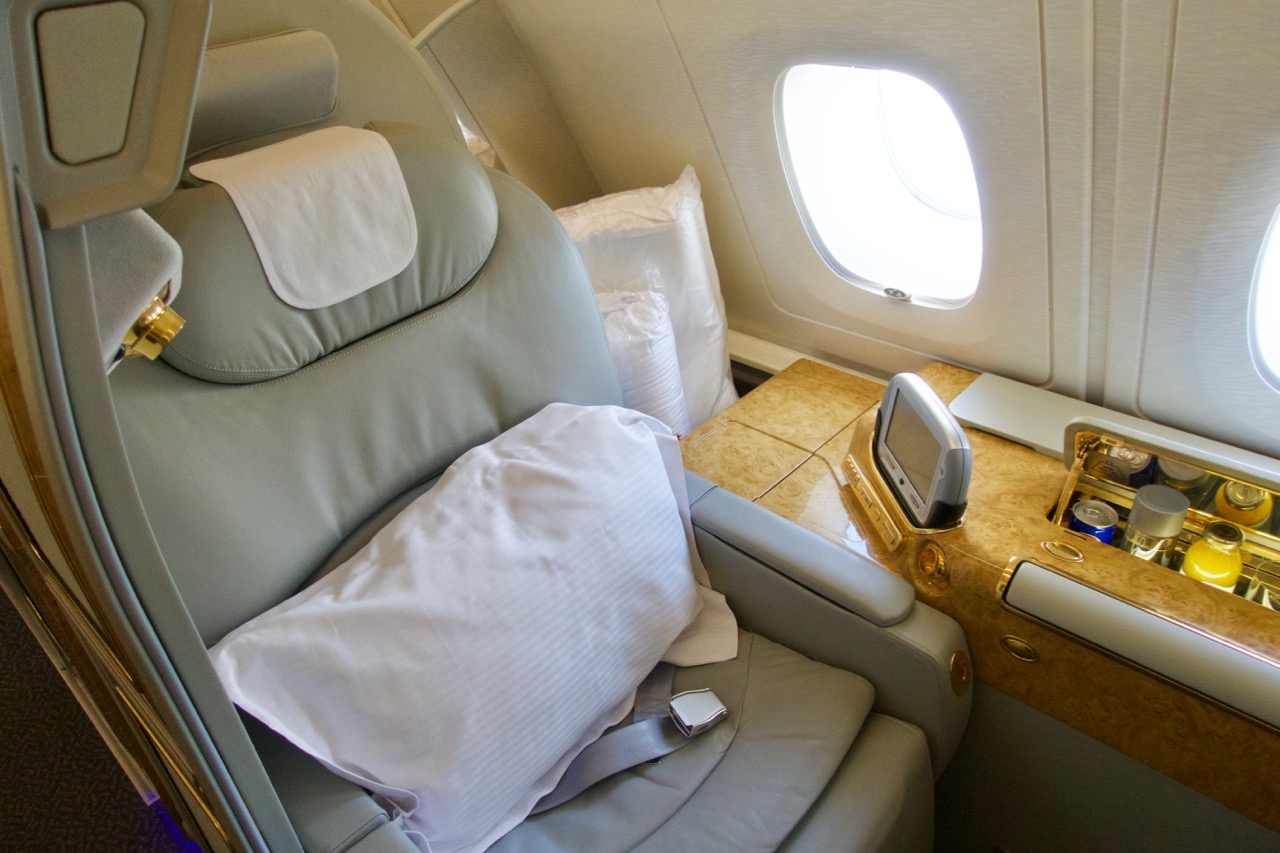 The decor is quite glitzy and over-the-top – some love it, others not so much.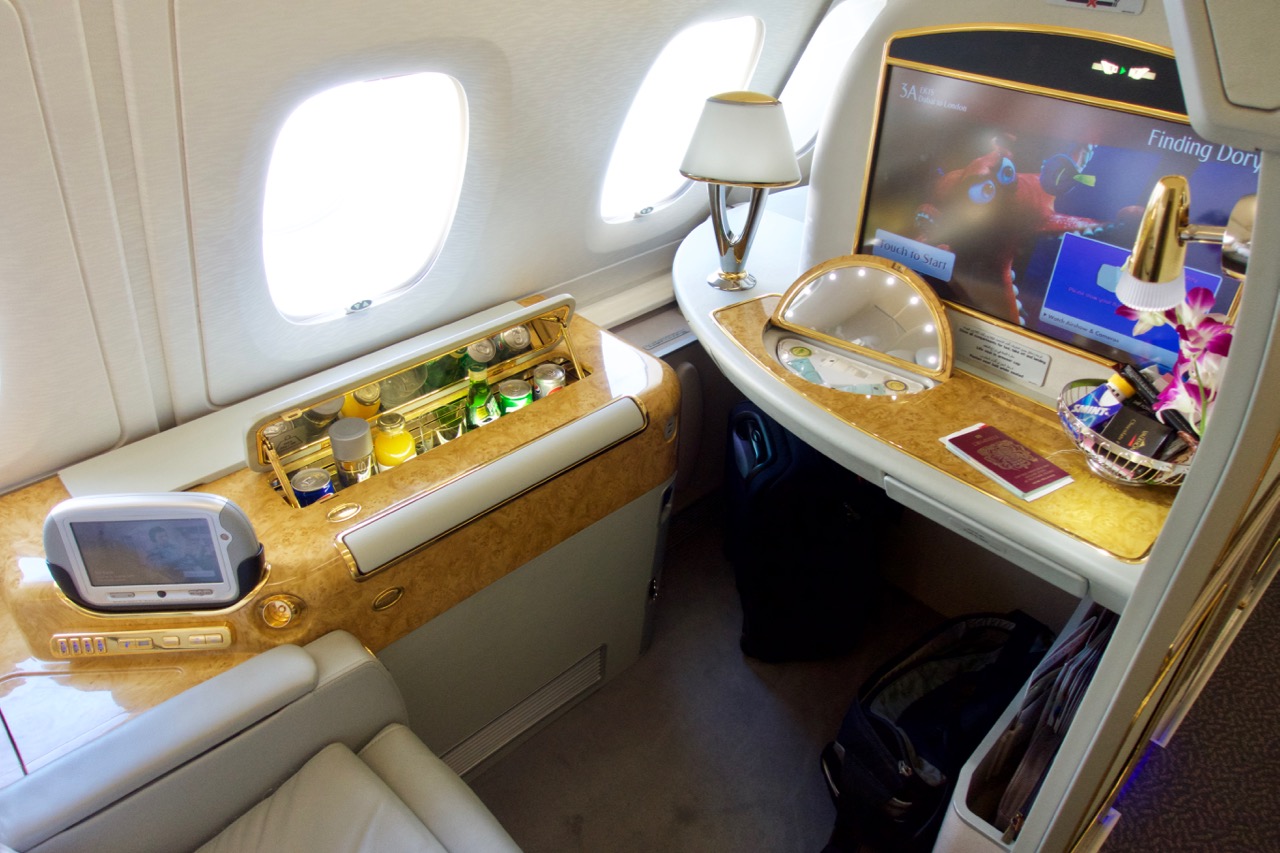 In bed mode, the bed fully reclines flat (as you'd expect) and the crew will make it up with a mattress pad, sheets, and lightweight bedding that you can crawl under.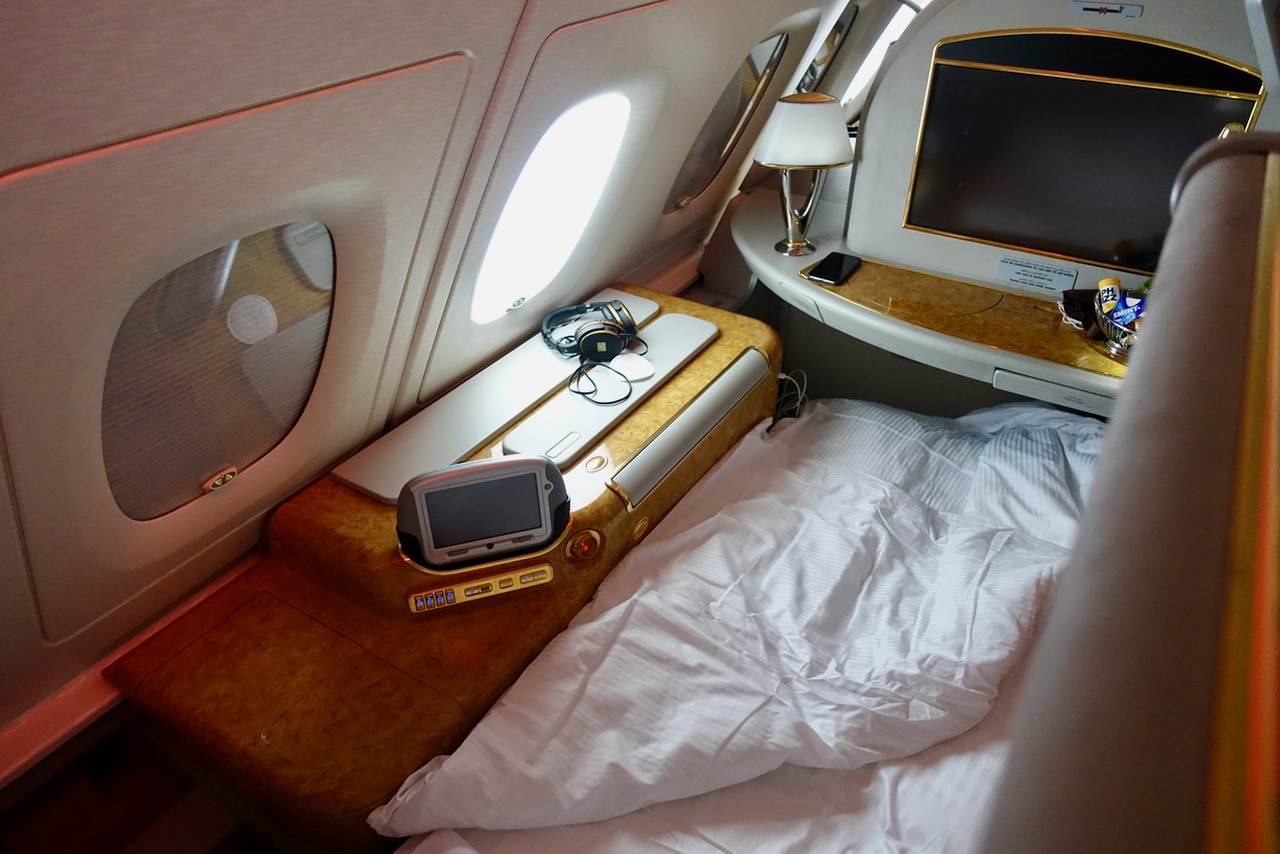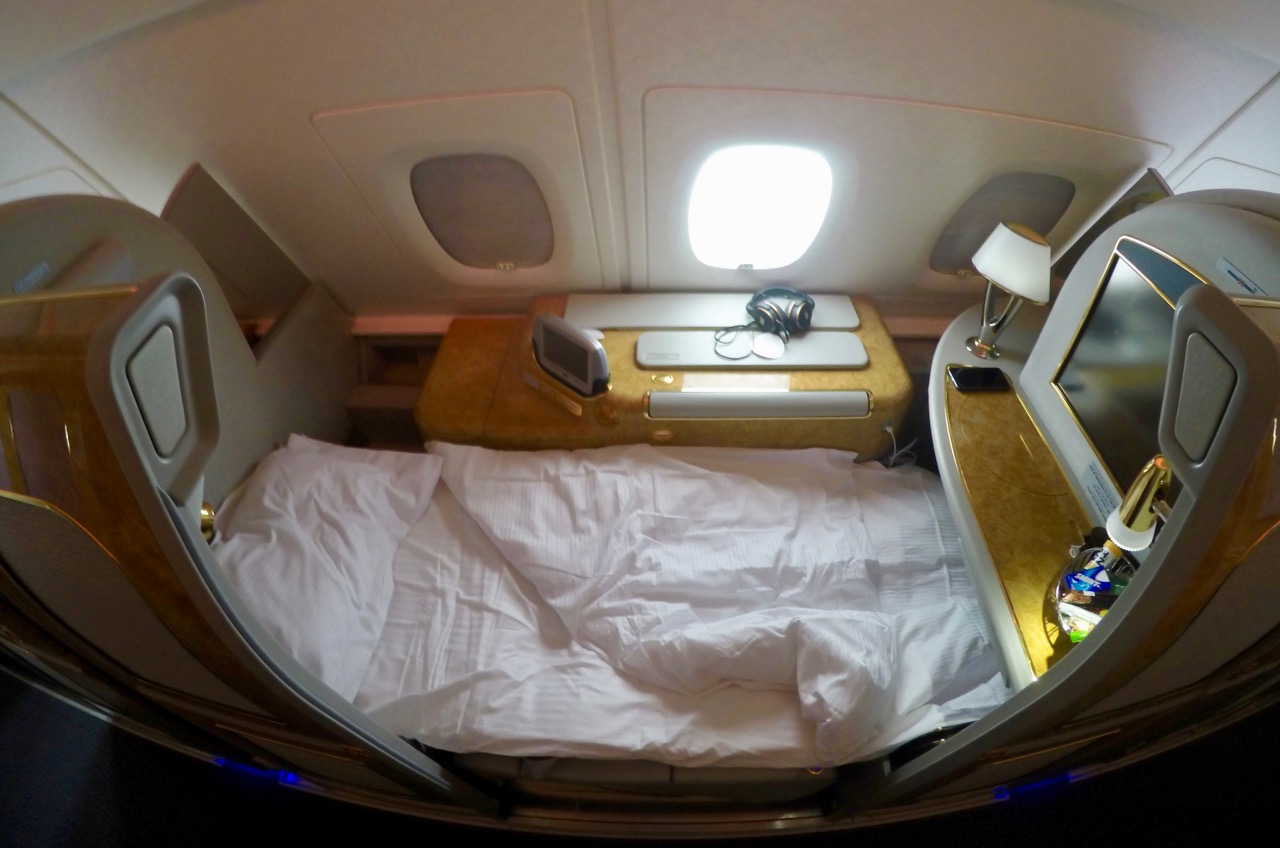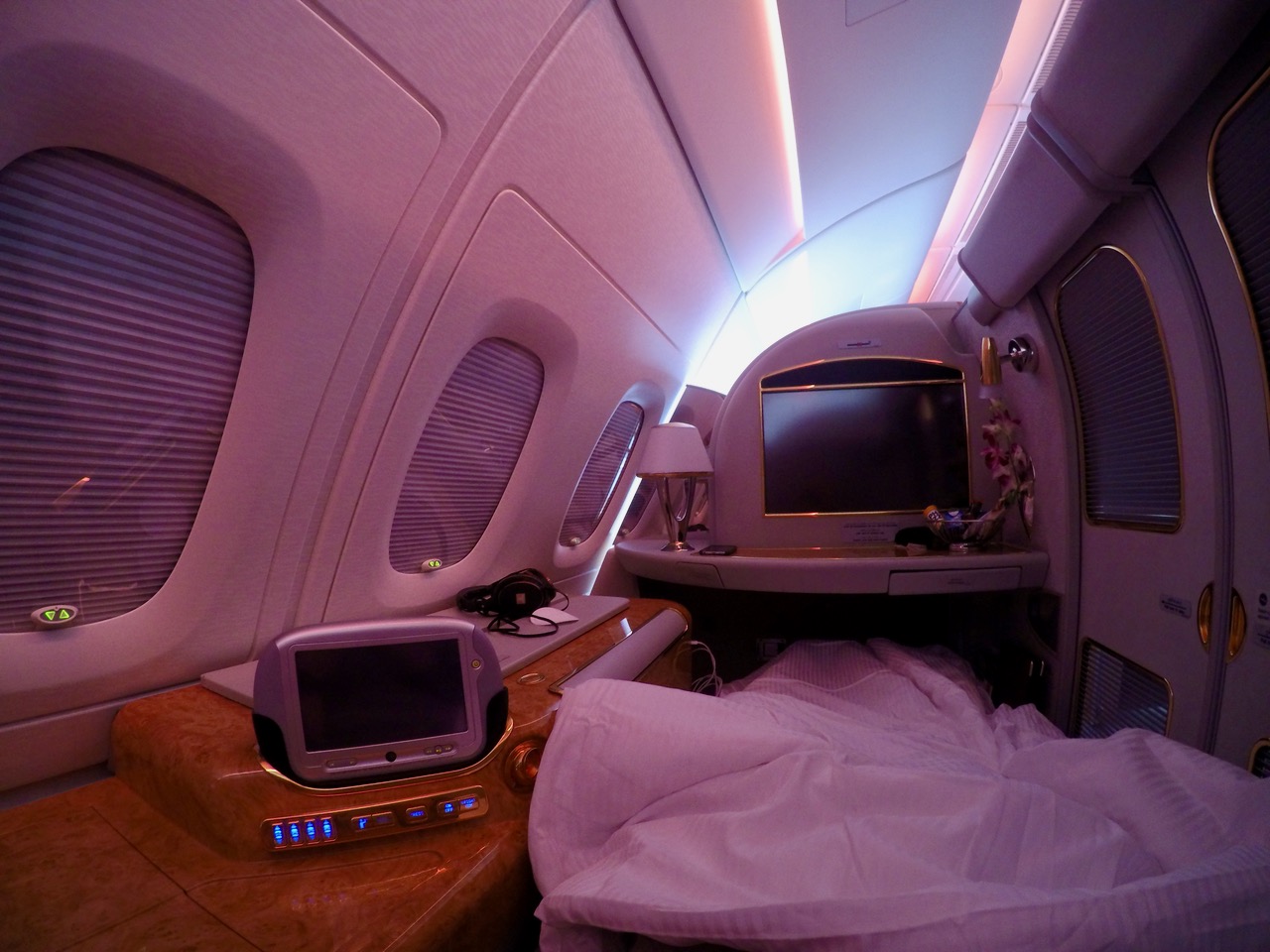 Seat Choice
The First Class cabin on the A380 contains 14 closed (read: sliding door) First Class Suites, arranged in a 1-2-1 configuration on the Upper Deck.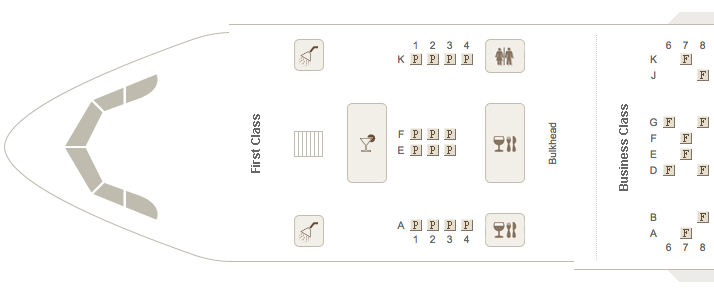 We'd recommend avoiding the first and last rows (1 and 4) to stay away from the noise from the galleys and bathrooms.
Best seats for solo travellers: window seats 2A, 2K, 3A and 3K to enjoy the view and more privacy
Best seats for multiple travellers: centre seats 2E, 2F, 3E and 3F to use the retractable privacy divider (pictured below)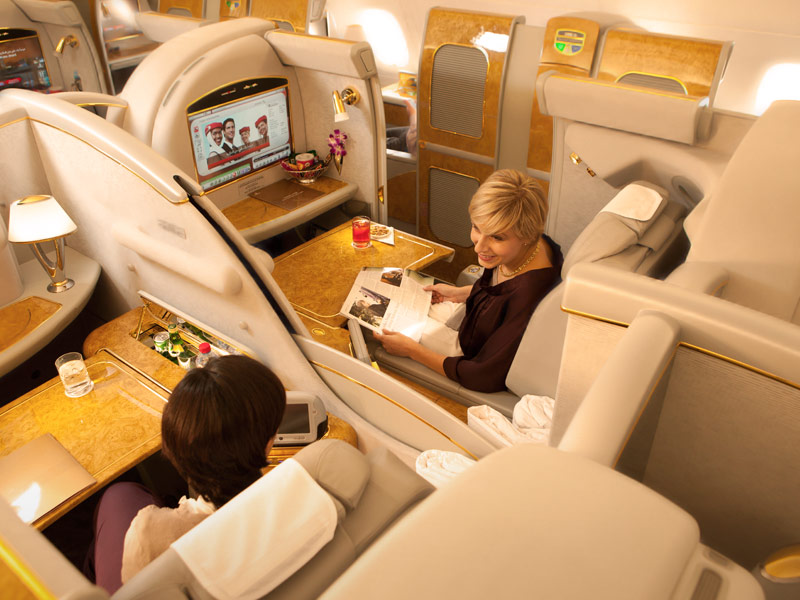 Get more first-hand seat and flight tips from Natasha's case study. You can also read our guide on how to choose the best seat for your flight here.
Inflight Bathroom
Emirates is one of only two airlines in the world currently carrying an onboard shower (the other is its United Arab Emirates competitor Etihad).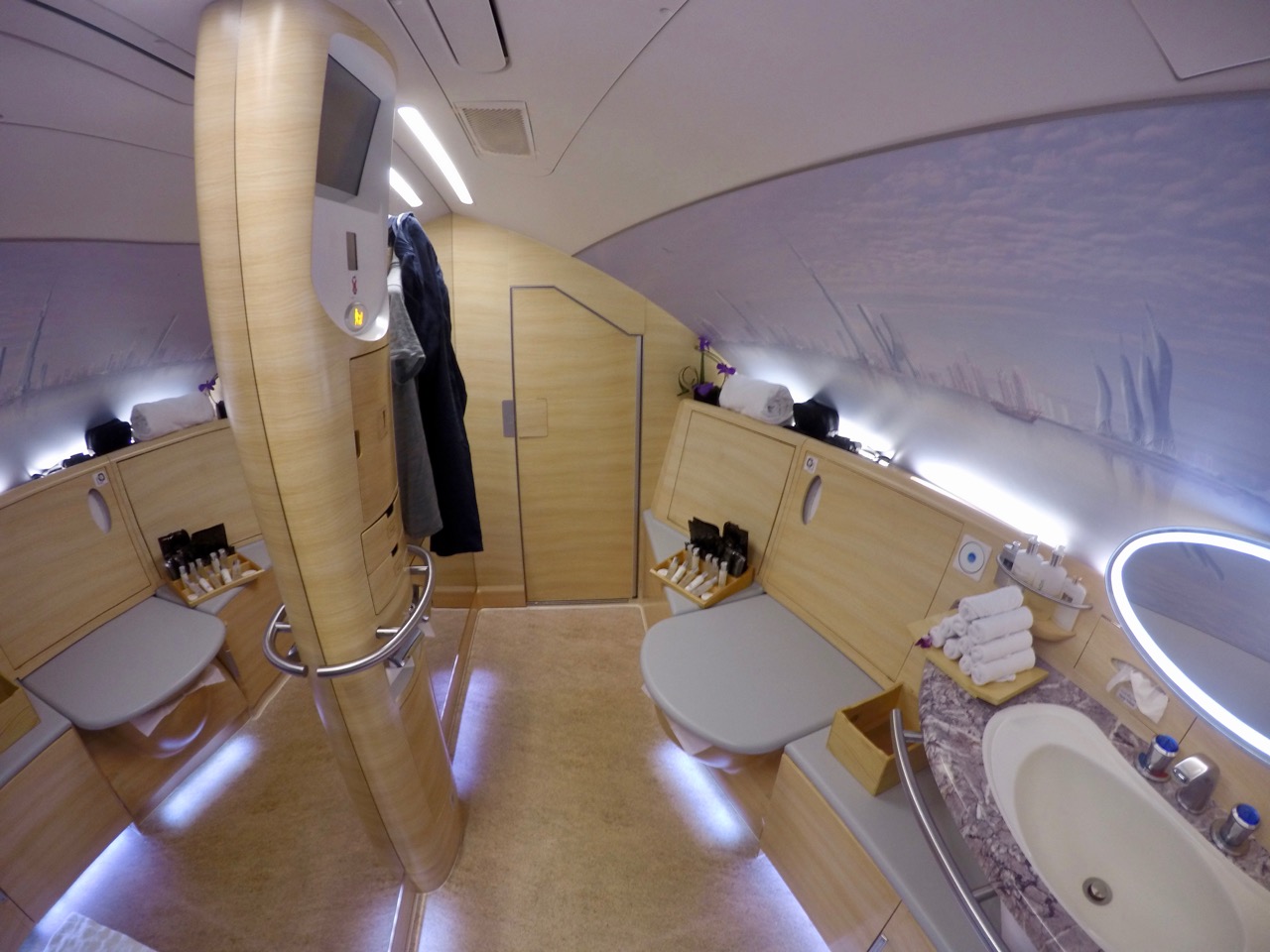 A five-minute hot shower is available to First Class passengers travelling on Emirates A380 aircraft.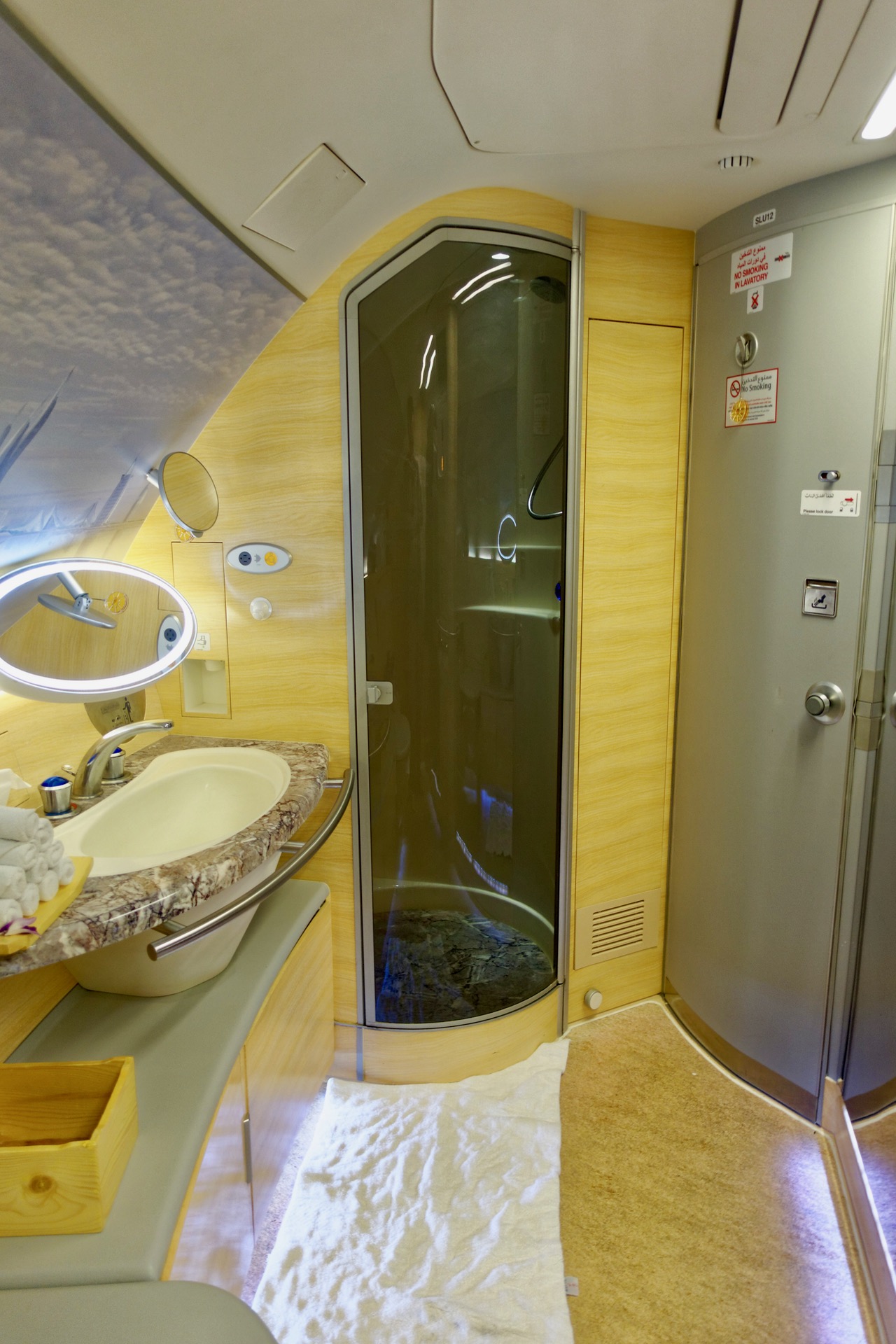 As all Trans-Tasman Emirates flights are between three and four hours in duration, it is recommended to book your shower time through the cabin crew as soon as you can.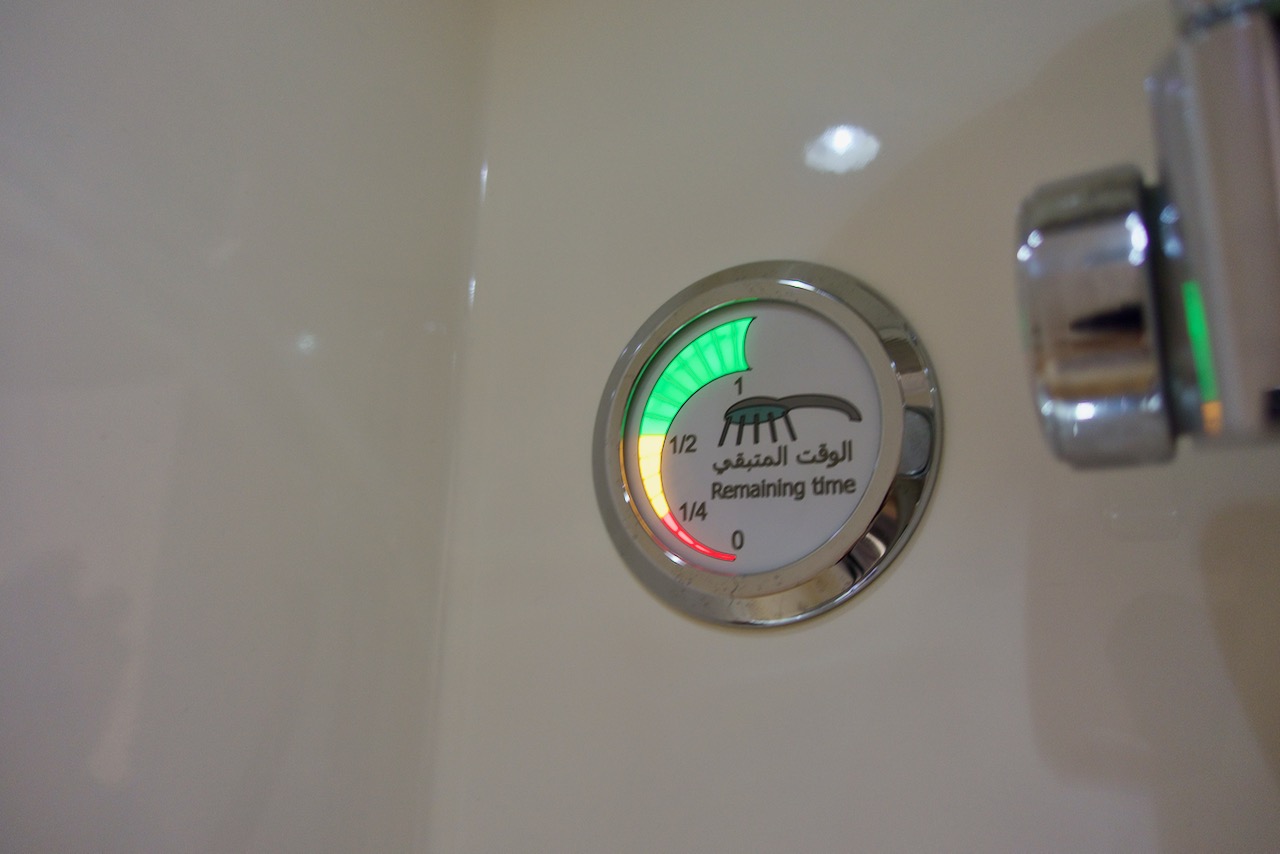 Inflight Entertainment
Emirates consistently has its ICE in-flight entertainment system rated as one of the top ones in the world.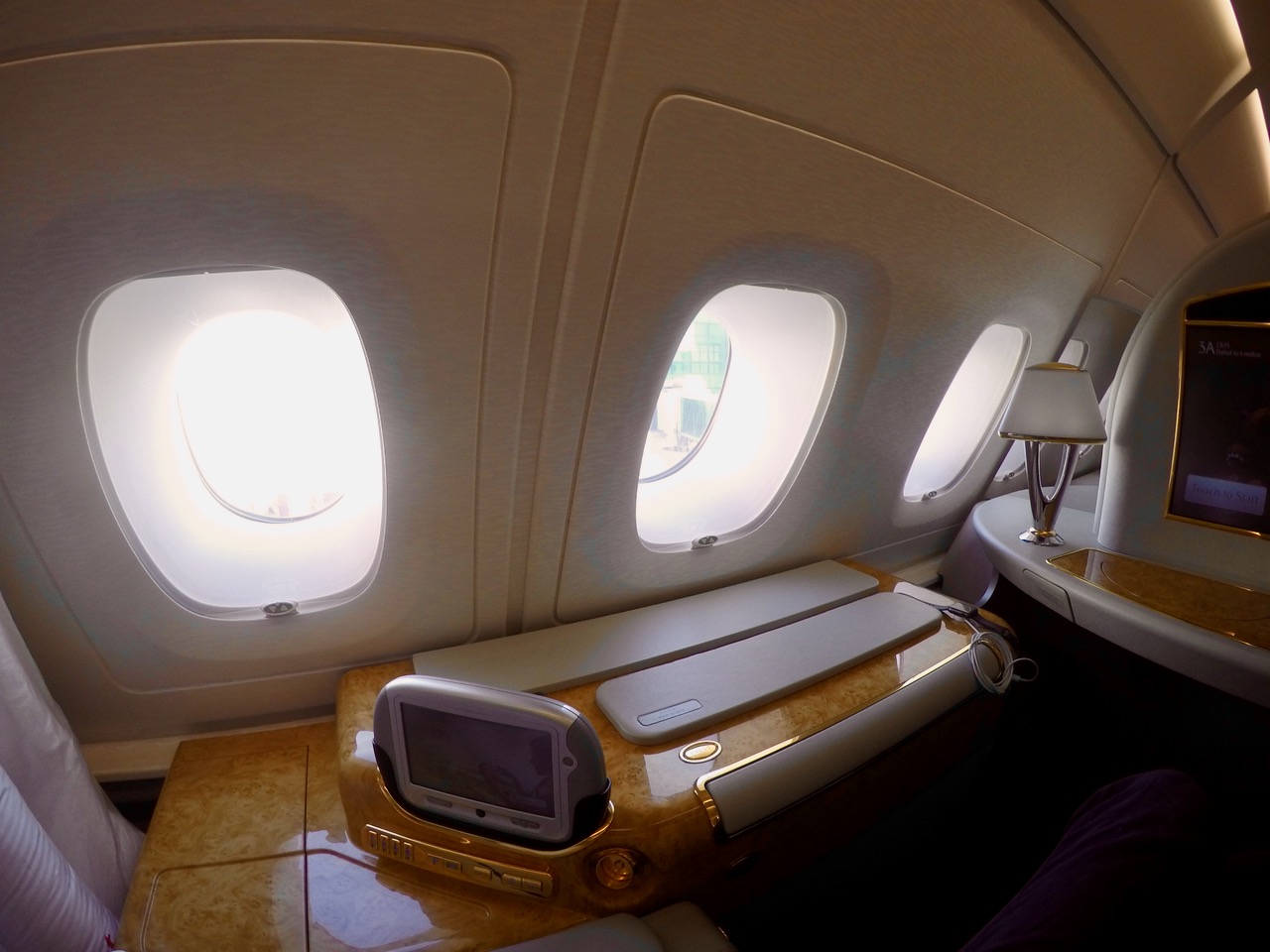 As the main screen is quite a distance from where you sit, the touch screen remote to the side comes in handy.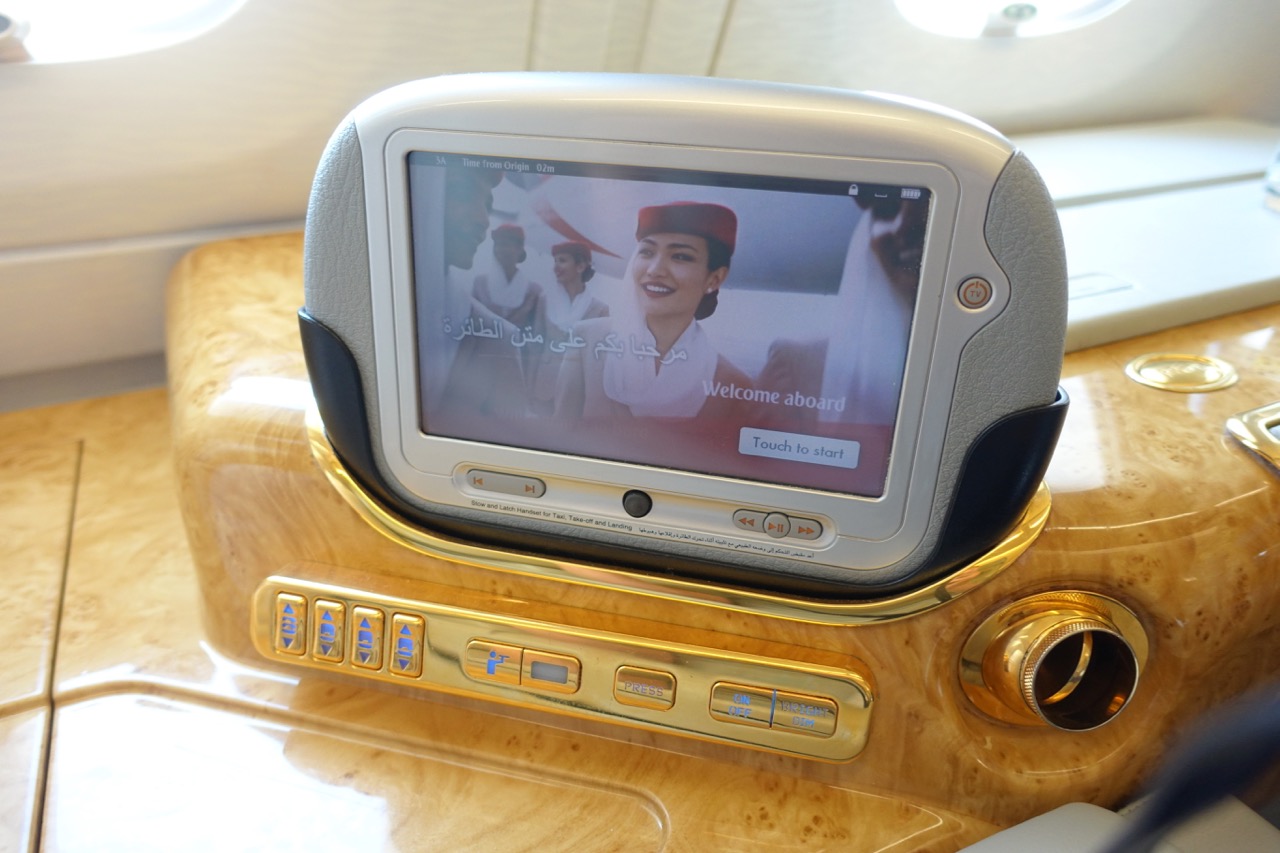 Service – Food & Drink
A goody basket is placed in front of you before take-off, removed, and then brought back once the crew can go about their duties. It's tempting to pig out but you're best to save yourself for the three course meal instead.
You'll be offered drinks and snacks before take-off too.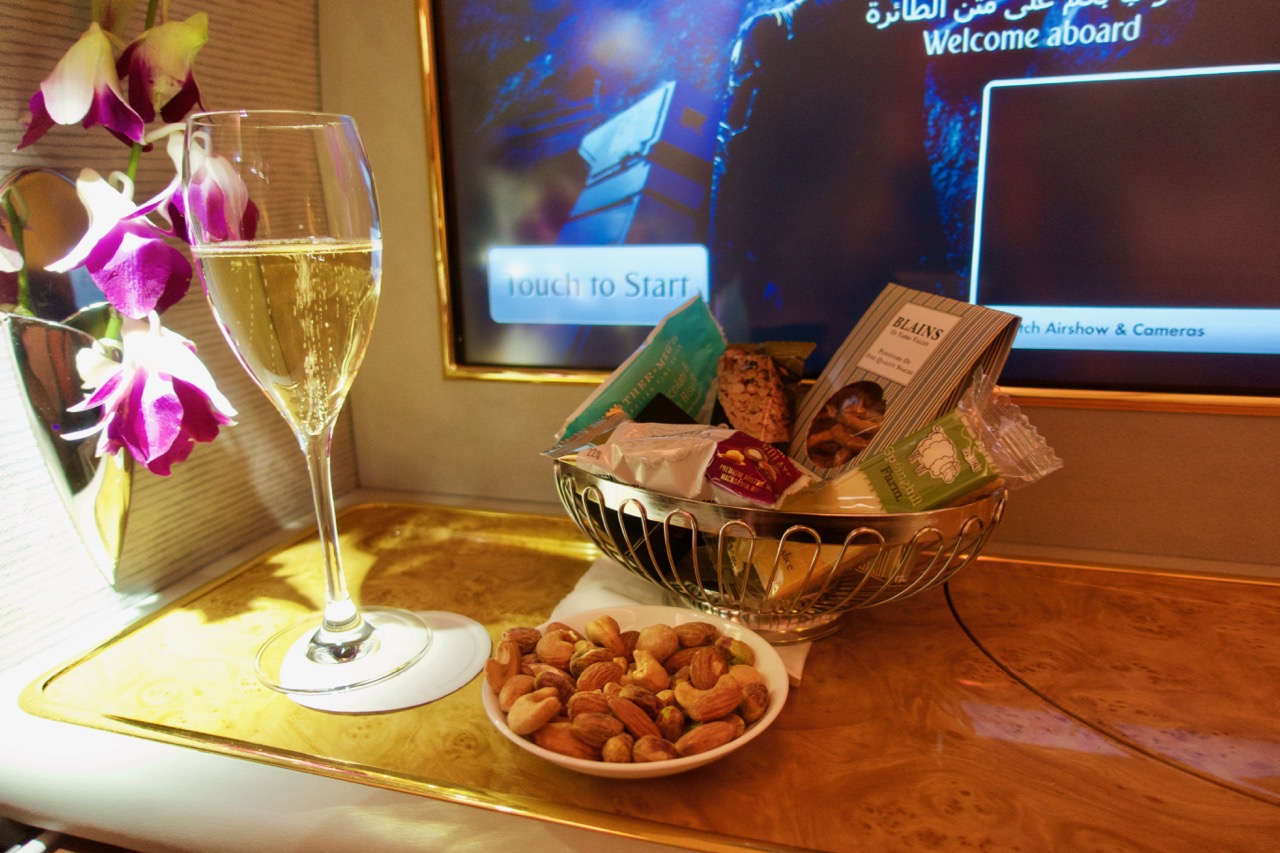 Meals are usually well presented, and come with as much warm bread on the side as you can handle.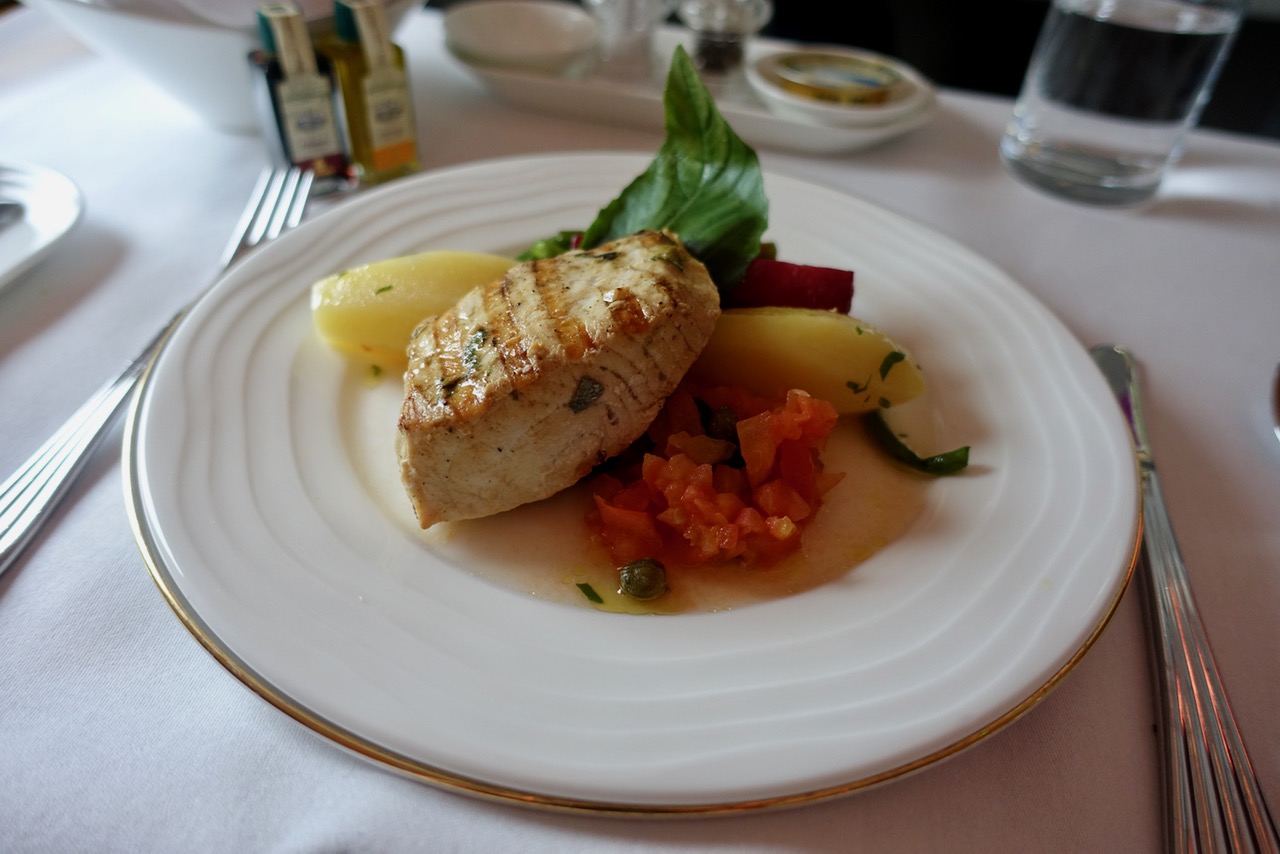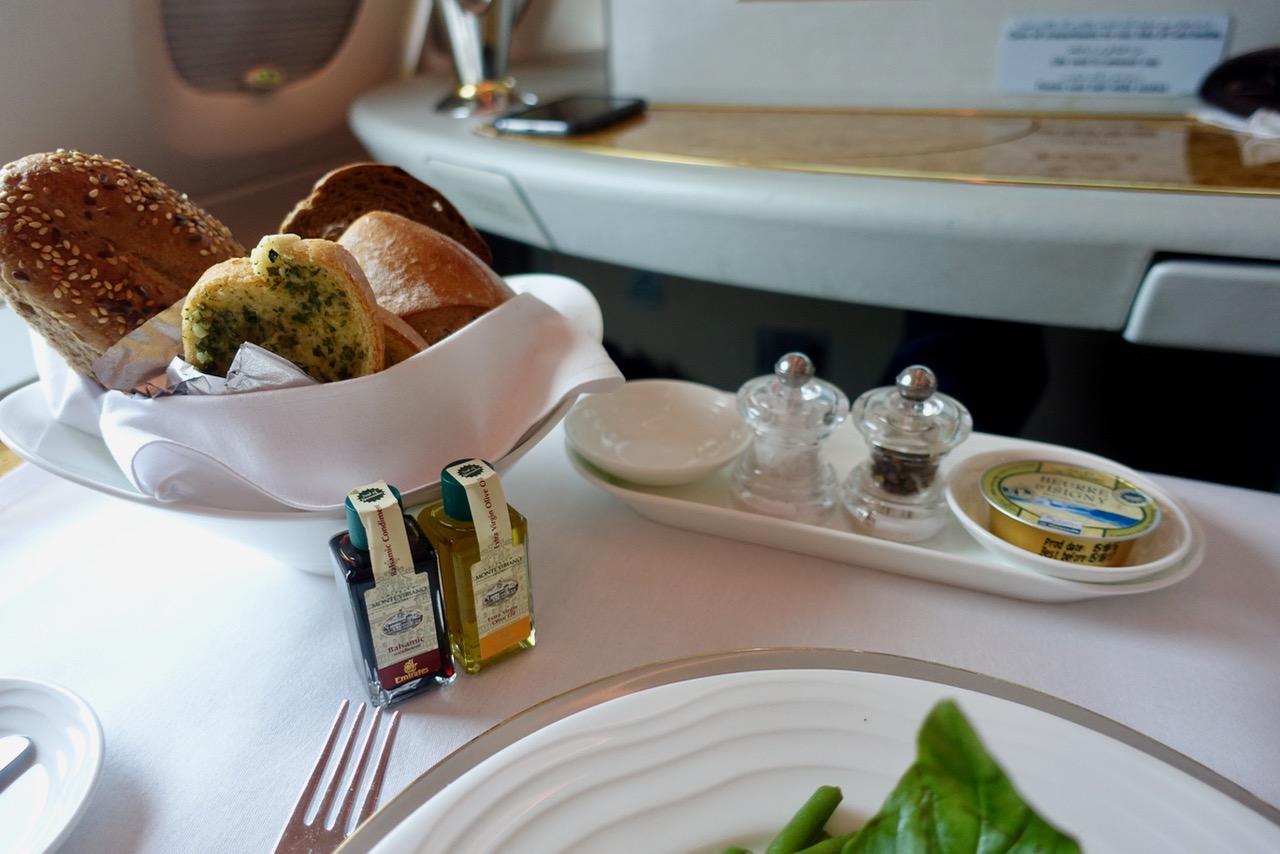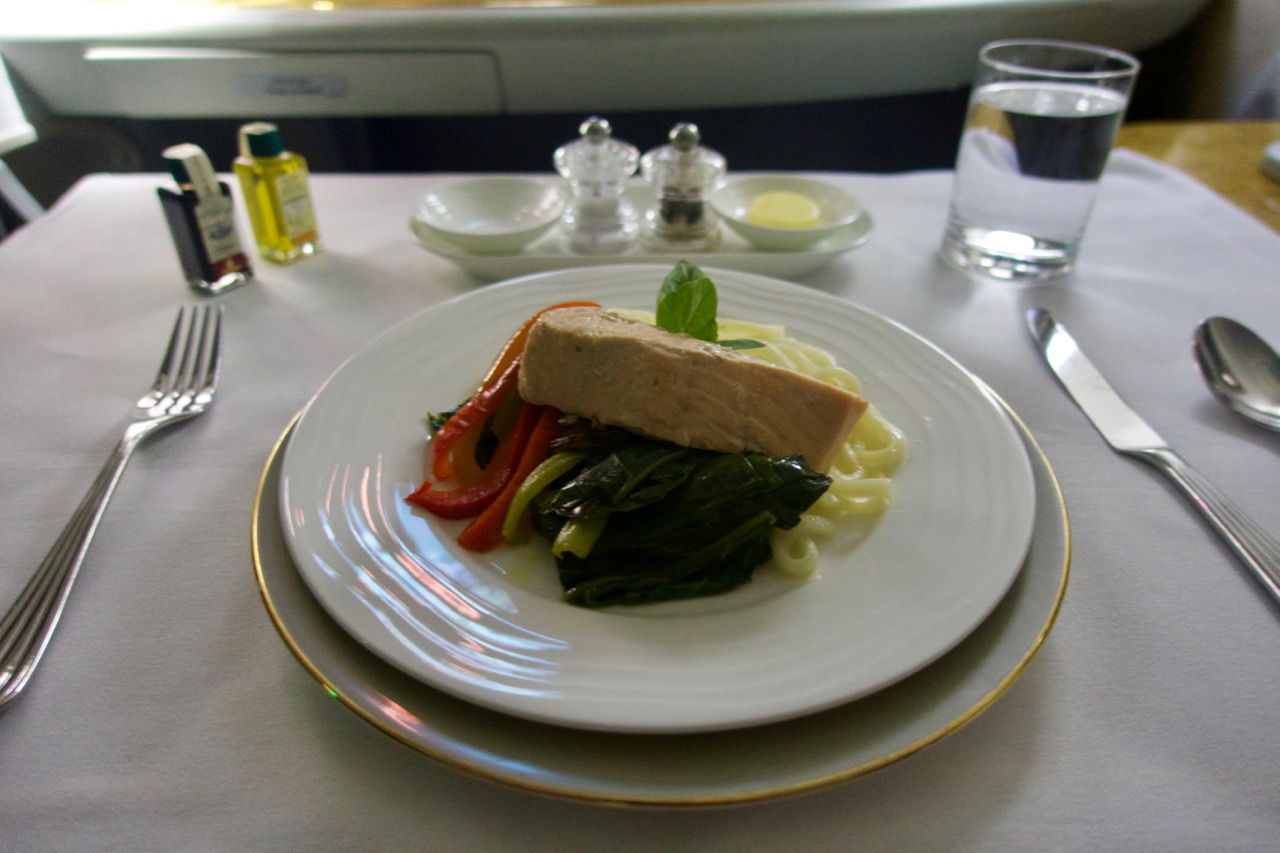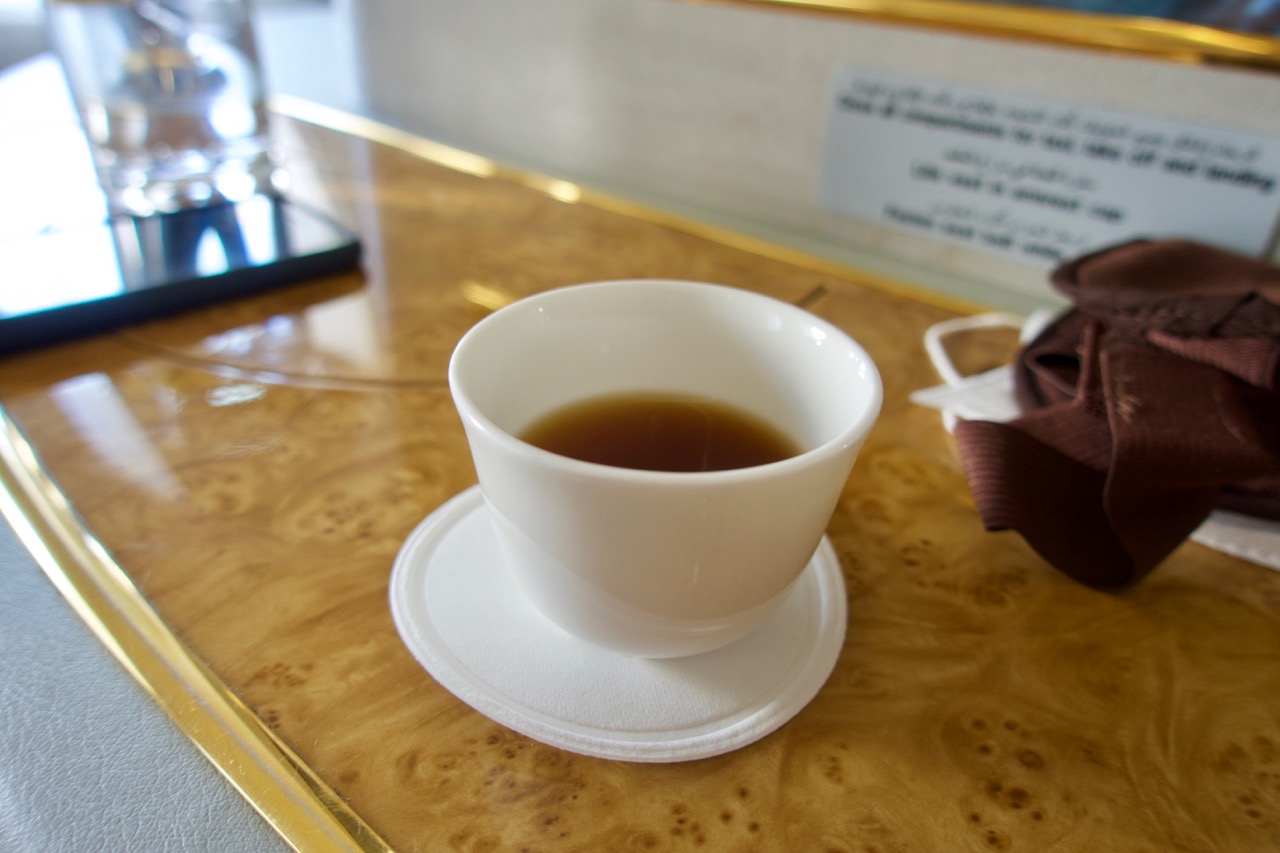 As in Business Class, you'll have your own pre-stocked personal side bar:
You can also access the usually well-patronised onboard bar for First and Business Class passengers at the opposite (rear) end of the Upper Deck, where there are ample standing room and side benches that seat up to four people.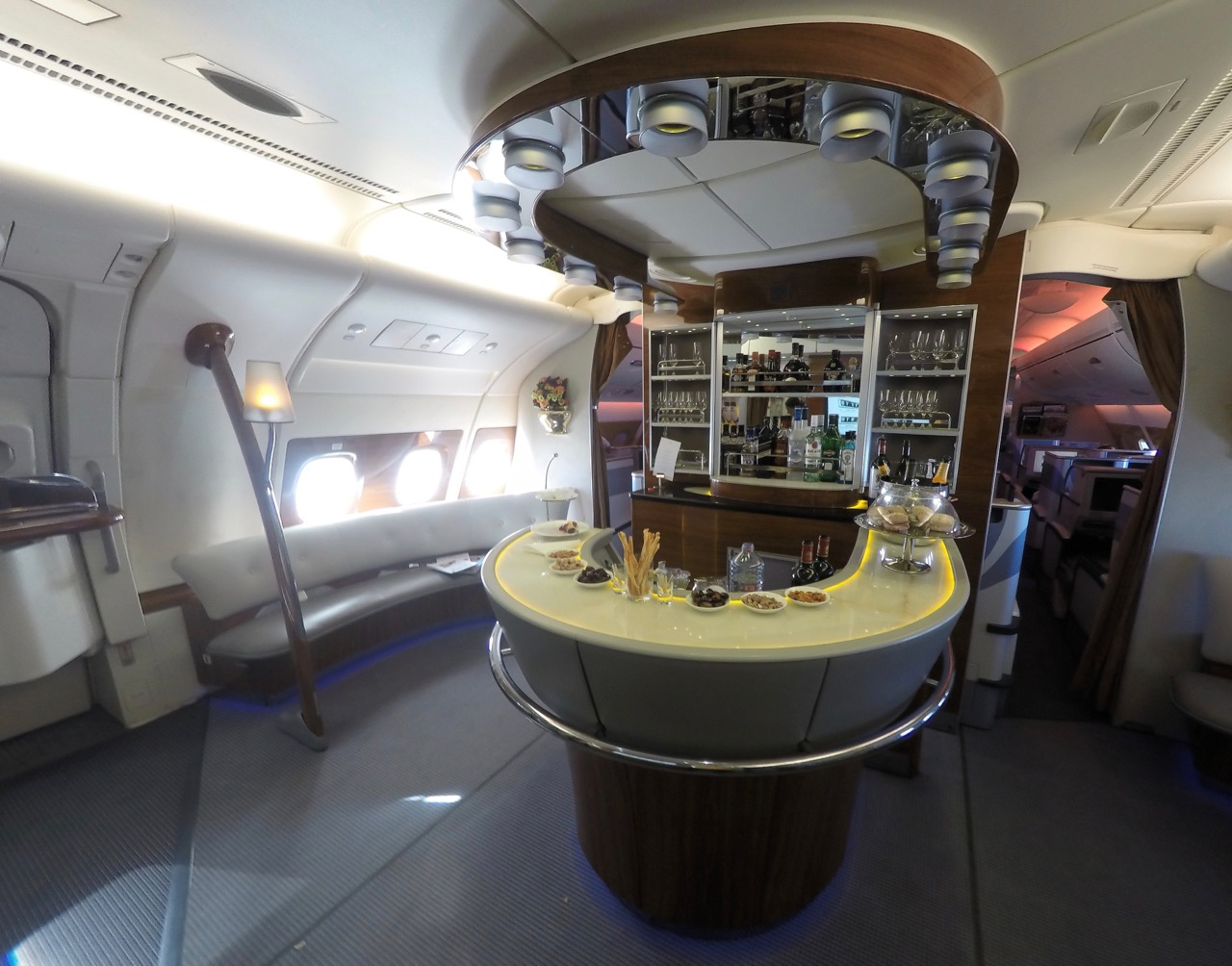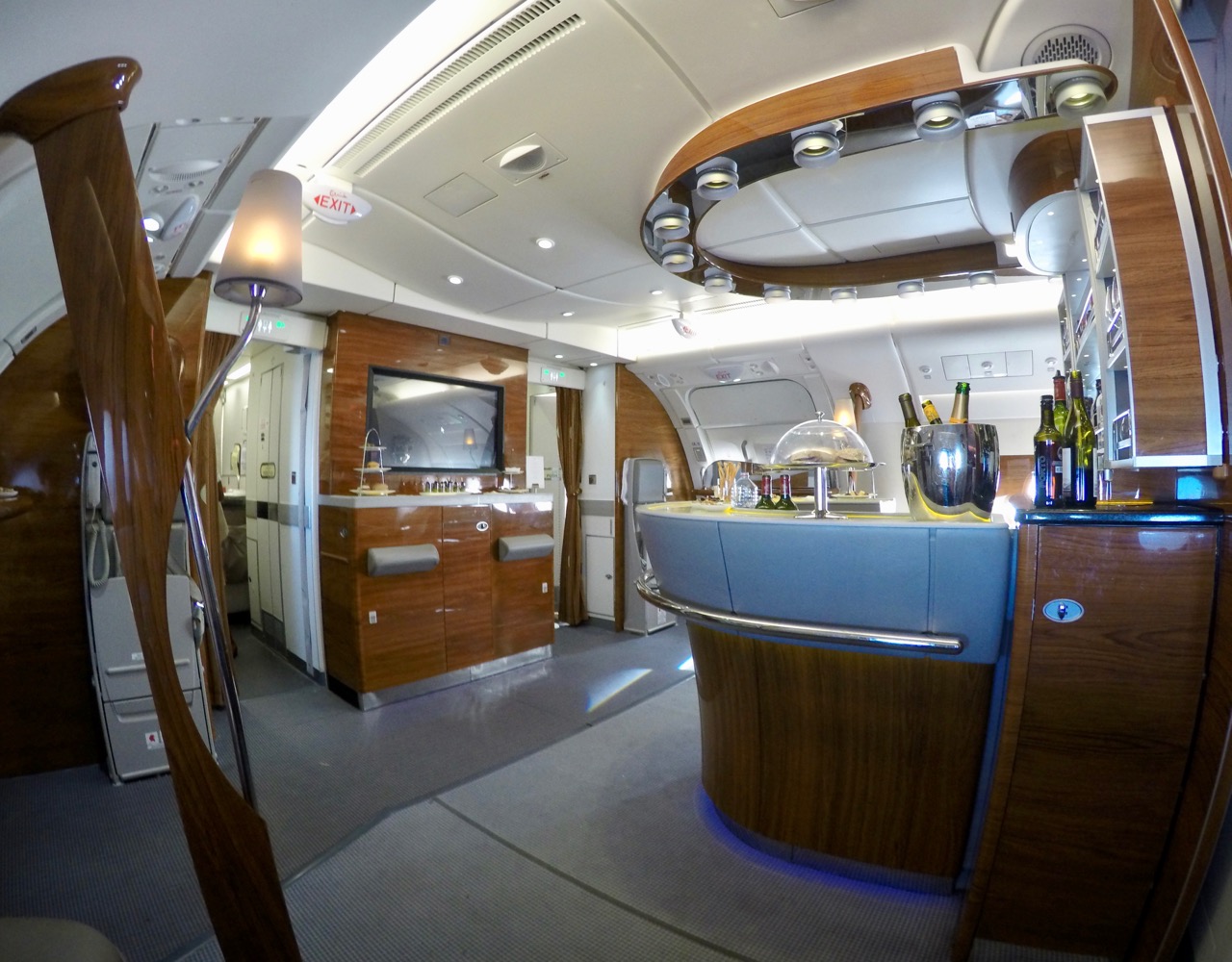 How to redeem points for this flight
All four Trans-Tasman routes served by Emirates fall into Zone 3 in the Qantas Class Flight Reward table, with one-way First Class redemptions pricing at 54,000 Qantas Points + taxes.
You'll find that the taxes departing New Zealand are just over half of those departing Australia due to the fact that flights departing New Zealand are not subject to fuel surcharges.
Route
Qantas Points needed for
a one-way First Class ticket
Additional taxes/fees
Sydney - Auckland
54,000
133.75 AUD
Auckland - Sydney
54,000
78.58 NZD
Melbourne - Auckland
54,000
129.68 AUD
Auckland - Melbourne
54,000
69.98 NZD
Brisbane - Auckland
54,000
131.63 AUD
Auckland - Brisbane
54,000
77.08 NZD
Sydney - Christchurch
54,000
128.25 AUD
Christchurch - Sydney
54,000
72.86 NZD
Redemption availability in First Class on these routes is generally very good and can regularly be found for last-minute trips about two weeks from departure.
You can search and book easily on qantas.com, with full instructions in the guide here.
Using cash
A one-way First Class ticket on any of these four routes from Australia to New Zealand averages $930 AUD; on the way back it's more expensive (possibly due to the longer flight time) at $1330 NZD.
If you do care about earning Status Credits with Qantas, make sure you make a booking with a QF (Qantas) flight code.
Lounge Access
The lounges you will have access to in Australia will generally be of much higher quality than those used by Emirates passengers in New Zealand.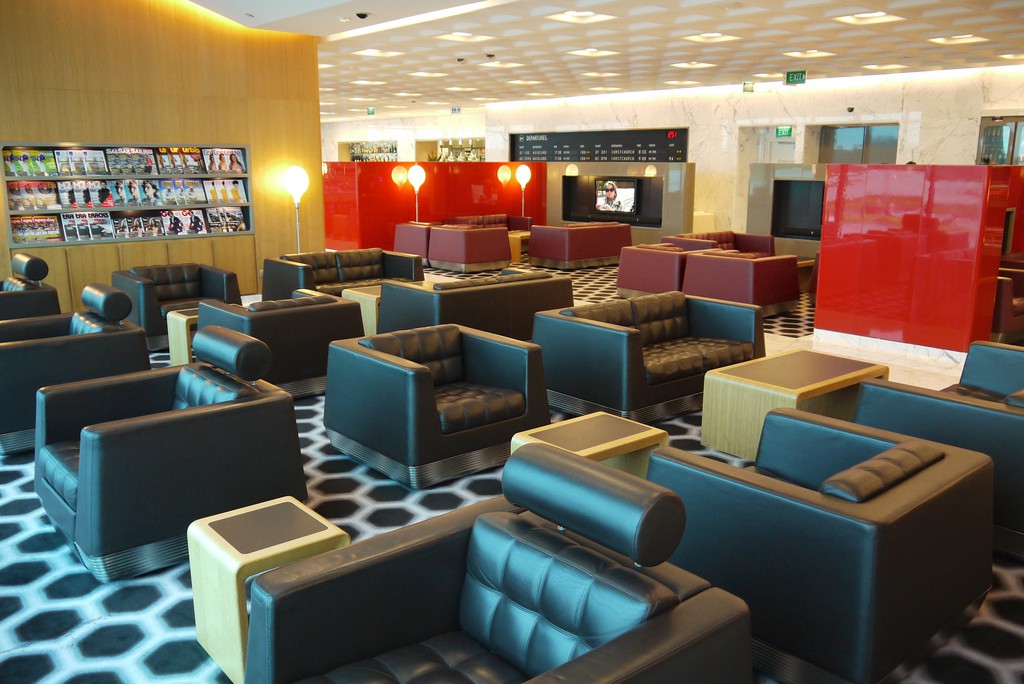 It's worth getting up early to spend a little time enjoying an à la carte breakfast before your flight at the Qantas First Class Lounge in Melbourne
More reviews
Here are our reviews of Emirates' Business Class offerings across the Tasman:
and competing products from other airlines:
Summing up – Why choose this flight?
As I wrote in a piece on news.com.au, a First Class redemption on an Emirates flight across the Tasman really is a stellar use of your Qantas Points balance.
It is one of the most accessible First Class products out there and those with Qantas Points to spend are fortunate Emirates has chosen to service the Trans-Tasman market with this aircraft.
To increase your chances of getting the dates you want, try to book your redemption as soon as you can, as weekends can be harder to access closer to departure.
Booking this flight with points is an great way to get you access to excellent lounges in Australia, good customer service, a high level of onboard privacy, access to a hot shower and onboard bar, and a lie-flat bed – not that you'll really need it on the short hop across the pond.
Supplementary images courtesy Emirates.
Emirates A380 First Class between Australia & New Zealand – Flight Overview
was last modified:
March 29th, 2022
by