Singapore Airlines has unveiled its long-awaited upgrade to the four cabins on its ageing A380 aircraft.
In this post, we outline which routes to find it on, and what to expect from the new Suites and Business Class products.
Singapore is also introducing a new regional Business Class product on new Boeing 787-10 Dreamliner aircraft.
Routes
Just like back in 2007 when Sydney was chosen as the launch route for Singapore's A380 aircraft, it will also be the first destination to enjoy the upgraded seats.
For the latest routes, check the guide here.
Ad – Scroll down to continue reading.Minimum spend, terms & conditions apply.
The products
After four years of consultation, Singapore will first install the new seats on its five fresh A380s on order and then its 19 existing A380s.
Here is a teaser video for the new premium cabins:
Suites Class
The current ten-year-old product features 12 First Class Suites in a 1-2-1 configuration: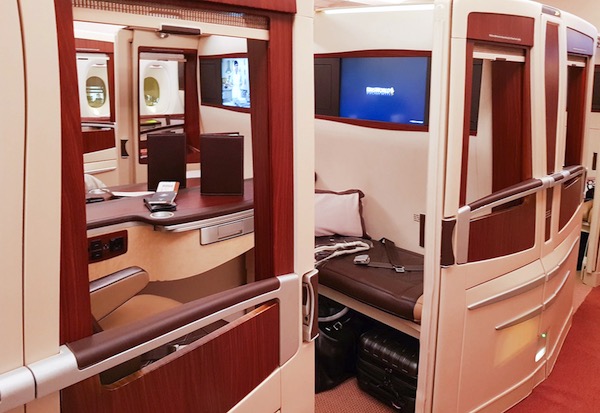 The original ten-year-old Suites product
It will give way to half the number of Suites (only six) in 1-1 configuration, following Etihad's lead with its nine A380 First Class Apartments.
There will be a leather chair reclining to 45 degrees, which is where you can sit and dine, and a separate fold-out bed: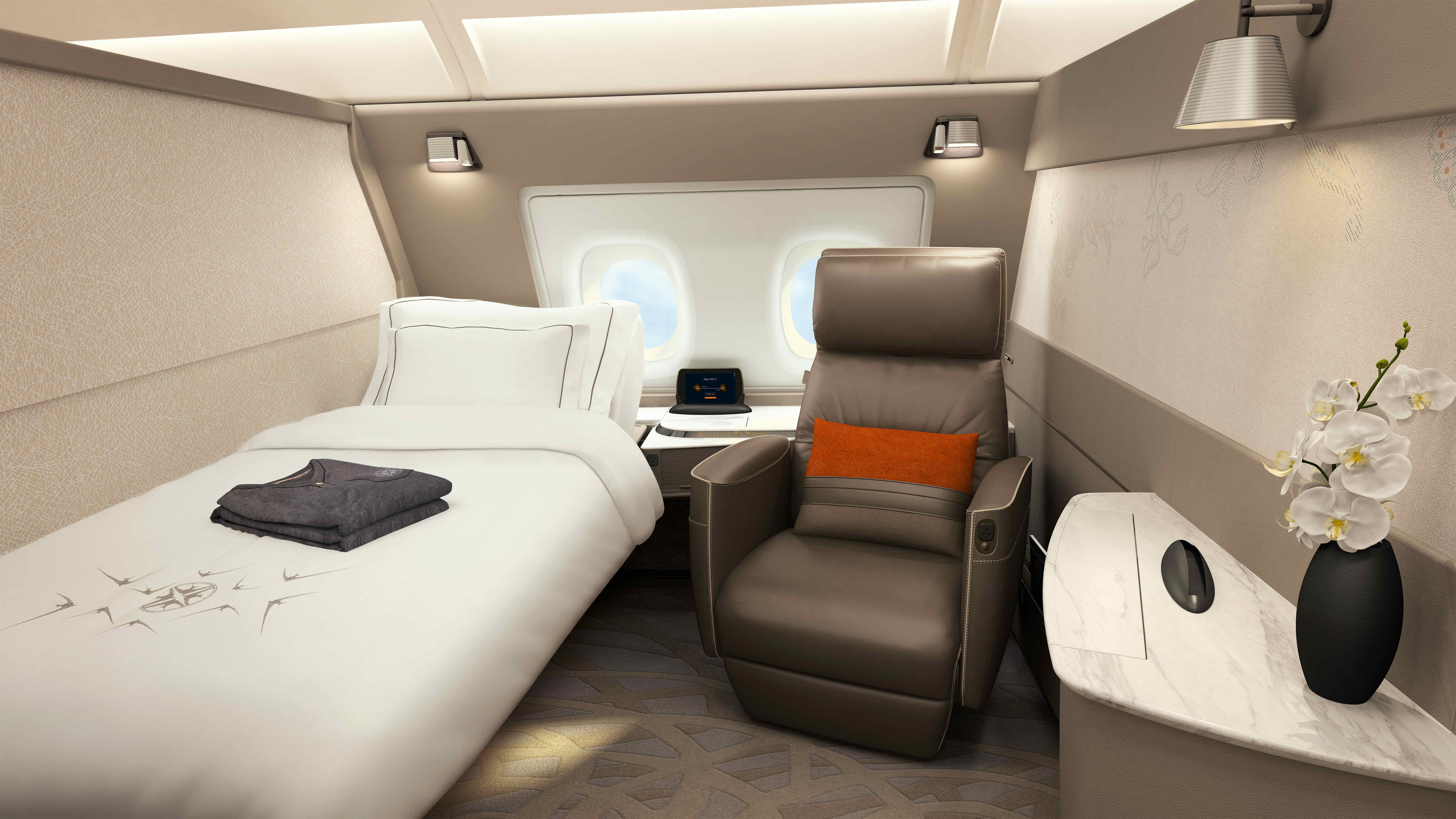 Four of the six Suites can be configured into double beds for when you are travelling with a companion but it seems you will not be able to eat near each other as the chairs are located at opposite ends of the combined Suites. Reports note that the doona in the promotional picture will not actually be available inflight – deceptive marketing.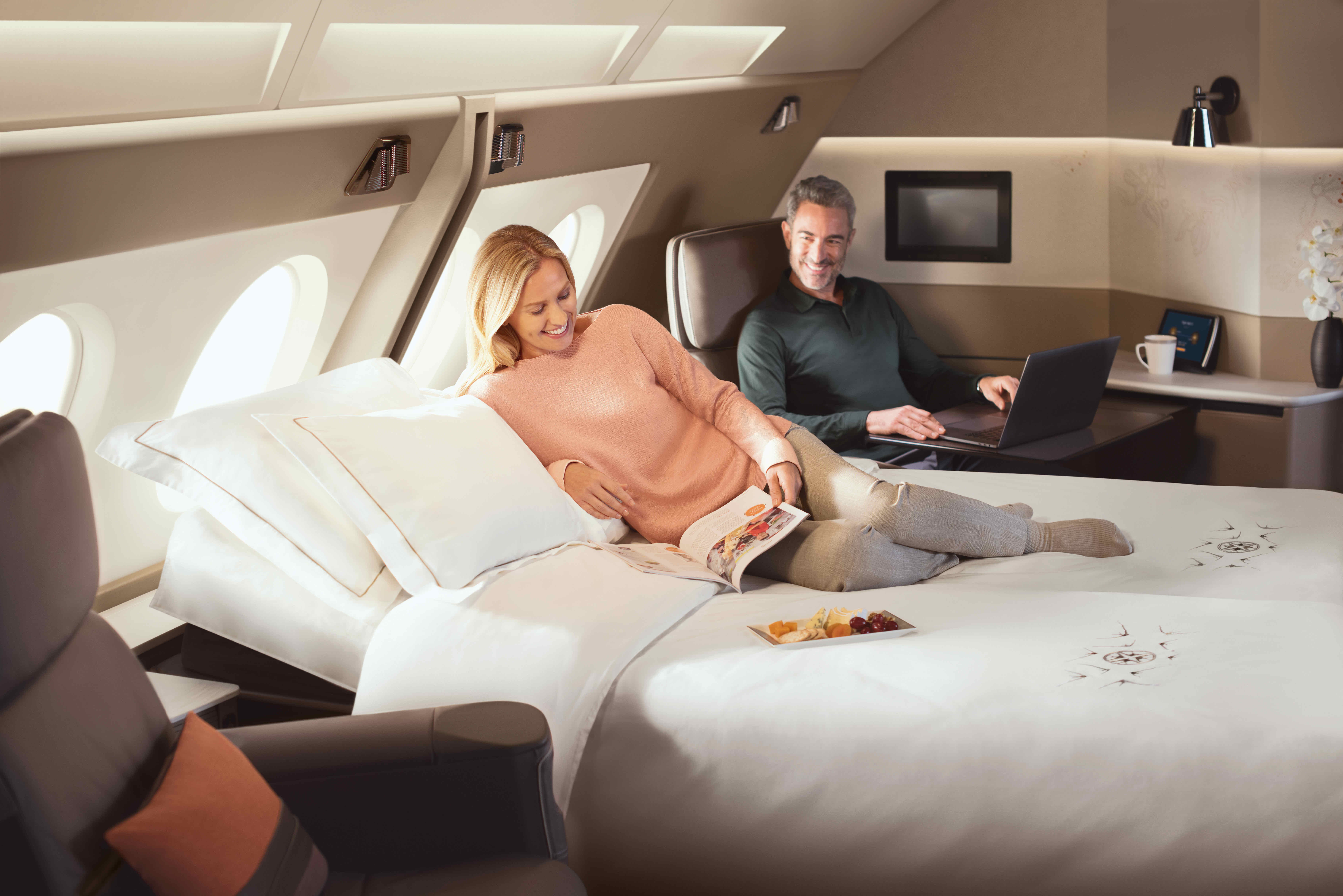 There are no onboard showers (like on Emirates' and Etihad's A380s), however, there are a generous two bathrooms with the larger one providing a sit-down vanity mirror: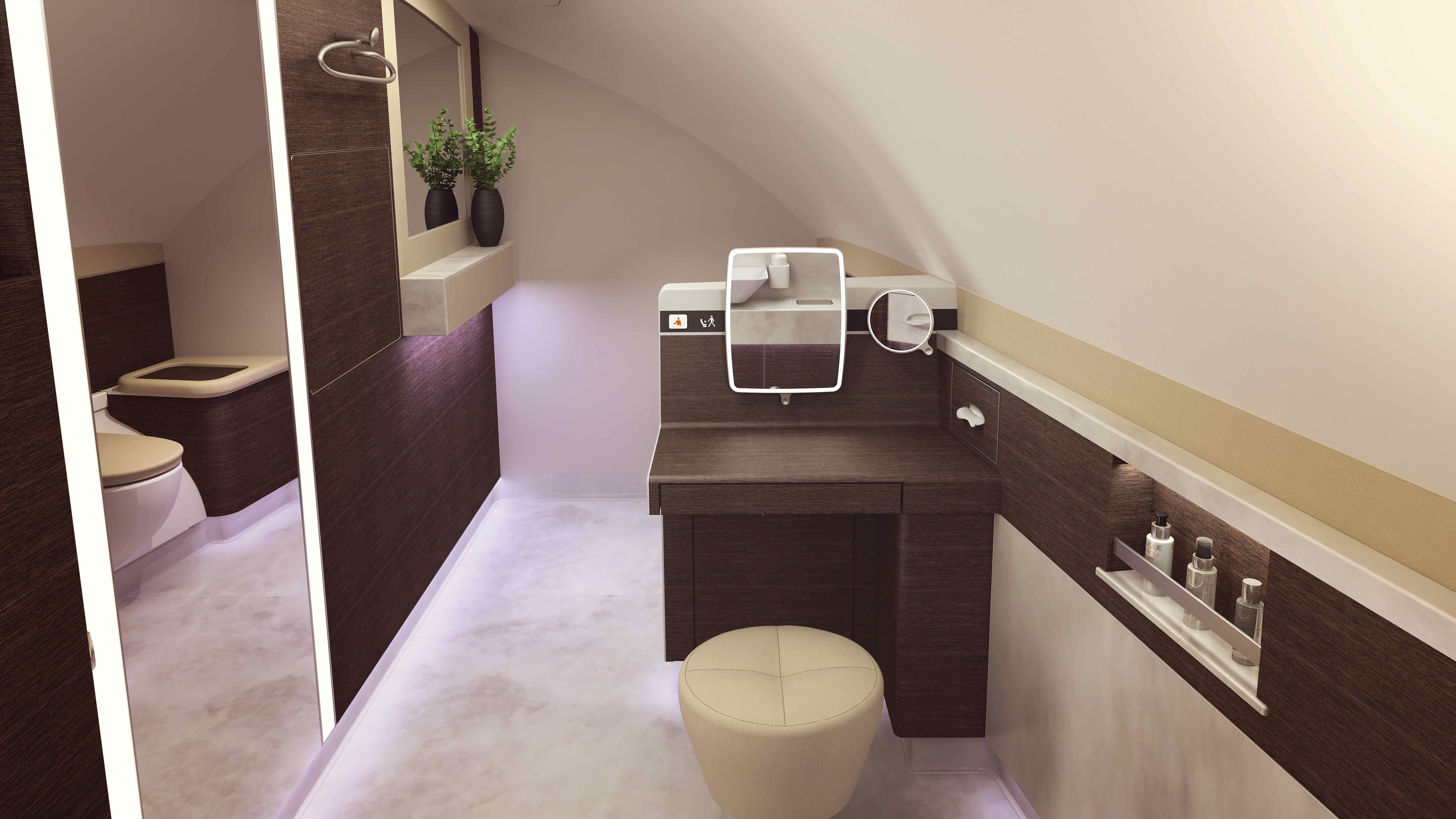 The good:
The degree of privacy and amount of personal space look fantastic, especially when the bed is folded up
The finishes are beautiful
You now have a separate chair and bed, which was not the case before
The TV is being jumbo-sized from the current 24 to a massive 32 inches
The bad:
No onboard shower
Still no onboard bar like on the A380s operated by Emirates, Etihad, Qatar Airways, Qantas, Korean Air and Asiana
With the halving of the number of seats, there will most likely not be as much award availability
Business Class
Currently, the newest Business Class product is found on A350 and 777-300ER aircraft, which includes some (but not all) flights servicing Sydney, Melbourne and Brisbane.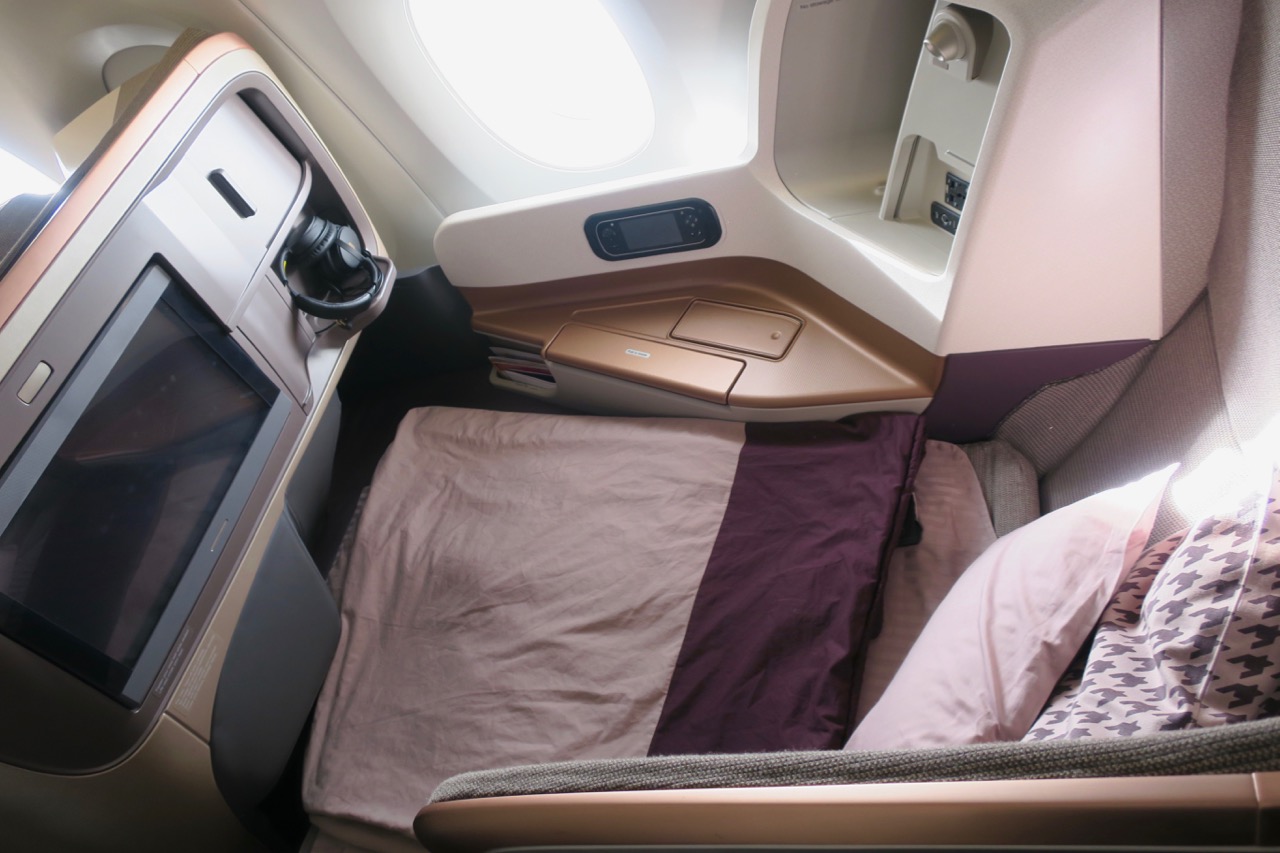 Singapore Airlines A350 Business Class in bed mode
It is the older A380 product (which is the same product found on the 777-200ER) which will be getting the upgrade.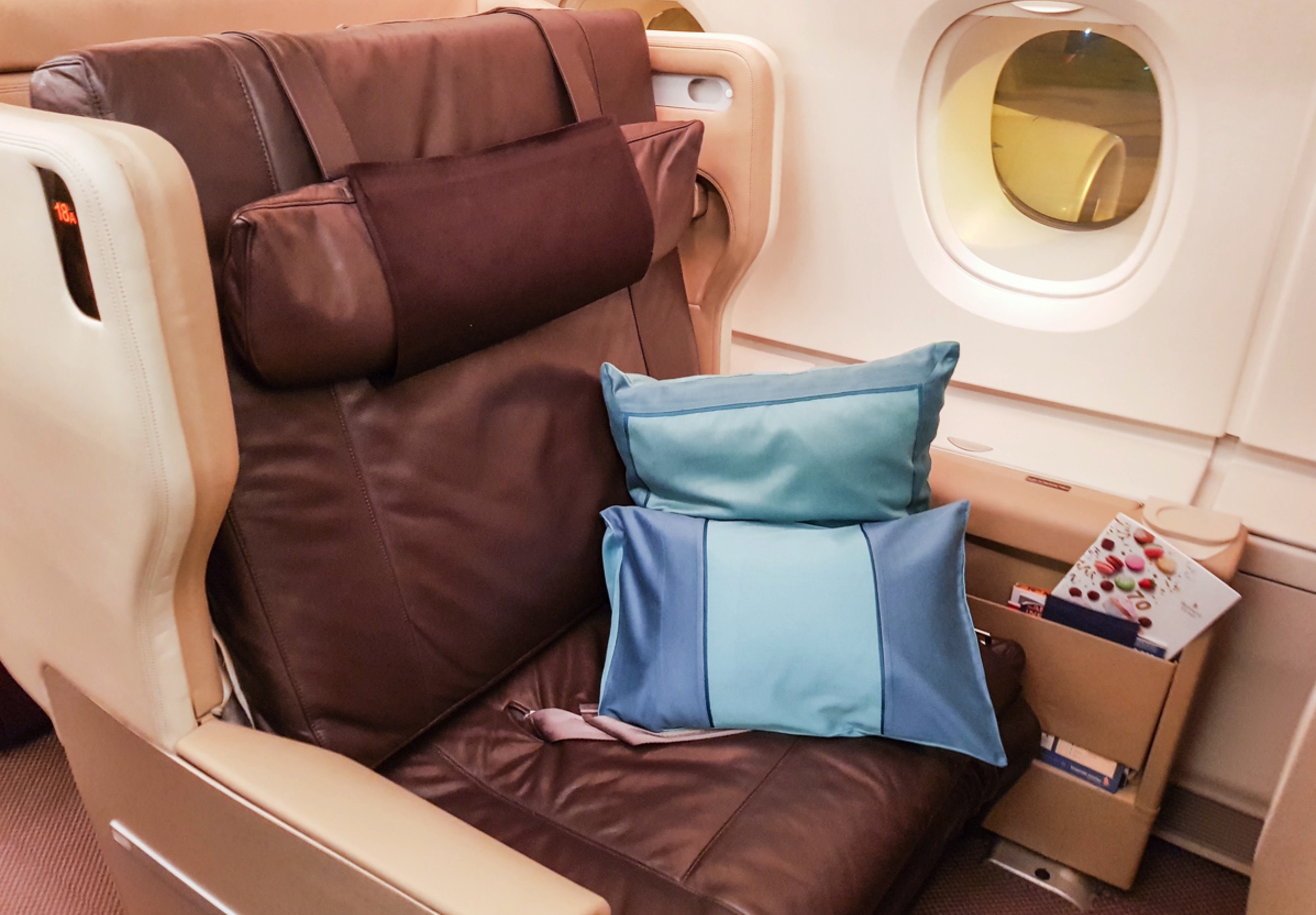 The current Singapore Airlines A380 Business Class seat
Measuring 25 inches wide, the upcoming product will be narrower than the 28-inch A350/777-300ER seat and much narrower than the current A380 seat, which measures 34 inches.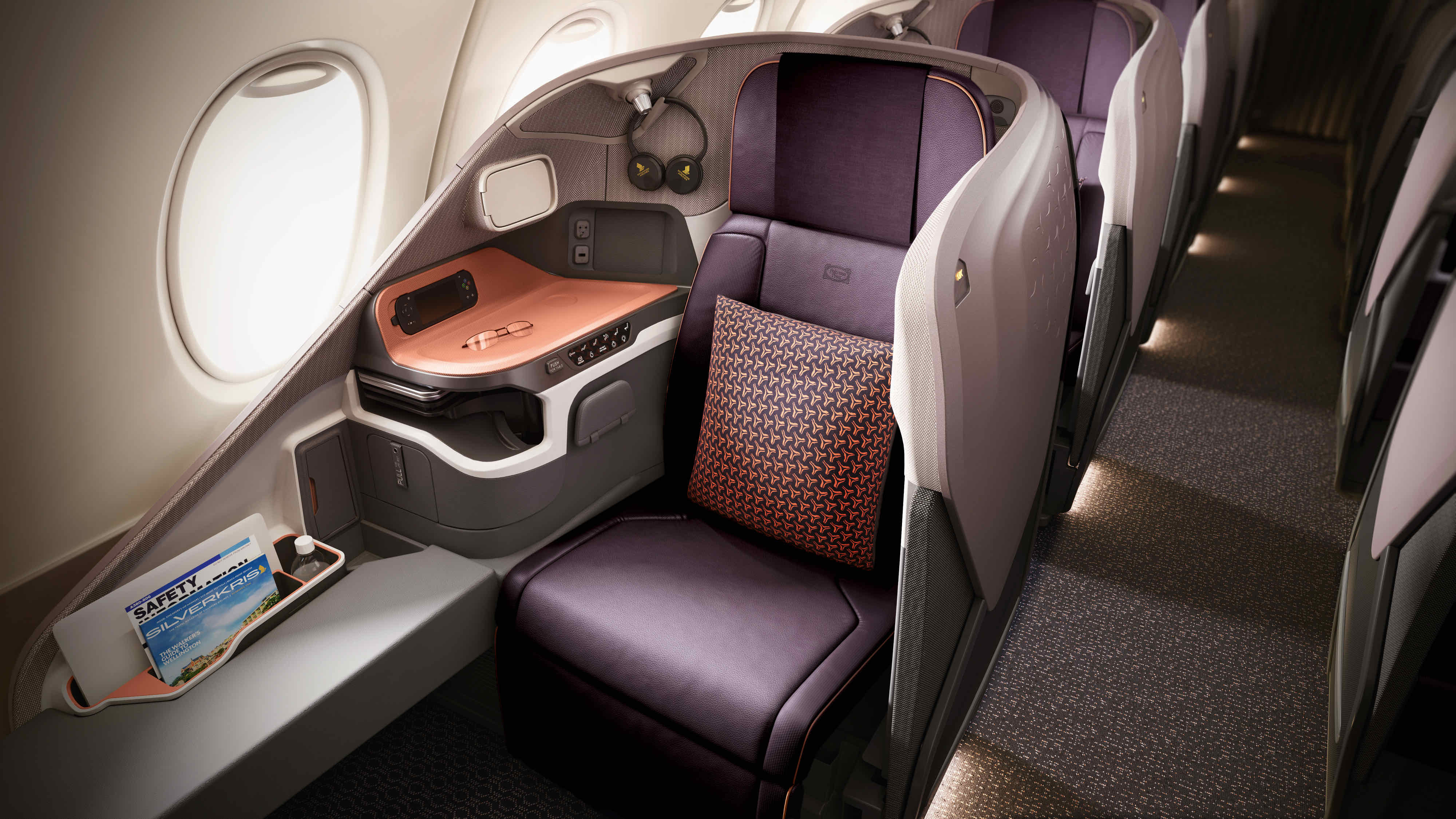 Those in centre seats will now be further away from the aisle but closer to the person next to them (albeit still with a privacy divider):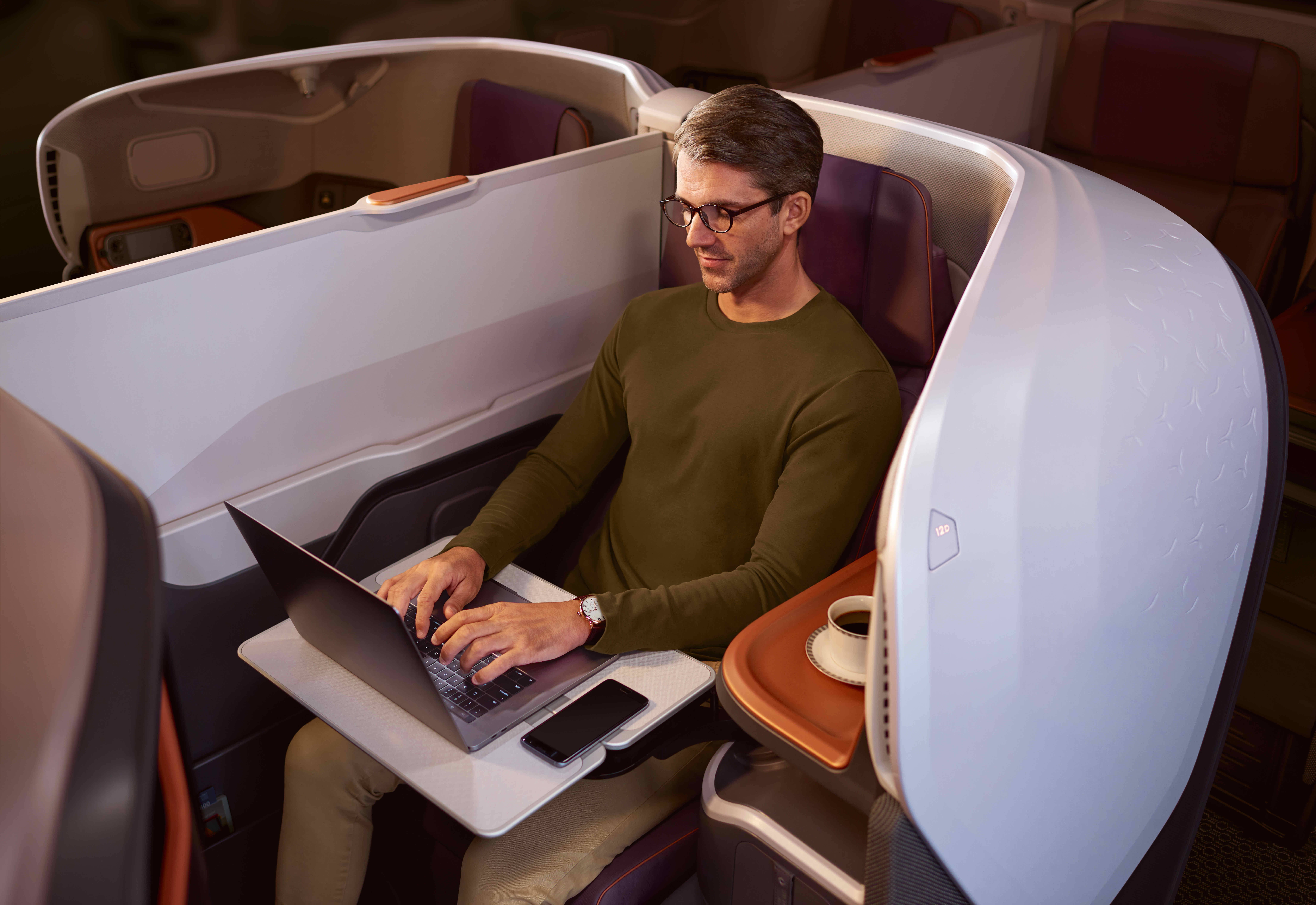 Singapore has taken the double-bed concept from First Class and installed it in Business, with the three sets of bulkhead seats now being able to be joined together – but would you want to be sleeping with your partner in full view of the cabin?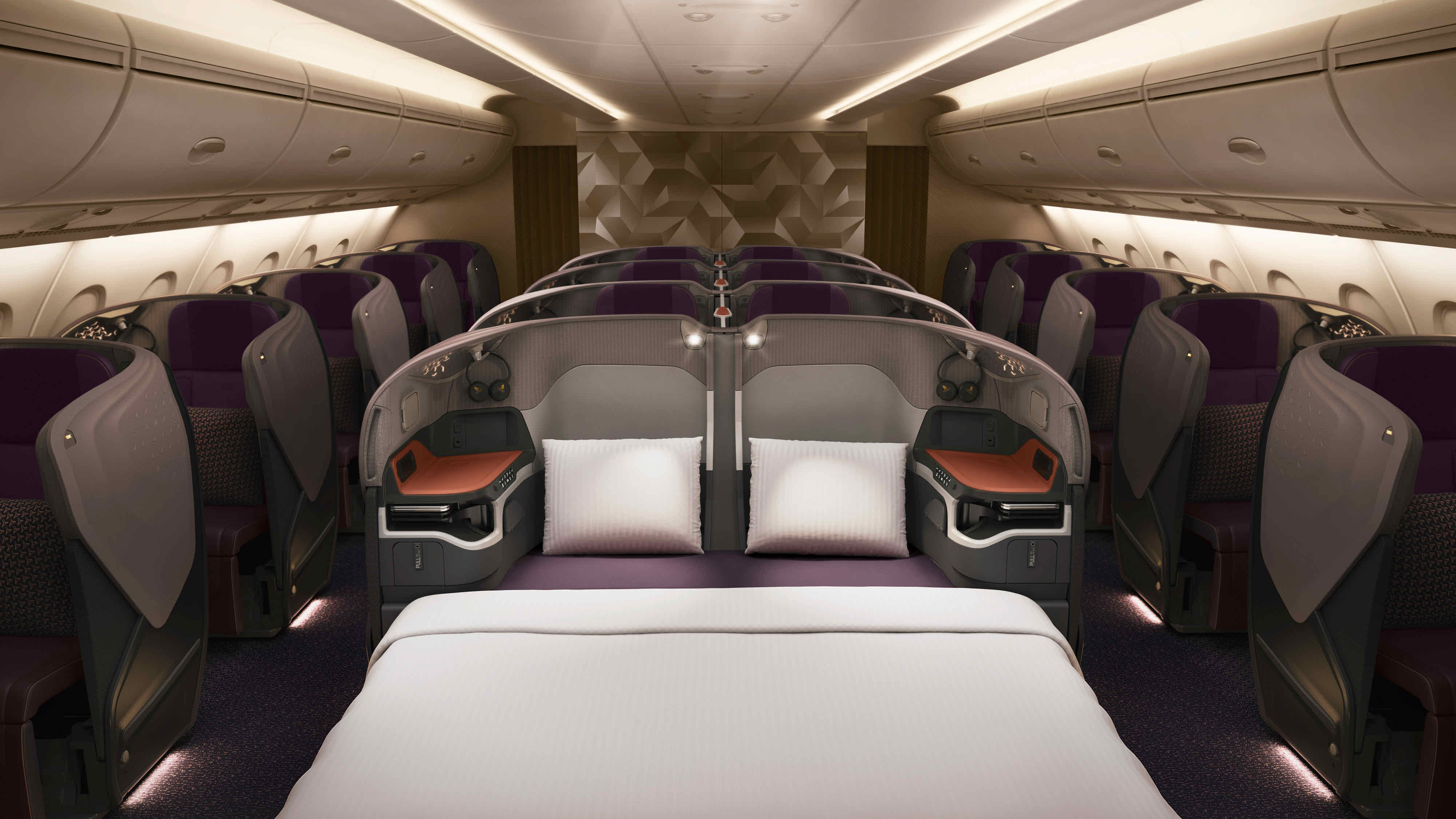 The good:
Thinner materials allow for 78 seats to be fitted on upper deck, which compares to 60 and 86 in the two current versions of the A380 – expect to see an overall increase in award availability in this cabin
The seat no longer has to be flipped over to be made into a bed
It has the same bed length as the A350/777-300ER seat (78 inches)
The bad:
With Qatar Airways introducing its QSuites on its new Boeing 777-300ER aircraft and Delta installing Delta One suites on its Airbus A350s, Singapore has missed the opportunity to join the race with a closed-door Business Class seat
This seat is significantly narrower than the current one
Again, still no onboard bar like many of its competitors
This seat still features the annoying small foot cubby as on A350s and 777-300ERs, which a lot of travellers find to be awkward when sleeping
Premium Economy & Economy
Premium Economy was recently updated and will basically stay the same, while Singapore's already excellent Economy class will continue to offer 32 inches of pitch as well as add in more lateral back support, an adjustable headrest and a footrest.
Whilst the elimination of a remote control in favour of a touchscreen makes technological sense, I always find it annoying when the passenger behind me prods the back of my head every time they touch the screen (I'm looking at you, game enthusiasts!).
Summing up
All up, I think the new products are a mixed bag.
The premium products were definitely in dire need of an upgrade, with more personal space, a separate seat and bed, and a huge TV big pluses for Suites, however, the halving of the number of them will make this redemption less accessible to points enthusiasts like us.
While the cosmetic upgrade of the current A380 Business Class seat looks great, I think Singapore has missed the opportunity to install closed-door seats and a more comfortable bed.
That being said, if you are looking at travelling to or through Singapore on Singapore Airlines using your KrisFlyer miles or Velocity points, then I would recommend aiming to book onto one of the flights earmarked to be flying the new products from December to try them out.
What is your take on the new products? Share your thoughts in the comments below!
Supplementary images courtesy Singapore Airlines.
Our take on Singapore Airlines' new A380 Suites and Business Class products
was last modified:
March 9th, 2022
by