In this final instalment of my case study, I reveal which airline won my heart in terms of their seat, food and cabin crew.
---
Case study: Andrew's Business Class redemption to Japan
Part 1: How my point-hacking life started and how I accumulate points
Part 2: How I used Qantas and Velocity points to fly Business Class to Japan
Part 3: Comparing Qantas and Singapore Airlines Business Class
---
Not included in this post are my Adelaide to Brisbane flight on Qantas' Boeing 737 and flight from Singapore to Adelaide on Singapore Airlines' A330.
A beautiful cabin and friendly service on Qantas' A330
For our Brisbane to Tokyo Narita flight, we got to enjoy Qantas' A330 Business Class, which is arranged in a 1-2-1 configuration.
The design is a combination of wood grain and beige trimmings, creating a warm and inviting private nook. The seats are spacious and comfortable with ample legroom.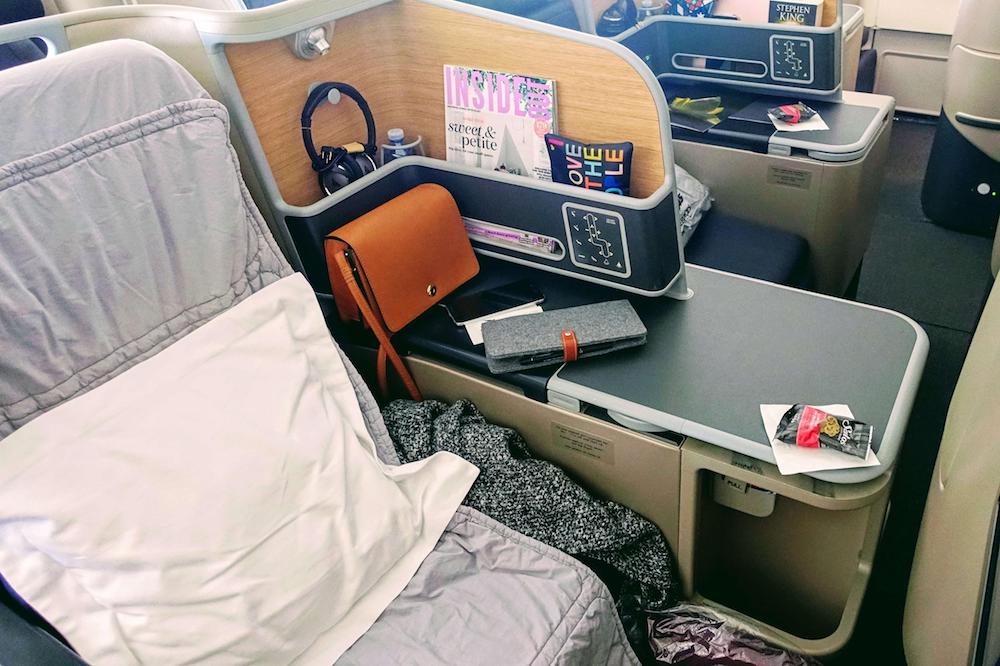 Reclining the seat is a simple task—there are four pre-set configurations, which can be customised (to a certain degree) using the manual settings on the touchpad.
A blanket, pillow and comforter are stowed away behind the seat during the flight. The staff were more than happy to assist in setting up the bed. We found that, in the lie-flat configuration, our feet extended beneath the seat into the footwell.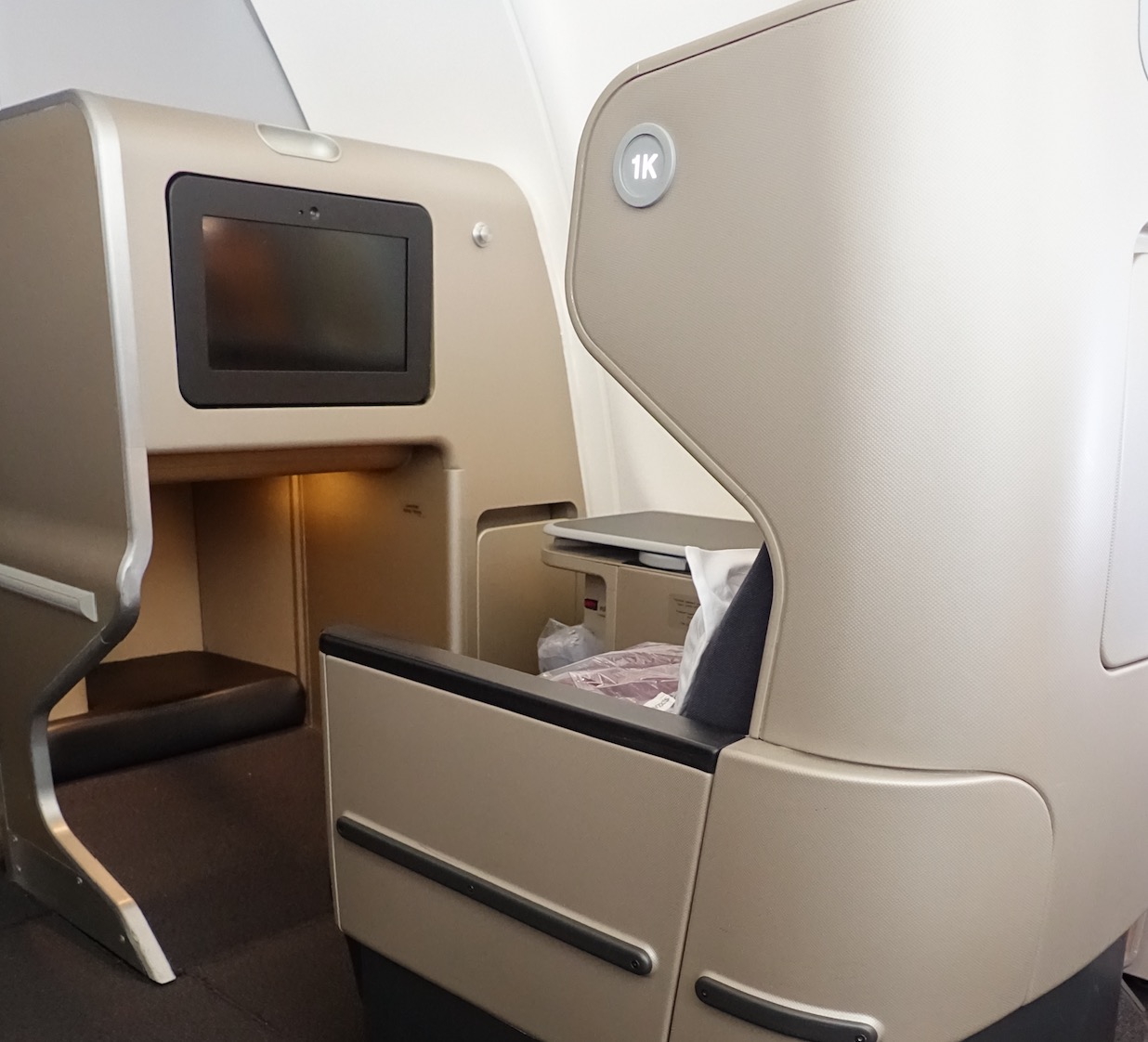 However, I was surprised to discover how low to the floor the bed is when reclined. While there is ample space to stretch out comfortably, if you are like me and accustomed to using all the available space to stretch your legs when sleeping, some passengers may find it a little restricting.
Qantas' console layout is versatile, with generous compartment provisions for a number of ports and charging options, including a USB port and a universal wall charger.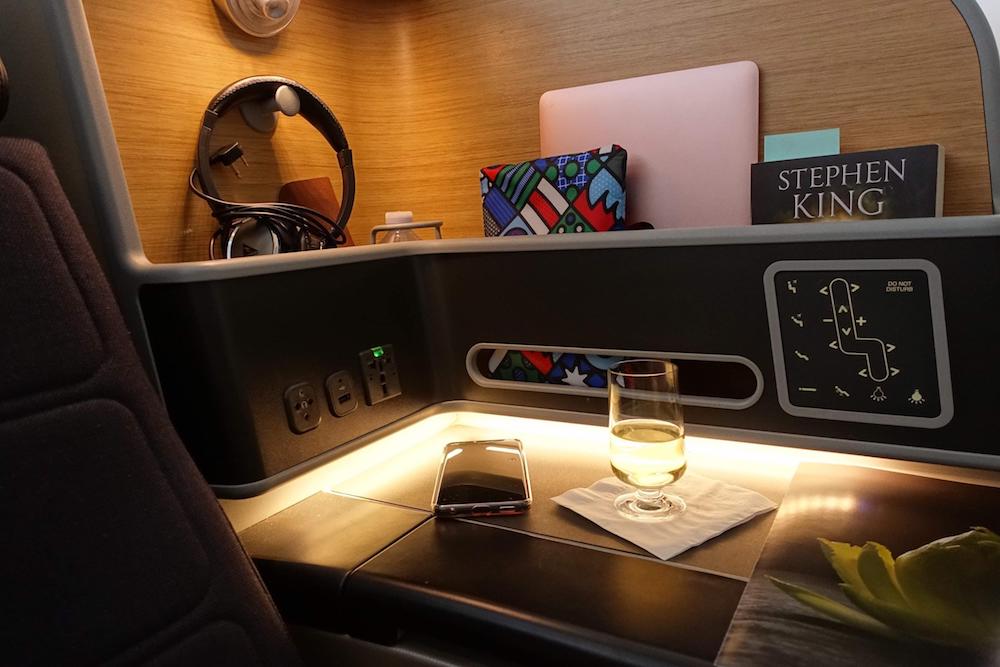 Aside from headphones and socks, Qantas provides an ASPAR essential travel kit which includes an eyemask, toothbrush and toothpaste, hand cream, face moisturiser and lip balm.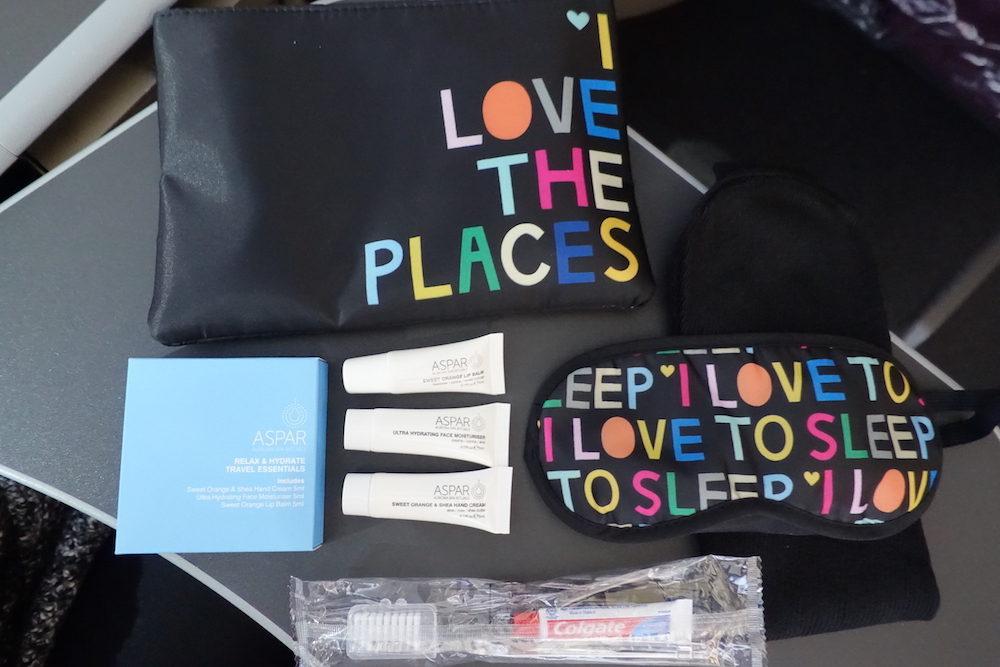 The three-course onboard meal consisted of a starter, main and dessert. I think the menu did a great job of satisfying us with an extensive range of dishes.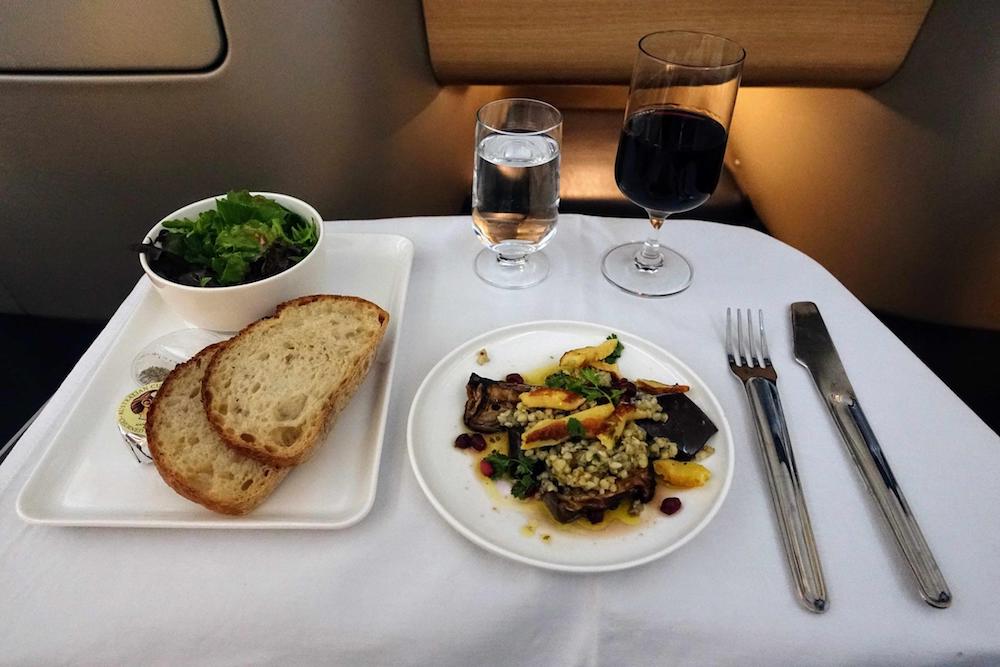 In addition to the onboard amenities, Anoushka—one of Qantas' friendliest and personable employees—graciously gifted us two sets of Qantas pyjamas.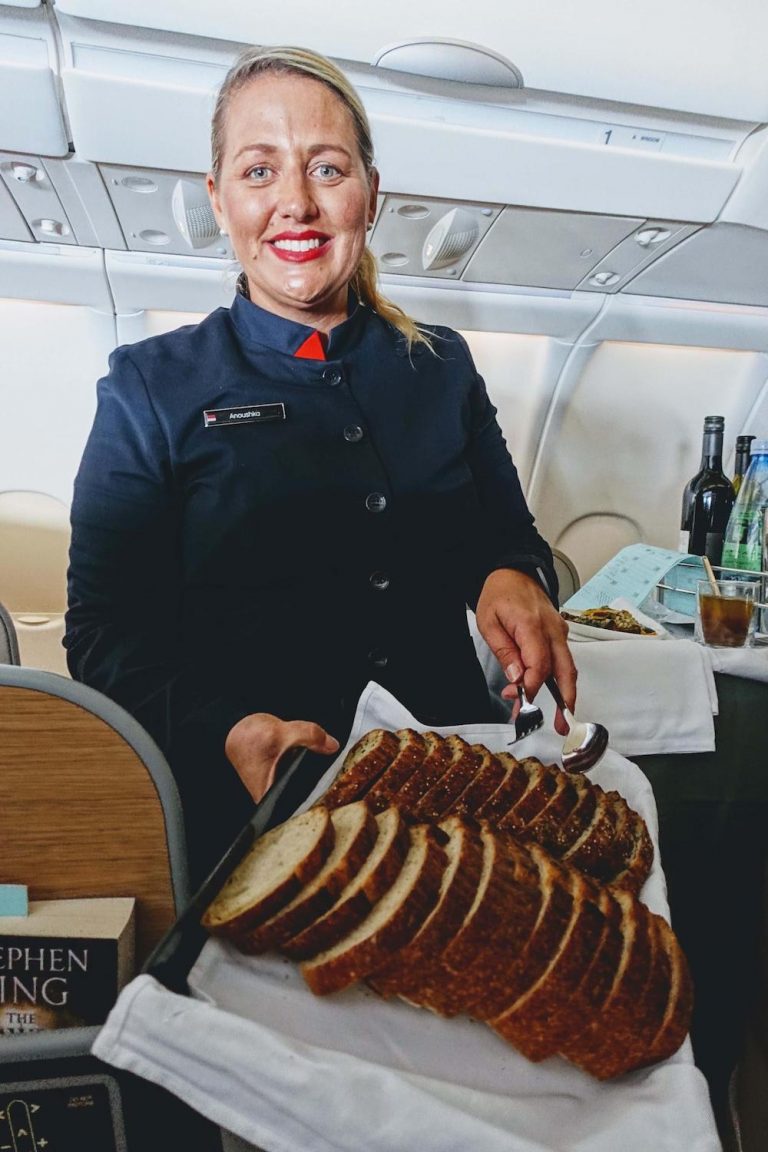 Ad – Scroll down to continue reading.Minimum spend, terms & conditions apply.
Delicious food and an expansive cabin on Singapore's 777
As our return flight was booked through Velocity on a partner flight, we were unable to pre-select our seats. By the time I linked the flight to my KrisFlyer account, all available centre seats had been booked, aside from the ones in the last row, which we selected.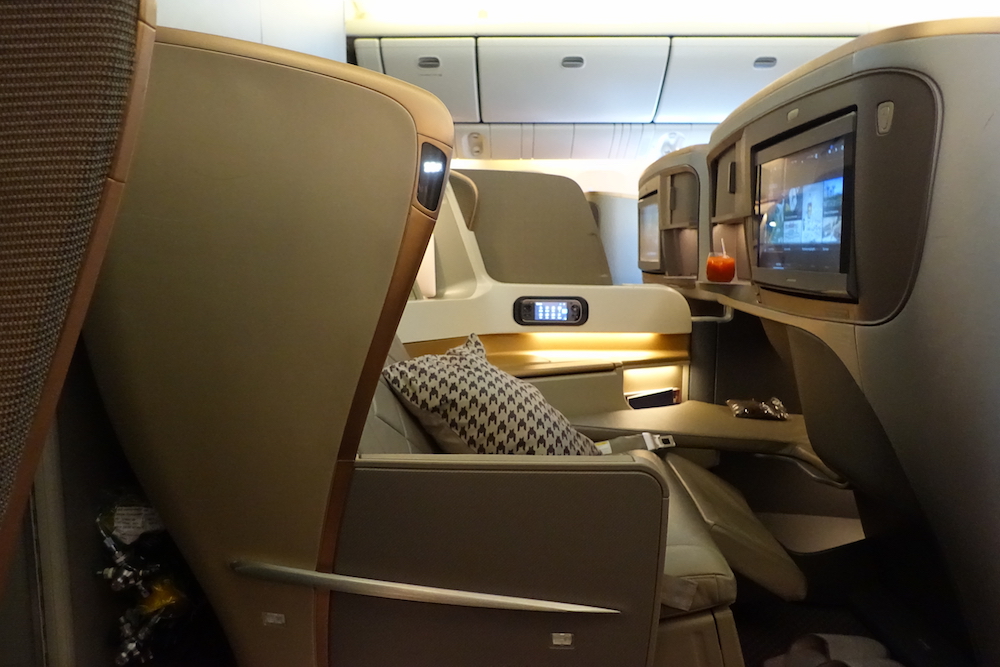 This Boeing 777-300ER is also configured in a 1-2-1 layout like on Qantas but I found the seat to be more spacious and comfortable this time. The absence of an overhead storage added to the sense of a more open cabin, however, a travel kit was not supplied on the flight.
The retractable divider between the middle aisle will provide adequate privacy, but I would highly recommend selecting a window seat if you are travelling alone.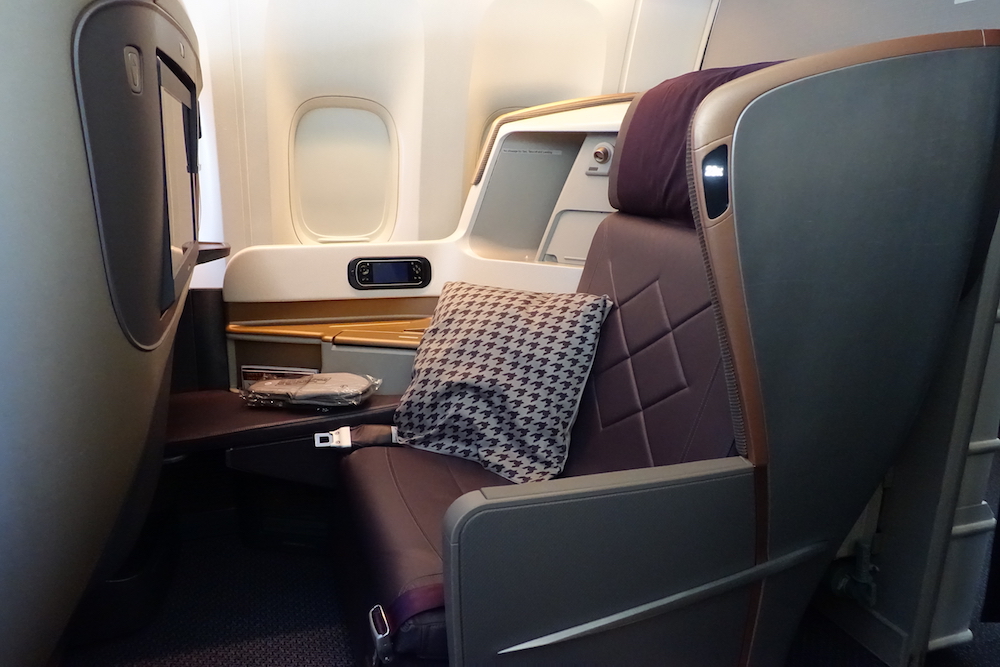 Converting the seat into a bed can be tricky. Our cabin crew took notice of our struggles and lent a helping hand.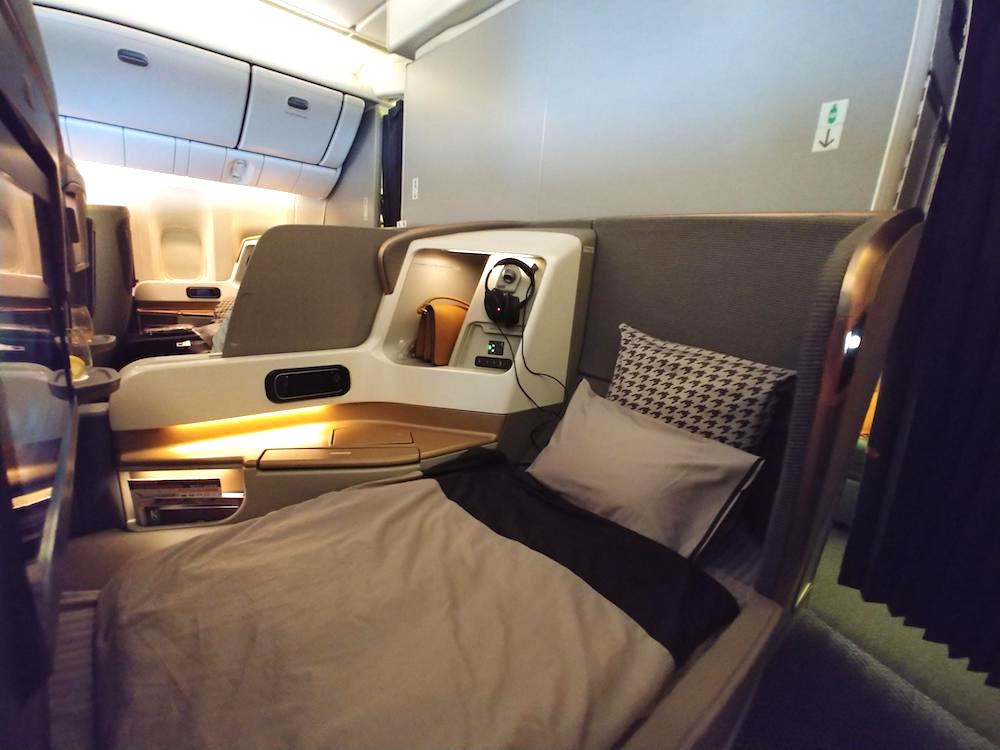 The footwell is not centred like on Qantas' plane, meaning there is space for your feet to the right or left of the seat in front, depending on your particular seat. The biggest complaint passengers have about this seat is that they have to sleep at an angle to lay flat.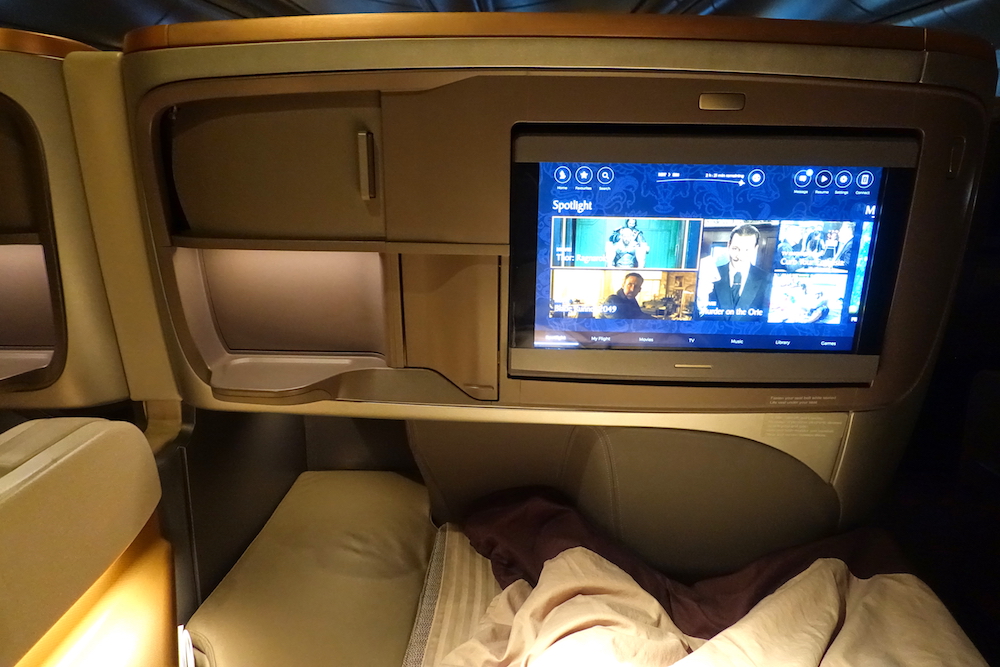 Comparing Singapore's console storage layout to the Qantas flight, their generous provisions were enough to make Shaynna Blaze blush. In addition to the stowaway space, the entertainment console includes a mirror and a small compartment to store your mobile phone, wallet and passport.
There is a retractable touch remote, which eliminates the need for passengers to lean forward and navigate through media content on the screen. Passengers are able to check flight information without exiting the program.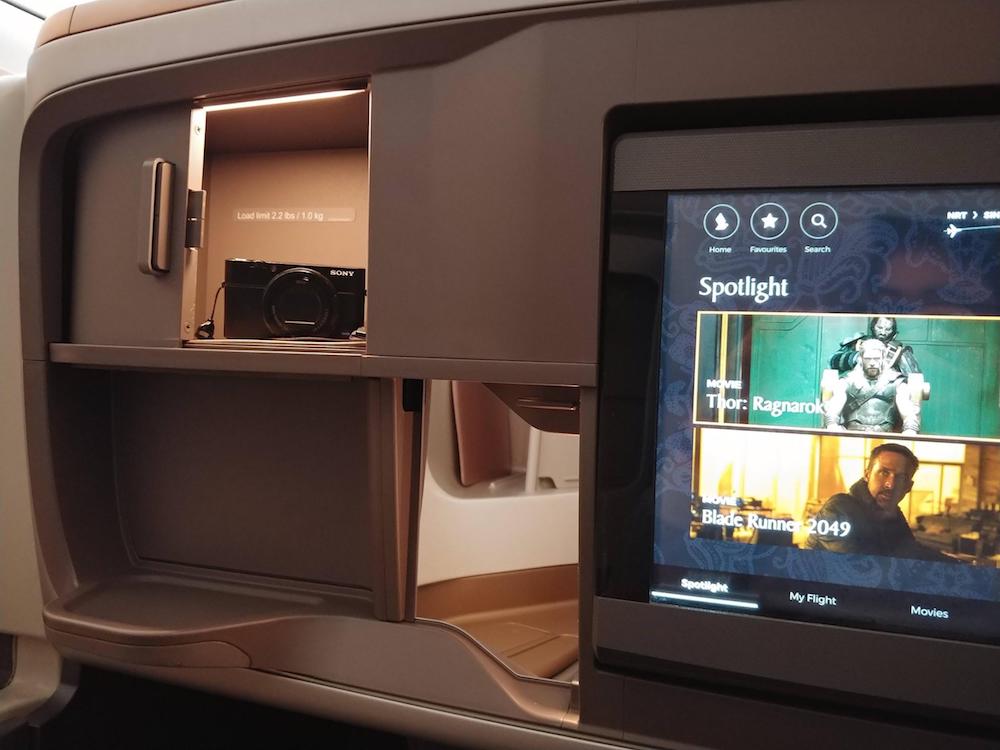 On our flight, Singapore Airlines delivered a limited but inspiring menu, offering Western, Japanese and Singaporean options. The hanakoireki pictured below is a delectable combination of intricate cold and hot starters, followed by a bento box of rice, grilled fish, mixed vegetables and a wine jelly, with fruit to finish.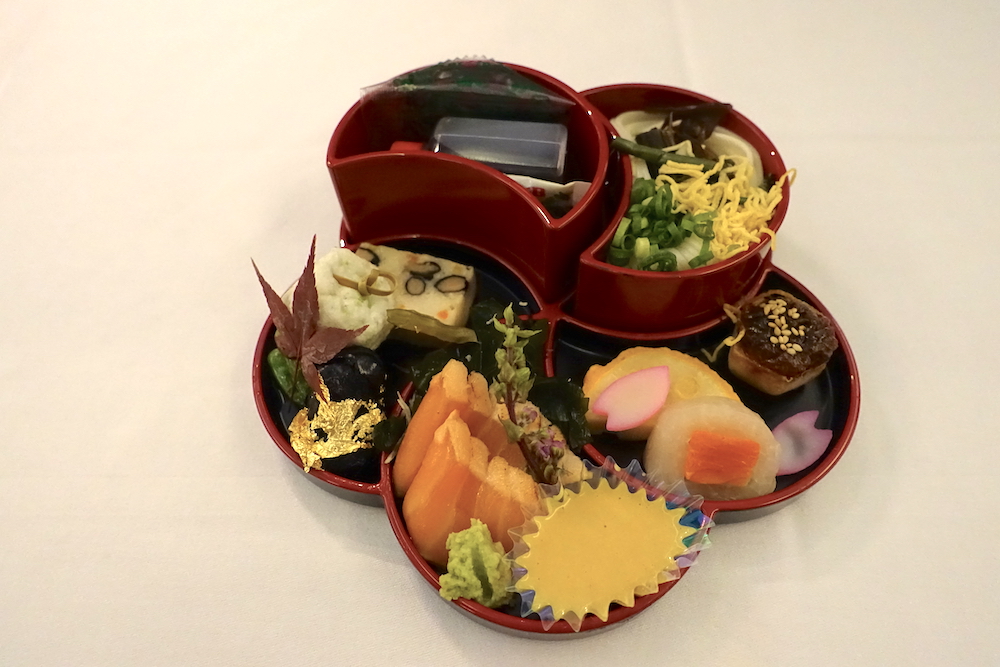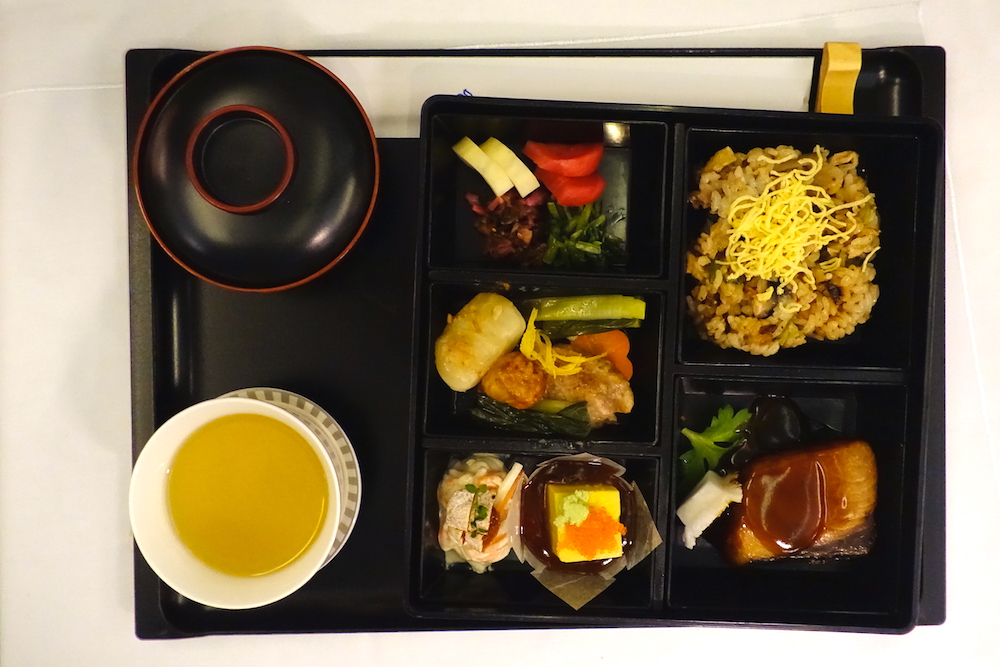 Summing up
On the whole, Qantas and Singapore Airlines both provide an exceptional Business Class experience, each with their own pros and cons. However, for us, Singapore's Business Class experience narrowly edged out Qantas'.
Ultimately, the generous seat and bed space, console layout and the added piece of gold leaf in my starter won us over.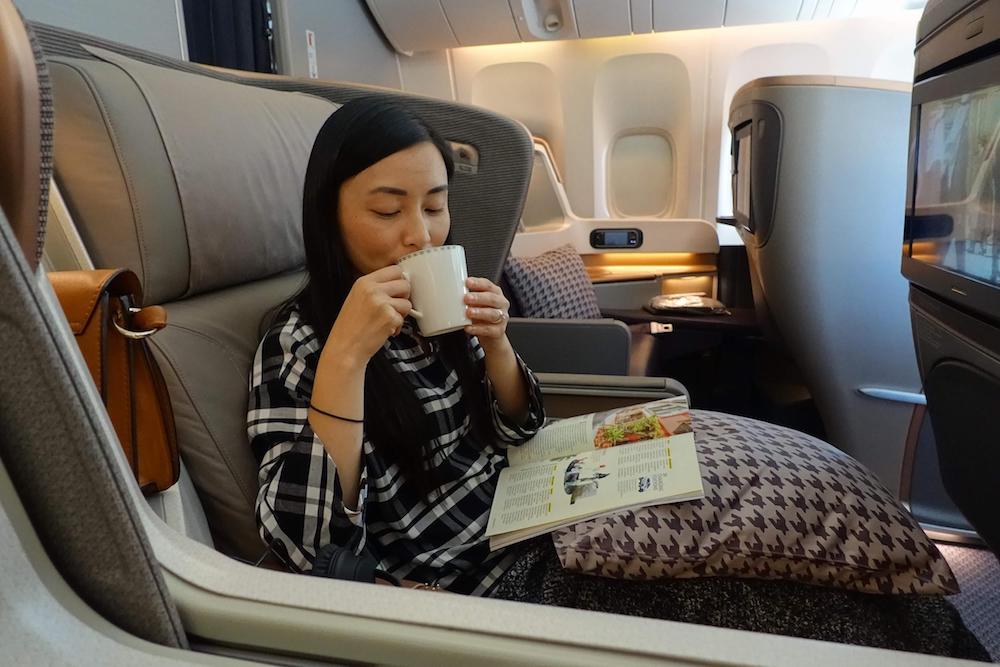 That being said, I was overwhelmed with Qantas' exceptional service—the cabin crew provided a personalised and welcoming experience. I felt proud to fly an Australian airline and look forward to one day experiencing Qantas' Business Class on the Boeing 787 Dreamliner and also their First Class.
My wife and I have accrued enough points to experience First Class later this year and I look forward to seeing whether flying even closer to the front of the plane is worth the premium in points.
Case study: Comparing Qantas and Singapore Airlines Business Class (Part 3)
was last modified:
February 23rd, 2022
by