Virgin Australia's new domestic Business Class experience is taking off! Found exclusively aboard the airline's latest Boeing 737 jets, the fresh cabin brings many key improvements for premium travellers.
For now, these seats are flying as part of a trial. But if that's successful, their presence could migrate from 'surprise and delight' at the gate, to 'business as usual' across the Virgin Australia network.
It's also the first time in a decade that Virgin is debuting a new Boeing 737 Business Class seat. So here's what to expect if you find yourself flying in this next-generation cabin.
Check-in, lounge and boarding
With only cabin baggage to worry about, I found online check-in for this flight was swift. The same can be said of security at Hamilton Island Airport. Even at a peak time, I was straight through the formalities and into the departures area.
Hamilton Island isn't home to a Virgin Australia airport lounge. But Virgin isn't at a disadvantage compared to its competitors here, as there isn't a Qantas Club either. Of course, the Virgin Australia Lounge awaits at Brisbane Airport when flying Business Class in the reverse direction.
Fast-forward to boarding, and a dedicated queue offers a fast-track for Business Class guests. It's also available to Velocity Gold and Platinum frequent flyers travelling in Economy Class, as well as those in Economy X.
Virgin Australia's new Boeing 737 Business Class seating
Welcome aboard one of the newest jets in Virgin Australia's fleet. On these birds, Business Class predictably sits in front of Economy Class. With a 2-2 layout, each aircraft accommodates up to eight Business Class flyers.

Of course, this mirrors the layout of Virgin Australia's older-generation planes. But these are brand new seats for the airline: installed as part of a trial, with a view to upgrading Virgin Australia's overall Business Class offering.
Let's start with the basics. As with the airline's 'regular' Business Class cabin, each seat can recline. There's also an adjustable headrest, and a central cocktail table.
But the other aspects of the seat look a little different.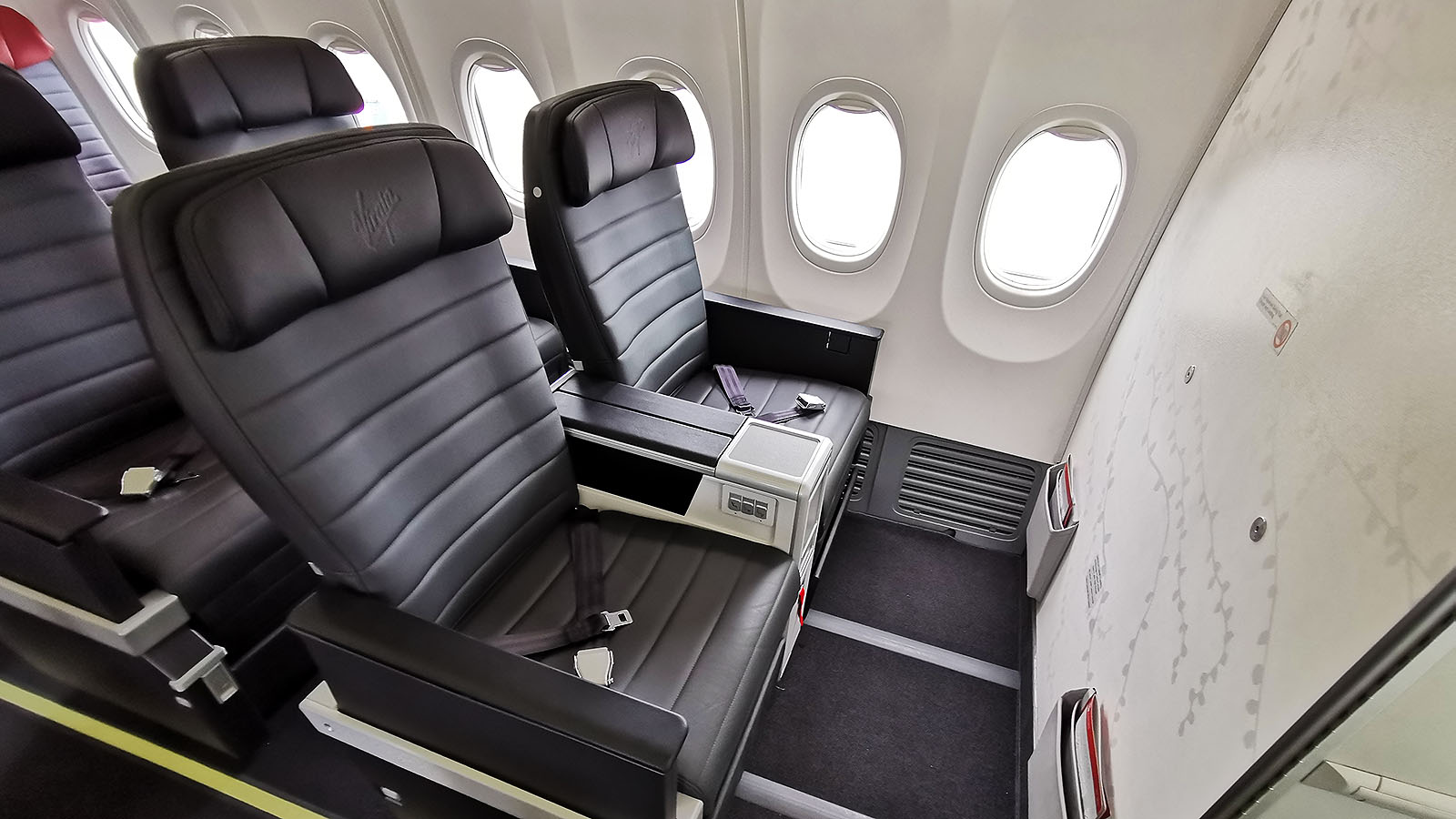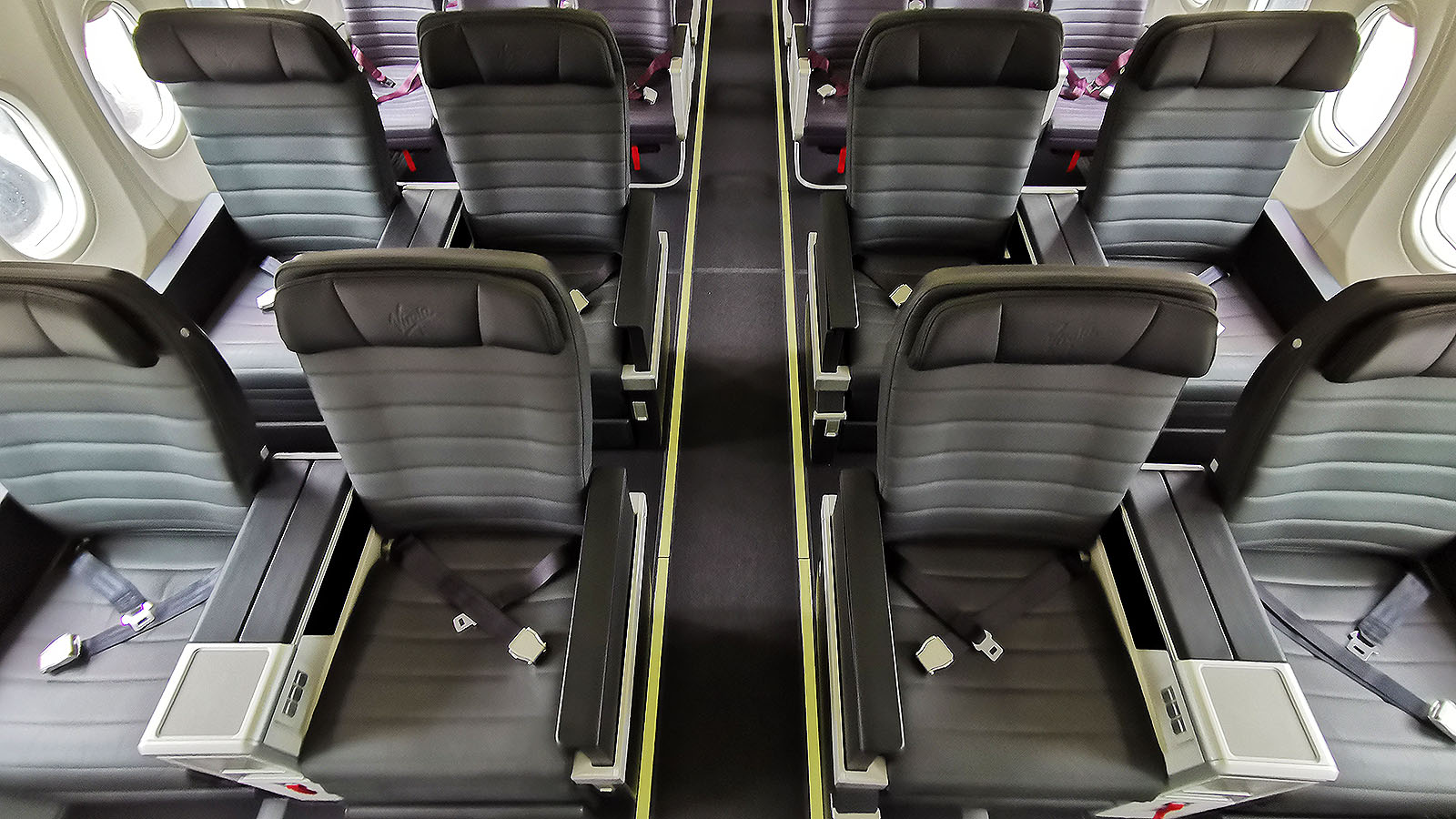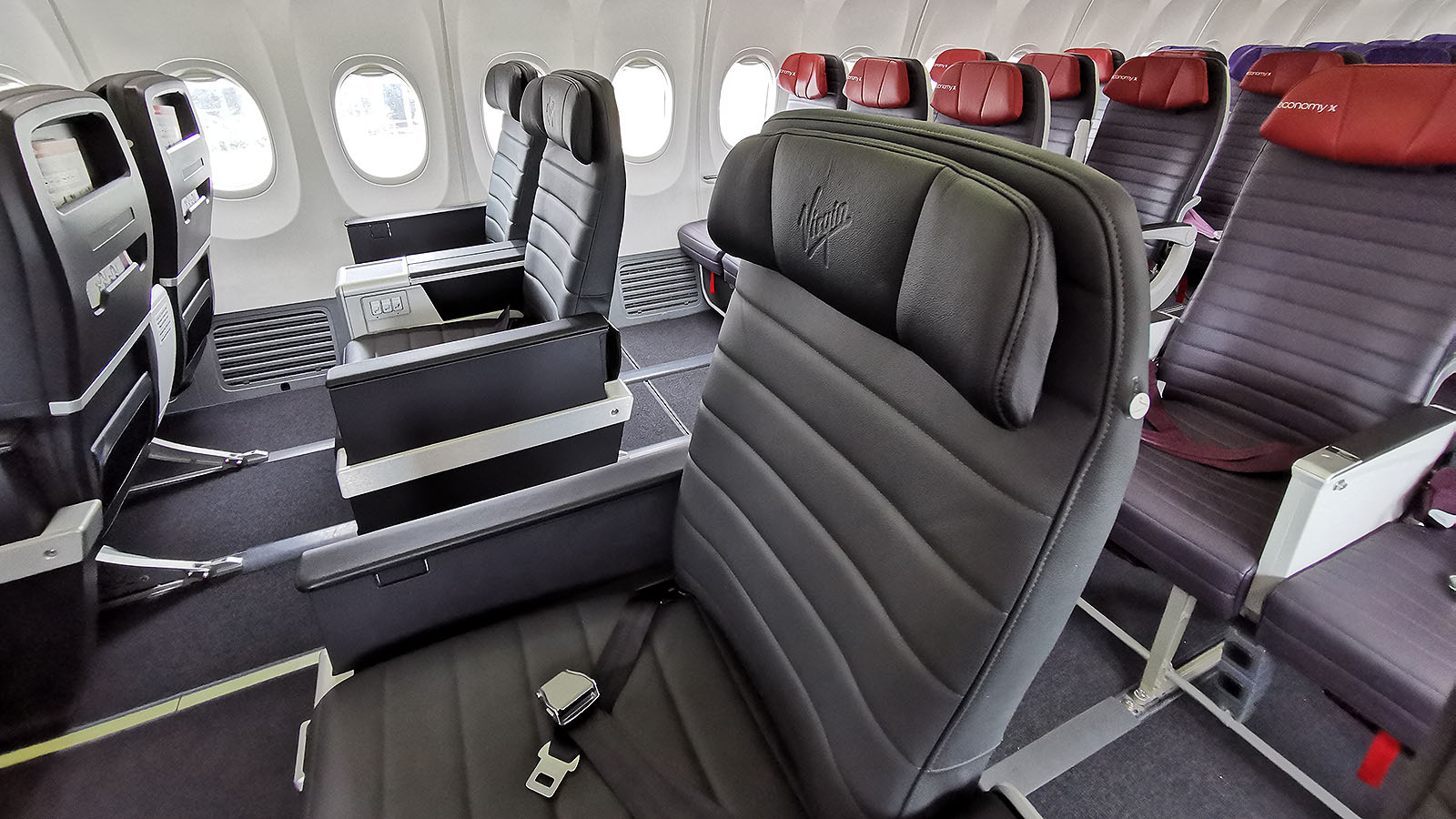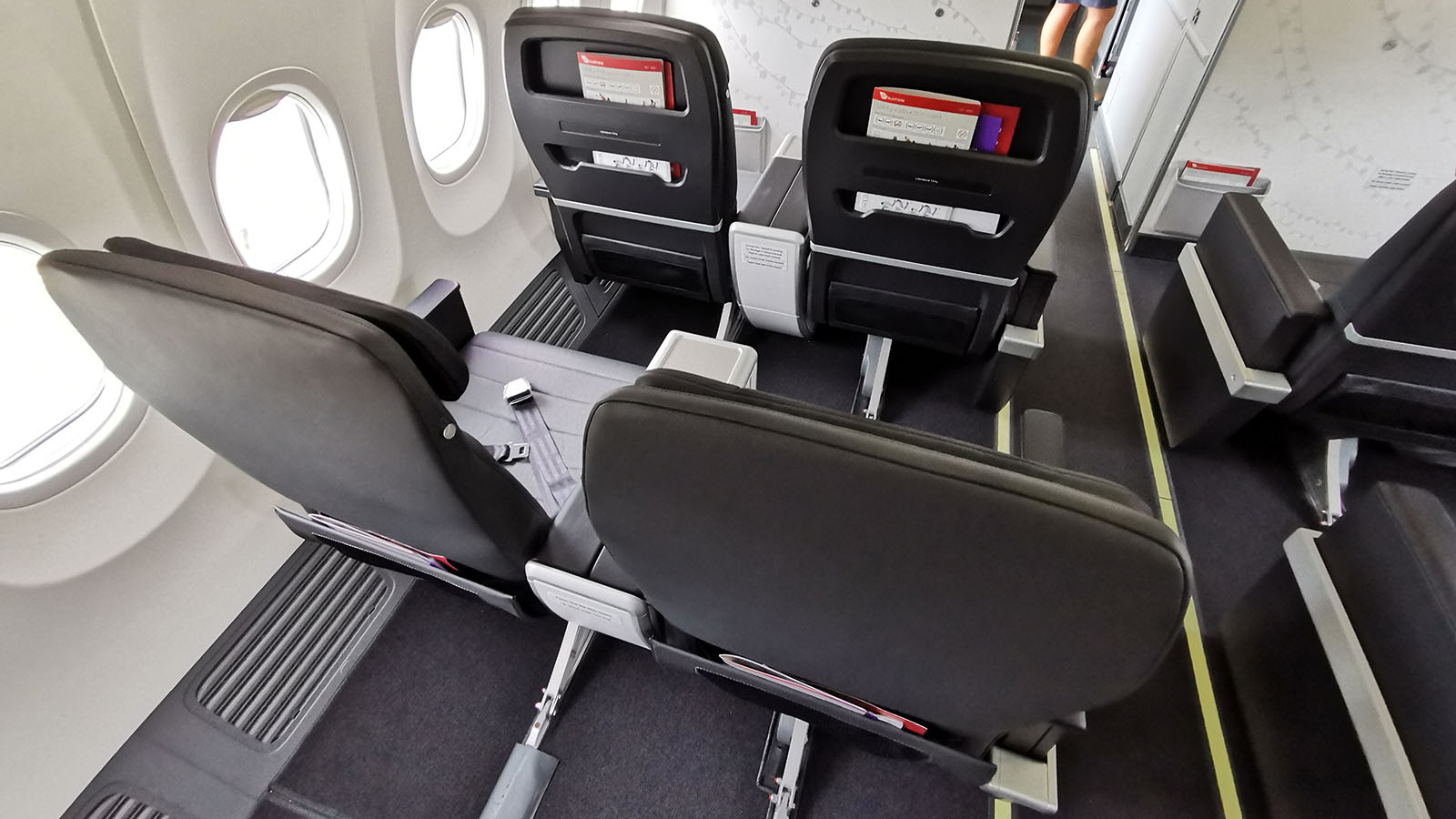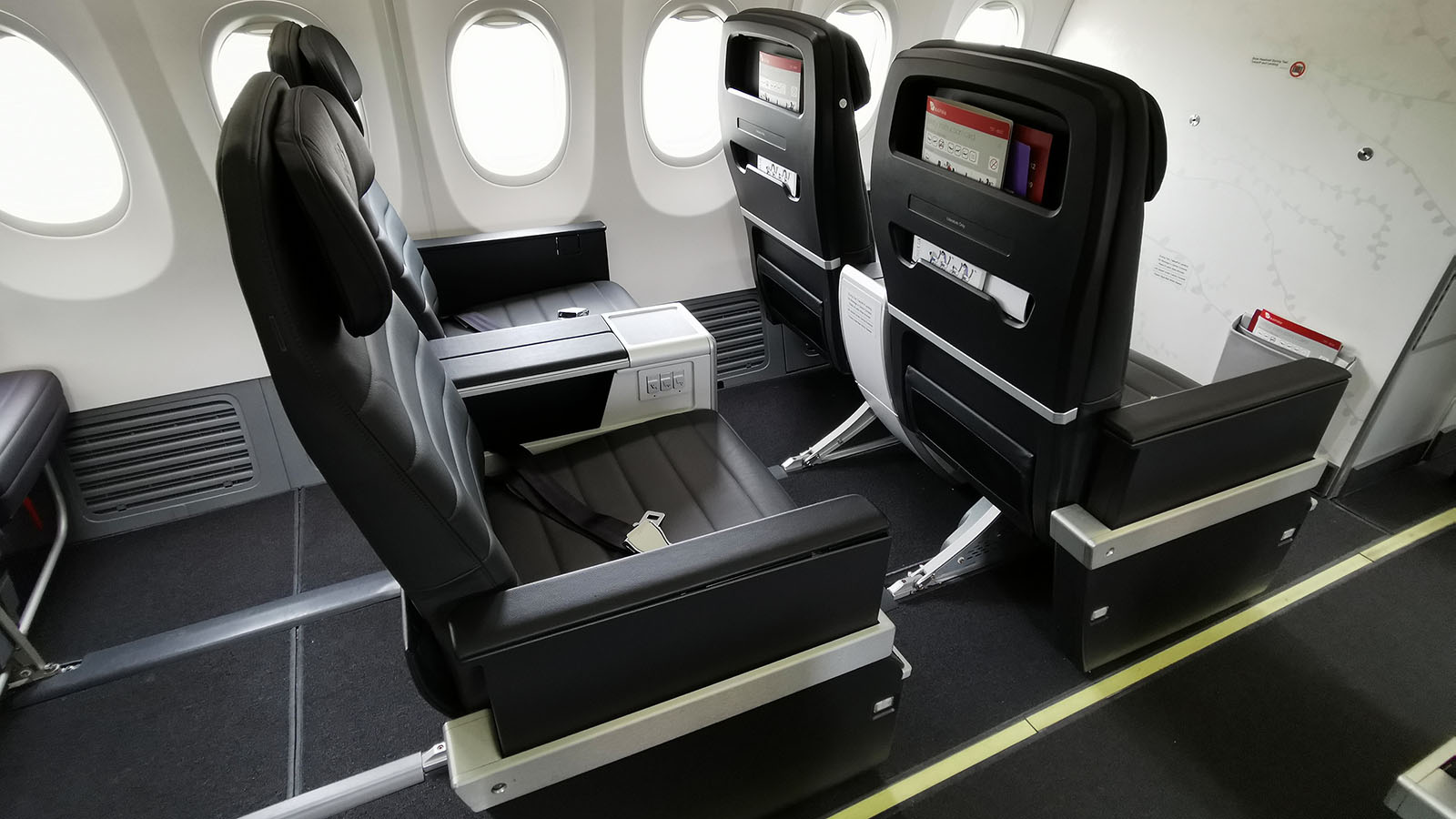 Where Virgin Australia's other domestic Business Class seats are 'plain' in front, these new pods sport a large literature pocket. There's still a separate storage pouch in front of your knees. But a thoughtful tweak of its size helps to keep large electronics on display. Being able to see your device at all times will certainly help avoid accidentally leaving anything behind!
Added to that, a central armrest tilts open to reveal an additional storage nook. It's also where you'll find the AC and USB power outlet. For now, the outlet remains switched off during the trial period, but it'll be great when that's powered up. A water bottle holder also sits at the front of this console.
Comfort-wise, Virgin Australia's new seats also (finally!) come with a leg rest. This had been a noticeable point of difference between Virgin Australia and Qantas Business Class.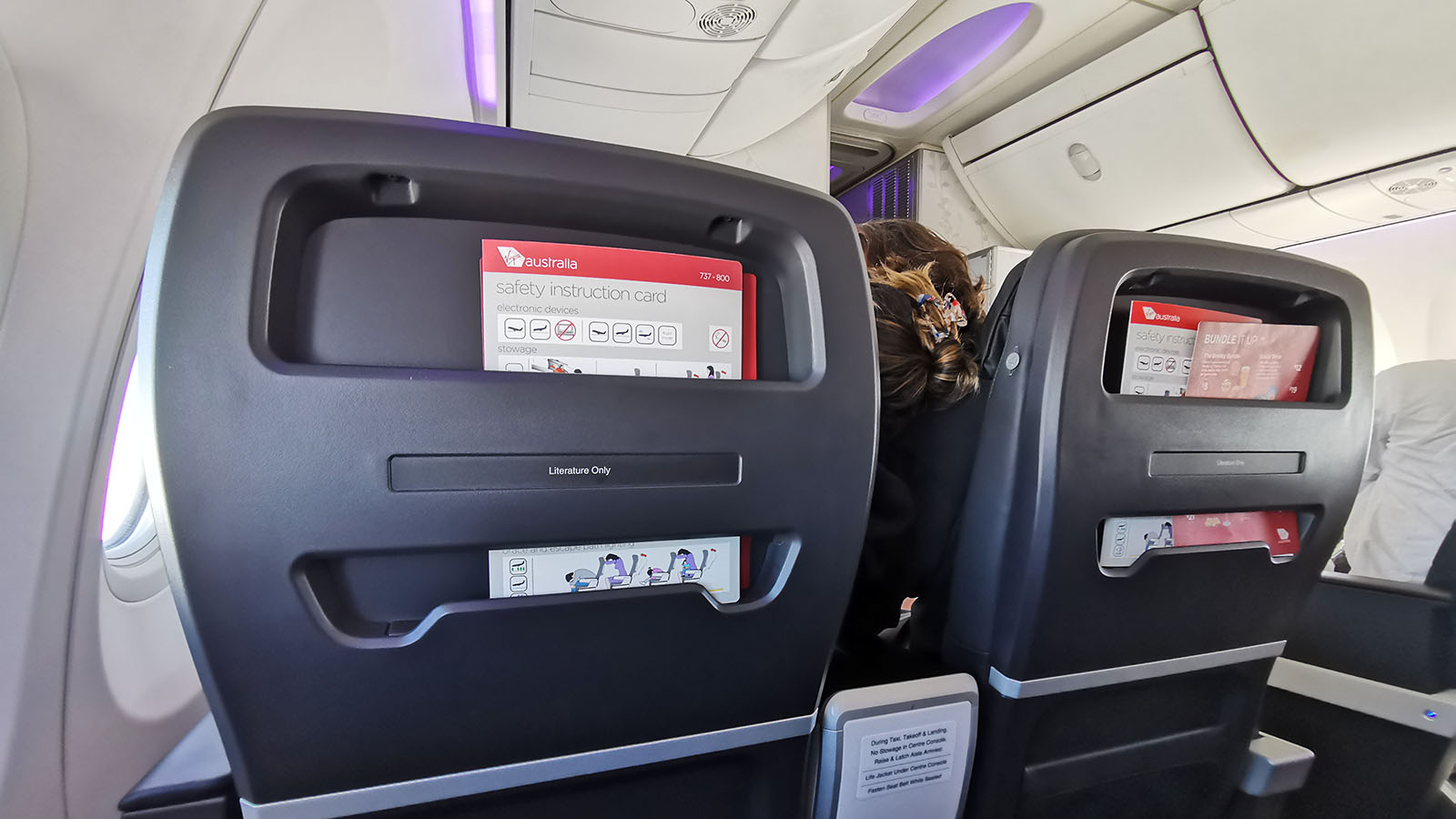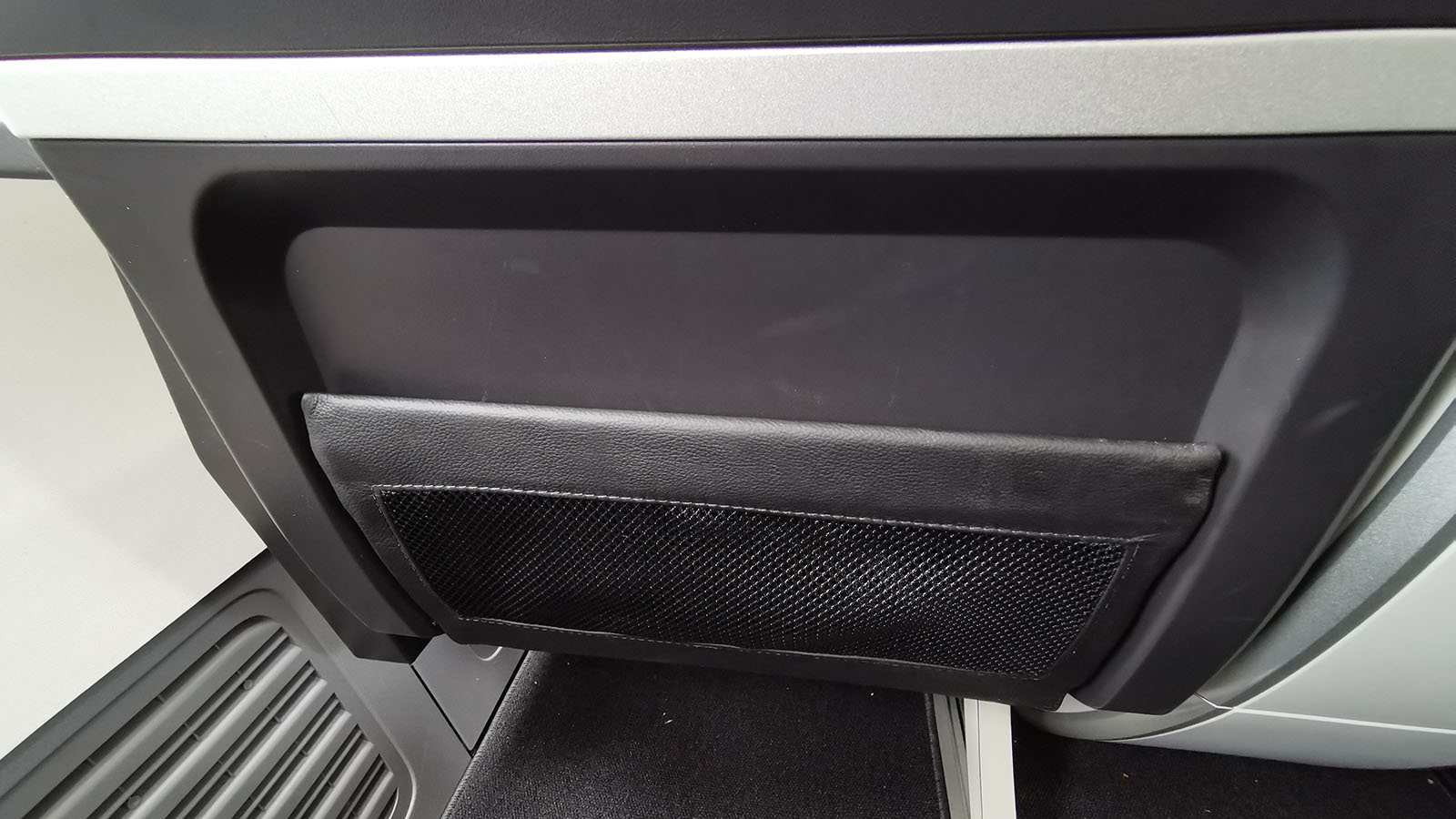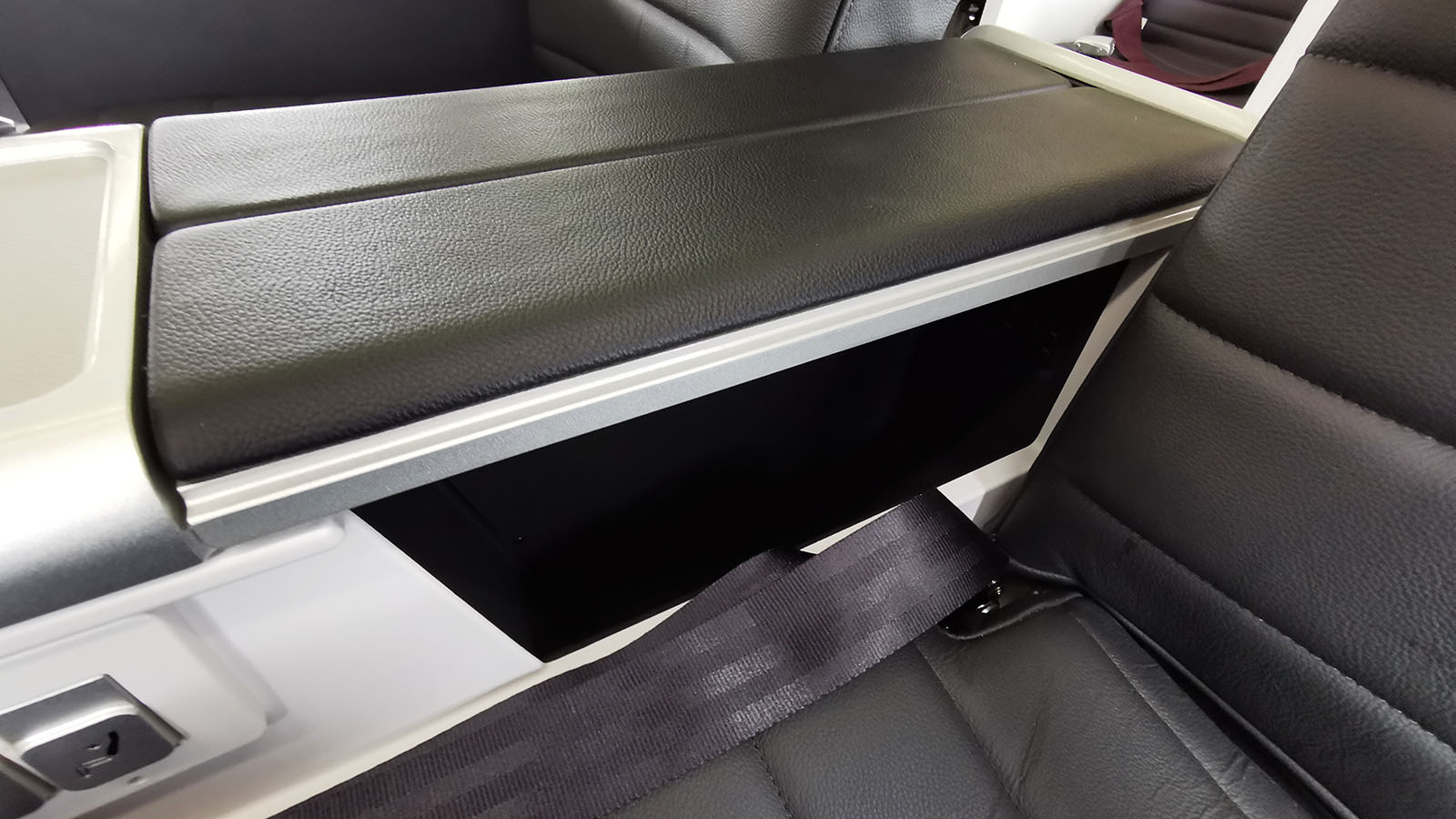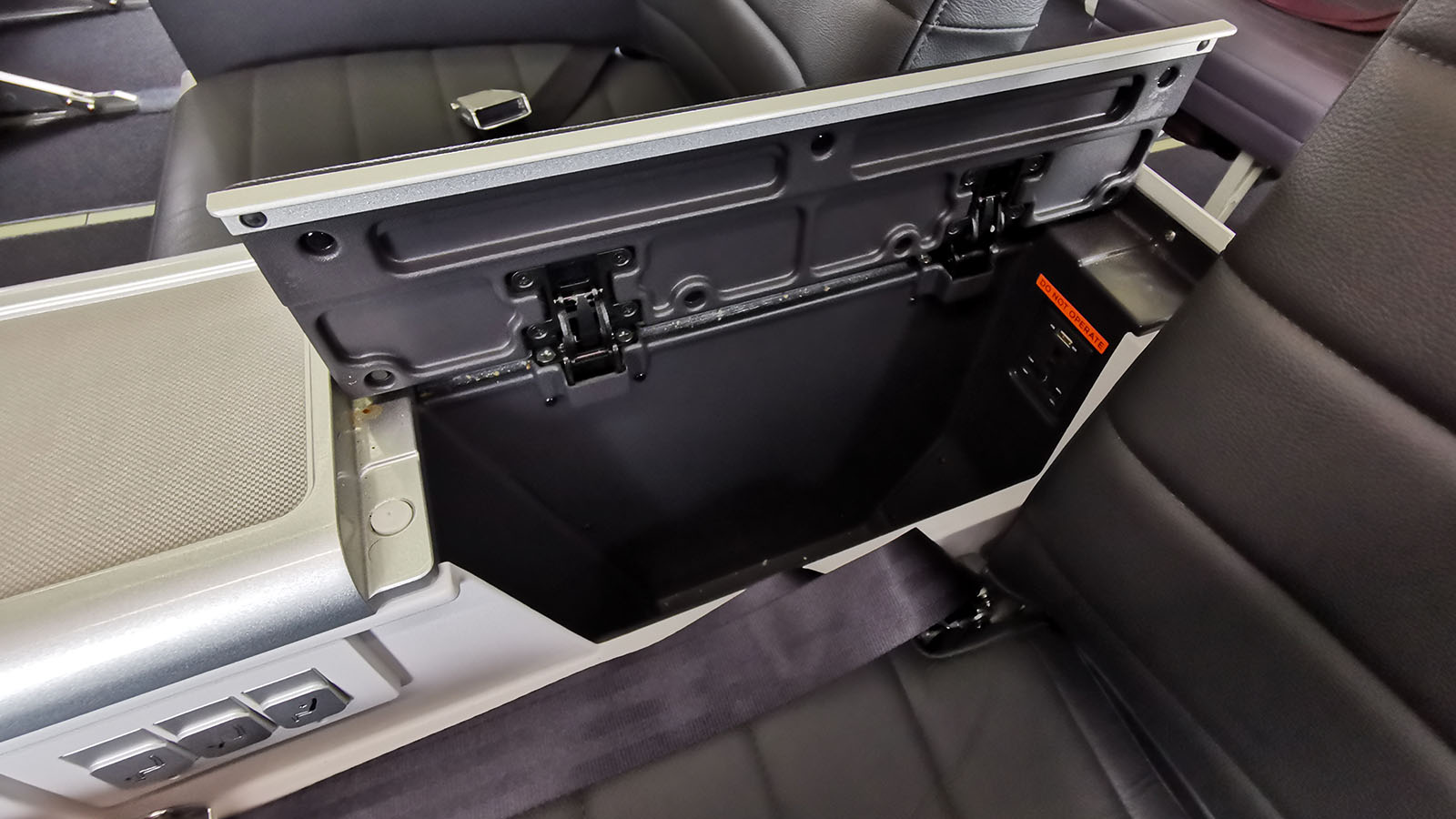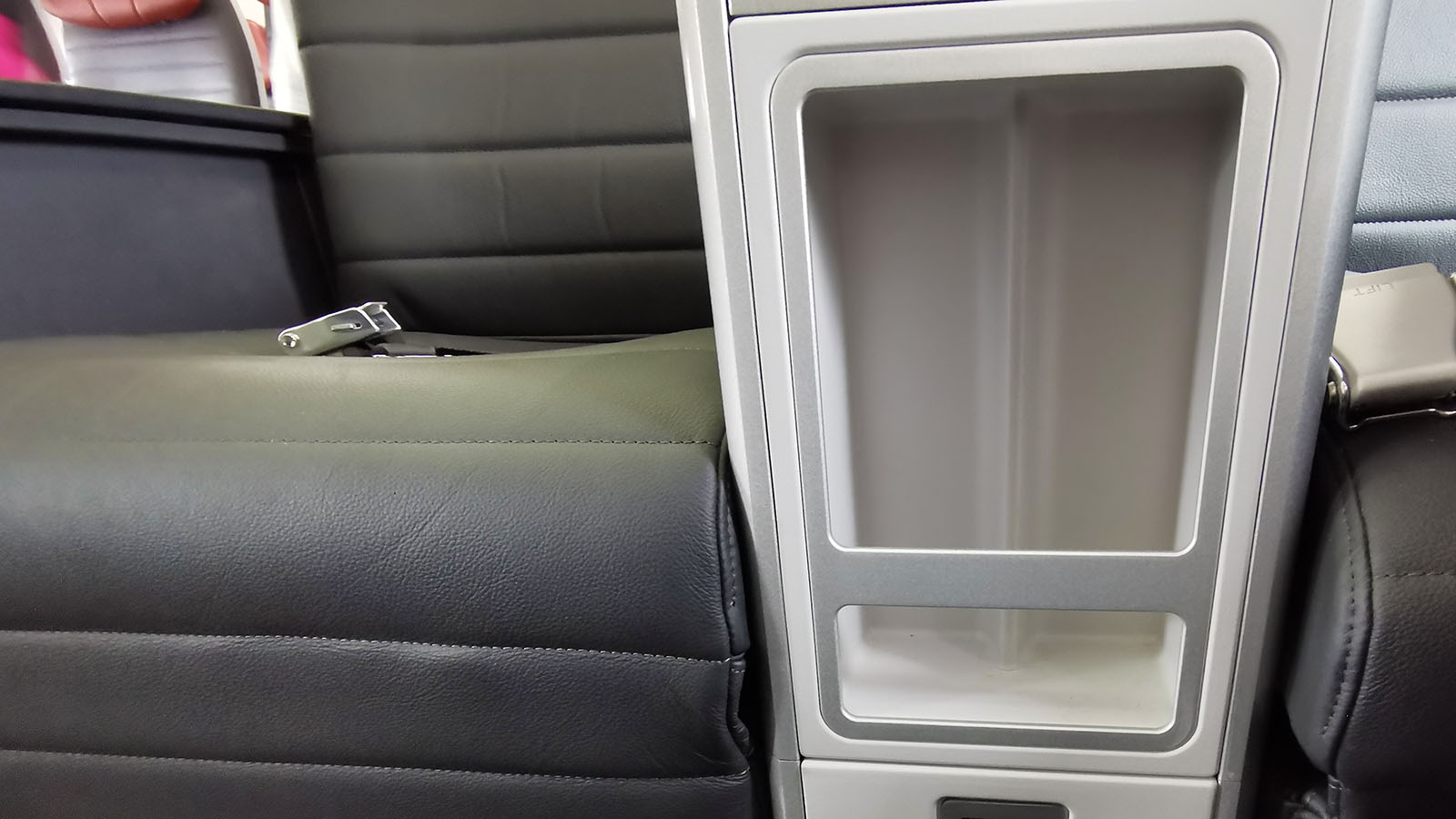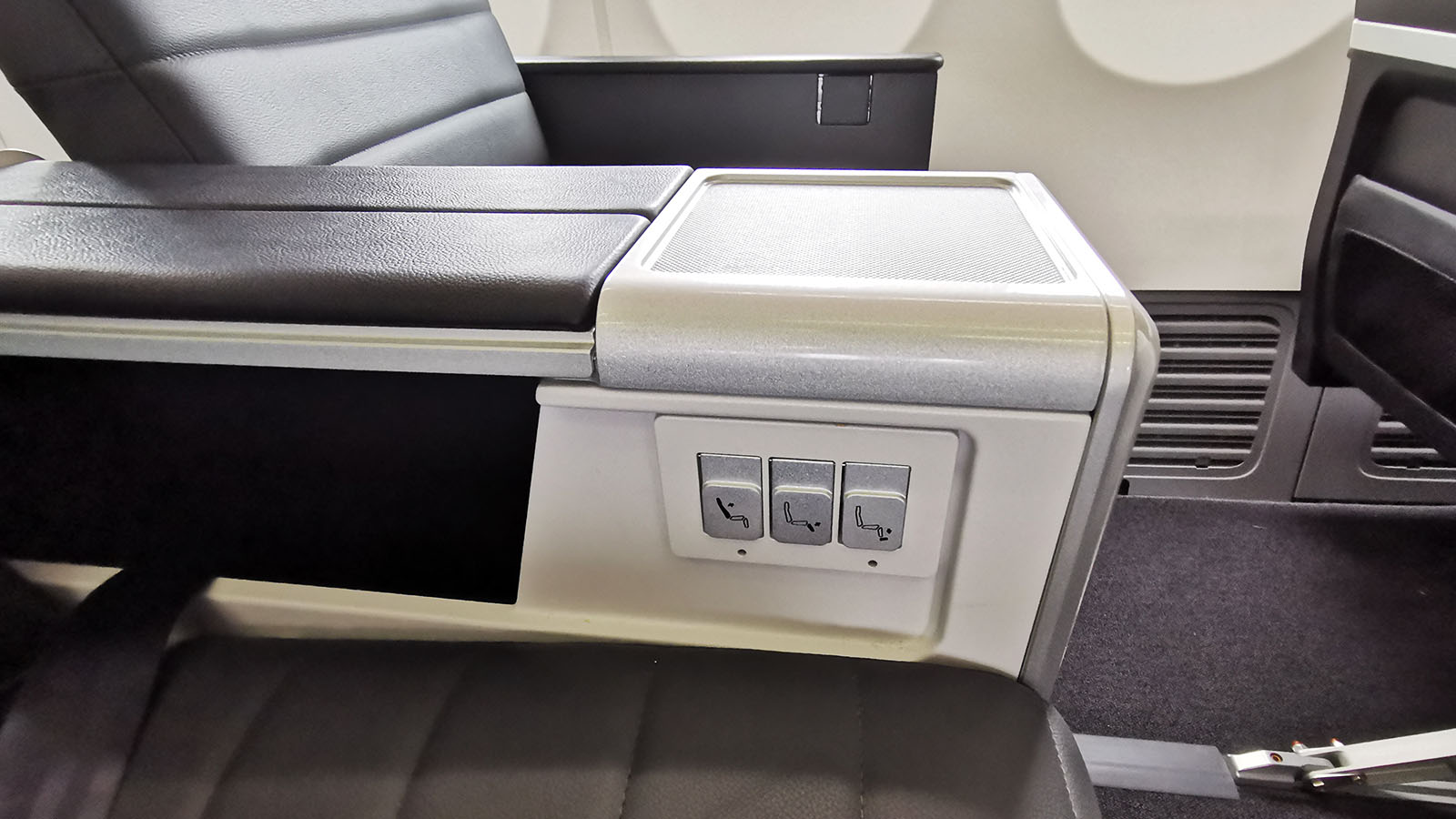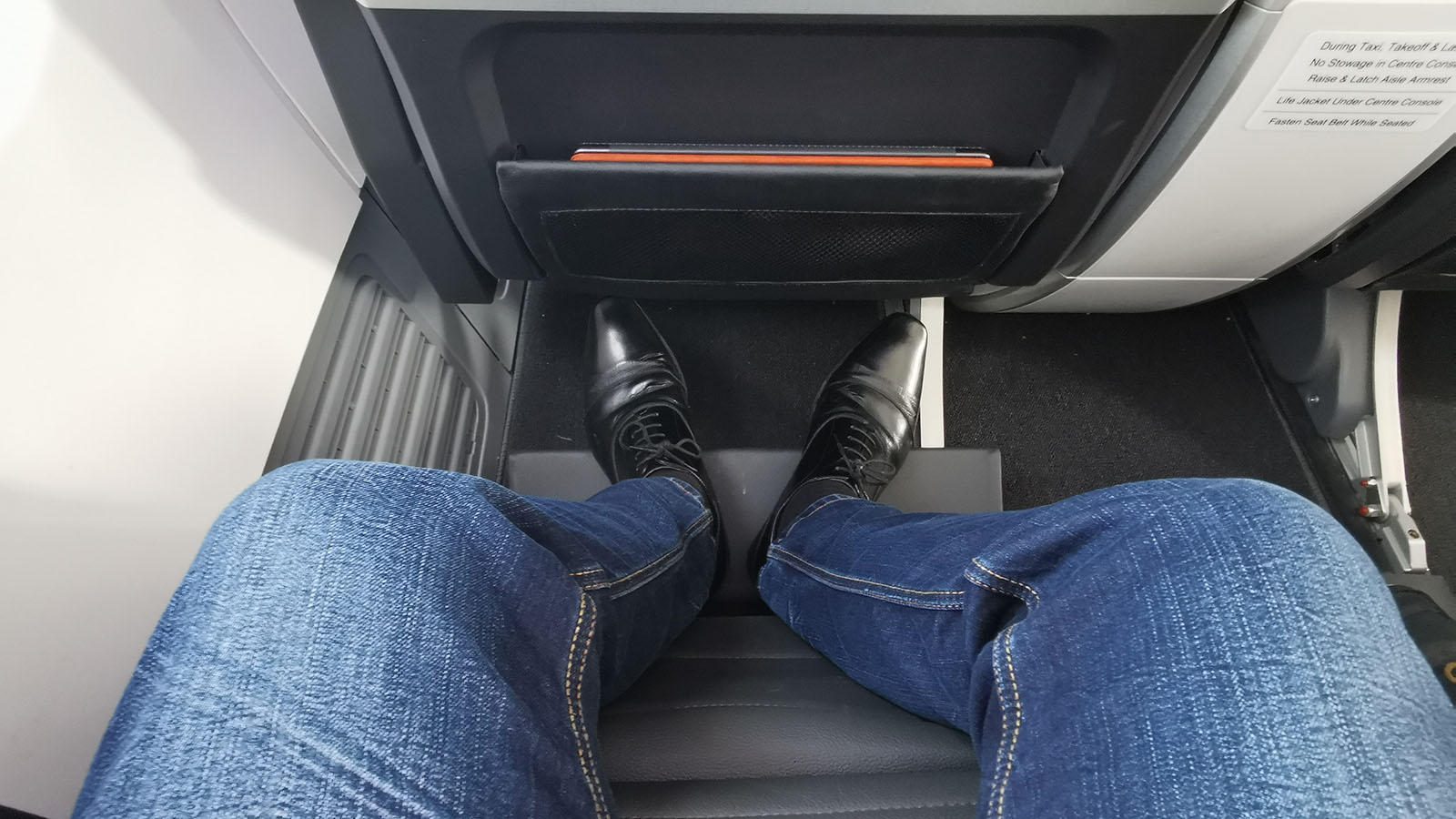 Once the leg rest is deployed, you can press another button to extend or shorten the height of the footrest. That is, after you've manually flipped the footrest out and open.
Virgin Australia's new Business Class tray table and device holder
Looking for the tray table? Just tilt open your outer armrest, and retrieve it from inside. At first, the tray opens halfway, which is perfect for a drink or to keep a tablet at the ready.
In fact, as an upgrade to the 'old' tray, this one features a handy device holder. While not the best fit for larger screens, it's the perfect size for propping up a smartphone.
When you fold the table open completely, you can also swivel that device holder around to the other side. That's particularly useful at meal times, to keep your content playing while enjoying a bite.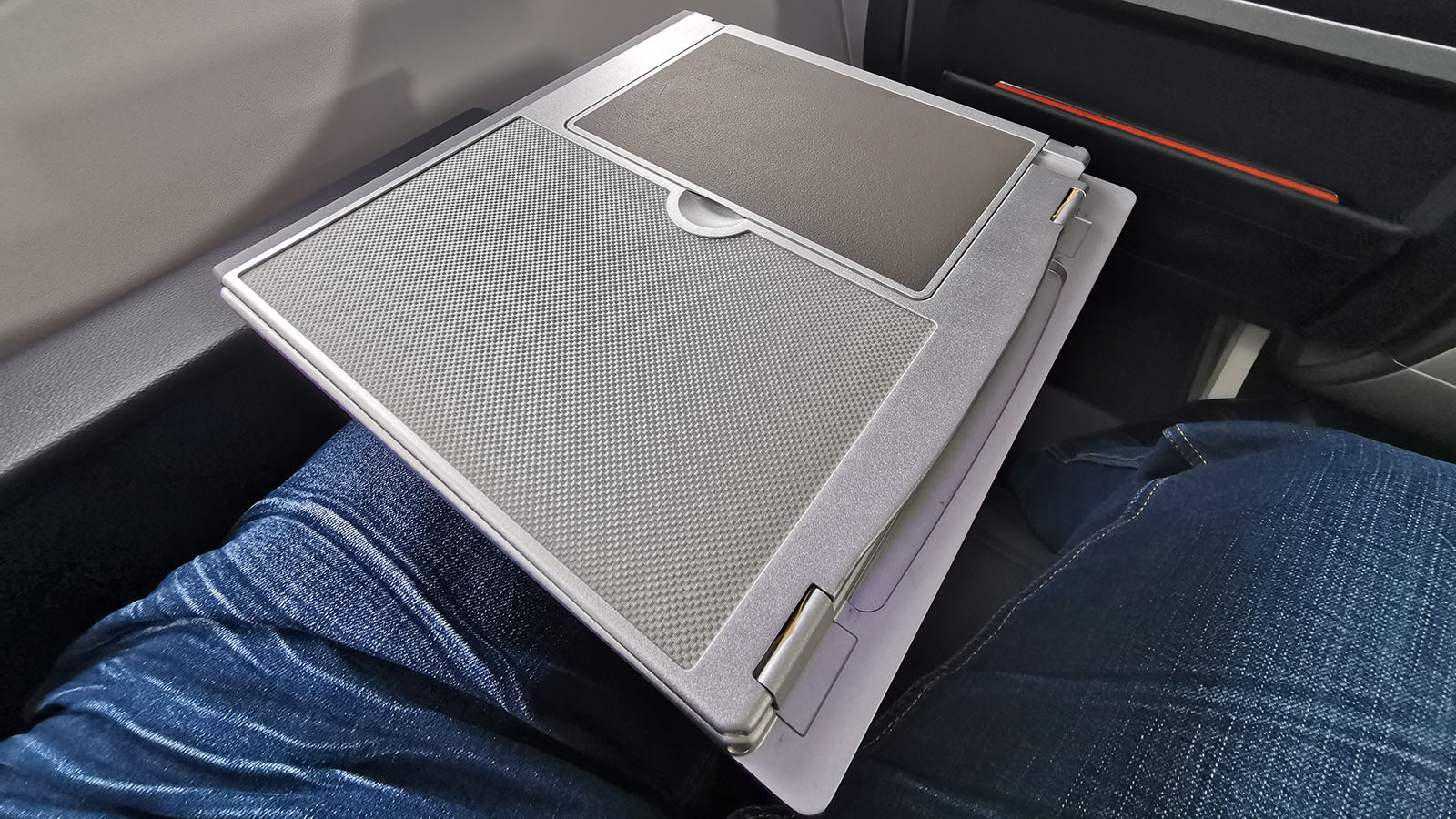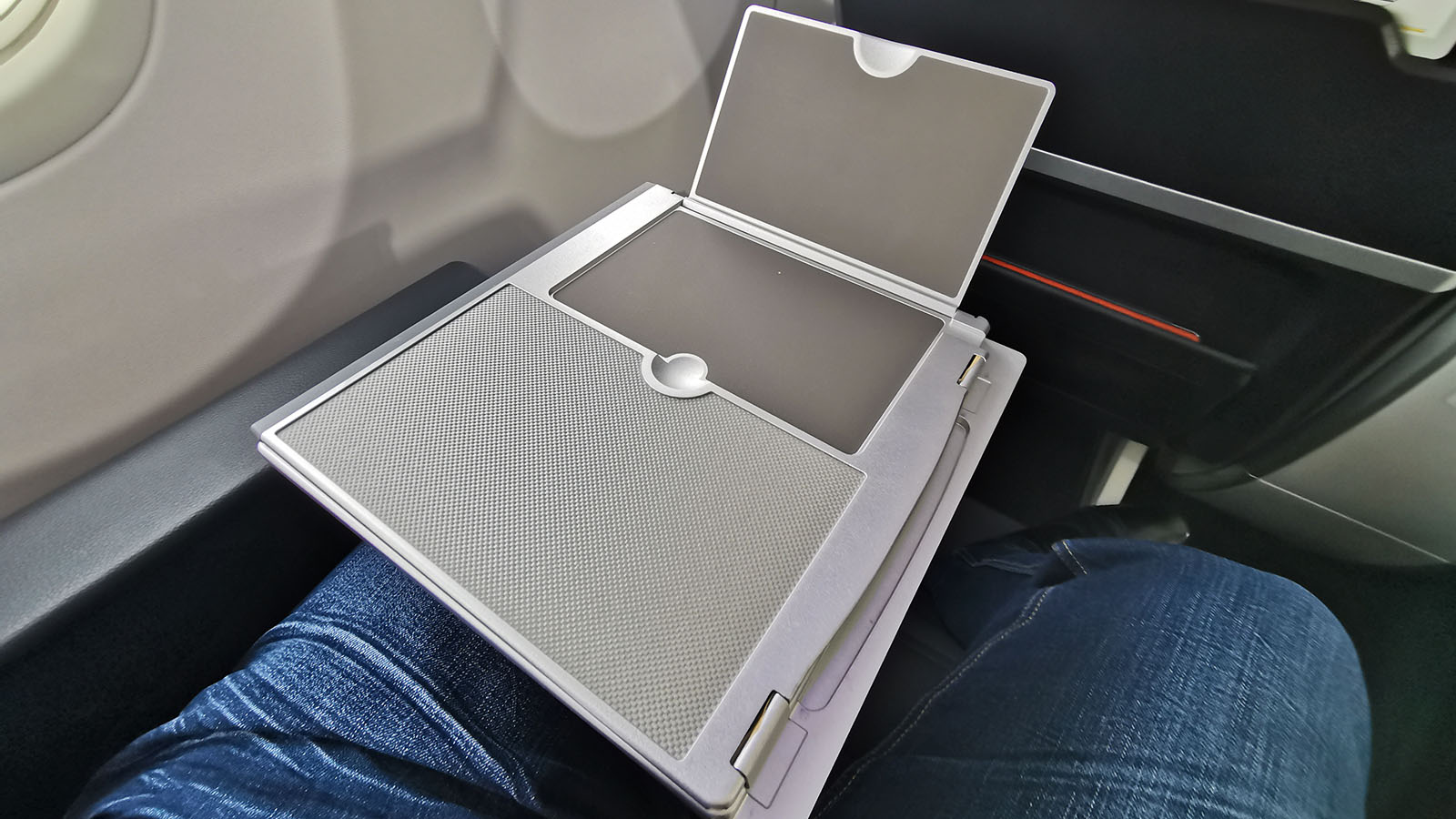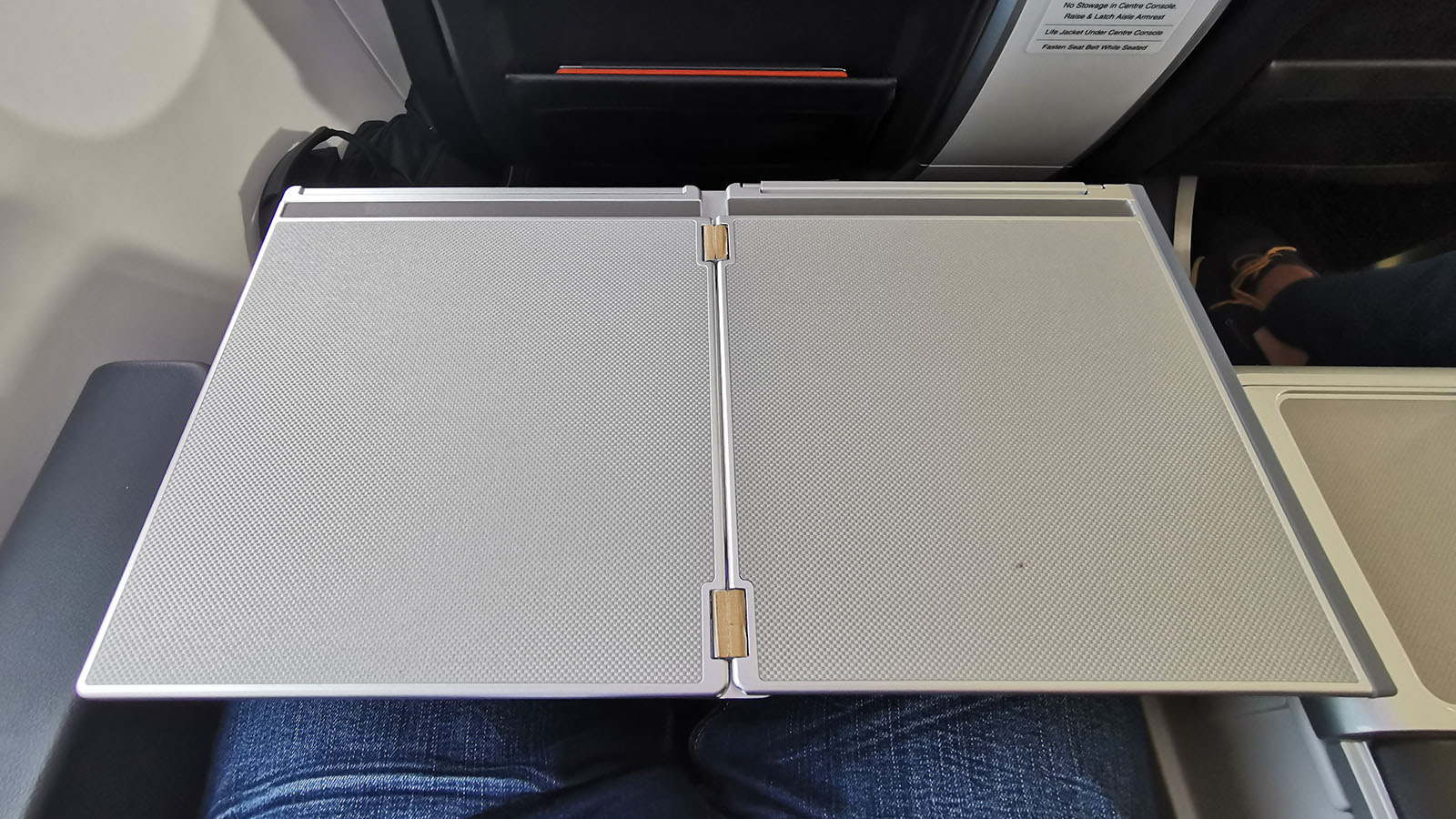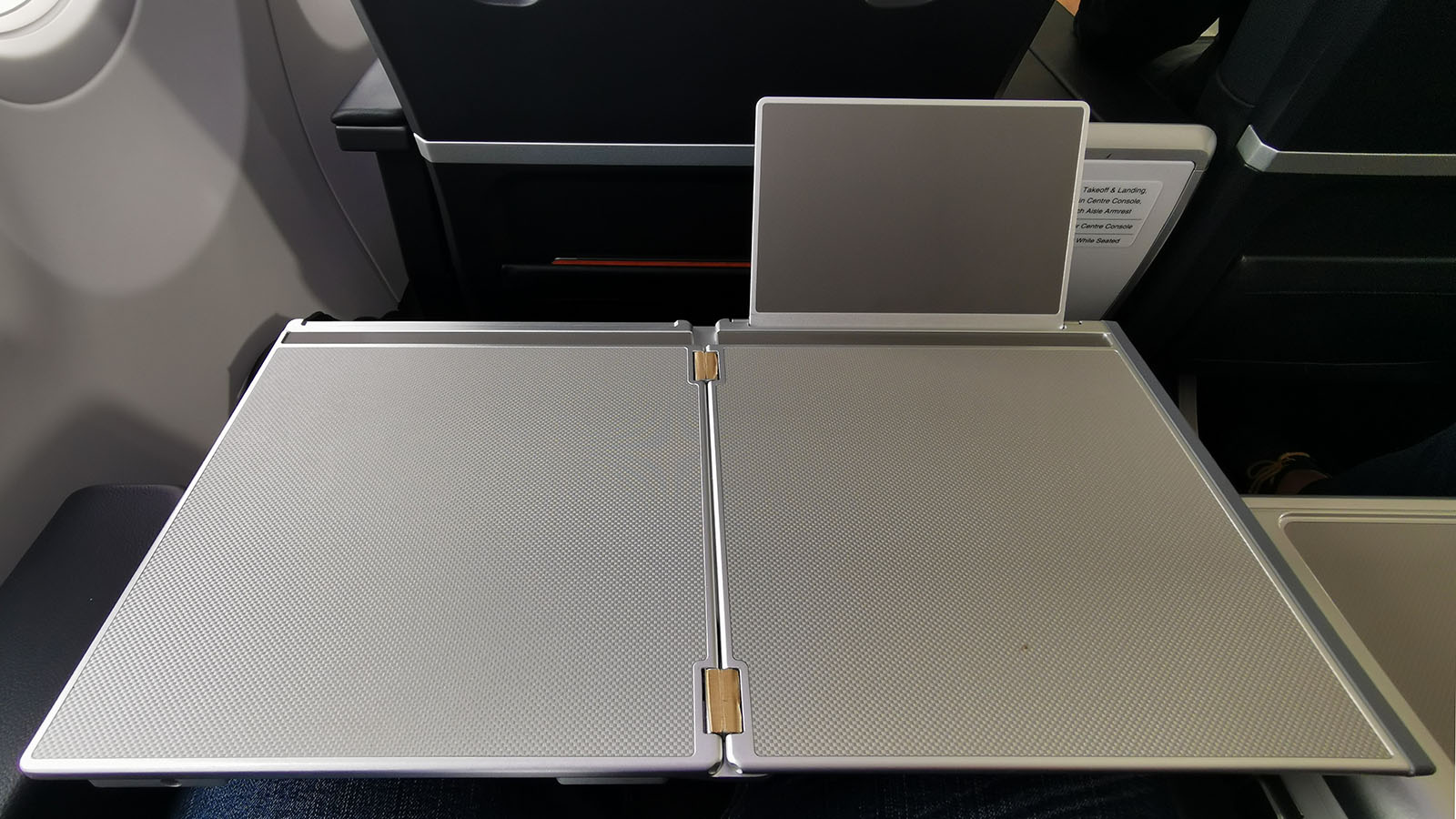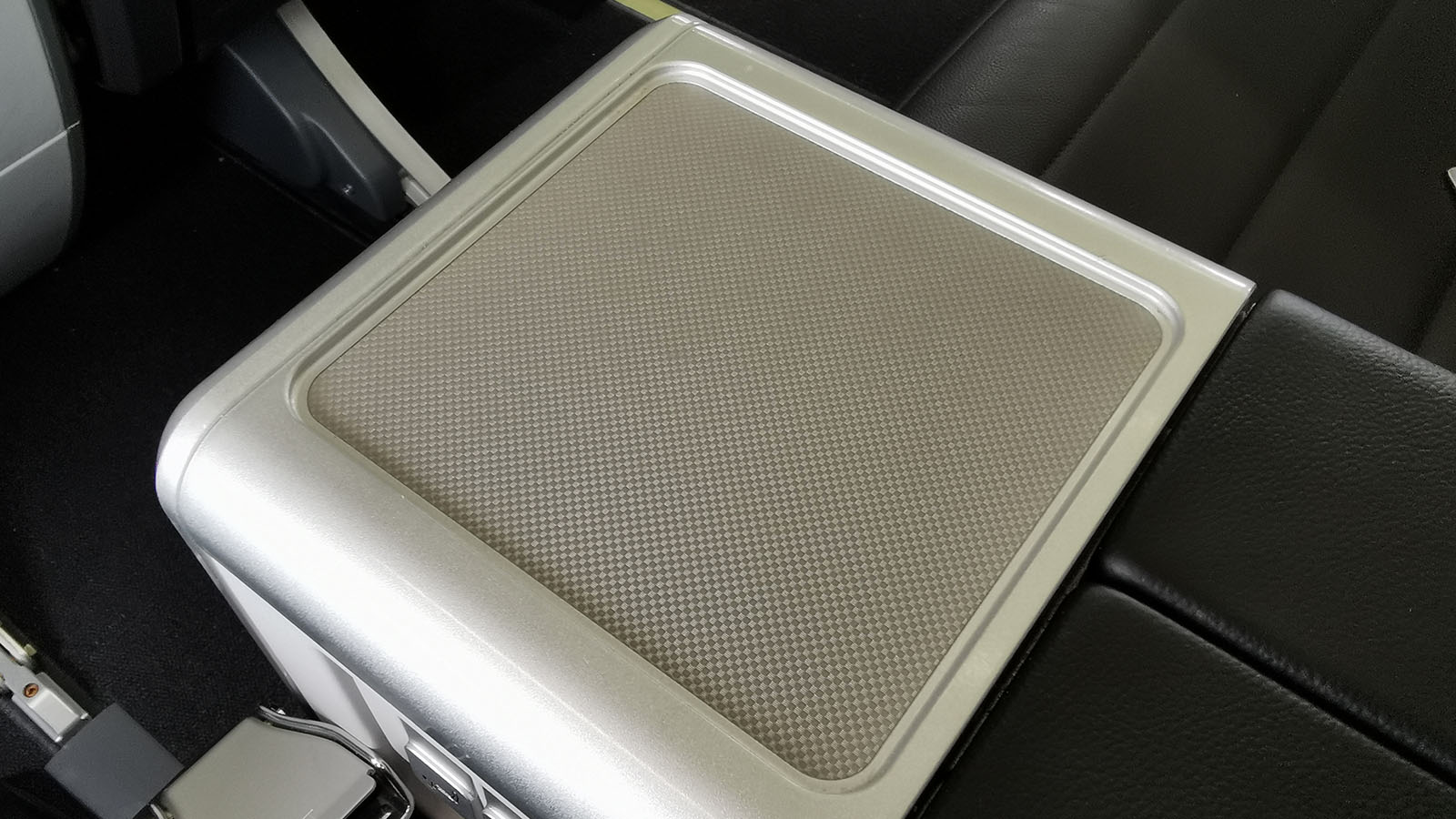 Of course, a fixed table in the centre remains a great place to keep a drink out of the way. But note, there's no longer an expansion shelf to slide forward here, as with Virgin Australia's standard Business Class seats.
Virgin Australia Boeing 737 Business Class food and beverage
Virgin Australia's domestic Business Class service begins with an offer of water or sparkling wine before departure. Given it was a Friday, I was more than happy to accept the bubbles: a Grant Burge Sparkling Pinot Noir Chardonnay.
Once we're in the air, the crew stop by to take meal orders. On this flight from Hamilton Island, choices were a chicken sandwich on Turkish bread, or a vegetarian quiche with roasted vegetables.
With a 2:30 pm departure, the lighter quiche option was a good way to go. But I appreciated having the more substantial choice of the Turkish, had I been hungrier.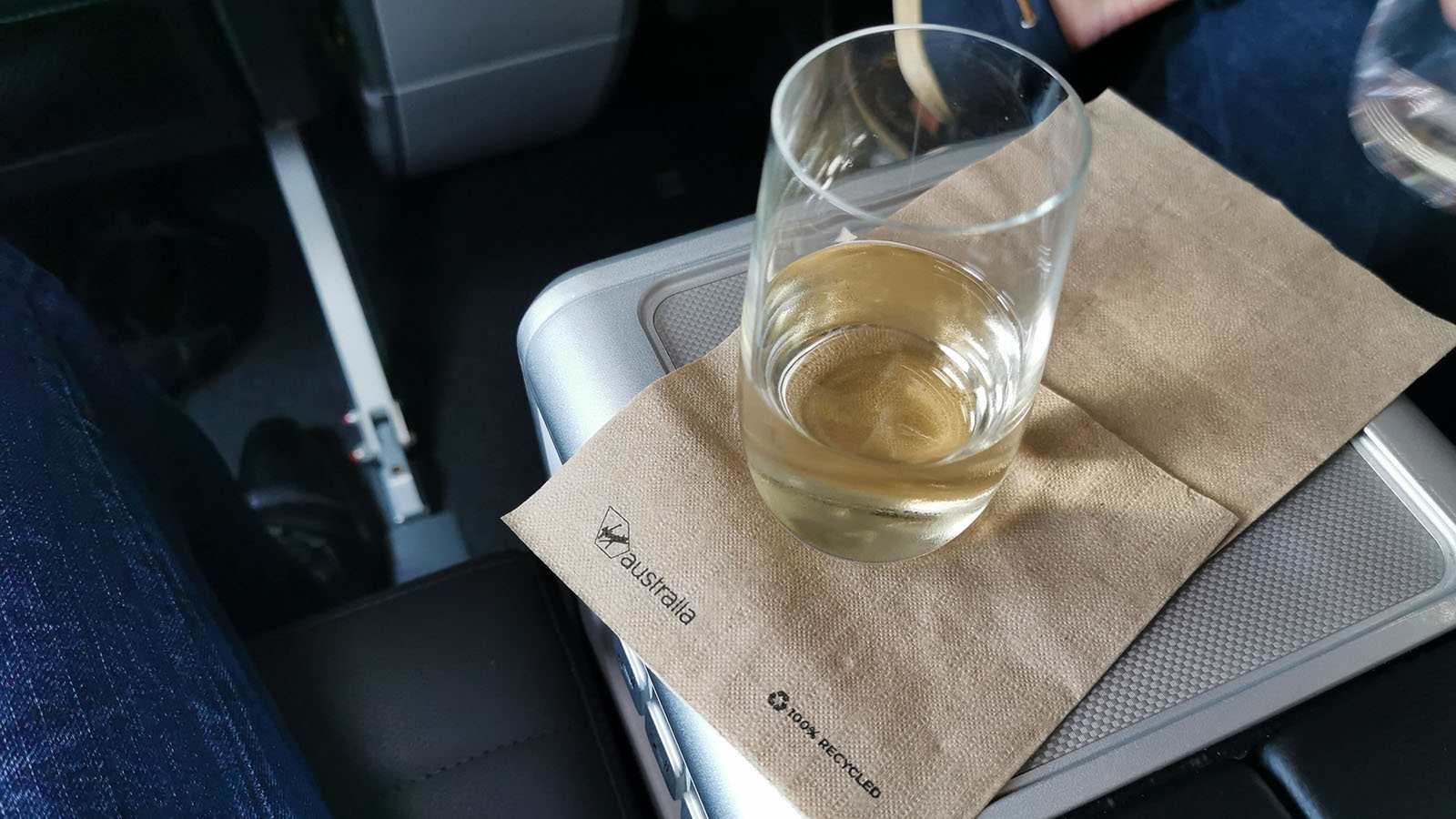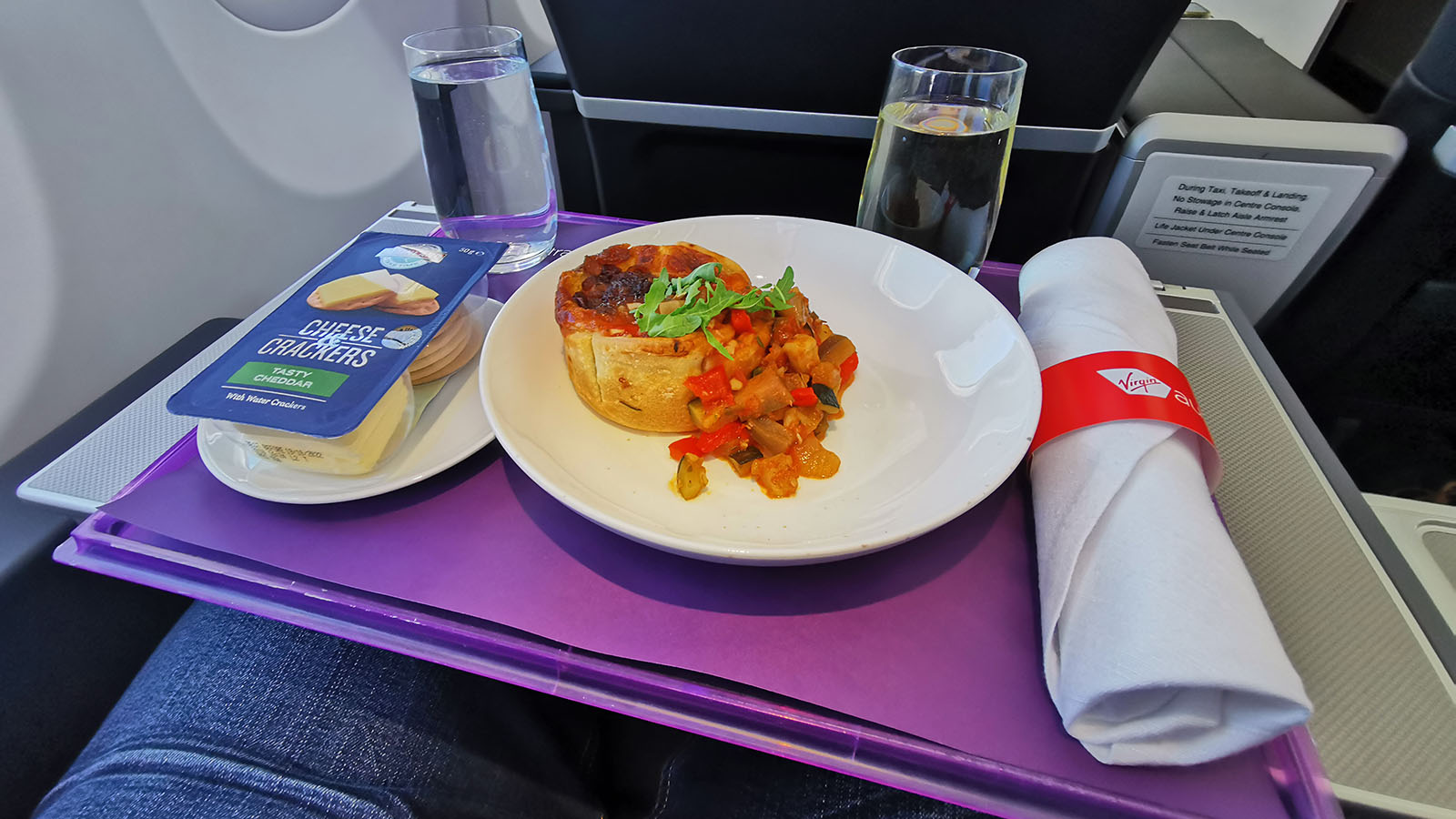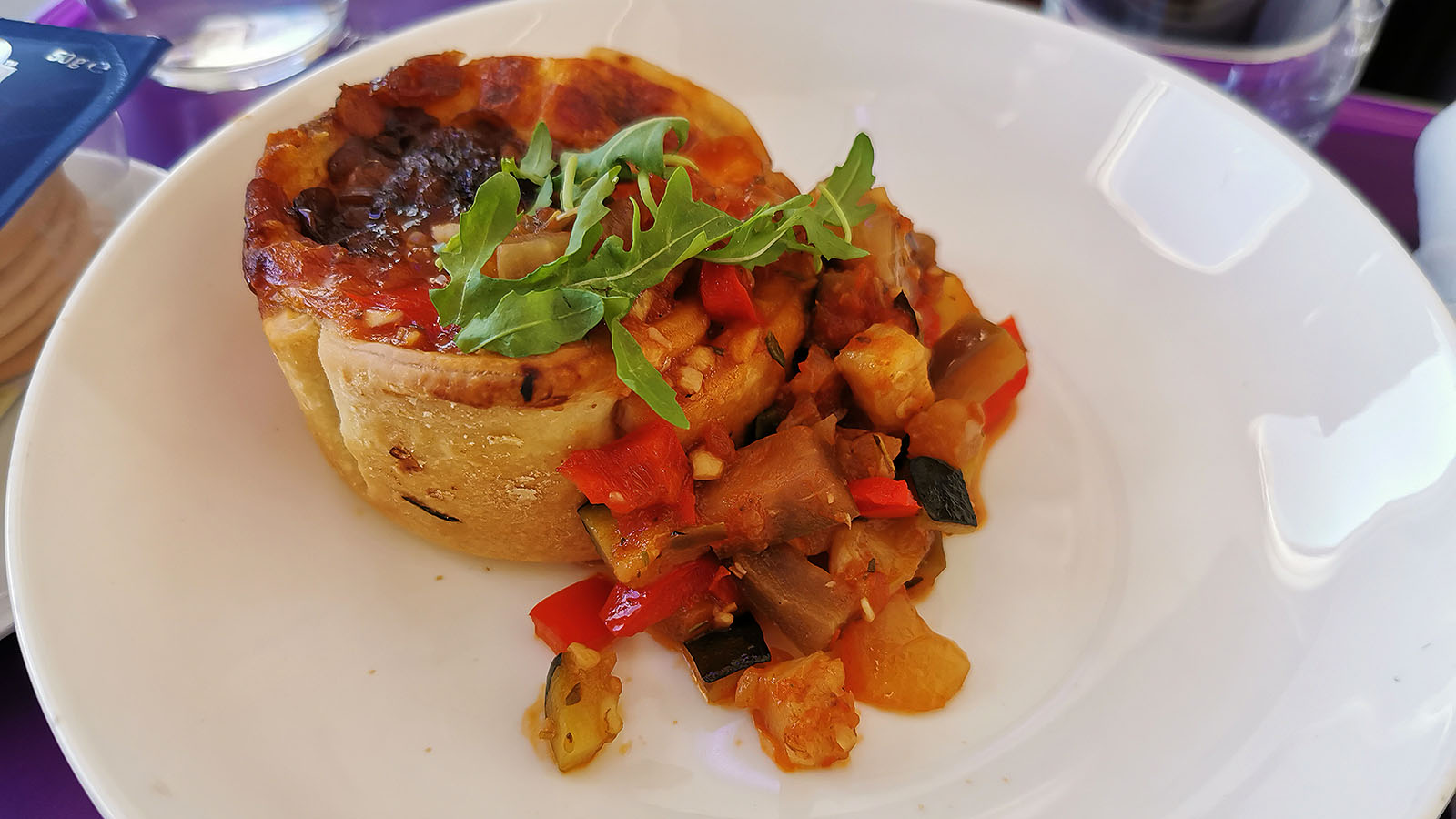 That's been a comment I've heard from many Virgin Australia Business Class flyers: that the portion sizes can be too small. Given the Turkish was as large as the plate itself, it's great to see the airline taking that feedback on board.
A glass of 2020 Tatachilla Little by Little Pinot Grigio is most enjoyable on the side. Virgin Australia's broader beverage menu also includes beer and spirits: the latter being a welcome choice for many.
To finish off, a simple cheese and crackers. It's served boxed rather than plated, but on short flights like this, that's sure to help get meals out quickly. After all, the signature 'cabin crew, prepare for landing' announcement came through the PA when I still had half a glass of wine to go!
Virgin Australia's inflight service and entertainment
While this is Virgin Australia's newest inflight experience, the entertainment setup is unchanged. This means you'll need to pack your own device to access movies and TV shows over the airline's inflight Wi-Fi streaming system. Don't forget to download the Virgin Australia Entertainment app before you fly, available for Android and iOS.
But on short and scenic hops like this, choosing a window seat can provide its own entertainment.
From my perch at the front of the plane, I'm able to stare down the runway as we line up for take-off. Even on a cloudy day, glimpses of Hamilton Island are still possible after wheels-up, and it's not long before the view switches to Brisbane.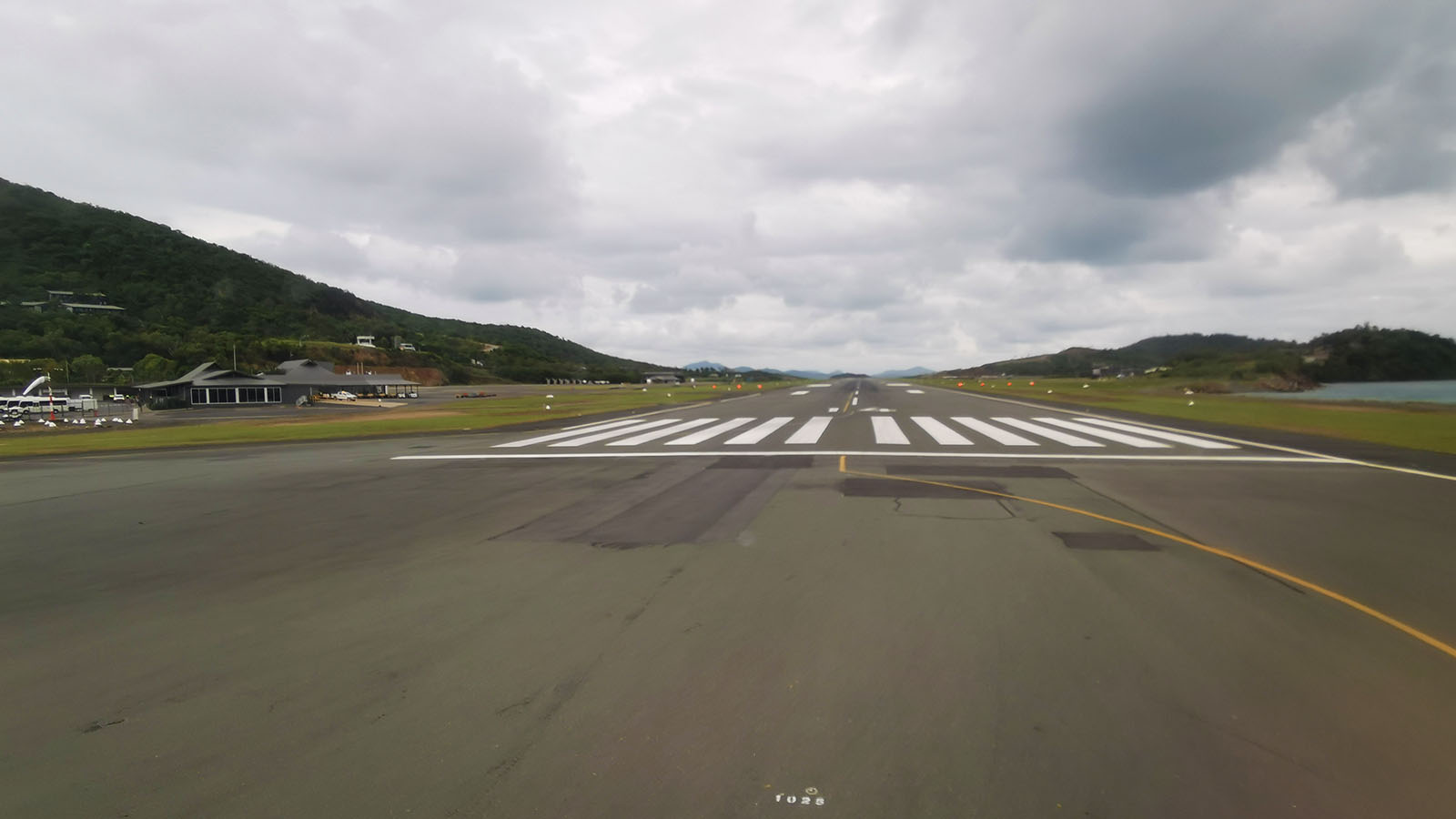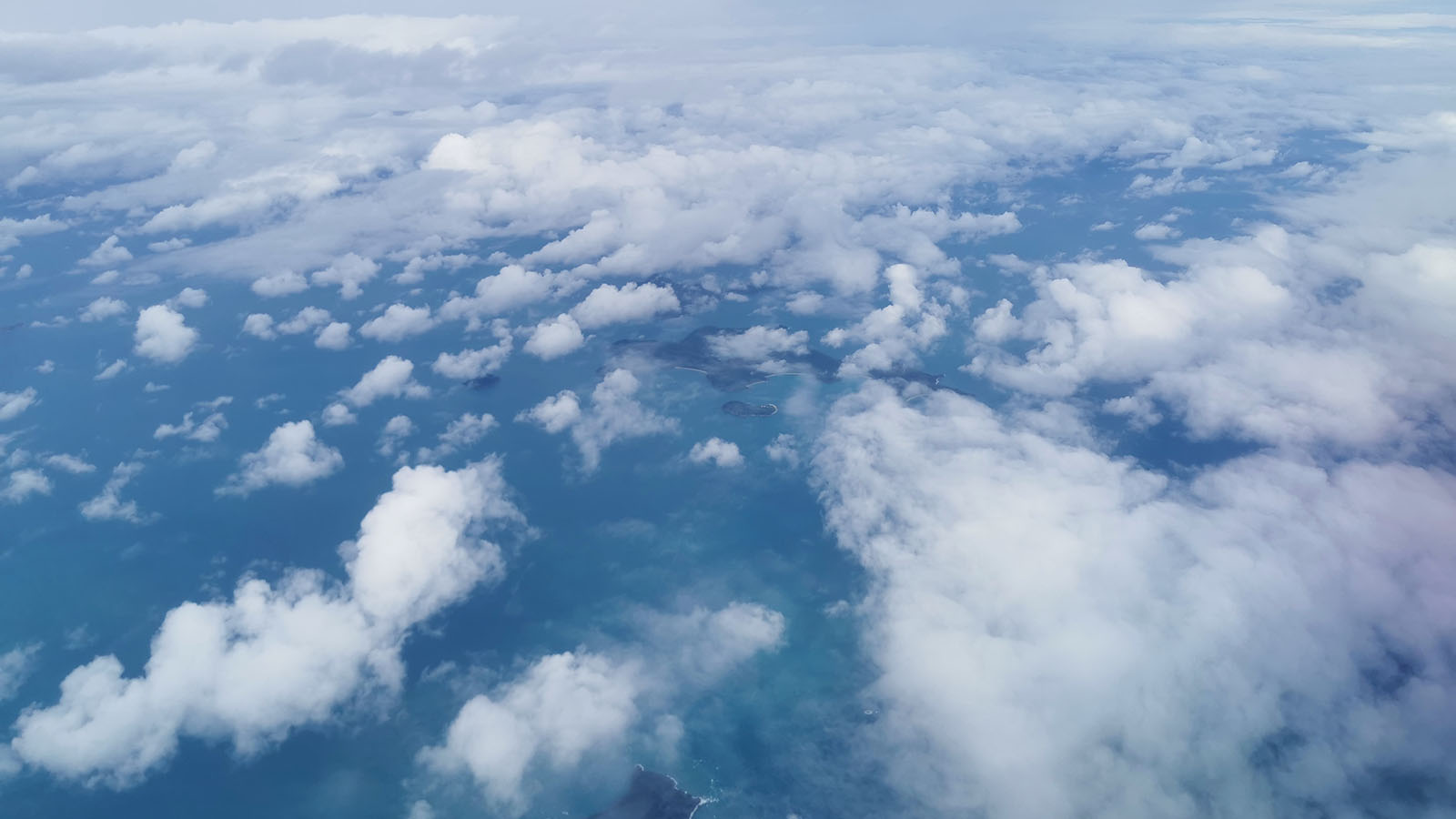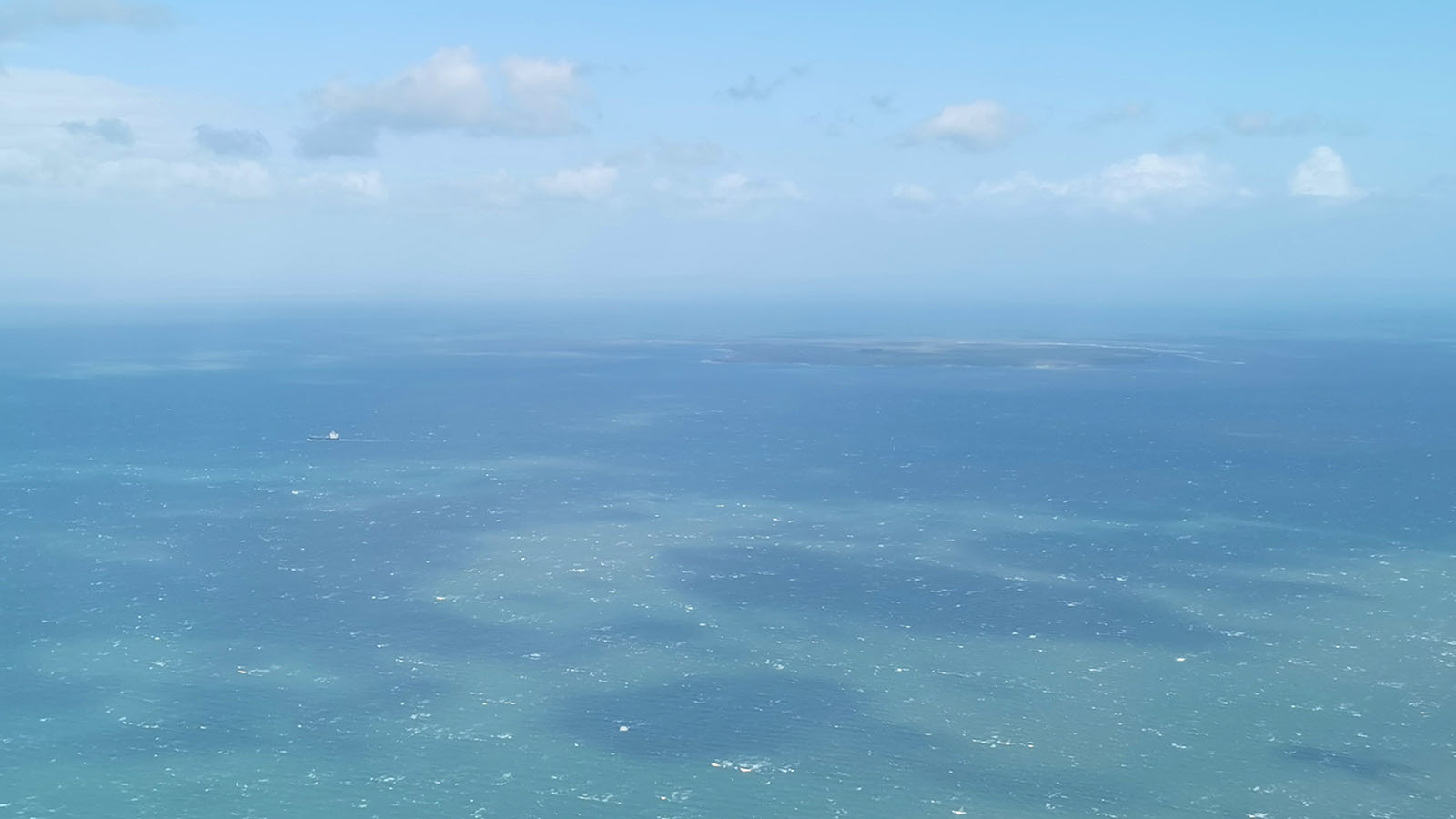 Service on today's flight is friendly and laid-back. That's a perfect setting for leisure-orientated routes like this, where a less formal approach is a good match for most holiday flyers.
Virgin Australia's new Business Class seats: FAQ
Curious to learn more about Virgin Australia Business Class? Here are your top questions answered.
Does Virgin Australia Business Class include airport lounge access?
Yes, a ticket in Virgin Australia domestic Business Class provides airport lounge access, where available. The airline's lounges are found in Sydney, Melbourne, Brisbane, Adelaide, Perth, Canberra and on the Gold Coast.
Do you get food in Virgin Australia Business Class?
Yes, Virgin Australia Business Class always includes a complimentary meal. You can enjoy a selection of free alcoholic and non-alcoholic drinks, and snacking bites from the 'pantry' menu.
There's also the option to purchase items from the 'buy on board' menu. This menu is usually geared around Economy Class travellers (where food is purchase-only), but Business Class guests can equally whip out their credit card if the mood strikes them.
Summing up
Virgin Australia's fresh Business Class experience brings some welcome upgrades from the airline's 'regular' premium cabin seat. The new leg rest is one of the most noticeable changes, and an improvement that's sure to make longer journeys more comfortable.
It's also good to see the device holder added to the tray table. But it's one that best suits smaller gadgets, rather than sizeable tablets. When travelling, I'm usually one to watch videos on my largest screen – typically my Surface Pro 8. Yet I found there still wasn't anywhere suitable to hook or lean a device of this size while enjoying the meal.
Adding a tablet holder to the seat (or bulkhead wall) in front would be a great outcome, if Virgin Australia's current trial progresses into a broader rollout.
Also reviewed: Virgin Australia's new Boeing 737 Economy Class
Photography by Chris Chamberlin, who travelled to Hamilton Island as a guest of Virgin Australia. Feature image courtesy of Virgin Australia.
---
Stay up to date with the latest news, reviews and guides by subscribing to Point Hacks' email newsletter.
Virgin Australia's new Boeing 737 Business Class (Hamilton Island – Brisbane)
was last modified:
August 30th, 2022
by