Virgin Australia's main Melbourne lounge is finally back in action – and it's been worth the wait. It returns with a fresh new look, yet one that many returning guests will find familiar.
I was one of the lucky first to explore the space. Here's what I observed on the lounge's very first day in action since it first closed in March 2020.
Location
Virgin Australia's lounge in Melbourne is back in its usual spot. After check-in, just take the escalator downstairs and make a left. If you're acquainted with Virgin's nearby "premium lounge" (formerly, The Club), this space is along the same corridor.
A familiar feel greets travellers, but with some fresh touches to liven up the journey. "Hi Flyer" signage behind reception, for example, comes as a nod to the airline's Adelaide lounge. That opened earlier this year, and Melbourne's refurbishment brings some similarities to the Tullamarine terminal.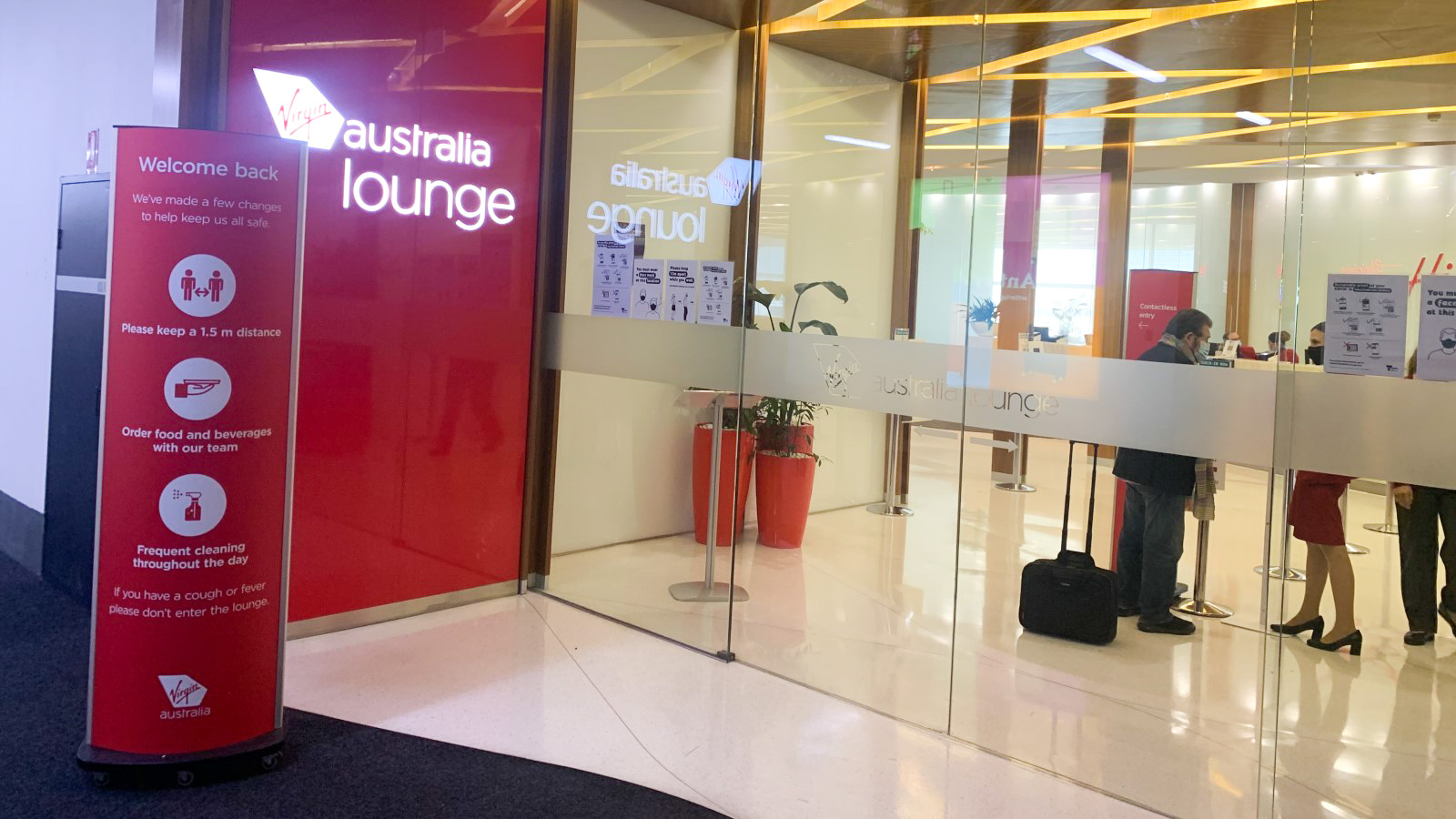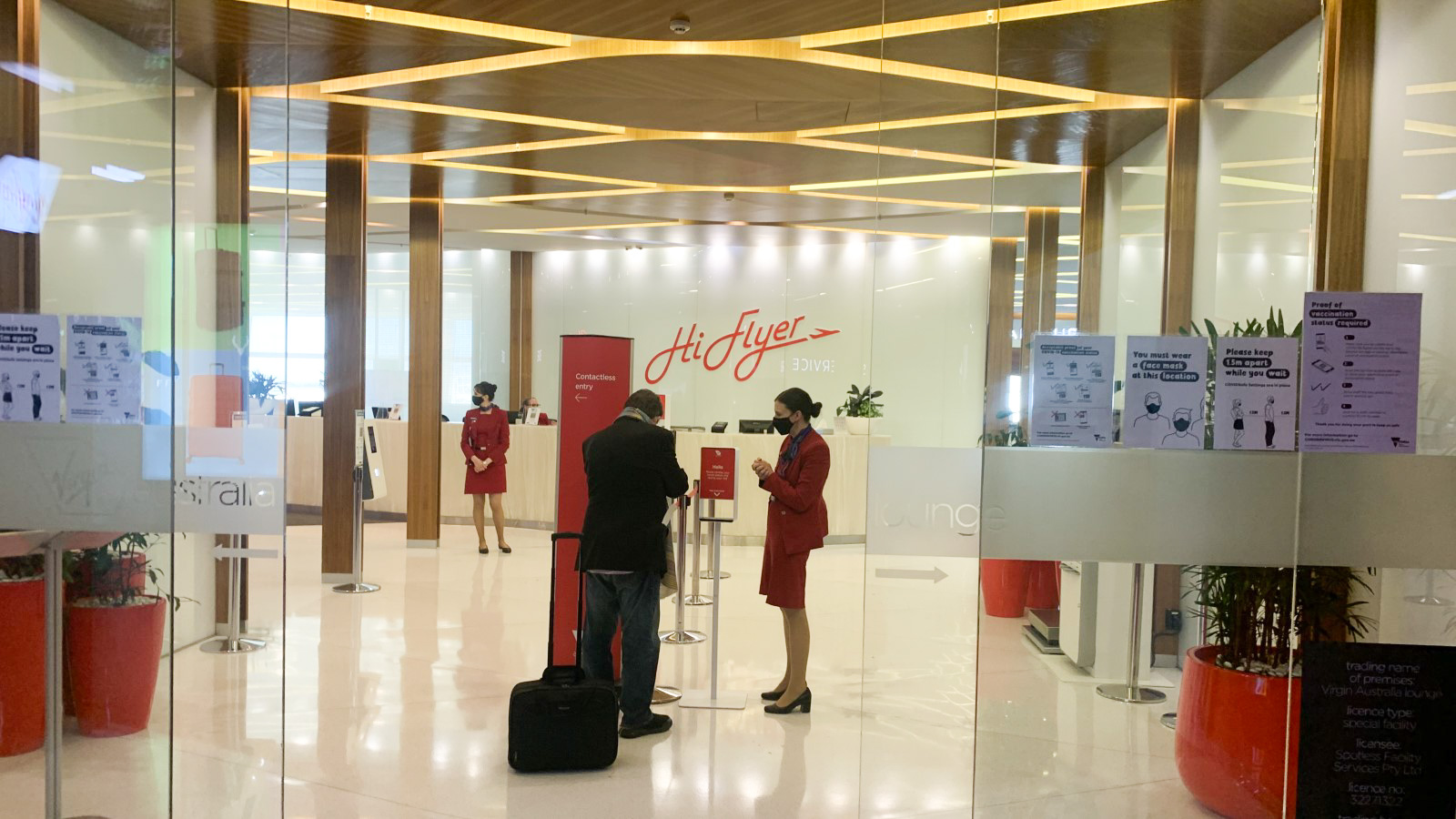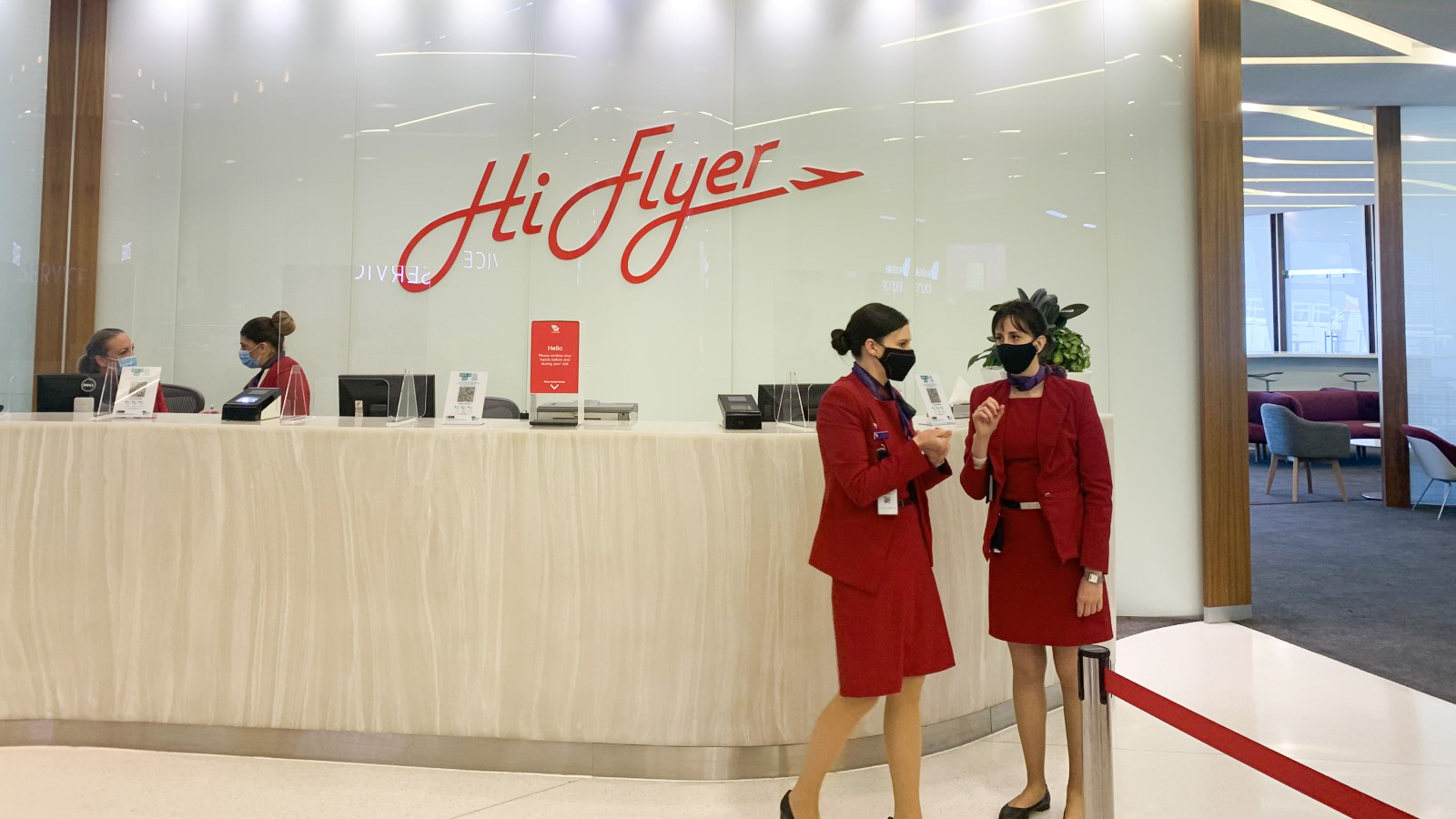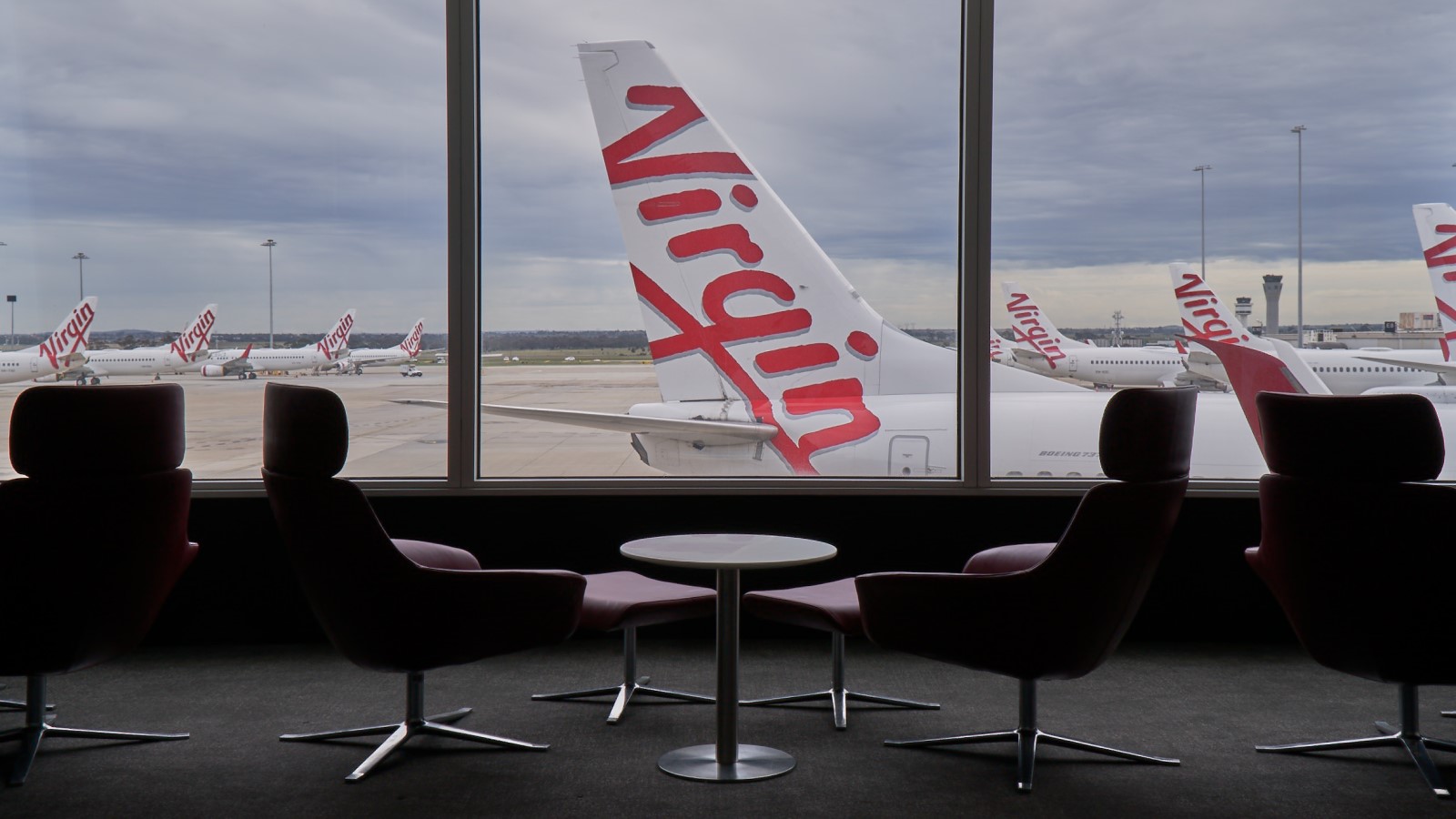 Along with a flash of your boarding pass, you'll also need to scan the obligatory Service Victoria QR code. Under local restrictions, only those fully vaccinated against COVID-19 can enter the lounge. That's the same government policy you'd encounter at bars, restaurants and other similar venues in Melbourne.
Lounge layout and seating
Virgin Australia's Melbourne lounge offers something for everyone. Whether you're a solo traveller, or flying as a pair or in a group, you'll find a seat to suit you. It's a large rectangular space – yet it never feels cavernous. Mid-height walls and glass partitions provide a sense of intimacy in every nook.
Designed for 650 guests, the space is currently capped at 500 due to COVID restrictions. Virgin doesn't expect this to be an issue for now. That's because Melbourne currently has around 20 Virgin flights per day, versus 90+ before the pandemic. Most visitors during our stay were leisure flyers enjoying a long-awaited holiday or family reunion.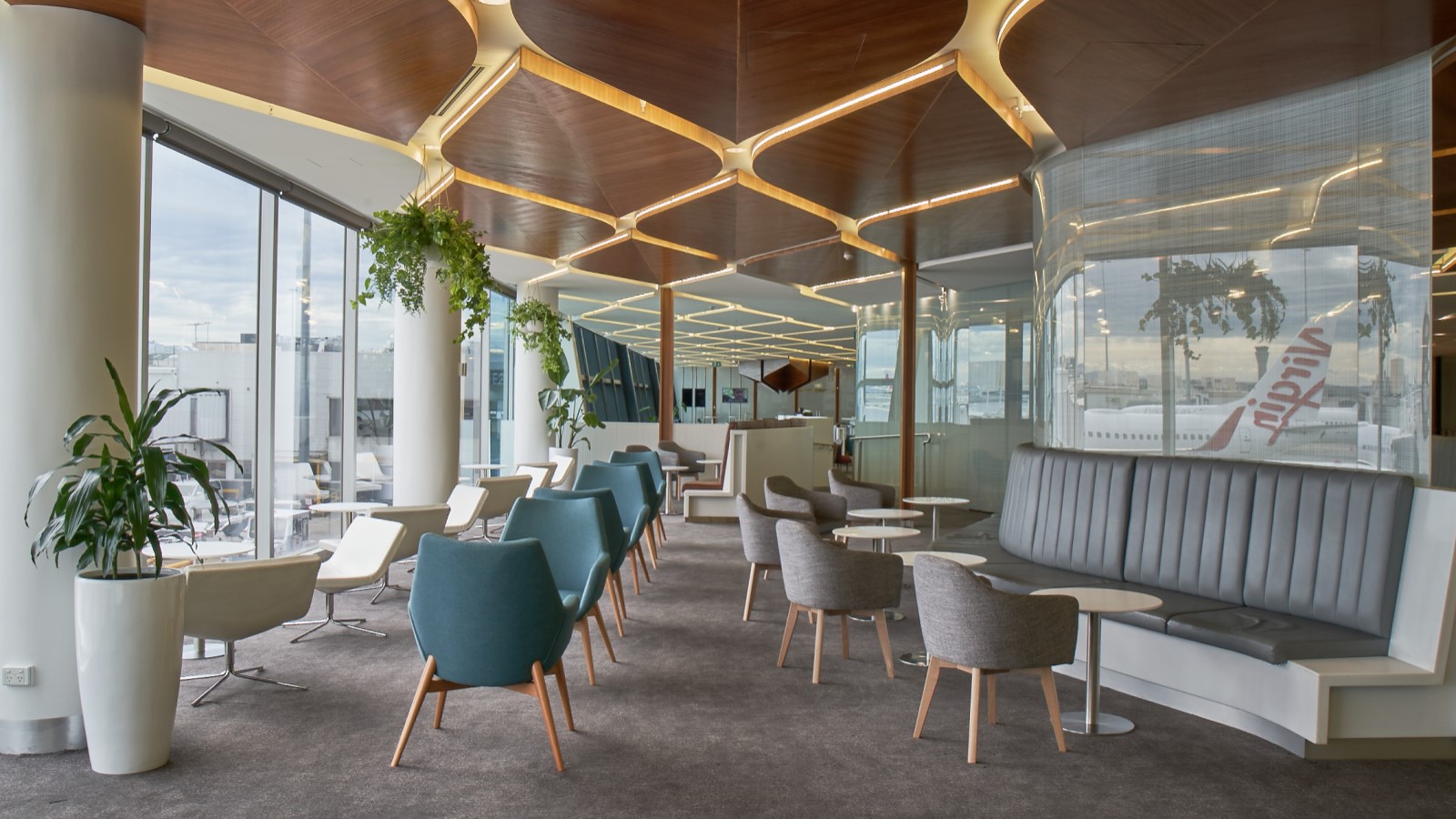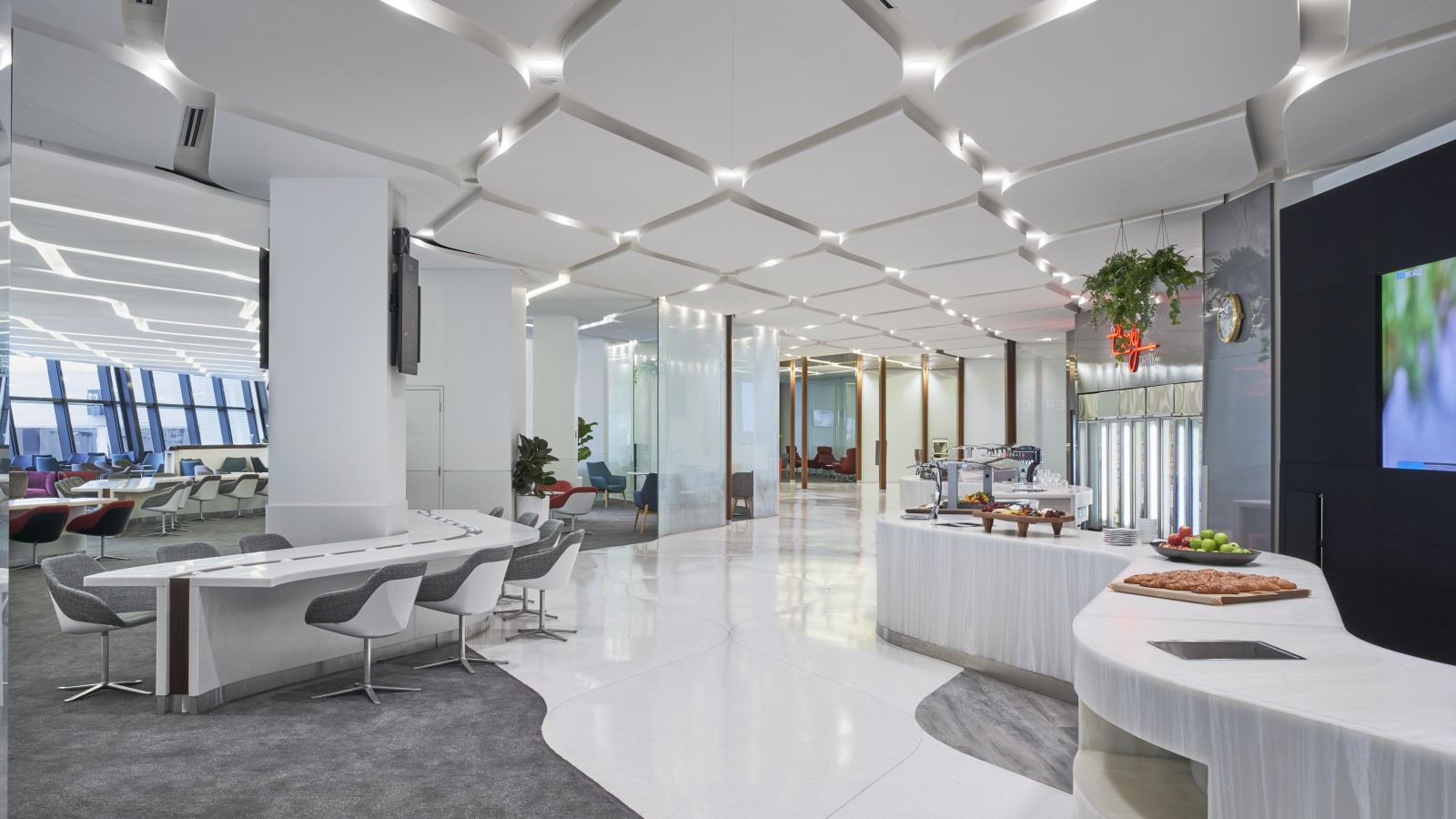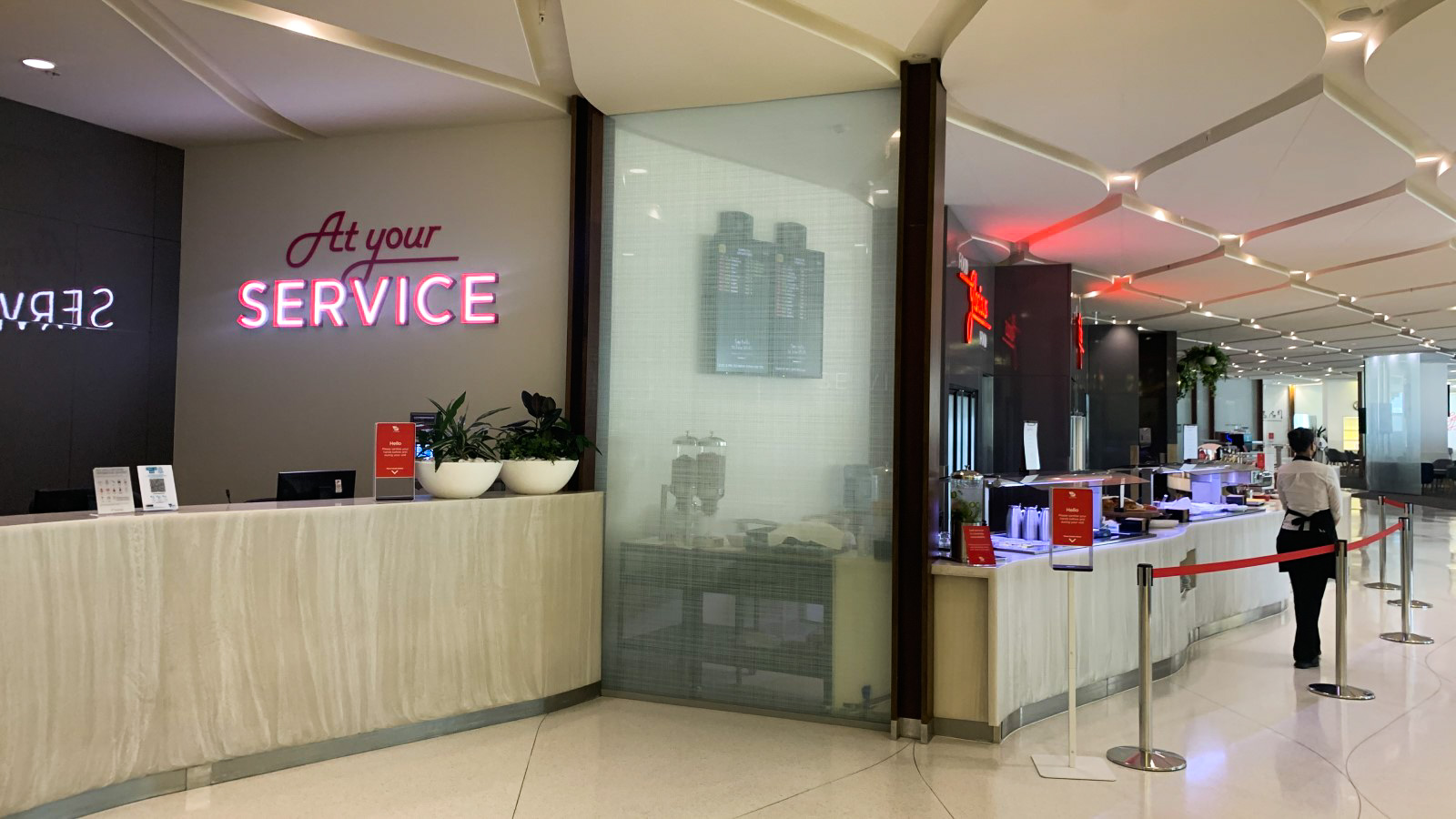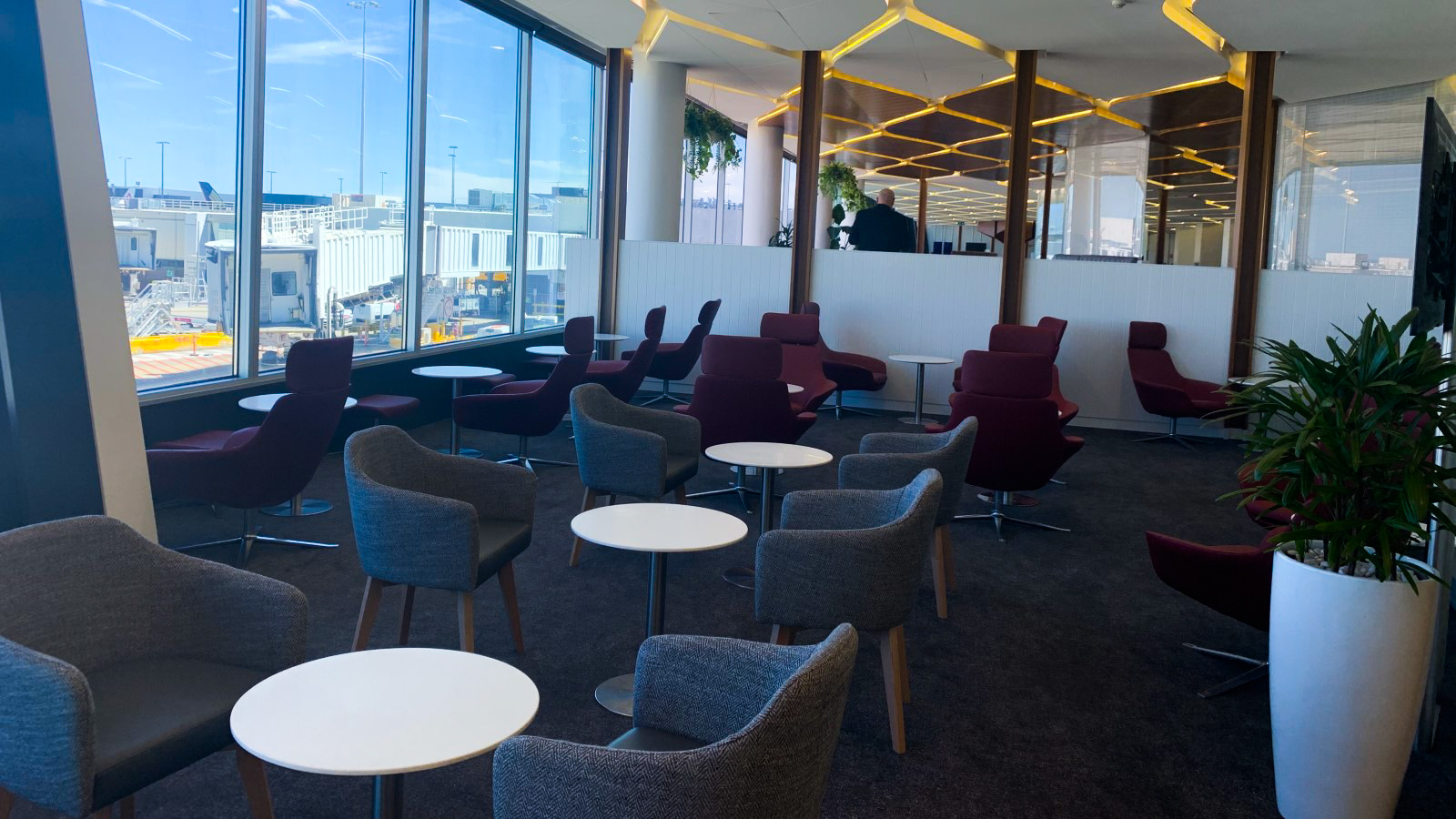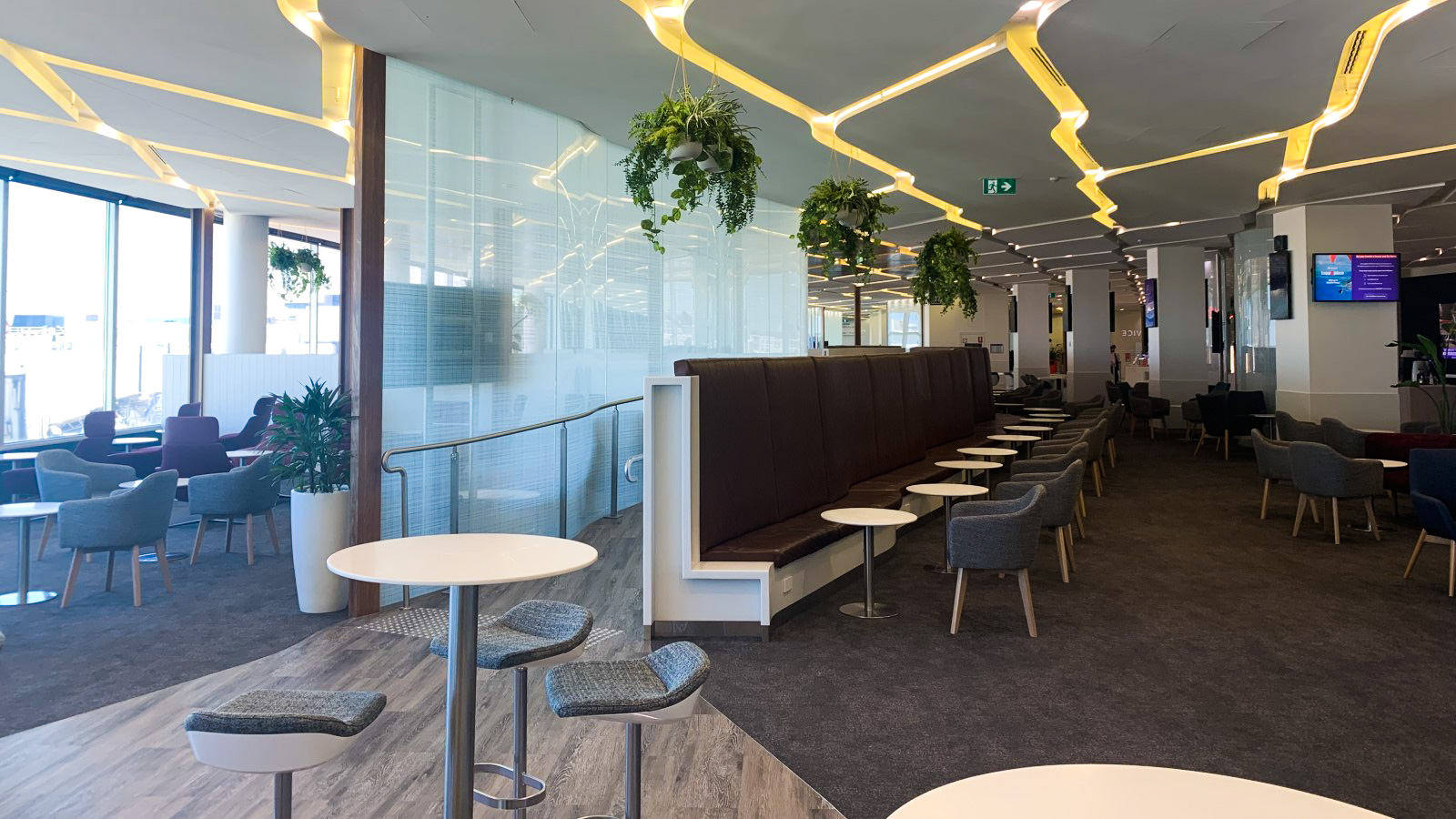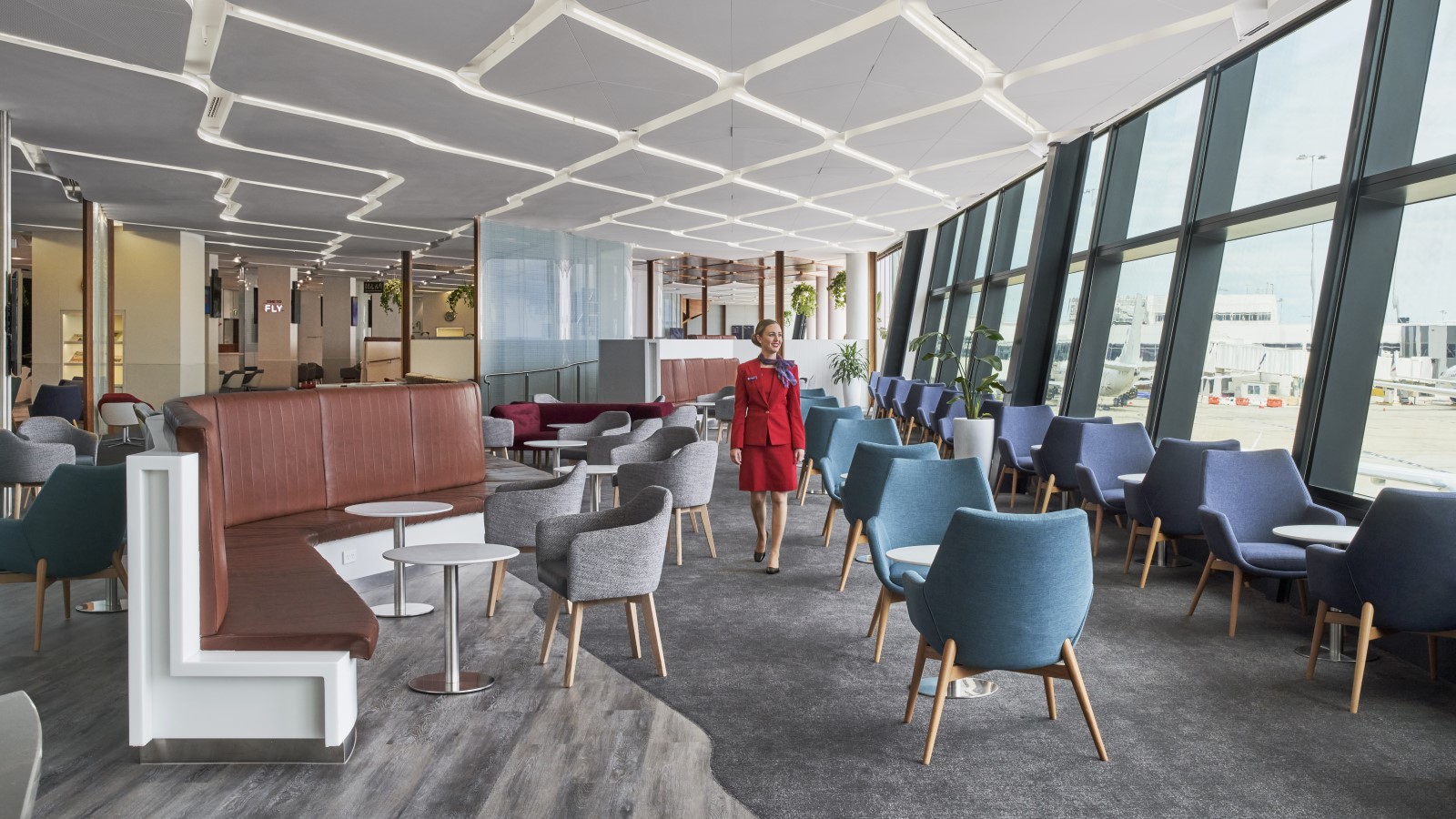 The colour palette mixes greys, burgundies and teals to brilliant effect, with plenty of bright white to add freshness. You almost need sunglasses on this brilliant Melbourne spring day! Virgin's signature leaf pattern spans the length of the ceiling, giving the space a distinctive flair.
As you'd expect, the seats along the windows offer fantastic views. There's also an array of armchairs with small tables scattered throughout. Clever curved work benches with comfy seats make a design feature of the power points. Who ever said business needs to be boring?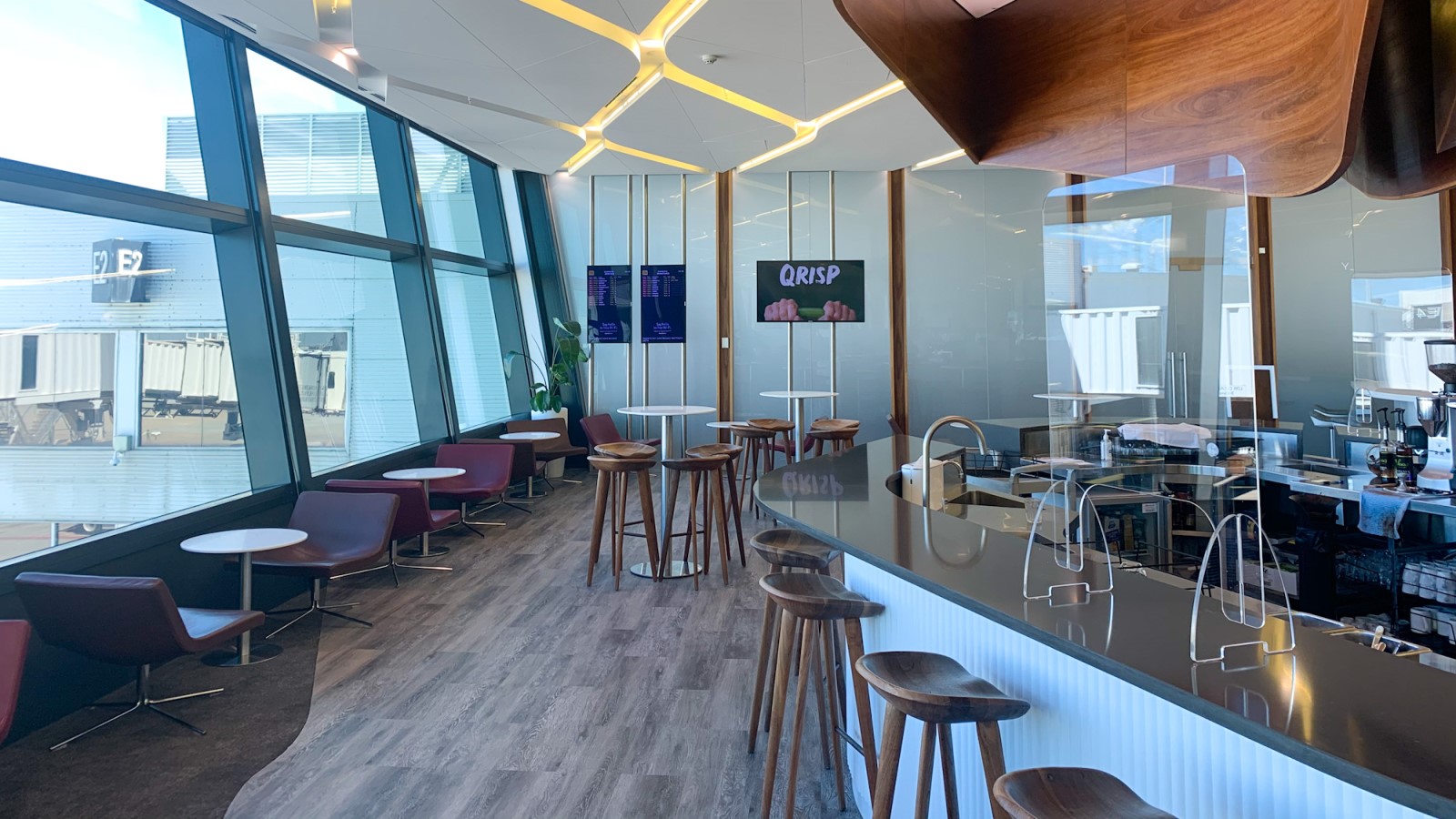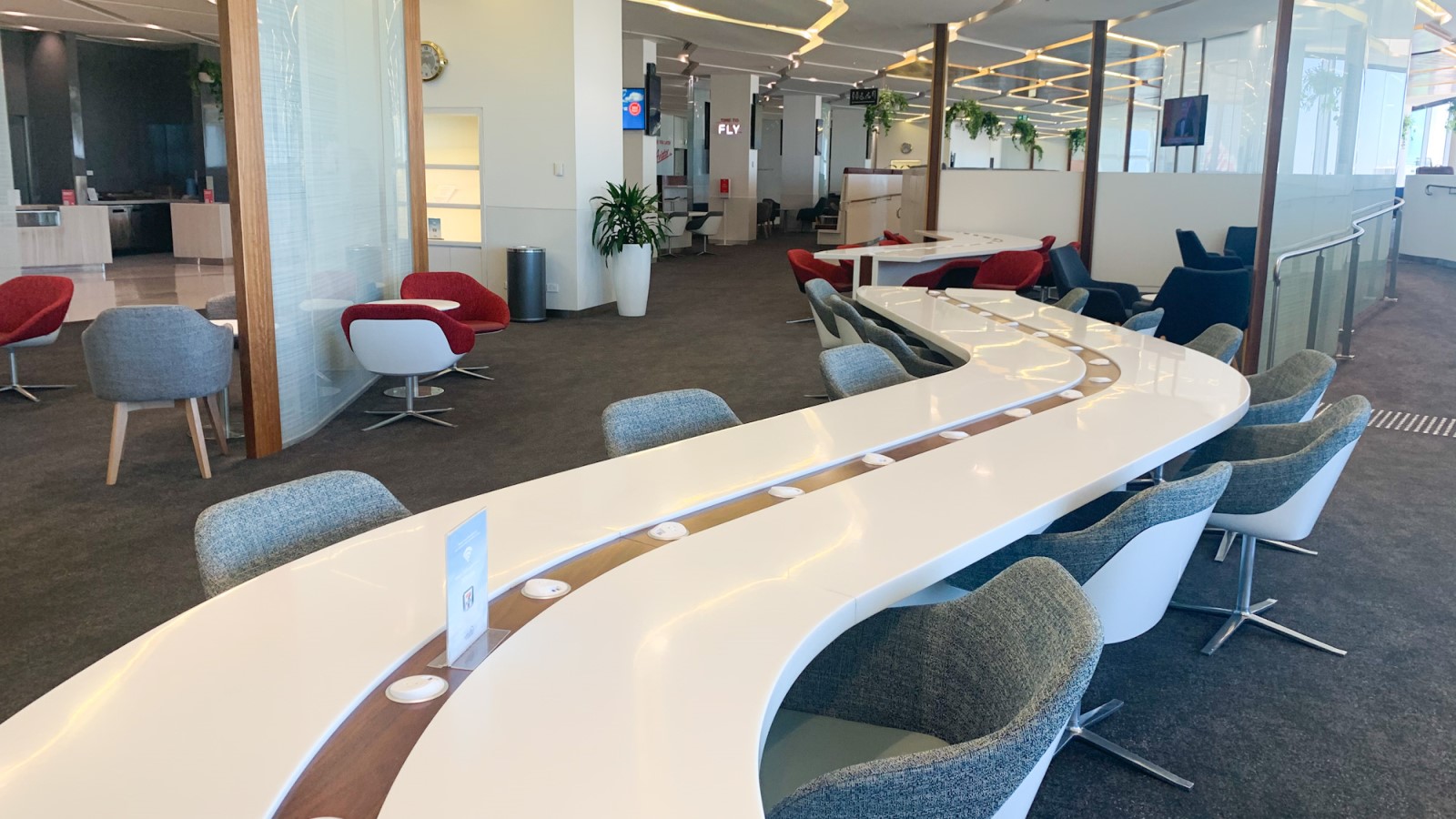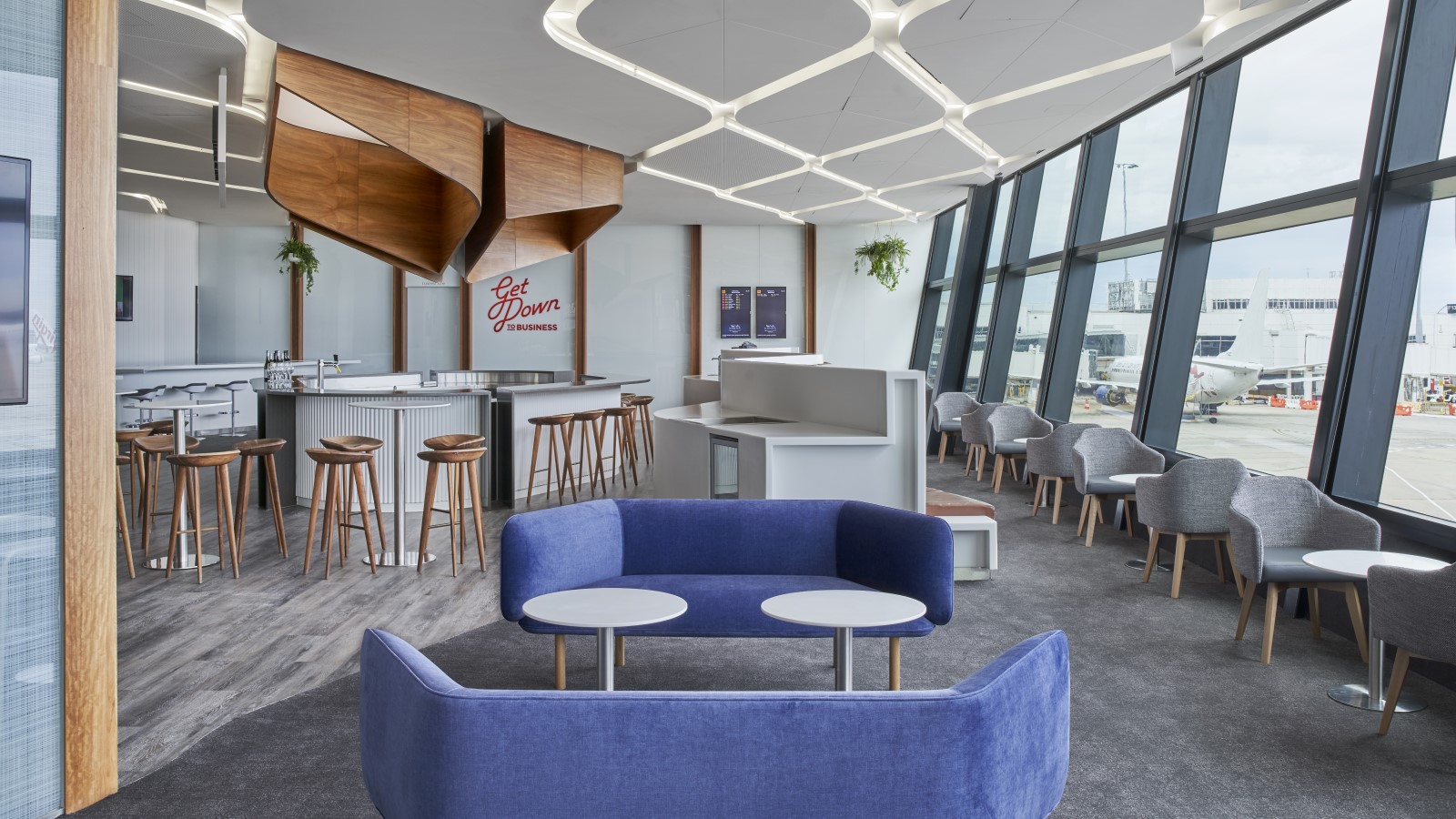 We love Virgin's fun and tongue-in-cheek design touches. They're peppered throughout the lounge, though not at all in-your-face. In fact, the décor walks the line perfectly – it really is an inspired expression of the new Virgin brand.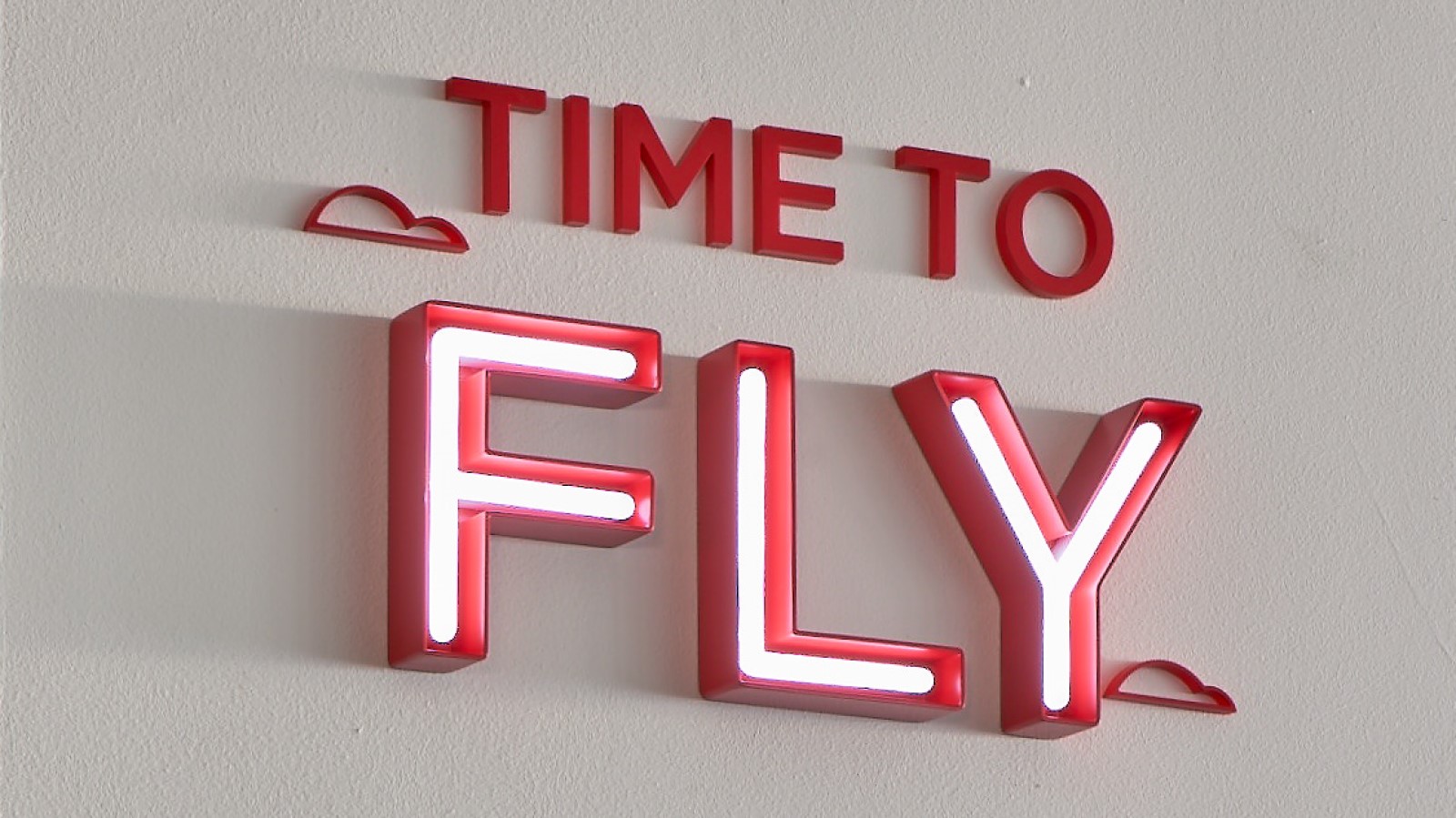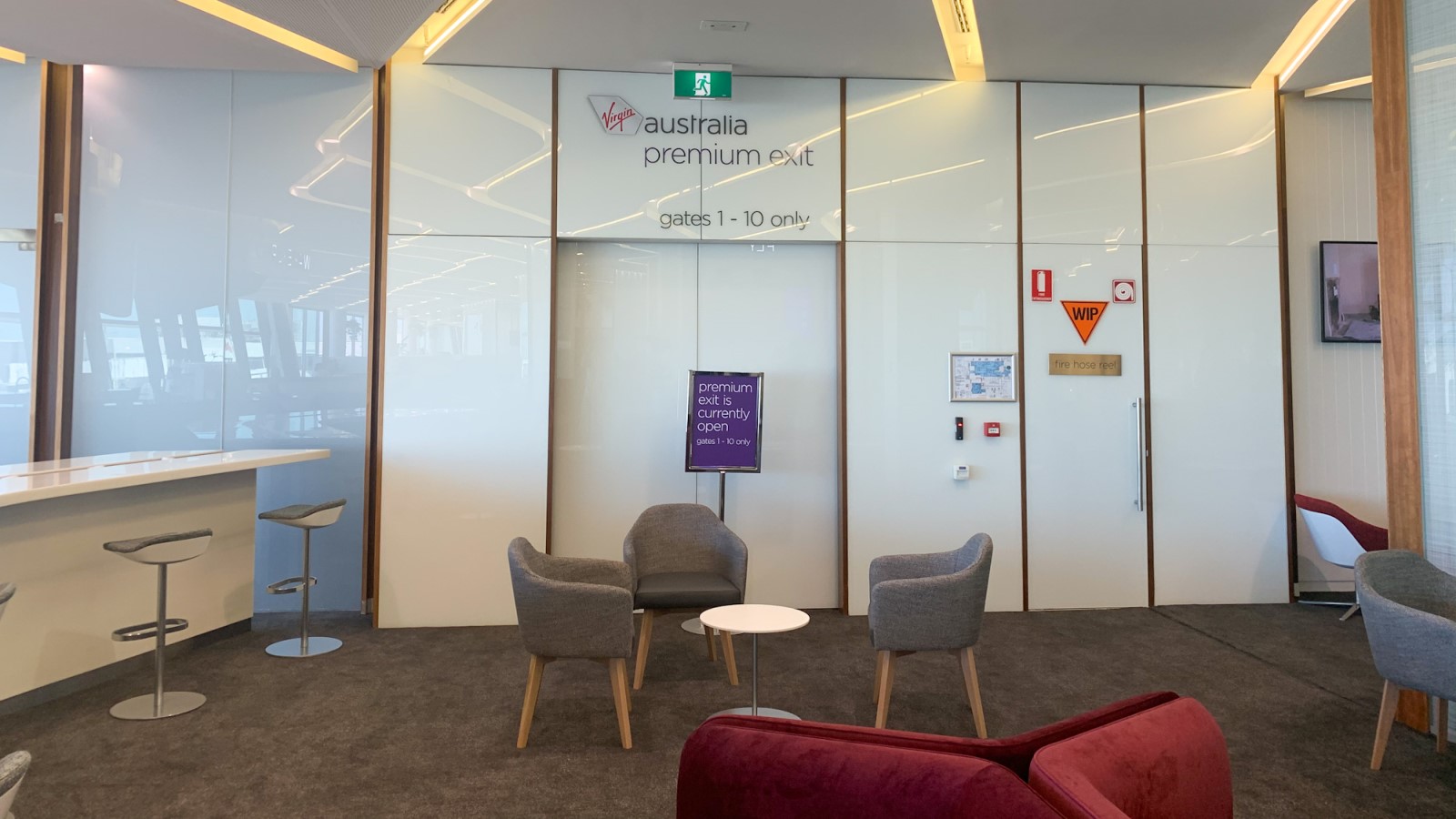 However, Premium Exit is yet to return. This was the airline's fast-track through security as you leave the lounge. This is due to other terminal works currently taking place at Melbourne Airport, which are outside of Virgin's control. For now, you'll need to clear security at the regular checkpoint. This shouldn't take too long, particularly with far fewer flights on the board than usual.
Food and beverage
Planning ahead for your next visit? Note these key timings:
Breakfast runs until 10:30 am, then the all-day menu takes over.
Barista-made coffee is served from open until close. We'd expect nothing less in Melbourne!
The bar opens at noon.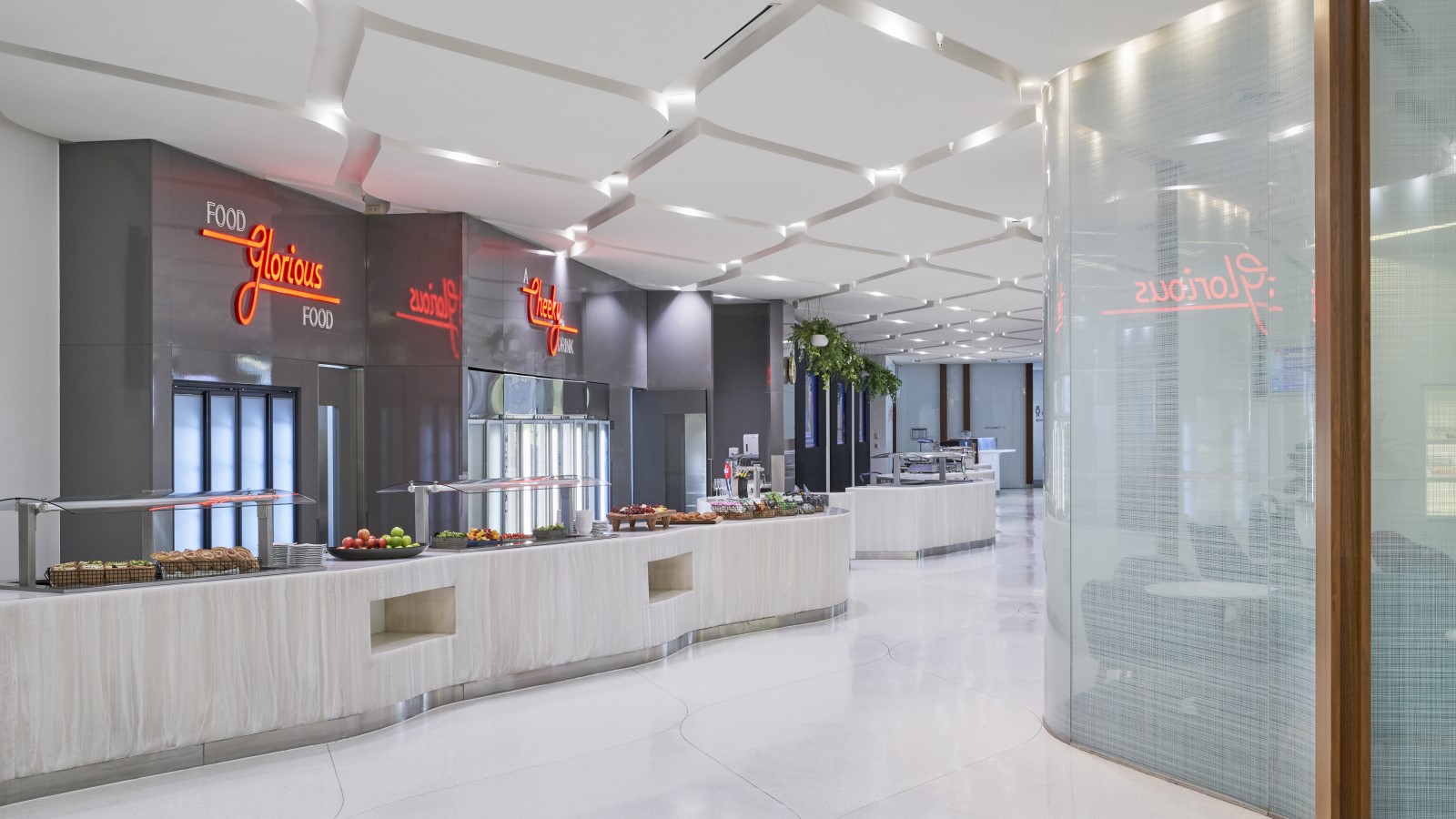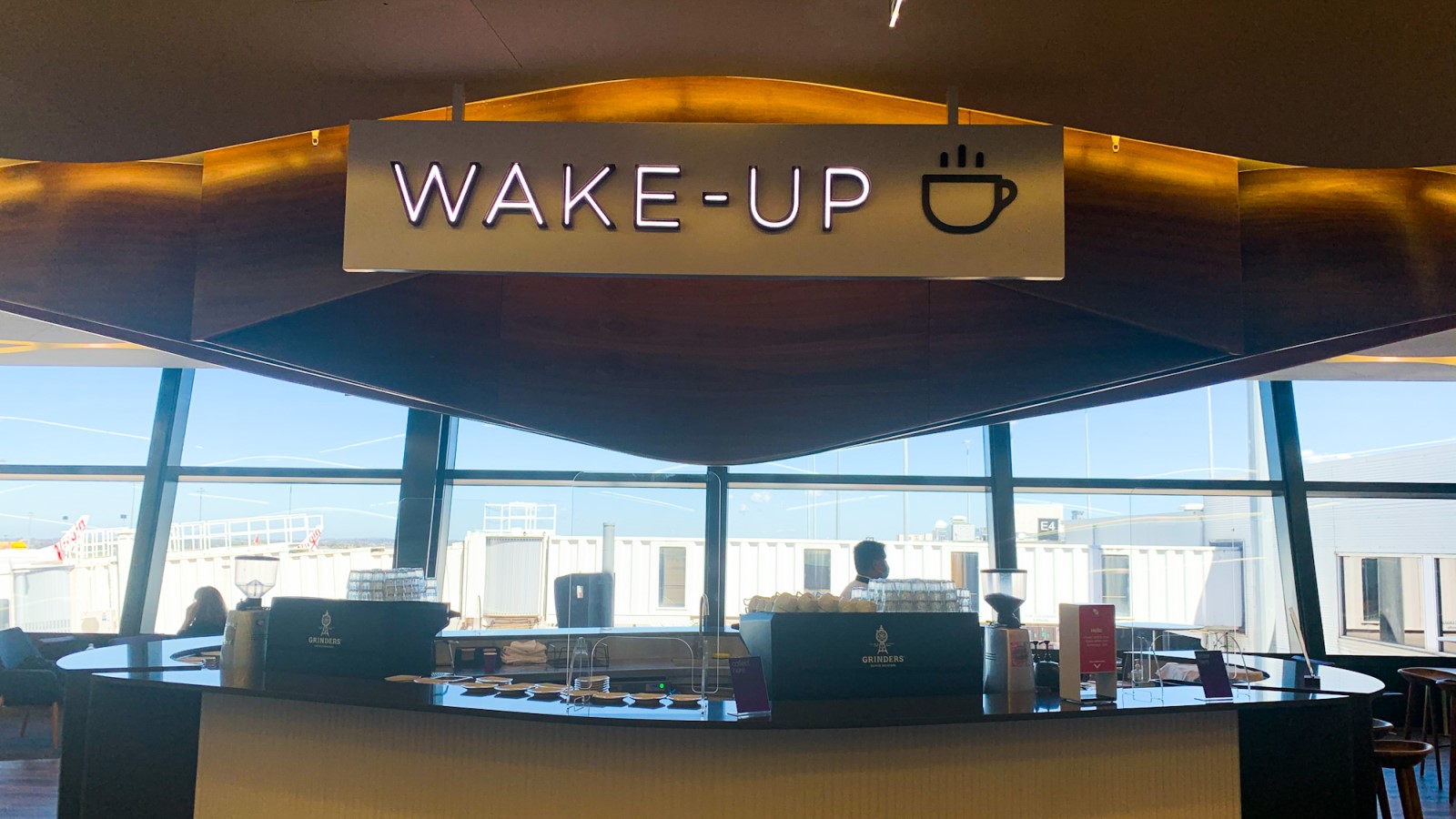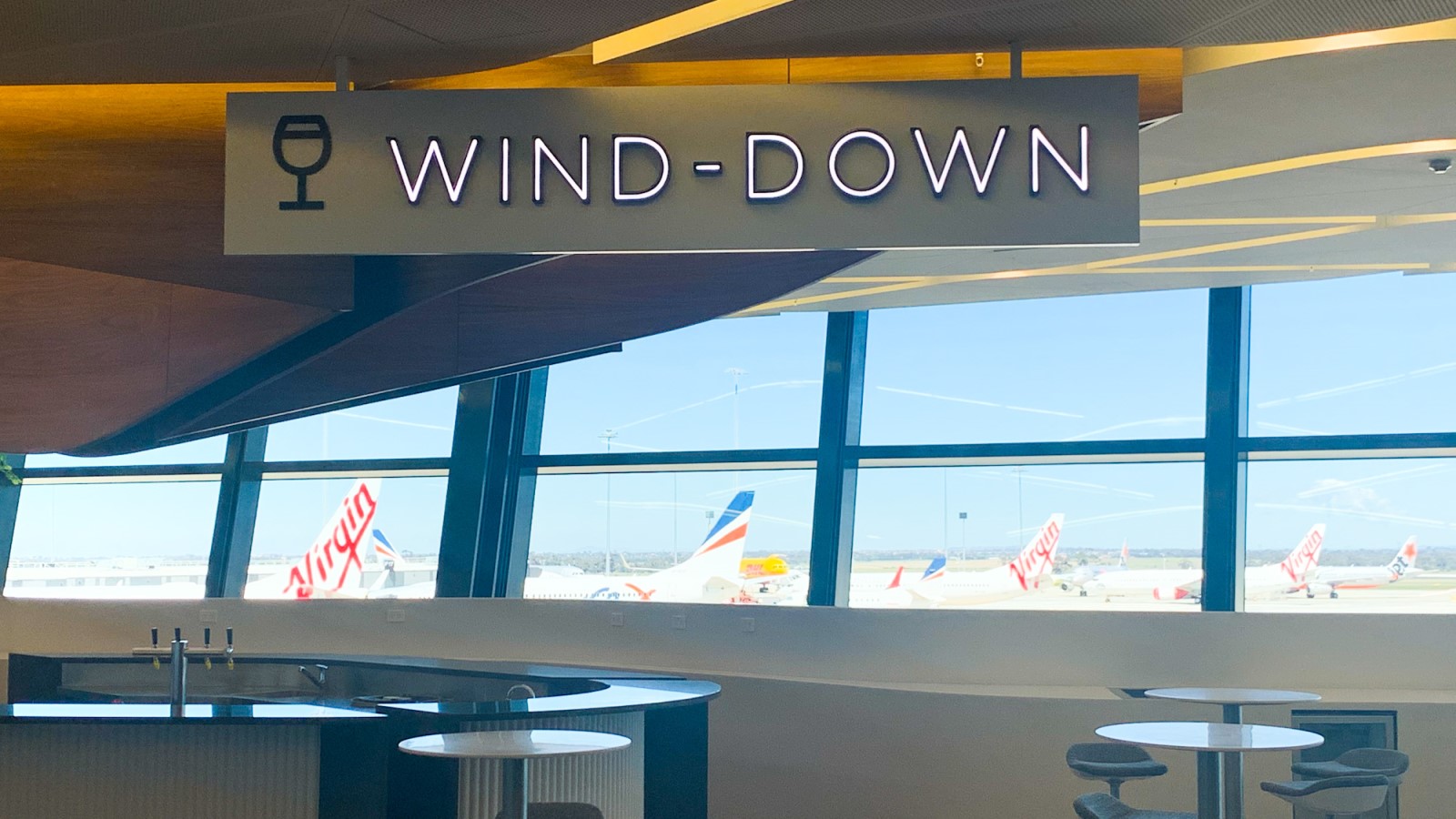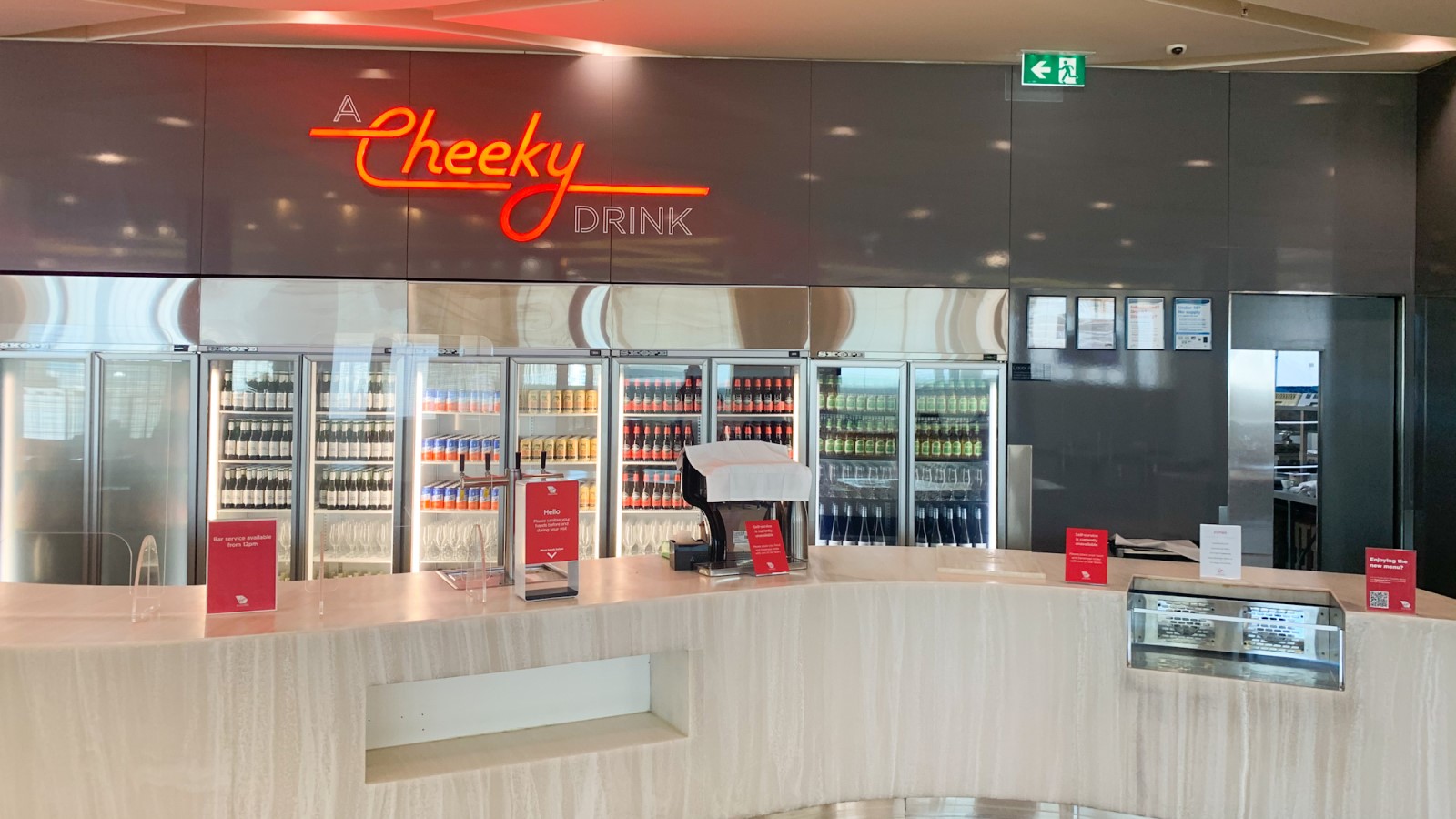 For early-morning flyers, the buffet spread serves staples with a few select highlights.
The Greek yoghurt with gluten-free muesli was refreshing and nourishing, with a great texture. But the toasted waffle with maple syrup and quality double cream was the clear winner. Both trumped the scrambled eggs on toast, which weren't so impressive (or tasty).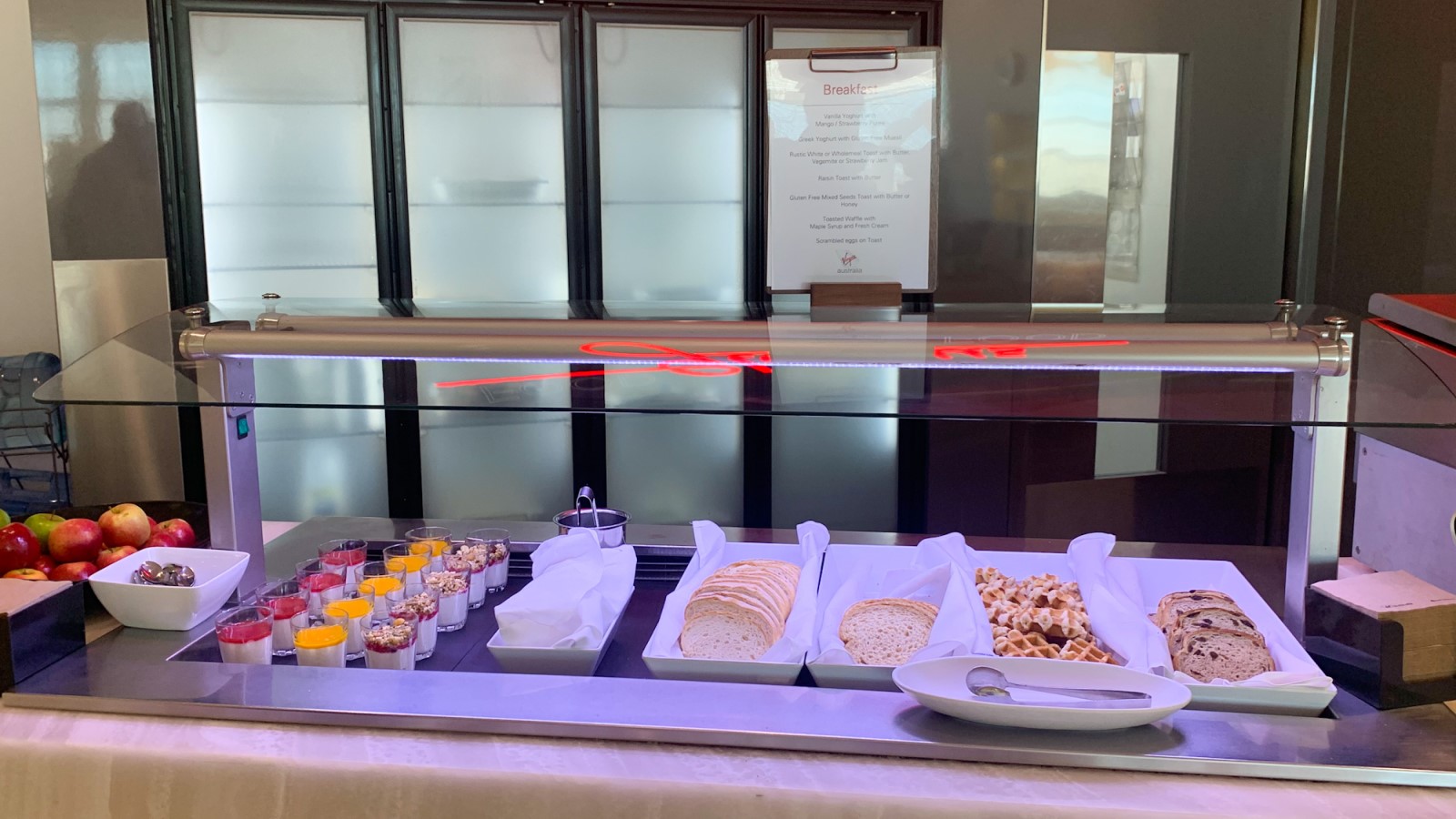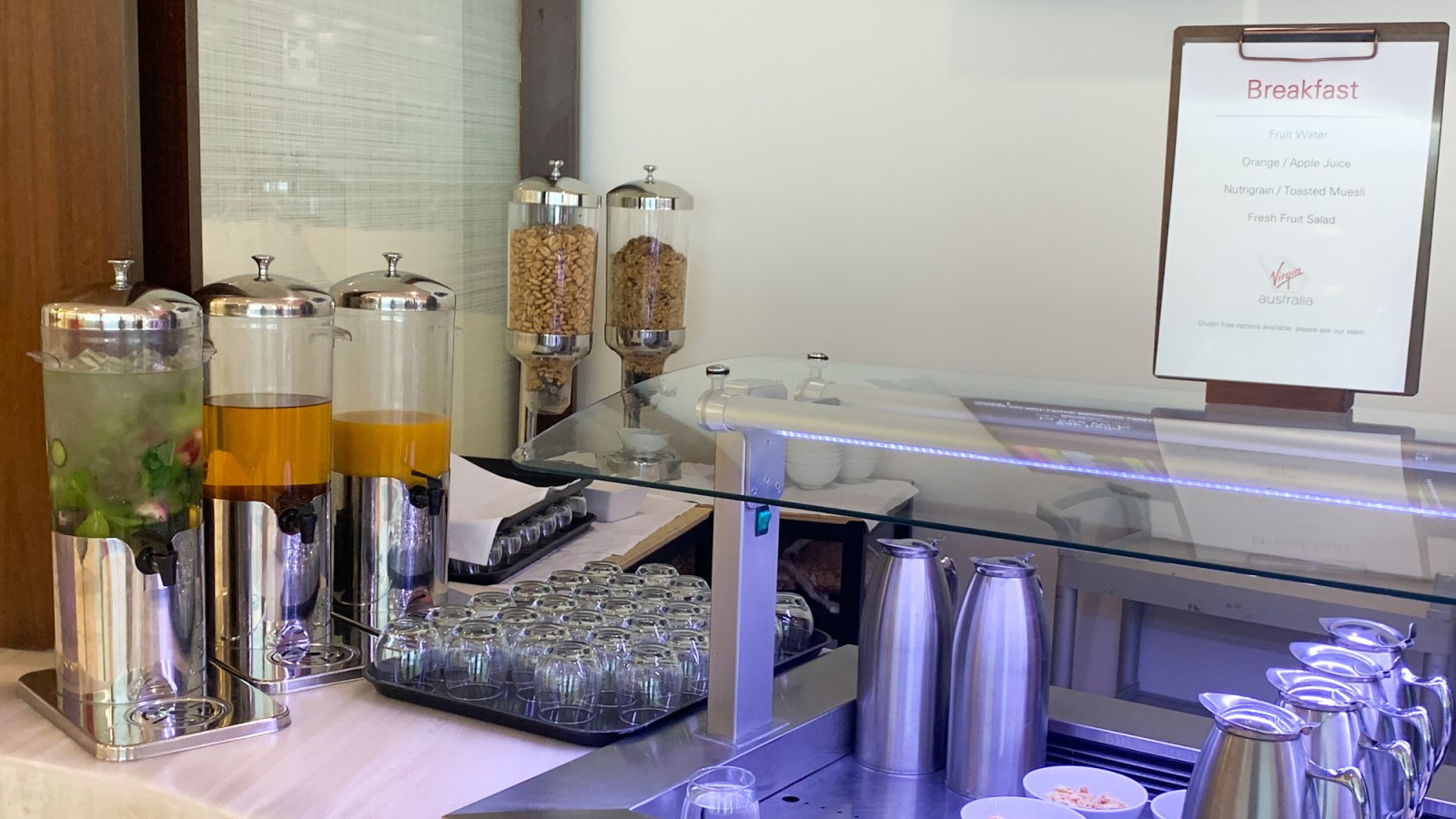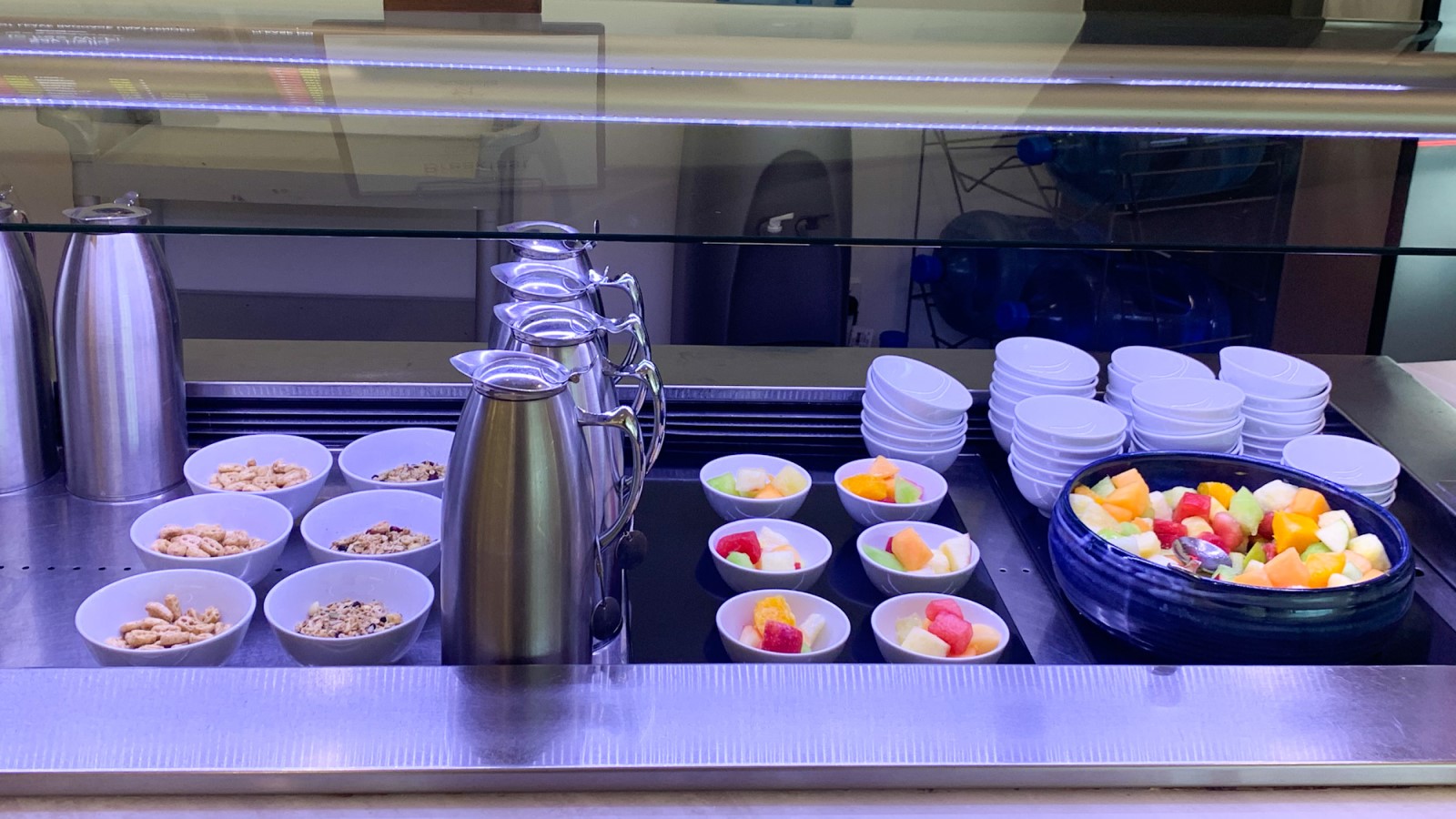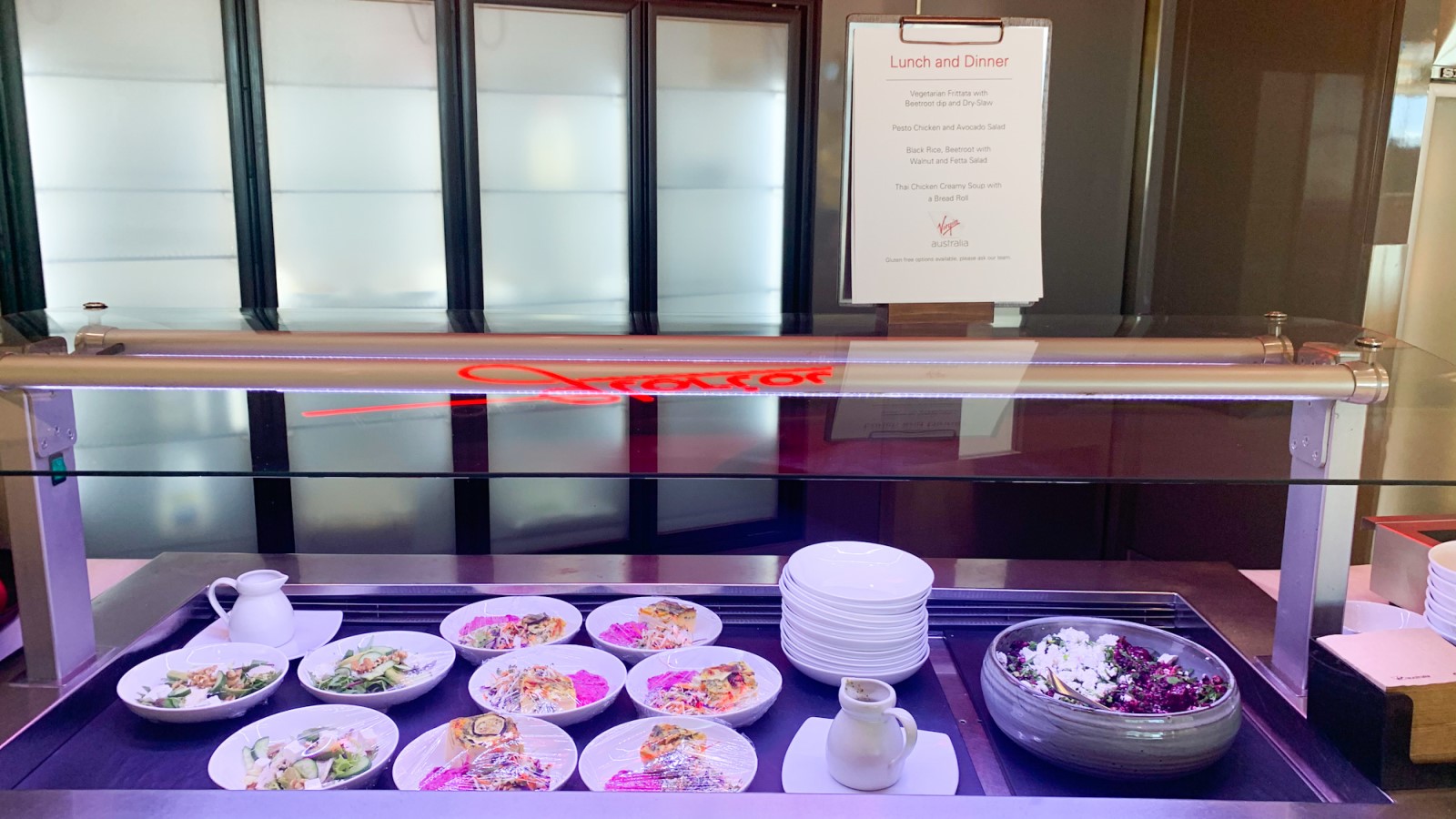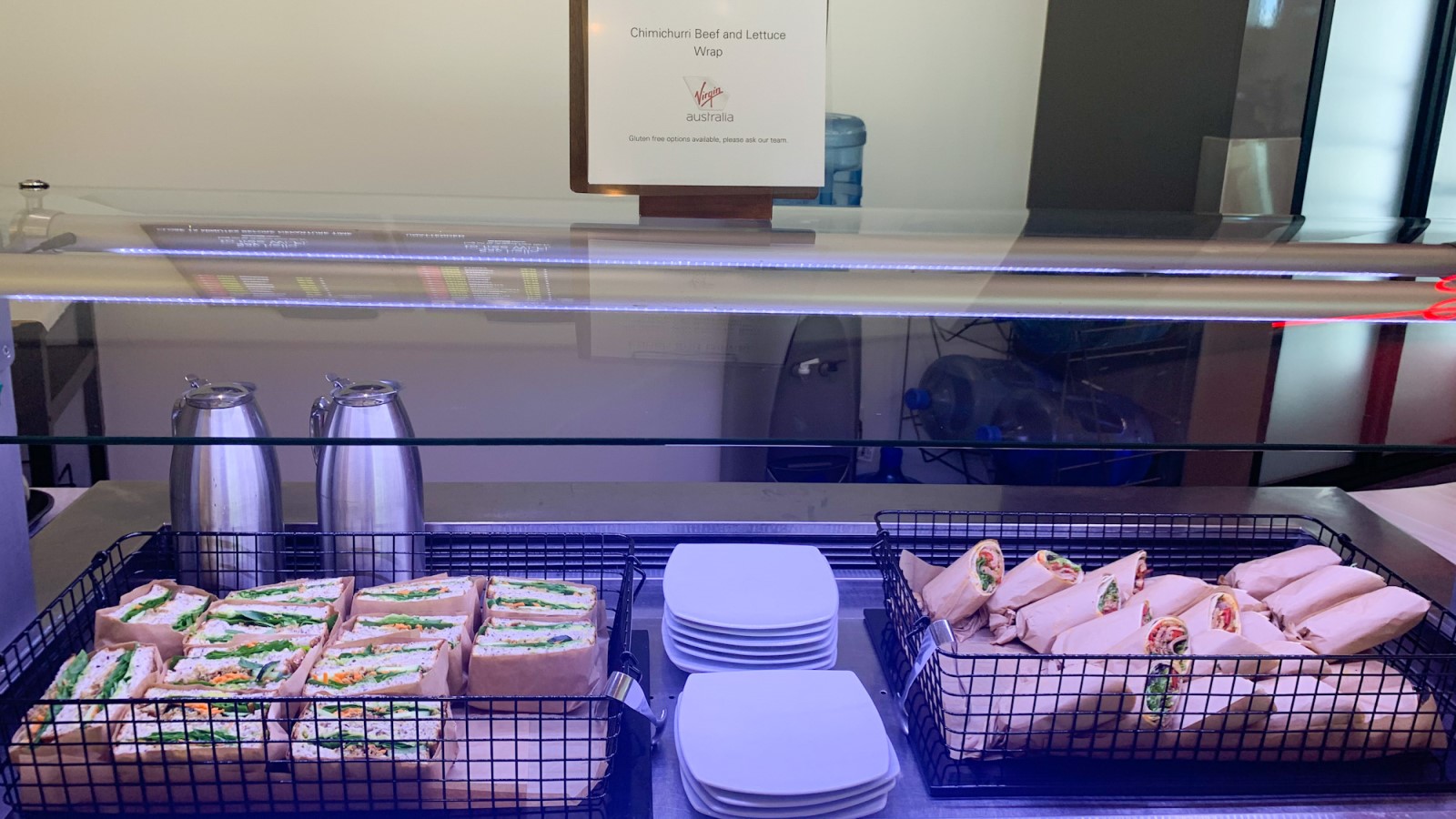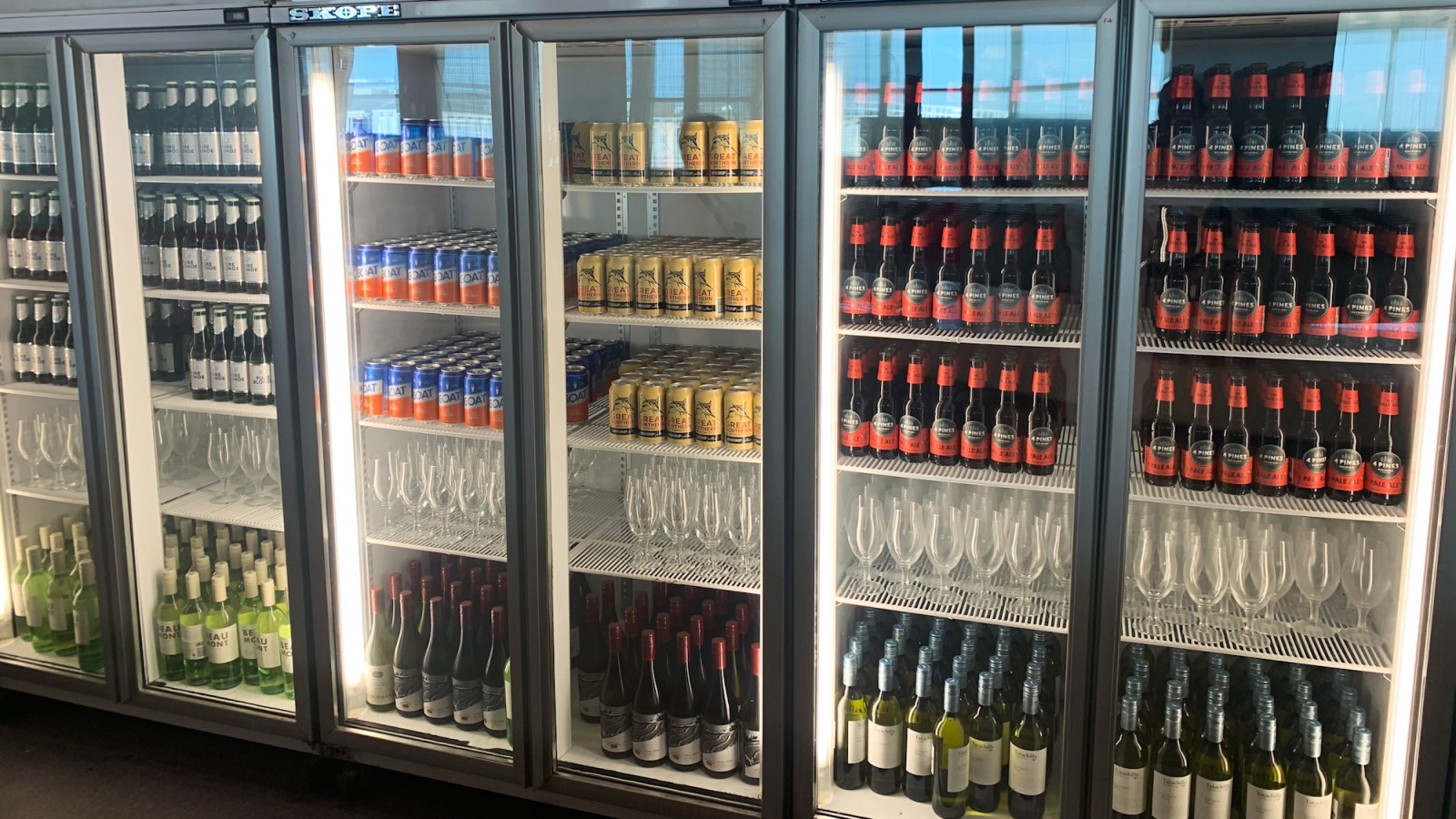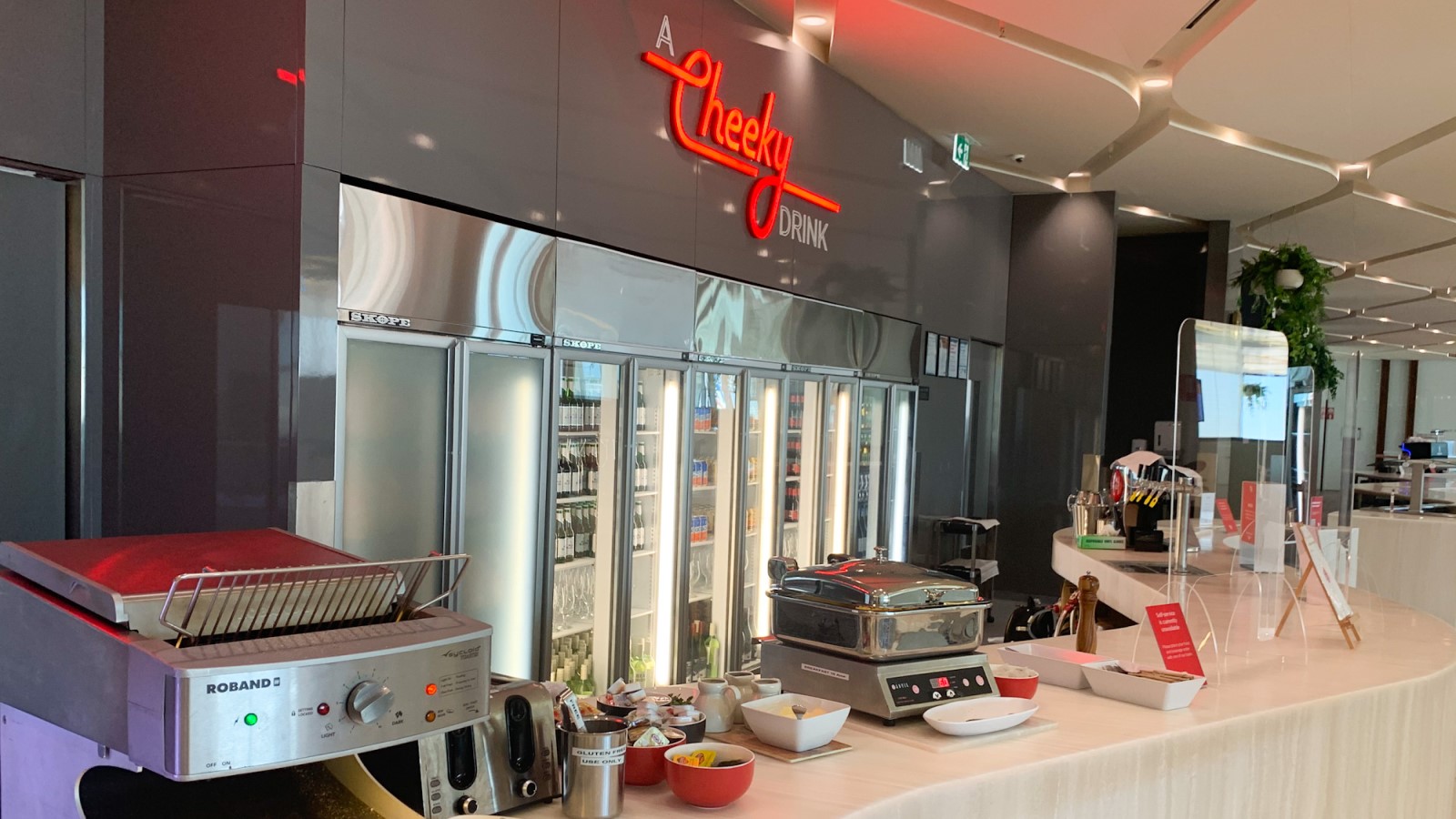 Come 10:30 am, the all-day menu swings the focus to fresh chilled dishes. Choices can vary, but may include:
Vegetable frittata with beetroot dip and Asian-style slaw, dressed to order.
Beetroot and wild rice salad, served with rocket and fetta.
Chicken, avocado and pesto salad.
Sampling the day's selections, the frittata was tasty and light, yet satisfying. It was moist and soft, and paired beautifully with the accompaniments, gaining a zippy lift from fresh coriander. The salads were tasty, but you may need a second serve of the beetroot dish to make a filling meal. The chicken pesto salad was another winner, though we would have loved a touch more pesto.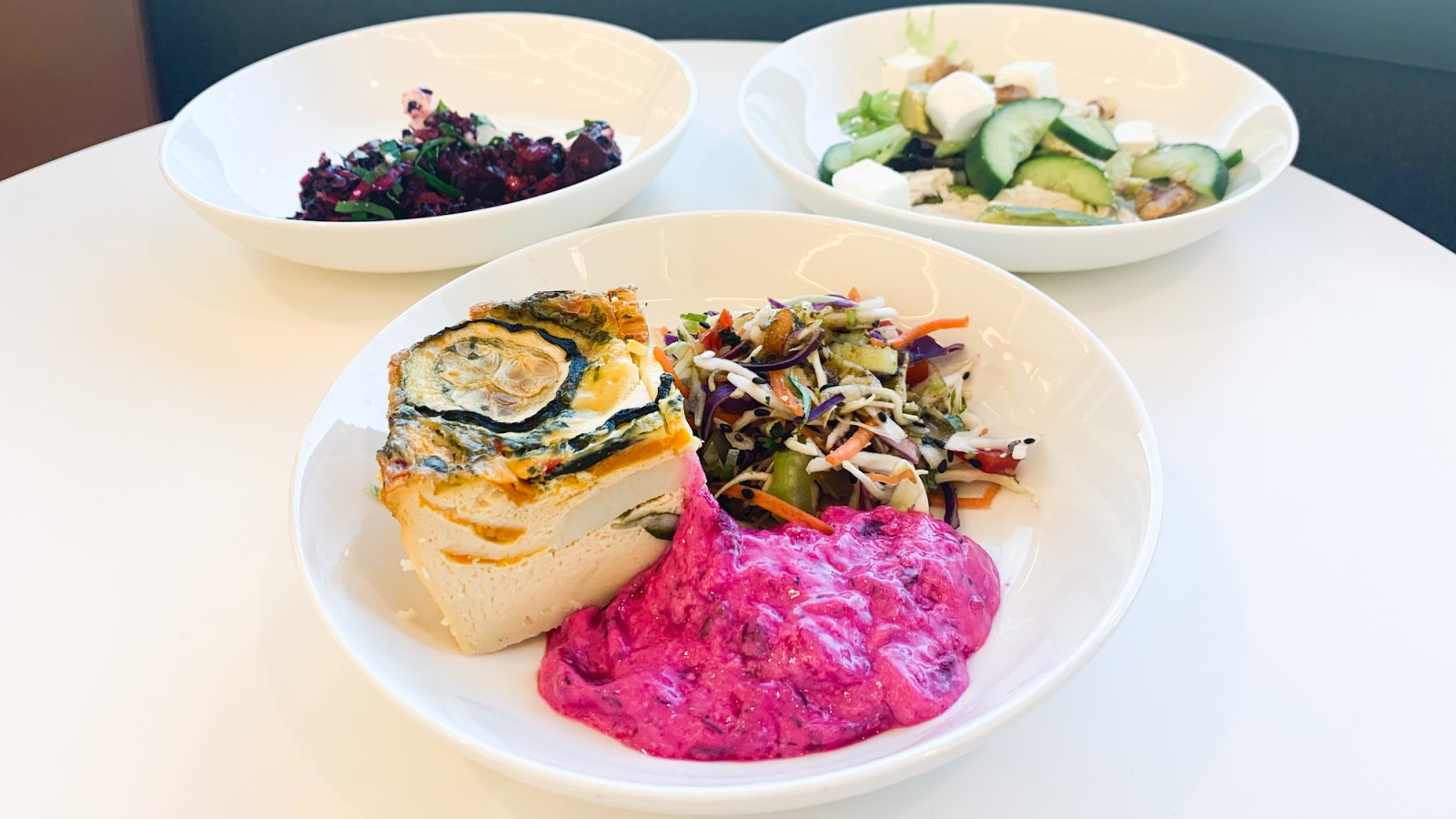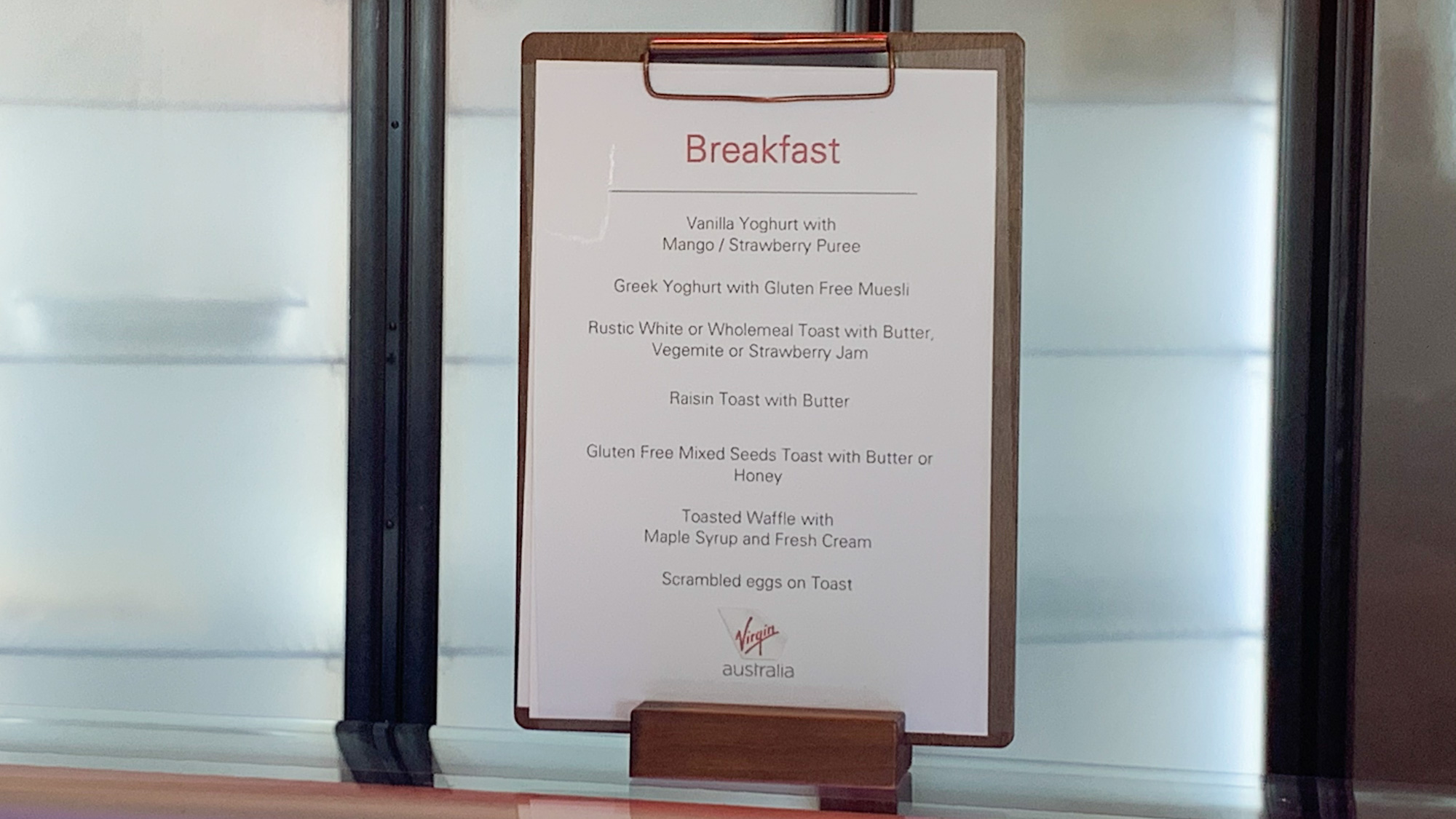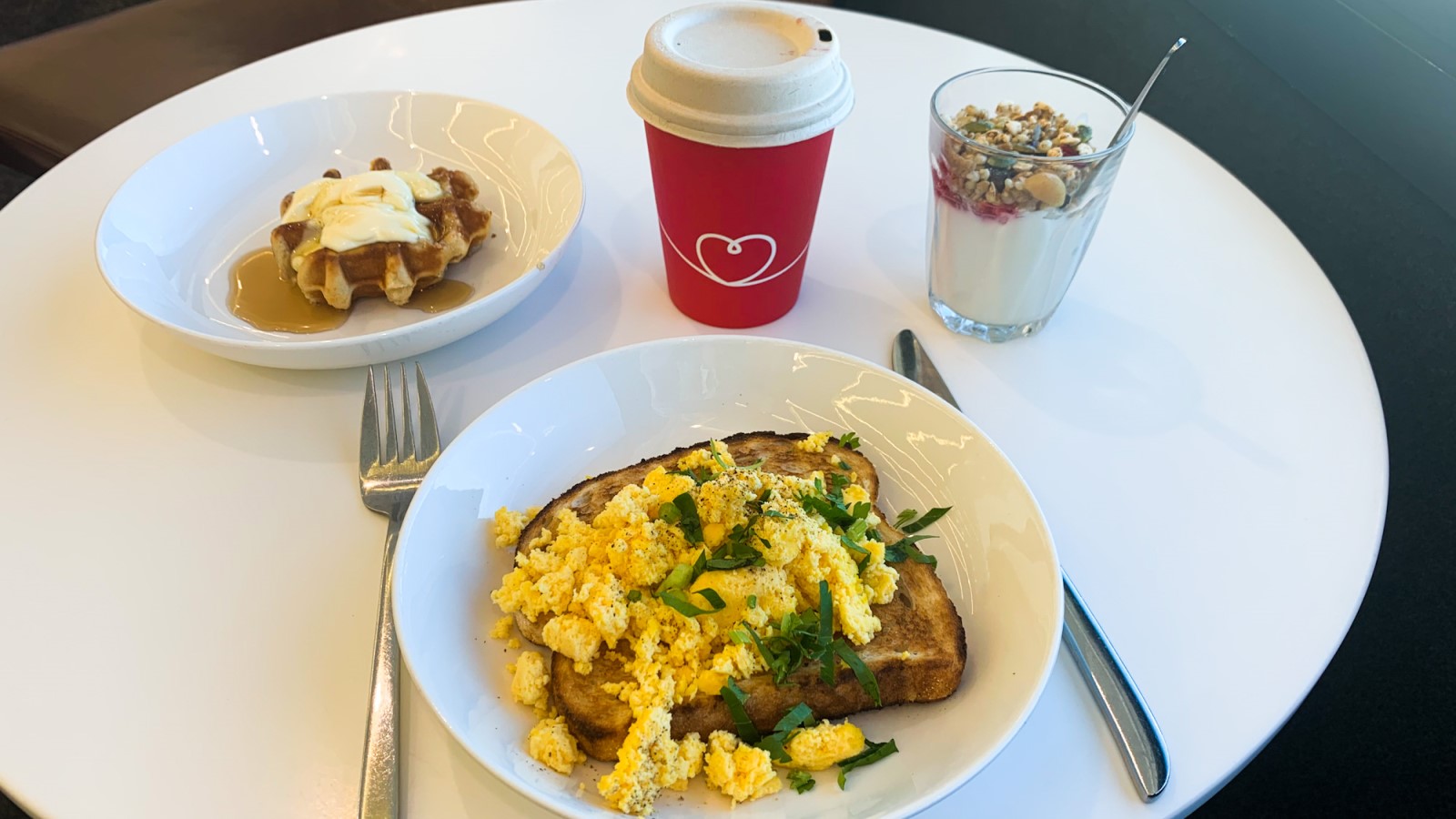 The all-day menu caters brilliantly to those seeking light and refreshing fare. You can place your order with staff at the buffet counter. For now, self-service is suspended.
During our morning visit, we didn't have a chance to try the beers and wines. Something to look forward to when we next take to the skies!
Lounge amenities
You'll find the business centre in the far corner of the lounge. Away from the hustle and bustle of the main space, it offers a quiet place to get things done.
It's also where you'll uncover two meeting rooms. Speak to the staff for bookings – and if you can, request the larger space (room number one). It gets plenty of natural light, plus tarmac views.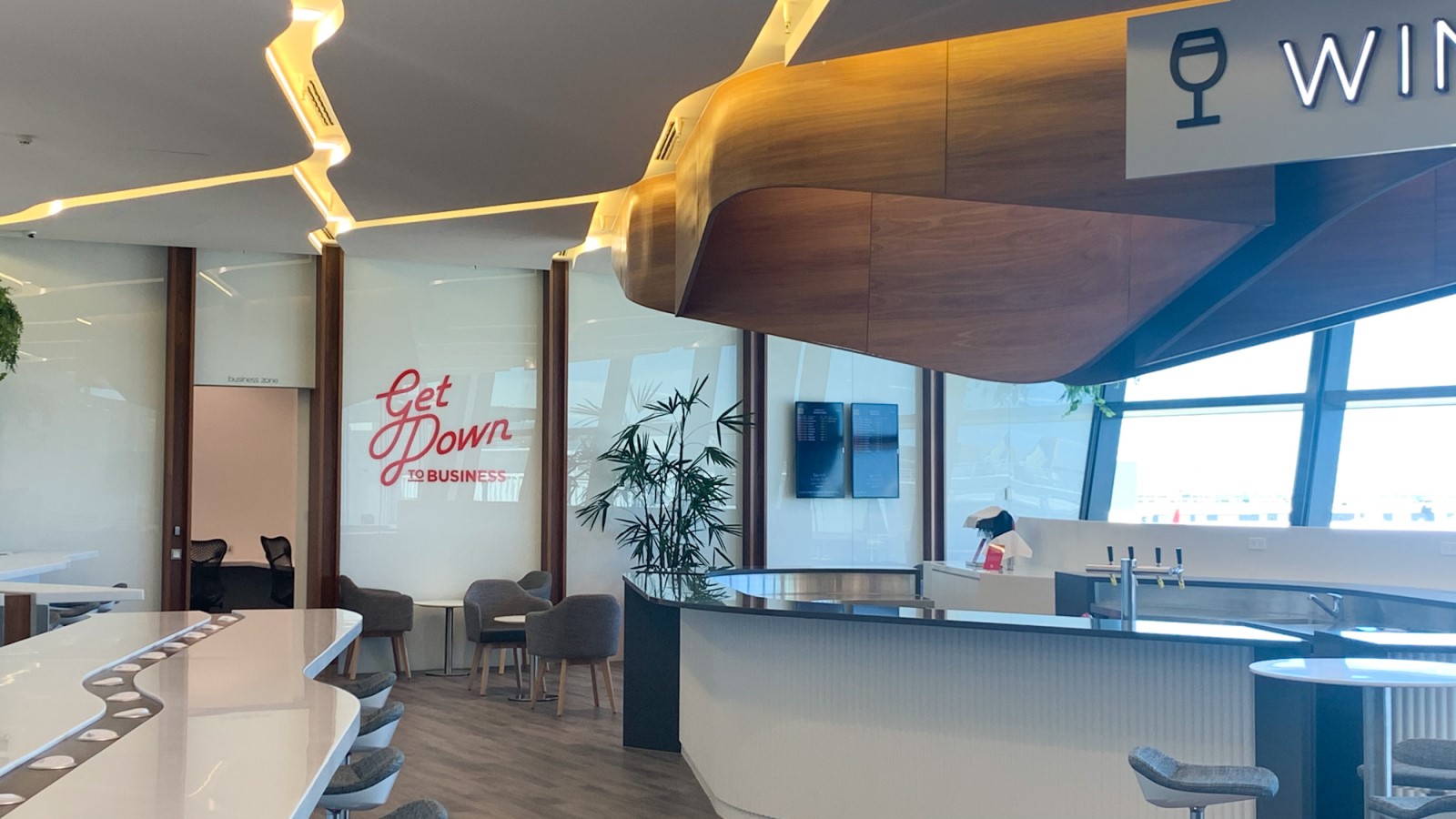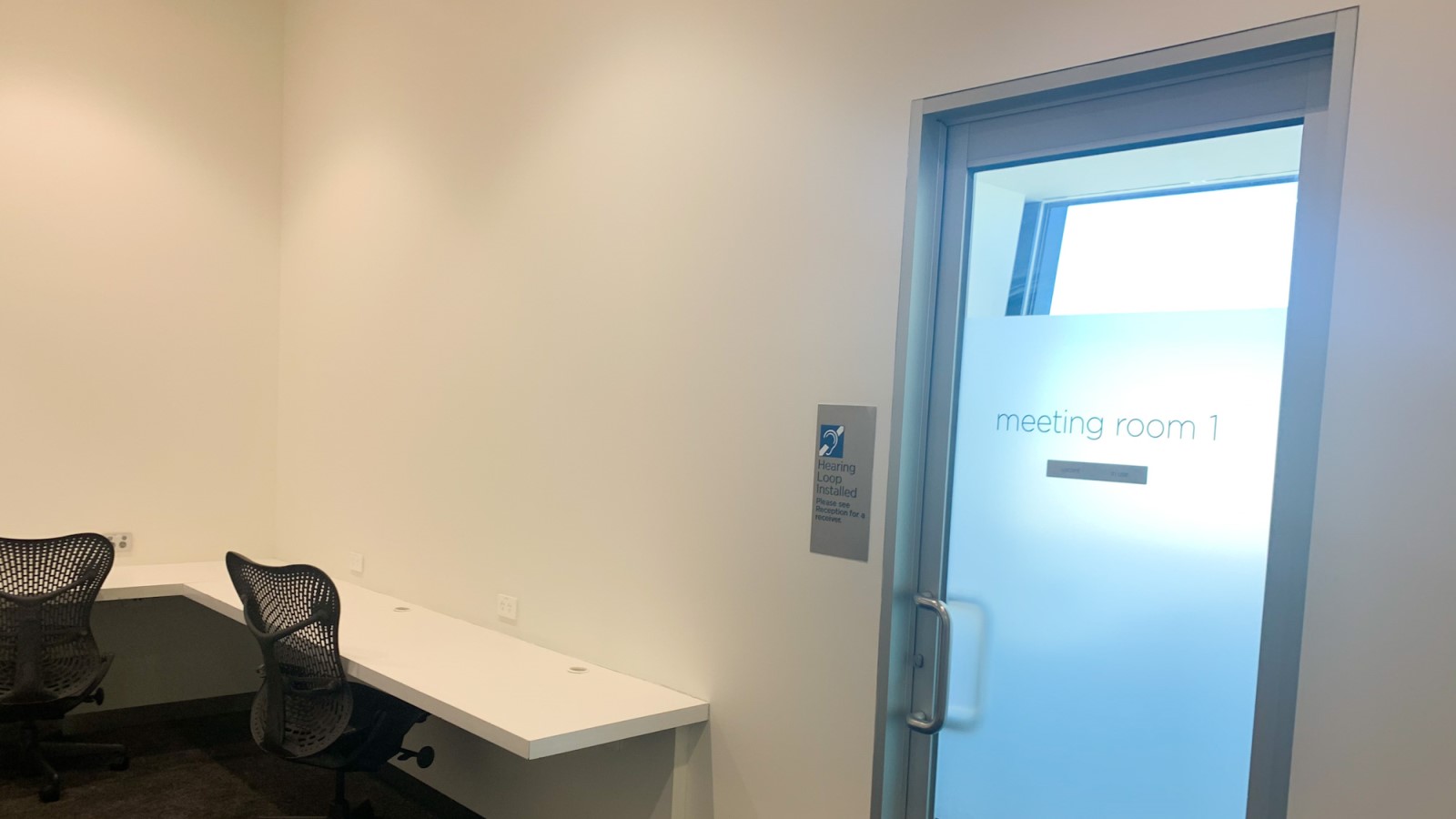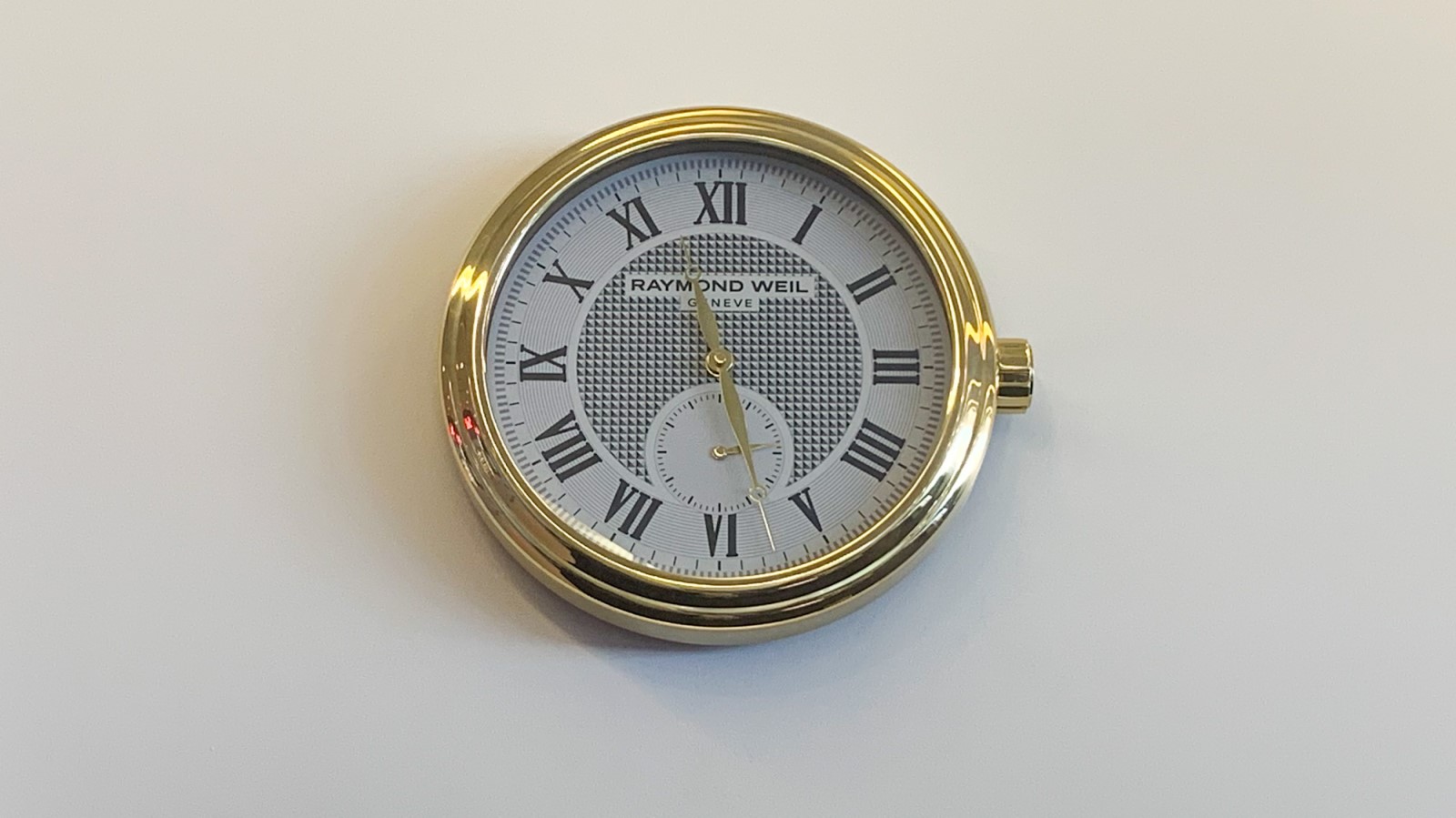 Given the lounge's extended closure, Virgin Australia took the chance to spruce up its bathrooms. That meant moving away from the long-used black and chrome theme. Now, muted green takes pride of place, accompanied by speckled grey Terrazzo-like tiling. Very stylish indeed.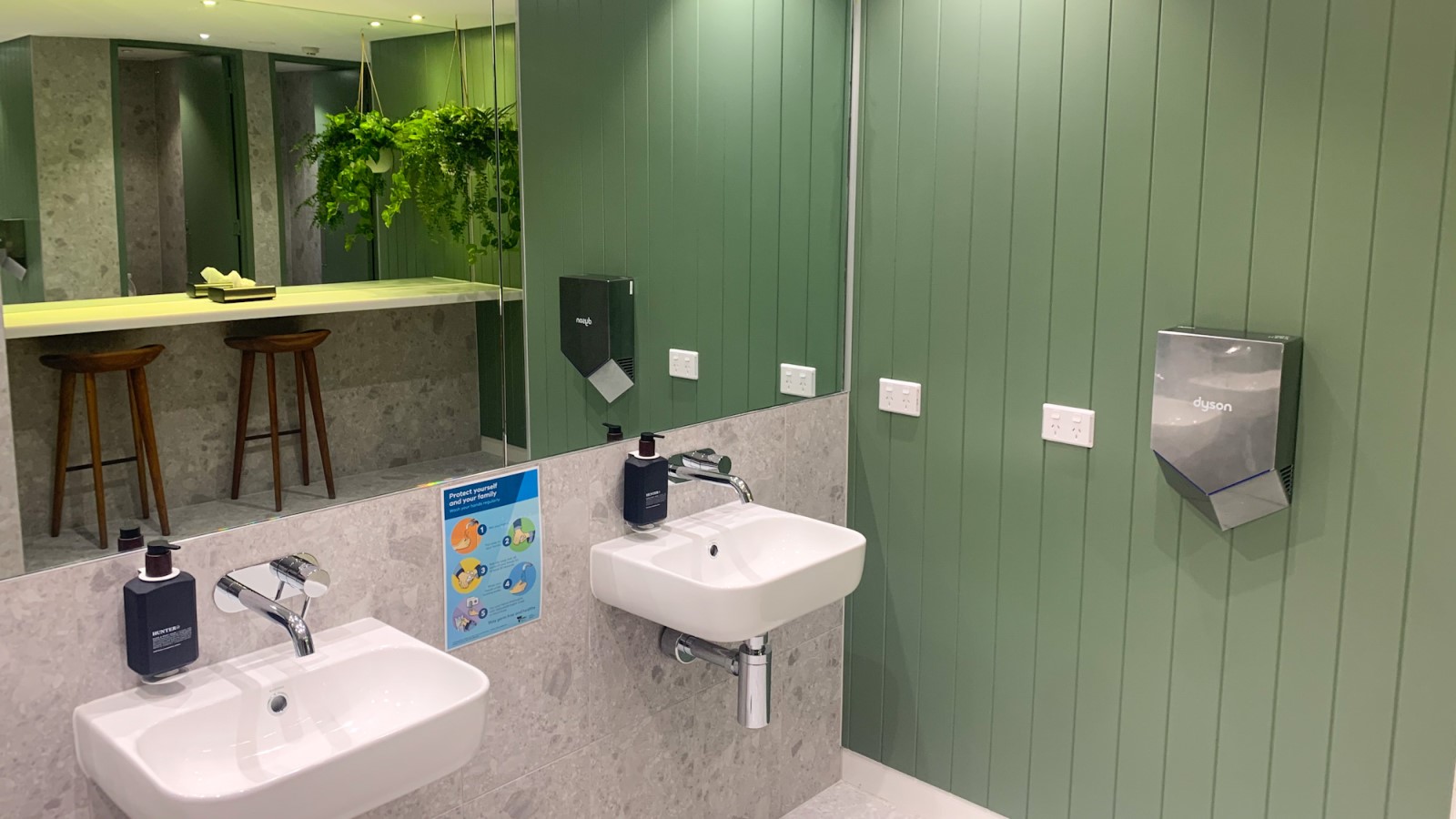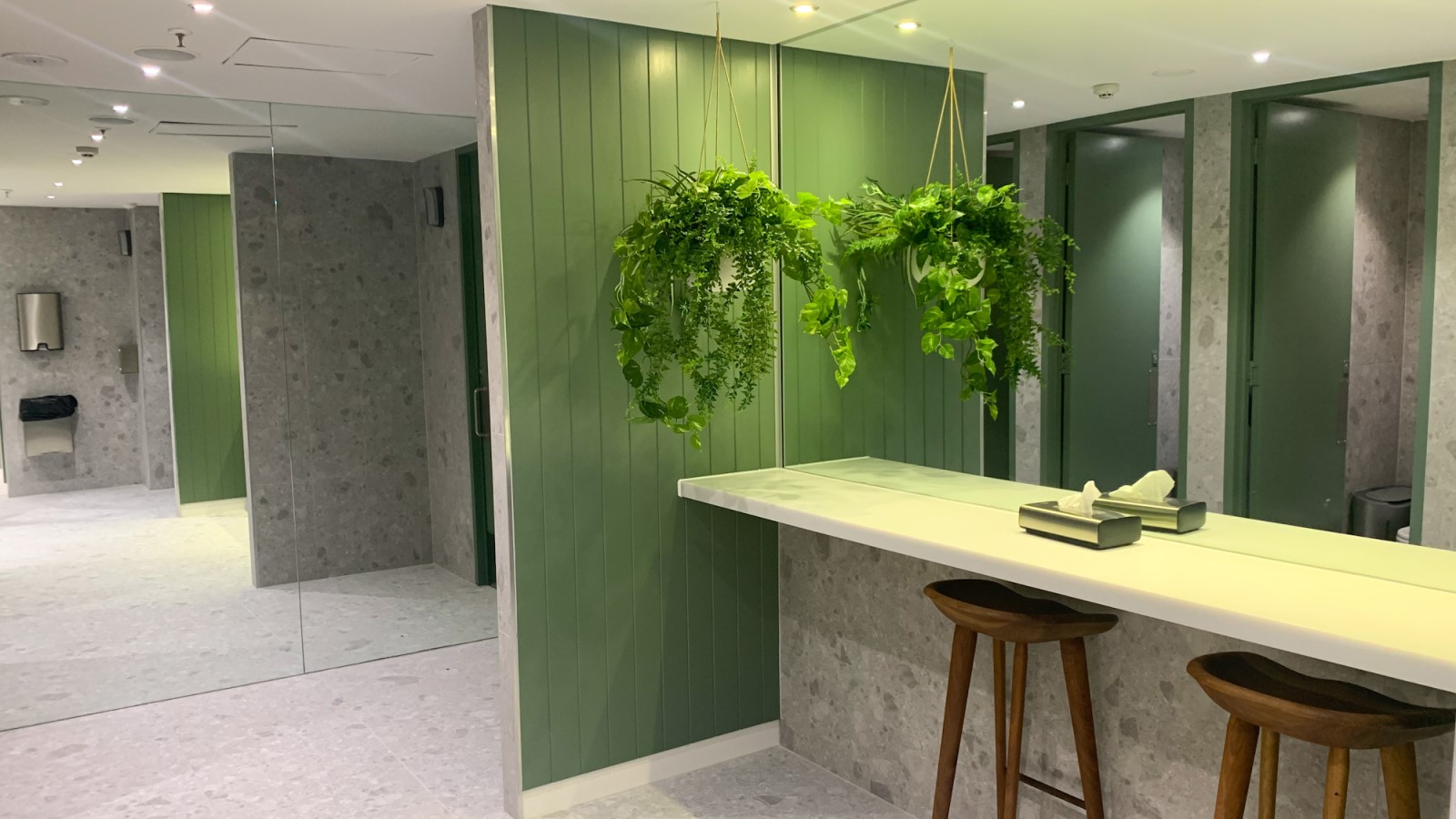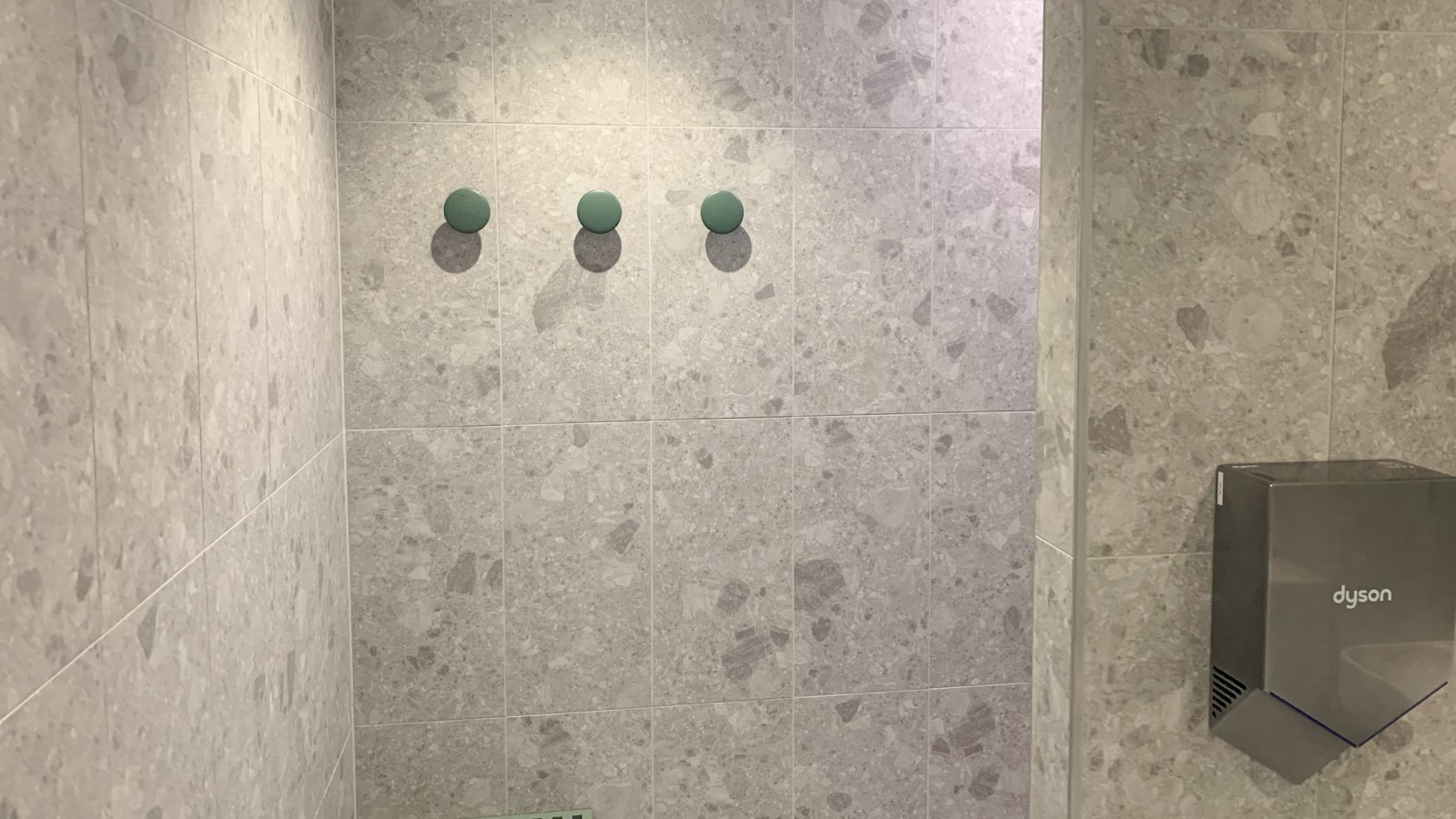 Shower facilities stay "temporarily closed due to COVID-19". Despite mask policies, the ladies' powder room keeps its mirror-side seating for quick touch-ups.
Accessing the Virgin Australia lounge
There are many ways you can enjoy the Virgin Australia lounge before your flight. Just note, access 'on arrival' for eligible flyers is paused.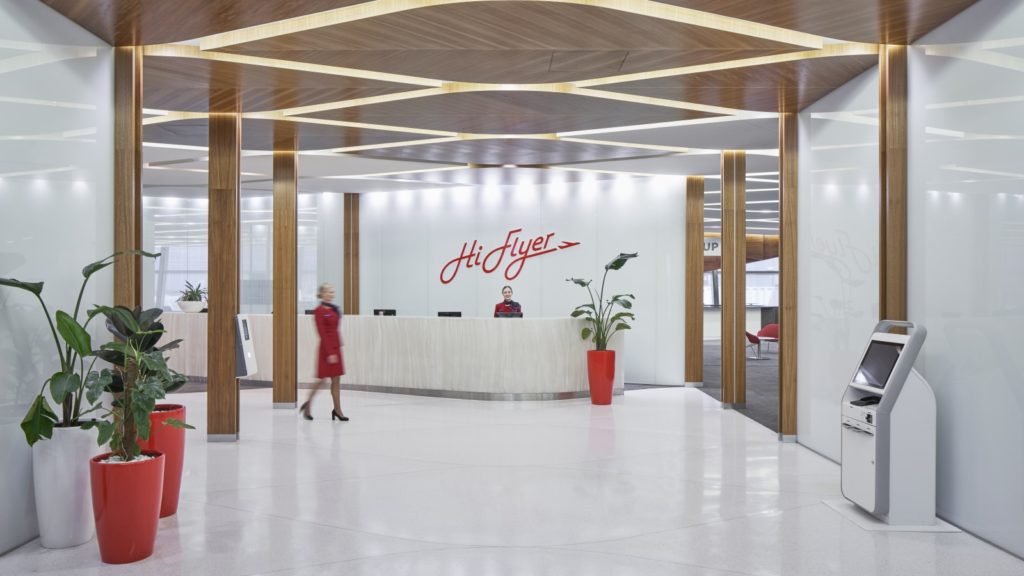 Class of travel: Virgin Australia Business Class passengers.
Velocity status: Velocity Platinum (+3 guests) and Gold (+1 guest) frequent flyers with an onward Virgin Australia boarding pass.
Lounge membership: Paid members of Virgin Australia lounges.
Airline partner frequent flyer status:

Delta Gold Medallion or higher.
Etihad Guest Gold or higher.
Singapore Airlines KrisFlyer Gold and PPS Club or higher.
South African Airways Voyager Gold or higher.
Virgin Atlantic Flying Club Gold or higher.

Single entry pass: Velocity Silver members can use their lounge passes before a Virgin Australia flight. The same applies to eligible credit card holders who receive lounge passes. The American Express Velocity Platinum Card offers two annual passes, for example.
Charge cards: American Express Platinum, Business Platinum and Centurion cardholders get access before Virgin Australia flights. Just present the eligible card for access.
Paid entry: One-off access can be purchased at the door for $65 – subject to available space.
Read more about Virgin Australia lounge access here →
Summing up
The long-awaited return of Virgin Australia's Melbourne lounge is finally here. It's great to see a familiar space embellished with modern style and a fresh feel. Even with the current capacity limit, the lounge was far from full when we stopped by. Expect that to remain true for some time, as domestic travel slowly bounces back.
Still, the lounge's location before security adds a degree of inconvenience. This is particularly true for travellers transiting Melbourne Airport.
There's no doubt the later return of Premium Exit will be a welcome boon for frequent flyers. And the eventual relocation of Melbourne's main security points will one day find this lounge airside. In the meantime, enjoy this sunny and uplifting space – sunglasses optional.
Photography by Antonia Strakosch. Selected images supplied by Virgin Australia.
Virgin Australia Lounge, Melbourne
was last modified:
November 3rd, 2021
by