The Virgin Australia Perth lounge welcomes a wide range of passengers jetting off near and far. Whether you're heading up north to a mine site or over east for a holiday, the lounge is waiting for you,
Built in 2015 as part of the dedicated T1 Domestic Pier, the Virgin Australia lounge serves passengers departing on flights from T1 Domestic and T2. We take a fresh new look at this lounge in 2022, on the eve of WA's borders reopening to interstate and international travel.
Lounge location & details
The Virgin Australia Perth Lounge is easy to miss if you're not sure where it is (as I did back in 2015). If you're coming from T1, it's directly after security on your left. If you're coming from T2, follow the signs to T1 Domestic after security, and meander down the connector corridor. You'll end up right next to the lounge.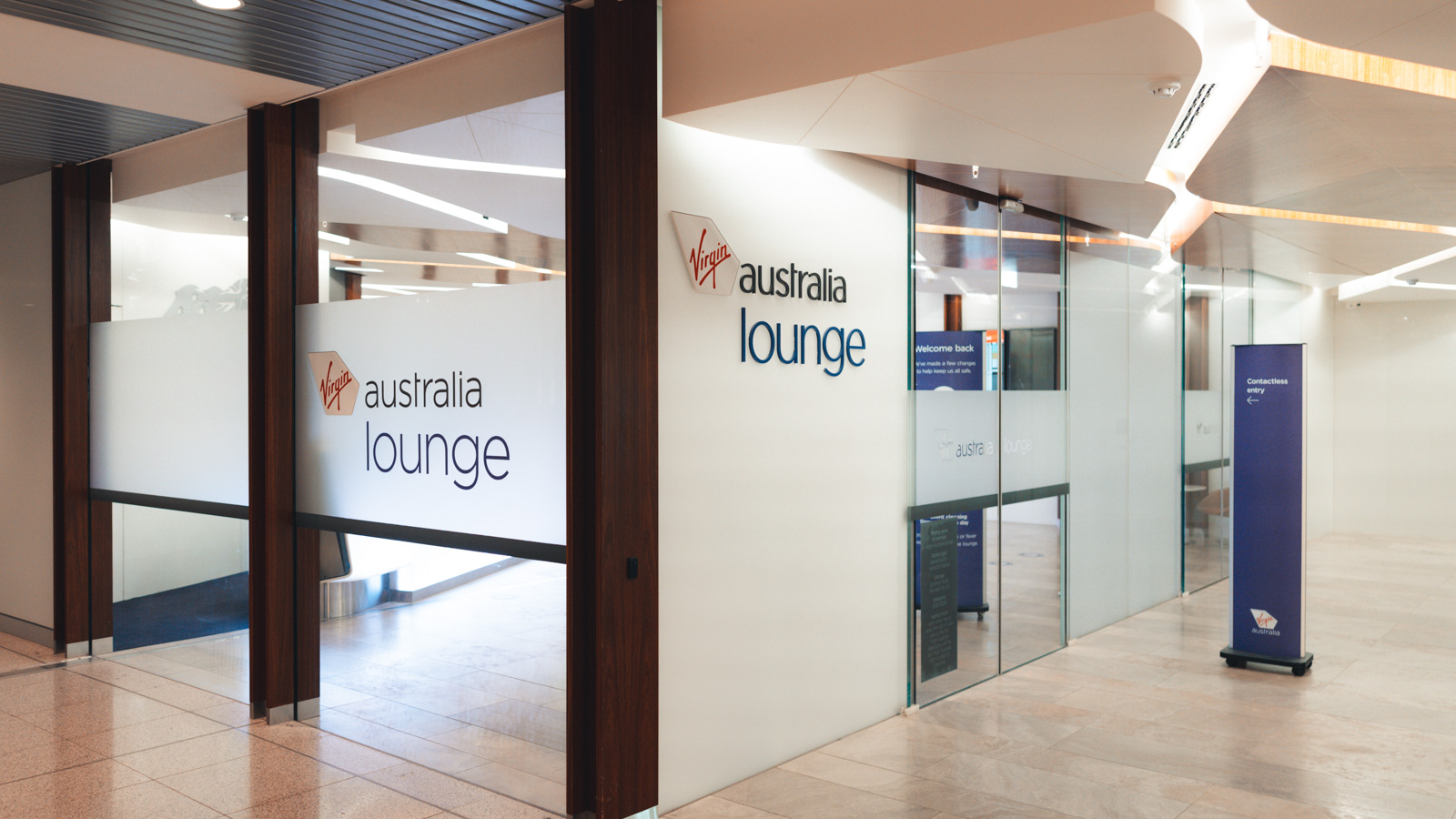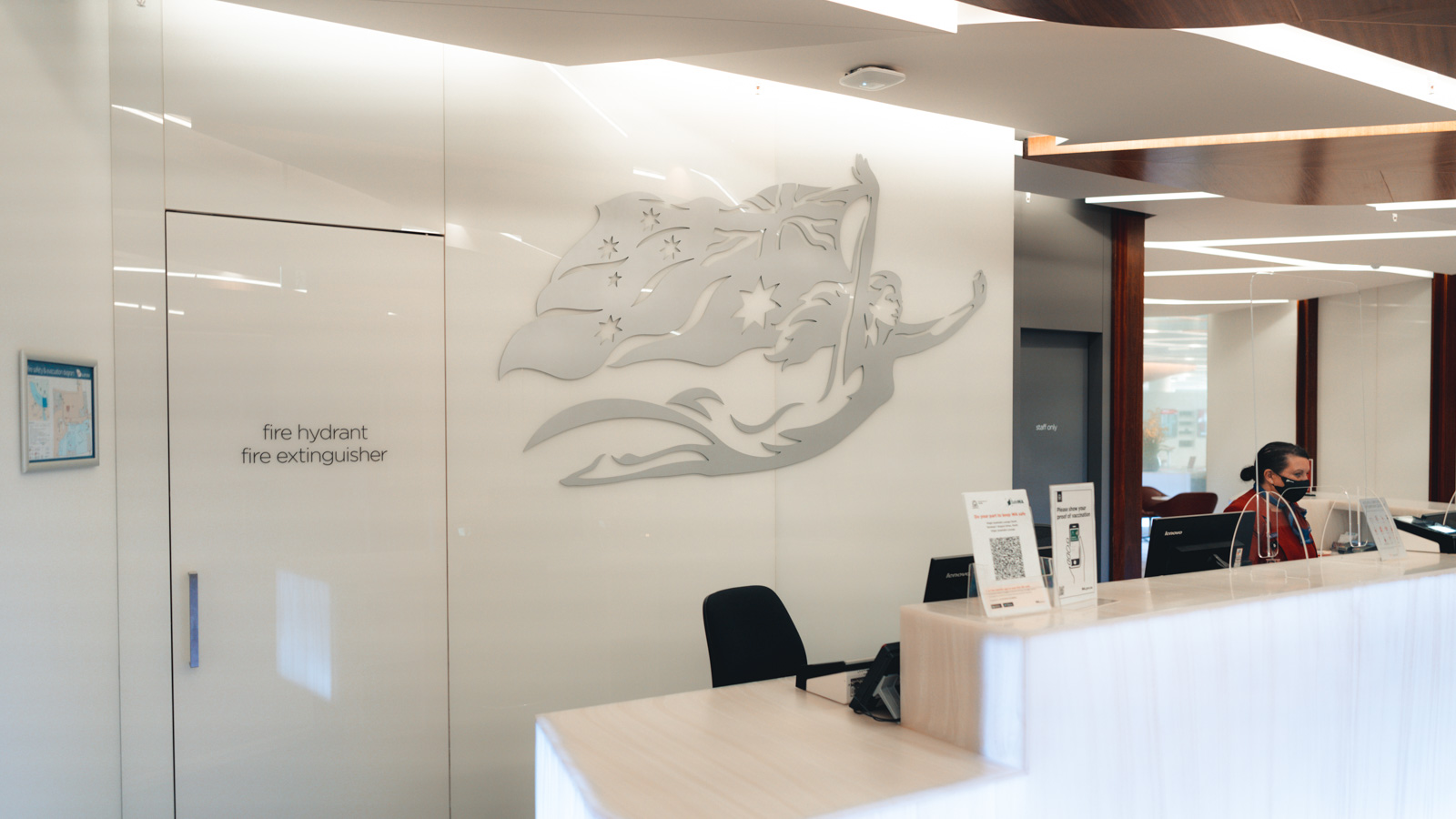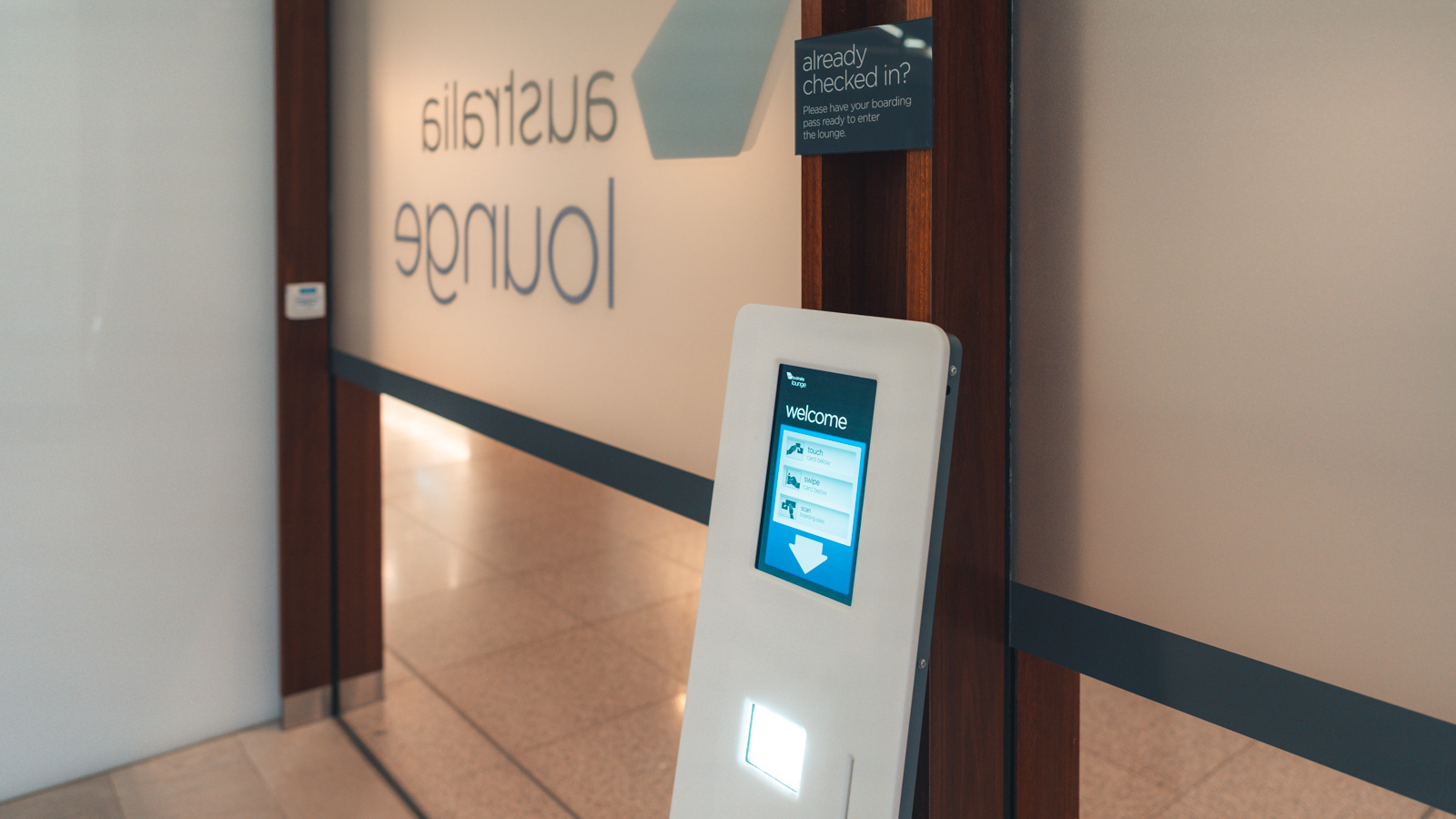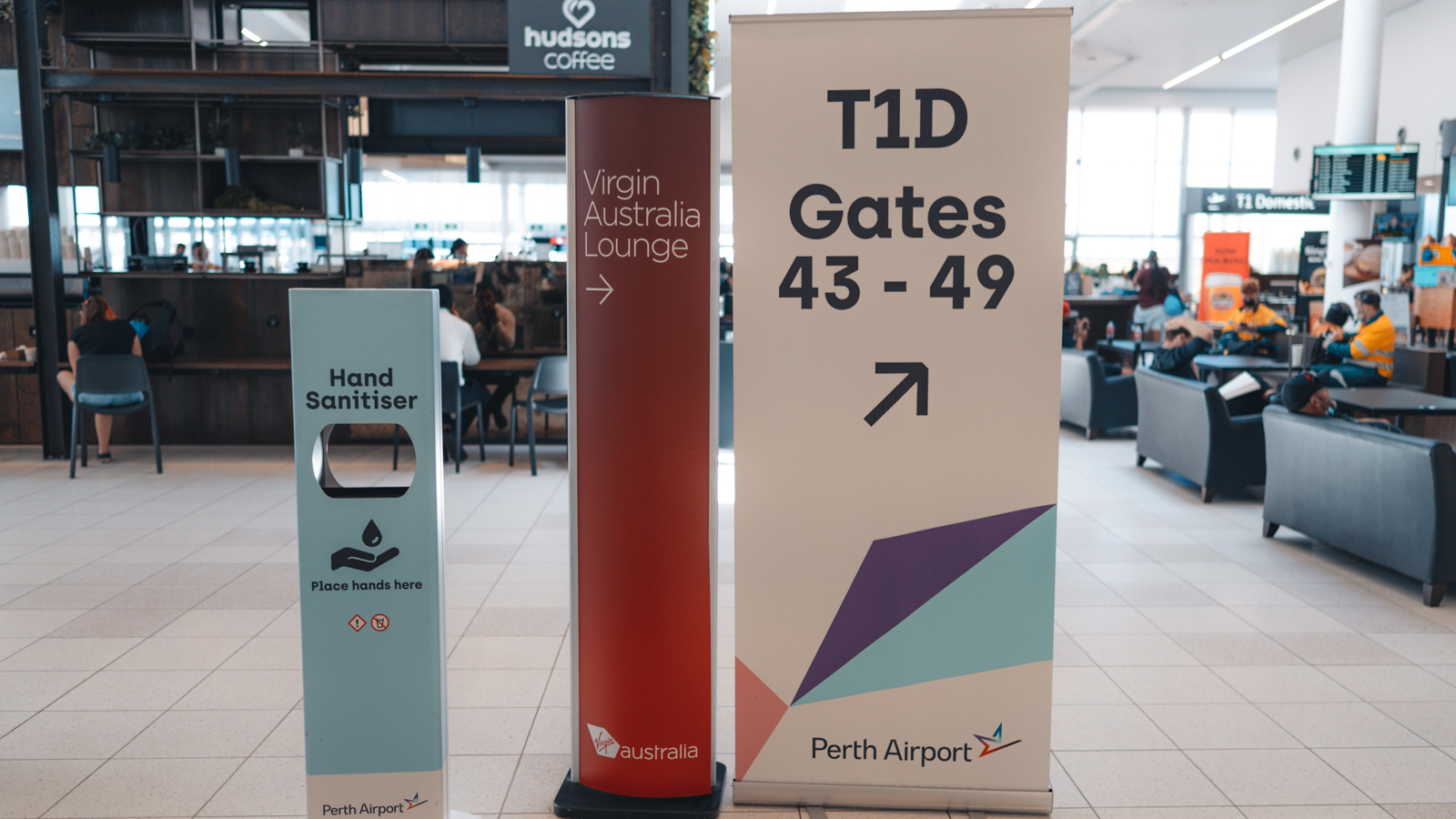 Inside is a large reception area that's adorned by Virgin's signature 'Flying Maiden' design. You can use one of the self-check-in machines to enter or visit the friendly staff at the counter.
Lounge layout & seating
There's plenty of seating in this wide-open space, though capacity has been reduced somewhat because of COVID-19 restrictions. The result is a much cleaner, less-cluttered look compared to before. In typical Virgin fashion, you have the choice of cocktail tables, shared work desks, or relaxed seating by the windows.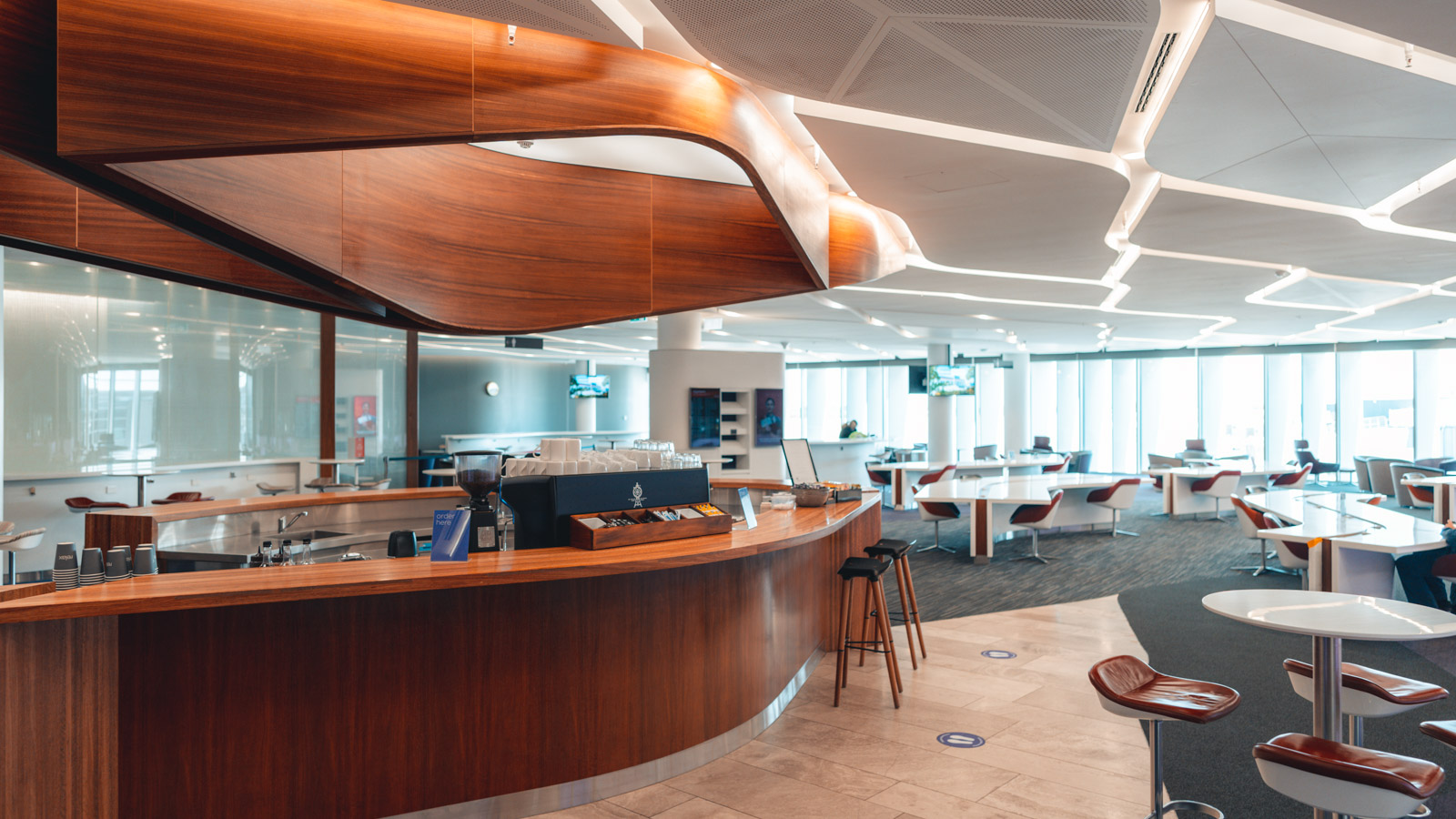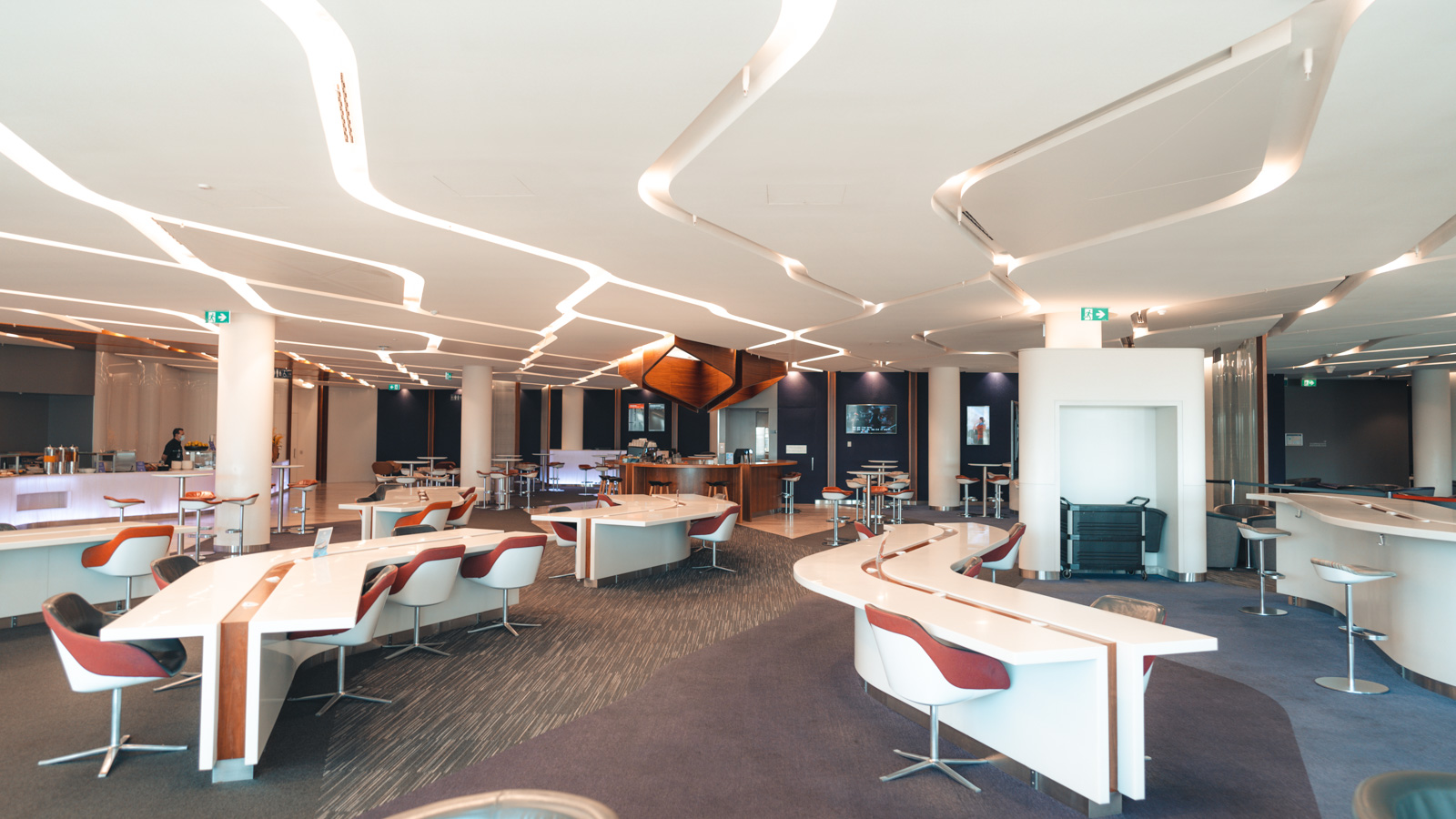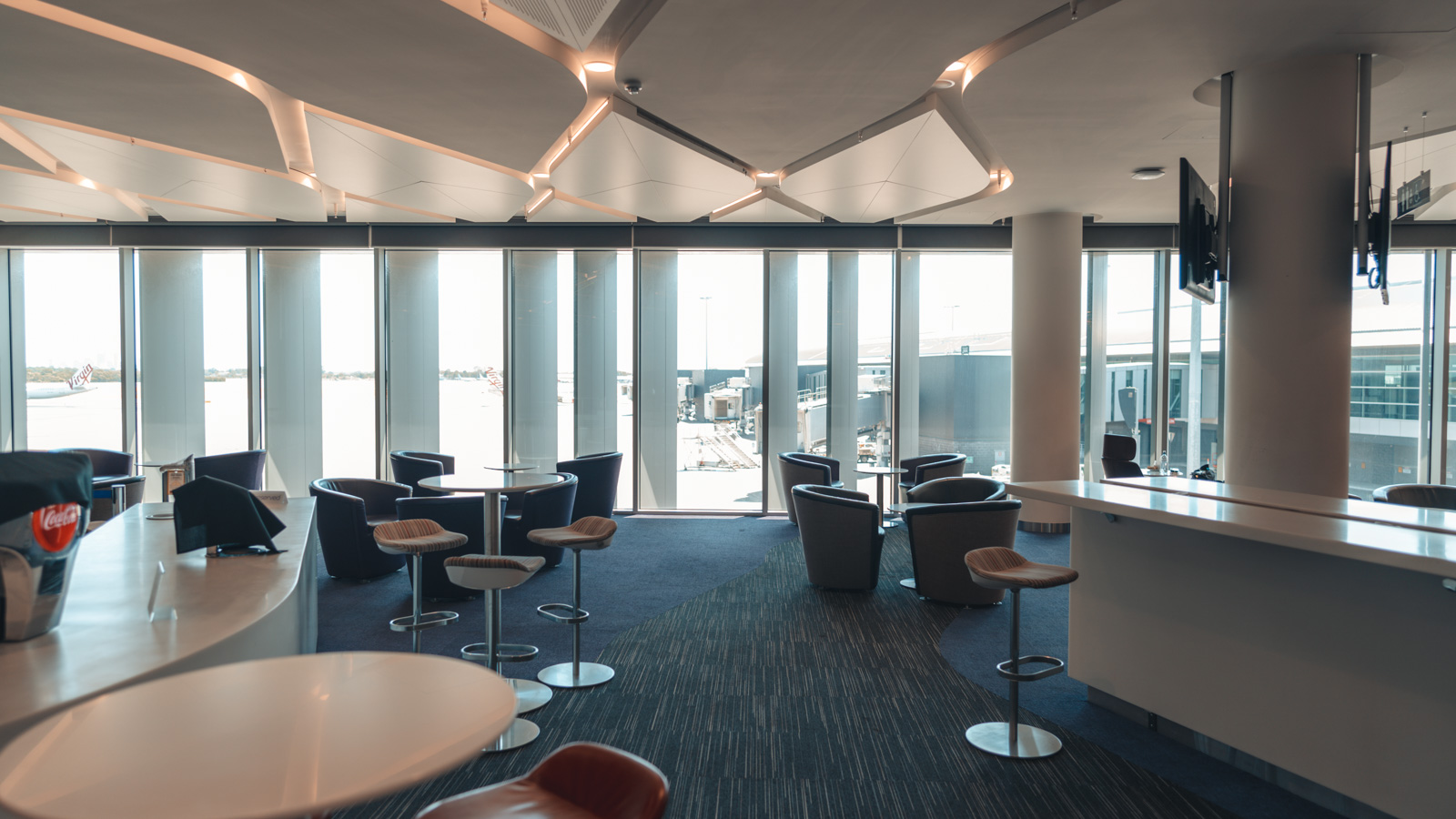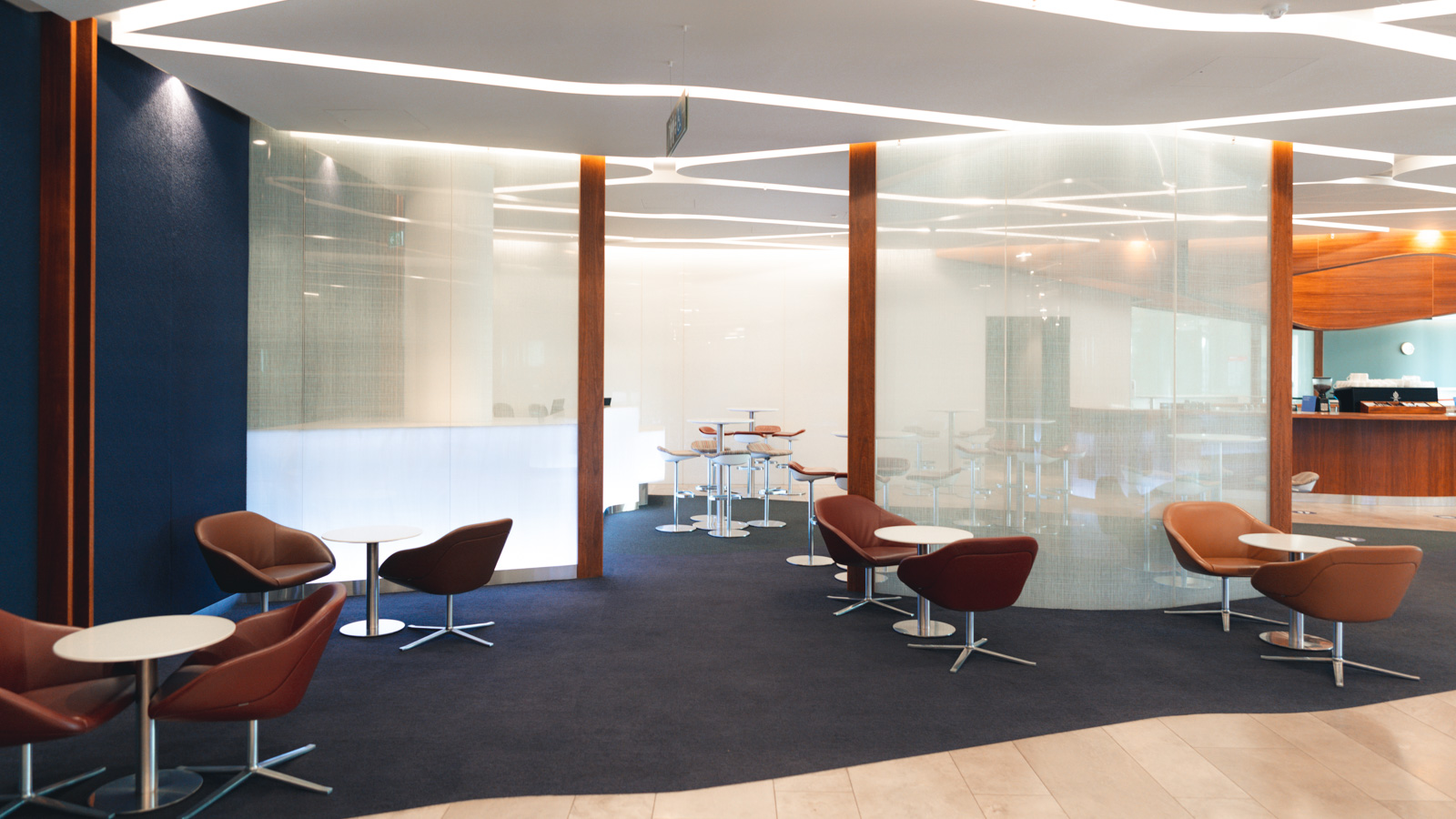 As I often travel solo for work, I'm quite enamoured by the comfy seat and ottoman setup by the windows – perfect for planespotting and kicking back with a drink! (Not that there's much to see at the moment…)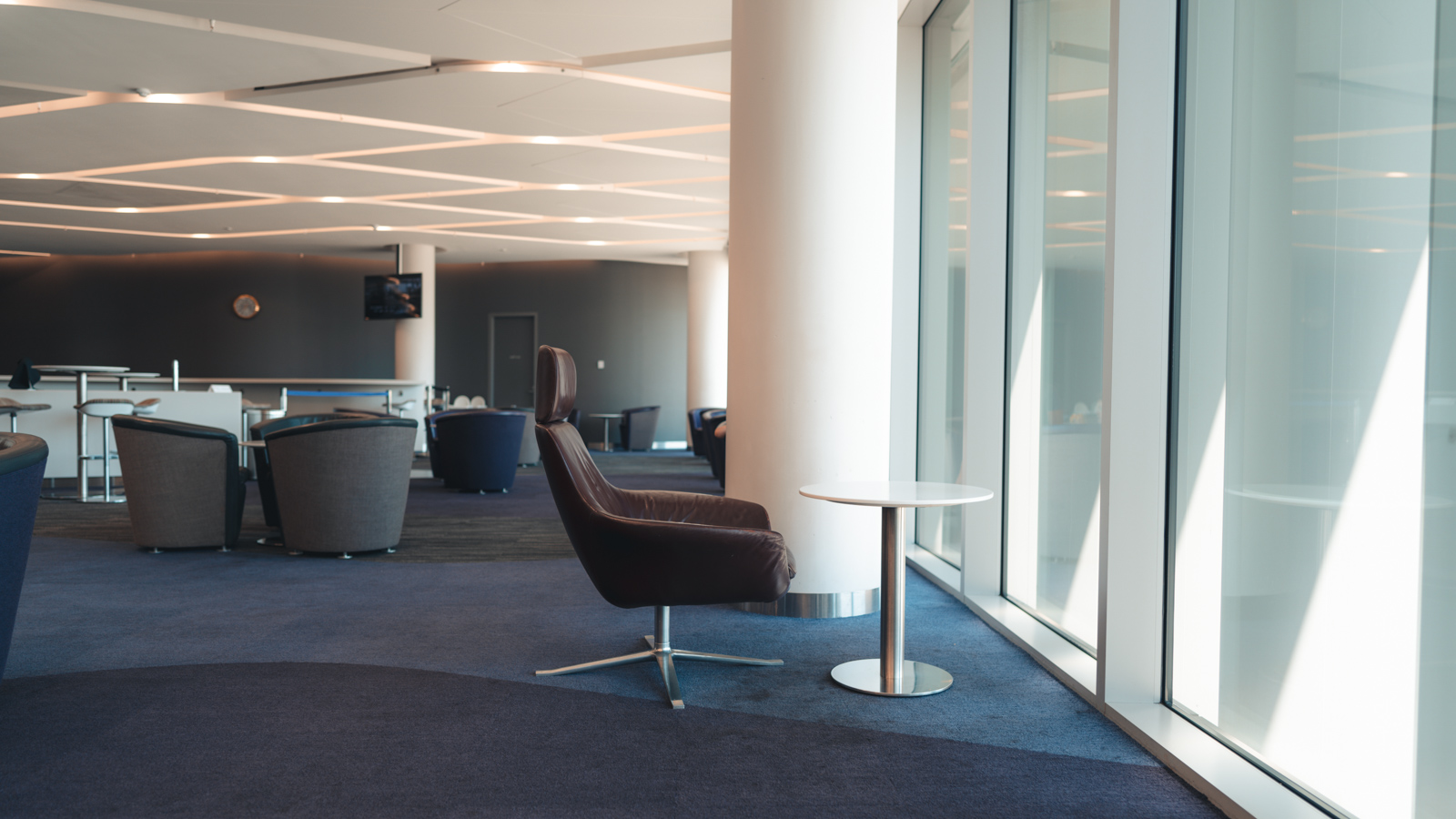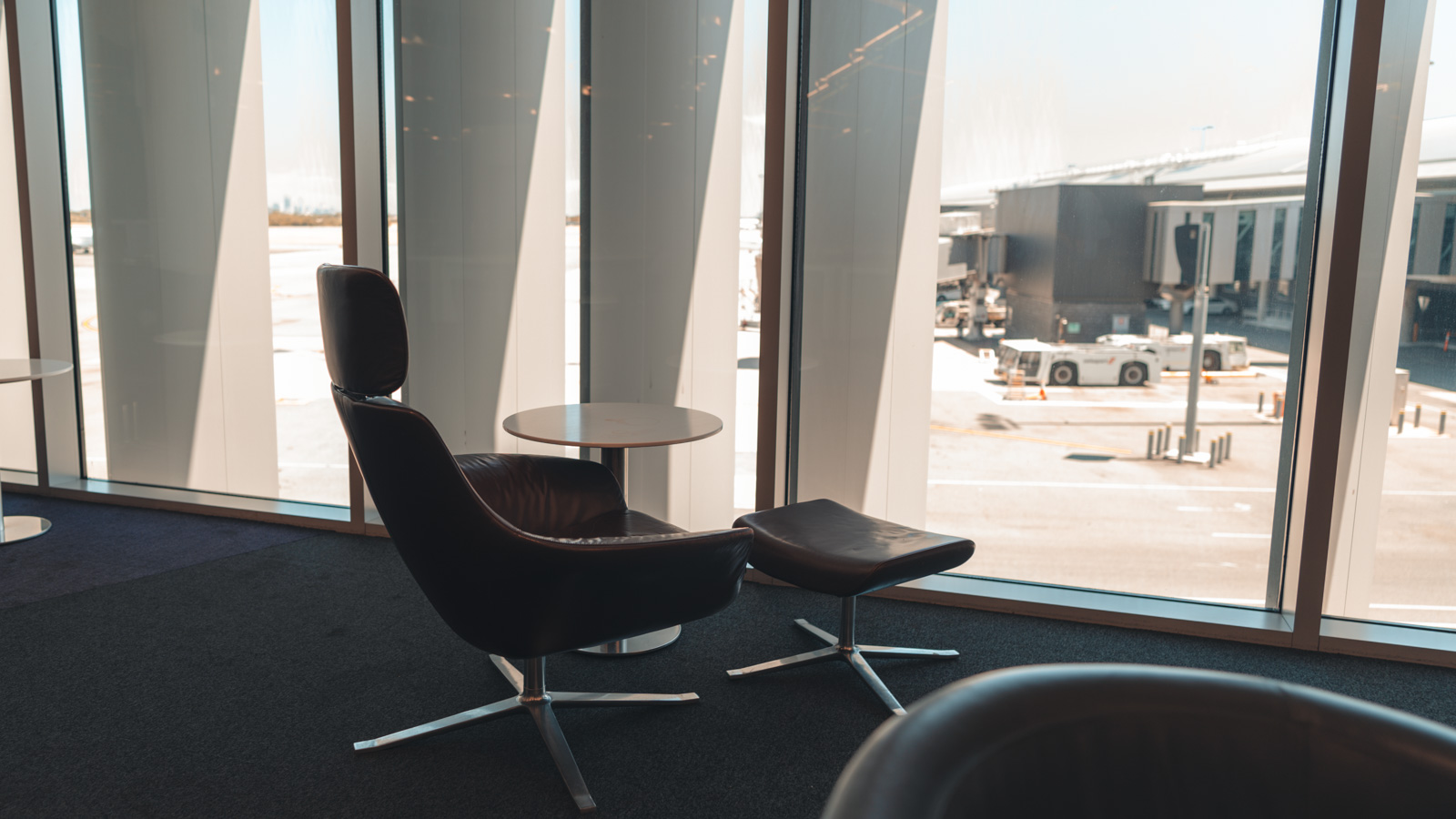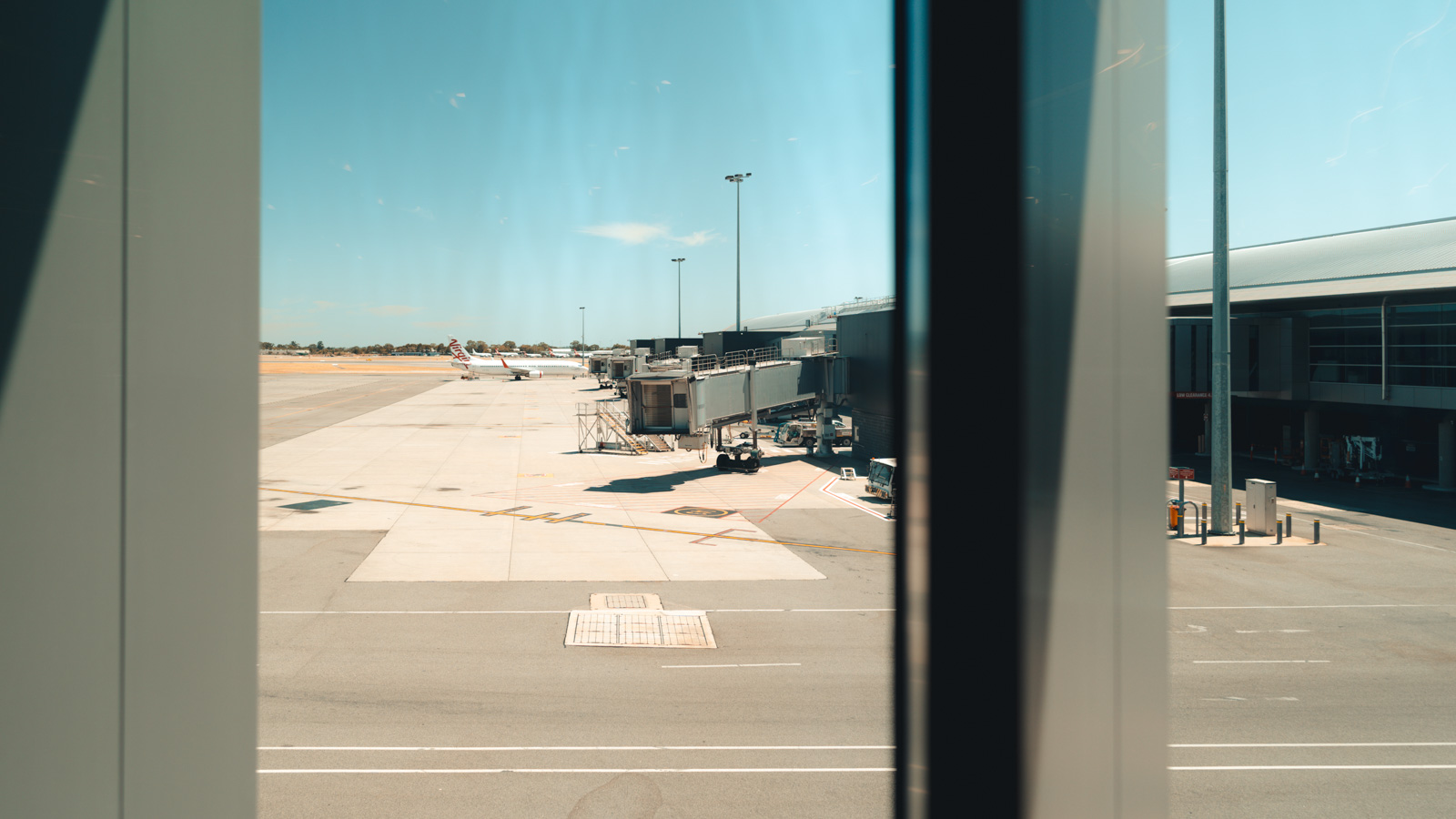 You can't miss the impressive Espresso Bar, decked out in contrasting woody tones. During the morning rush, you can pick up a freshly-brewed coffee from there. And adorning one entire side of the lounge are the snaking food and beverage counters, which now feature Virgin's updated lounge dining concept.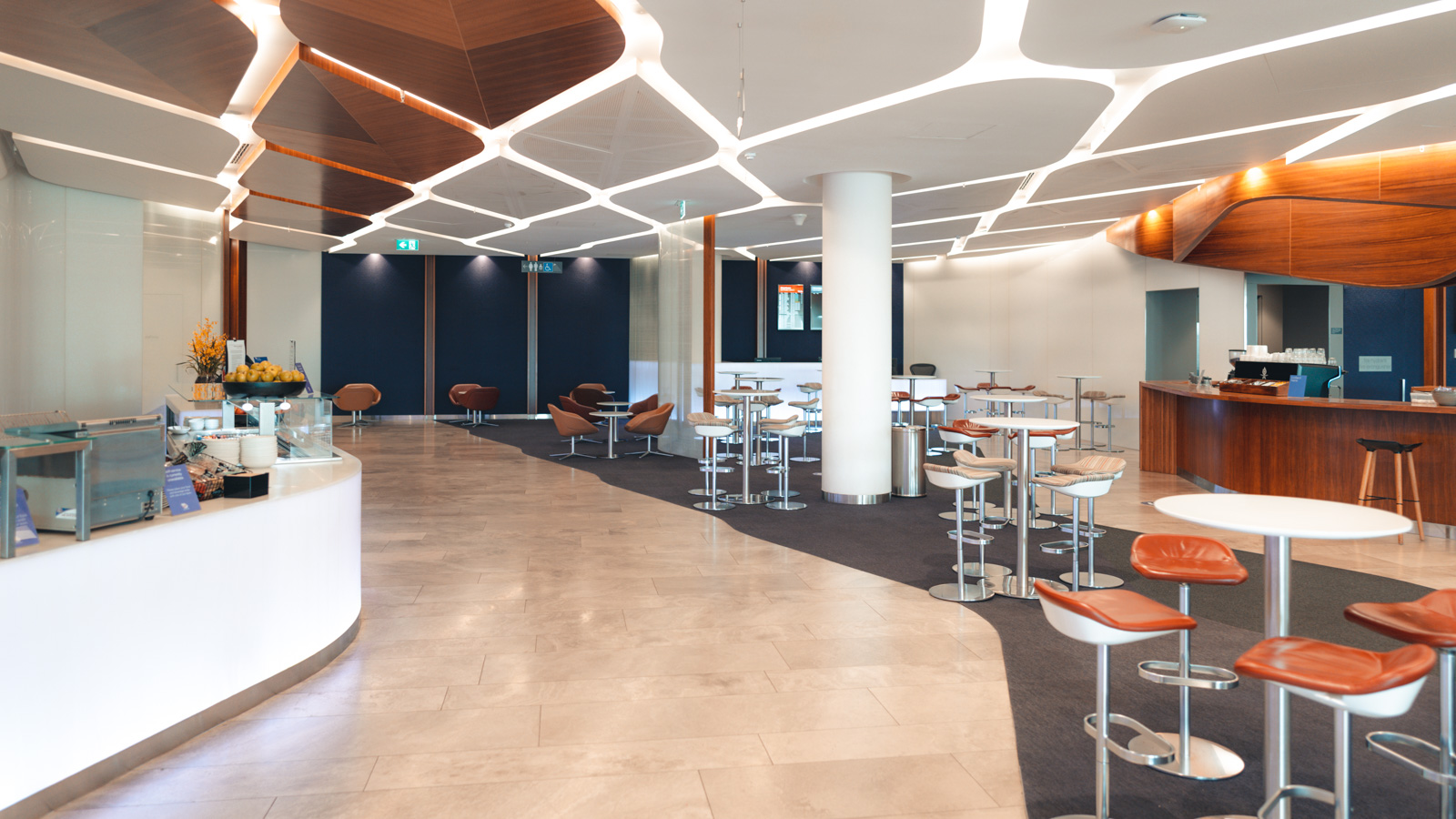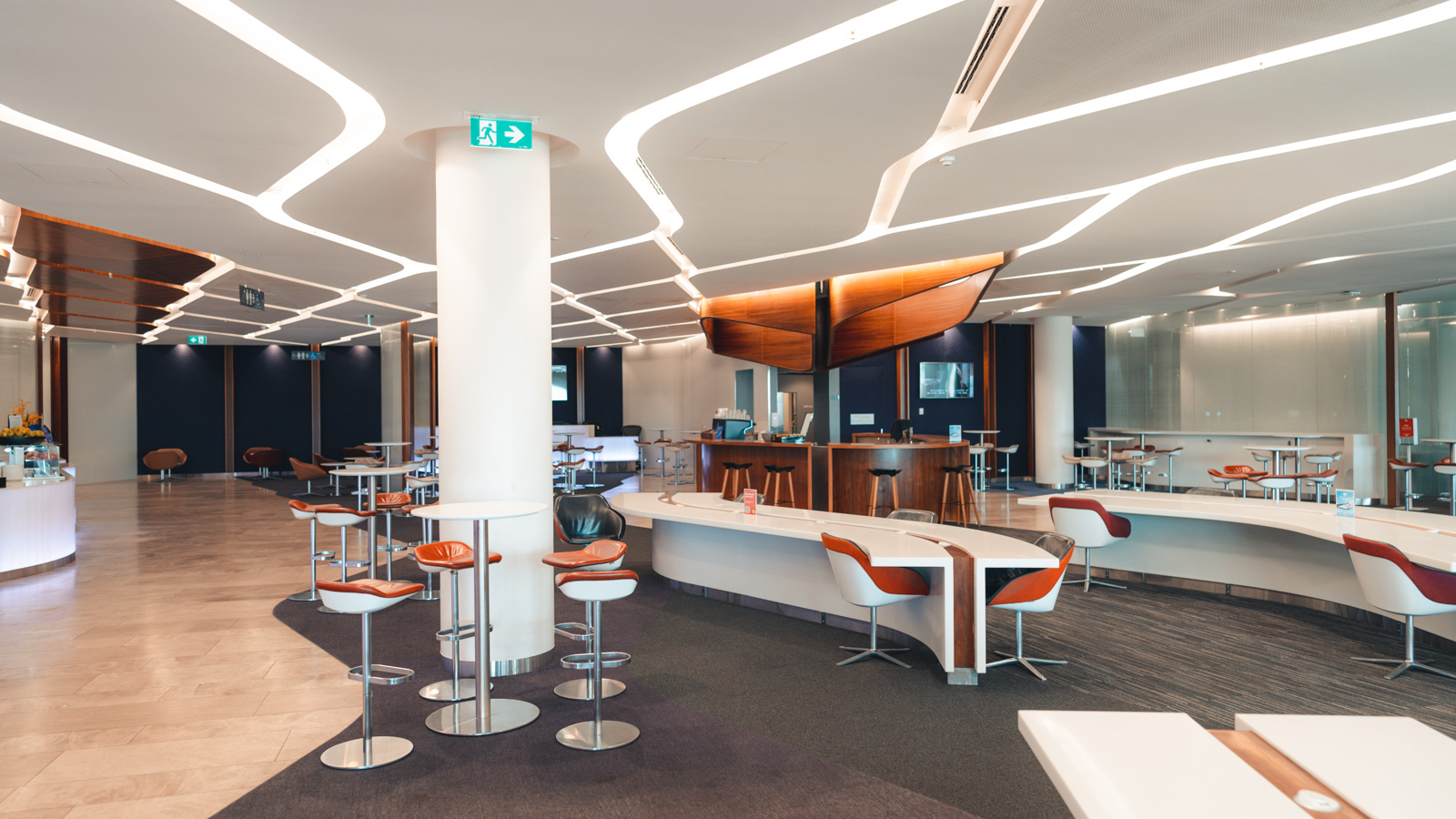 Towards the rear of the lounge, there is a small business centre nook to get work and printing done. This space was closed during my visit, but we hope it's up and running in the near future.
Food & Drink
Since its revamp in 2021, Virgin Australia has refreshed its lounge dining concept. Passengers can now look forward to a range of healthy hot and cold individually-portioned items. For lunch, that includes tandoori chicken sandwiches, hot soup and bread, Mediterranean salads, and a Thai beef noodle salad.
All the options look quite fresh and appealing, which is important in this age of being health-conscious. I tried the Thai beef salad, which was tender and full of flavour.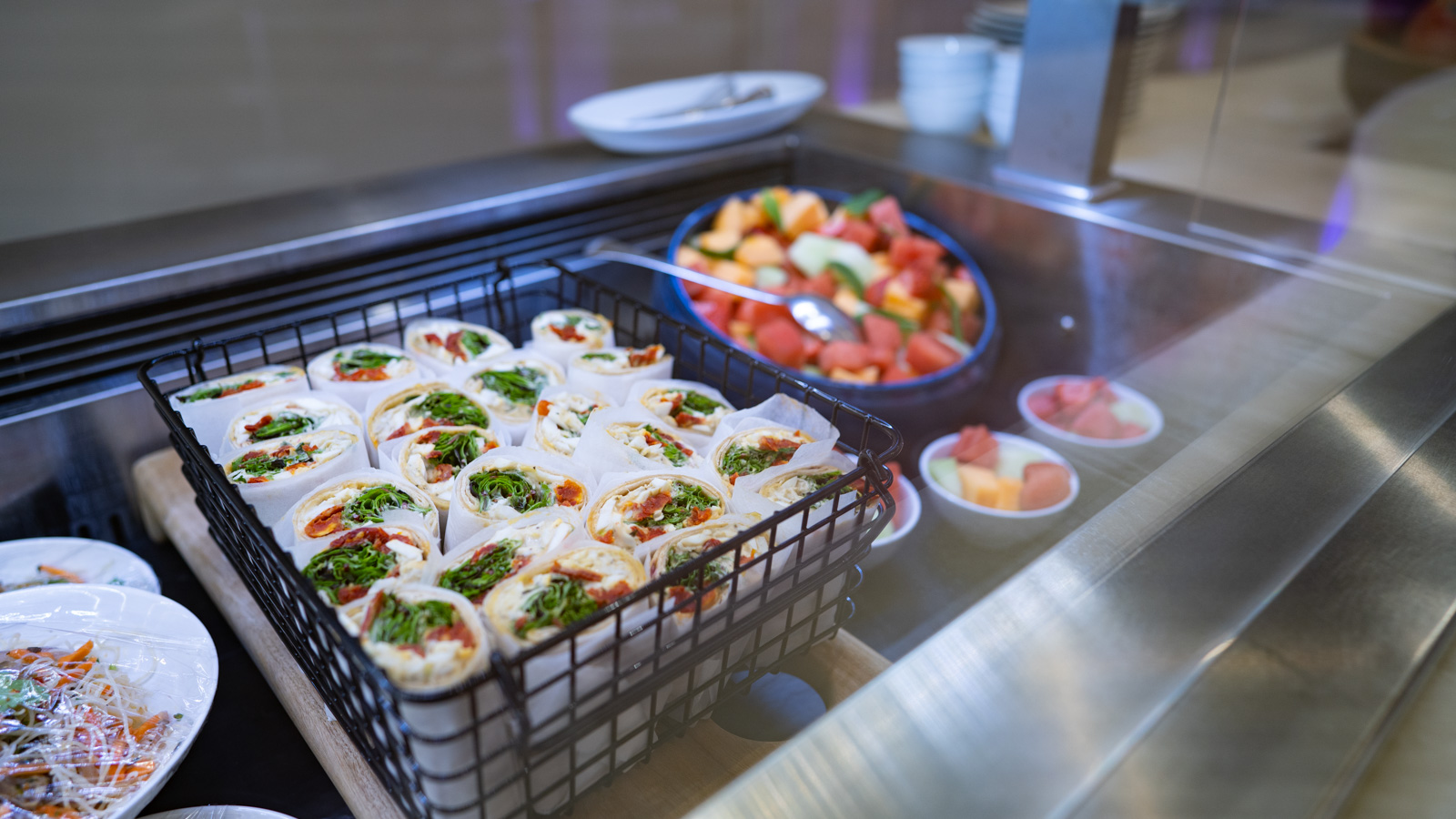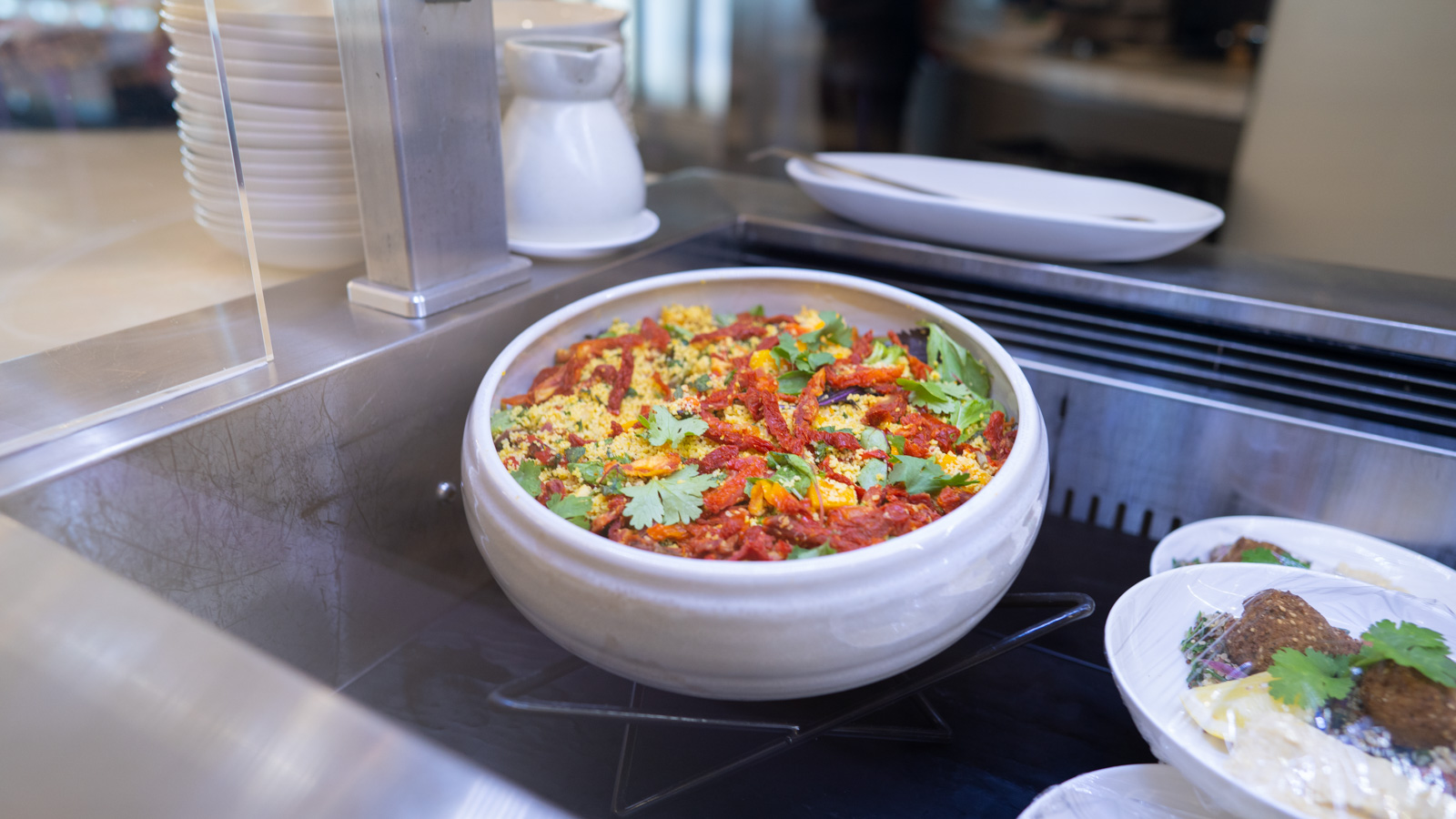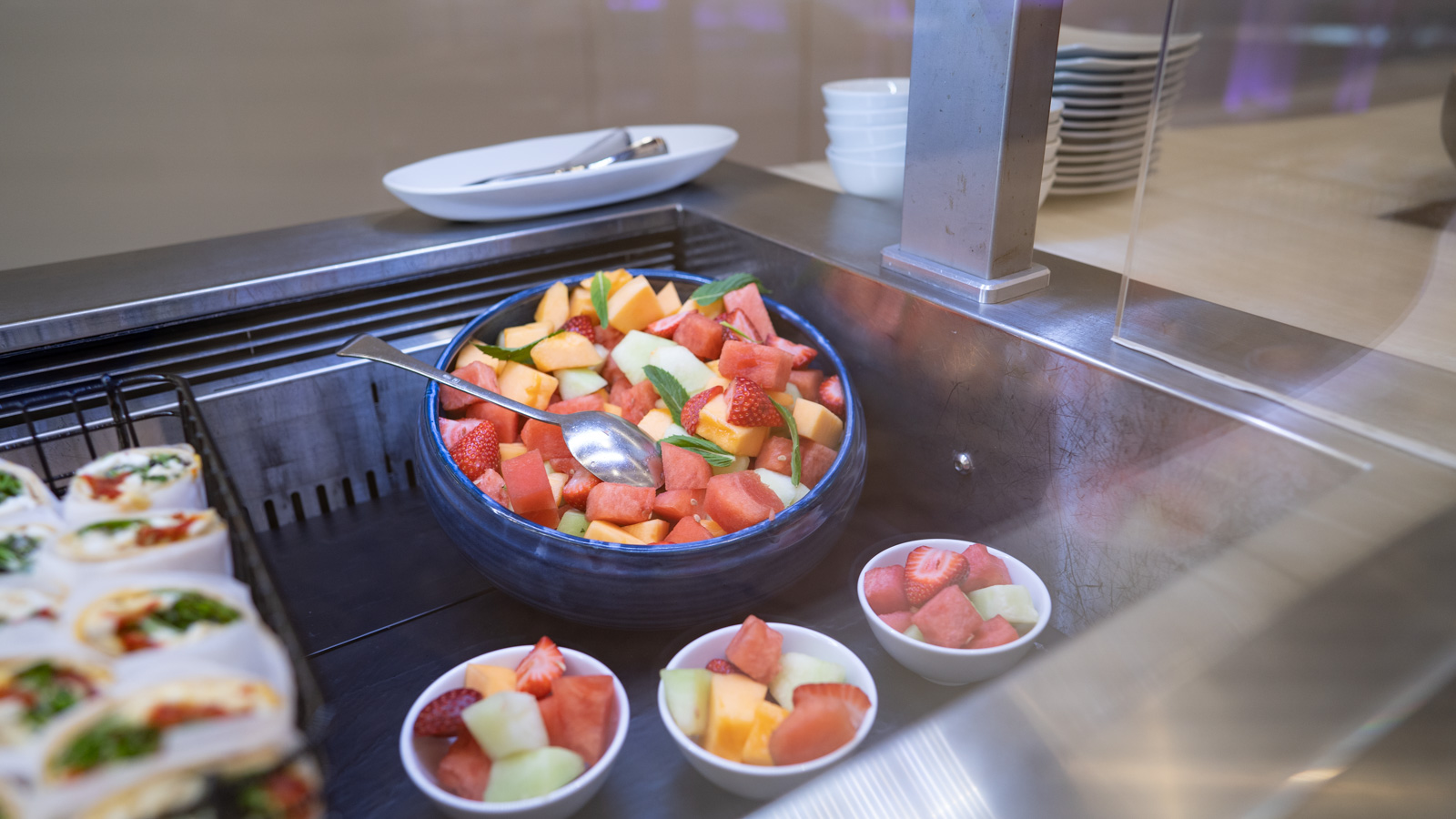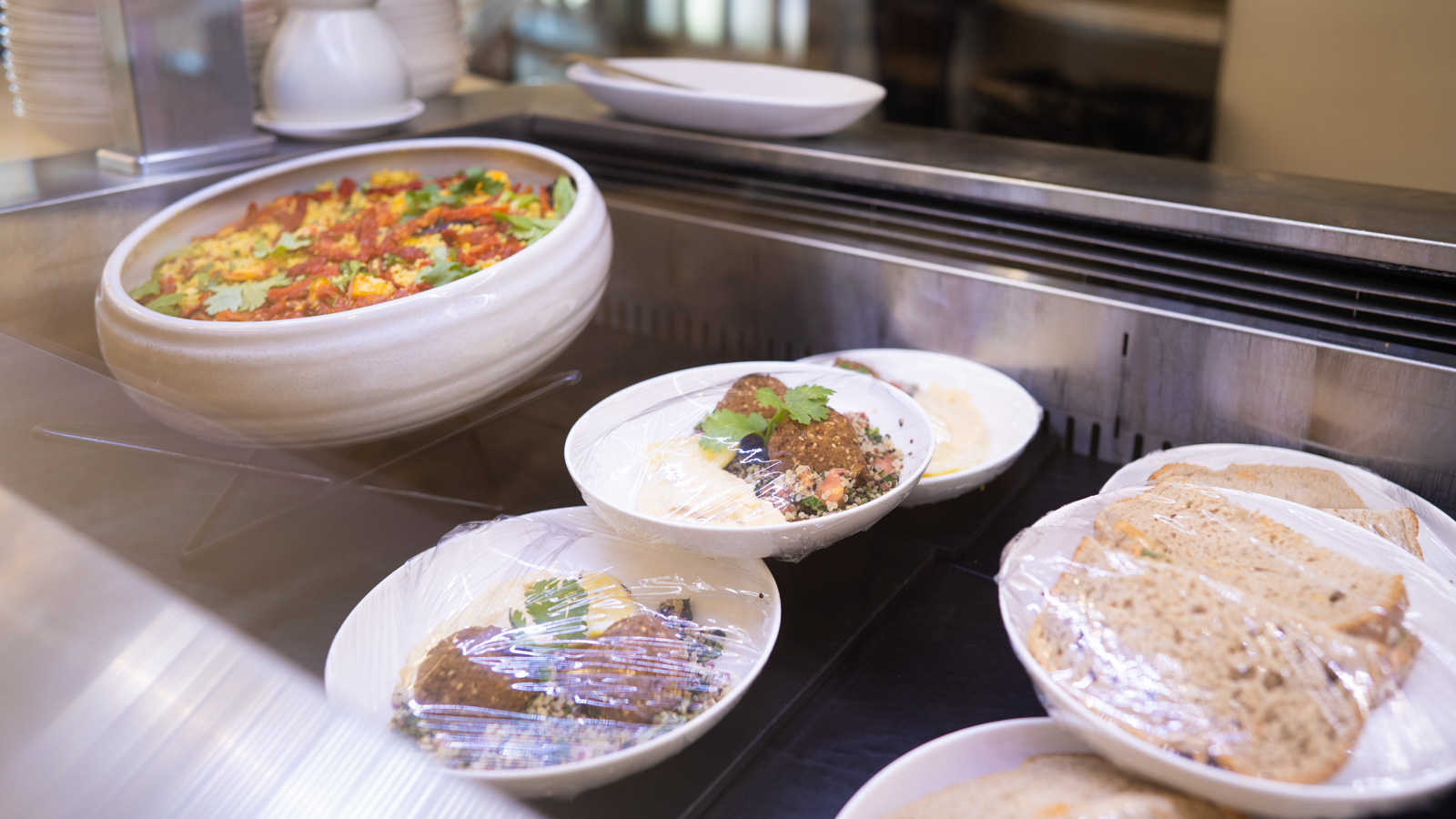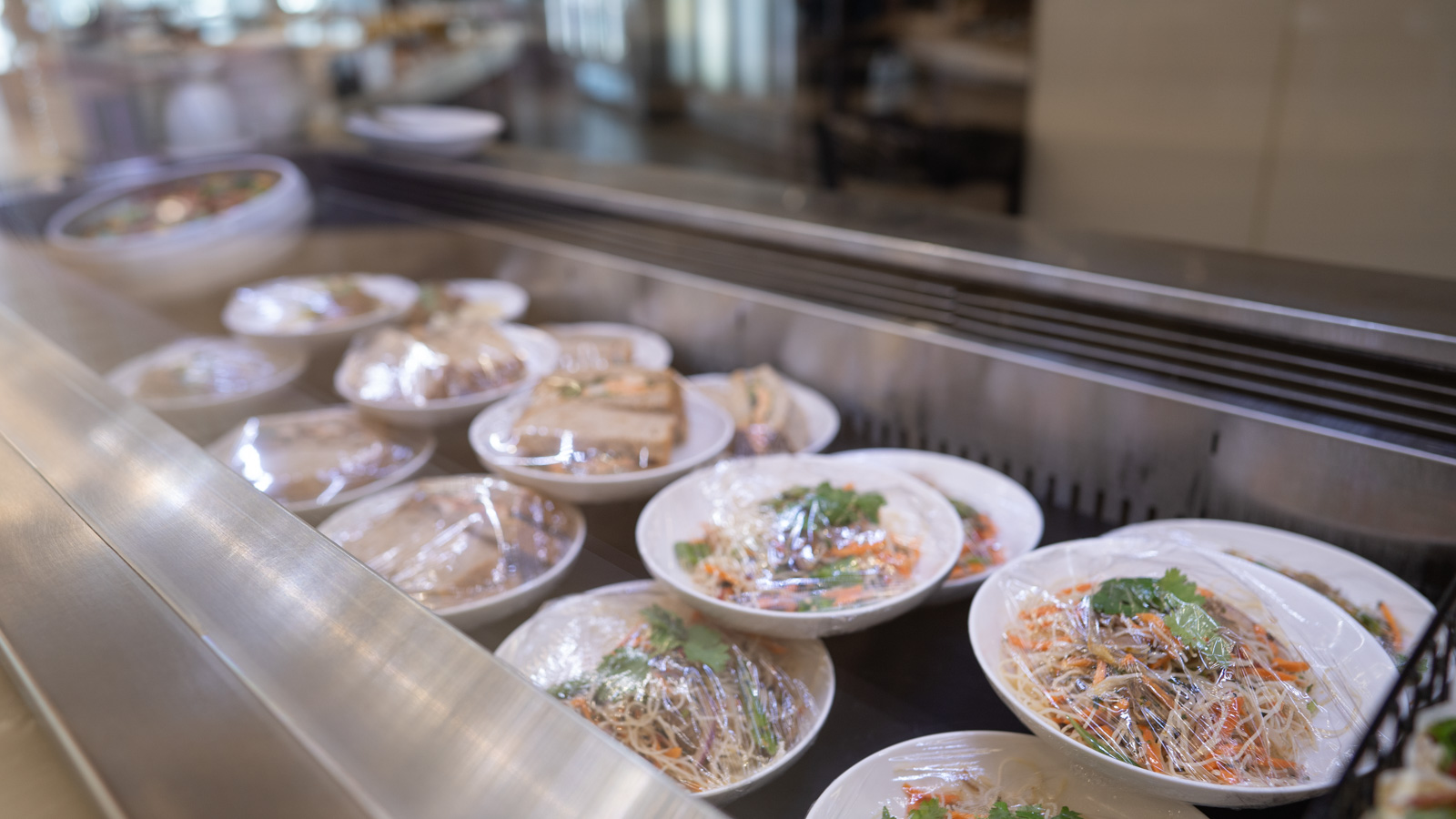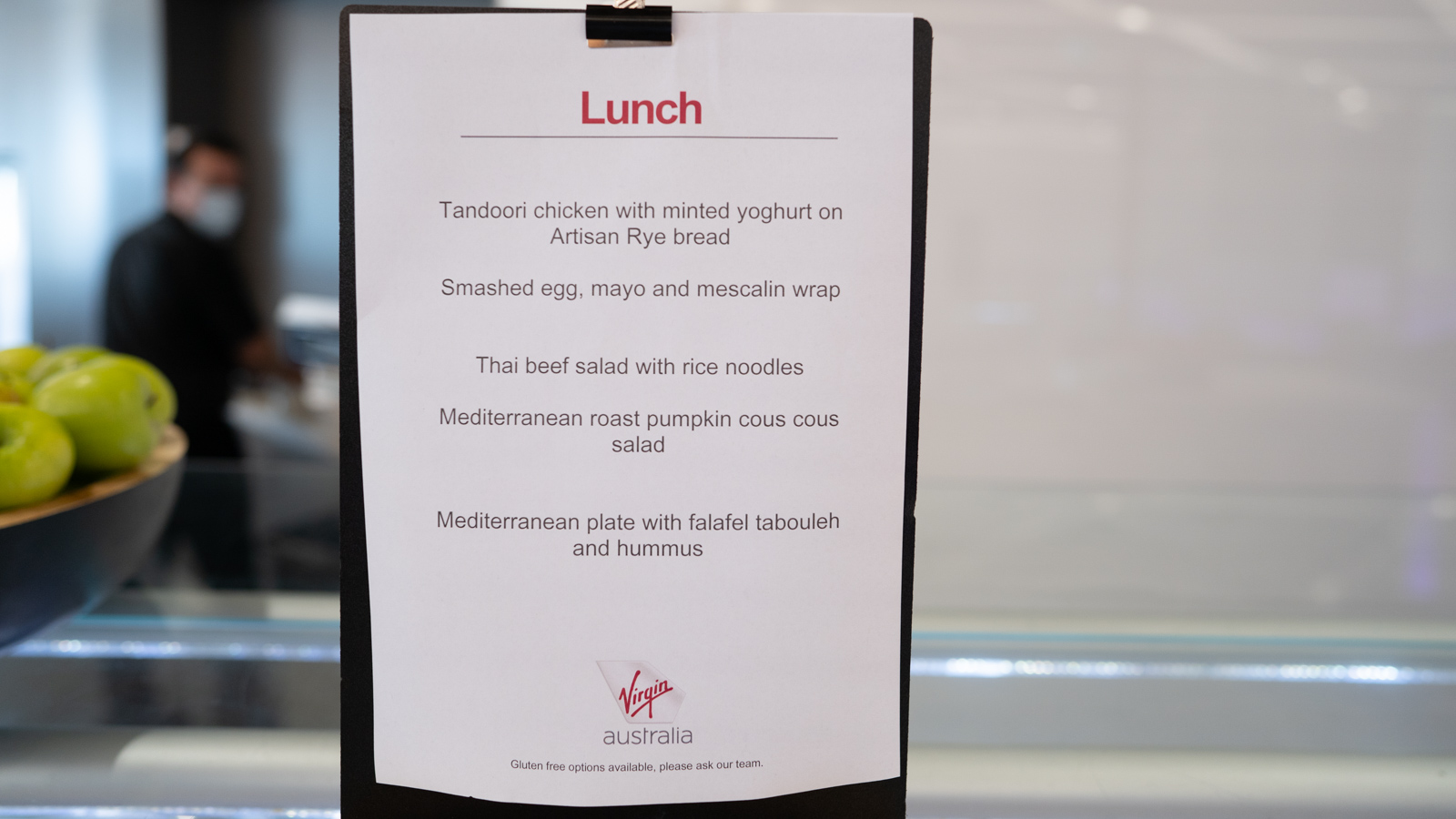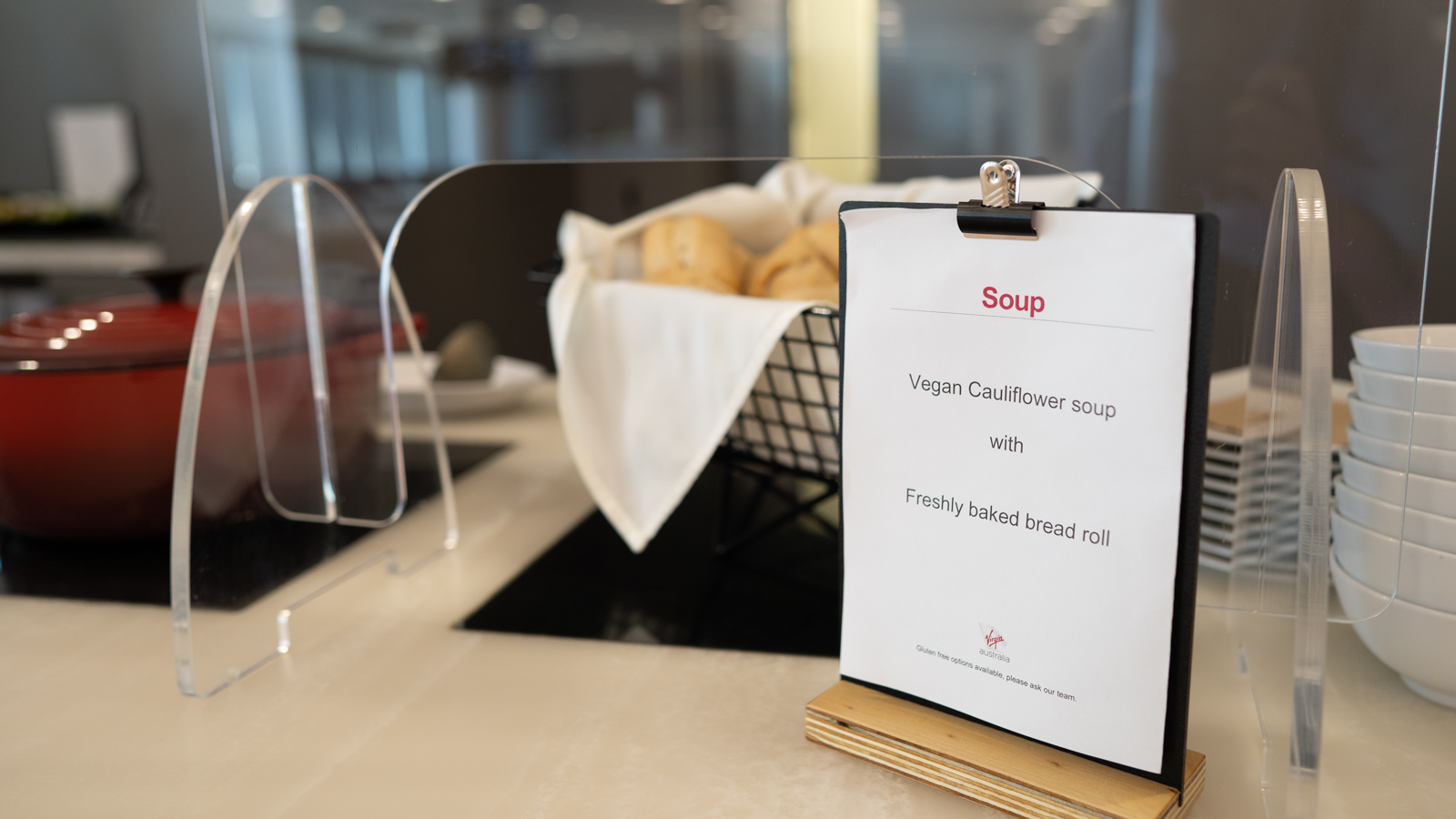 During my mid-morning visit, morning tea was still being served as well! Forgetting any notions of health, I gaze upon the sinful selections and help myself to a scone with jam and cream. It's great. Cheese plates and bar snacks, including nuts and crisps, are on offer as well.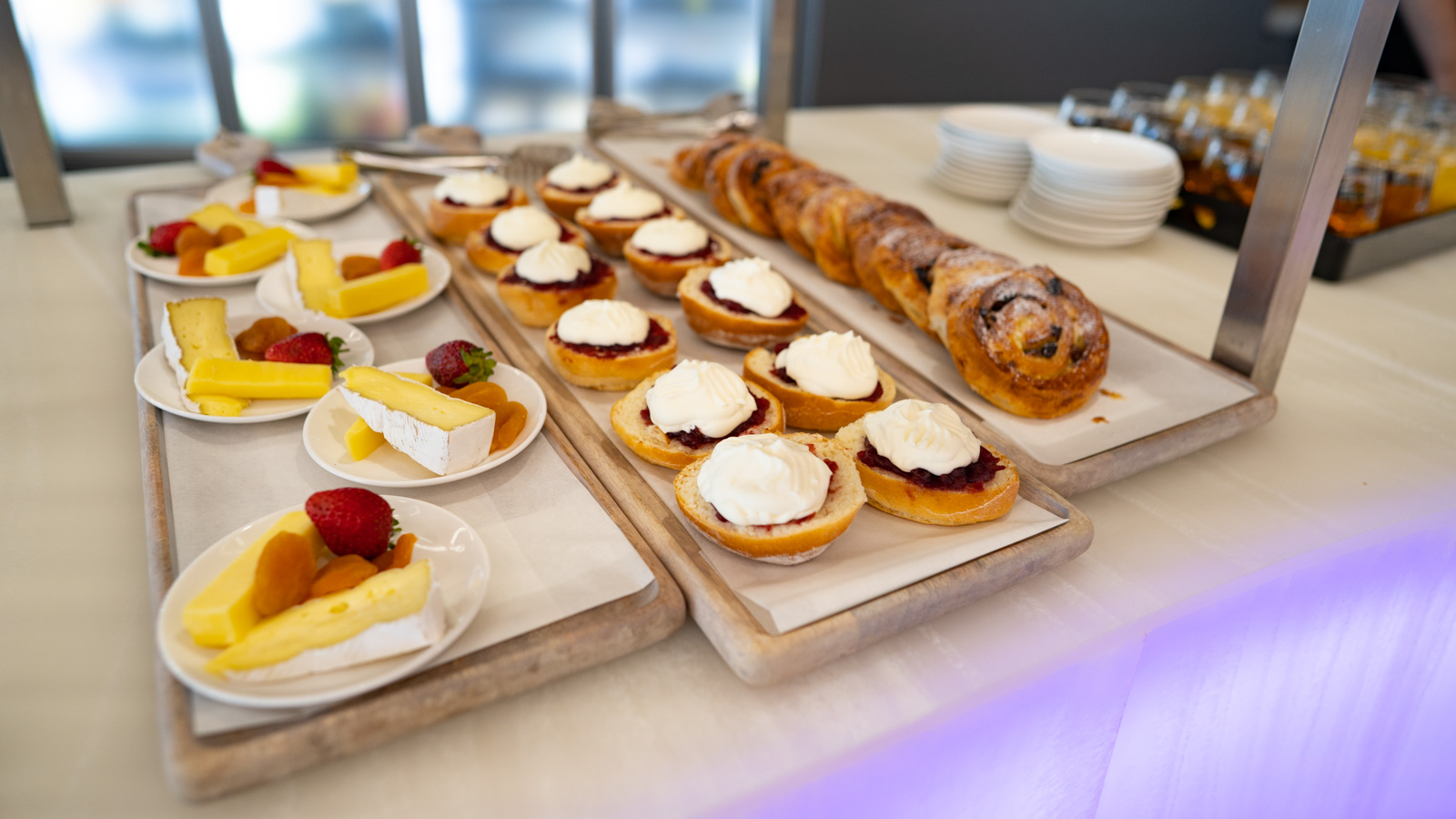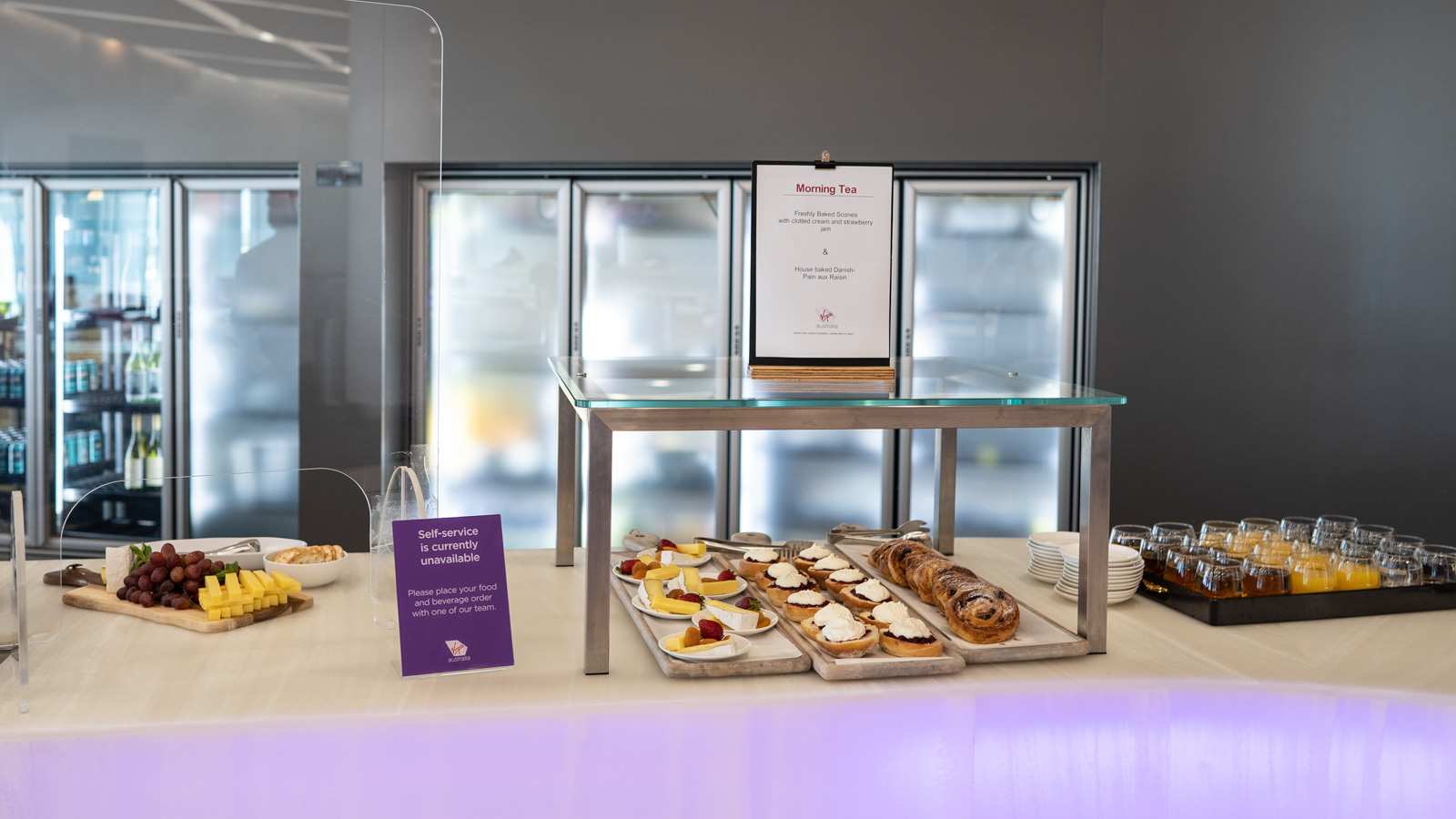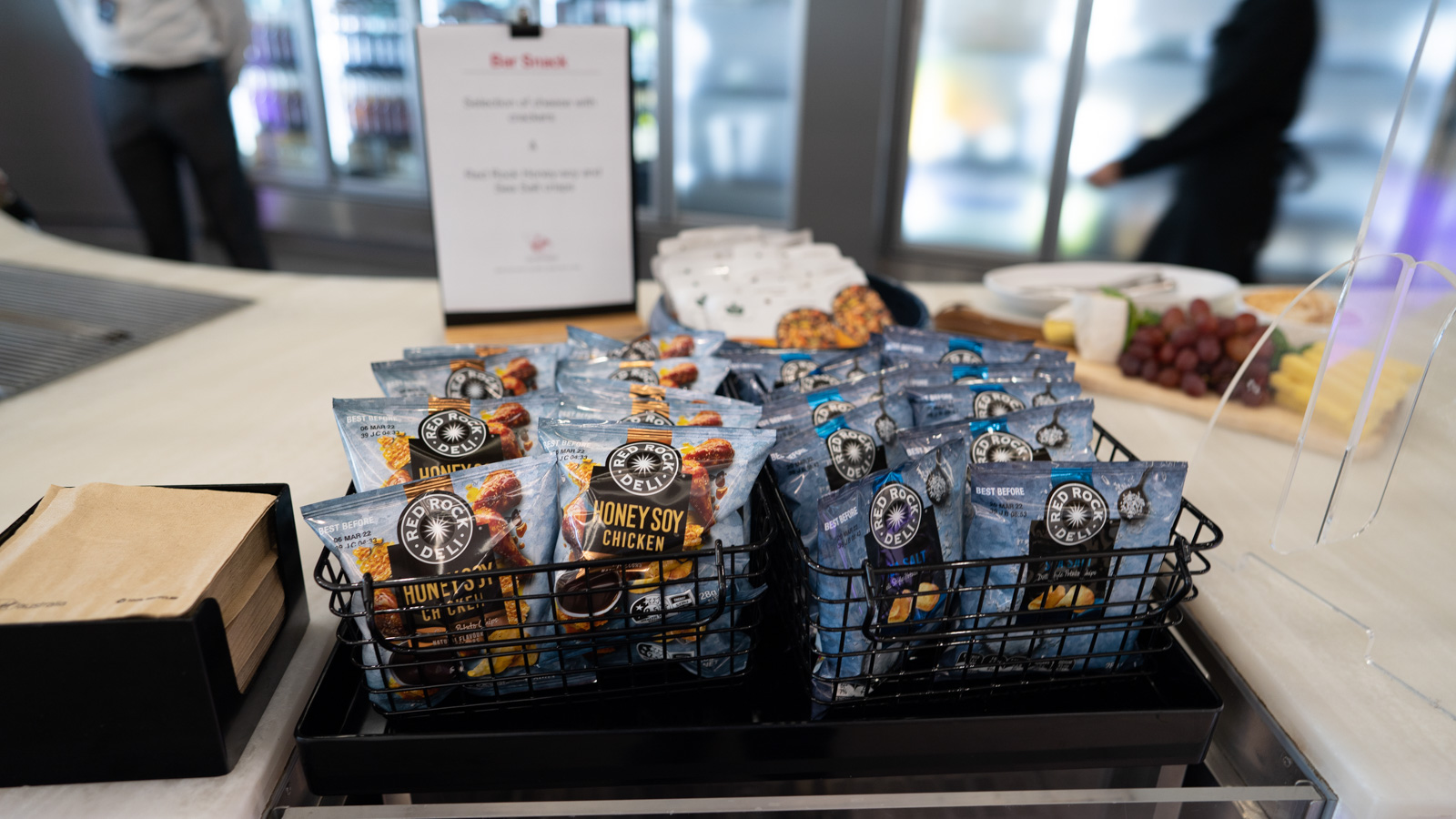 On the beverages side, the bar now opens at 12 pm instead of 11 am. The selection of drinks in the fridge is somewhat trimmed down as well, though it still ticks most of the boxes. I spy Great Nothern, Asahi and a range of Pirate Life beers, along with Somersby apple cider.
For wine lovers, Virgin doesn't disappoint. There are two whites, two reds and a South Australian sparkling wine on offer. The Tatchilla Brut NV hails from South Australia's McLaren Vale, while the Ta Ku Pinot Noir is of NZ South Island heritage. Down the track, I'd love to see local Margaret River wines on display too.
While Virgin Australia lounges don't offer spirits by default, I couldn't say no to a refreshing Aperol Spritz that appeared to be the 'surprise and delight' option of the day. You can also tuck into the usual selection of soft drinks, including juices and infused water.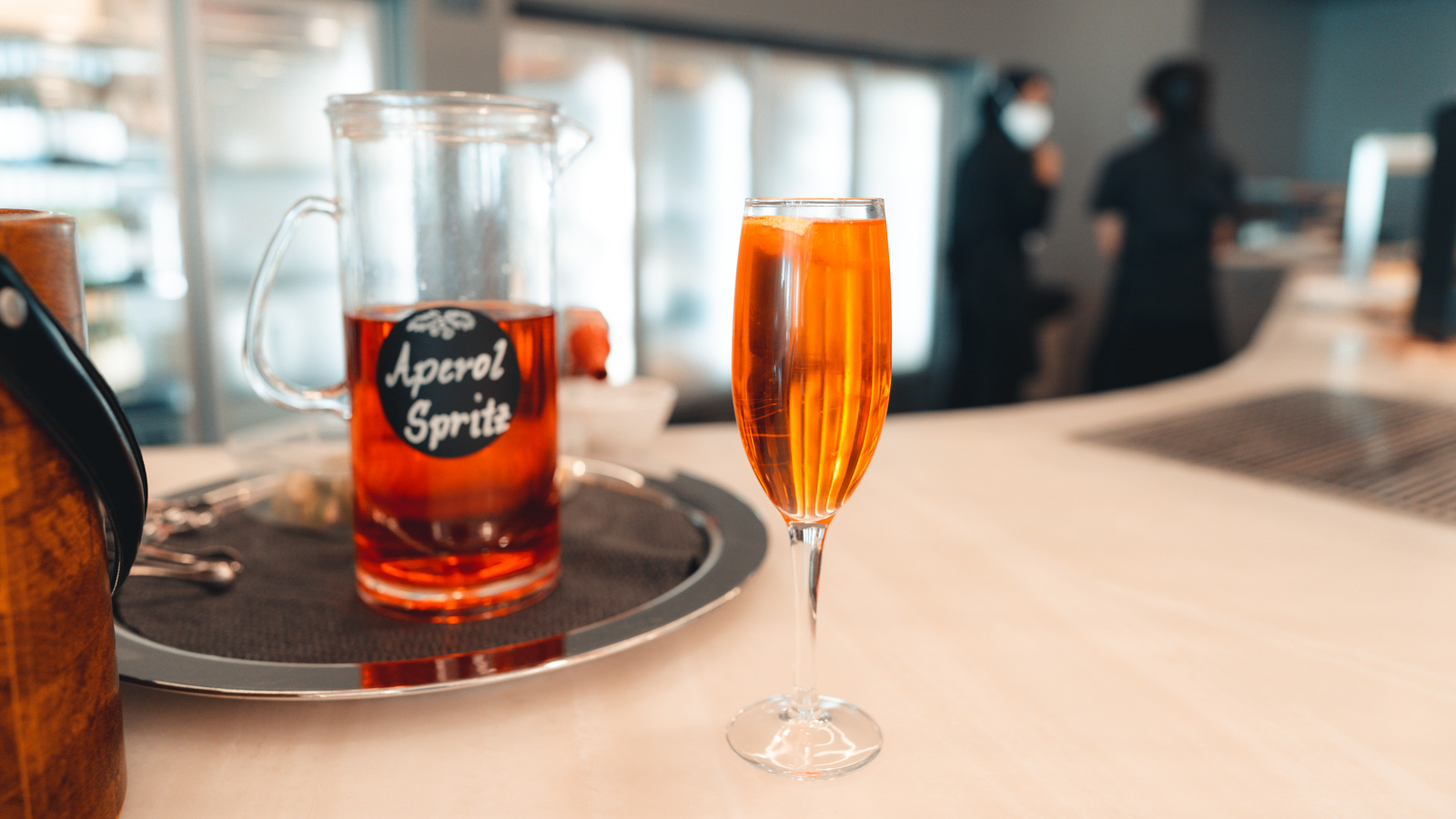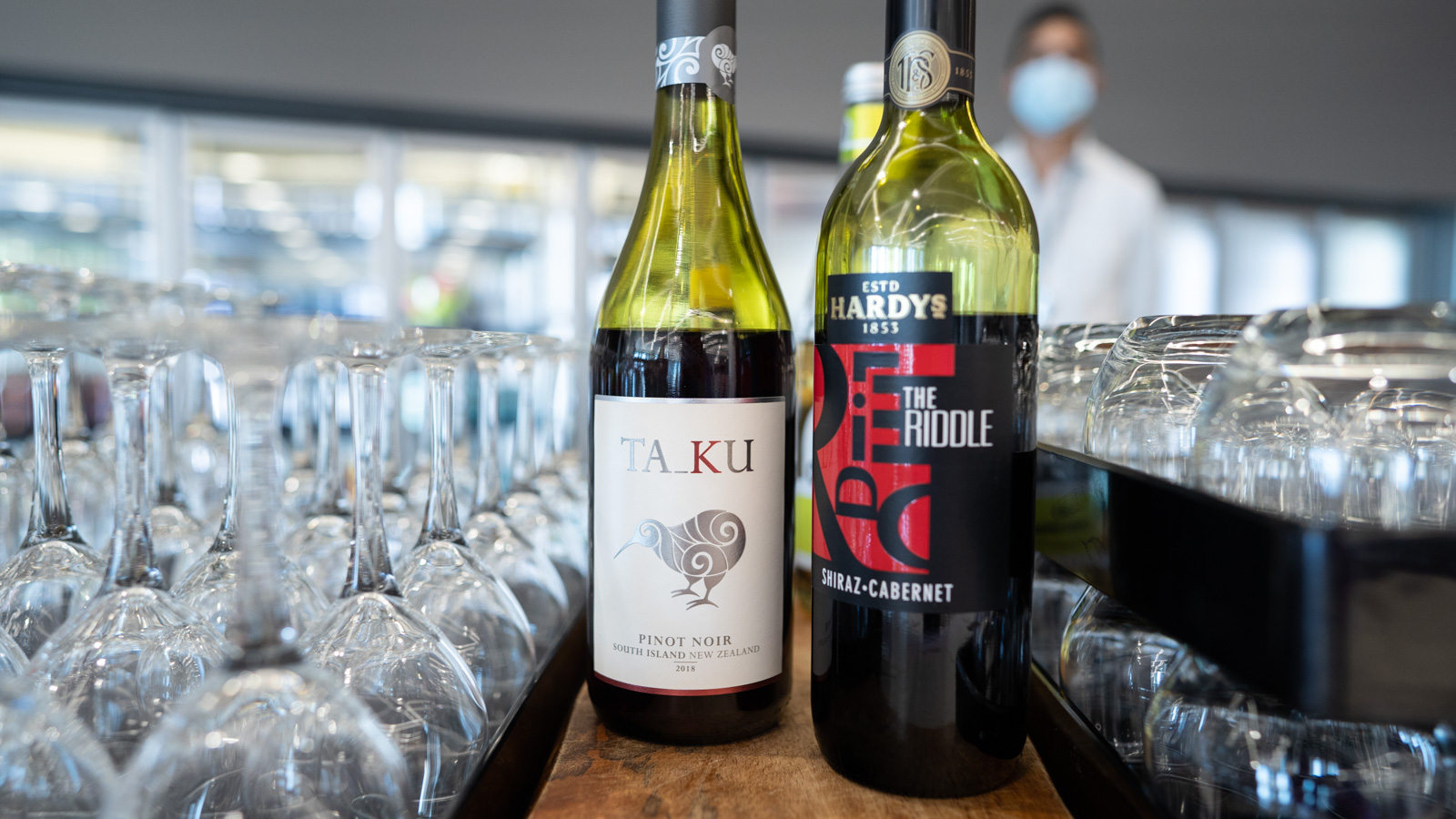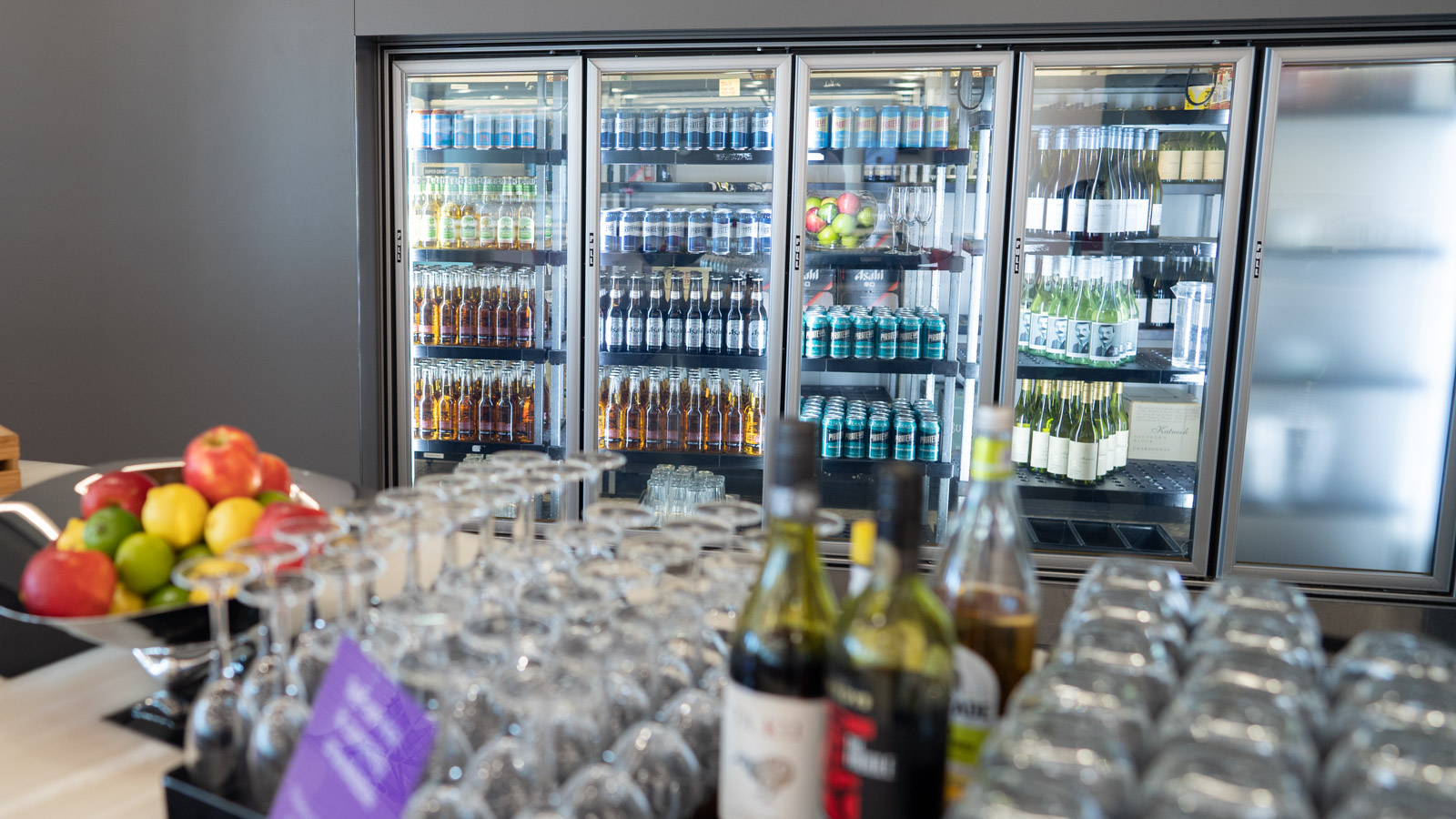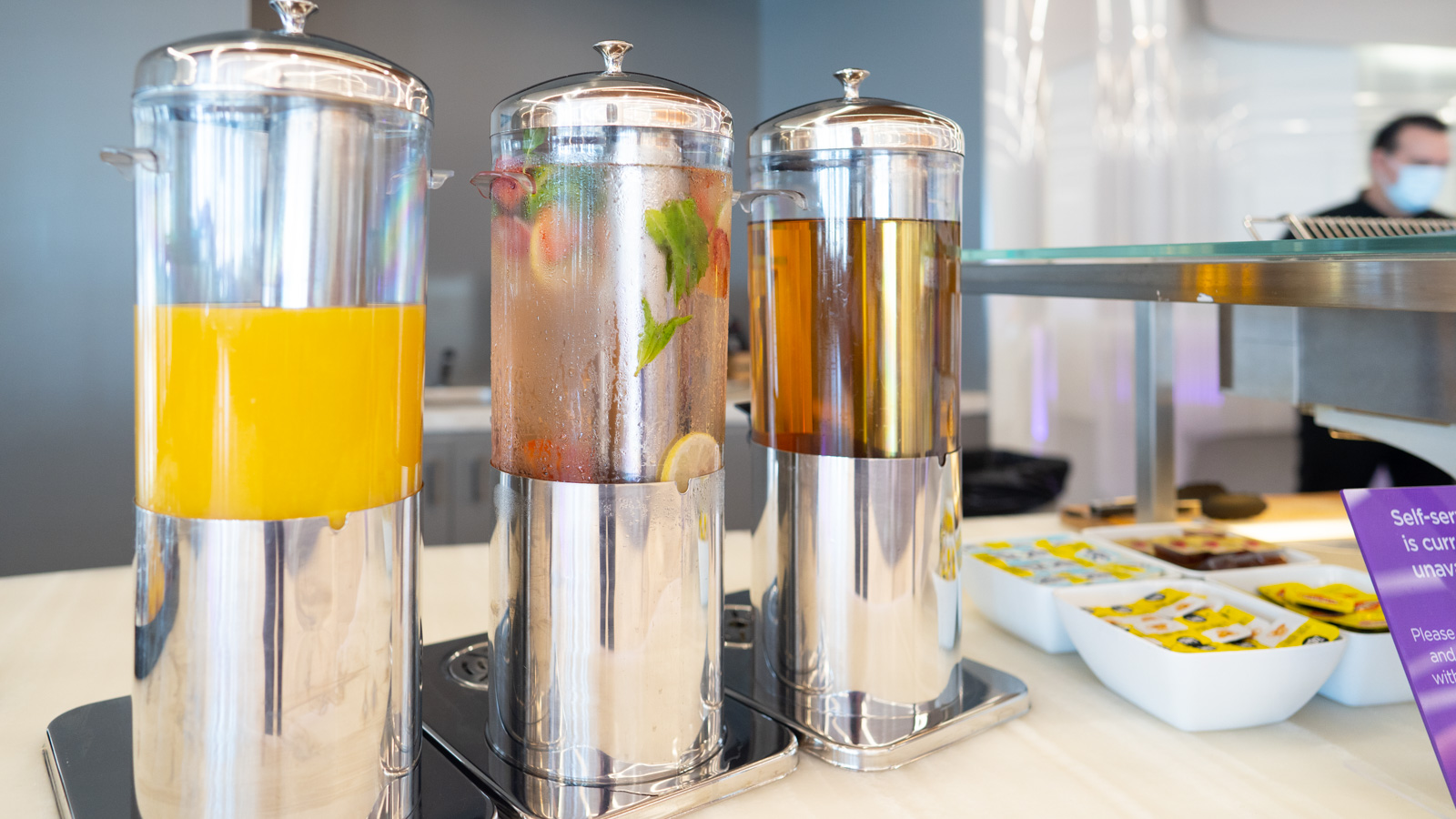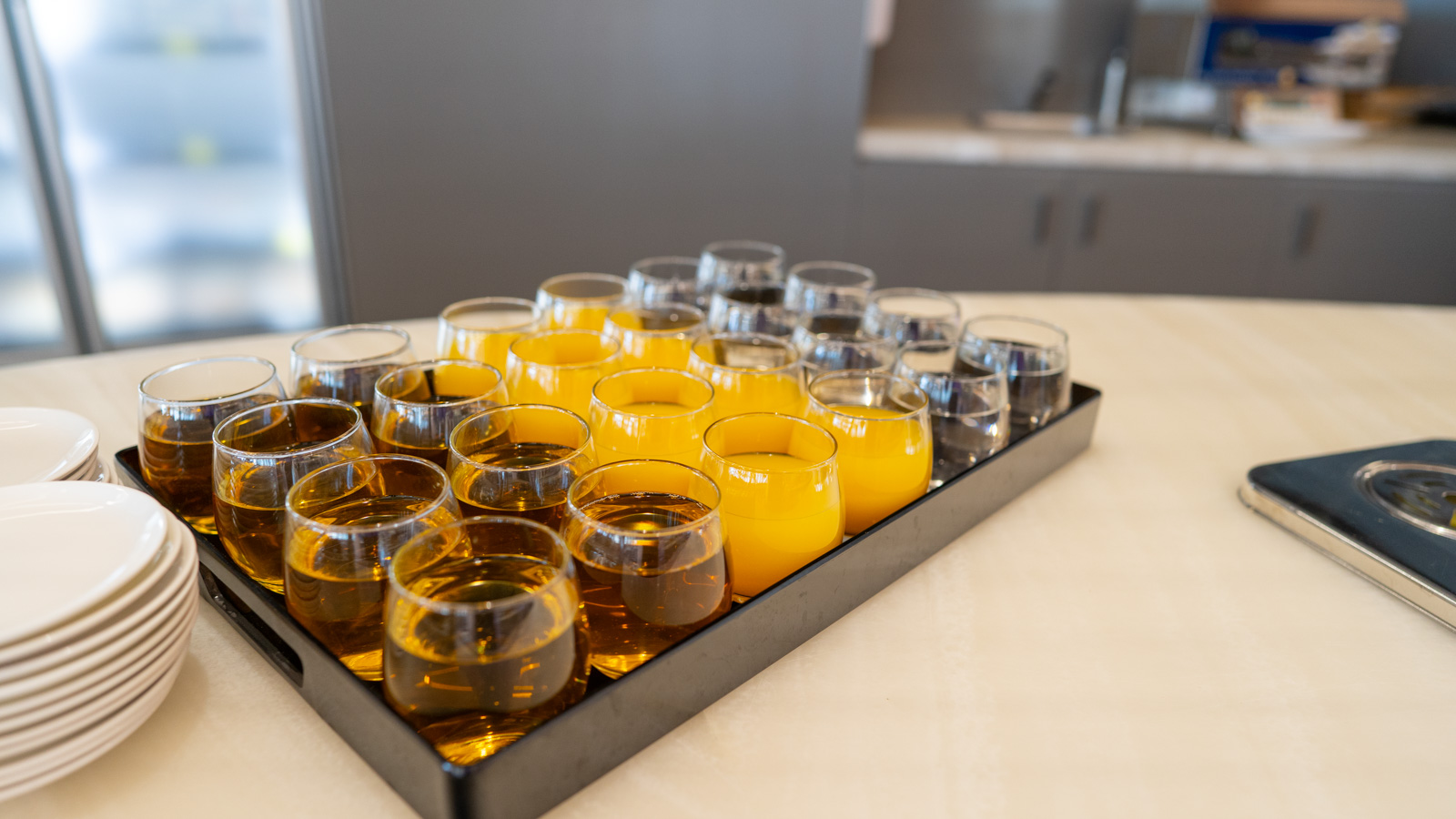 Barista-made coffees and hot teas are available on request from either the main bar or the coffee bar if it's open.
All in all, I like how Virgin has adapted to the challenging COVID-19 times with the new plated menu. All the food options look fresh, healthy – and most importantly – tasty!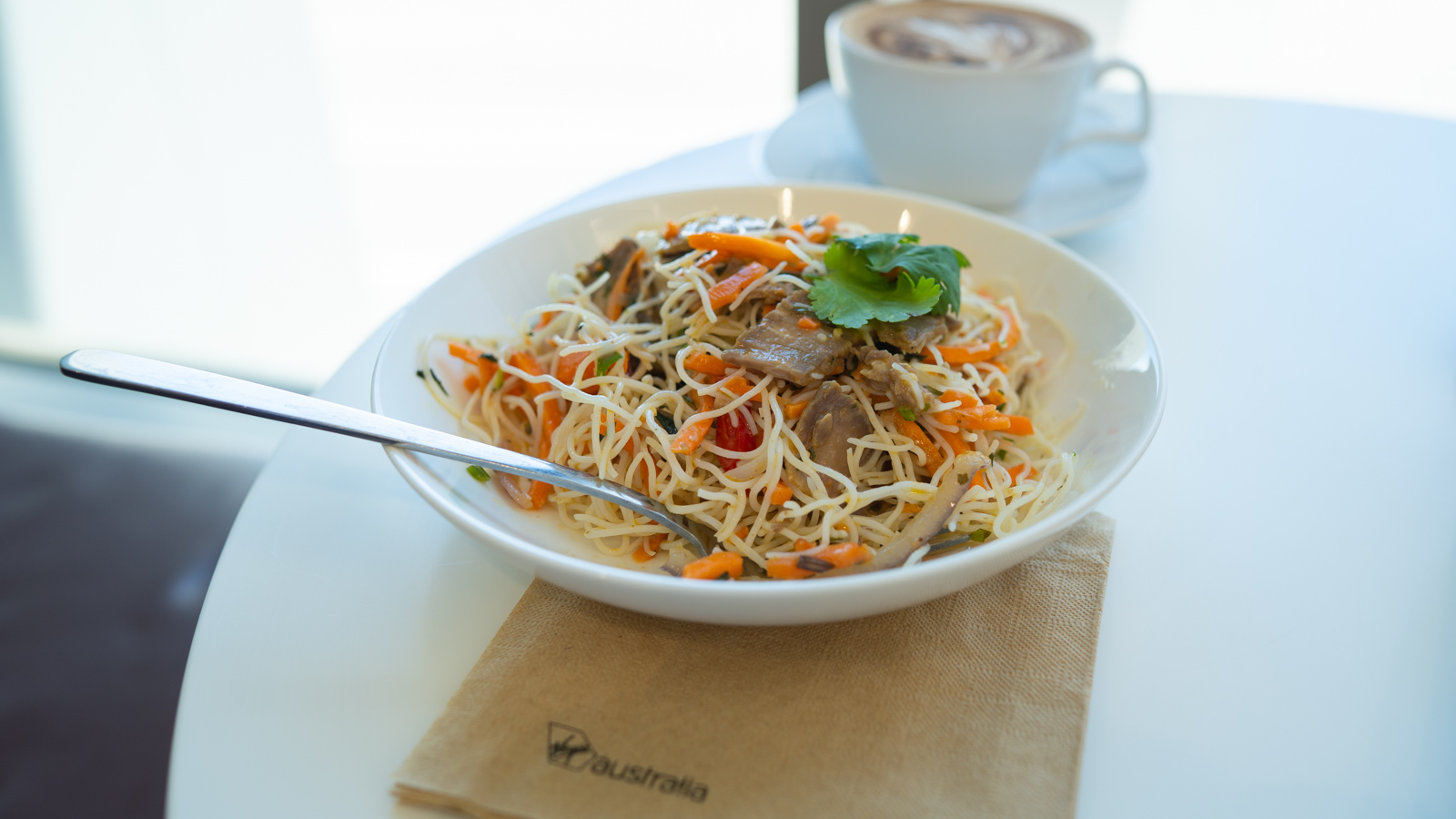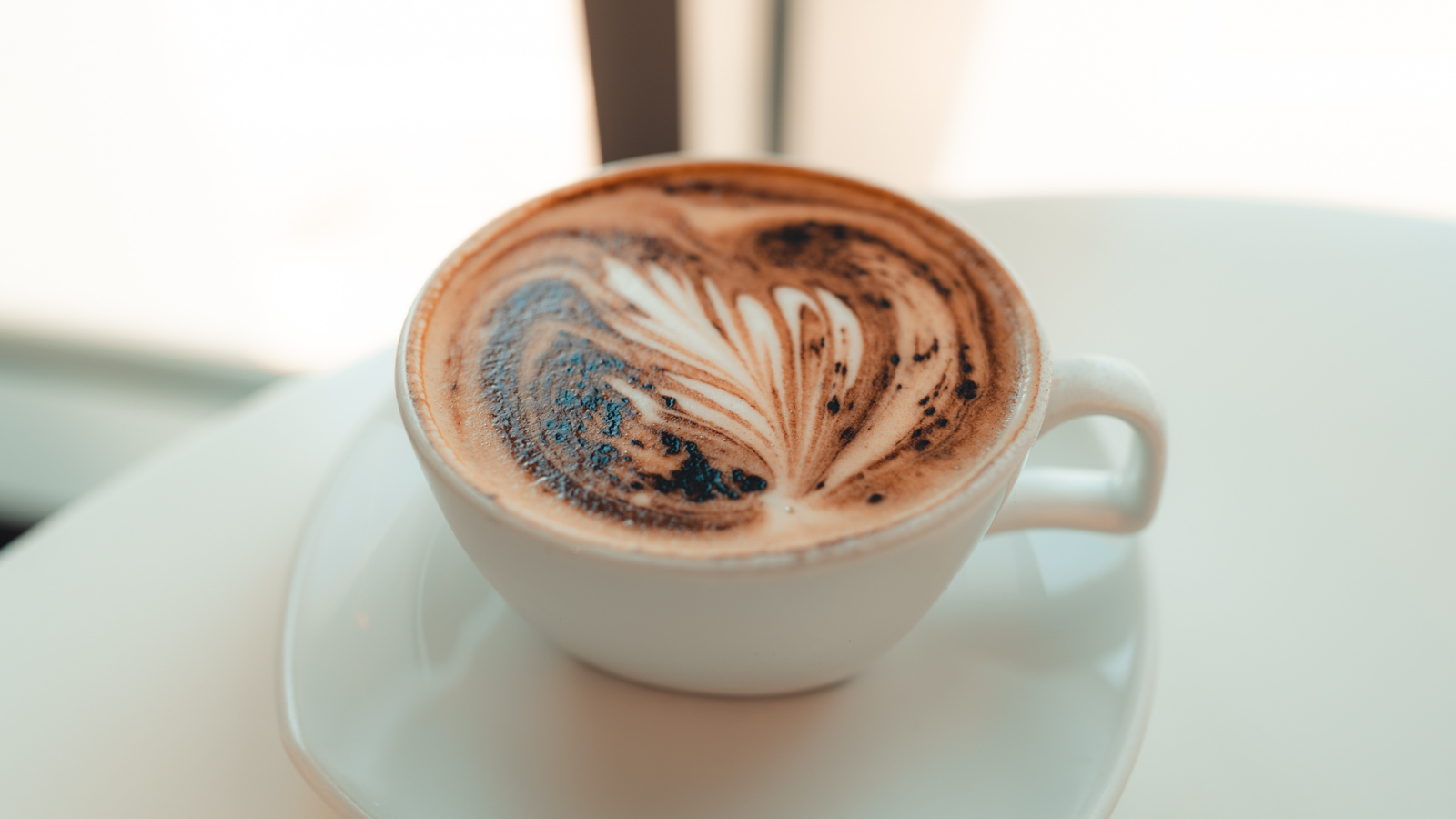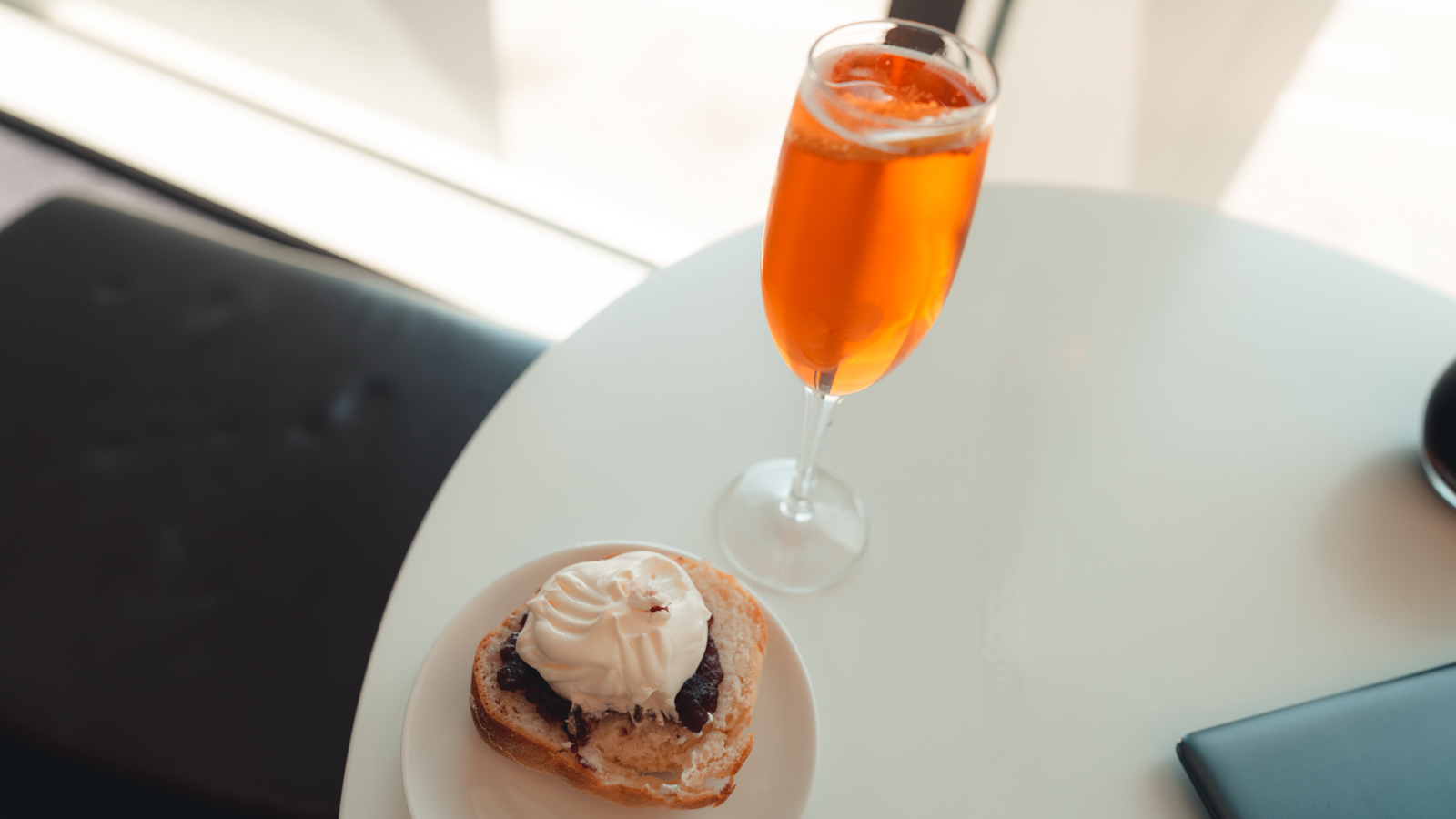 Lounge amenities
Bathrooms are located just to the right of the reception area (left if you're exiting), with a classy dark finish. Shower rooms are present, though access is currently unavailable in line with COVID restrictions. Premium Hunter Lab skincare products are a great touch to the space.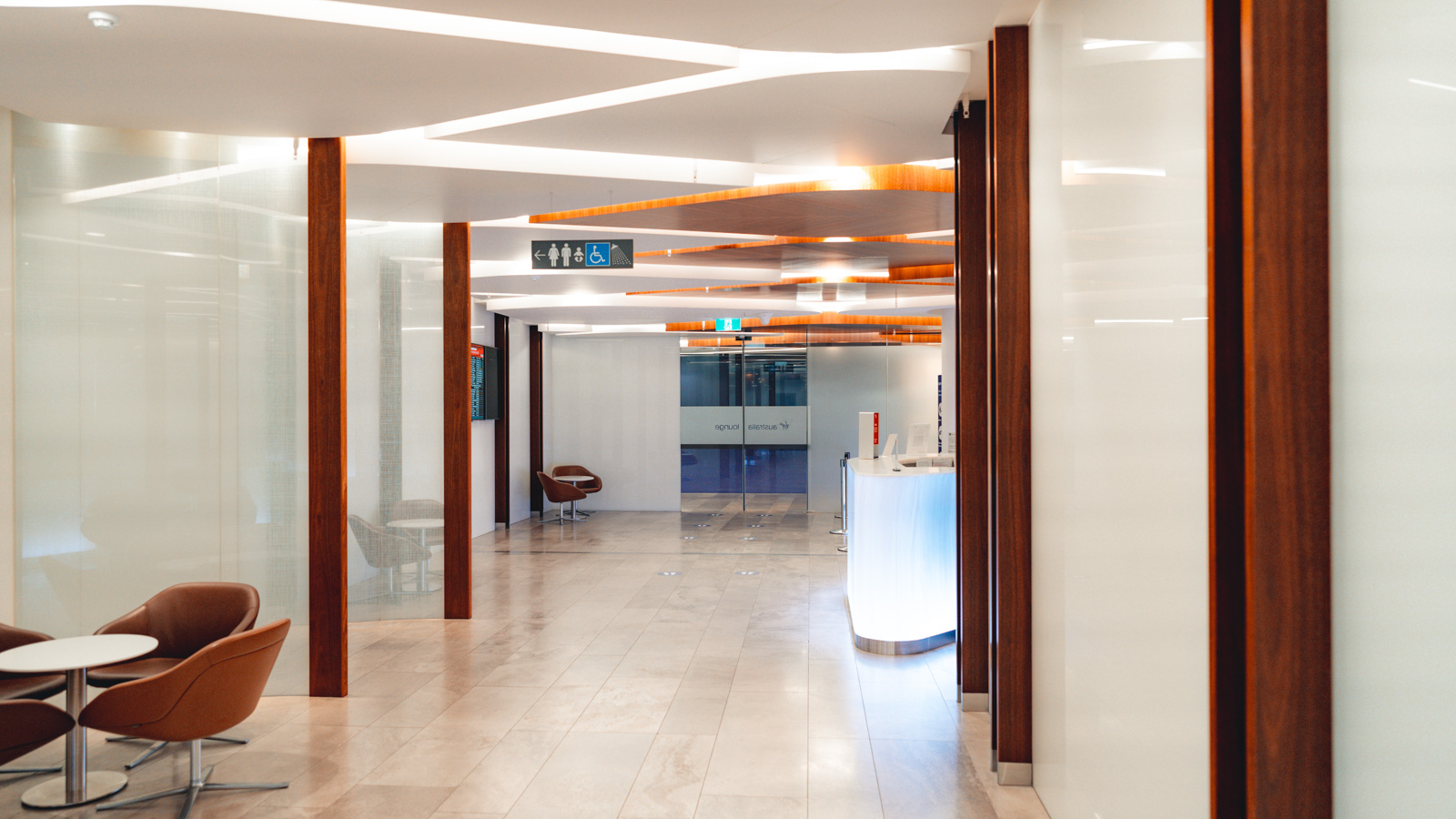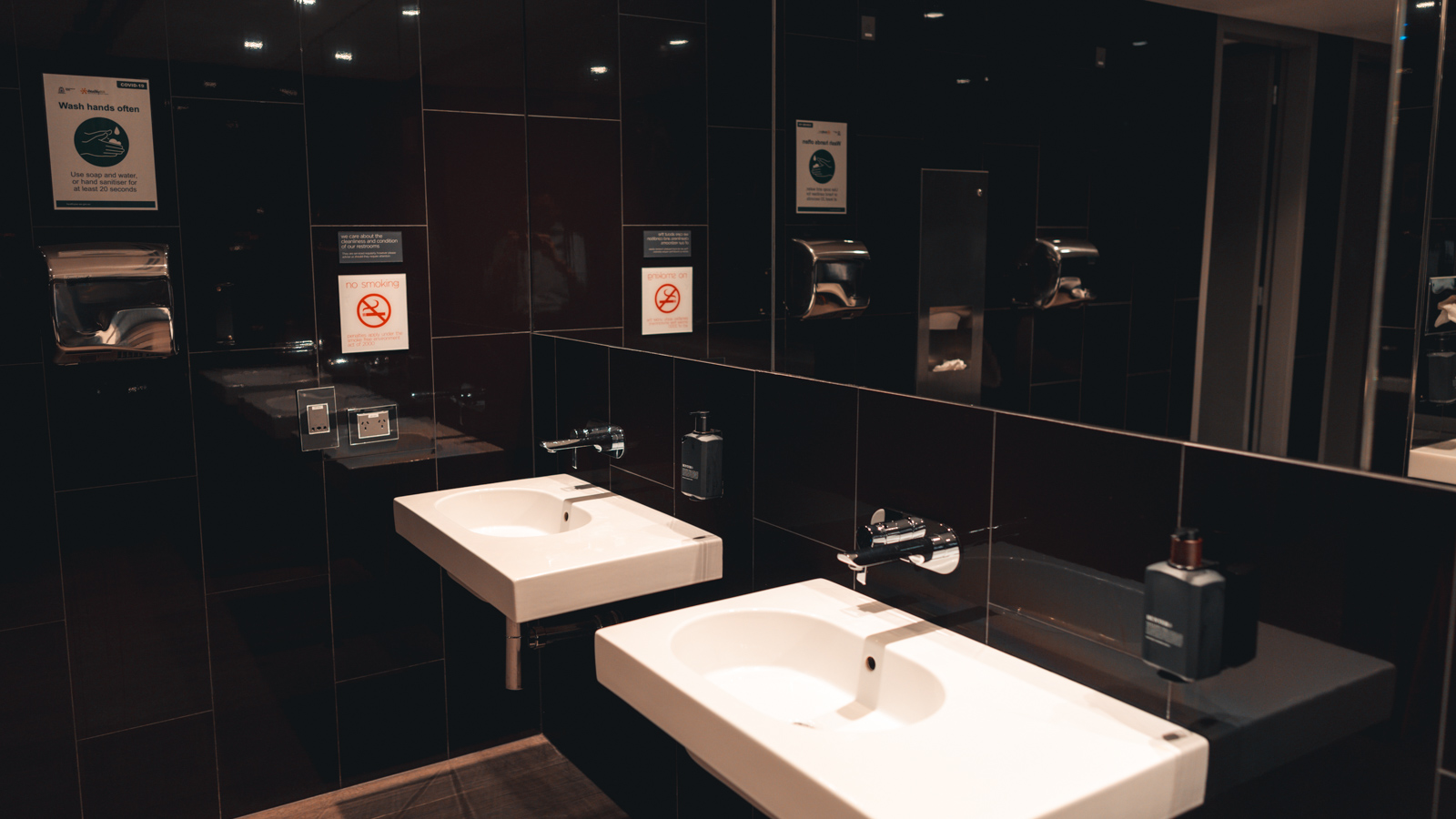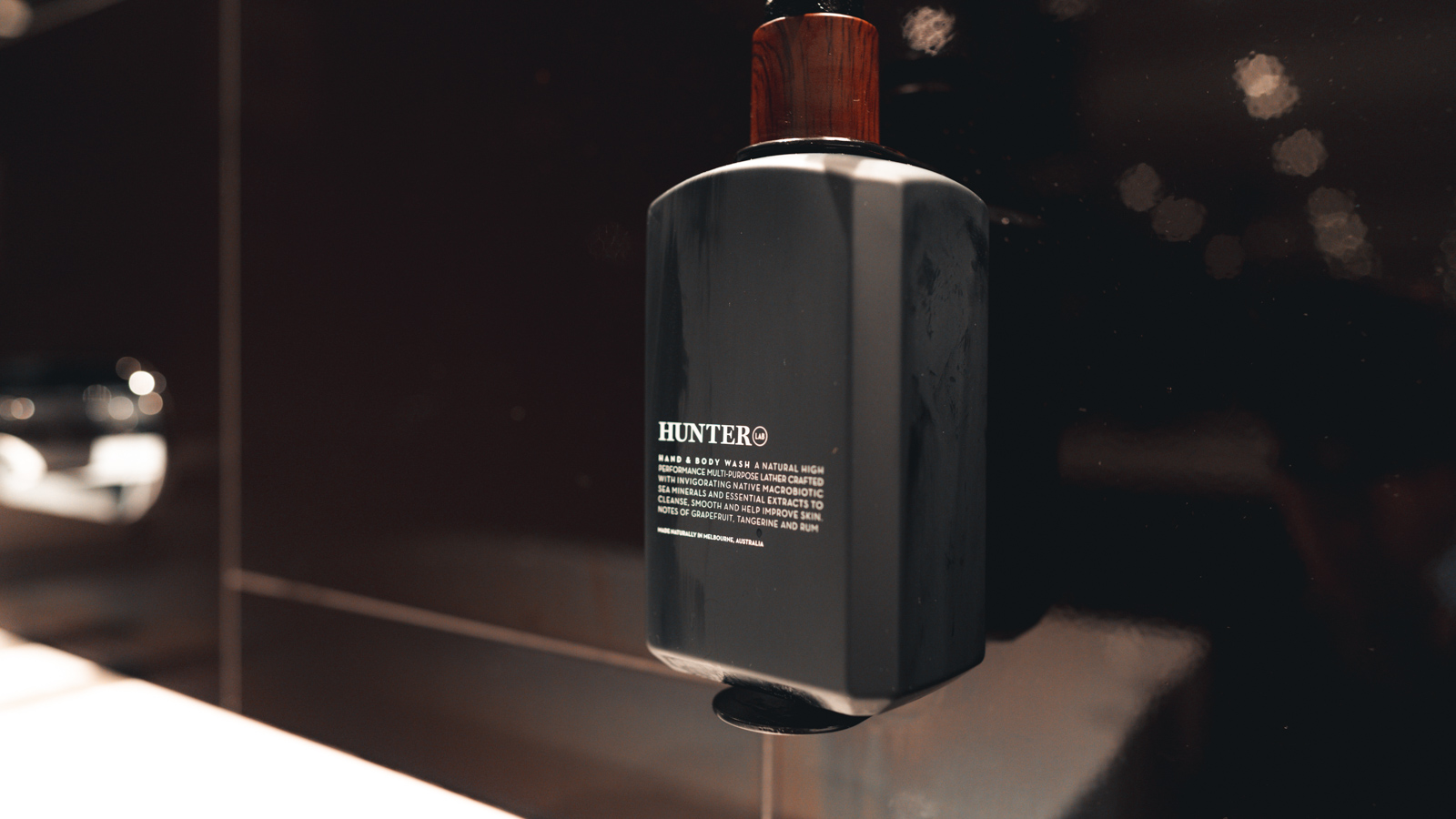 Free WiFi is provided, of course. The password to connect is found on various stands within the lounge, or you can ask reception. I measured a respectable 8.4 Mbps and 3.76 Mbps download and upload speed respectively, which was enough to comfortably listen into a Zoom video call while I was there.
It's not trailblazing fast, but it will get the job done for most people, whether it be saving a Netflix episode offline or uploading some files before you take off.
And speaking of devices, you shouldn't struggle to find AC power plugs or USB ports within the lounge for charging.
Lounge access options
Class of travel: Virgin Australia Business Class passengers before the flight
Frequent flyer status: Velocity Platinum (+3 guests) and Gold (+1 guest) frequent flyer members. Also includes eligible elite status members of partner airlines.
Lounge membership: Paid members of Virgin Australia Lounge.
Single entry pass: Velocity Silver members (2 passes) and other credit-card holders including the American Express Velocity Platinum Card, before a Virgin Australia-operated flight.
Credit card: American Express Platinum, Business Platinum and Centurion cardholders, before a Virgin Australia flight.
Arrivals access: While Business Class, Velocity Gold and Platinum members usually have arrivals access, this perk may be temporarily suspended due to COVID-19 capacity limits. Check with lounge staff for further details.
Read more about Virgin Australia lounge access here →
Virgin Australia Perth Lounge: our take
Virgin Australia's Perth Lounge is a great space to relax. It's quite large and has a variety of seating and zones. WIth the updated lounge menu, I find the lounge dining to be quite decent – it certainly gives the Qantas Club a run for its money.
The guest list for Virgin Australia lounges is quite broad. But if you don't make the cut, don't worry. Why not consider upgrading your flights out of Perth with points or cash? You'll enjoy access to this lounge as well as the enhanced service onboard. And if you happen to be seated in Economy with some complimentary single-use passes up your sleeve, then the Perth lounge is a great choice for that.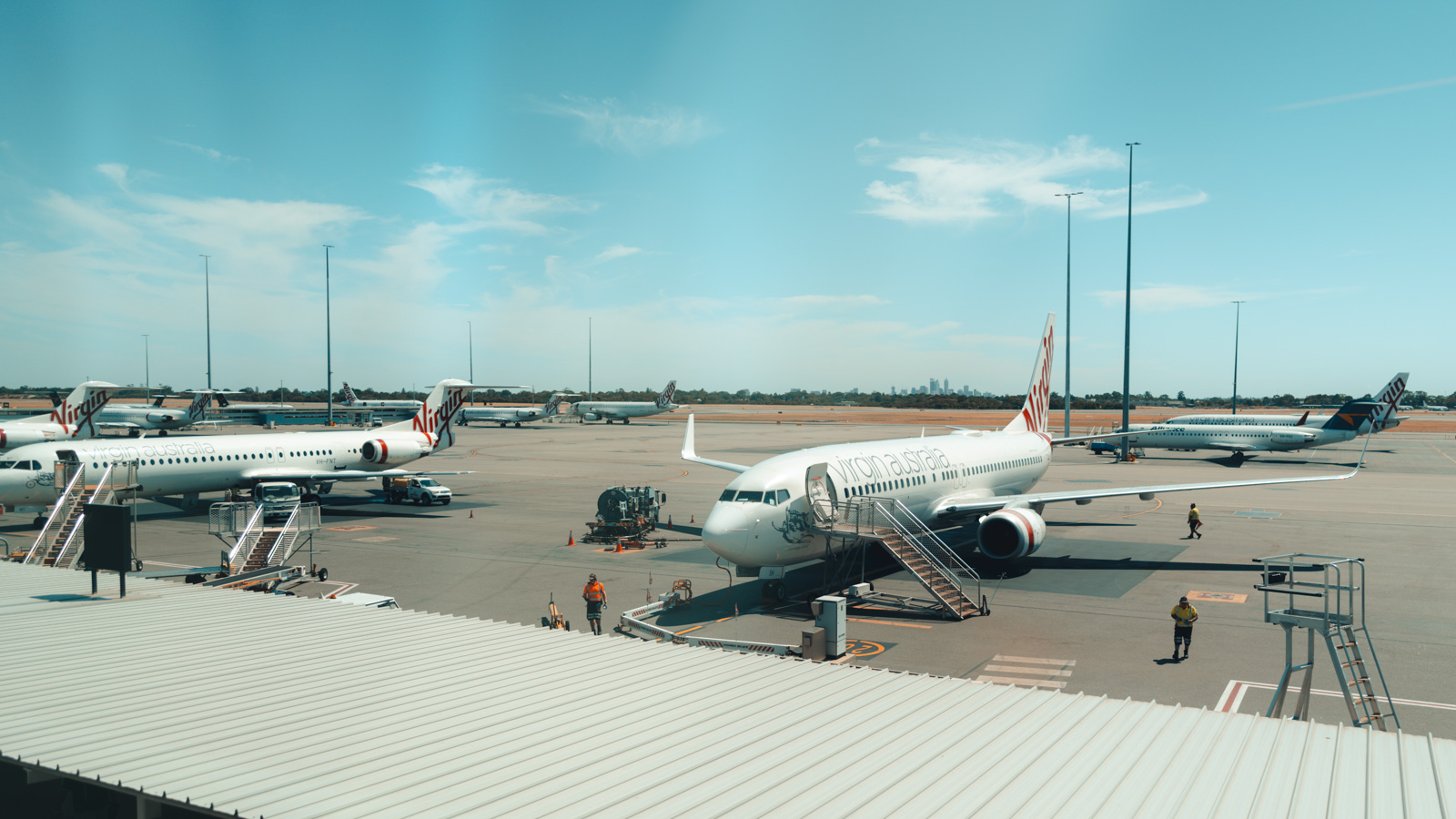 Brandon visited the lounge before the WA border opening as a guest of Virgin Australia.
Virgin Australia Lounge, Perth
was last modified:
June 30th, 2022
by