With two Star Alliance Business Class lounges at Sydney Airport, many travellers are ushered towards the Air New Zealand lounge. But Singapore Airlines' SilverKris Business Class Lounge is open to many of those same flyers departing Sydney – so why not stop by?
Following improvements in recent years to speed up the Wi-Fi and serve barista-made coffee, I stopped by to see what travellers can expect in 2022.
Location
Once you're through passport control and security, follow the signs towards gates 51 and above. This takes you in the direction of Sydney Airport's distant pier gates, with the SilverKris Business Class Lounge nearby.
Venture up the escalator, flash your boarding pass for a quick scan and you're good to go.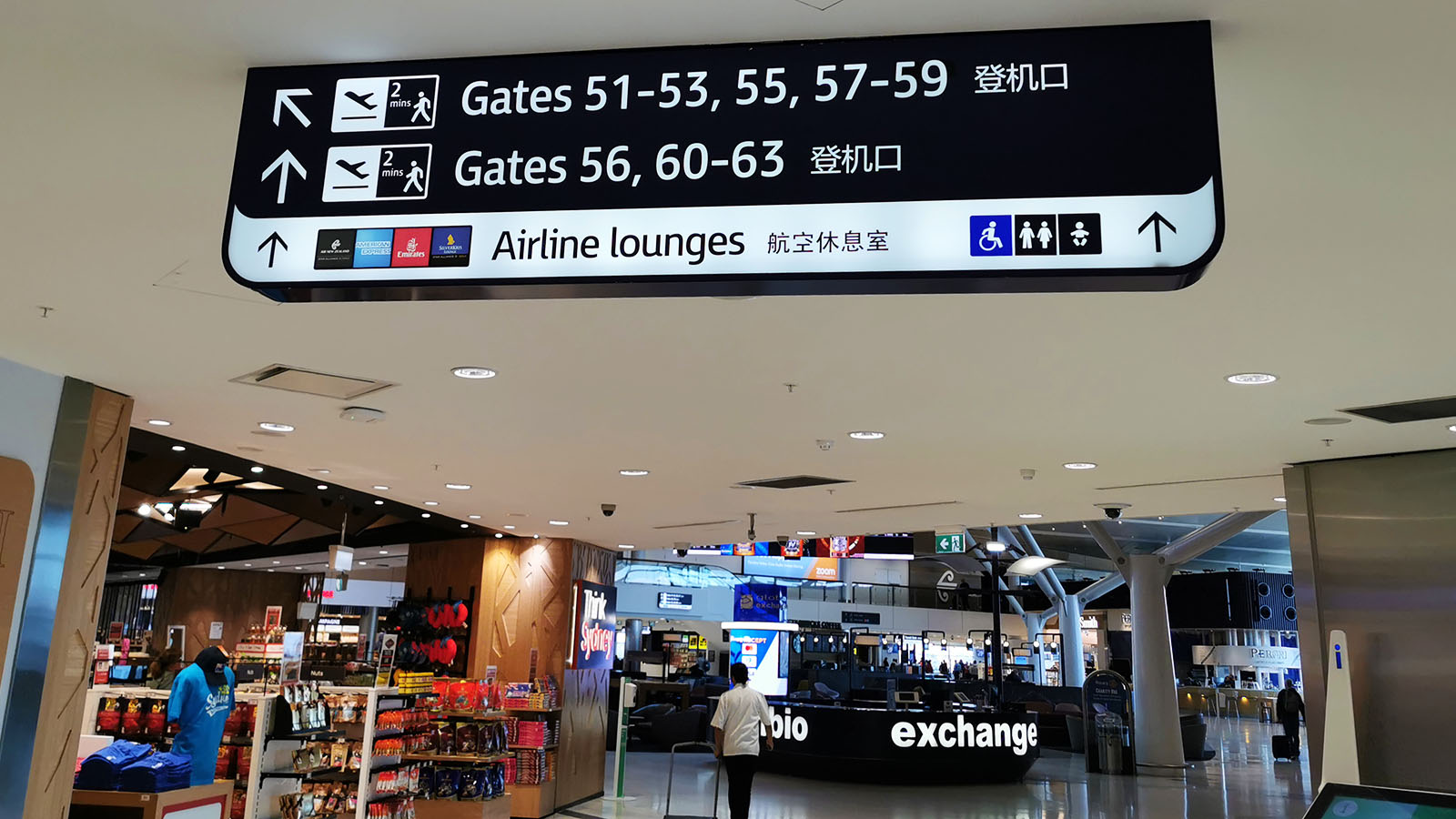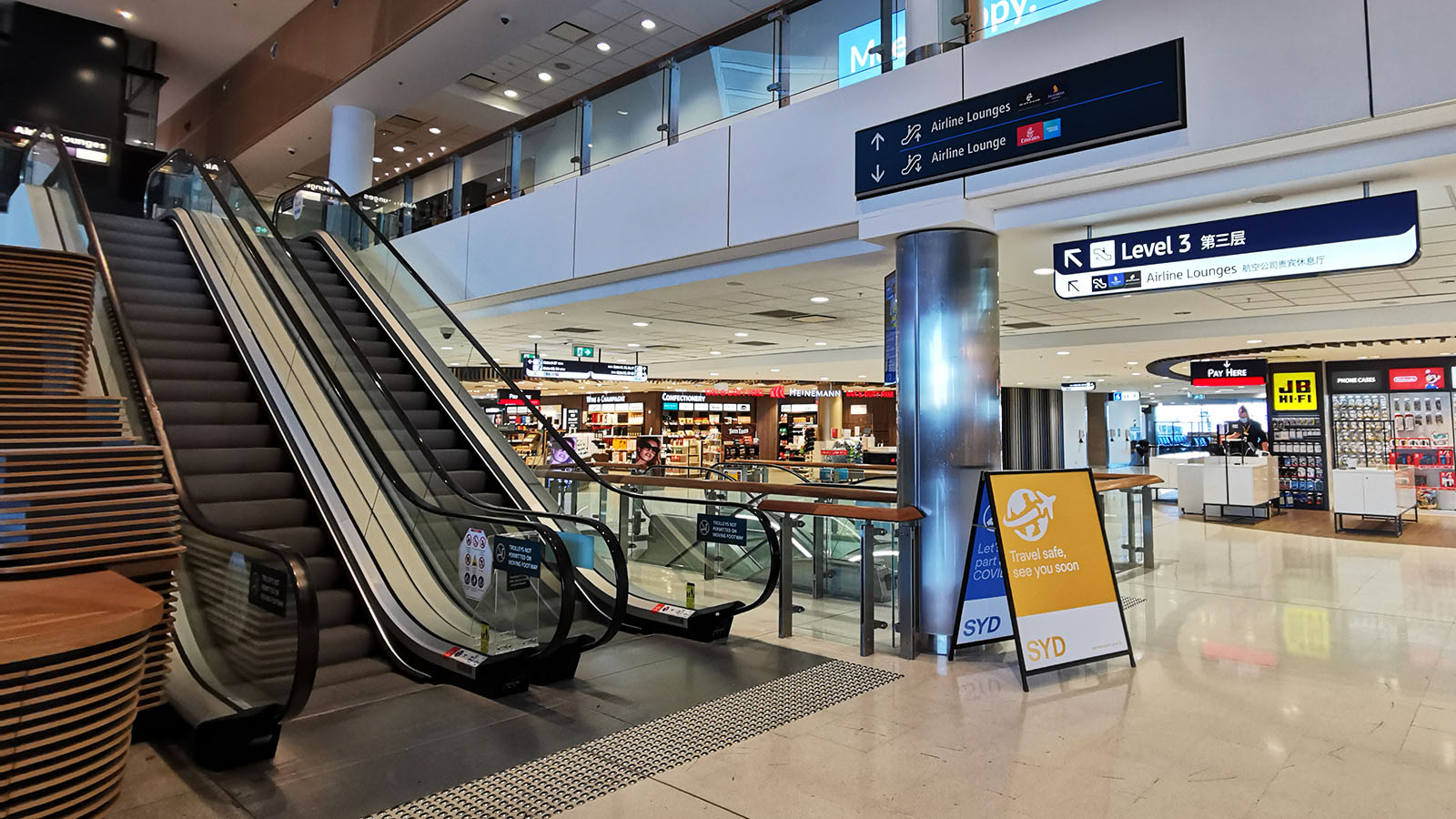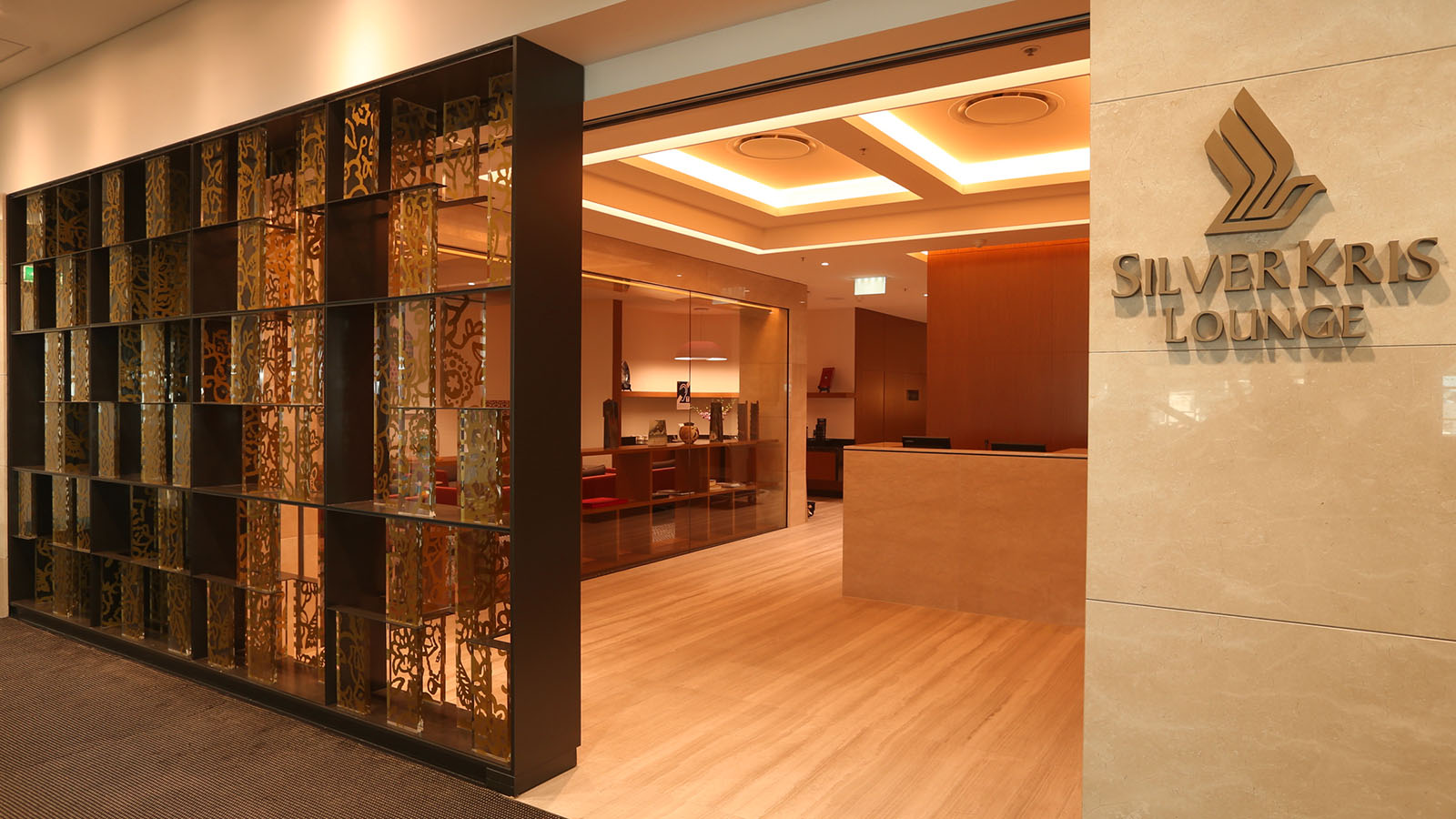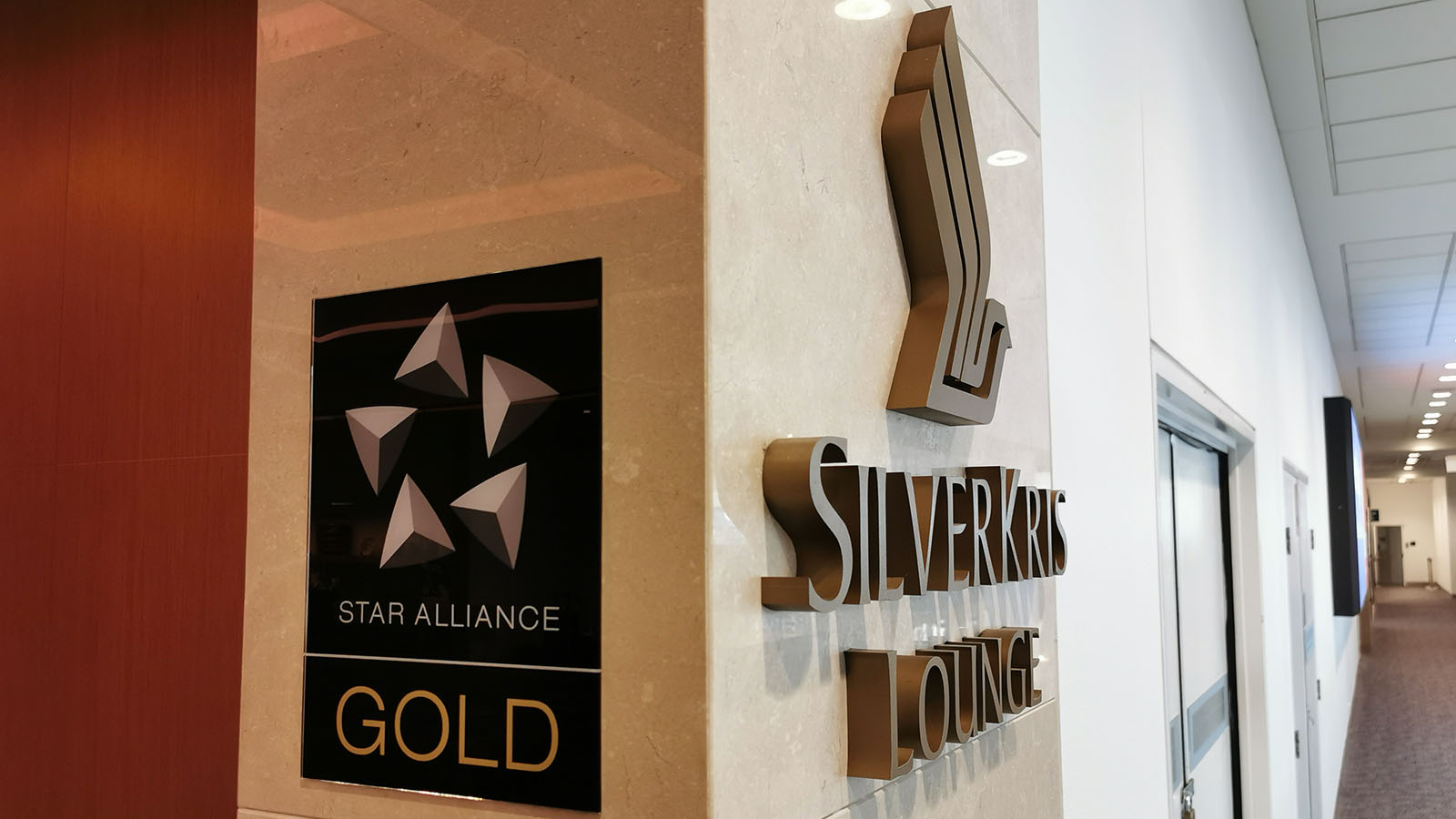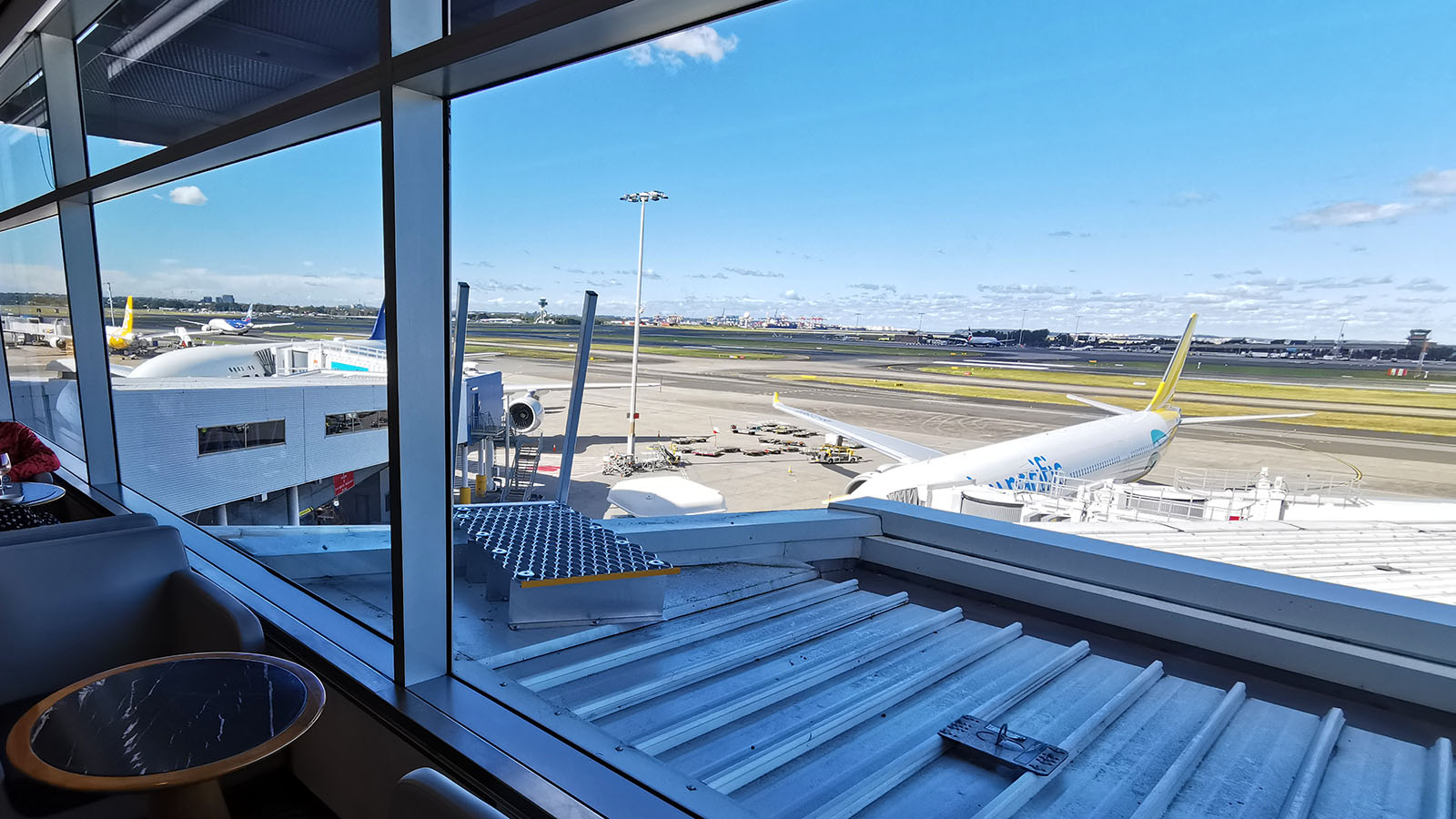 This space resides next to the Air New Zealand lounge on that upper level. Its location here grants plenty of natural light as well as airport views. Visiting at lunchtime on a weekday, I'm able to spot a Singapore Airlines Airbus A380 parked at a nearby gate.
While it's a bit of a hike from security, the lounge is fortunately close to the gates normally used by Singapore Airlines, as well as its Star Alliance partners. That means there's not far to walk when it's time to board, so you can spend just that little bit longer in the lounge.
Lounge layout and seating
Your journey into Sydney's SilverKris Business Class Lounge begins at The Gallery. It's right next to reception, and most guests waltz straight past it. That makes it the perfect place for a little peace and quiet. From here, you also have a clear view of lounge's entrance, making it a handy spot to wait for a companion to arrive.
Beyond that, the main space has everything else. Most of the seats here are in straight lines, and alternate with cocktail tables. This makes them flexible and adaptable, as they'll suit whether you're flying solo, as a pair or in a larger group.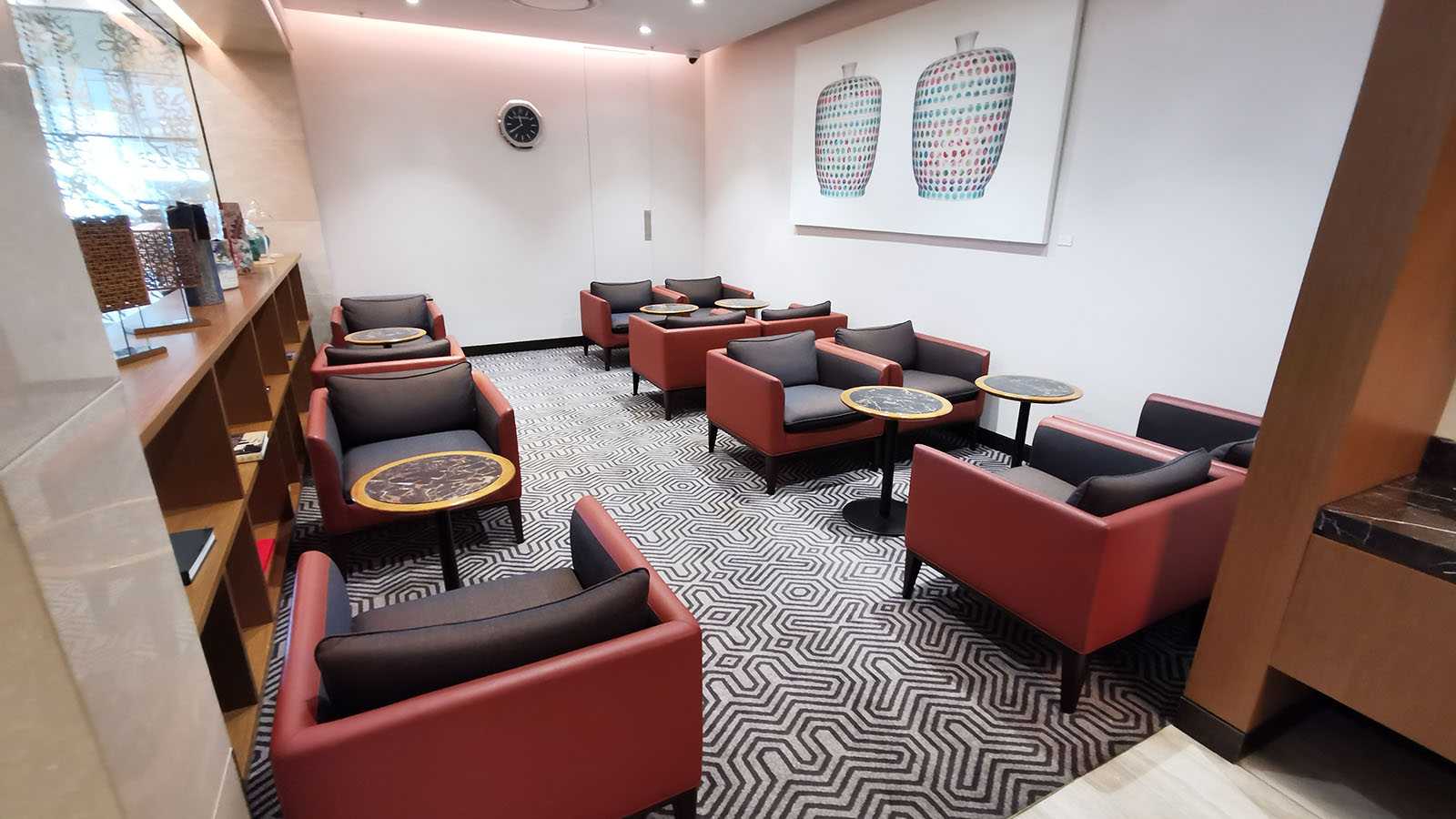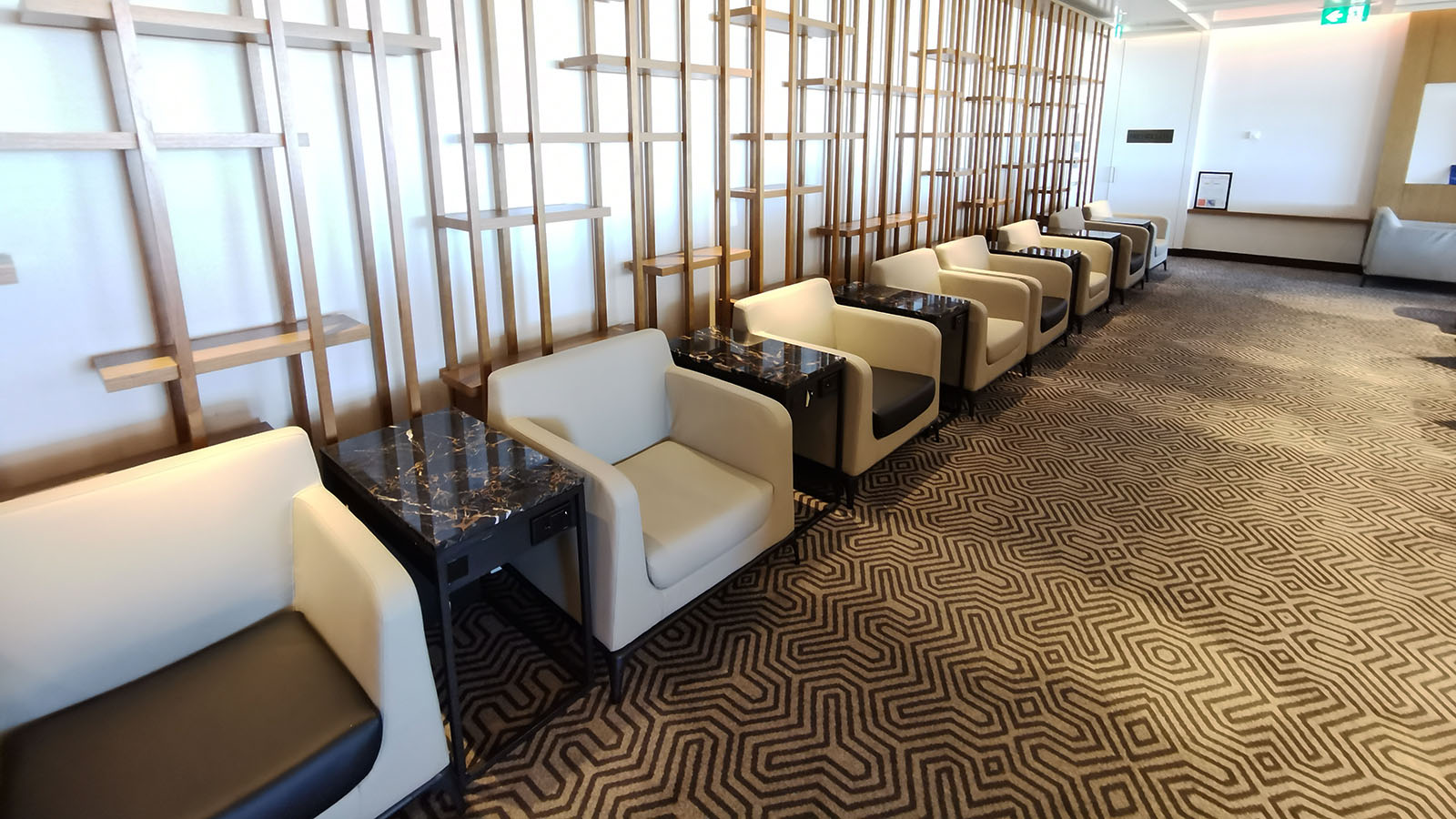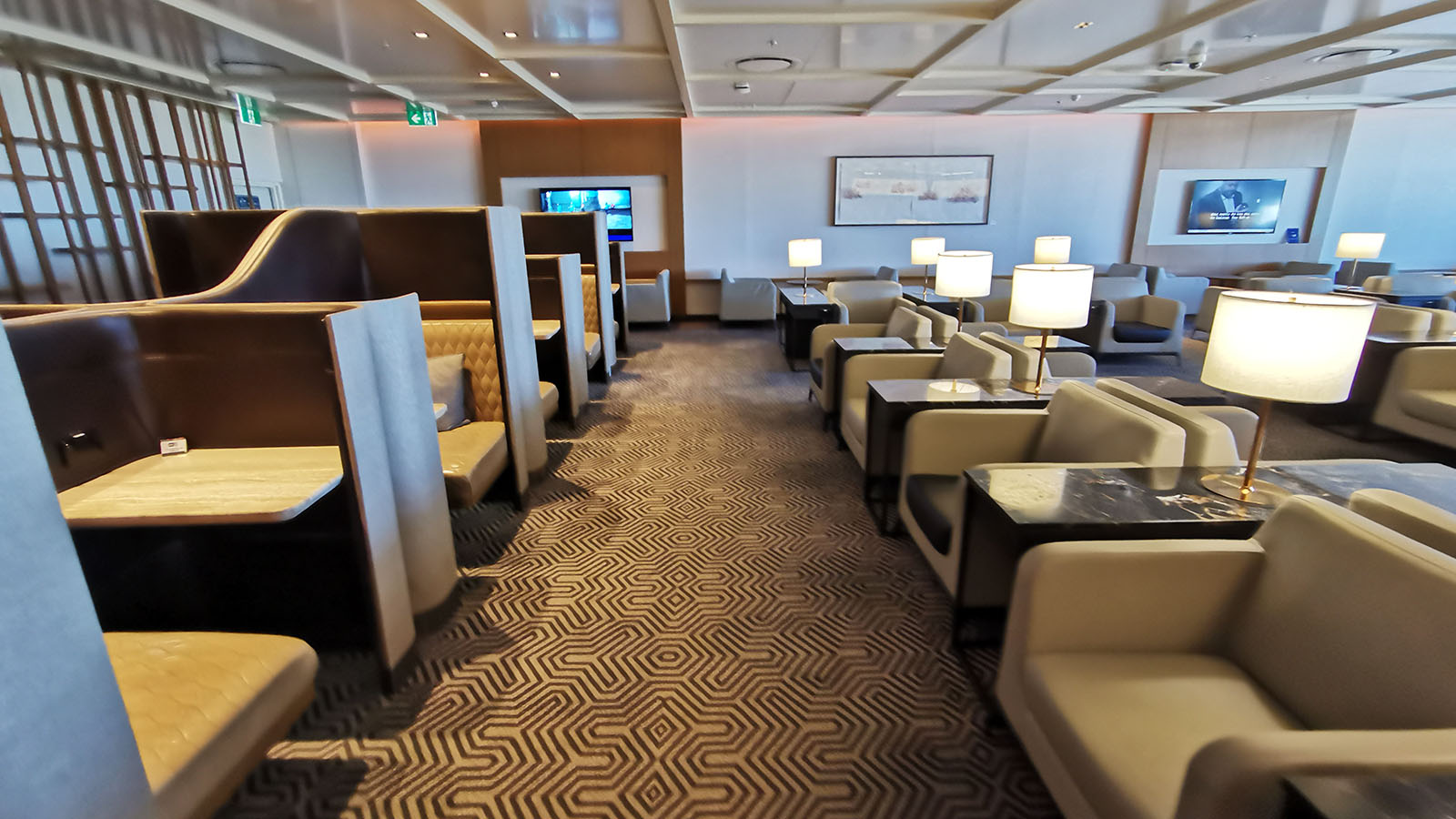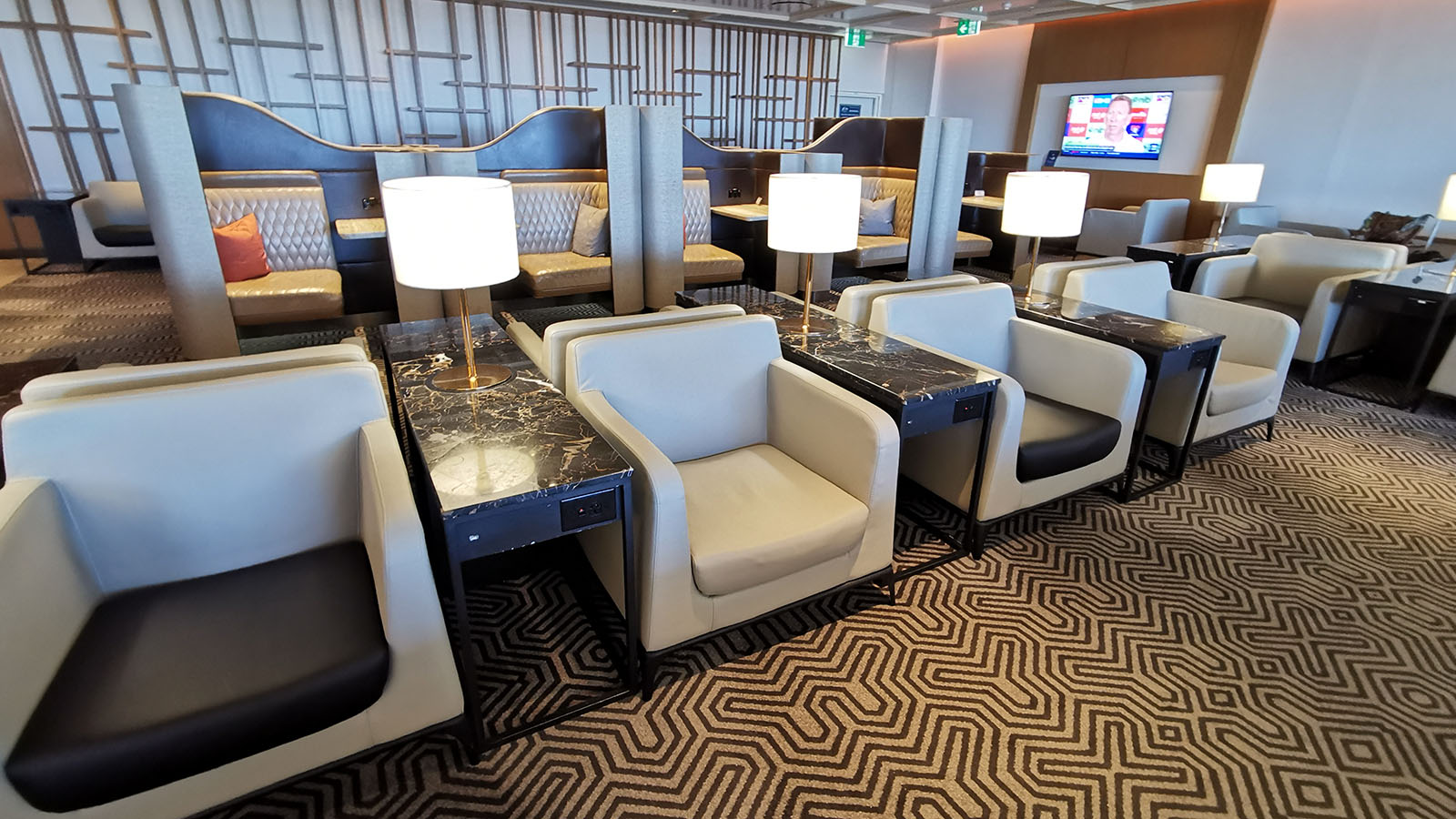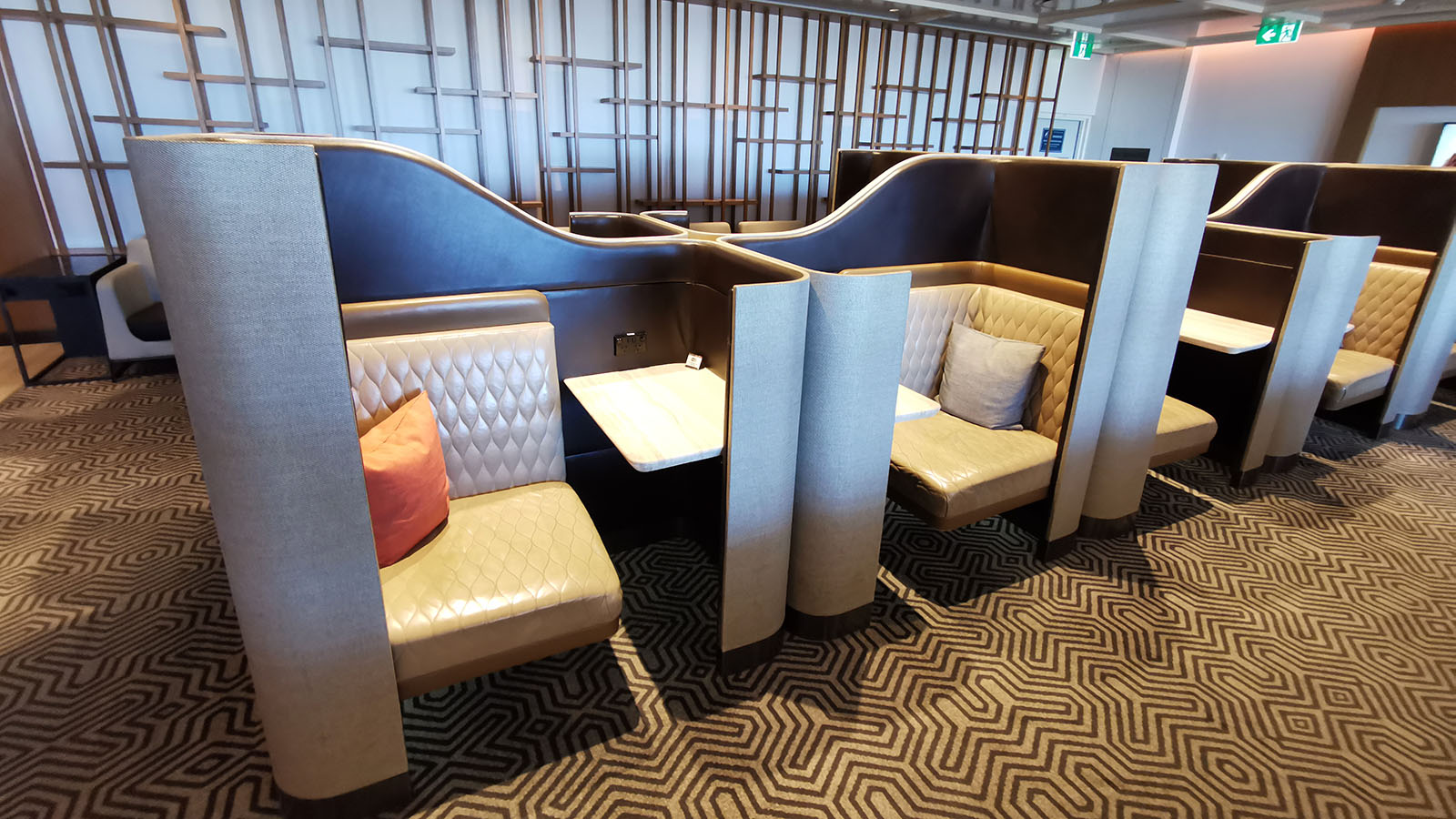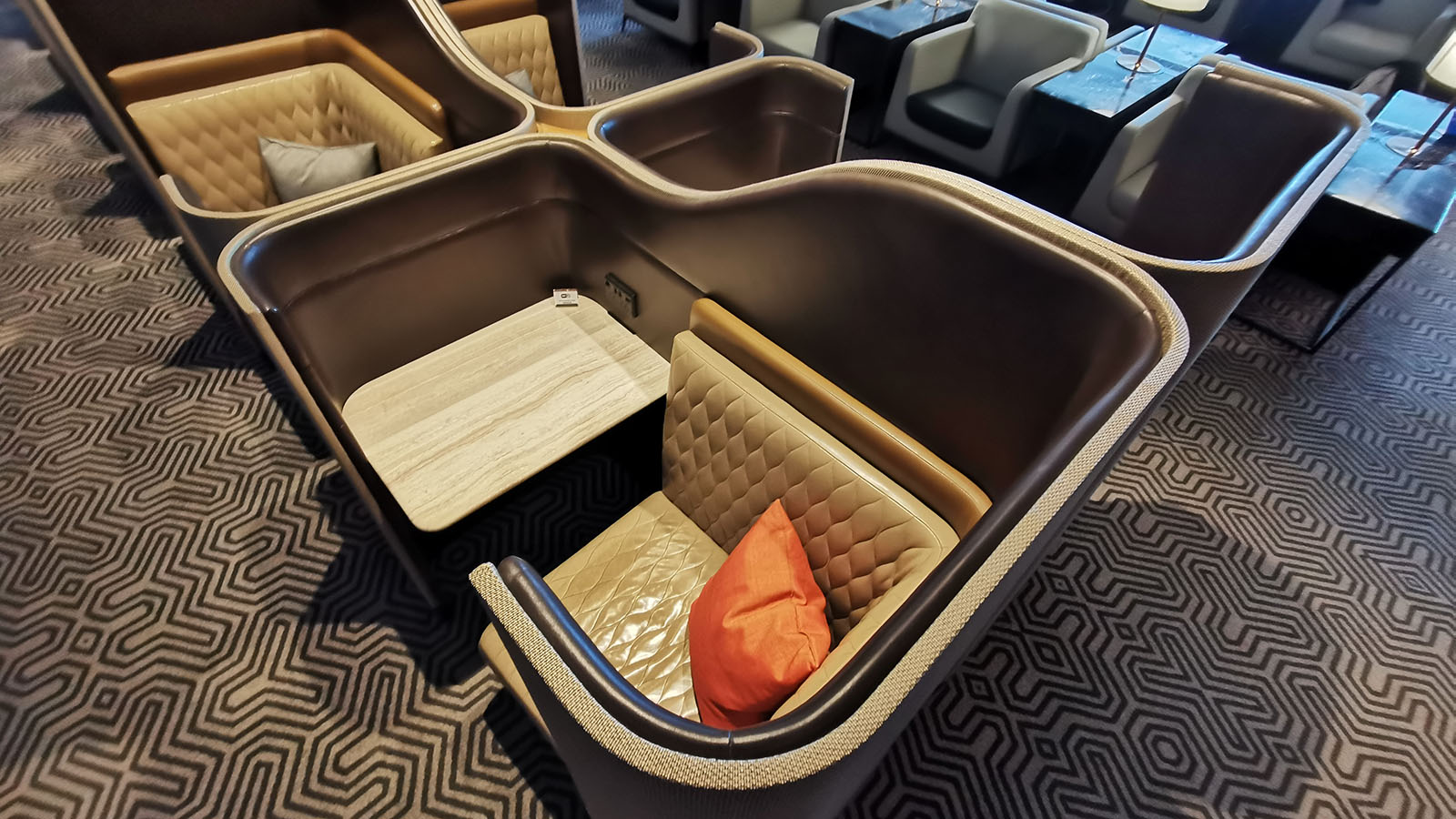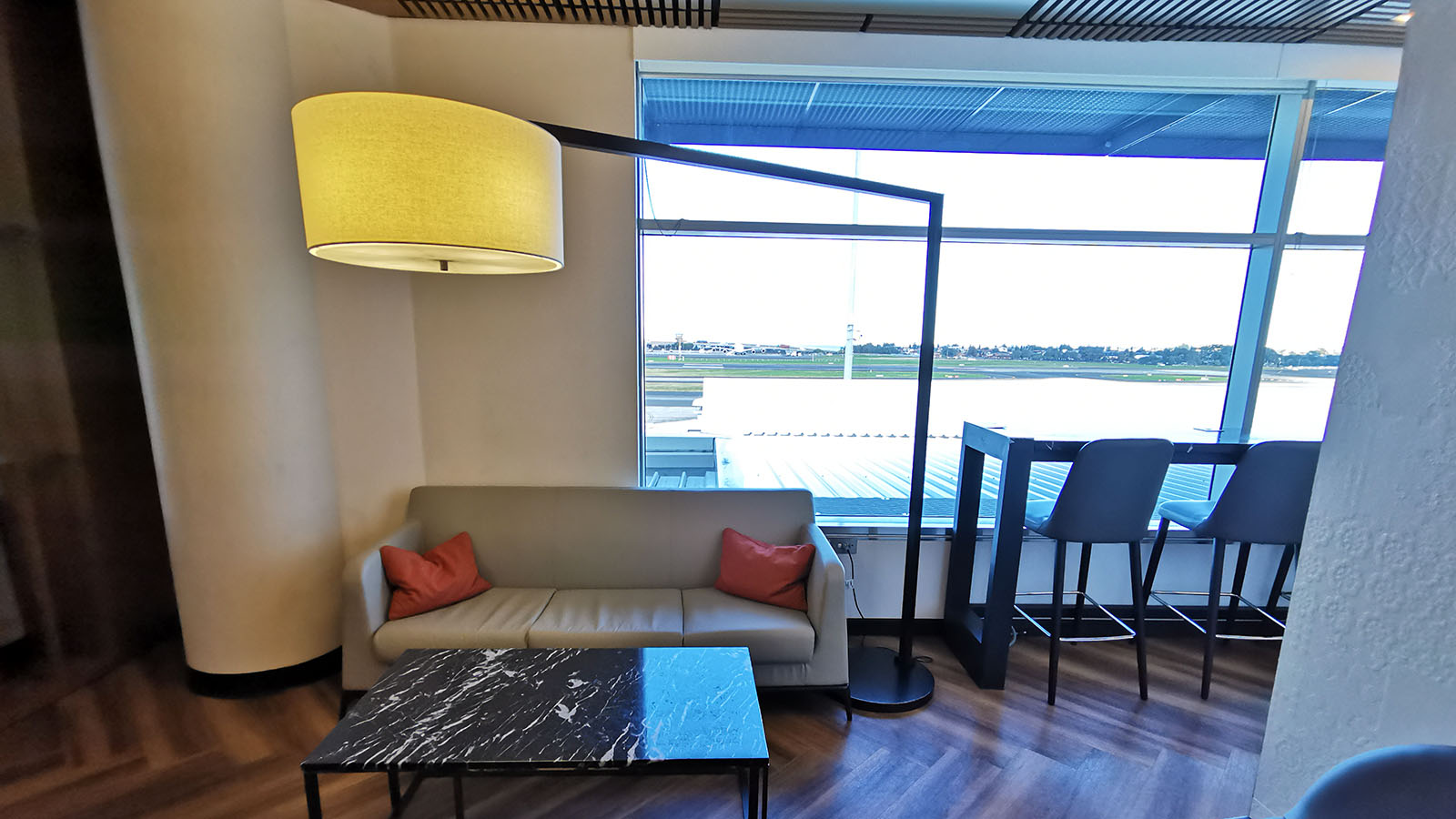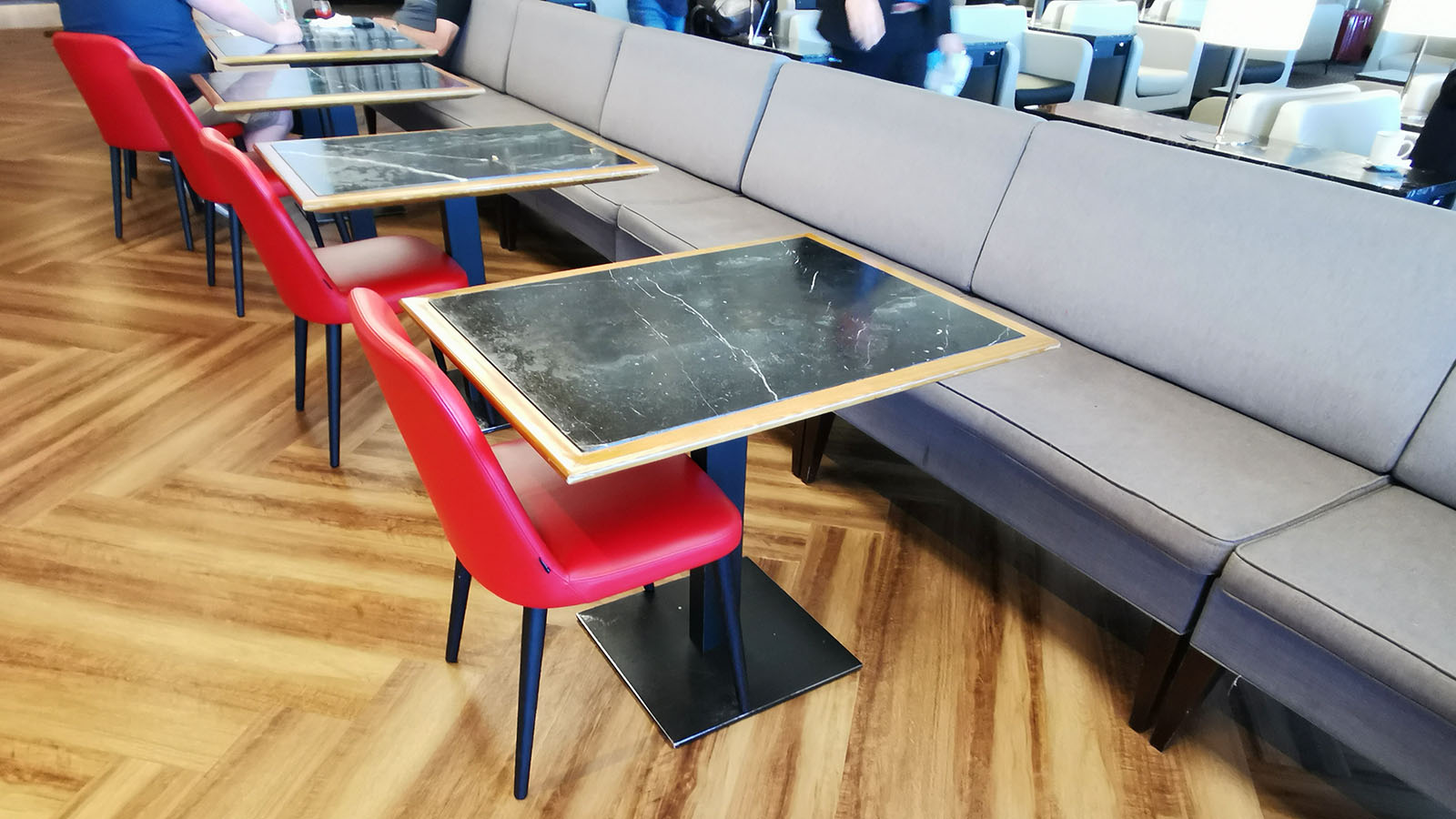 Two rows of high-winged personal pods provide some variety in between. Each features a shelf and desk-level power, making them a great place to work on a laptop. But equally, they're well-suited to kicking back and relaxing with a touch more privacy than most other seats offer. These L-shaped seats even allow you to alternate between those two modes for whatever the mood strikes.
By the windows, there's a line of seats along a high bench: another great place for laptop work. Fortunately though, the bench doesn't run the whole length of the window – allowing a few more comfortable chairs to also enjoy the airport views.
A small dining area lives adjacent to the buffet. If you've arrived without much time until boarding, that's certainly going to be a convenient choice.
Food and beverage in Singapore Airlines' SilverKris Business Class Lounge in Sydney
Whether it's a substantial meal or just a pre-flight snack, Sydney's SilverKris Business Class Lounge has you covered.
This noon visit finds substantial options such as fish curry and fried rice, as well as butter chicken and jasmine rice. Add to that, steamed vegetables, egg noodle stir fry, salads, cheese and fruit. But after a late breakfast, I'm quite content with the simple choice: beef ragu with corn chips. It makes for something of a deconstructed nacho plate.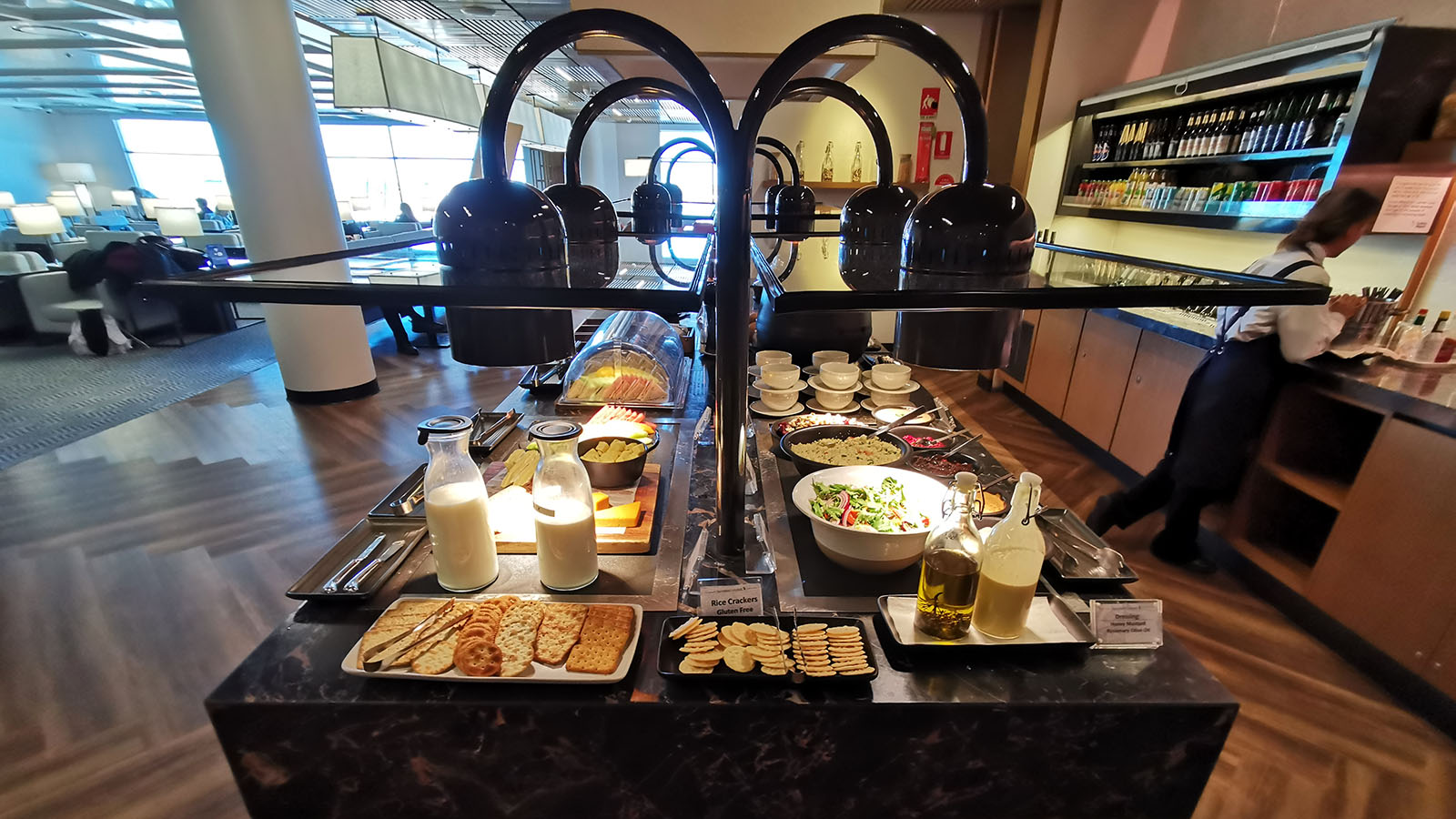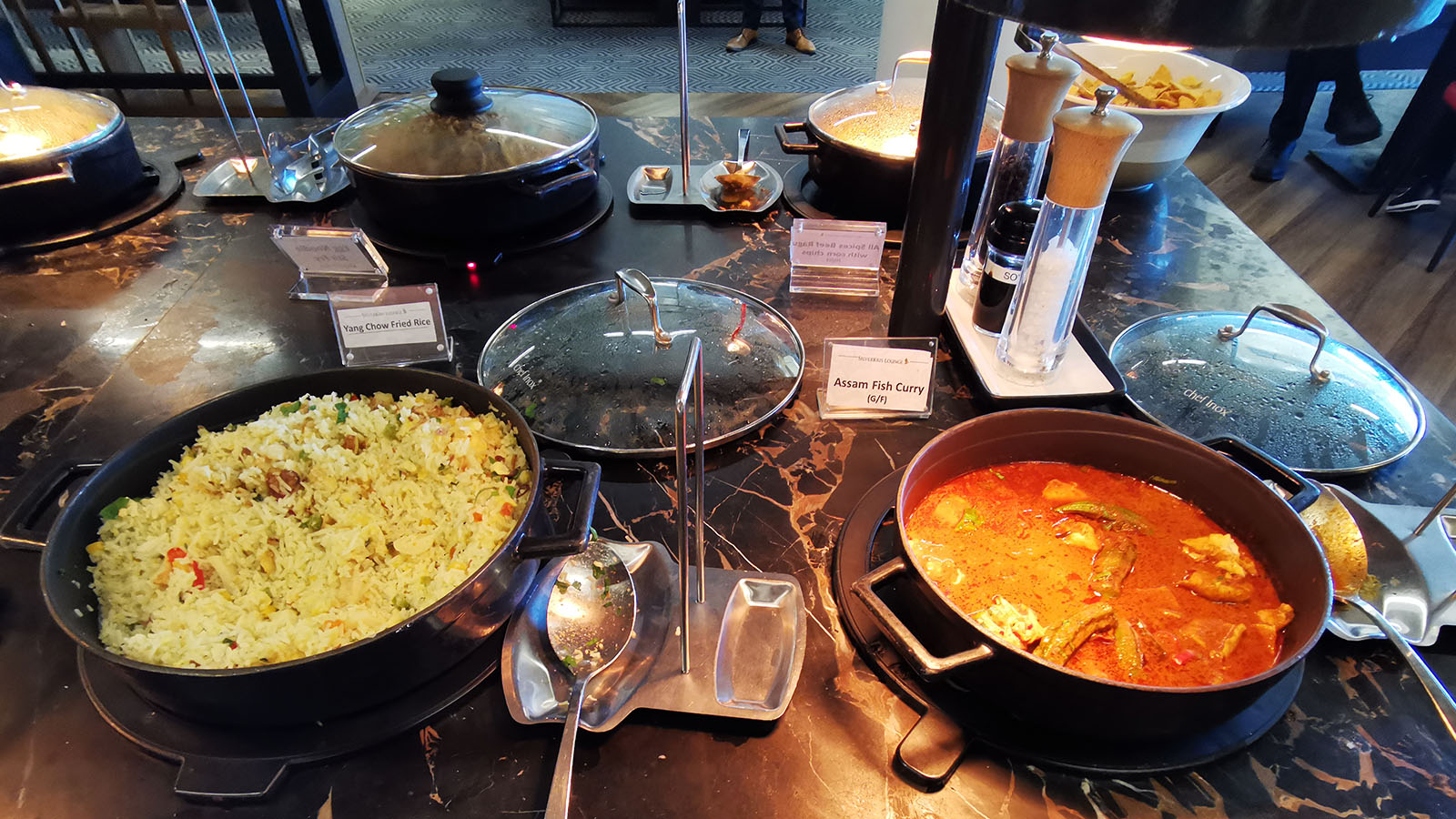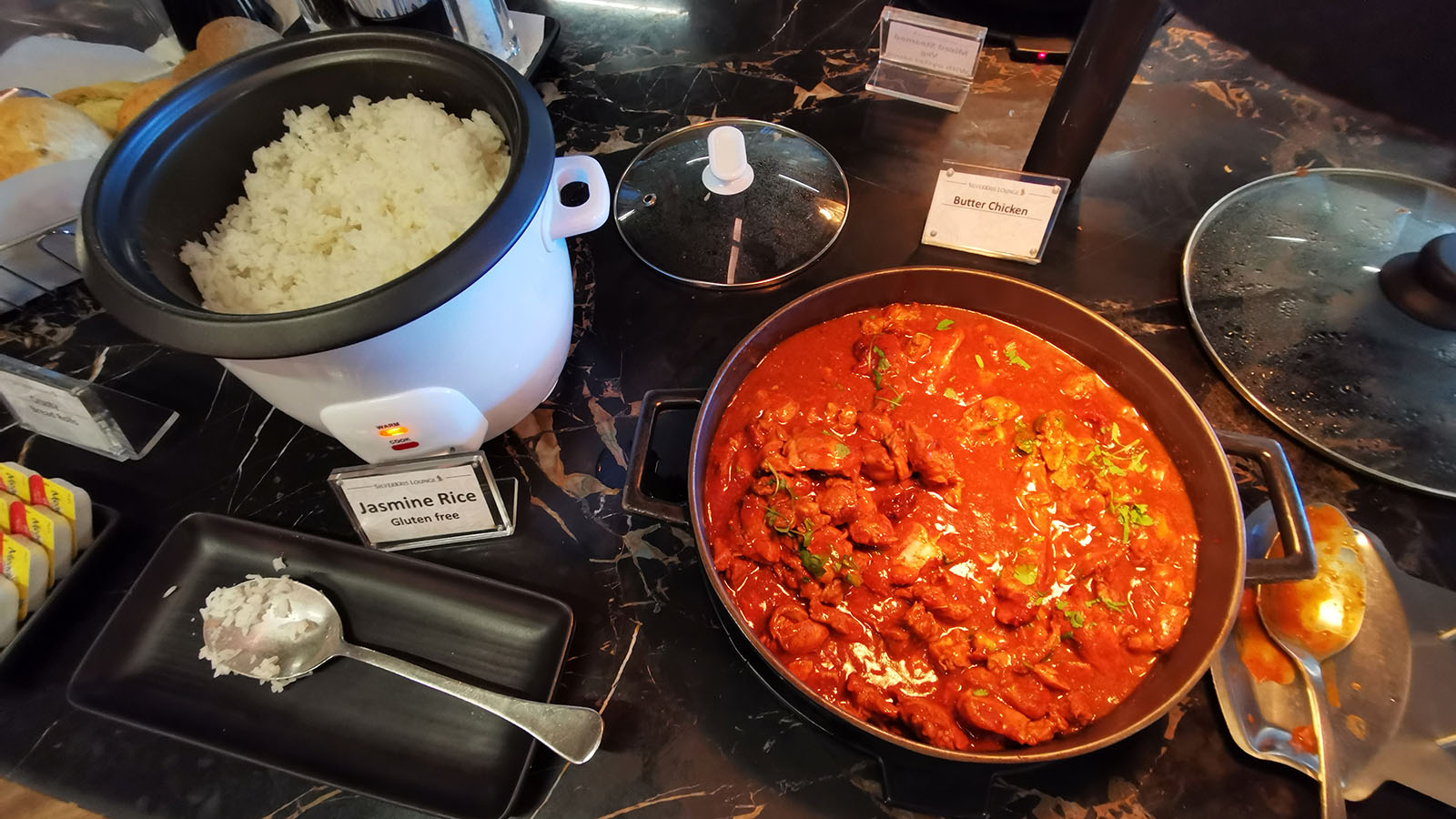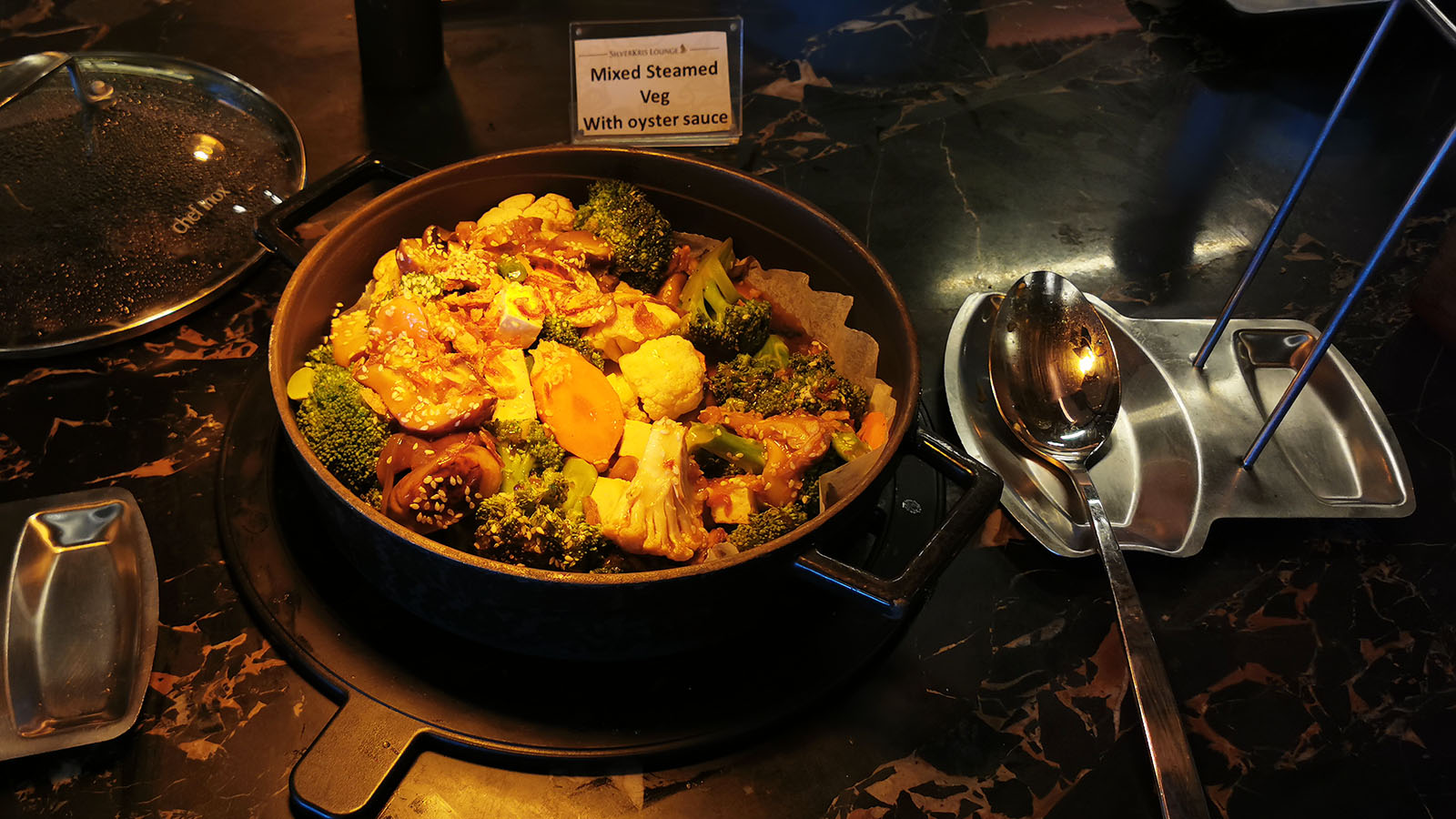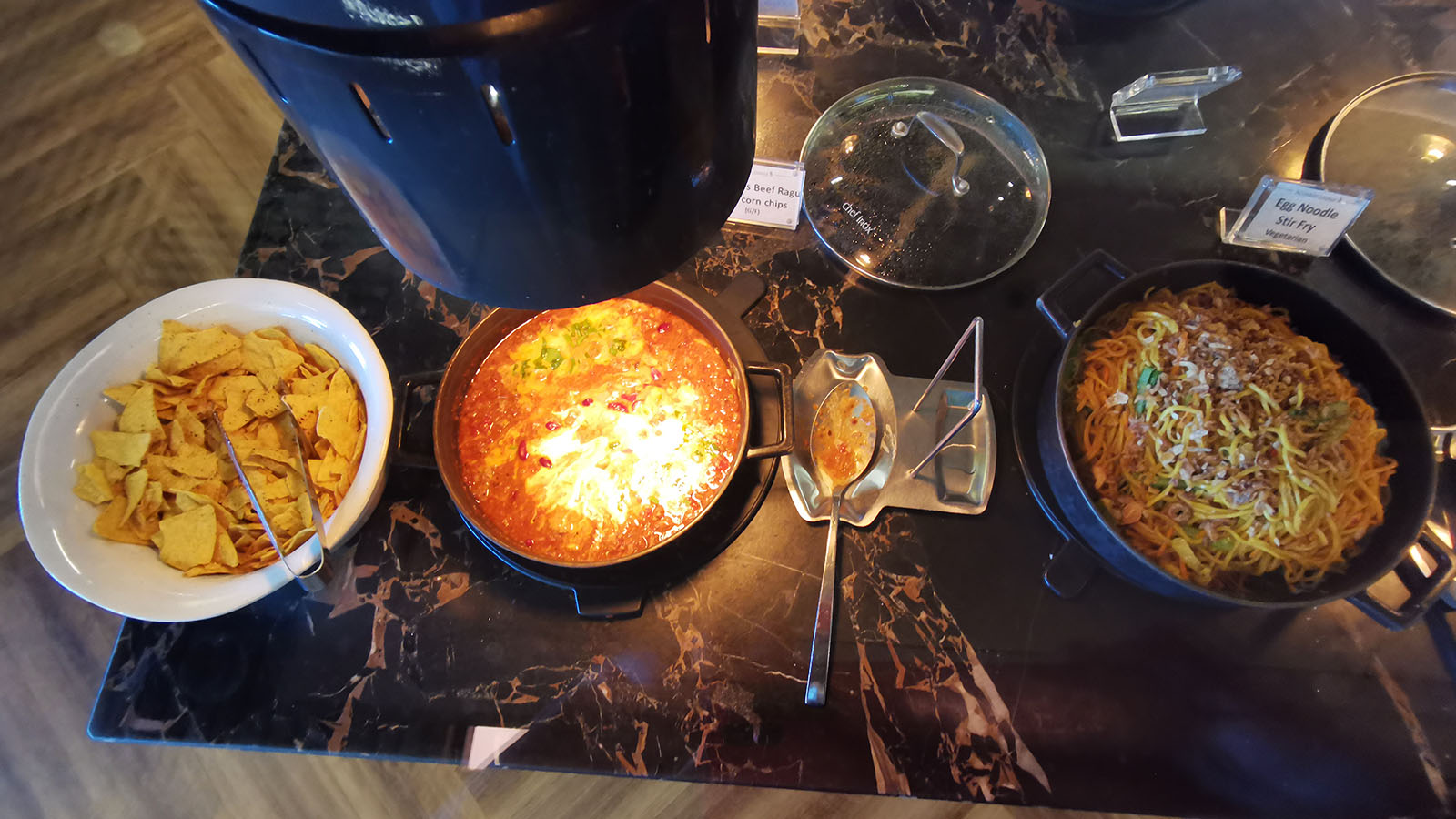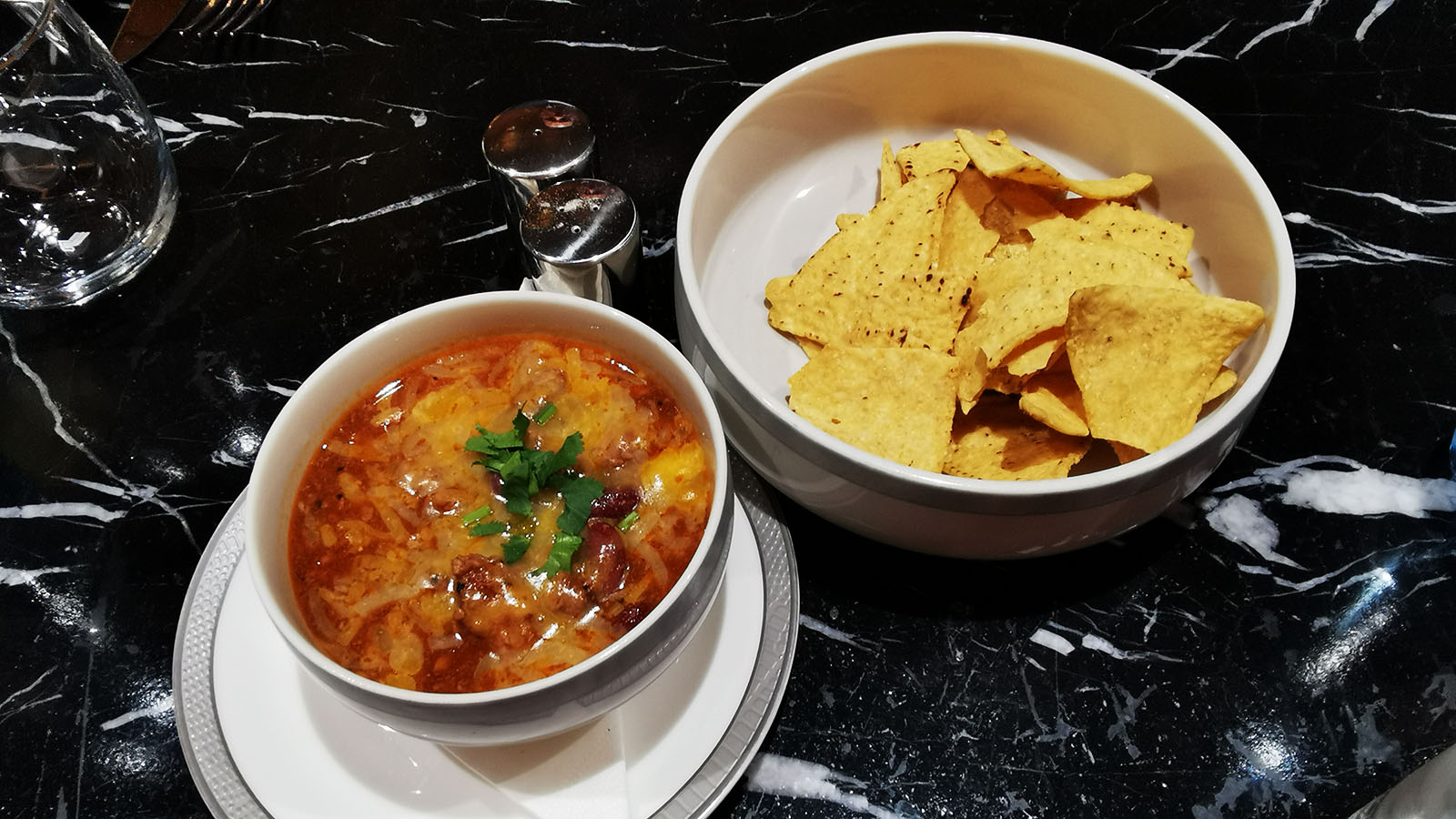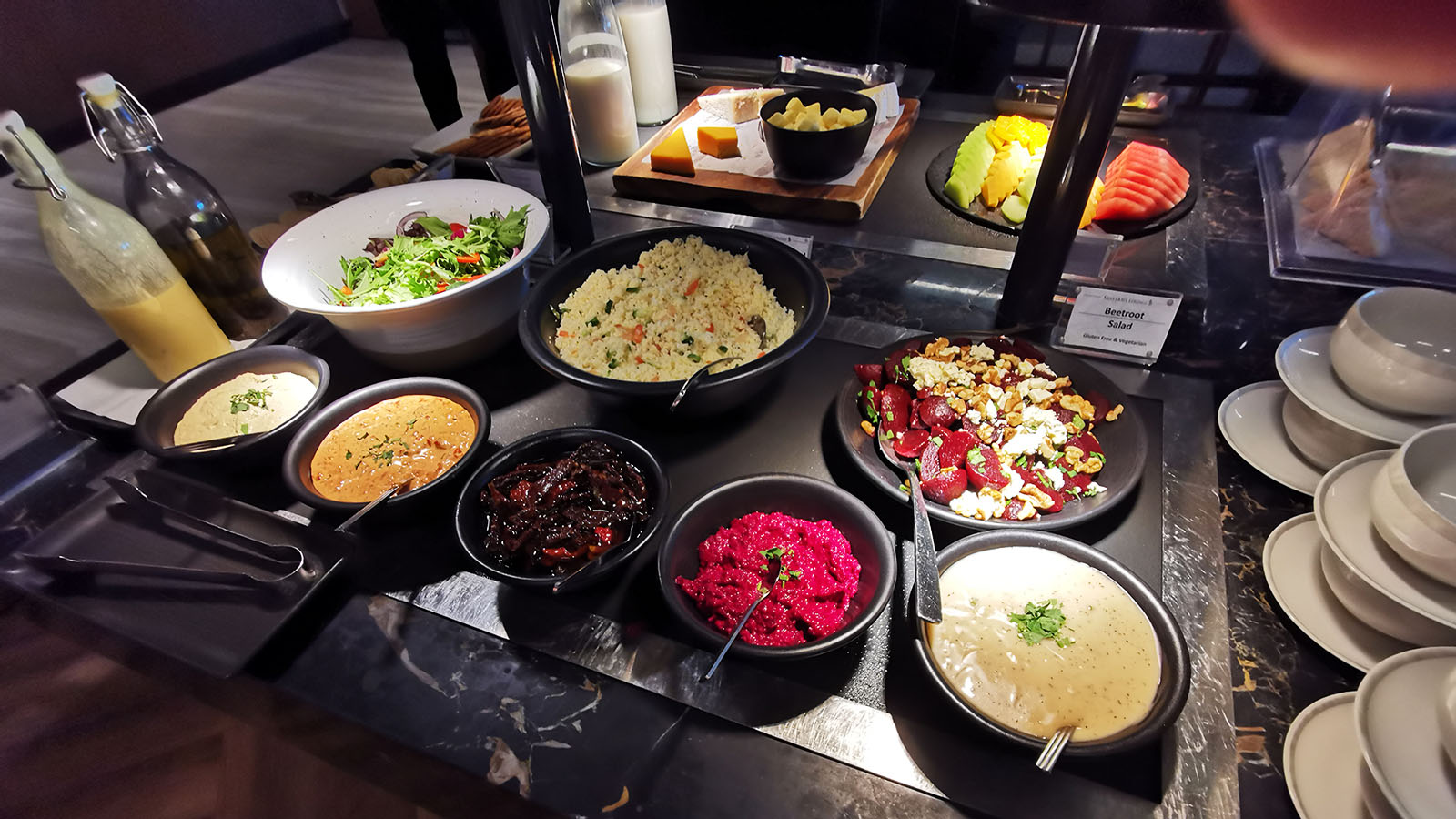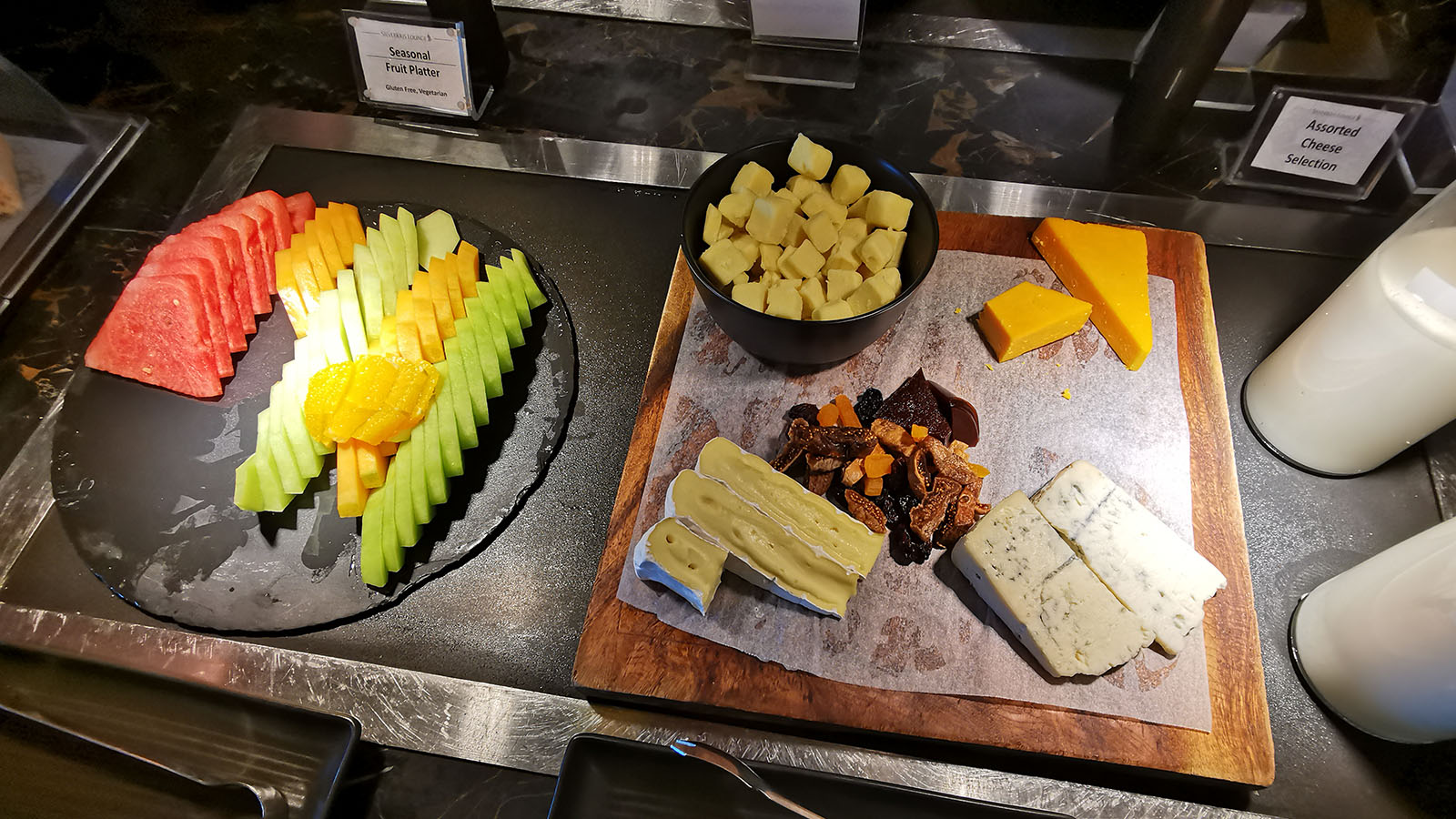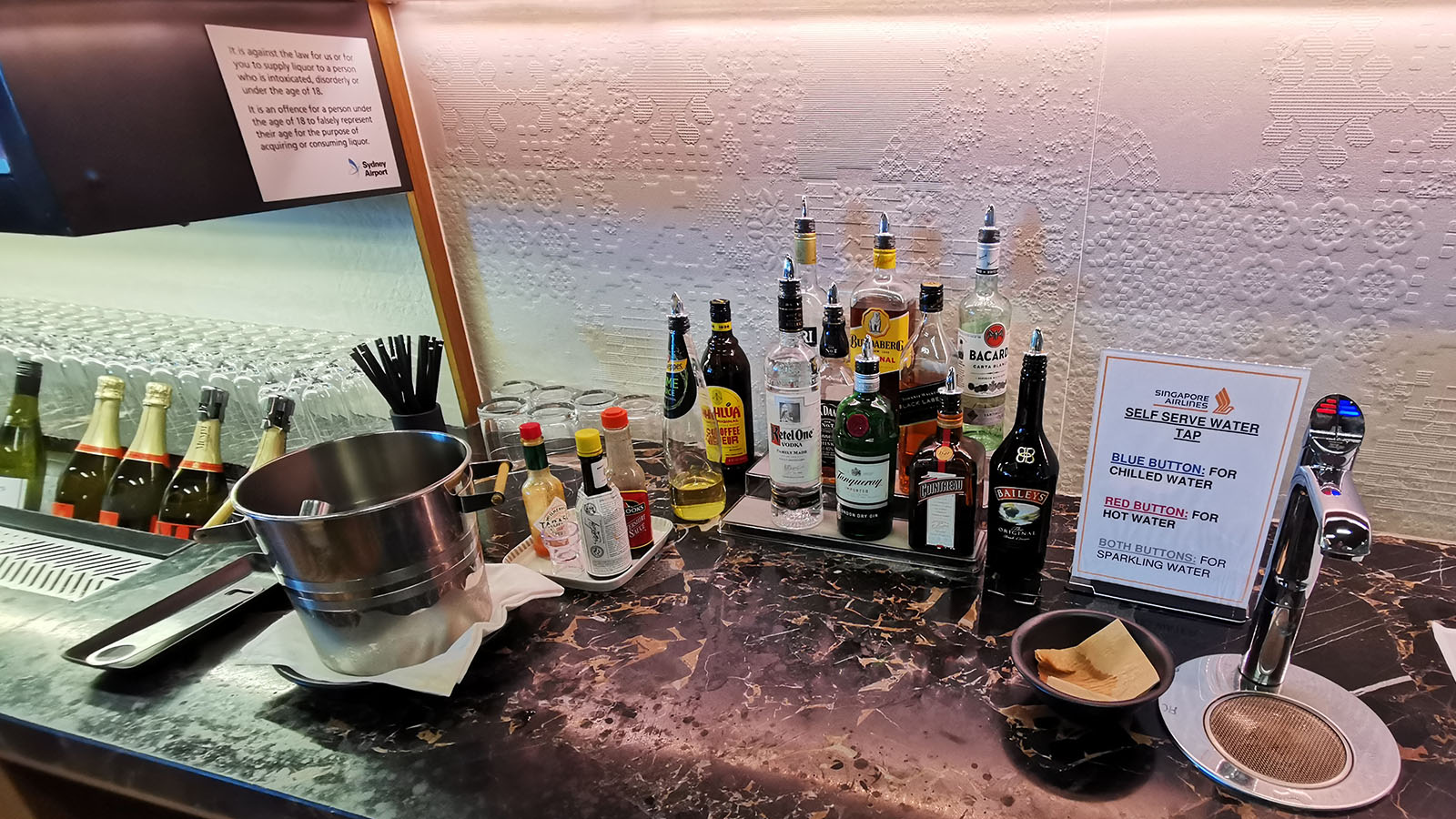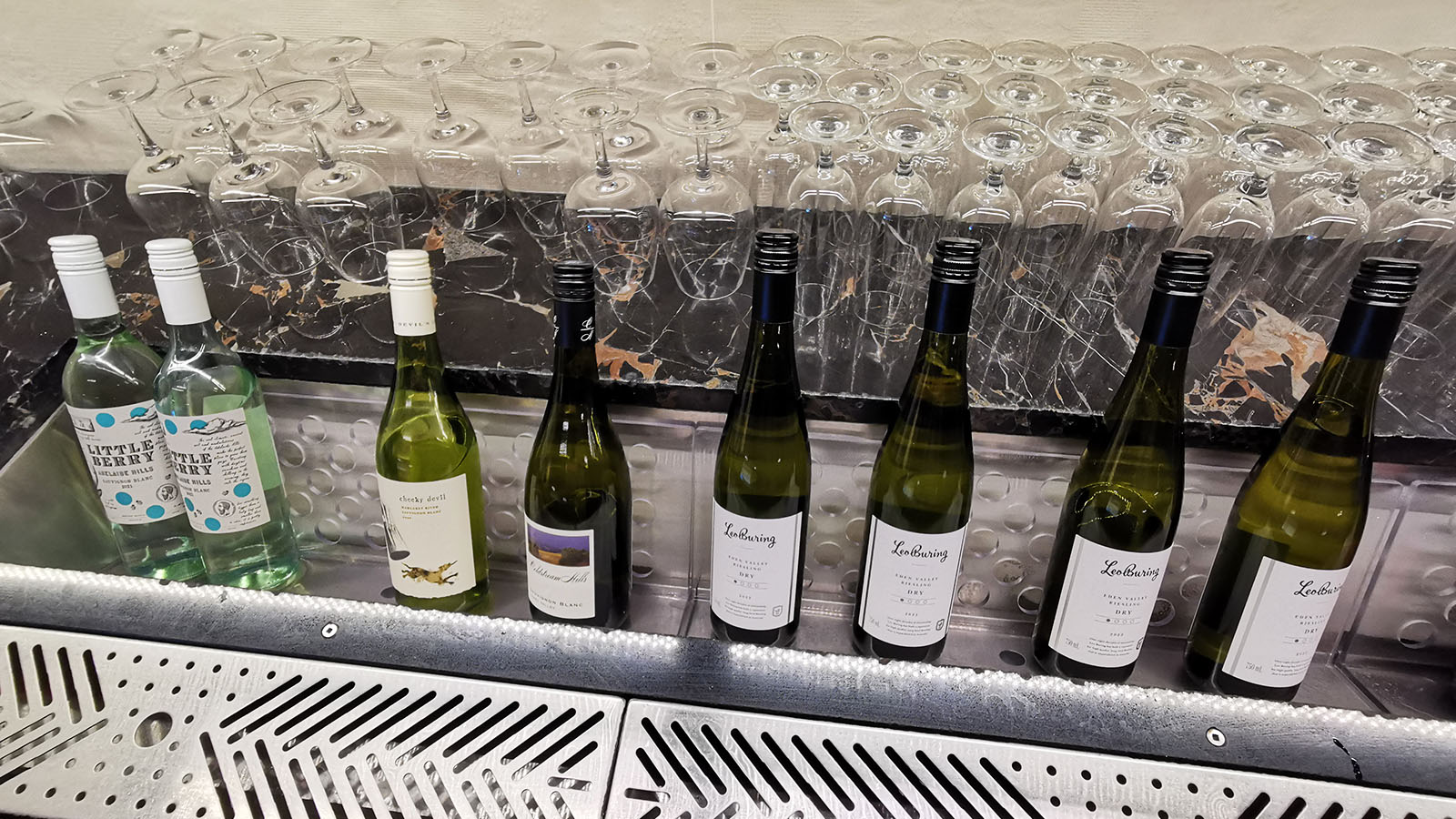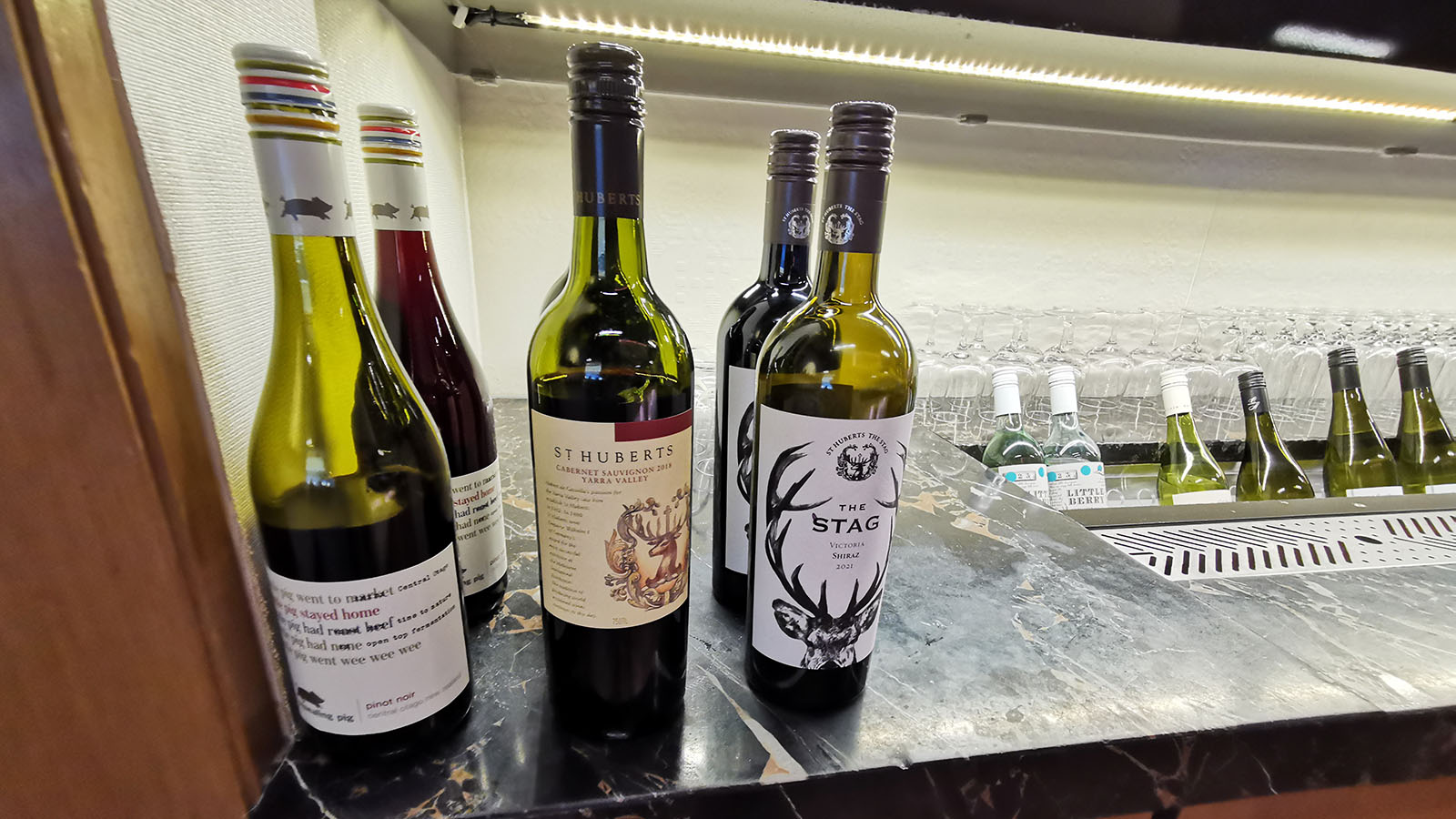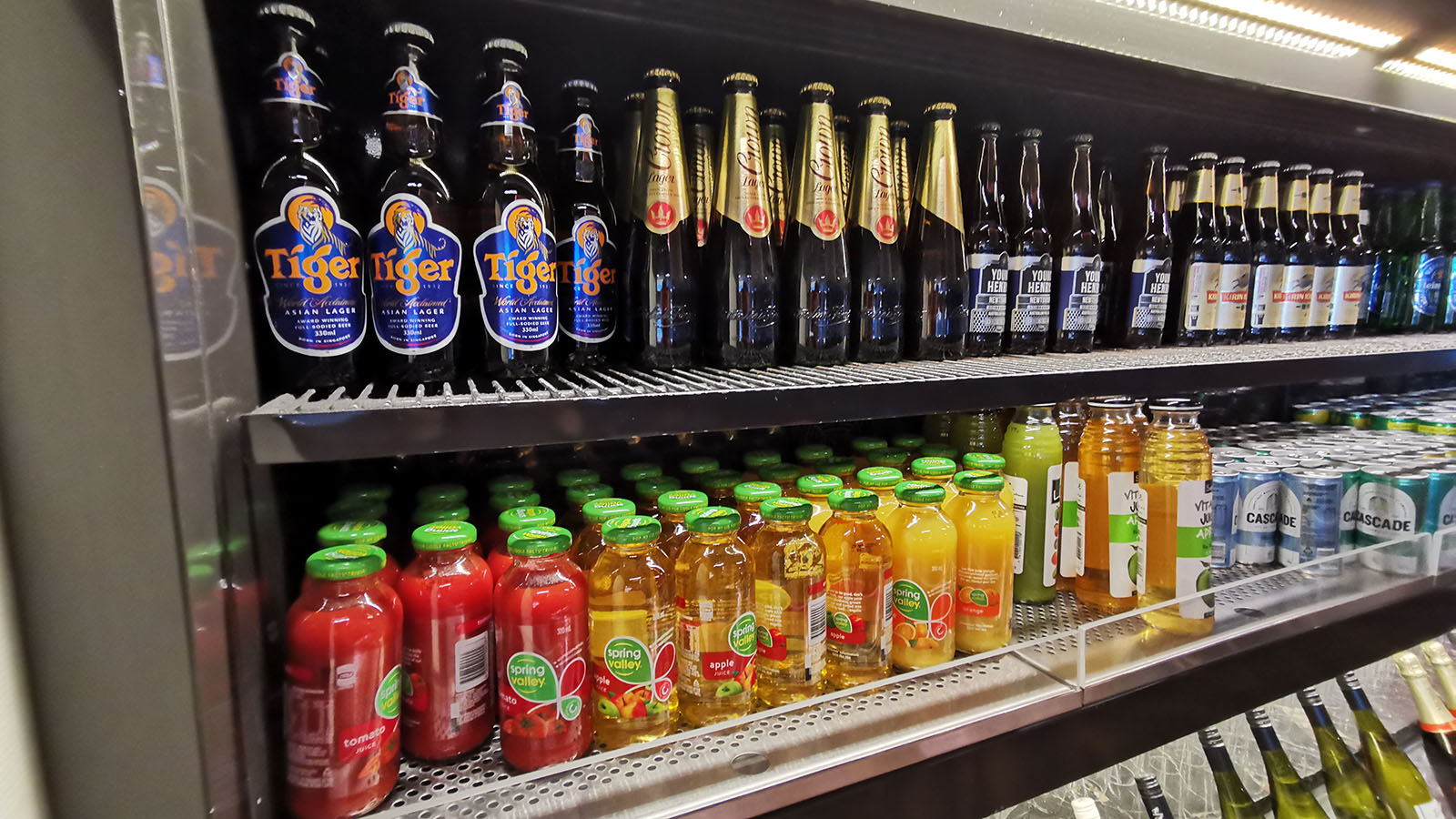 On the beverage front, help yourself to spirits with mixers aside. Or perhaps, swing by the coffee counter for a barista-made latte. There's a modest selection of red and white wines too, and of course, beer. It wouldn't be a Singapore Airlines lounge without Tiger among the choices!
Rounding out the selection is a New Zealand sparkling white: Mumm Marlborough Brut Prestige. Not to be confused with straight 'Mumm' (or Champagne itself), it's a light and fruity sparkling produced a shorter distance from home.
Lounge amenities
Have a little time before your flight departs? On-site shower suites are ready and waiting. They're reasonably spacious, with a mirror-facing seat also at your service. As goes without saying, restroom facilities are found within the lounge, too.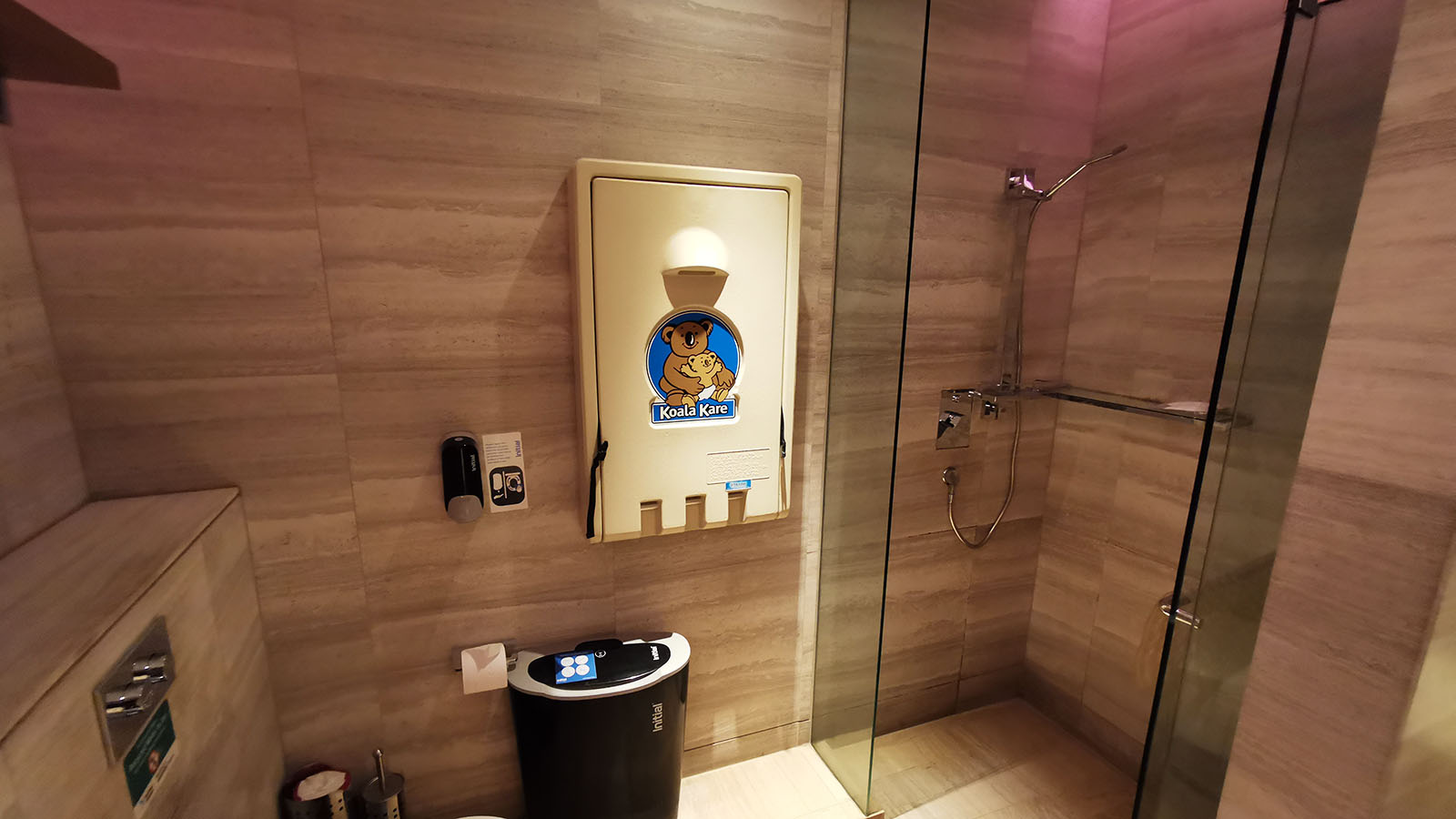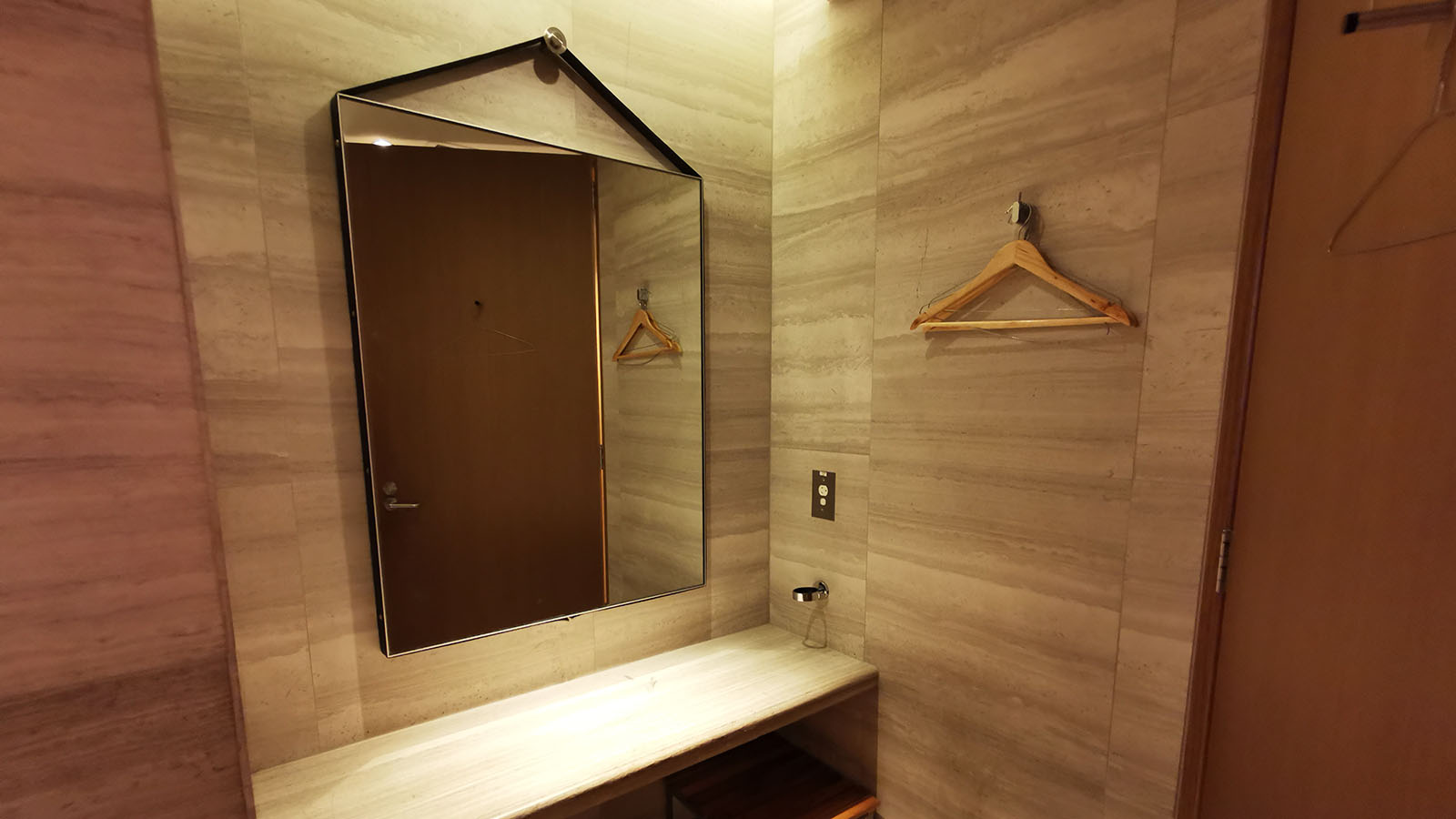 A more recent addition comes by way of the lounge's upgraded Wi-Fi network. Even during a busy time (towards the end of the visit, well after taking all of the 'empty chair' photos), I was able to clock download speeds of over 220Mbps.
Upload speeds came in even faster at almost 270Mbps. That's particularly handy for backing up any important data to the cloud before you fly. Given inflight Wi-Fi speeds are nowhere near as impressive, it's also a great opportunity to download any content you hope to watch along the way.
Accessing the Singapore Airlines SilverKris Business Class Lounge, Sydney
Compared to the discreet SilverKris First Class Lounge next door, Sydney's SilverKris Business Class Lounge is much easier to access.
Excluding travellers who'd visit that higher-tier space, here are those who call the SilverKris Business Class Lounge home:
By Business Class ticket:

Passengers of Singapore Airlines, as well as its Star Alliance partners. From Sydney, these usually include Air Canada, Air China, Air India, Air New Zealand, All Nippon Airways (ANA), Asiana Airlines, Thai Airways and United Airlines.

By airline frequent flyer status:

Singapore Airlines KrisFlyer Gold members prior to Singapore Airlines and Star Alliance flights (+1 guest).
Other Star Alliance Gold frequent flyers prior to Singapore Airlines and Star Alliance flights (+1 guest).
Virgin Australia Velocity Gold, Platinum and Beyond members departing on Singapore Airlines and United Airlines only (+1 guest).
Virgin Atlantic Flying Club Gold members prior to Singapore Airlines flights only (+1 guest).

By paid lounge membership:

Air Canada Maple Leaf Club (Worldwide) and United Club members departing on a Star Alliance flight (+1 guest).
Note that some eligible passengers may be directed at check-in to use a different lounge in Sydney. This can be because of preferential agreements or lounge opening hours. However, under Star Alliance rules, eligible Star Alliance passengers can access the SilverKris Business Class Lounge when it's open and with available capacity, regardless of their own airline's 'preferred' lounge.
Summing up
Singapore Airlines' SilverKris Business Class Lounge ticks most of the boxes for travellers departing Sydney Airport. Improvements in recent years to introduce higher-speed Wi-Fi and barista-made coffee add to its appeal.
While it's not in the same league as the carrier's newest SilverKris Business Class Lounge in Singapore, it's still one of Sydney's better Business Class lounges.
Many travellers with access here will also qualify for the Air New Zealand lounge next door. If you're looking for a change of scenery, or perhaps, a cocktail, why not stop by both to see which you prefer?
Also reviewed: Singapore Airlines Airbus A350 Business Class
Photography by Chris Chamberlin, who accessed the lounge as a guest of Singapore Airlines.
---
Stay up to date with the latest news, reviews and guides by subscribing to Point Hacks' email newsletter.
Singapore Airlines SilverKris Lounge, Sydney
was last modified:
April 20th, 2023
by