Point Hacks has the wonderful tradition of bringing the whole company together overseas for a week-long retreat, every year. Previous sojourns have included Singapore, Tokyo and Hong Kong, but the 2023 Annual Trip saw us soar to Seoul. While I was tempted to use my KrisFlyer miles to fly Business, those miles were better used to fund my honeymoon. Instead, I steeled myself (okay, not that dramatically) and booked a Singapore Airlines Economy ticket from Perth to Seoul.
There were a few different flight timings, but I settled on the most time-efficient one – an afternoon departure from Perth and a midnight transit in Singapore, before landing in Seoul in the morning. Yes, I also can't believe I intentionally picked a red-eye flight to Asia. But time with loved ones on the ground is also important, so that's the compromise!
Here's what you can expect in Singapore Airlines' regional Boeing 787-10 Economy, helped along with some perks from Velocity Platinum status.
Check-in and the Perth SilverKris Lounge
Checking in at Perth Airport's T1 International is almost always a breeze. Singapore Airlines now uses a hybrid self-check-in arrangement in Perth. Economy passengers are directed to the kiosks. Business Class and other priority passengers can continue to visit the dedicated staffed desks.
With my Velocity status, I duly use the Business Class line. Several families are in front so I reckon this is one occasion where I might have gotten through quicker with the kiosks. But I persevere and for what it's worth, my luggage is tagged with a red 'First Class' priority label and is one of the first to come out on the belt in Seoul. I'm only expecting a blue 'Business Class' label, so that's a pleasant surprise.
(This is not a published perk of Velocity Platinum status. In addition, neither of the flights I took had a First Class cabin).
The current SilverKris Lounge in Perth is nothing to write home about. But luckily, a brand-new lounge is due to emerge in late 2023. At least my taste for sparkling wine is satiated! With my Velocity perks also including priority boarding, I get onboard early via the Business Class lane to snap some quick pics of the cabin.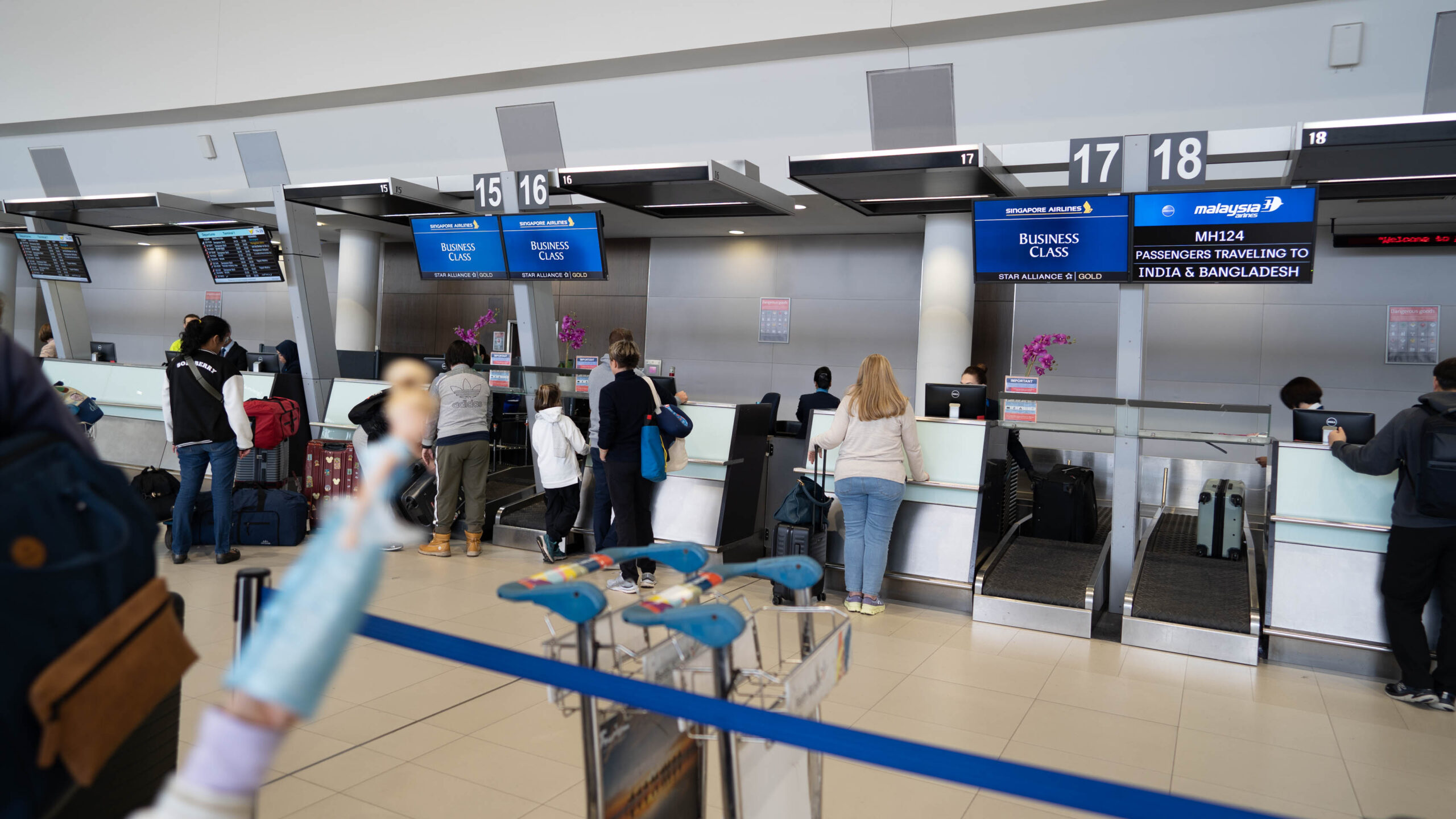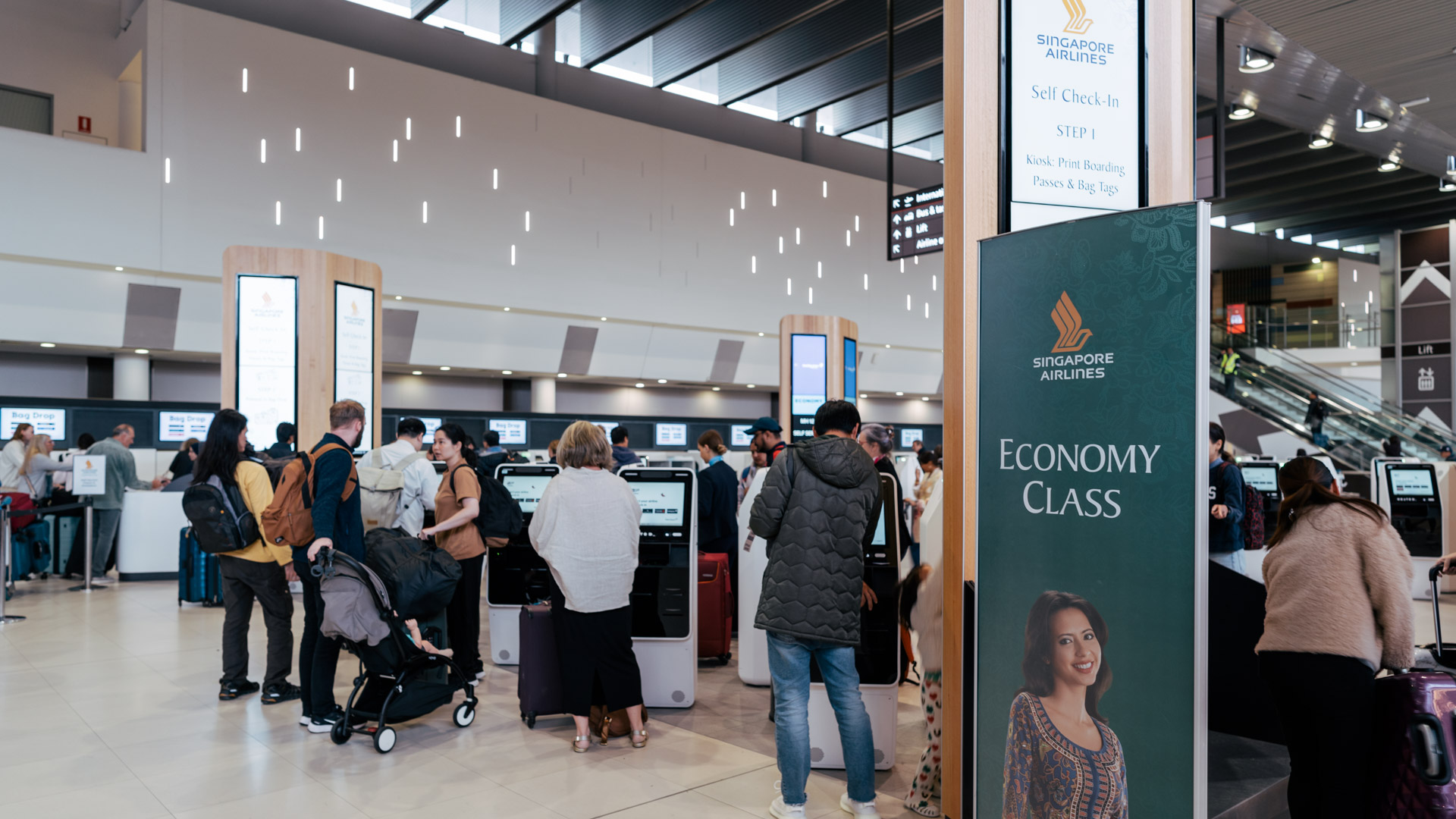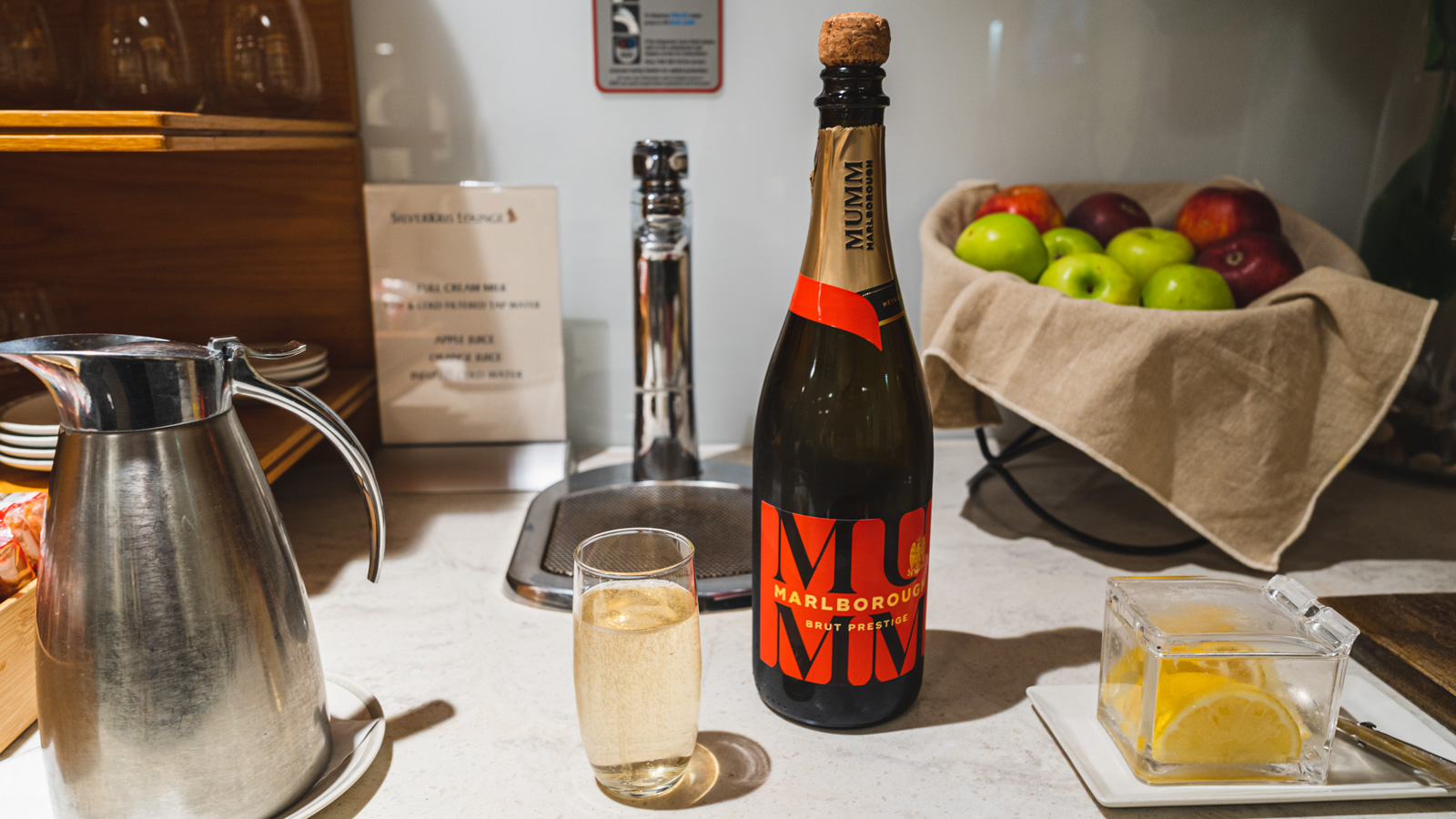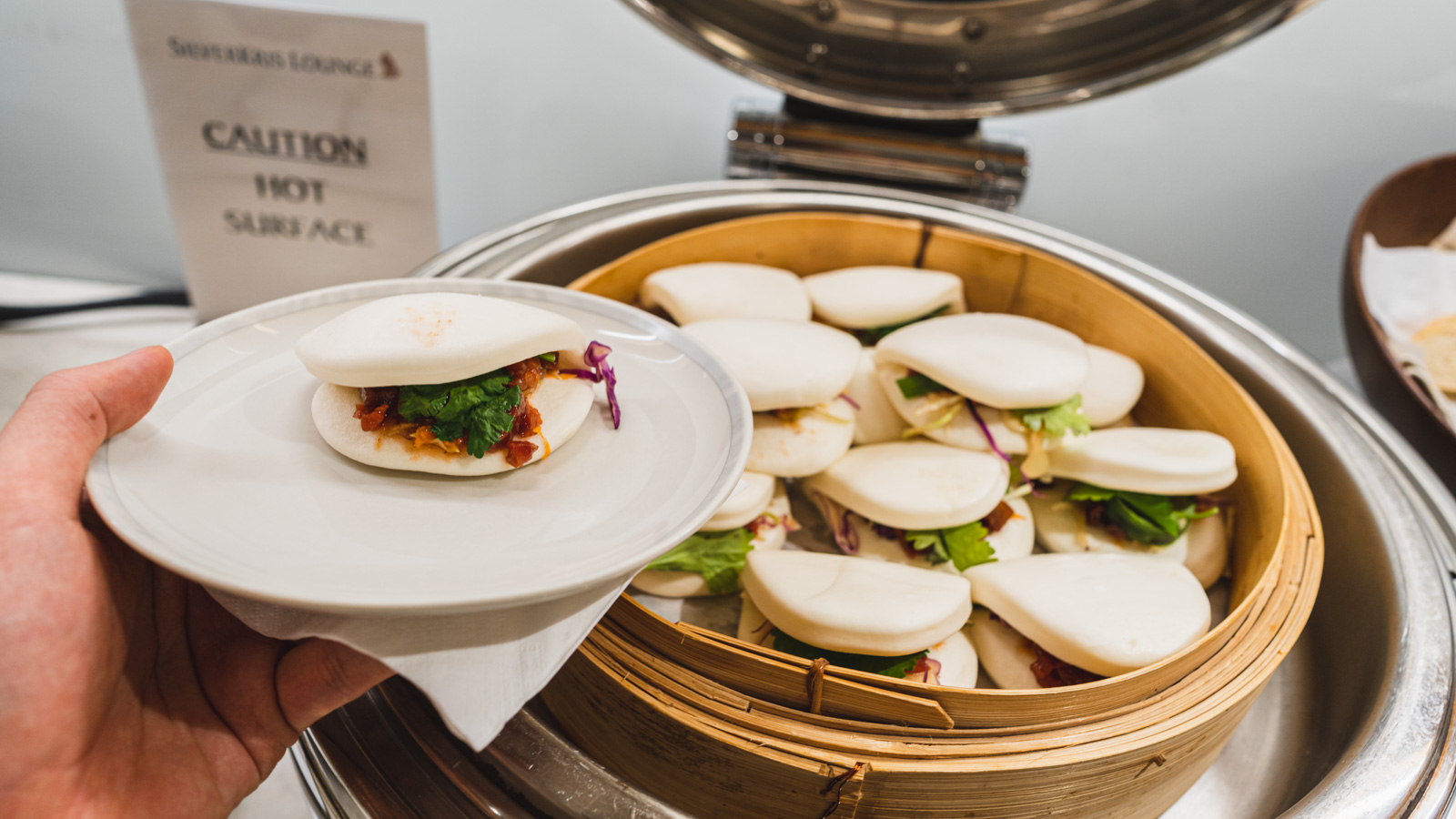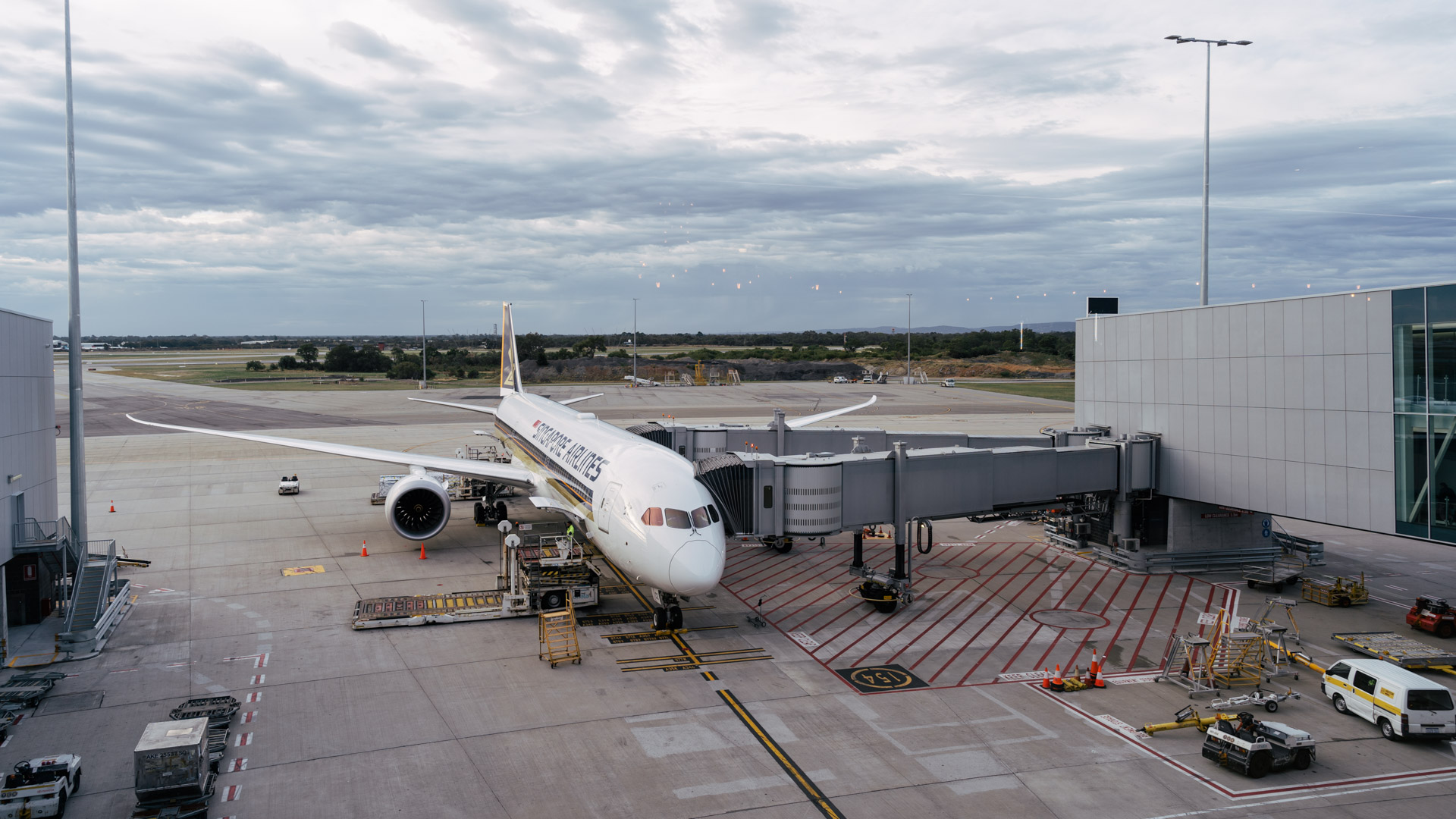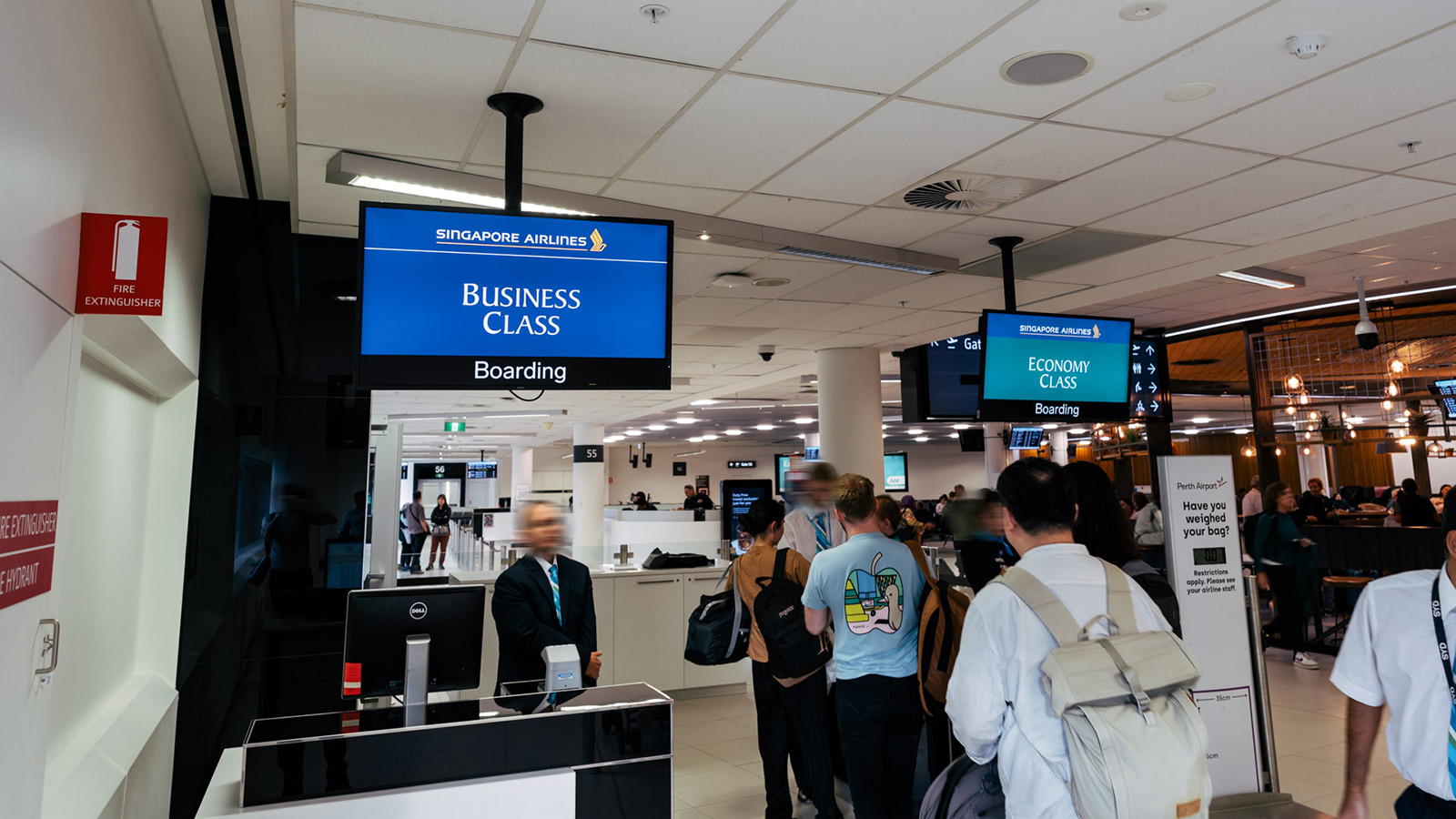 SQ214 – Perth to Singapore – 5 hrs 25 min
Seat and layout
Singapore Airlines' Boeing 787-10s are stylishly outfitted with a contrasting mix of greys and blues. It's easy on the eyes, especially when paired with the Dreamliner's bright cabins and large windows. As the longest variant of the Dreamliner, there's space for a whopping 301 Economy passengers in a 3-3-3 layout.
For this flight, I've chosen seat 56G, which is an aisle seat in the last row of the forward Economy cabin. It's a lucky pick too – I've managed to secure one of the only neighbour-free spare seats on this near-full flight. On a seat map, you'll see that 56D/E/G is just in front of the lavatory. But there's actually a cupboard directly behind so I don't notice the lavatories at all. Another perk of this seat is that it has a full recline and space behind to stash spare pillows and blankets.
With a standard 32″ (81.3 cm) pitch, the seats are just roomy enough for my knees. Other mod-cons include an 11.6″ HD touchscreen, USB charging port, shared AC sockets (two between three), a fancy bi-fold tray table with an integrated mirror, plus an individual cup holder just above.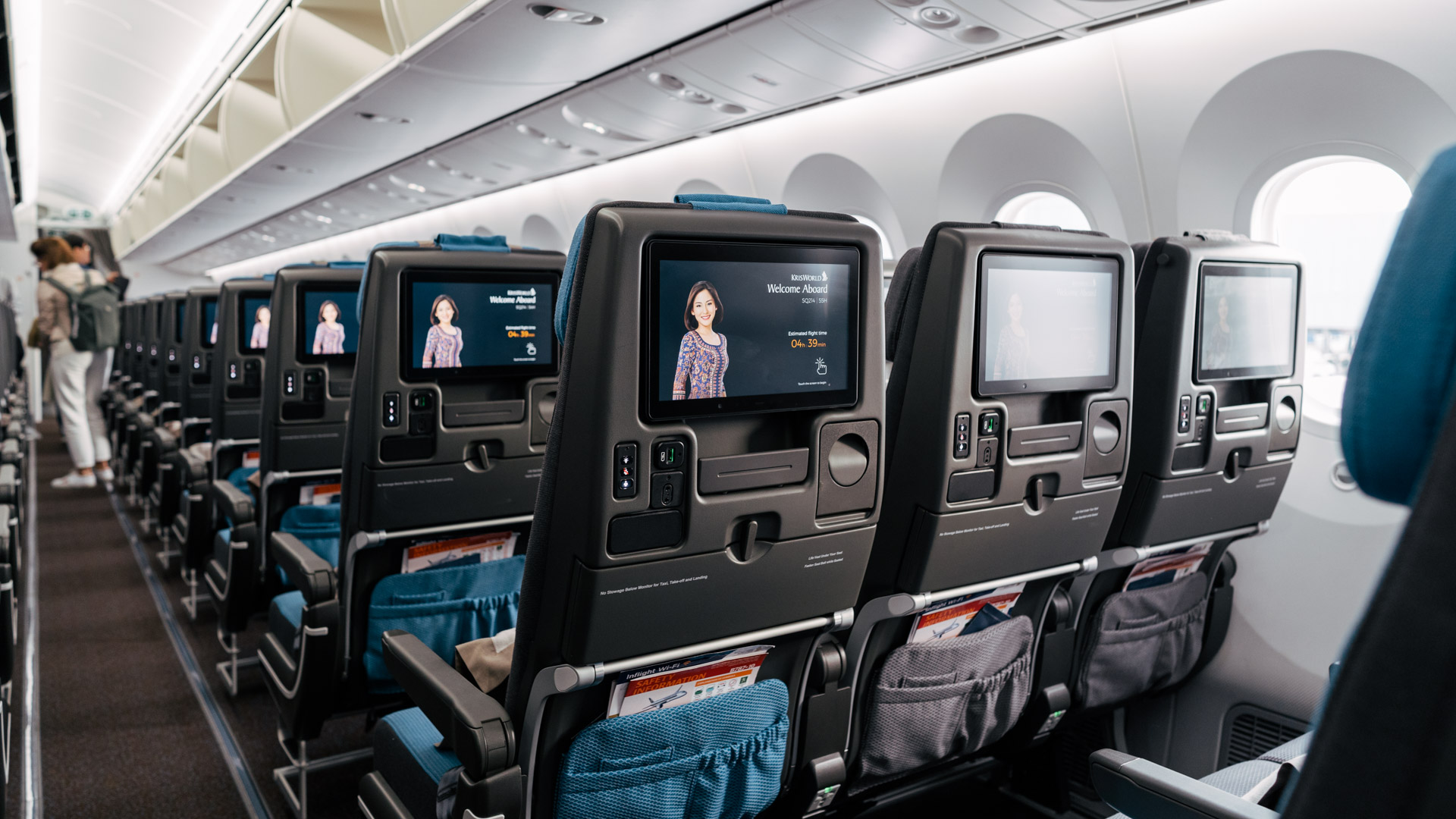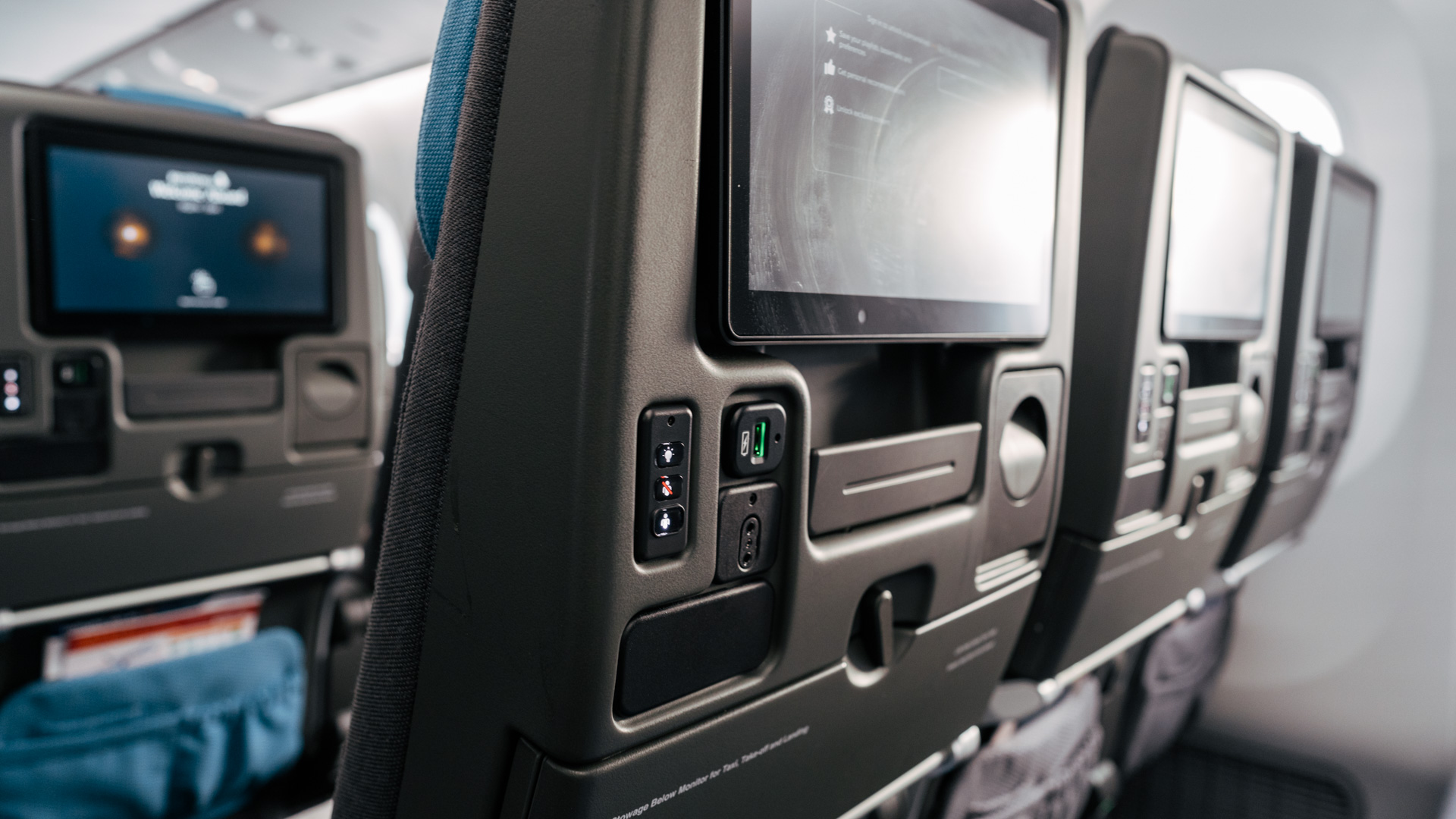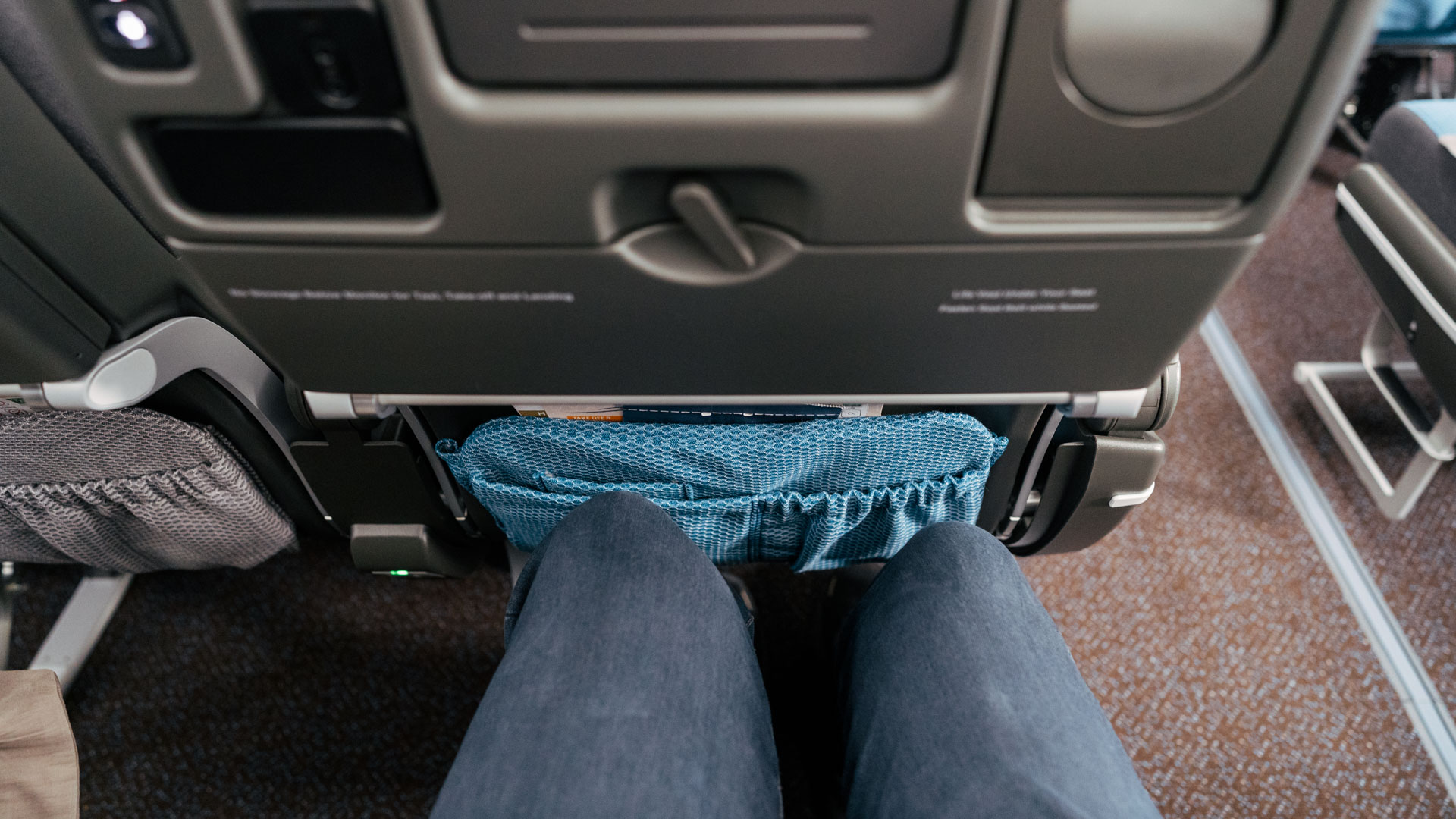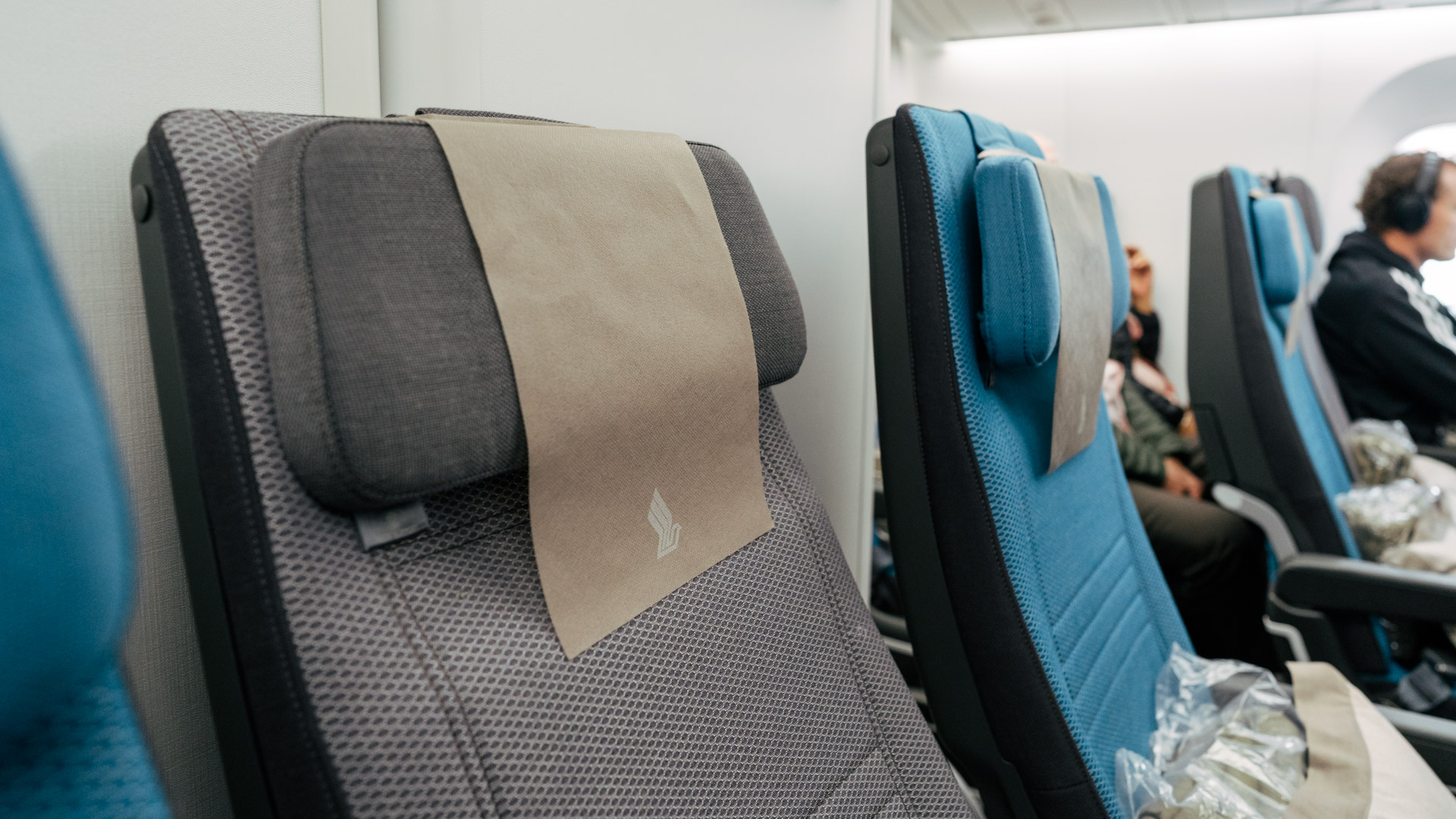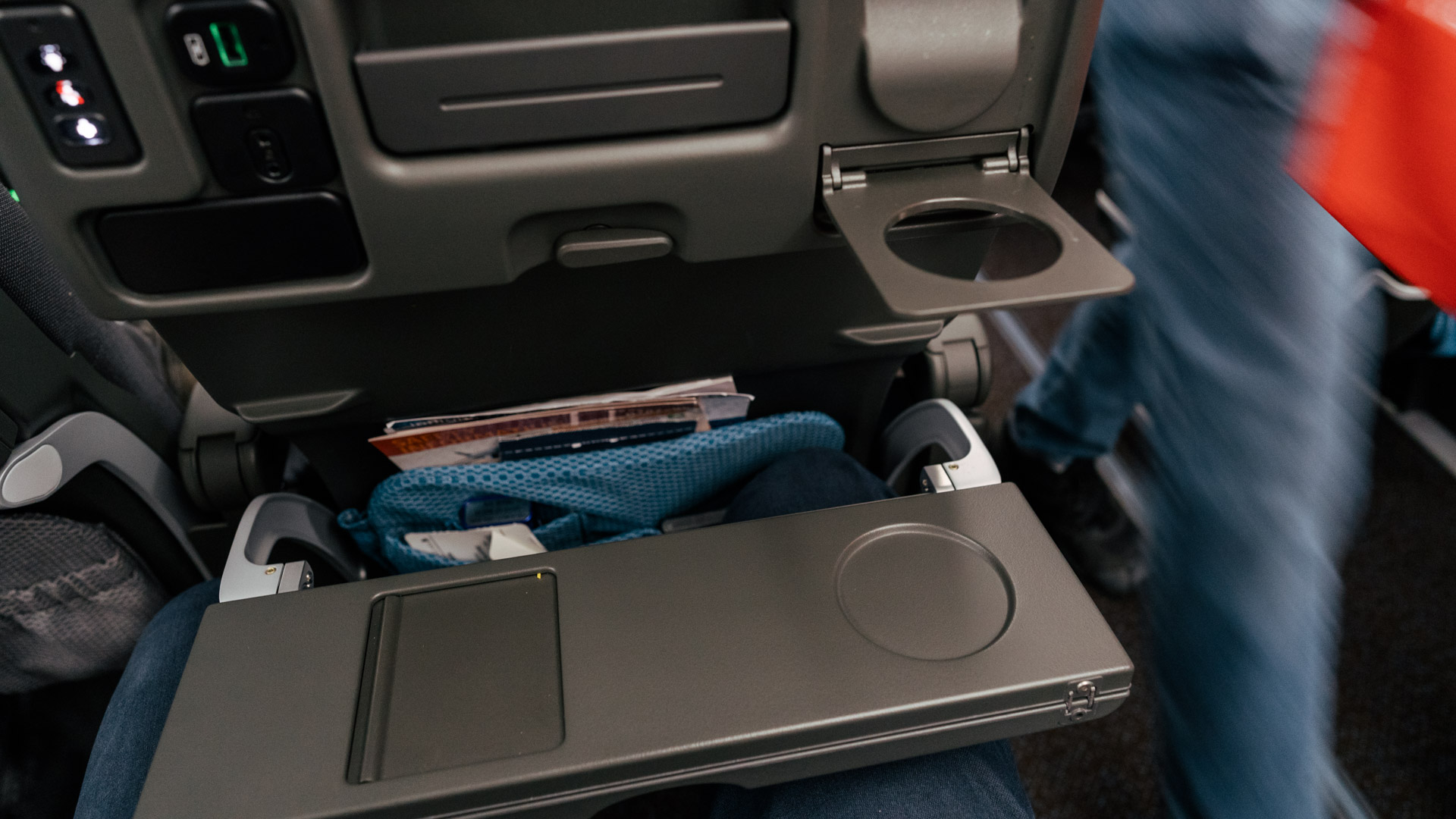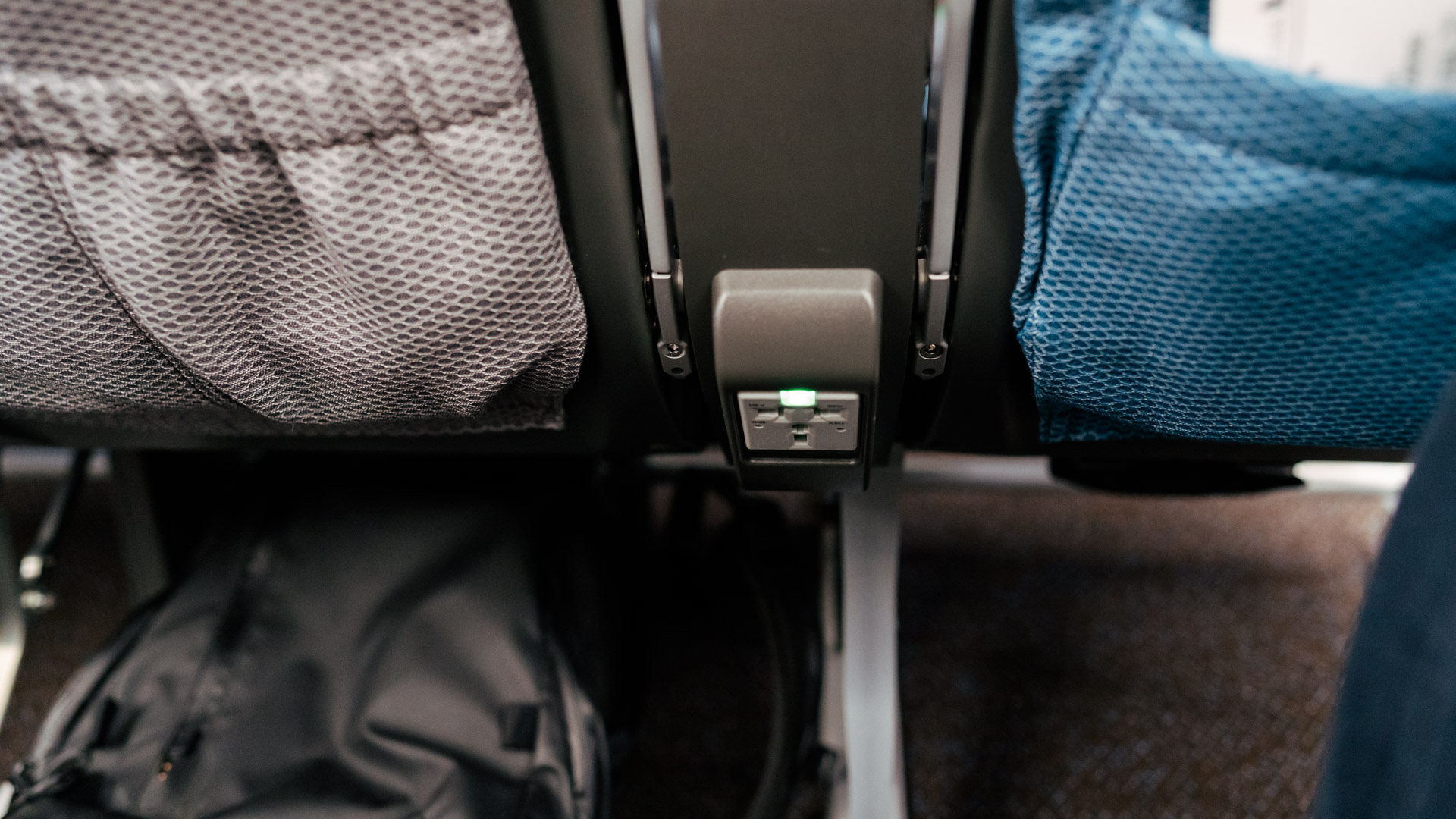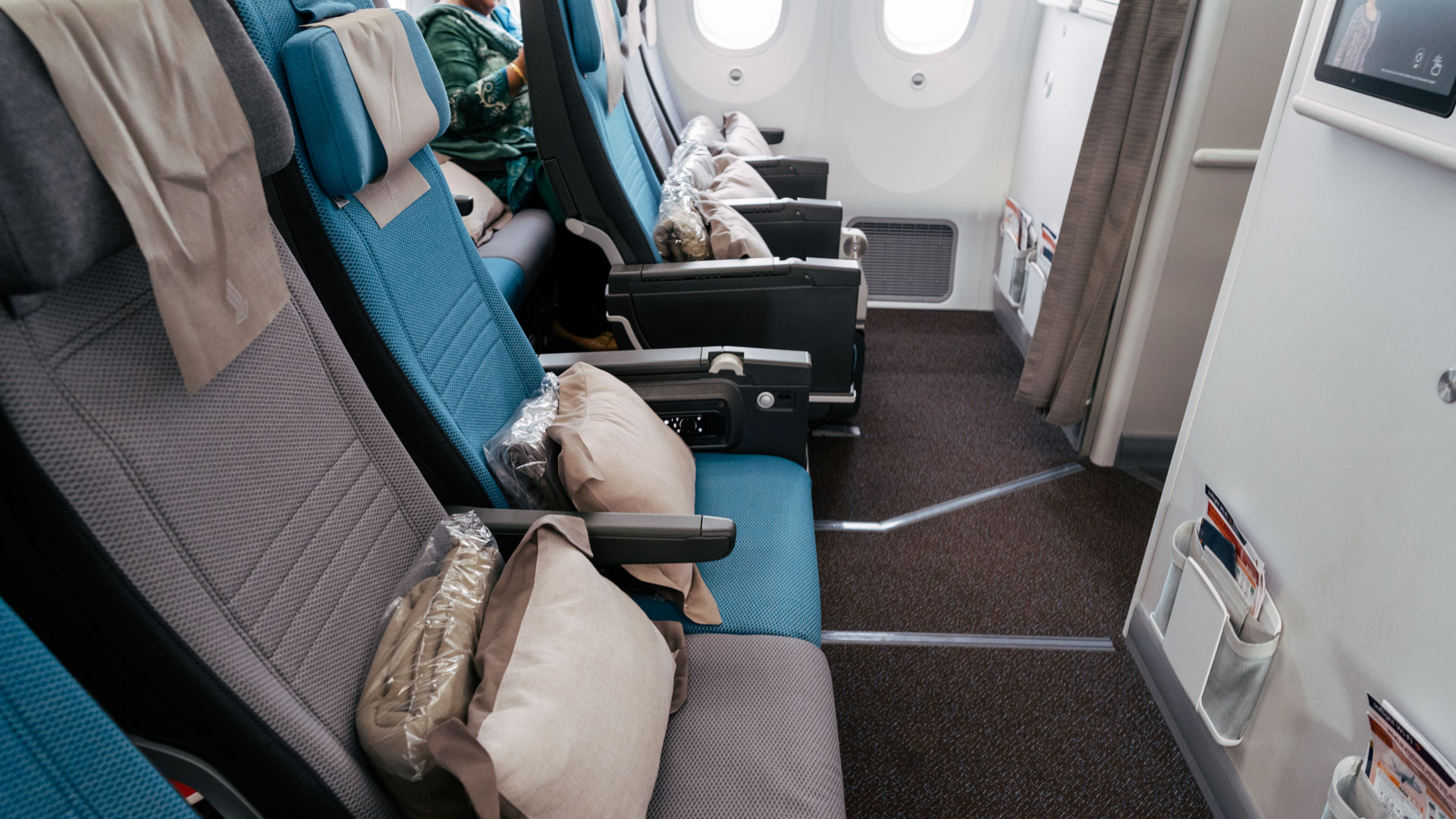 Food and beverage
With a 5:10 pm departure, it's prime time for dinner in the skies. Singapore Airlines doesn't print menus in Economy anymore, so you'll need to hop online to see what's being served.
(Note: I flew Singapore Airlines just before the airline reintroduced appetisers for Economy meals. The downloaded menu below now includes this appetiser course, which wasn't available when I flew).
Our relaxed dinner kicks off with a round of drinks and mixed nibbles. Since I'm nursing a craving for Western comfort food, the braised beef and mash and beans seems like the perfect fit. Served with a bread roll, cheese and biscuits, it's not a bad dish at all. I imagine it would be even better with the starter salad now included. Like any civilised foodie, I pair the hearty dish with a glass of red wine – a passable Chilean drop.
After finishing with ice cream, I'm comfortably full for the remaining three hours of the flight. Hot tip: spirits and cocktails are available in Economy! Though I wasn't feeling it this trip, you can order a pre-mixed Singapore Sling which is topped up with gin. It's perfect for those craving a boozy sweet hit.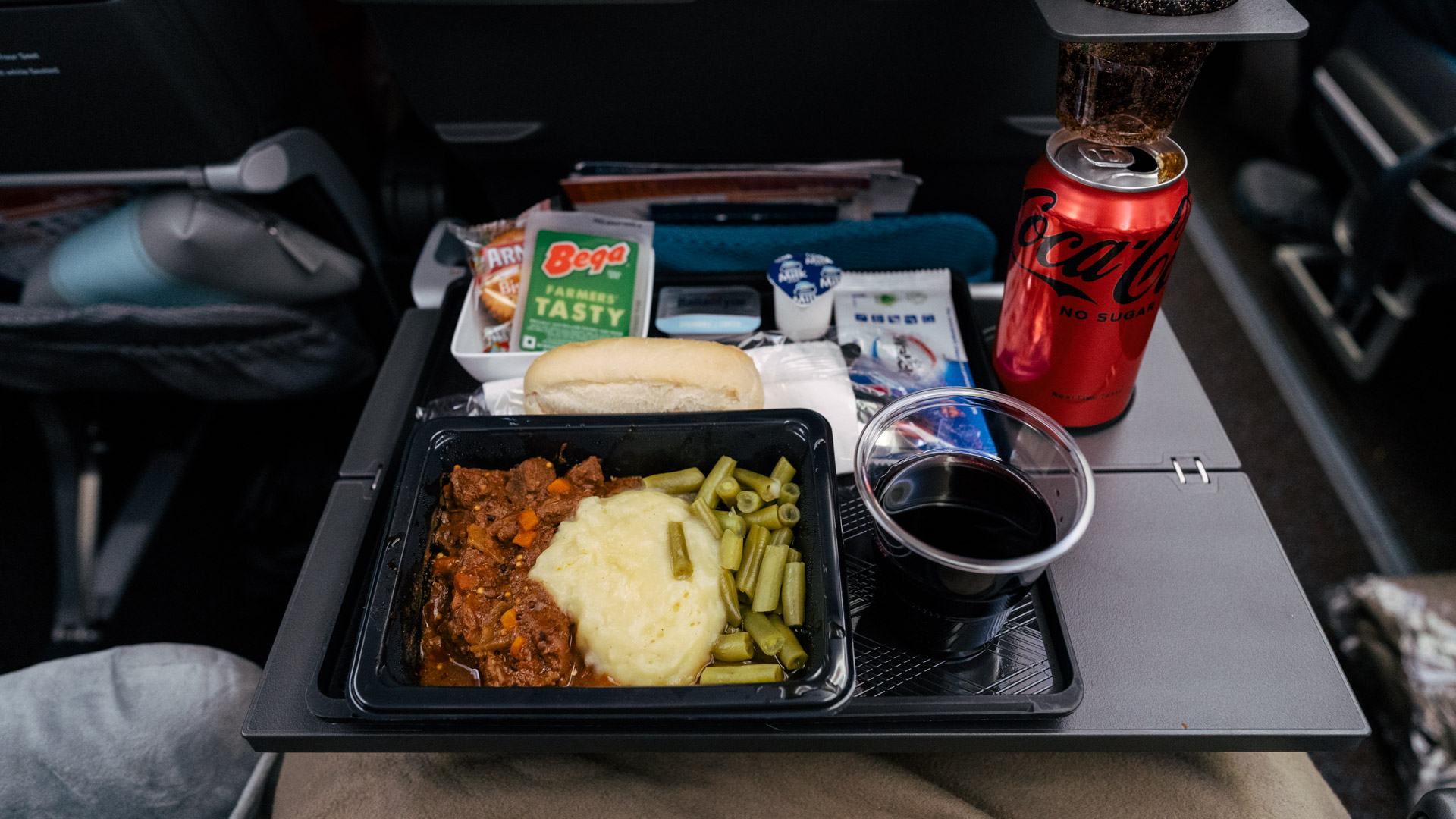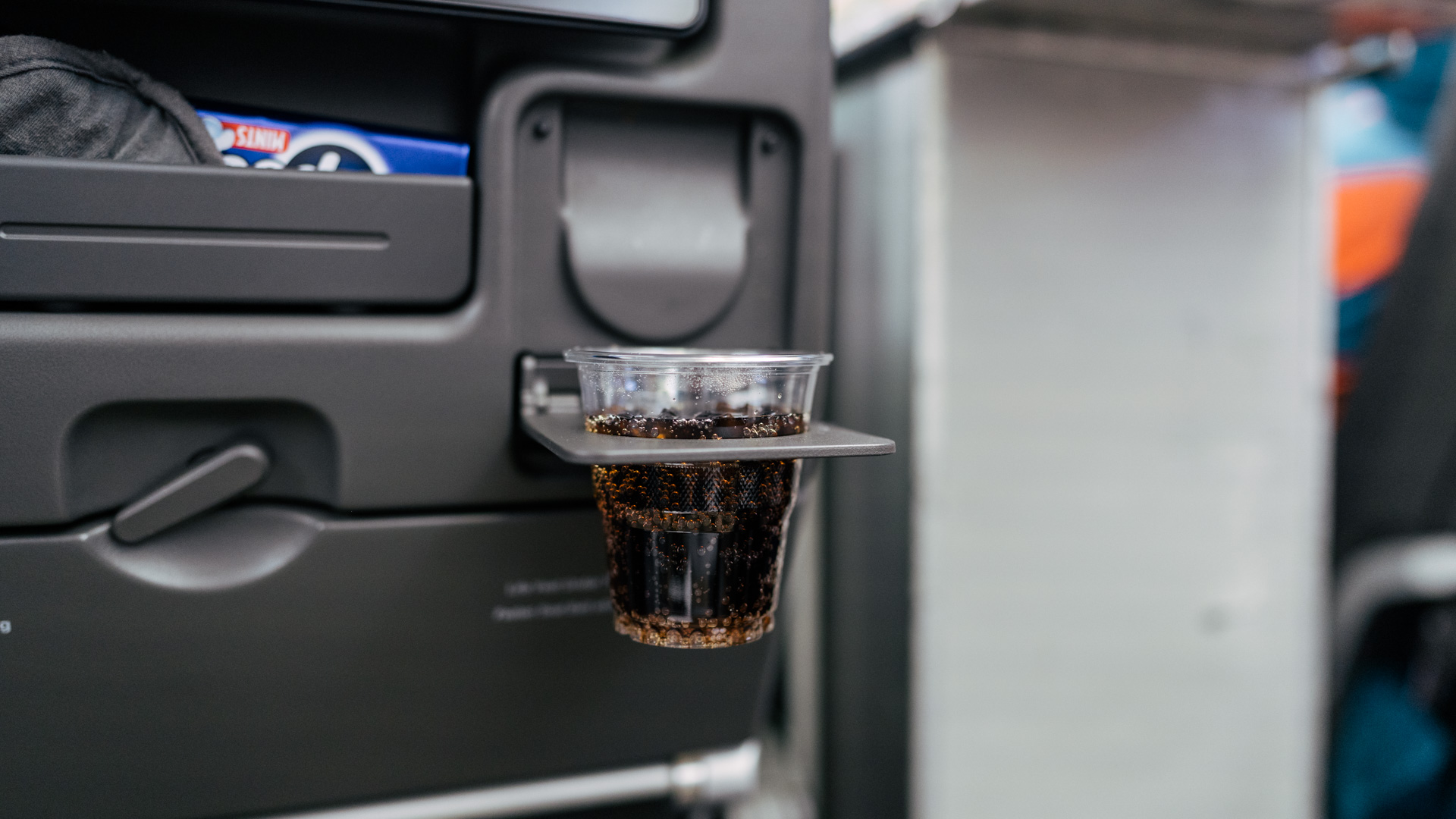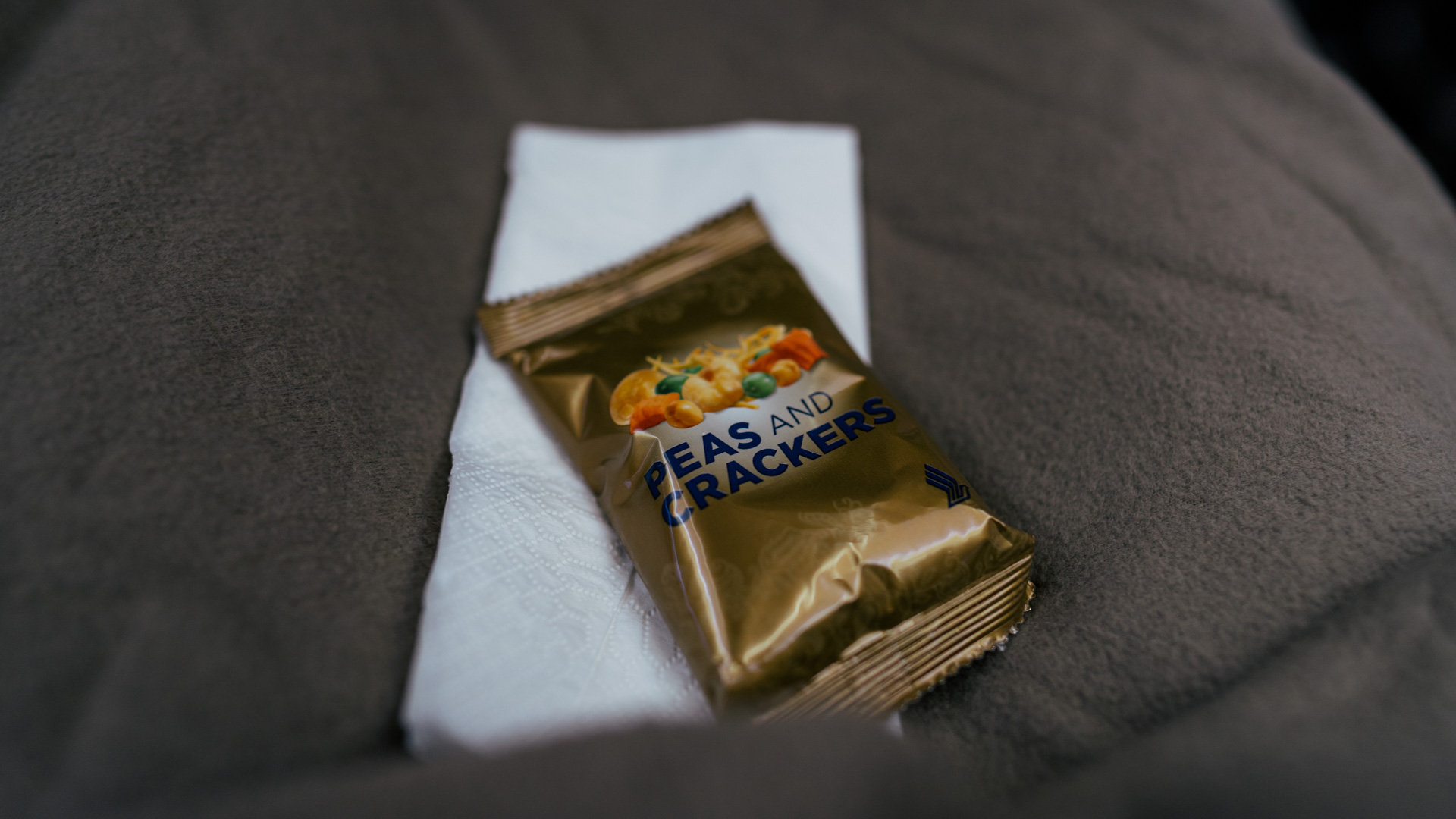 Amenities and KrisWorld entertainment
Singapore Airlines is now generously offering free and unlimited Wi-Fi for all passengers across all cabin classes. In Economy and Premium Economy, you just need to have your Krisflyer number on the booking. Unfortunately, if you're crediting the flight to Velocity or another partner airline, then you may miss out. I try logging in and the free plan works for me anyway (a 2-hr 'Surf' plan at the time, now unlimited), so see how you go.
The 11.6″ HD touchscreen is very responsive and I have no complaints about the KrisWorld system. The catalogue is filled with new-release movies and TV box sets. I settle back and let Puss in Boots: The Last Wish immerse me for the rest of the flight.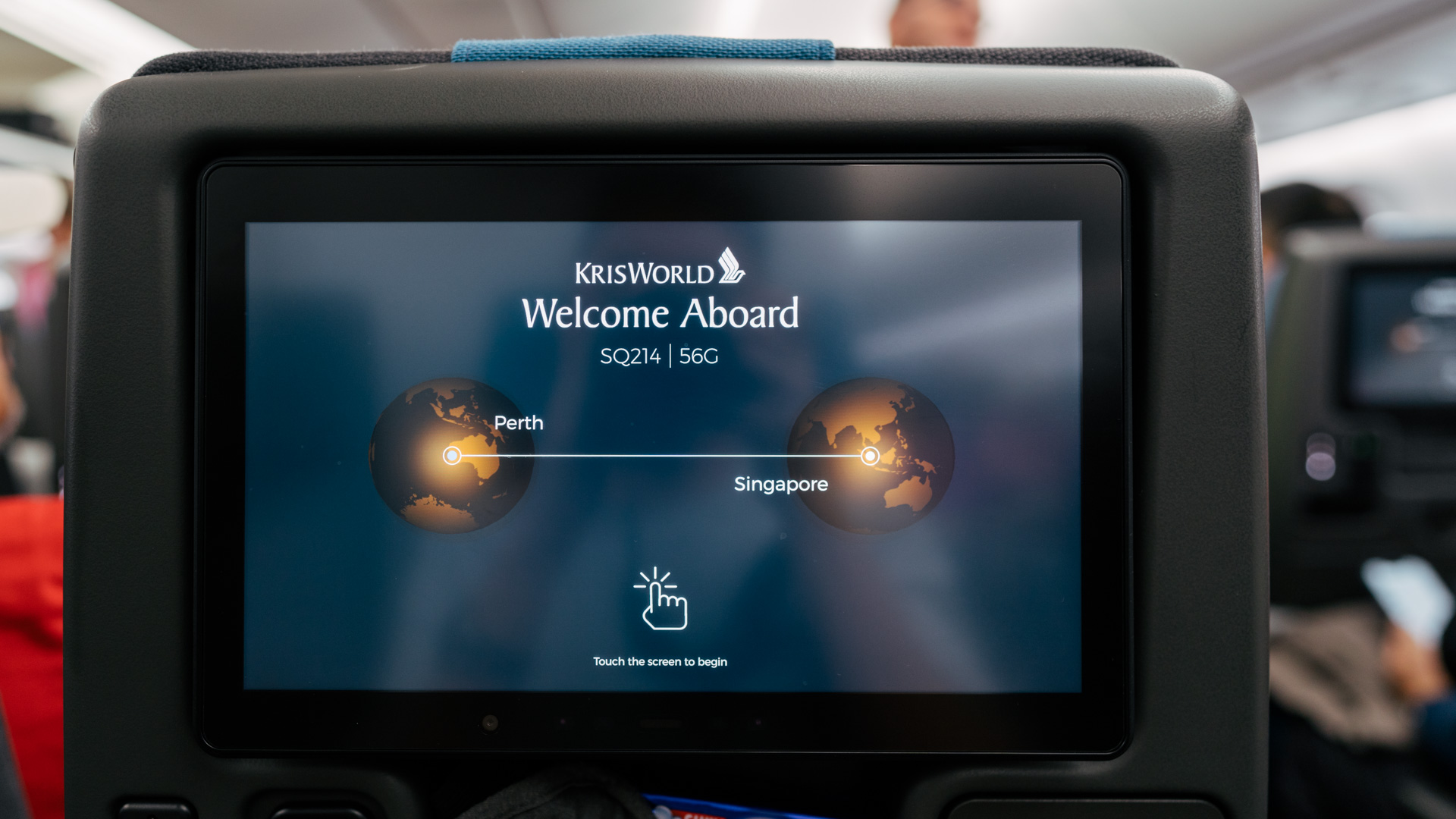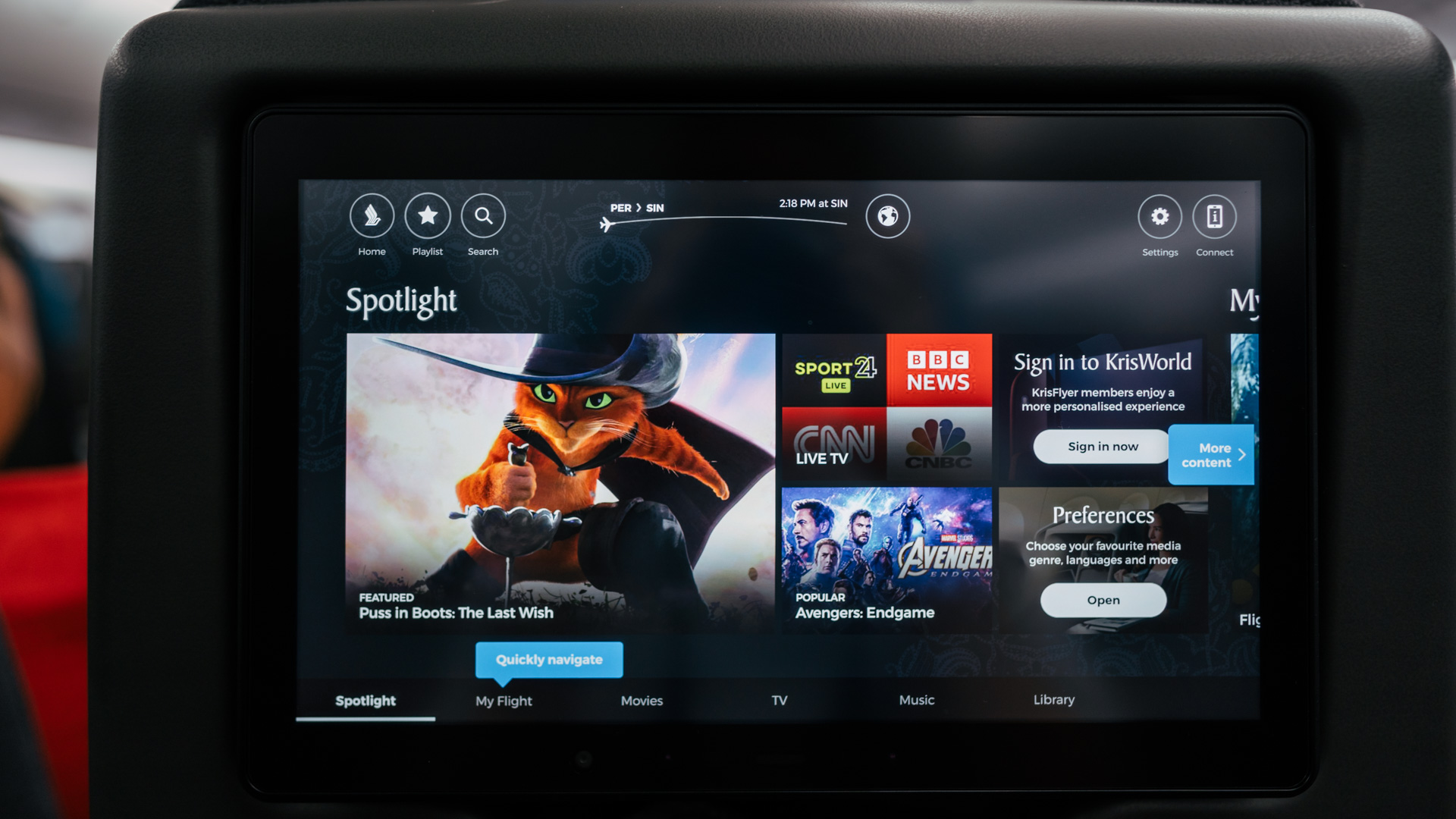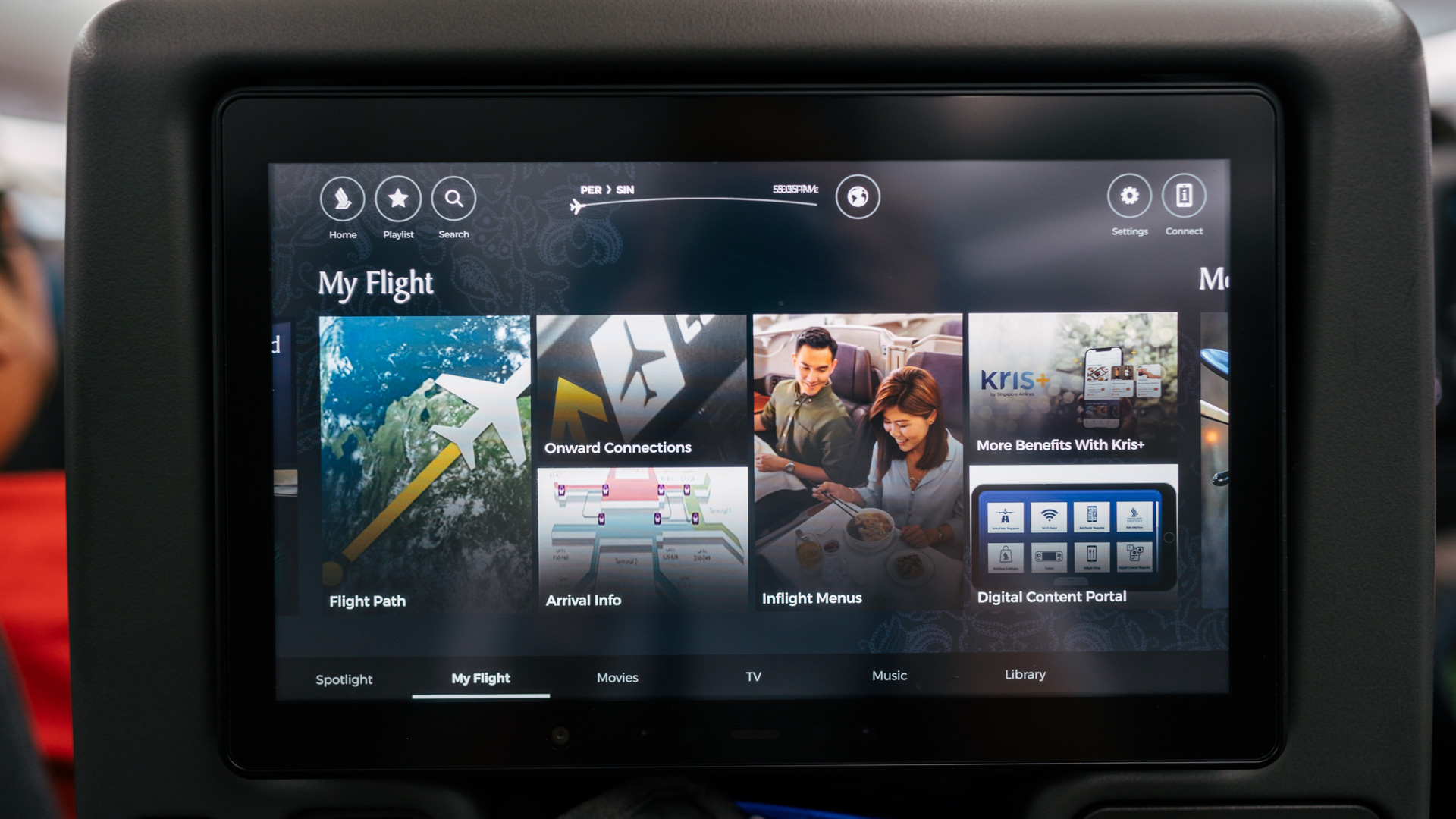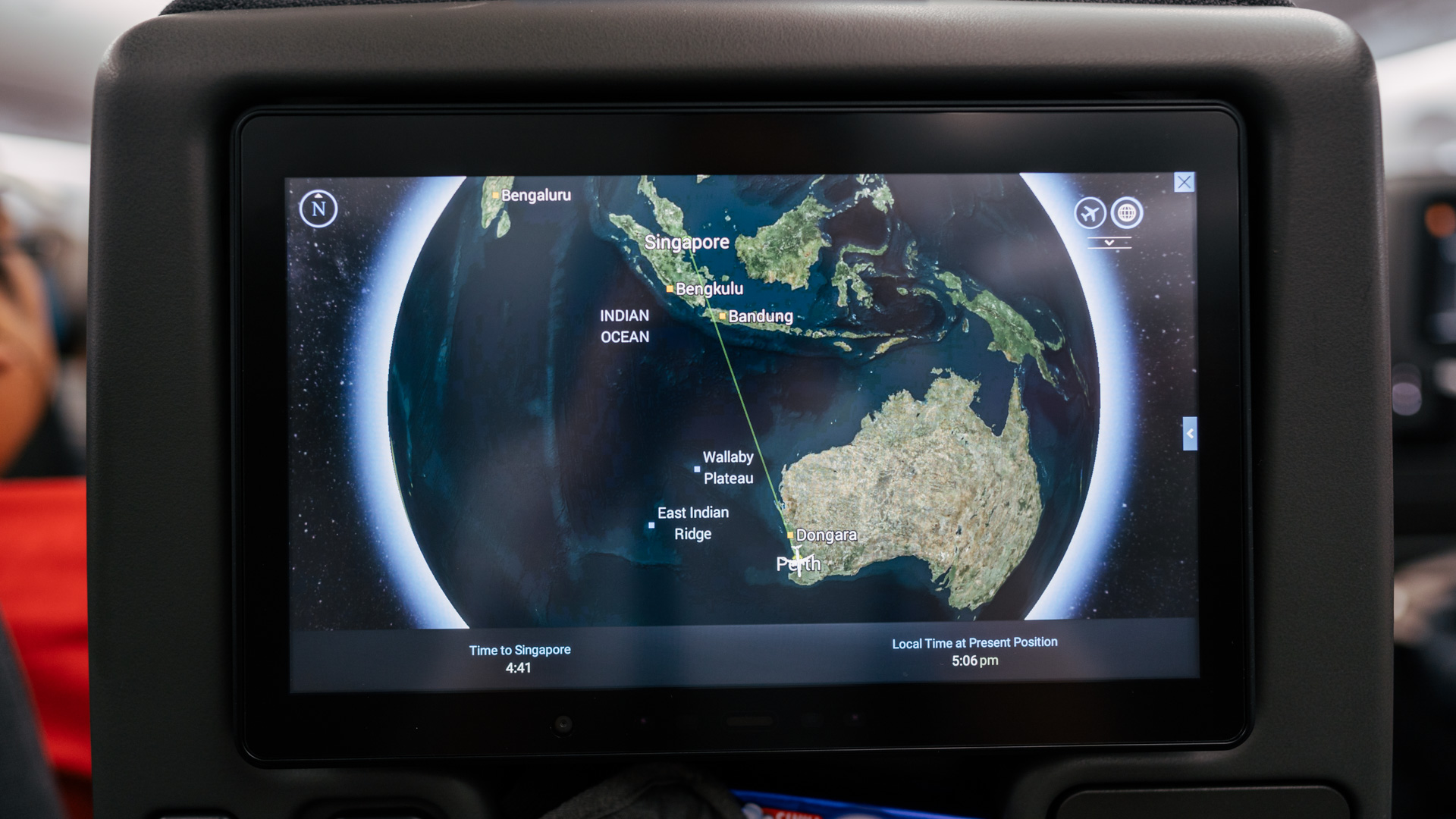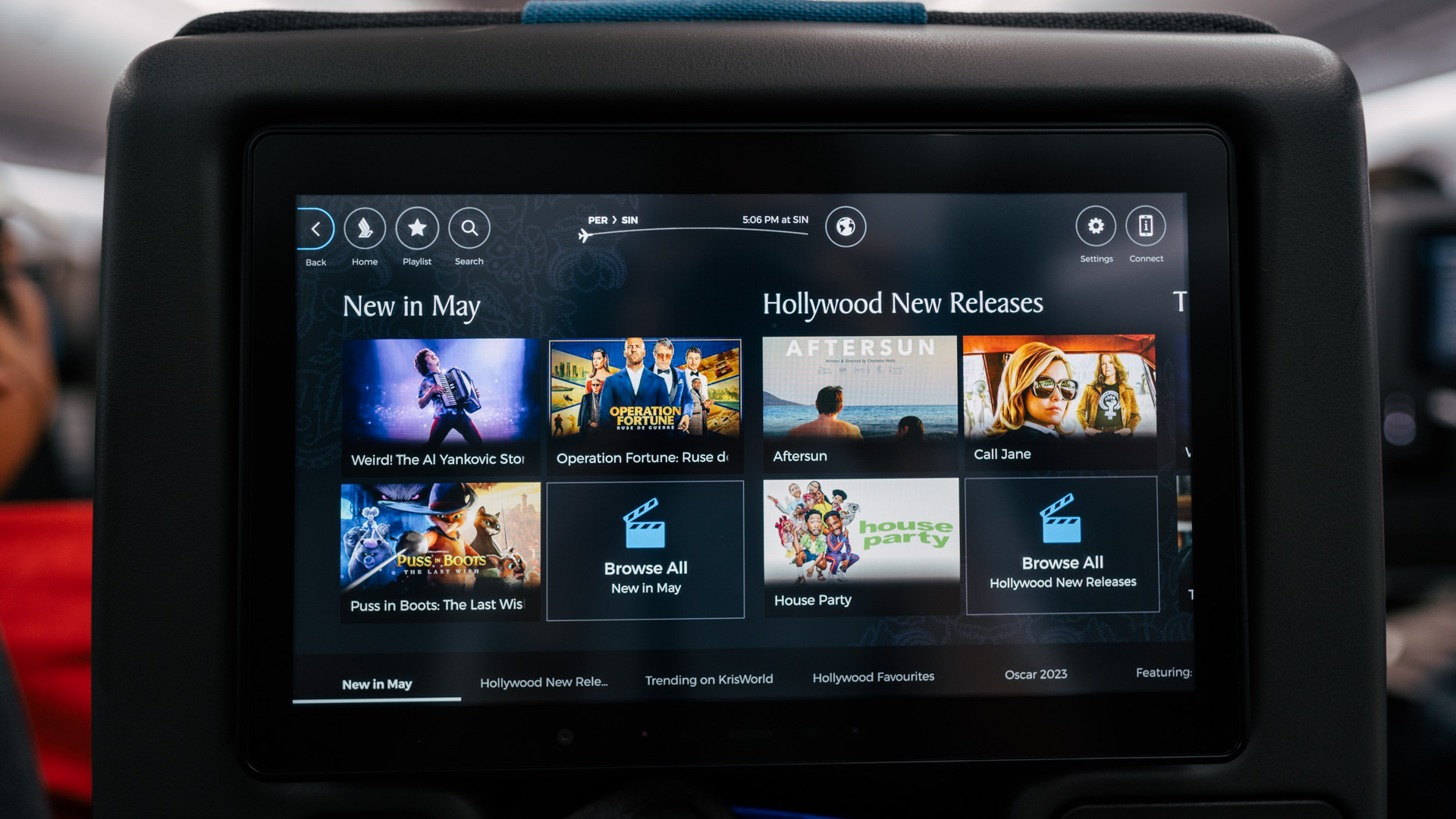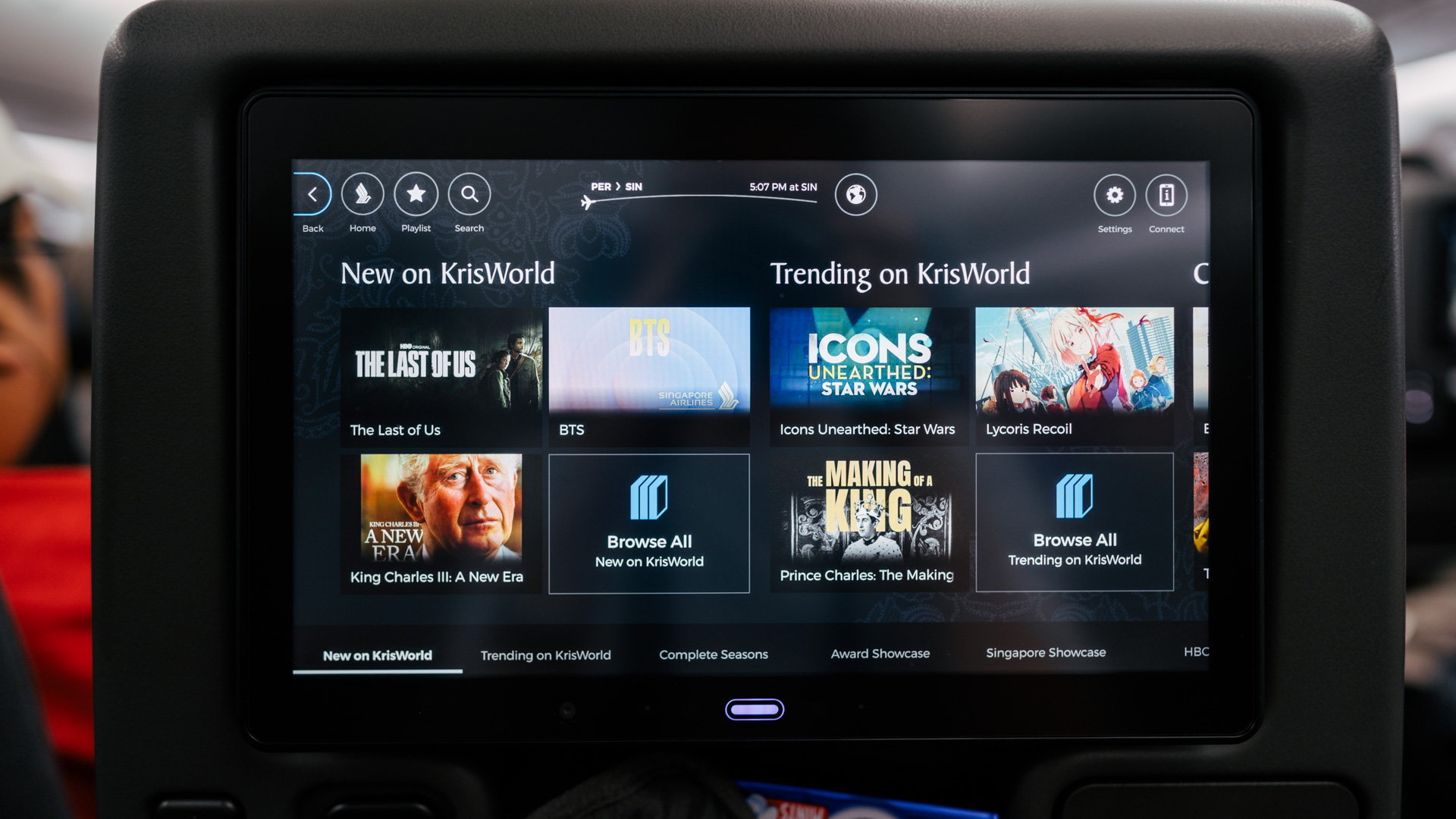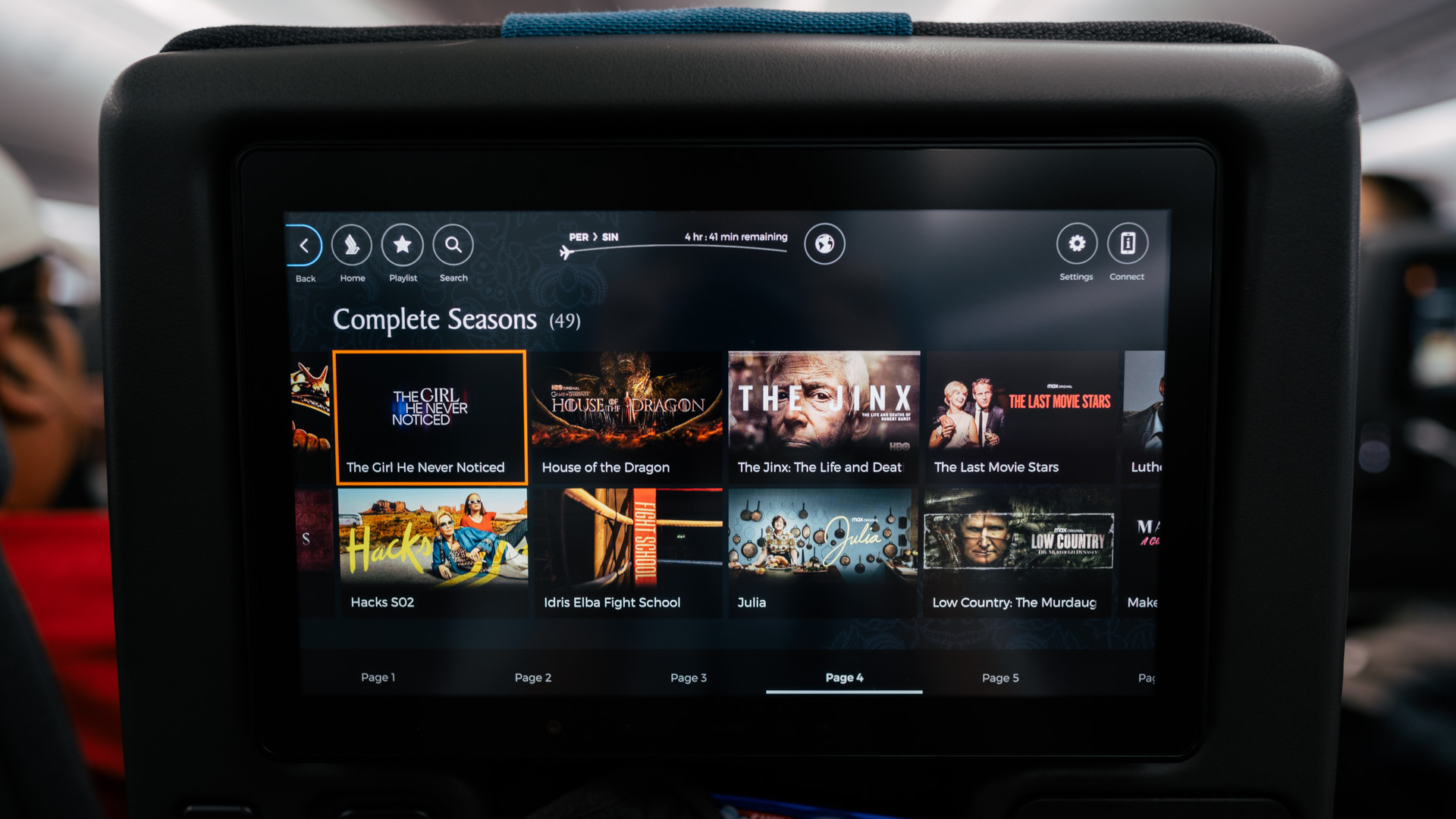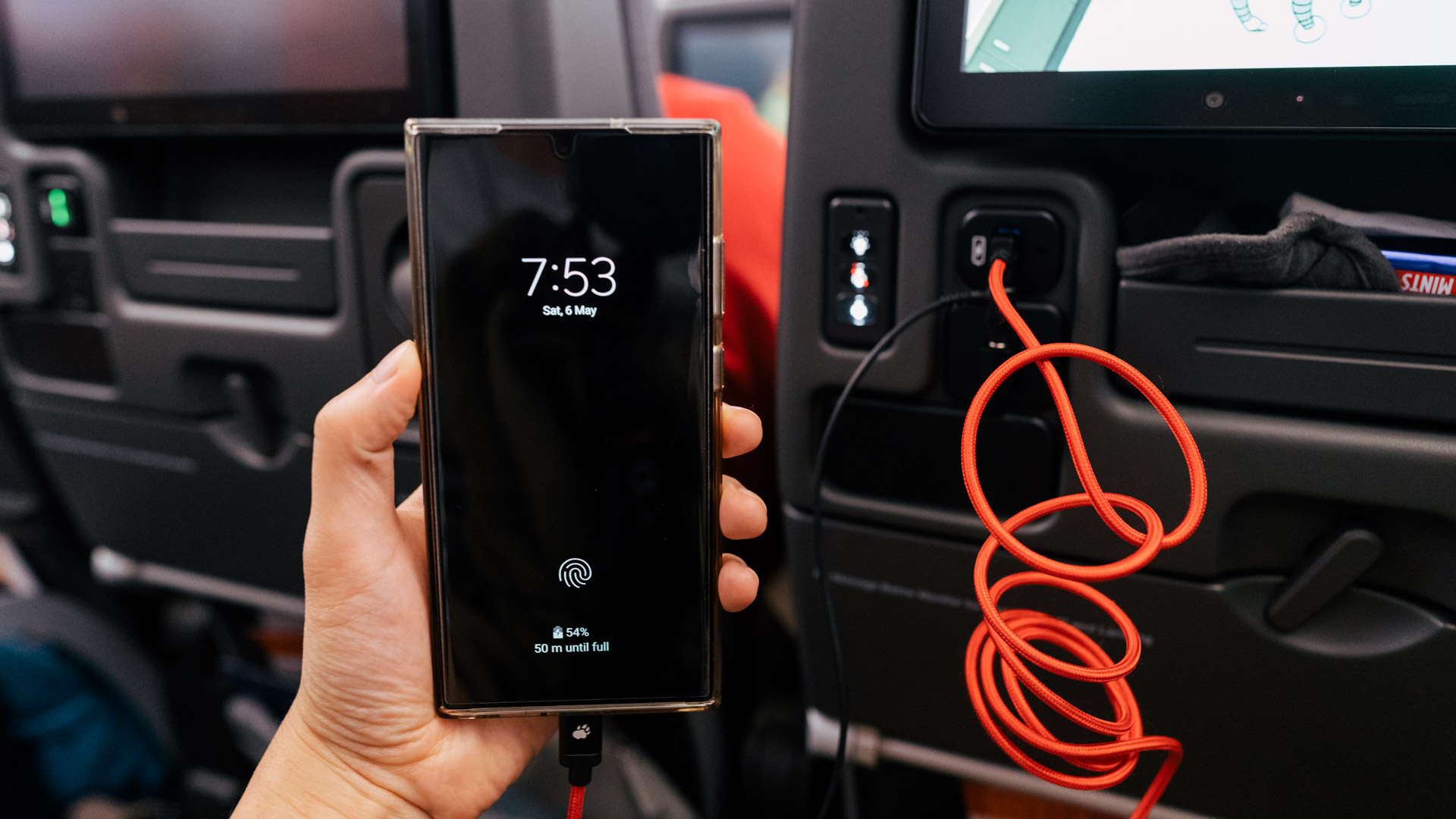 Forgot to bring your toothbrush? Singapore Airlines stocks a range of amenities in the lavatories including dental and shaving kits. Need an eye mask or earplugs? Just ask the crew.
Transit at Singapore Changi Airport
With just 95 minutes between flights, I don't have a lot of time to dawdle. My first stop is the refreshed Singapore Airlines KrisFlyer Gold Lounge where a DIY bowl of laksa hits the spot. But my real aim is to have a shower before the overnight flight, and the wait here is a lengthy two hours or so.
Watch this video for a short tour of the KrisFlyer Gold Lounge:
Instead, I decide to put my unlimited Priority Pass benefit (that comes as part of the American Express Platinum Card) to good use and walk down the hallway to the nearby Marhaba Lounge. This one does have a vacant shower, so I later arrive at my next gate feeling (and hopefully) smelling like a fresh person.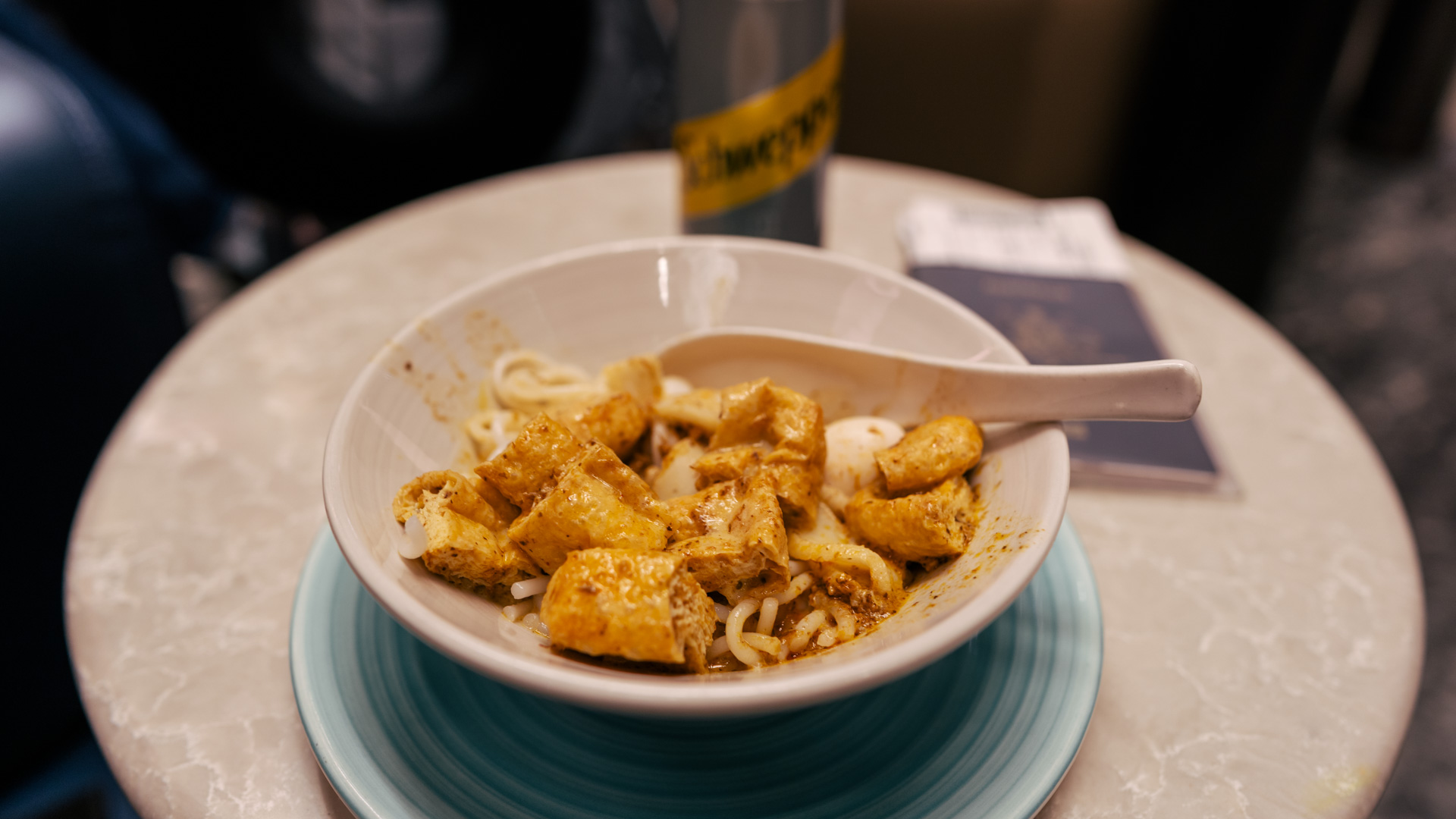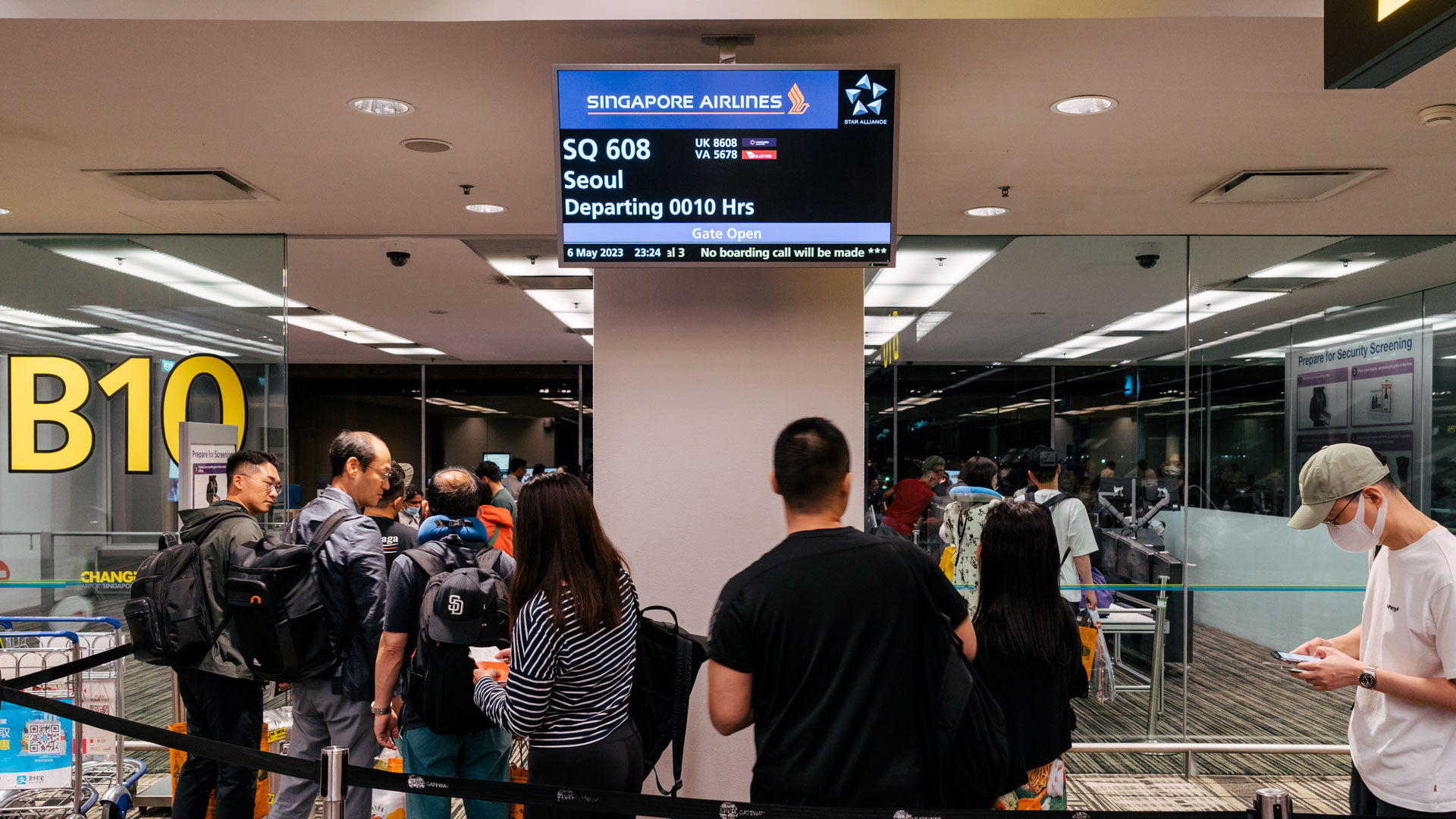 SQ608 – Singapore to Seoul – 6 hrs 30 min
Boarding in Singapore is often quite chaotic. First, there's security at the gate which has its merits (such as the mixing of arriving and departing passengers) but does also cause bottlenecks. Then your boarding pass is scanned as you enter the gate lounge. Finally, boarding is called in groups and you just wander up to the plane.
This overnight flight to Seoul is on the Boeing 787-10 as well. But it's a 100% full flight and I'm in seat 42G, a central-block aisle seat in the second row of Economy. Here, the main downside of Economy is made blatantly clear – the lack of space to stash stuff when there are no spare seats. I can also feel the narrowness of the seat in play.
These seats are 17.3″ (43.9 cm) in width. But onboard Singapore Airlines' Airbus A380s, Economy seats are 19″ (48.3 cm) across. That extra 5.6 cm in shoulder space makes a big difference. (It's not just a Singapore Airlines problem, as almost every airline fills its Boeing 787s with 3-3-3 in Economy).
Seating tip: When online check-in opens (48 hrs prior to departure), the seat map opens up and you may be able to choose upfront or exit-row seats for free. I use this tactic to secure the second row of Economy at no charge.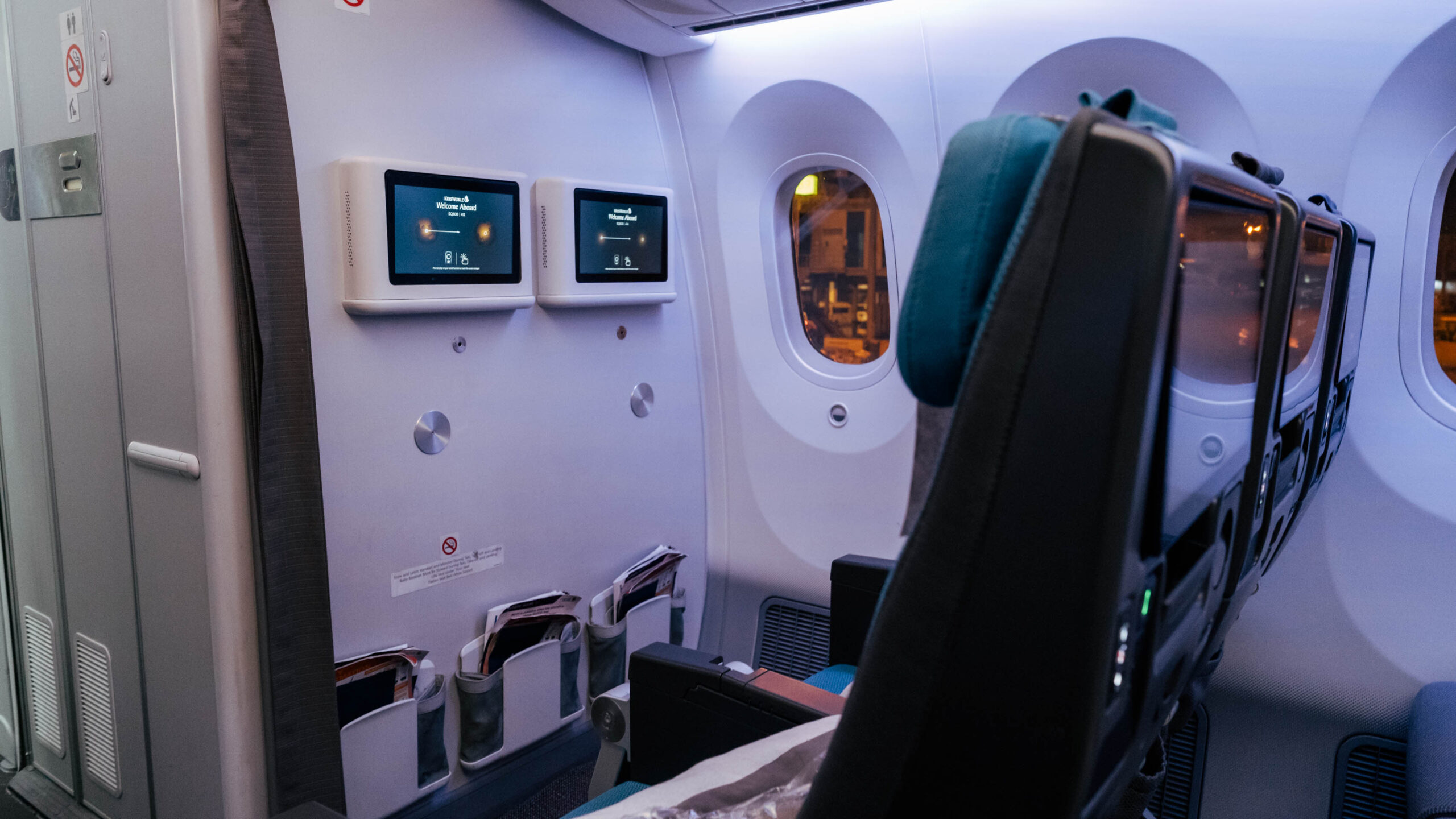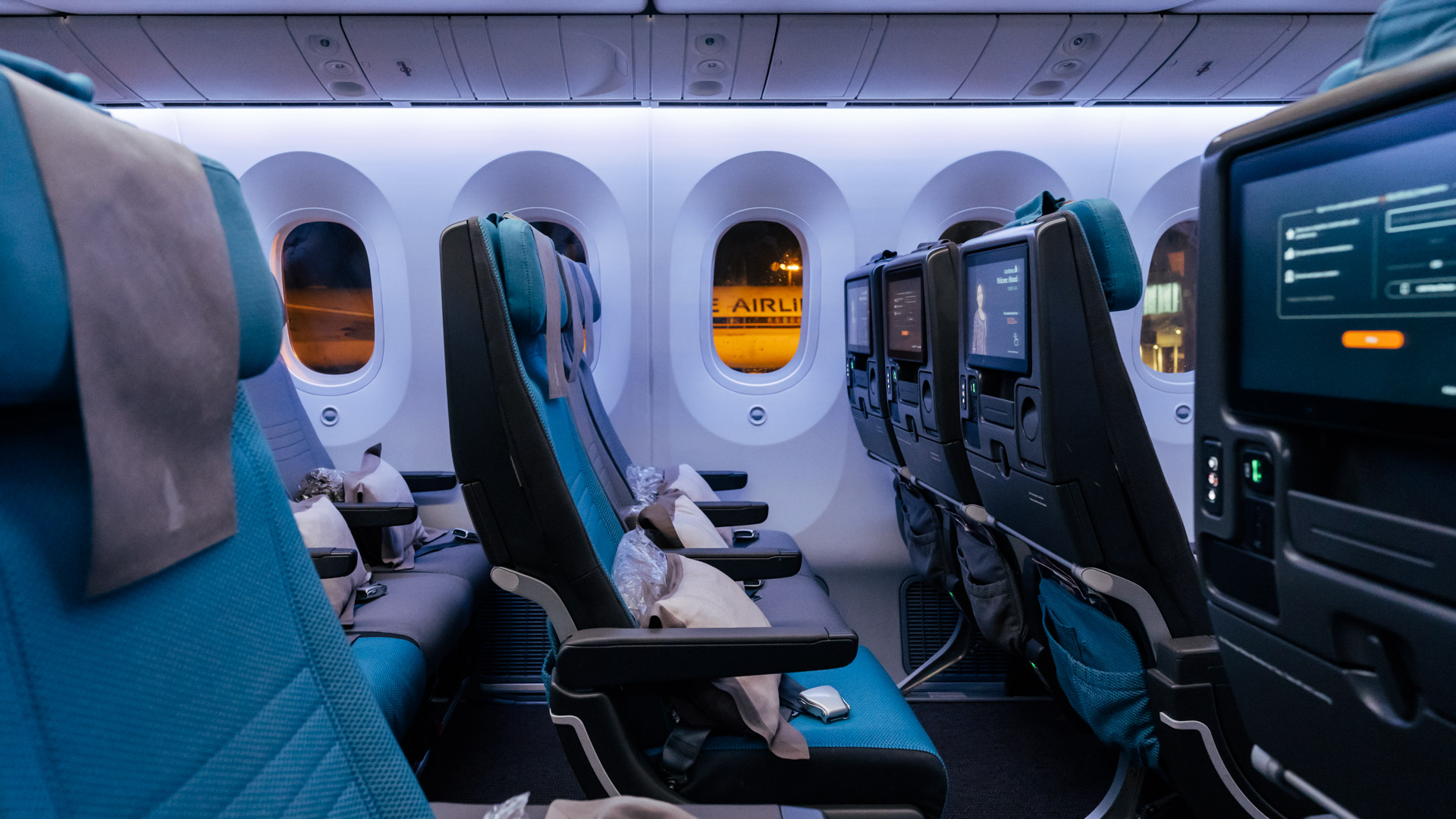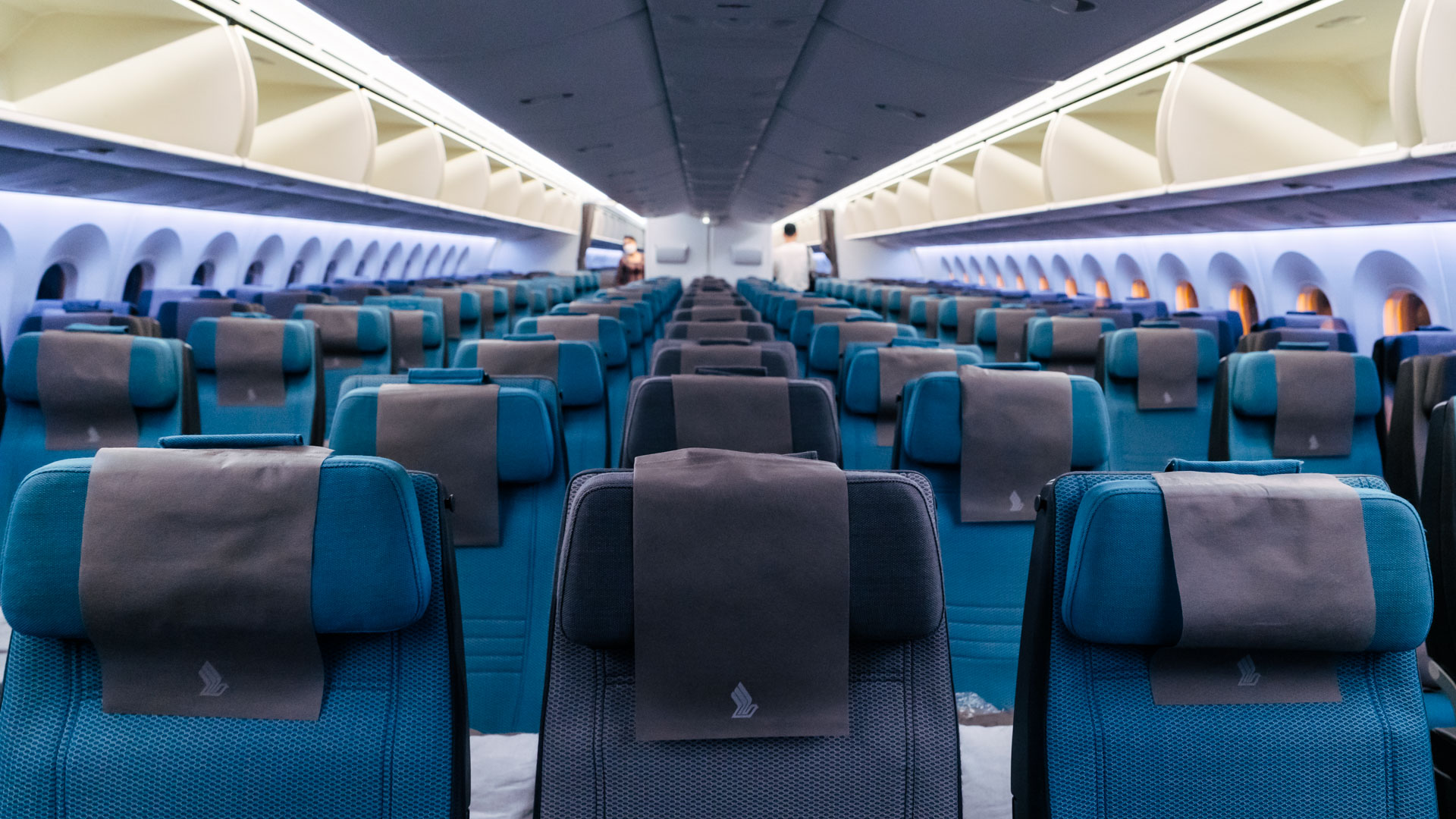 Food and beverage
It's an overnight flight, so I pack away all my gadgets and toiletries into the overhead locker, except for my eyemask and earplugs. The next few hours pass by in a sleepy blur – I skip the post-take-off drink and snack service to maximise my rest. The next thing I know, the lights come back on around 2.5 hours out from Seoul.
For breakfast, I can take my pick from the omelette or the Korean-style congee. I choose the congee and while the toppings are okay, I feel the whole dish is quite bland overall. Looking at the menus now, the recent Korean options include kimchi fried rice and gojuchang chicken, which both sound much tastier than the congee. You'll also now get fresh fruits as an appetiser for breakfast (not available when I flew).
We land in Seoul on time. Sitting near the front of Economy has its benefits – I get to immigration before the line gets too busy. As I mentioned earlier, my bag is also one of the first to come onto the belt too. So it actually doesn't take that long from stepping off the plane to meeting my awaiting Uber (a futuristic-looking Hyundai IONIQ 5), thoughts of delicious street food, shopping and seeing my colleagues drifting behind my slightly bloodshot eyes. Happy days!
Summing up
Overall, my time in Singapore Airlines Economy is pleasant but uneventful, which is as good as red-eye Economy flights get. Having Velocity Platinum status helps as well – skipping the lines means more lounge time. (Note that status perks are mentioned in the review if relevant, but the overall rating is based on the standard Economy experience).
I credit this journey to Velocity and receive a total of 3,980 Velocity Points and 40 Status Credits. Booking this route with points instead? Here's what you would need for a one-way ticket (as of 3 July 2023):
42,000 Velocity Points + $185 in Economy, or
38,000 KrisFlyer Miles + $94 in Economy.
78,000 Velocity Points + $366 in Business, or
73,000 KrisFlyer miles + $94 in Business.
I'm not a fan of the narrower Economy seats on the Boeing 787, but I acknowledge this is an industry-wide move rather than something SQ-specific. What I do like is the range of amenities available in Economy, such as free Wi-Fi, access to AC and USB power, and a full-featured inflight entertainment system. You won't be bored on a Singapore Airlines Boeing 787.
The inflight catering is at a pretty good level, especially given they've added appetisers back in since I flew. It's easy to look up the menu online so you know what to expect onboard. Singapore Airlines also offers the pre-ordering of special meals. I didn't interact much with the cabin crew, but they were always friendly. Really, the only thing left to return to pre-pandemic standards is to bring back the humble hot towel!
Photography by Brandon Loo, who travelled at Point Hacks' expense.
Singapore Airlines Boeing 787 Economy (Perth – Singapore – Seoul)
was last modified:
September 29th, 2023
by