Perhaps one of the most exciting things you can do in the world of travel is using your hard-earned Qantas Points to book a reward seat. If you've taken out one of the many Qantas credit card sign-up bonuses on Point Hacks, you're probably ready to start planning your next holiday.
It's not too complicated if you know what you're doing. Here is a step-by-step guide to booking your next journey with Qantas Points, whether that be a domestic jaunt or somewhere further abroad.
---
How to book a Classic Flight Reward seat with Qantas Points [step-by-step]
For those who have a simple one-way or return itinerary, and already know what they want to book, here are the quick steps to get you on your way.
Head to the Qantas website and login to your frequent flyer account.
Enter all your travel details, including origin, destination and dates.
Select 'Use Points' on the booking screen and click 'Search Flights'.
On the results page, toggle 'Classic Rewards' to only show those options.
Choose your desired flights with Classic Flight Rewards available.
Checkout as usual to reserve those reward seats.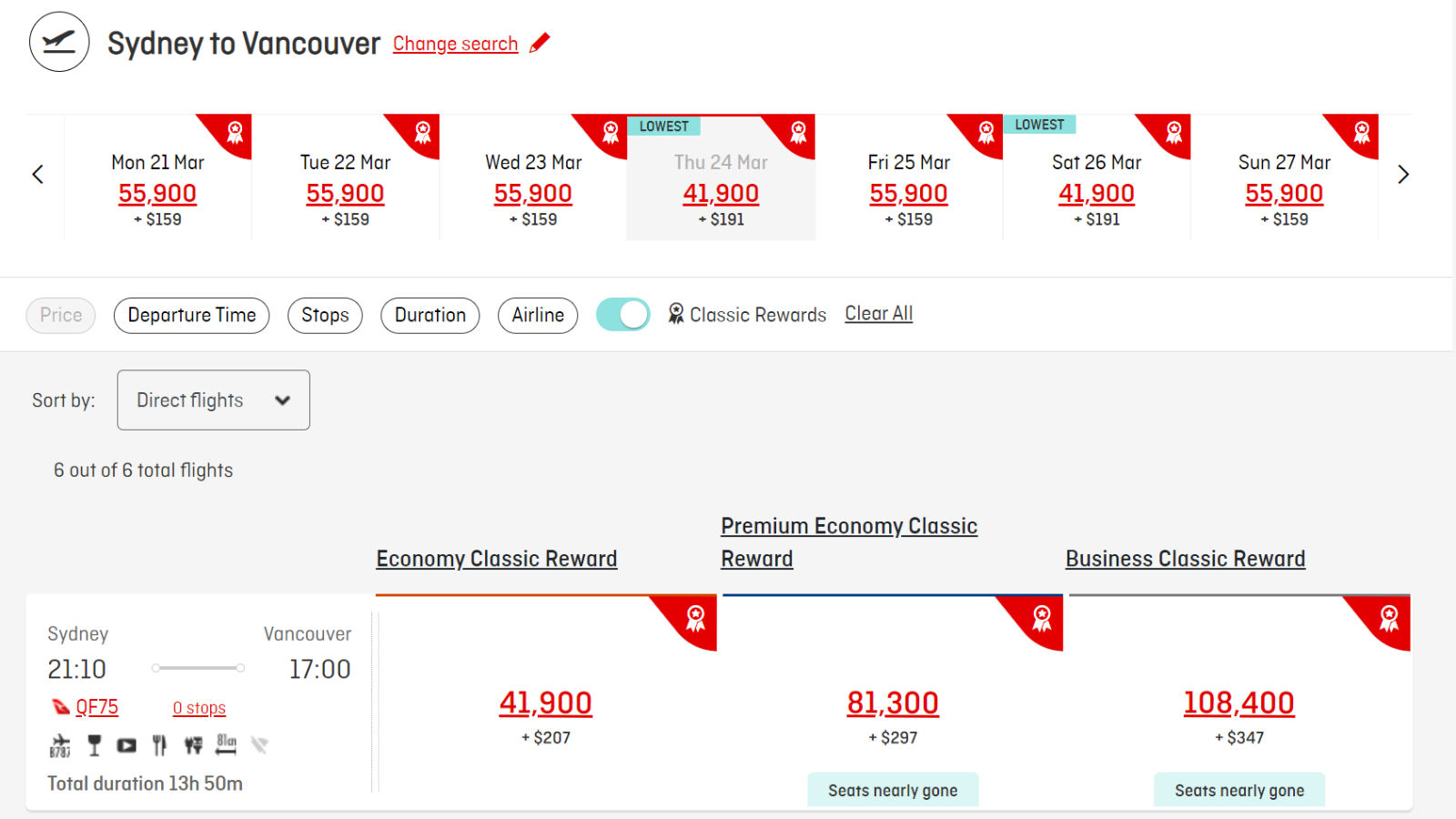 That's it! You'll receive an itinerary by email within a few hours. If all goes well, just enjoy your flight as usual. If not, you may be able to change or cancel Classic Flight Rewards for a relatively small fee.
---
Ad – Scroll down to continue reading.Minimum spend, terms & conditions apply.
How to plan a Classic Flight Reward with Qantas Points
Of course, booking reward seats is easy. Finding reward seats is a whole different matter, and may require some extra planning. Here are some pointers to help you plan your next journey.
Stage 1: Planning your journey with reward tables
We are assuming that by this stage, you have already amassed enough Qantas Points and are now ready to make it all happen. Read some of our other guides on how to plan your perfect journey.
You first need to know how many Qantas Points your proposed route will require. You can check this on the Qantas website – all you need to know is:
the operating airline, and
the total distance flown between all the airports in your itinerary
The choice of airline is important, as the number of points needed will vary between them. There are 4 Qantas Classic Rewards points tables, and all partner airlines will fall under one of them.
Stage 2: checking the distance you'll fly
For the distance, I suggest you head to the Great Circle Mapper website (no affiliations) and enter your airport codes in the search box. For example, Perth to Brisbane to Los Angeles would be PER-BNE-LAX.
As long as the transit between flights remains under 24 hours (international) or the same calendar day (domestic), then you can add up the total distance and pay the points applicable to that distance travelled, rather than per flight which usually works out to be more expensive.
You can see that the combined distance is 9,407 miles. Assuming we are flying Qantas and are just having a short transit, then go to the first Qantas Classic Flight Reward table and look up that distance.
In this example, our travel distance fits within Zone 9, so you would need 51,200 Qantas Points in Economy, 94,900 in Premium Economy, 126,500 in Business, or 189,800 in First.
But what if you wanted to fly Perth to Los Angeles via Hong Kong on Cathay Pacific? Firstly, the distance travelled would be much higher at 10,993 miles.
Secondly, you would need to consult the more expensive partner award chart in Zone 10, which requires 66,200 Qantas Points in Economy, 124,800 in Premium Economy, 159,000 in Business Class, or 227,500 in First Class.
That is some pretty steep partner award pricing!
Stage 3: looking for reward seats
When you're ready to book, it's time to hit the Qantas website. Ensure your account has enough points to book for everyone in your party. You can move points around with Family Transfers. A reminder: you can only book for yourself and family members, not unrelated friends or colleagues.
Start by switching on 'Use Points'. Put in all your search parameters including origin, destination, one-way or return, number of passengers, travel class and dates. You can also switch on 'Flexible with dates' if you want to see a calendar of seat availability.
Once you've selected a day to check, any available results will show up. Switch on 'Classic Rewards'. You'll now see a list of Classic Reward seats with the taxes included. Some partner airlines will show up as well. Qantas flights are normally prioritised to the top, even if there are better non-stop options by other airlines.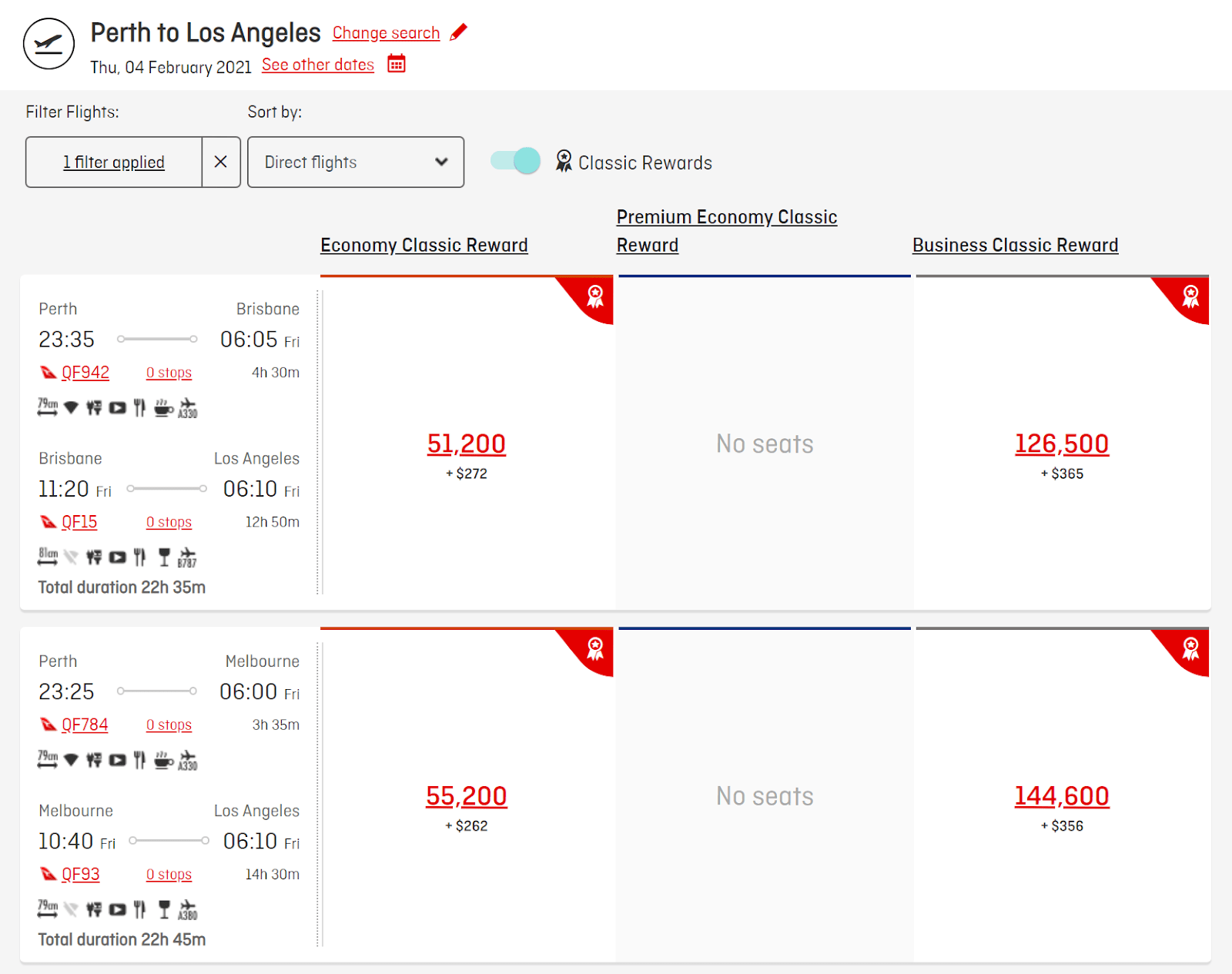 Booking your reward seats through this new interface also means you can select seats at the time of booking rather than manually doing it afterwards, which saves a little bit of time. It also shows your baggage allowance in a clearer graphical form.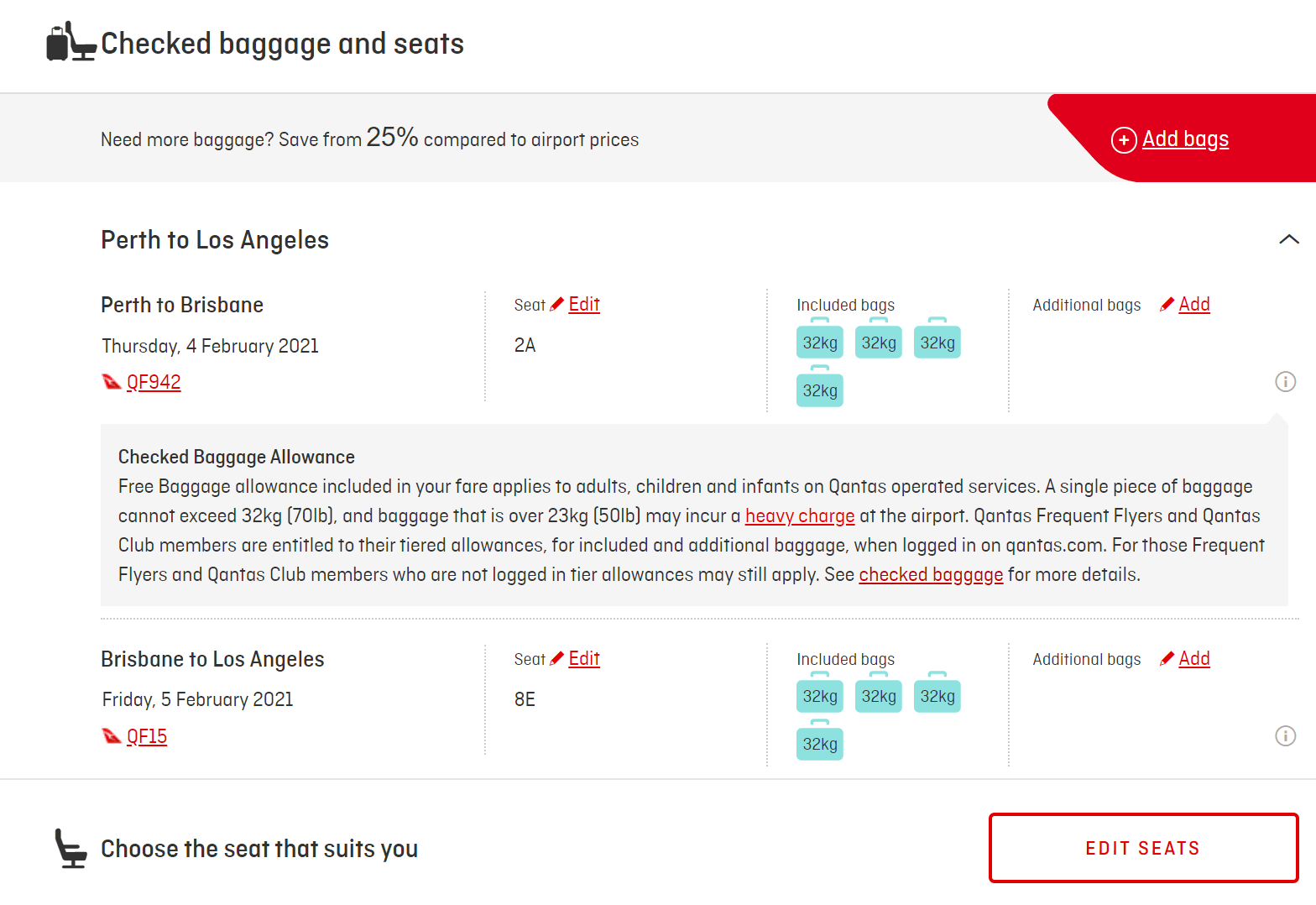 Stage 4: completing the booking
For Australian bookings at least, you can pay by card (fee applies) or POLi (uses bank transfer, no fees apply). Current Qantas payment fees can be viewed here. POLi bank transfers can be made from eligible Australian and NZ personal bank accounts.
Keep in mind, if you use fee-free options, you do lose the ability to earn Qantas Points (or other reward points) that you might have otherwise earned on a rewards credit card.

Once your payment is received, your booking will be confirmed. This is usually instant for card payments and POLi, assuming the bank transfer went through correctly.
Keep an eye out for your itinerary which should appear in your email within a few hours. If you still haven't received it after 24 hours, check if there is a valid booking under your Qantas Frequent Flyer account, or contact Qantas. Complex itineraries may need someone to manually ticket it.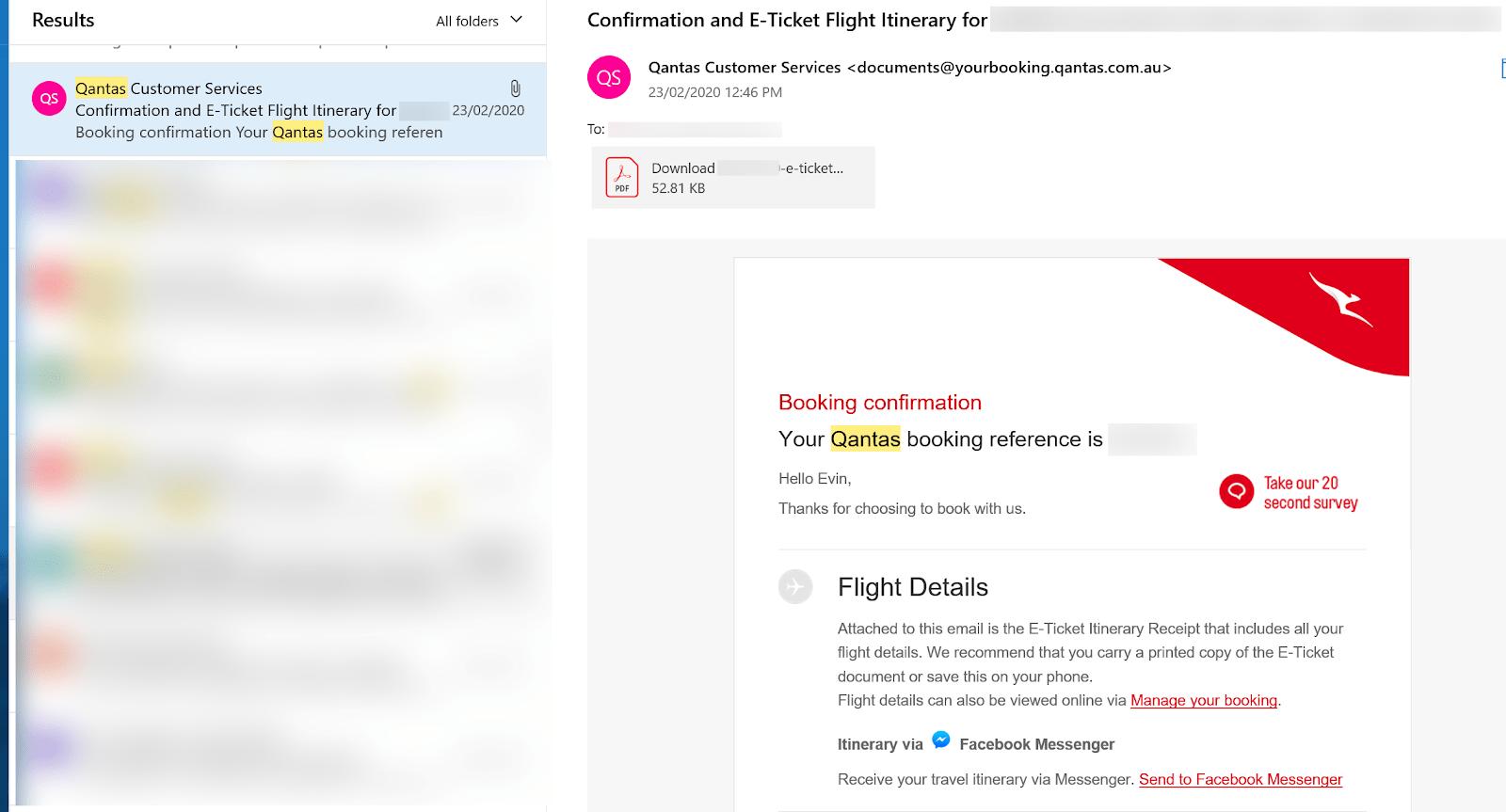 How to book multiple reward flights with Qantas Points
Booking a more complex multi-city trip is basically the same steps as booking a single flight, but you need to search sector by sector and find available reward seats for all flights.
Make sure you're aware of all the rules of mixing and matching different airlines (e.g. a oneworld reward can't contain Emirates or Jetstar flights), otherwise the pricing can get messed up.
Here is an example of a trip, booking Perth-Doha and Doha-London. In your example, split up the flights into the different sectors you want to fly. You'll get the results in Qantas' older interface, which we don't see around too often anymore.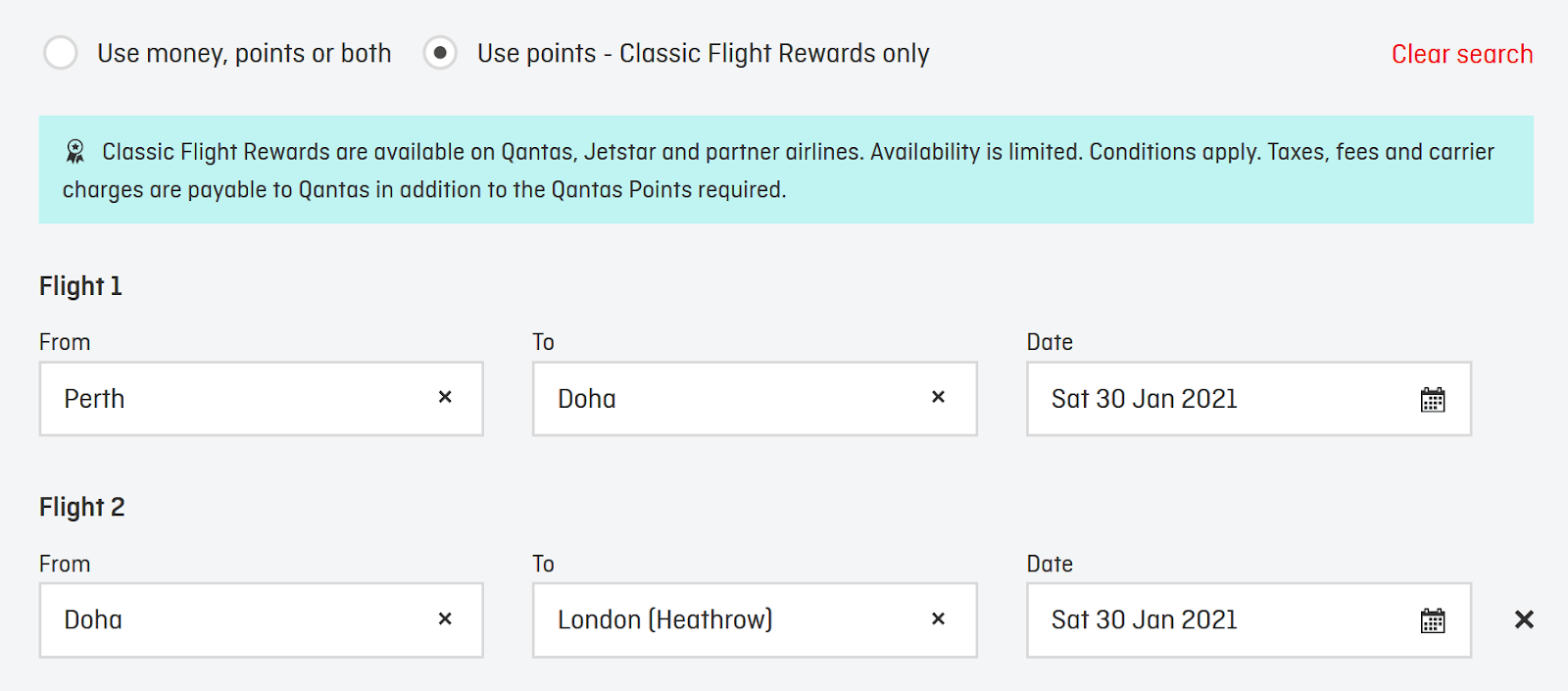 The first page will show results for your first sector. In this example, we are going to pick the Perth to Kuala Lumpur to Doha option in Business Class, which mixes Oneworld partners Malaysia Airlines and Qatar Airways.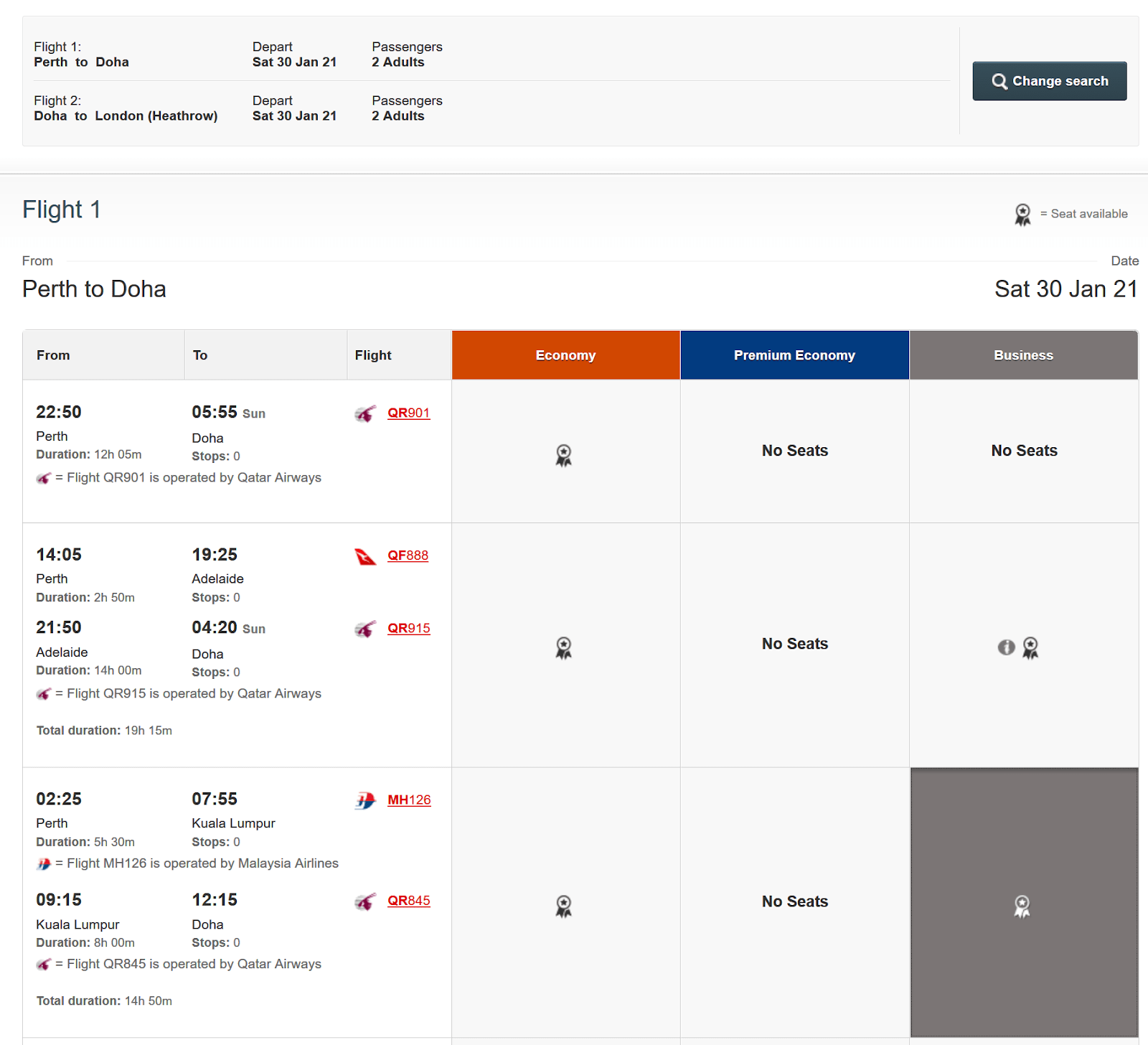 Next, you choose your second flight and so on. In our example, I am picking a connecting Qatar Airways Business Class flight to London.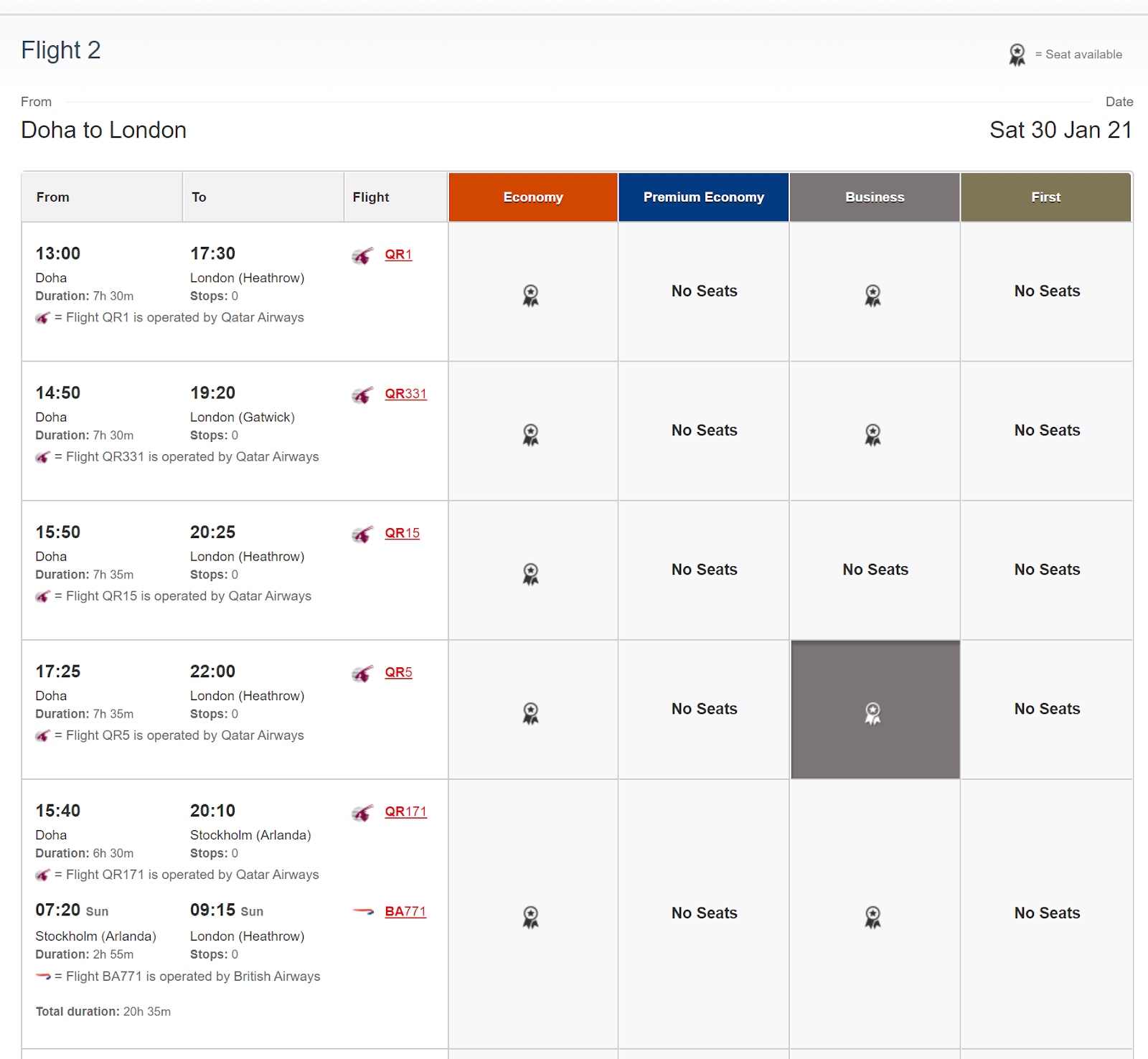 Doing it this way, you could fly from Perth to London all the way in Business Class, even if there isn't any reward seat availability when you search Perth-London directly. How cool is that?
This is the itinerary our examples end up with, which costs 150,000 Qantas Points per person plus taxes. The pricing is from the oneworld Classic Reward Table, since it mixes at least 2 oneworld airlines.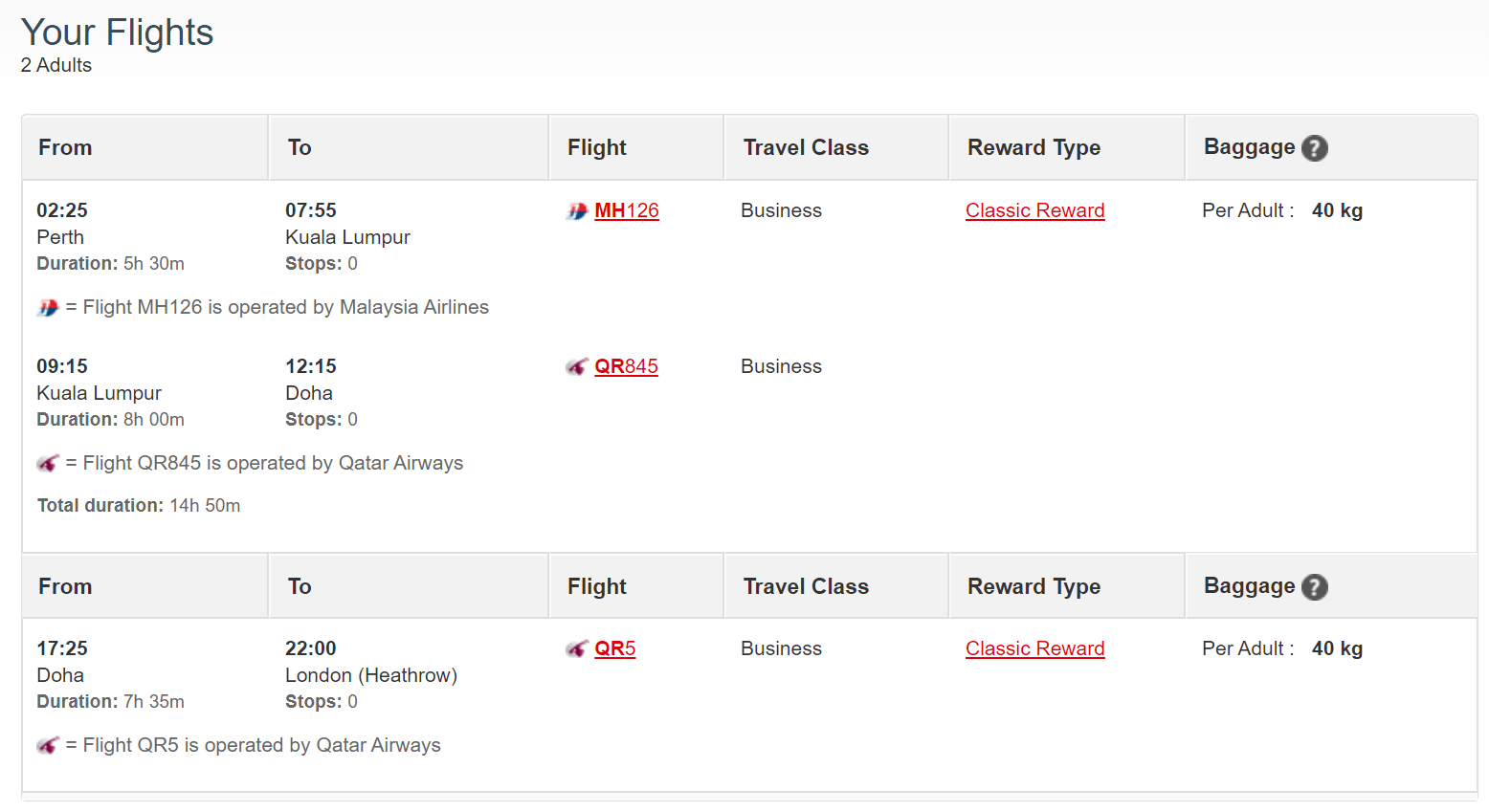 At the next stage, you'll get a quote for the points and taxes required, before filling out passenger details and making payment. That's all there is to it!
Frequently Asked Questions
What happens if I keep on getting an error when booking reward seats online?
Call Qantas and mention you can't book your itinerary online. They should waive any phone booking fees because of this, and help book it for you.
What if the Qantas Points quoted don't match what I thought it would be?
There may be a mistake somewhere in your booking. For example, you could have stopovers longer than 24 hours between flights, or you may be mixing airlines between 2 different Qantas Classic Reward Tables, meaning the numbers quoted will be off.

Ask us in the Point Hacks Community if you keep on having problems.
Can I change or cancel Qantas reward seat bookings?
Yes, it costs 5,000 points per person to change an itinerary, or 6,000 points per person to cancel. Everything else will get refunded back after a week or 2. No cancellations can occur after the first flight on the itinerary has been travelled. (Note: this may be waived during the COVID-19 pandemic).
Should I use Points Plus Pay to cover taxes with my Qantas Points?
We don't recommend you use more points than you need, especially for Points Plus Pay. That process converts your points into cash at a very low rate. You are better off saving them for another trip.



Don't pay more Qantas Points than you need. Keep the slider as low as possible!

This article was originally written by Evin Tan Khiew. Latest updates by Brandon Loo.
How to book a reward seat with Qantas Points
was last modified:
September 27th, 2021
by