Hong Kong Airlines proudly promotes itself as a SKYTRAX 4-star airline, but I think two stars may be more accurate.
They are a Velocity Frequent Flyer partner, meaning you can earn and redeem Velocity Points for travel with them.
I booked this one-way Business Class flight from Sapporo, Japan to Hong Kong for 38,000 Velocity Points + only AU$17 in taxes.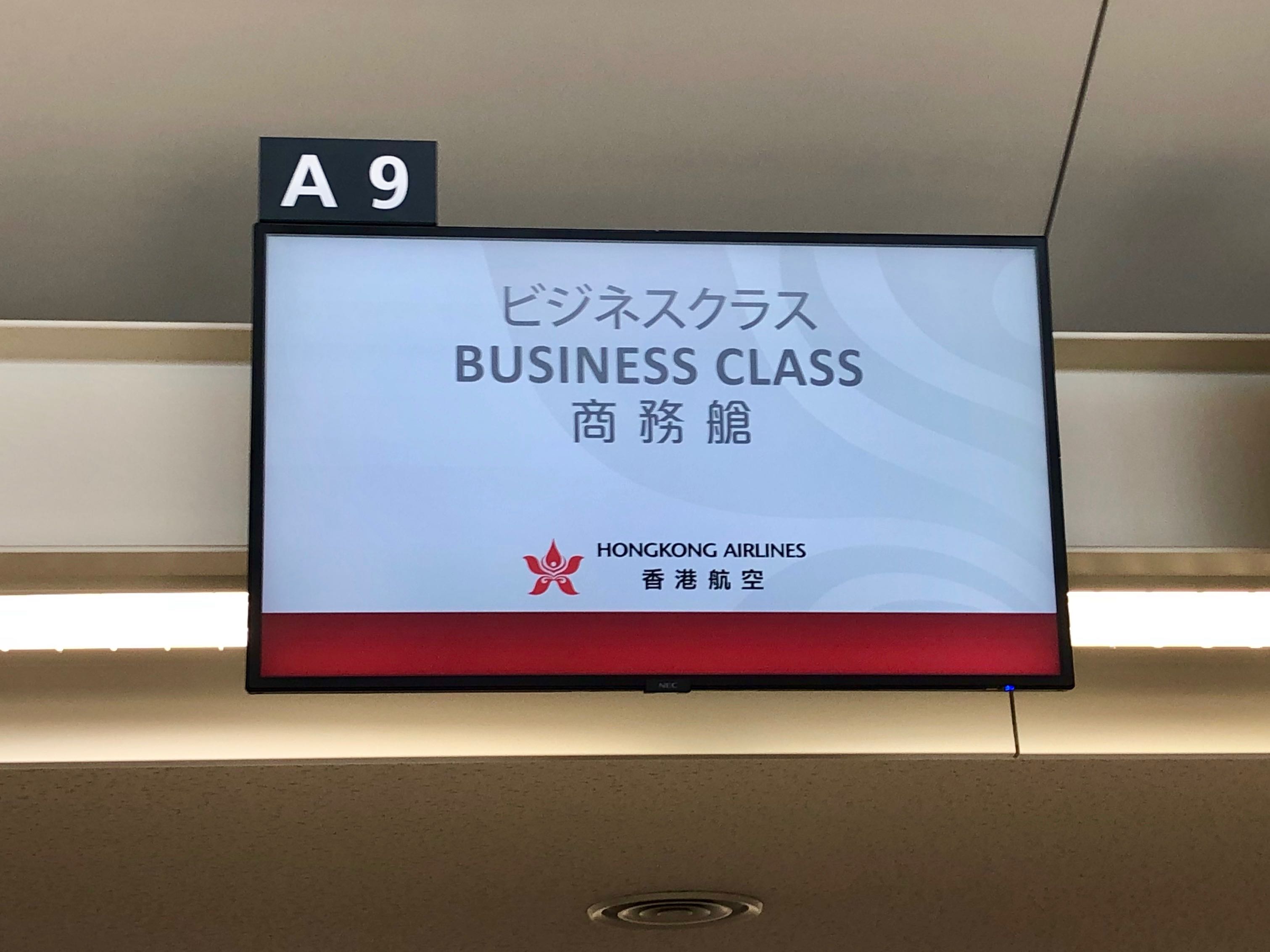 Fleet & routes
Not surprisingly, Hong Kong Airlines' hub is at Hong Kong International Airport, where they are the second-largest carrier after Cathay Pacific/Cathay Dragon.
Their route network is focussed almost exclusively on intra-Asia flights, especially to Mainland China and Japan. However, they also fly to Los Angeles (ending 8 February 2020) and Vancouver (ending 10 February 2020.)
The airline used to fly to the Gold Coast and Cairns, but those services were discontinued in October 2018. San Francisco was cut in October 2019.
If you're travelling on a shorter flight within Asia, chances are you'll be on an Airbus A320 with recliner seats like you'd find on Qantas and Virgin Australia flying within Australia.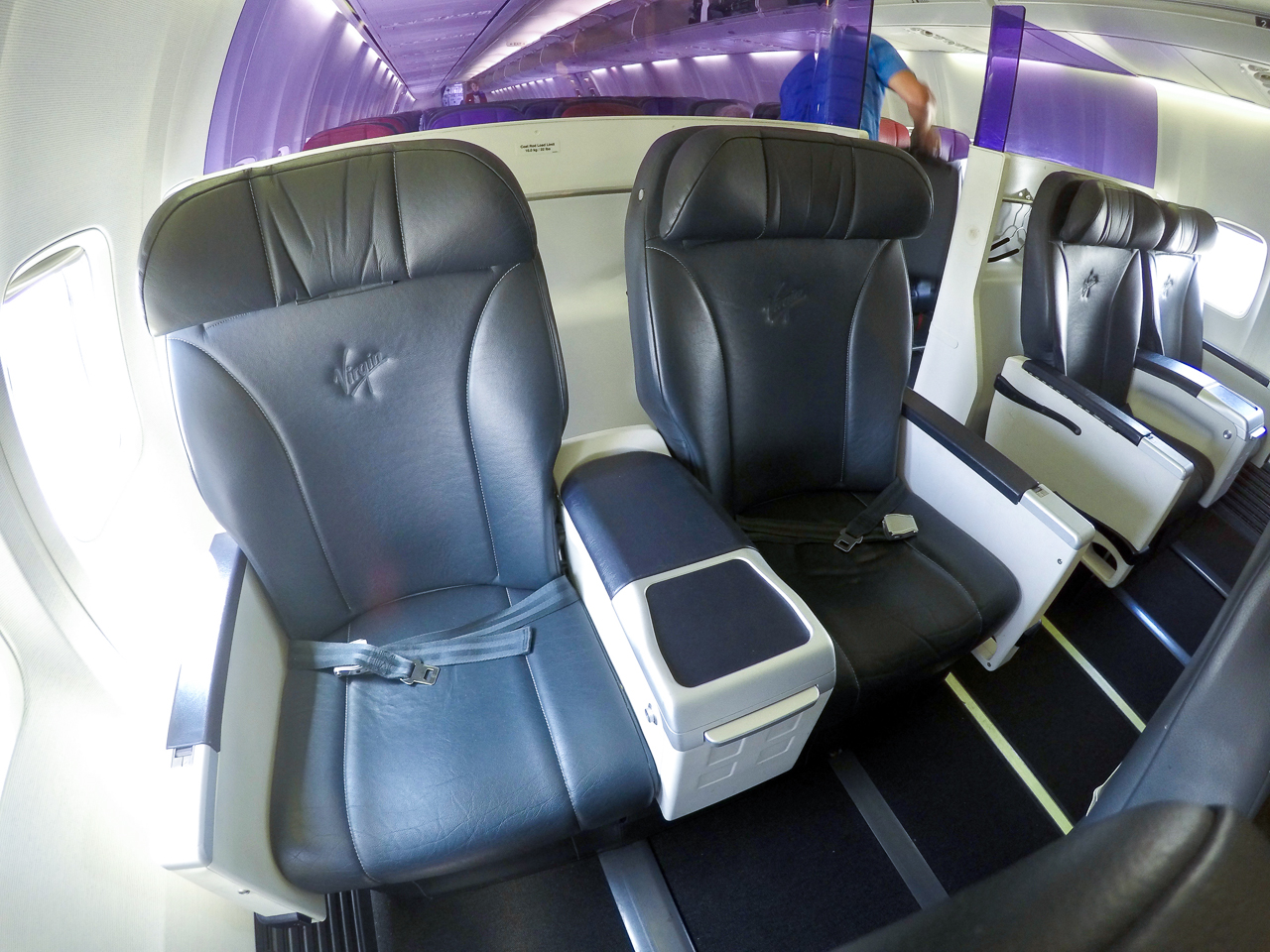 There are two versions of the larger Airbus A330, one of which features angled-flat seats in a 2-2-2 configuration, and the other (superior) version which has lie-flat seats in a 1-2-1 layout (this review).
Finally, you could be on one of two versions of the Airbus A350 if you are flying to or from select Asian cities. The more likely version has the same seats as in this review, however, you could luck out with one of the newest aircraft, which offers a reverse herringbone seat like the one found on Virgin Australia, Cathay Pacific and American Airlines.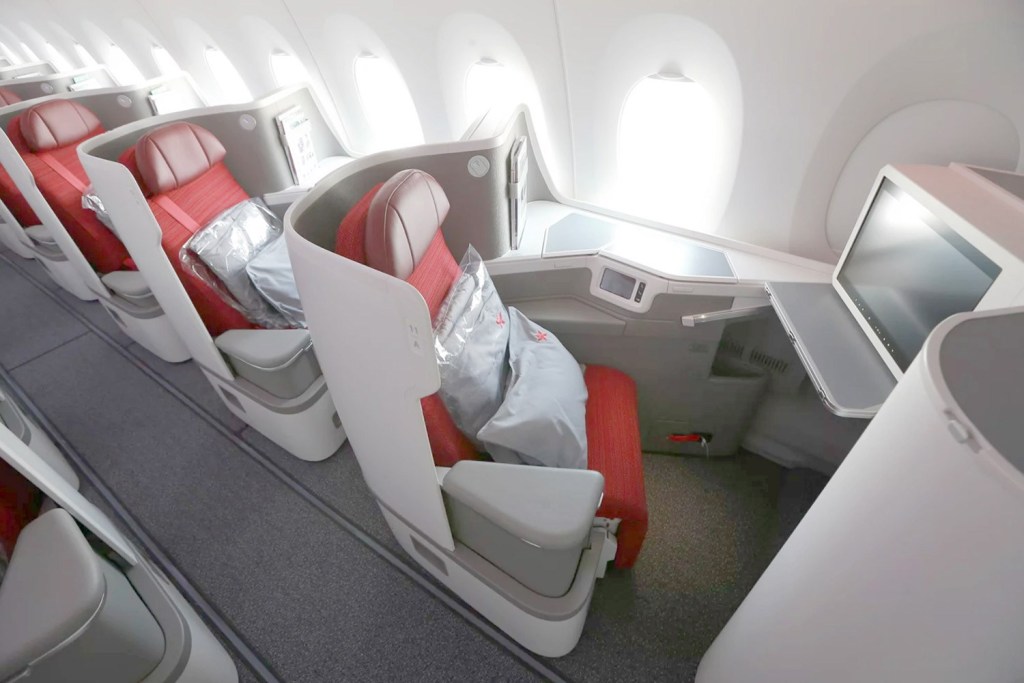 The cabin & seats
The cabin is set up in a 1-2-1 configuration, with the same style of seats that you'll find on THAI's 777-300ER aircraft.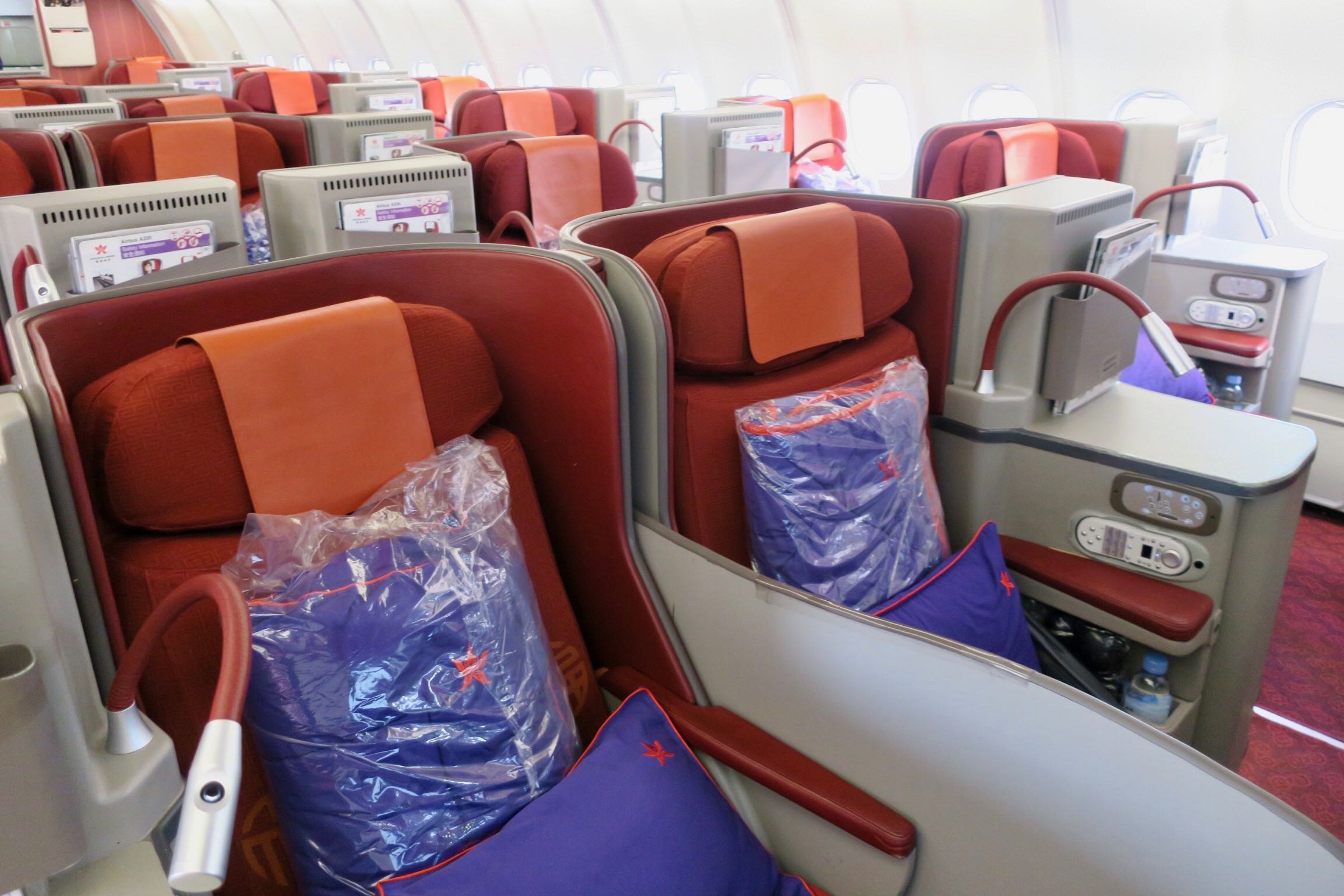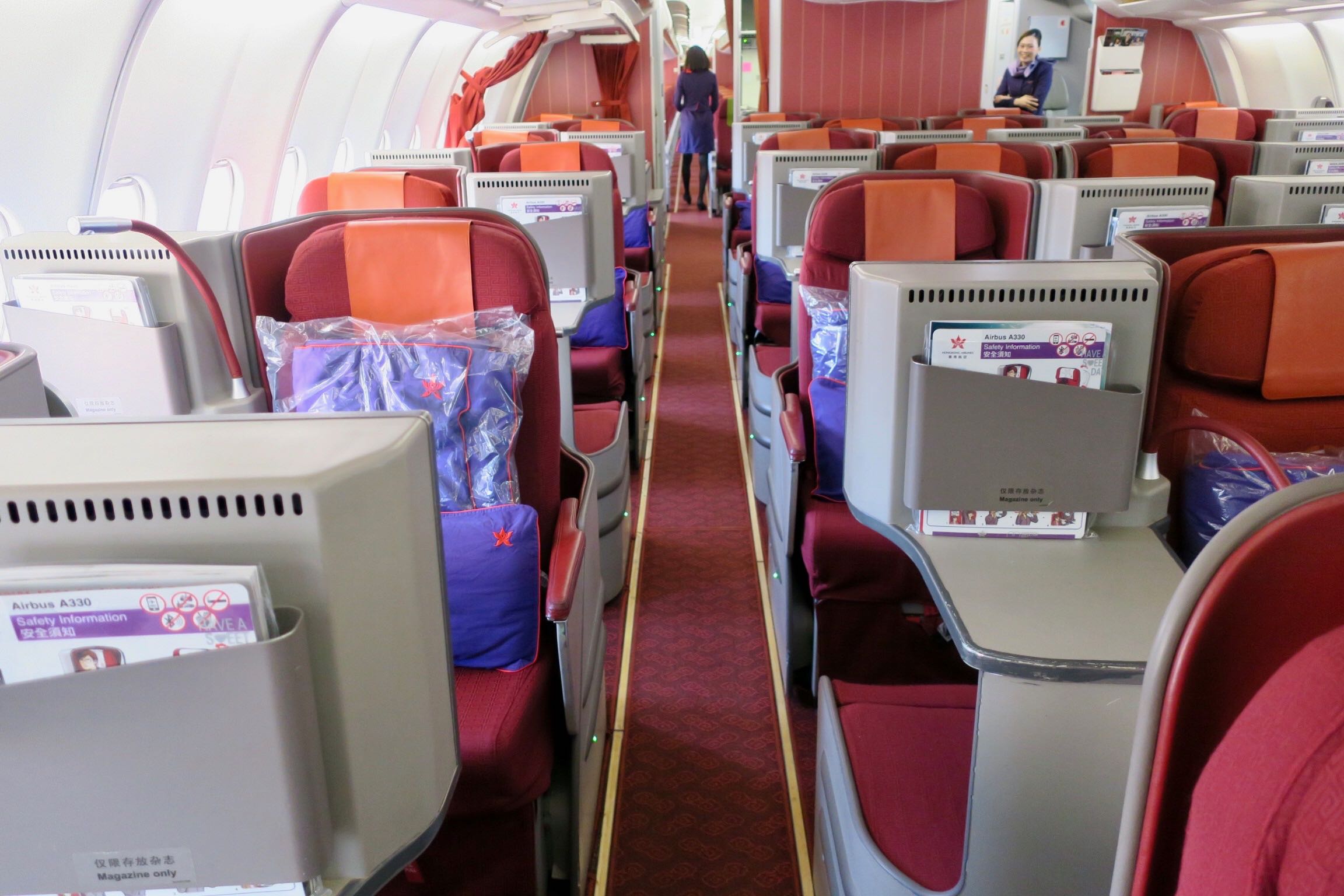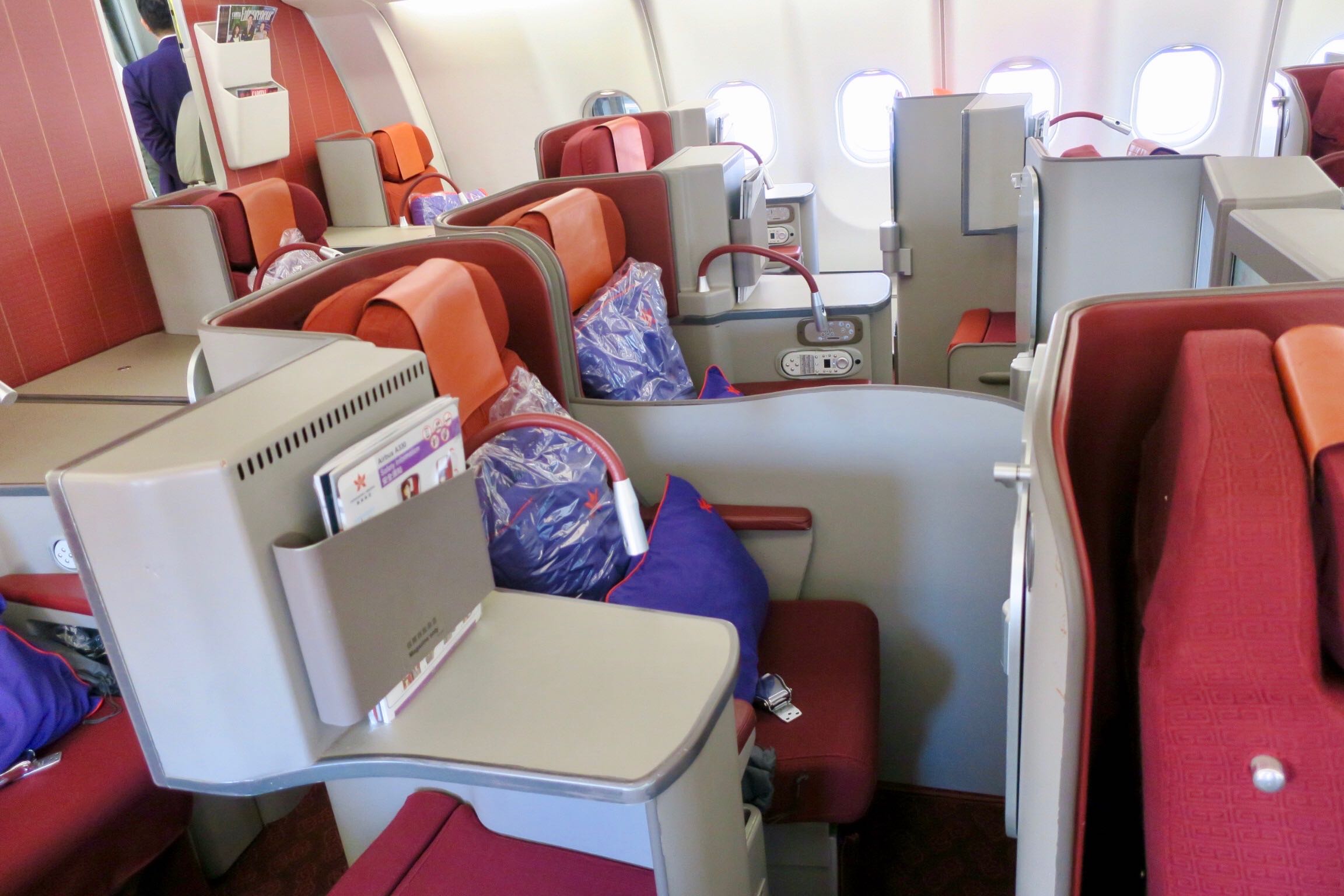 The seats are staggered, with alternating rows being closer to the window and the aisle.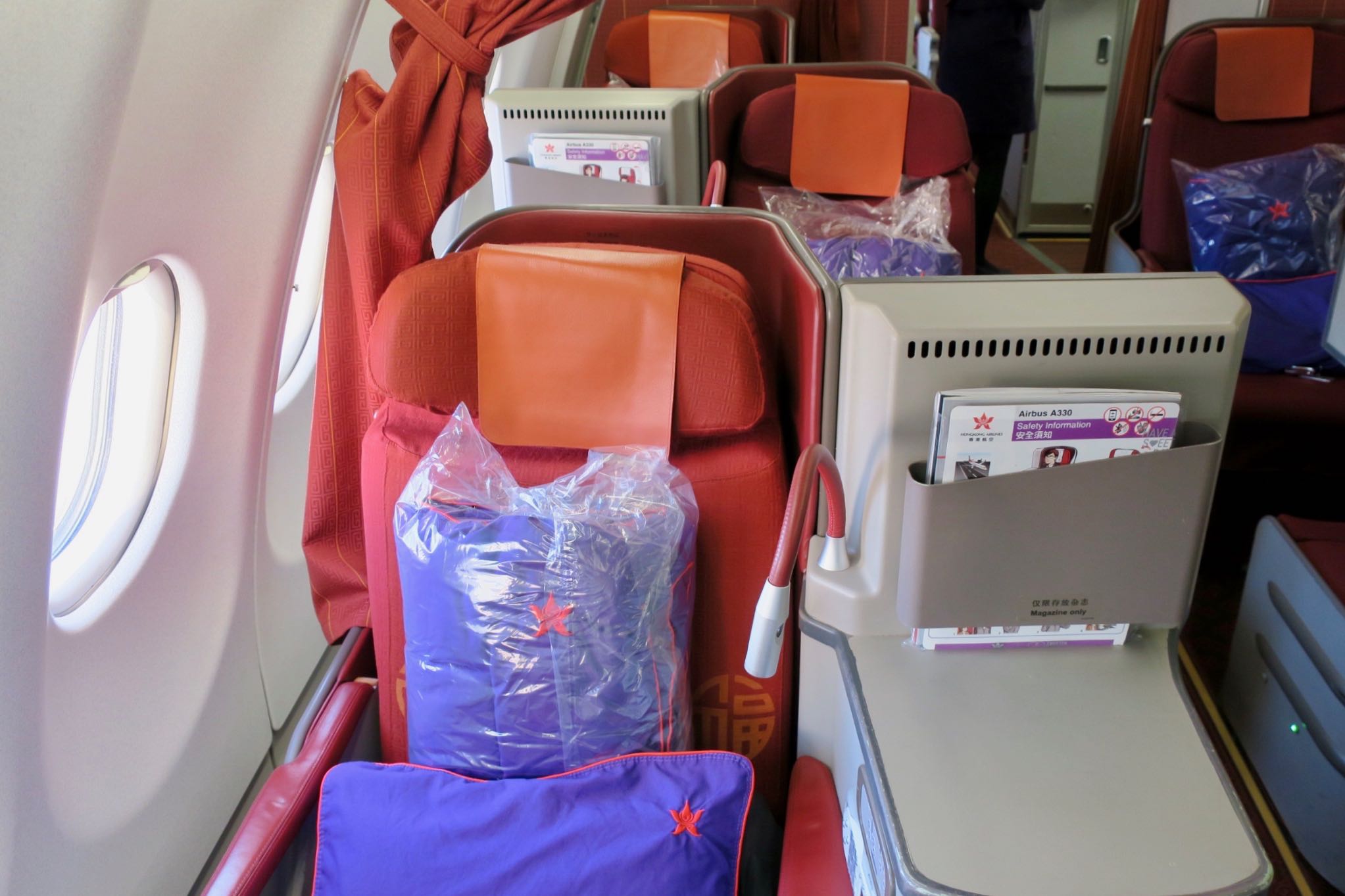 The seat converts into a narrow (read: cramped), lie-flat bed, with a cheap pillow and comfortable blanket but no mattress pad.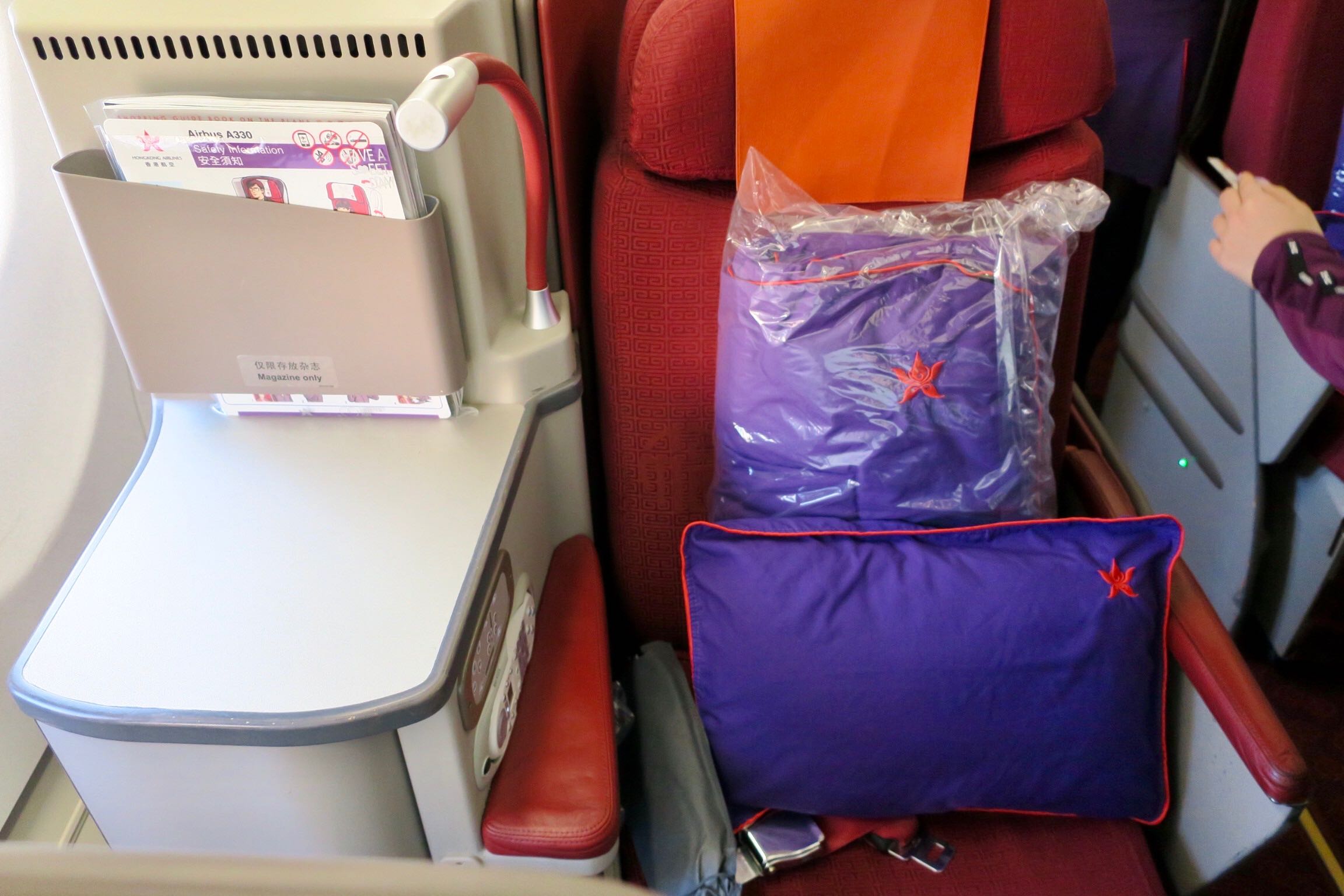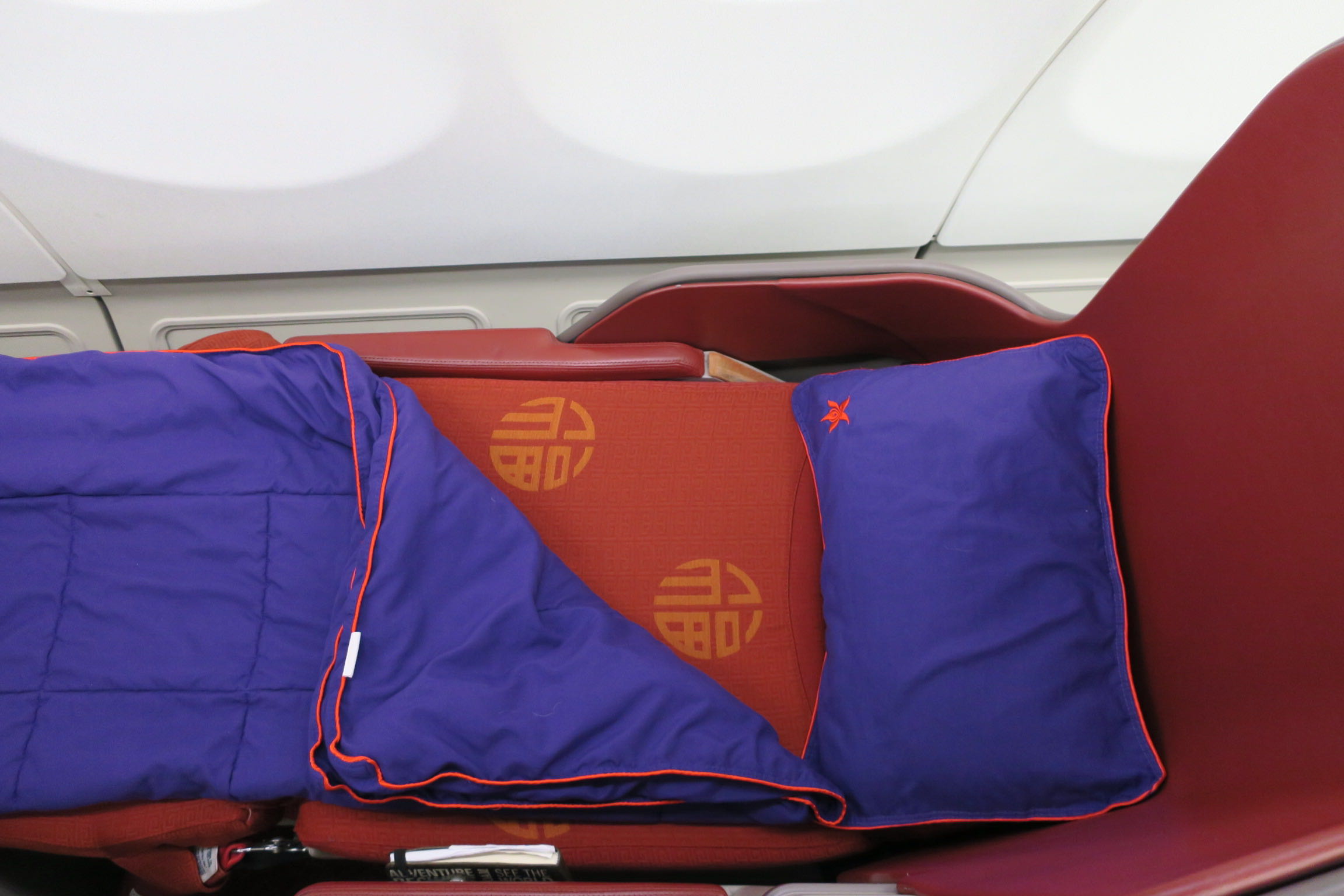 I appreciated the simple design of the seat.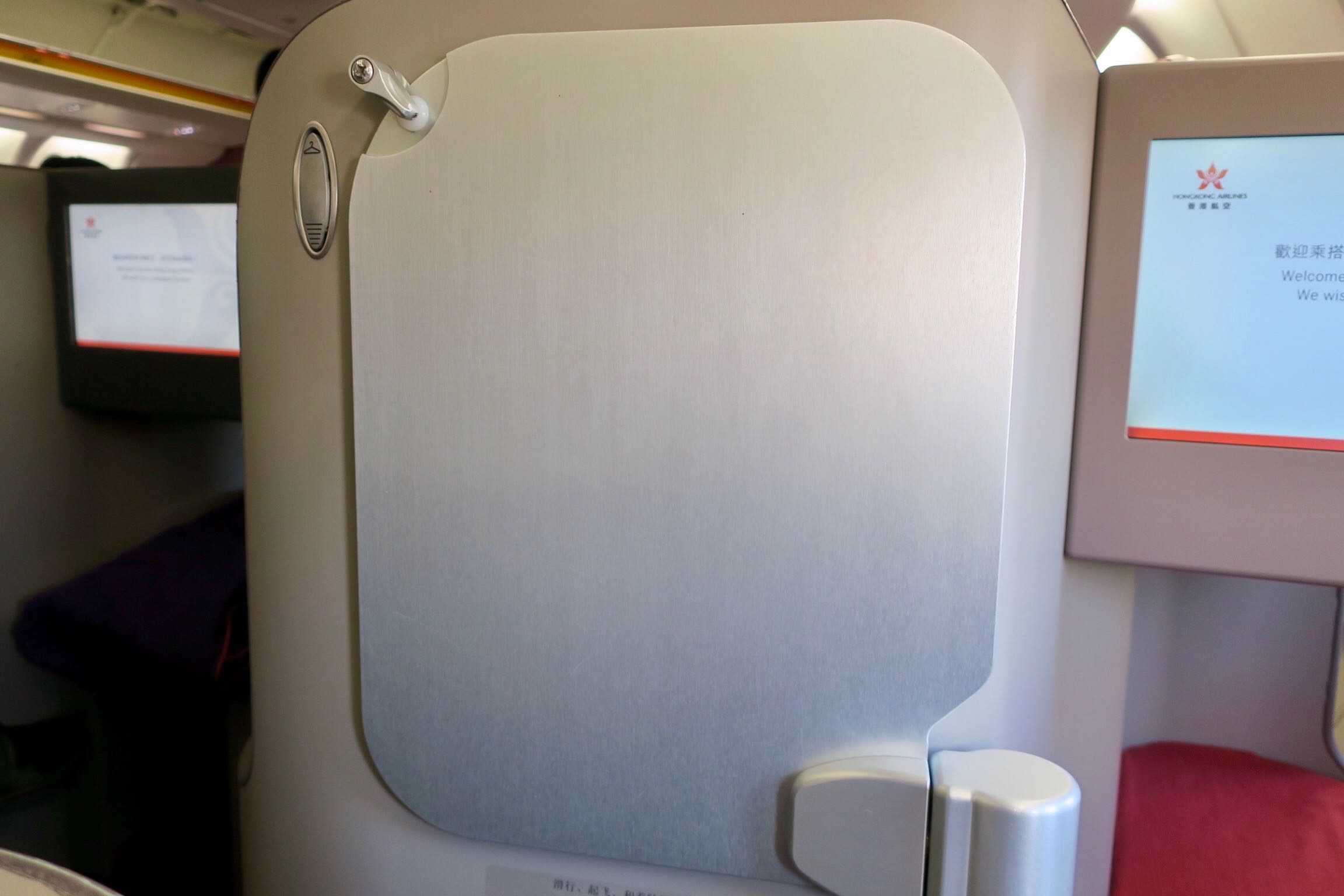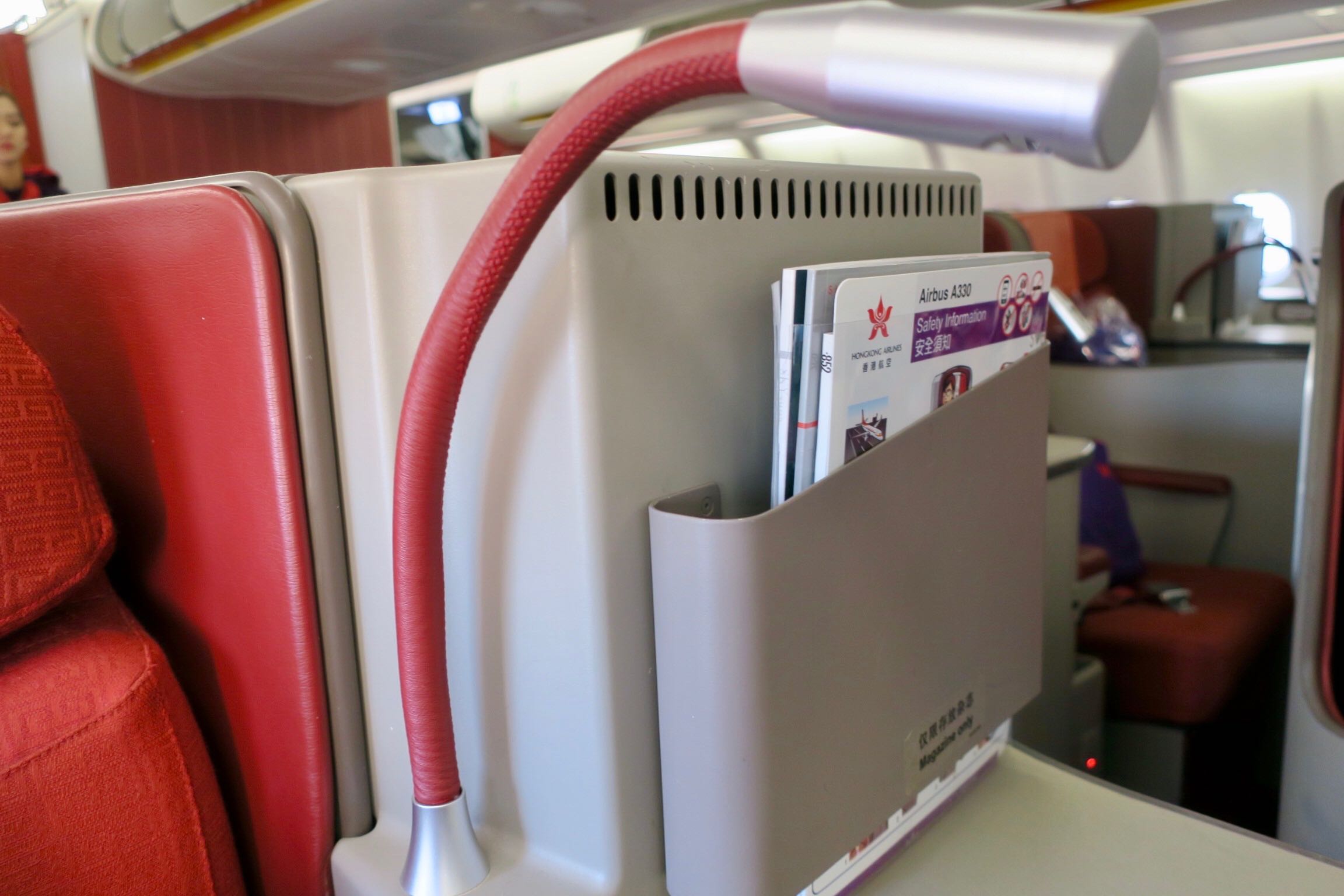 However, it was obvious this aircraft was showing its age.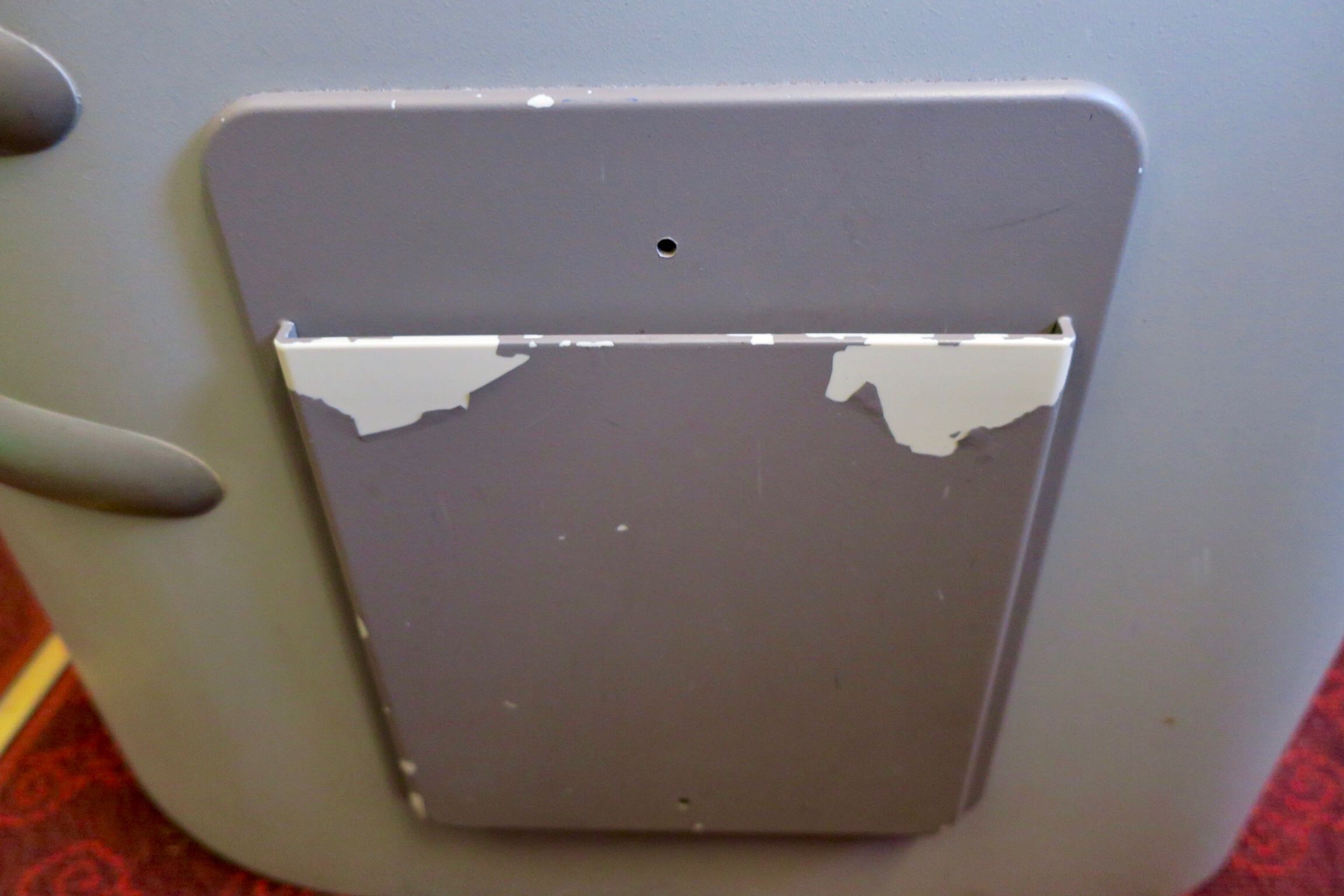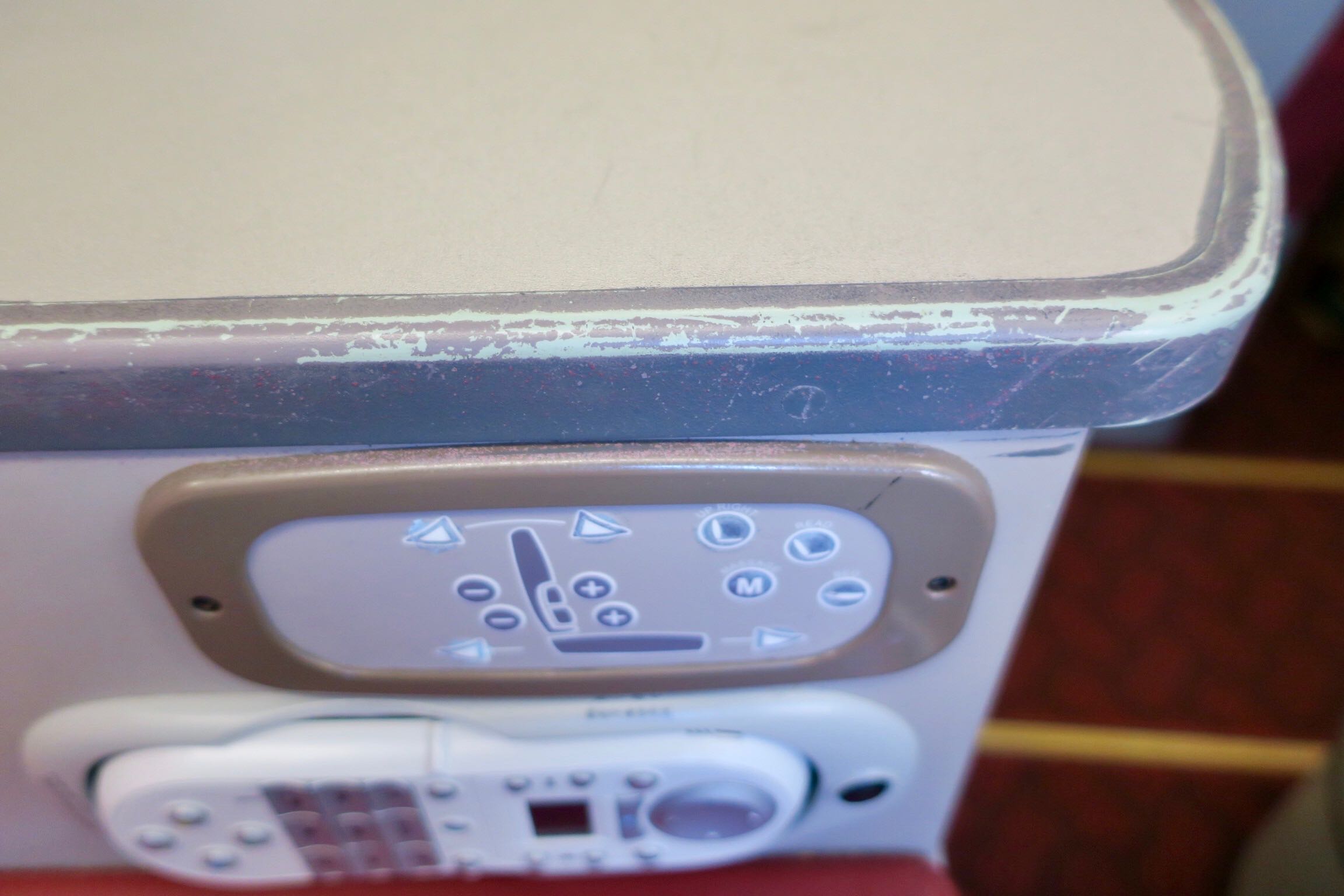 One of the many things I didn't like about this product was the lack of storage.
Seat choice
Solo travellers will want to aim for one of the true window seats: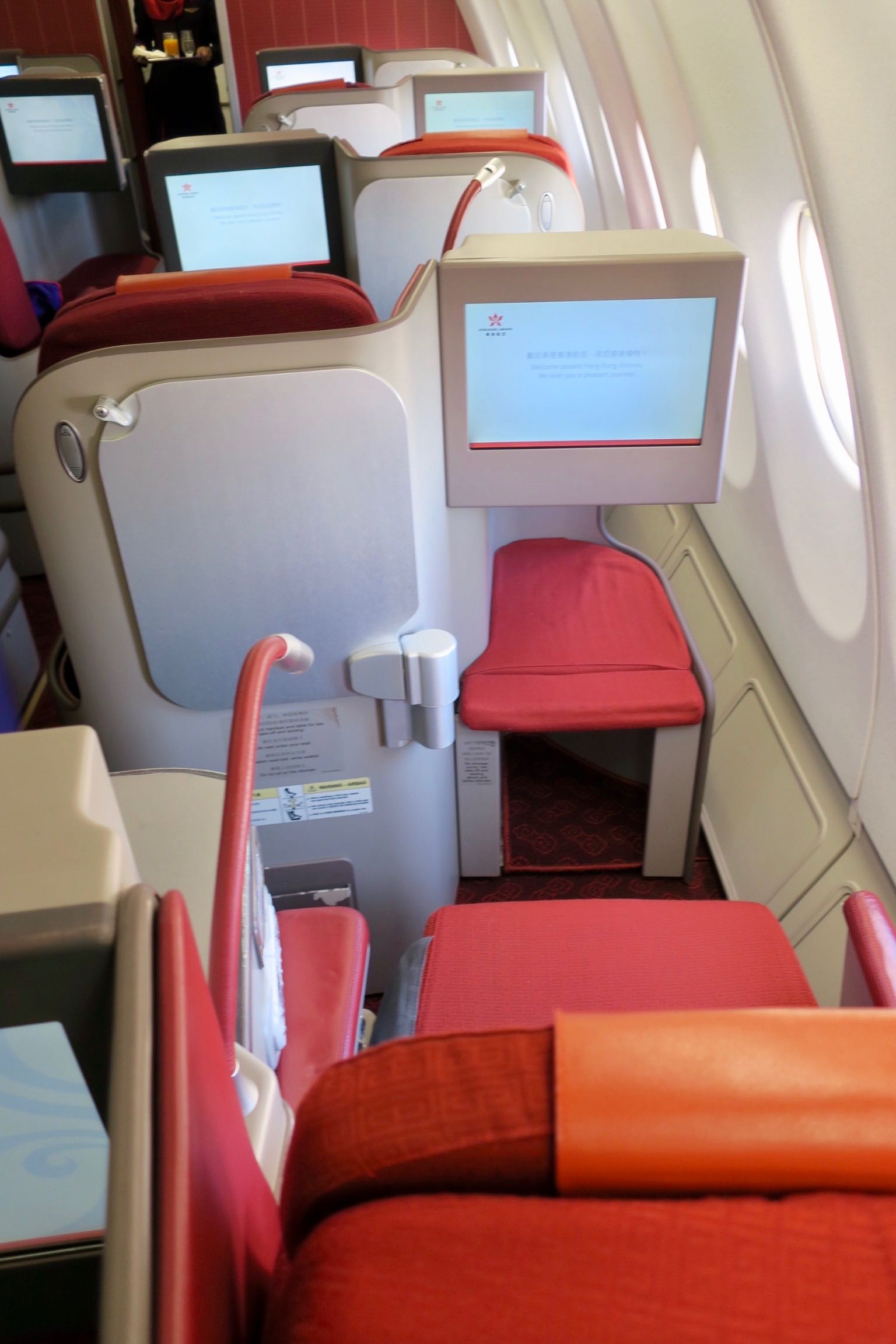 and avoid those which are exposed to the aisle.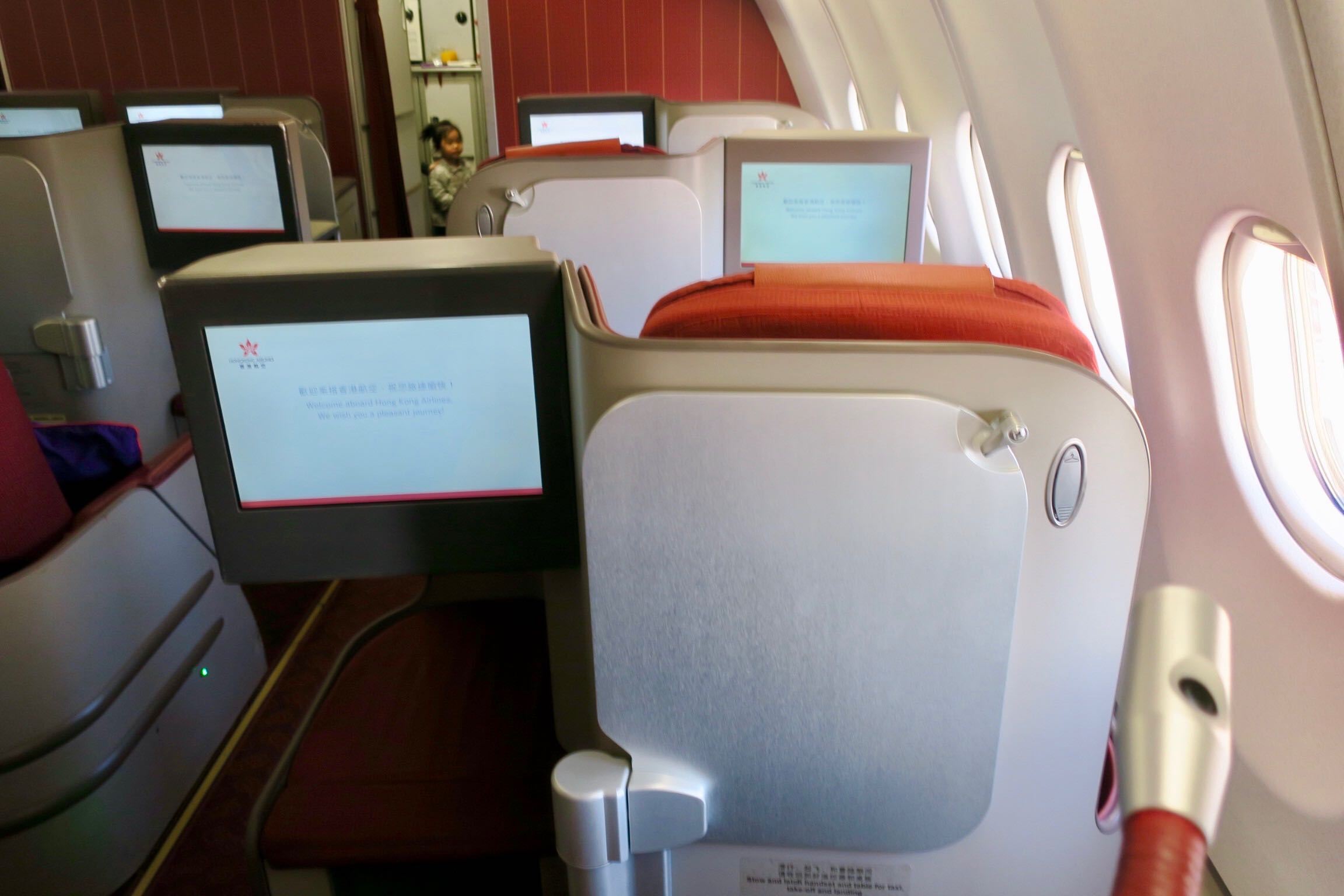 Those travelling accompanied may wish to opt for the honeymoon seats, which are the two seats in the centre that are close together (rather than separated).
Read our guide here on how to choose the best seat for your flight.
Food & drink
Ahhhhh, this was my meal: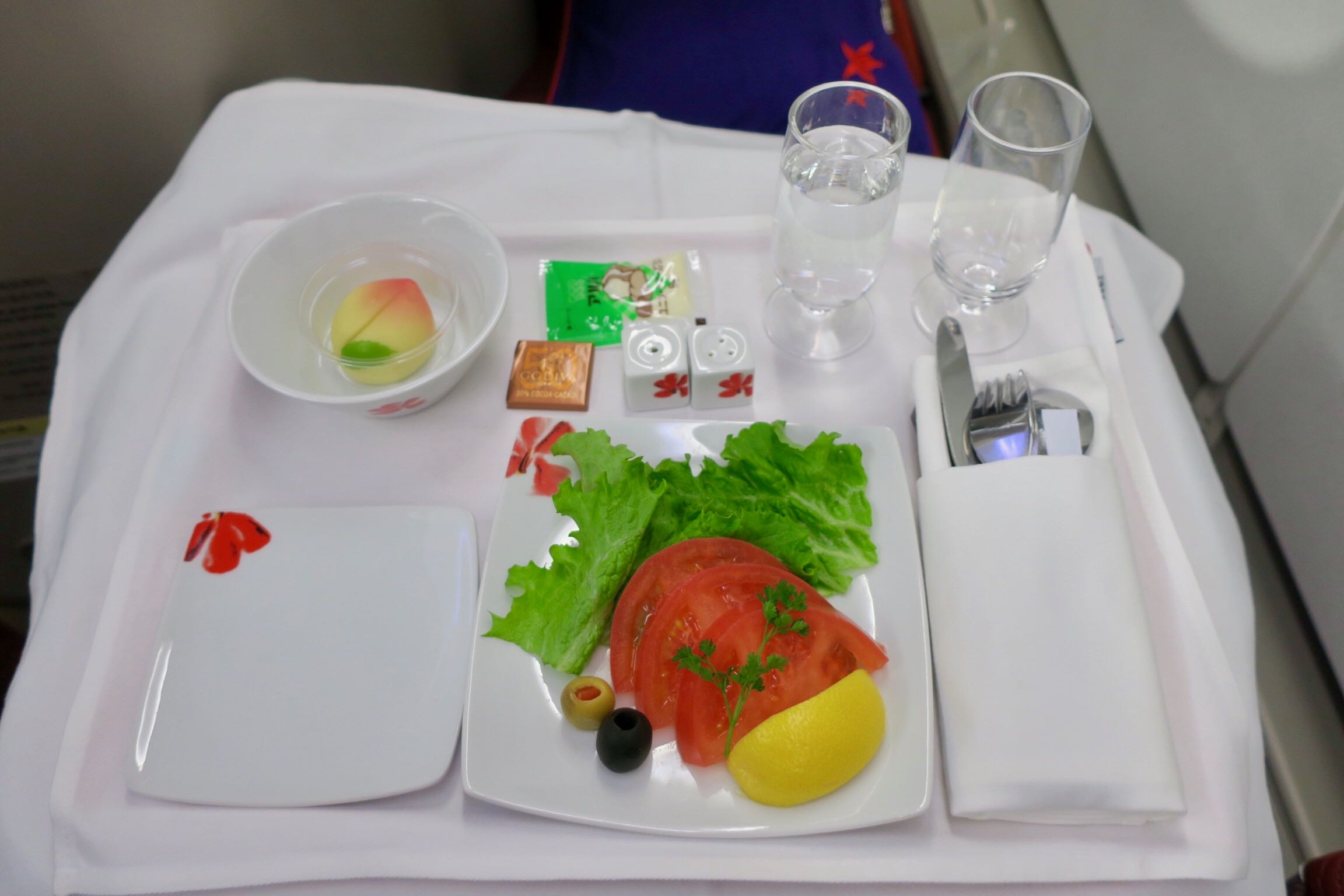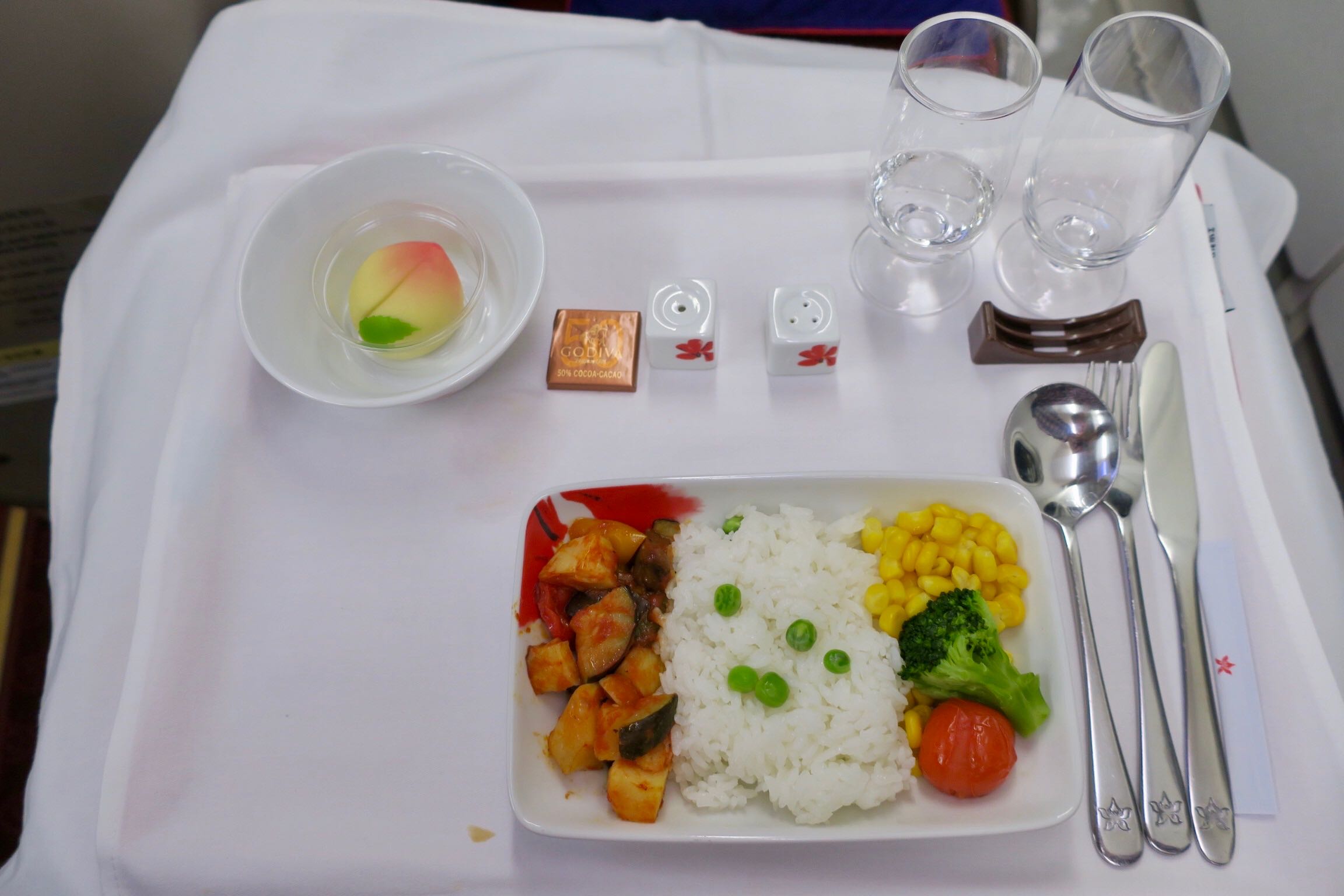 You can increase your chances of getting something other than bland food by pre-ordering your main meal between 30 days and 48 hours before your flight, but only if you are departing from Hong Kong.
I did appreciate that the meal service was quick.
Here is the full food and drinks menu for my flight—note the limited selection of drinks:
Customer service
Let me start with one positive: the check-in staff were efficient and very friendly.
Onboard, however, the cabin crew seemed stressed for the entire six-hour flight. I did not see anyone smile once. They forgot two drink orders and pressured me three times to fill out a customer service survey. I ended up filling it out (with my honest feedback), but held off on returning it until the end of the flight to avoid the awkwardness of them reading what I thought of the flight before deboarding.
This was one of the least impressive Business Class crews I have come across.
Inflight entertainment
You'll get a small touchscreen with an old-school interface.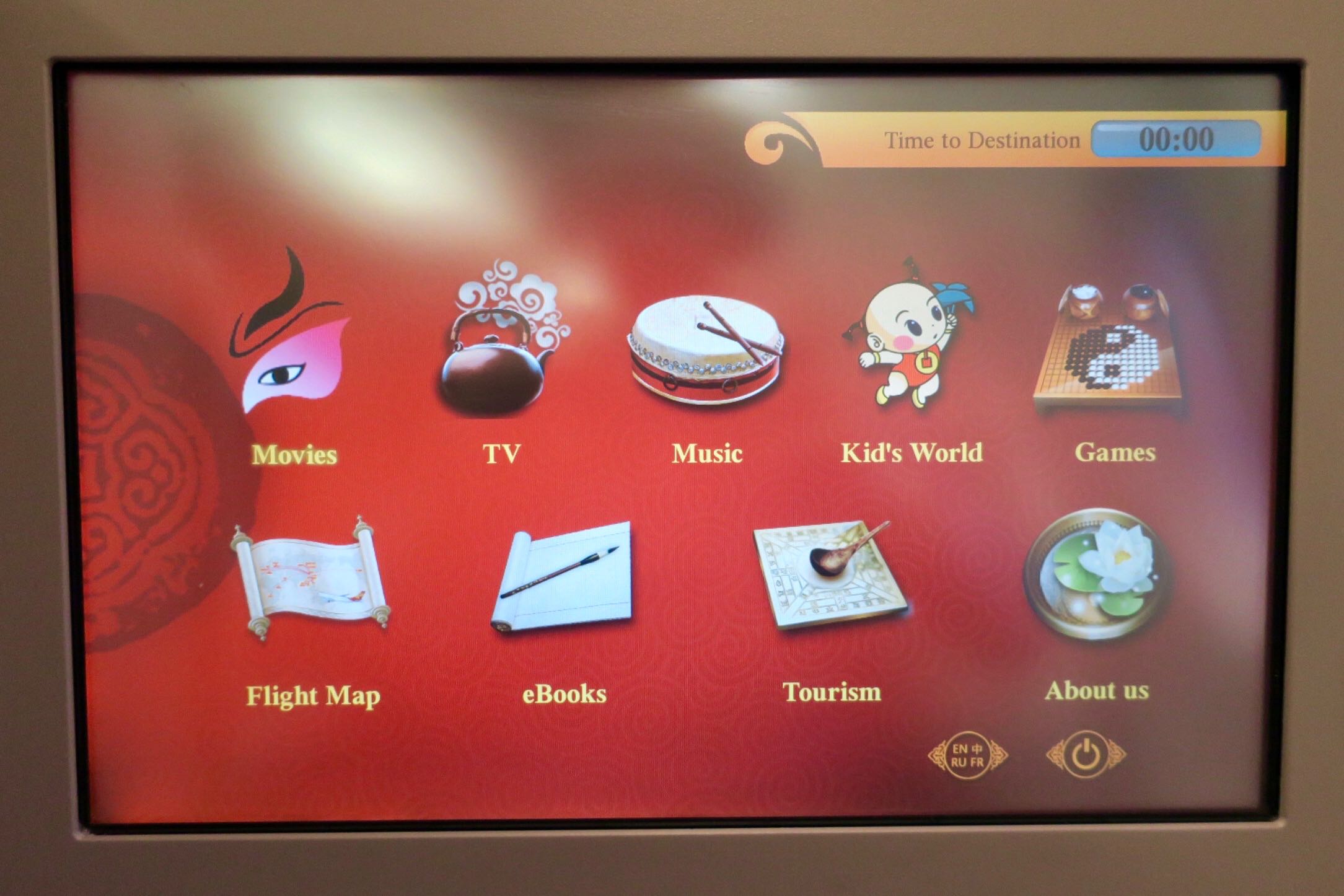 I will give the airline some points for its relatively good selection of Western movies.
Amenities
The lavatories are standard and nothing special.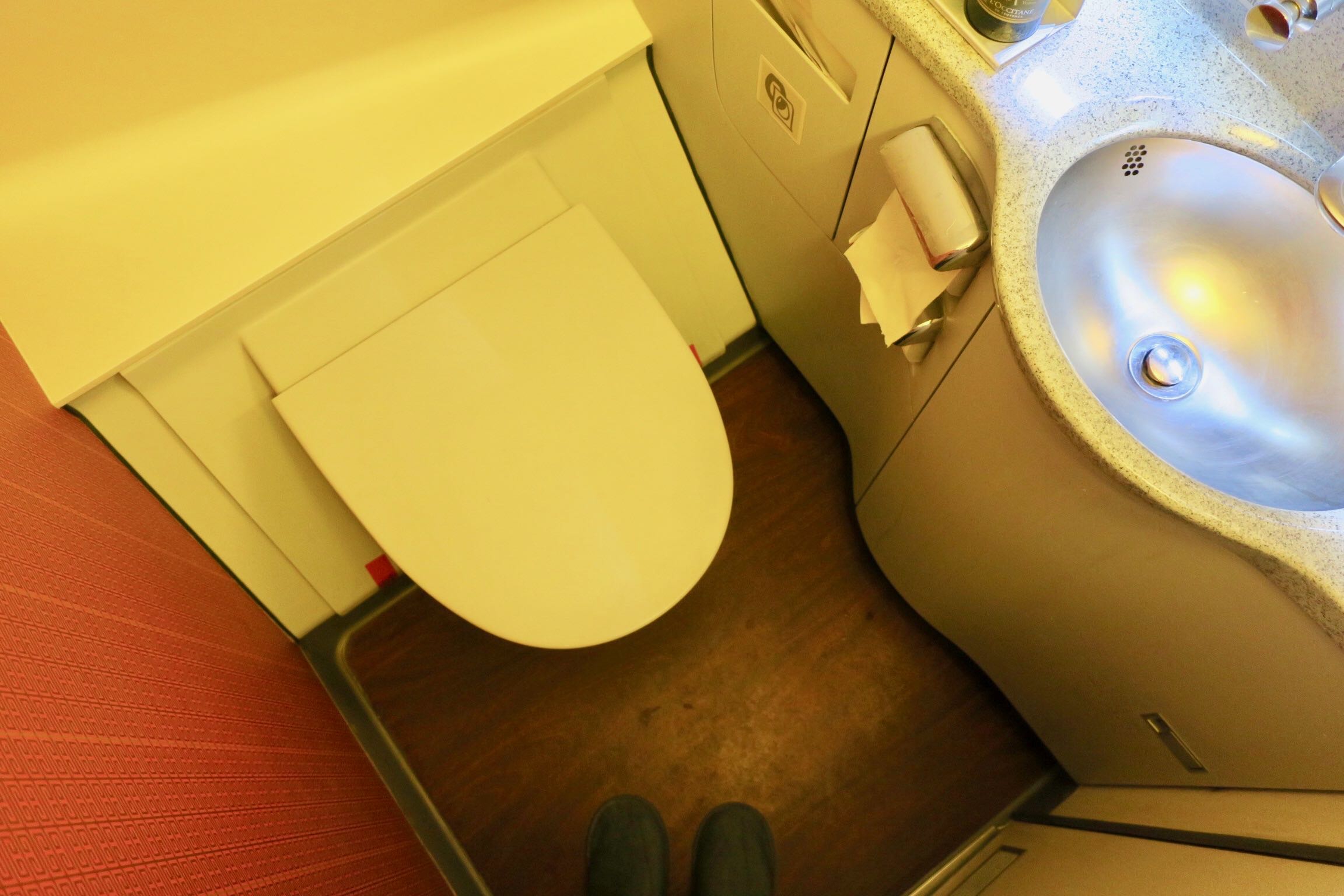 As mentioned above, you don't get a mattress pad but you do get a sad, cheap pillow as well as a big blanket.
The headphones are of substandard quality.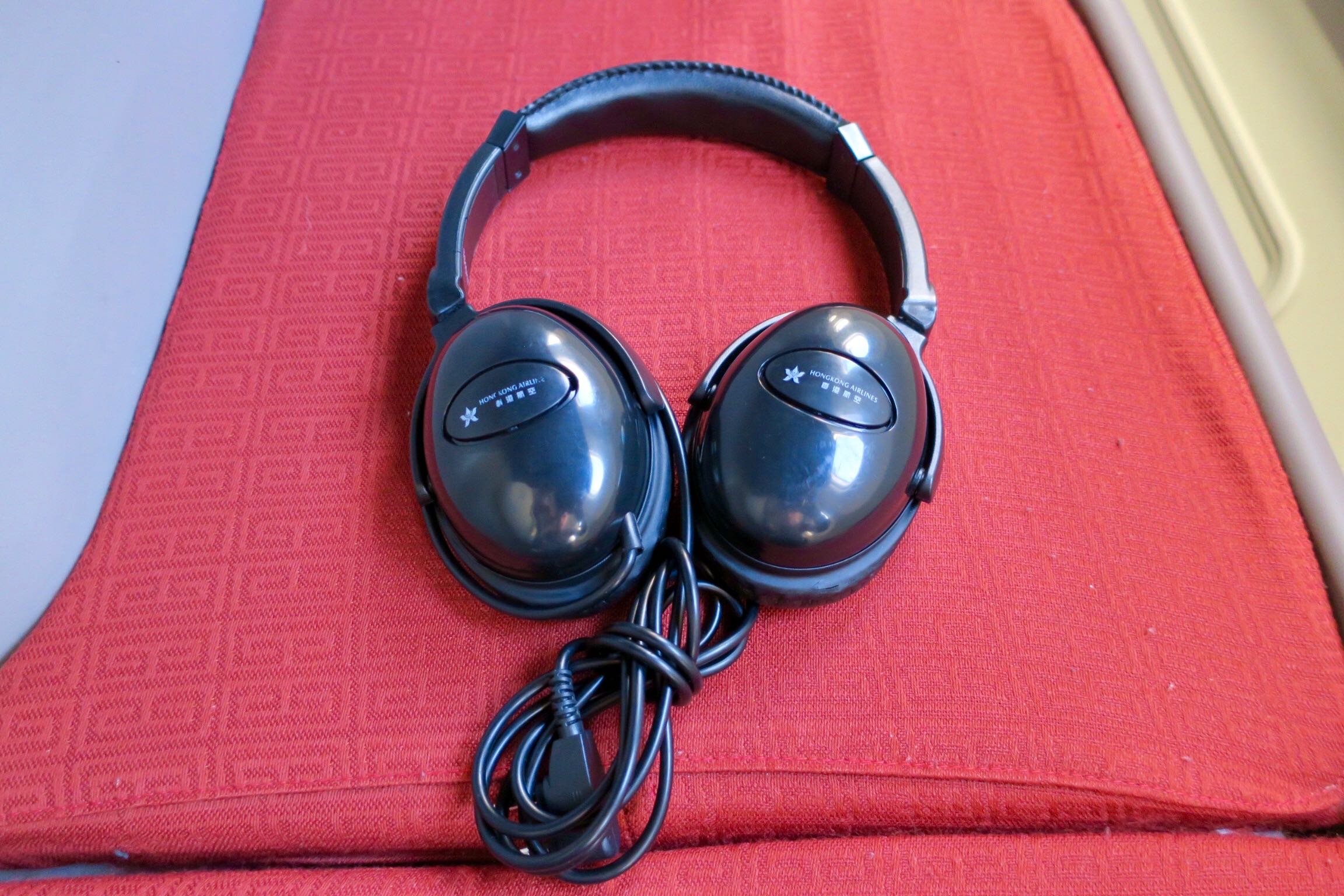 Pyjamas are not provided but on long-haul flights, you'll get an amenity kit. I did like the slippers, though!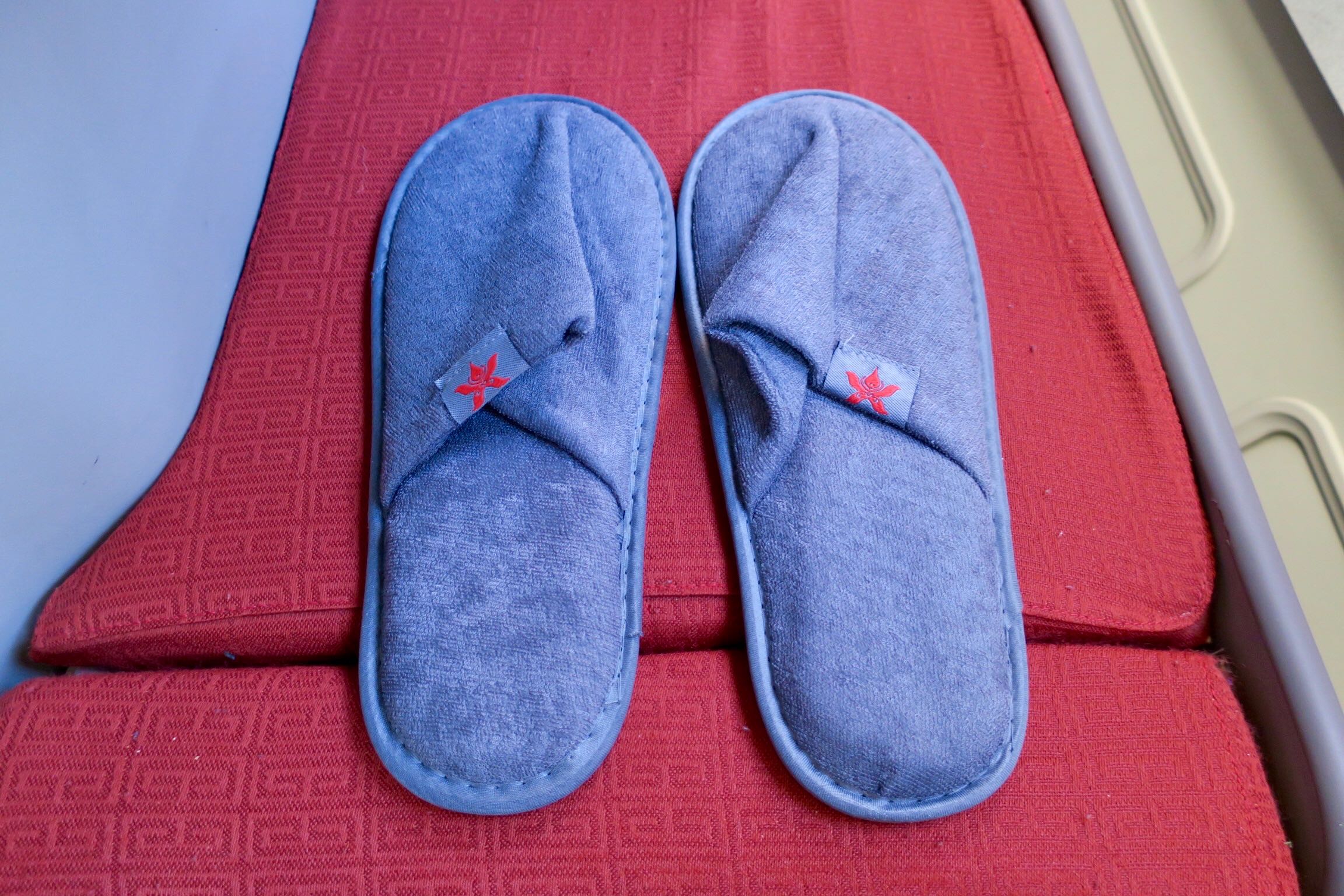 Wifi is available exclusively on A350 aircraft, with 15 minutes free or $US19.95 for the entire flight, but there are numerous reports of download and upload speeds under 1 Mbps.
How to redeem points for this flight
The two main ways that travellers in Australia will fly this product is by:
purchasing a cheap cash fare
using Velocity Points
Here are the figures for a one-way Business Class flight on selected routes between Hong Kong and:
| Destination | Velocity Points |
| --- | --- |
| Taiwan | 18,000 |
| Most of Mainland China | 26,000 |
| Bangkok | 26,000 |
| Kuala Lumpur | 38,000 |
| Japan | 38,000 |
| Vancouver | 92,000 |
| San Francisco | 92,000 |
| Los Angeles | 104,000 |
You can search for availability and book your Hong Kong Airlines redemption directly through the Velocity website.
Note that whilst Velocity Points and Status Credits are earned on most Hong Kong Airlines flights, those to and from North America are not eligible for earning points.
Lounge access
When departing Hong Kong, you'll get access to Hong Kong Airlines' flagship Club Autus lounge, which receives generally positive reviews.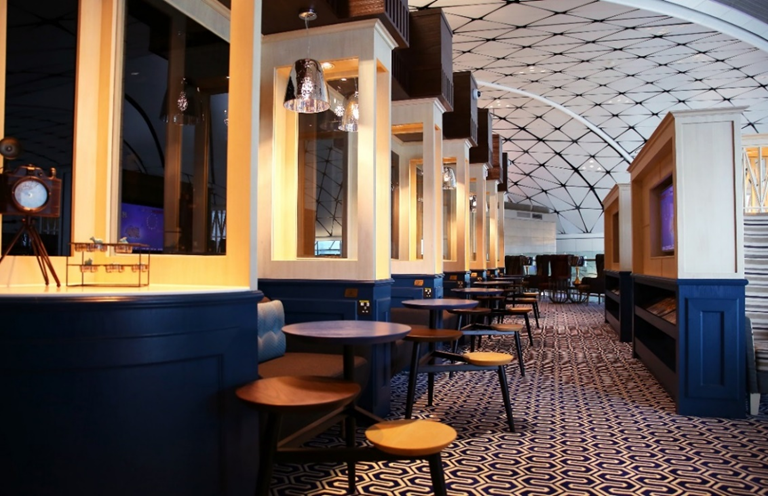 Overseas, the airline uses third-party lounges, which are mostly unnotable.
Summing up: why choose this flight?
I half-agree with Hong Kong Airlines' tagline for their Business Class product:
Fly in affordable luxury
It is true that they have cheaper fares than their competitor Cathay Pacific and some other Asian airlines, but I question their definition of 'luxury'.
As you can probably tell, I won't be rushing back to fly Hong Kong Airlines, nor will I be recommending it to friends, family and Point Hacks readers.
What is great
Lie-flat seats
Improved product on new A350 aicraft
Comfortable blanket
Great lounge in Hong Kong
Easy to book on Velocity website
What is not great
Cold customer service with a lack of sophistication
Planes showing their age
Bland food
Limited drink selection
Out-of-date inflight entertainment system
Cheap headphones
Cheap pillow
No pyjamas
Substandard lounge offerings outside of Hong Kong
Wifi only available on A350 aircraft and suffers slow speeds
I'm sure others have had better experiences on Hong Kong Airlines than I did. Please share in the comments below!
Related reviews
Supplementary images courtesy Hong Kong Airlines.
Hong Kong Airlines A330 Business Class overview
was last modified:
February 11th, 2022
by