Jetstar Asia is a cheap and cheerful way to fly Economy across the region. It's also yet another way to earn more Qantas Points and Status Credits when travelling on eligible fares. At least, that's the theory.
I recently hopped aboard Jetstar Asia on a return trip between Singapore and Kuala Lumpur. Here's what the experience was like, flying the carrier's Airbus A320.
Check-in, lounge and boarding
Kuala Lumpur International Airport has a terminal dedicated to low-cost airlines: KLIA2. That's where you'll find Jetstar Asia based, along with the AirAsia group, Cebu Pacific and Scoot. KLIA2 is completely detached from Kuala Lumpur's 'main' terminal.
It's not much of an inconvenience though, as the high-speed KLIA Ekspres train between the airport and the city makes stops at both terminal precincts.
Taking the KLIA Ekspres, I arrived for my flight in plenty of time. After taking a few escalators up from the station, I'm ready to check-in.
Arriving around 2.5 hours before departure, I'm pleased to find Jetstar Asia's check-in counters already open. There's no queue, so I zip on through. Within moments, my suitcase is tagged and my boarding pass is ready to go.
While Jetstar Asia Economy fares don't include checked baggage by default, I've pre-purchased the Plus bundle. This offers 20kg of checked luggage, free standard seat selection and an inflight refreshment. It also offers the ability to earn Qantas Points and Status Credits.
Knowing my limit, I packed right to it. Not a single gram to waste! With check-in done and time to spare, I decide to visit the Plaza Premium Lounge. It's located landside, so travellers can use it both on departure and arrival.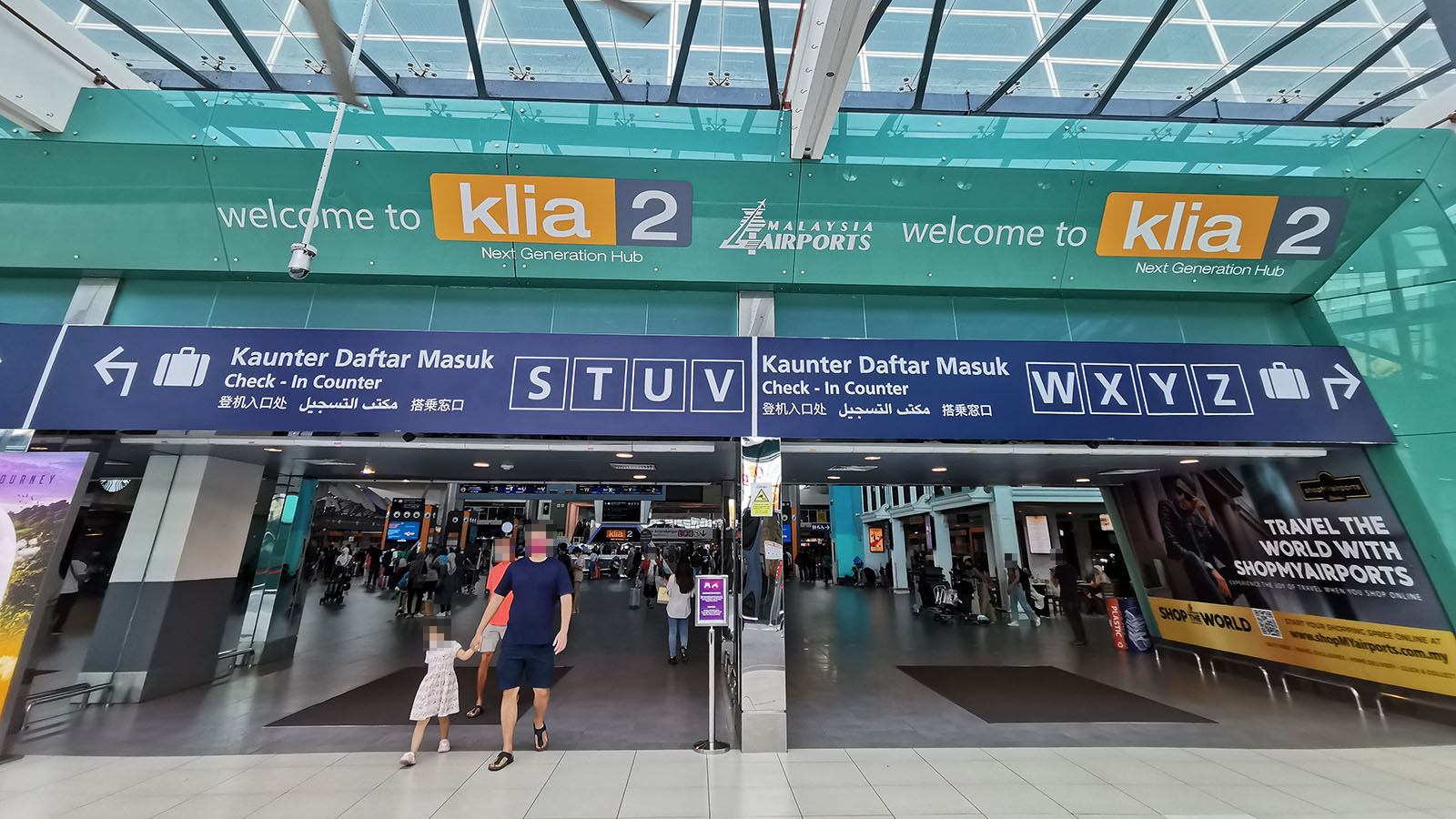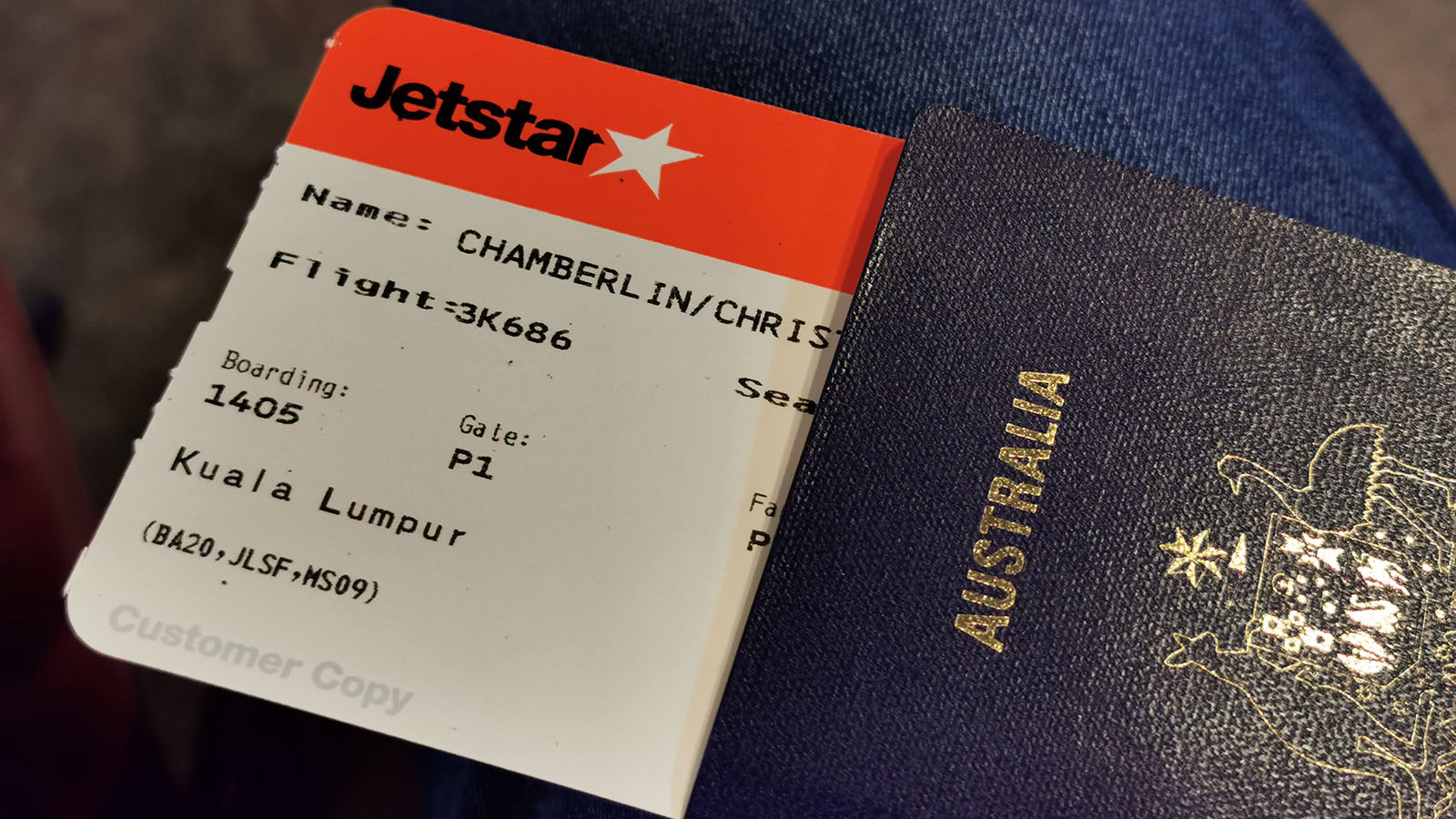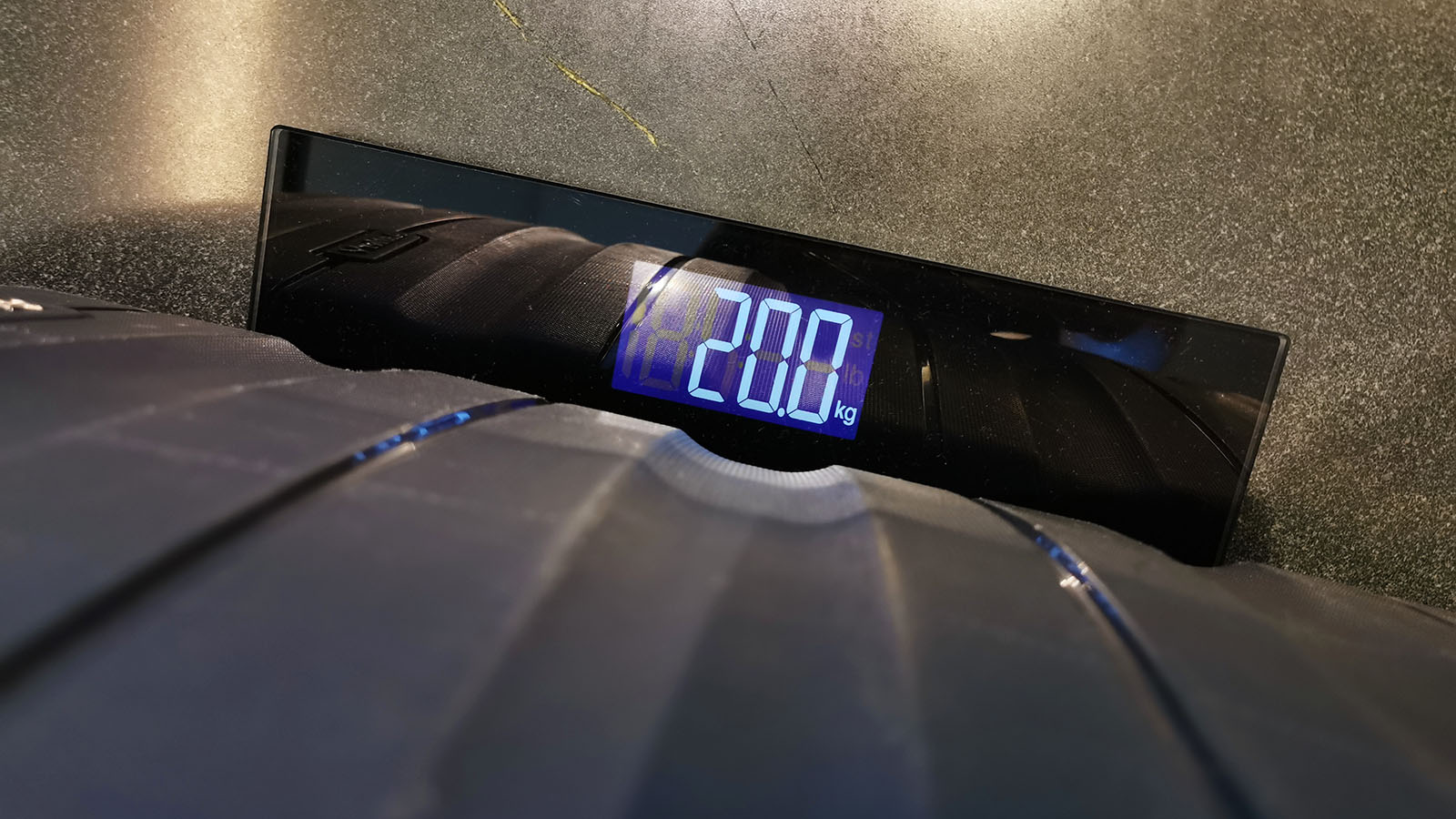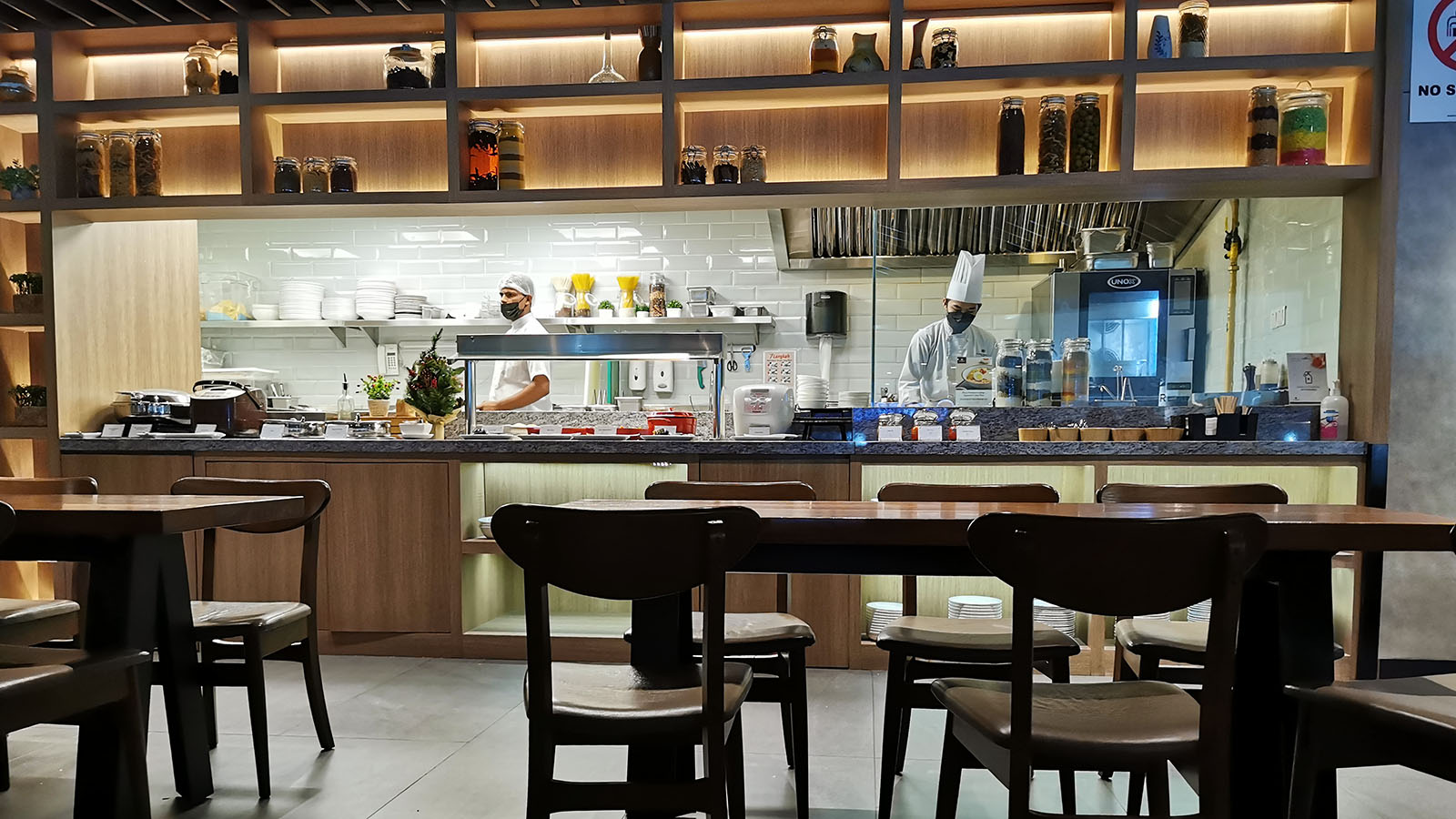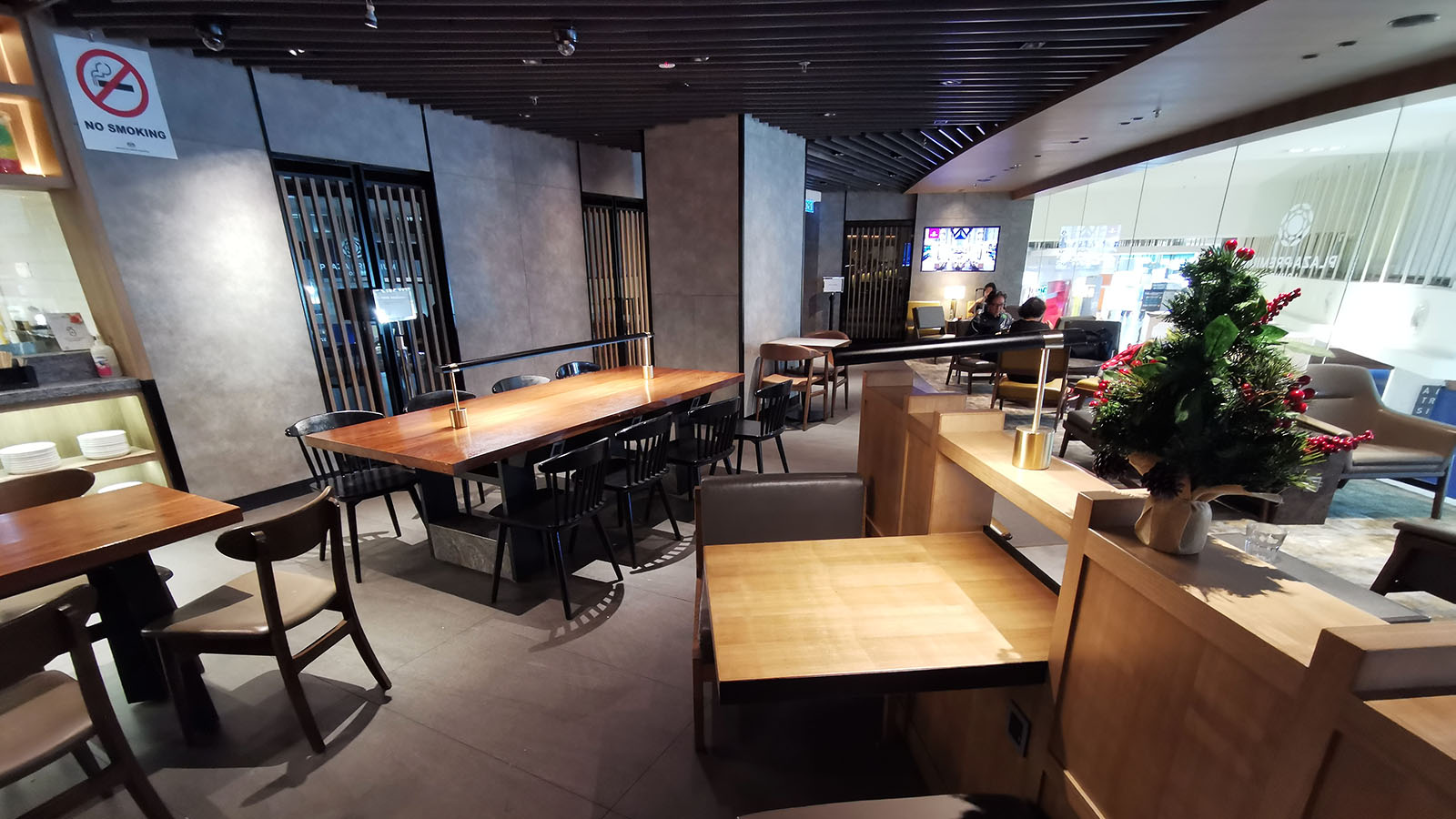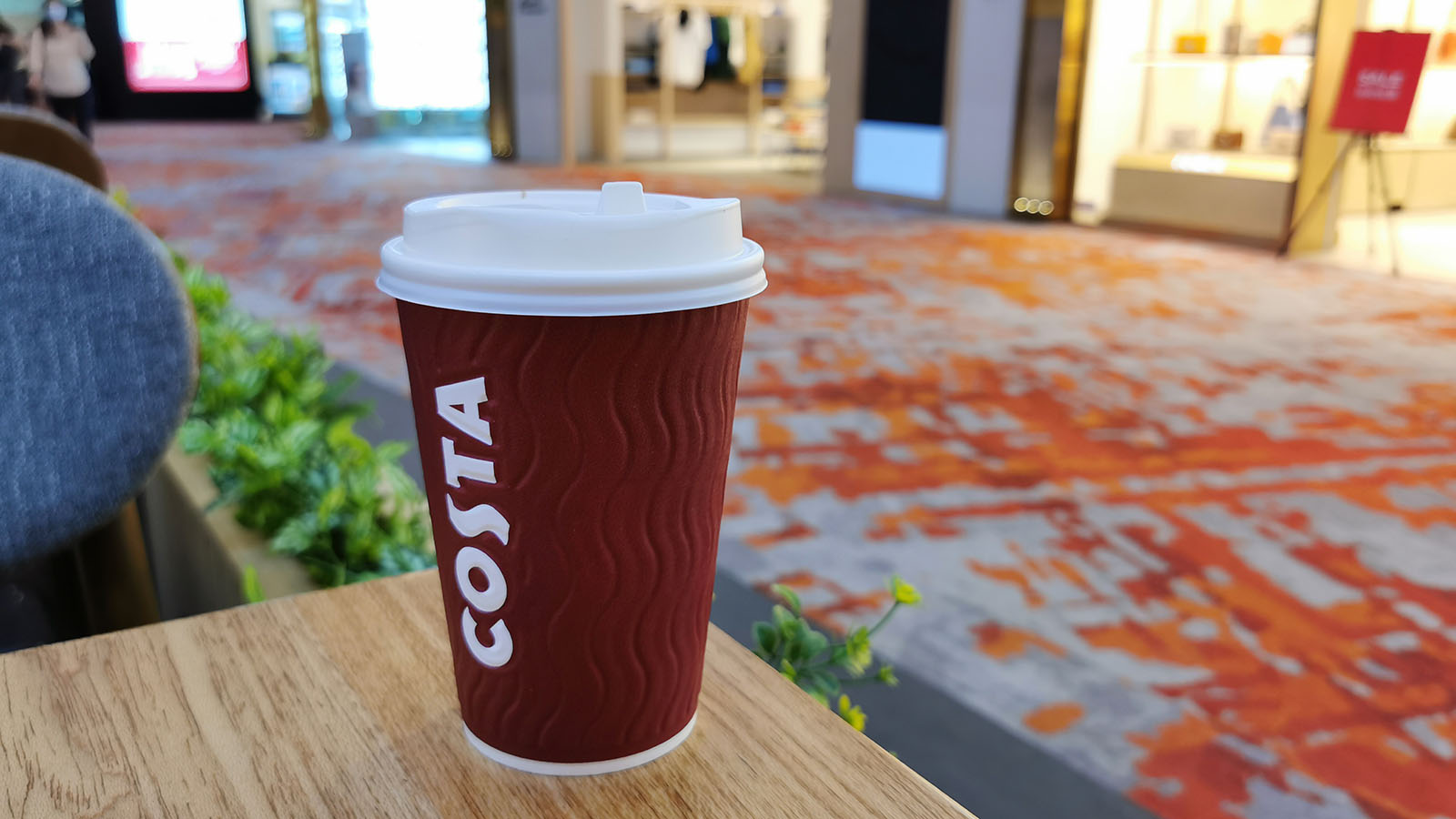 Plaza Premium is normally a pay-to-use space, although access is complimentary for Amex Platinum and Centurion cardholders. It's a good option to keep up your sleeve, particularly as there aren't any lounges available via Qantas status here when flying Jetstar Asia.
I left the lounge just over an hour before boarding would commence. This gave me plenty of time to clear passport control and security screening. There's also still time for a quick coffee in an airport cafe.
Jetstar Asia Airbus A320 Economy seating
On the seating front, the Economy experience on Jetstar Asia is much the same as on Jetstar in Australia.
The Airbus A320 comes in an all-Economy layout, with the cabin following a typical 3-3 configuration. The legroom is tight with a seat pitch of 29 inches, but the seat's design makes this feel a little less cramped. That's because the usual storage pouch is up above the tray table, rather than at knee height. This reduces the bulk, increasing space around the knees.
With these flights also barely an hour from gate to gate, you practically blink and you're there.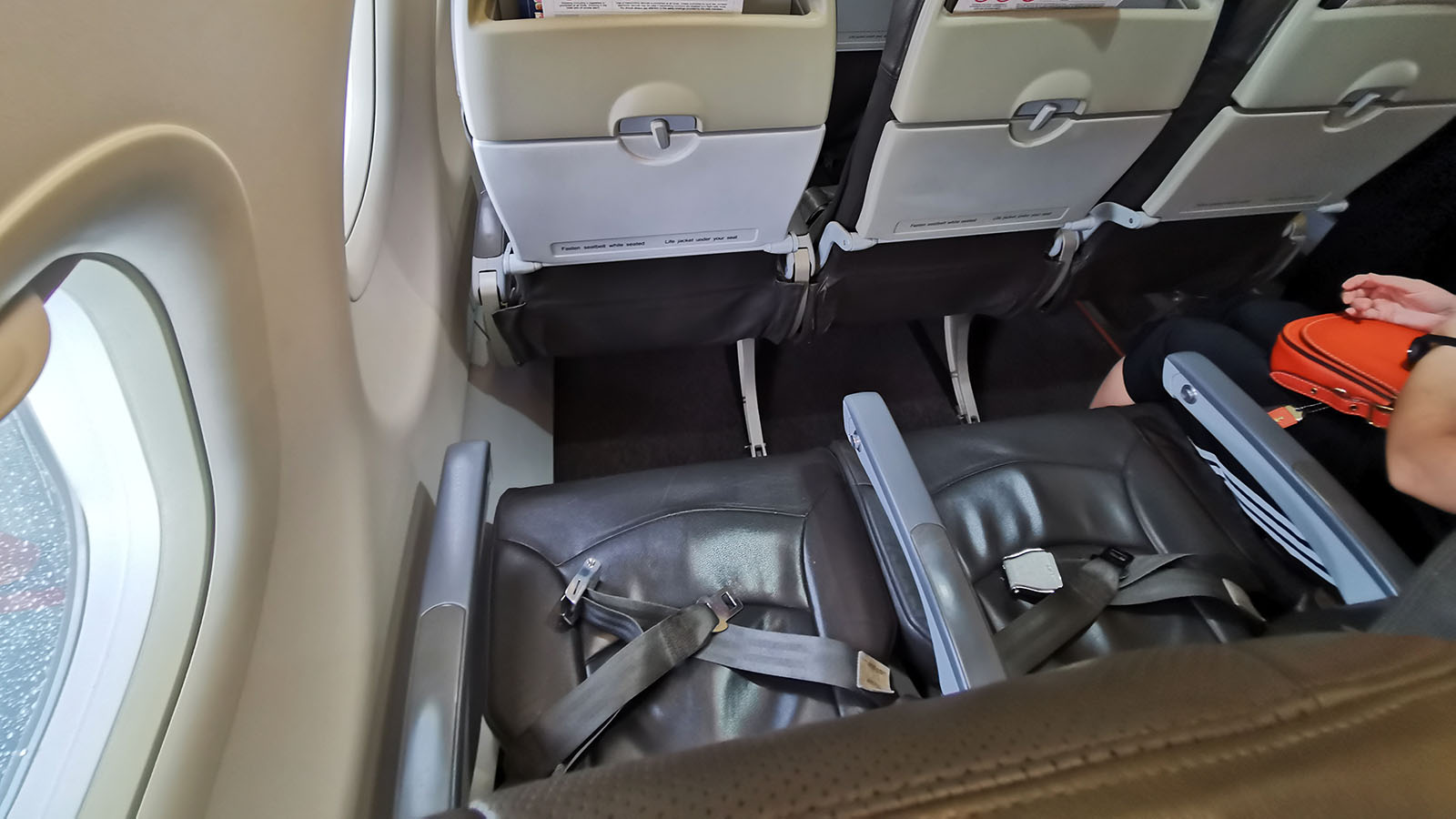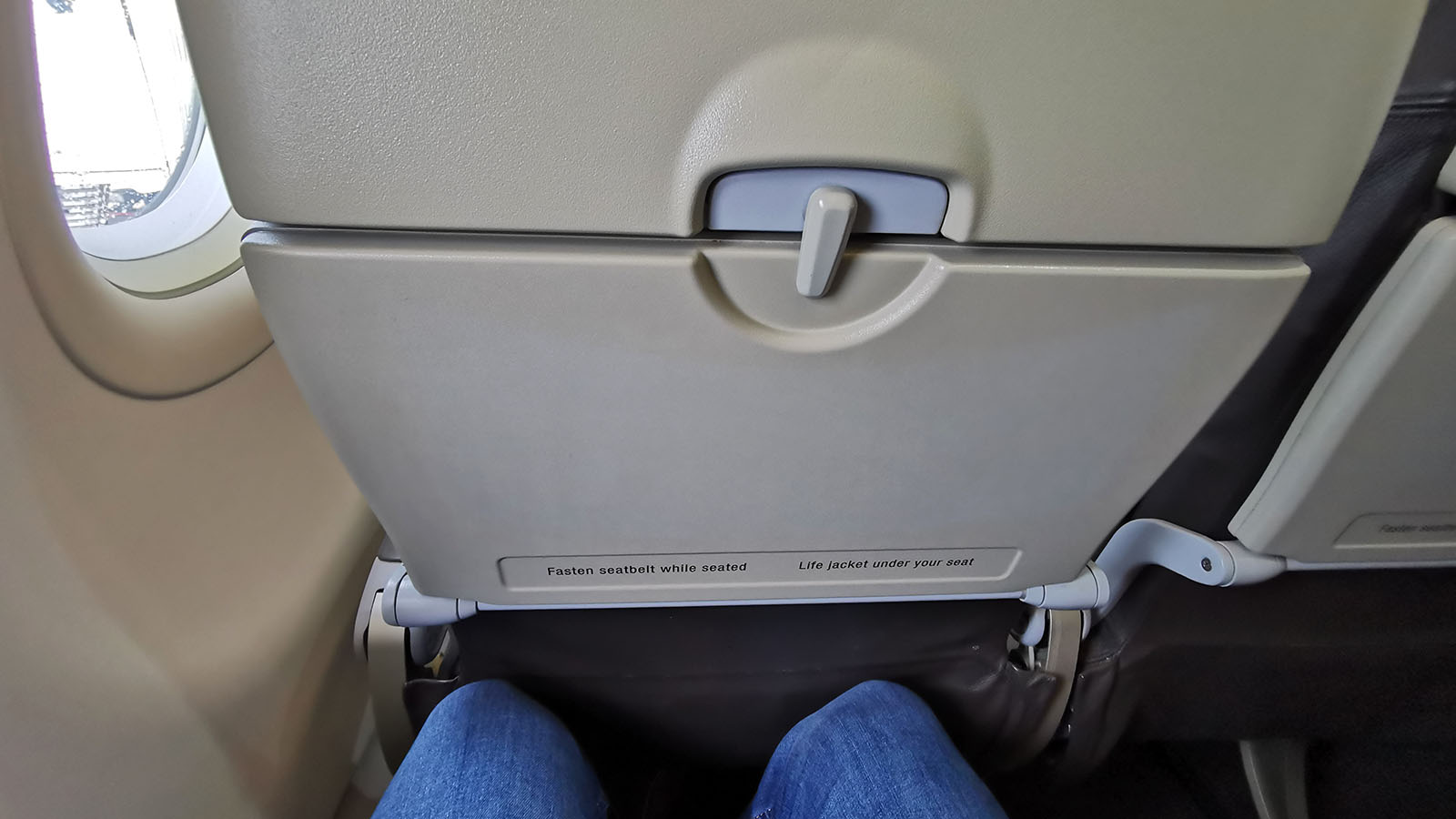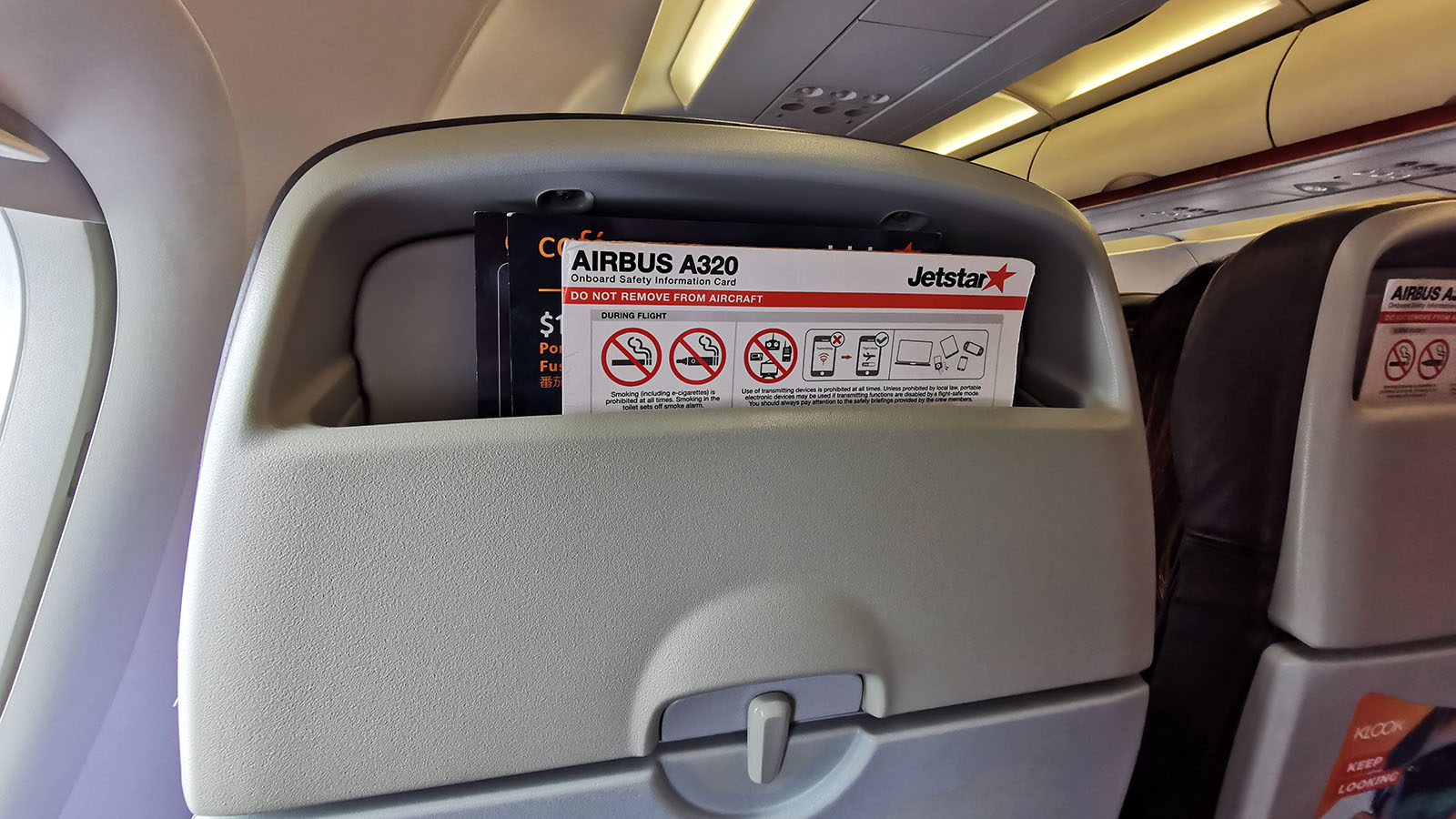 I found the literature pocket wide enough to mount my Microsoft Surface tablet at eye height. Otherwise, it's a no-frills seat for a no-frills experience.
Just a quick note. Don't be alarmed if you see what appears to be smoke in the cabin, particularly before take-off. That's just the air conditioning cranked up high to battle the heat from outside!
Jetstar Asia Airbus A320 Economy food and beverage
With Jetstar Asia being a low-cost carrier, food and drinks aren't included by default in Economy.
That leaves two options if you'll be peckish. Either you can buy a fare that includes a refreshment, or you can purchase something from the menu. Having bought a Plus bundle, this provided a chocolate chip muffin and a bottle of water.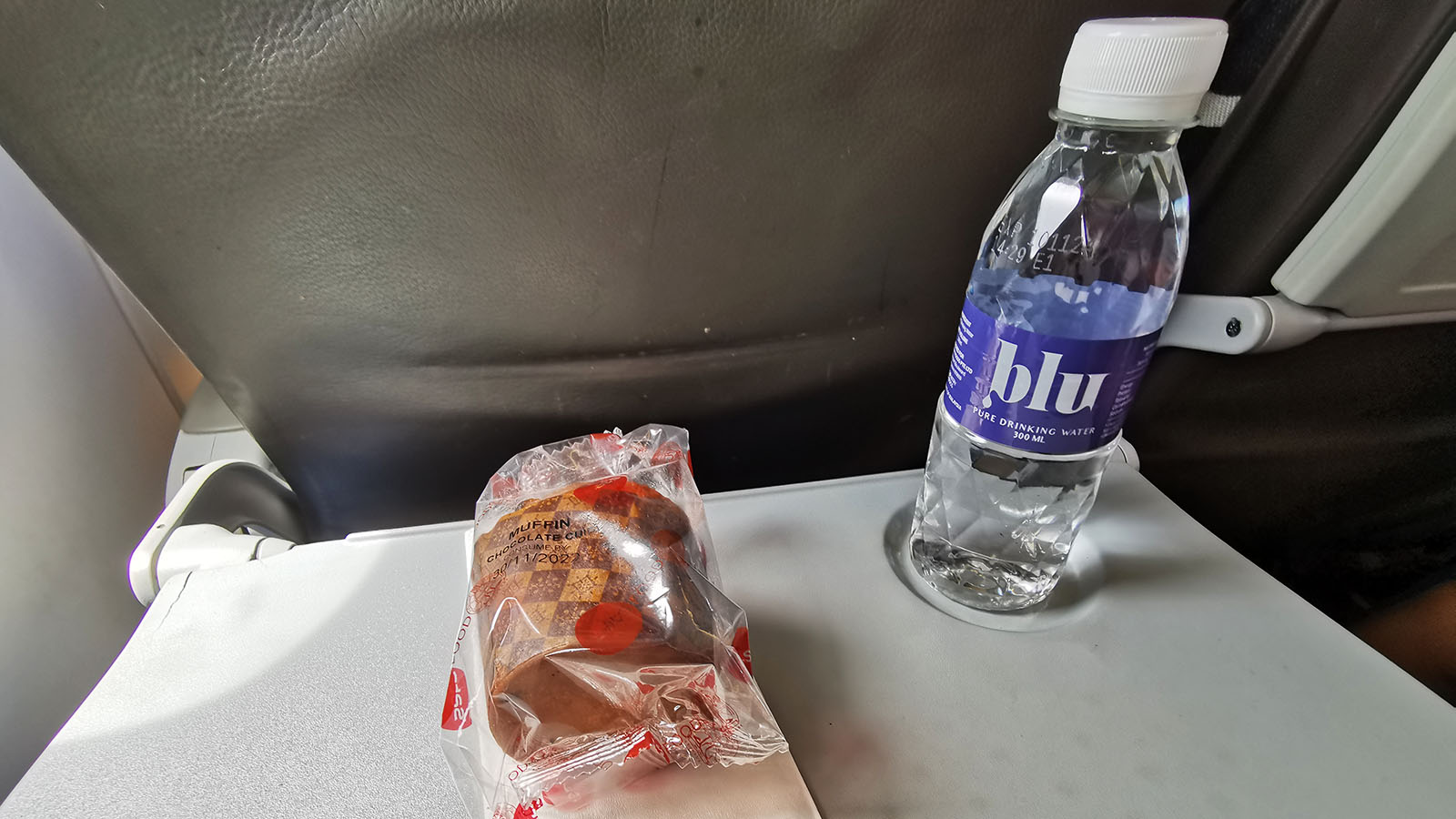 I took a return trip between Singapore and Kuala Lumpur, and the snack was exactly the same in both directions. It was also the only choice available, without specifically purchasing something extra.
The buy-on-board menu lives in the seat pocket if you're hungry or thirsty beyond that quick nibble.
Jetstar Asia Airbus A320 Economy service and entertainment
With the journey being so quick between Kuala Lumpur and Singapore, there's not much time for interaction with the crew on board. When they do come past with the quick snack though, they're courteous and polite.
I also found Jetstar's ground staff helpful, to an extent that I really wasn't expecting. That was particularly true at check-in for my Singapore-KL leg. While using the self-serve check-in kiosk, an attendant comes past to apply the baggage tag to my suitcase, saving me the trouble.
When I wheel it to the bag drop, I also discover that my cabin bag is slightly overweight, but my checked bag isn't quite at my purchased weight limit. I mention I'd acquired some heavy magazines en route, and the staff suggest I move them across to avoid being stung for excess baggage.
Low-cost airlines are all about 'ticking the boxes' in this regard. As long as you follow the rules and policies, it's A-OK. But yes, the weight of those magazines does end up on the same plane to the same destination…
There's no inflight entertainment and no inflight Wi-Fi in Jetstar Asia Economy. Also, large electronic devices, as well as headphones, can only be used once reaching cruising altitude: not for take-off and landing, or once preparations for landing commence.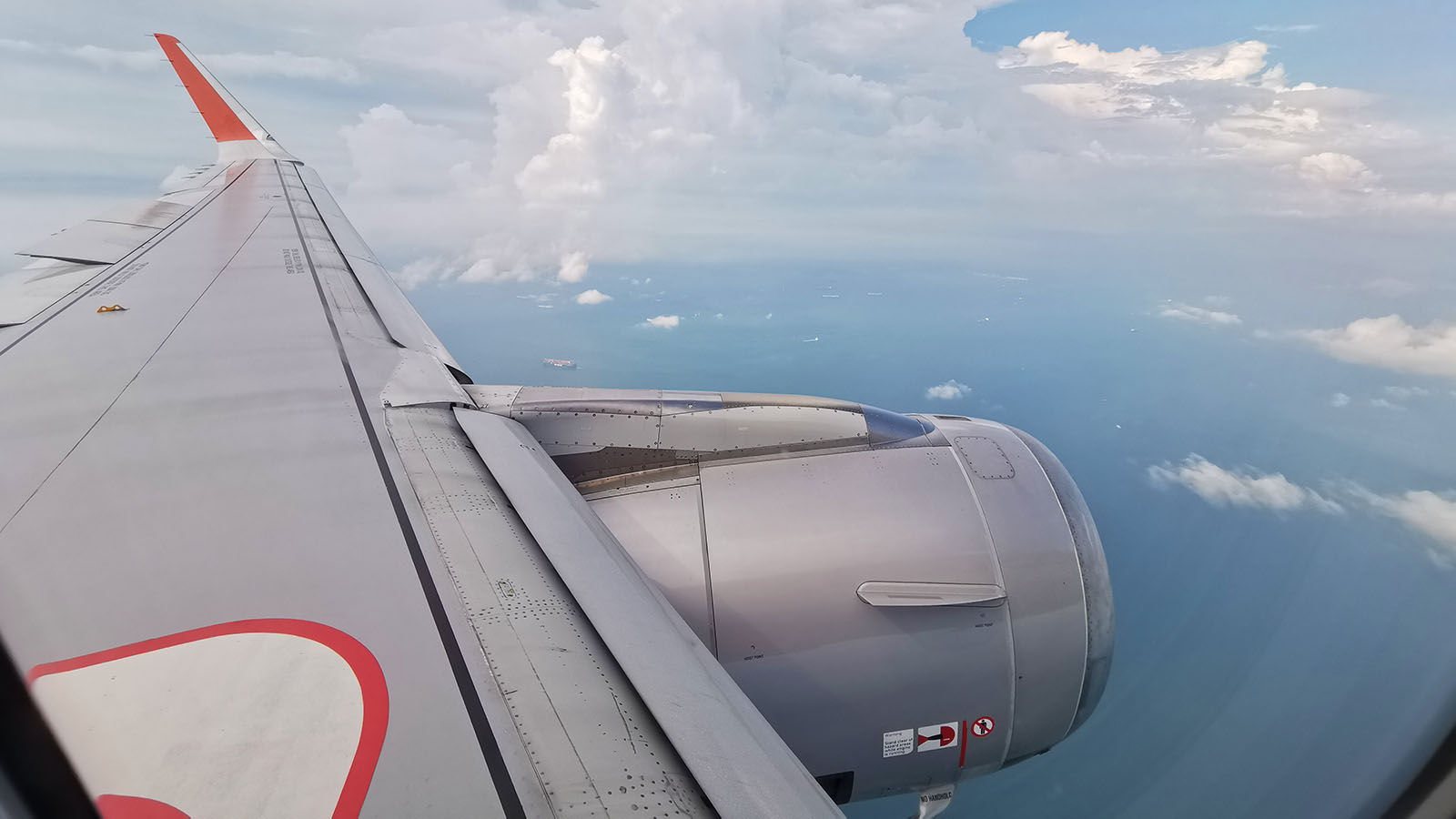 On such a quick flight like this, you're lucky to get 10-20 minutes of viewing time. That's instead where a book or magazine comes in handy… when you don't have to check them in, at least!
Oh, and one more tip. Jetstar Asia slugs passengers a $10 fee per flight to book using a credit card via its Singapore site. But no such fee applies when you book itineraries via the airline's Malaysia site. Ahem.
Summing up
Jetstar Asia is perfectly fine for a short Economy hop. In fact, for Qantas Frequent Flyer members, it's the most rewarding option between Singapore and Kuala Lumpur: as long as you purchase a Plus bundle. This serves up 800 Qantas Points plus 10 Status Credits, just like a short flight with Qantas itself.
While Qantas' partner Malaysia Airlines flies the same route, many of its Economy fares earn zilch with Qantas. If you do grab an eligible points-earning fare, the rewards are slim: just 50-100 Qantas Points per flight, along with five status credits. Even Malaysia Airlines' flexible fares only deliver 200 Qantas Points plus 10 Status Credits on this route.
But there is a glitch with Jetstar Asia right now, affecting rewards for Qantas Frequent Flyer members. I chose Qantas Points and Status Credits as my reward when booking the fare, and listed my membership number on the booking. Despite that, Jetstar issued flight vouchers instead – the wrong reward.
As an Australian-based traveller, I don't need a cash voucher with an airline based in another country. And in fact, one of the main reasons for booking Jetstar Asia versus Malaysia Airlines was the advertised earning rate for Qantas Points and Status Credits.
I've lodged a 'support case' with Jetstar Asia because it's fair to expect an airline to deliver what has been paid for. Especially on a carrier like Jetstar, where those Qantas Points and Status Credits are sold at a price.
We'll see what happens, but it's a frustration that shouldn't exist. Earning Qantas Points when flying a Qantas Group airline should be the simplest thing. For now, it seems it's not.
Photography by Chris Chamberlin, who travelled at his own expense.
---
Stay up to date with the latest news, reviews and guides by subscribing to Point Hacks' email newsletter.
Jetstar Asia Airbus A320 Economy (Kuala Lumpur – Singapore)
was last modified:
December 13th, 2022
by