The Air New Zealand Auckland Domestic Lounge is the main lounge for the majority of Air New Zealand's frequent flyers and Koru Club members flying domestically within New Zealand.
While there is a separate Air New Zealand Regional Lounge in the terminal for regional travellers, this hasn't eased the crowding here, with many preferring to visit the Domestic Lounge for the more extensive food buffet and bar service.
The lounge is also yet to be upgraded in line with the brand standard established by their newer lounges.
Lounge Location & Details
The Air New Zealand Domestic Lounge is located through security, on the first floor of the terminal near departure gate 33. You'll see the escalators to your left after you pass through security, and the lounge is straight ahead once you get to the top.
While the lounge is able to be accessed by eligible passengers on regional flights as well as standard domestic, unlike the Air New Zealand Regional Lounge, the Domestic Lounge is through security.
Air New Zealand do make it easy for regional guests to get back to their gate however, which this quick exit path just past the lounge buffet area:
The lounge is open 7 days a week, open one hour before the first flight, until the last departure.
Lounge Features
Inside, the 1,346m2 lounge is an 'L-shape', with windows providing natural daylight to its south and east sides.
To your right as you enter the lounge, you'll find a magazine and newspaper rack, and a usually unoccupied bar table.
Obviously, those seating areas close by windows or the buffet are the first to be taken.
If you walk to the end of the lounge, turn left and keep walking, you'll find a kid's room.
While the lounge is busy in general, there are some quiet zones, not quite as filled to the brim with guests.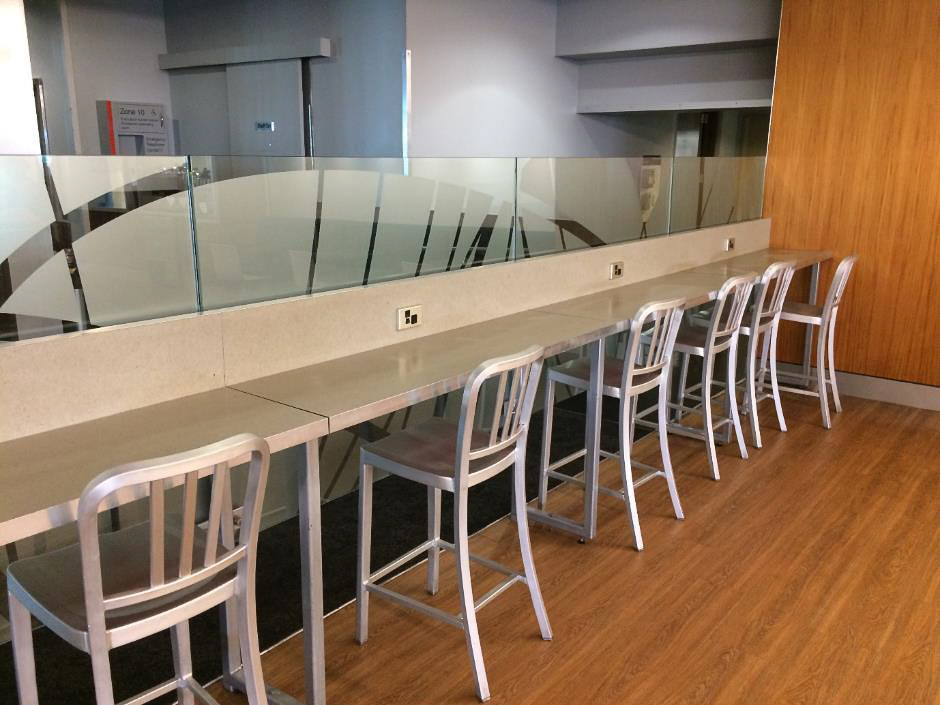 For those with business needs, the lounge offers free wi-fi, photocopier, printers, computers, and a phone charging station. The latter makes up for the lack of USB charging points in the lounge.
Brought your own laptop? There are plenty of power points around the lounge that you can plug into.
Food & Drink
There is always a buffet spread out, usually tailored to breakfast and then all-day dining. The adjacent café-style seating adds to the ambience of this space.
There is a good selection of hot and cold options for breakfast, including fruit, yoghurt and pastries. We will let the breakfast photos below mostly speak for themselves.
The main bar holds the lounge's in-house barista, pouring out personalised coffee, made to order either direct from an iPad at the bar, or even your own device operating the Air NZ App.
Looking for self-service drinks? Help yourself to a fresh chilled juice with breakfast, or a soft drink at any other time.
For tea, you'll have Twinings.
You could even help yourself to a glass of one of the many top quality New Zealand wines or beers on offer.
There are also coffee machines, which I suspect go unused given barista coffee seems to be available to lounge guests all day.
The lounge misses out on Air NZ's new 'Food Theatre', where a resident chef prepares a range of freshly inspired cuisine dishes throughout the day. Hopefully this could be an addition to the lounge in future, though may be limited to their International lounges.
Shower & Bathroom Amenities
The bathrooms in the lounge are clean and basic. Showers, towels and hairdryers are available for use if needed.
Air New Zealand provide Antipodes' skincare products in their bathrooms and shower areas.
Lounge Access Options
There are quite a few ways to enter the Auckland Domestic Lounge, as long as your next onward flight is within four hours and with Air New Zealand.
Guests are usually allowed in the lounge (1-5 depending on your entitlements) and must be departing on any same-day Air New Zealand domestic operated flight.
Children aged 11 years and under are permitted on a complimentary basis, subject to space availability, and must be supervised at all times.
By class of travel: N/A—there are no domestic Business Class services with Air New Zealand
By Airpoints status: Air New Zealand Gold and Elite Partner (+1 guest), Elite (+5 guests)
By Koru Club membership: Koru Club members (+1 guest)
By Star Alliance status: Gold* (+1 guest)
By day pass: Those passengers who have received one-off passes, such as the 2 complimentary passes received for reaching Air NZ Airpoints silver status, or those provided by Air NZ credit card partners, are eligible to access the lounge (no guest)
*Effective 1 January 2020, United MileagePlus Gold and above elite status members cannot enter partner lounges like this one unless they are flying Business or First Class.
Our take
Although the Air New Zealand Auckland Domestic Lounge is not quite as modern as its international counterparts, it more than makes up for it with great coffee, drink selection, and food offerings.
The amenities on offer more than cater for most leisure and business travellers, and the quick exit to the regional gates is really handy for those who prefer a big breakfast, as opposed to a few pastries in the Air New Zealand Regional Lounge located in the far east of the terminal.
If Air New Zealand refurbishes this lounge in the future in line with its other newer lounges, then this will only increase the attraction.
Featured image courtesy of www.airnewzealand.co.nz
Air New Zealand Auckland Domestic Lounge overview
was last modified:
April 22nd, 2022
by