Have you ever been frustrated by the lack of First or Business Class award availability (especially to the US)? Or the fact that you just don't have enough points in your account for one of those redemptions?
Premium Economy awards are becoming more popular. They're a great option for those wishing to redeem their Qantas Points for increased space and improved service—as well as better award availability.
To understand why we focus on premium cabin redemptions rather than Economy Class, check out our guide to maximising value from points.
How does Premium Economy differ from Economy and Business Class?
Basically, Premium Economy should allow you to get through a flight without despairing about how long you have left to fly.
Seats should be spacious enough for you to recline and stretch out without your feet and knees being significantly impeded, or having someone recline into you.
Service should be attentive (if not particularly personal). Food should be improved on that offered in Economy and is usually served on trays.
Actually, today's Premium Economy resembles yesterday's Business Class, with recliner seats and improved dining options. Business Class has transitioned to fully-flat beds and First Class to exclusive private suites.
Like in Business and First Class, you'll get priority boarding and an extra baggage allowance—but no lounge access (except Japan Airlines).
What's the difference between Premium Economy and Economy Plus?
Premium Economy usually has recliner seats and 37-42 inches of pitch (the distance between you and the person in front of you).
That's different to Economy Plus (sometimes called names like XL or Space+). That usually offers the same recline as in Economy but a tighter 34-36 inches of pitch. This is still superior though to the common 31-32 inches of pitch found in most standard Economy.
Which Qantas partners offer Premium Economy?
Just two years ago, only four of Qantas' 22 airline partners offered a Premium Economy product (in addition to Qantas themselves). That has now more than doubled to:
Air France
American Airlines
British Airways
Cathay Pacific
China Eastern
EL AL
Iberia
Japan Airlines
Qantas
WestJet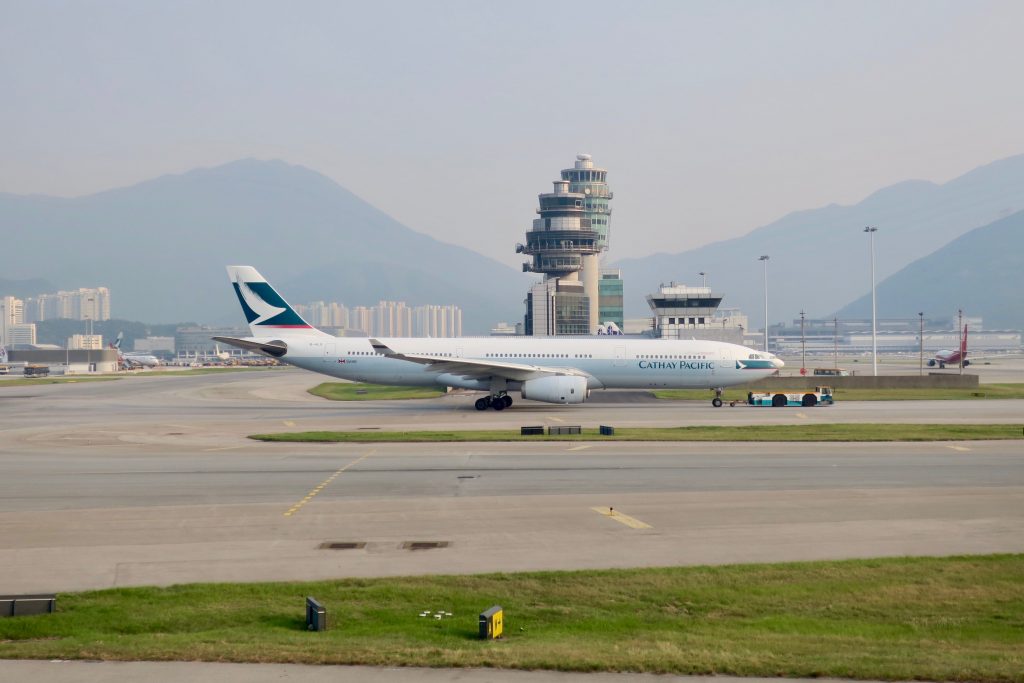 Jetstar Business Class could also be considered to be equivalent to Premium Economy.
Qantas Premium Economy: aim for the new product
Australia's flag carrier currently operates Premium Economy on select routes longer than nine hours, and on three types of aircraft :
Boeing 787 Dreamliners (new product)
Refurbished Airbus A380s (new product)
Older Airbus A380s (old product)
Boeing 747s (old product)
New Qantas Premium Economy product
At first glance, the new Premium Economy seats look plush. However, you'll be cramped if the passenger in front of you is in recline mode.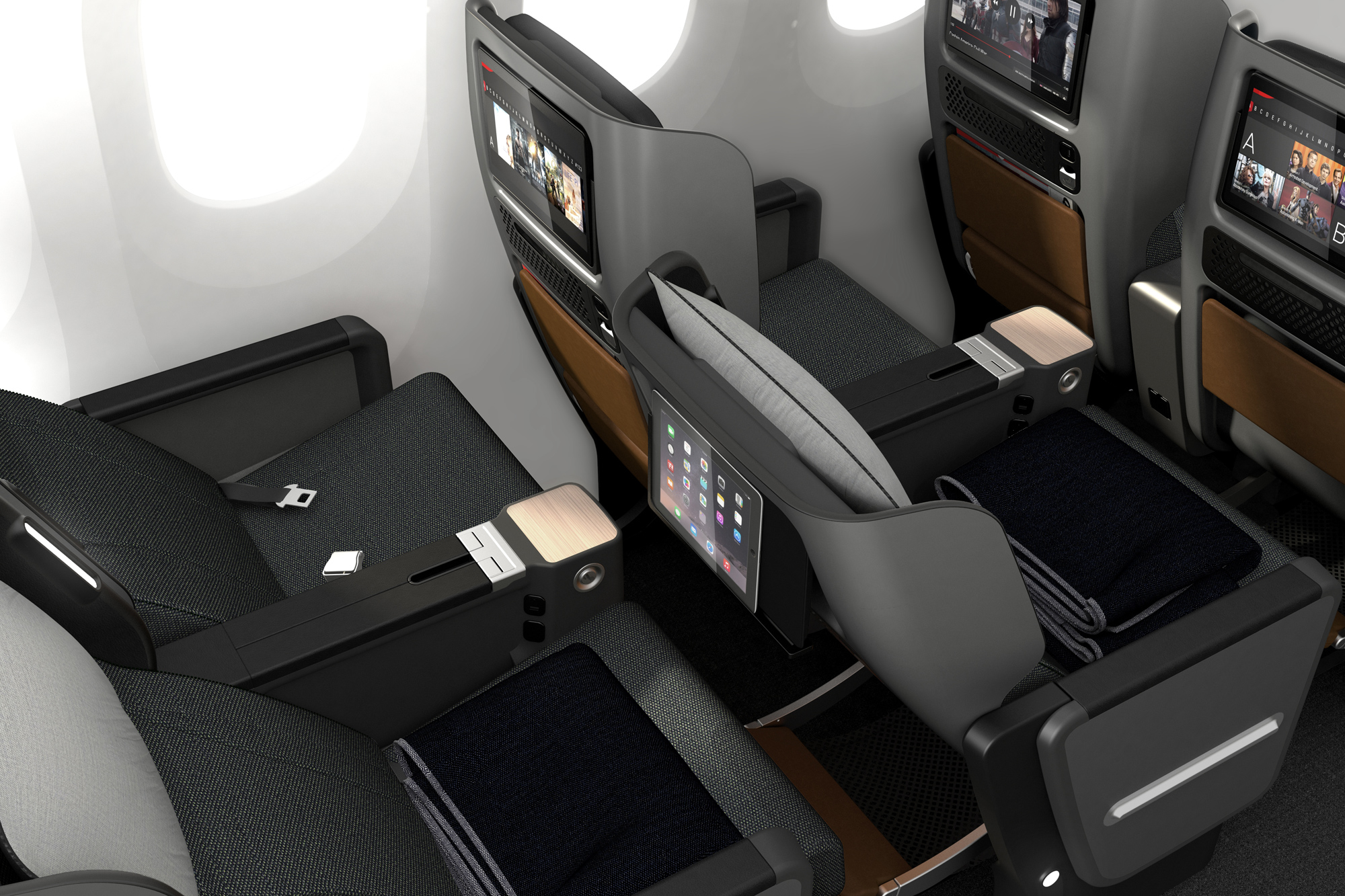 Each seat has a mesh hammock for your feet as well as a pillow that attaches to your headrest.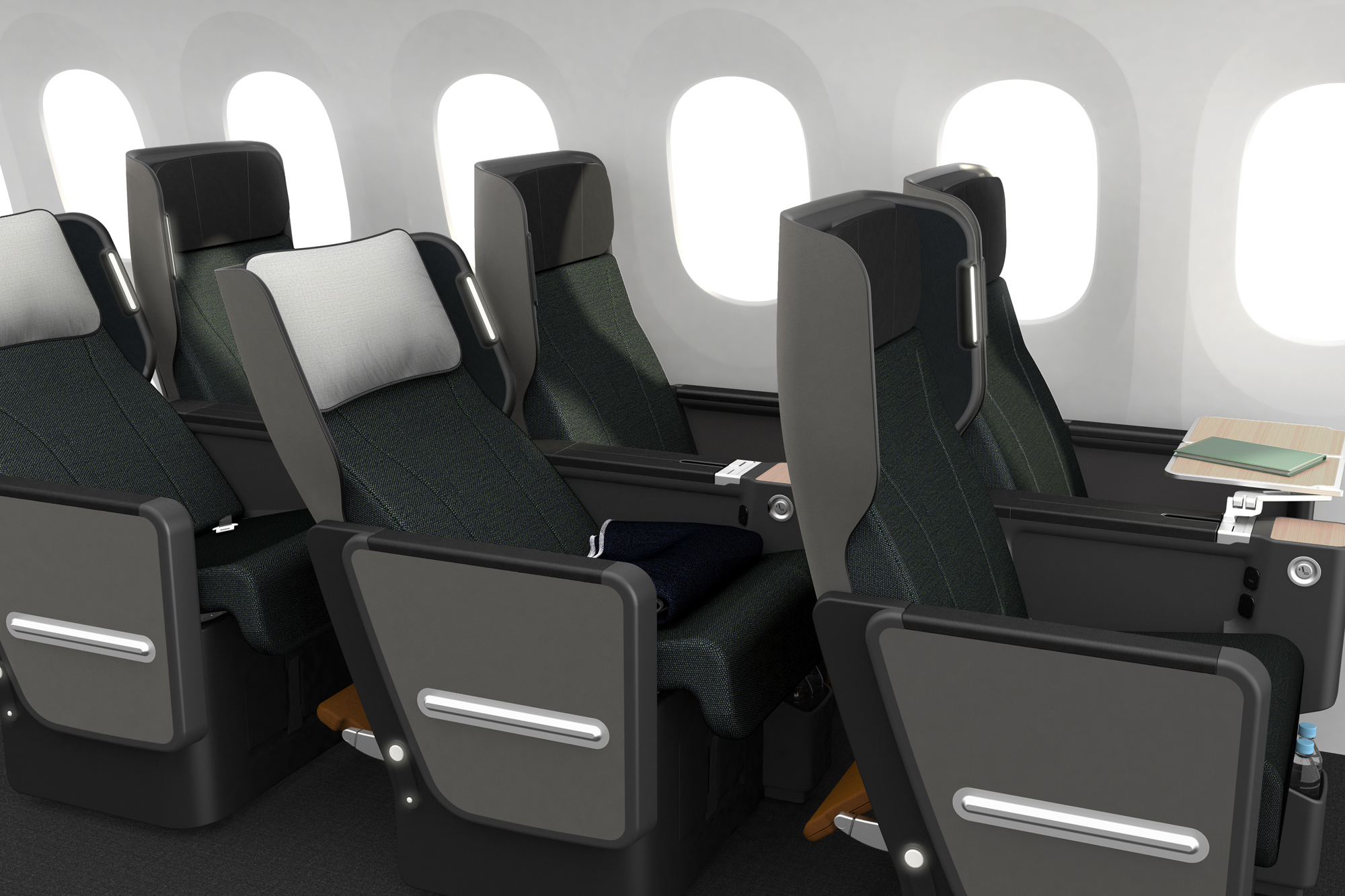 You can clip a tablet on in front of your inflight entertainment screen. You'll have two USB ports to yourself and one AC power outlet to share with the person next to you.
You can find 787s and refurbished A380s flying to the US, London, Singapore and Hong Kong.
Old product
Whilst the newer product has three centre seats, the older one is tighter, with four in the middle.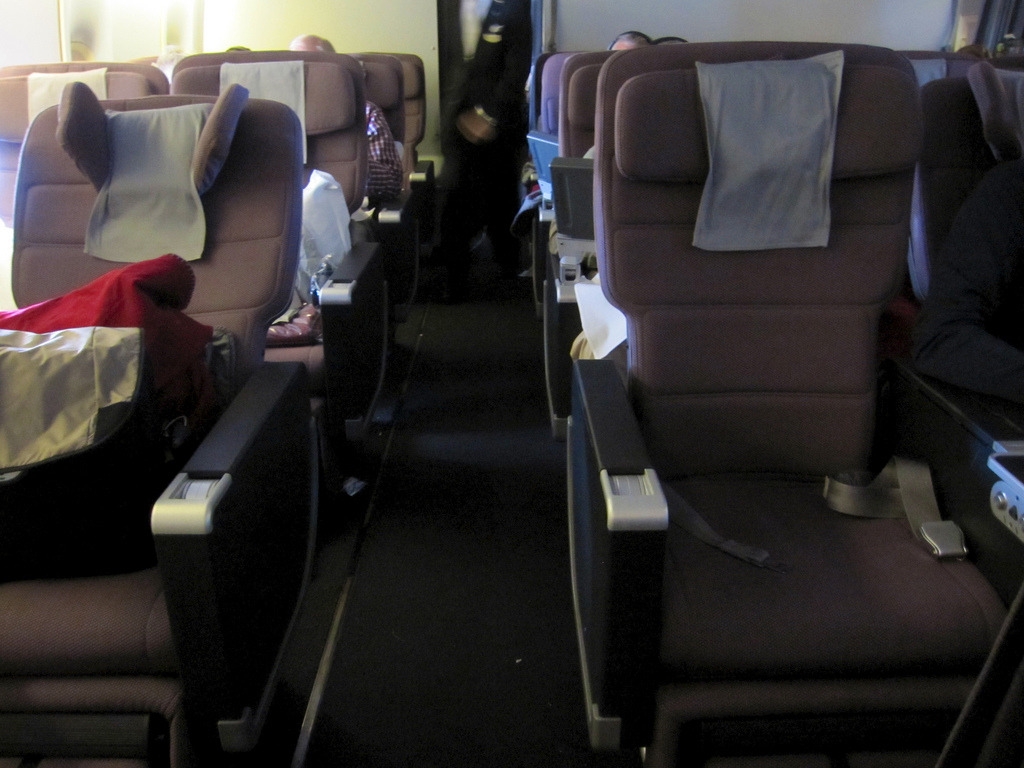 If you're travelling with a companion, always try to snag the two seats closest to the window.
Example redemptions
Sydney to Hong Kong: 61,500 Qantas Points
Melbourne to Los Angeles: 81,300
Perth to London: 94,900
Cathay Pacific Premium Economy: widely available on Australian flights
This Hong Kong-based oneworld partner offers Premium Economy on all of its flights to and from Australia. That includes Sydney, Melbourne, Brisbane, Perth and Adelaide.
Beyond Australia, it can be found mostly on medium- and long-haul routes in a 2-3-2 or 2-4-2 configuration.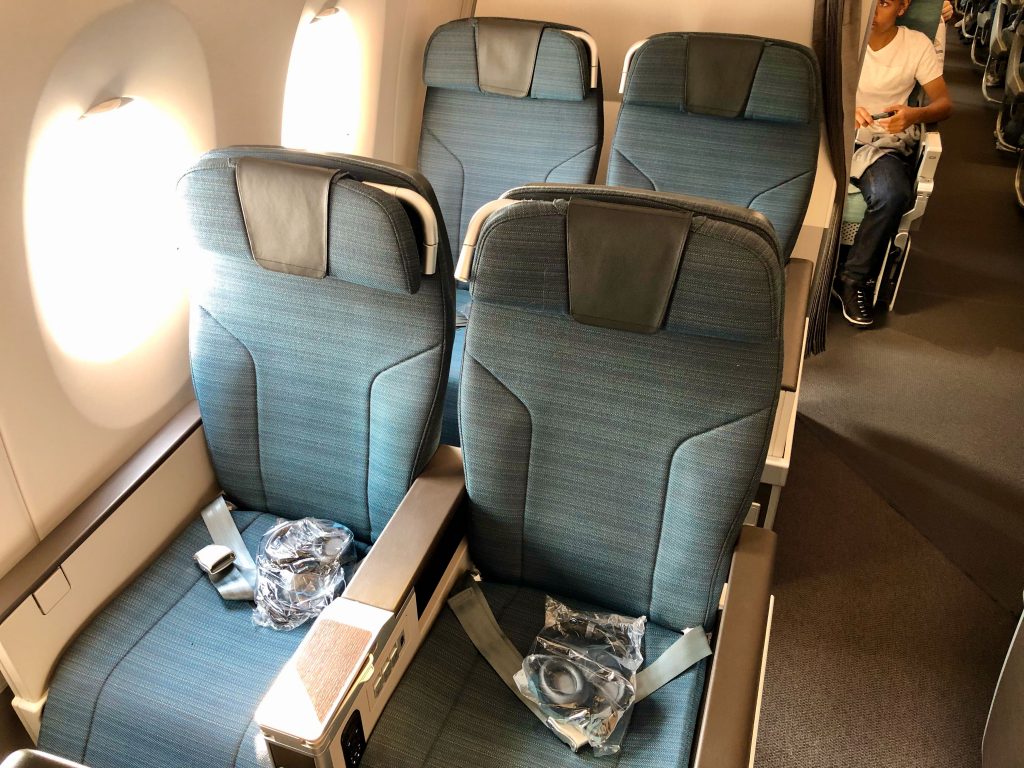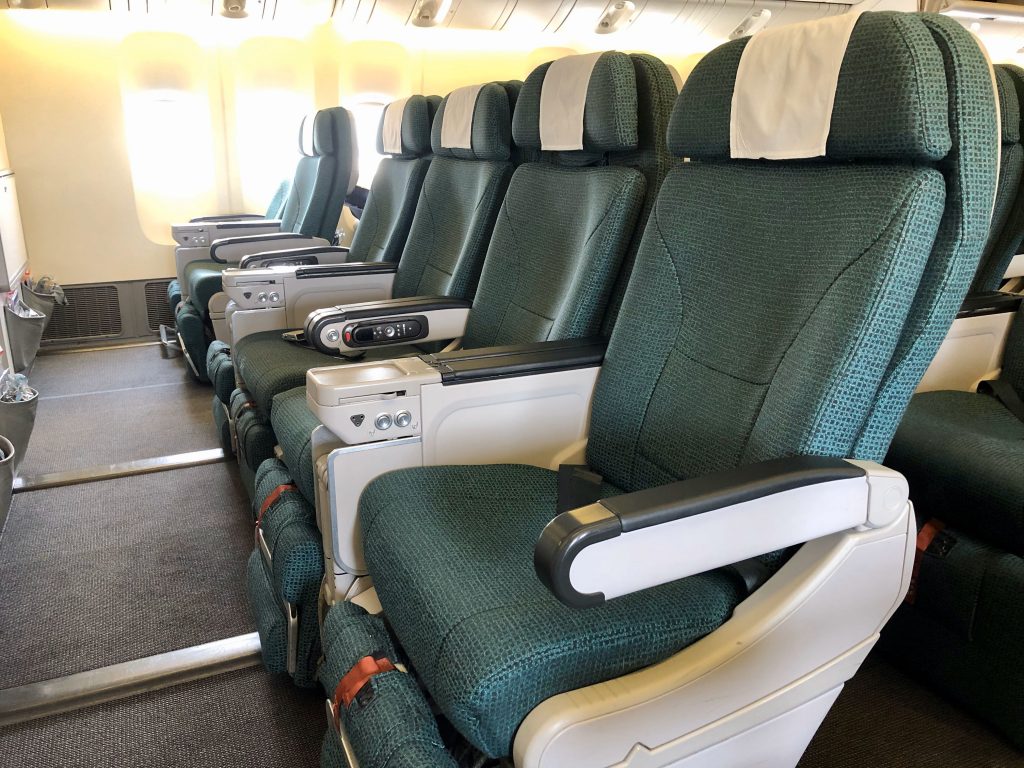 Try to get on an Airbus A350 as you'll get an extra two inches of legroom. That's compared to the 38-inch pitch on the Boeing 777 and Airbus A330 and A340 flights.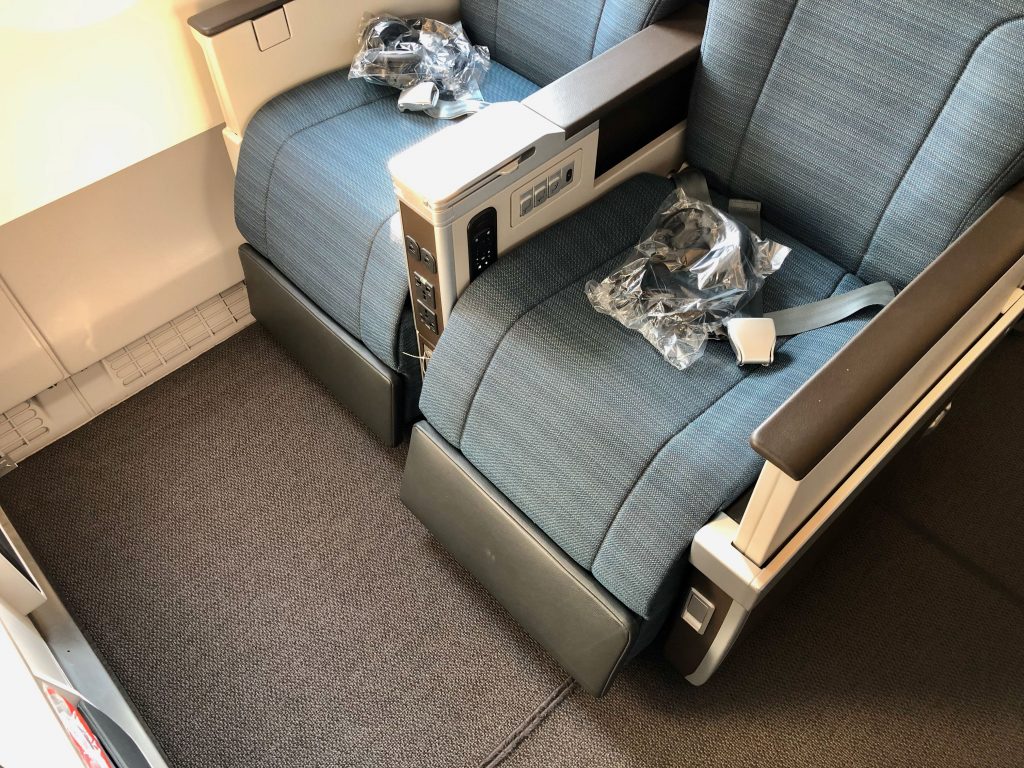 You'll receive a welcome drink: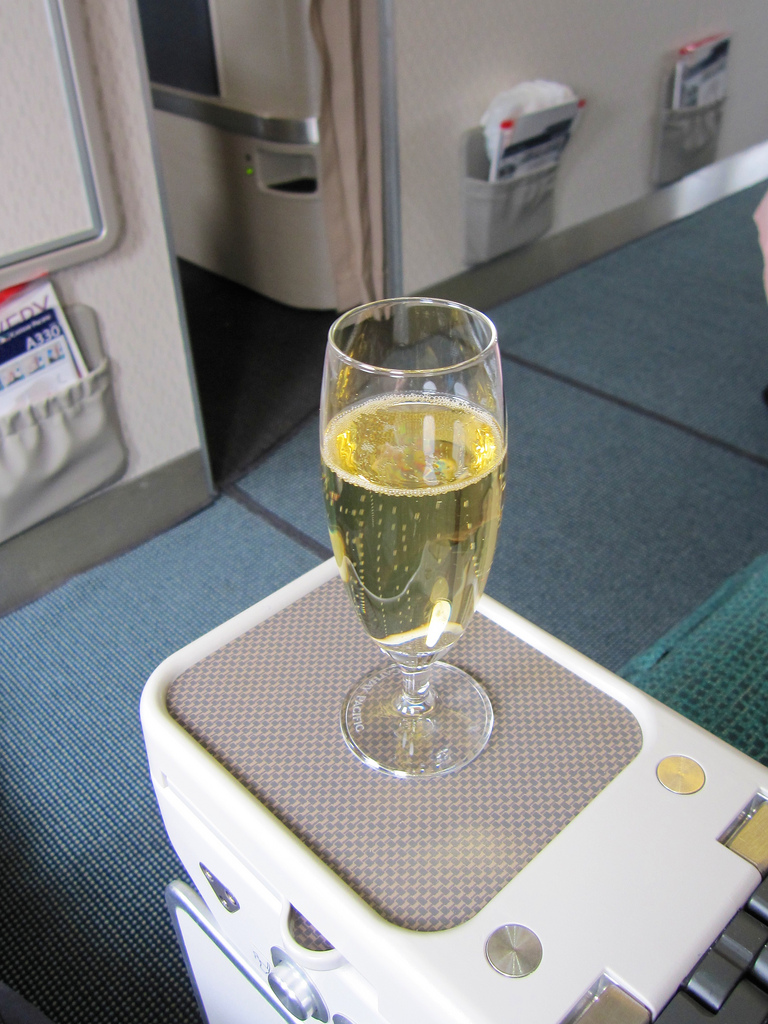 and a basic amenities kit.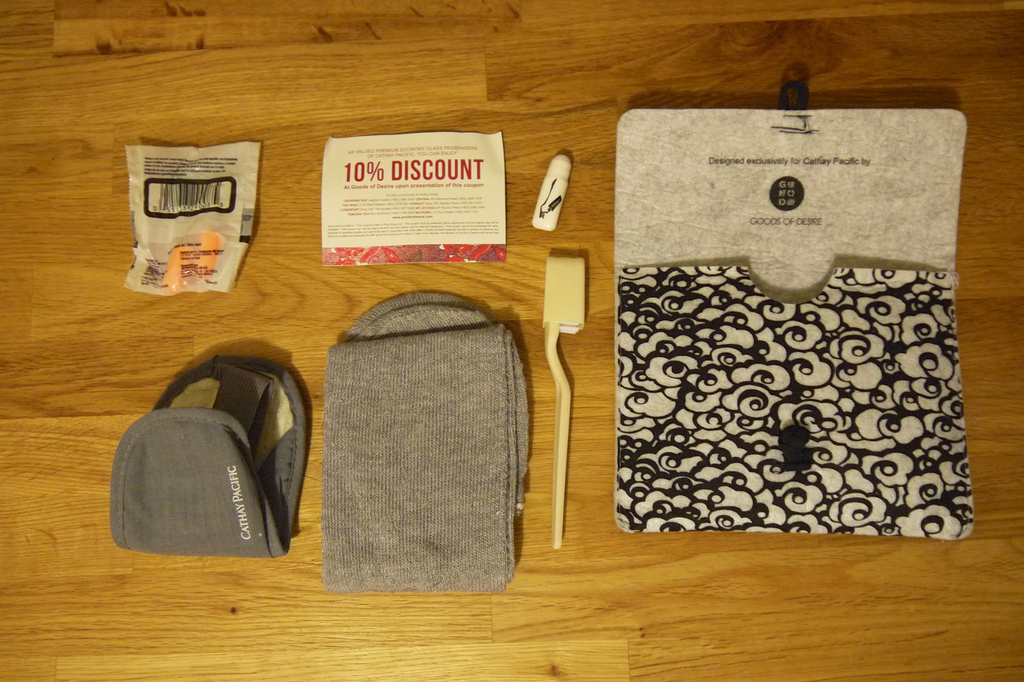 Example redemptions
Perth to Hong Kong: 59,000
Adelaide to Shanghai via Hong Kong: 70,800
Perth to New York via Hong Kong: 124,800
Japan Airlines Premium Economy: probably the best product of them all
This Tokyo-based carrier offers its Premium Economy seat on its daily Boeing 787 Dreamliner flights from Sydney and Melbourne.
It offers the most generous legroom of the bunch (42 inches). It's also unique in that when the person in front of you reclines, the shell of the seat means it will not encroach on your space.
Just try to avoid the last row of the Premium Economy cabin as that is where the largest concentration of lavatories on the aircraft is located.
On most carriers, Premium Economy passengers don't get lounge access. However, on Japan Airlines, you'll get to visit the Business Class lounge at most airports—you can check eligibility here.
Example redemptions
Sydney/Melbourne to Tokyo: 70,800
Tokyo to Los Angeles/San Francisco: 70,800
American Airlines Premium Economy: a good alternative for flights to the US
American Airlines has aggressively retrofitted its medium- and long-haul aircraft with its Premium Economy product. It offers the same dimensions as its Qantas counterpart.
We're lucky to enjoy this product on AA's daily Sydney to Los Angeles flights on the Boeing 787. You can also find it on all 777 and selected A330 aircraft.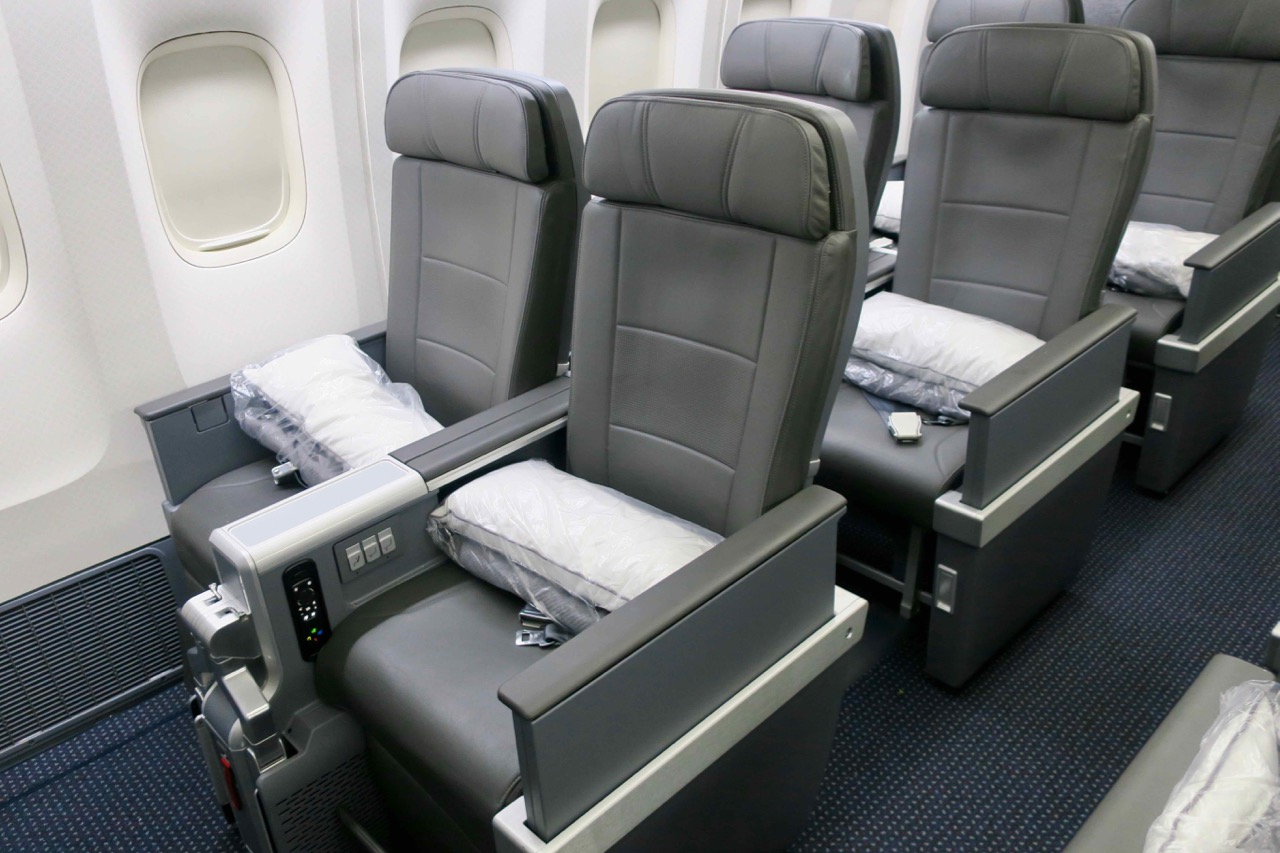 Note that the 2-3-2 configuration is ideal. Plus, you'll save on taxes and fees by using your Qantas Points for an AA flight compared to a Qantas flight.
Example redemption
Sydney to Los Angeles: 81,300
Ad – Scroll down to continue reading.Minimum spend, terms & conditions apply.
China Airlines Premium Economy: a comfortable seat but poor food
This Taiwanese carrier was brought on as a Qantas partner in mid-2019 and they have a great seat in Premium Economy.
The best thing about it is that, like on Japan Airlines, the hard shell keeps you from bothering other passengers when in recline mode.
The quality of the food and presentation leaves something to be desired, however.
Note that you can only use Qantas Points for redemptions on China Airlines flights between Australia (Sydney, Melbourne and Brisbane) and Taipei.
Example redemption
Sydney/Melbourne/Brisbane to Taipei: 59,000
British Airways Premium Economy: a backup option
The London-based carrier calls its Premium Economy product World Traveller Plus and is available on most of its long-haul aircraft. There are two versions of this product.
The newer product is the one to aim for and is found on A380, A350, 787 and 777-300ER aircraft. Some 767s and 777-200ERs have the new product too.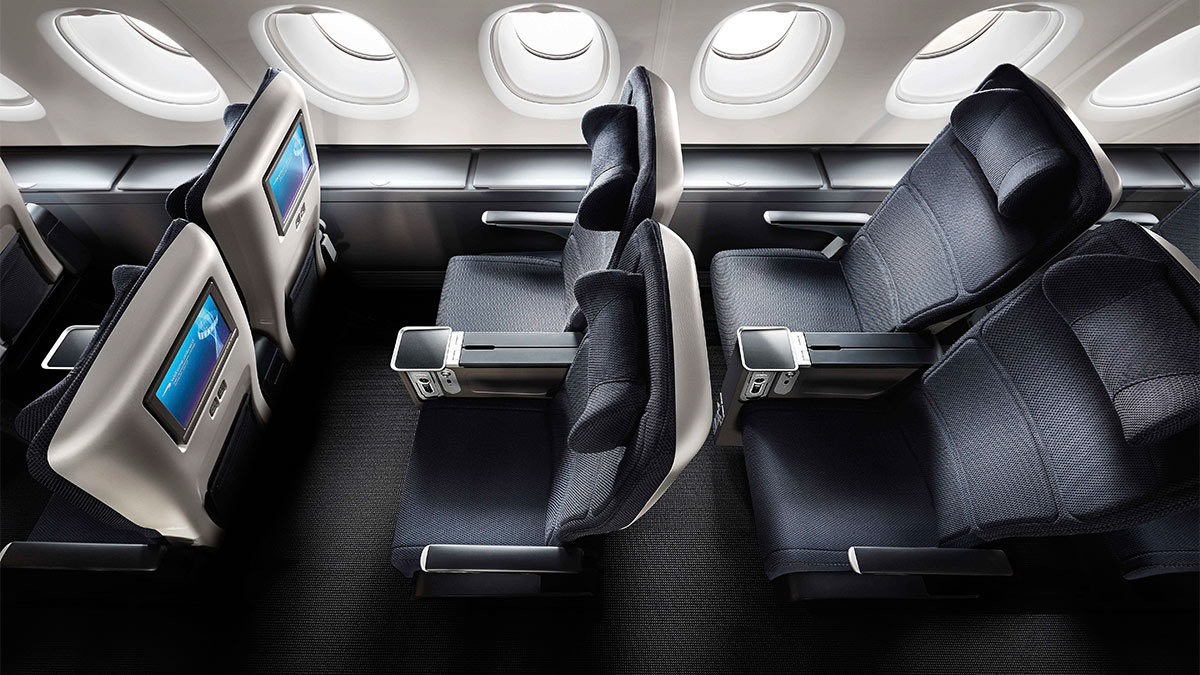 Australia-based travellers can experience this seat on BA's 777 Sydney – Singapore – London flight.
Do note that fuel surcharges on British Airways flights tend to be quite high. Therefore, if there is another partner you can fly with, definitely explore that option.
Example redemptions
London to New York: 48,500
Sydney to Singapore: 59,000
Sydney to London via Singapore: 124,800
Iberia Premium Economy: a very average airline
British Airways sister airline Iberia rolled out a Premium Economy cabin across its A330, A340 and A350 fleet in 2017. You can find it on flights from Madrid to the US and Latin America.
The A350 squeezes in an extra middle seat. The first row is the one to aim for to enjoy more legroom.
However, as Iberia has a reputation for lacklustre customer service, I would recommend other airlines if available.
Example redemptions
Madrid to New York: 48,500
Madrid to Buenos Aires: 81,800
Air France Premium Economy: fly from Southeast Asia to Europe
This SkyTeam member has a respectable product, but make sure to factor in the high taxes and carrier charges that come with a redemption.
Air France offers a recliner seat, improved dining experience and an amenities kit. The best product is on the Boeing 787.
Example redemptions
Paris to New York: 59,000
Paris to Los Angeles/San Francisco: 70,800
Paris to Bangkok/Hong Kong/Southeast Asia: 81,800
EL AL Premium Economy: accessible from Bangkok
This Israeli airline has received a number of Boeing 787 Dreamliners and installed them with this comfortable product.
You can find it on flights between its Tel Aviv hub and mainly North American destinations such as Chicago, Los Angeles, New York and Toronto. However, some Bangkok, London and Paris flights get it too.
You'll get to enjoy delicious Israeli cuisine onboard as well as pretty good customer service.
Example redemptions
Tel Aviv to London: 34,500
Tel Aviv to Bangkok: 59,000
Tel Aviv to New York: 70,800
WestJet Premium Economy: unlikely to fly
This former low-cost Canadian airline has morphed itself into a full-service carrier, much like Virgin Blue's transformation into Virgin Australia.
Like on EL AL, WestJet only offers Premium Economy on its Boeing 787 Dreamliners.
You can find this product on routes such as:
Calgary – London/Paris/Dublin/Rome
Toronto – London
Toronto – Calgary
Calgary – Maui
Vancouver – London (from 26 April 2020)
i.e. ones that travellers from Australia are unlikely fly. Check the latest routes here.
Example redemption
Toronto to London: 48,500
How to price an award and make a Premium Economy booking
Summing up
A Premium Economy redemption deserves consideration if it represents good value for money compared to cash fares and the award pricing and availability in other cabins.
For a price that is in between a Business and Economy redemption, you'll get more comfort and better service than in cattle class. However, you'll get less space than if you were towards the front of the plane.
You can expect that airlines will continue to invest in and promote their Premium Economy products in the years ahead as a compromise between high-cost lie-flat seats and an increasingly cramped Economy cabin.
Supplementary images courtesy respective airlines.
How to use your Qantas Points for the best-value Premium Economy redemptions
was last modified:
February 3rd, 2020
by