After a fantastic two-week trip through Colombia in April 2017 and no return ticket back to my home base in Austin, Texas, I spontaneously decided to head across The Atlantic to see friends in Madrid, jumping on last-minute award availability just two days before departure and a discounted award redemption offer through Iberia Plus.
This ten-hour overnight flight was comfortable enough but I wouldn't recommend Iberia over a more highly-regarded airline like Lufthansa, Singapore Airlines or any of the three large Middle Eastern carriers.
Fleet & Routes
As of May 2017, Iberia flies to 26 domestic and 63 international destinations out of its hub in Madrid. In addition to a wide network within Spain and Europe, these are its long-haul destinations:
North America: Boston, Chicago, Los Angeles, Miami, New York, Mexico City, Puerto Rico
Central America: Costa Rica, Cuba, Dominican Republic, El Salvador, Guatemala, Panama
South America: Argentina, Brazil, Chile, Colombia, Ecuador, Paraguay, Peru, Uruguay, Venezuela
Africa: Algeria, Equatorial Guinea, Israel, Morocco, Senegal, South Africa, Tunisia
Asia: Shanghai, Tokyo
Most long-haul destinations are served by Airbus A330s (like in this overview), A340s or increasingly the A350.
Make sure to enter the flight number you are looking at travelling on into SeatGuru to see if it is operated by the newer Business Class cabin a 1-2-1 configuration with lie-flat seats (on all A330 and A350 and some A340 flights) or the older 2-2-2 configuration with angled-flat seats (some A340 flights).
Within Europe and on flights to North Africa and Israel, Business Class tends to be in the European standard 3-3 configuration with the middle seat blocked out.
The Cabin & Seats
Business Class is set up in a staggered 1-2-1 configuration: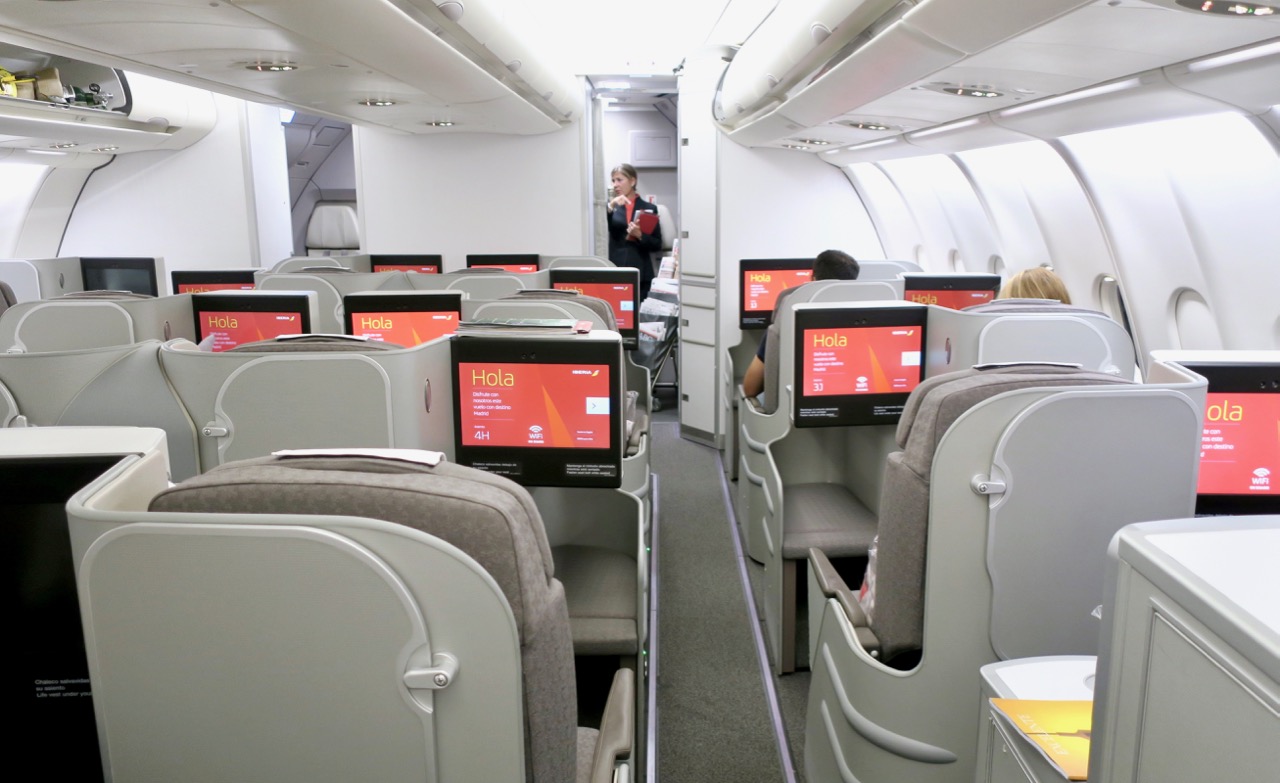 The seat had three easy-to-use position presents and a soft massage button, however I found the height of the inner arm rest uncomfortable.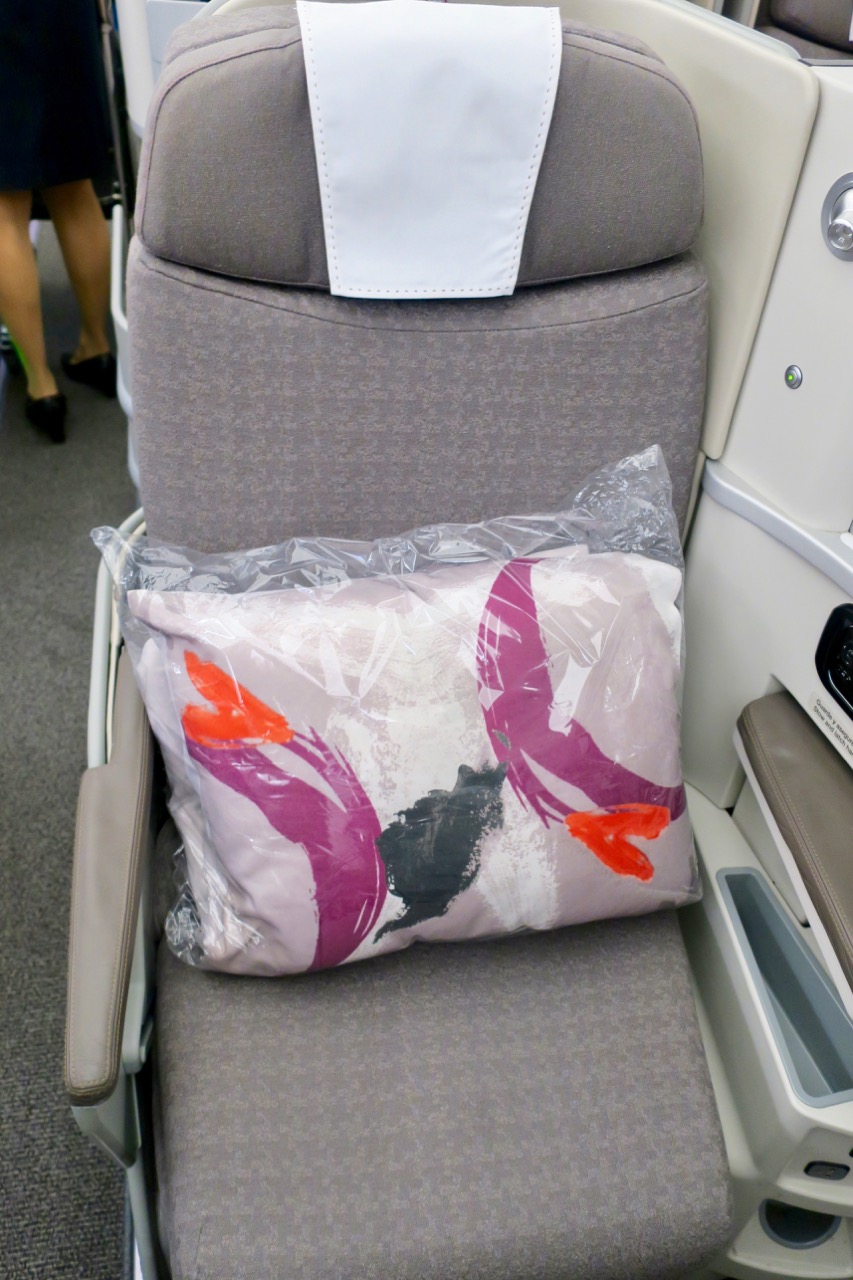 There is little cubby to stretch out your feet: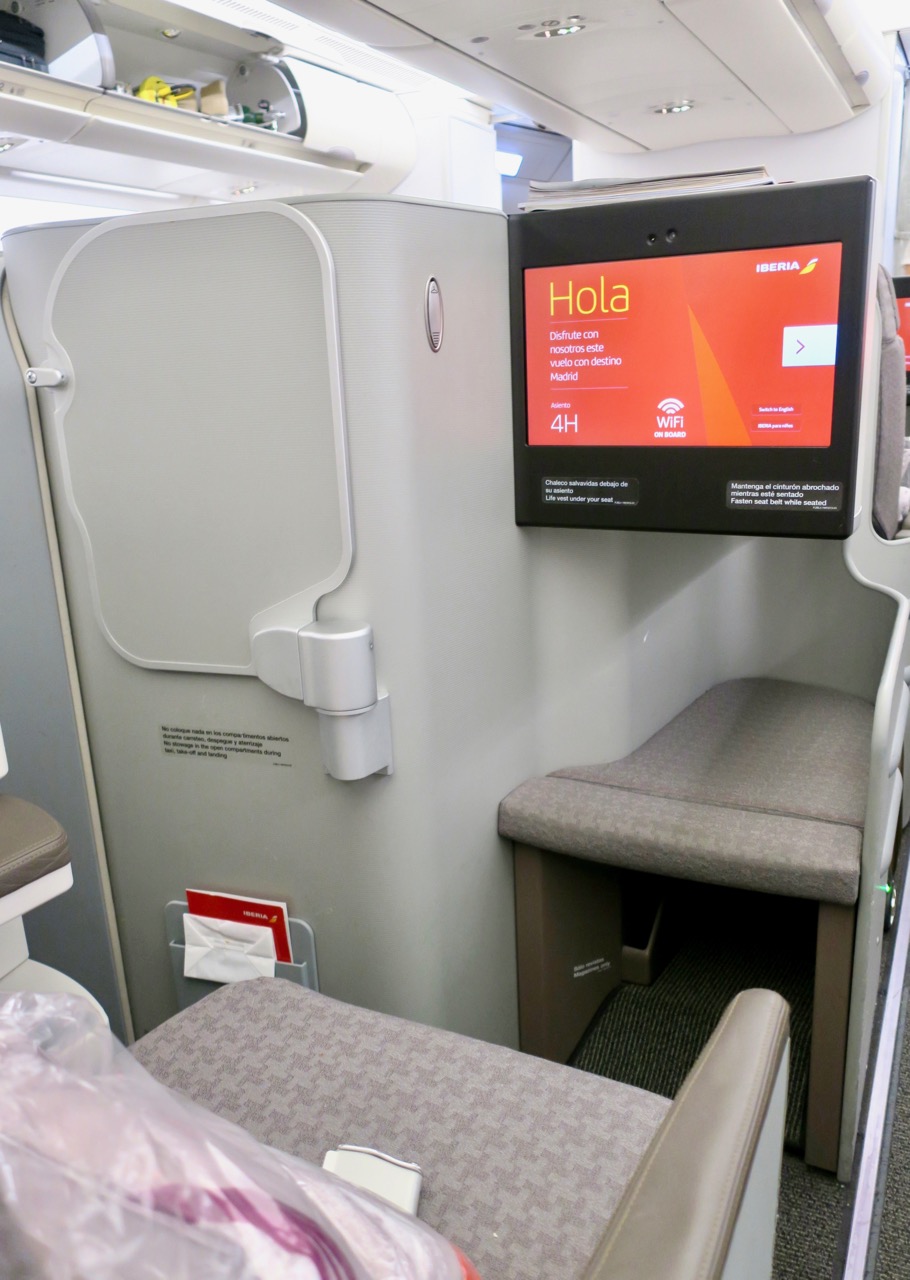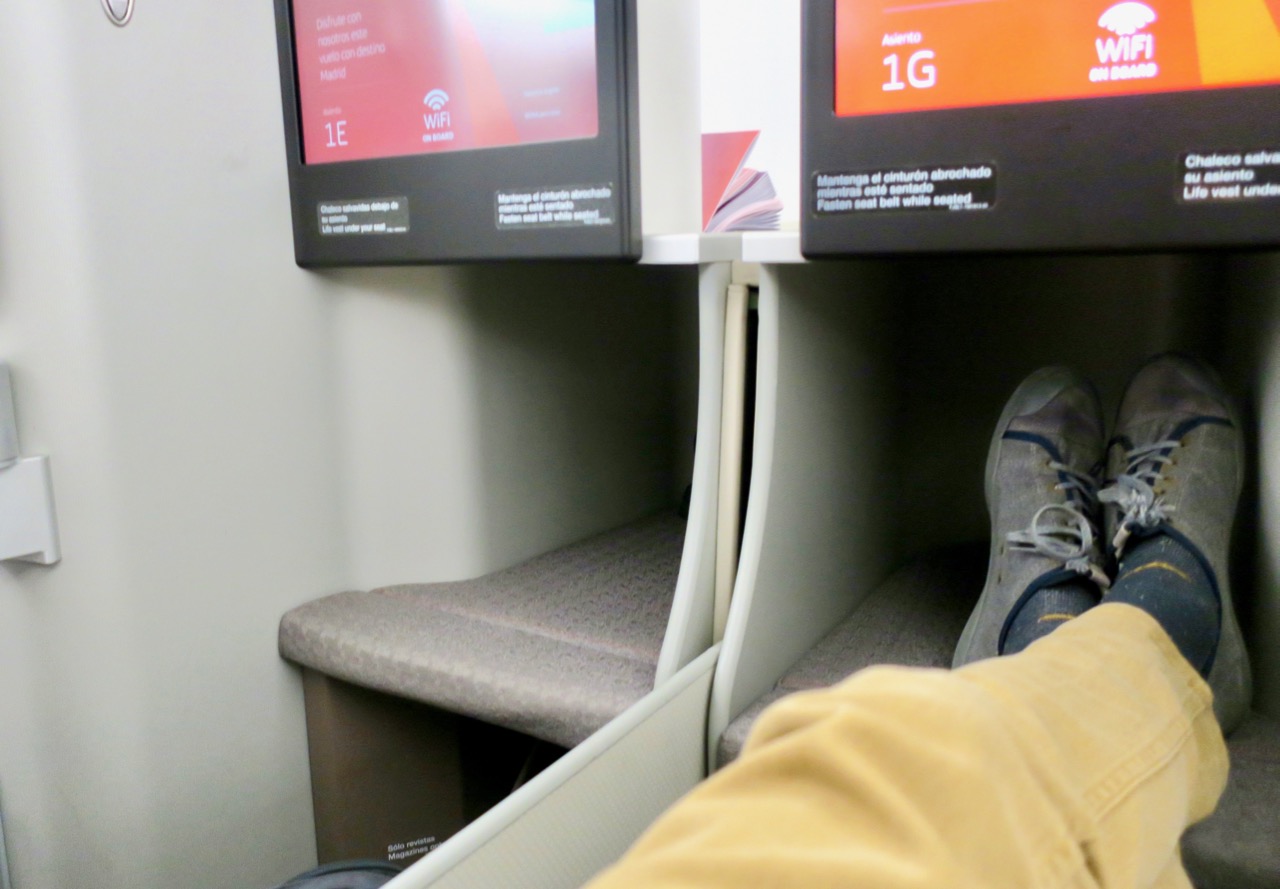 The table folded out vertically, something I hadn't experienced before: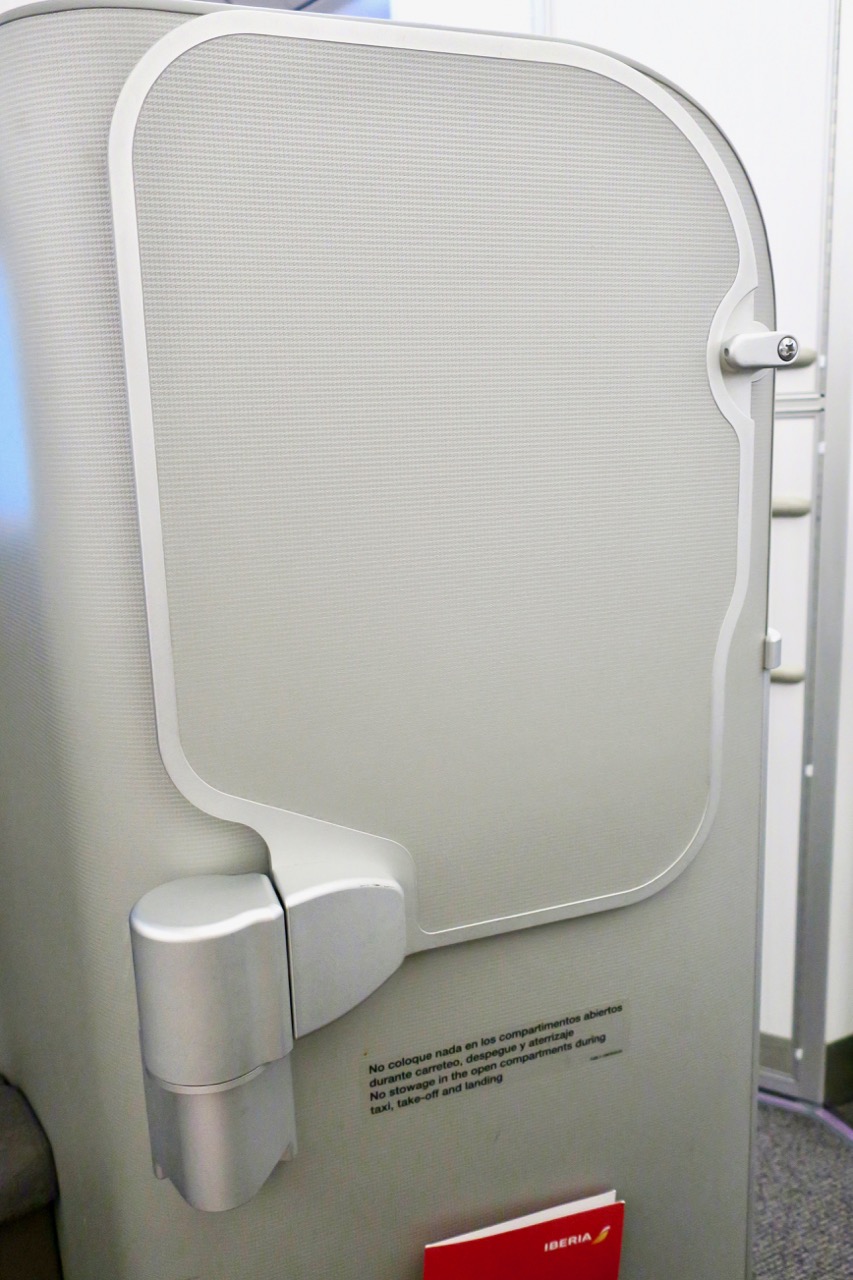 Here is a standard reading light: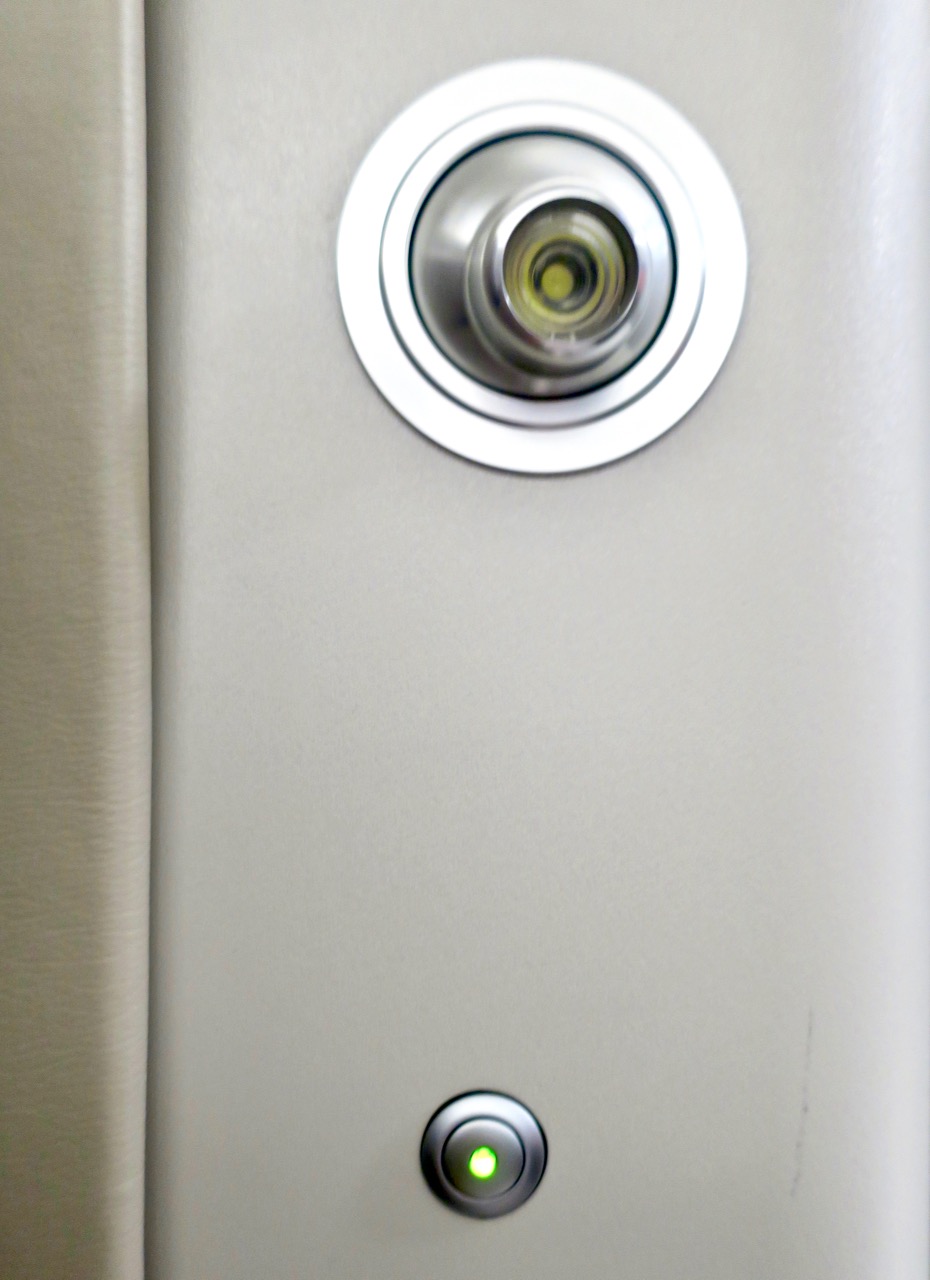 It was hard for me to get a photo of the seat when converted into a lie-flat bed, which was average in length but below-average in width: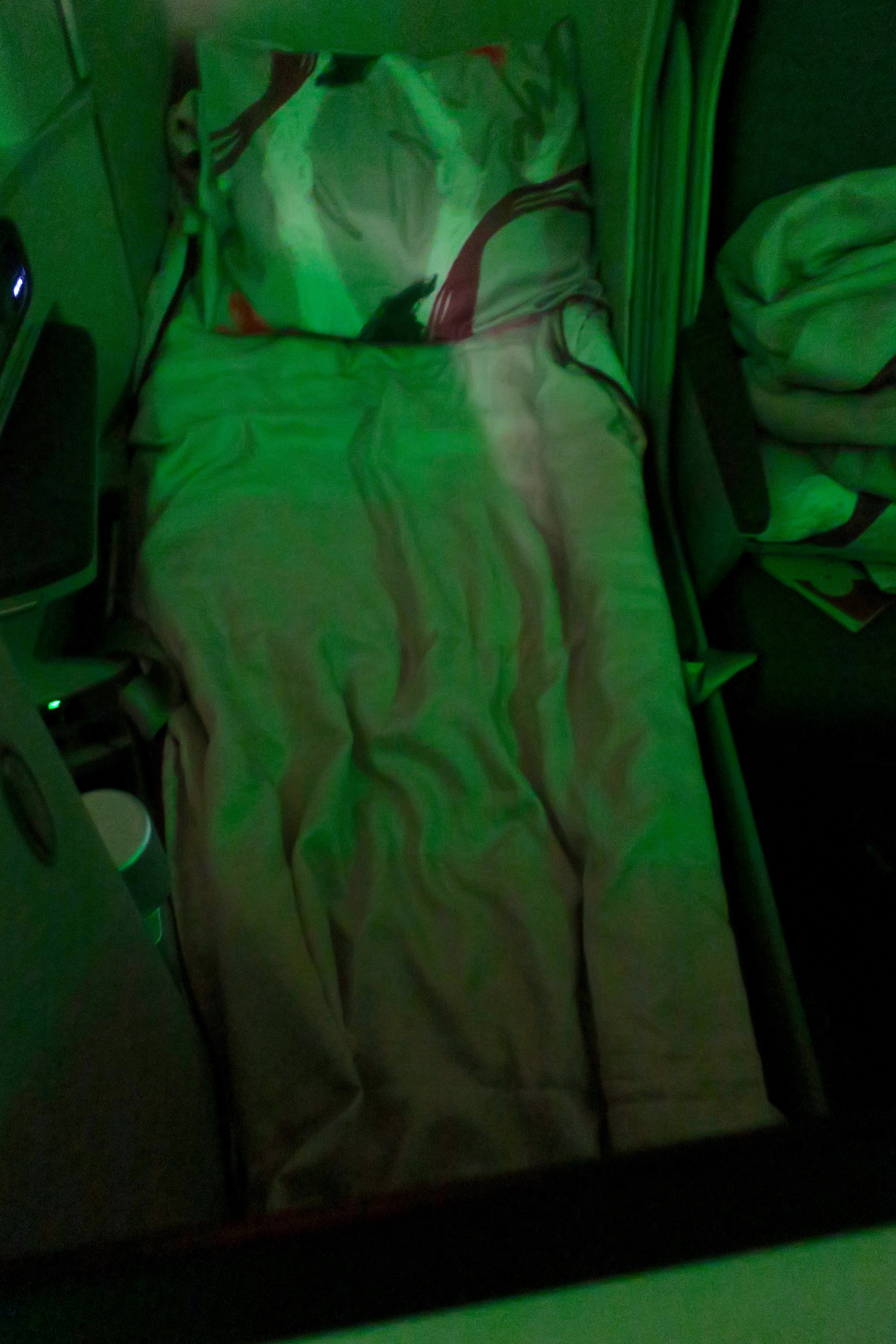 The blanket was silky and comfortable. I would suggest asking for second blanket as mattress pad to give you more cushion.
Seat map & seat choice
The best seats for solo travellers are the window seats in rows 2 and 4, as they are further from the aisle than the rows in front and behind them.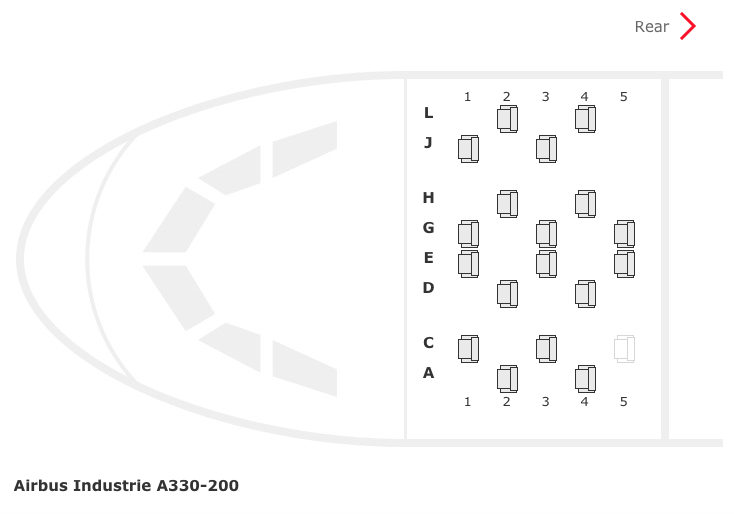 If those seats are taken (as they were on my flight), then the centre seats in rows 2 and 4 are the next best bet, as you'll have a heavy privacy divider between you and the passenger sitting next to you.
The best seats for couples are the centre seats in rows 1, 3 and 5 as they are close together.
Inflight Entertainment
The touchscreen was responsive, with a wide selection of Hollywood and Spanish movies and no annoying ads:
The large remote control was easy-to-use: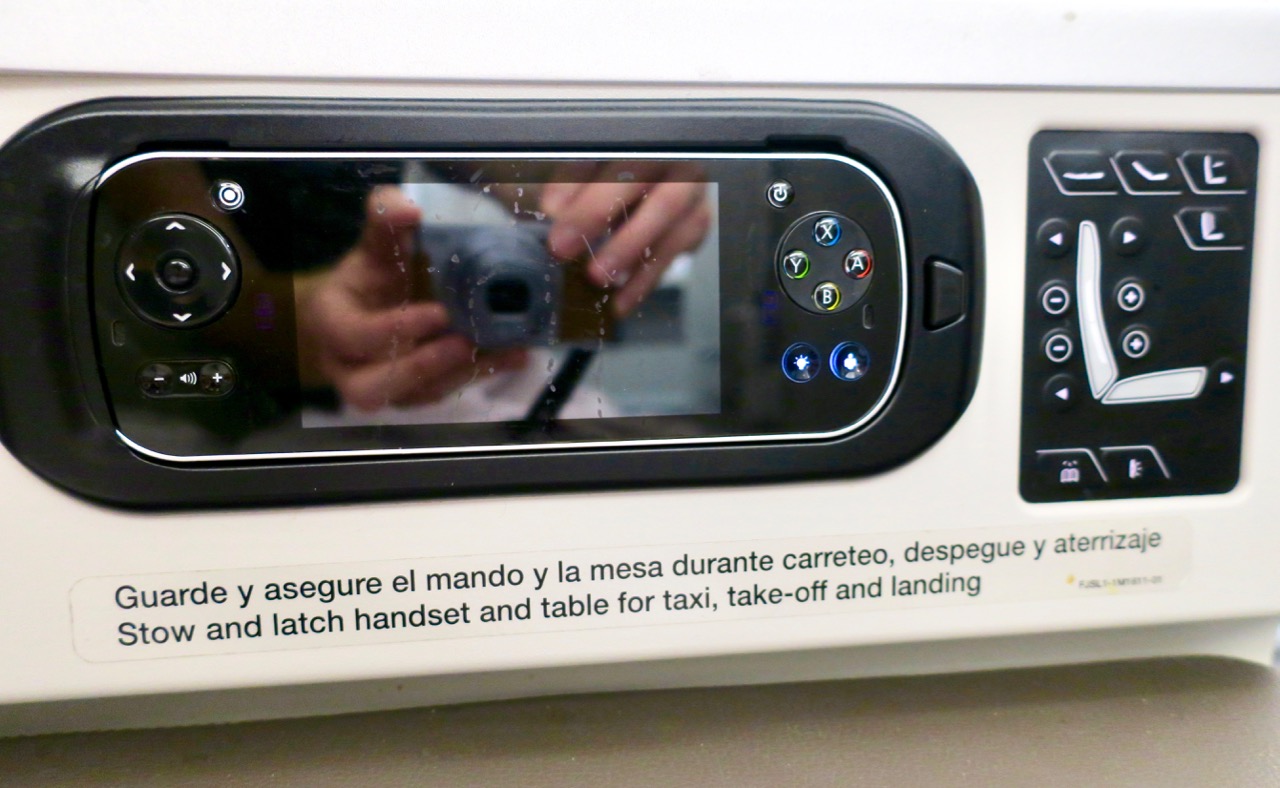 You receive complimentary wifi of up to 50 MB or 30 minutes, whichever comes first, although I didn't find the wifi speed fast at all.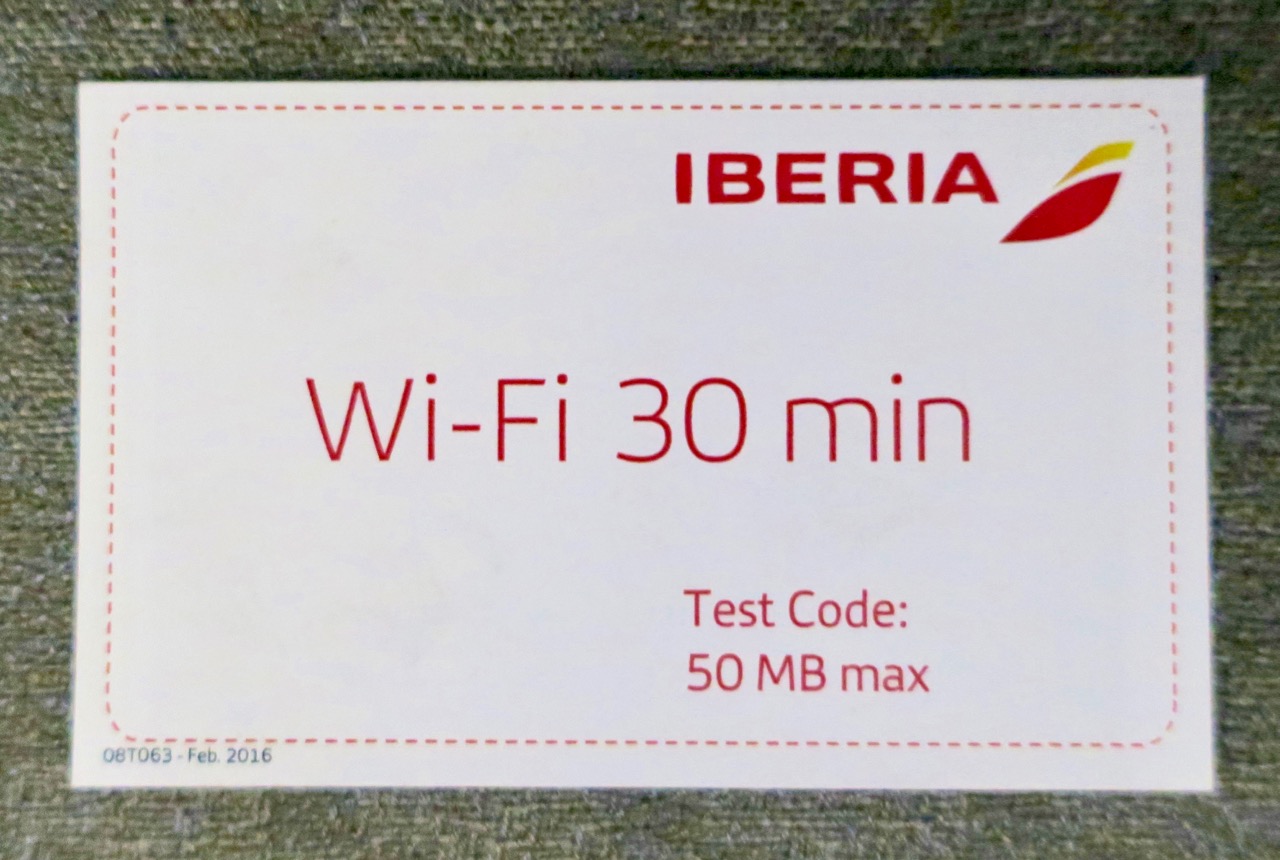 After that, you can purchase wifi (only available on Airbus A330-200 aircraft) at the following rates:

Service: Food & Drink
I found the food on this flight to be bland but in reasonable portions.
Dinner service was slow to start (75 minutes after takeoff) but then served quickly with a smile (except when the cabin crew chastised me for taking photos in the cabin – apparently you have to ask head office for special permission!).
The wines were mainly Spanish and delicious (as to be expected).
And there was a nice selection of chocolates served at the end of dinner.
Here is the food menu:
and the drinks menu:
Meals are served from carts onto trays: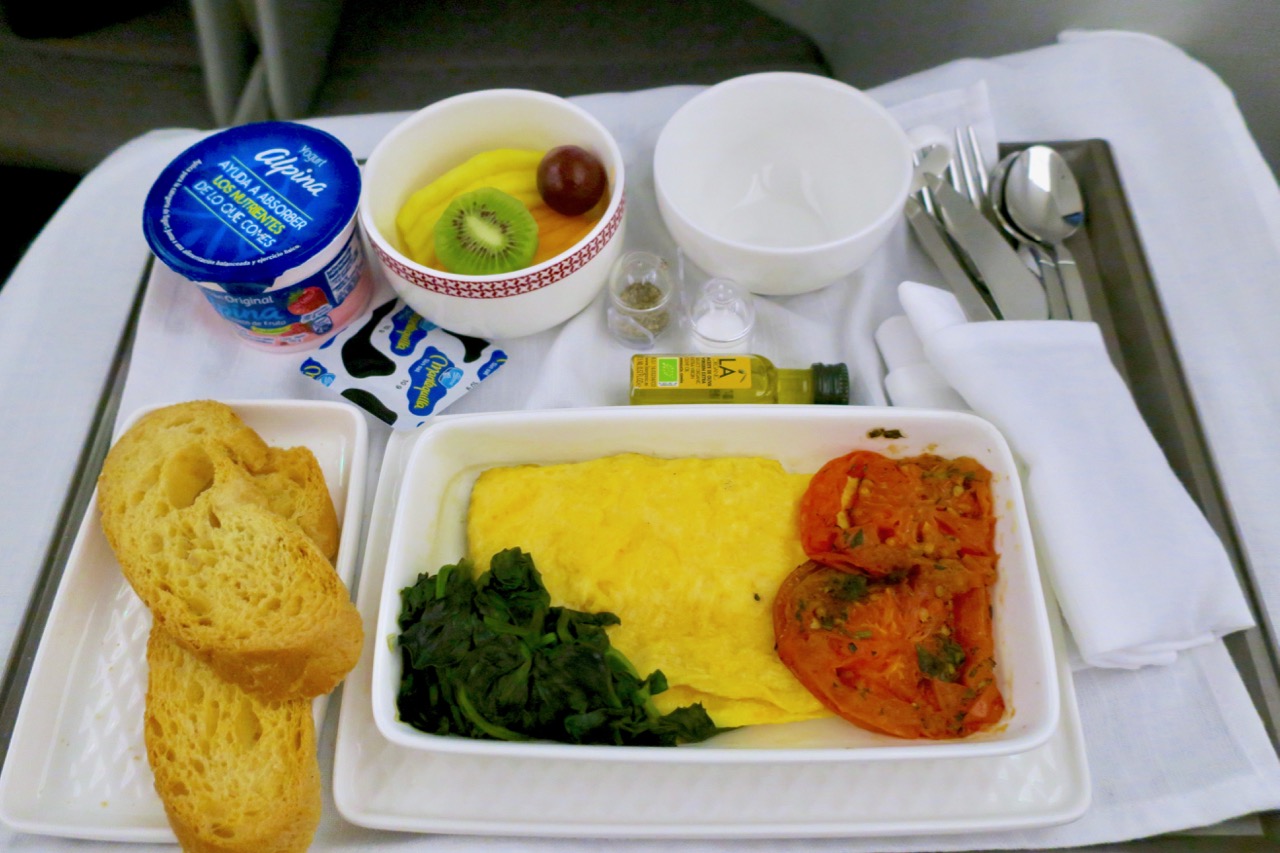 Amenities
The two bathrooms – one at the front of the cabin and one at the back – are a little on the smaller side for a Business Class cabin: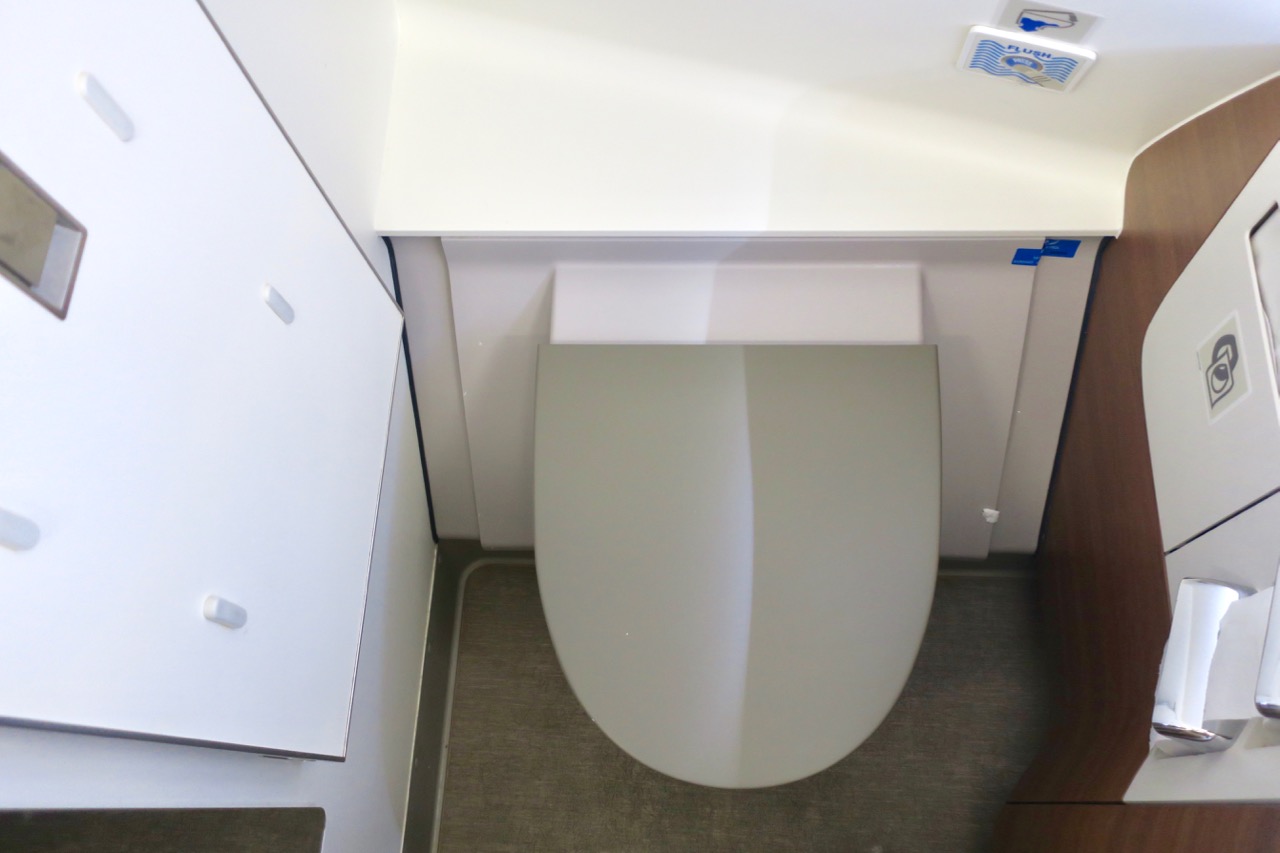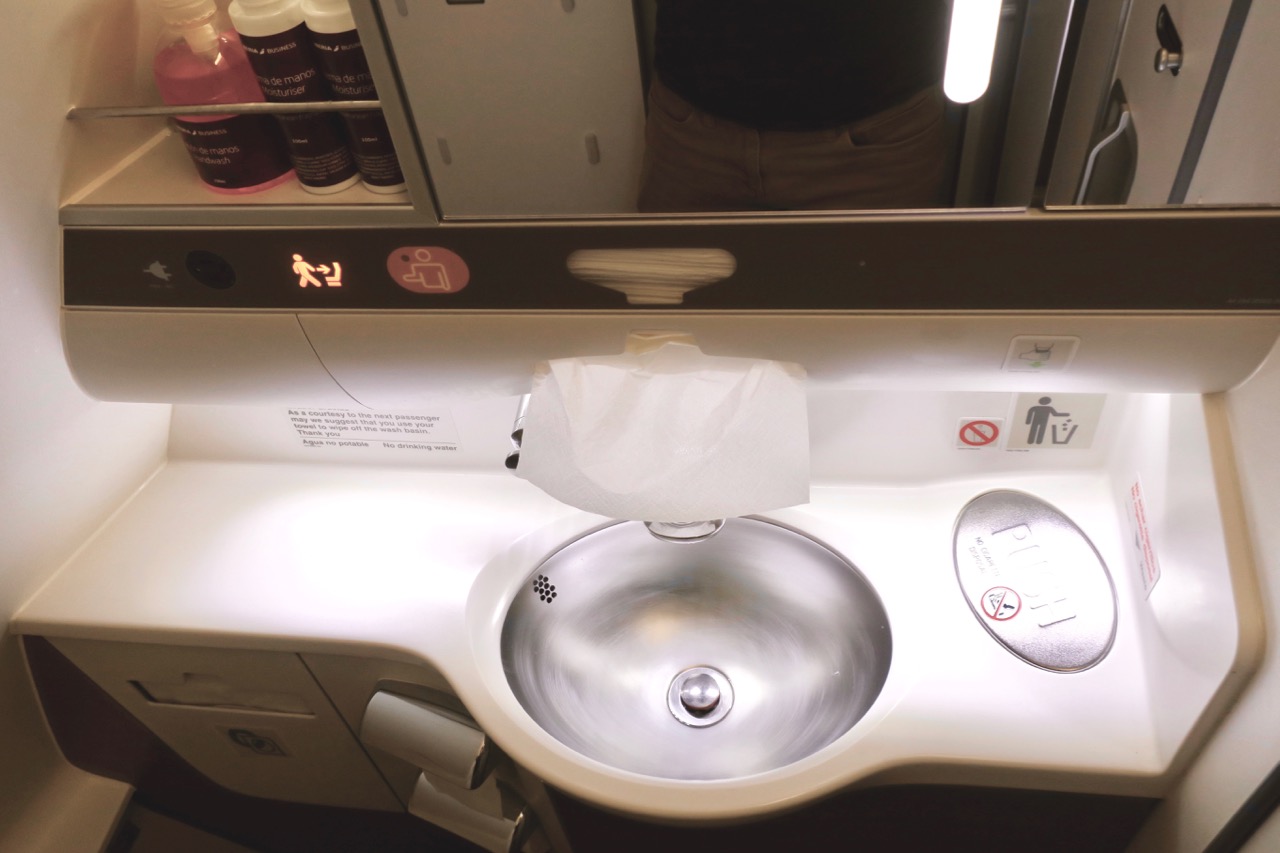 The amenity kit contents were quite standard but the actual bag could be used as a cool pencil case: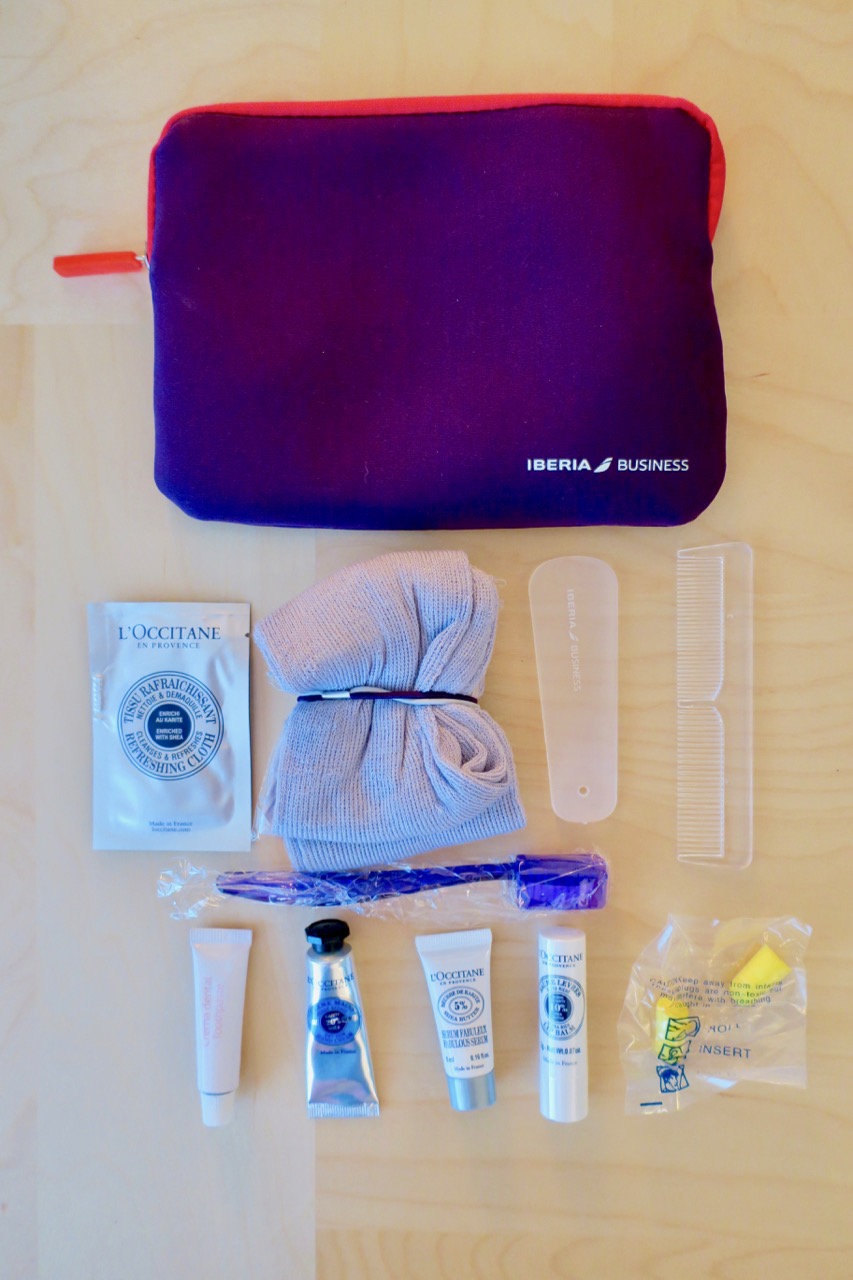 How to redeem points for this flight
I transferred 31,900 British Airways Executive Avios to its sister Iberia Plus program during a 25% off Avios redemptions on selected Iberia routes sale.
Iberia Plus does not levy fuel surcharges when flying on Iberia-operated flights. The taxes for this flight were almost $200 AUD.
The most common way for Australia-based travellers to get their hands on this points currency is to buy Avios in points promotions.
Whilst generally almost identical to the British Airways program, Iberia Plus publishes a slightly different award chart for flights they operate, and a different on-peak/off-peak calendar.
One particular sweet spot is Band 4 and 5 Business Class redemptions. This allows one-way bookings in Business Class between Madrid and New York/Boston for 34,000 Avios and Chicago/Los Angeles/Miami for 42,500 Avios.
By comparison, these are 50,000 and 62,500 Avios on British Airways, respectively.
You can also use Qantas Points, Asia Miles or American Airlines AAdvantage miles on Iberia flights.
Cash tickets for this particular flight start at $2750 AUD, so using my points gave me a hefty 8 cents per point value.
Lounge Access
At Iberia's Madrid hub (Europe's sixth busiest airport) in Terminal 4 and satellite terminal 4S, you'll have access to the Iberia Dali Lounge for domestic Spain and Schengen area flights, and the Iberia Velazquez Lounge for all non-Schengen area international flights.
At all other airports, you'll have access to oneworld affiliated lounges.
Summing up
Iberia offers an average and acceptable Business Class product.
I would recommend an Iberia flight where there are no other direct flights available and/or when there is a discounted redemption opportunity (both in my case).
Iberia A330 Business Class overview
was last modified:
October 13th, 2021
by