Hi, I'm Tash, a 31-year-old, Brisbane-based points amateur. Over the course of a year and a bit, I accumulated enough Qantas Points to book myself a one-way First Class ticket from Brisbane to Amsterdam.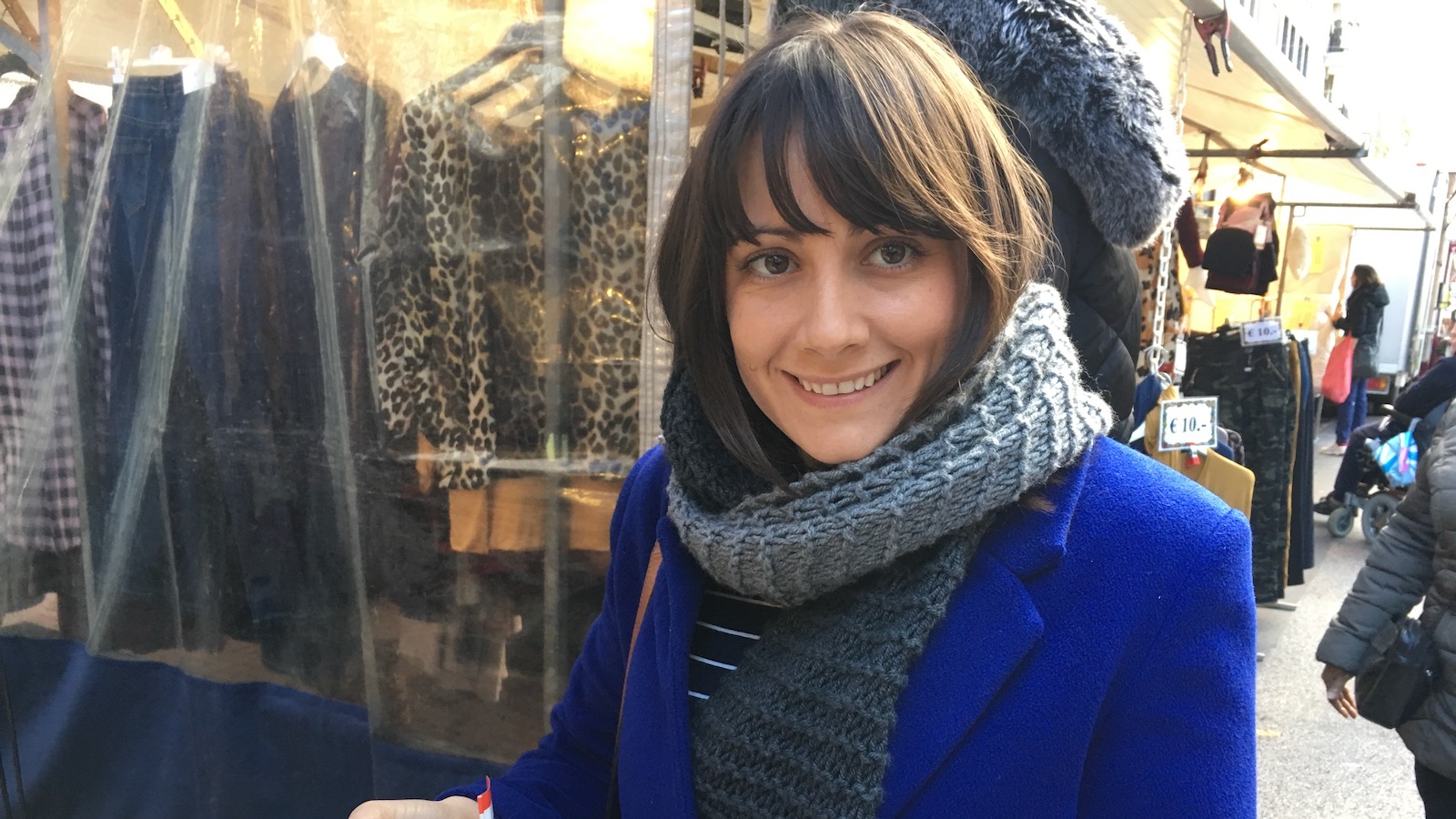 The trip in brief
Brisbane to Amsterdam
$667 AUD in taxes
The route and products looked like this:
Earning the points
Amassing the points wasn't as hard as you'd think.
The way I did it was to apply for the ANZ Frequent Flyer Black to earn the 75,000-point sign-up bonus, book work flights through Qantas Business Rewards, and click through the Qantas website to make restaurant and accommodation bookings.
On average, I flew once a month with Qantas on a domestic trip and did three long-haul trips (all on a sale Economy fares) to top up my points, with the bulk coming from my Qantas-linked credit card.
Why I chose First Class
I usually fly Economy and originally I was looking for a Business Class seat, however, no award seats were available on the A380 when I looked. As I don't sleep well on planes and had just come home from a weekend wedding in Fiji, I assumed I would be able to sleep in First Class—little did I know.
Due to the wedding overlap, I literally need to walk off the plane and onto a trade stand in Amsterdam, being lucid enough to smash out one of the largest marine trade shows.
The Emirates First Class seat was only an extra 65,000 Qantas Points than Business would have been and commanded the same amount of cash outlay for taxes. Considering I wanted to sleep and get ready before I landed, I decided to splurge.
You can read our guide to using Qantas Points for Emirates flights here.
Brisbane to Perth in Qantas 737 Business Class
I used the complimentary driver to the airport. Come on Brisbane—a Statesman Commodore is nothing on the Mercedes S Class I had at the other end but convenient nonetheless.
In Brisbane, I used the separate premium entrance at Brisbane's domestic terminal that takes you straight into the Qantas Domestic Business Lounge.
At the gate, I was told off by a grumpy employee for having too much carry-on. Ironically no one cares in First Class how much hand luggage you have with you, however, if you are like me and have a domestic leg, keep it in mind because it was a little embarrassing to be told off like a naughty school kid.
This flight was, unfortunately, on an old 737 instead of the more modern A330s with lie-flat seats that tend to ply East-to-West-Coast routes.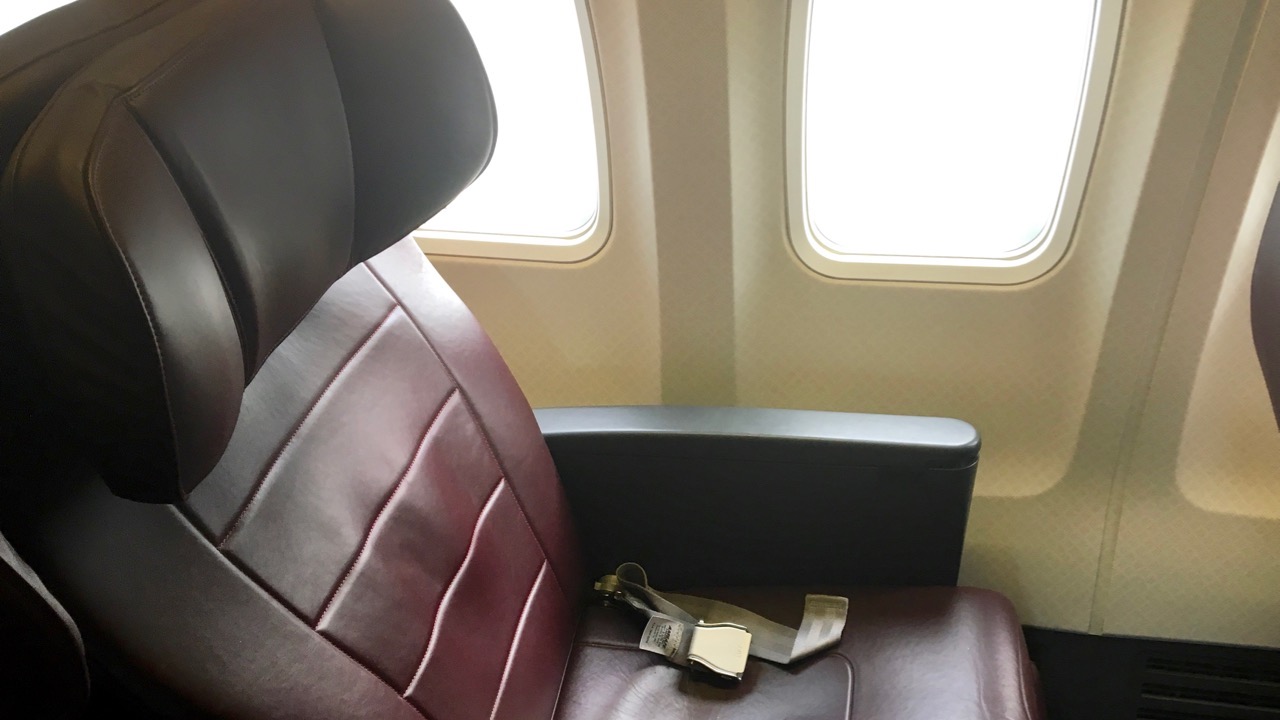 I picked the aisle seat in Row 2 after reading some reviews but ended up switching with my seatmate as he was six-foot tall.
When I arrived at the Emirates Lounge in Perth, I found a decent selection of fresh hot and cold food like lamb cutlets, salmon and cheese. I boarded the plane directly from the lounge, which was such a nice touch.
Ad – Scroll down to continue reading.Minimum spend, terms & conditions apply.
Perth to Dubai in Emirates A380 First Class
Once onboard, I treated myself to a glass of Dom Pérignon 2009 champagne.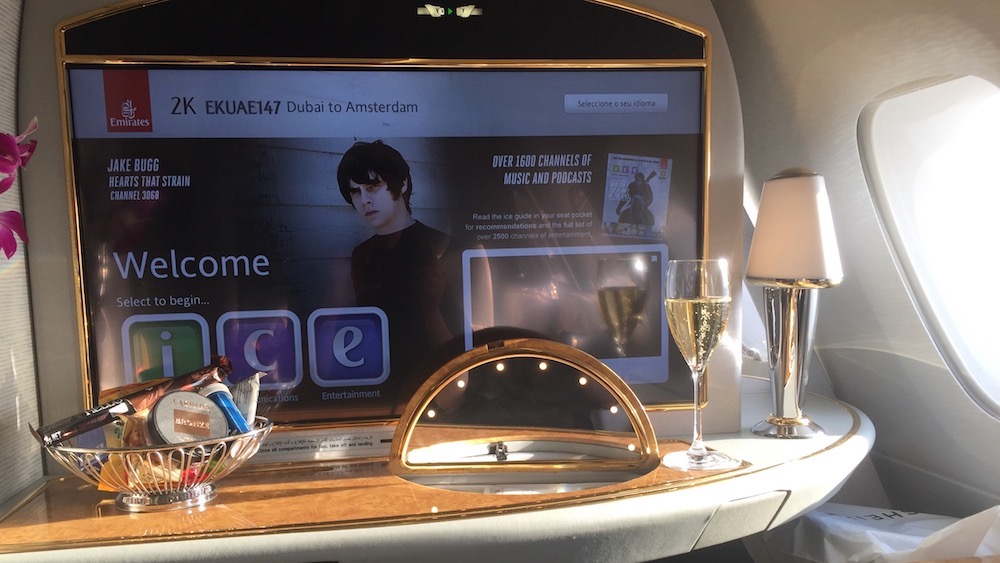 Where to sit in the cabin? Thanks to a write-up from Points Hacks, I knew that Row 2 was a good choice (rather than Row 1) to avoid the people walking by to the shower and mini-bar.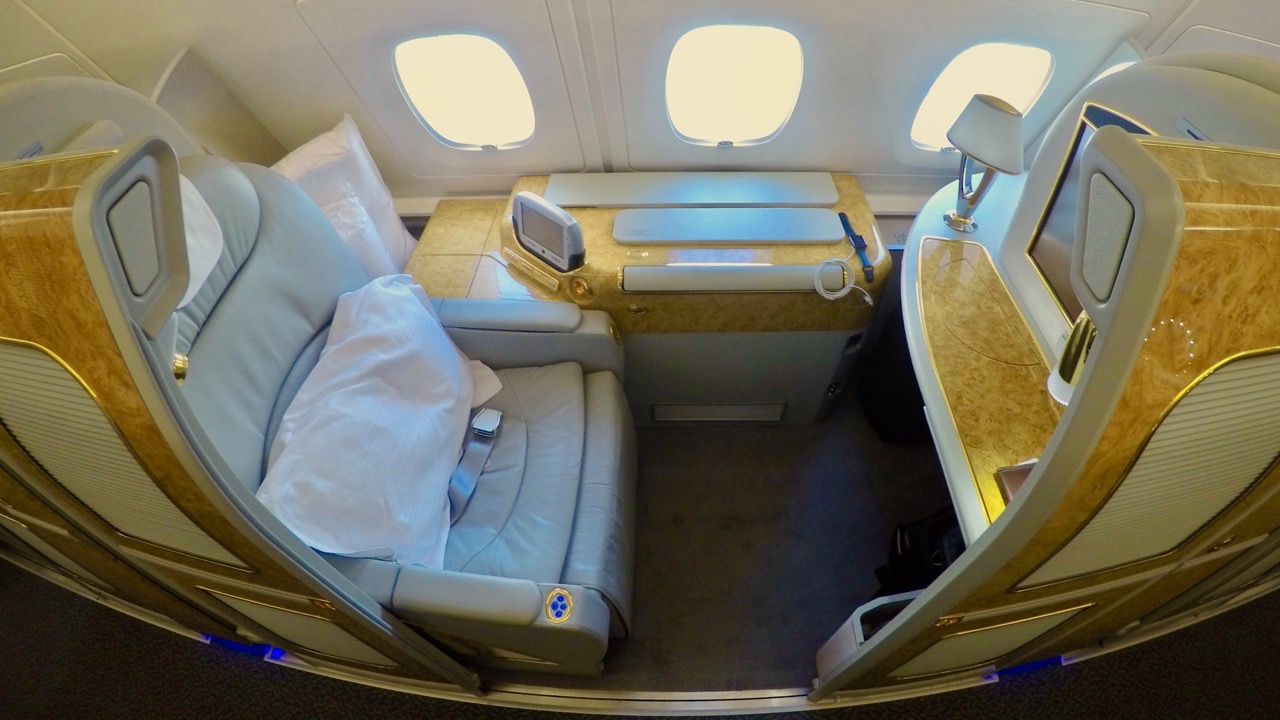 My additional tip is to choose the side of the plane suited to how you write—I found that the easiest way to use the inflight entertainment system was when the iPad controls were on my right, as I'm a righty.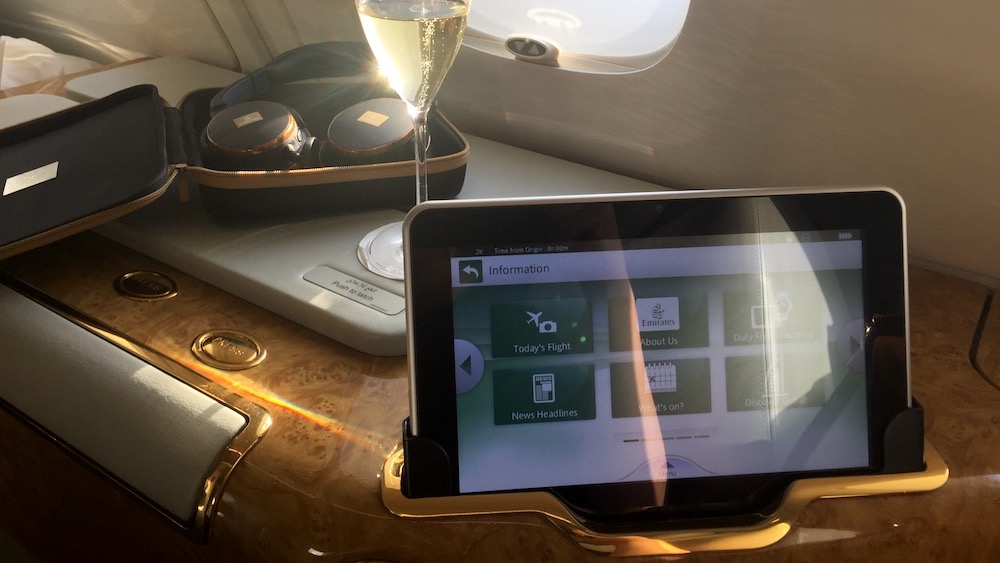 Unlike most flights I take on which I always feel cold, with the long-sleeved moisturising pyjamas provided I felt too warm. I wish I'd had packed a t-shirt or singlet to sleep in instead.
Trying to sleep? I liked the 10k Tracks of Asian Meditation track and a nip of Hennessy from the self-service bar near the showers.
I booked the shower straight after my meal hoping it would help me sleep. The shower pack comes with slippers, sleeping mask, pyjamas and a toiletry kit from Bulgari.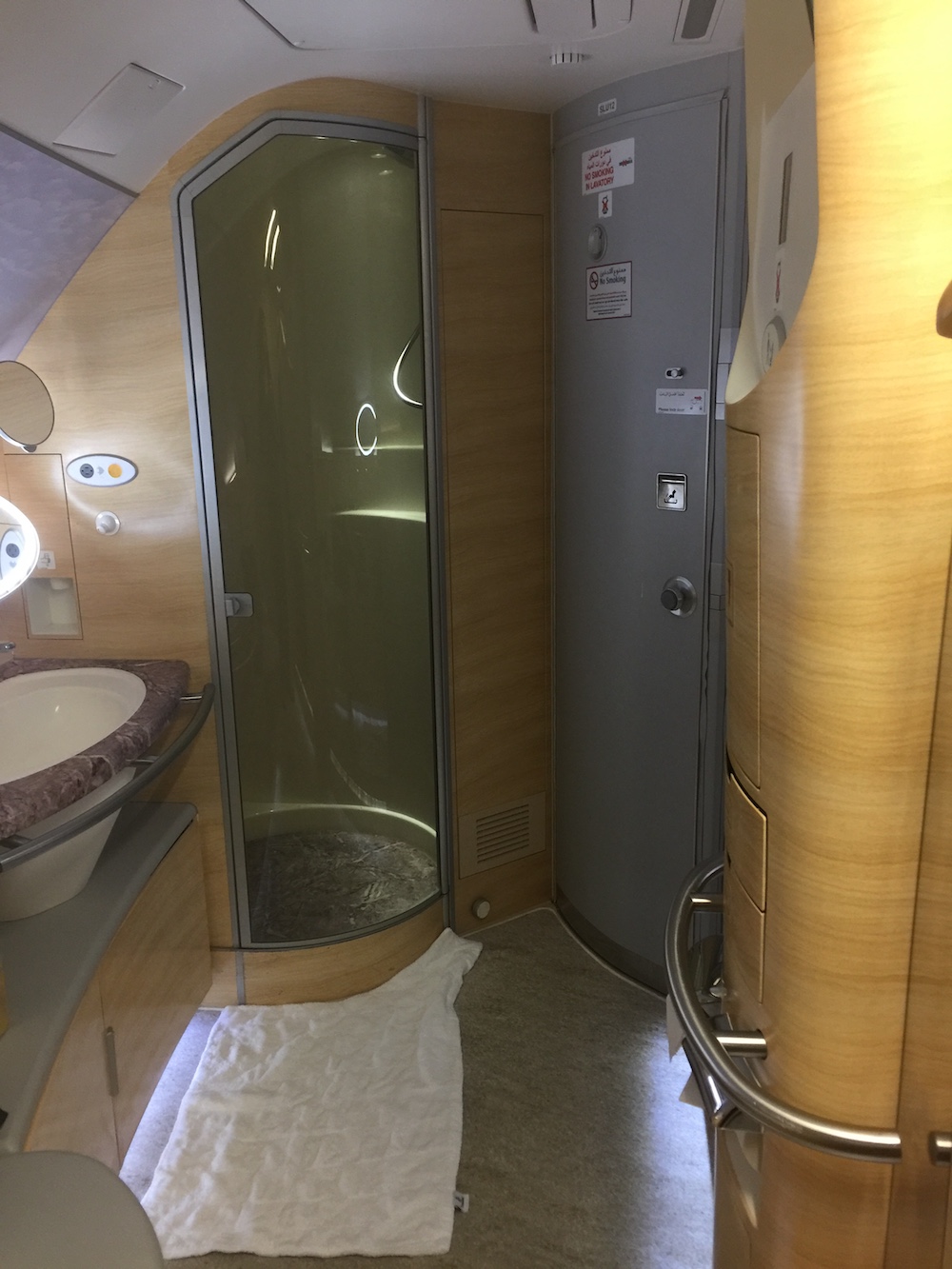 Inside the shower, you have shampoo, conditioner, body wash, face cleanser, body lotion, toothbrush and toothpaste, disposable razors, a nail file, brush and comb, soap, a shower cap and hair tie, exfoliation mitt and cotton tips.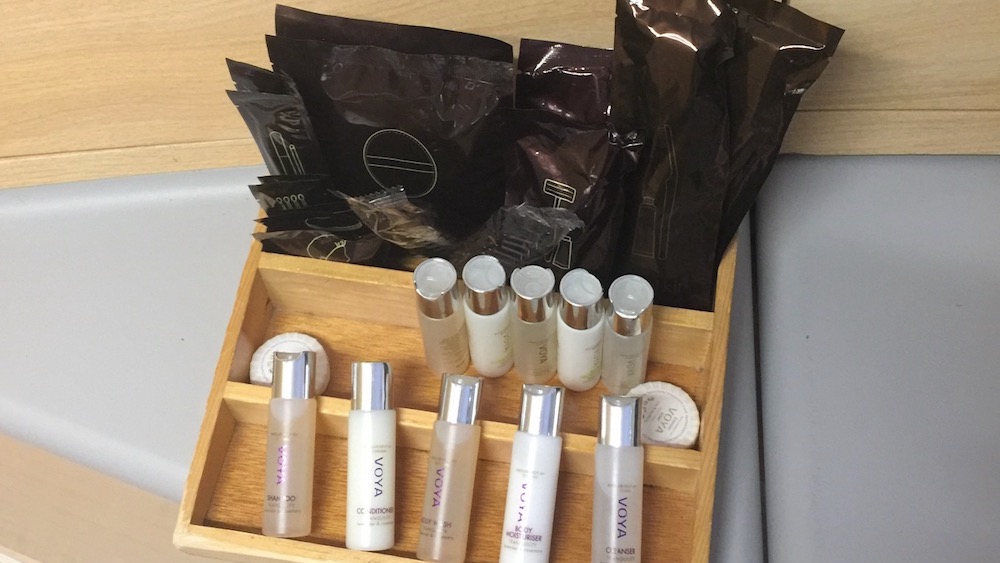 I was pretty disappointed with the showers at the First Class Lounge in Dubai—they were old and quite rundown and I wasn't even offered a shower cap. All that was provided was a towel, bathmat, toothbrush, slippers and a razor.
So, I was happy that I had pinched the things I needed from the plane. On the plane, the attendant throws away what you've used and re-stocks the bathroom for the next guest, so it's all yours.
Dubai to Amsterdam on Emirates A380 First Class
Transiting through Dubai, definitely book in for your 15-minute complimentary treatment at the Timeless Spa—I opted for the neck and back massage. You can request a female or male therapist but for the massage, you stay clothed, so it didn't matter to me. I was pretty tense and this definitely helped me relax.
I had breakfast in the fine dining area but the food was disappointing. The lounge only serves Moët, not the Dom I'd come to like (sounding like a real snob now!) and since I couldn't stomach spirits at 6am, I skipped the booze for a green smoothie. I showered, then checked out the sleeping room before boarding.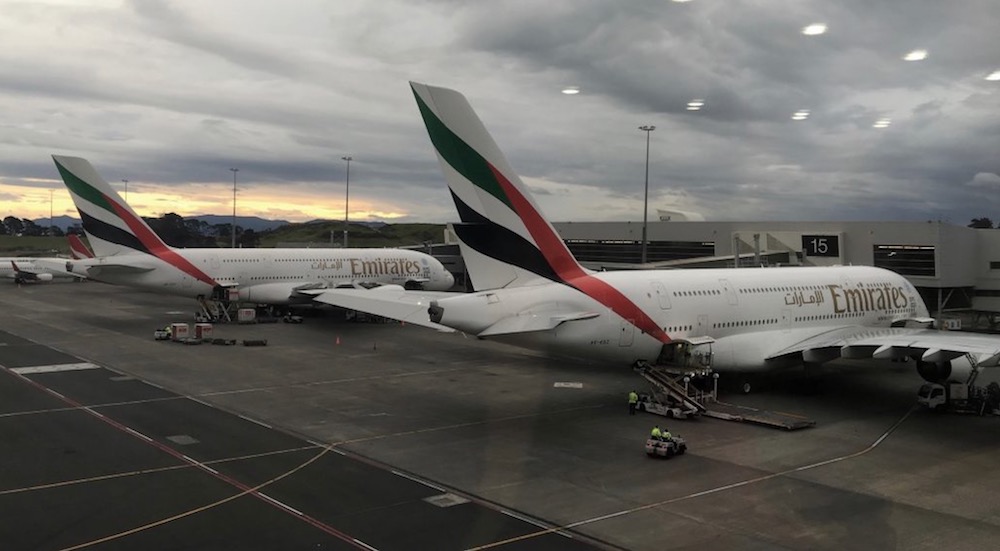 The final leg started with champagne again, of course. This time I asked the attendant to book me a shower 90 minutes before landing as I was literally going straight to my trade show from the airport.
I ordered the caviar again and tried to sleep. I got about two hours then had some lunch and got ready for the shower.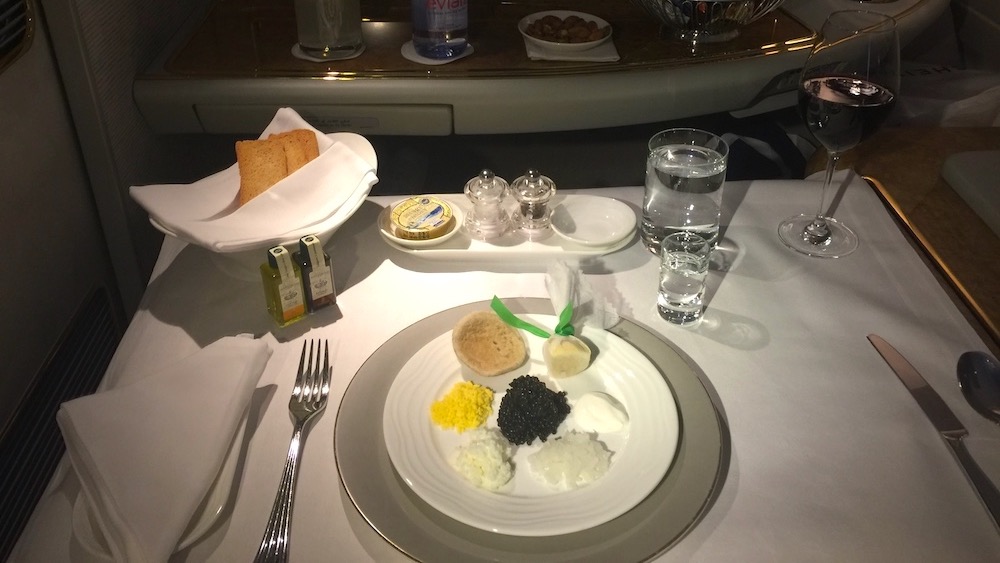 I did my make-up in the bathroom and settled back into my seat in my power suit ready to do business.
My advice is to not be afraid to ask. Because it was a morning flight, they didn't volunteer the pyjamas and amenity kit, so I had to ask. A few times they forgot some of my drink orders but all-in-all, the service level was welcoming and personal.
You can go back to the Business Class bar area for a drink and to socialise if you wish, however, they won't be able to serve you the fancy champagne from back there.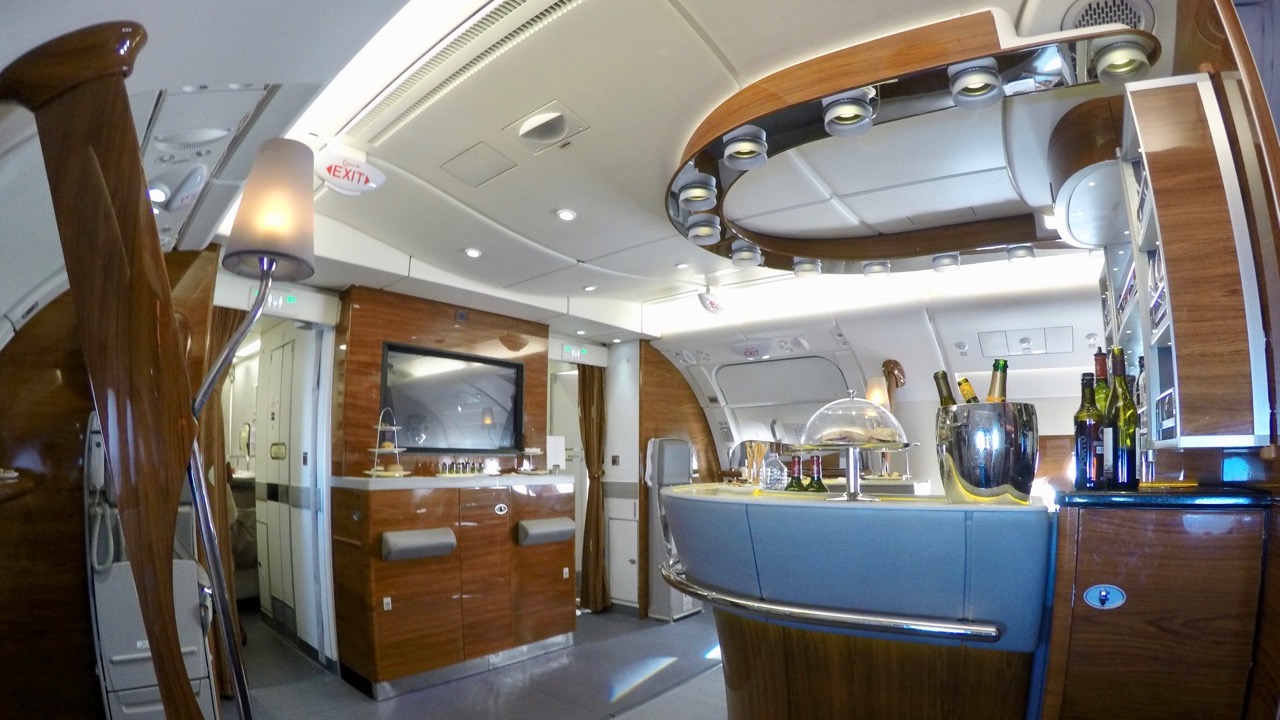 When I landed in Amsterdam, there wasn't a fast-track lane but customs control was efficient and promptly checked my luggage when I arrived. My wonderful driver was waiting for me as I exited. He took my bags and within a few steps, we were in the Mercedes parked out the front.
I only slept four fours in total, so by the time I got to my trade show, I was swaying like I'd been at sea for months.
My take on the flight
I can honestly say it was great to see how the elite lives but I would never give up the $10,000+ cash for the experience.
Tips and useful information
Check if the cash outlay for the Emirates reward seat is the same regardless of the class you're travelling—if so, treat yourself and slurge the extra points on First!
Book your complimentary spa treatment in advance via email if you are transiting through Dubai
Choose your seat depending on whether you are a lefty or righty
Take (advantage of) the toiletries from the onboard shower
Eat and drink onboard instead of in the lounge—it's better, believe me
If they don't give it to you, ask for it! Two serves of caviar, more chocolates—whatever it might be!
Our other case studies
Case study: Natasha's Emirates First Class trip to Amsterdam
was last modified:
August 2nd, 2022
by