American Express is a premium card issuer and its Card Members are able to book flights, hotels and more through the Amex Travel portal. While you might be used to booking directly with the airline or property, there can be some benefits of going through Amex Travel, particularly if you hold a top-tier American Express Platinum or Centurion card.
Many Amex cards also come with annual travel credits which must be redeemed through the Amex Travel website. These travel credits can usually be used to discount flights, hotel bookings and car hire. Here's our guide to understanding and using Amex Travel.
---
Many American Express cards come with an annual travel credit to offset the annual fee.
---
Using Amex Travel for flight bookings
American Express offers flight bookings for many major airlines, including some low-cost carriers. Within Australia, you can book Qantas, Virgin Australia and Rex flights online. Pricing is generally identical to what you'll find directly on the airline websites for domestic flights, barring some occasional sale fares.
If you have an Amex Travel credit (such as a $400 credit from the American Express Explorer Card), then flights are an easy way to use the whole amount up in a single booking. The Qantas or Virgin Australia fares you book through Amex Travel can still be upgraded via Qantas or Velocity Points, respectively.
Point Hacks tip: At the time of writing, Virgin Australia's flexible 'Freedom' fares are usually cheaper through Amex Travel than through any other channel including on Virgin's website. This is worth considering if you're after the benefits of a flexible fare, such as cheaper points upgrades. (It's free with a Platinum Complimentary Upgrade).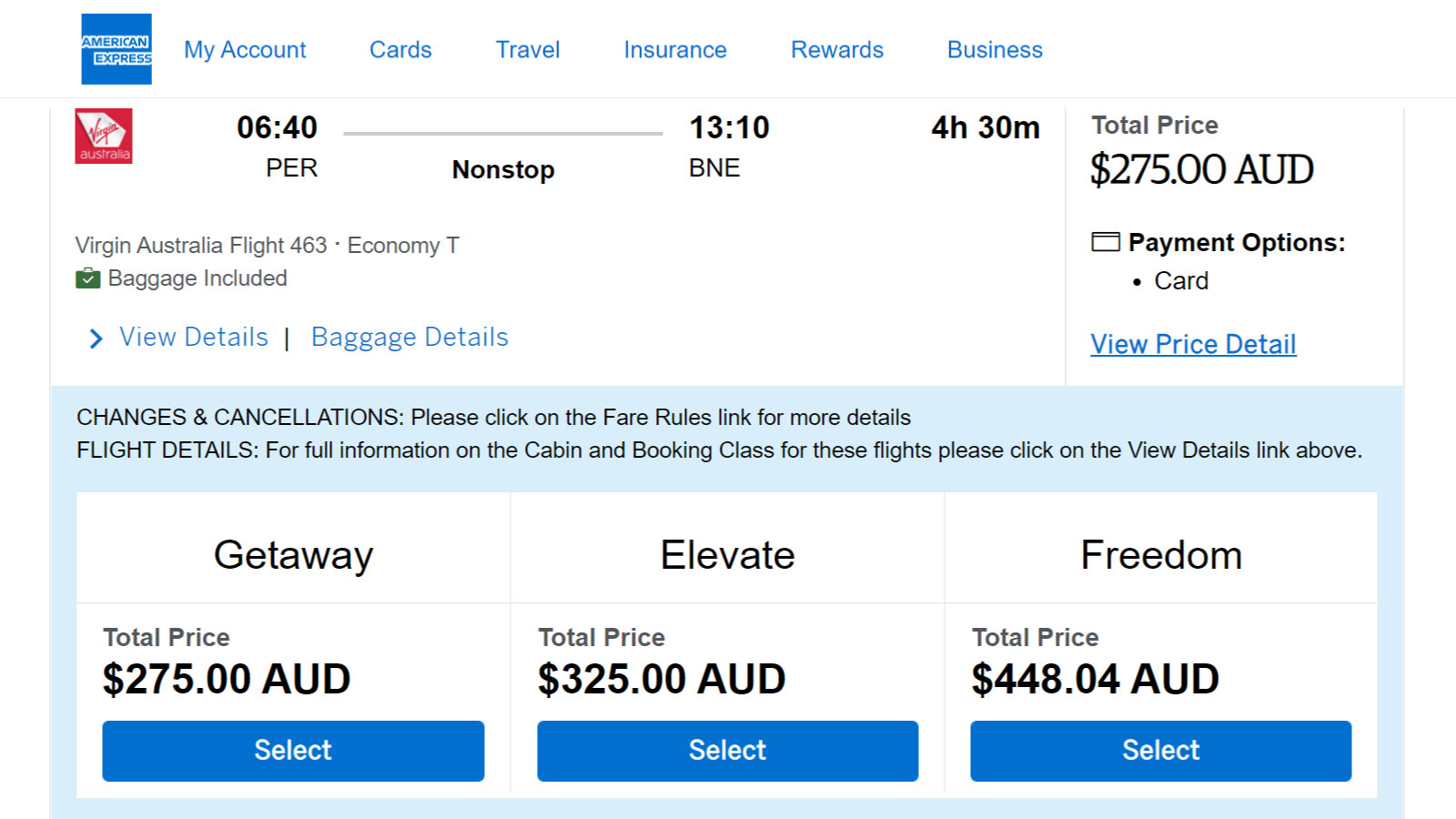 What fees should I know about?
American Express charges A$33 per change and A$55 per flight cancellation, per person. This is on top of any airline-mandated change or cancellation fees, so bear that in mind in case of flight disruptions. You must deal with Amex Travel to change or cancel any bookings, rather than with the airline.
From personal experience, Amex Travel is usually willing to waive its own change and cancellation fees for COVID-related disruptions. However, airline penalties can't be waived unless your fare is covered by a COVD-19 fee-waiver.
If you have a valid Travel Credit or you'd like to use your Membership Rewards points to offset some of the booking cost, these options can be selected at the payment stage online.
Ad – Scroll down to continue reading.Minimum spend, terms & conditions apply.
Using Amex Travel for hotel bookings
Things get a bit more complex when using Amex Travel for hotel stays. There are three types of hotel bookings you can make: standard, 'The Hotel Collection' and 'Fine Hotel + Resorts'.
Standard hotel bookings
If a hotel is bookable on Expedia, you'll likely be able to reserve the same room and rate with Amex Travel and using your travel credits. Any Amex Offers you may have for hotel cashbacks will also be applied. So what's the catch?
Any hotels booked through this method require upfront payments rather than payment at the counter. It also counts as a third-party booking from the hotel's perspective. So if you have hotel elite status that offers perks with direct bookings, going through Amex Travel will usually invalidate those perks for that stay. Also, no hotel points will generally be earned.
The Hotel Collection bookings
This is a curated collection of mid- to high-end properties. Only selected Card Members can access these special rates, including those with the American Express Explorer and Platinum cards. It often costs the same as booking direct but also includes up to US$100 in hotel credit and room upgrade on arrival, when staying two consecutive nights or more.
Payment is usually due on arrival for The Hotel Collection bookings. However, if the hotel and room rate you choose permits pre-payment, then Amex travel credits and/or Membership Rewards points can be redeemed. You also generally won't earn hotel loyalty points if staying at a chain.
Fine Hotels + Resorts bookings
Top-tier American Express Platinum and Centurion Card Members have access to Fine Hotels + Resorts. This is a collection of ultra-luxurious properties, offering unique property gifts, daily breakfast for two, guaranteed 4pm checkout, room upgrade upon arrival and more.
Payment is usually due on arrival for Fine Hotels + Resorts bookings. However, if the hotel and room rate you choose permits pre-payment, then Amex travel credits and/or Membership Rewards points can be redeemed. You can usually earn hotel loyalty program points and elite status credits for your stay as it's classed as a direct booking.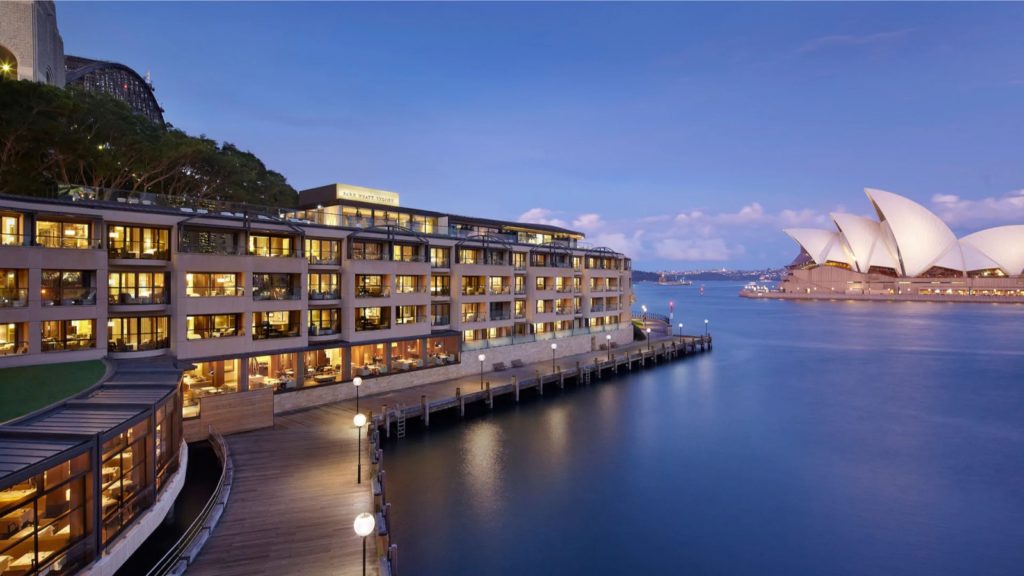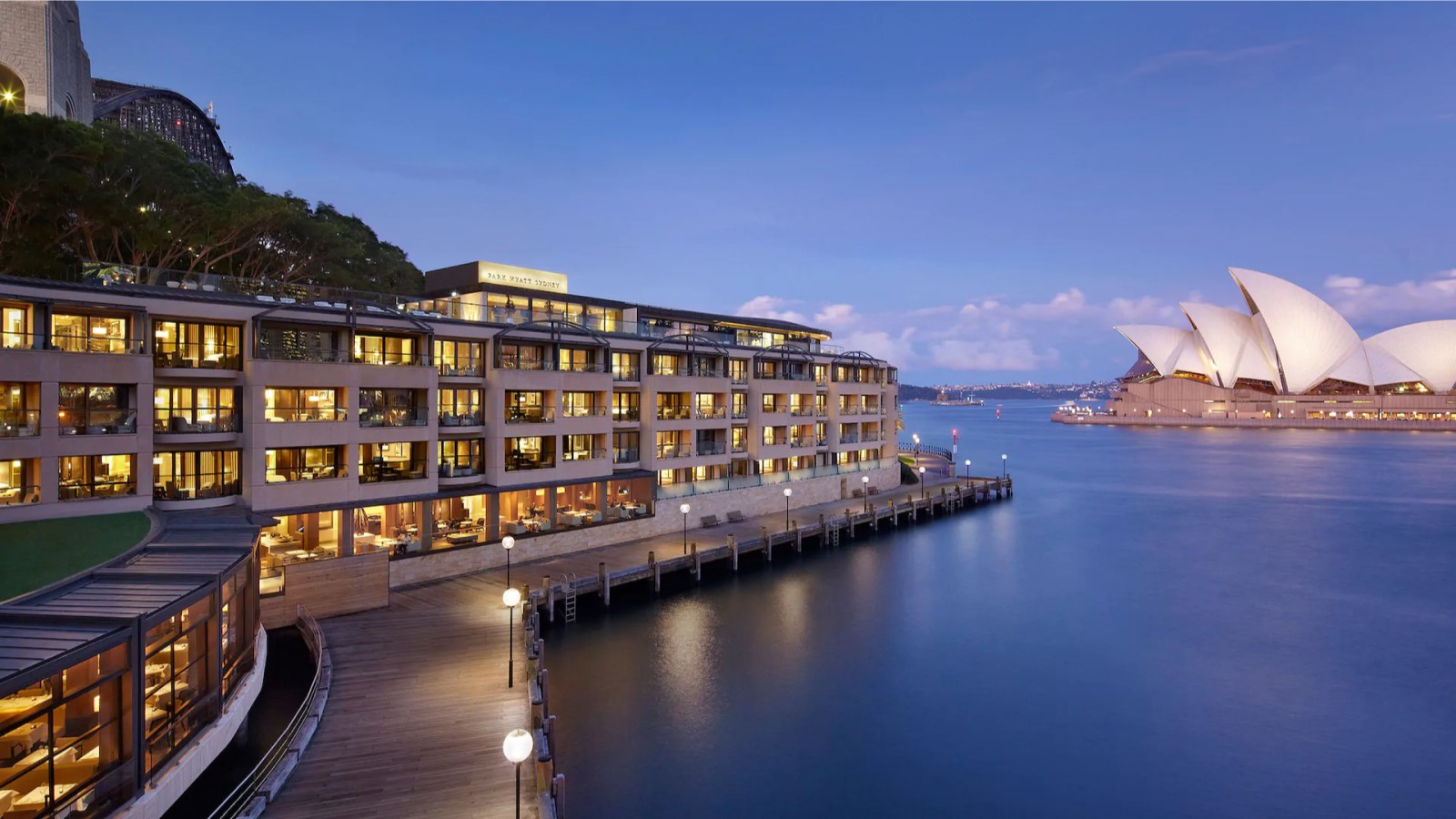 What fees should I know about?
Be very careful when booking hotels – you'll want to make sure you know whether the rate is refundable or not. Even for 'free cancellation' reservations, there is usually a cut-off where it becomes non-refundable.
With COVID-19 related changes and cancellations, it's up to the property to waive fees or not if you're impacted and not covered by a free cancellation policy.
What else can I use Amex Travel for?
We won't go into too much detail here as it's fairly self-explanatory, but you can also use Amex Travel to book car hire and holiday packages. These 'bundles' essentially just adds the air, hotel and/or the car component into a single transaction. This could be handy if you were eyeing a $200 flight and $200 hotel, but wanted to book both together with a $400 travel credit.
Summing up
You will probably use Amex Travel at some point if you hold an American Express card, particularly one that offers a yearly travel credit for your wanderlust cravings. Just be mindful of the various fees in place and that you are adding a layer of complexity by booking through an online travel agent.
(A counterpoint for that argument is you might save time by only needing to call Amex Travel to change or cancel all your travel reservations, so ultimately it's up to you).
Amex Travel has a simple-to-use booking interface (if not a tad clunky). If your account is loaded with a travel credit, it's also very easy to apply it at checkout and enjoy your instant savings.
This article was originally written by Keith Mason.
An introduction to American Express Travel: discounted flights, hotel packages
was last modified:
May 12th, 2022
by