The Hotel Collection (THC) is one of two special benefits programs of American Express, the other being Fine Hotels & Resorts (FHR), that provide eligible Card Members with added benefits when booking at select hotels through American Express Travel.
While FHC focus on ultra-high-end properties, THC is more tailored to those looking to stay at more economical high-end hotels.
In this guide, we explore the benefits of THC program, compare THC with the FHR program, show you how to search for and book participating properties and highlight some key terms and conditions with the THC program.
The benefits
Stay two or more consecutive nights and you'll receive the following two benefits:
a US$100 hotel credit to spend on dining, spa and resort activities
a complimentary room upgrade at check-in (subject to availability)
Eligible cards
In Australia, to be eligible to participate in FHC, Card Members need to hold one of the following cards:
American Express Centurion
American Express Gold
American Express Gold Business
American Express Platinum Reserve
American Express Rewards Advantage
Note that some of the above cards do not accept new applications.
Comparing The Hotel Collection and Fine Hotels & Resorts
In short, The Hotel Collection is the poorer cousin of the Fine Hotels & Resorts program, but both are great cousins if that makes sense.
You might be wondering why do the two programs exist? The reason is that while American Express wants to give as many of its Card Members additional benefits when booking hotels through Amex Travel, they also want to give their top-tier Card Members holding a Platinum Card, Business Platinum Card or Centurion Card an elevated level of benefits. Hence, the FHR program is only available to these top-tier members whereas THC is available to the expanded Card Members list we stated above.
So, if you hold one of the eligible cards, when would you choose THC over FHR?
First of all, they have completely separate participating hotels. As mentioned above, THC is focussed on more economical high-end hotels, including chain hotels, whereas FHR is targeted at much more expensive ultra-high-end hotels.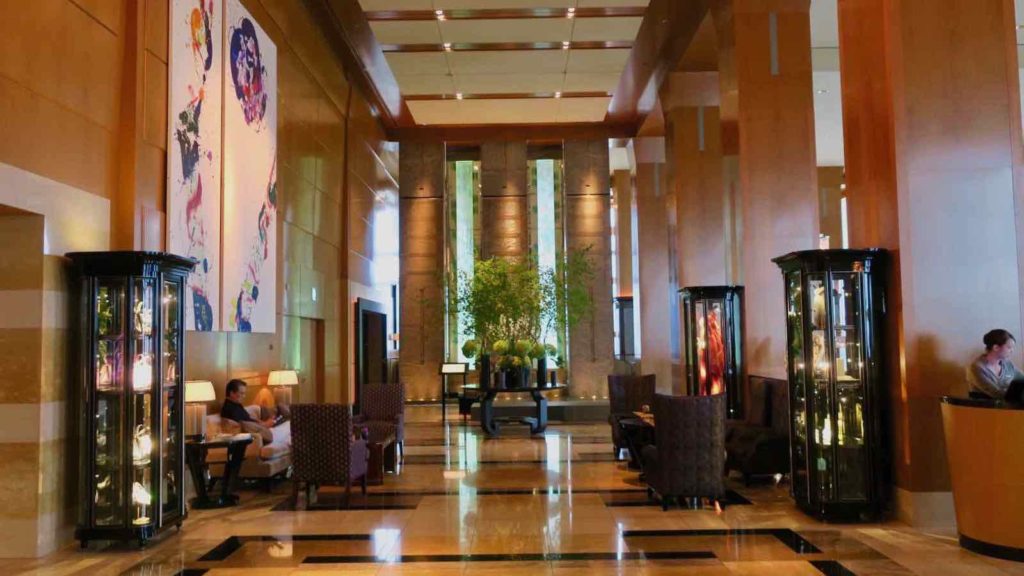 If you are travelling on business, you may not be able to justify a quite expensive stay at an FHR property, so a THC booking may be a better choice. You will receive that US$100 room credit, plus a room upgrade if available. Note that you will not earn hotel loyalty program points on bookings with THC.
If you do have a bit more cash to splash, then we would recommend skewing towards an FHR property to enjoy a higher-quality hotel and more benefits, including a US$100 room credit, free breakfast, and early check-in and late check-out. You will earn points on bookings through FHR.
Bookings through FHR are eligible for benefits for stays of one night or more, whereas you need to stay at least two nights with THC.
Whilst both THC and FHR have 11 properties in Australia (with no overlap), as an indication of the extent of the programs in the rest of the world, FHR has almost three times the listings that THC does in the Asia-Pacific region.
Ad – Scroll down to continue reading.Minimum spend, terms & conditions apply.
A comparison of pricing through Amex Travel and booking directly with the hotel
We took a look at a standard room at five different hotels in New York with a flexible cancellation policy for a two-night stay. All quotes are in USD.
You will see that there is very little difference (if any) between booking through Amex or direct:
| Property | Amex Travel price | Book direct price |
| --- | --- | --- |
| Conrad | $950 | $950 |
| Hyatt Centric Times Square | $1358 | $1336 |
| InterContinental Times Square | $1004 | $1003 |
| JW Marriott Essex House | $1037 | $1037 |
| The Roxy Hotel Tribeca | $1063 | $1063 |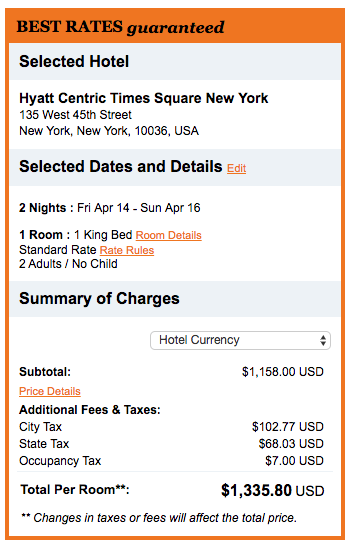 On the surface, you can save $22 by booking directly through Hyatt…

…but you will come out on top once you factor in the US$100 credit you will get by booking through Amex Travel
If you are not worried about hotel status, then booking through Amex Travel makes sense in all cases examined as the US$100 credit makes up for any price saving from booking direct.
If hotel status is important to you, then you may want to consider how much you value that in choosing your booking channel.
As always, it pays to do your research!
How to search for hotel locations
There are 3 ways to search for hotel locations on the THC website:
How to make a booking
You can make a booking at a THC property:
online at American Express Travel (the easiest method)
by calling the Platinum Travel Service on 1800 673 760 (press 1 for travel services)
Key terms and conditions
Payment must be made in full with an American Express card in the Card Member's name
The cardholder must be staying in the room/one of the rooms
The one-category room upgrade is based on availability and eligibility at check-in to the hotel
There is a three-room limit per Card Member per stay
Back-to-back stays within a 24-hour period at the same property are considered as one stay
If the Card Member cancels their room, any additional rooms will no longer qualify for benefits as the eligible Card Member must be staying at the hotel
American Express Travel Credits can be used on The Hotel Collection bookings if the selected hotel and room type provides you the option to prepay in advance
Full terms and conditions of the benefit are shown below.
Summing up
The Hotel Collection program benefits business travellers whose companies may not allow for stays at super luxury Fine Hotels & Resorts properties.
The up to US$100 credit is handy for use on dining services for which you are already being reimbursed or spa and resort services that your company usually does not allow you to spend money on.
Having said that, if your hotel elite status is important to you, you may prefer to book directly with the hotel as your status and associated benefits will most likely not be recognised for bookings made through The Hotel Collection.
Originally written by Matt Moffit. Supplementary images courtesy American Express.
An introduction to American Express The Hotel Collection
was last modified:
August 5th, 2021
by