This youthful and modern airline offers a solid premium cabin product in the US domestic market, which historically suffers from a lack of innovation and motivation compared to other regions of the world.
I was lucky enough to try it out on a recent direct flight from San Francisco to my home base of Austin. I purchased a ticket outright during a sale for $399 USD.
Point Hacks overview guides offer an introduction to the airline, cabin and seats, and touch on how to use your own points to redeem for your own trip, alongside our own personal experiences.
So, Virgin America?
Virgin America has been around since 2007, but this year was bought by Alaska Airlines. The merger has not yet taken place, so as of now, the information in this overview is correct, however we will update it when new information comes to light, especially in terms of award redemption changes.
Virgin America has its biggest hub at its San Francisco headquarters, where you can access the fantastic Virgin Atlantic Clubhouse (reviewed here) for $40 USD when flying Virgin America First Class or Main Cabin Select or as an Elevate member.
Their focus cities are Los Angeles and Dallas Love Field. Do note that Dallas Love Field is a different airport than the much larger Dallas/Fort Worth Airport, a 20-30 minute car ride away.
The airline flies mainly along and between the West and East Coasts of the US, as well as to Hawaii, Florida and Mexico: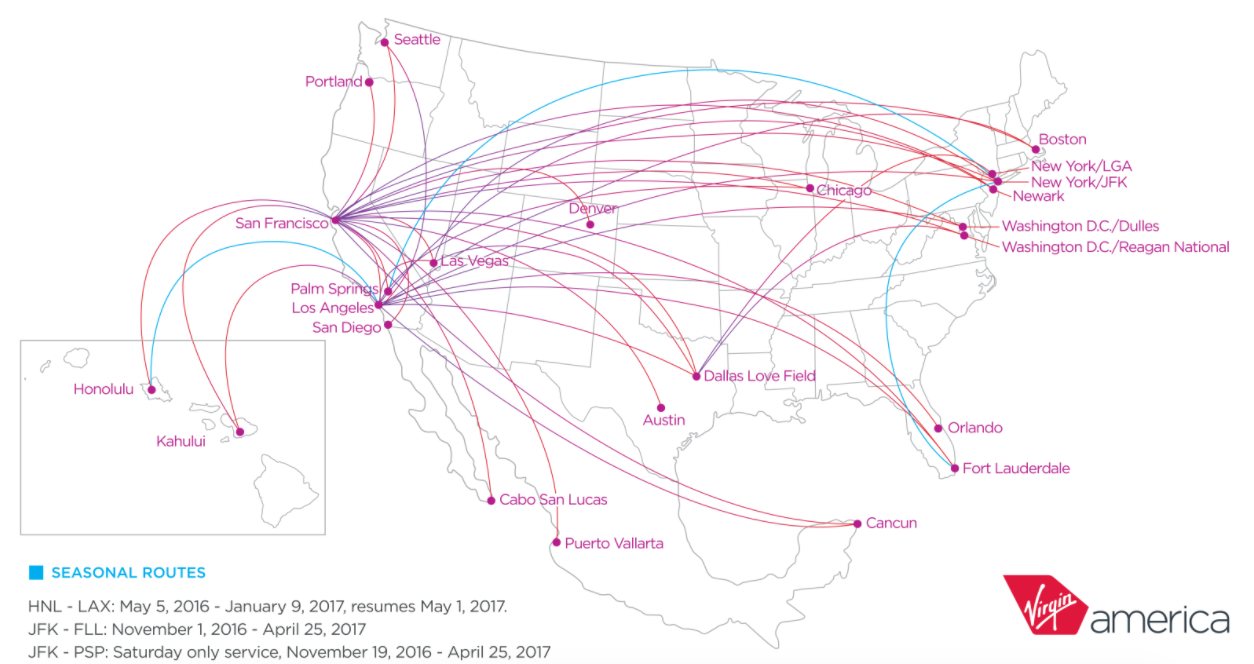 It basically operates just one type of aircraft: the Airbus A320. It does have some A319s, which are slightly shorter, and has longer A320neo aircraft on order for delivery over the next five years.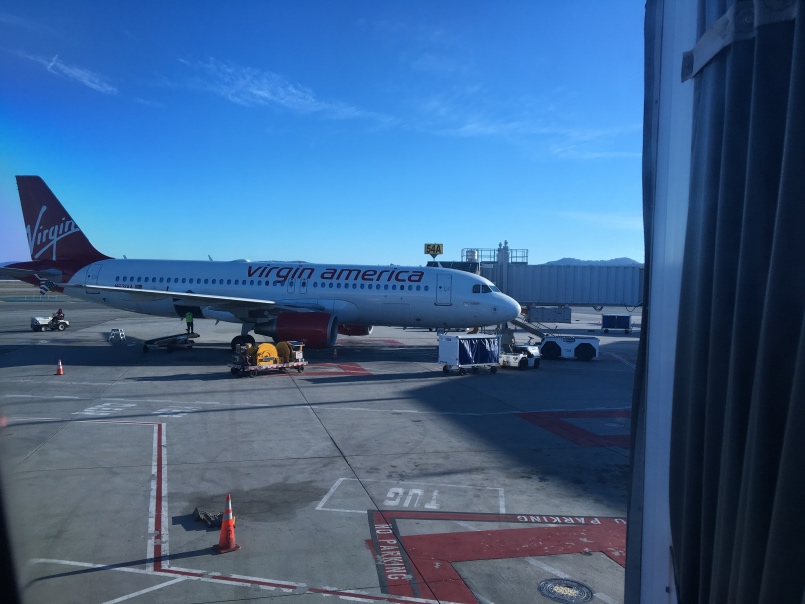 ---
How to redeem points for Virgin America flights
Update 1: You will not be able to redeem Velocity points on Virgin America flights from 30 September 2017, however, you can still transfer your Velocity points to KrisFlyer for redemptions after that.
Update 2: you can now also redeem British Airways Avios and American Airlines AAdvantage miles for Virgin America travel from 25 April 2018. For AA, you can search and book on aa.com; for Avios, you can search for availability on the Alaska Airlines website but you need to call British Airways to book.
The two main partners that we in Australia and New Zealand use for redemptions on Virgin America are Virgin Australia's Velocity and Singapore Airlines' KrisFlyer program.
Note that 'First' Class is really Business Class on flights within the US, no matter what the airline tries to tell you, and even its partners price Virgin America's premium cabin as Business Class flights.
As you may already know, airport taxes are low in the US, currently pricing at $5.60 USD per segment. Fuel surcharges on US carriers like Virgin America are zero in most cases.
Velocity Frequent Flyer
Velocity prices Virgin America redemptions the same as travel on Virgin Australia, in the cheaper Table 1.
The cheapest redemptions are short hops like Los Angeles to Las Vegas, which cost 15,500 Velocity Points, the same as Sydney to Melbourne.
The most expensive redemptions are for flights between the West Coast and the East Coast, as well as between the West Coast and Hawaii, which max out at 49,500 Velocity Points. In our opinion, this is quite a reasonable cost for a 4-6 hour flight.
You can check the distances between airports and award pricing on the Velocity website.
Singapore Airlines KrisFlyer
KrisFlyer has a region-based award chart for Virgin America, different to Velocity's distance-based chart.
Velocity vs KrisFlyer redemptions – who wins?
Redemptions on Virgin America are cheaper through Velocity rather than KrisFlyer.
Due to their unique partnership, you can transfer points between Velocity and KrisFlyer.
Below is a table comparing redemptions through Velocity and KrisFlyer on the most popular routes for Australians and New Zealanders on Virgin America. The most important columns are the last two – you'll see that in all cases it is cheaper to transfer your KrisFlyer miles to Velocity (last column) rather than redeem directly through KrisFlyer (second-last column):
Route
Miles flown
Velocity points needed
KrisFlyer Miles needed
KrisFlyer Miles needed
when transferred to Velocity
Los Angeles to Las Vegas
236
15,500
36,000
20,925
San Francisco to Seattle
638
23,500
36,000
31,725
Los Angeles to Chicago
1745
35,500
63,000
47,925
Los Angeles to Cancun
2119
35,500
68,000
47,925
San Francisco to Honolulu
2398
35,500
79,000
47,925
San Francisco to Orlando
2445
49,500
92,000
66,825
Los Angeles to New York
2475
49,500
92,000
66,825
San Francisco to New York
2586
49,500
92,000
66,825
Los Angeles to Boston
2611
49,500
92,000
66,825
Note that if you are travelling to Hawaii, the flights from San Francisco just creep in under the 2400-mile limit for 35,500 Velocity Points rather than the longer flights from Los Angeles for 49,500, so you'll save points by flying from San Francisco.
Another reason to use your Velocity Points on a Virgin America flight is that Velocity runs a yearly bonus points transfer promotion from most credit card points programs in November, with 15% offered throughout November 2016.
---
Virgin America's Cabins
The First Class cabin is arranged in a 2-2 configuration across two rows, for a total of eight seats, with Main Cabin Select (Premium Economy) and Main Cabin (Economy) following in a 3-3 configuration. This is standard for US domestic flights.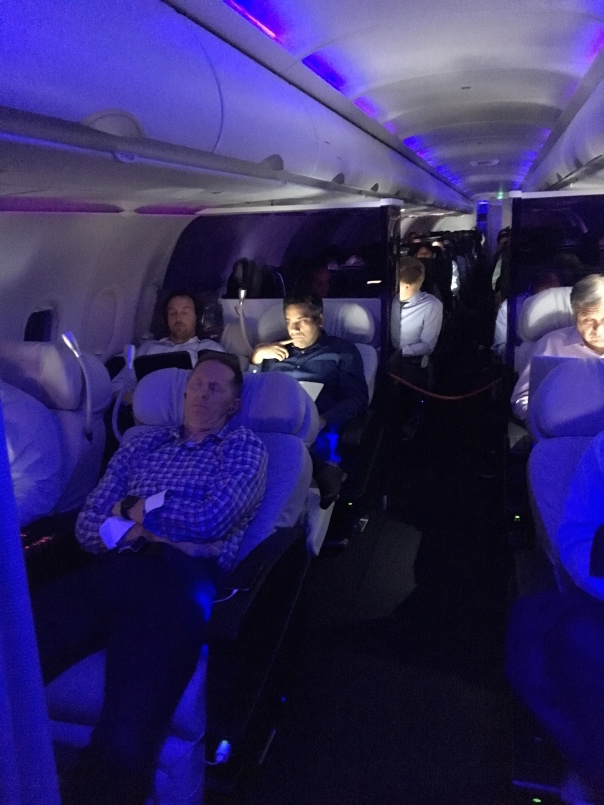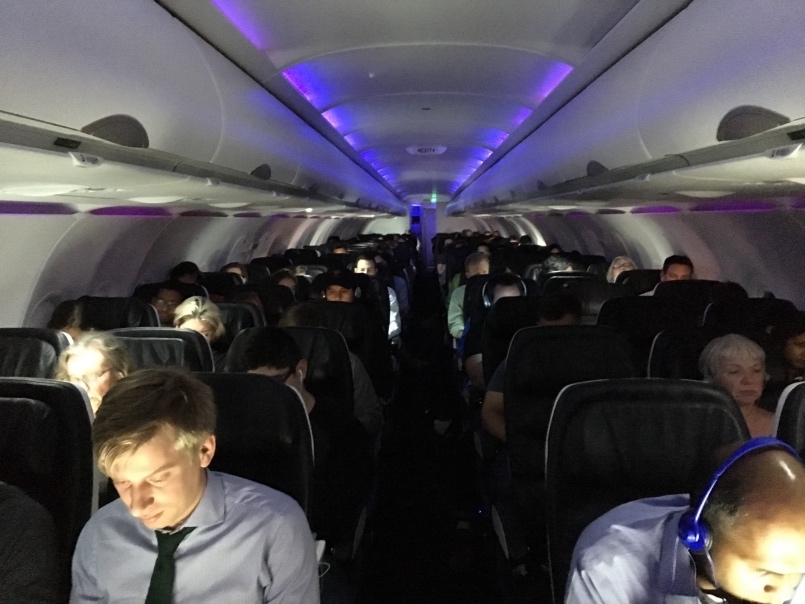 I would recommend 1F and 1D as the best seats in the First Class cabin as they are diagonal from the lavatory instead of galley, where light shines through. There is not much difference in the legroom between Row 1 (bulkhead) and 2.
A distinctive feature of Virgin America is its purple mood lighting: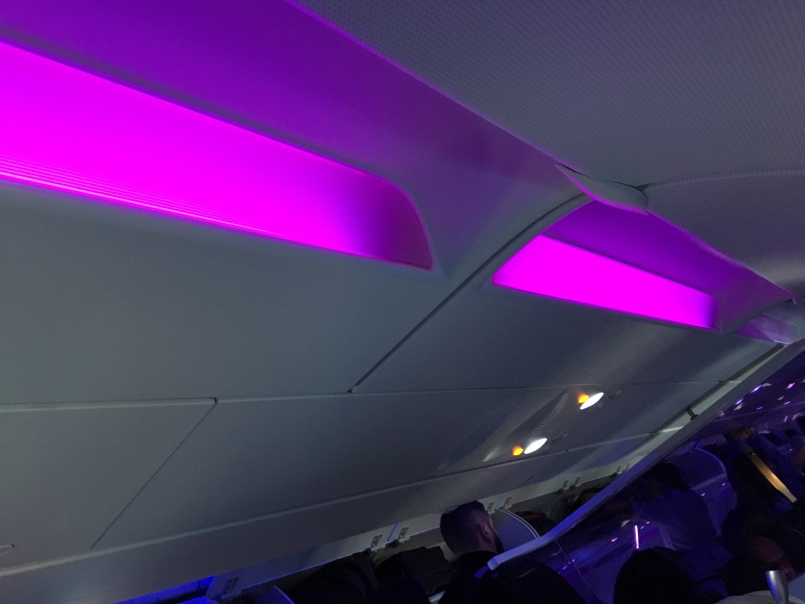 There is one lavatory for the First Class cabin, and two at the rear of the plane.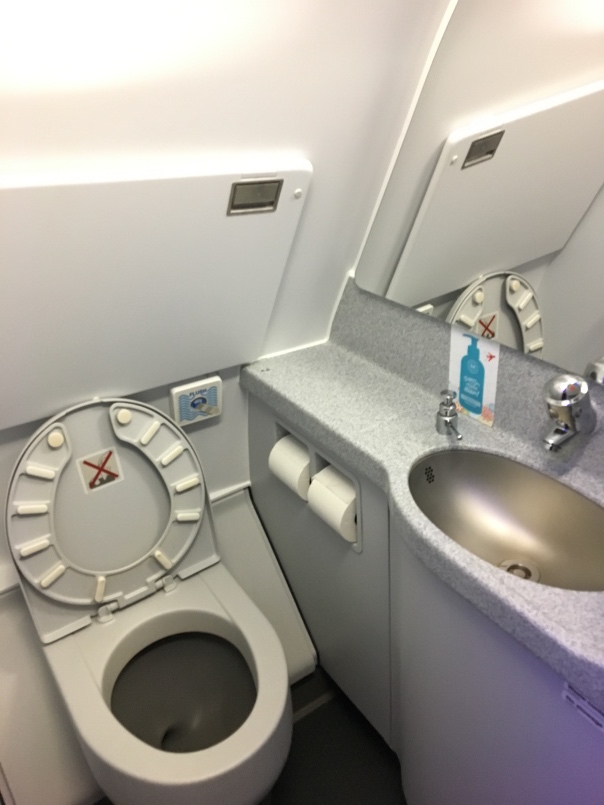 The Virgin America First Class Seat
The seat is on the more comfortable side for the US domestic carriers, quite cushy and with an adjustable headrest.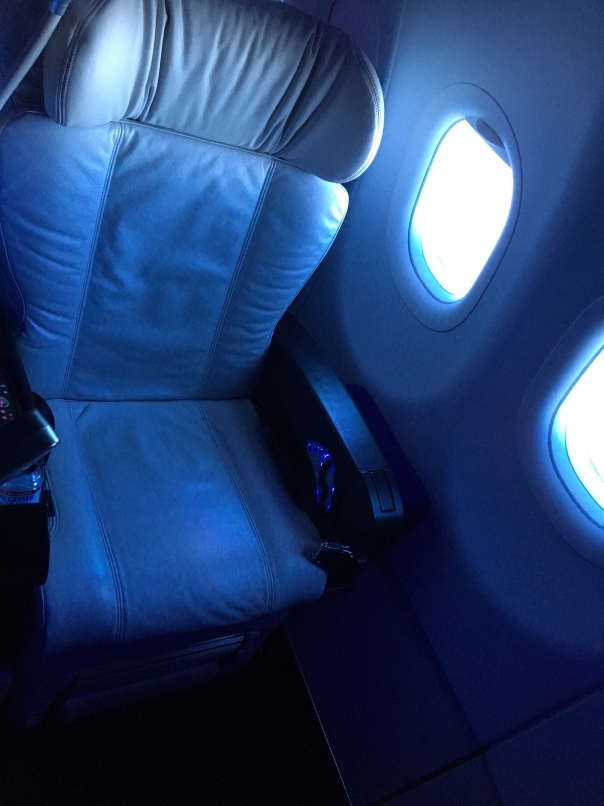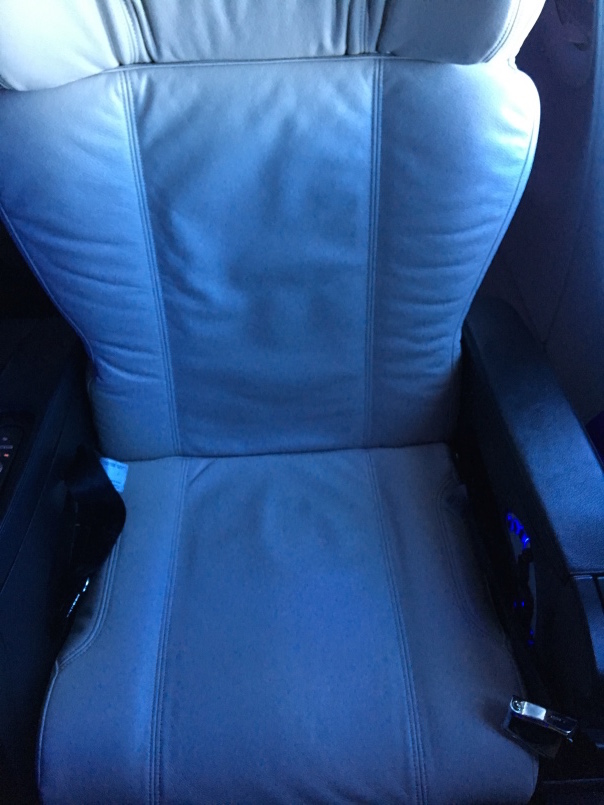 I didn't get a chance to photograph the seat at its maximum recline, so here is an image from the Virgin America website: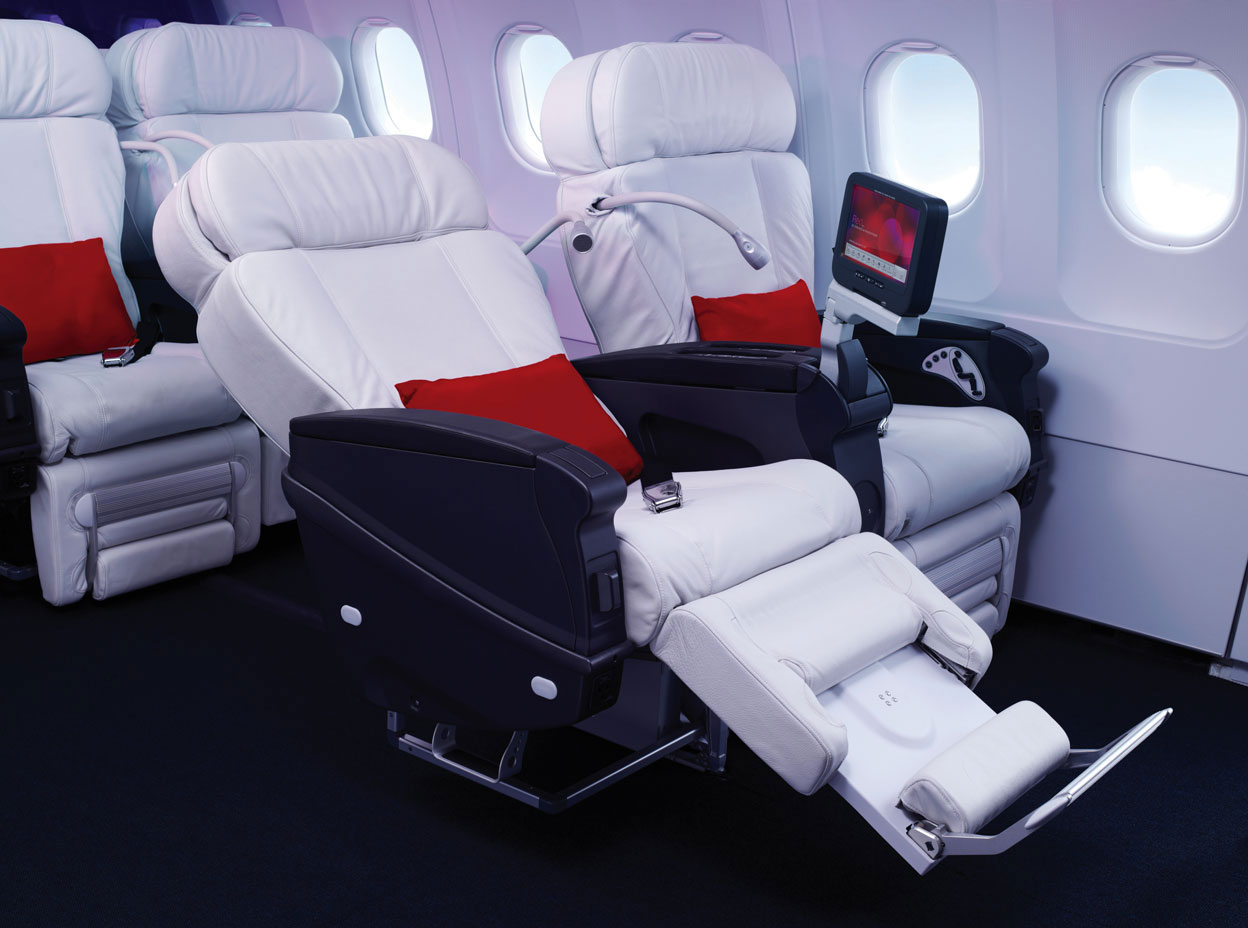 I was seated at 1A and to give you an idea, I'm 5'10" and my feet didn't touch the bulkhead in front.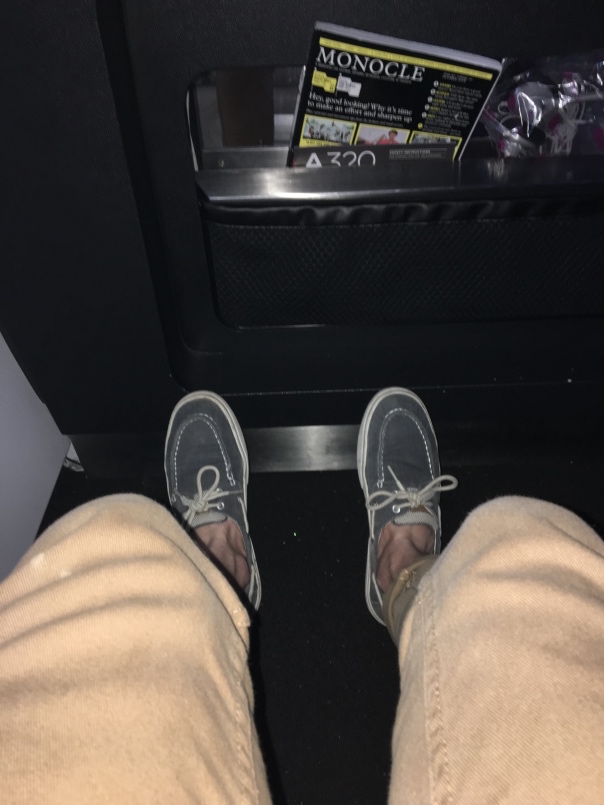 You can see the purple mood lighting in action here: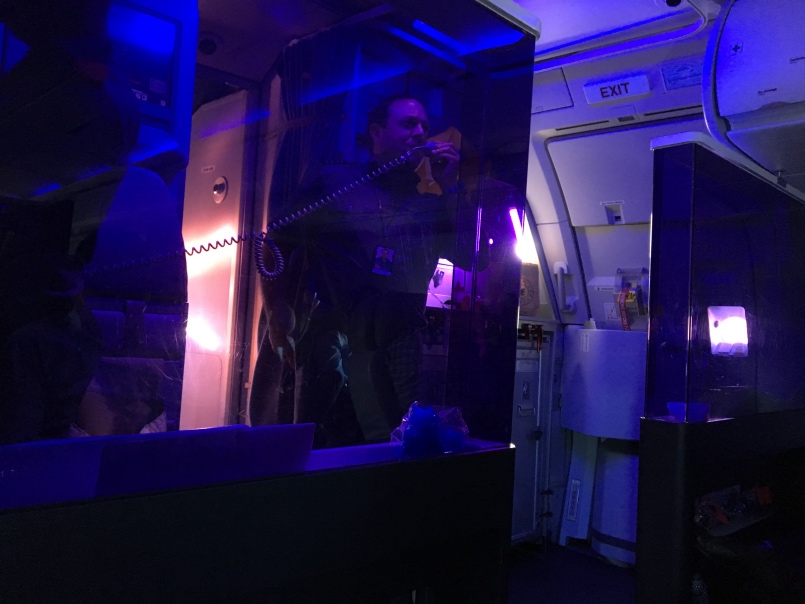 You are given a pillow and blanket. It's comfortable and warm – think a chilly autumn night.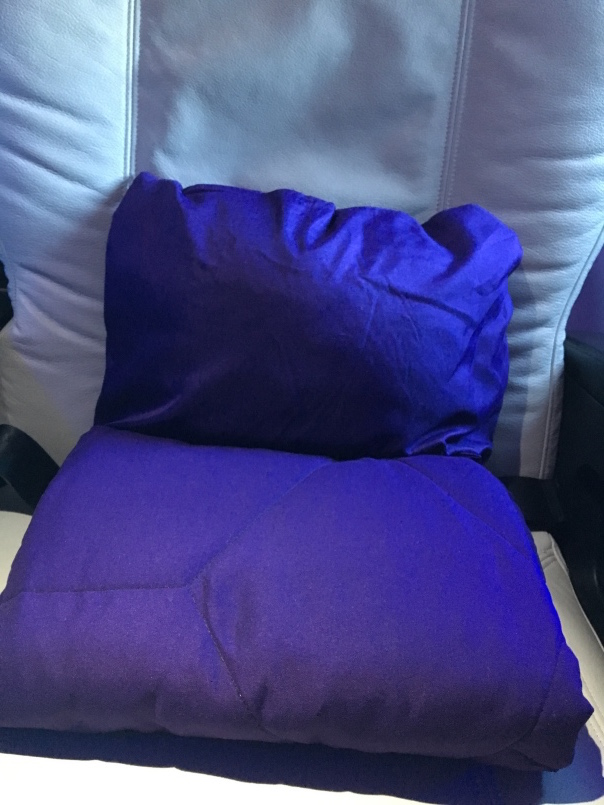 There are water bottles waiting for you in special holders in between seats:
The seats have three pre-configured seat settings: Take Off (upright), Comfort (leg rest out 30% of way and 30-degree recline, and Relax (maximum, leg rest extended, 60-degree recline):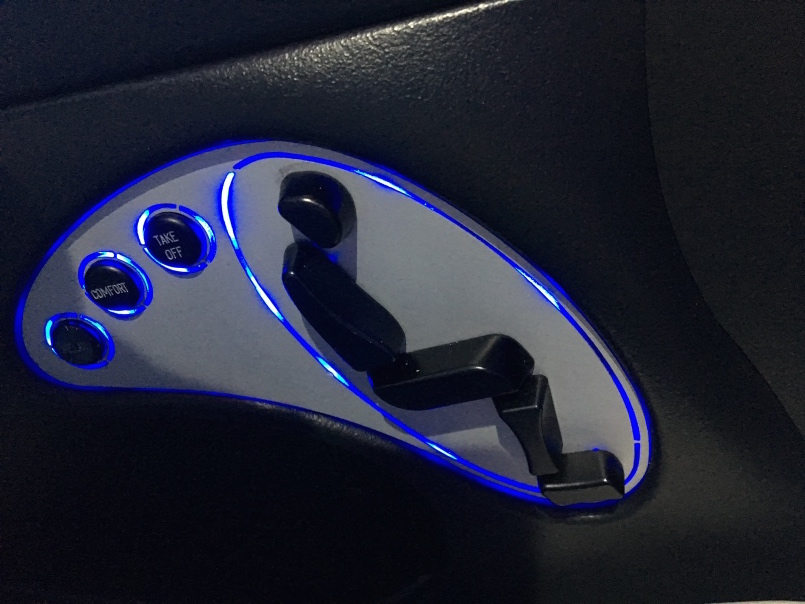 You can also massage your back (although I didn't find this very strong):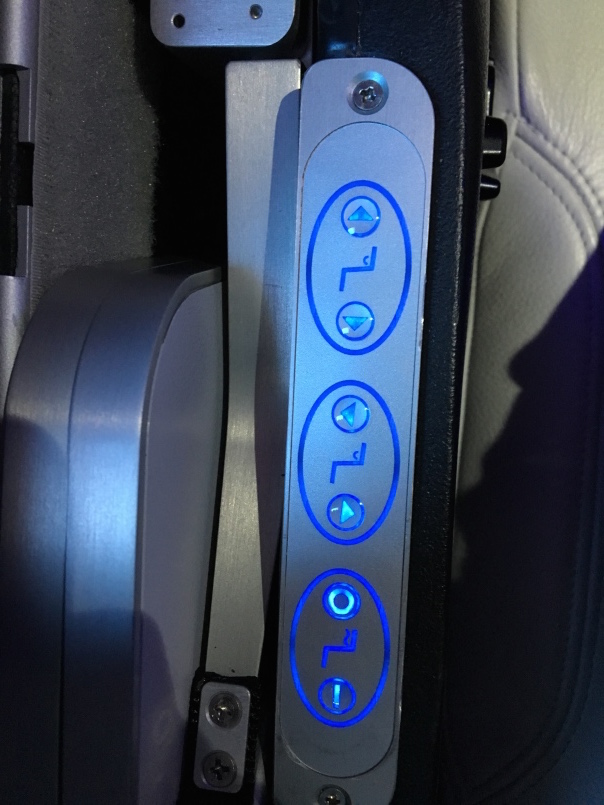 And there is a malleable reading light (in addition to the standard overhead light near the air vents):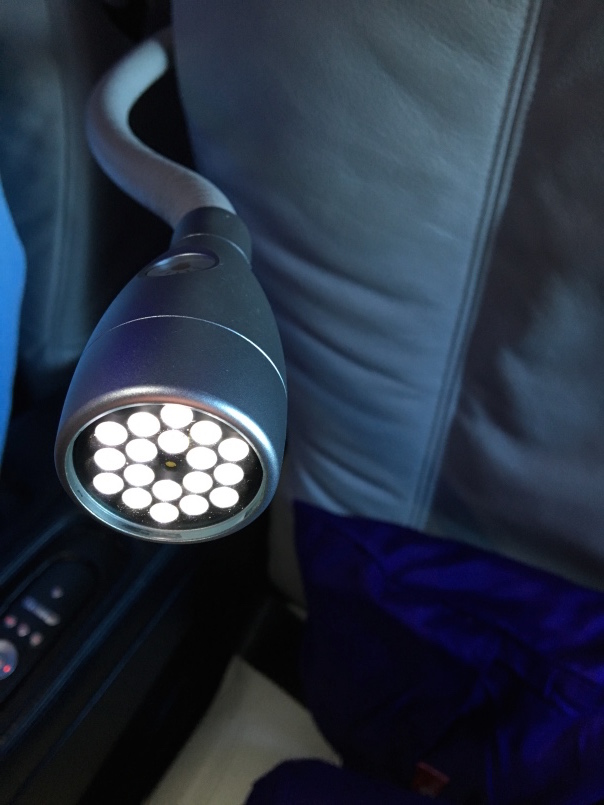 Food & Beverage
On flights over two hours, you'll get a full meal service; on shorter flights, it's snacks and drinks. Here is the menu from my (three-hour) flight:
I had a whiskey and ginger ale as my pre-departure drink (served in a plastic cup for safety):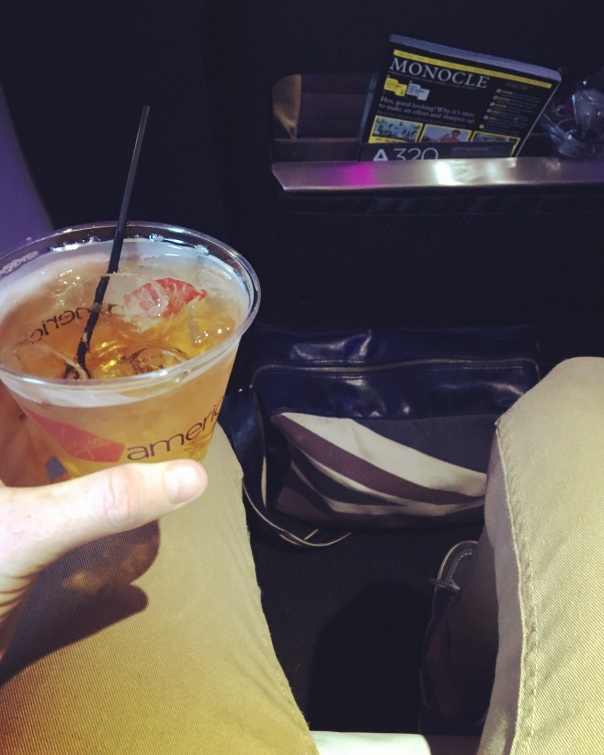 After take-off, there was another quick drink service, and all drinks were served in branded glasses (see featured image) from this point on, which was a nice touch.
My meal overall was very flavoursome. The main of feta, quinoa and beet salad was salty with the feta, filling and served at an ideal temperature.
The side salad looked poor with two cherry tomatoes and leafy greens but it had a kick, especially with the balsamic vinegar and olive oil.
Note that it was served on one tray, probably to save time: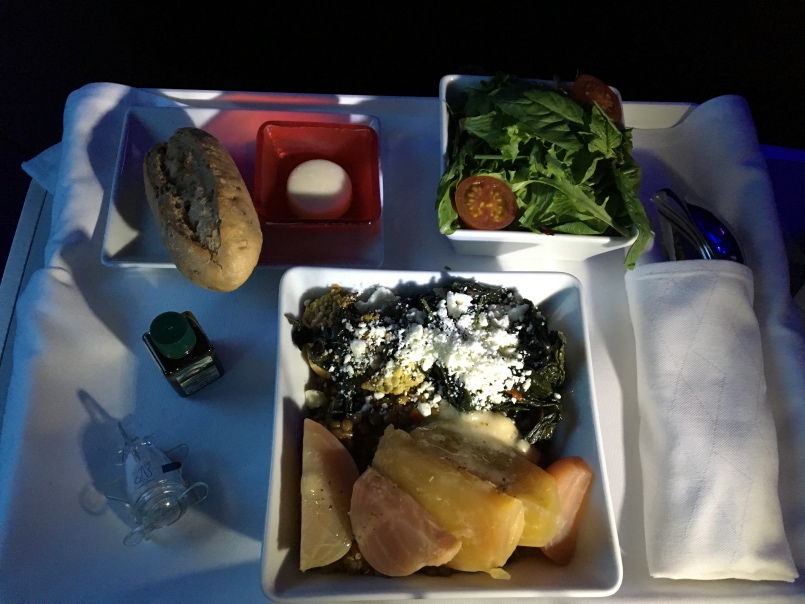 The dessert brownie was so rich it could've satisfied three people. I coupled it with a Bailey's on the rocks.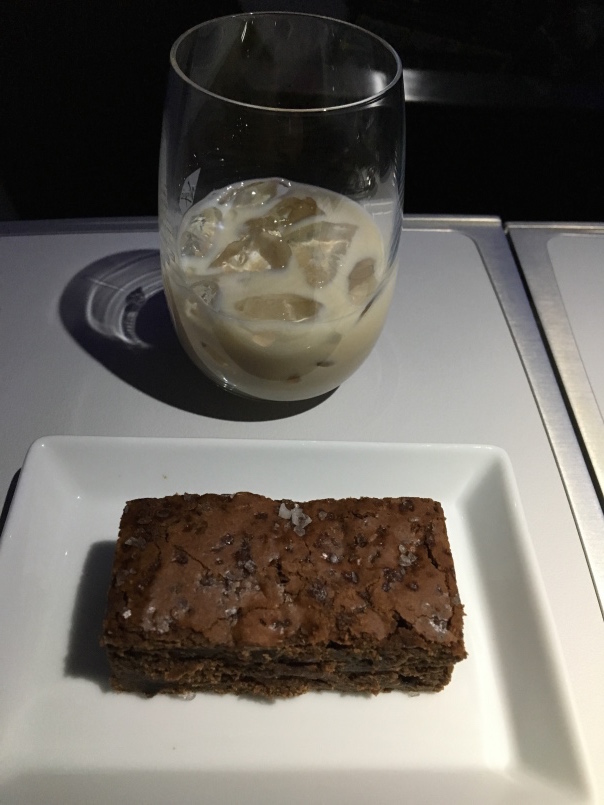 The meal service was completed within 75 minutes of takeoff, which is impressive. Once the cabin crew found out I was Australian, they gave me free leftover meals from the Economy cabin to take home: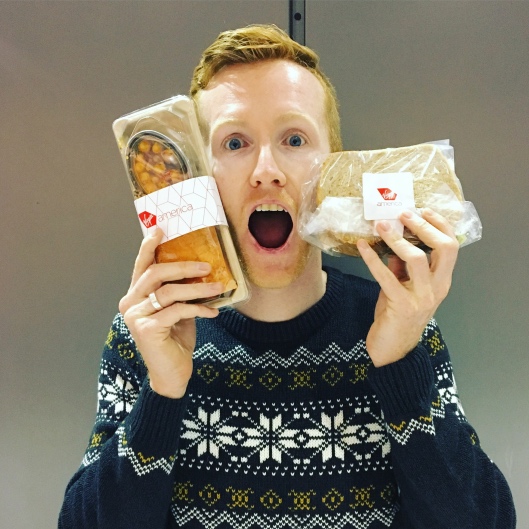 Inflight Entertainment
The inflight entertainment system was heavy to lift out of the armrest, but once mounted was quick to load and easy to navigate.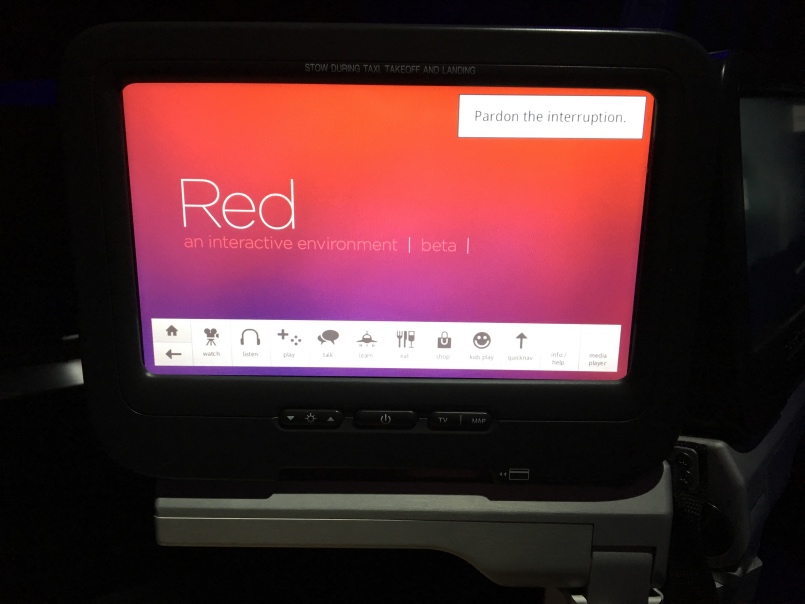 The movies were quite recent: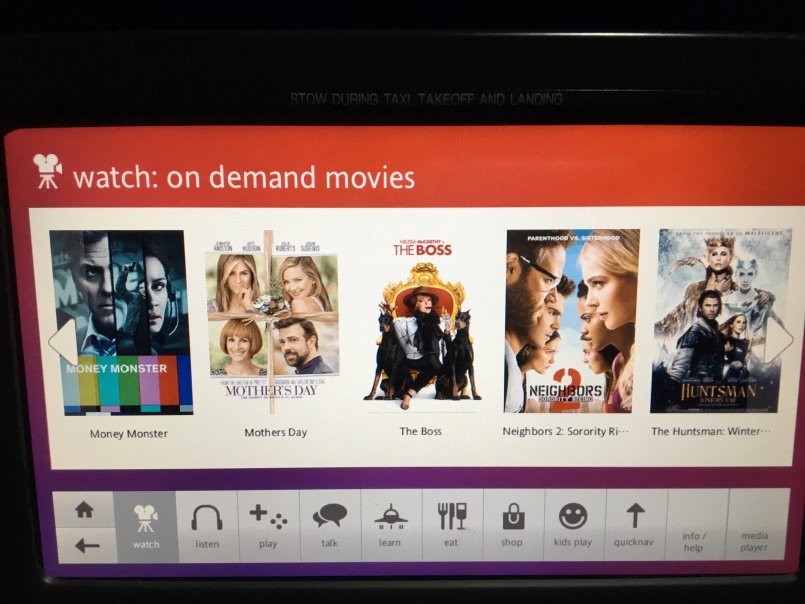 and I really liked the unique Quick Nav tool, kind of like a site map for a website: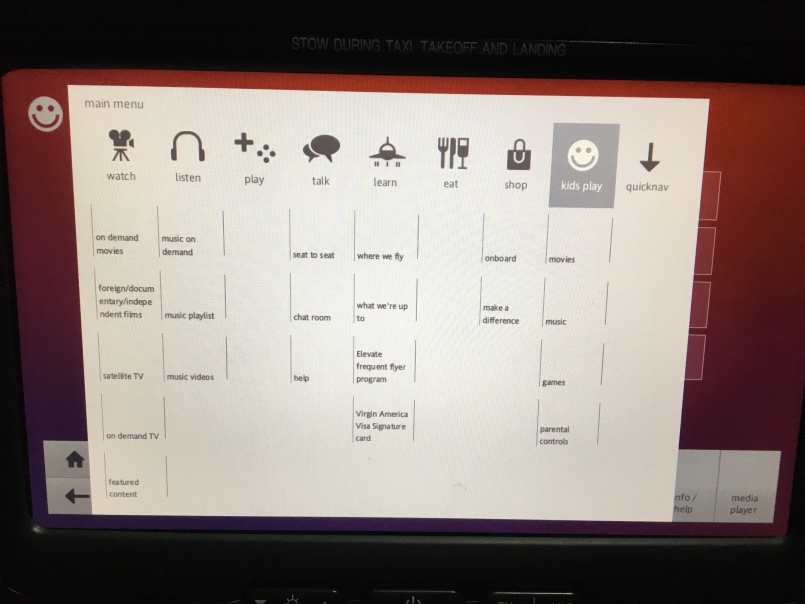 Even though the system was touchscreen, you still have the remote as a backup option: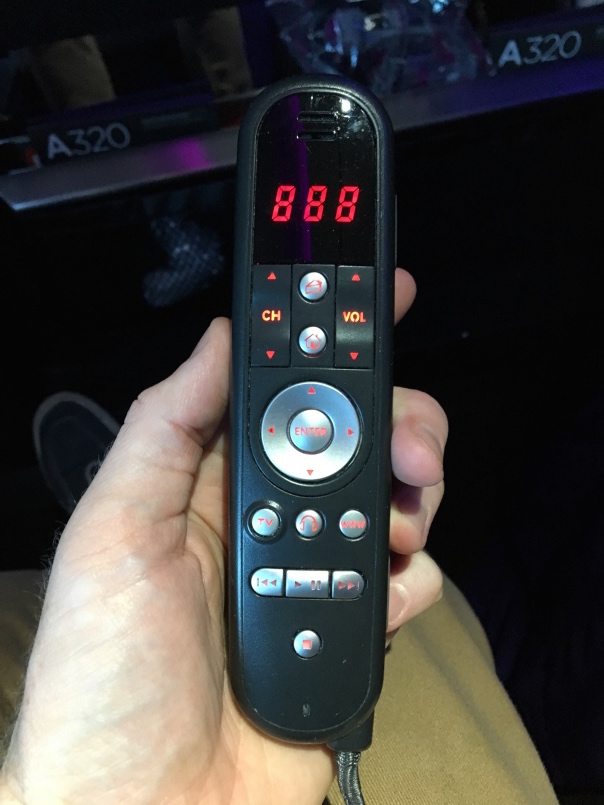 Each seat has a USB port, ethernet connection and US power outlet: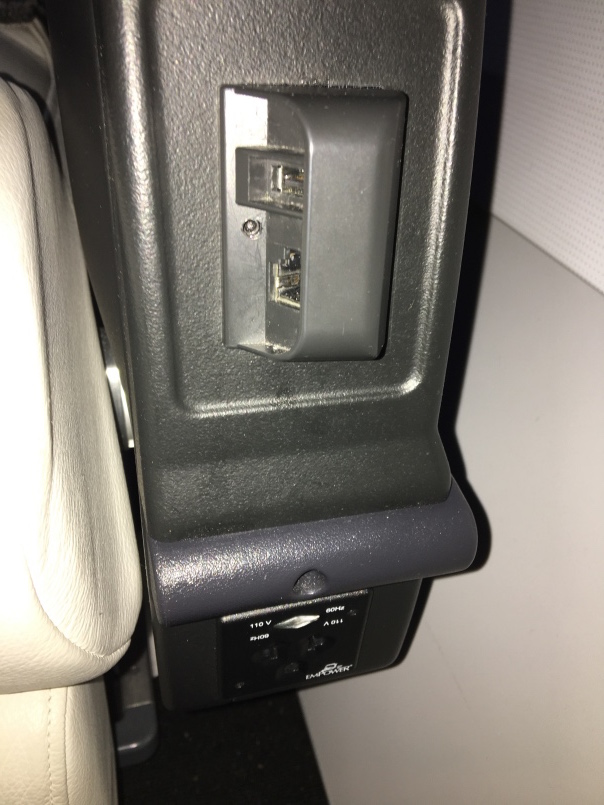 Wifi
The cabin crew said that there was a different price for connecting on a laptop, tablet and smartphone, but on all three devices it priced at $9.99 USD for the whole flight:

The download speed was satisfactory, but upload on the slow side:

Other flight reviews
Our Take – Virgin America First Class
Contradictory to high customer service standards on the ground (due to its tipping culture), we have come to expect little in the air when flying US airlines. Delta, JetBlue, Virgin America and Southwest generally lead the pack, with American Airlines in the middle, and United and ultra-low-cost carriers like Spirit and Frontier in the rear.
Virgin America has done well to build a brand image of a young, customer-focused airline, and it met the high expectations its marketing had built in my head on my first flight with them.
The cabin crew were friendly and funny, calling themselves Bubbles and Chocolate Chip throughout the flight. The service was non-intrusive but present when called.
Virgin America's website is user-friendly and the boarding process was efficient, departing five minutes ahead of schedule.
The seat is comfortable, but what takes one star away from this review is that it is not lie-flat nor does it offer direct-aisle access, something that JetBlue has introduced on its Mint coast-to-coast service.
I would highly recommend flying Virgin America 'First' Class over the three US legacy carriers – Delta, American and United – but if JetBlue is also operating on the route you are looking at, the US blogs are going crazy over its Mint service and that would be a good one to experience too.
Virgin America First Class Overview
was last modified:
March 7th, 2022
by