Just a couple of weeks ago now I picked up a relatively last minute award booking on Singapore Airlines to head up to the Singapore Grand Prix with my 4 year old daughter, Zoe, tagging along to see family.
Using KrisFlyer miles on this route for their excellent A380 Business Class cabin was a deal at 46,750 KrisFlyer miles per person plus ~$290 in taxes and fees.
This was done by transferring over Velocity points to KrisFlyer which credit immediately – so 63,115 Velocity points used for this transfer. Given I had the Velocity points in my account, and didn't want to wait for credit card points to transfer, this was a great use of my Velocity balance.

Feature image from aero icarus on flickr
Upcoming changes to A380 aircraft
This product was upgraded from December 2017.
Research & Booking
I knew I would be heading up to the Grand Prix about 6 months beforehand, and understandably on a peak weekend I couldn't find two award seats that far out, so I booked a fairly lengthy (but interesting to me) itinerary of heading to Singapore via Tokyo and Hong Kong.
However I was keen to try to minimise time away and fly direct, so set up a range of alerts via Award Nexus to keep an eye on Business and First Class availability to Singapore with British Airways and Qantas, and also with Cathay Pacific via Hong Kong too.
I thought I could put money on British Airways opening up Business and First Class seats at the last minute, but it didn't happen. On the other hand I would have put money on Qantas not making points seats available.
The alternative was with Singapore Airlines who fly four times daily from Sydney, so I monitored award availability manually in the couple of weeks prior to departure, and around 10 days out, the perfect option came up – this flight up on the Friday before the race, and a departure on the Monday after. Here's my review of that flight.
I didn't want to miss out on this flight, so I was prepared to transfer the points over to KrisFlyer from Velocity and pay the transfer tax of the 1:1.55 transfer rate, instead of having them transfer from my Membership Rewards account where the transfer would have taken 24-48 hours.
Note: KrisFlyer announced changes coming into effect from 24 January 2019, which include an across-the-board increase in the number of miles required for premium cabin redemptions.
Singapore Airlines Lounge, Sydney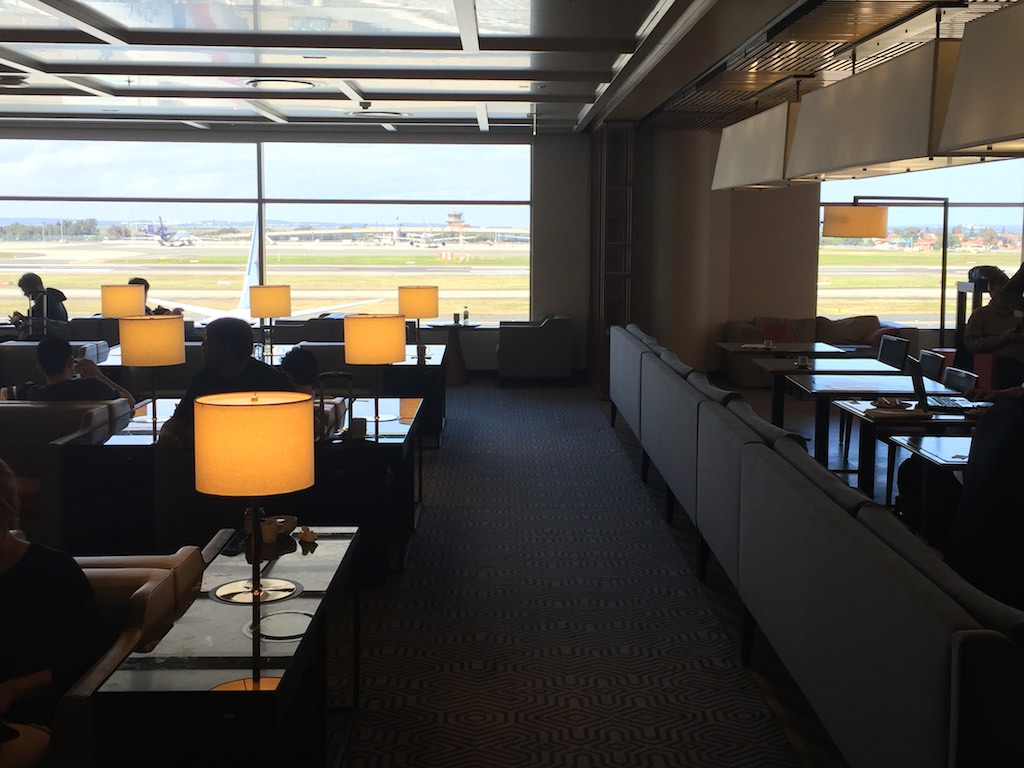 When ever I travel with my kids, it seems like we run everything extremely tight for time, however hard I try to get us places with time to spare.
This flight was little different, and for an 11.15 am departure, we ended up with around 15 minutes in the lounge before boarding was called.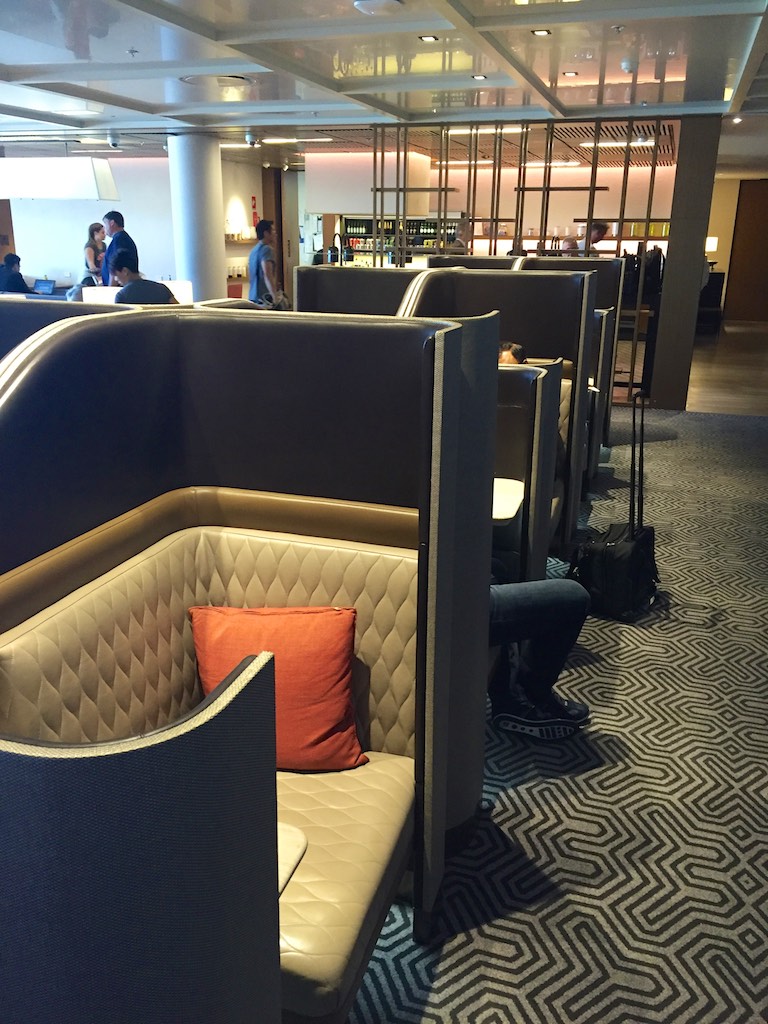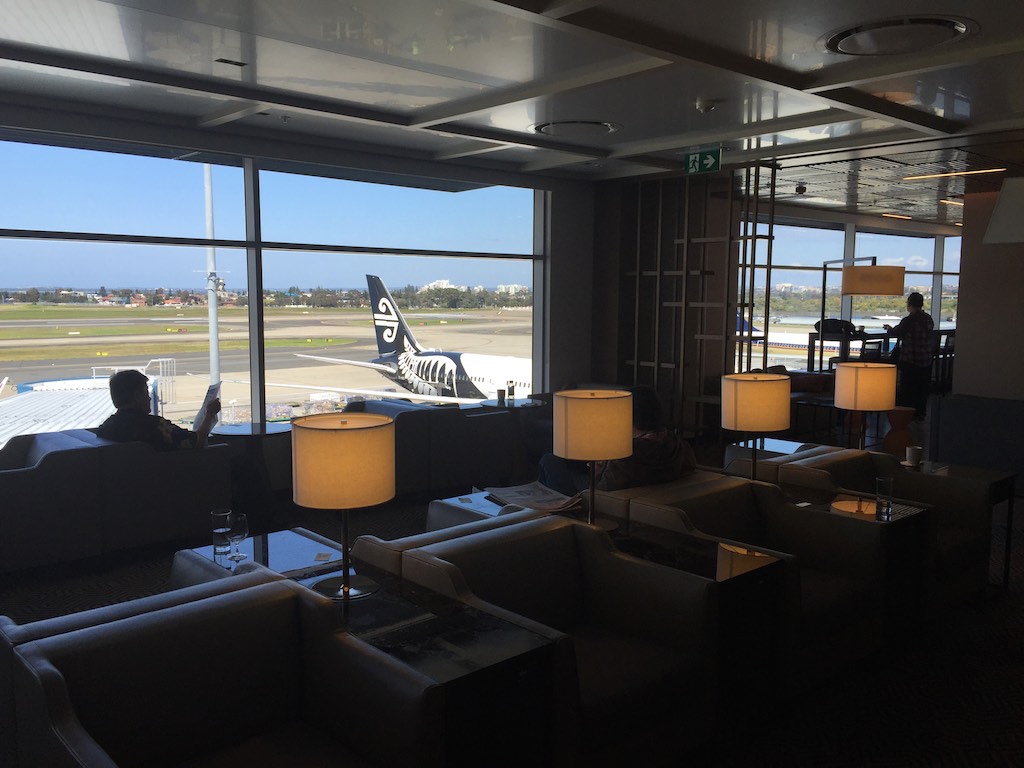 The lounge was nice – great views and comfortable seating, but really busy and some of the food stations had been emptied.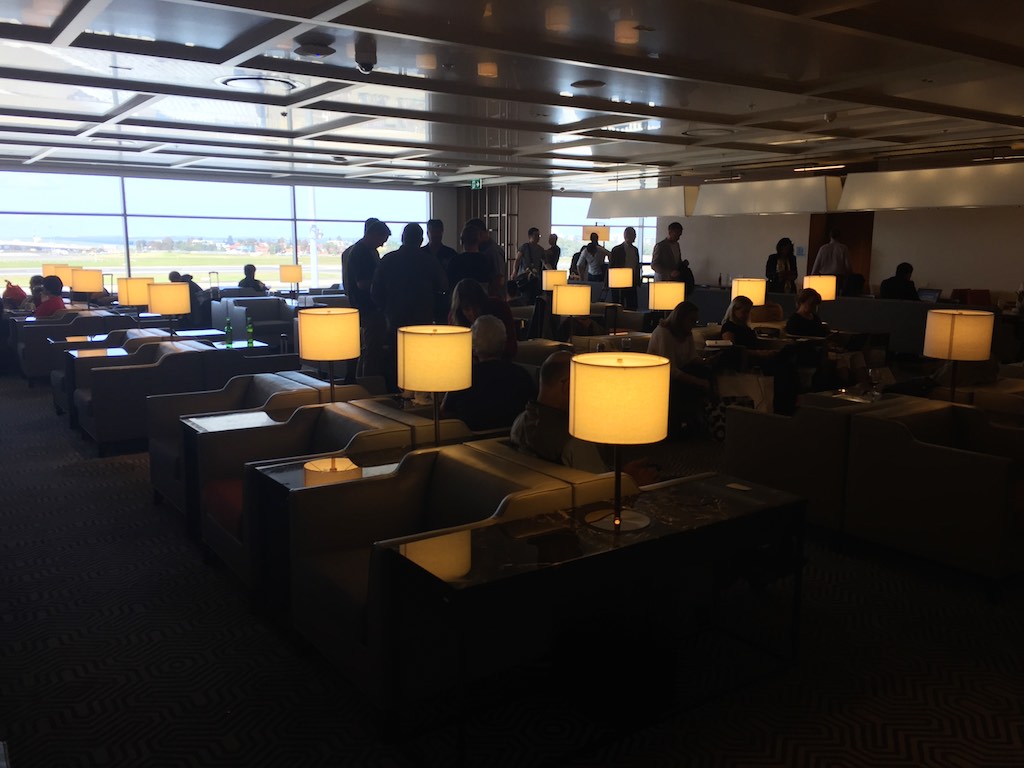 I wouldn't say it's a lounge to aim to visit and kill time in, but it did the job nicely.
The Flight – Singapore Airlines A380 Business Class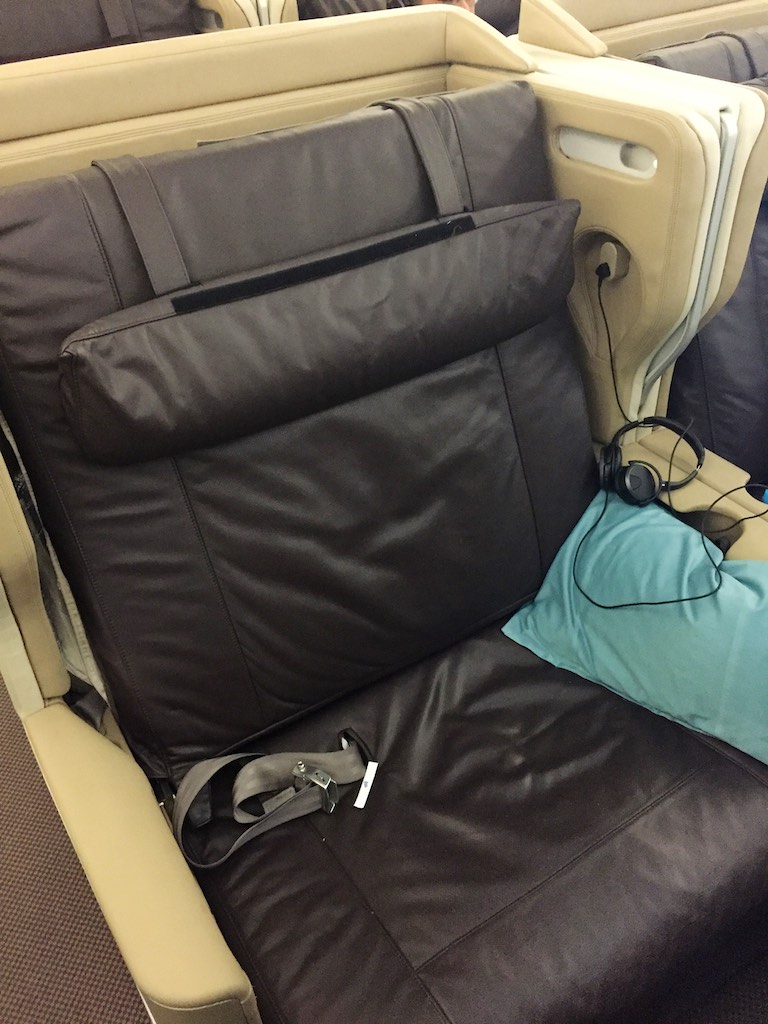 On boarding, we found our way down to row 20-something and got settled in. The flight was full, and after some issues with the IFE (fixed with a lengthy restart) and a quick seat swap to keep the kid happy, we were on our way.
I was pretty happy to be flying on this airline, flight and route – my first time on Singapore Airlines' A380, and was pleased that my expectations around the quality of the cabin and seats were met – muted brown leather all round, and comfortable too.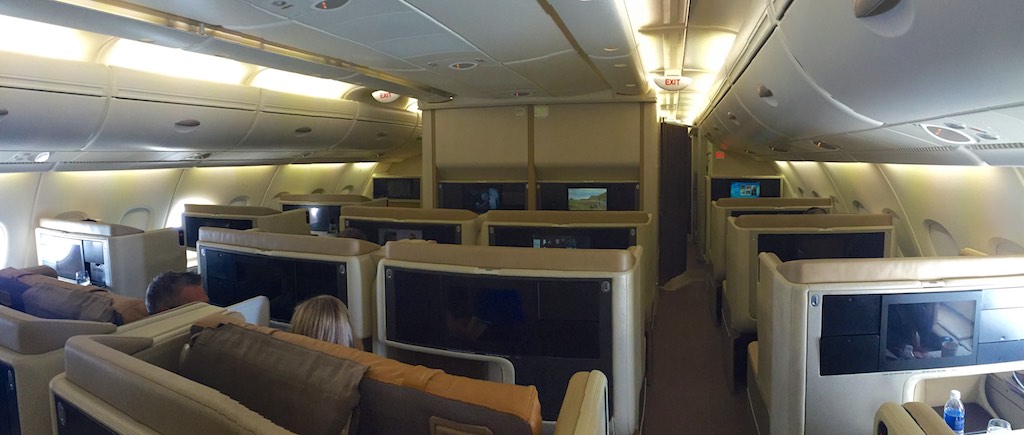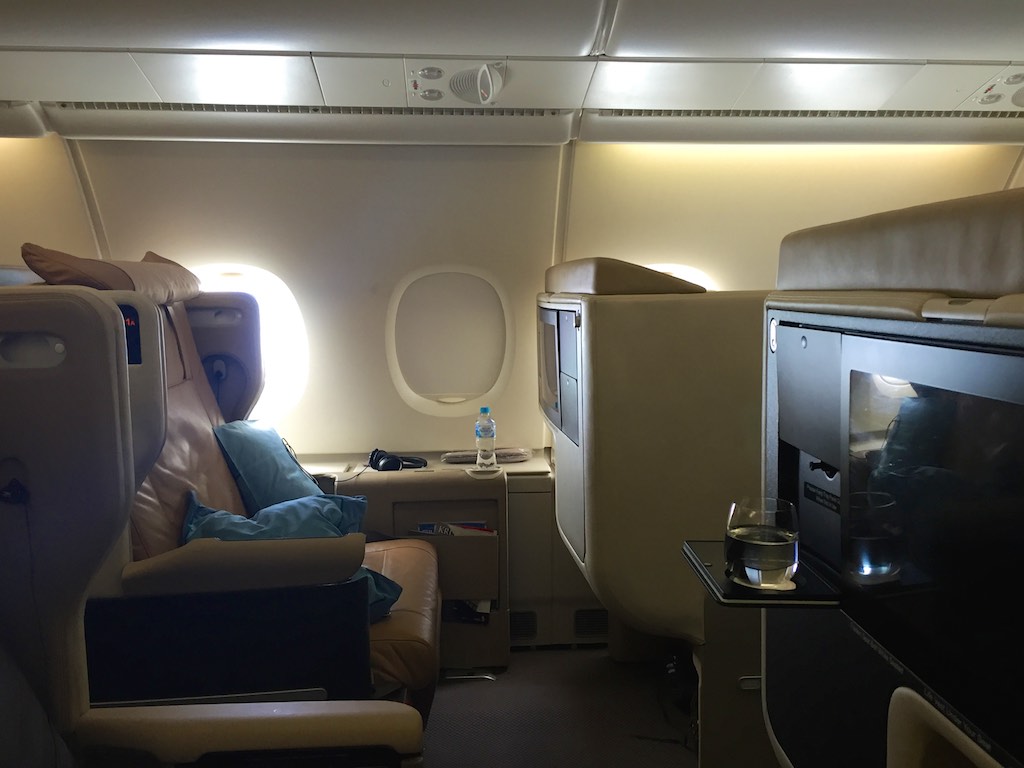 The 1-2-1 configuration means that all seats have aisle access, with the window seats being the most private. It was easy to converse with (and reach over to!) my seat mate in the centre seat next to me.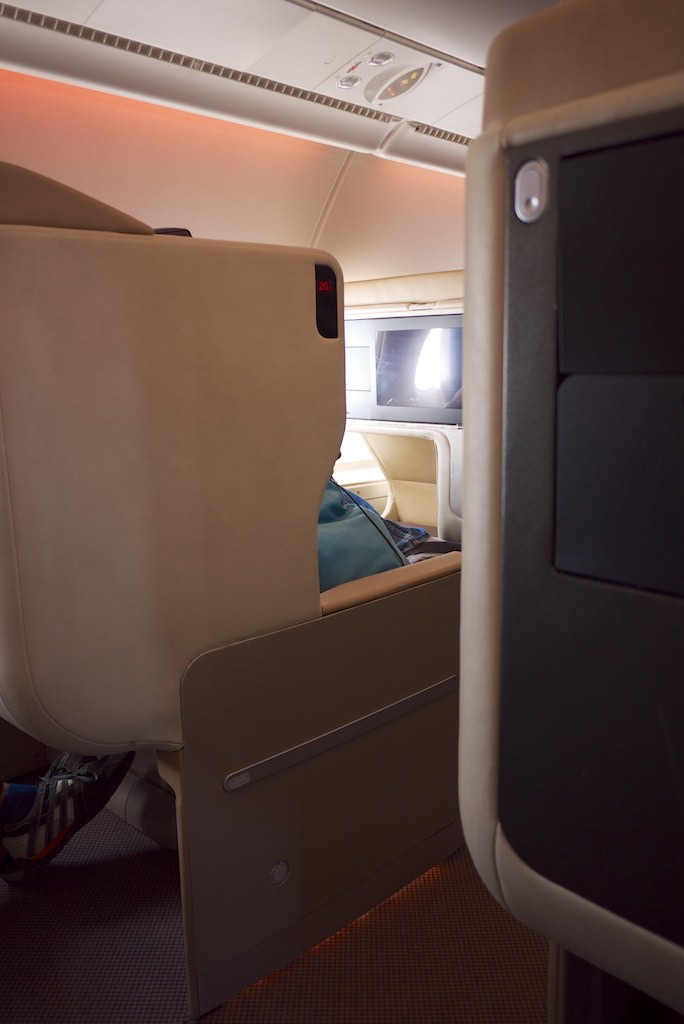 The seats are different from most other Business Class' out there – the seat in front of you is closer than you'd expect, but your own seat is very wide, with a recess under the seat in front for your feet.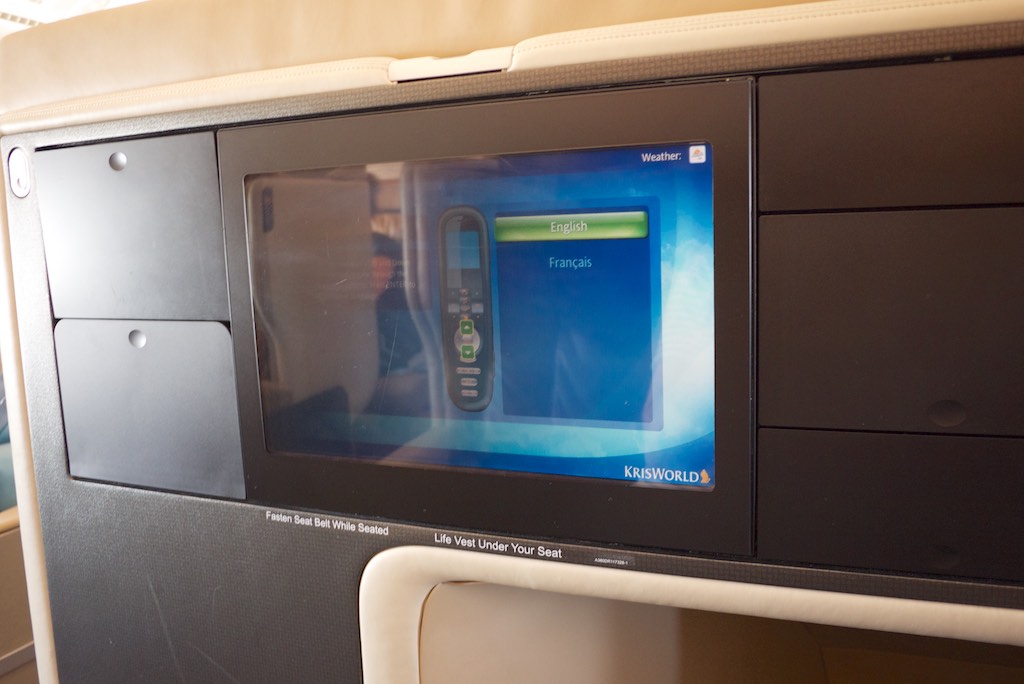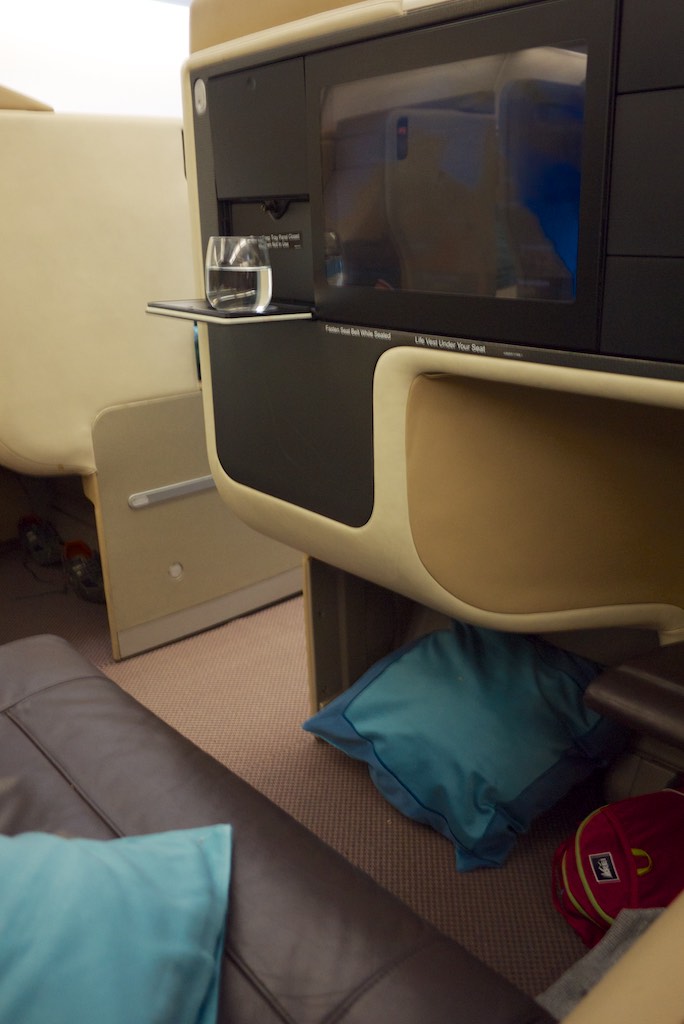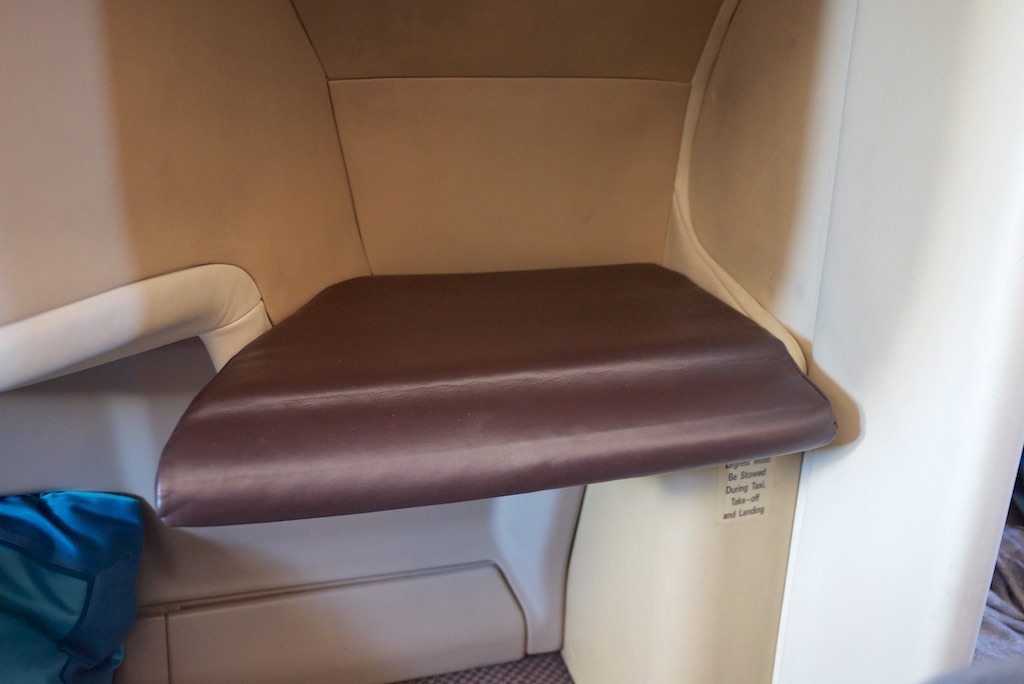 When in recline mode this layout allows you to sleep with your head in one corner of one top of the bed with your feet down in the recess.
Dining on Singapore Airlines SQ232
When it comes to food, we were offered one main meal (lunch) and one snack toward the end of the flight.
It was crab to start, followed by my choice of lamb, and a cheesecake desert.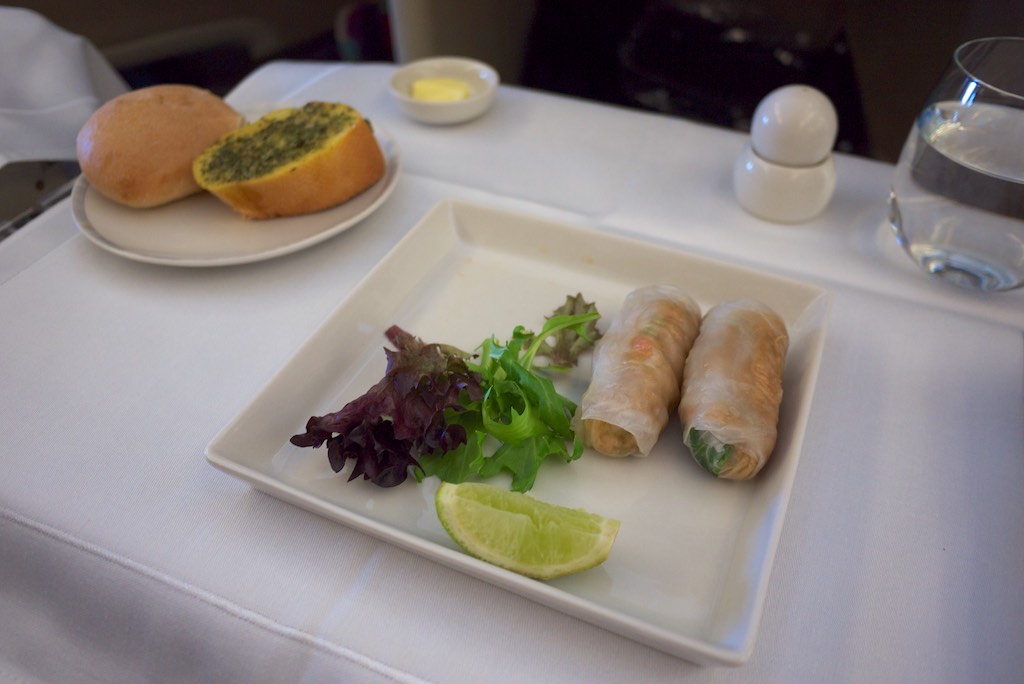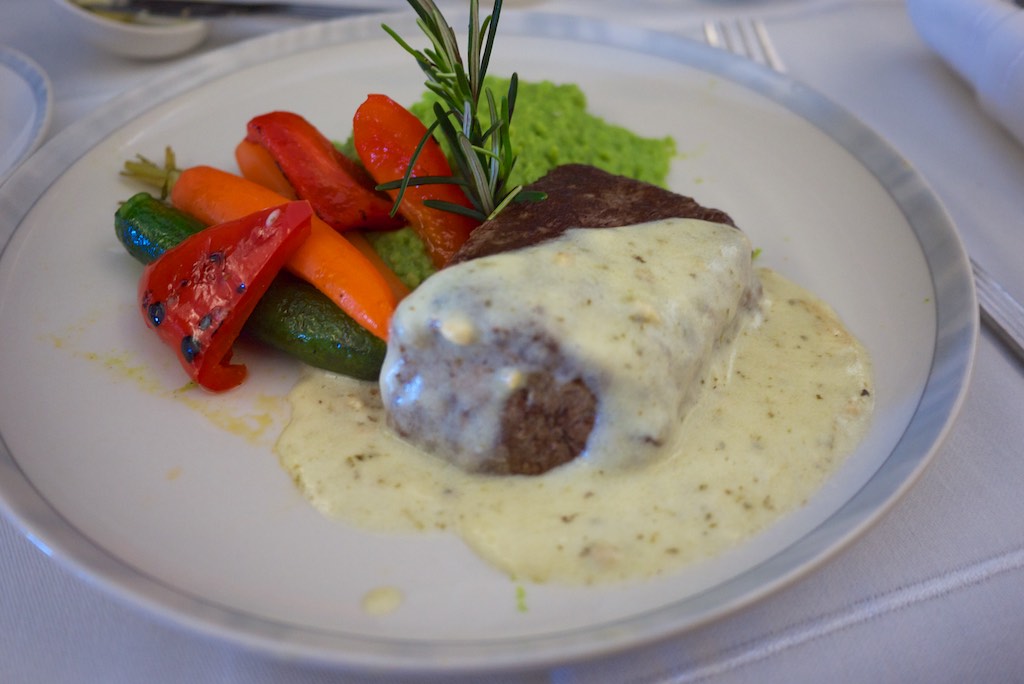 About two hours before landing, snacks were offered – I ate for two and had both some noodles and a roasted vegetable and chicken sandwich.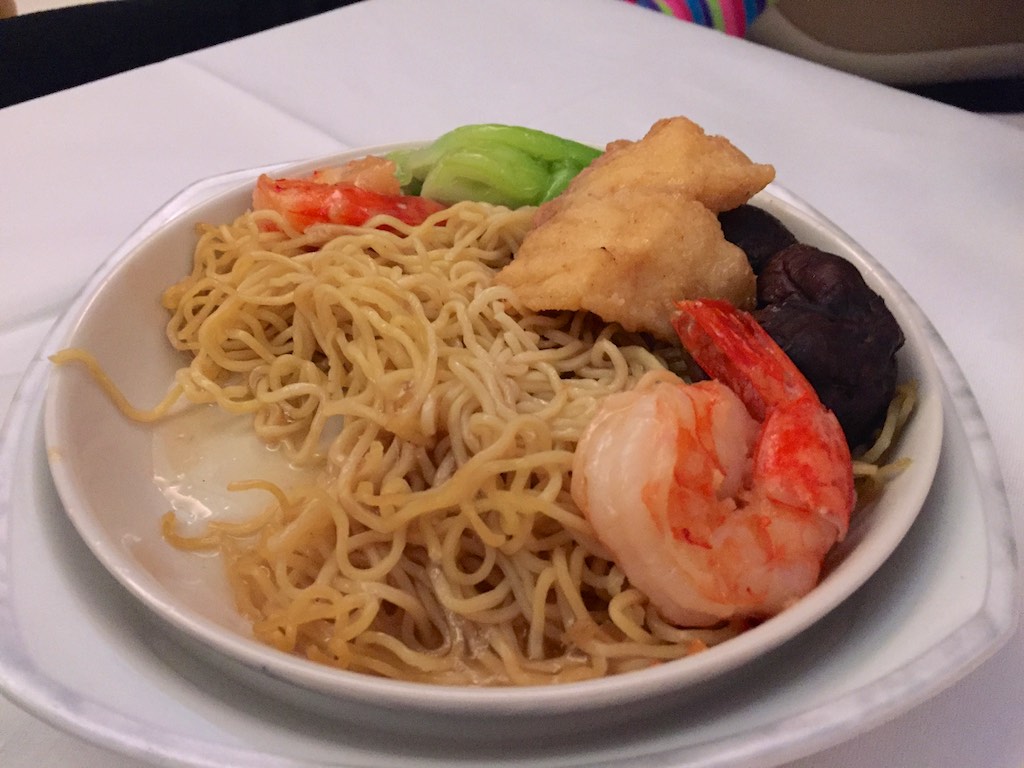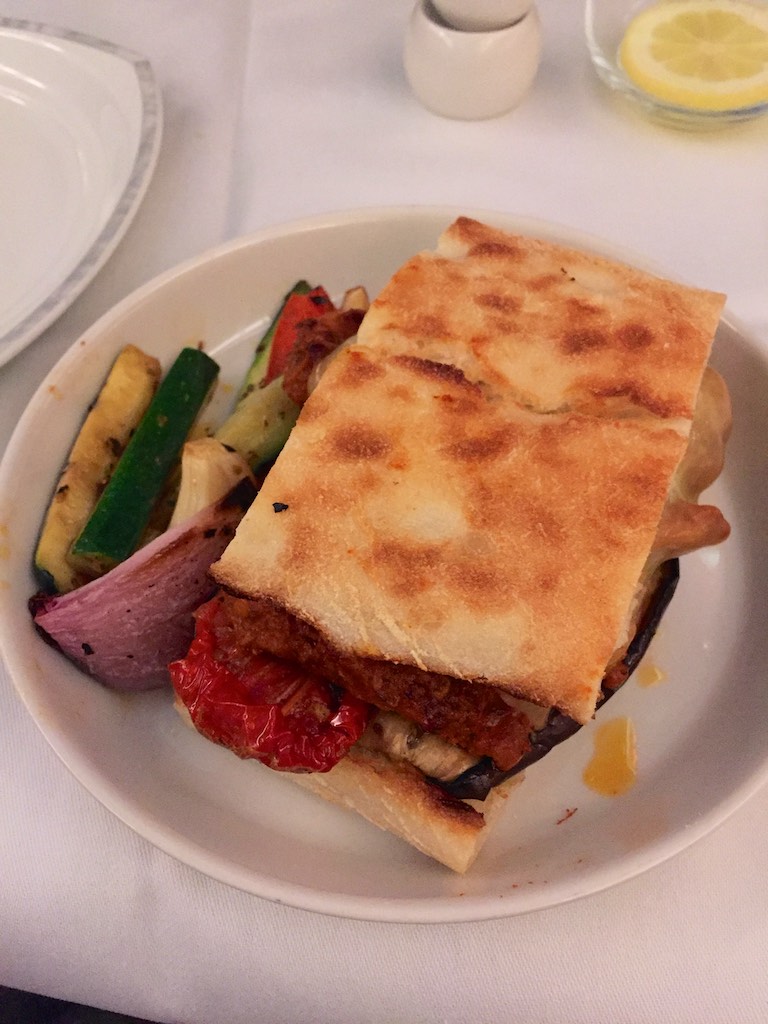 All up the food was pretty good – nothing to be raved about, but no complaints at all.
Travelling with kids on Singapore Airlines / SQ232
For a flight of this length (8 1/2 hours) I'd prefer to travel in daylight with kids, and this was a perfect departure and arrival time to work with our body clocks.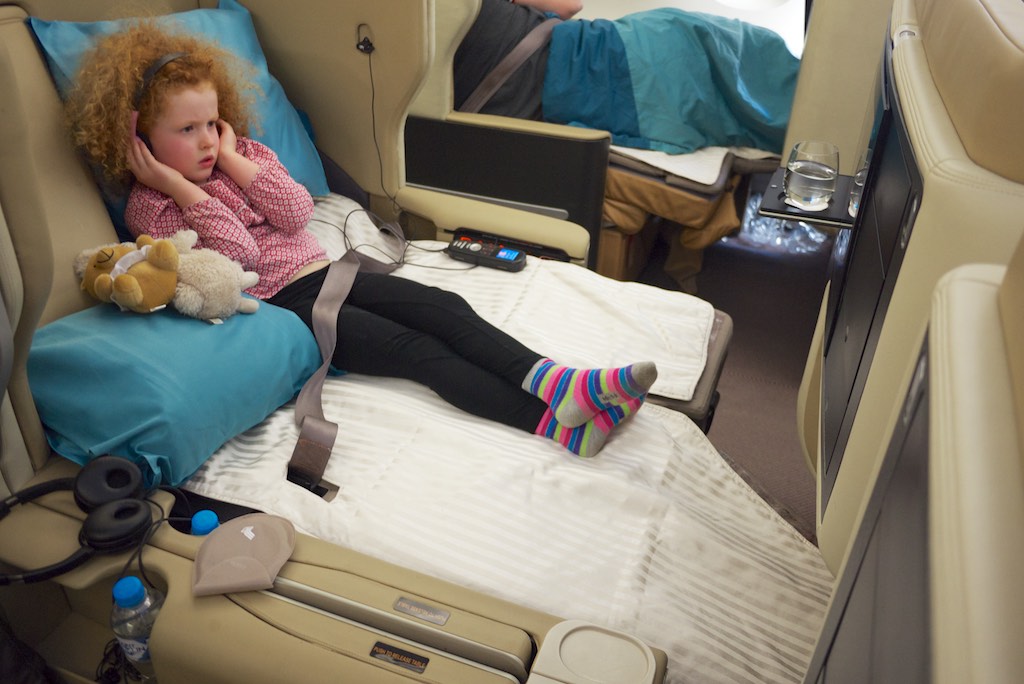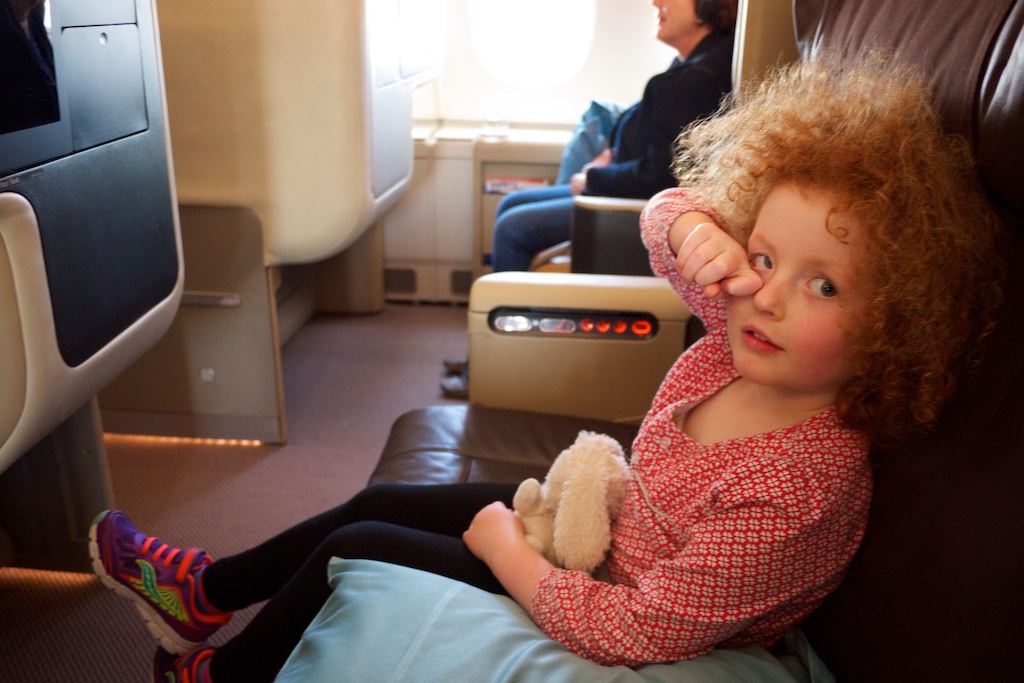 And enjoying some IFE in the left-hand seat, bed made.
I was really pleased we managed to snag this departure, and it worked as well I'd hoped in terms of timing.
The A380 Business Class seats were great with kids, with an even more ridiculous amount of width than as an adult. I think Zoe could have slept sidewise across hers.
However you do have to ensure you pick up the centre seats otherwise you'll be reaching across the aisle to manage your childrens food and entertainment.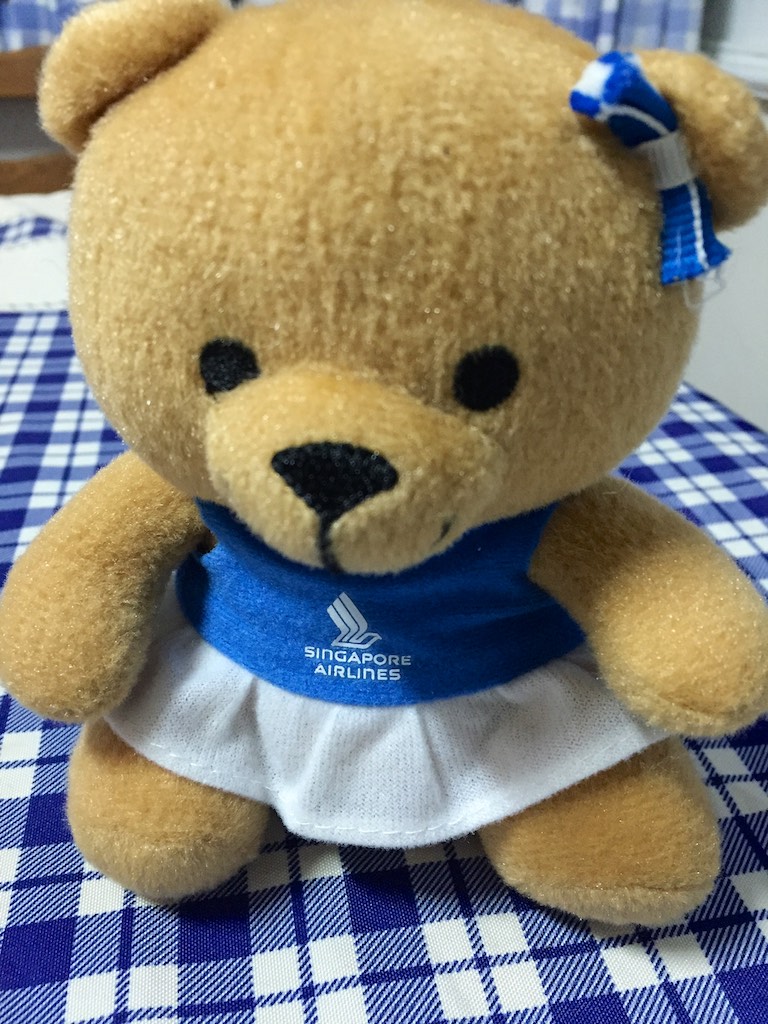 Our other reviews
The A380 fleet has the second-newest product in Singapore Airline's lineup, whilst the Airbus A350 and retrofitted Airbus 777-300ERs have the new Business Class product:
and the Boeing 777-300 (note: missing ER = Extended Range) has the oldest product:
Summing up – Singapore Airlines A380 Business Class
The service was excellent, the crew didn't miss a beat and were proactive in doing pretty much everything, including topping up my glass champagne before and during and lunch, as well as being kind to, and engaging with Zoe.
They attempted to custom make a meal for her from various components of adult meals which was much appreciated, and generally were just spot on.
I didn't get a chance to experience my seat for sleeping or in bed mode, but the configuration seemed like it would be pretty comfortable. For just lounging about in the day, it was great.
I also appreciated having the entertainment screen a lot closer to me than usual, given the way your feet recess into the seat in front of you. It made the day mode feel like I was in much more of a suite-type set up.
All up, this was a great flight. I wouldn't hesitate to redeem my points for Singapore Airlines Business Class again.
Singapore Airlines A380 Business Class Review – SQ232 Sydney – Singapore
was last modified:
March 10th, 2022
by