Love it or hate it, an Economy Class reward seat is one of the easiest ways to use points on flights. You're still getting good value overall and you're more likely to find seats on the dates you want.
While I was planning my Experiences work trip to Jordan, I was able to secure a Qatar Airways First Class reward seat from Amman to Doha to Sydney with our company points. The trade-off? I'd have to fly in Economy from Perth to Amman. That sounded fair enough – especially since I also have Qatar Airways Platinum status. So I went ahead and booked the rest of the trip.
I could choose any seat in Economy for free (thank you, status). But I skipped the extra-legroom seats because I felt that a review of a standard seat would be more useful for our readers. Instead, I settled on a window seat at the back of the upper deck to see how this 'Economy with perks' experience stacks up.
Check-in at Perth Airport
Being the keen traveller I am, I rock up at Perth Airport around three hours before departure. No, not even flying long-haul in Economy can dampen my spirits (though knowing I have lounge access helps, too). The Economy queues are looking palatable with a separate line for those who checked in online.
But if you have Gold or Platinum status in Qantas, Qatar Airways, Virgin Australia or oneworld partner airlines – which would cover a large chunk of our readers, I'm sure – you can skip those queues and head for the Business or First Class check-in counters, respectively. As I'm Platinum, the agent at the First Class counter warmly welcomes me. My bags are tagged with First Class priority stickers and shipped off to Amman.
Perth Airport has started rolling out self-service check-in for international Economy passengers. Emirates uses it, but Qatar Airways doesn't… yet.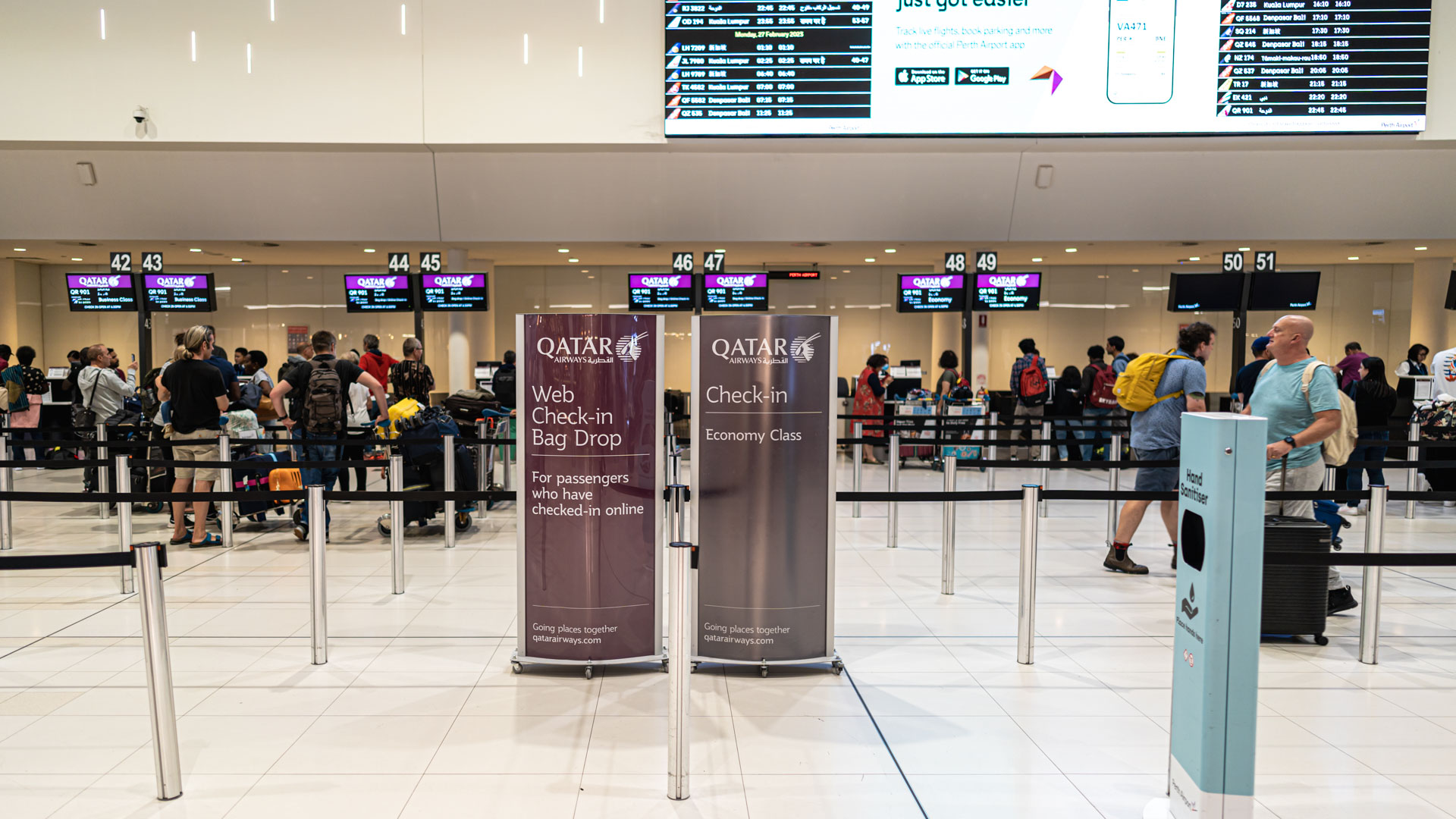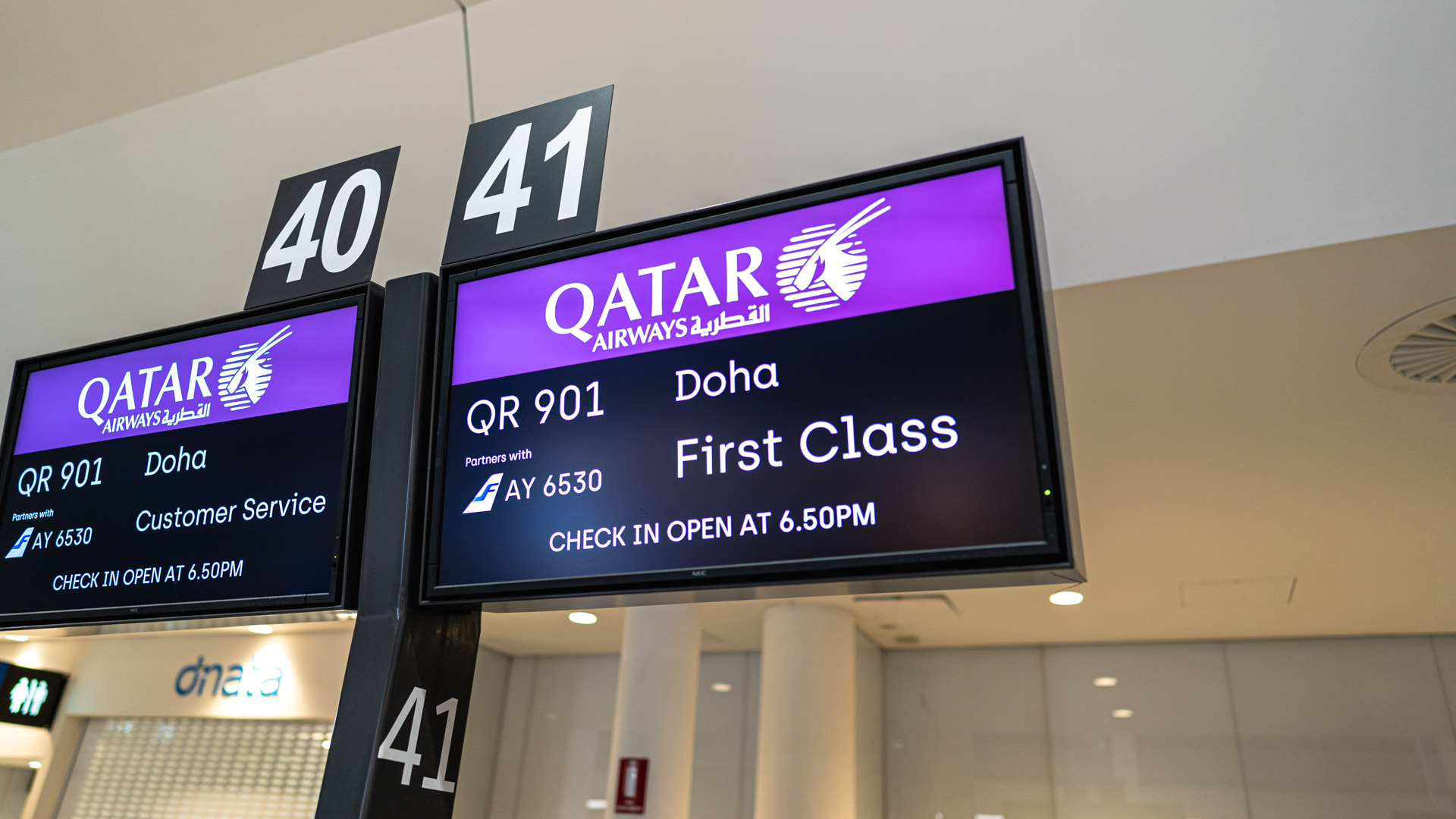 Visiting the Air New Zealand Lounge in Perth
Qatar Airways Economy doesn't include lounge access, of course. That's where the Aspire Lounge in T1 comes in handy. You can pay to enter (it's cheaper to pre-book online) or waltz in for free with a Priority Pass membership or single-visit pass, which comes with certain credit cards.
But if you're in the legion of travellers toting at least a Gold-grade card recognised by Qatar Airways (Qantas or Virgin is fine), then you'll be welcomed into the Air New Zealand lounge instead. Knowing my upcoming flights will be Champagne-free, I indulge in a glass (or was it three?) of sparkling wine and help myself to the freshly-cooked dishes on the buffet.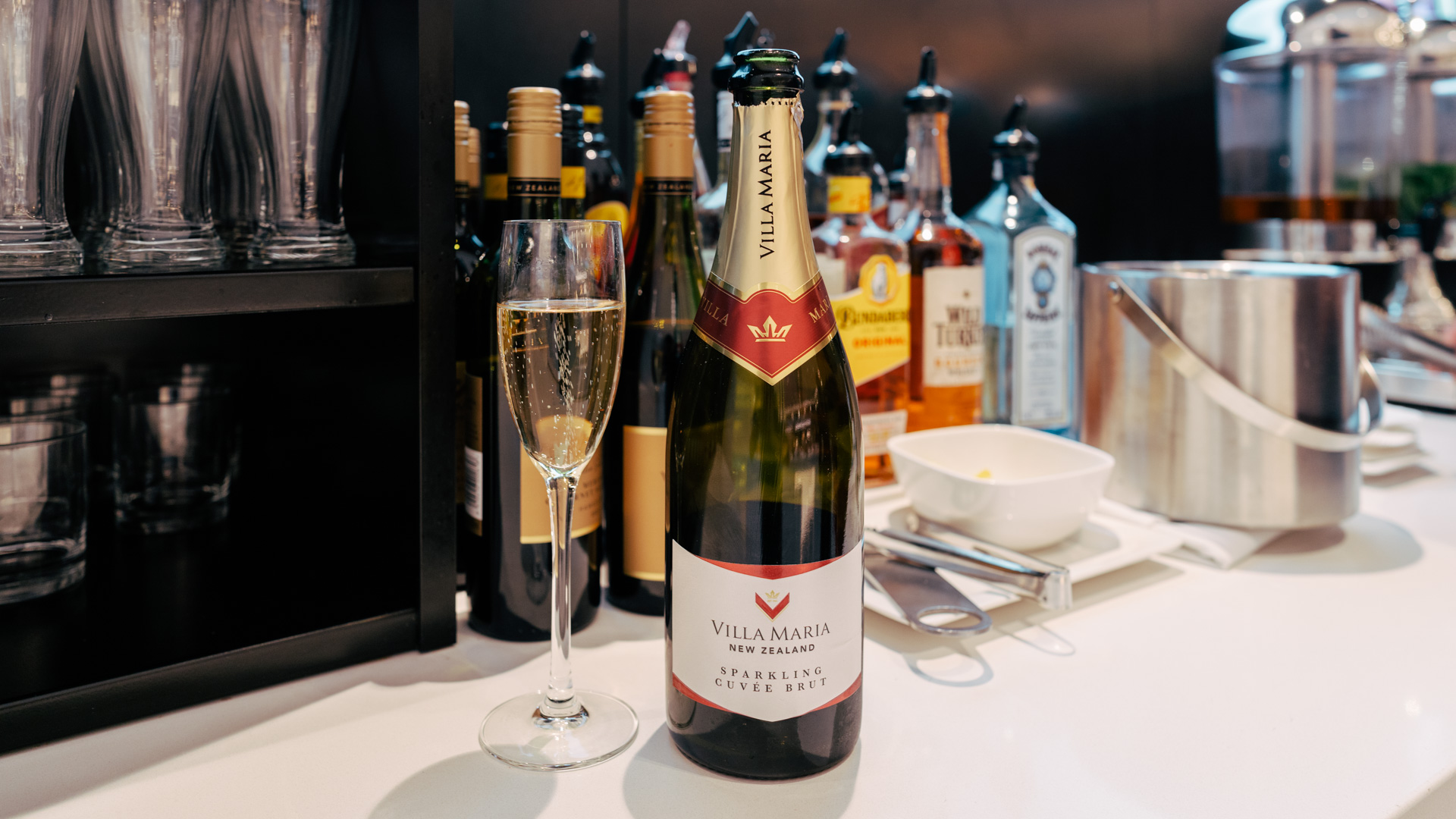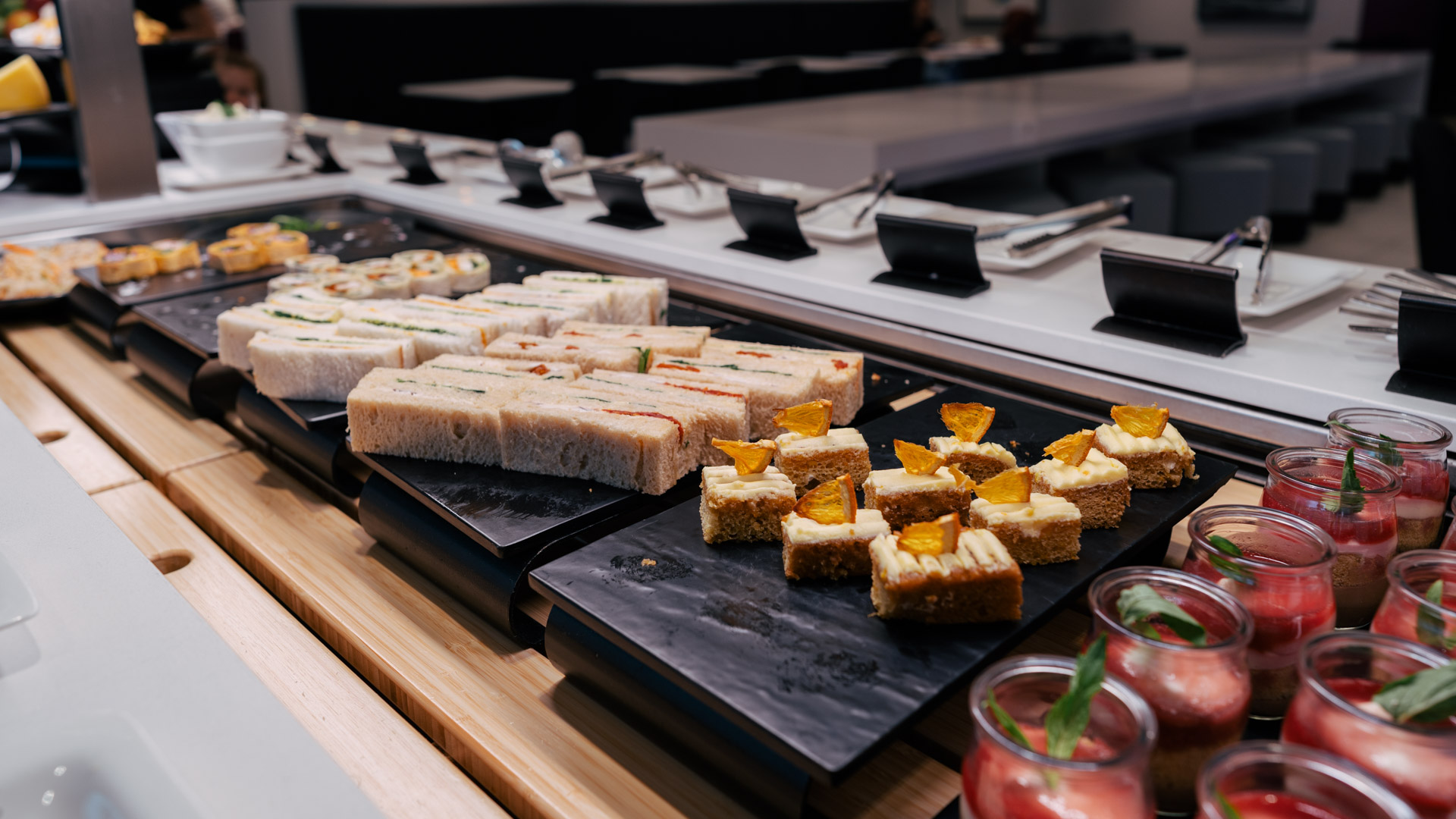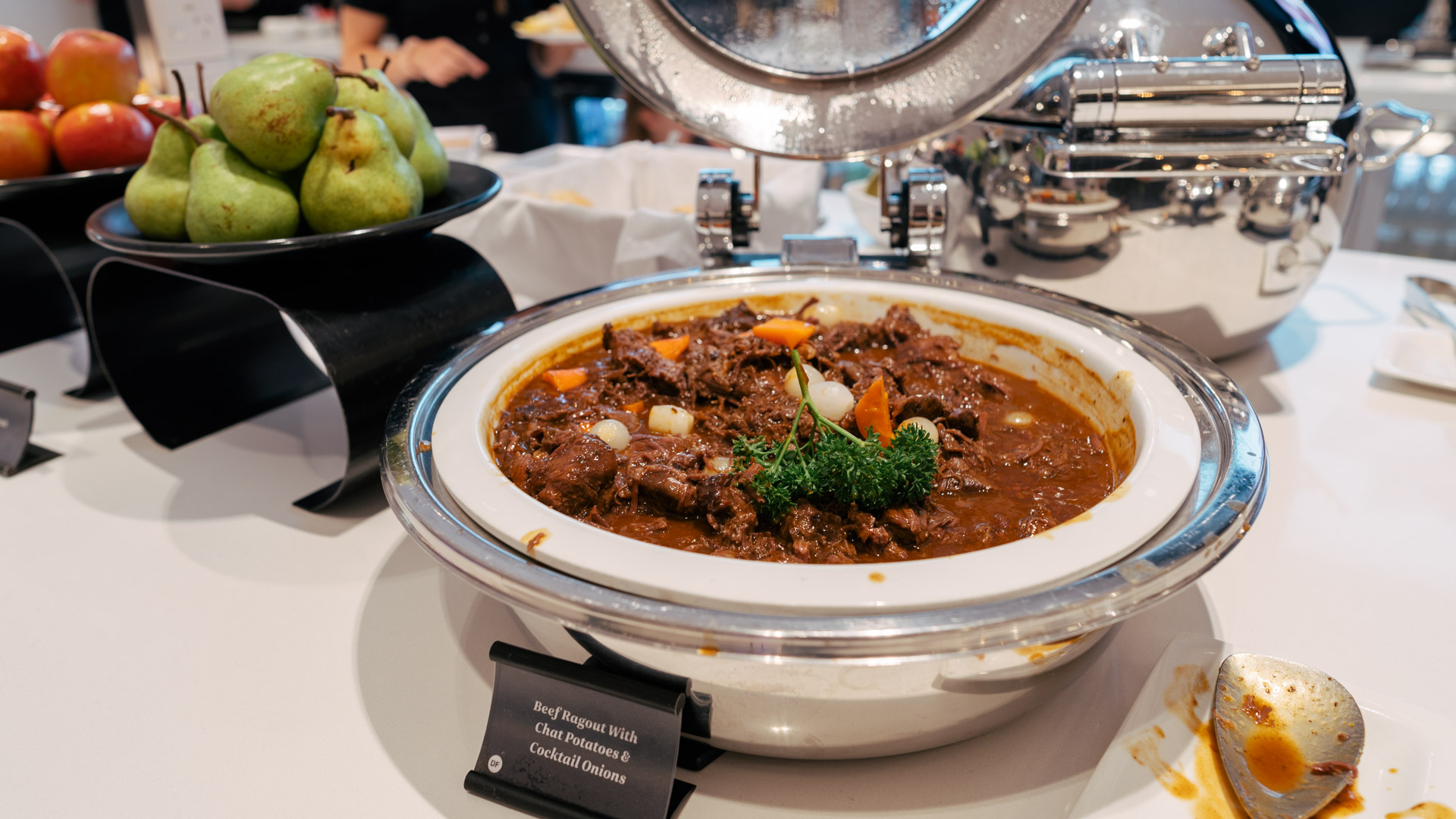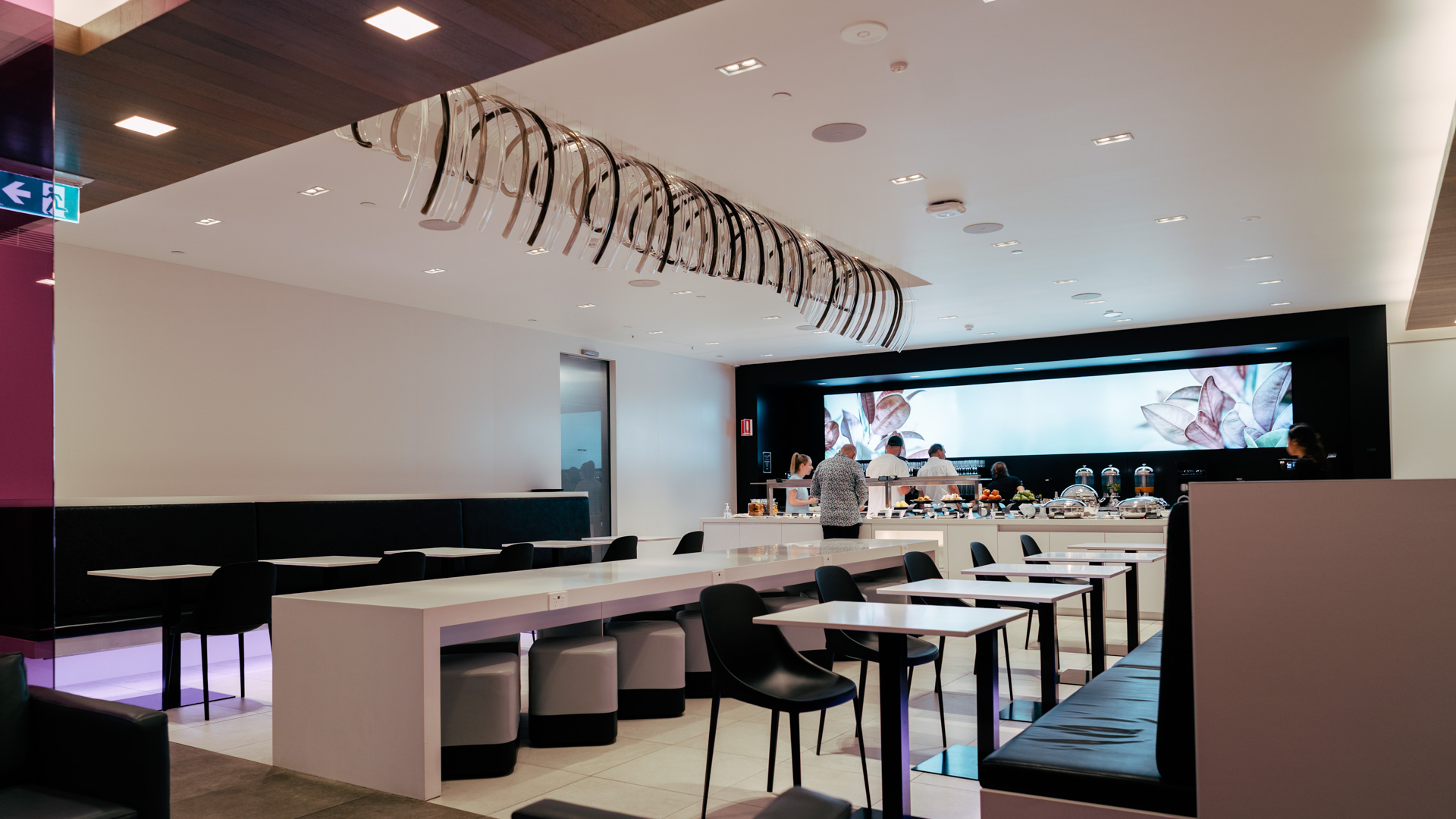 Qatar Airways almost always uses Gate 50 in Perth, since it can handle Airbus A380s. For the airport nerds out there, Gate 50 is actually shared with the neighbouring Virgin Australia domestic terminal as a 'swing gate'. It's a long walk from the boarding pass scanners to the actual aerobridge.
If you have access to the Air New Zealand lounge, you'll also be eligible for priority boarding. But occasionally, Qatar Airways will start boarding Economy first, since there are hundreds of passengers on the lower deck.
Qatar Airways Airbus A380 Economy seating
Airbus A380s are nicknamed superjumbos for a reason. Qatar Airways can accommodate 461 Economy passengers (plus 48 in Business Class and eight in First Class). On the main deck, 405 of those seats are arranged in a 3-4-3 layout.
But today, I'm seated in the mini Economy cabin which is at the back of the upper deck. Here, the remaining 56 seats are in a 2-4-2 layout and I'm delighted to see the window seats have extra storage compartments. I choose 31A, a window seat at the back of the cabin. There are two advantages of this seat – I have much more storage space, and I can keep my seat reclined throughout most of the flight without bothering anyone.
All my travel essentials (laptop, toiletries, headphones, chargers and so on) go straight into the side compartment, while I stash my backpack in the overhead compartment. I love having everything within easy reach, so this seat gets two ticks from me.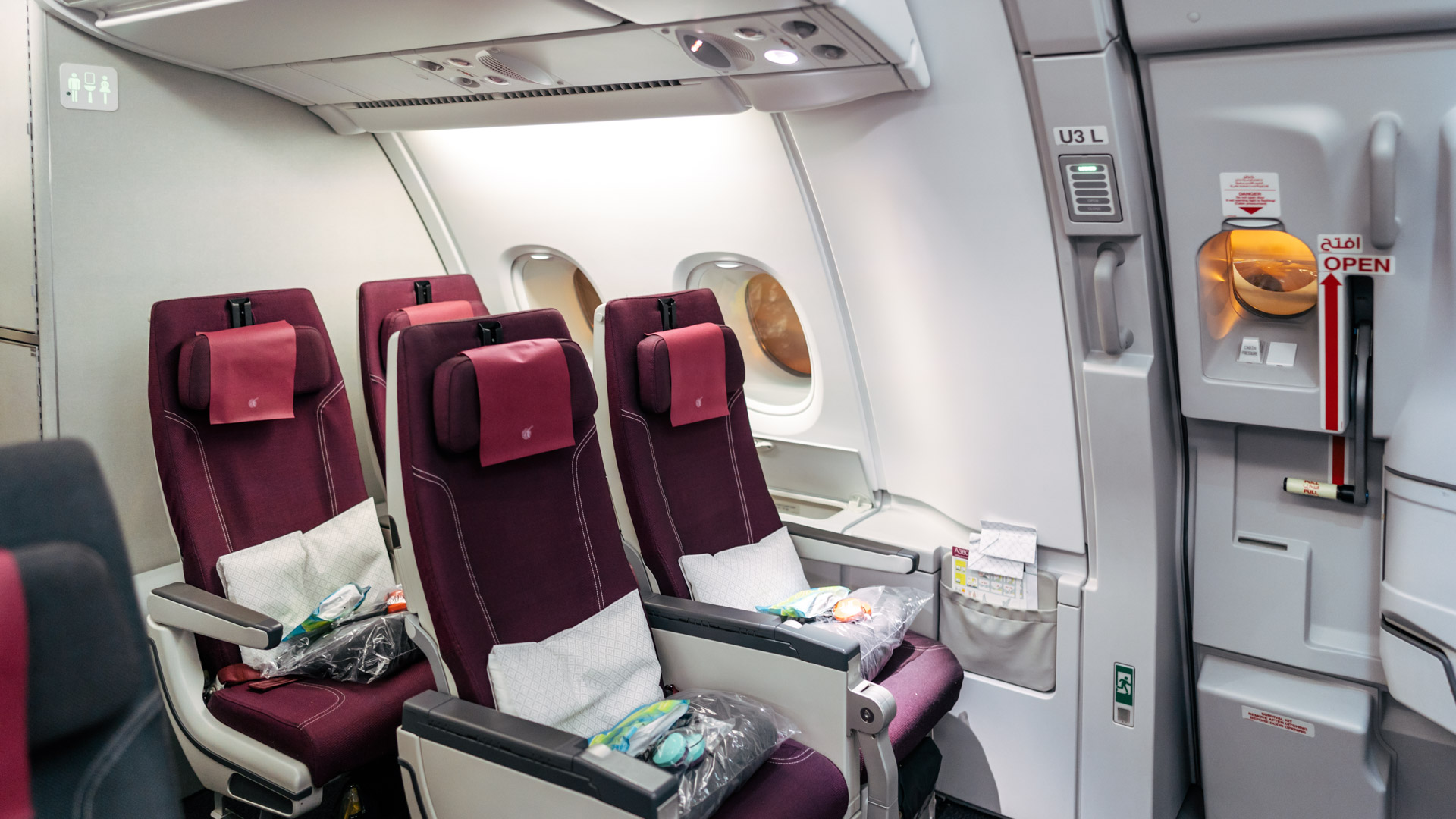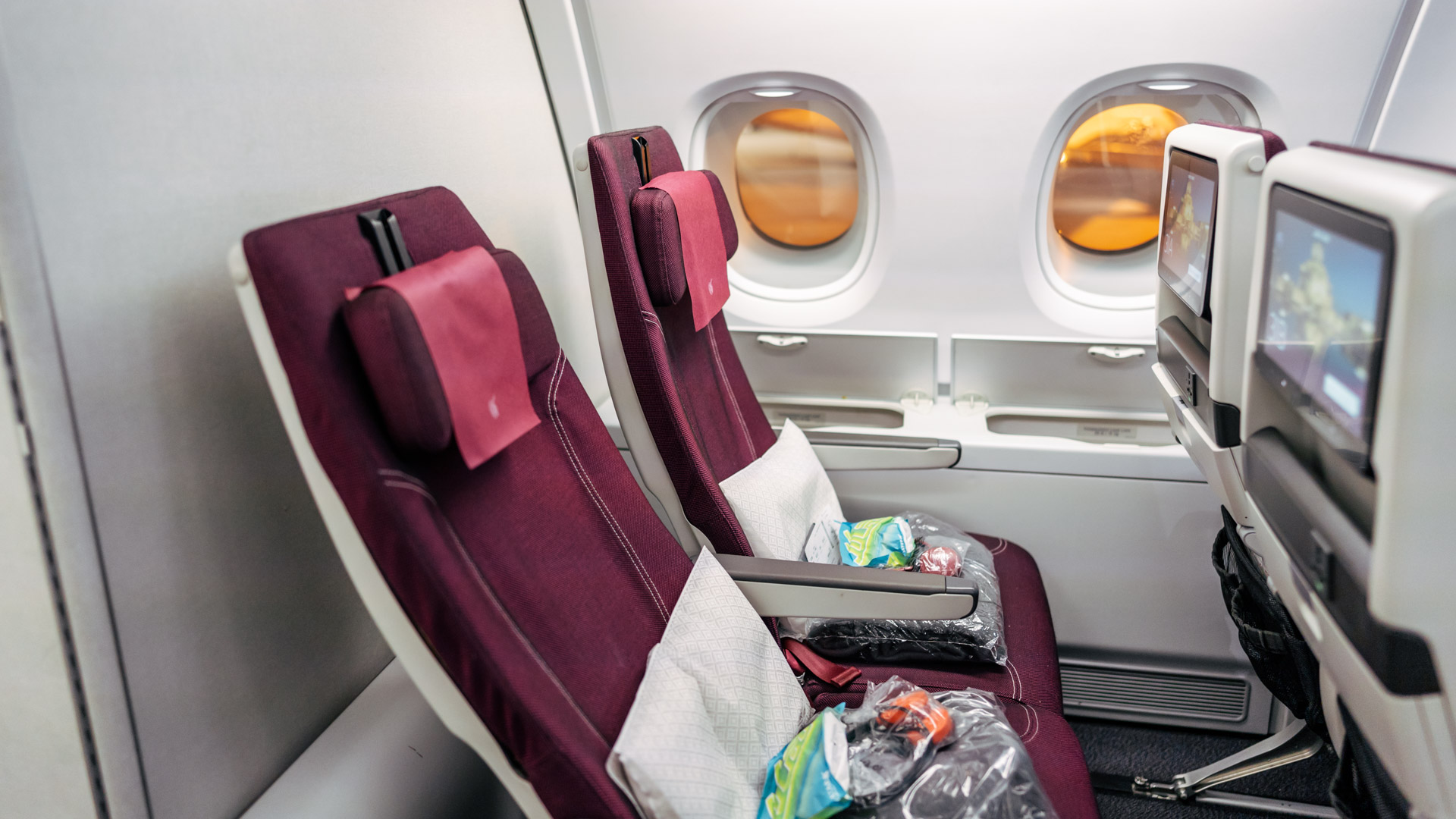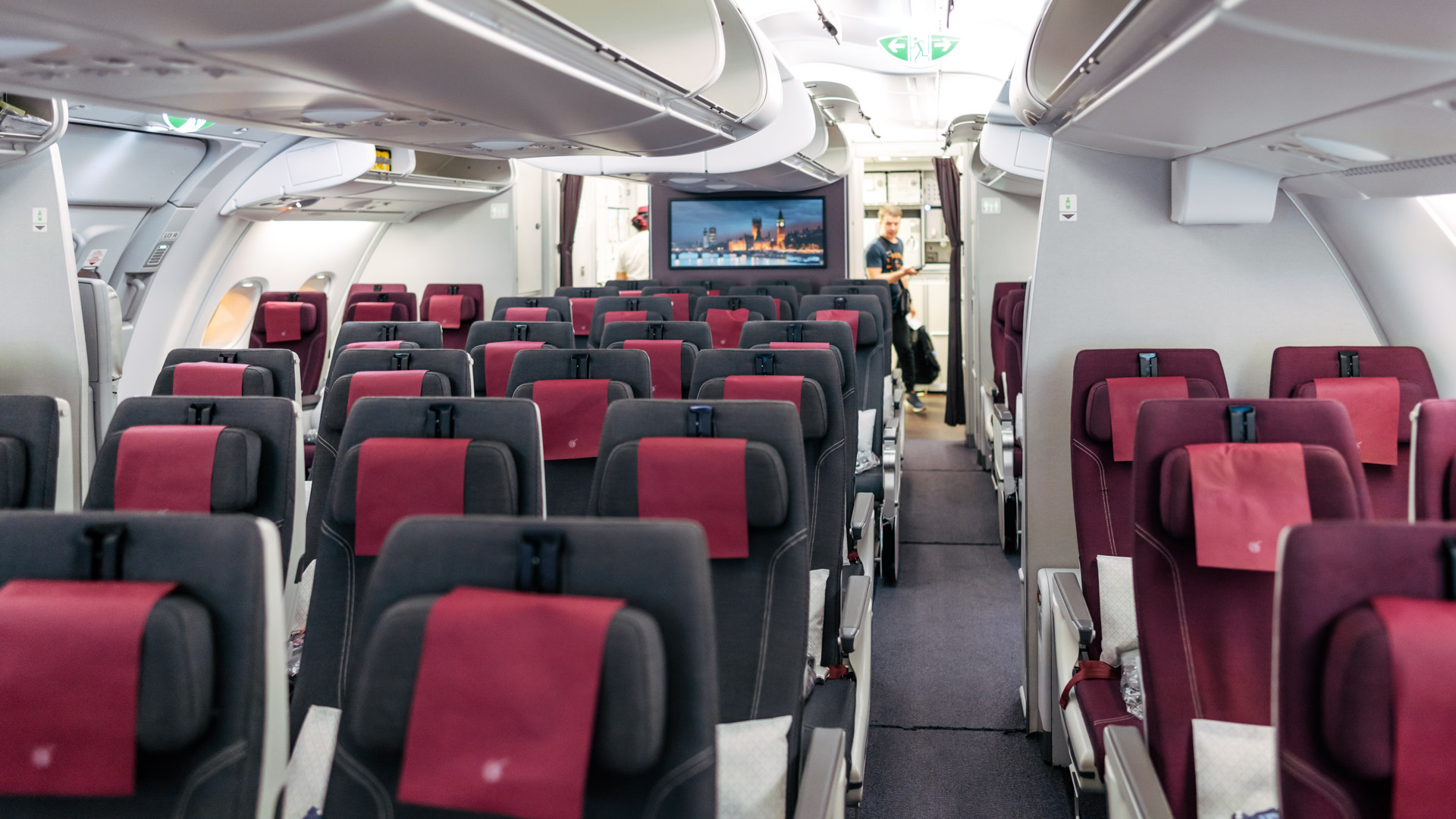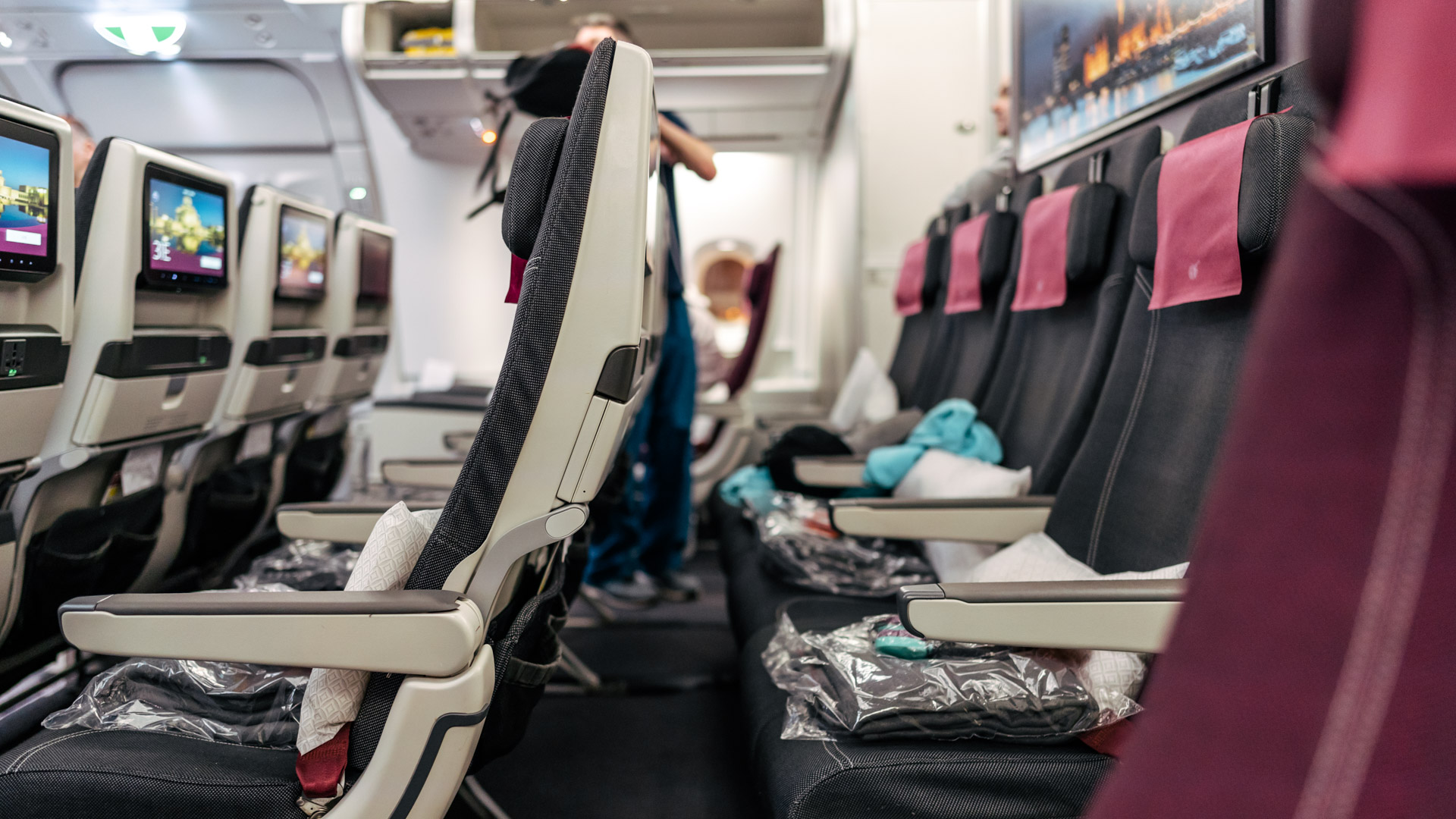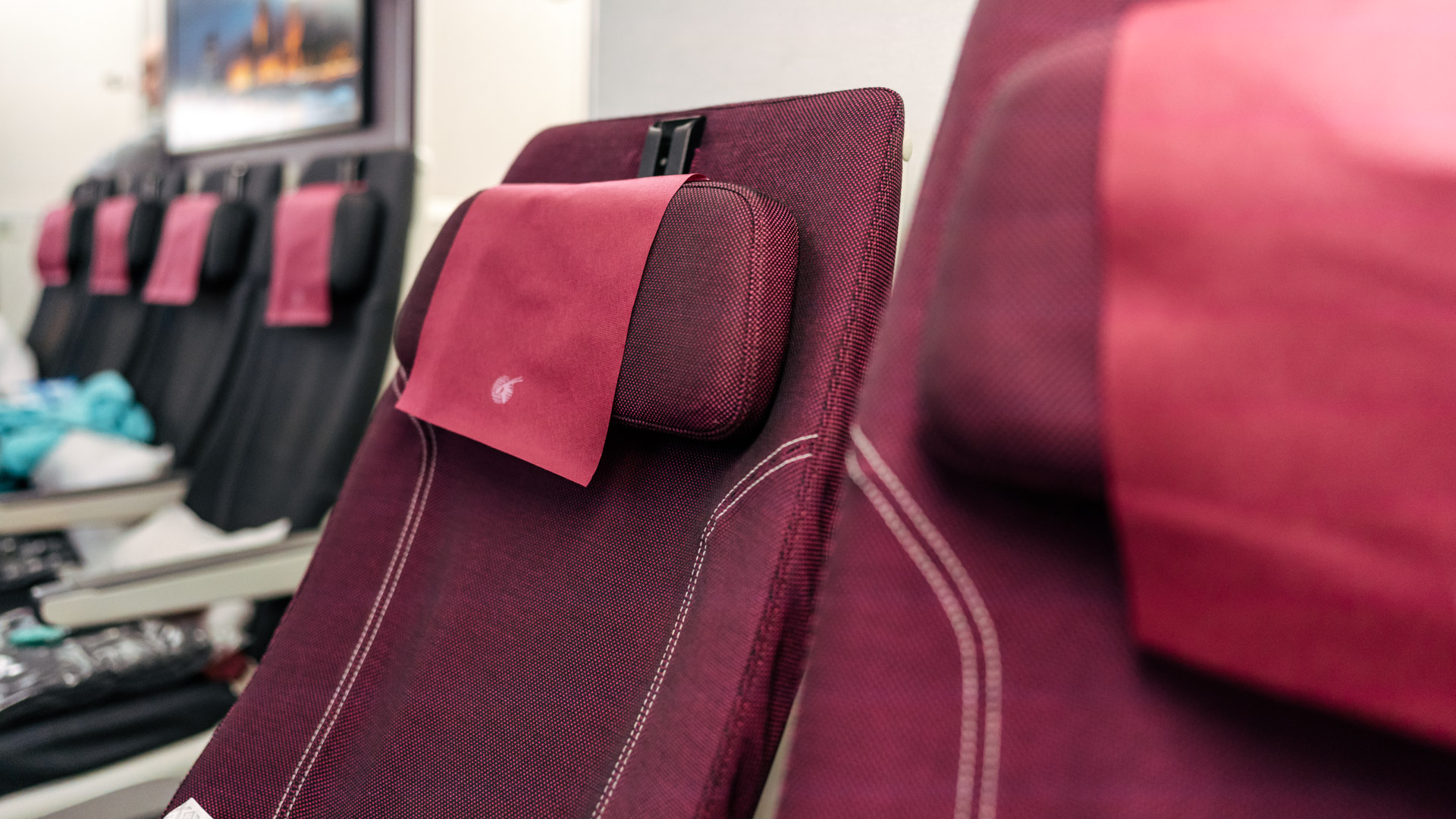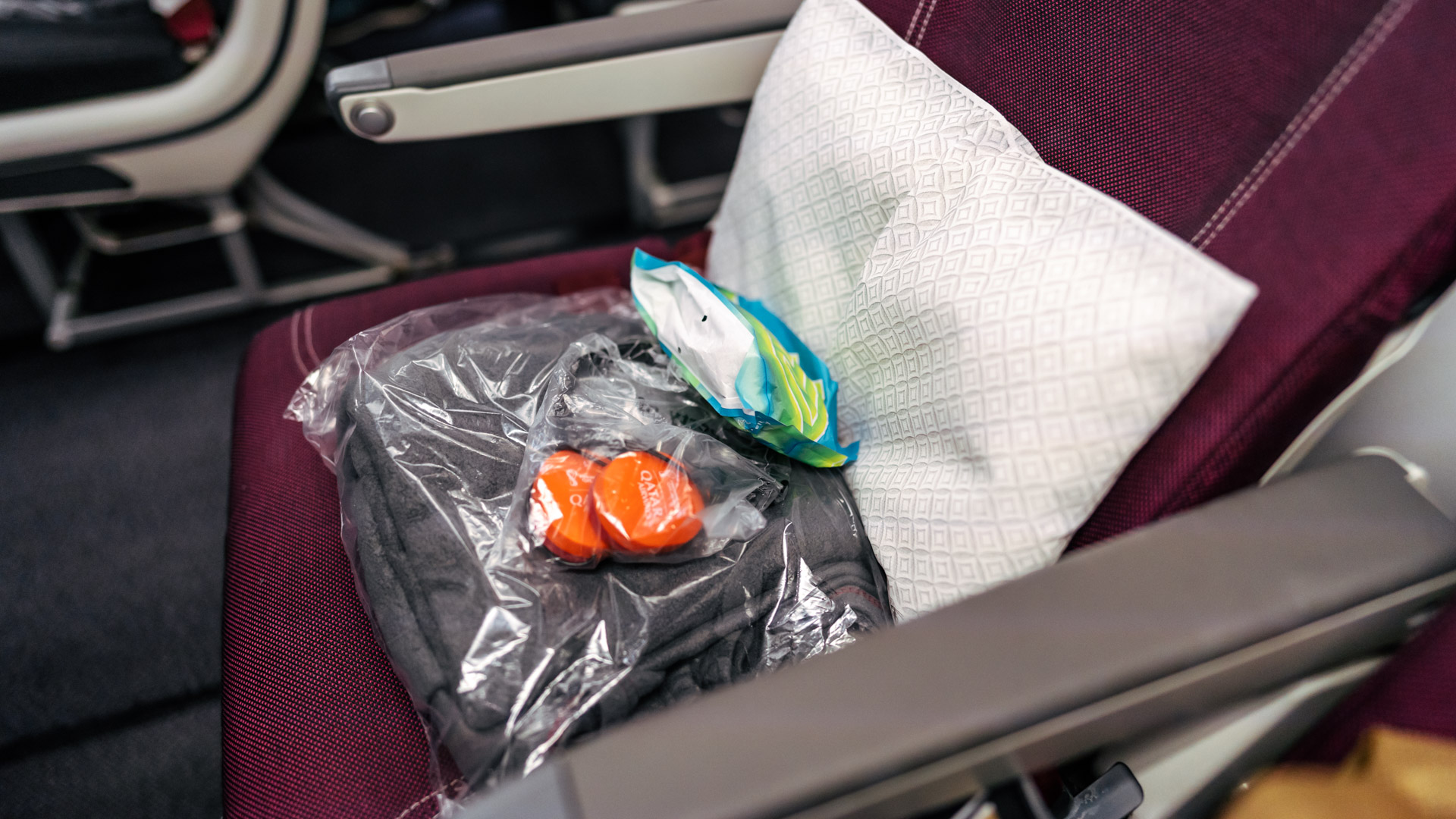 The Economy seats are slimline and modern, though I do notice minor signs of wear. No matter, the 10.6″ (27 cm) in-seat entertainment touchscreens are still in prime condition and show content in crisp, HD resolution. Each seat has a USB port and a universal AC power outlet, which I appreciate. My phone and laptop never run low on juice.
Upon boarding, each seat already has a blanket, pillow, amenity kit and basic headphones. At 185 cm tall, I do struggle with tight spacing in Economy. These seats have an industry-standard (though not leading) pitch of 31-32″ (81.3 cm), which is just enough legroom for me. Any tighter, and I'd be feeling the pinch in my knees.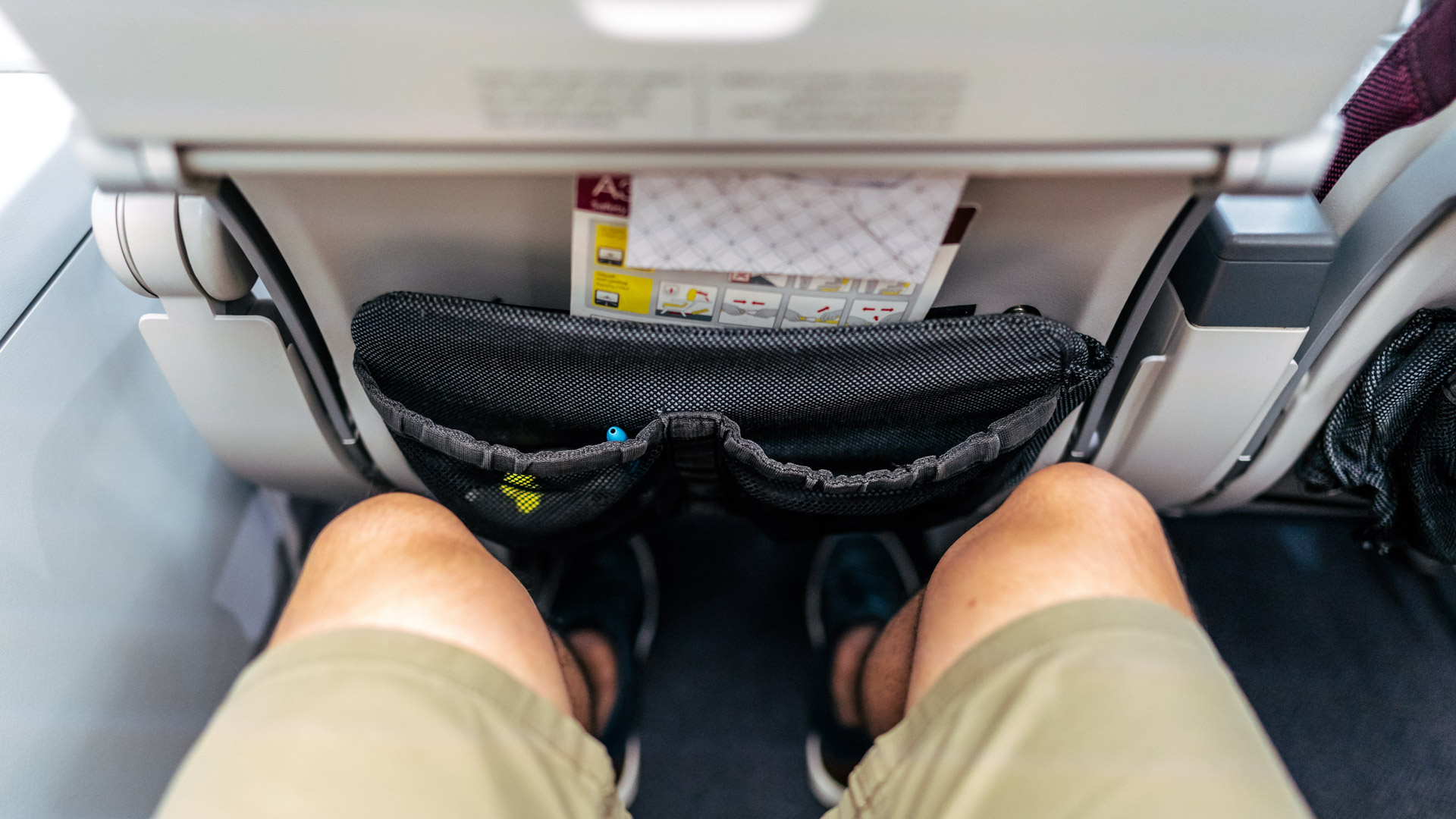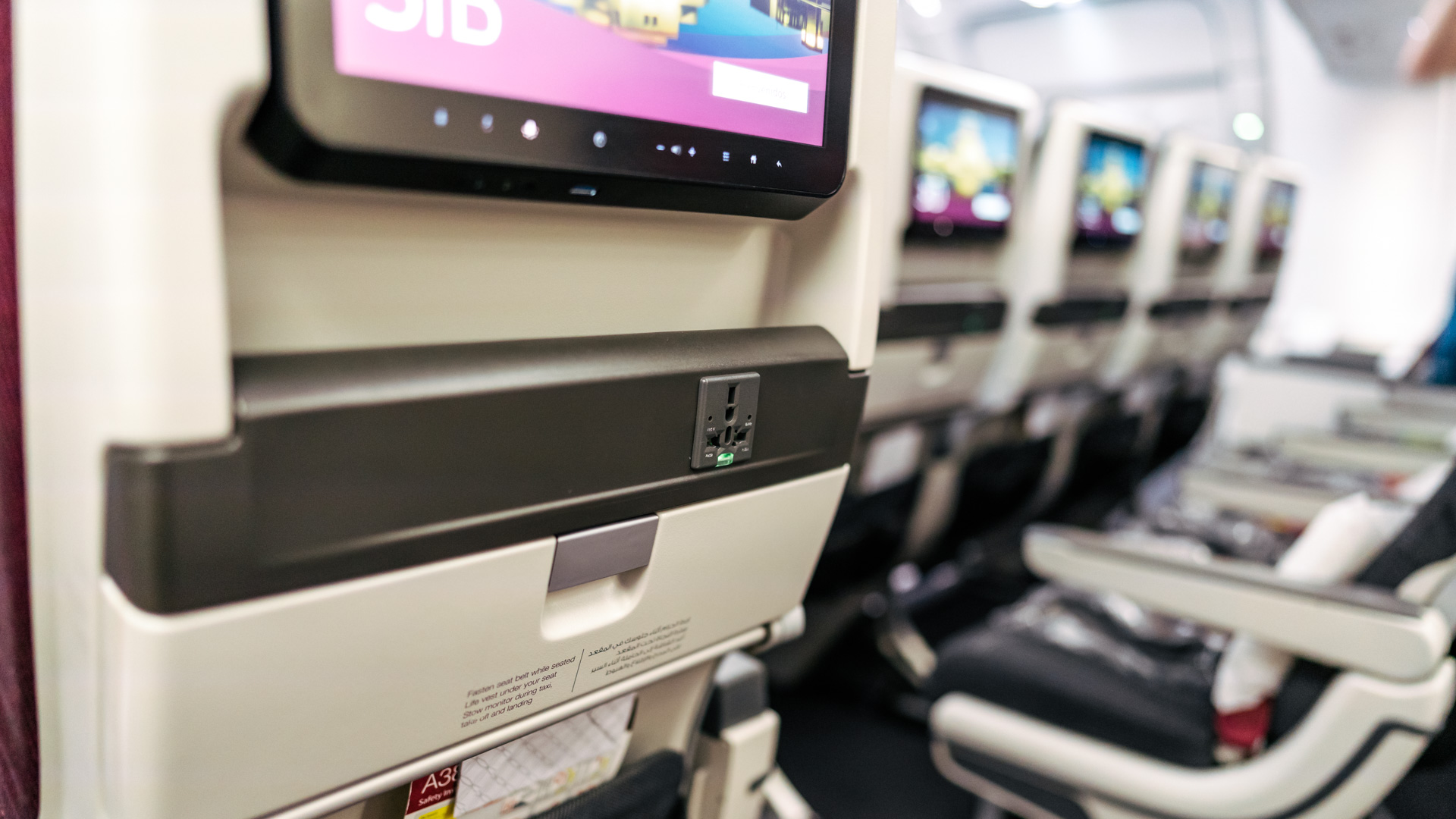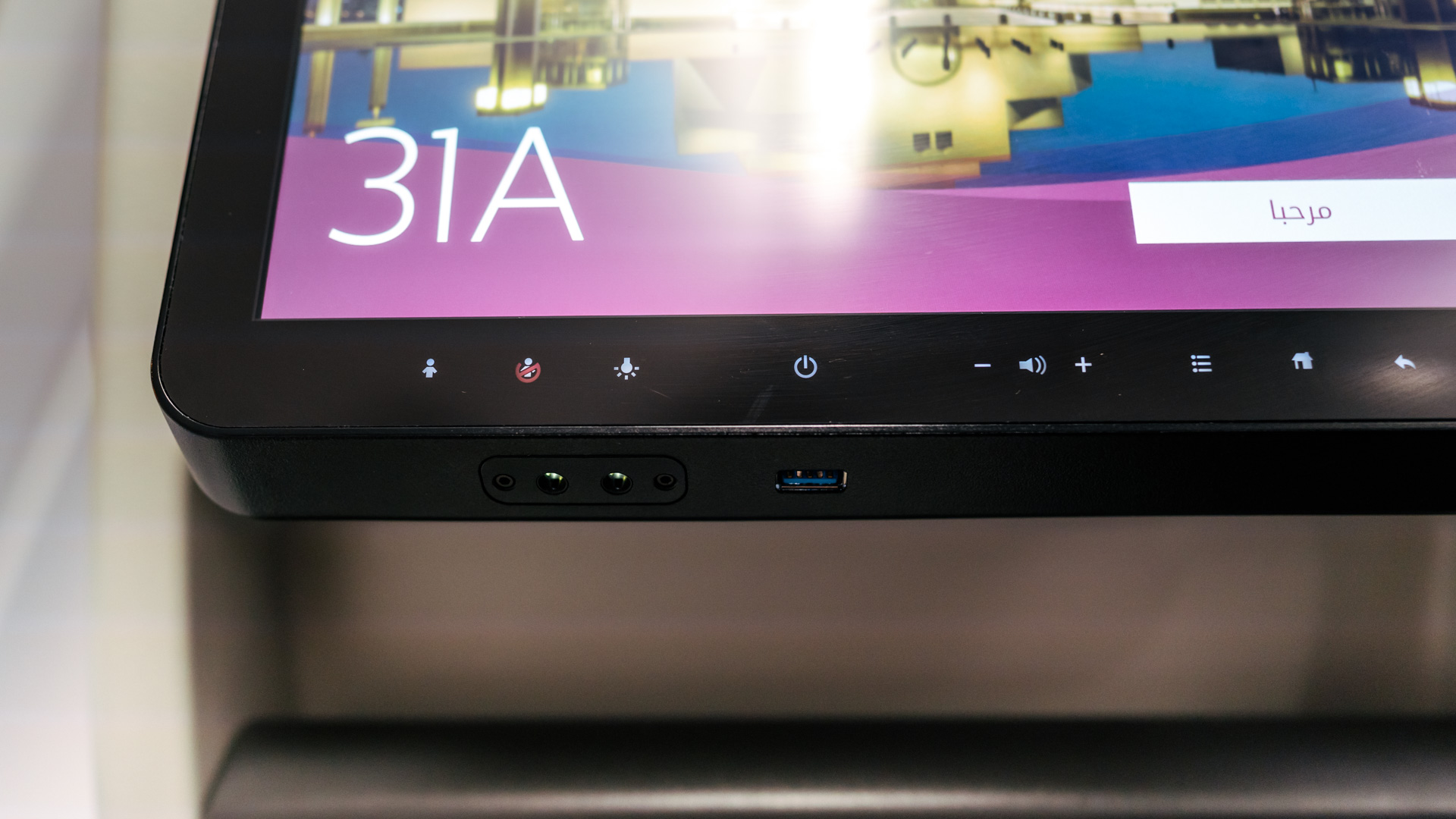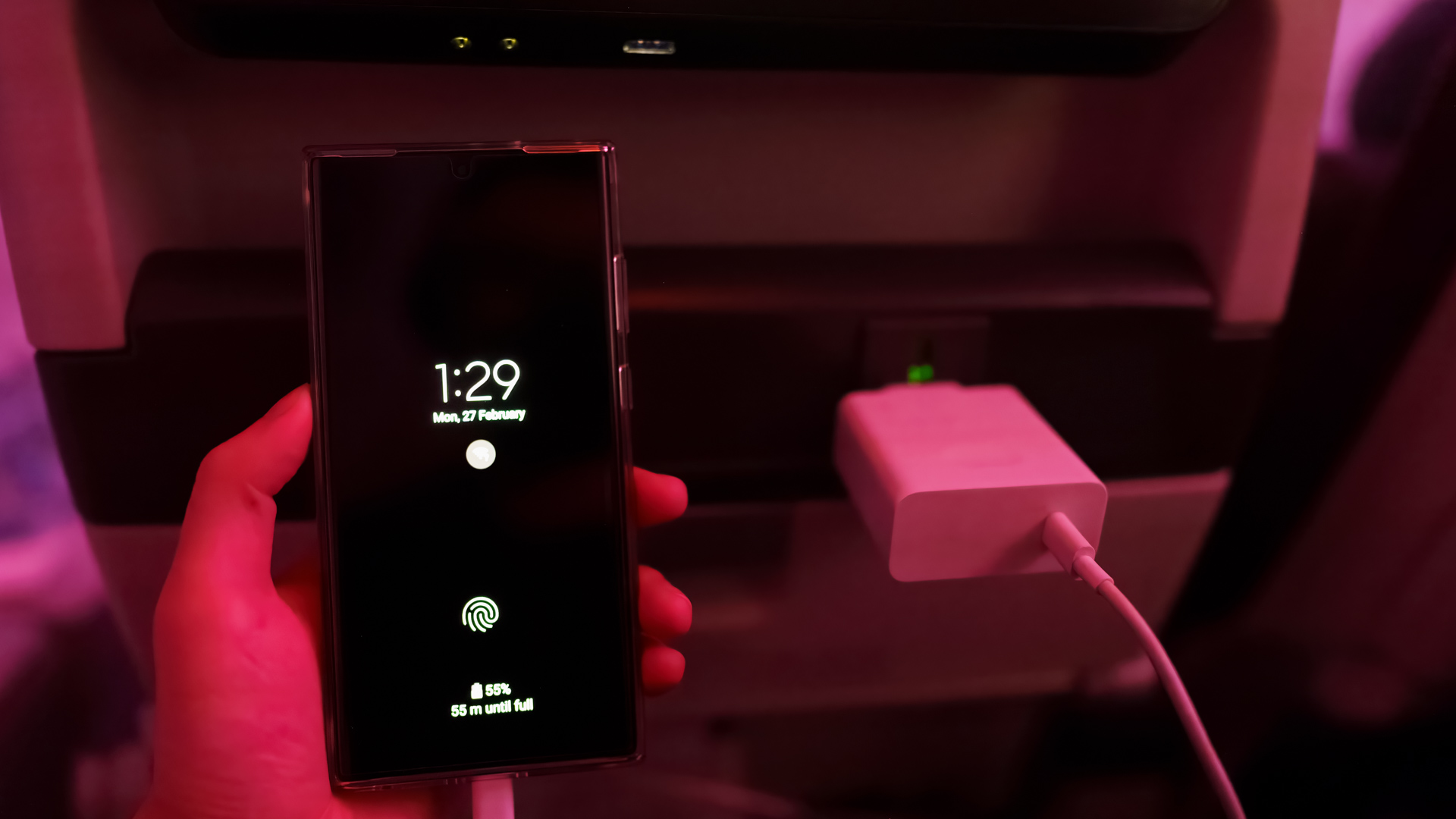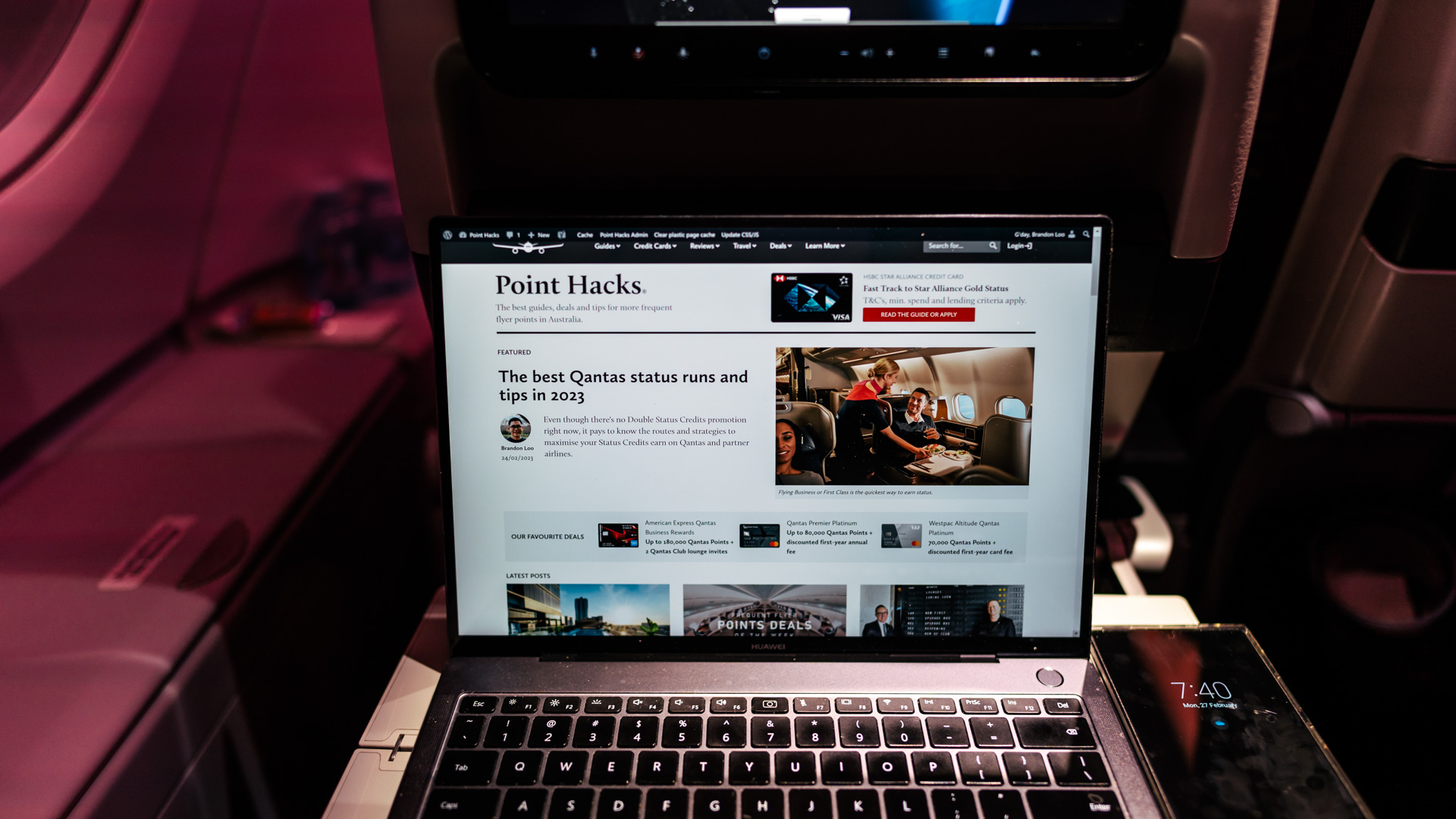 Qatar Airways Airbus A380 Economy food and beverage
We're served a late supper after take-off and breakfast before arrival. As I'm a Privilege Club Platinum member, the crew ask for my choices in advance so I don't miss out. Unfortunately, I forgot to download a copy of the inflight menu, but you can check it online under 'Manage Booking' or onboard through Wi-Fi.
Qatar Airways Economy dining isn't too bad. Dinner (a passable chicken and mash) is paired with a bread roll, starter salad and dessert. I detest the smell of reheated eggs when flying, so my breakfast of pancakes and berry sauce hit the spot. I can't say the same about the sad plastic-wrapped croissant, but the side fruit salad and yoghurt are fine.
A full selection of alcoholic drinks is available, but I'm not keen on adding to the pleasant haze from the glasses of sparkling I already had in the lounge. No one wants a dehydration-fuelled headache! So Sprite Zero Sugar and water fit the bill nicely. Each meal service comes with a bottle of water, but you can always ask the crew for more beverages during the flight.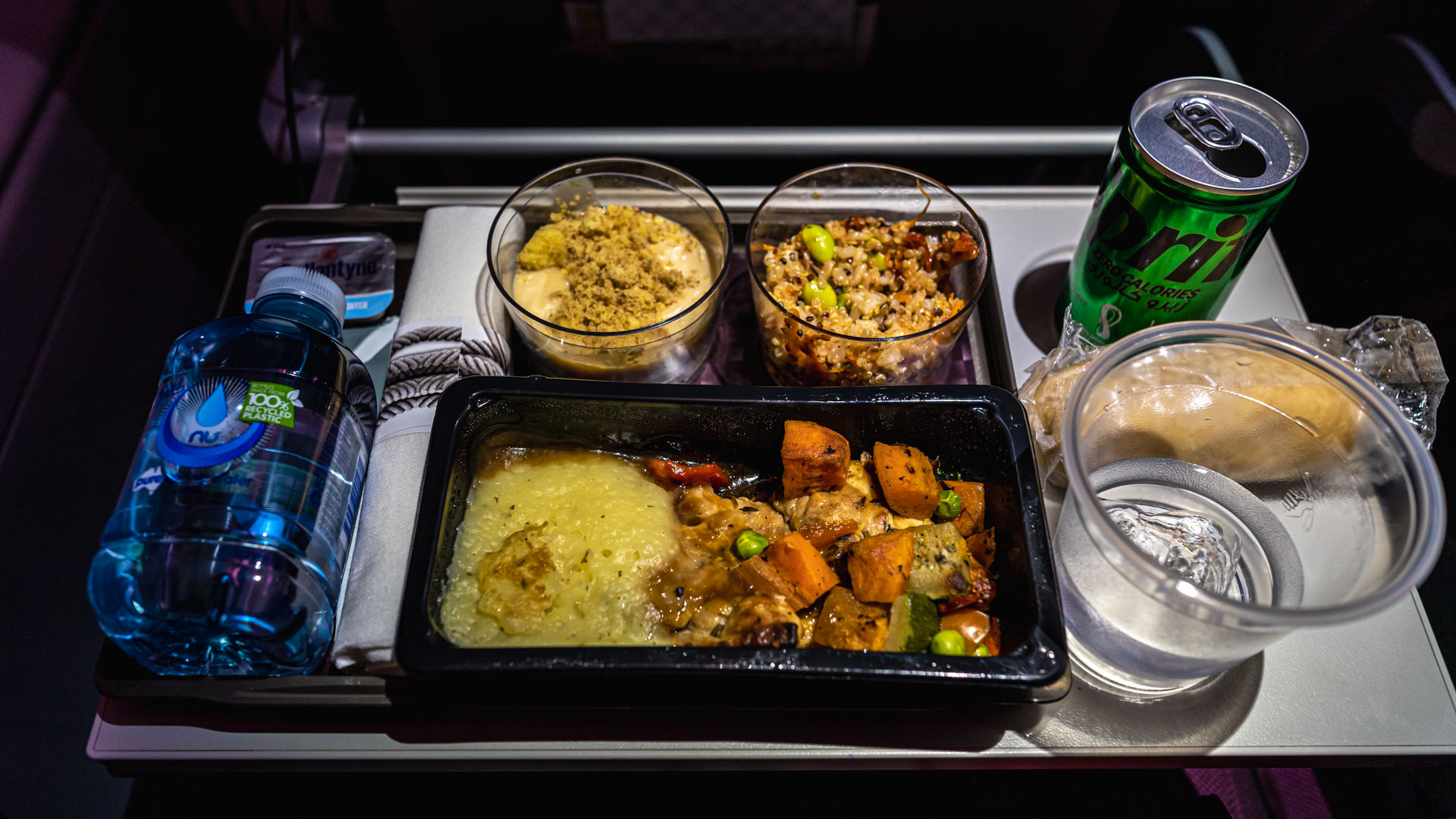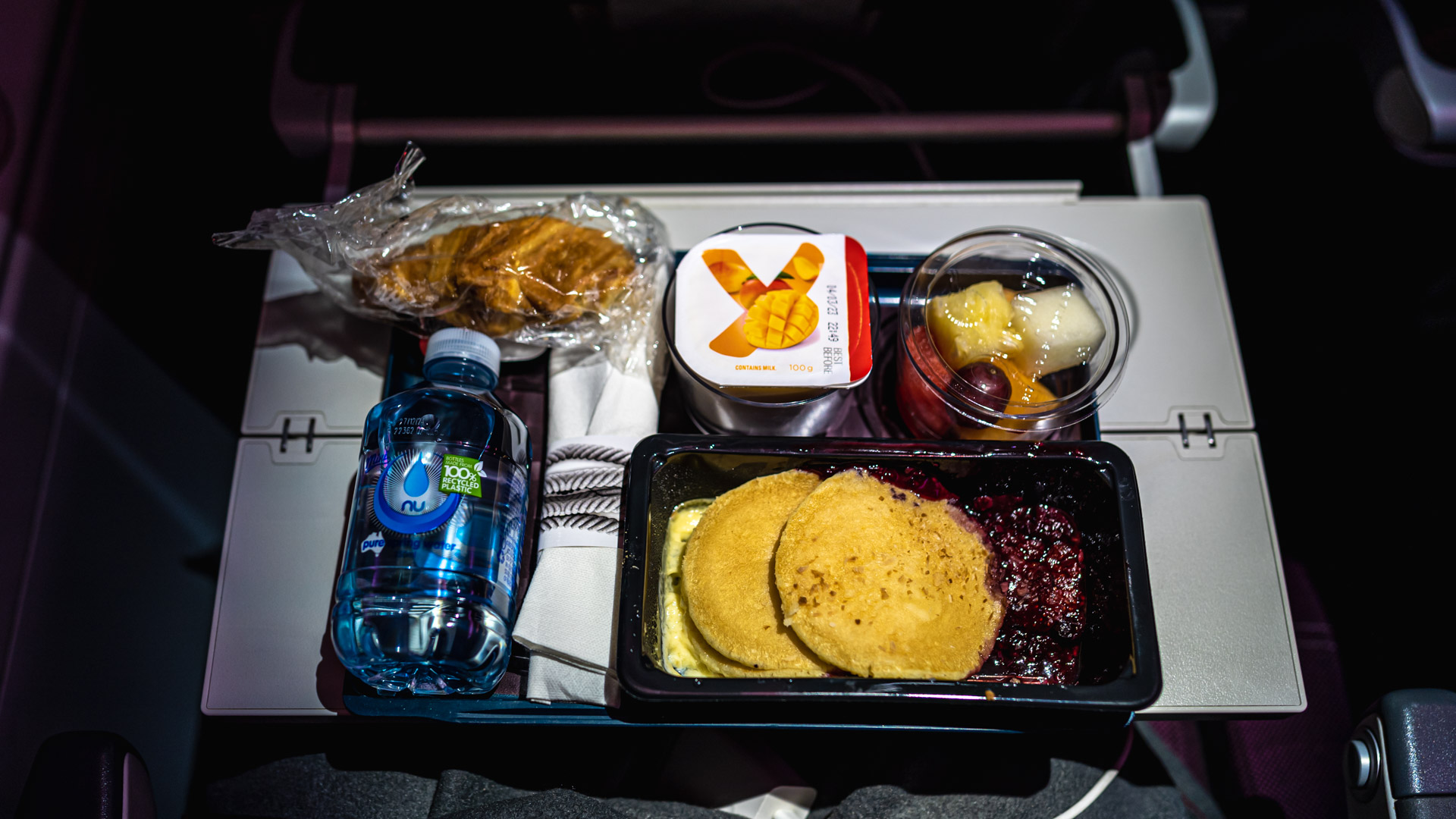 Qatar Airways Airbus A380 entertainment
The Oryx One entertainment system is packed with new-release movies, TV box sets, music and games to keep you occupied for hours. Well, in theory, anyway. With our 11 pm departure, I watch a few instalments of Young Sheldon over dinner and breakfast but otherwise spend most of the flight trying to sleep. For some light background viewing, I wholly recommend the Airbus A380 external camera feed during take-off and landing.
The screens are large and responsive – I have no complaints about the viewing or sound quality. Onboard Wi-Fi is available, but I've tried it before and I don't rate the connection and data quotas on Qatar Airways' Airbus A380s to be particularly good. Save up your money and pay less for unlimited Super Wi-Fi on Qatar Airways' newer jets instead.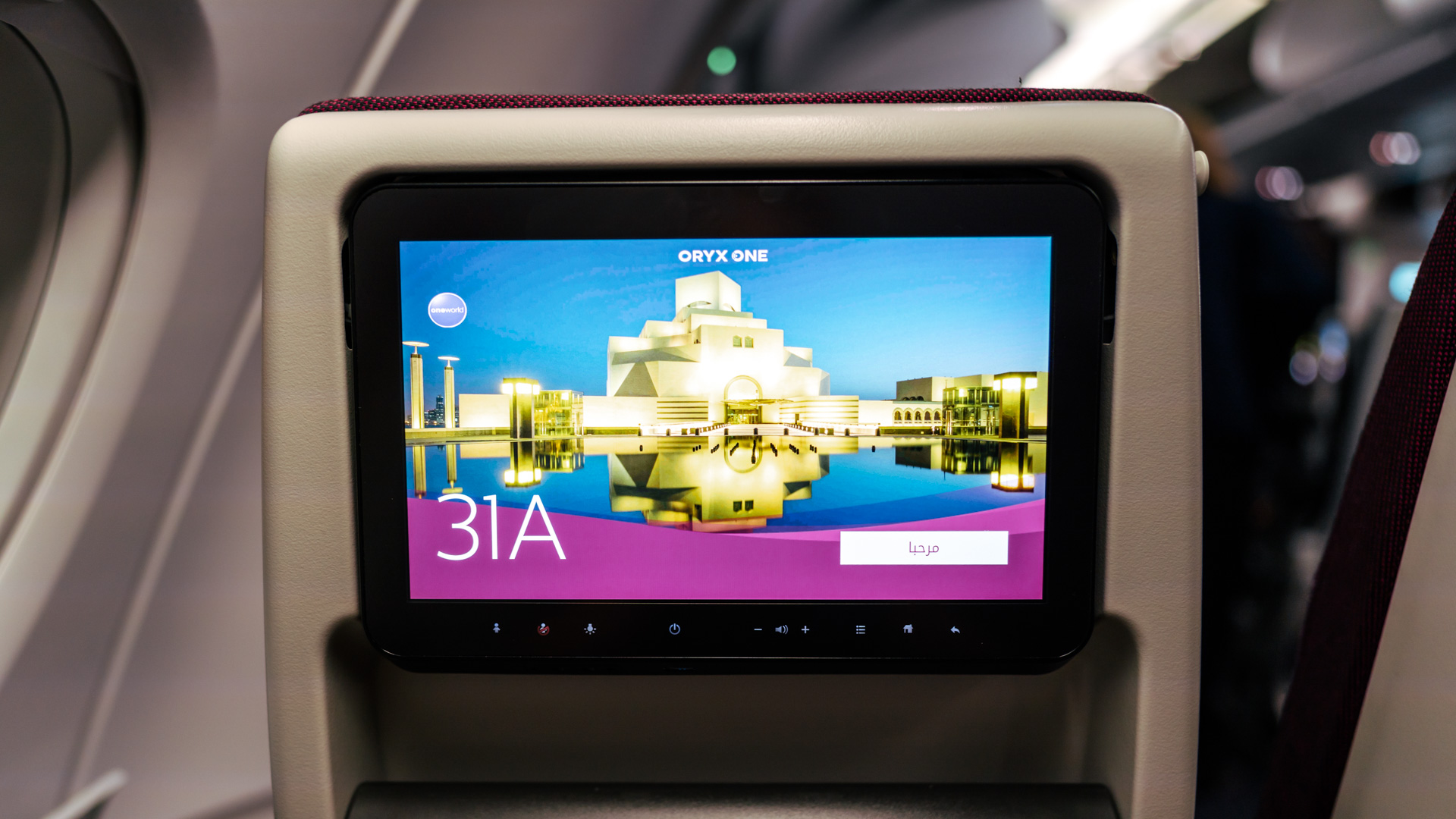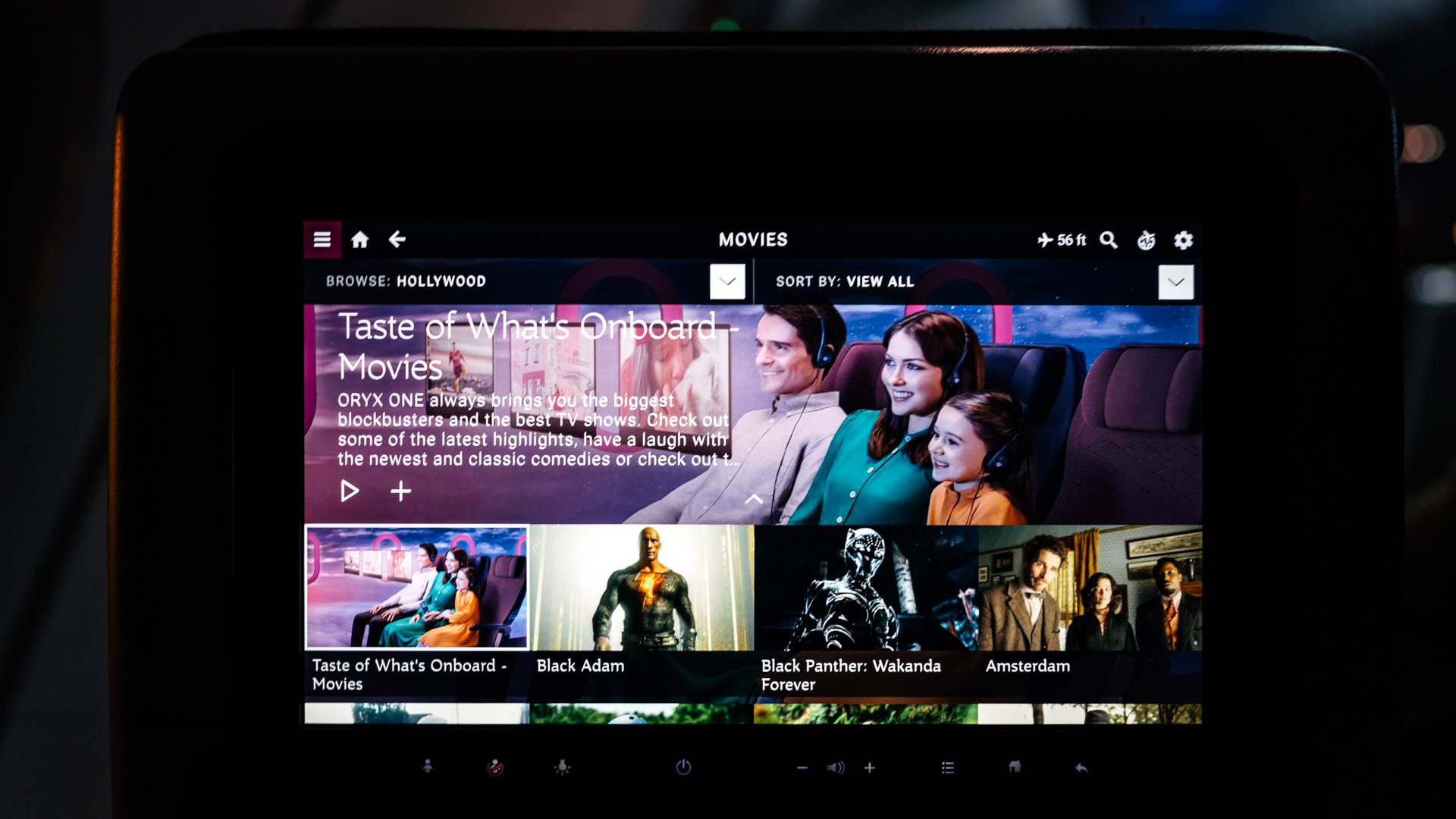 Summing up
We land around 30 minutes early in Doha. Hamad International Airport does use bus gates a lot. But flying on an Airbus A380 means you'll disembark at a proper gate, which means faster transits through the airport.
I've invited my seat buddy into the lounge before our next flight (he's off to Norway), so we head to the Qatar Airways Platinum Lounge to refresh. You can also have access to the Qatar Airways Gold and Platinum Lounges in Doha if you're flying in Economy with Gold or Platinum status with Qantas and Virgin Australia.
Overall, Qatar Airways Airbus A380 Economy is a decent product. The seats are comfortable, the entertainment system is smooth and the onboard service is friendly. If I did this flight again, I'd happily stay on the upper deck, though maybe this time I'd go for that extra-legroom seat. I wouldn't rule out choosing a seat on the main deck either, especially if there were spare seats (or dare I dream, even an empty row) dotted around.
I'd say this experience matches what most travellers would expect from a full-service Economy offering. It's not the most glamorous way to travel, but it's relatively easy on your points balance. If flying Economy means you can travel further or bring more people with you, then your points have done a good job.
I booked in April 2022 with Qantas Points, when seats were freely available. Unfortunately, since then, Qatar Airways only makes Economy rewards available to Qantas 30 days before departure. (It's even worse for Business and First seats, which can now only be booked days before departure). In contrast, using Velocity Points on Qatar Airways is much easier.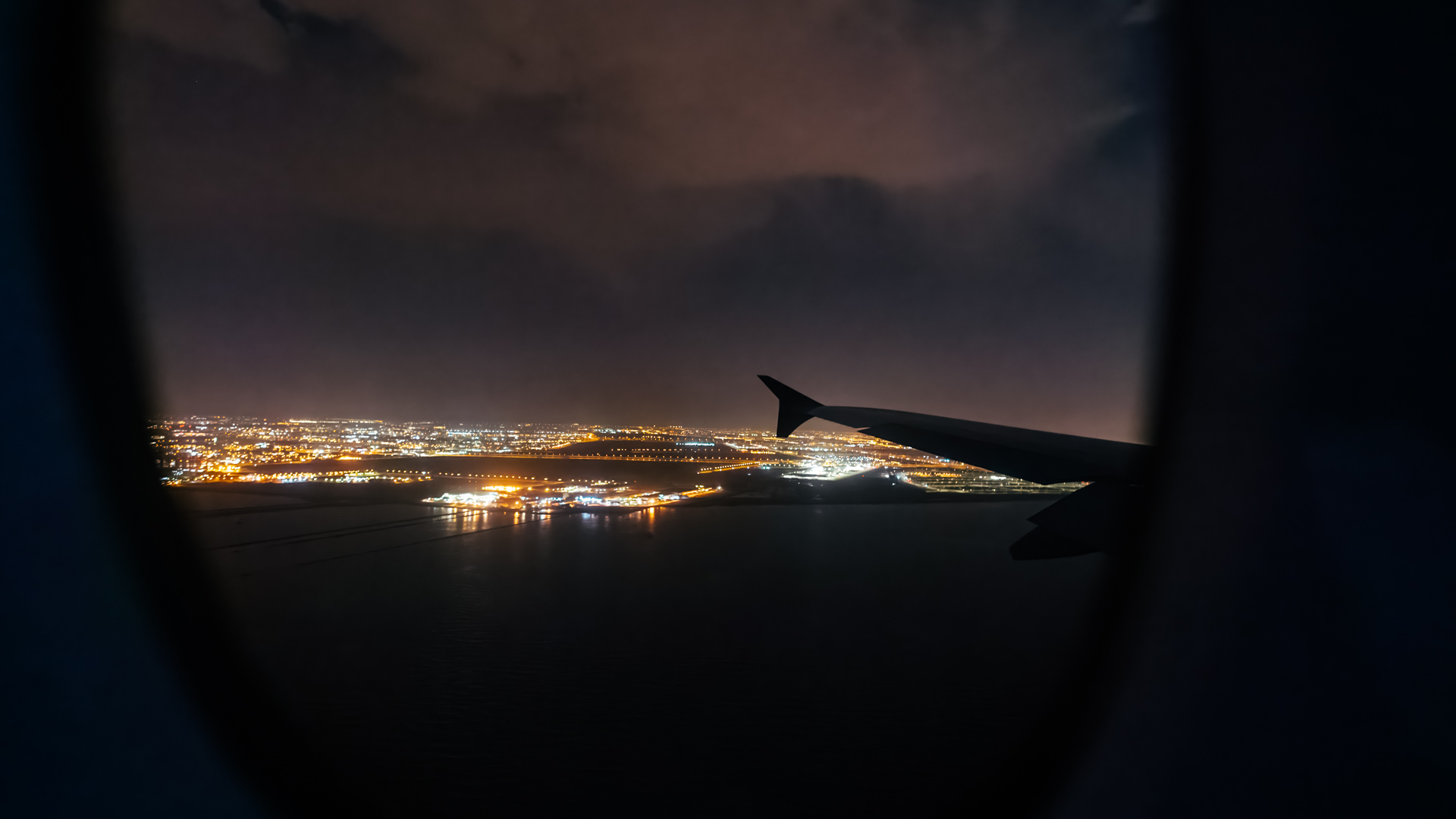 Also read: Where to credit your Qatar Airways flight to →
Qatar Airways Airbus A380 Economy (Perth – Doha)
was last modified:
May 29th, 2023
by