Soon, travellers taking off from WA's sunny shores will have a slick new lounge space to look forward to. Swissport is gearing up for the opening of the Perth Airport International Aspire Lounge Terminal 1, which will welcome international passengers.
Set within the airport's former control centre, high-flying travellers are assured panoramic views of the airfield and city skyline. It's a premium position that beats the nearby Qantas, Singapore Airlines, Air New Zealand and Emirates lounges.
And with shower facilities, stylish seating and locally-inspired food, Perth's first international pay-per-use lounge is not afraid to make a big statement.
Where is the Aspire Lounge Perth T1?
You'll find this snazzy new space after immigration and security at Perth's International T1, which hosts all overseas airlines except for Qantas. Once you land in the duty-free maze, cast your eyes at the digital signage and head right.
Walk along down to Gate 54, and you'll see the Aspire Lounge entrance to your left. You can take the lift straight up, or challenge your fitness with several flights of stairs.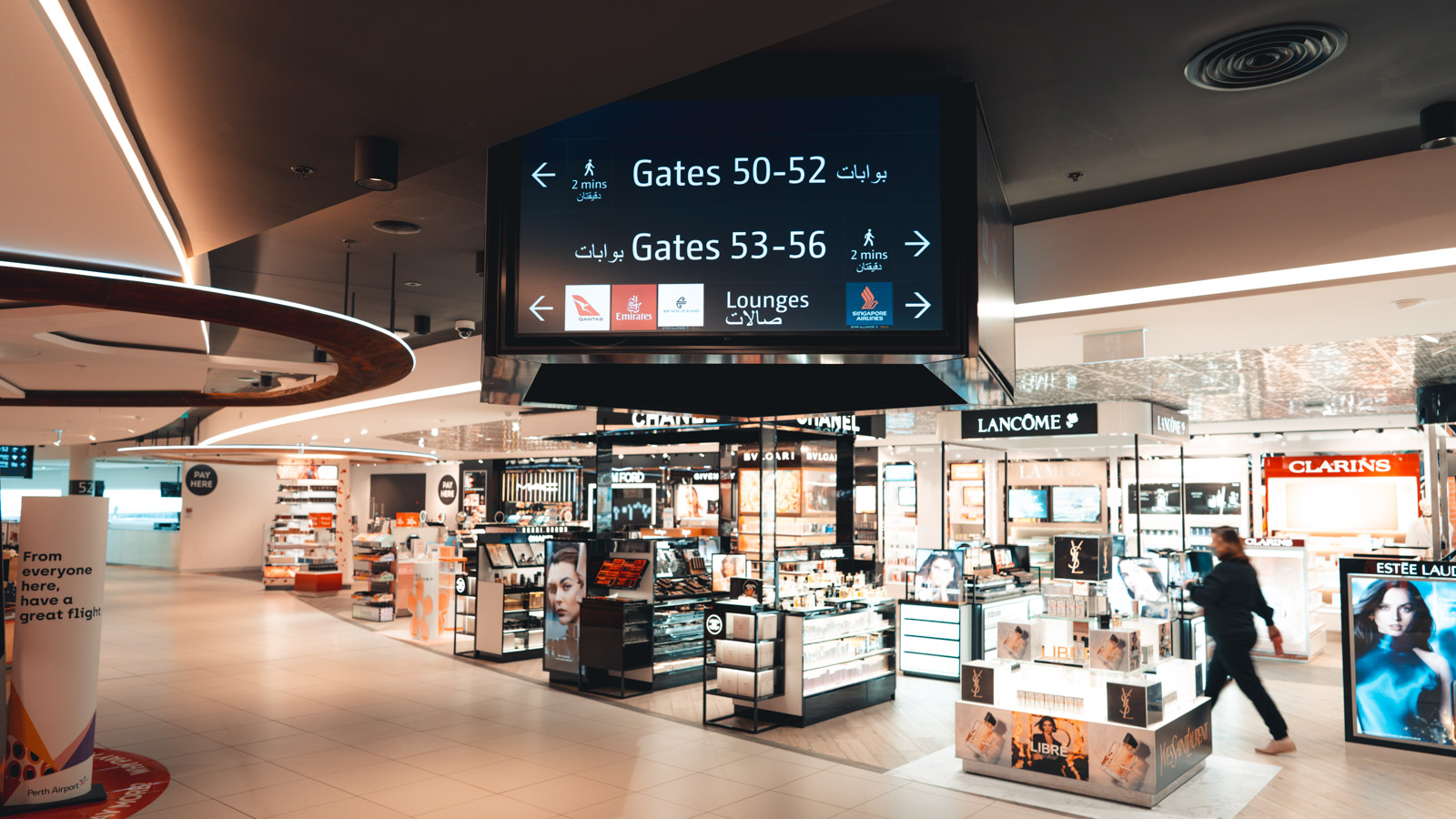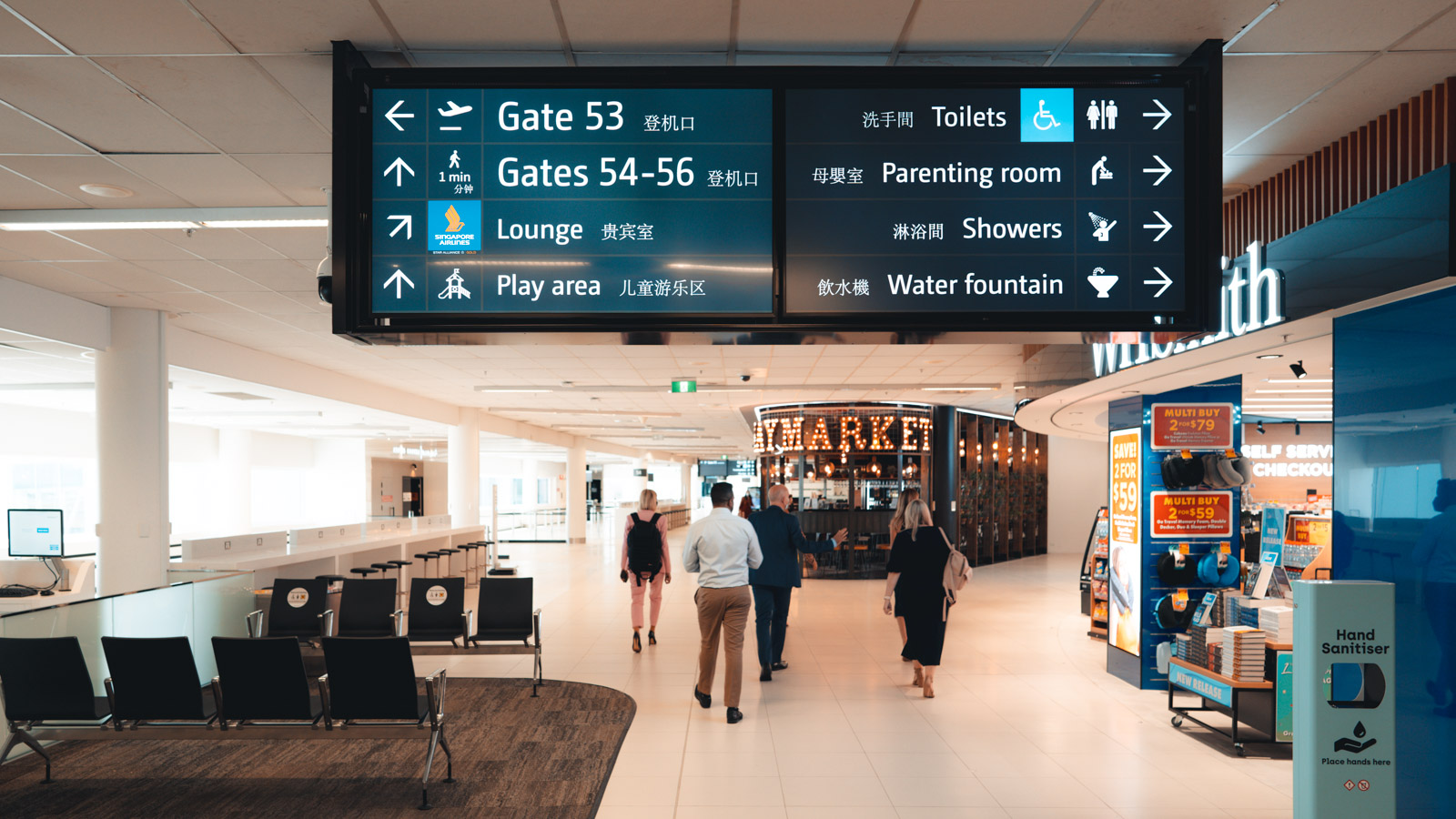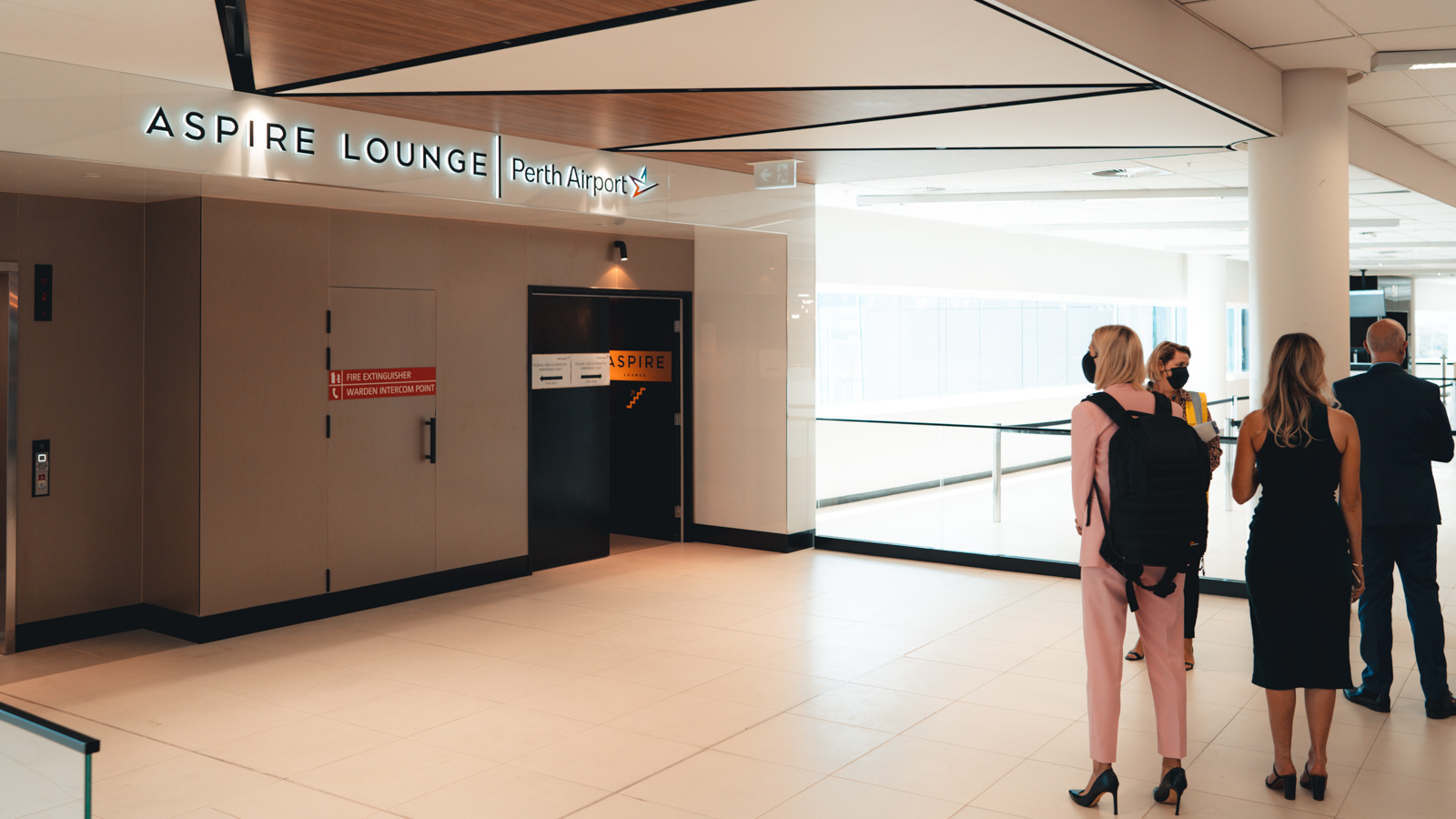 The lounge opens on 10 March 2022, a week after WA opens up its domestic and international borders.
What's it like inside the Aspire Lounge Perth T1?
In short: stunning. Meandering up the spiral staircase, we come across the expansive entryway. Tucked behind reception is a small 'business lounge' with comfortable office chairs and charging ports.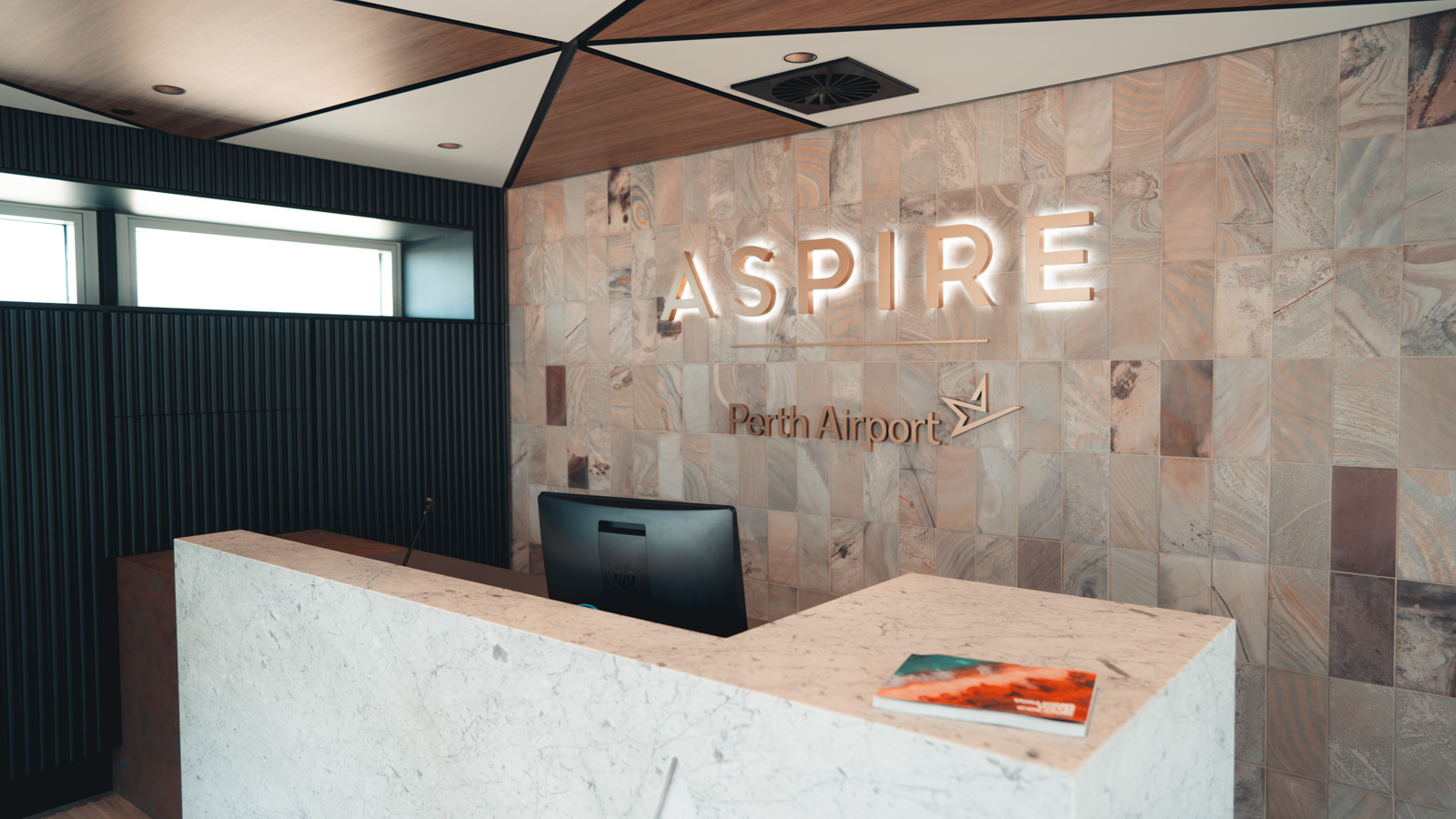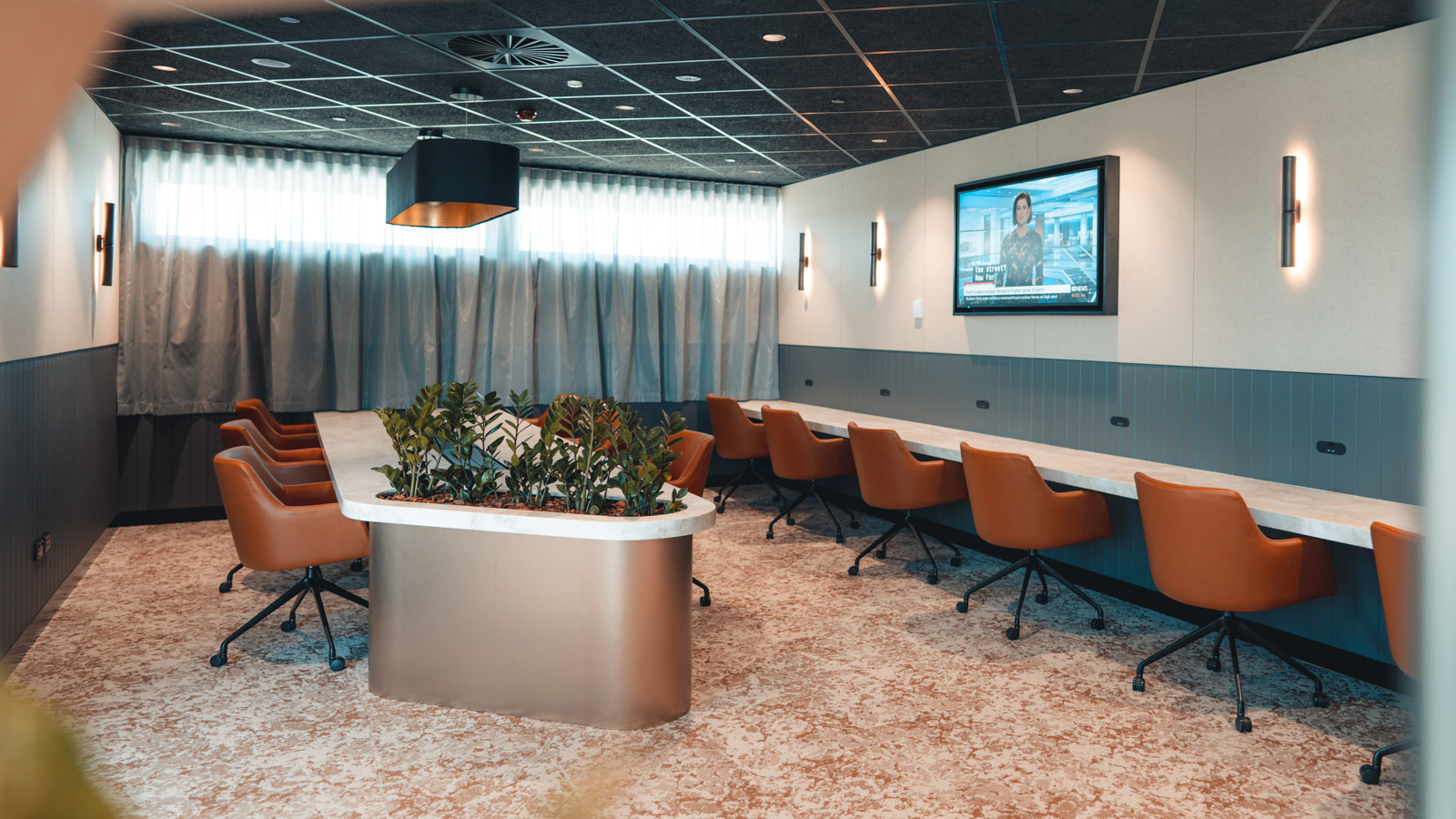 As we move further down to the right, we come across various food-centric zones near the bar and buffet. Travelling in a group? Take up residence in one of the pink booths. Otherwise, plonk yourself down on a bar stool or sink into a plush blue armchair – both with sweeping views of the apron.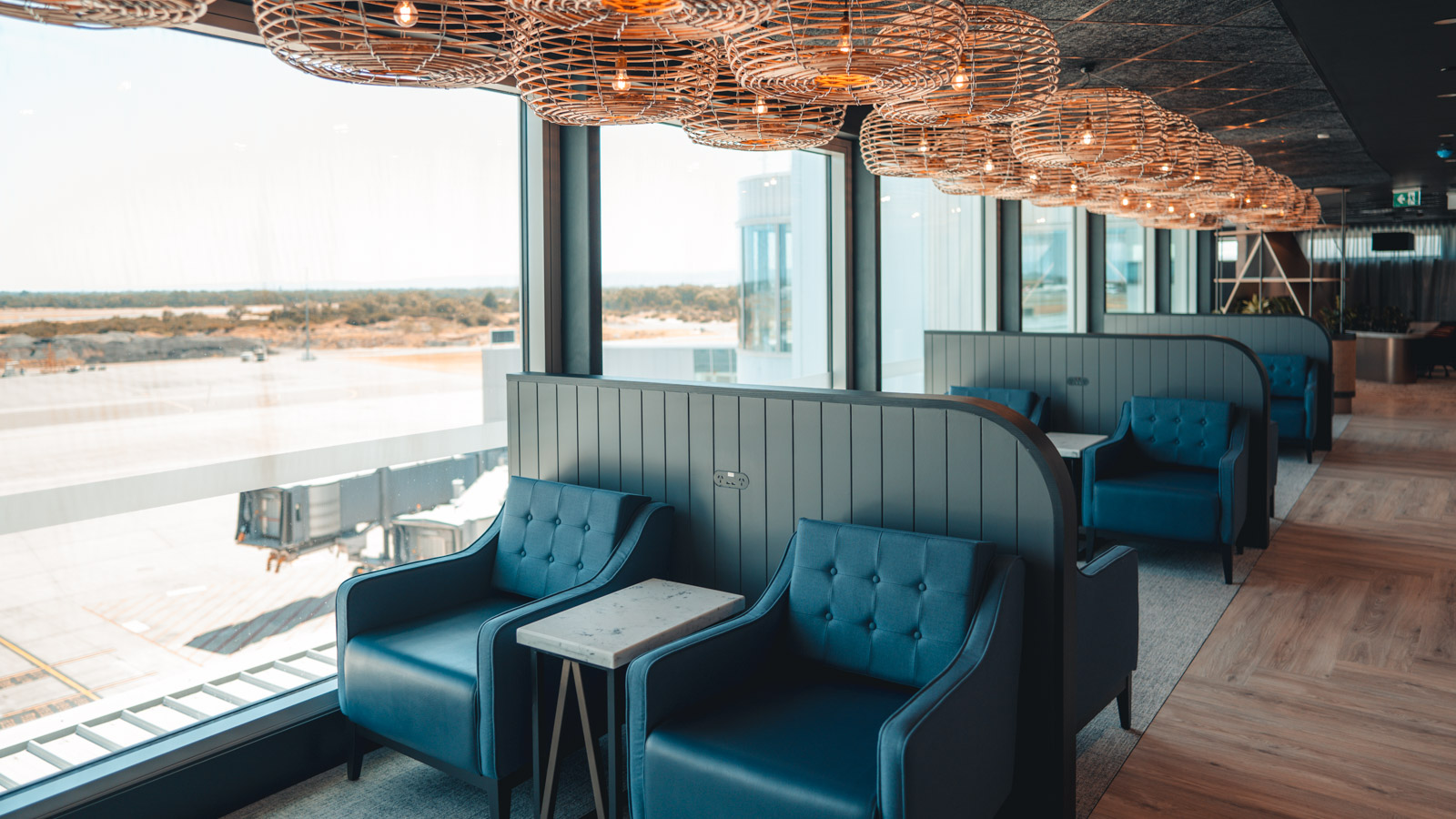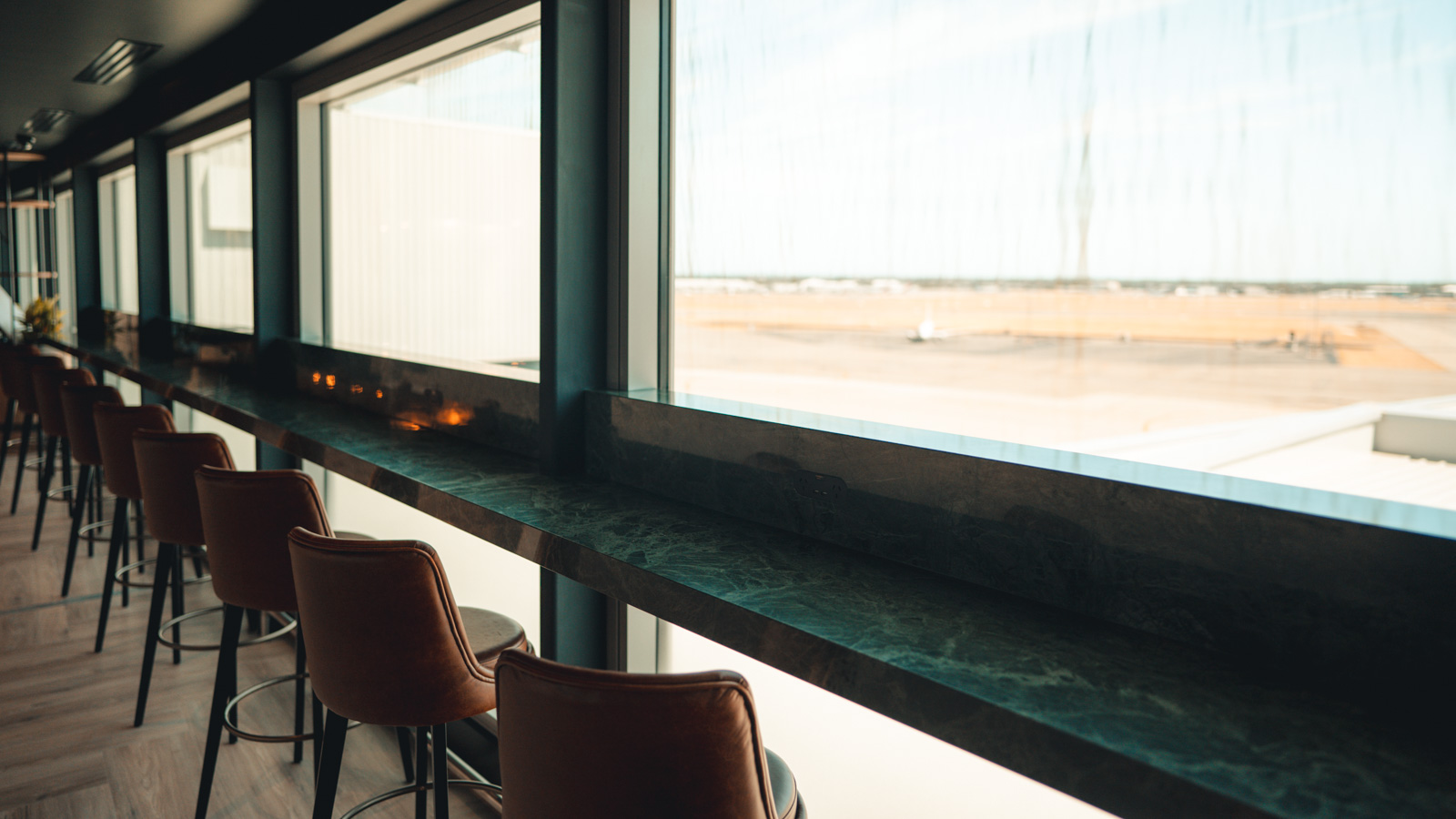 As we venture deeper into the lounge, next up are zones tailored more for relaxation. A standout feature is a Perth cityscape lightbox by Michael Haluwana. We're told the lights can simulate a sunset over the city. How nifty.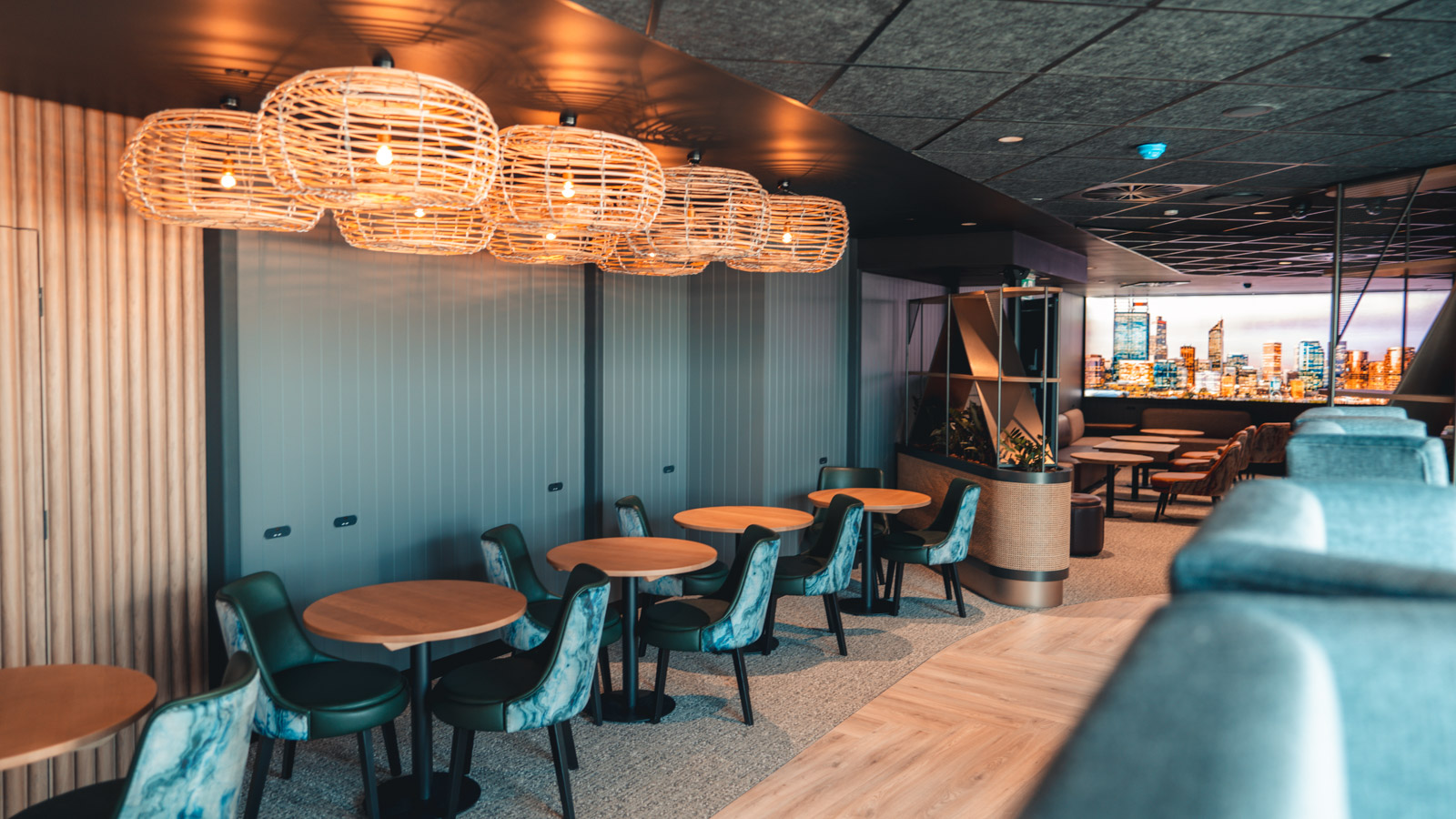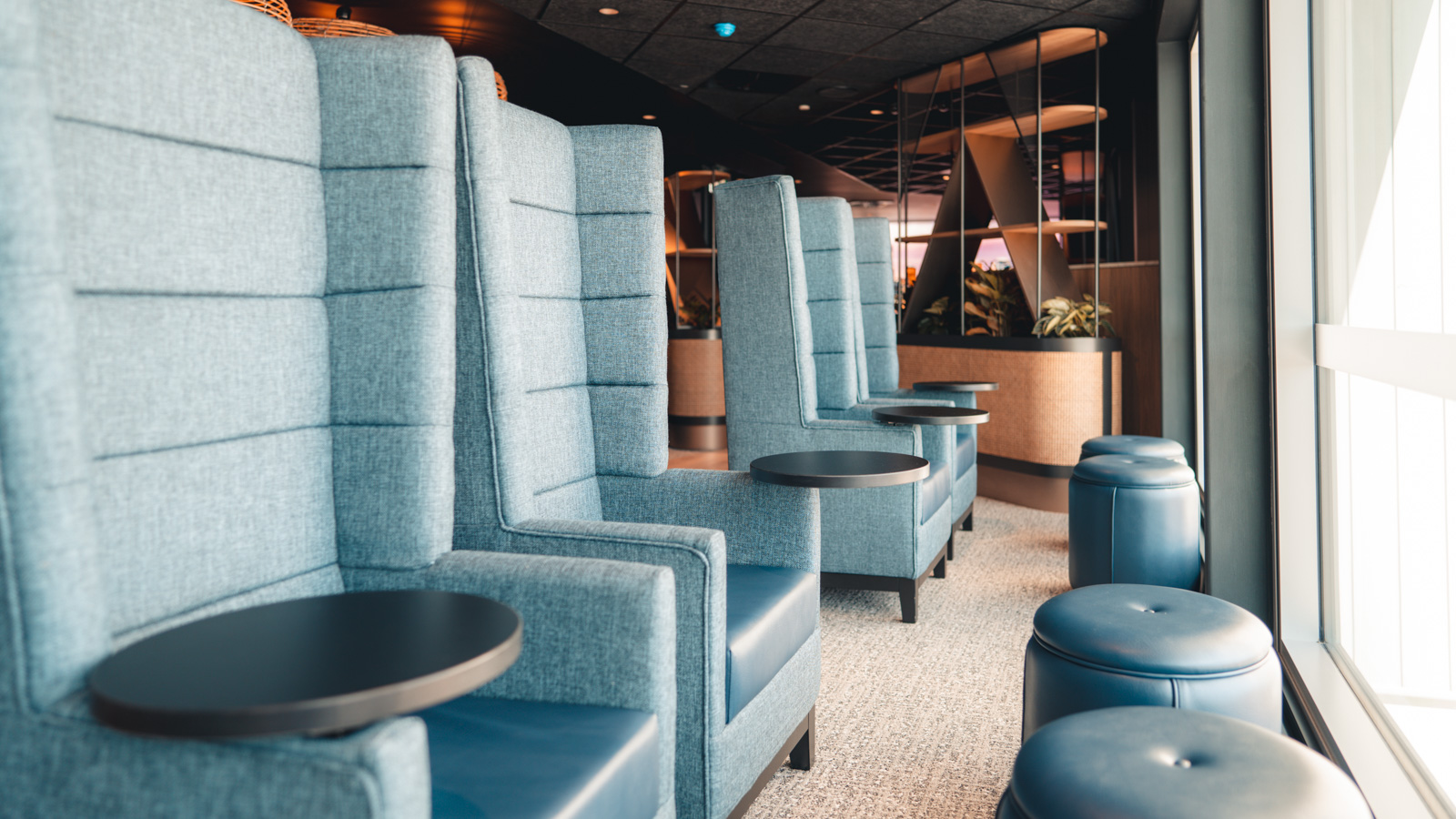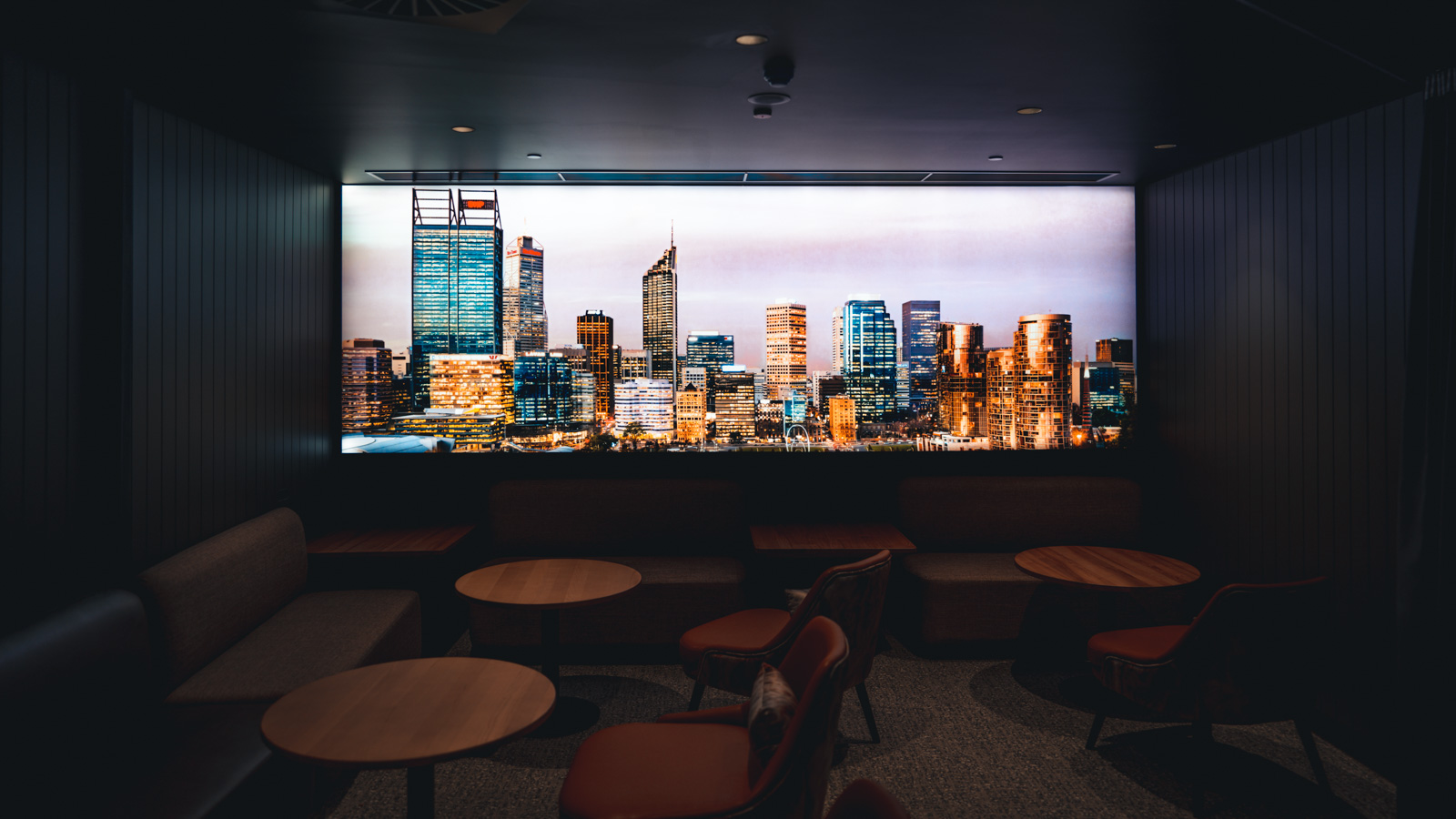 At the far end of the lounge, look right and you'll see the observation deck in all its glory. Indigenous artist Barry McGuire contributes to the centrepiece here – a message stick with 14 designs that represent the Noongar Language Groups in WA.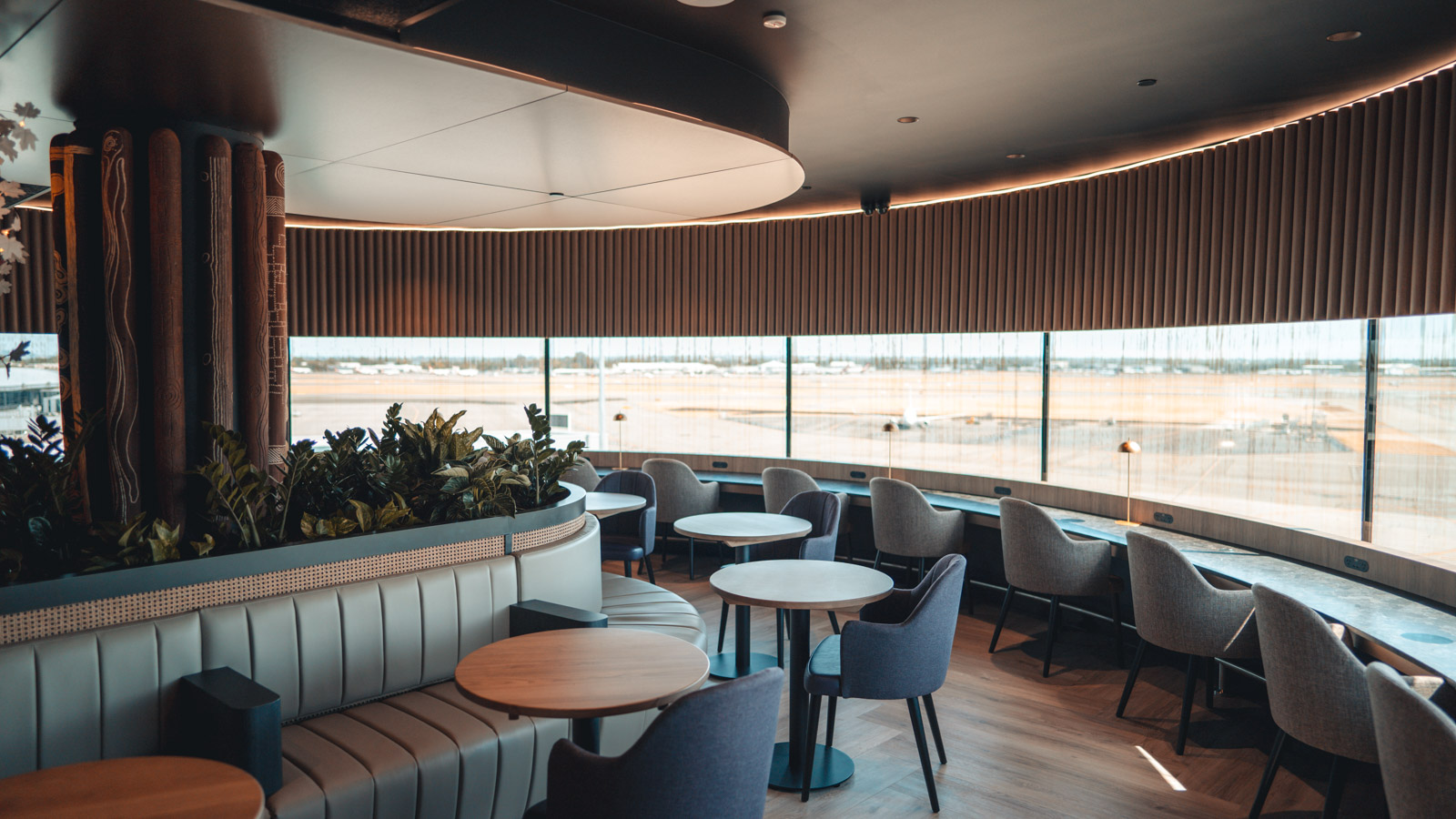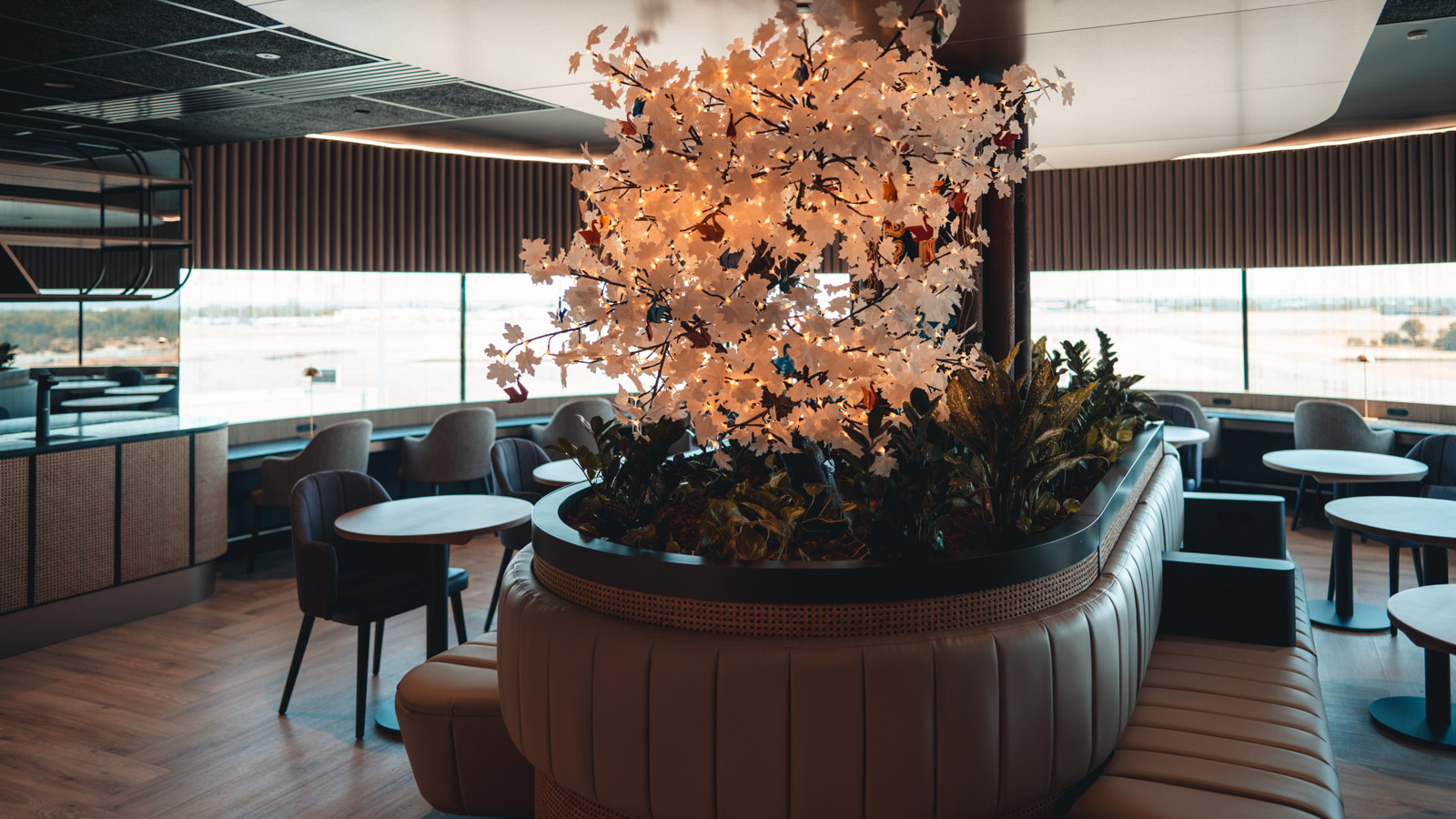 And if you want a quirky (and perhaps, corny) memento of your time in Western Australia, don't miss the giant quokka captain selfie spot! It's sure to bring a smile to your face.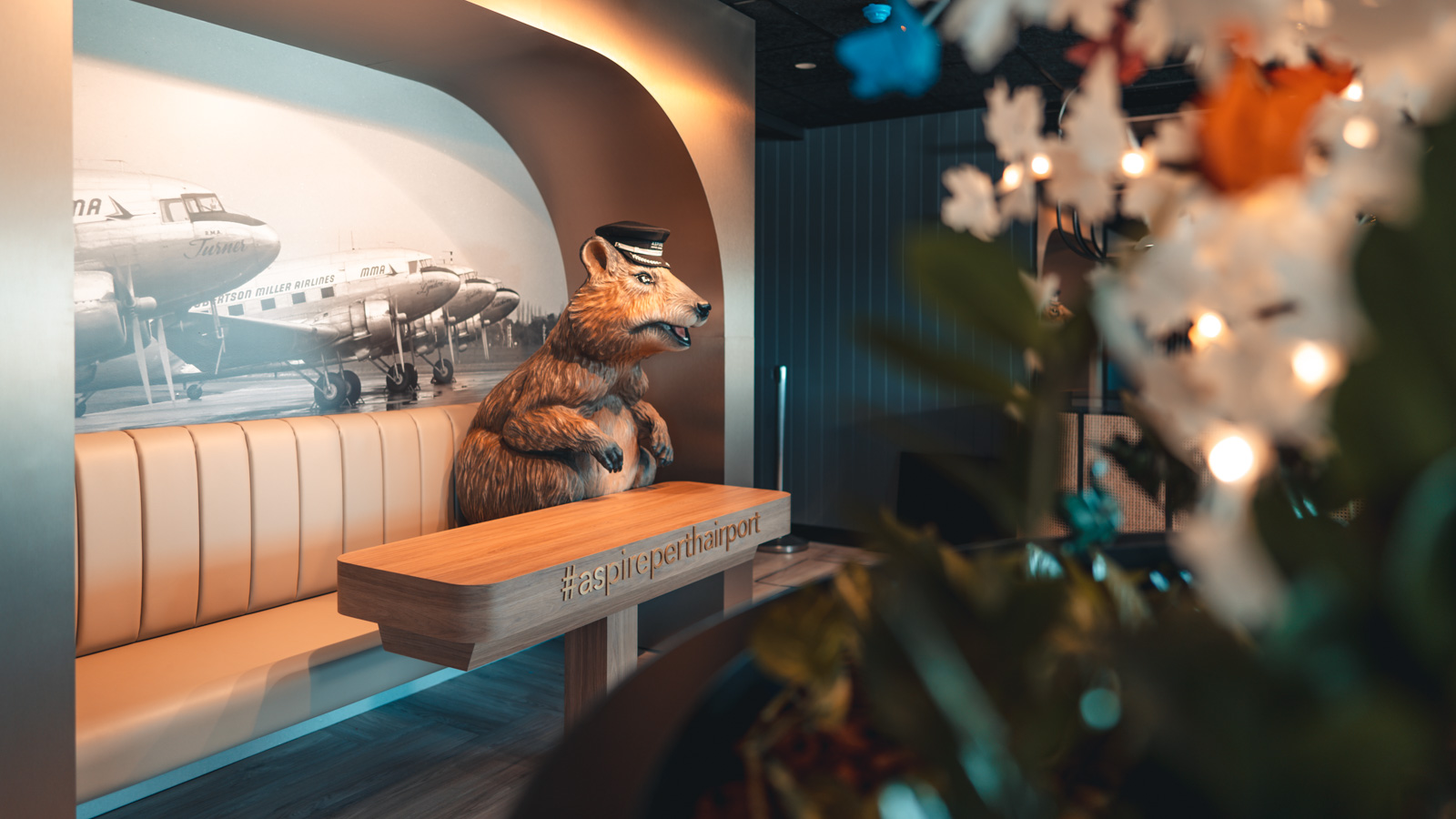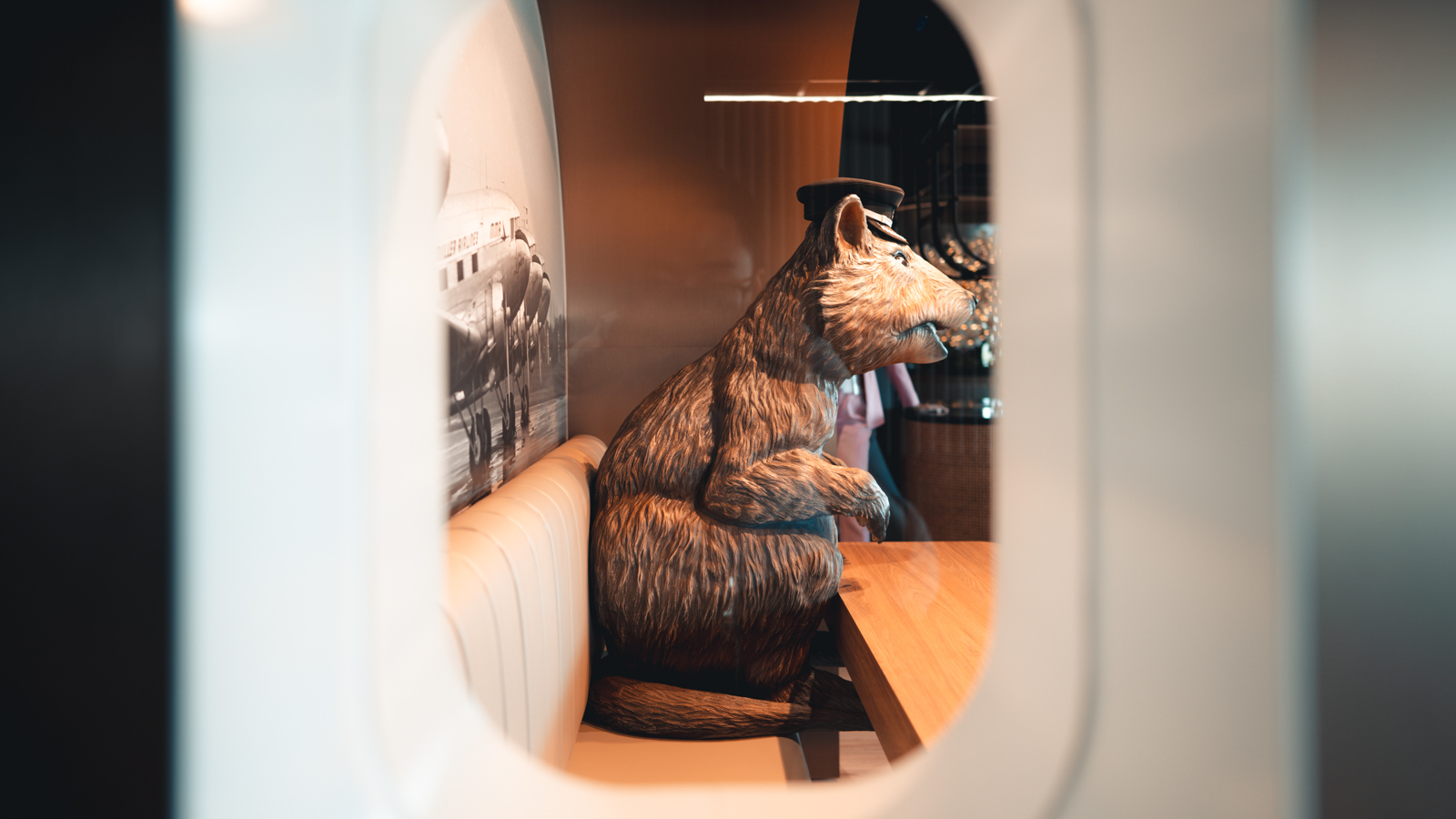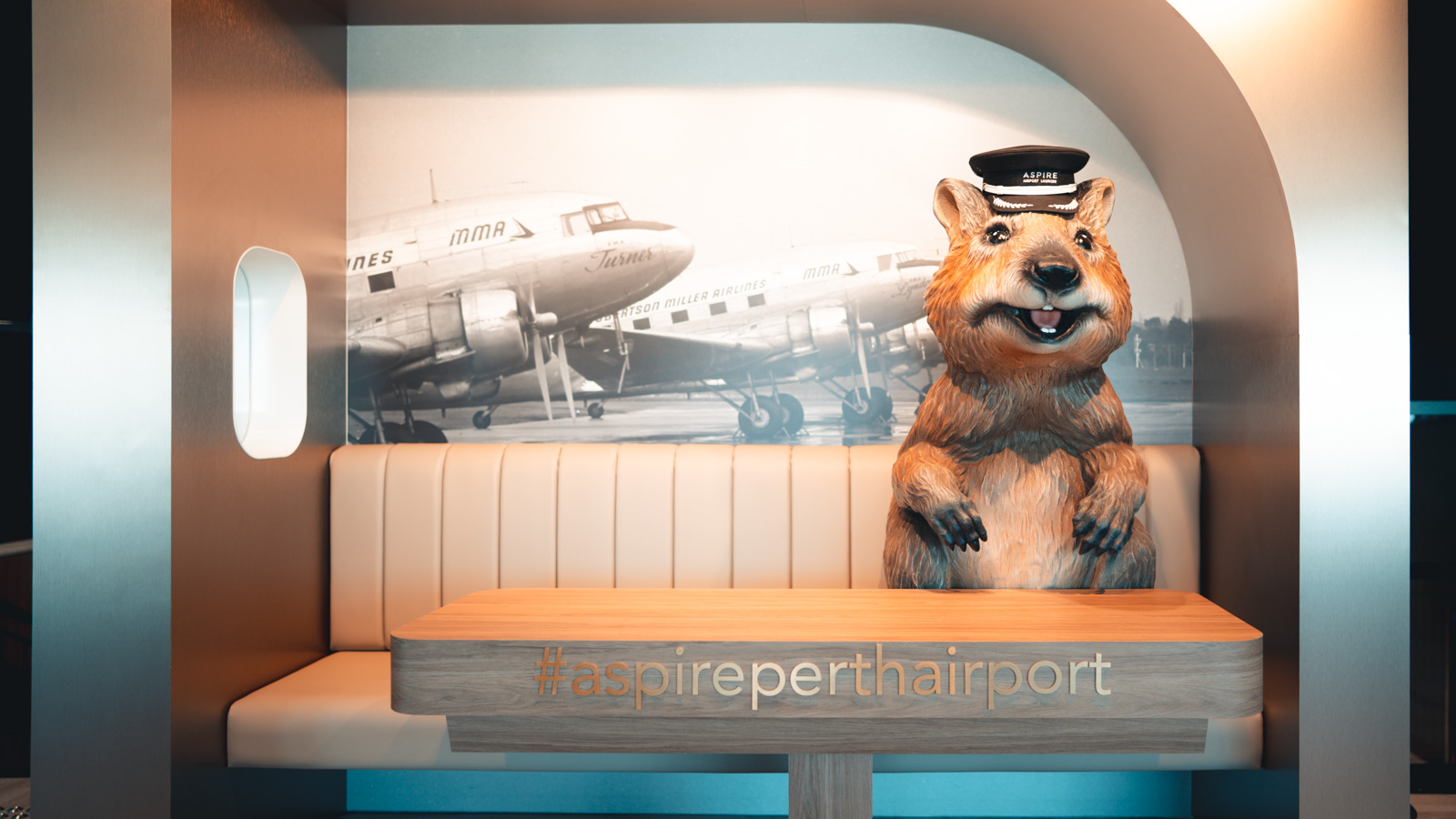 If you're taking your little ones along for the ride, there's a small kids zone just before the observation deck. The area isn't separate from the rest of the lounge, but there are some activities to keep them engaged. In particular, kids can learn more about WA's indigenous history.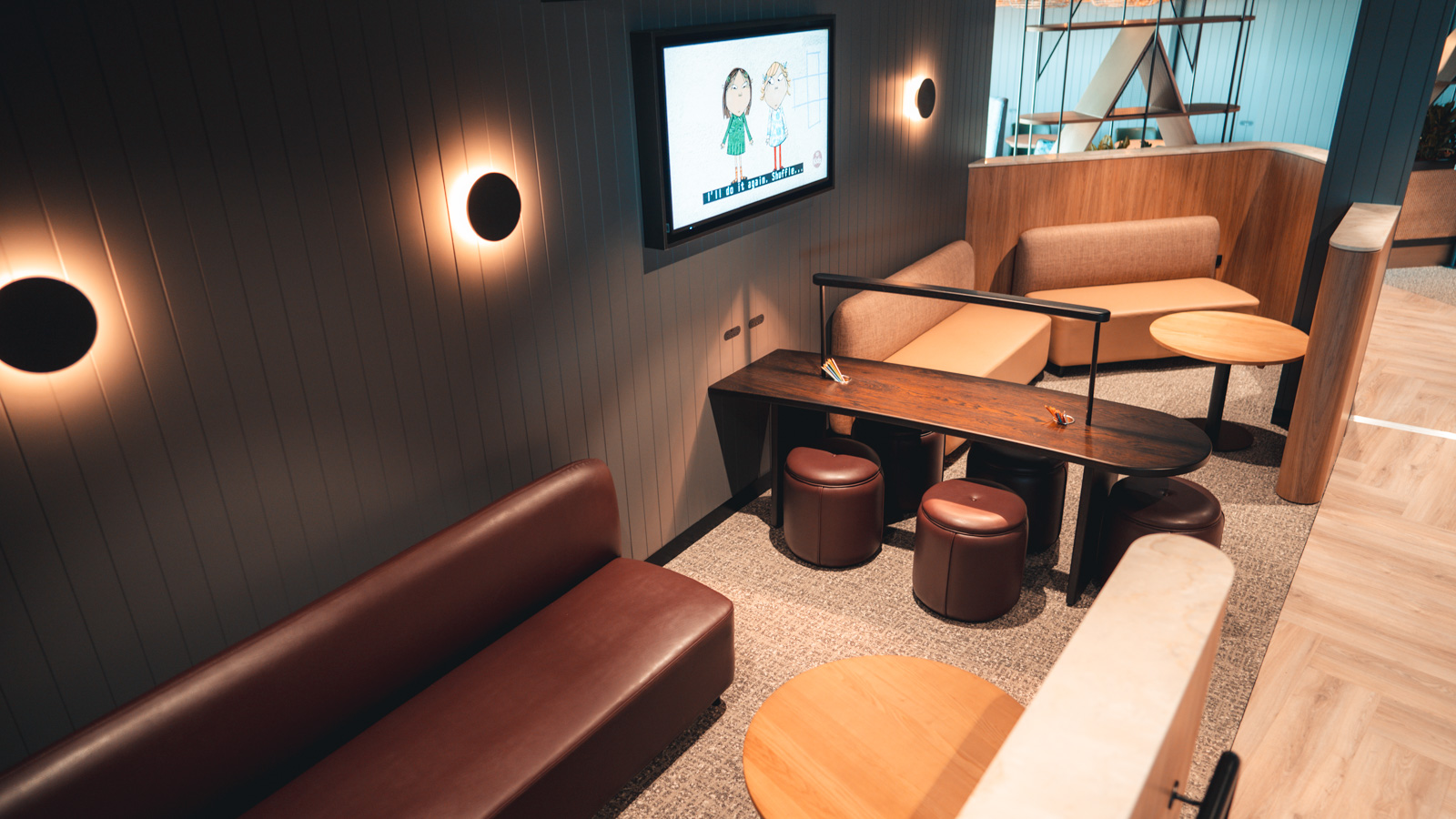 What amenities does the Aspire Lounge Perth T1 have?
The lounge does have a bar and dining area, although both areas weren't yet open for business during my media visit. We're told that the dining and beverage list will feature a distinctive WA flair – after all, great wines aren't hard to come by in Perth. Expect a range of buffet and small a la carte options once the lounge opens properly.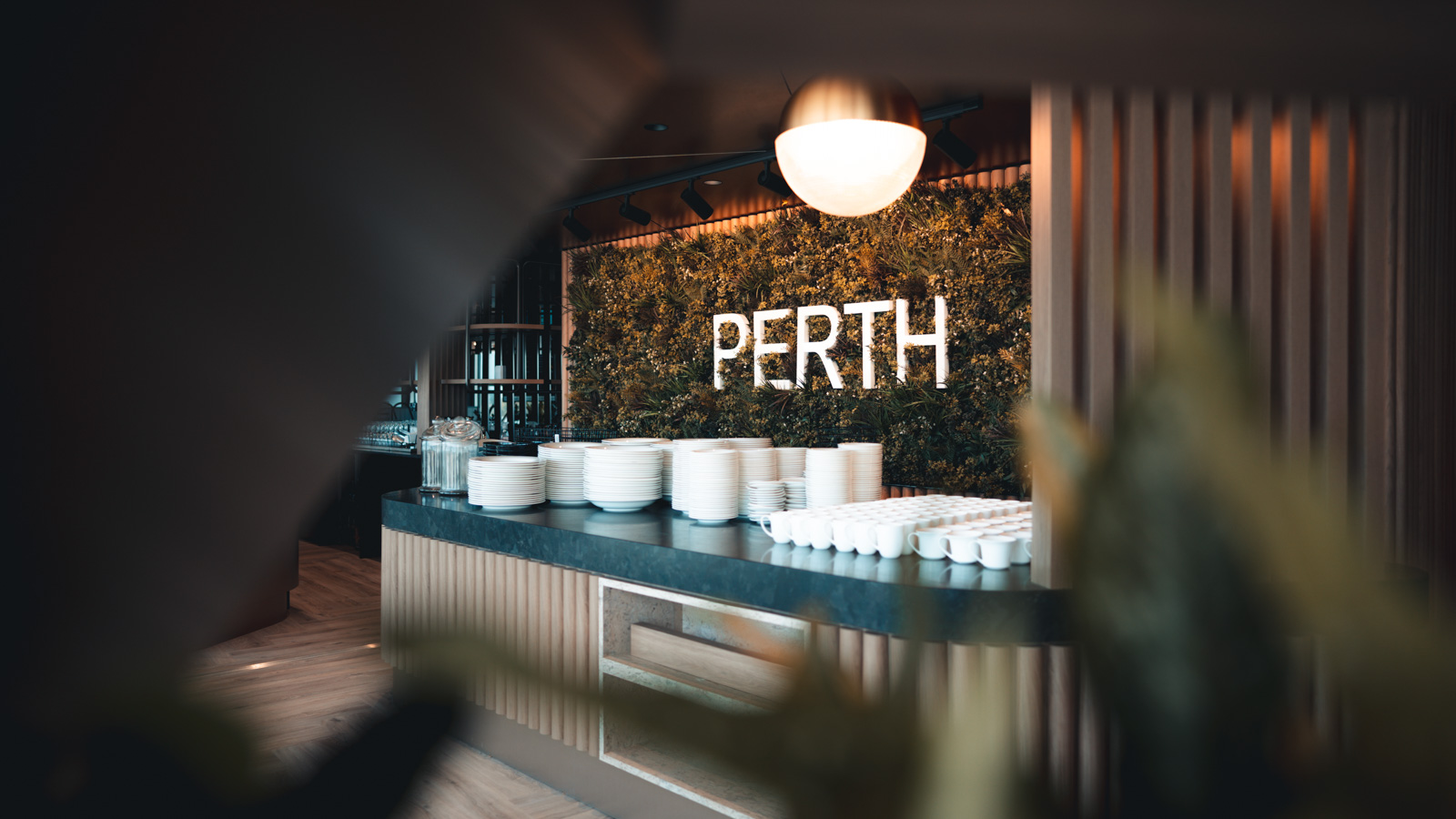 Near the centre of the lounge is a small hallway that leads to the bathrooms. There are three shower stalls in total, including one in the accessible toilet. The ladies' room boasts a separate 'powder room' area for that last-minute facial treatment before you board the plane.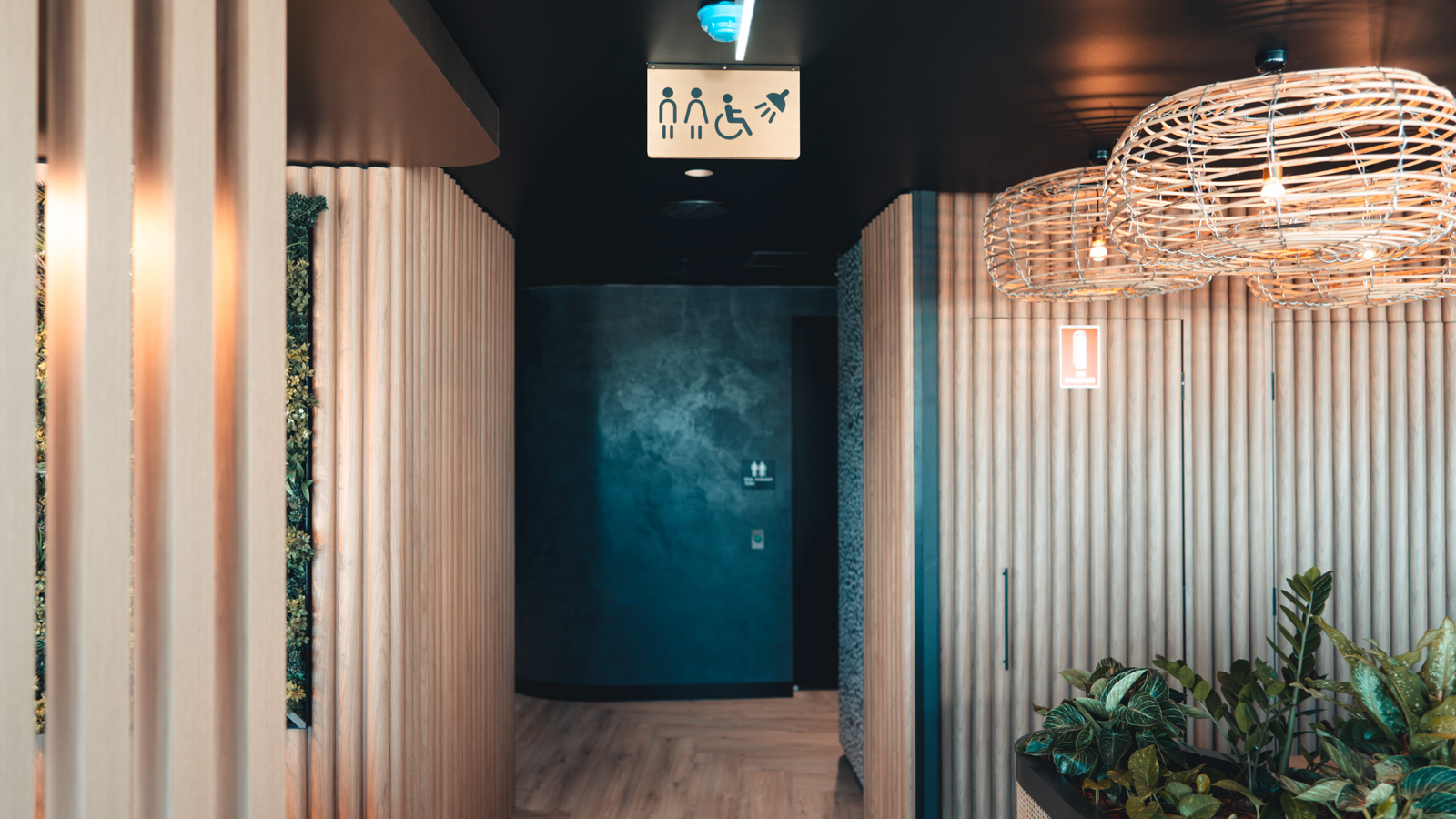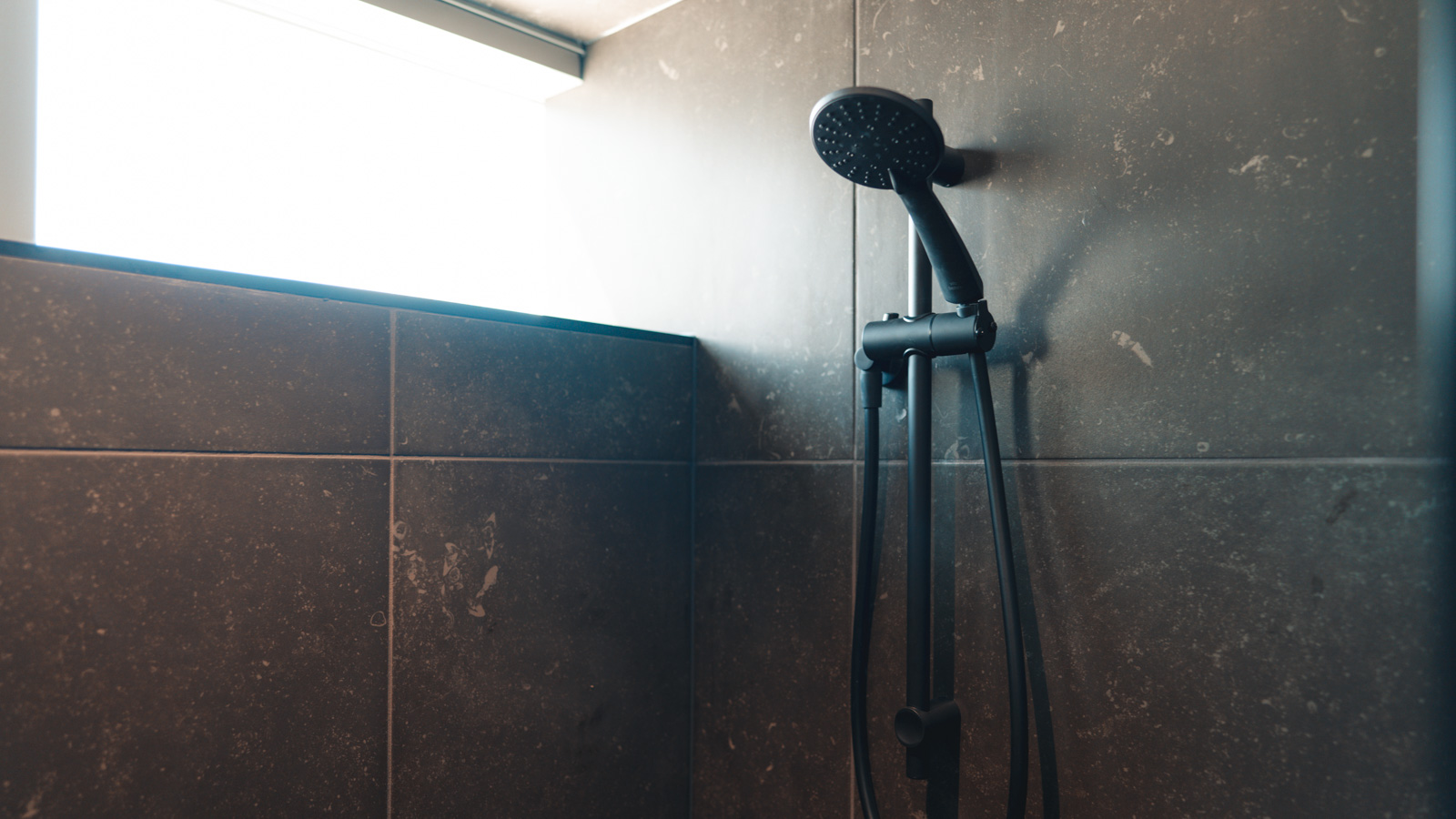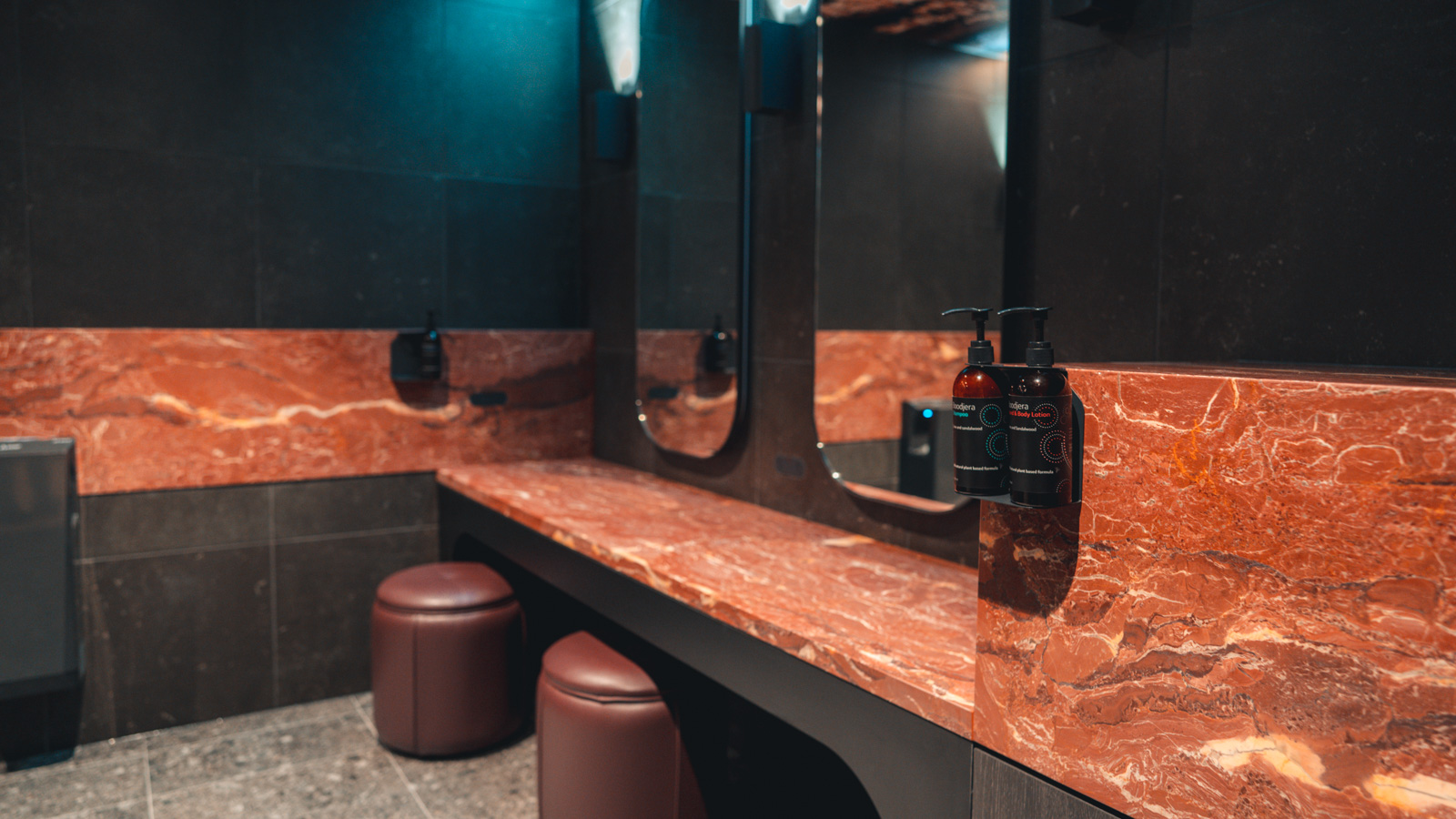 Bathroom products are provided by Boodjera, an Aboriginal-owned company that uses all-natural and plant-based formulas, along with 100% recycled bottles. Ethical and local – what's not to love.
There are plenty of charging ports throughout the lounge. Each outlet has two AC plugs and two USB plugs, so you should be well covered. Fast WiFi is still to come, though it wasn't switched on during my visit.
Finally, there's no excuse to miss your flight with plenty of flight information screens dotted around the space.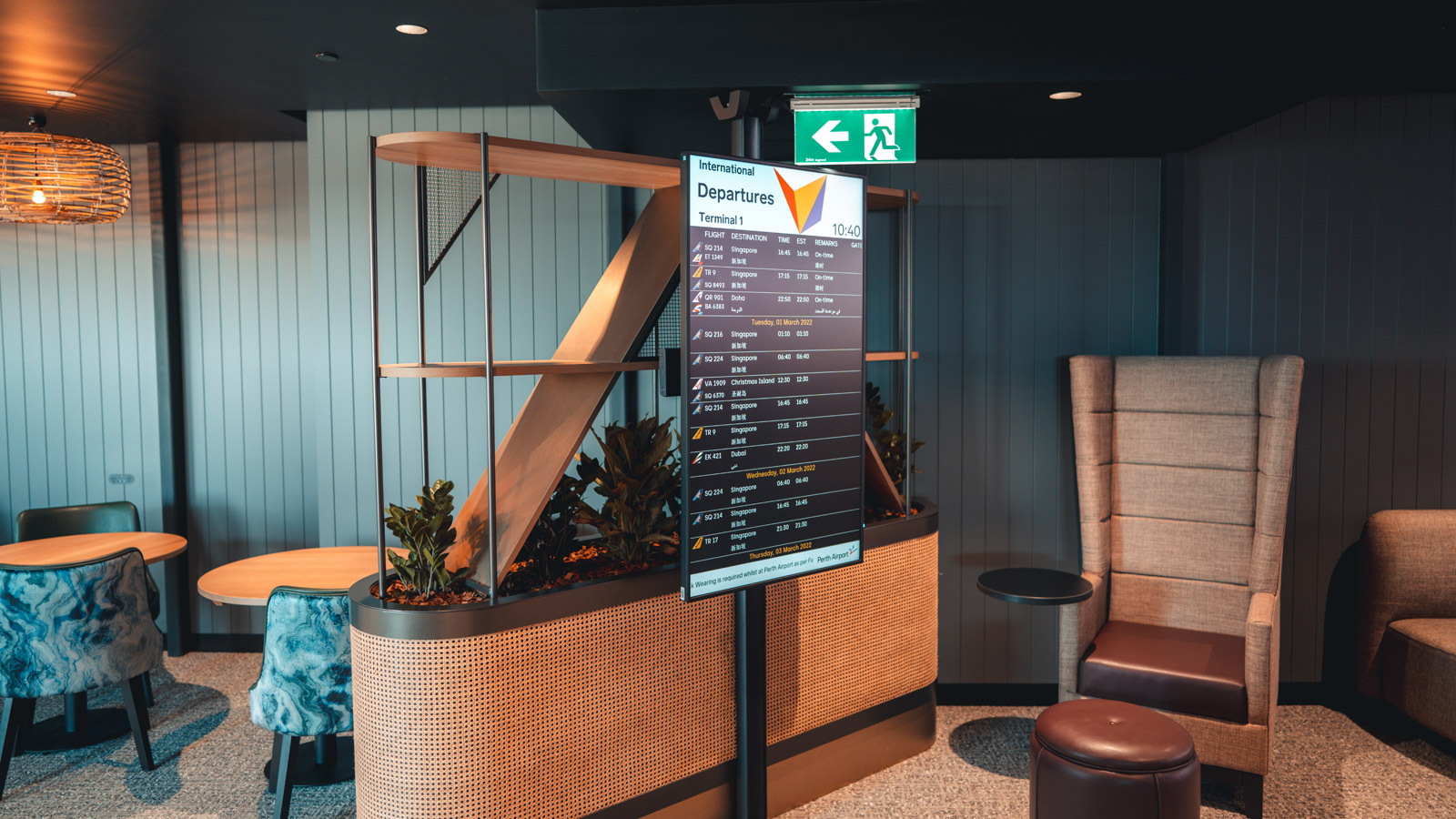 Who can access the Aspire Lounge Perth T1?
The Aspire Lounge Perth T1 welcomes any traveller departing from the international terminal. You can pre-book entry from $66 per person online, or walk up from $77 per person. And they accept Priority Pass, so you can use one of your included visits to enter the Aspire Lounge. Book now at Executive Lounges →
The Amex Platinum Card includes a free unlimited Priority Pass membership, so you can access this lounge whenever you're departing Perth.
As more international airlines return to Perth, some carriers will organise access to the Aspire Lounge for premium passengers. We'll keep this review updated once we know more.
For the interim, eligible Emirates Business, First Class and elite status passengers will be welcome at the Aspire Lounge, until the Emirates Perth lounge re-opens again.
The lounge is open on limited days and hours initially. From 10 March, this is currently 6:30 pm to 10:30 pm on Tuesdays, Thursdays and Sundays. Check the Executive Lounges website for more details, as these could change quickly once travel from WA ramps up.
Summing up
The Aspire Lounge Perth T1 is a great addition to both the Aspire Lounge portfolio, and for Perth Airport as well. It's a modern space with bountiful views and natural lighting. The lounge footprint is a tad small (some of the bathroom stalls are a bit squishy), but it's probably the right size for Perth.
We can't wait to review the lounge properly once it's in operation, and bring you more details on what to expect with food and drink. Also, check out our review of the neighbouring Aspire Lounge Perth T2, serving regional travellers.
Brandon attended the unveiling of the lounge as a guest of Perth Airport. All photos are his own.
Aspire unveils stunning Perth international lounge
was last modified:
March 25th, 2022
by