Qatar Airways is very protective of its premium spaces – so much so that the airline is infamous for reserving its most prestigious lounges (Al Mourjan and Al Safwa) for ticketed Business and First Class passengers only. So where does that leave travellers with elite status but travelling in Economy?
Enter the Qatar Airways Silver, Gold and Platinum lounges. At Doha's Hamad International Airport, there will soon be two each of these dedicated spaces for the many travellers passing through the hub.
The Platinum Lounge is naturally reserved for those with top-tier status, including on partner airlines. In fact, both Velocity and Qantas Platinum status will get you in when flying Qatar Airways, as both Virgin Australia and Qantas are partners with Qatar Airways.
Lounge location and details
Qatar Airways' southern lounge precinct is centrally located, so it's likely to be a more convenient option compared to the upcoming northern lounges. The Platinum and Gold South lounges are co-located but this area isn't signposted at all. From the central teddy bear area, look for the A-gates and head towards A1.
Just before the gate, you'll find the entrance to the two lounges to the side. The Platinum Lounge is located one floor up, and is open 24/7 for your wining and dining needs.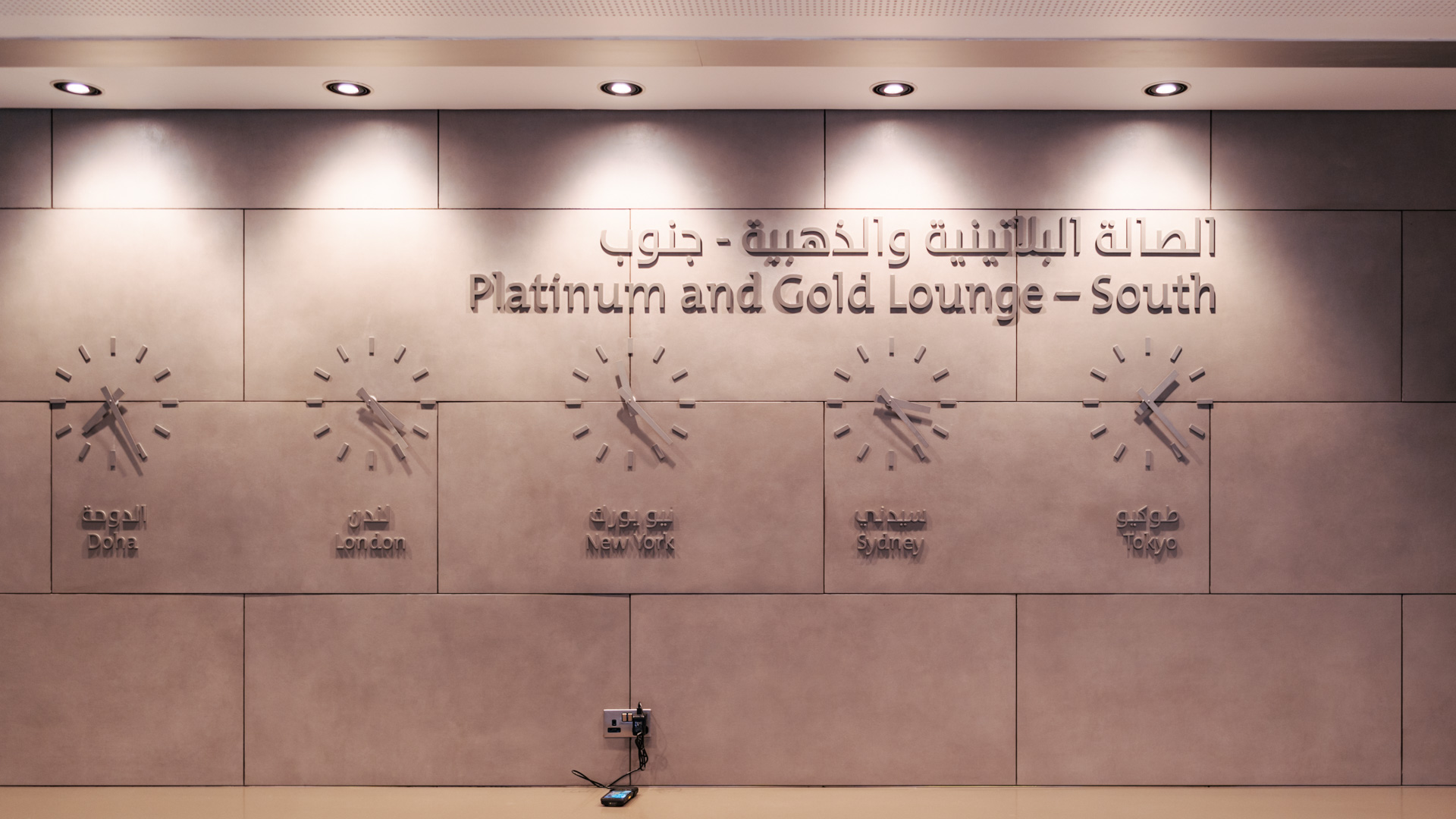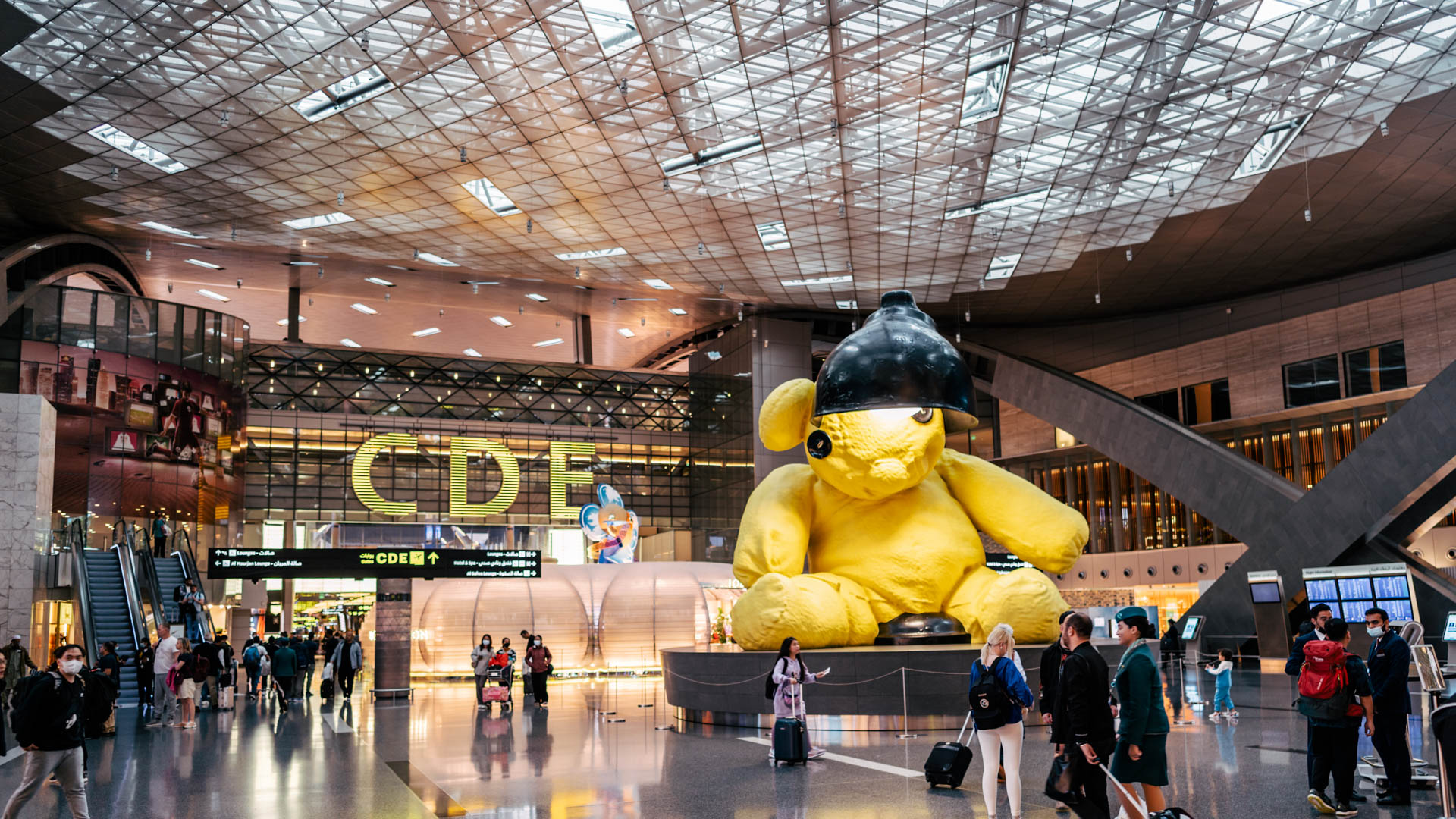 Lounge layout and seating
While not as majestic as the Al Mourjan and Al Safwa lounges, the Platinum lounge isn't shabby either. Once you're in the lounge proper, the casual dining area is immediately to the right. On the left is a blink-and-you'll-miss-it nook with a few highly-popular nap cubicles.
Further down, the main lounge space opens up with a grand, soaring ceiling. In tandem with the panoramic windows offering a clear view of the apron, the lounge exudes a sense of airiness.
The bar is tucked away in one corner and there is a refreshment station in the middle. The rest of the space is taken up by comfortable lounge seating in a typical two-by-two layout.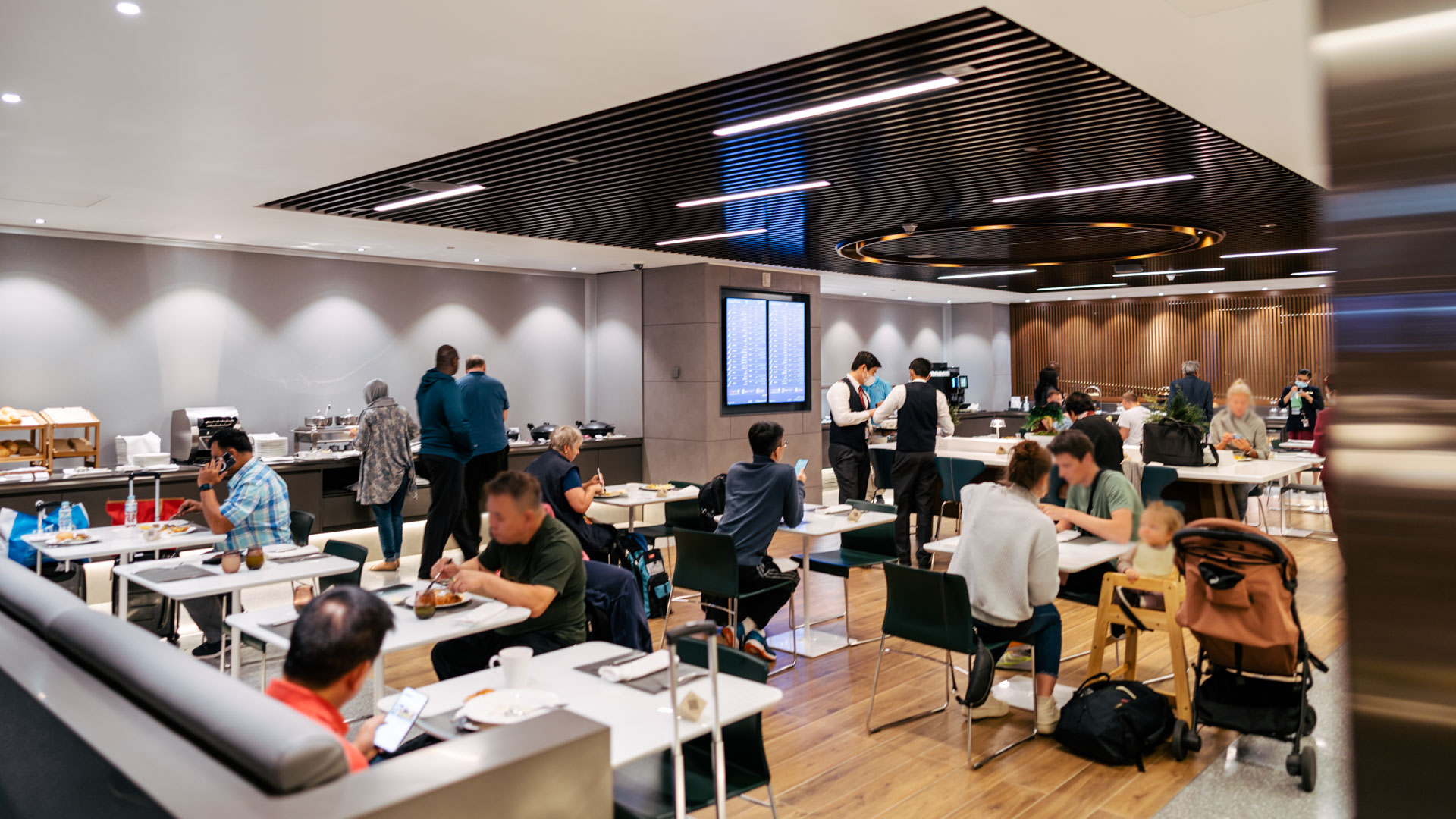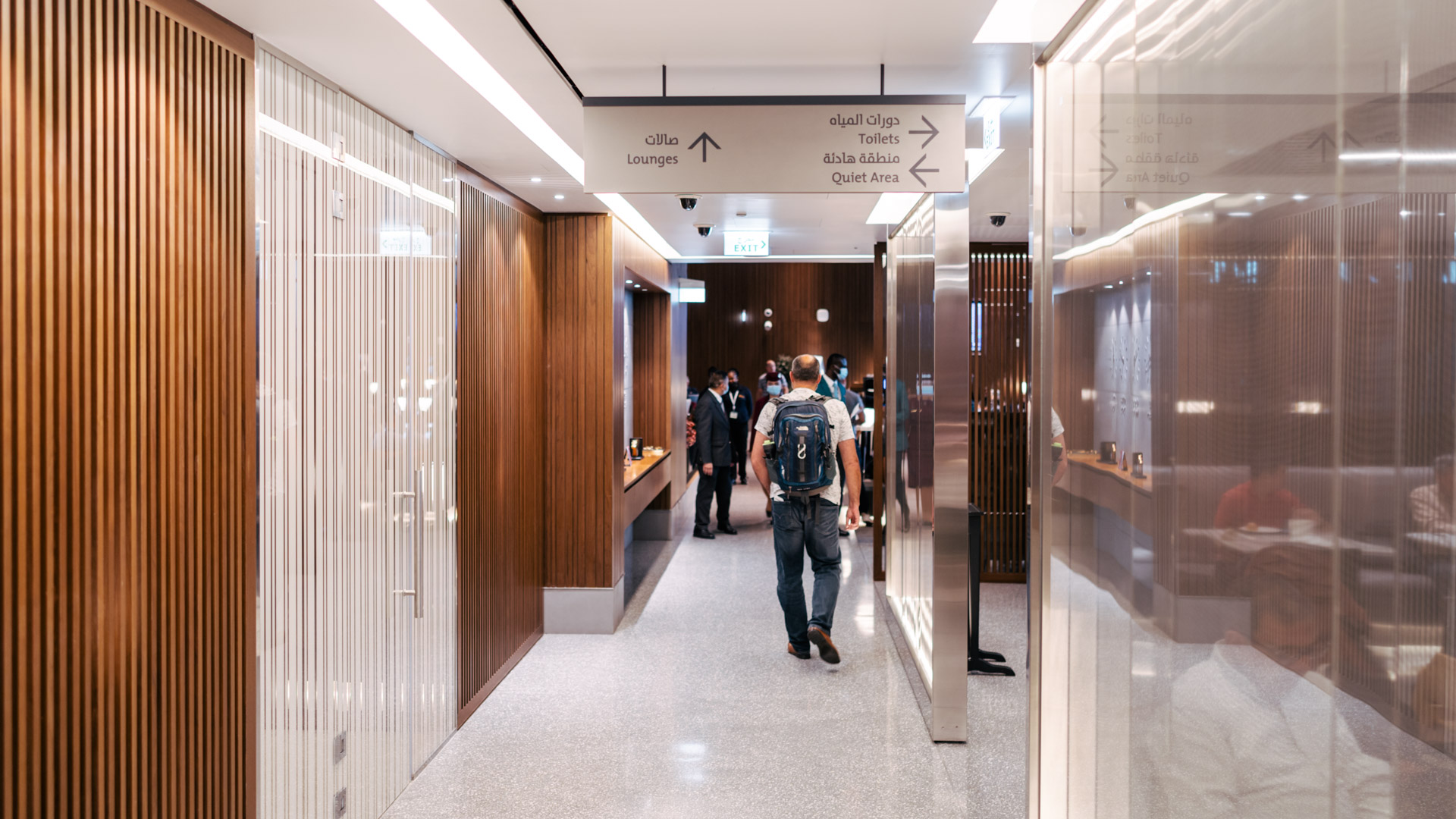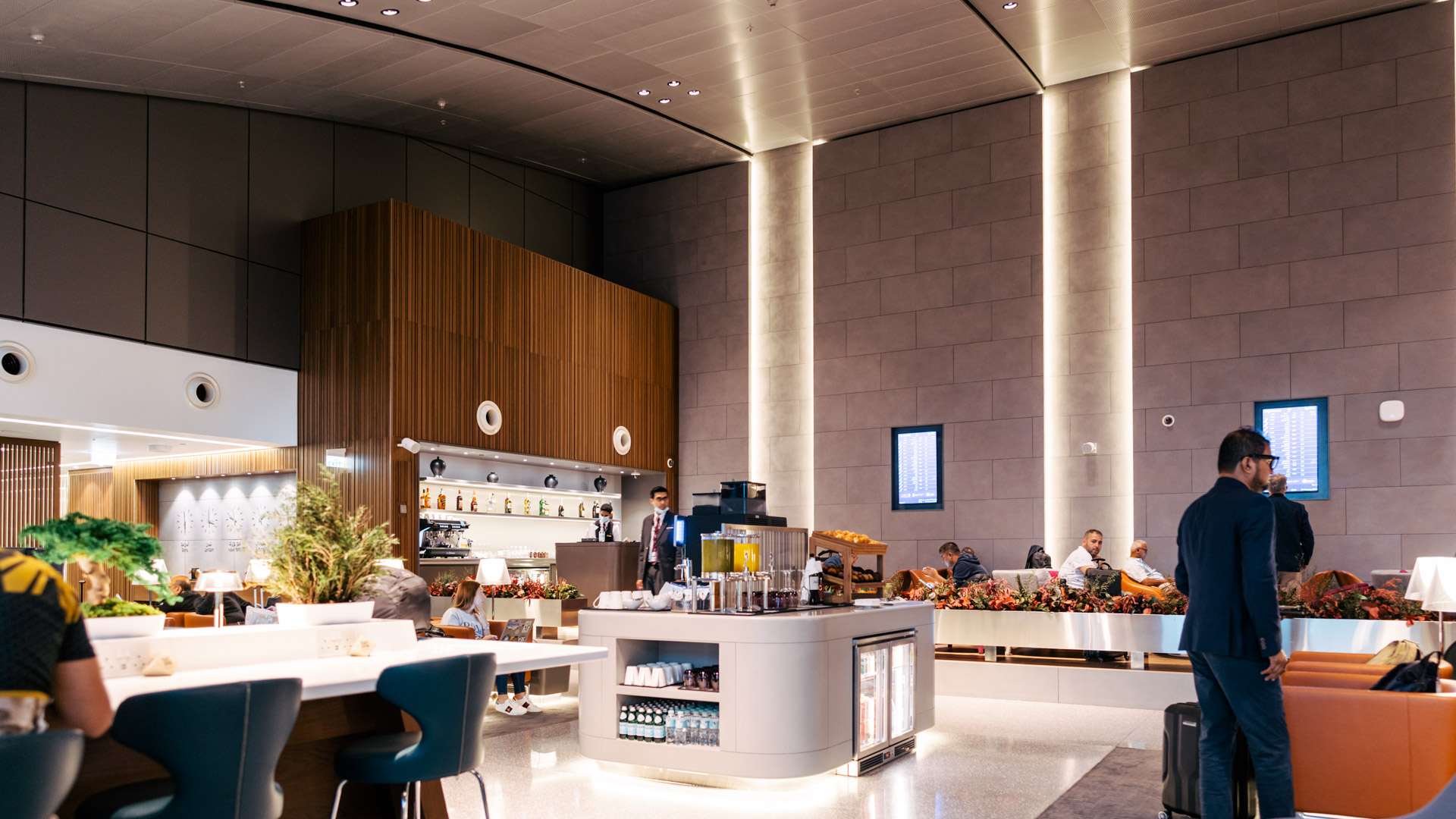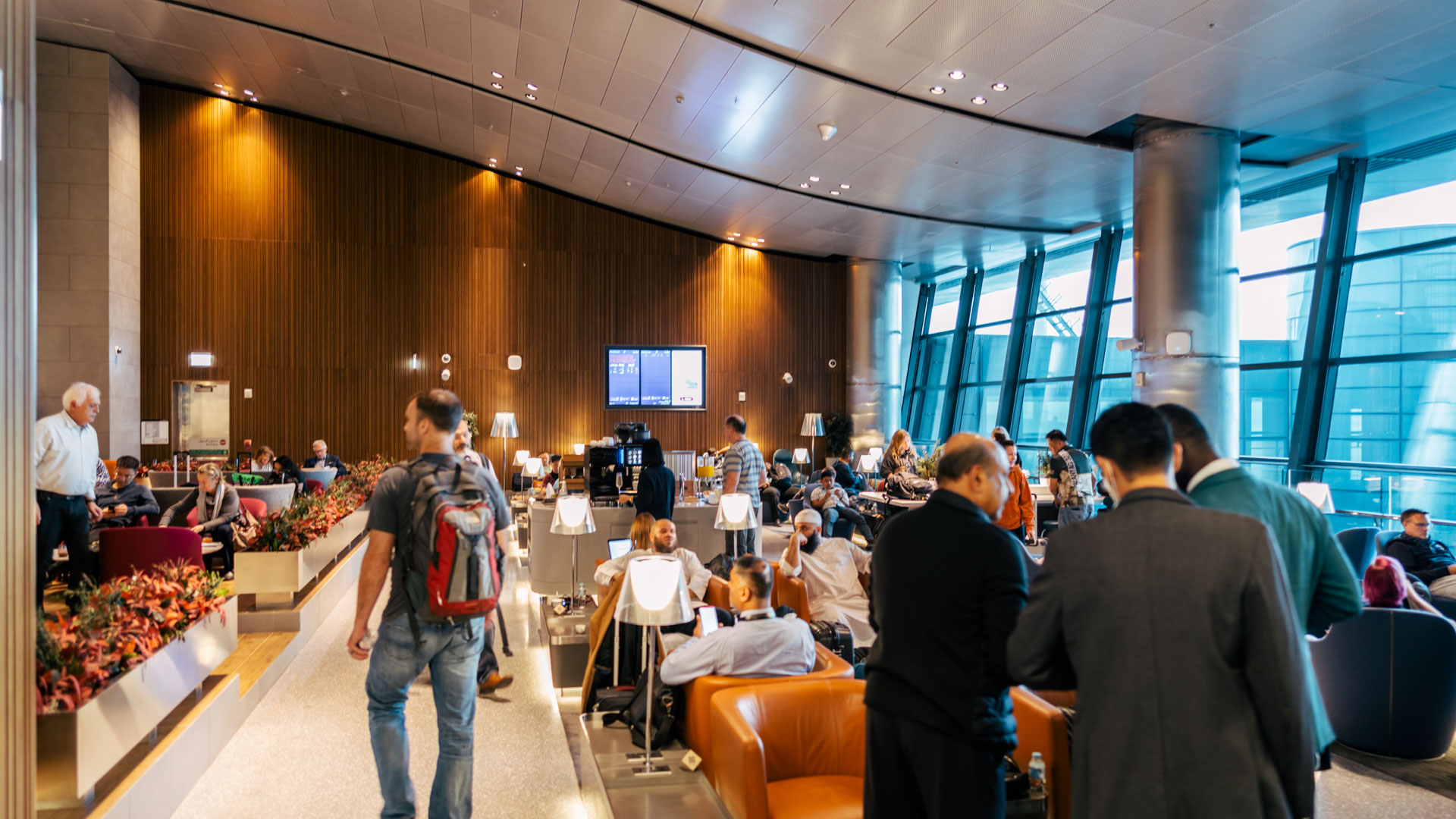 Want your own space to charge up or catch up on emails? Keep an eye out for a handful of pod seats adjacent to the windows, which have their own work desk. The bar table area is also a great place to set up shop.
But if you've got some time to spare, I recommend settling into one of the nap cubicles I mentioned earlier. The pre-reclined chairs aren't conducive to working, but I imagine most transit passengers wouldn't mind a quick snooze in between flights.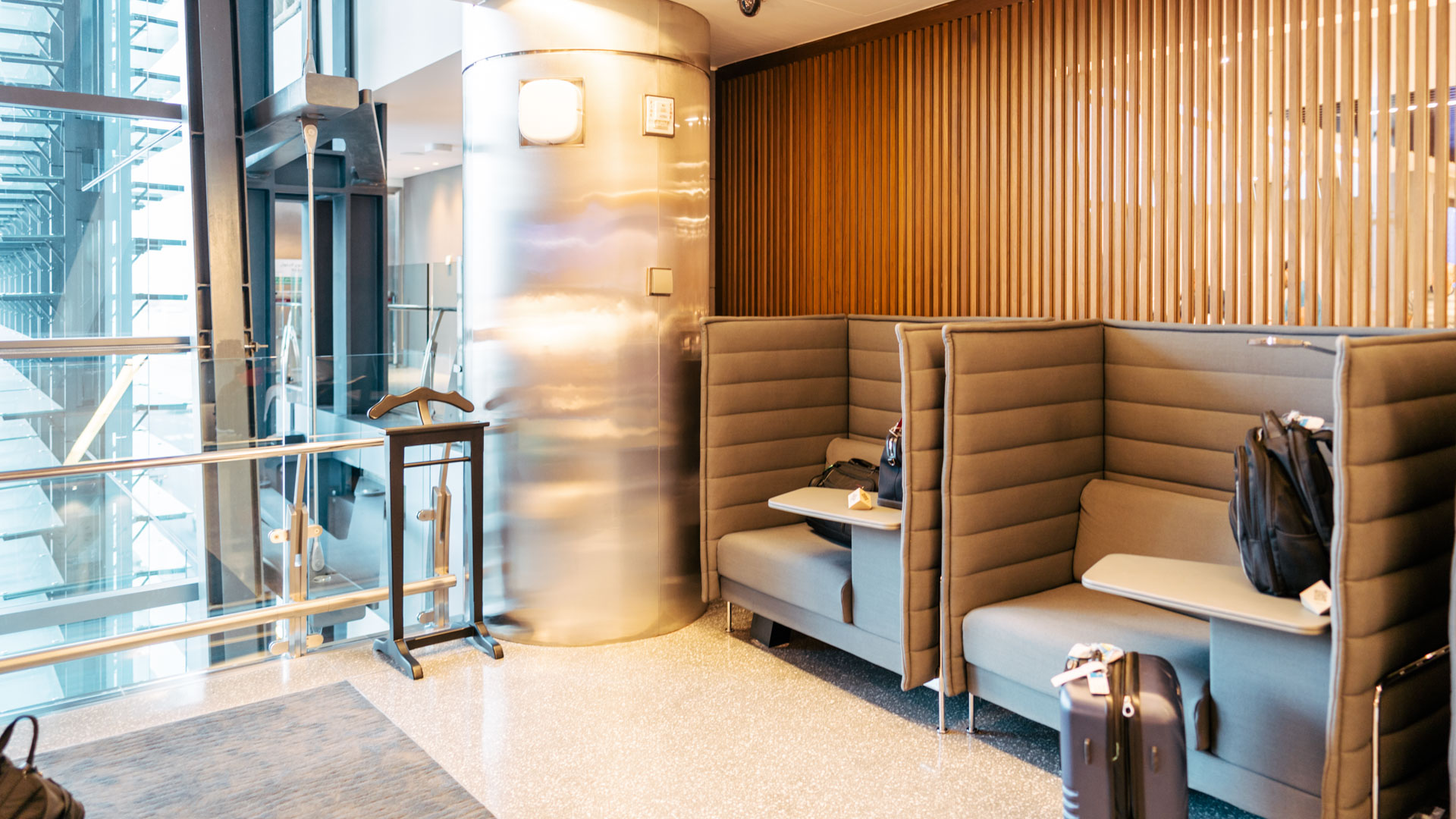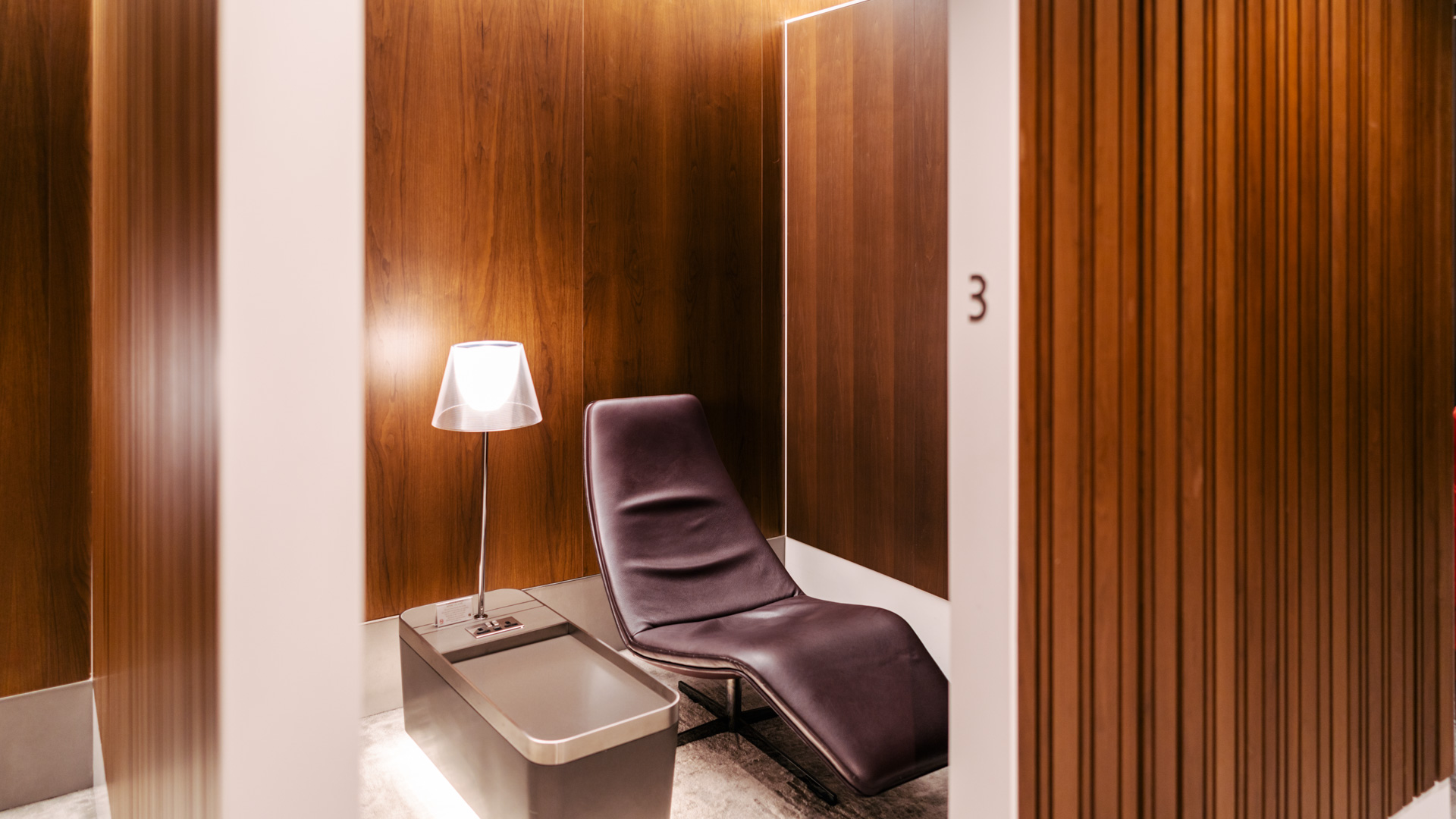 My early-morning transit is during one of the airport's peak periods, so the lounge is quite busy. But I didn't have a problem finding a seat, so I'd say the lounge capacity is just about right, for now.
Food and beverage
The Platinum lounge has a small à la carte menu (which you can view here). Nevertheless, the buffet options are extensive and the hot dishes are freshly prepared. For example, the omelettes are chef-cooked and replenished regularly. The creamy mushroom side dish is a hit too!
In the chilled section, there is a range of cold cuts, cheeses, fruits and yoghurts to put together a light breakfast.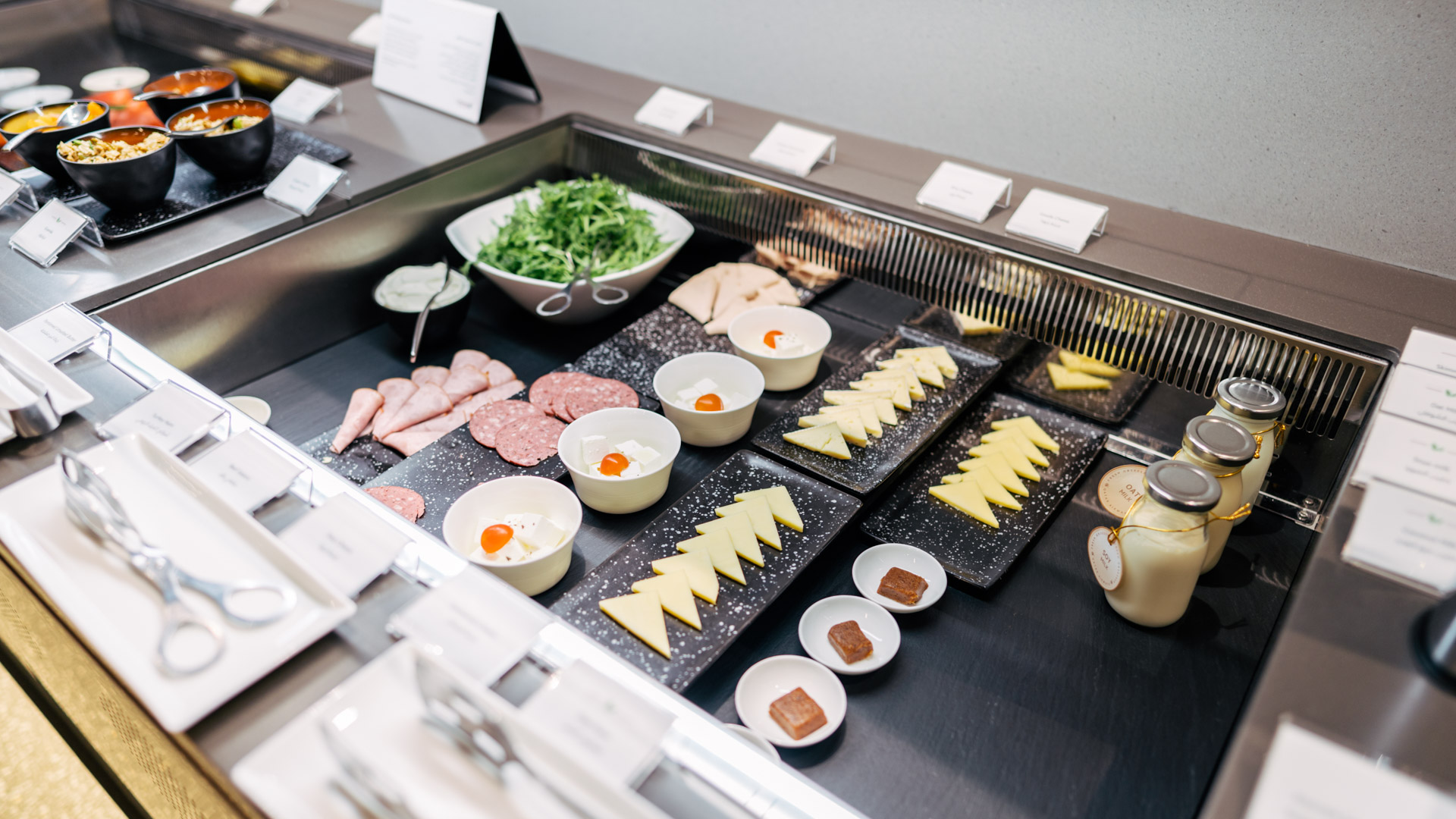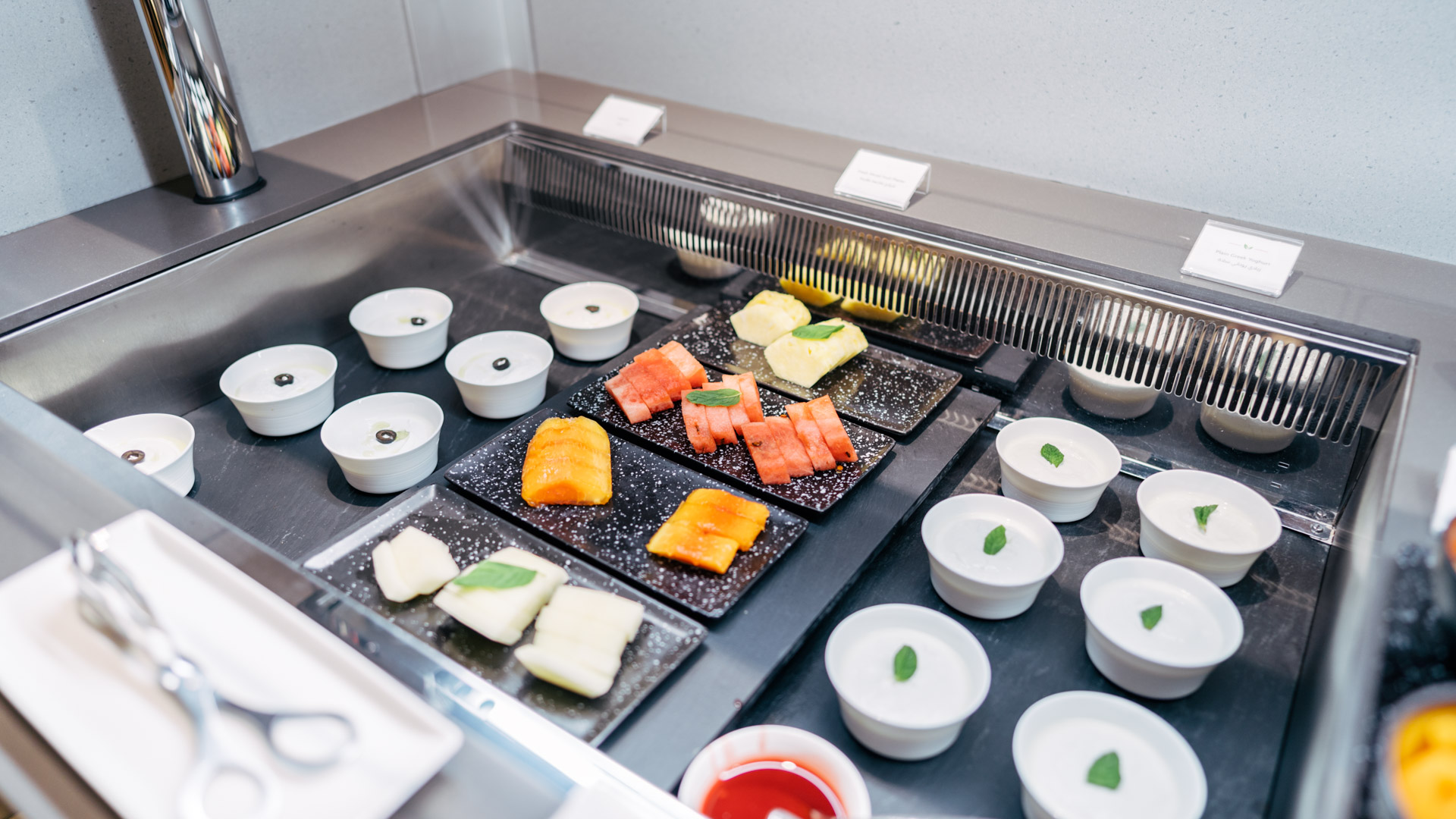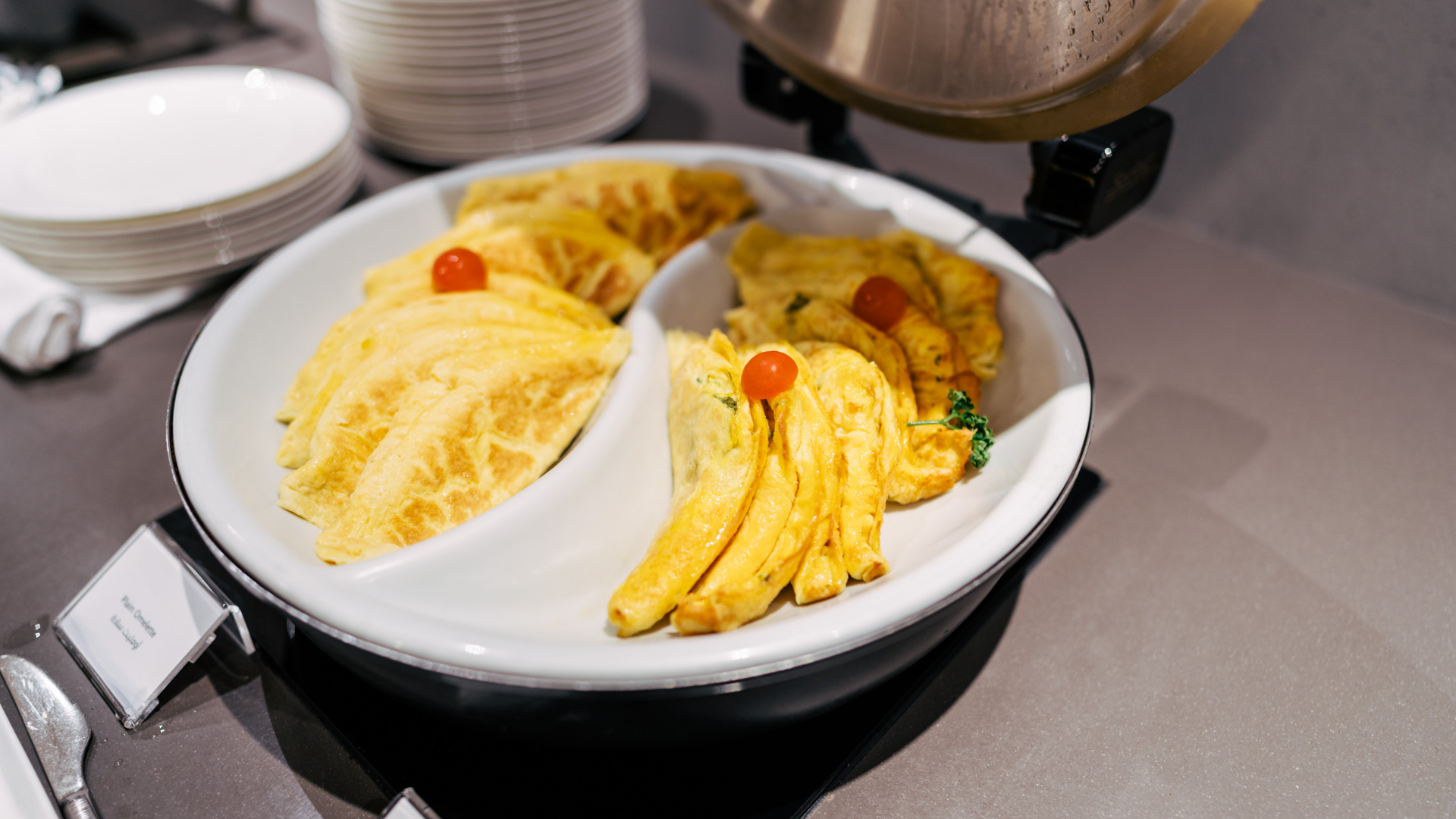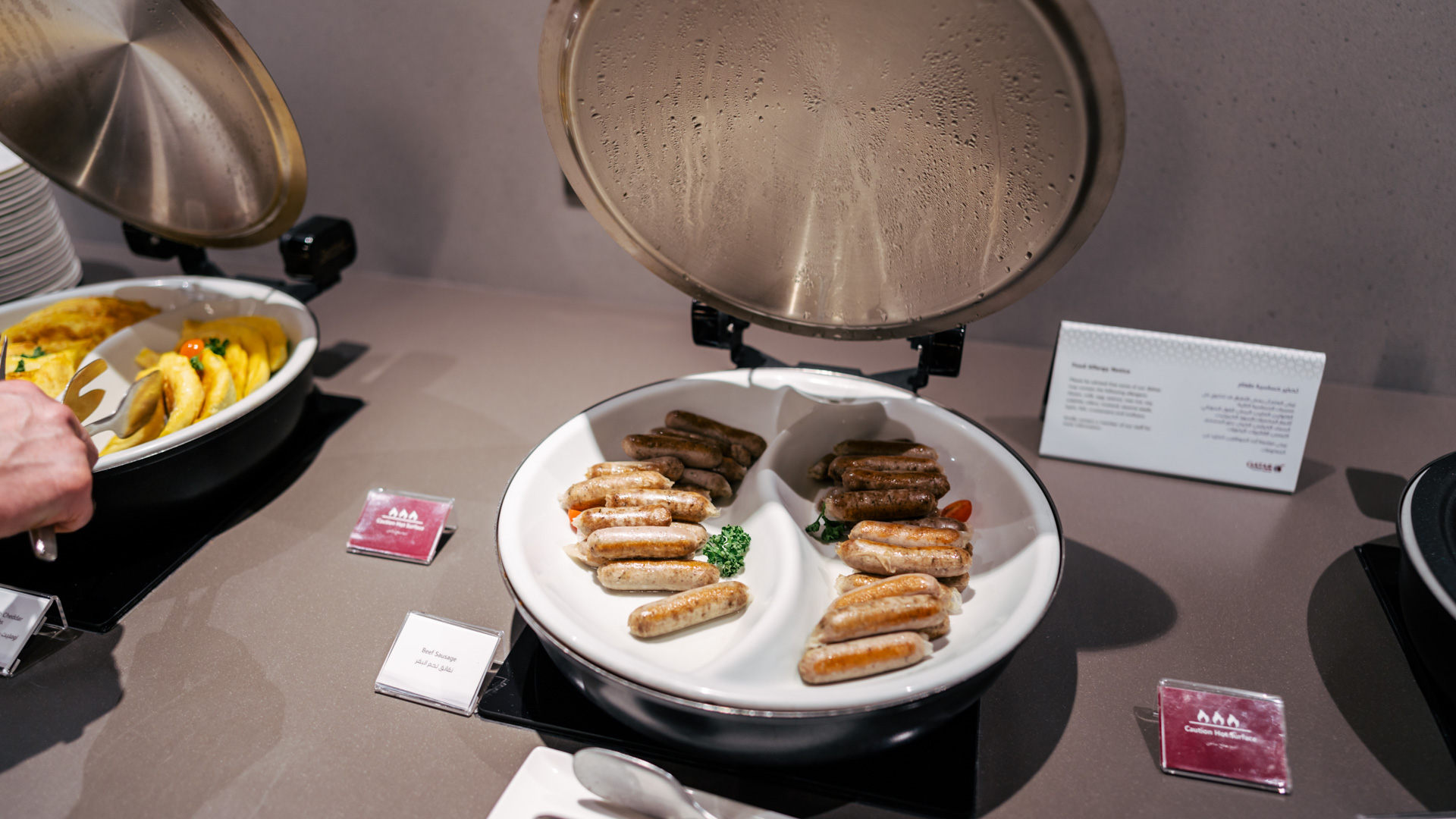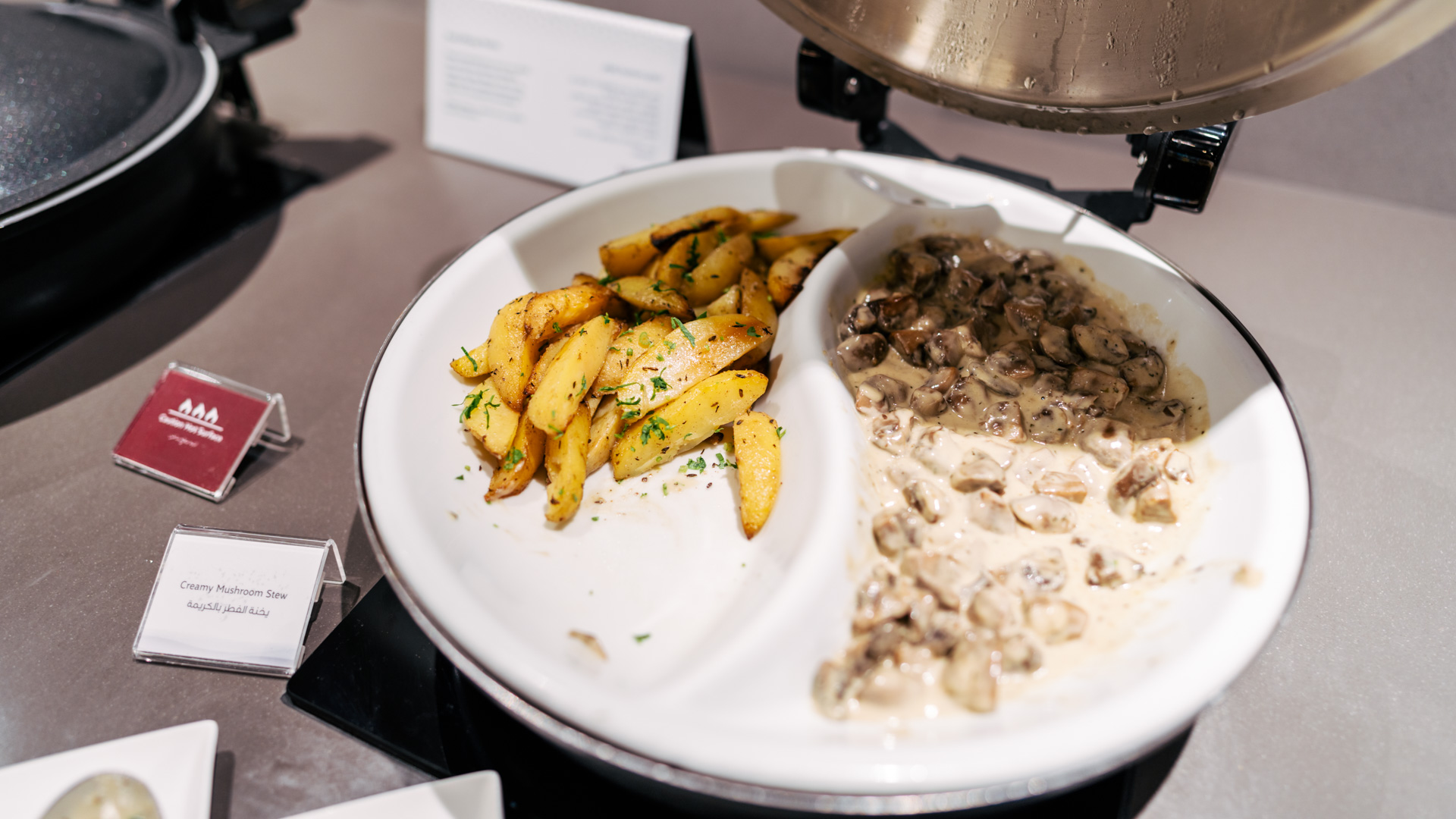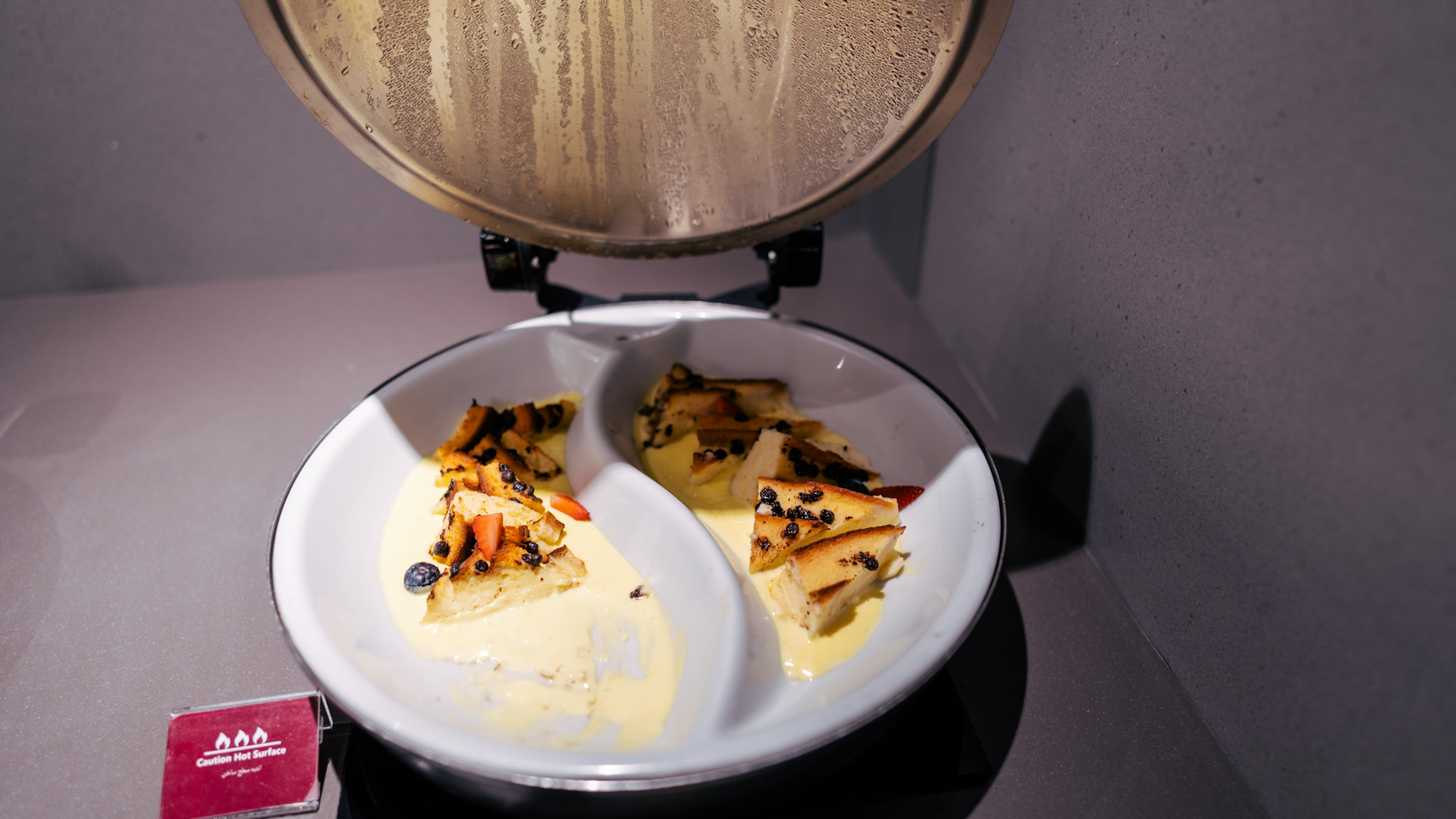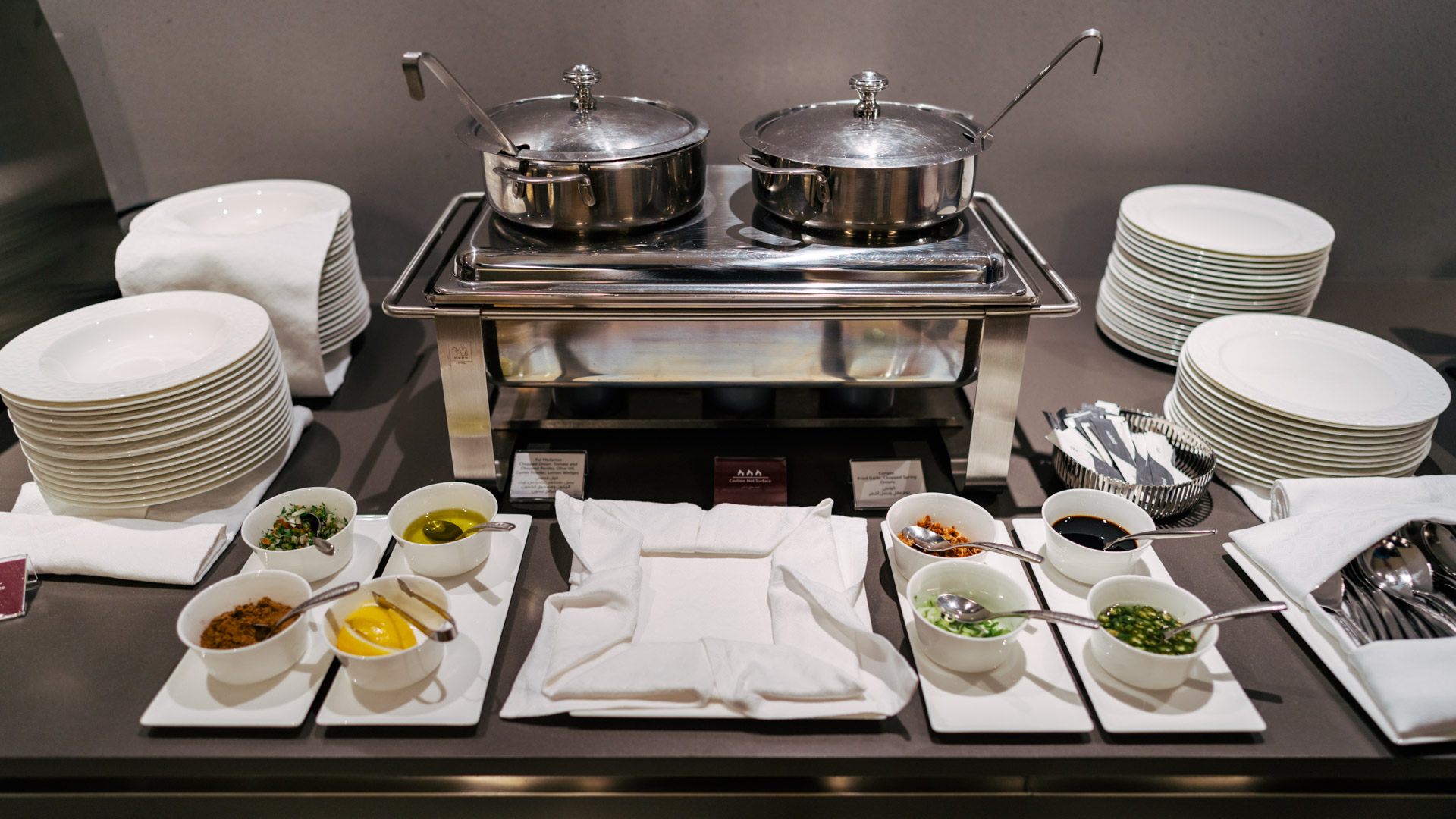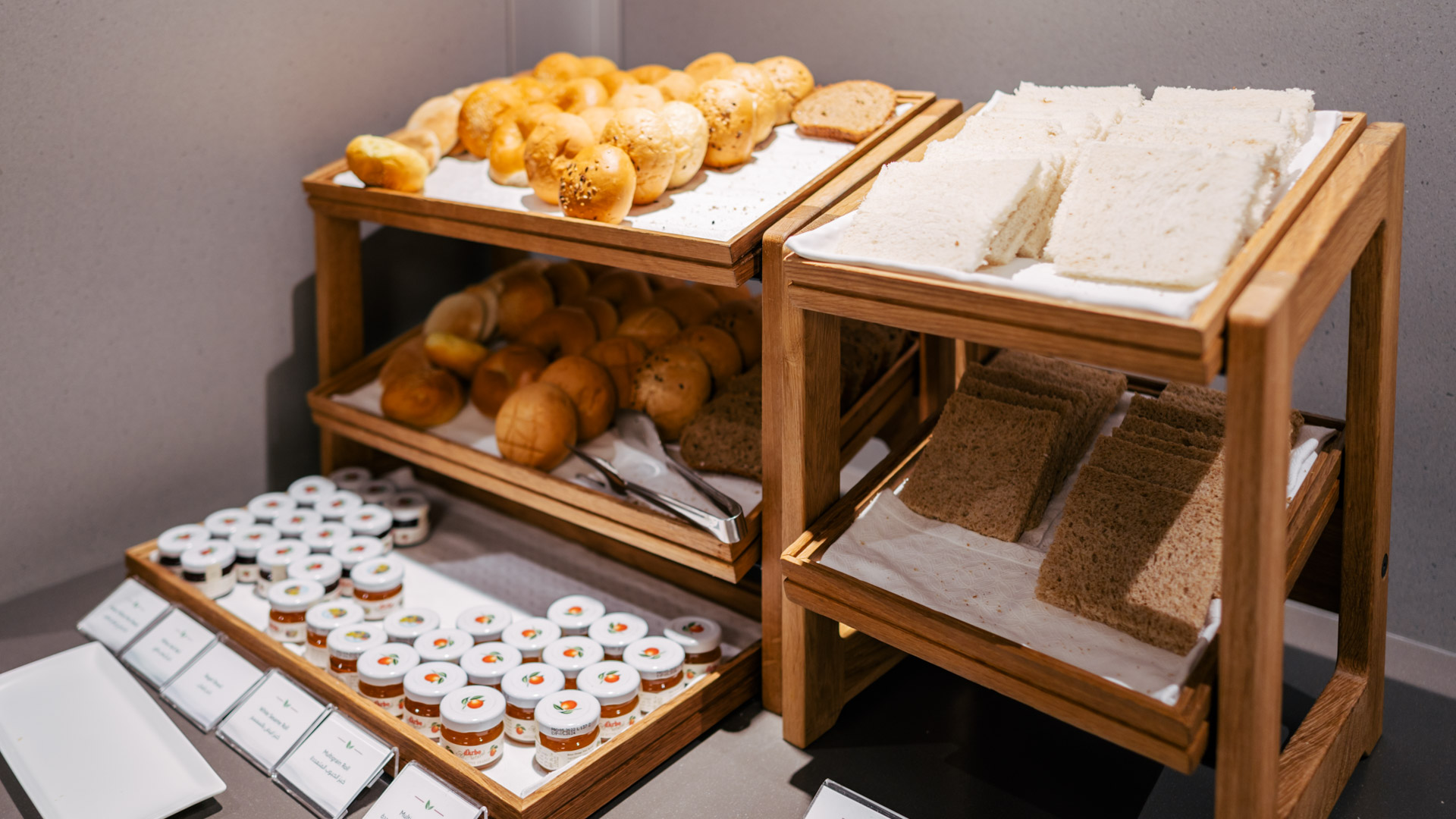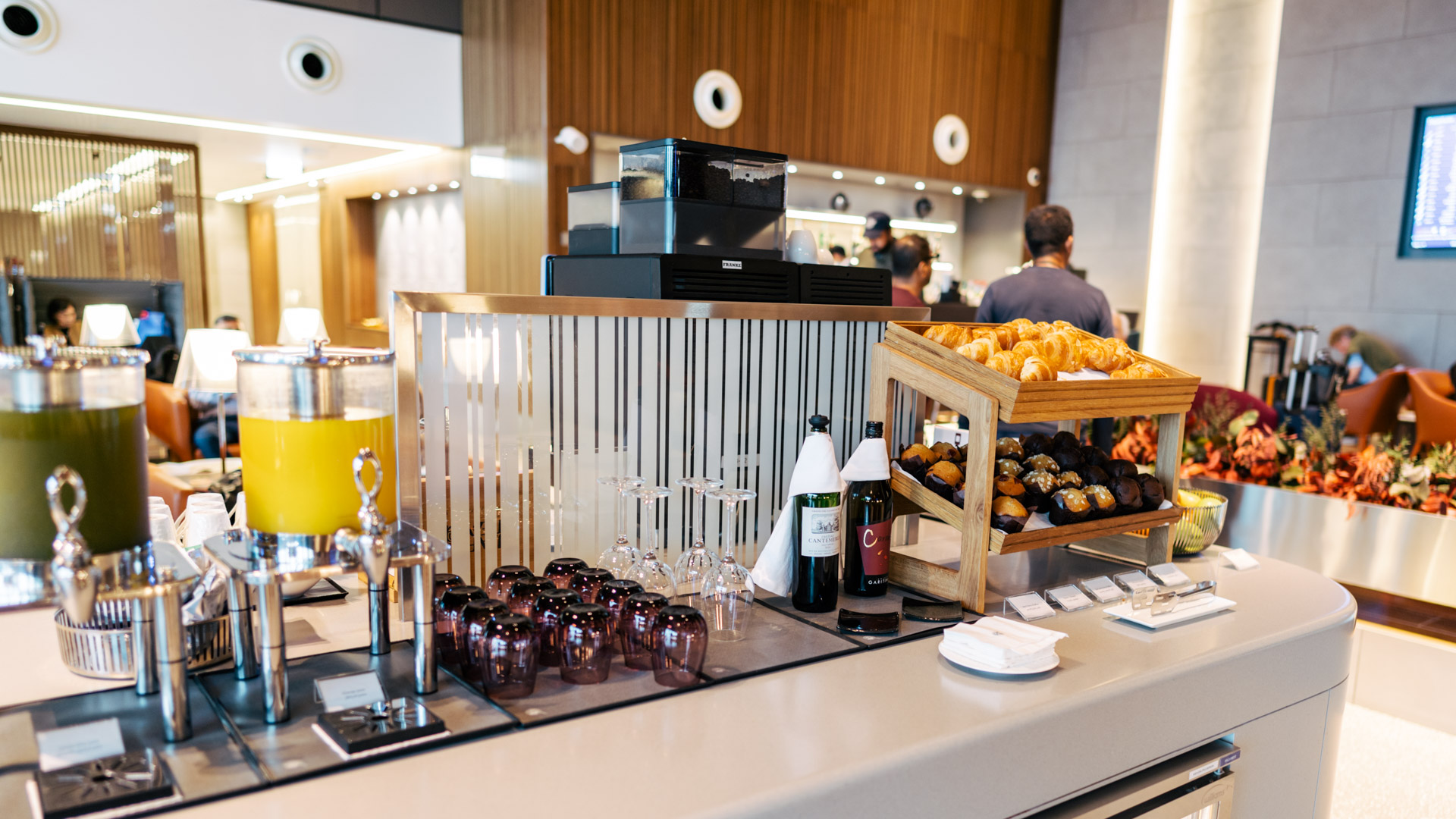 For those who like a touch of luxury, the lounge stocks Laurent-Perrier Brut Champagne. Incidentally, this is the same drop currently served in the exclusive Al Safwa First Lounge (which is a bit of a downgrade for Al Safwa, but I digress). At the bar, you can also order from a range of spirits, including Absolut vodka, Gordon's gin and Jack Daniel's whisky.
Though there is an espresso machine behind the bar, the staff member couldn't make me a cappucino and directed me to the coffee machine nearby. But to be fair, this machine did make a decent coffee – I've had worse in Australia.
I also love the freshly-squeezed orange juice in the dispenser. Unlike the sickly-sweet taste of reconstituted juices you often find in lounges, this one tastes pure and refreshing. It goes well with the remaining Champagne for a cheeky morning mimosa.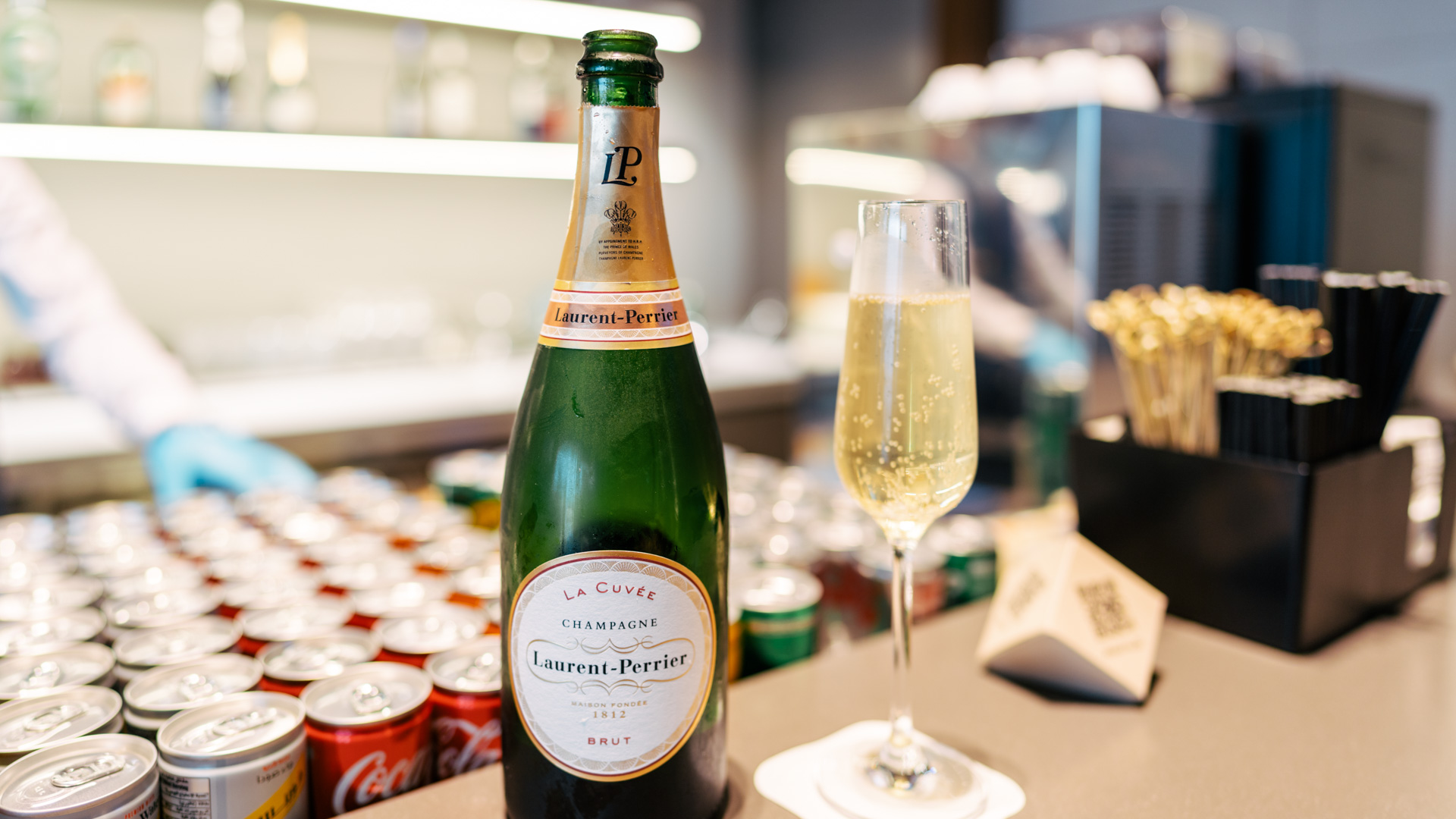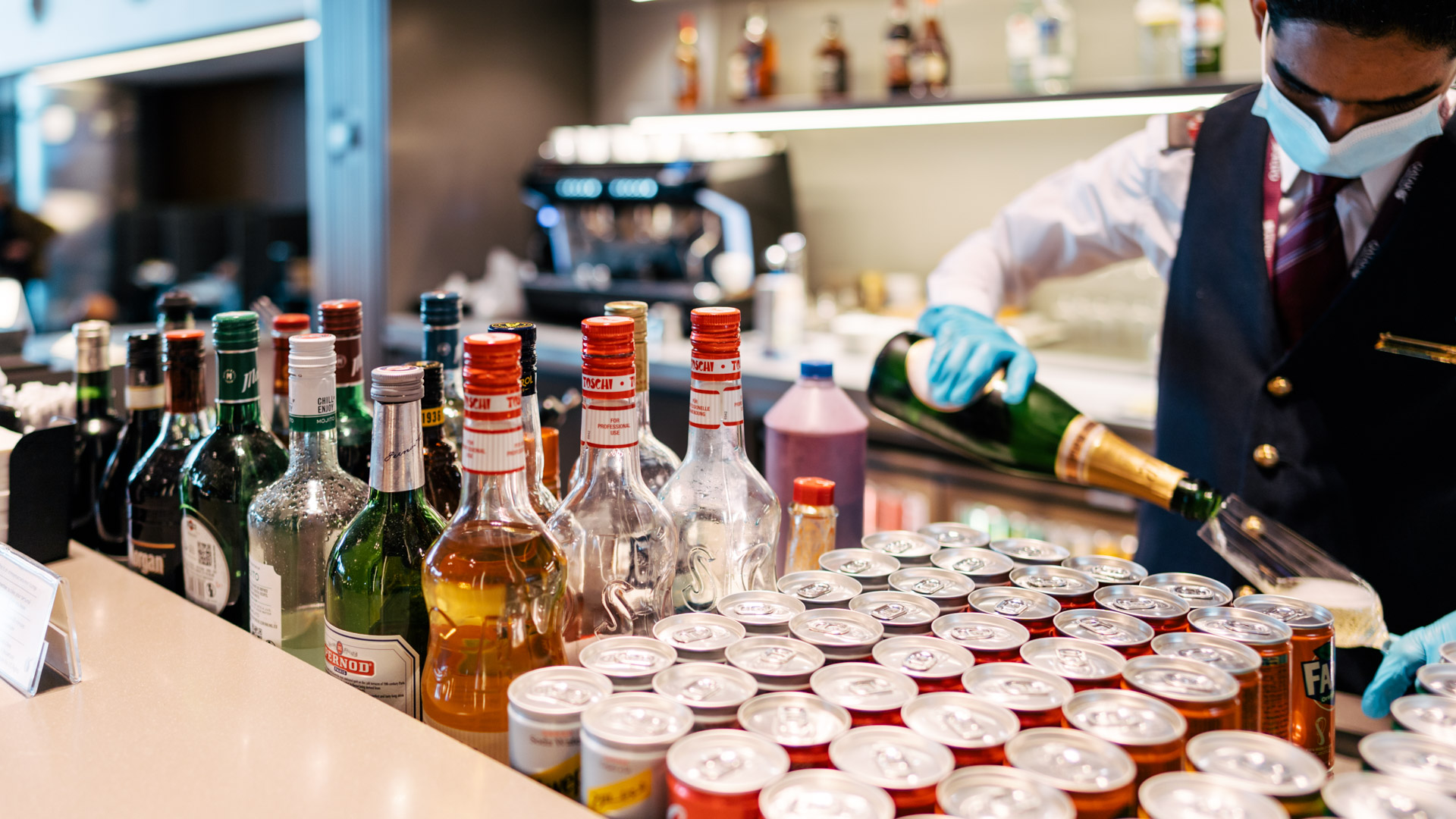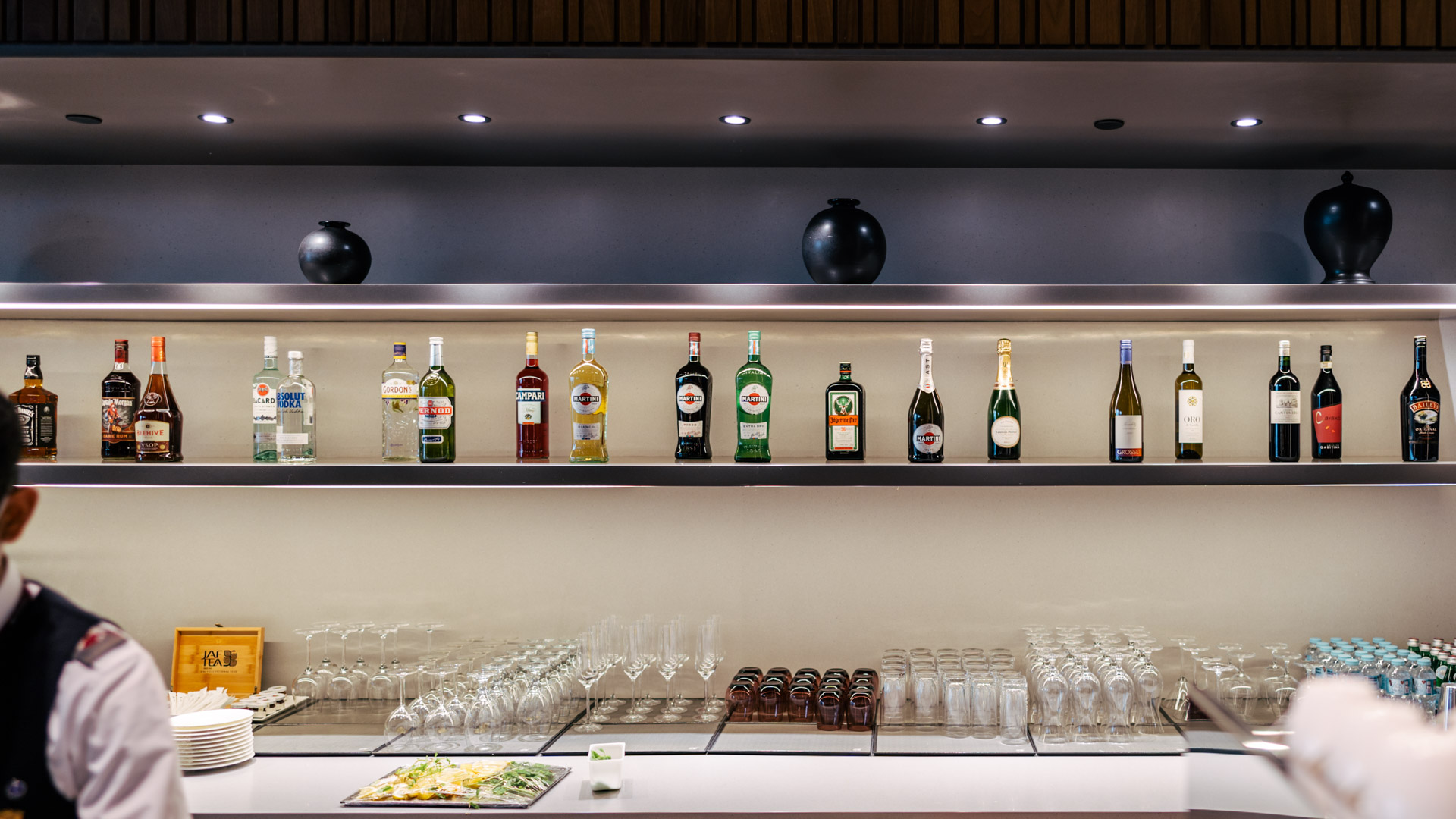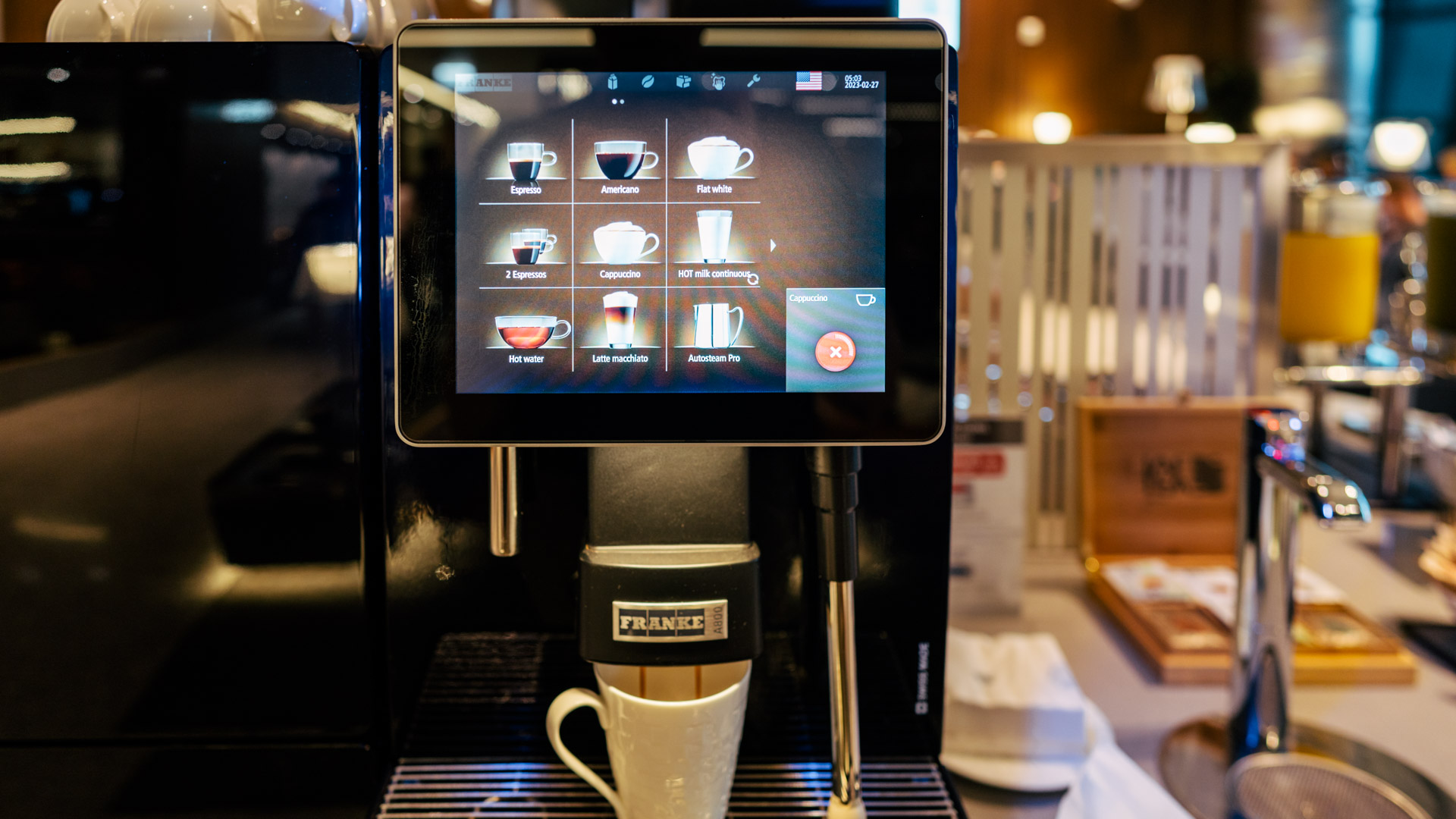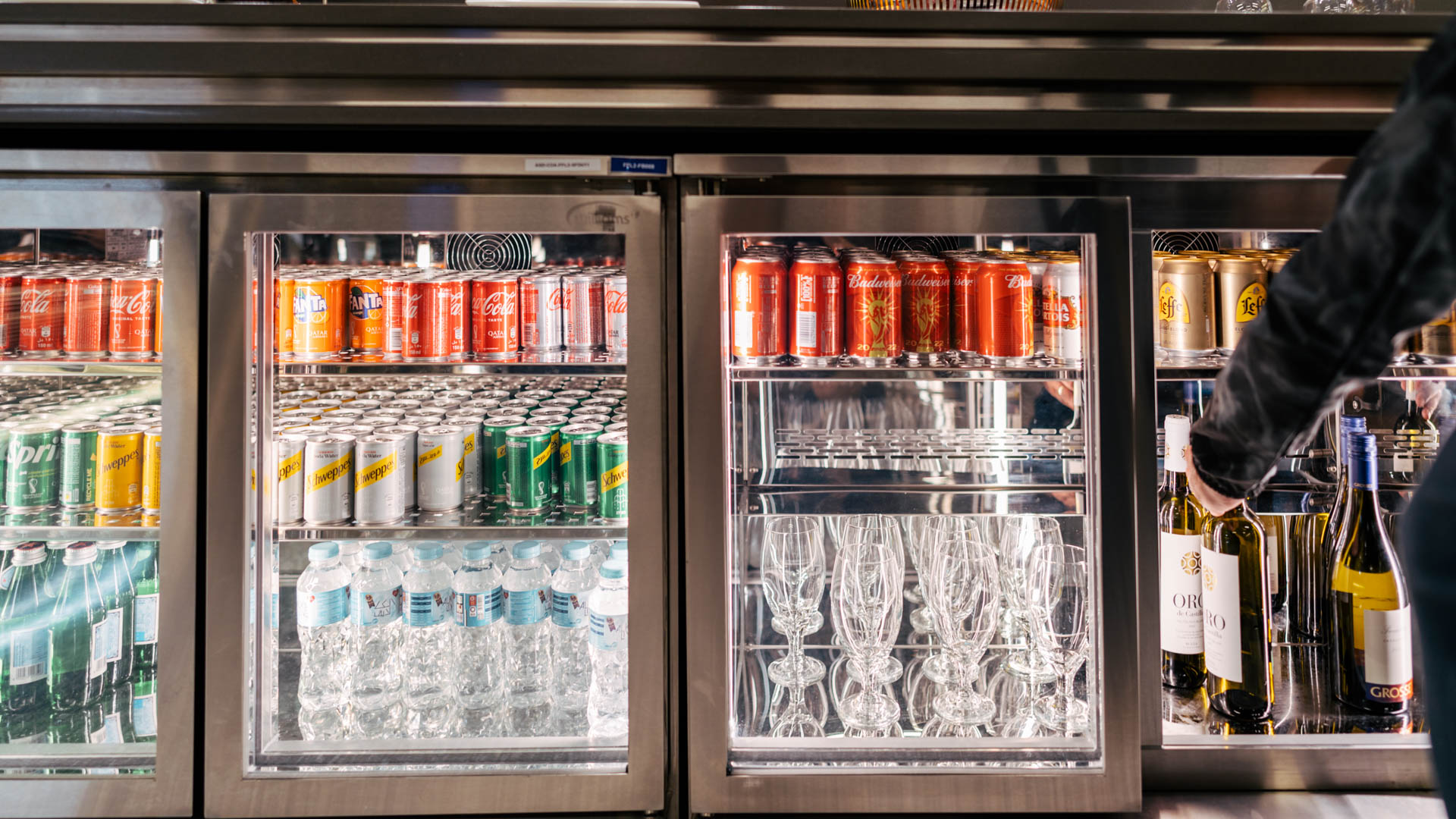 Lounge amenities
The Platinum Lounge does have bathroom and shower facilities, but they aren't very large. The shower rooms were in use so I couldn't check them out, and the male bathroom only had two toilets. At least Qatar Airways uses its signature Diptyque amenities here, in line with its First and Business Class offering.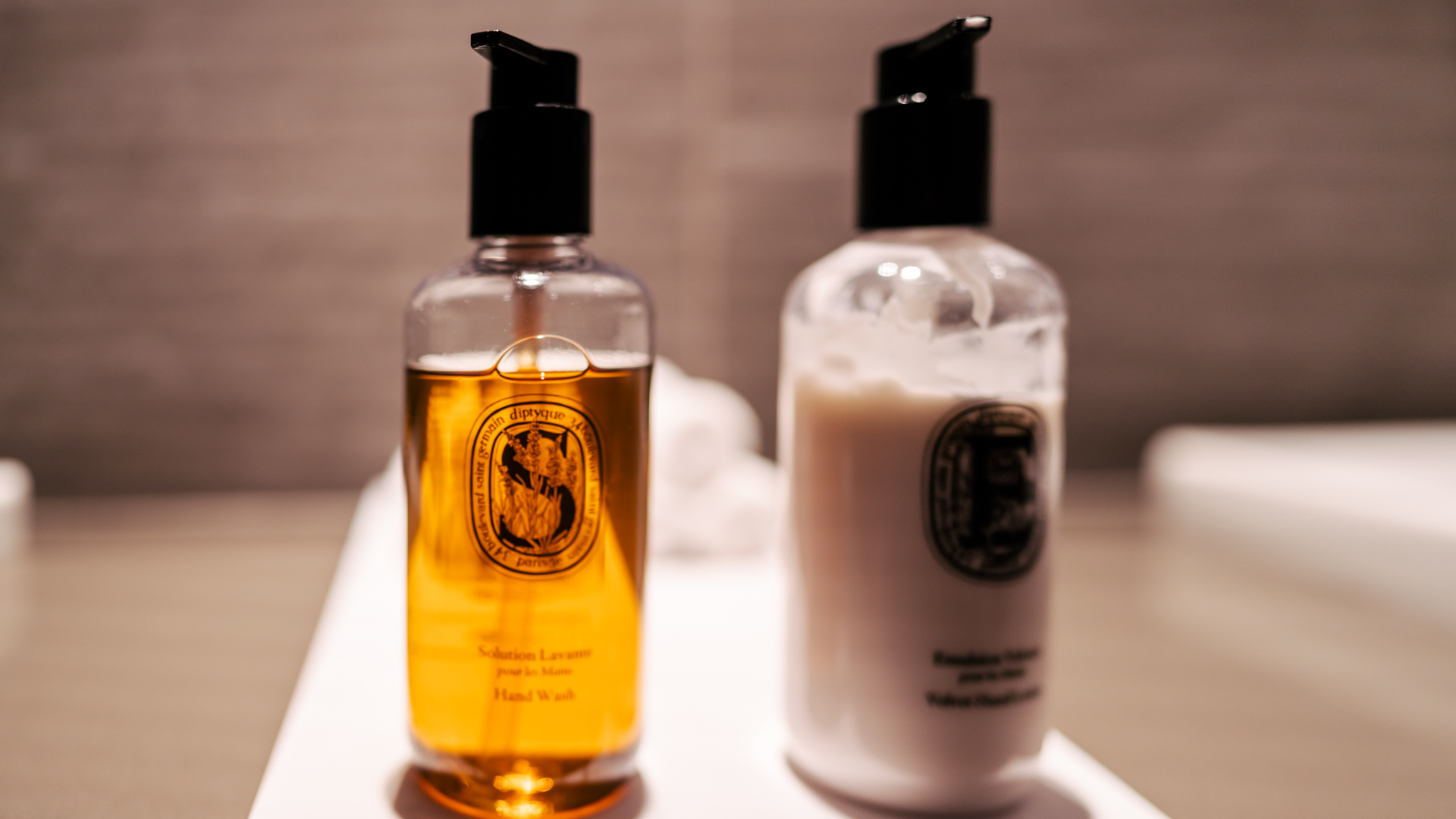 There is no dedicated in-lounge Wi-Fi. Instead, you need to connect to the Hamad International Airport free Wi-Fi, which I find quite frustrating. On a good day, it can be very fast. But on this particular morning, it was very sluggish and I couldn't even download an eSIM to my phone ahead of my next flight.
Speed tests showed the speeds were passable at 6.17 Mbps down and 2.65 Mbps up, but I was still experiencing an unstable connection that was not very usable. While the unstable connection isn't Qatar Airways' fault, it would be nice if the airline could bring its 'Super Wi-Fi' into the lounges at Doha!
There are plenty of power and USB ports, but you'll need to use an adapter if you don't already have the UK-style plug.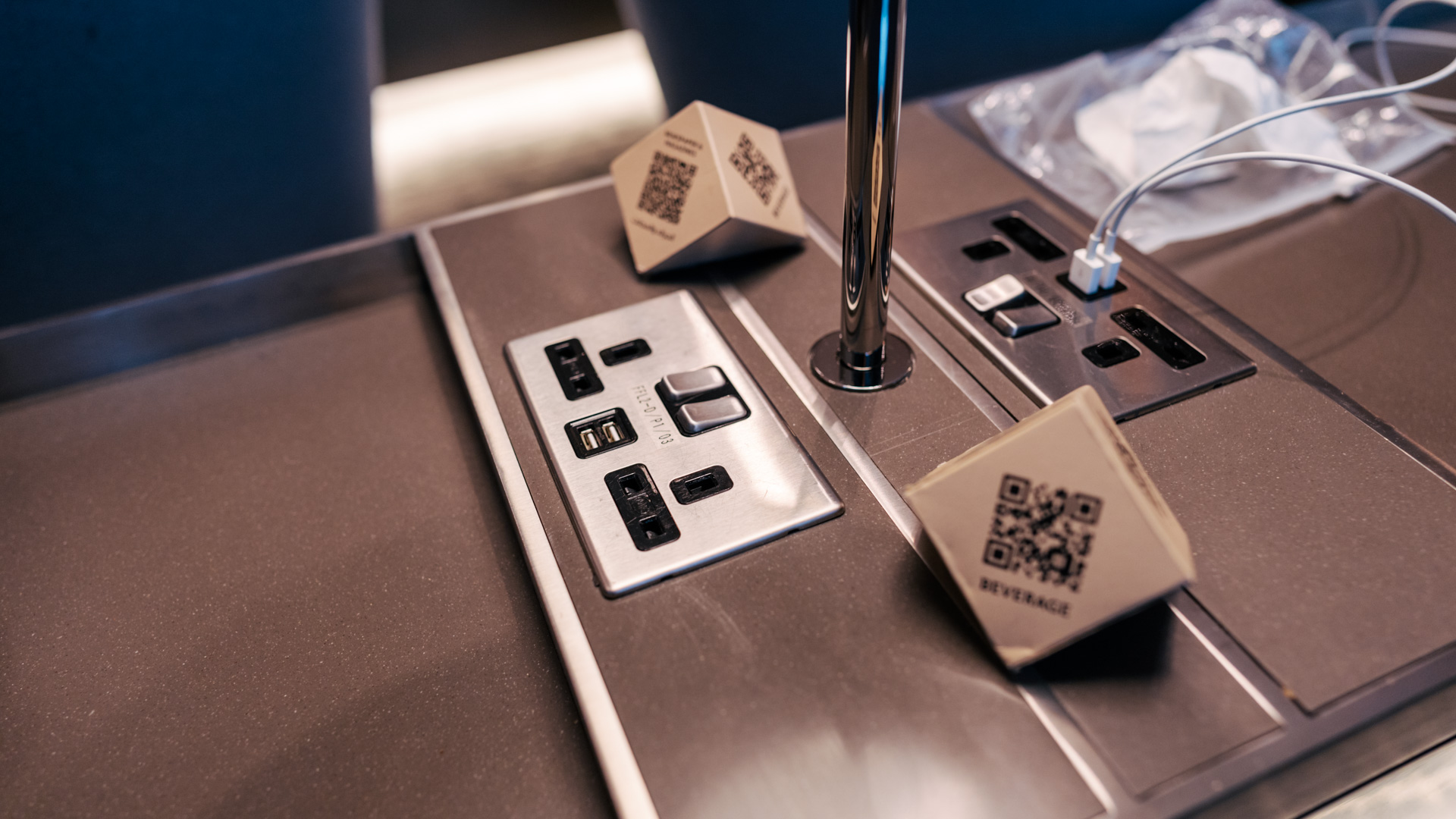 Lounge access options
As Qatar is a member of Oneworld, elite frequent flyers of many partner airlines can access this lounge.
Class of travel: First Class (+1 guest) and Business Class passengers (no guest, excluding Business Lite) travelling on Qatar Airways or partner airlines (though you will likely be eligible for a higher lounge such as Al Mourjan Business or Al Safwa First).
Airline frequent flyer status: Platinum frequent flyer status with Qatar Airways Privilege Club (+ 2 guests, plus children) flying Qatar Airways in Economy or Business Lite (P).
Partner frequent flyer status: Platinum frequent flyer status with partner airlines (+1 guest, plus children), such as Virgin Australia Velocity Platinum, flying Qatar Airways in Economy or Business Lite (P).
Alliance frequent flyer status: Oneworld Emerald-equivalent status with oneworld partners, such as Qantas Platinum and British Airways Gold (+1 guest), flying Qatar Airways in Economy or Business Lite (P).
Lounge pass redemption: Existing Qatar Airways Platinum members can use their five annual guest lounge passes to bring extra guests into the lounge.
Summing up
With real Champagne and freshly-cooked food, the Qatar Airways Platinum Lounge holds its own against many other airline's flagship Business Class lounges.
After coming off a long flight from Australia in Economy, I was glad of the opportunity to tuck into some decent food and wash it down with a mimosa. But I missed out on being able to refresh with a shower, unfortunately.
The main issue with this lounge is one of size – it's only just managing with the current crowds and the bathroom facilities are far too small for the space. Hopefully, this problem is mitigated once the Platinum North lounge opens in the new 'Garden' precinct, along with new Silver and Gold lounges.
All photography by Brandon Loo, who travelled at Point Hacks' expense.
Qatar Airways Platinum Lounge (South), Doha
was last modified:
August 11th, 2023
by