Trans-Tasman travel is back and roaring, with Qantas regularly running Boeing 737 flights between Auckland and Brisbane. The four-hour hop is popular with tourists and business travellers alike, with Auckland being New Zealand's largest city and on the picturesque harbour.
In the interests of research, Point Hacks took to the skies to see how Qantas Business stacks up from A to B: Auckland to Brisbane.
Check-in, lounge and boarding
As I arrive at Auckland Airport, I'm pleased to see no queue at the Qantas counters. Even better, my check-in takes all of 60 seconds to process. With my vaccine paperwork and Australian Digital Passenger Declaration in hand, my checked bag is promptly accepted, and I'm on my way.
But the time I save at check-in is lost in line at security. A Qantas Business boarding pass is supposed to provide access to Auckland Airport's Express Lane. But they hadn't bothered to open it. In fact, despite the departures hall being completely filled with people, they'd also only thought to open one security screening lane.
It takes me 45 minutes just to get through. Not the best start to the Qantas Boeing 737 Business experience from Auckland. I'm not sure it's a 'COVID' thing, either. Every time I've flown through Auckland before the pandemic, it's been the same scenario too. The takeaway? Arrive early.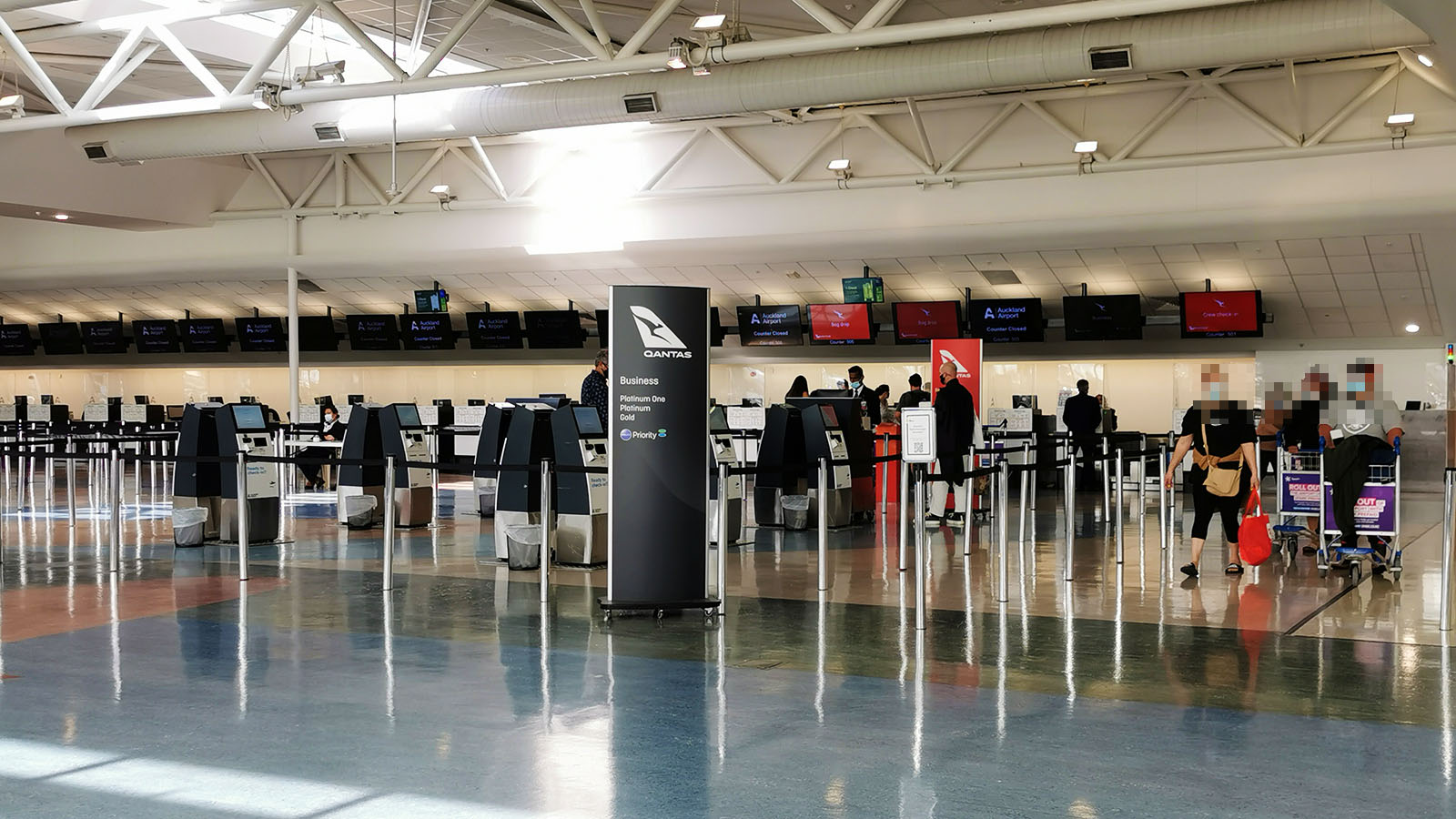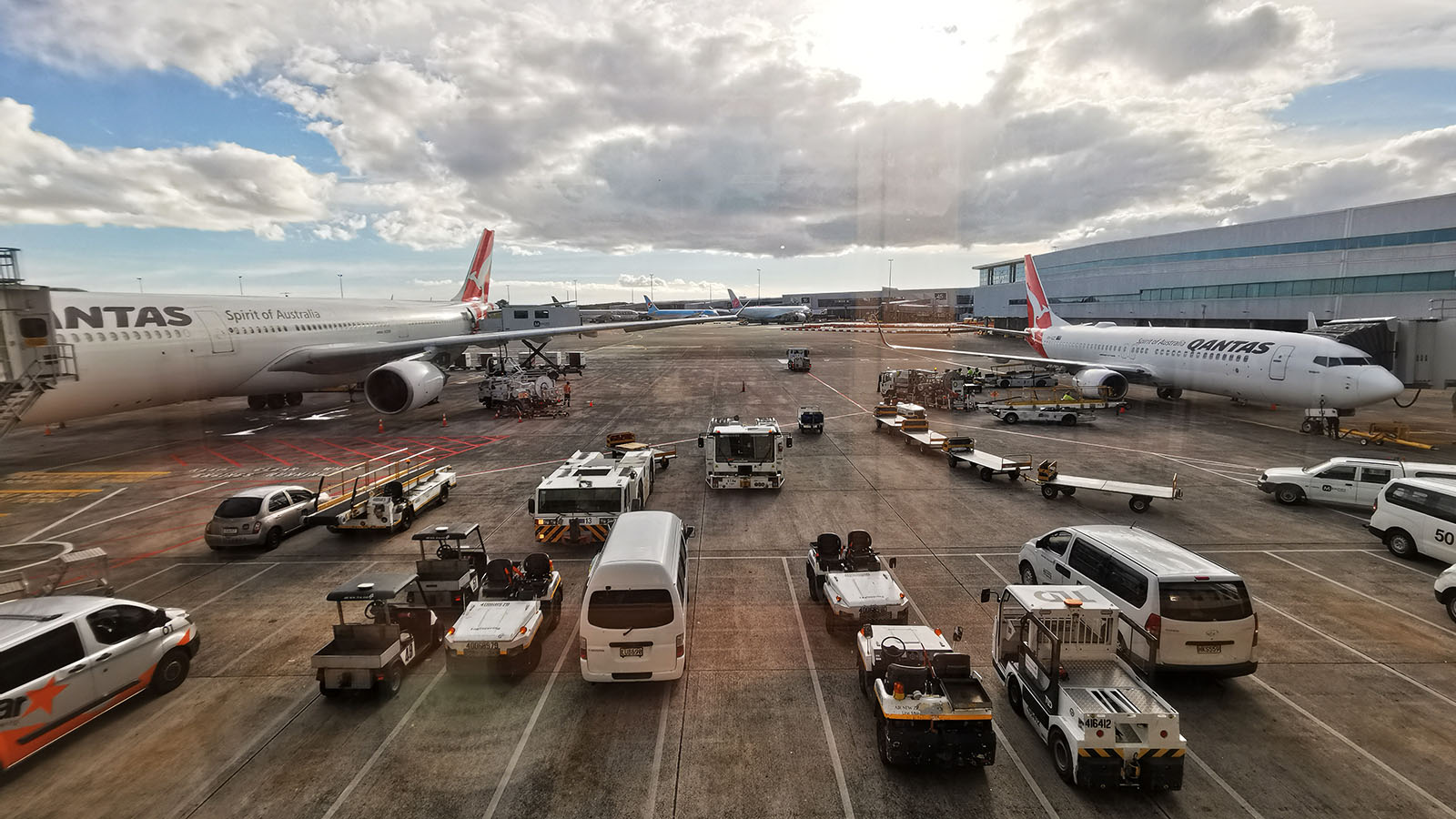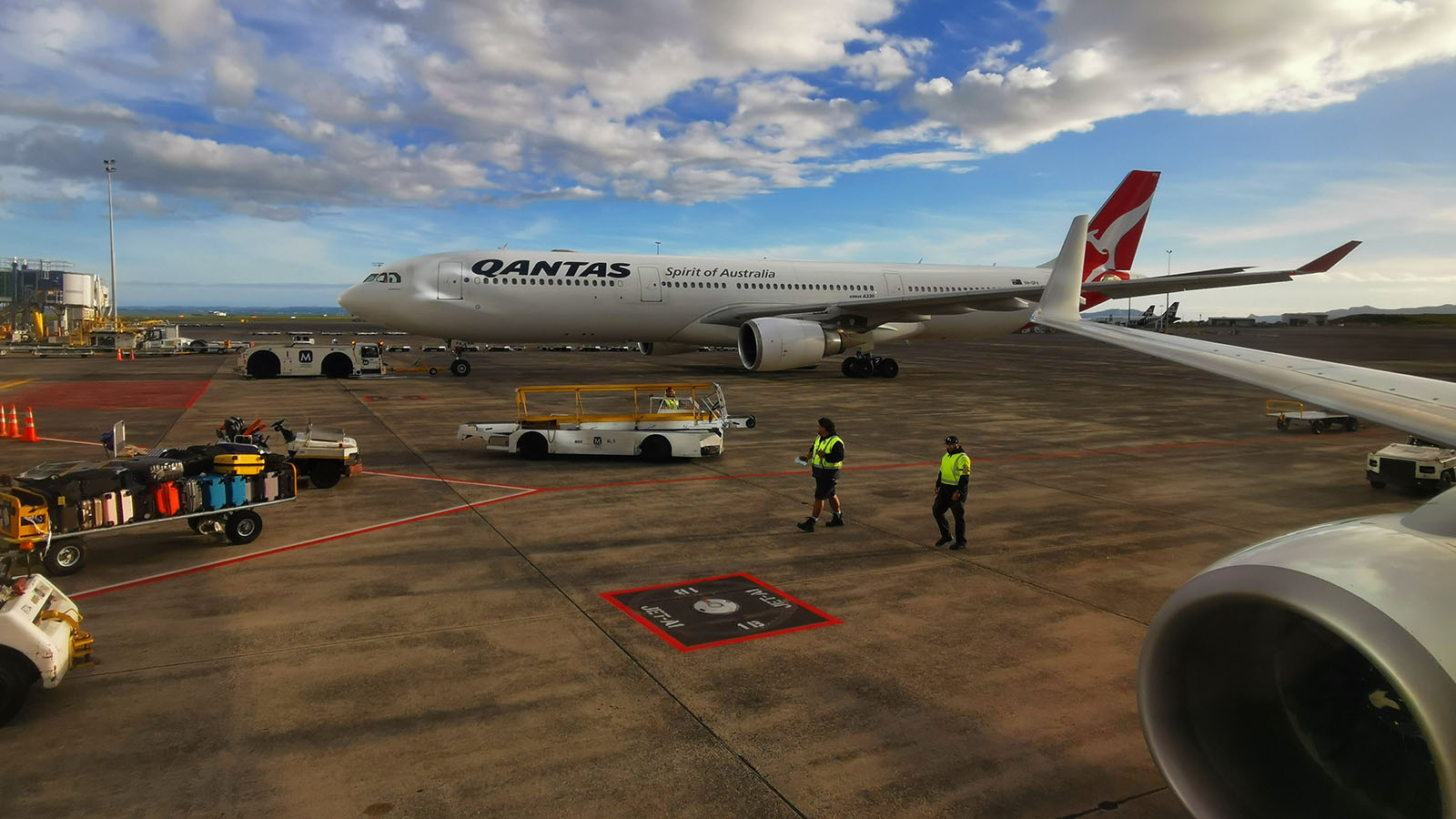 But once I'm through the formalities, the journey is back on track. Currently, Qantas is using the Air New Zealand International Lounge at Auckland Airport for all eligible passengers. It's certainly unusual for a Qantas Business boarding pass to unlock a Star Alliance member lounge, but here, it does just that.
It's a great space being Air NZ's home hub and flagship lounge. There's everything from a barista counter and cocktail bar through to an indoor/outdoor terrace for some fresh air. If there's a game on during your stay, you can also be sure it'll be screened in the cinema room as well.
From there, it's off to board, where passengers in Qantas Business are invited forward first. It's always nice to skip the queues, and it gives me just that little bit of extra time to settle in for the journey ahead.
Qantas Boeing 737 Business seating
As on domestic flights, the Qantas Boeing 737 Business experience from Auckland offers reclining seats on either side of a single aisle. With a 2-2 configuration, there are no dreaded middle seats here. Everybody has an aisle or window, so take your pick.

While row one looks great on a boarding pass, I've now come to prefer those further back. That's because you can keep bags within reach during take-off and landing. Whereas up front, everything needs to be up in the locker.
As I settle into 3F, I take a moment to survey the cabin. At first, it seems I might have this side of Business to myself. But as boarding continues, every seat fills up. Not to worry, as there's still plenty of space at each seat.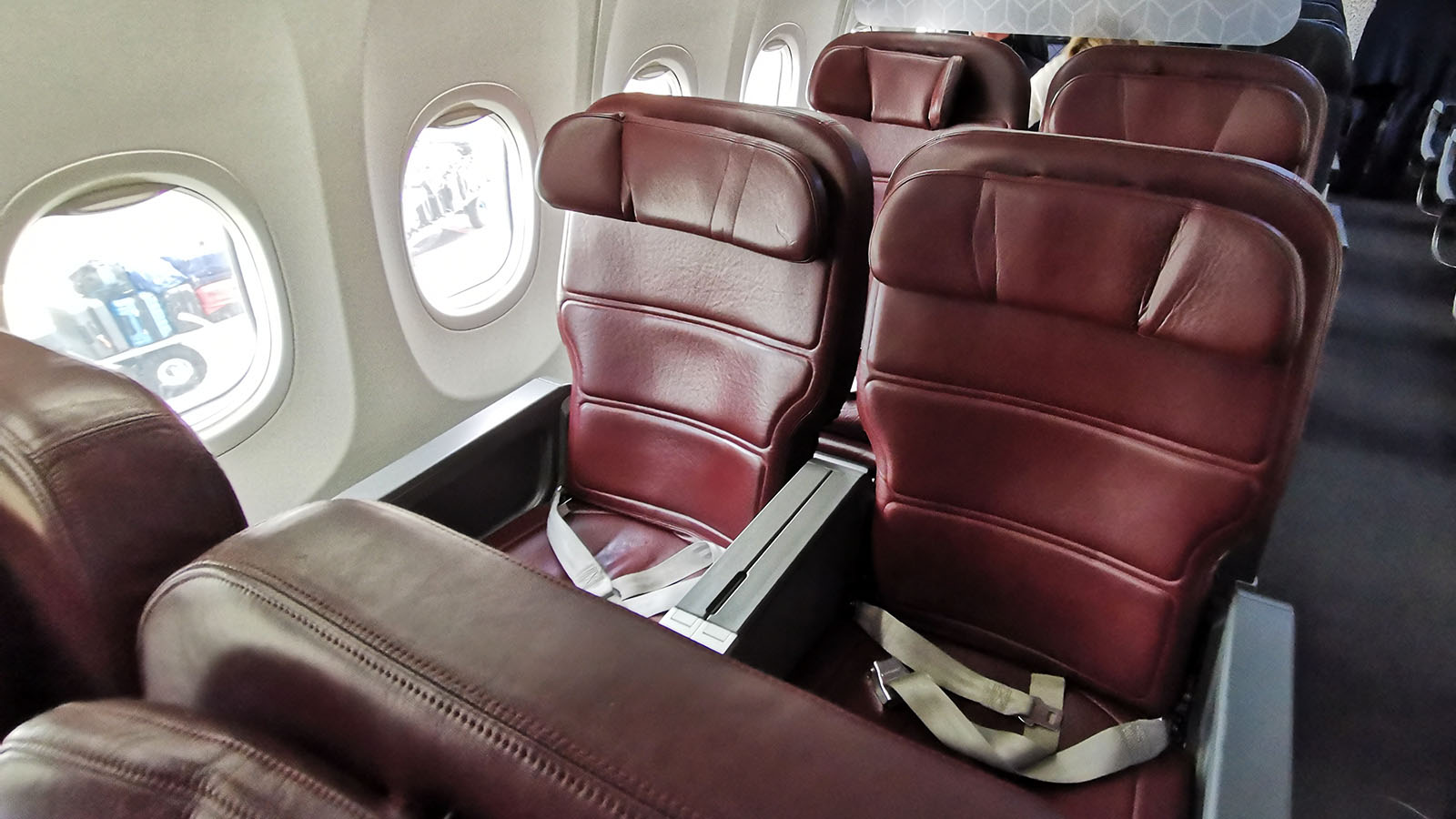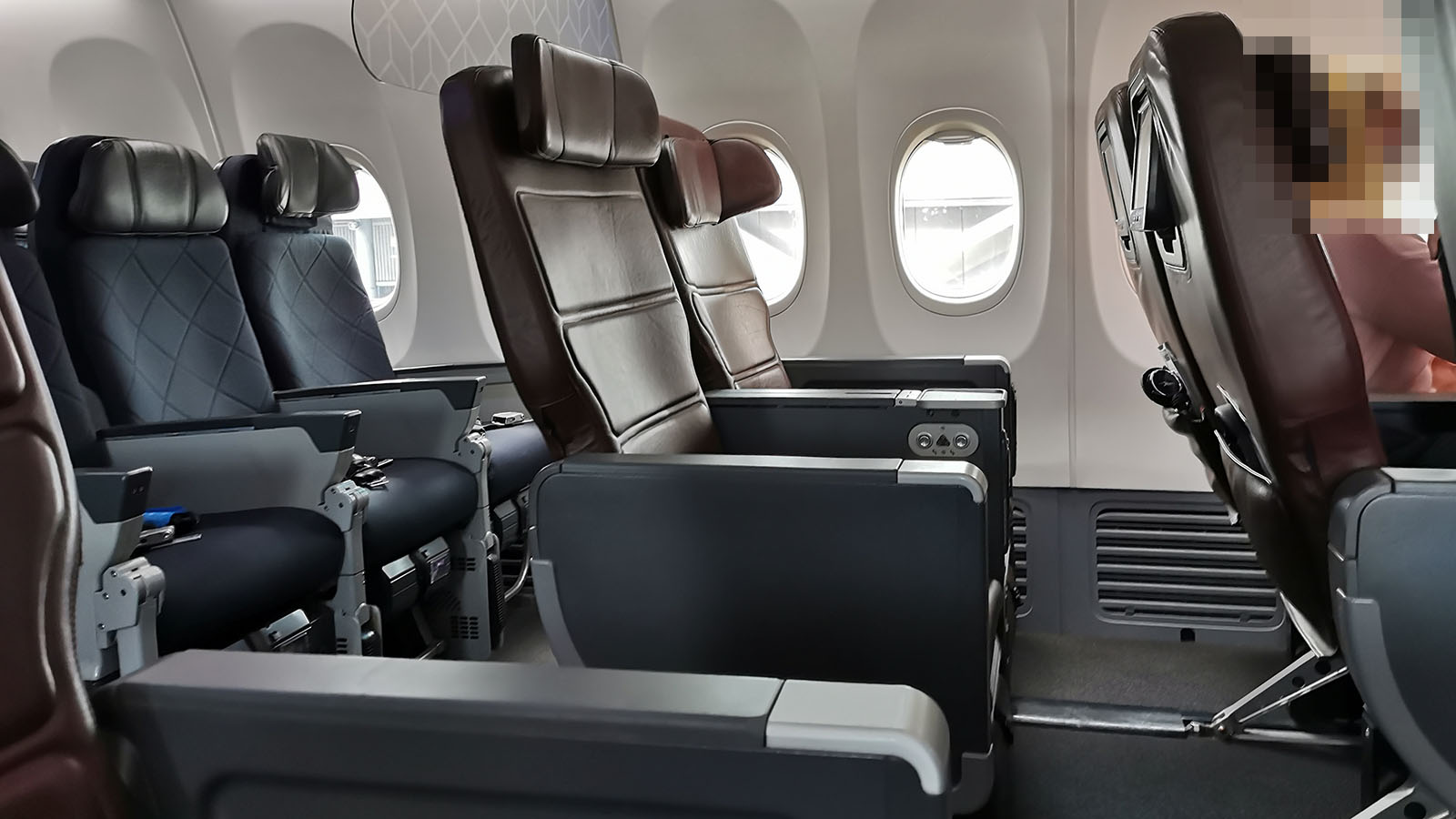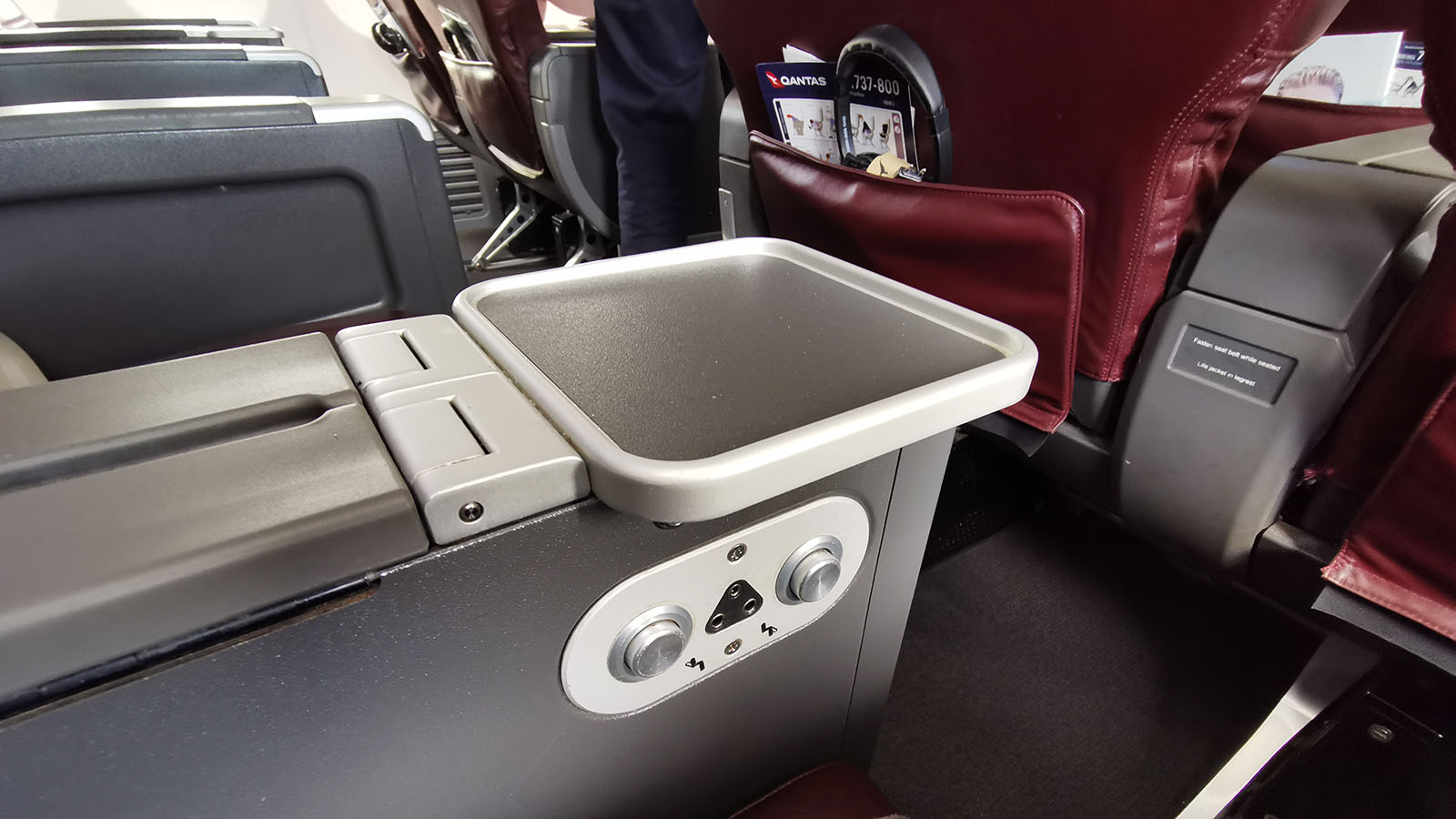 While the Boeing 737 doesn't have the flatbeds of the Airbus A330, seats still recline and have a swing-up leg rest. There's also AC and USB power for each passenger, keeping devices recharged and travellers productive.
Certainly, the Airbus A330 is the choice pick where it's available. But on a daytime flight where you aren't going to put the bed down anyway, the Boeing 737 is just fine in my book. Especially if it means you can fly to your destination non-stop, rather than transit somewhere like Sydney.
Read: Qantas Airbus A330 Business review (Sydney-Auckland)
Qantas Boeing 737 Business food and beverage
While I've not experienced their return on domestic flights, this international hop begins with a pre-departure drink. A glass of Duval-Leroy Champagne does nicely as an Auckland welcome to the Qantas Boeing 737 Business experience. It'd be nice if every flight in Qantas Business began like this, but small steps I suppose.
Being a late afternoon departure with a mid-evening arrival, this flight times perfectly for dinner. And that's exactly what Qantas provides. There are no printed menus, so options are described verbally by the crew as below:
Beef lasagne with carrots and peas.
Pork scotch fillet with potatoes, peas and broccoli.
I choose the pork, and it's nice and tasty: particularly with the well-seasoned potatoes. Travellers with dietary needs can also pre-order an appropriate meal via the Qantas website before travel. This includes vegetarian options, along with religious and other dietary meals such as gluten-free.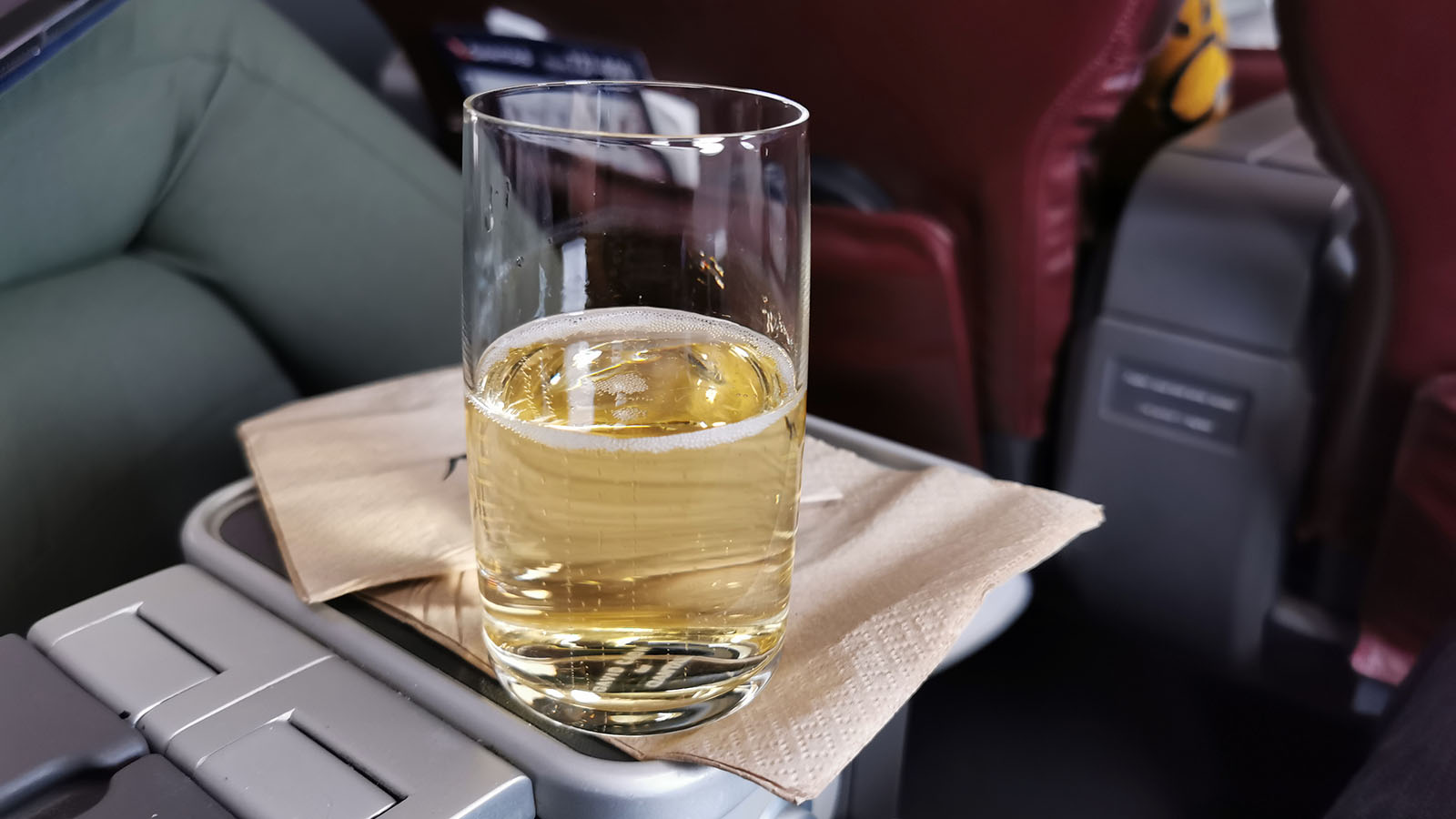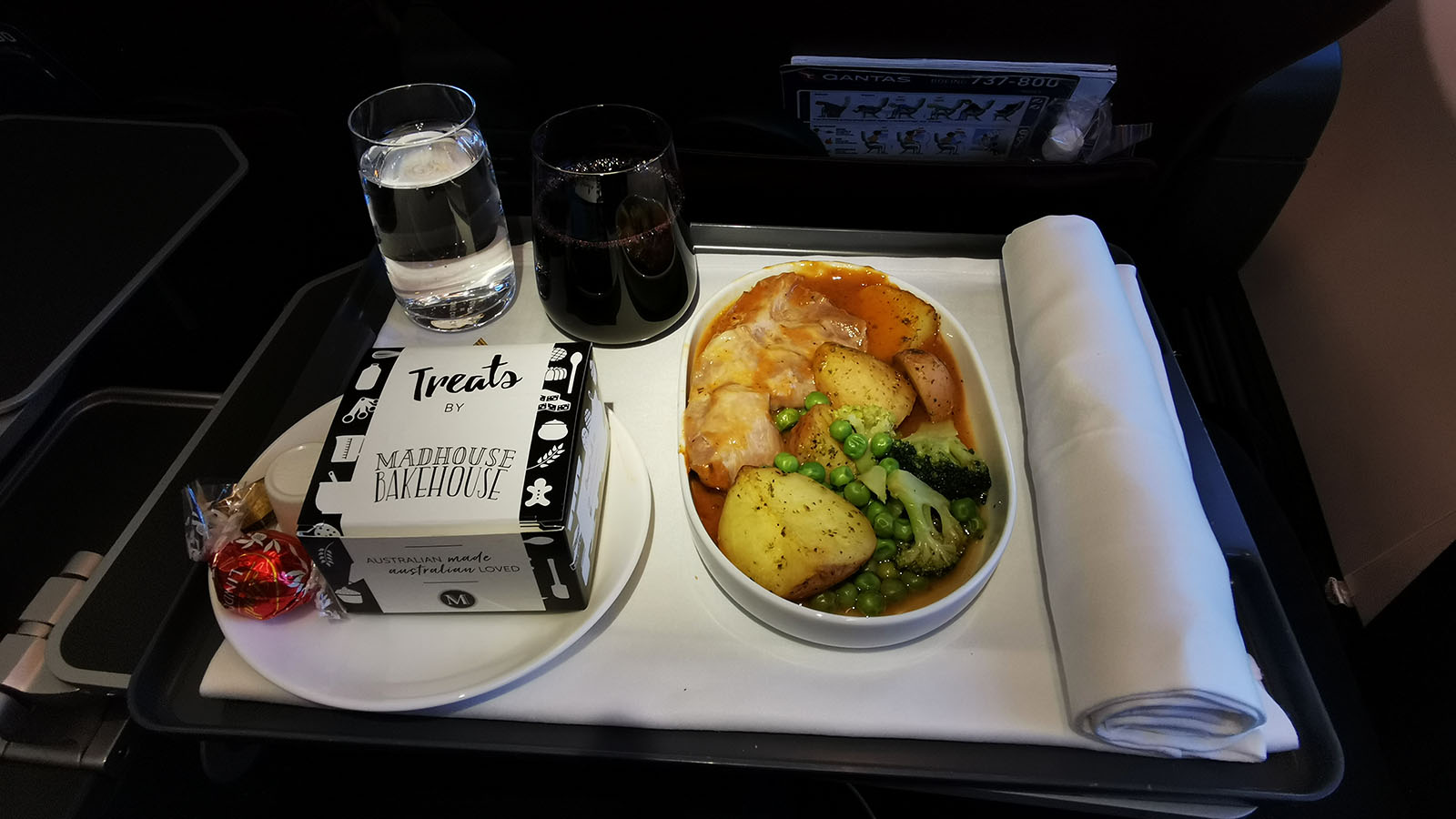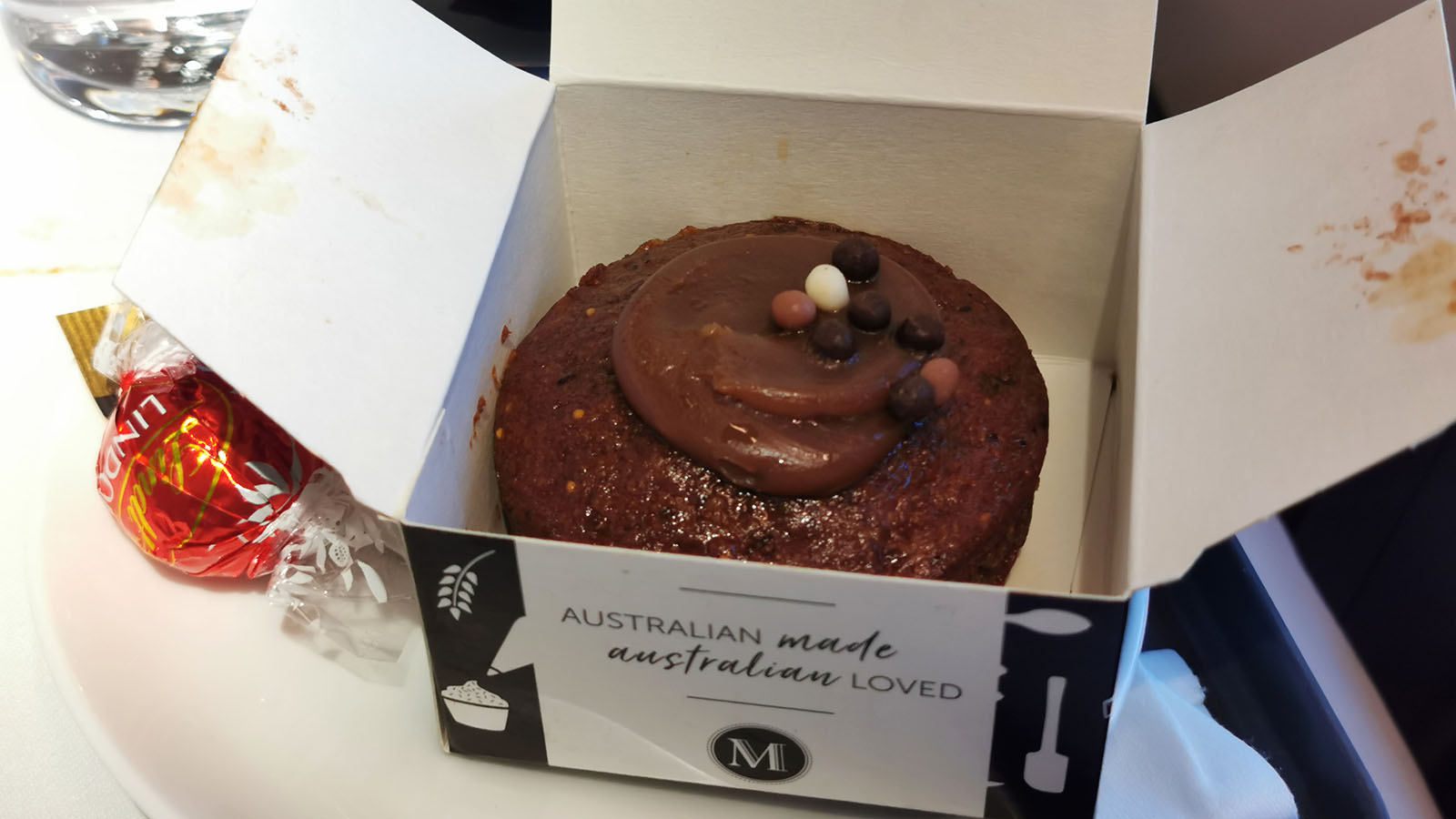 One thing I do miss about not having a printed menu is that there's no wine list. I'm able to determine there's a 'Shiraz' on board, so I sip a glass of that with dinner. It's certainly drinkable – but coming straight from the galley, there's also no chance to sneak a peek at the label.
For dessert, there's a boxed chocolate cake. Presentation-wise, it'd certainly be nicer if this were plated. Serving a course in a cardboard box feels a little more 'domestic flight' than international Business Class. But it's sweet and rich all the same.
Qantas Boeing 737 Business service and entertainment
As I step aboard in Auckland, I'm greeted at the door on this Qantas Boeing 737 Business journey with a cheerful 'welcome back'. During the flight, Customer Service Manager Tracy also makes time to stop by each seat and make every traveller feel welcome. (And thanks for reading Point Hacks, Tracy! Glad you find our stories helpful).
Other than the personal hello, crew keep glasses topped up throughout the flight and keep fresh beverages coming when a switch is in order.
On the entertainment front, this Boeing 737 sports seatback screens. That's not to be expected on every Qantas Boeing 737 flight, as some jets have streaming entertainment instead. But those with screens are more likely to pop up on international routes like this one.
It's great to have some different content to enjoy versus what I'd pre-downloaded on my tablet. That said, some of the selections are slim. The 'comedy' movie category has literally one title, for instance. Still, I'm able to kick back with Marry Me.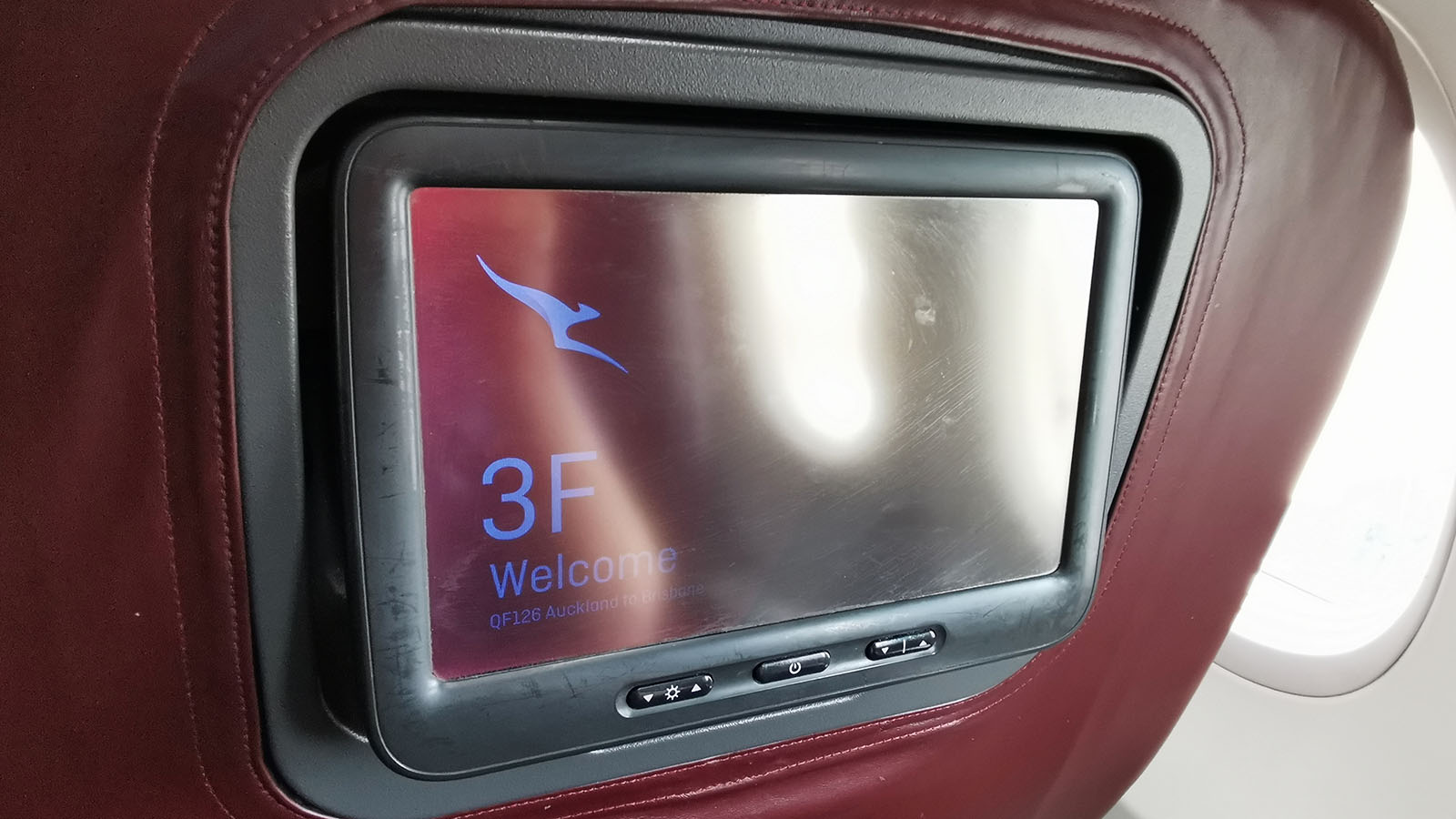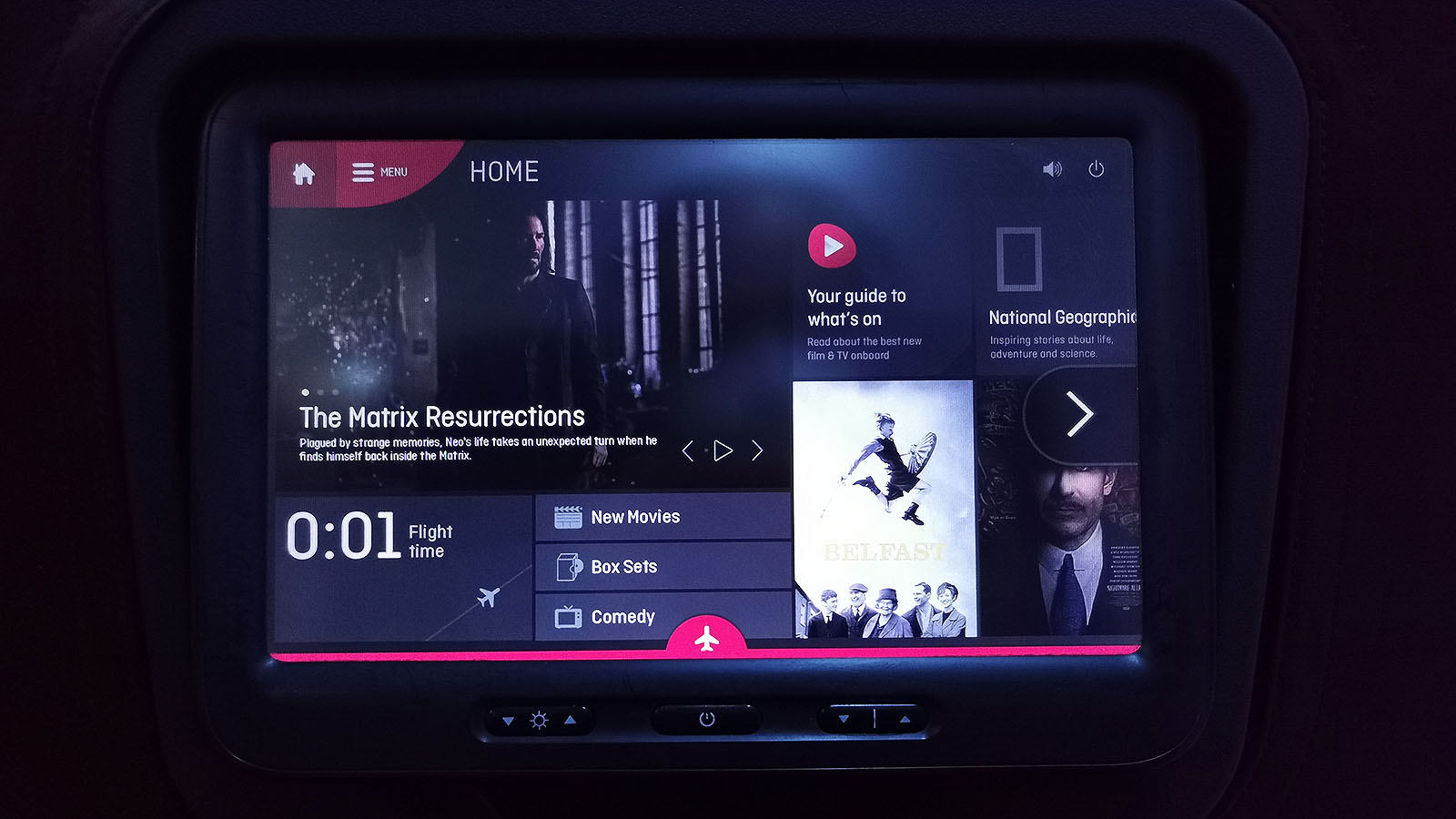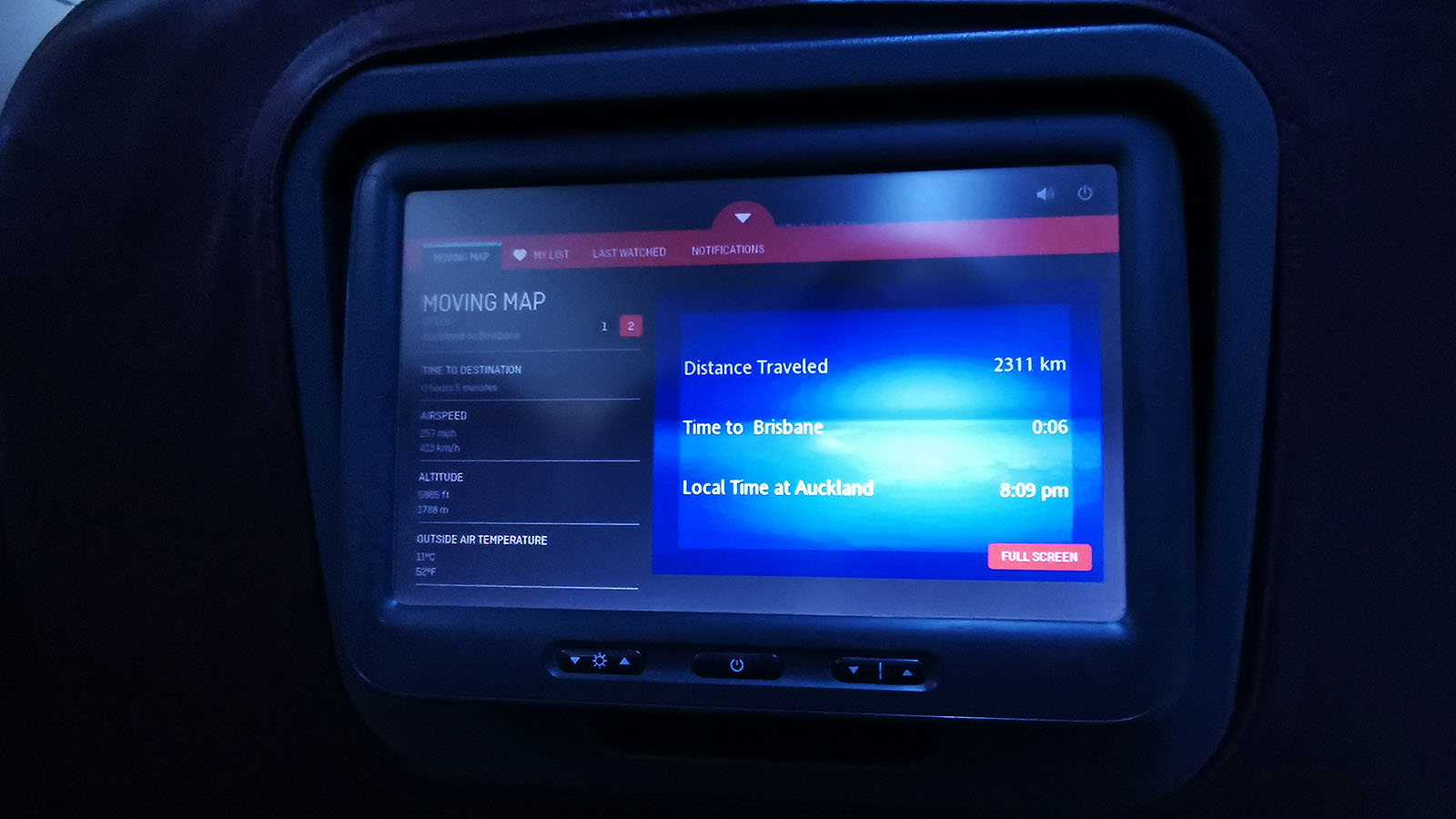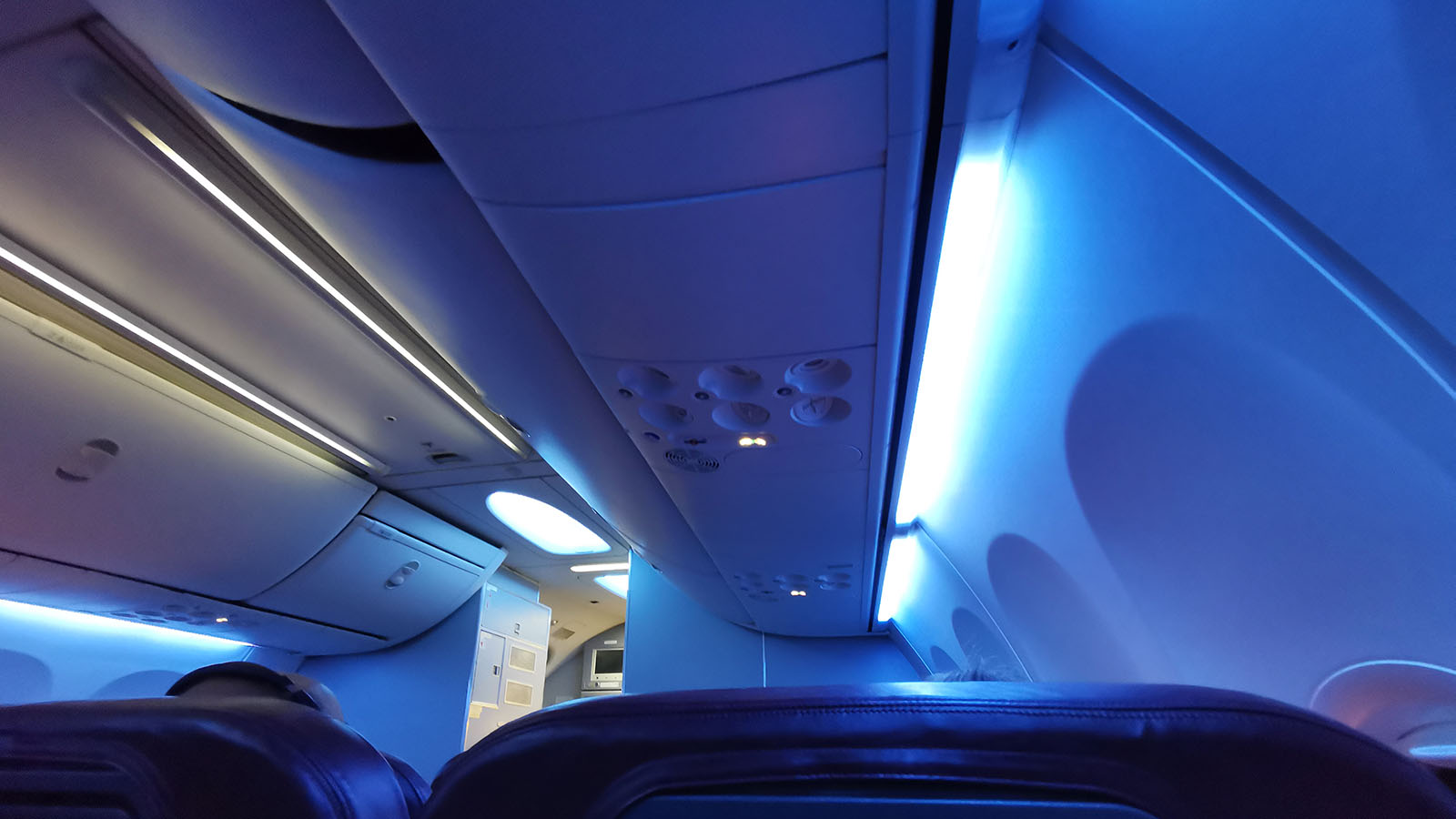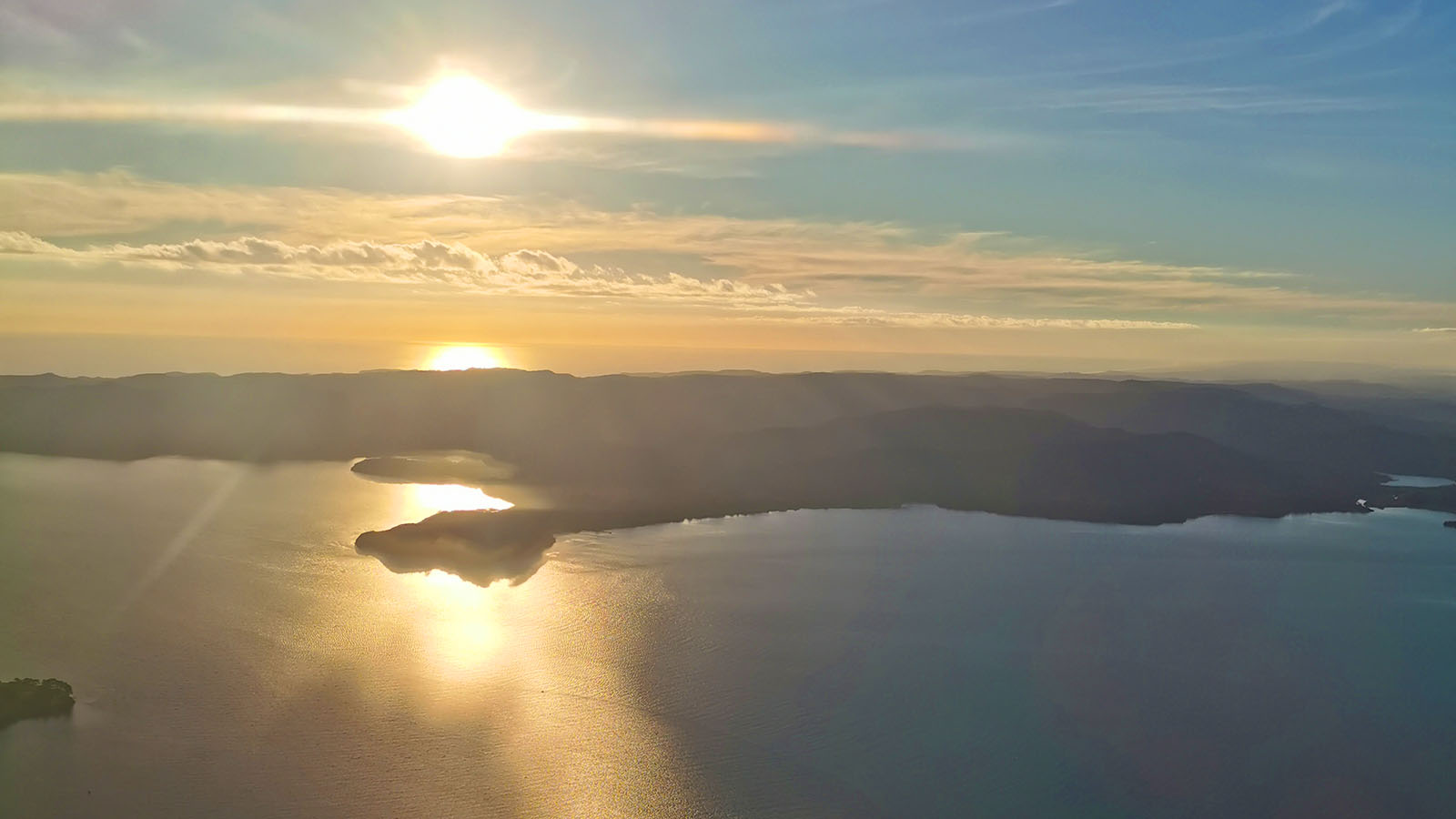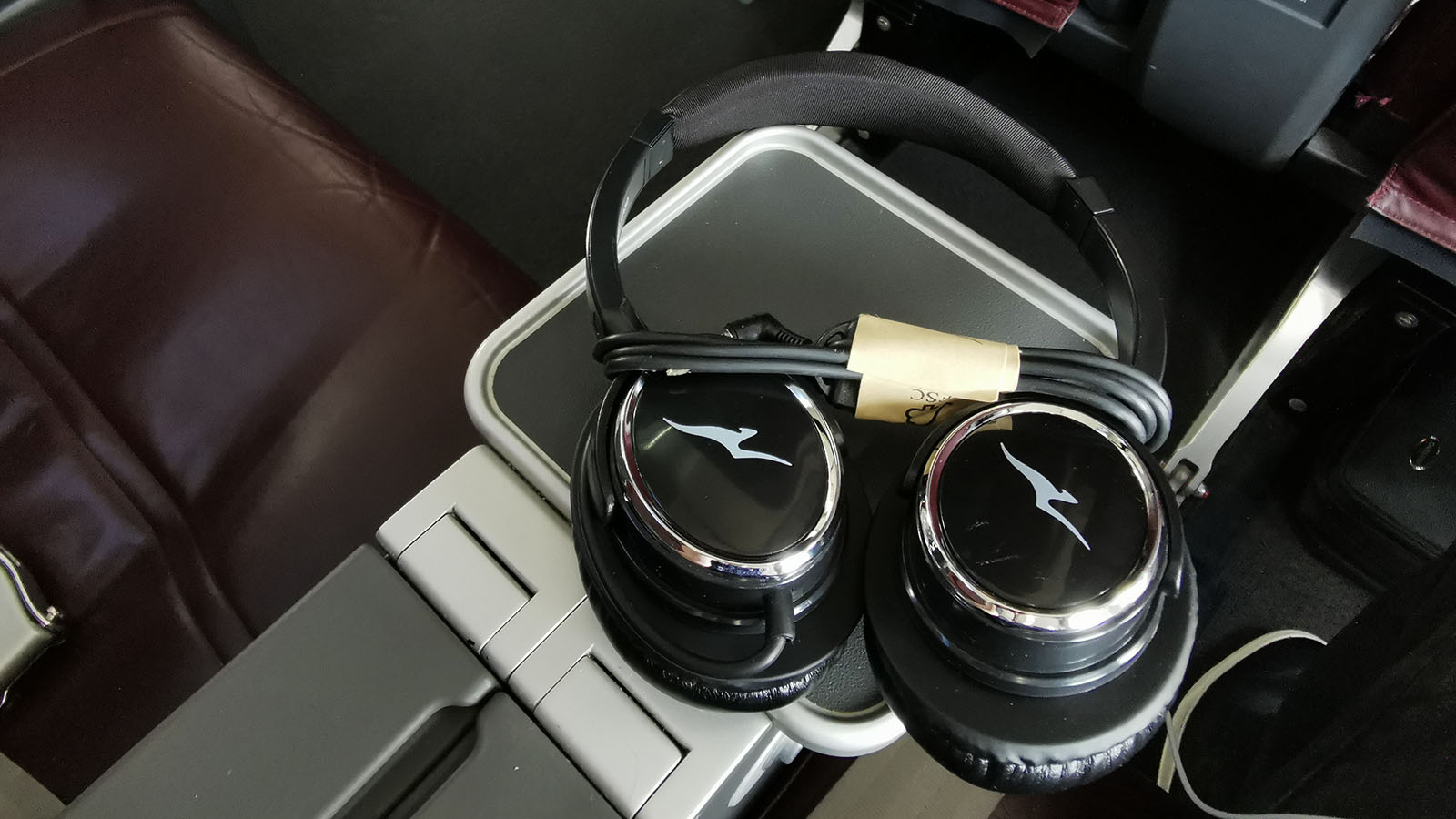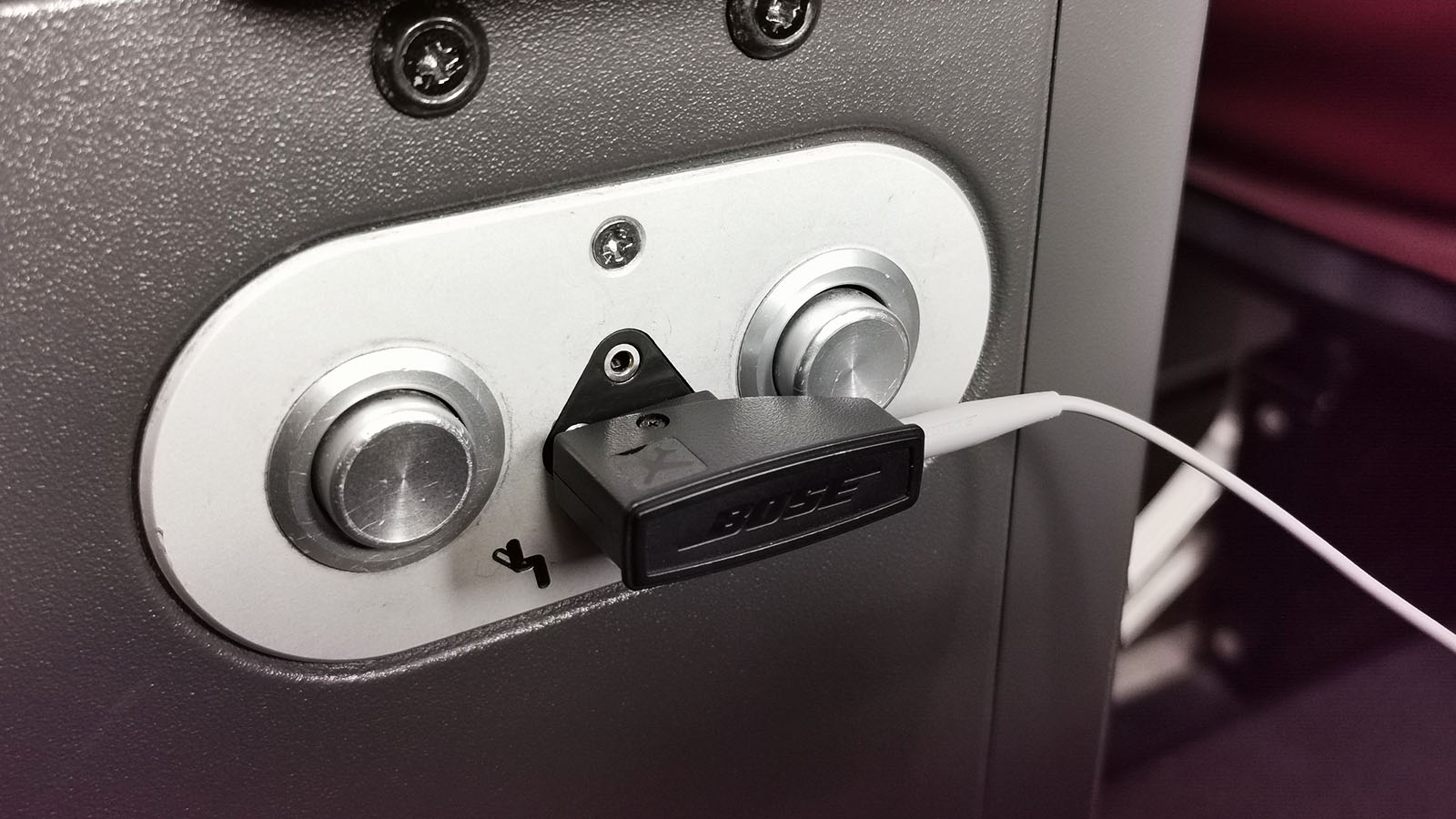 Noise-reducing headphones are provided, and they're certainly better than what you get in Qantas Economy. But I always travel with my own true noise-cancelling pair, and they plug straight into the system with ease.
Mood lighting on the flight also helps create a relaxing atmosphere, especially as the sun sets and we continue into the evening. After my meal and movie, it's not long before landing. Immigration at Brisbane Airport is a breeze, particularly as we're the only flight pulling in at this time.
Summing up
Between Australia and New Zealand, Qantas flies both the Airbus A330 and Boeing 737. And yes, if you can get on the Airbus A330 and it suits your travel plans, then that's the plane to book.
But the Airbus A330 doesn't gel with every journey. If I'd booked it here, I'd have needed to fly through Sydney to get home. That would mean adding hours to the trip. Not to mention having to collect and re-check my bags, change terminals, go through security again, catch another flight, and pick up my bags a second time.
By choosing the Boeing 737, I was able to fly straight from where I was to where I needed to be. And given my time is often limited, that suited me just fine. Ultimately, by saving several hours of hassle in transit, I arrived at my most relaxed: which is really what flying Business Class is all about.
Also read: Auckland is calling! Jet there in style on points
Photography by Chris Chamberlin, who travelled at Point Hacks' expense. Feature image courtesy of Qantas.
---
Stay up to date with the latest news, reviews and guides by subscribing to Point Hacks' email newsletter.
Qantas Boeing 737 Business (Auckland – Brisbane)
was last modified:
August 29th, 2022
by